10 Important B2B Marketing Trends For 2021
The B2B marketing world changes fast.
Which is why it's important to keep a close eye on B2B trends before they go mainstream.
(That way, you can take advantage of them before your competition does.)
And in today's post you're going to see 10 of the biggest B2B marketing trends happening in 2021 and beyond.
1. Podcasts Become an Important B2B Marketing Channel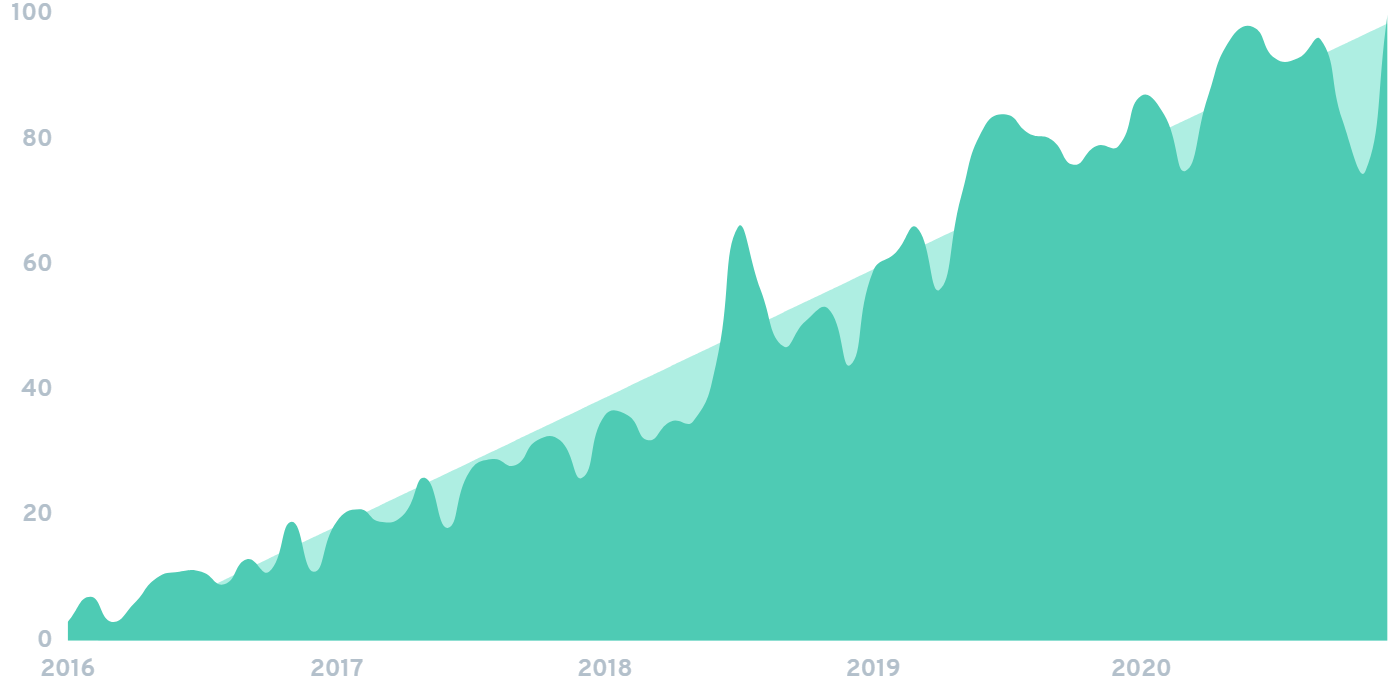 Searches for Spotify Podcasts are up 3233%.
Podcasts are quickly becoming a mainstream marketing channel for many B2B businesses.
To be clear: podcasts aren't in the same universe as SEO, PPC or content marketing.
Yet.
But businesses are starting to shift some of their marketing budget away from traditional channels. And put some of that money into podcasts.
And if you look at the numbers, this makes sense. Demand and interest in podcasts is growing fast. In fact, Edison Research reports that podcast listening has more than doubled since 2014.
Question is: how can you use podcasts to get in front of B2B customers?
You've got two main options.
First, you can create your own podcast. In fact, that's what the folks at HubSpot recently did.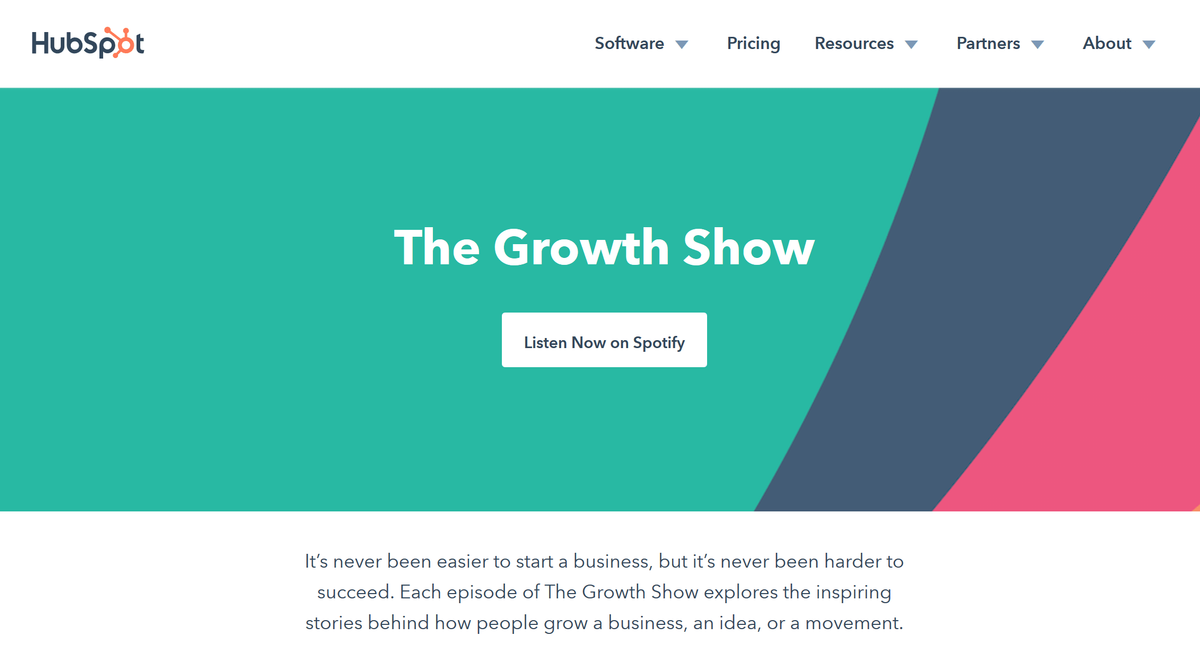 And they report that their podcast helped them get in front of their target SMB customers (to the tune of 1.5M total downloads).
Second, you can advertise on podcasts that your target customers listen to.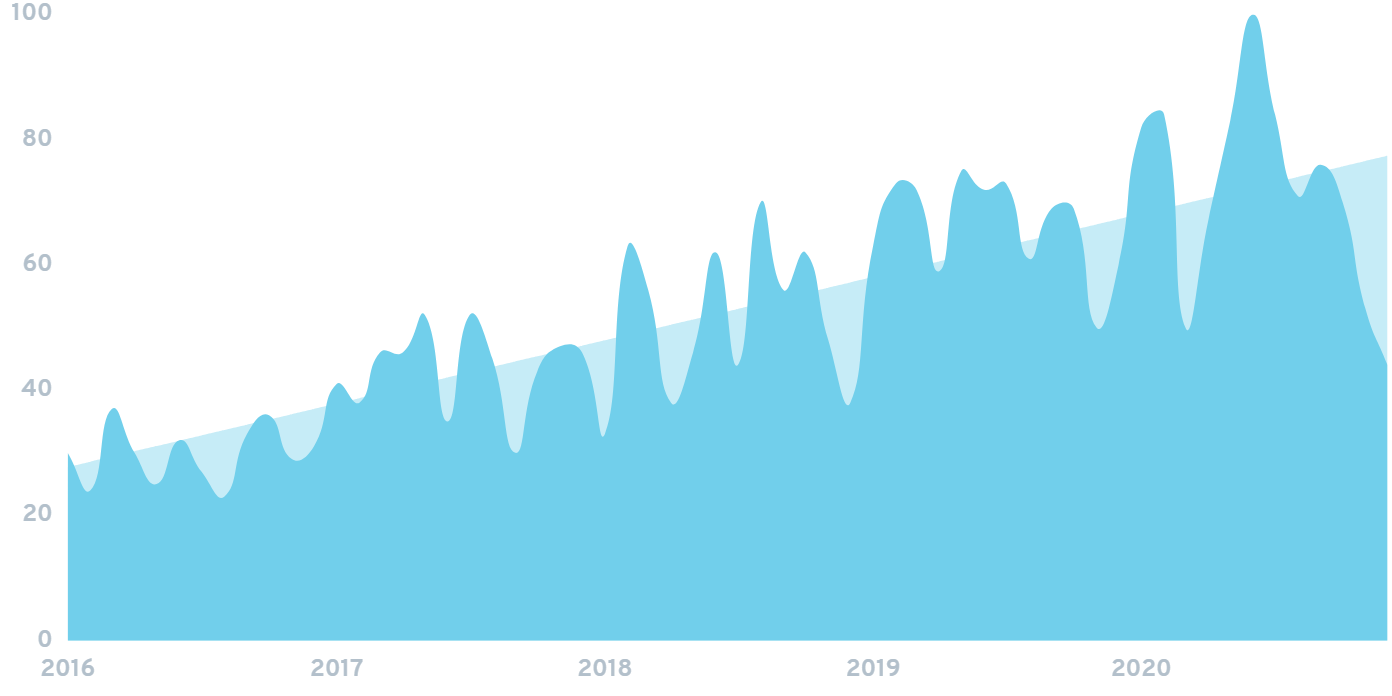 Interest in podcast marketing has grown significantly over the last 5 years.
For example, SEO software company Ahrefs found that podcast ads gave them a relatively high ROI on their ad spend.
2. LinkedIn Makes a Comeback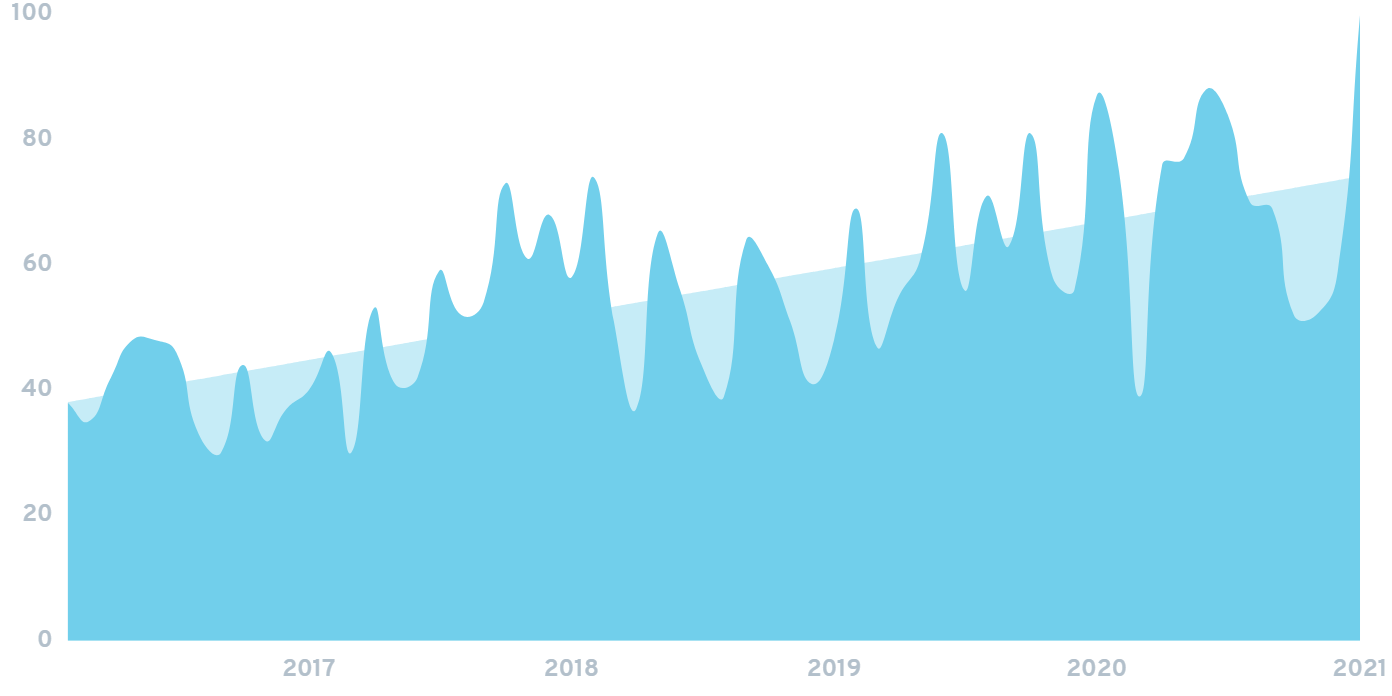 Search data for "LinkedIn followers" shows that people clearly want to increase their presence on the platform.
LinkedIn isn't a hot new social network (like TikTok).
And it's not a site that B2B and B2C businesses should both spend time on (like YouTube).
But when it comes to B2B marketing, you'd be hard pressed to find a network more important than LinkedIn.
It's literally a social network that's 100% about work and business. So not only do your customers probably hang out on LinkedIn. But they're in the "B2B mindset" while they're logged in.
But that's not really new: LinkedIn has always been a social network about business.
What is new is that LinkedIn is growing fast. In fact, Microsoft reported that LinkedIn revenue was up 16% in the third quarter of 2020.
Why the growth?
First, Microsoft rolled out a number of features that made LinkedIn less static. For example, LinkedIn now supports video posts.
Second, organic reach on LinkedIn is relatively high.
For example, we have previously promoted some of our content here on Exploding Topics on LinkedIn.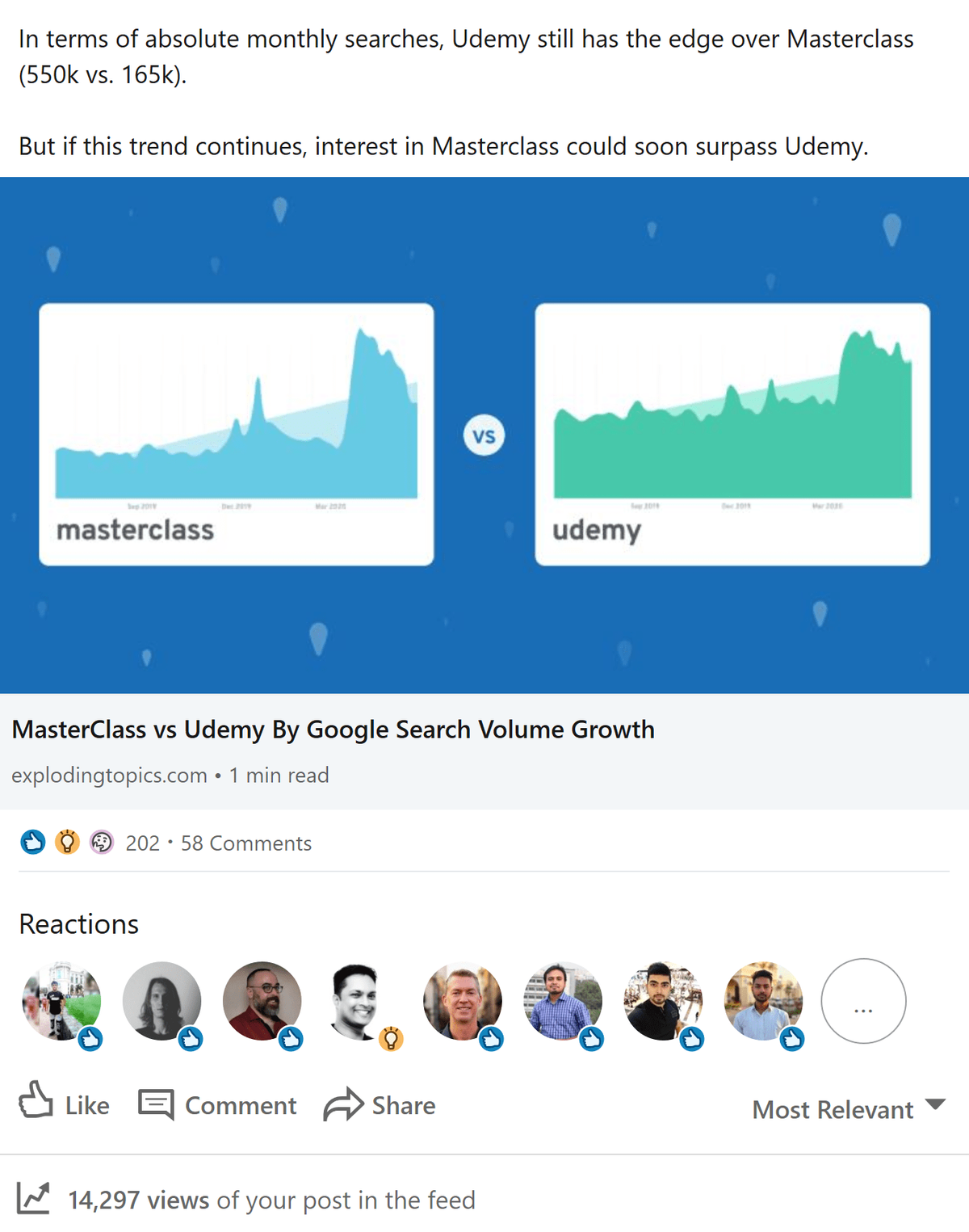 And we saw more reach there compared to similar posts on Facebook or Twitter.
3. Video Continues to Explode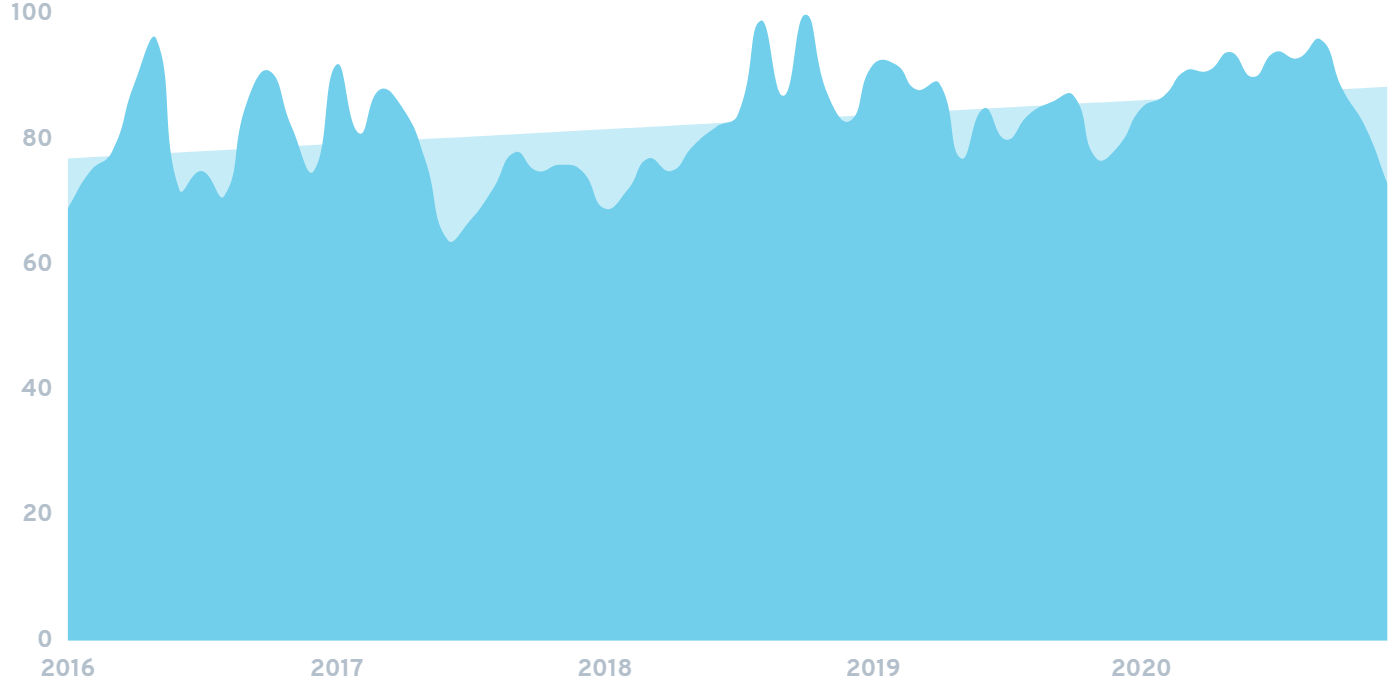 Searches for "video marketing" are steady, but up over the last 5 years.
One industry study found that 92% of marketers consider video "important" for their company's marketing efforts.
And there's no shortage of videos that work well for B2B marketing. For example:
There's no "best'" video marketing approach for B2B. It really depends on what you sell. And where your customers hang out online.
Plus, B2B businesses that succeed with video tend to use the format in multiple ways. For example, Business Insider has a popular YouTube channel.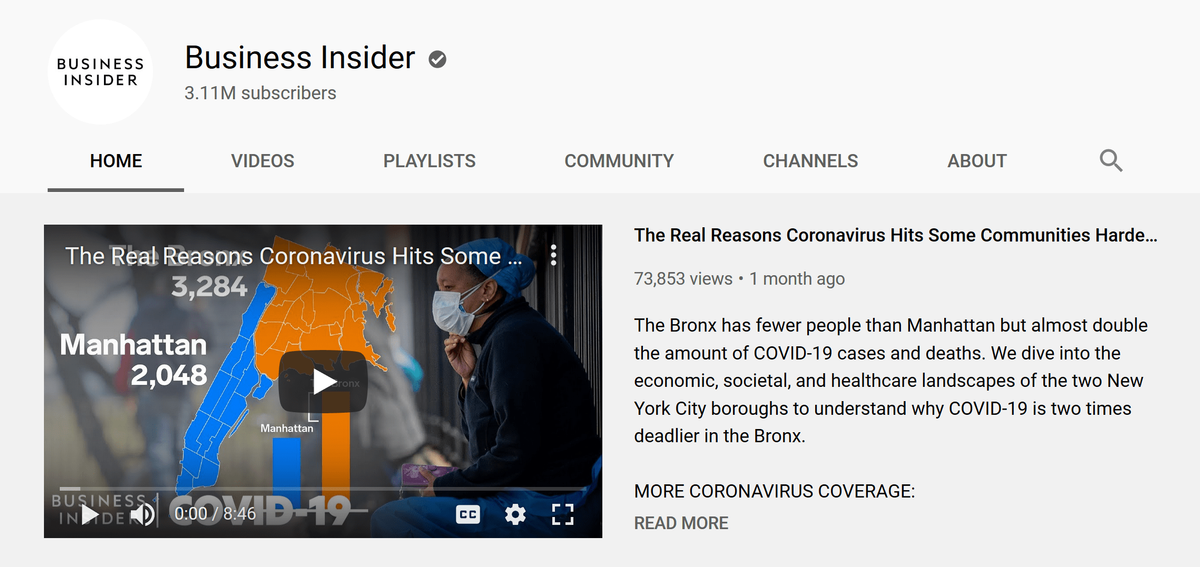 Business Insider's YouTube channel has over 3M subscribers.
But they also use a lot of short-form video on Twitter: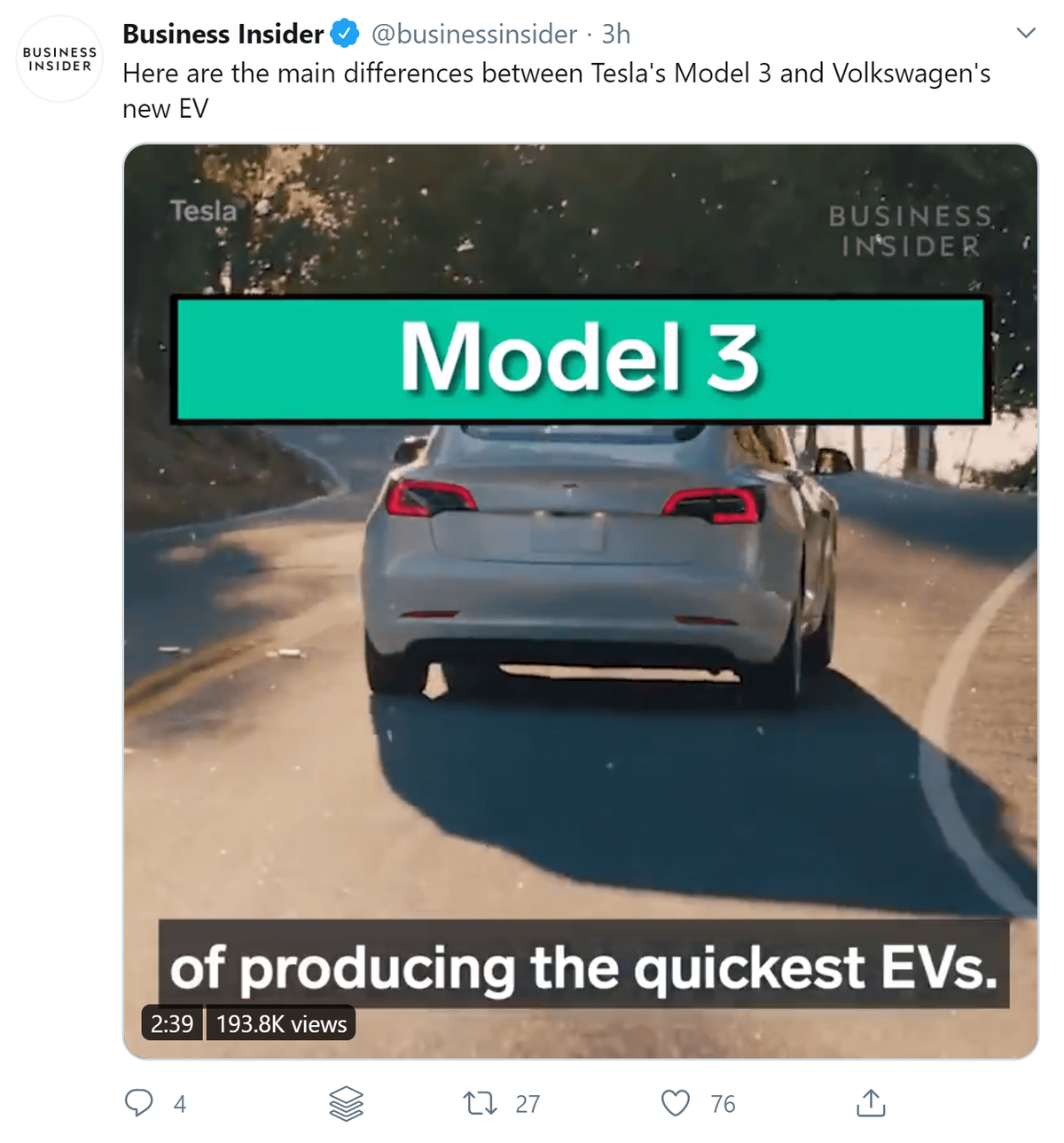 BI shares plenty of short videos designed specifically for social.
4. B2B Content Marketing Gets More Competitive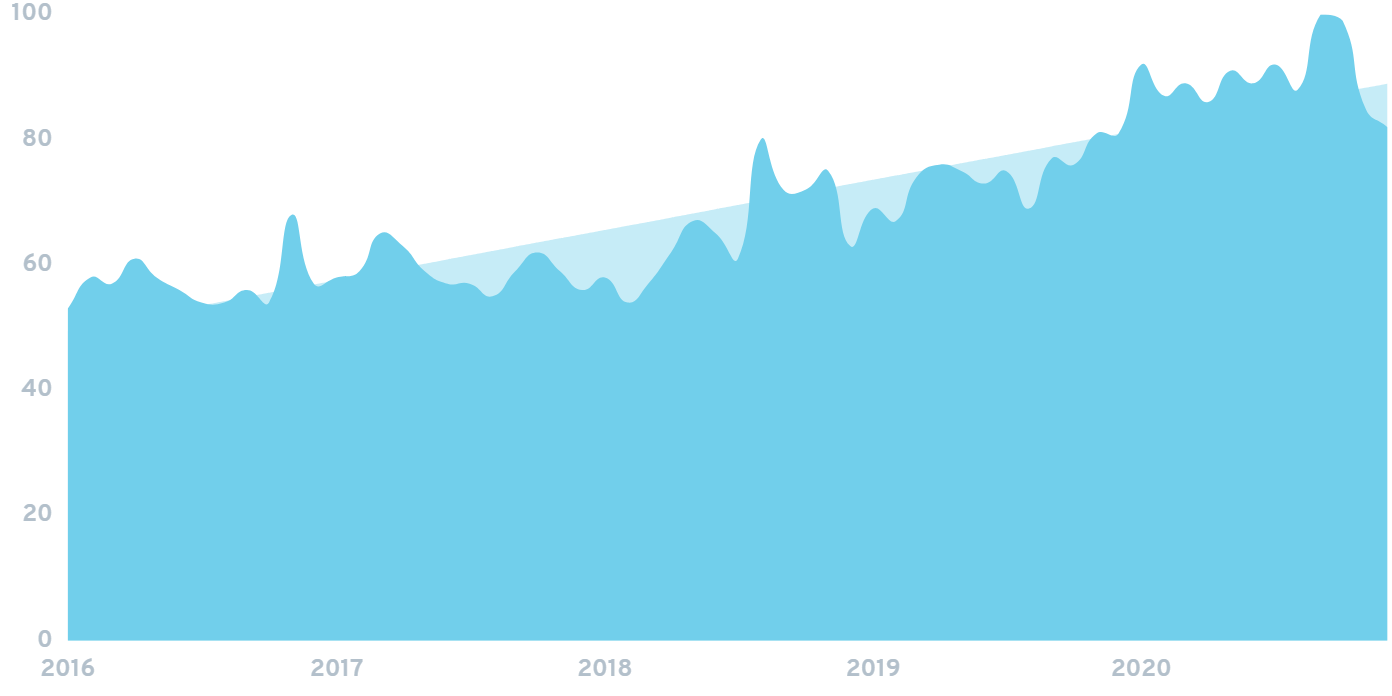 More and more B2B businesses are looking to tap into content marketing.
Content marketing has been a B2B marketing mainstay for decades.
But interest in B2B content marketing has really taken off over the last few years.
Which has made the channel significantly more competitive. And expensive. In fact, Content Marketing Institute reports that 56% of B2B marketers are investing more money in content creation.
Some of this marketing budget is to help scale up their content production. But a good chunk of that money (36% to be exact) is designed to help their content stand out in an increasingly-competitive B2B content landscape.
So, how can companies get their B2B content to drive legit traffic to their site?
Content marketing tool BuzzSumo recently conducted an analysis of 50k B2B articles.
They discovered that successful B2B content (defined by the number of social shares and backlinks) tend to have these key features in common:
B2B content that covered evergreen topics tended to get more shares over the long-term than content about a news item or fad.
B2B content that used specific headline phrases (like "The future of…") performed best.
Long-form content from B2B publishers got more backlinks, shares and engagement vs content that was <1k words in length.
Which leads us to our next B2B marketing trend.
5. AI and Machine Learning Boost PPC ROI
Artificial intelligence technology is starting to impact how B2B businesses run their PPC ad campaigns.
For example, take Google's popular Smart Bidding feature in Google Ads.
Search interest in Google's Smart Bidding has had ups and downs. But it is up 142% over 5 years.
Smart Bidding does a lot of the legwork of managing a Google Ad campaign automatically. And because it can analyze so many variables at once, it can sometimes optimize ad spend better than humans.
Needless to say: paid ad campaigns will always need a human component. After all, AI can't currently create compelling ad copy. Or design an eye-catching creative from scratch.
But as ad platforms integrate AI into their products, expect to see more B2B businesses use AI tech to help them optimize PPC campaigns.
6. Chatbot Popularity Expands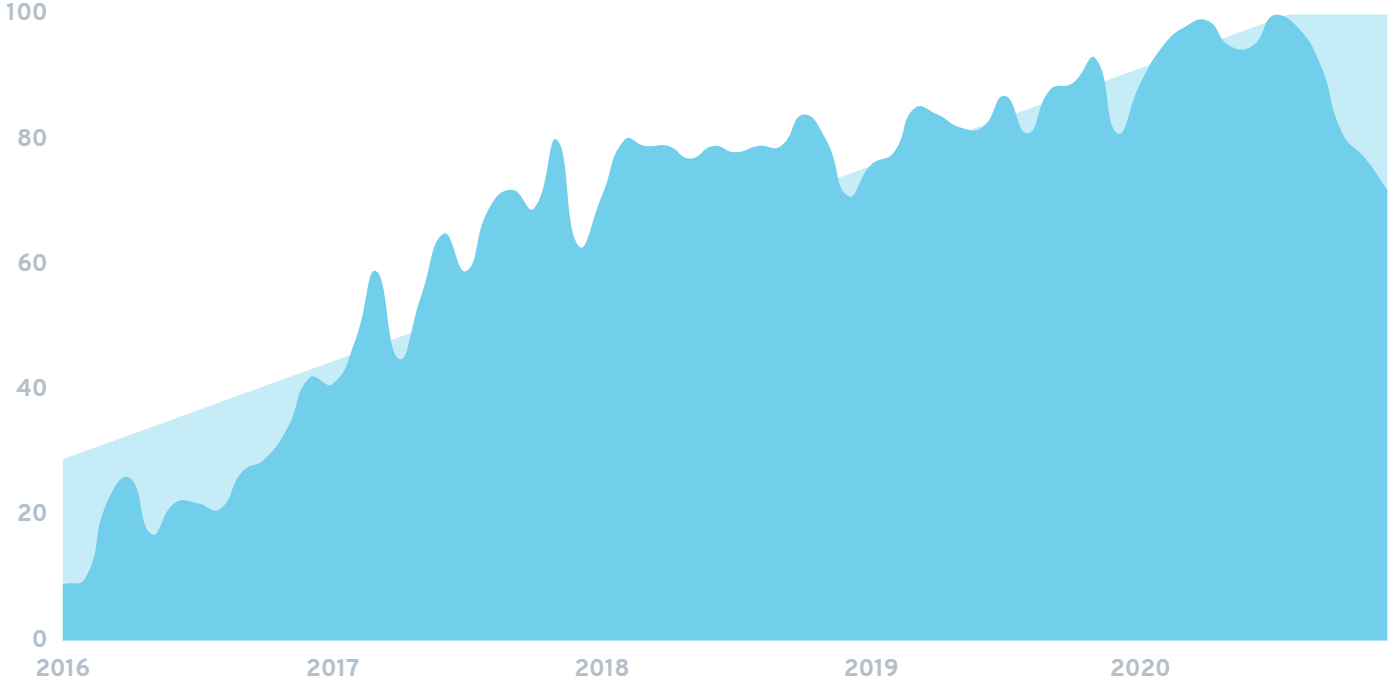 Searches for "chatbot" are up 700% over the last 5 years.
Chatbots seemed like a fad when they first burst onto the scene a few years back.
But it's clear that chatbots are now a mainstay marketing channel. Especially when it comes to converting B2B website visitors into leads and sales.
That's because chatbots can help with "the last mile" of B2B marketing. You've used a piece of content or an ad to get someone to your website. They're browning around. But many visitors need that "nudge" to get them to take action.
Yes, you could hire a 24/7 support staff to man your live chat. But that can be pricey.
Which is why chatbots have become so popular: they may not perform like an actual human. But, unlike a human support staff, chatbots are infinitely scalable.
(Plus, thanks to AI, they can learn and improve as they interact with your customers).
For example, chatbots helped the B2B company SalesRabbit increase the number of leads that they got from their website by 50%.
7. Marketing Automation Gets Simplified
Marketing automation has been one of the biggest B2B marketing trends over the last 5 years.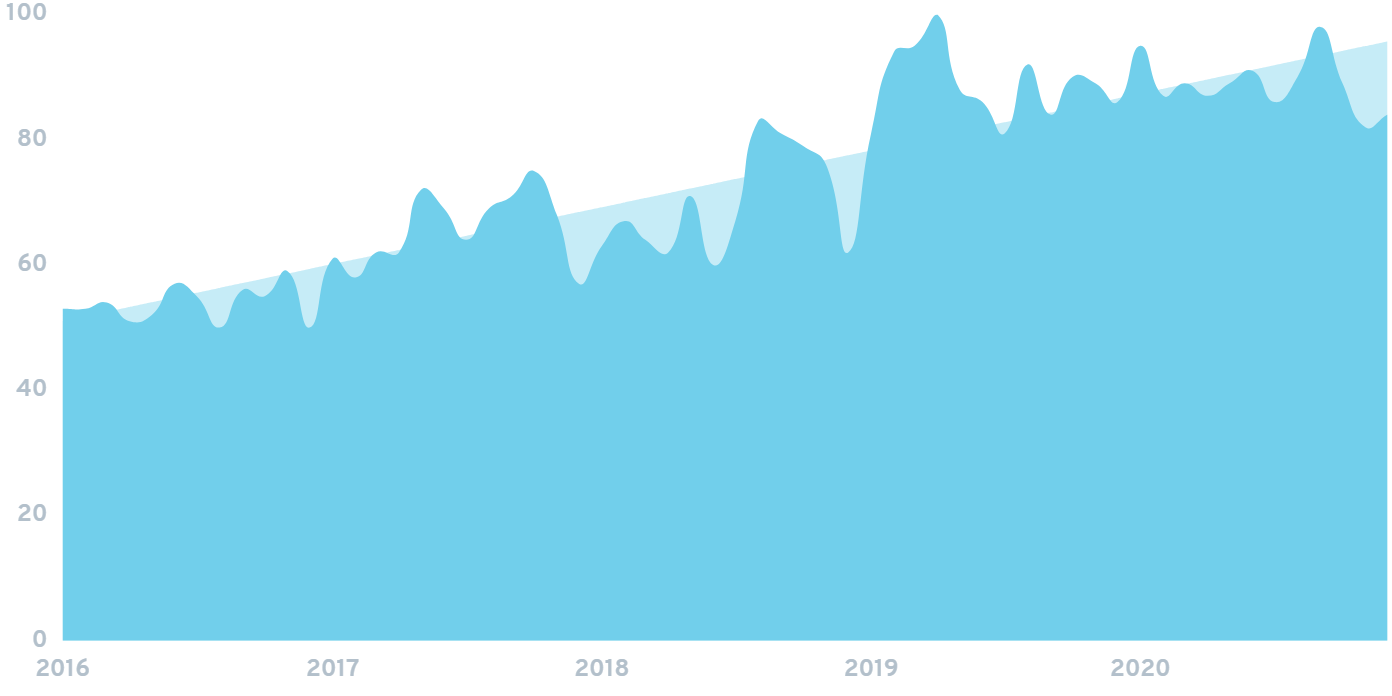 Google searches for "marketing automation" are up 58%.
And there is good reason for that: when done correctly, marketing automation lead to more opened emails, more clicks and more leads.
That said, marketing automation has one major flaw: it's complicated to set up.
Which may explain why 41% of B2B businesses state that they're not getting the most out of their company's marketing automation. And half say that they want less expensive alternatives.
It's no wonder that many B2B businesses are replacing complicated marketing automation software with simpler and cheaper funnel software.
Funnel software is essentially a stripped down and focused version of a traditional marketing automation tool.
Interest in funnel software is growing in general. But one of the leaders in the space at the moment appears to be ClickFunnels.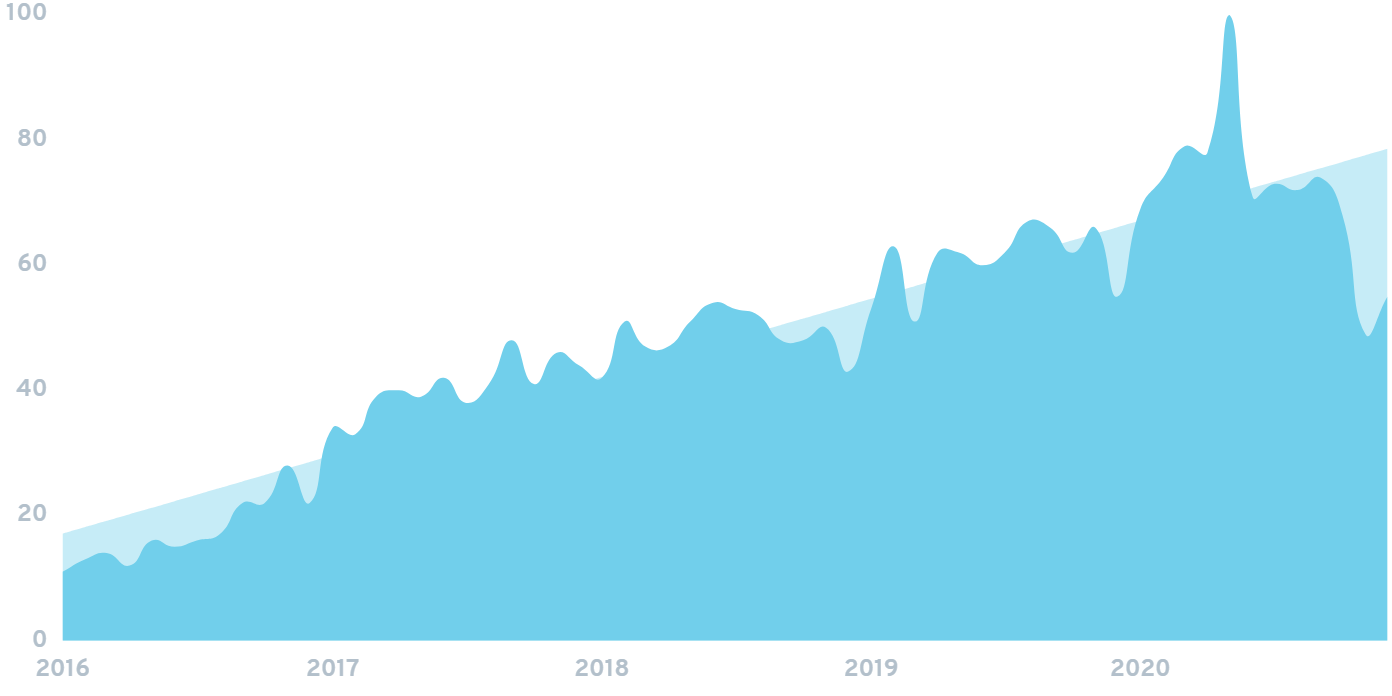 ClickFunnels's simple UI and aggressive marketing helped put them on the map.
8. Companies Repurpose Their B2B Content
Searches for "content repurposing" over time. Search volume is low, so peaks and troughs appear extreme, but the overall trend is upwards.
Creating B2B content can be extremely expensive.
Unlike content in the world of B2C, you need to hire a writer that knows about your industry.
And one that can turn "boring" B2B topics into something people want to read, watch, or listen to.
Back in the day, businesses would use a piece of content once. If the content did well? Great. If not? Then it was time to work on something else.
Today, B2B businesses are using content repurposing to squeeze more value out of the content that they create and publish. We're even seeing a number of tools coming out specifically for repurposing content.
For example, Wavve helps podcasters repurpose clips from their episodes into bite sized content that can be shared on social media.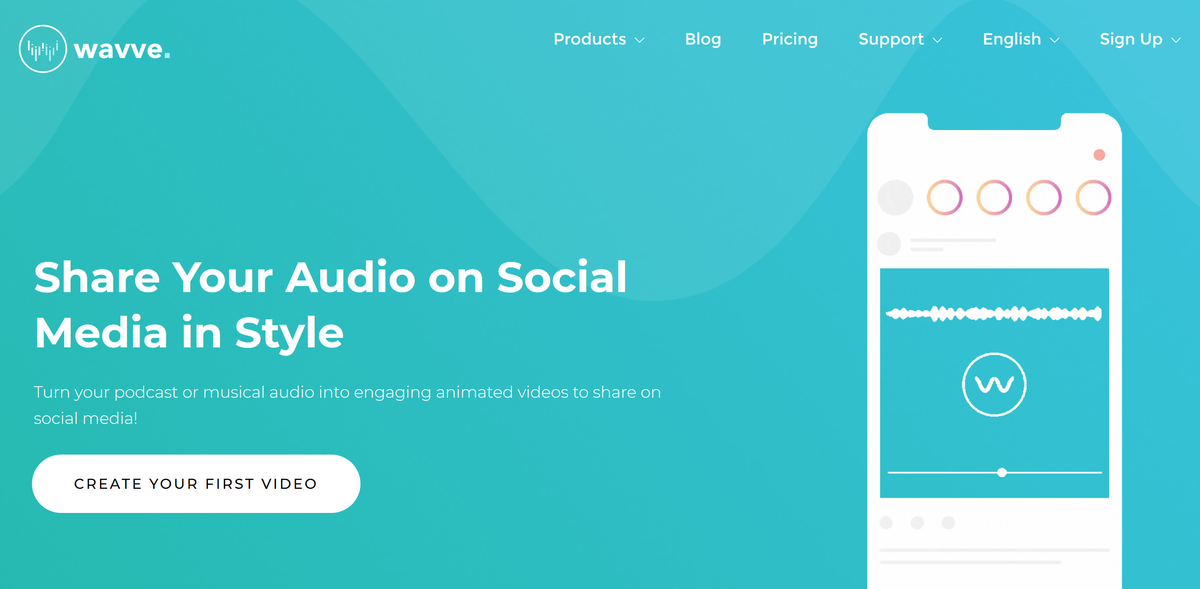 And because Wavve tapped into the content repurposing trend, they've seen significant growth.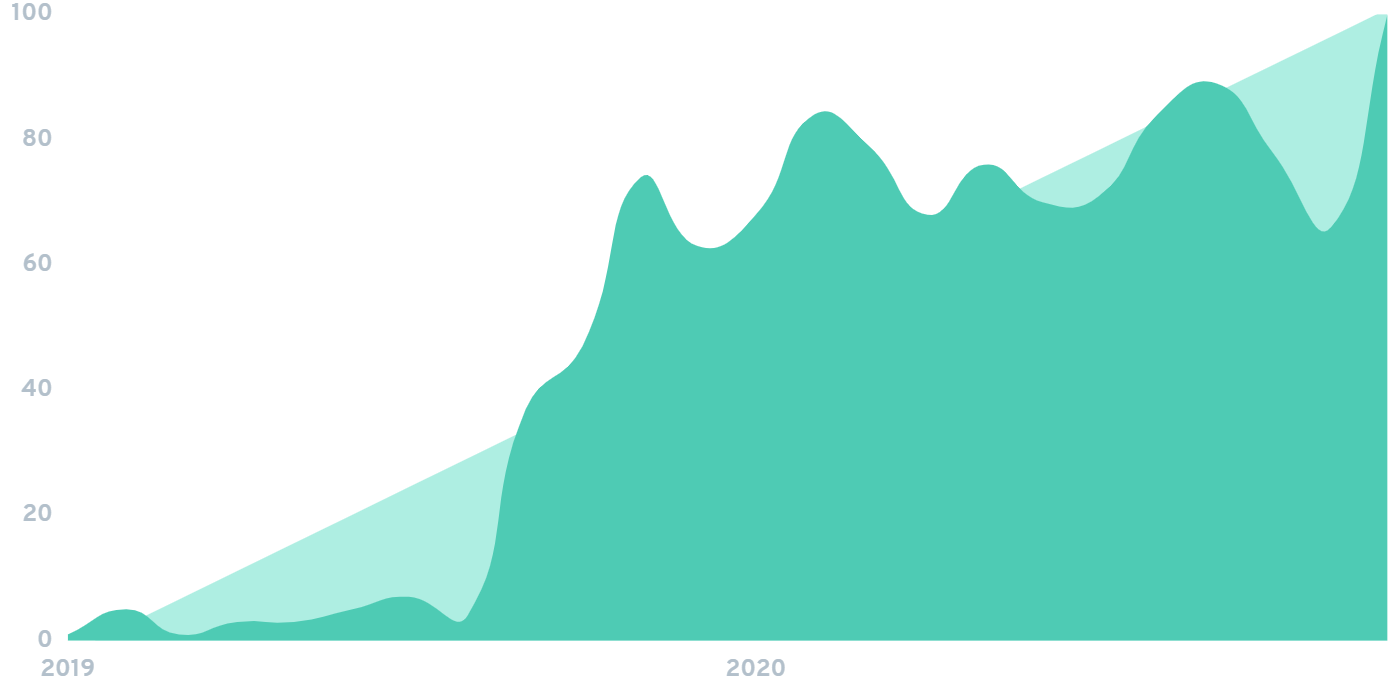 Searches for audio sharing software Wavve have grown by 150% over the last year.
9. Companies Use Storytelling in Their Campaigns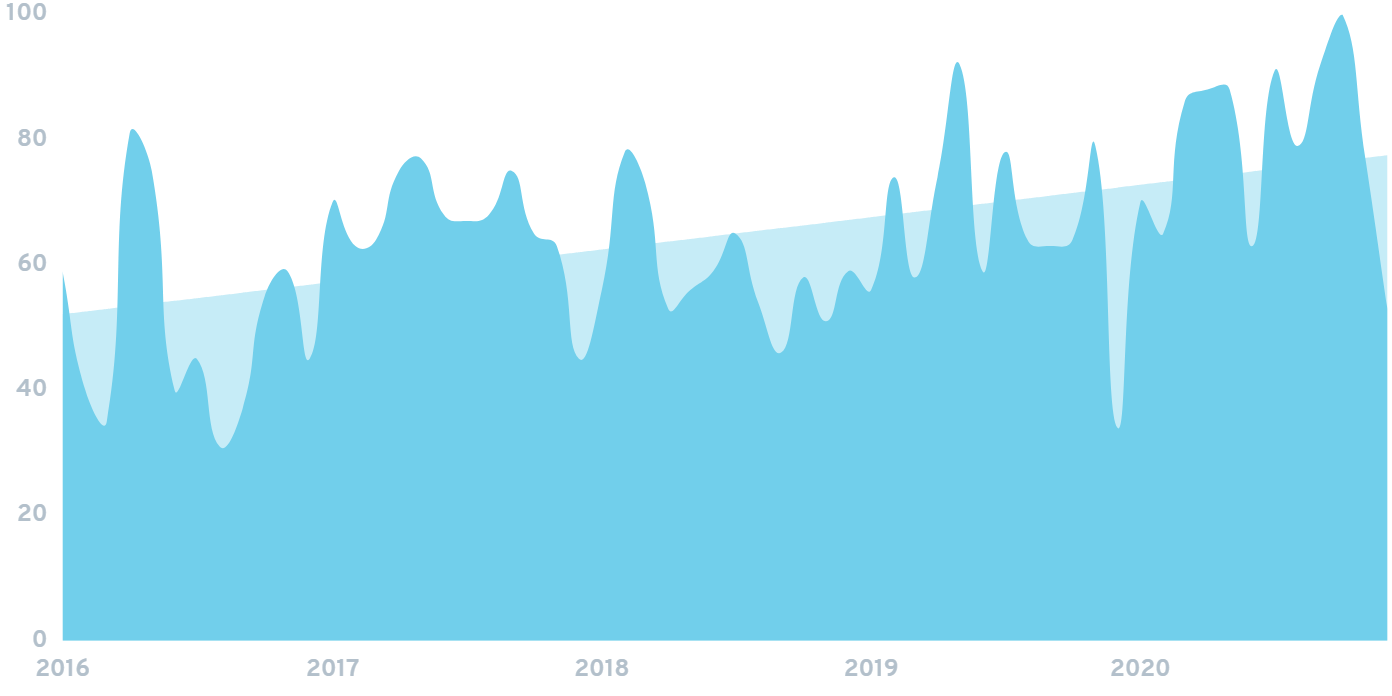 Businesses are increasingly interested in so-called "storytelling marketing".
Most B2B companies approach marketing the same way: they highlight their product's key features. And why their company is the best overall option in the market.
In theory, this approach makes sense.
After all, B2B is all about getting a company's decision-makers to see your product as the best option. So if you highlight why you're the best, they should pick you.
But you probably already know that MBA-style theory doesn't always play out in the real world.
Just like in B2C, B2B decision-makers don't decide on products with 100% logic and reasoning. There's a lot of emotion involved.
Which is why more and more B2B businesses are using storytelling to help their products stand out. Get remembered. And to close deals.
For example, Salesforce uses storytelling to humanize the benefits their customers get from their CRM.
The fast-growing Storybrand has tapped into this growing B2B trend. Storybrand advises companies that want to integrate storytelling into their marketing. And they've grown by leaps and bounds over the last few years.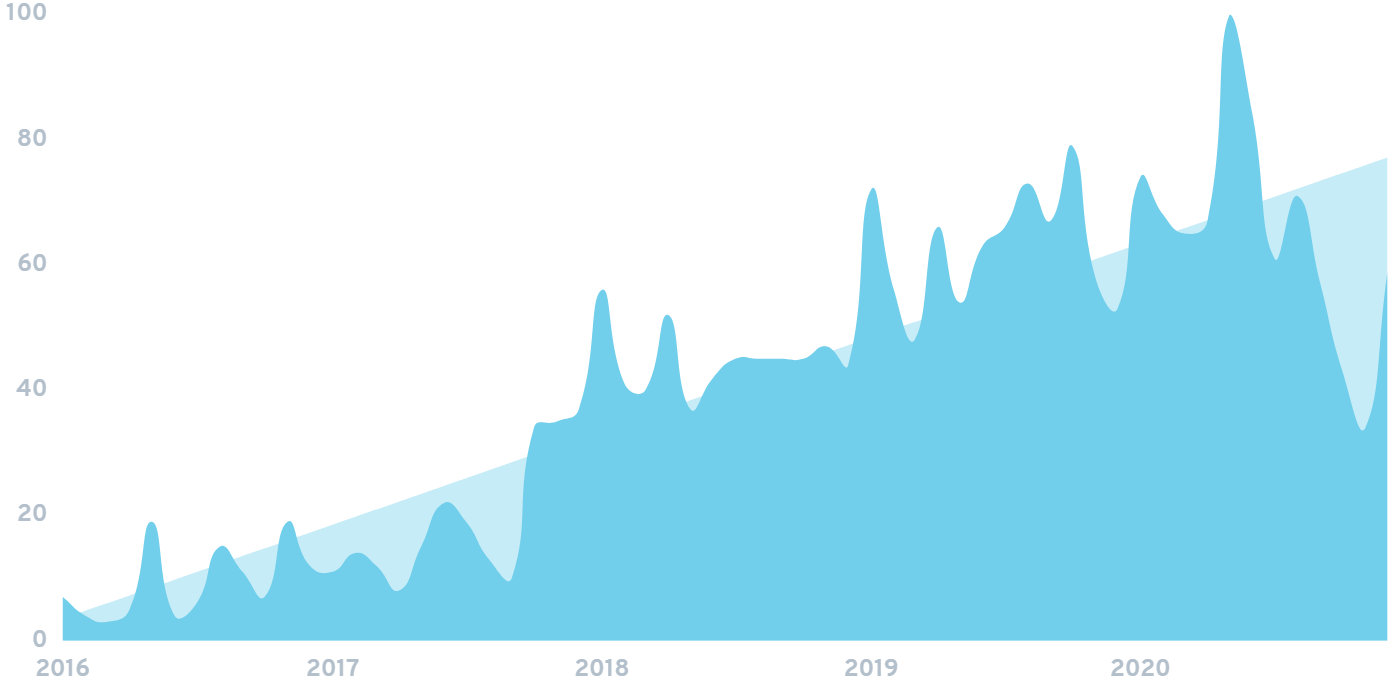 Searches for Storybrand have seen long-term, sustained growth.
10. Personas Help B2B Businesses Reach the Right People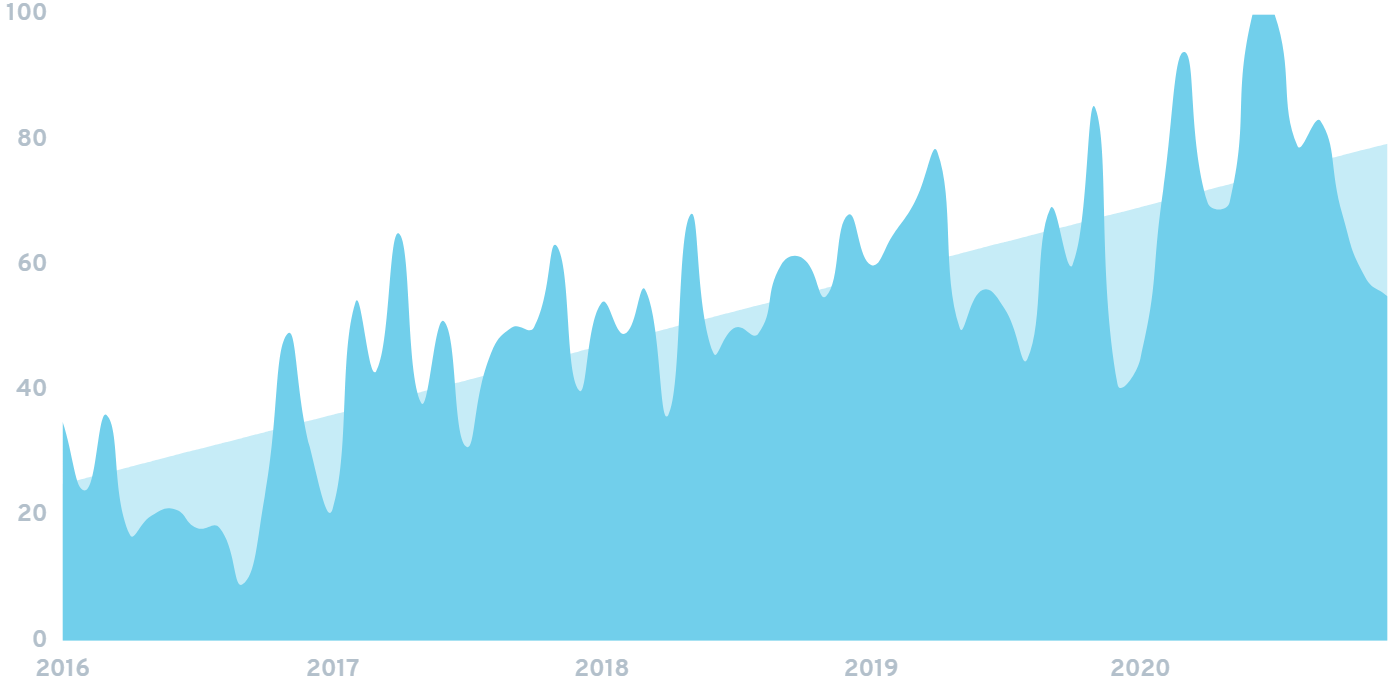 Interest in customer personas is up 57% over 5 years.
Customer personas are important for any company's marketing. But they're especially important in B2B.
That's because a customer persona helps you visualize the exact decision-maker you want to get in front of. In some cases, it will be the CEO of a company. But it could also be a C-level executive. Or the head of IT.
A persona helps you pinpoint the exact person you need to get in front of. The right platform to market on. The type of marketing messages you should create. And copy that appeals to that specific person.
For example, Shipbob uses targeted copy that appeals specifically to their target customer (DTC ecommerce brands).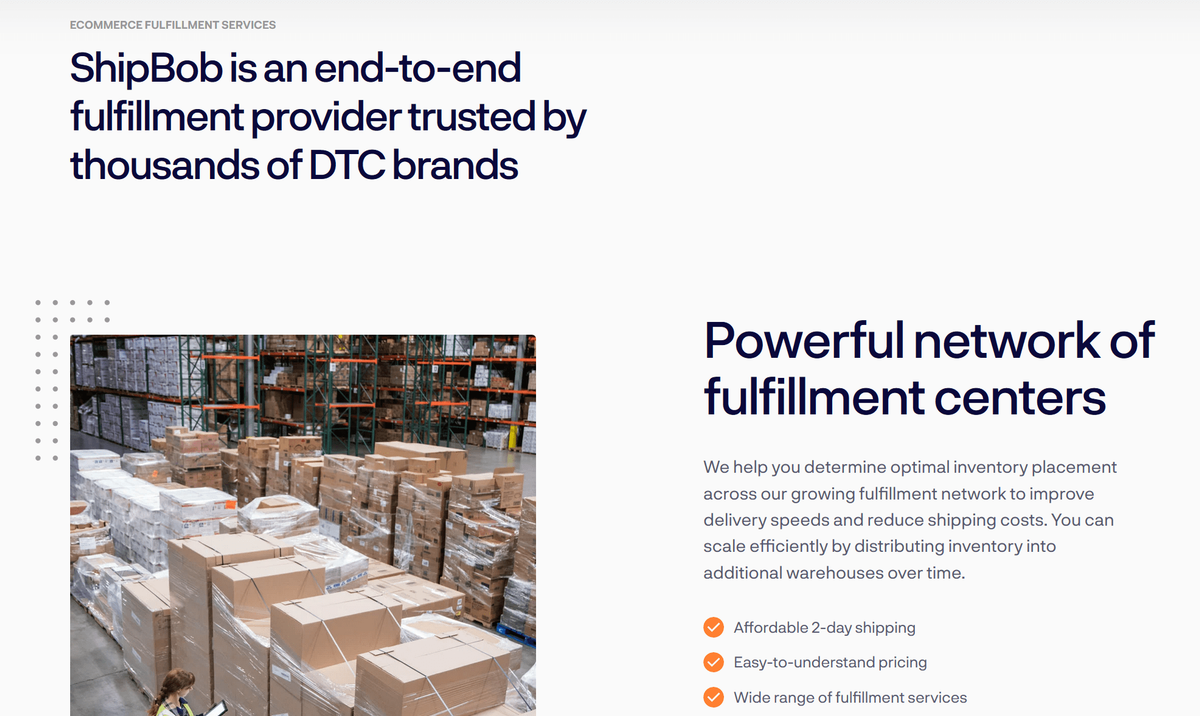 Shipbob's growth is partly explained by the fact that they target (and market to) a specific persona.
There you have it
These are the 10 key B2B trends to keep an eye on right now.
Yes, old school digital marketing practices (like email and account-based marketing) remain as relevant as ever.
But just like in the B2C world, there are a number of fast-growing B2B business trends.
Savvy B2B marketers are tapping into these trends to stay ahead of the curve. And to get an edge on the competition.
Last Updated: 
January 7, 2021