9 Key Martech Trends of 2020
Today you're going to see 9 of the most important marketing technology trends in 2020.
Note: the trends on this list are not predictions.
They're current trends that are happening right now. And that are set to grow throughout 2020 and into 2021.
So if you want to see what's coming around the corner in the martech space, you should get a ton of value from this post.
1. Podcast Tech Takes Off
According to Edison Research, 33% of American adults listen to podcasts on a regular basis.
(A number that has been increasing each year)
And we're starting to see a slew of martech products specifically engineered for podcasts.
For example, searches for "podcast hosting" have increased by 181% over the last 5 years.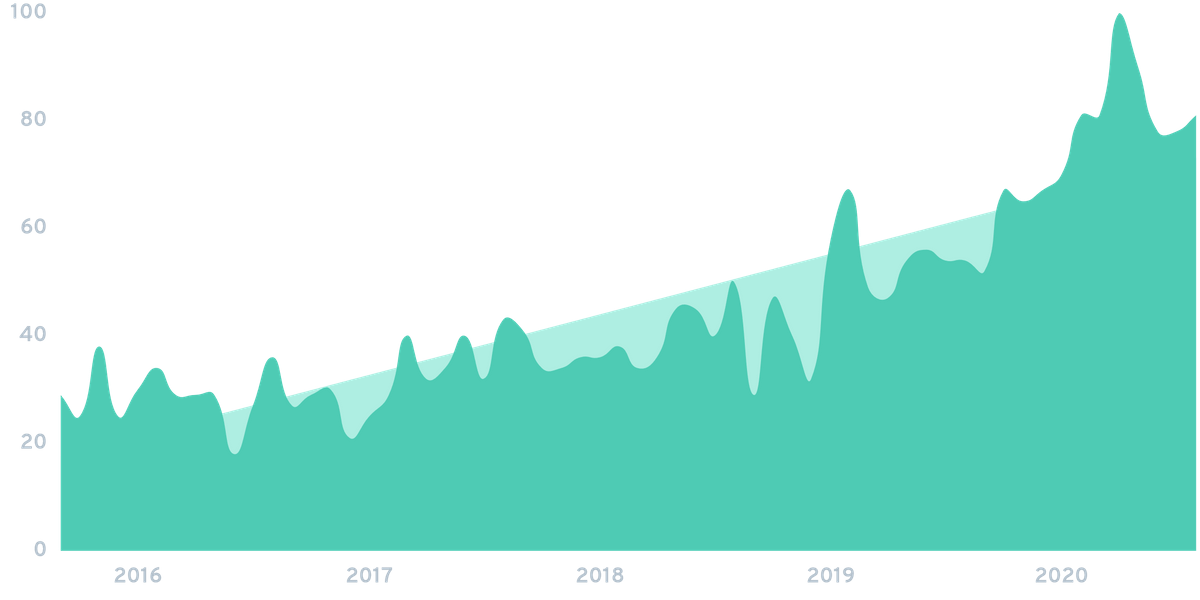 More people are searching for podcast hosting options than ever before.
And brands like Anchor.fm (founded by Spotify) are seeing serious growth.
That said, a podcast needs more than hosting to function. A professional podcast also needs a high-quality microphone, editing software and more.
In the podcast mic space, the Blue Microphone USB Mic has taken off in this relatively small (but growing) space.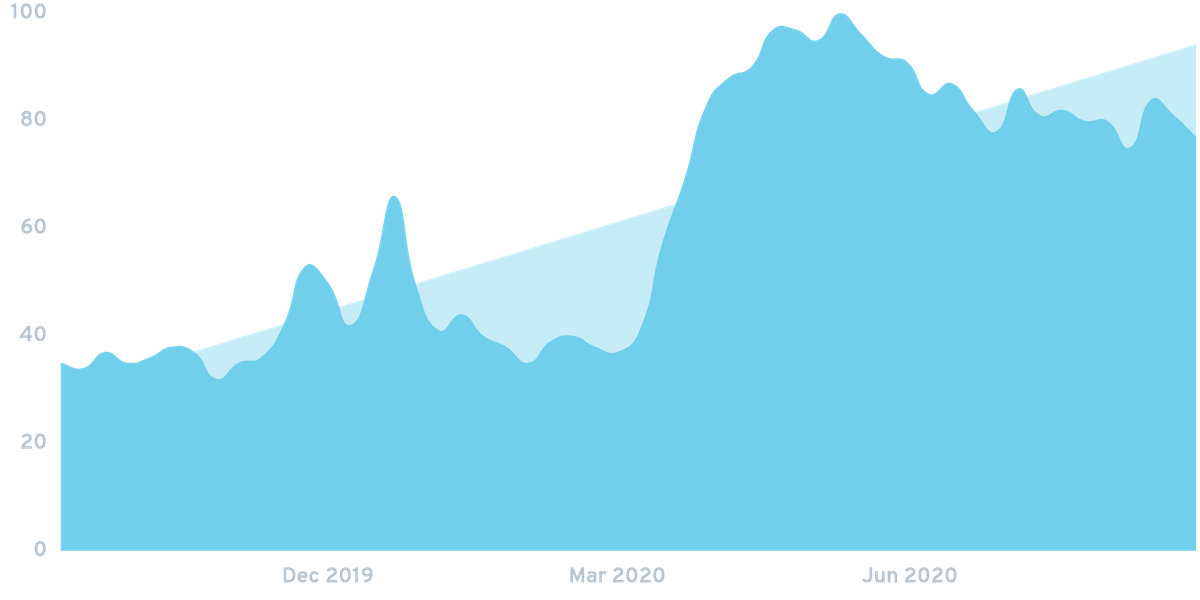 Searches for "blue microphones yeti" over the last year.
And podcast editing software Descript is looking to become the de-facto software for editing podcast episode audio.
There are also a number of "podcast kits" on Amazon that attempt to deliver all of the equipment someone would need to start a podcast from scratch.


Podcast kits contain the basic equipment needed start their first podcast.
2. More Influencer Marketing Platforms Enter the Marketplace
65% of businesses plan to increase their influencer marketing budget, according to a survey conducted by BigCommerce.
Despite influencer marketing being "the next big thing", it's still a very labor-intensive process to pull off. For influencer marketing to work, a brand needs to: find influencers in their space. Filter out those with a minimum (or maximum) number of followers. Reach out one-by-one to each influencer. Negotiate rates and terms. Then, track the results.
So it's no wonder that a slew of influencer marketing platforms are entering the market.
These platforms attempt to take a lot of the legwork out of finding and contacting influencers.
For example, Sparktoro is software designed to help brands quickly identify the exact YouTube channels, podcasts and personal brands that their audience follows.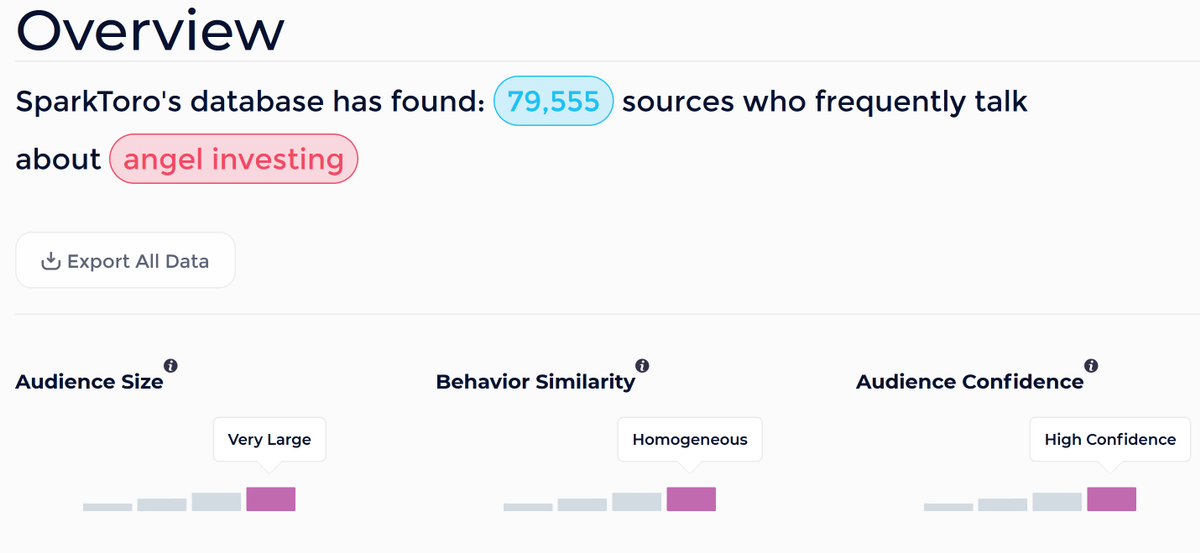 Sparktoro's software finds influencers that a specific audience follows.
And Upfluence is more of a database of 3M+ influencers that you can search and sort through. Along with email outreach features that allow you to contact influencers within the platform itself.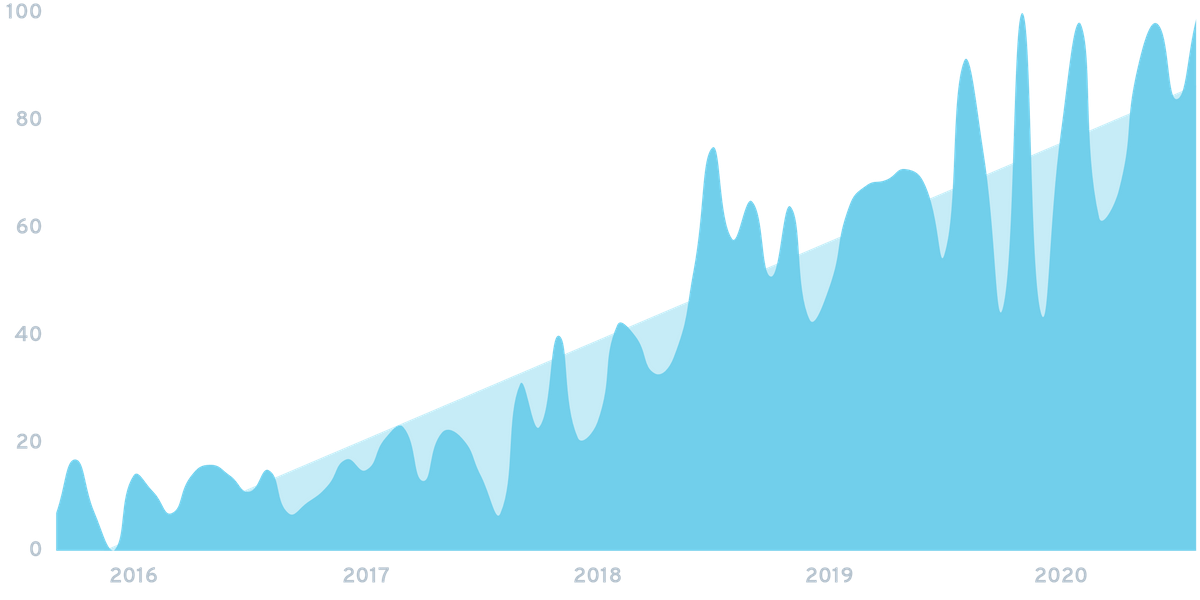 Search growth for Upfluence has increased by 1314% in 5 years.
3. Increased Demand for Social Media Scheduling Tools
Dozens of social media scheduling tools have launched over the last few years.
In fact, this is one martech trend that doesn't get a lot of attention. Likely because these scheduling tools aren't likely to break the $1B mark. Or go public.
Despite that, many social media scheduling tools are growing (in terms of users and revenue) super quickly. And like many SaaS products, can have potentially high profit margins.
To be clear: this space isn't new. The Twitter scheduling tool Buffer launched way back in 2010. What's new is that this new batch of scheduling tools have advanced features (like the ability to automatically recycle previous posts). They also support newer formats, like Instagram Stories.
One of the fastest-growing brands in this space is Later.com.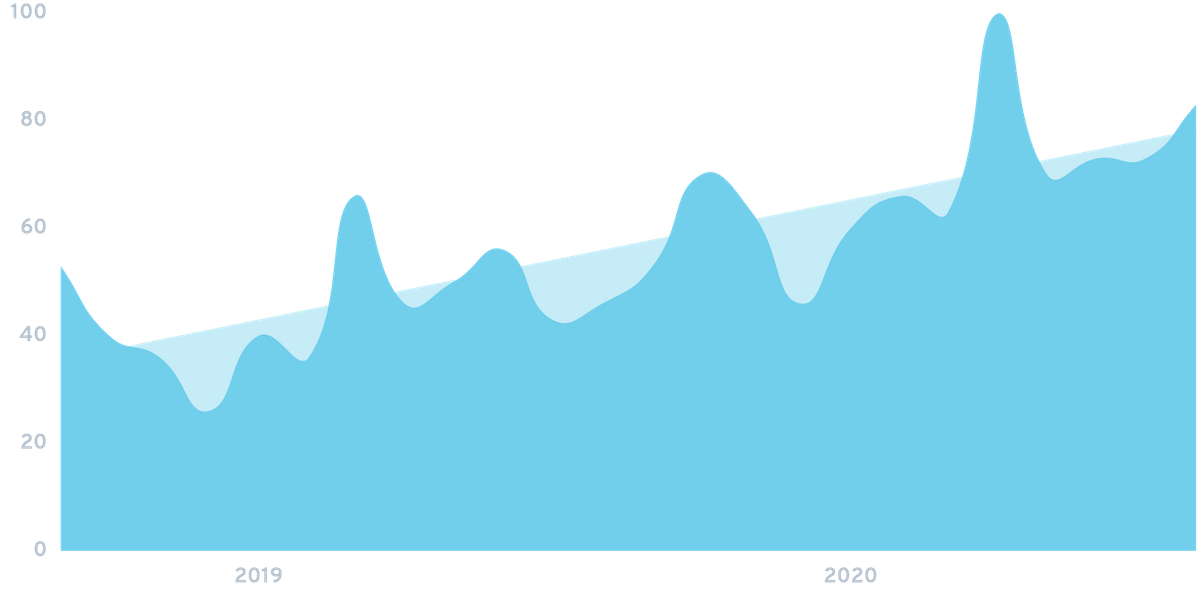 Search growth for the social media tool "Later" over the last 2 years.
Like many of the top social scheduling tools, Later.com is geared towards agencies and pros. Not people just starting out (although they do offer a limited free plan).
4. Chatbots Continue to See Growth
There's been a ton of hype around chatbots over the last few years.
And largely for good reason: a number of chatbot companies are growing rapidly.
For example: ManyChat.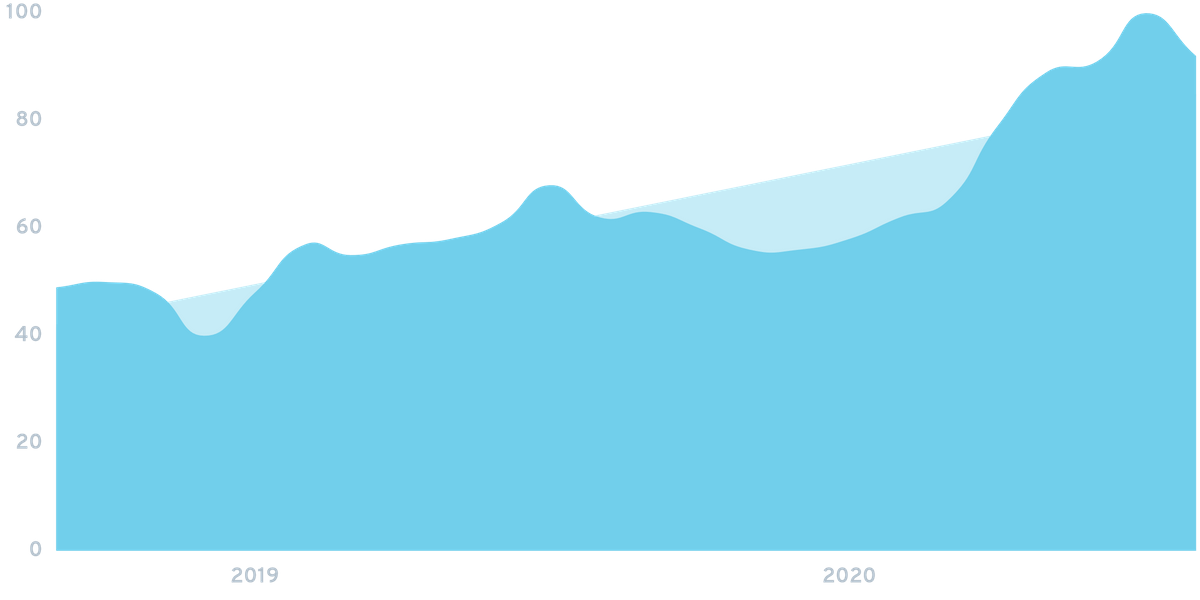 Google searches for ManyChat are up 87% over the last 2 years.
ManyChat has raised $23M to date. And recently acquired customer attribution tool, Converlytics. Which suggests that there's still room for growth in this space.
While most chatbots are associated with complicated machine learning and AI capabilities, there's also demand for simple chatbot tools.
An example of an "accessible chatbot" tool is Landbot. Unlike most chatbots, Landbot uses a relatively simple decision-tree system. According to the company, this makes setting up a chatbot more "intuitive" than its competitors that are focused on artificial intelligence.
5. New Software Makes Video More Accessible
According to Animoto, businesses cite expense and lack of time as their two main obstacles for creating video content.
And a number of SaaS companies have recently launched to help solve those exact problems.
One example of software attempting to make video creation a bit easier is Artgrid.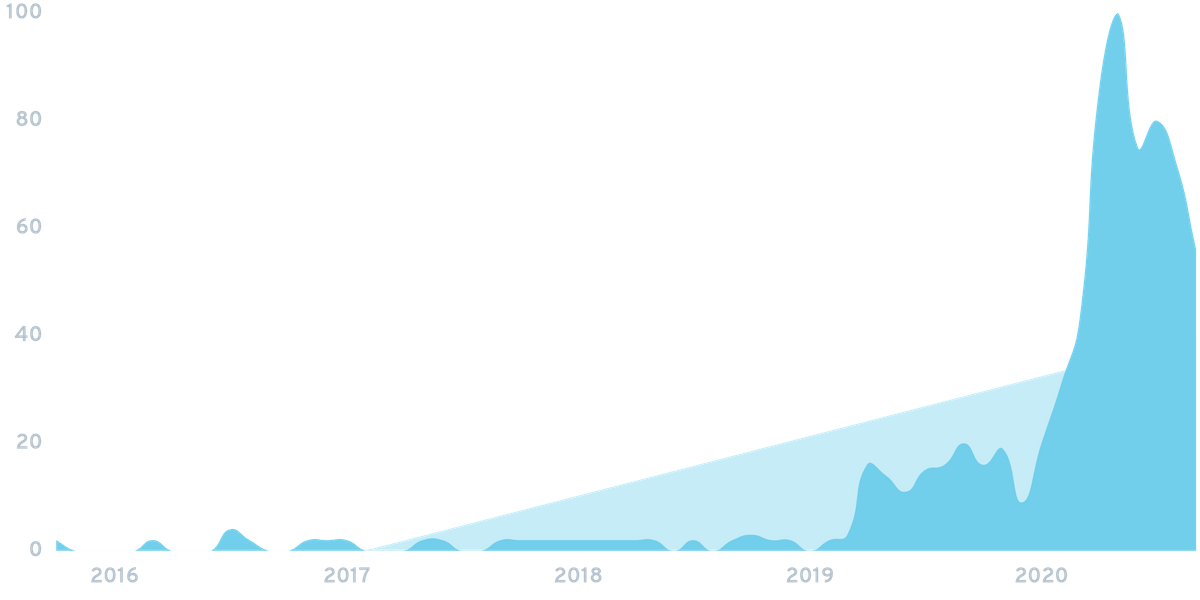 Largely due to a massive social ads campaign, searches for Artgrid.io have exploded.
Artgrid is a library of tens of thousands of stock video clips that can be use for YouTube videos, Facebook ads or social video campaigns.
In fact, YouTube itself is attempting to lower the bar for creating professional videos. Their recently-expanded YouTube Studio has a fairly robust video editing platform.
Viddyoze is similar to Artgrid. Except they focus more on stock animations vs real-life footage.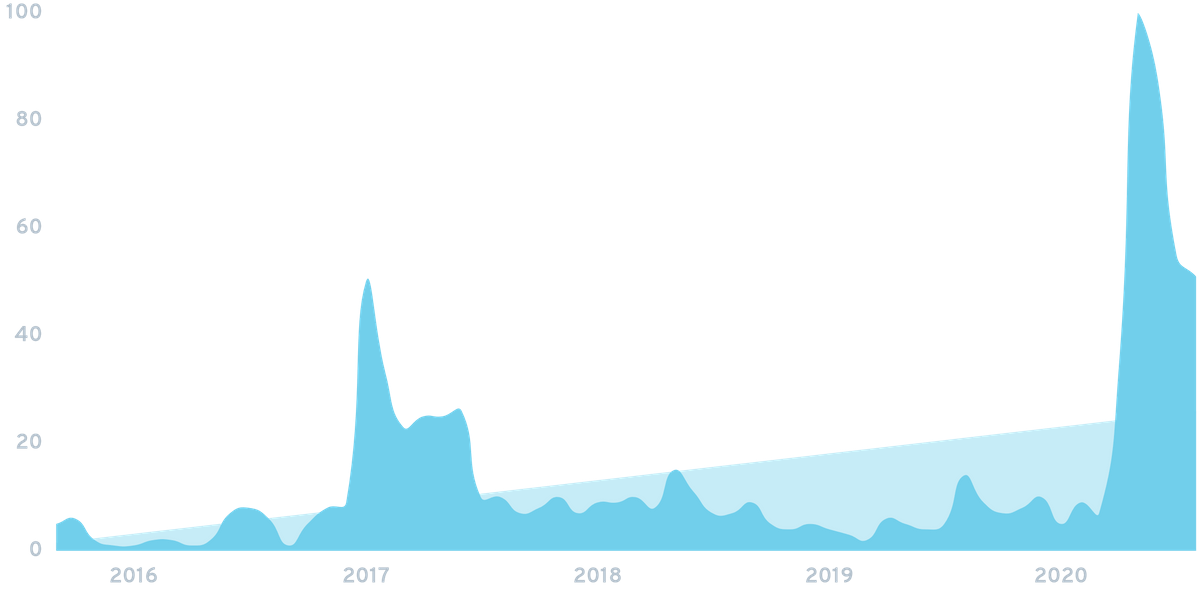 Searches for video editing tool Viddyoze has doubled over the last year.

Viddyoze also has editing features built into the platform. Which, again, is designed to make video creation a bit more accessible. In this case, by making is to users don't need to learn how to use a separate piece of video editing software (like Adobe After Effects).
6. Businesses Opt For Niche Email Service Providers
One of the most surprising martech trends is the slew of email service providers (ESPs) seeing rapid growth.
The email service provider industry literally started in the 1990s.
So why is the space growing in 2020? Largely due to the growing number of niche email service providers entering the market.
Instead of "one size fits all" tool (like Mailchimp), these niche email marketing platforms tend to focus on one key feature, like newsletter design or simplicity.
For example, Substack separates itself from the Mailchimps of the world by focusing on a relatively niche use-case: people that have a list of paid newsletter subscribers.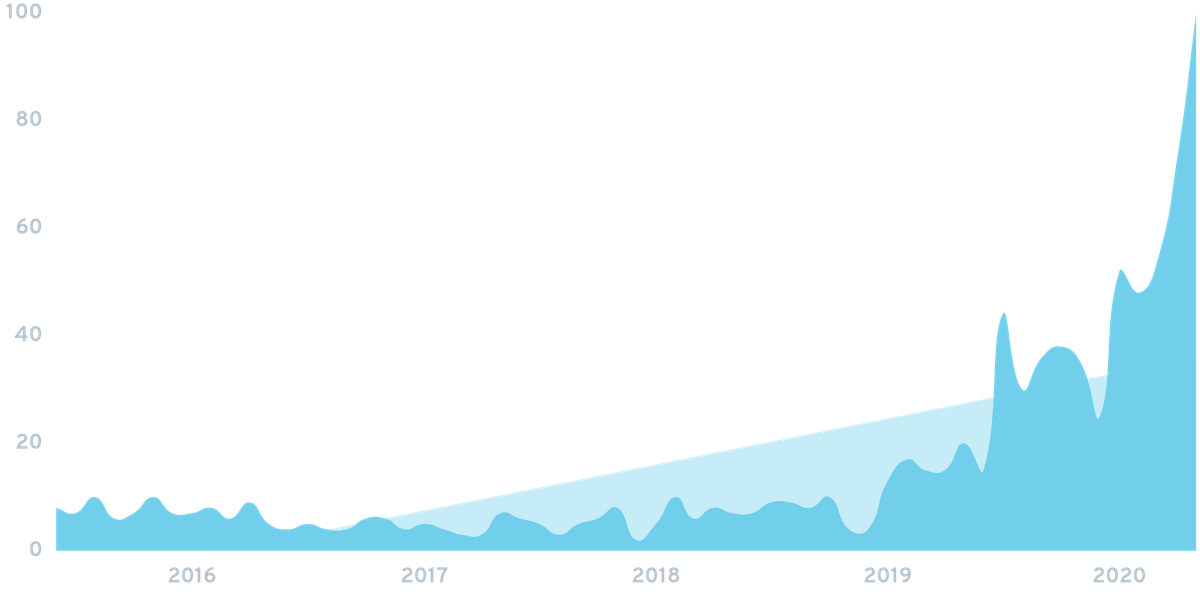 Search growth for Substack.
Substack's pricing model is also unique. Instead of charging a monthly fee, Substack takes a cut of revenue from each customer. In exchange, users can get started for free. And the platform takes care of sending, billing and other tasks required to run a paid newsletter.
7. Ad Campaign Automation Becomes The Norm
Automated advertising campaign management is changing the face of online ads.
Specifically, things like automated bidding and programmatic ads mean that certain aspects of running an ad campaign can be handled with AI.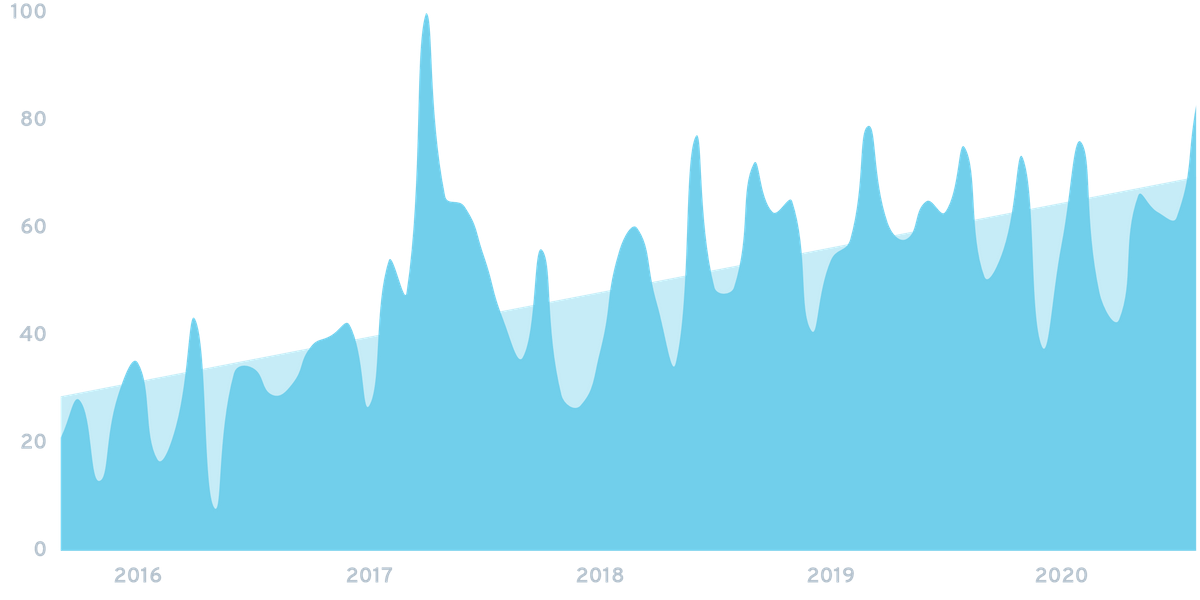 Searches for the search term "programmatic ads" over time.
To be clear: a human still needs to manage the campaign. And to develop ad creatives, write copy and calculate ROI.
But a good chunk of ad management, from split testing to finding the right target audience on Facebook, is becoming automated.And
8. Brands Double Down On Personalization
According to HubSpot, personalization is the #1 way that marketers improve their email marketing performance.
That's because, when done right, rationalization can dramatically improve customer experience. Increase conversions. And more.
In fact, searches for "marketing automation" have increased by 144% over the last 5 years. And show no signs of slowing down.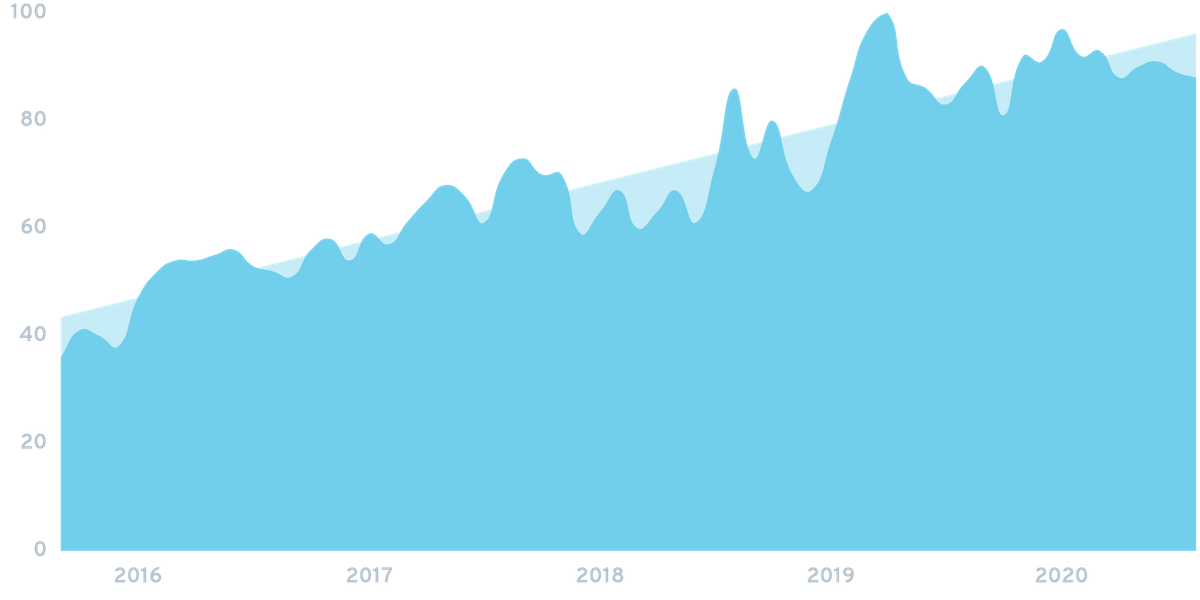 Marketing automation remains a hot topic in the marketing world.
The early days of personalization were dominated by bulky, complicated software suites, like Ontraport.
Today, many more accessible tools have personalization features.
For example, the popular ESP ConvertKit has a number of basic personalization options. But it's price point and ease of use is designed more for single-person businesses than enterprise customers.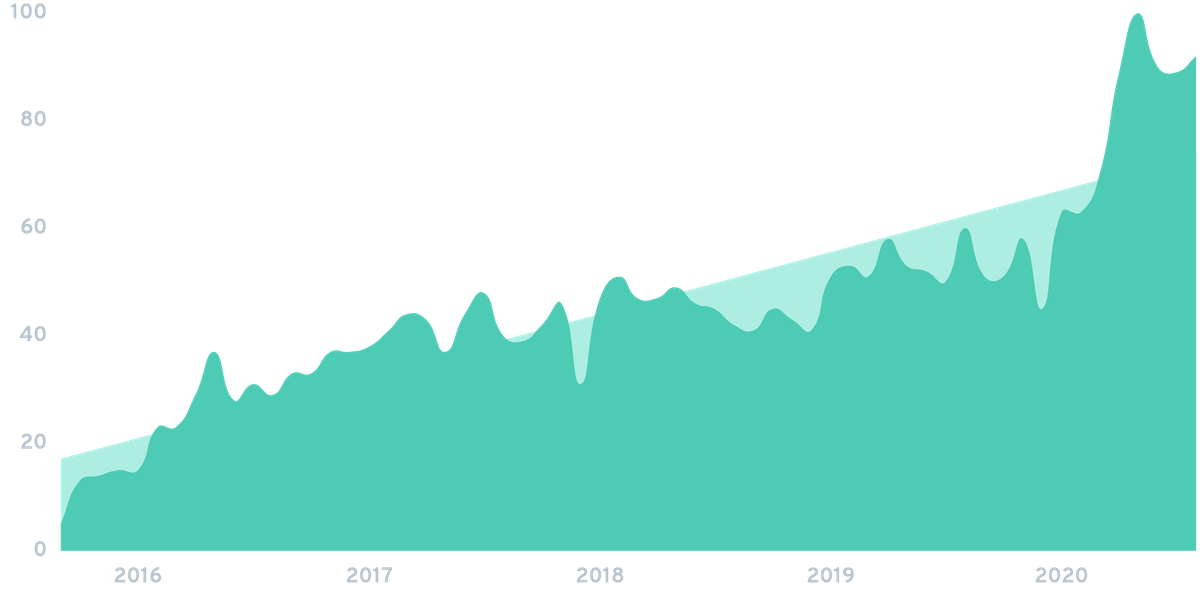 ConvertKit has light marketing automation features.
9. Demand For SEO Software Continues to Grow
Like email service providers, SEO software is far from a brand new category.
Despite that, the space continues to see steady growth.
For example, Ahrefs is slowly becoming one of the market leaders in the space (based on search volume growth and purported revenue numbers).

Interest in SEO software suite Ahrefs is steadily increasing.
Mangools is in the same category as Ahrefs. However, they're competing on price rather than trying to replicate the features of a full-blown SEO software suite like Ahrefs.
These tools represent a growing interest in search engine optimization as a whole. Especially for SEO martech that serves a specific niche.
A great example of this kind of niche SEO tool demand is "Shopify SEO".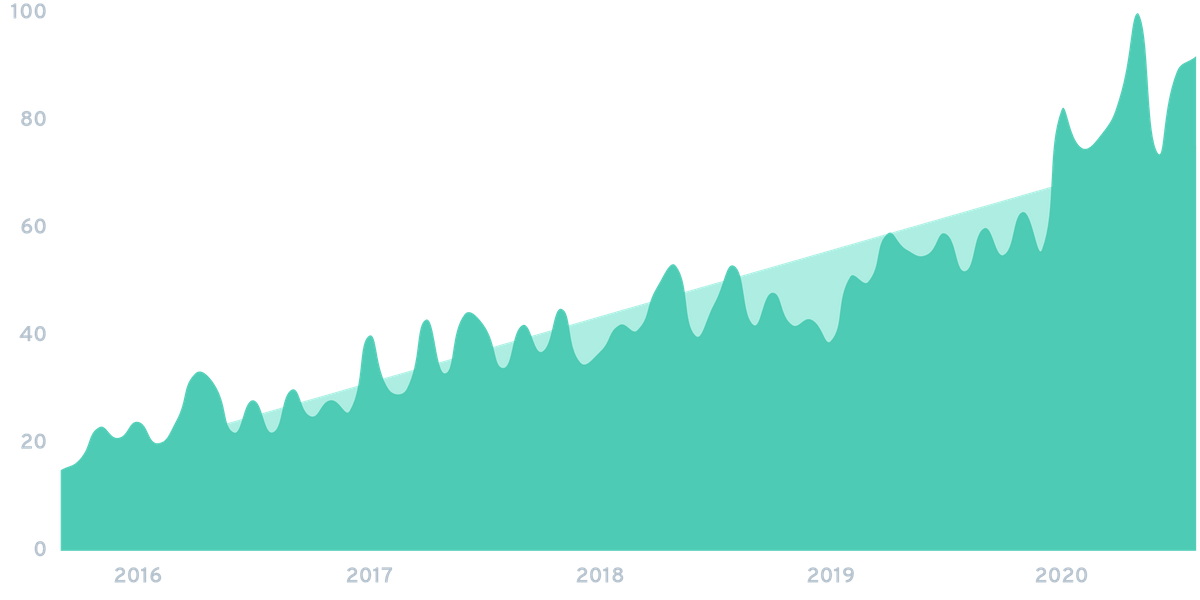 Searches for "Shopify SEO" are rising.
While those searches don't all represent demand for tools. Some are looking for information. It does show that marketers are increasingly seeking out niche SEO tools that are designed specifically for their needs (this is also known as "vertical SaaS").
Conclusion
That's it for our list of important trends in the martech space.
From marketing automation to podcast editing, the martech industry is one of the fastest-moving on the planet.
Hopefully this post helped you get ahead of the curve to see what's coming next.
If you enjoyed this article, feel free to check out our list of interesting edtech trends.
Last Updated: 
December 28, 2020