34 Amazing Cloud Computing Stats (2023)
This is a collection of 34+ regularly-updated cloud computing statistics.
Cloud services let businesses take their productivity to the next level. Companies store and process customer data on cloud servers. Countless teams work remotely on cloud-based software apps like Salesforce, Zoom, and Slack.
So it should come as no surprise that cloud computing is a multi-billion dollar industry that's experiencing growth year after year.
But how big is the cloud computing market, exactly? And what are cloud providers doing to keep data safe?
Read these cloud computing stats to find out.
Contents
Top 2023 Cloud Computing Stats
Here are a selection of notable cloud computing statistics:
The cloud applications market is worth over $150 billion
200 ZB of data will be stored in the cloud by 2025
60% of the world's corporate data is stored in the cloud
Cloud data centers account for 3% of the world's energy consumption
Cloud infrastructure services generate $178 billion per year in revenue
90% of large enterprises have adopted a multi-cloud infrastructure
Enterprises use an average of 2.6 public and 2.7 private clouds
For more information surrounding these stats, plus much more, read on below.
Cloud Computing Market Stats
Three key segments make up the cloud computing market — Software as a Service (SaaS), Infrastructure as a Service (IaaS), and Platform as a Service (PaaS). Together, these segments allow users to access software, store data and develop new apps 100% remotely.
The cloud applications market is valued at over $150 billion (Apps Run The World)
As of 2023, the cloud applications market is valued at approximately $153.6 billion.
The market has grown year-over-year from $30.4 billion in 2013, surpassing the $100-billion mark in 2018.
By 2025, the cloud applications market is expected to be worth $168.6 billion.
200 zettabytes of data will be stored in the cloud by 2025 (Cybercrime Magazine)
Humans generate an insane amount of data on a daily basis. In Arcserve's Data Attack Surface Report, Cybersecurity Ventures predicts that we'll have 200 ZB of data by the year 2025. Half of that data will be stored in the cloud.
Public cloud services spending could reach almost $600 billion in 2023 (Gartner)
Gartner's latest projections have end-user spending on public cloud services totaling $591.8 billion in sales in 2023. That's a 20.7% increase from 2022's $490.3 billion - higher than the previously forecast 18.8% growth for that year.
Almost $200 billion is forecast to be spent on SaaS in 2023 (Gartner)
SaaS currently makes up around one-third of total public cloud service spending.
The top 3 areas of spending are:
SaaS - $195 billion
IaaS - $150 billion
PaaS - $136 billion
Cloud infrastructure services generate $178 billion per year in revenue (Synergy)
Cloud infrastructure services — including Infrastructure as a Service (IaaS), Platform as a Service (PaaS) and hosted private cloud — pulled in over $50 billion in sales during the 4th quarter of 2021 alone.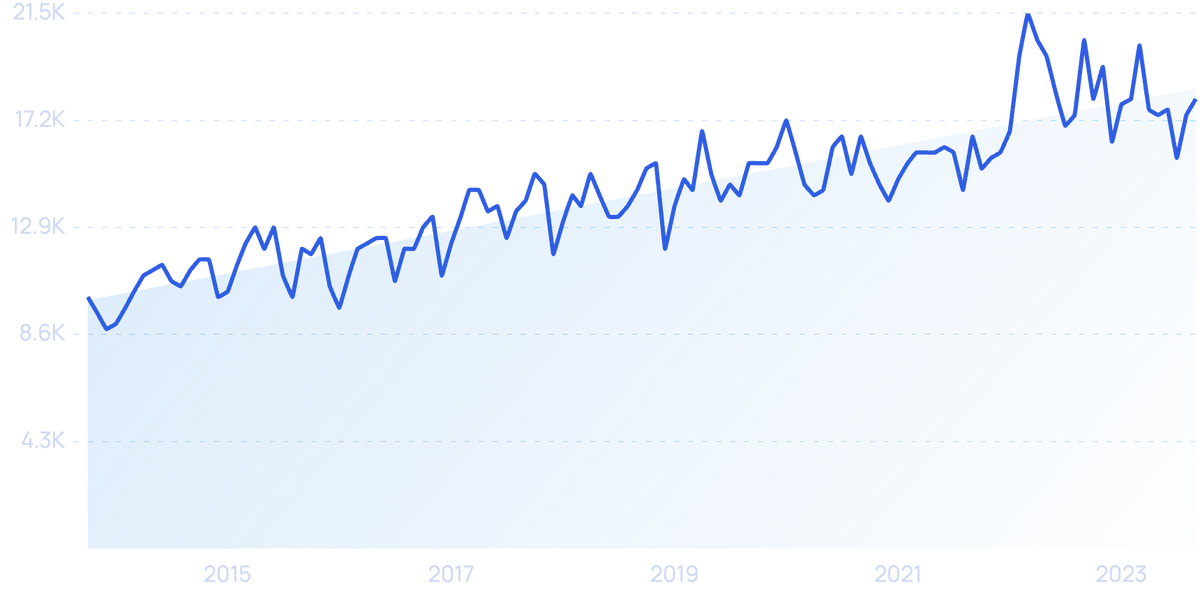 Interest in "infrastructure as a service" has jumped up 79% over the past 10 years.
Global cloud infrastructure spending is projected to reach $1.35 trillion by 2027 (IDC)
Year after year, shared, private, and hybrid cloud solutions grab more IT infrastructure market share from non-cloud solutions. Cloud spending is expected to grow signficantly over the next several years. Demand is especially high in Canada, the Asia/Pacific region, and Central and Eastern Europe.
The cloud gaming market could be worth over $6 billion by 2024 (Newzoo)
While cloud gaming makes up a tiny fraction of the gaming market, it's expected to quadruple from its 2021 market value of $1.5 billion. Cloud gaming services include Playstation Now, Xbox Cloud Gaming, Amazon Luna, and GeForce Now.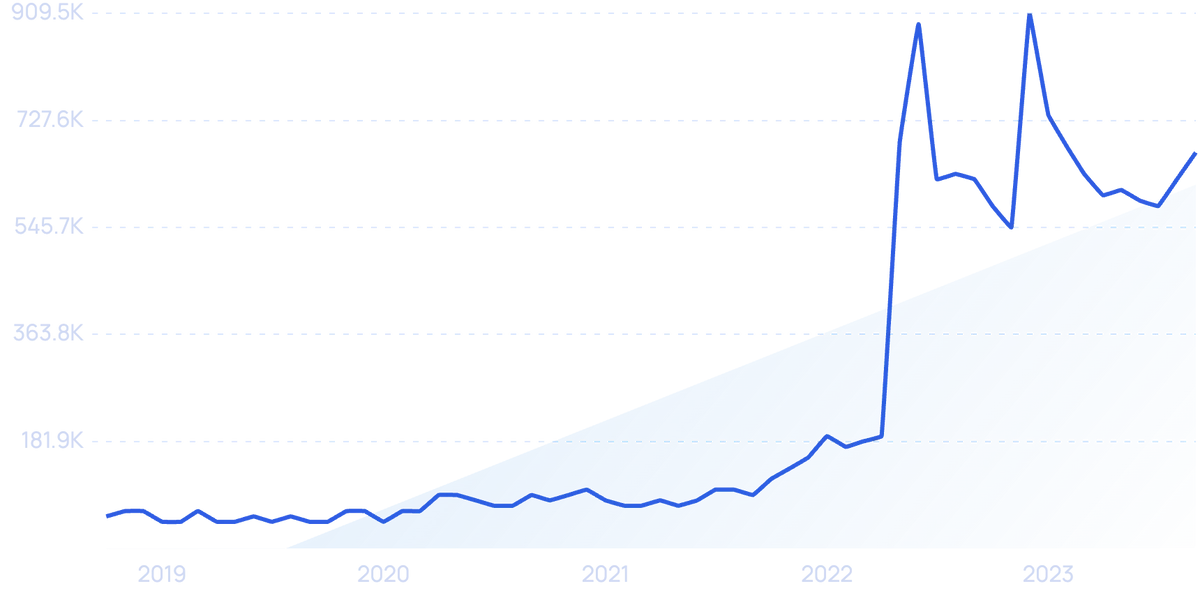 "Cloud gaming" gets nearly 700,000 Google searches every month.
36% of commercial real estate executives plan on investing in cloud computing (Deloitte)
Deloitte surveyed 400 commercial real estate executives and asked which technologies they planned on investing in. Cloud computing was the top response. It was more popular than blockchain, artificial intelligence, and data analytics.
Amazon S3 owns 44% of the enterprise cloud storage market (Statista)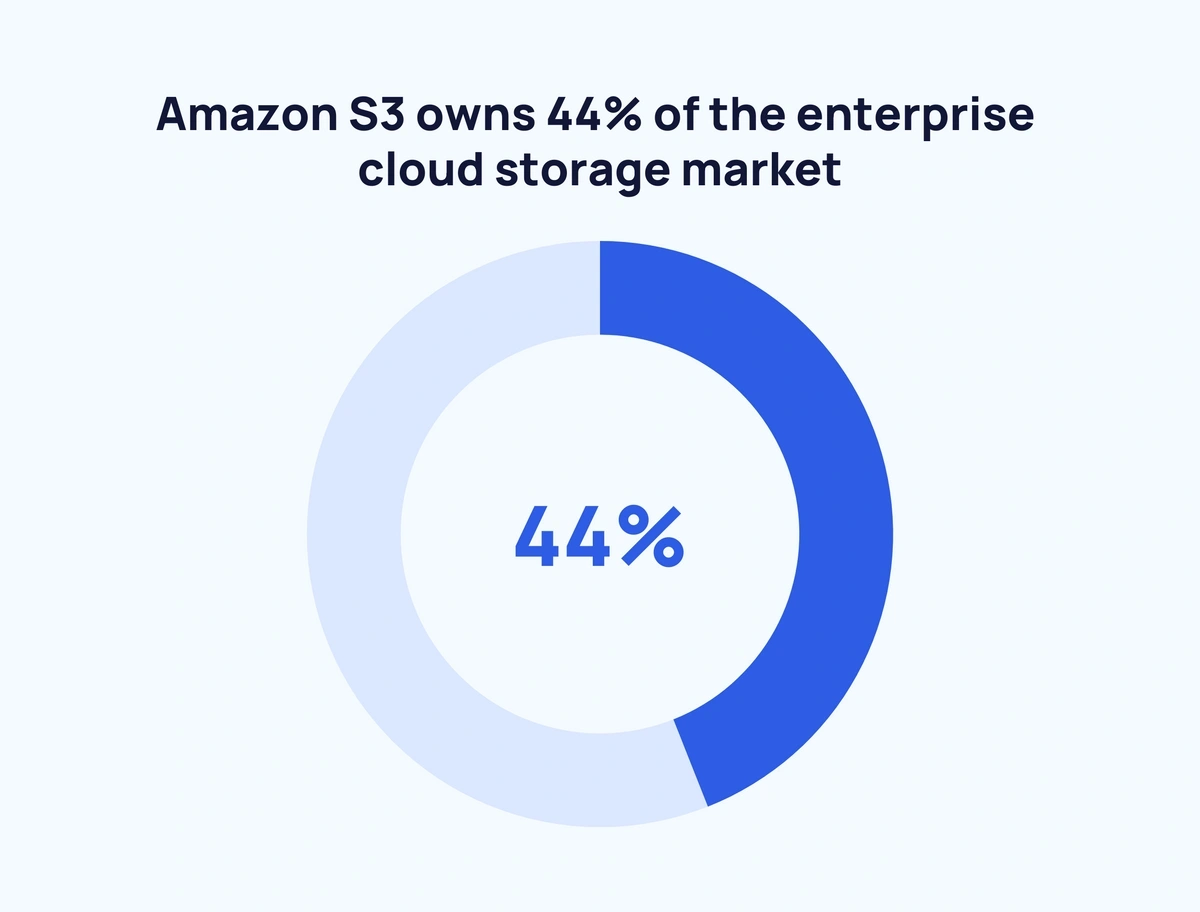 Amazon S3 — part of the Amazon Web Services family — absolutely dominates the enterprise cloud storage market. Its closest competition is Pure, which owns just 11% of the market.
Amazon owns 33% of the cloud provider market share (Synergy)
Amazon's dominance in the cloud infrastructure market has held steady since at least 2017. Microsoft's market share is just over 20%. Google, Alibaba, and IBM round out the top 5 providers, each with less than a 10% share of the market.
Cloud data centers account for 3% of the world's energy consumption (BMC)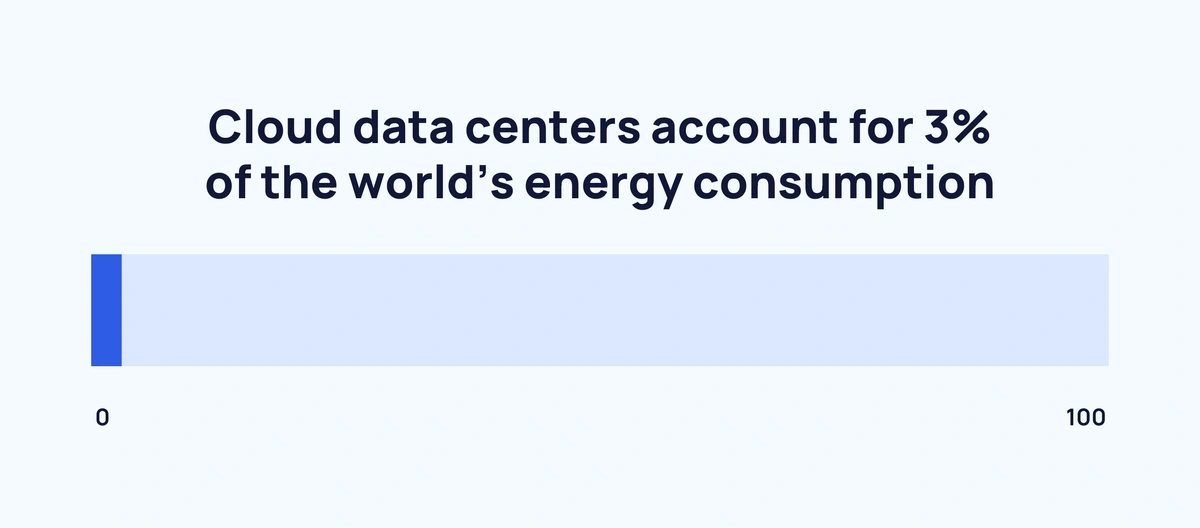 All that data in the cloud still needs a physical home. Cloud data centers contain the millions of servers needed to transmit data throughout the cloud. BMC's report predicts that cloud data centers' global energy consumption could soon jump to 8%.
Enterprise Cloud Computing Stats
All three cloud computing segments work together to make companies more flexible and profitable. Today, the average company uses multiple clouds and dozens of cloud-based software applications.
90% of large enterprises have adopted a multi-cloud infrastructure (HashiCorp)
76% of organizations worldwide use a multi-cloud — at least one shared and one private cloud — operating model. Large enterprises were the most likely to use multi-cloud, while only 60% of small businesses and 76% of mid-sized organizations had multi-cloud infrastructure.
Most organizations don't use multi-cloud management tools (Flexera)
While the vast majority of companies are multi-cloud, many don't take advantage of management tools. 42% use multi-cloud cost management tools, 38% use multi-cloud security tools, and 33% use multi-cloud governance tools.
82% of enterprises use a hybrid cloud model (Flexera)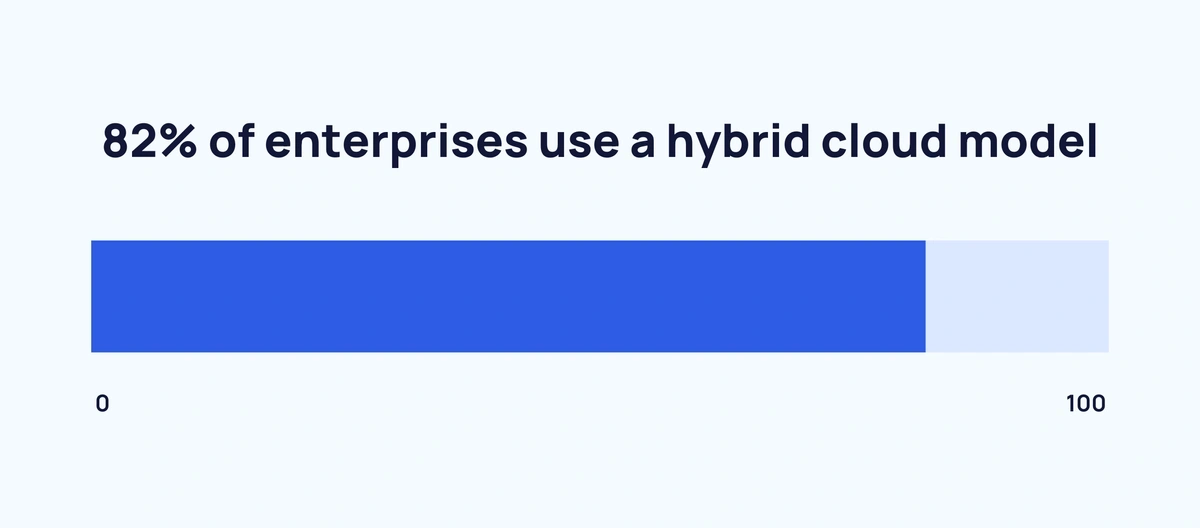 A hybrid cloud — a combination of private and public clouds — is the strategy of choice for enterprise companies. 43% use multiple public and multiple private clouds, while only 11% use a single public and a single private cloud
Enterprises use an average of 2.6 public and 2.7 private clouds (Flexera)
Enterprises have accepted the hybrid cloud model and they're ready to expand. On average, enterprises are experimenting with adding an additional 1.1 public and 2.2 private clouds.
53% of IT decision-makers say multi-cloud helps them achieve their business goals (HashiCorp)
Multi-cloud has proven successful for organizations around the world. Larger enterprises see the most benefits. 64% of IT decision-makers at companies with 100,000 or more employees say multi-cloud has had a positive impact.
Less than half of traditional small businesses use cloud infrastructure or hosting services (TechRepublic)
Traditional small businesses are starting to implement cloud computing technology, but they're struggling to keep up with tech-based small businesses and enterprise companies. 44% of traditional small businesses use cloud infrastructure or hosting compared to 66% of tech-based small businesses and 74% of enterprise companies.
48% of tech companies invest in cloud computing technology innovations (Gartner)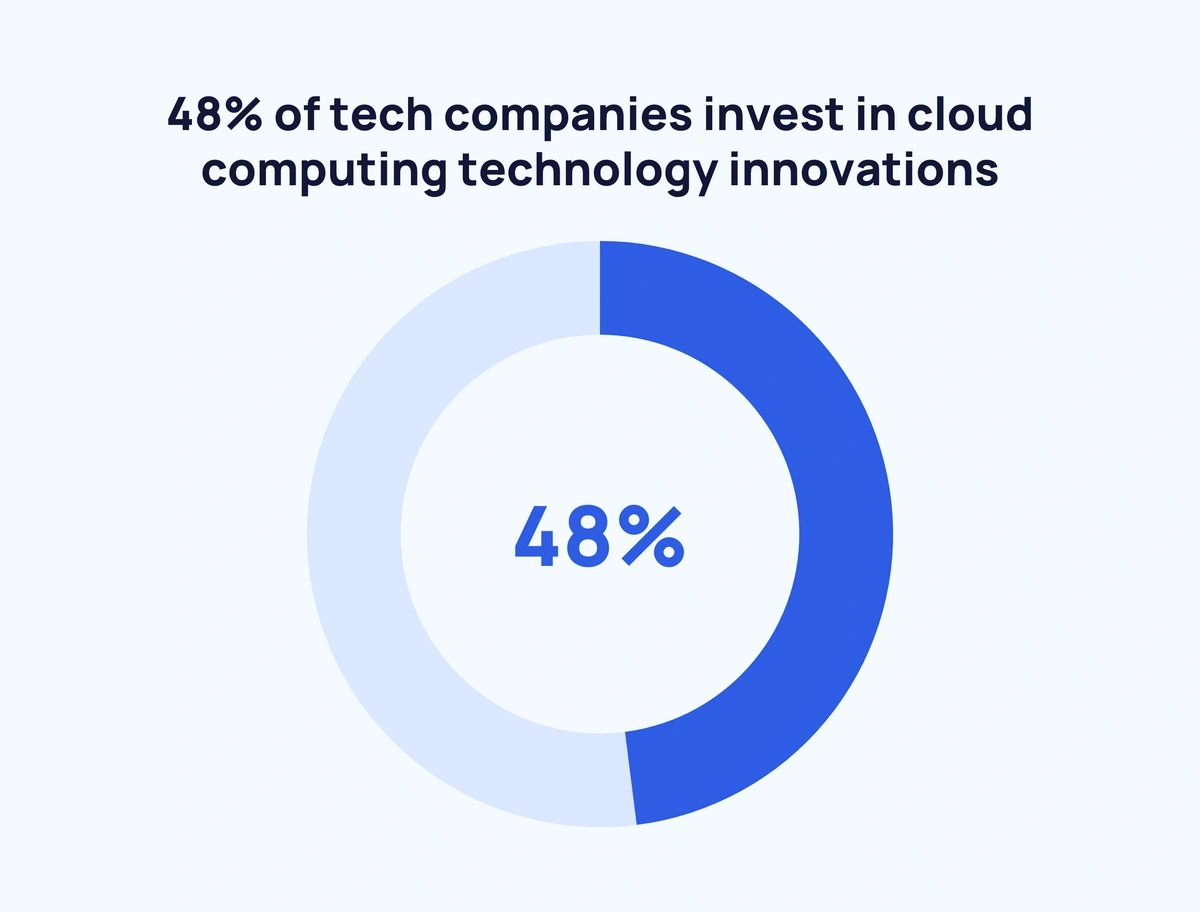 Gartner's survey of 268 tech company leaders found that cloud computing was the top tech innovation investment in 2021. Beyond the cloud, 35% invested in artificial intelligence, 32% in software, and 15% in the Internet of Things.
31% of enterprises spend over $12 million per year on public cloud (Flexera)
Public cloud budgets are growing across all industries. 30% spend between $2.4 and $12 million, while just 11% spend $600,000 or less.
Cost is the biggest factor holding companies back from adopting multi-cloud infrastructure (HashiCorp)
Multi-cloud infrastructure is clearly the next big step for enterprises of all sizes, but many still face challenges adopting the new technology. 51% of IT decision-makers say cost is the biggest prohibiting factor. Other factors are security (47%), skills shortages (41%), complexity (35%) and compliance (33%).
270 million people use Microsoft Teams every day (Business of Apps)
Racing to catch up with competitors like Slack and Zoom, Microsoft attracted 95 million new Teams users in 2020. And another 125 million in 2021. Today, over 500,000 companies use Microsoft Teams, which is included in Microsoft 365.
34.7 million Americans have the option to work remotely (Statista)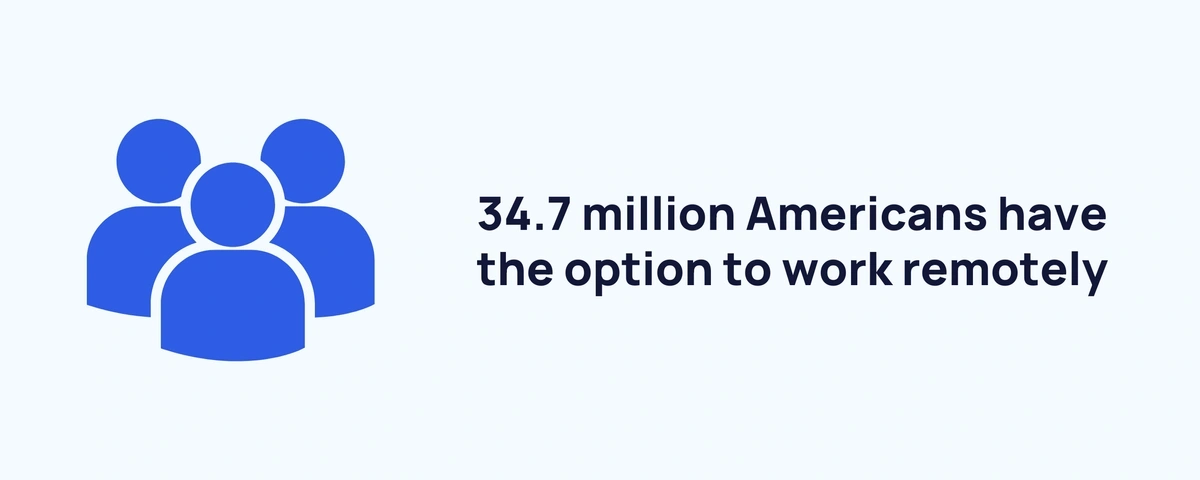 One of the benefits cloud computing brings to organizations is remote work. Cloud-based meeting software like Zoom allows teams to stay productive despite being separated by thousands of miles. 71% of employees say remote work makes them more productive and helps their mental health.
1 in 3 remote workers say they'd rather quit their jobs than return to the office (Robert Half)
Cloud computing technology has not only made remote work more accessible, but it's also shed light on people's work preferences. 49% of workers say they actually prefer a hybrid work system — splitting time between in-office and remote work.
Cloud Computing Security Stats
With more and more of the world's sensitive data stored on cloud servers, cloud security is a top concern.
60% of the world's corporate data is stored in the cloud (Thales)
98% of corporations store at least some of their data on the cloud. In total, it's estimated that 60% of all corporate data is in cloud storage — 2x more than 30% in 2015. And up 10% from 2021.
All that data in the cloud represents a cybersecurity risk, as up to 48% of cloud-stored data is considered sensitive.
51% of companies don't use encryption or tokenization to protect data stored on the cloud (Panda)
With half of the corporate data stored on the cloud, companies are slow to keep up with security measures. Just 32% believe it's their responsibility to protect that data, according to Panda Security's report.
Security is the biggest cloud computing challenge faced by enterprises worldwide (Flexera)
The difficulty aspect may be the reason that enterprises are slow to bolster their cloud security. In a survey of 750 cloud decision-makers, 81% said security was a top challenge, more than managing cloud spend (79%), governance (75%), and compliance (75%).
Data loss and data privacy are the leading cloud security concerns (Statista)
In a survey by ISC2, 64% of respondents named data loss and leakage as a top cloud security concern, while 62% mentioned data privacy and confidentiality. Other top concerns were the exposure of credentials and regulatory compliance.
Personal Cloud Storage Stats
Cloud computing gives everyday users a way to store and send hundreds of gigabytes of data without worrying about using up physical hard drive space.
Google Drive is the most widely used personal cloud storage service (GoodFirms)
Personal cloud storage gives users a place to store files away from their hard drives. GoodFirms' survey of 600 global users found that 94% of them used Google Drive. Most people surveyed used more than one service. 64% used Dropbox, 39% used OneDrive, and 38% used iCould.
Dropbox has over 700 million registered users across 180 countries (Dropbox)
Dropbox is one of the world's leading cloud storage providers, appealing to both enterprises and
individuals. Dropbox generated $2.158 billion in revenue in 2021.
71% of people use cloud storage services to store their photos (Statista)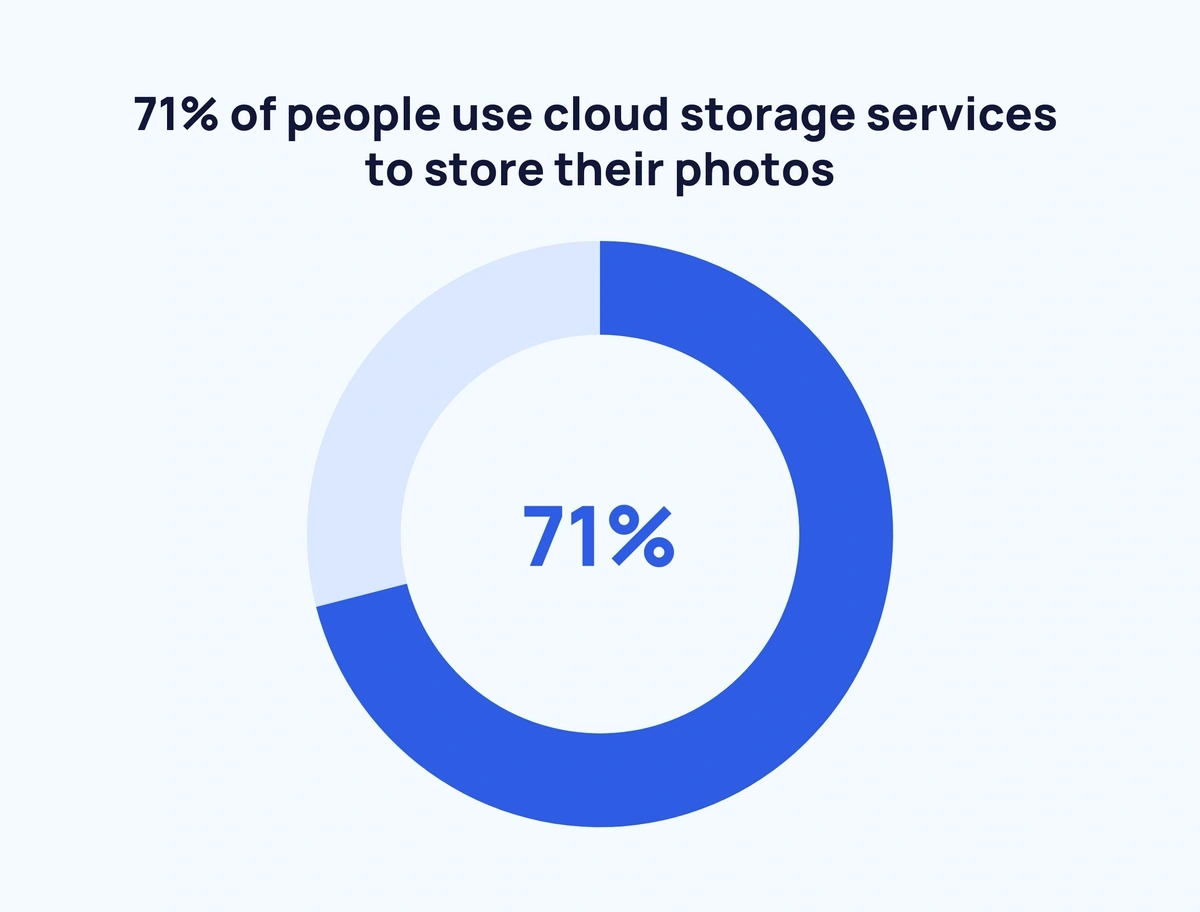 People use cloud storage for many reasons, from backing up important files to storing office documents. Of all the uses for cloud storage, storing personal photos is the most popular.
65% of people use personal cloud storage as their primary data storage option (GoodFirms)
With high data limits and automatic syncing, personal cloud storage is more popular than local storage. Adoption varies across age groups, with 86% of Gen Z committed to personal cloud storage as opposed to 66% of Millennials and 60% of Gen X.
iCloud subscriptions make up more than one-third of all Apple subscriptions (Statista)
iCloud 200 GB made up 13% of all App Store subscriptions in the first half of 2021. iCloud 50 GB made up 8% and iCloud 1TB 7% of subscriptions.
Cloud Infrastructure Service Provider Stats
Several major tech companies are involved in the cloud infrastructure service space, including Google and Amazon.
Amazon Web Services has a 34% share of the cloud infrastructure service market (Statista)
As of Q3 2022, Amazon Web Services (AWS) has the largest single market share in the cloud infrastructure service space.
Azure has the second-largest share with 21%. While Google Cloud has an 11% market share.
AlibabaCloud (5%), IBM Cloud (3%), Salesforce (3%), Tencent Cloud (2%), and Oracle (2%) make up the rest of the top cloud infrastructure service providers by market share.
The eight largest cloud infrastructure providers control over 80% of the market (Statista)
In the previous 12 months leading up to Q3 2022, cloud infrastructure companies spent approximately $217 billion.
Just eight companies were largely responsible for that spending, making up 81% of the total market.
Wrap Up
As you can see from our list of cloud computing statistics, each cloud computing segment — software, infrastructure, and platform — generates tens of billions in revenue every year.
Companies use cloud services to scale up their operations without having to worry about physical storage and server maintenance. Cloud software lets their teams communicate and work remotely, leading to higher job satisfaction and productivity.
Cloud-based games, apps, and file storage let everyday users enjoy the benefits of cloud computing.
We've also reached a point where most of the world's data is now on the cloud. Protecting sensitive data and avoiding cloud data breaches will be more important than ever as we move forward.
Cloud computing is a central part of today's tech landscape. And it's only going to keep growing in the future.
For more related posts, take a look at 7 cloud computing trends and 25 growing cloud computing startups.