23+ Customer Experience (CX) Statistics For 2024
"The customer is always right" is a time-honored mantra in the customer service world.
Today, customer service has evolved into customer experience or CX.
It's not enough to wow a customer at the point of sale. Instead, today's brands are expected to provide a positive experience throughout every step of the customer journey.
Modern companies have entire departments dedicated to engineering the ideal customer experience. But how much does CX affect companies' bottom line? How much does it matter to customers?
Read these latest customer experience statistics to find out.
Contents
Top Customer Experience Statistics
Before exploring these CX topics in-depth, have a look at some of the more notable statistics:
The global customer experience management market is worth $12.04 billion.
3 in 4 American shoppers say customer experience is the #1 factor when choosing between competing brands.
86% of consumers say they would leave a brand after only 2 poor customer service experiences.
Customers are 2.4x more likely to remain loyal to brands that quickly solve customer service issues.
Brands that deliver great customer experiences can achieve revenue growth 4-8% more than the industry average.
Customer Experience Market Statistics
Customer experience management, software, and service companies make up an industry that's worth tens of billions of dollars. As brands from nearly every vertical expand their digital and mobile footprints, the need for innovative new CX approaches continues to grow.
The customer experience management market is currently valued at $12.04 billion (Grandview Research)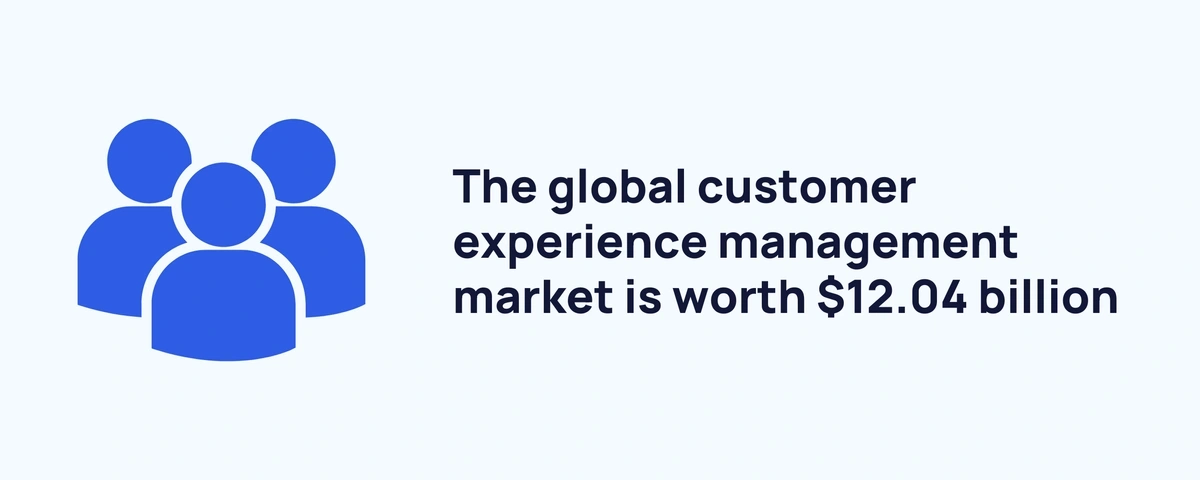 Global consumers are demanding better experiences from brands across all industries. That demand is pushing the CX industry to new heights, setting the market up for explosive growth throughout the 2020's. Grandview Research predicts the market will hit $32.87 billion by 2030. That's a 15.4% CAGR.
CX's impressive growth trend is already evident through Google searches for "customer experience tool".
The CX personalization & optimization software and services market is projected to reach $11.6 billion by 2026 (Dash Research)
Market predictions reflect the growing role of personalization in CX strategies. The CX Personalization & Optimization software and services market is expected to hit $11.6 billion in revenue in 2026. That's a 65% increase from the $7 billion in revenue achieved in 2020.
Customer Experience: Consumer Perspectives
Customer experience is all about the customer. So how do brands' CX endeavors stack up in the eyes of consumers?
3 in 4 American shoppers say customer experience is the deciding factor when choosing between competing brands (PwC)
73% of global consumers say they consider customer experience when making purchase decisions. That percentage can vary wildly when considering shoppers from individual countries. In Brazil, 89% of shoppers factor CX into their purchase decisions. In Japan, only 31% do the same.
As many as 86% of consumers claim they would leave a brand after 2-3 bad customer service experiences (Emplifi)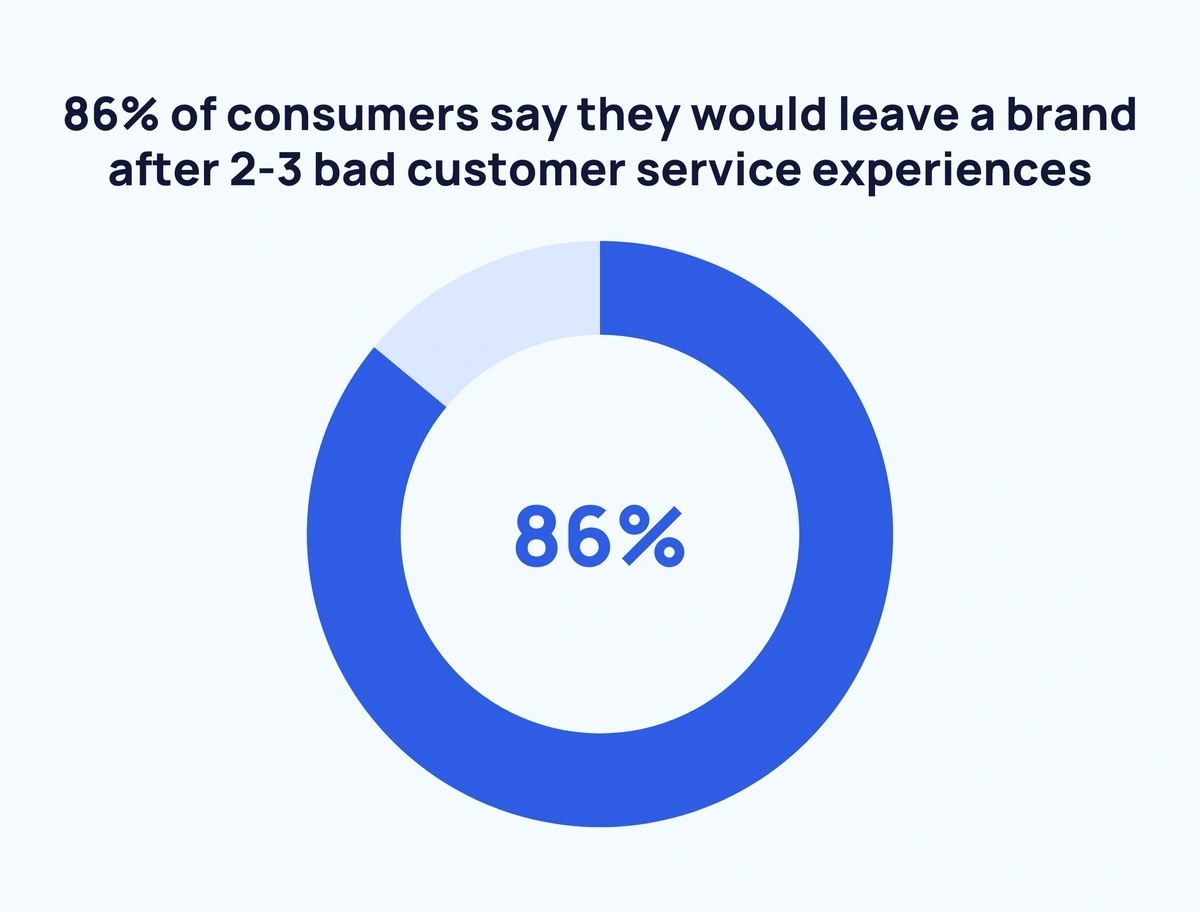 Brand loyalty is a powerful force in business, but it needs to be nurtured to survive. Just a handful of bad experiences can turn up to 86% of customers away from a brand they're loyal to. 49% of consumers admit to leaving a brand they were loyal to over the past six months due to poor customer experience.
Consumers will pay up to a 16% price premium for a positive customer experience (PwC)
Delivering outstanding customer experiences has a tangible effect on the price buyers are willing to pay. Shoppers will pay up to 16% for smaller-ticket items like coffee and up to 10% more on sizable purchases like airline tickets.
3 in 4 customers expect consistent interactions across sales, service, and marketing departments (Salesforce)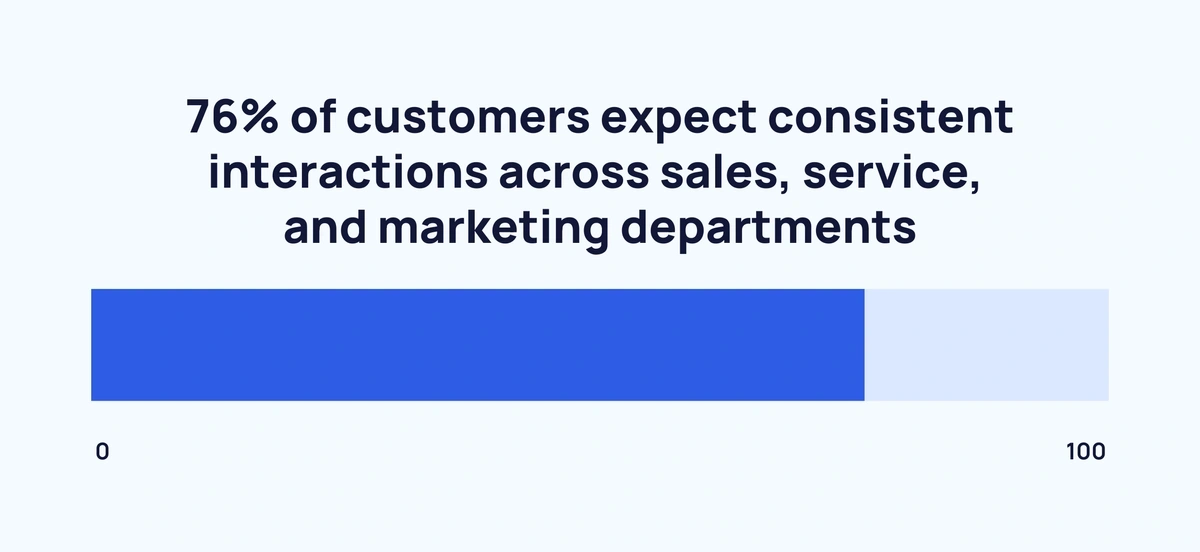 Consistency is king in customer experience. Despite that, 54% of customers admit to feeling a disconnect between sales, service, and marketing departments. Furthermore, 74% say they've had to use multiple channels to complete a transaction.
62% of customers say their experience in one industry affects their expectations of other industries (Salesforce)
Great (and bad) customer experiences have a ripple effect. A good experience in retail can raise expectations for experiences in, say, banking. But customer perceptions of experiences vary by industry.
Consumers view healthcare, hospitality, and retail as the most customer-centric industries. They view manufacturing, financial services, and government as the least customer-centric.
64% of consumers want chatbots to provide the same quality of service as a human customer service agent (Zendesk)
Artificial intelligence in the form of chatbots has an increasingly significant role in CX. But for brands to do it right, their bots need to deliver the same kinds of experience a human would. Brands seem to be catching on, based on the notable spike in searches for "chatbot builder" over the past 5 years:
For 80% of buyers, speed of delivery is a prime factor in customer experience (PwC)
Customers want to enjoy their purchases as soon as possible. More than 40% of buyers say they'll pay a premium for same-day delivery. In fact, efficiency is the most important part of CX for customers—more than convenience or friendly and knowledgeable service.
Customers are 2.4x more likely to remain loyal to brands that quickly solve customer service issues (Forrester)
Responsiveness and communication matter in CX. Customers are 2.7x more likely to spend more money on brands that communicate clearly. When shopping in-store, customers are 10x more likely to recommend brands that can answer all of their customer service questions.
Around 4 in 5 consumers are willing to share personal data in exchange for better customer experiences (PwC)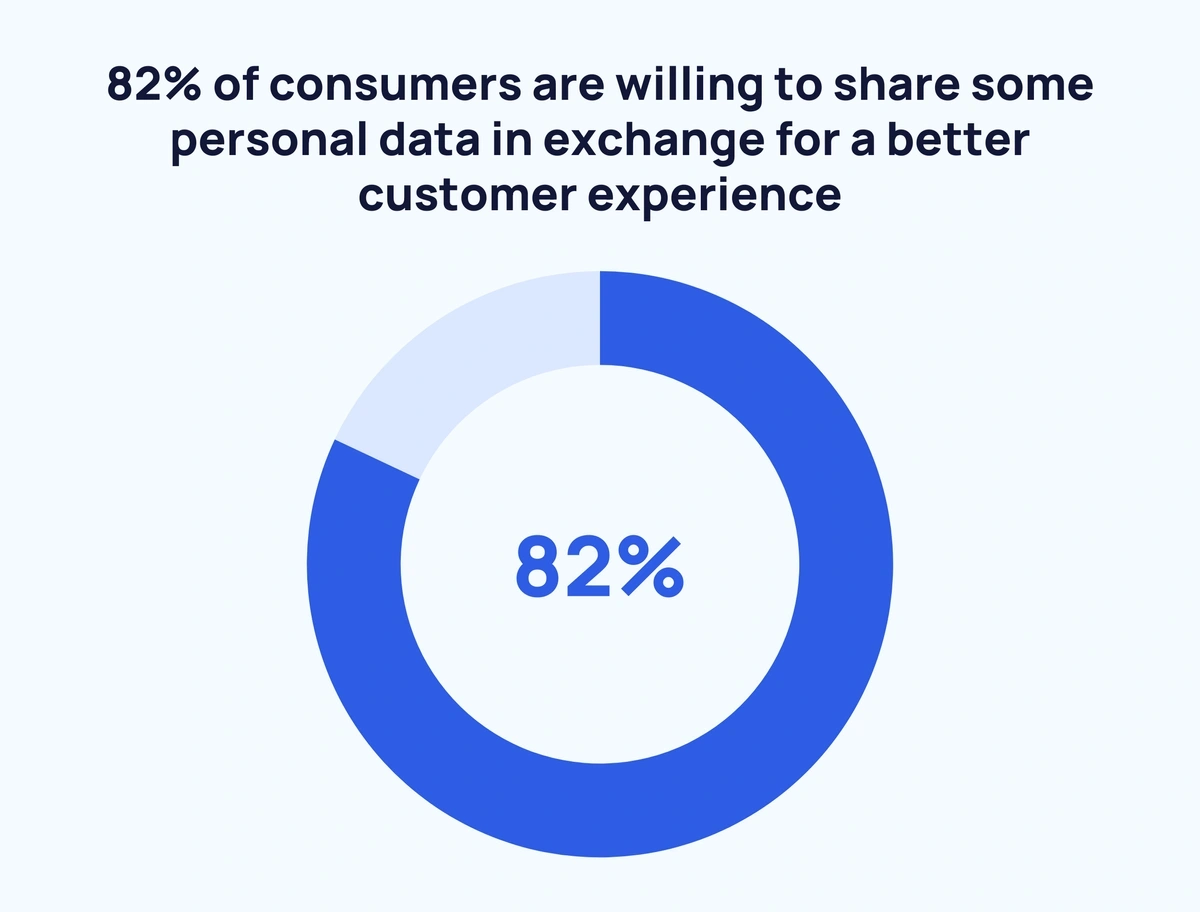 In an age where data privacy is top-of-mind, obtaining helpful data from customers can be an uphill battle for brands. Personalized customer experiences can help alleviate some data privacy concerns among buyers.
61% of buyers say they'll share their email address in exchange for more personalized service. 40% would share their physical address and 35% would share their phone number.
60% of consumers say they'll become repeat buyers after a personalized experience (Twilio)
Personalization is catching on. Back in 2017, less than half (44%) of shoppers said they'd become repeat buyers after a personalized shopping experience. In 2021, Twilio found that this number jumped up to 60%.
For online brands, personalized content can create memorable customer experiences. Interest in personalized content is on the rise: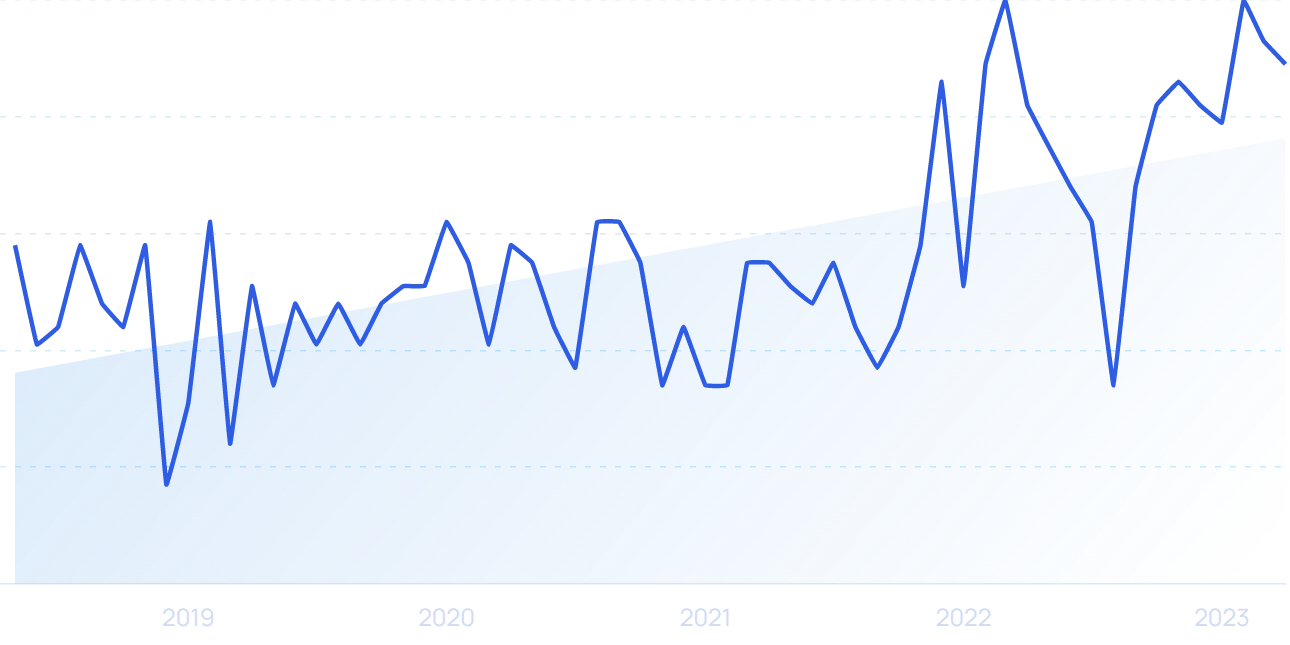 Customer Experience: Brand Perspectives
What does CX look like from the perspective of brands? How much do they prioritize creating memorable customer experiences, and how do they rate themselves on CX execution? These stats explore how today's companies approach CX.
Customer experience is the top 5-year priority for 45.9% of businesses (SuperOffice)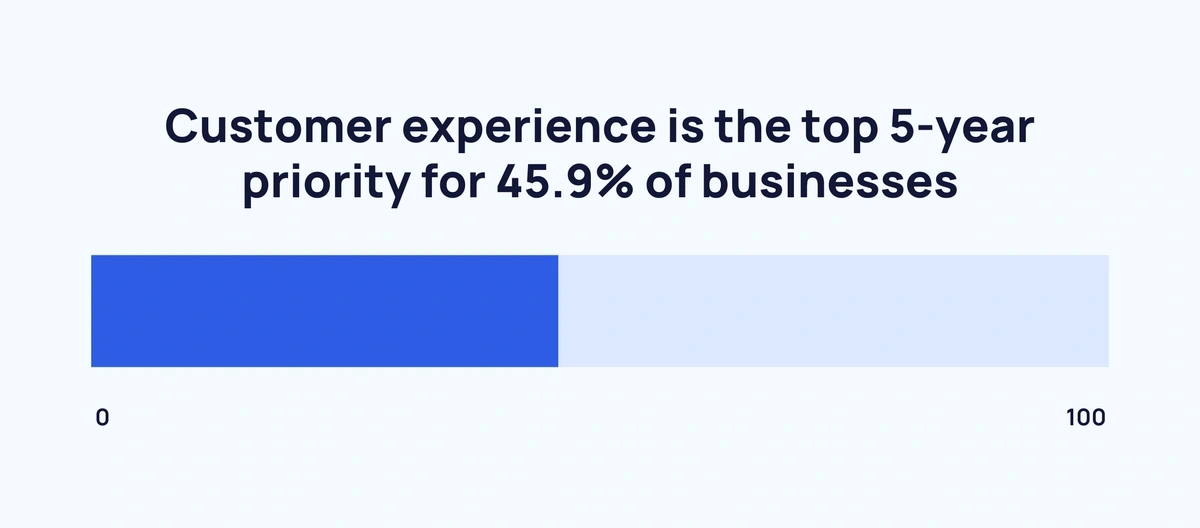 SuperOffice's recent survey of 1,920 business professionals revealed where brands' priorities are for the next 5 years. 45.9% named CX their top priority—beating out product (33.6%) and pricing (20.5%).
41% of "customer-obsessed" companies achieved a 10% or greater revenue growth over the last fiscal year (Forrester)
Brands that hyper-focus on customer experience have a lot to gain. Comparatively, only 10% of companies that didn't focus on CX achieved a 10% or greater revenue growth.
CX programs that exceed management expectations are almost twice as likely to use customer personas (Gartner)
Strategy-driven CX programs owe a lot to customer personas and journey mapping — two areas where many brands struggle to stay ahead.
Just 36% of brands have had customer persona programs in place for the past 3 years, and 79% of organizations fail to use customer personas to effectively support CX initiatives.
The numbers are similar for customer journey mapping. 34% of brands have used journey mapping for 3 or more years, and 83% fail to use them effectively in CX.
Reducing customer effort is the top driving principle behind customer journey design strategy (NTT)
When designing customer journeys, brands place more emphasis on reducing customer effort (44.4%) than anything else. Other principles guiding customer journey strategy are maintaining competitiveness (44.1%), value-based messaging (43.5%), and enabling flexible service delivery options (42.3%).
45% of organizations regard CX as a top 3 performance indicator (NTT)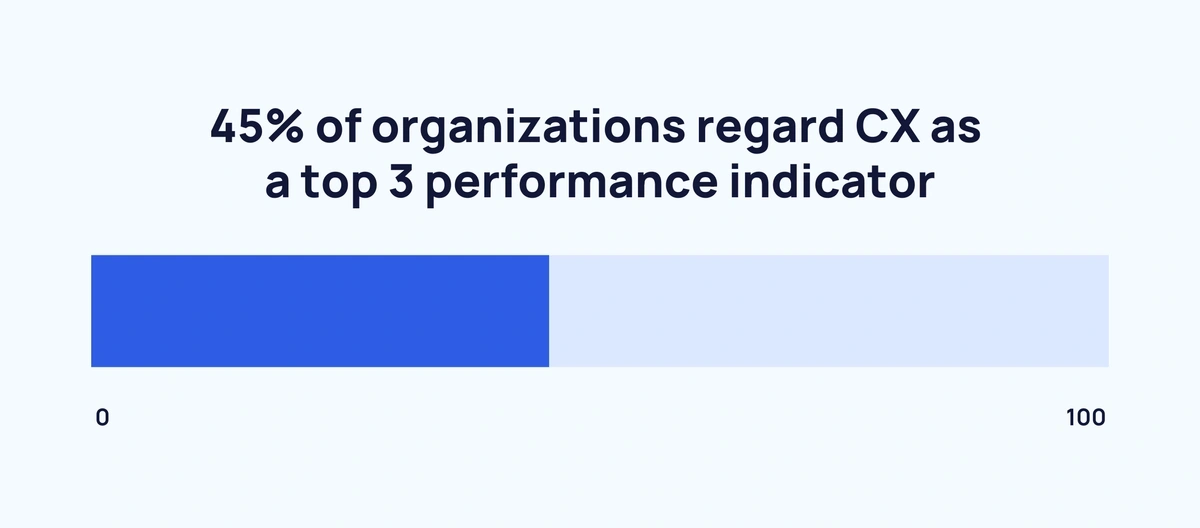 In NTT's latest survey of over 1,300 brands, 45% categorized customer experience as a top 3 differentiator for the 8th consecutive year. Collectively, CX is seen as a more accurate performance indicator than digital transformation (31.4%), brand strength (30.8%), market share (28%), and cost control (27.1%).
Predicting customer needs and behavior is the primary way brands are using AI in customer experience (MarketingCharts)
Predictive analytics is the most common way brands plan to use AI to improve CX. Marketing Charts surveyed 1,000 global brands and asked the question "how are you planning on using AI to improve CX?" Here were the top 5 answers:
Predict customer behavior and needs (60%)
Uncover frequent customer journeys (47%)
Improve omnichannel messaging (45%)
Personalization or hyper-personalization (40%)
Customize content (37%)
70% of CX leaders struggle to increase customer loyalty (Gartner)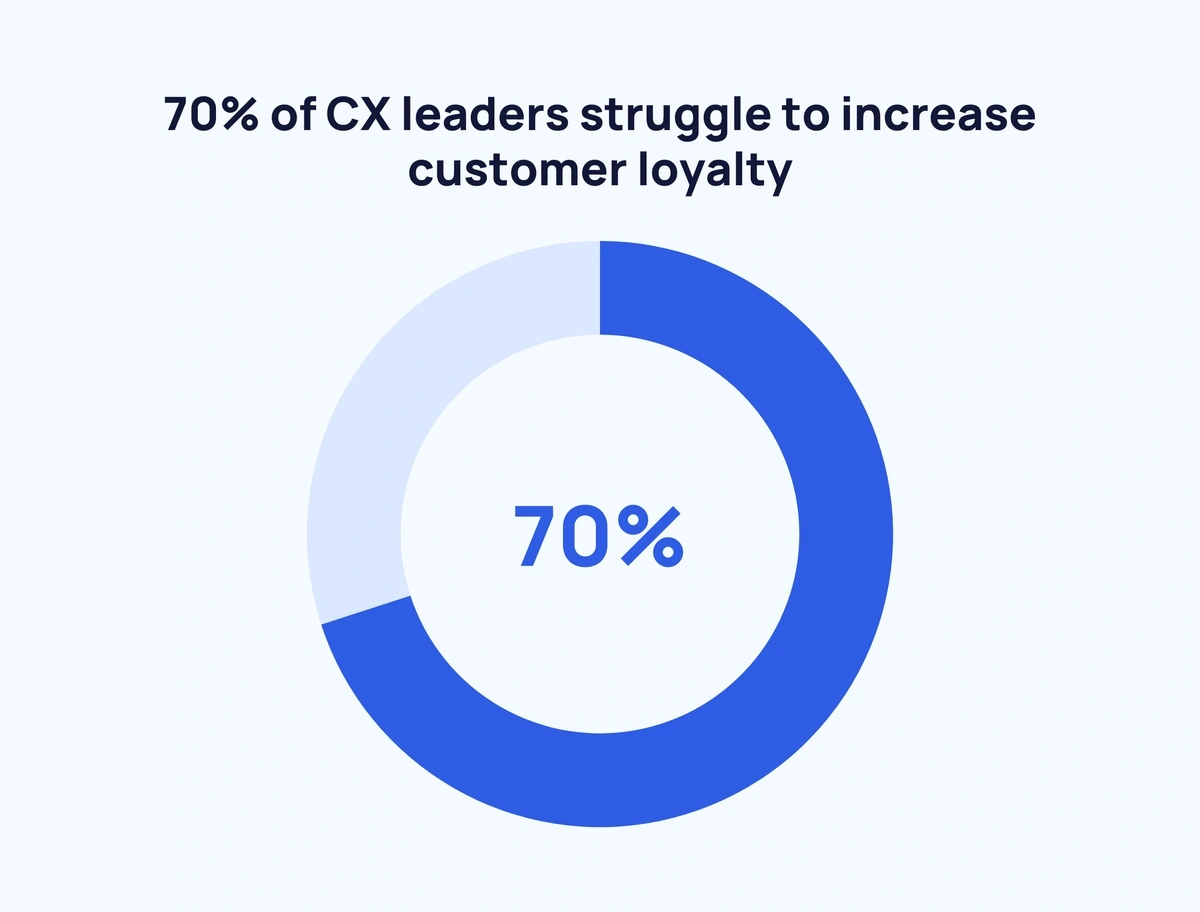 Brands are aware of just how important CX is to their success: 95% of business leaders believe CX teams must deliver world-class customer experiences. But that goal is out of reach for most CX teams, with 7 in 10 falling short.
Innovation is another area challenging CX teams. 63% of business leaders believe that increasing brand loyalty means building innovative new customer experiences. But less than 30% of CX leaders feel they can innovate properly.
Customer Experience Gap Statistics
Brands and buyers don't always see eye to eye when assessing the effectiveness of CX. It's a phenomenon known as the customer experience gap. These stats illustrate the difference between brand and buyer perspectives.
Around 9 in 10 brands think they are providing "good enough" customer experiences (IDC, Emplifi)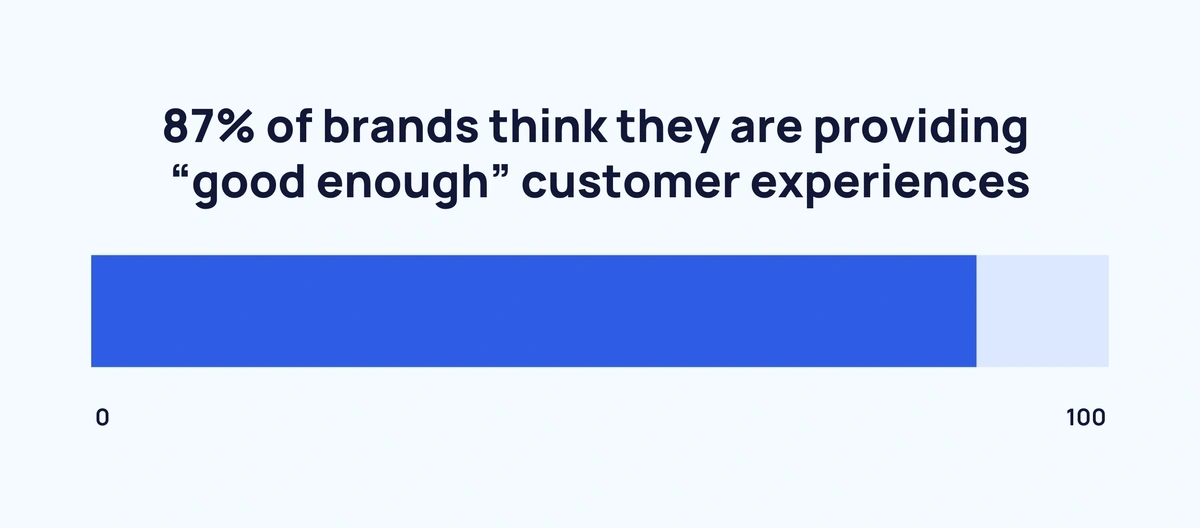 When asked to rate their omni-channel customer experience on a scale of 1-10, 87.2% of brands surveyed rated themselves a 7 or higher. 19.1% of brands rated themselves a perfect 10/10 on CX. How do brands' self-ratings match up with customer perceptions?
60% of customers disagree that brands are providing a good customer experience (IDC, Emplifi)
Only 40% of brand shoppers rate brands' overall customer experience as a 7 or better. Only 11% gave brands a 9 or 10 rating. IDC's research shows that brands still have a long way to go if they want to close the customer experience gap.
Over half of businesses think their customers are satisfied with their self-service options, yet only 15% of customers agree with that sentiment (NICE)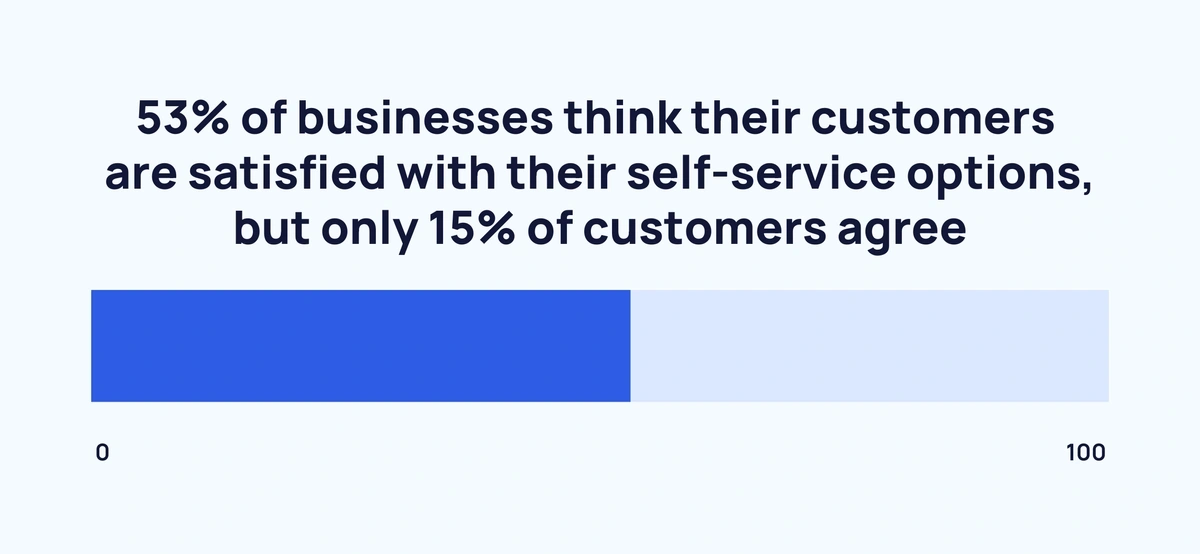 The customer experience gap extends to self-service offerings as well. 40% of businesses think they provide enough self-service options, while 81% of buyers say they expect more.
36% of customers say they want smarter self-service options, something only 11% of businesses are focusing on.
Brands that deliver great customer experiences can achieve revenue growth 4-8% higher than the industry average (Bain)
When brands close the customer experience gap, they create a strong sense of loyalty among their customers. Loyal customers become promoters, who carry a lifetime value 6-14 times higher than detractors.
Wrap Up
Getting CX right is something brands can't afford to mess up. Today's buyers want great experiences at every step of the customer journey.
As brands find innovative new ways to deliver outstanding CX, they create a ripple effect. When buyers are wowed with a great experience, they expect the same thing from other brands.
For brands to stay competitive, they need to keep their CX strategies ahead of the curve. It's "the customer is always right 2.0", and it's a win-win for brands and customers.