47+ Key Digital Transformation Statistics (2023)
When you look at today's biggest business trends, digital transformation—or DX—is near the top of the list.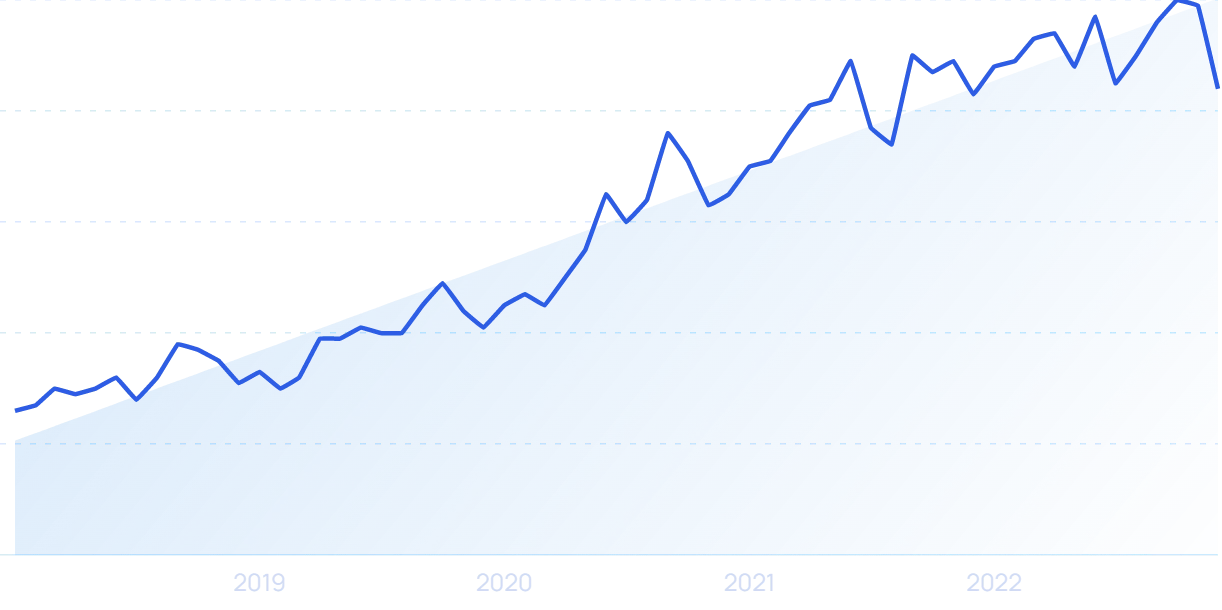 Google searches for "digital transformation" over the past 5 years.
DX can mean implementing cloud infrastructure, using AI or machine learning to improve customer experience, or transitioning to a remote or hybrid workforce. Companies must digitize some or all of their business components if they want to stay competitive in the near future.
Digital transformation isn't new. But it took off in a big way in the wake of the COVID-19 pandemic. With a sudden shift toward remote work, online services, and mounting supply chain issues, many organizations have accelerated their digital transformations.
To get a clear picture of the state of digital transformation today, here are the latest stats and trends.
Contents
Top Digital Transformation Statistics
Before moving on to the full list of DX stats and trends, here are the most notable statistics:
The digital transformation market is worth $588 billion.
Global spending on digital transformation is expected to hit $3.4 trillion by 2026.
74% of organizations consider digital transformation a top priority.
97% of companies say the COVID-19 pandemic sped up their digital transformation initiatives.
77% of companies have already started their digital transformation journey.
Only 35% of organizations' digital transformation efforts are successful.
Digital Transformation Market Statistics
How large is the digital transformation market? And how much are organizations spending on DX initiatives? Dive into these digital transformation market stats.
The digital transformation market is worth $588 billion (Polaris Market Research)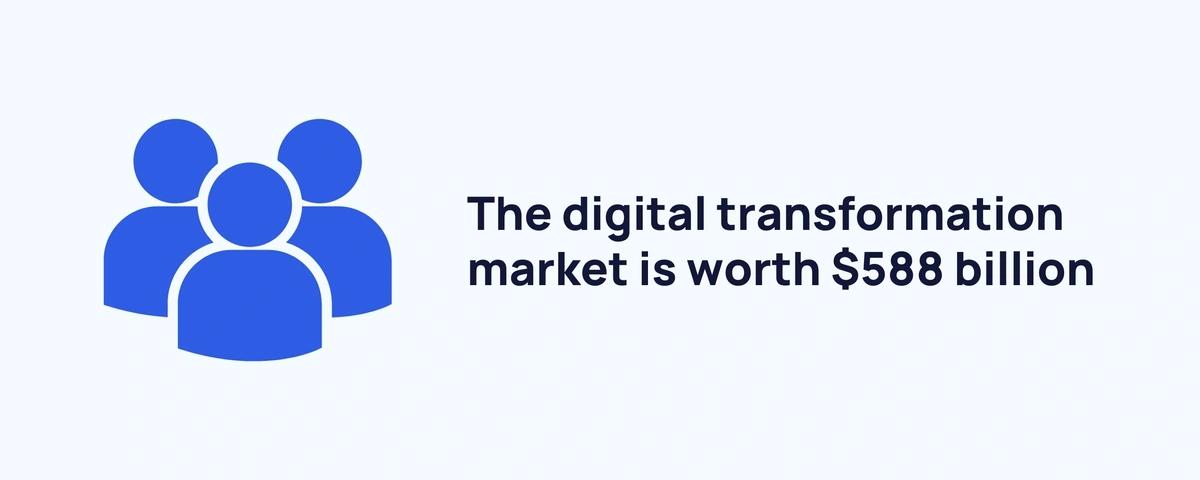 The digital transformation market is slated for a 23.6% CAGR between now and 2030, which will put the market at a $3.74 trillion valuation at the end of the decade. The solutions segment holds the biggest share in the DX market, while healthcare is the top target industry for DX spending and investment.
Global spending on digital transformation is expected to hit $3.4 trillion by 2026 (IDC)
Companies invested $1.85 trillion worldwide in digital transformation initiatives in 2022. With a 16.3% CAGR, digital transformation spending is projected to nearly double by 2026. The United States will account for 35% of global DX spending and could pass the $1 trillion mark in 2025.
Global spending on "Future of Work" transformation is $656 billion (IDC)
How people work within organizations is a central part of digital transformation. Future of Work seeks to optimize workflows by improving human and machine interactions and implementing hybrid and work-from-home models.
Digital Transformation Statistics and Trends
Decision makers spearheading digital transformation initiatives must decide which solutions to invest in, how much budget to allocate, and how fast to implement solutions.
These statistics examine how many organizations are adopting digital transformation strategies and uncover the most critical areas for investment.
Digital transformation is a top priority for 74% of organizations (Flexera)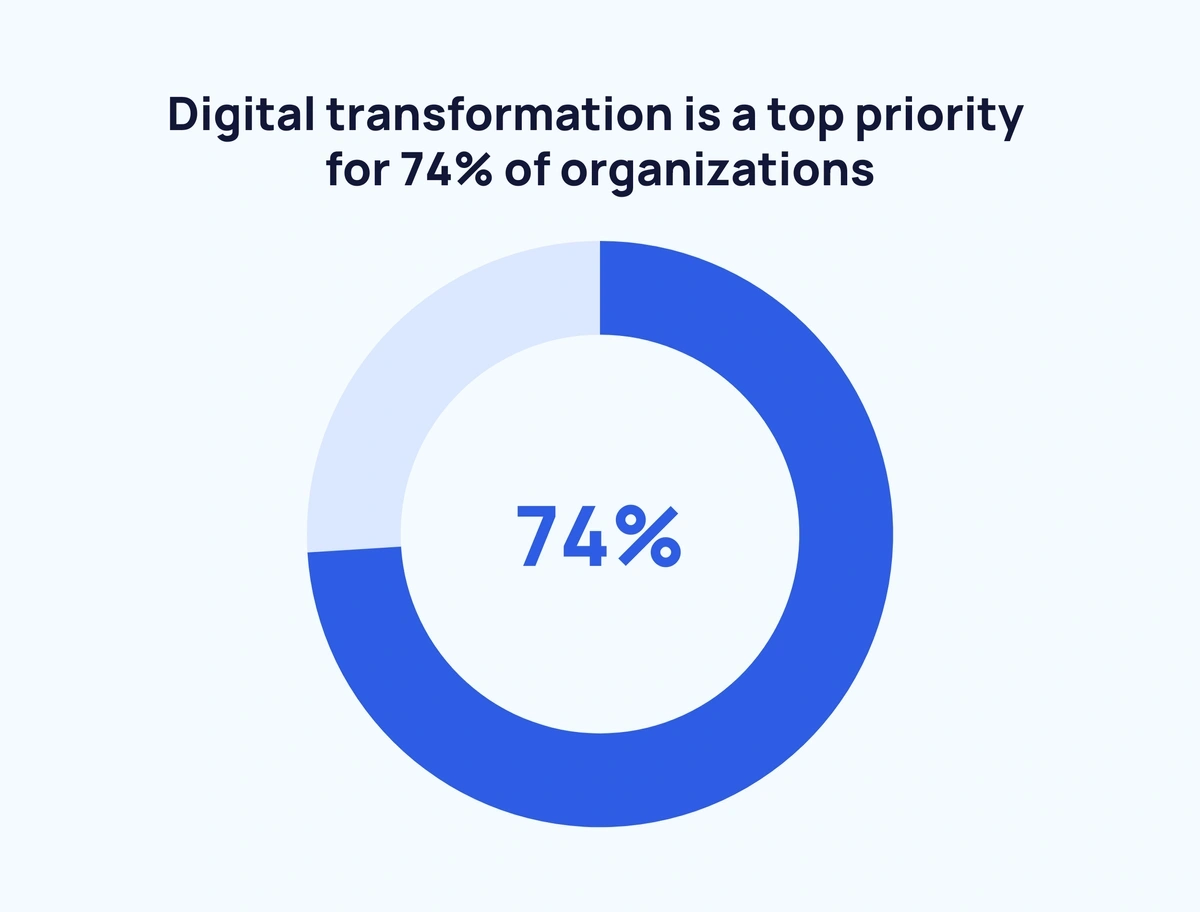 Nearly three-quarters of IT leaders say their companies are prioritizing digital transformation, up from 56% in 2021. Digital transformation is now higher on the priority list than cybersecurity (73%) and cloud implementation (65%).
97% of companies say the COVID-19 pandemic sped up their digital transformation initiatives (Twilio)
The global pandemic has had an accelerating effect on digital transformation. COVID-19 has sped up companies' DX initiatives by an average of 6 years.
72% of data and analytics leaders are either leading or heavily involved in their organizations' digital transformation (Gartner)
24% of D&A leaders are leading their companies' digital transformation initiatives, while 48% are heavily involved. Only 3% of D&A leaders say they aren't currently involved in digital transformation efforts.
Cloud, AI, and the Internet of Things are the top 3 areas companies are scaling up during digital transformation (Accenture)
45% of organizations are scaling up their cloud capabilities, while 39% are scaling AI and 36% are scaling Internet of Things. Companies are experimenting with new technologies as well, with the top 3 being 5G (27%), digital twins (24%), and robotic process automation (20%).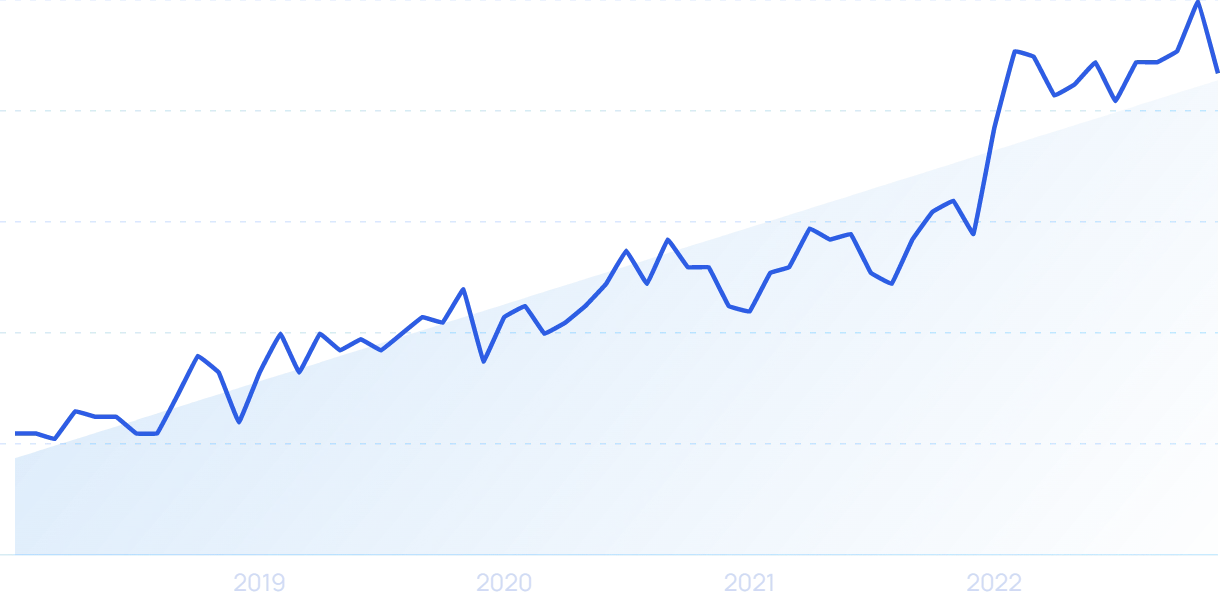 Google searches for "digital twin" over the past 5 years.
87% of leaders and analysts believe that digital transformation will disrupt their industry (MIT)
There's a near-unanimous belief across industries that digital transformation is the next evolutionary step. But only 44% of leaders feel prepared to handle the disruptions that digital transformation is likely to cause.
64% of organizations say they need to build new digital businesses to stay competitive in 2023 and beyond (McKinsey)
21% plan to implement digital technologies into their current business model, and just 4% already have digital technology in place. Only 11% of companies believe their current business models will remain viable in a post-COVID world.
69% of IT decision makers primarily view digital transformation as a way to improve process efficiency (Baker McKenzie)
Most businesses don't see digital transformation as a way to make fundamental changes to their business models. Instead, they view it as a tool to improve on what's already there. In fact, only 8% of IT decision makers view digital transformation as a path toward fundamental business model changes.
77% of companies have already started their digital transformation journey (Baker McKensie)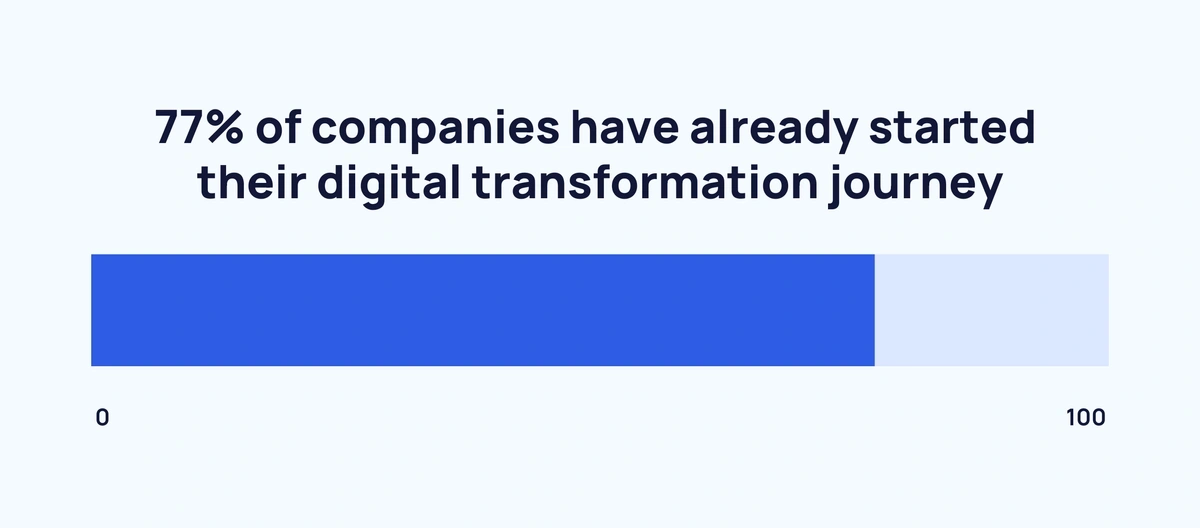 Over three-quarters of organizations have moved beyond the digital transformation planning stage. 55% are either launching or accelerating their initiatives, while 22% are scaling up. 24% of companies are still planning ways to implement digital transformation.
74% of Chief Supply Chain Officers (CSCOs) believe hybrid cloud integration is critical to the digital transformation of supply chains (IBM)
Digital transformation extends to supply chain management. In a survey by IBM, 95% of CSCOs said that digital transformation in supply chains leads to higher efficiency in tackling challenges. Additionally, 40% said it helps create more accurate forecasts, 44% said it leads to better asset allocation, and 10% said digital transformation reduces structural costs.
Upgrading obsolete IT infrastructure is a top reason for IT budget increases for 56% of organizations (SWZD)
80% of organizations expect their IT budgets to either increase or remain the same over the next 12 months. Upgrading infrastructure is a key driver behind increased budgets, as are new IT projects (45%) and supporting remote workforces (36%).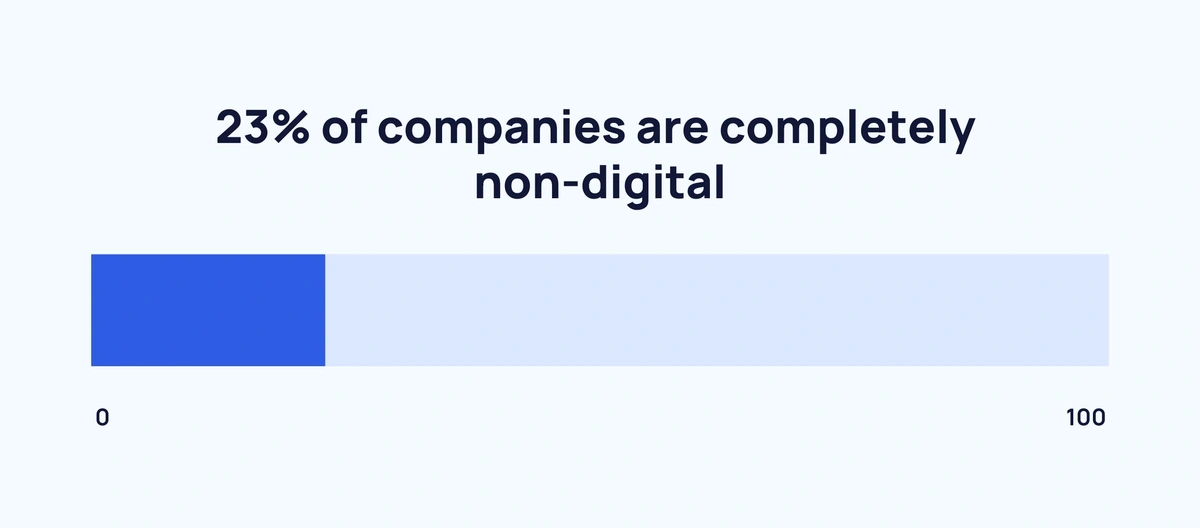 Despite nearly a quarter of organizations being non-digital, almost three-quarters of them believe their industry will be disrupted by digital transformation. 84% of organizations believe that digital transformation has already disrupted their industry, while 16% believe that disruption will happen some time in the near future.
Digital Transformation in the Workplace
Digital transformation doesn't just change the way organizations do business. It also changes the way employees work and collaborate. Here are the latest workforce transformation statistics.
86% of organizations believe that workplace transformation can lead to greater collaboration across teams (Infosys)
Workplace transformation includes supporting hybrid or remote teams and empowering them with tools to communicate, collaborate, and access data. 84% of organizations believe that workplace transformation leads to higher productivity and improved customer experience.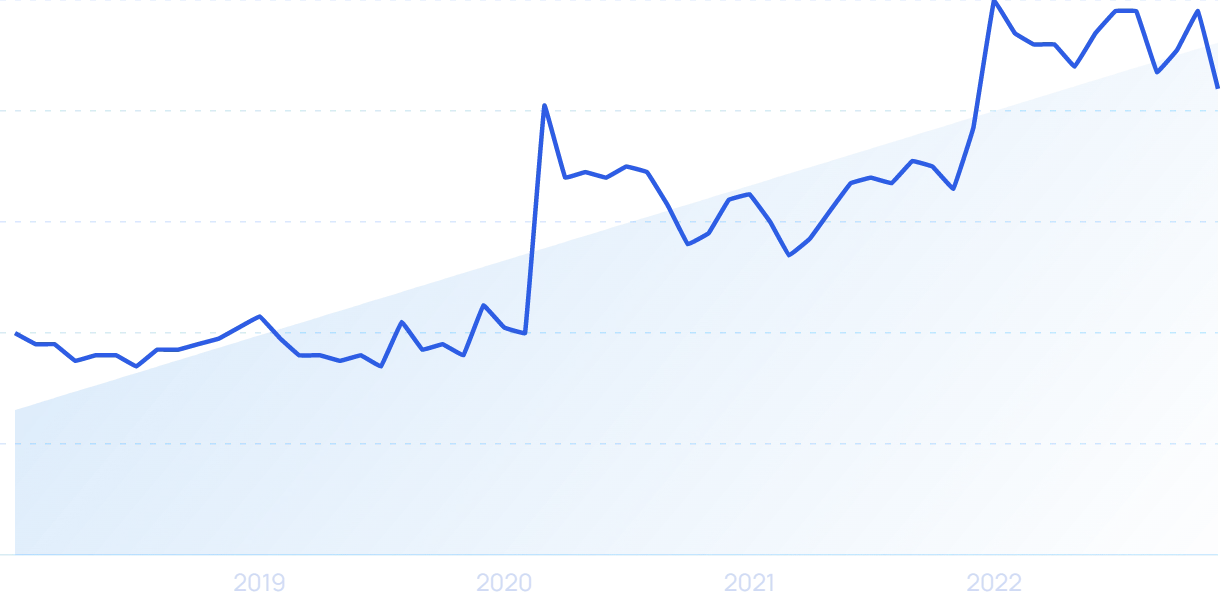 Google searches for "remote work" over the past 5 years.
Selecting the right technology and solutions is the highest priority for organizations implementing digital transformation in the workplace (Infosys)
53% of organizations say finding the right technology solutions is a major concern surrounding workplace transformation. In addition, 45% are concerned about their organizations' readiness to adopt such changes, while 44% are concerned with having to establish a team to drive their transformation.
Cloud-enabled tools and technologies are the most common investment in workplace transformation initiatives (Accenture)
48% of organizations have invested in cloud-enabled tools and technologies as part of their workforce digital transformation. Other investments include digital collaboration tools (47%), productivity management tools (41%), and remote monitoring technologies (40%).
60% of HR leaders say their organizations use AI to assist employees (Deloitte)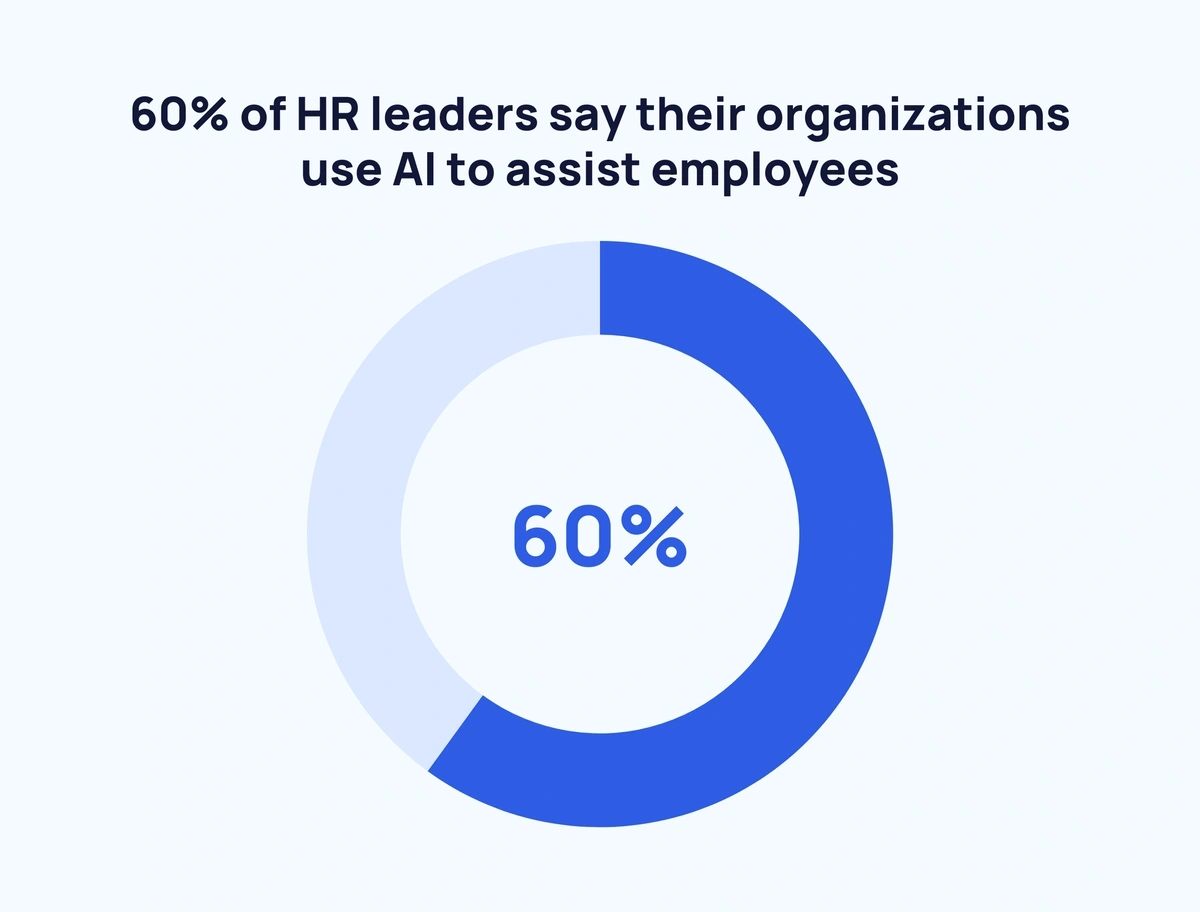 According to 60% of HR leaders, the top reason for implementing AI is to assist the workforce, not to replace them (though 12% of HR leaders did say that AI will replace employees). 54% of HR leaders said AI adoption would lead to the same number of jobs, but that the nature of jobs would change.
Digital Transformation Challenges
While digital transformation is the obvious way forward for most organizations, successfully implementing it remains a tough challenge.
Only 35% of digital transformation efforts are successful (BCG)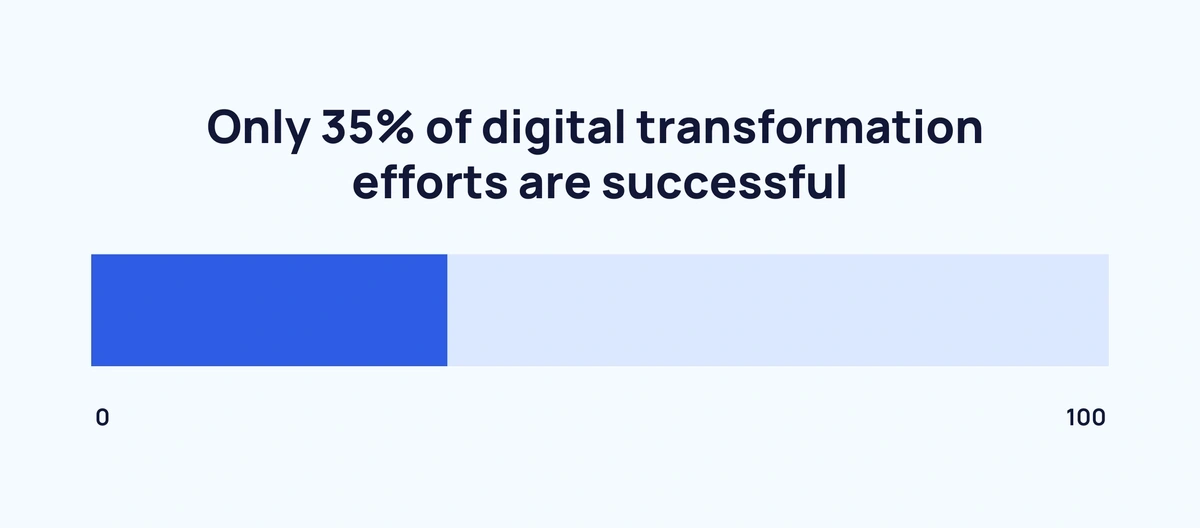 A 2021 BCG study into 850 organizations found that just over a third were able to achieve their digital transformation objectives. While the failure rate is high, it's trending in the right direction—success rates were up from 30% in 2020.
Larger organizations struggle more with digital transformation (McKinsey)
A McKinsey survey on digital transformation returned sobering results: just 16% of survey respondents said their organizations' DX efforts improved performance. Challenges appear more severe for larger companies, as the survey found that organizations with 100 or fewer employees were 2.7 times more likely to succeed in DX than companies with 50,000 or more employees.
Lack of skills and expertise is the most common digital transformation hurdle (Veeam)
A 2021 survey asked over 3,000 IT professionals about the challenges their organizations faced on the road to digital transformation. 54% said "lack of IT skills or transformation expertise." 53% also cited their organizations' dependency on legacy systems, while 51% said they were still focused on recovering from the COVID-19 pandemic.
The average IT department spends 56% of its budget on maintenance (Deloitte)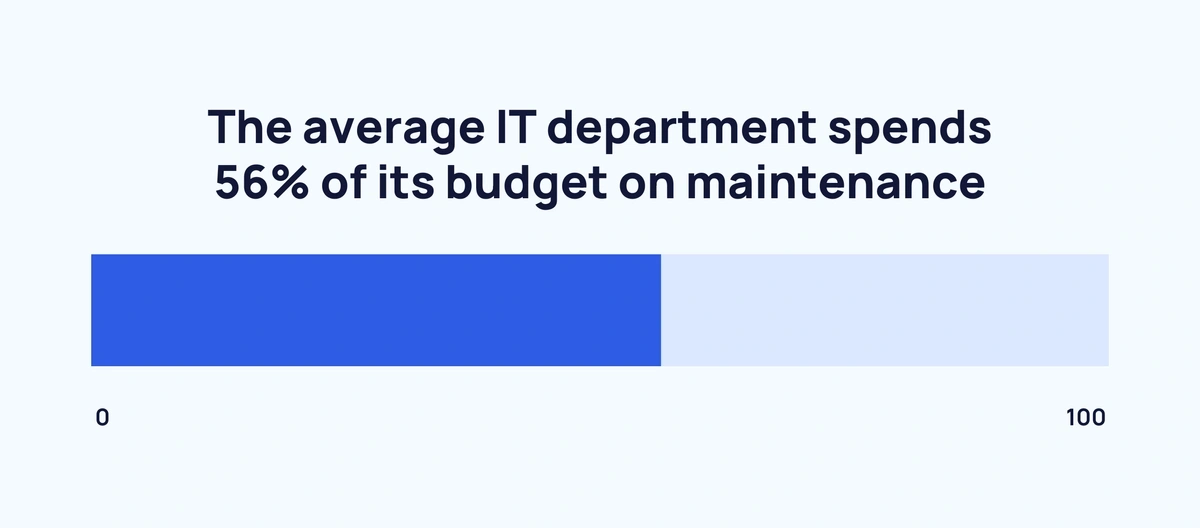 Budget restraints remain a top digital transformation challenge. The average IT department only spends 18% of its budget implementing new technologies and solutions. In organizations with advanced digital strategies, 47% of budgets go to maintenance while 26% goes toward innovation.
Wrap Up
Digital transformation is the next evolutionary step for companies of all sizes and across all industries. The COVID-19 pandemic has given stakeholders a new sense of urgency in upgrading core business functions to the latest digital technology.
With increased prevalence of remote work, AI, cloud computing, the Internet of Things, and more, investment in digital transformation should continue to accelerate in the future.