23+ Alarming Data Privacy Statistics For 2023
Internet users are more concerned about data privacy than ever before, and rightfully so. Every app we download, every social media platform we join, and every website we visit collects various data points about us.
As governments rush to enact laws to protect data privacy, data breaches keep occurring at an alarming rate.
These statistics explore the state of data privacy in 2023 and beyond.
Contents:
Top Data Privacy Statistics
Before you start exploring the full list, here are some of the more notable data privacy statistics:
9 out of 10 Americans consider their online privacy to be an important issue
85% of global adults want to do more to protect their online privacy.
1 in 4 Americans are asked to agree to a privacy policy every day.
Two-thirds of global consumers feel that tech companies have too much control over their data.
72.6% of iOS apps track private user data.
Free apps are 4 times more likely to track user data than paid apps.
Less than one-quarter of American smartphone users feel in control of their personal data online.
Online Privacy Statistics
Keeping personal data private online is a top concern for most internet users. Despite these worries, many struggle to effectively protect themselves online.
90% of US Internet users agree that online privacy is important (Surfshark)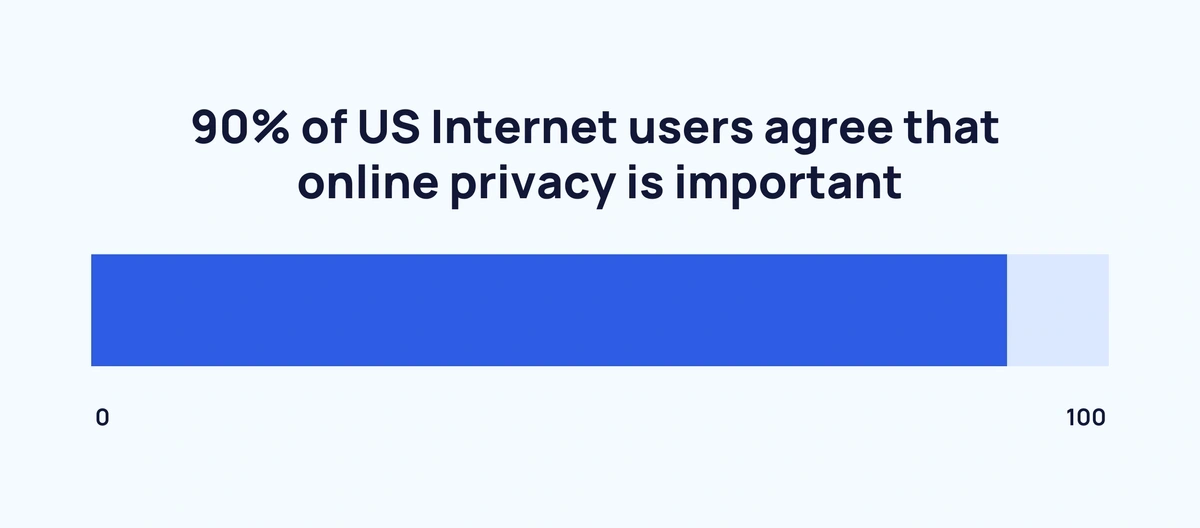 Most Americans value their online privacy, and 75% believe they could be vulnerable to attacks by cybercriminals. But there's a gap between awareness and action. Only 64% use tools to help protect their online privacy, and just 56% feel that they're in control of their data.
85% of global adults want to do more to protect their online privacy (Norton)
10,000 adults across 10 countries shared their perspectives on data privacy in a 2022 survey. The vast majority say they want to do more to protect their privacy. Other perspectives revealed that it's easier said than done:
80% say they are concerned about their privacy.
69% say they are more concerned than ever about their privacy.
61% say they willingly sacrifice data privacy in exchange for convenience.
55% believe it's impossible to fully protect their privacy.
51% say they don't know how to protect their privacy.
71% of global adults have taken steps to improve their online privacy (Norton)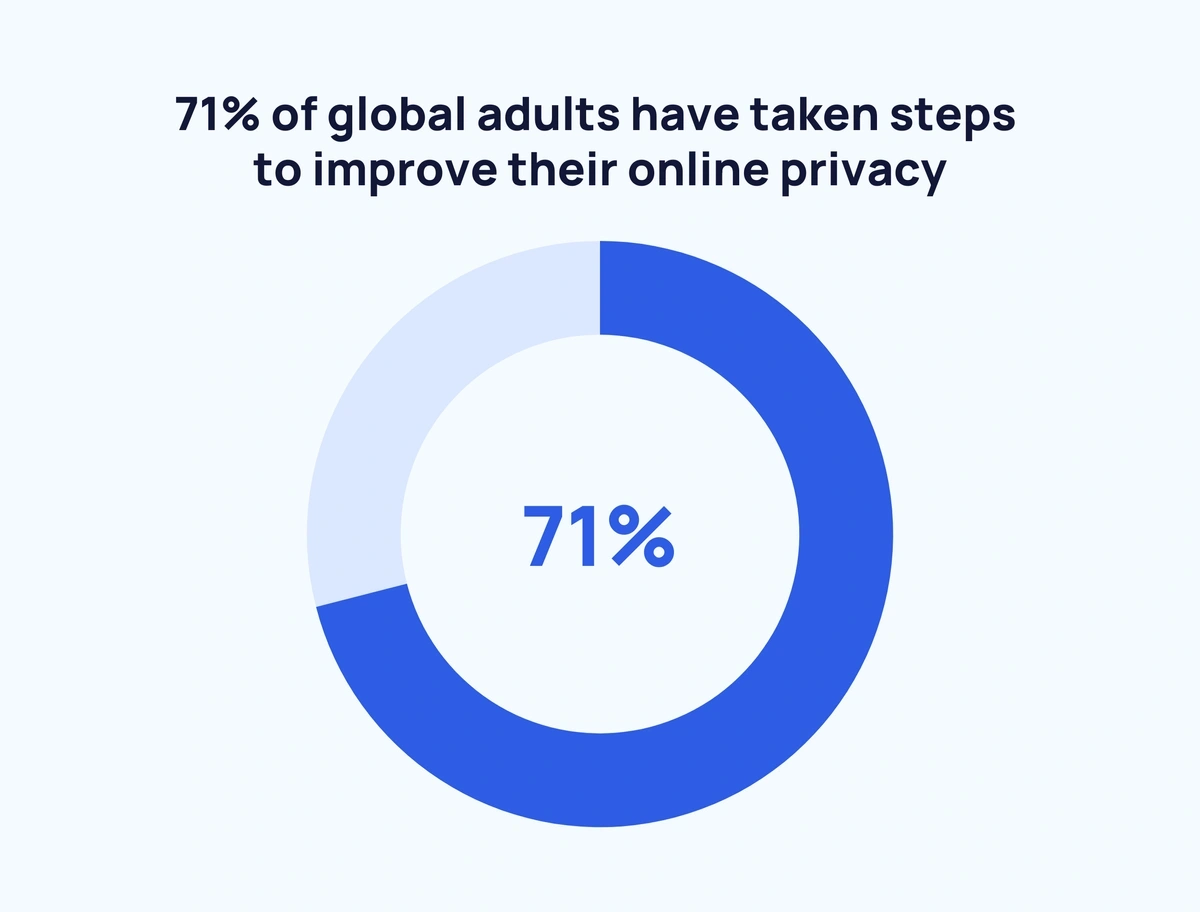 Norton's 2022 Cyber Safety Insights survey found that over two-thirds of adults are being proactive about data privacy. Here are some actions they're taking:
29% changed default privacy settings on their devices.
26% enabled multi-factor authentication on select accounts/devices.
26% disabled third-party cookies in their web browsers.
16% used a VPN.
Most Americans believe it's impossible to avoid companies and the government collecting their data (Pew Research)
In a Pew Research survey, 62% of respondents said it's impossible to go through daily life without companies collecting their data. 63% said the same about the government. This is a major source of stress, as even more are concerned about how companies (79%) and the government (64%) use their personal data.
1 in 4 Americans are asked to agree to a privacy policy every day (Pew Research)
Americans are constantly bombarded by wordy privacy policies: 25% say they encounter them daily, 57% at least weekly, and 81% at least monthly. Pew Research surveys found that only 22% of Americans read privacy policies in their entirety.
Antivirus, ad blockers, and password managers are the top 3 tools people use to protect their privacy online (Surfshark)
63% of internet users claim to use antivirus software.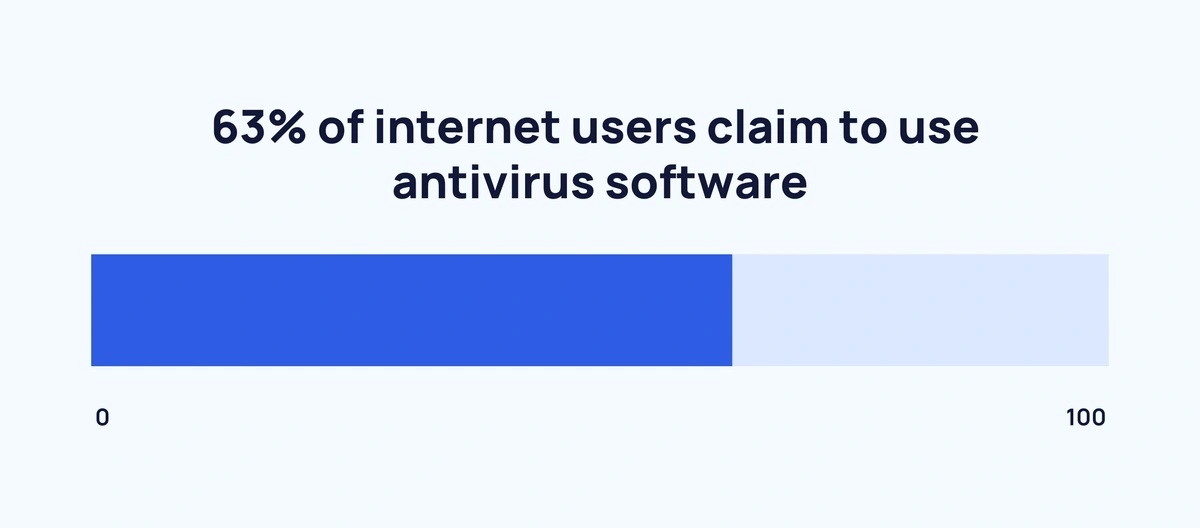 The next most popular data privacy tools are used by less than half of internet users: 39% use ad blockers while 36% use password managers. Less than one in five use other tools like encrypted email (17%), encrypted messenger apps (15%), and paid VPN services (14%).
Consumer Data Privacy Statistics
Brands love consumer data. Data helps them run more efficient and targeted ad campaigns. It allows for more personalization of user experiences. But for consumers, knowing all that data is out there—and often for sale to other companies—is a growing concern.
Two-thirds of global consumers feel that tech companies have too much control over their data (YouGov)
Tech giants like Meta collect private data on billions of people, causing anxiety around the world. In the UK and Spain, 75% of adults feel tech companies have too much control over their data.
Older generations feel more strongly about big tech and data privacy. 70% of Baby Boomers agree that tech companies have too much control of their data. For Gen Z, just 59% agree.
According to consumers, brand purchase history is the most appropriate type of data to collect (Gartner)
Consumers agree that certain data types are more appropriate for brands to collect, especially if it helps with personalization. Brand purchase history is the most acceptable data to collect, with 80% of consumers agreeing it's okay to do so. Most consumers are also happy with brands collecting user-provided personal preferences (77%) and basic demographics (67%).
Consumers are less comfortable with brands collecting other types of data. Only 34% of consumers think it's appropriate for brands to collect browsing history. Fewer feel comfortable with brands collecting employment and financial data (29%) and personal health data (27%).
80% of companies store sensitive data in the cloud (Netwirx)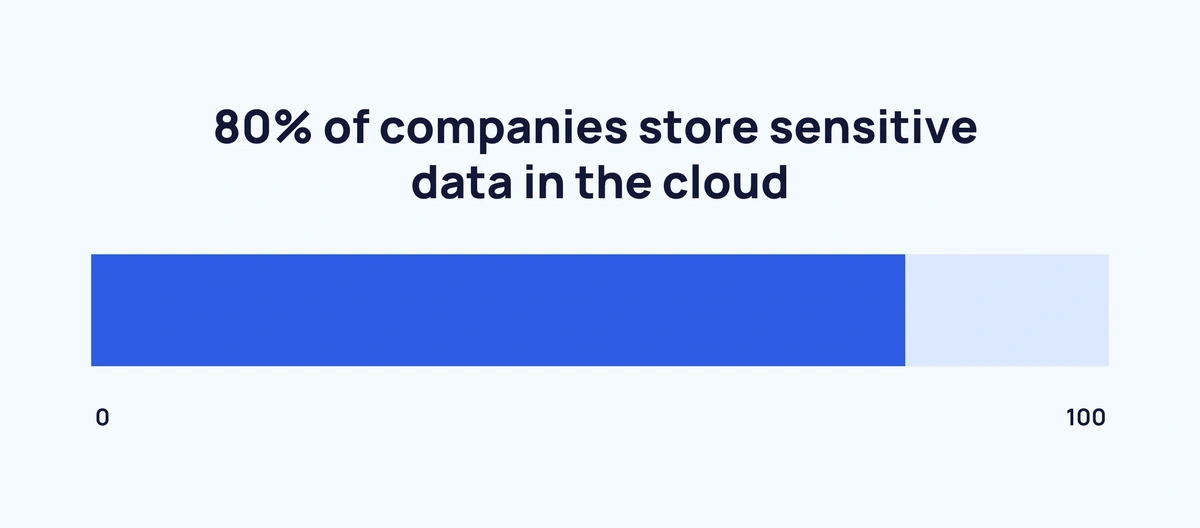 The vast majority of companies use multiple clouds in their day-to-day operations. It's no surprise then that 4 in 5 companies keep sensitive data in the cloud. 44% of companies use cloud computing to store customer data. 44% also keep employee data stored on the cloud.
Multi-factor authentication is the most common approach companies use to protect data in the cloud (Netwirx)
How are companies working to keep data safe in the cloud? 69% use multi-factor authentication, or MFA. 63% use cloud backups, while 62% use encryption for added protection.
Hackers are the main threat to cloud data security (Netwirx)
55% of IT professionals see hackers as a top threat to data privacy in cloud infrastructures. Surprisingly, the other top threats are individuals trusted by the company: 39% see employees and 36% view contractors and partners as legitimate data security threats.
47% of adults across 12 countries have stopped relationships with companies over data privacy policies (Cisco)
The way companies handle user data can make a difference. Nearly half of surveyed adults across a dozen countries have ditched companies over data concerns. 33% of respondents left social media platforms, 28% left internet providers, and 23% left phone companies over their data privacy policies.
Only 18% of US social media users feel that Facebook protects their data and privacy (Insider Intelligence)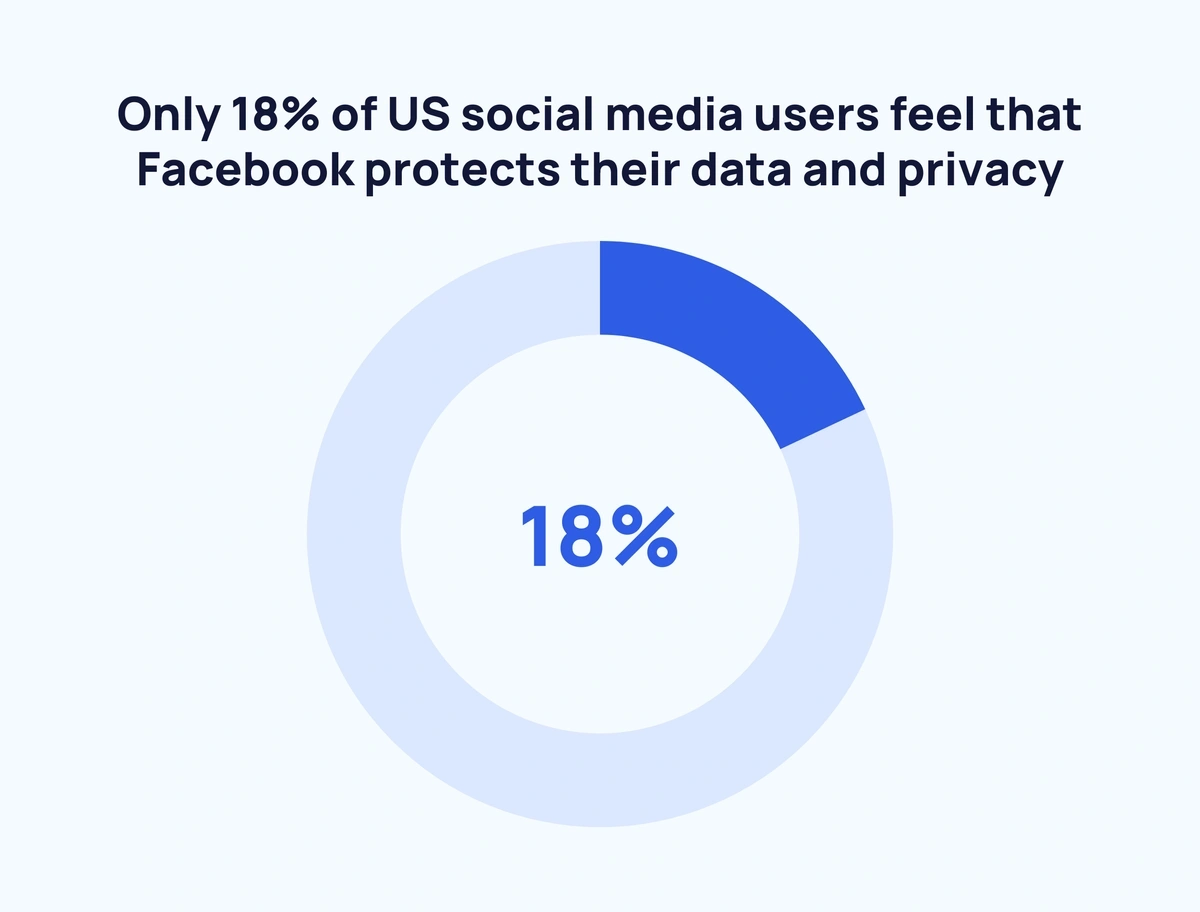 The US has over 230 million Facebook users, but less than 45 million users actually trust the platform with their data. Trust in Facebook is falling, too—in 2021, 27% of US users trusted the platform, according to surveys by Insider Intelligence.
Data Privacy Regulation Statistics
Companies have been collecting user data for decades, and governments are finally starting to catch up. Europe led the way with GDPR in 2018, and since then several other countries have followed suit. In the United States, most residents' data is still unprotected by privacy regulations.
More than 4 in 5 US voters support the measures in the American Data Privacy and Protection Act (Morning Consult)
The ADPPA hasn't been signed into law yet, but the vast majority of Americans support its contents:
87% support banning the sale of data to third parties without users' consent.
86% support requiring companies to minimize the types of user data they collect.
86% support increasing online privacy regulations for children under 17.
82% support giving individuals the right to sue for damages after data breaches.
The California Consumer Privacy Act protects $12 billion worth of personal information each year (State of California)
The US might lag behind Europe in privacy regulations, but the 39 million people who call California home now enjoy some extra protections under the CCPA. The Act gives California residents the right to know who collects their personal information, opt out of the sale of their personal information, and request that businesses delete the information they've collected.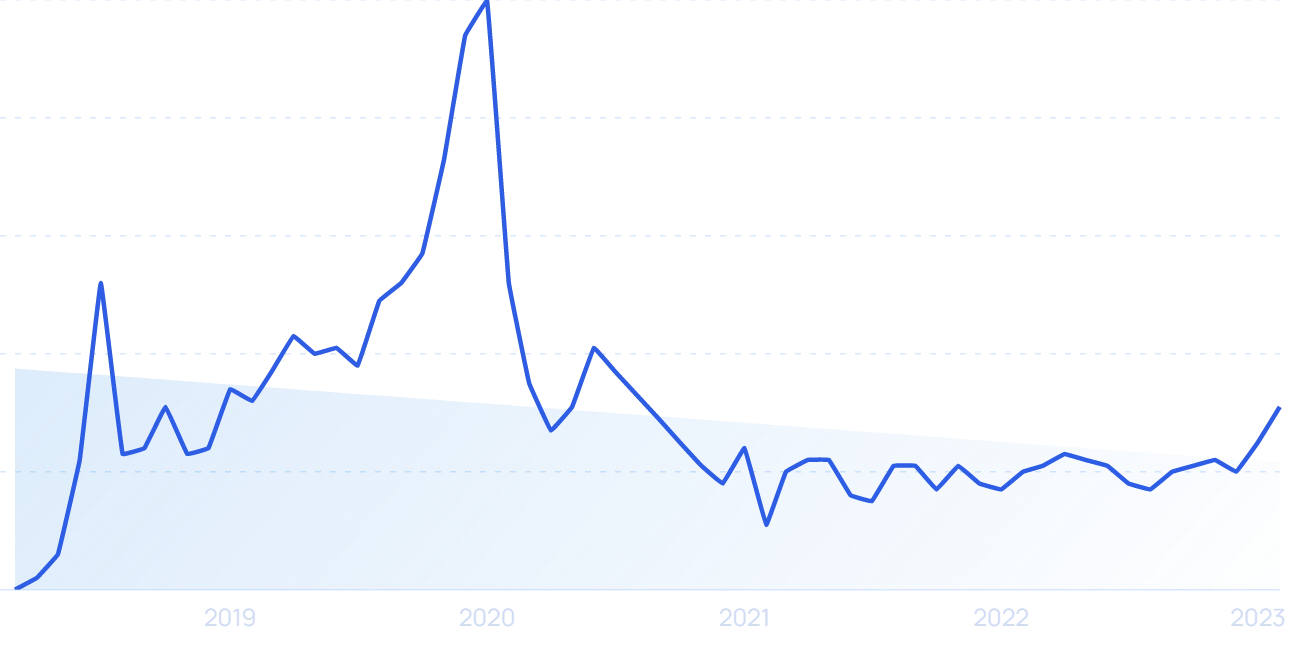 Google searches for "california consumer privacy act" are up 1200% since 2018.
Mobile Data Privacy Statistics
We turn to mobile apps for news, functionality, and entertainment. But those same apps collect dozens of data points about us. Here are the latest data privacy stats from a mobile perspective.
72.6% of iOS apps track private user data (42matters)
How many apps on the Apple store track, collect, and use private user data? 42matters provides eye-opening statistics into mobile apps and data privacy:
72.6% of iOS apps (1.26 million) track private user data.
27.48% of iOS apps (477,000) use data linked to users.
16.41% of iOS apps (284,000) have access to users' background location.
13.08% of iOS apps (227,000) use data to track users.
44% of free iOS apps collect user data (42matters)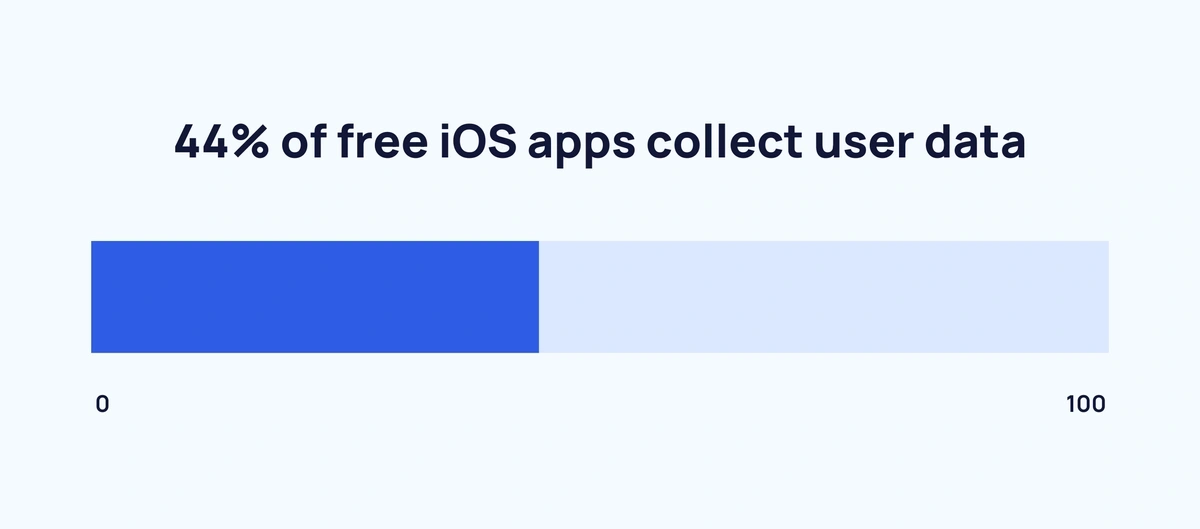 Every category on the App Store has a huge selection of free apps, but downloading those apps has a hidden cost. Free apps are 4 times more likely to collect user data than paid apps. 10.31% of paid apps collect user data, compared to 44% of free apps.
Social media and food delivery apps track an average of 20 user data points (Surfshark)
Social media and food delivery apps collect the most user data on average, according to the privacy policies of over 200 apps. Shopping apps collect an average of 18 user data points, while dating apps collect 16 data points on average.
App categories that collected the least amount of user data points are browsers, image editors, and kids' apps.
Less than one-quarter of American smartphone users feel in control of their personal data online (DIW)
Only 23% of smartphone users in the United States say they feel in control of their personal data. 40% say they're worried about how companies can use their personal data online, and 25% worry about how their government tracks them online.
Data Breach Statistics
Data breaches happen every day. They compromise millions of user account credentials, leaking usernames, passwords, and other sensitive information.
There were 1,774 data breaches in 2022 (ITRC)
2022 was a big year for data breaches, with 422 million people affected by an average of 4.8 breaches per day. The types of private data leaked in those breaches is alarming:
1,560 breaches leaked victims' names.
1,143 breaches leaked victims' social security numbers.
565 breaches leaked victims' home addresses.
465 breaches leaked victims' medical histories.
443 breaches leaked victims' bank account numbers.
The 2020 CAM4 data breach exposed over 10 billion records (Upguard)
In terms of sheer volume of leaked data, the CAM4 data breach in 2020 was the largest data breach in history. The attack on the adult website leaked users' names, email addresses, sexual orientations, email and chat transcripts, and IP addresses. The next largest attack was the Yahoo data breach of 2013, which compromised over 3 billion user accounts.
The average cost of a data breach is $4.35 million (IBM)
Data breaches are expensive. The average global cost is just over $4 million. But in the United States, the average cost of a data breach soars to $9.44 million. Costs vary by industry, too. In healthcare, for example, the average data breach costs $10.0 million, while the average breach in hospitality costs $2.94 million.
44% of data breaches include customer names, email addresses, and passwords (IBM)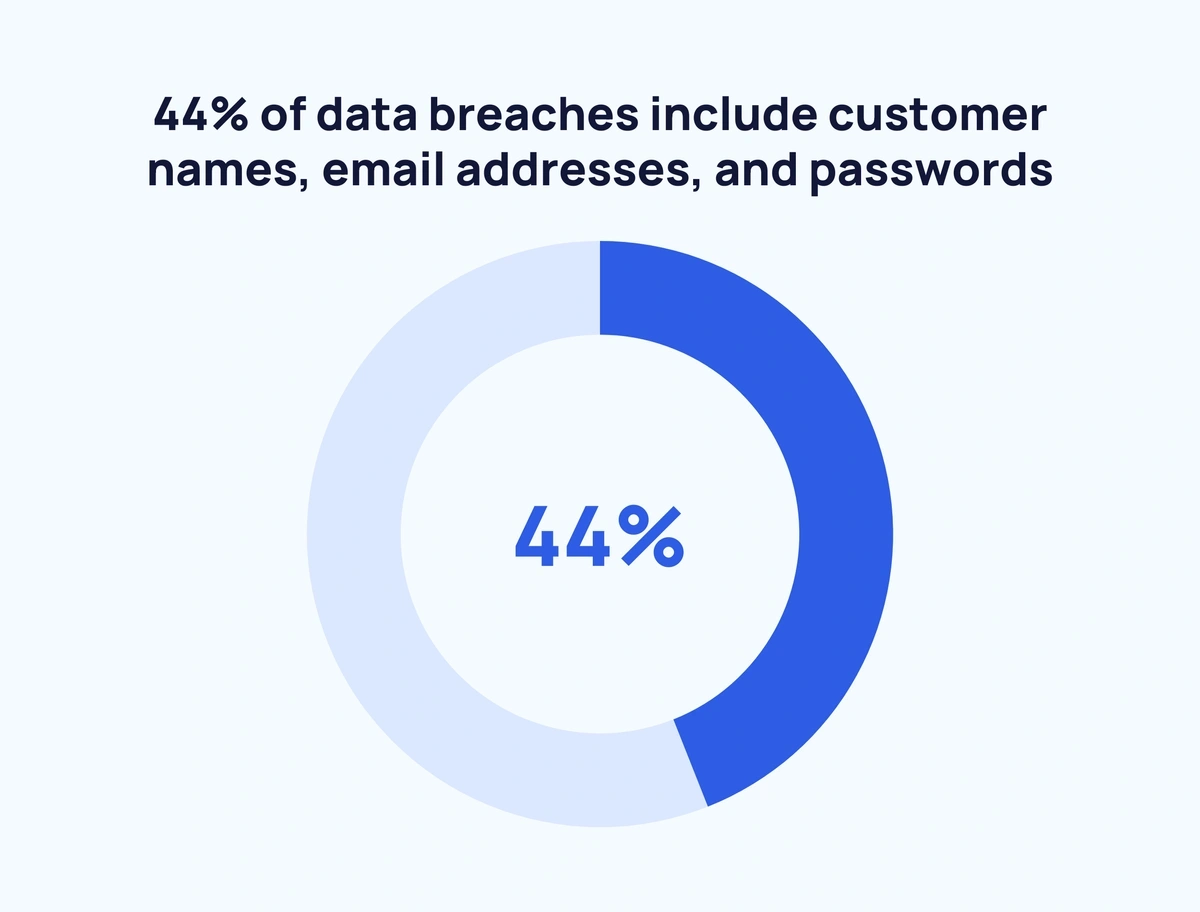 Personal information like usernames, passwords, and email addresses are the most common type of data exposed during a breach. Since so many internet users reuse the same login credentials, a single data breach can compromise user accounts on countless other platforms.
Wrap Up
Today's consumers want to keep their personal data safe, but they often have to choose between privacy and convenience. With data breaches exposing millions of user data points, finding ways to secure sensitive data is more critical than ever.
Many of the world's governments have enacted data privacy regulations, and more are sure to follow suit. Over the next several years, we'll discover what that means for the future of data privacy.