Top 9 Dental Industry Trends in 2021
Dental care spending took a huge dive due to the pandemic. In fact, the Health Policy Institute projects dental spending to be $123.9 billion in 2021, 80% of its pre-pandemic level.
To adapt to decreased spending and shifting patient needs, the dental industry is seeing rapid adoption of new technologies.
Keep reading to learn more about these growing trends impacting dentistry in 2021.
1. 3D printed appliances
The global 3D printing market is expected to expand at a rate of 14% from 2020 to 2027. As 3D printing technologies become more prevalent, dental practices will have greater access to 3D printed materials at lower costs.
According to SmarTech publishing, about 9,500 3D printers are set to be shipped for dental applications in 2021.
The Journal of The American Dental Association states that "the low cost and simple workflow of additive 3D printing has potential to improve precision and efficiency in clinical dentistry for both academic and private practices."
Dental practices once needed to contract a third party to fulfill various applications, while they will now be able to fulfill these needs in-house or through lower-cost avenues. Products that can be 3D printed include dentures, clear teeth aligners, dental crown substructures, dental models, and surgical guides.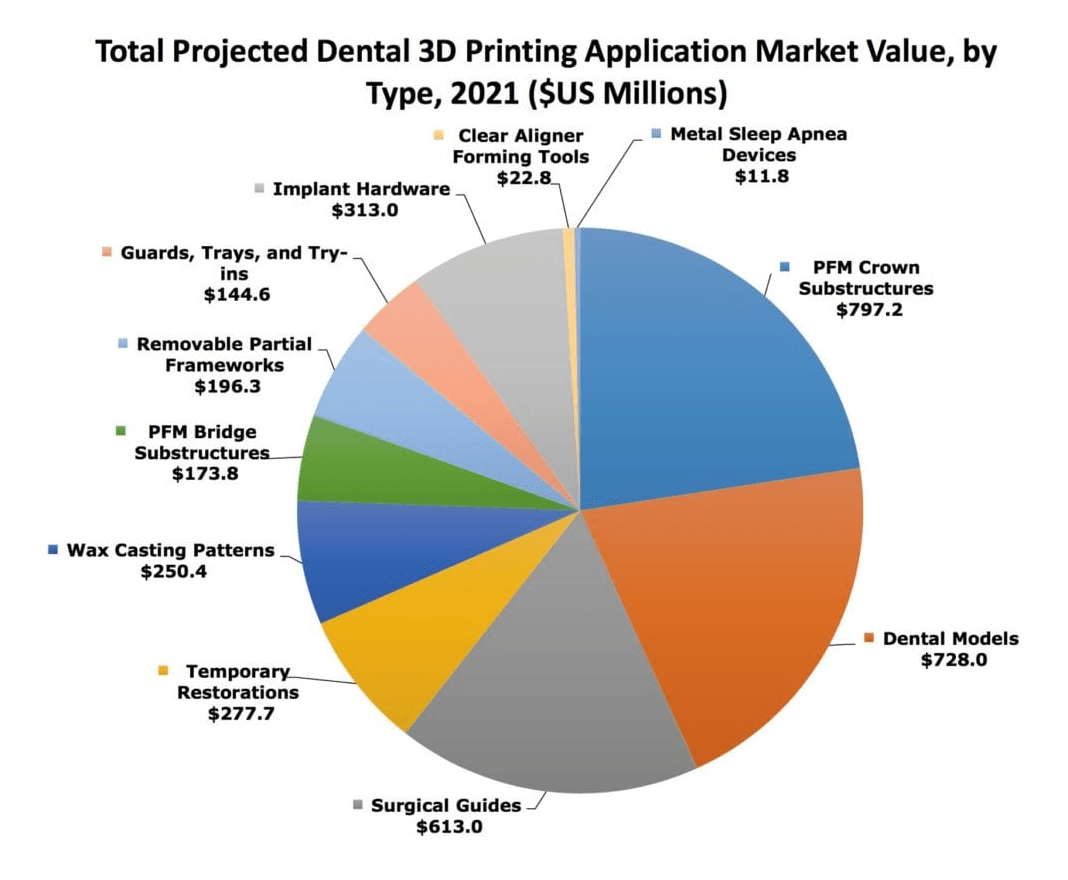 Dental 3D printing market value by type from SmarTech Analysis.
The Journal of Clinical Orthodontics calls 3D printing a "paradigm shift" for the field, as a digital workflow that is more efficient for offices and comfortable for patients.
Similarly, the clear aligners market is expected to grow 23.1%, and companies like SmileDirect, Invisalign, and Candid are all utilizing the 3D technology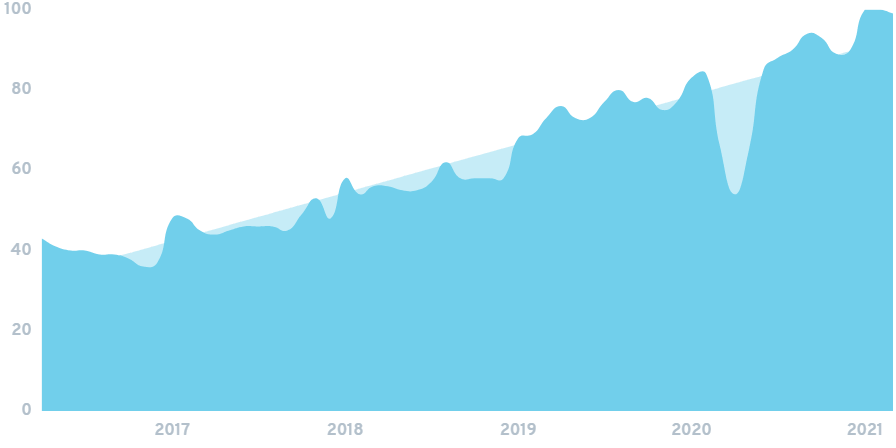 Searches for "clear aligners" have increased 120% over the last five years.
2. practice consolidation
Solo dental practices are declining. According to the American Dental Association, in 1999, 2 in 3 dental practices were solo. Today, only 1 in 2 practices are solo.
Additionally, the average practice size has increased from 1.54 in 2000 to 1.88 in 2015.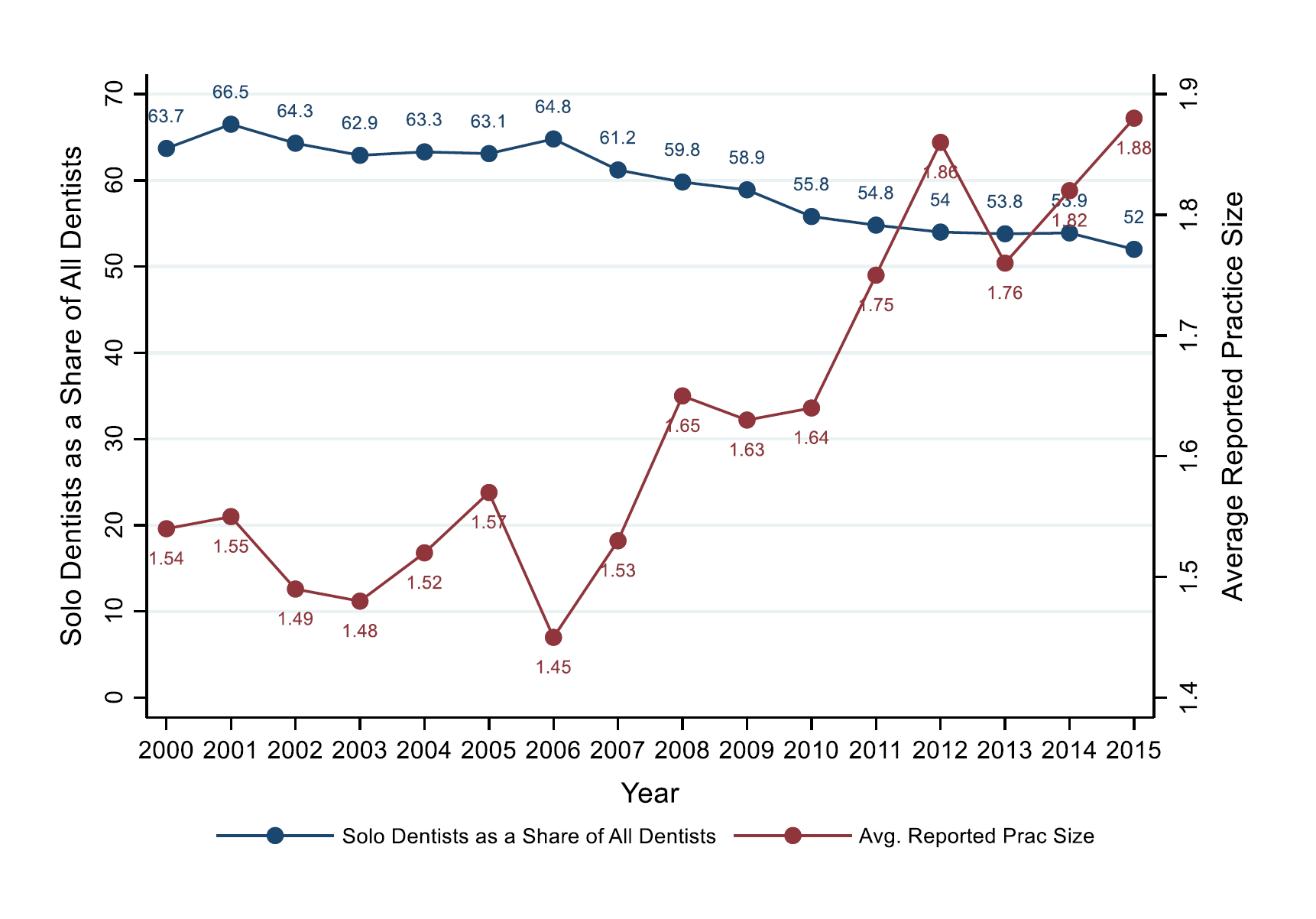 Solo dentists and reported practice size from the International Journal of Health Economics and Management
Another consolidation practice on the rise is the participation in Dental Service Organizations (DSO) and Dental Management Service Organizations (DMSO).
DSO's and DMSO's contract with dental practices to provide management and non-clinical support like human resources, accounting, and negotiations with suppliers.
In 2017 7.4% of all practicing dentists are affiliated with a DSO. This number grew to 10.4% in 2020—a 40% increase.
Heartland Dental is the United States' largest DSO, with over 1,000 affiliated locations. One of the fastest-growing DSO's is Spring Dental, which grew 392% in 2020, placing it at No.1,153 on Inc.'s 5000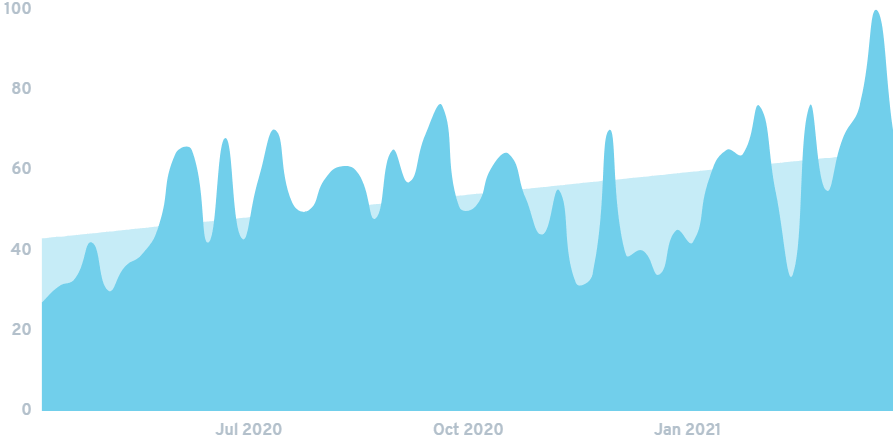 Search interest in "Spring Dental" has increased 159% over the last year.
The main factors driving the industry towards consolidation are financial.
According to a survey of dental professionals, 7% of dentists are considering affiliating with a DSO or merging their practices as a result of the pandemic.
According to the Academy of General Dentistry, the average cost of dental education has doubled since 2000, increasing from $121,434 to $216,842 for nonresidents and $84,819 to $158,119 for residents.
This exorbitant cost means that the average dental school grad leaves with $292,169 in student loan debt.
The burden of student debt may be a large reason why only 1 in 4 dentists under 35 are in a solo practice.
The AGD also names decreasing utilization of oral health care services and Medicaid reimbursement means that there are fewer employment opportunities for dentists.
3. Digital dental marketing
Dental practices have traditionally been small operations without a huge budget for an online presence or advertising.
Though slow to catch up, the pandemic underscored the necessity of online advertising for many dental practices. The average user spent 82 minutes a day on social media in 2020, which was up 7.9% from previous predictions.
In a survey of dental practitioners conducted in January of 2021, 38% believed more marketing would make their practice more productive and profitable. Across all industries, digital ad spending is projected to reach $389 billion in 2021, a growth of 17%.
A survey of dental patients found that 1 in 3 say that dentists cannot go without Facebook marketing. They also found that 58% of patients prefer seeing video content from dental practices.
Social media has become a popular and low-cost vehicle for marketing businesses, including dental practices. In 2013, 86.2% of companies used social media for marketing, while in 2021 91.9% are projected to use social media.
The healthcare marketing platform PatientPop found that providers who don't address online reputation are 52% less likely to report having strong revenue.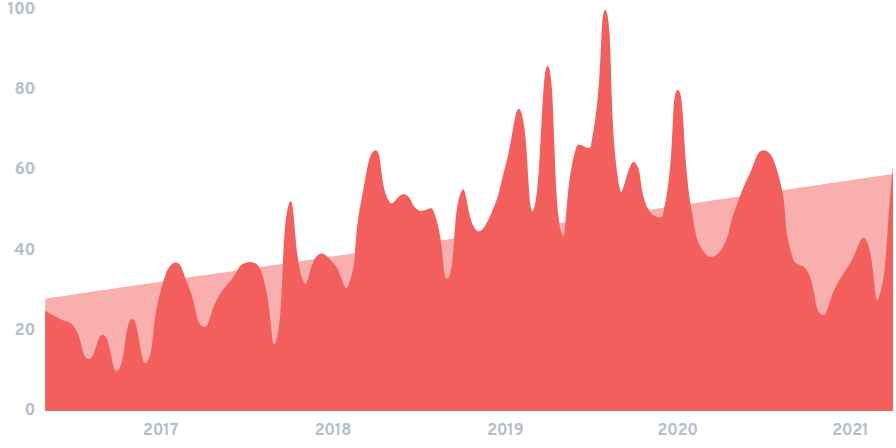 Searches for "patientpop" have increased 144% over the last five years.
4. subscription-based coverage
59% of adults report avoiding the dentist due to cost. This is both because about 23% of people lack dental coverage, and for those with coverage, it can sometimes be difficult to find one that is in-network. Additionally, under both circumstances, dental costs can still be incredibly unpredictable.
For dental practices themselves, 72% name declining insurance reimbursement rates as their number one concern.
Subscription dental services are a solution for both patients and dentists.
These services offer an annualized or monthly rate that covers regular cleanings, x-rays, and even fillings or other surgery. They can be cost-effective for patients while guaranteeing more revenue for dental practices.
Studies show that about 83% of consumers are likely to stay with a dental practice with an in-house dental membership plan.
Subscription dental platform provider Kleer claims an above 80% renewal rate with plan members, while the typical dental practice experiences a 75% retention.

Though peaked, searches for "Kleer" have increased 105% in the last year.
5. Medical laser technology
The dental lasers market is expected to grow 11% from 2020 to 2024.
Dental lasers are classified by their intended use on either hard or soft tissues. They have a range of applications and can replace the need for a traditional dental drill.
This means that they can be used to remove or reshape tissue, repair fillings, remove cavities, and accelerate whitening procedures.
The benefits of lasers in dentistry are many.
Studies have shown that lasers can reduce pain and speed post-op healing while reducing bleeding.
Additionally, one study showed that diode lasers had a 100% reduction in long-term bacteria, whereas just 58.4% of those treated with the usual hydrogen peroxide showed improvement. This low-level laser therapy is one application of photobiomodulation, the application of low-energy light to tissues.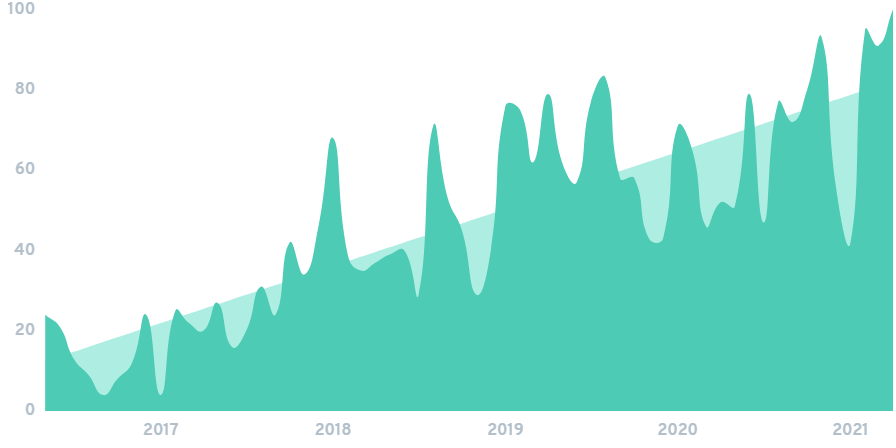 Searches for "photobiomodulation" have increased 316% over the last five years.
6. Natural oral healthcare
Natural, clean, and sustainable personal care products have all seen increased popularity in recent years. The global market value for natural cosmetics and personal care is expected to be worth $54.5 billion by 2027, a 58% increase from the 2018 value of $34.5 billion.
According to a survey by the consulting firm AlixPartners, 64% of consumers feel it is important to purchase natural or clean personal care products.
In the dental industry, this includes natural herbal toothpaste, herbal mouthwash, bamboo toothbrushes, and oral supplements.
A recent natural method of maintaining oral health is through the use of oral probiotics.

Searches for "oral probiotic" have increased 400% over the last five years.
Oral probiotics like Oralbiotic, are lozenges that dissolve in the mouth and establish a helpful oral microenvironment.
A meta-analysis of existing oral probiotic research completed in 2020 found that they can prevent halitosis, periodontal diseases, and reduce the prevalence of cavities.
Consumer preference for natural ingredients is well-known. Many companies have taken note of these shifting trends and have broadened their natural offerings.
In 2020, Colgate announced a vegan sugar-free toothpaste with no artificial colors. Similarly, in early 2021, Crest launched Crest Pure, a toothpaste free of SLS or artificial colors.
7. Teledentistry
In the next year, 23% of dental practices are considering teledentistry in 2021. Already, many dental professionals were using telehealth in 2020.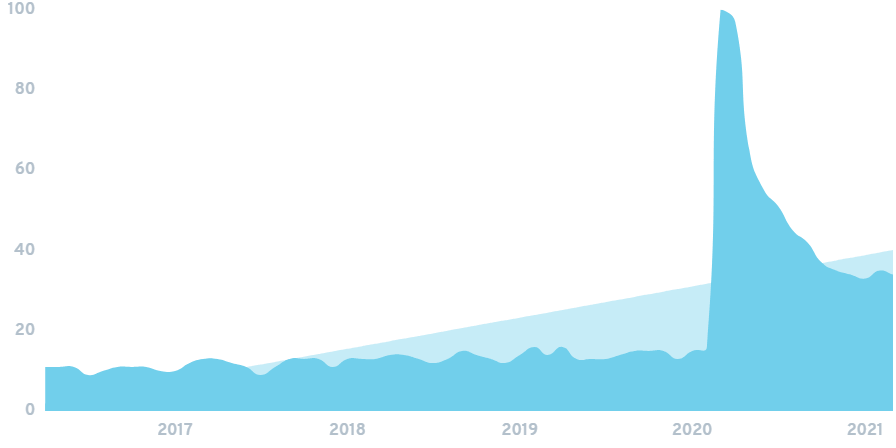 Searches for "telehealth" have increased 203% over the last five years.
According to the CDC, telehealth visits increased 154% in the first week of the pandemic. They remained elevated throughout the year, where nearly a third of all health visits were conducted virtually.
Diedre Keeves, director of connected health application at UCLA health thinks this trend will continue.
"We think that telehealth is here to stay. Our patients are expecting it. Our doctors are very happy with it, and it's a great avenue for care."
Not only can teledentistry provide a substitute for in-person care, but it can improve healthcare by increasing frequency and improving access.
Teledentistry can make it easier for the 20% of Americans who live in rural locations without easy access to dentists and medical services to obtain care. Additionally, teledentistry has been shown to be equally effective as in-person initial consultations at diagnosing cavities and assessing treatment plans.
8. Automated practice management
For appointment-setting, customer service, and more management functions, automation will become the norm in coming years.
Thanks in part to advancements in artificial intelligence, the market for healthcare chatbots is expected to increase 23% from 2019 to 2025, making the market worth $703.2 million.
Dental chatbots can perform a number of services.
The Emergency Dental Virtual Assistant can screen emergency patients before they arrive for immediate dental care, Smartbot360 can answer questions about services, make appointments, or leave a message for a person. ChatCompose can ask questions about symptoms and refer patients to a particular dentist.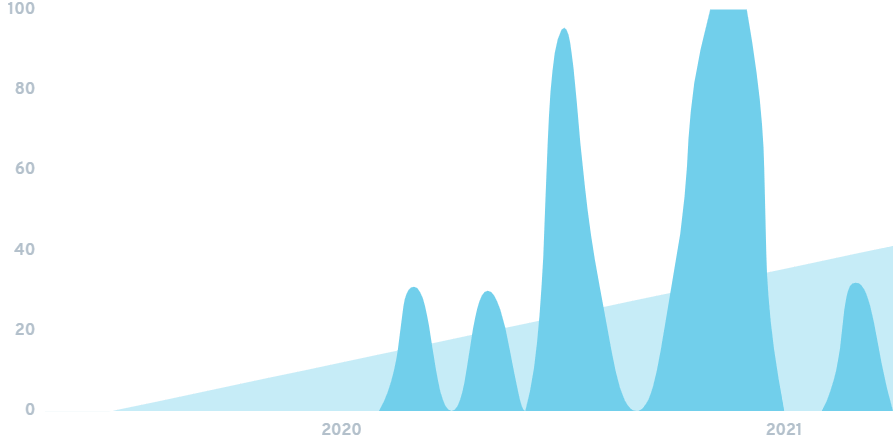 Searches for "chatcompose" have increased 9500% in the last two years.
Another kind of automated software on the rise in dentist's offices is appointment confirmation software, which is expected to grow 13.1% in the next five years. This software automatically sends reminders via email, text, or phone to patients about their upcoming appointments, and confirms the appointment.
Similarly, review management software encourages patients to leave feedback. Research shows that 70% of users will leave a review if asked.
9. emotional dentistry
According to research, 36% of the population experiences dental anxiety, and it is considered a huge barrier to dental maintenance. Approximately 22% of people report avoiding going to the dentist because of fear.
In one study, student dentists who scored high on emotional intelligence had higher levels of patient satisfaction.
In response to patient avoidance, the dental industry is making strides to mitigate stressful factors like pain and uncertain outcomes.
To remove the fear of the experience completely, practices that specialize in sedation dentistry, which uses medication to induce a relaxed sleep-like state for everything from routine cleanings to fillings.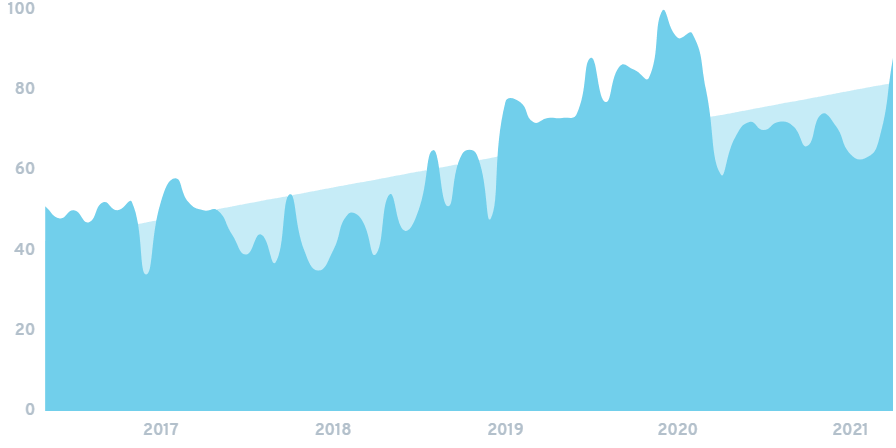 Search interest in "sedation dentistry" has increased 29% over the last five years.
In the field of cosmetic dentistry, a source of stress may come from uncertainty about results that are going to be life-long. With that in mind, technology like virtual results mockups using Digital Smile Design (DSD), 3D-printed trials, or a combination increases patient satisfaction.
Another method for relaxing dental patients involves distraction.
The use of VR in medicine has been shown to significantly reduce a hospitalized patient's perception of pain.
Televisions in the dentist's chair are another popular form of entertainment that is gaining steam. 65% of dentists report having been asked by a patient to get Netflix to watch during treatment. Other requests include massage chairs and virtual reality.
Conclusion
Many of this year's dentistry trends are patient-facing. They improve the comfort, affordability, and ease of dental treatment.
Though the dental industry is not the first to adopt cutting-edge technologies, it is on its way to incorporating many new modern conveniences.
Last Updated: 
April 5, 2021