8 Healthcare Trends to Monitor in 2021
The U.S. healthcare industry was worth an estimated $808 billion last year. (And globally, it's expected to surpass $10 trillion by 2022.)
While in some ways it's a slow-moving industry, in many ways it is poised for disruption.
And in several cases, that disruption is already well underway.
In this guide, you'll see 8 of the biggest healthcare trends and opportunities to watch in 2021. And examples of companies that are already taking advantage.
1. Health Professionals Are Augmenting Their Intelligence
Artificial intelligence is influencing almost every industry this year.
In the healthcare industry, there are two main ways AI is being used.
The first is by consumers.
One example of this is Your.MD.
Founded in 2012, this healthtech startup has secured $47.3 million in funding since then. And $30 million of that came in a Series A round in October 2020.
It uses machine learning to display relevant health info in a mobile app. This allows people to check their own symptoms and get better medical tips than a simple Google search would offer.
User growth is 350% over the past year.
The Your.MD mobile app uses AI to help people self-diagnose.
Another example of consumers using healthcare AI is AliveCor.
This company produces personal ECG devices that use artificial intelligence to detect and predict heart rhythm abnormalities.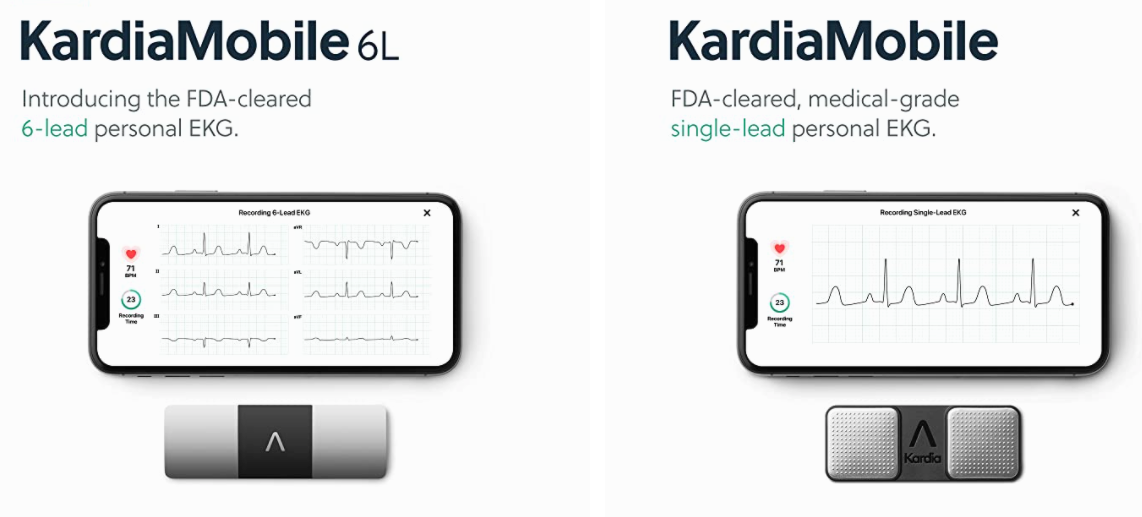 AliveCor's KardiaMobile personal ECGs.
The second way AI is being used in healthcare is by healthcare providers. Often as augmented intelligence.
According to the American Medical Association, "augmented intelligence" is the concept of using artificial intelligence for assistive purposes. To enhance human intelligence - not to replace it.
For example, Israeli startup Aidoc uses AI to help radiologists spot visual abnormalities in CT scans and other medical scans. The startup raised $27 million in Series B funding in 2019 to grow their technology and go-to-market team, citing high demand for its solutions.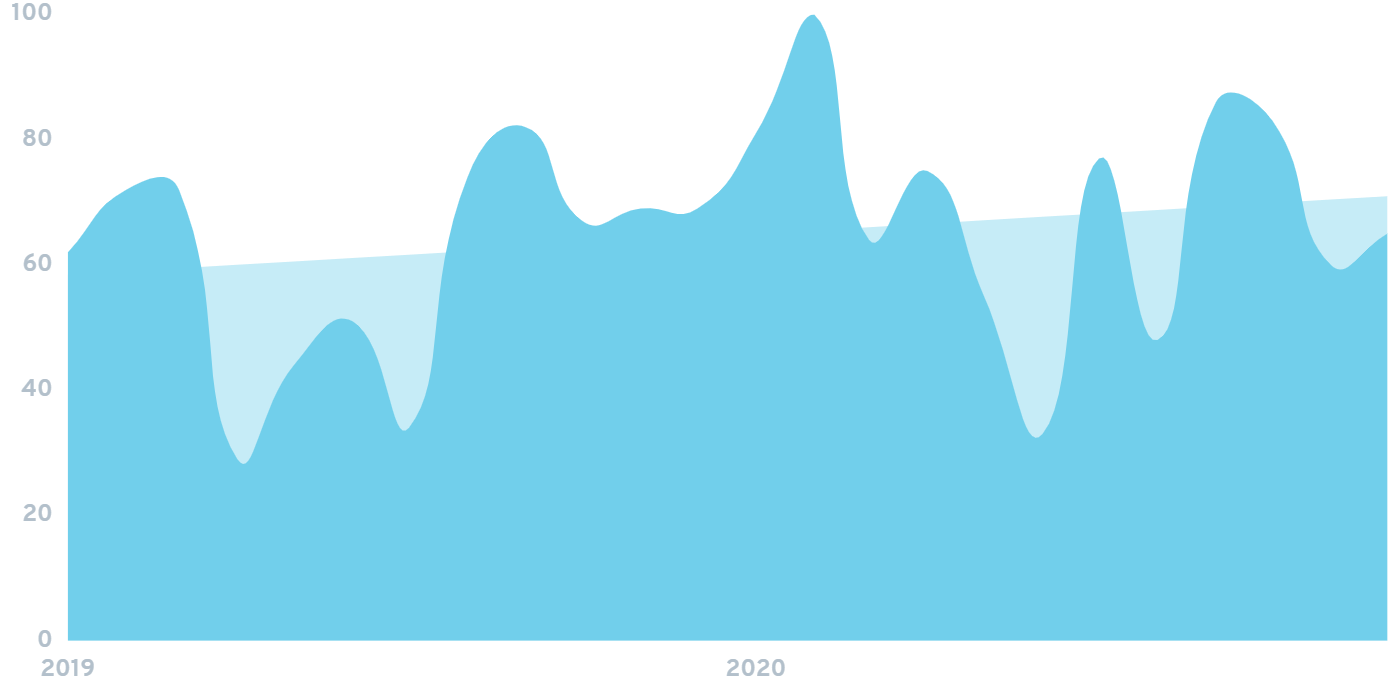 Search interest in "AI and healthcare" has been growing.
The global market for AI-enabled medical imaging solutions is projected to rise from $404 million in 2018 to $9.61 billion in 2029.
2. Healthcare is Getting Personal
Personalized healthcare (PHC) is all about customizing medical treatment for an individual patient's needs.
As Cleveland Clinic puts it, this includes "genetics and genomics but also includes any other biologic information that helps predict risk for disease or how a patient will respond to treatments."
This allows for the use of precision medicine, which can both improve health outcomes and decrease costs. And this year, it's a trend that is heating up more than ever.
Why?
New genetic testing products are one major reason. And they're at a lower price than ever.
23andMe used to sell their DNA testing kits for $999 each.
In 2012, the price dropped to $299.
And now, anyone can buy one of their kits for under $100.
In fact, there is now a wide variety of personal DNA kits on the market, some available on Amazon for under $60.
And while 23andMe has reported declining sales, it probably has more to do with such kits becoming a commodity than with any lack of interest in the product. The number of monthly Google searches for the phrase "DNA kit" has risen 46% over the past 5 years.
DNA kits didn't get a big Christmas boost this year. But the search term is still trending upwards.
Beyond DNA, many other types of home testing kits are also now available.
Everlywell makes testing kits for ailments like hormone levels, allergies, food sensitivity and vitamin deficiencies.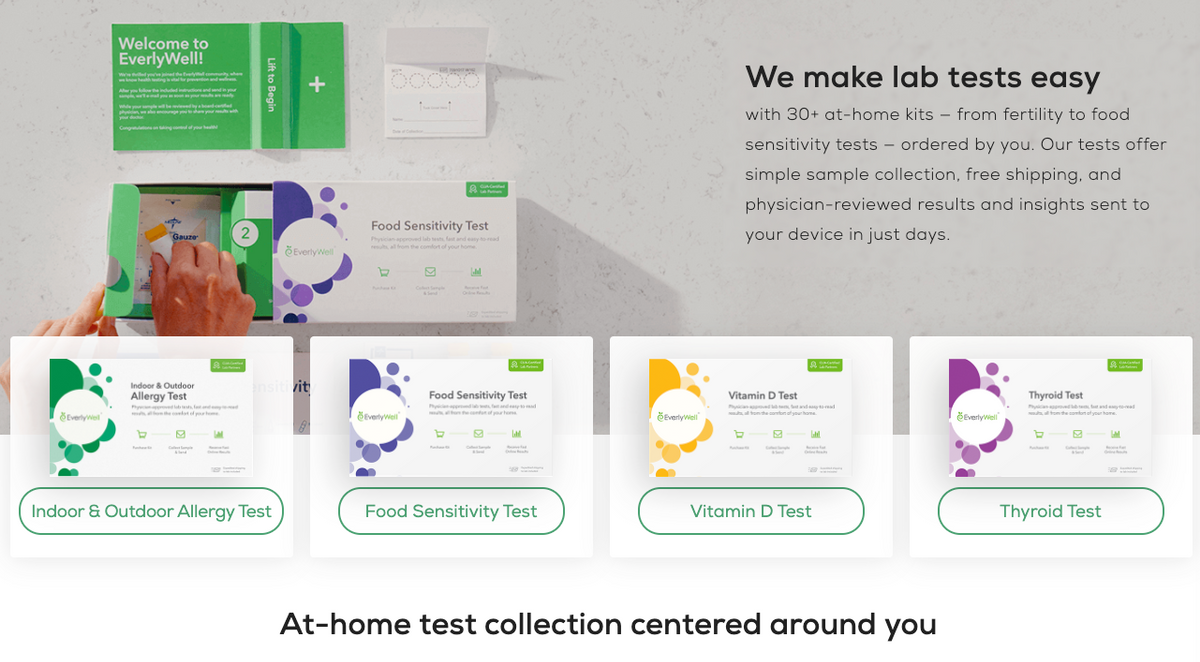 Everlywell is growing quickly, with searches for the brand name more than doubling in the past two years.
A separate factor that's helping drive personalized healthcare forward is the number of wearable devices consumers are using to monitor their health and habits.
Which brings us to the next trend.
3. Connected Devices Are Making A Contribution
Another source of data for personalized healthcare is connected wearables and other smart devices.
These consumer devices are increasingly overlapping with the medical field.
Oura, the maker of the popular Oura Ring wearable fitness tracker, is collaborating with UCSF on a study to try to detect early signs of COVID-19. And Fitbit has undertaken a similar study of their own.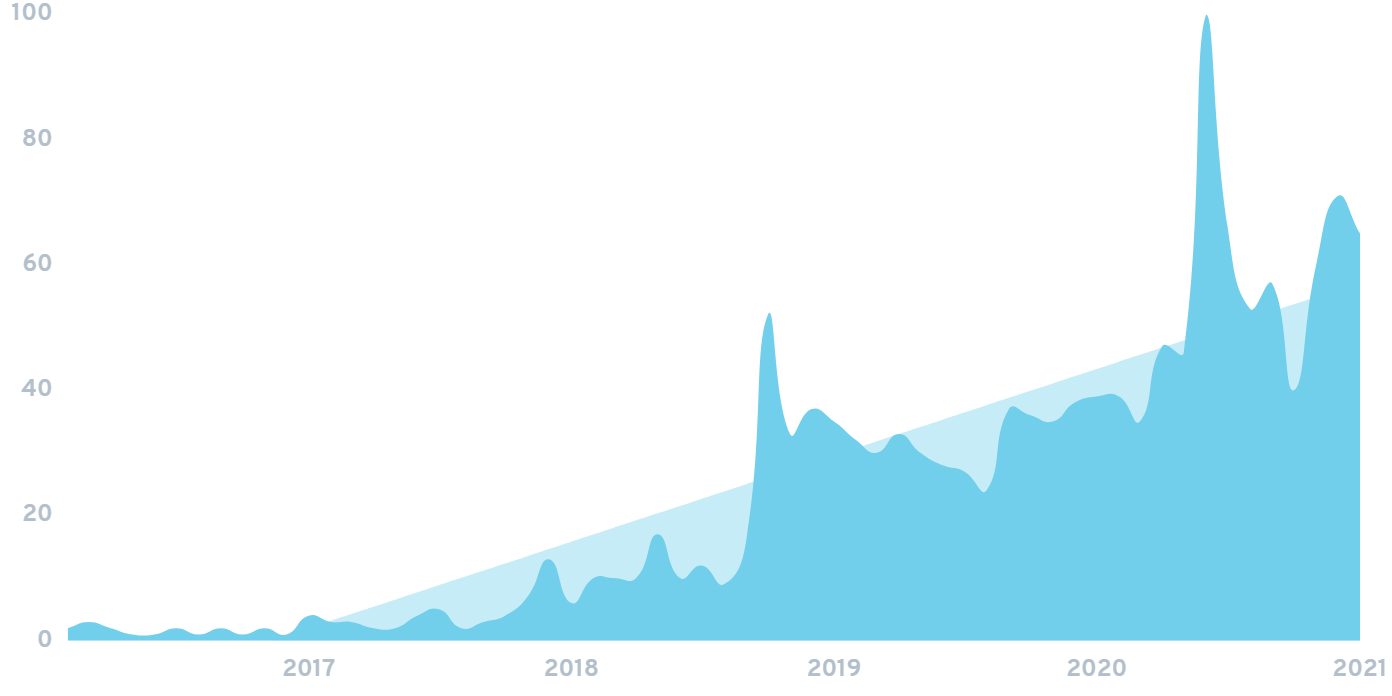 Searches for "Oura Ring" have been growing quickly as more people adopt wearable technology.
In 2018 the FDA approved the Apple Watch for use as a medical device, allowing it to be used and marketed for the purposes of running ECG tests and detecting atrial fibrillation.
With over 55 million active Apple Watch users, this gave Apple access to incredible amounts of medical data.
Putting that enormous scale to use, Apple partnered with Stanford University to run a study on irregular heart rhythms, related heart conditions and the smartwatch's ability to detect them. With over 400,000 participants, the study was the largest ever of its kind.
And last year, Apple announced it was partnering with Johnson & Johnson to run a new heart study using the Apple Watch (and iPhone) again. This time, the study is focused on people over the age of 65.
Is Apple's entry into healthcare a temporary one?
Don't bet on it.
In 2019, Tim Cook said:
"I believe, if you zoom out into the future, and you look back, and you ask the question, 'What was Apple's greatest contribution to mankind?' it will be about health."
In 2021, we're closer than ever to that reality.
The Apple Watch features heart rate monitoring.
In total, the internet of things (IoT) is estimated to save the U.S. healthcare system tens of billions of dollars each year.
But not everyone is celebrating the achievements of Apple or other tech companies.
Many cardiologists have spoken out against what they are calling exaggerated claims on Apple's part. Their chief concern: the widespread use of these features may lead to unnecessary medical treatments.
There are also privacy concerns.
Consumer-focused tech companies aren't known for keeping user information private.
In 2019, The Washington Post reported that pregnancy-tracking app Ovia was selling its users' data to their own employers.
While 23andMe shared genetic data from 5 million of its customers with drugmaker GlaxoSmithKline in 2018.
Will people think twice before giving Apple and other companies access to their medical information?
So far, the answer seems to be "no".
4. Virtual Healthcare is Exploding
Telehealth is a $3.5 billion industry in the United States.
And it's growing quickly.
In fact, in terms of recent growth in interest it may be the single biggest healthcare trend this year.
According to Accenture's 2020 digital health consumer survey, 62% of healthcare consumers would prefer a virtual healthcare option when it comes to health and wellness advisory. 57% would like a remote monitoring option for ongoing health issues, and 52% would choose virtual healthcare for routine appointments.
Even for disease diagnosis, 42% of consumers would "definitely or probably" choose a virtual option if given the choice.
What's more, online searches for "telehealth" have increased 172% over the past 5 years.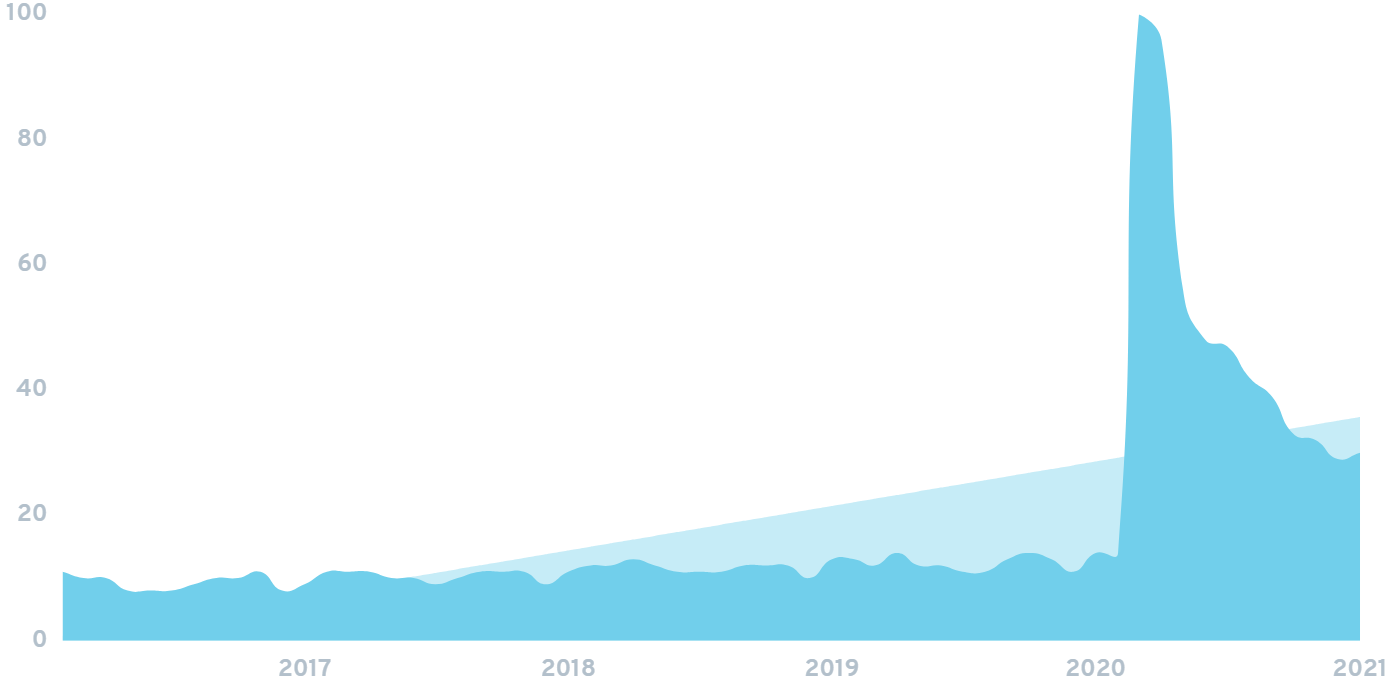 Searches for "telehealth" spiked at the start of the Covid crisis.
New telehealth services are now cropping up from health service providers like Babylon Health and others.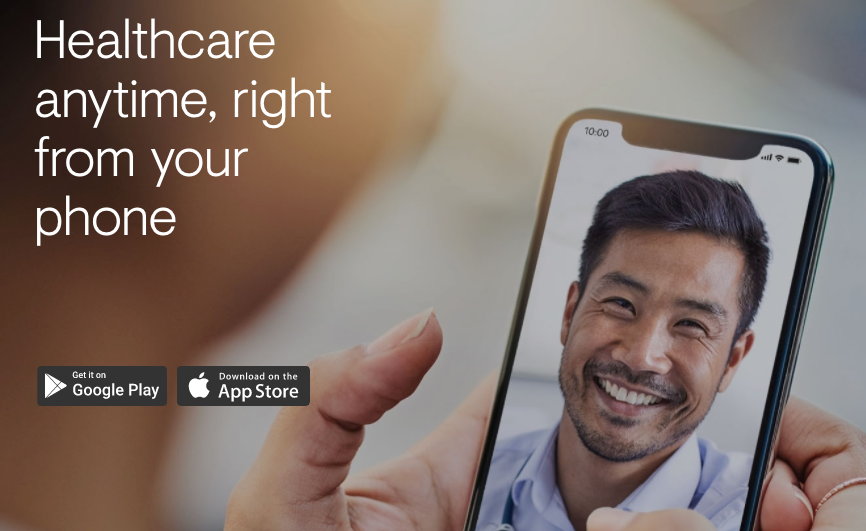 Babylon Health offers video appointments with healthcare providers.
Insurance coverage is improving for telehealth options as well: 42 U.S. states as well as Washington, D.C. now require private insurers to cover telehealth. (Typically to the same extent that equivalent in-person health services are covered.)
That's good news. And even better timing.
With 71.6 million Baby Boomers in the U.S. in or approaching retirement, demands on the healthcare system will undoubtedly increase. Telehealth offers a more efficient - and more hygienic - mode of treatment, which should help alleviate that burden.
At the same time, remote patient monitoring (RPM) programs are helping patients recover from surgery at home, reducing hospital admissions and cutting down emergency room visits.
5. SDOH Is Getting More Focus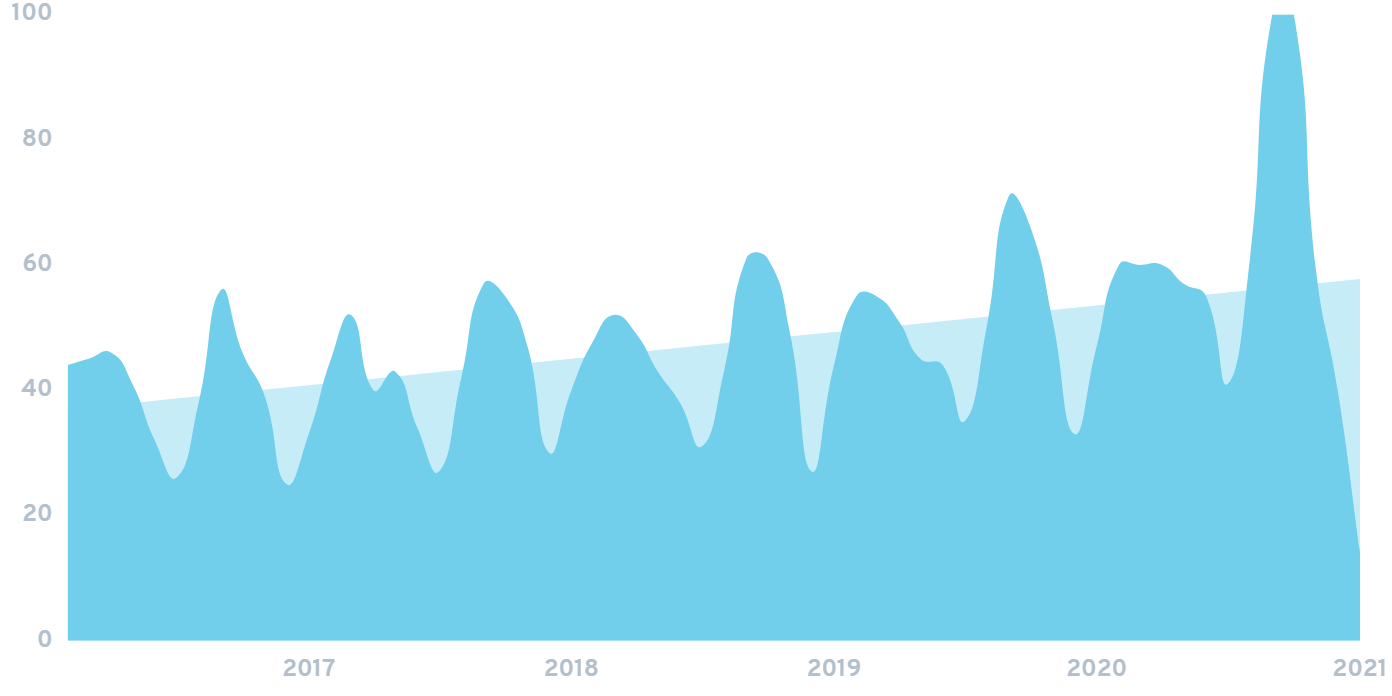 Google searches for "social determinants of health" are up and down. But the latest spike was the biggest.
Social Determinants of Health, or SDOH, describe how non-medical factors influence people's health.
According to the Agency for Healthcare Research and Quality, "minorities often receive poorer quality of care and face more barriers in seeking care" compared to Caucasians.
In some localities, the disparity in care has reached a breaking point. Milwaukee County, Wisconsin recently declared racism a public health crisis.
The CDC has stated that African-Americans, refugees, and children who were adopted from outside the U.S. are all at higher risk for lead exposure.
And COVID-19 has been disproportionately hard on communities of color as well, with black Americans dying at 3 times the rate of whites.
Will 2021 be the year that these issues are 100% resolved?
Probably not.
But it is something that healthcare providers and policymakers are paying more attention to now. And big changes are likely to come.
6. Mental Health Is Being Seen As Physical Health
So many of today's health issues are primarily caused by behavior. Over-eating, smoking, avoiding exercise, and substance abuse are all massive causes of morbidity in developed countries. In fact, nearly half of all deaths in the U.S. are linked to behavioral and other preventable causes.
What's more, it's estimated that up to one third of adults meet the criteria for a behavioral health disorder.
So it's no surprise that behavioral medicine is getting attention.
Behavioral medicine includes aspects of psychology, occupational therapy, preventive medicine, biofeedback and more.
In many ways, behavioral medicine is where mental health meets physical health.
That's why doctors have started prescribing outdoor walks and forest bathing.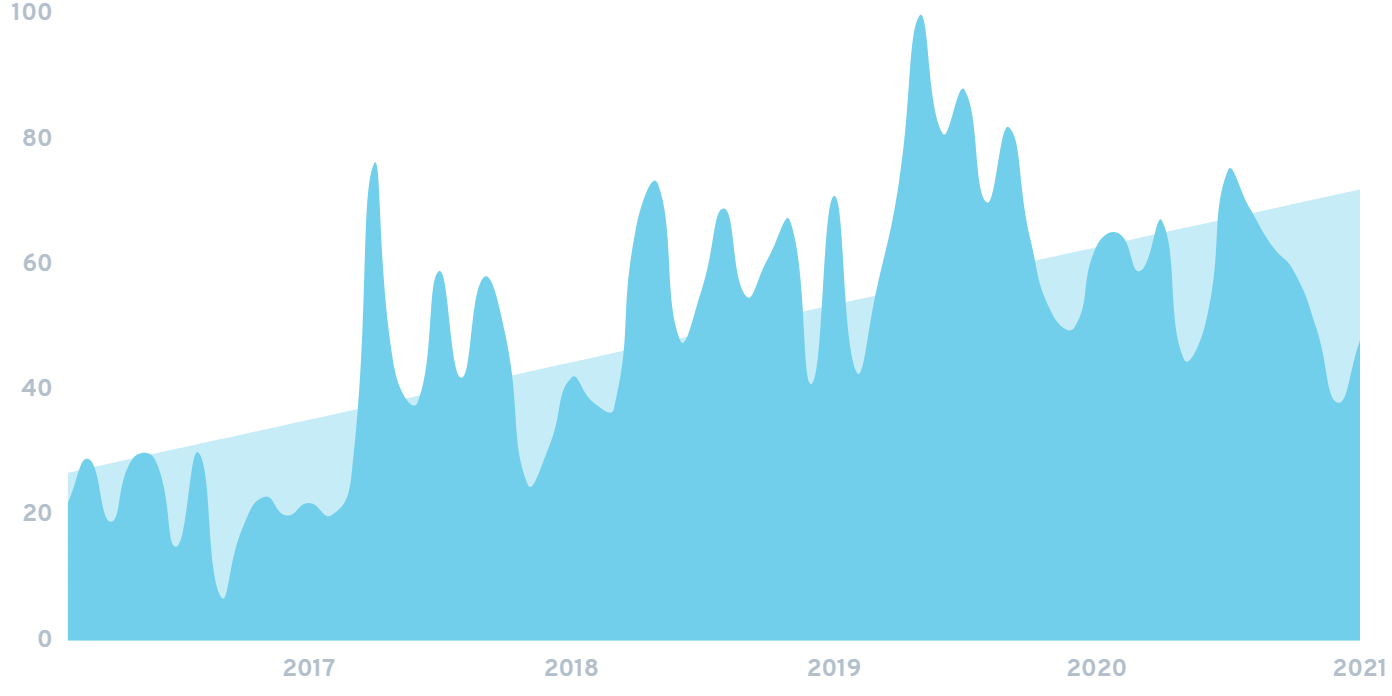 U.S. Google searches for "forest bathing".
According to the American Hospital Association, less than half the adults with any mental health disorder receive treatment. And 70% of adults with a behavioral health disorder also have a physical health condition. That's partly why the AHA has announced support for policy changes to improve access to behavioral healthcare.
7. Corporate Healthcare Is Going Direct
In 2018, Amazon, Berkshire Hathaway, and JPMorgan announced a healthcare partnership. Its goal?
To use technology to provide "simplified, high-quality and transparent healthcare at a reasonable cost."
Since then, more details have taken shape.
The project is a non-profit organization called Haven, and it has announced plans to partner with Cigna and Aetna to offer health plans to 30,000 JPMorgan employees in Arizona and Ohio.
For its part, Amazon will be offering healthcare coverage to its employees in Connecticut, North Carolina, Utah and Wisconsin.
And they're not the only ones.
Over one tenth of large American employers have set up direct-to-employer arrangements with healthcare providers.
Will these companies stop there?
It doesn't look like it.
When Amazon rolled out a telehealth service called Amazon Care for its Seattle-based employees in February 2020, there was speculation that it may also be preparing for a public debut.
After getting a taste of the healthcare market with medication delivery service PillPack - acquired for $753 million in 2018 - Amazon seems to be hungry for more.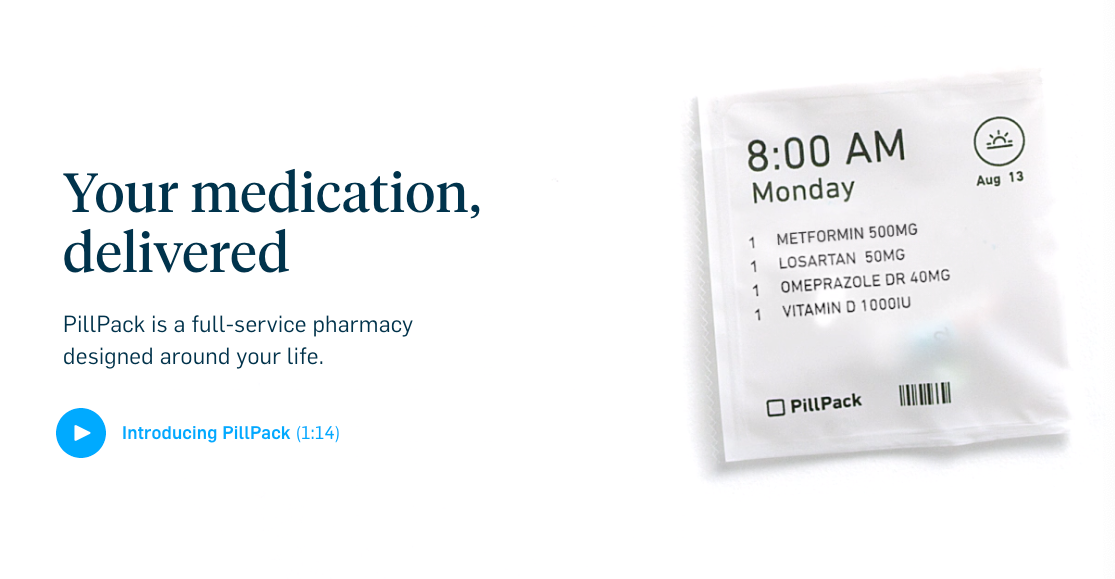 Amazon's PillPack medication delivery service.
Other companies are now stepping into healthcare, too.
For example, rival retailer Sam's Club. In September 2019, they announced publicly-available healthcare bundles including prescriptions, dental services, vision exams, preventative health screenings, prepaid health debit cards and more.
While Google's parent company Alphabet helped to launch a clinic called Cityblock, and has also been working on a project called Medical Digital Assist to build a "next gen clinical visit experience".
8. Healthcare Is Unbundling
As many Americans fight for universal healthcare, a public option, or "Medicare for all", there is a much different trend happening in parallel:
Unbundled healthcare.
Healthcare insurance companies like Bind are offering what they call "on-demand healthcare". Allowing their customers to choose granular levels of coverage from a large menu of options. And not locking them in to any specific network of healthcare providers.
In theory, this system allows for more savings as people only pay for what they need - and get to comparison-shop between different doctors.
However, these new types of plans may also expose patients to big financial risks. After all, it isn't easy to shop around for a good deal when you're having a medical emergency. And Bind gets around the Affordable Care Act's cap on in-network out-of-pocket expenses by having no network to start with, and by classifying more expenses as premiums (which are not capped).
Others are opting for high-deductible insurance plans, using health savings accounts to help offset the risk.
U.S. Google searches for "HSA".
As another alternative to traditional health insurance, cooperatives like Christian Healthcare Ministries allow large groups of people to pool their money together to help each other foot their medical bills.
For-profit alternatives are also on the market, like the healthcare bundles from Sam's Club that we already covered above.
Urgent care centers and other walk-in clinics are another aspect of the unbundled healthcare movement.
There are approximately 9,300 urgent care centers in the U.S. These walk-in medical clinics offer after-hours medical attention for matters that are urgent but not life-threatening. And they come with an average cost per visit of $125 to $150 without health insurance - compared to $2,032 for an emergency room visit.
This helps cut back on unnecessary ER visits, which cost Americans $32 billion per year.
As a healthcare segment, urgent care centers have been growing rapidly. The number of urgent care centers in the U.S. grew 44% from 2013 to 2018, representing a $28.4 billion industry last year.
Acquired in by UnitedHealth Group in 2015 for $1.5 billion, MedExpress is the largest urgent care operator in the US, with over 250 locations. And in April 2017, private equity firm Warburg Pincus made a majority investment in urgent care provider CityMD, reportedly valuing it at around $600 million.
There You Have It
That's our list of the top trends in healthcare to watch this year.
Unbundled competitors are forcing health insurers and healthcare providers to innovate. While technology is putting more power in consumers' hands, and making medical professionals more effective.
No one know exactly what the next year might bring.
But organizations that bet on these trends will be well positioned to thrive as things continue to evolve.
Last Updated: 
January 11, 2021