How to Do Market Research For Ecommerce in 2023
Finding data and benchmarks for a particular eCommerce market is relatively easy.
The tricky part is knowing what data you should gather and how to use that data to make better decisions for your eCommerce store.
Otherwise, you'll probably spend hours collecting data and then find yourself lost in a spreadsheet of meaningless metrics.
So in this post, we'll give you a super simple five-step process to help you conduct market research and unearth only the most important insights to guide your investment decisions.
Let's jump into it.
What is Market Research For Ecommerce?
Market research for eCommerce is the process of collecting market data, such as demand trends, profitability, consumer behavior, and competitive insights, regarding a particular product or market niche.
This data is then used to make better investment decisions for marketing campaigns, new product launches, demographic expansions, and other strategies.
Step-by-Step Market Research Process For Ecommerce
Most people overcomplicate the market research process and ultimately waste hours collecting metrics they don't know how to leverage.
So to help you save time executing market research, this super simple five-step guide will show you key metrics you need to collect and tools you can use to collect those metrics efficiently.
Step 1: Identify Industry Trends
The very best market research strategy applied to a subpar market will only yield subpar results.
So identifying the most promising markets and opportunities to research is arguably the most critical step in the market research process.
Unfortunately, it is also deceptively tricky.
How do you identify markets and products that will likely be popular in the next few years?
Many people rely on their network, industry publications, and other news sources to uncover up-and-coming markets and industry trends, though there are a few problems with this process:
It's time-consuming to constantly scan publications and talk to your network as you won't always learn new intel.
It yields variable results as people with more established networks automatically have an advantage.
Once industry publications and your network start discussing a trend, it's probably too late to capture the first-mover advantage.
We wanted to flip this approach, so we built Exploding Topics to do the tedious discovery research for you and deliver a handful of only the most relevant up-and-coming industry trends based on reliable data.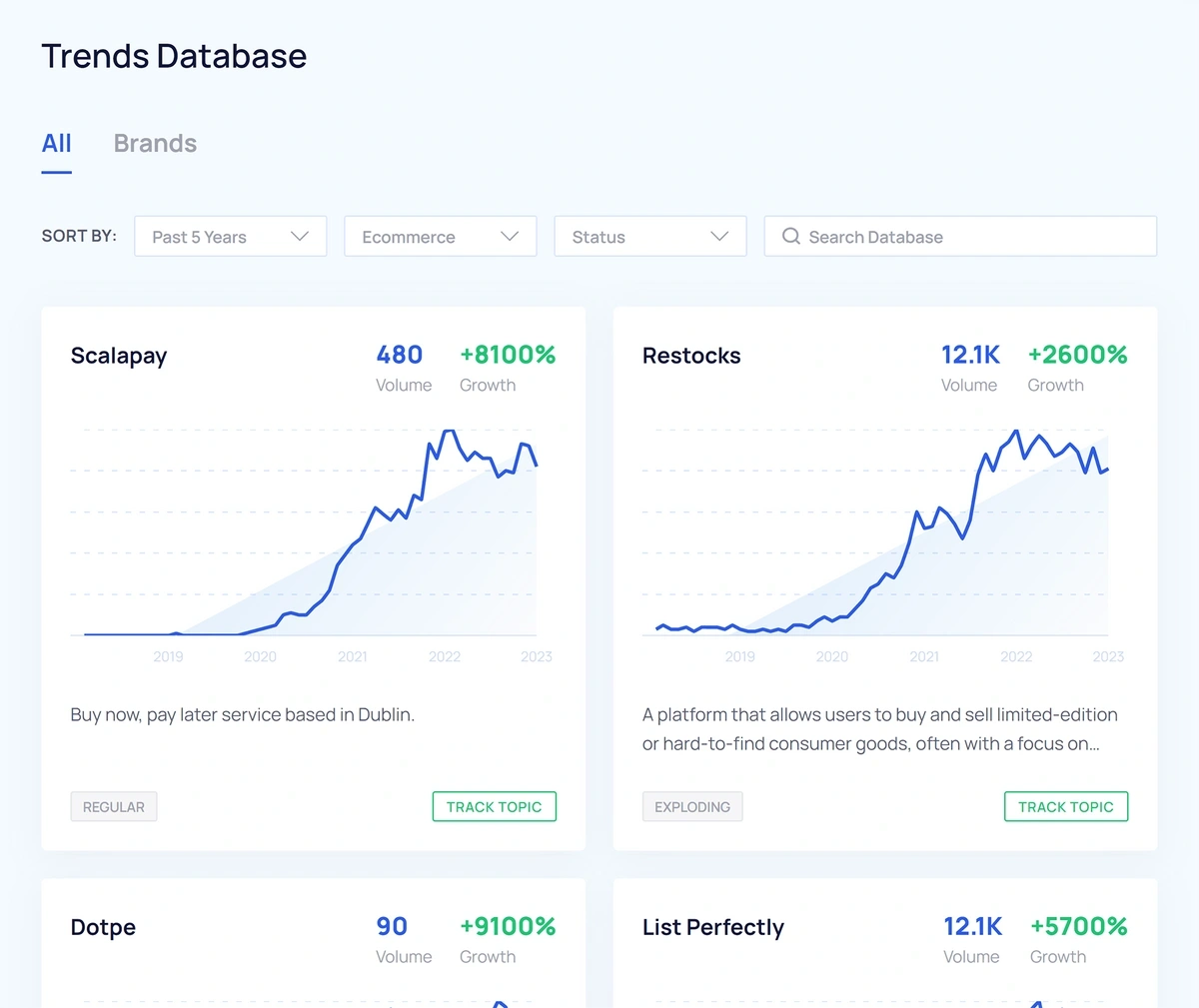 Today, the Trends Database has over 10,000 manually vetted trends (products, companies, and topics), and you can filter by category and growth status (e.g., Peaked, Regular, and Exploding).
So to start identifying industry trends, select a category that's relevant to your audience. For example, if your eCommerce store sells pet toys, you can search the category "Pets" and choose to filter by only those that are Exploding.
The graph displays the keyword's Google Search volume trend over time, and you'll also be able to see the total search volume for select keywords.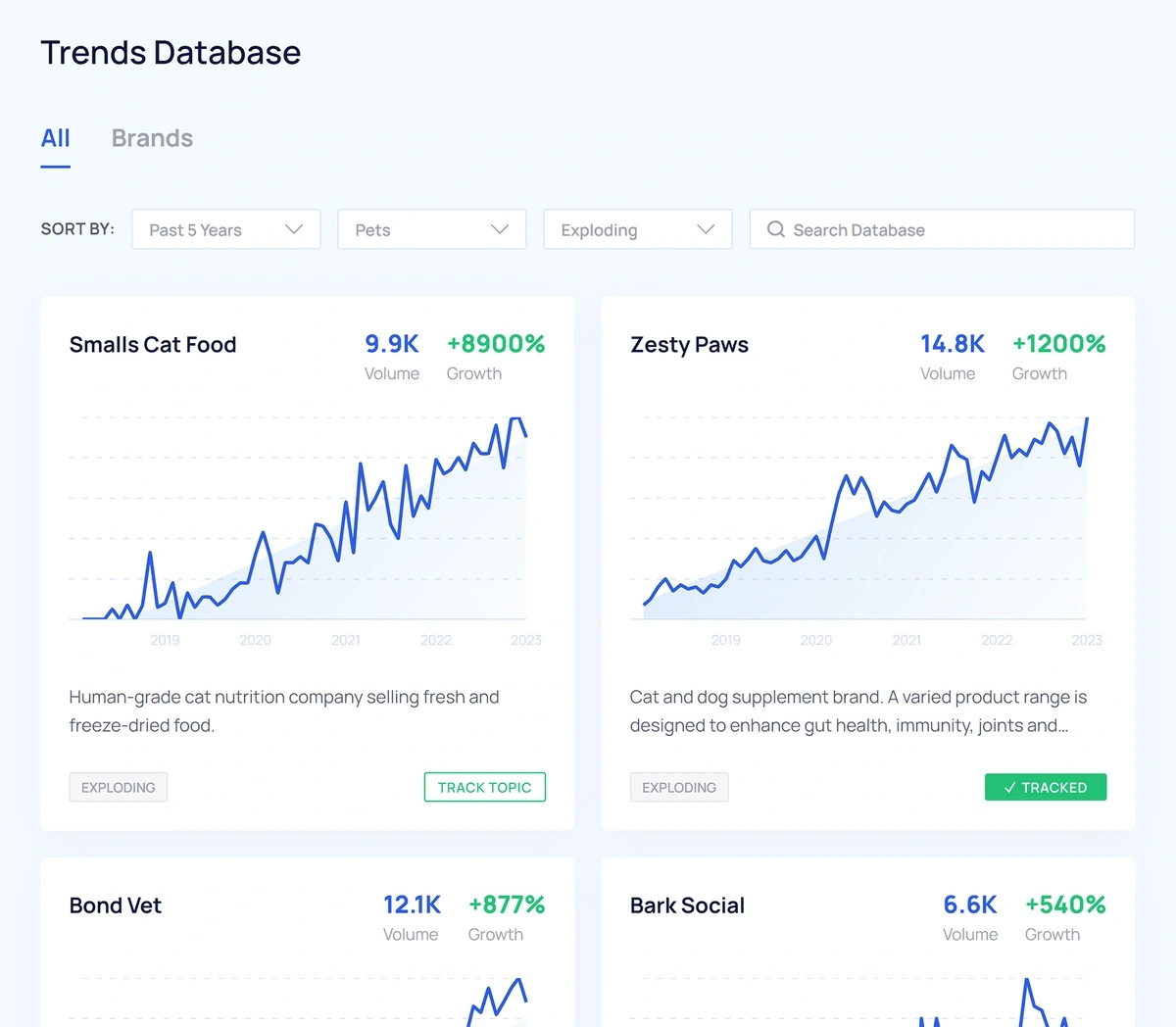 As you browse through topics, here are a few things to consider:
Is this topic relevant to our existing customer base?
Is the growth trend fairly steady, or are there a lot of dips and spikes in its growth?
How long has it been trending? (The default timeline displayed in the graph is five years, though you can set it as far back as 15 years or as recent as three months.)
When you find an interesting topic, save it by clicking "Track Topic" and then create a new Project.
Once you've created a few Projects, you can view them inside the main dashboard, which makes it easy to keep an organized list of the most promising trends.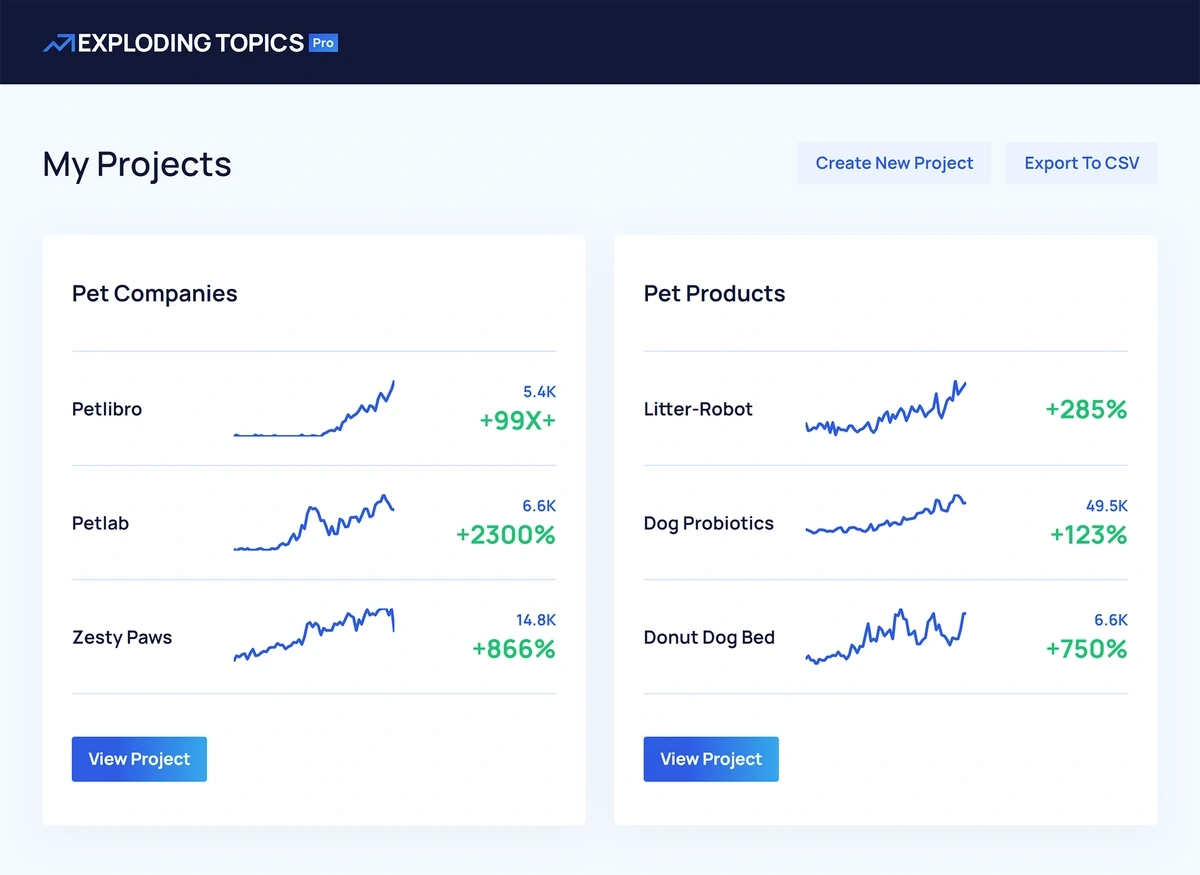 So how do I know that these are reliable trends?
Exploding Topics uses data from AI to discover new trends, and then each one is vetted by human analysts for relevancy before being added to the Trends Database.
Specifically, here's how the trend vetting process works:
AI scans sources like Amazon, Reddit, Google Search, Twitter, and podcasts and flags topics that have seen significant growth.
A human analyst then takes the list of flagged topics and approves those that are both relevant to business and show sustainable growth.
This process ensures you'll never have to worry about combing through irrelevant topics like celebrity news, music, or movies, and each topic is likely a real trend rather than a fad.
In short, Exploding Topics sorts through the noise to give you only the most promising trends.
To see for yourself how Exploding Topics works, you can try out the free database now or jump into the Pro version for full access to the most promising trends.
We also realize that you might not have time to browse the Trends Database daily, so we also send Weekly Reports to your inbox. Each Weekly Report includes five trending eCommerce products and trending startups so that you stay up-to-date with just a few minutes each week. You can sign up for the free Weekly Report today.
Finally, if you already have a topic in mind and just want to check its Google Search volume trend, you can use the Trends Report to access that data instantly.
The Trends Report also gives you a list of other related topics people search for.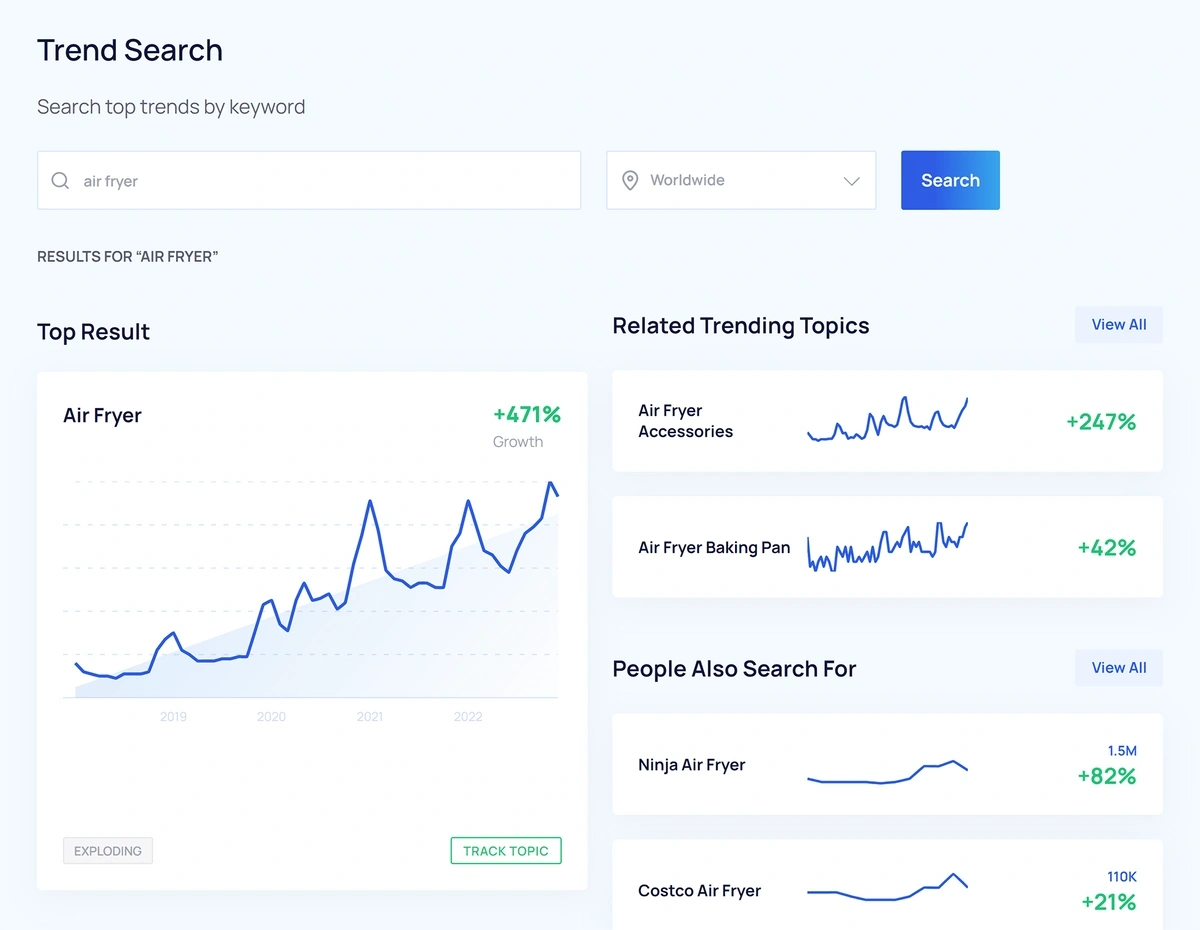 To see for yourself how Exploding Topics works, you can search the Trends Database for free today or try out Exploding Topics Pro to unlock our very best trends.
Step 2: Quantitatively Analyze Market Opportunities
Now that you have a handful of promising market trends, the next step is to collect quantitative data.
Market Size and Sales Data
There are plenty of research tools like Allied Market Research and Grand View Research that offer market research reports for free. These reports provide market share statistics, growth forecasts, historical compound annual growth rates, and other information that can help you determine the market's growth trajectory.
Many market reports also offer consumer insights like spending data, target market demographic data, and key pain points.
Note that these are market reports, so you won't be able to find data on specific products. So once you've narrowed it down to a specific product, you can use a tool like Jungle Scout's Product Database to find sales data – just search for the product keyword, and it will pull up a list of total monthly sales and monthly revenue.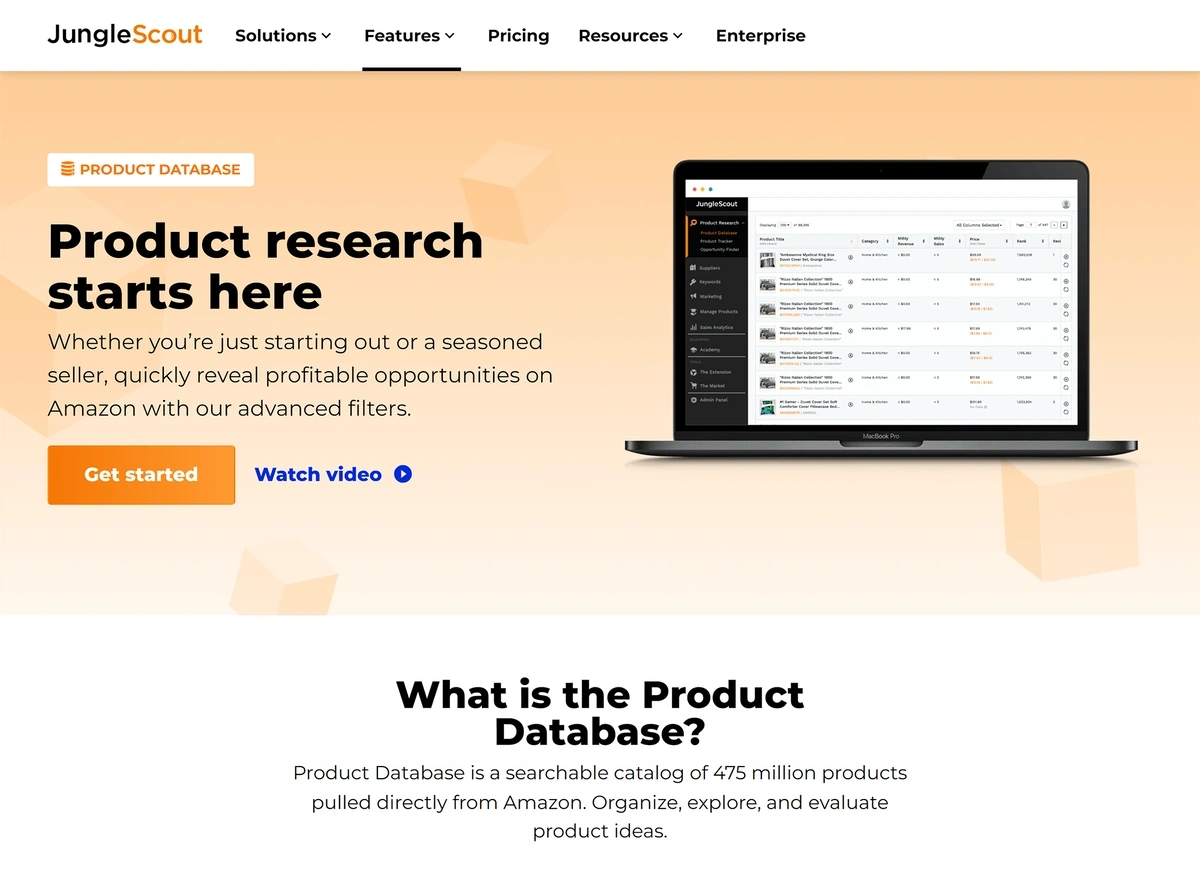 Unfortunately, Jungle Scout only captures Amazon data, so you won't be able to gather estimations for an entire market, but it's a great estimation tool.
Funding Trends
Venture capitalists spend most of their time and resources researching new markets. So even if their guesses aren't always correct, funding trends are a good signal of whether or not a market is promising.
To find funding trends, you can use Crunchbase's Recent Funding Rounds feature, which shows recent funding rounds for companies in a particular industry and allows you to filter by announcement date, the total amount raised, and more.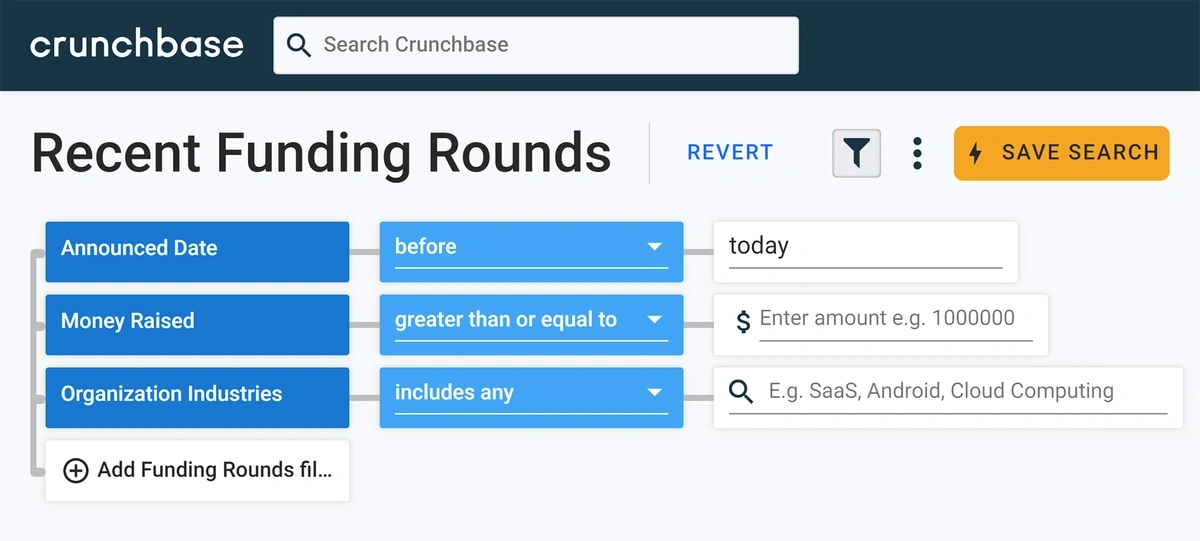 Profitability
Finally, it's important to make sure that the product is actually profitable to sell. So the three key metrics to consider are:
Production costs: This includes labor, material costs, and manufacturing overhead costs, so you can either price this out yourself or ask for a quote from a manufacturer.
Marketing costs: This includes paid advertising and labor costs to execute your marketing strategy. In the competitor research section, we'll discuss how you can identify the best channels to start targeting to better estimate your marketing costs.
Retail prices: Identify the average retail price that competitors list the product for – you can use Jungle Scout's Product Database to get an estimate of average retail prices.
Once you've estimated the total for each of these metrics, you can estimate the total profitability of the product you're researching.
Step 3: Research Competitors
You've probably already heard that you should research competitors in a market before jumping in, but what does competitive research entail?
First, check how many total competitors exist in the space. You can do this by searching for the product keyword on Google or Amazon. Then, create a spreadsheet of companies selling the product.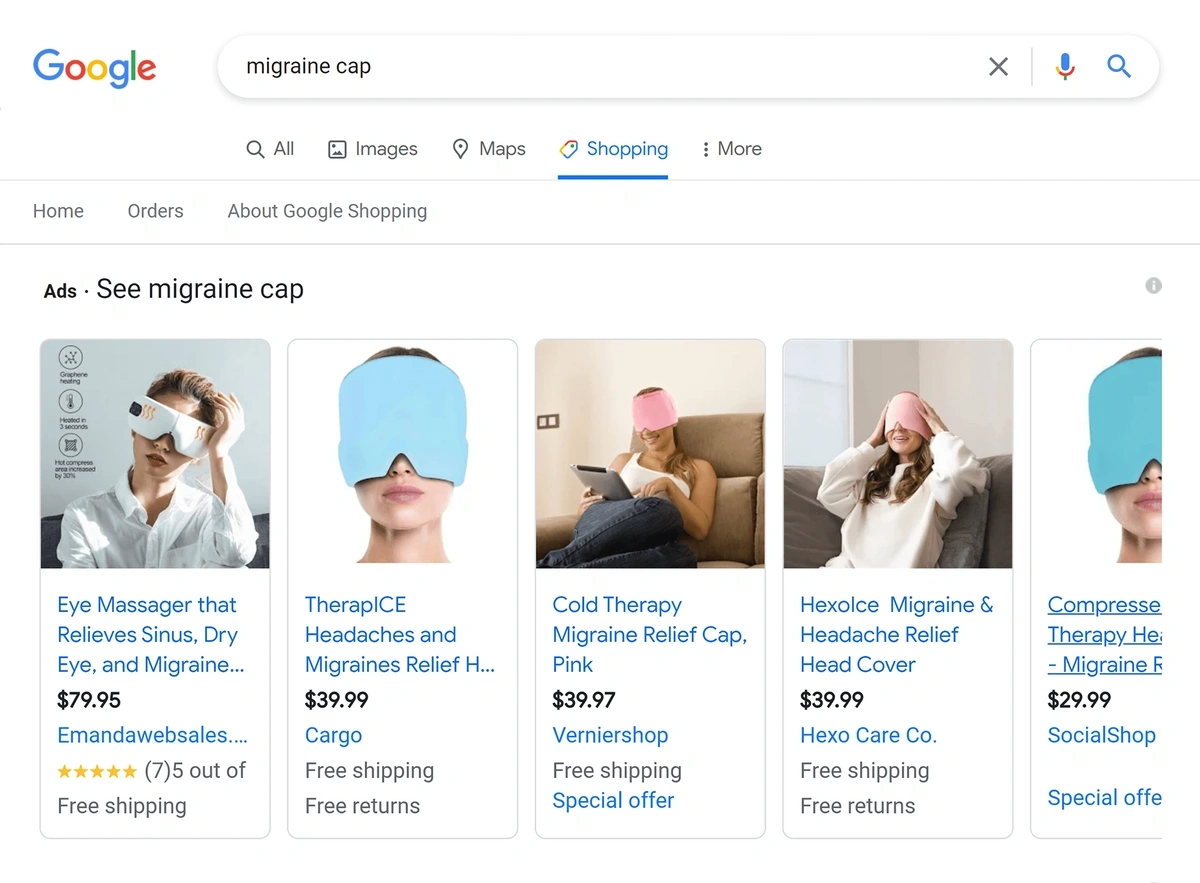 Competition is a good sign because it means the market is well-established and is likely a profitable product or niche. In contrast, if there aren't any direct competitors, the product or niche is probably very new, meaning there might not be steady demand.
So check that there are at least four or five direct competitors in the space.
Next, check how long those competitors have been in business. If the competitor stores are brand new, they might go out of business soon if the product isn't profitable. However, if they've been in business for a few years, there's a good chance that the product or niche is profitable.
Ideally, you want to see that the stores have grown over time. To check for growth, you can look at site traffic trends using Ahrefs.
For example, if you're selling dog supplements, you can see that the traffic trend growth for Nulo Pet is fairly promising: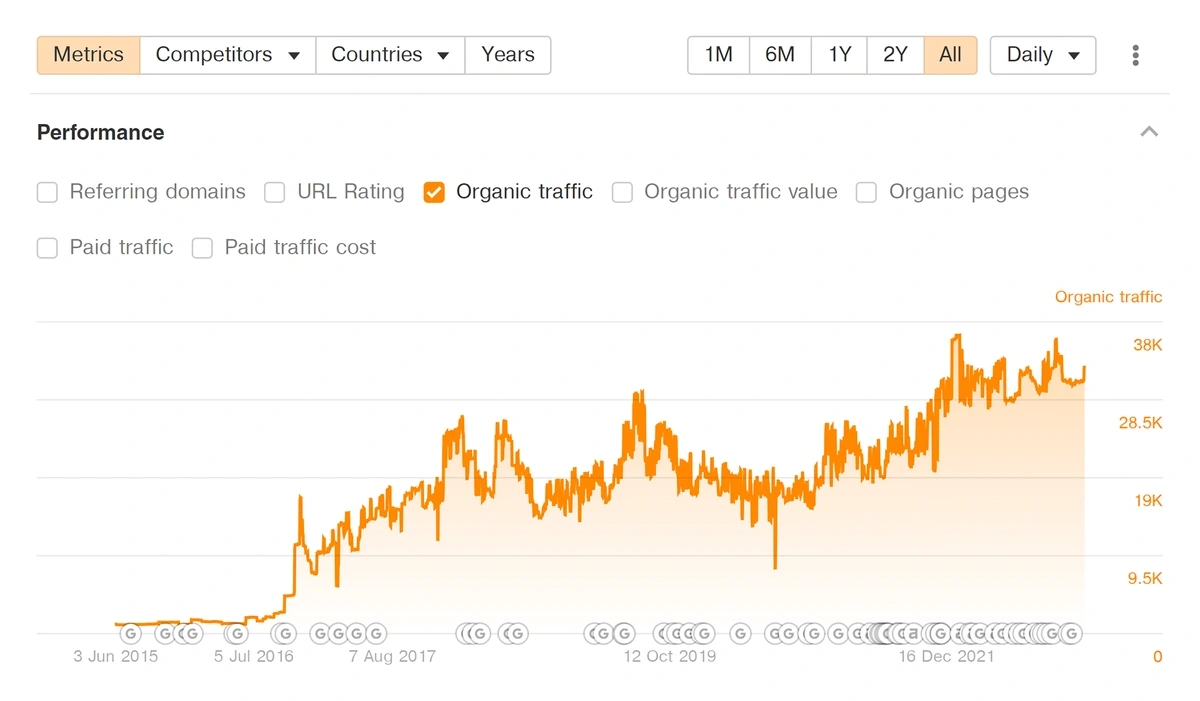 Now that you've validated that the market is sustainable, analyze the marketing strategy competitors use to:
Gauge how difficult/costly it will be to break into the market.
Learn more about the target market to understand if our existing audience aligns with the competitors' market.
First, to gauge the difficulty of the market, you can use a tool like Ahrefs to view:
Keyword Search Volume: Ideally, you want this to be high as it indicates there is strong demand.
Keyword Difficulty: Any number above 40 or 50 will require substantial resources to get your page to rank for that product keyword.
Cost per Click: Another excellent way to estimate the difficulty of a keyword is to look at approximately how much it would cost to pay for that keyword if you were to pay to rank for it in Google ads.
Ahrefs can provide all of this information for you:
To retrieve more specific competitive landscape data, you can use a tool like SpyFu to uncover data like:
Google Ads history
Top pages
Ranking history
Similar competitors
You can also use a tool like Similar Web to learn more about target customers for the product you're researching as it offers a breakdown of information like:
Geography and country traffic
Audience age and gender breakdown
Audience interests
Other websites the same person visits
If you already have an eCommerce store, this information is excellent at helping you better estimate whether your existing audience would be a good match for the new product or niche you're researching.
Step 4: Talk to Existing/Potential Customers
While reading market reports, eCommerce industry trends and other secondary research can help you uncover promising niches, the best way to identify whether or not the new product will work for your eCommerce business is by talking to existing and potential customers to see if they really want your product.
This process is called primary research and is a critical step of the eCommerce market research process. We'll discuss the three main methods to conduct primary research below:
Consumer surveys
Consumer interviews
Consumer reviews
Consumer Surveys
If you already have an eCommerce store and plan to launch your new product to your existing audience, you can simply send a survey to your email list.
If you don't have an existing audience, you can still run a survey to potential customers by either:
Partnering with a company that already has your target audience or
Using a third-party platform to run a survey
To partner with a company that already has your target audience, identify media and affiliate companies in the industry.
For example, if you're researching baby toys to sell to moms, you could partner with a mom blogger to run your research survey. A quick Google search quickly reveals a long list of potential mom bloggers you could reach out to: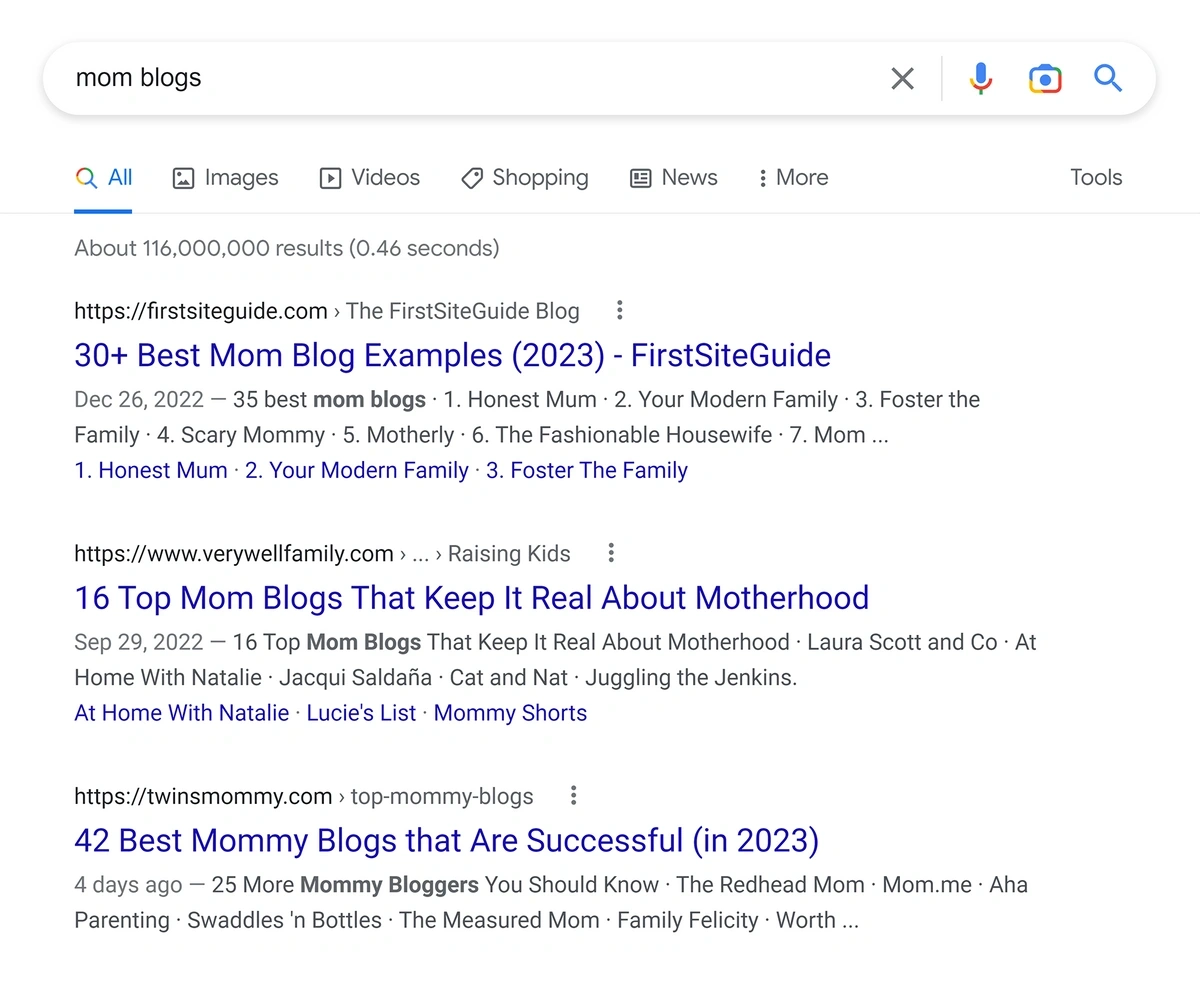 You can also use an influencer marketing platform like Upfluence and offer to pay influencers to run the survey for you.
Alternatively, survey tools like SurveyMonkey or Pollfish allow you to create a survey and run it to a specified audience.
For example, let's say you want to survey employed moms in their 30s who live in the United States. You can specify that audience, and then these research platforms will run your survey to that audience.
Pricing usually starts at about $1 per respondent, so you can probably receive decent data for less than $1,000.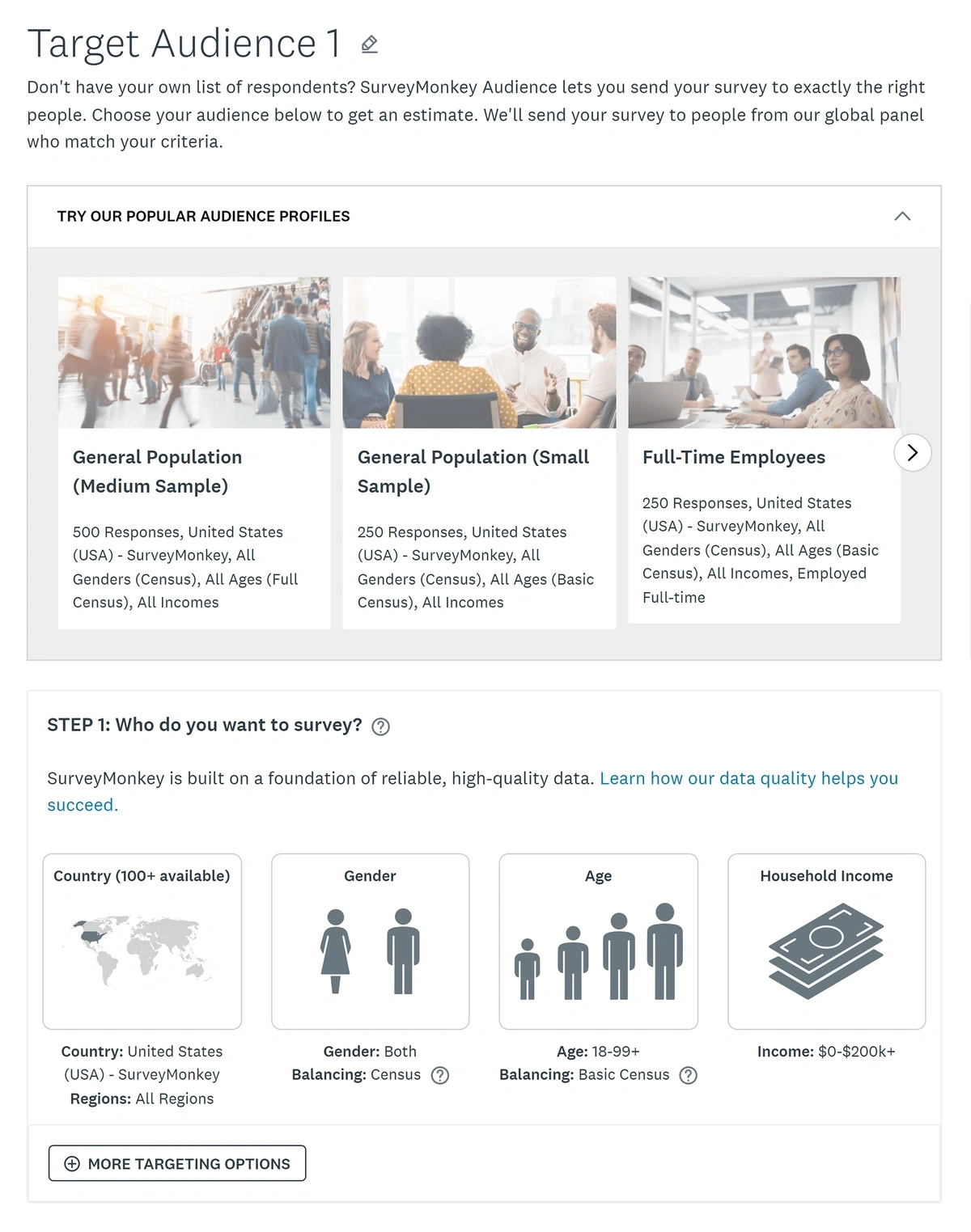 So what questions should you ask in the survey?
Your survey should ask about product pain points, competitors, and the general customer journey.
For example, if you're doing research for a new baby product, you could ask respondents questions like:
What products do you spend the most on for your baby?
Which eCommerce websites do you spend the most money with?
What is a product you wished existed for your baby?
What pain points regarding your new baby do you experience daily?
If you have a particular baby product or product category in mind, you can ask more specific questions like:
What brand do you currently purchase (product) from?
What do you like/dislike about that brand?
What's the best/worst aspect of the customer experience with this brand?
What is your main pain point with that brand?
If that pain point was solved, how much more money would you be willing to spend?
How did you choose the brand you currently use?
Consumer Reviews
You can also gather valuable customer data by simply reading reviews.
Reading through thousands of customer reviews is time-consuming, so you can either hire a VA to do this for you or use a tool like BrightData's Amazon Review scraper to automate part of the process.
Nevertheless, it's still a good idea to read at least a handful of the reviews yourself, as it will help you better understand the language consumers use and pick up on key pain points that a VA might miss.
As you look through reviews, be sure to research both what consumers like and dislike about competitor products, as both are equally valuable insights into the customer research process.
Consumer Interviews
Running consumer surveys and scanning reviews is a great way to identify consumer signals, though you'll probably find that many of these signals leave you with follow-up questions. So to go deeper into various trends you uncover in reviews and surveys, interview consumers already using the products you're researching.
This will enable you to ask follow-up questions to get to the root of each consumer pain point, and you'll also be able to use the exact phrases consumers say in your marketing messaging.
So how do you find consumers to interview?
If you already have a list of customers, you can simply send an email survey and ask if any of them already use the product you're planning to launch. Then, offer those customers a gift card for a 15-minute phone call.
Even if you don't have a customer base yet, you can still find other ways to interview consumers.
First, you can run ads to people who have viewed your competitor's products and send them to a landing page that offers an Amazon gift card for a phone call.
However, be sure to verify that they have actually purchased and used the product.
Another option is to interview industry experts. For example, if you're interested in selling a baby monitor, you could do a quick YouTube search and find mom bloggers who have done reviews for different baby monitors.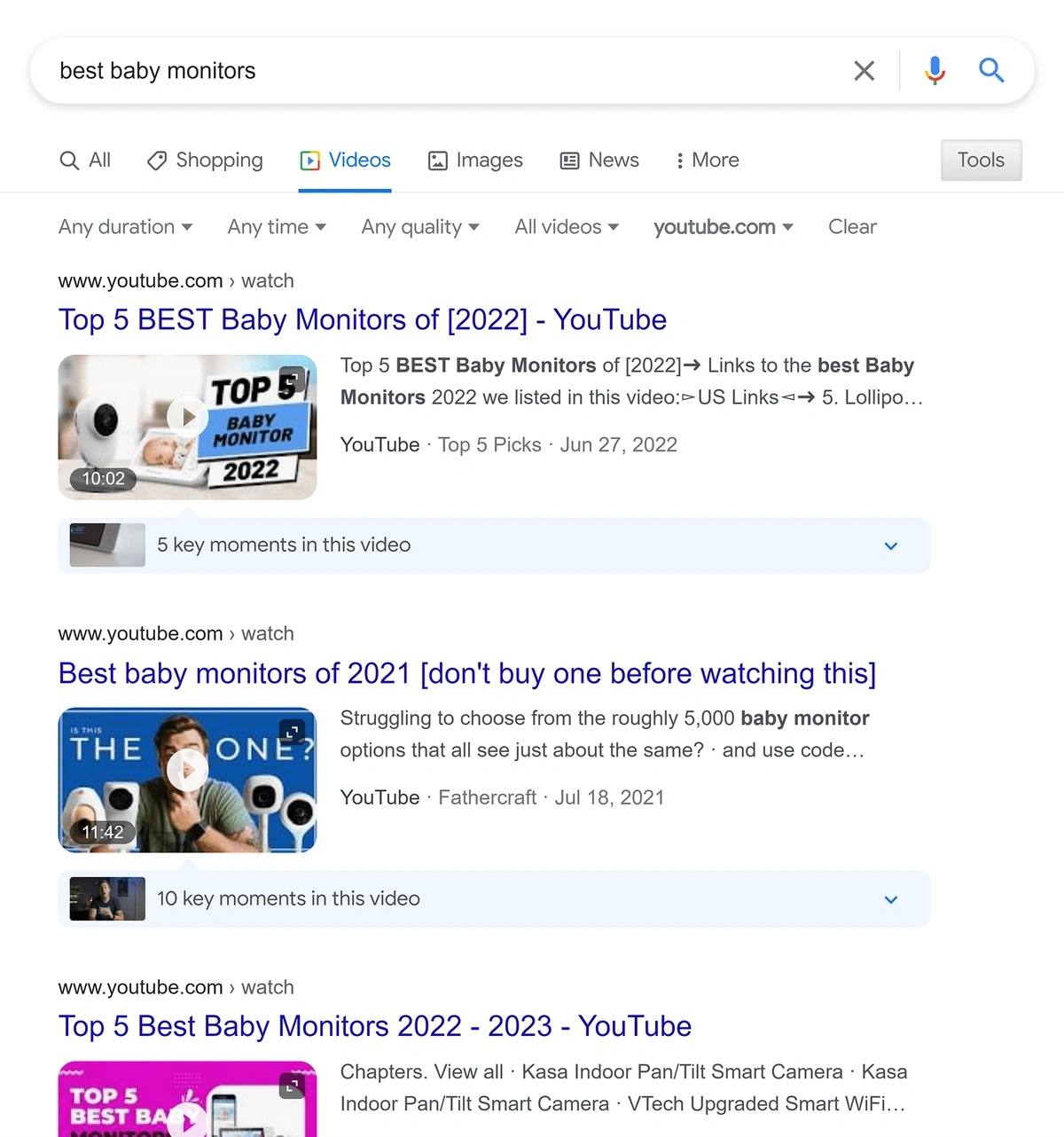 A word of caution is to only interview people who are not affiliated with a particular brand, as affiliates could skew your results and alert your competitors that you're building a competing product.
Step 5: Validate The Idea With Pre-Sales
All of the steps up until this point help you narrow down a list of potential markets and products, though the best way to identify the product that will perform the best is to collect pre-sales.
So before you develop the product, see if you can collect any pre-sales. Here's an excellent example of an eCommerce pre-sale offer: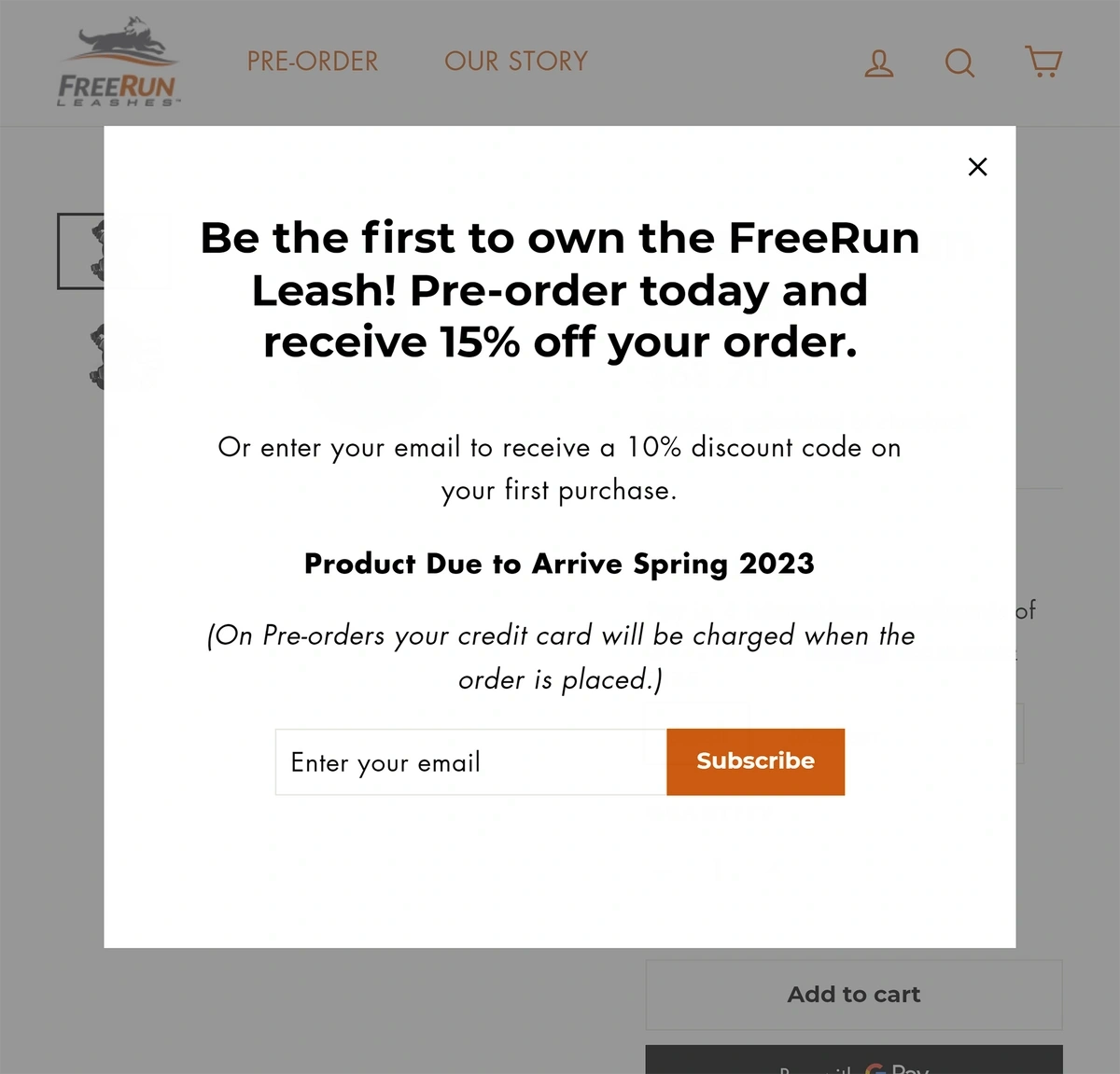 In fact, if you're torn between a few different products, you can create a product page for each one, run some ads to it, and see which one drives the most sales.
If some of the products only drive a handful of sales, you can always refund the few customers who purchased the product (or only charge their cards if you actually produce the product).
Start The Market Research Process Today
Most people overcomplicate the market research process.
So to prevent you from experiencing data overload, use the simple five-step process outlined above.
You can get started with step one right now by browsing the free Exploding Topics Trends Database, or sign up for Exploding Topics Pro to uncover premium trends that only our paid subscribers can see.
This makes it easy to quickly identify promising online markets in just a few minutes rather than spending days scrolling through Twitter, reading industry publications, and talking to your network.
Try it out today and get the first step of market research checked off your to-do list!