12 Emerging Education Trends (2024-2027)
You may also like:
The education world is changing faster than ever.
Thanks in large part to improving technology and new research-led learning approaches, the education space was seeing a rapid shift towards high-tech approaches.
Here is a list of the top 12 trends to watch in the education space.
1. Neuroeducation Makes Inroads
The emerging field of educational neuroscience is shedding light on what works best when it comes to learning new concepts and skills.
And the field is quickly discovering that many mainstream education practices aren't supported by research.
For example, these common teaching methods have all been called into question lately:
In-person lectures
One-size-fits-all lessons
Memorization-based testing
Unguided homework
While new approaches have been introduced to deal with timeless challenges like maintaining students' attention. And encouraging critical thinking.

One of the pillars of educational neuroscience is maintaining focus and attention during lessons.
Neuroeducation is a subfield where teaching approaches are backed by the principles of neuroscience.
And as you can see below, interest has shown strong long-term growth.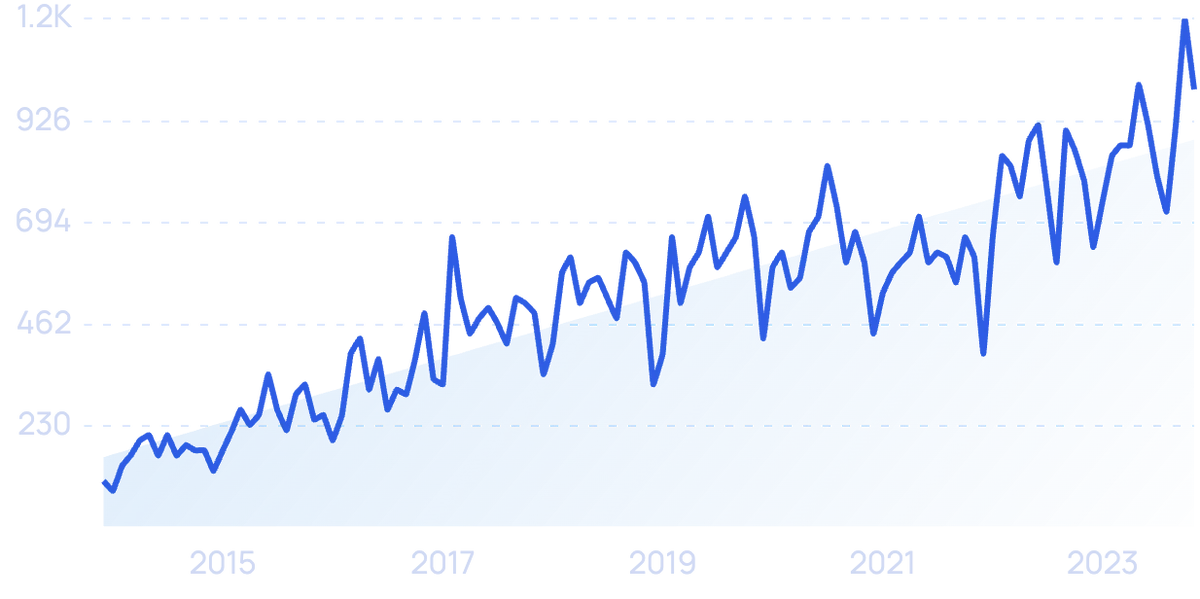 The number of searches for "neuroeducation" has increased by 856% over the last 10 years.
One of the pillars of this field is personalizing the learning process for each student.
Either by teaching in small groups. Or by using artificial intelligence to cater lessons to each student's learning needs.

2. Microlearning Gains Traction
It's no secret that humans have an inherent limit to how much information they can retain from a single learning session.
Especially when the subject matter is not covered again later.
But traditional education tends to overload students with long lectures…and expect them to remember everything they just learned.
(Or to study it on their own, which is a skill many students don't have.)
Enter: the emerging microlearning trend.
Microlearning is a form of spaced repetition learning, in which lessons are broken up into bite-sized chunks and repeated over time.
This is said to help new concepts and skills sink in for the long term.
According to microlearning proponents, short, spaced bursts of learning can significantly boost retention.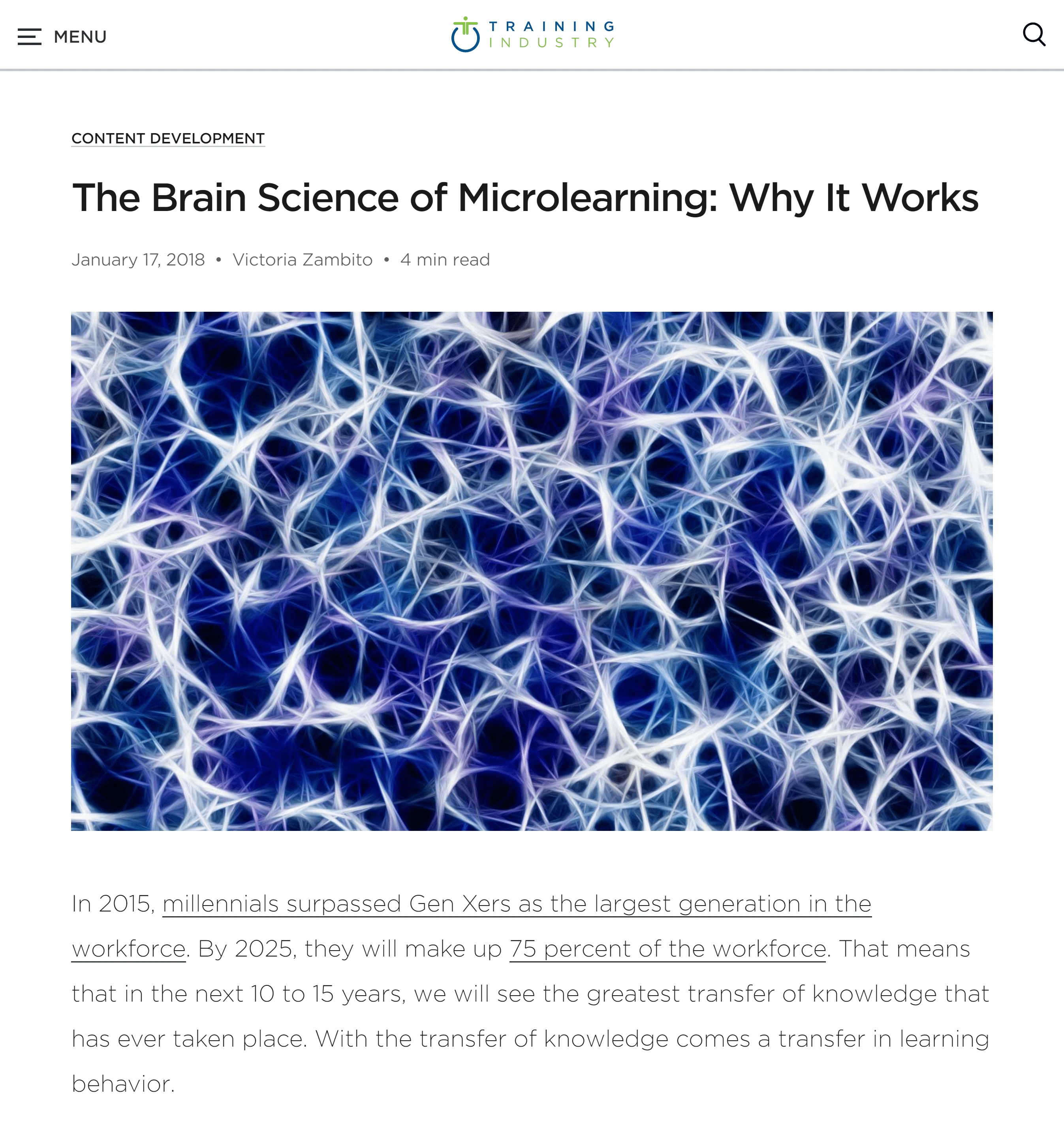 Short bursts of "microlearning" may help students retain information better than traditional lectures.
That's probably why searches for "microlearning" have increased over the past five years.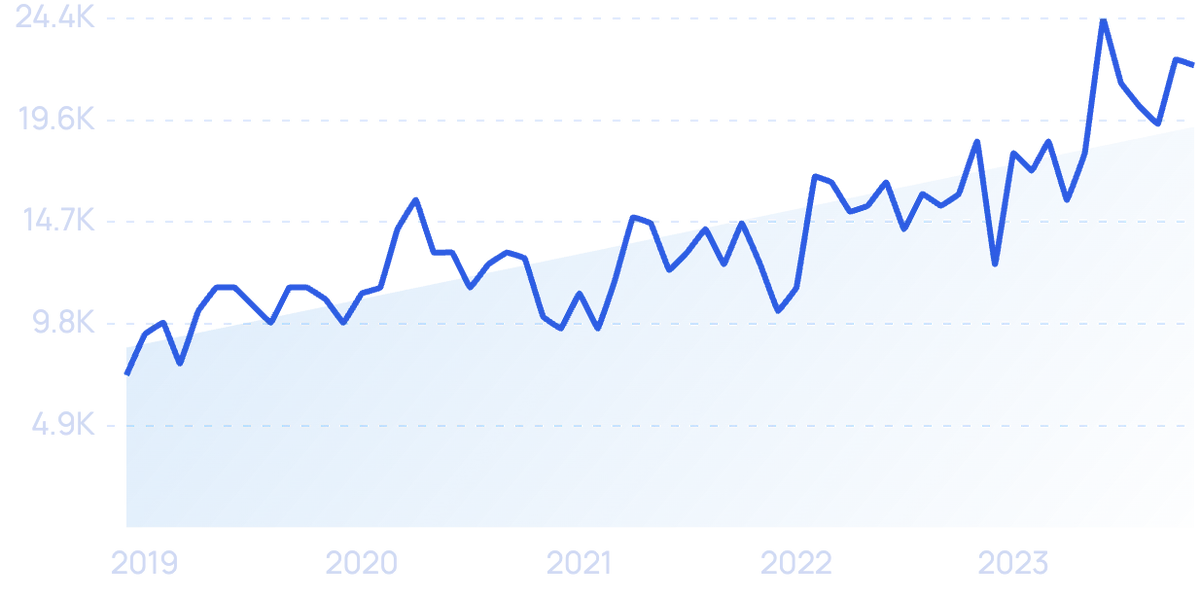 Searches for "microlearning" have more than 2x in 5 years.
3. Online Learning Gains Ground
According to Research and Markets, the online education landscape is set to become a $319 billion industry by 2025.
The three major benefits of online learning compared to offline are: cost, convenience, and scale.
And scale - the ability of one incredible educator to reach an unlimited number of students - has massive potential for raising the quality of education as well.
But as often happens in the education space, cost may end up being the deciding factor.
It's significantly cheaper to take an online course than it is to enroll in a traditional four-year college.
Also, satisfaction rates for people that take online courses are high.
In fact, BestColleges.com's Online Education Trends Report states that 94% of students who take online courses are satisfied with the experience.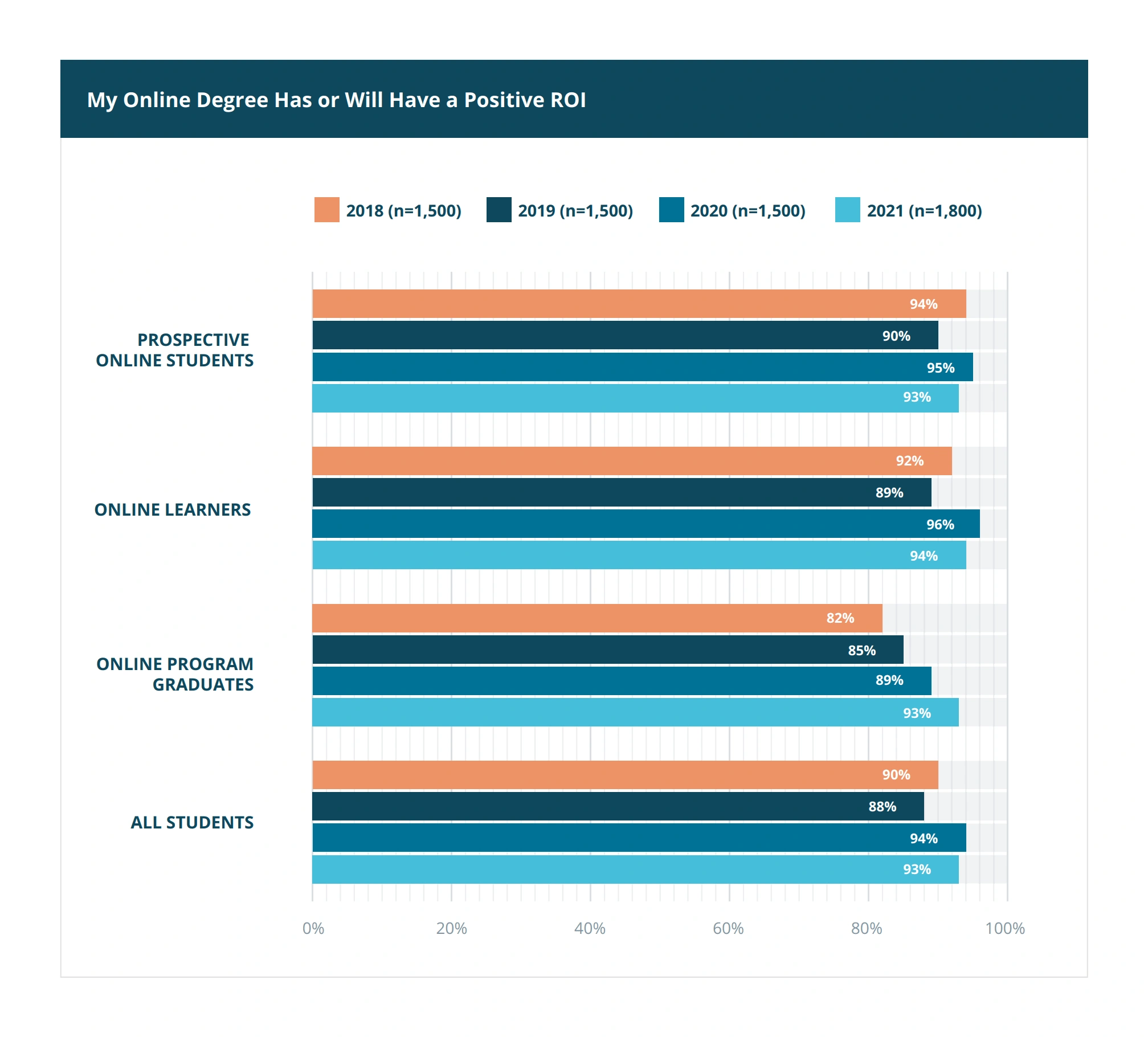 The vast majority of students that take online courses consider them worth their time.
This is why the "classroom" of the 21st century may be 100% online (via virtual reality or augmented reality).
Or a form of blended learning that's primarily done online.
One clear example of the online learning trend is the online course platform Udemy.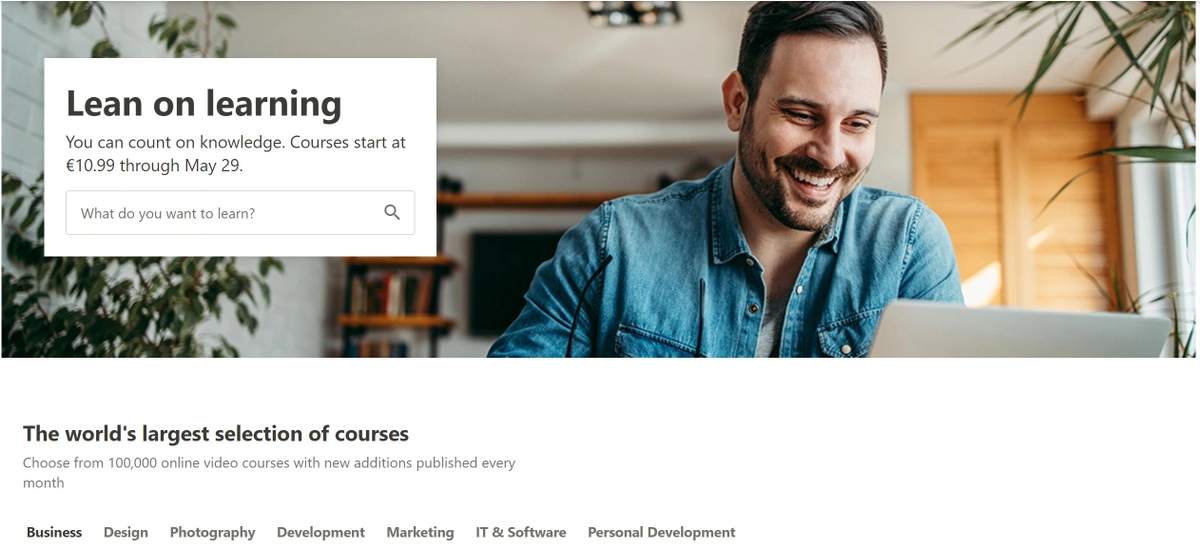 The Udemy homepage.
Udemy is an online platform geared toward professionals who want to improve their skills.
It hosts thousands of courses across hundreds of different topics.
And as a business, it was last valued at over $2 billion.
Its growth has been meteoric.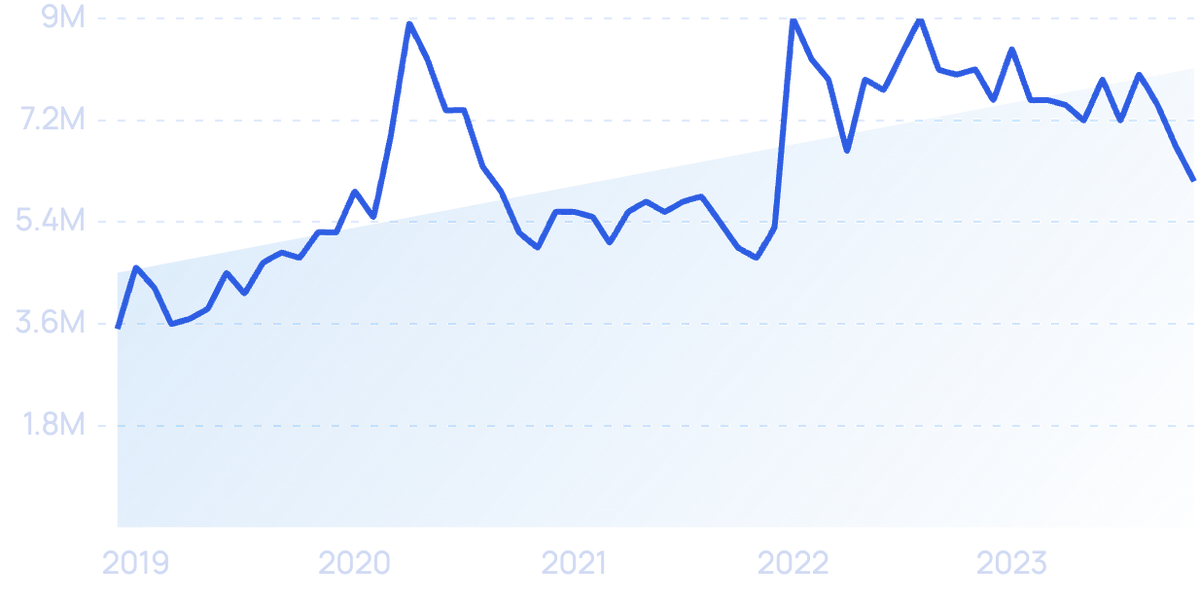 Searches for e-learning platform Udemy came down from a big pandemic spike, but are still up over 74% over the last 5 years.

More and more traditional accredited universities are offering online curricula as well.
MIT was a trailblazer here, offering pre-recorded world-class courses online for free with the MITx program (launched in 2011).
But lots of other colleges have now entered the online education space, including offering fully online bachelor's degrees.
Still, more universities started offering live online courses as an emergency measure during the coronavirus crisis.
It's only natural that a good portion of them will continue to offer the same in the future as well.
And because some of the most popular tools being used to conduct live online courses weren't specifically designed for education - for example, Zoom - you can bet that there will be many more purpose-built tools available to educators soon.
In fact, there are dozens of edtech startups aiming to fill this gap in the market.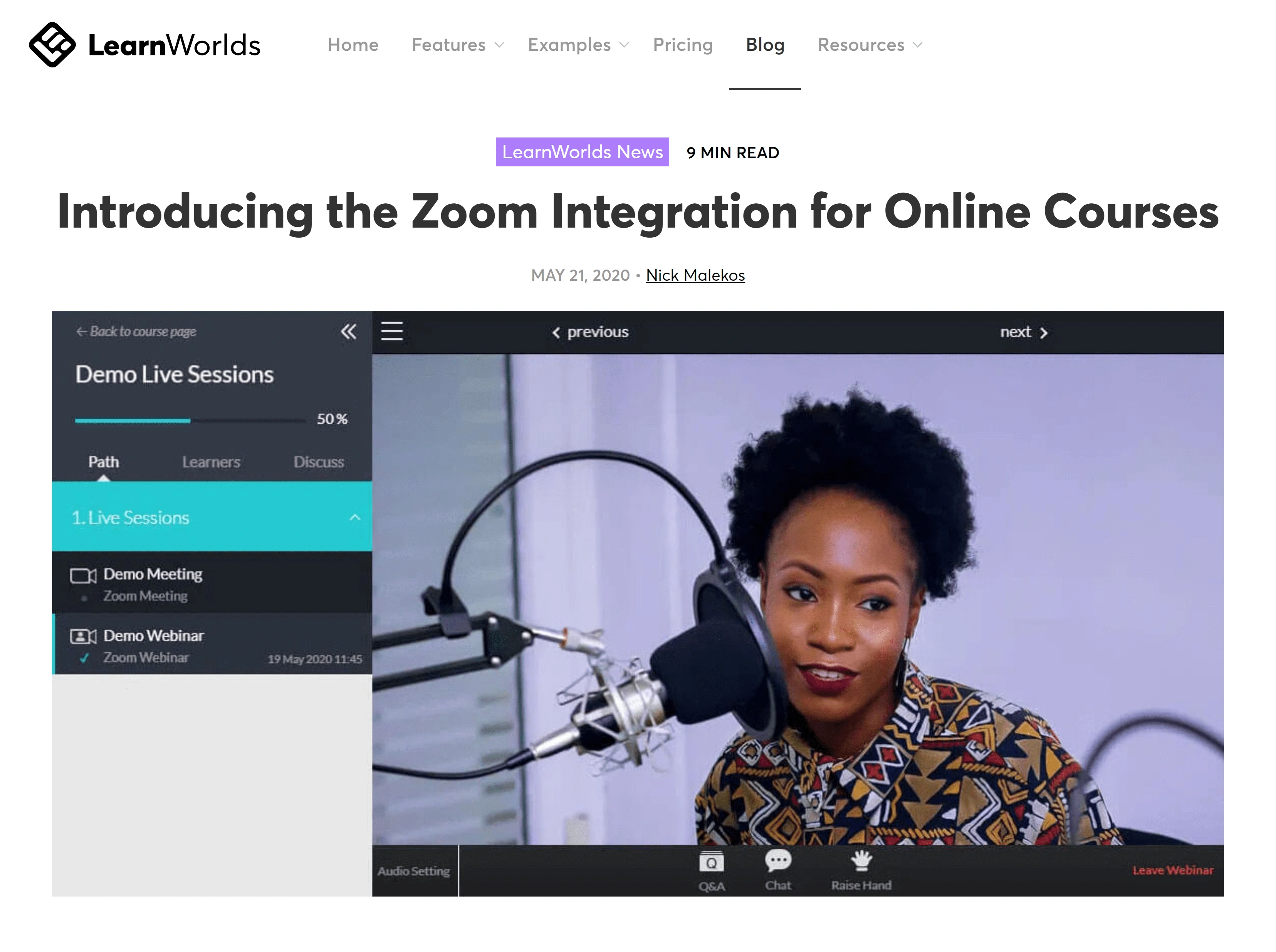 Many online courses are hosted on Zoom. But that may be changing with a number of online-first education platforms launching.
4. Instructors with Star Power
Yes, Udemy is a top player in the online education space.
But there's another platform that's growing quickly: MasterClass.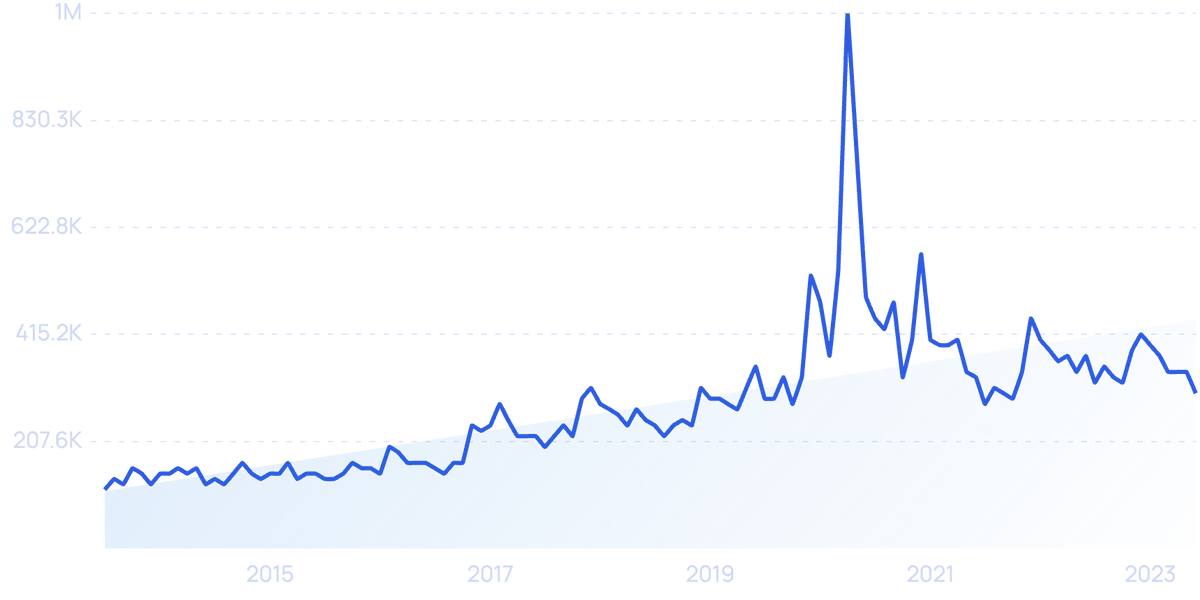 MasterClass is another platform that enjoyed a massive pandemic spike. Putting that aside, long-term growth is steady (163% over 5 years).
MasterClass has taken a unique spin on online training. Instead of hiring professional teachers (like college professors), their courses are taught by practitioners in the field (often celebrities).
For example, you can learn about filmmaking from Martin Scorsese.
Or business from former Disney CEO Bob Iger.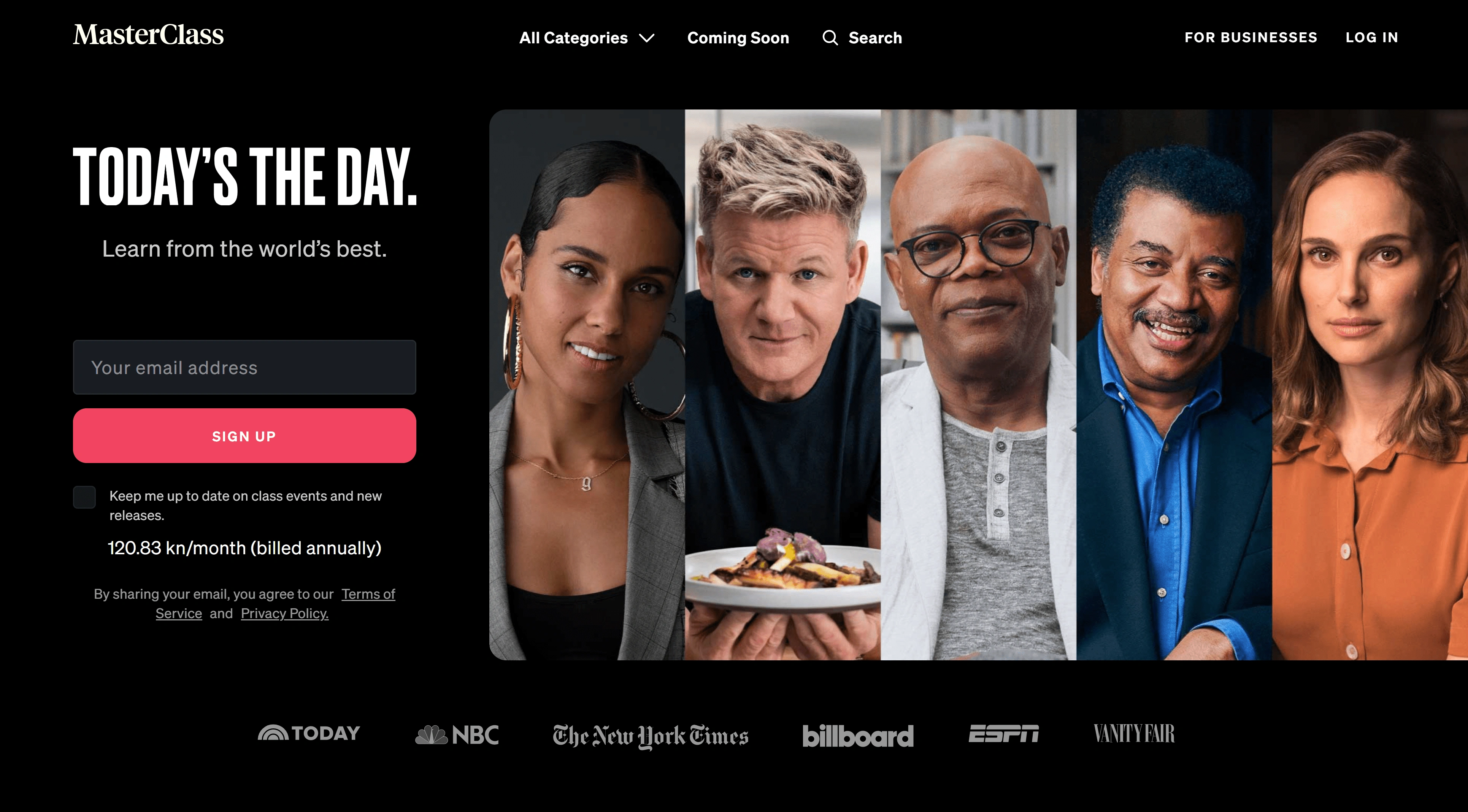 MasterClass has stood out from many educational platforms with their high profile instructors.
This unconventional approach has paid off big time for MasterClass. They raised $225 million on a $2.75 billion valuation.

With MasterClass seeing unprecedented success, expect to see more education platforms tap into big-name instructors for their courses in the coming years.
5. Independent Entrepreneurs Launch More Online Courses
Udemy made it so anyone with a camera could launch their own online course.
Just one problem: Udemy keeps a hefty cut of the revenue.
So many course creators and "infopreneurs" are now choosing to sell courses from their own websites, cutting out the middleman.
Until recently, this could be a real challenge.
Between creating a course members' area on your website to setting up payment processing and video hosting, a lot of administration time and technical skills were required to offer a course by yourself.
But a number of new players in the "learning management system" (LMS) space have made launching a course a lot easier.
For example, Thinkific.
Thinkific is an all-in-one tool for online course creation, promotion and hosting.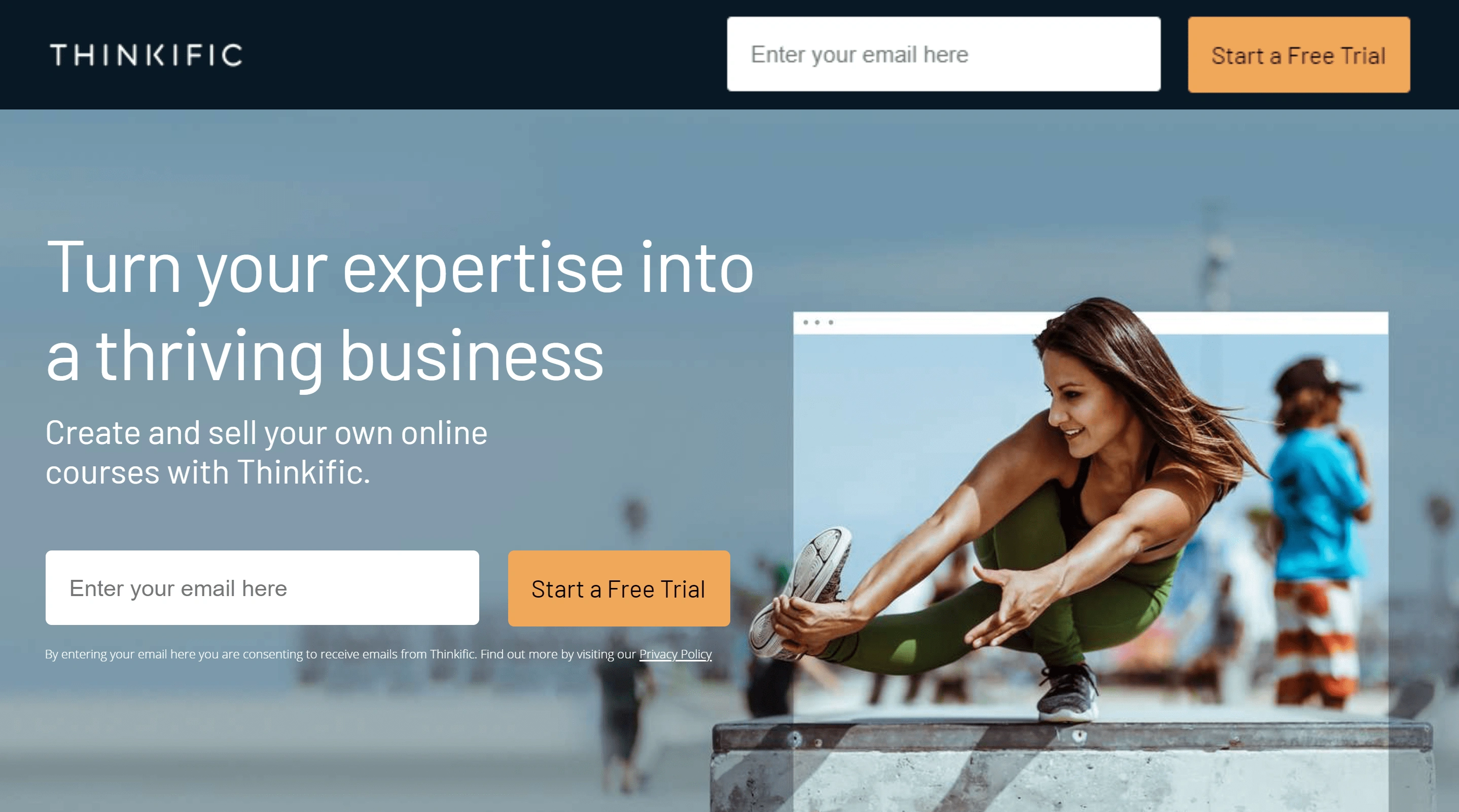 Thinkific is an "all-in-one" learning management system.
Like other learning management systems, Thinkific has made it super easy for entrepreneurs, bloggers, and YouTubers to host and manage courses on their own sites.
And to keep the vast majority of revenue for themselves.
It's been exploding in popularity: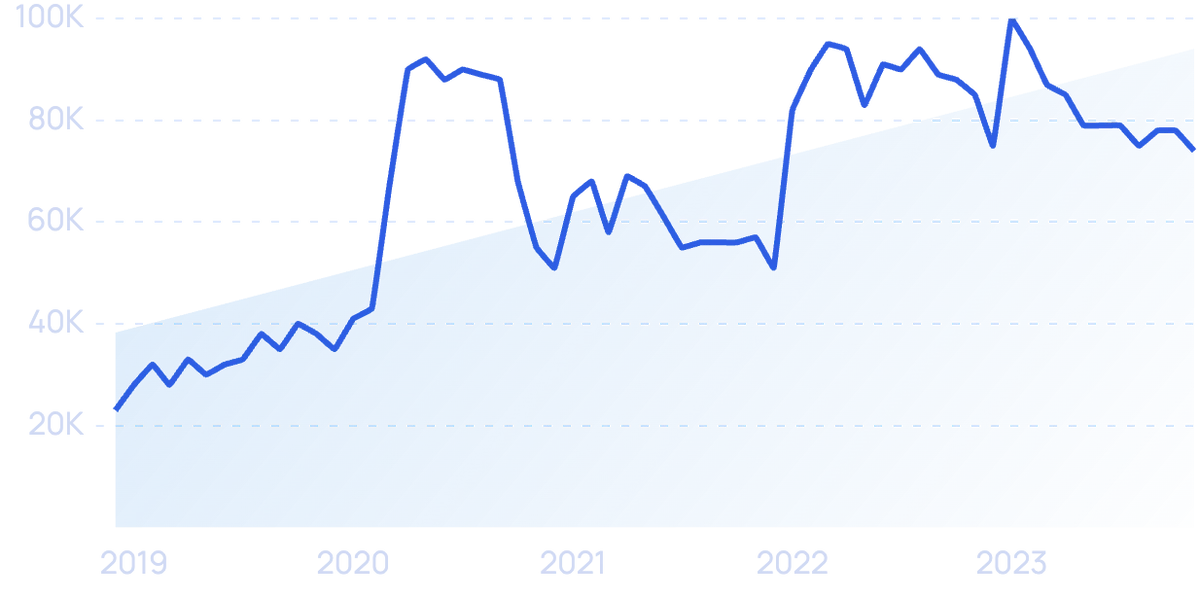 Average daily searches for "Thinkific" are up 222% over the last 5 years.
Teachable is another education technology company in this space.
Similar to Thinkific, Teachable offers software and cloud hosting for course creation and management, as well as payment processing.
In fact, Teachable boasts that course creators on its platform have earned over $500 million.
If that's the case, maybe the teachers of the future won't be so underpaid.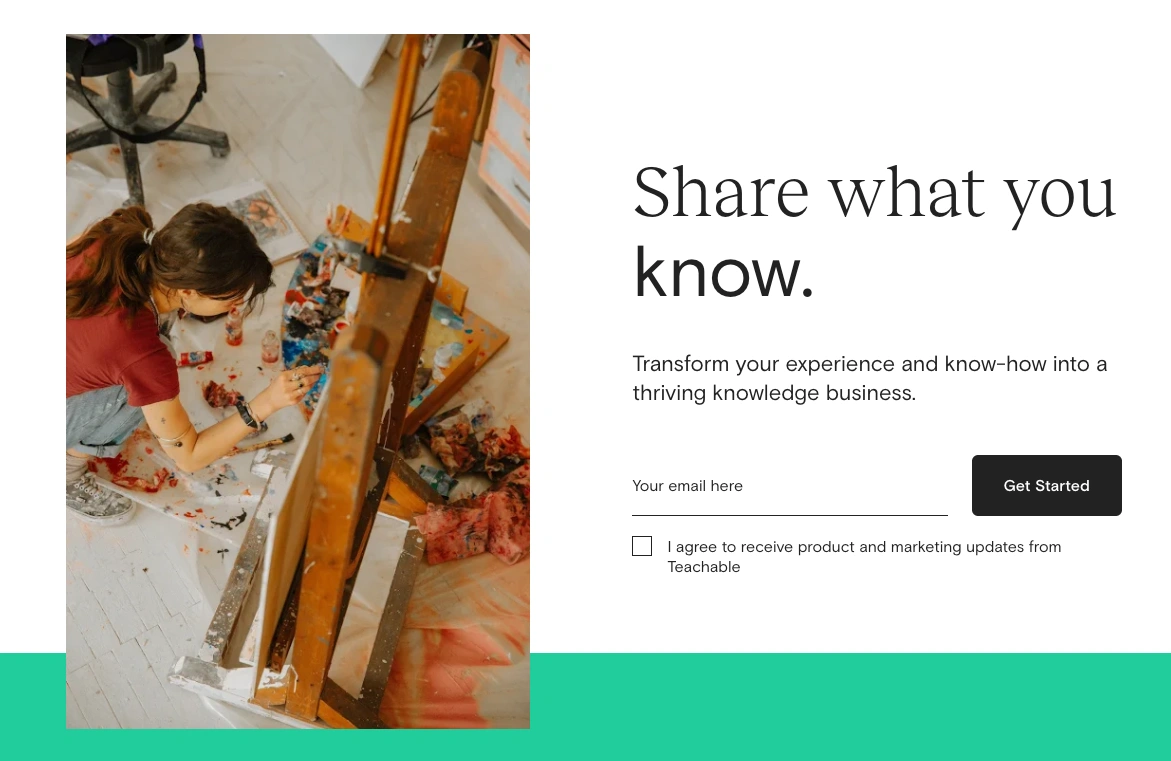 Teachable's homepage.
6. Niche Education Platforms Take Off
General platforms like Udemy and MasterClass are great if you want to learn how to write a screenplay or cook a great meal.
But they're lacking when it comes to advanced courses that professionals in technical fields need to advance their careers.
This is why niche platforms for specific groups are starting to pop up.
These platforms provide the kind of deep, advanced training that isn't broadly available elsewhere.
For example, Cybrary provides courses for people in IT.
They even design their courses around tests that IT professionals need to pass in order to get important certifications.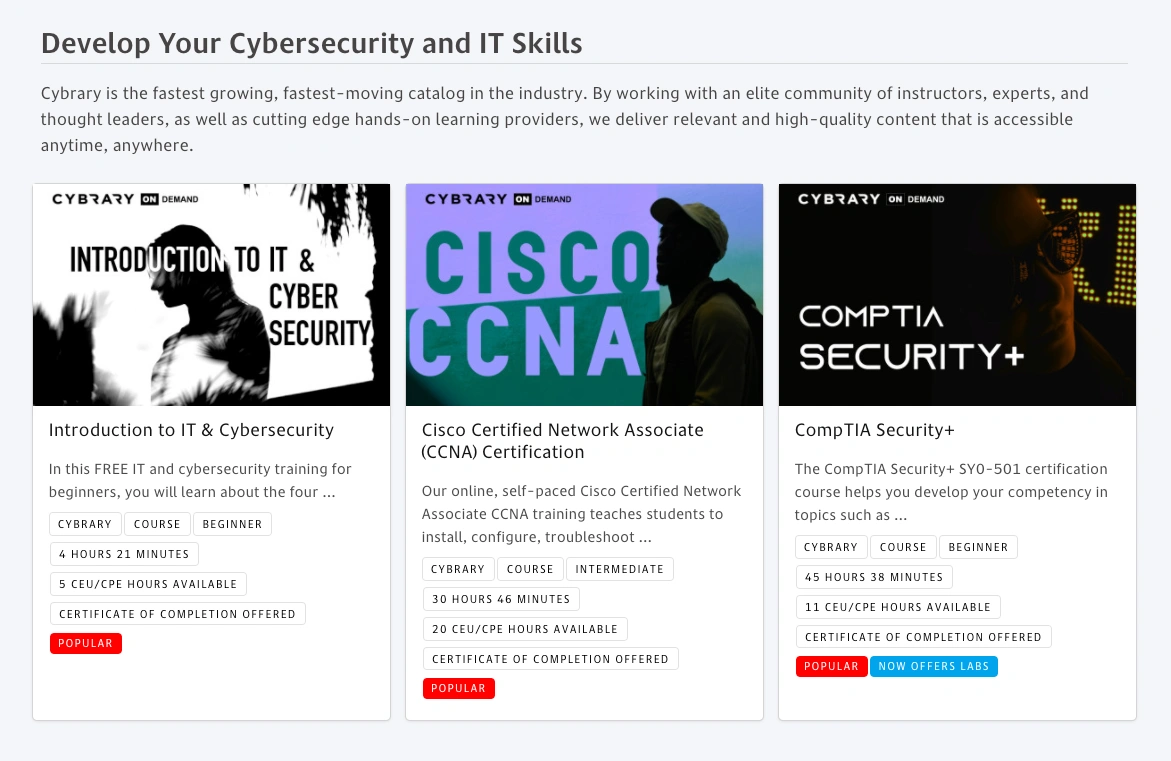 Online training available from Cybrary.
Another example of a technically-minded niche education is Hack The Box.
This online school offers training solutions for cybersecurity professionals (and students who want to enter the field).
It also uses gamification techniques to run in-depth competitions - complete with a scoring system and global leaderboard.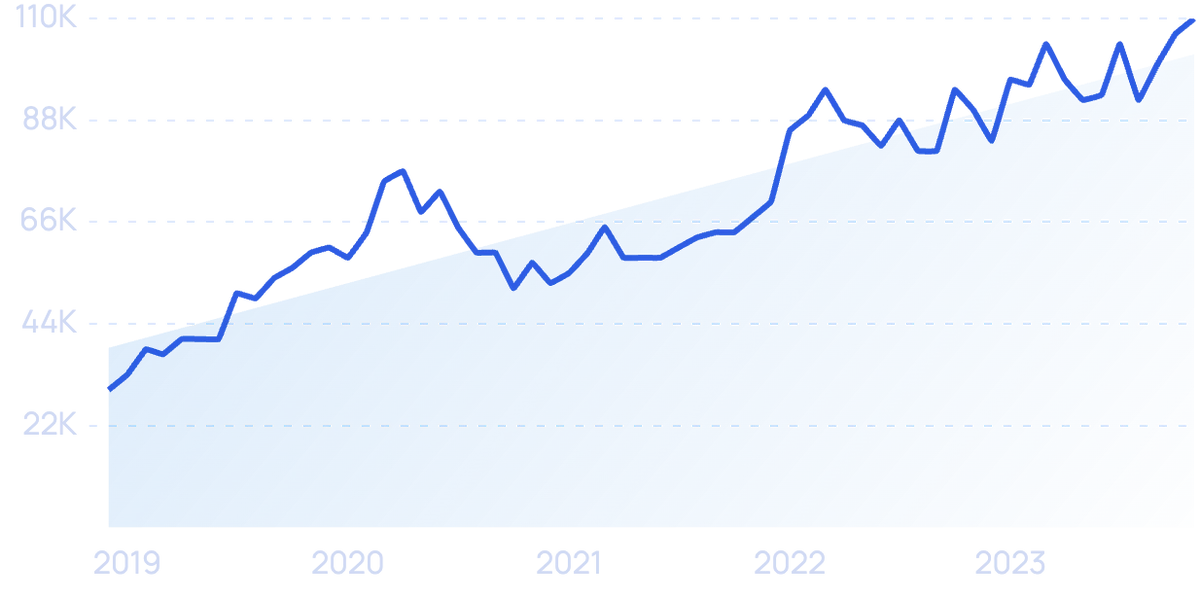 Searches for "Hack The Box" are up 270% over the last 5 years.

7. New Startups Offer More Homeschooling Options
About 3.4% of school-aged children in the US are homeschooled each year.
Lately, a variety of education startups have entered the homeschooling space.
One example is Outschool.
Started by former employees of Google, Square, and Airbnb, this edtech startup matches students with teachers online for a live small-group, virtual learning experience.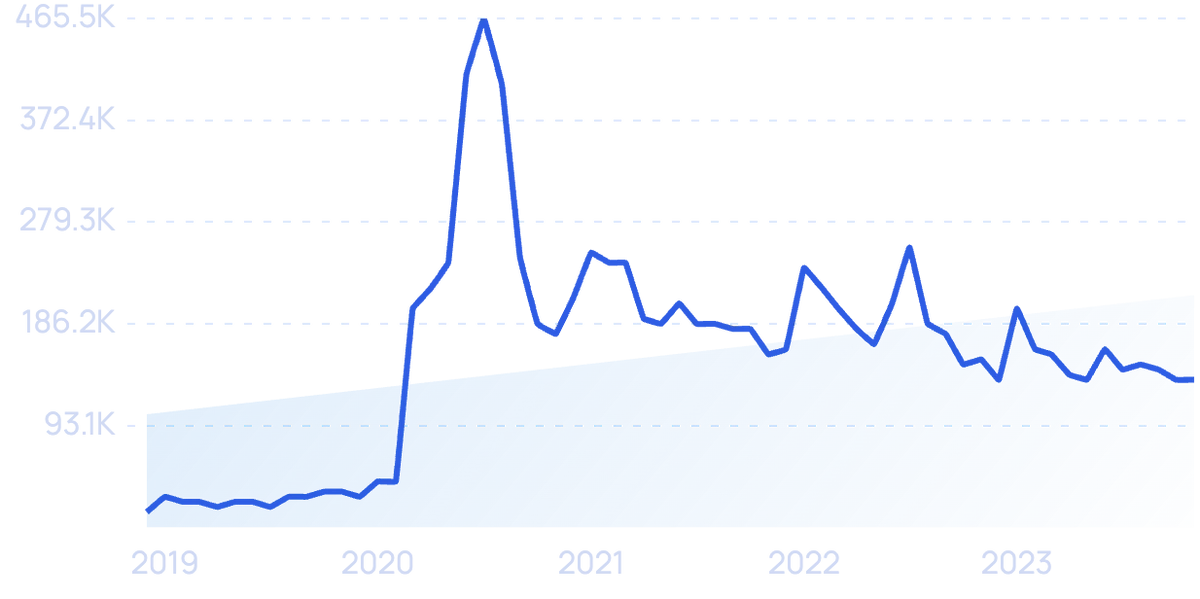 "Outschool" searches are up 867% over the last 5 years.

Another example is Prenda.
Prenda's approach is different.
Rather than being online, Prenda's focus is "microschools": small groups of students who meet in person, outside of a traditional learning environment.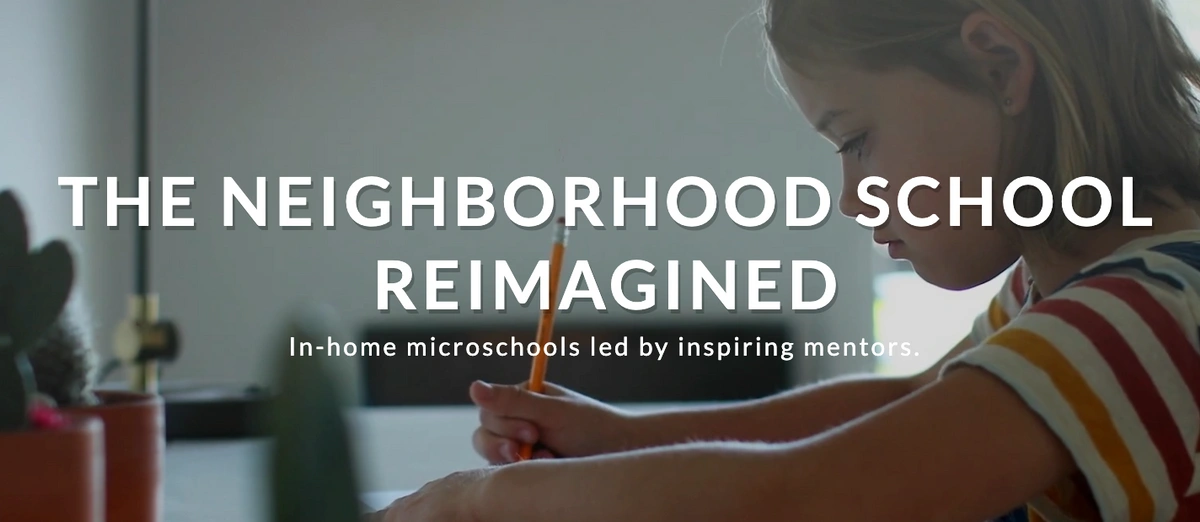 Prenda's approach to homeschooling is community-centered small-group learning.
8. Inequality in Education Expands
Unfortunately, the past few years have made education equality worse in several ways.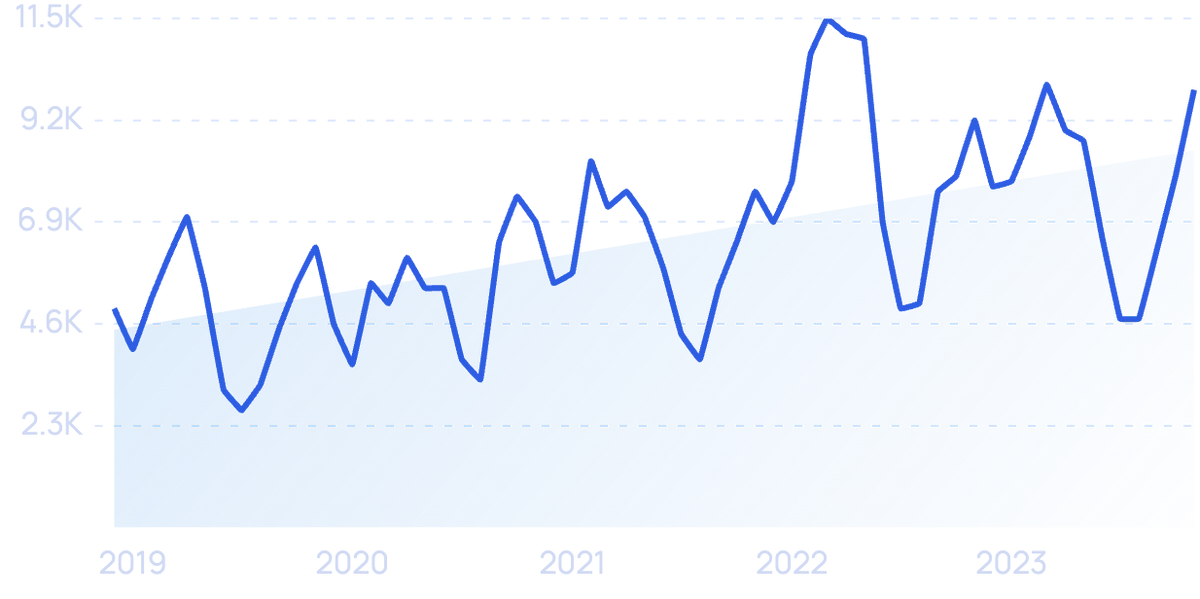 Search volume for "inequality in education" is up 100% over the past 5 years.
Funding is one of the main sources of inequality.
Between 2000 and 2015, the funding gap between the top 1% of school districts and an average-spending district in the 50th percentile widened by 32%.
The pandemic worsened income-related disparities.
The National Student Clearinghouse reports that, in the fall of 2020, the college enrollment rate for low-income students fell by 30%. That's compared to just 17% of their peers in higher-income schools.
Their data also shows that students from higher-income schools were nearly 3x more likely to complete college in six years as compared to kids from high-poverty schools.
McKinsey reports that the pandemic has also broadened racial inequities in education.
While students in majority-White schools are catching up to pre-pandemic levels of achievement in reading and math, students in majority-Black schools are still way behind.
For example, students in majority-Black schools are 12 months behind kids in majority-White schools in math.
McKinsey cautioned that current trends point toward these students being a full grade level behind their peers.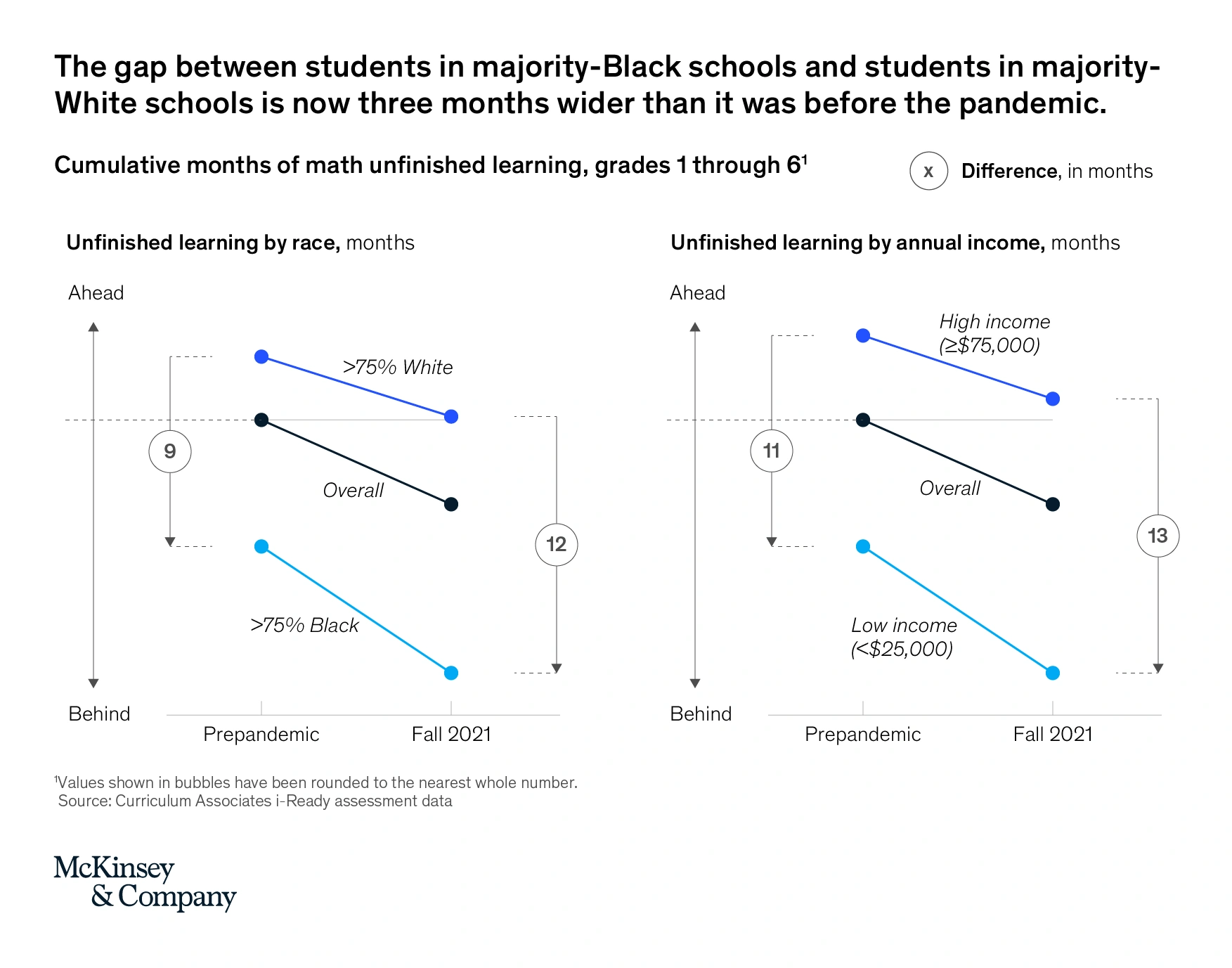 The pandemic widened achievement gaps between Black and White students.
Part of that pandemic-related achievement gap was due to a lack of access to in-person learning and the digital technology needed for at-home learning.
In January 2021, more than half of all Black, Hispanic, and Asian fourth graders were learning in a fully remote environment; only 25% of White students were in that situation.
Add that to the fact that Black and Hispanic households were 1.3x as likely as White families to have limited access to computers and the internet, and the learning disparities become very clear.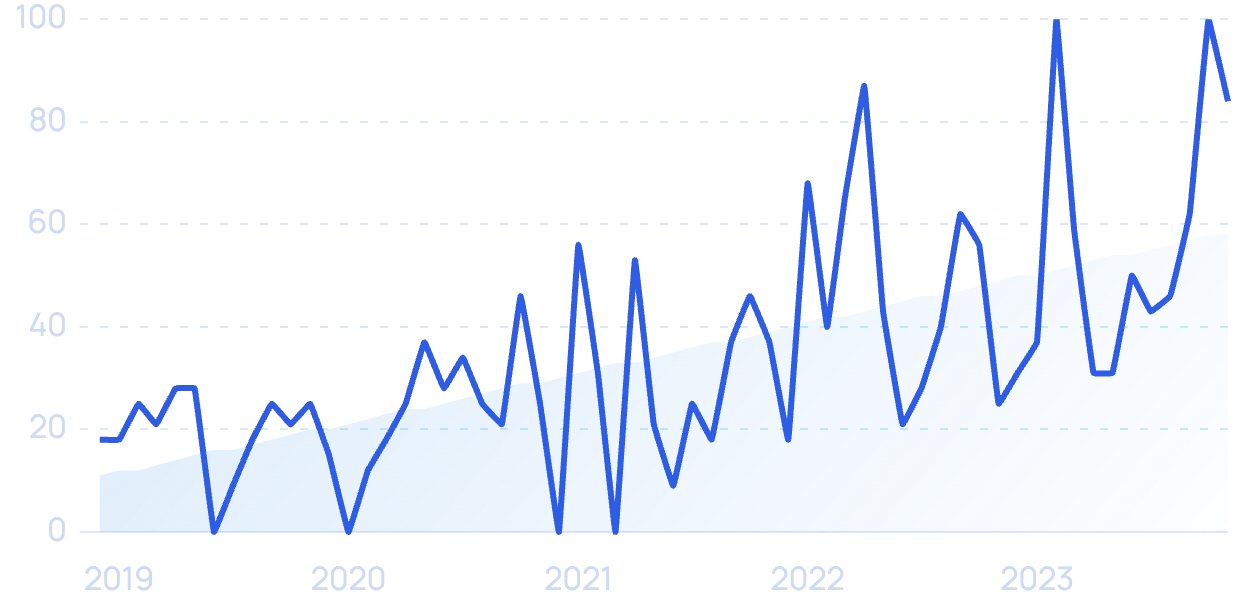 Search volume for "learning disparities" in the past 5 years.
In the face of inequality, some education and community leaders support doing away with property tax funding. Tying school funding to the local real estate market is a root cause of iniquity, they argue.
Data from 2018-19 shows that approximately 45% of school funding came from local governments and that 36% of that was funded by property taxes.
Data from St. Louis shows that majority-White school districts receive $1,698 more per year per student than majority-Black districts.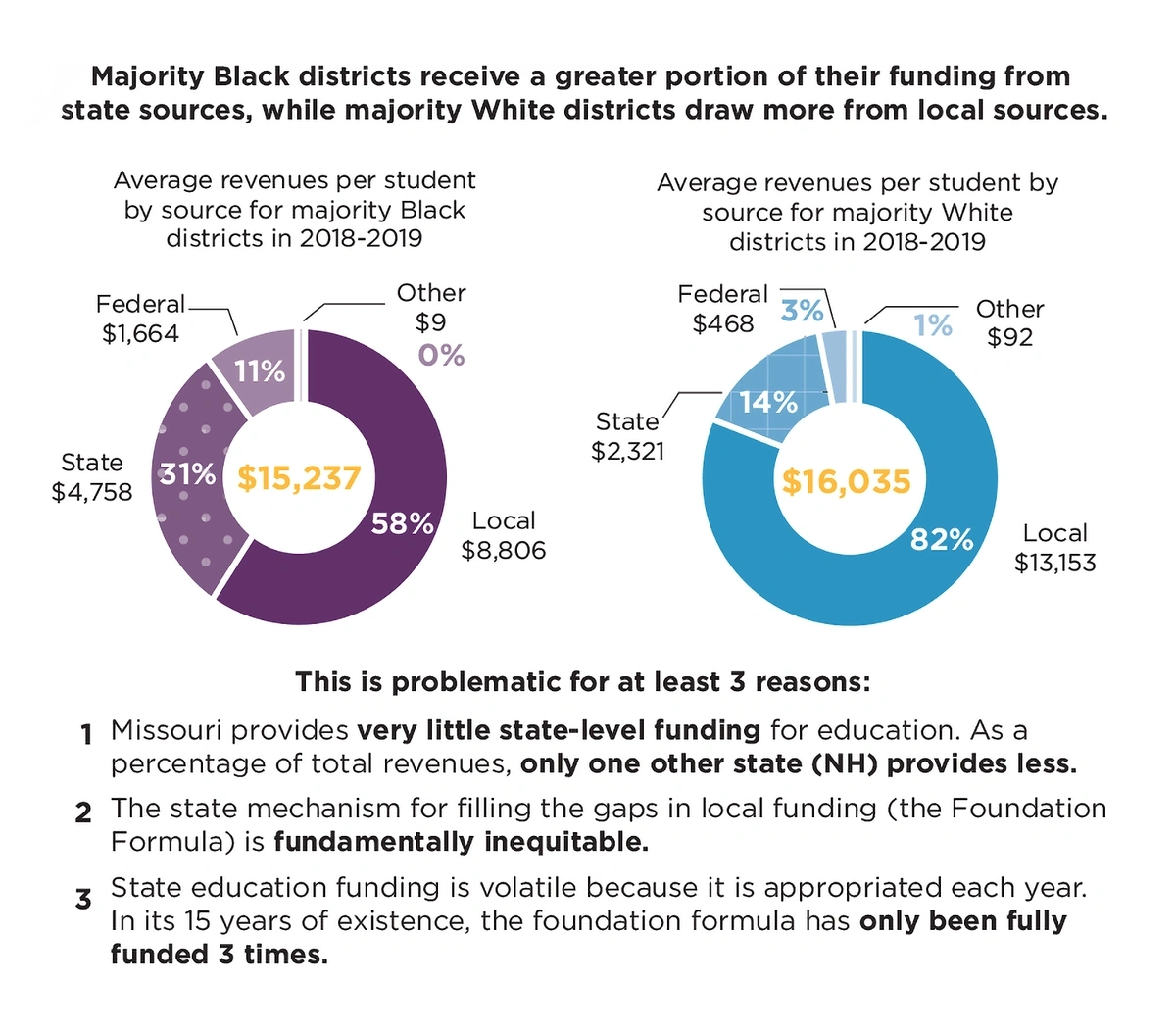 Data shows that Missouri schools rely largely on local funding for schools.
Lawsuits in New Hampshire have also challenged this funding model.
9. Higher Education Adopts Extended Reality
Extended reality (XR), which includes technology such as augmented reality (AR), virtual reality (VR), and mixed reality (MR), is transforming the education landscape by providing innovative ways to learn.

Search volume for "extended reality" is up 220% in the past 5 years.
Overall, the XR market is predicted to grow at a CAGR of nearly 35% through 2028, according to data from Mordor Intelligence. A generous portion of that growth will come from the education sector.
A 2021 survey from EDUCAUSE reported that nearly 40% of higher education institutions have adopted XR for at least a few projects and 12% are using XR across multiple departments.
An overwhelming majority of respondents (90%) said their adoption of XR will somewhat or significantly increase in the next five years.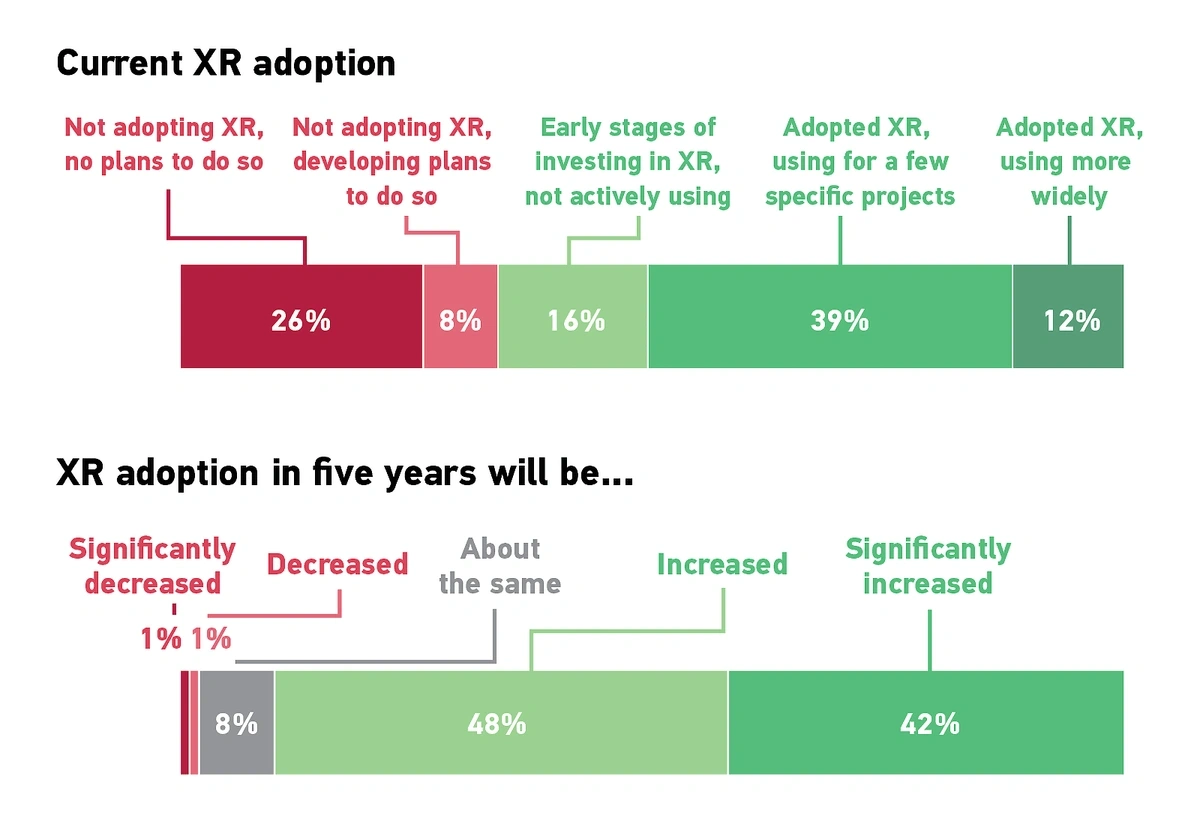 Adoption of XR technology is a part of the long-term strategic plan for many schools.
A number of colleges and universities are already using XR to facilitate learning.
At Colorado State University, medical school students use VR to dissect human cadavers.
Nearly 90% of the students who have used this technology say VR has helped them to understand spatial relationships, which is a crucial skill for potential physicians.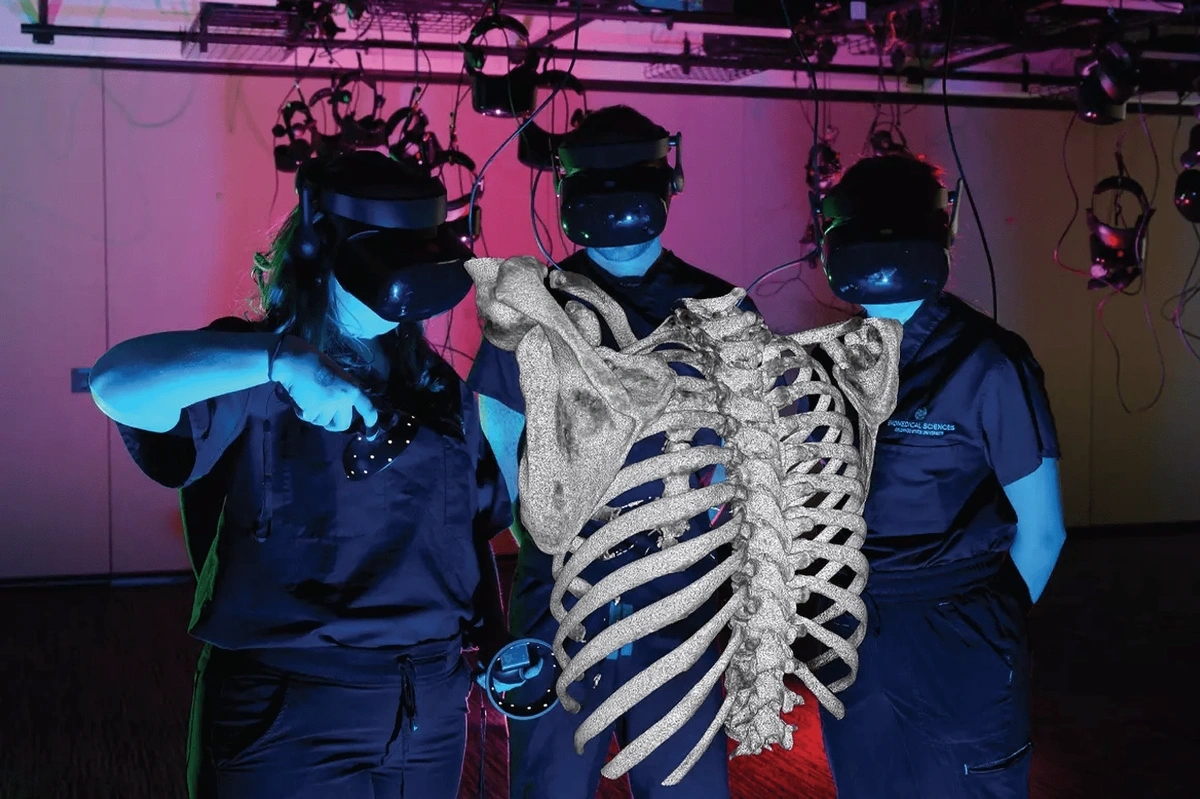 VR technology is giving med students a 3D approach to learning.
In 2019, The University of Michigan announced its "XR Initiative," a plan to fund new projects and leverage technology in education.
In their latest announcement, the university said they have plans to partner with Coursera in launching 10 new XR courses in 2023.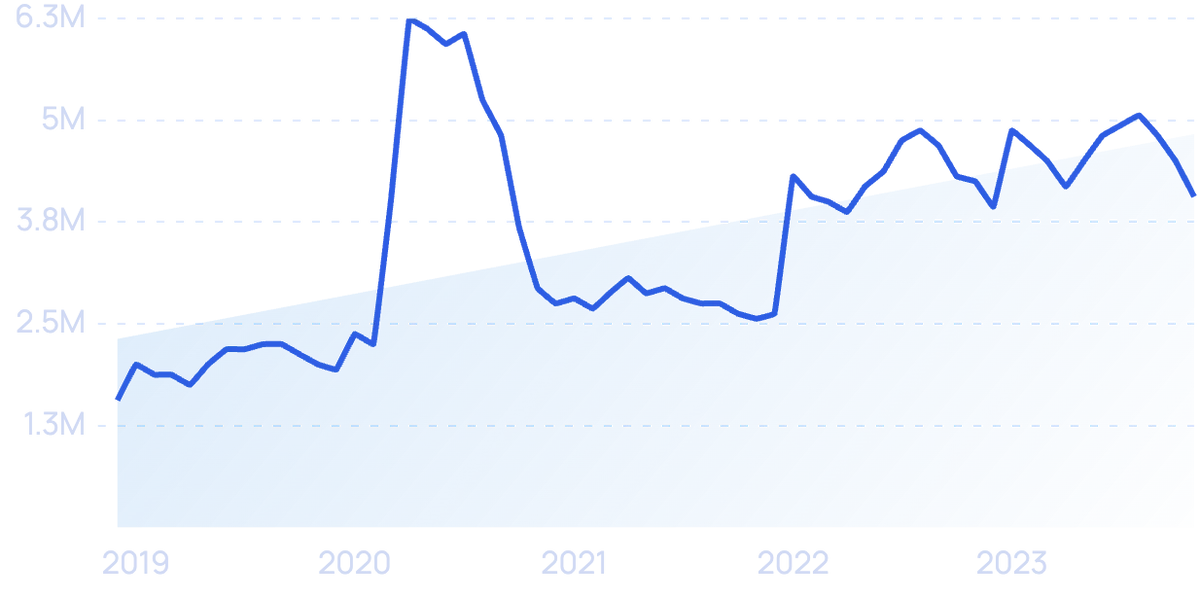 Search volume for "Coursera" jumped during the early days of the pandemic.
The courses will cover human skills, future thinking, and specialized content for growing industries all aimed at bringing online learning to the next level, according to the university.
10. A Renewed Emphasis on Soft Skills
More than 90% of HR professionals agree that soft skills are very important to the future of recruiting, according to a report from LinkedIn.

LinkedIn's survey found that soft skills are incredibly important in today's hiring market.
In fact, the importance of soft skills ranked higher than work flexibility, anti-harassment, and pay transparency.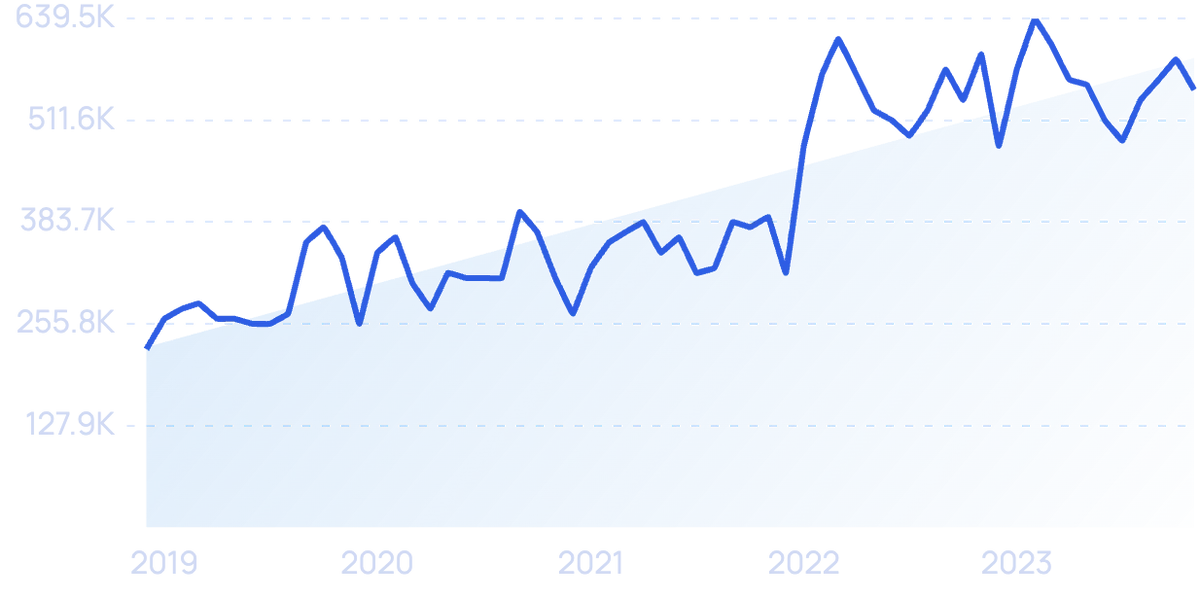 Search volume for "soft skills" is up nearly 150% over 5 years.
Monster's 2022 Future of Work Global Survey identified the most important soft skills as teamwork, communication, and problem-solving. However, businesses report that the top two soft-skill gaps they're seeing are in teamwork and communication.
This disconnect is leading many educational institutions and employers to place a renewed emphasis on soft-skills training.
In fact, a study of more than 150k students in Chicago public high schools found that building social-emotional qualities, such as how to resolve conflict and how to stay motivated to work hard, achieved better results for students than schools that focused solely on test scores.
In another example, some schools have suggested modifying traditional grading so that soft skills like communication, determination, and participation would be taken into account instead of just skill mastery.
When it comes to employees, companies are looking for innovative ways to close the soft skills gap.
Virtual reality (VR) is one way they're doing it.
H&R Block recently started using VR training to teach their new employees the soft skills they need in order to handle angry customers.
More than two-thirds of the employees enjoyed this learning as compared to traditional methods and the company saw a 50% reduction in dissatisfied customers.
Murison is an industry-leading platform that's enabling companies to create these VR training opportunities.

Search volume for "Mursion" is up 200% in the past 5 years.
Their platform blends AI and live human interaction to create authentic training simulations specifically aimed at improving employees' soft skills related to sales, customer service, DEI topics, and leadership.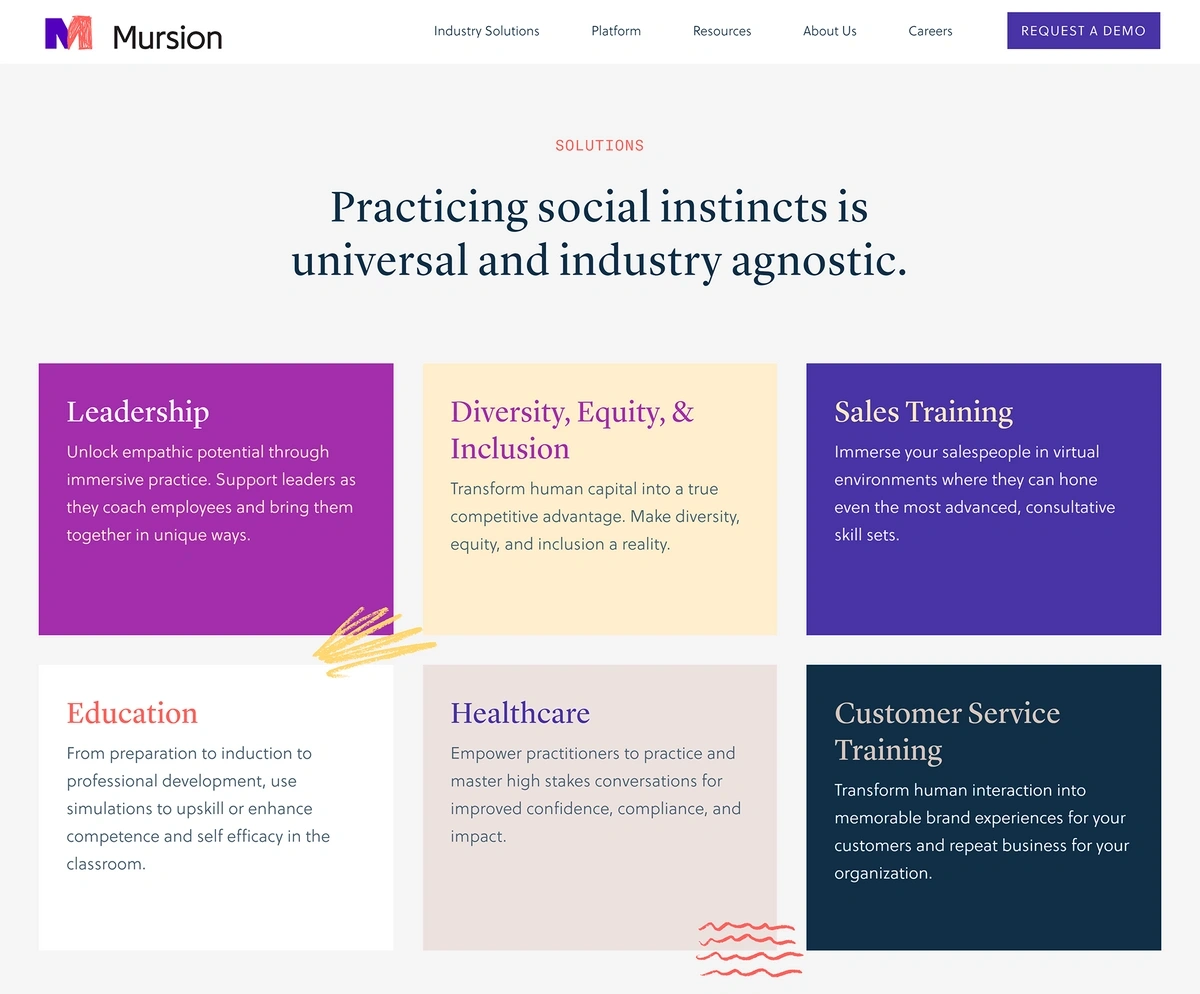 Mursion's platform enables training that's applicable across several industries.
The company was named to the GSV EdTech 150 in 2022 and ranked 306th in the Financial Times' Americas' Fastest Growing Companies list for 2021.
11. Educators Considering Alternative Assessments
While some educational professionals have always doubted schools' reliance on testing, the pandemic made many more question the validity and usefulness of summative assessments.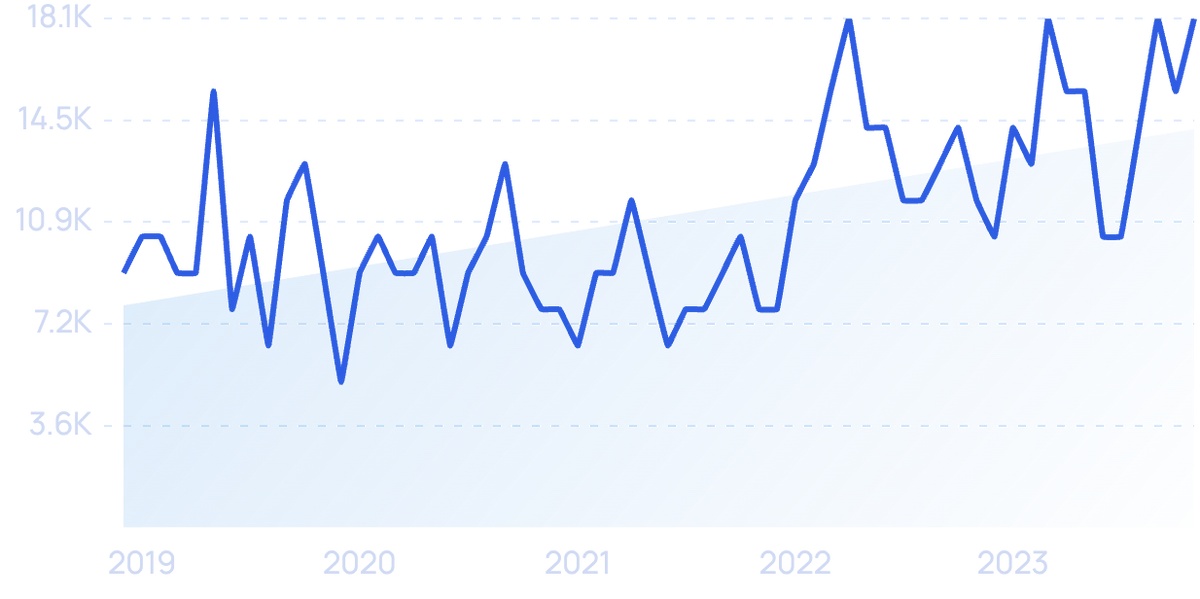 Search volume for "educational assessments" over 5 years.
The 2021 State of Teaching and Learning survey from Instructure showed that fewer than 30% of parents and teachers felt that high-stakes testing was an important measurement of students' learning.
The survey showed that 50% of administrators and 58% of teachers feel this way of testing is outdated and needs overhauling.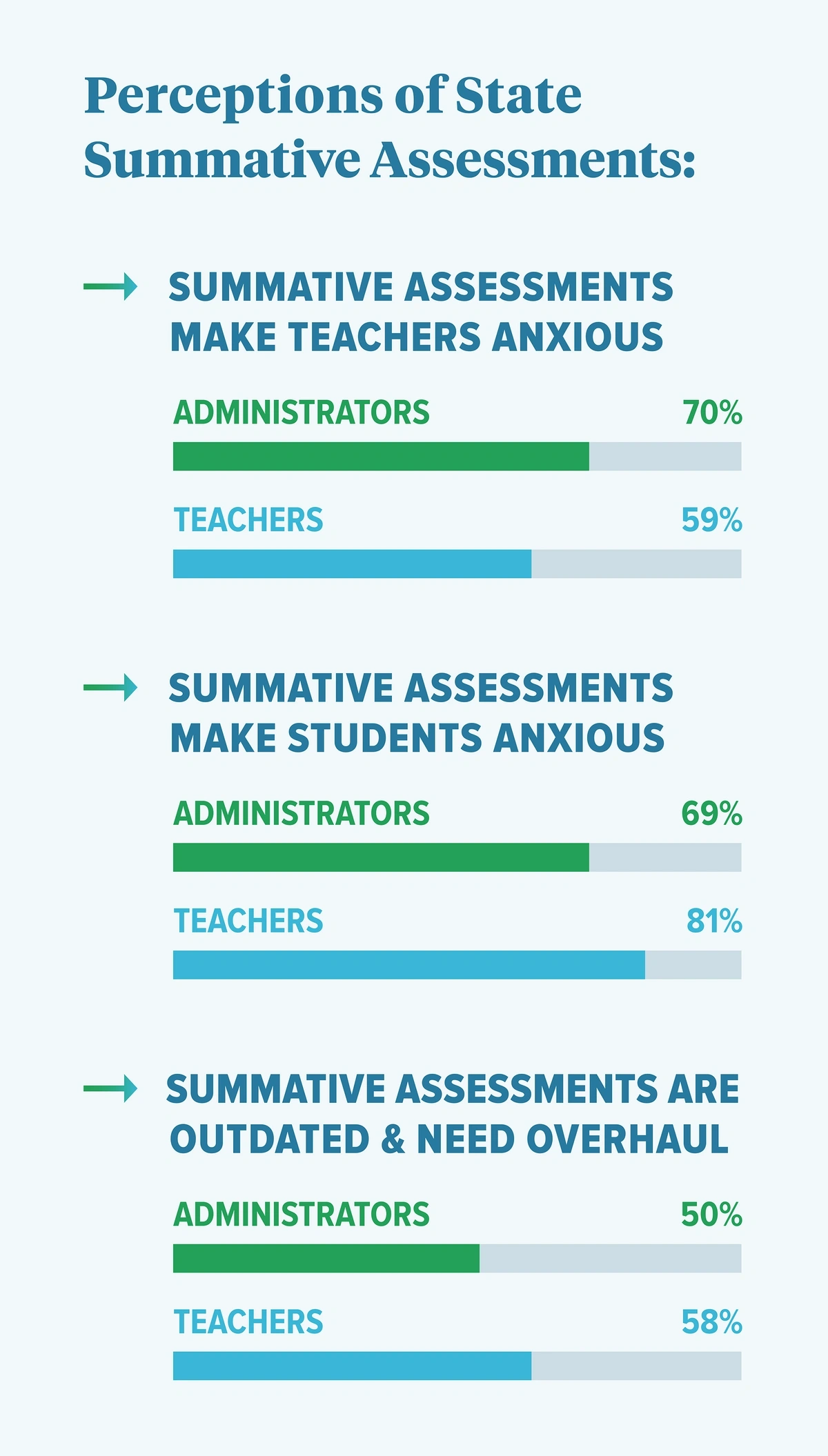 Survey results show that the majority of teachers and administrators feel summative testing does not serve their students well.
One reason for this is called Campbell's Law. It's the general idea that once schools tie test scores to a teacher's pay, the teacher begins teaching to the test rather than making sure children get a well-rounded education.
Another reason for the distrust of traditional high-stakes assessments is that many believe they are classist and racist.
Several analyses have found that students from higher-income households perform better on standardized tests like the SAT and ACT.
Some accuse the test questions themselves of being skewed toward upper-class and White students.
These assessments are also proving to be an unreliable predictor of future success.
A study published in Educational Researcher showed that students' GPA was a 5x stronger predictor of college graduation than their ACT scores.
Spurred on by complications associated with the pandemic, a few institutions removed their SAT/ACT requirements for admissions.
At Harvard, standardized tests are optional through 2026. The University of Wisconsin, Stanford University, and Miami University in Ohio—just to name a few—have adopted similar policies.
If institutions are no longer going to rely on standardized testing, what will they do instead?
The Mastery Transcript is one option.
Like the name suggests, it's a transcript that records a student's mastery of subjects and topics. There aren't any traditional letter grades and it's not a one-time view of what the student knows and is able to do.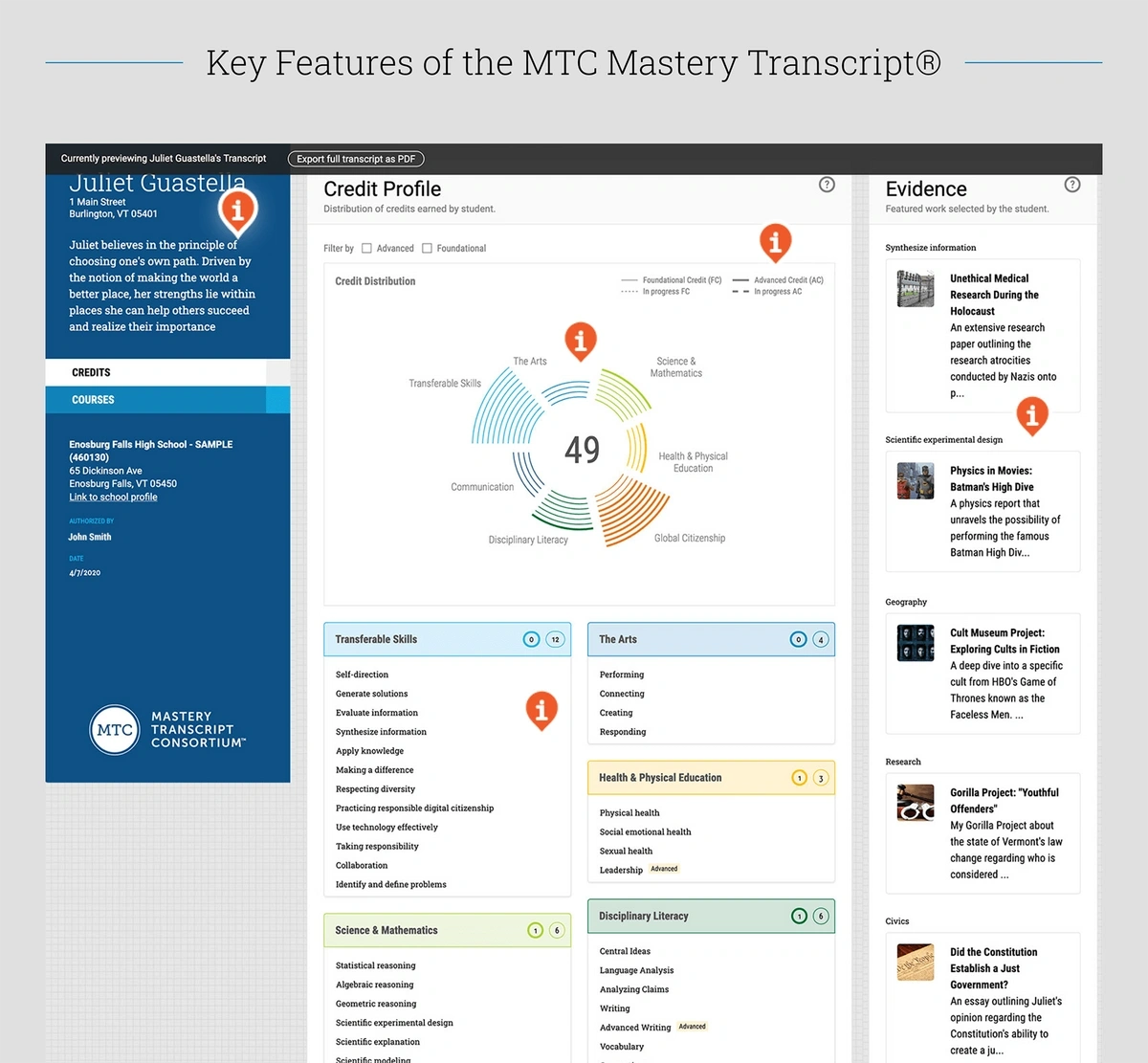 The Mastery Transcript prioritizes the higher-order skills students need in order to succeed in college and the workplace.
Students earn "mastery credits" and the transcript serves as an evolving sample of their work. Evidence and abilities from inside and outside the classroom is included.
This transcript is currently accepted by 250 colleges in the United States.
As for testing elementary students, public schools in New Mexico tried a variety of strategies in 2022.
The New Mexico Measures of Student Success and Achievement debuted this year with shorter tests and questions that were deemed culturally appropriate for children in New Mexico.
There were also short-cycle tests. These were assessments at the beginning, middle, and end of the year.
12. Teacher Shortage Worsens
Rand Corporation's 2021 State of the US Teacher Survey found that 23% of teachers said they were likely to leave their current job at the end of the school year.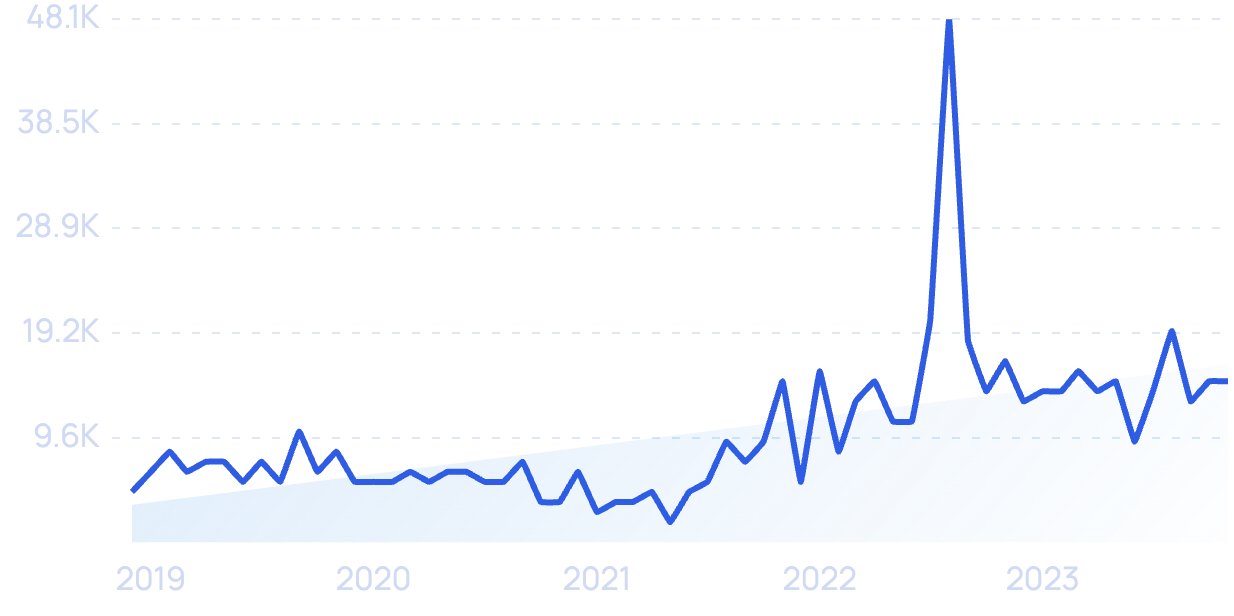 As teachers leave their jobs, teacher shortages are a pressing concern. Search volume is up more than 220% in the past 5 years.
Research from EdWeek shows that 54% of teachers say they're somewhat or very likely to leave their jobs within the next two years.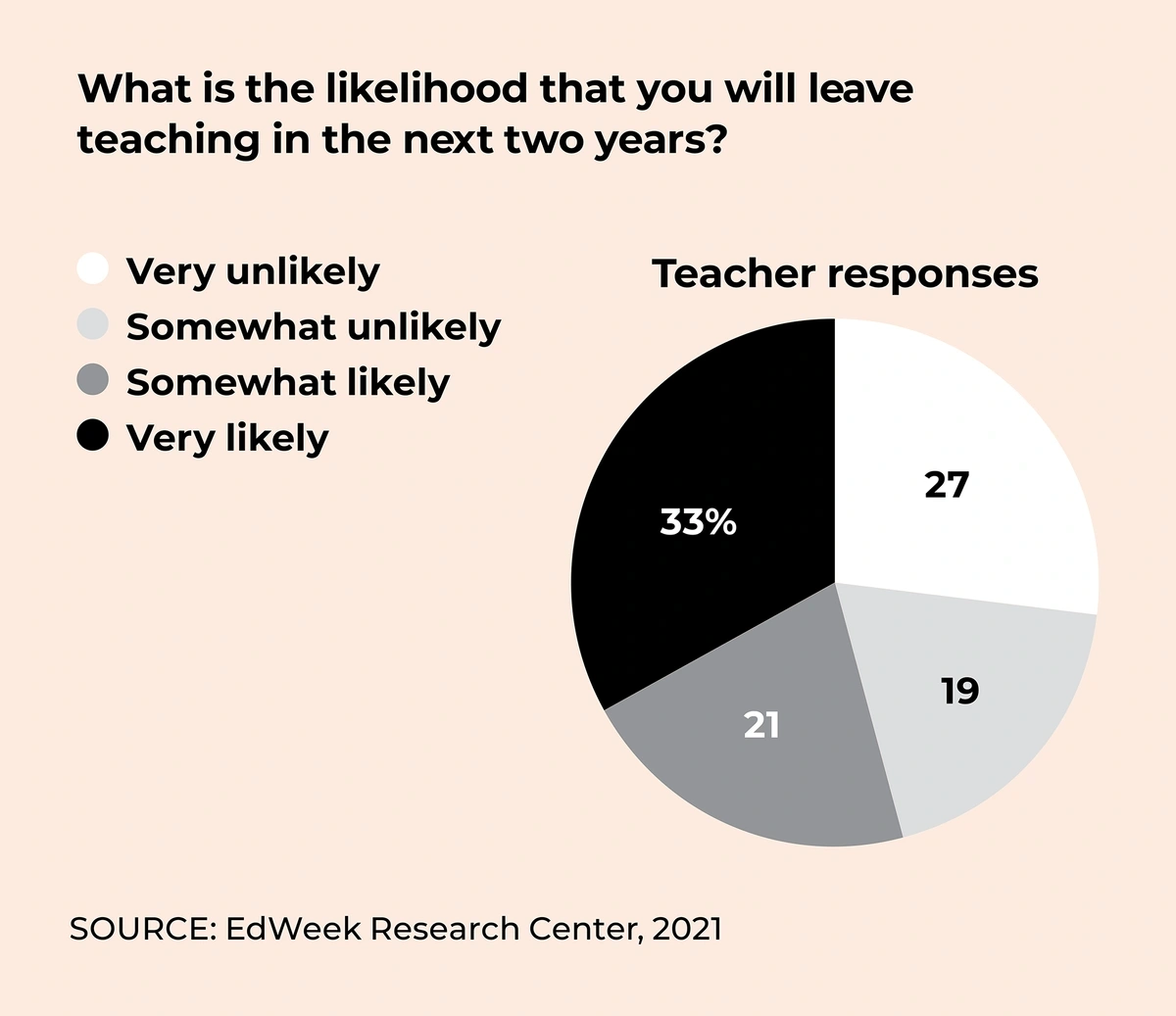 More than half of teachers say they are likely to leave teaching in the next two years.
In a normal year, about 8% of teachers leave the profession.
Teacher shortages are already being felt across the country.
The US Department of Education reports that nearly every state suffers from a shortage of special education teachers. In addition, 44 states have math teacher shortages and 42 states have science teacher shortages.
Aside from the pandemic, a lack of pay is one of the top reasons why teachers leave their jobs.
In 2019, teachers were paid approximately 19% less when compared to other college-educated workers who had similar education and experience.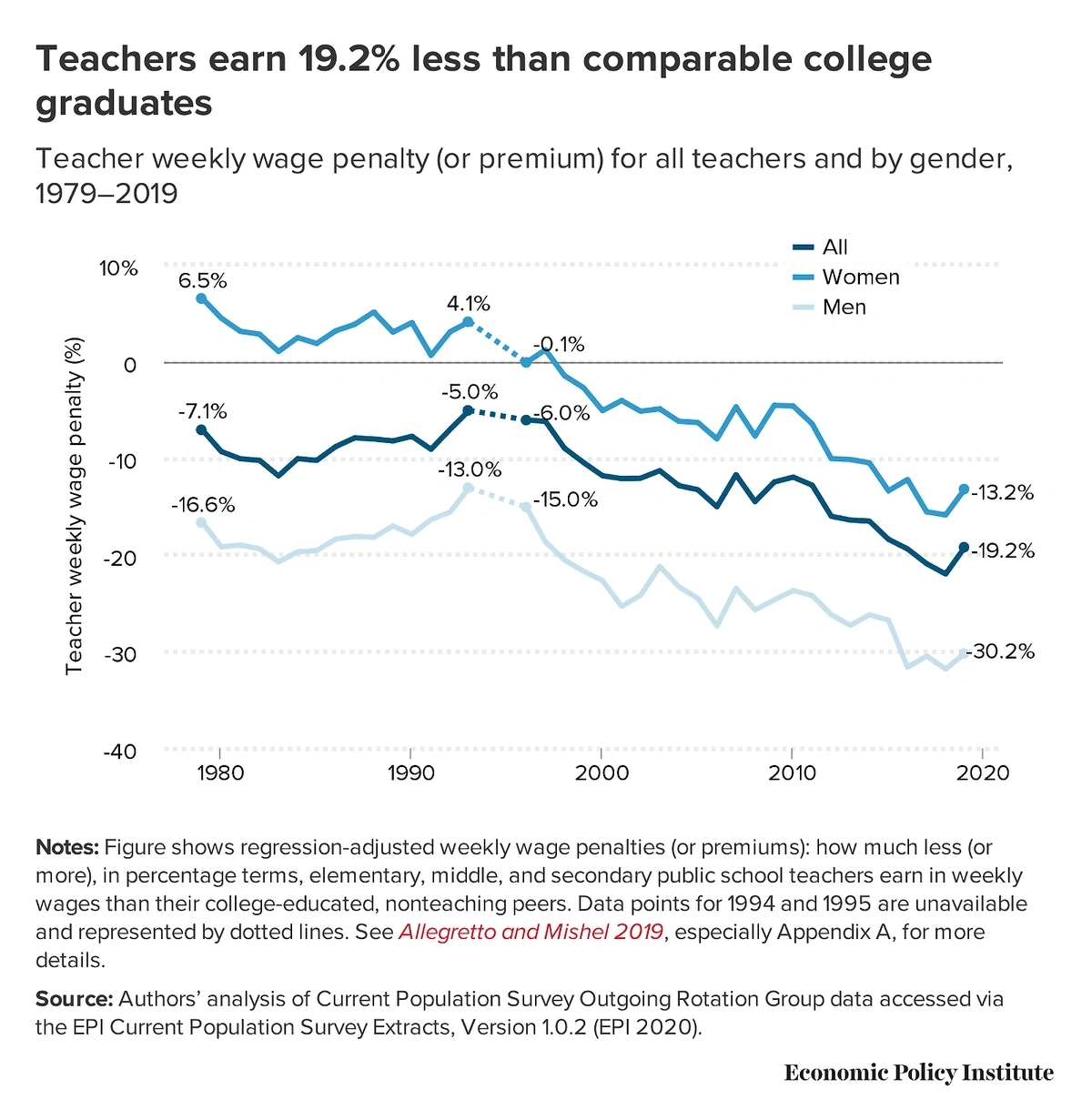 Data shows an extreme contrast in earnings between teachers and other college grads, as well as between male and female teachers.
The average hourly wage for a substitute teacher was $18.47 in 2021.
Several states are working to raise teacher salaries in order to entice new teachers to join the field and keep seasoned professionals from retiring early.
In 2021, teacher pay in Alabama outpaced inflation for the first time in more than a decade. The state's teacher pay now ranks 21st highest in the nation.
New Mexico, a state that is short 1,000 teaching staff members, enacted legislation in early 2022 that will increase teacher salaries by at least $10k.
Many other states are looking to ease their standards for teachers in order to attract professionals from different industries.
For example, the Florida legislature recently passed a bill that allows military members, even those without bachelor's degrees, to teach in a classroom for up to five years.
Missouri, which ranks 50th in the nation in teacher pay, recently announced that the state's Department of Elementary and Secondary Education will license teachers who score below a passing grade as long as they've maintained a 3.0 GPA in college and completed student teaching.
Some education professionals warn against strategies like these.
Randi Weingarten, the president of the American Federation of Teachers, said, "It's very dangerous. It's a good and dangerous example of the disrespect for knowledge in this country".
Conclusion
That wraps up our list of the top education trends to watch in 2024-2027.
It's exciting to see where the education space is headed.
While some approaches may remain constant, new technology is expanding educational abilities without increasing costs.
At the same time, new science-based approaches to teaching are improving the learning experience for students of all ages.