4 Key Business Trends For 2021 and Beyond
This is an up-to-date list of important business trends in 2021. Along with companies, consumer behavior changes and tech innovations driving each trend.
Whether you're a scrappy startup or part of a Fortune 500 company, these trends are worth keeping an eye on.
1. Millennials Splurge for Nostalgia
Millennials in the U.S. have a combined annual spending power of about $2.5 trillion (and growing).
And Millennials recently surpassed Baby Boomers to become the largest generation in America.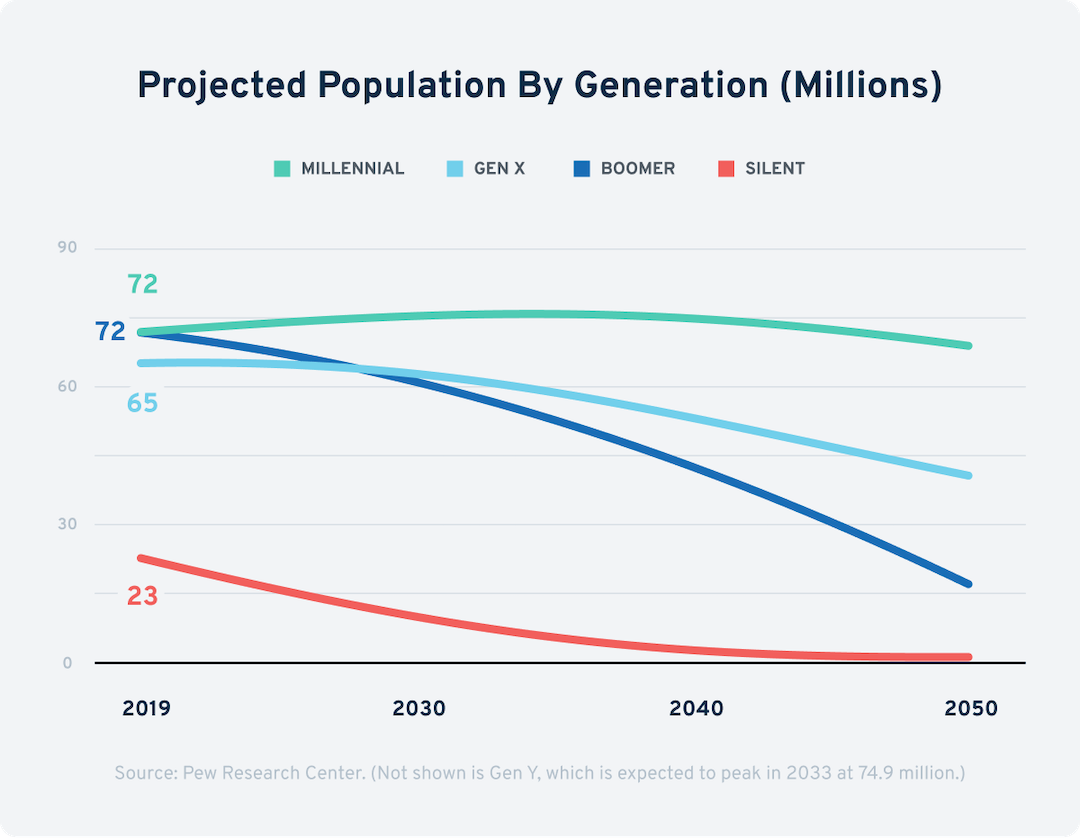 Source: Pew Research Center. (Not shown is Gen Y, which is expected to peak in 2033 at 74.9 million.)
By 2025, Millennials are expected to account for three-quarters of the global workforce.
All of this means the economy is entering a "youth boom". Baby Boomers have been the primary consumers for decades, but that torch is about to pass to people who are 20+ years younger — skipping over the smaller Generation X.
This shift is rapidly changing consumption habits, especially in the U.S.
As a result, companies are shifting their strategies to appeal more to Millennials.
One way they're doing so is via nostalgia.
From the revamped Moto Razr to a new Sesame Street, an incredible number of products and media are being produced with an '80s or '90s flair.
One example is Pokémon.
Thanks to numerous games and merchandise, the '90s video game franchise has become the highest-grossing media franchise in history, with an estimated $100 billion in total global revenue.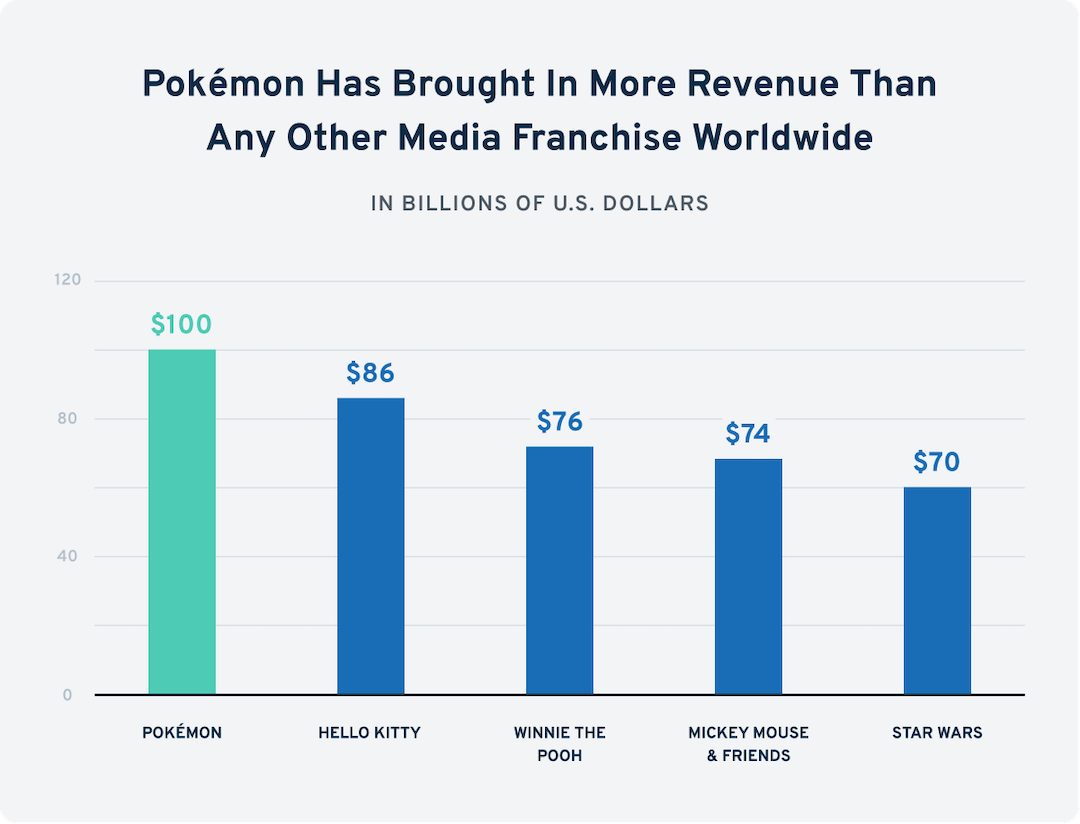 Pokémon has brought in more revenue than any other media franchise worldwide.
Nintendo (which is a part owner of The Pokémon Company) might be the king of capitalizing on Millennials' nostalgia.
The $67 billion market cap company launched a scaled-down version of their original NES console for a limited time in 2016. The system sold so well that they released it a second time in 2018 — when it sold out within hours once again.
Combined with the follow-up SNES Classic, the company reportedly sold over 10 million units of the rereleased consoles before the end of 2018, leading global monthly console unit sales for the first time since 1995.
And because Millennials are the first generation that grew up with widespread access to video games, they're also the first generation of adults to play — and buy — video games as much as they do.
In the U.S., Millennials spend an average of $112 per month on games.
And they don't just game alone: over 38% of American parents with children under 18 now play video games with their kids at least weekly.
Which is a perfect situation for Nintendo's family-friendly games. In 2020 the company had its best August ever in terms of hardware sales, and 10 of the 20 best-selling games that month were Nintendo-only.
(So it's no surprise to see new competition from tech giants in the forms of Apple Arcade, Amazon's Luna, Google Play Pass and Google Stadia.)
Nostalgia is also helping convince Millennial parents what to feed their kids.
Millennials tend to be more health-conscious than their parents were, favoring natural ingredients.
So some of the junk foods Millennials enjoyed in their childhoods are being revamped with natural, organic ingredients. Including Capri-Sun, Oreos and Kraft Macaroni & Cheese.
New brands like Magic Spoon and Silly Juice have also emerged with the same approach, very successfully.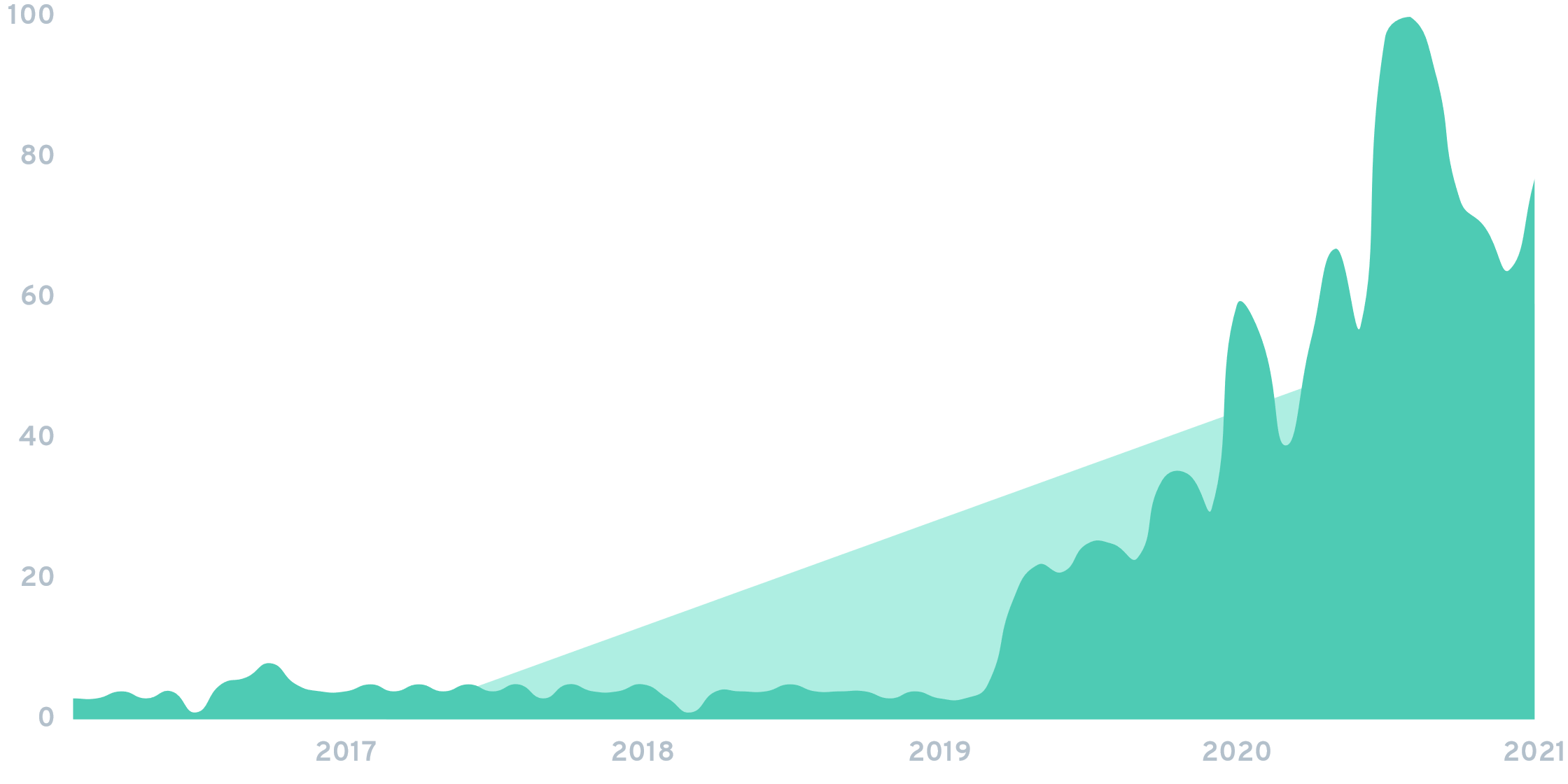 Searches for Magic Spoon breakfast cereal over time.
And then there are the many revivals, reboots and remakes of movies and TV shows.
Case in point: Netflix's Cobra Kai, which was one of the most popular series in the U.S. last year.
Other examples from Netflix include Chilling Adventures of Sabrina, The Baby-Sitters Club and Mystery Science Theater 3000: The Return.
Not to mention Disney's recent remakes of Mulan, The Lion King, Aladdin, The Jungle Book, and others. Several of which made even more money after inflation than the original blockbusters.
New stories are also being told in an '80s or '90s style, or incorporating pop culture nods to those past decades. Like Stranger Things, Ready Player One and See You Yesterday.
The fashion industry has been massively influenced by Millennial nostalgia as well.
Sales of fanny packs reached an astounding $100 million between September 2016 and 2017. In the U.S., the accessory's sales then quadrupled from 2017 to 2018. And astoundingly, they doubled again in 2019.
There's also been a big resurgence in corduroy, dad sneakers and mom jeans.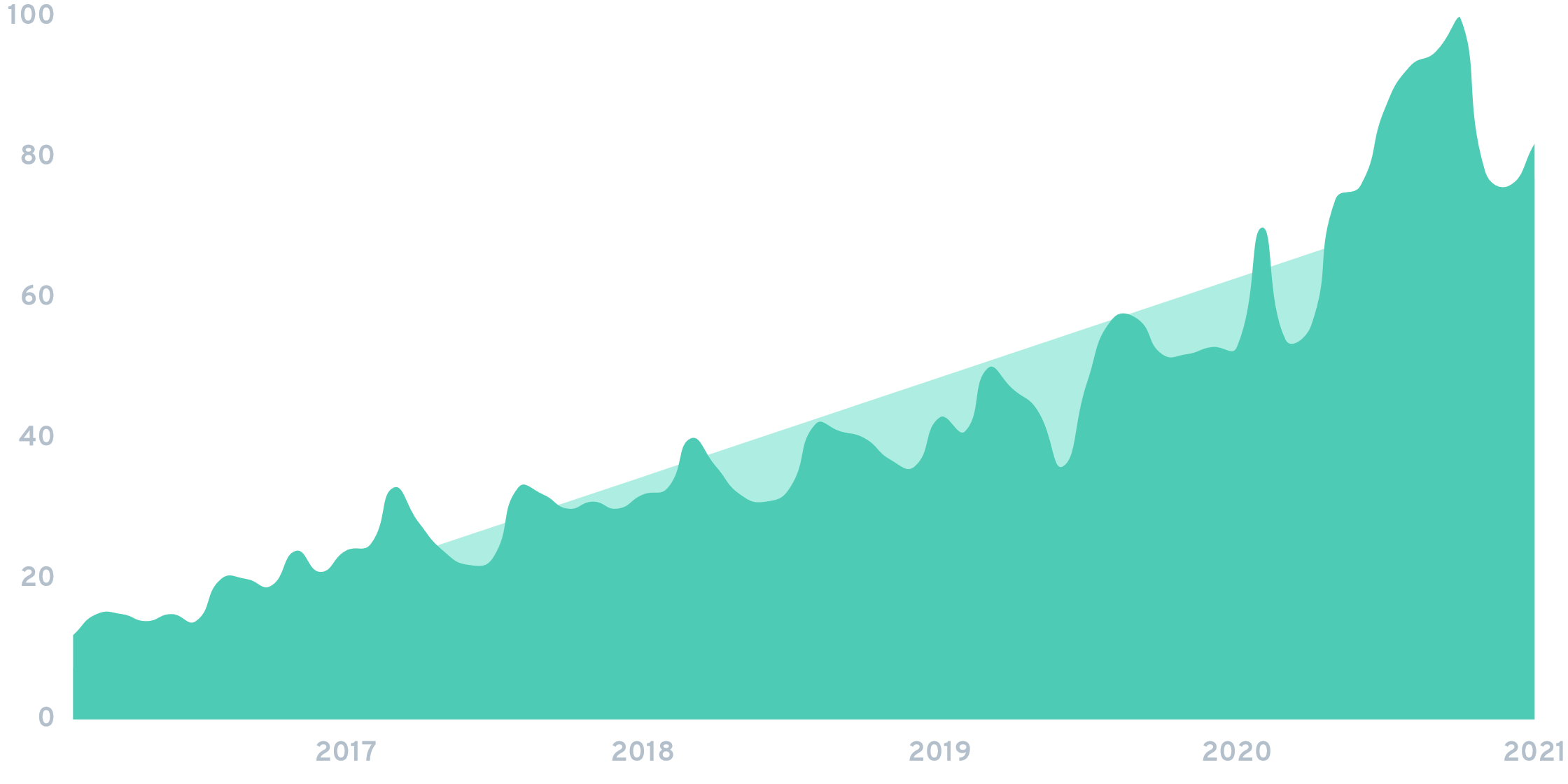 Google searches for "mom jeans" have been climbing steadily.
2. Companies Embrace Digital Process Automation
The global digital process automation market was valued at $1.4 billion in 2019 and is projected to reach $25.56 billion by 2027.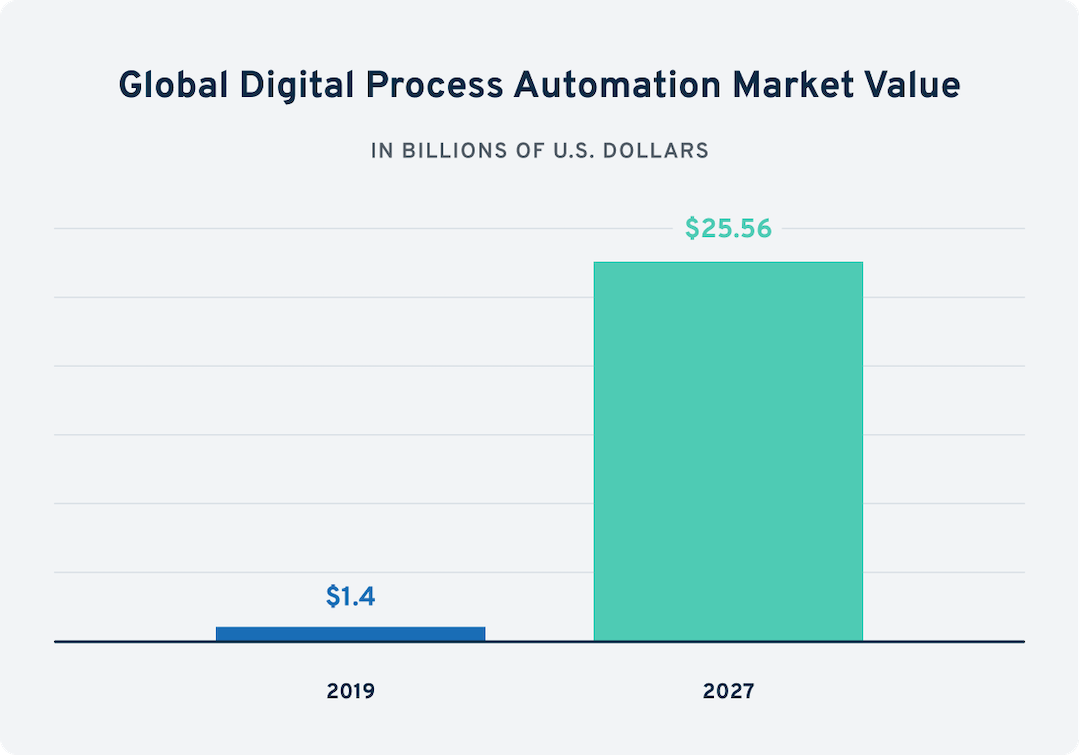 The global digital process automation market is set to grow significantly by 2027.
Digital process automation can help companies implement new offerings faster, scale up services efficiently, reduce errors, ensure consistency, help with regulatory compliance and provide novel solutions to customers.
43% of knowledge workers say they use automation software to help complete tasks faster.
The industry can be broken down into two main categories: "dumb" robotic process automation (sometimes simply called "robotic process automation" or RPA) and AI-powered "intelligent automation" (IA).
(Both are software-based: the "robotic" part refers to software robots.)
"Dumb" robotic process automation (RPA) does not learn and evolve on its own. It simply executes specific, predictable tasks.
But it does so much more cheaply than humans can, with an estimated cost reduction of 66% - 80% compared to regular employees.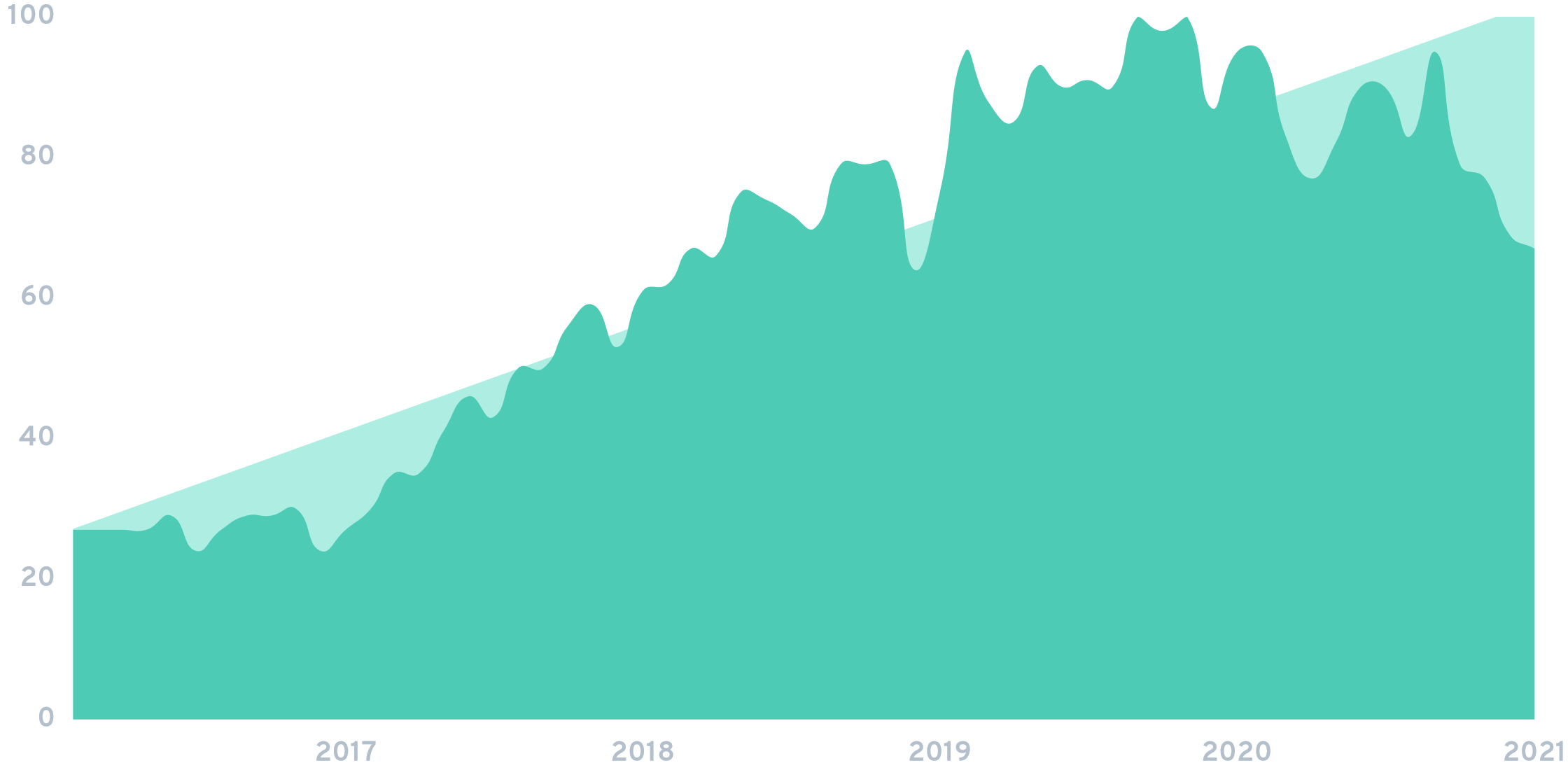 Searches for "robotic process automation" have more than doubled since 2016.
For example, the University of Texas MD Anderson Cancer Center used HelpSystems Automate to automate 80 different tasks.
Tasks like alerting their IT team to system failures in real time, backing up critical applications, generating reports and more. This resulted in an ROI of 650% as well as better patient care.
Intelligent automation (IA) is useful for situations with more variation.
While more expensive than "dumb" RPA, IA uses machine learning to learn and adapt.
This type of automation excels with unstructured data, computer vision, natural language processing, predictive analytics, self-repair and tasks that require judgment.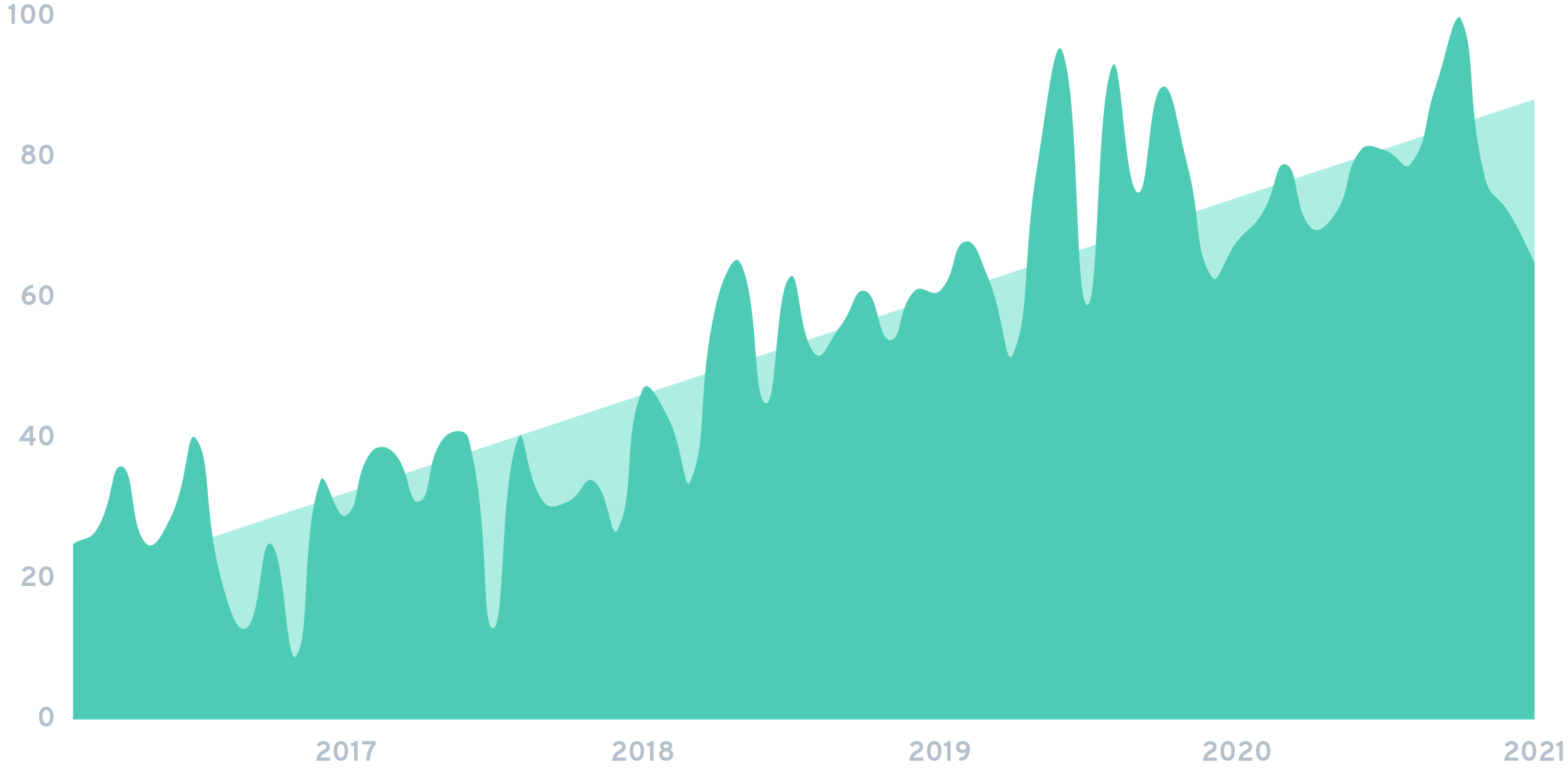 Search volume for "intelligent automation" increased by 163% over the last 5 years.
90% of executives who are scaling up their intelligent automation say it creates higher-value work for their employees.
And because it's more powerful, intelligent automation can allow for "hyperautomation": the start-to-finish automation of entire business functions. (Hyperautomation was named by Gartner as the #1 strategic tech trend of 2020.)
As 2019, finance and accounting were the departments investing the most in IA technologies. Followed by global business services and compliance.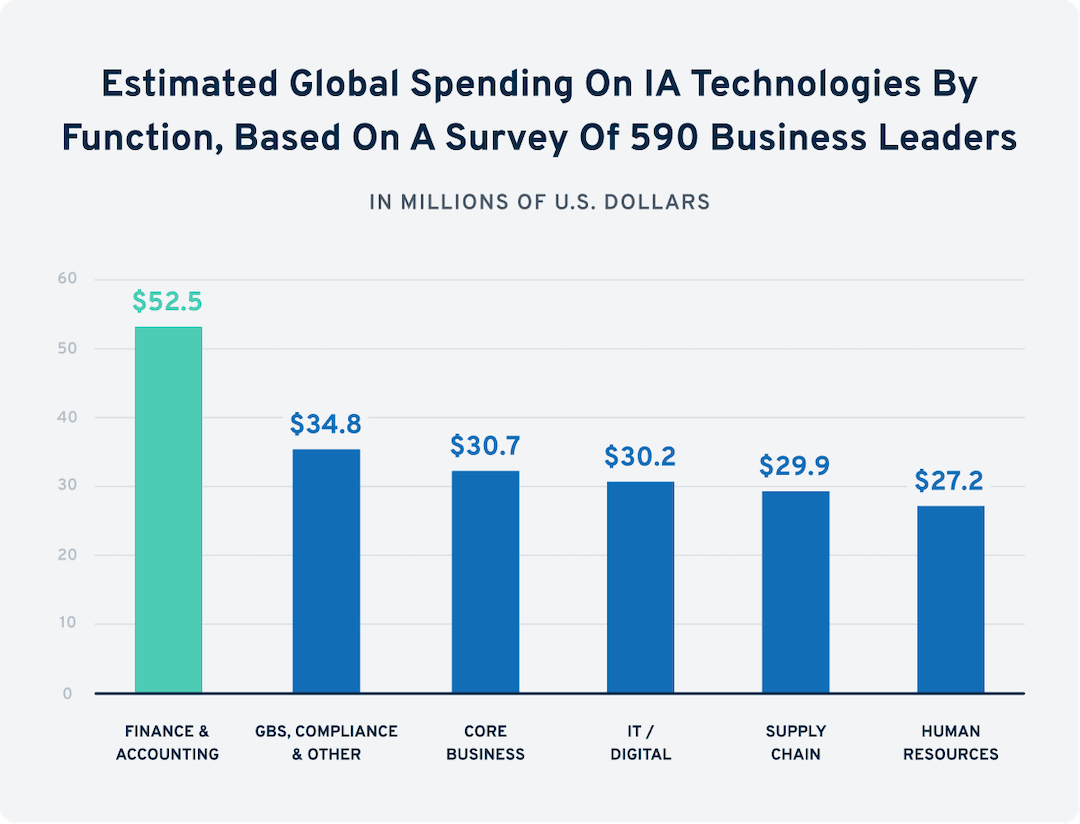 Estimated global spending on IA technologies by function, based on a survey of 590 business leaders.
But in practice, many players offer both intelligent automation and "dumb" RPA.
Like Microsoft's Power Automate (formerly "Flow") which includes thousands of prebuilt automation templates for simple workflows like sending automated emails when new files are added to SharePoint.
But it also includes a feature called "AI Builder" for more advanced functionality.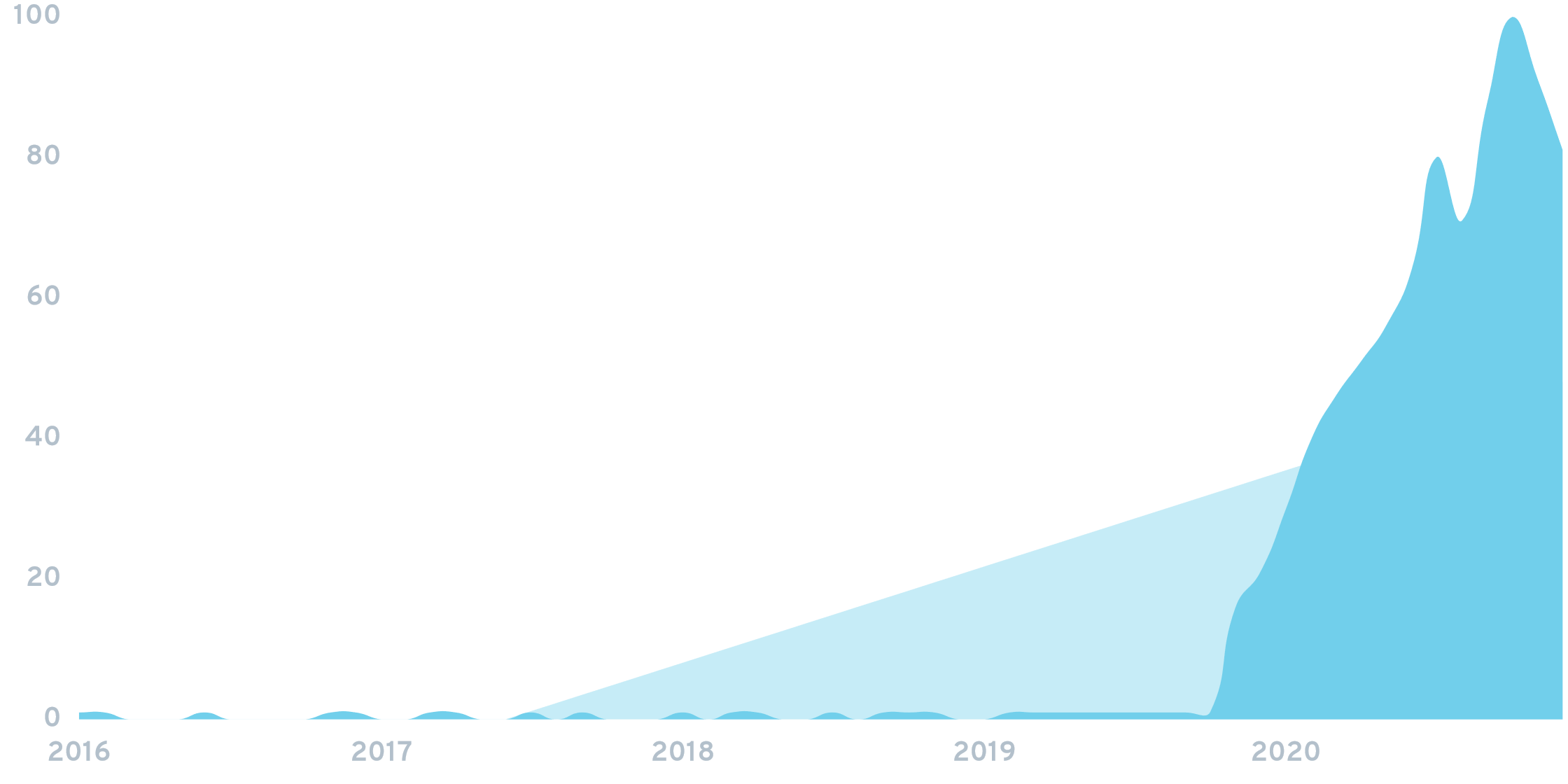 Search volume for "Power Automate" (the new name for Microsoft Flow).
(Microsoft also announced that it would be licensing OpenAI's GPT-3 language model. But it isn't clear whether that will be used with Power Automate.)
Or like Automation Anywhere, which bills itself as the world's #1 intelligent automation platform. It features the "Discovery Bot", which searches for opportunities to automate additional tasks — and automatically creates additional software bots to do so.
But the company also has a "bot store" with hundreds of ready-to-use simple workflow automations.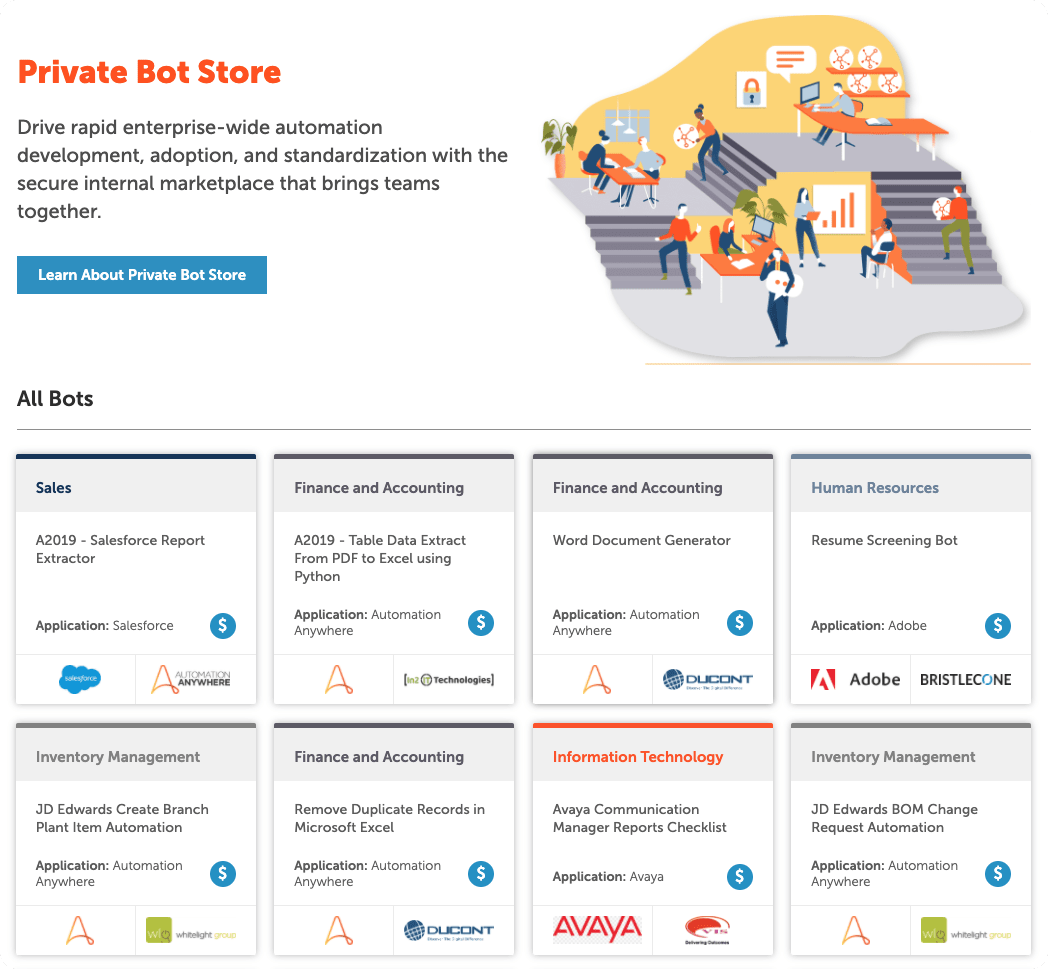 Automation Anywhere's software bot store.
Other examples of digital process automation include:
Scalable app-to-app connectors like Zapier, IFTTT, Workflow, Automate.io and Integromat.
Desktop automation software like Apple's Automator for desktop workflows on Mac, Kissflow (with customers including Pepsi, Domino's and Comcast), Pipefy (with customers like Kraft Heinz, Ogilvy and Vodacom) and Tray.io (with customers like Udemy, Typeform and AdRoll).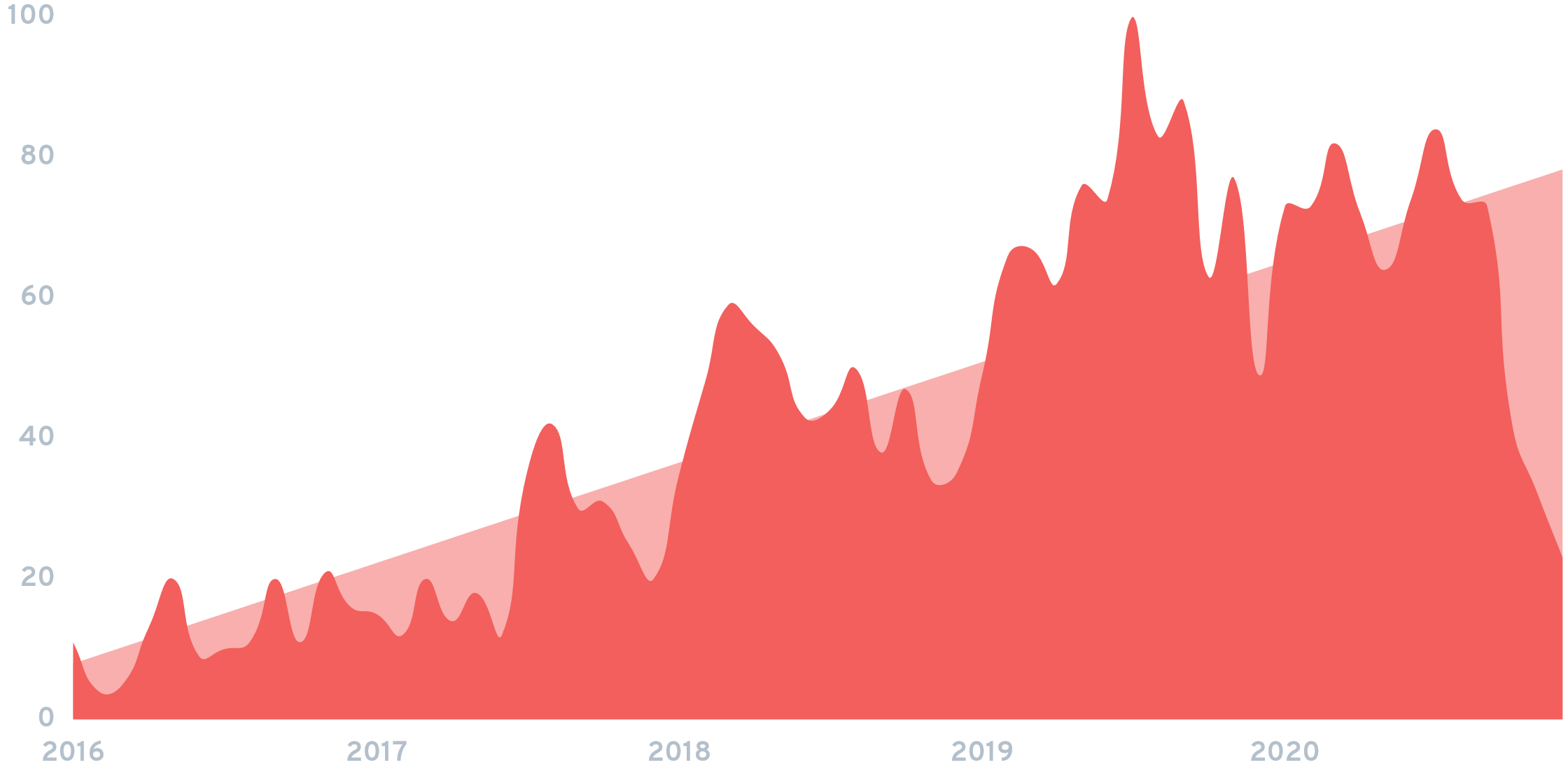 Searches for Pipefy over time.
Purpose-built business automation options like MainStreet for tax credits, MonkeyLearn for text analysis, Anvil for filling out paperwork and AllyO for recruiting.
As well as more general enterprise-focused offerings from SAP, Appian, Blue Prism, NICE, Pega, Flokzu, Nintex, Integrify and UiPath.
3. The Legal Cannabis Industry Continues to Grow
Legal cannabis spending is expected to reach $42.7 billion per year globally by 2024.
That's up from just $3.3 billion in 2014 and $14.9 billion in 2019.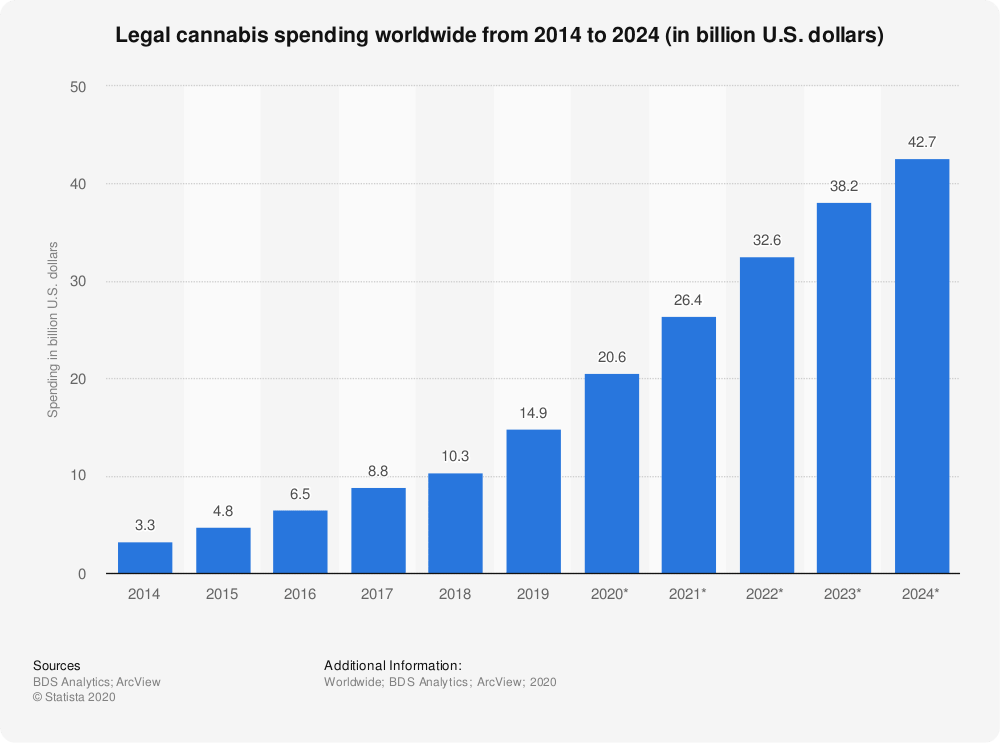 (Source: Statista)
The U.S. is leading the charge, with about 81% of total sales.
That's largely because legal marijuana is available to more people in the U.S. than in any other country. (In most states, medical marijuana is legal but recreational use is not.)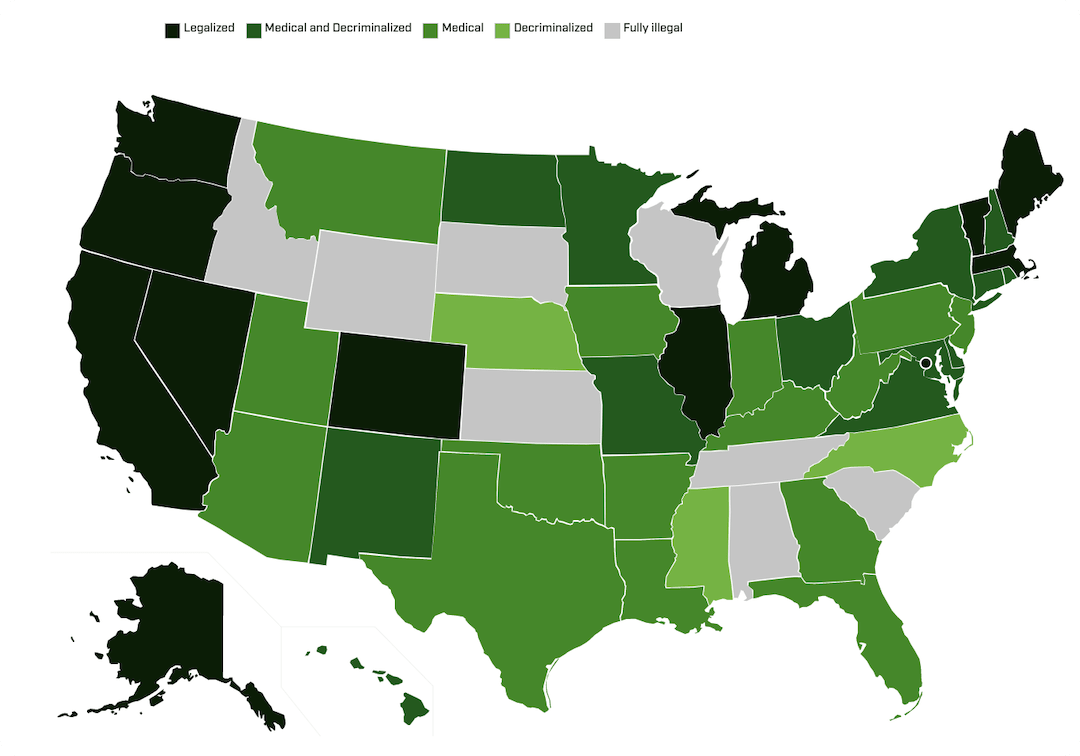 Marijuana is fully legal in the black states, fully illegal in the gray states, and allowed medically and/or decriminalized in green states.
Avoiding the piecemeal approach, neighboring Canada made recreational marijuana legal for adults nationwide in October 2018. (It was the second country to ever officially do so, after Uruguay.)
Unlike in the U.S., Canada's legalization at the national level allows Canadian cannabis growers to export the majority of their product.
As a result, there has been a significant uptick in demand for cannabis from growers like Canopy Growth ($7.79B market cap), Aphria ($1.36B market cap), Aurora Cannabis ($808M market cap) and Tilray ($735M market cap).
After all, Canada's population is only about 38 million. So despite its quickly-growing domestic market, there's a limit to how large it will become.
Which means that most of the industry's future growth lies elsewhere. In countries with larger populations — and as-yet nonexistent legal cannabis markets.
In Europe, for example, selling recreational marijuana is treated as essentially legal only in the Netherlands and Spain.
That leaves a population of about 682 million without retail access to cannabis in Europe alone.
In fact, only about 2.5% of the world's 7.8 billion people can legally buy marijuana for recreational purposes.
According to some, that number may double in the next several years: more countries in Europe, Asia and elsewhere appear to be moving toward full legalization.
Many have already decriminalized it (requiring only a fine if caught), made it legal for medical purposes with a prescription, or allow CBD strains which contain little or no THC.
Because medicinal use is legal in more places than recreational use, about 71% of global sales were for medical purposes.
But for the same reason, more growth is expected in the recreational category. By 2027, recreational cannabis sales are expected to make up 62% of the total.
Aside from the recreational vs. medicinal split, there are two main cannabis product categories:
Those that include large quantities of THC (which gets you high) and those that contain more of the "relaxation" molecule CBD (and little to no THC).
CBD may be the lesser-known of the two, but it's currently booming in the U.S. as it's been legalized at the federal level.
A full 33% of Americans have tried CBD, and over 10% of U.S. adults under 45 use it regularly.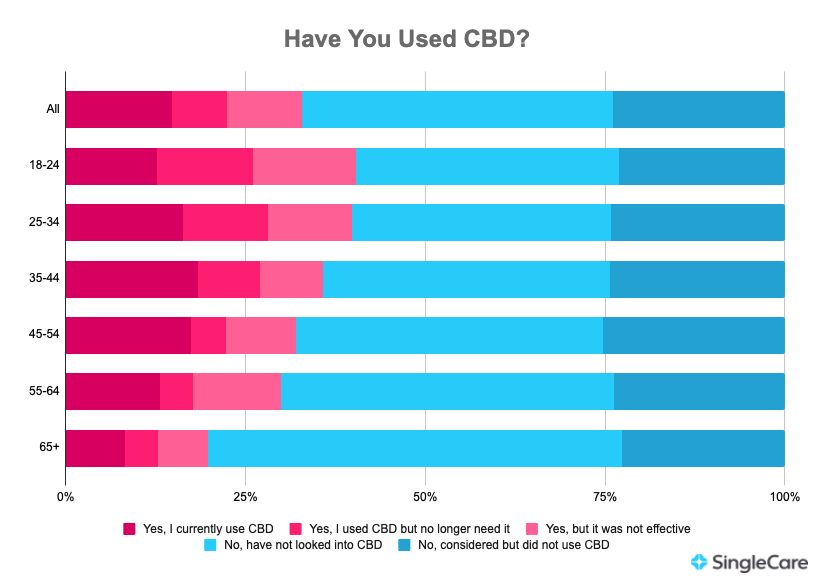 CBD use by age group.
The top reasons for using CBD are relaxation (at 55% of users), stress/anxiety relief (at 50%) and improving sleep (45%).
And medical studies have shown that CBD may provide relief from debilitating epileptic seizures, Parkinson's disease, anxiety and sleep problems, pain and other ailments.
No wonder CBD products are exploding in popularity.
For example, CBD flowers. Which people can cook with, smoke or vape without feeling any direct effects.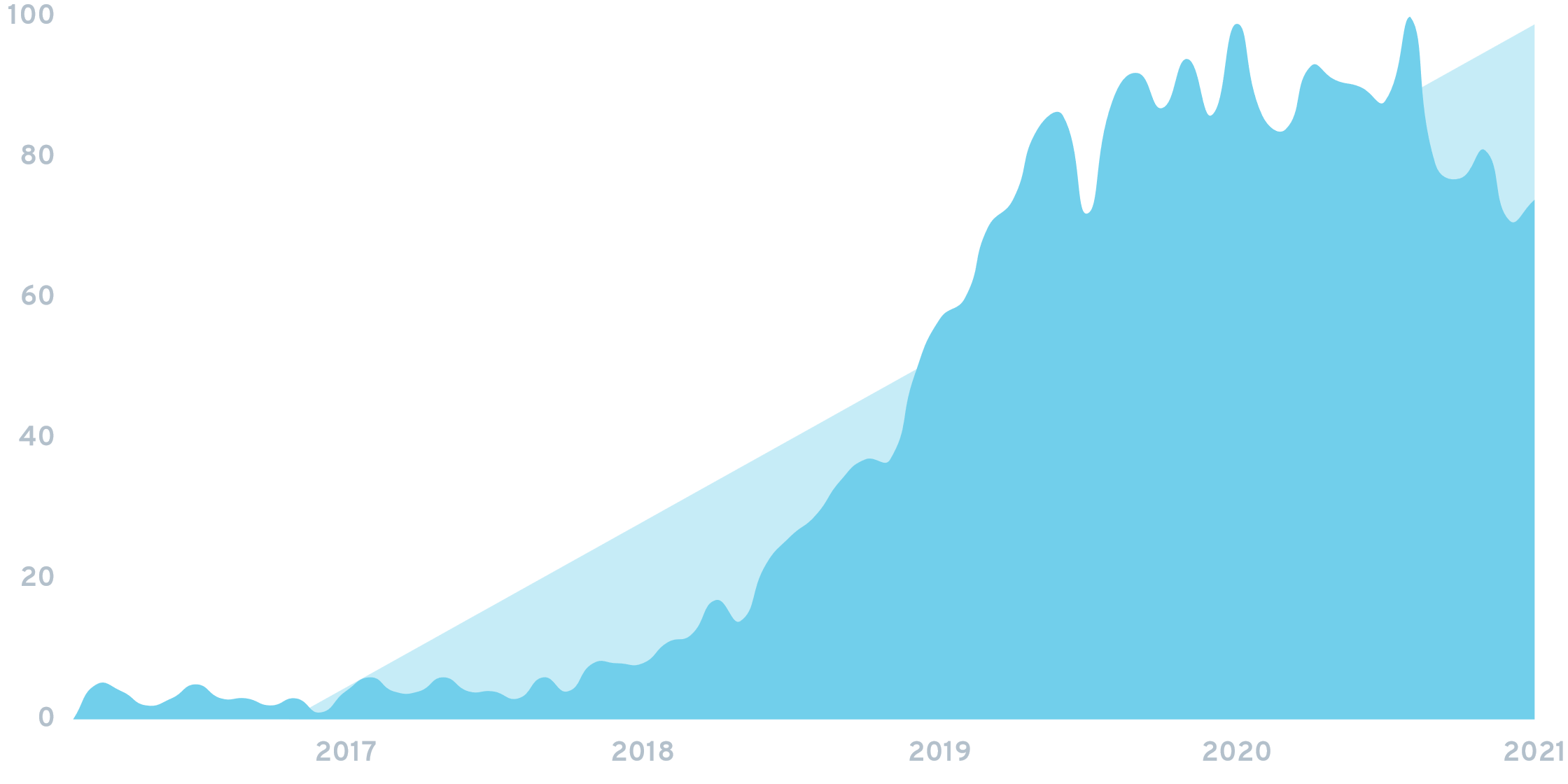 Search volume for "CBD flower" has grown quickly since CBD was legalized federally in the U.S. in 2018.
As well as CBD gummies, CBD chocolate, CBD oil (both for consumption and as topical/massage oil), CBD soda and even CBD for dogs.
THC-based products come in pretty much all of the same forms as CBD products. But since they include THC, the effect is different (and they're legal in fewer places).
There's THC candy, THC oil, THC soda, marijuana cookies, cannabis flowers and more.
Although influenced by the pandemic, cannabis delivery is also a growing trend.
4. Ad Markets Consolidate
Worldwide Google searches for the term "influencer marketing" have increased 1,314% in the past 5 years.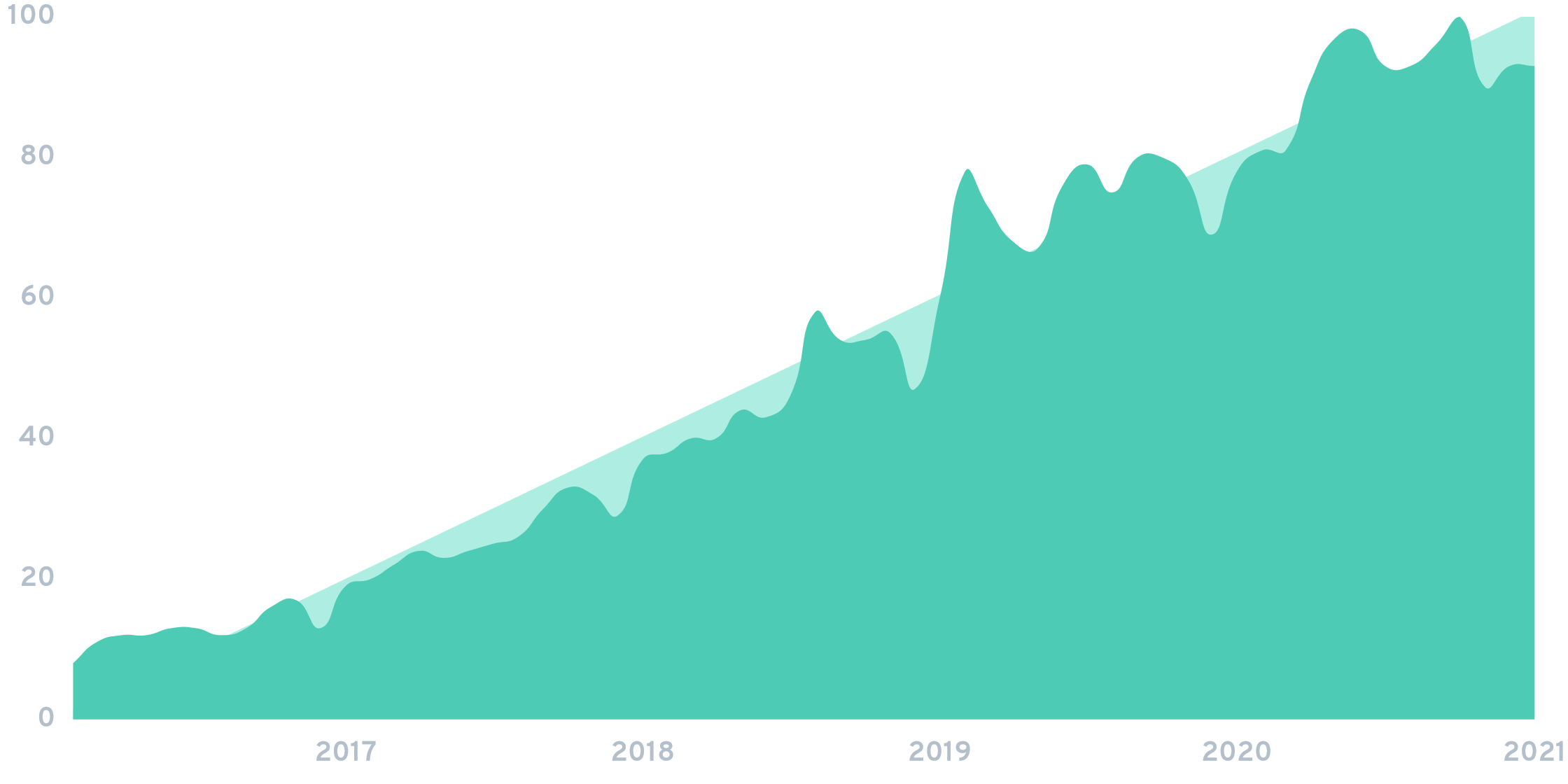 Searches for "influencer marketing" over time.
The reason is no mystery: for every dollar spent on influencer marketing, the earned media value created is $5.78.
Companies aren't just relying on famous names, either. They're also turning to influencers with small but targeted audiences.
So-called "micro influencers" and "nano influencers" can have as few as 1,000 followers. Yet they're attracting brands as big as Coca-Cola, Google and Sephora.
According to L'Oreal, their CeraVe skincare brand reached their 2022 goals two years early thanks in part to micro influencer marketing.
But there's one problem.
Dealing with individual influencers doesn't scale.
Enter: influencer marketing platforms.
Influencer marketing platforms make it easy for companies and influencers to "meet" and make deals.
The influencer marketing platform industry is expected to increase from $4.6 billion in 2018 to $23.52 billion in 2025, for a CAGR of over 26%.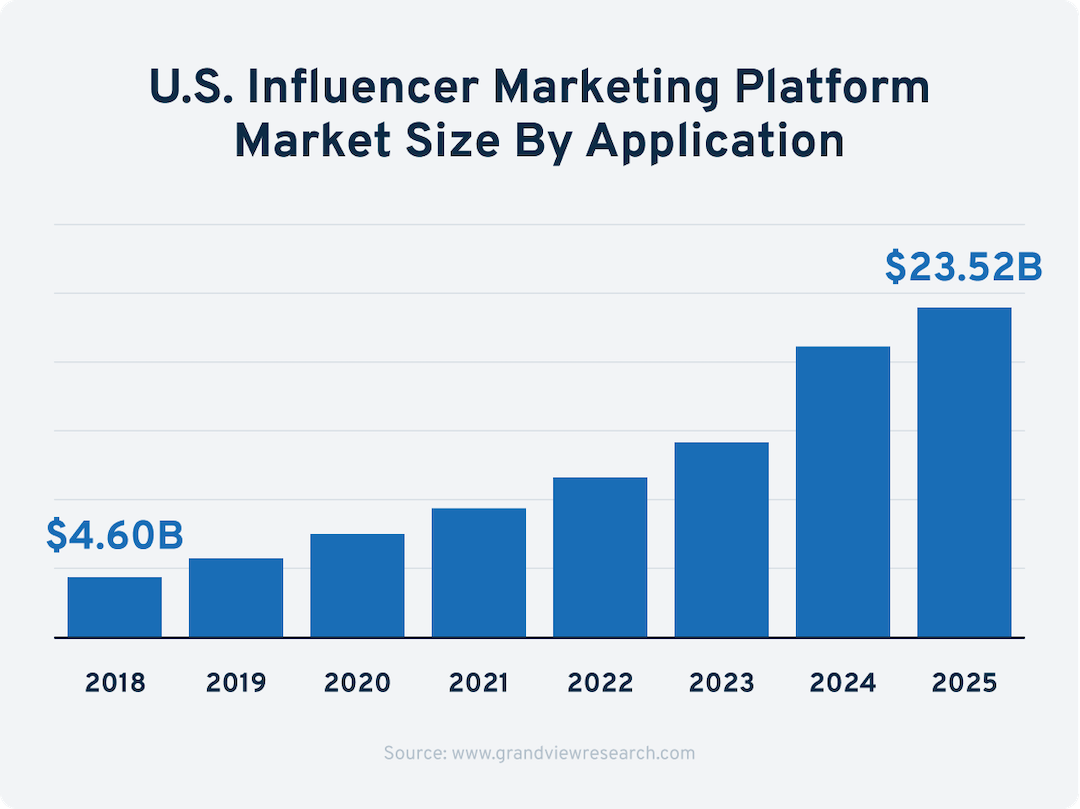 Growth of the influencer marketing software space from 2018-2025.
Influencer marketing platforms and related products include:
CreatorIQ, which boasts clients like Disney, Salesforce, Unilever and CVS and raised a $24M Series C over the summer.
NeoReach, which was founded in San Francisco in 2013 and counts Airbnb, Amazon and Walmart among its customers.
Captiv8, which has customers like Honda, Fox and Dr. Pepper and has raised $4M since it started in 2015.
Upfluence, which also features team collaboration functionality and last raised a $3.6M Series A in 2018.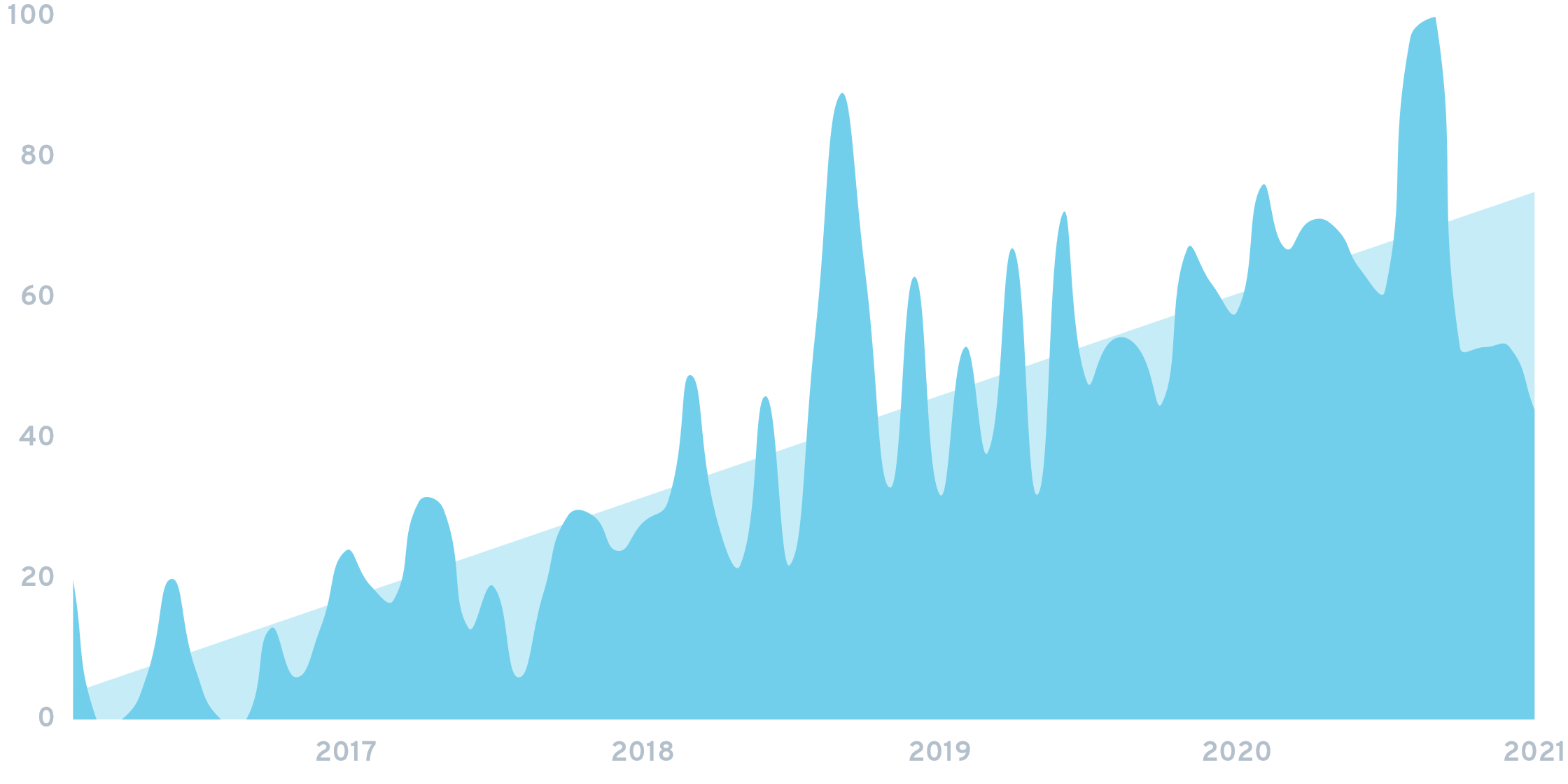 Searches for Upfluence have increased 120% in 5 years.
As well as Heartbeat, Obviously and PopularPays. IZEA, Julius, GRIN, AspireIQ, Cohley and others.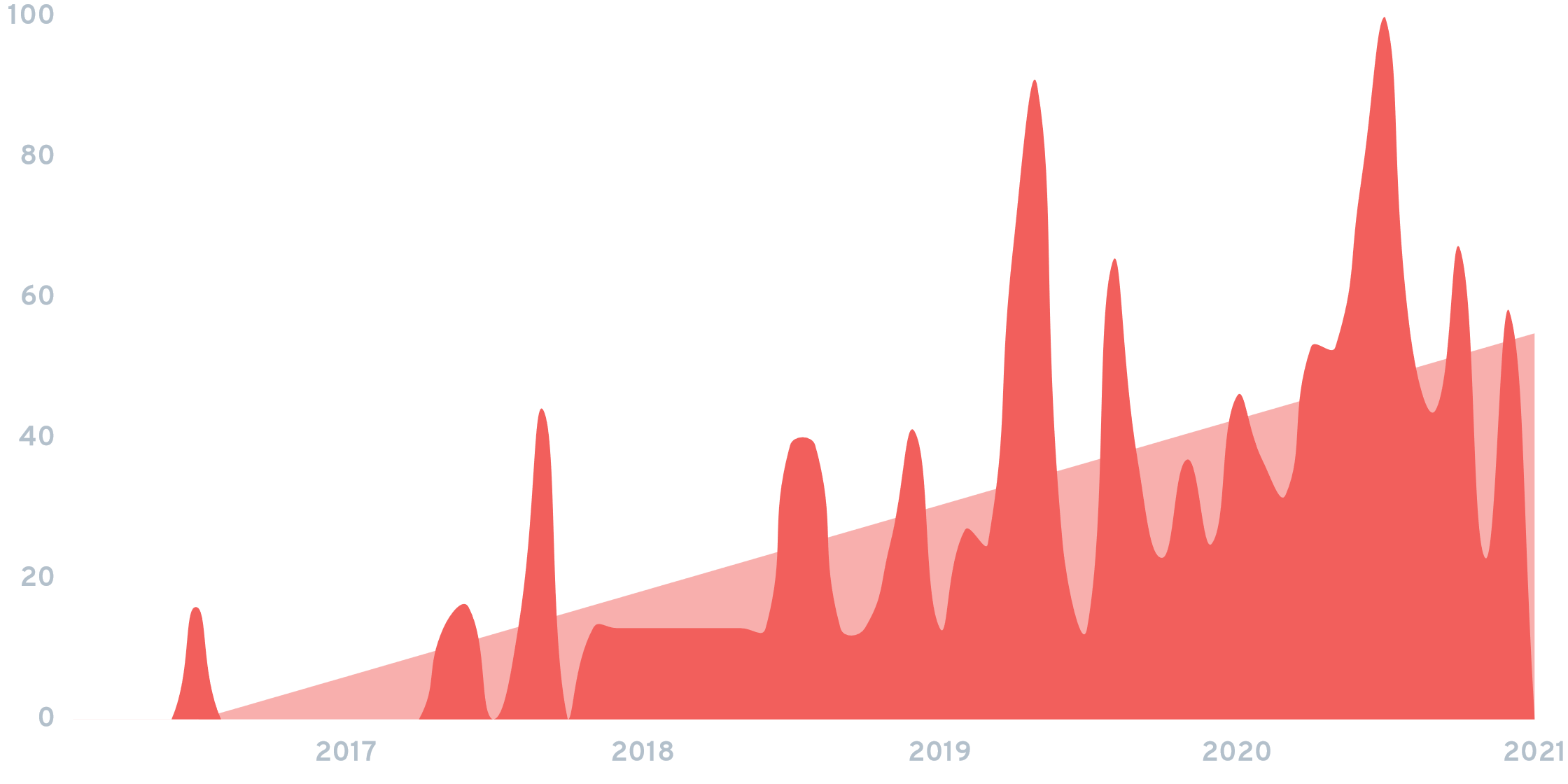 Search interest in Cohley has been spikey but generally on the rise.

But influencer marketing platforms are just one part of a much larger meta trend: ad market consolidation.
Fractured advertising markets make it harder for companies to find marketing opportunities and buy placements at scale.
As a result, we're seeing platforms, marketplaces and agencies emerge to make that process easier across different media.
In podcasting, for example.
Podcast advertising is growing rapidly, from an estimated $313.9B in 2017 to $708.1B in 2019 in the U.S. alone.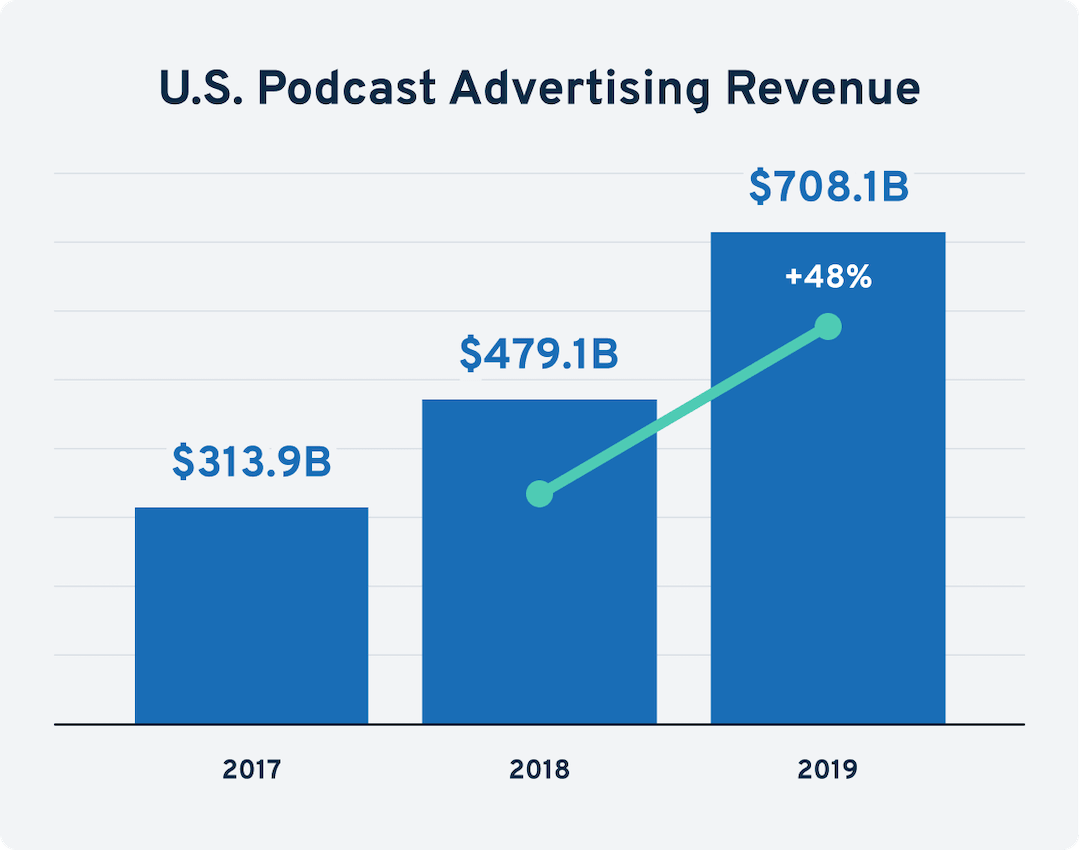 The US podcast market is steadily growing.
But there are over 1.5 million podcasts, most of which operate independently from each other.
Fortunately, lots of popular podcasts can be reached through podcast advertising platforms like USV-backed Gumball, Midroll (which is run by SiriusXM-owned Stitcher), AdvertiseCast or Podbean.
And many more top podcasts are part of podcast networks, which also serve as ad aggregators.
Like audiochuck, iHeartRadio, Wondery and Headgum (which owns Gumball).
Not to mention all the podcasts and networks Spotify has acquired over the last 24 months.
In 2019, company spent about $400 million (total) on 3 podcast companies: podcast publishing platform Anchor and the networks Gimlet Media and Parcast.
While Spotify's notable moves in 2020 included buying The Ringer for almost $200M and inking an exclusive deal worth a reported $100M for The Joe Rogan Experience.
But Spotify also makes it possible to buy ads on over a million other podcasts. As well as between songs. With the Spotify Advertising self-service platform, advertisers can reach the 170M+ people who listen to Spotify with ads turned on (meaning they don't pay for a membership that removes the ads).
Spotify Advertising even has a free feature that turns advertisers' text scripts into voice ads, removing a significant barrier to entry.
Affiliate marketing is another fractured market.
As of a few years ago, affiliate marketing was driving almost 16% of all holiday ecommerce activity. And this year, U.S. affiliate marketing spend is expected to hit $6.8 billion.
On the aggregation side, there have been affiliate marketing networks for ages. But the list of major players is still long.
There's CJ Affiliate (owned by French multinational Publicis Groupe), LinkShare by Rakuten, ClickBank, sister companies AWIN and ShareASale, Avangate, Impact, Amazon Associates and more.
Plus niche entrants like Rewardful — an affiliate network exclusively for SaaS businesses who bill with Stripe.
With so many affiliate networks, it's common for companies to enroll with more than one.
To manage their affiliates who are spread across all those networks, businesses are turning to affiliate management programs like Affluent, Partnerize and Affise.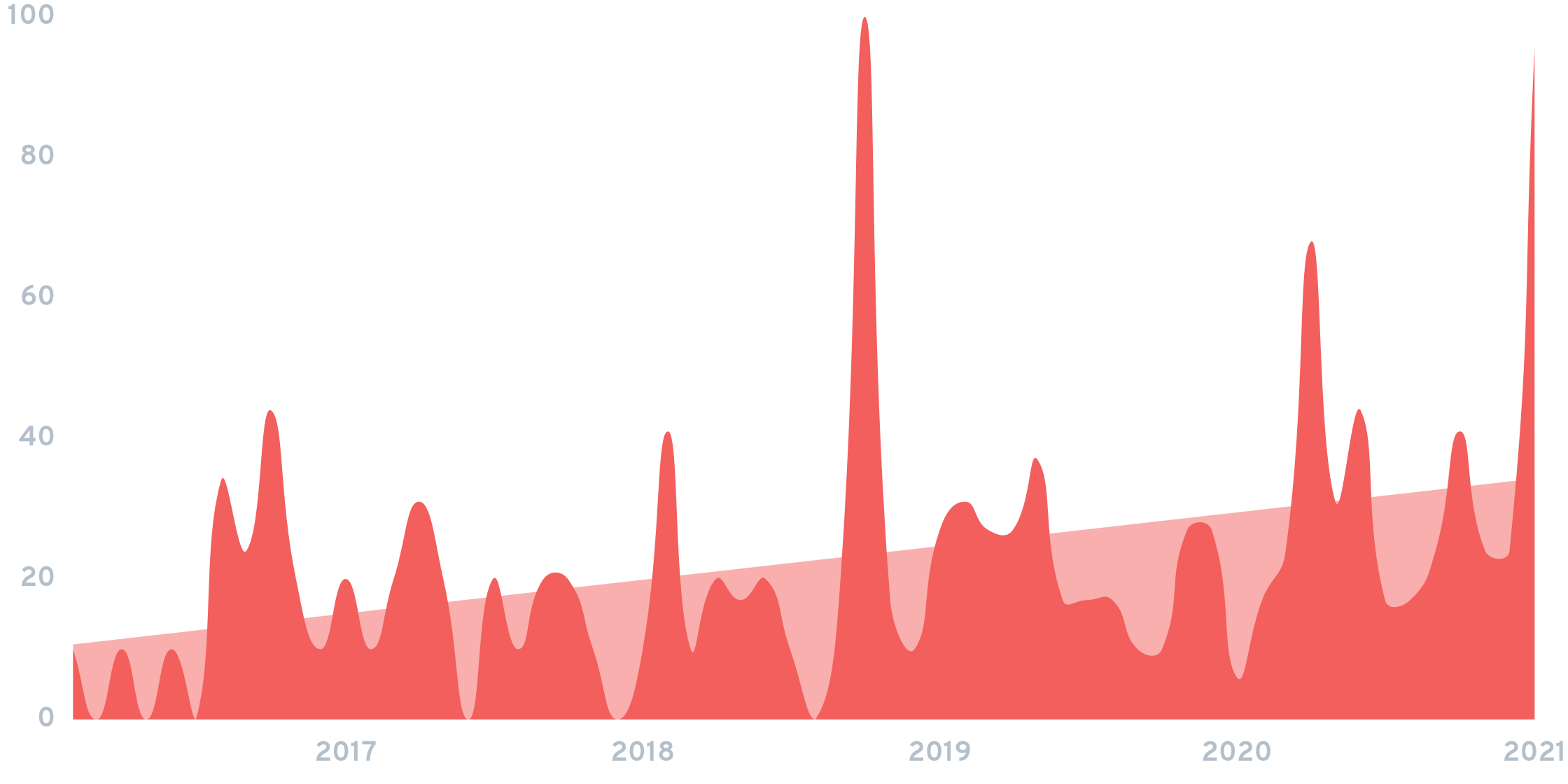 Searches for "affiliate management program" have increased 633% in 5 years.
On the flip side, affiliate marketers face similar challenges. Many sign up for multiple affiliate networks, which can be difficult to monitor and manage.
(Especially at the scale of large publishers. Like The Wirecutter, which has boosted The NYT's bottom line since it acquired the company for over $30 million in 2016.)
That's where affiliate dashboards come in.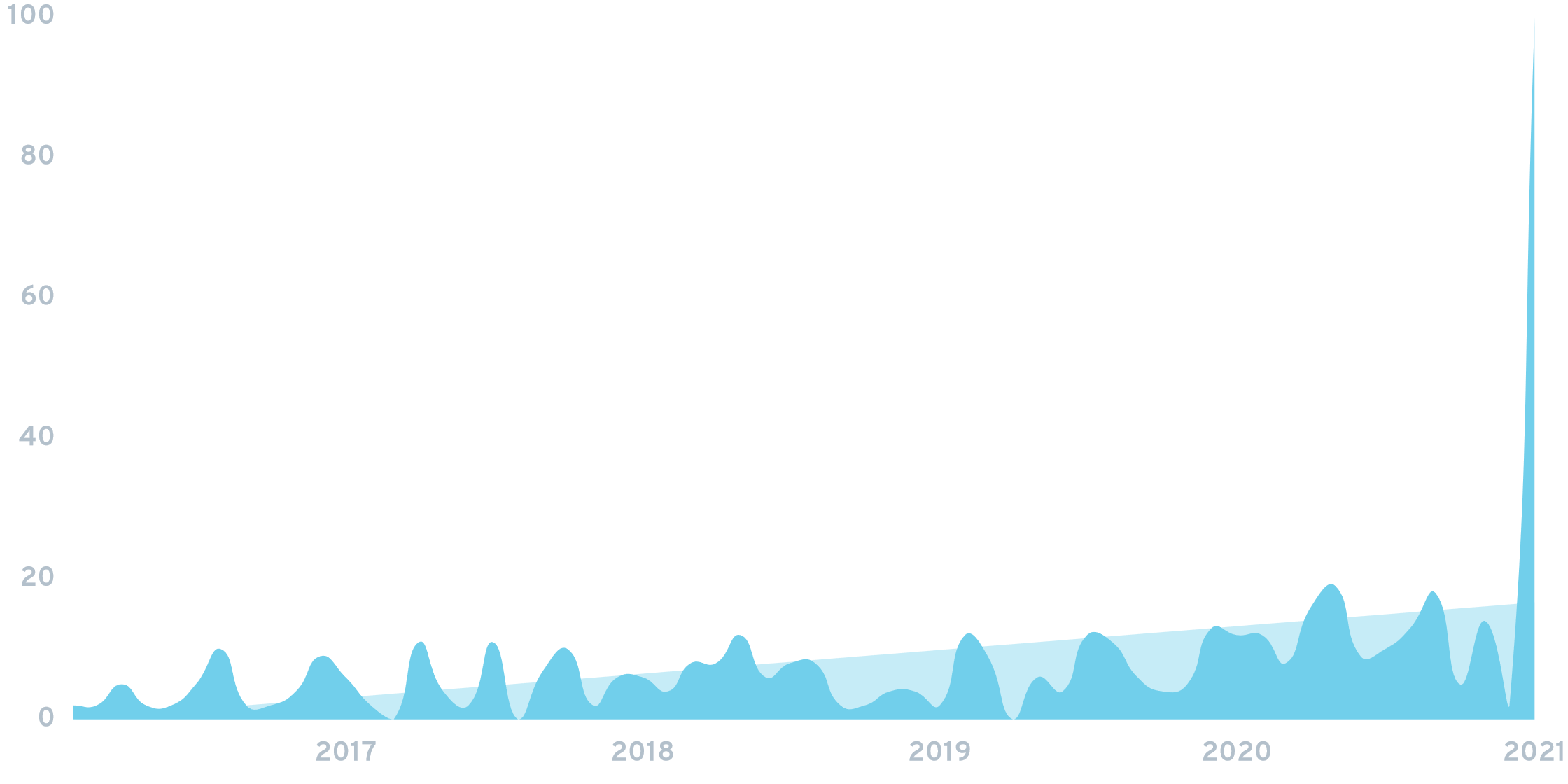 Search interest in affiliate dashboards has more than tripled in the last 5 years.
Like Strackr, Refersion or Trackanomics, which boasts clients such as Business Insider, BuzzFeed, Condé Nast and Honey.
Conclusion
That concludes our list of super important business trends.
The business world (including marketing, sales, fulfillment and more) is quickly moving online.
Companies that stay on top of key trends (and innovate based on those trends) are poised to come out on top.
Last Updated: 
January 15, 2021