9 Top Business Trends (2024 & 2025)
You may also like:
This is an up-to-date list of key business trends in 2024, along with those that are poised to see continued growth into 2025.
We'll cover the sectors, consumer behavior changes, and tech innovations driving each trend.
Whether you're a scrappy startup or part of a Fortune 500 company, here are the top business trends to know:
1. Generative AI Boosts Business Productivity
Generative AI has businesses paying attention.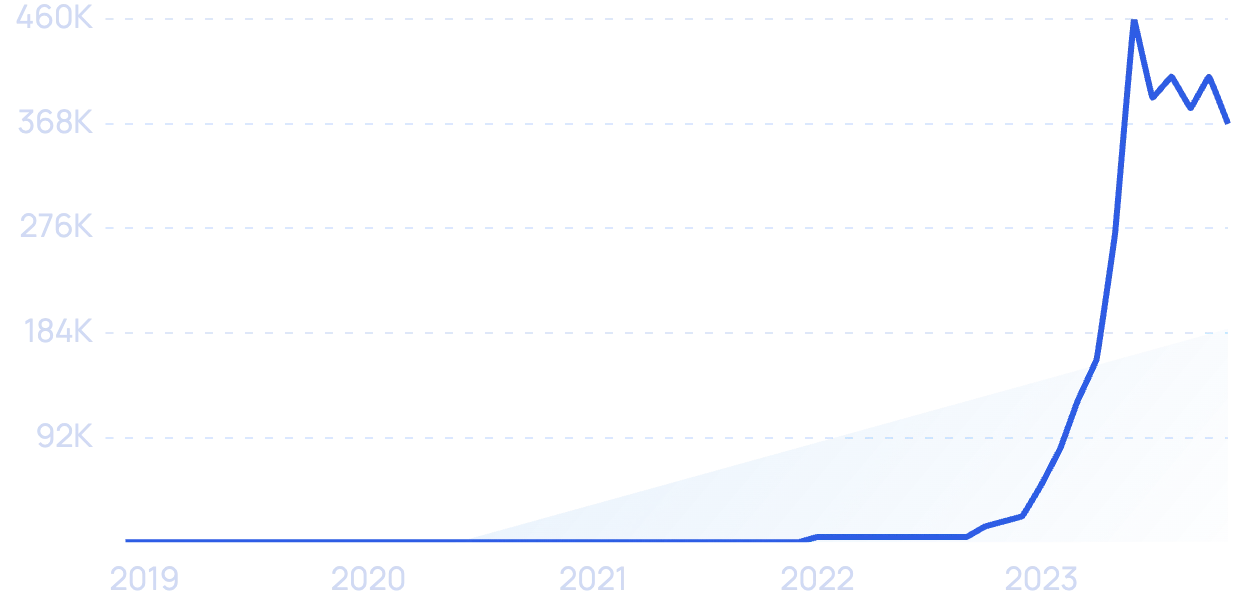 Search volume for "generative AI" has exploded.
Byb 2025, it's predicted that generative AI will hold about 30% of the entire AI market and be valued at roughly $60 billion.


The impact of generative AI is predicted to be worth $60 billion.
Consumers are expecting businesses to capitalize on generative AI applications — nearly 70% of consumers say they believe most businesses will soon be using this technology to improve the customer experience.
Generative AI platforms run on the technology of large language models (LLMs).
These models are trained on billions of pages of existing text. As they are trained, LLMs pay attention to contextual relationships between the words and patterns seen in sentences. From there, the LLM can put together content on its own.
For example, the BERT LLM can achieve 85%-90% accuracy in just milliseconds.
And LLMs are only getting better.
In the future, AI experts say these models will be able to generate their own training data to self-improve, pull in information from external sources, and operate much more efficiently through an approach called "sparse expert models."
Boston Consulting Group reports that some expect that generative AI will be able to put out "final draft" content by 2030.
As of now, LLMs are far from perfect, but businesses are already taking advantage of their wide-ranging capabilities.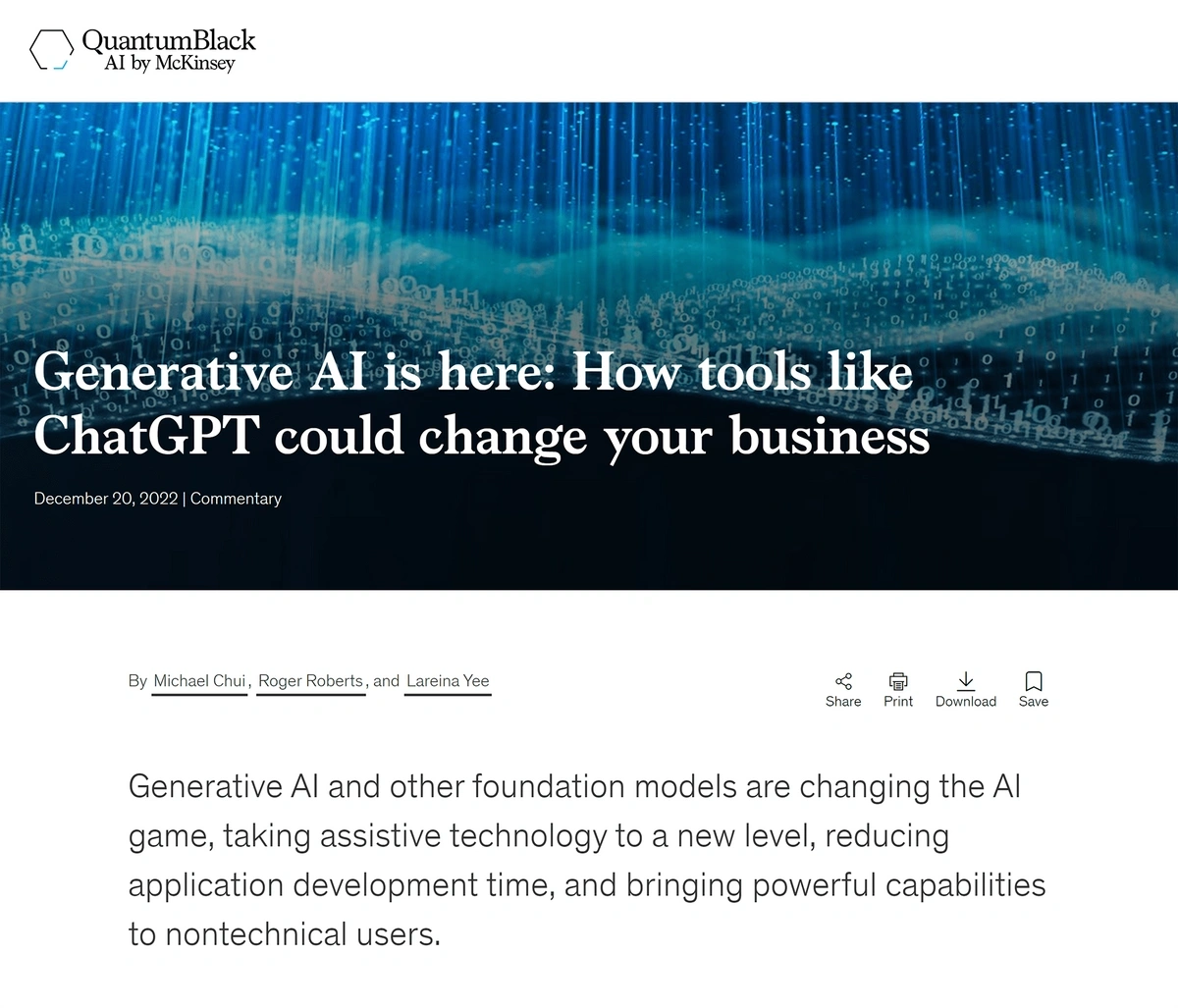 Businesses are eager to find out how generative AI can improve their bottom line.
They can generate text, translate text between languages, summarize content and rewrite it, categorize content, analyze the sentiment of text, and engage with users in conversational chat.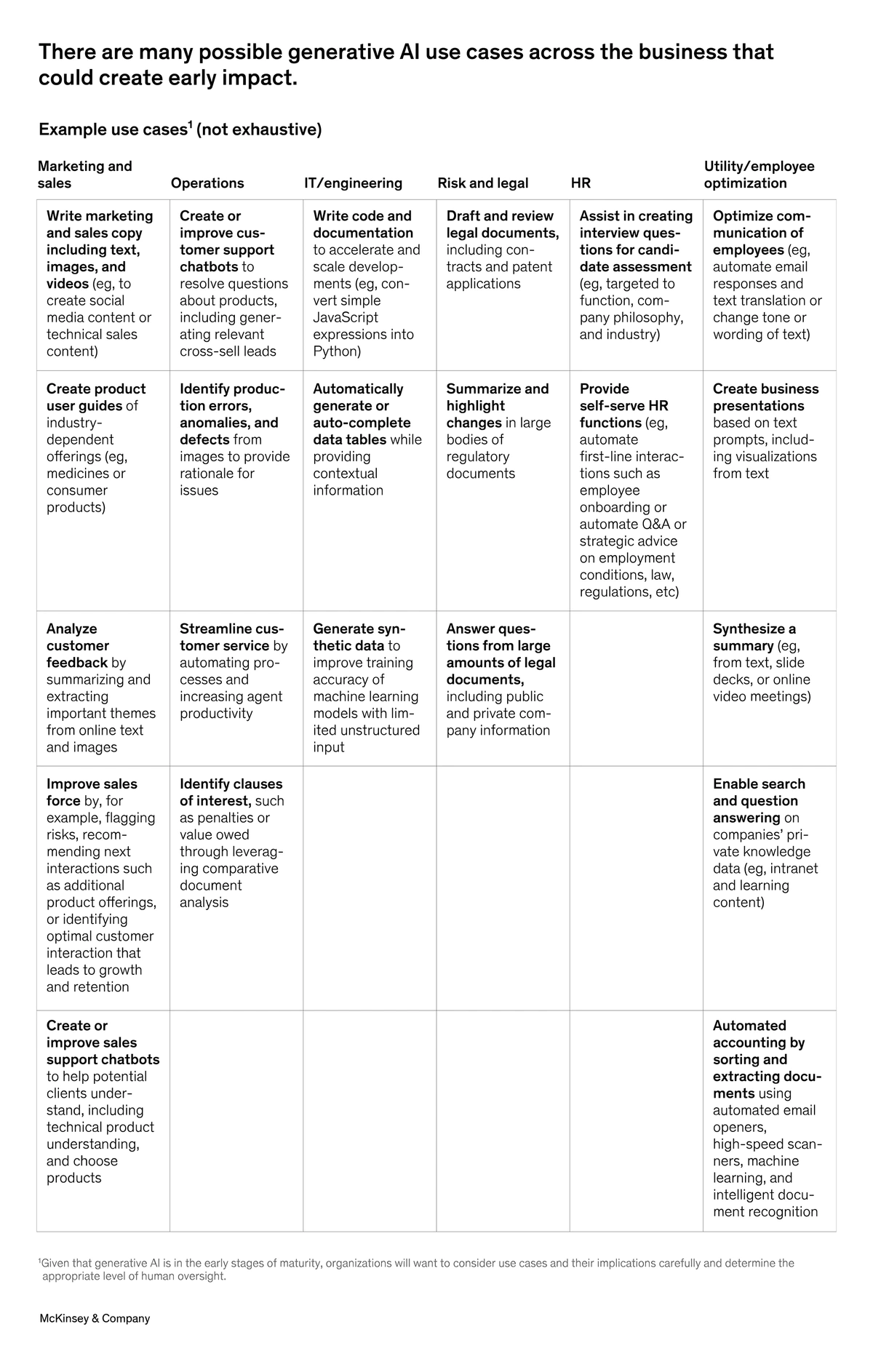 The business applications of generative AI reach nearly every industry.
Accenture reports that LLMs can impact 40% of all working hours and 98% of global executives believe AI models will play an important role in their organizations within the next 5 years.
Startups in the healthcare industry have released several promising generative AI technologies.
Syntegra, a 2019 startup based in San Francisco, uses AI to generate synthetic patient data that's totally realistic but not linked to any certain patient.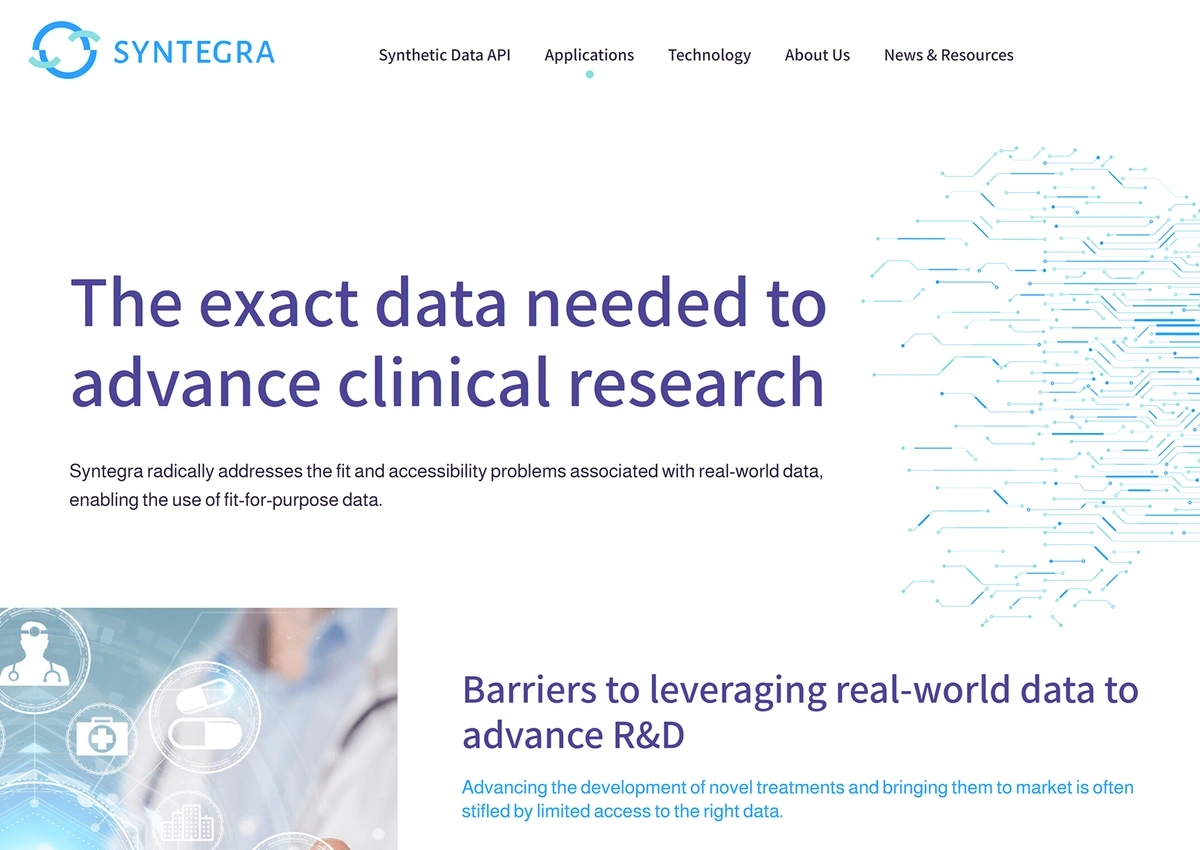 Syntegra's generative AI solution can accelerate the speed of clinical research.
The synthetic data matches the statistical accuracy of the real data, so health systems and research institutions get the data they need while patient privacy remains protected.
It's also much quicker and oftentimes more economical to get data this way.

Search volume for "synthetic data" is up 733% in the past 5 years.
Generative AI is also proving to be revolutionary technology for software developers.
Github's Copilot is one of the most popular AI solutions available for coding purposes.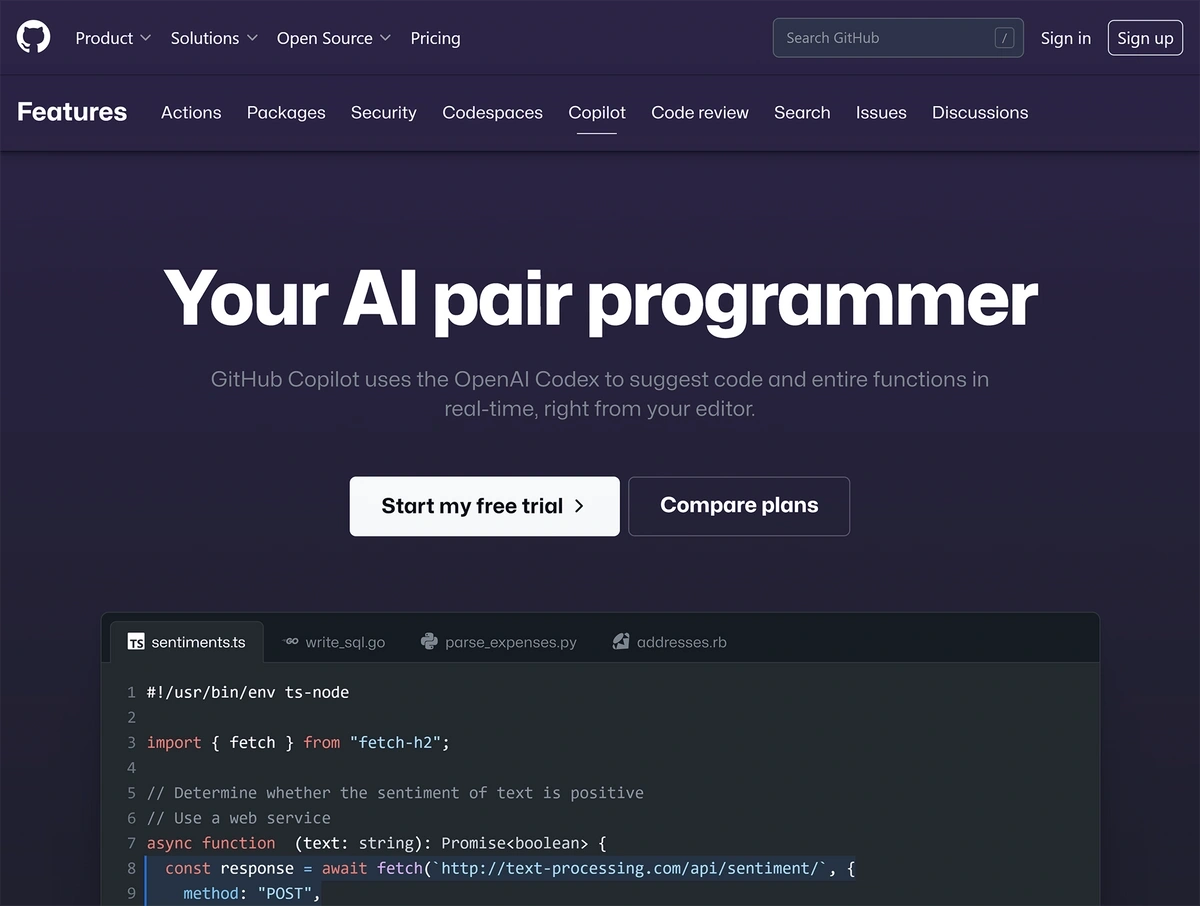 GitHub's Copilot is already used by more than 400 organizations.
The platform takes natural language prompts and suggests code or entire functions to fulfill the prompt. It's been called autocomplete for software developers.
One Copilot user said programming tasks that previously took 10 minutes now take just 30 seconds.
In files in which Copilot is used, Github says the AI solution writes 40% of the actual code.
Generative AI will soon be used in advertising too.
Google reports that it plans to implement AI-powered ads in the near future.
Business users will simply upload materials to train the AI model. Then the model will create new ads from those materials, complete with new text, images, and videos.
Meta has said they'll introduce a similar AI model for ads on their platforms.
2. E-commerce Growth Persists Post-Pandemic
The pandemic completely changed the way consumers shop.
E-commerce was already on the rise before COVID hit. But the pandemic helped the eCommerce space take off at an astronomical rate.
In fact, Shopify reported that e-commerce experienced 10 years' worth of growth in just three months during the pandemic.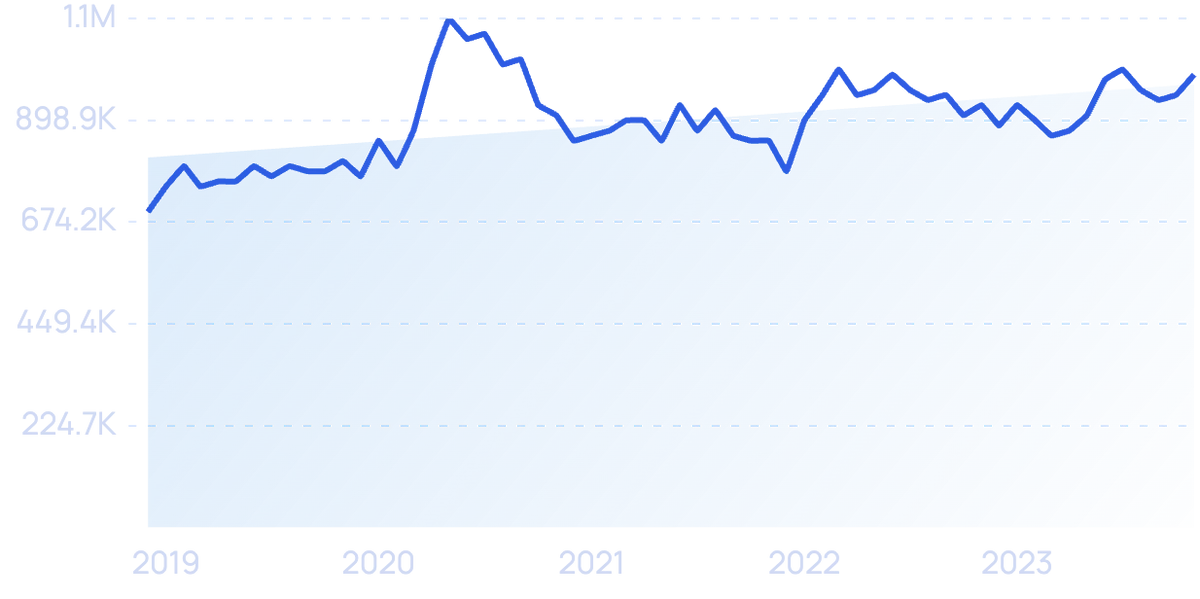 Search volume for "eCommerce" has leveled off, but is still up nearly 44%.
Although the growth of eCommerce has slowed post-pandemic, it's still growing modestly. And businesses continue to adjust their marketing and sales strategies to maximize its impact on the bottom line.
In 2023, global e-commerce sales totaled $6.3 trillion and that number is expected to grow to $8.1 trillion by 2026.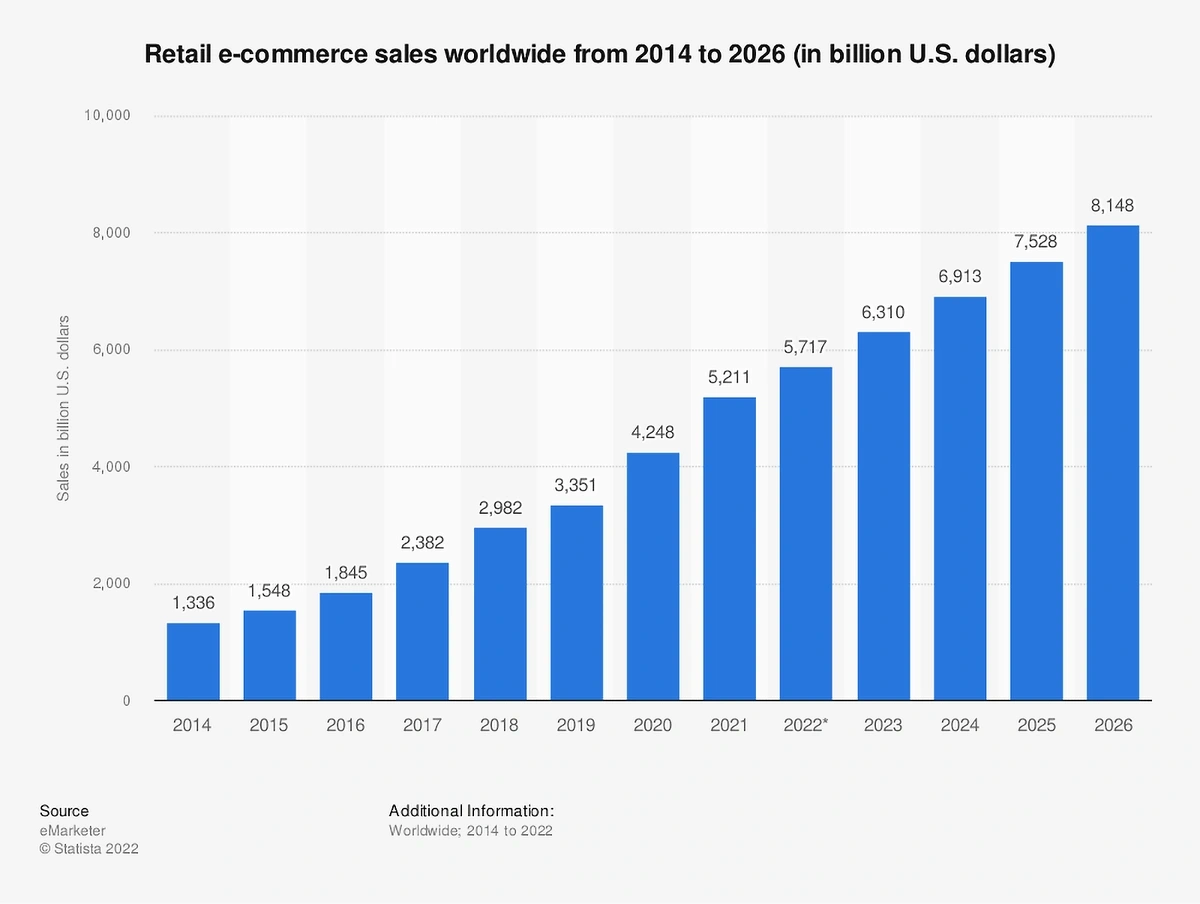 E-commerce sales continue to grow. Predictions show more than $6.3 billion in sales next year.
E-commerce was responsible for nearly 14% of all retail sales in 2019, but in 2023, e-commerce is expected to account for more than 22% of all retail.
Some specific retail categories like electronics, home improvement, and home furnishings have been able to maintain post-pandemic growth.
The furniture industry, for example, is estimated to have brought in more than $149 million in e-commerce revenue in 2022 and grow to $208 million by 2025. That's approximately 12% of total e-commerce sales in the United States.
There are currently more than 4 million e-commerce companies in North America.
And companies are launching new e-commerce opportunities every day.
Take Disney, for example.
The company announced in early 2021 that it would focus on e-commerce and close 60 of its brick-and-mortar stores in North America.
In late 2022, they announced plans to expand the Disney+ platform to include in-app commerce options.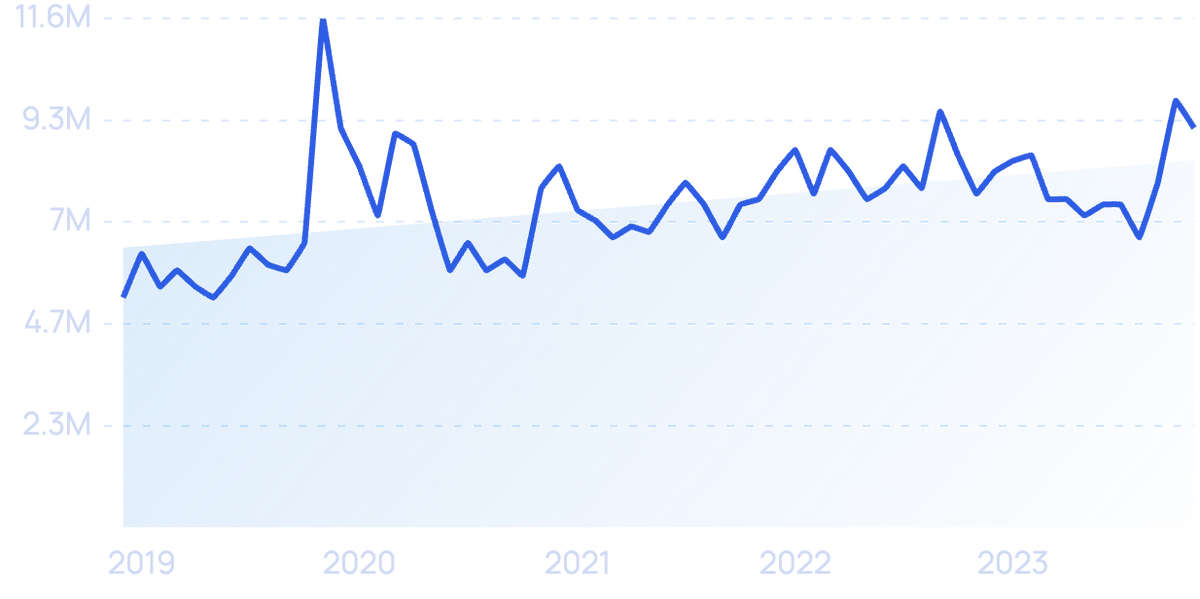 Search volume for "Disney+" is up 74% since 2019.
Users can scan a QR code on the detail pages of their favorite shows and movies. That will take them to a specific shopDisney site where they can purchase merchandise that's available only to Disney+ subscribers.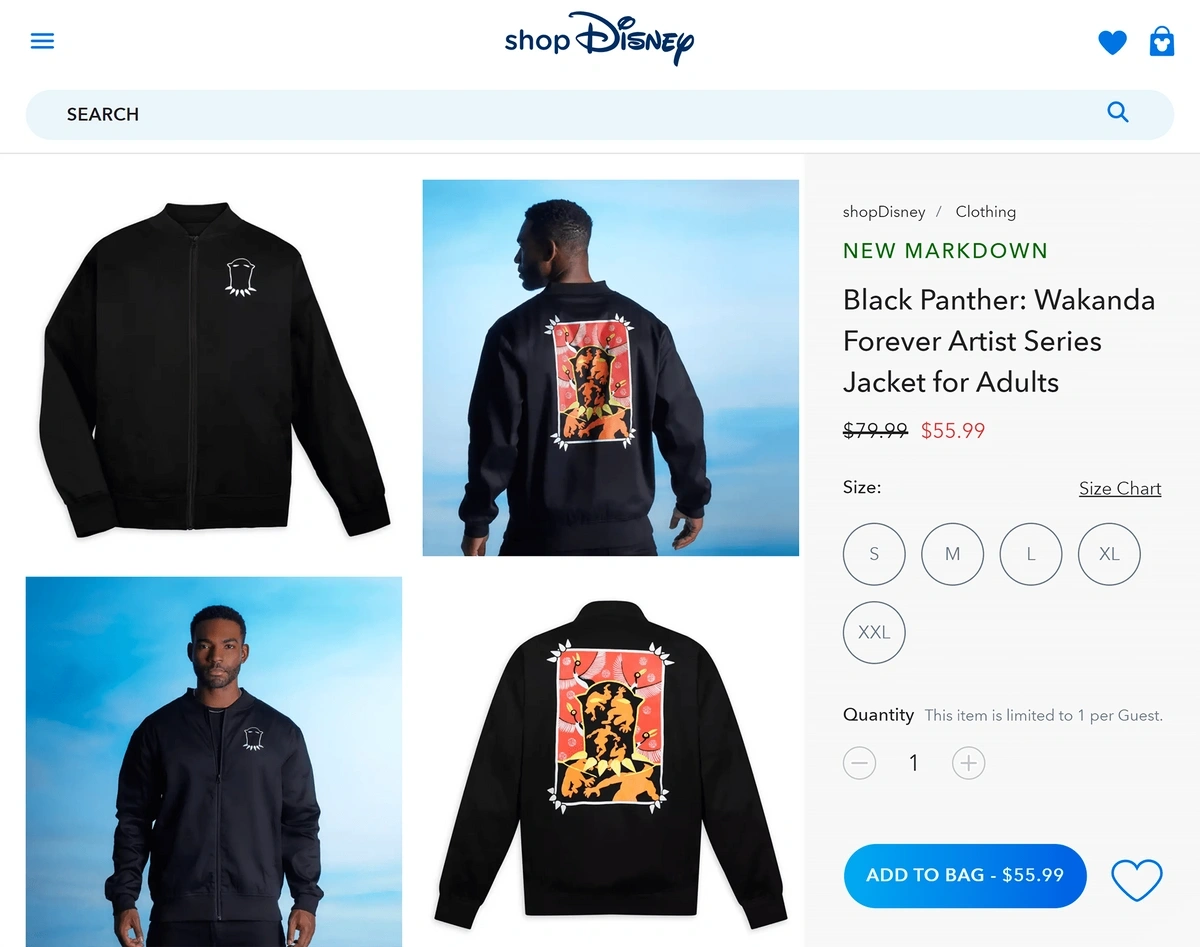 Exclusive merchandise from Star Wars, Black Panther, Frozen 2, and other Disney titles are available only to Disney+ subscribers.
Your Super is an e-commerce superfood supplement company that saw tremendous growth during the pandemic and into 2023.
In 2021, they launched a partnership with Target and were acquired by The Healing Company.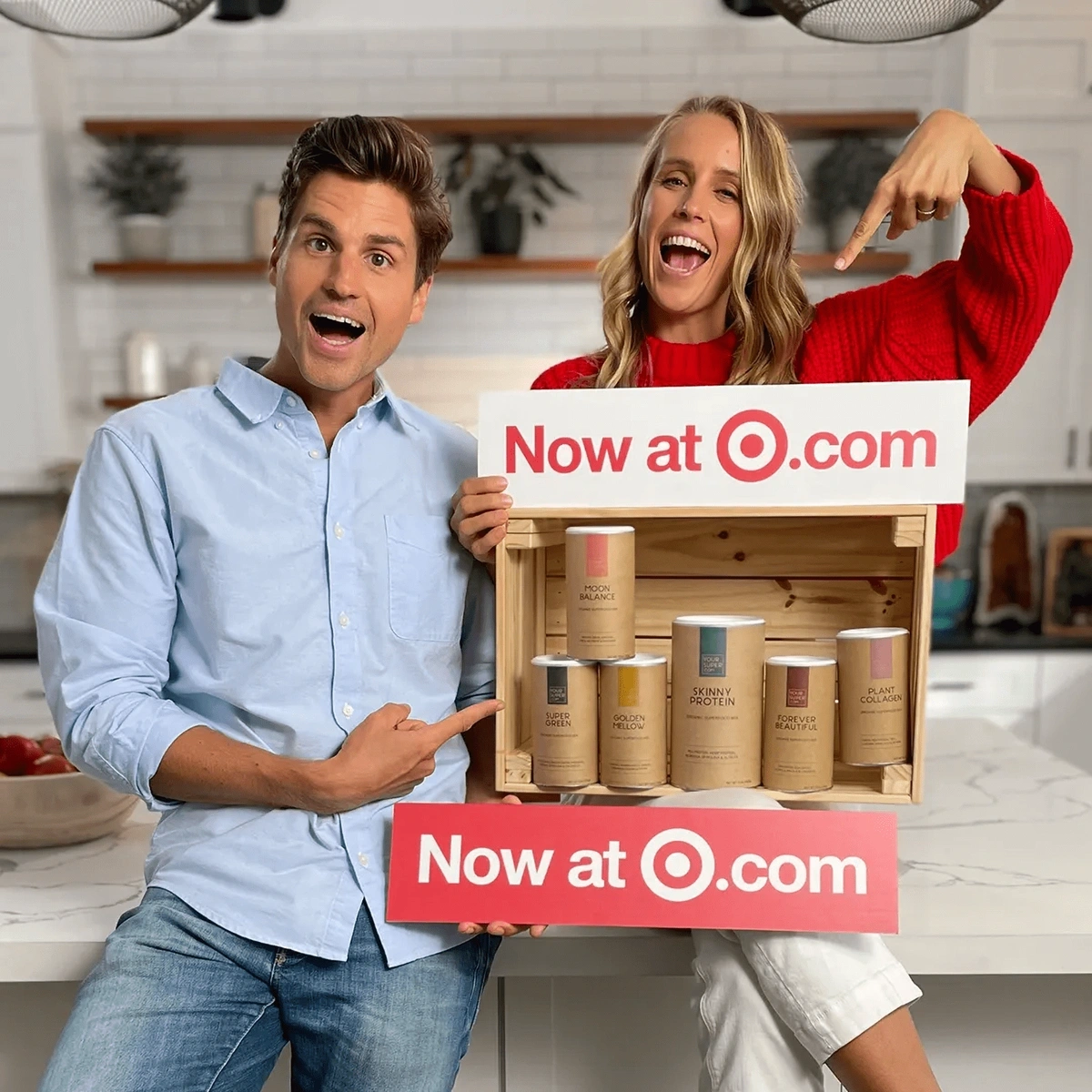 Michael Kuech and Kristel De Groot founded Your Super in 2015 after Michael was diagnosed with cancer.
They've sold more than 5 million products, earning them a ranking of 25th on 2021 Inc. fastest growing companies list.
3. 5G Vastly Improves Data Collection and AI Capabilities
The development of the 5G mobile network has the potential to radically change business operations.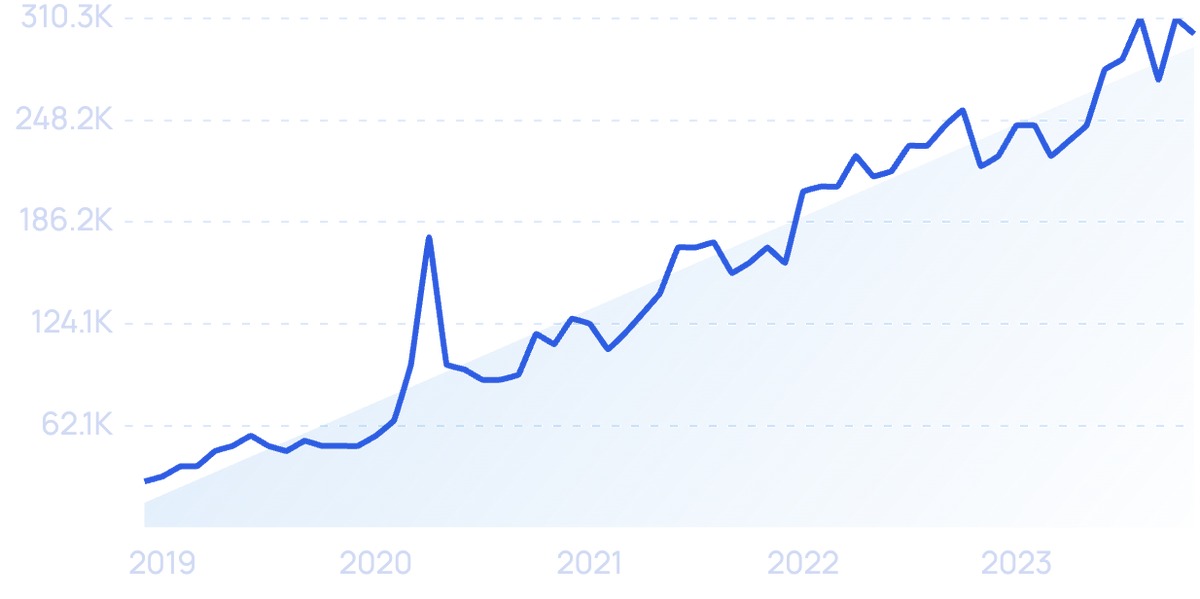 Search interest in "5G" continues to climb, up 978% over 5 years.
In simple terms, 5G can deliver higher data speeds, greater reliability, and sub-10ms latency.
As of November 2023, the United States and China were leading the race for the 5G rollout.
In the US, 5G is available in 503 cities. It's available in 356 cities in China.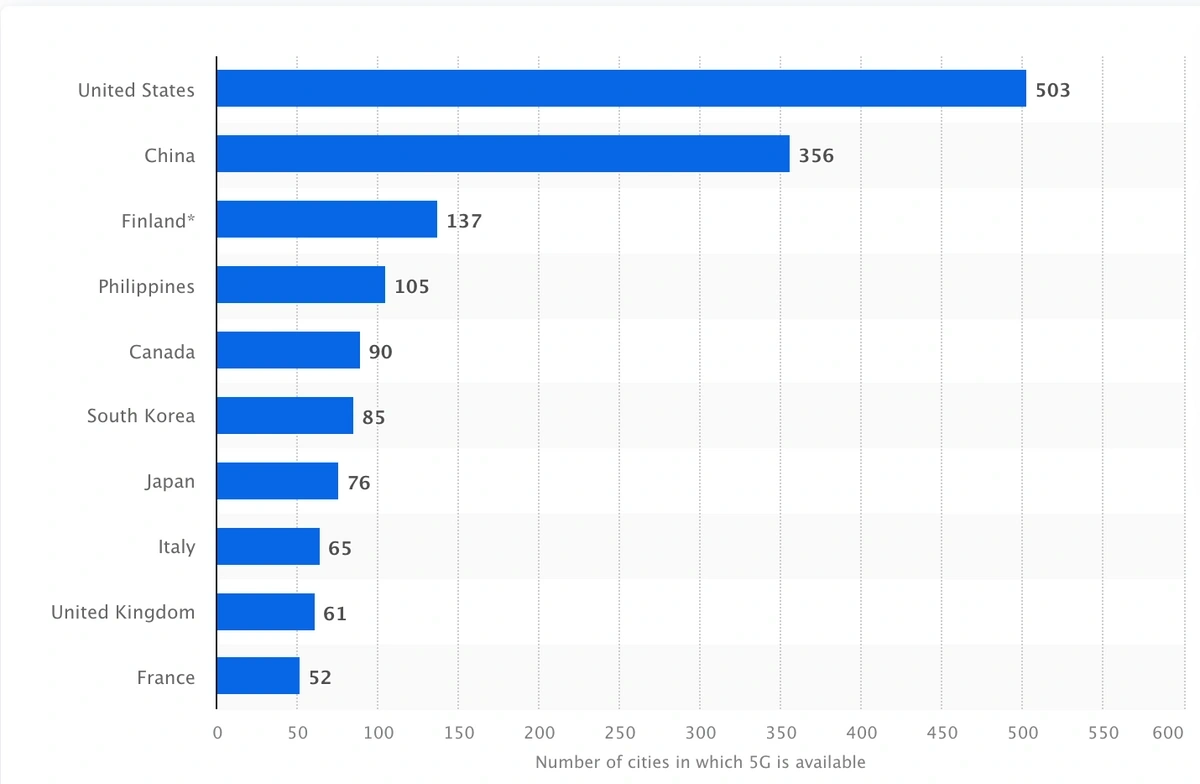 The United States and China are the two leading countries in the 5G rollout.
The 5G market is expected to grow at a CAGR of 65.8% through 2030 to reach a valuation of $797.8 billion.
This technology is crucial for businesses that are eager to offer new services and track insights in order to stay ahead of the competition.
For example, the development of the 5G mobile network is driving enhanced data collection and analysis for businesses.
Overall, this means businesses will have more data from more diverse sources at faster speeds. Then they can put that intelligence to work in real time.
These are the data speeds businesses need in order to utilize AI and automation.
A few possibilities include intelligent data analysis, remote medical control, remote control of traffic lights, and virtual reality monitoring of machinery.
BMW is already testing the capabilities of 5G technology at their factory in Leipzig, Germany.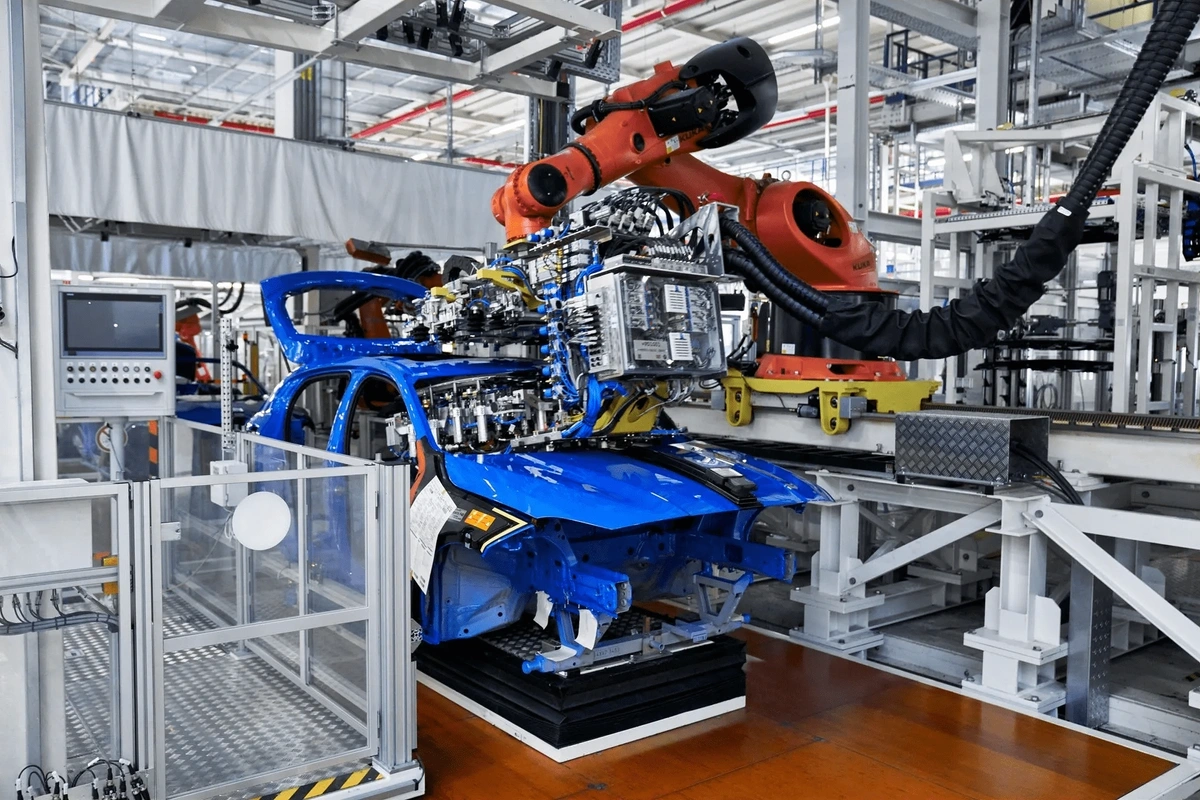 BMW is utilizing 5G technology to improve factory operations and worker safety.
They are combining 5G and AI in order to locate machines, cars, tools, and parts within the factory in real-time. They have an accuracy down to within one centimeter.
In early 2021, T-Mobile deployed its first 5G network in a hospital at the Miami Veterans Affairs Healthcare System.
The network has peak speeds of 1 gigabit per second.
This enables healthcare providers to access data-intensive patient records like X-rays and medical charts from devices anywhere in the hospital.
The 5G network is also critical for medical providers who've invested in telemedicine. The high speeds of the 5G network can enable nearly real-time video and remote monitoring of patients.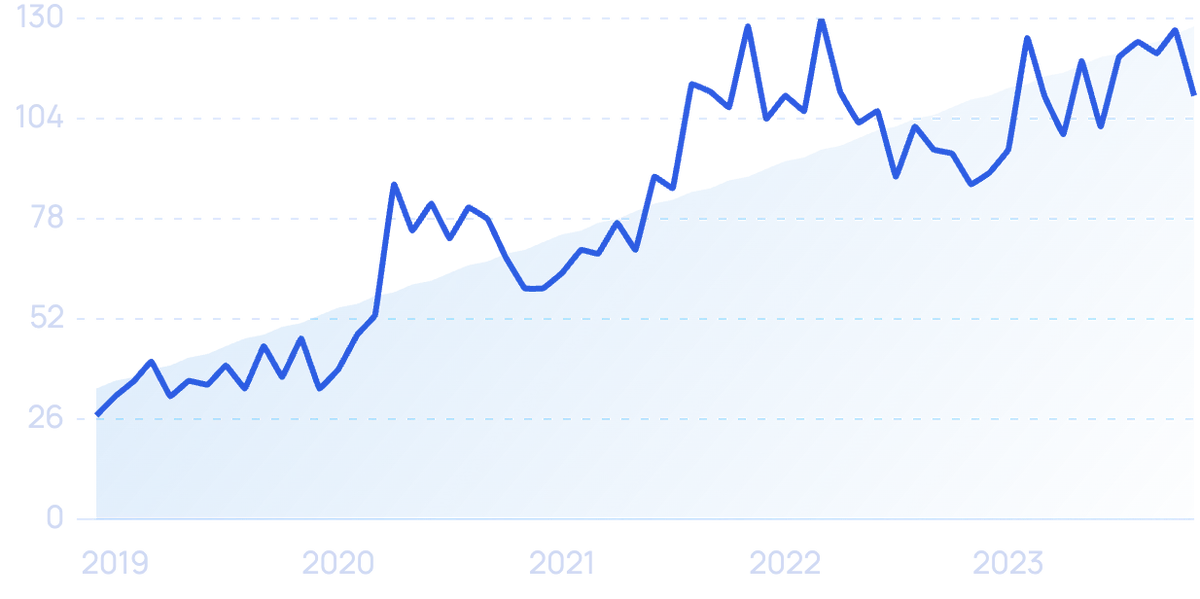 Searches for "remote patient monitoring" have climbed over 300% in the past 5 years.
Businesses are also leveraging 5G connectivity via the Internet of Things (IoT) in order to improve business operations and launch new services.
IoT sensors are already in use in manufacturing production lines, supply chain tracking, autonomous vehicles, and more.
IBM is in the testing phase of using IoT to monitor civil infrastructure.
This "next-generation maintenance program" brings together data from sensors, cameras, drones, and wearables to assess the safety and risks associated with roads, bridges, water mains, and other assets.
IBM estimates that this program can help release a $2 trillion backlog of improvements to civil infrastructure.
We expect to see the agribusiness industry rapidly integrate the use of 5G and the IoT into daily operations in the coming years.
Remote sensing and connected devices have the potential to monitor soil conditions, assess harvest readiness, and control pests.
Connected devices are already monitoring livestock.
A "cow-recognition system" from Lely outfits each animal with a transponder attached around its neck.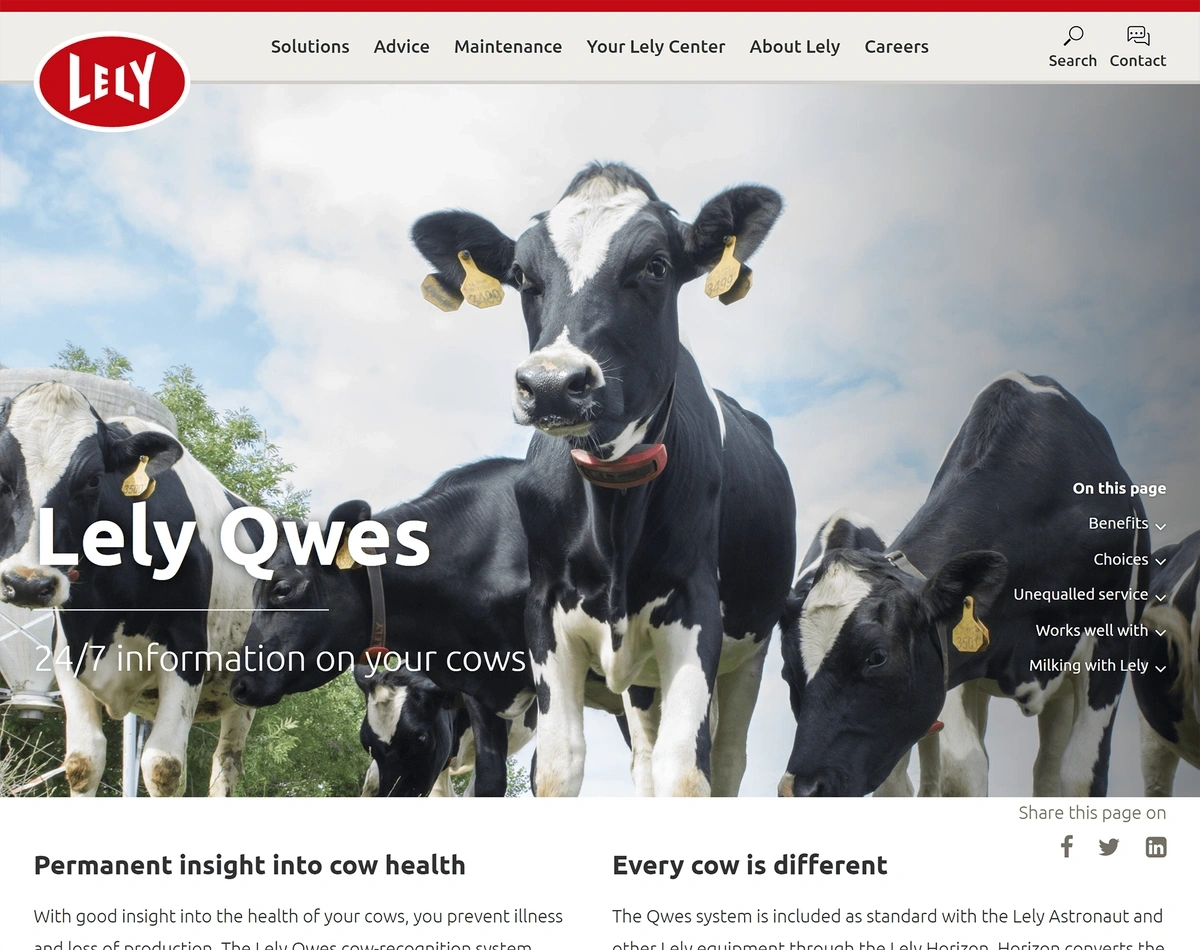 Lely's data-driven solution gives farmers the insights they need to efficiently manage livestock.
The sensor collects data regarding animal health, activity, eating, and reproduction.
Although the system doesn't currently operate on mobile networks, ag business experts say this is one area in which 5G networks will drive efficiency, seamless workflows, and a better-quality end product in the near future.
4. Employees Actively Seek Out Remote and Hybrid Work
At the height of the pandemic, 71% of Americans who had jobs that could be done from home were working exclusively from home.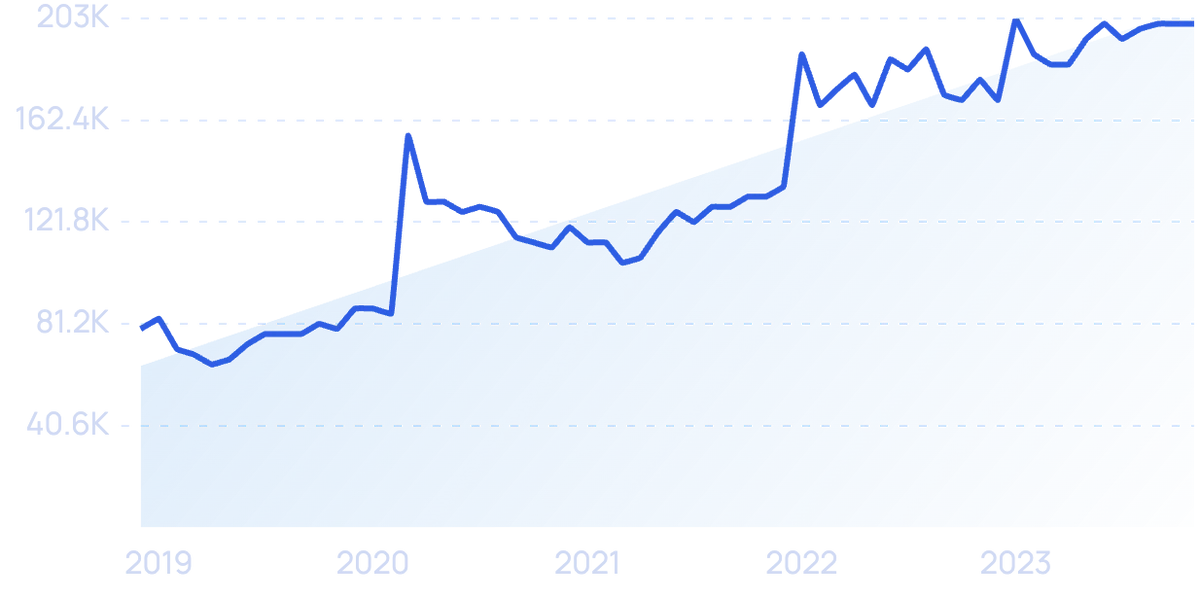 Search volume for "remote work" saw huge gains during the early days of the pandemic and is climbing again.
In fact, the number of people working from home tripled between 2019 and 2021.
A 2022 Gallup survey showed 56% of full-time US employees have jobs that can be done from home. That amounts to 70 million workers.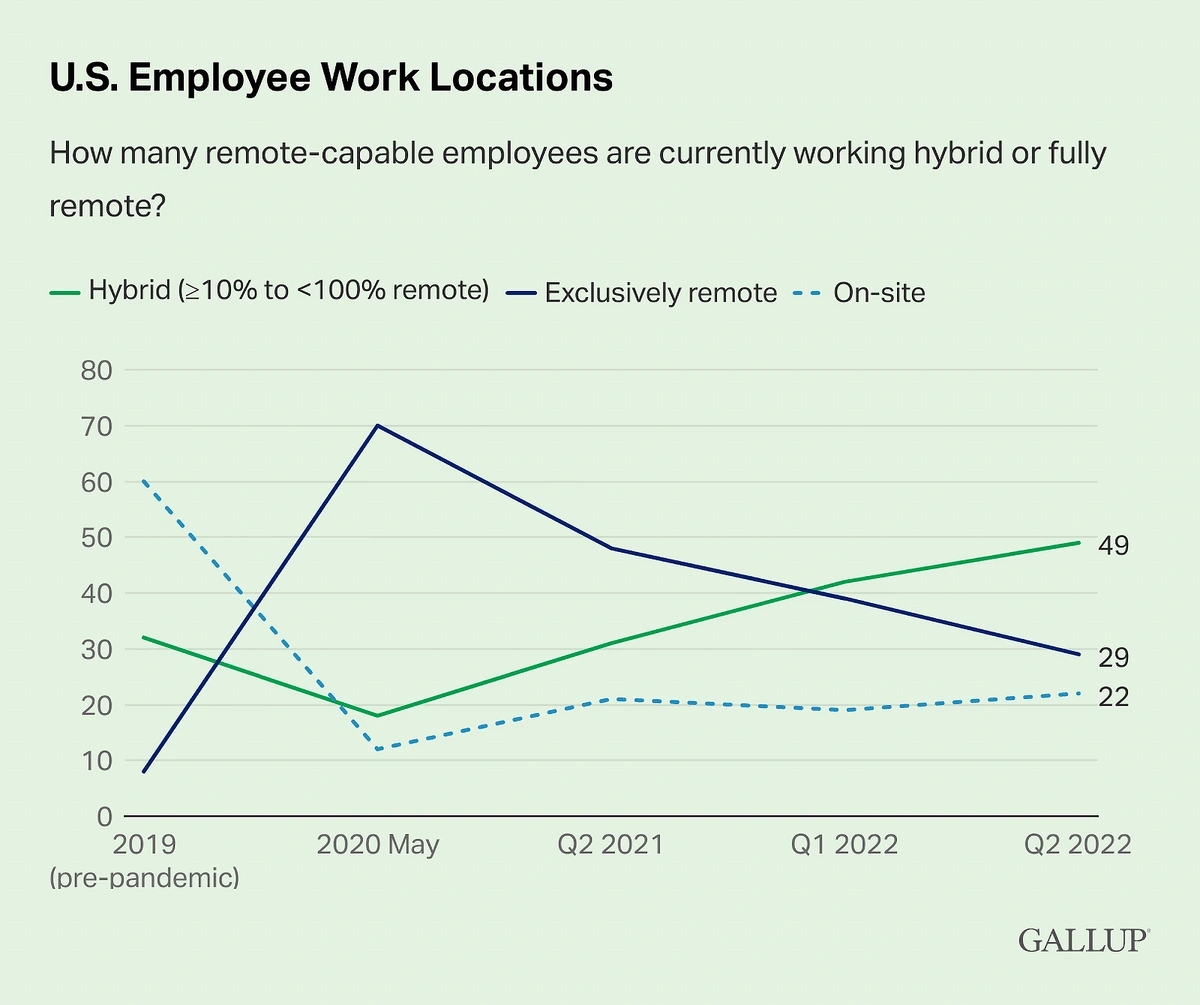 As the pandemic wanes, many workers are adopting a hybrid work schedule.
Of those workers, 50% have a hybrid work schedule, 30% work fully remotely, and 20% work fully in-office.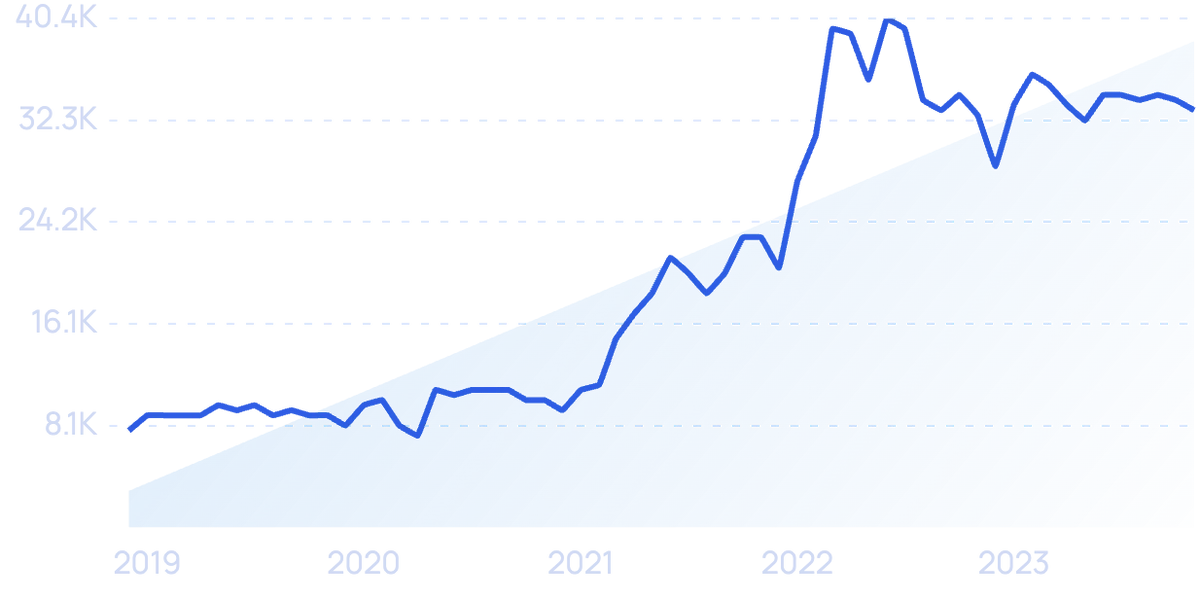 Search volume for "hybrid work" is up more than 332% in the past 5 years.
Young people with a college degree are the most likely to have access to remote and hybrid work environments.
Research shows that those with a bachelor's degree or higher are five times more likely to work from home than those with less education.
In recent months, we've seen that employees who've had the opportunity to work remotely aren't quick to give in to companies who'd like them back in the office.
A 2022 survey from the Pew Research Center reported that 78% of those who currently work remotely want to continue with that setup in the coming years. That's up 14% since 2020.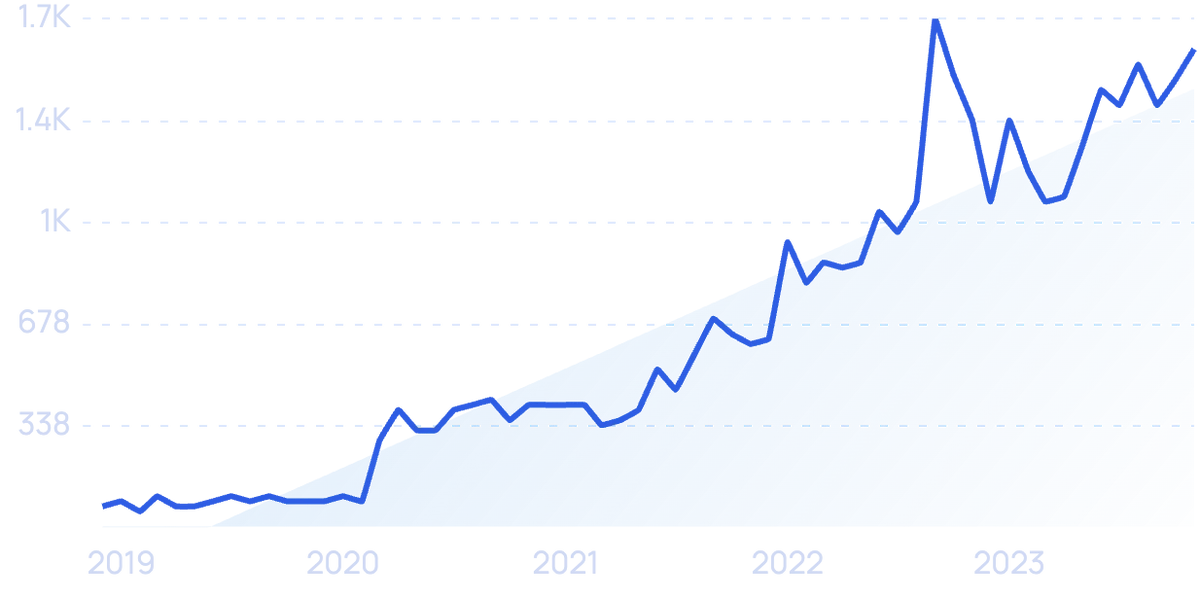 Search volume for "remote hiring" continues to climb, up 2,250% in 5 years.
More than two-thirds of remote workers say they'd start looking for a new position if their company required them to work in-office full-time and more than half say they'd rather take a pay cut than give up their workplace flexibility.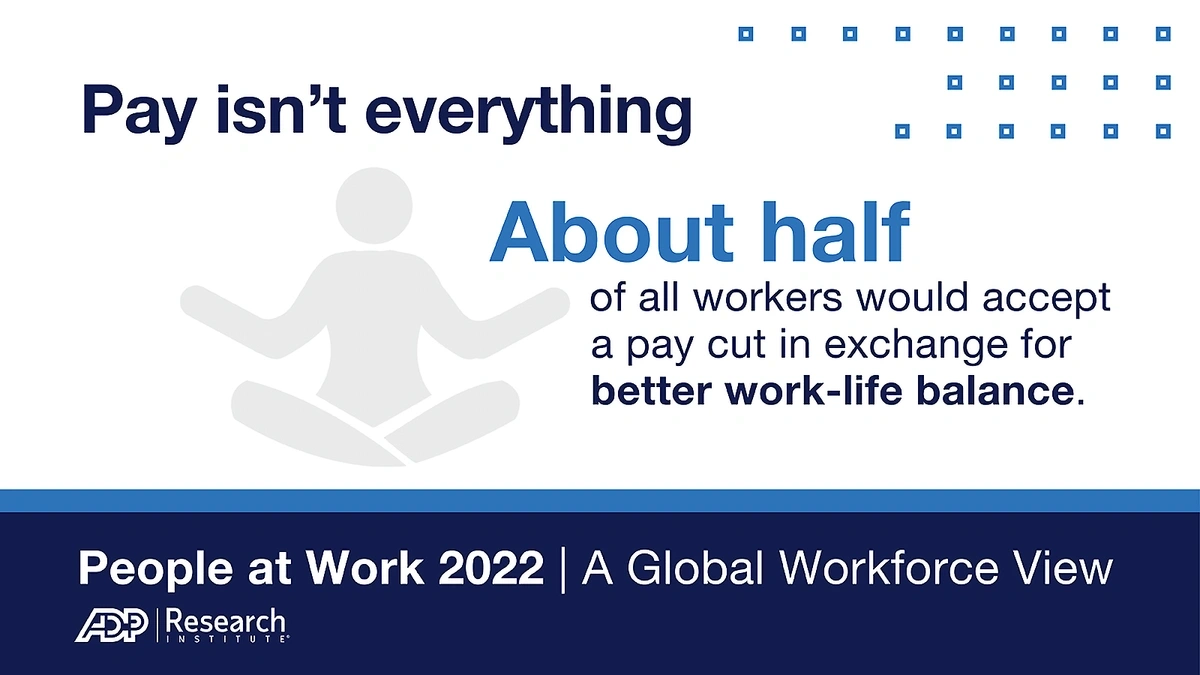 In this survey, more than half of respondents said they'd take up to an 11% cut in pay if it meant they could continue with their remote/hybrid work environment.
Employees are continuing to see financial benefits from working remotely.
Those who work from home spend about $432 on things like lunch and coffee while those who work in the office spend an average of $863 per month.
However, businesses remain leery of the ongoing work-from-home trend.
Microsoft's Work Trend Index reports 85% of business leaders say it's challenging to have confidence in employee productivity in a hybrid work environment.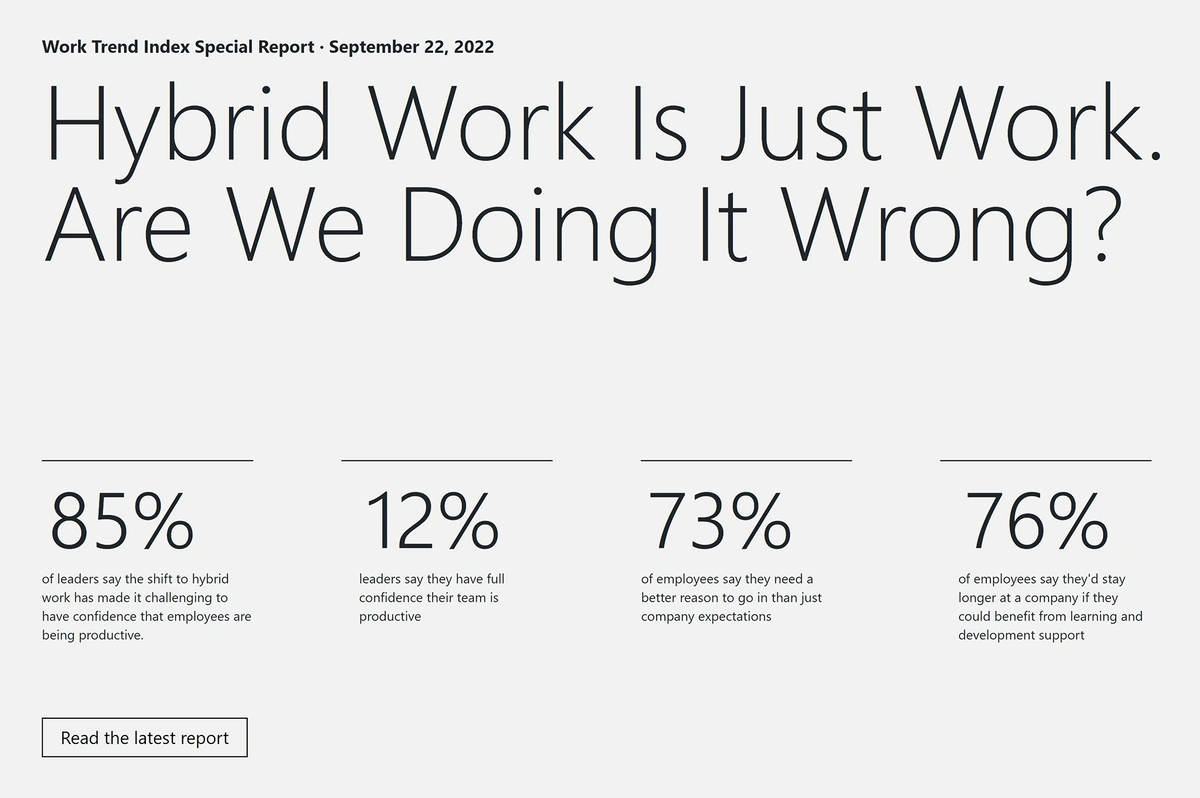 Only 12% of business leaders say they have full confidence in employee productivity.
As this trend persists, we expect to see more companies opting for monitoring technology that will ensure worker productivity.
Many businesses are already utilizing screen monitoring, recording keystrokes, and implementing facial recognition programs that scan workers' faces several times a day.
Garter reports that the number of large corporations using this type of monitoring technology has doubled, reaching 60%, since the pandemic began. The number is expected to climb to 70% by 2024.
5. Businesses Expand Ads, Communities, and Commerce on Social Media
Running a business without having a social media presence is almost unheard of in 2024.
The importance of social media in business marketing will likely continue to increase in 2025.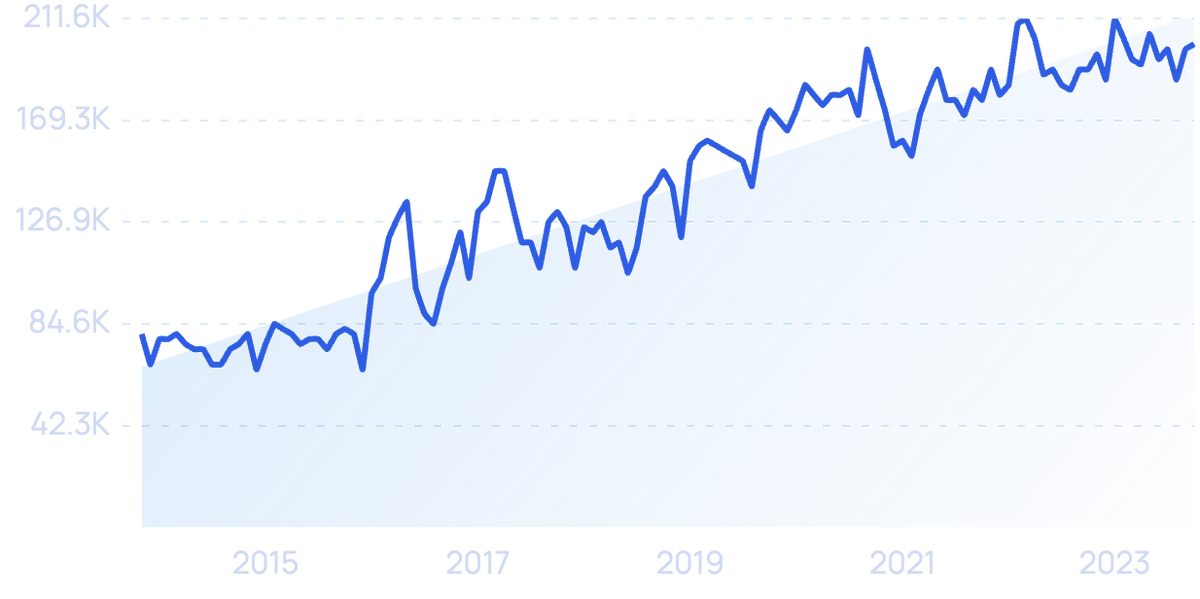 Search volume for "social media marketing" continues to climb, up 150% in the past 5 years.
A report from November 2022 showed that consumers' usage of social media is up nearly 8% since the beginning of the year.
Estimates showed 4.95 billion users currently on social media as of October 2023 - up from 4.74 billion a year earlier.
We're seeing ad spend following these consumers.
More than half of CMOs say they'll be increasing their spending on social media ads in the coming years.
TikTok ads are one marketing strategy that's increasingly used by businesses in nearly all industries.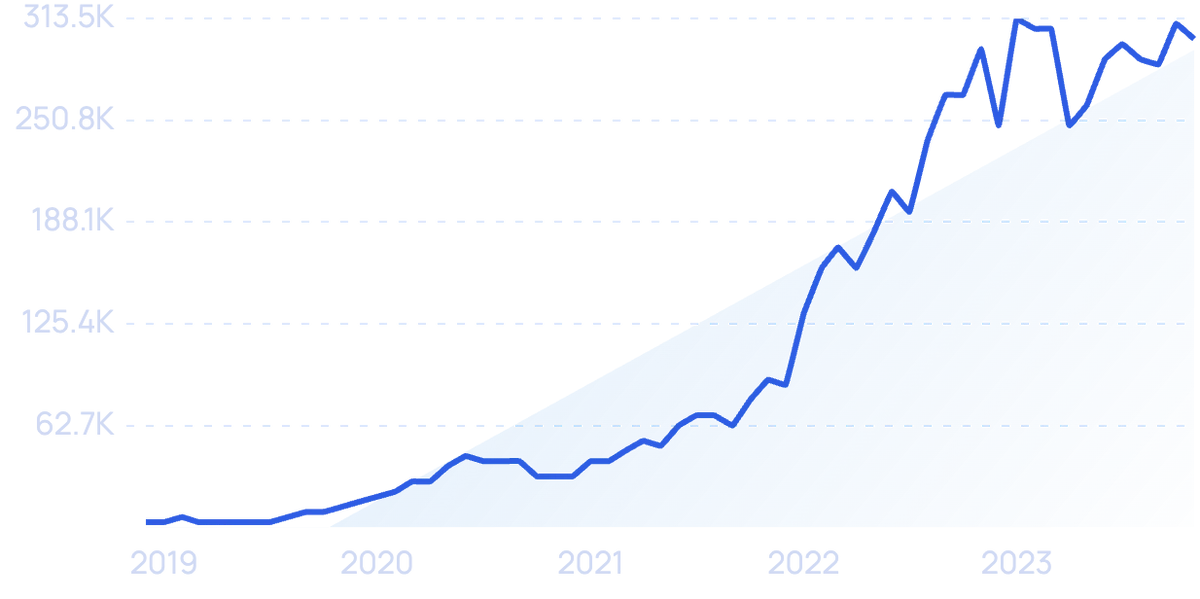 Searches for "TikTok ads" have climbed 9,500% over 5 years.
A study found that in-feed TikTok ads are 23% more memorable than TV ads and 13% more memorable compared to other types of digital video.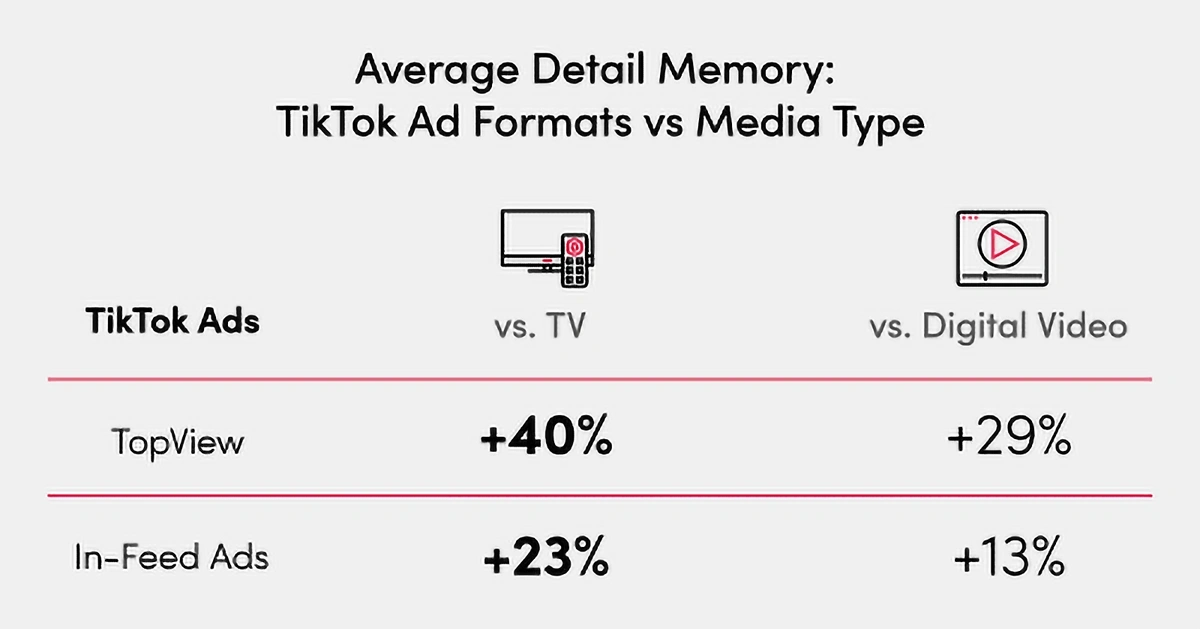 TikTok ads are consistently more memorable than other types of ads.
In the coming years, we expect to see businesses go beyond ads to focus on building communities as part of their overall social media strategy.
Nearly 80% of people say that the most important group they belong to operates online.
HubSpot reports that 64% of marketers planned to invest in social media communities in 2022.
In addition, we're already seeing brands shift toward connecting with more authentic influencers who can impact smaller communities.
This may be a more profitable strategy for businesses.
According to one source, companies that use micro-influencers see a 60% higher engagement rate than they see with more popular influencers.
The conversion rate is better, too: 1.46% for micro-influencers compared to 0.61% for influencers with 21k followers or more.
In an effort to increase engagement and sales, brands are likely to invest in social commerce in the coming months.

Search volume for "social commerce" is up more than 97% over 5 years.
Social commerce is a popular concept in China where 14.3% of total online retail sales were made through social commerce in 2021.
Only 4.1% of sales are made through social commerce in the US.
However, Accenture predicts social commerce will grow three times as fast as traditional e-commerce, hitting $1.2 trillion by 2025.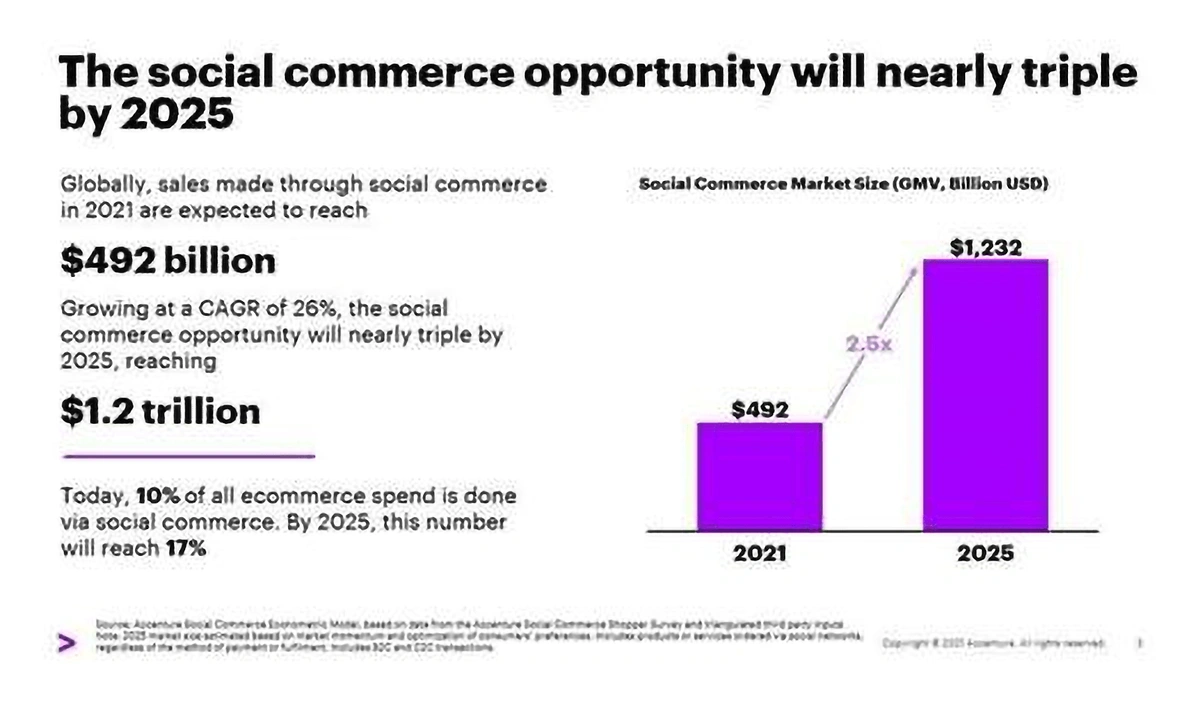 Social commerce is expected to see huge gains in categories like clothing, electronics, and home decor.
6. Companies Focus on Sustainability
Research from IBM and the National Retail Federation shows that half of US consumers say they're willing to pay more for sustainable products, and 62% of consumers are willing to change their shopping habits in order to reduce their environmental impact.
Globally, reports show that 85% of people have changed their purchasing habits to become more sustainable in the past five years.
Businesses are responding to this consumer demand by paying special attention to their ESG processes.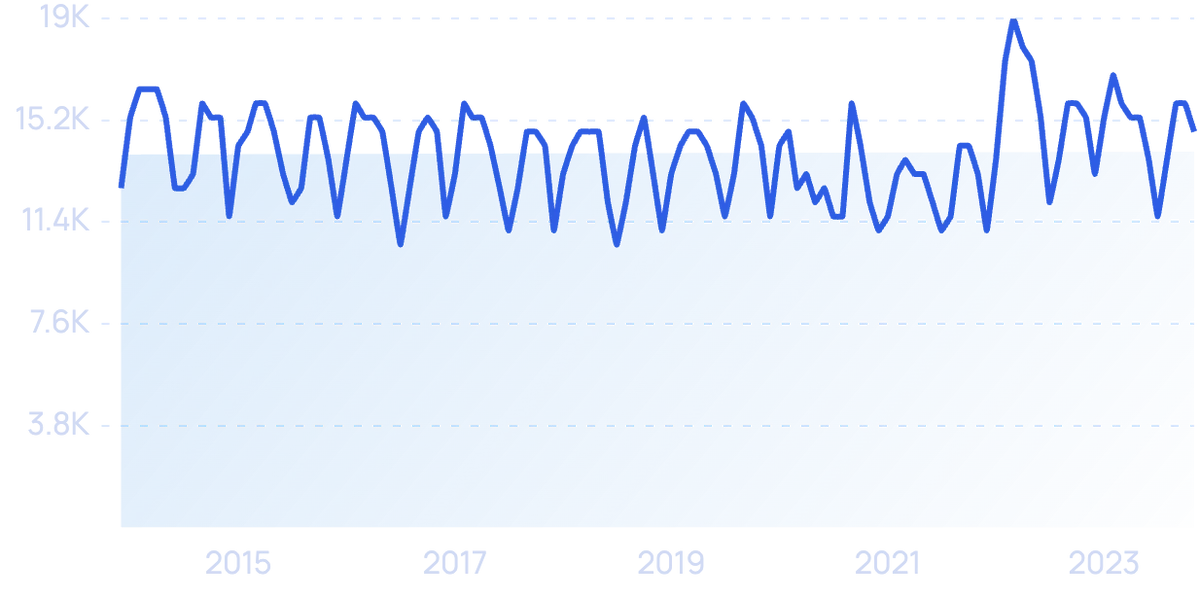 Search interest for "environmental, social and corporate governance" over the past 10 years.
A 2022 survey found that nearly 80% of retailers who've dedicated resources to improving sustainability believe their efforts have resulted in increased customer loyalty.
However, a McKinsey survey found the business results for the bottom line might not be quite that promising yet.
In their survey, only 22% of respondents reported achieving modest or significant value from their sustainability efforts in the past five years.
But businesses are optimistic about the future, the survey showed.
40% of respondents are expecting to see their efforts produce modest or significant value in the next five years.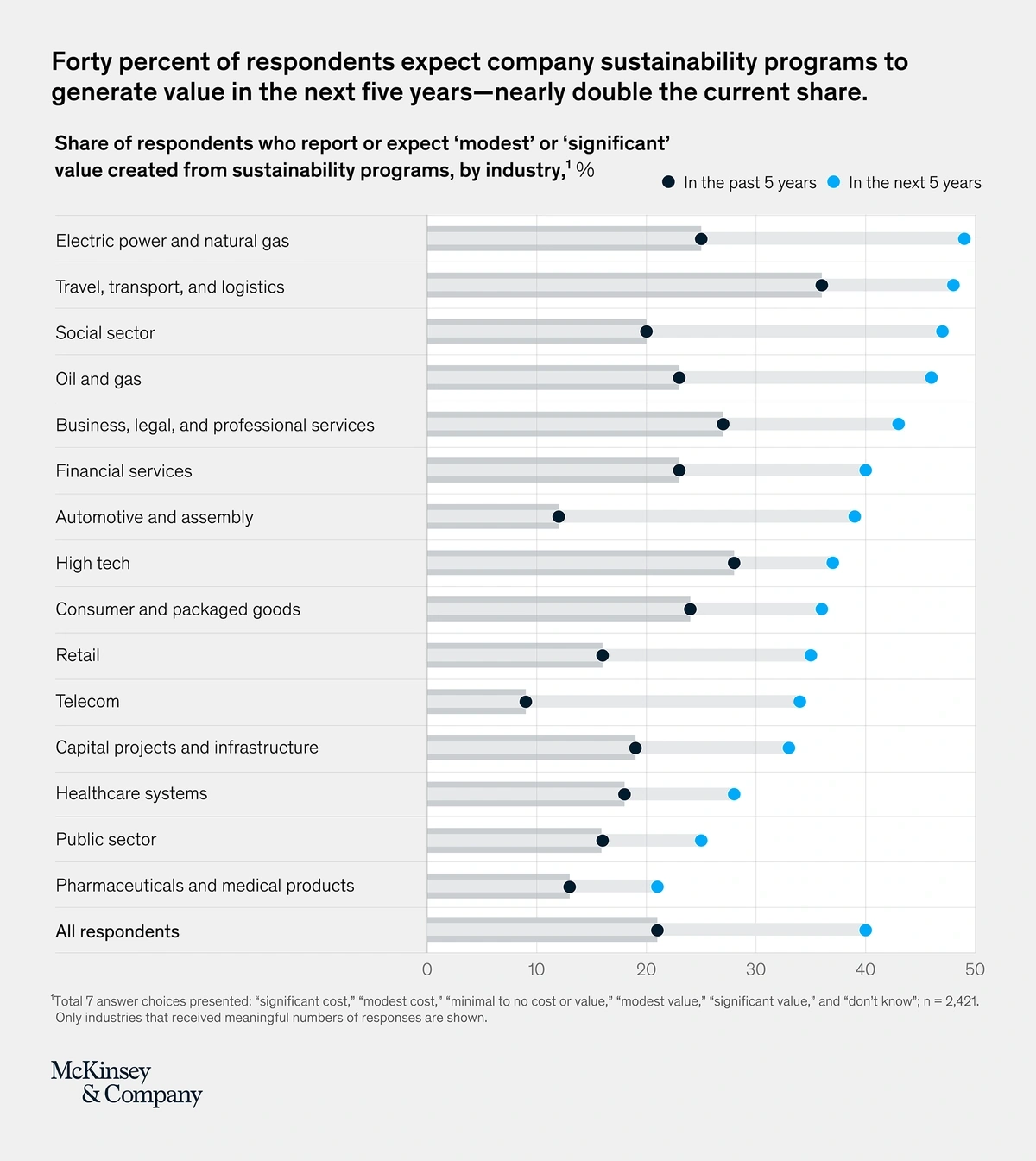 McKinsey's survey showed the electric power and transportation industries are expecting to generate the most value from sustainability efforts in the next few years.
Another business buzzword related to ESG initiatives is the circular economy.

Search volume for "circular economy" is climbing, up 152% since 2019.
Environmental activists refer to the way the world operates now as a linear economy — businesses take materials from the earth and customers eventually throw them out as waste.
In contrast, a circular economy focuses on keeping materials and products in use for as long as possible.
The World Economic Forum reports that if businesses invest in reusing and recycling there could be savings of $1 trillion per year.
One business example of the circular economy is found in Teemill, a fashion business from the UK.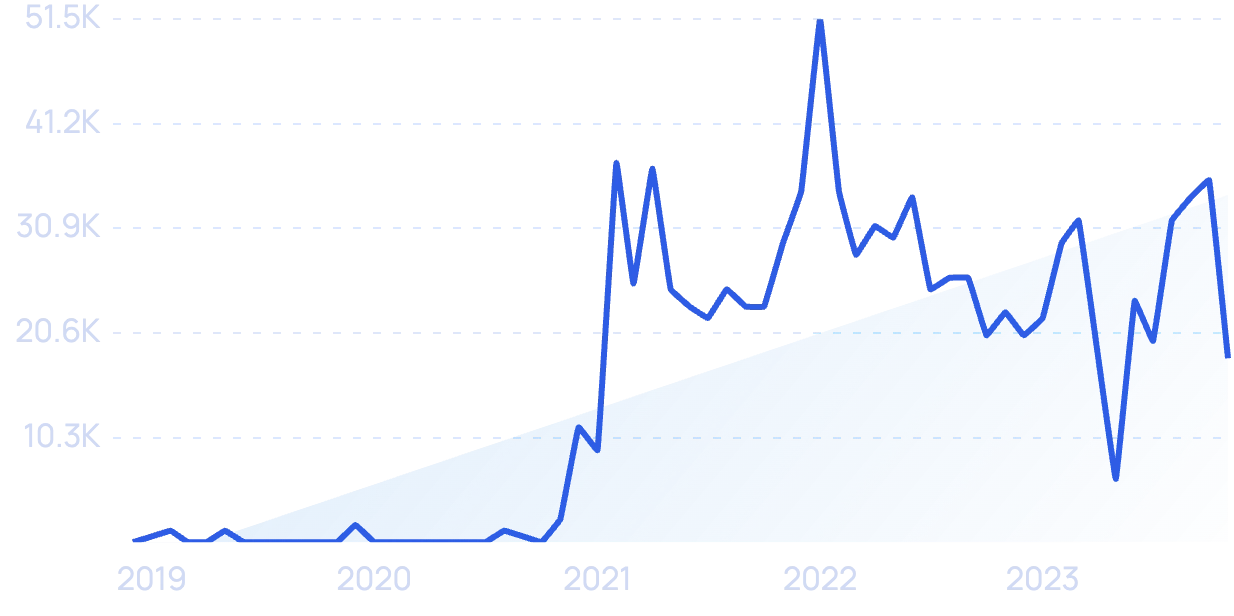 Search volume for "Teemill" shows 3,100% growth in the past 5 years.
The company offers B2B print-on-demand services for t-shirts with distinctly sustainable business practices.
Any business owner can log in to the Teemill site, design t-shirts, and set up a store.
When a customer orders a shirt, Teemill prints it and dropships it to the customer directly.
Every tee includes a QR code on the tag so that customers can return the shirt to Teemill. The company then recovers the organic material from the shirt and uses it to spin new yarn.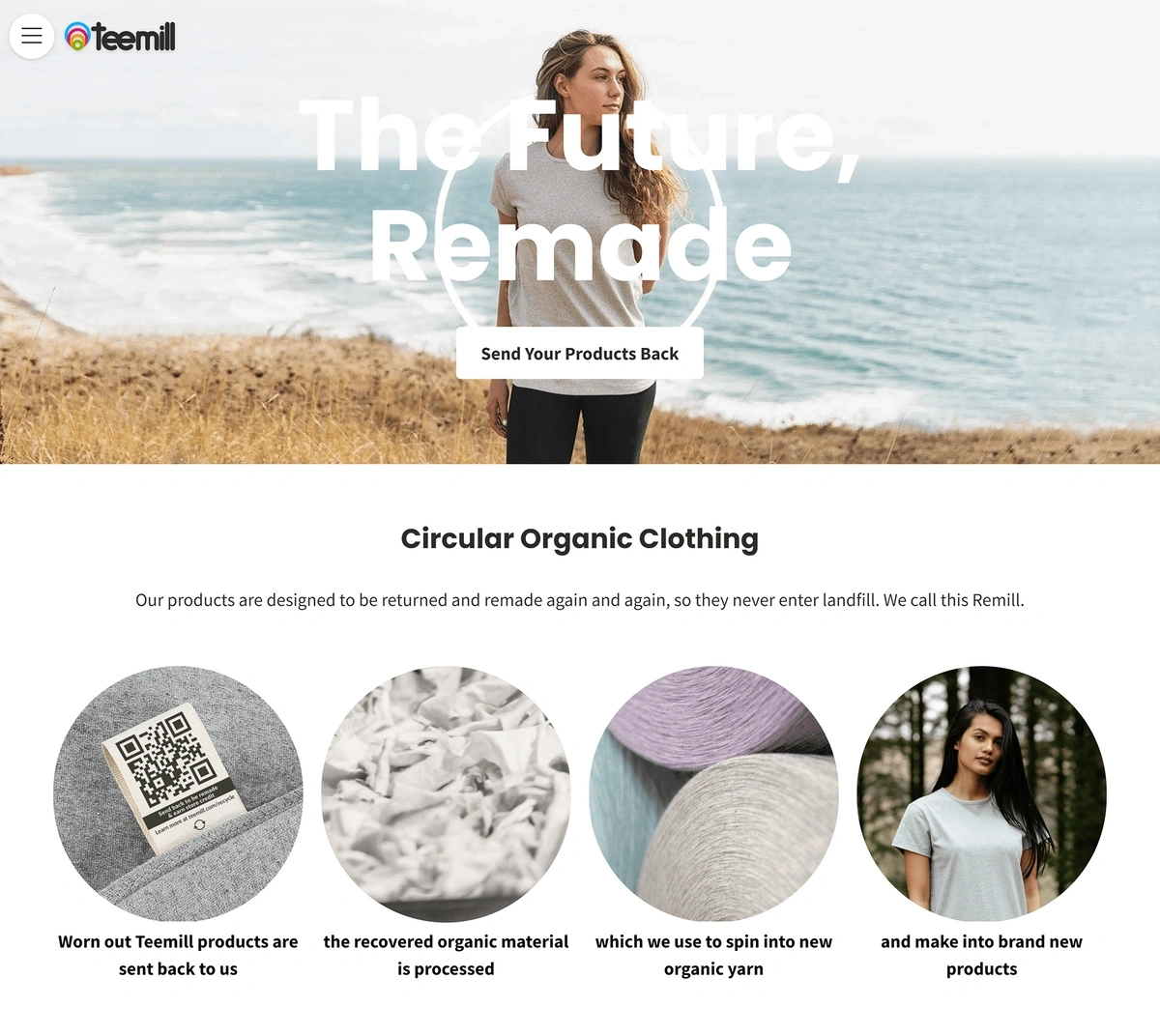 Teemill's products are designed to be returned to them and recycled in order to make new clothing.
7. Businesses Experiment With Immersive Technologies
As businesses look to engage customers in cutting-edge ways, immersive technologies like augmented reality (AR), virtual reality (VR), and mixed reality (MR) are setting a new standard.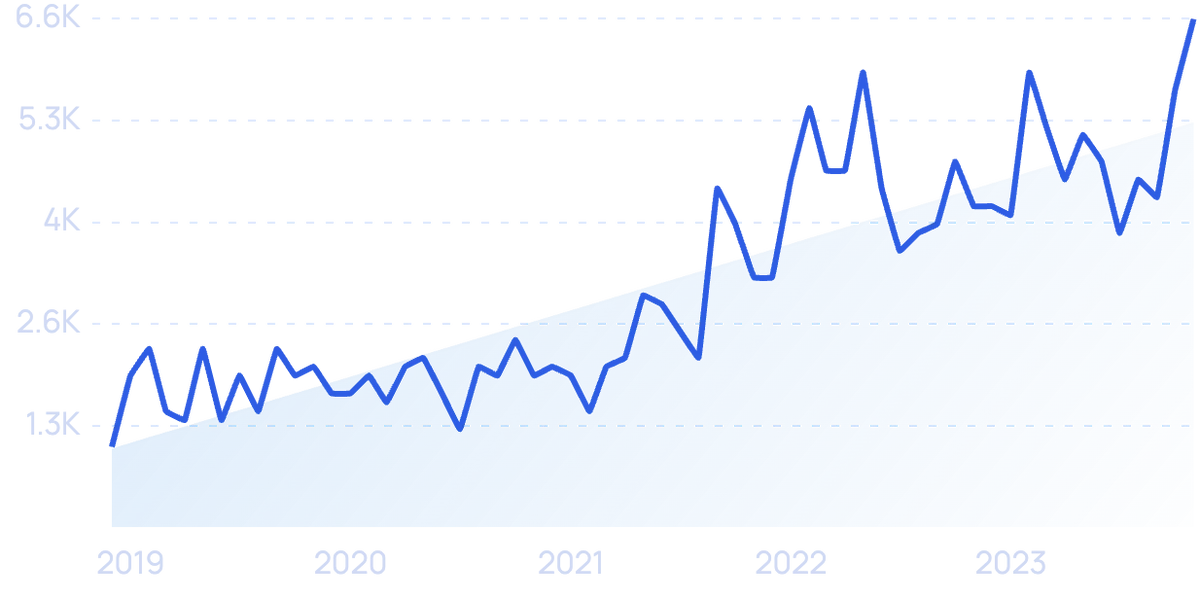 Search interest in "immersive technology" has grown over 500% since 2019.
Big tech is already investing heavily in various types of immersive technologies with hopes that widespread business adoption is coming soon.
Meta reportedly has 10,000 employees working on mixed reality and Apple has 2,000 people developing extended reality.
The immersive technology market (including AR/VR/MR) was valued at nearly $28 billion in 2021. It's expected to swell to more than $252 billion by 2028.
Consumers are showing increasing interest, too.
The sale of AR/VR related gear and software increased 50% between 2019 and 2020.
And, more than 50% of consumers are willing to use AR/VR to assess products.
In one study involving a make-up retailer, consumers who utilized AR to try on lipsticks sampled nearly 2x more lipsticks than in-store customers.
The study also found that customers who used AR browsed for longer and viewed more products than those who didn't use the technology.
Those who used AR were nearly 20% more likely to make a purchase than those who didn't.
In early 2022, Pinterest launched new AR capabilities on its platform.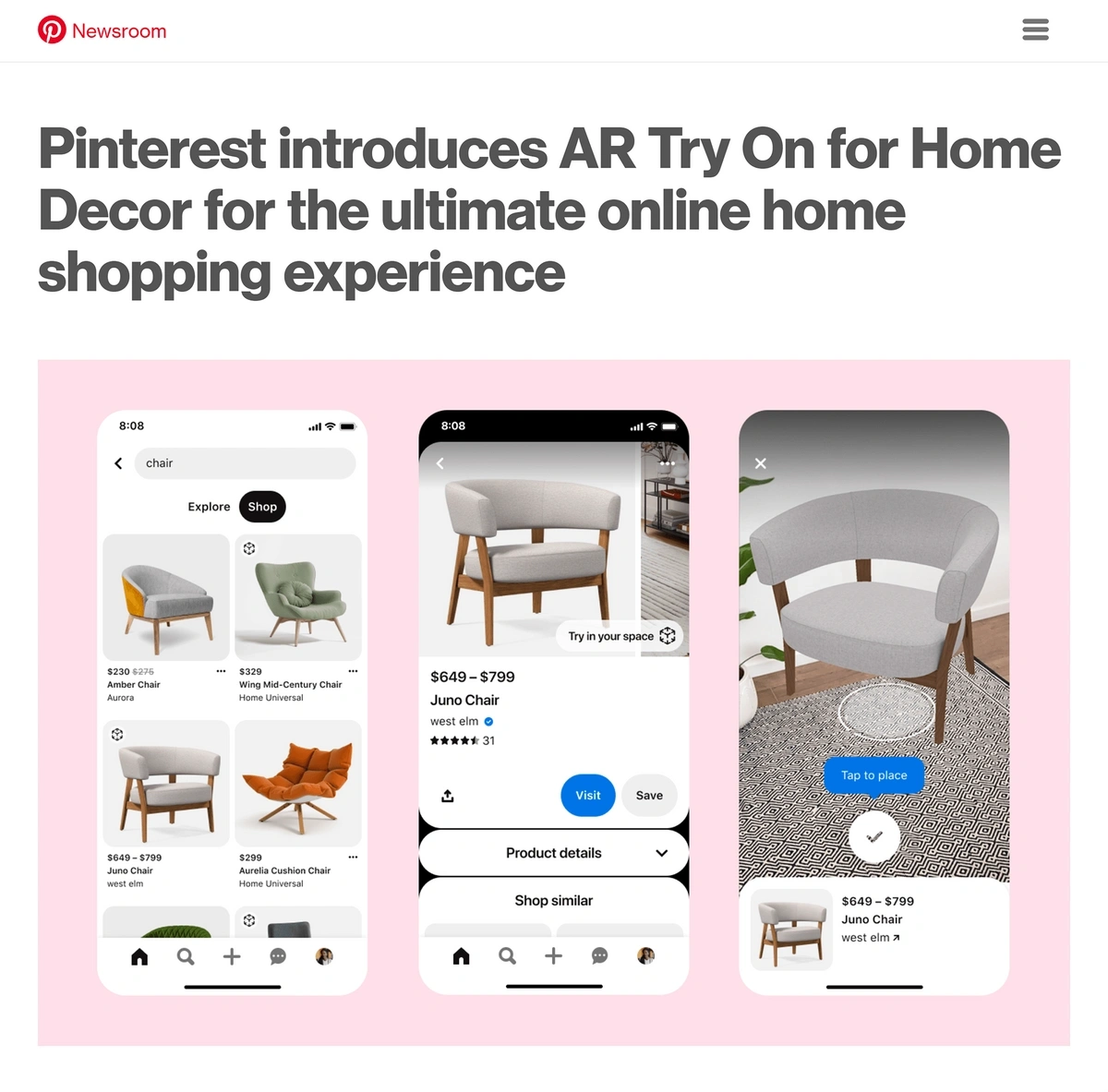 Pinterest's AR capabilities now provide consumers with the ability to try furniture, lipstick, and eye shadow in their own space.
The "Try On for Home Decor" tool allows users to virtually stage their home with furnishings from a variety of retailers via the Pinterest Lens camera.
The brand reports that consumers are 5x more likely to buy items when using this feature than when using standard pins.
Some businesses are going further into immersive technologies and investing in the metaverse.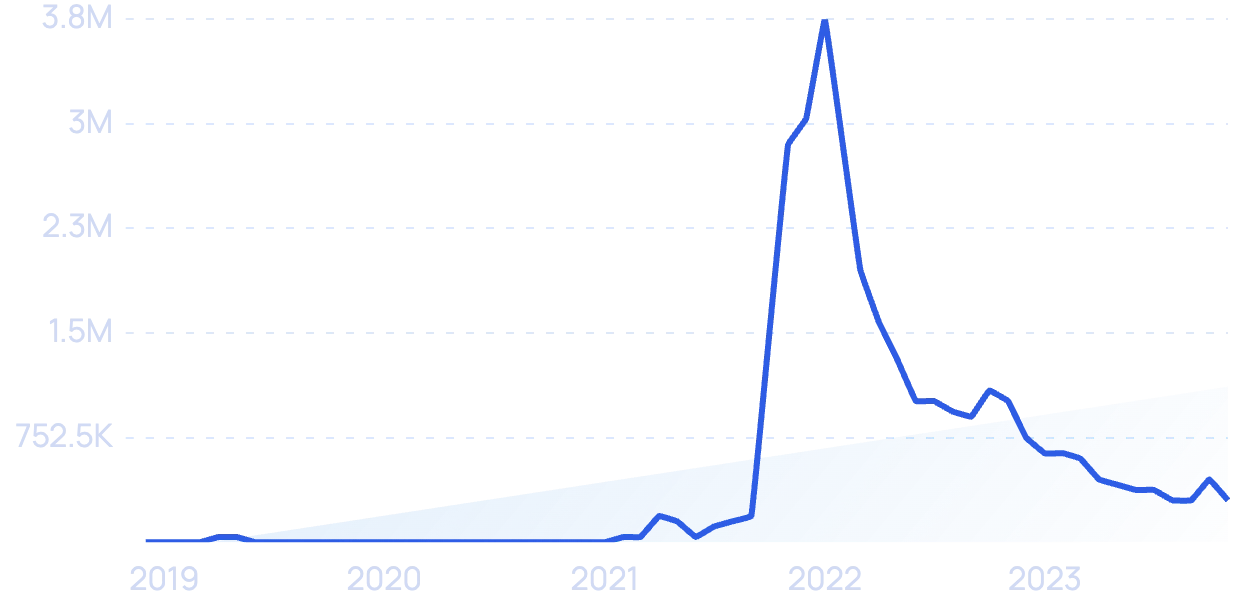 Search volume for "metaverse" shows a steep climb in late 2021 when Mark Zuckerberg first announced the concept.
Gartner predicts the metaverse will be a gathering spot for employees soon.
Instead of video conferencing, employees will engage, collaborate, and connect as avatars in the metaverse, they say.
They predict that 10% of workers will regularly use the metaverse by 2025. That's up from 1% in 2022.
In another example, Duolingo's mascot, an owl named Duo, led the company's metaverse debut in the Duolingo Game Hub in late 2022.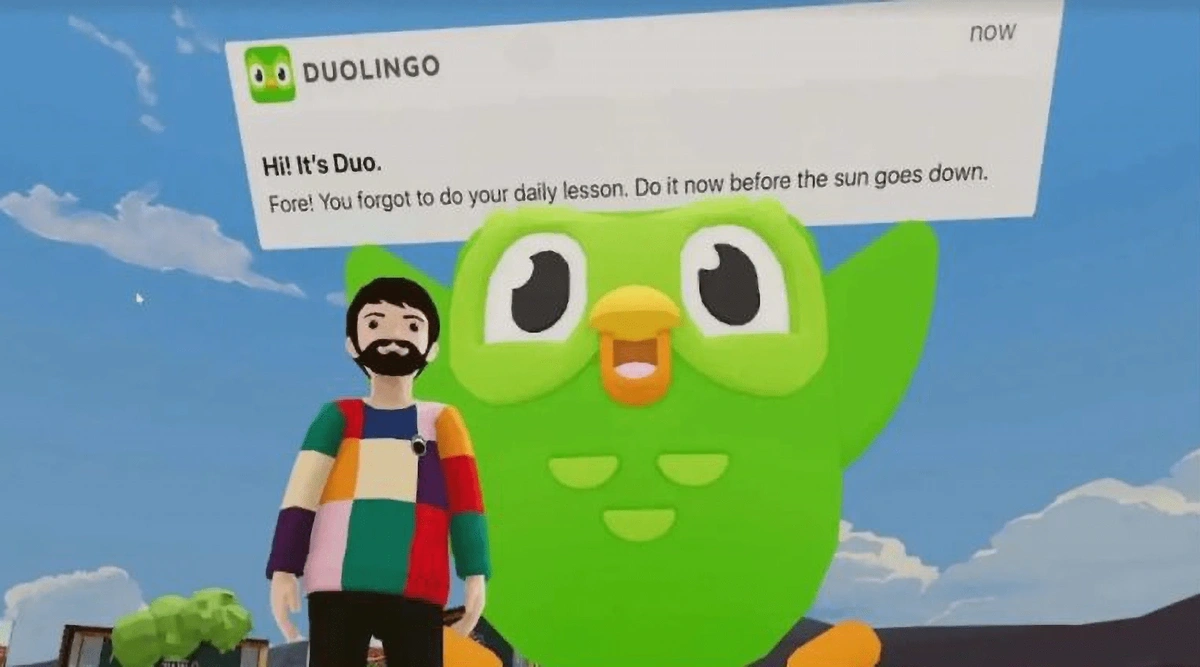 Duolingo's presence in the metaverse was launched in honor of the 10th anniversary of the company.
In just a few weeks, the metaverse destination received more than 9 million visits and players spent a total of 41 million minutes playing Duolingo games.
The brand had a metaverse presence in Roblox as well as Decentraland.
Predictions show that investments and spending related to AR/VR are climbing quickly.
The fourth quarter of 2021 saw nearly $1.9 billion of venture capital pouring into startups in the space.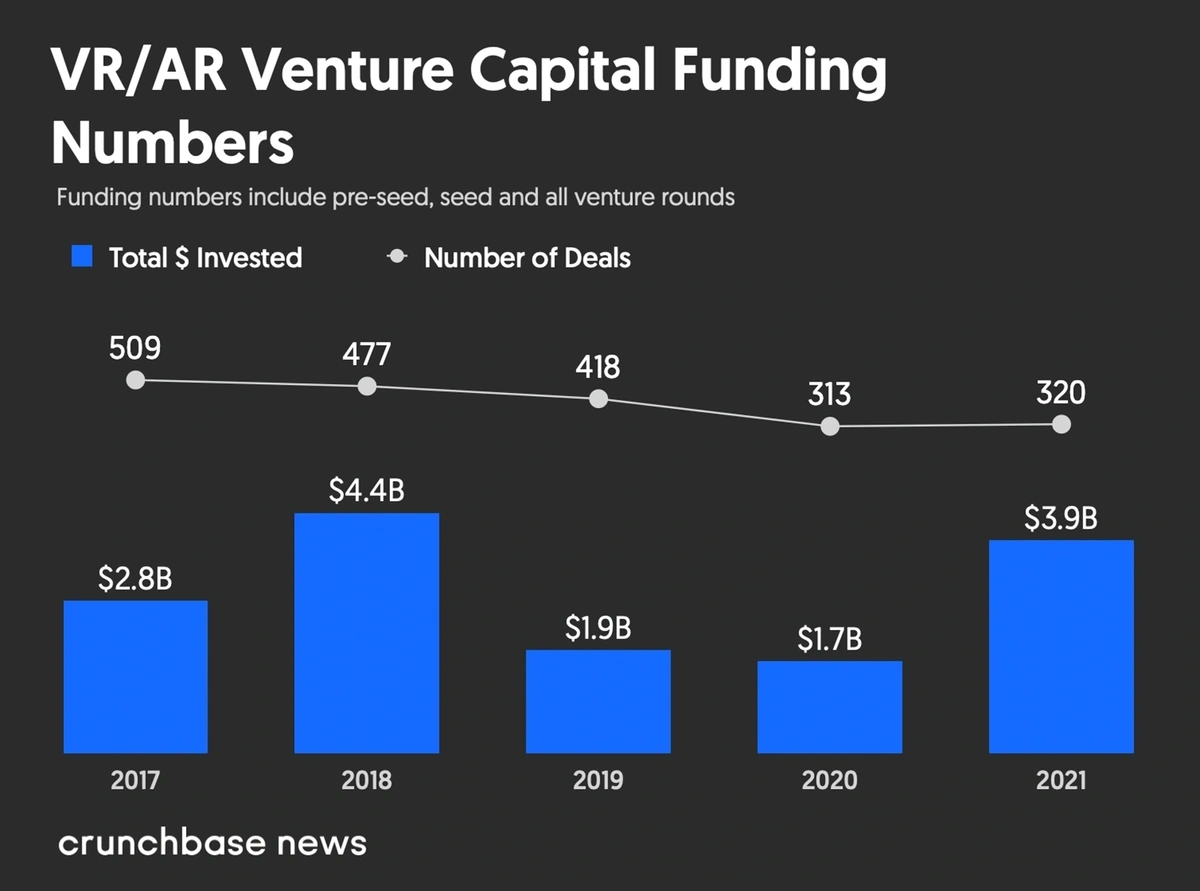 Crunchbase reports $3.9 billion in venture capital funding went to VR/AR startups in 2021.
Immersive technologies related to employee training and industrial maintenance are expected to garner $4.1 billion in investments in 2024.
AR/VR gaming is expected to bring in $17.6 billion in consumer spending in 2024.
8. Innovation Impacts Last-Mile Delivery
Nearly all businesses suffered supply chain disruptions due to the pandemic.
Up to 97% of businesses experienced at least minor impacts, with 63% reporting major impacts, according to one study.
Last-mile delivery is one supply chain component that's receiving a lot of attention from businesses.

Search interest in "last mile" is up around 100% in 5 years.
In the past, the last mile has been inefficient, costly, unreliable, and unable to flex with changing demands.
In fact, this component alone accounts for 41% of overall supply chain costs.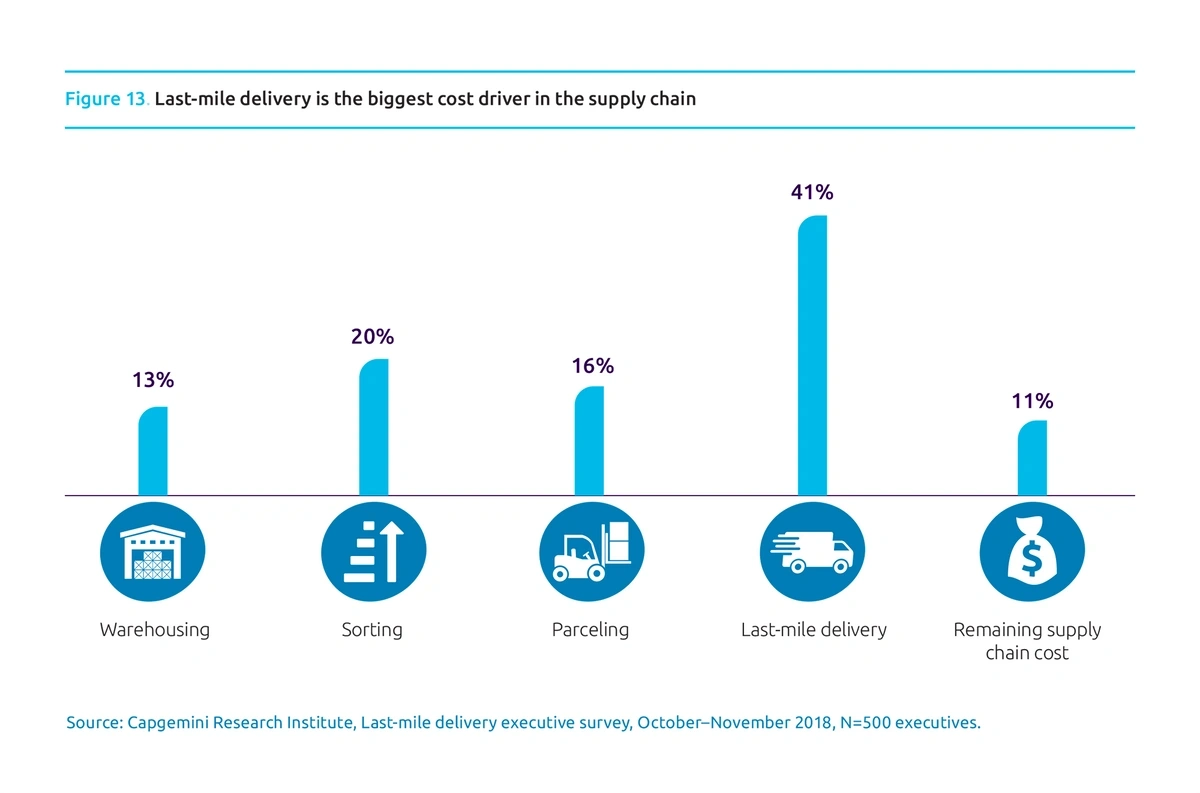 Last-mile delivery accounts for more supply chain expenses than warehousing, sorting, and parceling.
But as consumers demand faster shipping times, businesses cannot afford to have sub-par last-mile delivery solutions.
In May 2022, nearly one-third of consumers bought retail items online and had them delivered the same day.
Nearly 80% of consumers say they're more likely to make a purchase if they can get delivery in two days or less.
30% of consumers are willing to pay more for same-day delivery and 65% are willing to pay more for 1-2 day shipping.
Drone delivery is a last-mile solution that's been talked about but not launched on a large scale quite yet.
We expect to see that change in the coming months.
Research and Markets reports the global drone delivery market could be worth $5.56 billion by 2030, achieving a CAGR of 49% over the next eight years.
In June 2022, a few companies were given clearance from the FAA to begin drone deliveries.
This includes Amazon, Wing, and Flytrex.
Wing, a company owned by Alphabet, is testing its drones in Virginia and Texas.
They've made more than 250,000 total deliveries so far.
Statistics from an impact report focused on Wing's potential in Dallas, Texas, show that drone delivery could drive $26,000 in revenue gains for businesses per year. That would potentially boost annual revenue in the Dallas Metroplex by $197 million.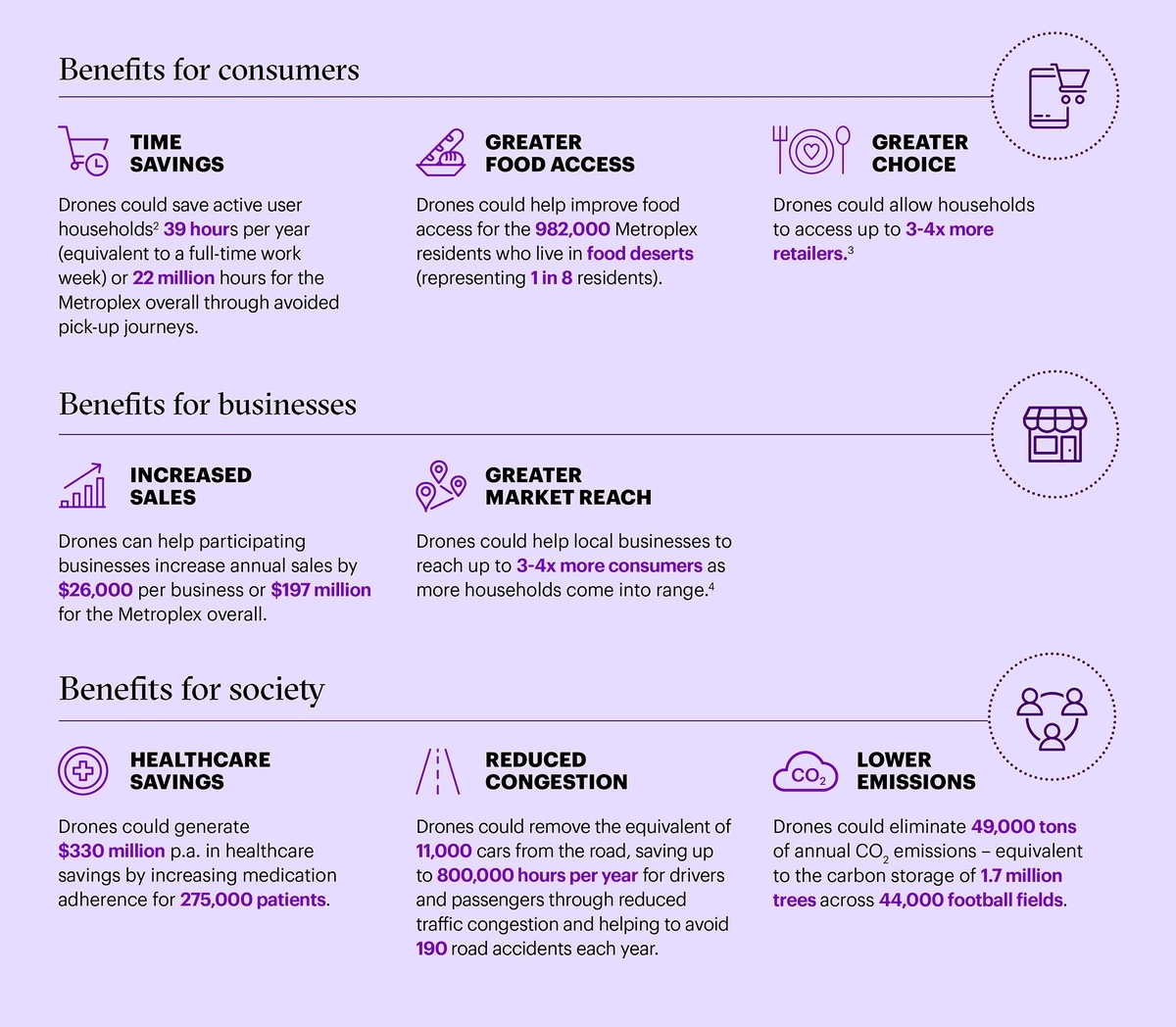 Accenture's impact study found numerous benefits to drone delivery in Dallas.
LogiNext is a New Jersey-based company that's offering AI solutions in order to help businesses improve last-mile operations.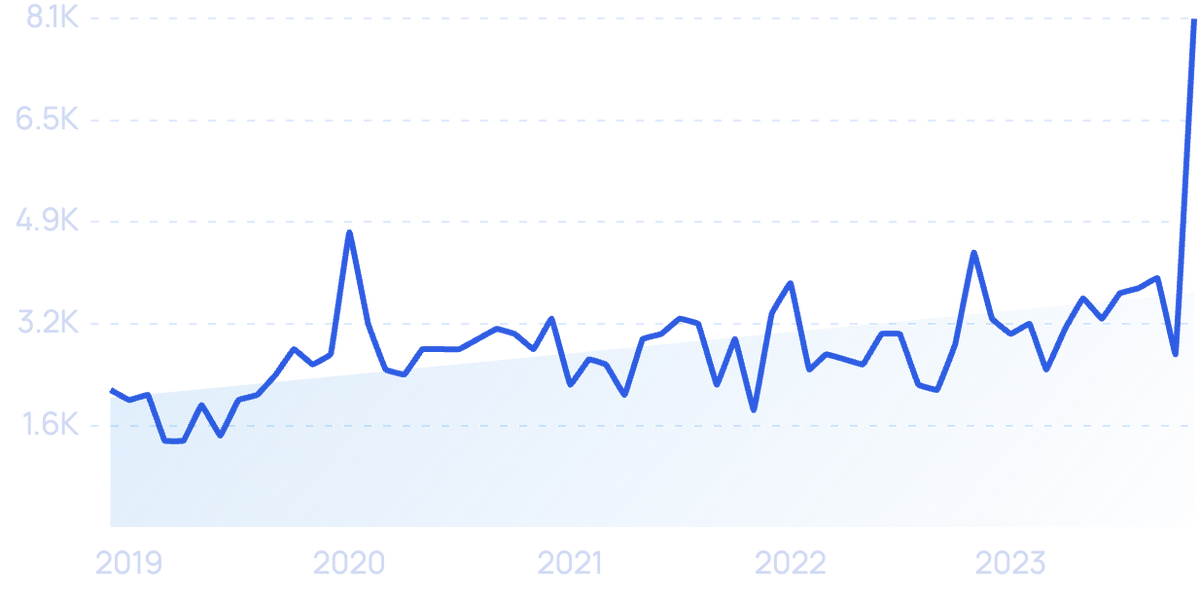 Search volume for "LogiNext" is up more than 270% over 5 years.
Their SaaS solution features automated route optimization, intelligent capacity utilization, and predictive analysis for delivery ETA.
The company's platform supports more than 500 million orders each year.
They're looking to raise up to $100 million in their Series C funding round with the goal of expanding globally. That could bring their valuation up to $800 million.
9. Improved Customer Experience and Cost-Savings Through AI
In 2023, customers have more purchasing options than ever. That means businesses must work even harder (and smarter) to attract and retain customers.
70% of organizations say customer service is directly connected to the performance of their business and 63% of them are prioritizing the customer experience.
One critical way businesses are improving customer service is through the use of artificial intelligence (AI) solutions.
Gartner reports that customer service budgets are directing increased spend to tech solutions.
Technology is seeing a 7.6% boost in spending while increases in training and development and personnel are seeing only modest increases hovering around 3%.

Gartner predicts that spending related to customer service technology will continue to increase throughout 2022.
Salesforce reports that the number of customer service leaders using AI has increased by 88% since 2020. Currently, 45% of leaders say they've deployed AI solutions.
AI solutions have the potential to drastically increase the efficiency of customer service operations, reduce spending, and boost overall customer satisfaction.
65% of tasks can be automated in an AI-powered customer care ecosystem, according to a McKinsey report.
And, companies that use AI solutions see a 3.5x greater improvement in customer satisfaction rates than those who don't use this technology.
The bottom-line impact of AI is staggering — Gartner predicts the cost savings will top $80 billion by 2026.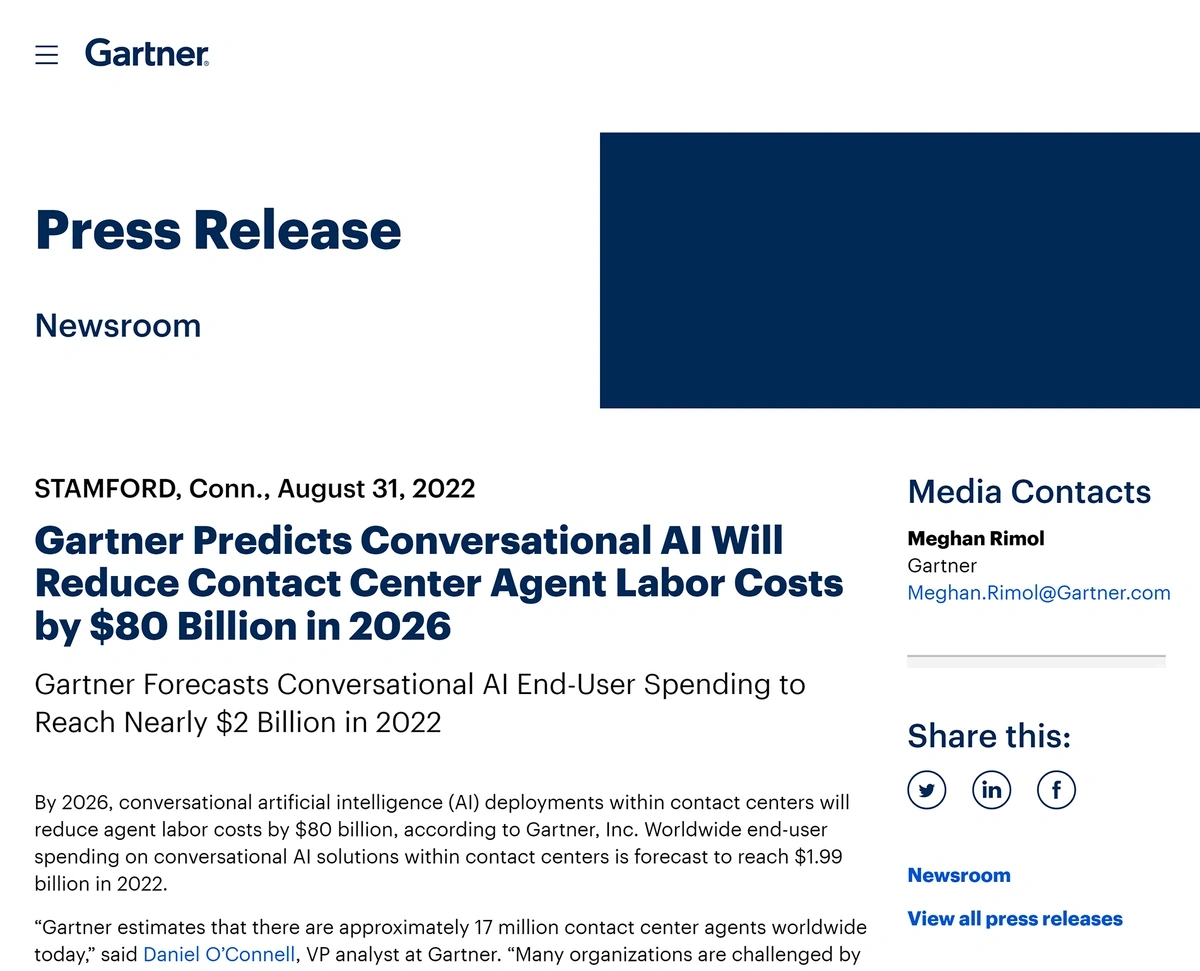 Predictions show spending on conversational AI solutions to reach $2 billion this year and cost-savings to reach $80 billion by 2026.
In one example, Camping World launched an AI system from IBM to handle the company's customer contact center.
The solution incorporates a virtual customer care agent named Arvee and dynamic routing of incoming calls.
The virtual agent is connected to other customer platforms at Camping World, so it can find customer information automatically and address customer questions more efficiently.
Camping World says customer engagement has increased 40% and call wait times have decreased to just 33 seconds since implementing the AI solution.
Forethought is one of the leading AI startups in the customer service sector.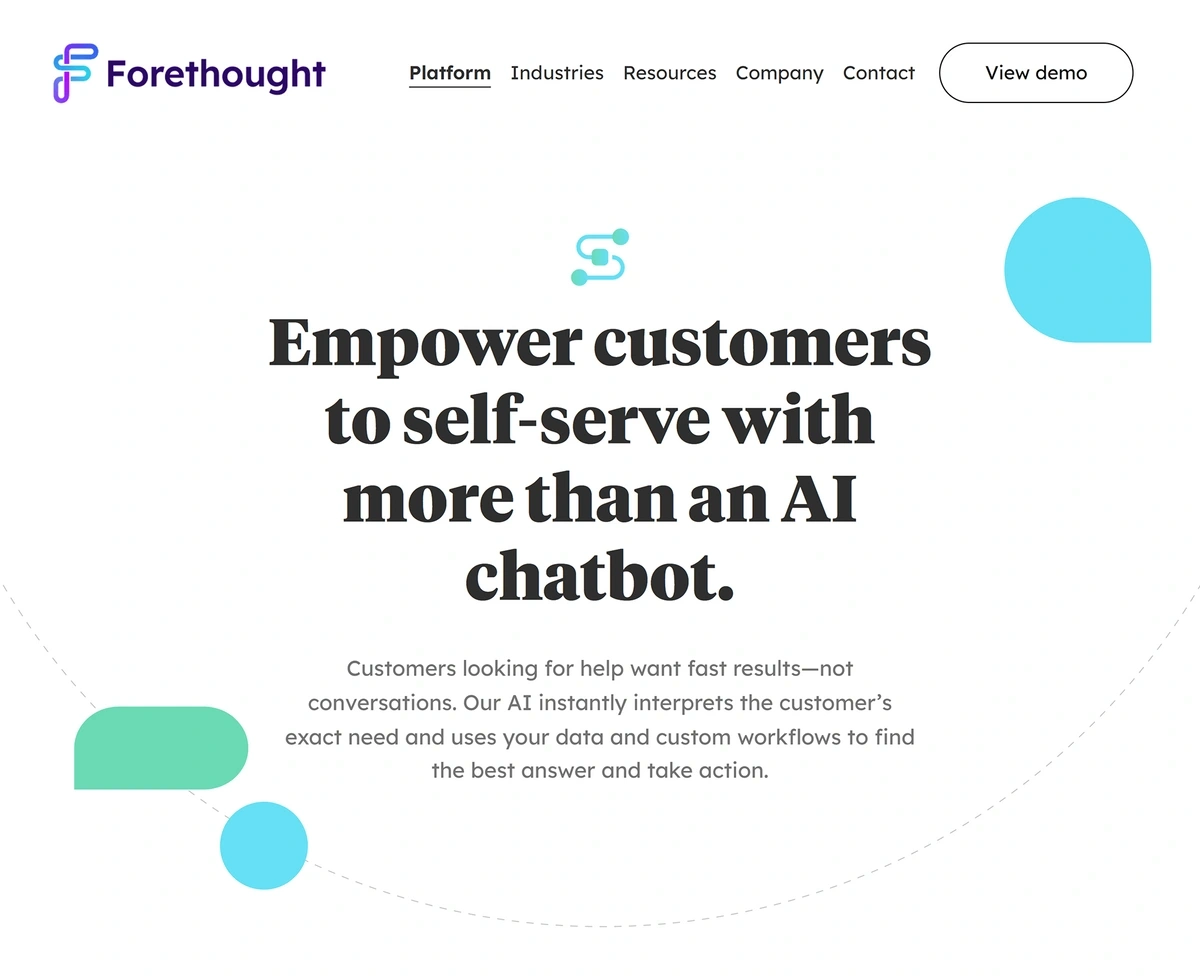 Forethought's AI solution offers support via chat, email, help desk, and social media.
In 2021, they completed a $65 million Series C funding round, grew their ARR by 5x, and tripled their customer base.
The company recently worked with online retailer Uncommon Goods to improve their customer service during the holiday season.
The AI system provided customers with a robust self-service portal and automatically tagged inquiries with relevant information that agents could use.
As a result, the company now has a 49% deflection rate via email, a 46% deflection rate via chat, and a 47% self-serve rate.
Overall cost-savings came to $18,000 per month.
Conclusion
That concludes our list of important business trends that will impact various sectors from 2024-2025.
The business world continues to invest heavily in social media and tech solutions. As these trends continue to develop, we expect to see increased funding and product development.
However, businesses will have to keep a sharp eye on consumer sentiment regarding environmental and corporate responsibility if they want to continue to attract new customers.
Companies that stay on top of key trends and innovate based on these trends are poised to come out on top.