How to Find Trending Products On Amazon For Your Store
Finding trending products on Amazon is relatively easy as most of the latest trending products are already ranked in each category.
However, many of the latest trending products are irrelevant to your audience, too competitive, show unstable growth, or have low profit margins.
So instead of just giving you a list of resources to create an endless spreadsheet of trending products, here are a few resources you can use to identify trending products on Amazon that fit your target audience, have excellent profit margins, show promising future demand, and align with your brand.
Use a Product Research Tool
The easiest way to find the best trending products on Amazon is to use a product research tool that does the work for you.
Exploding Topics offers a product research tool with a database of trending products that you can sort by category and various other filters to find the best product ideas for your store: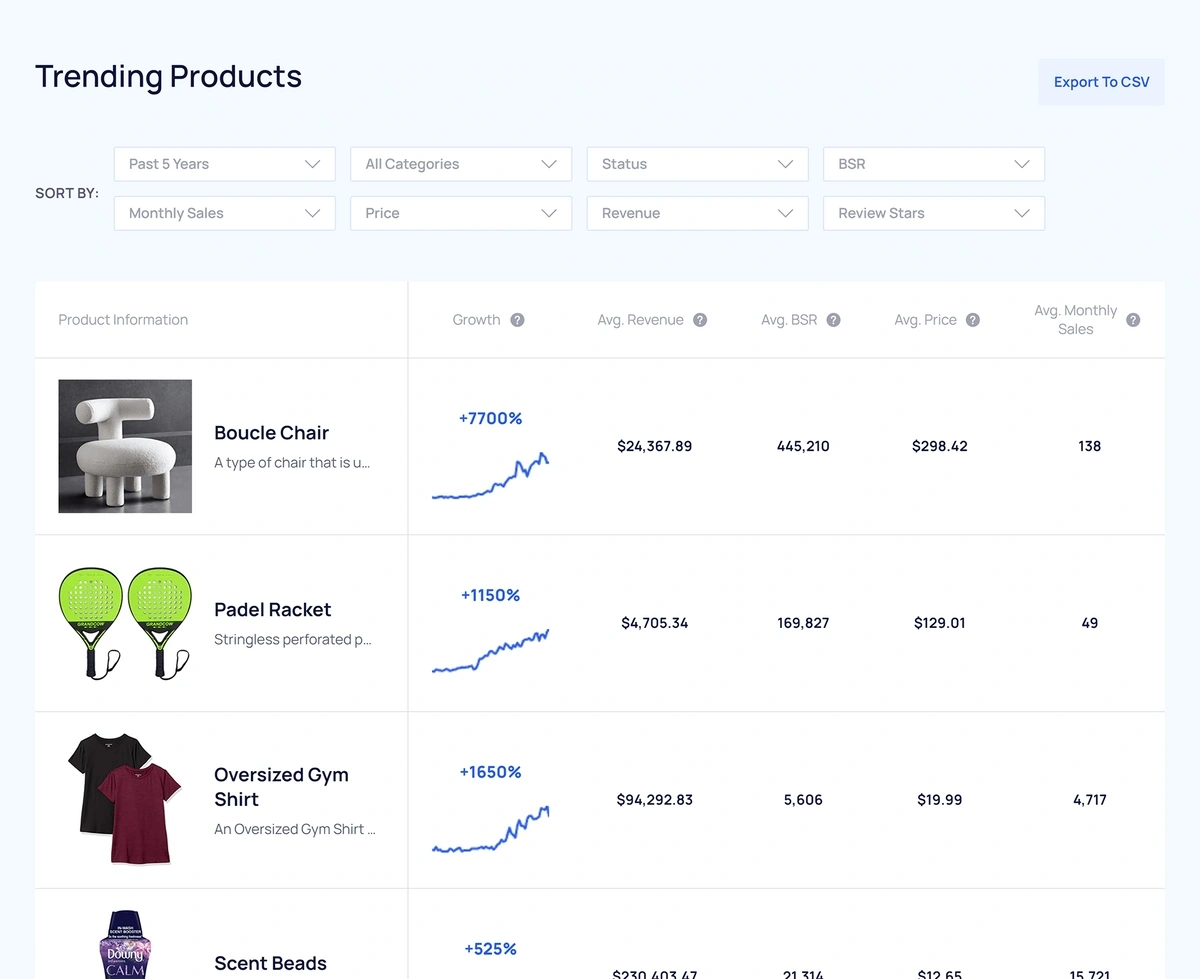 In addition to the basic category filter (e.g., fitness, beauty, sports, etc.), here's an overview of each metric you can use to filter the list of trending products:
BSR (Best seller ranking): The BSR metric is primarily based on a product's hourly sales rate and historical sales volume.

In general, lower BSR numbers indicate a product generates more sales than higher BSR numbers (e.g., a product with a BSR of 10 has a much higher volume of sales than a product with a BSR of 2,000). Exploding Topics allows you to sort by BSR groups (e.g., below 1000, 1,000 – 5,000, 5,000 – 10,000, etc.).

Monthly sales: The average number of total sales for that product category.
Price: This is the average retail price of the product calculated based on all Amazon sellers offering that product.
Revenue: This is the average total revenue the product generates in a month.
Reviews: This is the average star rating based on all of the product's Amazon reviews.
When you find an interesting product, you can click on it and see a graph of that keyword's historical search volume trend and its total monthly search volume. If a product keyword shows steady compounding search volume growth over several years, it's a good sign that the product has long-term growth potential and isn't a fad that might die out in the next few weeks.
This data is particularly critical if you're developing your own products, as you want to ensure there will still be demand when your product is ready to launch several months from today.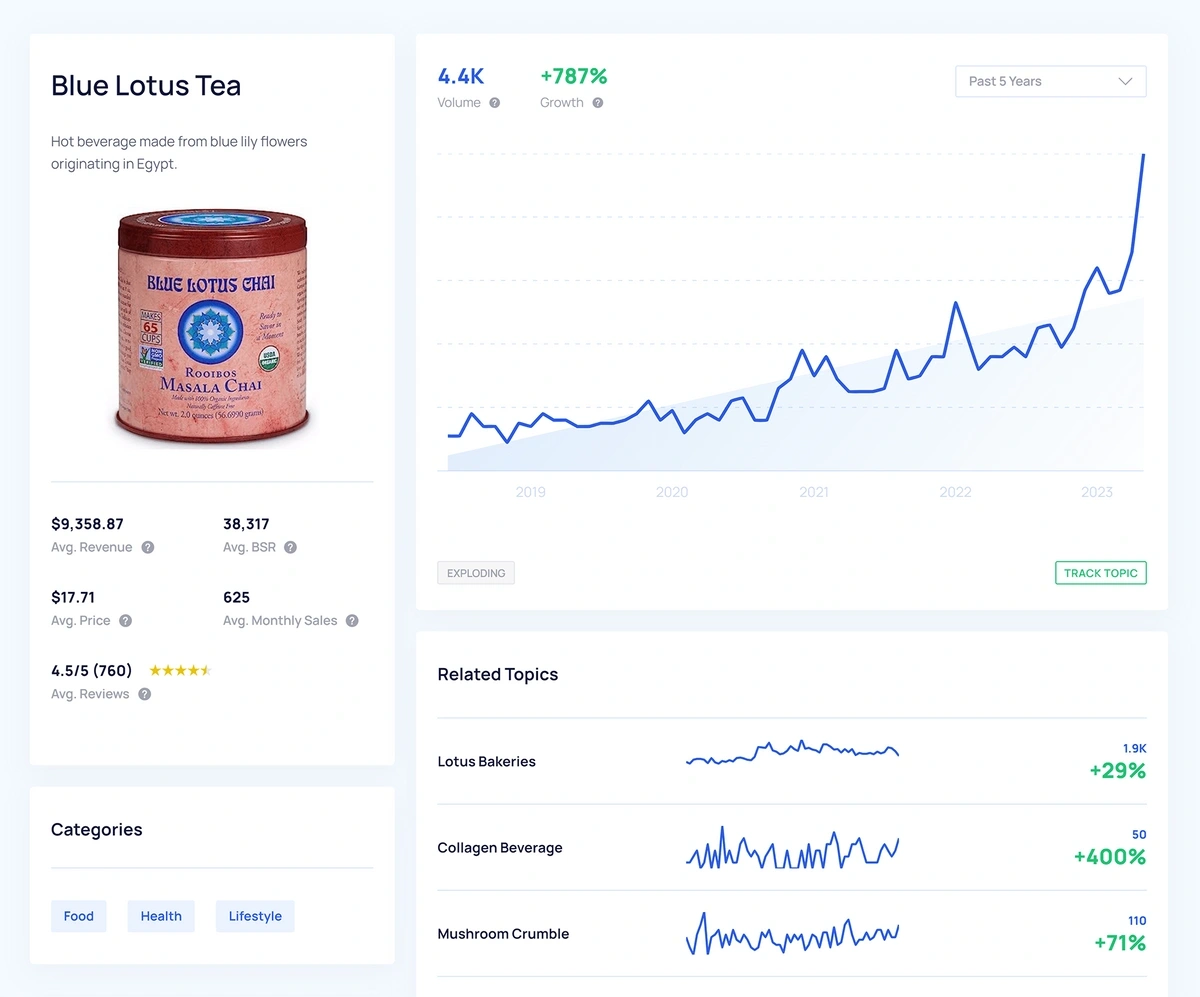 To save an interesting product, click "Track Topic" and add it to a Project. You can create as many Projects as you'd like, and they're stored inside your personal Exploding Topics dashboard. This makes it easy to track products in real-time without needing to fiddle around with a spreadsheet.
Each product page also shows you a list of other related keywords to explore. For example, the product "Padel Backpack" shows the following related trending topics: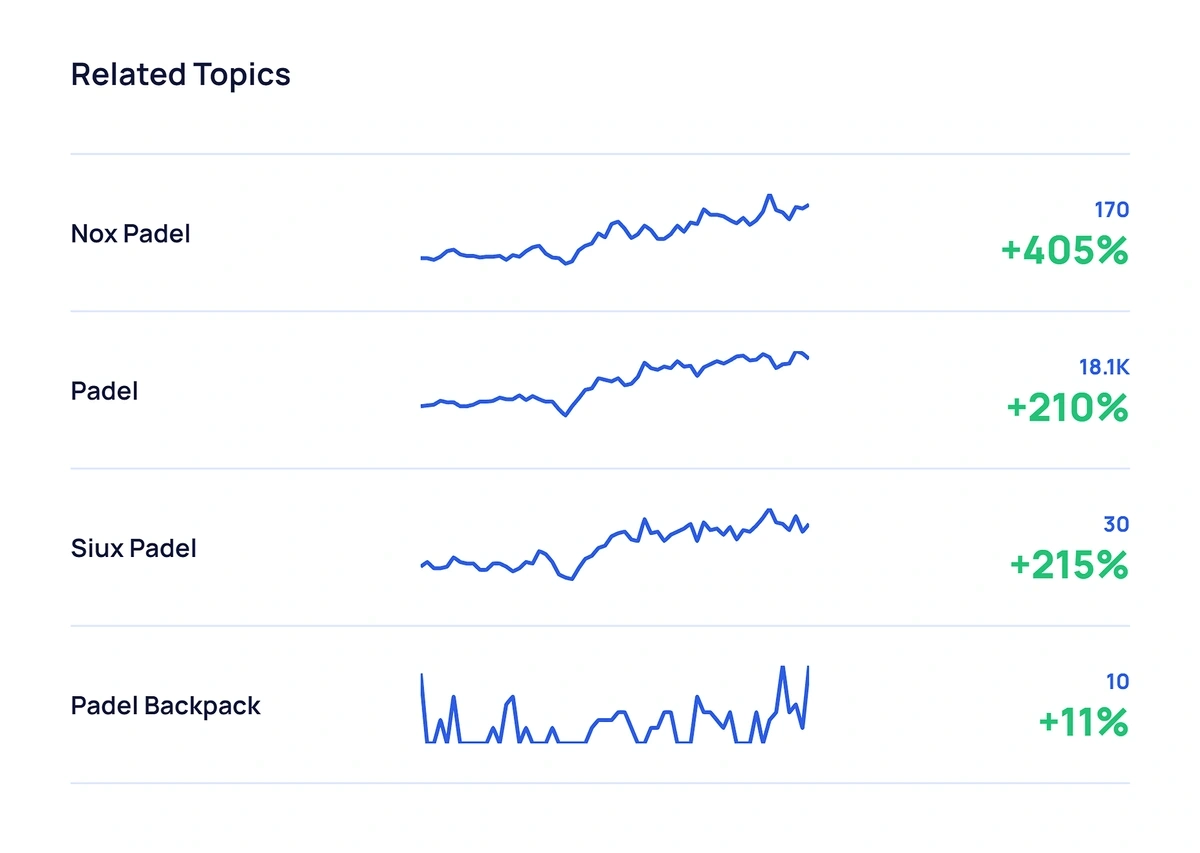 The main benefit of Exploding Topics is that it shows you emerging products with long-term growth potential rather than just hot new products that may not have any demand in the near future.
You can browse trending products today by signing up for a $1 free trial of Exploding Topics Pro.
Find New Trending Niches
As you're researching popular products, you'll probably find many products are part of a larger growing niche.
For example, "retinol serum" is a trending product that has shown steady compounding growth in recent years: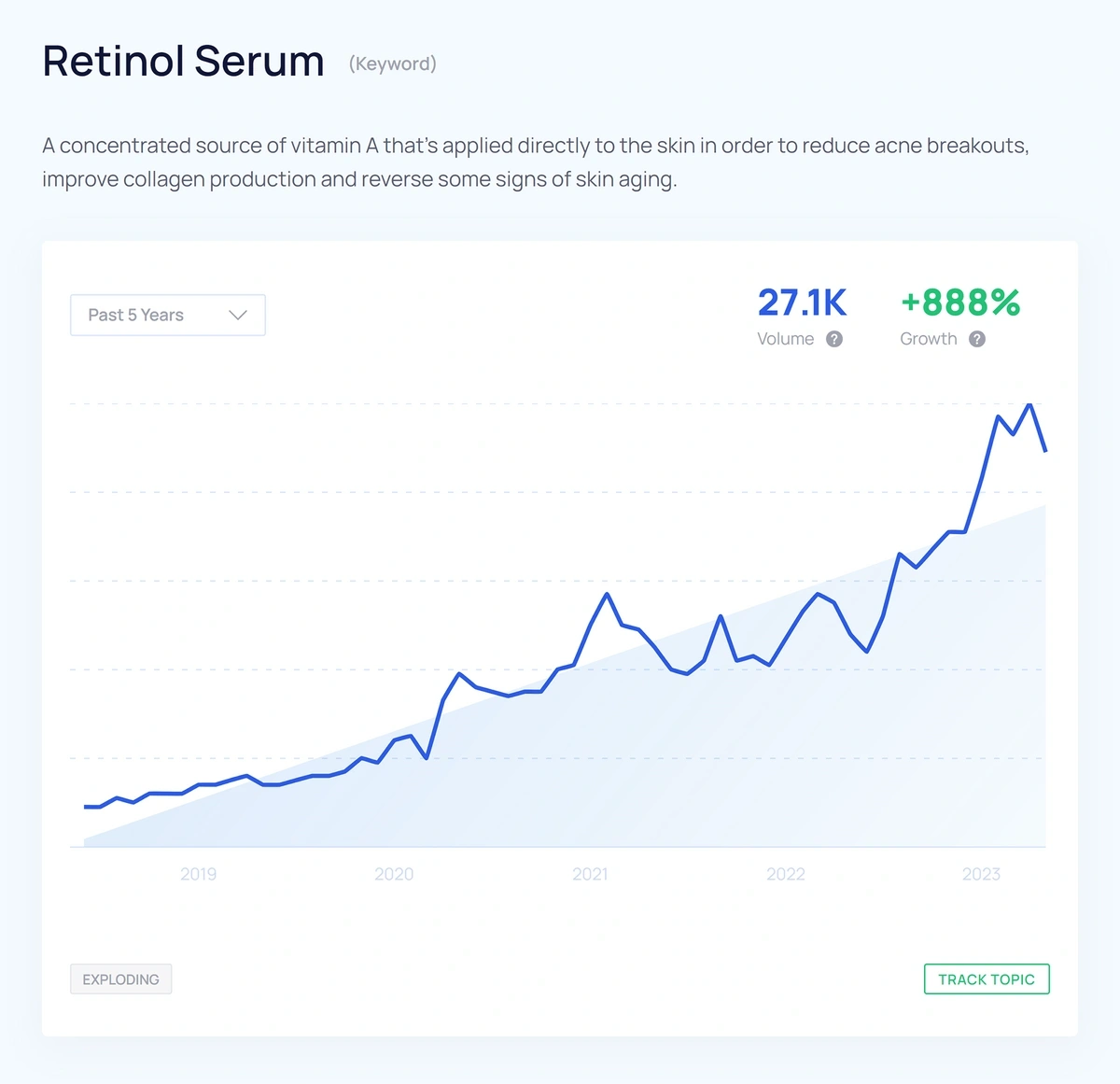 If you do a little more research, you'll notice several other related products, like "niacinamide serum" and "tranexamic acid serum," have similar promising growth trends.
This is because these three products are part of a new, growing niche beauty trend; antioxidant skincare.
Once you find the niche trend, it's easy to uncover plenty of other promising trending products, though discovering that niche trend can be tricky.
To make it easier to discover these growing niche trends, we created the Meta Trends database.
It's a database of rapidly growing niche trends and lists the fastest-growing products and keywords in that niche trend.
For example, if you click on the meta trend, "antioxidant skincare," you'll see other trending products (vitamin C serum, ferulic acid, etc.) and brands (Good Molecules, DRMTLGY, Youth to the People, etc.) in the antioxidant skincare niche.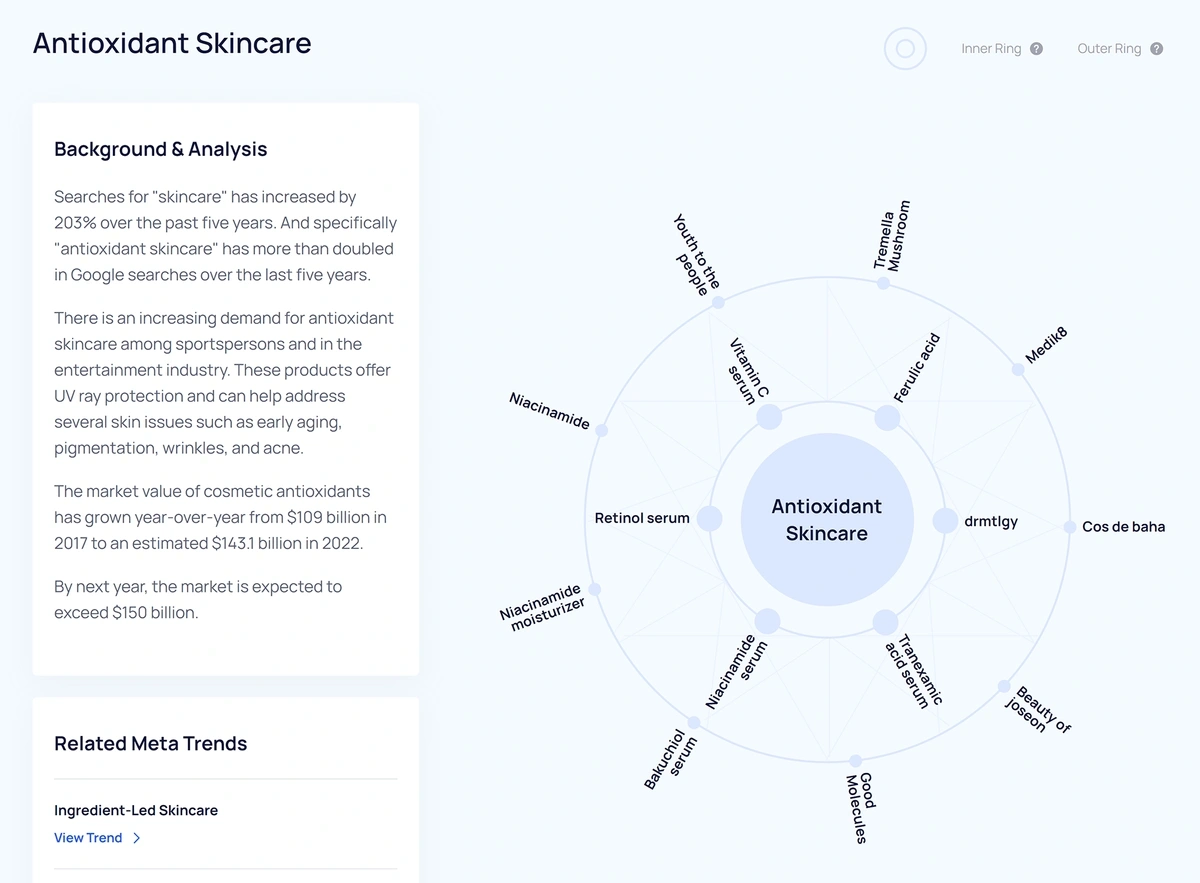 If you click on any of the product keywords or brand names, you'll see a graph of its search volume trend over time and a description: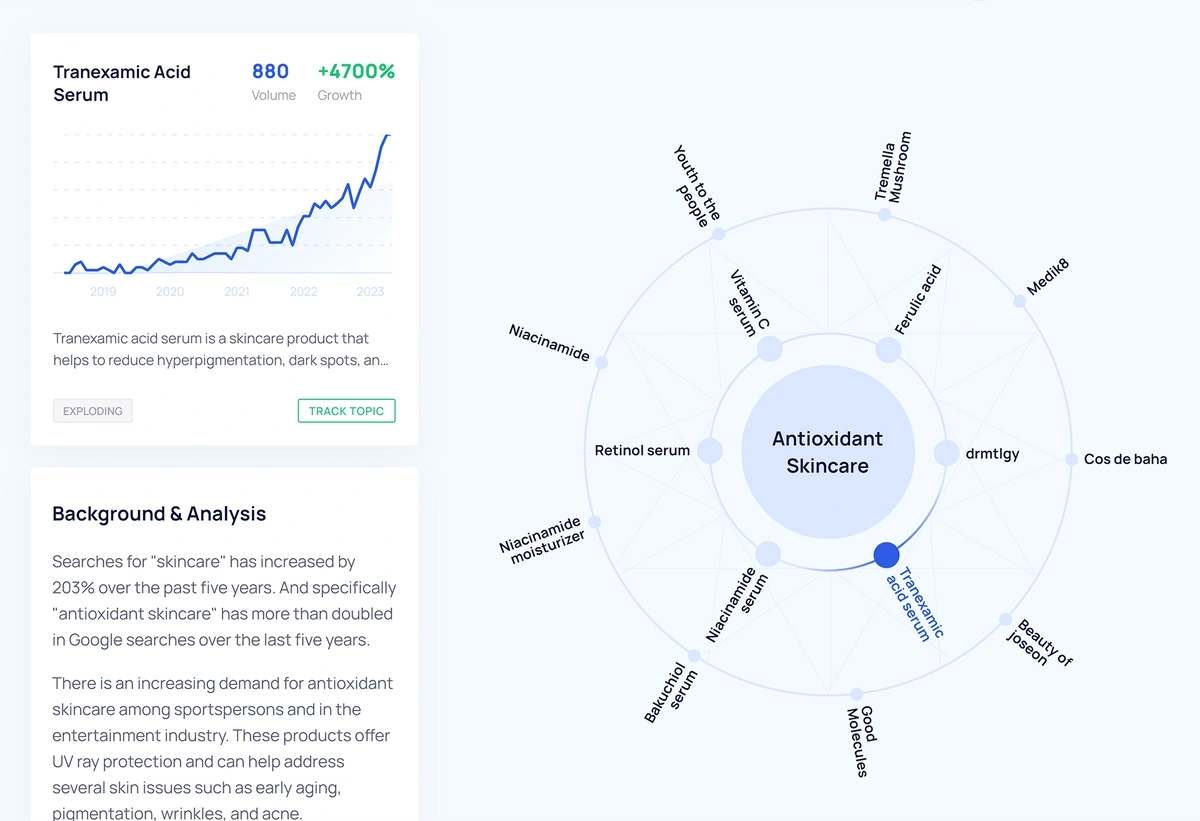 When you find an interesting product or brand name, click "Track Topic" to save it to one of your Projects for further analysis.
Track Bundled and Related Products
Increasing your average customer's order value (AOV) is one of the best ways to significantly improve your profits. That's because you rack up more sales at zero additional marketing costs.
So once you find a promising product in Exploding Topics, search for it on Amazon and look at other products frequently bought with it.
For example, Blue Lotus Tea was a high-demand product we found earlier, and after looking at its Amazon listing, you can see that there are two other teas frequently purchased with it that you could offer as a bundle: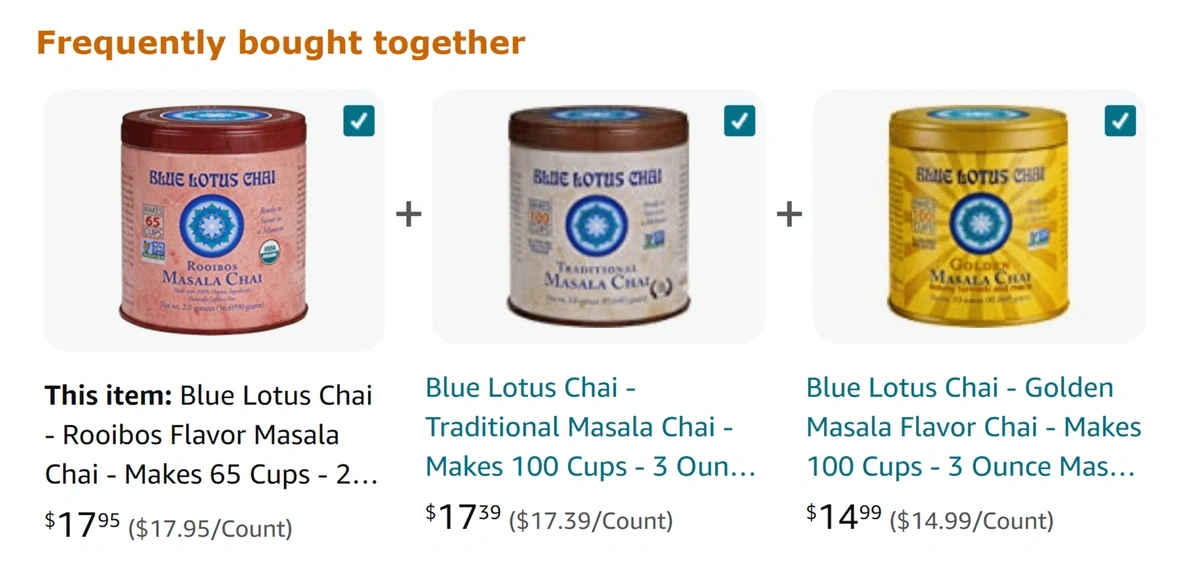 Below is another excellent example of a slightly different product bundle. In this case, the product bundle isn't multiple variations of the same product but rather a group of products that the same person would use together: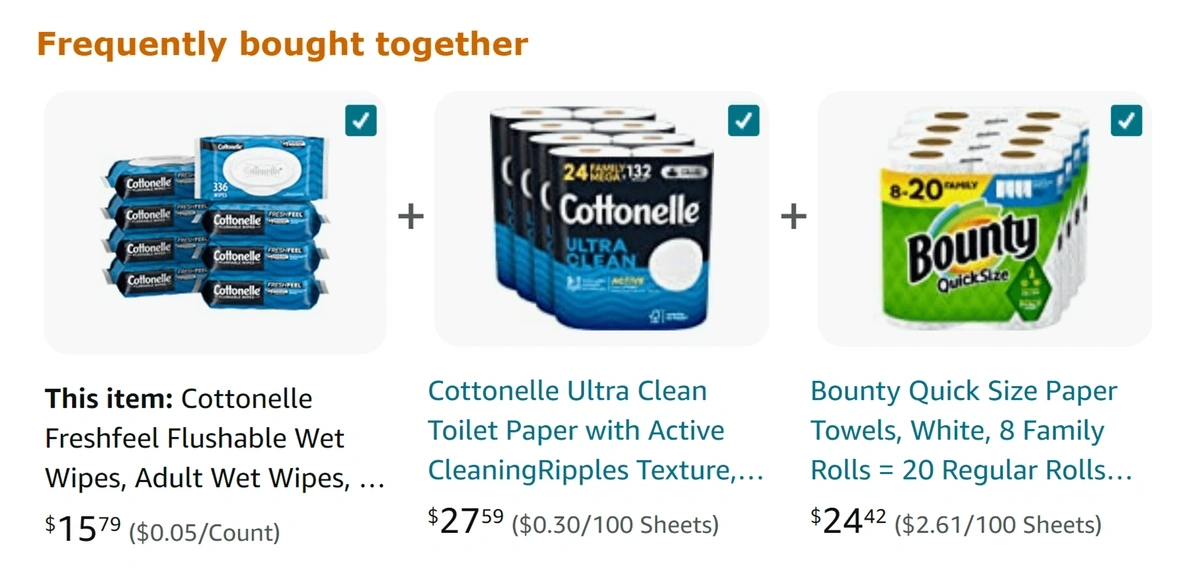 Most product pages on Amazon also have a "products related to this item" section. These products might not be relevant to offer as a bundle with the original product, but they can be excellent additional products to offer in your store as they still target the same audience: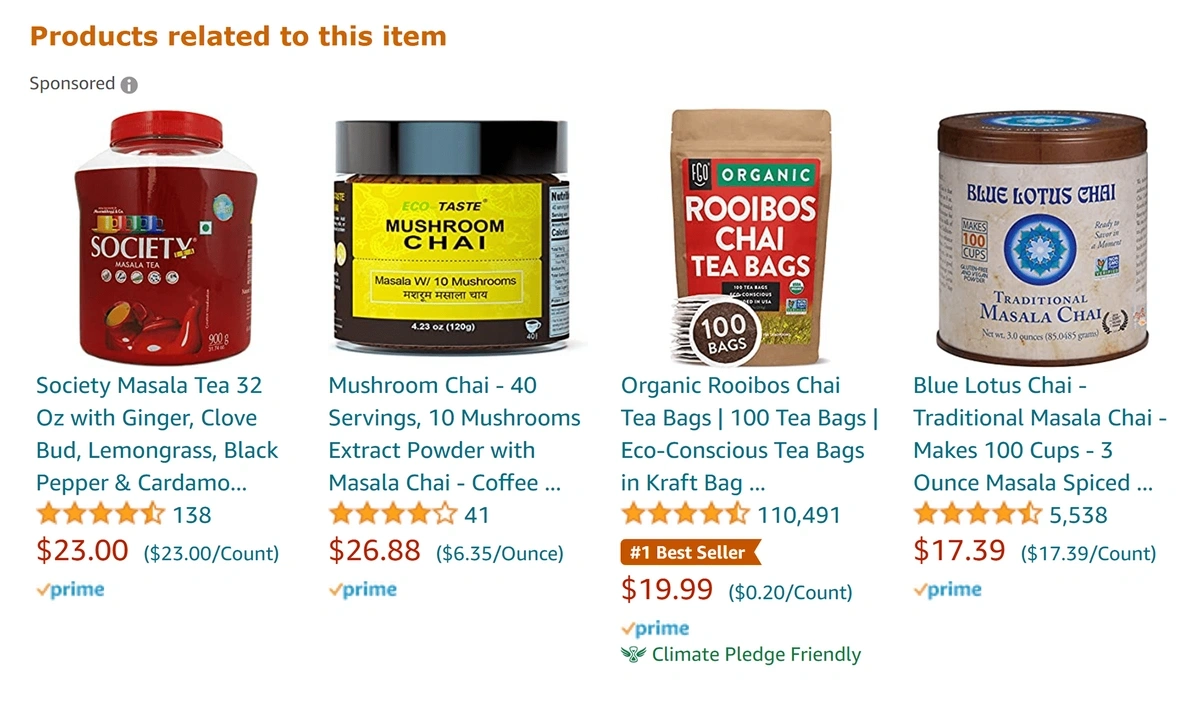 At the bottom of the product page, you'll also see a section called "Popular products based on this item," which can provide additional product bundle ideas.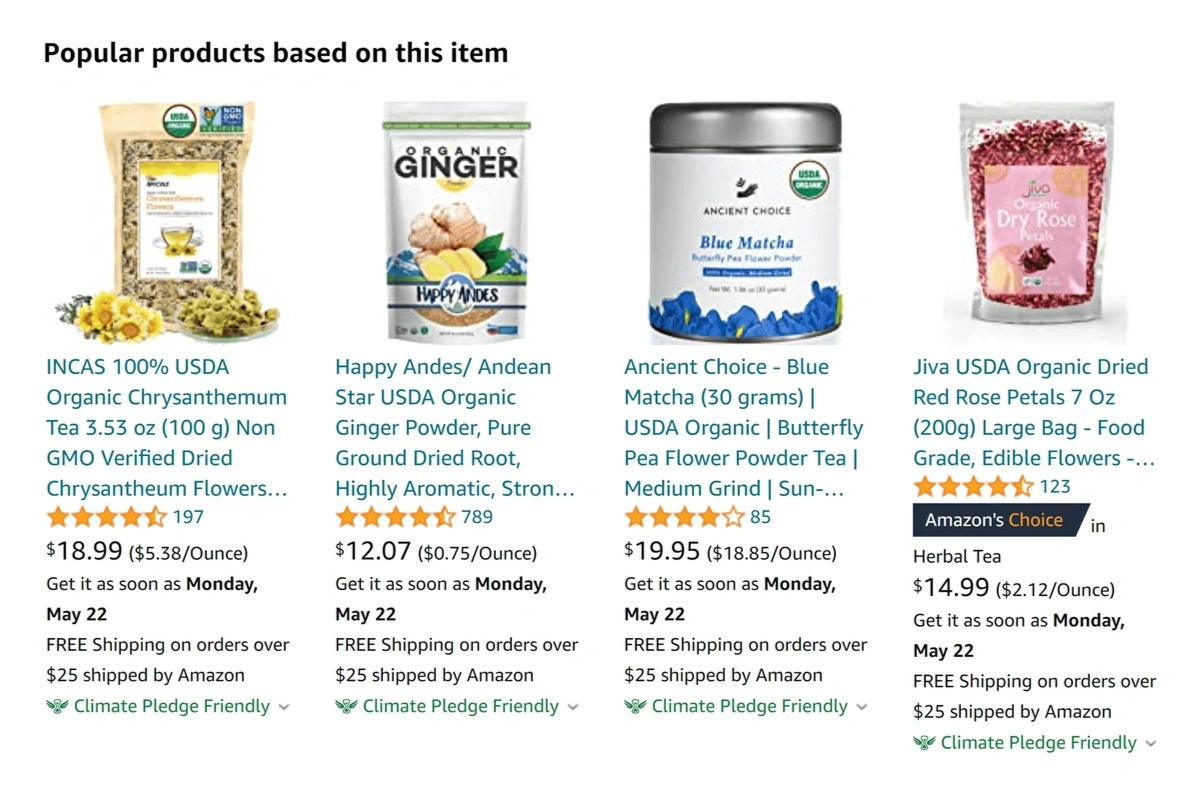 Search Your Competitors' Top Selling Products
If a product performs well for your competitors, it will probably perform well in your store too (assuming you have a similar audience).
So start by creating a list of relevant competitors.
To find relevant competitors, search for one of your core products on Amazon and make a list of the stores selling the top ranked products.
For example, here are the top results for "herbal tea". So Tea Forte, Stash Tea, By The Cup Twinings, and Bigelowa are all noteworthy competitors I'd include on my list of competitors: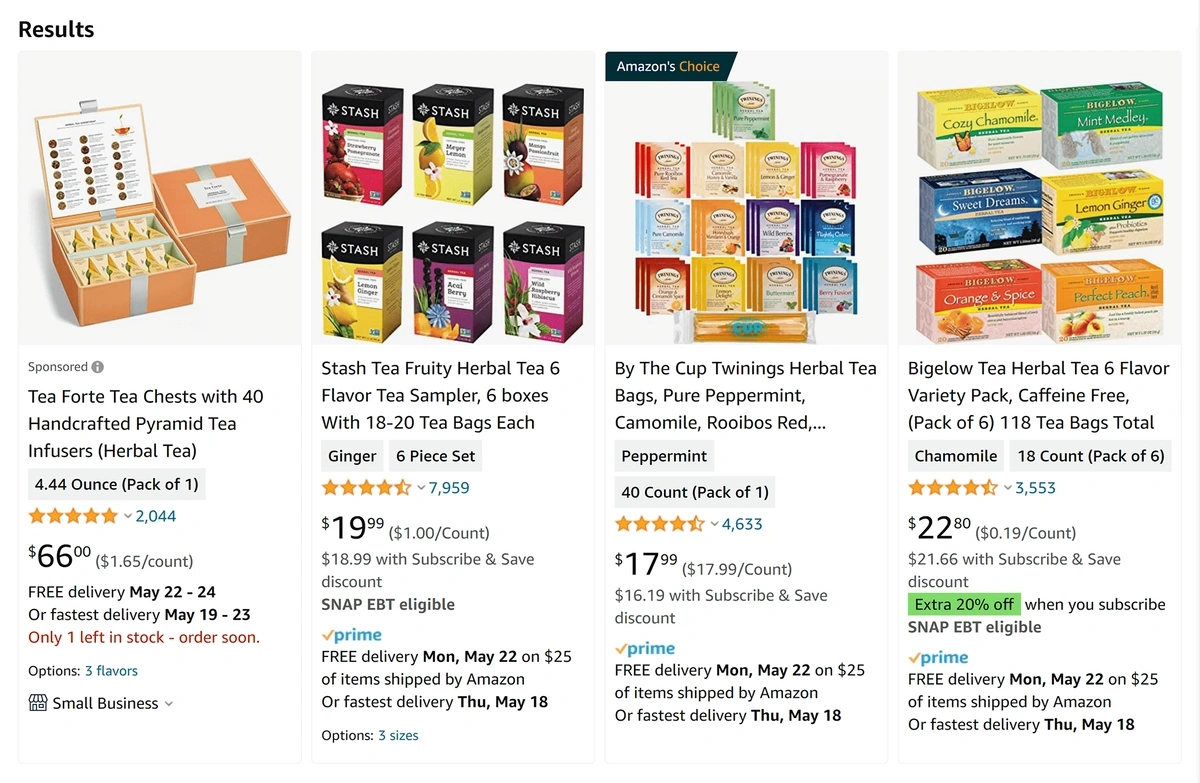 You can also click on any of the results and scroll down to the "Brands in this category on Amazon" section to see other potential competitors:

You can also use the Trends Database in Exploding Topics to find competing brands – just select a relevant category and filter by "Brands."
For example, if you're looking for growing competitors in the pets space, select the "pets" category and select brands: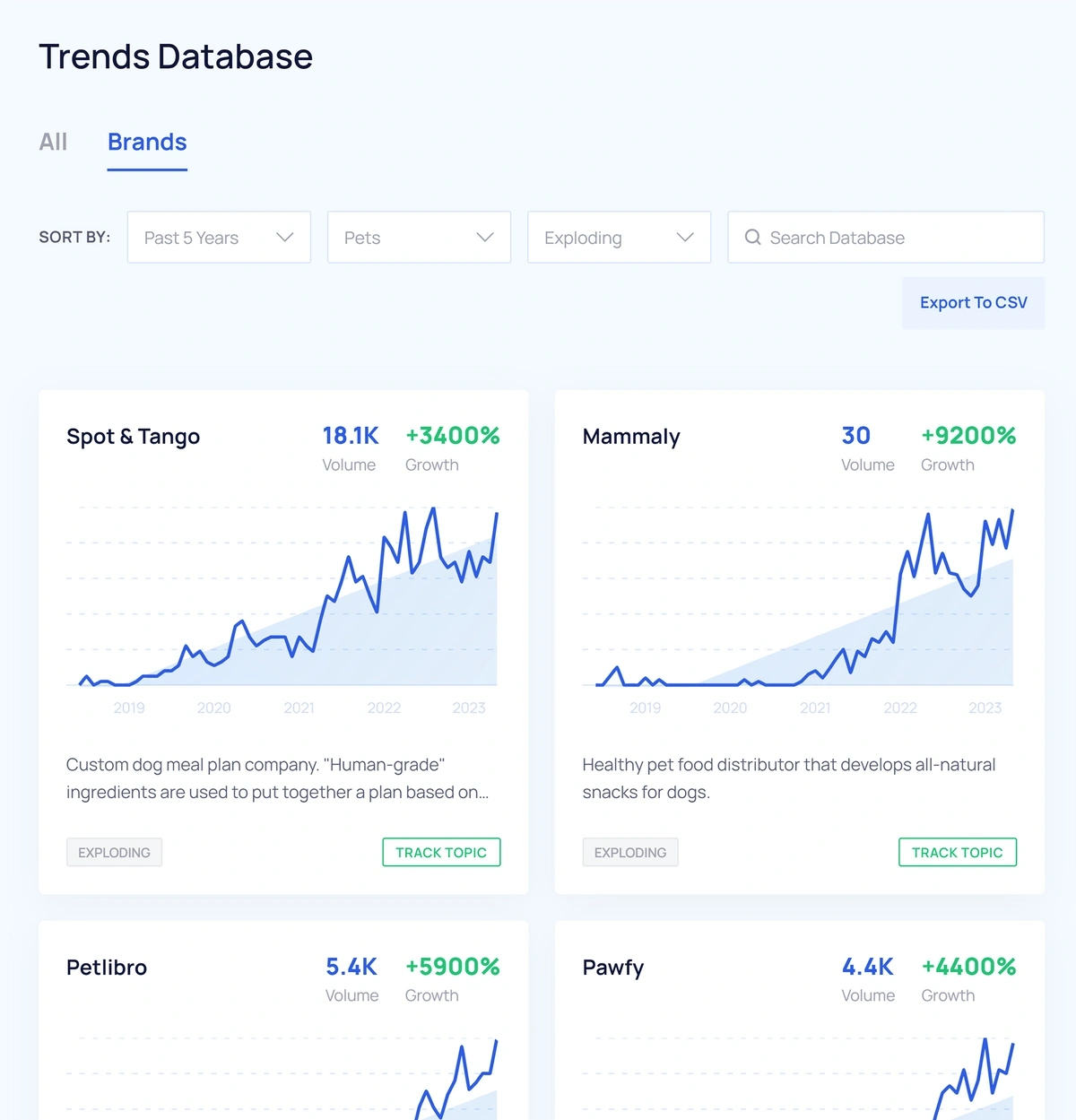 There are two main benefits of using Exploding Topics to find competitors.
First, it's a great way to identify the fastest-growing competitors (not just the biggest brands).
Secondly, some competitors may not offer their products on Amazon, and Exploding Topics helps you identify those brands as well.
Once you've identified the top brands in your space, you can look at the "best sellers" category on their website: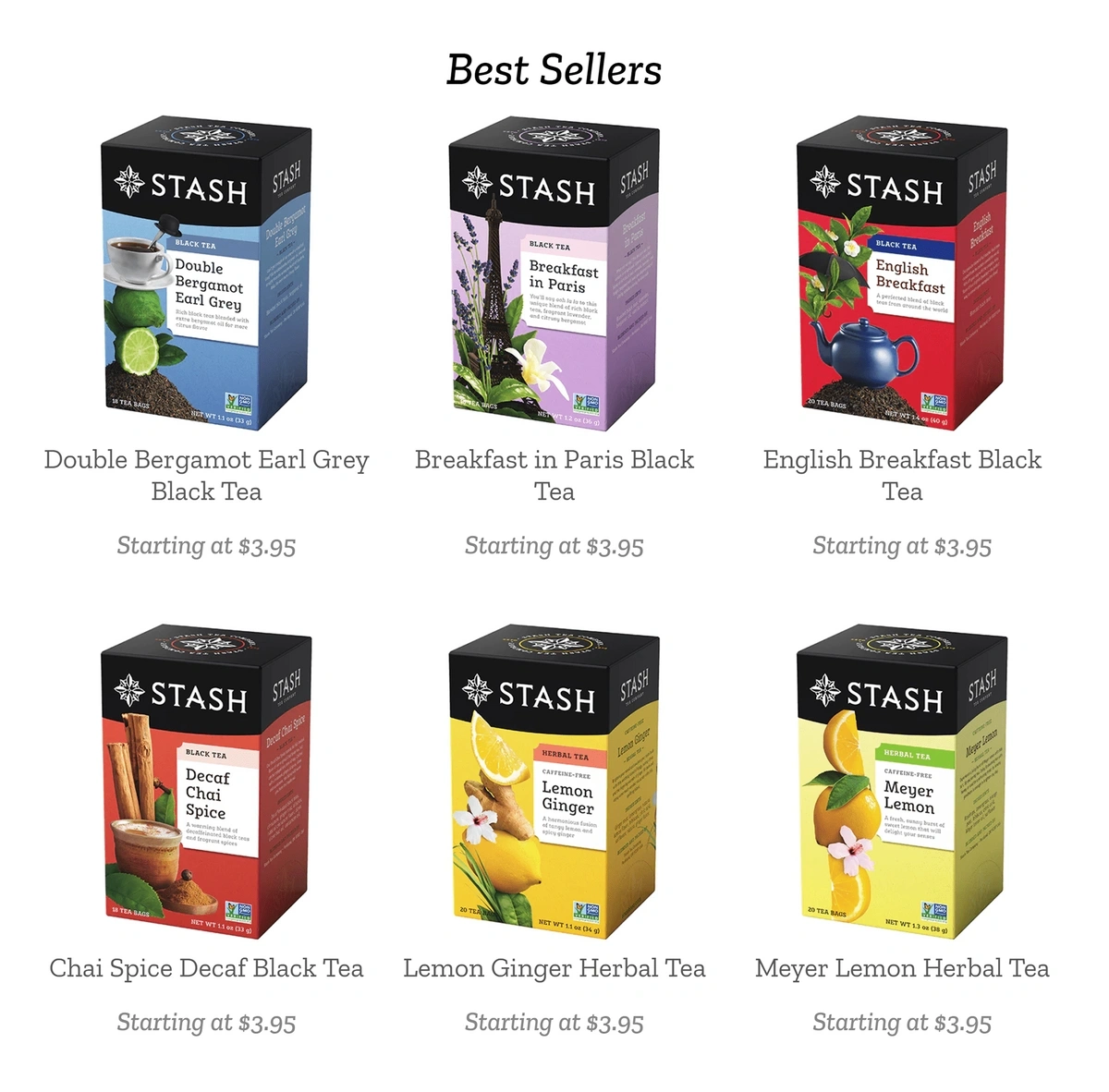 You can also just click on their Amazon store, and the top bar will give you a list of their best sellers: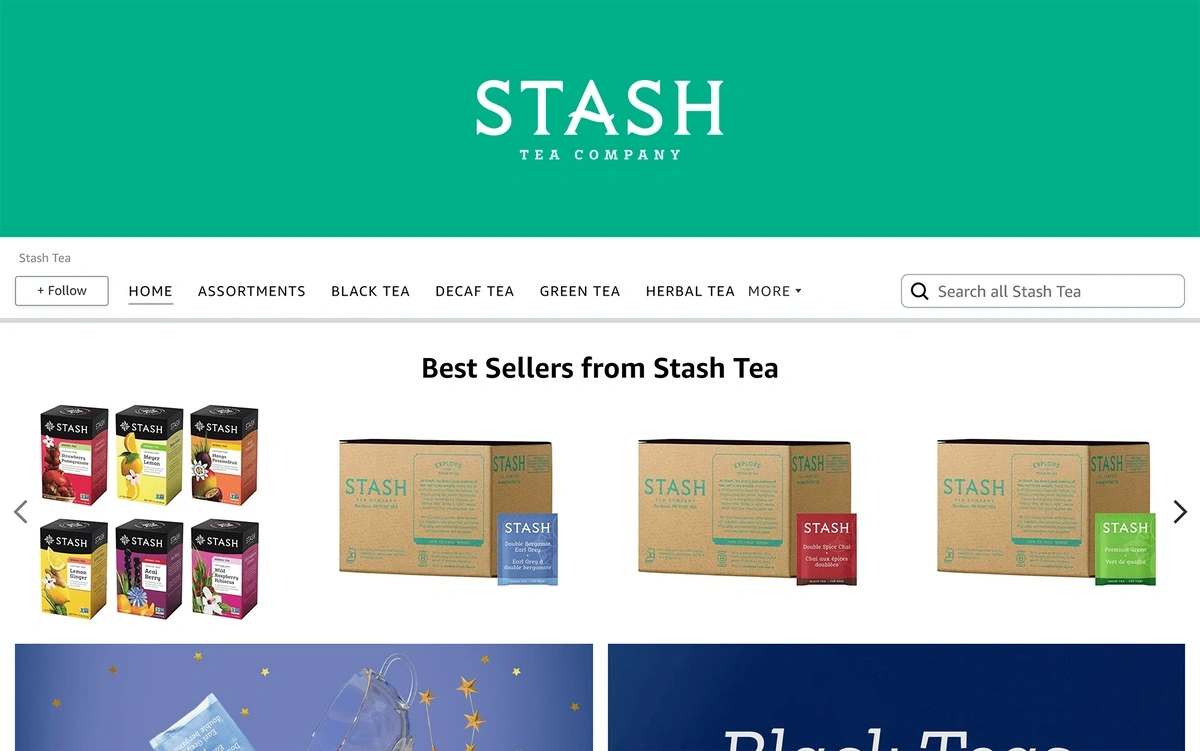 While the best sellers may not necessarily be new trending products, it's usually more profitable to sell products with proven demand rather than trying to guess which new products will have high demand in the future.
Use Amazon's Trending Products Tools
Amazon also offers three tools that make it easier for sellers to quickly find hot, trending products:
Amazon Movers and Shakers: This category shows you the products that have jumped the most in sales rankings over the past 24 hours.
Amazon New Releases: This category shows the highest selling new products and future releases.
Amazon Best Sellers: This ranks products by both historical and hourly sales volume.
If you run a dropshipping ecommerce store, you can use these product categories to quickly find the new best-selling products to add to your store.
You can also read through the reviews to better understand why that Amazon product is trending, giving you more insight into emerging niches that can lead you to other popular products.
However, these tools aren't ideal for larger ecommerce stores that develop their own products, as many of these products may be fads that spike and then quickly die out after a few weeks.
For example, a product might be popular for a week and shoot up in the Amazon rankings because a famous influencer mentioned it in a recent video. However, interest in that product might die down after a few weeks when the video's engagement subsides.
So even though these categories are excellent for dropshippers to quickly add to their store, they aren't ideal product ideation tools if you're building a product and plan to release it several months from now.
Selecting The Most Profitable Products From Your Trending Products List
Now that you have a list of trending products to add to your ecommerce business, how do you choose the best ones?
Here are four criteria to help you choose the right products for your online store.
Brand Relevancy
It's tempting to offer as many top trending products as possible, as it seems logical that offering more products will lead to more sales, which will ultimately help your store generate more profits.
While this strategy sounds good in theory, niche brands that focus on selling a very narrow selection of items tend to be more profitable because specialization increases credibility, which allows them to charge higher prices for their products.
Credibility earned through specialization also gives you a competitive advantage over larger generic brands with much bigger marketing budgets.
For example, Native is an ecommerce brand that was just three years old when it sold for $100 million.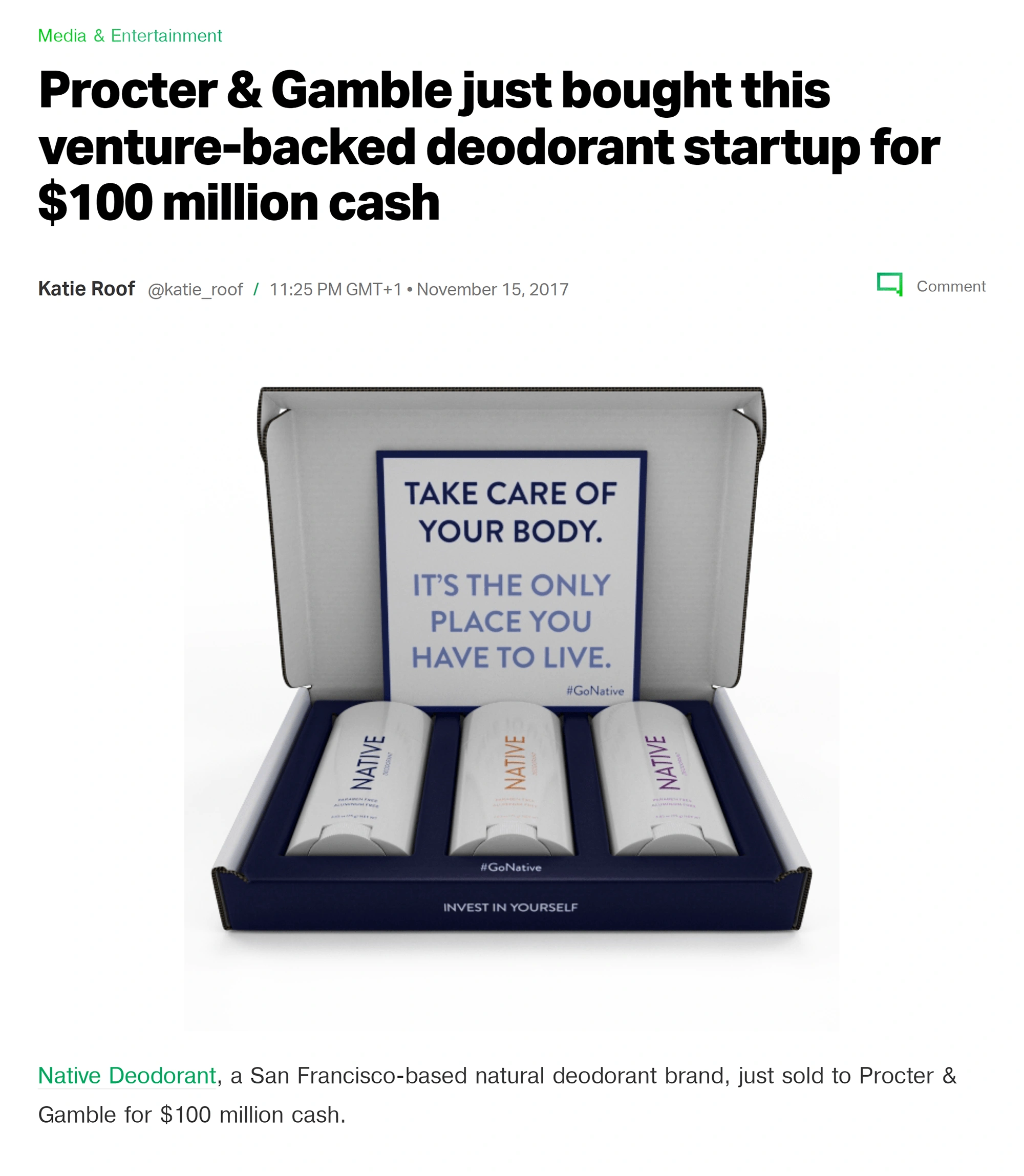 Its unique scaling strategy was specializing exclusively in creating the best deodorant product in the world.
To start narrowing down your list of trending items, decide on the product category you want to dominate.
Then, go through your list of potential products and cross off any that aren't directly related to your core product.
Long-Term Growth Potential
It can take several months to develop and launch a new product, so it's important to consider future demand when selecting a product idea.
If you miscalculate future demand and end up with a warehouse full of too many products, you'll have to either sell them for a significant discount (which can cheapen your brand) or give them away. Either way, your brand will take a loss.
So how do you identify emerging products with long-term growth potential from fad products that will likely die out in a few weeks or months?
We've found that analyzing a product keyword's search volume growth is one of the most reliable methods to estimate a product's future demand.
If a product keyword's search volume has steadily trended upward for the past several months, there's a good chance that demand for the product will continue to rise in the coming months.
Here's an excellent example of a trend that shows promising long-term growth potential.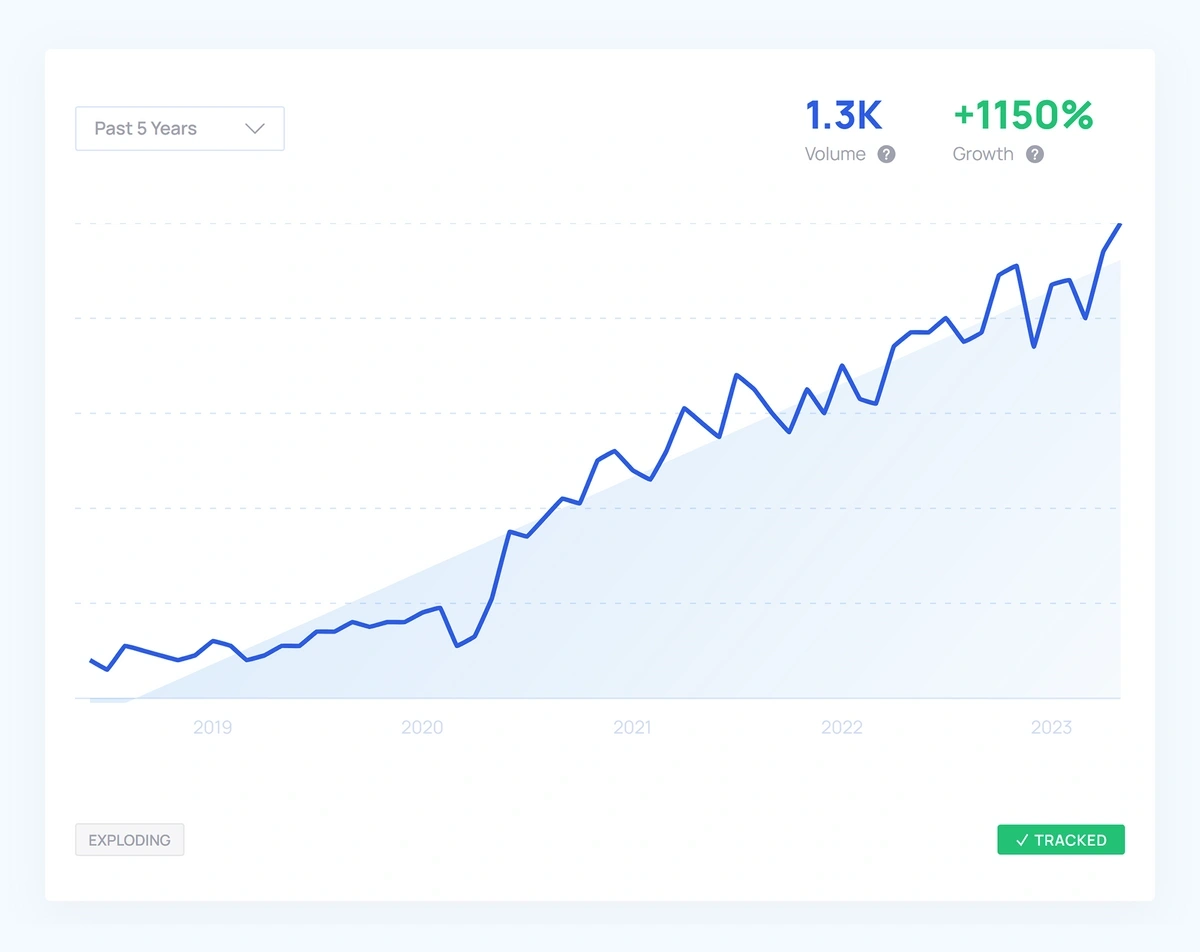 In contrast, if you notice the product keyword's search volume graph has seasonal peaks or only recently saw a dramatic spike in interest over the past few weeks, the demand is probably unstable.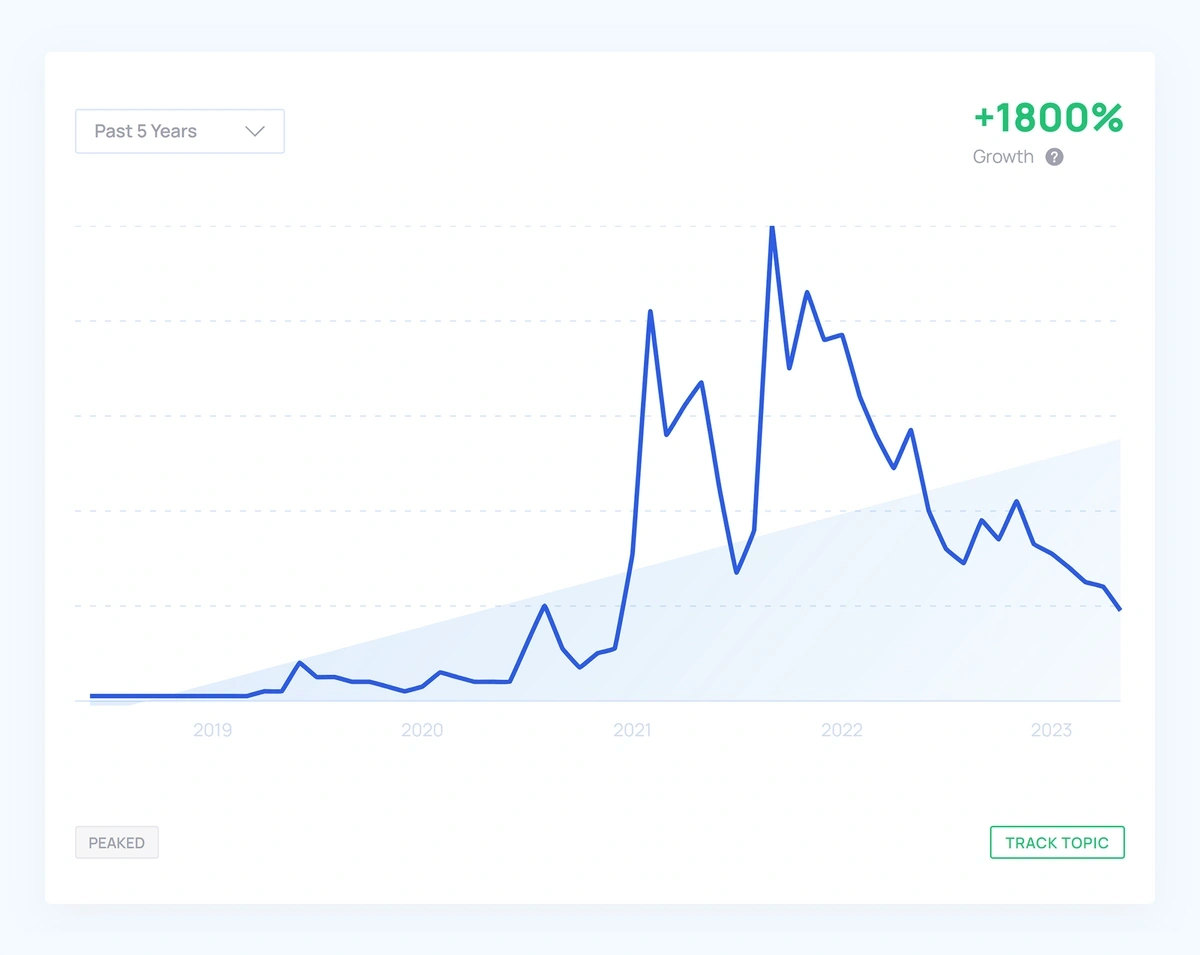 You can use a tool like Google Trends or Trends Search (an Exploding Topics Pro feature) to view a product keyword's historical search volume growth.
Alternatively, if you use the Exploding Topics product research tool, you'll notice a historical Google search volume graph next to each product keyword: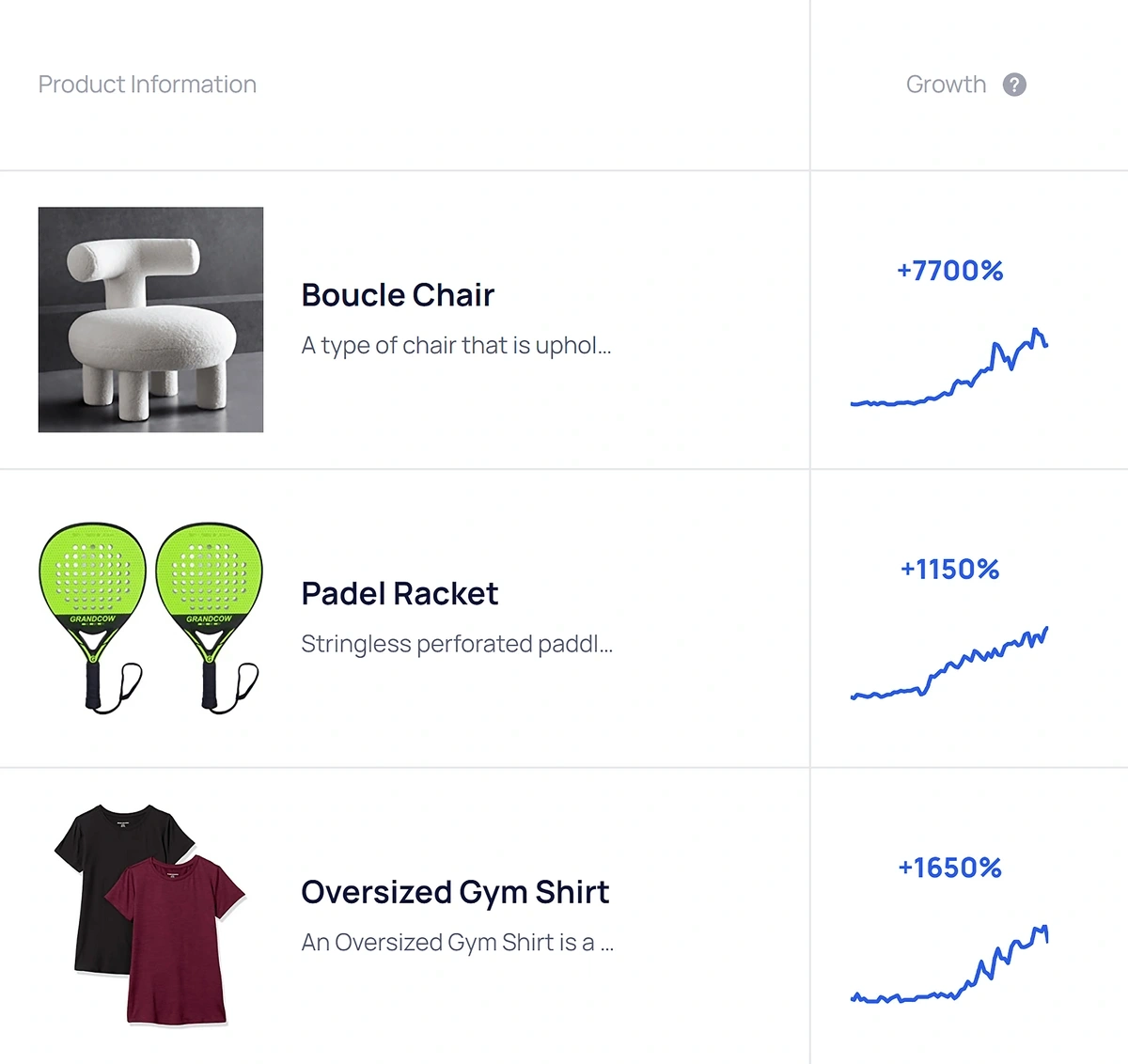 So your next step is to go through your list and check the historical Google Search volume trend for each product.
Profit Margin
A common mistake many newer entrepreneurs make is optimizing for revenue or sales rather than profit.
So instead of looking for the highest-selling or highest-priced items, narrow down your list by looking at the profit margins.
Most product research tools display the basic profit margin metric, but be sure to also factor in shipping costs, marketing costs, and even customer support costs (higher-priced products tend to require more customer service).
For example, outdoor furniture sets might sound like an excellent product at first glance because they're high-priced products, and keyword research tools show that it has substantial search volume: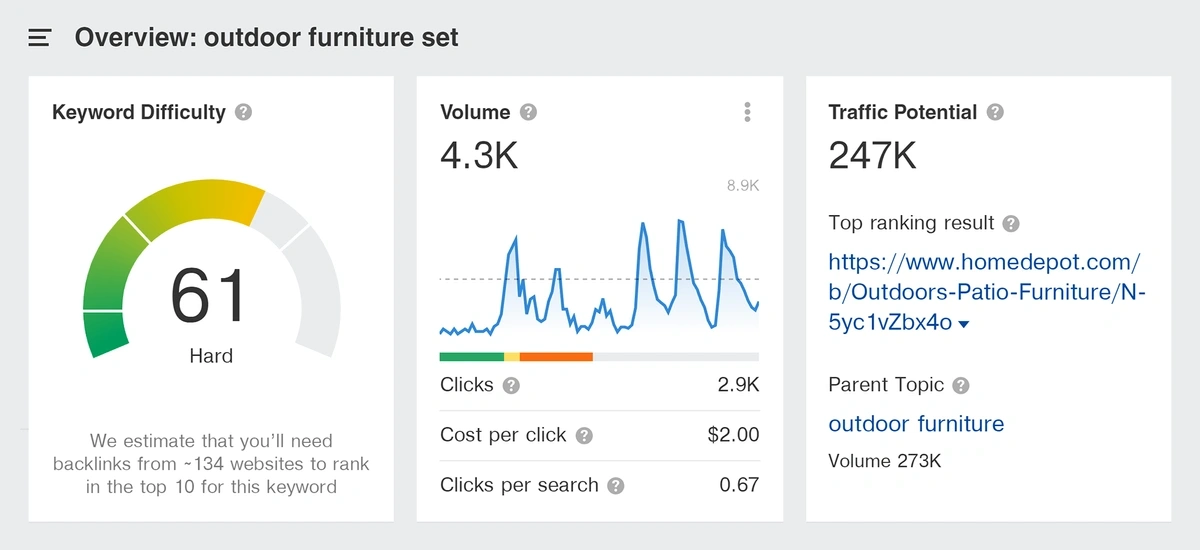 However, as you inspect it more closely, you'll find it's probably not the most profitable product for several reasons.
First, you can see that the keyword has very high competition, so it will be difficult to show up at the top of the Amazon search results. This means you may need to run paid ads or other expensive marketing campaigns, which increases the average customer acquisition cost and eats into your profit margins.
In addition, Amazon customers are conditioned to expect free shipping, and many automatically filter by free shipping: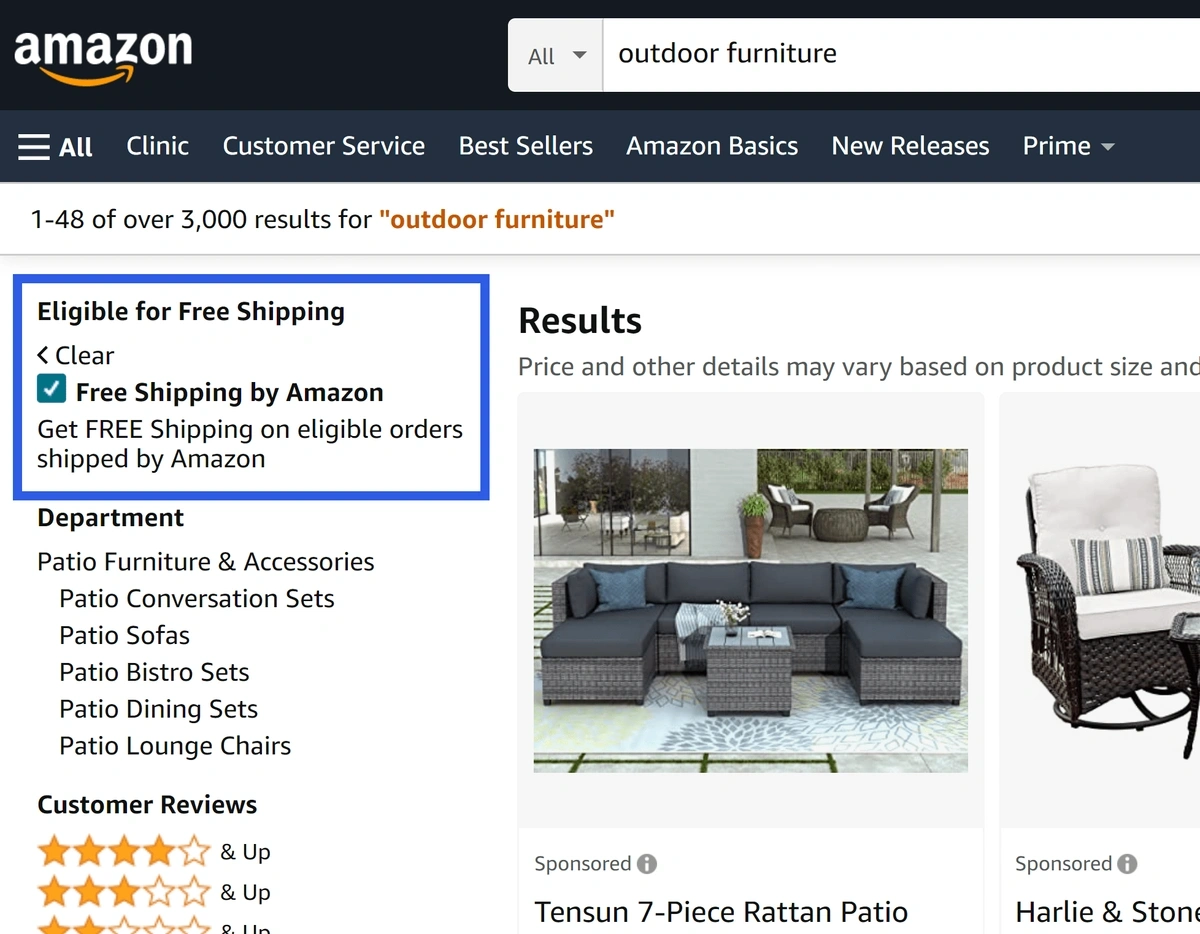 Unfortunately, shipping outdoor furniture is expensive, and if a set is damaged during delivery, you'll take a significant loss replacing it.
So instead of just looking at the difference between retail and wholesale prices/manufacturing costs, consider all other factors that can eat into your profit margins.
Start Finding Products Today
The process above can help you find the most promising products to sell on Amazon, though it's important to realize that there is no perfect product and the most important factor for success is to simply get started.
So go to step number one, open up a product research tool, and start creating a list of promising products.
You can even try out Exploding Topics' product research tool for just $1 for 14 days, which is plenty of time to make a list of promising products.