9 Key Food and Beverage Industry Trends (2023-2026)
You may also like:
This list will cover the 9 most important trends impacting the food and beverage industry right now.
The $7.44 trillion US food and beverage space is due for a shakeup.
And it's finally getting one: the food industry is investing in Ecommerce, robotics, and technology like never before.
So whether you're in the F&B industry (or just cover the space), here are the trends worth watching.
1. Food and beverage DTC sees massive growth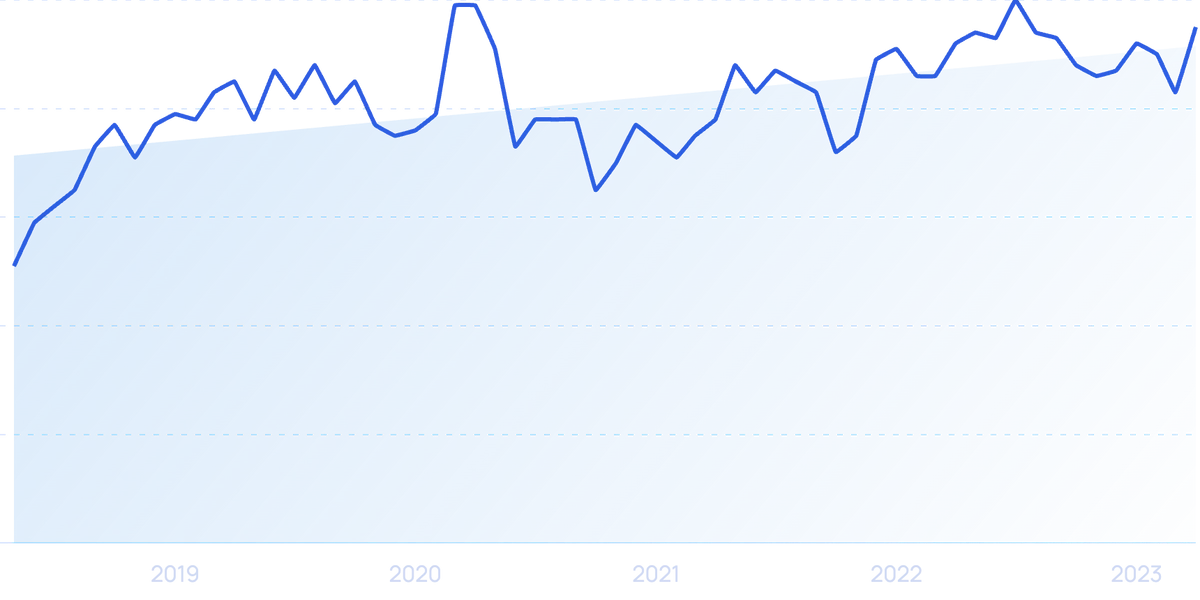 Searches for "food delivery app" have increased by 86% over the last 5 years.
Food and beverage is now the fastest-growing category in online retail.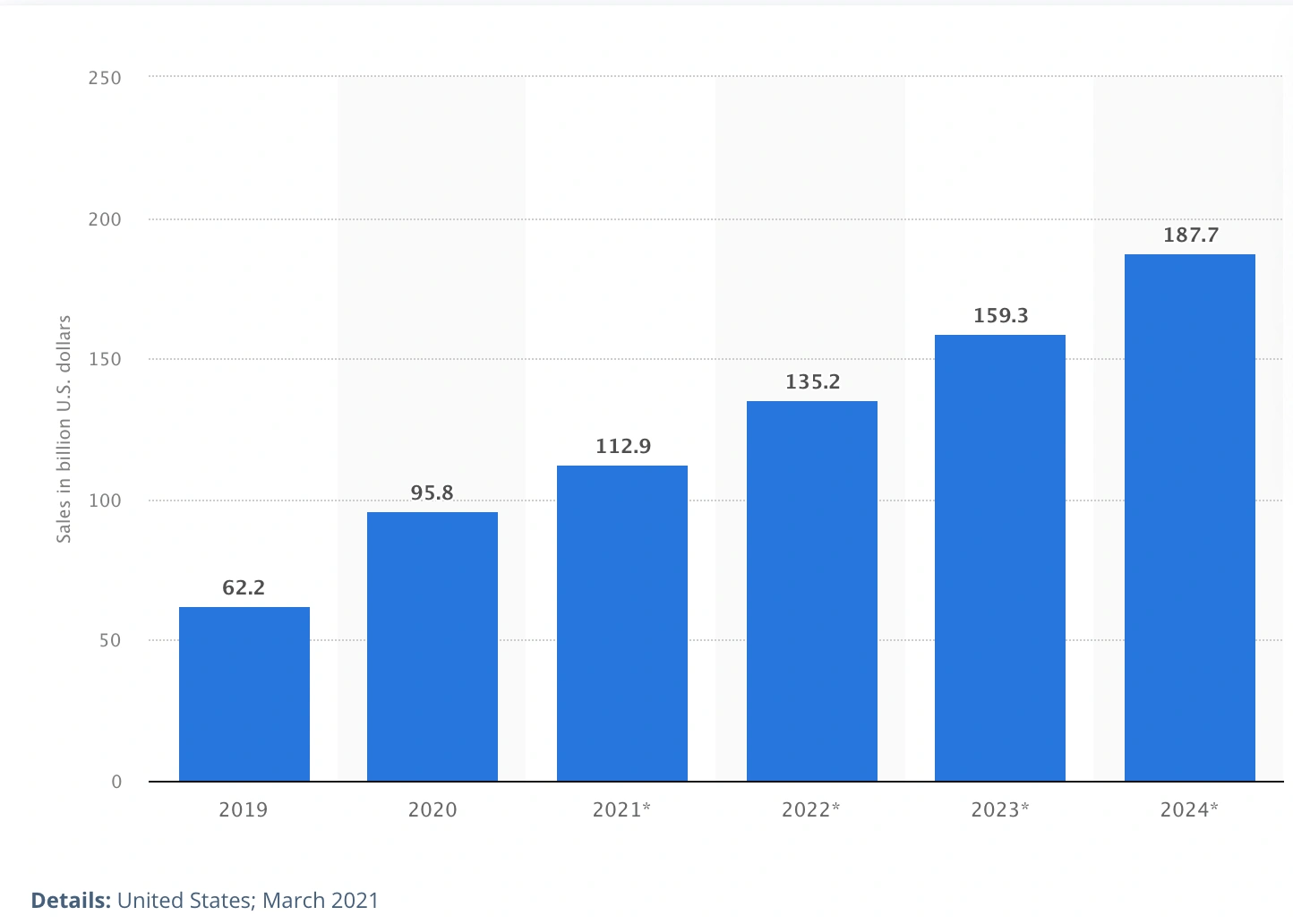 US online grocery sales are projected to hit $187.7 billion in 2024.
One reason is the COVID-19 pandemic.
To avoid the virus, many consumers ordered food online for the first time.
In the US, this led to a 110% increase in daily online grocery sales in April 2020 alone.
But even before the pandemic, ecommerce food sales were already growing quickly.
The DTC (direct-to-consumer) food segment is one of the fastest-growing sector in this space.
DTC brands cut out intermediary retailers. Which lets them capture more profit margin (and/or offer lower prices) than traditional players.
And because they control the customer relationship, food and beverage DTC companies can easily test new products and make adjustments on the fly.
Plus, DTC brands are free to push more lucrative purchasing options, like subscriptions.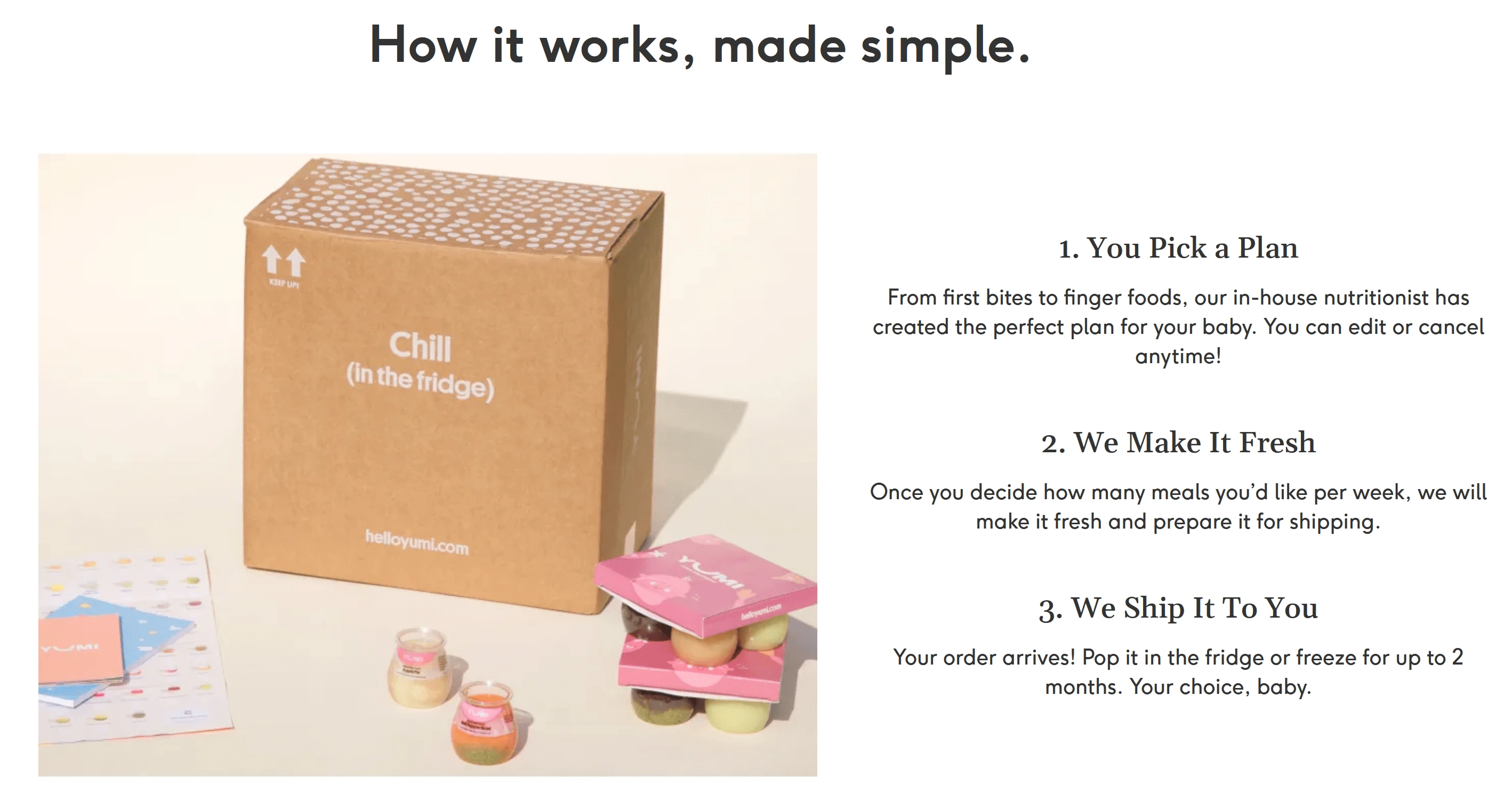 The DTC baby food brand Yumi offers a weekly subscription plan.
With all those benefits, it's no surprise that the DTC model is popular with investors.
In fact, 70% of CPG brands that receive VC funding have a DYC component.

Another common aspect of DTC food startups is a focus on underserved markets.
Strict diets are a perfect example.
For example: Laird Superfood.

Search growth for "Laird Superfood" has increased by 108% over 5 years.
This plant-based nutritional brand was started by champion surfer Laird Hamilton, and it's landed $51 million in funding since 2015.
Its focus? High-performance vegan athletes.
Magic Spoon is another example of a trending food and beverage startup.
Launched in 2019, Magic Spoon is a high-protein, low-carb breakfast cereal for adults. It caters to the gluten-free and keto-diet crowds.
Its founders report that business has been booming. And judging by search volume for the brand, that claim is likely true: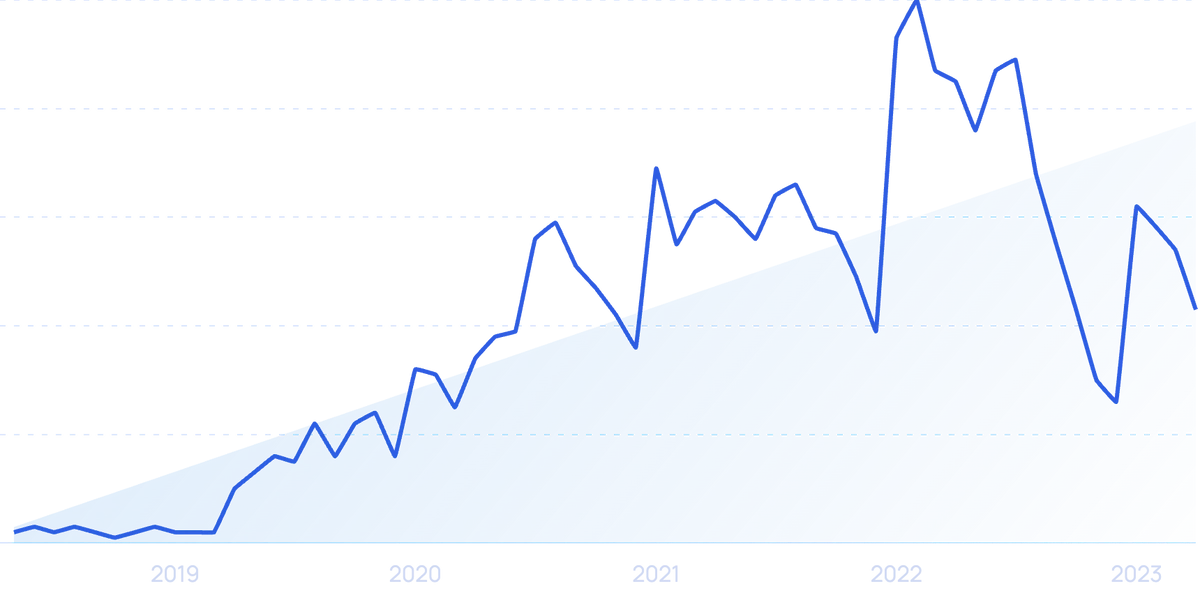 Search volume for "Magic Spoon" has grown by 2,050% over the past 5 years.
Any given strict diet can be the perfect initial market for a DTC food business.
Because it represents a clear, specific need.
But one that's too niche for the industry giants like Procter and Gamble to tackle.
And for established CPG brands, acquiring DTC brands is now a large engine of growth.
2. More robot kitchen assistants
Like the world of manufacturing, the food service space is starting to go all-in with robotics.
For example, Miso Robotics.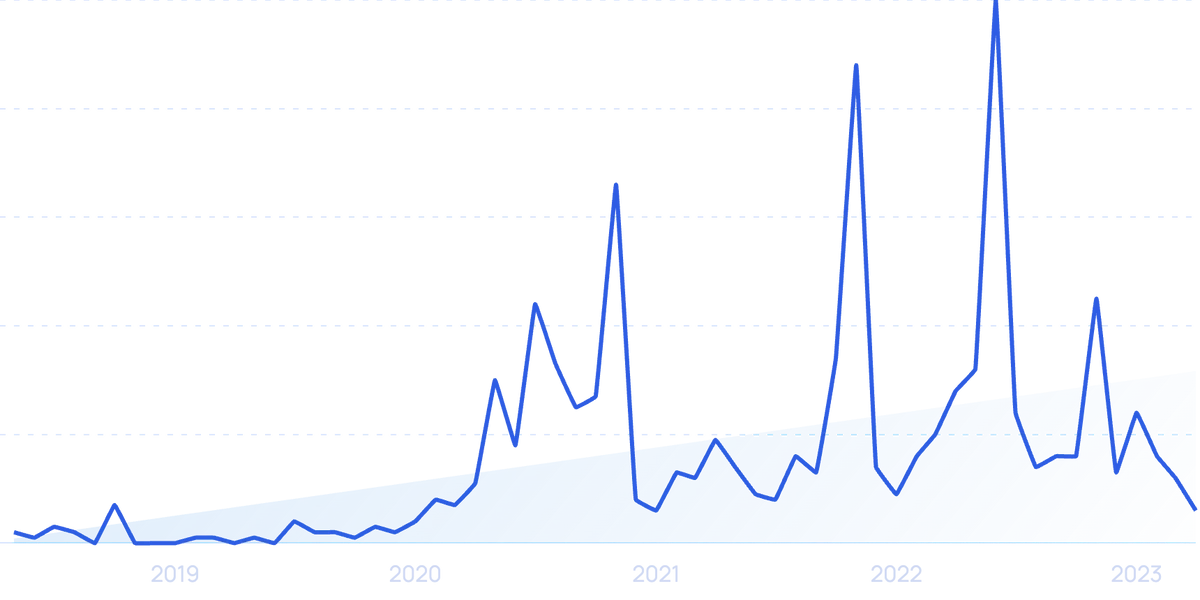 Searches for "Miso Robotics" are up 150% over 5 years.
Miso Robotics makes "Flippy", a cooking robot.
Flippy has 2 specialties: flipping hamburgers and working the fryer.
(It can work an entire grill or bank of fryers by itself, including cleanup and tool switching.)
But because it's AI-powered, Flippy is always learning and improving...and can even pick up new skills over time.
Flippy has already been installed in locations like the LA Dodgers Stadium, Arizona Diamondbacks Chase Field, and two CaliBurger restaurants.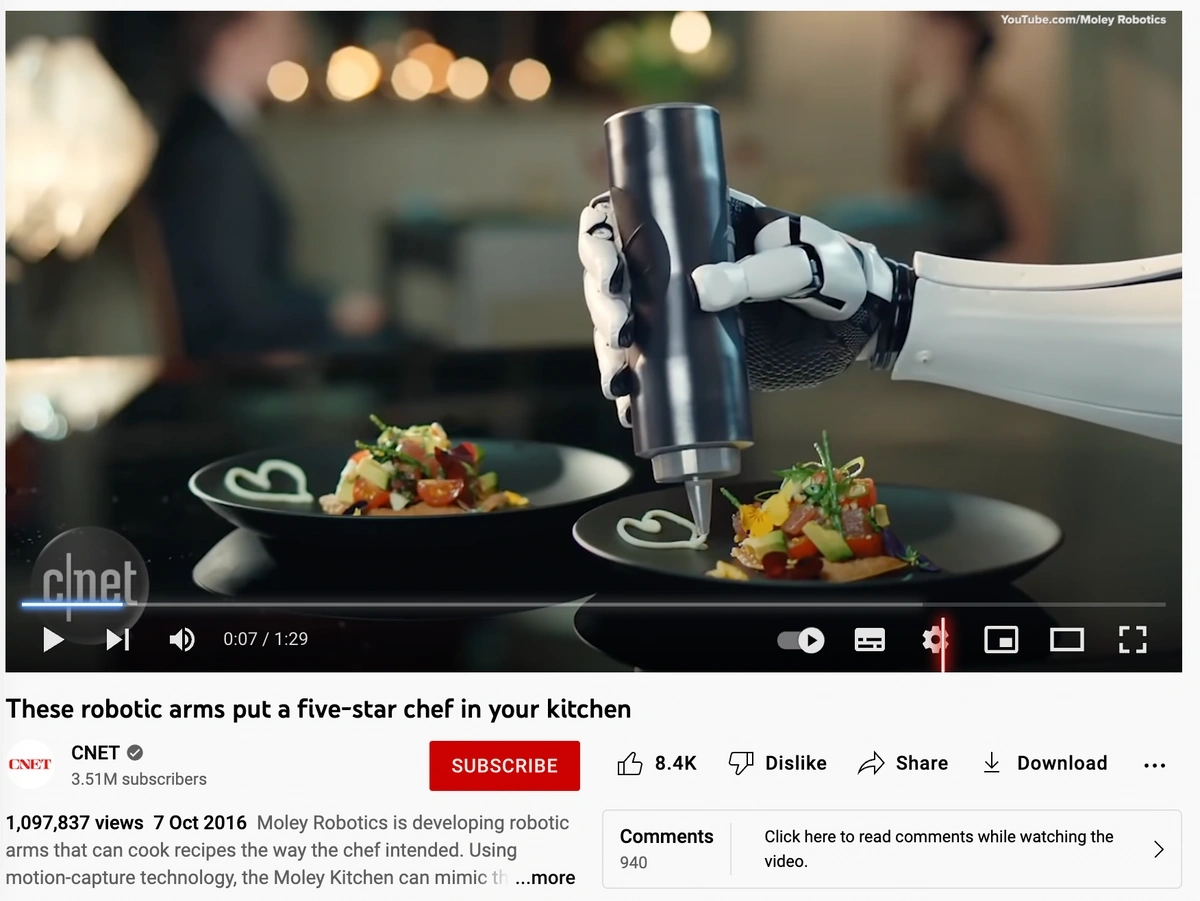 Example of a cooking robot in action.
And in 2020, it was announced that fast-food chain White Castle would be trying it out too.
But Miso Robotics isn't stopping there.
In the future, the company also plans to target the growing market of "ghost kitchens", like Travis Kalanick's CloudKitchens.
3. Vertical farming on the rise
It's estimated that by 2050, global water demand will increase by up to 30%.
At the same time, climate change is leading to drops in crop production losses.
Luckily, thanks to AgTech, we're now seeing the birth of a new era of sustainable food production.
Vertical farming is a major area within that space.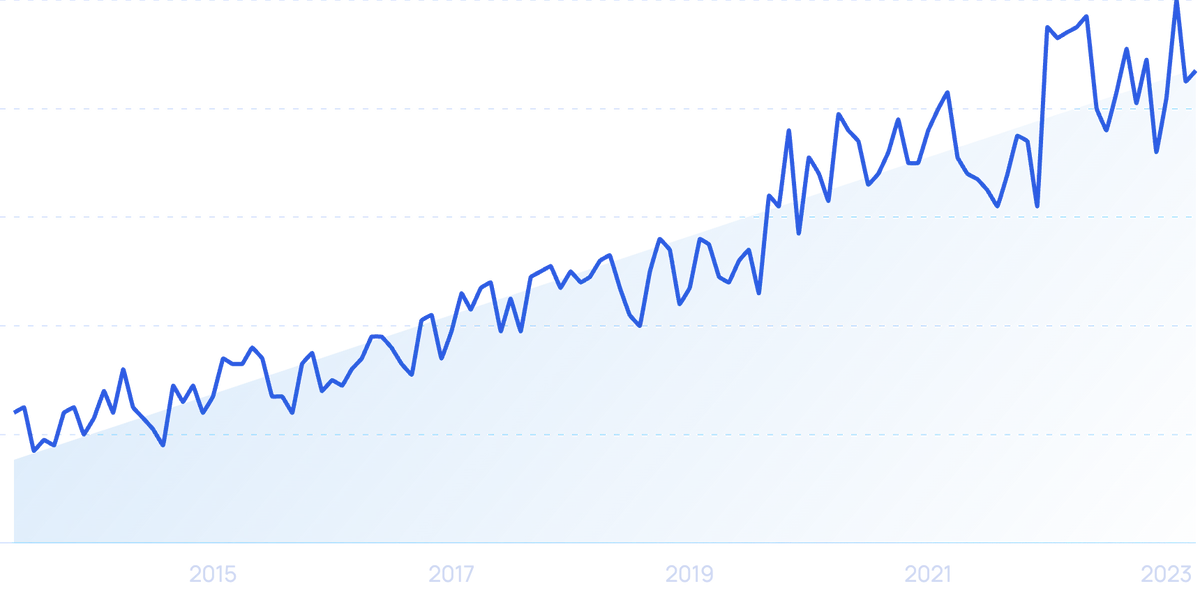 Search interest in "vertical farming" is up 262% over the past decade.
Vertical farms grow crops in massive, stacked shelf-like layers. Often inside tall, specialized warehouses.
The warehouses are carefully controlled for humidity, temperature, and light exposure so that the plants within them are grown as efficiently as possible.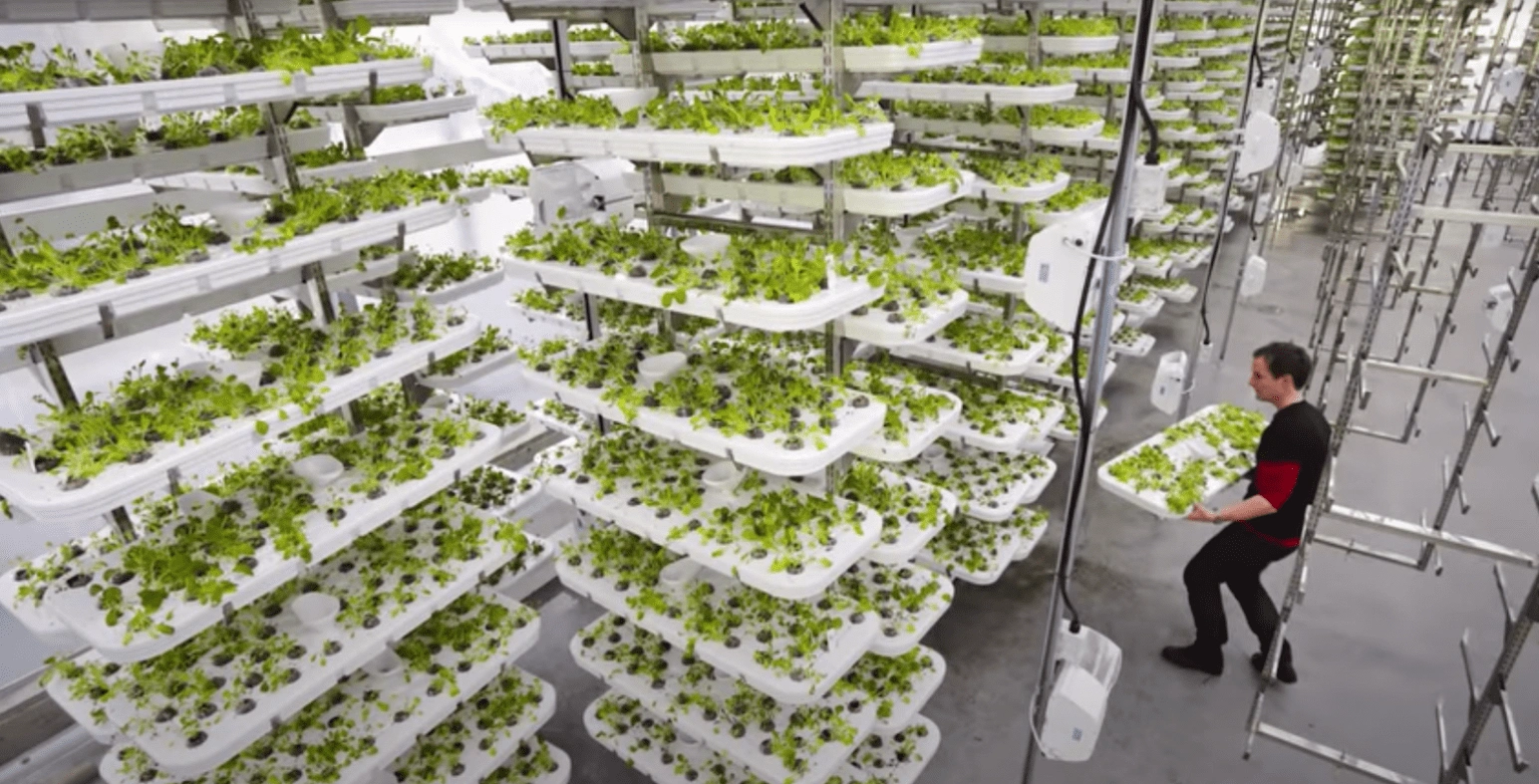 Image source: YouTube.
Vertical farming combines advances in machine learning, robotics, biology, and chemistry to offer large improvements over traditional farming.
Improvements that vertical farming can achieve include:
Higher yields per square foot (up to 600 times higher for wheat)
Up to 95% less water usage, thanks to advanced hydroponic or aeroponic systems
Less mold and E. coli risk, with fewer (or no) pesticides and herbicides
Year-round growth that doesn't rely on seasons
Protection from environmental threats like cold snaps, flooding, monsoons, hurricanes, and fires
And the technology is getting cheaper, too.
So much so that vertical farming is now viewed as a potential sustainable answer to the food shortages in Africa.
Software is eating the world. But soon, it may also be feeding it.
With a projected $19.86 billion market valuation by 2026, the vertical farming industry is ripe with opportunity.
Examples of companies involved in vertical farming include:
Plenty, a California-based vertical farming startup that's backed by Jeff Bezos and includes some ex-Tesla engineering talent.
AeroFarms, which runs the world's largest vertical farm: a 70,000-square-foot facility that produces up to 2 million pounds of leafy greens per year. (They also announced plans to build an even larger vertical farm in Abu Dhabi for R&D purposes.)
Unfold, launched in 2020 with $30 million in funding from Bayer and Temasek, focuses on developing new produce varieties with biologies specifically suited for vertical farms.
Intelligent Growth Solutions, a UK-based manufacturer of fully automated tower growth systems and shorter "Growth Stations".
Freight Farms and Grow Pod Solutions, which sell vertical growing environments built inside shipping containers.
Agricool, which uses shipping containers for urban farming in Paris.
Pipp Horticulture, manufactures moveable vertical grow racks with anti-microbial coating.
Controlled Environment Systems, which offers control systems, dehumidifying air handlers, insulated doors, and more. (As well as solutions beyond agriculture, like cold storage and clean rooms.)
4. Consumers demand vegan food options
Worldwide sales of plant-based "meat" products are expected to grow to over $35 billion in 2027.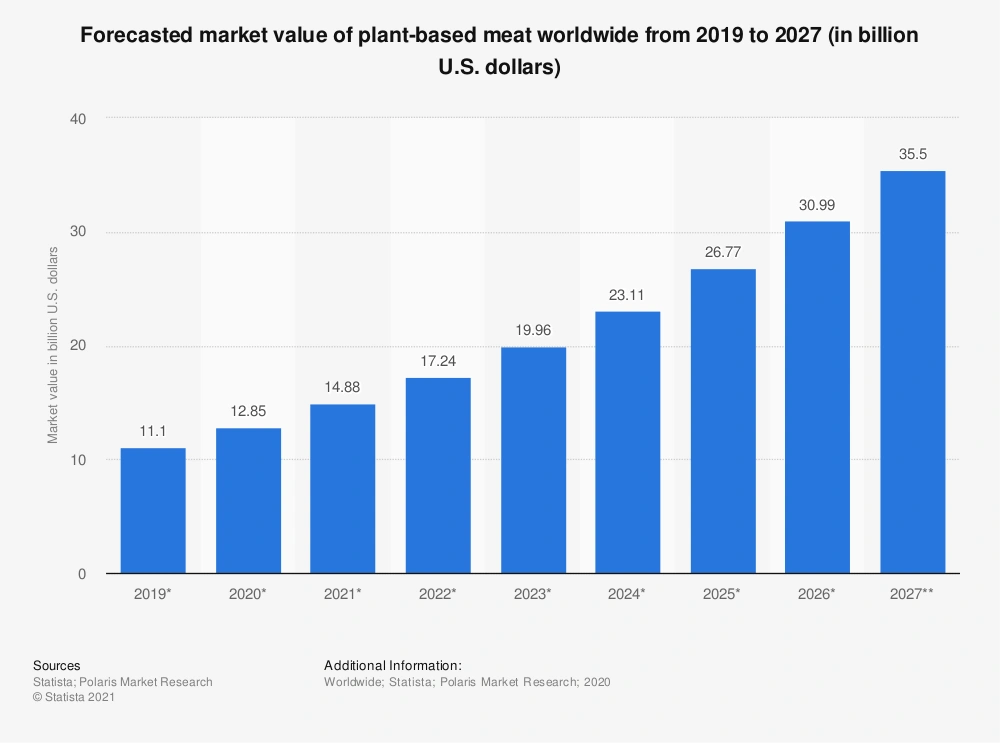 Image source: Statista.
And the number of vegans in the US increased from 1% of the population in 2014 to 6% in 2017.
While in the UK, the number of vegans increased by 62% from 2018 to 2019 — with 23% of the population planning to be vegetarian, vegan, or pescatarian.

Google searches for "plant-based diet" are up over 5 years.
Those numbers may be impressive.
In fact, most of the interest in plant-based food is actually coming from meat-eaters.
According to a study by The NPD Group, about 90% of plant-based food consumers aren't vegetarian or vegan.
That explains how retail sales of plant-based foods grew 11.4% in the US in 2019 (to $5 billion), compared to only 2.2% growth in the overall US retail food market.
One big reason for this popularity boost is that people are looking to improve their health.
(43% of consumers consider "plant-based" products healthier.)
Another reason is climate change, an issue Millennials and Gen Z are much more concerned about than older generations.
Growing demand for vegan food options is also being propelled by grassroots movements.
For example, Meatless Mondays and Veganuary: a global challenge to go vegan for the month of January. (In 2022, over 629,000 people signed up. That's up from 400,000 people in 2020 and 250,000 in 2019.)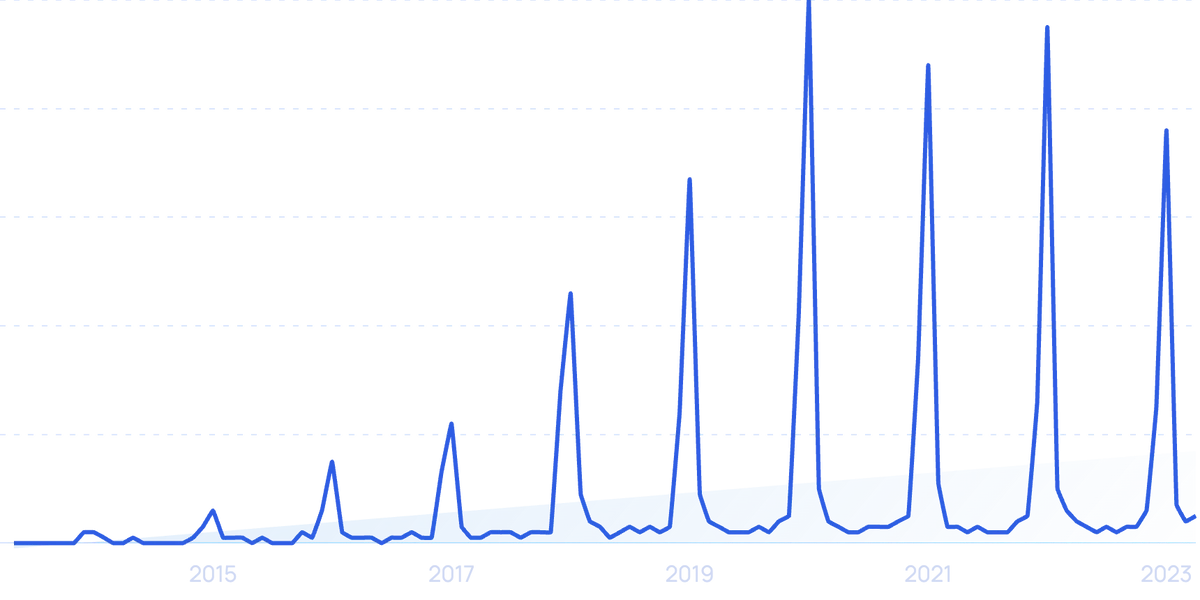 Search volume for "Veganuary" spikes every January.
Some of the biggest brands in this space are Beyond Meat (with a $0.93 billion market cap as of this writing) and Impossible Foods (valued around $7 billion in 2022).
Those two brands of vegan meat have been served (at least in test markets) at KFC, Burger King, Carl's Jr., Hardee's, and more.
But they have plenty of competitors — big and small.
Like Nestle's new "Vuna" vegan tuna (under the Garden Gourmet brand). As well as Field Roast and Yves.
Dairy alternatives are on the rise as well, with global sales expected to rise from $22.6 billion in 2020 to $40.6 billion in 2026.
Growing products in this category include:
Oat milk, including the Swedish startup Oatly which almost tripled its sales from $68 million in 2017 to $200 million in 2019.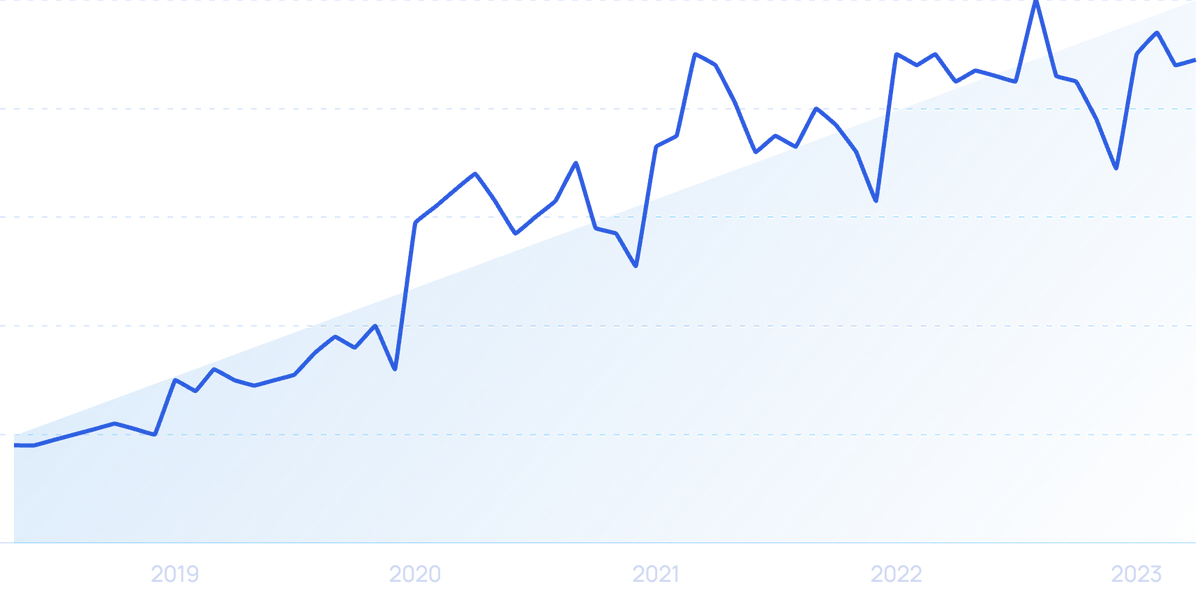 Searches for "oat milk" are up 394% in 5 years.
Almond Cow: a kitchen appliance that lets you make your own plant-based milk.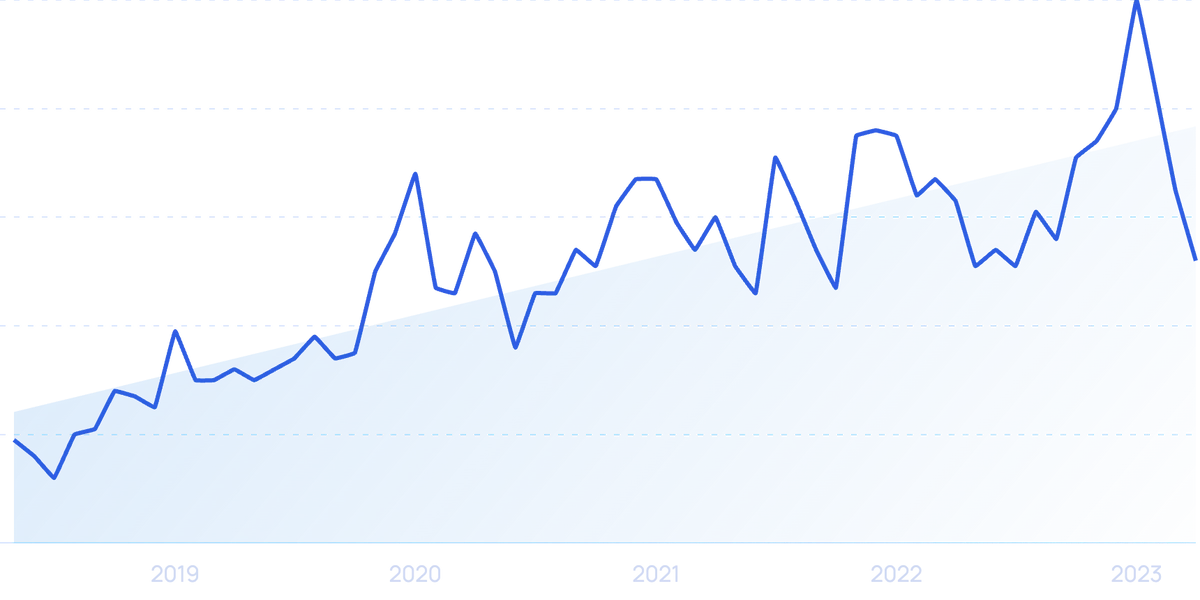 Search volume for "Almond Cow" has increased by 173% in half a decade.
And vegan cheeses made by companies like tapioca-based Daiya, grain-based Field Roast, and almond-based Kite Hill (which has raised $75.5 million since being founded in 2010).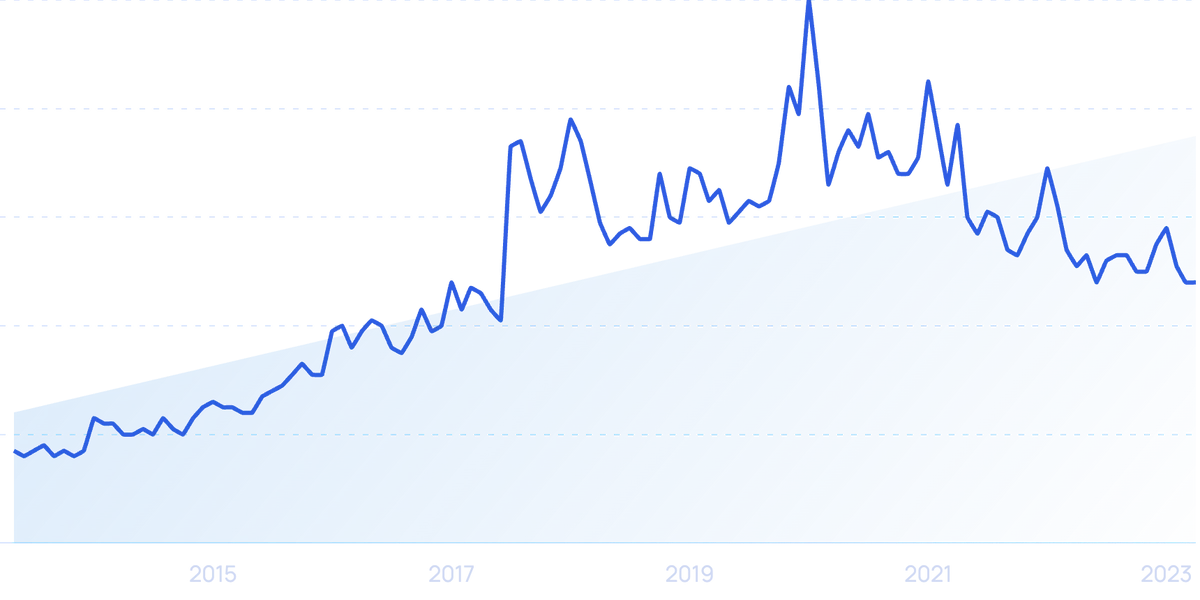 Searches for "vegan cheese" are up 182% in 10 years despite a recent drop-off.
Alternatives to more niche products are taking off too, like mushroom jerky and vegan collagen.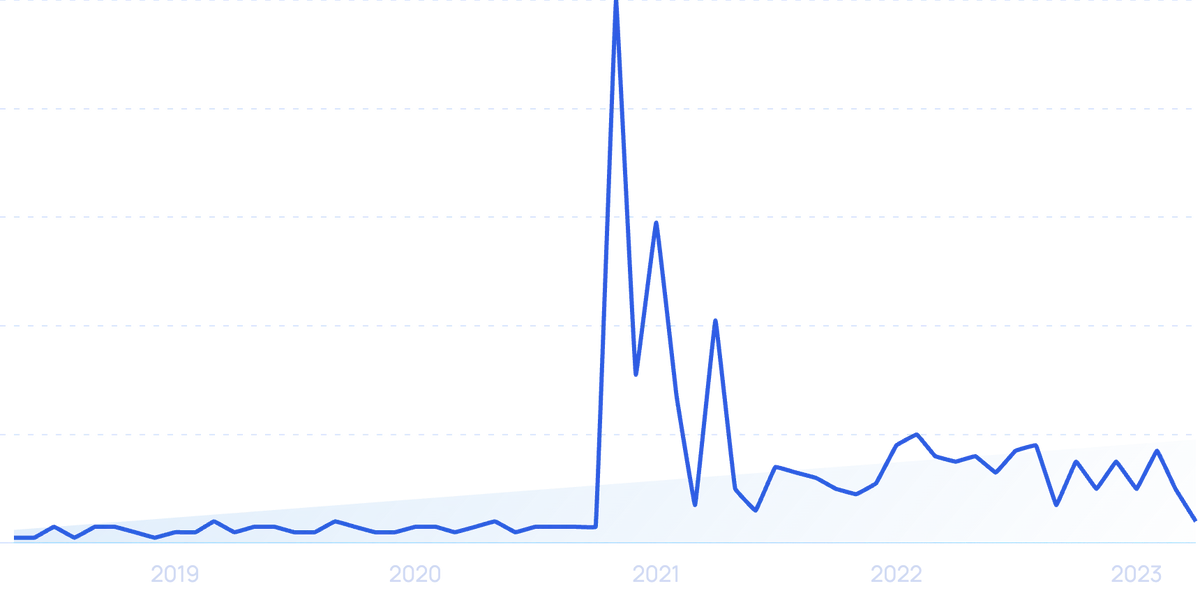 Although the topic may have peaked, searches for "mushroom jerky" have increased by 300% in 5 years.
Outside of food, sales of vegan and plant-based footwear, clothing, and beauty products are also growing faster than their non-vegan rivals.
5. Connected kitchens go mainstream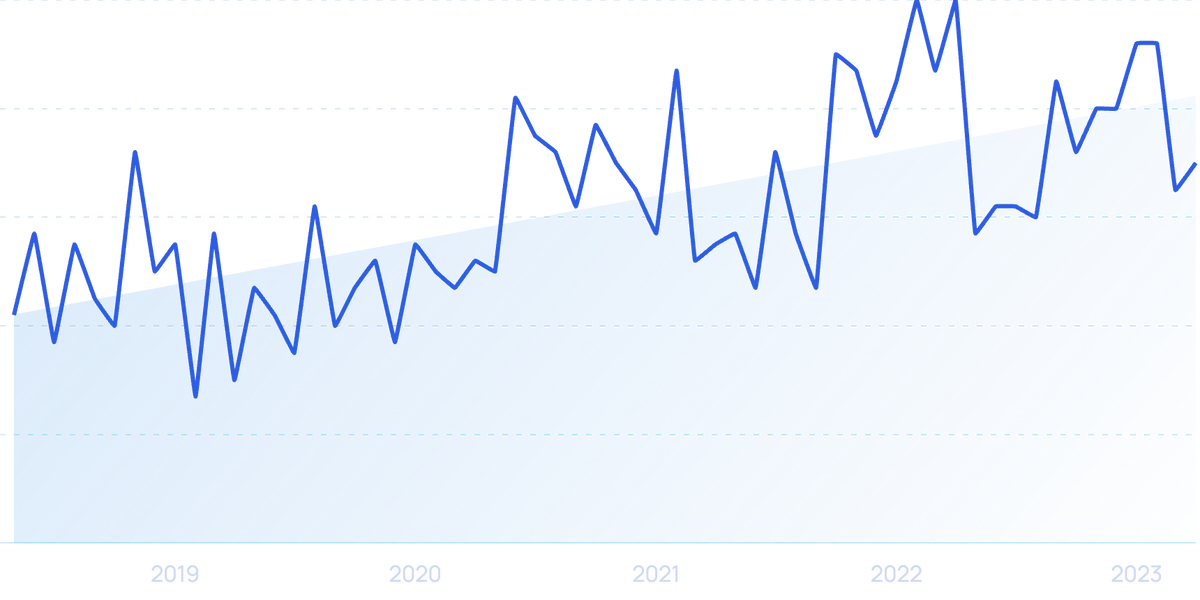 Searches for "connected kitchen" are up over 5 years.
The worldwide smart kitchen appliances industry is worth an estimated $13.18 billion.
And it's expected to grow at a compound annual growth rate of 18.6% through 2028.
While WiFi or Bluetooth-enabled appliances were already growing before COVID-19, the pandemic has pushed interest higher.
54% of Americans say they're cooking more now, and 51% of those say they'll continue to do so even after the pandemic ends.
In the US the three largest segments of connected kitchens are smart refrigerators, smart ovens, and smart cookware and cooktops.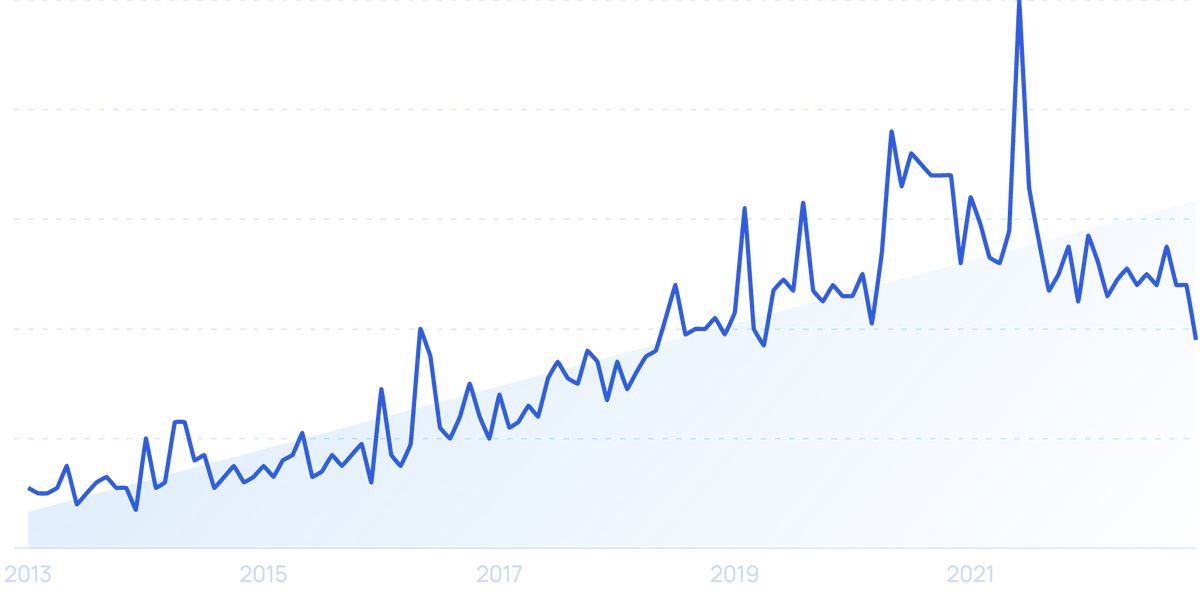 Search growth for "smart refrigerator" is up 146% in 10 years.
However, smart dishwashers are also projected to grow quickly.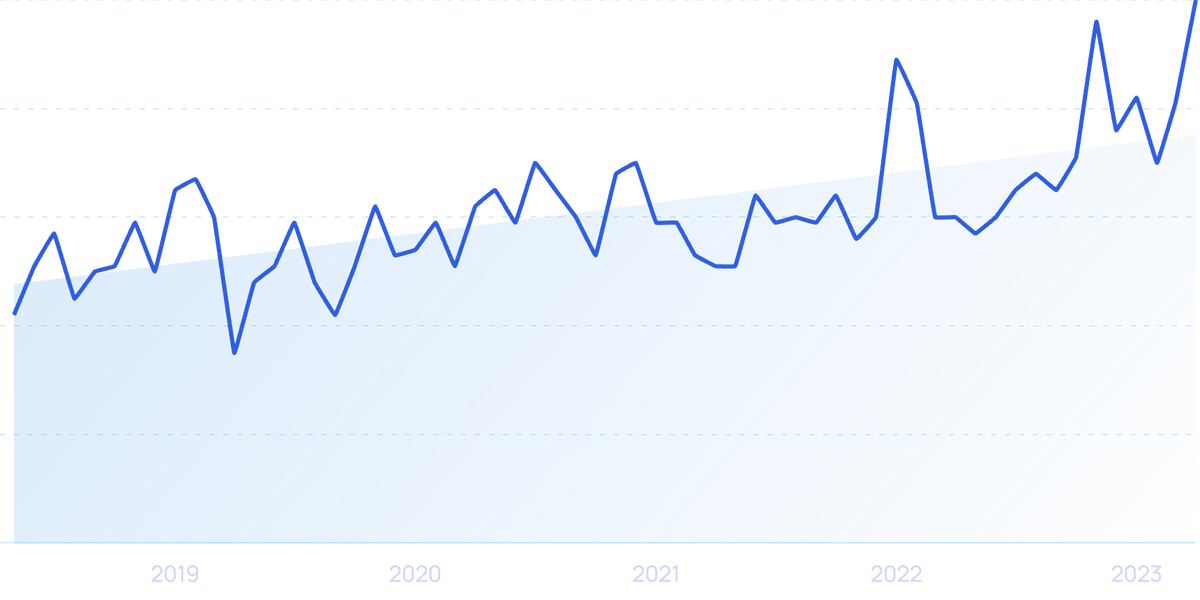 Chart showing 137% increase in Google search demand for "smart dishwasher" over 5 years.
There are also a number of other smart kitchen gadgets.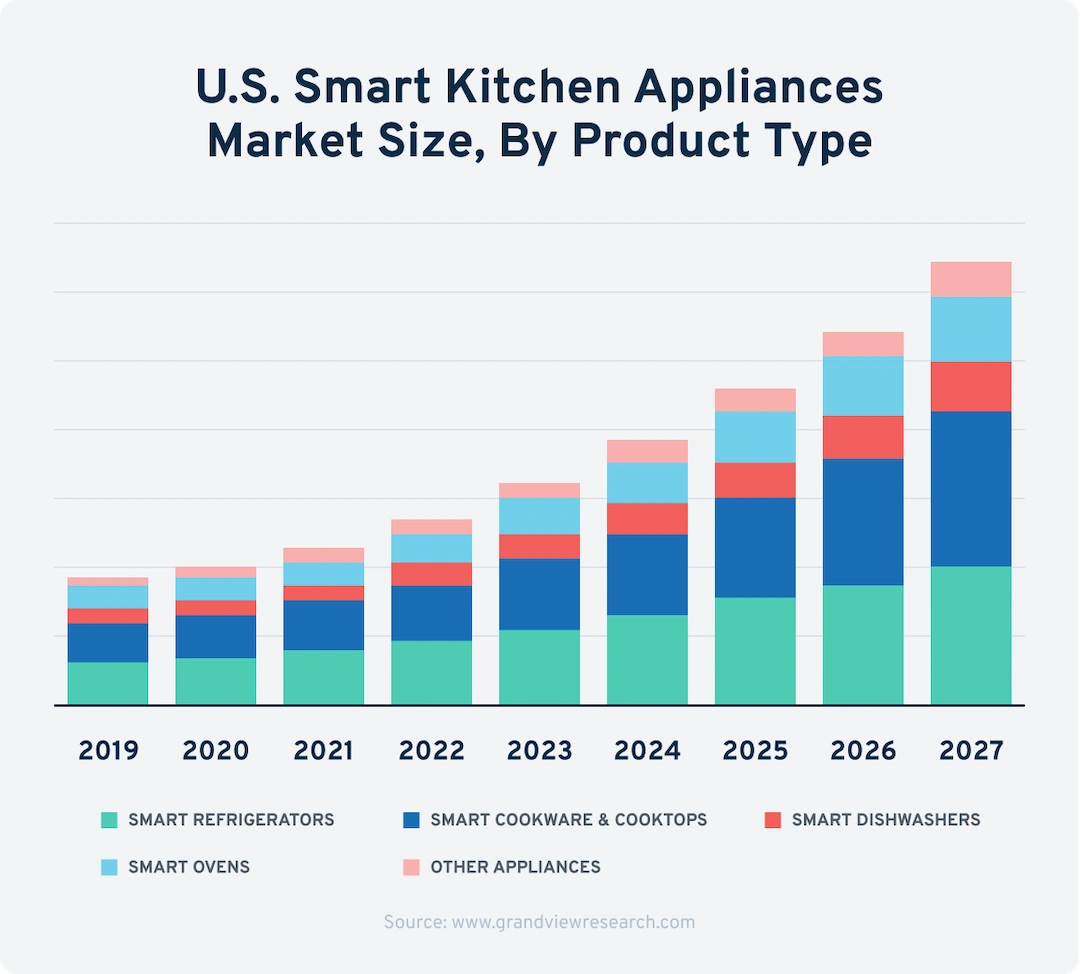 US market size of smart kitchen appliances by product type.
The main smart refrigerator brands are mostly the same for traditional fridges: familiar names like LG, GE, Kenmore, Samsung, Whirlpool, Bosch, etc.
Most smart fridges have WiFi, and many can ping your phone if the door has been left open or the water filter needs replacing.
Some have touch screens for making notes and lists, ordering groceries, playing music, and even looking inside via interior cameras.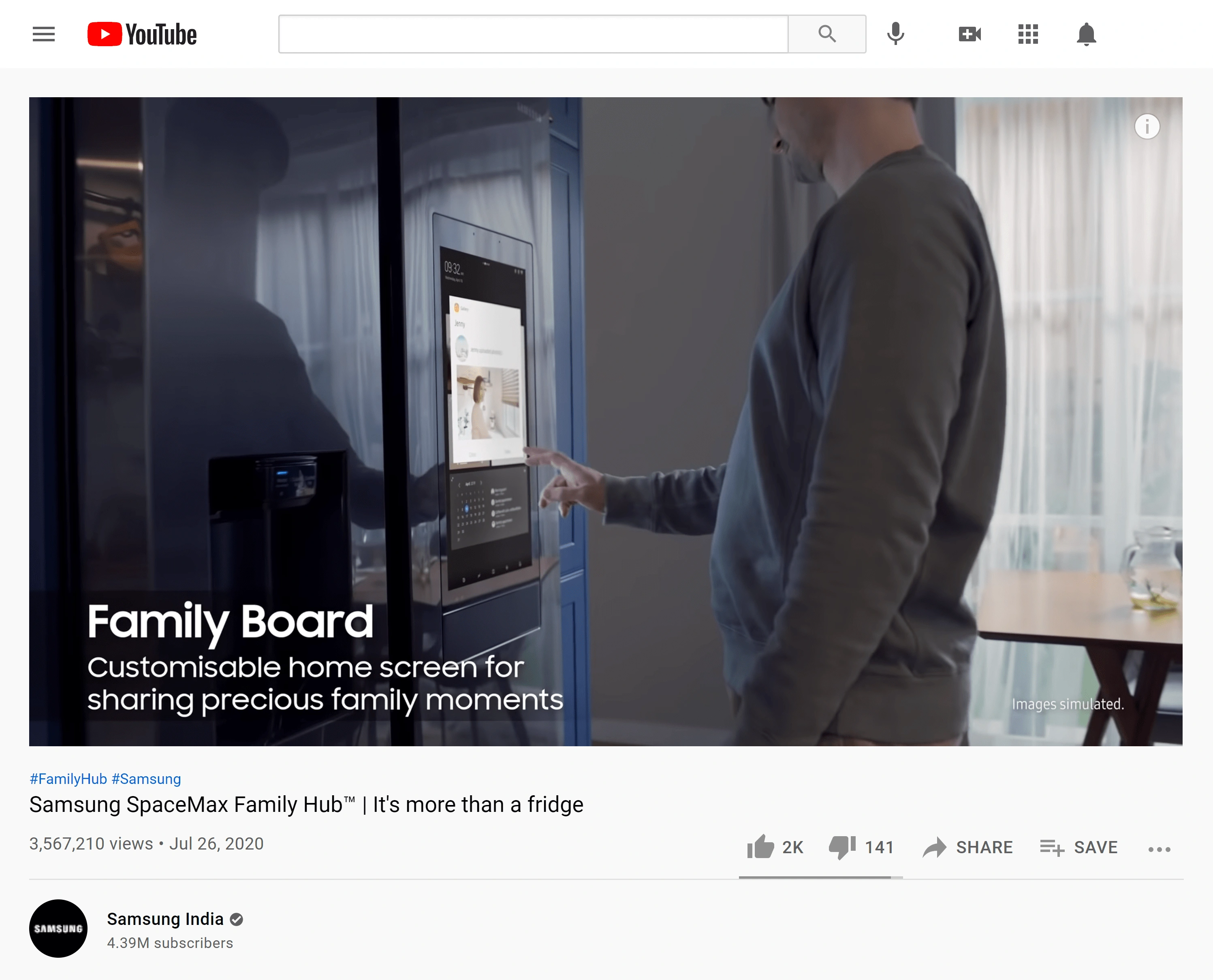 Smart refrigerator being used.
Many of the same major brands that offer smart refrigerators also offer smart ovens.
Smart ovens come in two main forms: full-size and countertop.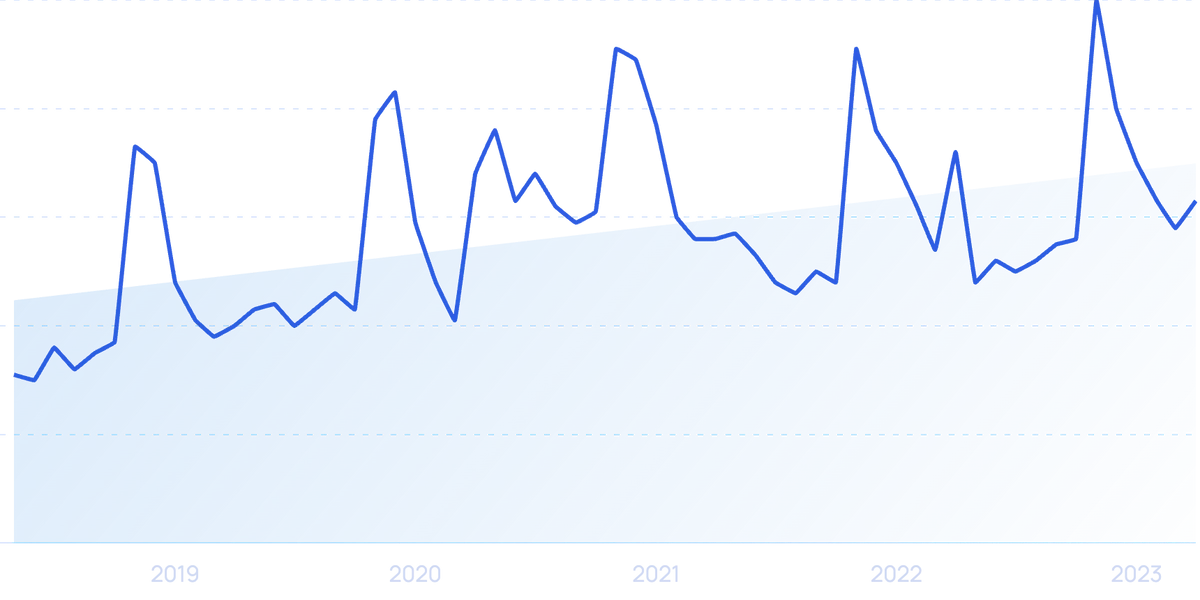 Searches for "smart oven" are up 103% over 5 years.
Full-size smart ovens usually come as part of a full range with a stove top.
They commonly include features like voice control, package barcode scanning for premade meals (to load cooking time and temperature), finer temperature control or multiple temperature zones, moisture sensors, and companion apps to let you control and monitor what they're doing from anywhere.
Some smart ovens also integrate with recipe apps and adjust themselves based on what the recipe calls for.
Whirlpool and its subsidiary KitchenAid have models that work with Yummly, which it acquired in 2017. GE, LG, Bosch, Thermador, Siemens and others work with SideChef. While LG, Electrolux and GE integrate with Innit.
There are also smart countertop ovens. These are smaller: usually around 15-25 inches wide.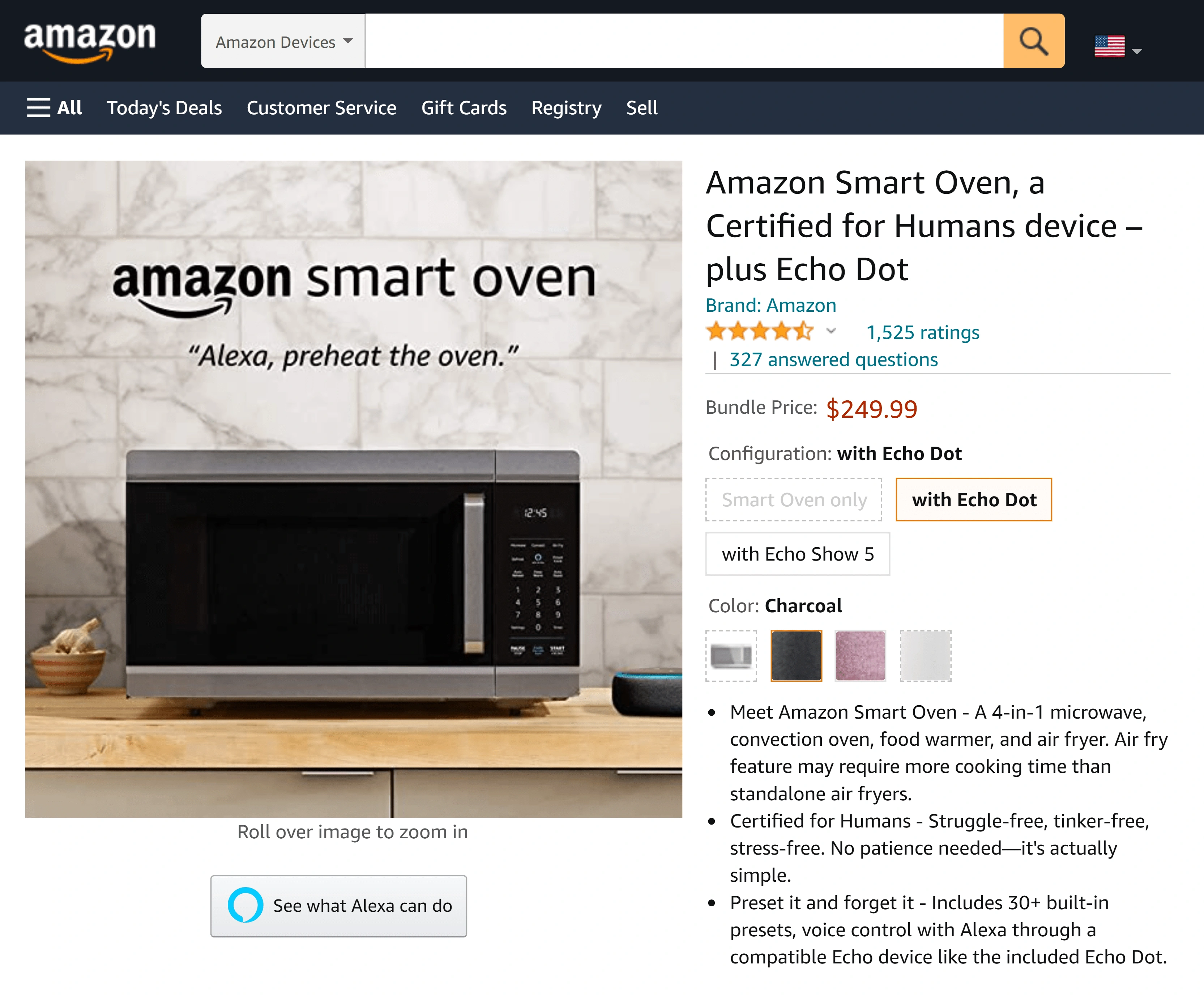 Example of a small, countertop oven with connectivity features.
But they pack in multiple functions like convection baking, air frying, and sometimes steaming and microwaving.
And they often cost much less: usually around $200-$600.
Unlike the other appliances we've covered so far, non-traditional brands lead the smart countertop oven category.
Breville makes a whole range of smart countertop ovens. And Whirlpool owns the smart oven brand WLabs.
But many of the names in the smart oven space aren't as well-known.
Like Tovala, which pairs a smart countertop oven with a weekly meal delivery service.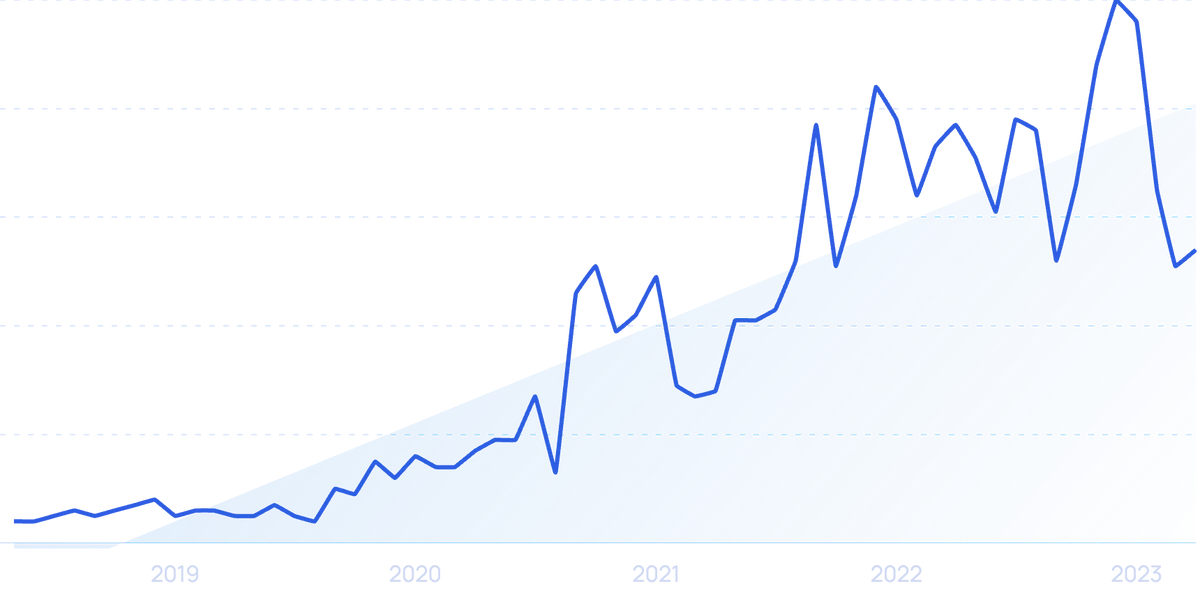 Searches for "Tovala" are up 1,250% in 5 years.
Tovala has also partnered with LG to have the larger company's smart ovens detect meals from its meal service. As well as with Beyond Meat, to include the vegan meat in some of Tovala's meals.
Tovala has even partnered with rival food brands like Eggo, Bagel Bites, Amy's, and Trader Joe's so that its ovens can easily cook those brands' products based on their labels.
The Chicago-based startup has taken $68.6 million in funding since it started in 2015, including a $30 million Series C at the start of 2021.
Brava is a more expensive option, with models starting at $1,000+ (compared to Tovala's $299).
Brava offers an optional paid membership program called Brava Plus, which includes guided recipes and a chef support line.
The startup was acquired by Middleby last year for an undisclosed sum.
June sells a smart oven for $499 that includes a built-in camera meant to identify different ingredients in order to cook them automatically.
The startup behind it was founded in San Francisco in 2013 and has taken $29.5 million in funding since then.
Smart cooktops and smart cookware are also growing product categories with several interesting players.
Hestan Cue offers a Bluetooth-connected countertop burner, smart pan, and companion app for guided cooking.
At each step of a given recipe, the burner adjusts the temperature as needed.
While the pan communicates with the burner so it knows when and if to tweak the settings to keep the temperature right. (The Californian startup has also designed similar tech for GE's Café brand.)
Samsung's smart cooktops can pair with its hoods, turning the fan on automatically when the cooktop is in use.
BuzzFeed has partnered with Cuisinart to make the Tasty One Top, a smart induction burner that works with BuzzFeed's Tasty app.
SmartyPans doesn't sell a cooktop but does sell smart pans.
With the companion app, the pans can weigh ingredients and walk users through food prep. The startup has raised $1.3 million since it was founded in 2015.
For smart dishwasher brands, many of the same big names are back again.
The most basic smart dishwasher function is showing your cycle status in an app, and letting you lock and unlock the controls from your phone.
But more interestingly, smart dishwashers from LG, GE, Whirlpool, and Kenmore can automatically reorder detergent from Amazon when you run low.
Other smart kitchen companies and products include:
Drop, which makes a smart scale and a recipe app that's focused on integrations. The Dublin-based startup has partnerships with Bosch, Electrolux, GE, Instant Pot, Kenwood and Thermomix. And it raised a $13.3 million Series A in 2020.
Instant Pot's "Smart WiFi" model of the popular electric pressure cooker.
Meater is a smart wireless meat thermometer that originally launched on Kickstarter in 2019. The product is made by UK-based Apption Labs.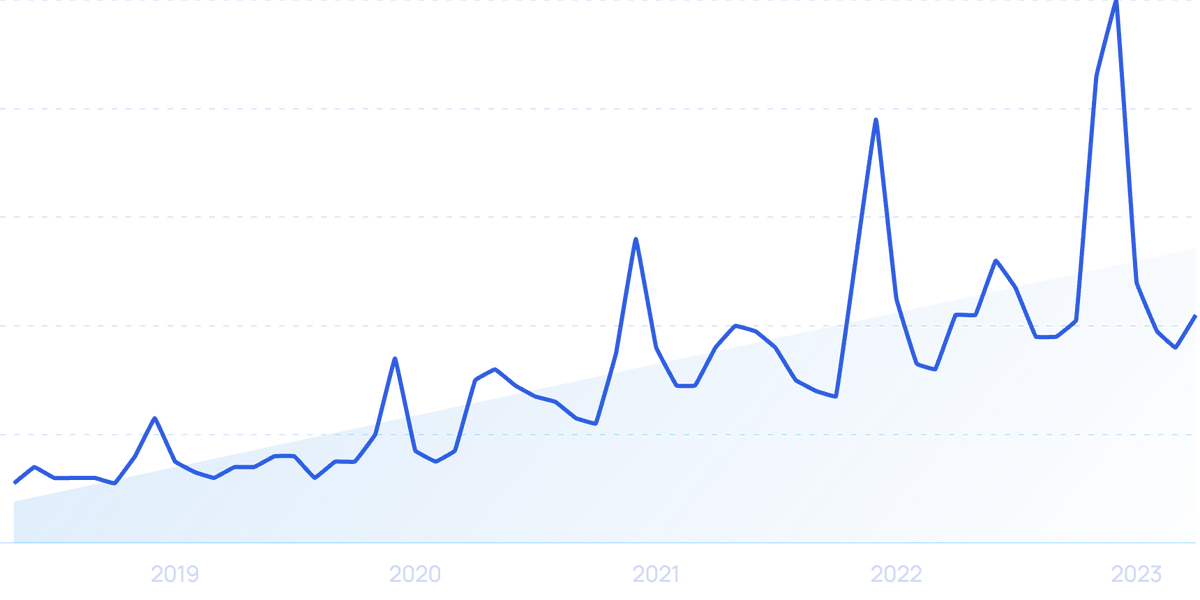 Searches for the "Meater" smart thermometer have been increasing rapidly, growing 281% in 5 years.
As well as smart grills, smart microwaves, and smart coffee makers.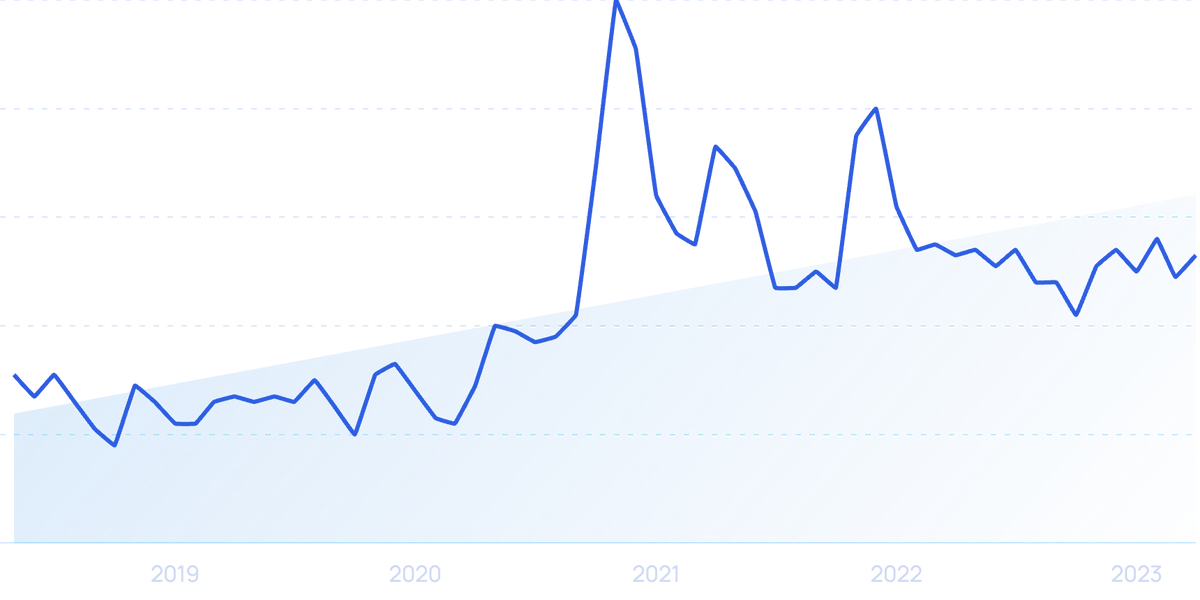 Searches for "smart grill" are up 70% during the last 5 years.
6. Home cooks find inspiration on social media
Americans are cooking at home more often these days.
A study by Hunter found that Americans are cooking 51% more often compared to pre-pandemic levels. They're also baking 34% more.
In fact, the study found that people are actually enjoying cooking and baking more than ever, and they report being more creative in the kitchen.
A large driver of this food trend is social media.
During the lockdown days of the pandemic, people went crazy for food videos and recipes on social platforms.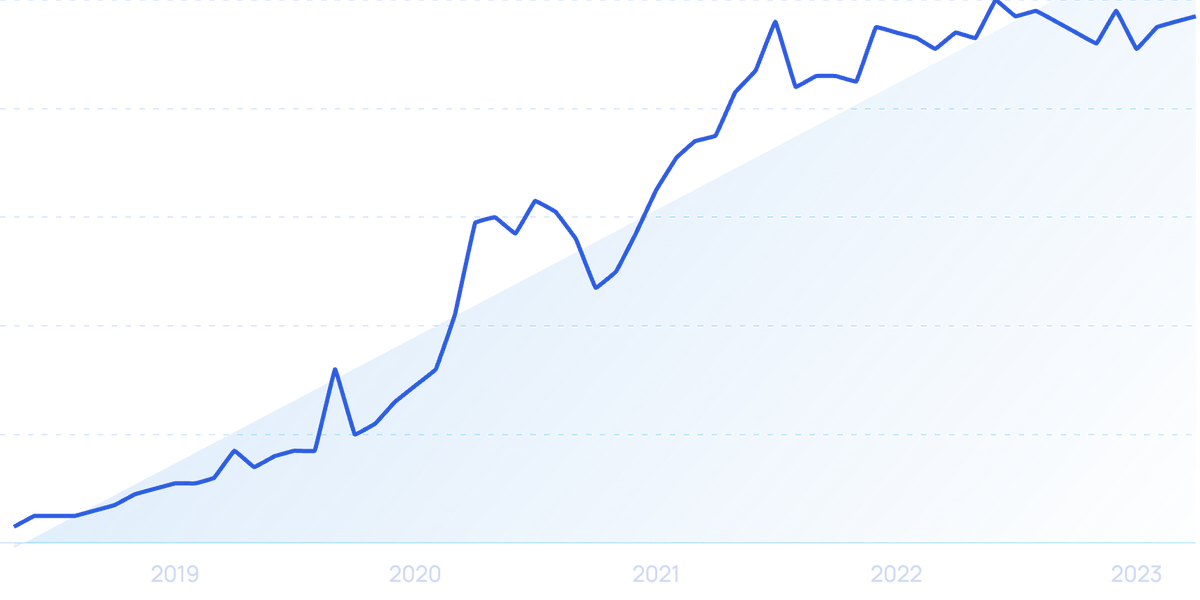 TikTok is one of the most popular social media apps for sharing recipes and how-to cooking videos. The social media platform has grown 3,133% in 5 years.
Research shows that individuals are 5 times more likely to use a recipe they found on social media versus recipes they saw on TV.
A study from late 2020 found that more than 70% of people prefer to get their recipes from social media instead of from a cookbook.
Foodie influencers and brands have exploded on social media in the past few years.
Tasty, Buzzfeed's cooking arm, has over 43 million followers on Instagram and over 96 million followers on Facebook.
Of course, celebrity chefs like Gordon Ramsay and Ree Drummond have millions of followers, but more unexpected are the regular people turned food influencers.
For example, naturally.jo posts perfectly staged photos of food on Instagram and had amassed around 1.5 million followers before turning 20 years old.
Mariam, a 23-year-old, posts recipe videos on TikTok for her 7 million+ followers.
Even people who've never cooked before are being inspired by food posts on social media, and these posts often go viral.
One example is the whipped coffee craze that took off in early 2020.
The premise of the recipe comes from South Korea where the drink is called "dalgona coffee".
The user credited with kicking off the trend on TikTok, Hannah Cho, has more than 2 million views racked up for her original video.
YouTube searches for "dalgona" surged 5,000% during the second half of March 2020.
Later in the year, cafes and retail chains picked up on the trend.
An upscale convenience store chain, Foxtrot Market, started offering its version of the drink.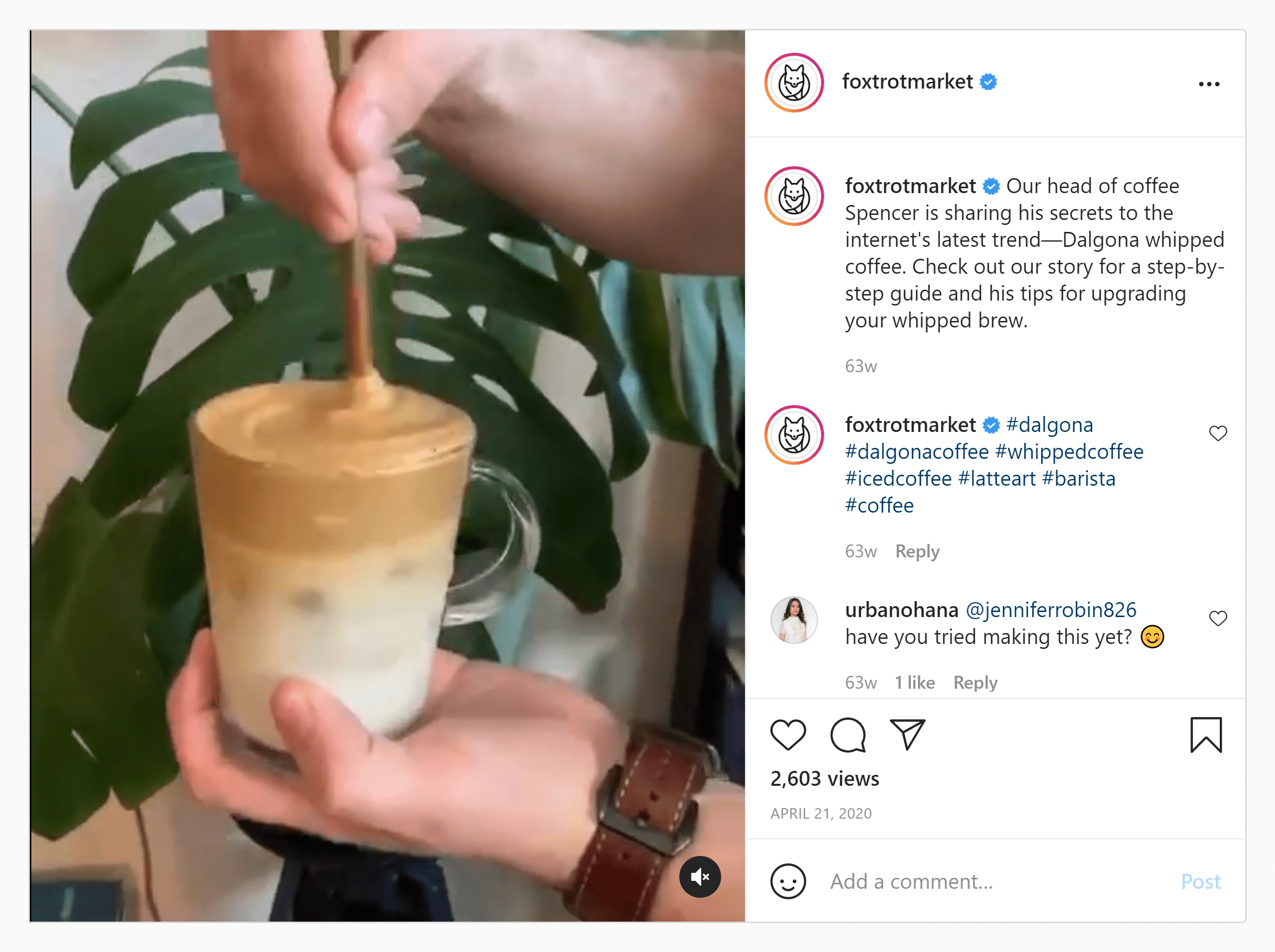 Dalgona coffee has been tagged on Instagram around 600k times, including this post from Foxtrot Market.
Fat Straws, a bubble tea company, offers several versions of dalgona coffee in their cafes.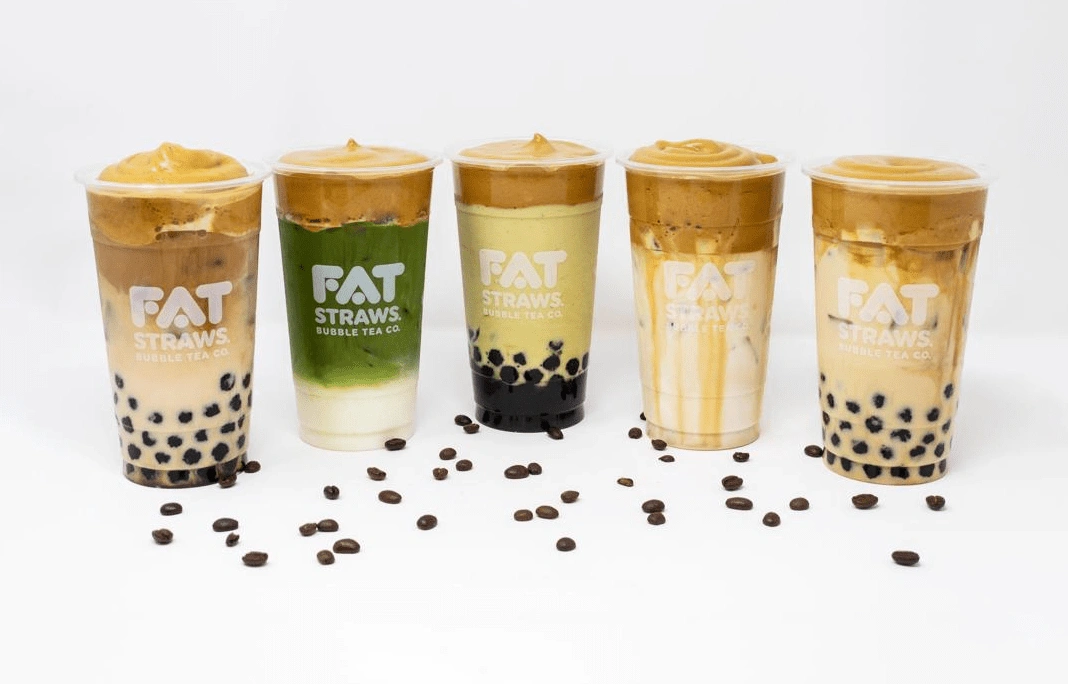 Examples of bubble tea/coffee.
Pinterest is also a social media hotspot for food posts.
Stats from 2019 show 23 billion recipes and food ideas on the site.
In early 2021, a recipe for feta-tomato pasta went viral on TikTok, Pinterest, and other social media platforms.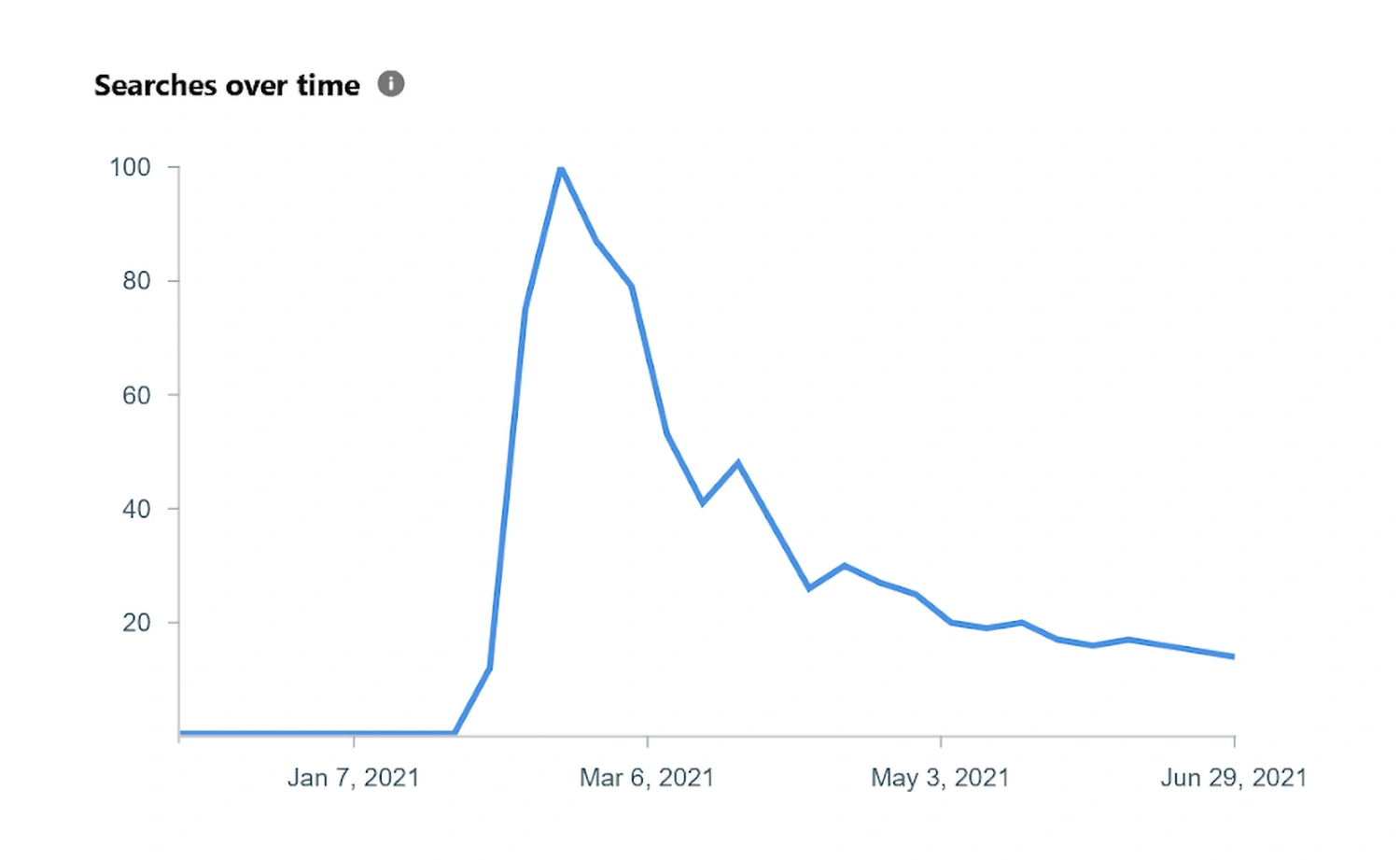 Searches for "feta-tomato paste" grew thanks to interest on social media.
The recipe was so popular that grocery stores were reporting shortages of feta cheese.
7. Food becomes a wellness category
In late 2020, ADM released a report with six consumer behavior shifts related to the food and beverage industry.
Their research showed that 77% of consumers intend to make more attempts to be healthy in the future.
They went on to predict that "food and beverage manufacturers who successfully balance consumer health concerns with affordability are most likely to win with consumers."
The 2020 Food & Health Survey from the International Food Information Council shows that 54% of all consumers say that the healthfulness of their food matters more now than it did in 2010.
Some food manufacturers looking to capitalize on this trend are offering more plant-based foods.
A plant-based diet has been shown to have numerous potential health benefits, such as reducing inflammation and reducing the risk of cancer, diabetes, and other illnesses.
Sales of plant-based foods in grocery stores are growing almost twice as fast as overall food sales—at a rate of 27% in 2020.


The Good Food Institute reports that demand for plant-based foods is surging.
Nearly 20% of US consumers bought their first plant-based protein during the pandemic, and 92% of them say they'll continue to buy those products.
We are also seeing an emerging trend in companies marketing foods to support mental health.
For example, Mindright offers "good mood superfood" in its snack bars.
The bars contain ginseng for mental health support.
Mindright had a $1.8 million seed round with investments from Joe Jonas and various famous athletes.
In particular, many consumers are interested in foods that can help them get a good night's sleep.
In 2021, Pinterest reported that "sleep care is the new self-care".
They reported large increases in search volume for several sleep-related terms.
In 2020, EatingWell.com reports they saw a 138% increase in views of articles related to sleep.
Adaptogens are one food ingredient marketed to help consumers sleep better.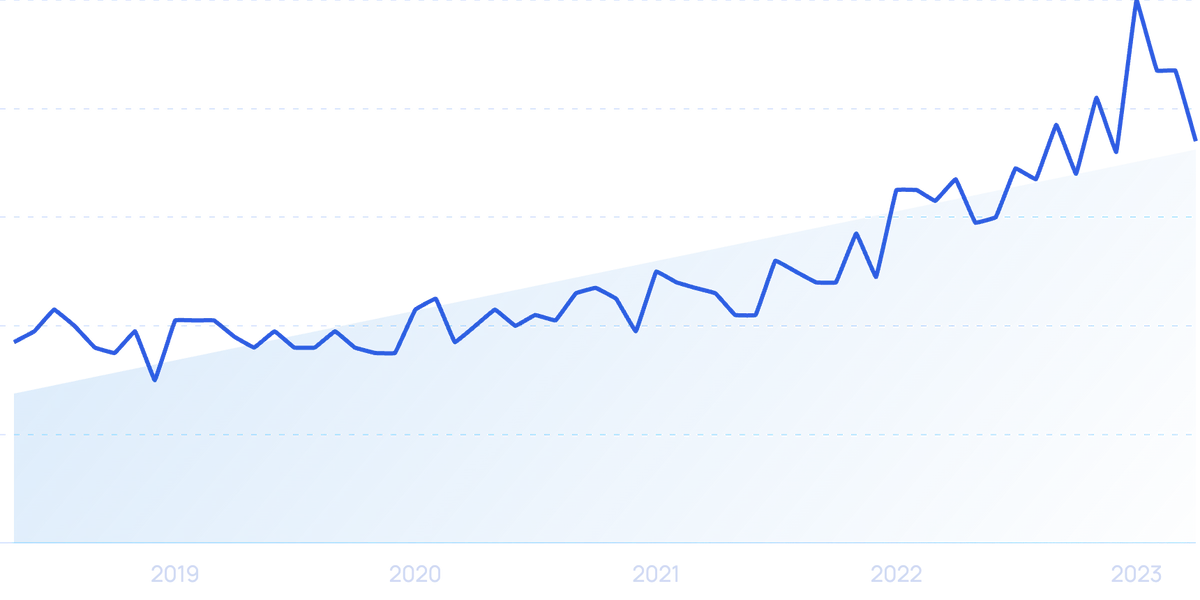 Searches for "adaptogen" are up 100% in the past 5 years.
Nearly 25% of consumers say they want to try an adaptogen.
One example of a CPG company jumping on the trend is Moon Juice.
The company started as a wellness-based juice bar in California and has grown into a bustling e-commerce business since then.
They sell numerous adaptogenic powders that consumers use to mix up lattes before bed.
One drink company, Four Sigmatic, offers an adaptogen-based hot chocolate marketed for use at bedtime.
8. Fermented drinks grow in popularity
Stats show the fermented ingredient market was worth $23.64 million in 2018 and is projected to jump to $35.54 million in 2023.
Part of this trend is society's recent focus on gut health and pre/probiotics.
Google searches for the term "gut health" have grown nearly 700% in the last five years.
Eating fermented foods provides a wide variety of health benefits beyond improved gut health
There's antioxidant and antimicrobial activity, improved absorption of vitamins and minerals, immune system support, and others.
Yogurt, cheese, sauerkraut, and wine are all examples of fermented foods, but the trend goes way beyond these food staples.
Kombucha, a tangy fermented tea drink, originated in China, Russia, and Eastern Europe, but in the United States, it's "one of the fastest-growing grocery segments in the past decade," says one industry expert.
For the next five years, Mordor Intelligence expects the market to grow at a CAGR of 17.5%.
The alcoholic kombucha market is growing even faster.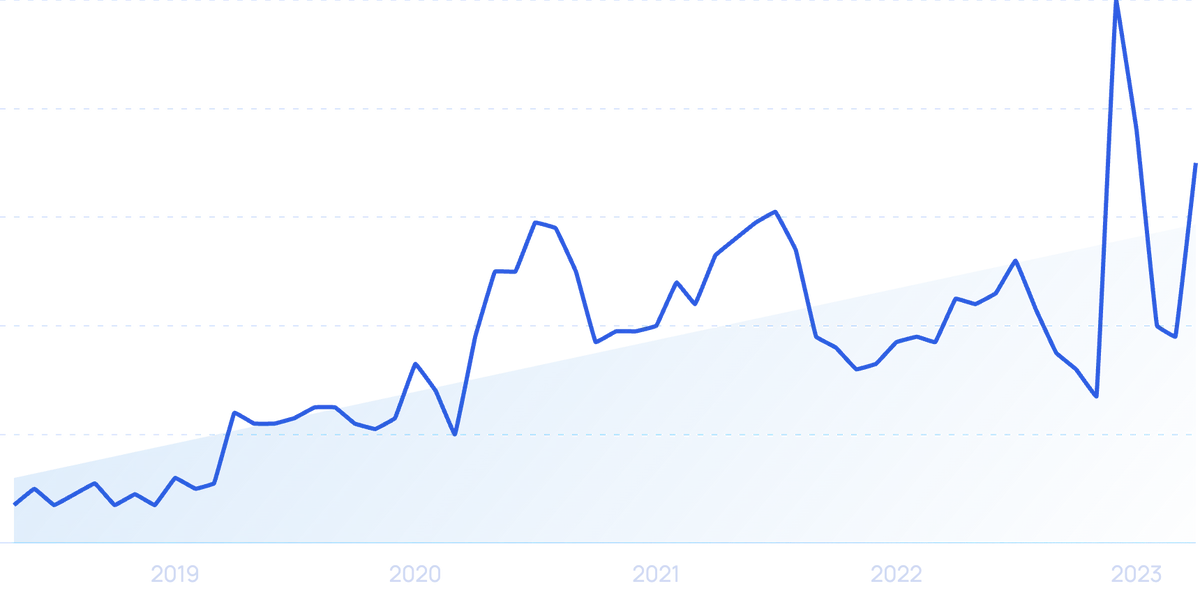 Searches for "hard kombucha" are up an astounding 900% over 5 years.
Market Watch predicts it to grow at a CAGR of 42.4% between 2021 and 2026.
Alcoholic kombucha was named to Whole Foods' Top Food Trends of 2021.
The alcoholic content of hard kombucha varies, allowing brands to tailor their drinks to a variety of consumers.
For example, Luna Bay Booch crafts their blueberry kombucha to have 6% ABV, but their Lychee Lime is a lighter offering with only 4.5% ABV.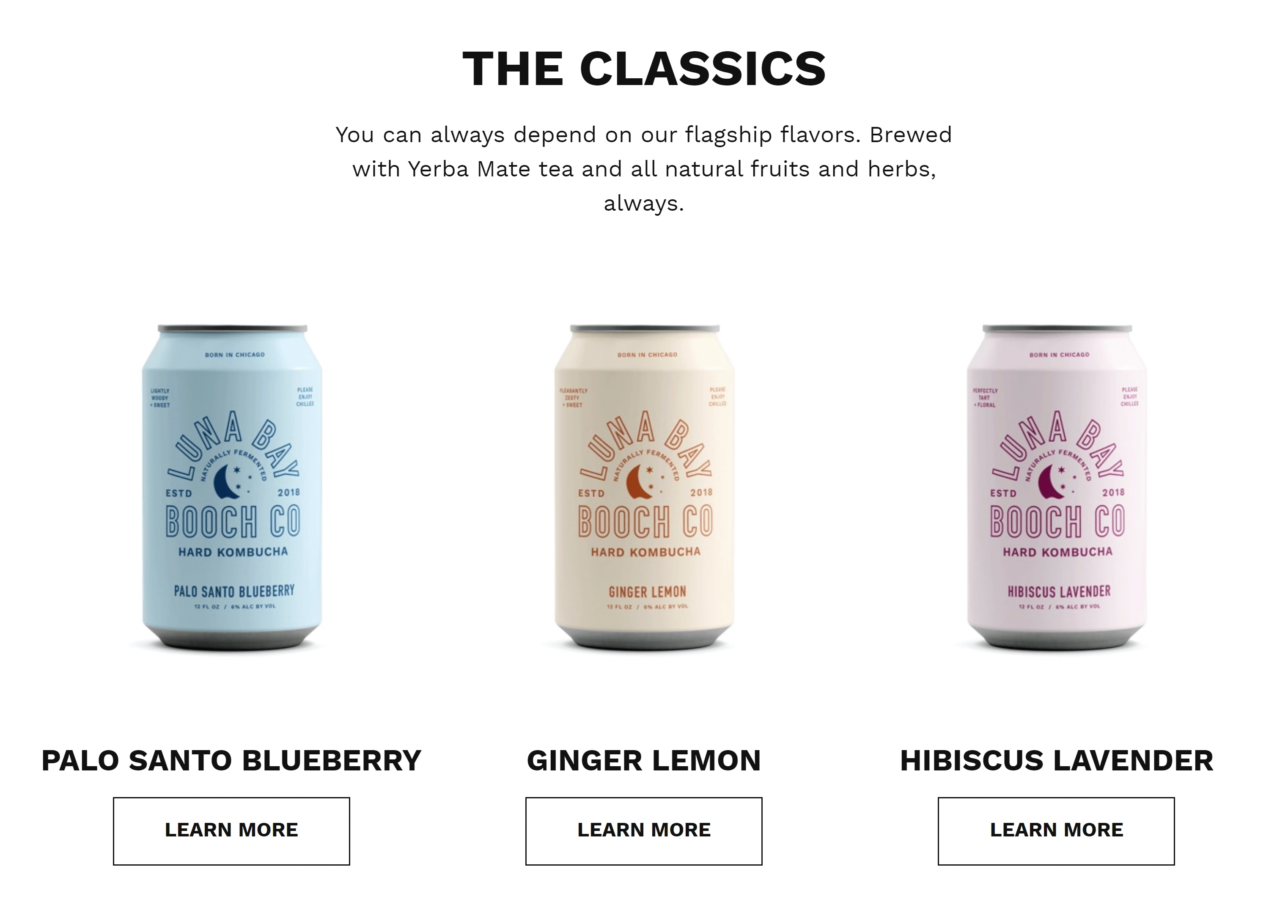 Luna Bay Booch launched in March 2020.
Another beverage capitalizing on the gut-health trend is kefir, a fermented dairy beverage.
The kefir market is expected to reach $1.84 billion by 2027, with a 5.4% CAGR.
The kefir trend is driven by several consumer-friendly factors.
While the fermented drink is usually made with dairy milk, it contains virtually zero lactose.
There is also dairy-free kefir on the market, which appeals to vegan consumers.
For example, Inner-Eco offers probiotic coconut water, You Gut This, that's cultured with kefir grains.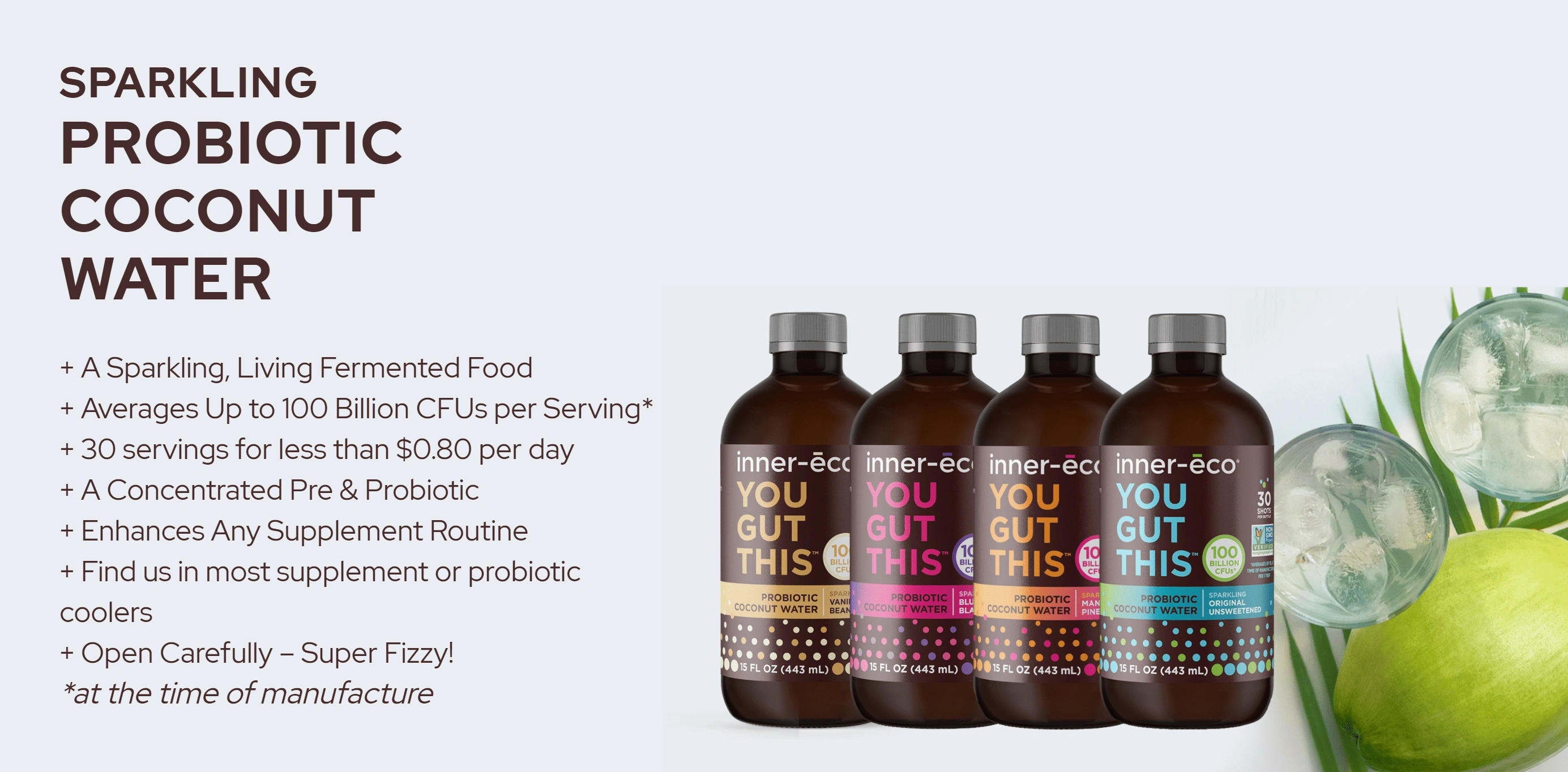 Manufacturers are also experimenting with a variety of flavors in kefir, appealing to the reported 80% of consumers who actively seek out new flavors to try on a regular basis.
9. Mushrooms becomes a consumer-favorite
Mushrooms are one ingredient that food and beverage industry experts expect to be huge in the coming years.
The versatile vegetable contains a variety of healthy vitamins and minerals and can be easily incorporated into a variety of products like proteins, snacks, spices, and condiments.
Mushrooms are a natural extension of the trends we previously mentioned: wellness foods and plant-based foods.
Between 2019 and 2020, mushroom sales increased by 20% to 40%, according to a VegNews report.
Despite the pandemic, mushroom sales rose 3% in 2020, landing at $1.15 billion for the year.
One report said ¼ of consumers plan to eat more mushrooms this year and another 63% plan to eat the same amount as in previous years.
Along with cooking with mushrooms at home, people are also eating more mushrooms in restaurants.
According to the Mushroom Council, on 80% of restaurant menus, mushrooms are one of the top appearing ingredients.
Korger predicted that 2021 would be a "breakout" year for mushrooms.
CPG companies have started to put mushrooms in a variety of products.
Pan's Mushroom Jerky was an incredible success on Shark Tank, receiving more than 33,000 orders after the show aired.
Since then, they've expanded into several online e-commerce shops and retail locations like Urban Outfitters, Whole Foods, and Natural Grocers.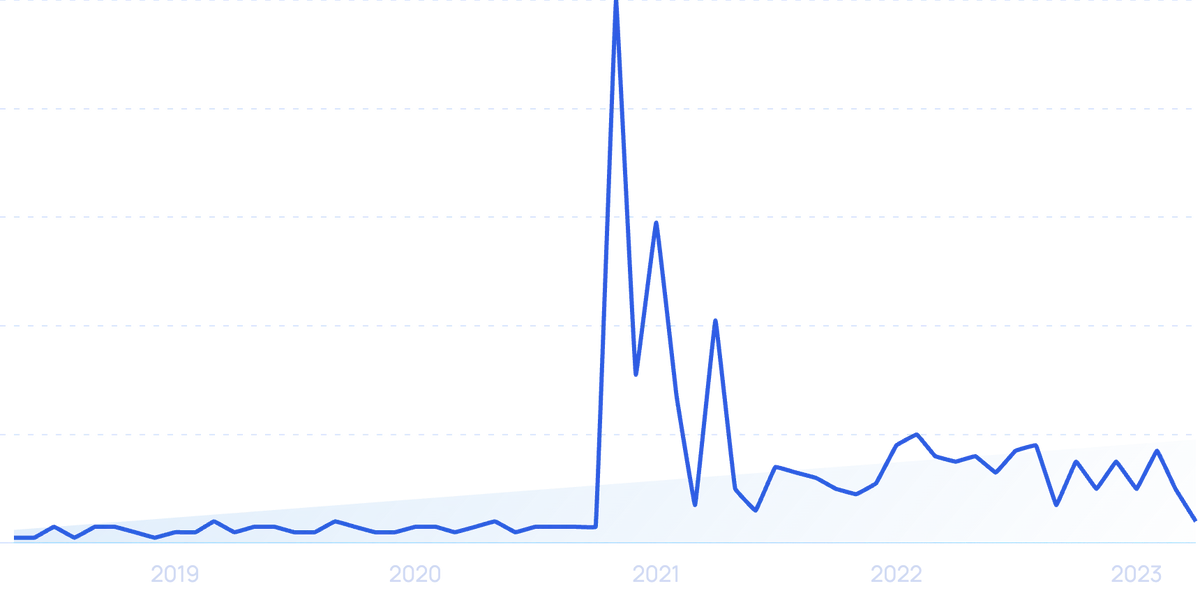 "Mushroom jerky" hit the market and has grown by 300% in 5 years.
The granola bar company, MadeGood, incorporates shiitake mushrooms for an unexpected addition to their snacks.
Laird Superfood even makes a product called "performance mushrooms" to contribute to users' overall wellness.
It's a combination of chaga, cordyceps, lion's mane, and maitake mushrooms that can be added to coffee, tea, or smoothies.
The performance mushrooms are used by the US Ski and Snowboard team.
Conclusion
That wraps up our list of trends impacting the food and beverage space right now.
As we discover new food trends, we'll add them to this list.
So please check back regularly to see what we've discovered.
For more related Exploding Topics content, take a look at 5 Huge Snacking Trends and 25 Trending FoodTech Startups.