5 Huge Snacking Trends (2022)
You may also like:
Snacking has gone from a relatively mainstream habit into a multibillion dollar industry.
In fact, Cheetos alone sells more than $1B in product per year.
And the space is growing quickly thanks to changing consumer preferences, dietary restrictions and more.
Read on for our list of snacking trends that anyone in the food and beverage industry should know about.
1. Snacks as meals
Busy lifestyles and decreased access to dine-in restaurant options have led to more people replacing meals with snacks.
About 70% of millennials surveyed in 2021 said they prefer snacks to meals. Just over 90% of Americans surveyed said they have replaced at least one meal weekly with a snack, with 7% saying they eat no formal meals.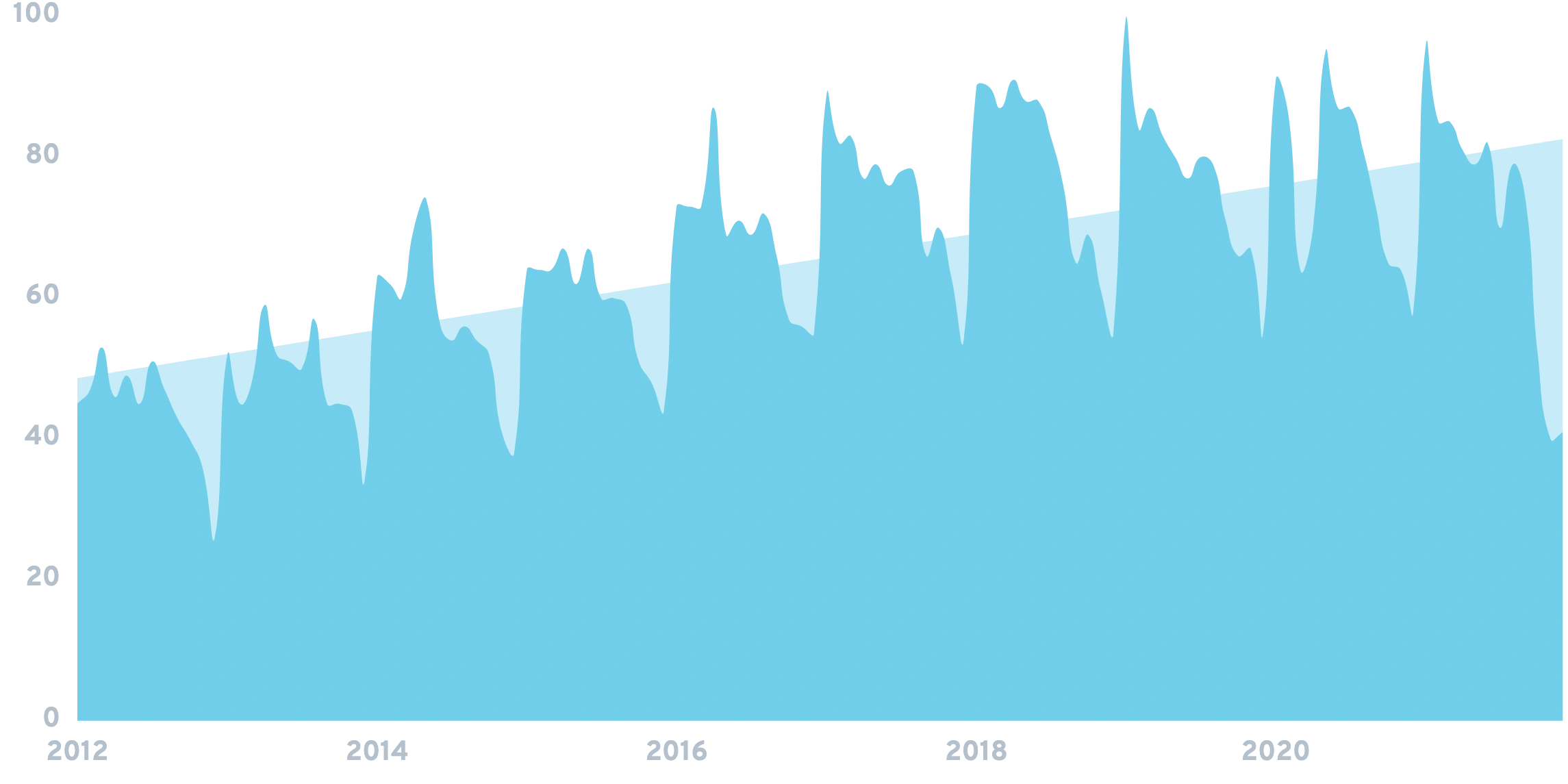 Searches for "meal replacement" are currently down but the 10-year trend suggests this won't be the case for long.
Manufacturers have responded. The meal replacement products market is forecast to grow at a CAGR of up to 7.64% from 2021 to 2026, with the most growth in the Asia-Pacific market.
With snacks taking on such an important nutritional and satiety role, 51% of respondents in a global poll said they've switched to high-protein treats.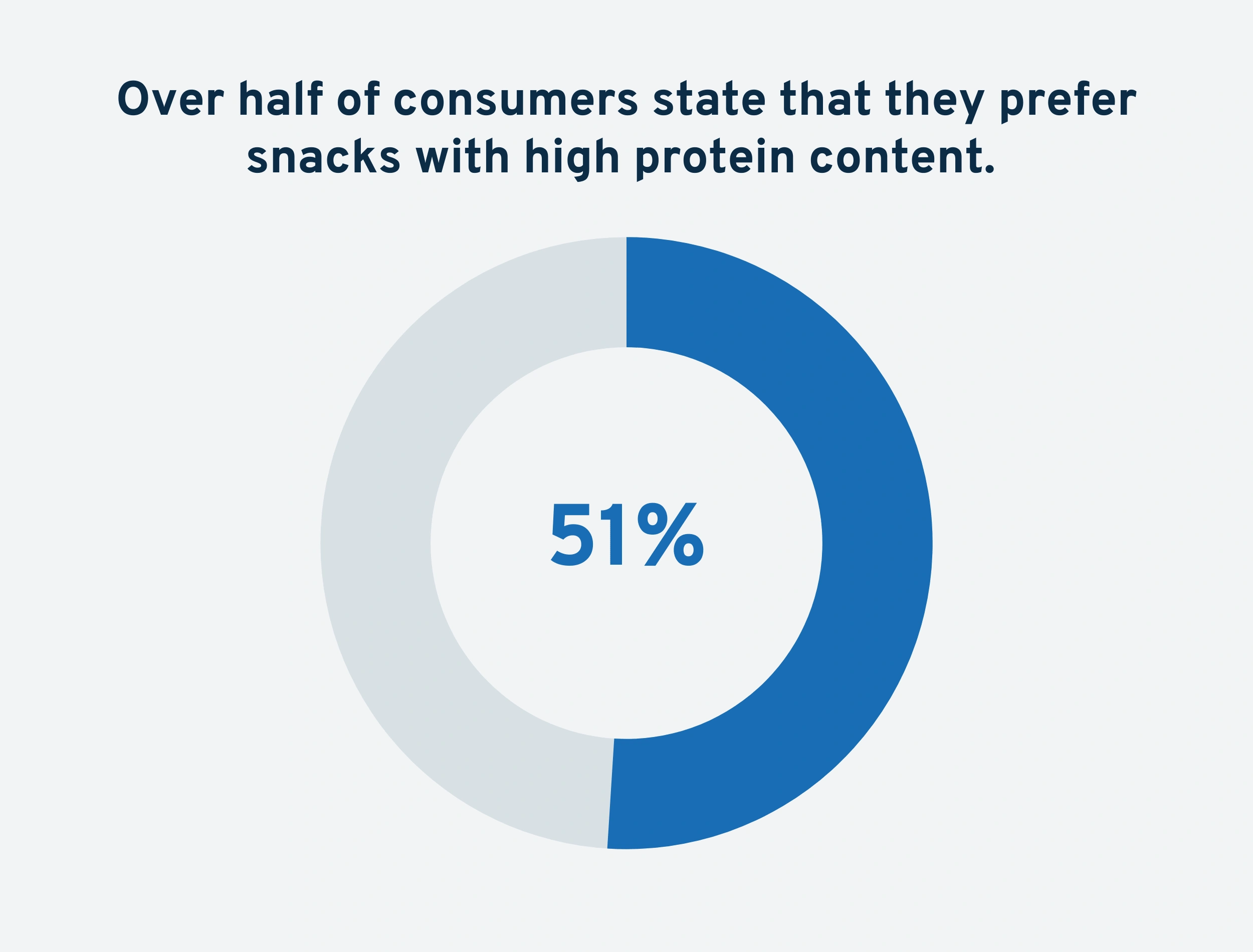 Over half of surveyed consumers state that they prefer snacks with high protein content.
Nuts, trail mixes, and seeds (41% market share) are leading the global health and wellness snack market, followed by protein bars (20%).
About one-third of snack bars launched in 2020 claimed to be high-protein, and new this year include Switch Nutrition's Snack Switch protein bar (also plant-based) and The Bountiful Company's Pure Protein bars, which are chilled and boast clean labeling.
And other treats are jumping (or staying) on the protein train:
Meat and cheese treats also check the meal replacement box, with meal snacks expected to grow at a 9% CAGR through 2025. Sausage is the rising star of the category, especially in European and Asian markets.
Trending snacks in the meat category include: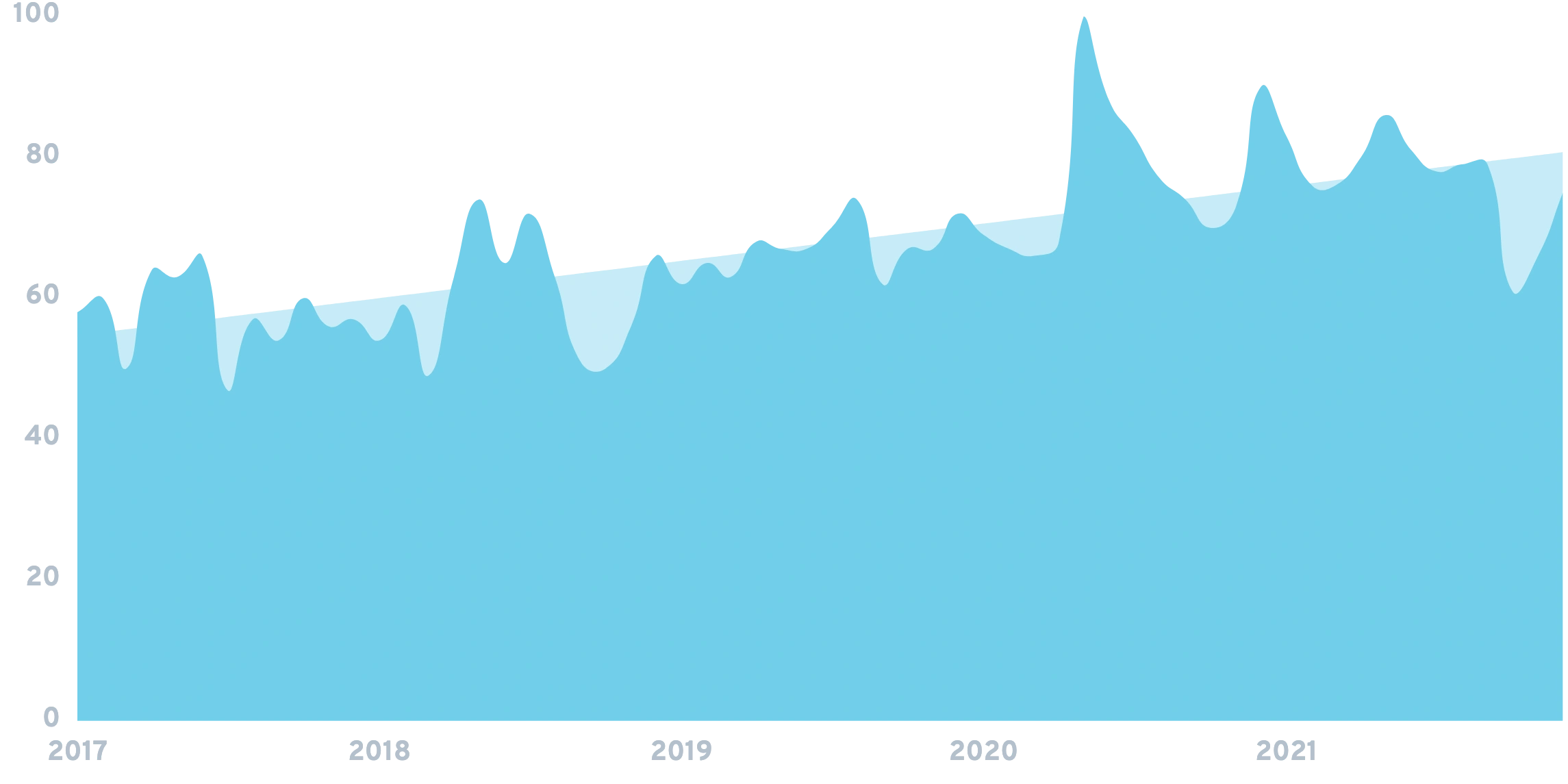 Searches for "Biltong", a South African-inspired dried meat, have increased by 29% over the last five years.
2. Snacks become "mood food"
Snack foods are increasingly seen as tools that can assist with mood enhancement and regulation.
New snacks claim to promote calm, sleep, focus and energy through ingredients like vitamins, nootropics, mushrooms and adaptogens.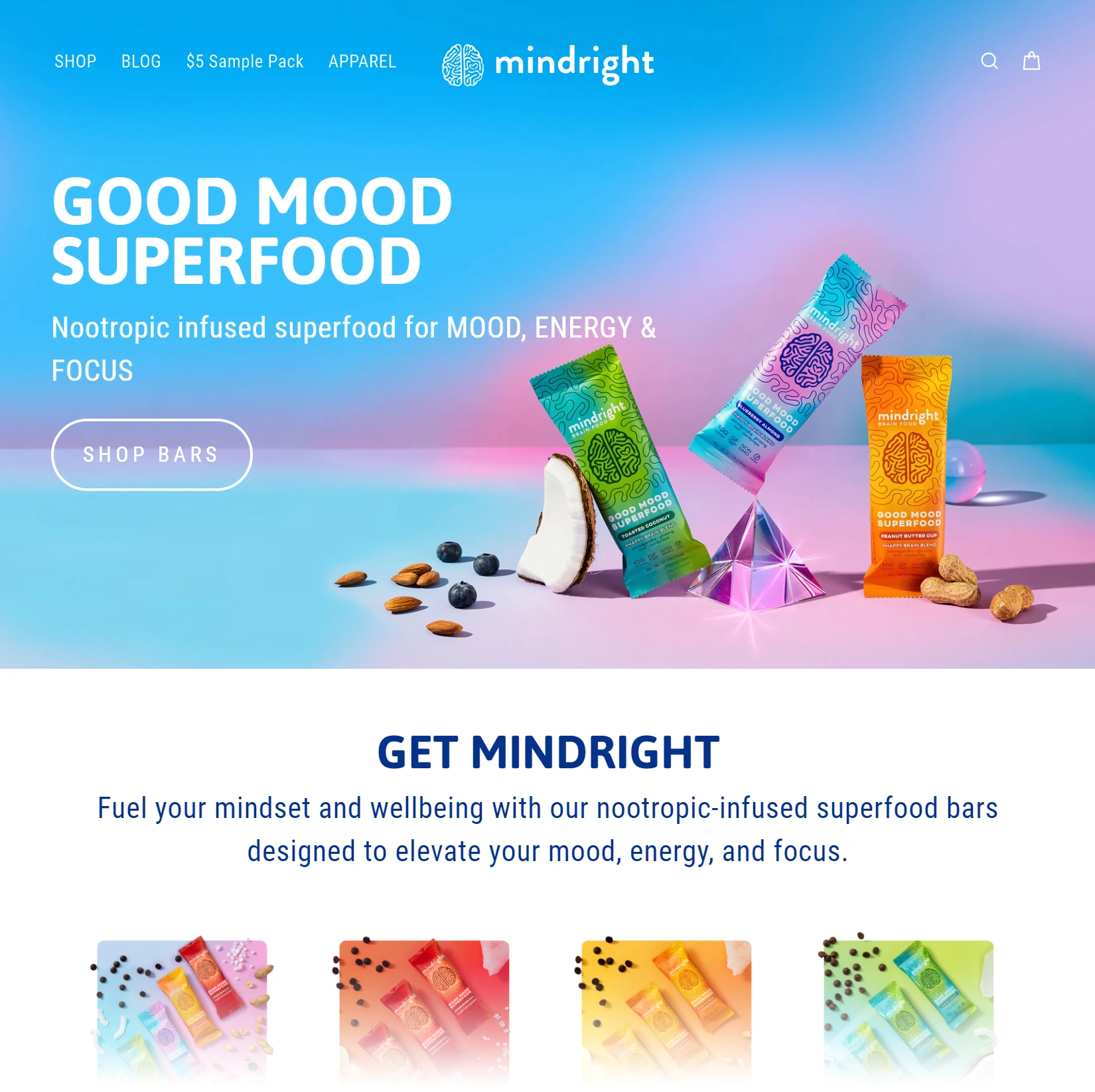 Example of snack food that promotes its ability to improve mood.
In 2020, sales of mood support, stress management and sleep supplements rose by 36%. And 55% of those surveyed said they were likely to turn to food or drink for those same ingredients.
As with everything from hygiene products to pet food, CBD is a big player in this trend, with the global CBD snack market forecast to grow at a 10.1% CAGR through 2028, reaching $2.6B.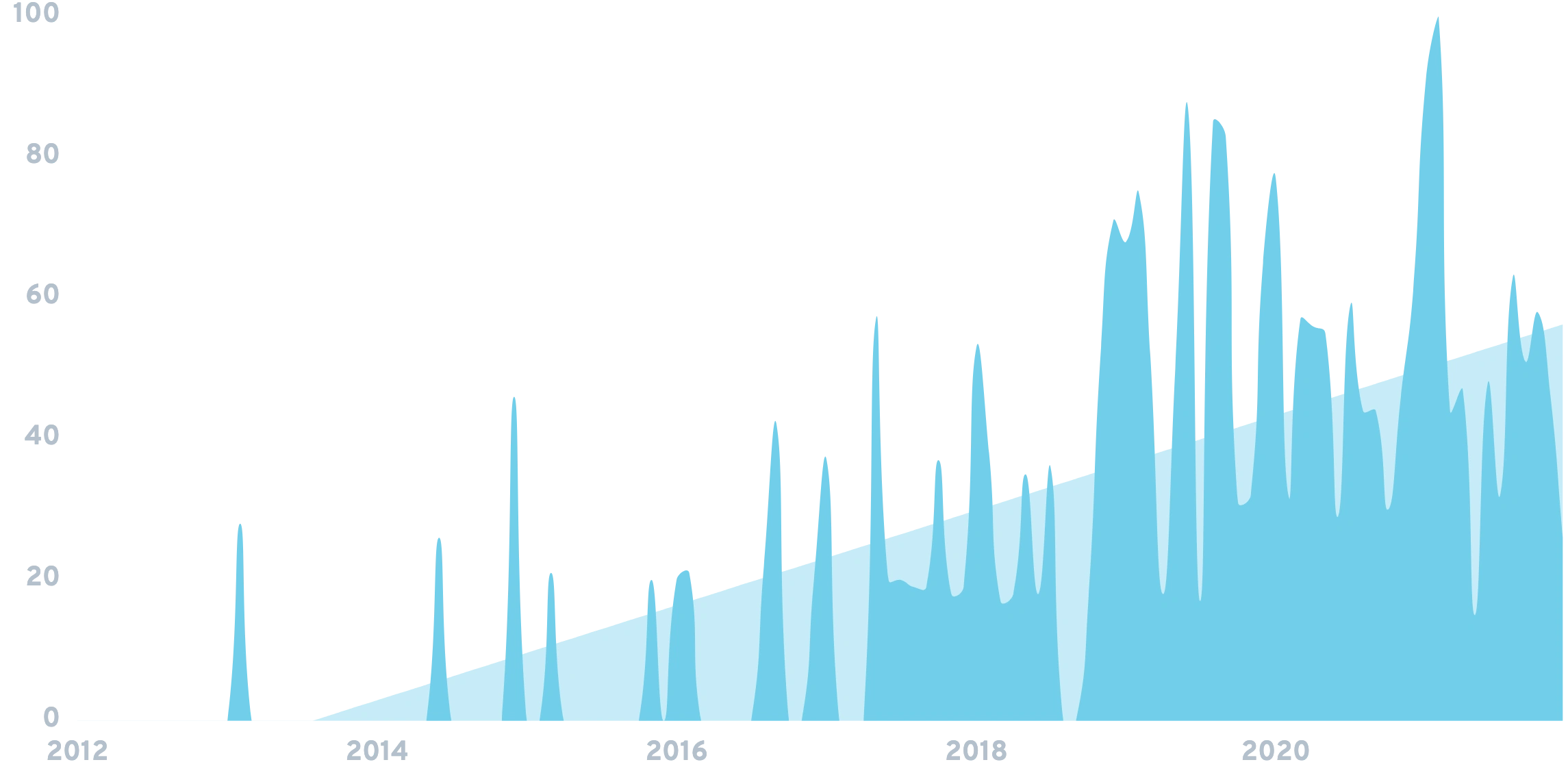 Searches for "CBD snacks" are up 2,500% over 10 years.
Options range from Evo Hemp Protein Bars to Groovy Butter's CBD nut butter.
Major players like Nestle and Molson Coors are also getting into the CBD game, with products like Molson Coors and HEXO Corp's VeryVell drinks, which are CBD-infused and non-alcoholic.
The CBD-infused drink market alone is forecast to grow from $3.4M in 2020 to $14.6M in 2026, a 27.5% CAGR.
"Decluttering" and memory ingredients are also on the rise. Nootropics, sometimes called smart drugs, are ingredients said to boost mental function and performance. Globally, the nootropics market is forecast to reach $5.3B by 2026, a CAGR of 13.2%.
Among nootropic snacks are drinks and drink mixes like Brain Juice and Mental Mojo.
3. Consumers demand global flavors
The global ethnic food market is expected to grow at a CAGR of 11.8% through 2026.
And with 78% of Americans ranking travel as one of the things they miss most during the pandemic, global snack subscription boxes can give a taste of other countries.
Snackcrate rides this trend by offering a variety of snacks from around the world. Each month focuses on a different national theme.
The startup grew from sending out 200 boxes to Redditors in 2015 to a business with 60K subscribers 4 years later.
SnackSurprise works on much the same premise. Founded in 2019, the UK company has curated collections from the likes of Spain, Denmark, and South Korea.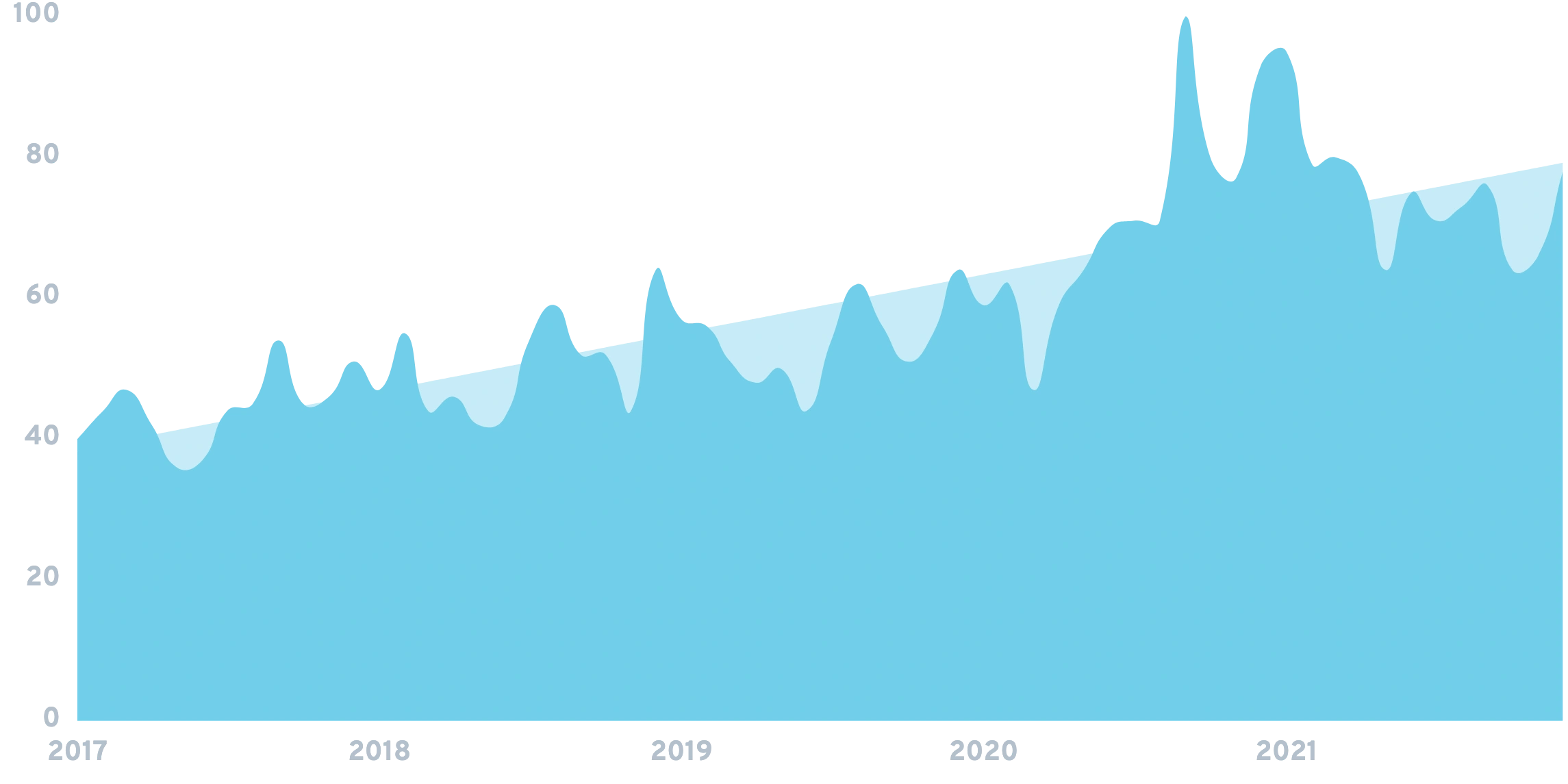 "Snack box" searches are up 95% over five years.
The startup uses an influencer marketing strategy. Which has helped produce 2.9M views on the #SnackSurprise TikTok hashtag. In a SocialPubli study, marketers ranked food as the industry with the second-most potential for influencer growth (behind only beauty).
Universal Yums also offers snacks from different nations each month. Like SnackSurprise, the brand is big on social media. Videos featuring its hashtag on TikTok have amassed 2.9M views.
The business has rapidly grown to a 31-employee company, turning over $20M each year.
Bokksu focuses on a specific country — Japan. There is a US fascination with Japanese culture: a video of organizing consultant Marie Kondo folding clothes has amassed more than 12M views on YouTube. While anime site Crunchyroll has more than 3M paying subscribers.
The monthly box of Japan-themed snacks taps into this. Bokksu has more than 20K subscribed customers.
Annual revenue is $4.8M — up from $300K in 2017.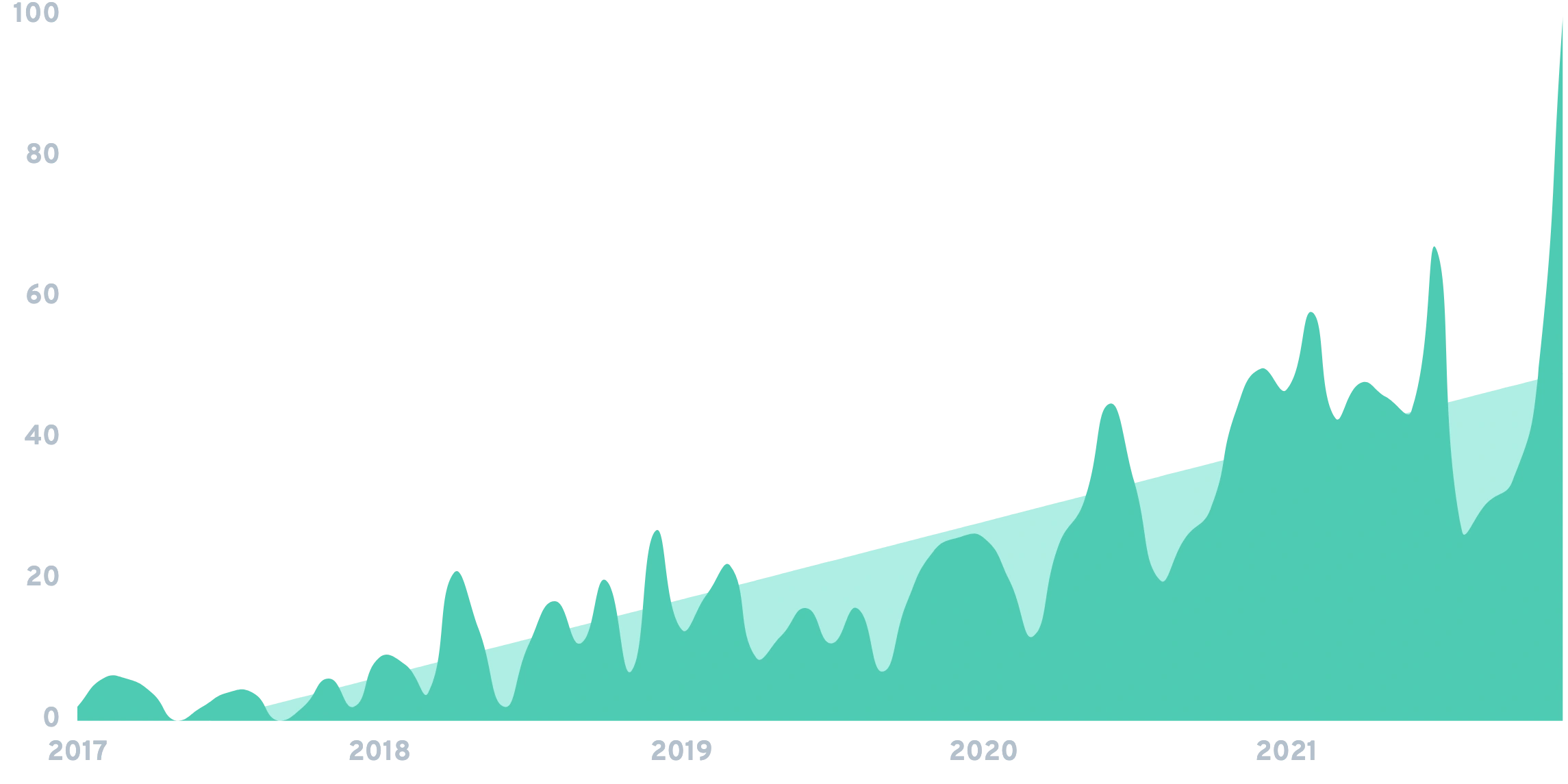 "Bokksu" has seen strong search growth (4,900%) over the past five years.
Tanoshi Me Box is another subscription box that brings Japanese flavors to a global market.
SeoulBox is looking to do something similar for Korean snack food.
Revenue is a modest $48.6K per year, but the brand is steadily building a following. It has 33.7K Instagram followers.
Other country-specific snack boxes include Gusto di Roma (Italy), MexiCrate (Mexico), and IndiFix (India).
4. Plant-based snacks continue to see growth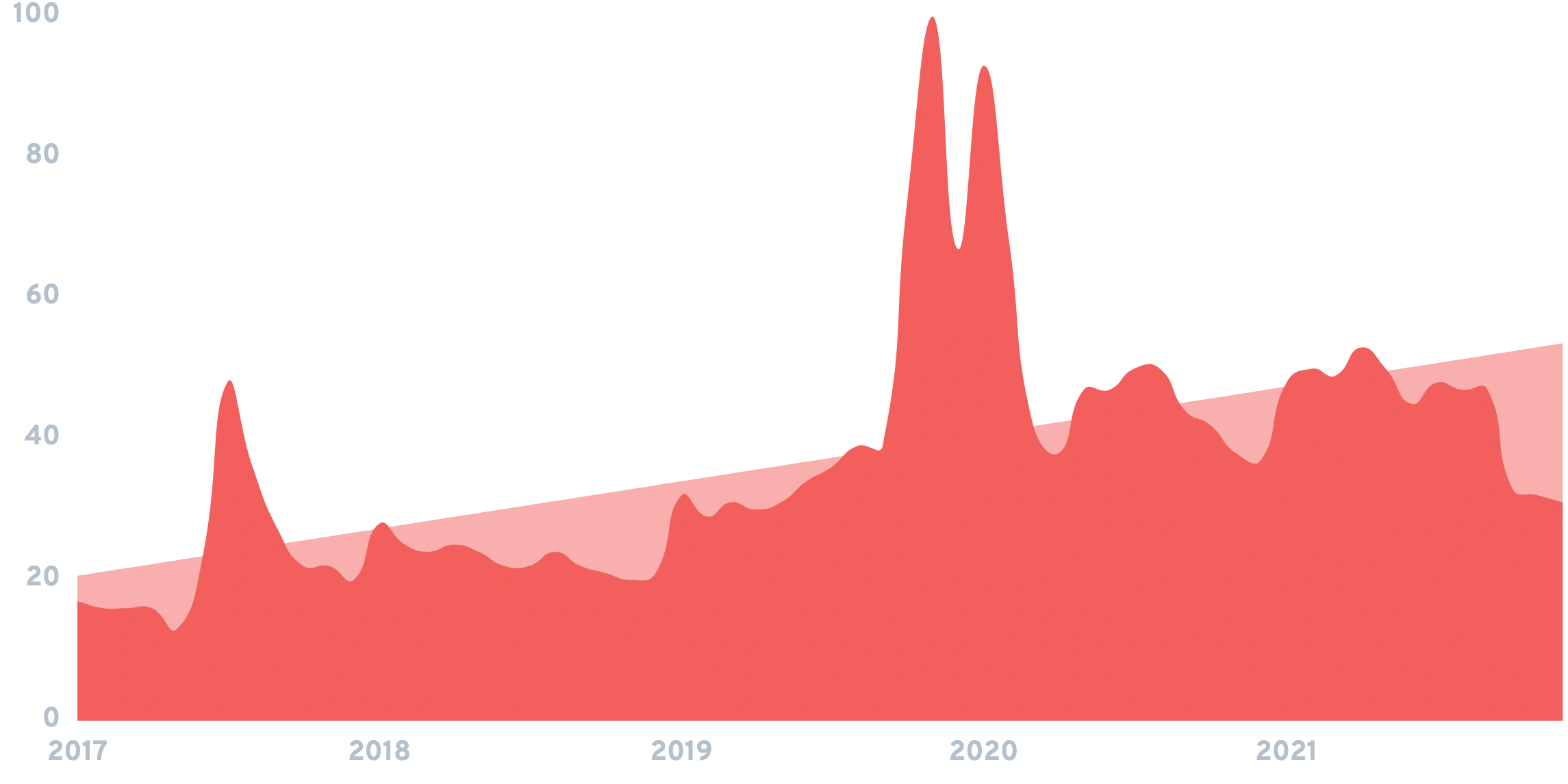 Searches for "plant-based diet" have increased 82% over five years.
"Plant-based" is a term slapped on a growing number of snack products.
And for good reason: consumers are increasingly looking for meals and snacks that use primarily plant ingredients.
Why the sudden interest in plant-based snack options?

Mainly health concerns. In fact, nearly half of consumers state that they choose plant-based foods due to "general health reasons". While 24% report wanting to limit their environmental impact.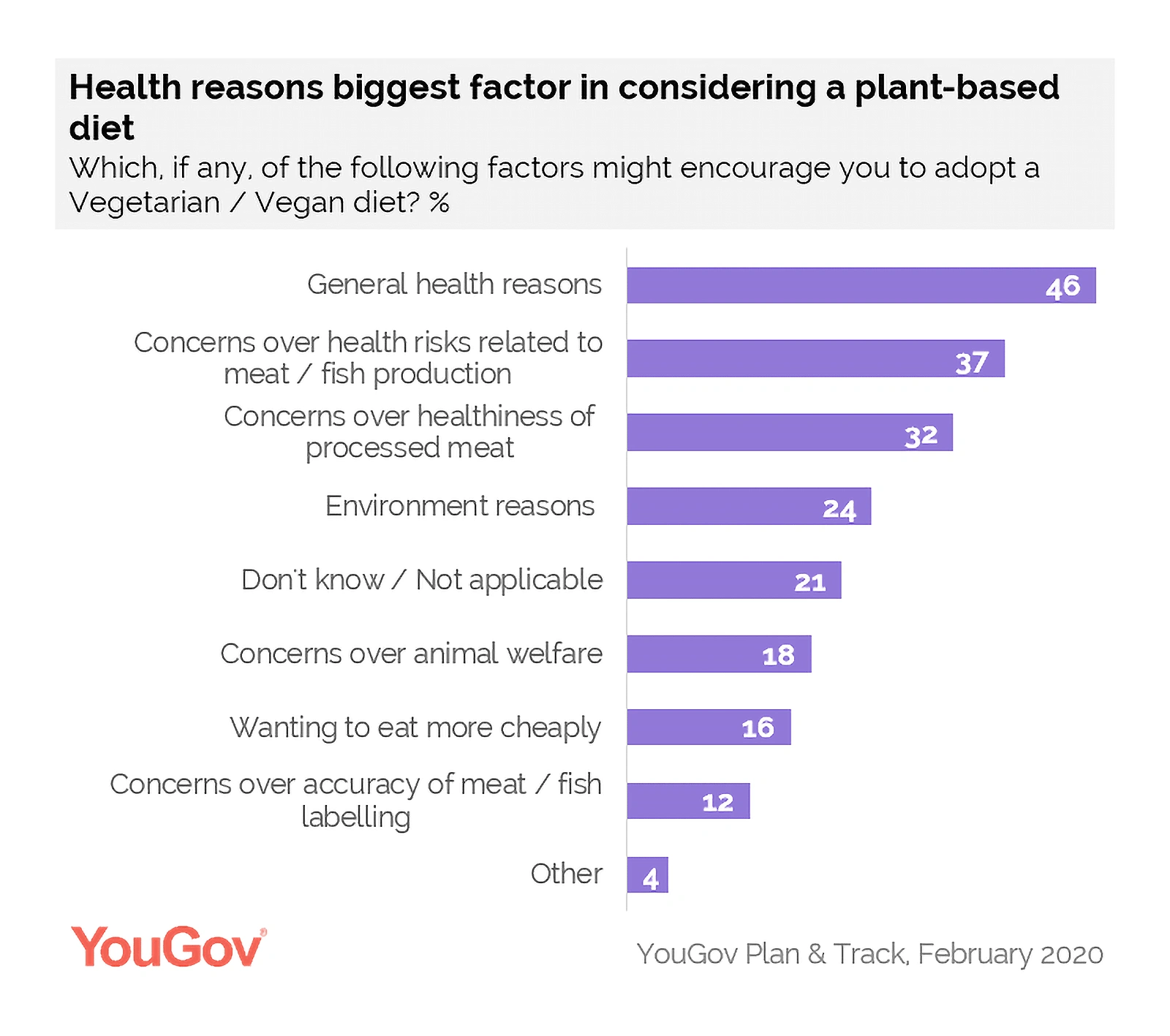 A recent survey found that consumers choose plant-based options in an effort to improve their overall health.
5. Snacks go DTC
Almost 55% of consumers say they're now purchasing food from direct-to-consumer vendors.
A growing number of DTC-first snack brands are reaping the benefits of this trend.
IWON Organics is one example of a fast-growing startup in this space..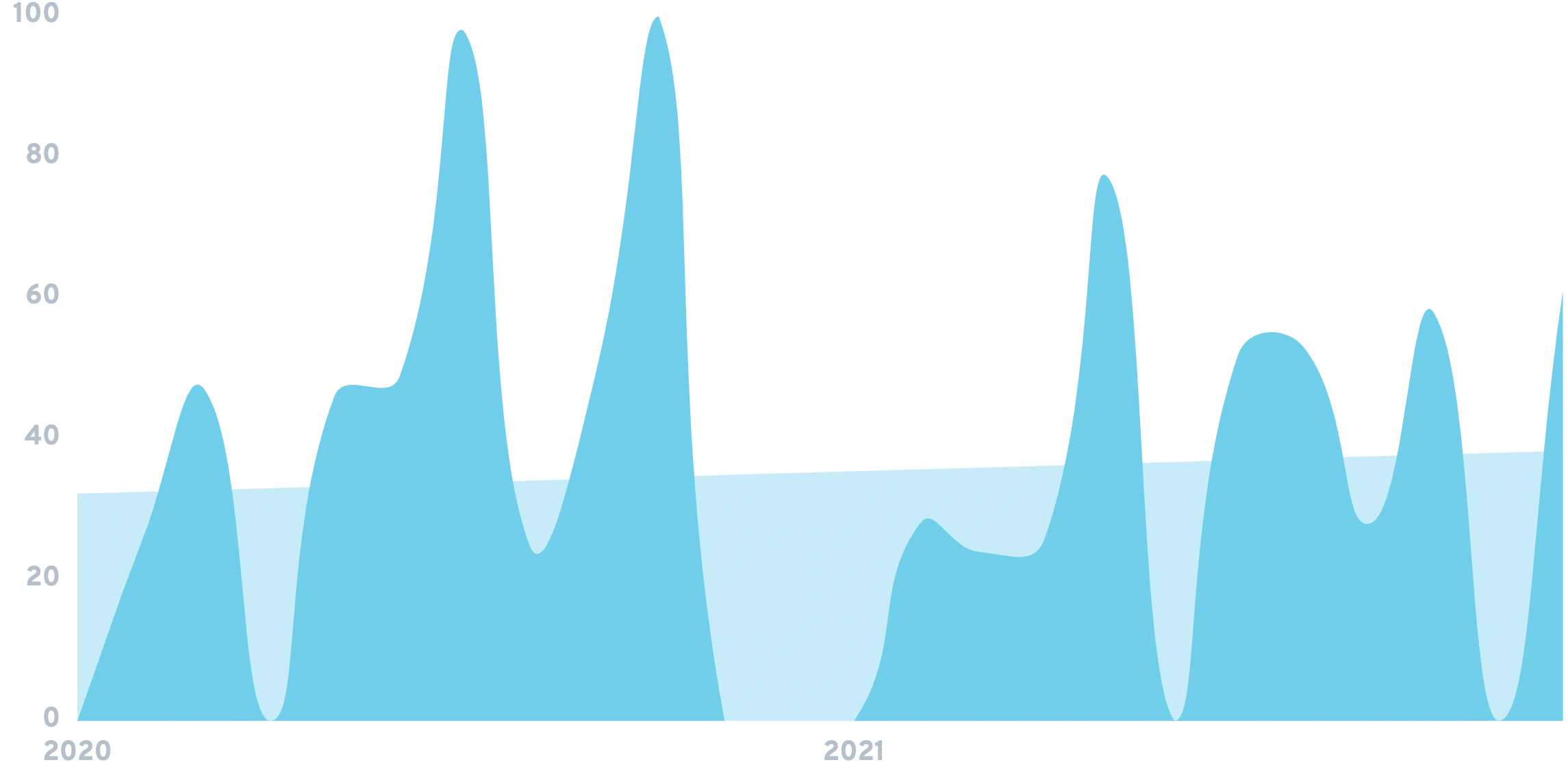 Searches for "Iwon Organics" are up 6,000% in the last 24 months.
The company, which uses only organic peas, rice, and navy beans to make high-protein snacks, has raised about $850K since 2020.
IWON began in the sports nutrition field. But has expanded to the consumer market and saw an online business boom during the pandemic after a partnership with DTC giant Thrive Market.
IWON Organics also earned recognition in 2020 as one of Whole Foods' Suppliers of the Year for "resilience, creativity and commitment to quality."
In January 2021, Outstanding Foods raised $10M for its plant-based but meaty-sounding snacks like PigOut Pigless Pork Rinds and TakeOut Meal-In-A-Bag Puffs.
The products are available in a growing number of retail stores, but most of the company's sales are DTC.
The company's cofounder Dave Anderson also helped develop meatless beef products for the vegan unicorn company Beyond Meat.
Snacklins, a New Jersey-based company offering vegan pork rinds and crisps, raised $250K from Mark Cuban of "Shark Tank" in 2019. In 2020, the company's annual revenue was $1.8M.
The company has doubled down on its branding and website during the pandemic. It is also among nine companies chosen for the inaugural 2021 Snack Futures Colab startup accelerator, earning it $20K and mentorship from Mondelez International.
New York-based SnackMagic was a direct result of the pandemic.

Searches for virtual meeting snack provider "SnackMagic" have increased by 99x+ in the past two years.
The company launched in 2020 and jumped immediately onto the virtual meetings wave, offering bundles and swag for attendees that weren't able to meet in person. Hosts can choose from pre-curated packages or let each participant choose their own snacks from the site.
The company had $20M in revenue in the first eight months of the pandemic and raised $15M in April 2021.
Magic Spoon, which offers childlike cereals for adults, has raised $14.5M, of which $9M came from a venture round in November 2020. Investors included the founders of other DTC giants Harry's and Warby Parker.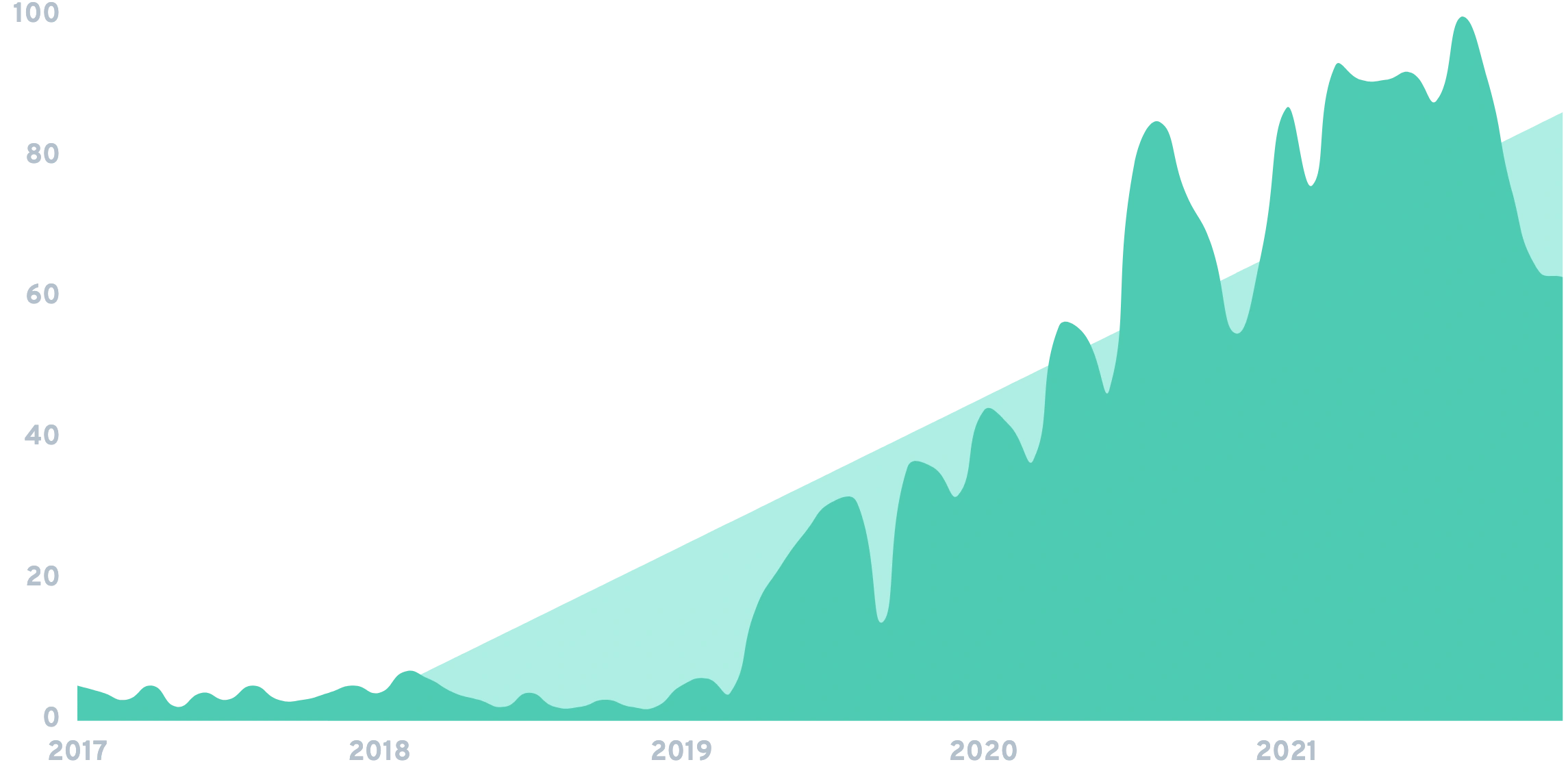 Searches for DTC cereal company Magic Spoon are up 1,160% in five years.
Magic Spoon's offerings also tick several diet boxes: keto-friendly, gluten-free and non-GMO.
Sales of Olipop, a plant-based and gluten-free healthy soda alternative, grew by about 900% in 2020.
And Flying Embers sells their "hard kombucha" largely DTC.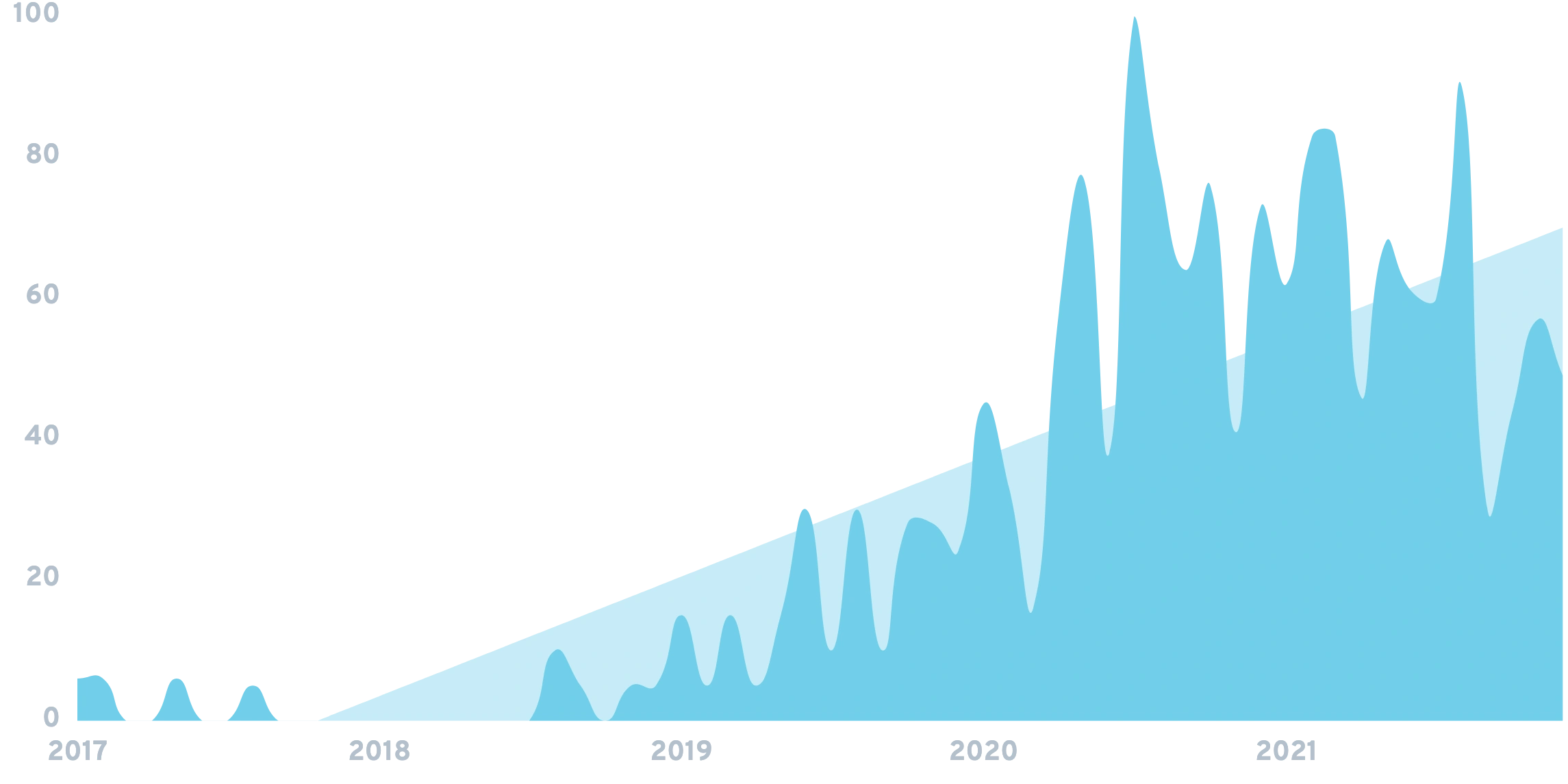 Searches for "Flying Embers" are up 716% over the last five years.
Conclusion
That wraps up our list of snacking trends set to shake up the food space this year.
From sustainability concerns to a focus on a plant-based diet, one factor that ties many of these trends together is a de-emphasis on taste. While taste remains important, modern snackers are putting more weight into environmental and health concerns.