7 Google Trends Alternatives & Competitors (2022)
Google Trends is primarily used for two things:
For trend analysis; to dig into trends and see what Googlers are searching about a particular product, brand, or service.
For keyword research; to look into keyword ideas, check search volume, and see related queries.
But Google Trends falls short in one key way: You have to know what to search for. So, by definition, you can't really use Google Trends to discover new, up-and-coming trends, products, companies, and niches that aren't on your radar yet. For 99.999% of people, by the time you know the name of something, it's already pretty popular.
It's also pretty limited in terms of keyword research. You can look at Google search queries and check traffic, but most teams have to use additional search engine optimization (SEO) software to access on-page SEO tools and check website page rankings.
So there are two types of alternatives to Google Trends:
Trend forecasting websites; these let you browse upcoming trends and learn about soon-to-be popular topics.
Dedicated SEO tools; these go beyond keyword research and let you conduct SERP and competitor analysis, monitor rankings, check backlinks, and optimize website content.
In our post, we review seven Google Trends alternatives (and explain what each software does and who generally uses it). We'll start with our trend research solution, Exploding Topics, and explain how you can use our platform to research trends you're interested in, discover upcoming trends before they're known, and track trends in a customizable dashboard.
Exploding Topics trend database is constantly updated with new data so you can access upcoming products, brands, websites, topics (and more) six months before they're on the radar. Our platform's features let you track trends over time, receive alerts for trend updates, and research more details on trending topics. Start a 14-day trial for access to our trend database — used by companies like Apple, Shopify, & Slack.
Our Google Trends Alternative: Exploding Topics Trend Forecasting & Tracking
The Exploding Topics proprietary algorithm scans all corners of the web to find upcoming trends in dozens of categories so you can discover hot topics and new products before everybody else knows about them. You don't have to know exactly what to search for, you can just select a category of interest and look at all of the popular trends in our database.
And that's one of the most important differentiators between Google Trends and Exploding Topics: Google Trends lets you research trending topics you already know about, and Exploding Topics lets you discover new trends before you would even know to research them.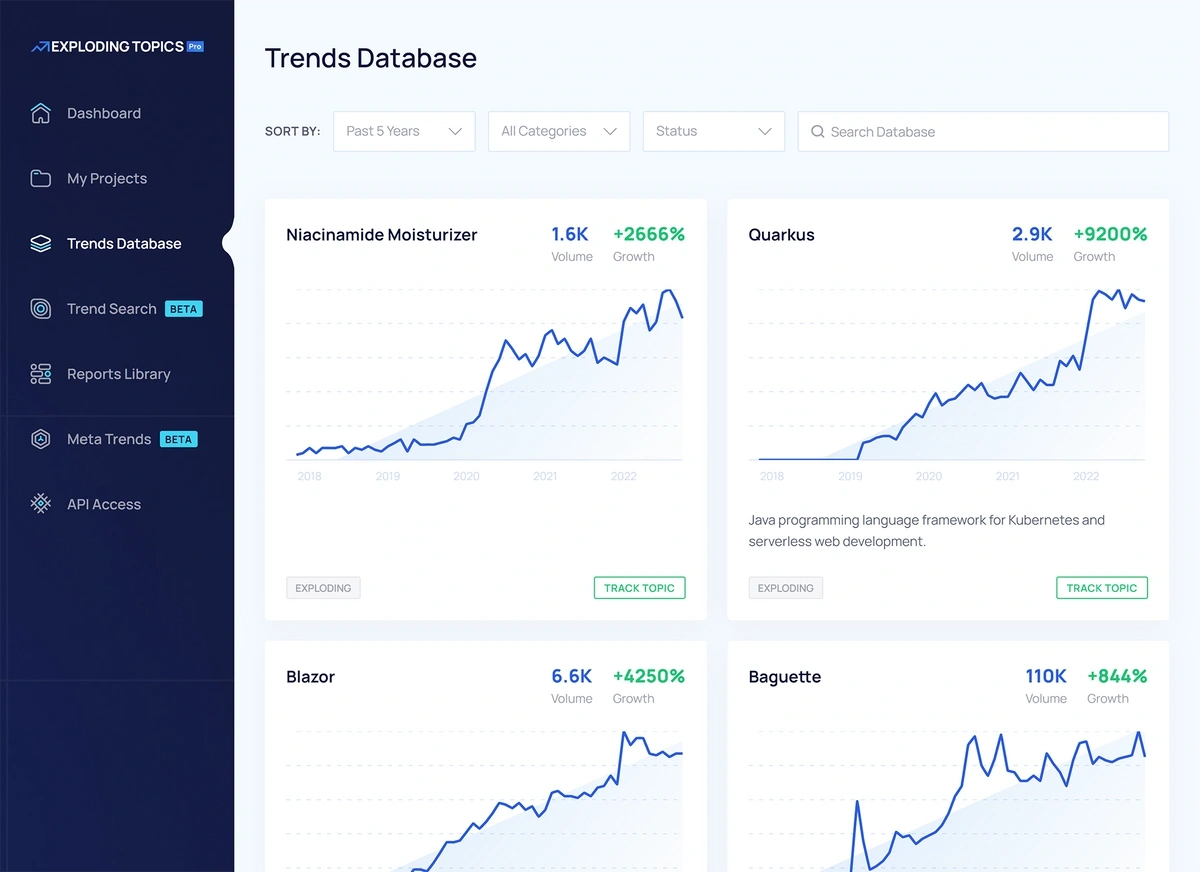 Our database has thousands of trends and is updated daily. Our algorithm discovers nascent trends by monitoring dozens of online resources, from news sites and forums like Reddit to Spotify podcasts and social media platforms like Twitter and Facebook, to identify even the smallest blip of a trend. Then we have a team of analysts that manually review the trends our algorithm has identified and filter out fads and other short-term trends that aren't indicative of a real up-and-coming topic area, product, company, or industry.
For example, "Niacinamide moisturizer," (in the screenshot above) is a product category that became highly popular in late 2021, but most people didn't know how popular it was becoming at that time. Knowing about these types of product categories and their growing popularity back then would have had business value, so this trend made it through our filter. On the other hand, every time a new iPhone launches, it will be trending all over the web. But it's not useful for us to report because everyone knows about it – same with passing pop culture fads like the latest TV show or big sporting event – so we filter those out.
As you scroll through the database and find trends you're interested in, you can:
Star them and add them to projects in the Exploding Topics dashboard.
Monitor trends and set up email alerts to be notified of major trend updates.
View meta trends to discover more insights about the trends you're tracking.
We also send weekly trend reports via email so you can read about new trends as soon as they're published in our database. These give you early, early info so you stay ahead of trends and know what's coming before it's obvious.
How To Use Exploding Topics for Trend Forecasting, Analysis, & Tracking: Feature Demo
Exploding Topics is really easy to navigate because all of our features are displayed across the top menu bar. Discovery starts in the central trend database where you can look at trends based on your interest. We have categories like beauty, technology, fitness, healthcare, companies, pets, media, travel, and more. You can also search trends by status (e.g., Regular, Peaked, Exploding) or change the date range to update results.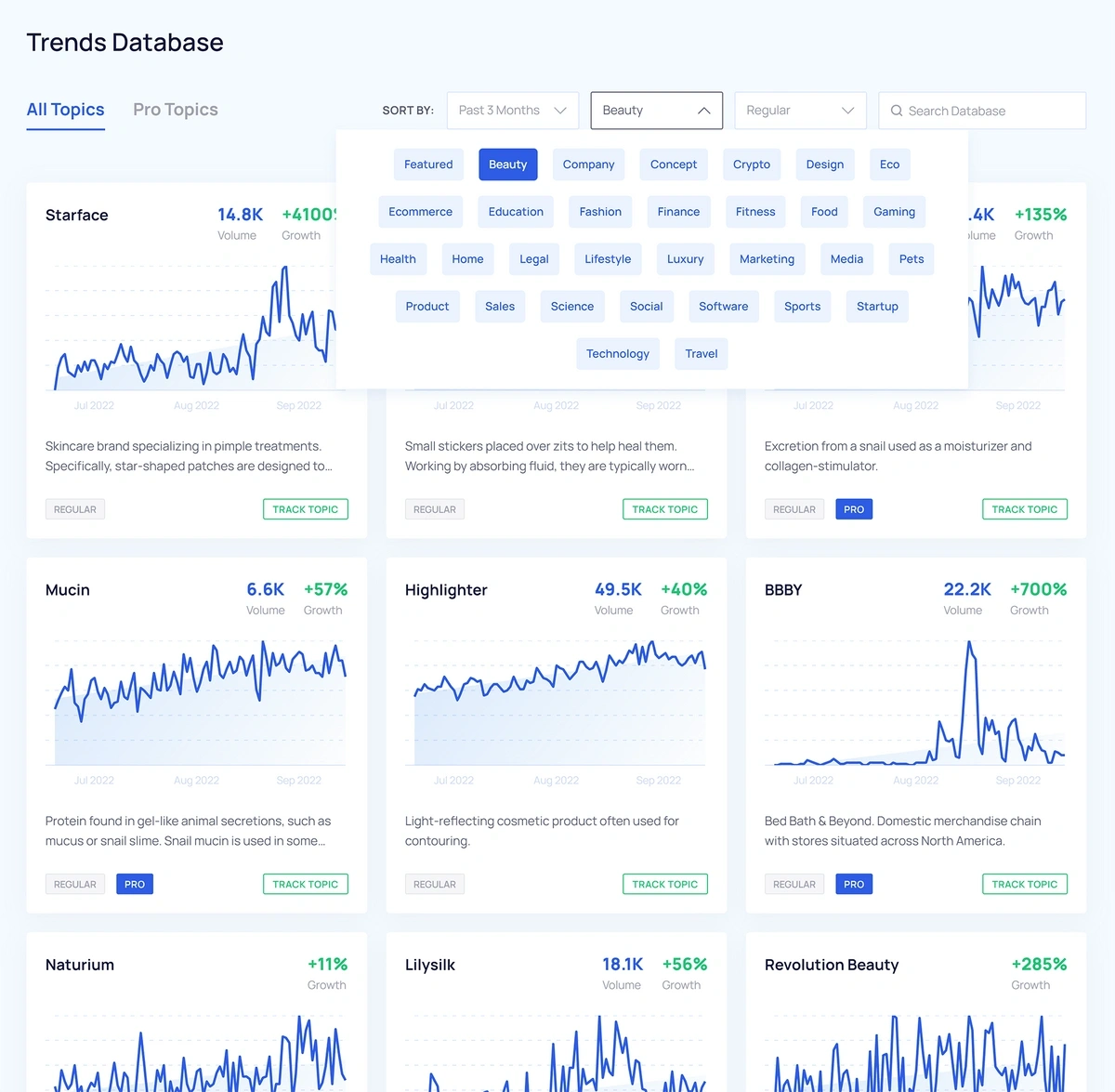 We display important trend details from this view, such as search traffic (searches/mo) and trend growth rate. You can also click into the overview to look at trend data over different timeframes and see related topics.
In addition, we have a search feature so you can gather data on trends you already know about. For example, say you find a trend in Exploding Topics and it reminds you of another company or product; you can navigate to the search bar, type any word or phrase, and view all of the available trend data. You can also save trends from search in the Exploding Topics dashboard and use our trend tracking features to keep an eye on them.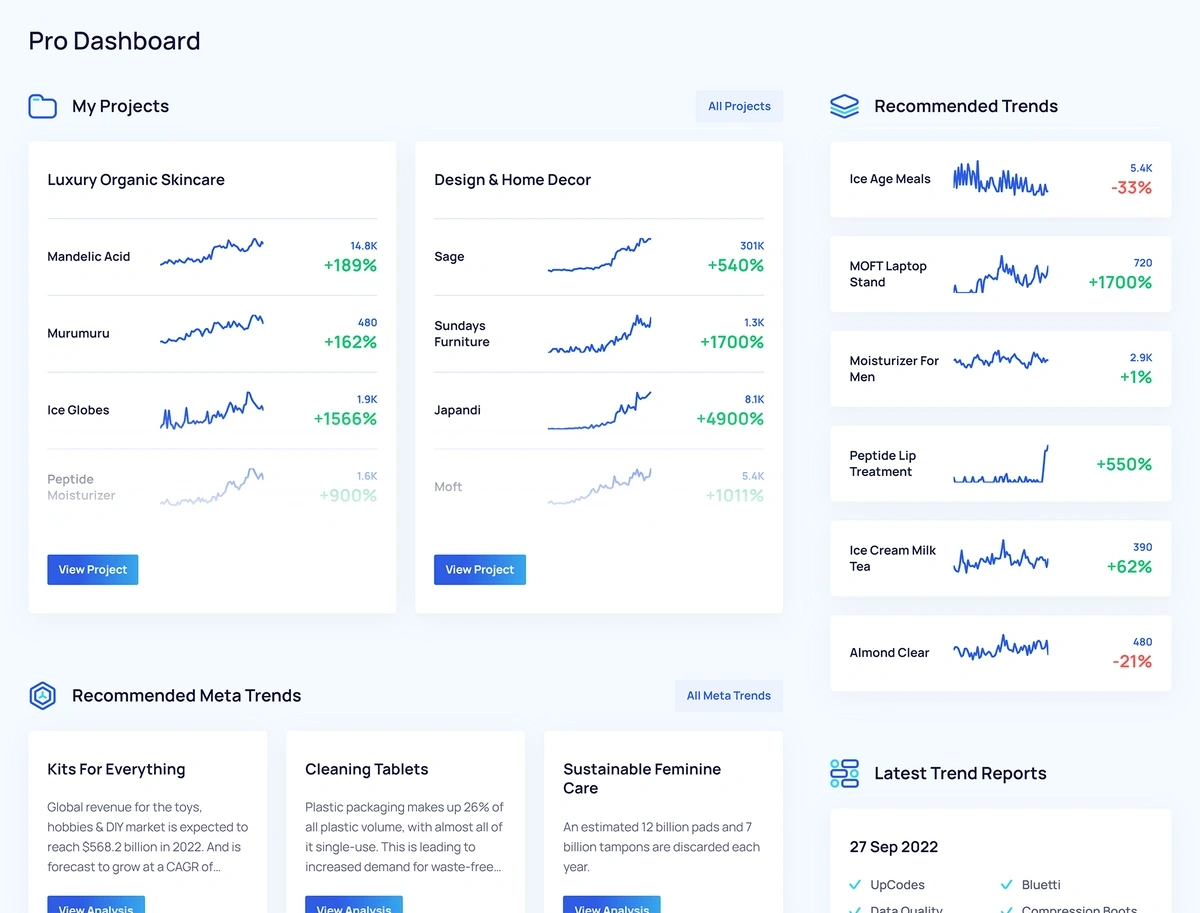 You can also discover trends via reports. We email you information about new trends every week, but you can also access past trend newsletters from the Exploding Topics Reports Library. Every newsletter includes a mix of trend data from a variety of categories, so you can see upcoming trends across industries and dig into the information that's most interesting or relevant to you.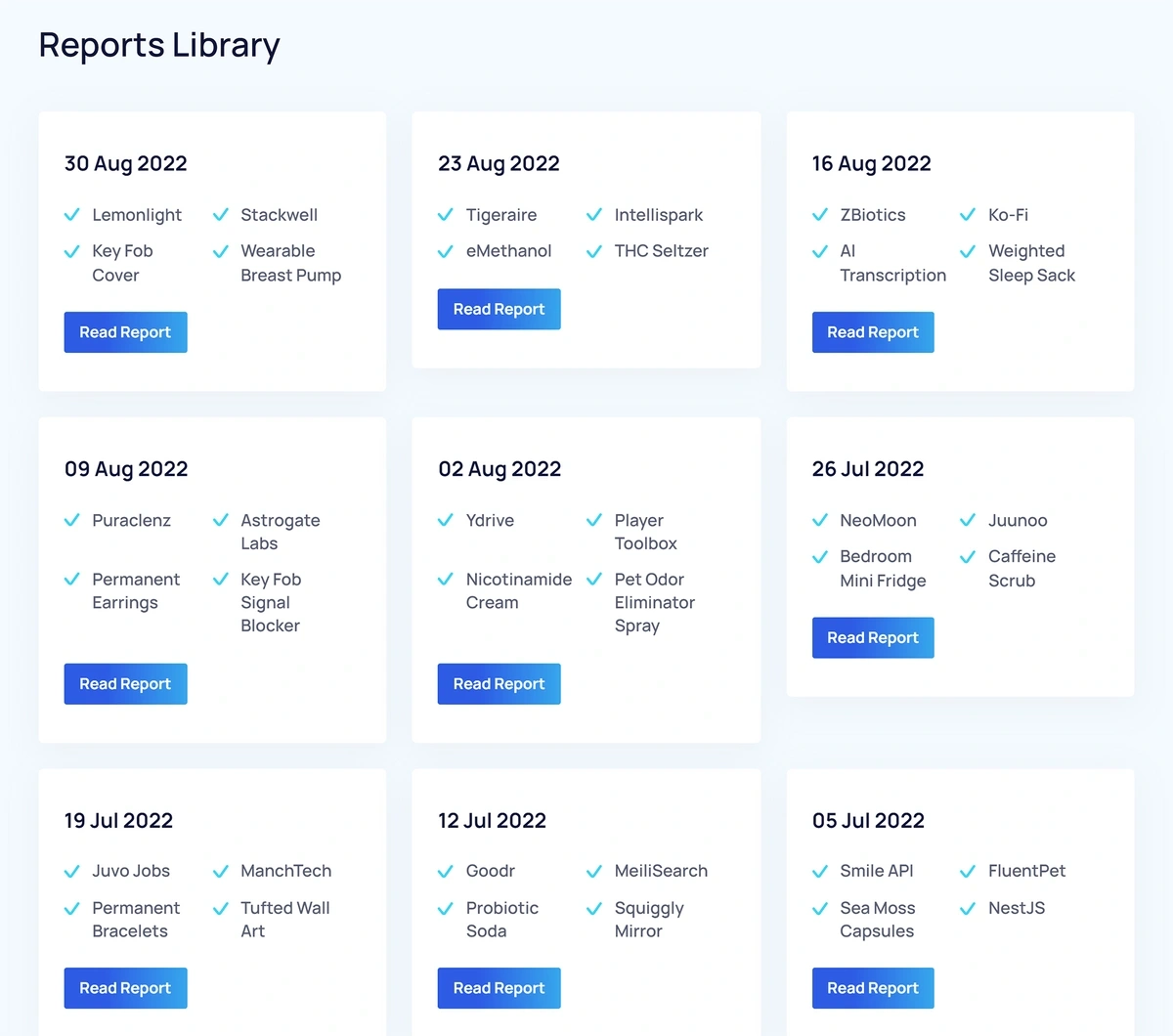 You can monitor all of the trends you're interested in through the Exploding Topics dashboard. Just star trends as you scroll (or search) to save them to your dashboard.
We'll also recommend trends as you add new trends to projects so you can quickly see related topics and include those in your reporting, too. This feeds back into the idea of "you don't need to know what to search" — we'll show you all of the opportunities in your category or industry.
Then you can organize trends by project to track different "groups" of trends separately. For example, say you're doing research on fitness products and health supplements, you can create dedicated projects for each area of research and track trends by topic.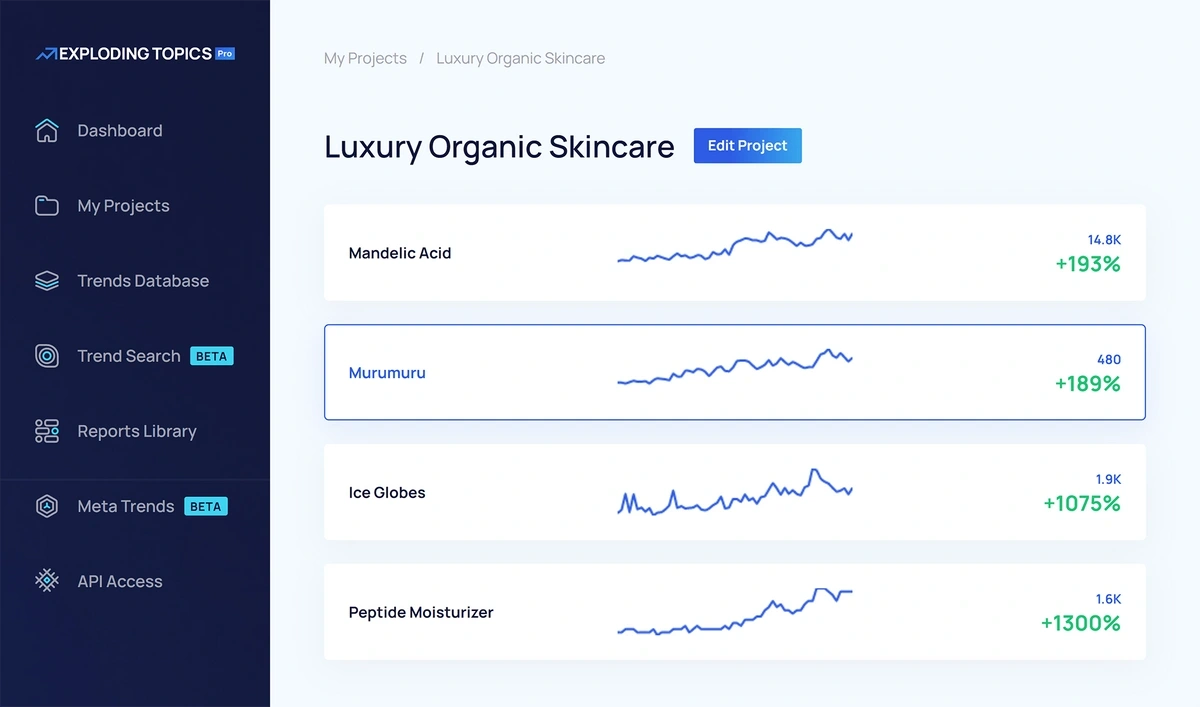 In addition to these features to discover, search, and track trends, we also have a meta trends feature where you can get detailed information about up-and-coming trends.
This feature displays a variety of high-level topics (for example, "luxury DTC brands" or "non-alcoholic alcohol"). When you click to view a topic, you can read the background on the trend and view a library of related meta trends and specific topics.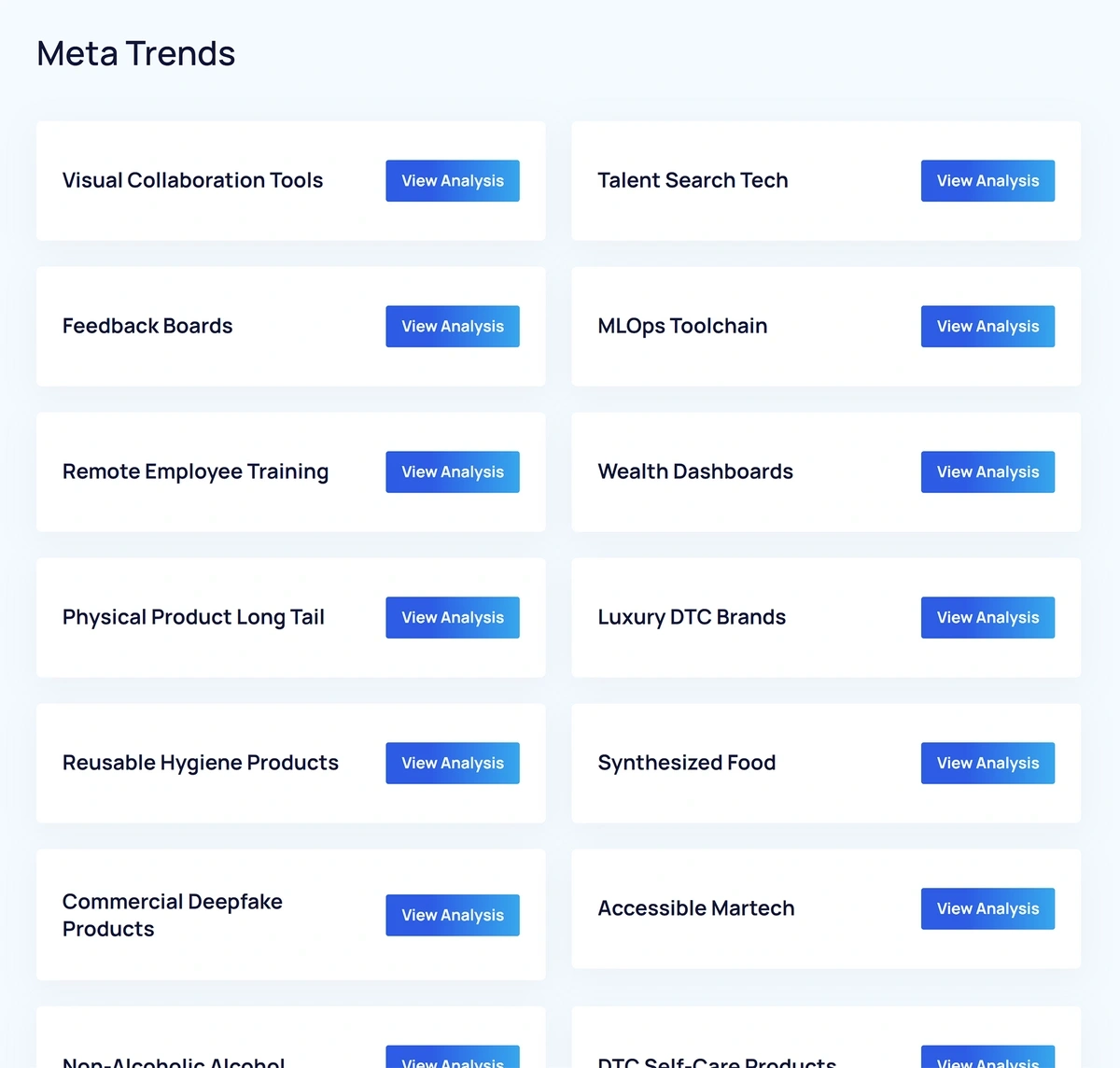 The meta trends feature helps you find more niche trends and opportunities in your category. Then, you can save meta trends from these reports and add them to your Exploding Topics dashboard.
Note: Exploding Topics also has an API so you can integrate our software with other reporting systems and access trend data in those dashboards. You can set up integrations by copying + pasting the Exploding Topics API key in your external reporting tool. You can also contact our team for more help with this.
The Exploding Topics database lets you discover new trends in your industry and leverage trend data before others have the opportunity. You can preview our database on the website for free and start a 14-day trial to receive full database access and explore our features to research and track trends.
3 Other Google Trend Alternatives for Trend Research & Discovery
Treendly, Meet Glimpse, and Insider Intelligence are popular platforms for teams who want to discover new trending topics and monitor how trends evolve. And like Exploding Topics, all three of these trend forecasting sites offer some free functionality, but they all require a paid plan to access trends early or monitor trend growth. Let's review these options.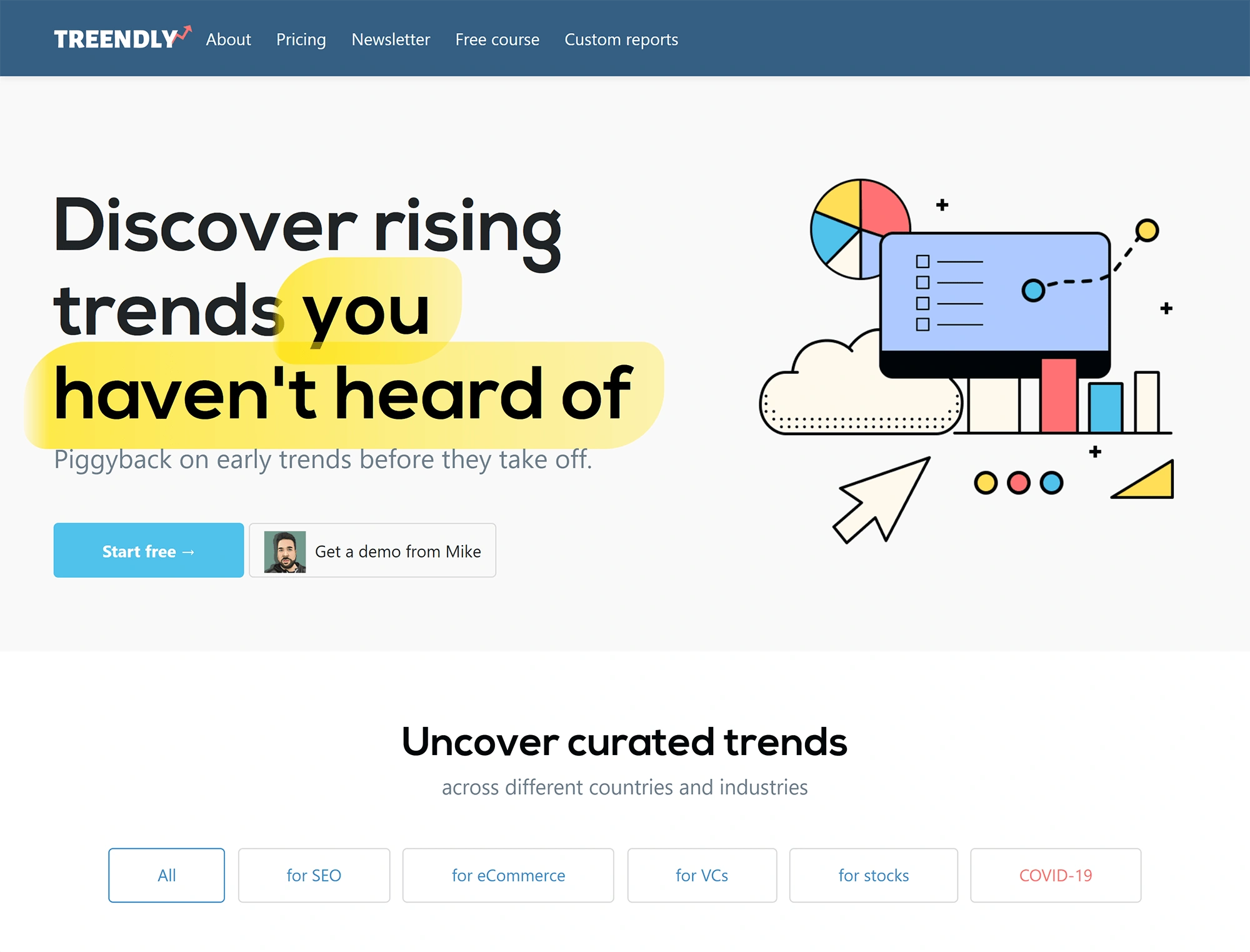 Treendly advertises itself as "Google Trends on steroids" — this platform provides a trend database and custom trend reports so users can explore new trends in their specific industry. They offer features to search and filter trends, look at trend data in different geographic locations, predict trend growth, and save trends to a library. Treendly also lets you look at popular searches by platform; you can see Google searches, YouTube searches, and even what customers search on Amazon. This breakdown can be helpful for eCommerce teams or digital marketers that want to see how people are using these sites and what they're searching or purchasing.
Treendly offers two paid packages — the Starter package for $99/year and an Enterprise plan (they do not list this pricing on their website, you have to request a quote). If you're going to use Treendly, you're better off choosing the Enterprise package because there are some limitations with the Starter plan. For example, the Starter plan only lets you track 25 trends and does not grant access to custom reports. So this option may suit large organizations but it may not work for every team's budget.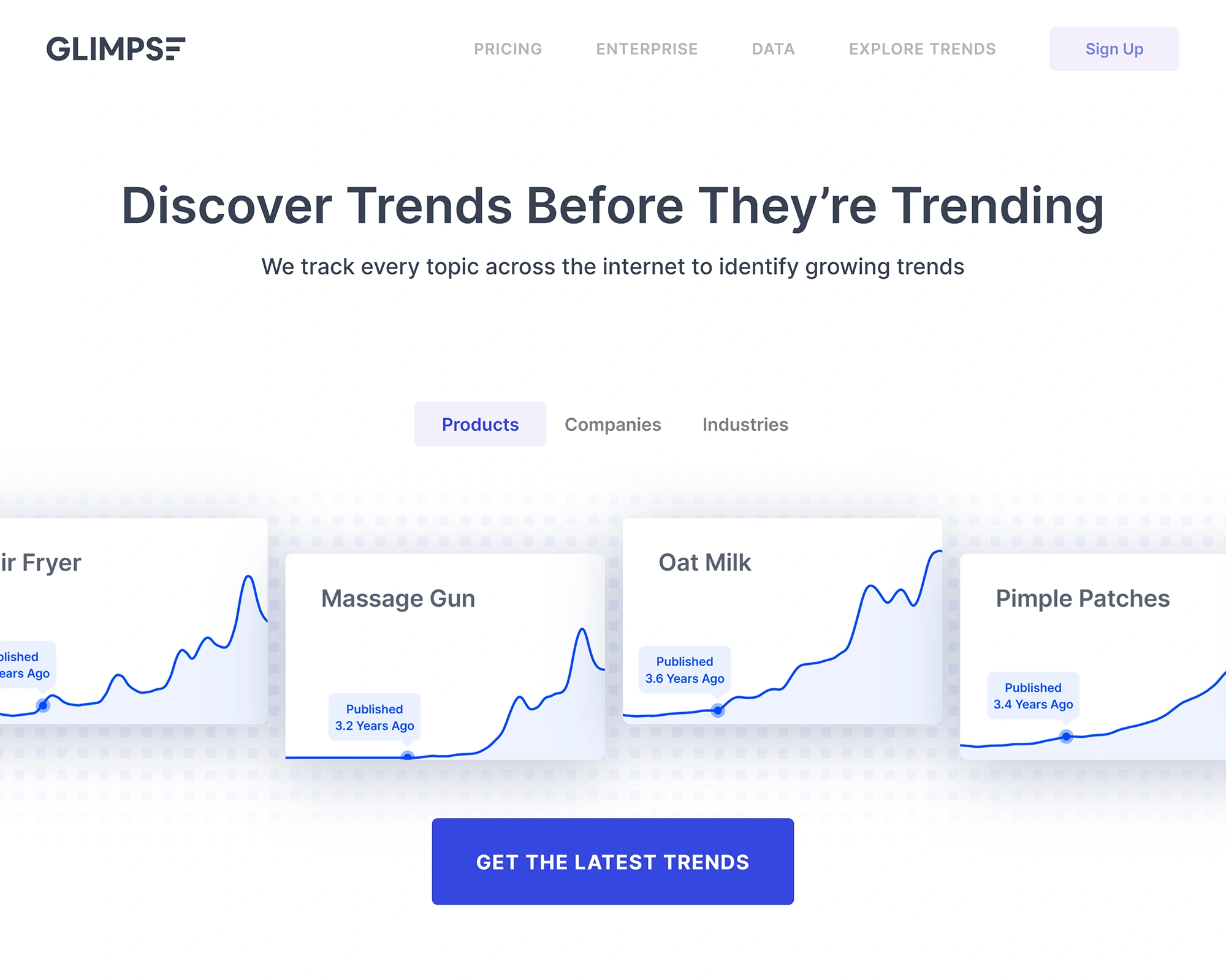 Meet Glimpse is a subscription-based newsletter that delivers upcoming trend information to your inbox once a month. They have three newsletter offerings depending on how much trend information you want. For example, the free newsletter includes data on two trends, while the highest tier includes data and insights on 15 trends. Plus, users who choose the top-tier plan receive trends emails earlier than other users so they have access to that data first.
Although Meet Glimpse receives positive user reviews, reviewers call out the fact that it's not a trend discovery platform — it's just a newsletter (and it only comes monthly). You can read trend insights, but there aren't any features to save or track trends into the future. This is unlike Exploding Topics which sends newsletters weekly and offers tools to save trends, read about related trends, and receive updates on those trends.
Meet Glimpse offers a free newsletter. Or you can pay to subscribe to one of their more in-depth newsletters. The starting price is $29/month, or the top-tier newsletter costs $479/month.
Meet Glimpse also has a Google Trends extension that lets you:
View absolute search volume.
Segment search traffic by channel.
Explore related long-tail search terms.
Set real-time alerts for keywords so you're notified when they hit a specific search volume.
Predict the search trajectory and decipher if a trending search is truly a trend or a fad.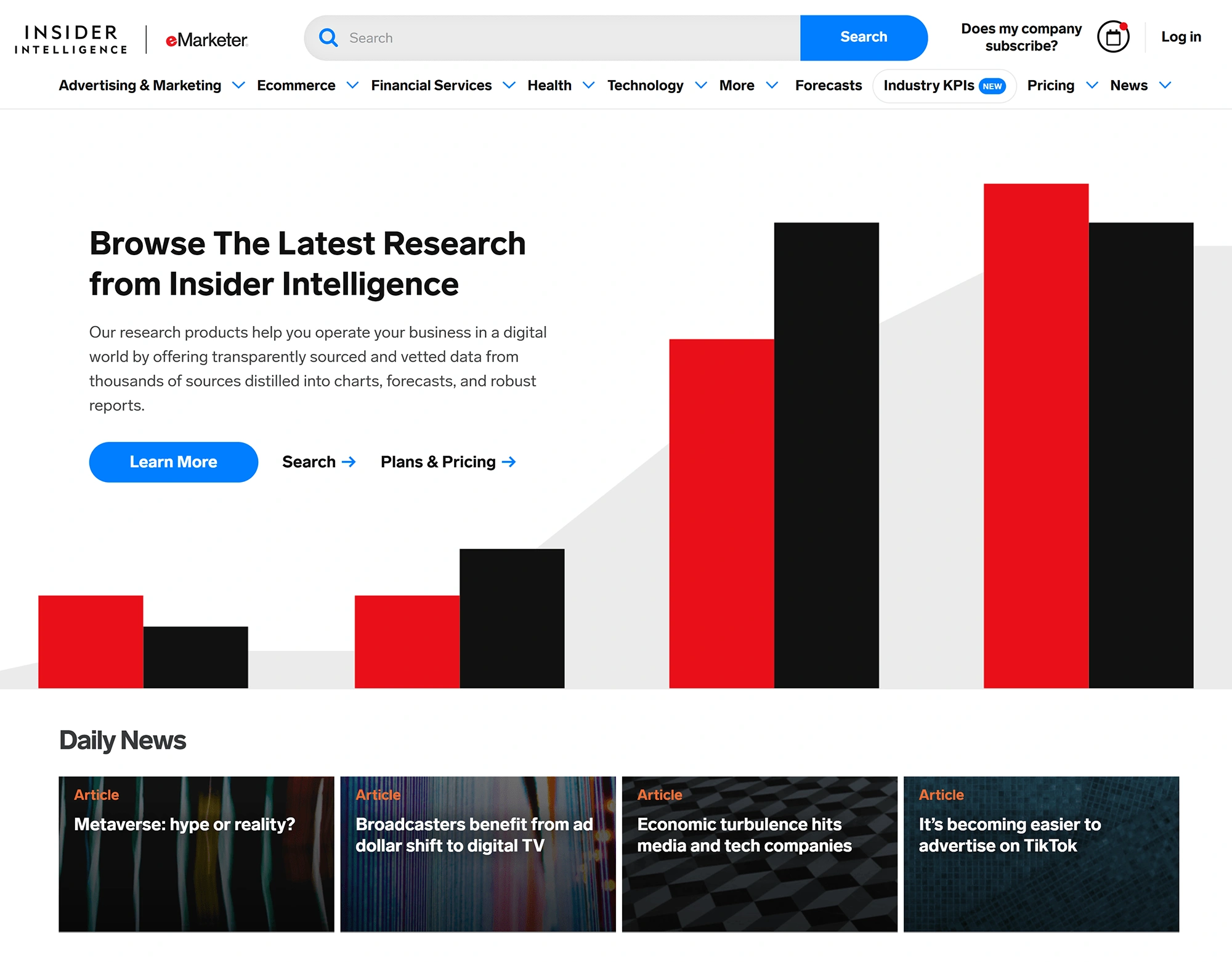 Insider Intelligence (powered by eMarketer and Business Insider) is another subscription-based trends newsletter. However, unlike Meet Glimpse, Insider Intelligence sends trend reports every single day. They deliver trend info on a variety of industries and categories so you can browse the information and find what's relevant to you. You can also search topics in Insider Intelligence and they have tools to look at trend projections.
In addition, Insider Intelligence offers a library of content about these upcoming trends — you can access interviews with experts, blog articles, reports, and infographics. For example, one of the latest reports has research on popular fitness tracker brands, another offers a deep dive into digital restaurant sales. Reviews of Insider Intelligence mention that it's more of a news platform and resource hub than a trends database. So while you can't necessarily save or track trends, you have access to articles to learn more about them.
Insider Intelligence does not disclose pricing on their site, but they offer three plans for different team sizes and user needs.
Google Trend Alternatives for Keyword Research & SEO
Moving on from trend forecasting, this section covers alternative search engine optimization (SEO) software for teams that use Google Trends as a keyword planner.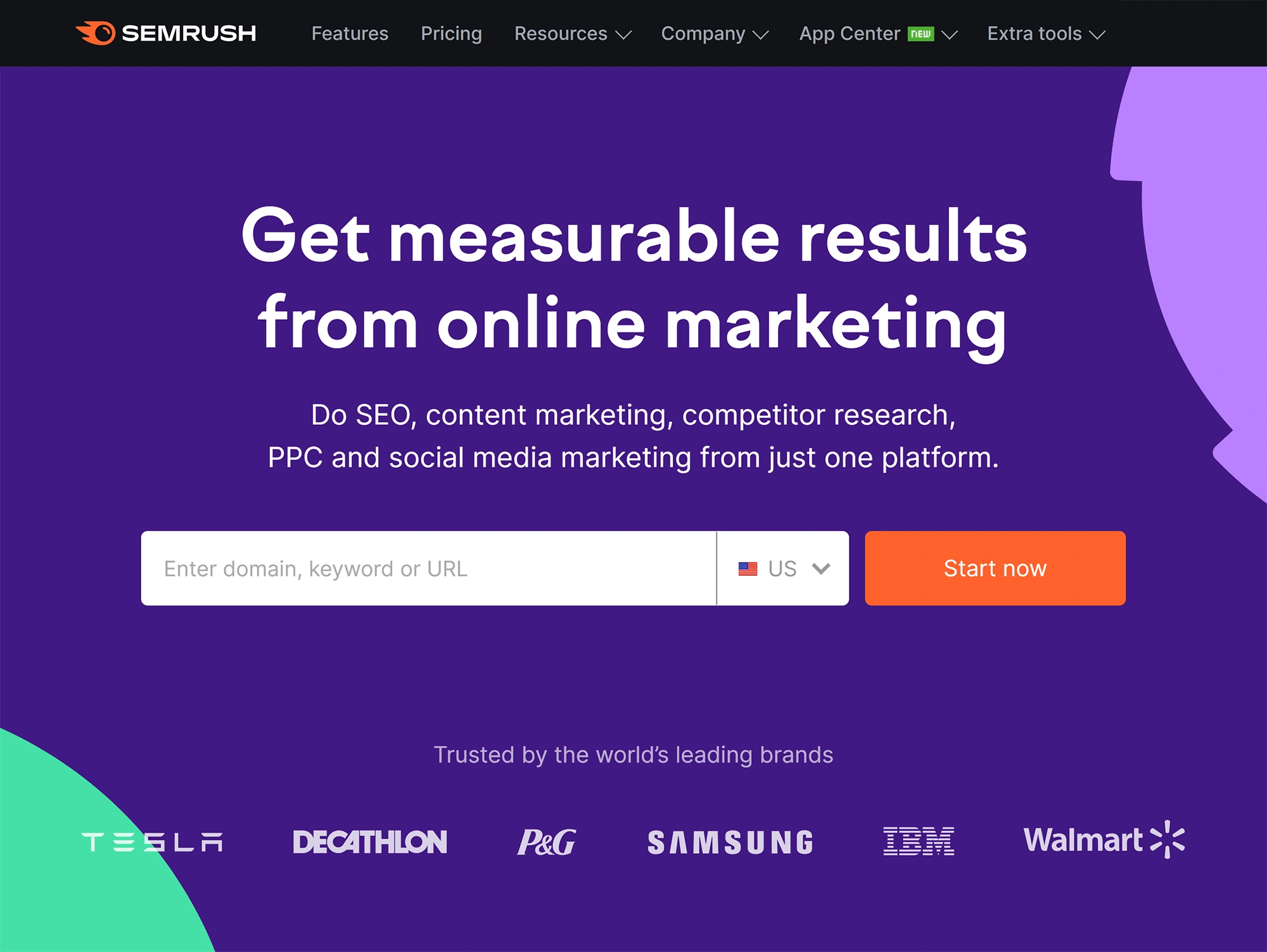 Semrush is a robust online marketing platform for social media marketers, content marketing teams and bloggers, and other digital marketers. They have features to support every step of content strategy and creation, from researching keywords to writing content and planning paid ads. Plus, it includes analytics tools such as a rank tracker that lets you monitor page rankings, and competitor analysis features to keep an eye on what content they're publishing and see how others talk about competitors online.
Semrush is described as user-friendly and doesn't require much training to learn and use. They also have three packages to appeal to different users. The most basic plan lets you do keyword research, track keywords, manage backlinks, and optimize website page content. The enterprise plan gives you access to all of those features as well as integrations with Google Studio (including Google Analytics) and other extras. They also have custom plans for teams with really specific needs.
Despite the software's ease of use, teams without a lot of technical SEO knowledge may not be able to leverage all of the available features and may end up paying for tools they don't necessarily use. So this isn't the best option for teams who just need more advanced keyword research software.
Pricing for Semrush ranges between $120 and $450 per month.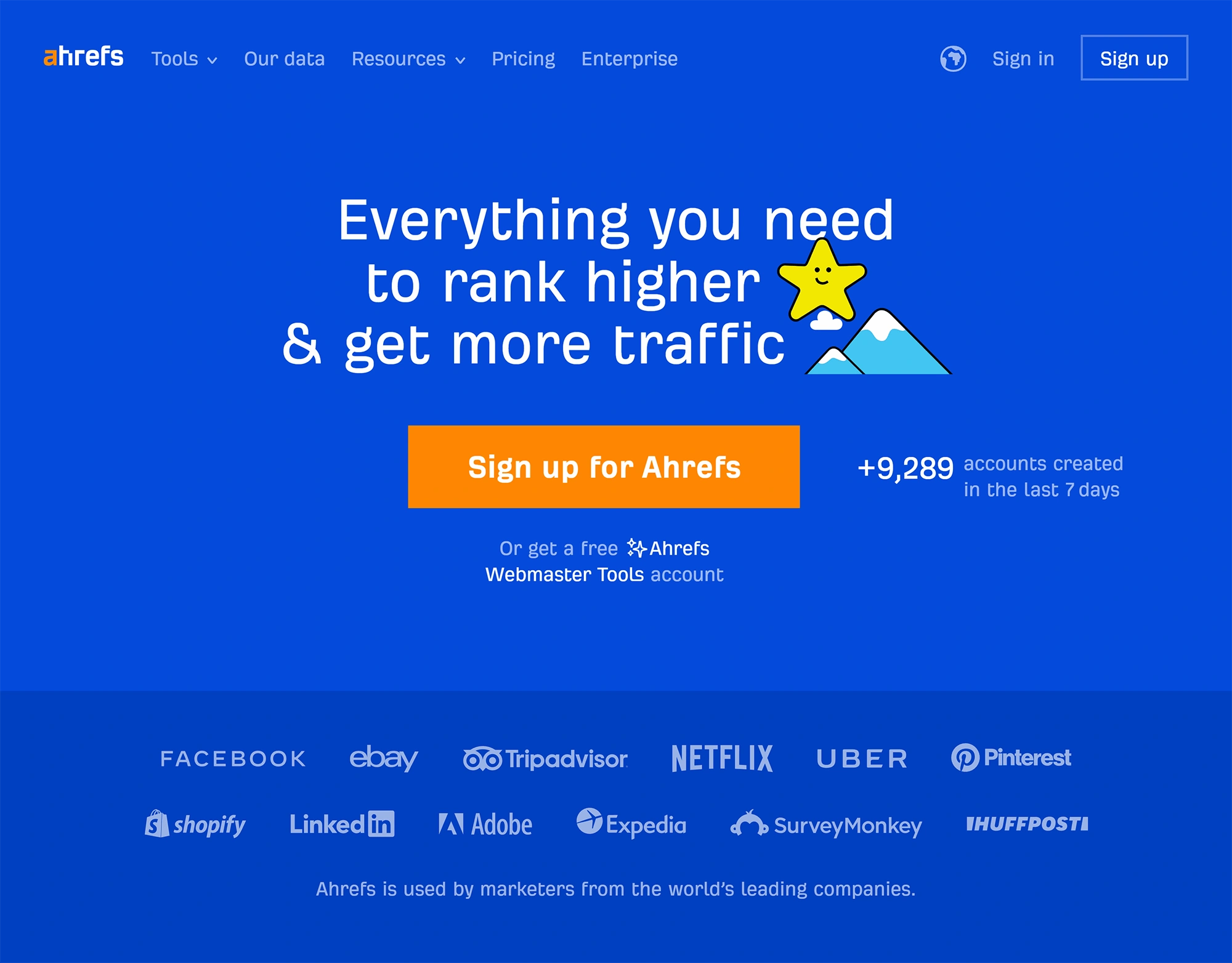 Ahrefs is a digital marketing and SEO software with features that enable teams to:
Research keyword opportunities and look at things like search volume and keyword difficulty.
Discover new content ideas and link building opportunities.
Monitor how website pages rank for specific keywords (and identify content that doesn't rank well so you can plan updates for it).
Research competitor content, rankings, and backlinks.
Pinpoint technical SEO issues and make those fixes.
Organize and track SEO projects in a team dashboard.
This software is mostly recommended for marketing teams that want to grow organic traffic and keyword rankings; address back-end SEO and improve website performance; find valuable linking opportunities to get content in front of new Googlers and increase website pageviews. However, it's worth mentioning that Ahrefs is not for the "beginner" marketer as some of the features are pretty sophisticated and require previous SEO knowledge to use. It's also not the best option for paid ads or social media teams because it doesn't have features to create and schedule ads, track ad performance, or monitor social media campaigns.
Ahrefs offers four paid plans; each plan includes different SEO tools and prices range from $99 to $999 per month.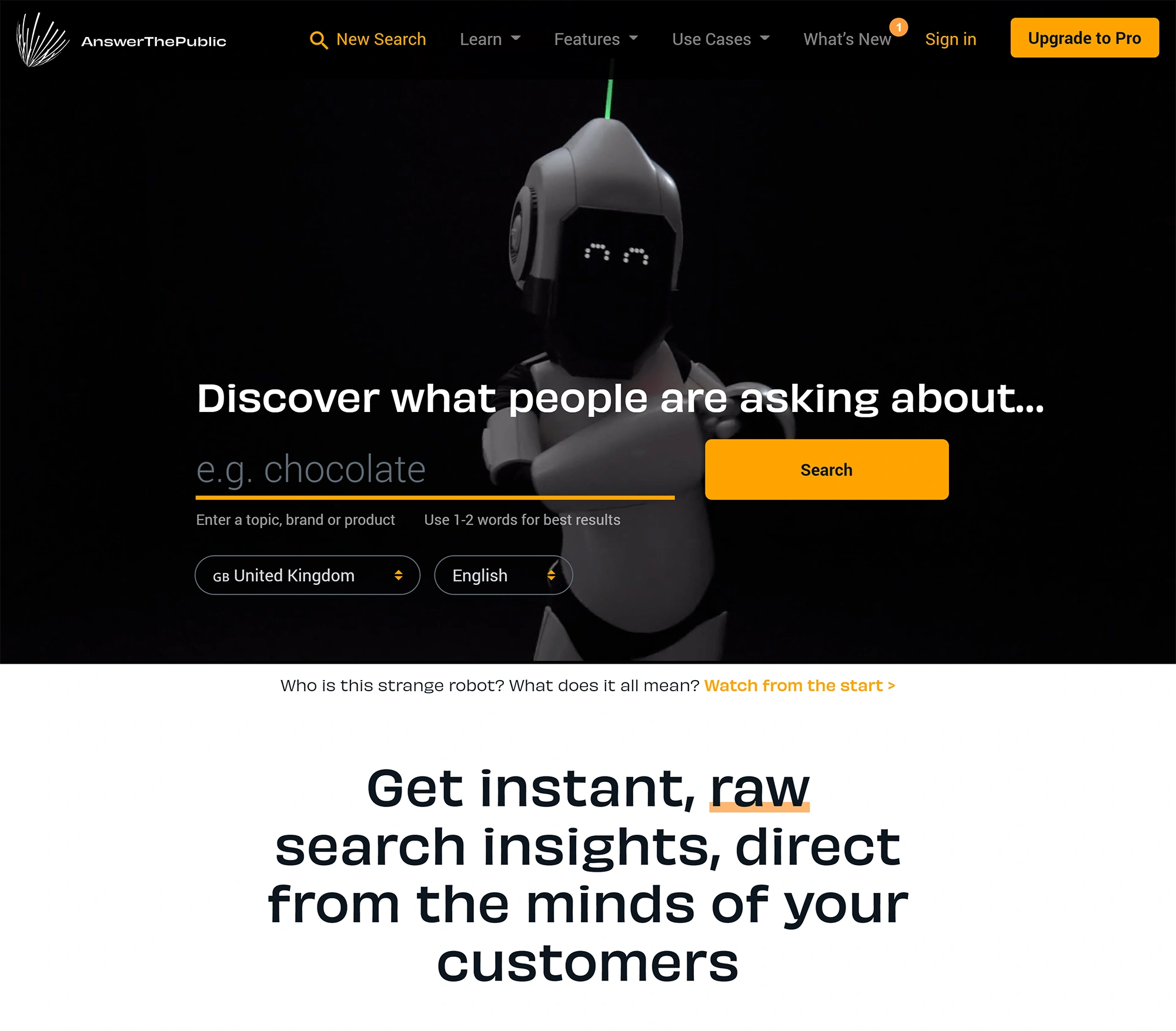 AnswerThePublic is the best alternative for readers that just want a keyword tool to look at Google searches and plan content ideas. You can use their site for free (the free tool allows a limited number of searches each day) or you can buy one of the paid packages to unlock unlimited daily searches. AnswerThePublic's paid packages also include features like folders to organize related keyword ideas together, reporting tools to compare popular Google searches during different periods, and real-time alerts for new keyword ideas.
Reviewers like AnswerThePublic because it generates a high volume of keyword ideas for any topic you type into the search bar and it organizes these keywords by "type." For example, you could search "renewable energy," and it'll populate:
Question-based keywords ("Which renewable energy to invest in?")
Comparison keywords ("Renewable energy vs fossil fuels")
Searches with prepositions ("Renewable energy near me")
It also displays all related keywords in an alphabetical list so you can browse keywords based on your interest and discover new keyword ideas. The biggest downside, though, is that it doesn't show the search volume for any of the keywords. So while you can find keyword ideas, you can't see any data around how often the search is done or how difficult it'll be to rank for the keyword.
AnswerThePublic has three paid offerings and prices range from $79 to $199 per month.
Explore the Exploding Topics Database & Discover New Trends
Exploding Topics is our Google Trends alternative for teams that need a better tool to discover trends before they're popular. Not only can you use Exploding Topics to research and track trends you already know about, but our entire user database is full of new, up-and-coming trends you wouldn't even know to search yet.
We update our database with new trends as soon as we know about them, and there are 13,000+ human-curated trends across all industries for you to explore. You can browse trends by category, adjust the date range to see when trends popped on our radar, and look at trend data to see how many searches are done each month and how search volume has grown over time. Plus every trend that makes it to our database goes through a careful vetting process to make sure it's a high-quality lead and not a short-lived fad.
You can browse the Exploding Topics database on our website for free to get a glimpse of the available trend data. We also offer a 14-day trial of Exploding Topics Pro so you can access all of our early trend data, meta trend information, reports, and trend tracking features. Get started with Exploding Topics Pro for $1.