9 Key Consumer Behavior Trends (2023-2026)
You may also like:
There's no question about it: consumer behavior is changing faster than ever before.
Specifically, what consumers want, where they want it, and when they want to access their products and services are constantly in flux.
In this report, we're going to cover 9 of the most important consumer behavior trends in 2023 (and beyond).
1. Consumers Expect Multiple Payment Options
As people increasingly shop online, they also expect a wide selection of different payment options from online retailers.
This includes offering different ways to pay (like accepting credit, debit and PayPal payments).
But also the ability to defer payments over time.
In fact, the "Buy Now, Pay Later" (BNPL) industry is growing alongside the general growth in eCommerce as a whole.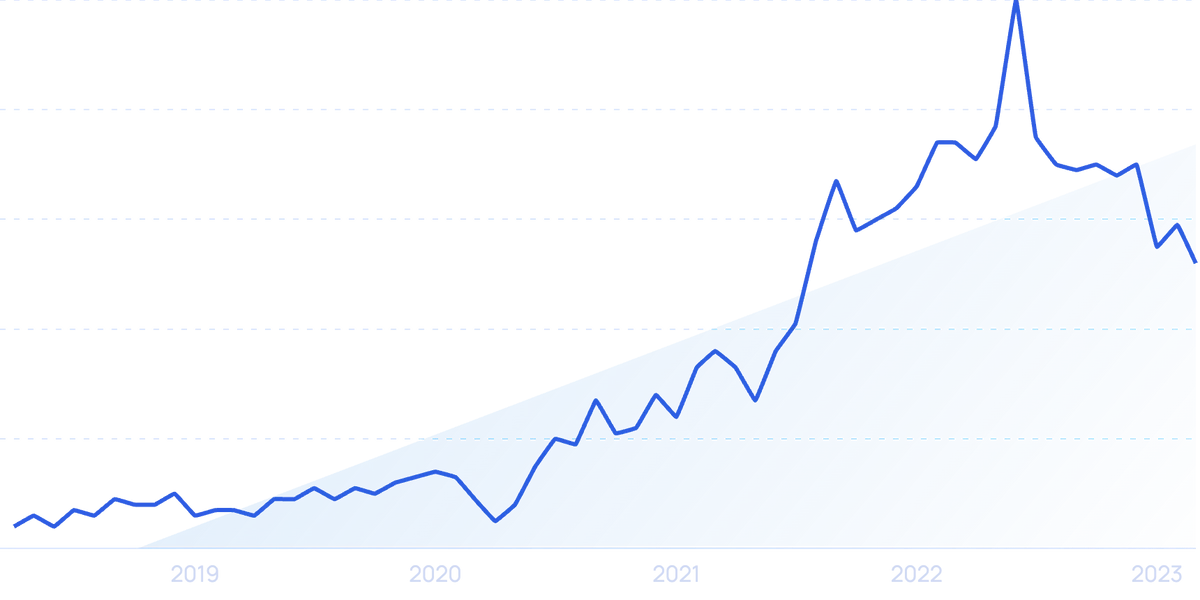 Searches for "BNPL" have grown by 1,200% over the last 5 years.
And there's no shortage of fintech startups cropping up to meet the demand for BNPL at checkout.
Afterpay (known as Clearpay in the UK) is one of the leaders in this category.
But there are several others, like Sezzle, making serious inroads.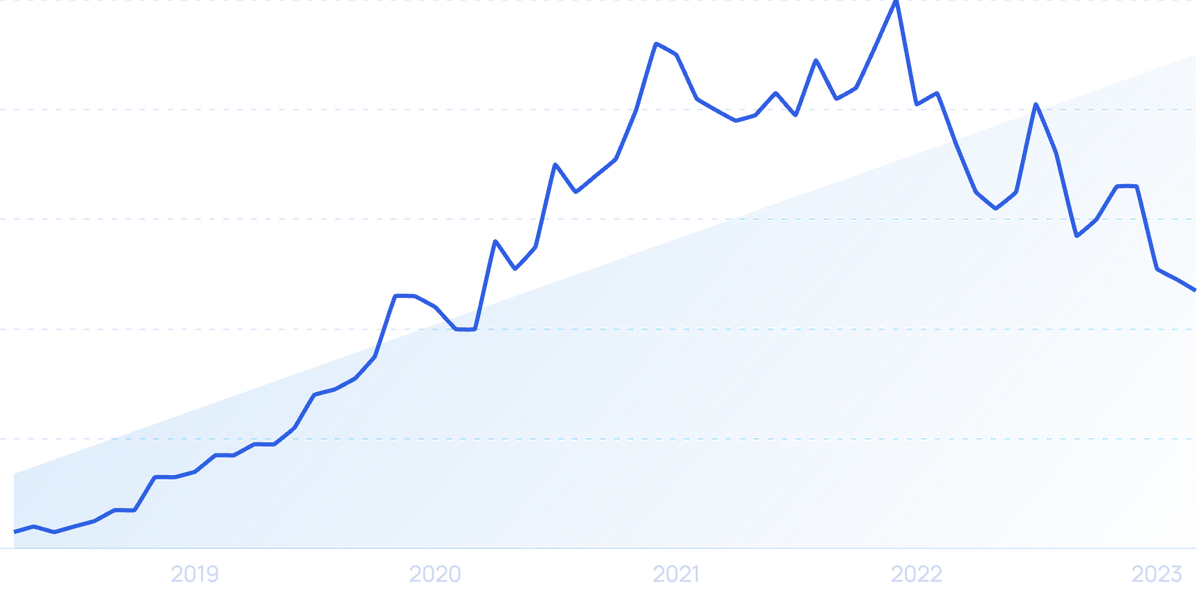 Searches for "Sezzle" have grown by 1,466% over the last 5 years.
2. Shoppers Want Everything Delivered
Over the last few years we've seen a surge in products delivered to the home.
Including products that were traditionally only bought in-store, including:
The best example of this trend might be the DTC mattress category.
Brands like Nectar Mattress have seen rapid growth largely by delivering a product that was previously seen as too large and bulky to deliver to people's homes.
Then the pandemic happened.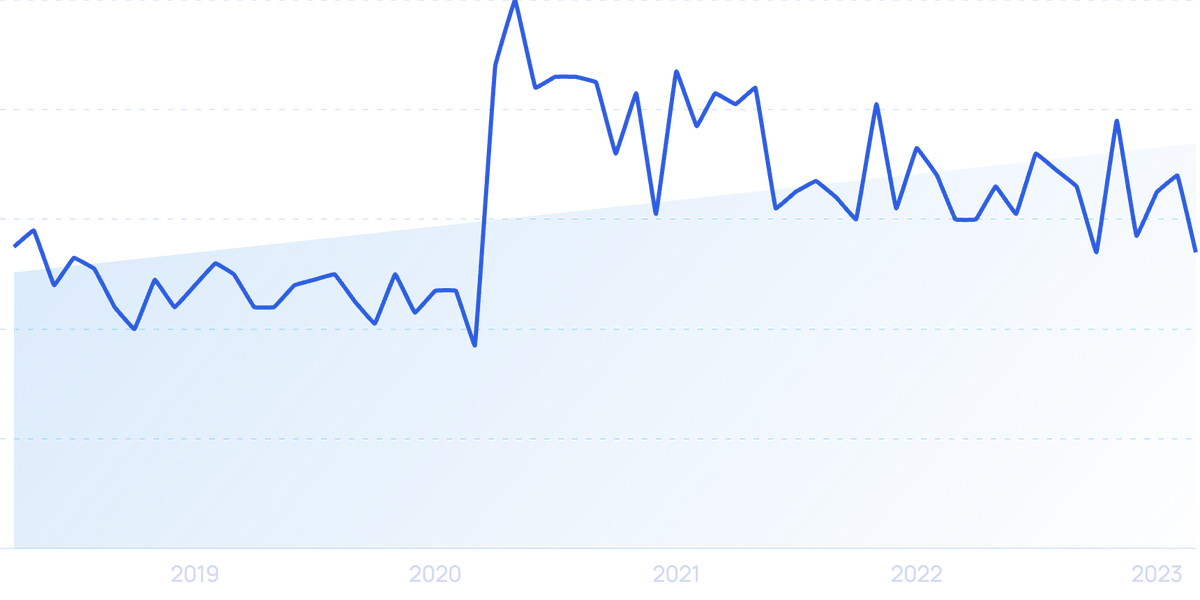 Searches for "Nectar Mattress" over the last 5 years.
And suddenly, consumers expected everything delivered to their doorstep.
The plant delivery space is a great example of the "everything delivered" trend.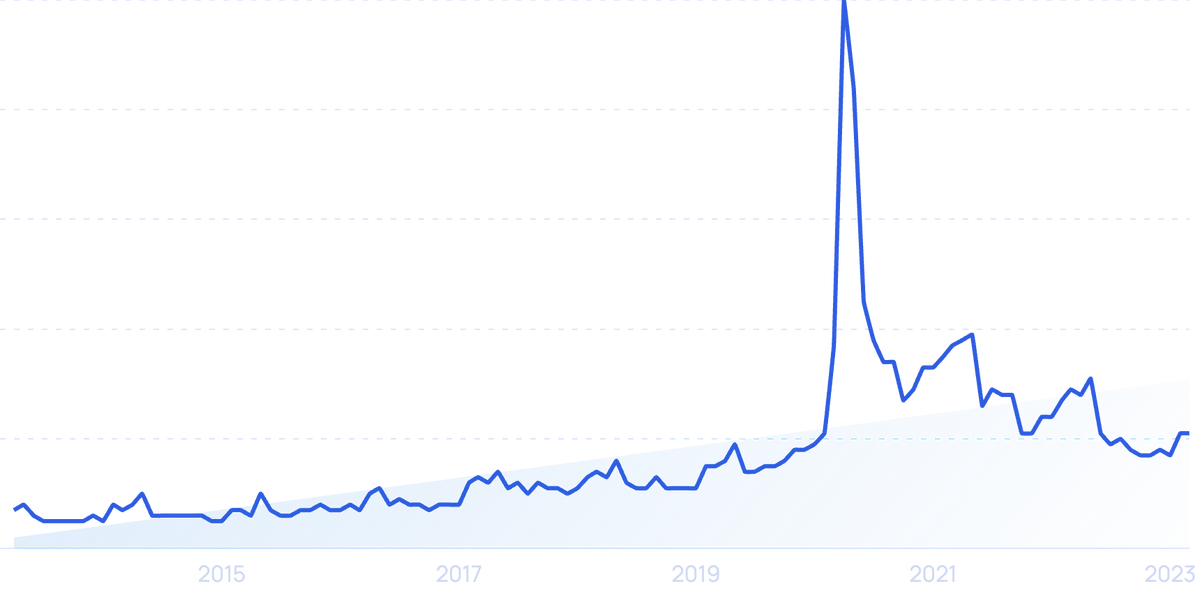 Searches for "plant delivery" spiked at the start of the pandemic.
Plants are difficult to ship.
But, like essentially all products, consumers now want them delivered anyway.
And a handful of companies that have pounced on this demand (like Bloom & Wild), have seen rapid growth.
3. Increased Demand for Ethical and Sustainable Products
According to research by IBM, 77% of consumers consider sustainability and environmental responsibility to be at least "moderately important" brand values.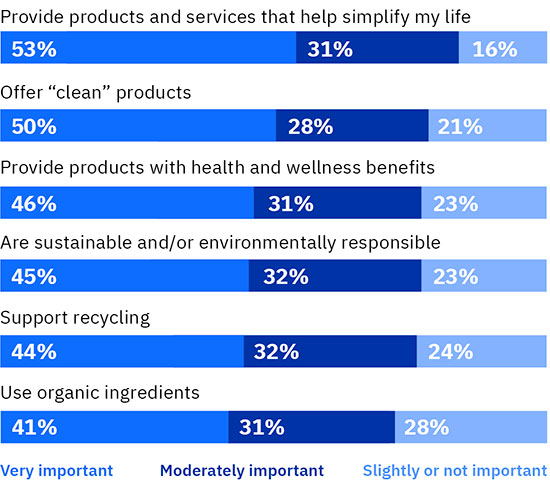 Consumers support environmentally responsible products.
Harvard Business School report that sustainable products have 5.6x higher average sales growth compared to those that aren't marketed as sustainable.
So there's no question that sustainable products from ethical companies is one of the biggest consumer behavior trends to keep an eye on over the next 3-4 years.
An example of a growing sustainable product category is bamboo toilet paper.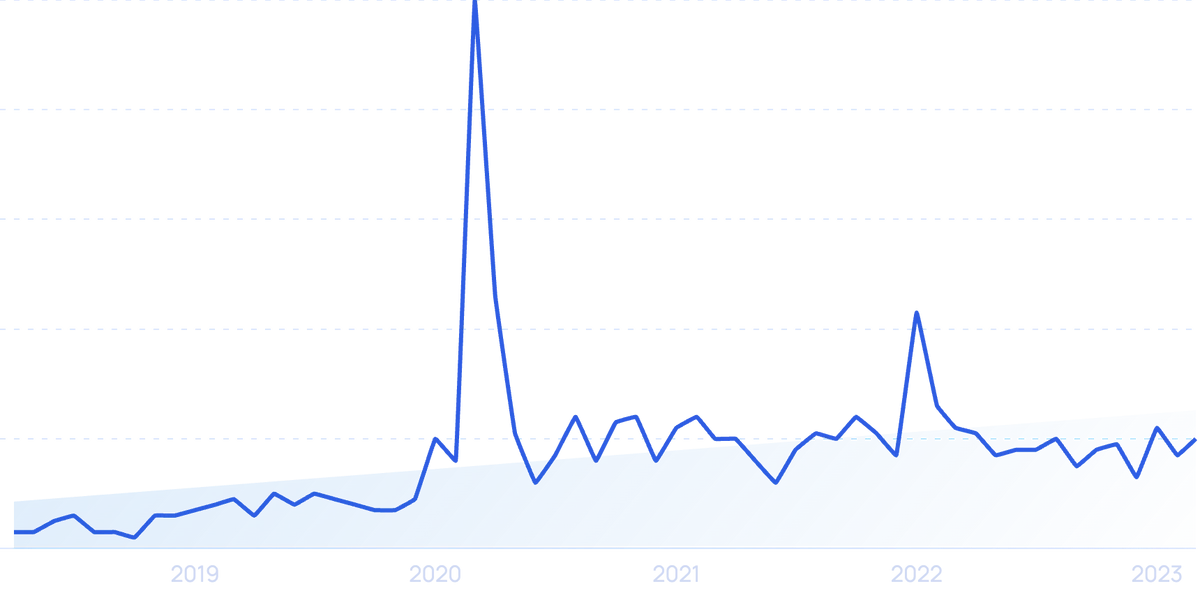 Searches for "bamboo toilet paper" spiked during COVID. But is still seeing growth (566% in 5 years).
Unlike traditional toilet paper, bamboo toilet paper is sourced from a plant with a relatively small negative environmental impact: bamboo.
(This category's growth is also due to the fact that companies started to offer at-home bamboo toilet paper delivery.)
Consumers not only want products that are sustainable.
They also want to buy from brands that act ethically.
In fact, a recent survey found that 32% of US and UK consumers would pay more for the same product if that product came from an ethical brand.
4. People Take Care of Their Health At Home
Telemedicine usage surged during the pandemic.
Some estimates say that the number of telemedicine appointments increased by 5,000% during the height of the pandemic.
However, doctor visits is just one of many areas of health and wellness that have shifted largely to the home.
Another growing at-home health trend is at-home spa treatments.
Even though many spas have reopened (albeit with restrictions), we're seeing continued demand for spa treatments that can be done at home.
For example, Dermaplaning.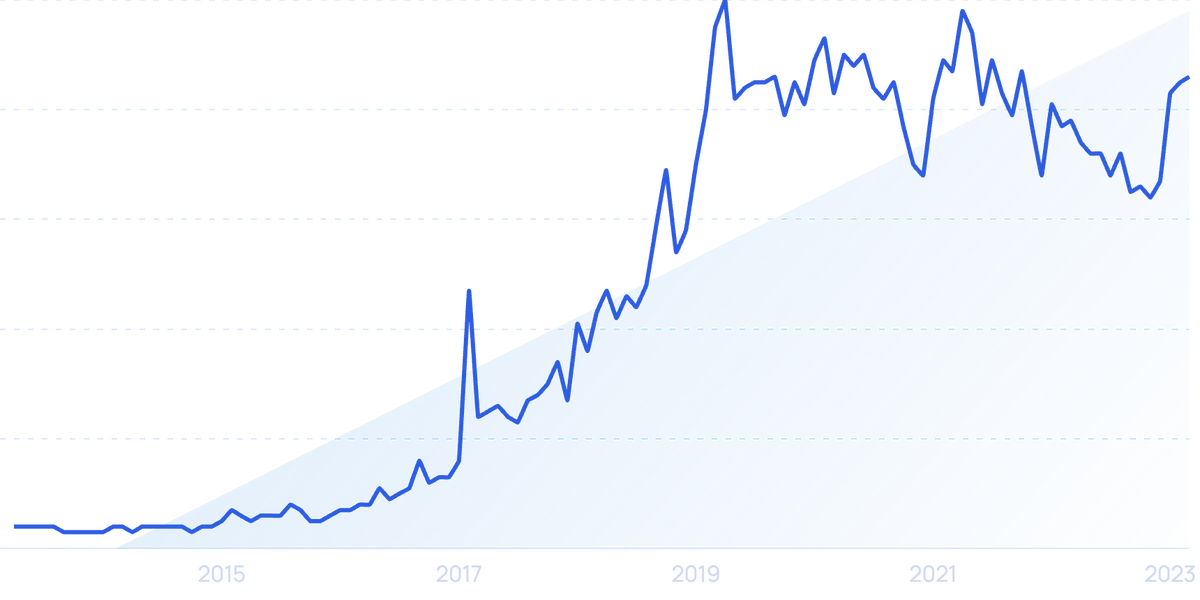 Searches for "Dermaplaning" have increased by 2,050% over the last 10 years.
Dermaplaning is a skincare treatment usually done at a spa or a dermatologist's office.
But consumers are now using at-home kits to take this skincare routine into their homes.
We're also seeing consumers replace their gym with at-home versions.
Searches for "garage gym" spiked during lockdowns.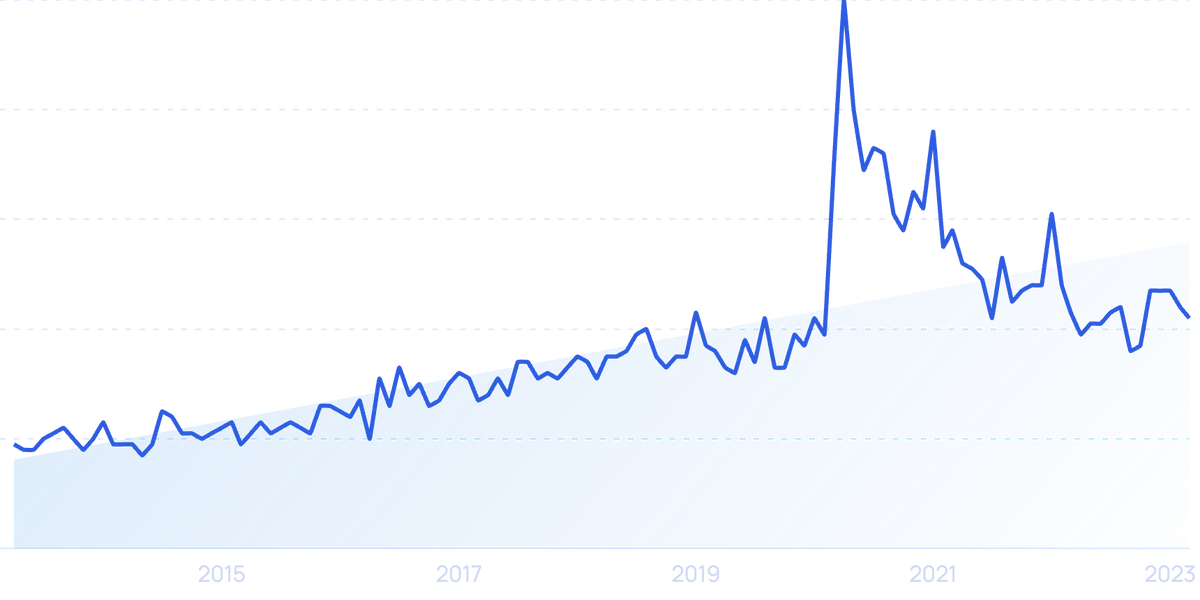 Global Google search growth for "garage gyms".
Even with gyms now open, interest in at-home gyms hasn't completely died down.
That leads us to our next consumer behavior trend.
5. Influencers Increasingly Influence Buying Decisions
Millennials and Gen Z consumers continue to rely on influencers for product discovery.
And for choosing which brands to trust.
In fact, according to Influencer Marketing Hub, the influencer marketing market has increased year-over-year, reaching an estimated $13.8 billion in 2021.
This is why influencer marketing is still a growing marketing channel.

And one that many marketers rely on.
However, the way consumers interact with and buy from influencers is changing.
Specifically, consumers now seek out recommendations from social media influencers that may only have a small, niche audience.
An industry study by HypeAuditor found that social accounts between 1k-5k followers get 2x more relative engagement on each post than influencers with a larger following.
This is why we're seeing an increasing number of brands seek out "micro influencers".

Searches for "micro influencers", who are influencers with <50k followers on a given platform, have increased by 112% over 5 years.
A recent report found that 40% of brands that use influencer marketing have decided to partner with a micro influencer over a traditional influencer.

6. Consumers Subscribe to More Monthly Services
The monthly subscription industry has grown rapidly with subscribers increasing by 90% year-over-year.
This growth is largely due to the fact that consumers are more open to subscribing to monthly products and services than ever before.
And, from Amazon Prime to video streaming services, there's now a wide array of monthly subscription products to choose from.
For example, video games have historically been one-off purchases.
You see a game that you want. Buy it at a one-time price. And play the game for an unlimited amount of time.
This is still largely the case.
But we're also seeing Sony, Microsoft, and other gaming industry giants roll out subscription gaming services.
Which are essentially the Netflix for video games.
For example, Sony's PS Now service streams hundreds of titles for a monthly subscription fee. And it quickly grew to 3.2 million+ subscribers.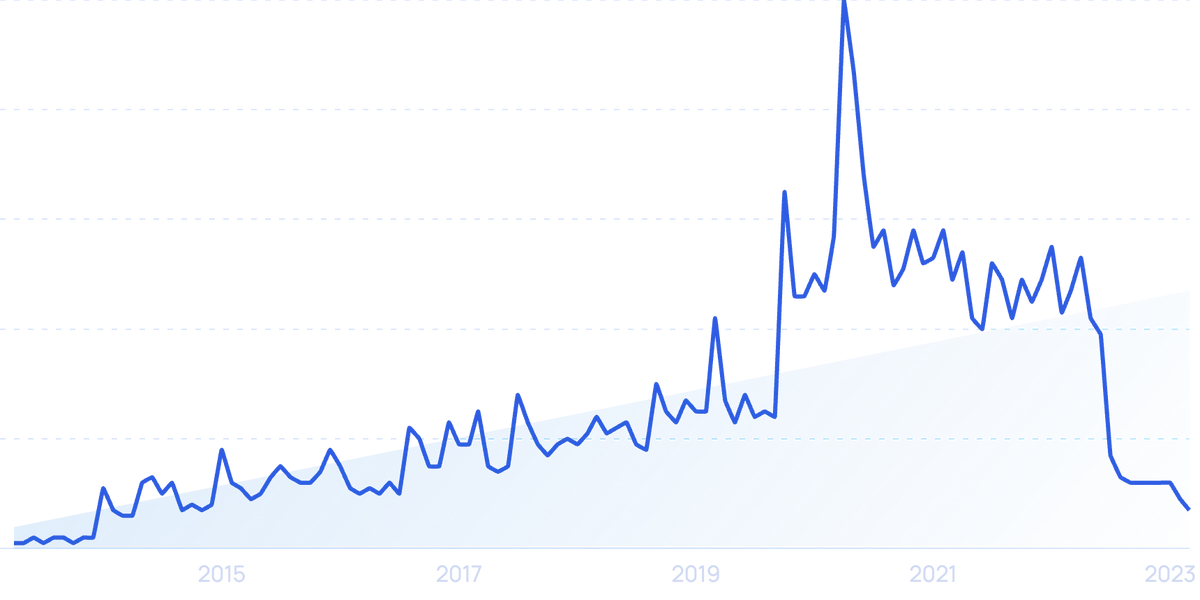 Searches for "PS Now" had been rising over the last 5 years before a recent dip.
Other examples of this consumer trend include monthly boxes, streaming services, and meditation apps.
7. Consumers Spend More on Their Pets
The US pet furniture market size alone is worth over $2 billion.
And pet owners are now more willing than ever to shell out big bucks to increase their pets' quality of life.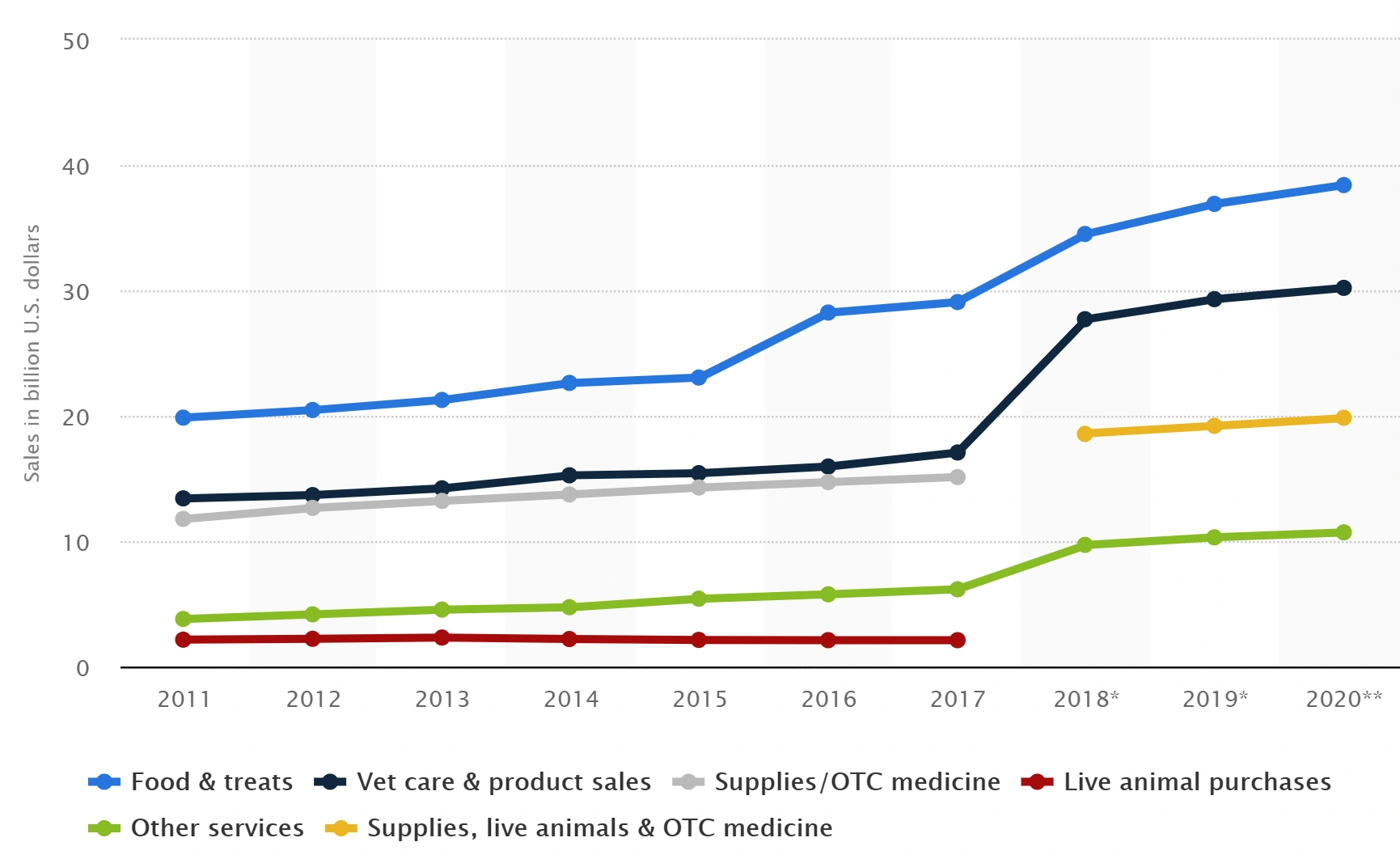 The pet market is growing steadily.

And a growing piece of the industry is based on luxury products.
For example, CBD for dogs, organic cat food, and devices for owners to video-call their pets.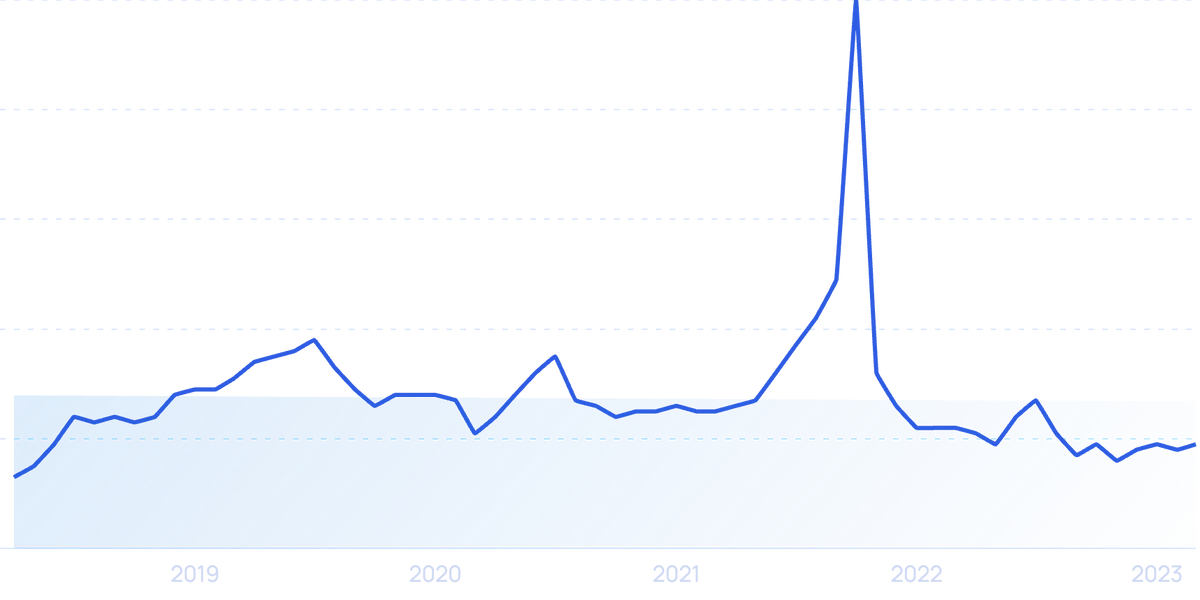 Search growth for "CBD for dogs" is up 46% in 5 years.
No matter the product: if it will make their pets happier, there's likely going to be a group of owners who will buy it.
A few more examples:
If Fido has too much ice cream (or too many Starbucks Puppuccinos) you can buy him a dog treadmill.
Or help him get back in balance with some raw dog food or dog supplements.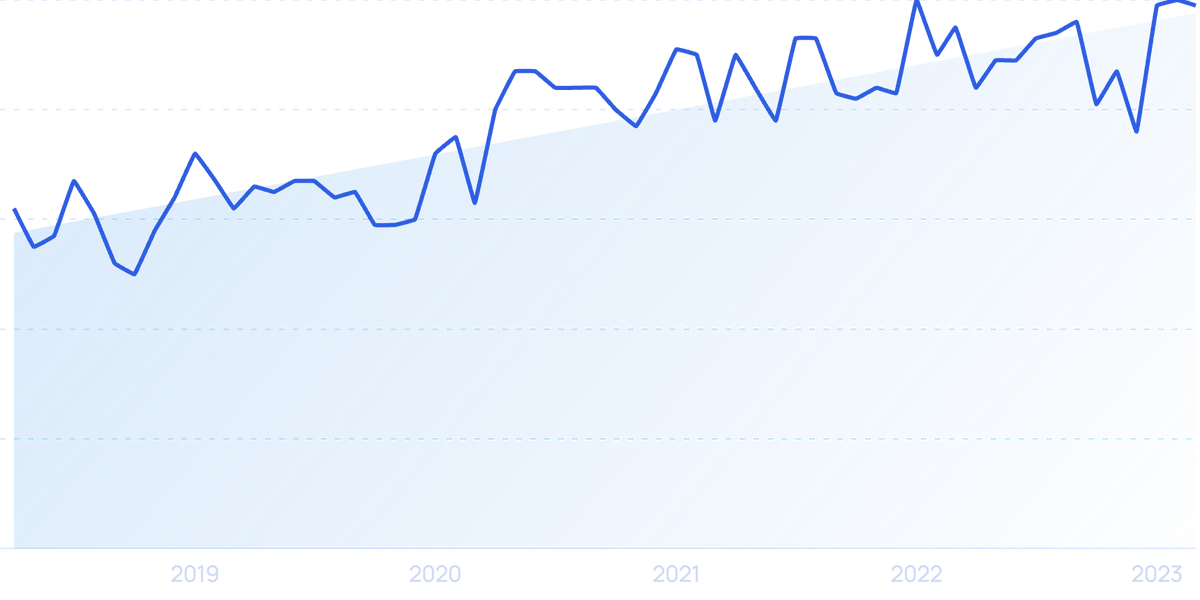 Searches for "dog supplements" have been rising each year.
If Fido still isn't back in shape after that, it may be time to buy some pet insurance.
But why are people spending so much on their pets now?
Like many consumer behavior trends over the past year, the answer is: probably the pandemic.
Owners are more willing to buy luxury pet products having recently seen their pets more often.
The trend has been growing for longer than that, though.
As a long-term movement, luxury pet products are most likely related to the fact that fewer people are having children. (And opting for "fur babies" instead.)
Which is a larger trend that's expected to continue worldwide.
8. The Mindfulness Market Continues to Grow
The global meditation market is expected to grow from $4.08 billion in 2019 to $9 billion in 2027 (at a 10.4% CAGR).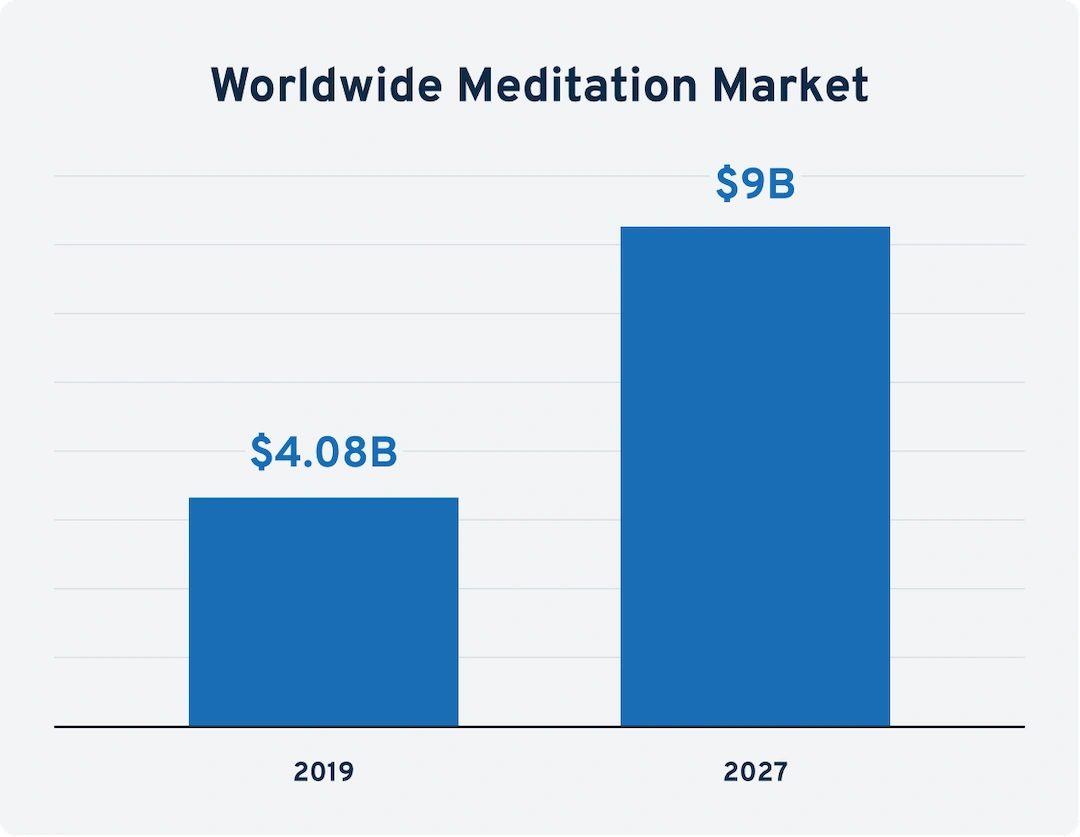 Growth of the meditation market into 2027.
Calm is an app that offers short, themed meditations for increasing concentration or tackling difficult emotions.
And outside of its regular meditations, Calm features the voices of celebrities like LeBron James and Matthew McConaughey.
Calm has a free basic plan as well as a premium membership for $69.99 per year.
To date, the company has raised $218 million in VC funding.

Search interest in "Calm" has increased 114% in 10 years but is facing stiff competition from competitors.
One of Calm's biggest competitor is Headspace, founded in London in 2010 but now headquartered in California.
Headspace gets new users started with a 10-day introductory course to guided meditation. It also features "mindfulness workouts" and physical stretching exercises.
Headspace's pricing is similar to Calm's, with a $69.99 annual subscription as well as a $12.99 monthly option.
The company has raised $215.9 million to date, including $100.7 million in equity and $40 million in debt in 2020.
Waking Up is another example. The guided meditation app features Sam Harris, author of the NYT bestselling book of the same name.
Its price is higher than Calm and Headspace, at $99.99 per year.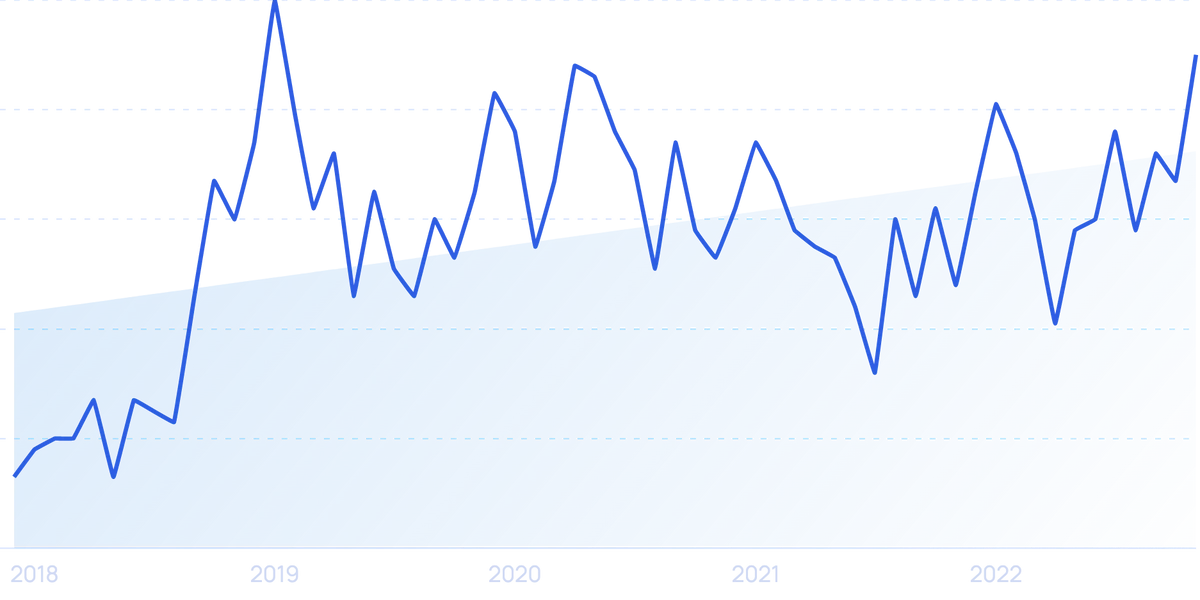 Searches for "Waking Up app" are up 333% in 5 years.
The Ten Percent Happier meditation app is also based on a bestselling book. It offers a free version as well as a $99/year membership.
Ten Percent Happier has raised $8.1 million to date.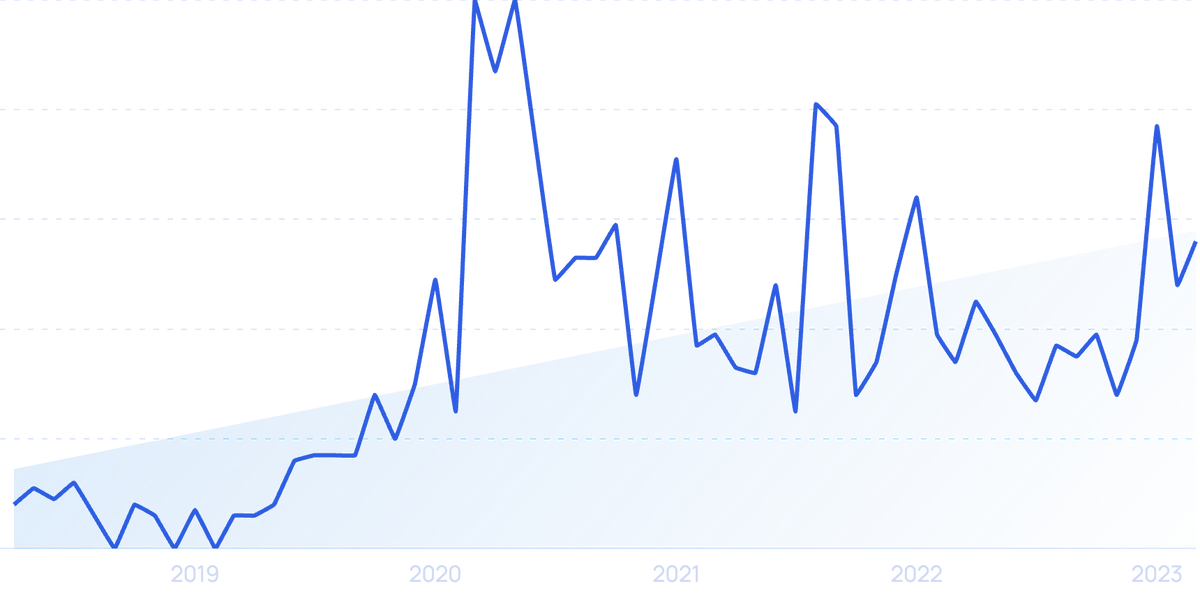 Google searches for "Ten Percent Happier" are up 557% in 5 years.
Inner Explorer has designed a mindfulness system and app for teachers.
The non-profit's daily exercises are currently used by over 5,000 schools and reach more than 1.7 million students.
Which they say has led to 28% higher student grades and a 43% decrease in teacher-reported stress.
Other popular meditation apps include Insight Timer (for which searches have increased 85% in five years) and Breethe (for which searches are up 30%).
Biofeedback startups are taking a different approach to the mindfulness space.
Biofeedback consists of monitoring your body's reactions (like heartbeat, breathing, and brain activity) so that you can try to control your stress, emotions, motivation, or ability to focus.
Research shows that biofeedback may even help treat conditions like migraines and high blood pressure.
One interesting biofeedback startup is Muse.
Muse makes EEG headbands designed to help users meditate and sleep better. Combined with its companion app, the device plays the sound of peaceful weather as you focus on your breathing. When your mind wanders, the noises turn stormy to remind you to relax.
The startup has raised $39.9 million since it was founded in 2007.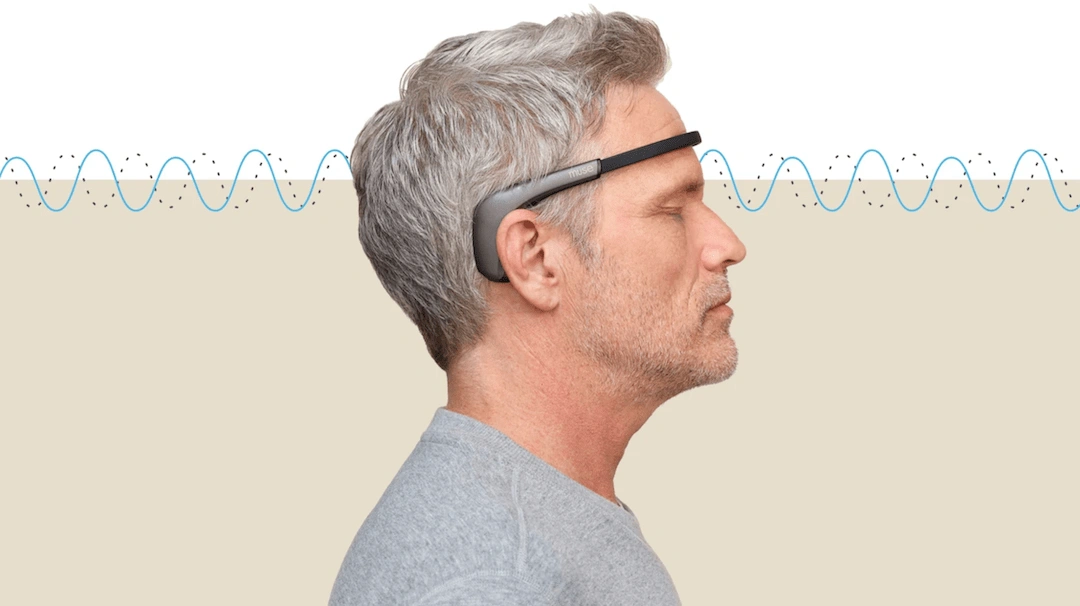 The Muse 2 EEG headband.
EMOTIV makes similar EEG headbands, but designed to monitor stress and help users focus.
Dreem's headbands are made to aid sleep.
And last year MindLabs raised a $1.4 million pre-seed round to launch its "Peloton for mental health". Which will consist of EEG headbands, guided meditations and live video courses.
While Halo Neuroscience works in the opposite direction. Rather than simply measuring brain activity, the company's "Halo Sport" device generates an electrical current to stimulate the wearer's brain.
According to the company, its technology can improve performance in activities like learning guitar, endurance cycling, and playing piano.

The Halo Sport by Halo Neuroscience.
Growing low-tech mindfulness practice is personal journaling.
Journaling is said to help people manage anxiety, focus on priorities, reduce distractions, and identify opportunities for growth.
And it's been recommended by famous personalities like Oprah Winfrey and Tim Ferriss.
That may be why search interest in journaling is up over 5 years: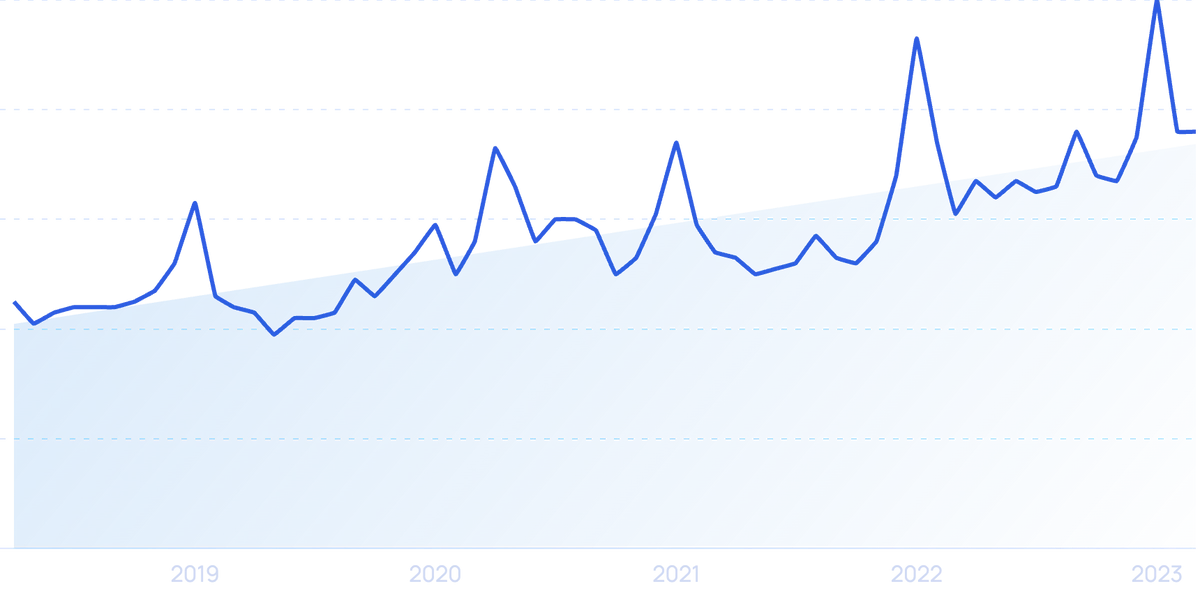 Searches for "journaling" are up 68% in 10 years.
Journaling habits range from free-form writing to trademarked practices like "Morning Pages" and the Bullet Journal, to other structured forms like gratitude journaling.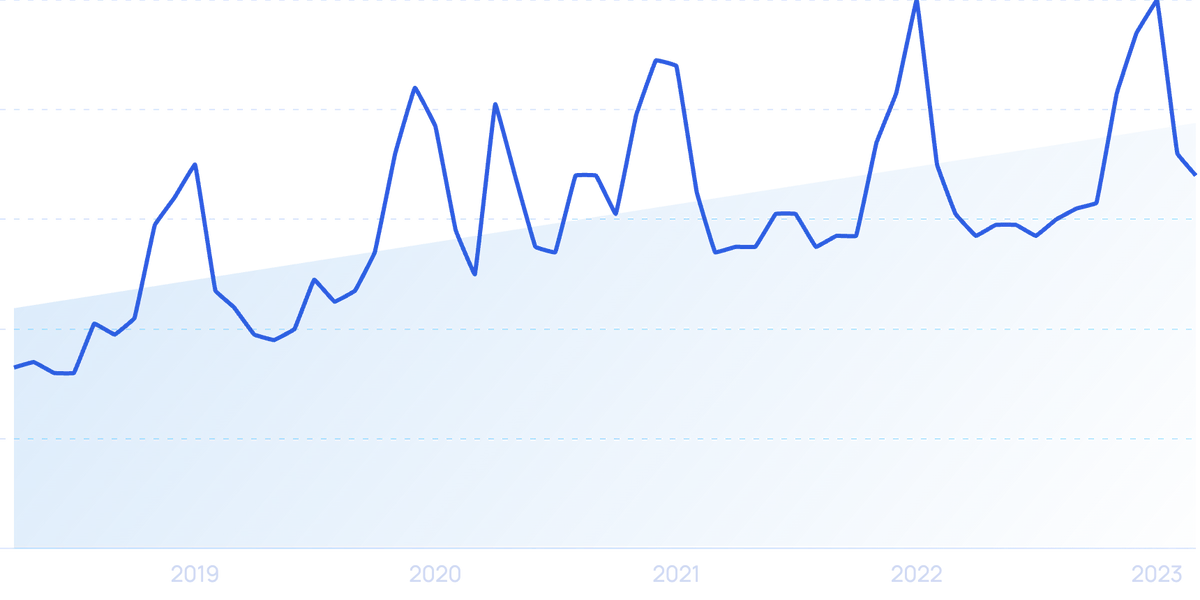 Searches for "gratitude journal" have increased by 106% in 5 years.
Here are a few players in the journaling space:
Jour is a guided journaling app that's used by over 800k people. The startup raised a $1.8 million seed round.
Intelligent Change has sold over 1 million copies of its structured physical journals, "The Five Minute Journal" and "Productivity Planner". It also sells app versions of them.
And Glimpses is a Windows-based journaling tool that syncs with Dropbox.

9. The Home Becomes The Hub
The average North American adult spends 90% of their time indoors.
And with more people working from home than ever before, this number may be on the rise.
And all of this time spent living and working at home is already starting to shift consumer behavior in unexpected ways.
For example, the rise of the smart doorbell.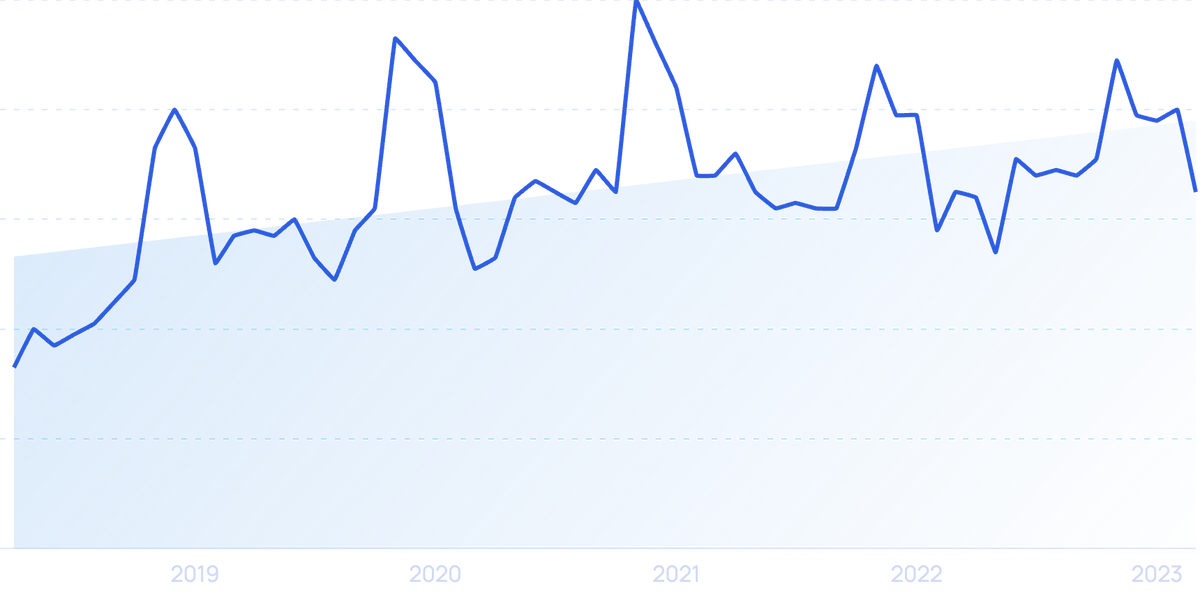 Searches for "smart doorbells" have increased by 96% over the last 5 years.
As people spend more time at home, they realize that their home security may not be up to par, that they want to see their entire home exterior in real-time, and that their online shopping deliveries are at risk on the front steps.
This is why we're seeing increased demand for smart doorbell products, like Amazon's Ring.
Another example of this trend is the increasing number of searches related to cooking.
For example, searches for the product "air fryer" have increased over the last five years.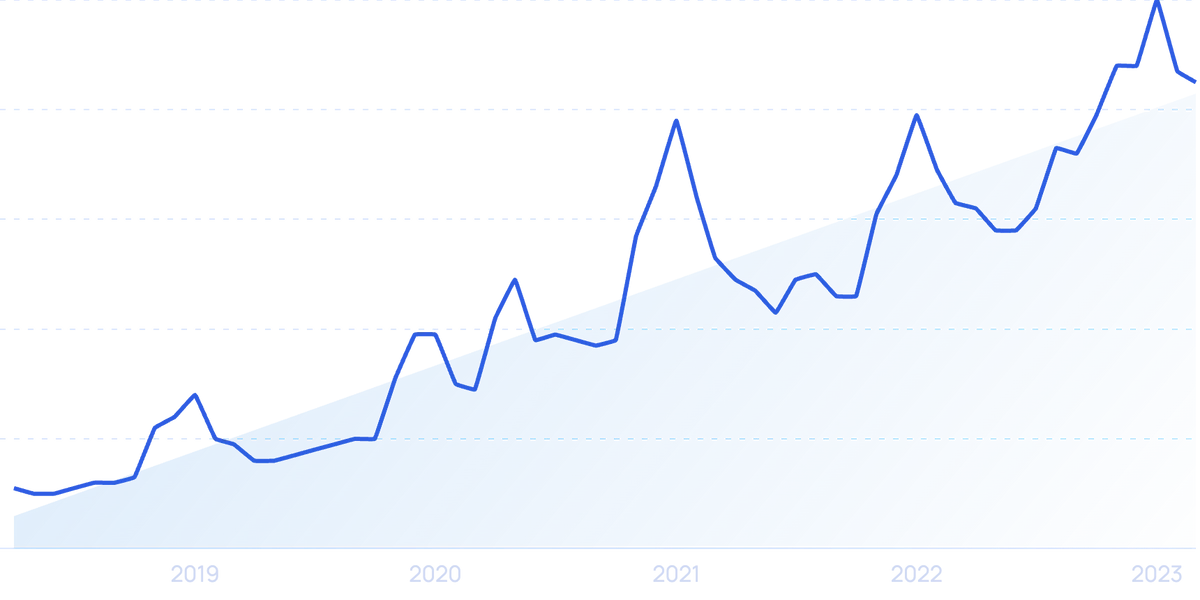 Searches for "air fryers" have increased by 672% over the last half-decade.
Conclusion
Many of these consumer behavior trends were already here before coronavirus struck. But the COVID pandemic put many of these trends into overdrive.
That said, we can expect many of these trends to sustain long-term.
One thing that ties many of these trends together is a focus on convenience. Consumers are increasingly willing to invest in products and services that save them time and effort. Even if they have to pay a premium to do it.
Another feature that many of these trends have in common is a renewed focus on customer experience. As consumers increasingly opt for digital channels for browsing and buying, brands need to make sure that their digital experience is on par with what someone would get in-store.