8 Key Consumer Behavior Trends For 2021
There's no question about it: consumer behavior is changing faster than ever before.
Specifically, what consumers want, where they want it, and when they want to access their products and services are constantly in flux.
In this report we're going to cover 8 of the most important consumer behavior trends in 2021 (and beyond).
1. Consumers Want Everything Delivered
Over the last few years we've seen a surge in products delivered to the home.
Including products that were traditionally only bought in-store, including:
The best example of this trend might be the DTC mattress category. Brands like Nectar Mattress have seen rapid growth largely by delivering a product that was previously seen as too large and bulky to deliver to people's homes.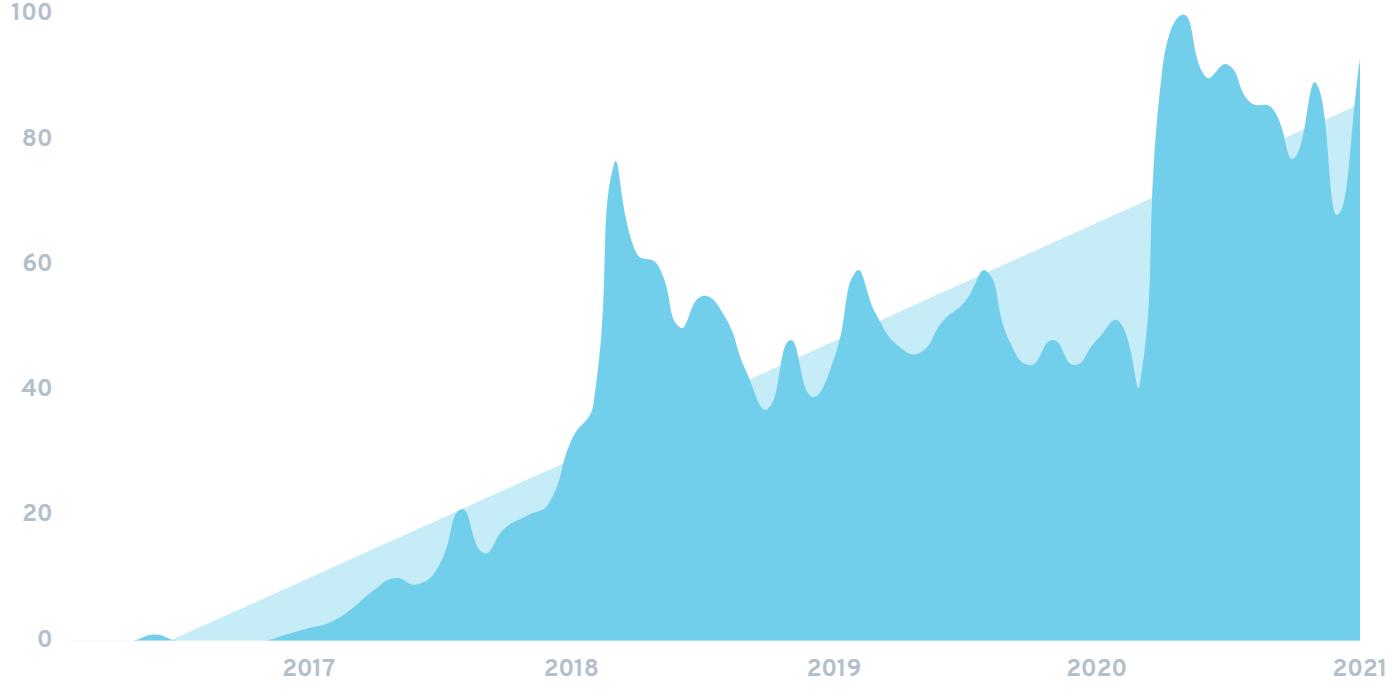 Searches for Nectar Mattress over the last 5 years.
Then the pandemic happened.
And suddenly, consumers expected everything delivered to their doorstep.
The plant delivery space is a great example of the "everything delivered" trend.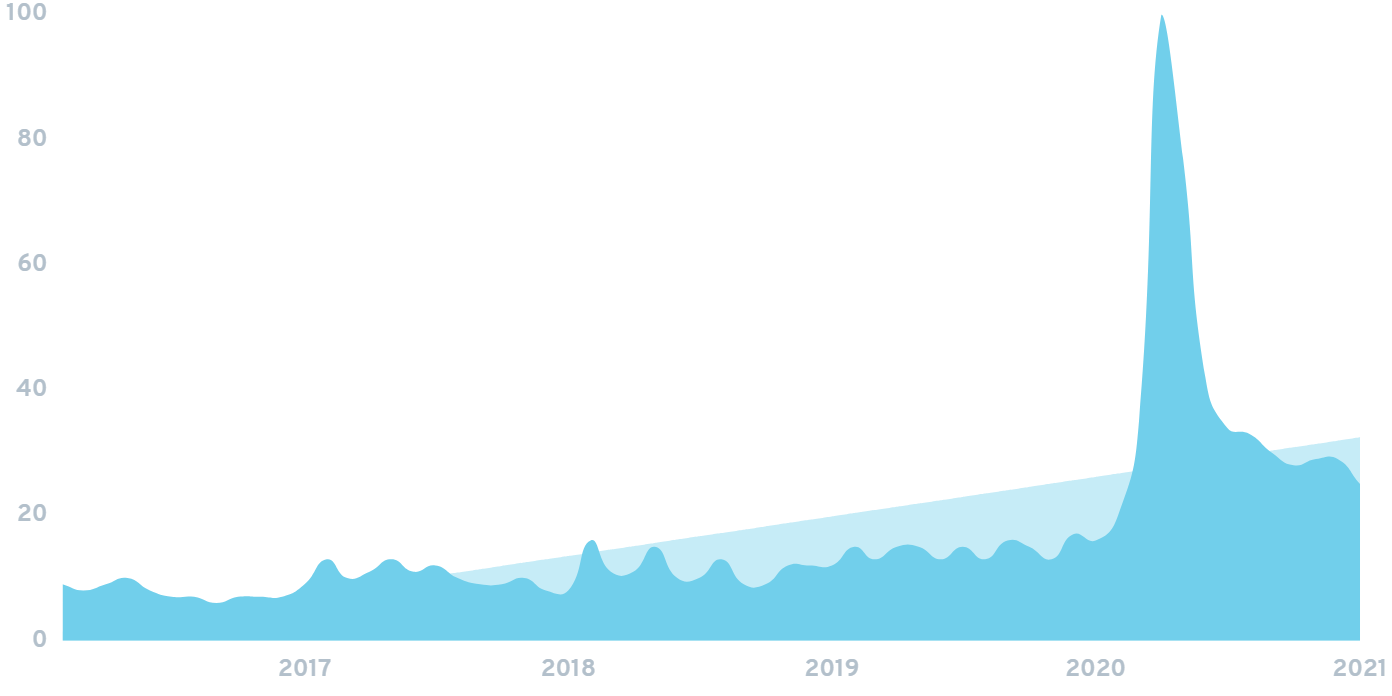 Searches for "plant delivery" spiked hugely at the start of the pandemic.
Plants are difficult to ship. But, like essentially all products, consumers now want them delivered anyway. And a handful of companies that have pounced on this demand (like Patch Plants), have seen rapid growth.
2. Increased Demand for Ethical and Sustainable Products
According to an analysis by Harvard Business Review, sustainable products make up 16.6% of all CPG products sold.
They also report that sustainable products have 5.6x more average sales growth compared to those that aren't marketed as sustainable.
So there's no question that sustainable products from ethical companies is one of the biggest consumer behavior trends of 2021 and beyond.
An example of a growing sustainable product category is bamboo toilet paper.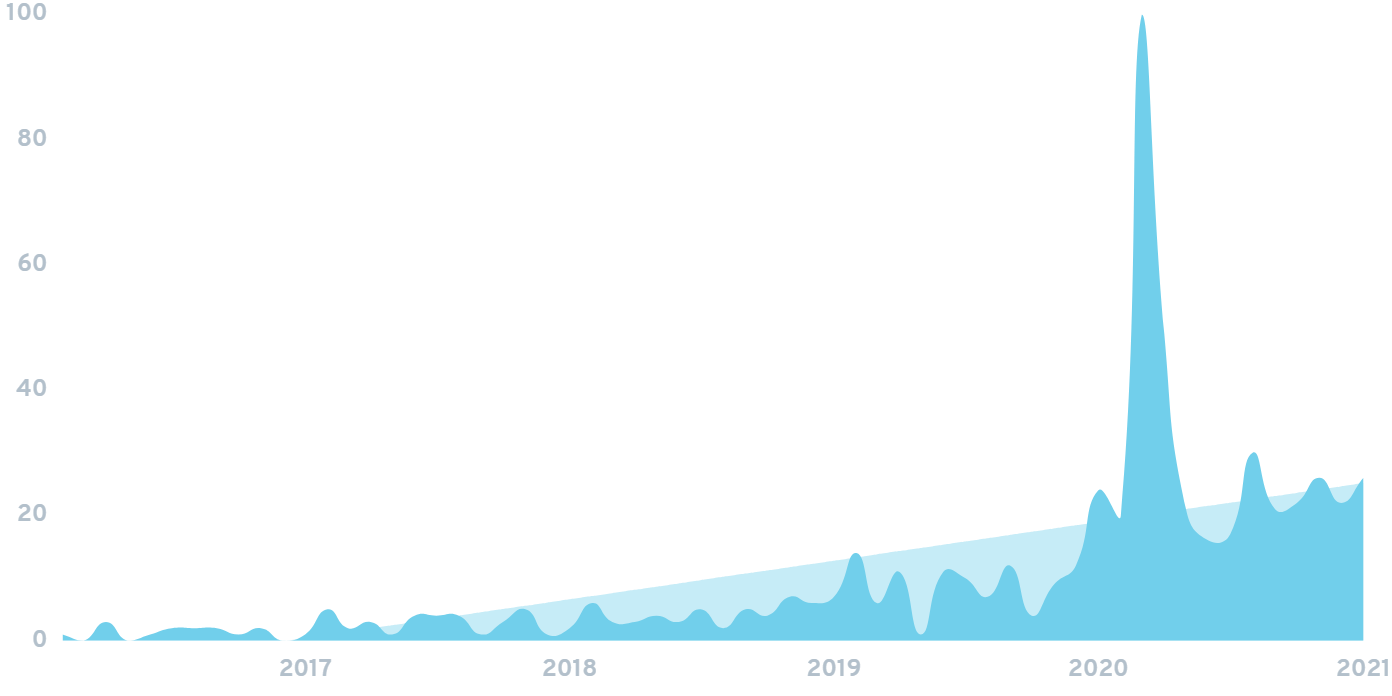 Searches for bamboo toilet paper spiked during COVID. But are still seeing growth.
Unlike traditional toilet paper, bamboo toilet paper is sourced from a plant with a relatively small negative environmental impact: bamboo.
(This category's growth is also due to the fact that companies like Reel offered at-home bamboo toilet paper delivery)
Consumers not only want products that are sustainable. They want to buy from brands that act ethically. In fact, a recent survey found that 32% of US and UK consumers would pay more for the same product if that product came from an ethical brand.
Everlane is great example of a brand associated with ethical behavior.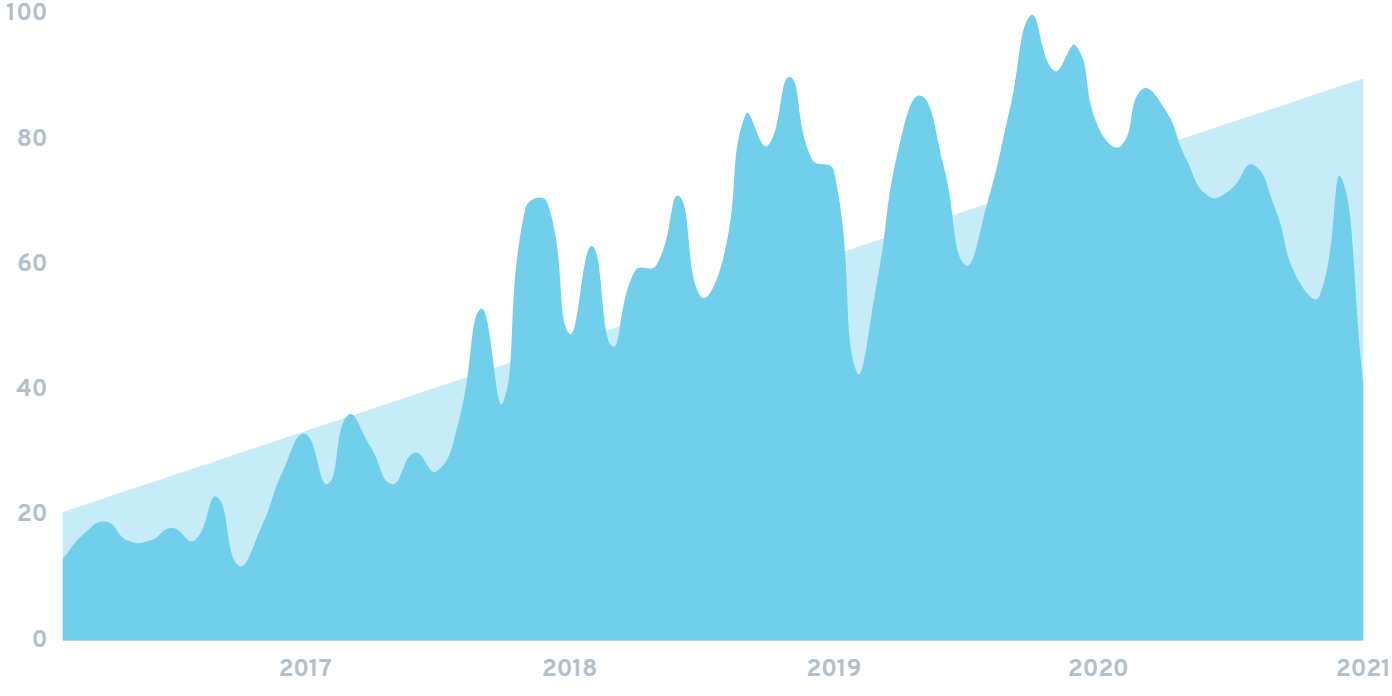 Searches for the brand Everlane have grown steadily over the last few years.
Unlike many clothing companies, Everlane goes to great lengths to minimize water waste and treat factory workers responsibly.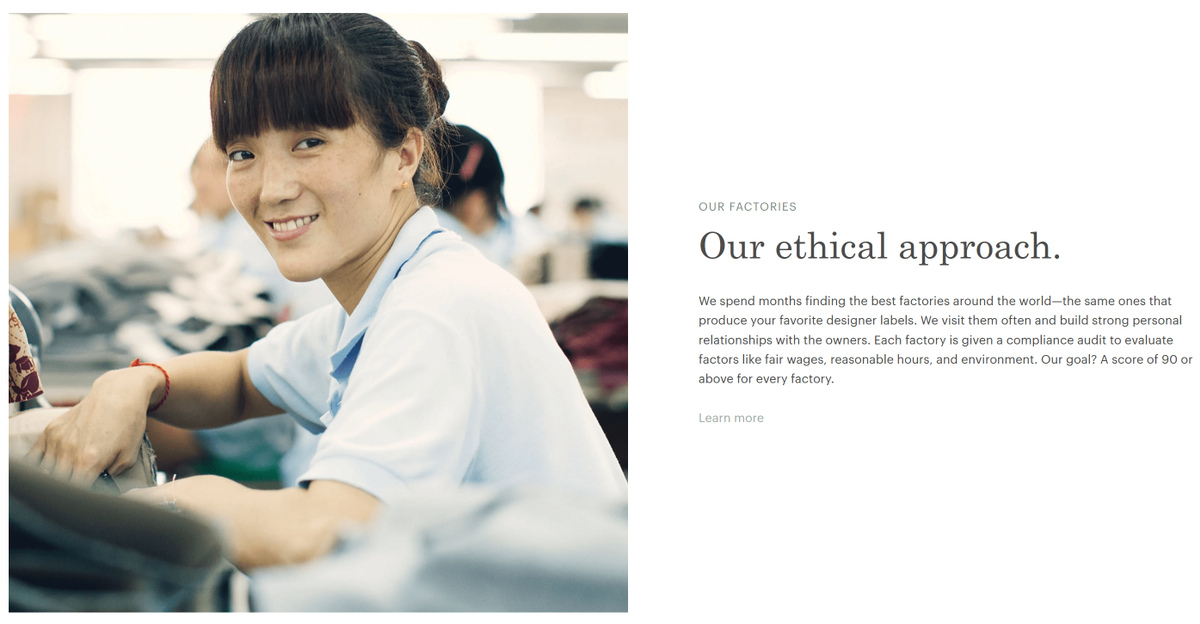 Everlane's branding is built on an ethos of sustainability and ethical behavior.
While this results in higher prices than a pair of jeans from Zara (a pair retails for about $80), many consumers are more than happy to pay a premium for what they perceive as a sustainable product from an ethical brand.
3. People Take Care of Their Health At Home
Telemedicine usage surged during the pandemic. Some estimates say that the number of telemedicine appointments increased by 5000% during the height of the pandemic.
However, doctor visits is just one of many areas of health and wellness that have shifted largely to the home.
Another growing at-home health trend is at-home spa treatments. Even though some spas have reopened (albeit with restrictions), we're seeing continued demand for spa treatments that can be done at home.
For example, Dermaplaning.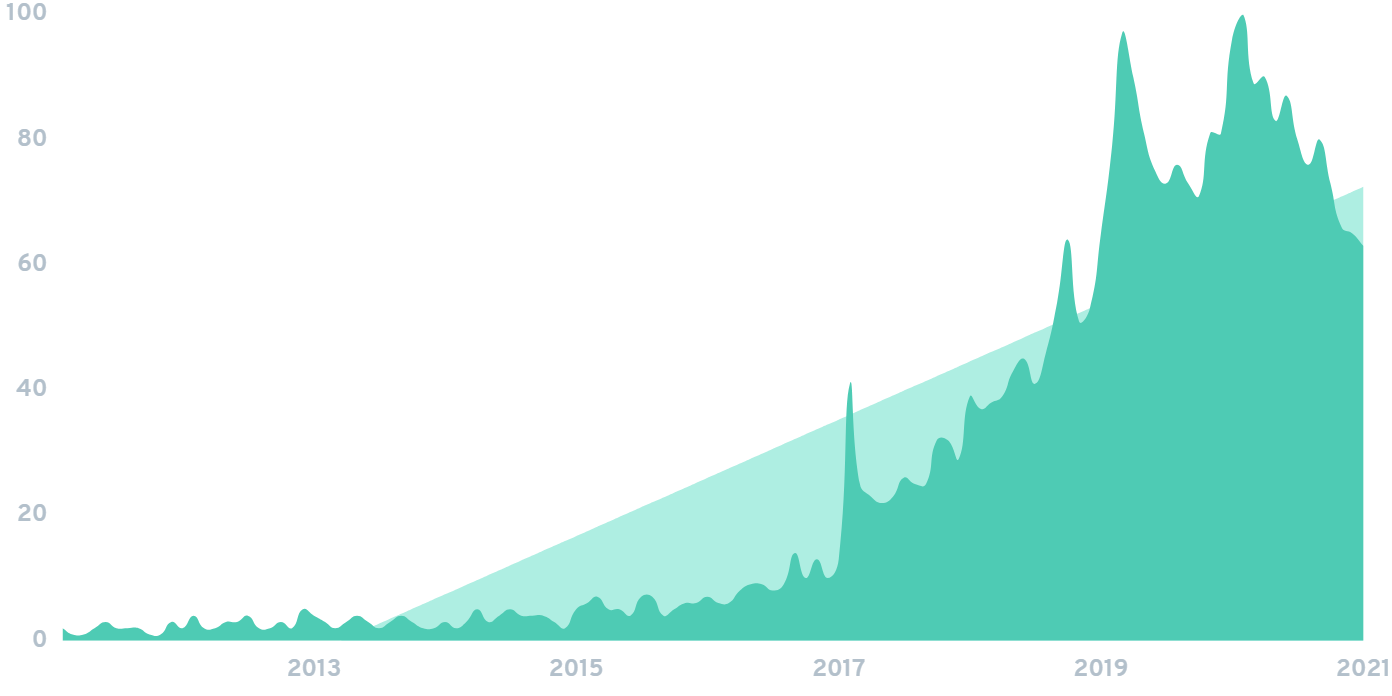 Searches for Dermaplaning over the last 10 years.
Dermaplaning is a skin care treatment usually done at a spa or a dermatologist's office. But consumers are now using at-home kits to take this skin care routine into their homes.
We're also seeing consumers replace their gym with at-home versions. Searches for "garage gym" spiked during lockdowns. But haven't completely died down. Which is a sign that the home gym trend is likely to sustain over the long-term.
4. Consumers Expect More Payment Options
As people buy more products online, they also expect to a wide selection of different payment options.
This includes offering different ways to pay (like accepting credit, debit and PayPal payments).
But also the ability to defer payments over time. In fact, the "Buy Now, Pay Later" (BNPL) industry is growing alongside the general growth in ecommerce as a whole.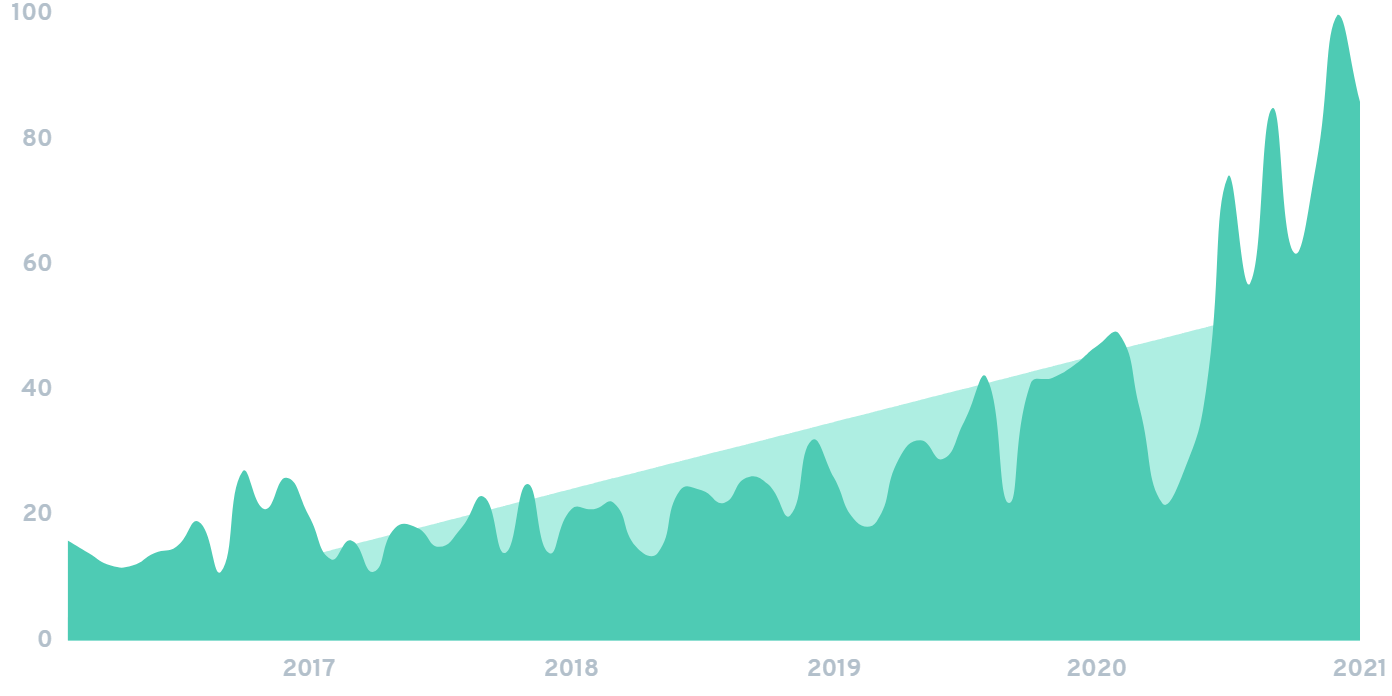 Searches for "BNPL" have grown by 437% over the last 5 years.
And there's no shortage of solutions cropping up to meet the demand for BNPL at checkout.
Afterpay is one of the leaders in this category. But there are several others, like Sezzle, making inroads.
5. Influencers Continue to Influence Buying Decisions
Consumer continue to rely on influencers for product discovery. And for choosing which brands to trust.
In fact, a survey of 3,500 consumers found that 61% interact with an influencer at least once per day.
Which is why influencer marketing is still a growing marketing channel.
However, the way consumers interact with and buy from influencers is changing. Specifically, consumers now seek out recommendations from influencers that may only have a small, niche audience. An industry study by InfluencerDB found that social accounts between 1k-5k followers get 2x more relative engagement on each post than influencers with a larger following.
Which is why we're seeing an increasing number of brands seek out "micro influencers".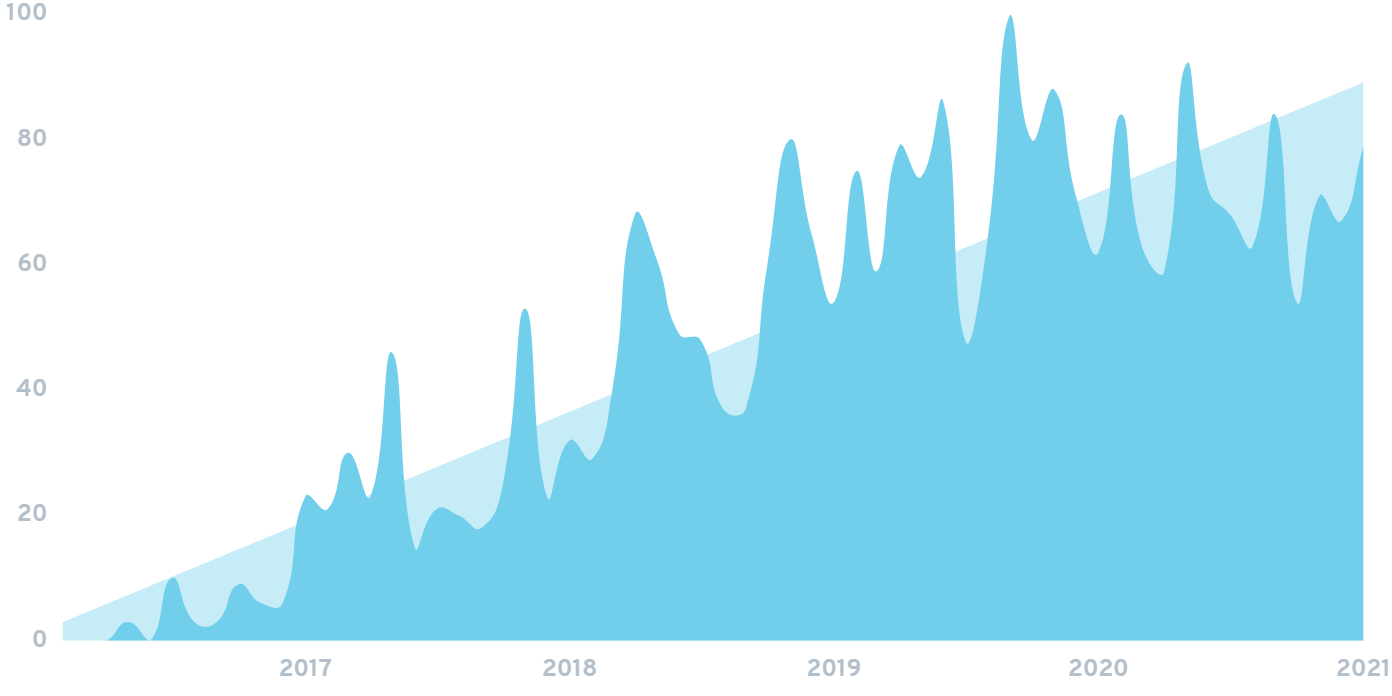 Searches for "micro influencers", who are influencers with <50k followers on a given platform.
A recent report found that 40% of brands that use influencer marketing have decided to partner with a micro influencer over a traditional influencer.

6. Consumers Subscribe to More Monthly Services
The monthly subscription industry has tripled over the last seven years, according to data from Zuora.
This growth is largely due to the fact that consumers are more open to subscribing to monthly products and services. And there's a wider array of monthly subscription products to choose from.
For example, video games have historically been one-off purchases. You see a game that you want. Buy it at a one-time price. And play the game for an unlimited amount of time.
This is still largely the case. But we're also seeing Sony, Microsoft and other gaming industry giants roll out subscription gaming services. Which are essentially the Netflix for video games.
For example, Sony's PS Now service streams hundreds of titles for a monthly subscription fee. And it quickly grew to 22M+ subscribers.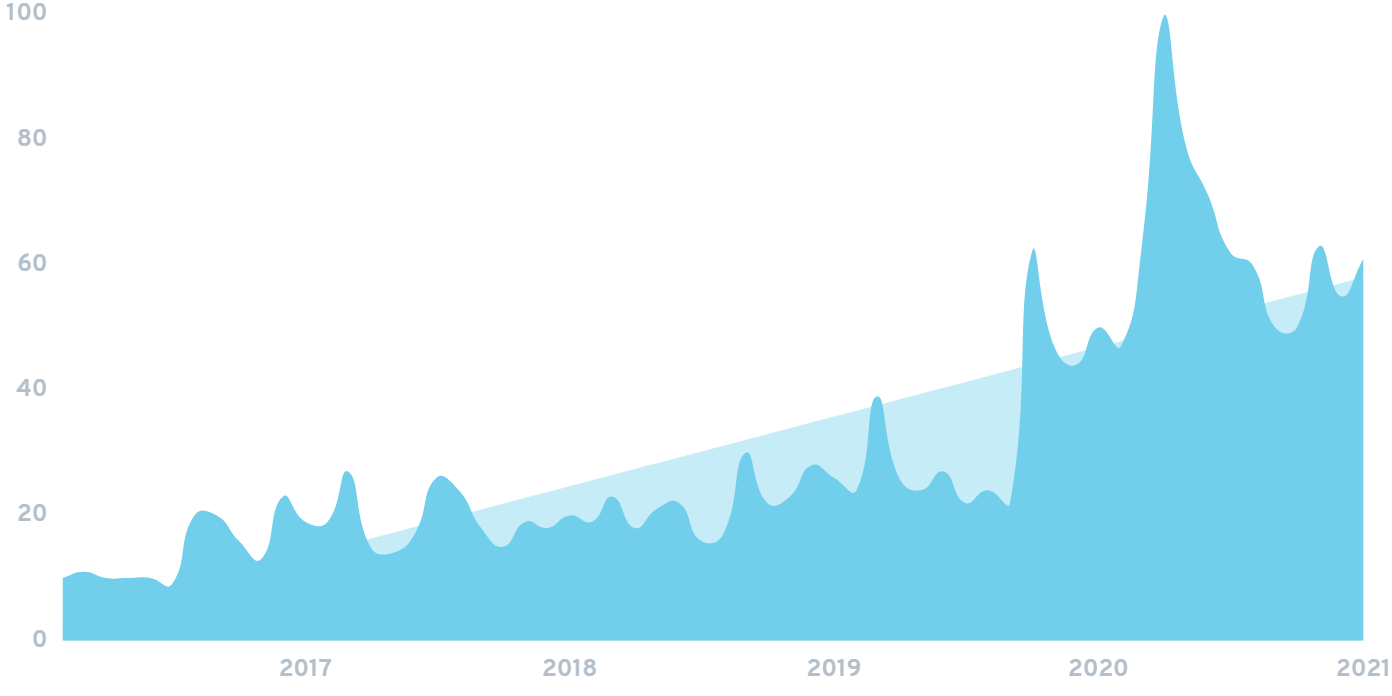 Searches for PS Now have grown 5x over the last 5 years.
Other examples of this consumer trend include monthly boxes, streaming services, and meditation apps.
7. Consumers Spend More on Their Pets
The U.S. pet furniture market size alone is worth over $2 billion.
And pet owners are now more willing than ever to shell out big bucks to increase their pets' quality of life.
Sales revenue in the U.S. pet market has increased every year in the last decade, growing from $50.96 billion in 2011 to an estimated $99.1 billion in 2020.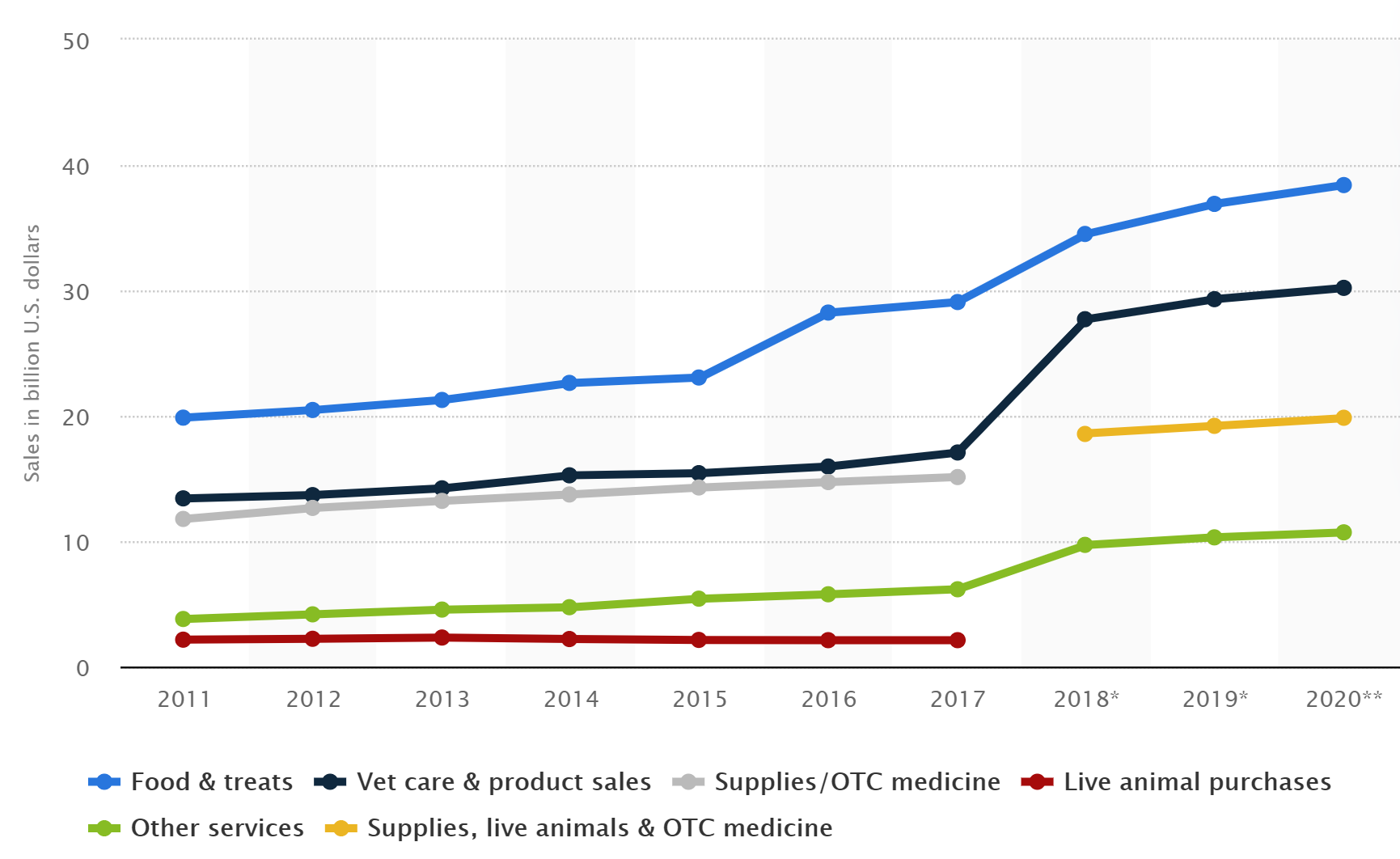 The pet market is growing steadily.

And a growing piece of the industry is based on luxury products.
For example, CBD for dogs, organic cat food and devices for owners to video-call their pets.
No matter the product: if it will make their pets happier, there's a group of owners who will buy it.
A few more examples:
If Fido has too much ice cream (or too many Starbucks Puppuccinos) you can buy him a dog treadmill.
Or help him get back in balance with some raw dog food or dog supplements.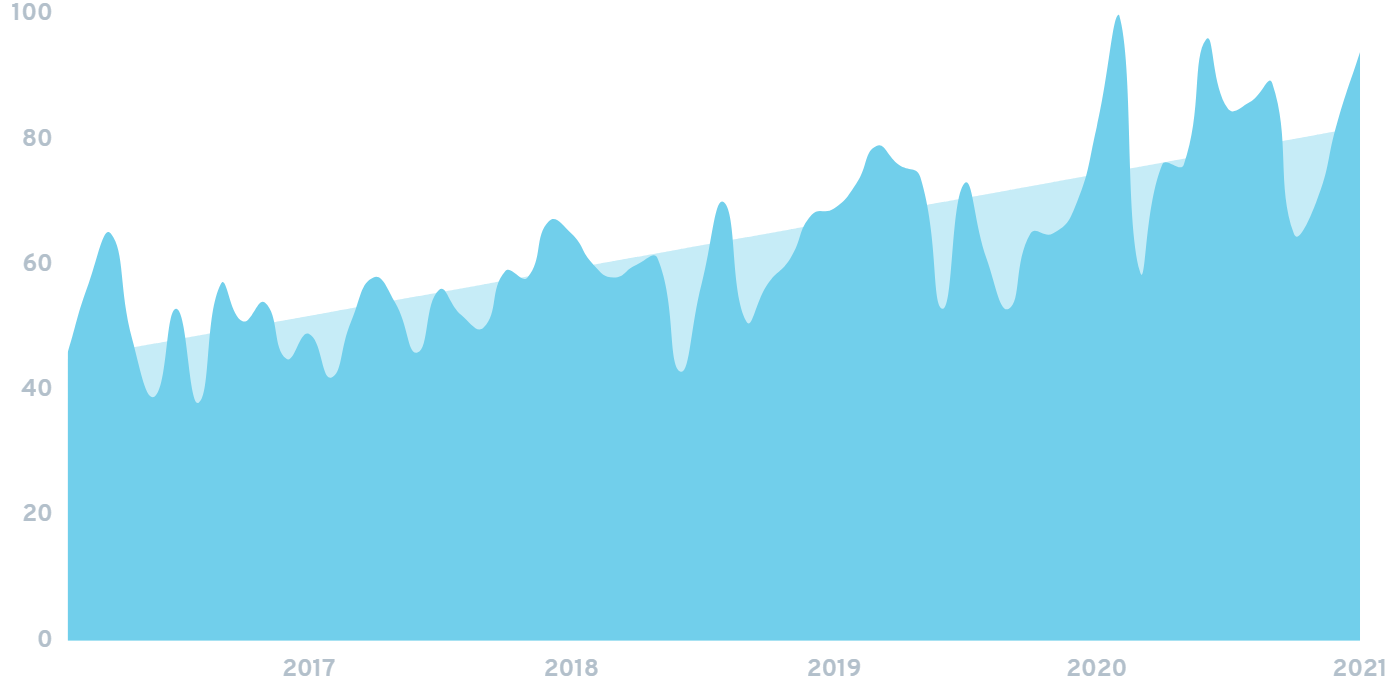 Searches for "dog supplements" have been rising each year.
If Fido still isn't back in shape after that, it may be time to buy some pet insurance.
But why are people spending so much on their pets now?
The most recent reason is probably the pandemic. Owners are more willing to buy luxury pet products when they see their pets more often.
The trend has been growing for longer than that, though.
As a long-term movement, luxury pet products are most likely related to the fact that fewer people are having children. (And opting for "fur babies" instead.)
Which is a meta trend that's expected to continue worldwide.
8. The Home Becomes The Hub
The average North American adult spends 90% of their time indoors. And with more people working from home than ever before, this number may be on the rise.
And all of this time spent living and working at home is already starting to shift consumer behavior in unexpected ways.
For example, the rise of the smart doorbell.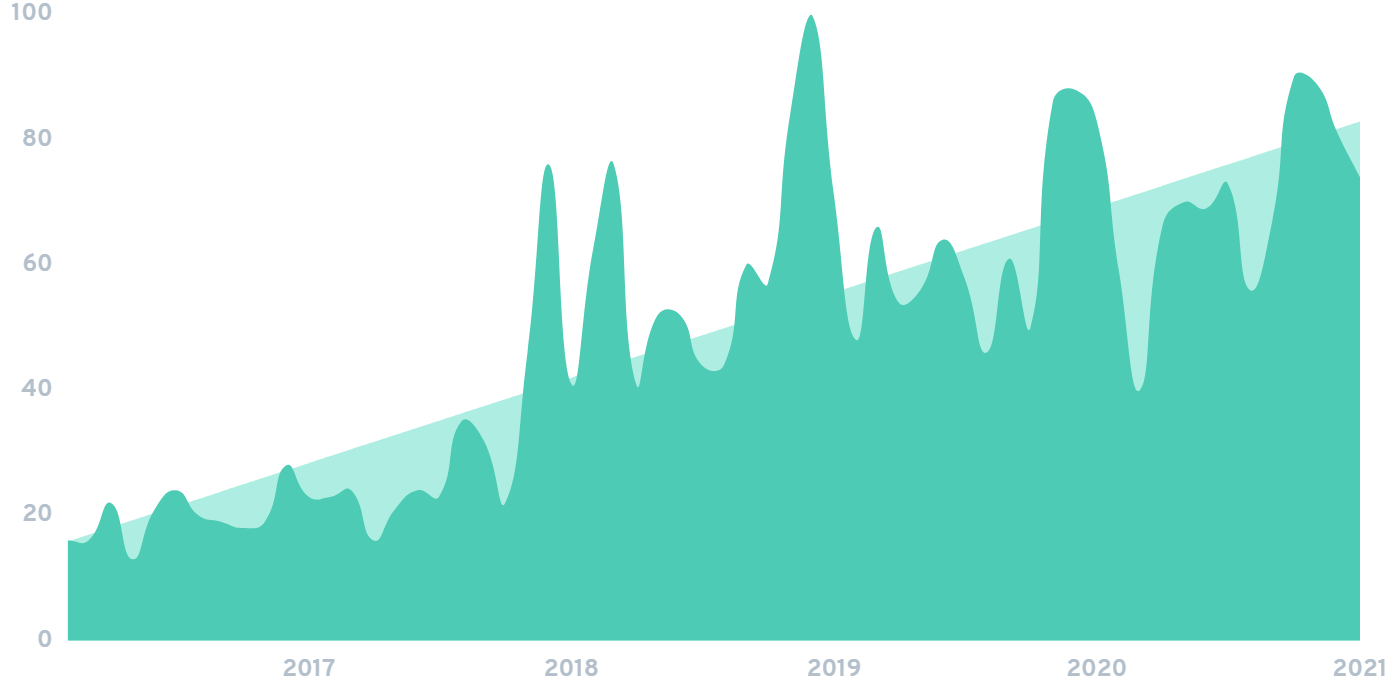 Searches for smart doorbells have increased more than 350% over the last 5 years.
As people spend more time at home, they realize that their home security may not be up to par. And that their Amazon deliveries are at risk on the front steps. Which is why we're seeing increased demand for smart doorbell products, like Ring.
Another example of this trend is the increasing number of searches related to cooking. Searches for the product "Air fryer" increased by 100% over the last year.
Conclusion
Many of these consumer behavior trends were already here before coronavirus struck. But the COVID pandemic put many of these trends into overdrive.
That said, even as the world starts to opens up, we can expect many of these trends to sustain long-term.
Last Updated: 
January 21, 2021