Top 7 Helium 10 Alternatives (2023)
Looking for alternatives to Helium 10? We break them all down here.
Every ecommerce brand wants the perfect niche. That one corner of the market where demand is high and competition is low.
The challenge is finding these emerging product categories before they go mainstream.
Helium 10 is an all-in-one platform for ecommerce brands, from keyword research to ad management. It does a little bit of everything, including finding a niche.
But if Helium 10's complexity has you overwhelmed, here are 7 alternatives to choose from.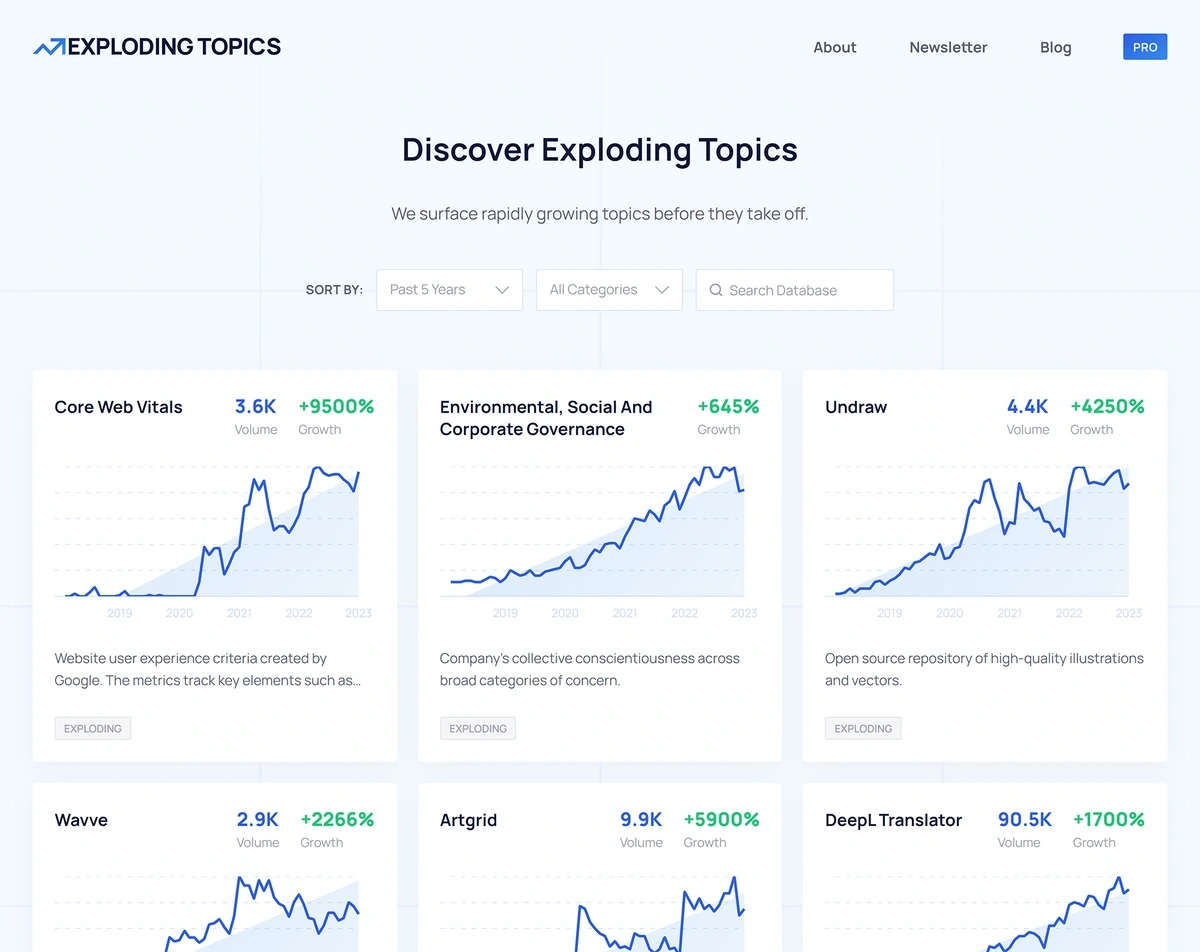 Exploding Topics surfaces trending products by analyzing millions of websites, social media feeds, and more to give you exclusive insights. From footwear to pets to beauty, we know about it before it catches on.
Here's how it helps
Exclusive, data-driven, and highly vetted trend database gives you access to the latest trend data


Filter, sort, slice, and dice trend data and analyze historical information. See what's on the rise, what's peaked, and what's cooling off


Breaks down why a topic is trending and surfacing related trends that are also likely to take-off


Weekly, curated trend report that highlights top trends with deep dive analysis
If you're just starting to build out your ecommerce offerings, or looking to add a new DTC product to your existing ecom site, Exploding Topics can help you find products on the rise.
For example…
You can filter to the "products" category and view trending products over the last year.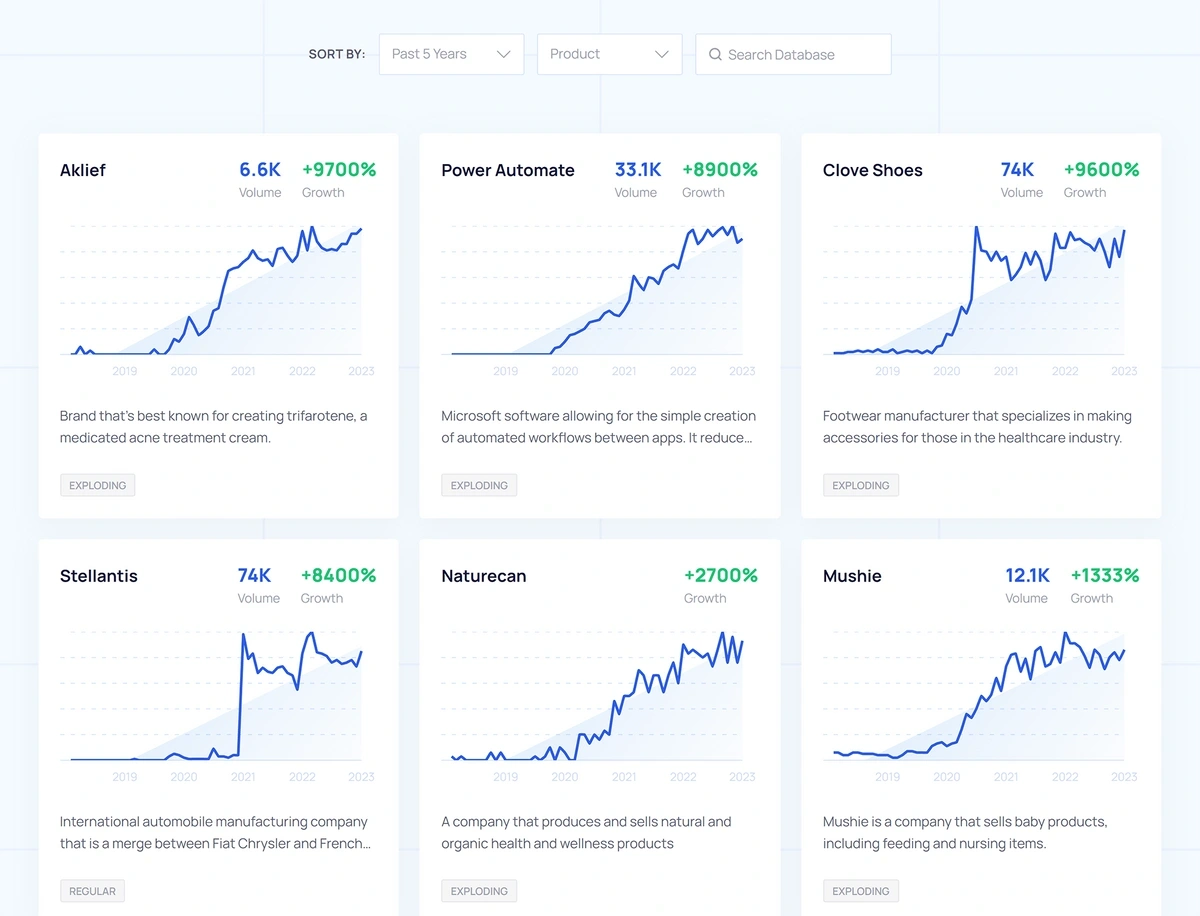 It looks like several skin care products are seeing increasing demand, especially ones that are natural and herbal based.
You can dive into the details and see related products and brands that are also trending alongside it.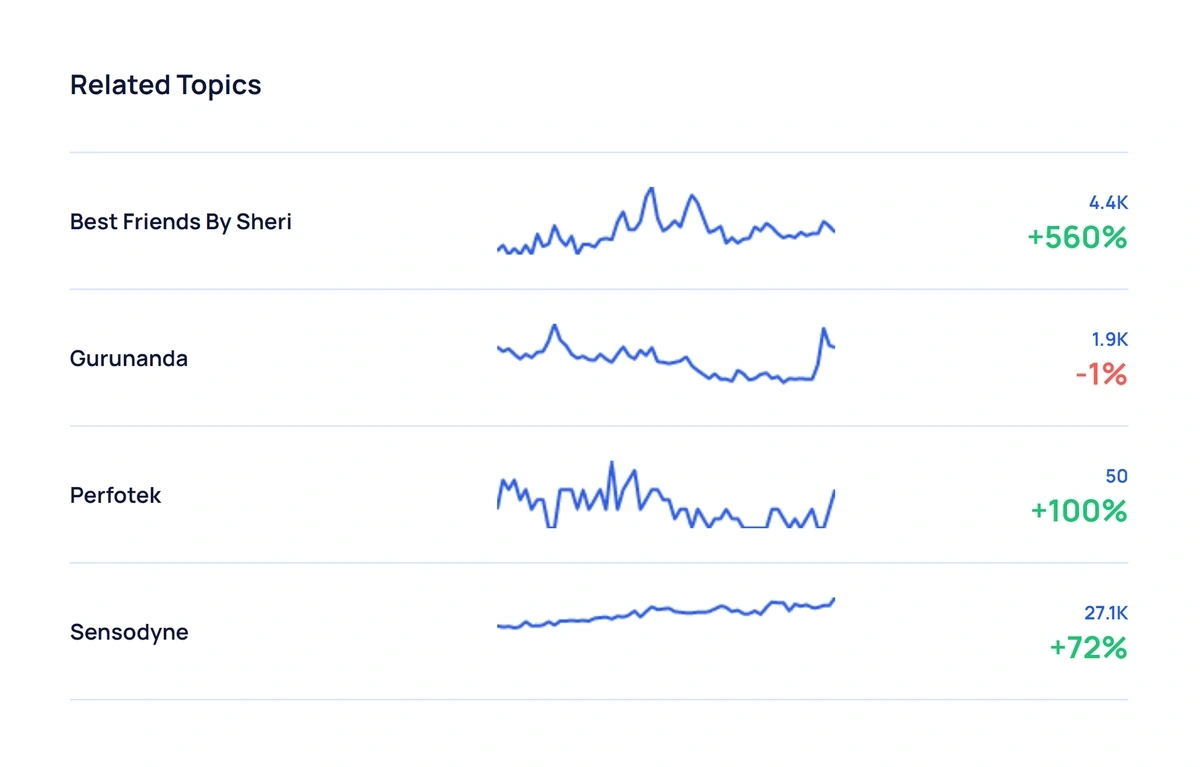 Alright, so natural beauty products seem promising. You can check out other beauty brands that are growing to build a potential list of products you'd like to offer.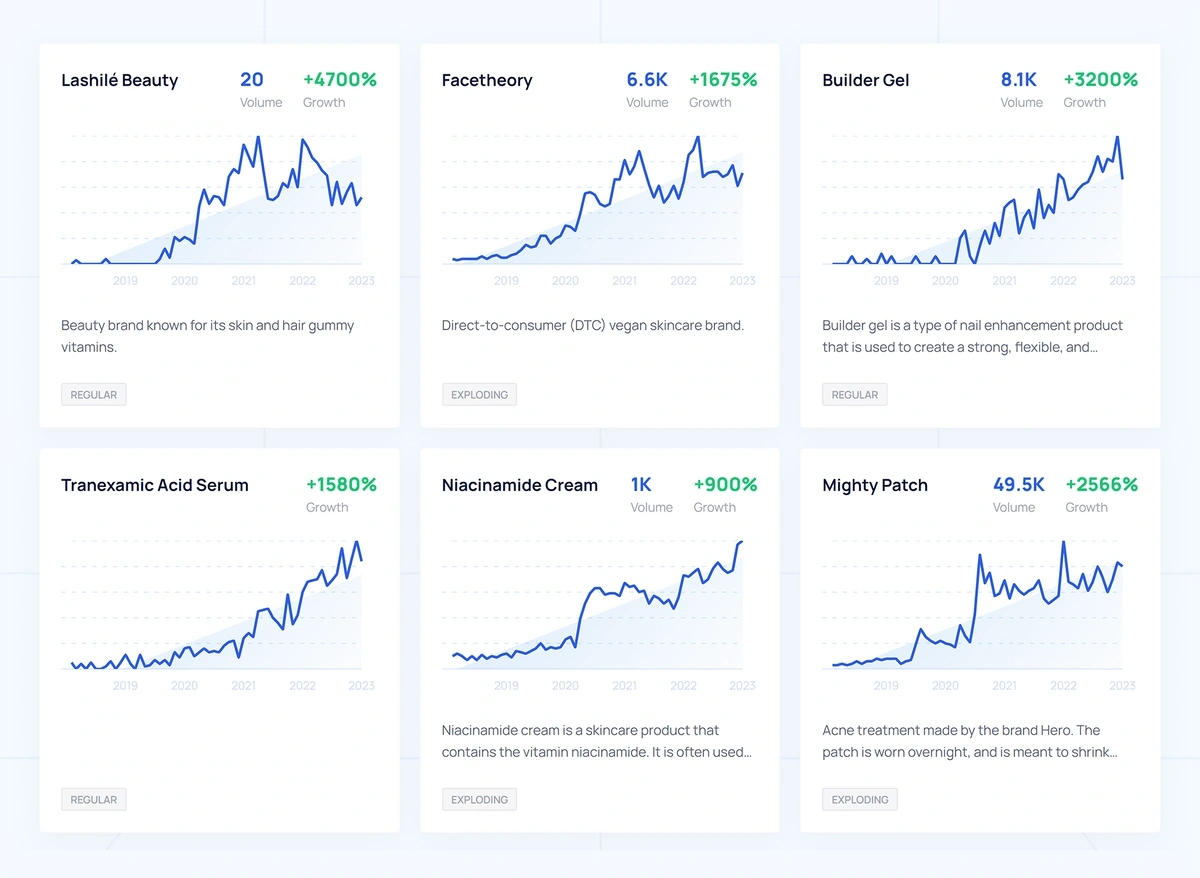 With Exploding Topics Pro you get access to trends (at least 6 months before they're shared with the general public).

The platform also allows you to create projects and track trends. That way, you can easily keep tabs on how products you're looking to launch are performing.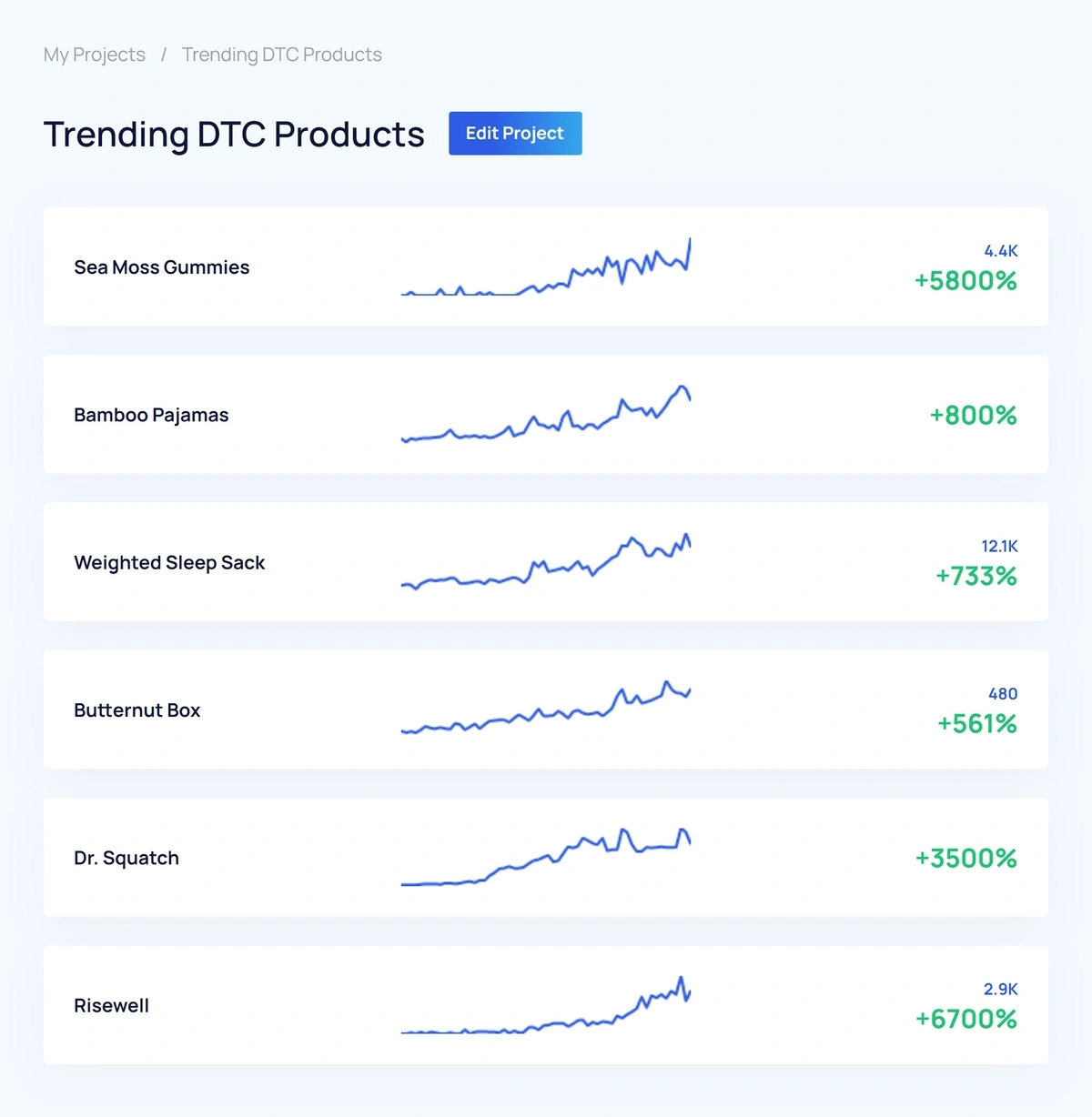 Additionally, our weekly Exploding Topics Pro reports feature under-the-radar DTC products that are quickly growing in popularity. But aren't mainstream (yet).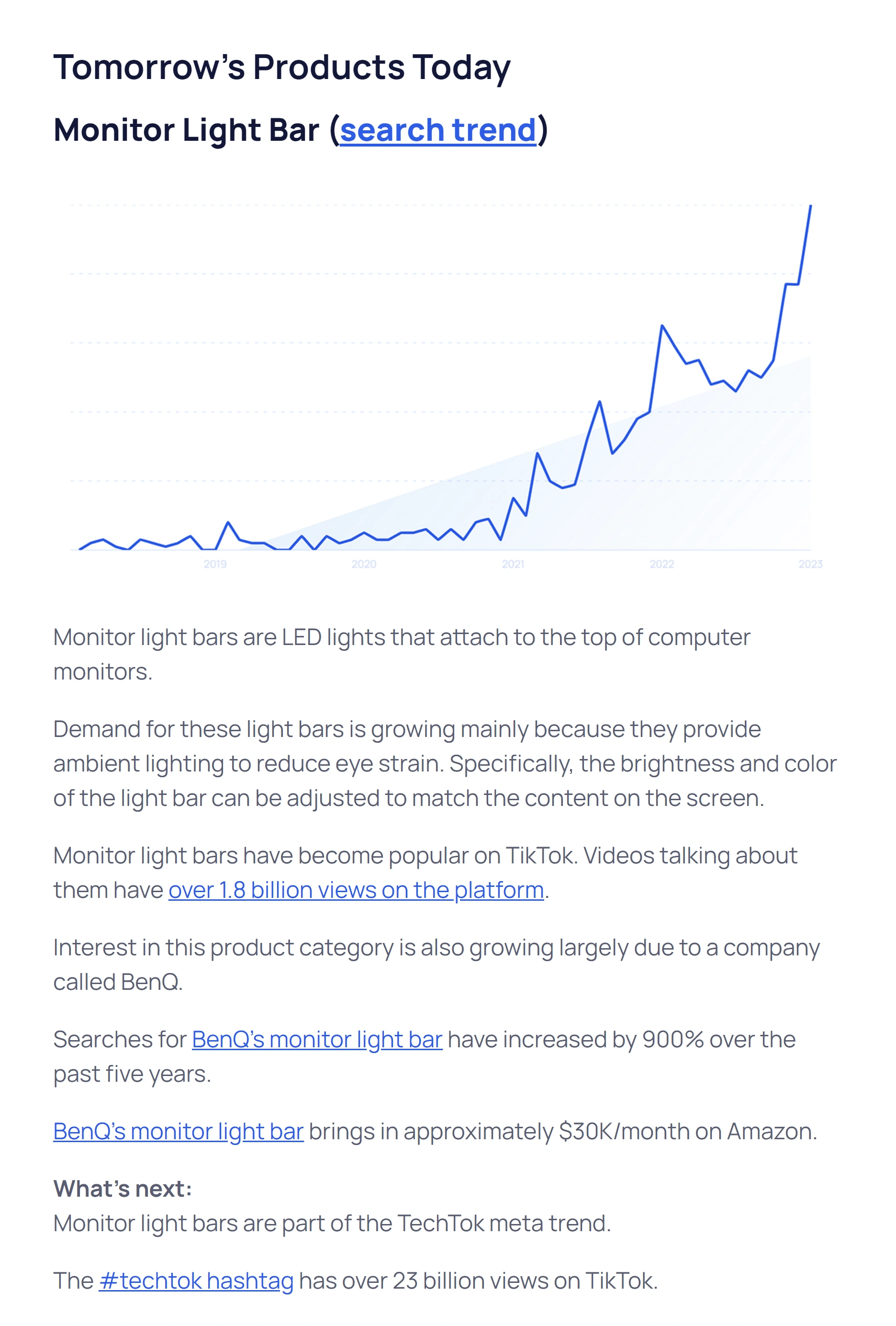 Limitations
While Exploding Topics offers insights into emerging product trends, it doesn't have the suite of tools that other ecommerce platforms do, like listing optimization or inventory management.
Pricing
Exploding Topics Pro offers three tiers: Entrepreneur, Investor, and Business. You can start a 14-day trial for any of these for just $1.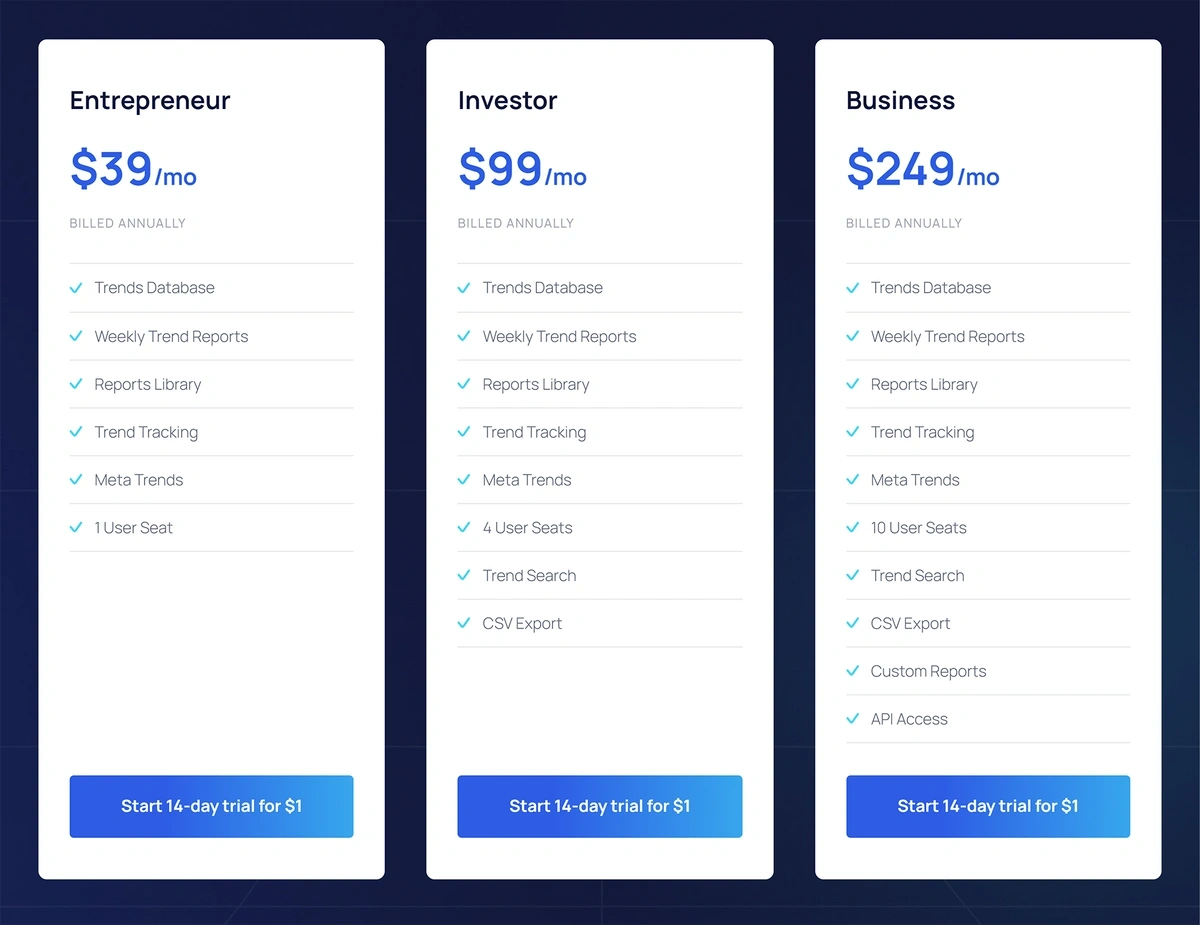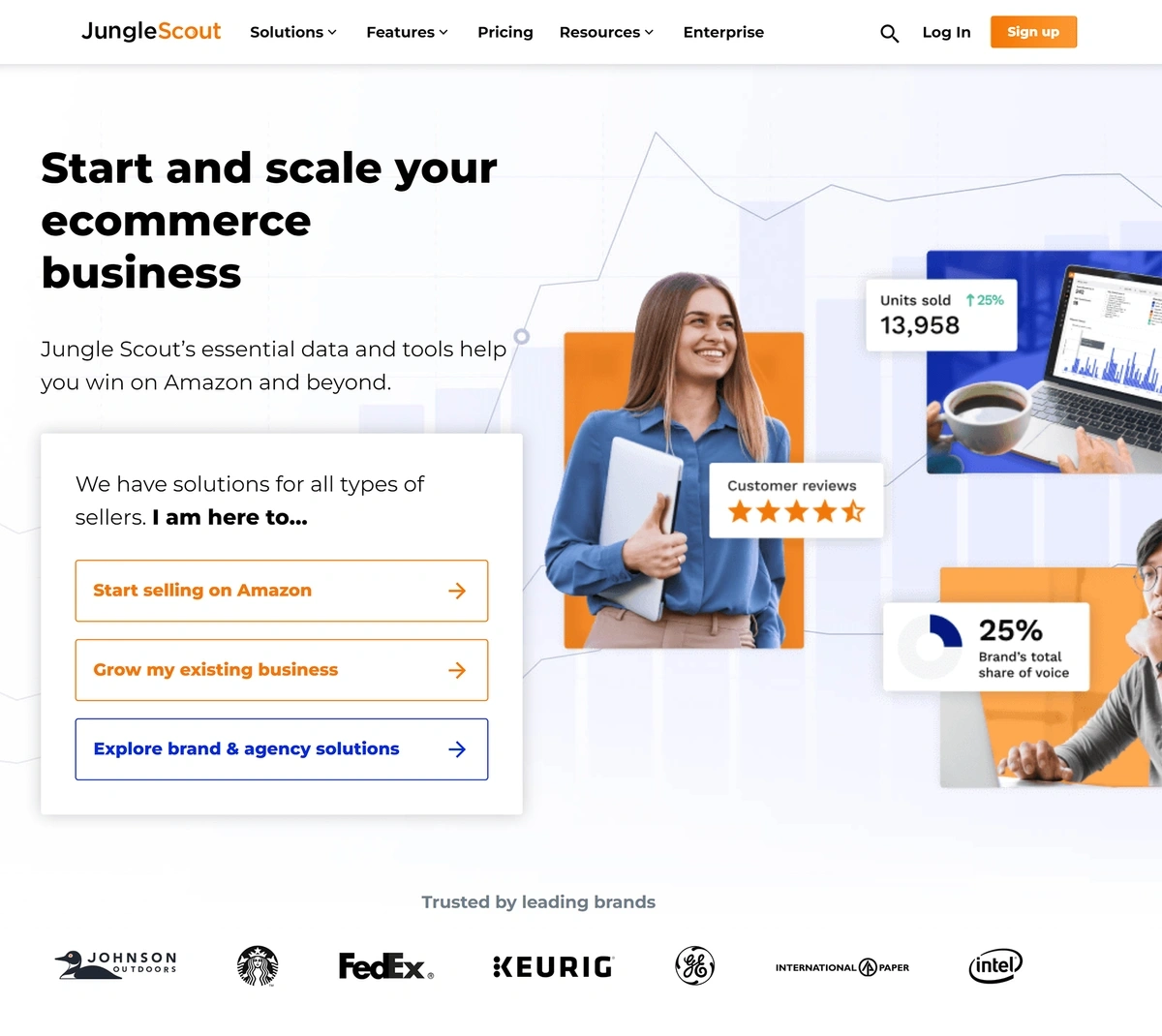 JungleScout is a web-based software suite that helps sellers launch and grow on Amazon. They offer a large range of features for ecommerce brands. Want to discover new products? They do that. Want to find suppliers and manage your inventory? They do that too. It's no surprise that it is so popular with Amazon sellers.
Here's how it helps
Product Database - generate product ideas and find things to sell. Filter by product category and view estimated volume and revenue
Supplier Database - find, compare, and purchase from verified global suppliers that carry what you need
Opportunity Supplier - discover profitable product niches by analyzing amazon sales and search metrics
List Builder - JungleScout helps improve your listing rankings by examining product descriptions, title, and images, and more
Limitations
JungleScout isn't without its limitations. It's narrowly focused on the Amazon marketplace, unlike Helium 10 and other platforms. Unless your ecommerce strategy is entirely focused on Amazon listings, JungleScout might not be for you.
Pricing
JungleScout offers three pricing tiers - Basic, Suite, and Professional.
Basic - $29/mo
Suite - $49/mo
Professional - $84/mo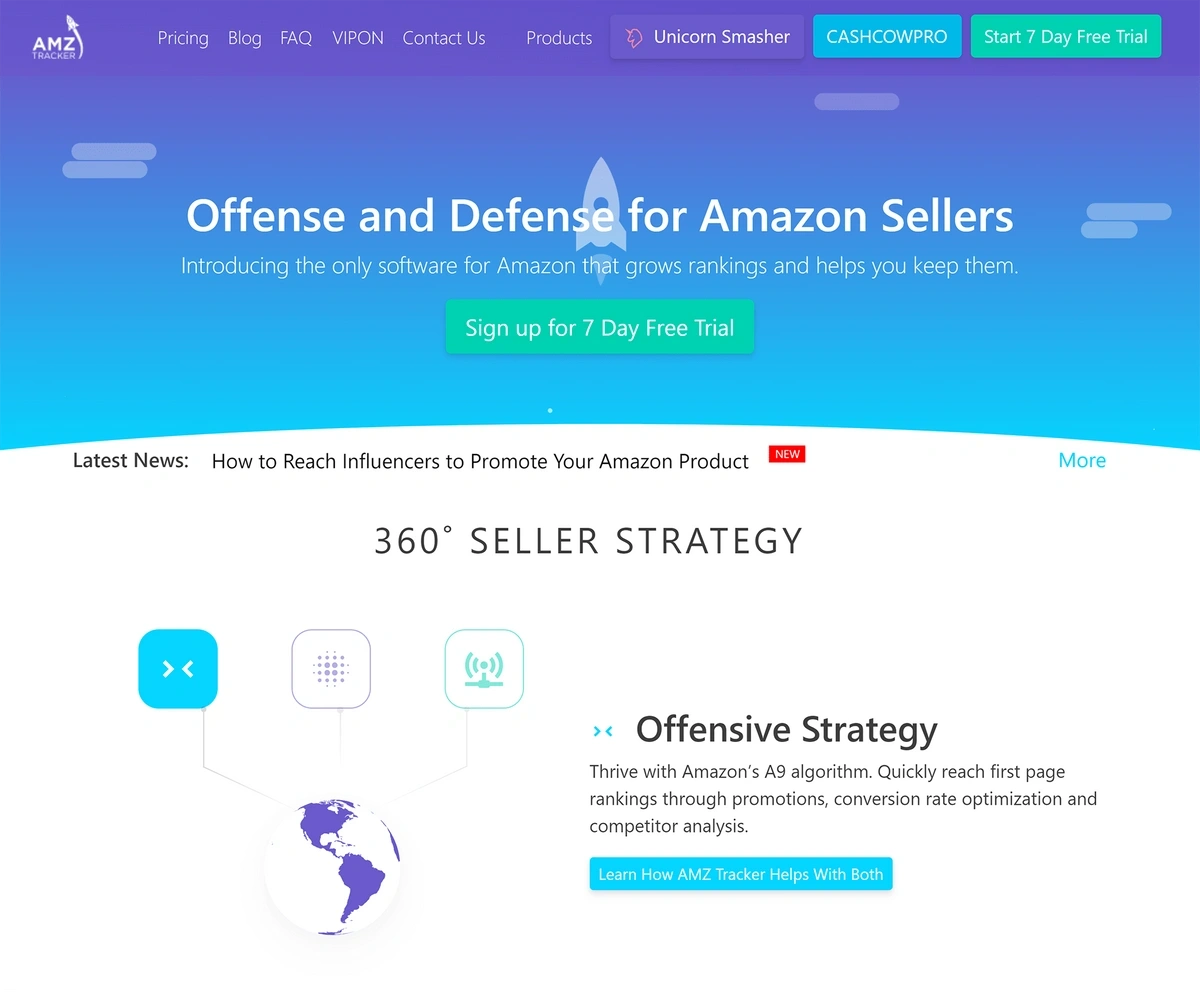 AMZ Tracker is a suite of tools that helps you track rankings, optimize product listings, and perform thorough competitor analysis. If you're looking for a product with a hyper-focus on getting your listings to rank faster, this is a great option.
Here's how it helps
AMZ Tracker offers what they call offensive, defensive, and reconnaissance strategy tools.
Offensive Strategy helps grow your rankings by identifying how to improve your listings and make your product stand out
Defensive Strategy alerts you when negative reviews are posted and helps prevent your listings from being hijacked
Reconnaissance allows you to research keywords, generate long tail ideas, and track your competitor's performance
Limitations
Like some of the other platforms on this list, AMZ Tracker is narrowly focused on the Amazon marketplace. It also doesn't have the breadth of seller tools like others on the market as it's specifically for improving your ranking and reputation on Amazon.
Pricing
AMZ Tracker offers four pricing tiers based on product and listing volume - Basic, Professional, God Mode, and Legend. You can pay per month, or get a discounted rate if purchasing the year upfront.
Basic - $50/mo
Professional $100/mo
God Mode $200/mo
Legend $400/mo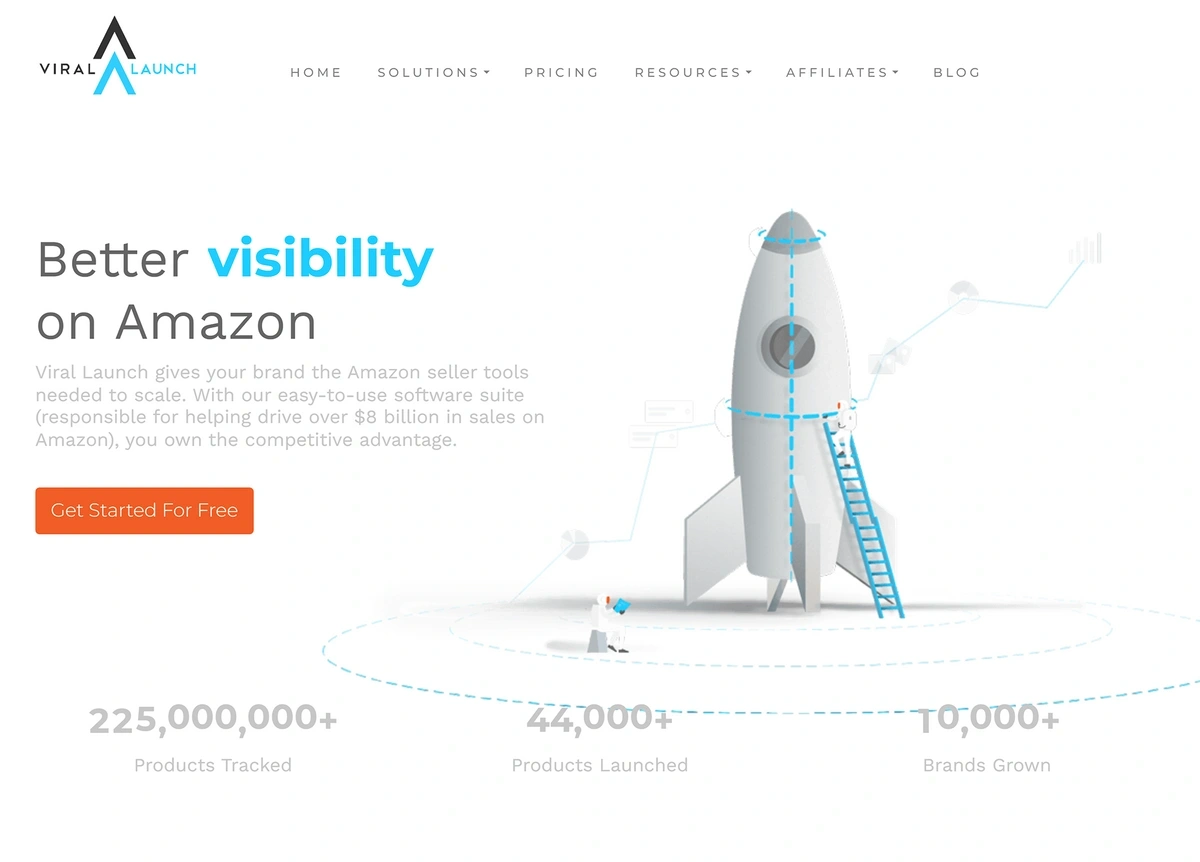 According to their website, Viral Launch has helped nearly 50,000 products launch and scale on Amazon. It's easy to see why. Their unique seller tools help brands identify untapped opportunities, source products, and manage marketing campaigns.
Through their "launch" service, they promote your new products with coupons, giveaways, and discounts to a group of over 350,000 Amazon customers.
Here's how it helps
Product Discovery lets you sort and filter by category, monthly sales units and revenue to find you the perfect product opportunities


Keyword research improves seller listings by finding keyword potentials that their competitors are missing


Kinetic PPC automates PPC campaigns with customizable rules and templates


Split Test with Listing Dojo, a testing platform that allows you to test with up to 7 variations of each listing's title, images, price, and description. All so you can craft the most effective product listing
Limitations
Not surprisingly, Viral Launch is only tailored to helping Amazon sellers. It's a great product for keyword research and ideation, but it doesn't do some of the operation related functions of its competitors (like sourcing and inventory management).
Pricing
Viral Launch has three pricing options. You can pay monthly or get a discounted price if paid annually.
Essentials- $69/mo
Pro - $99/mo
Pro Plus Ads- $199/mo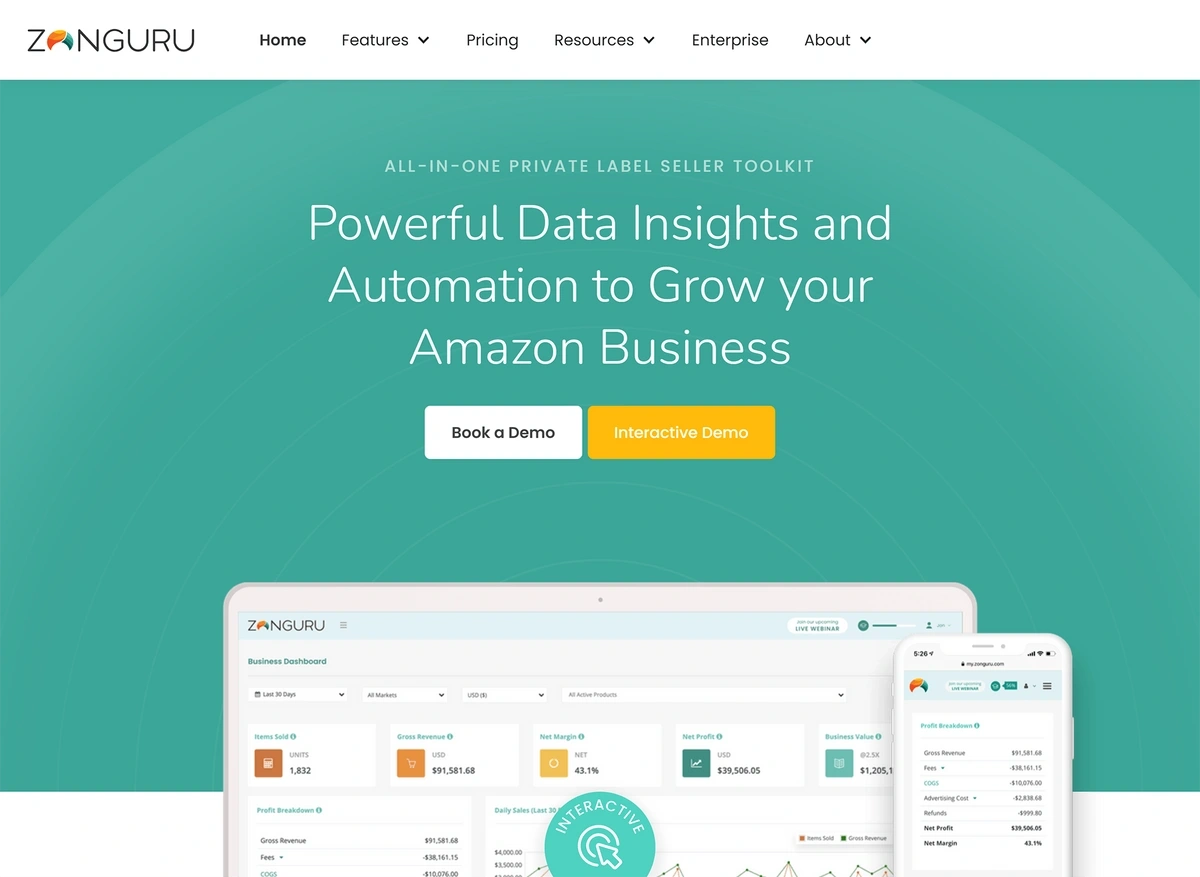 ZonGuru is an all-in-one private label seller toolkit. Like the other products in this guide, it helps generate product keywords, research products, and optimizes listings. Where ZonGuru separates itself from the pack is through its added security features like IP monitoring and its close partnership with vetted manufacturers.
Here's how it helps
Niche Finder lets you filter, categorize, and search reliable sales data to find a profitable product to sell on Amazon


Easy Source. ZonGuru leverages its close relationships with Alibaba to help you source trustworthy and available products


Email Automator helps sellers connect with customers by helping you create and schedule personalized follow-up emails


IP Monitor protects your listing by notifying you when bad actors attempt to hijack your images or product descriptions
Limitations
While ZonGuru delivers an impressive set of tools, again - its data is narrowly focused on Amazon sales information. It also doesn't include PPC automation or refund assistance like Helium 10.
Pricing
ZonGuru offers two pricing tiers - Researcher and Seller.
Researcher - Flat rate of $39/mo
Seller - depends on the number of active SKUs over the last 90 days, but ranges from $49/mo for 1 SKUs and $249/mo for over 51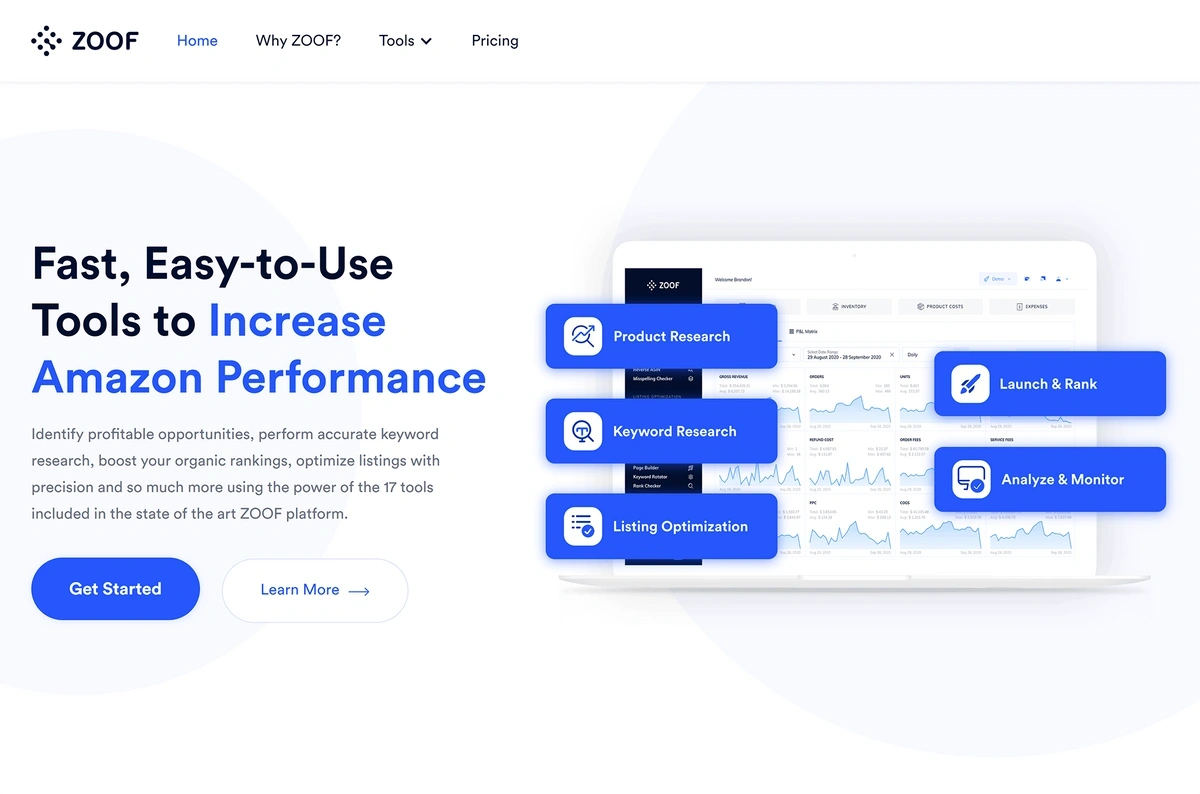 With over 400 million data points collected every single day, Zoof helps sellers make informed decisions. One of the things that makes Zoof unique is its mature business intelligence suite.
Here's how it helps
Analyze and Monitor - track rank, set review and hijack alerts and analyze profitability across SKU's
Product Research - Discover products in high demand and low supply, find opportunities, and calculate potential profit margins
Reverse ASIN - analyze your competitors most profitable keywords and their historical search volume
Misspelling checker - have you ever misspelled something while searching? Be honest. Well, Zoof helps you rank for popular misspelled products so you capitalize on mistakes!
Limitations
Like many of the other Helium 10 alternatives on this list, it's important to note that Zoof is only for Amazon sellers and doesn't do much good outside of that use case. So if you have your own Shopify store, Zoof isn't a great fit for you. Zoof also doesn't have any marketing-focused features.
Pricing
Zoof offers the ever popular three tier pricing.
Essentials - $29/mo
Platinum - $67/mo
Enterprise - $157/mo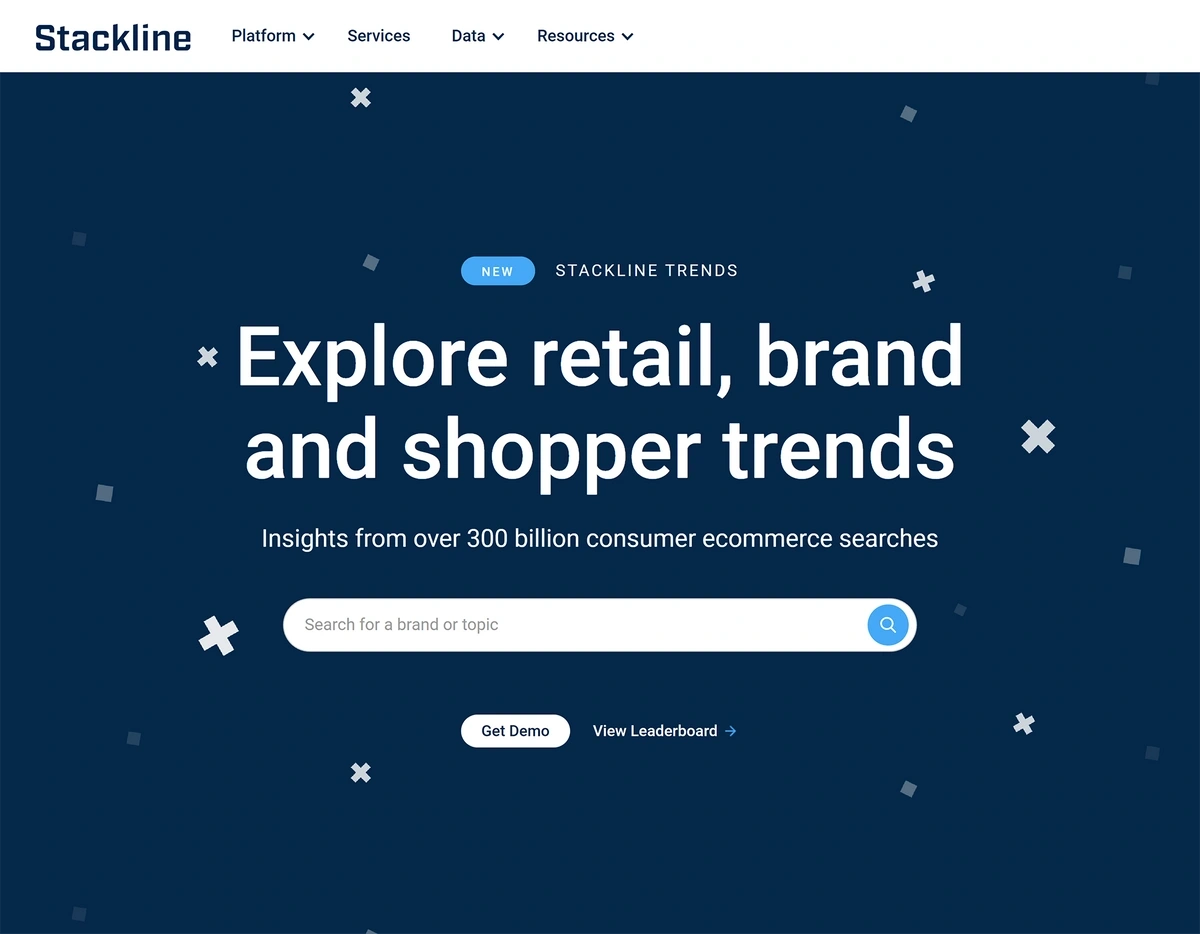 With Stackline, sellers can browse insights from over 300 billion ecommerce searches. Stackline offers rich retail analytics that lets you analyze trending brands and consumer search trends. Unlike most of the other products in this list, Stackline is not specifically for Amazon sellers, but can inform any retail decision.
Here's how it helps
Ecommerce Analytics unifies data so you can track sales and marketing across your portfolio. Set alerts for market changes, or inventory issues
Explore retail market share from top performing brands so you can position yourself strategically
Advertising automation. Stackline can automate your advertising strategy and predict ROI before investing
Trend analysis. Discover the most in demand brands based on search trends and growth data
Limitations
Stackline is primarily an analytics and trend tool with some advertising automation capabilities. It's also tailored for mature brands that offer products across multiple retailers. For that reason, it may not be the best for those limited to the Amazon marketplace.
Pricing
Stackline offers a free version along with two paid versions.
Pro - $199/mo
Enterprise - $1,499/mo
Conclusion
Amazon sellers have plenty of tools like Helium 10 to choose from. There's no shortage of platforms that offer product research, competitor analysis, and listing optimization.
At the end of the day, ecommerce players are looking for the next big thing. While all of these platforms claim to be able to find it, only Exploding Topics analyzes much more than just Amazon to surface trending DTC product categories.
No one has a crystal ball, but we're pretty close.