6 Important Hospitality Trends For 2023-2025
You may also like:
The hospitality industry was hit hard by the COVID-19 pandemic.
In fact, the 50 most valuable hospitality brands lost a third of their value in 2021 — but numbers are finally beginning to tick back up.
Travelers used the pandemic as an excuse to try something smaller, boosting outdoor rentals & adventures, ecotours, and properties that feel less cookie-cutter.
Globally, hospitality companies have used the downtime to make myriad improvements not only to their properties but to their operating systems, customer service, and overall experience.
Here are the most important hospitality industry trends to keep an eye on over the next couple of years.
1. Travelers Crave Outdoor Experiences
Following the pandemic, travelers are flocking outdoors for their vacations.
More than 10,000 households took their first camping trip in 2020 (five times more than in 2019). And 64% of families with children surveyed by CB Insights said they planned to take more camping trips in 2021.
An impressive 90% of families surveyed in 2021 said outdoor living spaces are more important than ever.
Millennials tend to prefer something more like "glamping" with clean facilities and technology available.
Sites like Hipcamp and Berlin-based Campsy have helped make that possible, connecting travelers with outdoorsy venues including treehouses and yurts.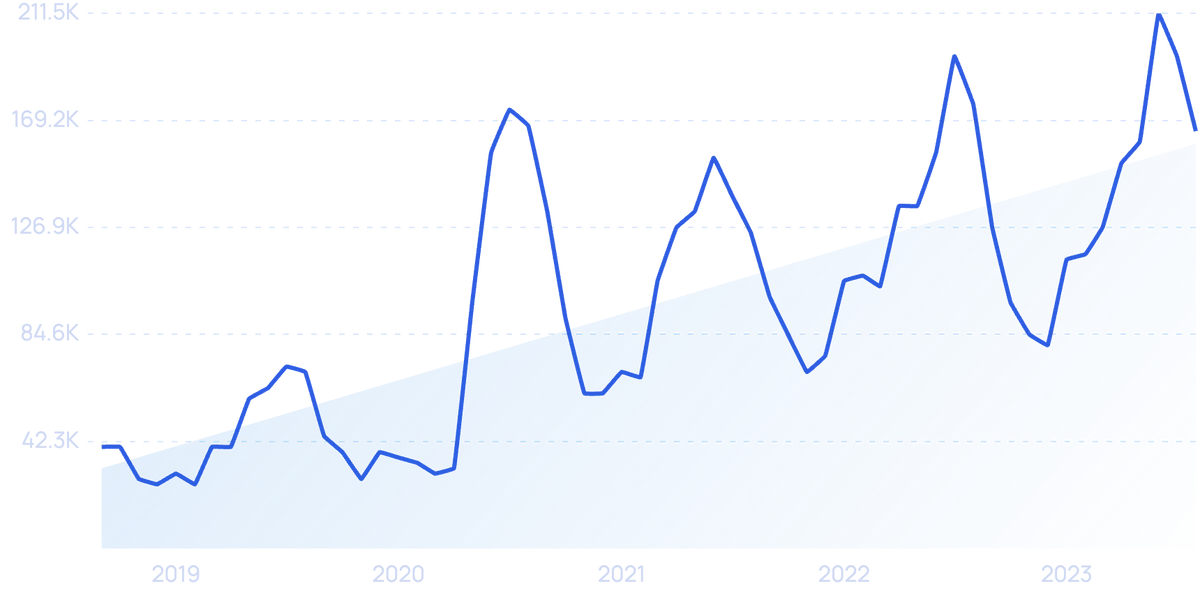 Searches for "Hipcamp" are up 311%.
As of January 2021, Hipcamp had reached a $300 million valuation, more than double that of 2019.
Beachy lets resort guests make reservations for chairs, umbrellas, cabanas, and even jet skis — and pay for them — by app.
The company won travel research agency Phocusright's Summit People's Choice Award in 2019 and has raised $15.3 million since opening in 2016.
Hotels and resorts are also polishing up their outdoor spaces.
In 2020, Choice Hotels member The Century House moved its social and business events into a WiFi-enabled, ventilated, 100-person tent.
Kenya's Great Migration lodge now overlooks Angama Safari Camp, a collection of tricked-out canvas tents that tops Conde Nast's 2021 Hot List.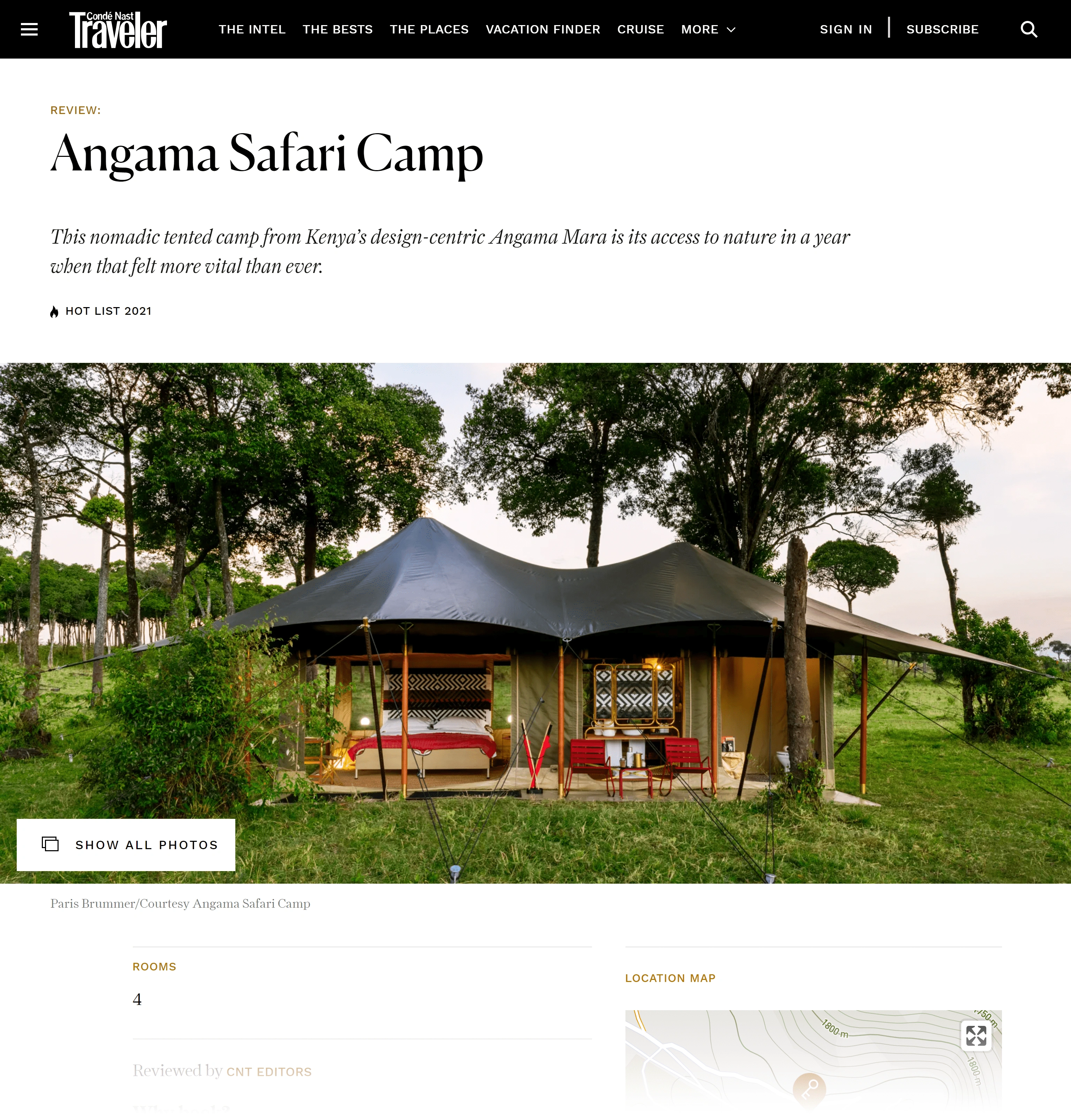 Angama Safari Camp's canvas tents put guests right in the action in the Great Rift Valley.
Hotels like 1 Hotel Brooklyn Bridge are taking the opposite approach, using biophilic design to bring the outdoors in with elements like green walls and most gardens.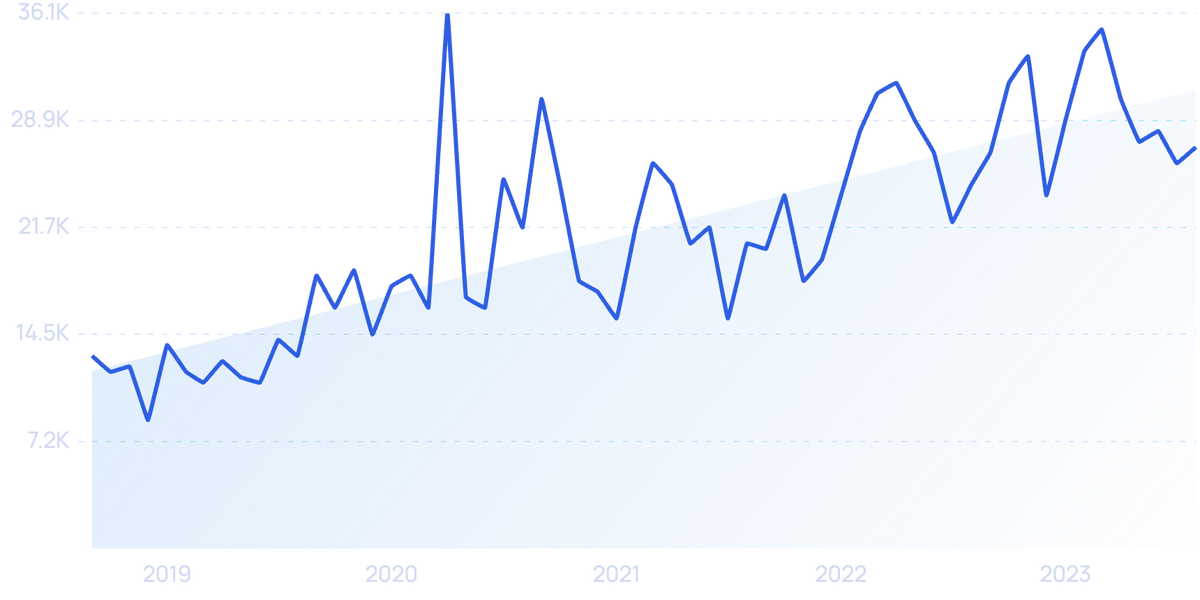 Searches for "biophilic design" have been rising steadily over the last 5 years (108%), spiking in 2020.
Other trends in hotels include green spaces, fire pits, eco-friendly materials, and zoning outdoor spaces into smaller areas to decrease contact.
2. More Tech Streamlining and Integration
Hotels and resorts long have siloed operations, separating their assets to allow hoteliers to focus on customer service.
But with needs increasing and staffing numbers decreasing, integration is the name of the game.
Enter companies like Cloudbeds, a hospitality management platform that integrates booking, property management, revenue management, channel management, websites and finance/payments.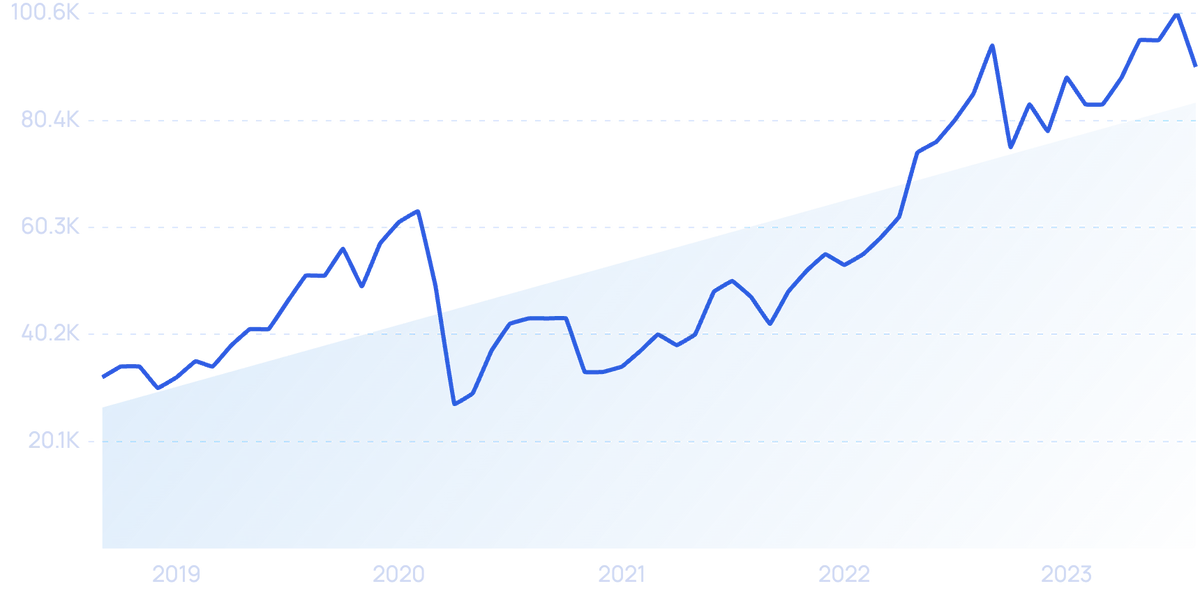 Searches for "Cloudbeds" are up 181% in 5 years.
Cloudbeds, like many modern hotel management systems, is also built to integrate seamlessly with existing apps and services, from TripAdvisor to pre-existing accounting systems. It won six HotelTechReports awards in 2021, including Best PMS and Hoteliers Choice.
Among other major players in the space are Clock PMS+, Mews, Hotelogix and SiteMinder, which reached unicorn status in Australia in January 2020.
The ALICE platform focuses on staff cohesion, with a suite incorporating guest services, maintenance, housekeeping and guest messaging.
Infraspeak, meanwhile, is all about maintenance, from work order creation to staff synchronization.
3. The Travel Experience Goes Contactless
During a pandemic, the less contact the better.
A survey conducted last year found contactless payment to be travel executives' second-most pressing priority after employee training.
And 2020 research by Criton found that 80% of travelers prefer using an app to check in and out, order room service, and communicate with hotel staff.
Another study found 71% of travelers would be more likely to stay at a hotel with self-service technology.
Kicking off the contactless experience are digital concierges.
GoMoment's digital concierge, Ivy, is in hotels from the Venetian Las Vegas to Holiday Inns across the world.
The chatbot has interacted with 50 million guests, answering questions, fulfilling room service requests, and collecting payments and check-outs via IvyPay.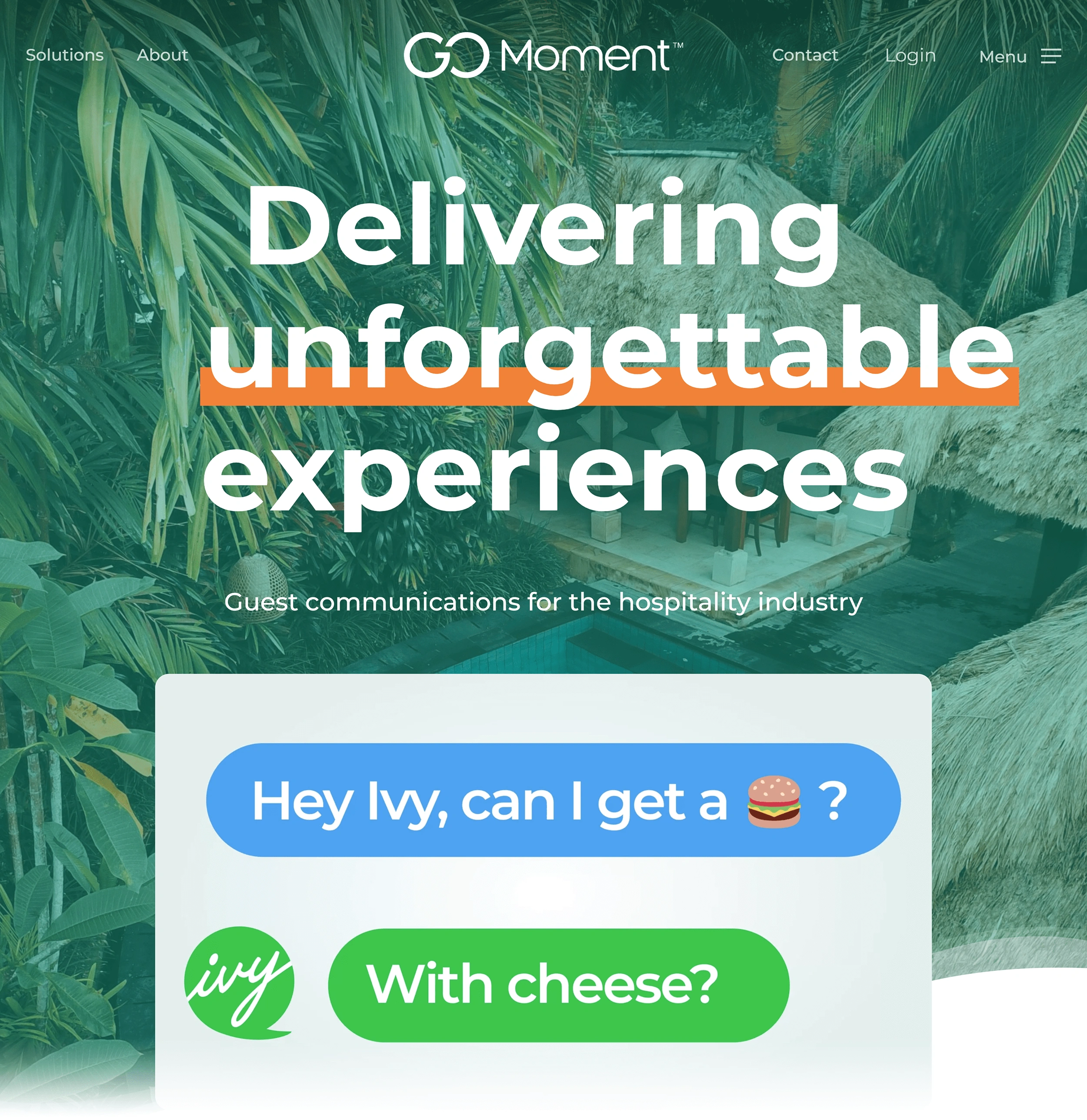 Chatbot and digital concierge Ivy has spoken with 50 million guests so far.
When it comes to digital concierges, options abound:
Beyond check-in and room key, the almighty cell phone is becoming a key hospitality tool through services like Enseo, which in addition to digital concierge VERA, offers enseoCONNECT, and lets guests control their rooms' temperature, TV, and lights via phone.
Digivalet offers similar services via an in-room iPad. MenuPoint, meanwhile, lets guests order via cell phone from sites' food and beverage options.
Growing in the hospitality industry is voice technology.
In fact, IHS Markit research predicted that hospitality would be the second-largest market for voice search by 2022.
The power players are smart hubs like Amazon Echo, Google Nest, and Apple HomePod, which interact with other smart devices.
Sightline Hotels and others use Volara, a voice-based tech system compatible with Echo and Nest that was named HotelTechReport's Best Voice Activated Tech Product of 2020.
Another player is Fluent.ai, which intentionally processes commands while offline so data can't be recorded or saved to the cloud.
Another perk? The software is multilingual.
Angie Hospitality by Nomadix also offers guests a voice-controlled self-service suite including music streaming, local info, smart drapes and lighting, temperature control, room service, maintenance requests, and more.
Any personal guest data clears upon checkout.
4. Remote Workers Blend Work and Travel
In May 2020, 48.7 million Americans were working from home — about 35% of the working population compared to 6% in 2019.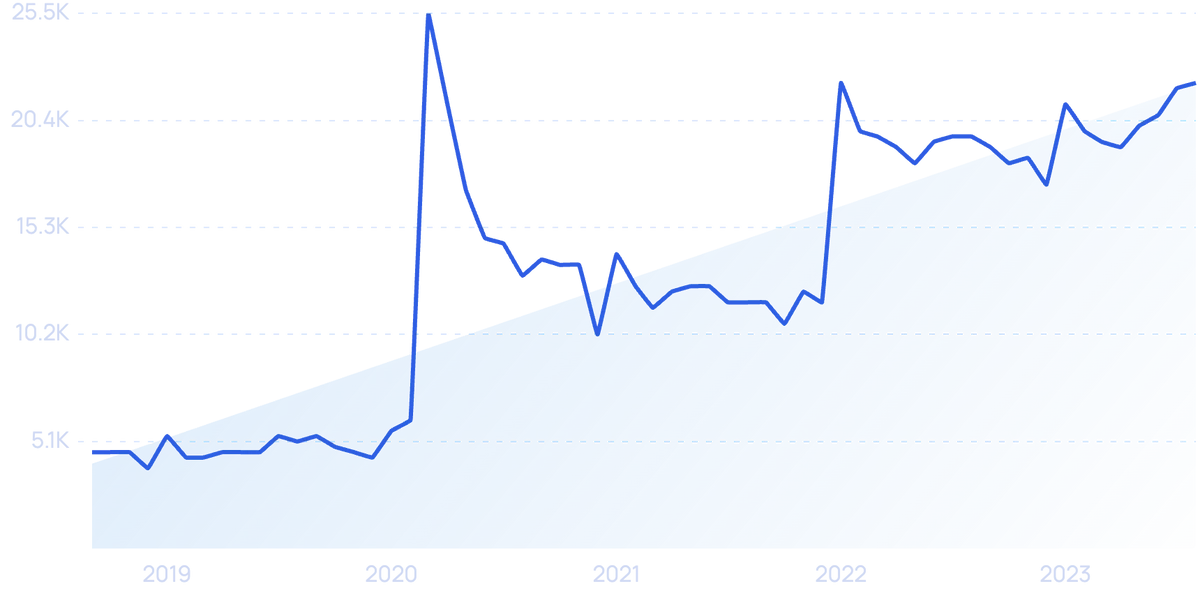 Searches for "telecommuting" are up 383% in 5 years, with a major spike in early 2020.
However, as homes also became schools (and gyms and restaurants and movie theaters), about one-third of Pew respondents said interruptions made work difficult, while 36% struggled to stay motivated.
One solution: working vacations, aka "work from hotel."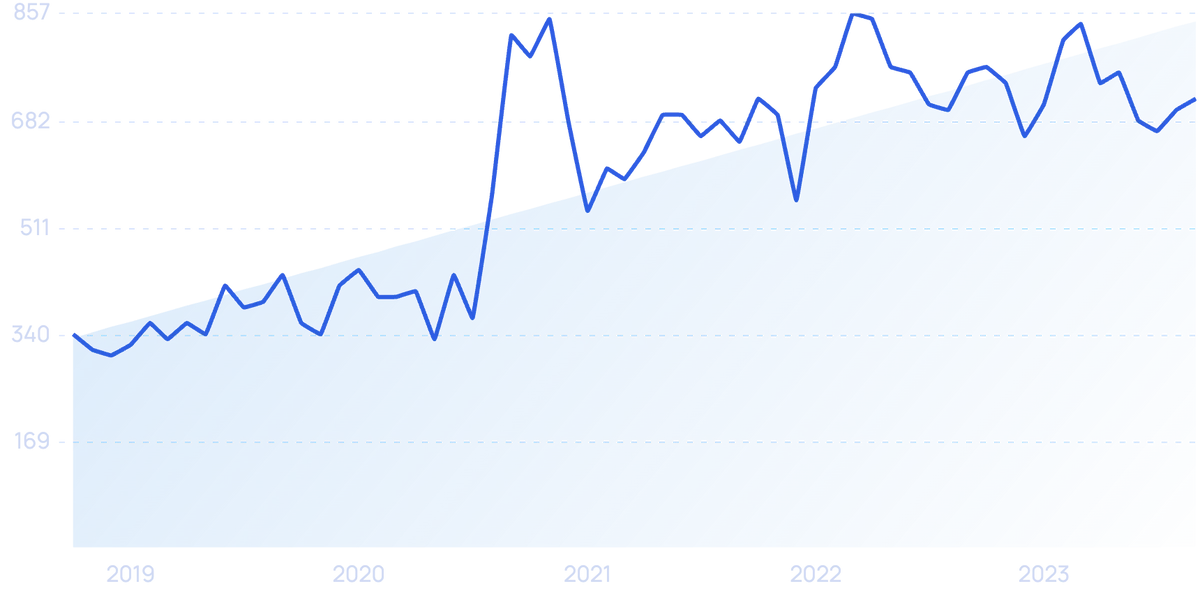 Searches for "work from hotel" are up 110% in 5 years.
International hotel chain Accor is among the leaders of the trend with Wojo, the world leader in what it calls "workspitality".
Wojo offers coworking, office, and meeting spaces in atmospheres from boho to luxe. The workspaces are available in 190 European cities.
Accor's Deputy CEO, Jean-Jacques Morin, said in September that changing business practices because of COVID could permanently cost hotels 20% of their business clientele. Wojo is part of the company's attempt to mitigate those losses and even grow its business.
Accor is far from alone.
In August 2020, MGM rolled out "Viva Las Office" at its Bellagio and ARIA resorts, offering not only business-enabled rooms and amenities but even an executive assistant for each guest's stay.
Street style-inspired Hoxton has launched Working From at its Chicago and London hotels, offering private and open studios, desks available for Desk Hop or Side Hustler members, and day passes for anyone needing a quiet place to work — bottomless coffee included.
A more long-term option is MOBase, a business membership program at the Mandarin Oriental in Washington, D.C.
A monthly rate of $4,500 gets not only a room and access to hotel amenities but also an ergonomic guest room complete with a printer.
MOBase parallels a trend of longer stays in 2020. Occupancy at the average luxury hotel was down 47% year over year in Q3 2020.
However, upscale extended-stay hotels were down only 23%, and typical extended stays only 5.4%.
Working from M.O., available at all Mandarin locations, offers daytime-only room rentals for up to 50% off standard rates. Hotel Figueroa's Fig Work Perks program is similar, offering tech-friendly rooms from 9 am to 5 pm only.
Industrious, which already had been offering co-working spaces before the pandemic, now is teaming up with places like Brooklyn's Wythe Hotel to convert rooms typically meant for sleeping into workspaces.
Norwegian cruise line Hurtigruten has even hopped on the bandwagon, offering discounts up to $1,500 for travelers looking to "Work from Ship."
5. Travelers Are Interested In Sustainability
Luxury travel agency network Virtuoso found that 82% of those surveyed said the pandemic increased their desire for sustainable travel.
And 70% said sustainability enhanced their stay.
One tool is automation, with smart devices minimizing unnecessary use of things like electricity, heating, and cooling. It's all part of the emerging EaaS (Energy as a Service) trend.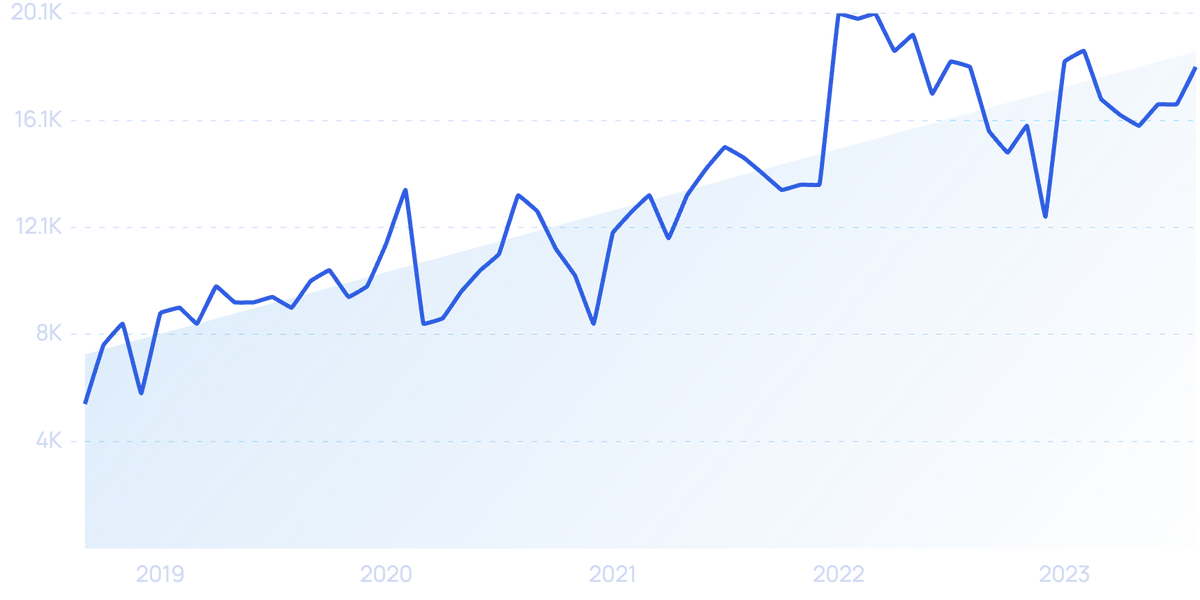 Searches for "EaaS" (energy as a service) are up 233% over 5 years and still rising.
EaaS helps hotels pursue major investments in energy improvements with no initial cost.
It's available through companies like Onsite Utility Services Capital, named one of Wired Magazine's 20 Companies with the Most Disruptive Solutions of the Year in 2020.
Resource trackers like Con-Serve are more common and require less of an investment, letting properties easily track and manage their usage of things like water, food, electricity, laundry and transportation.
Es Racó D'artà in Mallorca, Spain, takes sustainability to extremes in other ways, making almost everything from biodegradable materials and housing its own gardens, biomass plant and water treatment system.
It uses self-produced solar and geothermal energy, and cell signals are intentionally blocked.
The Wynn Las Vegas began partially powering its resort via a 160-acre solar facility in 2018, and last year launched its Zero Carbon Zero Waste event service, boasting all renewable energy, recycling, no single-use plastic and sustainable food sourcing.
This summer, MGM jumped on the solar bandwagon, launching a 100-megawatt facility that powers 90% of daytime usage at 13 of its properties including MGM Grand and the Bellagio. MGM also diverts 30 materials from landfills, from glass to hangers and towels.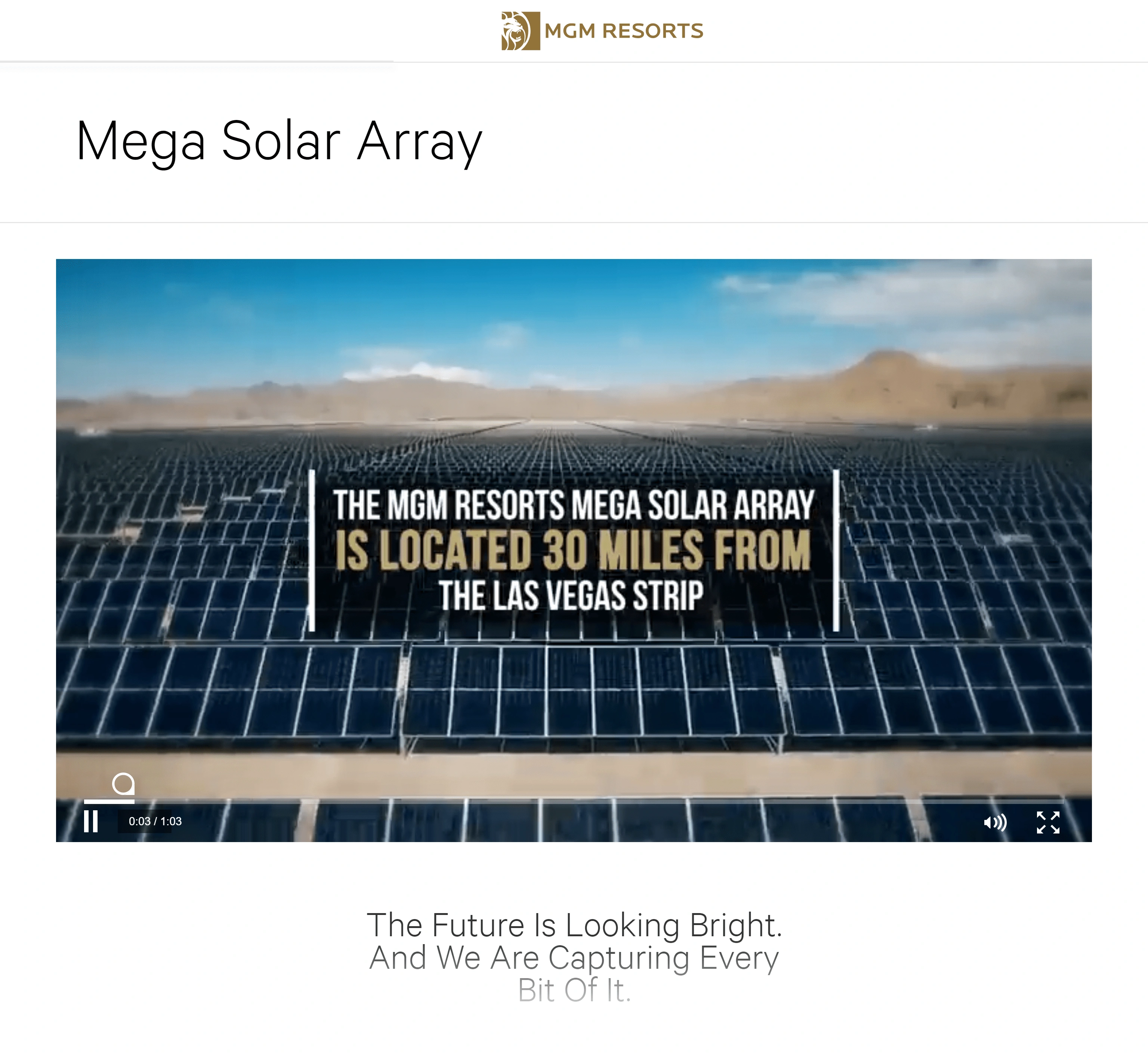 MGM launched its 100-megawatt solar array this summer.
Sites are also limiting single-use plastics whenever possible:
The Peninsula Hotels, from Hong Kong to Beverly Hills, have partnered with La Bottega to minimize plastic use and focus on non-toxic materials in the chain's toiletries. The chain also uses sustainably sourced foods and building materials.
Miami's 1 Hotel South Beach has a filtration system in every faucet and showerhead to encourage drinking from the tap rather than plastic bottles.
Botswana's Xigera Safari Lodge uses Tesla's solar hybrid energy to save more than 19,000 gallons of diesel annually..
Sites like the Marataba Conservation Camps (South Africa), Habitas Namibia (Namibia) and Cielo Lodge (Costa Rica) focus on direct environmental sustainability. They are built into the habitat and make nature conservancy work part of the stay.
Sustainability-forward Melià Hotels, in partnership with Climatetrade, lets customers apply reward points toward environmental projects in Brazil and Mexico.
Sustainability also comes via resource reduction, in myriad forms:
Power-producing gym equipment like SportsArt's Eco-Powr line can be found in hotels from Radisson Red to Hilton.
French Polynesia's The Brando and Switzerland's Baur au Lac are among resorts to power their air conditioning using deep, cold seawater and approaching carbon neutrality.
Wynn Las Vegas recaptures and reuses all water used on its golf course.
6. Use Of Home Sharing Is On The Rise
The global sharing economy already has grown enormously, from $15 billion in 2015 to a projected $335 billion in 2025.
While sites like Airbnb and Vrbo were the first success stories, emerging companies are finding new ways to capitalize on the personality and privacy of the home share market.
One approach is the hotel-homeshare hybrid.
Companies like Sonder are building large-scale, multi-unit buildings that look and feel like condos but actually are home-sharing units.
In May, Sonder merged with special purpose acquisition company Gore Metropoulos II Inc. to reach a $2.2 billion valuation.
Airbnb itself has capitalized on the multi-unit trend by forming Natiivo, which offers units in luxury high-rises in Miami and Austin. Natiivo Miami broke ground in March and by late April had sold 70% of its units.
Developing alongside home-share marketplaces are home-share hospitality management companies like Evolve. Evolve works alongside the marketplaces to make sure shared homes are safe, clean and comfortable.
The company verifies the quality and cleanliness of listings and helps property owners with bookings, cleaning and guest service for a flat 10% fee.
Also in the rental management space is Vacasa, which also offers tech and guest service support, in addition to contactless entry via smart locks, an interior design team, and a hot tub installation/upkeep service.
As of late July, Portland-based Vacasa was set to go public at a valuation of about $4.5 billion.
Pacaso, meanwhile, was founded in October 2020 and already has reached a $1 billion valuation.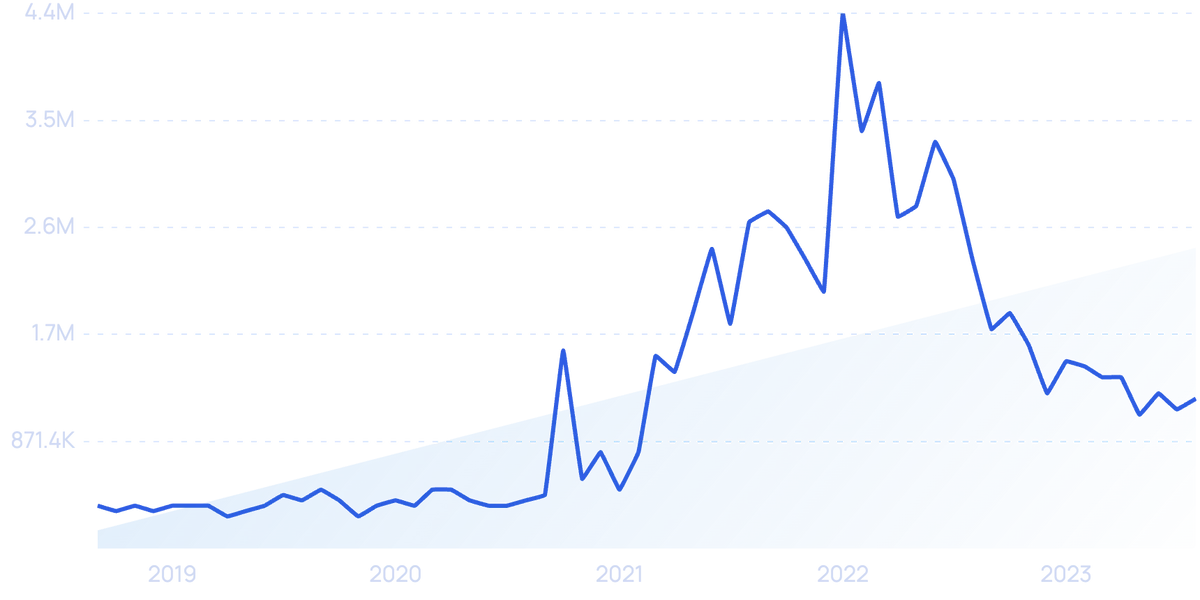 Interest in vacation property manager "Pacaso" is exploding (up 250% in 5 years).
The company buys luxury homes and splits fractional ownership among multiple buyers. The buyers reap financial benefits while Pacaso handles the logistics, maintenance, and design.
Former Airbnb and Expedia execs, in partnership with Travala.com, are betting on blockchain by forming Dtravel, a community-governed home-sharing platform.
Dtravel aims not only to lower prices and platform fees but to help repair trust between hosts and guests by decentralizing control. The company, launched in June, is luring new hosts with $35 million in TRVL tokens for the first 100,000 to sign up.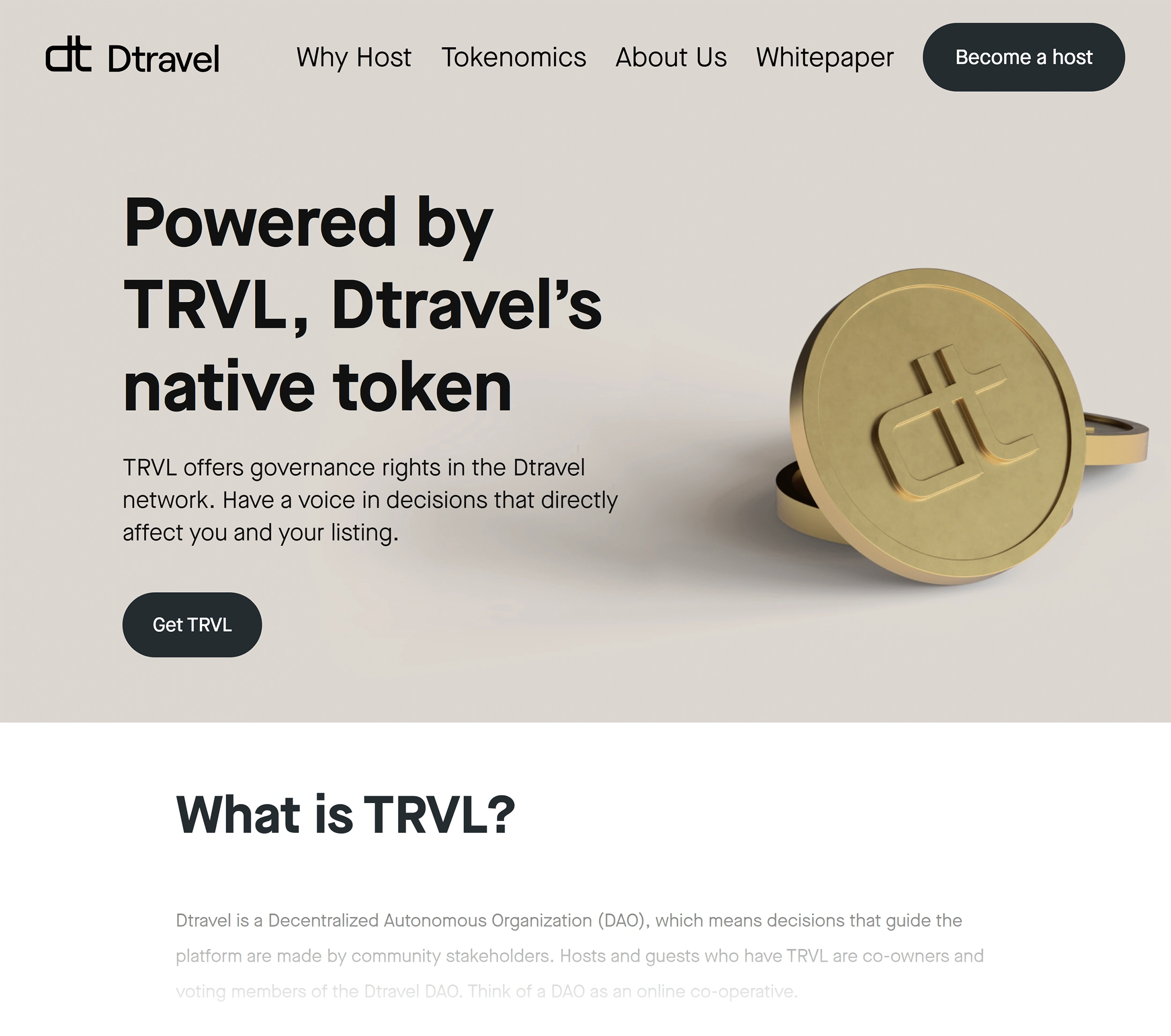 Dtravel is moving hospitality into the blockchain world with its TRVL tokens.
Hotels themselves are trying to capitalize on the appeal of local flair, redesigning their rooms and common spaces to match the local vibe.
One example: the new Living Room at Palm Beach's Colony Hotel, complete with hand-painted wallpaper inspired by old Palm Beach.
Boutique hotel company Life House also is capitalizing on local character, opening smaller lifestyle-oriented hotels and renovating existing properties to fit the local scene. The company so far has a small portfolio of US properties and this year expanded into Bali.
Conclusion
The pandemic might have hurt the hospitality industry in the short term, but industry insiders are hopeful the changes made during the slump will remain long-term improvements.
As travelers return to rental properties worldwide, they'll be greeted by improved hygiene protocols, more user-friendly technology, and more personalized environments.
All of which should boost the hospitality space's value over the next few years.