7 Important Shopping Trends For 2022
You may also like:
In the second quarter of 2021, consumer spending in the US dropped 8%, steering the economy towards its biggest contraction since the Great Depression.
Studies indicate that today's post-pandemic conditions are strikingly similar to the circumstances of the Depression years.
That's the bad news. The good news is that retail businesses have one potent edge that their predecessors didn't: insights into what consumers spend their money on, as well as when, where, and how much.
Here are the top shopping trends that are set to drive sales growth for businesses in 2022 and beyond.
1. Shoppers Buy Directly From Social Platforms
Shopping is quickly becoming a social activity.
Whether that means consumers finding deals through social media or sharing their shopping habits and finds with their friends, there is a definite shift taking place towards social commerce.
In a recent study, Forrester found that 38% of shoppers in the United States make monthly purchases through social media.
Similarly, Statista found that more than a third of all consumers it surveyed made shopping decisions based on social media ads.
And for Gen Z shoppers, that number jumped to three-quarters.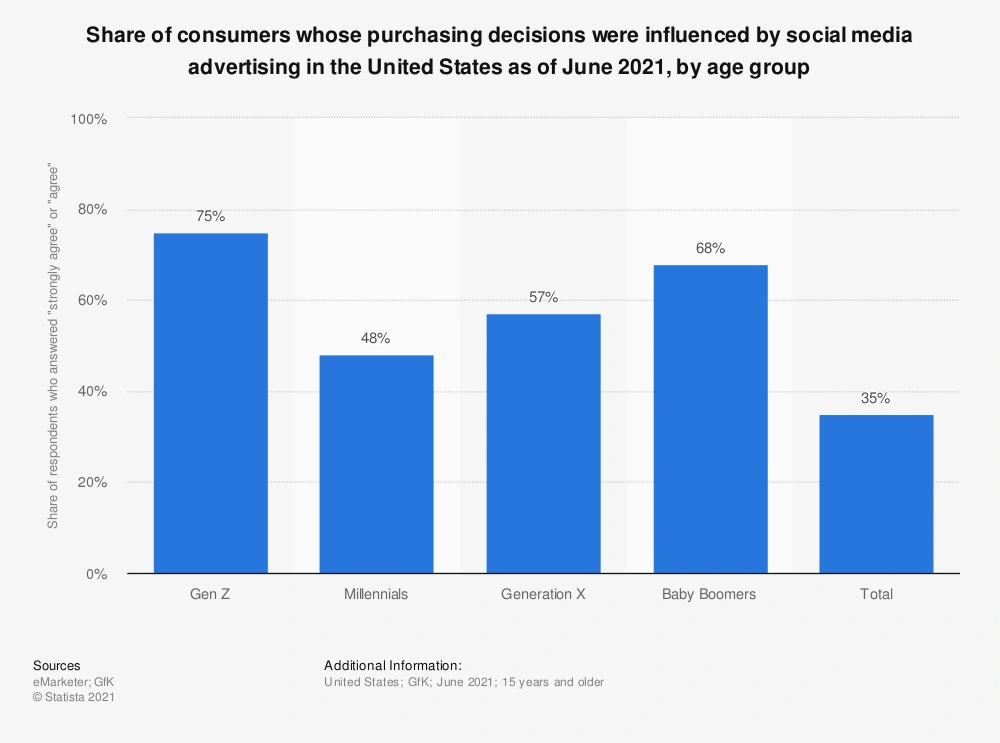 Shoppers, per age group, whose buying decisions are influenced by social media advertisements.
The world's largest social media platform is taking advantage of this shift.
Facebook reported in 2021 that its Facebook Marketplace platform now has a billion users. It's also home to roughly a million shops that sell to 250 million consumers each month.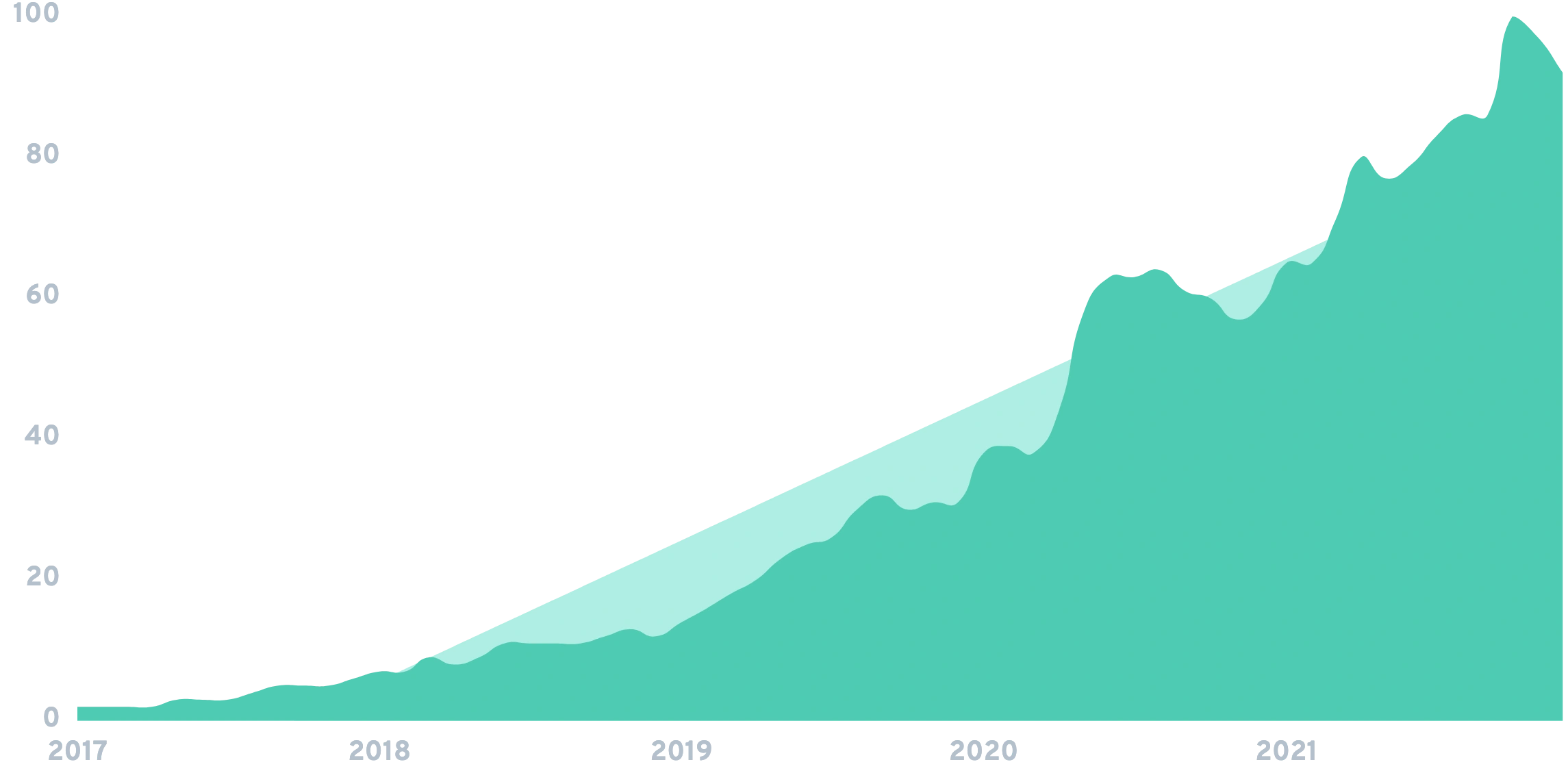 Search interest in "Facebook Marketplace" has grown by 4,500% over the last 5 years.
For instance, a study done by TikTok found that 80% of the platform's users who bought something on Black Friday in 2020 found it with the help of TikTok.
In addition, a recent study by Material found that, compared to other social media platforms, TikTok users are twice as likely to make a purchase through the app.
It's no wonder then, that the popular hashtag #TikTokMadeMeBuyIt has now been viewed 7.9 billion times.
On the back of this success, TikTok has launched TikTok Shopping – a feature that allows merchants to more easily sell products and advertise on the TikTok platform.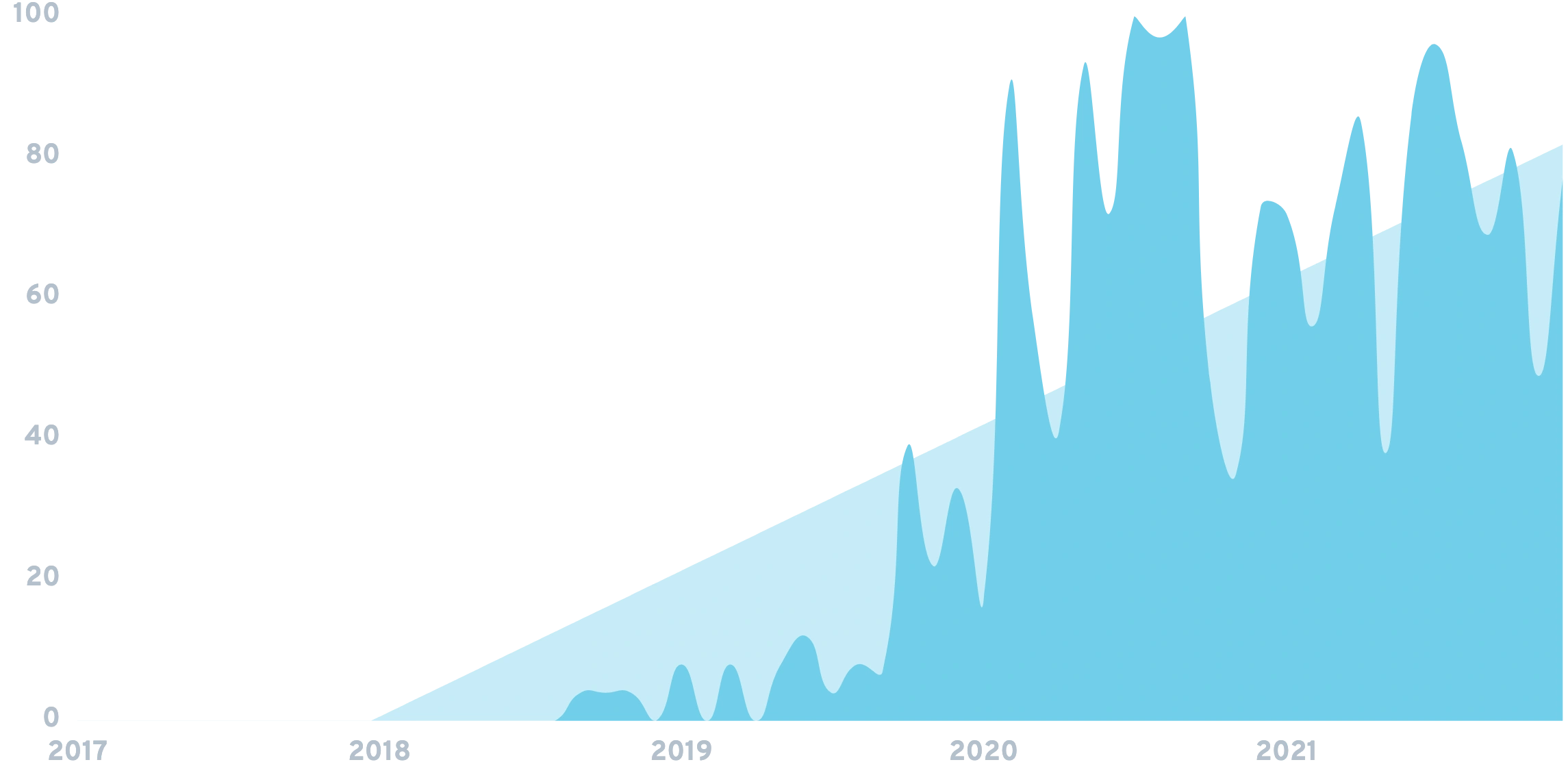 Searches for "TikTok Shopping" have risen by 7,600% over the last 5 years.
To improve outcomes for small merchants, TikTok has partnered with companies like Shopify and has created a TikTok Shopping API that allows merchants to automatically upload product catalogs to TikTok.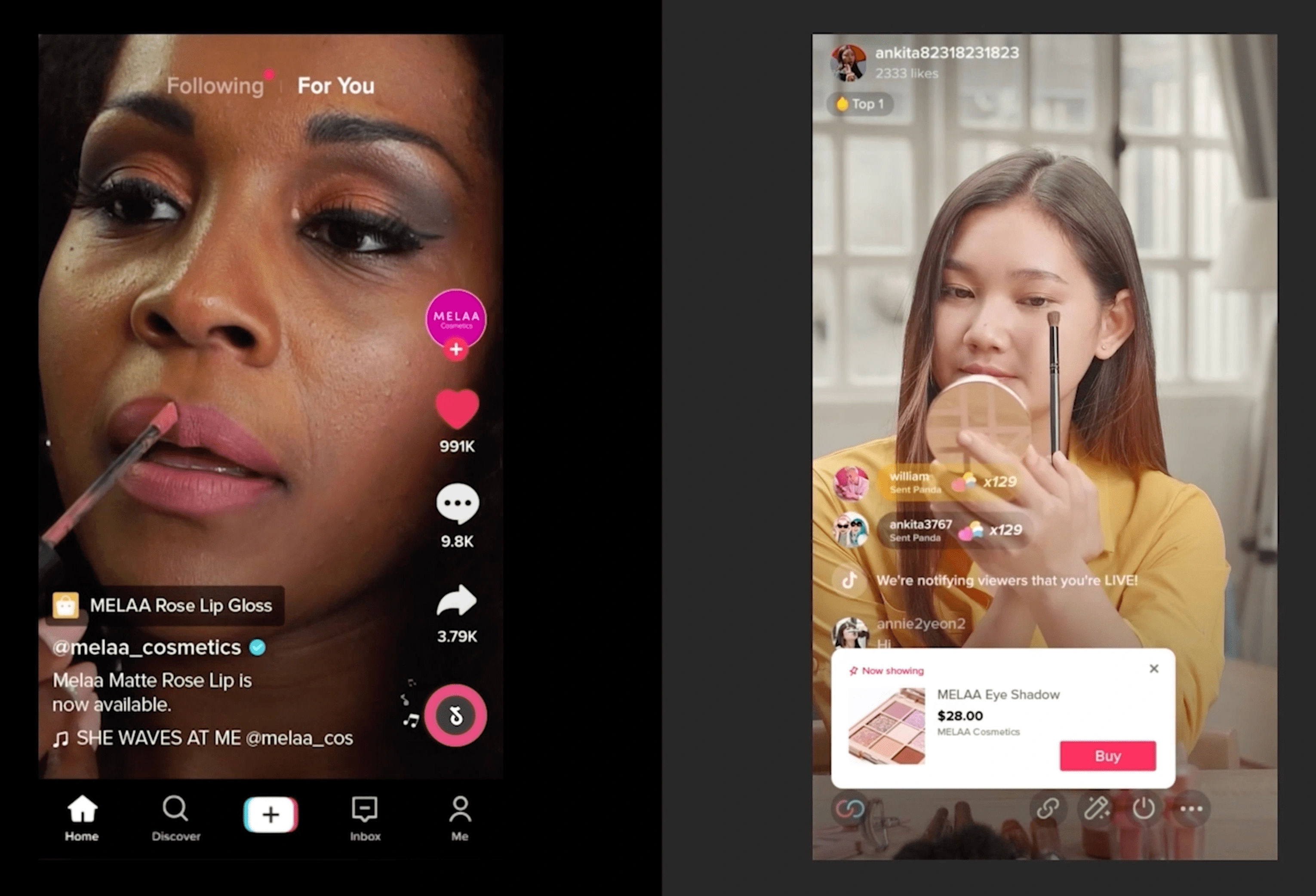 An example of TikTok Shopping. Product links appear on the screen when certain brands are mentioned or used.
2. Consumers Continue to Buy Groceries Online
Growth in grocery shopping skyrocketed between 2020 and 2021, with U.S. grocery sales from physical stores jumping from $58.44 billion to $69.97 billion.
But an even more impressive increase was online grocery sales, which hit $95.82 billion in 2020, a staggering 11% of total grocery sales in the U.S.
To put this into perspective, over the previous decade from 2010 to 2019, grocery shopping averaged growth of just 1.3% per year, with adjustments for inflation.
What's more, before 2020, 81% of American consumers hadn't even tried shopping for groceries online.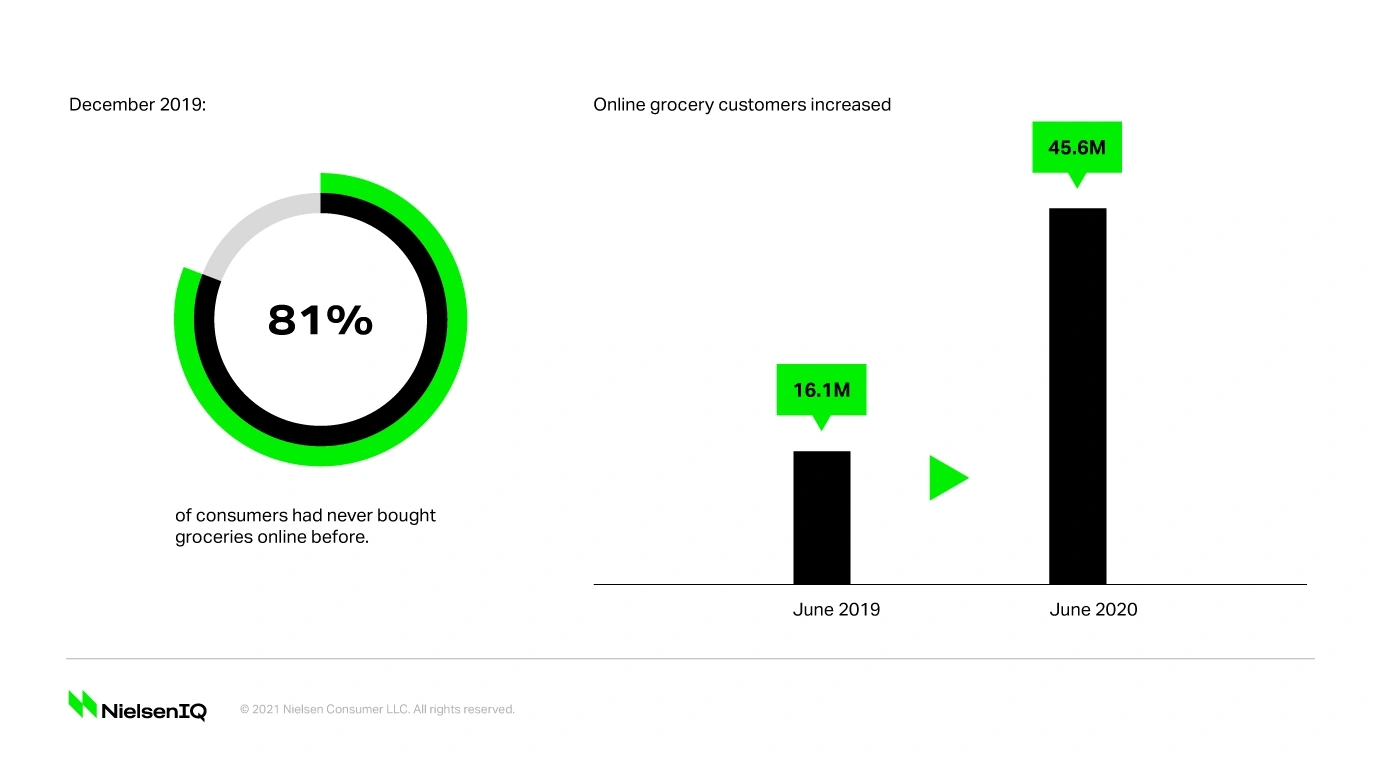 A picture of the rapid growth in online grocery shopping that was spurred by the pandemic.
But by mid-2020, 79% of American grocery buyers reported having made at least one grocery purchase online. By the end of the year, online grocery shopping accounted for more than 7% of all eCommerce sales in the U.S.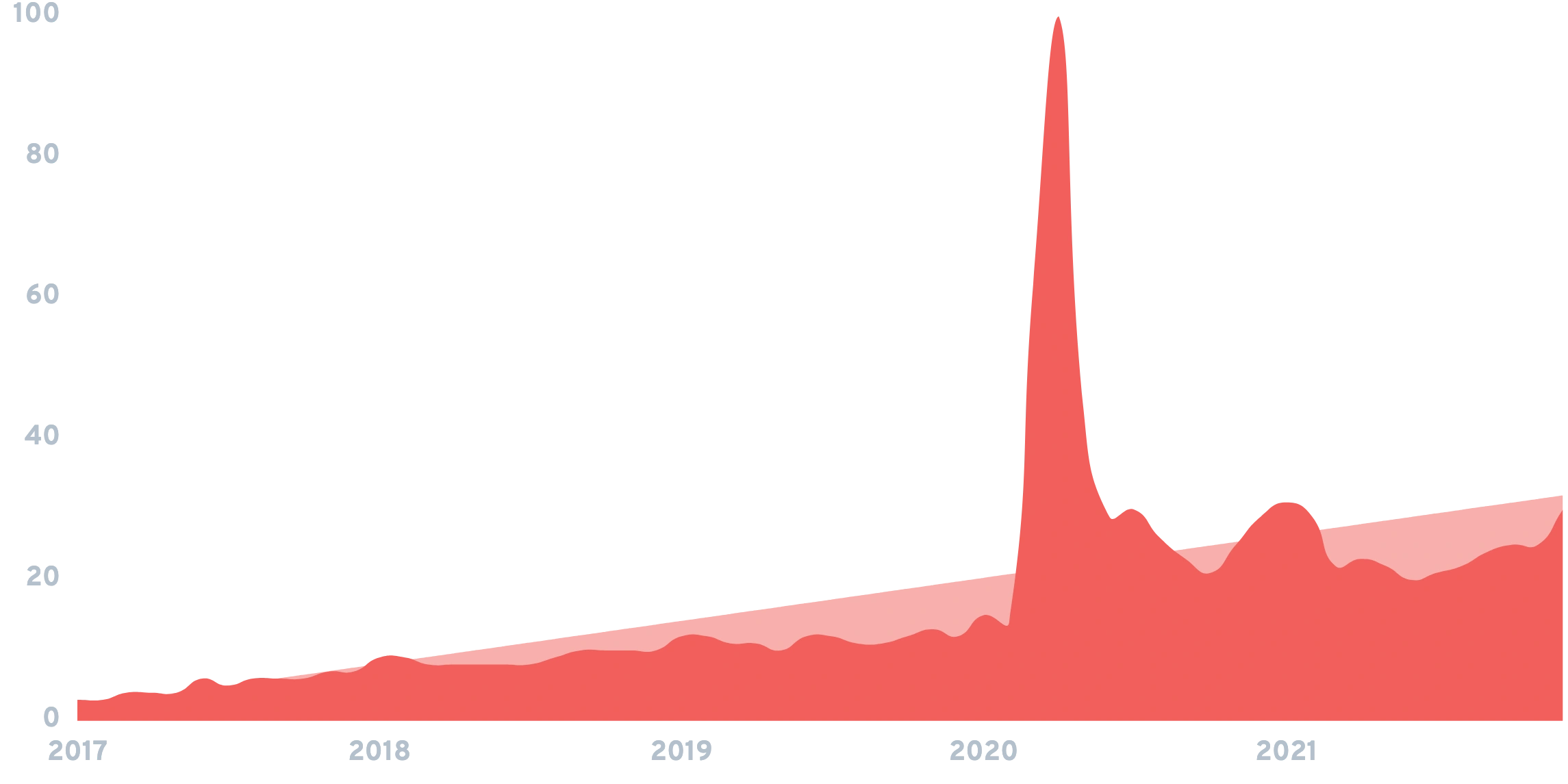 Searches for grocery delivery platform "Instacart" have grown by 900% over the last five years.
Importantly, this isn't a trend restricted to the U.S.
In a study involving 9,542 consumers in 9 countries across the world, Dynata found that before the onset of the pandemic, grocery shopping had the lowest share of online expenditure.
After 2020, online grocery sales surged an average of 23% across the UK, Canada, France, Germany, the Netherlands, Australia, China, and Japan.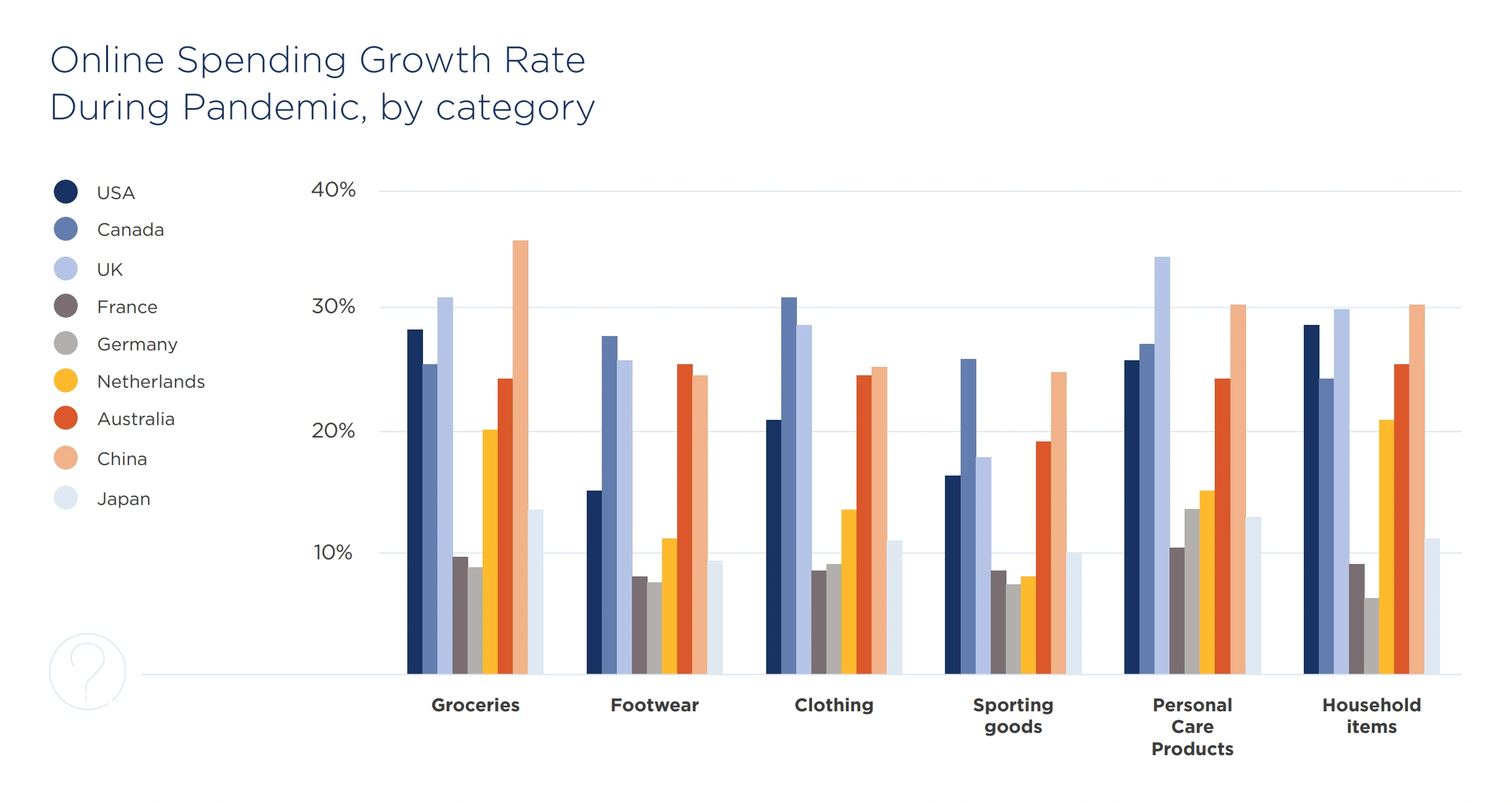 Consumers' interest in online grocery shopping has grown faster than most other products, compared to shopping habits before the pandemic.
Chinese consumers lead grocery spending online. They also added the most number of shoppers, with a Nielsen study indicating that 111 million Chinese consumers bought consumer packaged goods (CPG) for the first time in 2020.
Americans were in second place, with 22 million new online grocery shoppers, followed by South Korea at 922,000 consumers, all making their first digital purchase of groceries in 2020.
According to the Nielsen study that included 12 countries globally, online grocery shopping grew by an average of 40% across these countries, excluding Chile, which was an outlier with an explosive growth rate of 445%.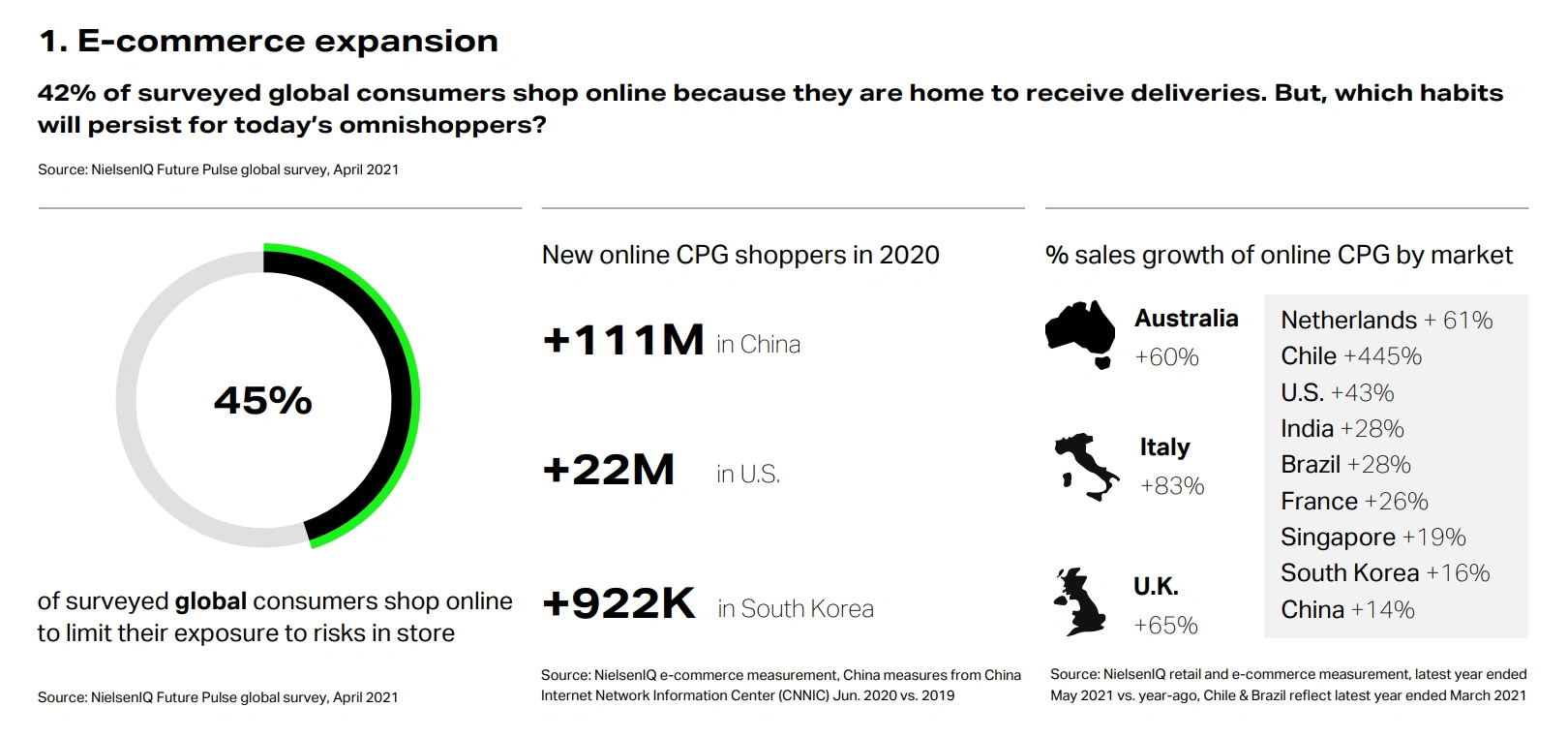 Most developed countries worldwide added a large number of new online shoppers and experienced increased online sales growth.
Globally, online grocery shopping is forecast to grow at a compound annual growth rate of 24.8% in the coming years, exceeding $1.1 trillion by 2027.
3. Ecommerce Accelerates Across All Product Categories
Although grocery led the growth curve for online sales in the US, the pandemic accelerated eCommerce growth in several other categories as well.
With 70% of shoppers avoiding going to crowded places by mid-2020, sales at brick-and-mortar outlets dropped 30% over the previous year.
But much of that spending has instead been redirected online, with more digital shoppers spending more money on everything from footwear and apparel to household items.
Household items ranked #2 on the growth leaderboard after grocery, increasing 22% globally in 2020.
Clothing and footwear followed closely behind, with an average worldwide sales lift of 19% and 17%, respectively.
Shoppers say that they will continue their online spending in many categories, even after the pandemic, suggesting that a significant fraction of the market share gained by eCommerce platforms is going to be permanent.
Home improvement, meal delivery, and online fitness are three of the biggest eCommerce winners, with 93%, 80%, and 77% of shoppers affirming that they will either increase or maintain their spending in these categories, respectively.
Some of the product categories driving the biggest increases in home improvement are furniture, bedding and mattresses (+61%), landscaping (+58%), and decorative items such as plants and art (+44%).
The pandemic has brought change to the eCommerce landscape, driving demand for online ordering and delivery of products that just weren't that common before.
For instance, eCommerce plant delivery company Bloomscape delivers home-ready plants directly to consumers.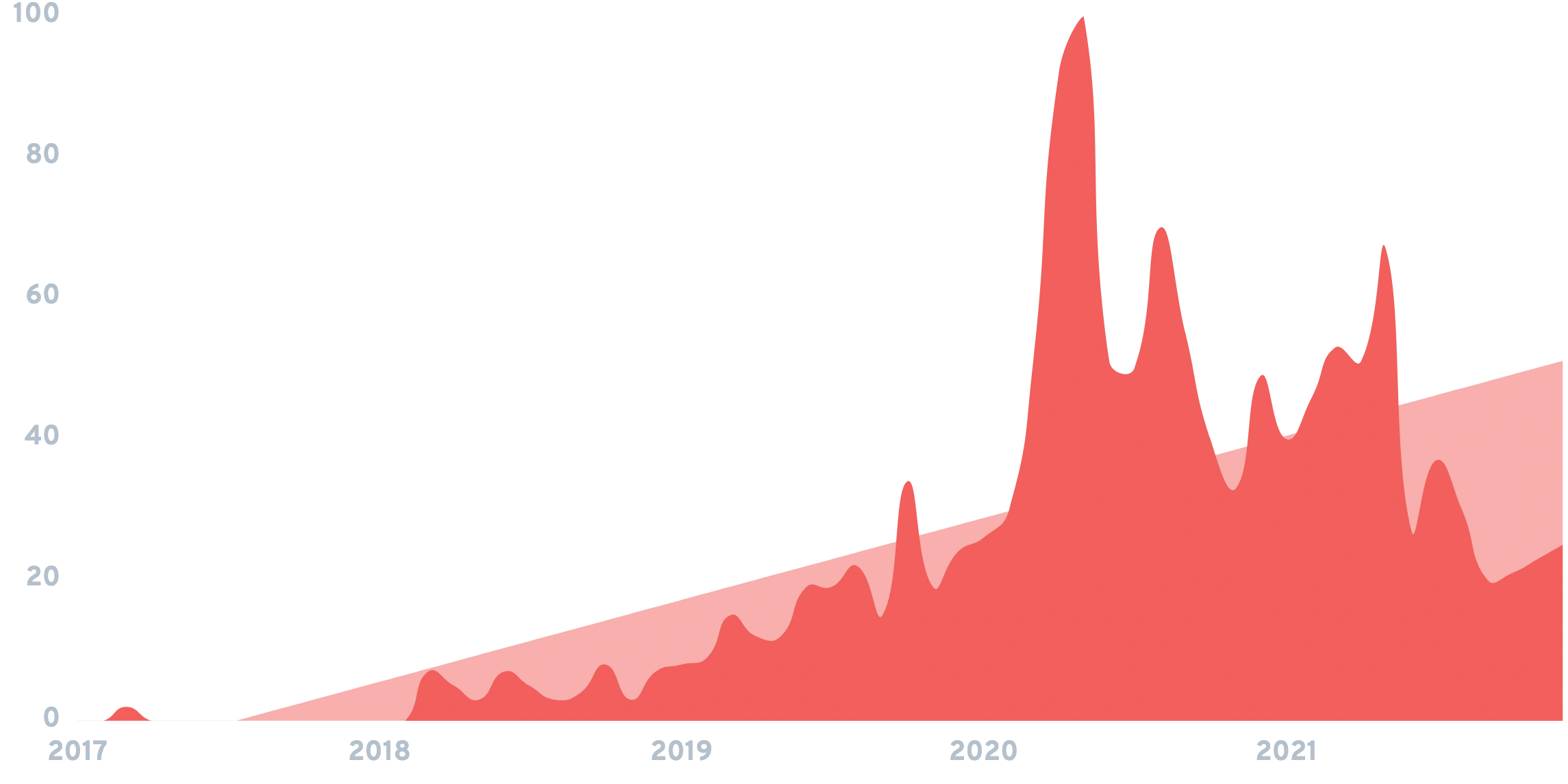 Searches for "Bloomscape" have grown by 2,400% since 2017.
In September of 2020, Bloomscape's CEO reported that the company had quadrupled its sales and doubled its workforce compared to 2019.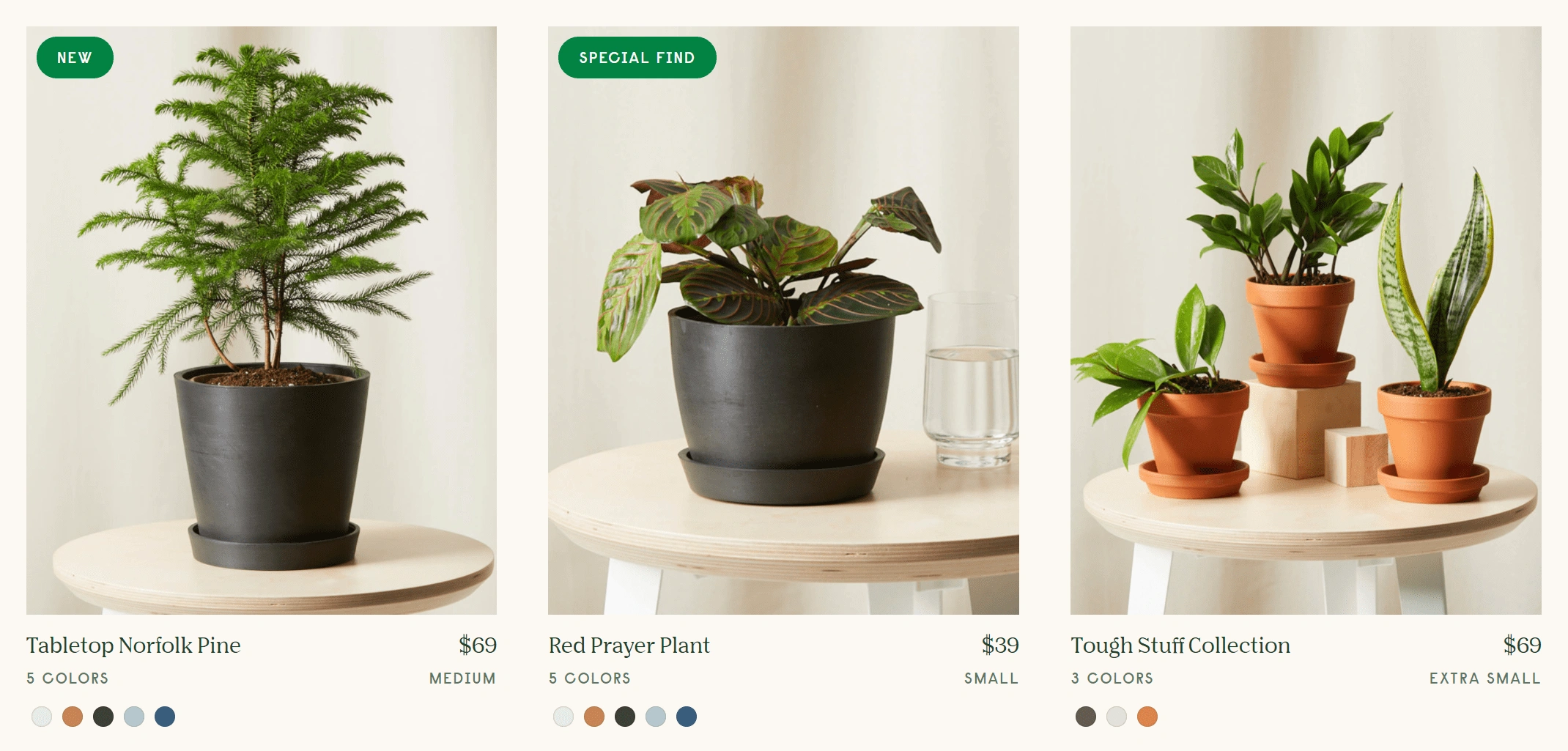 Example of a plant delivery ecommerce category page.
Such growth is just one example of the new product opportunities brought about by our new digital world.
An Ernst & Young forecast predicts that online sales will accelerate in the coming years. Southeast Asian markets are slated to lead the eCommerce boom with 3X to 4X growth, reaching $120 billion by 2025.
4. Ecommerce Forces Retailers to Adapt
As regions around the world went into lockdown, retail businesses found themselves forced to come up with new ways to serve shoppers through channels other than in-store.
In a study with 11,500 participants across 16 countries, global market research company, Ipsos, found that 65% of consumers had shopped more online than in the previous year.
In the US, 92% of consumers have now made purchases online, including Gen Z, Millennial, Gen X, and Baby Boomer consumers, between 18 and 65 years of age.
More tellingly, 78% of shoppers reported having used channels that were new to most stores such as "buy online, pick up in-store" (BOPIS), and curbside pickup.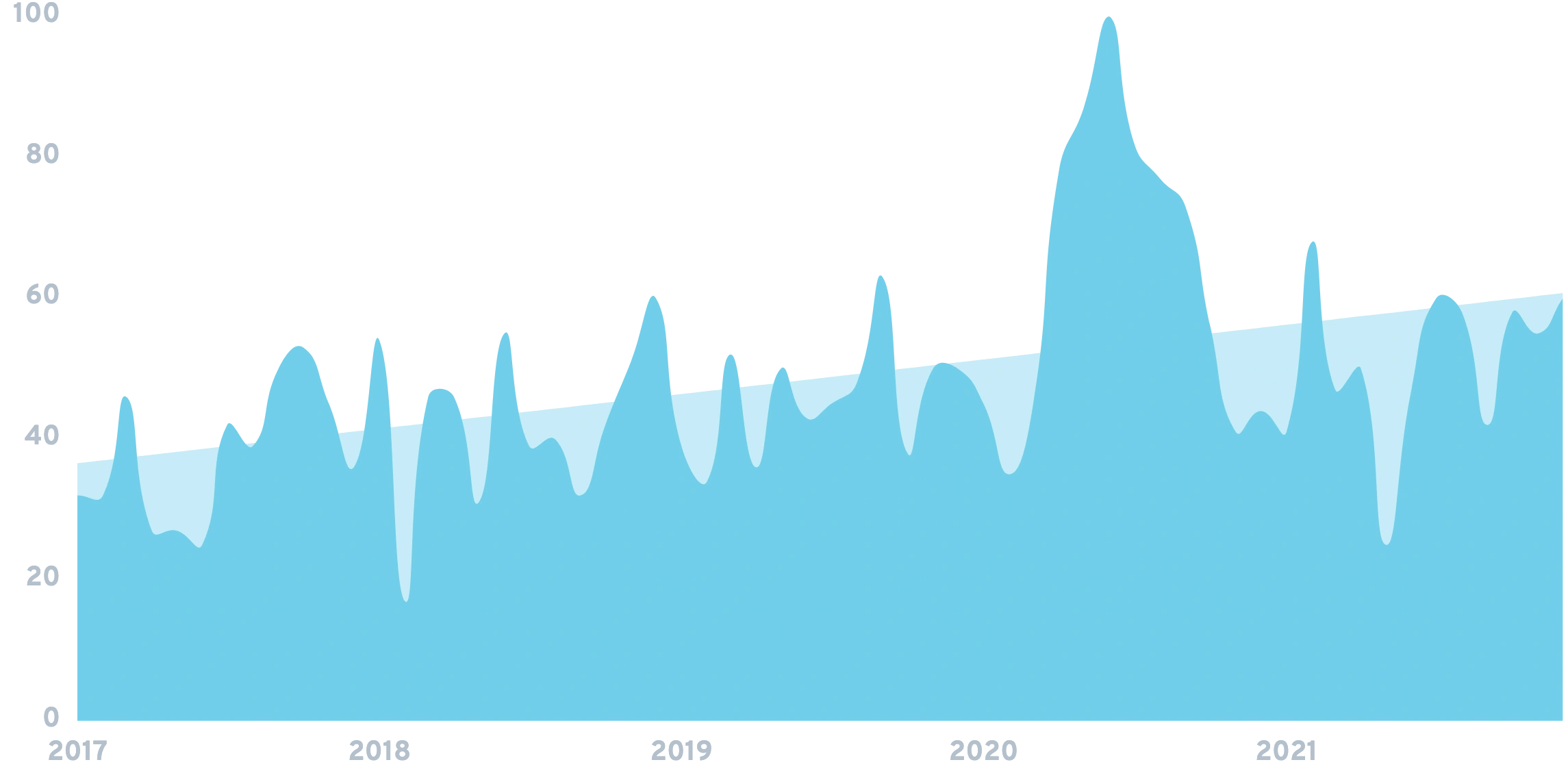 Searches for "BOPIS" over the last five years.
These aren't just trends restricted to pandemic-induced lockdowns, either; when asked whether they would prefer shopping online or in-store, assuming both options presented zero health risks, 22% said they will continue shopping online, while 39% said they will use both equally.
The new channels also seemed to have quickly gained traction, with 69% of consumers confirming that they will continue using BOPIS and curbside pickup even after the pandemic.
Nielsen reports that about 75% of the top 50 physical retail brands in the U.S. now offer curbside pickup.
With 3 out of 5 consumers preferring to shop with brands that offer returns, more brands are also looking to add such features in 2022 as key differentiators.
This innovation with new channels and business models hasn't been confined to essential commodities such as groceries or the food sector.
Even apparel and retail businesses have experimented and found success with non-traditional channels.
For example, Nike unlocked an impressive 38% growth in digital channels during the second quarter of 2020, gaining 170 million users across its apps and online platforms.
5. Ethical Concerns Impact Purchase Decisions
In its benchmark Future Consumer Index study, Ernst & Young surveyed thousands of consumers in 20 countries around the world on attitudes to environmental and social issues.
Of these, 17% of US shoppers reported that they are concerned most about environmental issues, while another 17% said they identify most with social issues.
76% of shoppers indicate that they recycle and reuse packaging and products, and 67% confirm having adopted reusable shopping bags.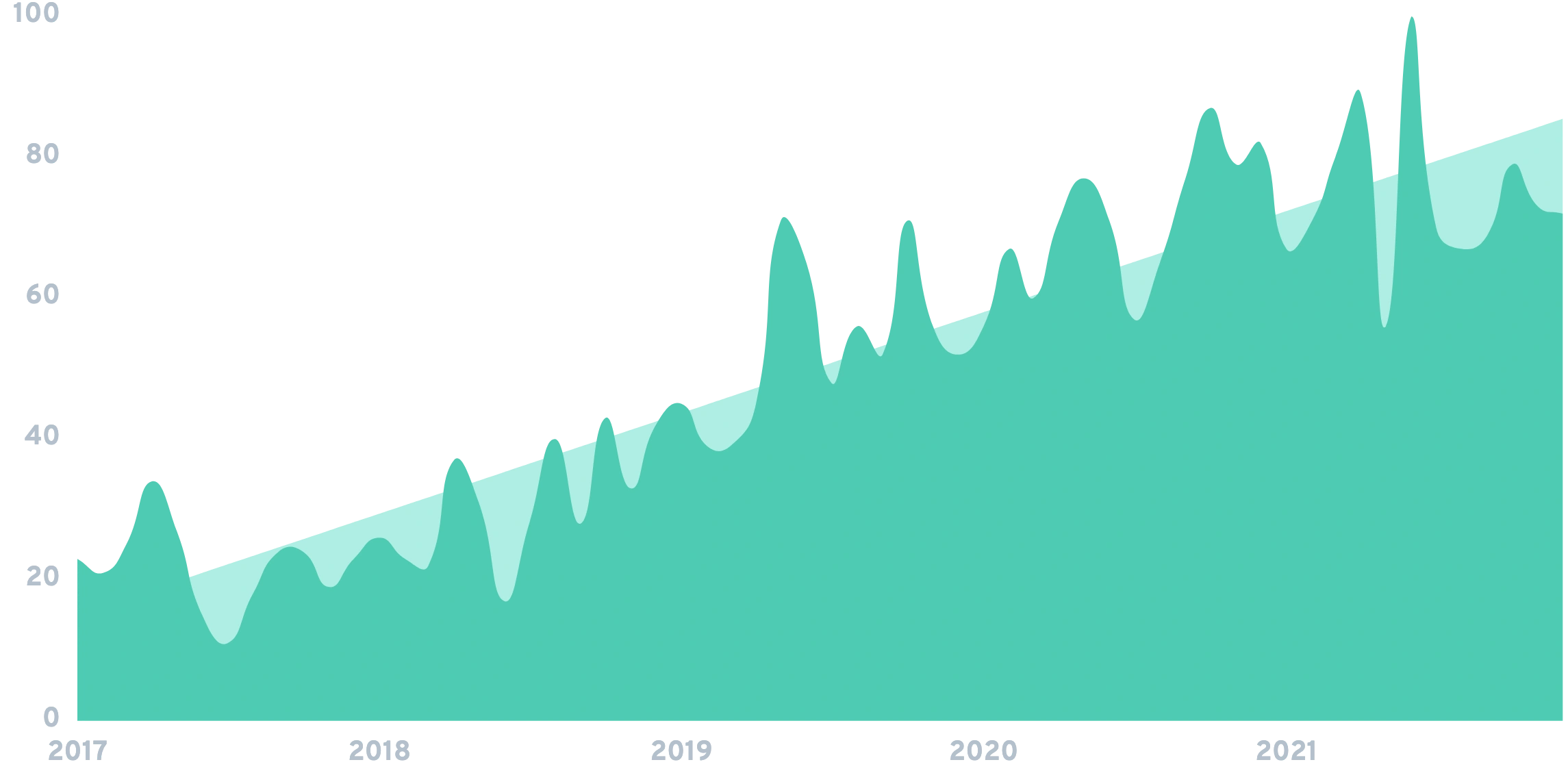 Searches for "sustainable packaging" have increased by 213% over the last five years.
And 57% of consumers state that they pay attention to the environmental impact of what they buy.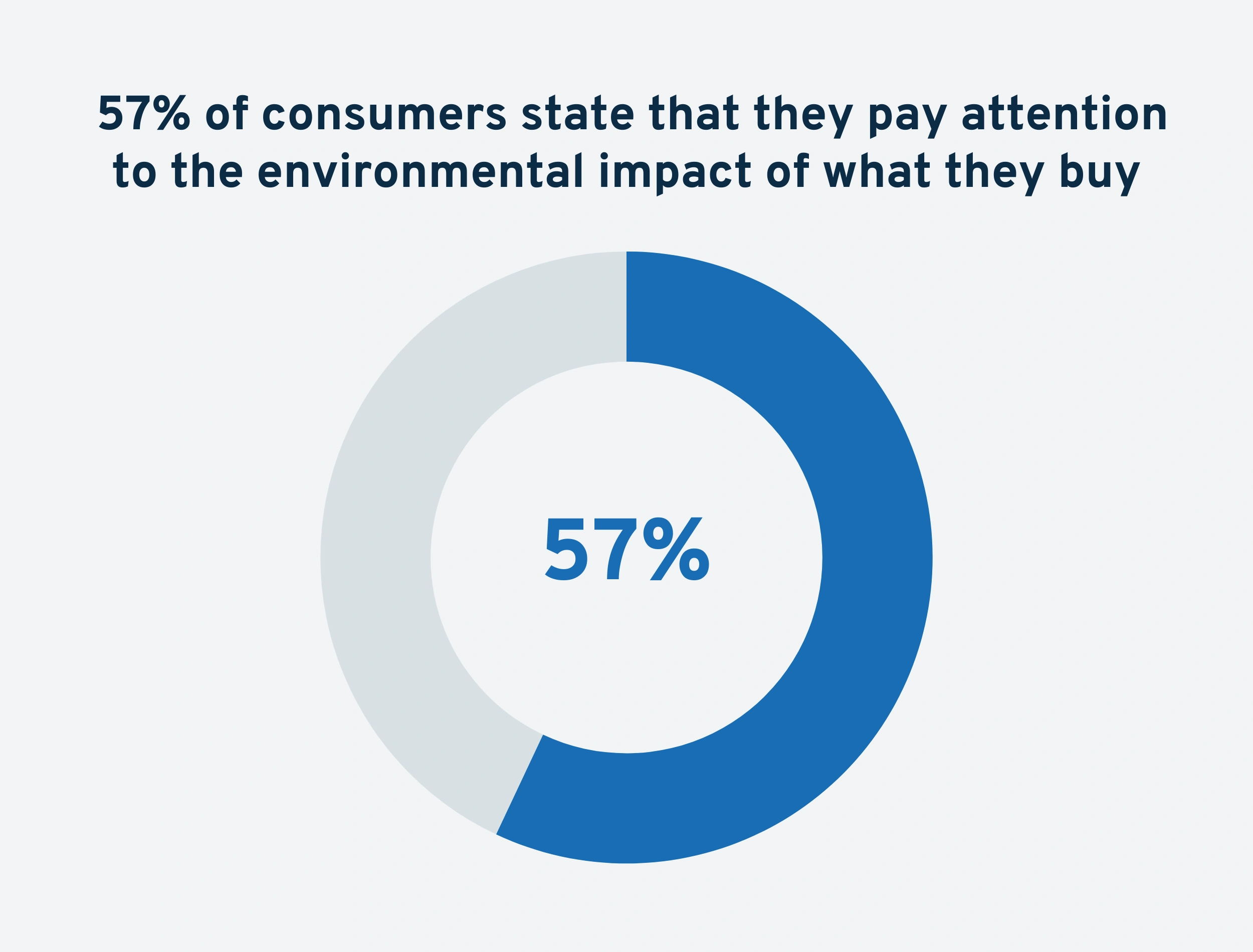 Consumers also say that they would not shop with businesses that behave socially or environmentally inappropriately. 31% of respondents stating that they would not buy again from such brands, and 24% will also tell their friends and family not to buy from such brands.
Shoppers are also clearly willing to walk the talk, as 55% of the total CPG market growth has come from sustainable sub-brands, even though these form only 16% of the product portfolio of these businesses.
Consumers have demonstrated that they will pay a premium for these products, which cost, on average, 39% more than conventional products.
Accordingly, top businesses across categories from apparel to beauty and retail, are also investing in sustainable practices.
The likes of H&M, Patagonia, REI, and Ikea are all prioritizing products focused on reuse, which has traditionally been a challenging model for brands to fulfill in terms of logistics.
Forrester Research estimates that investment in circular-economy-inspired products and sales models will exceed hundreds of millions, rising into single-digit billions of dollars in 2022.
6. Niche DTC Products Take Off
IRI reports that DTC sales of CPG products are set to increase by 2.5x by 2022.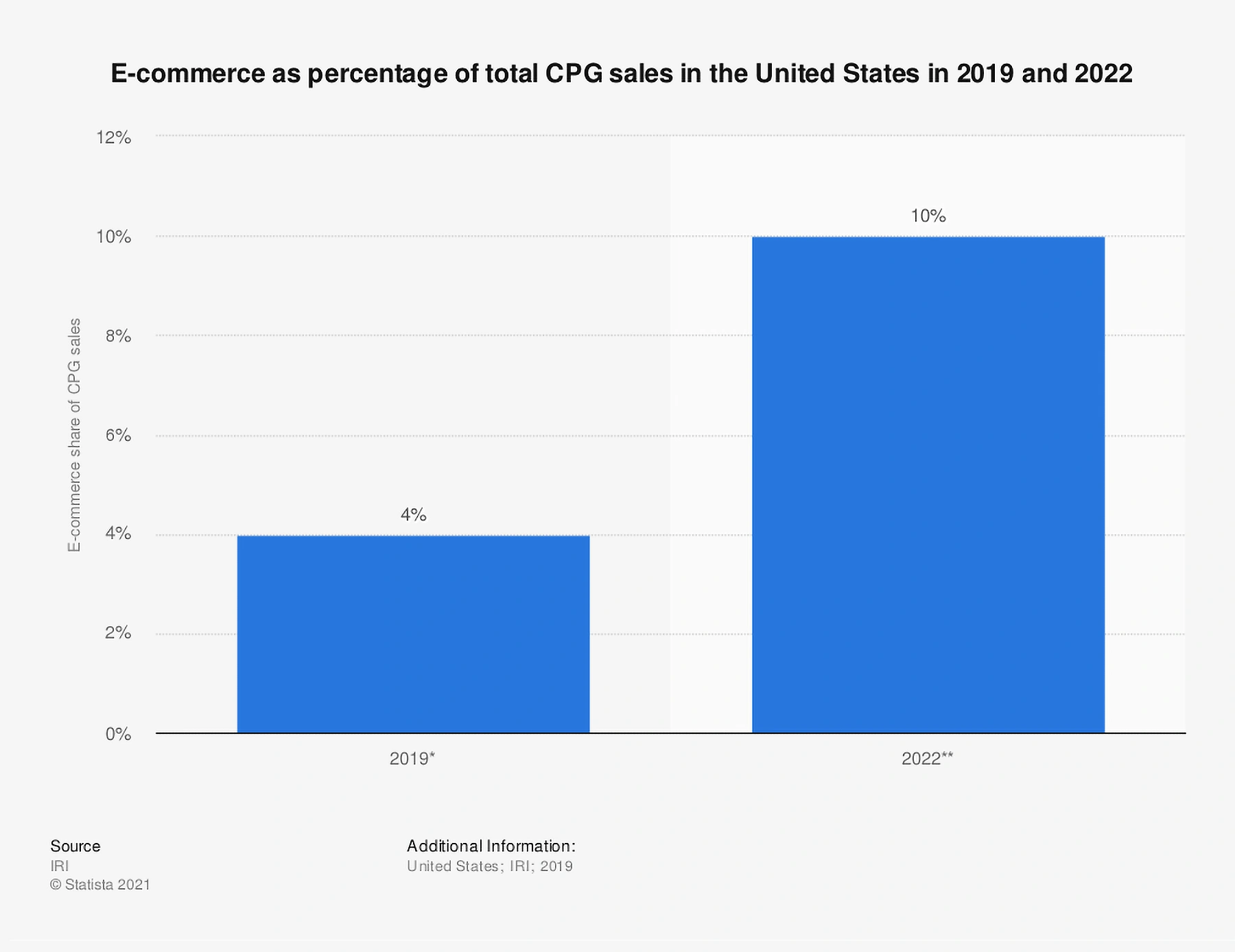 Platforms for manufacturing (Alibaba), logistics (ShipBob), and eCommerce sales (Shopify) have all emerged at the same time. Making it relatively easy to develop, create, sell and ship physical products.
In fact, Shopify recently announced that transactions on their platform have increased by 109% compared to last year.
Which is causing the long tail phenomenon that transformed the publishing industry to impact the physical product space.
But it's not just new tech. Shifts in consumer behavior are also driving this trend.
McKinsey reports that 75% of consumers have changed their shopping behavior over the last year – opening the door for new DTC brands to gain traction.
Examples of DTC brands driving this trend include:
DRMTLGY: DTC skincare startup known for its anti-aging "needle-less serum". Focuses on the high-end natural cosmetics market (for example, their eye cream costs about $51 vs. $18 at Neutrogena).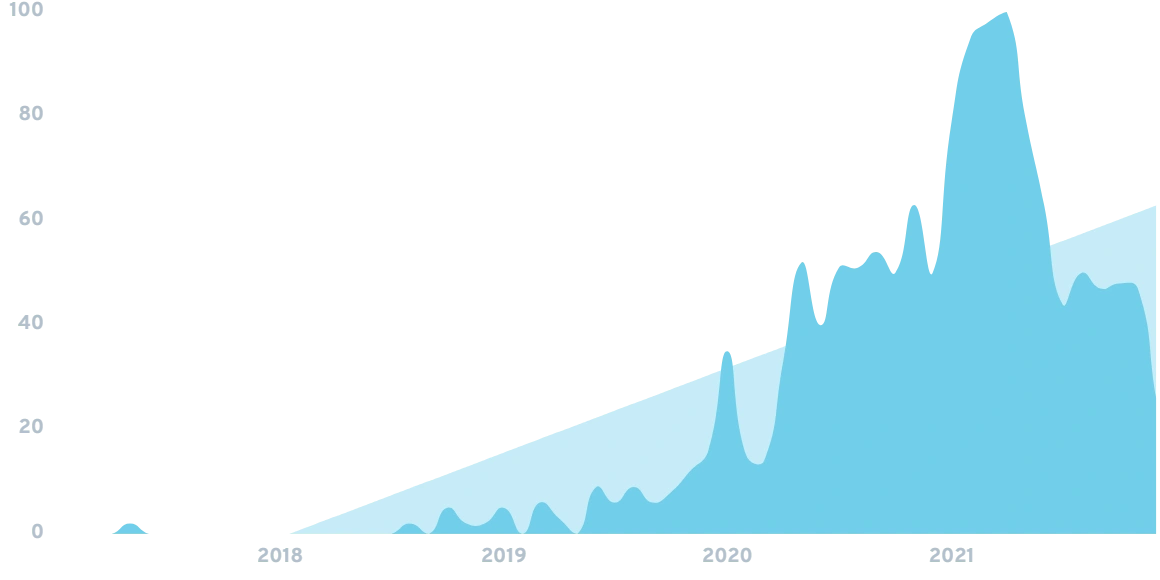 Searches for "drmtlgy" are up 2.5x over the last 5 years.
Secretlab: "Gaming chair manufacturer. The company raised a $7.5M Series B last year. And sales have increased 10x since 2017 (currently estimated to be approximately $226M per year).
Pretty Litter: Silicon cat litter that changes color based on urine pH levels. Unlike most pet products, Pretty Litter is 100% DTC and subscription-based.
Ekster: RFID-blocking smart wallet brand. The company raised $1M on Kickstarter (7000% over its goal).
Femtis: Based in Germany, Femtis is one of many fast-growing "period undearwear" brands.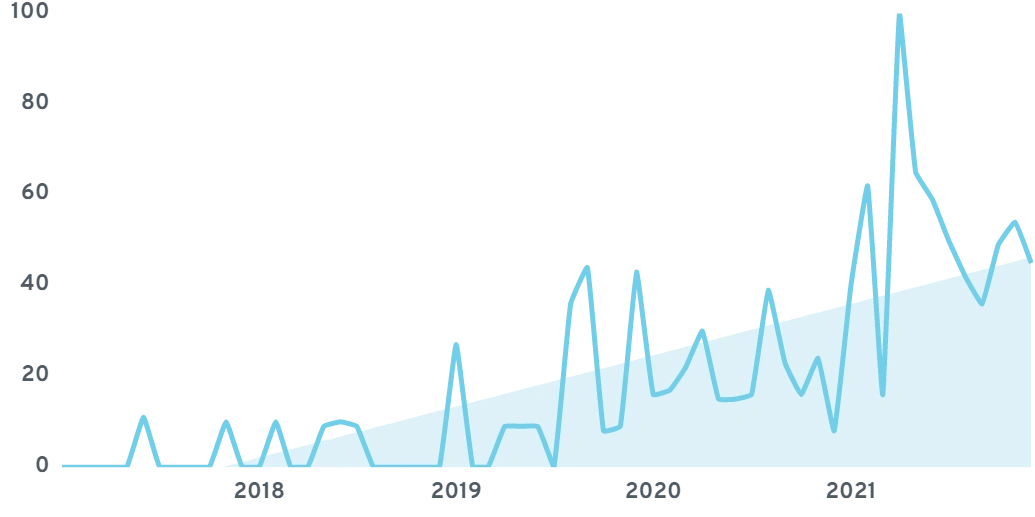 Femtis's search growth over 5 years.
CoBionic: DTC supplement brand that focuses on trending product categories, like chocolate collagen and prebiotics. Company revenue (which includes a line of recipe books) reached $7M last year.
Examples of fast-growing niche DTC products include:
Wheat straw plates: Plates made from a wheat straw — a byproduct of wheat production. Wheat straw is biodegradable, microwave and freezer safe, lightweight, sturdy, and FDA approved. Which is why it's increasingly used as an alternative to plastic.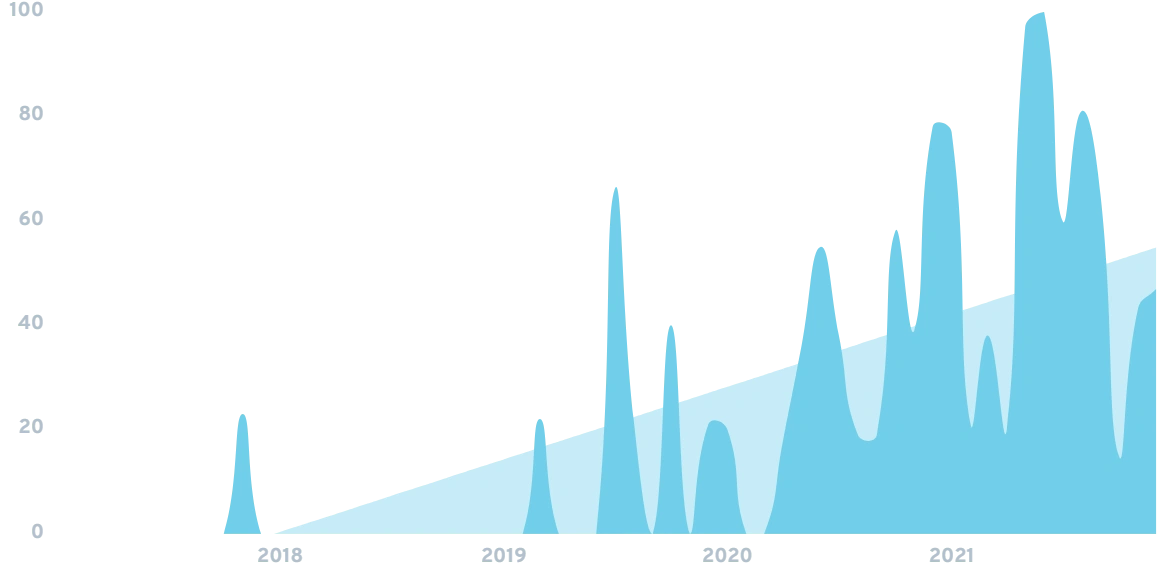 Searches for "wheat straw plates" have increased 135% over the last 24 months.
Gaming glasses: Blue light blocking glasses designed to reduce eye strain during long gaming sessions.
Reusable Q-tips: Silicone versions of the popular cotton swab. One reusable Q-tip brand, Lastswab, raised $772K on a $14K goal on Kickstarter.
Custom keycaps: Custom-made keys designed for mechanical keyboards. Popular with the gaming and anime communities.
Posture correctors: Brace or other wearable device designed to reduce the incidence of slouching.
Makeup fridges: Also known as a "beauty fridge", makeup fridges extend the shelf life of natural makeup.
Portable blenders: Single-serving, USB-powered blender. One popular portable blender product by Sboly generates an estimated $220K on Amazon per month.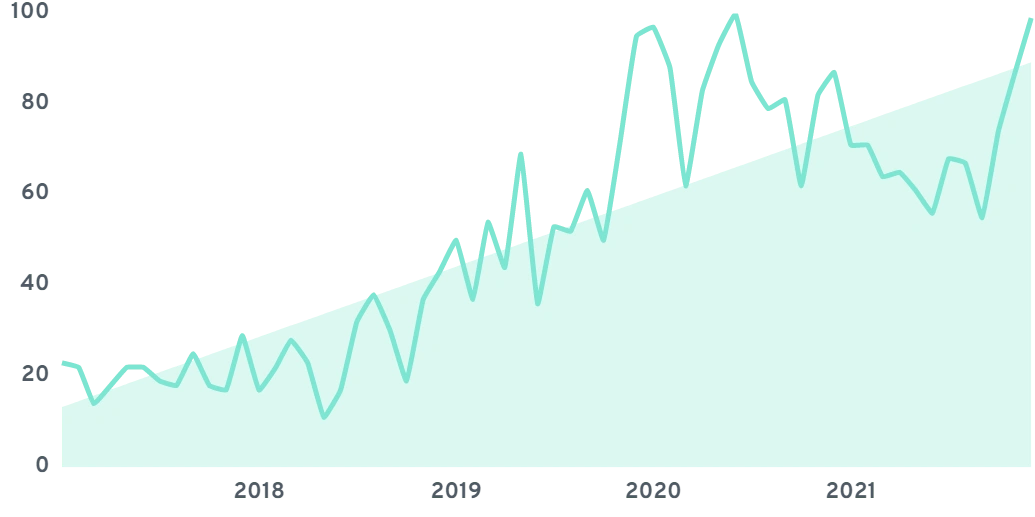 Searches for "portable blender" have grown by 330% since early 2017.

7. Well-being Becomes a Focal Point For Consumers
Possibly one of the few good things to emerge from the pandemic is an increased focus on well-being.
This has found expression in a variety of ways – most notably, as a surge of consumer interest in hygiene, healthy eating, DIY cooking, fitness, and personal care.
Online sales of hand sanitizers exploded 357% during the pandemic, but this hygiene consciousness is likely here to stay.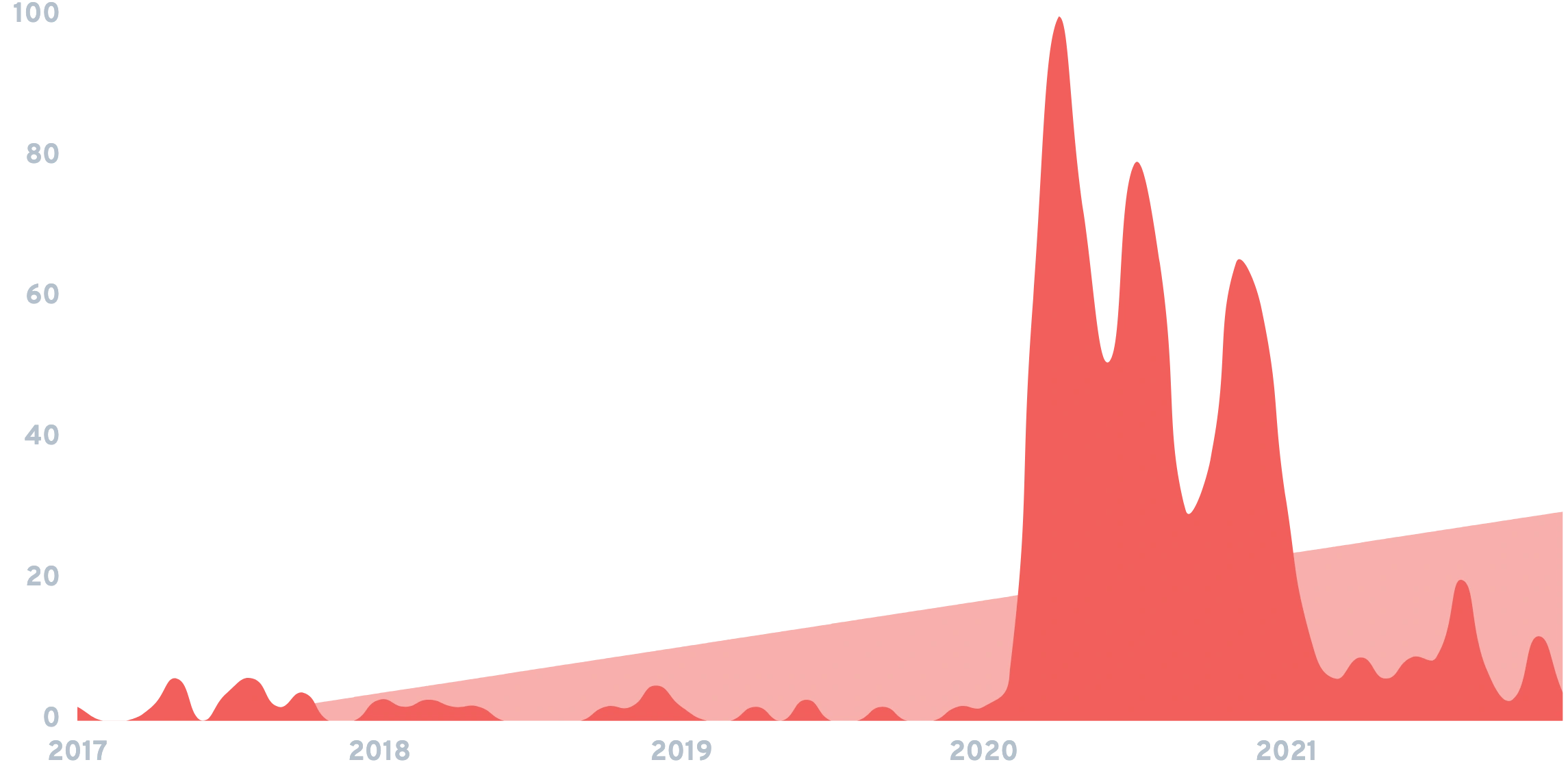 Searches for "Sanitizer wand" have spiked massively with the pandemic.
A Nielsen study of consumers across 17 markets found that 71% of consumers say that health and hygiene will continue to be of heightened importance to them in the coming years.
These priorities are reflected in the sales of multipurpose cleaning agents, as well as kitchen and bathroom cleaning products, which have increased this year by 32% and 29%, respectively.
A Boston Consulting Group study shows that this concern for hygiene isn't going anywhere.
Even though 79% of consumers are interested in leaving home more often, health concerns are still high, with 65% of shoppers saying they will avoid contact with others in stores even after the pandemic.
Just as many shoppers also expect retailers to continue Covid protocols well into the future.
On the food front, shoppers are increasingly experimenting with DIY cooking, exploring recipes and ingredients that they had not tried before the pandemic.
In ingredients, shopping for meat alternatives has grown 160%, while peppercorns, fresh herbs, and marinades have increased 121%, 32%, and 30%, respectively.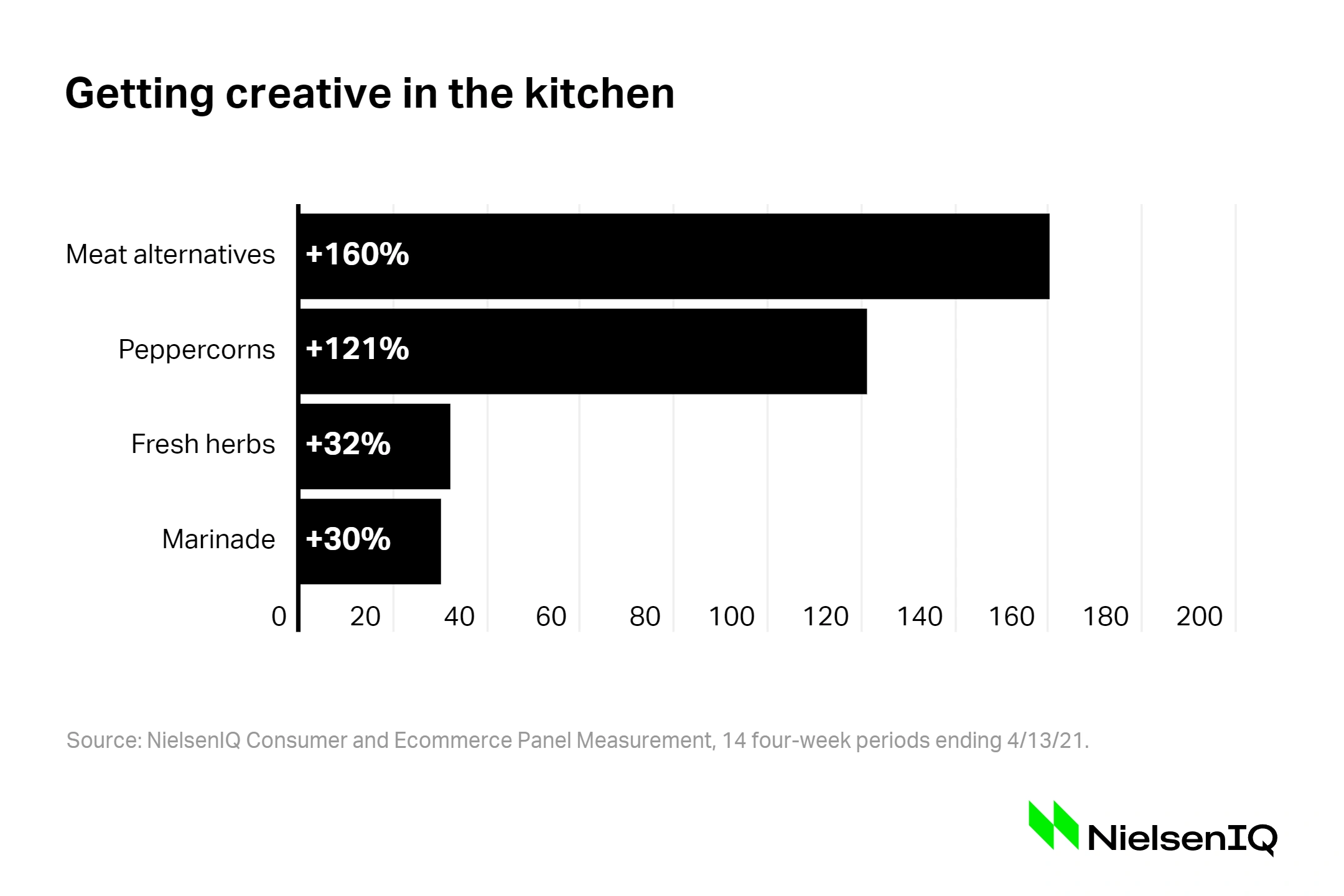 Consumer eating habits have changed during the pandemic.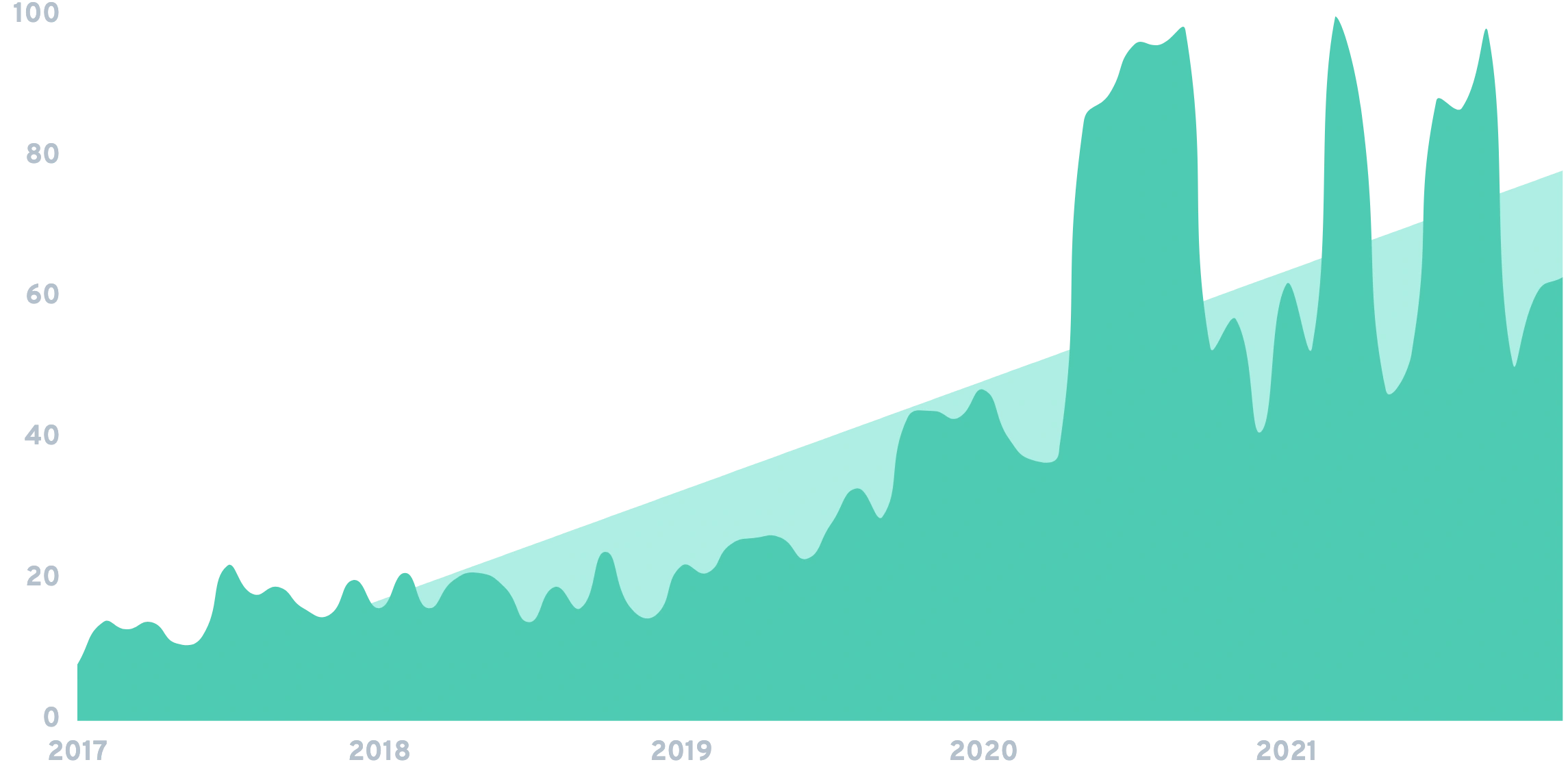 Search interest in "Plant-Based" has grown by 687% in five years.
Frozen foods also saw a big jump in sales of 23%, with consumers buying $66 billion worth of frozen foods in 2020.
The quest for healthy options also led to seafood sales skyrocketing by 59%, generating more than $16.6 billion in revenue last year.
Fitness and personal care are just as important, with shoppers from Canada to China driving growth rates of sporting goods up by 26% since the onset of the pandemic.
While overall sales of beauty products dropped by 24% during the pandemic, some categories saw triple-digit sales growth online, with nail grooming and hair removal products exploding by 144% and 158%, each.
By the beginning of this year, increased online shopping for personal care and beauty products reversed the growth slump, ending 2020 with a 16% increase in sales.
Shoppers in the UK are the biggest spenders in this category, driving the growth of 35% in online personal care sales.
Conclusion
Despite the uncertainties and economic challenges faced by the world in the last 2 years, shoppers around the world appear to maintain a cautiously optimistic outlook towards the future.
Ecommerce has seen a predictable and obvious growth spike, and it will likely continue on this growth trajectory, hitting a projected $16 trillion by 2027.
Along with ethical and well-being concerns, it will be interesting to monitor these key shopping trends over the next few years.