8 Biggest Shopping Trends of 2021
The Ecommerce and retail spaces are constantly changing. So it's no surprise that they continue to evolve alongside technology and marketing strategies.
Over the last two years, though, we've seen changes that are unlike anything before.
U.S. eCommerce sales inflated by over 40% in 2020 alone, making up more than 20% of total retail sales (an increase of nearly 6% from 2019.)
Experts expect growth to continue, with total sales reaching almost $6.5 trillion by 2025.
Retail sales are also projected to increase by 2.3% this year, bringing total sales to over $5.6 trillion.
With the COVID-19 global pandemic still looming, the market is sure to see continued changes and evolution in digital commerce and retail spaces.
Let's take a look at some of the biggest shopping trends to prepare for in 2021.
1. Increased adoption of visual commerce
Visual commerce is one of the fastest-growing aspects of eCommerce, and for good reason.
Studies show that the human brain processes visual data over 60,000 times faster than text. Further, almost 90% of all the information received by the brain comes in visual form.
According to Bloomberg, nearly 20% of all digital shopping in China will utilize video as the method of purchase.
In fact, more than 35% of online shoppers in China bought products or services through video shopping in 2020, with sales reaching over $74 billion on "Single's Day" alone.
In the U.S., about 75% of online shoppers use visual content to purchase products online, allowing online businesses and eCommerce platforms to significantly increase sales through digital marketing.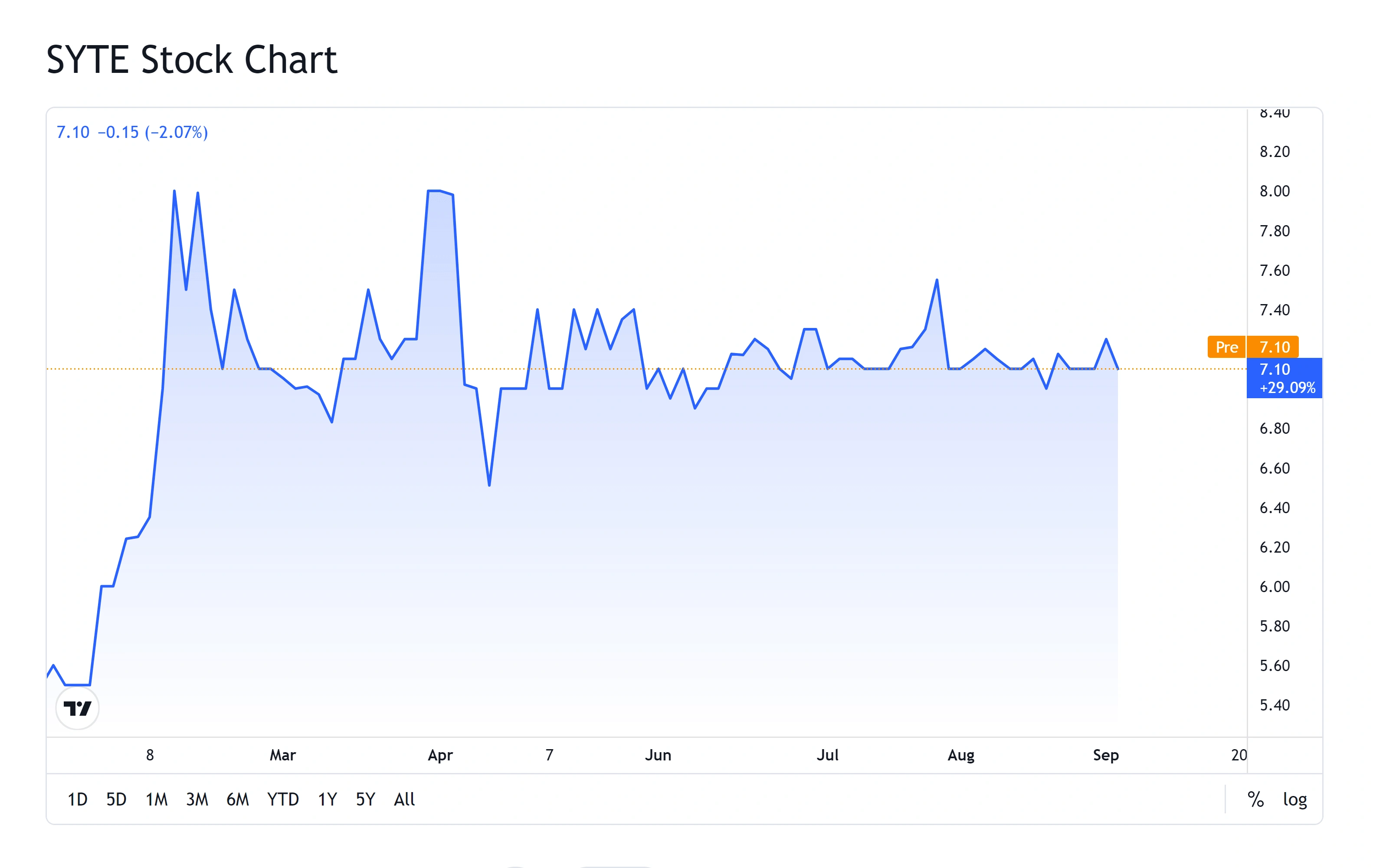 Syte is one of the newest visual search platforms to join the eCommerce scene, raising a total of $71 million in funding since its beginning. The platform utilizes AI for product discovery on eCommerce platforms, and share prices have more than tripled over the last year.
Another trend within visual commerce is the commitment to video SEO. While we generally think of text and keywords when we think of SEO, video content also utilizes search engine optimization to funnel traffic.
Ecommerce platforms that optimize their video content show more than a 150% increase in organic traffic to their platforms, making it a highly desirable marketing strategy.
Companies that share a product or service through video marketing see more significant exposure to their target audience, as nearly 50% of viewers search for more information on what's being sold.
2. Continued growth of mobile eCommerce
Another of our biggest eCommerce trends for 2021 is the rapid growth rate of mobile technology to make purchases.
According to Statistica, nearly 73% of eCommerce sales will be made on mobile devices by the end of this year.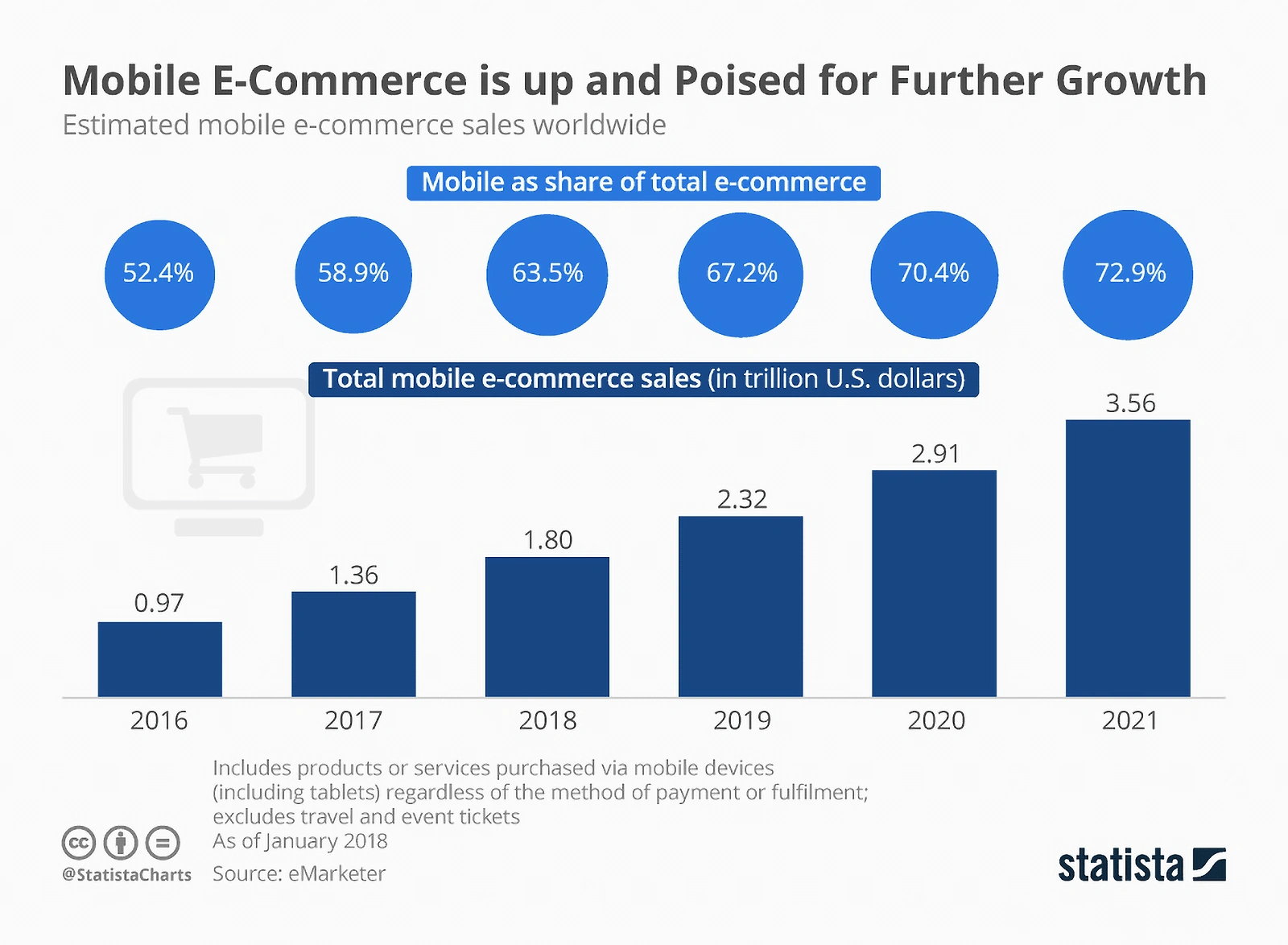 Source: Statista
In a report published by LinkedIn, experts expect more than $221 billion of mobile sales to come from smartphones, while tablets will make up over $41 billion.
Of the $221 billion in mobile sales, more than 20% are made using voice search technology. Further, over 50% of people use voice search to research products and services.
Mobile apps average about $10 more per sale than website shopping, making them valuable additions to eCommerce stores.
While this is promising for stores with mobile commerce platforms, 30% of customers are likely to abandon their online shopping experience if the online platform is not intuitive and user-friendly. Over 60% of those shoppers say that they will never return to a site after seeing that it is not user-friendly.
3. Continued expansion of social media commerce
According to Research and Markets, global social commerce platforms were estimated at just under $90 billion in 2020, with those numbers expected to exceed $604 billion by 2027 - nearly a 32% annual growth rate over that period.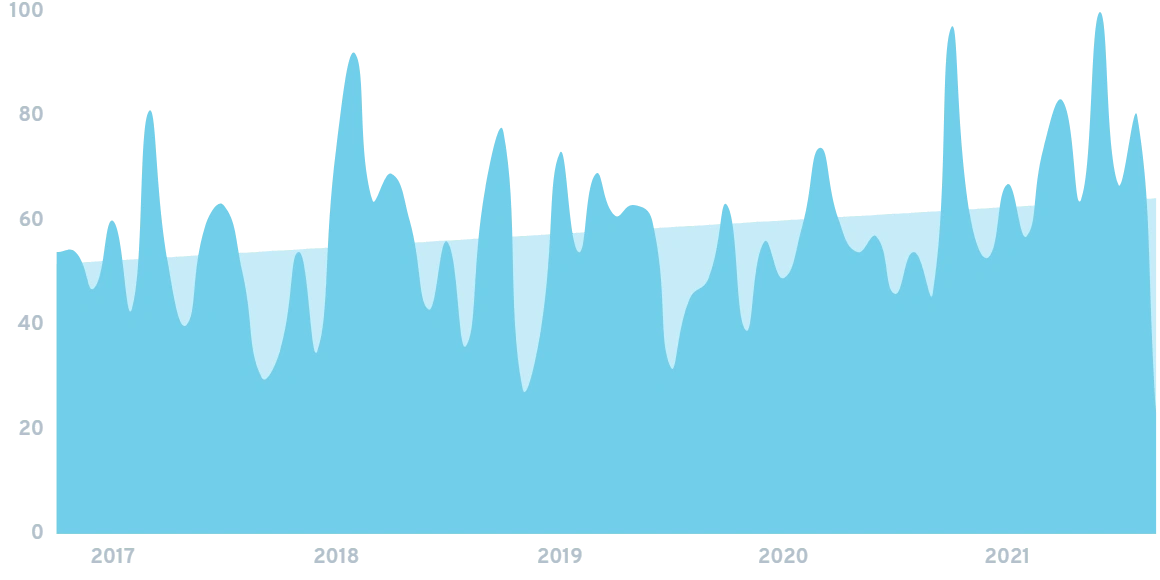 As you may expect, social media commerce trends observed by Google search data show a massive increase over the last five years, growing by 171%
Another report by Power Reviews shows that over 85% of online consumers see product reviews as an essential component of the buying process, making social media the perfect platform for information sharing.
In a recent BigCommerce study, brands that sell products through the Instagram platform see benefits in traffic and sales, with a boost in traffic of over 1400% and a 20% increase in overall product revenue.
Influencer marketing is also on the rise, with 2020's market valued at over $9.7 billion. Further, more than 90% of consumers trust influencers more than targeted ads, so the influencer market is only expected to grow over the coming years.
4. Improvements in customer experience through the use of artificial intelligence (AI) and augmented reality (AR)
A recent study put out by Juniper Research says that companies with an online commerce presence will spend over $7 billion in AI and AR technologies by the end of 2022, up from just $2 billion in 2018.
The same research suggests that over 120,000 retail stores plan to implement AR technology to improve customer experiences by the end of 2022.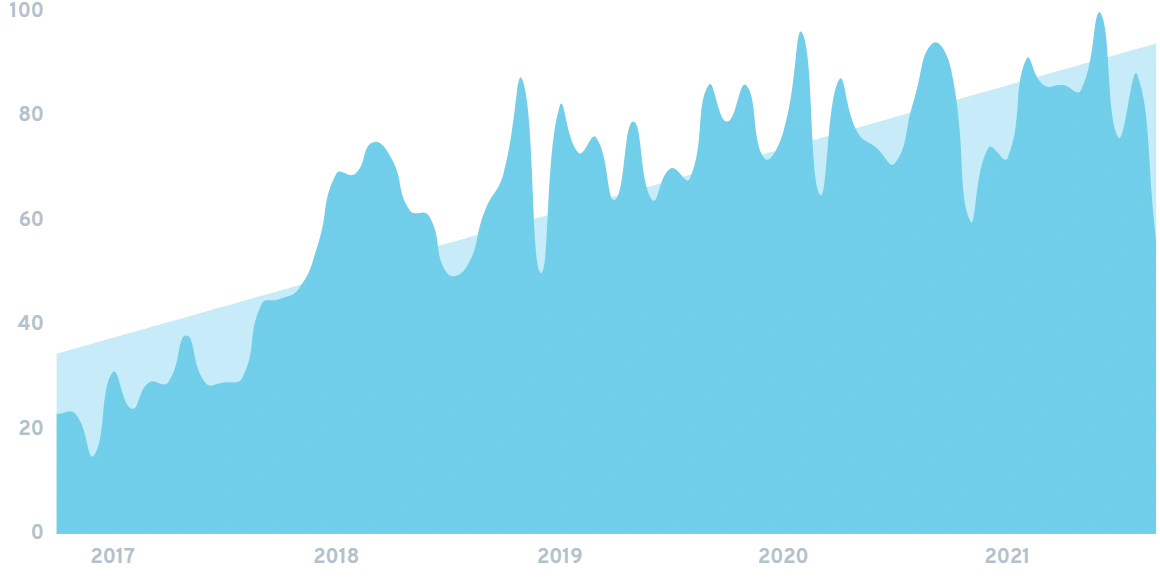 According to Google search data, interest in AI technology has spiked by nearly 150% over the last five years.
In a survey published by BigCommerce, around 35% of consumers said that they would increase their online shopping if they could virtually test a product or service before buying it. 22% of those surveyed would be less likely to shop in-store for the same products or services if AR technology was available online.
Another trend within the AI-supported eCommerce market is the use of voice sales.
Voice commerce sales are projected to exceed $40 billion by the end of 2022, and over 75% of all U.S. households will own a voice detection device by the end of 2025.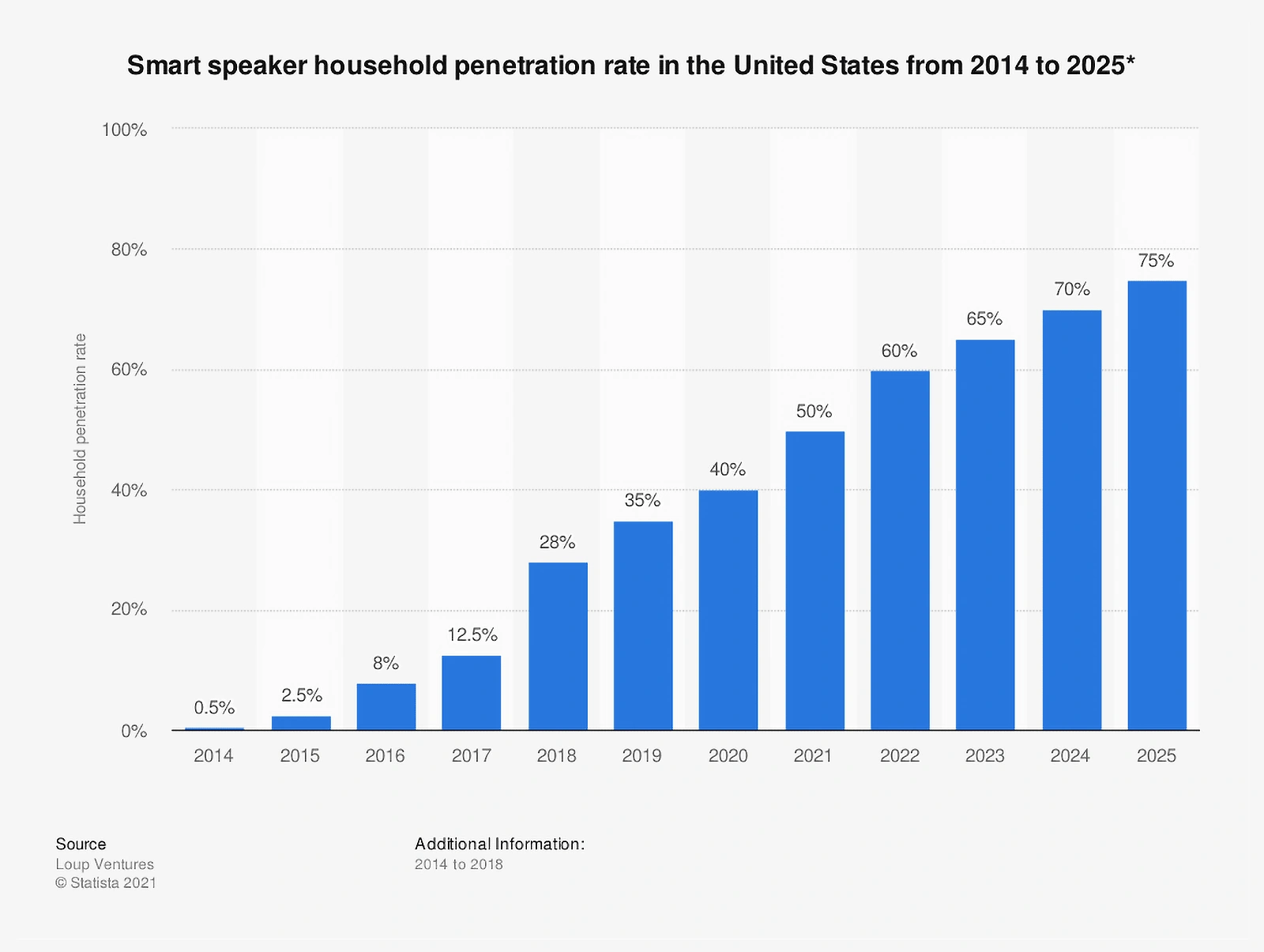 Source: Statista
While there is room for growth in commerce using AR and AI technology, only about 38% of companies can compete in terms of digital customer experiences.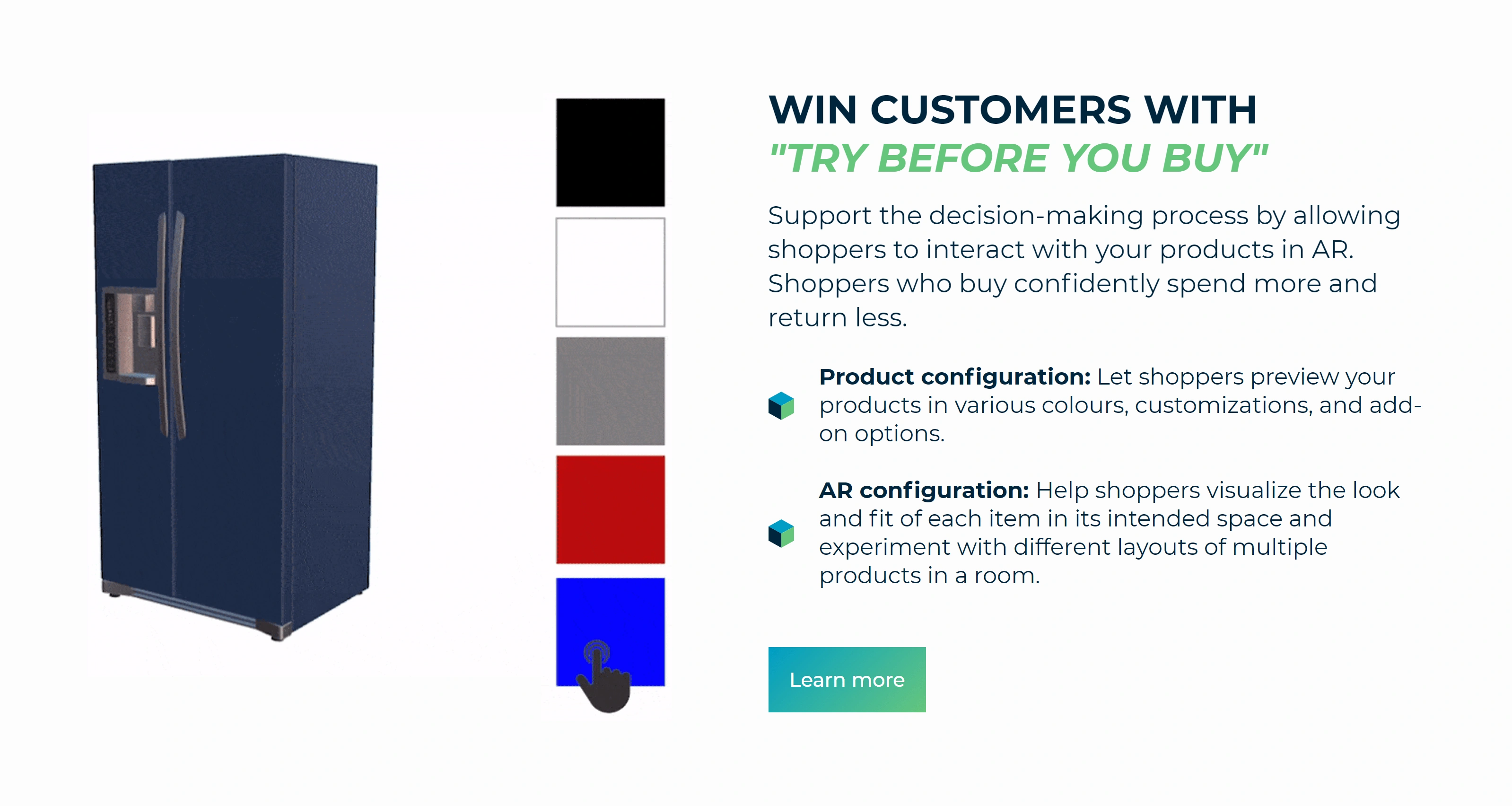 Omniaz is a company that aims to help businesses compete by bringing AR solutions that digitalize inventory and allow customers to interact with products through online media.
Chatbots are also gaining popularity in the digital commerce world for users and companies alike.
Over 60% of digital consumers say that chatbots are their first choice for customer service inquiries, as they provide streamlined service without the hassle of human interaction.
Oracle predicts that over 80% of businesses will utilize chatbots on their online platforms by the end of 2021. However, the technology is expected to change and evolve to improve the overall customer experience.
5. Increased adoption of cryptocurrency payments
We have seen a massive uptick in the way consumers can spend their money over the last few years, and that trend is continuing at a high rate.
Cryptocurrencies are the emerging trend in new forms of payment, with over 2300 in circulation in 2021.
According to Visa, the volume of cryptocurrency payments made each month exceeds $200 billion, with B2B platforms showing increased growth across all markets.
In 2020, more companies began accepting currencies such as Bitcoin, offering benefits to both consumers and companies. In one example, Overstock partnered with Coinbase to take Bitcoin as a staple currency.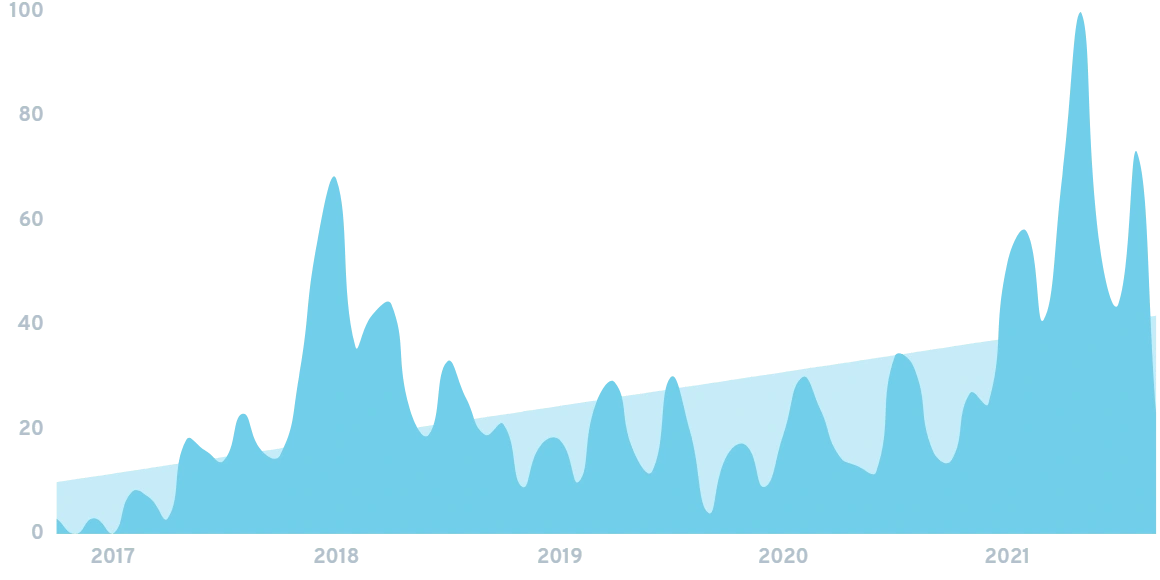 Cryptocurrency payments are a hot topic these days, with Google search trends showing a 1200% jump from just 5 years prior.
While not everyone will utilize these different payment methods, those who do may not be willing to follow through with a purchase if platforms aren't accepting them.
Especially on mobile devices, conversion rates increase when there are multiple forms of payment available.
6. Consumers will continue to demand sustainability and support eco-friendly businesses
Whether eCommerce or retail, green consumerism has taken precedence in recent years. Over 50% of digital consumers claim that environmental ideals partially dictate how they spend their money.
A survey published by Nosto confirms this, with their stats showing over 50% of respondents wanting more sustainable products and over 75% wanting less product packaging - particularly plastic.
Further, a study by Forbes shows that customers were about 5 times more likely to purchase products from purpose-driven companies in 2020.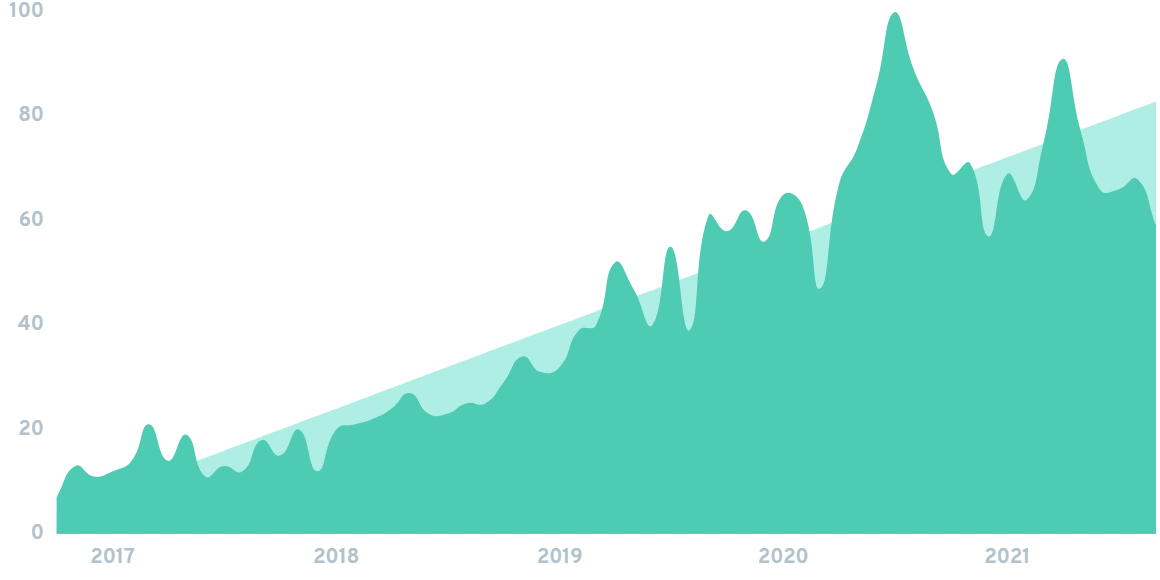 Google search trends for sustainable brands show a 742% increase over the last five years.
IBM did an interesting study on environmental consumerism that found 60% of all consumers, in-person or online, are willing to change their consumption habits to reduce environmental degradation.
70% of those same respondents said that they are willing to pay over 30% more for products that they know are sustainable.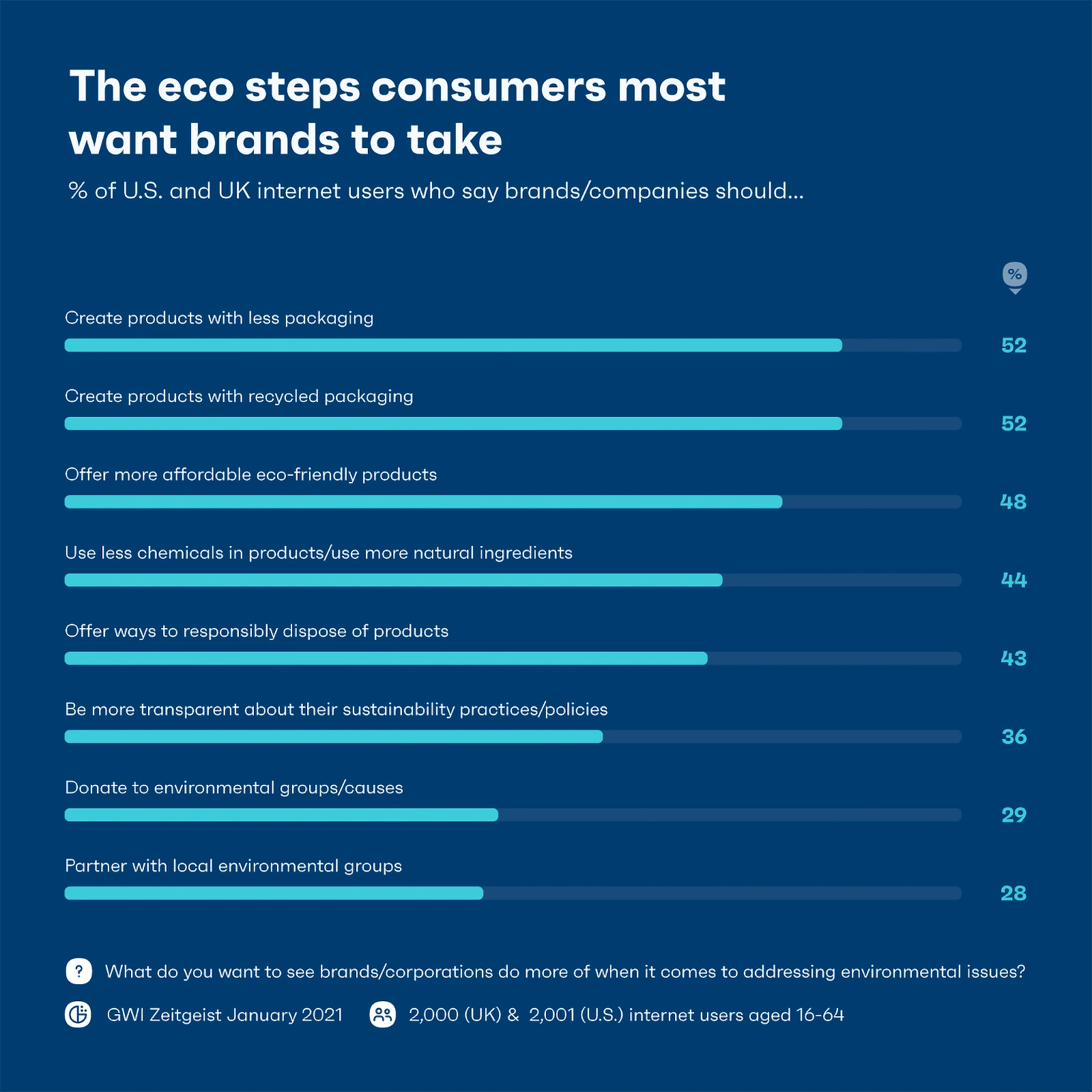 Source: GWI
Major companies and corporations recognize the growing demand for eco-friendly products, and they are already planning for the future.
By 2040, Amazon pledges to reduce its carbon emissions to net-zero.
7. Advancements in personalized shopping experiences
Personalized consumer experiences increase sales and customer loyalty, and that trend continues to grow with the expansion of eCommerce and technology-related retail sales.
In a new study published by Bazaar Voice, over 50% of all customers prefer a personalized experience when shopping online.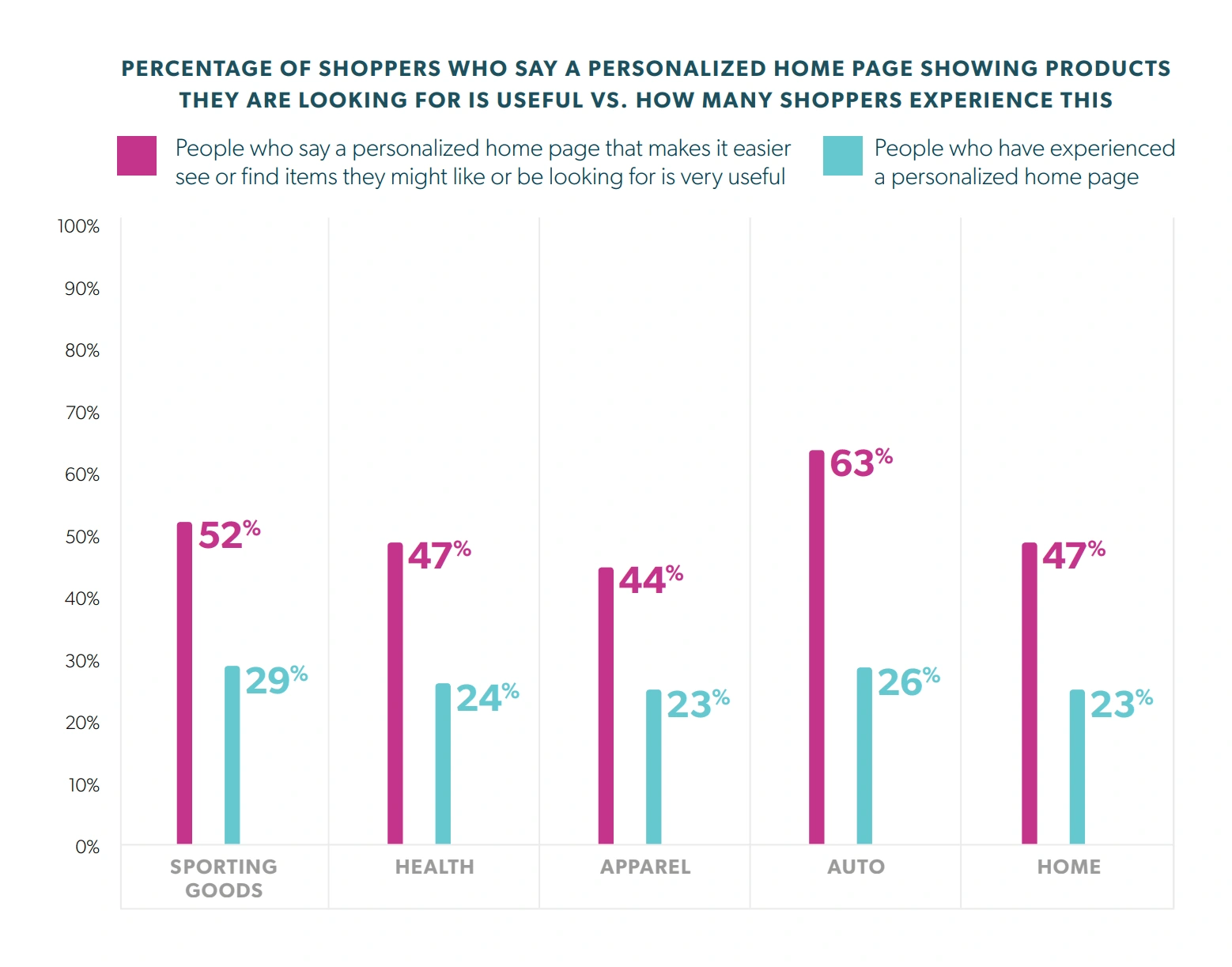 Source: Bazaar Voice
Industry studies done in recent years show that consumers spend up to 50% more money when their shopping experience is personalized.
For example, personalized emails have been shown to increase revenue by more than 600% compared to cold "blanket emails."
In a study done by BCG, they found that retailers who personalized their consumer's experiences on their digital platforms saw a 25% increase in revenue, making it a highly profitable investment for companies.
The same research found that brick-and-mortar retail sales also achieved more than a 10% increase in revenue when they implemented similar strategies to in-person shopping.
8. Online grocery shopping will become the norm
Since the beginning of the COVID-19 pandemic, online grocery shopping has skyrocketed.
Previously, food and beverage was the least penetrated eCommerce market. However, the industry saw nearly a 75% increase in sales in 2020, bringing the total revenues to over $45 billion.
Grocery eCommerce played a significant role in the increase, with totals projected to exceed $48 billion in 2021 - revenue that wasn't expected until 2023 or later.

Dija, a new grocery delivery service started in the U.K, just managed to receive $20 million in funding, making it one of the fastest-growing startups in its market.
Studies by CoreSight Research show approximately 60% of U.S. shoppers buying groceries online in 2021, with those numbers expected to stay similar even after the global pandemic is under control.
The same study surveyed more than 1500 U.S. adults in April of 2021, and results show that consumers who regularly purchase groceries through online platforms are up over 22% since the beginning of 2019.
Further, those that say they don't shop for groceries online at all have shrunk by nearly 50% over the last year alone.
Grocery eCommerce is expected to grow over the near future, primarily due to the high satisfaction customers are receiving.
Over 80% of those who shop for groceries online say they are "satisfied" with delivery performance and product quality. And over a quarter of respondents are "very satisfied" with their experience.
Lastly, a U.S. grocery shopper trends survey done by FMI found that nearly 60% of U.S. adults are cooking meals at home more often than they were pre-pandemic.
While these trends are expected to slow as COVID subsides, 41% of respondents expect to continue cooking and eating meals at home more often than they did in 2018.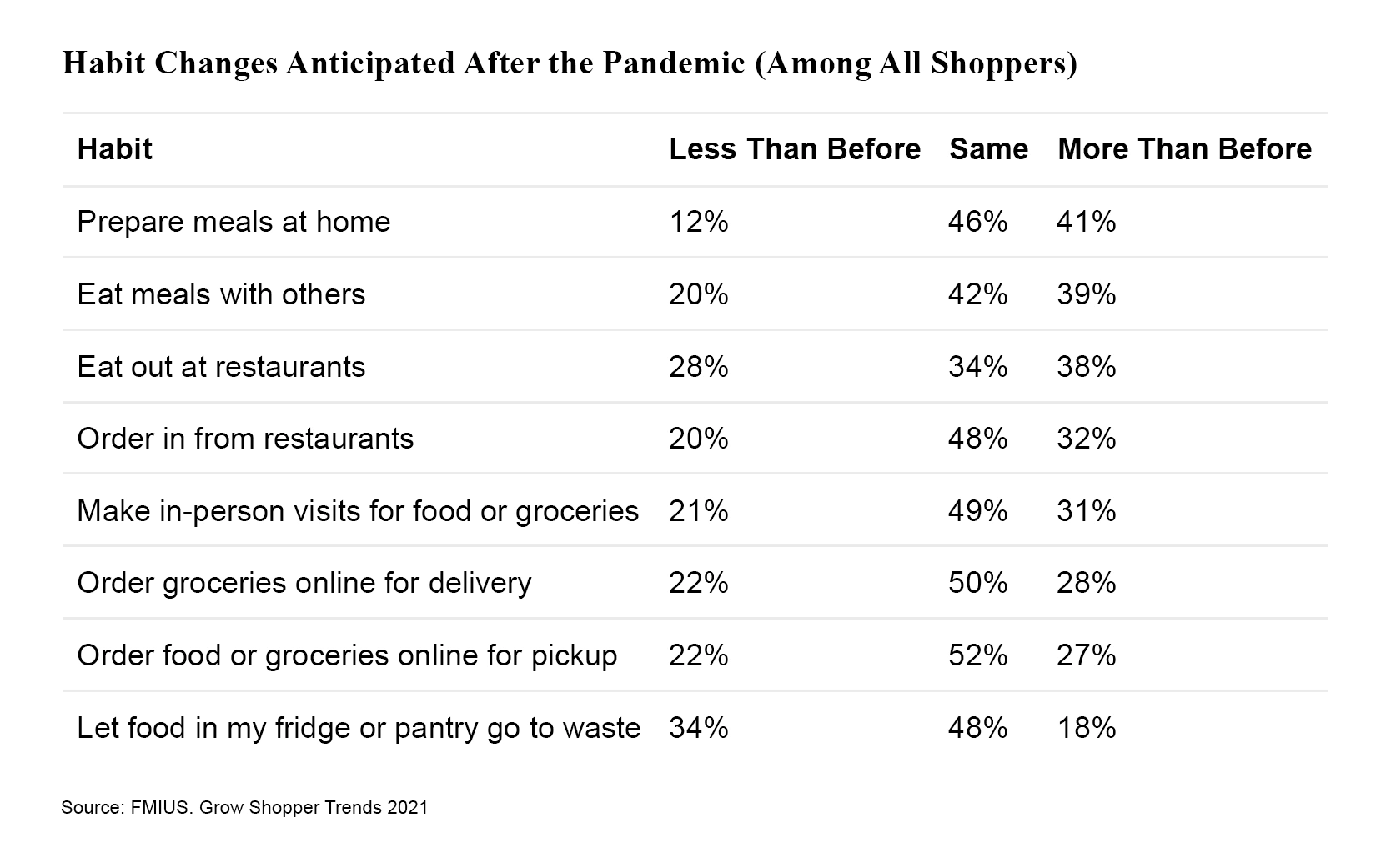 Source: FMI
Gearing up for the future of commerce
Businesses and shoppers are both expecting rapid changes in the coming years.
While businesses scramble to compete, consumers gain the upper hand - demanding everything from personalized shopping experiences to sustainable products.
While we don't know what the world will throw at us next, one thing is sure. The evolution of consumerism and marketing is only speeding up, and the shopping trends covered here will be the immediate focus across most markets.