8 Emerging Event Industry Trends (2023-2025)
You may also like:
The coronavirus accelerated changes that would have taken years to catch on.
And much of the industry is still catching up.
The $1 trillion worldwide event industry is expected to return to 'normal' as early as 2023.
But there will continue to be major (and permanent) shifts in the industry for years to come.
Despite this, the event industry is expected to experience a CAGR of 11.2% from 2021 to 2028.
Keep reading to learn about 8 rapidly changing event industry trends for 2023 and beyond.
1. Hybrid events continue to grow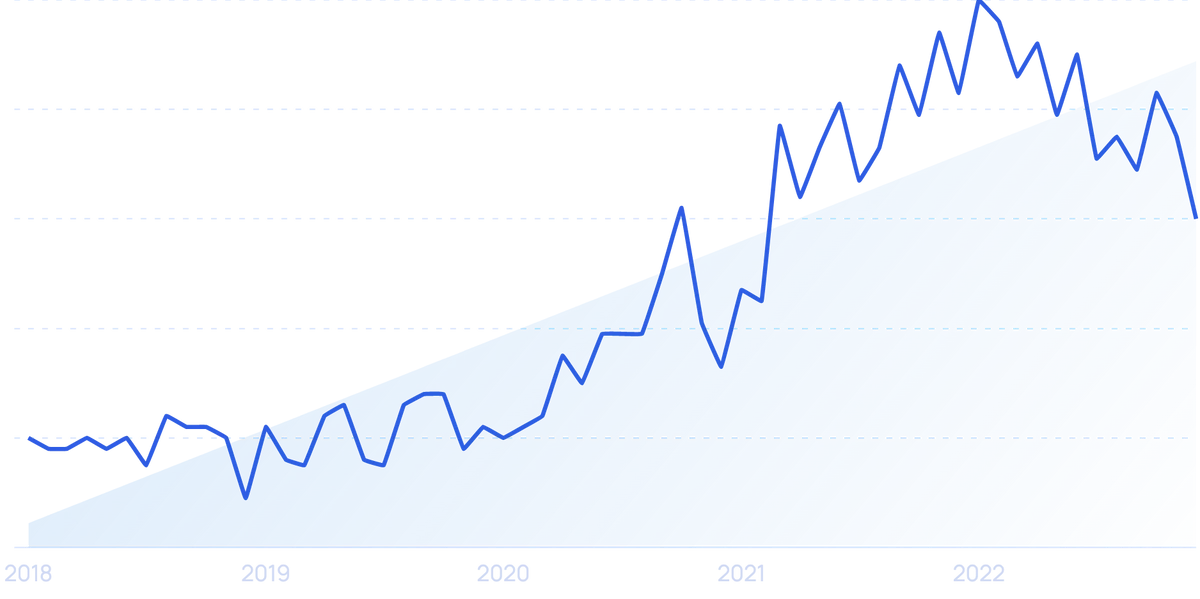 Searches for "hybrid event" have increased 190% in the last 5 years.
Virtual events boomed in 2020, with 52,000 happening on just one platform alone – a 100x increase from the previous year.
Though event organizers can look to a future that allows for more in-person events, it's likely that virtual is here to stay.
If not completely, at least as a part of a new hybrid event model.
According to event professional community EventMB's 2021 research, 71% of event planners said they would continue to employ a digital strategy even after live events return.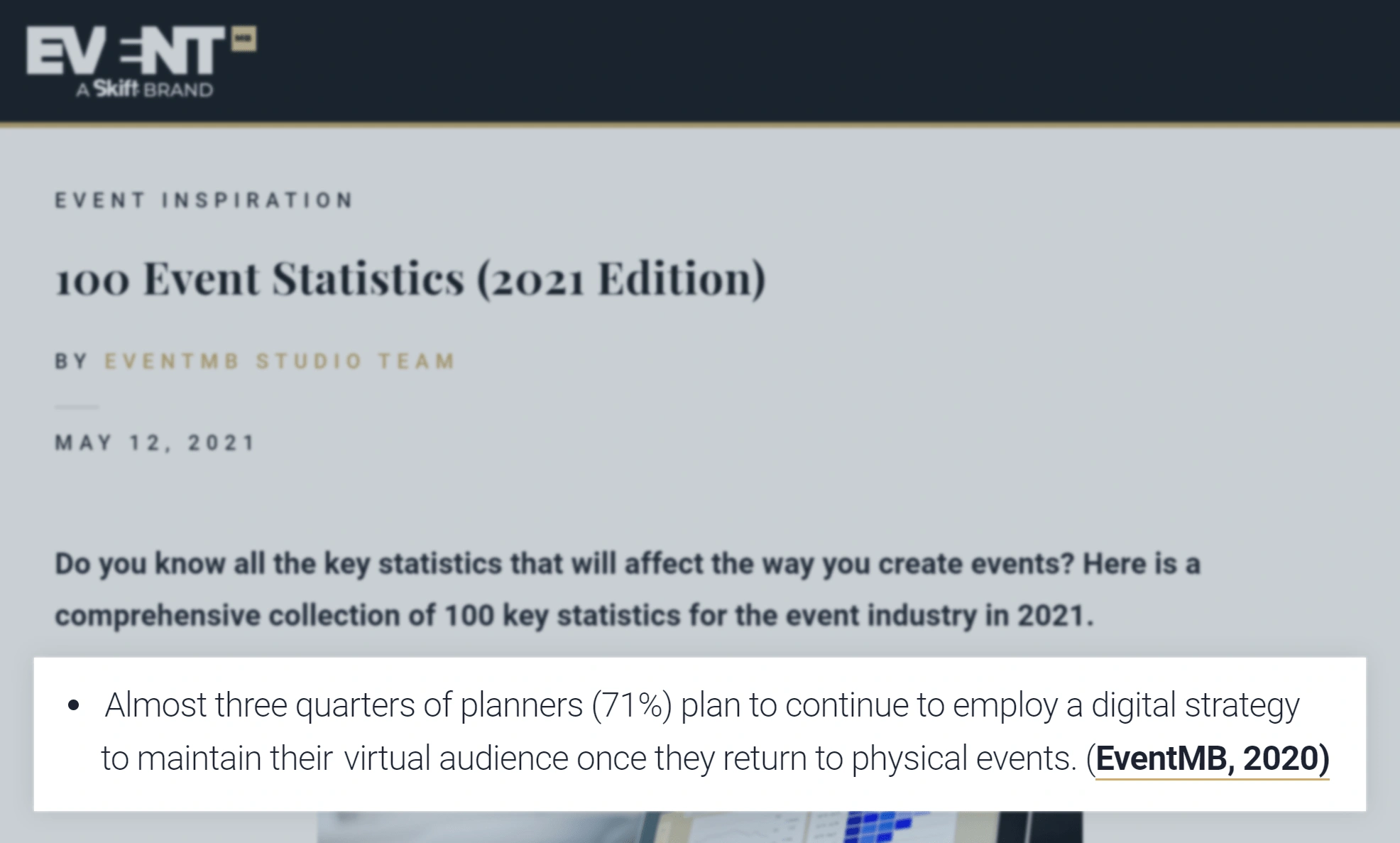 The vast majority of event businesses plan on focusing on digital over the next few years.
And 67% stated that hybrid is the future of events.
Event management solution Bizzabo conducted a survey of industry professionals and found that 97% of respondents expect to see more hybrid events going forward.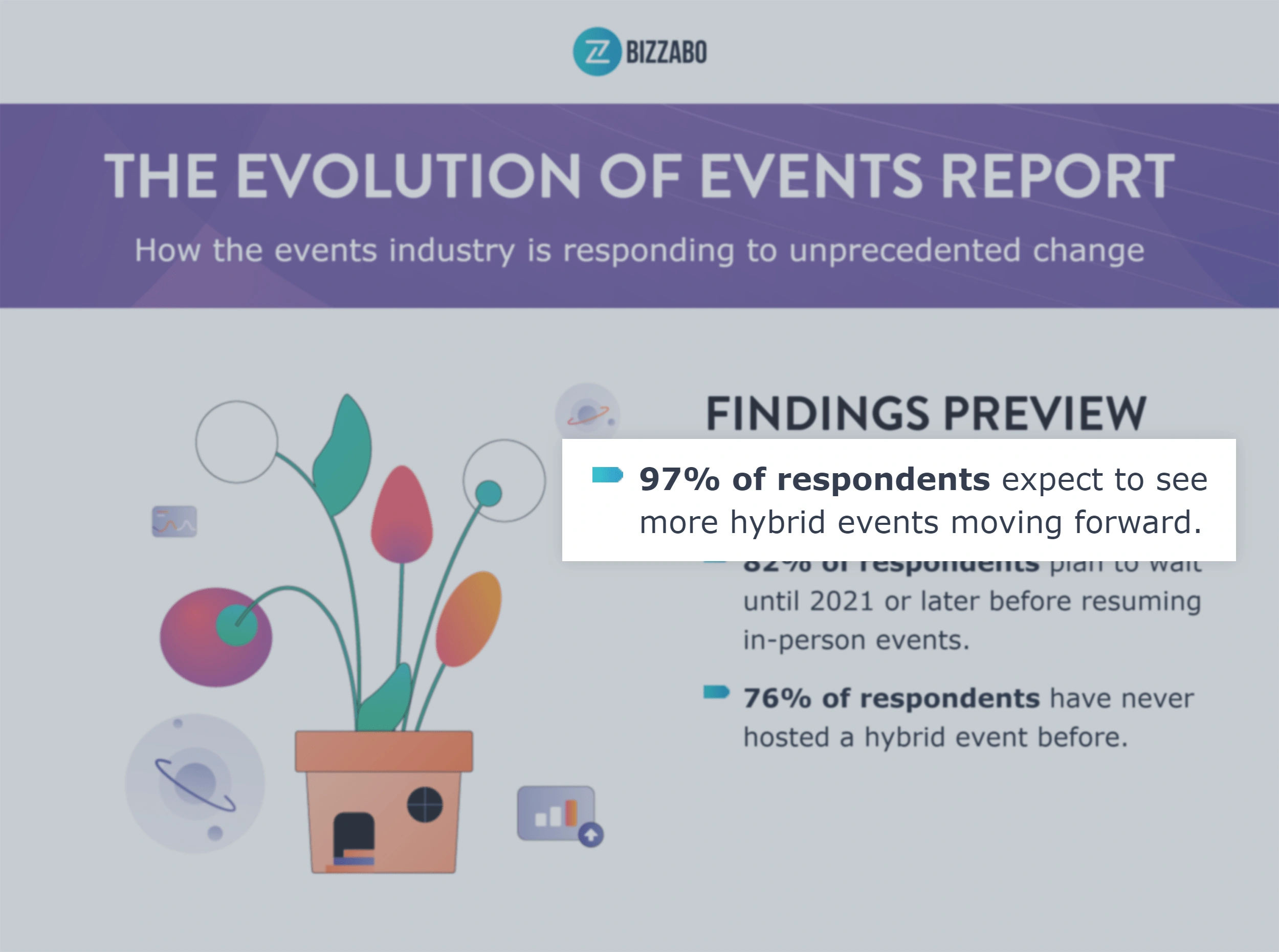 Nearly all event professionals believe the popularity of hybrid events will grow in the near future.
Hybrid events allow for the flexibility and reach of a virtual event, but the connection and engagement of an in-person option.
To meet the demand for events that can offer a seamless experience in person and online, many new startups are hitting the scene.
Canapii is a hybrid events platform launched in mid-2020 that will help make creating and planning hybrid events easier.
Hopin, a virtual event platform launched a hybrid event product in December of 2020 and secured a huge amount of funding.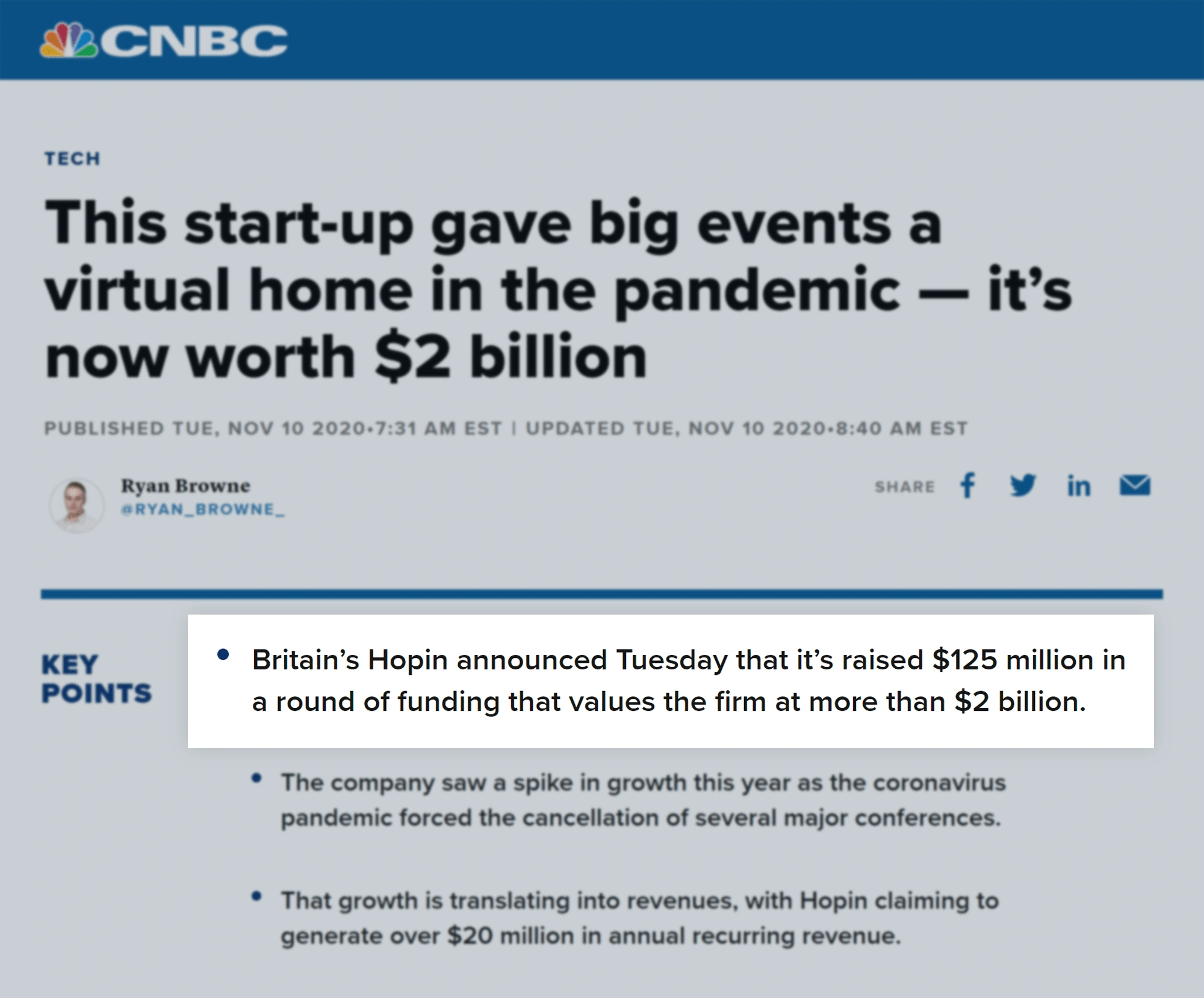 Hopin raised a $125 million round.
As hybrid events become more common, what exactly will they look like?
There's still room to grow, but for their 2021 Americas Connect conference, IACC replaced their one large conference in favor of localized "pods".
These pods will operate in-person, but will all be connected virtually to deliver the experience of a full-sized conference.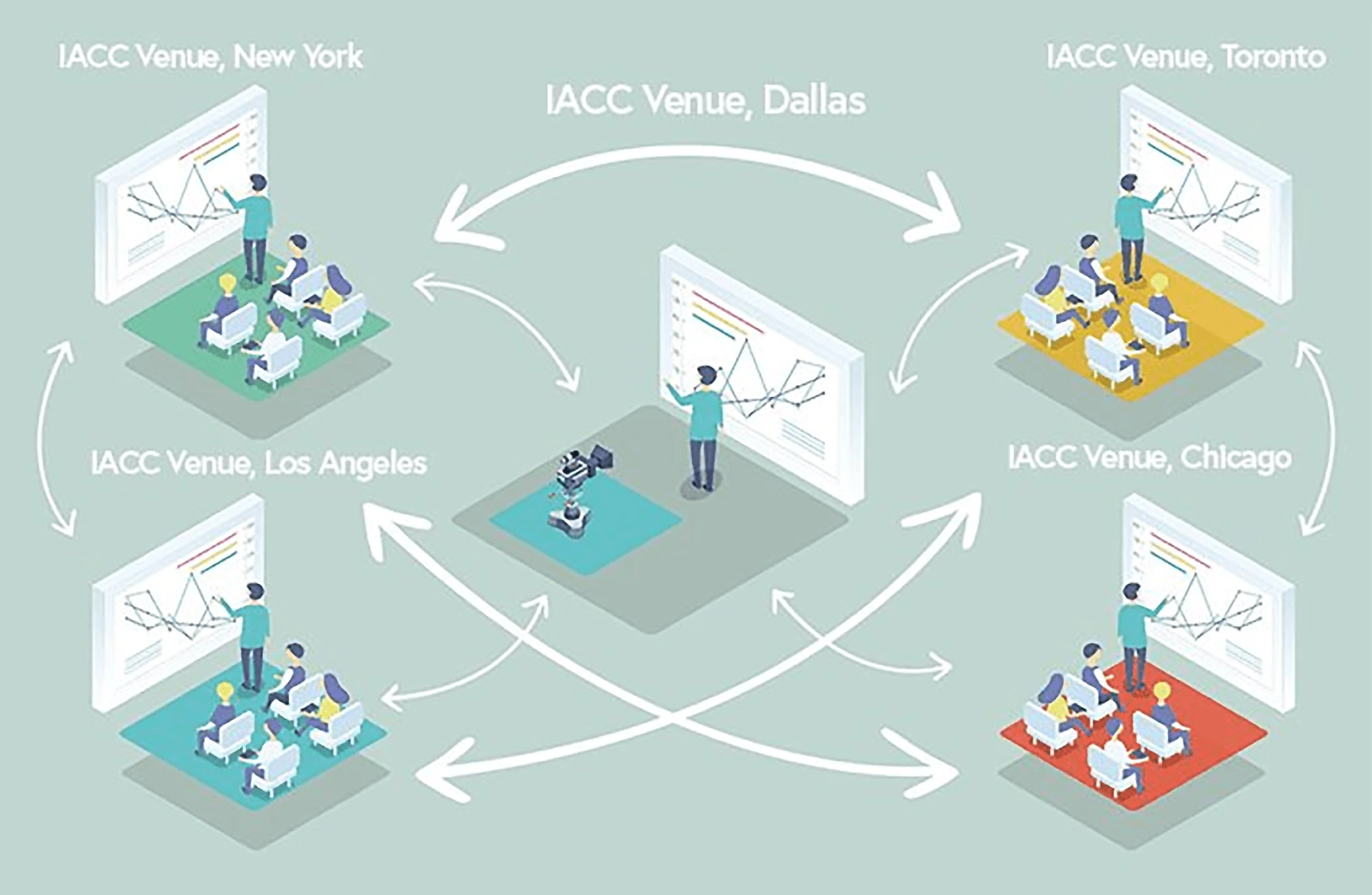 Infographic explaining the web of local in-person and virtual pods from IACC.
In other cases, hybrid events may take place primarily online, but offer upgrade packages for an in-person meetup.
Event Tech Live is one such event that is designed mainly around virtual access but reintroduces a live element with two live stages.
Others, like the World Travel & Tourism Council's Global Summit in April, are primarily in-person, with the content also made available online.
The hybrid event outlook for the next year or two will likely include many different configurations of in-person and virtual offerings.
2. Events become important PR tool
In his January state of the industry presentation, founder and executive director of the Event Leadership Institute Howard Givner predicts that corporate events will shift "From [a] revenue source to [a] marketing vehicle".
There's no limit to the number of virtual attendees that can gain access to an online event.
So in this way, online event have become a form of mass communication akin to PR.
Givner uses Microsoft's 2020 conference as an example.
In 2019, they charged $2,395 per person to attend and saw 6,000 attendees.
In 2020, the event was free - 197,000 people showed up.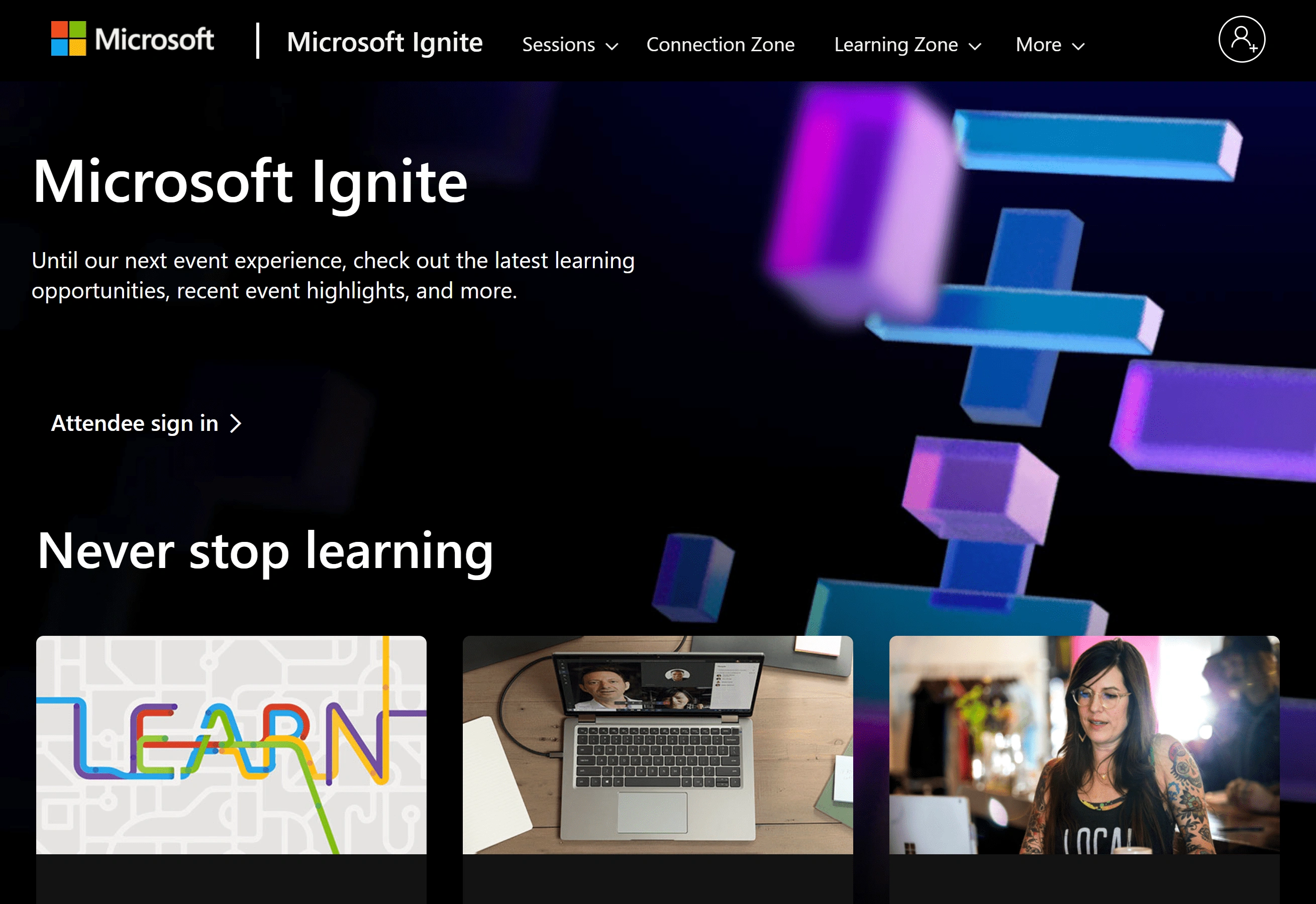 Microsoft's virtual conference brought in nearly 200,000 attendees. And significant press coverage.
Many are following this same lead: 80% of organizers are now offering free registration to their events.
As the reach of events expands, the messaging will likely change to accommodate a less niche audience at the top of the sales funnel.
Making tickets free also means that the profitability of events has decreased.
As of March 2020, 90% of event professionals saw some or most of their business gone.
And only 25% of event planners were able to hold a profitable virtual event.
To recoup losses, many companies have pivoted their strategies to include a longer-term ROI and robust sponsorships.
At their 2020 virtual conference, VentureBeat reported earning a greater profit than their in-person event the previous year.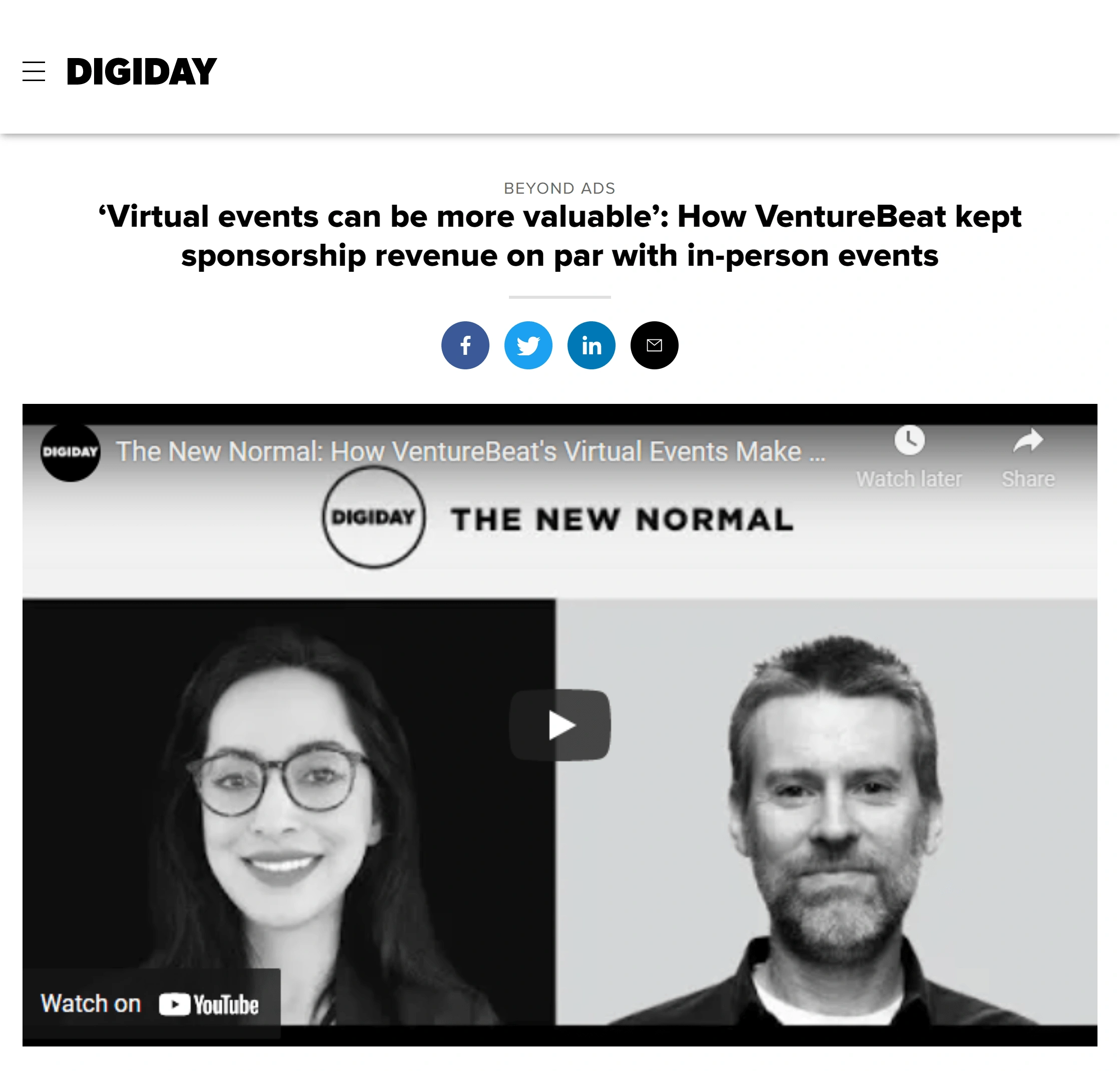 VentureBeat's 100% virtual conference was reportedly a greater financial success than previous, in-person versions.
And credit virtual's increased "ways to track the impressions that sponsors made on the audience".
To meet the demand for virtual event sponsorships, platforms like Bizzabo have arisen, which offers easy-to-use sponsor profiles and data that makes it easier to secure sponsorships.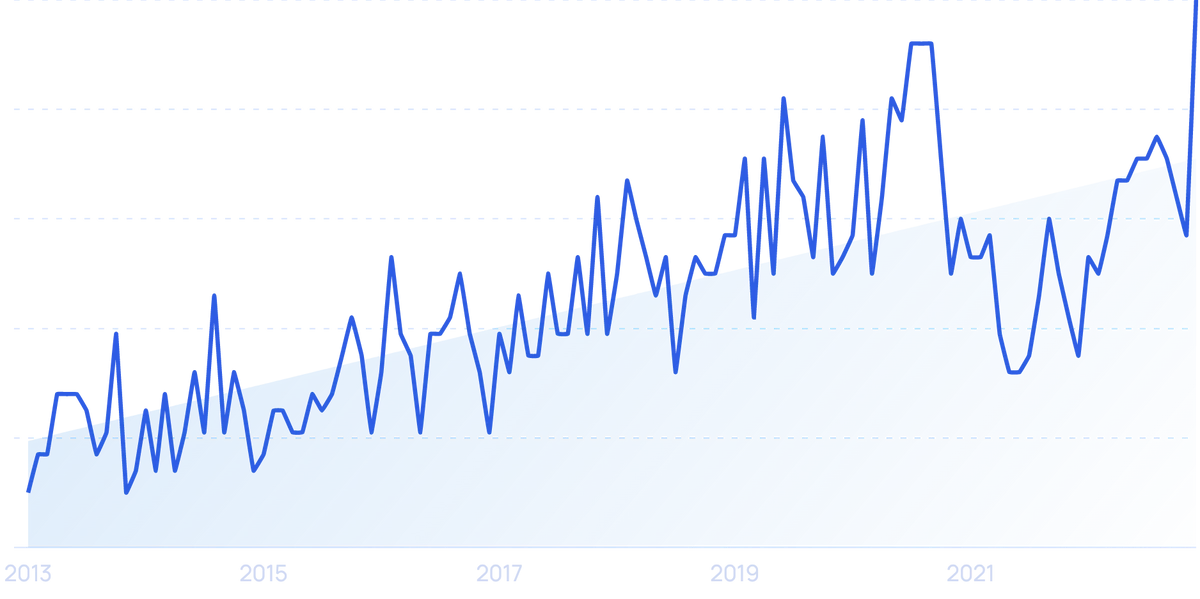 Searches for "Bizzabo" have increased 883% over the last 10 years.
3. Events enter a year-round event cycle
Major companies have, in the past, typically held one yearly conference or event.
Now that smaller virtual events are becoming more common, events can be put on more often.
And the conversations they spark can continue online for years to come, blurring the line between one "event" and the next.
Webit, a yearly tech and innovation festival, transitioned in 2020 to a Global Virtual Platform that hosts 12 events a month, with a reach of 250,000 attendees.
The tech has responded to this shift with many event platforms now offering an ongoing community feature.
For example, the event platform Pathable allows companies to create landing pages that offer year-round content and community.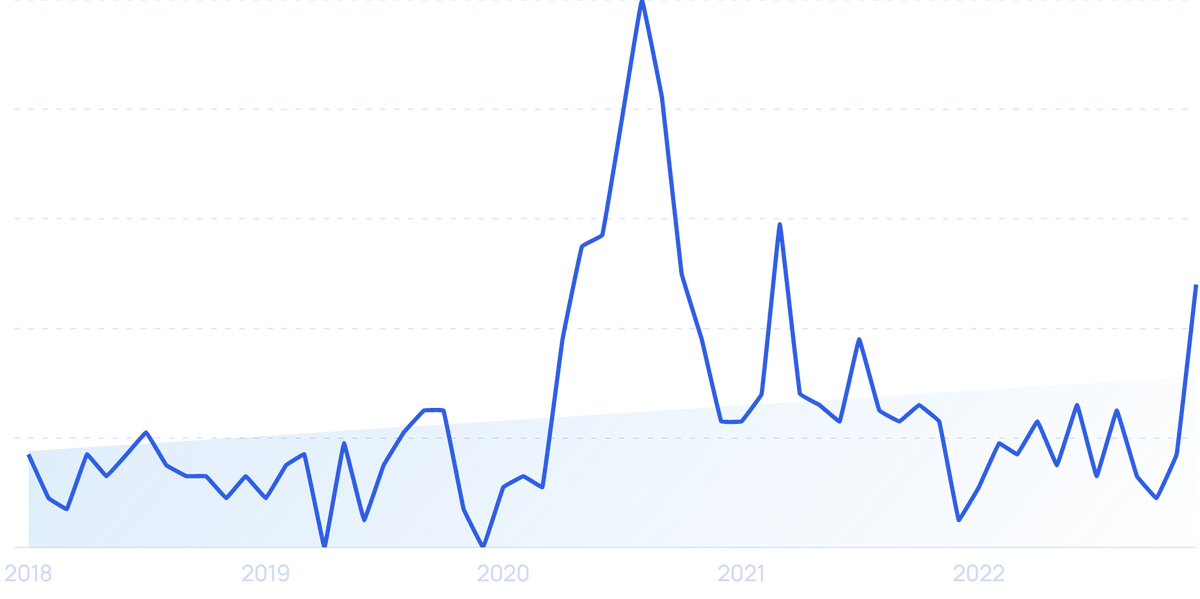 Search interest in "Pathable" in the last 10 years.
With features to meet this trend, it's no surprise that this platform is seeing a surge in interest.
4. Professionals use events to help them upskill
The rapid changes in the events industry called for changes in structure, technology, and professional skills which will continue to emerge in the next year.
To keep up with the changes, professionals are upskilling.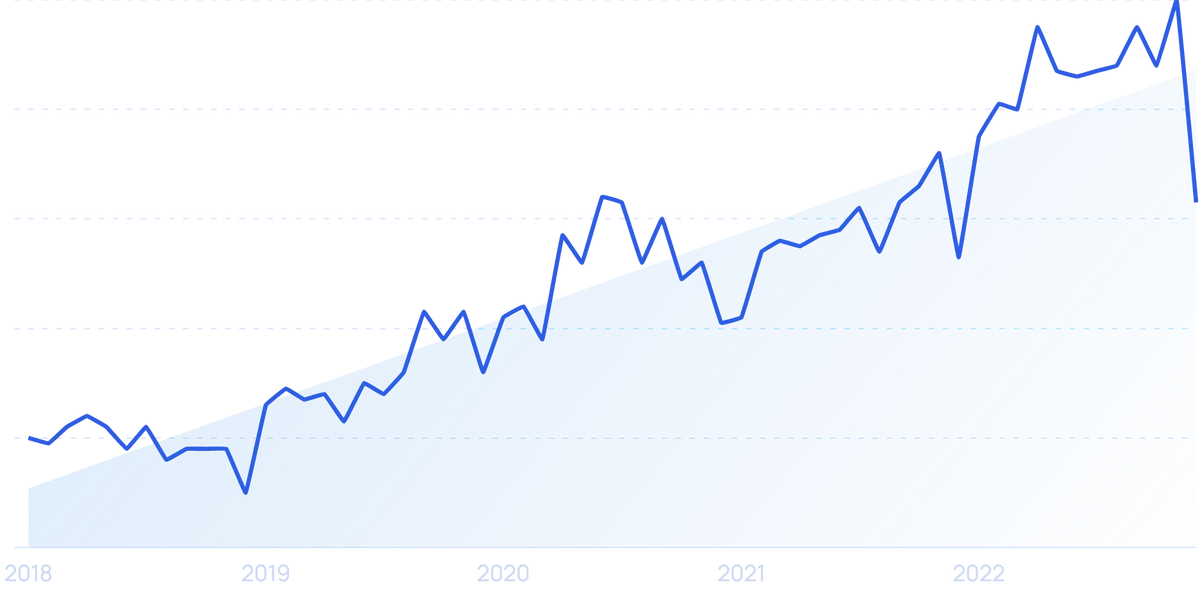 Searches for "upskilling" have increased 215% in the last 5 years.
When surveyed, 71% of event planning professionals said they wanted to learn to develop their skills in designing live experiences in post-COVID-19 physical environments with more stringent hygiene standards.
As a response to this gap in skills, the Event Leadership Institute has released several new certifications in areas like Pandemic Meeting & Event Design and Pandemic On-Site Protocol.
The need for event professionals to adapt their skills will likely continue through 2023 and beyond.
5. Emphasis on transformational experiences
The total disruption of the event industry in 2020 called into question the purpose of events in society as a whole.
"The pandemic has introduced a new concept to our thought-matrix: Is this essential? In other words, is it worth it?" Says  Teeg Stouffer, Co-founder of the American Association of Event Professionals.
As 68% of marketers believe it is harder to provide networking opportunities in the virtual world, the unique value proposition of events are now the people you meet, and the things you are able to experience.
In a February 2021 survey of event planners, 66% said they needed to learn to design digital event experiences to prepare for professional success in the future.
Even before the pandemic, events were already shifting away from a focus on content to experience.
At their 2020 virtual conference, Cisco capped off the event with concerts from Fall Out Boy and The Chainsmokers. Since they performed virtually, the latter were able to give attendees a full tour of their studio space.
During Bizzabo's event industry summit the improv hip-hop group North Coast performed a set that involved audience members virtually to maximize the engaging experience.
We will likely see this trend develop further, as people need meaningful, transformative experiences to feel something is worth it.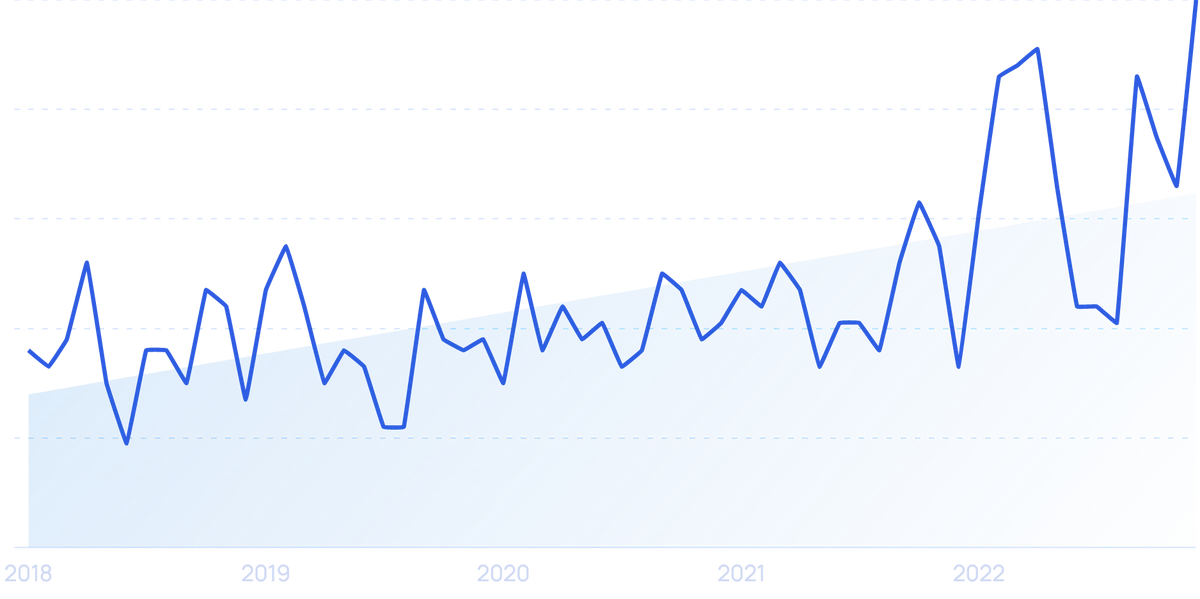 Searches for "transformation economy" have grown by 176% over the last 5 years.
Corporate event industry news source Event MB asserted a new order of priorities in 2021:
Meaningful connection
Entertainment
Content
In conferences and events, the desire for a transformational experience means that content may no longer be the biggest priority.
6. Renewed emphasis on physical and virtual safety
Across every industry, the topic of safety will continue to be prominent through the next year, including the event sector.
39% of event planners say they will require proof of COVID vaccination to attend an event they are planning.
Expect to continue to see pre-screening requirements, socially-distanced layouts, protective personal equipment, specialized cleaning crews, and advanced air-filtration systems at events in the coming year.
The company EventScan is offering on-site testing and COVID PCR tests to address the need for safety.
Tackling the event pre-screening side of this problem is the SMS survey tool, Healthshield.
Though virtual events bypass these health risks, they present new risks in cybersecurity.
The FBI reported a 300% increase in cybercrimes since 2020.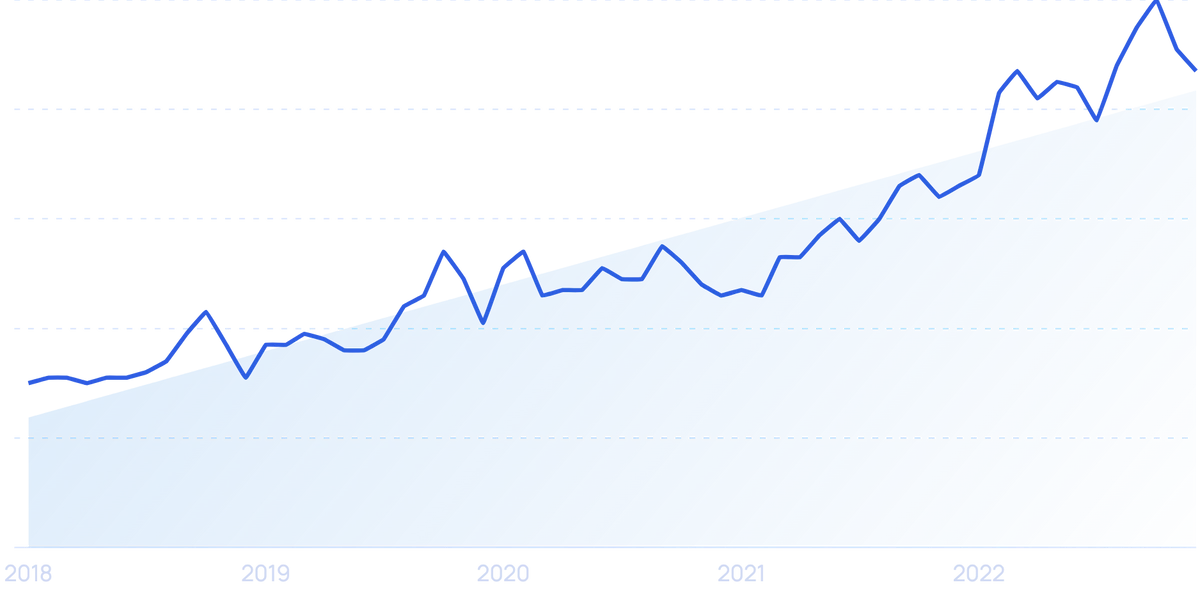 Search interest in "cybersecurity" has increased 190% in the last 5 years.
How will we see events respond to this need for increased online security?
Industry experts recommend adding two-factor authentication, using a VPN, and using a password manager among others.
7. More data collection during and after events
Big data can help event planners meet the rapidly changing consumer expectations.
Chris Cavanaugh, CFO at Freeman, a leading brand experience company, says that for events to survive "data will be the key to helping us stay a step ahead of [the customer's] wants, needs, and intentions. And if we fail to harness data to understand them, someone else will take our audience from us".
In a similar way tracking RFID badges works in a real environment, in a virtual event, tracking clicks, how long a user remains in a presentation, and even who they interact with can provide companies valuable insights into who their target demographic is and what they want.
One major driving force behind data collection is the struggle for online engagement.
After a couple of years of living virtually, many experienced "zoom fatigue", or mental exhaustion felt after hours of virtual communication.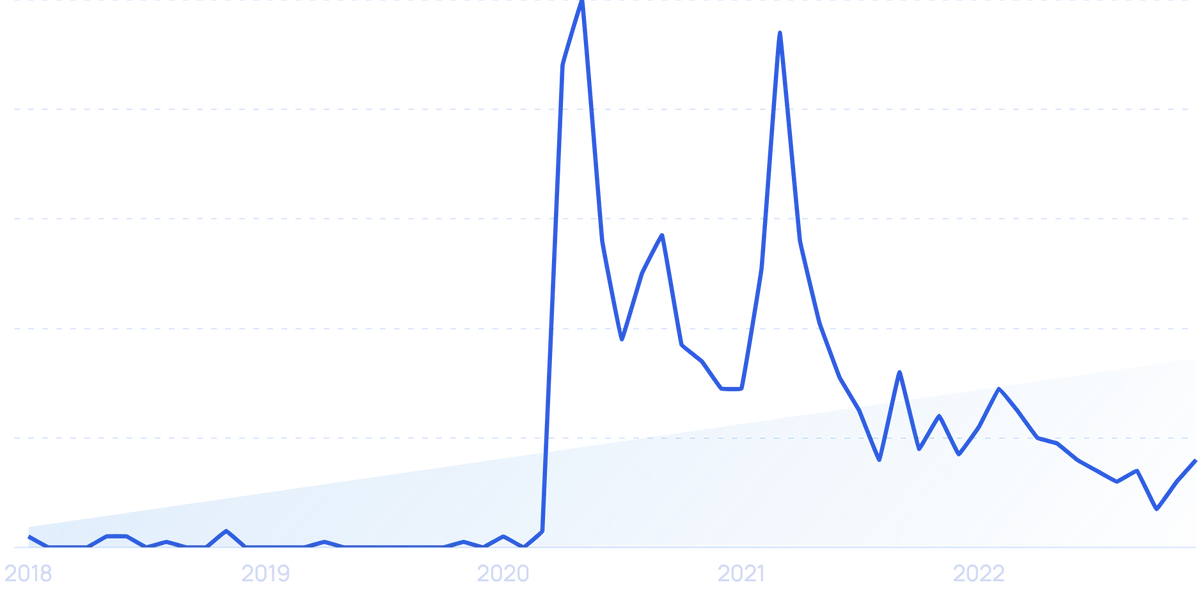 Searches for "zoom fatigue" during and since the pandemic.
Currently, research indicates that only 42% of all attendees watch the entirety of a virtual session.
The industry knows that an entirely virtual event is not ideal – yet it is likely a long way off from finding the right alternative to in-person events.
Real-time data collection will be the main tool to bridge the gap between where events are, and where they should be.
8. Increasing investments in event technology
40% of event planners are unsatisfied with the tech options available to them.
It's been said that the pandemic condensed years worth of change into months.
The result is that technology is lagging far behind the demand – but it's going to catch up.
This is something that many investors are well aware of.
Across all sectors, startups raised $36.5 billion in funding in the third quarter of 2020, which is 30% more than the previous year.
While many businesses struggled during the pandemic, there's a short list that thrived and are highly sought by investors.
Event tech is on that list.
Startups in the event space have been making headlines for their huge valuations.
Hopin raised a whopping $125 million in 2020 and went on to be valued at $5.65 billion in 2021.
This is in part due to its meteoric rise in users: The platform began with 1,800 users and rose to 80,000 in one year.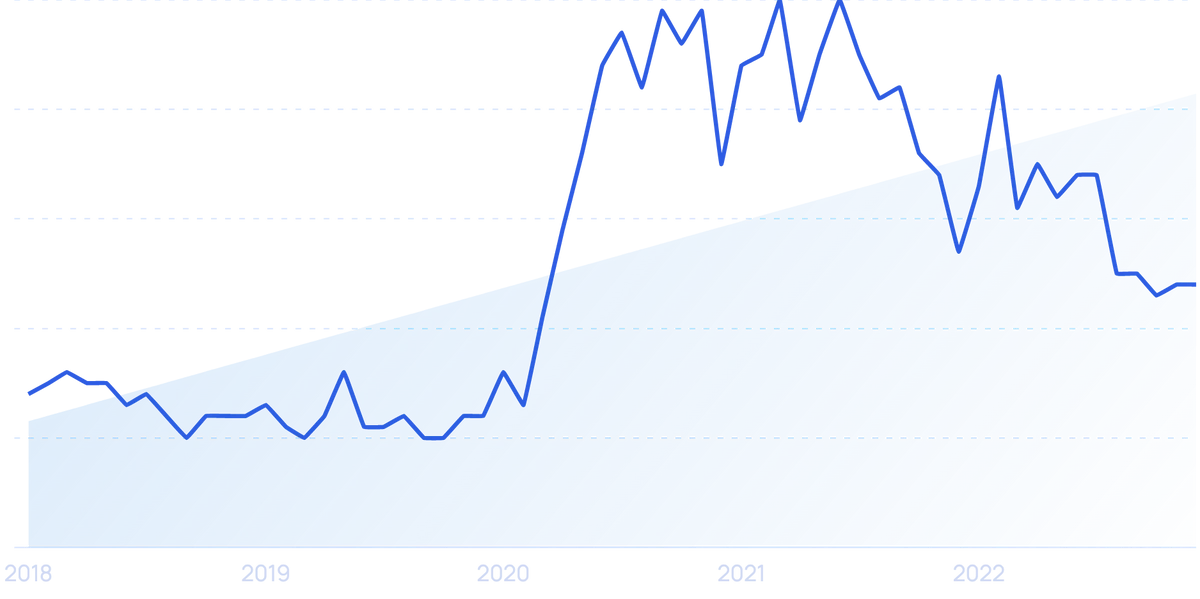 Searches for "Hopin" have increased 71% in the last 5 years.
Event networking app, Grip raised $13 billion in February 2021, and video startup Touchcast raised $55 million in the same month.
Welcome transitioned from a restaurant software to a virtual events platform and secured $6 million.
While, Wave, a virtual concert company raised $30 million.
Event tech will likely continue to thrive as the tech boom continues through 2023 and beyond.
Conclusion
That concludes our list of 8 transformative event trends.
The pandemic necessitated rapid changes in the event industry, which is finding footing again by creating new value virtually.
Event tech will likely continue to proliferate in 2023 and beyond.
And whether they happen online, offline, or in a hybrid model, events that remain flexible, prioritize safety, and emphasize meaning will likely become the norm.