How to Research Trends: Identify & Track Early Industry Trends
Trying to research new trends without a trend spotting website or market research agency is often time-consuming and frustrating: you have to monitor a ton of online sites and aggregate all of that data into a comprehensive trend report — and not to mention, it's hard to detect early trends with manual methods, as teams often miss important insights if they aren't already experienced in this type of research.
That's why market trends websites like Exploding Topics are so popular for professionals who a) want to learn about and leverage trend data but don't have, b) the need or budget to hire an agency, or c) the experience or resources to tackle this task themselves.
Exploding Topics serves as a nice medium: you can start trend research with data that has already been vetted by industry analysts, and our platform has user-friendly features that let you find trends you're interested in, perform trend analysis, and track trend growth. It saves you time digging around dozens of websites for new trends and gives you a solid jumping-off point so you can feel confident you're working with high-quality trend data.
So in this guide, we explain how to use our trend research site, Exploding Topics, to uncover, analyze, and monitor emerging trends — in three easy steps. But we start by explaining a little bit about our methodology so you can learn more about how we gather our trend data.
Let's get started!
You can also demo the Exploding Topics platform and preview our trend reports by starting a Pro Trial.
Our Trend Research Method (& How We Detect New Trends in Super Early Stages)
We employ a two-part trend research process that combines the benefits of artificial intelligence and experienced trend analysts: AI extracts data on hundreds of potential new trends each day, then analysts review trend data to pinpoint just the long-term opportunities that you can use to guide strategic decision-making.
But here's a more detailed look at our process:
Our AI scrapes dozens of online sources — for example, news sites, social media platforms, eCommerce platforms, forums, customer review sites, streaming sites, etc. — to spot indicators of emerging trends.
We gather data like search volume and look at metrics over different timelines to understand more about each trend's background and how trends are already making an impact (i.e., target audiences and markets where the trend is relevant).
Analysts review all of the available trend data to forecast trend growth and discern long-term opportunities from short-term fads.
We compile trend information on our website, in the database, Meta Trends library, and trend reports, so you can access these findings and use the data in your business strategy.
We assign every user a private trend-tracking dashboard so you can save trends that interest you, monitor trend growth, and leverage trend data now and into the future.
That way, you can skip doing the tedious web scraping and social listening yourself, and start your market research with solid trend data that's been verified by industry analysts.
Now, let's explain our trend research tools and how they work.
1. Identify Trends You're Interested In
We provide several tools so you can discover new industry trends in your area of interest. And the best part about our platform vs. free tools like Google Trends is that you don't have to know exactly what to research — you just have to know the category or topic you want to dig into and we'll show you what's relevant.
Trend Database
Starting with our trend database: this is where we store all of the available trend data on our site, but we organize trends by category so you're not scrolling through an abyss of info. For example, we cover trends in beauty, fashion, health, fitness, marketing, travel, technology, startups, sustainability, eCommerce, lifestyle, design, pets, and more.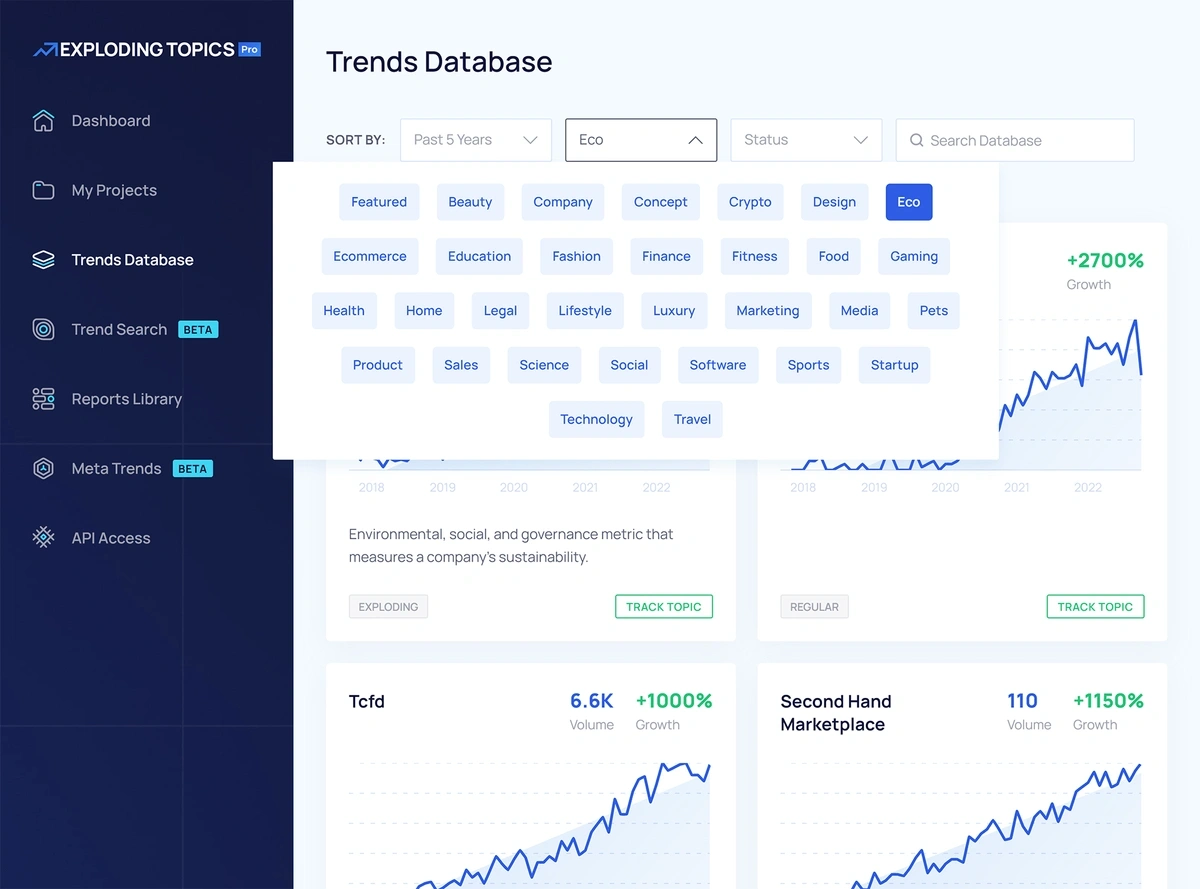 Choose the category of trends you're interested in from the drop-down menu and the page will automatically update to show you just those industry trends. You can also use extra filtering options to see newer trends compared to trends that are already more popular and well-known. For example, the screenshot above shows us the most promising eco trends that have shown steady growth over the past five years.
The date and status filters, along with the available trend data, let you gauge the trend lifecycle and find super early trends before competitors. But we'll talk more about trend analysis later.
Trend Search
In the case that you want to research trends you've already heard about, we provide a trend search feature. You can use this to look up new products, services, startups, topics, etc. and see, 1) general interest in the trend you're curious about, 2) other trends that relate to your search. That way, you can get a better understanding of the trend's relevancy and scope out new opportunities that might be a good fit for your business strategy.
For example, say you work for a health brand and want to research the different types of elderberry supplements customers are interested in: type "elderberry" into the search bar to pull data on the product category, in general, and see if elderberry supplements are a popular item. Then, you can check out the list of elderberry products and get more specific in exactly what type of supplement you want to add to your inventory.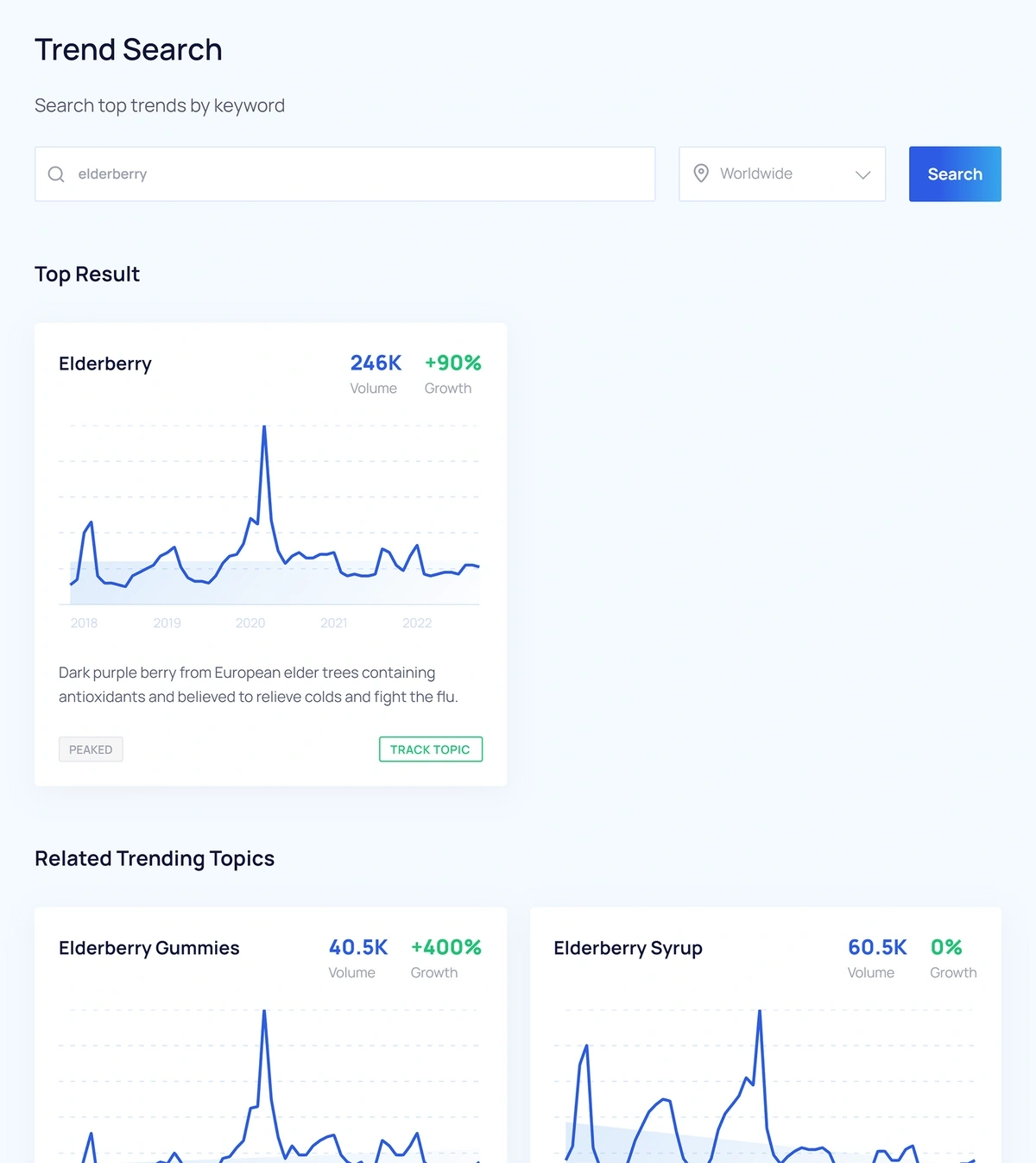 Meta Trends
We also organize groups of related trends into Meta Trends so you can look at different types of products, services, and businesses that are driving industry change. These also let you research trends by "category" (just a little more specific in your starting point) but they let you analyze entire batches of trends at once and see a variety of new opportunities that could be valuable in your research.
For example, some Meta Trends include Functional Pet Food, Hybrid Event Software, Secondhand eCommerce Platforms, Scalp Detoxing, Antioxidant Skincare, Contractor SaaS, and Niche Streaming Services. Let's take a look at that last one as an example:
When you open the Niche Streaming Services meta trend, you can see:
A background and analysis on the topic, written by our team.
A graph showing all of the related trends that make up the Meta Trend, arranged in order of popularity and relevance.
A list of related Meta Trends where you can continue research.
As you browse, you can click on any trend within the Meta Trend to open overview information and see data for just that topic. Then, you can use that info to decide if you want to do deeper trend analysis or add the topic to your dashboard to track.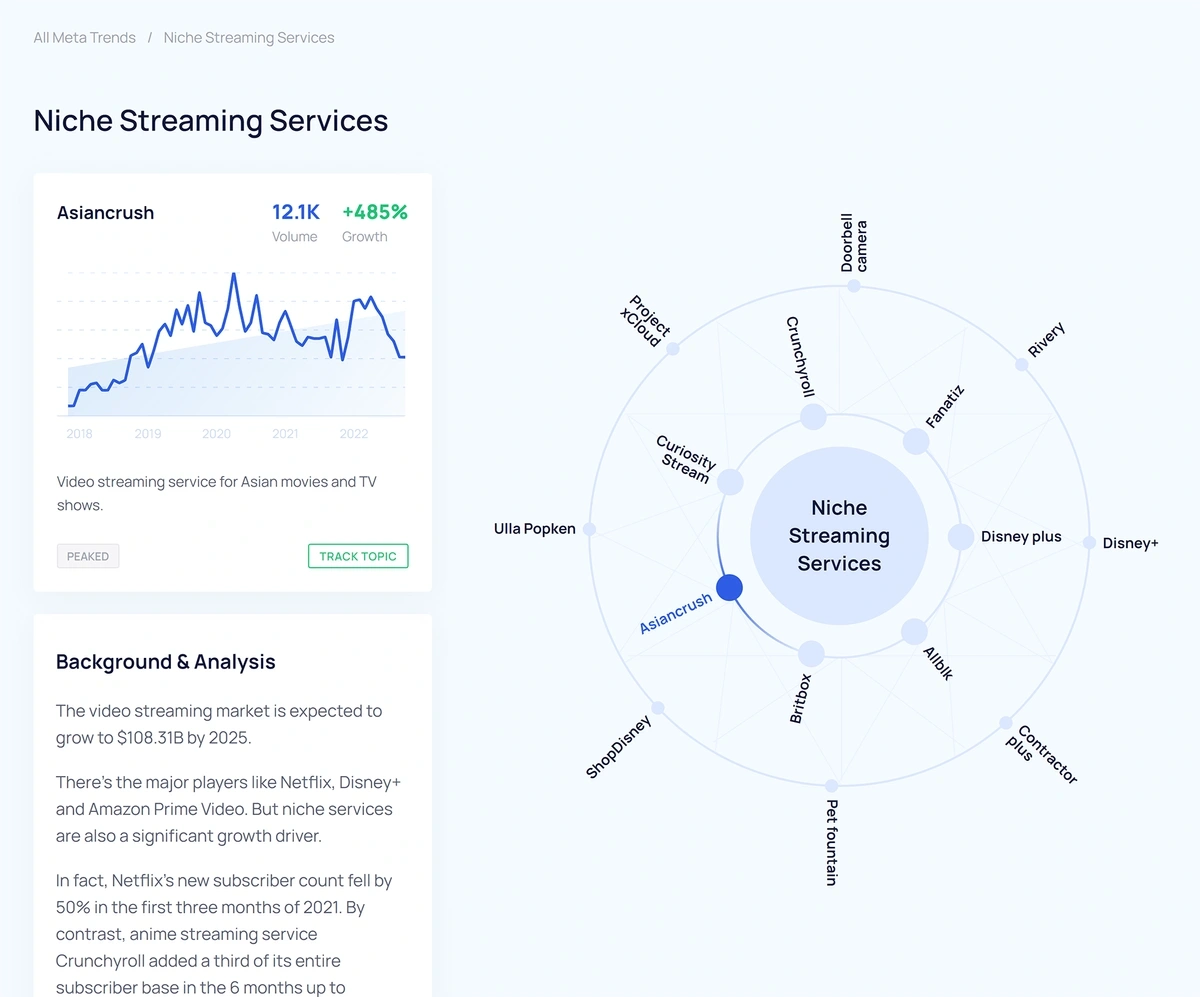 Trend Reports
Lastly, we send weekly trend reports with info on ten of the fastest-growing, most exciting trends on our database. Our analysts curate each report, covering trends in a variety of categories, and provide a thorough write-up on every opportunity listed.
In our trend analyses, we provide a brief summary of the topic, talk about affected target markets and audiences, how trends are expected to evolve in the future, and who should care about them. You can use these reports to understand major details about promising new trends, but we also link out to other helpful resources so you can do additional research.
For example, here's a look at our analysis of Qdrant, a startup SaaS company:
From this screenshot, you can see: 1) background on the startup and what type of software they offer, 2) how much funding they've already raised, 3) how interest in the company is expected to evolve, and 4) how they're already taking measures to expand. Then you can see links that allow you to click out to other resources to research trend data.
We email you trend reports at the start of each week, but we also store reports in the Exploding Topics Reports Library so you can readily access previous newsletters. (And when you sign up for a Pro Trial of Exploding Topics, you get access to up to 10 of our most recent trend reports so you can read back and look at those opportunities.)
Read More: Market Trend Reports (+ Trend Discovery, Analysis, & Tracking)
Now that we've talked about how to find new trends on our website, let's explain how to analyze trend data to decide whether or not opportunities are valuable for your business.
2. Analyze the Available Trend Data & See Trend Graphs Over Different Timelines
Exploding Topics simplifies trend analysis by consolidating all available trend data — we pull search volumes and growth rates from our trend research — into one interactive graph. You don't have to check a dozen different data sources or try to compile this information yourself. It's automatically done for you, and we update our site daily so you can always check current trend data.
Once you open the trend overview, you can see the trend graph, status, categories, and related meta trends. These show you:
Trend data like search volume and growth rate.
Where the trend is at in its lifecycle — if it's an early trend (Regular), popular trend (Exploding), or peaked trend (Peaked).
The industries the trend impacts.
Additional opportunities in the space.
Then, you can hover your mouse over the trend graph to see search volume by day, and the slope in the background represents the overall growth rate (but both the search volumes and growth rate are displayed in the top corners of the overview window, too).
Next, you can adjust the graph's date range to see trend data over recent months vs. recent years — we're able to collect up to 15 years of historical data for some trends — and see how interest in the trend has evolved over different time frames. You can use that information to make educated guesses on future trend growth and decide if opportunities are worth pursuing.
Let's look at the trend overview for Snappy Shopper, a same-day grocery delivery service.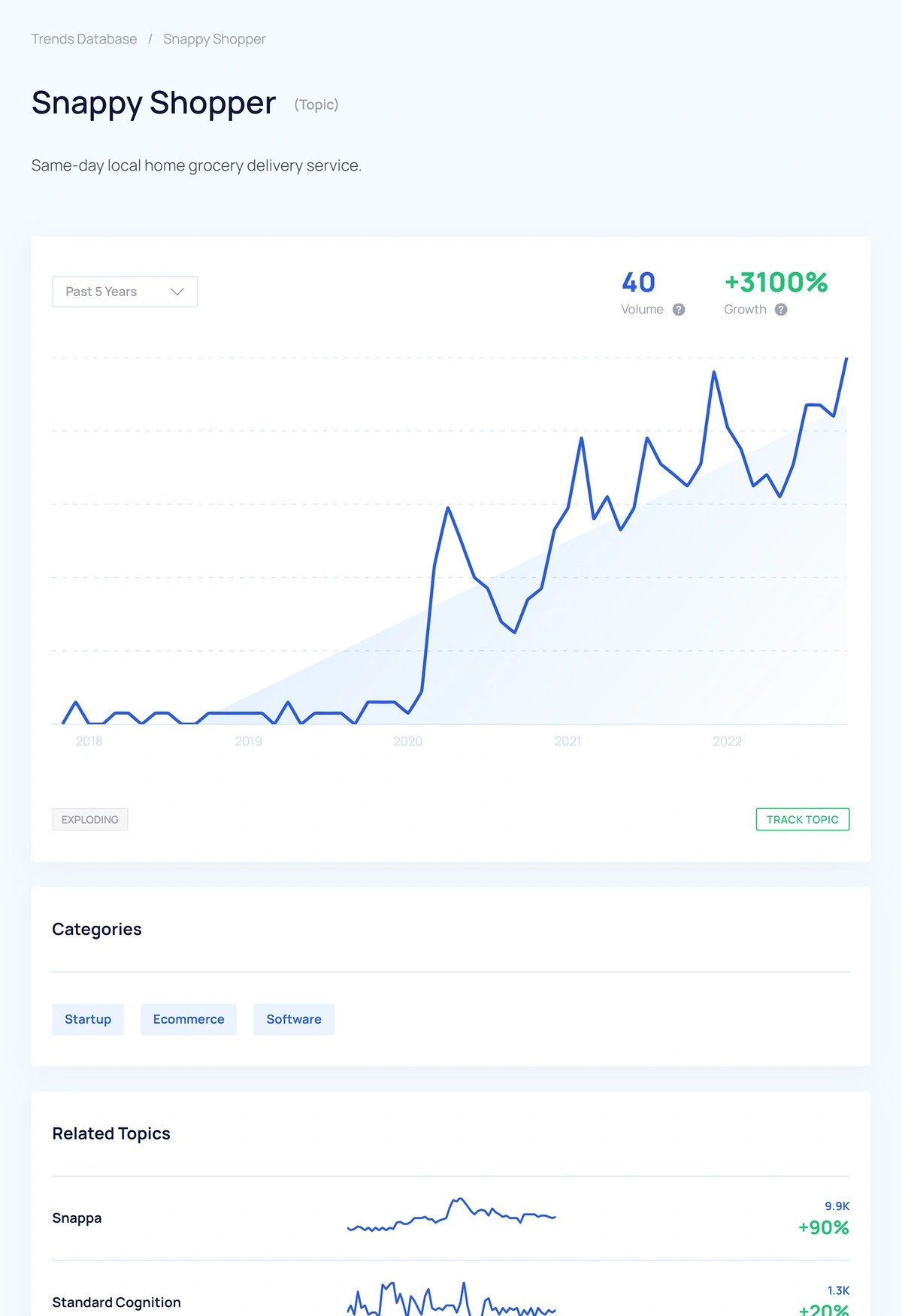 We can see from the trend overview that this brand started to become popular in 2020, around the time of the COVID pandemic. And although interest in the brand has fluctuated in the past two years since, the overall search volume continues to increase — even as the graph dips we can see the brand is still searched over 60 times per day, and data shows a 6700% growth rate. Snappy Shopper is categorized as a "Regular" trend, meaning it's still a very early trend, and falls in the eCommerce, Startup, and Software categories.
Then, if you wanted to monitor consumer interest in Snappy Shopper, you could click "Track Topic" from the overview window and instantly save the trend to your trend tracking dashboard.
Read More: Best Market Trend Analysis Tool for Detailed Insights & Tracking
3. Track Trends & Set Notifications for Trend Updates
We store all of your saved trends in the Dashboard — you can create Projects in your dashboard to segment saved trends by topic — so you can access trends easily and track their growth.
You can also set real-time alerts for trends so you're instantly notified of significant spikes in trend growth. This way, you don't have to constantly keep tabs on your dashboard and you're able to jump on new opportunities when the timing feels right.
Let's look at the dashboard below as an example — we can see two saved Projects: "Luxury Organic Skincare" and "Design & Home Decor," and the list of trends that make up each project. Then we see related trends and Meta Trends (based on what's saved) and links to recent trend reports. So this user could open their dashboard and instantly navigate to the information they're interested in.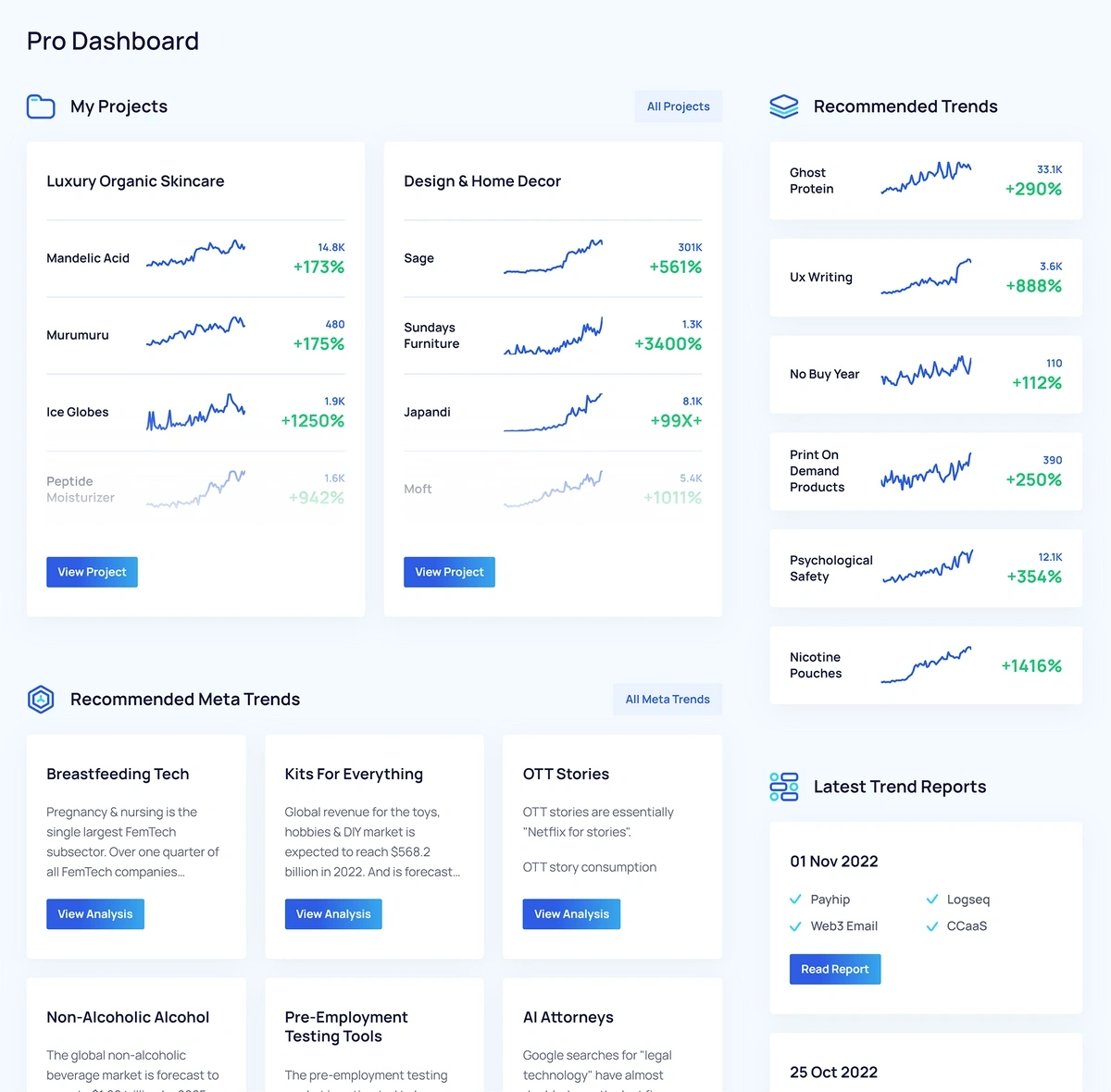 Exploding Topics also has an API so you can link our market trends website with other business apps and reporting software you use in your daily operations. Then, you can pull trend data from our site into those systems and create comprehensive market research reports from different datasets. You can learn more about that here.
Get Started With a Pro Trial
Exploding Topics is one of the most user-friendly trend research sites with intuitive features to discover super early trends, analyze trend data from a variety of sources, and track trend growth. Our solution enables professionals (with even the most limited market research background) to do in-depth trend research and strategically leverage new opportunities to gain a competitive edge.
You can start a Pro Trial of Exploding Topics for $1 to unlock full access to our site and trend reports: you can demo all of our trend discovery tools, see how easy analysis is, and begin setting up your trend tracking dashboard. Get started today!