12 Top Trend Tracking Tools (Free and Paid)
Most tools for discovering market trends are designed for specific use cases.
For example, a venture capitalist analyzing market growth trends needs a different tool than a content marketer searching for short-term trending topics.
In addition, some specialize in trend analysis, while others specialize in trend discovery.
So to help you find the best trend tracking tool for your needs, we analyzed the most popular solutions (both free and paid) and categorized them based on their strengths:
Below, we give you an overview of how each trend tool works and its ideal use case.
1. Exploding Topics – Best For Trend Discovery and Analysis
We wanted a trend tool that:
Identifies under-the-radar trends with potential for long-term growth – not just currently popular trends.
Discovers trends for you and provides analysis – not one or the other.
Provides trend suggestions based on reliable data – not an individual's opinion or a small sample data set.
Lets you identify trends in seconds without reading a single piece of content.
We couldn't find a tool that checked all of those boxes, so we built Exploding Topics.
The flagship feature, the Trends Database, has over 13,000 manually vetted, under-the-radar trends.
So to find promising, under-the-radar trends in seconds, just sort by category (fashion, finance, education, tech, etc.) and then browse through the suggested topics: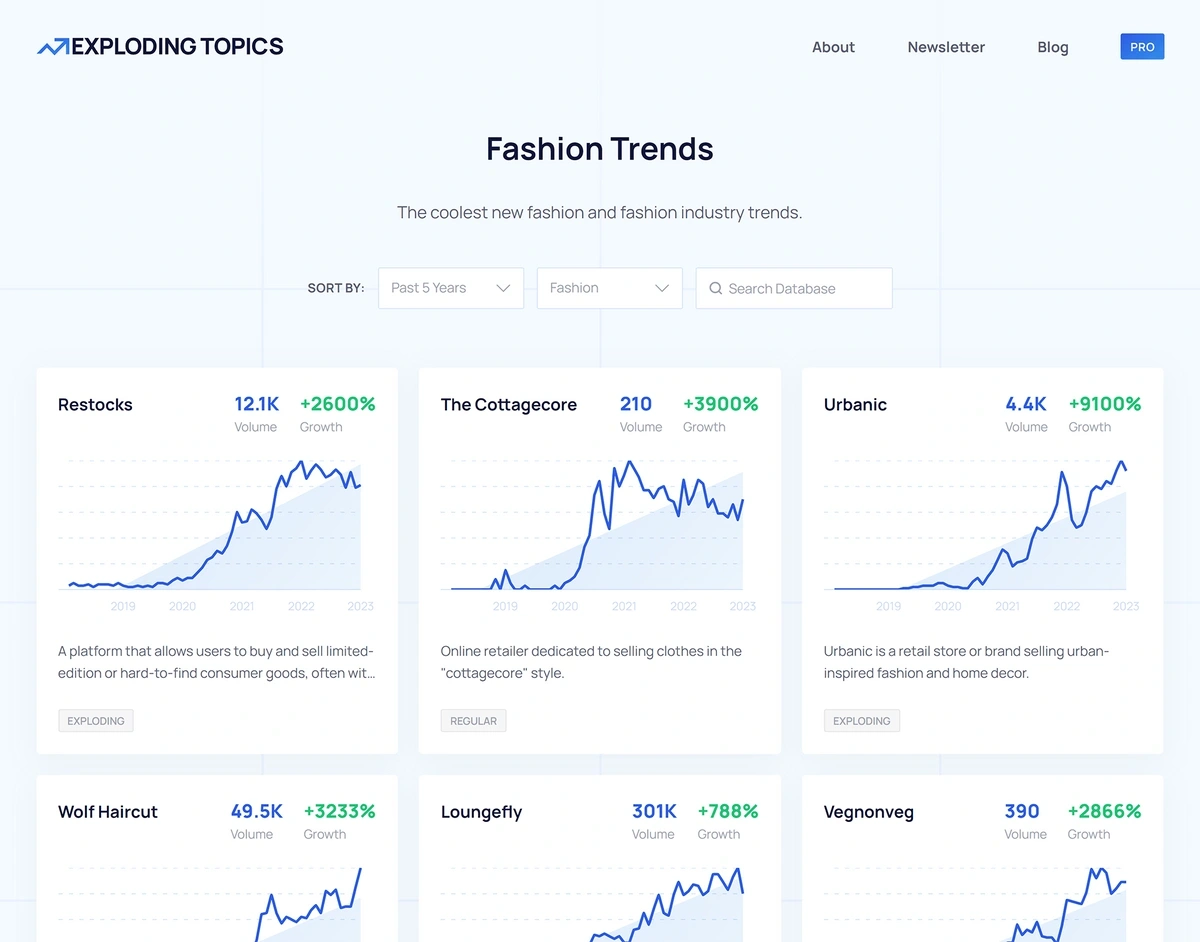 You'll notice that each trend also has:
A description
A graph depicting Google Search volume trend over time
Total monthly Google Search volume
Monthly Google Search volume growth percentage
The best part is that you can use the Trends Database for free. To see for yourself how easy it is to discover new trends, try it out now.
If you want to unlock premium trend suggestions and other helpful trend discovery and analysis tools, you can upgrade to Exploding Topics Pro.
Pro users have more filtering options like:
Timeline (this is the date range for the Google Search volume graph)
Trend status (Exploding, Regular, and Peaked trends)
Branded keywords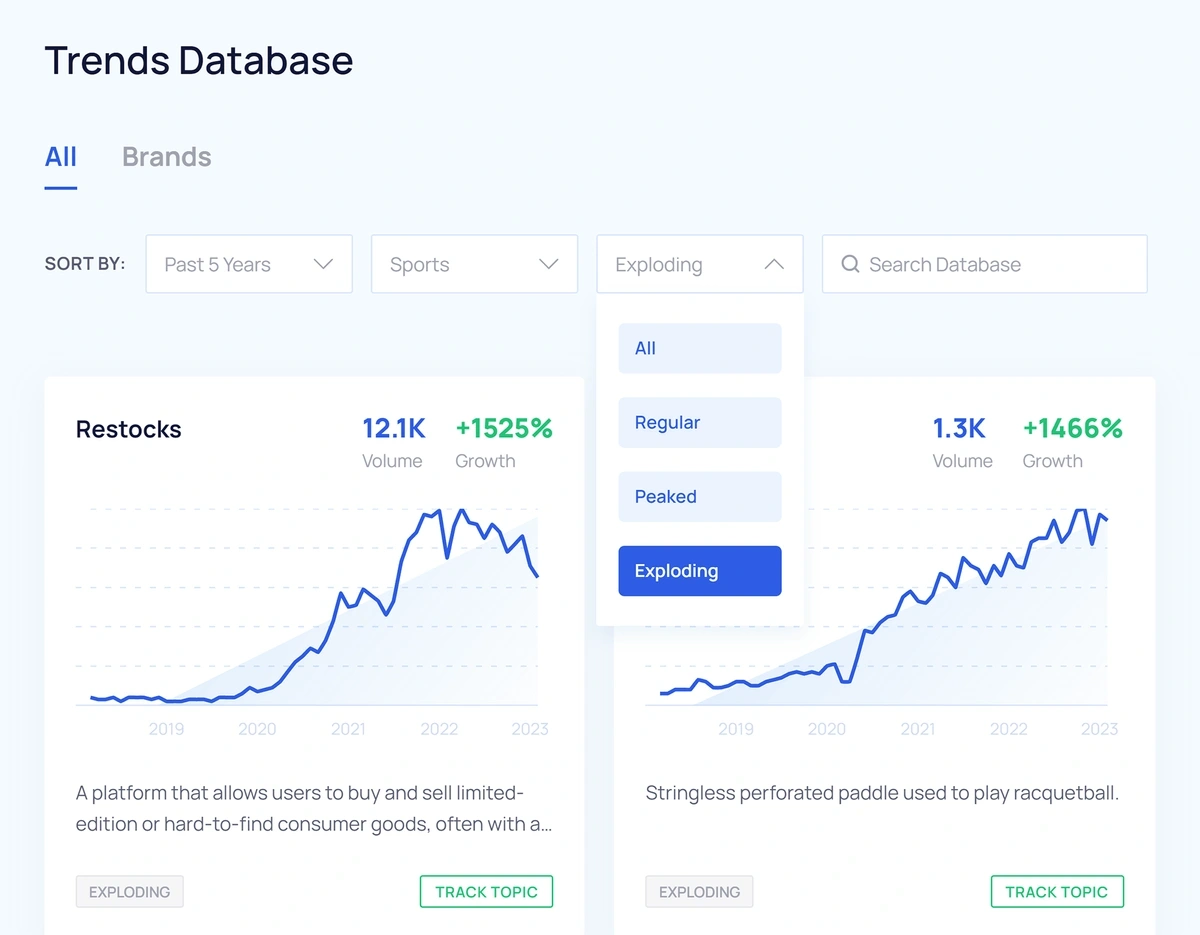 You can also save interesting topics for further analysis by clicking "Track Topic" and adding it to a project.
Projects live in your Exploding Topics dashboard and you can create as many Projects as you wish and add/delete topics as you wish.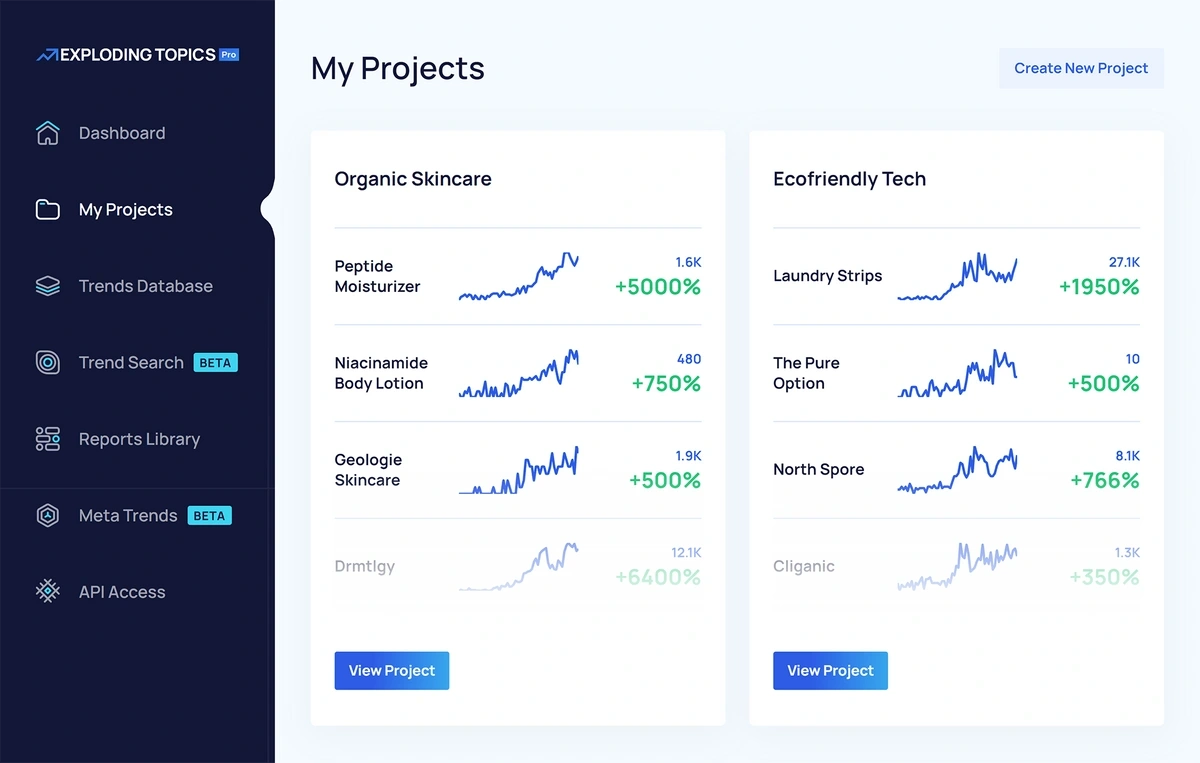 We realize that a trend analysis tool is useless if it doesn't consistently deliver high-quality, relevant trends.
Or worse, if it fails to spot under-the-radar trends.
We built a unique, three-step trend identification and qualification process to ensure Exploding Topics consistently delivers high-quality, under-the-radar trends.
Here's how it works.
Step 1: Machine Learning and AI scans the web for topics that have substantial traction.
Machine learning and AI scans every corner of the internet – from Amazon, Google Search, and Amazon to Spotify and YouTube – to identify and flag topics that are steadily gaining traction.
Human analysts can't analyze this volume of content, which is a key reason why Exploding Topics is more effective than most tools at discovering under-the-radar trends.
Step 2: We gauge a topic's long-term growth potential with historical Google Search volume data.
If you're using Exploding Topics data to make important investment decisions, it's important to distinguish trends with long-term growth potential from fads.
So to distinguish fads from trends, we look at each topic's Google Search volume trend and only add those that showed compounding search volume growth over at least several months.
Step 3: A human analyst checks each topic for business relevancy before clearing it to join the Trends Database.
AI and machine learning are great for finding under-the-radar topics, but they flag many irrelevant topics. For example, these algorithms might surface movie titles, celebrity names, and other pop culture news.
So to weed out irrelevant topics, human analysts manually check each topic is either a brand name, product term, or industry keyword before adding it to the Trends Database.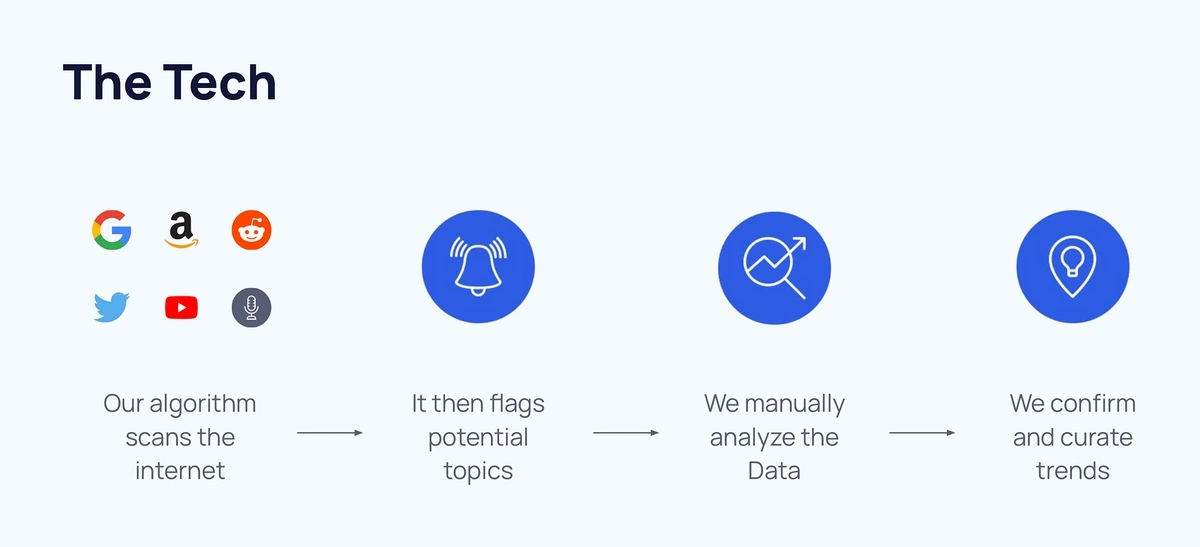 This three-step process helps Exploding Topics consistently deliver high-quality, under-the-radar trends.
Exploding Topics also has a handful of other helpful features for Pro users, including:
Trends Search: While the Trends Database is excellent for discovering new trends, Trends Search is excellent for checking trend growth status for any keyword. Just type in any keyword, and Trends Search will give you a graph of its historical Google Search volume (just like Google Trends) along with related trending topics and brands.

Meta Trends: Most markets have emerging niches within the market. We call these meta trends. An example of a meta trend in the AI industry is "AI-Powered Content Generating Tools." So you can browse the Meta Trends dashboard, click on that meta trend, and see other trending topics (brands, products, etc.) related to AI-Powered Content Generating Tools.

Weekly Reports: To make it super easy to stay up-to-date with the latest trends, we send weekly trend reports directly to your inbox. These reports cover five trending companies and five trending companies. You can always view past Weekly Reports in the Exploding Topics dashboard if you miss an email.
As you can see, Exploding Topics makes it super easy to discover high-quality, under-the-radar trends in seconds.
Pros
A free database of thousands of current, under-the-radar trends
Discover relevant, under-the-radar trends in seconds and then drill down to see an analysis of each trend.
AI and machine learning scans every corner of the web for trending topics, making it unlikely that Exploding Topics will miss the next big trend.
Trends are unbiased because each one is qualified to join the database based on Google Search volume data. Human analysts vet trends for business relevancy, but data determines whether or not a topic is a trend.
The trends show strong long-term growth potential (unlike fads) because each one had rising Google Search volume for at least several months before joining the Trends Database.
The trends are relevant to business because a human analyst manually vets each one for relevancy.
Cons
It's not designed to show short-term, fad-style trends for social media creators, as each topic in the database must show sustainable growth for several months.
It's not designed to show pop culture trends as it's designed for business professionals.
Pricing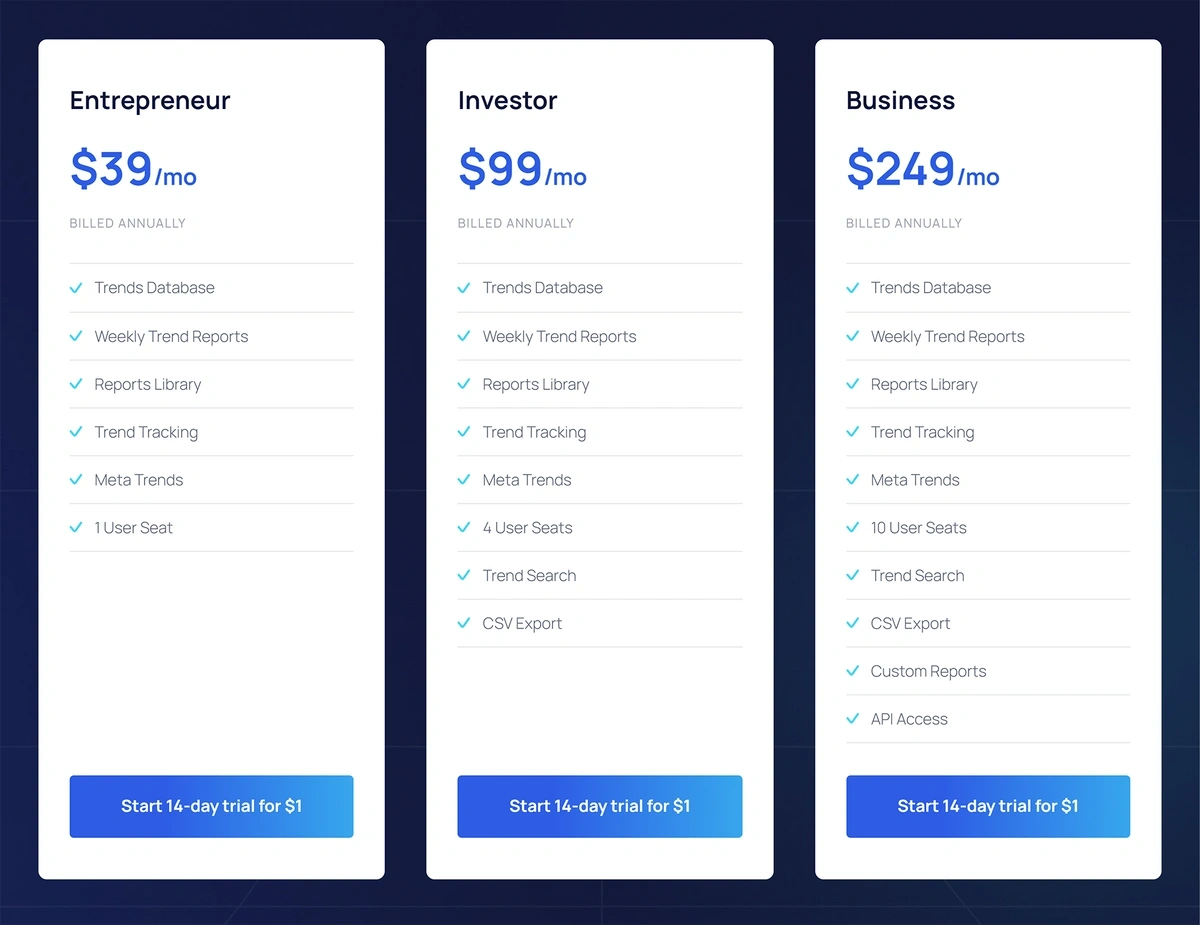 2. Google Trends – Best Lightweight Trend Analyzer
Google Trends is another popular tool that many people use to validate trends. You can type in any popular topic, and it will show you its historical Google Search volume.
For example, if you heard that "pickleball" is a trending topic, you can type in that keyword, and Google Trends will give you a graph of its search volume trend:
If you want to compare two trends, you can click "Add comparison," and it will give you two parallel graphs to compare both keywords.
Google Trends also shows related trending topics, though many are irrelevant to the search term. For example, you can see that some of the related queries for "Pickleball" are fairly accurate while others are irrelevant: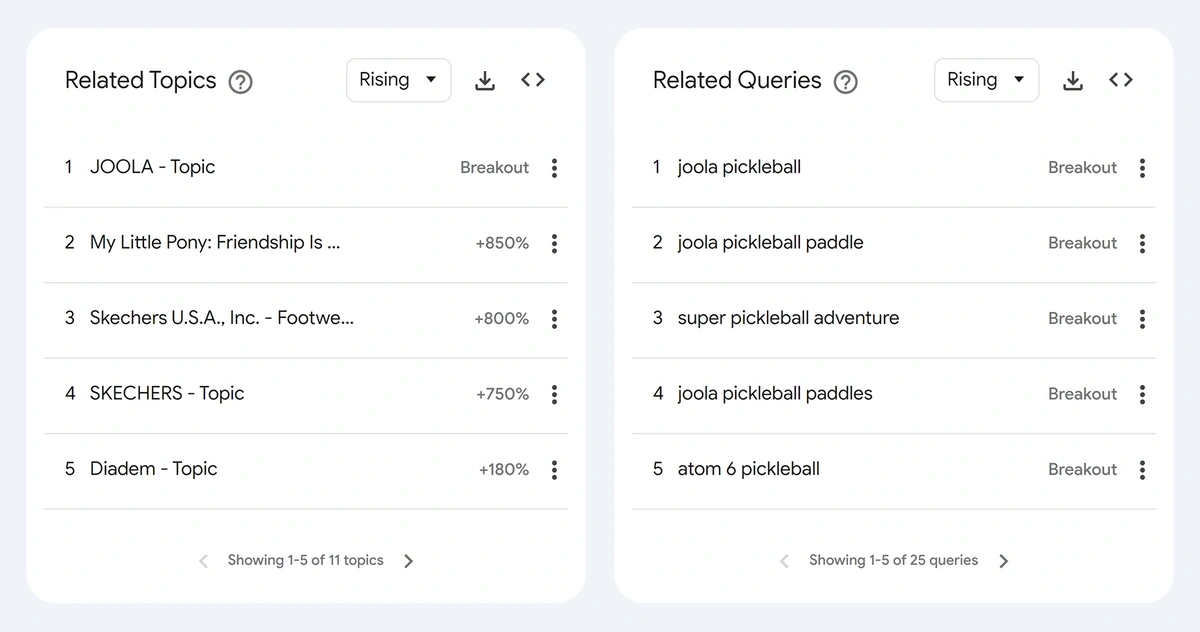 Google Trends can help you quickly access trends data for any keyword, though it's not ideal for trend discovery.
Pros
The data is reliable and unbiased as it's pulled from a global data set (all Google Search users).
Easily compare the search trend of any keywords
Use different filters (country, subregion, search engine type, and date range) to refine results
It's free for anyone to use
Cons
It isn't optimized to discover trends for you – it only provides search volume trend data for keywords you type in.
The "related queries" and "related topics" are often irrelevant.
Pricing
Google Trends is a free tool.
3. Semrush Trends – Best Competitive Marketing Trend Tracker
Semrush is a popular SEO platform, and it now offers a trend analysis add-on for paid subscribers.
The trends tool consists of three main modules:
Traffic Analytics: This lets you type in any website URL and shows you its general SEO performance, like total traffic, average visit duration, bounce rate, and device type, and top pages. You can also type in competing website URLs to compare performance across the industry. Traffic Analytics also provides detailed audience demographic data like age, household size, income level, and employment status.

Market Explorer: Type in any website URL, and you'll see its TAM, SAM (serviceable addressable market), top niche players, market consolidation score, and various market traffic analytics information. This helps you understand how big a particular market is and how much market share that website owns.
EyeOn: EyeOn: This competitive intelligence tool lets you track your competitor's general marketing strategy. It gives you a report on each domain's recently published content (blog posts, social media posts, new pages, etc.) and Google search ads.
Traffic Analytics API: You can integrate Semrush data with any cloud or on-premises system to use the data more effectively.
Pros
It offers plenty of competitive intelligence insight, so it's great for tracking competitor marketing trends and measuring market share from an SEO and traffic perspective.
It focuses on digital marketing metrics, so it's ideal for marketers that want new content ideas or competitive data to benchmark their marketing strategy's performance.
It offers plenty of detailed audience demographic and behavior information.
Cons
Semrush is one of the most expensive tools on this list, as you must sign up for a paid Semrush subscription and then purchase the Trends subscription as an add-on.
It's mainly focused on tracking competitor movements. So instead of discovering under-the-radar trends, you'll need to respond reactively to competitor movements.
It isn't a trend discovery tool. You can comb through your competitor's content strategy for trend ideas, but there isn't a dashboard dedicated to surfacing trending industry topics.
Pricing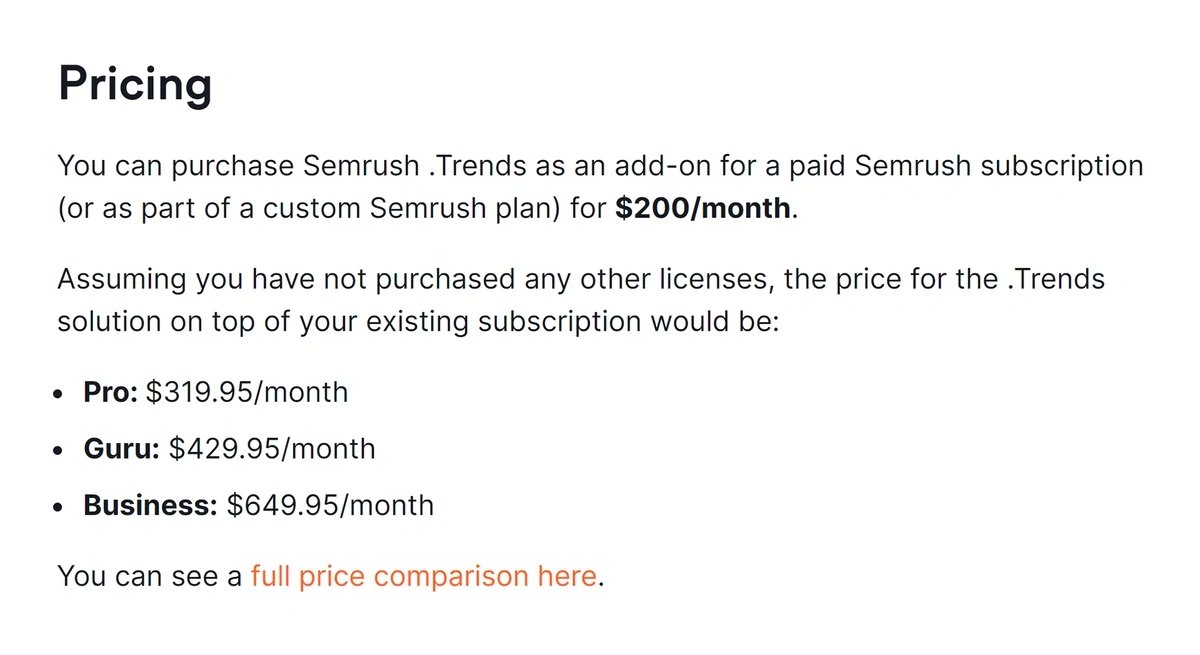 4. Buzzsumo – Best Social Media Trend Tracker
Buzzsumo is a content marketing tool that offers a trend discovery feature.
It helps you find the latest trending content for a particular niche (tech, sports, entertainment, etc.), making it ideal for content marketers that need to find the latest industry news.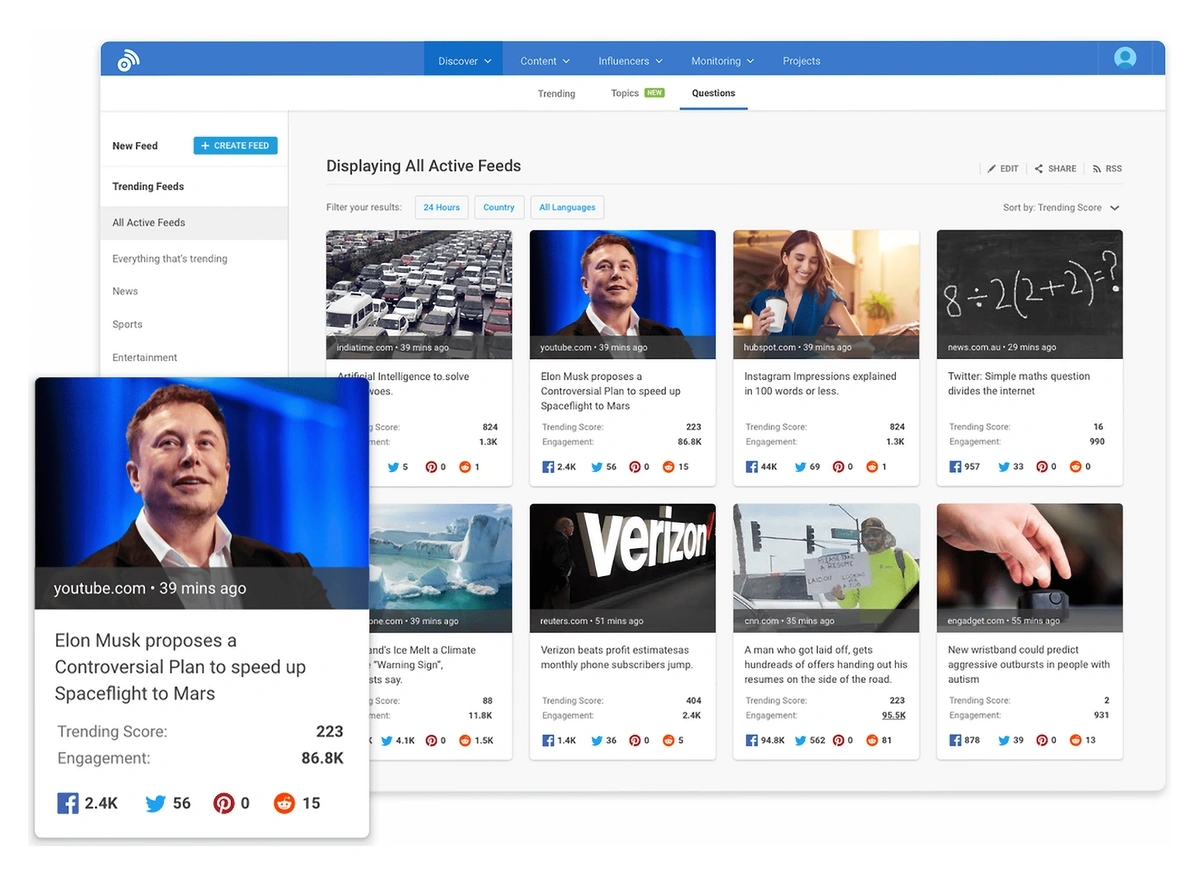 If there's a specific topic you want to track, you can type in that keyword and create your own custom news feed.
So how does Buzzsumo select content for newsfeeds?
It uses AI to find relevant content and then ranks it in the newsfeed based on its Proprietary Trending score. This score measures several factors, though recency and engagement are the two most important metrics it considers.
Given that recency is a key factor in its ranking system, Buzzsumo is better suited for content marketers looking for newsjacking ideas rather than investors and entrepreneurs who want to identify under-the-radar trends with long-term growth potential.
Pros
​​Quickly find the most popular trending content by category (sports, entertainment, news, etc.)
Excellent for social media content creators that want to create content for the latest hot topics.
Create your own custom news feeds.
When you purchase Buzzsumo, you get access to the Trends feature and other features that can aid your content strategy, like its keyword research and question discovery tool.
Cons
It shows you trending content (like press releases and articles), but it isn't optimized to provide a list of trending topics.
It's not designed to show long-term trends, as most newsworthy content topics die down in a matter of weeks.
You probably won't find under-the-radar trends because the algorithm is optimized to show content that is already popular.
Pricing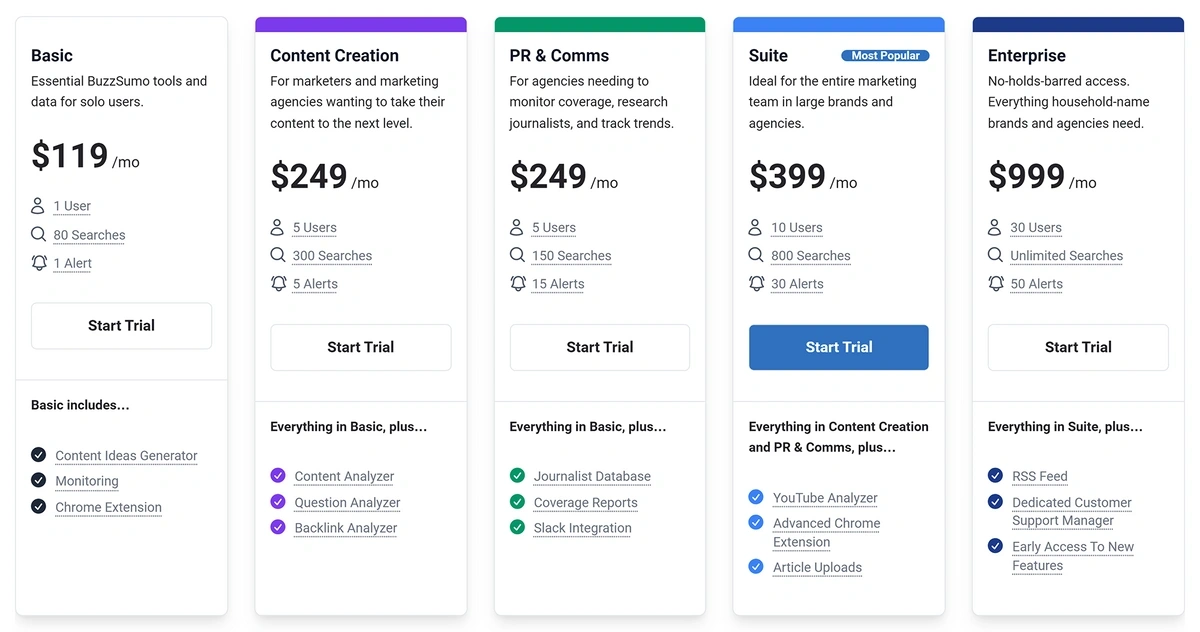 5. TrendWatchers – ​ Best YouTube Trend Tracker
TrendWatchers is a topic discovery tool designed for TikTok and YouTube creators.
The flagship feature is a topic database that you can filter by category to find relevant trending topics on YouTube. So to see educational topics, you can click on the education category: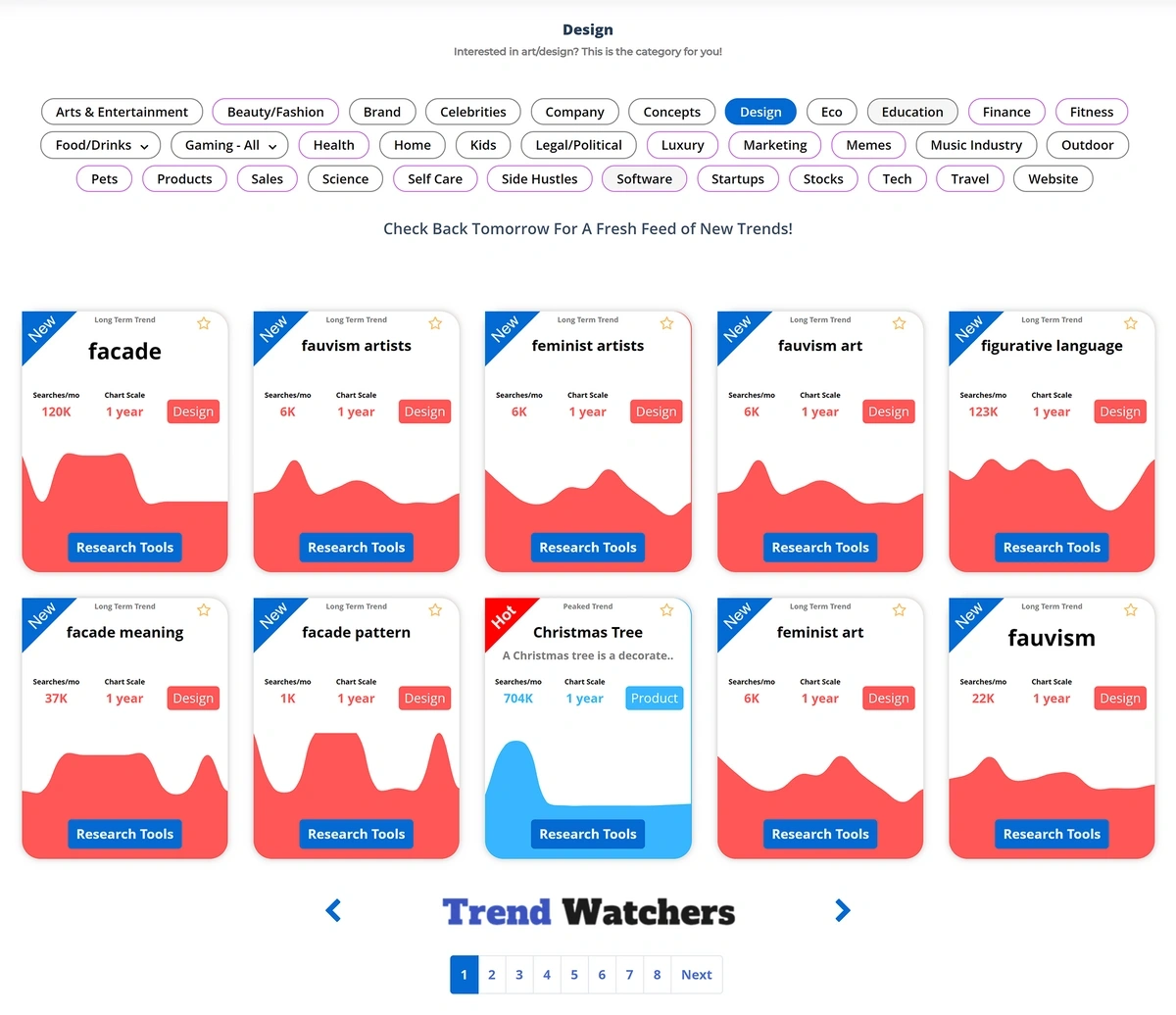 When you find an interesting topic, you can click on it to see more details, like its monthly search volume and estimated earnings for YouTube and TikTok.
You can also filter topics by status (newest, long-term trends, early trends, etc.) and track interesting topics by adding them to your Watch List.
One drawback is that many trends are irrelevant to business and don't fit the categories they're tagged to. For example, you can see in the screenshot above that "jurassic park" is listed as a science trend.
So while it's a good tool for general content creators to browse topic ideas, it isn't ideal for investors or entrepreneurs looking for business and market trends backed by reliable data.
Pros
Designed specifically for YouTube and TikTok creators.
Easily find topic ideas – you don't have to consume any content to sift out an idea.
Easily see monthly search volume and earning estimation for keywords.
Cons
Many topic suggestions are irrelevant to business.
Many topic suggestions don't match the tagged category.
Data reliability is questionable, so it's best for content creation purposes rather than market research for investment decisions.
Pricing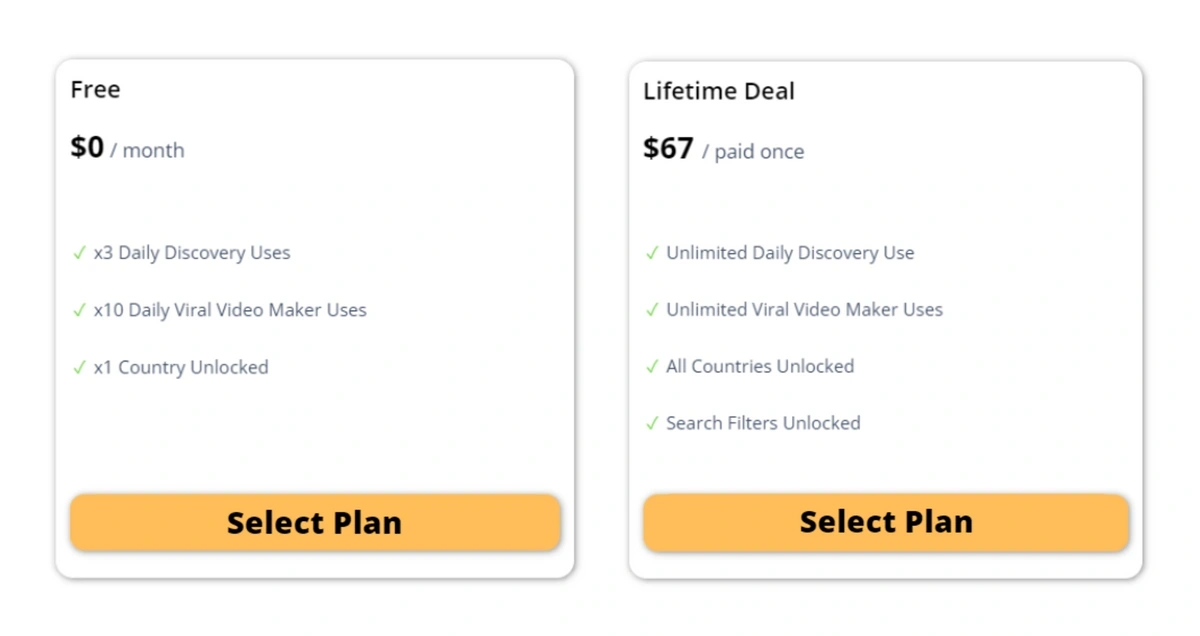 6. Google News – Best News Trend Tracker
Google News is a great resource for finding the latest trending news across the globe. It aggregates data from various internet sources and shows you a list of the most recent (and popular) content.
The main feed is a list of global news, though you can also click on categories like technology, sports, science, and health.
If there's a particular topic you want to track, you can type the keyword in the search bar and create your own personal newsfeed.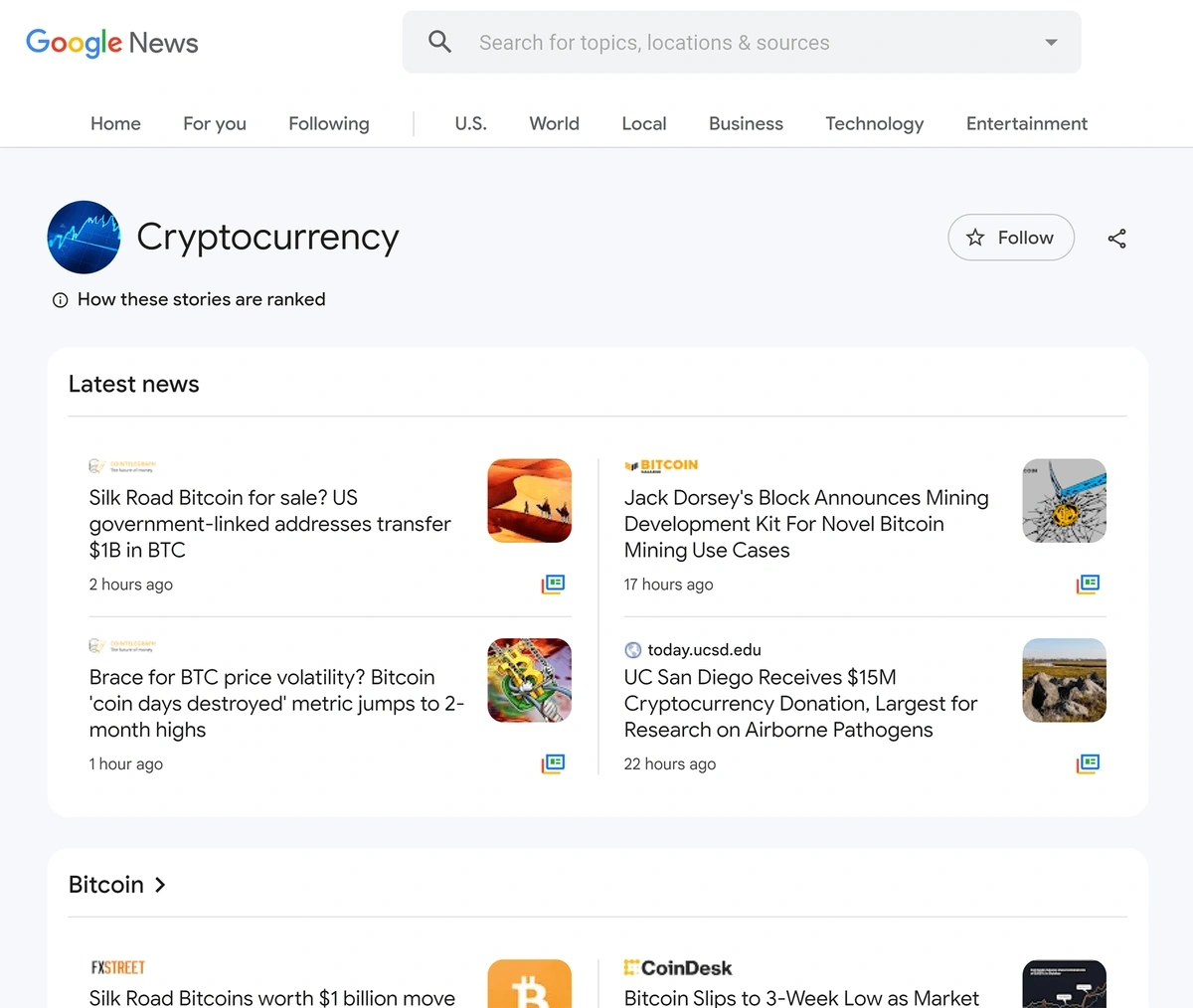 Google News is a great tool to stay up-to-date with the latest news, and you can use it for content strategy inspiration. However, like most other news sources, it only surfaces topics that are currently trending, and many will probably die out in the coming days/weeks.
Pro
Quickly find the latest trending global, regional, or local news.
Real-time updates make newsjacking easy for content creators.
The variety of sources Google uses to aggregate results makes it easy to see both sides of any story.
Cons
The algorithm is designed to surface trendy news rather than under-the-radar trends with long-term growth potential. Most topics will be irrelevant in a matter of weeks/days.
It surfaces popular content, but you have to sift through each article to find underlying trends.
It can be overwhelming to scroll through so much content.
Pricing
Google News is free.
7. Trends.co – Best Trend Reports
Trends.co is a trend discovery tool for business professionals executing market research.
Unlike many trend tools geared towards content creators, Trends.co is designed to help entrepreneurs find business trends with long-term growth potential.
The main trend discovery tool (Signals) allows you to sort by category and provides detailed reports on each trend.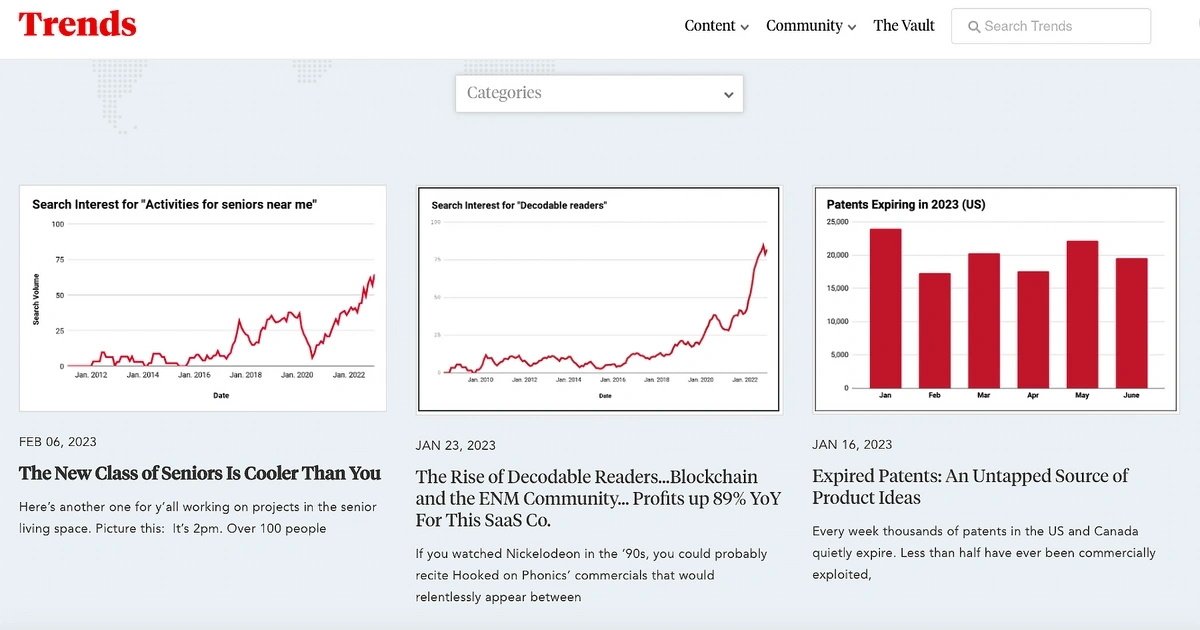 The main benefit of Trends.co is that it provides plenty of high-quality data on each trend. For example, you might find Google Search volume trends for the topic, market size data, popular niche brands, and funding data.
The main drawback of Trends.co is that there are only a handful of current reports. For example, there are only 24 trends in the beauty category, and many of these reports were created as far back as 2019. So that data is now irrelevant.
In addition, their internal analysts decide which trends to cover. So there might be plenty of under-the-radar trends that their analysts missed (or don't believe in).
However, it's a great tool for entrepreneurs and investors interested in the tech startup scene as it also offers a community, a list of startup ideas, and other interesting content.
Pros
Trends are selected based on long-term growth potential (rather than fads) and geared toward business professionals.
Each trend report provides detailed analysis and reliable supporting data.
The community is a great place to connect with other like-minded entrepreneurs.
Cons
Trends are selected by a human analyst rather than data. Even though each report is data-backed, the analyst can still choose data that best supports their opinion of that trend.
There aren't many reports in the database.
Most of the reports in the database are more than a year old, making them irrelevant.
Pricing
Trends.co is $299 per year.
8. Podcast Notes – Best Podcast Trend Tracker
Podcasts are a great way to find new trending topics, but most people only have time to listen to a few episodes weekly.
So Podcast Notes makes it easy to scan thousands of podcast episodes for trends.
Just search for a topic, and it will provide a list of notes from various podcast episodes covering that topic.
For example, you can type "sleep hacks," and it will provide a list of different podcasts mentioning sleep hacks along with notes from that episode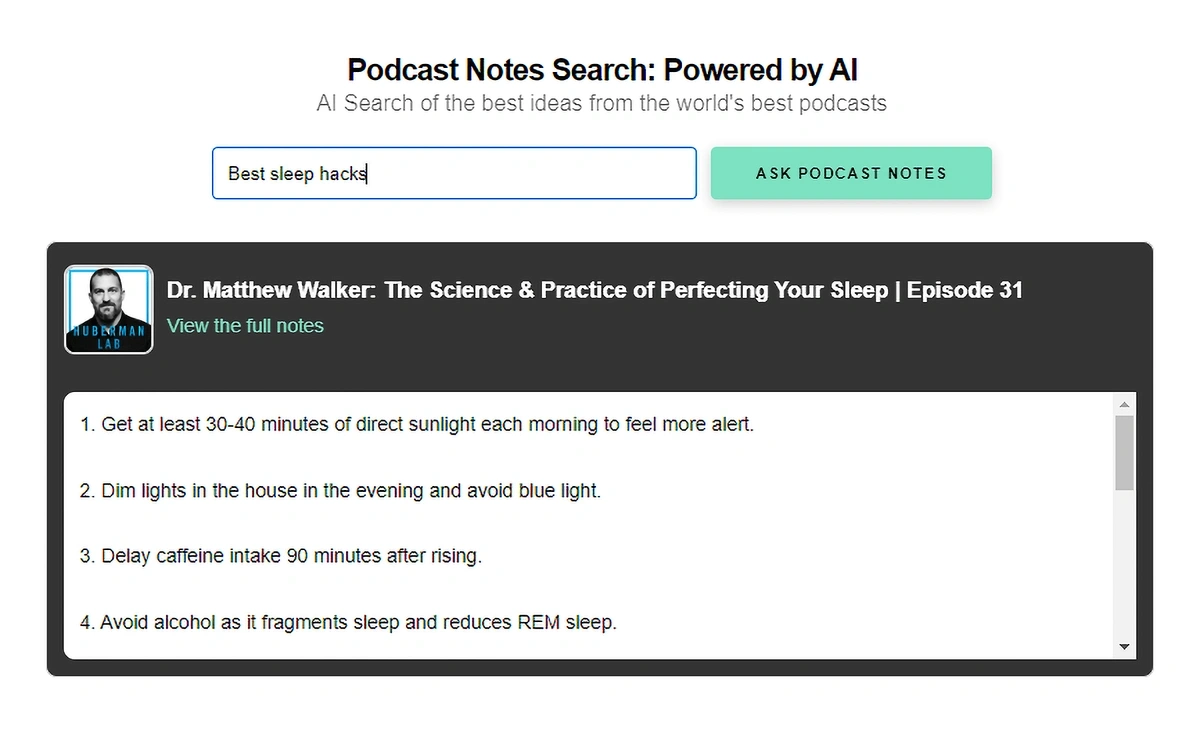 The main drawback of this tool is that it doesn't actually discover trends for you. Instead, you must think of the topic and type it into the search bar to find relevant content.
However, it's a great tool to quickly find interesting content on virtually any trend.
Pros
Quickly find podcast content on any trending topic organized in quick, written bullet points.
Content creators can use Podcast Notes to easily extract interesting influencer quotes for any topic.
Cons
​​It doesn't help you discover new trends – you still have to type a topic into the search bar, and then it surfaces podcast episodes mentioning that topic.
All the trend information is based on a single person's opinion. So it's great for identifying interesting viewpoints, but the information may be biased.
Pricing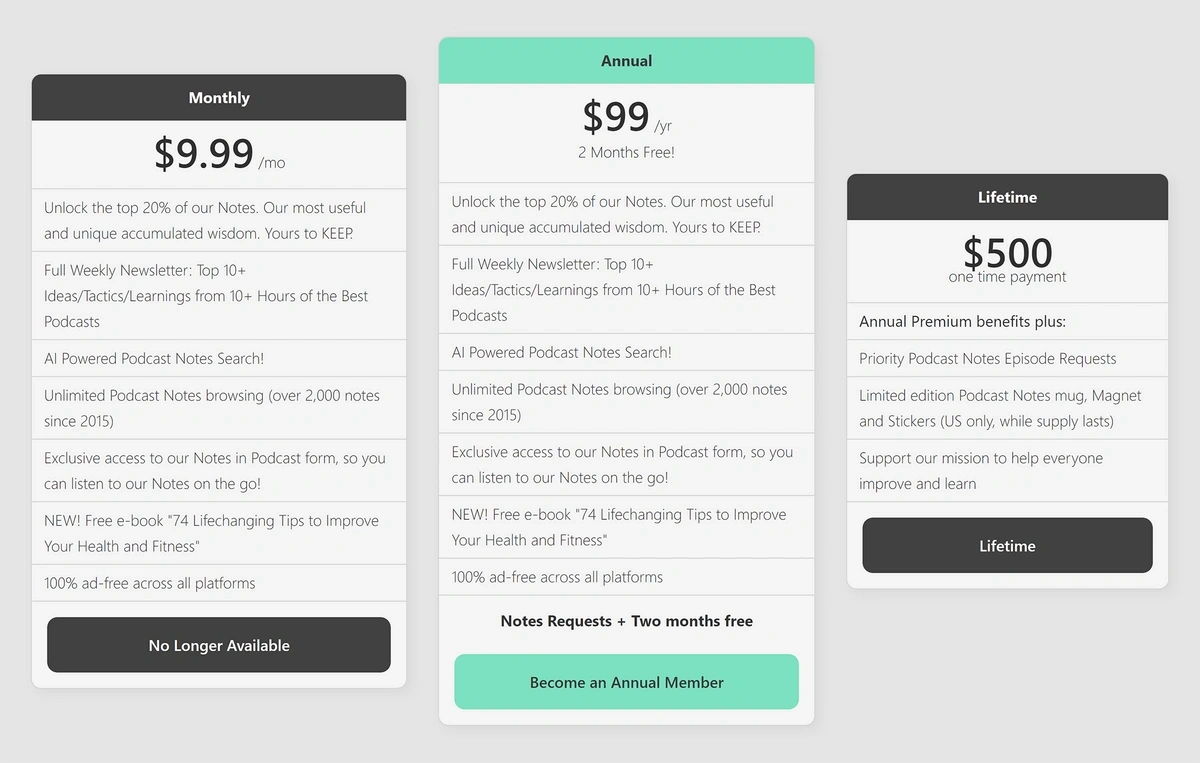 9. SparkToro – Best Audience Trend Tracker
A great way to stay up-to-date with industry trends is by monitoring topics your audience discusses.
SparkToro makes this super easy.
To start using SparkToro, you can search a keyword, social media account, website, or hashtag: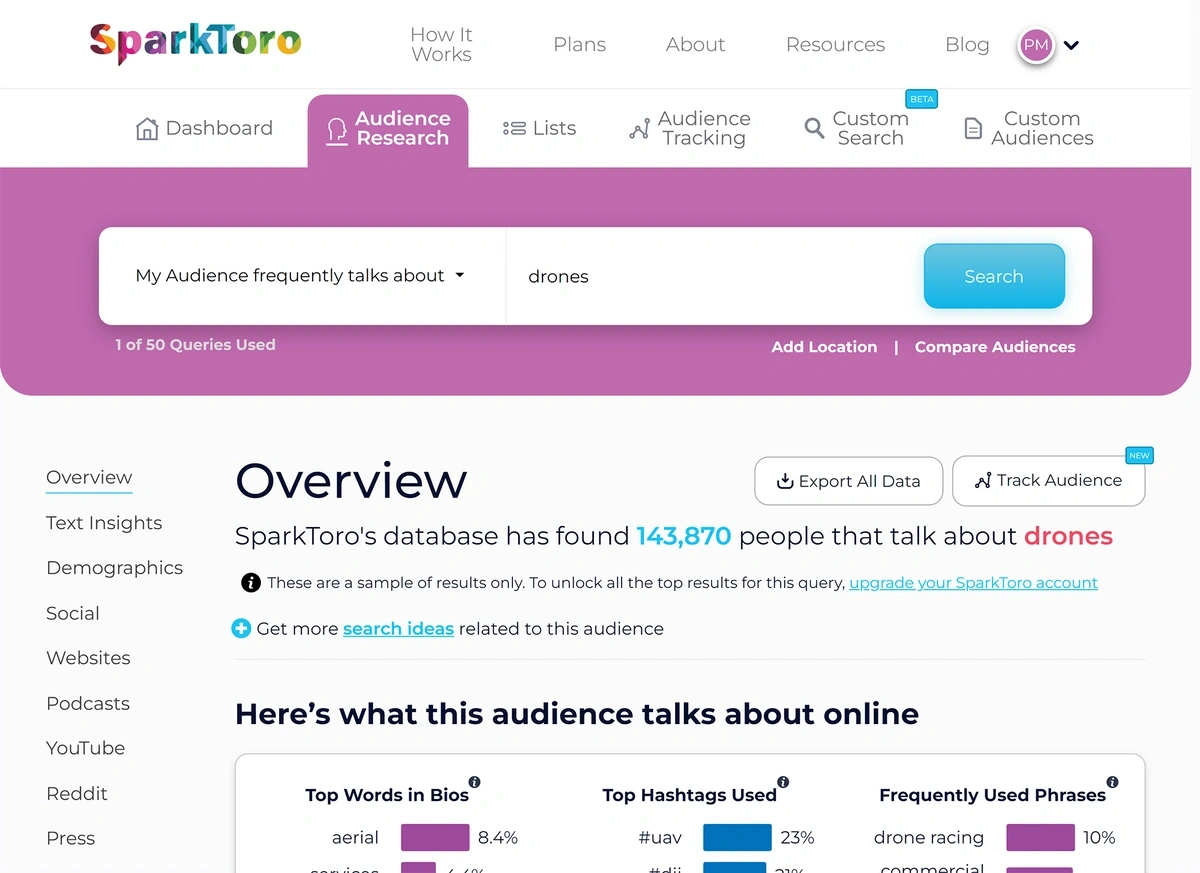 Based on your search query, it will show you audience data like:
Keywords they commonly mention
Top social media accounts they follow
Websites they visit often
Press accounts they reads
Podcasts they listen to
…and more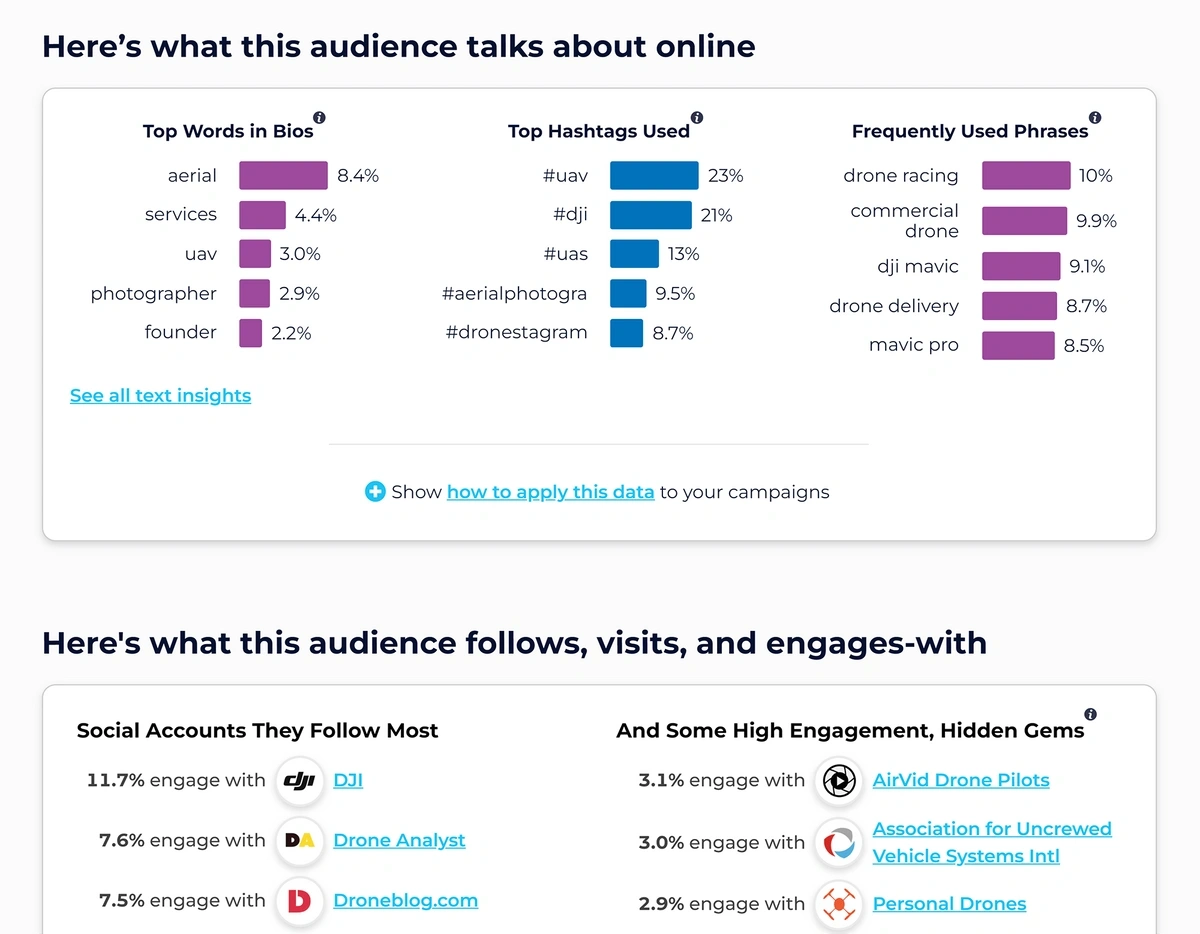 You might find some interesting topics in the keyword and hashtag recommendations, or you can check out some of the commonly mentioned websites to learn more about industry trends.
SparkToro isn't a dedicated trend discovery tool, but you'll indirectly find industry trends by following the content your audience enjoys.
It's also good to stay in touch with your target audience to ensure your products/services and marketing messaging are relevant.
The biggest drawback of Sparktoro is that many of its results are generic and irrelevant. For example, when I looked up the Top Press sites for the keyword "drone," it pulled up WIRED and The New York Times.
Unfortunately, those are very broad publications and aren't helpful if I'm specifically looking for drone trends.
Pros
It makes it easy to find the websites, publications, and influencers that your audience follows, which can indirectly help you find trending topics.
Given that it's an audience research tool, It's easy to gauge consumer sentiment around a trend.
It's super easy to use and offers a great user experience.
Cons
It's designed to show you what content your audience reads and where they hang out. So you'll have to read that content to uncover trends, which can be time-consuming.
Some of the results are irrelevant or too broad. For example, the top Press sites for my search for "drones" pulled up The New York Times and WIRED.
Pricing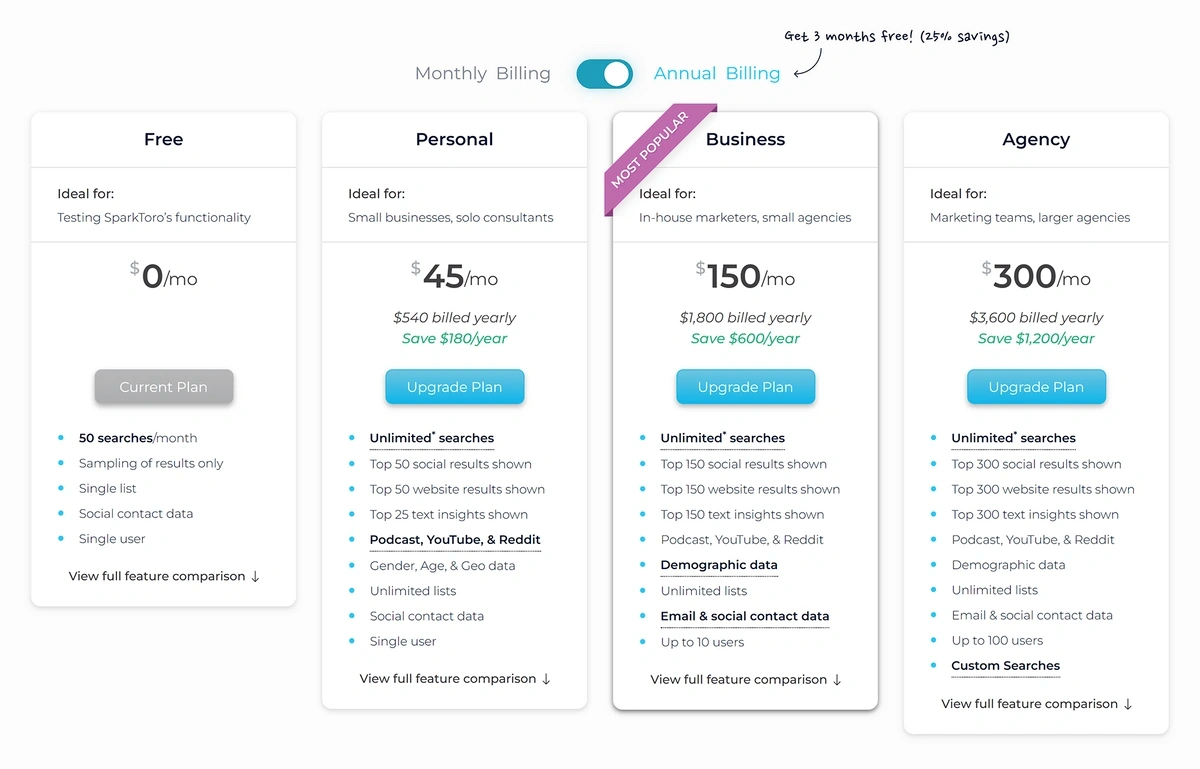 10. Twitter Trending – Best Free Twitter Trend Tracker
To find the hottest trends on Twitter, log into your account and click on the "Trending" tab (under "Explore").
This shows a list of the most popular hashtags and keywords from across the social media platform and you'll find a newsfeed of related tweets.
You can also sort by Sports and Entertainment.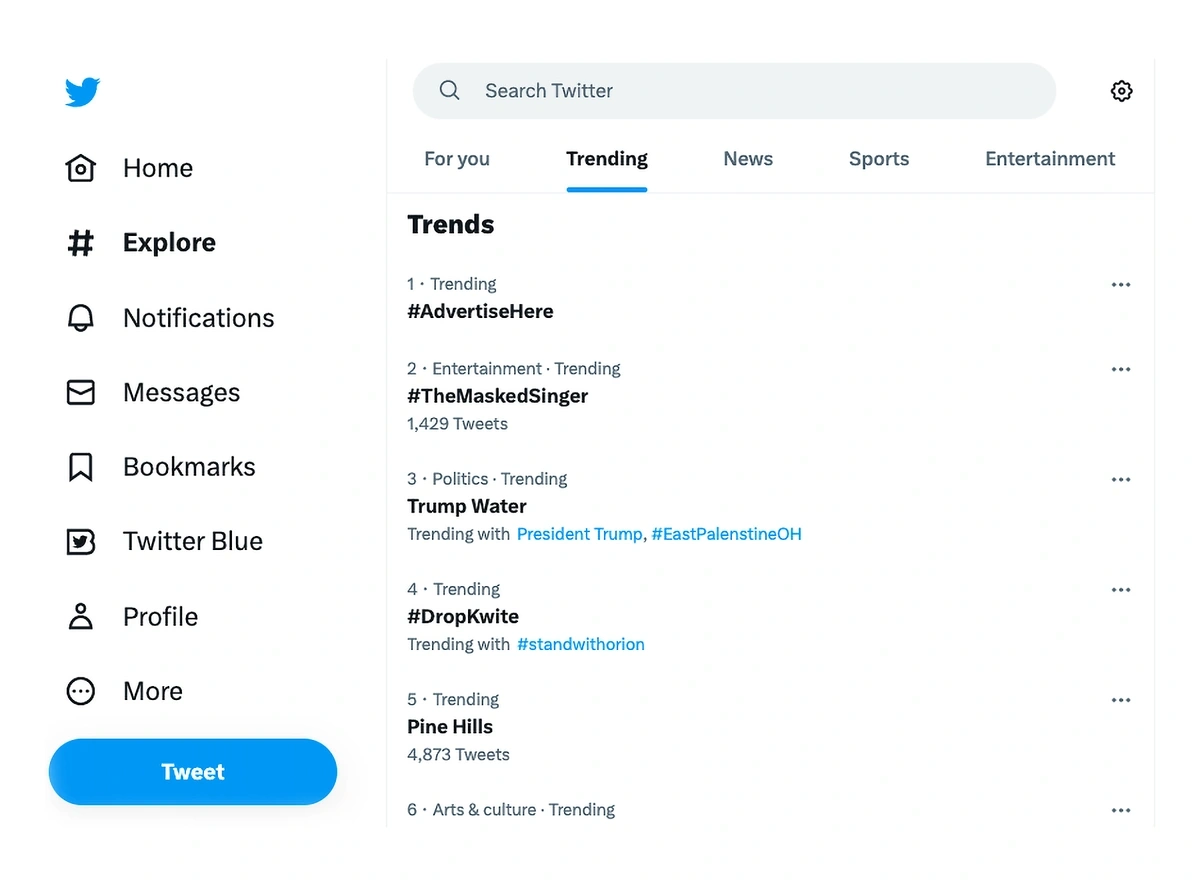 The biggest downside of Twitter Trending is that it's a fairly generic list of news and isn't great for finding specific trends in a particular niche.
Pros
Quickly find a list of the most popular news on Twitter
You can find the most popular tweets on a particular topic in seconds
It's free
Cons
The news is very generic and too broad for most industry-specific research
Many of the tweets are only minimally relevant to the trending topic/hashtag
You can search for a particular topic or niche
Pricing
Twitter Trending is free.
12. Pinterest Trends – Best Free Pinterest Trend Tracker
Unlike most of the other social media platforms, Pinterest Trends offers a searchable trends tool that makes it easy to find the latest trends.
Here are just a few of the search filters that it offers:
Trend growth status
Interests
Keywords
Age
Gender
Then, it also offers an overview of trend growth status that's based on search volume history.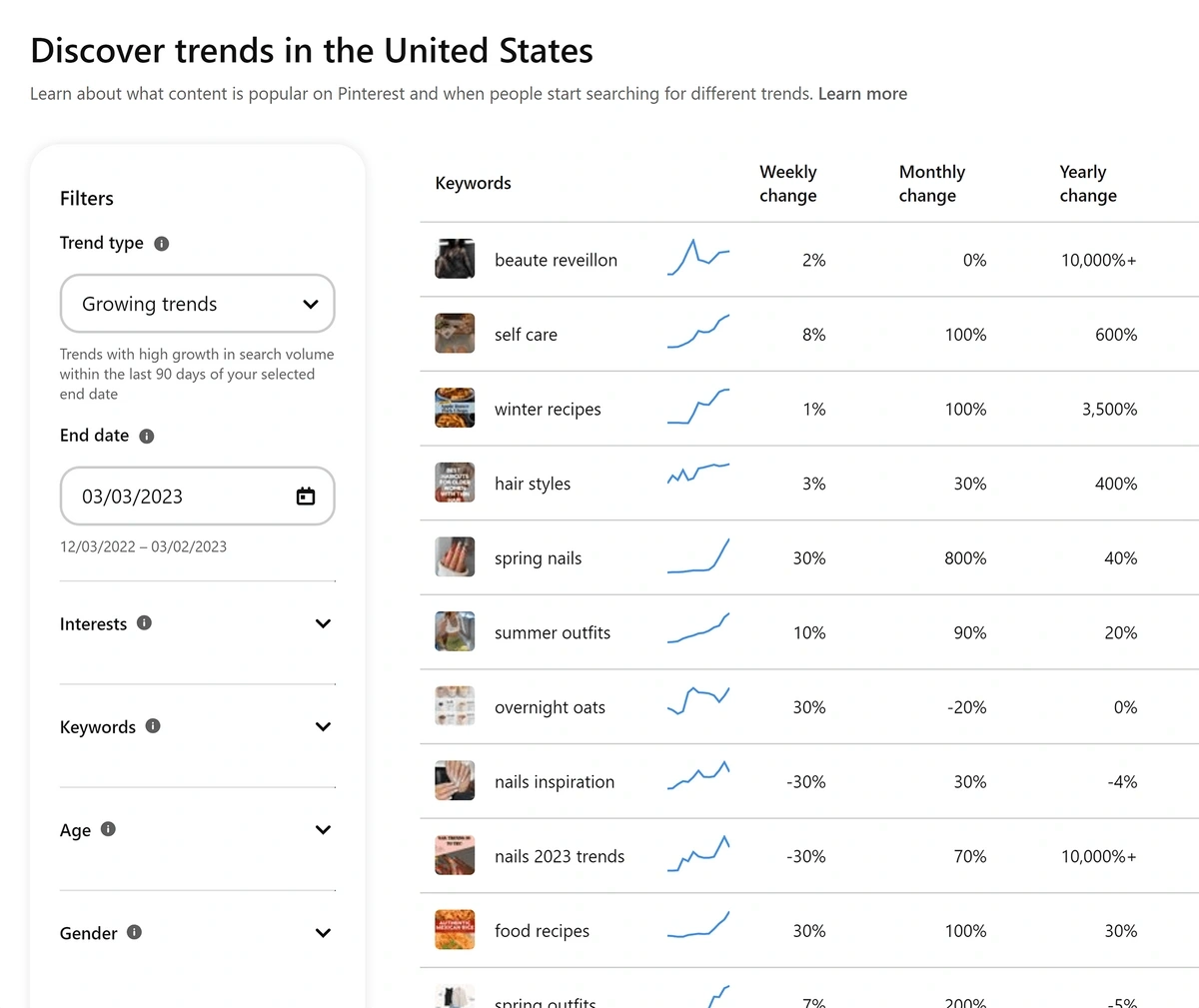 In addition to the basic analytics it offers, you can click into any topic and see the most popular related content and ideas.
Pros
Easily track the content your ideal audience finds interesting.
View the search volume trend graph for each topic.
Advanced filtering with keywords, interests, age, and gender.
Cons
It's limited to Pinterest data, so if your target audience isn't on Pinterest, it isn't very helpful.
You still have to keep keyword searches fairly broad as more specific topics tend to return zero data.
Pricing
Pinterest Trends is completely free to use.
Start The Trend Discovery Process Now
There are plenty of tools that make it easy for you to read through content and learn about new trends.
However, if you want a tool that discovers under-the-radar trends for you and then organizes them in a searchable database, consider trying Exploding Topics.
You can use the free Trends Database right now (no account required) or you can try out Exploding Topics Pro to unlock premium trends and other key features.