How to Identify Market Trends with Trend Forecasting Software
The traditional method for identifying market trends is to research new products, topics, or startups in your industry via professional publications, news sites, social media channels, stock trends, etc. Then, you would use a data analysis tool like Google Trends to view trend data, such as the number of searches or mentions per month for a given topic, the geographical region where the searches originated, and related topics.
To track these trends over time, you would need to manually compile the data and check in on each platform when you want updated information. This method has two major downsides:
It is a very time-consuming process that limits how many trends you're able to track and how often you can check on each trend.
It's difficult to discover new trends before they're obvious because you have to know what to research (which usually means it's already a known trend).
Trend forecasting software like Exploding Topics solves these problems by pulling data from tons of sources and compiling that data into easy-to-read graphs for you. Using a unique algorithm, Exploding Topics identifies upcoming trends across all industries, and we show you new, popular trends in your industry long before they'd be on your radar.
We organize new trends by category so it's easy to find trending topics, products, or startups that you've never heard of before. Then, you can track any trend on a personalized dashboard and automatically access updated trend information as soon as it's available.
In this post, we show you how to identify market trends early using the Exploding Topics platform:
Start a trial of Exploding Topics Pro to explore our trend database, receive weekly trend reports, and start tracking new trends six months before other users.
1. Use the Exploding Topics Database to Discover New Trends
The Exploding Topics algorithm scans hundreds of online sources — for example, social media sites, forums, eCommerce sites, podcasts, etc. — to detect technical indicators and patterns that signal a new trend. This allows us to find new trends early, early on before most people know to search for them.
Then, each trend is verified by human analysts to ensure it's a true trend with long-term potential and not just a fad with short-term interest (such as TV or movie premieres, sporting events, technology updates, etc.). All long-term trends are added to the Exploding Topics database where they're organized by category.
You can simply choose a category and scan through a list of trends for that topic.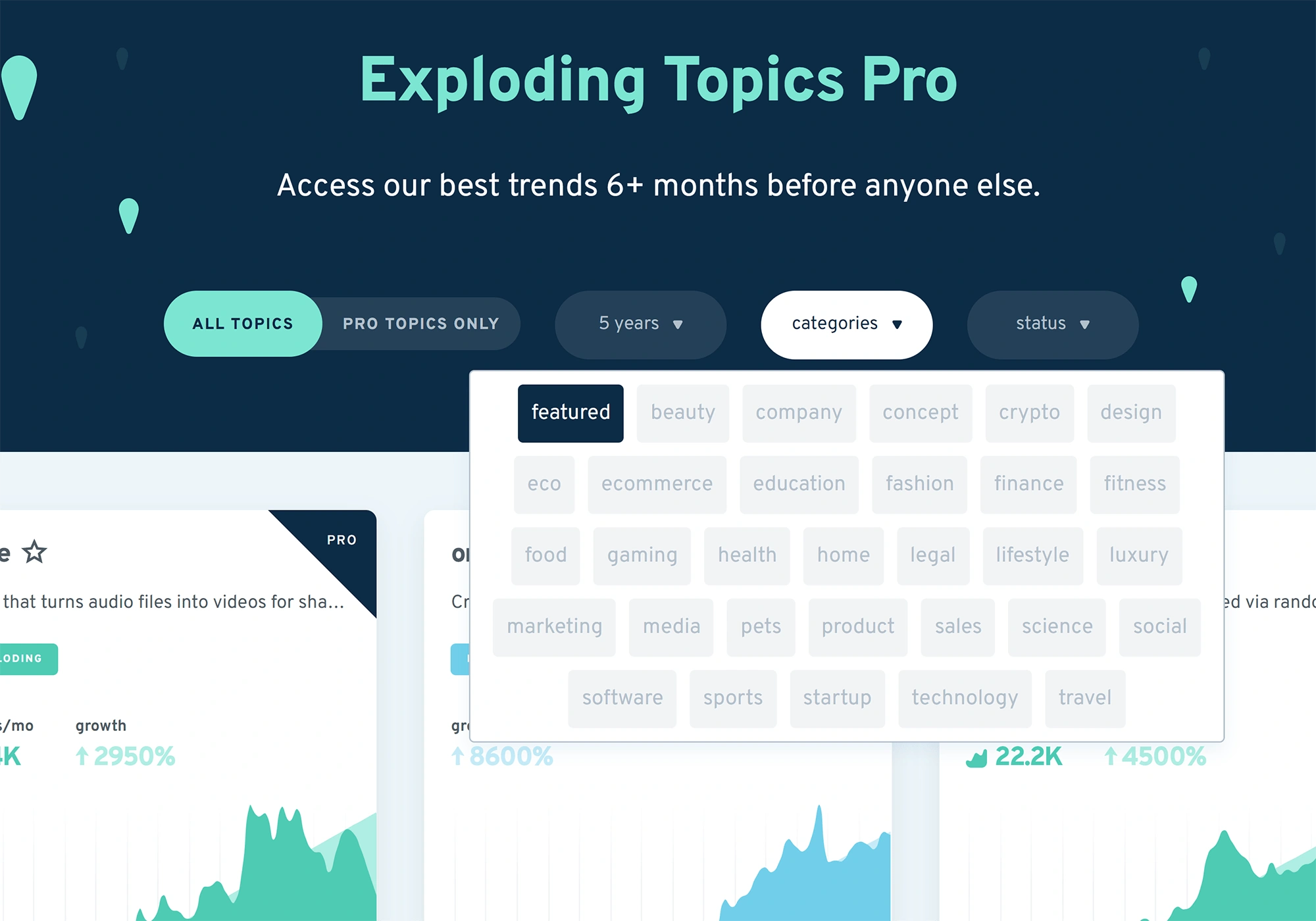 You can also filter your search by the popularity of the trend (Regular, Exploding, or Peaked) or by the recency of the trend.
When you select a trend, you can see all trend data, such as searches per month, trend growth, related trends, and more (more on this in a later section). We store up to 15 years of historical trend data so you can view these metrics on a longer timeline and see the past performance of trends (e.g., one month of historical data or up to 15 years of historical data).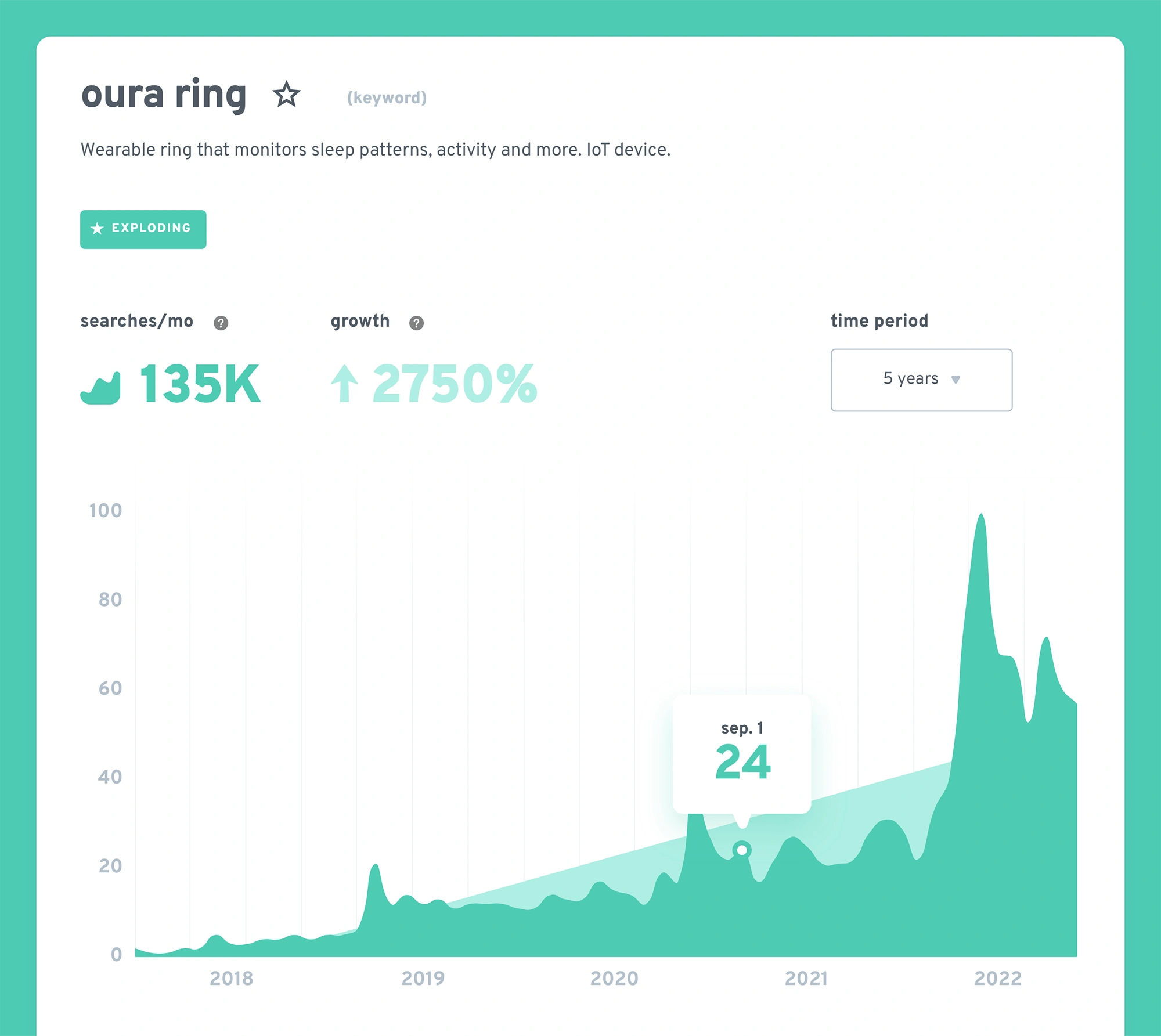 2. Save Trends to the Exploding Topics Dashboard
You can save and track any trend you're interested in via the Exploding Topics private dashboard. Just click the star next to the trend title to save it to your dashboard.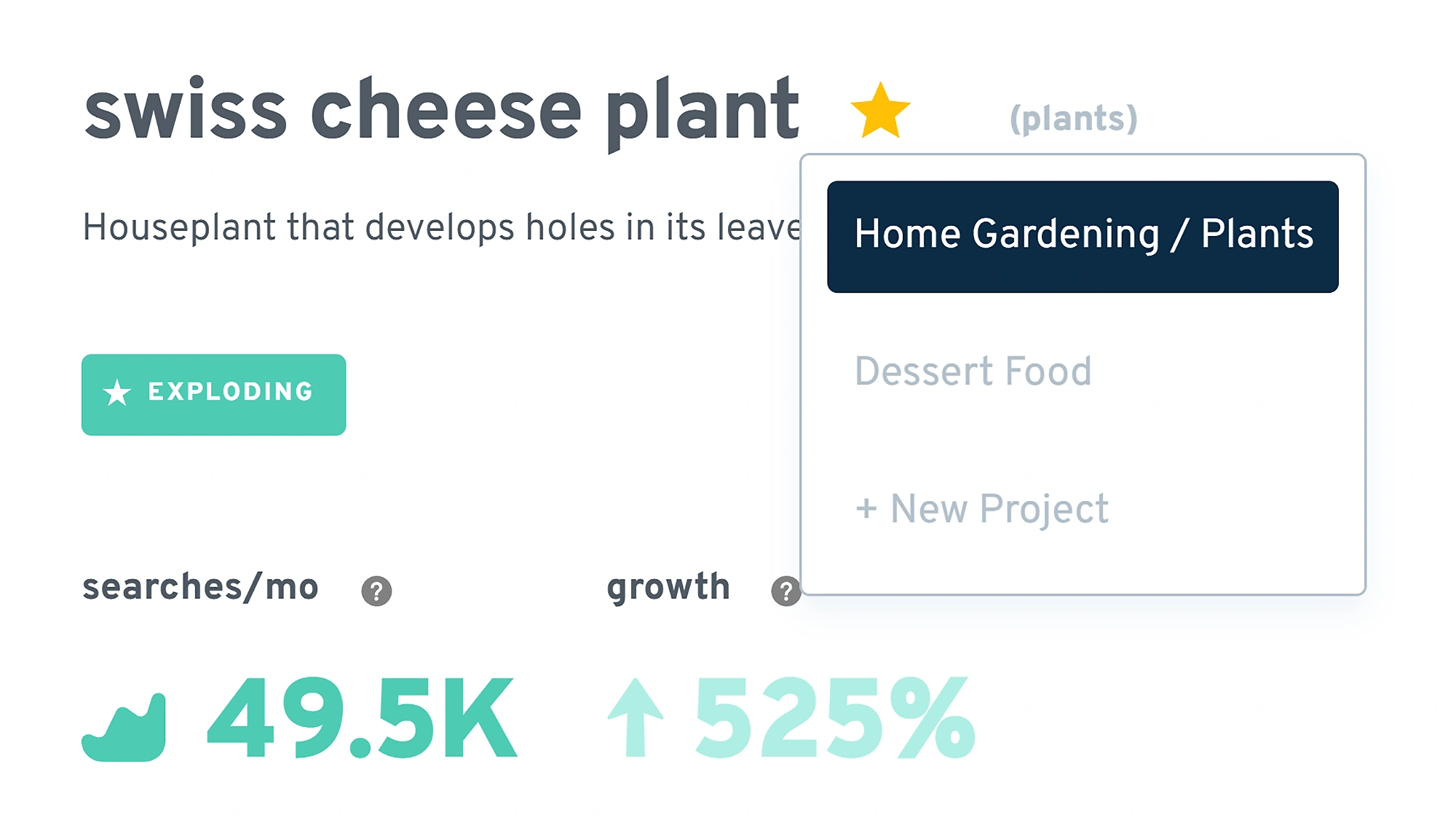 Then, you can group any combination of trends together on your dashboard as 'projects'. Projects let you organize trends on your dashboard according to whatever topics you're interested in.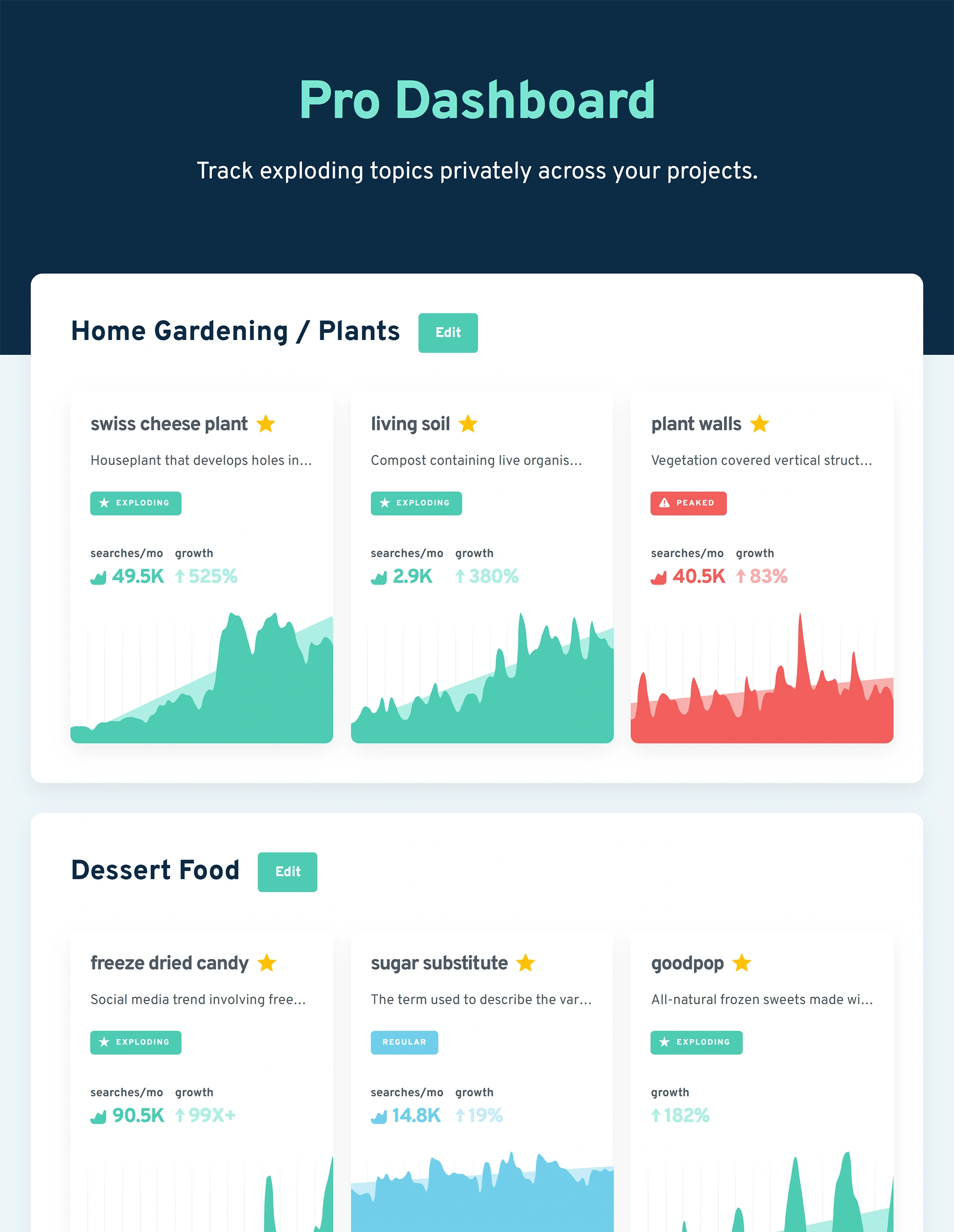 Every trend gets updated daily so you can easily track tons of trends and their data from your dashboard. Or, you can set up email notifications to alert you of any major trend updates.
Note: We provide an API so you can sync trend data from our platform with any analytics tools or document templates that you're already using. Our API lets you view trend data in any format or report that fits into your workflow.
3. Analyze Historical Trend Data
Within the trend overview, we provide a description of the trend and display quick data like the number of monthly searches and average growth rate at the top of the screen.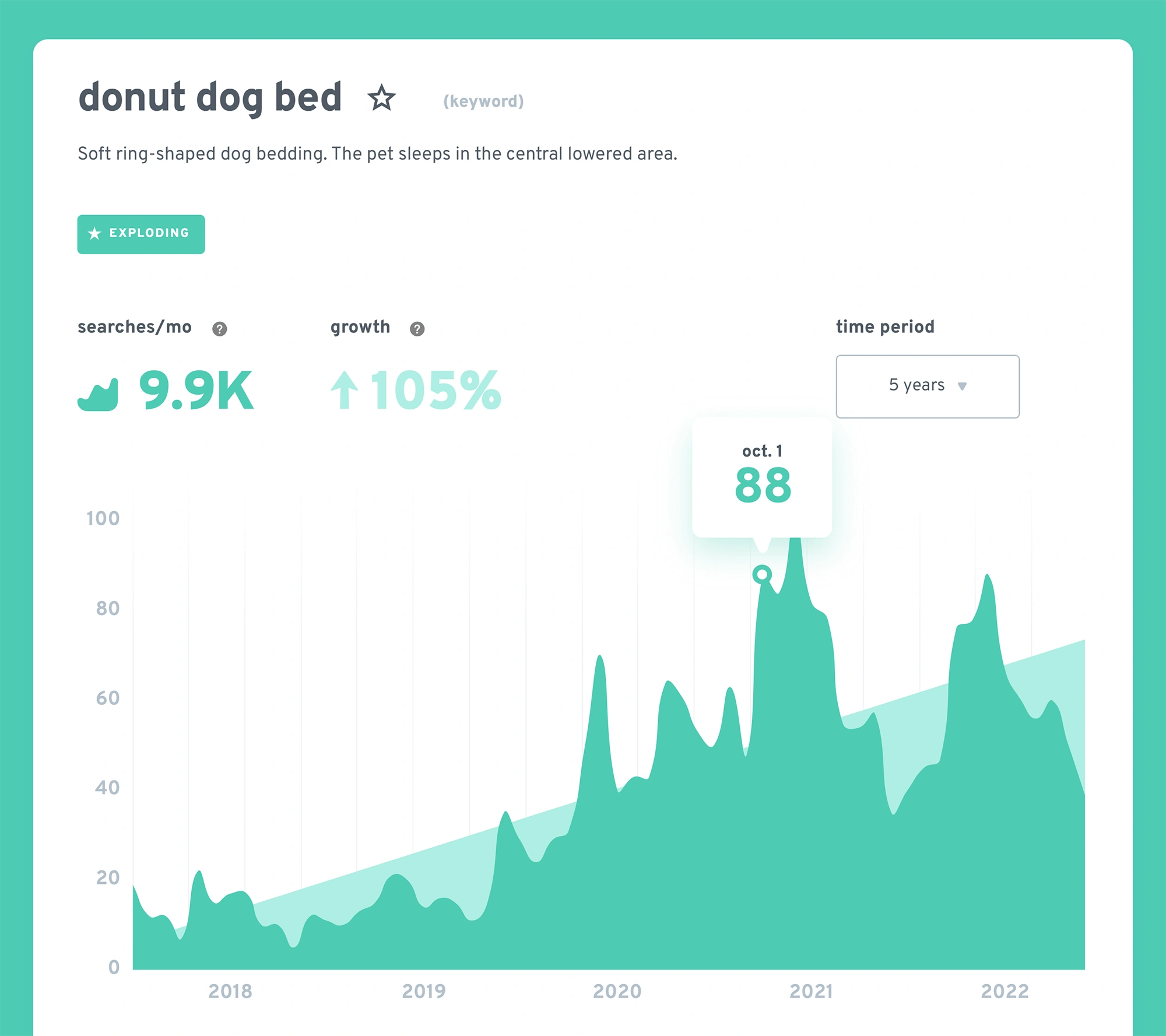 Below the description of the trend, you'll see the current popularity status of the trend:
Regular, which means that the trend hasn't taken off yet and few people are aware of it.
Exploding, which means the general public is starting to become aware of the trend.
Peaked, which means the public is well aware of the trend and it's beyond the early stage.
Trend reporting platforms like Google Trends only give you searches (or mentions) per month from a specific search engine or platform (e.g., Google or Reddit). Some will let you specify the geographical region or sub-category, but if you want to see a technical analysis that combines multiple platforms, you'll have to aggregate this data manually.
Exploding Topics trend reports pull from hundreds of websites and combine the data for you; that search information can be seen in the nonlinear area of the graph.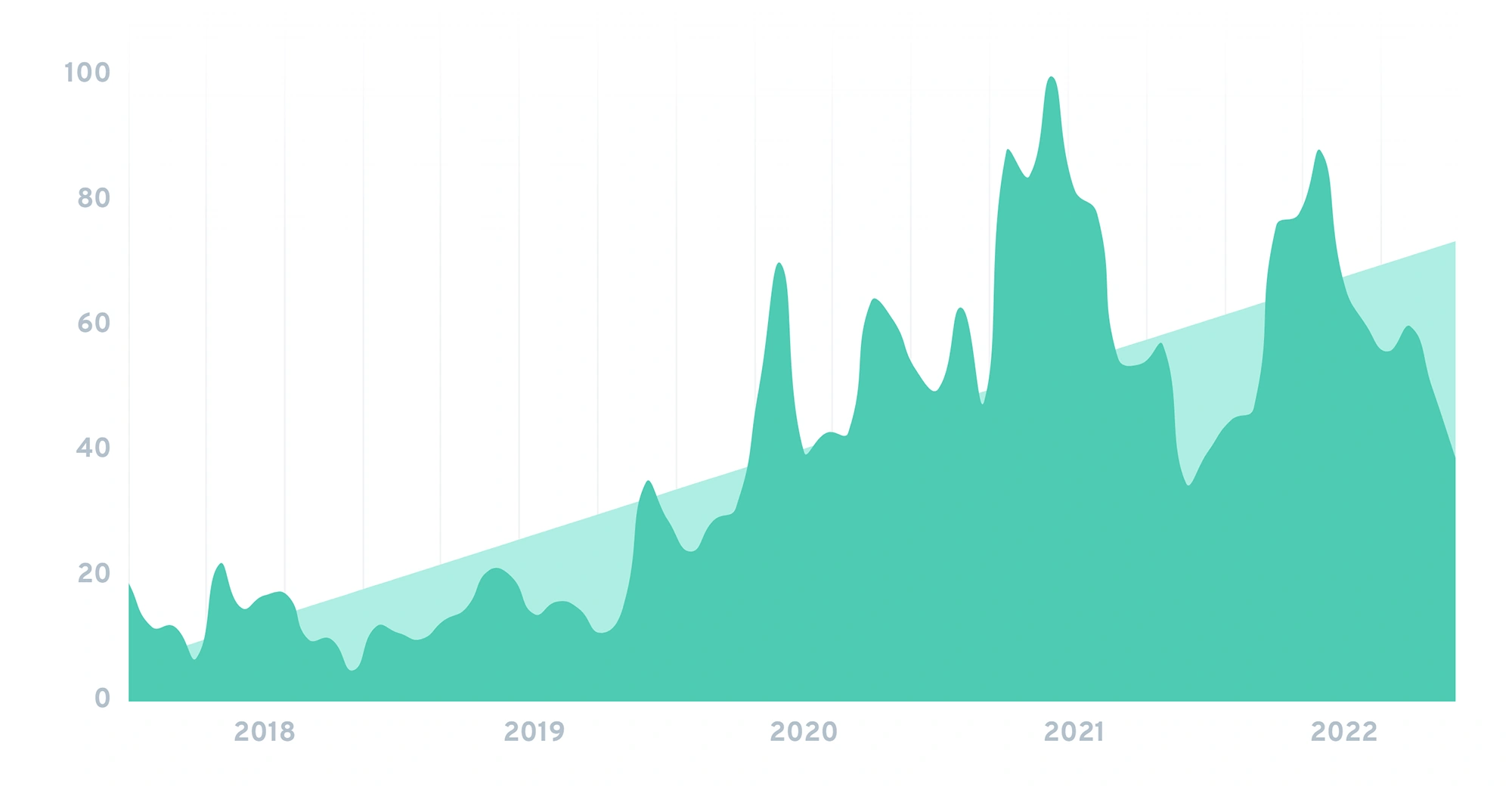 You can analyze this graph to view searches by year, month, or day. Then, the slope behind the curved line shows the general direction of the trend (e.g., downtrend or uptrend) during a specific time period.
You can adjust this timeline to view searches and trend direction over shorter or longer time frames, such as over the most recent month(s) or over multiple years. As we mentioned earlier, we store up to 15 years of trend data so you can get a broader look at trend performance.
Scrolling past the graph, you'll see related categories and trends.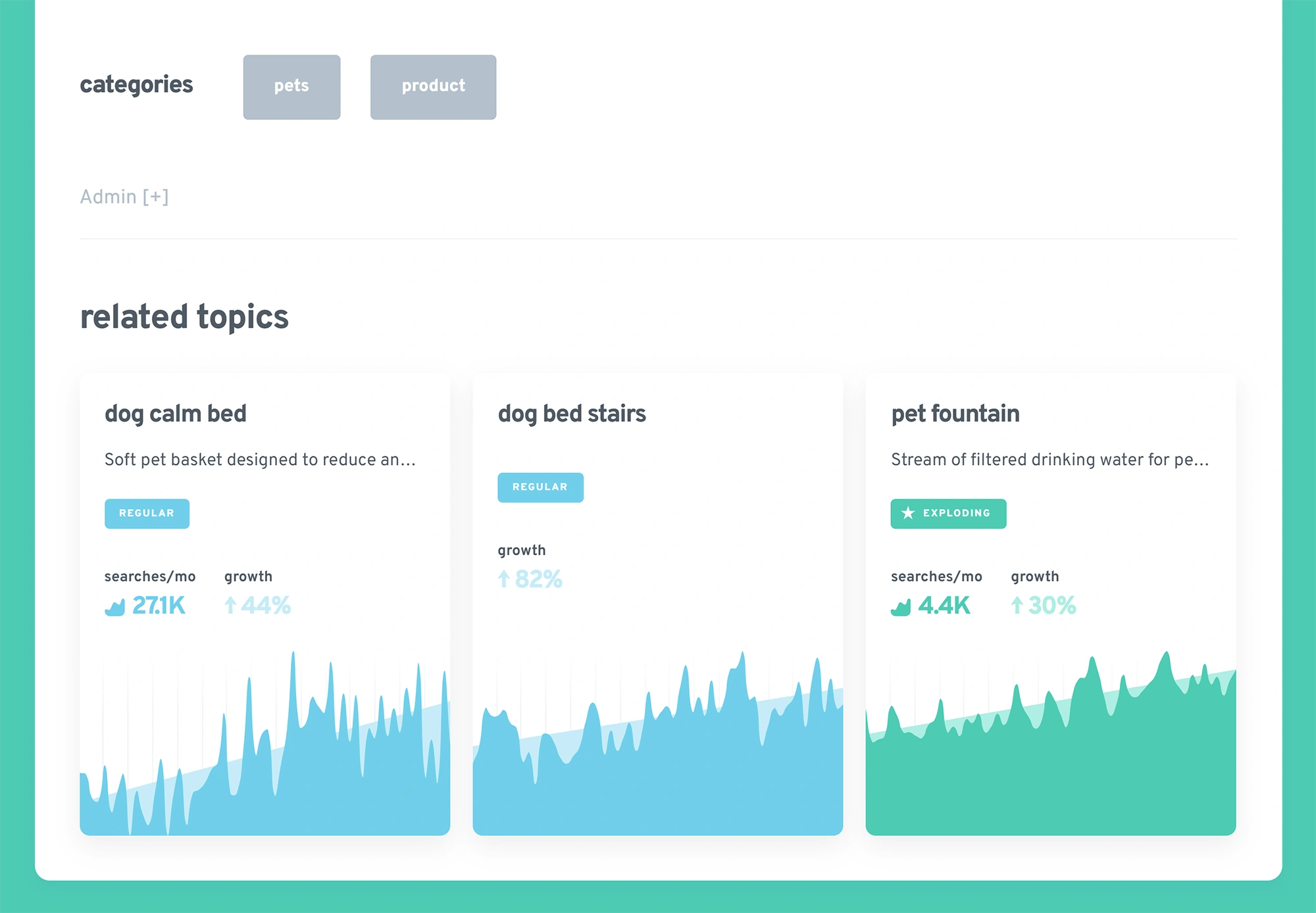 All of this gives you a detailed trend analysis so you can make informed business decisions.
Other Features to Identify Market Trends in Exploding Topics
In addition to our database, we offer:
Weekly trend newsletters and a reports library with info on the latest trends.
Meta trends library to help you see the bigger picture across industry trends.
Trend search + track feature so you can research and monitor specific trends you're already familiar with.
Exploding Topics Weekly Trend Newsletter
The Exploding Topics weekly trend reports review 10 of the newest trends, and they cover a mix of trending products and new businesses spanning all industries.
We provide important background on each trend, such as what the product (or software, technology, service, company, etc.) was designed to do, and discuss pre-trend indicators. For example, information on a new technology trend might cover the main capabilities of the technology, examples of how it's helped real customers, and the size of their current customer base.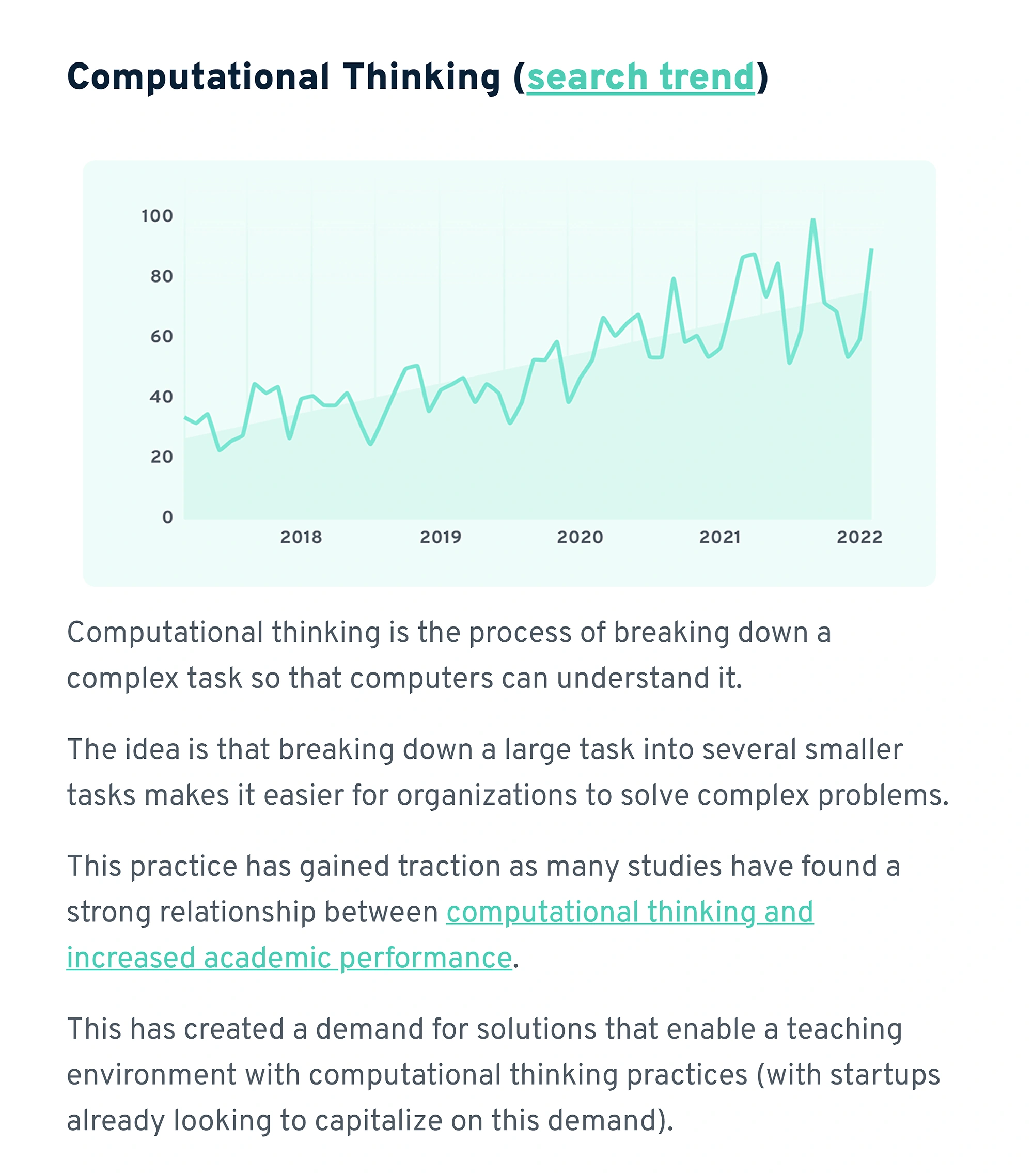 We also provide a reports library for our Pro subscribers so you can access past trend reports and easily find all reports in one place.
Meta Trends & Detailed Trend Information
Our meta trend library is another way to identify market trends. Meta trends show you how various trends relate to each other and form bigger, overarching trends across industries.
For each meta trend in our library, you'll be given a background and analysis that provides a detailed overview of the meta trend and potential opportunities. Then, you'll see a list of the topics that make up the meta trend with other related topics.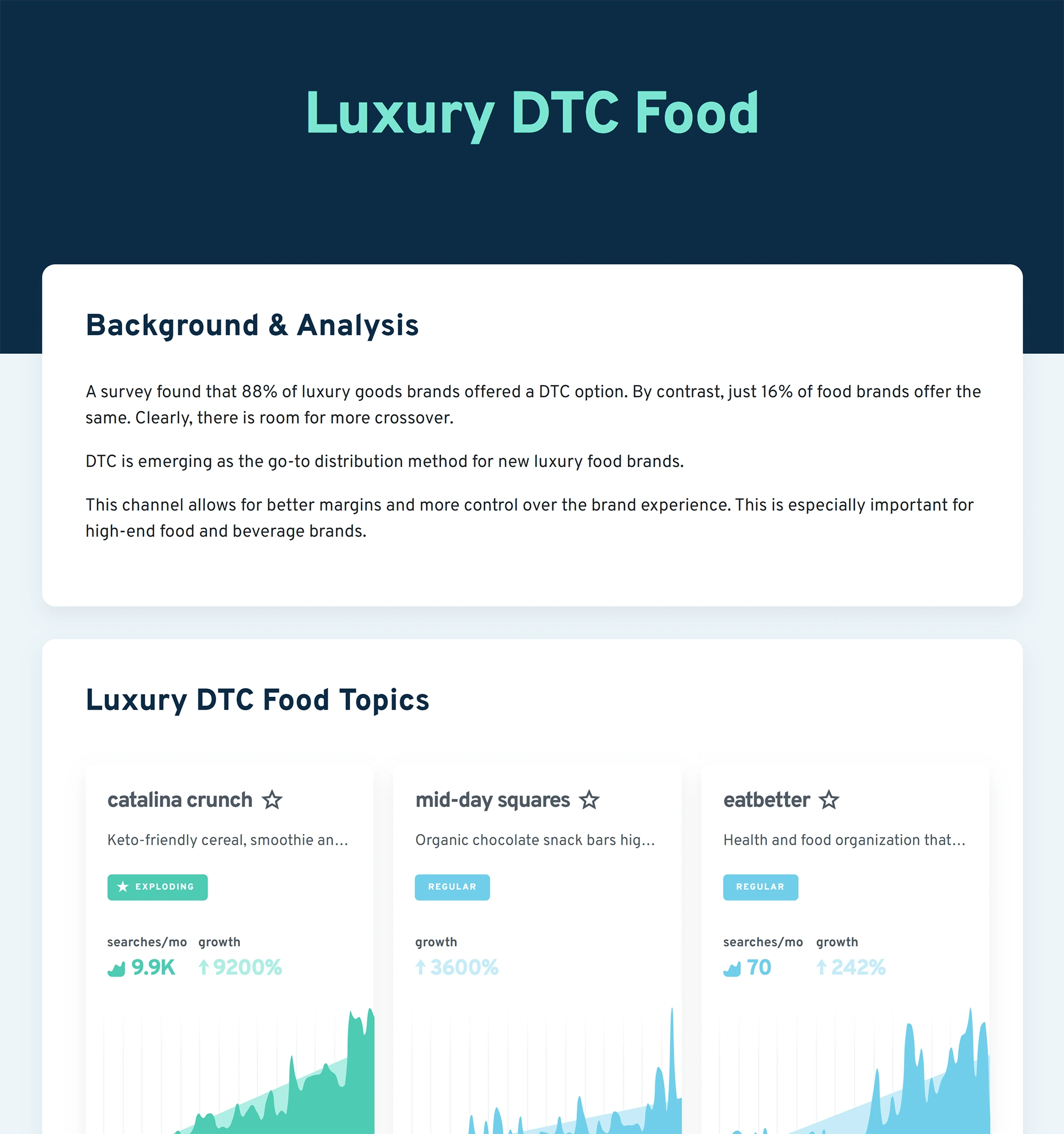 Search + Track Feature
You can also research trends and topics you already know about with our search feature. Just look up any product name, technology, business, or idea you're interested in and we'll show you all the relevant results. You can choose to search for results in a specific country or search worldwide trends.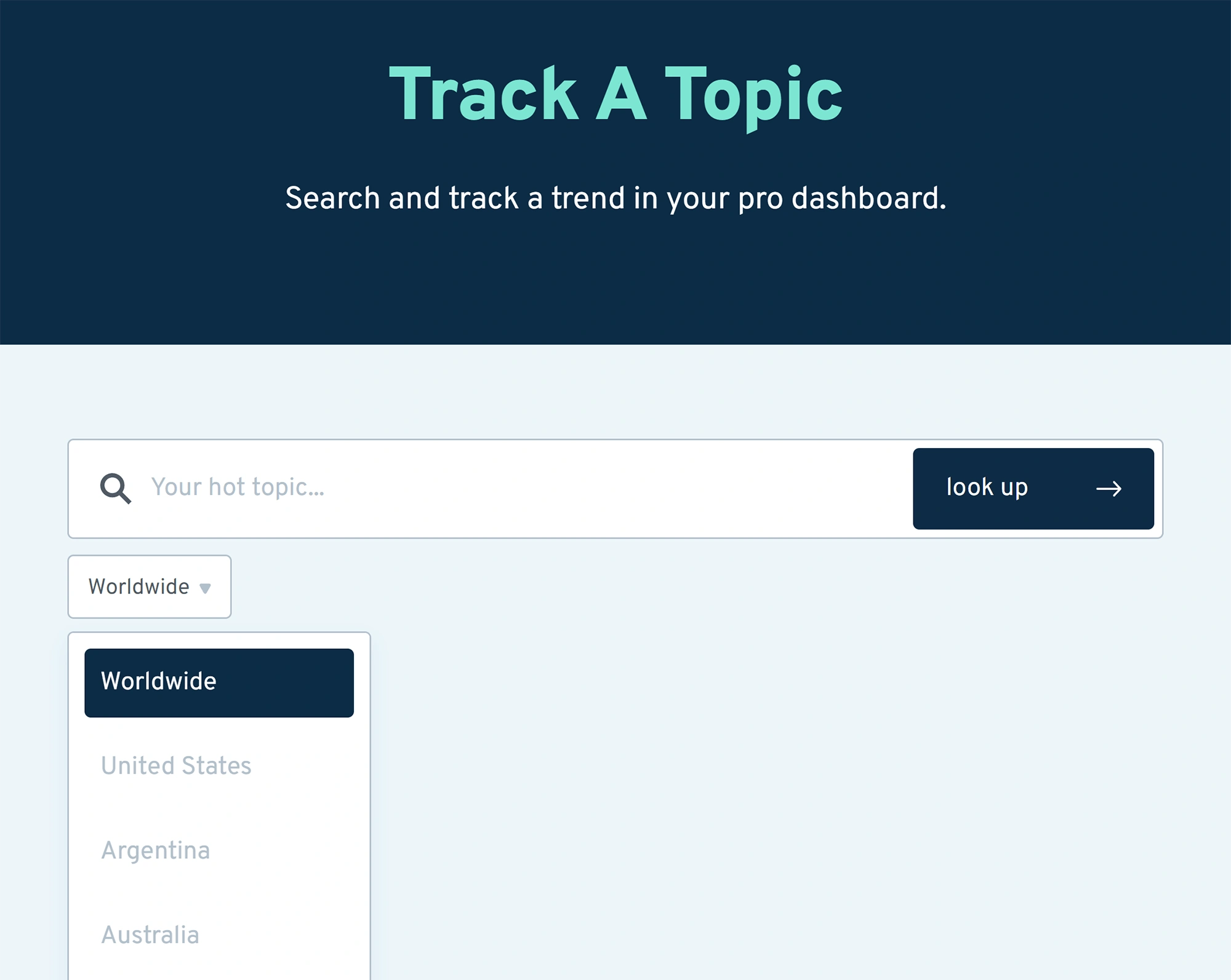 Identify Market Trends Early On with Exploding Topics
Identifying new industry trends with Exploding Topics is super easy: Just log into our database and choose the category of trends that you want to explore — we'll automatically show you everything that's relevant. Our software compiles important trend data for you so you can click to see important metrics, analyze data across different views, and track trends in one private dashboard.
Start an Exploding Topics Pro trial for $1 to unlock full access to our trend discovery and tracking platform.