Industries to Invest In For 2023 (New Data)
Finding the best industries to invest in can be tricky:you want to invest in a market that still has plenty of room to grow yet isn't so new that it might be a fad that collapses.
So to help you out, we put together a list of industries that have shown significant growth over the past several years and have promising signs for the future. Specifically, here are a few things that we looked at when evaluating these industries:
Compounding annual growth rate history/forecasts
Recent venture capital investments in the space
Search volume trends for keywords related to the industry
While this list isn't designed to predict the future, the data should give you some ideas of industries you can research further and potentially incorporate into your investment strategy.
EdTech
The need for more efficient technologies skyrocketed when the pandemic forced educational institutions to transition to 100% remote learning.
Even as live educational opportunities return, remote and hybrid learning is still a popular choice among students. This has caused demand for hardware and software that supports remote learning to steadily trend upward, even as the pandemic winds down.
Here's a snapshot of the Google Search volume trend for the keyword "edtech."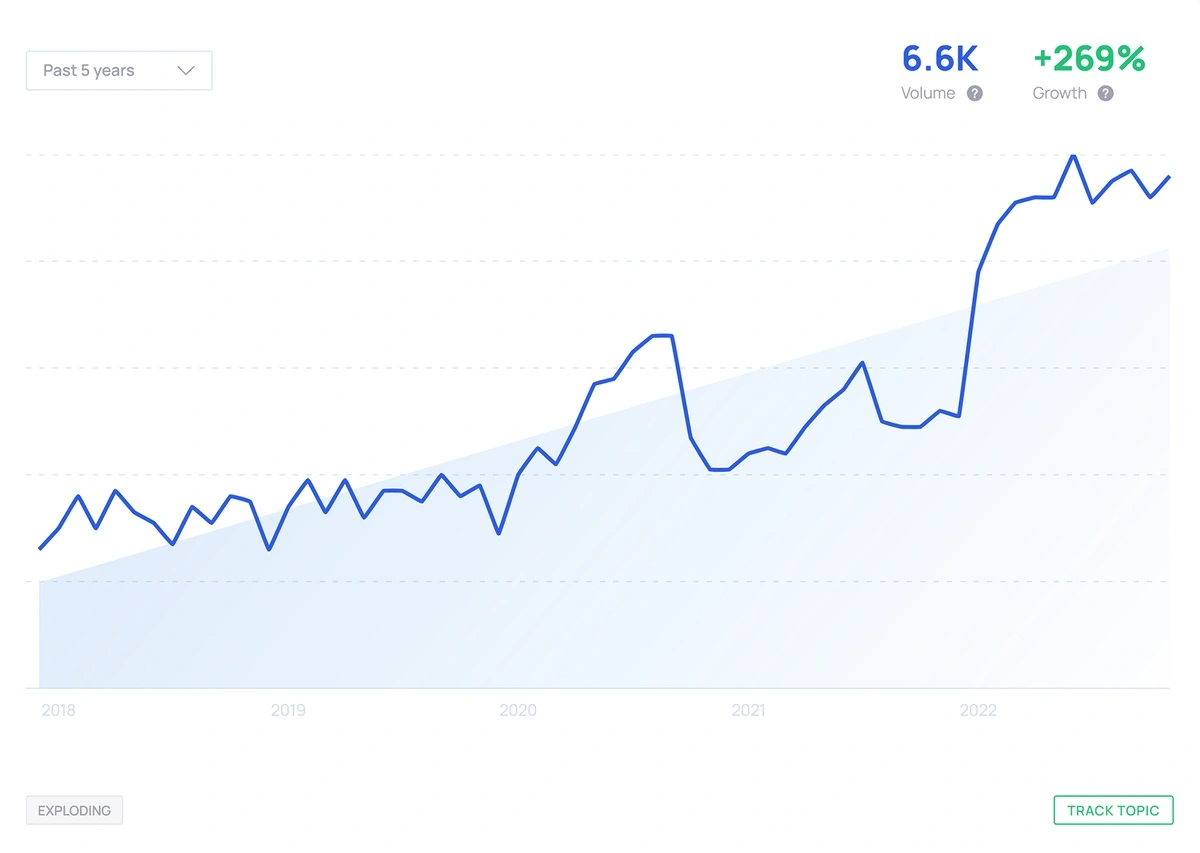 In 2021, the global edtech market was valued at $106.46 billion in 2021, and forecasts expect it to continue to grow at a compound annual growth rate of 16.5% from 2022 to 2030.
Investors also continue to pour money into the edtech space, with VC-backed edtech startups raising about $14.6 billion in 2020 and over $20 billion in 2022.
However, it isn't just traditional educational institutions leveraging edtech.
With the rise of new technologies that make it easy for anyone to create and sell a course, plenty of coaches and industry leaders now have their own paid e-learning programs.
The search volume for popular course platforms like Teachable, Kajabi, and Thinkific accurately reflects the popularity of online courses:
Trending Topics to Explore
Percipio: This is Skillsoft's app so that users can access courses, resources, and other materials from a mobile device.
Cambly: An English languaging learning platform that allows users to connect with live tutors.
Thinkific: An online course platform that allows experts to create, manage, and sell their online course.
Want to see more of these trending companies and keywords? You can see a whole list of vetted edtech trends here.
Pet Care
Pets aren't necessarily a new industry, though consumer spending has skyrocketed over the past several years, making it an interesting category for investors. In 2021, consumer expenditures on pets passed $126 billion, nearly double the industry's size in 2017.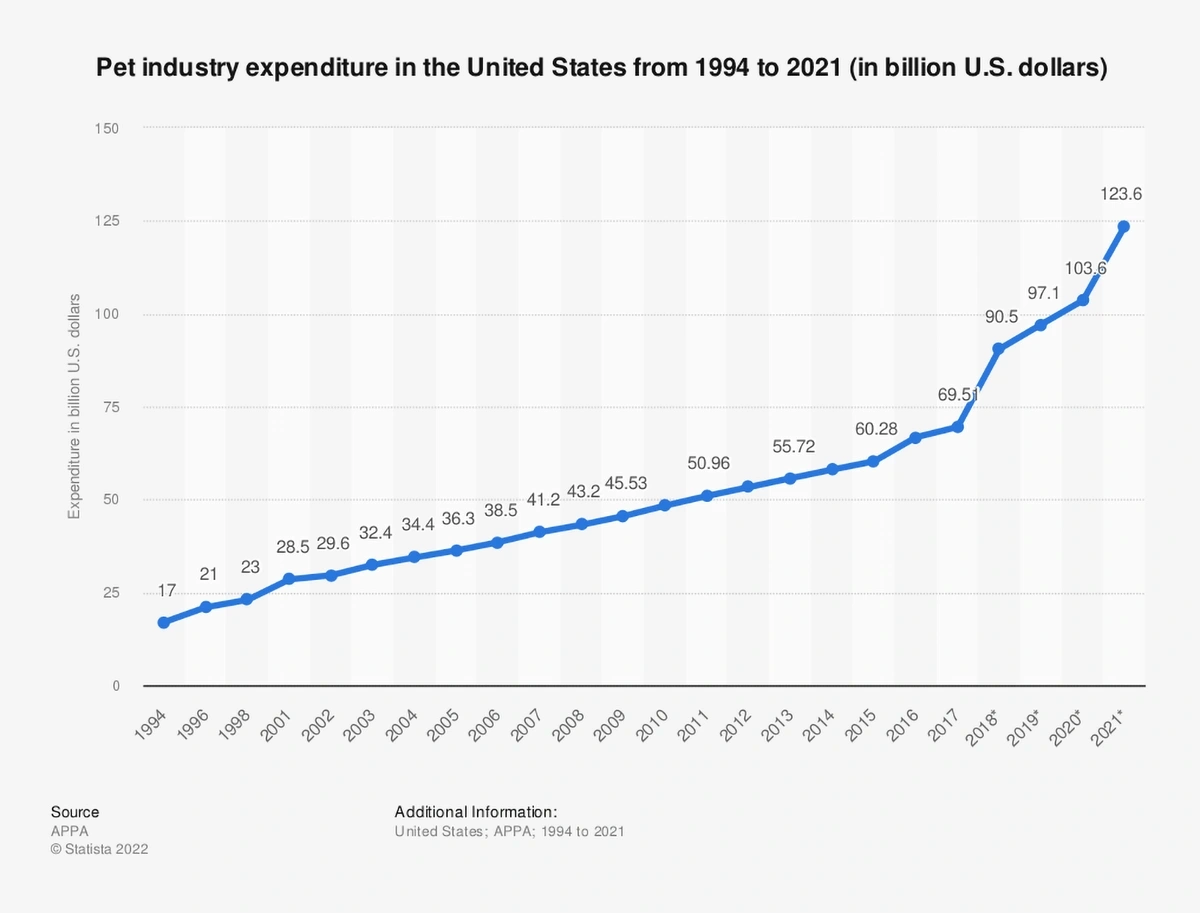 Morgan Stanely also predicts that this trend will continue to rise to $275 billion by 2029.
A few rising niches in the pet industry include pet supplements, insurance, luxury toys, and organic/natural food.
For example, Google Search volume for "pet insurance" is increasing at a rapid rate: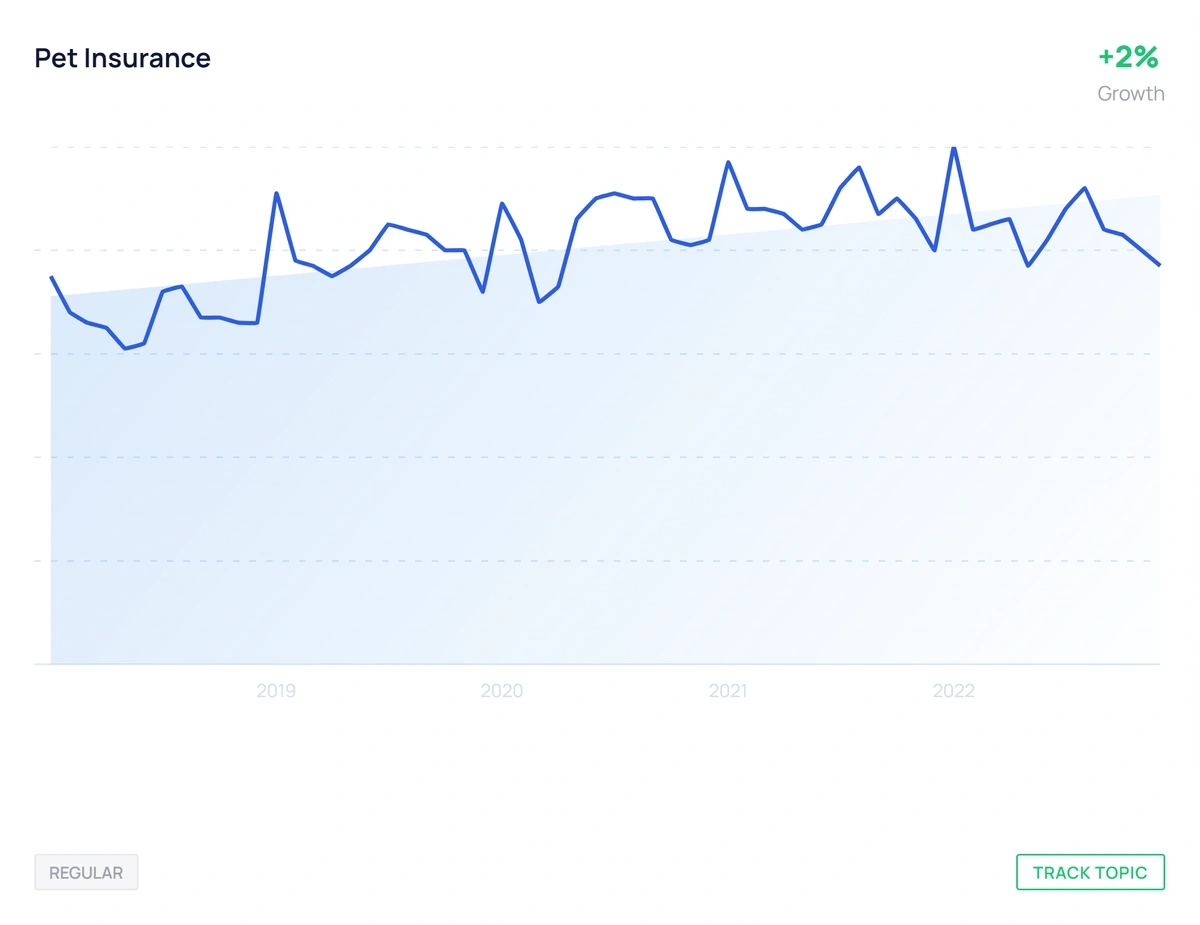 "Dog probiotics" is another keyword that is experiencing explosive growth: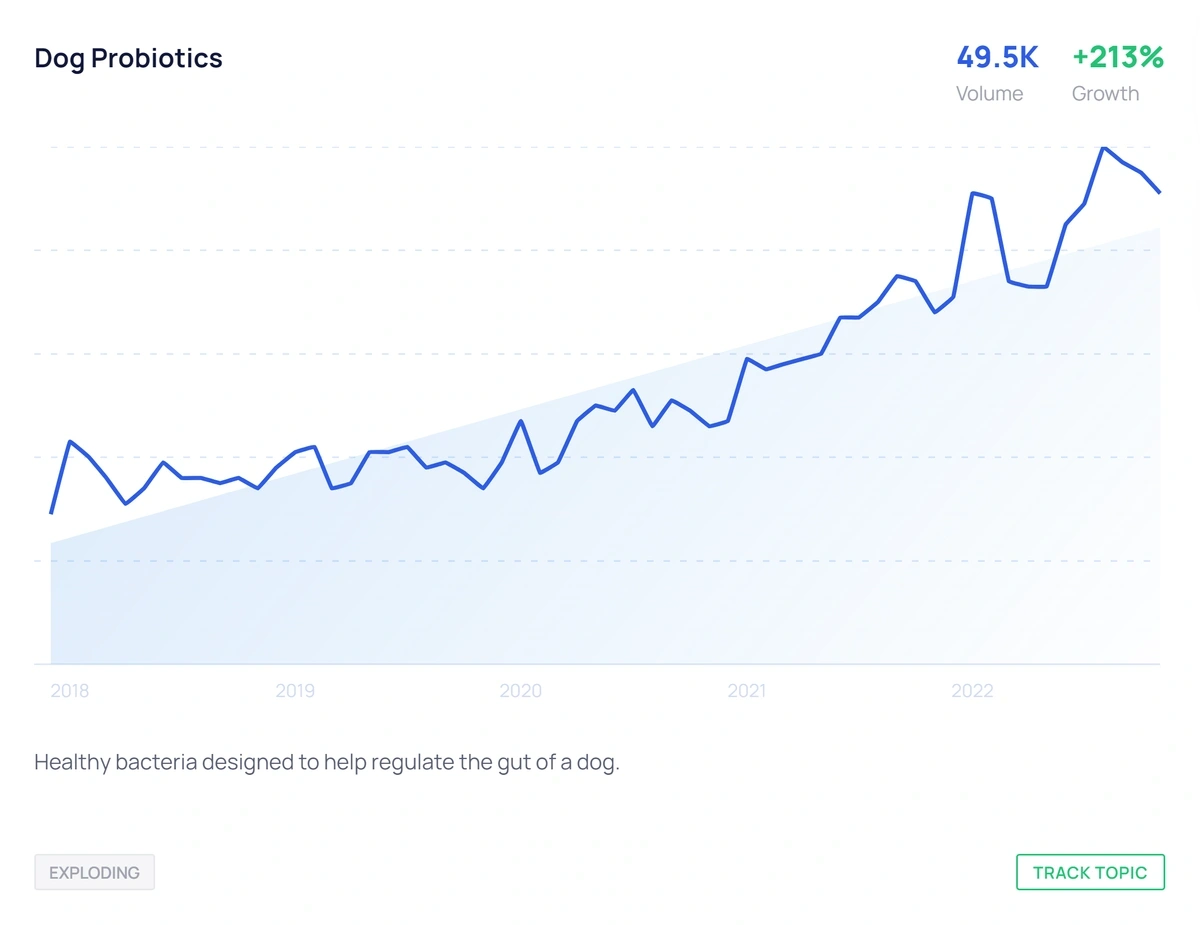 Several companies have already capitalized on these new pet care trends with great success. For example, Zesty Paws sold for $610 million in 2021 and continues to steadily trend upwards: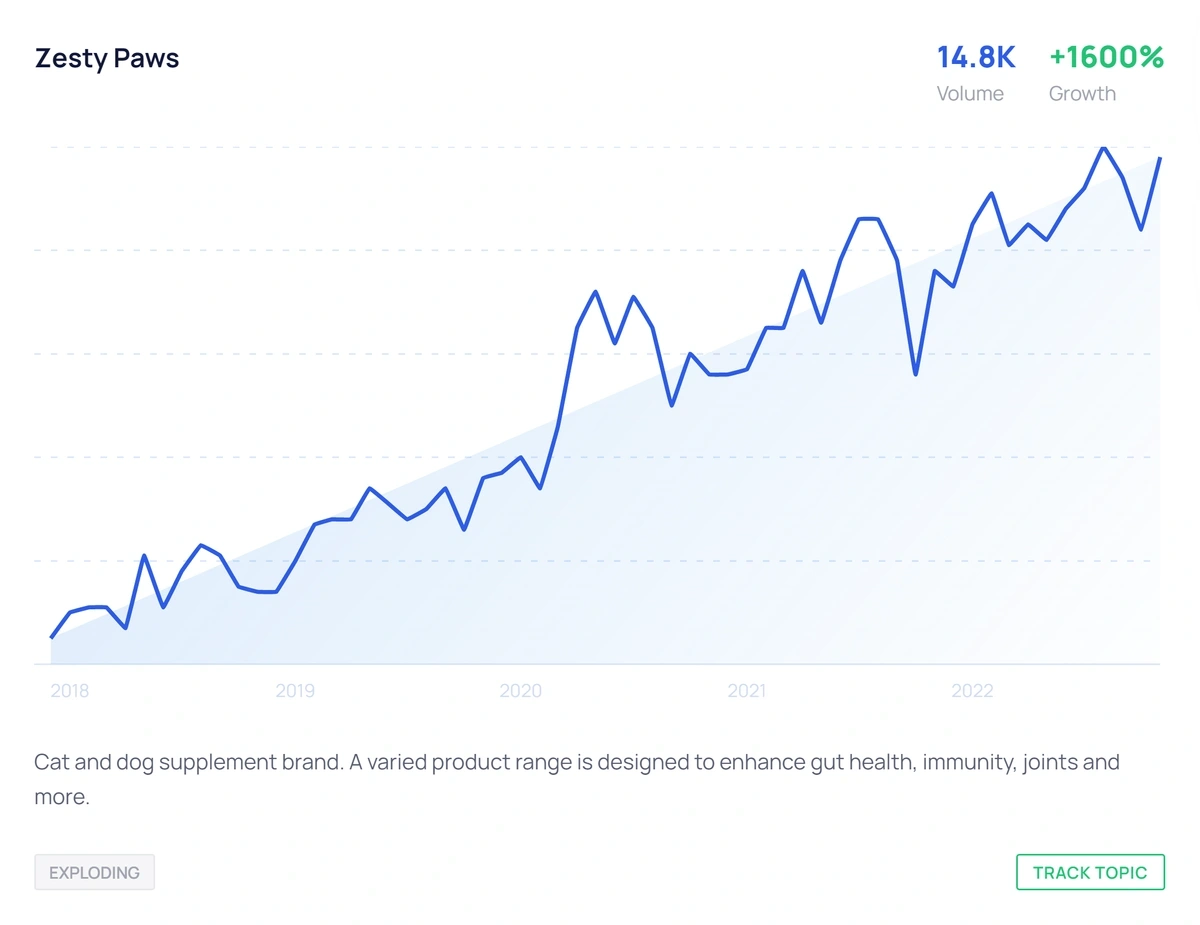 Venture capitalists are also betting on the pet industry, with approximately $1.22 billion poured into pet startups in 2021.
Trending Topics to Explore
Petlibro: Luxury waterers and feeders for cats and dogs.
Wagmo: Pet care platform that offers wellness and insurance plans for pets.
Butternut Box: Dogfood delivery company that specializes in preparing and delivering healthy and fresh dogfood.
If you want to see more trending companies, products, and topics in the pet care industry, you can search our database of manually approved pet trends.
Cybersecurity
Cyberattacks increased by 238% during the pandemic, and as remote work becomes more widely adopted, the cybersecurity market is also expected to rise. In 2022, the total cybersecurity market size was approximately $155.83 billion, and it is expected to rise to $376.32 billion by 2029 (a compounding annual growth rate of 13.4%!).
Google Search volume trends also shows that cybersecurity is a hot topic on a steady upward trend: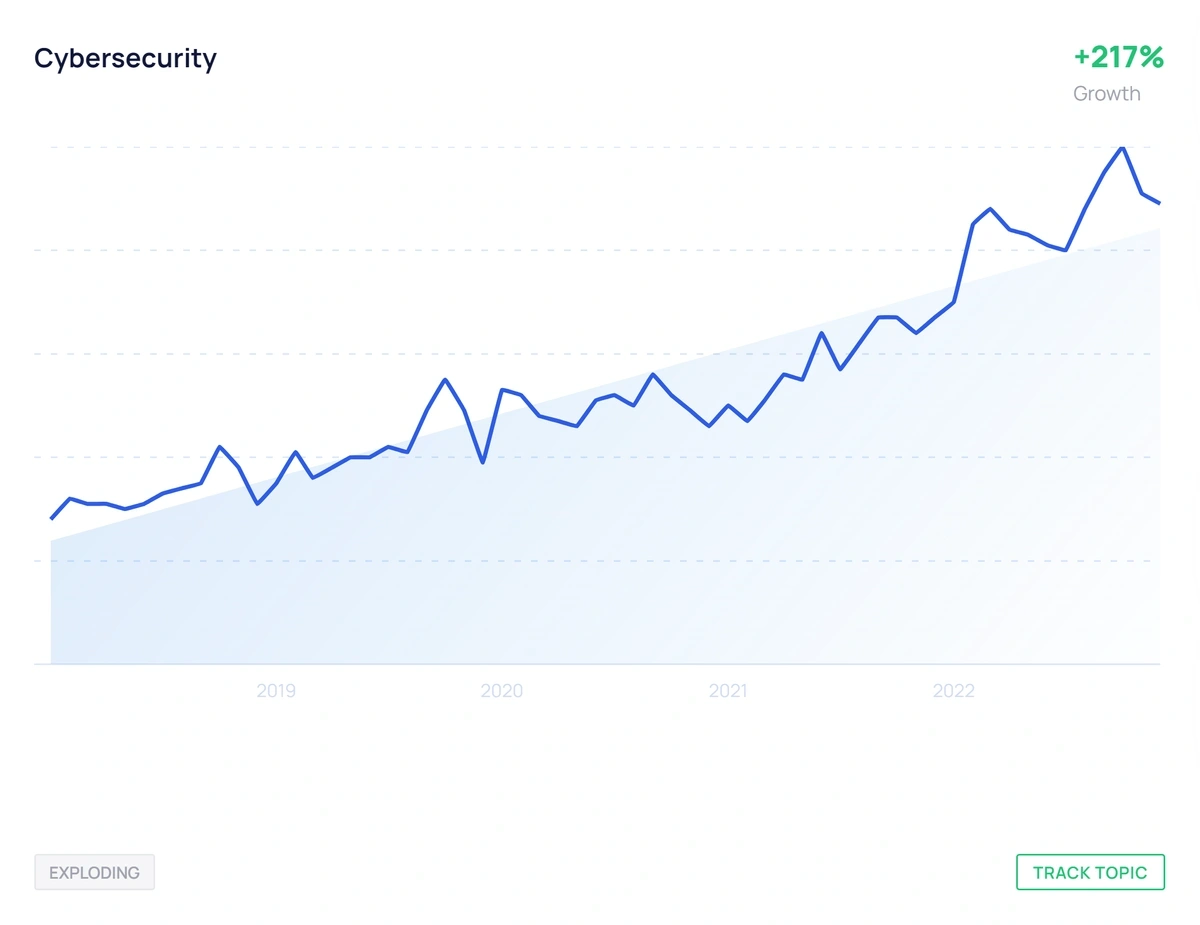 Keywords like "cybersecurity training" and "cybersecurity jobs" have also experienced hockey stick search volume growth, suggesting this is a top pain point for organizations.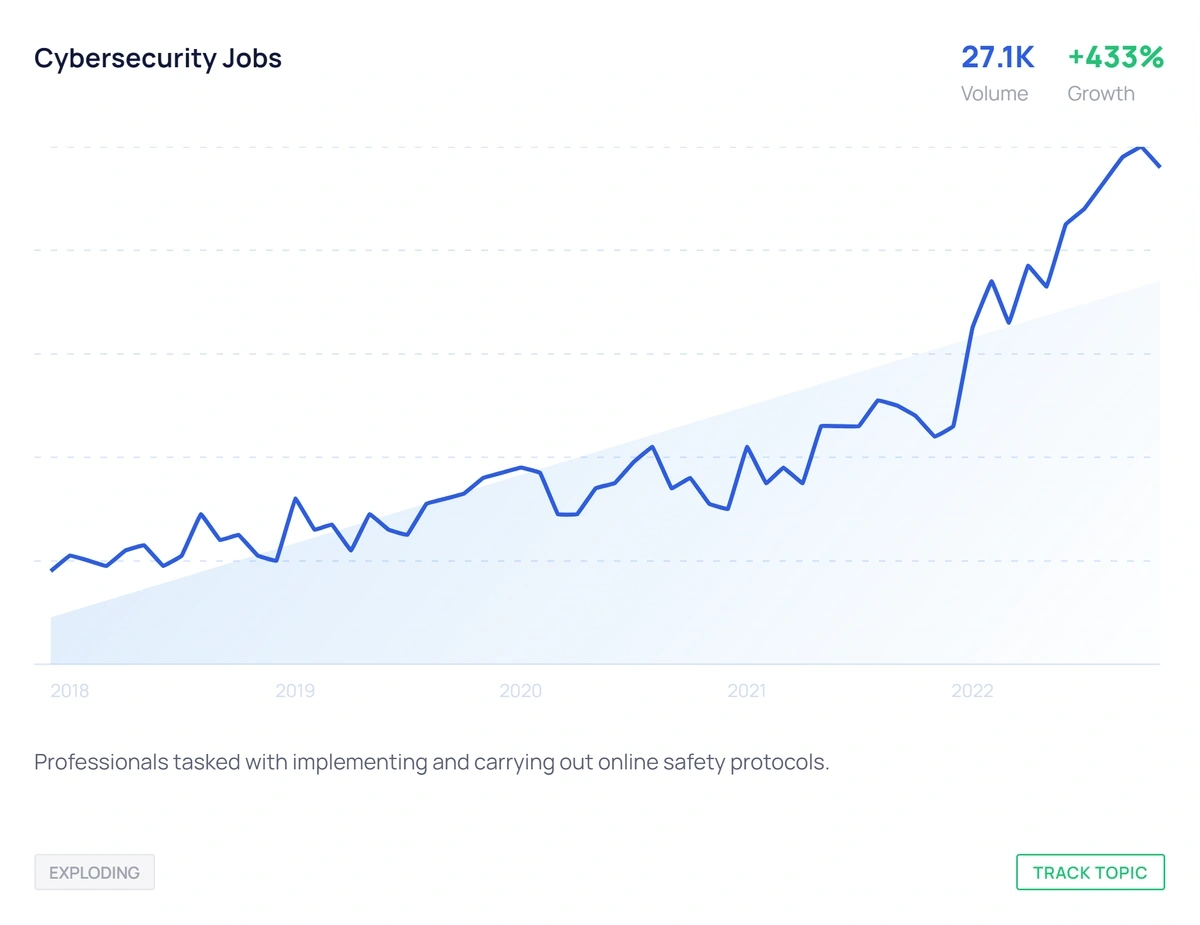 In addition, search volume for cybersecurity attack keywords continue to rise: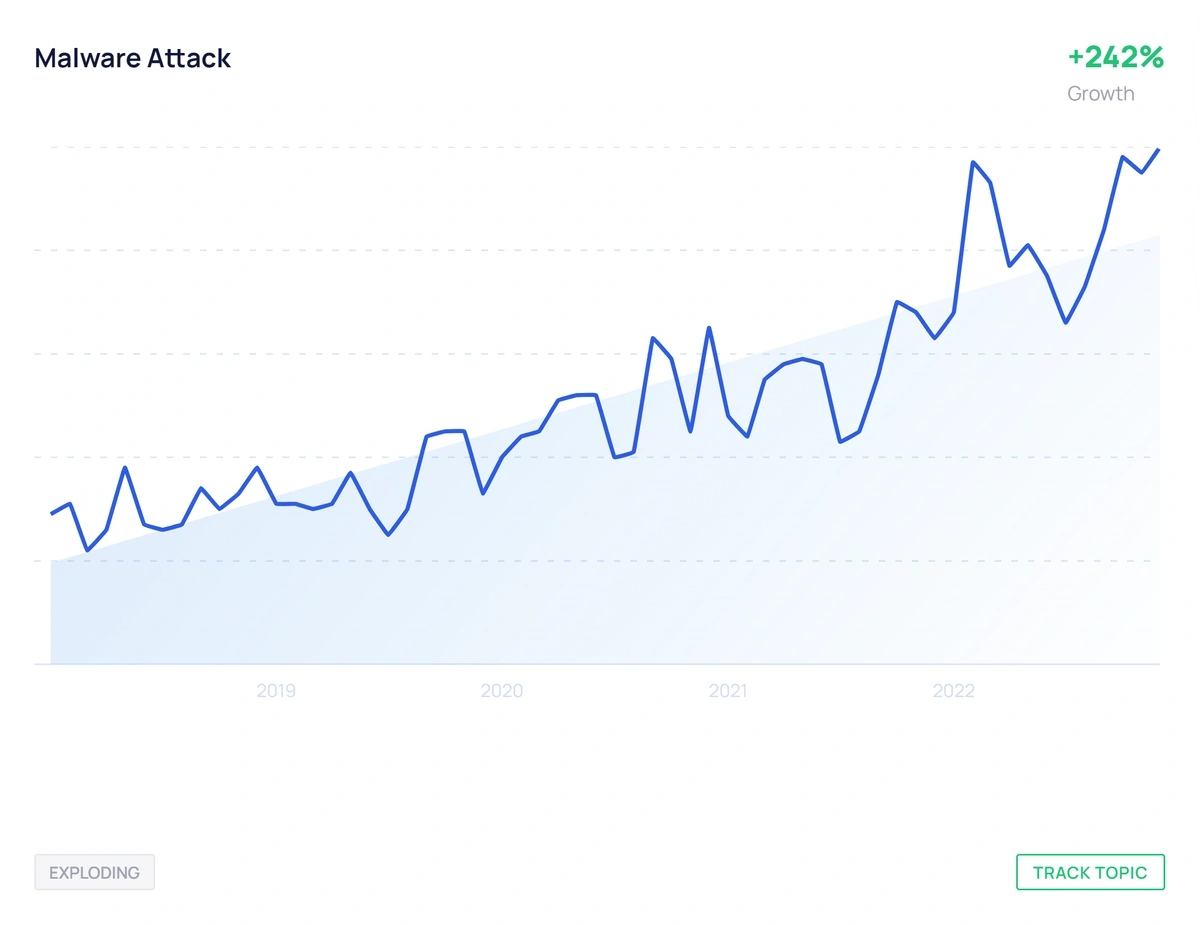 Revenue growth trends from industry giants also suggest that cybersecurity wasn't just a pandemic fad.
In 2020, leading cybersecurity provider Palo Alto Networks recorded total revenue of $3.408 billion. Even as the pandemic wound down, revenue continued to climb rapidly in 2021 to $4.256 billion and soared to $5.502 billion in 2022.
There are also many new exciting new technologies and startups emerging to accommodate the ever-changing cybersecurity landscape. Venture capitalists poured $12 billion into cybersecurity startups in 2020, and that number rose to a record-breaking $29.5 billion in 2021.
Trending Topics to Explore
SentinelOne: Cybersecurity firm based in California that specializes in autonomous AI endpoint security.
Privacera: Cybersecurity software company that claims to be the first SaaS-based data governance and security solution.
Snyk: An open-source security platform designed specifically for developers to reduce vulnerabilities in coding.
You can view more trending cybersecurity topics, companies, and products in our free database! A data analyst manually approved each trend, and you'll be able to see up to 15 years worth of Google search volume history for each topic.
Remote Healthcare
The healthcare industry is always one of the top global markets to target, though the pandemic, coupled with a shortage of healthcare professionals, has driven the demand for remote healthcare technologies through the roof.
Telehealth is one of the obvious tech solutions that took off during the pandemic, and it's currently valued at $83.5 billion. However, what's more interesting are the recent forecasts that predict it will grow at a stunning compounding annual growth rate of 24.0% from 2023 to 2030
Leading providers like Teladoc, Doctor On Demand, and GoodRx are valued at well over $1 billion, and venture capitalists are also all-in on telemedicine.
Digital Health Business & Technology released a report showing that telemedicine raked in $9.5 billion in venture capital dollars in 2021, which is a 111% increase year over year.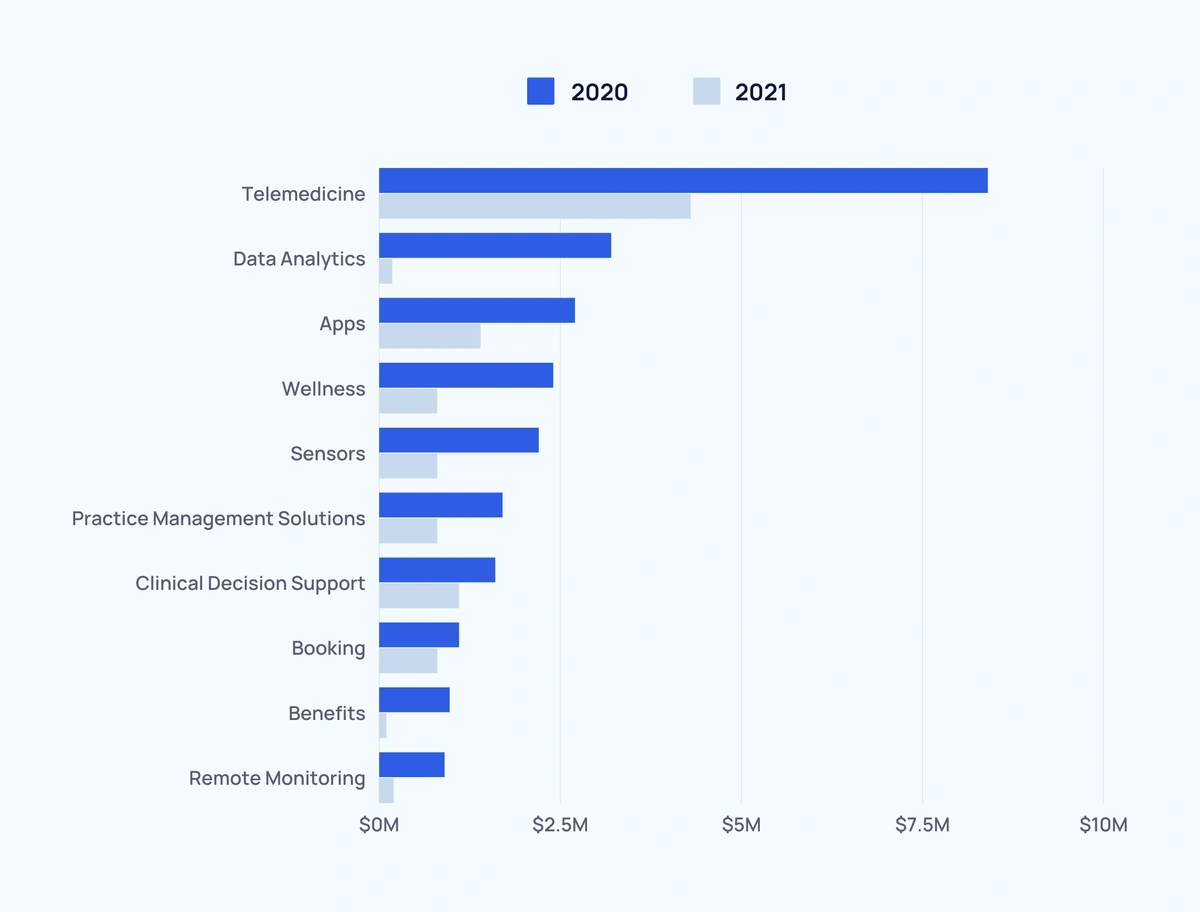 Another niche in remote healthcare that is rapidly rising is remote patient monitoring: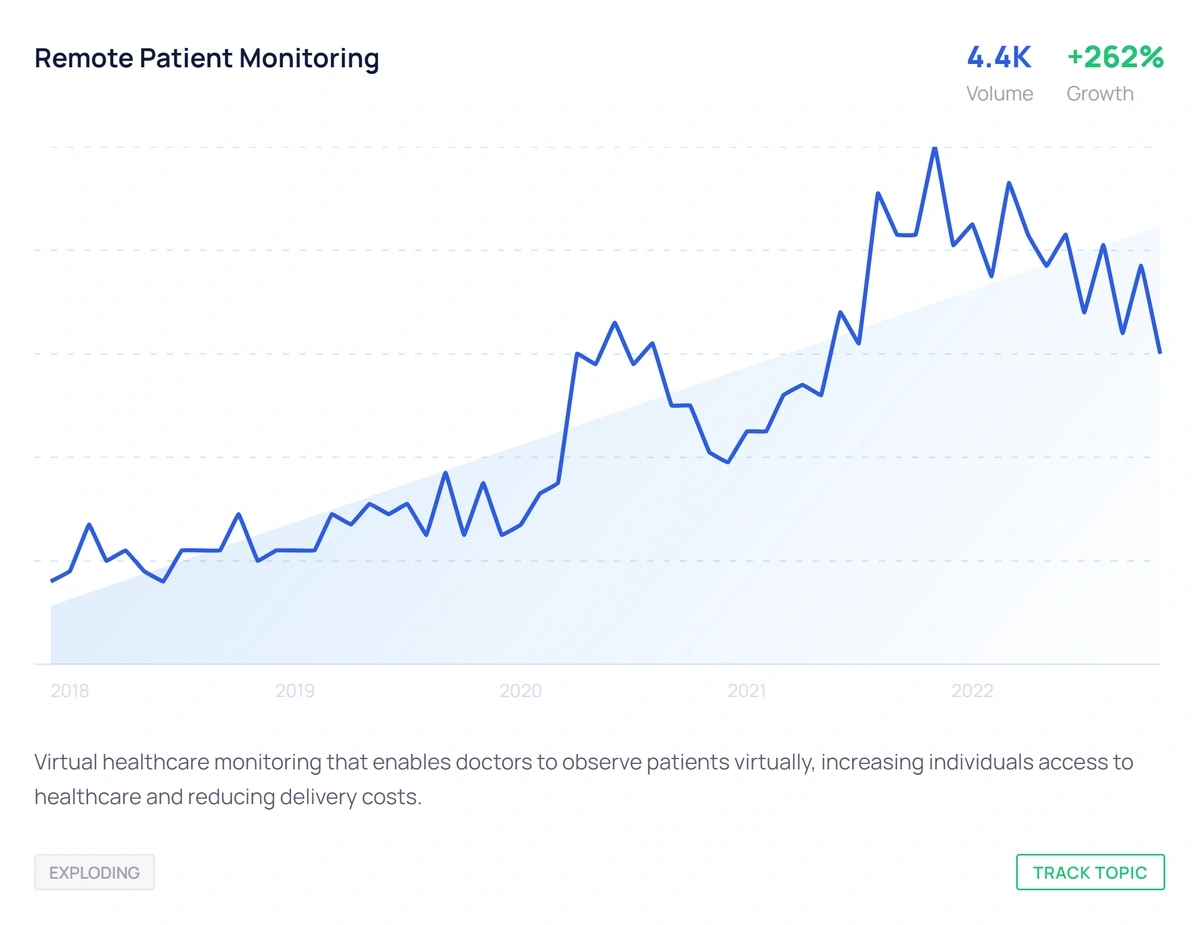 Rather than forcing patients to come in for follow-up visits, remote monitoring solutions allow doctors to rely on tech and artificial intelligence to alert them of any changes in the patient's condition.
Common wearable technologies can measure basics like EKGs, blood pressure, oxygen levels, and glucose, though more advanced solutions for specific use cases can also measure other patient conditions.
Using wearables to replace doctor visits is convenient for patients, and it's a great solution for doctors strained by healthcare staffing shortages as they can eliminate follow-up appointments.
Trending Topics to Explore
PharmEasy: An Indian-based e-pharmacy that also offers telehealth and diagnostics online.
BetterHelp: A popular online therapy platform owned by telehealth giant Teladoc.
Hinge Health: An online clinic that treats back and joint pain through telemedicine and wearable devices.
To see other trending remote health companies and topics, you can check out our free database of vetted healthcare trends!
Dropshipping
As starting an ecommerce store becomes easier and easier, the ecosystem around dropshipping has turned into one of the fastest-growing industries.
You can see from the Google search volume data below that the pandemic spurred many people looking for additional income to turn to dropshipping.
Even as the pandemic fades, interest in dropshipping continued to rise throughout 2021 and 2022.
As you can see from the graph below, interest in the term "dropshipping" increased at an even faster growth rate in 2022 than in 2020.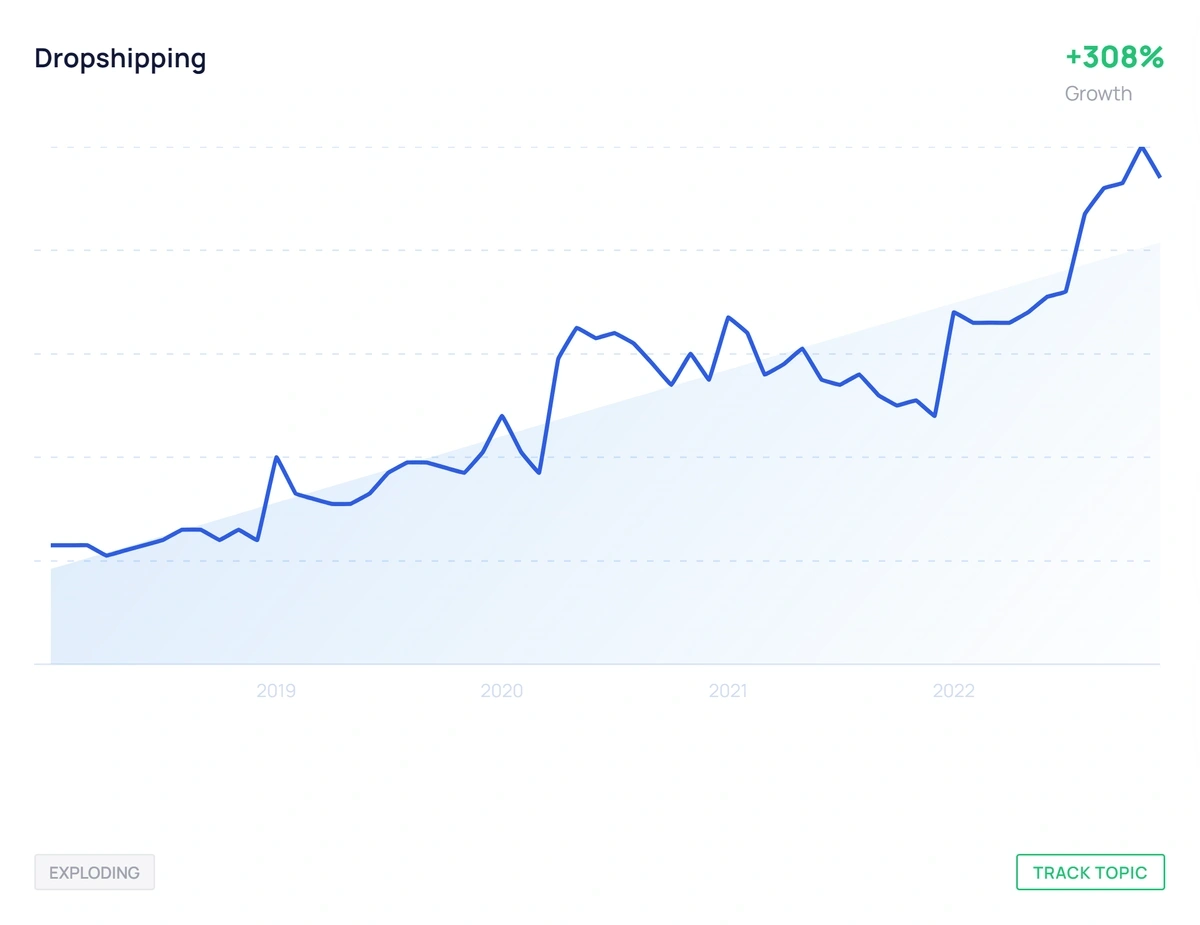 In 2021, the global dropshipping market reached $155.6 billion, and forecasts predict it will continue at a compounding annual growth rate of 27.1% to reach $1.670.1 billion by 2031.
As dropshipping often attracts newer entrepreneurs who don't have advanced technical expertise, the demand for low-code and beginner-friendly tech solutions has led to a new emerging market.
Shopify is an excellent example of a company that took off like a rocketship thanks to this influx of demand: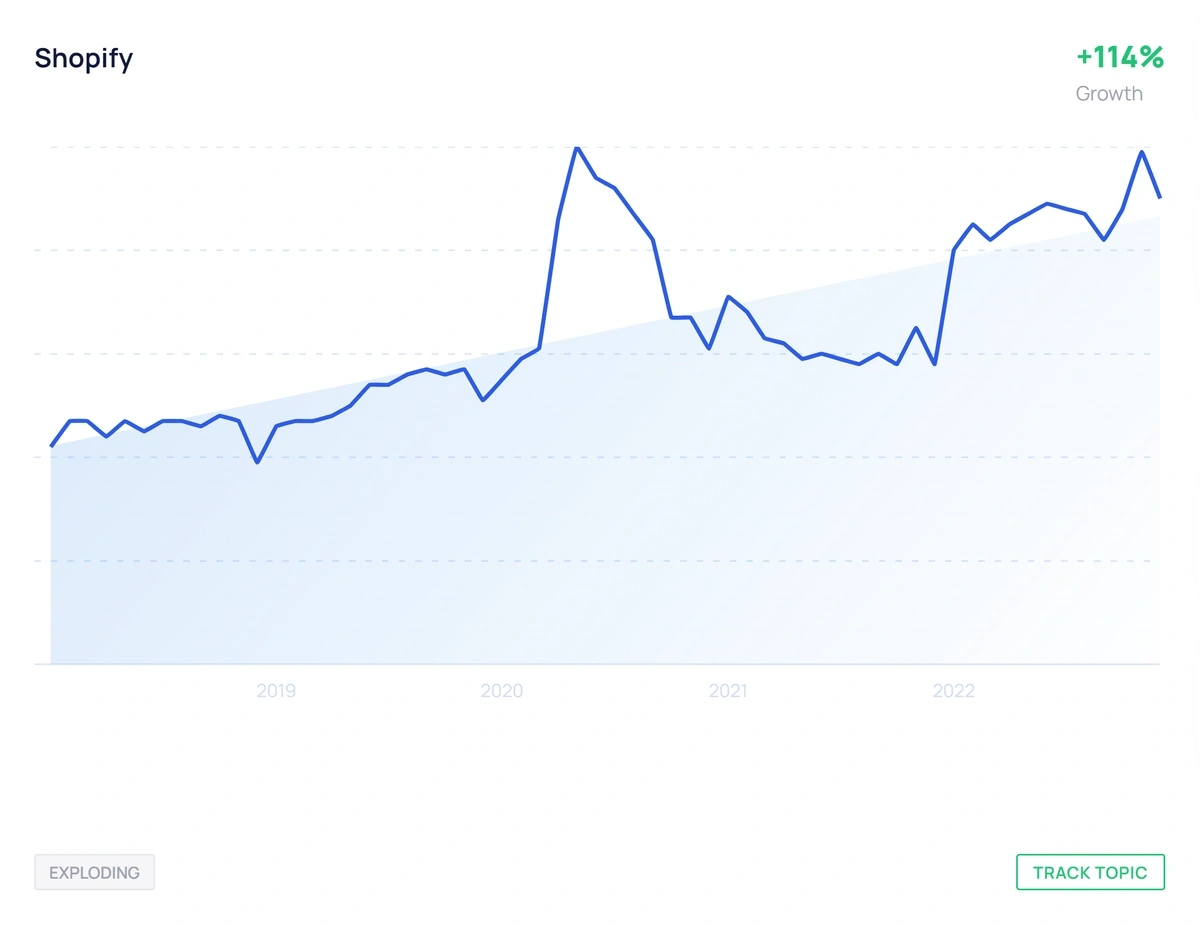 In addition, Chinese dropship supplier AliExpress was worth $3.63 billion in 2021 and continues to grow.
There are also plenty of other new all-in-one dropshipping platforms popping up to make it even easier for dropshippers to get started. For example, JungleScout is an all-in-one platform for Amazon sellers and raised $110 million in growth capital in 2021.
In addition to dropshipping-specific platforms, many other ecomtech companies have benefited from the recent dropshipping boom.
For example, ecommerce support startup Gorgias recently closed a $30 million series C round at a valuation of $710 million. It's also showing a promising Google search volume trend: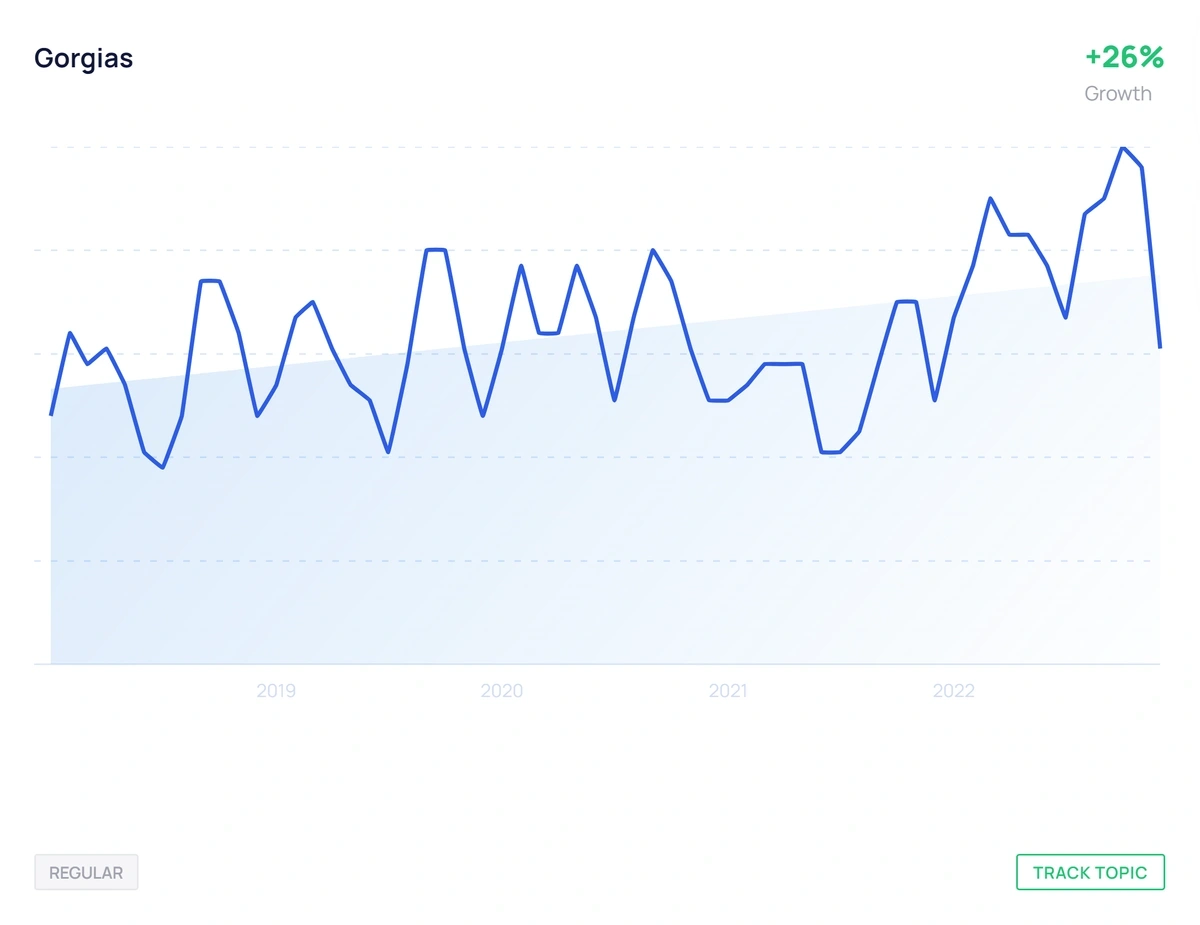 Trending Topics to Explore
Sezzle: "Buy now, pay later" payment app that allows ecommerce customers to pay for products in four interest-free payments over six weeks!.
Budbee: A sustainable delivery service that brings ecommerce products to customers' doors or a Budbee box near them.
Huboo: An ecommerce delivery platform leveraging both humans and technology based in Bristol.
If you want to see other companies and keywords trending in the ecomtech and dropshipping industry, you can check out our free database of vetted ecommerce trends.
Blockchain Technology
Blockchain isn't a new idea, and it's a familiar term in the cryptocurrency space. However, more and more use cases for the technology are cropping up across various industries, including finance, healthcare, supply chain, and gaming.
So while the blockchain industry was only valued at 4.8 billion in 2021, it's expected to grow to an astounding $69 billion by 2030 (a compound annual growth rate of 68%!).
Research by Blockdata also shows that 81 of the top 100 publicly traded companies have adopted blockchain technology. Google search volume for the term "blockchain developer" also suggests that more and more companies plan to invest in blockchain technology in the coming years.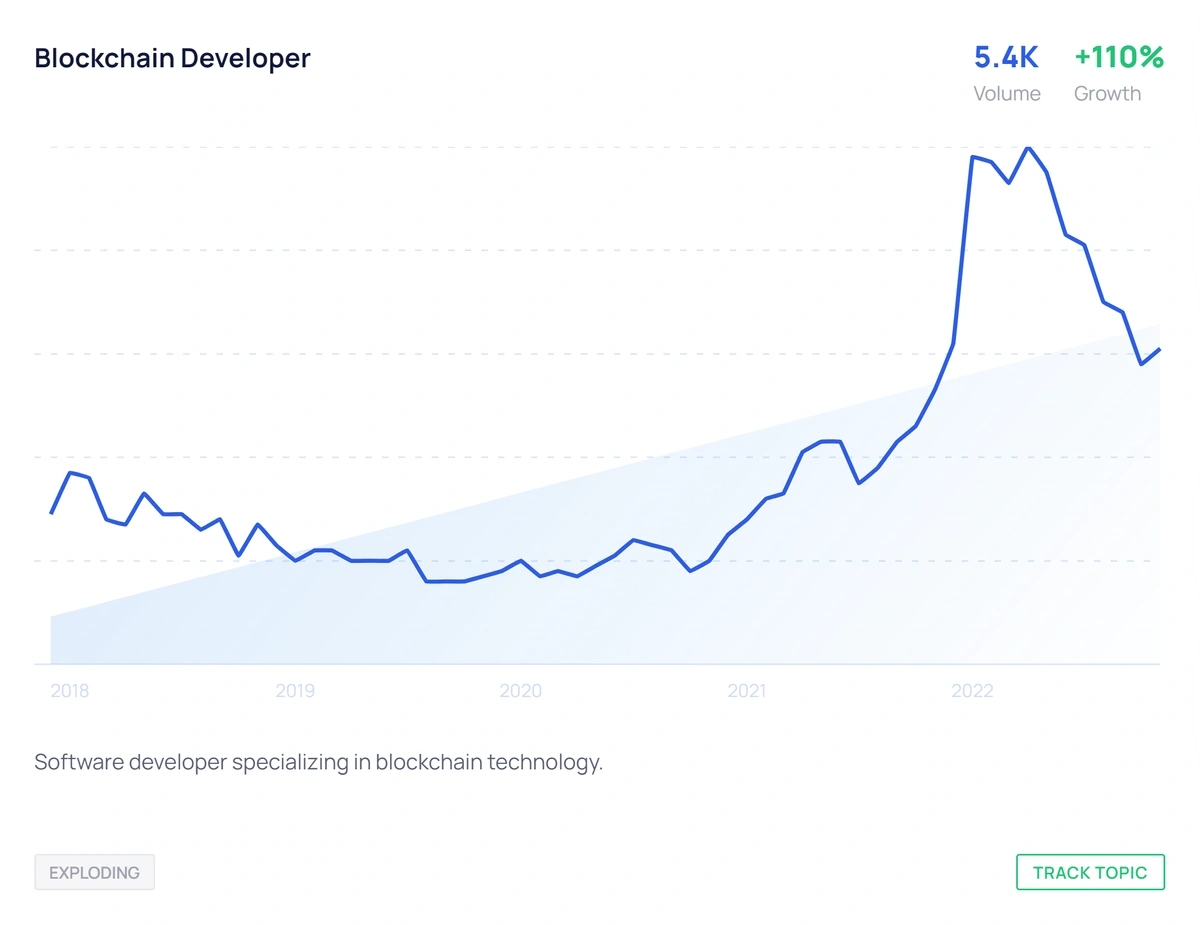 Despite cryptocurrency's volatility, many venture capitalists are still betting on blockchain technology.
For example, Uniswap, the largest decentralized exchange, secured $165 million in a Series B round that brought its total valuation to $1.66 billion.
To give you an idea of how Blockchain is being incorporated in different market sectors, here are a few use cases:
Healthcare sector: Record and store patient data in one secure, decentralized location.
Energy sector: Energy trading is recorded and instantly settled without reconciliation, as all parties use the same platform.
Financial sector: Improve auditing processes by increasing speed with automation and eliminating dishonesty.
Industrials sector: Streamline supply chain processes as suppliers can access a secure database that isn't owned by a single entity.
Utilities sector: Carbon credits and renewable energy certificates can be moved to the blockchain to ensure authenticity.
Trending Topics to Explore
Blockchain Gaming: Video games that use blockchain technology like NFTs and cryptocurrencies so that players securely earn while they play.
Sorare: A fantasy soccer game built on the Ethereum blockchain that allows players to collect, sell, and trade digital cards.
Flashbots: A research and development organization that uses blockchain technologies to mitigate the negative network effects of Maximal Extractable Value (MEV).
To see more technology trends like these ones and view up to 15 years of Google search volume history, you can search the Exploding Topics Trends Database for free!
Autonomous Technology
Autonomous technology takes an automated system, adds sensors, and then incorporates AI to leverage the sensor data and make execution decisions accordingly.
This technology is powering self-driving cars, delivery robots, and other innovations that reduce the need for unskilled labor.
A report by Verified Market Research claims that the global autonomous technology market was valued at nearly 20 billion in 2020, and it's predicted to grow to over $50 billion for a compounding annual growth rate of about 12.77% by 2028.
Venture capitalists are also highly interested in the autonomous technology space (particularly autonomous driving startups).
A report by CB Insights showed that total funding in autonomous technology from some of the top venture capitalists grew from just over $1 billion in 2018 to about $5 billion in 2021.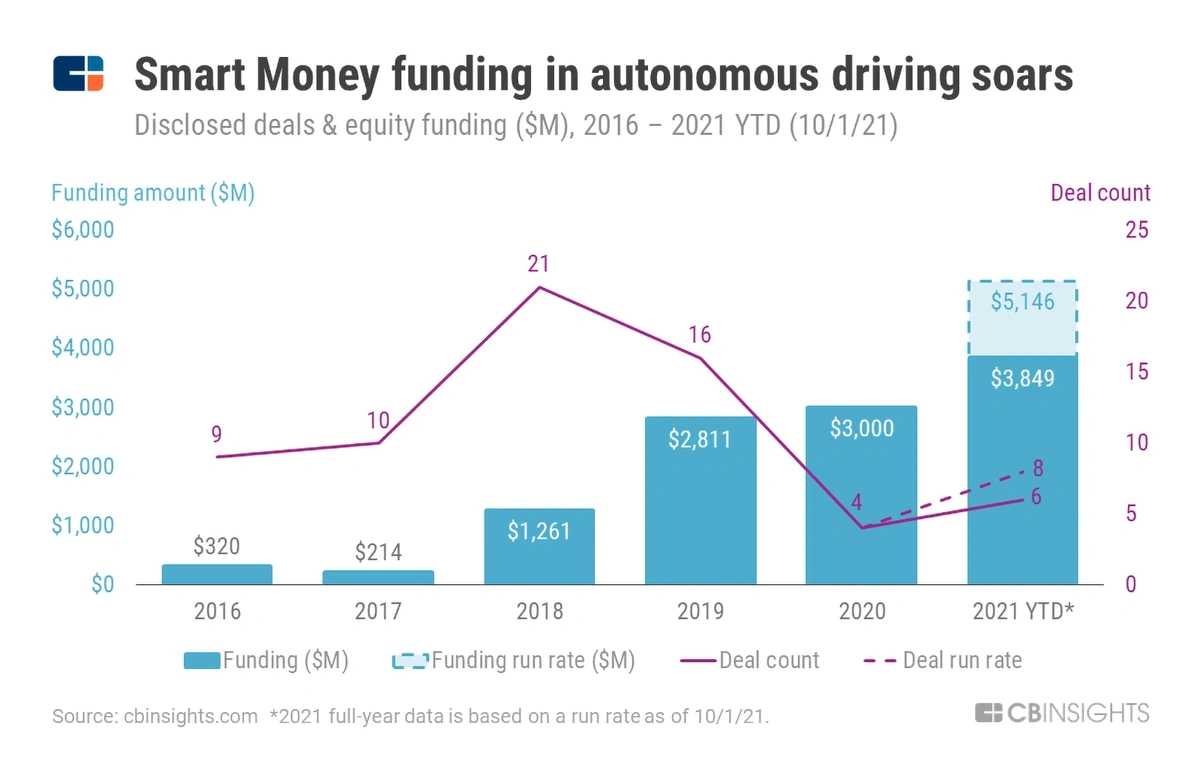 Tesla is certainly a leader in the self-driving car space, though other brands like BMW and Cadillac are also developing competing products.
However, the automotive industry isn't the only one leveraging autonomous technology. Here are a few other use cases:
Warehouses: Robots can perform repetitive tasks, sort, and even follow humans around to help where necessary.
Healthcare: Robots can assist during high-precision surgeries like coronary artery bypass and cancer removal.
Agriculture: Robots can now pick fruits, milk cows, and even partially operate tractors.
Delivery systems: Robots can deliver goods and services directly to customers' doors.
Databases: These databases are maintained by AI rather than a human.
While autonomous technologies are still relatively new, this is one of the top industries to watch.
Trending Topics to Explore
Motional: A tech company building autonomous vehicles and other driverless technology.
Zoox: Another company building self-driving cars from scratch rather than implementing autonomous capabilities into modern cars.
Zipline: An on-demand delivery service that uses autonomous aircraft.
Want to see more autonomous trends? You can search various technology trends in the Exploding Topics database for free today!
Personalized Travel and Experiences
When people travel or go on vacation, they don't just want to reach a new destination – they want a new experience.
This new expectation has increased demand for personalized travel and experience services, and the market data looks promising.
In 2020, the market size for personalized travel and experiences was roughly $91 billion, though a recent forecast projects that it will register a remarkable compound annual growth rate of 17.8% to reach $447.3 billion by 2030.
Consumer search trend data also supports this market data:
In addition, interest in Airbnb experiences has grown significantly over the past year: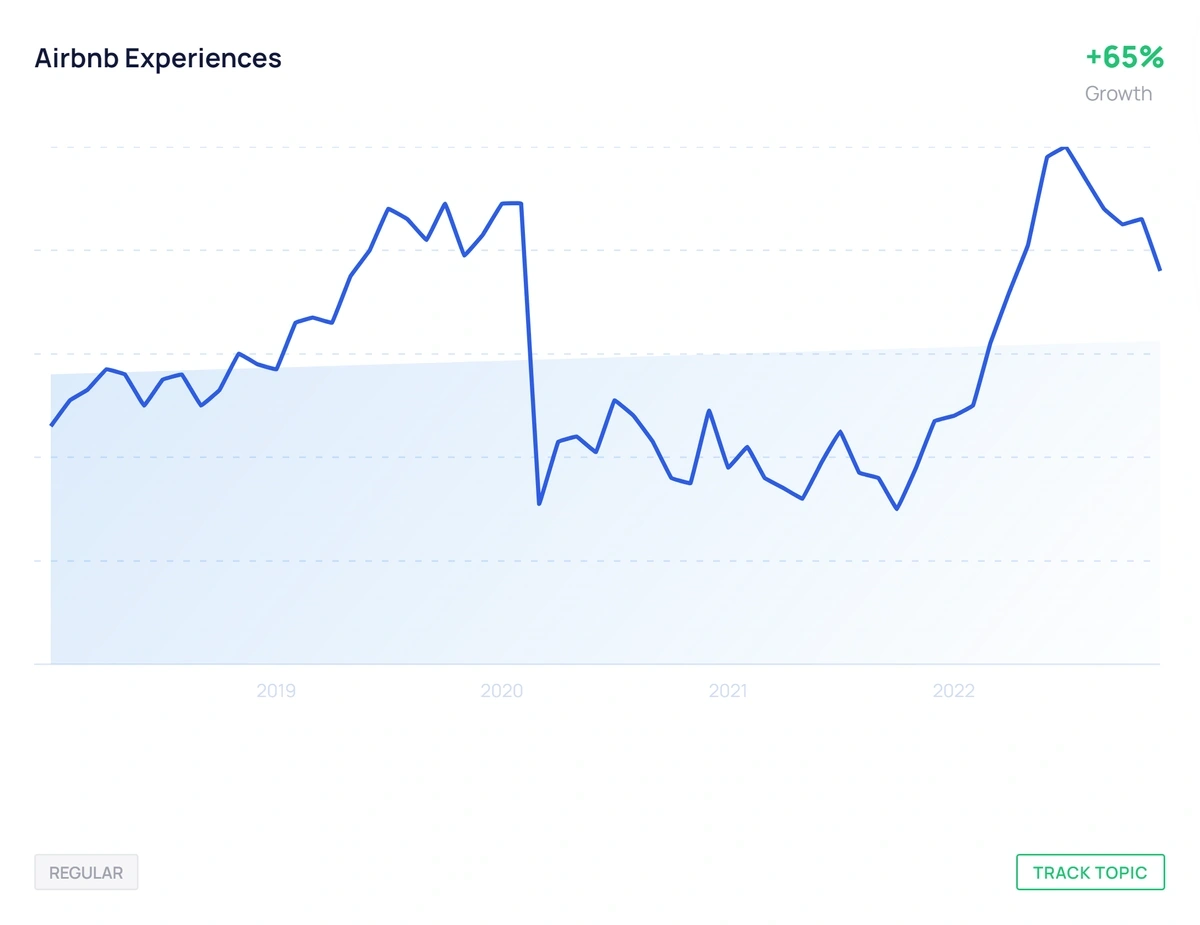 Investors are also betting on the idea that people want authentic pre-planned travel experiences.
For example, Journee is a startup taking surprise vacations to the next level – just show up at the airport, and someone will guide you on a pre-planned surprise vacation. It plans the entire trip for you, from your flight to the restaurants you'll eat at each day. Investors are on board with the idea, and it recently secured over $2 million in seed funding.
Trending Topics to Explore
Airbnb: A startup that allows you to book and stay at other people's houses.
Travel Itinerary: A schedule of events used by travelers.
If you want to see more vetted trends in the travel industry, you can browse the Exploding Topics Trends Database for free now!
Online Food Delivery
Convenience is a top priority for modern consumers, and online food delivery is one of the strongest markets serving this space.
Market leaders like DoorDash, GrubHub, and UberEats were aided by the pandemic but continue to grow even as life returns to normal.
Here's a brief snapshot of DoorDash's impressive revenue statistics over the past several years: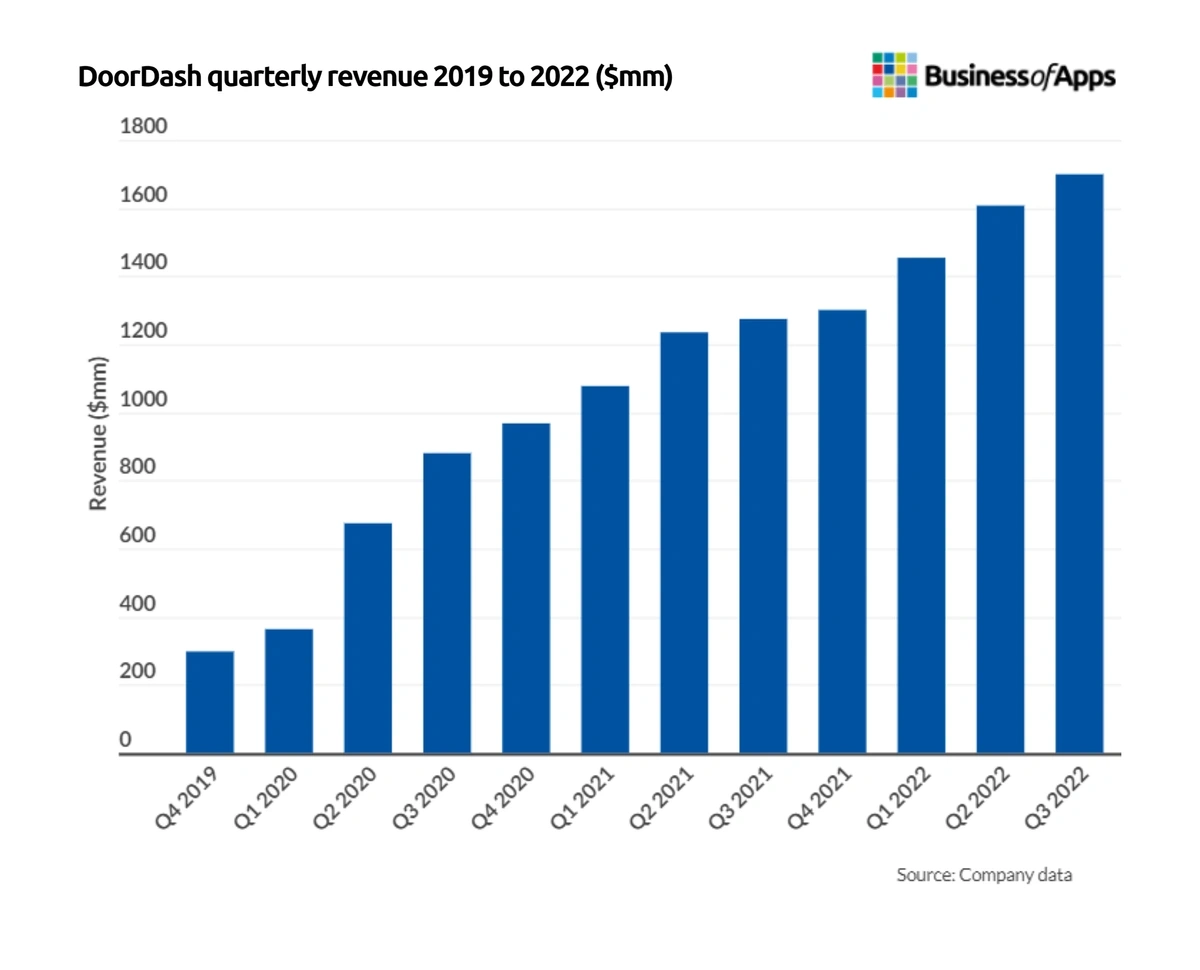 Search volume for related industry terms like "DoorDash" and "food delivery app" is also trending upward: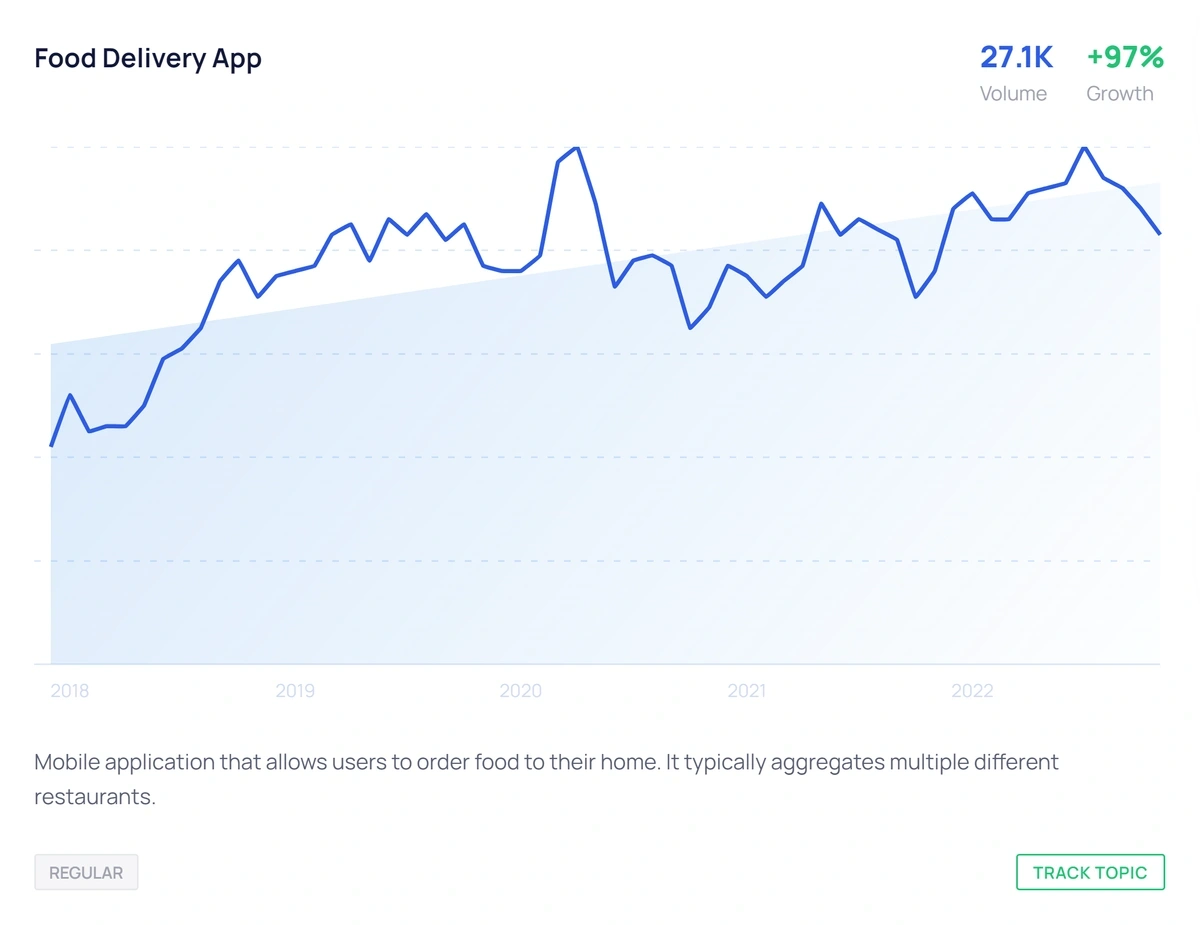 So it's no surprise that recent market data shows that the global online food delivery industry is worth $189.7 billion and is projected to grow at a compound annual growth rate of 10.8% between 2022 and 2028.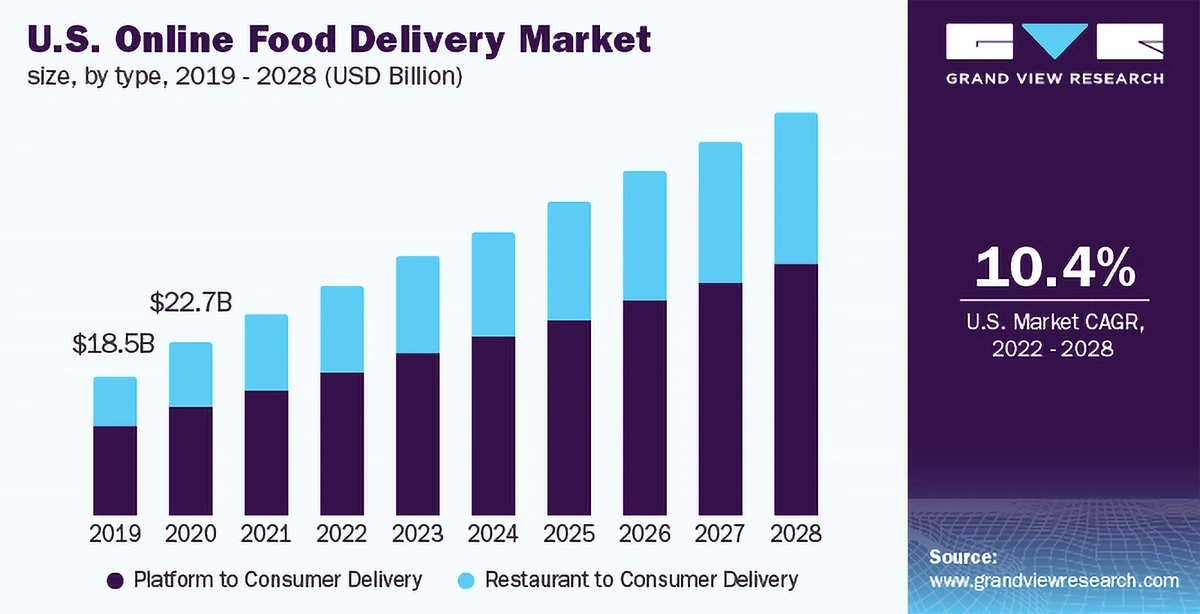 Despite the substantial size of the online food delivery market, the sheer number of startups entering the space also suggests it will continue to grow.
For example, Finnish food delivery startup Wolt has raised over $800 million, and search volume is consistently trending upward: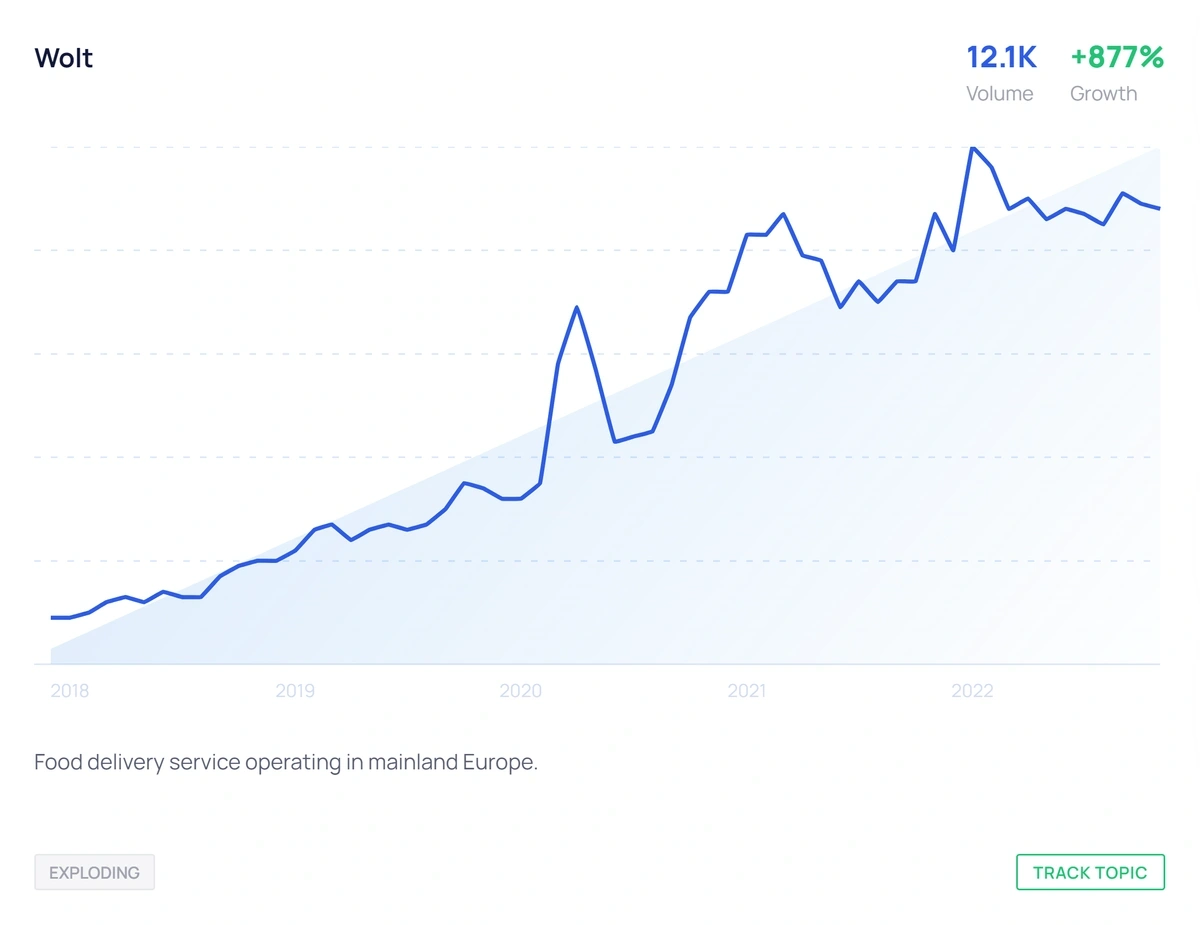 New York-based food delivery startup, Wonder, is another example of a thriving mobile restaurant delivery service. In 2022, it closed a $350 million Series B round and is now worth $3.5 billion.
Trending Topics to Explore
Food Delivery App: An app that brings food directly to your door.
ShareBite, Inc: Meal delivery service designed for businesses.
Wolt: Food delivery service in mainland Europe that allows users to order from local restaurants and stores.
If you want to see similar trending technologies, you can browse the food category for free in the Exploding Topics Trends Database.
Remote Work Technology
The pandemic forced many companies to shift to remote work, and the U.S. Census Bureau estimates that the number of people primarily working from home tripled from 5.7% (about 9 million people) to 17.9% (about 27.6 million people) from 2019 to 2021.
A study by Upwork also predicts that the remote workforce in the United States will further grow to over 36 million employees by 2025.
Even as the pandemic winds down, Google search volume for the term "remote work" continues to explode: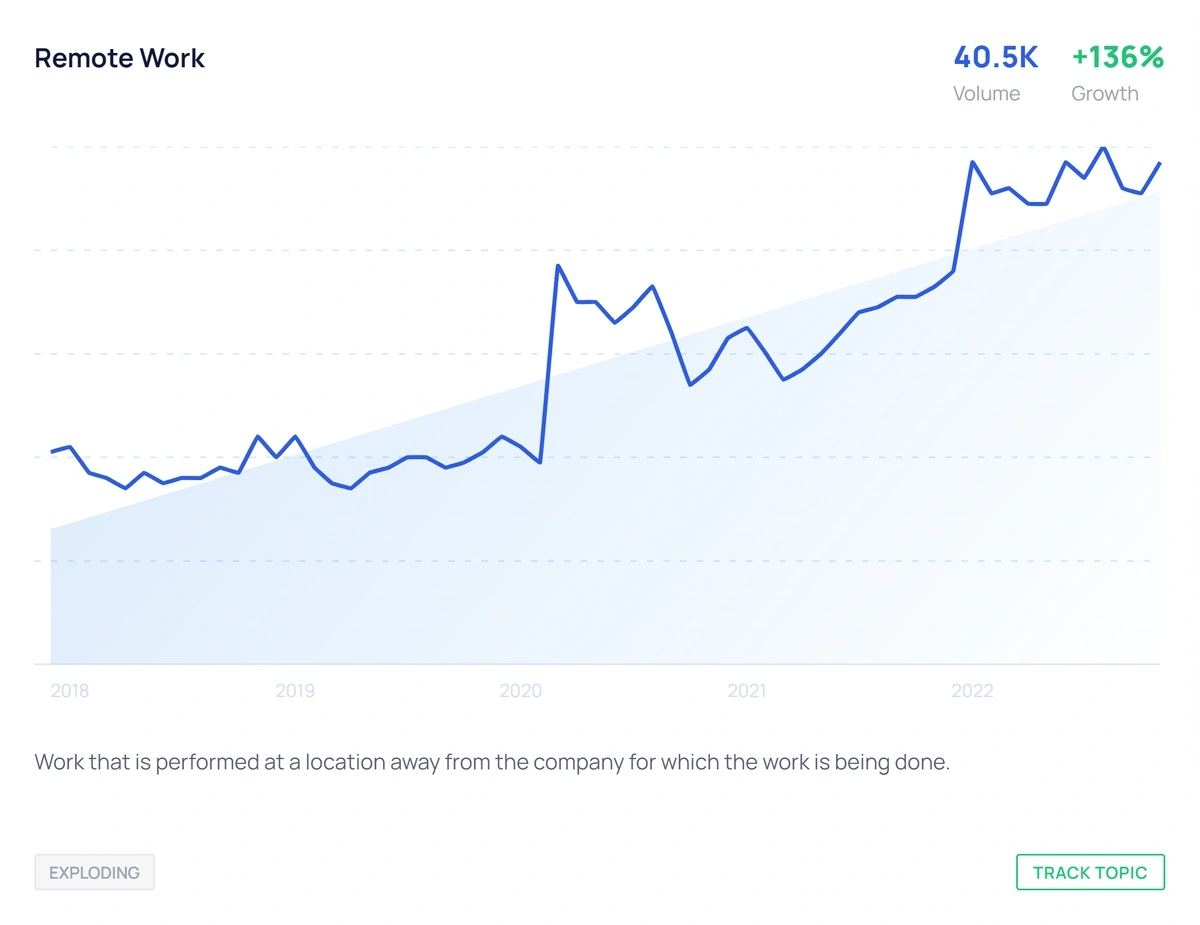 However, remote work has also brought new challenges to teams, and new technologies have emerged to meet these demands. Today, the global remote workplace services market is valued at over $20 billion and is expected to grow to $58.5 billion by 2027.
The most popular remote technologies are centered around communications challenges, and video conferencing takes the lion's share of the market.
The video conferencing market size is projected to close at $6.87 billion in 2022, and forecasts predict it will reach $14.58 billion by 2029.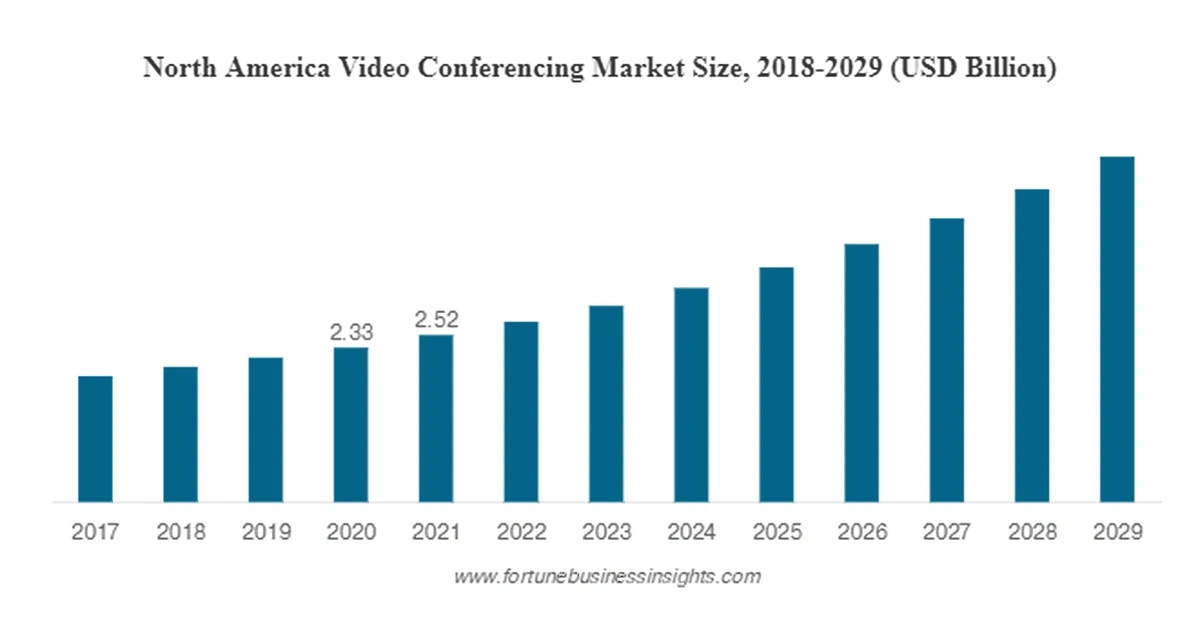 However, video conferencing isn't a perfect solution.
A study by Otter found that the average employee attends 62 meetings per month and respondents claimed that about half of them are a waste of time.
As a result, about 70% of companies now prioritize asynchronous communication, which has led to increased demand for other internal communication tools.
For example, project management solution Monday.com has experienced explosive growth even as the pandemic comes to a close.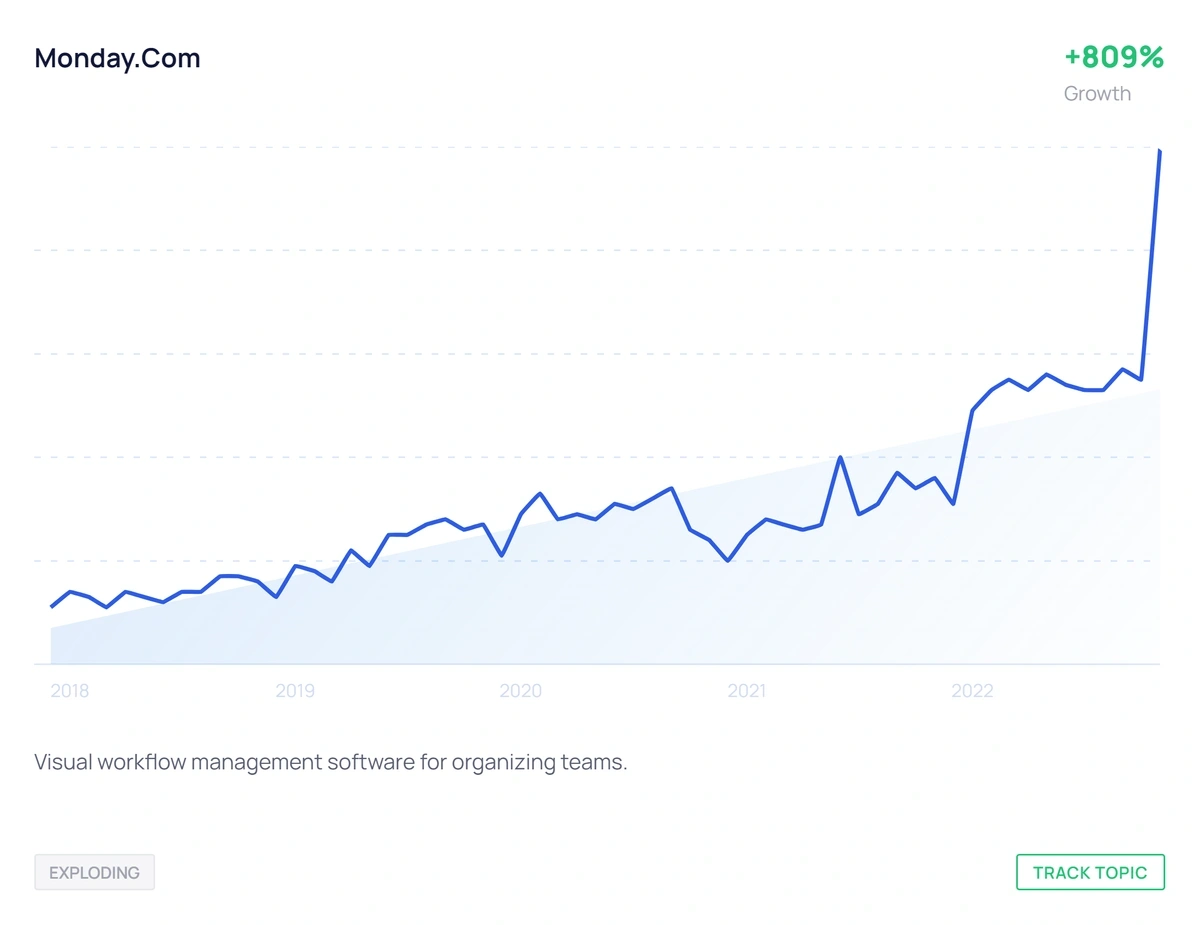 The project management market alone was $6 billion in 2021 and is expected to nearly triple to over $15 billion in 2030.
Other tech giants that have exploded thanks to remote work include Slack, with a market cap of over $26.5 billion and Miro, which was valued at over $17 billion in 2022.
Trending Topics to Explore
Hubstaff: Time tracking software to allow employers to monitor worker productivity.
Miro App:Visual collaboration platform that allows teams to collaborate on a virtual whiteboard over Zoom and other video conferencing solutions.
Lucidspark: Miro competitor that allows remote teams to collaborate on a digital whiteboard in real time.
To see more remote work technology ideas, you can browse the technology category of Exploding Topics Trends Database for free today!
Feminine Care
As cultural norms shift to embrace feminine care, consumers demand better products and technologies that are both comfortable and sustainable.
Google search volume also reflects this shift in consumer interest, with the term "feminine care" experiencing a 144% increase over the past five years.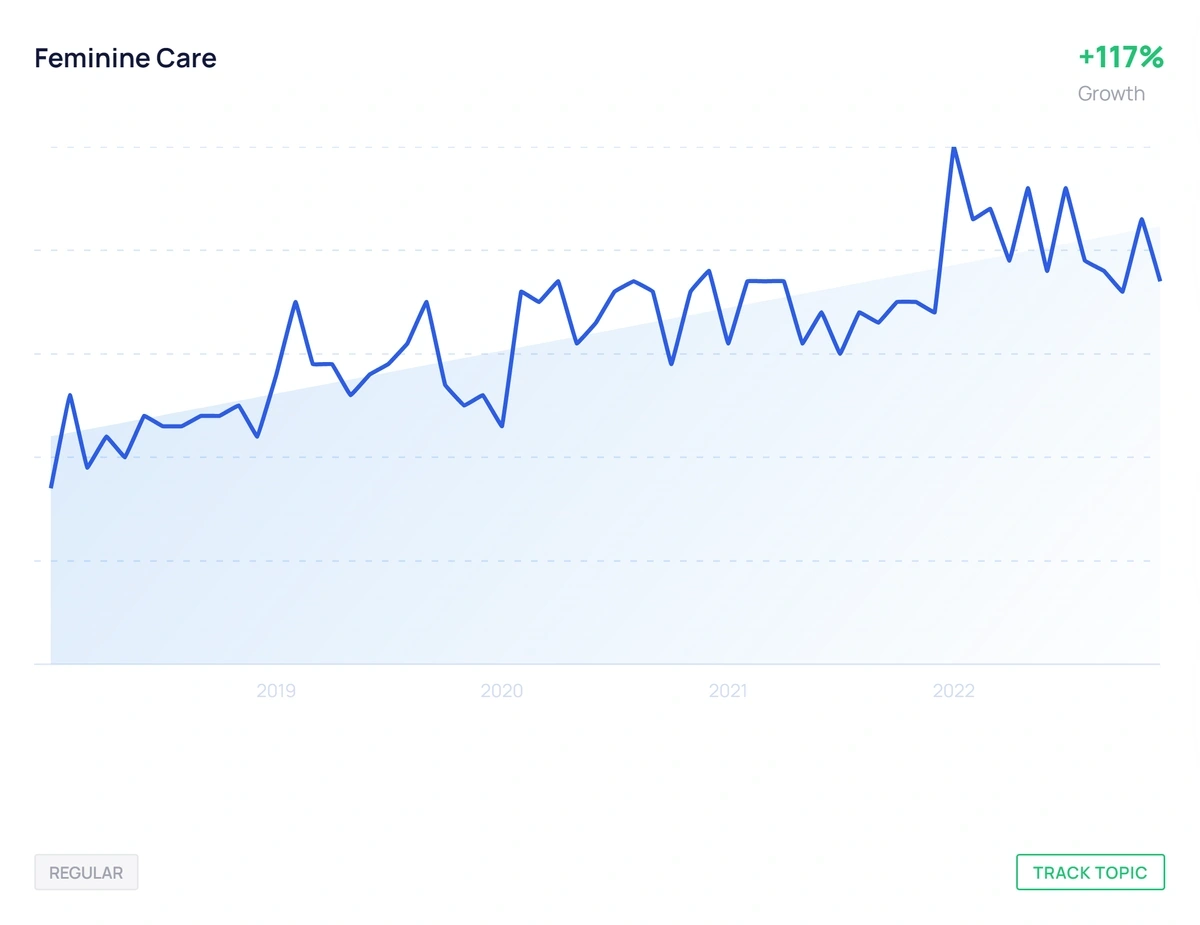 Starting with the feminine hygiene industry (e.g., period and sexual wellness products), recent data from Statista forecasts that the industry will steadily climb to $5.38 billion in 2027.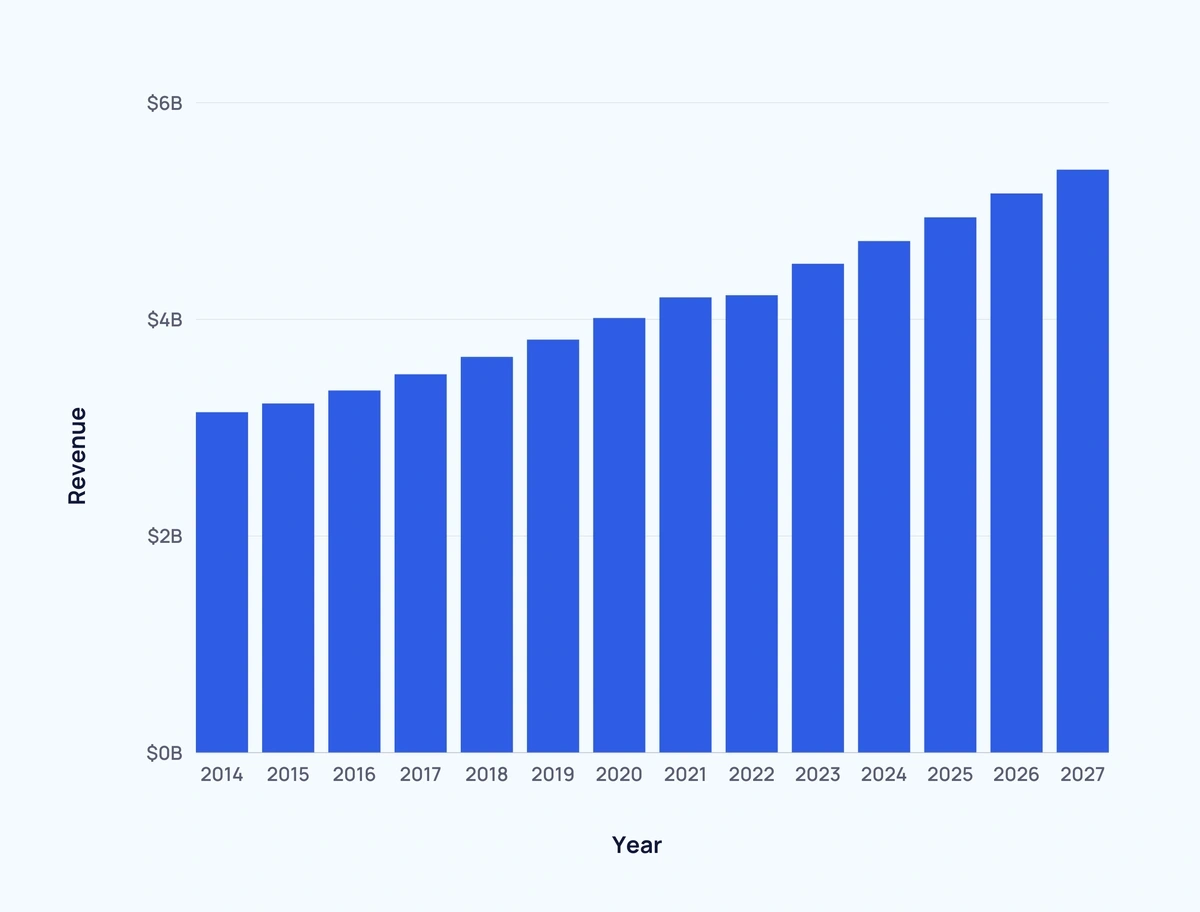 Search volume for newer feminine hygiene products like "period underwear" also continues to climb.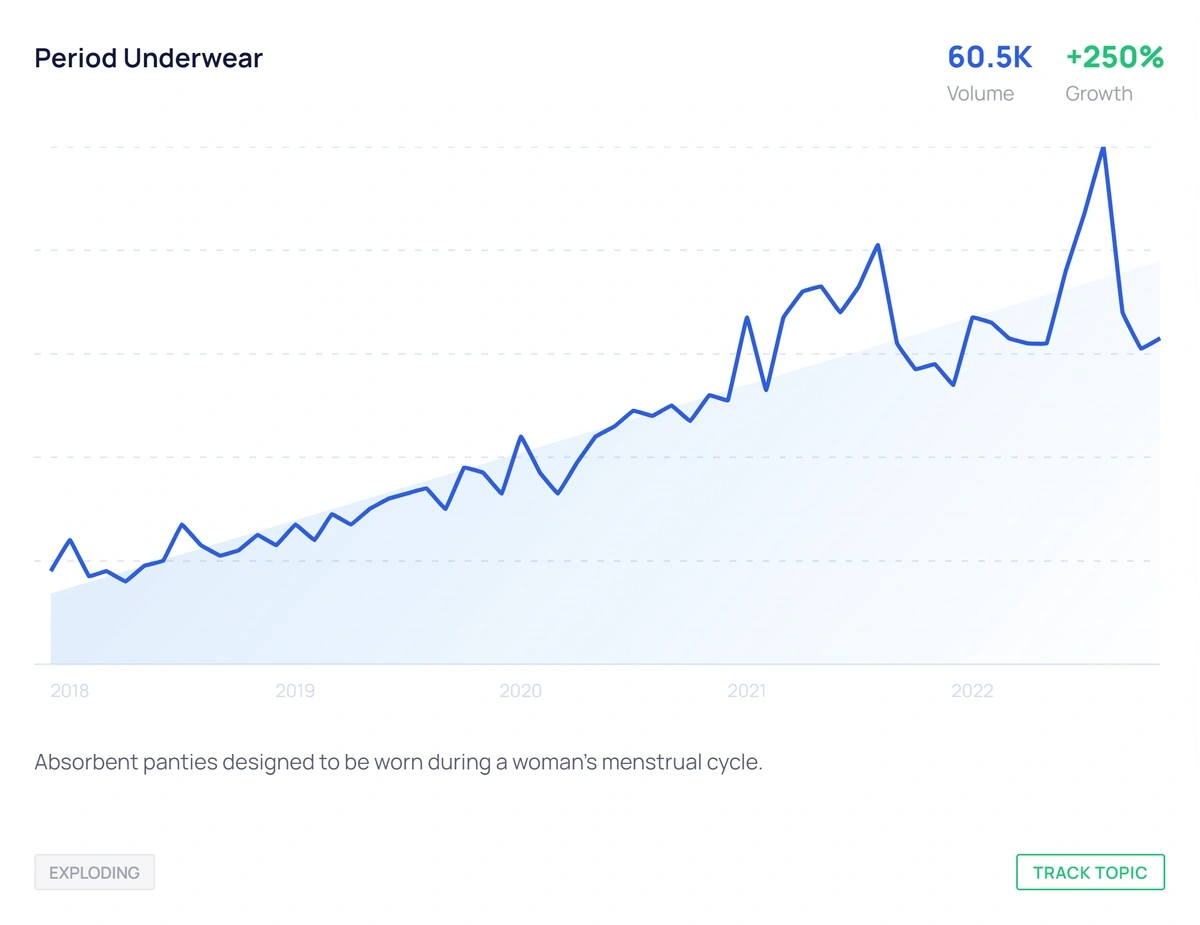 Another sign that the feminine care market will continue to grow are recent venture capital investments. In 2022, clean period and intimate care startup Rael closed a $35 million Series B investment – the largest ever in the feminine hygiene space.
Many other feminine hygiene companies like Good Clean Love and Love Wellness are also gaining momentum and have shown steady search volume growth over the past several years: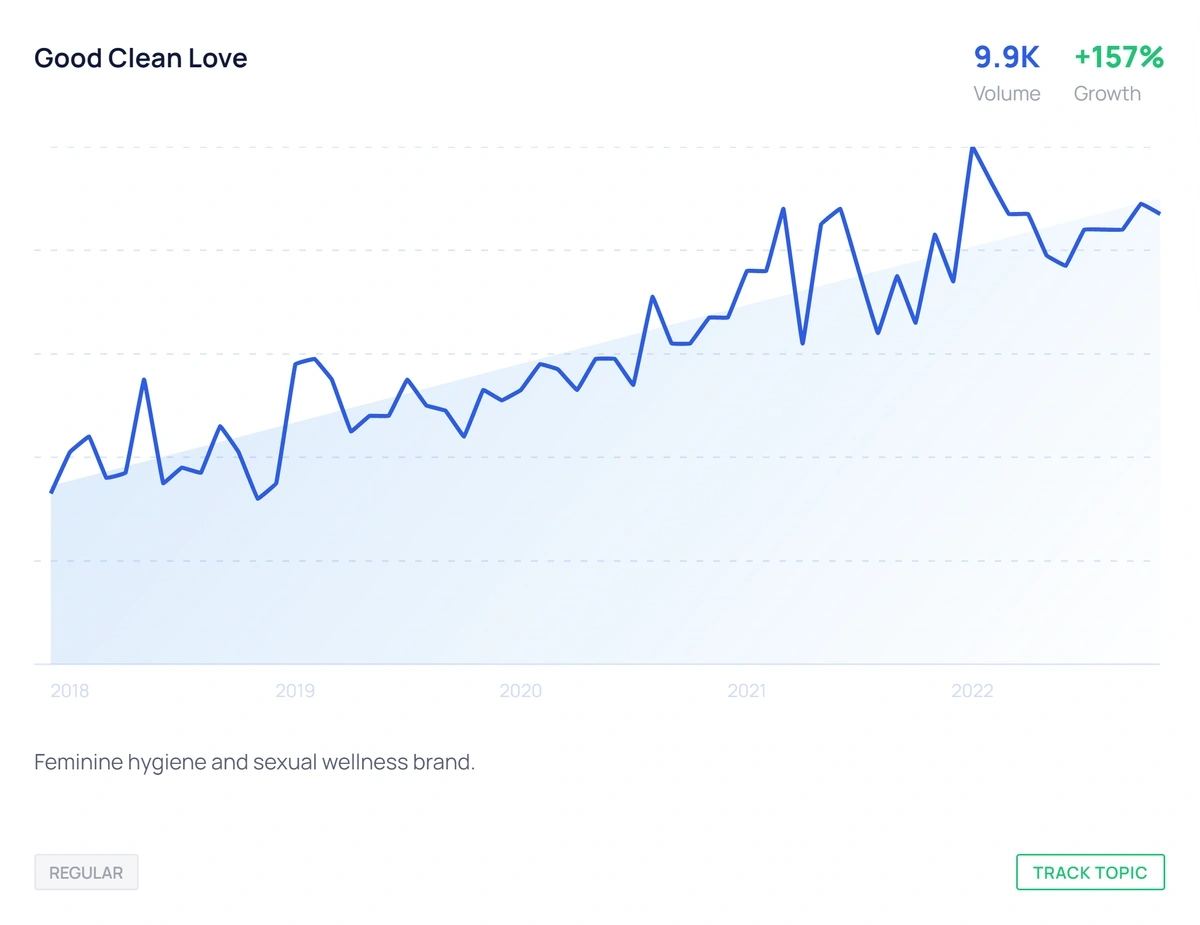 In addition to hygiene products, the broader femtech space (such as pregnancy, nursing, and reproductive care) is expected to grow at a compound annual growth rate of 12% from 2022 to 2028.
A McKinsey study also showed that the total number of deals and investment dollars in the femtech space are on the rise.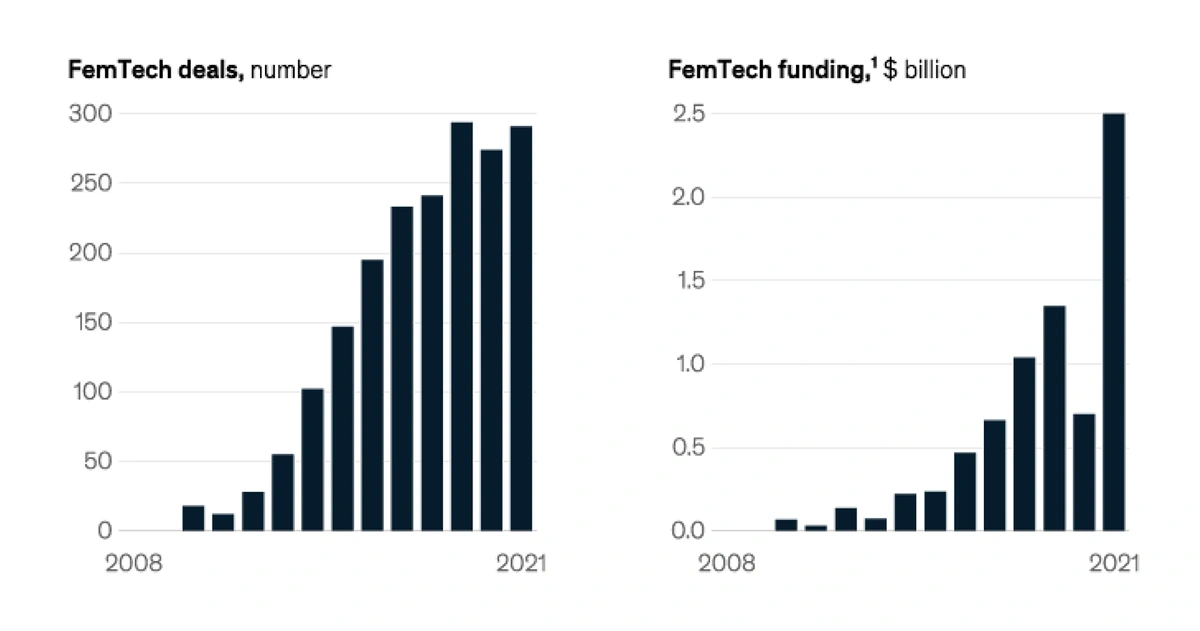 Some of the brands thriving thanks to the emerging femtech and maternity care market include WillowPump, which recently closed a Series C round of $81.8 million, and Elvie, which just wrapped up a Series C round of $97 million.
Google search volume also suggests that these companies are steadily gaining popularity among consumers: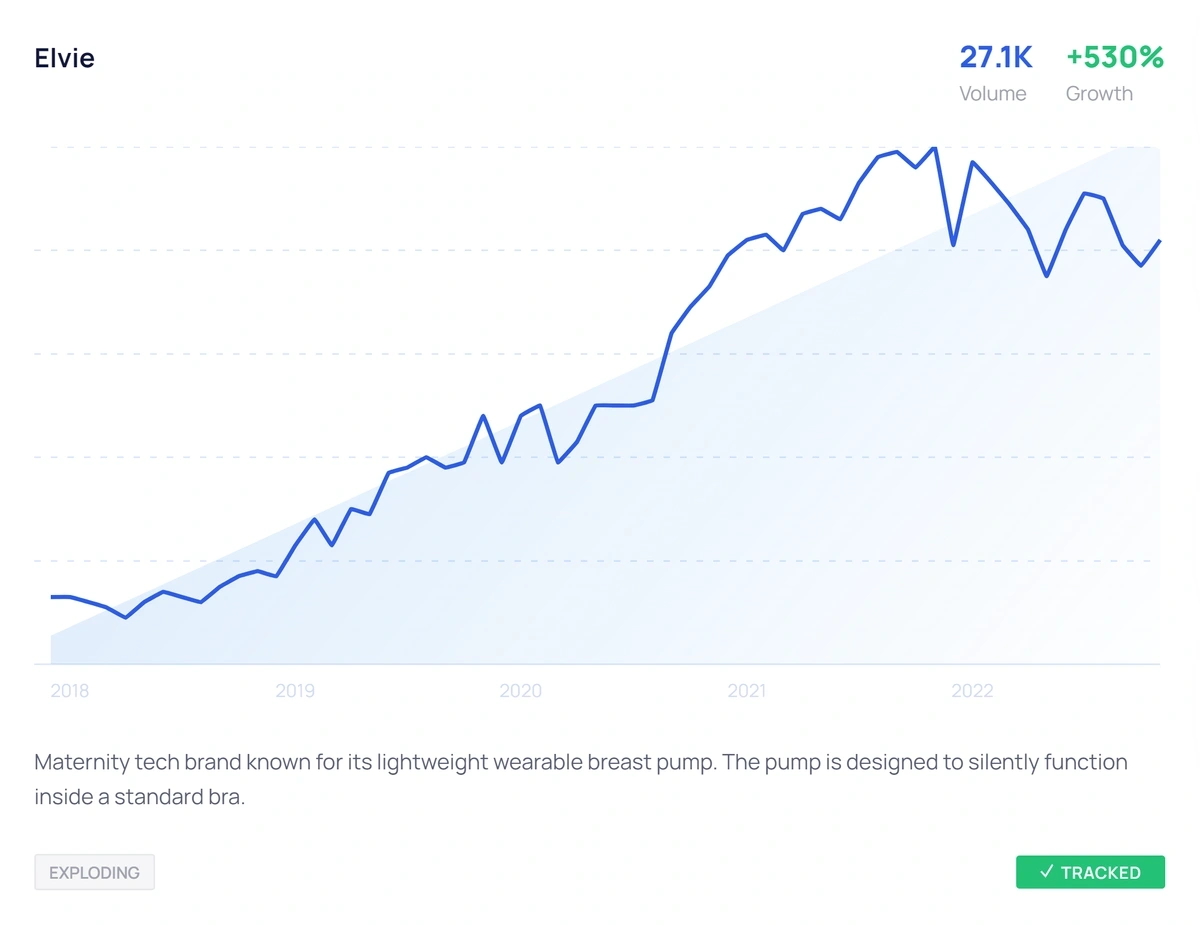 Trending Topics to Explore
Elvie: A popular maternity tech brand that specializes in producing silent and lightweight breast pumps.
Period Aisle: Environmentally conscious brand that makes reusable feminine hygiene products.
Modibodi: Washable and leak proof period panty brand.
Taking The Next Steps in Your Investment Journey
While analyzing stock market trends is one way to find new investment opportunities, it usually isn't the most efficient way to find new emerging markets.
So hopefully this list helps you add some diversification to your investment portfolio and introduces you to promising new industry groups.
If you want to browse more emerging market trends, browse the Exploding Topics Trends Database for free today!