Top Legal Trends to Follow in 2021
The legal industry's resistance to change is well documented. In the past, law firms have been known to take a cautious approach and maintain a fixed mindset.
But, as many have realized in 2020, those who maintain this approach may end up closing their doors. Changes are happening and trends are emerging in the legal industry. Learn about four of them here.
1. Digital transformation impacts the legal field
The importance of technology in the legal industry is soaring. One report says that 76% of legal pros say this is one of the top trends of 2020-2023.
Automation is one of the key ways legal professionals will be using technology to become more efficient. Documents, research, analysis, transcription, and billing are all expected to become automated processes in the near future.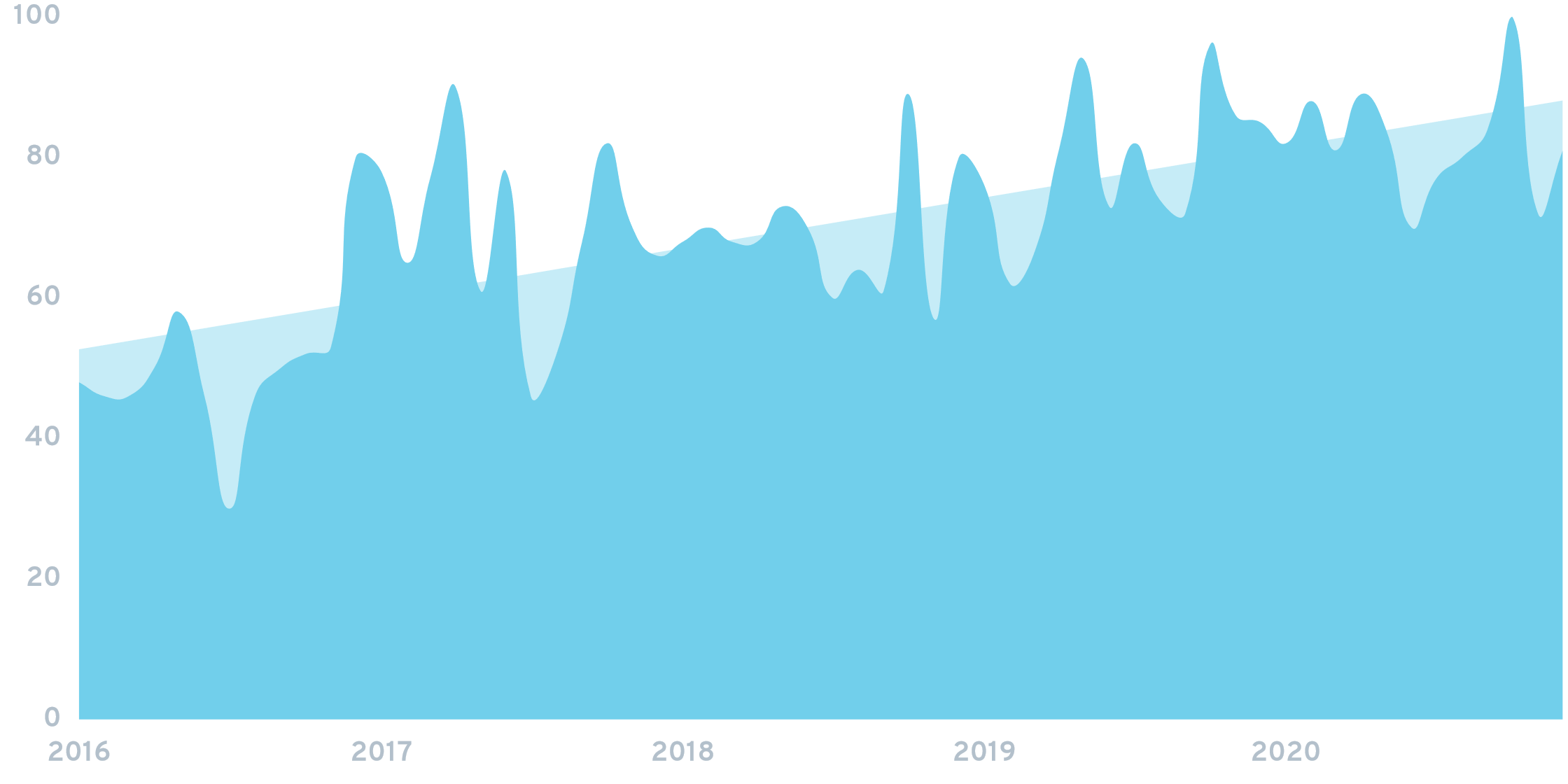 Searches for "document automation" over the last 5 years.
The speed of technology adoption is speeding up, too. The 2019 ABA Profile of the Legal Profession reported that even though only 10% of lawyers say their firms are currently using AI tools, 36% of lawyers say that these tools will be mainstream within the next five years.
Several private businesses, like iManage, are already offering AI solutions for law firms.
With the increased dependence on technology comes increased risk. The ABA's 2019 Legal Tech Report said that 26% of the participating firms had experienced a cybersecurity breach.
In 2020, a handful of law firms became victims of ransomware attacks in the first month of the year. In two of the cases, client information was posted online.
In addition to altering the way lawyers work within the system, technology is also changing how the public interacts with the legal system. Nearly every court in America adopted virtual platforms to conduct hearings during the pandemic.
In Texas alone, judges held 1,800 virtual hearings in March 2020. The National Center for State Courts has said, "[Judges] believe it will be an important tool long after the pandemic ends because of its potential to save time and money and increase convenience for litigants."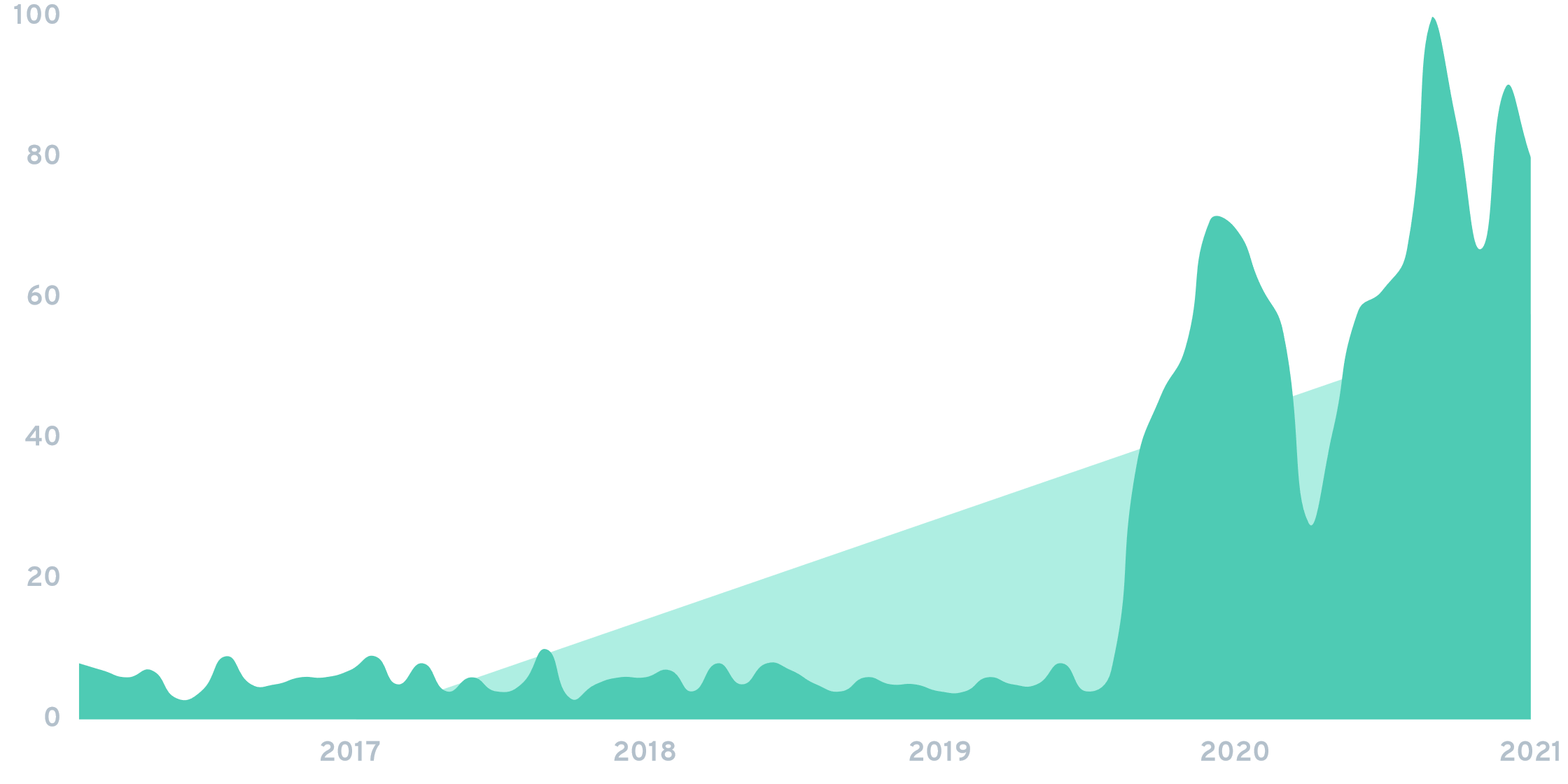 Searches for "virtual court" are quickly growing.
The transparency of the legal system is also being dramatically altered by technology. According to Fix the Court, early in 2020, only four federal appeals courts ever live streamed arguments in their court—and they didn't do it very often.
But now, all 14 federal appeals courts will be live streaming for the foreseeable future.
It's clear that the public craves this kind of transparency, especially in high-profile cases. Fix the Court reported that more than 880,000 people listened to the audio feed of President Trump's tax records case in May 2020.
The organization also found that 70% of the people they surveyed would like the live streaming of court cases to continue into the future.
2. Legal case volume continues to fluctuate
According to a research brief released by Clio in September 2020, billing volume was down 11% year-over-year in August 2020. The brief also showed that states with increased in COVID cases struggled to get their caseloads back up to pre-COVID levels.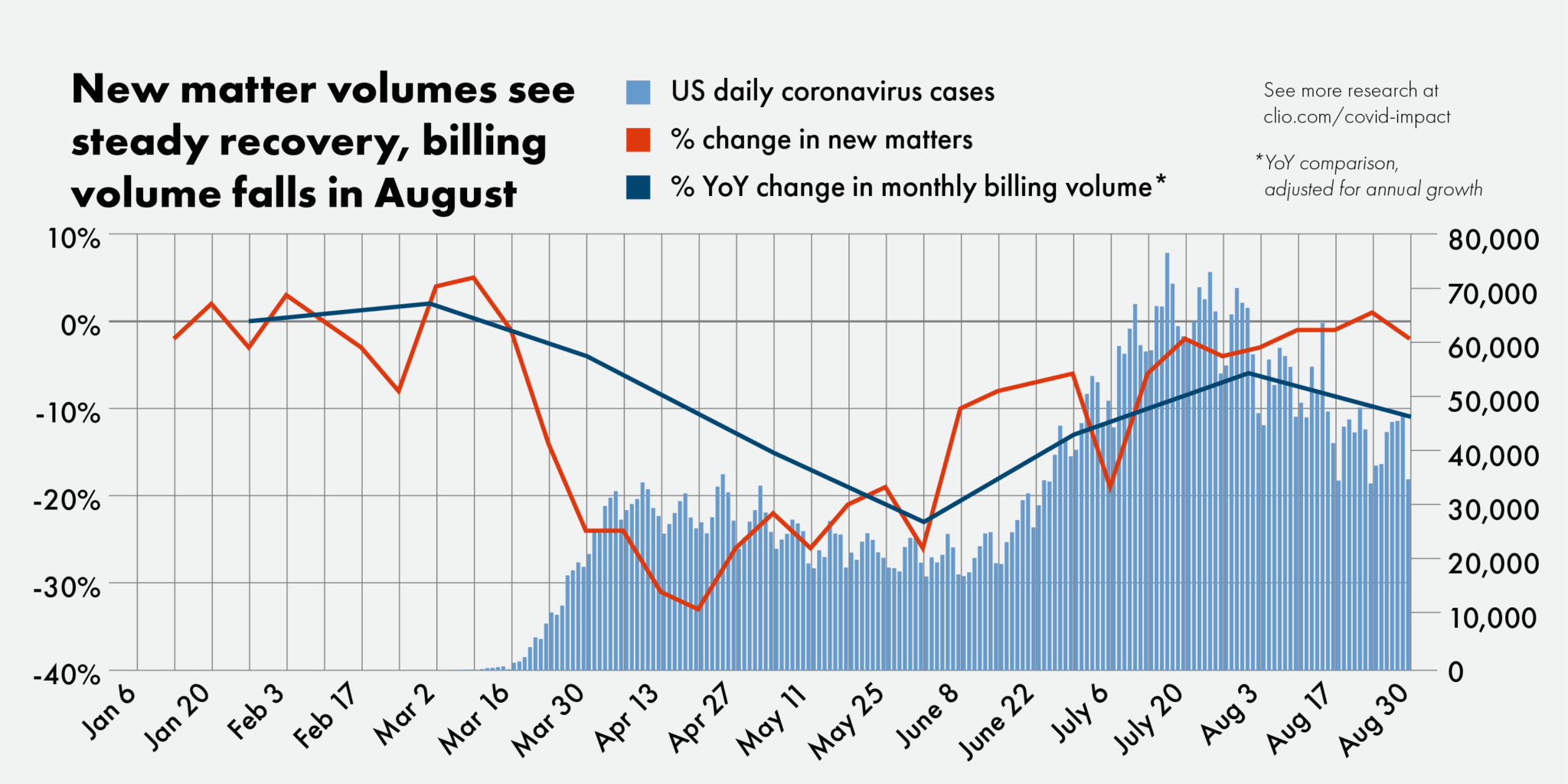 Legal case loads are starting to recover. However, they're still down compared to pre-pandemic levels.
The Clio brief also reported that 67% of respondents said that they've put off legal issues during the pandemic. These individuals are waiting until their legal needs become urgent or until they feel health precautions have made it safe to meet with a lawyer.
This should directly impact case loads in 2021 and beyond—the only question is when the uptick might hit.
Along with private individuals, the legal needs of businesses are expected to increase in the coming years, too. Exigent reports that bankruptcy, contracts, and commercial insurance cases are all on the rise.
In October 2020, Reuters reported that there had been 5,529 Chapter 11 bankruptcy filings in the year so far. That's an increase of 33% over the first three quarters of 2019.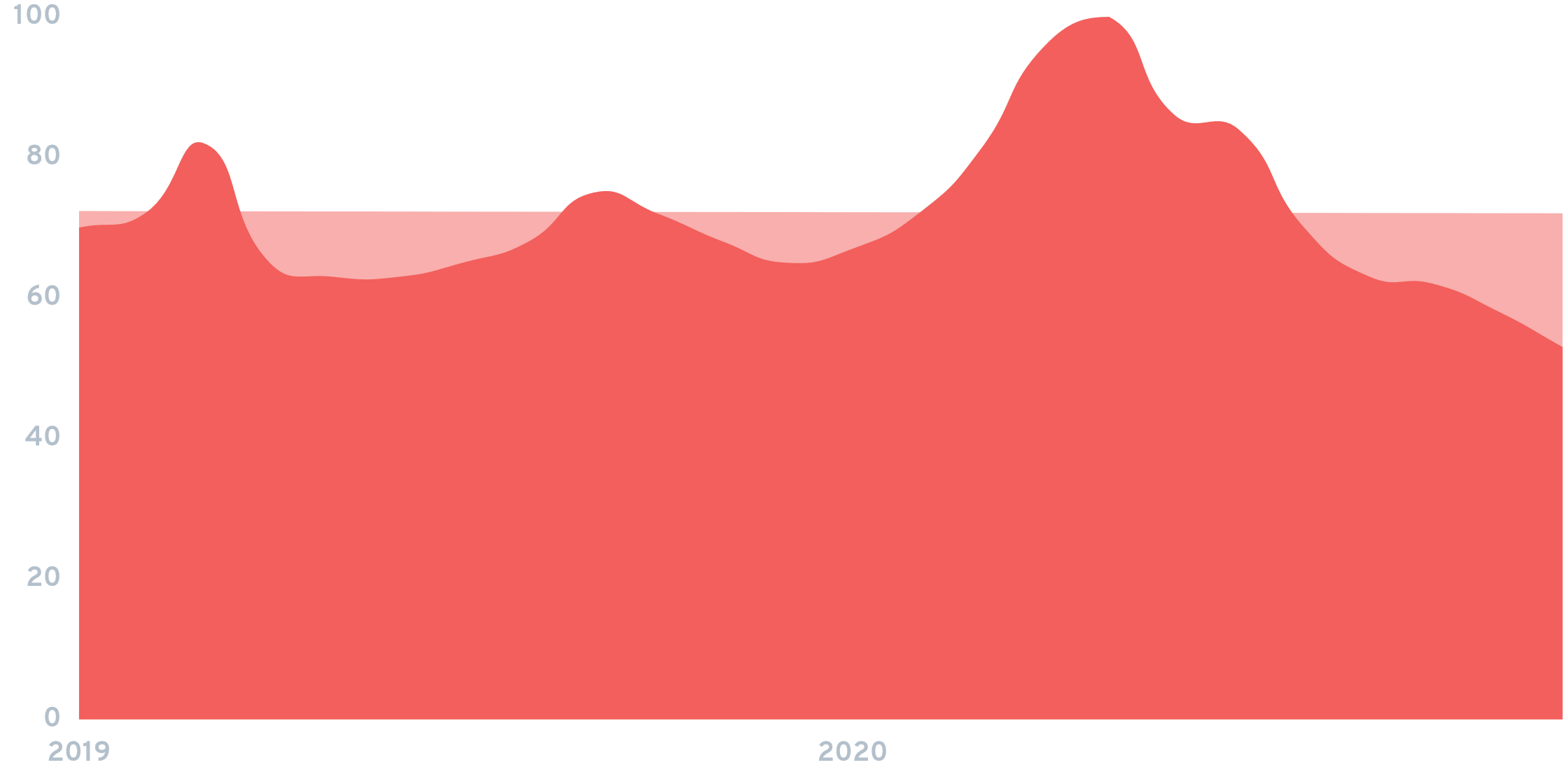 Searches for "bankruptcy" spiked in 2020. But seem to be on the decline.
Bloomberg Law reports that the standard language of contracts is presenting huge problems in today's world. Breach of contract lawsuits, including class-action lawsuits, are already on the rise and legal analysts expect the trend to continue into 2021.
LexisNexis predicts that the surge in bankruptcy filings could continue well into 2021. They cite the end of PPP funds and the uncertainty of future government bailouts as reasons.
The head of Davis Polk's Tax Department, David Schnabel, predicts that 2021 will be a huge year for tax attorneys, too. He says that the IRS and Treasury Department continue to release rules and guidance on tax cuts.
In addition, Schnabel says that with President-elect Joe Biden taking office, many businesses may be looking for tax guidance amidst the administration changes.
3. Firms emphasize becoming recession-proof
The legal sector has been historically impervious to change, except for during economic downturns.
As the American Bar Association says, "Most changes in the profession coincide with downturns or recessions that go way back to the 1960 recession, which prompted firms to move to monthly billing from the then-standard yearly billing. Almost every recession has coincided with some significant change in the profession."
August 2020 statistics from Thomson Reuters showed that the legal market had suffered the largest quarterly drop in performance since 2009. Demand for legal services dropped nearly 6% year-over-year.
The report showed that the worst performing practice areas were real estate (dropping 12.2%), tax work (dropping 9.1%), litigation (dropping 7.5%), and corporate work (dropping 5.5%).
In the 2008 recession, law firms prioritized stability over expansion and departments like M&A and finance shrank considerably.
In today's economic downturn, larger firms are expected to fare better than smaller firms, mostly because of their ability to reassign attorneys to various business units and layoff staff in order to save expenses.
As law firms seek to survive and even thrive during this recession, they'll put their focus on where the profitable cases are right now: bankruptcy, cybersecurity, and employment law.
As LexisNexis stresses, firms "have to look beyond cost-cutting and make strategic changes. Having the right practice groups could help them become more resilient."
Bankruptcy is sure to be one of the most profitable and popular areas of law in 2021. The Thomson Reuters report from August 2020 listed bankruptcy law as one bright spot in the industry. The practice increased 6.2% year-over-year.
In 2020, Kirkland & Ellis took in more than $14 million just in advance payment retainers during Neiman Marcus' Chapter 11 bankruptcy case. Court documents show the firm was billing upwards of $1,900 per hour for their work on the case.
That astronomical hourly rate is, of course, not the norm among bankruptcy lawyers, but the demand for attorneys specializing in this area is universal. The ABA Journal reports that legal headhunters are poaching bankruptcy lawyers these days.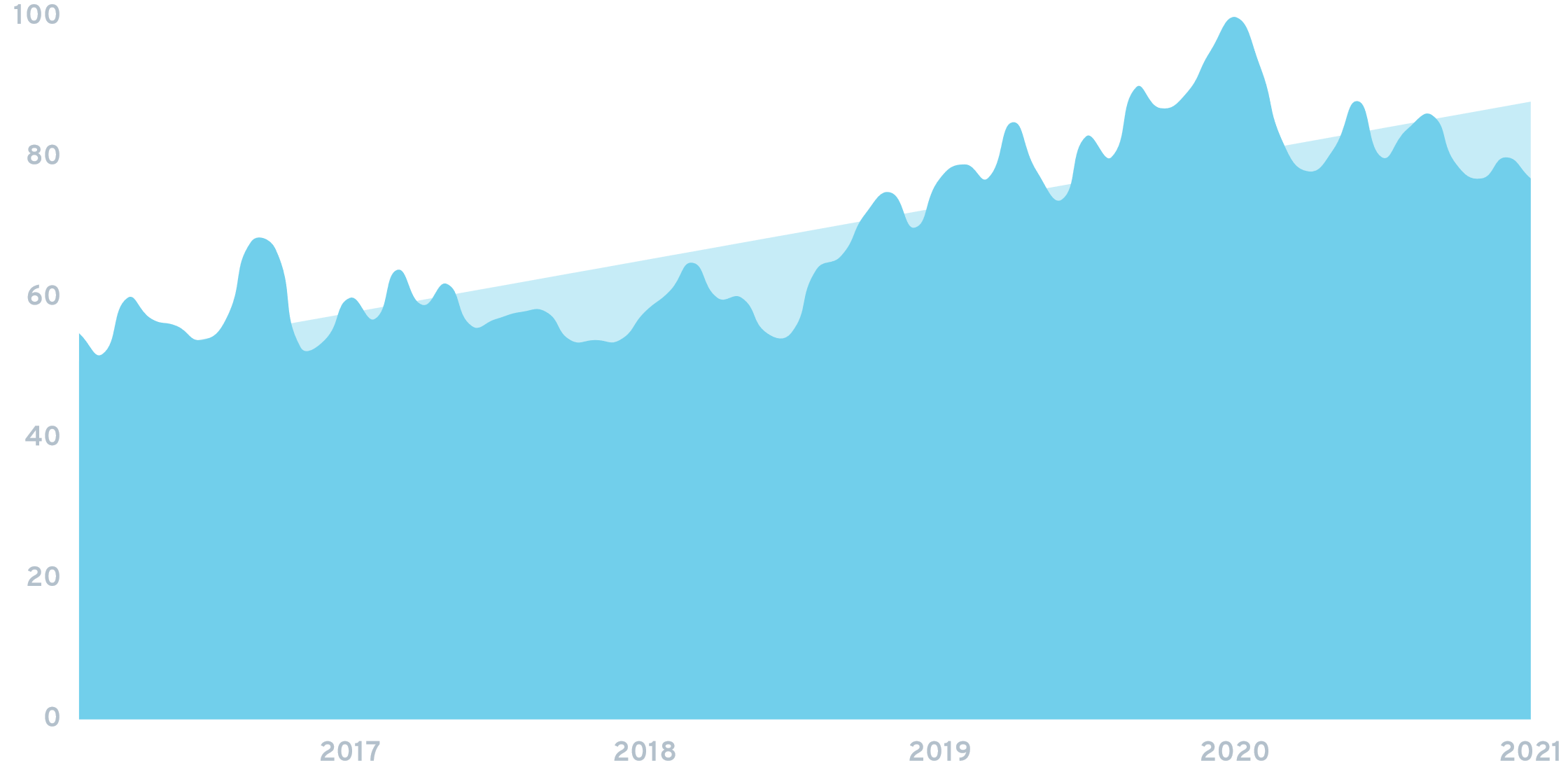 Searches for "corporate lawyer" are on the rise.
4. Pro bono work continues to grow
In March 2020, the number of firms with pro bono partners was at an all-time high, according to a report released by the Pro Bono Institute.
Study results from 2019 showed that the average lawyer spends 60 hours per year on pro bono work. According to the Pro Bono Institute, overall pro bono hours have been on a steady climb since 2015: 4.2M hours in 2015 to 5.0M hours in 2018.



Pro bono work has been on the rise over the last decade.

International law firm Paul Weiss reports that in addition to having great profitability 2020, the firm's pro bono hours have nearly doubled in the year.
As a recession looms, the demand for pro bono legal services increases. With housing renters owing upwards of $34 billion in back rent, millions of people are seeking legal representation but do not have the means to pay for it.
The ABA has been desperately urging leaders to mobilize pro bono lawyers for this unmet civil legal need.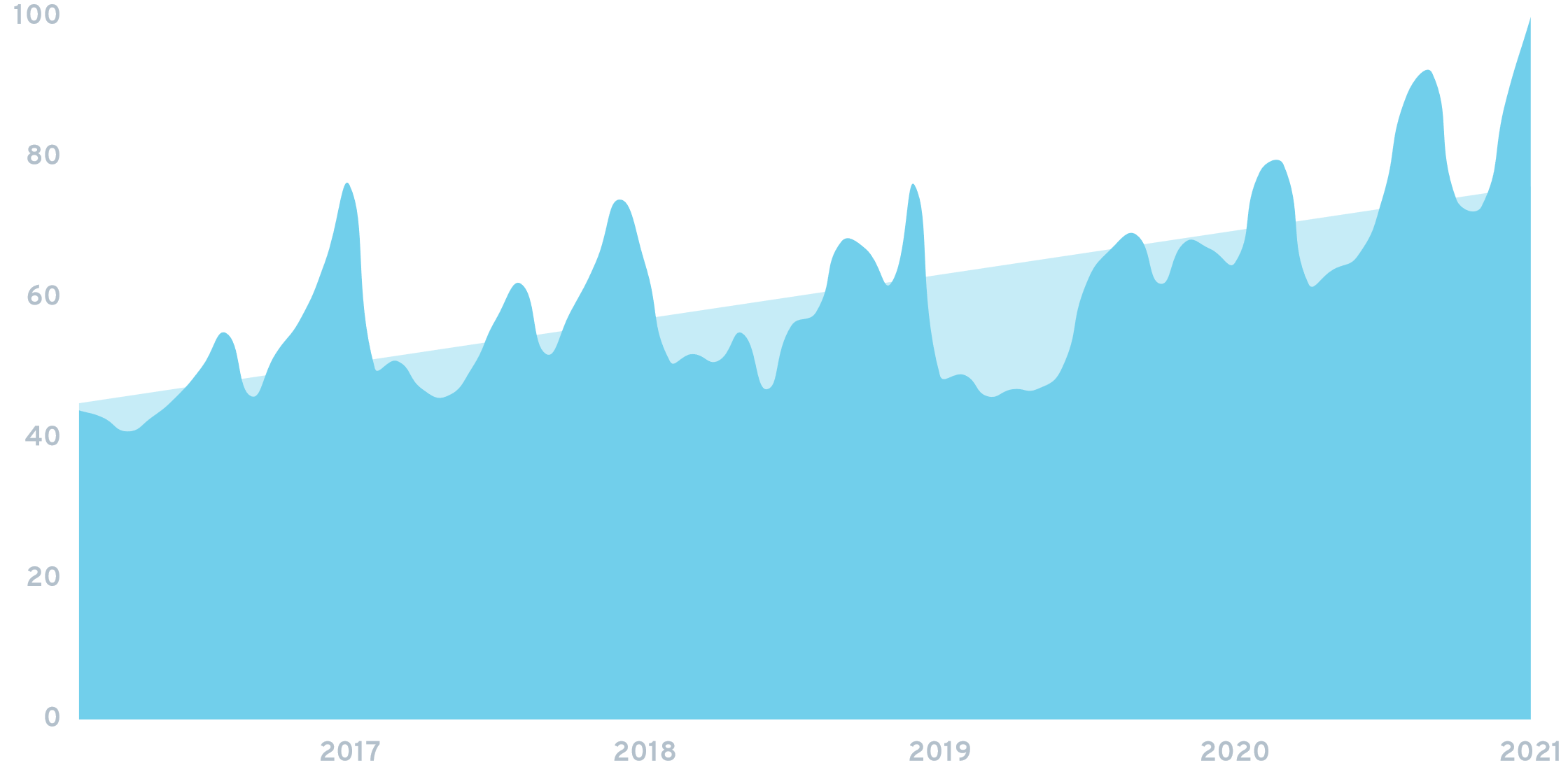 Searches for "eviction" spiked in 2020.
One tech company is trying to make matching lawyers with pro bono cases easier. Paladin is a streamlined software in which law firms sign up, list pro bono opportunities for their attorneys, and allow them to take the cases with just a click of a button.
Conclusion
We hope you learned something new from this list of 4 legal trends for 2021.
The current emphasis on digital automation and the downturn in the economy is ushering in some major changes. Law firms are being forced to grapple with how they can remain relevant and profitable. Perhaps these trends will finally push the legal industry into a growth mindset.
Last Updated: 
January 6, 2021