7 Key Economic Trends for 2022-2024
You may also like:
Trends in the global economy affect everything.
In fact, it could be argued that almost every other trend is dependent on economic conditions.
In a downturn, promising startups may fail to secure funding. And in times of growth, critical infrastructure can be built out.
With that, here's our list of the top economic trends to watch for in 2022-2024.
1. Digital Transformation is Changing the World Economy
The entire global economy is being transformed by digital transformation.
For many businesses, digital transformation means investing in digital technologies that improve operations, create efficiencies, and increase customer value.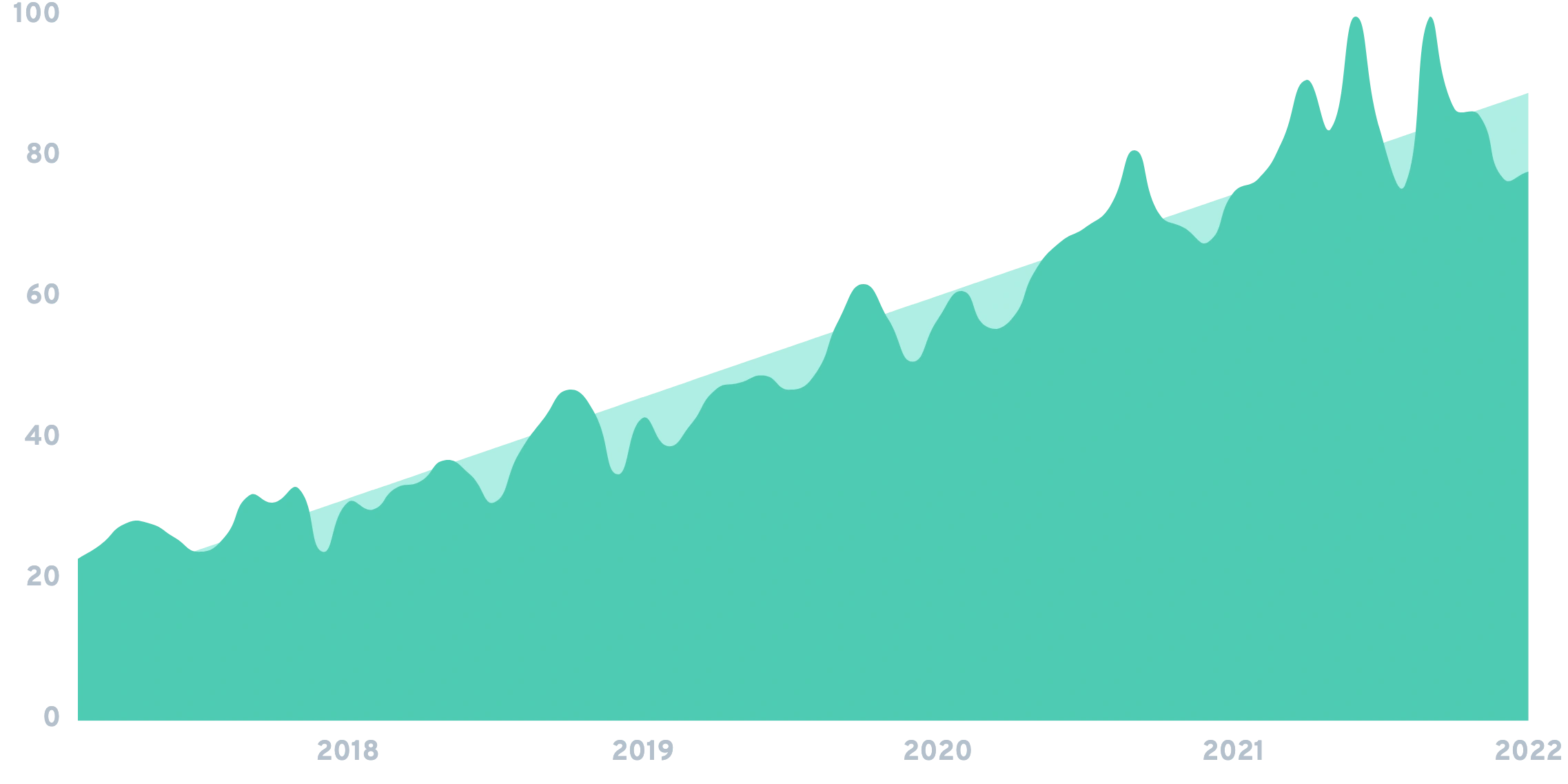 Searches for "digital transformation" have grown by 239% since 2017.
One survey found that 48% of organizations are worried their revenue will take a hit if they don't invest in digital transformation over the next 12 months.
To address this, many companies are scrambling to invest in digital initiatives.

Statista estimates that over the next three years direct investment into digital initiatives will total $7.3 trillion.
These "digitally transformed" enterprises are expected to account for over half of global GDP by 2023.
This is equivalent to $53.3 trillion, compared to just $13.5 trillion in 2018.
One of the major beneficiaries of this shift is the cloud services market.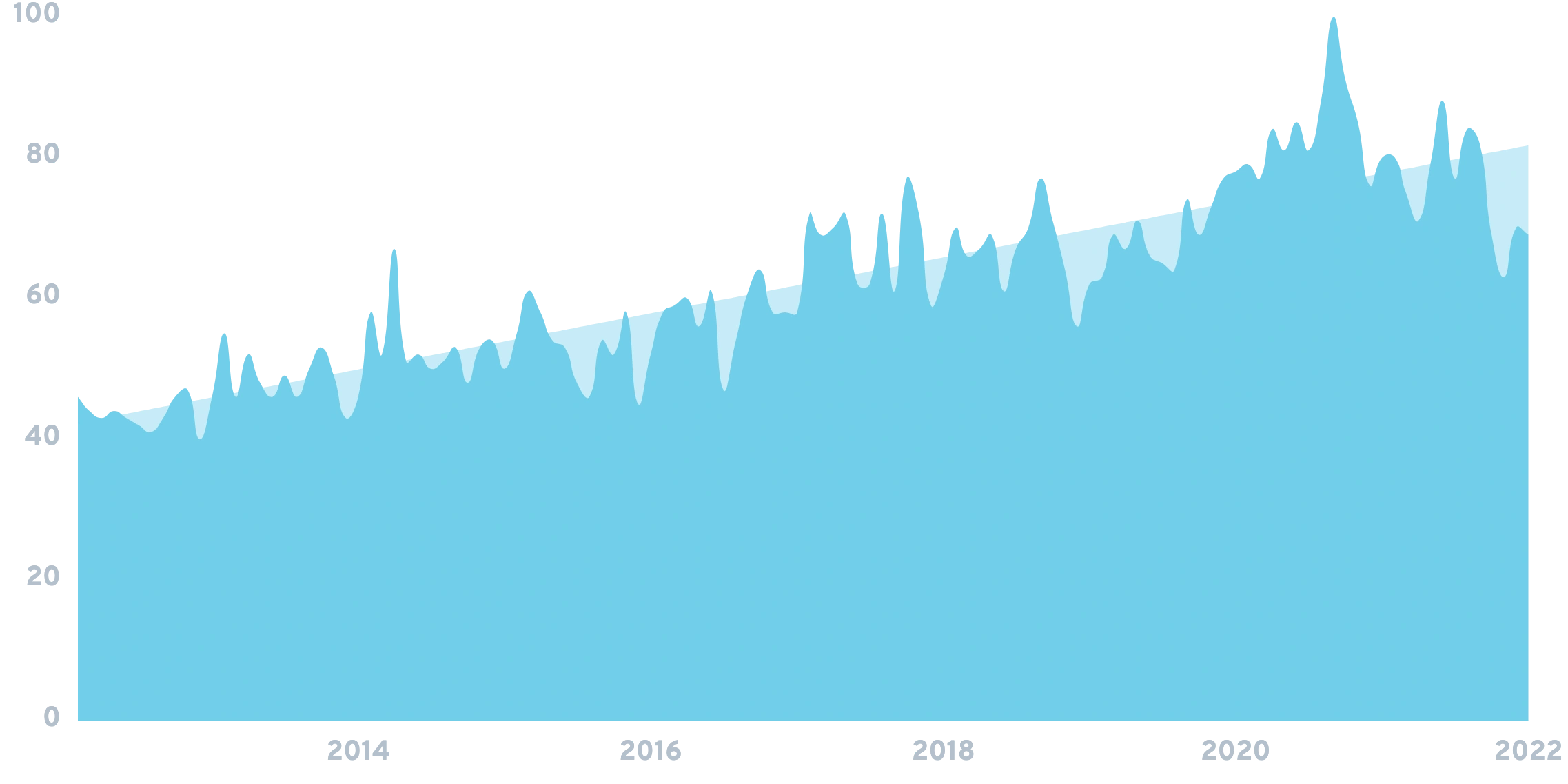 Search interest in "cloud services" have grown by 50% over the last 10 years.
At roughly $482 billion this year, the cloud services market is already massive.
And it's expected to be close to $1 trillion in the next five years.
Outside of the U.S., developing regions will help fuel the growth of this new digital infrastructure.
In doing this, many will leap past steps that developed countries took to build out digital capabilities.
For instance, Africa expects that 475 million people in the Sub-Saharan region will subscribe to mobile internet services by 2025.
(That's more than the population of the United States.)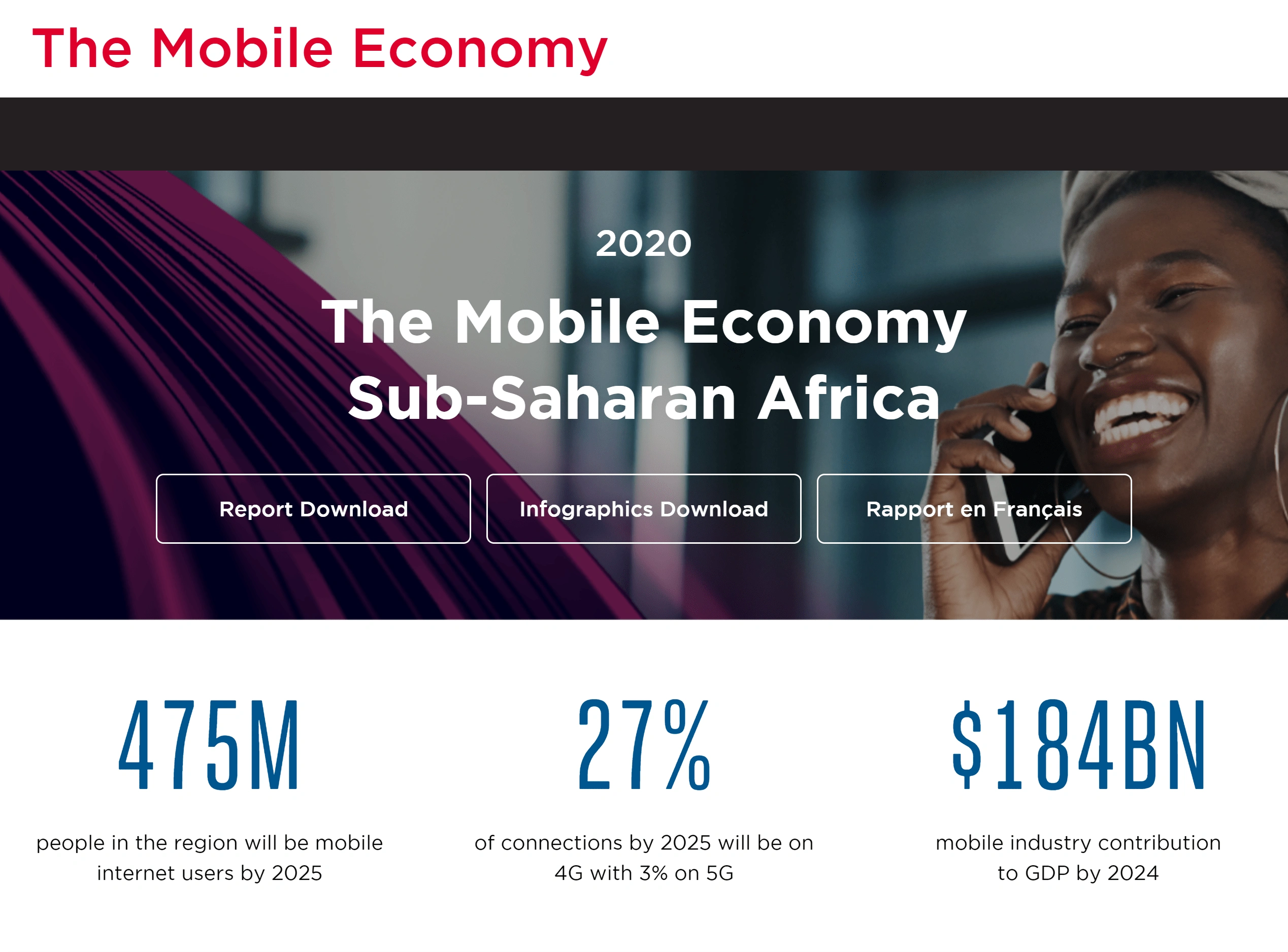 Africa is expected to become a worldwide leader in mobile internet usage. Which may spur innovation.
The mobile industry's contribution to the area's GDP is expected to be $184 billion, or roughly 10% of total Sub-Saharan Africa's GDP.
Digitization is also a way to help the most advanced companies continue to grow.
In addition, a study by PWC found that digitization contributed 20% more in economic benefits to develop economies than it did to those that were just starting to digitize.
2. Asia and Emerging Markets Drive Global Growth
In the year 2000, U.S. GDP was $10.25 trillion.
And it made up just under a third of the world's total GDP.
By the end of 2019, U.S. GDP had grown to over $20 trillion.
But the U.S.'s share of global GDP fell to under 25%.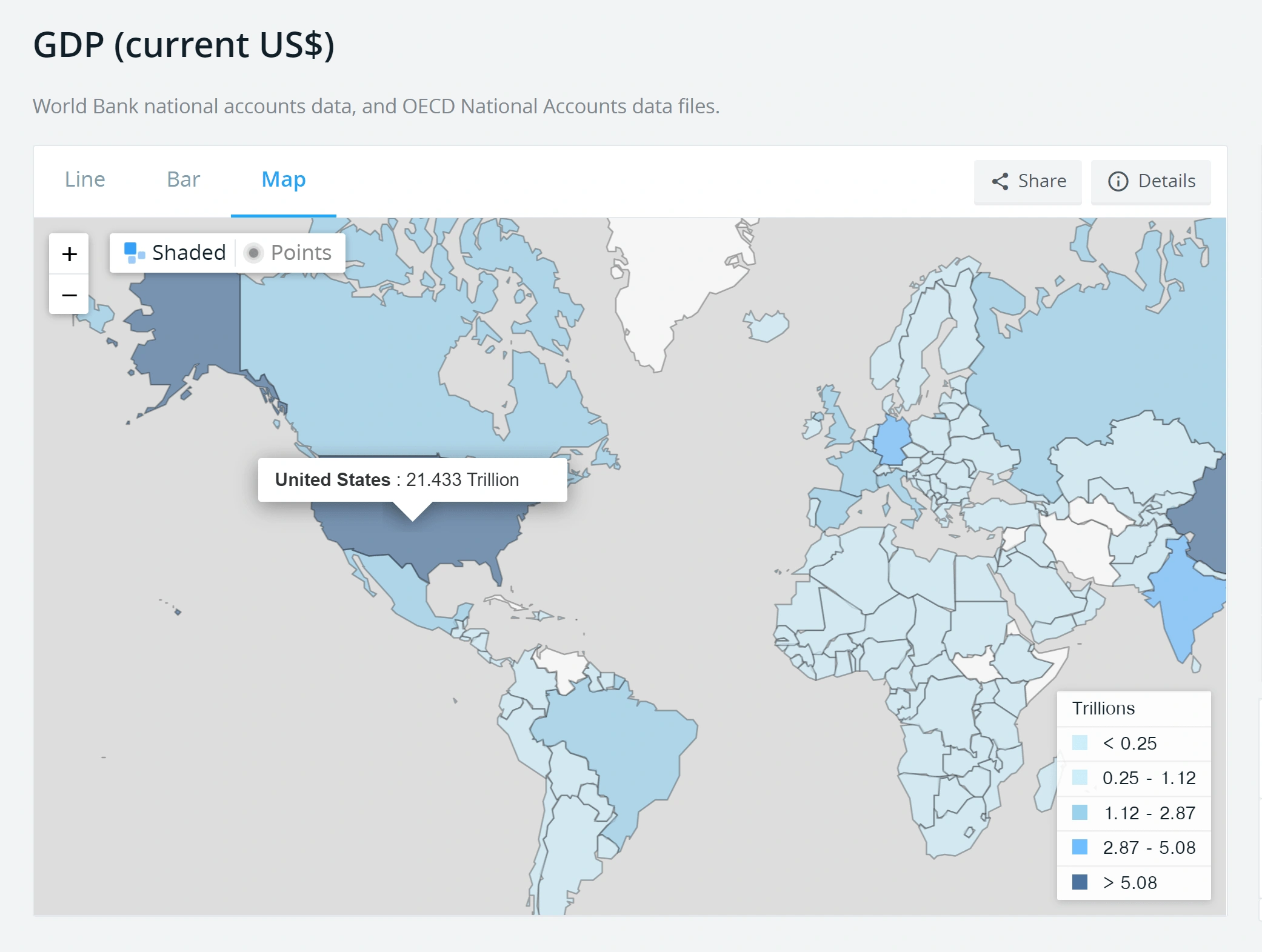 The USA's GDP is growing. But its percentage of world GDP continues to drop.
One of the main reasons for this change? China.
China's 2019 GDP ($14.34 trillion) made up over 15% of the world's GDP. This is compared to just 3.6% of world GDP in 2000.
China's real GDP alone is expected to contribute 28% to world GDP growth by 2023.
And many Chinese-based businesses are reaping the benefits of economic growth.
For instance, Huawei is the world's leading telecom supplier and one of the largest smartphone manufacturers.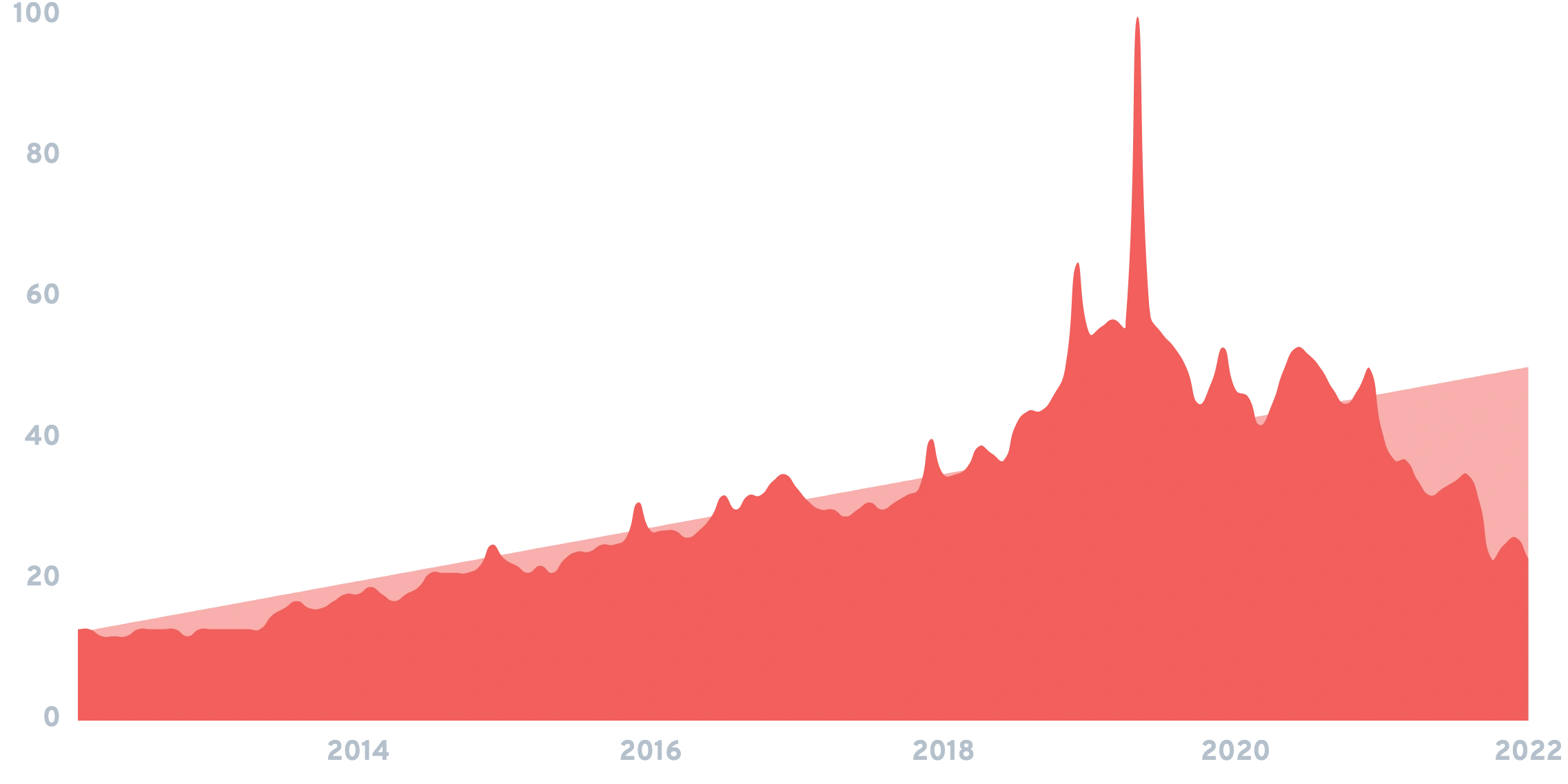 Search interest for "Huawei" has grown by 76% over the last decade.
Other businesses like Tencent and ByteDance (creator of TikTok) are some of the world's leading technology companies.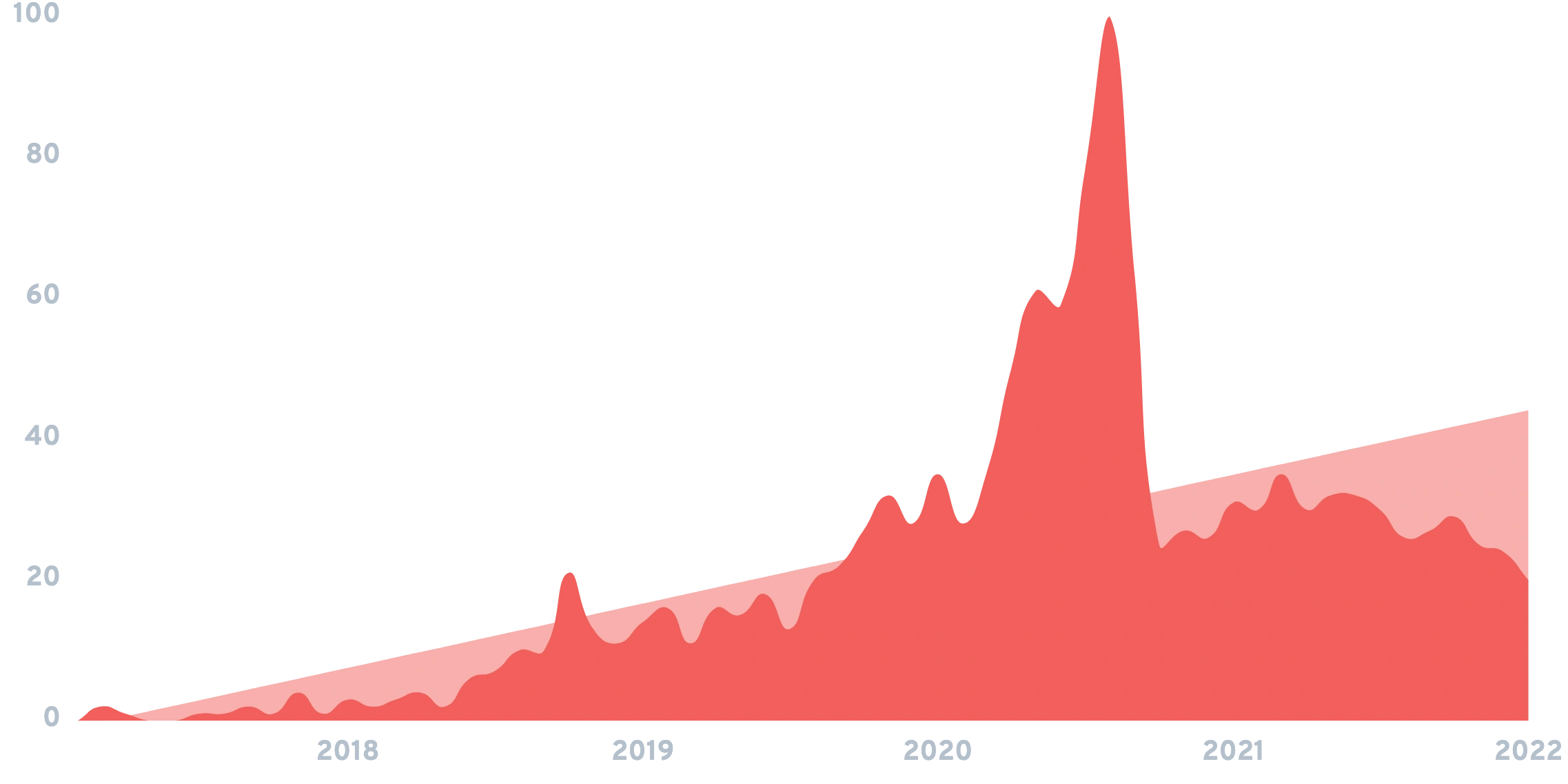 Searches for "ByteDance" have increased by 1,900% since 2017.
China's ambitious Belt and Road Initiative (BRI) also seeks to transform world trade by improving infrastructure throughout Asia and Africa.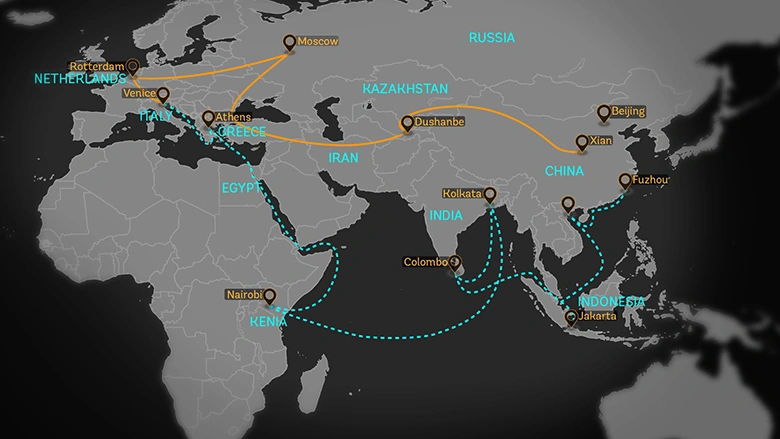 China's Belt and Road Initiative
Economists at the World Bank estimate that the BRI could significantly increase trade throughout the world, and maybe even boost global real income by 0.7% to 2.9%.
Emerging market economies, such as the BRIC group (Brazil, Russia, India, and China) are making up a larger chunk of the global economy.
In 2000, the U.S.'s economy was roughly four times the size of the BRIC economies.
But by 2020, the two were essentially the same size.
With many developed economies experienced subdued growth, emerging markets are driving global growth.
In 2009, emerging markets contributed 63% to global GDP growth.
In 2018, they accounted for around 74% of global growth.
And by 2023, that number is expected to rise to 84%.
Asia's economic outlook is especial strong.
On a purchasing power parity basis (PPP), the Asian countries' GDP is expected to soon exceed the rest of the world's combined GDP.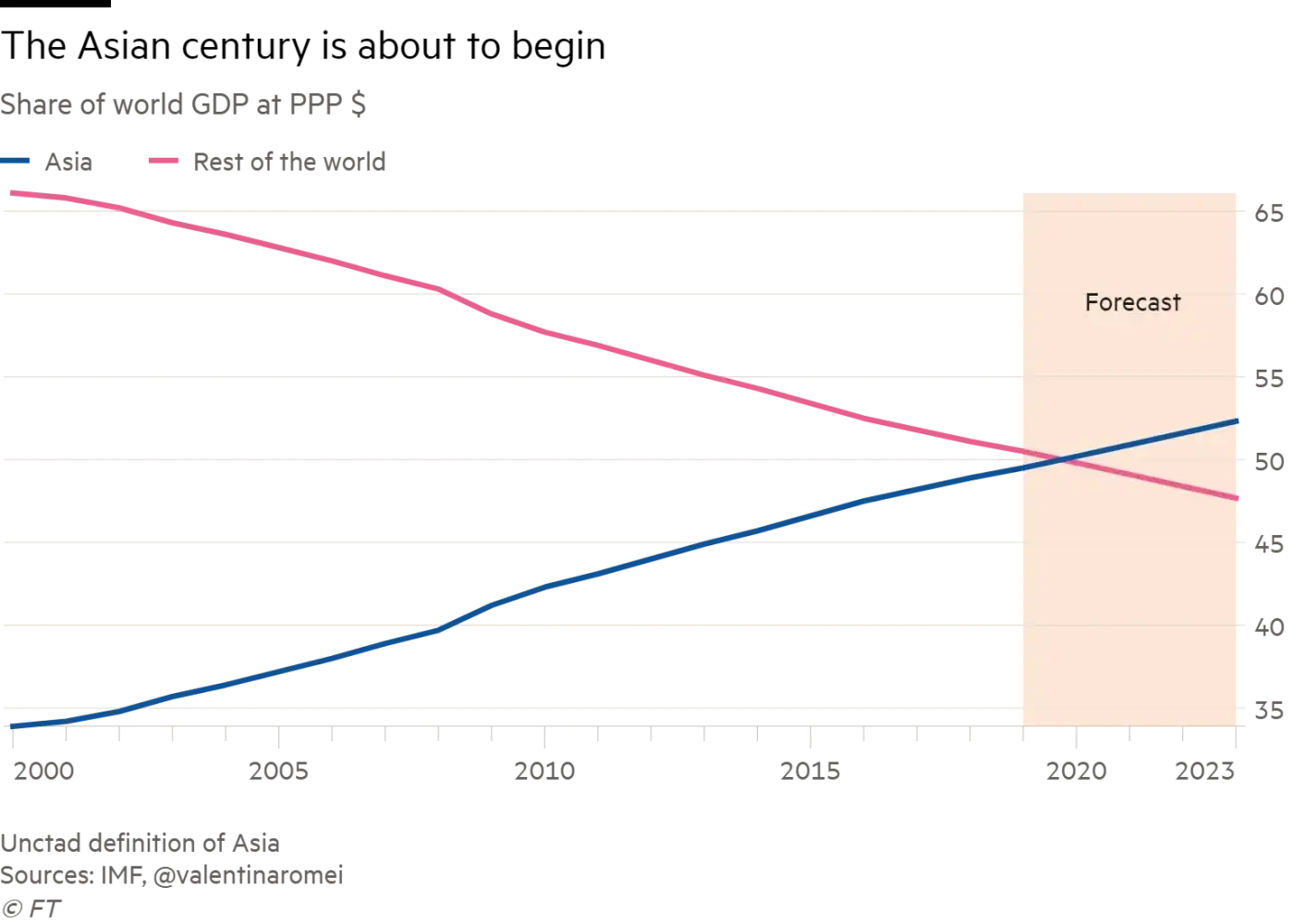 Asia's Share of Global GDP on PPP basis.
Obviously, adjusting for PPP makes a difference.
But even at 2019 market valuations, the Asian economies contributed 38% to global output.
Countries like India have also been a big contributor to that.
With the world's third largest economy, India has experienced remarkable growth over the last 20 years.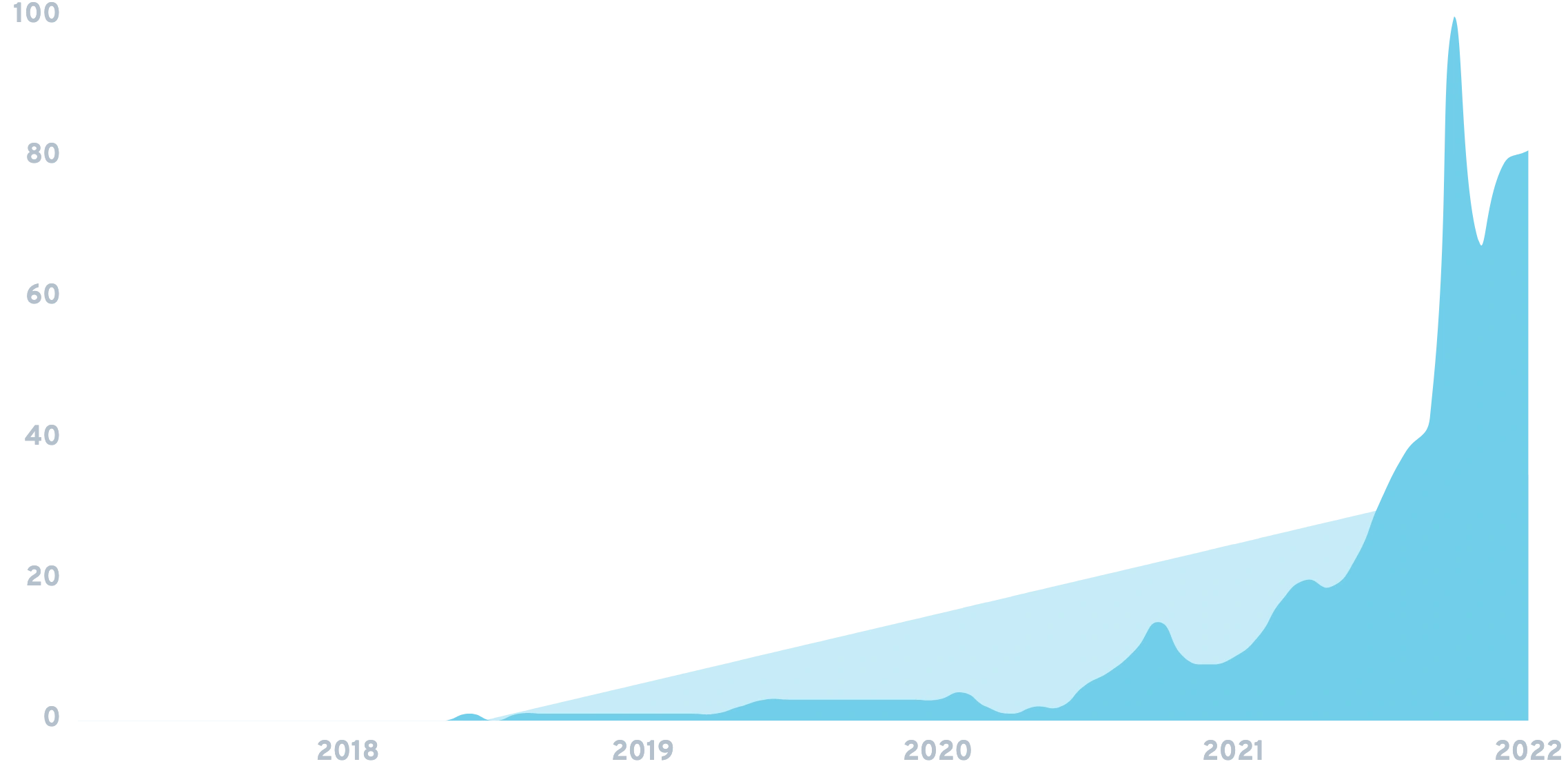 Search growth for "Meesho", a growing startup based in India is up 8,000% over five years.
The middle classes of India and China are expected to exceed 2.2 billion people by 2030.
That's roughly a quarter of the expected world population by then.
Needless to say, India and China will control much of the world's spending power over the next decade.
3. Changing Demographics Impact Healthcare Costs
The U.S. population is getting older and living longer.
Obviously, thanks to the pandemic, healthcare costs increased in 2020.
But before that, annual expenditures were still growing at a steady rate.
The Centers for Medicare & Medicaid Services (CMS) predict that by 2028 healthcare costs will reach $6.2 trillion.
This would make annual healthcare expenditures just under 20% of U.S. GDP, compared to about 17.7% in 2018.
And when you look at the demographic data, this trend makes sense.
The median age of the U.S. population has risen to 38.4 years in 2019 from 30 years in 1980.
By 2035, the US Census Bureau predicts that there will be more people in the U.S. over the age of 65 than children.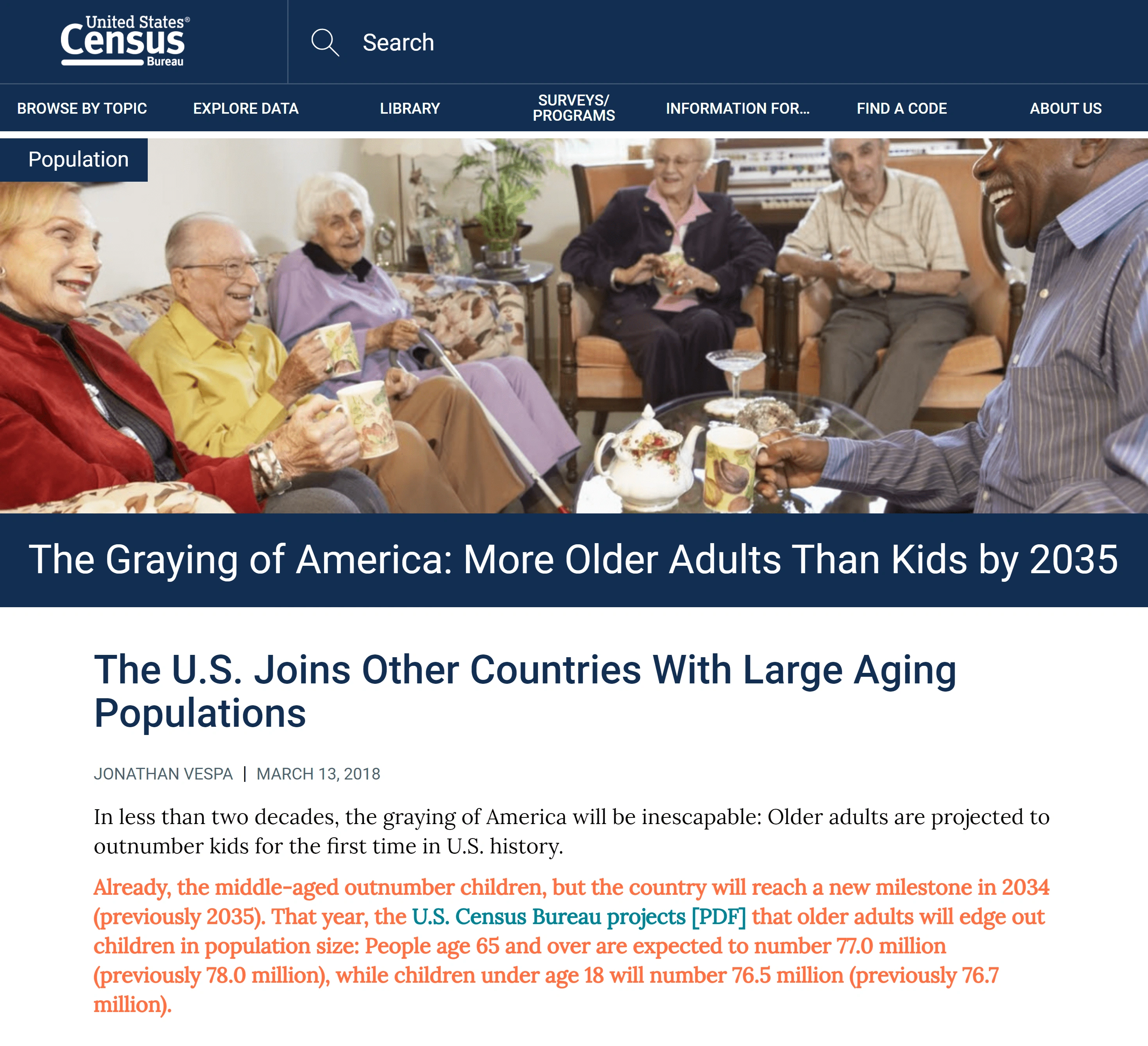 Predictions show that the average age in the US will continue to rise over the next 20 years.
Because of this, Medicare spending is expected to increase over the next few years.
Other countries have been, on average, experiencing higher healthcare costs at well. But none have been at the same level as the U.S.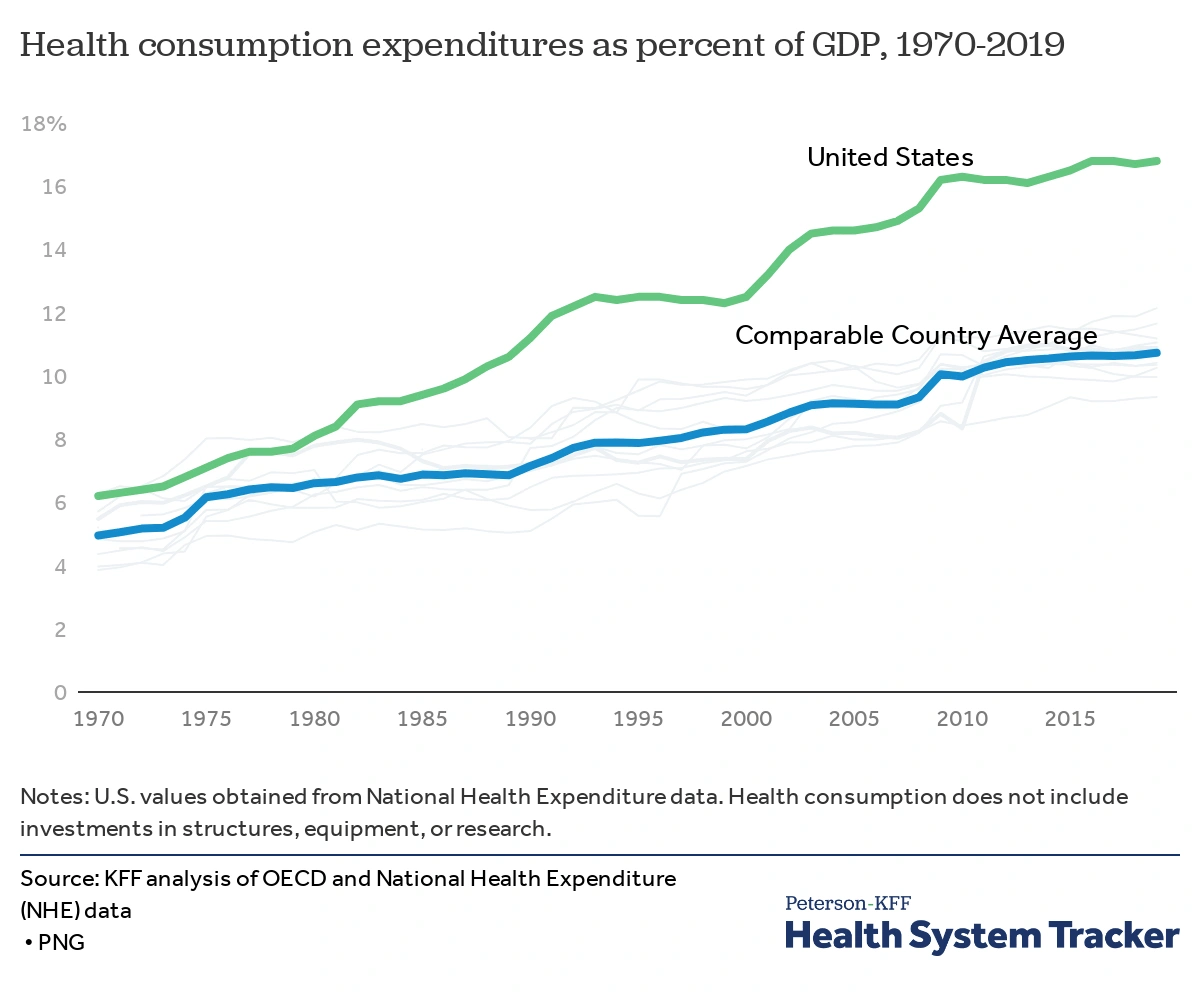 U.S. Health spending compared to the rest of the world.
In fact, U.S. healthcare spending vastly exceeds any other country in the world.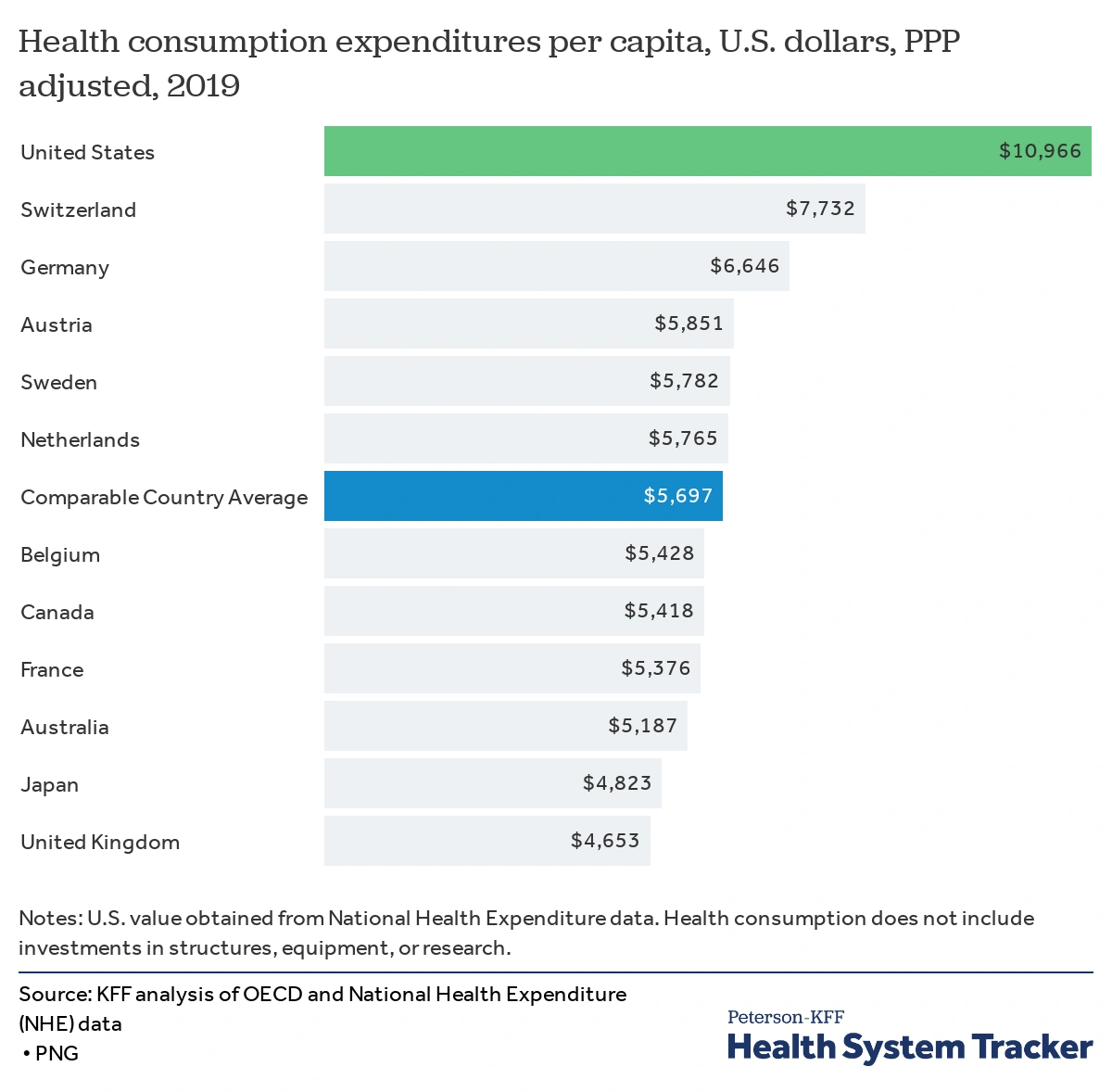 U.S. Healthcare spending per capita compared to other countries.
Outside of specific US states, the federal government is also spending a lot on healthcare.
Healthcare spend was only 5% of the federal budget in 1970.
By 2000, it had risen to 20%. And by 2018, the cost had reached 28% of the entire federal budget.
4. Monetary and Fiscal Intervention are on the Rise
Over the last few decades, interest rates have been continuously decreasing.


10-Year Treasury Rate over Time
And this isn't just in The Fed doing its thing.
Almost all developed countries have experienced decreasing rates since 1980.
In fact, about 27% of global bonds are now negative yielding.
This means that $18 trillion worth of bonds now require the lender to pay interest to the borrower.
The U.S. has, to this point, avoided negative yields. But the Federal Reserve is still taking heavy action.
The growth of M2 (a measure of the total money supply in the U.S.) has grown at a very high rate over the last 40 years.


Total supply of M2 since 1980.
In Europe, the European Central Bank (ECB) has engaged in quantitative easing and other accommodative monetary policies for the last eight years.
The Bank of Japan also became the largest owner of Japanese stocks in 2020 (though it does technically hold its positions through ETFs).
On the fiscal side of things, public debt as a percentage of GDP has been rising around the world since 2008.
In the U.S., government debt as a percentage of GDP has risen from 63% in 2008 to 107% just before the start of COVID-19.
And the U.S. isn't alone.
Almost every advanced economy's government debt as a percentage of GDP rose significantly after 2008. Included in this list is Japan, the UK, France, Spain, Australia, Italy, and Portugal.
5. The Workforce is Rapidly Changing
One of the largest economic trends of 2020 was the rise of remote work.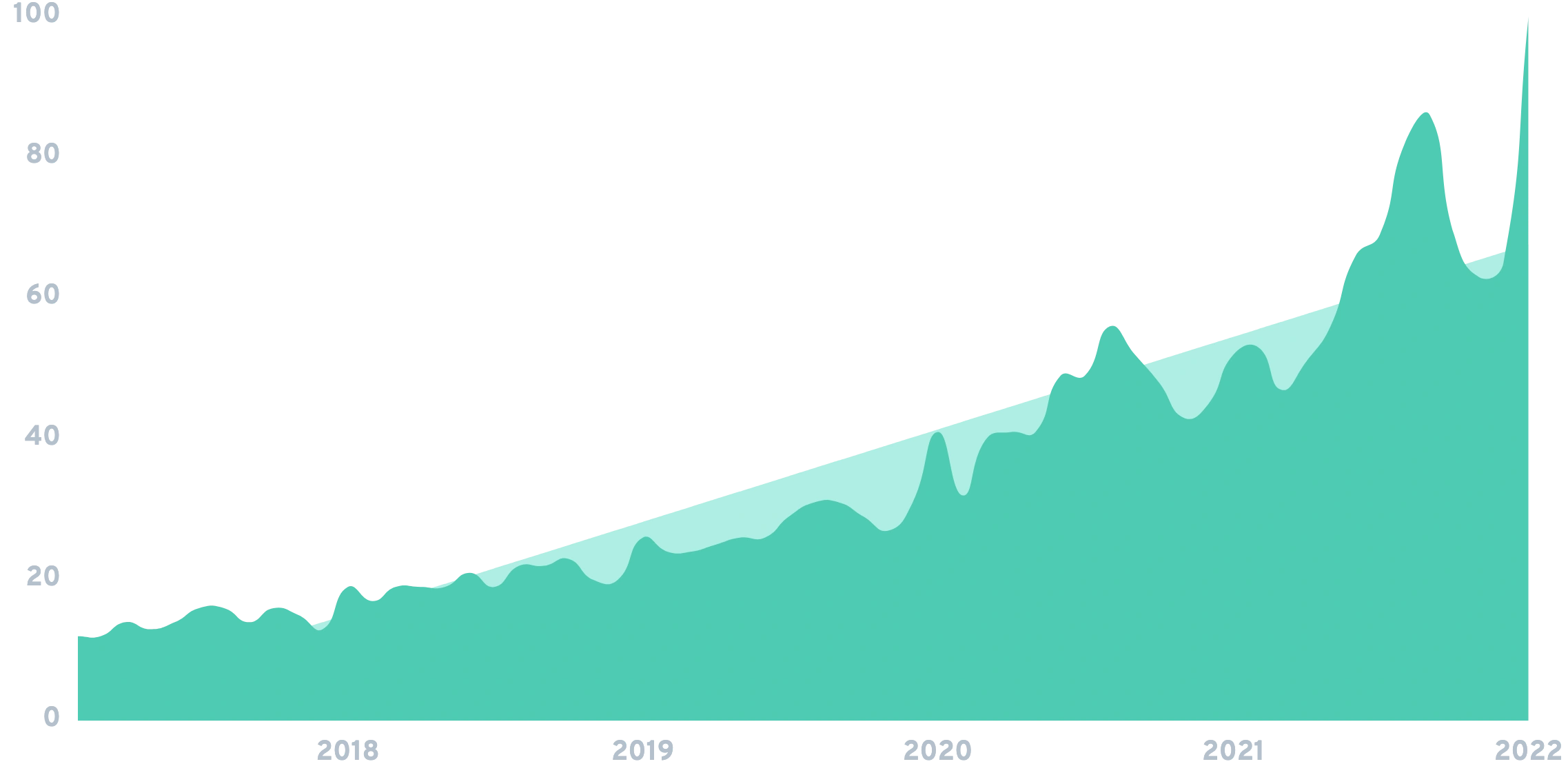 Searches for "remote jobs" grew by 733% over the past five years.
What you may not have realized, however, is that this trend was in play long before lockdowns began.
In 2018, 3.2% of the workforce was working from home.
And that number had increased by 140% since 2005.
It is also estimated that the number of companies hiring remote workers had already increased by 40% over the last five years.
Interestingly enough, in 2019 a study found that an increase in the remote labor market could add trillions to U.S. GDP.
In the past, many part-time or underemployed individuals desired to work longer hours. But couldn't because of geographical limitations.
In fact, 93% of part-time workers surveyed said they would work longer hours if their work schedule was more flexible.
And in 2020/2021, we've seen this trend explode.
Roughly 18% of the U.S. workforce is now working from home.
It's almost impossible to predict how this trend will play out after things return to normal.
But for now, a Gartner survey found that 80% of business leaders plan to allow their employees to work remotely at least part time.
Other research shows that workers are 30% to 40% more productive when working from home.
The shift from working in offices to working at home has also boosted interest in "the gig economy".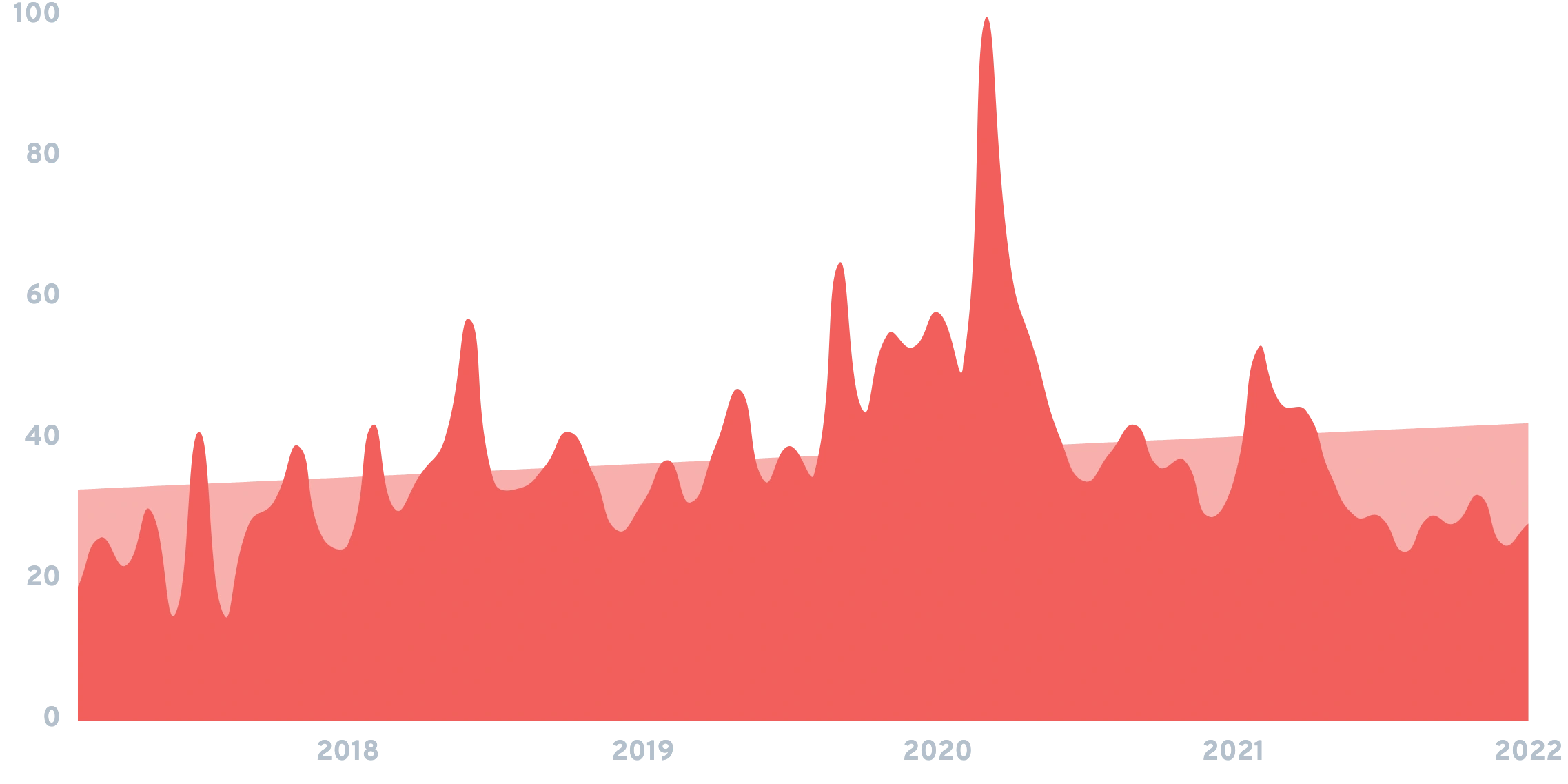 Searches for "gig economy" have grown 47% over the last five years.
In the U.S., recent estimates place the number of gig workers at around 57 million Americans.
This equates to roughly 35% of the workforce.
2020 numbers are still fuzzy, but the pandemic has probably affected things.
It's estimated that freelancers added about $1.28 trillion to the U.S. economy in 2018.
That's probably why more than 80% of U.S. companies are considering using freelance workers.
In 2019, it was reported that Google had more temp and freelance workers than employees on its staff.
As surprising as it sounds, some research even predicts that the majority of the U.S. workforce will be made up of freelancers by 2027.
6. ESG Initiatives Transform how the Economy Operates
The environmental, social, and governance (ESG) movement may be reshaping the way we conduct business and invest in the future.
These ESG standards are primarily being pushed by investors.
BlackRock, the world's largest asset manager (over $8 trillion AUM), has already announced that most of its funds will be governed by ESG requirements.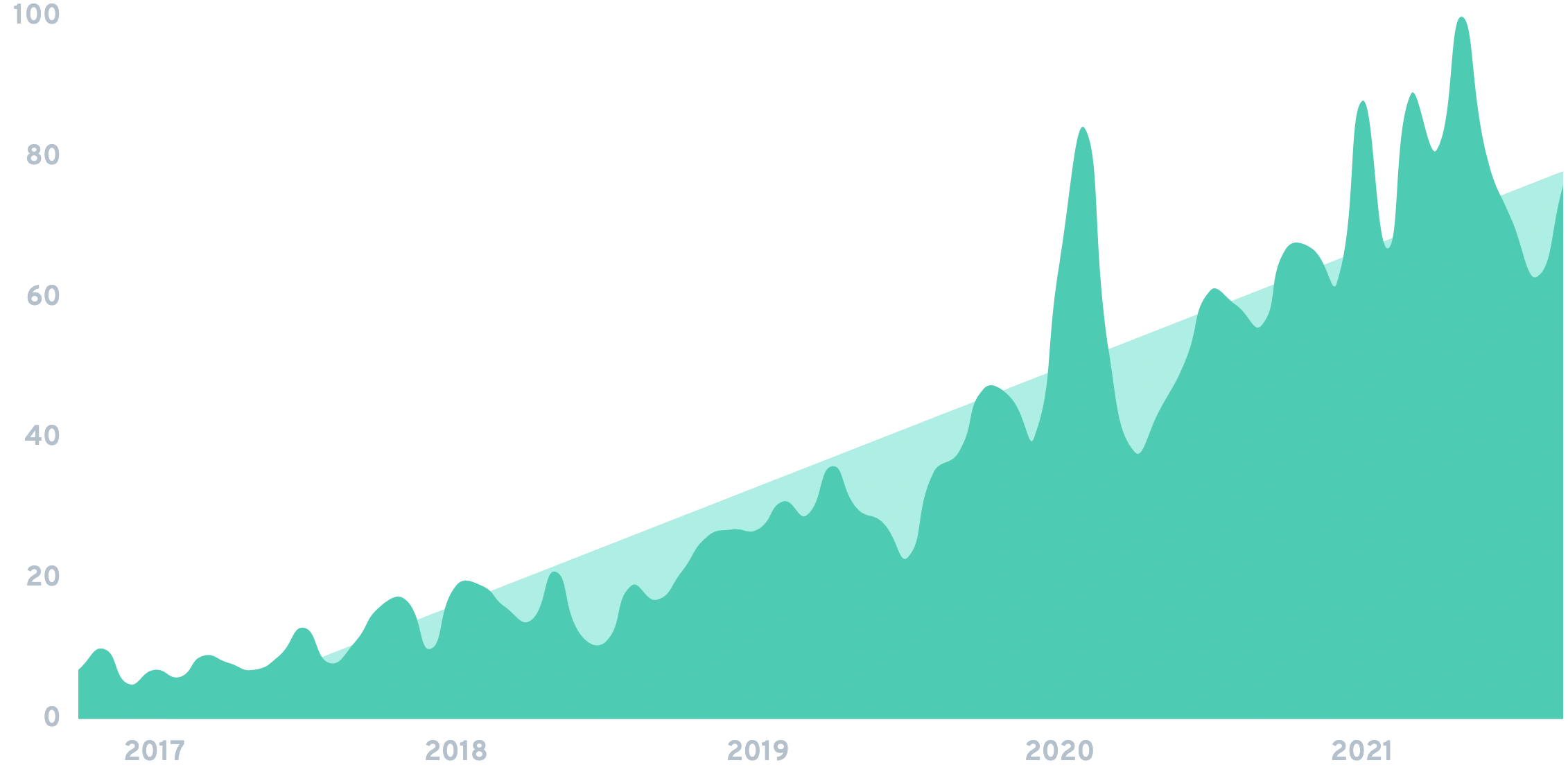 Search interest in "ESG Investing" grew by 950% since 2017.
Total sustainable debt issuance was up by 29% in 2020 to $732 billion.
And Morningstar reports that flows into ESG funds were over $51 billion in 2020. That's more than double 2019's number and ten times as much as 2018's.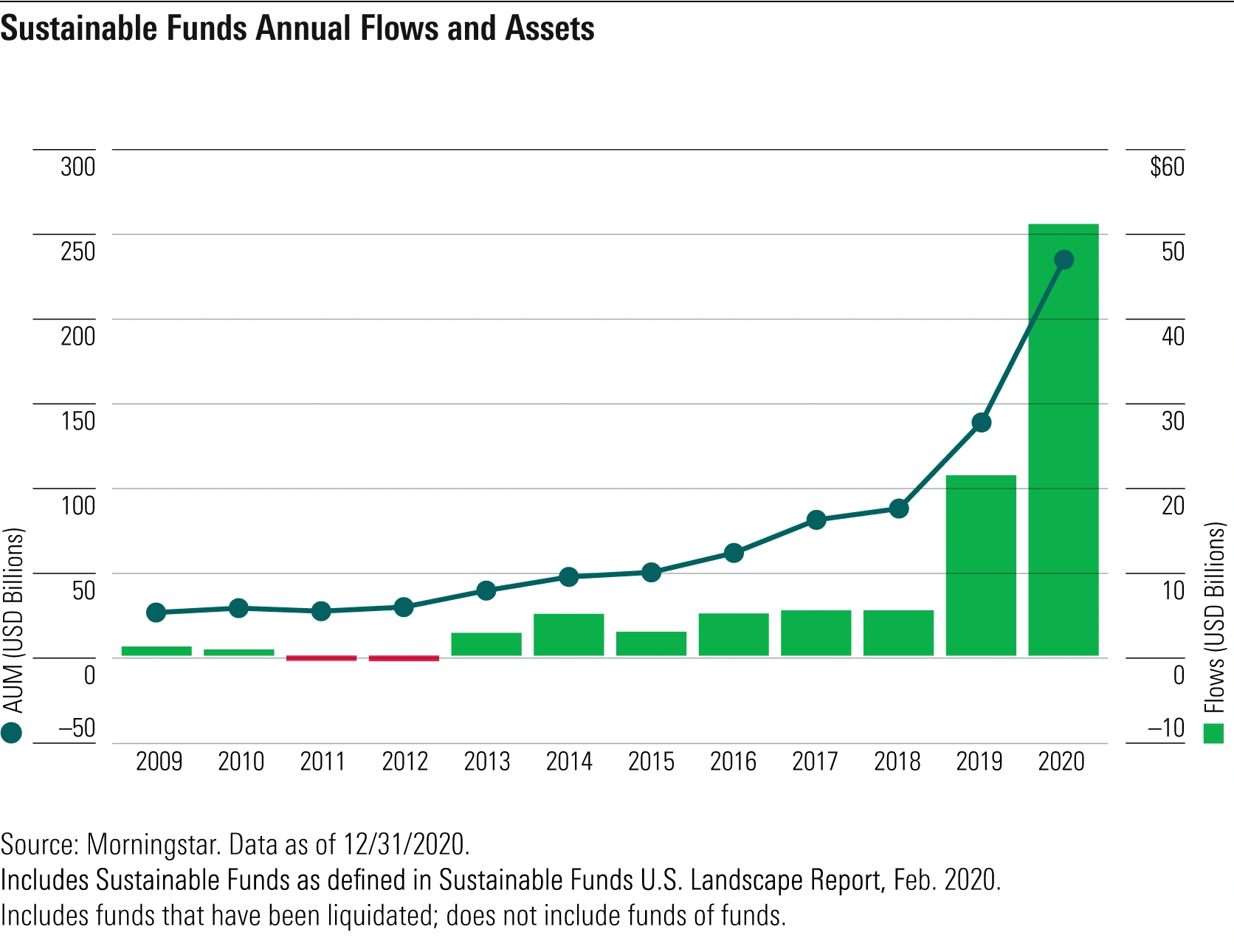 Sustainable Fund Flows in 2020.
Deloitte predicts that over half of all institutionally-managed assets will be ESG-focused by 2025.
On the corporate side of things, a collection of the largest tech companies have all made commitments to be carbon neutral by 2030.
And in the automotive space, General Motors just became the first of the large automakers to publicly declare that it will only manufacture electric vehicles by 2035.
In the investment world, some feel that this trend is a dying fad. But with real dedication by some of the largest corporations, the movement seems to be forcing action.
On the governance side, things are changing as well.
The Business Roundtable (the U.S.'s largest association for CEOs) announced three years ago that it was changing its corporate purpose standards.
Instead of focusing on shareholder primacy, the group now advocates for stakeholder capitalism.
7. SPACs Go Mainstream
A SPAC (special purpose acquisition company) is a publicly-listed shell corporation set up in order to try and acquire a private company.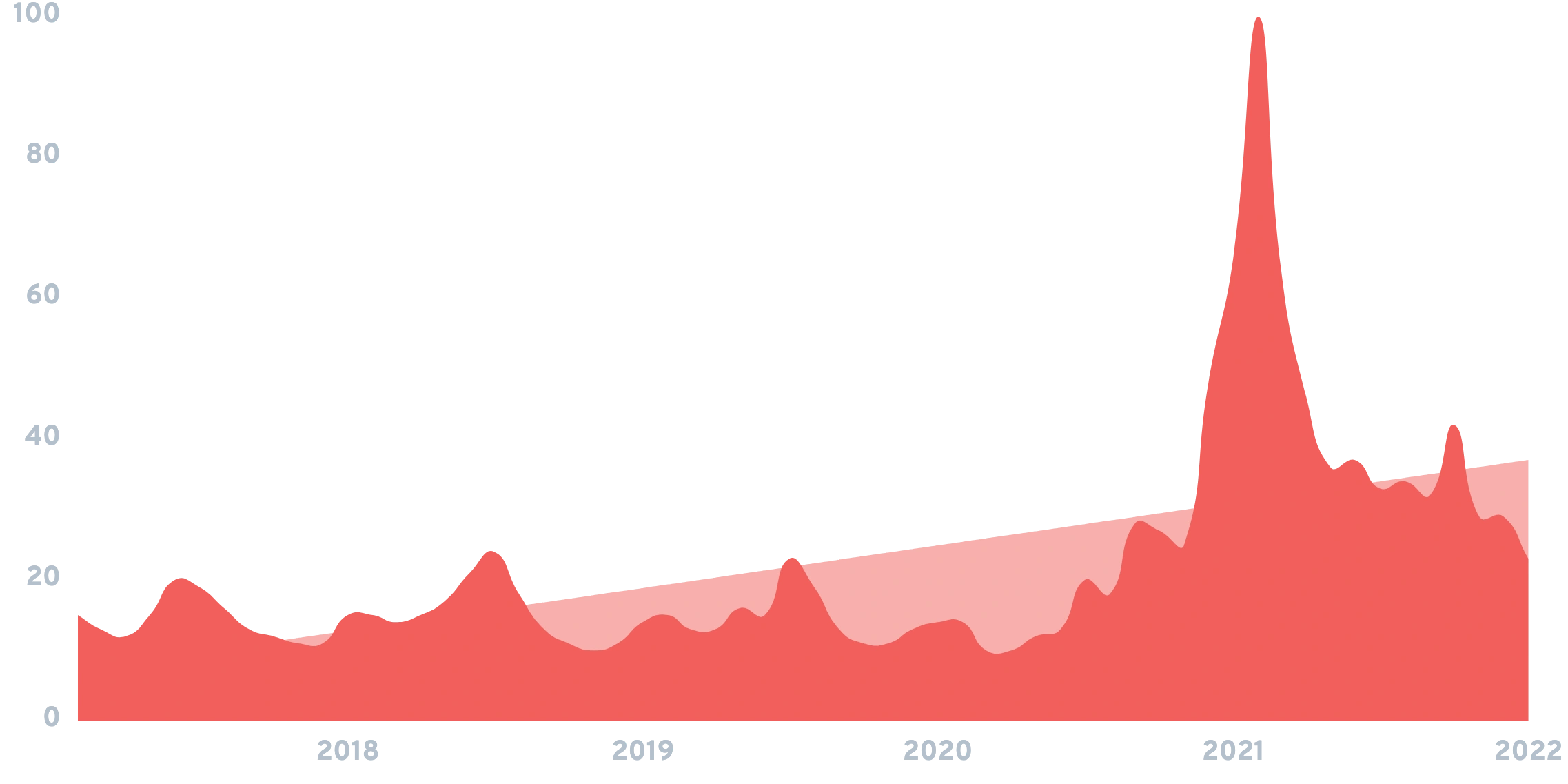 Search growth for "SPAC" has increased by 53% over five years.
SPACs seek to raise money through an initial public offering (IPO).
Either the acquisition is completed within a set period of time (typically 2 years), or the money is returned to investors.
Interest in these investment vehicles have soared over the last year.
SPACs raised a total of $79.87B in 2021 (up to December 28), a 462% year-over-year increase.
(For comparison, traditional IPOs raised $67B in 2020.)
The number of SPACs also grew dramatically, from 59 to 237. The average IPO size was $337M.
In the first quarter of 2021 alone, SPACs were responsible for deals worth $172B. That's more than a quarter of all US mergers and acquisitions activity.
And there are currently 350+ active SPACs looking for an acquisition target.
SPACs are one of many new accessible investment options becoming available.
Individual investors account for roughly 40% of all SPAC trading.
By comparison, individual investors made up 19.5% of total US equity trading volume last year. And even that represented a 4% jump over 2019 — individual investments are growing across the board.
Robo-advisor services are a big part of the growth.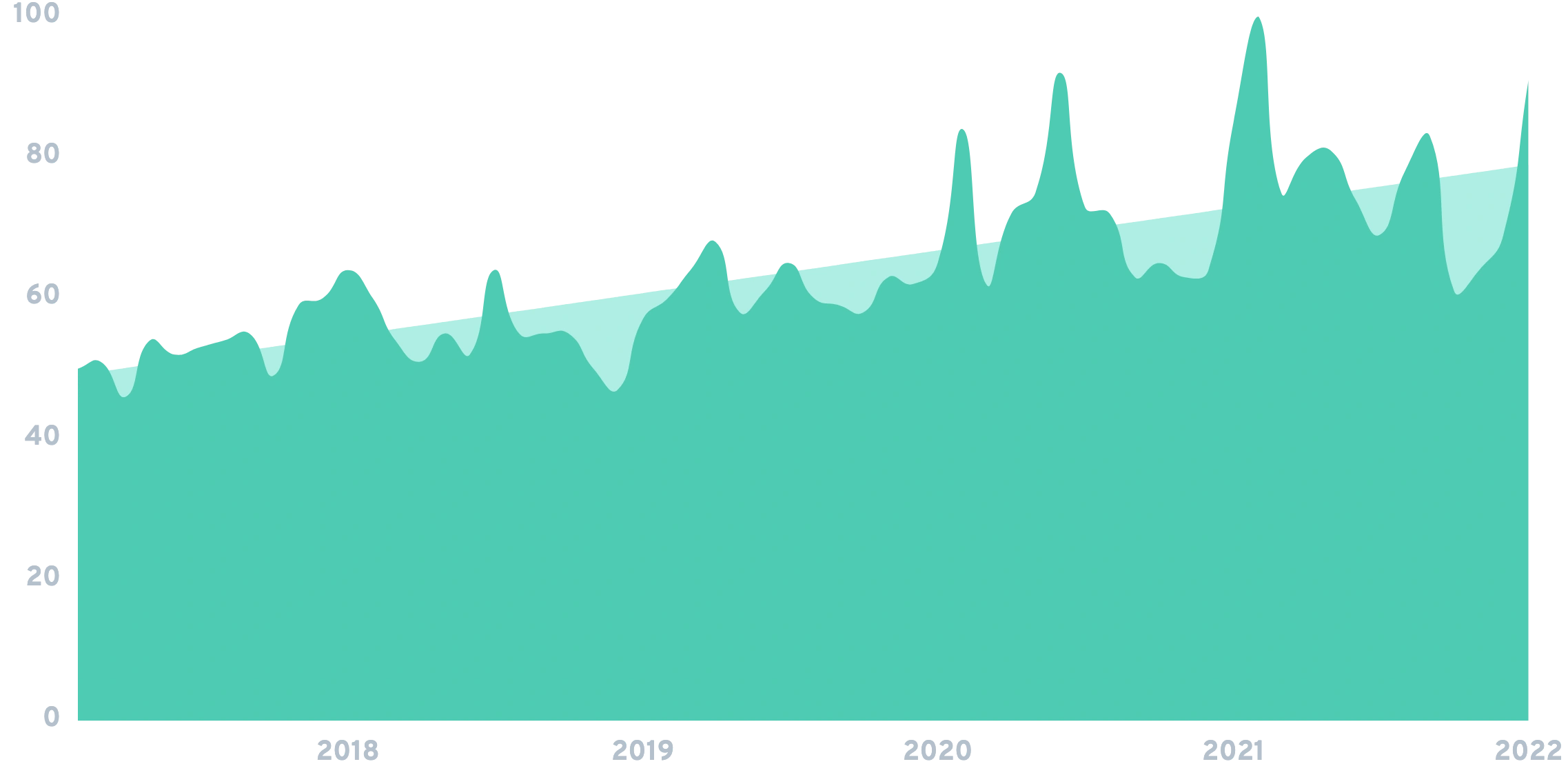 Google searches for "robo-advisor" are up 82% over a five-year span.
Wealthsimple is a partly automated investments and savings company. Over 1.5M customers invest through the platform.
Annual revenue is an estimated $33M. And the company raised an $87M venture round in October 2020, taking its valuation above $1B.
Other accessible investment options with growing interest include fractional investing, ESG investing and M1 Finance.
Conclusion
That's all for the top economic trends to watch in 2022 and beyond.
COVID-19 has definitely changed things on this front. There were a number trends that have been disrupted by it. And there are other trends that have been accelerated by it.
It will be interesting to see how business and governments impact the economy unemployment rates fall. And the world experiences a post-coronavirus economic recovery.