Top Banking Trends (2023-2026)
You may also like:
Banking is one of the oldest industries in the world.
But it is also one of the most essential. And it is changing in ways we have never seen.
Read on to learn more about the most important banking trends happening this year.
1. NeoBanks are Changing the Banking Landscape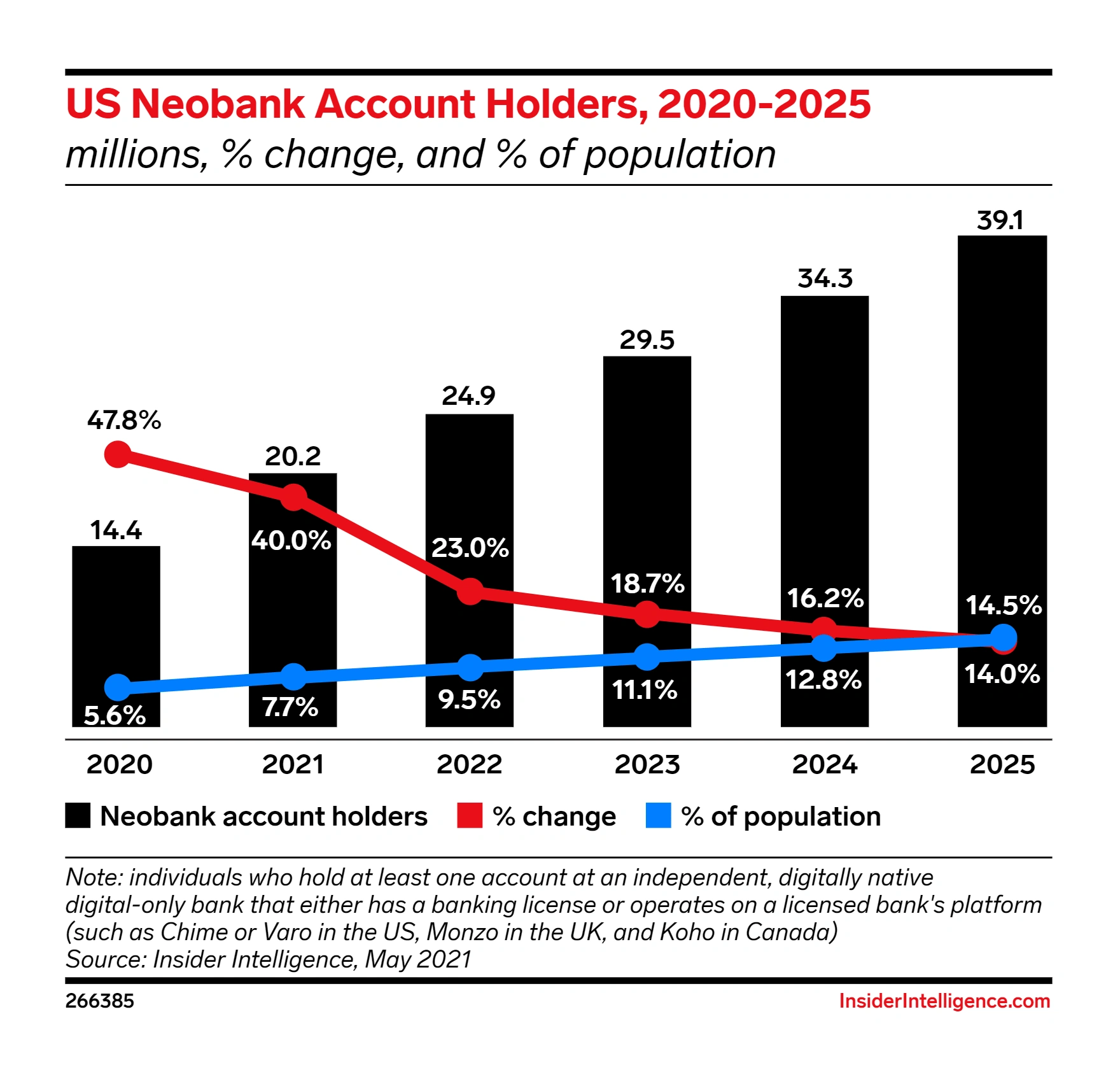 Number of Neobank account holders by year.
Today, there are somewhere between 15 and 20 million neobank account holders.
That's over 14% of the population.
Essentially, the total number is expected to double over the next four years.
So, what is a neobank?
A neobank is a licensed bank that operates completely online.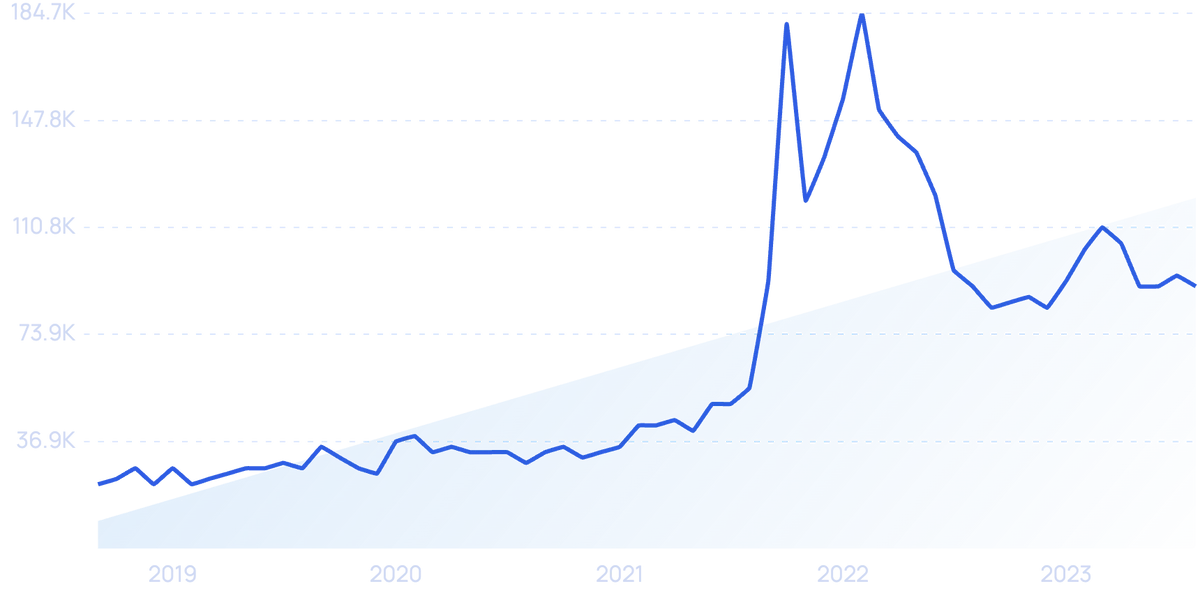 Search interest in the term "Neobank" has grown by 308% over the last 5 years.
Some examples include Chime, Current, Revolut, Starling, Varo, etc.
The total value of the neobank market was about $34 billion at the end of 2020.
And some analysts are predicting an enormous growth in the future.
The neobank market is expected to be worth about $722 billion by 2028 (an annual growth rate of almost 50%).
The largest neobank is Chime.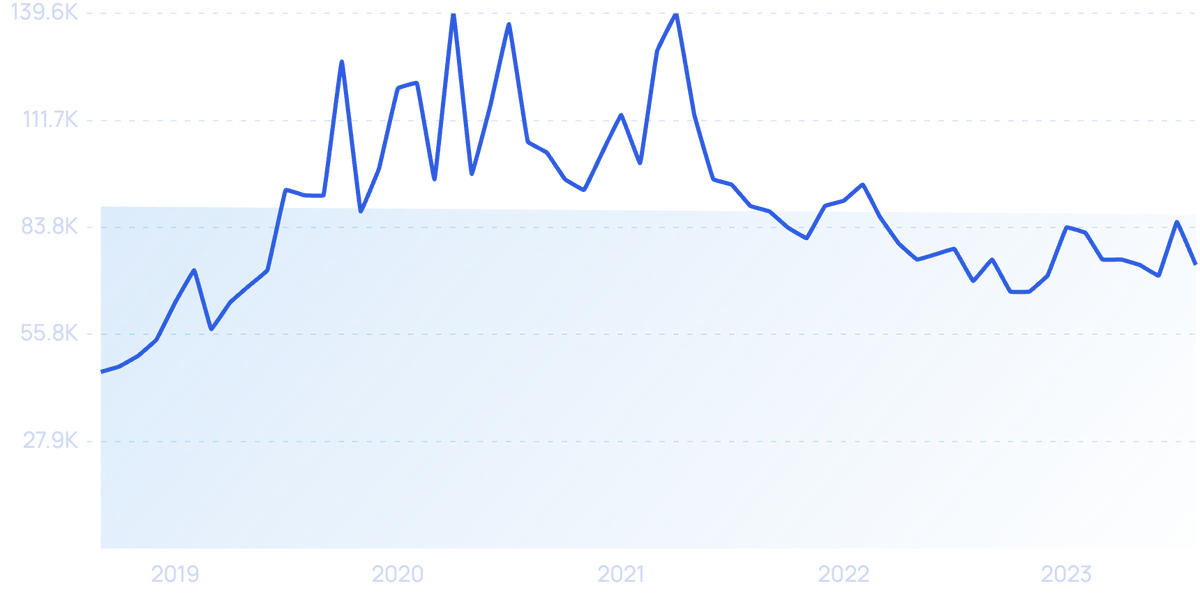 Searches for "Chime Bank" have grown by 61% over the last 5 years.
Chime currently has about 21 million account holders, surpassing every other digital bank in the US.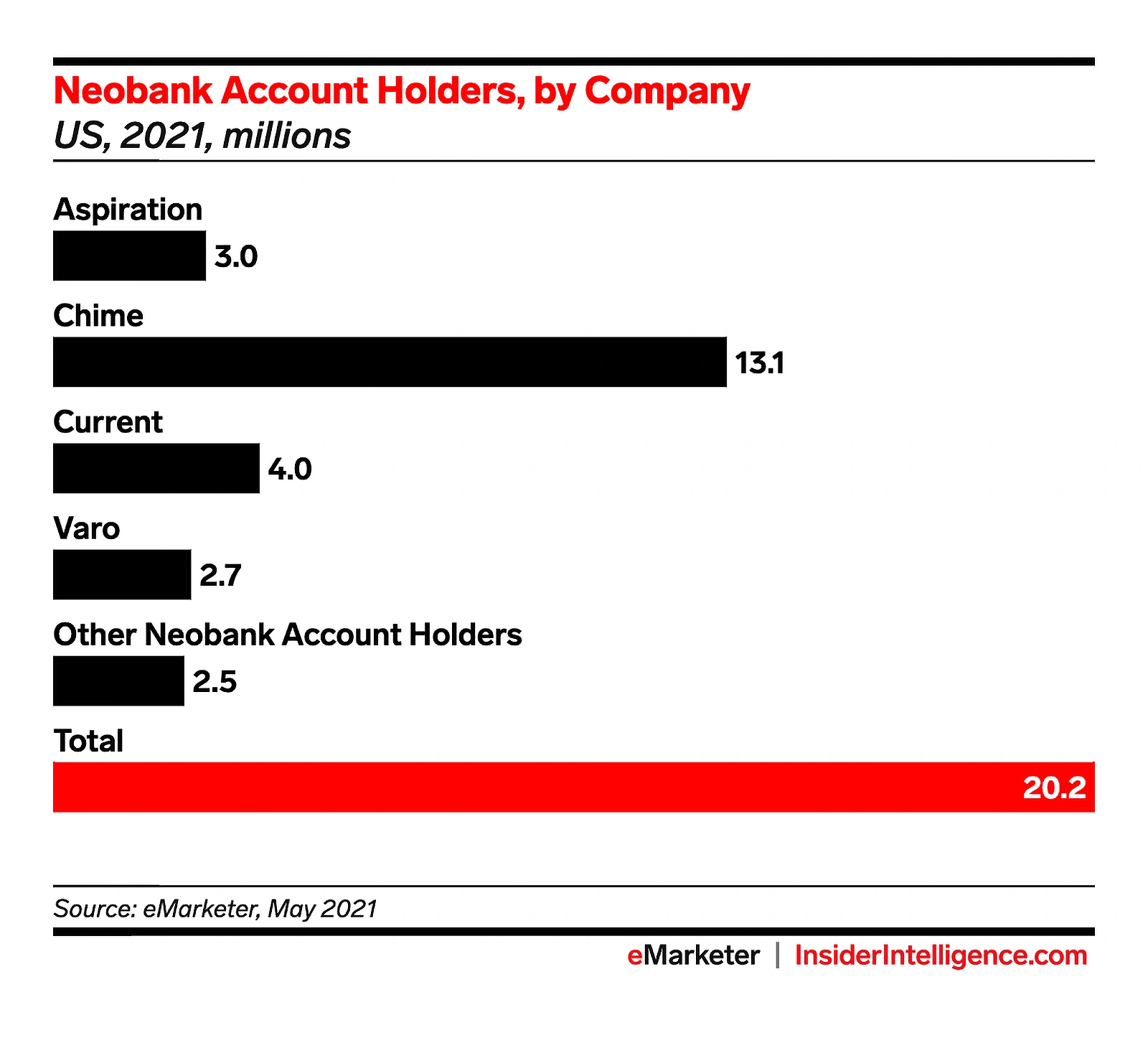 Chime controls about 64.8% of the total neobank accounts in the US.
In 2021, Chime had a funding round that valued it at $25 billion.
Because of this, Chime's valuation jumped by more than $10 billion in less than a year.
And with Chime's consumer-friendly policies like no overdraft fees and early direct deposit, it is becoming a mainstay in the banking landscape.
Chime's focus on middle-to-lower-income consumers also produces a lot of customer loyalty.
Forbes reported that Chime claims about 8 million primary customers – customers who consider Chime their primary bank. This is about two-thirds of Chime's overall customer base.
This is the fifth most in the US, considering many other large banks have large depositors with multiple accounts.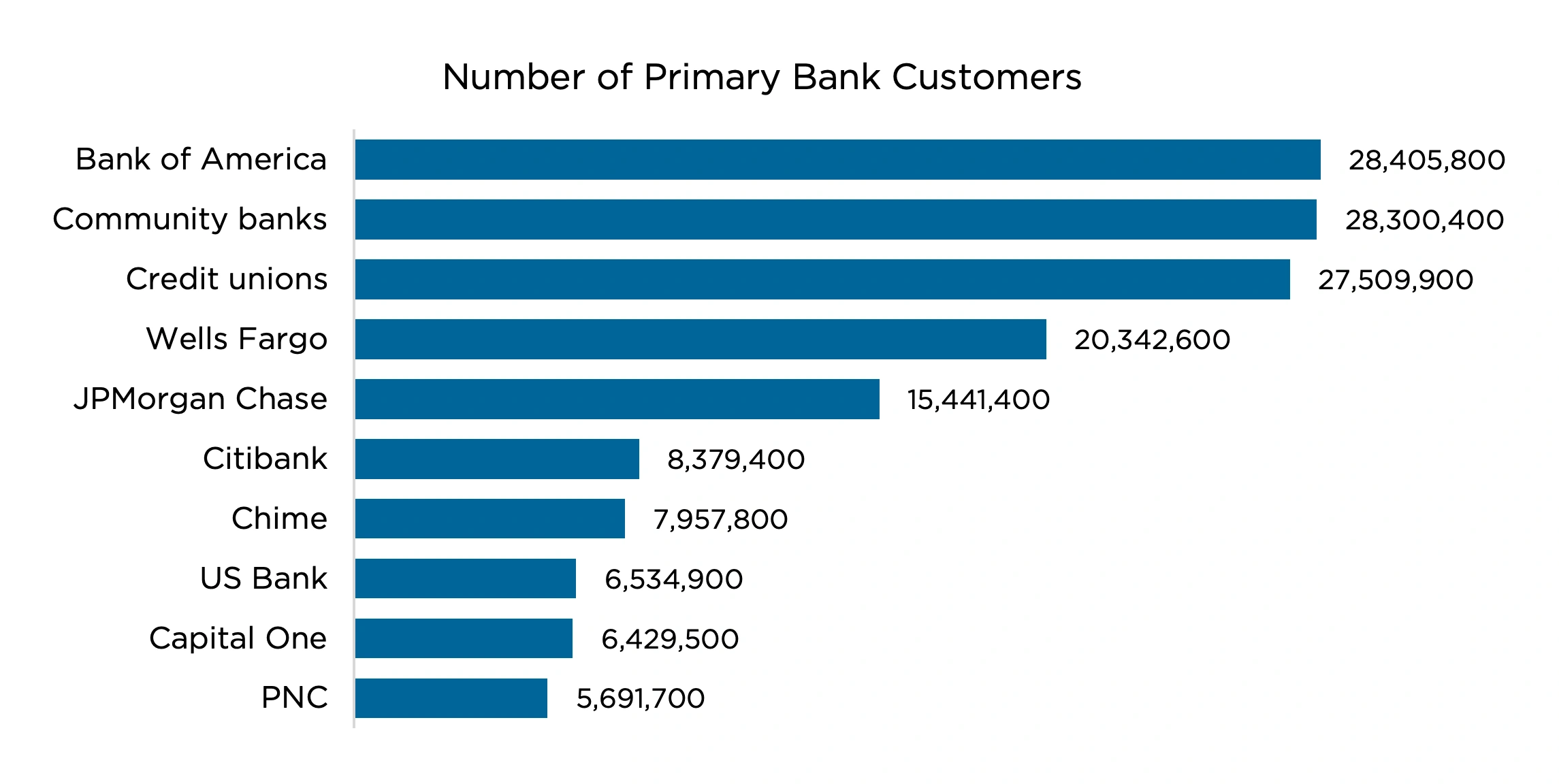 Chime is right behind established mega-banks like Citibank and JPMorgan Chase in terms of primary accounts.
It's clear that consumers are starting to change their banking preferences.
Forbes reports that 15% of millennials said they wanted to use a digital bank.
(This is compared to just 4% at the beginning of 2020.)
It's no wonder then that a growing number of fintech startups are trying to obtain bank charters in the US.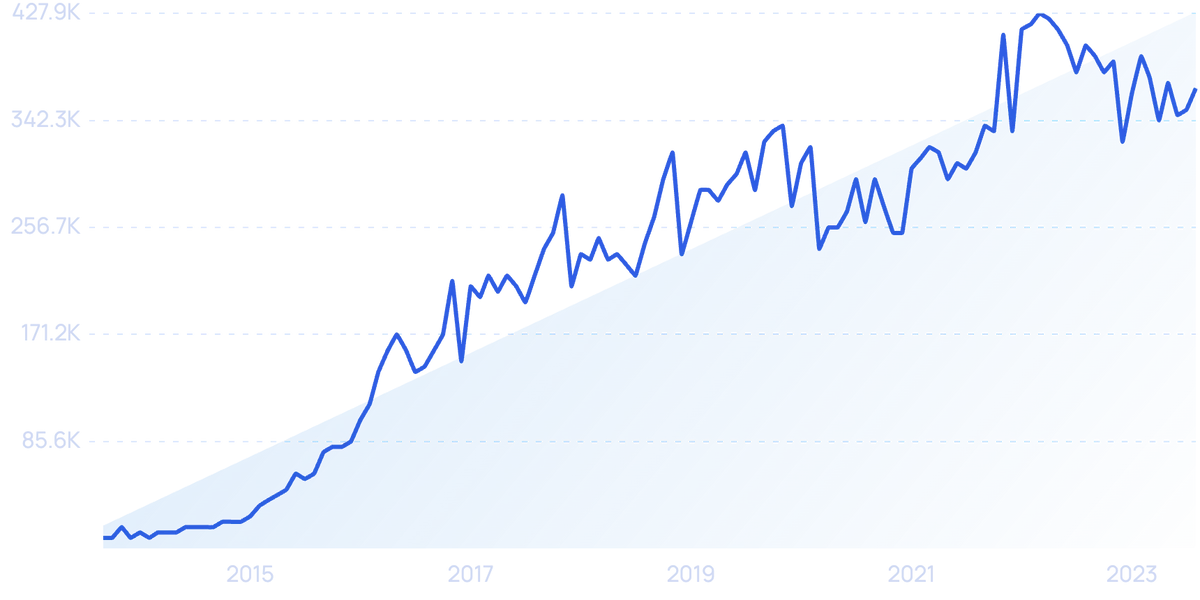 Searches for "fintech" have grown by 4,200% over the last decade.
Varo Money was the first fintech to receive a national banking license when the OCC granted it a charter in 2020.
Revolut, a fintech company that traditionally focused on mobile banking, used to partner with Metropolitan Commercial Bank in the US.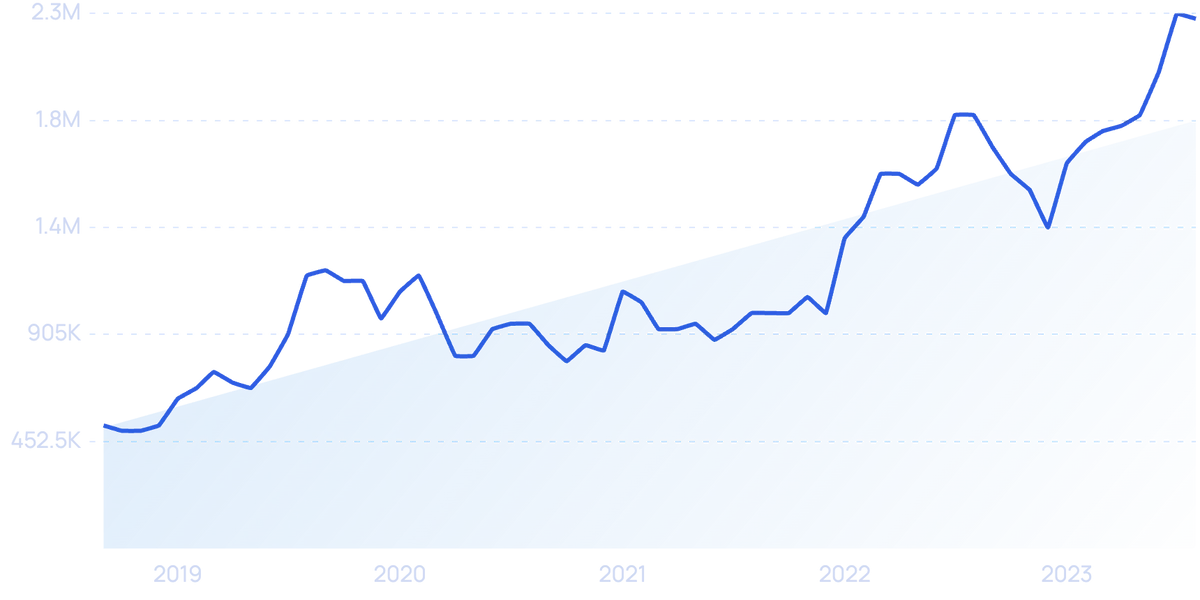 Searches for "Revolut" have grown by 330% over the last 5 years.
Now, it is seeking a US banking license, as it looks to become a full-fledged bank itself.
2. Open Banking is Giving Customers Power Over their Data
Open banking – in the simplest terms – basically seeks to make the entire financial infrastructure transparent.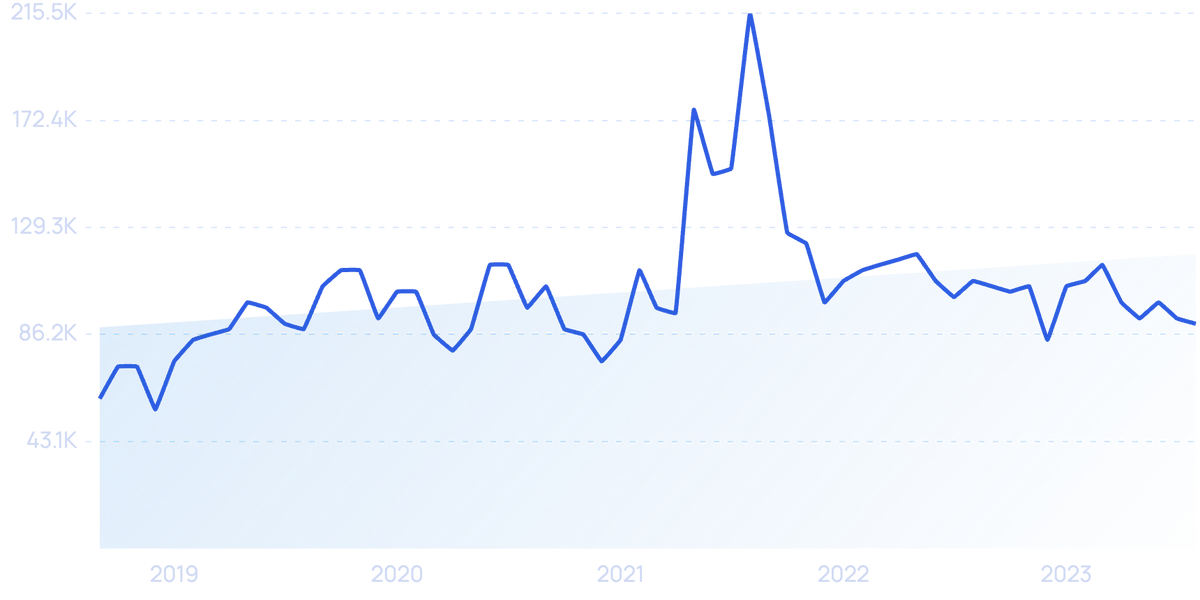 Searches for "Open Banking" have grown by 50% over the last 5 years.
The basic tenets of the concept involve using open APIs to allow third-party developers to build applications and platforms that use banking data.
These applications can allow consumers and businesses to take ownership of their financial data.
And open-source technology can provide the tools to harness this data in new ways.
There are expected to be around 132.1 million open banking users by 2024 (an annual growth rate of close to 50%).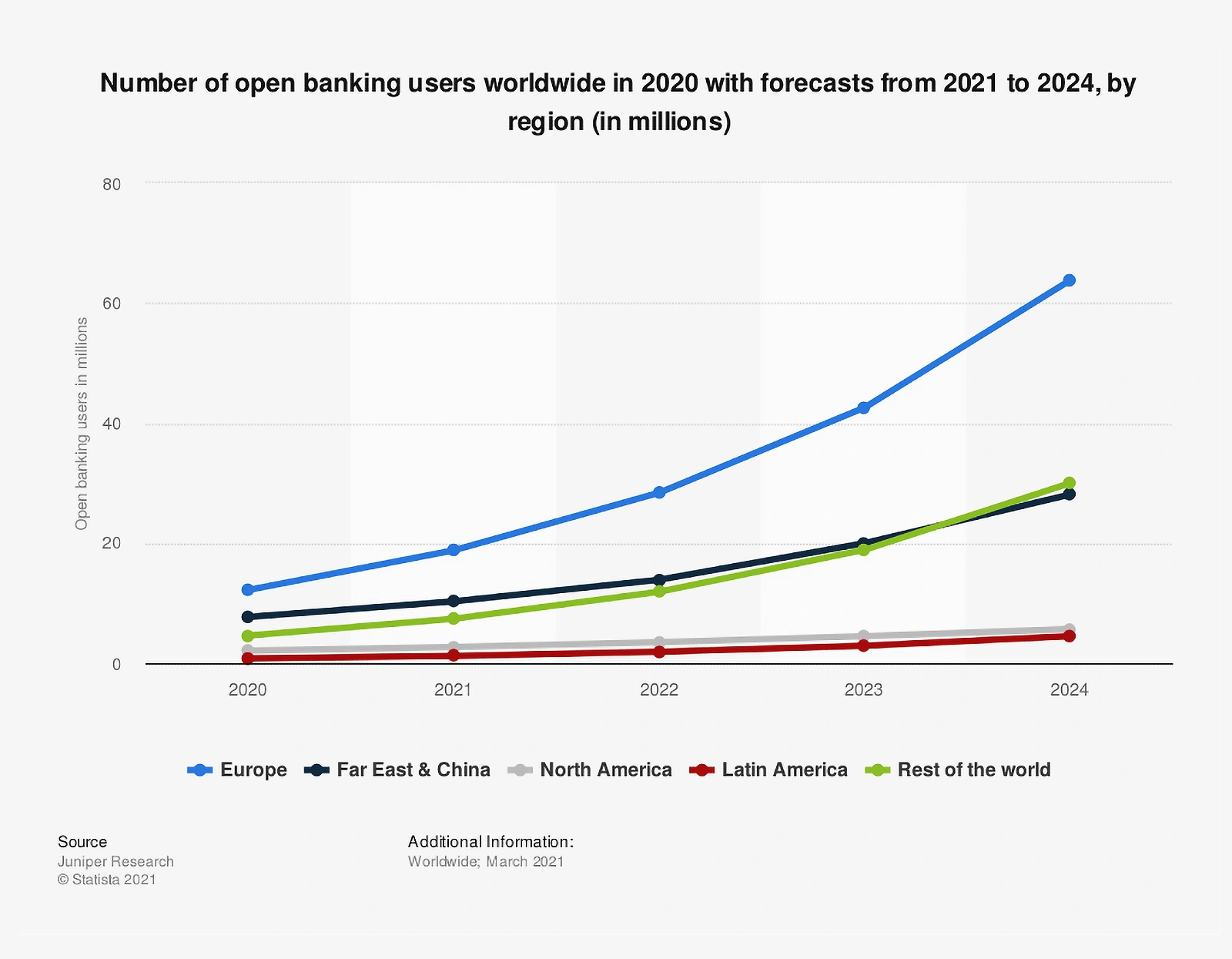 Open banking user growth by geographic region.
Europe claimed the largest number of open banking users (at 12.2 million). Their share of the market is predicted to grow the fastest as well, reaching 63.8 million users by 2024.
Europe is mainly in the lead because the European Union (EU) took the first steps to make open banking a reality.
The EU passed the Payment Services Directive (PSD2) back in 2015 to encourage competition between payment providers (including nonbanks) on the European continent.
This new directive has allowed for a proliferation of third-party providers (TPPs). In the US, these companies are more commonly known as fintechs.
There are about 450 TPPs in Europe (and the UK) right now, compared to just 100 two years ago.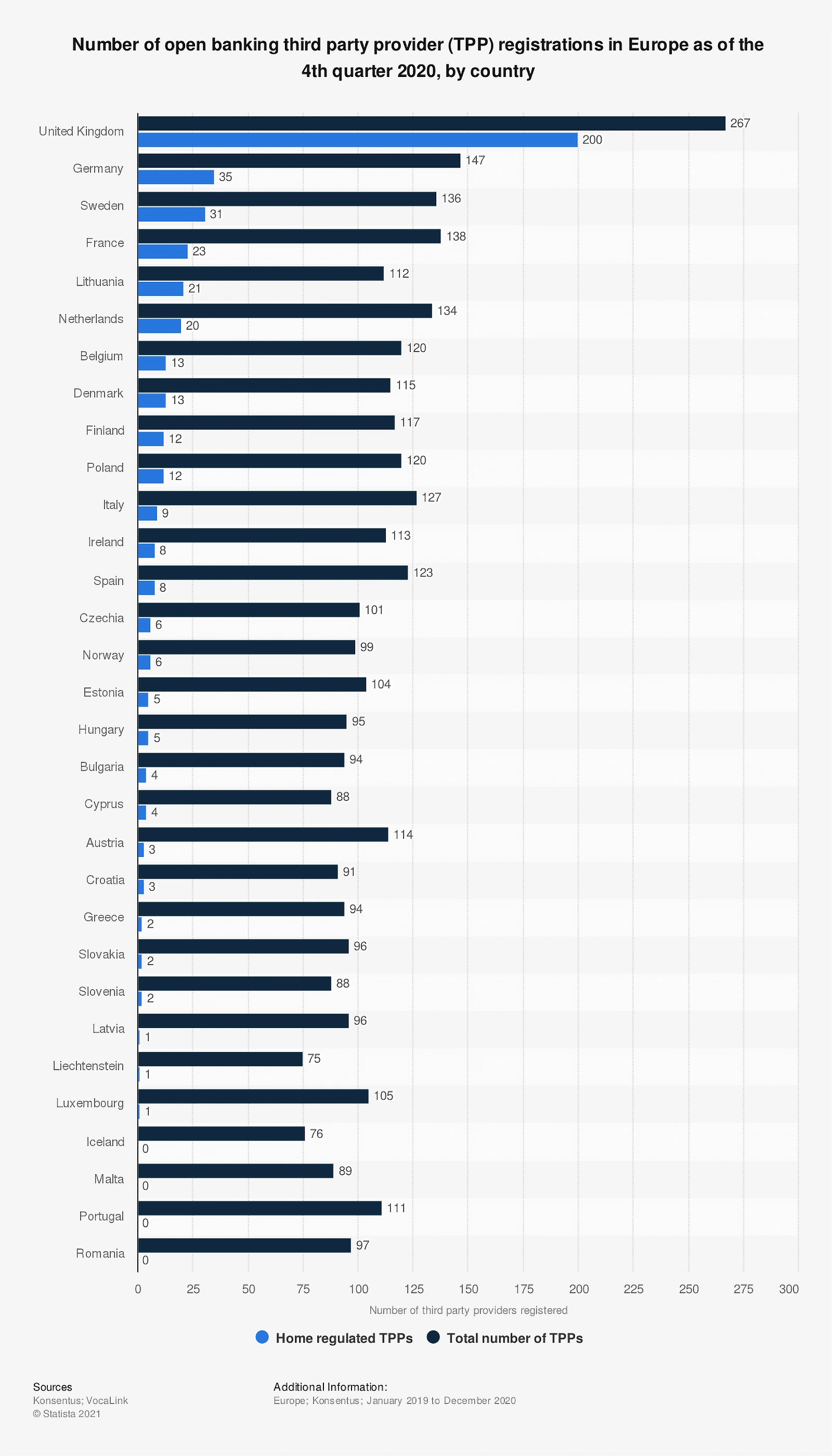 Number of TPPs in 2020 compared to 2019.
As the leading financial center in Europe, the UK has the most TPPs operating today.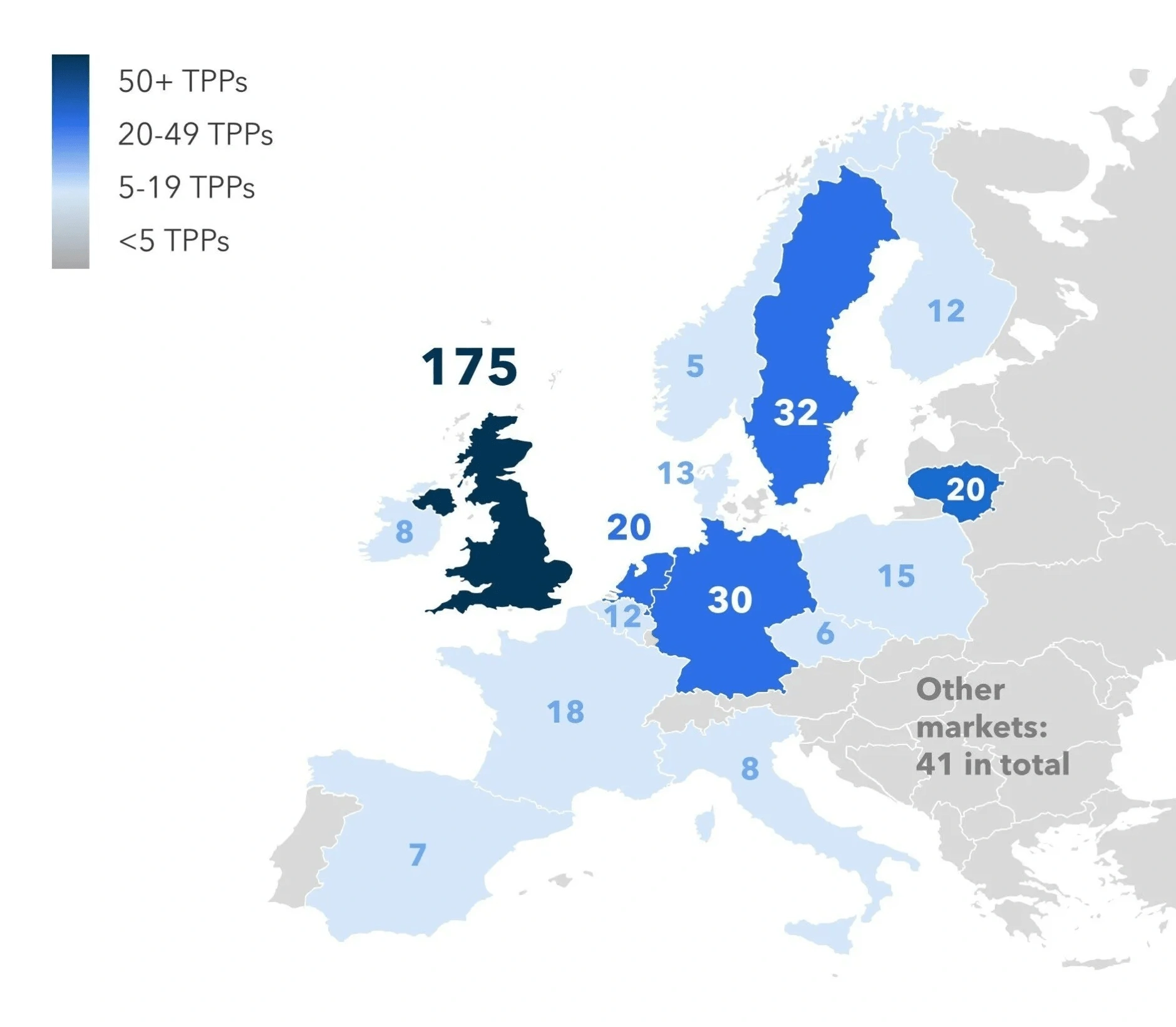 As of May 2021, there are a total of 175 TPPs in the UK – the highest in Europe.
Roughly 85% of the TPPs in Europe serve consumers as well as businesses. The remaining 25% primarily serve banks themselves and other businesses.
About a fifth of the TPPs in Europe engage in what is known as financial planning services.
This basically means that they aggregate data across financial institutions to provide customers access to all of their financial data in one place.
This is the most common service provided by European TPPs.

The different services provided by TPPs.
And the banks themselves are very aware of the coming change.
76% of banks expect Open Bank API use to grow by at least 50% over the next few years.
One of the first pushes for open banking in the US has been a partnership between US Bank and Plaid.
Plaid is basically the face of open banking in the US Its technology allows for the creation of APIs that use financial data and bank accounts.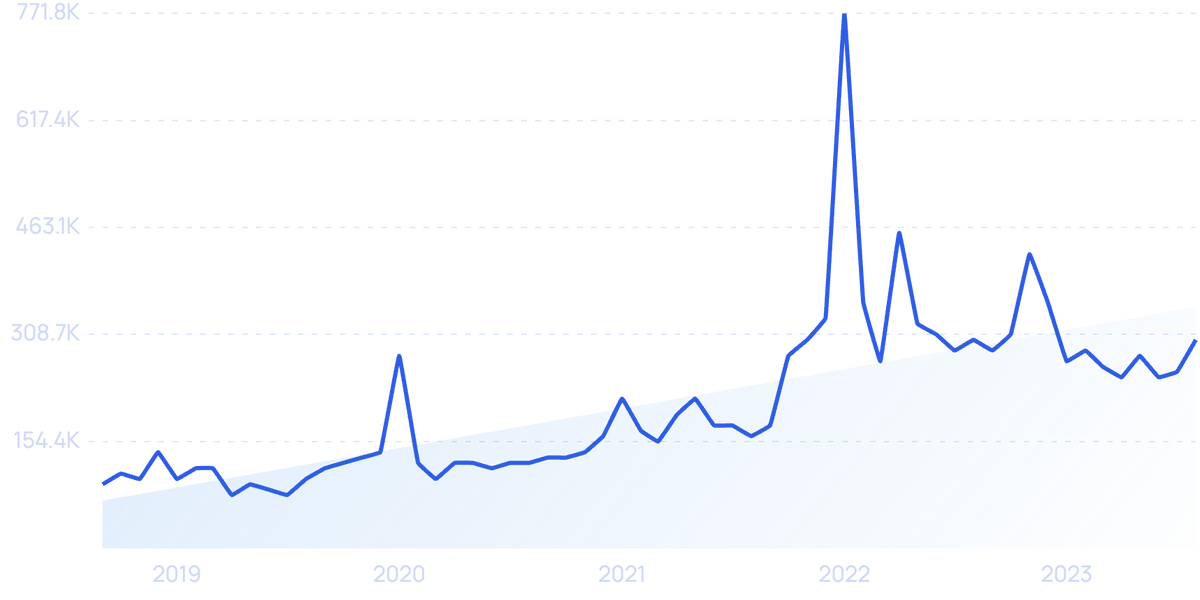 Searches for "Plaid" increased by 225% over the last 5 years.
The company is showing no signs of slowing. It raised $425 million in 2021, at a valuation of $13.4 billion.
As the company grows, expect it to become central to open banking in the US.
3. The Largest Tech Companies are Becoming Banks
As the tech giants of the world gain more and more steady users, they are beginning to see value in providing financial services to their customers.
Now the majority of a small bank and credit union executives view "Big Tech" as the biggest threat to their business.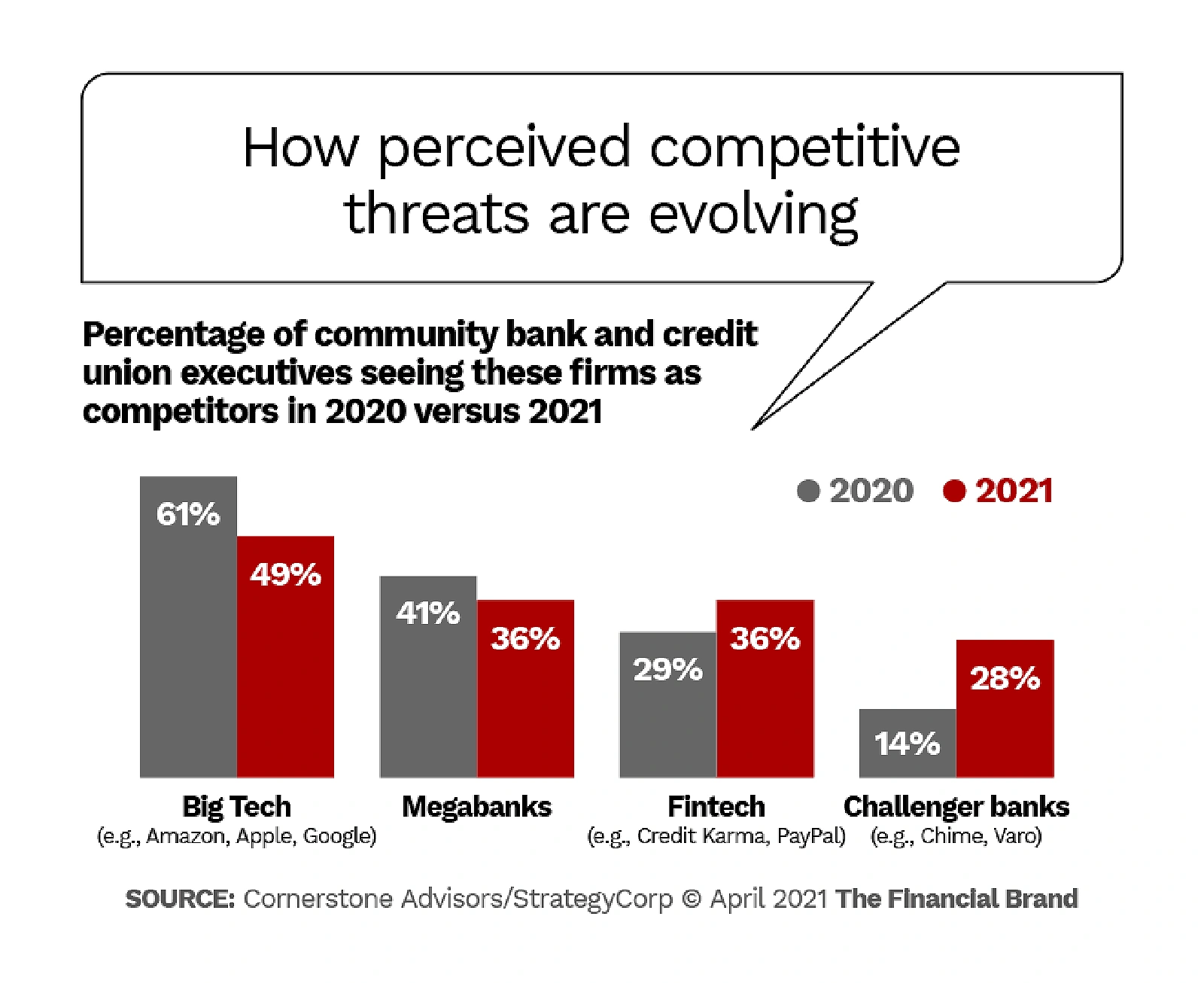 The different threats to traditional banks in the US.
Payments (which we will discuss further below) seem to be the first step for many big tech companies.
As proximity mobile payment adoption increases, companies like Apple and Google see a chance to capture a part of the market.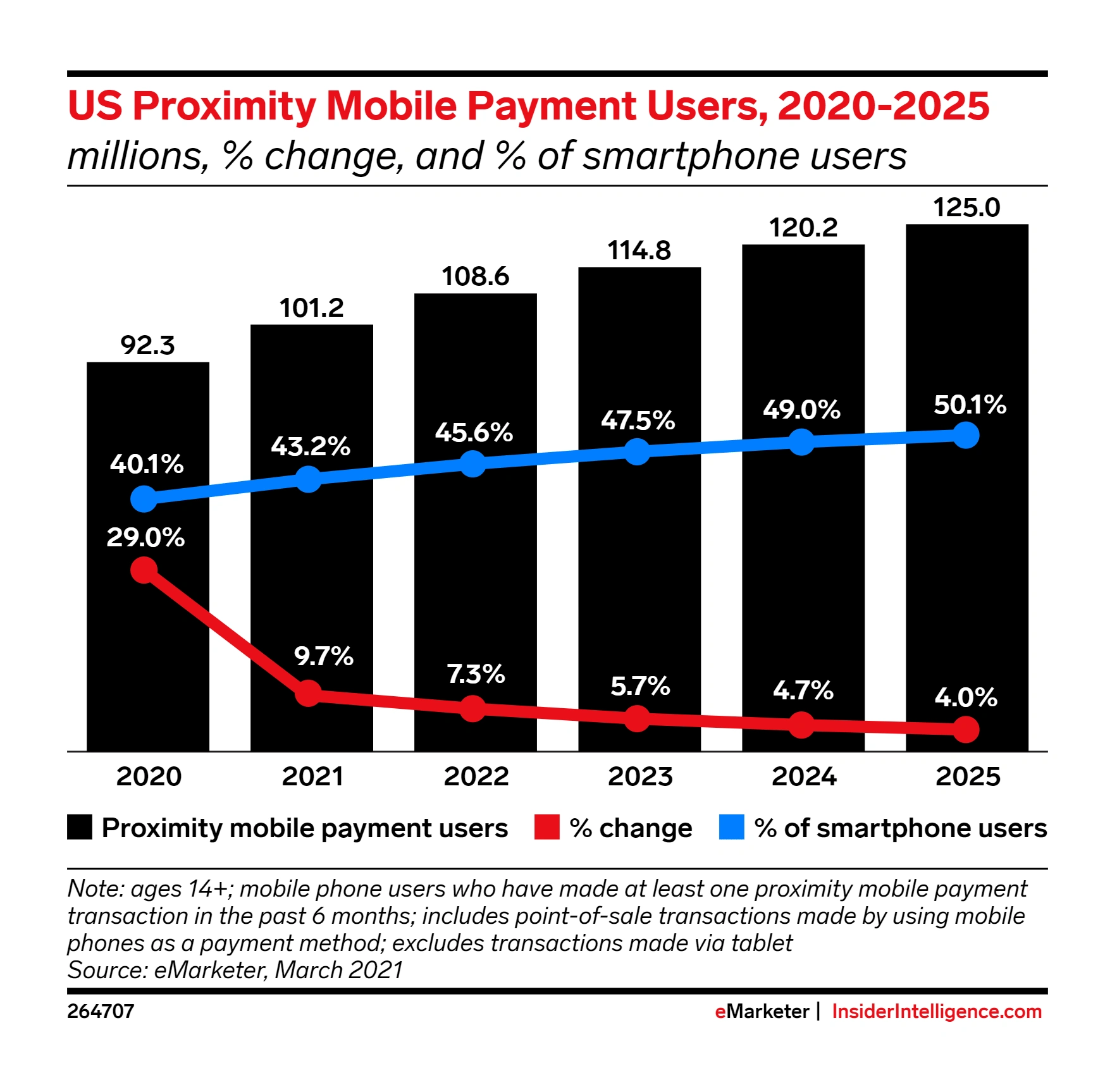 Roughly half of all smartphone owners are expected to use proximity mobile payments by 2025.
The value of the proximity mobile payment market in the US is expected to be close to $700 billion in 2023.
Big tech companies are already taking full advantage of this, as Apple Pay now has close to 50 million users that use its proximity mobile payment feature.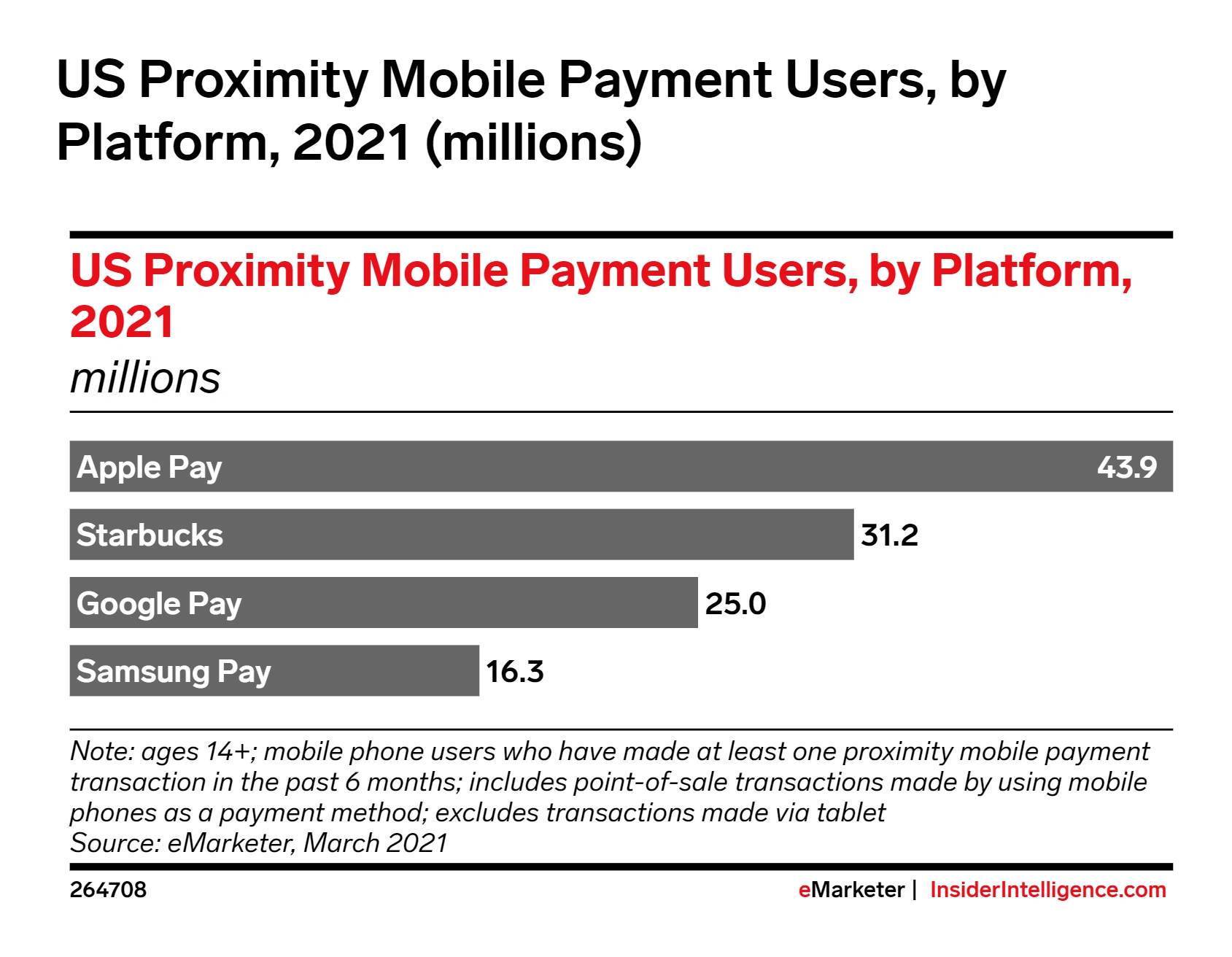 Apple Pay leads the way in the proximity mobile payment market.
As we discussed here, Apple Pay had 507 million total users by the end of 2020.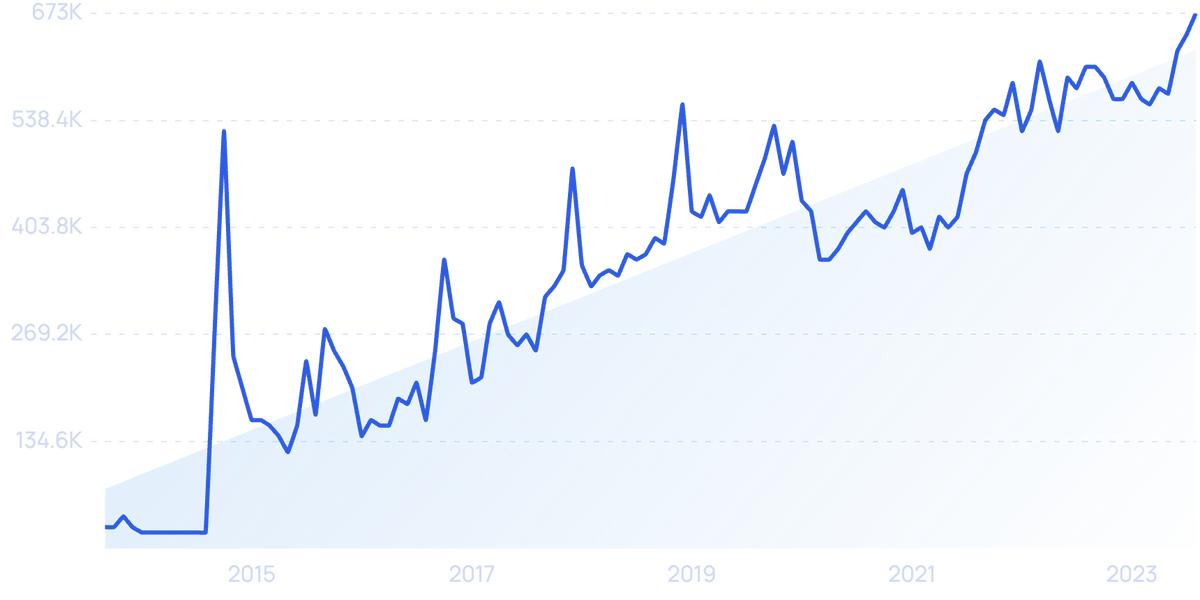 Search interest in "Apple Pay" has risen by 2,400% over the last 10 years.
Apple also launched its own credit card in conjunction with Goldman Sachs.
And it partnered with Goldman to launch its own buy now pay later (BNPL) product.
This further cements the fact that tech giants like Apple hope to create their own banking environment, displacing traditional banks and other suppliers of credit.
Apple Pay already makes up about 5% of card transactions around the world.
And it looks poised to capture more of the financial services market.
And Apple isn't alone.
Google is looking to perform a major upgrade to its Google Pay platform.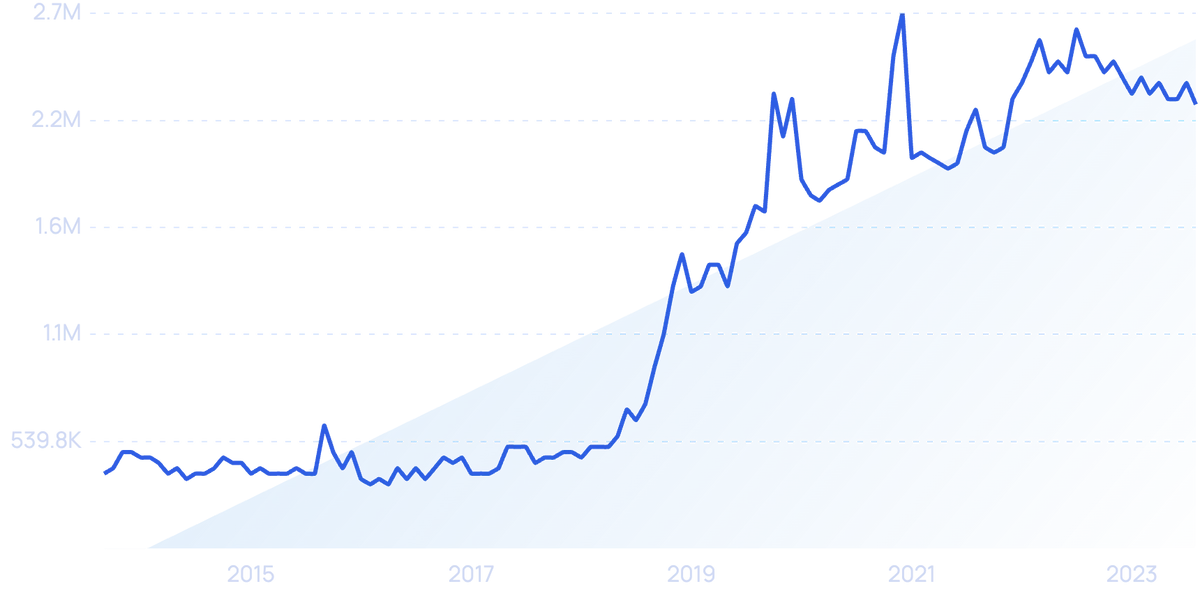 Searches for "Google Pay" have grown by 493% over the last 10 years.
The Google Pay app now allows peer-to-peer transfers (like Venmo and Square) as well as expanded in-person payment capabilities.
In addition to this, Google has now created what it calls the Google Plex app.
Google has partnered with 11 banks and credit unions to create its own personal banking app, combining its wide distribution with financial capabilities provided by traditional banks.
Back before the launch, over half of Google Pay users said they were open to starting a Google Plex account as well.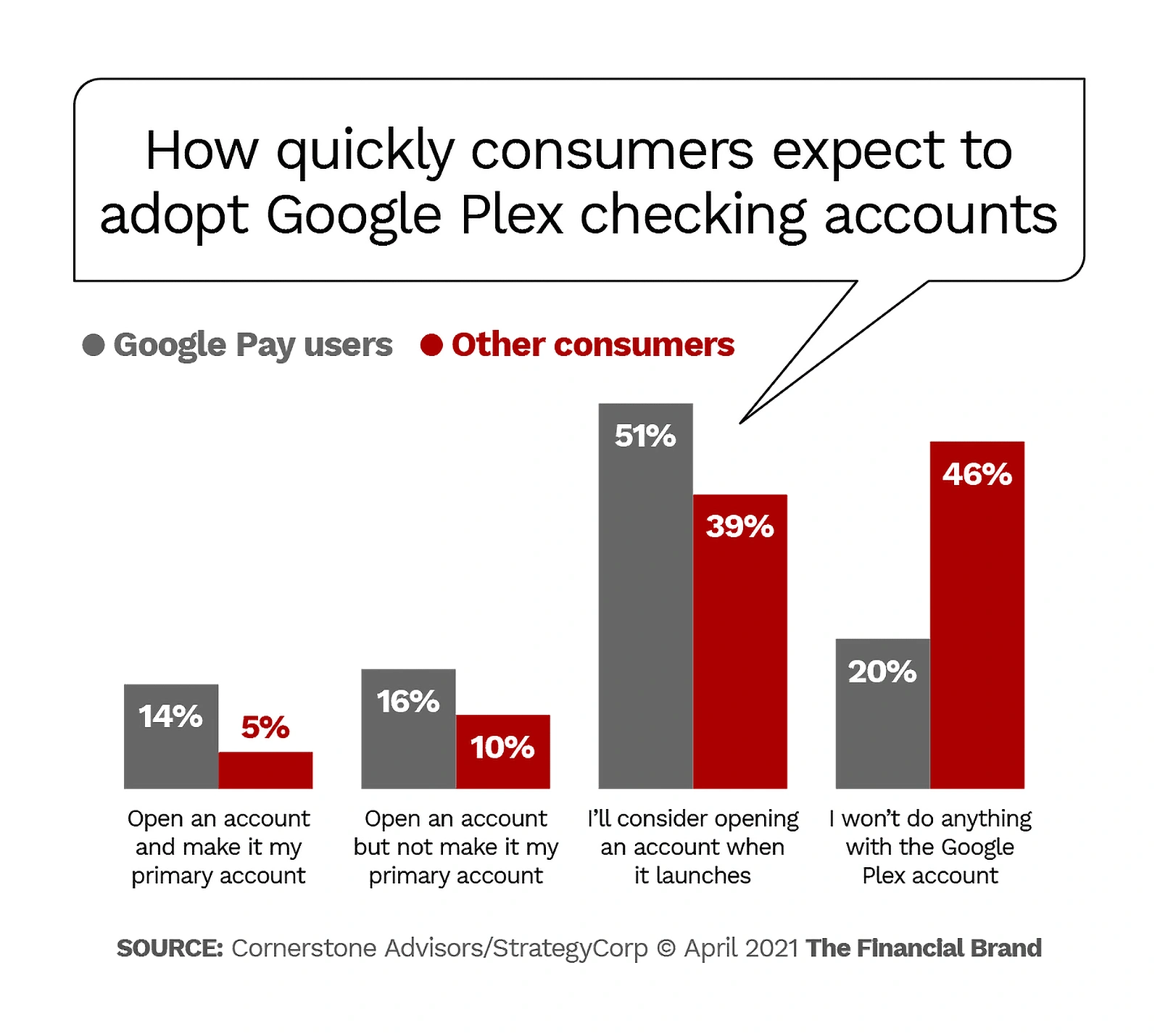 Google Plex is attracting Google Pay users as well as non-users.
This trend started even earlier in China.
Ecommerce giant Alibaba created Alipay back in 2004.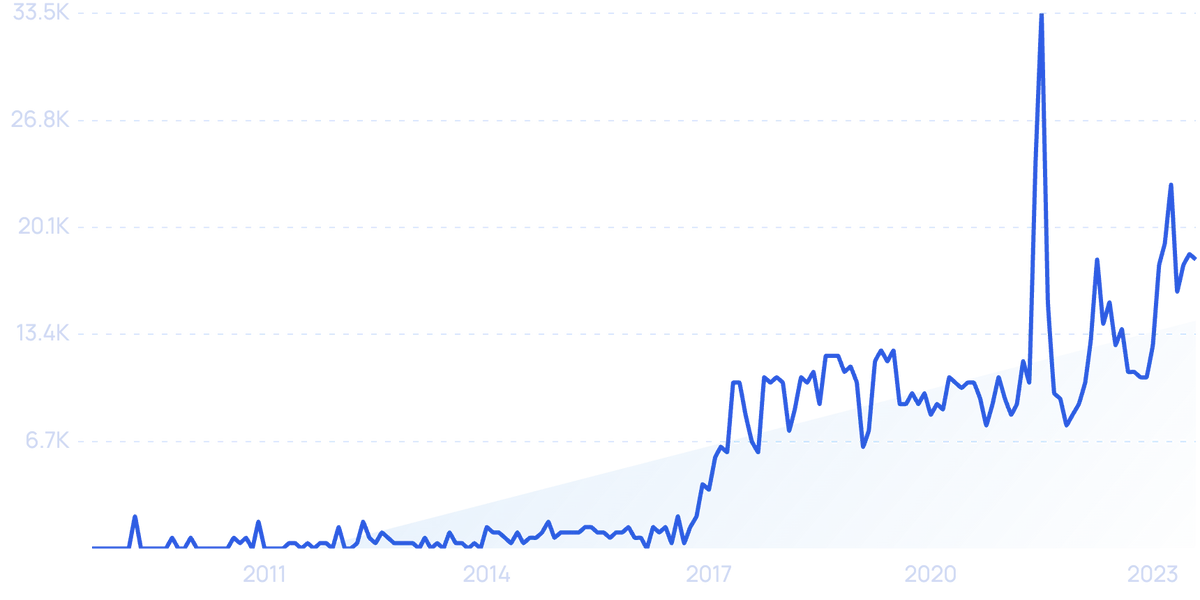 Searches for "AlipayHK" have increased by 5,300% over the last 15 years.
The app (now owned by Ant Group) is the world's largest payment platform.
In 2020, Alipay reported that it had 1.3 billion users, far surpassing any other payment platform in the world.
Tencent also has its own powerhouse payment app.
Inside the popular WeChat app is something called WeChat Pay.
WeChat Pay currently has over 1.2 billion users.
That's more than double the 430 million it had in 2016.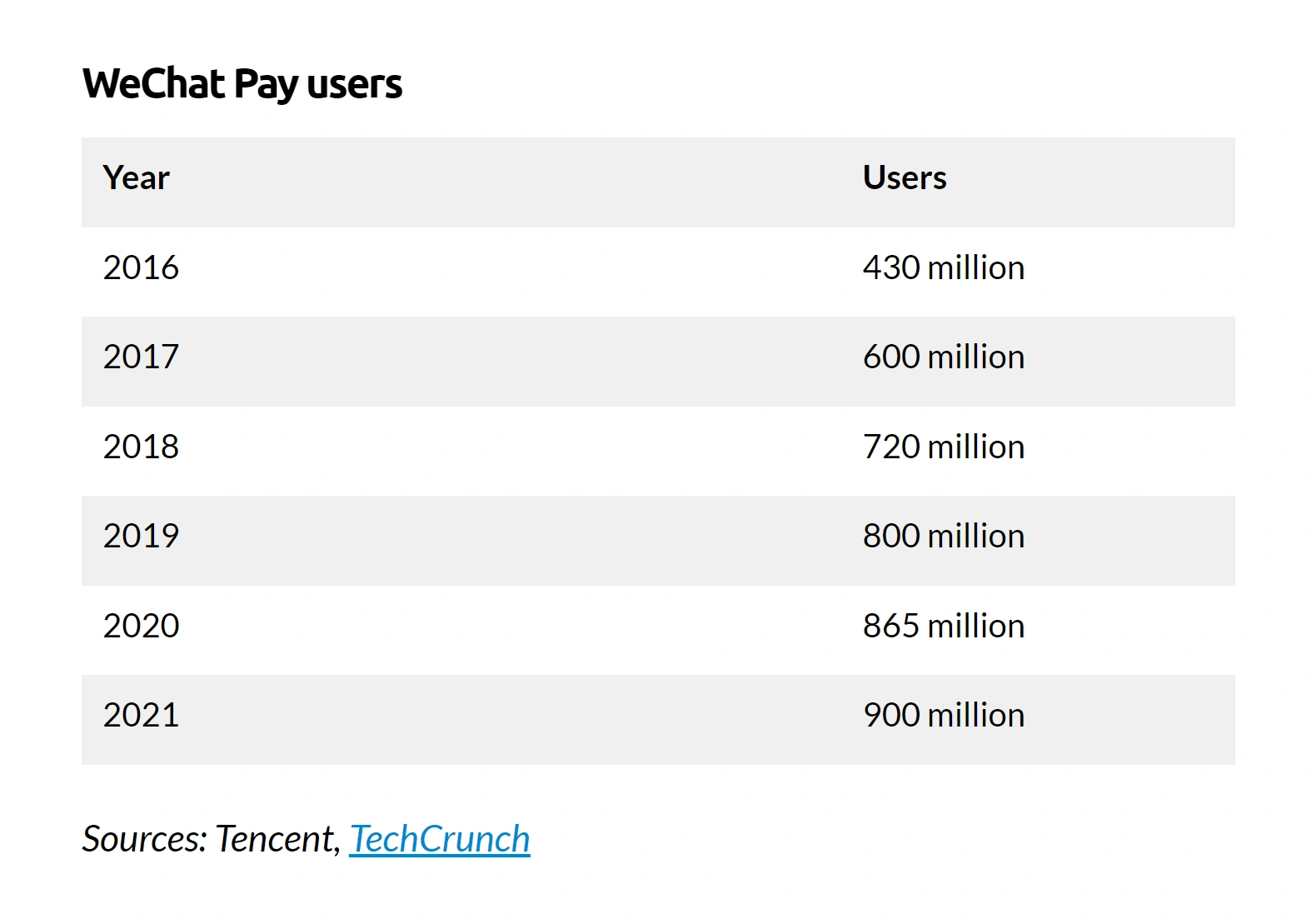 WeChat Pay user numbers by year.
To put this into perspective, WeChat Pay gained more users in the last five years than there are people living in the United States.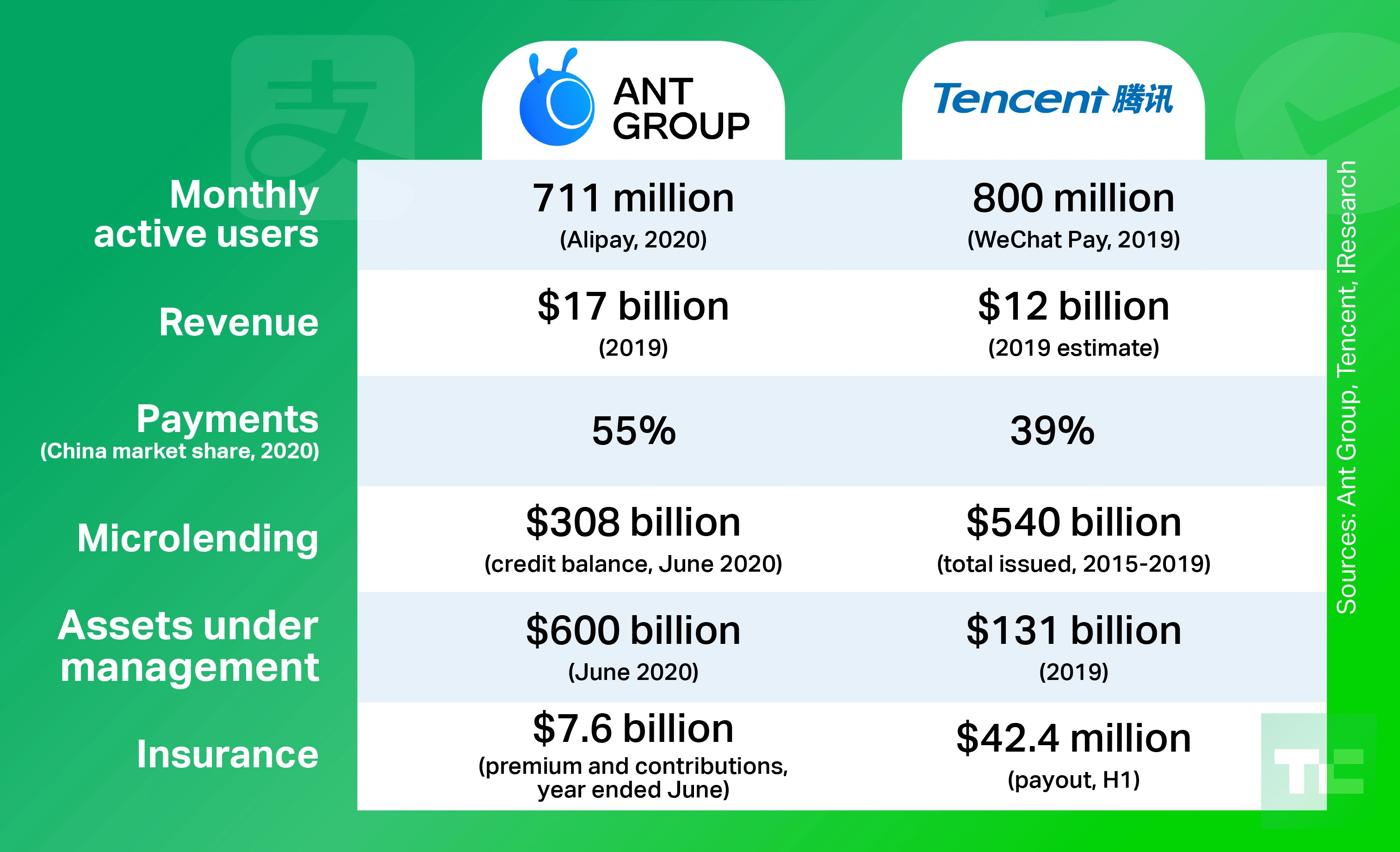 Ant Group and Tencent are both handling digital payments, lending billions of dollars, and managing billions in assets.
From all appearances, the largest Chinese companies are now a mixture of technology companies (social media, eCommerce, etc.), and banks.
And it looks like the US is going through a similar shift.
4. Innovations in Payments Change Banks' Role in Financial Systems
Banks' role in the payments ecosystem is changing faster than ever before.
Obviously, the vast majority of businesses and consumers hold their fiat currency in a bank account somewhere. And the largest banks still control a lot of the financial plumbing.
But as more spending shifts into the digital environment, other providers and companies are becoming essential to the payment marketplace.
Accenture has predicted that, by 2025, banks may lose out on at least $280 billion in digital payments revenue.
The flip side of this, however, is that the overall payments market is growing, and presents opportunities for banks.
As a result, Accenture also expects that traditional banks may be able to take advantage of at least part of $500 billion in new payments revenue that is expected to spring up over the next several years.
Obviously, fewer and fewer payments are being made by checks, cash, and money orders.
The Atlanta Federal Reserve Branch issued a report at the end of 2020 that showed that only a quarter of payments in the US were made with cash, checks, or money orders.
This wedges banks further out of the payments ecosystem, making way for many new competitors.
Just look at how many non-bank companies are deeply embedded in the chain of payment processing.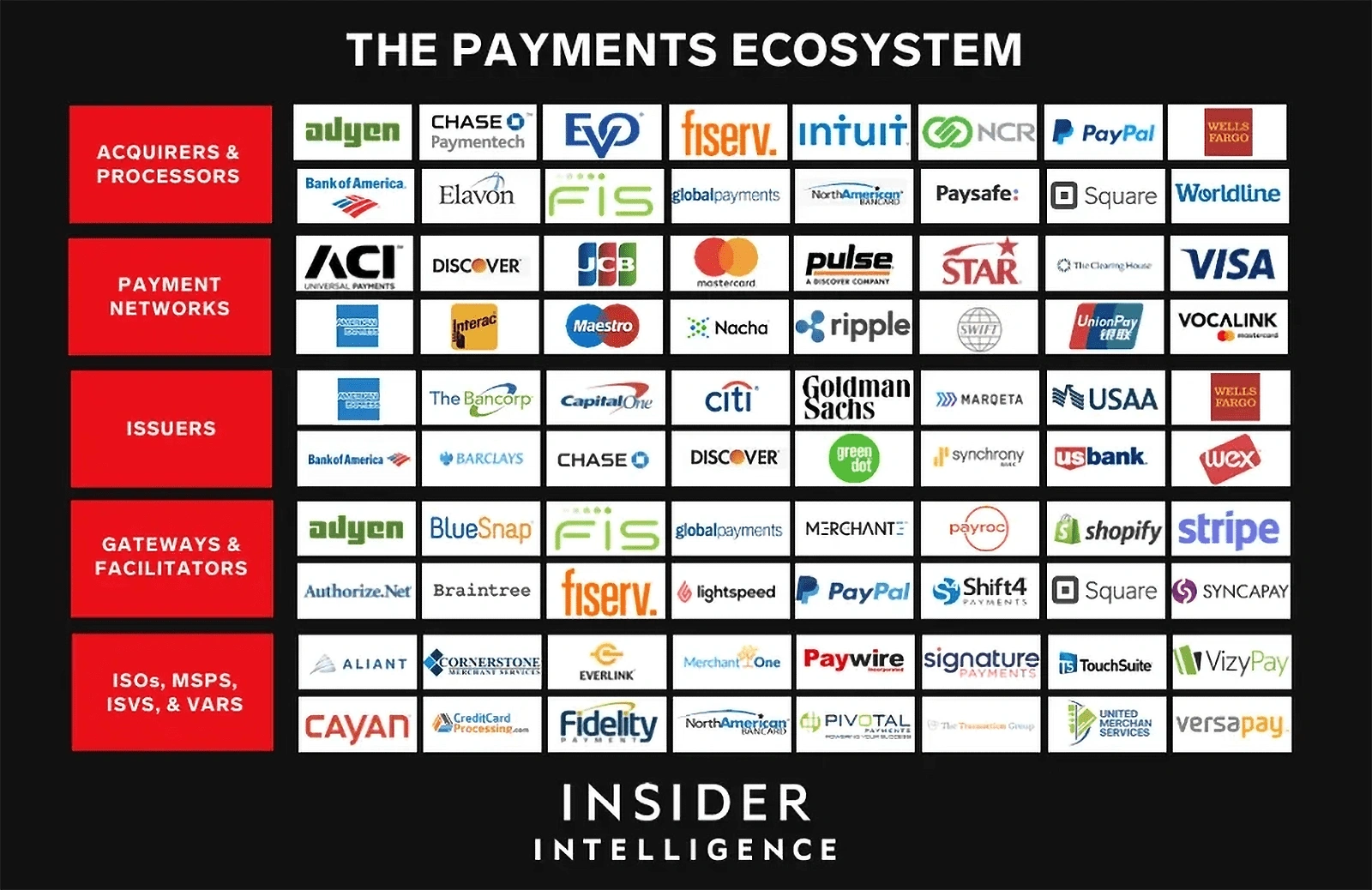 The different levels of the payments ecosystem.
The Atlanta Fed's report also indicated that online purchases had increased to just under a quarter of all purchases in 2020, compared to 17% in 2019.
All of this has led to an increased share of spend by mobile or digital wallets.
In 2020, around 25% of all point-of-sale (POS) transactions were made with mobile wallets. This number is expected to rise to around a third of all POS transactions over the next few years.
Even more interesting, however, is the fact that mobile wallets were used in close to half of all eCommerce transactions in 2020.
When it comes to shopping online, this method of payment was used twice as much as credit cards and three times more than debit cards.
Worldwide, there were about 2.8 billion mobile wallets in use by the end of 2020.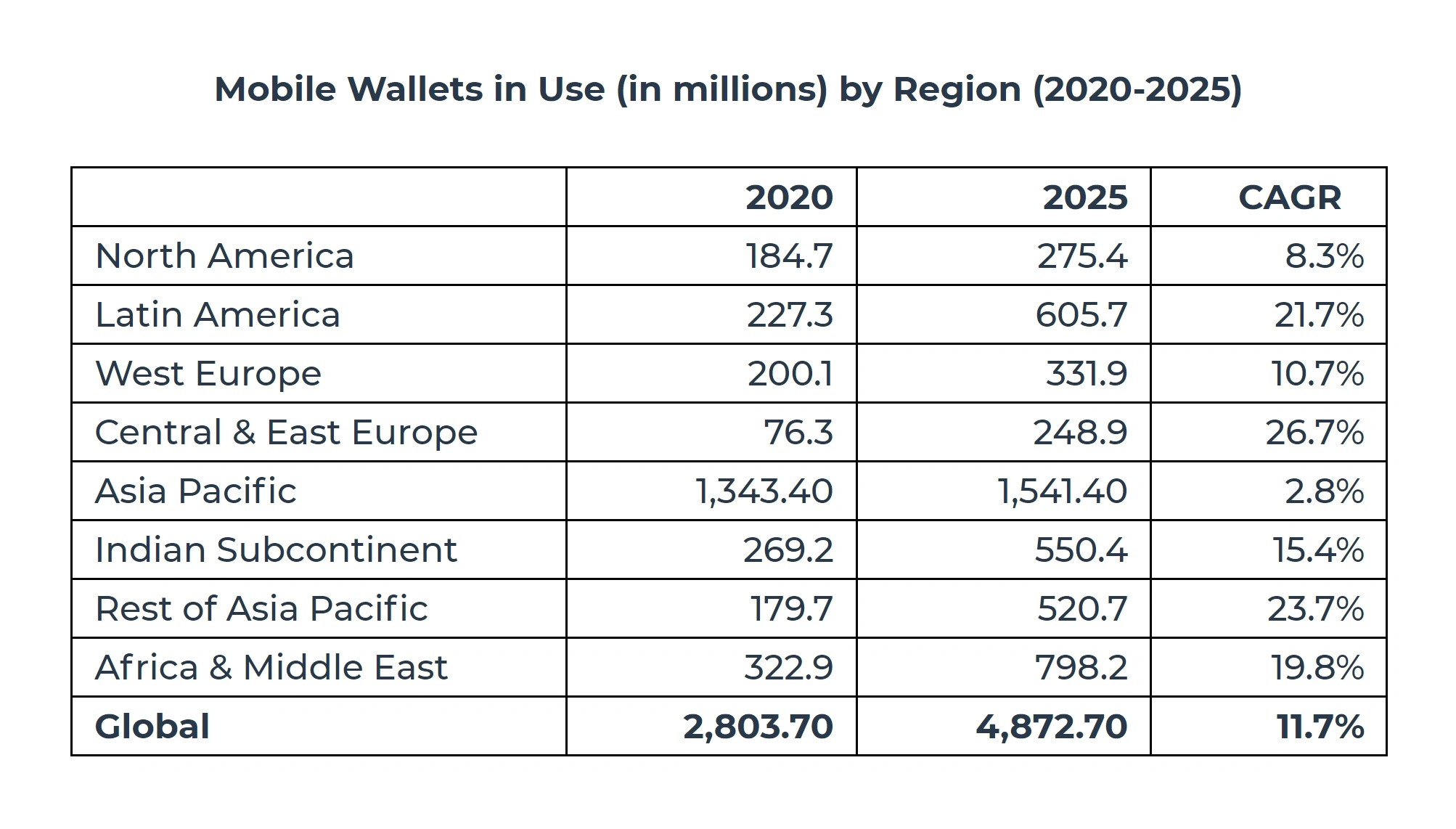 Mobile wallet use and expected growth by region.
And overall use is expected to grow at an impressive rate.
One study even predicts that more than half of the world's population will use a mobile wallet by 2025.
Banks will have to adapt if they hope to capture a similar portion of the consumers' and businesses' wallets in the future.
5. Fintech Partnerships with Banks Create Value
As much as banks and fintechs face off, it is becoming even more common for them to team up.
The two parties are now seeing that partnerships are more beneficial than competition or disruption.
Banks can use fintech products and offerings to become more efficient or acquire customers. And fintech companies typically require banks' cheap sources of financing (deposits) and lending expertise.
In fact, it's estimated that three-quarters of traditional banks are already partnering with fintech companies.
In 2020, US Bancorp – the fifth-largest bank in the US – bought B2B fintech Bento Technologies.
Wells Fargo even has a startup accelerator. The big bank has already backed 29 companies and is looking to grow.
And J.P. Morgan and American Express invested in the latest $425 million funding round for Plaid, embracing open banking.
This relationship also goes both ways.
Many banks are in relationships with multiple fintechs and other startups, helping them navigate the tricky global financial system.
Partner banks, as they are known, have grown steadily in recent years.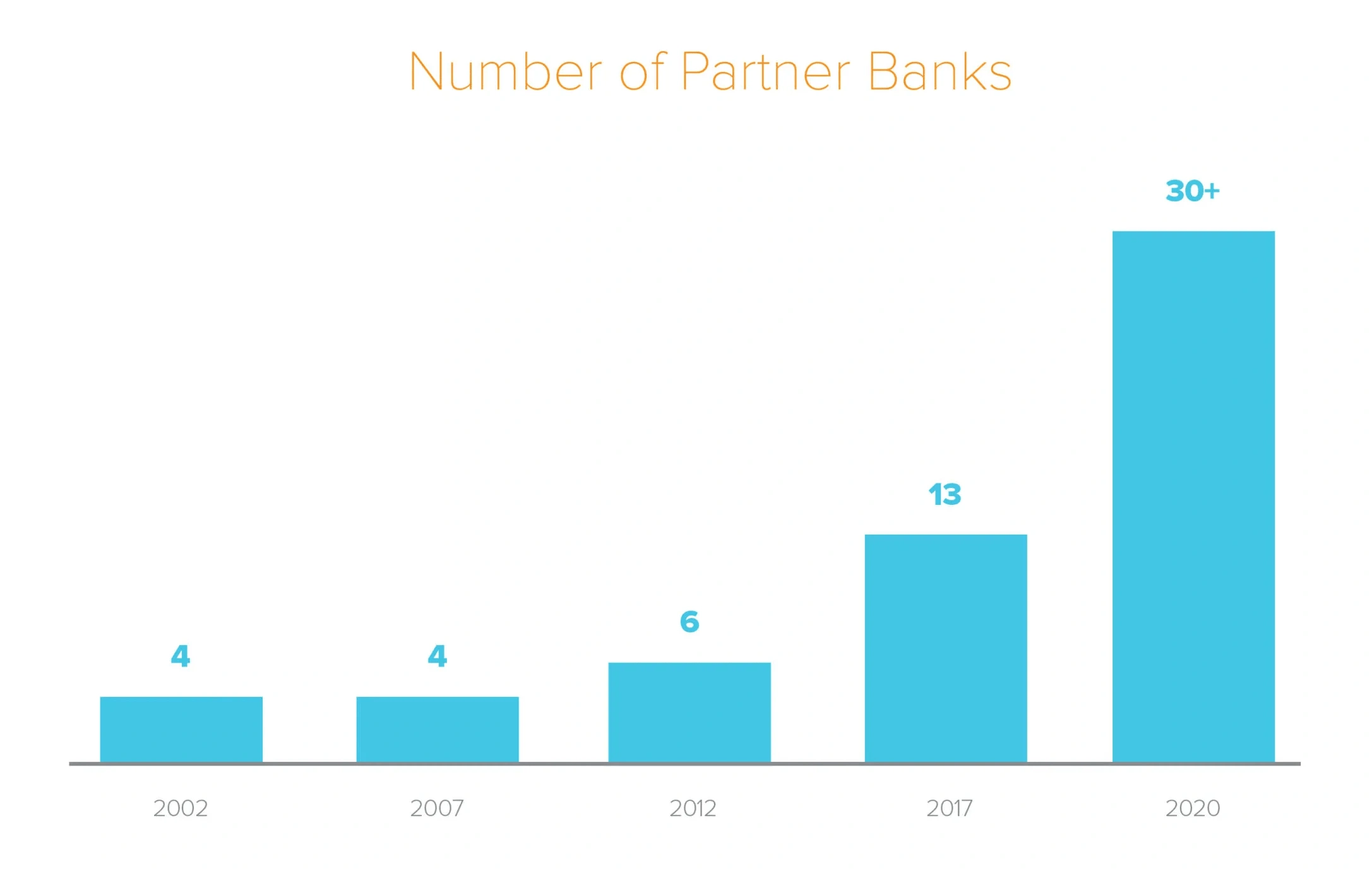 Chart from Andreessen Horowitz showing the rise in partner banks.
Some of the largest banks in America see value in these partnerships. And many more will likely follow their lead in the future.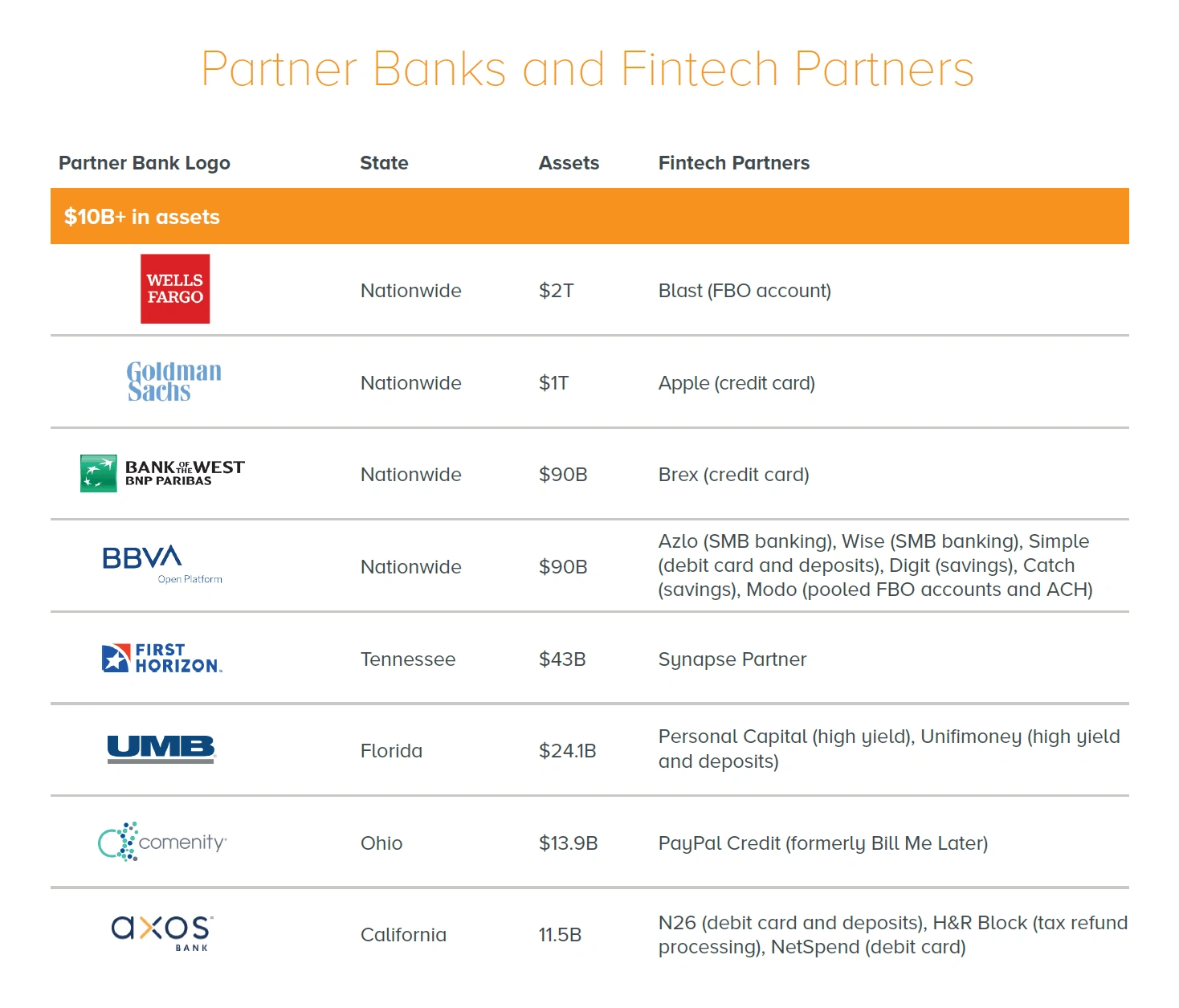 Fintech partnerships with the largest banks in the US.
As banks and fintechs start to see more value from their combined operations, expect more partnerships and acquisitions to occur.
Conclusion
That's all for the top banking trends impacting the financial world right now.
Overall, technology is transforming how financial services work. And almost everyone is angling for a spot.
Whether it's one of the world's largest tech companies or a fintech startup, the merging of technology with banking is driving this industry forward.