Top 10 Manufacturing Trends (2023 & 2024)
You may also like:
The manufacturing sector isn't as prominently in the public eye as industries like tourism and hospitality.
Nonetheless, the global pandemic saw the industry endure its most severe disruption in over a decade.
Fortunately, a strong recovery is underway — data from the UN Industrial Development Organization indicated a global growth rate of 18.2% in 2022.
As the industry recovers, resilience is the key theme giving rise to the trends that are altering the global manufacturing landscape.
In fact, a poll of over 200 C-suite decision-makers at global manufacturing companies found that 68% listed improved resilience and agility as a top business priority in the coming years.
Read on to gain insights on the biggest trends shaping the future of manufacturing.
1. Smart Factories are Changing How We Make Things
The "smart factory" or "smart industry" concept has been around for a long time. But has witnessed a surge in interest over the last few years.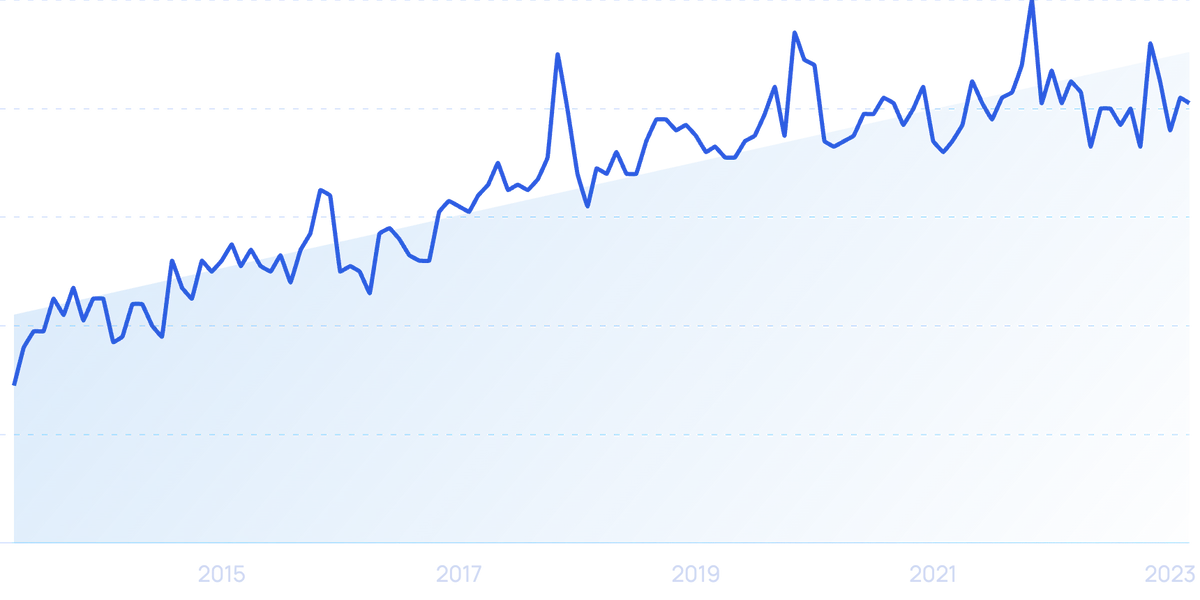 Searches for "Smart Factory" have risen by 179% over the last decade.
Smart factories are part of the broader "Industry 4.0" movement that's transforming operations and shop floors in production environments across Europe, North America, and China.
The first and second industrial revolutions were associated with mechanization powered by steam and the rise of assembly lines. The third saw the adoption of computers in manufacturing.
Industry 4.0 continues the push towards automation, employing technologies such as IIoT (industrial internet of things), big data, machine learning, artificial intelligence (AI), and advanced analytics.
In the automotive industry, for example, it's estimated that smart factories could create $160 billion in value in 2023.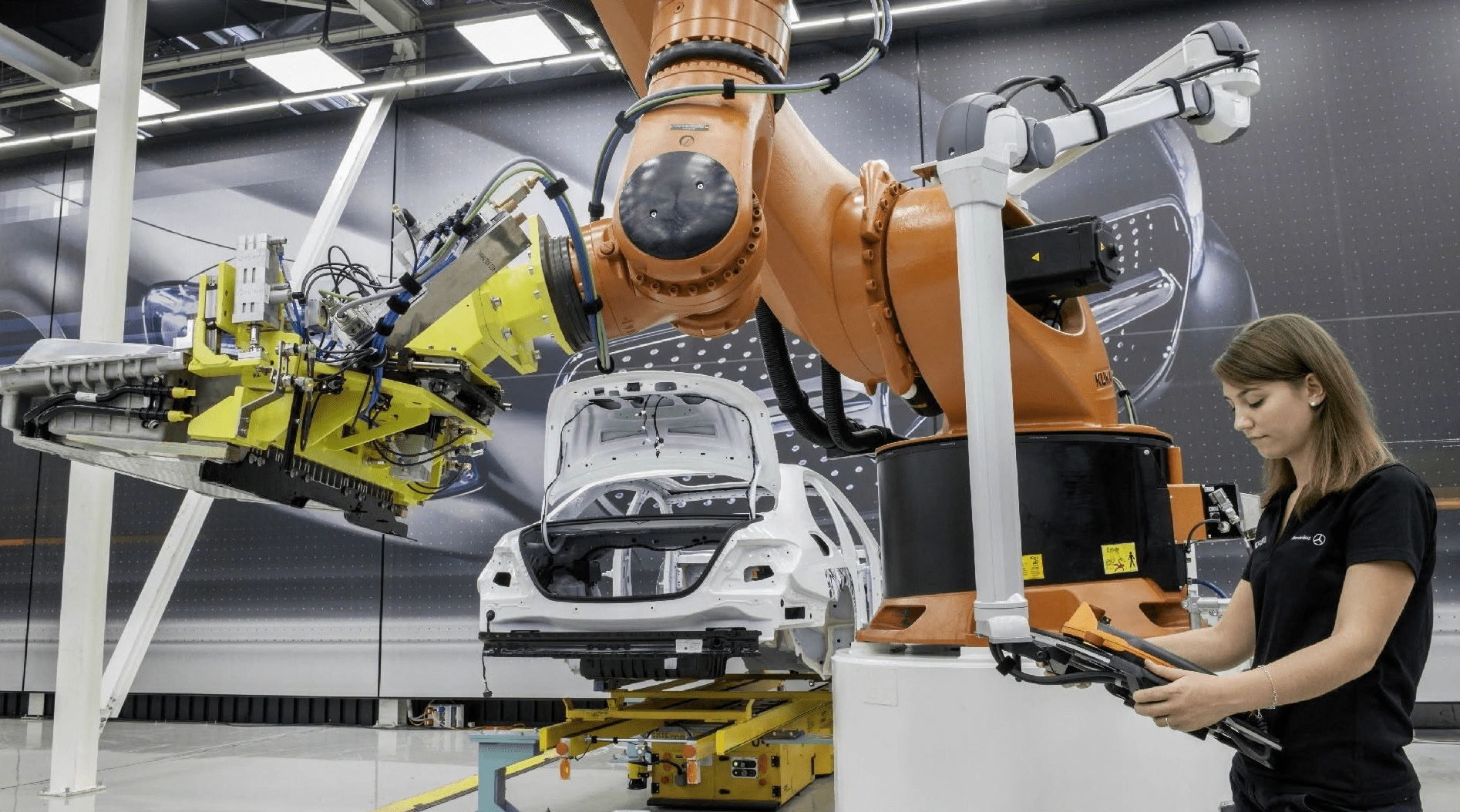 Representation of an automotive smart factory.
In fact, automotive manufacturers predict that about a quarter of their plants will be smart factories by the beginning of 2023.
The industrial internet of things (IIoT) is a major component of Industry 4.0.
IIoT uses connected sensors and machinery to build a complete data picture of the entire manufacturing process, to improve decision making.
At the start of 2020, only an estimated 10% of manufacturing enterprises had implemented IIoT.
This number is expected to rise dramatically to 50% by 2025, with some the market already worth north of $200 billion.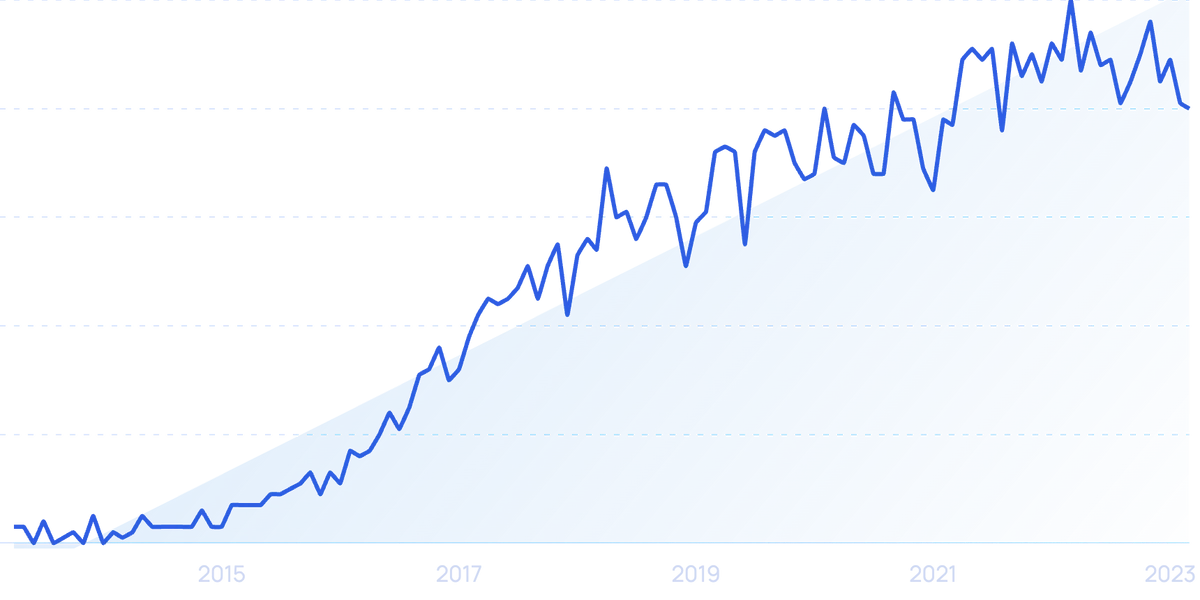 Searches for "IIoT" have increased by 2,566% over the last 10 years.
With the increase in connected devices will come an explosion in the amount of data generated by businesses.
Already, enterprises with advanced IIoT setups find that a single assembly line can generate as much as 70 terabytes of data per day.
The need to transmit such large volumes of data is also fueling the explosive growth of 5G.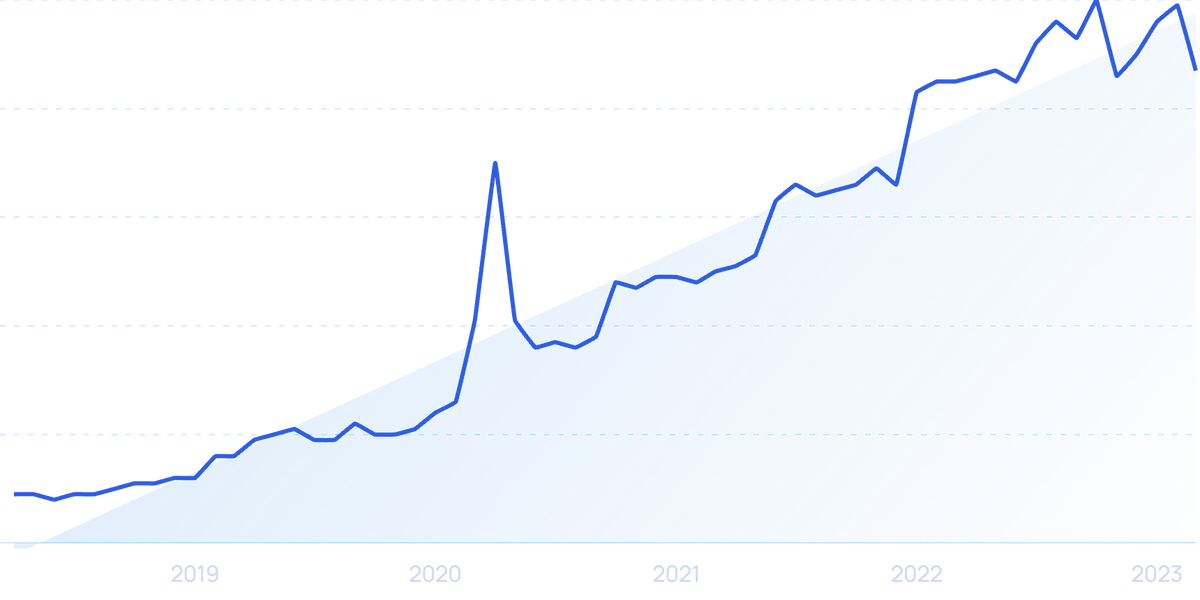 Searches for "5G" have grown by 866% in 5 years.
With speeds significantly faster than Wi-Fi or 4G (up to 10 Gbps), near-zero latency, and wireless connectivity, 5G brings an unprecedented degree of flexibility to high-speed manufacturing environments, with the potential to connect virtually any sensor or device.
A recent forecast projects a minimum of 22 million 5G units in the manufacturing sector by 2030.
And another study pegs the value addition of 5G to manufacturing businesses at $605 billion in unlocked revenue.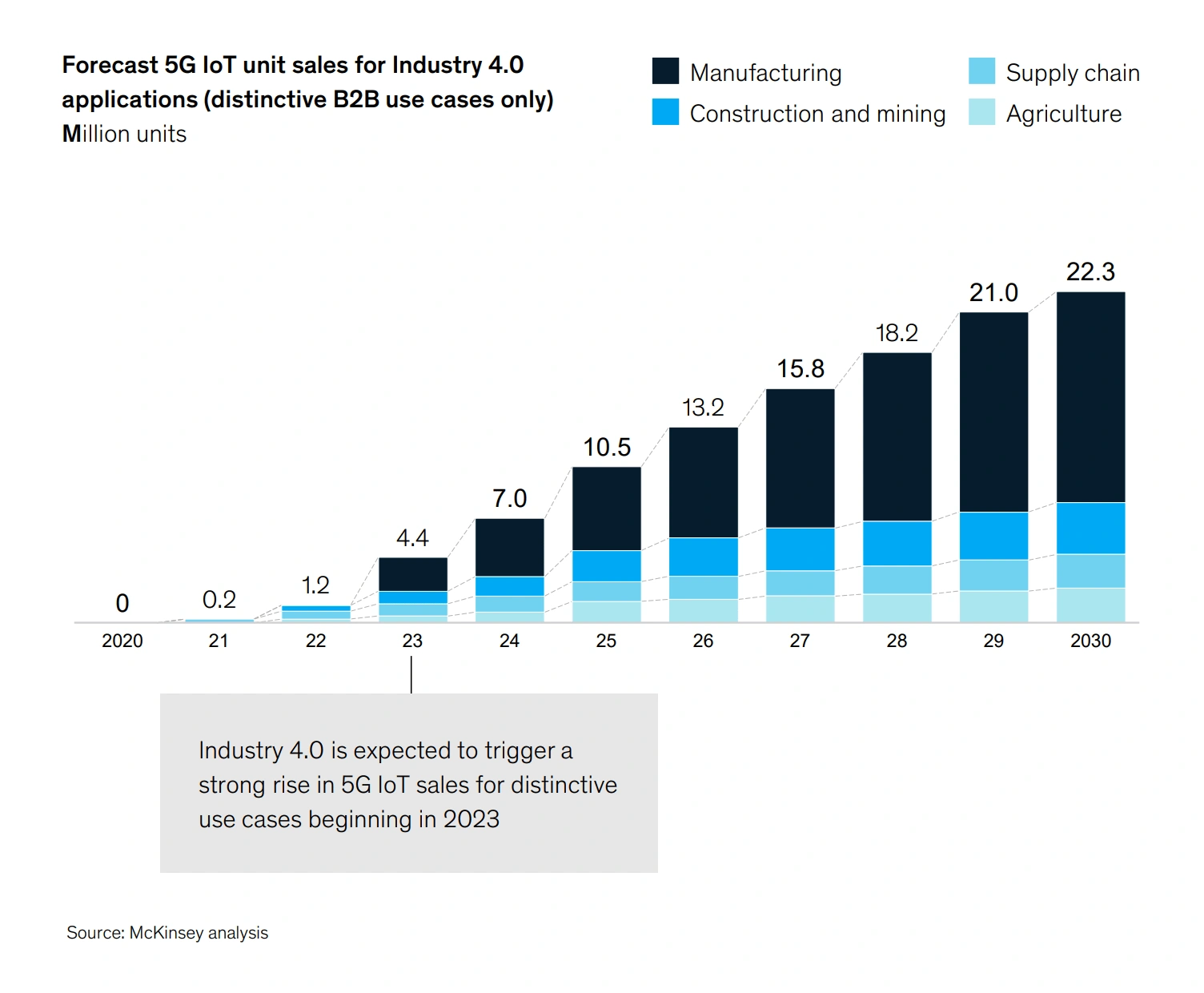 The manufacturing sector is expected to demand more 5G IoT devices than any other sector.
Audi is an example of an early adopter of 5G, having contracted with Ericsson to implement advanced automation powered by 5G at their production labs.
2. AI, Machine Learning, and Advanced Analytics Drives Efficiencies
A typical oil rig has more than 80,000 sensors, providing data on everything from process parameters (temperatures, pressures and flow rates, for example), to machinery and equipment status.
This allows for remote monitoring and focused manufacturing, which is both fed by data.
However, those many sensors put out, on average, about two terabytes of data per day — well beyond the scope of what can be effectively analyzed with conventional methods of data analysis.
This partly explains the rise of advanced analytics methods powered by AI and machine learning.

Searches for "Machine Learning" have risen by 850% over the last decade.
Earlier projections envisioned an 8x increase in investment in AI in manufacturing in the 5 years leading up to 2021, and a 3x increase in advanced IT such as cloud computing and analytics.
By the beginning of 2020, nearly a quarter of top-tier manufacturing businesses had adopted AI-based solutions, and by 2021, this increased dramatically to 76%.
The adoption of AI in day-to-day manufacturing operations is especially high in Europe, with 80% and 79% of manufacturers going this route in Italy and Germany, respectively.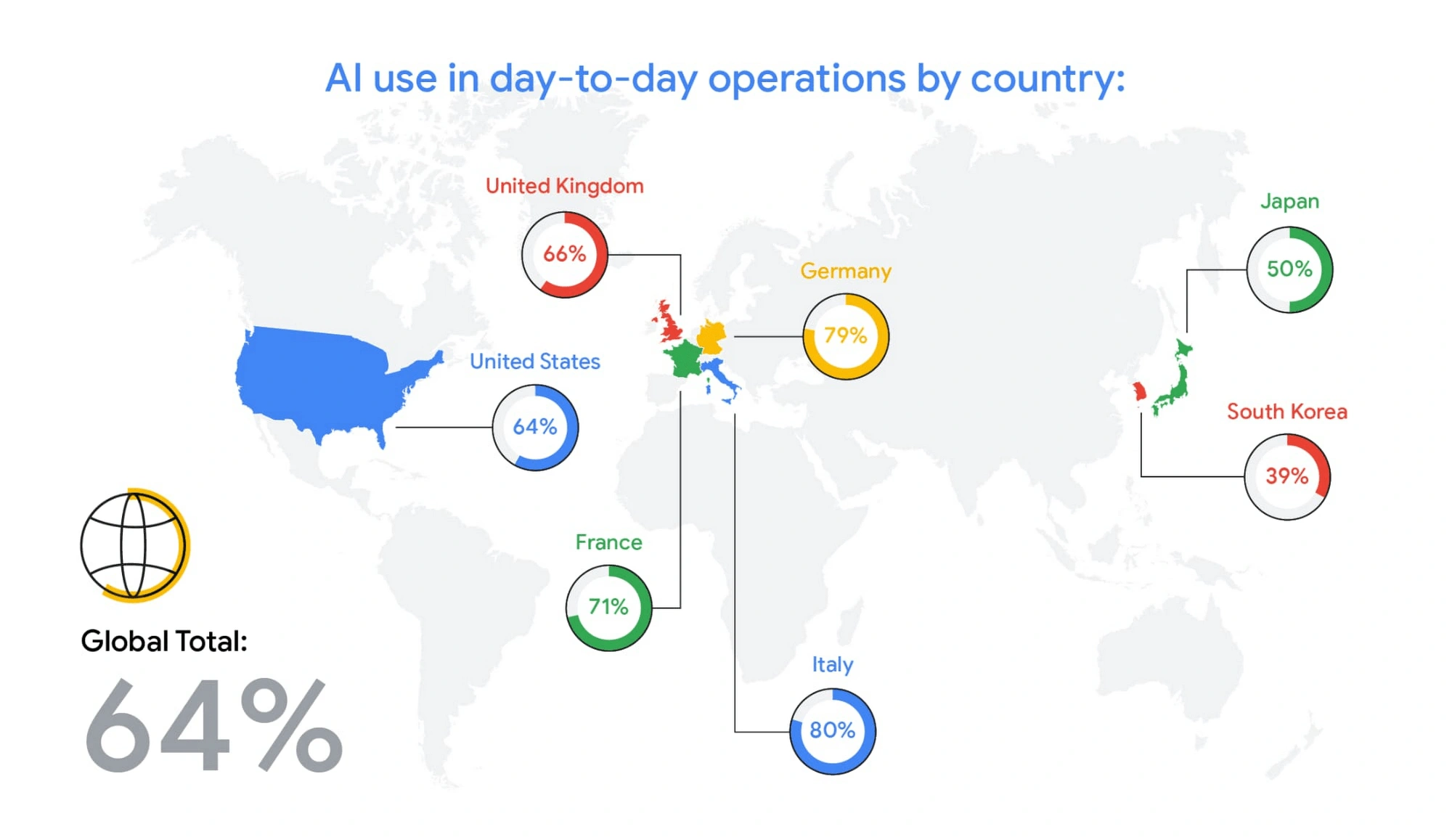 AI use by manufacturers in different countries.
Other advanced manufacturing economies like the US, Japan, and Korea, lag behind at 64%, 50%, and 39%, respectively.
The widest deployment has so far been in the automotive, heavy machinery, electronics, chemicals, and metals industries.
In these industries AI-based decision-making is being used for everything from quality inspection, to supply chain management, production line checks, and inventory management.
And it's no wonder these sectors are racing to implement AI in their manufacturing processes. A 2021 Harvard Business Review report estimates the total value created by AI to be close to $13 trillion.
The adoption of machine learning and advanced analytics (defined as the autonomous or semi-autonomous examination of data through methods beyond traditional business intelligence) is at even higher levels than that of AI, with two-thirds of manufacturing companies attributing significant revenue savings or generation to these technologies.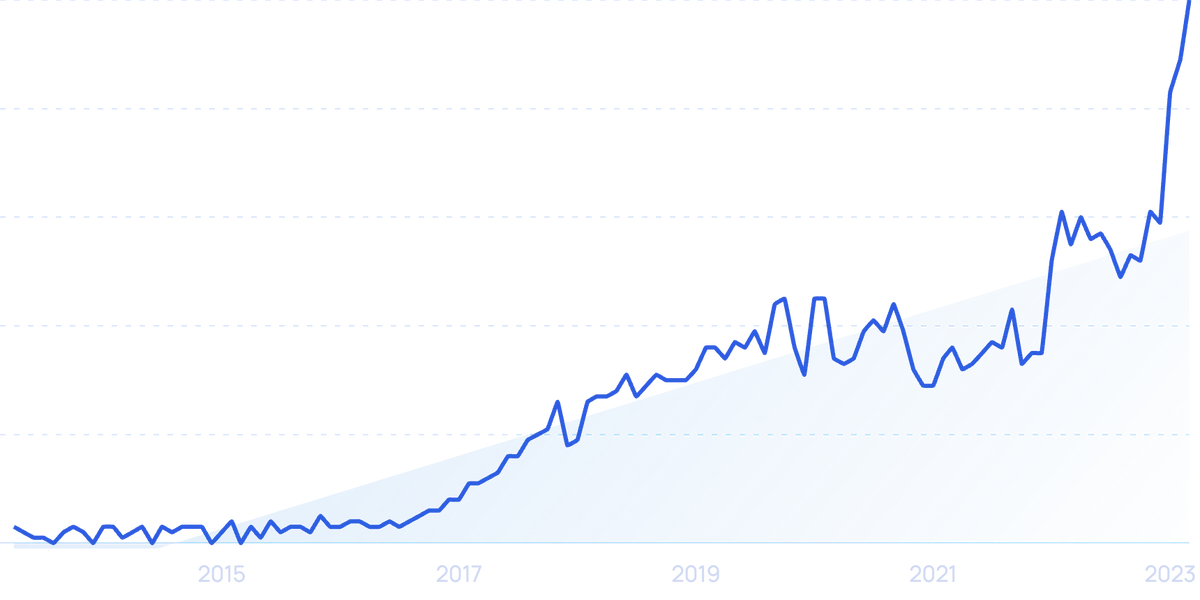 Searches for "AI Analytics" have increased by 3,233% since 2013.
By 2026, the manufacturing analytics market is projected to be worth $28.4 billion, up significantly from its current value of $8.45 billion.
3. Predictive Maintenance and Digital Twin Technology Reduce Errors
In manufacturing, equipment failures can be extremely expensive.
For example, a compressor failure at a petroleum plant can cost between $1 and $2 million per day, while studies show that unplanned downtime costs manufacturers $50 billion per year.
IIoT combined with big data analytics makes it possible to use sophisticated algorithms to predict such failures with great accuracy — before they actually occur.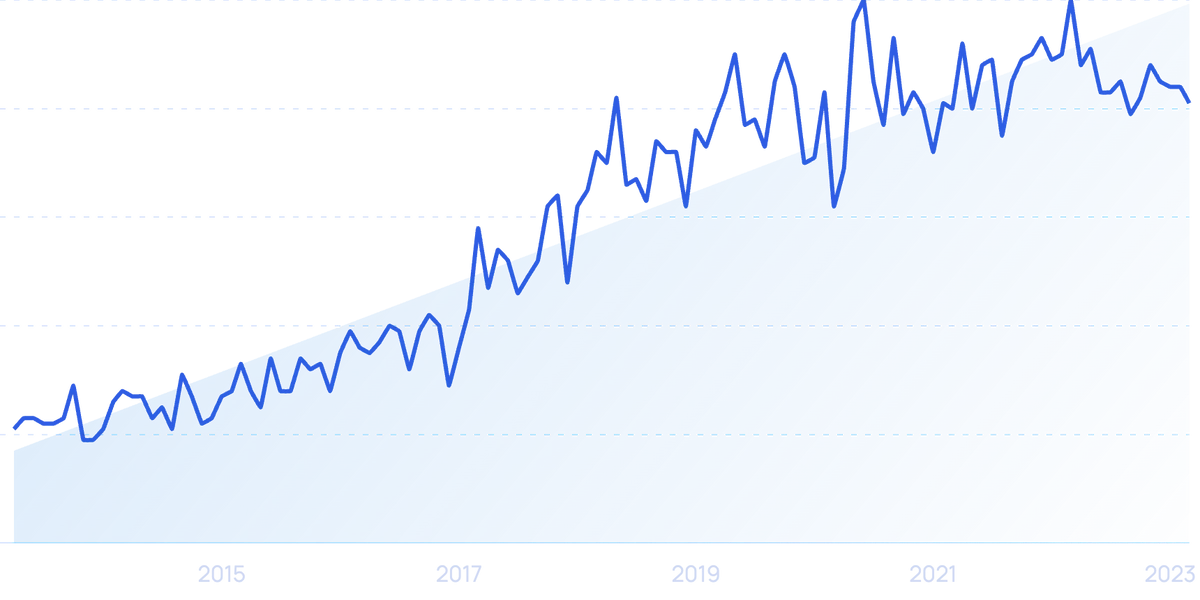 Search interest in "Predictive Maintenance" has grown by 285% over the last 10 years.
Data indicate that predictive maintenance can reduce downtime by 30% to 50%, increase machine life by 20% to 40%, and cut costs by more than 30%.
Last year's pressures of shutdowns have only accelerated implementation, with 35% of large-scale manufacturers in the US already employing predictive maintenance techniques.
Airbus has been an early adopter, helping its airline customers in implementing advanced predictive techniques.
This year, Airbus partnered with GE to deploy sophisticated AI- and ML-based predictive maintenance software to anticipate part failures in aircraft and perform timely repairs and replacements to improve safety and profitability.
The market for predictive maintenance solutions was valued at $3.8 billion at the end of 2020 and is expected to grow to $13.9 billion by 2026.
The growth of IIoT, AI and ML has set the stage for another important sub-trend of the smart factory evolution: digital twins.
Much like the entertainment industry makes use of virtual models instead of real characters, props, or sets, in animation and CGI films, digital twinning allows the manufacturing industry to use a virtual representation of an object to improve decision making through data-driven simulations.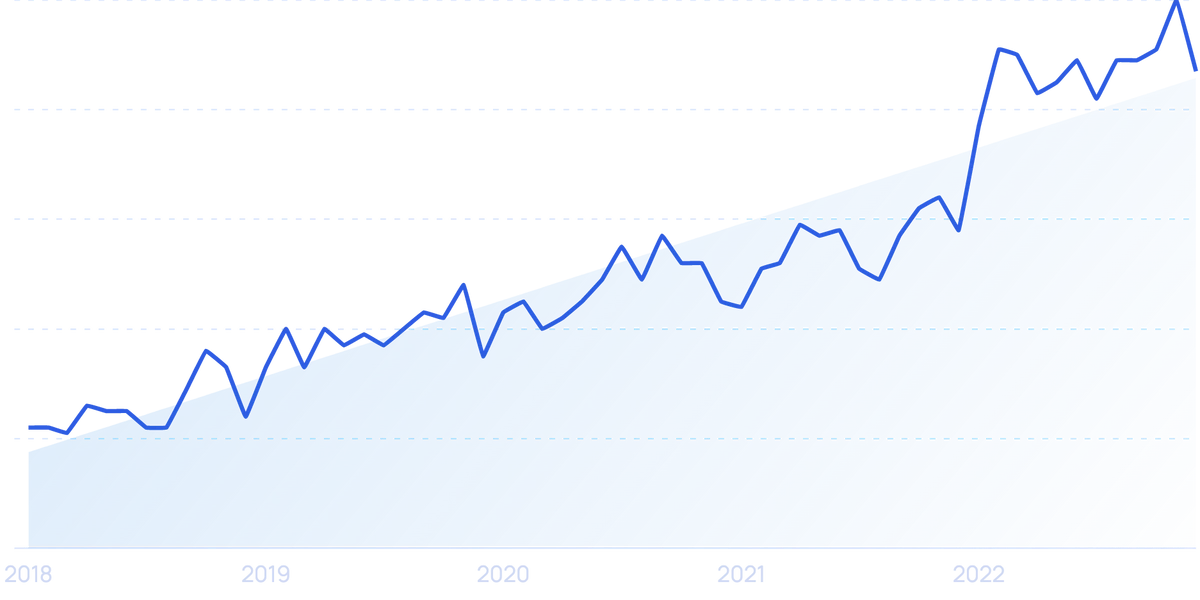 Searches for "Digital Twin" have increased by 280% over the last 5 years.
In the context of smart factories, a digital twin can be a single component (like a car tire) or a product (like an entire car, with all of its subsystems, including software and thousands of components).
It can even be a whole manufacturing process itself (like a factory with several workstations, assembly lines, and part stores).
Applications of digital twins range from predicting the life of a product based on a design (like GE did with aircraft jet engines), to managing entire factories and optimizing their operations through simulations and what-if analyses (as demonstrated by Siemens).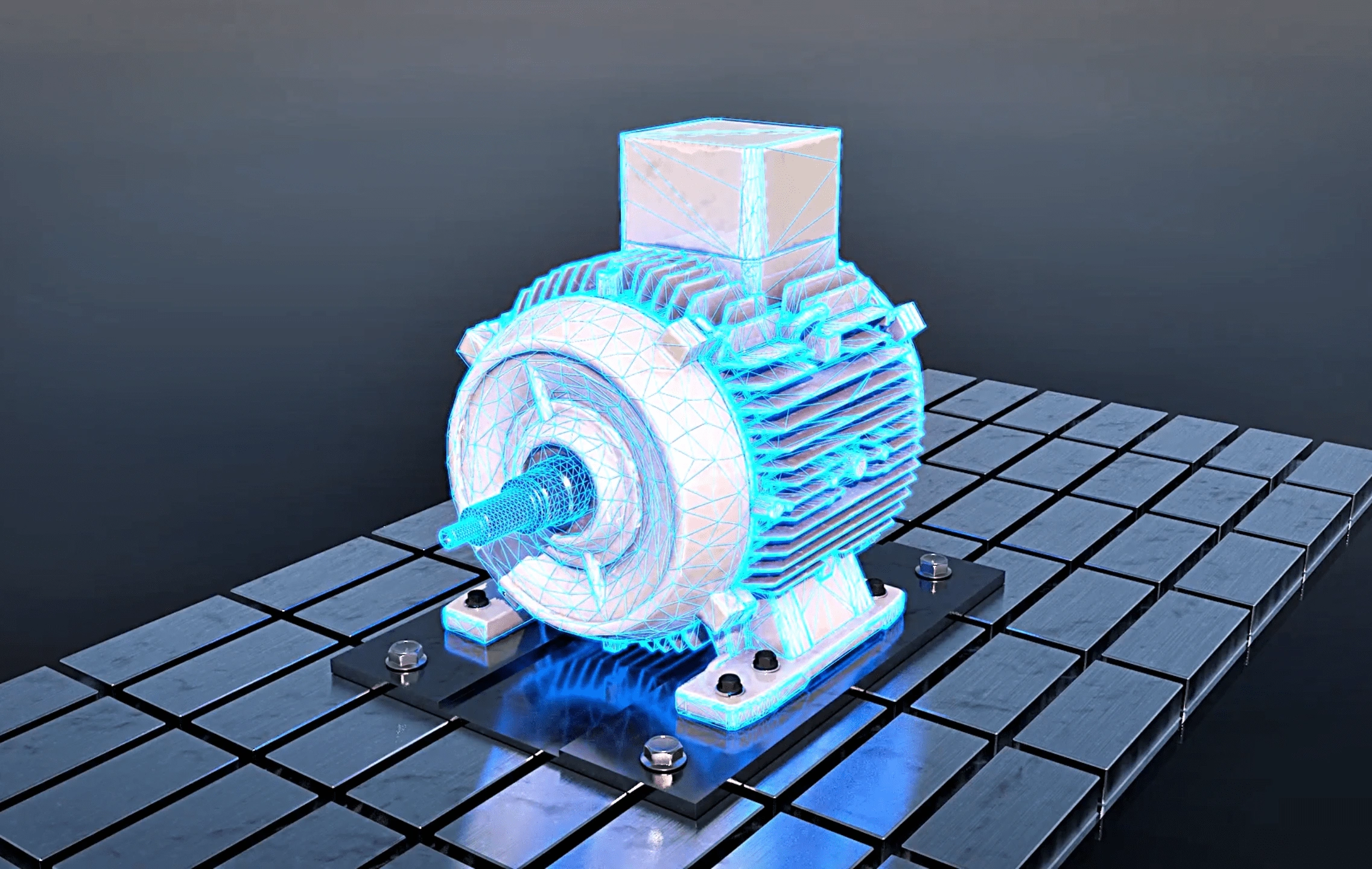 A Siemens digital twin of a Jet Engine
Forecasts predicted that close to half of all large industrial enterprises would have implemented digital twins at some scale by the end of 2021.
And businesses are expected to save as much as $1 trillion through the use of digital twins.
4. Supply Chain Restructuring is Changing Where Products are Made
The same need for resilience that is spurring on the Industry 4.0 phenomenon is also driving dramatic shifts in shoring and sourcing, especially across North America and Europe.
While globalization and the relentless quest for greater cost-efficiency drove the offshoring and lean supply chain movements for several decades, a number of factors are now swinging that pendulum in the opposite direction — the disruptions due to Covid-19 not being the least of them.
The reshoring trend was one that began as far back as 2010, but it has picked up once more.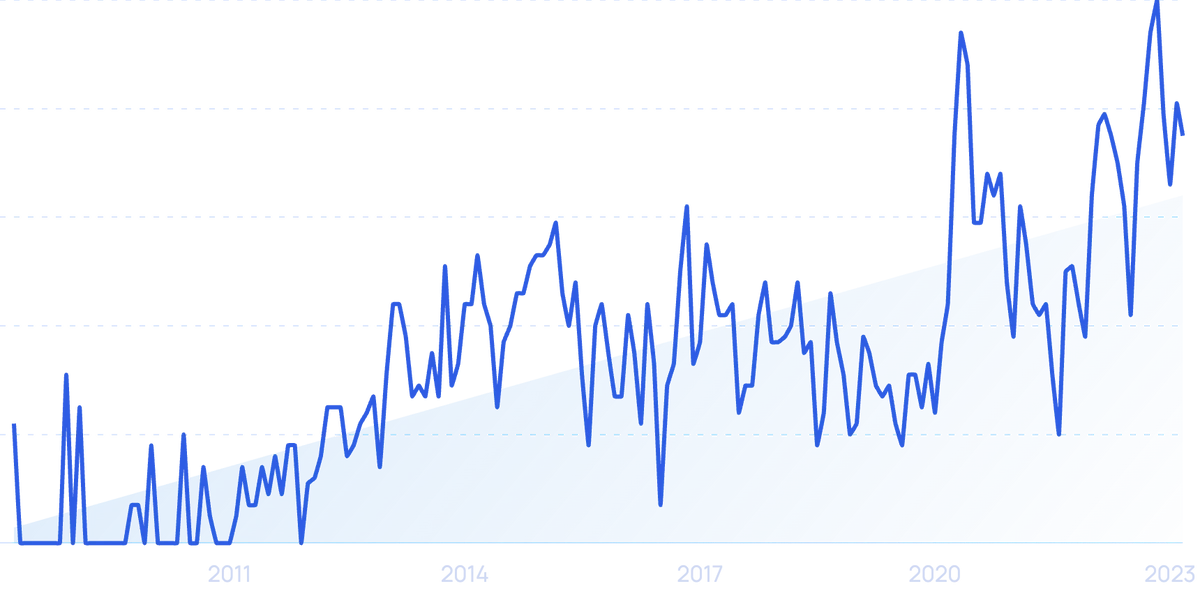 Search interest in "Reshoring" over the last 10 years.
In addition to the pandemic-induced supply chain shocks, the reshoring trend has also been bolstered by increasing labor costs in offshoring countries, rising shipping costs, and growing social and regulatory pressures related to sustainable sourcing and logistics.
These forces have altered the sourcing landscape significantly.
In a surprising study, KPMG revealed that Canada actually offers one of the lowest costs of manufacturing operations in the world, well ahead of the usual suspects such as China, India, and Mexico.
In 2021, 83% of manufacturing companies in the US confirmed that they would be reshoring, as opposed to just 54% in 2020.
The economic impact of reshoring is estimated to be $443 billion in the US.
The strategic shifts in supply chain management aren't limited to the location of the manufacturing facility.
They also include new strategies when it comes to where raw materials and components are sourced — variously described as near-sourcing, multi-sourcing, local sourcing, and "China, plus one".
Part of the reason for this has been the over-reliance (especially in automotive manufacturing) on "just-in-time" inventory management, or — depending on who you ask — a complete misunderstanding of the principles of lean manufacturing.
Just-in-time is an inventory management philosophy focused on ensuring that parts are available where they're needed in a manufacturing line, at just the right time, and no sooner.
The intention is to reduce wastage by avoiding expensive inventory carrying costs.
Whether by design or by misapplication, in the end, pre-Covid sourcing practices ended up plunging more than 169 industries into a global shortage of computer chips, which is likely to last at least until the end of 2023.
5. Microfactories Emerge as Commerce Evolves
The widespread effects of the global pandemic have also begun to impact how manufacturers make the things they make.
This change in thinking has led to the growth of the microfactory — small, highly modular setups that make use of leading-edge technology like artificial intelligence, robotics, and big data, to enable hyper-autonomous manufacturing.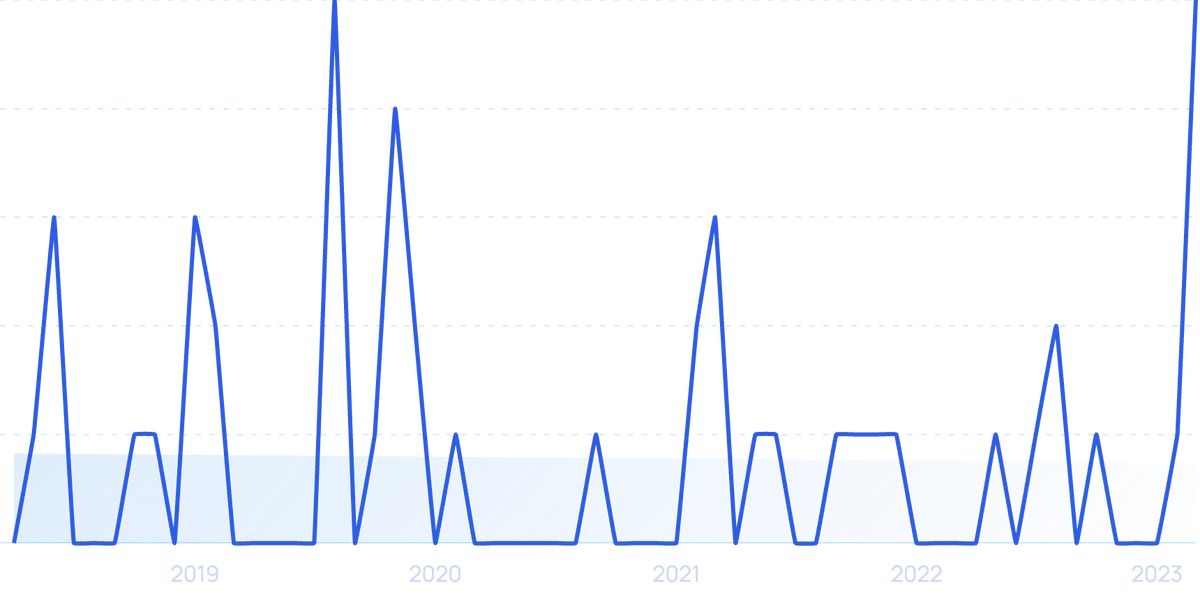 Searches for "Microfactories" over the last 5 years.
The microfactory trend is a perfect amalgamation of the two megatrends (smart factories and supply chain restructuring), and all the smaller trends already discussed.
The hunt for resilience has seen manufacturers try to improve their flexibility to accommodate small part runs, and to rapidly switch production lines to assemble new models.
In 2020, an electric vehicle manufacturing startup named Arrival made waves when it signed a $110 million deal with Hyundai and bagged an order for 10,000 electric vans from UPS.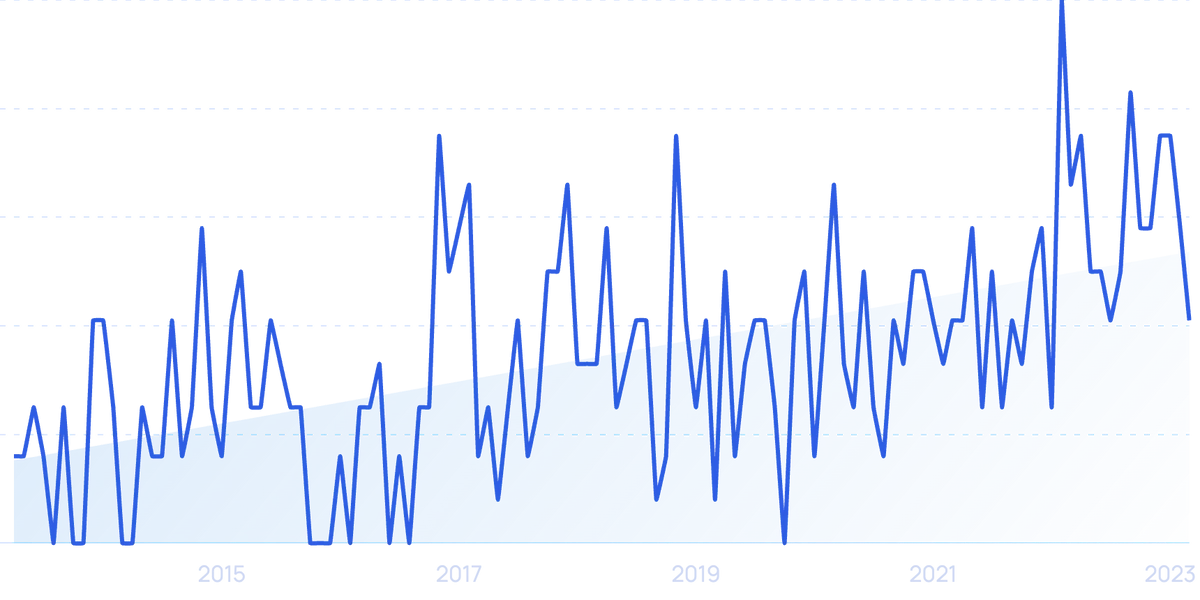 Searches for "Arrival Limited" over the last 10 years.
Arrival is building its vans in microfactories, which are just a fraction of the size (and cost) of traditional factories.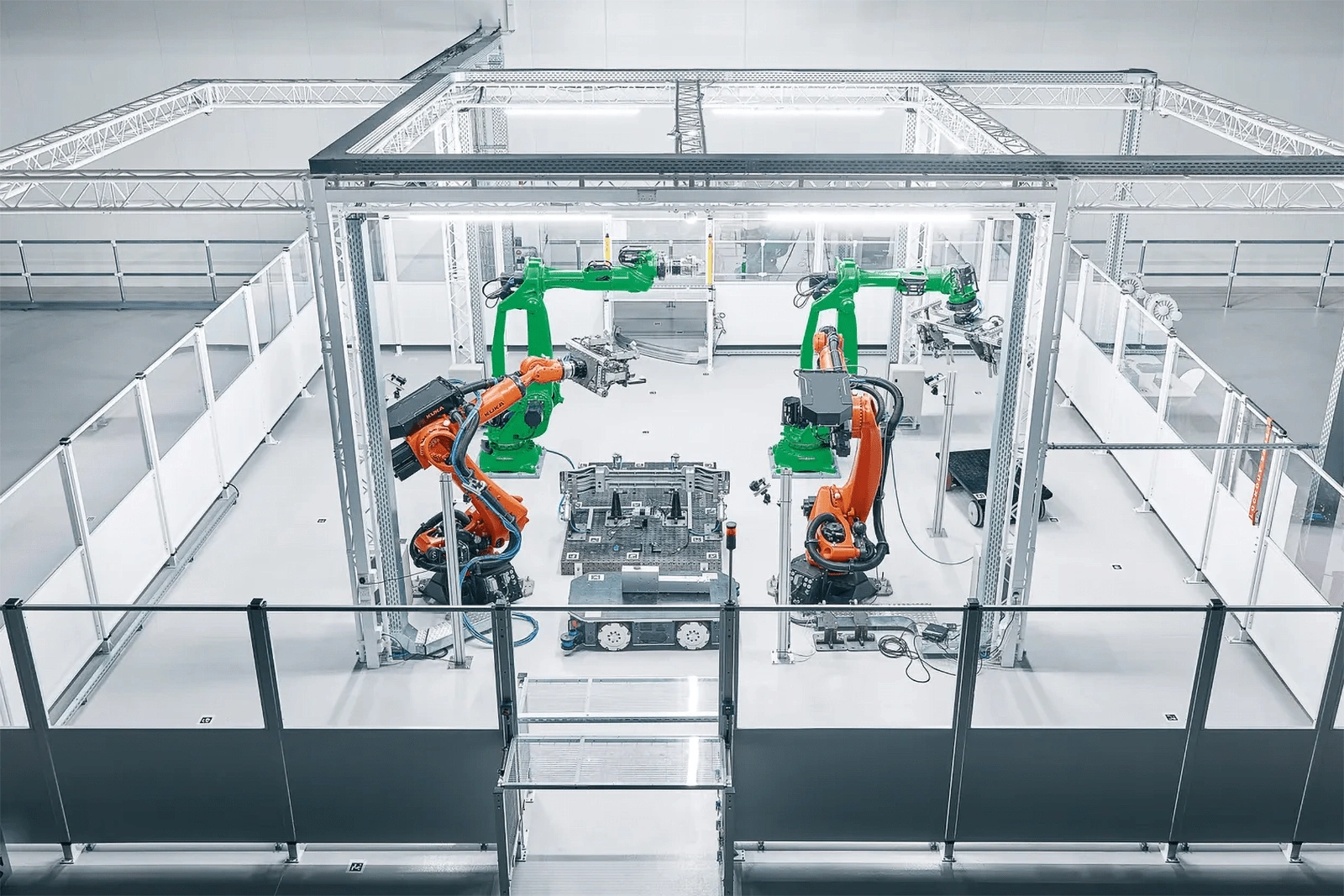 Arrival's Microfactory
The company has even announced that it will build more than 1,000 microfactories around the world by 2026.
By harnessing the power of IIOT, robotics, and advanced automation through AI, as well as by allowing the point of production to be moved closer to the point of trade, microfactories cut down time-to-market, reduce inefficiencies, and enable agility to change production runs like never before.
6. Manufacturers Raise Wages and Reskill Workers to Combat Labor Shortage
In a recent Deloitte survey, it was estimated that the manufacturing sector would be short 2.1 million skilled workers by 2030.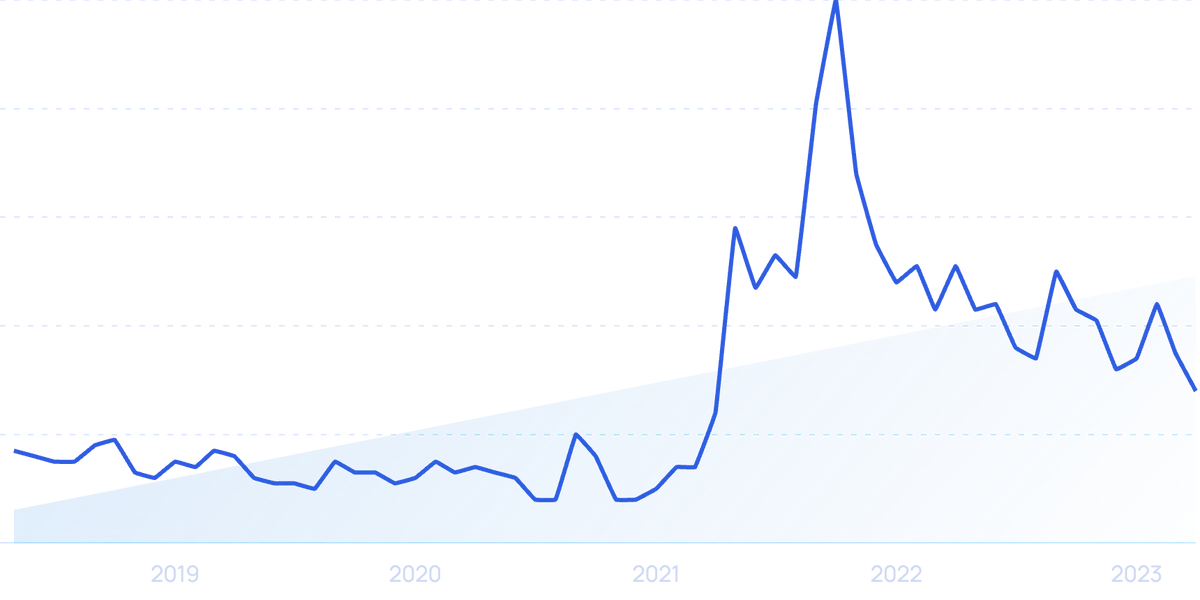 Search volume for "labor shortage" spiked in 2021.
The survey showed that 38% of executives say recruiting new workers is the top priority for their production workforce in 2022.
It's not an easy job — manufacturers say finding talent is 36% more difficult than in 2018.
An August 2022 survey from The National Association of Manufacturers reported that recruiting was the biggest problem for 76% of the manufacturers surveyed.
Increasing pay is one-way manufacturers are looking to lure talent.
Nearly three-quarters of manufacturers said they'd be raising wages by more than an average of 3% in 2022.
That's on top of increases made in 2021 when wages for new hires saw 6.8% growth and the industry overall raised wages by 3.2%.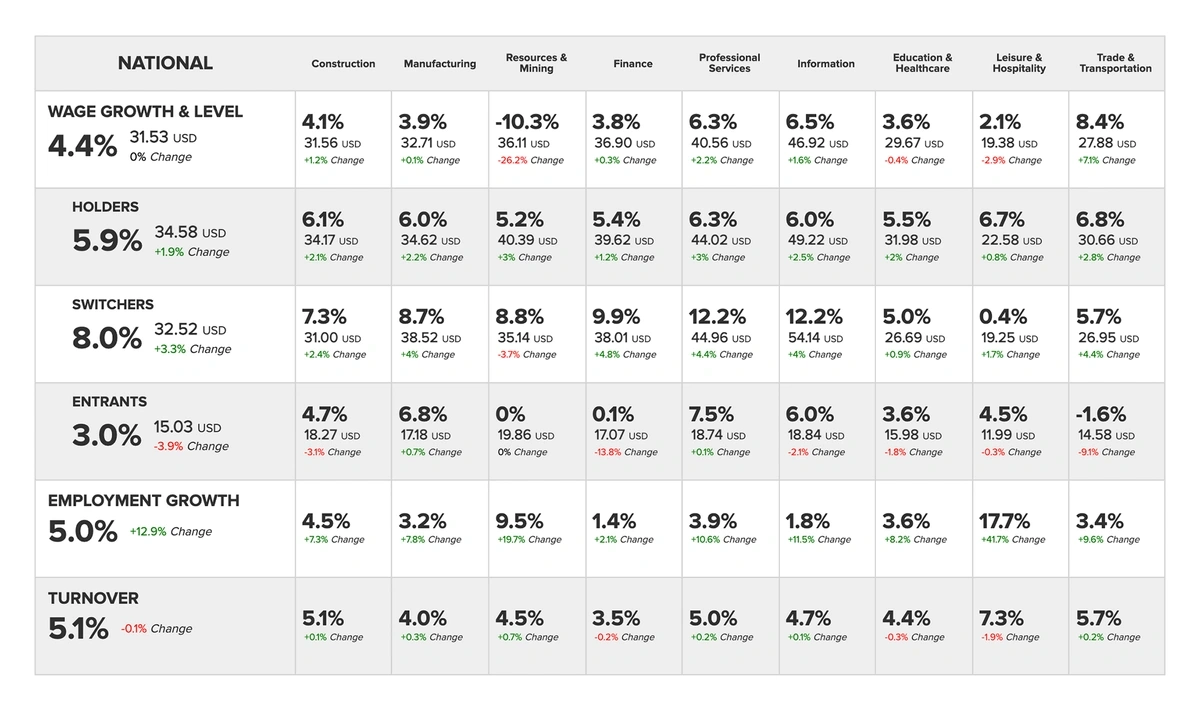 Wages in the manufacturing sector grew modestly in 2021 and additional increases are expected.
Manufacturers are also doubling down on retaining and reskilling their current workforce.
In the Deloitte survey, 31% of respondents said employee retention was a top priority and 13% said they're focused on reskilling.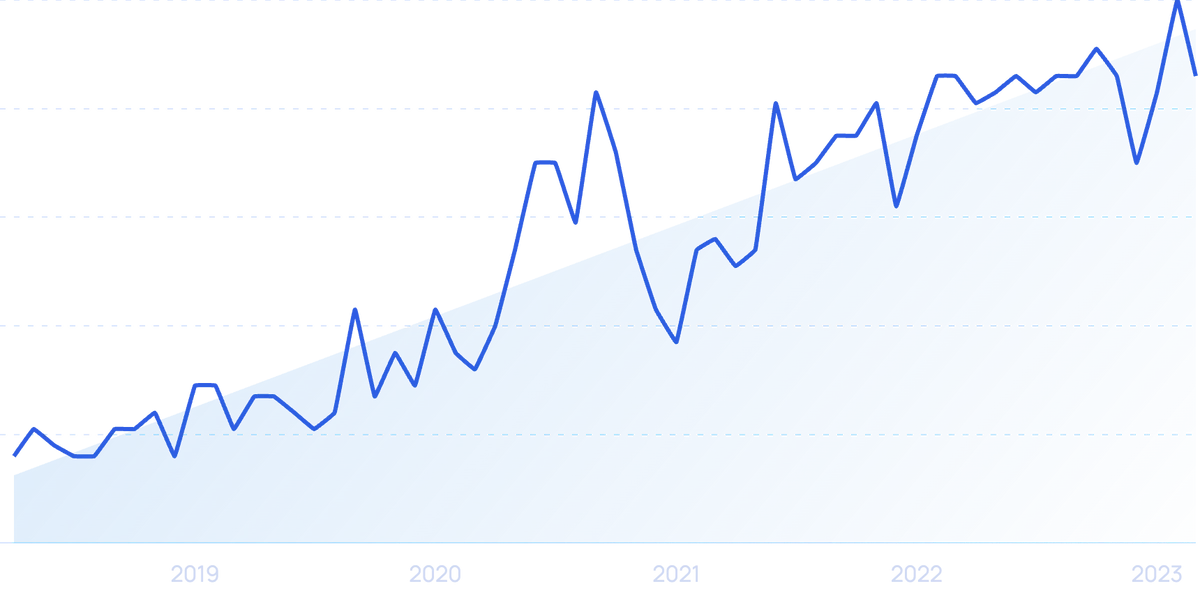 Search volume for "reskilling" has ballooned in the past 5 years, up 433%.
The Manufacturing Institute reports that young employees are especially attracted to employers that are willing to train them and invest in their skill development.
Nearly 70% of manufacturing employees under 25 years old said they are sticking with their employer because they offer these types of opportunities.
As the use of AI and robotic capabilities increase, the skill set of manufacturing employees will need to shift.
McKinsey predicts the demand for physical and manual skills in repeatable tasks will decline by 30% over the next decade.
At the same time, the demand for technological skills will increase more than 50%, and the demand for leadership and high-level social/emotional skills is expected to rise 30%.
To guide organizations in reskilling their workforce, MxD (Manufacturing x Digital) has published a hiring guide that leads businesses through the process of upskilling 247 job roles, many of which are in cybersecurity.
In another example, The Institute for Advanced Composites Manufacturing Innovation (IACMI) has launched the ACE program: America's Cutting Edge.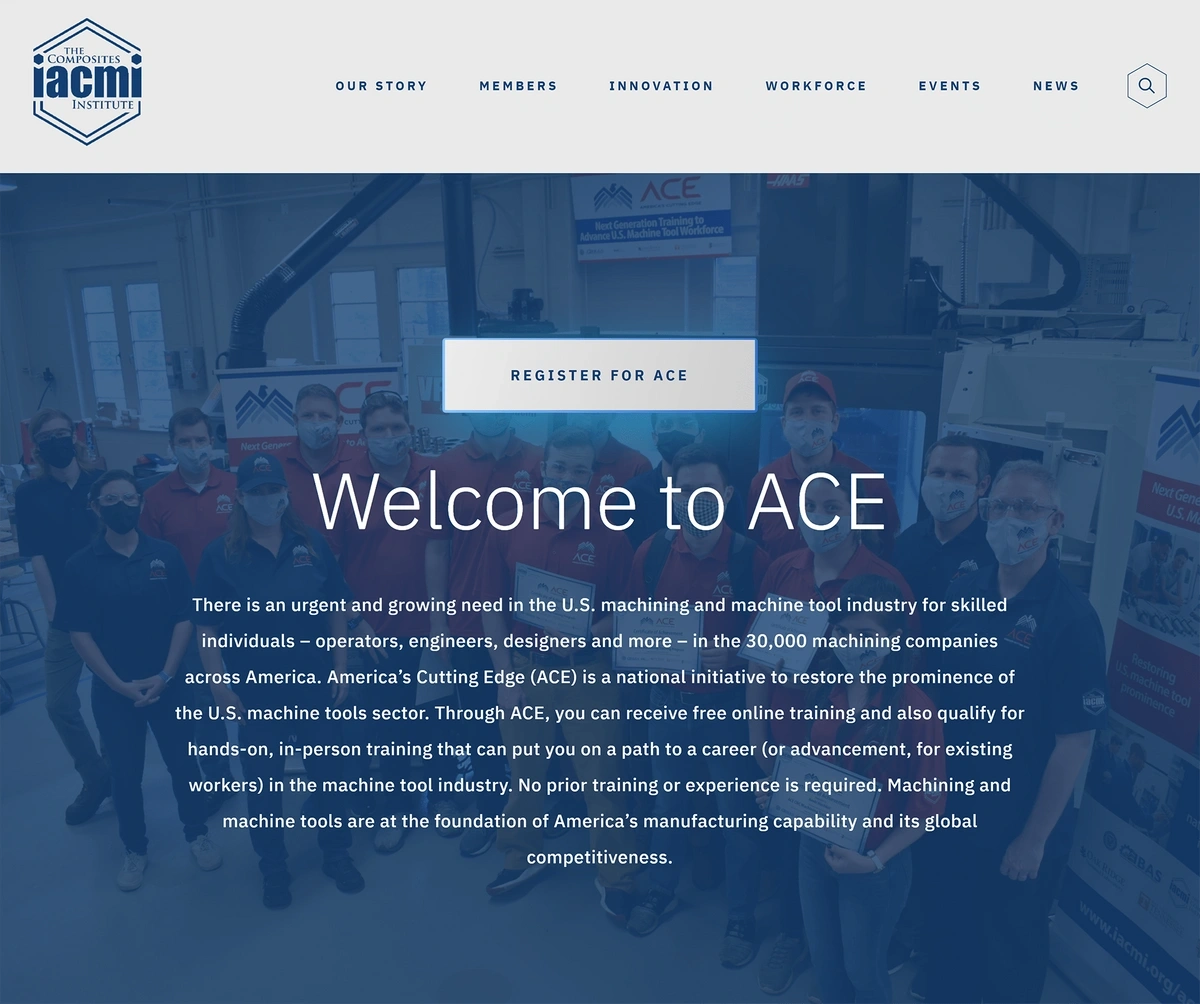 The IACMI has partnered with the DoD and the Office of Industrial Policy in offering the ACE program.
It's a program that utilizes virtual training and simulations in order to teach established machinists the skills needed for CNC machining.
Best of all, the training is free.
7. DEI Initiatives Aim to Recruit Women and Minorities
Manufacturers are also prioritizing DEI initiatives in recruiting new talent.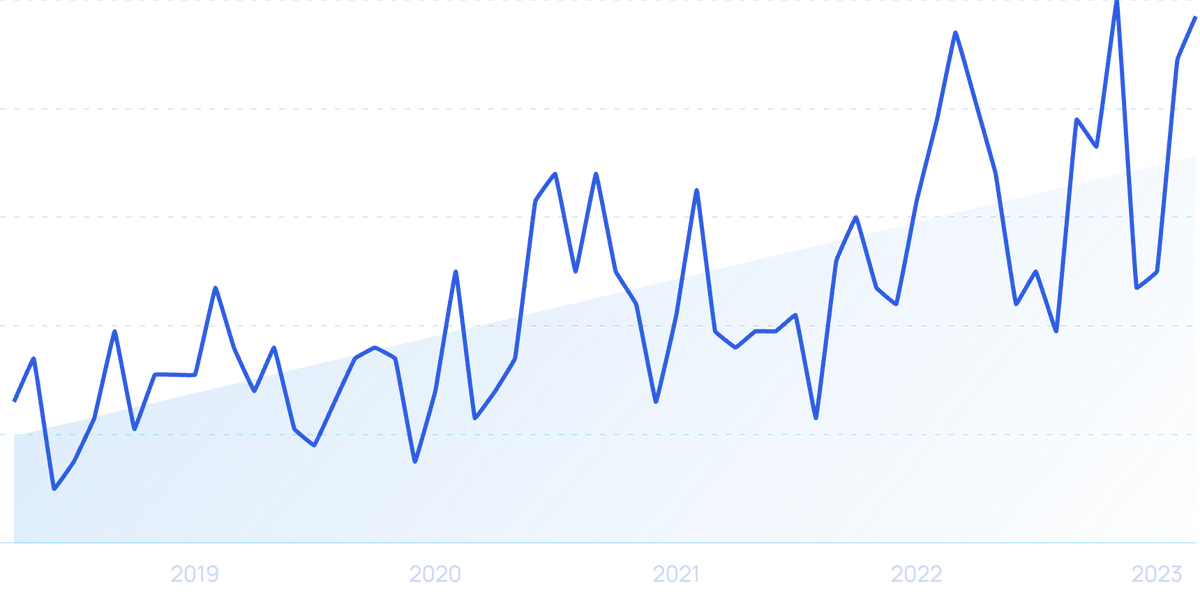 Search volume for "diversity in hiring" has increased in the past 5 years.
According to the Manufacturing Institute, 64% of manufacturers say that diversity and inclusion efforts are a key focus for their company.
The National Association of Manufacturers and the Manufacturing Institute have come together to create a Pledge of Action aimed at improving equity and parity for minorities working in the sector.
The pledge states that manufacturers will take 50,000 tangible actions aimed at this goal and create 300,000 pathways to job opportunities for minorities by 2030.
Women make up one segment of the population that's underrepresented in the manufacturing sector.
Fewer than 1 out of every 3 manufacturing professionals are female.
In addition, women are 1.8x more likely than men to leave their jobs in manufacturing.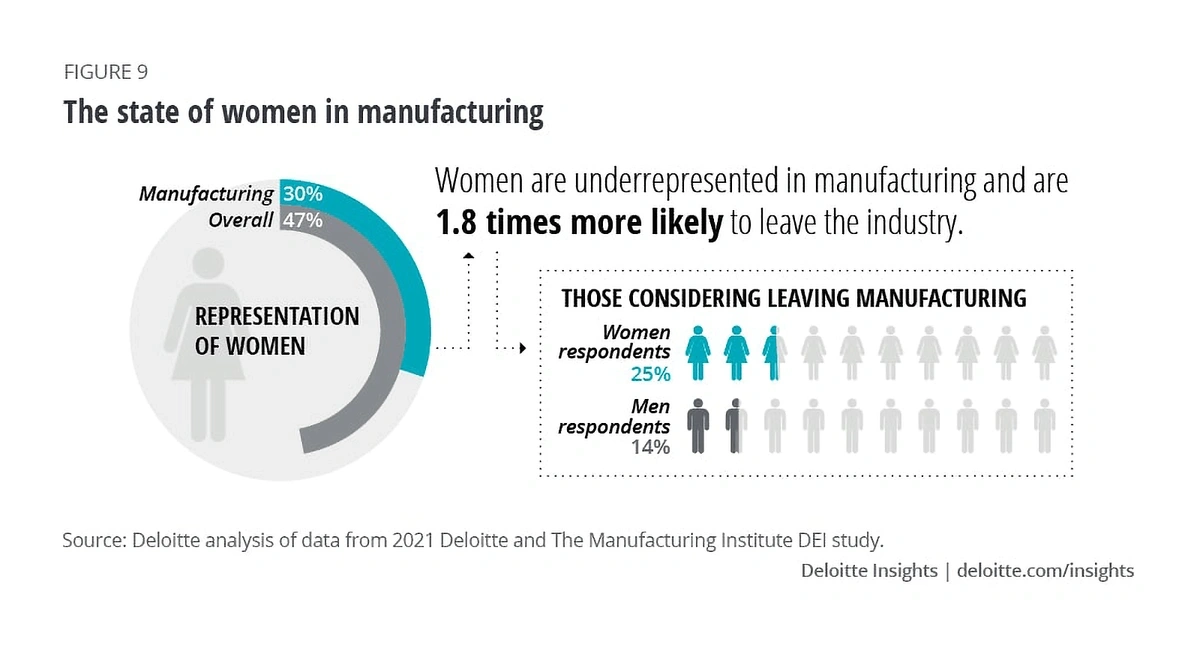 Women are one population segment that's not well represented in manufacturing.
Zippia, a career search website, reports that people from non-White races are also underrepresented in the industry.
While 68% of workers are White, only 11% are Hispanic, 10% are Black, and 6% are Asian.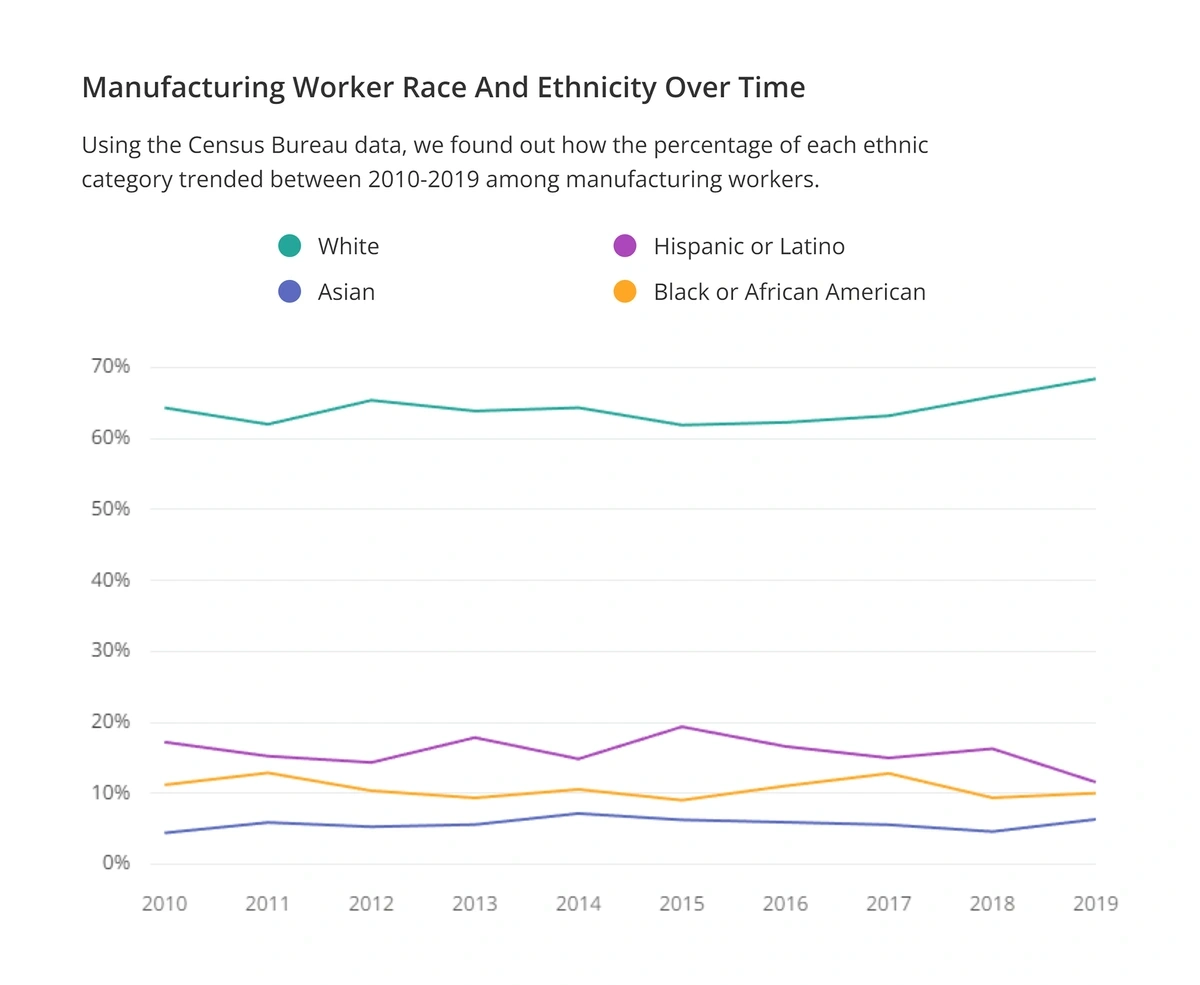 The percentage of minorities working in manufacturing did not see any substantial changes from 2010-2019.
Dow is one manufacturing company that's prioritized DEI in its hiring and retention efforts.
The company has launched inclusive hiring standards, diverse interview teams, and a military degree equivalency program.
Employees are also invited to participate in Employee Resource Groups that are offered for people of various races, ages, disabilities, and sexual identities. More than 18,500 employees participate in one of these groups.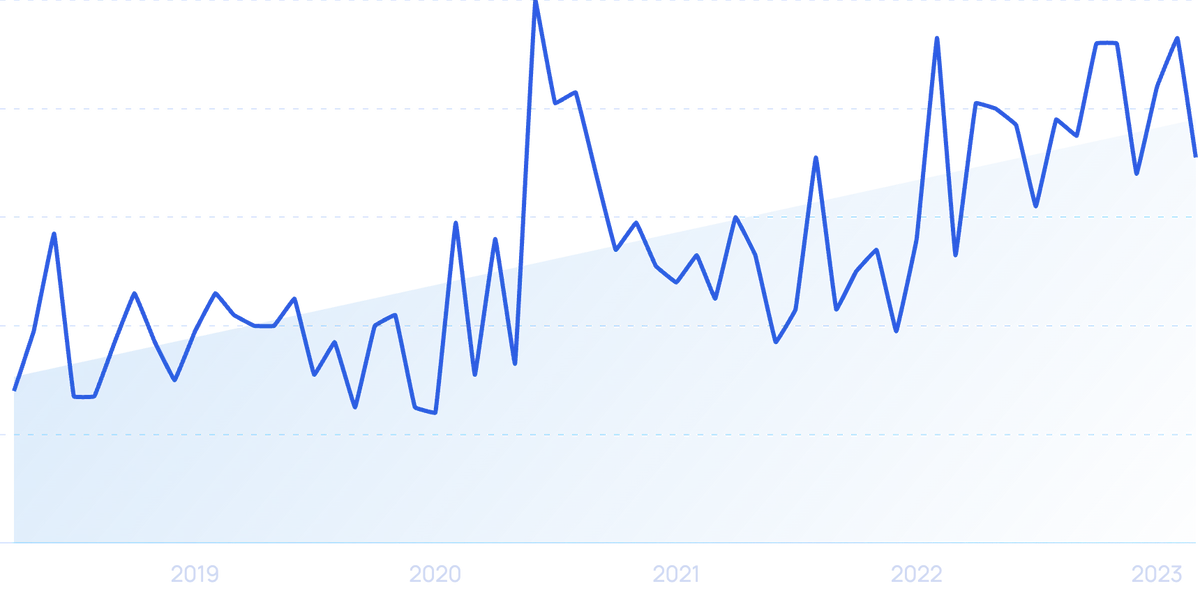 Search volume for "employee resource groups" shows 147% growth over 5 years.
McCormick is another manufacturer that has invested in employee groups in order to foster diversity.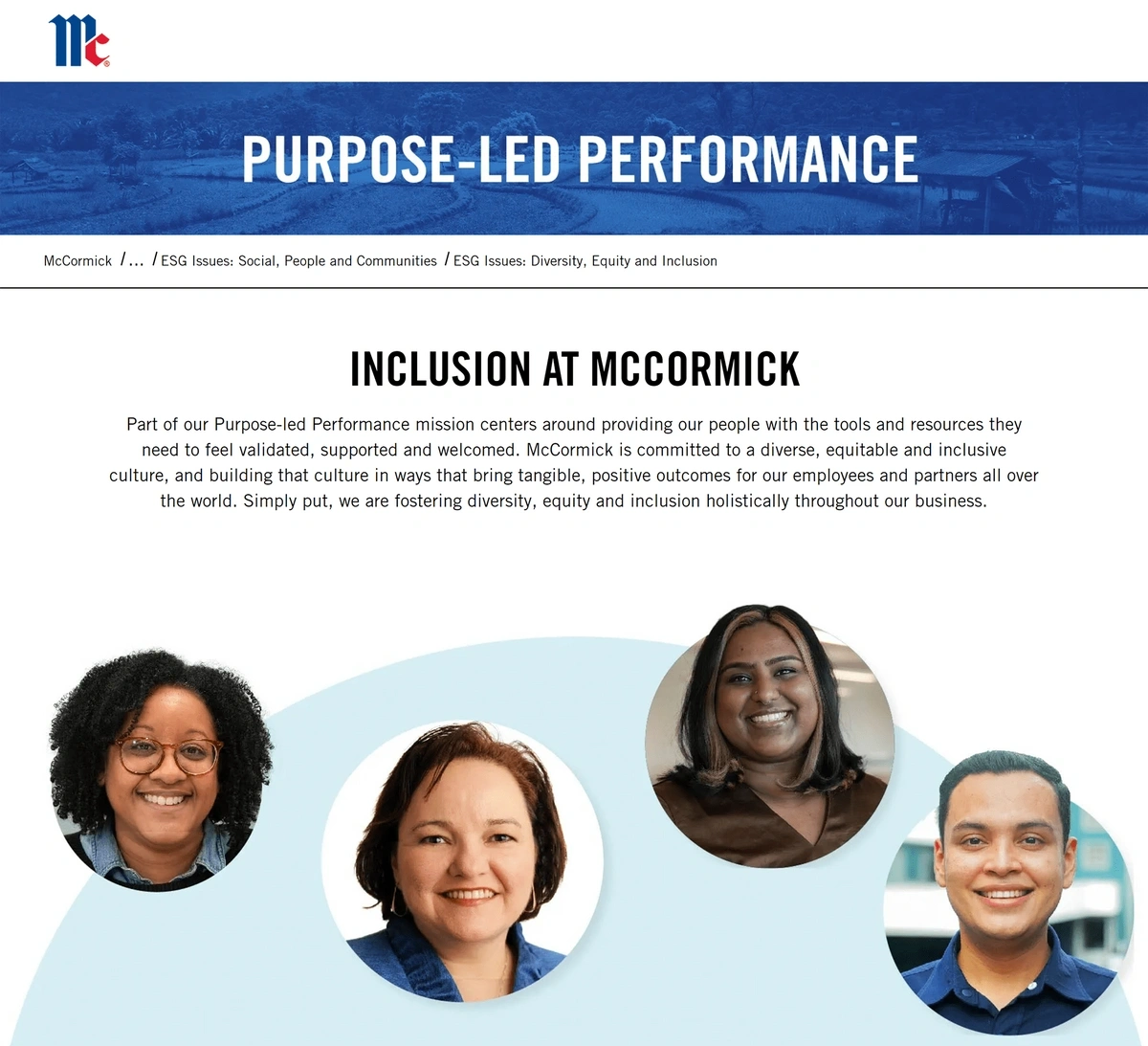 McCormick has been recognized for their commitment to DEI priorities.
The company has been recognized on DiversityInc's Top 50 list of Companies for Diversity since 2016 and has received a 90% ranking on the Corporate Equality Index published by the Human Rights Campaign.
8. Private Manufacturers and Government Agencies Push Industry Toward Carbon Neutrality
According to data from the EPA, manufacturing and industry are responsible for 24% of greenhouse gas emissions in the United States.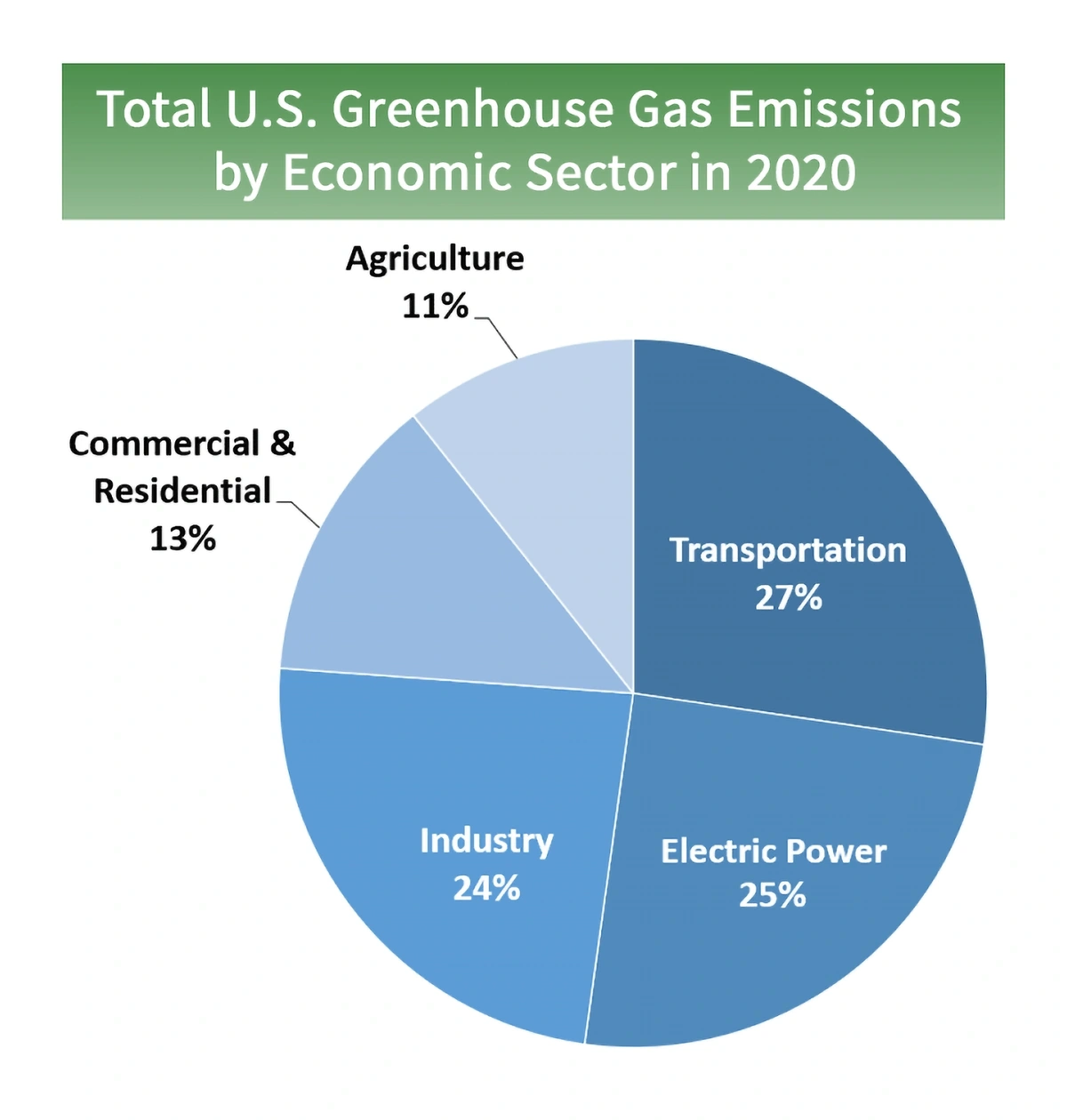 EPA data shows that industry and manufacturing is one of the major contributors of greenhouse gas emissions.
Worldwide, the industry emits one-fifth of all carbon emissions.
In the midst of a global push toward sustainability, more than 20% of the world's largest public companies have already made commitments to net-zero carbon emissions in the future.
The same trend can be seen in the manufacturing industry. Many manufacturing companies, along with government entities, are pushing the sector toward carbon neutrality.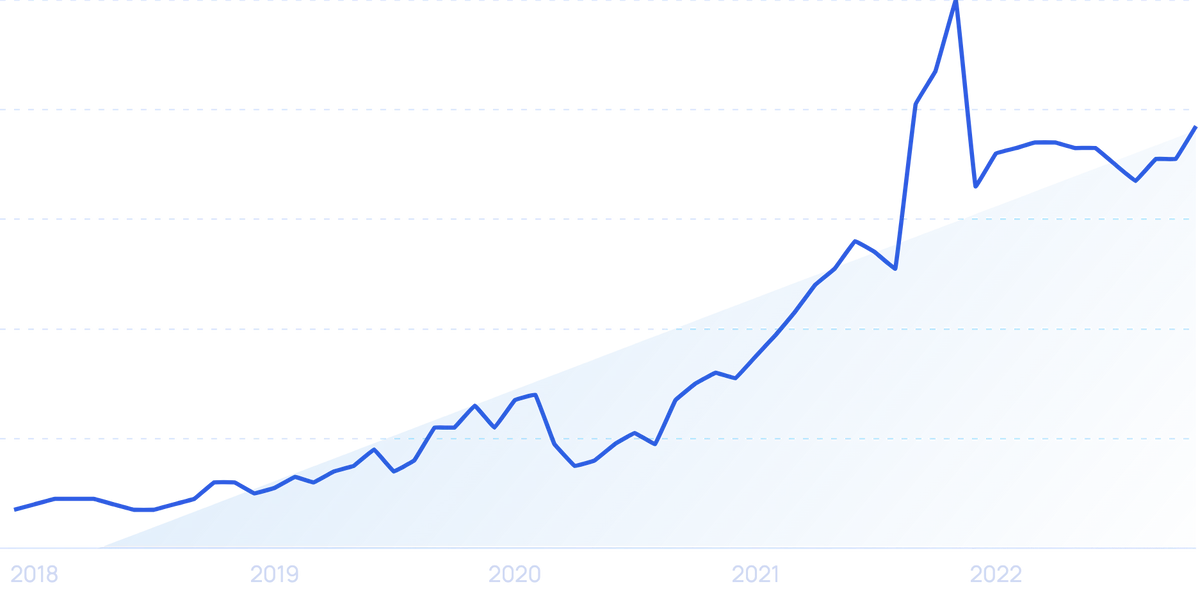 Search volume for "carbon neutrality" has climbed 1,000% in the past 5 years.
Adopting sustainable practices can provide several benefits to businesses, according to the EPA.
Building public trust, increasing efficiency by reducing waste, and investing in long-term business viability are just a few of the benefits.
In 2018, Dalmia Cement became the first company in the global manufacturing sector to announce their pledge toward carbon neutrality.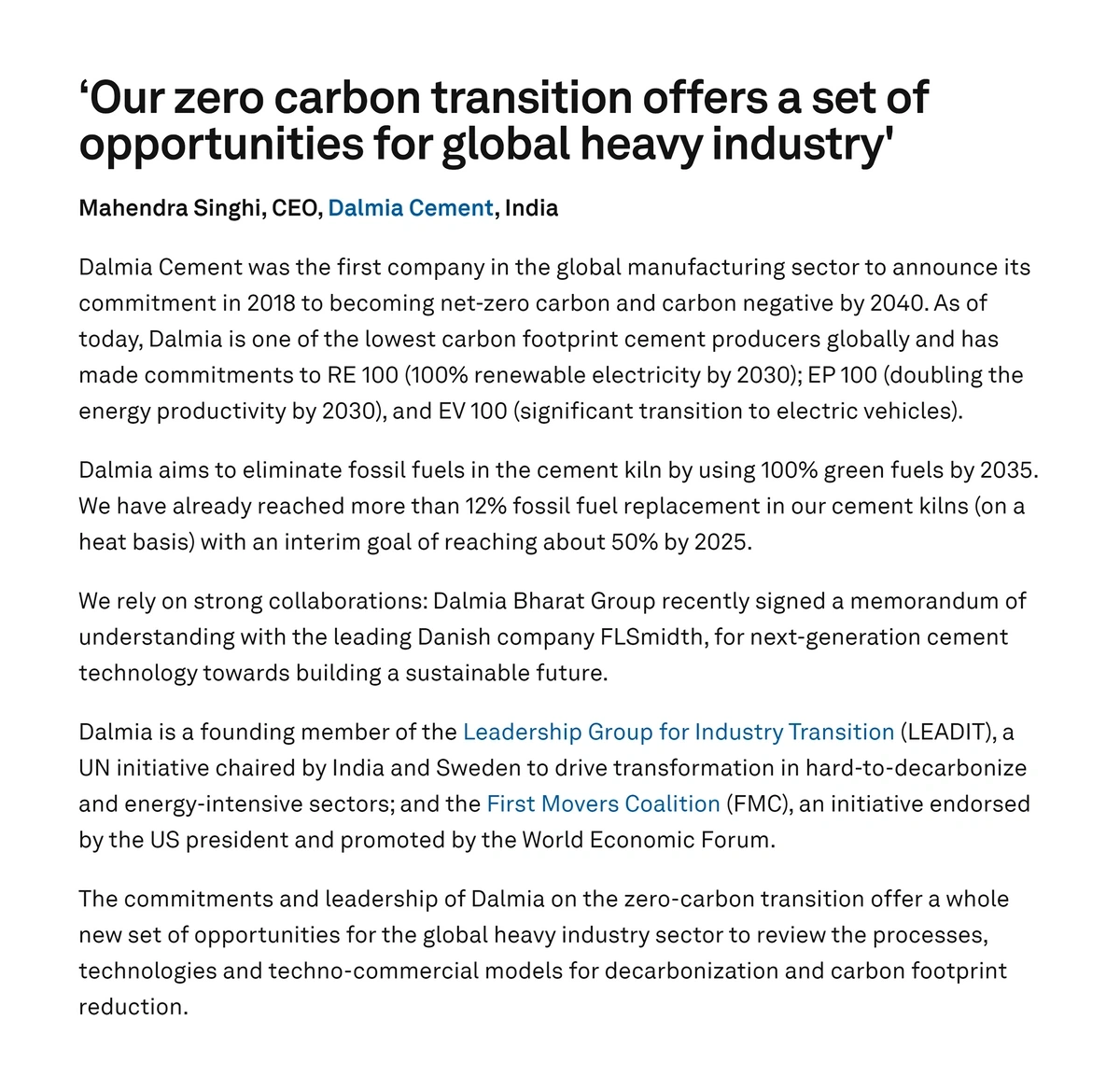 Dalmia Cement's commitment to sustainability has decreased their carbon footprint to a level that's 40% below that of an average cement company.
The company's goals include reaching net-zero carbon by 2040, running on 100% renewable electricity by 2030, and making a significant transition to electric vehicles.
Klöckner & Co, one of the world's largest producers of steel and metal, has a goal to halve their emissions by 2030.
In September 2022, the company created a new brand of green steel and metal: Nexigen.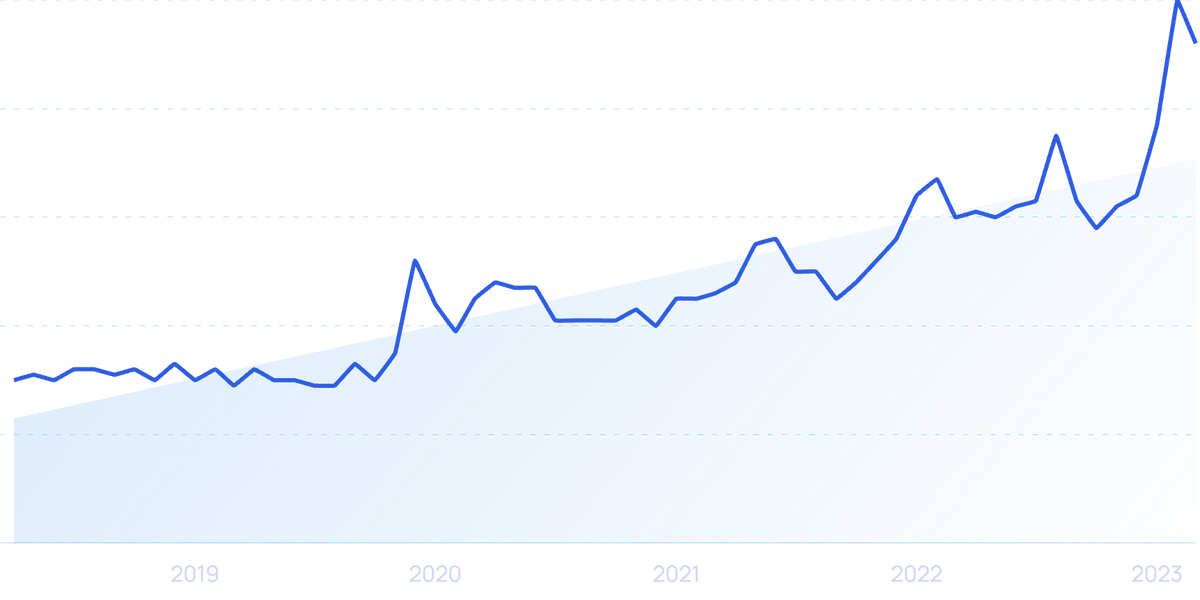 Search volume for "green steel" shows growing interest over the past 5 years.
According to Klöckner & Co's categorization, there are five levels of steel ranging from START, which has a footprint of up to 1,750 kg CO2 per metric ton, to PRIME, which has a footprint of no more than 400 kg CO2 per metric ton.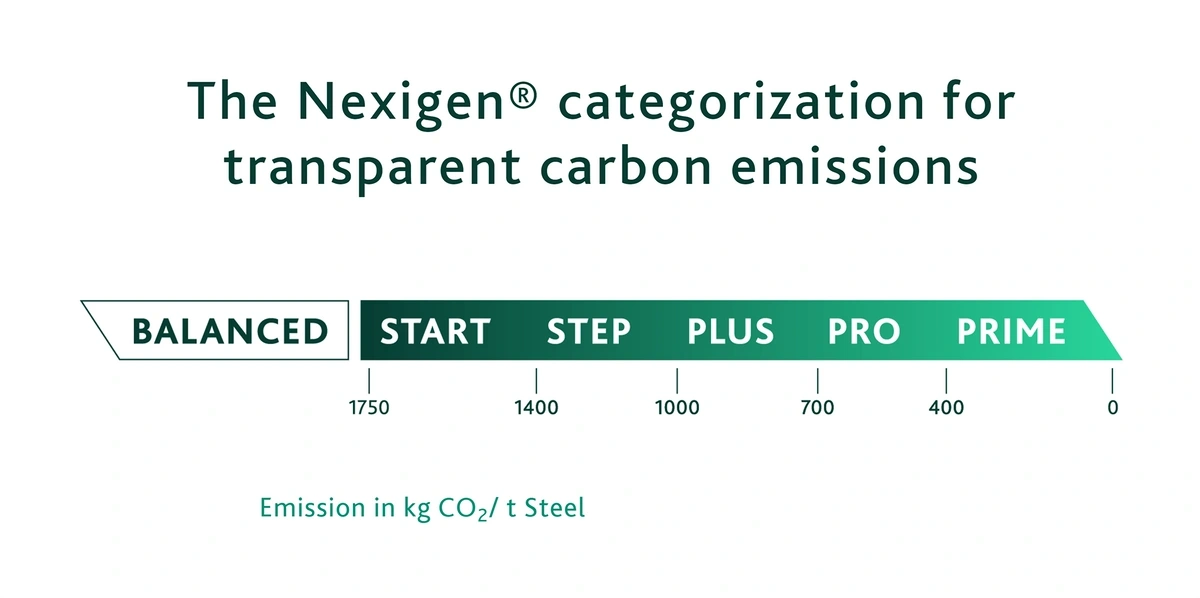 The Nexigen brand ranks green steel so that customers can see the carbon footprint of the product they purchase.
By 2025, the company says 30% of the Nexigen products will come exclusively from the two most sustainable levels.
In addition to efforts made by private companies, the US government is funneling funding to the sector in order to assist with decarbonization.
In April 2021, the Department of Energy announced a program that offered up to $22.5 million for projects that reduce manufacturing emissions and energy use.
In February 2022, the White House announced several initiatives with the goal of cleaning up industrial processes.
This included the "Buy Clean Task Force", which will increase federal purchases of clean building materials from American factories and launch an emissions-based policy that would regulate dirty steel and aluminum.
9. Cyberattacks Cause Downtime and Information Leaks
In IBM's X-Force Threat Intelligence Index, manufacturing was ranked as the industry that suffered the most cyberattacks in 2021.
It was the first time in five years that attacks against manufacturers had outpaced attacks against financial institutions.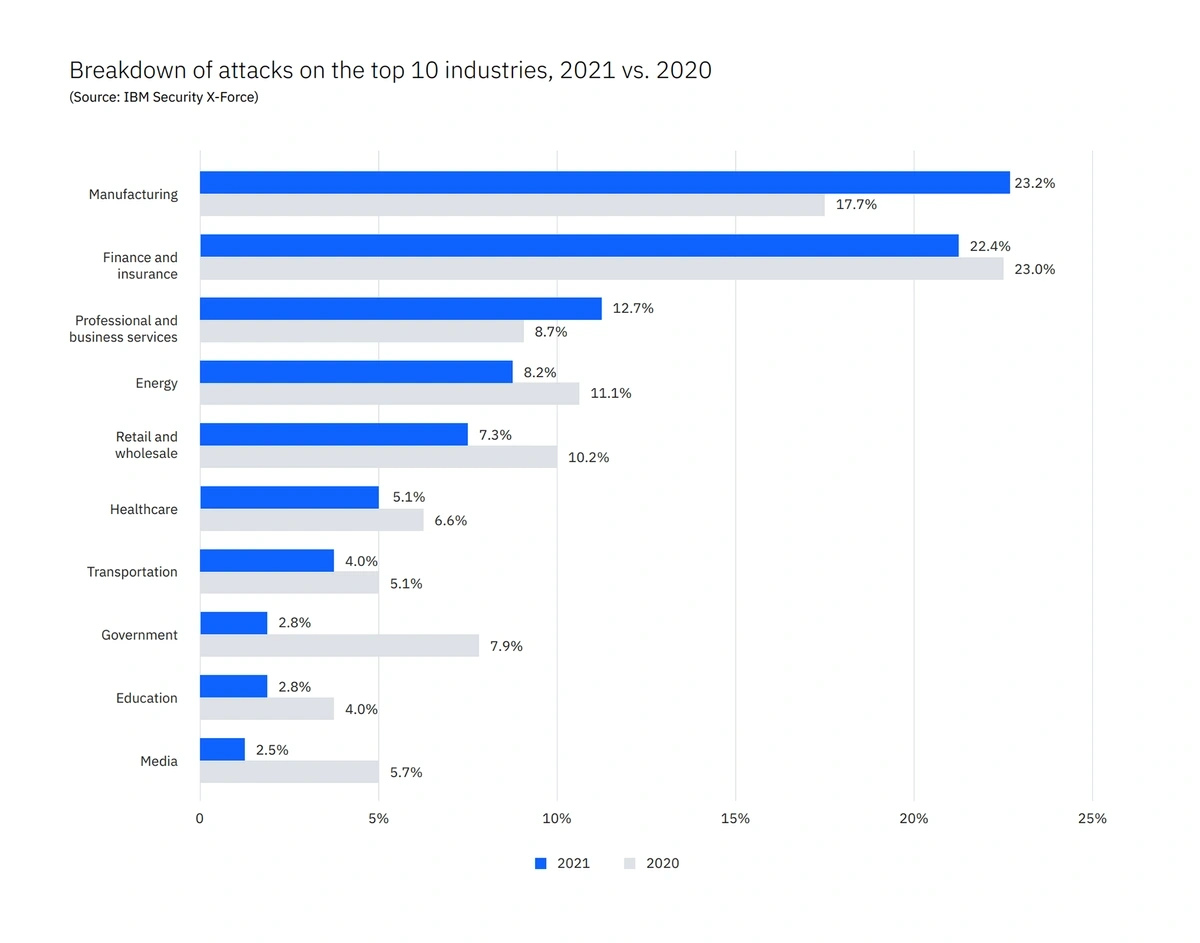 IBM reports that manufacturing was the top-attacked industry of 2021.
PwC reports that 49% of manufacturers list cybersecurity risks as one of the biggest challenges their companies will face in the next two years.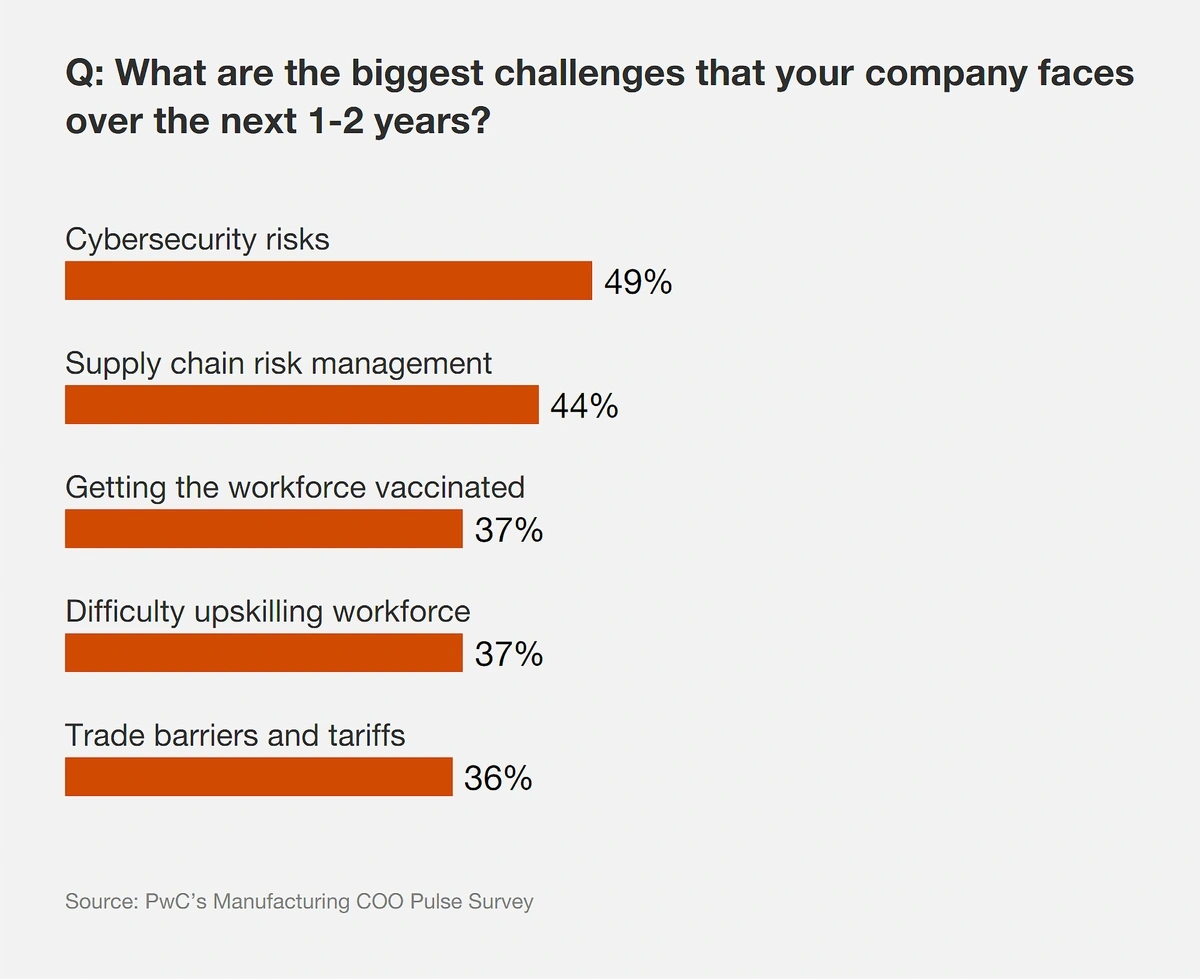 Cybersecurity risks and supply chain management topped the list of top challenges for manufacturers in 2021.
Manufacturing organizations are especially attractive targets to hackers because of the industry's low tolerance for downtime, according to IT experts.
In the wake of COVID-19 supply chain issues, cybercriminals have been capitalizing on existing supply chain issues in order to cripple businesses that are already struggling.
And, now that Industry 4.0 is taking over, manufacturers are even more vulnerable to attacks. Cybercriminals can attack software, firmware, or hardware.
According to the X-Force Threat Intelligence Index from IBM, 23% of the attacks against the sector in 2021 came in the form of ransomware.
In March 2022, a ransomware group attacked Denso Corporation, a major manufacturer of automotive parts that supply companies like Toyota, Mercedes-Benz, and Ford.
The hackers then leaked stolen information regarding Toyota. This included emails, technical drawings, purchase orders, and other information amounting to 14 terabytes of data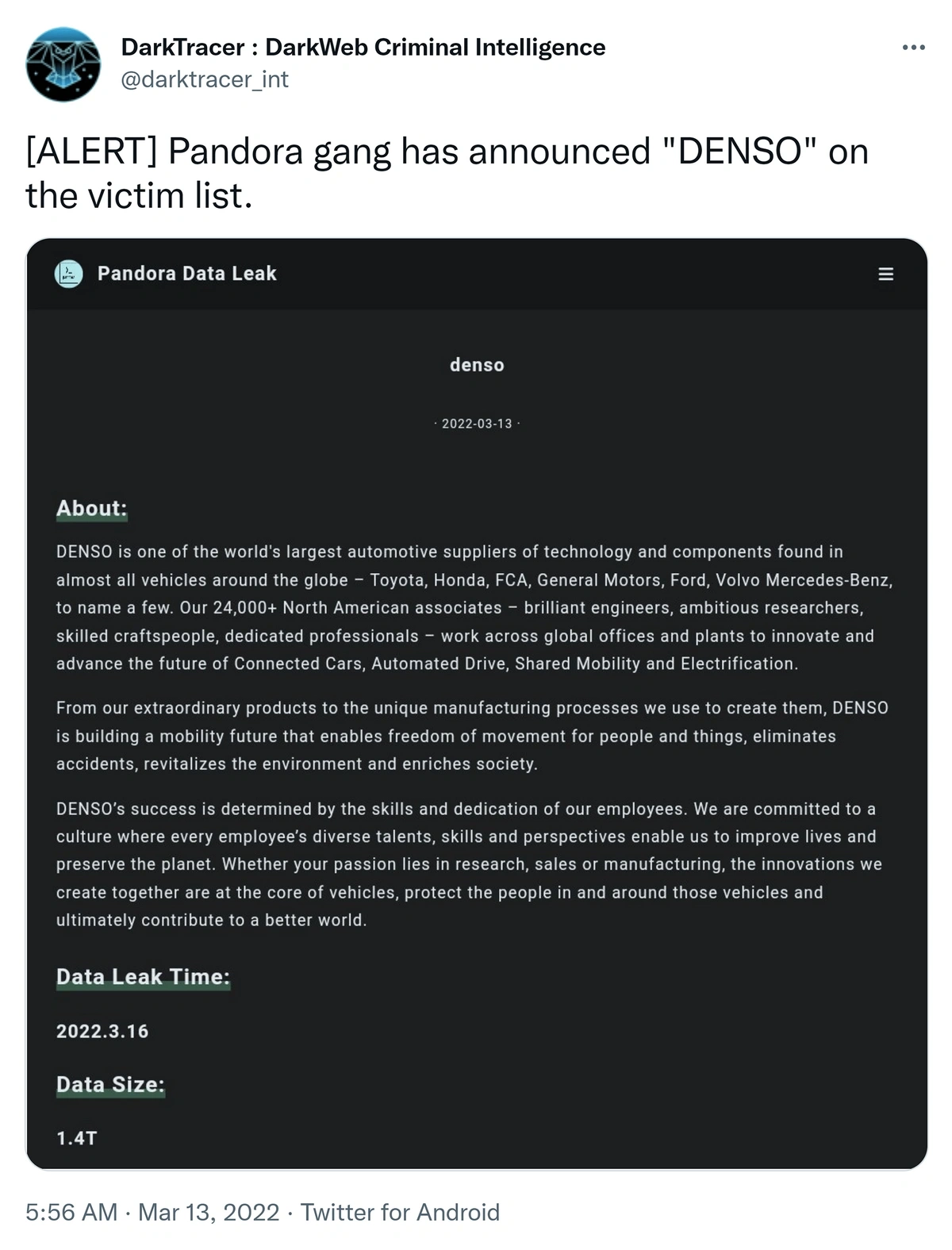 Pandora, the ransomware group, announced the attack on their leak portal.
Nvidia, a major manufacturer of chips and graphic processing units, was attacked in February 2022.
A ransomware group called Lapsus$ claimed responsibility for the attack, which leaked Nvidia schematics, drivers, firmware, and employee credentials.
In the face of these growing cybersecurity risks, more than 50 organizations came together in 2020 to form the Cybersecurity Manufacturing Innovation Institute (CyManII).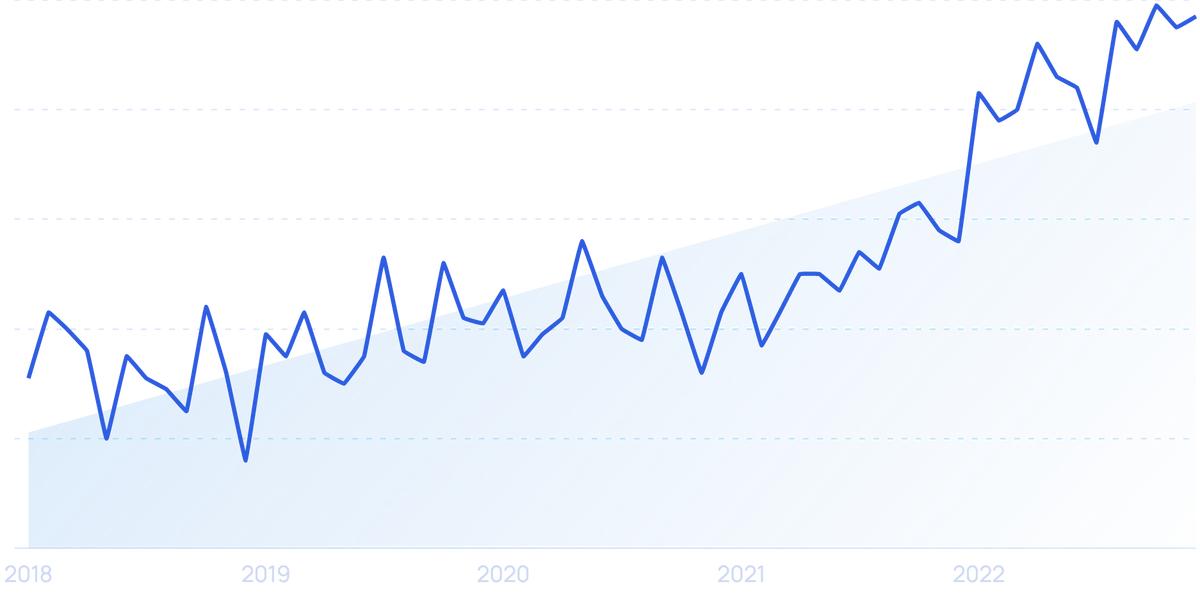 Search volume for "cybersecurity technology" continues to grow (up 206% in 5 years).
The University of Texas at San Antonio is the official home of this $111-million public-private partnership. The Department of Energy also plays a critical role.
In February 2022, the organization announced the building of the Texas Manufacturing x Transformation Hub. The goal of this hub is to train 1 million manufacturing workers for cybersecurity preparedness by 2026.
10. Additive Manufacturing Goes Mainstream
While 3D printing, also known as additive manufacturing, used to be an experiment for most manufacturers, it's now a legitimate cost-saving method that's put to use for a variety of tasks.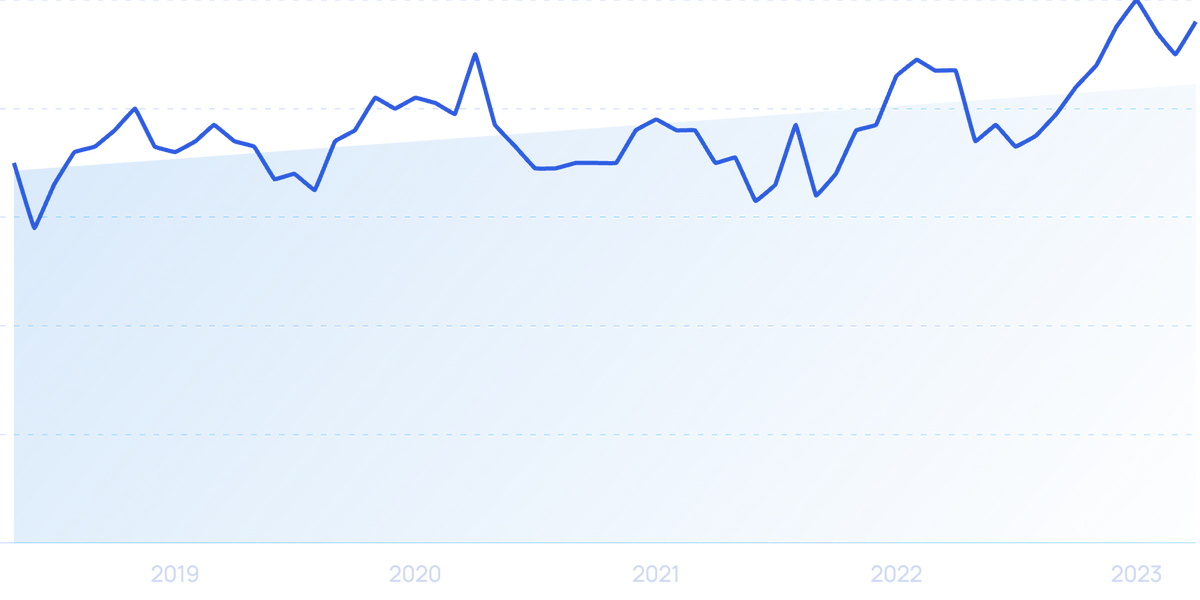 Search volume for 3D printing is still growing.
Manufacturers can use 3D printing to print parts in-house and get ahead of supply chain delays.
They can also bring the production of jigs and fixtures in-house, saving time and money.
Short run production, molding, and metal casting are also possible.
In one example, Pankl Racing Systems, a manufacturer of mechanical systems for cars and planes, used 3D printing for custom jigs. The process was 48x faster and 12x cheaper than the CNC machined jigs.
3D printing is becoming especially popular in the metal fabrication industry.
In fact, the metal 3D printing market is expected to grow at a CAGR of 19.5% through 2028, increasing in total value to $11.6 billion.
Mantle is one startup that offers 3D printers to eliminate or dramatically reduce the time and money spent on steel toolmaking.
Their technology leads to a 80% reduction in lead time and a 50% reduction in cost, according to their website.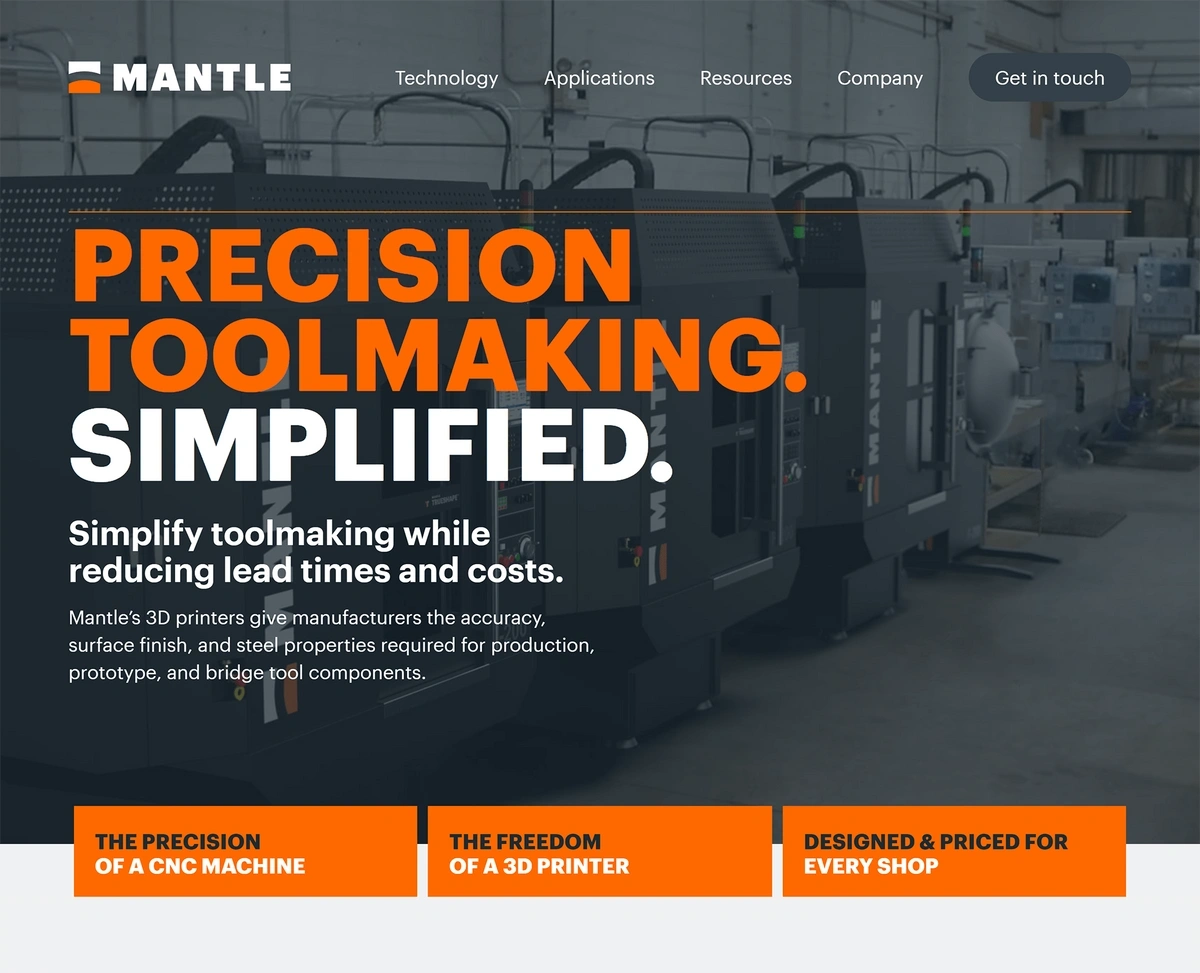 Mantle uses 3D printing to meet the extremely precise requirements regarding surface finish, temperature tolerance, and material durability in the tooling sector.
Additive manufacturing is also becoming an innovative and time-efficient way to produce one-of-a-kind products.
Limber Prosthetics and Orthotics in San Diego digitally scans an amputee's limbs and then uses 3D printing to manufacture artificial limbs in-house in just a few hours.
The cost is less than one-tenth the cost of traditional artificial limbs.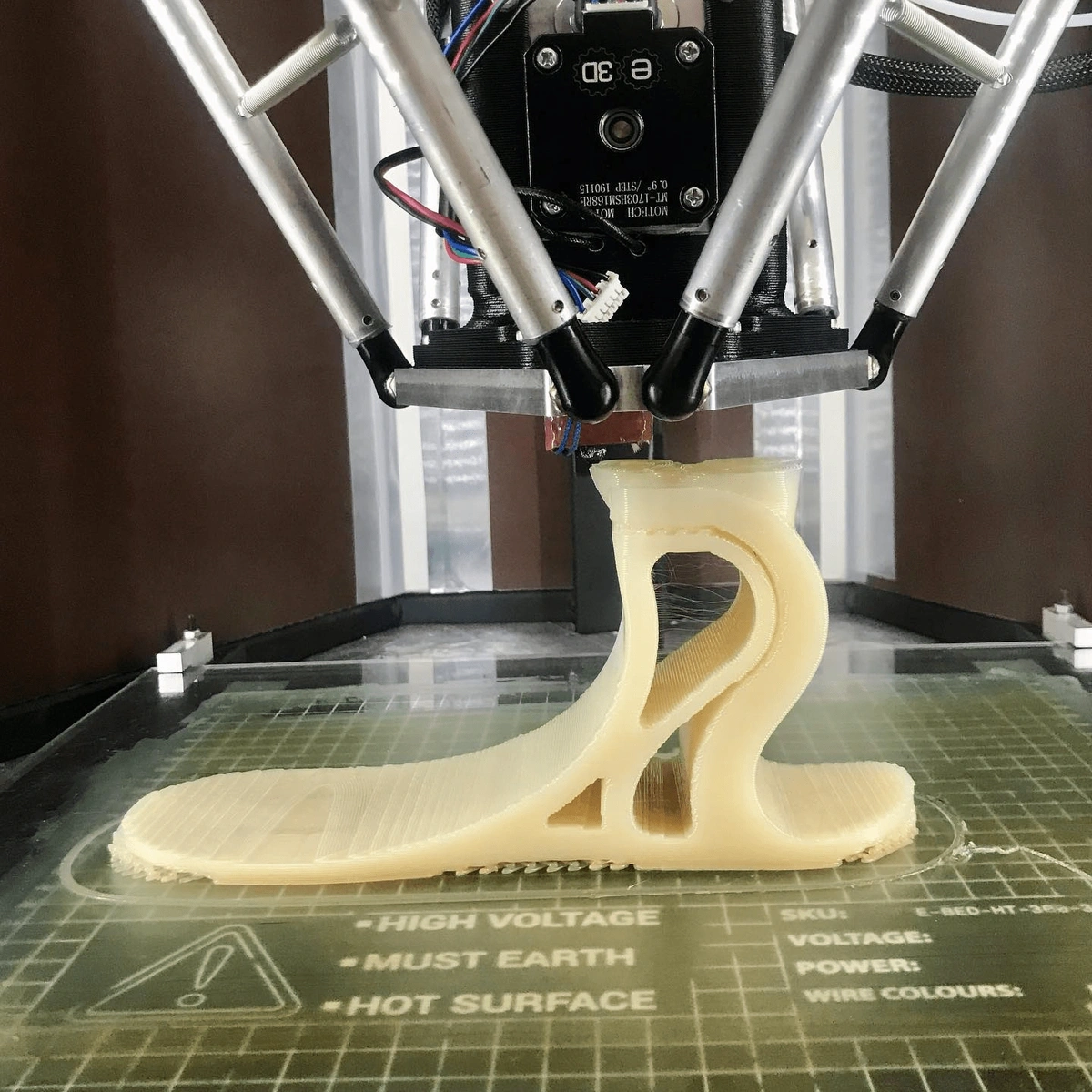 3D printing of a prosthetic leg from Limber Prosthetics.
Customized bike helmets, made to fit the biker's head perfectly, are also being manufactured via 3D printing.
Kav manufacturers award-winning bike helmets that are 25% more impact resistant than current safety standards.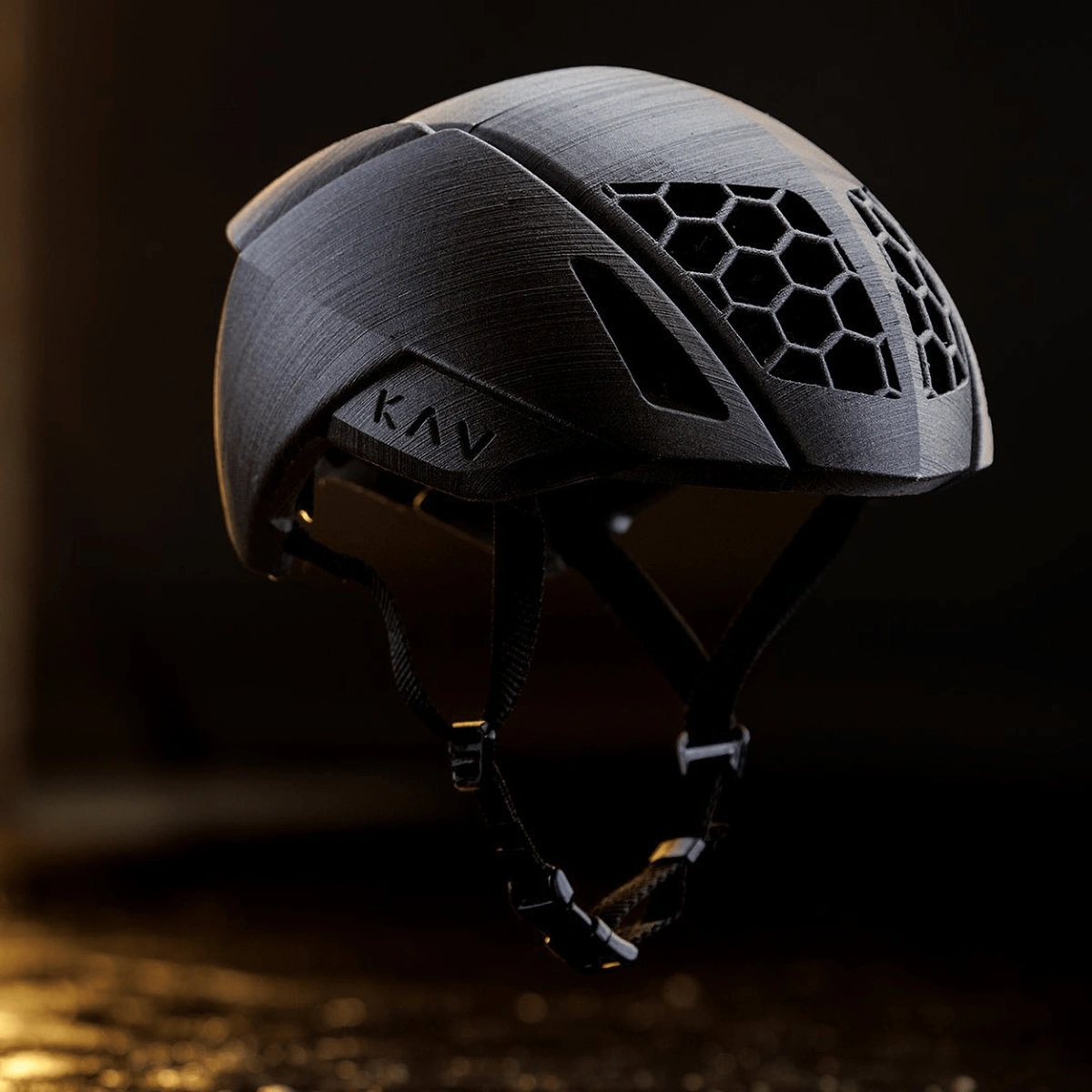 Kav is able to print thousands of custom helmets per month with its 3D technology.
In addition to enhanced safety, these helmets are created with a proprietary polymer of thermoplastic polyurethane (TPU) and carbon fiber. It's 20% lighter than traditional materials and maintains its strength down to temperatures of -30°C and up to 70°C.
Conclusion
The overlap of IIOT, advanced analytics, and automation has set the stage for trends such as predictive maintenance, digital twins, and intelligent automation to take off in 2023.
Together, all of these add up to the smart factory megatrend.
In addition to technical innovation, pressures related to supply chain considerations have been equally important catalysts of change.
These have triggered landmark shifts in supply chain design, globalization, and new models of production, such as the microfactory.