6 Important Merchandising Trends for 2023-2025
You may also like:
Retail brands are constantly evolving to meet customer demands. In 2023, that's more complicated than ever before.
The pandemic is easing, but consumers still want convenient same-day services. Shoppers are researching products online, but they still crave in-store experiences. Inflation is soaring, but customer loyalty could be eroded by pricing increases.
In-store and online merchandising plays a big role in determining how retailers attract repeat customers and bring in new shoppers. In this report, we'll break down six important merchandising trends that draw from traditional approaches but incorporate modern digital tools to better serve customers.
1. Retailers use more cross-sells and bundles
Cross-merchandising is an opportunity that continues to dominate brick-and-mortar stores as well as eCommerce.
As retailers look at data on customer habits and shopping behaviors, they are increasingly better able to offer customers complimentary products that drive an increase in revenue.
More than 30% of businesses are focused on improving their customer experience and capitalizing on cross-selling opportunities.
Salesforce reports that cross-selling can have numerous benefits: increased revenue, improved customer satisfaction, and a more streamlined buying journey.
One of the most obvious examples of this trend is chips and salsa being placed next to each other in the grocery store. However, today's retailers are using customer data and enhanced digital experiences to cross-merchandise in 2023.
For example, Ikea offers an Inspiration Gallery on its website. Consumers can click through dozens of sample rooms that are set up exclusively with Ikea products. It's a digitized version of the cross-merchandising they do in their stores.
Consumers can hover over each item to see the name and price. Clicking through will take them directly to the product's page.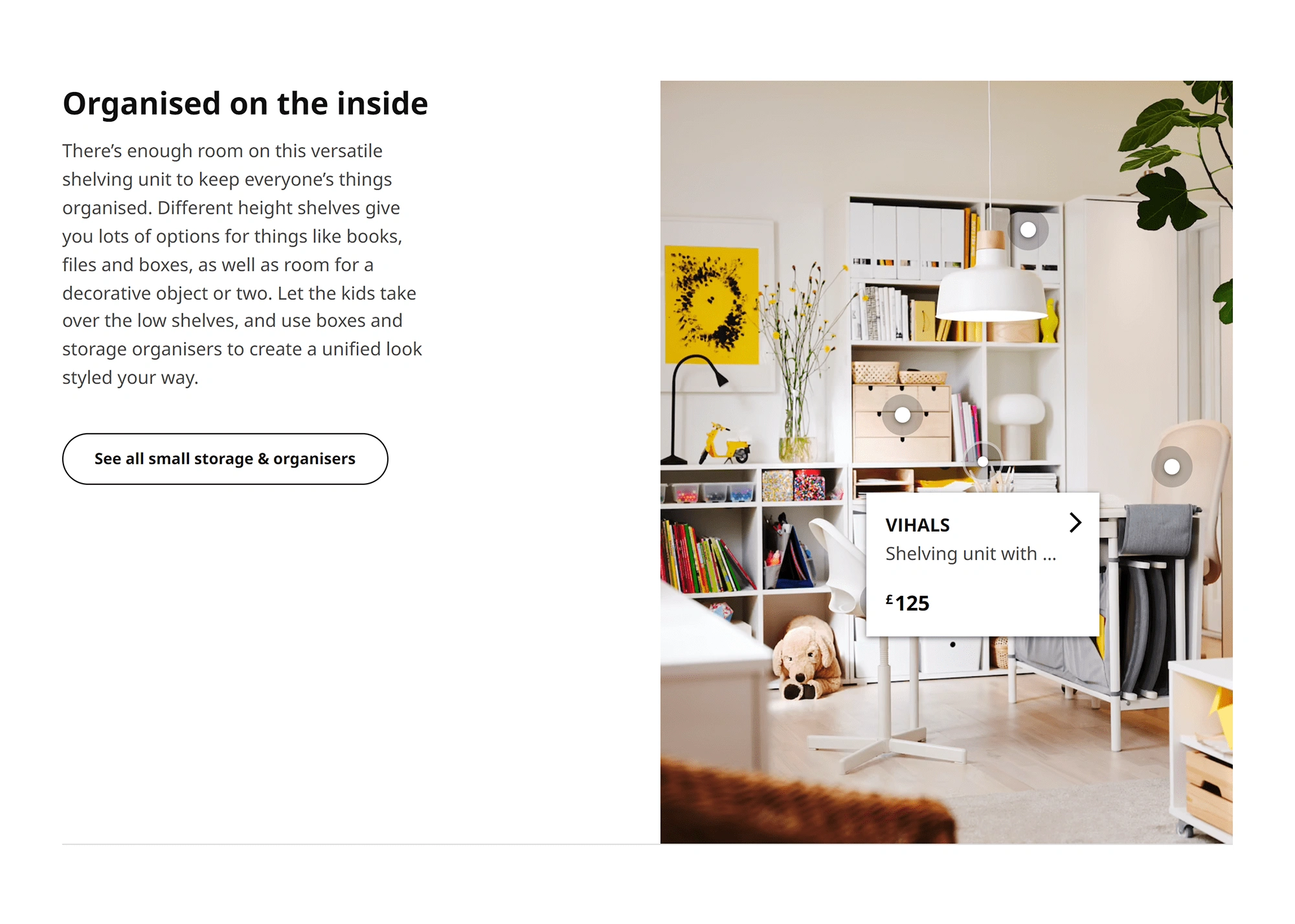 Ikea's website features digital cross-merchandising strategies that encourage customers to curate rooms based on Ikea products.
Other retailers put an emphasis on cross-selling at checkout.
Beauty retailer Sephora offers online customers suggestions via "What We Think You'll Also Love" pop ups.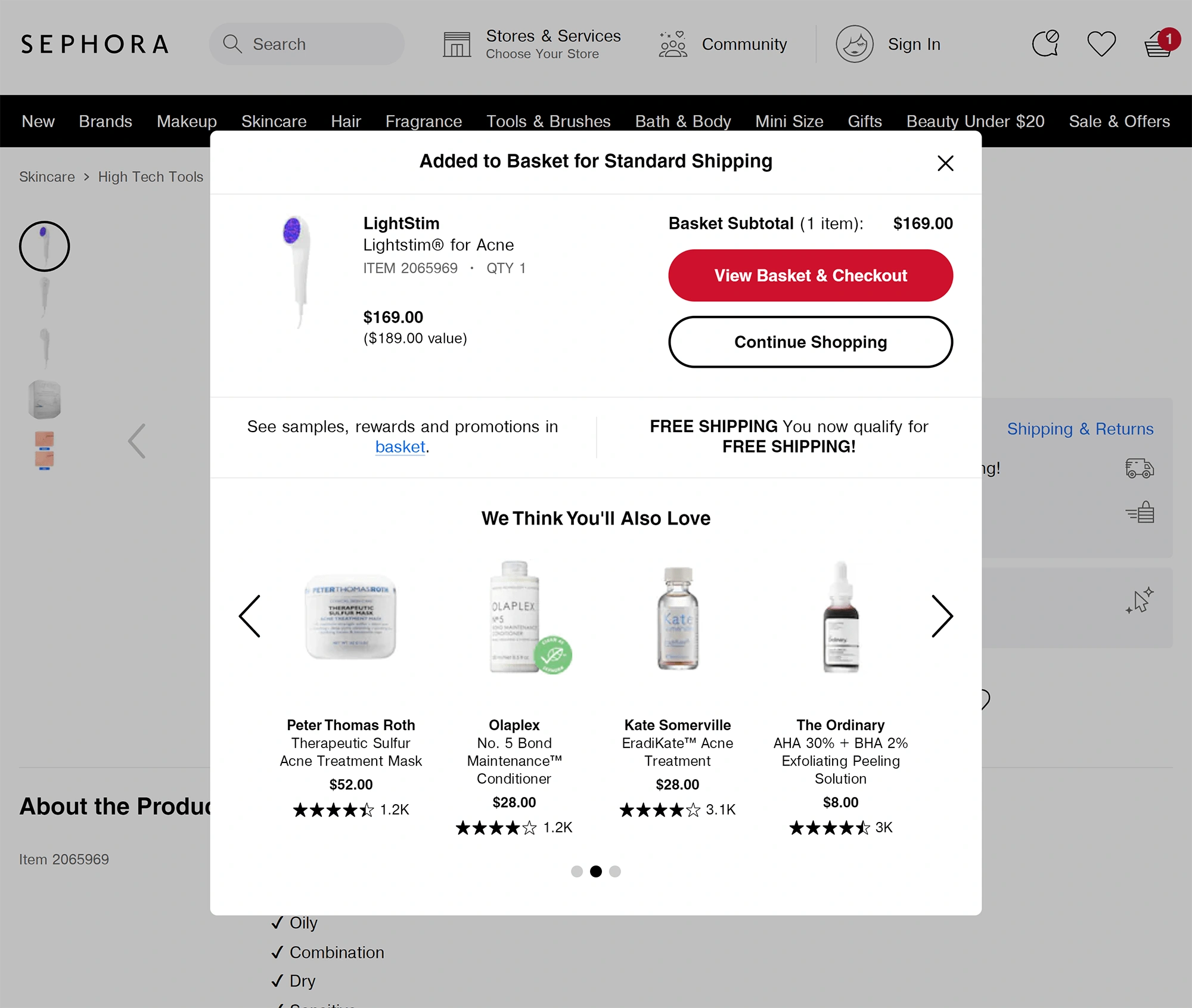 Sephora's suggested products are based on the customer's original product selection.
Another method of cross-selling is bundling items. This makes the customer's buying process quick and simple — something that today's harried customers appreciate.
REI, one of the premier retailers when it comes to camping and outdoor equipment, offers several bundles on their site.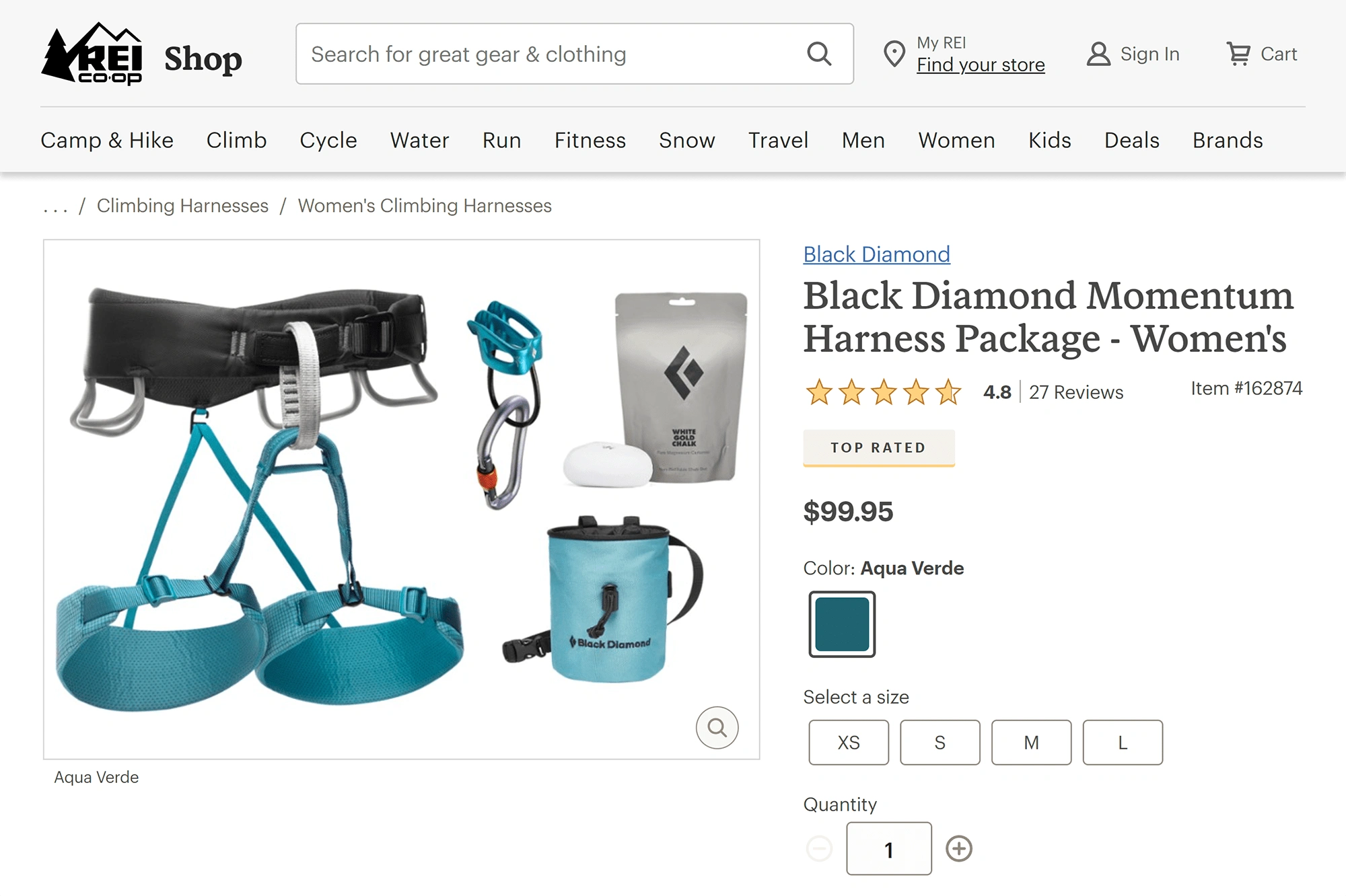 Bundling products is an effective way for retailers like REI to cross-merchandise and improve the customer experience.
The retailer was recently ranked #2 according to the Baymard Institute's product page benchmarks. REI notably has a section that offers supplementary products — something that 47% of companies fail to feature.
Sunwink, a brand offering sparkling beverages, is another company that's found success in bundling.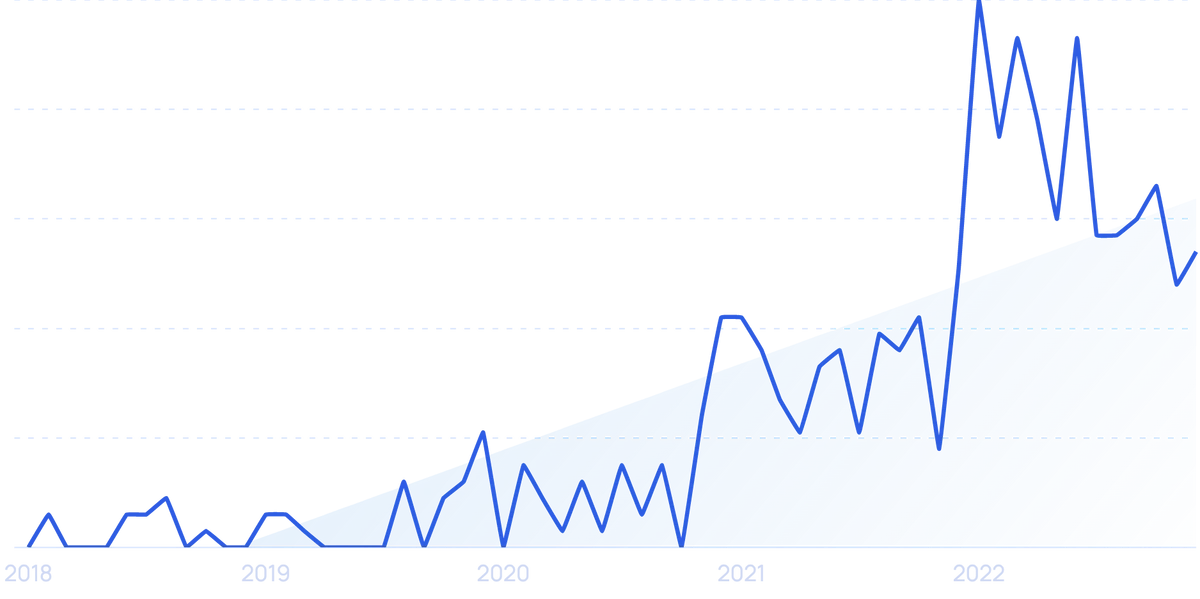 Search volume for "Sunwink" has skyrocketed 1,700% in 5 years.
The brand offers several different packs on their site, each one dedicated to a certain goal like "wellness" or "self-care".
According to Shopify data, these bundles account for 50% of the online retailer's business.
2. "Store-within-a-store" concept takes off in department stores
In an effort to boost in-store visual merchandising, we're seeing many retailers set up a "store within a store" (SWAS).
The goal of the SWAS strategy is to increase foot traffic and provide a value-added experience for customers.
Depending on the brand, SWAS can offer product samples, tutorials, demos, or discussions. It seeks to make the in-store experience a crucial part of the customer journey.
This is something many customers crave. One study reported that 70% of shoppers rank the ability to see, touch, and try on physical products as the most important part of shopping.
Google reports that more than 60% of people want to shop with brands that have a physical location rather than ones that are online only.
In that way, SWAS can be a great opportunity for eComm brands that are looking to branch out.
For example, fitness company Tonal offers a wall-mounted smart workout station for nearly $3k. When the company was first starting out in 2018, the units were only sold on the web.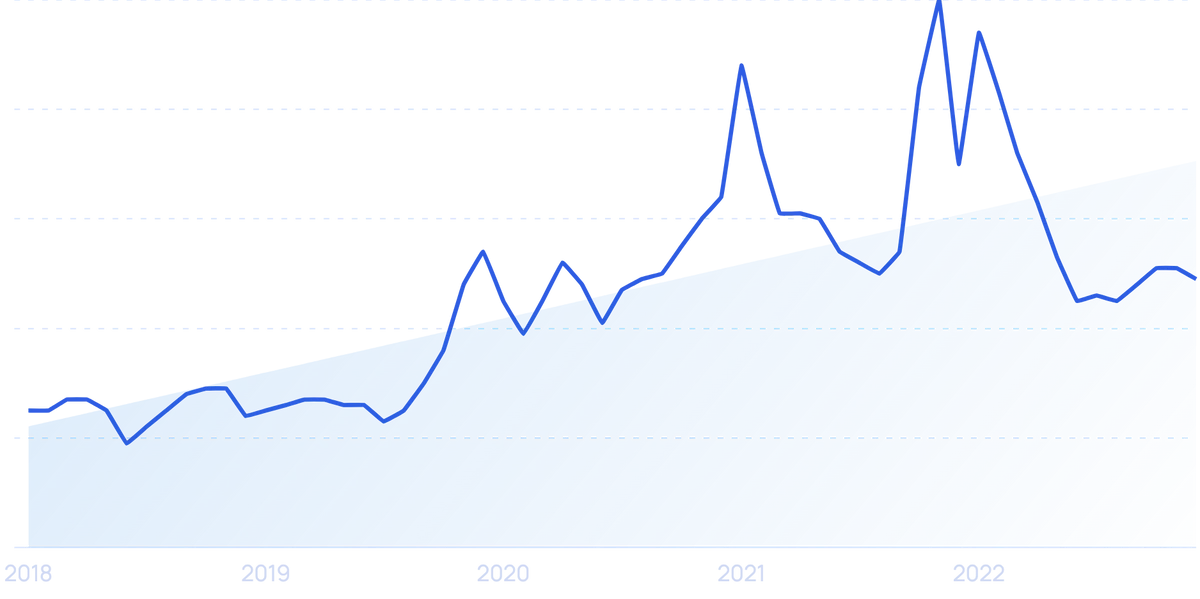 Search volume for "Tonal" is up 96% over the past 5 years.
Now, in 2023, the company has nine of its own showrooms, but has dramatically expanded its physical merchandising reach with 40 SWAS in Nordstrom locations across the country.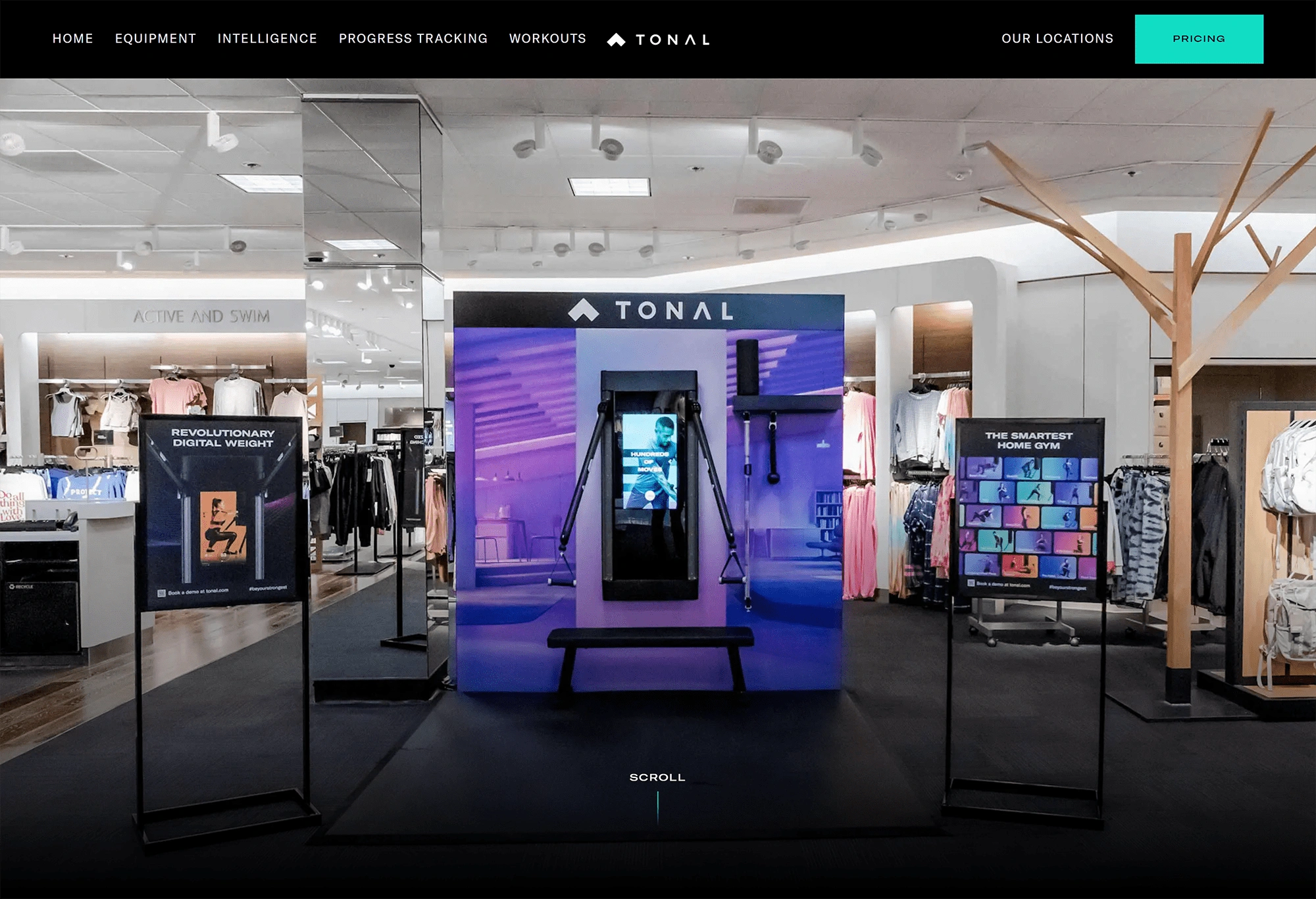 Tonal offers in-store demos in Nordstrom stores.
Several celebrity athletes, Steph Curry, Michelle Wie, Kyle Rudolph, and others, invested in the company in 2020.
They also closed a $250 million funding round in early 2021 with investments from L. Catterton and Dragoneer Investment Group.
The SWAS strategy may also prove to be beneficial for re-launching brands.
In 2022, Toys R Us made a comeback by putting stores within Macy's department stores.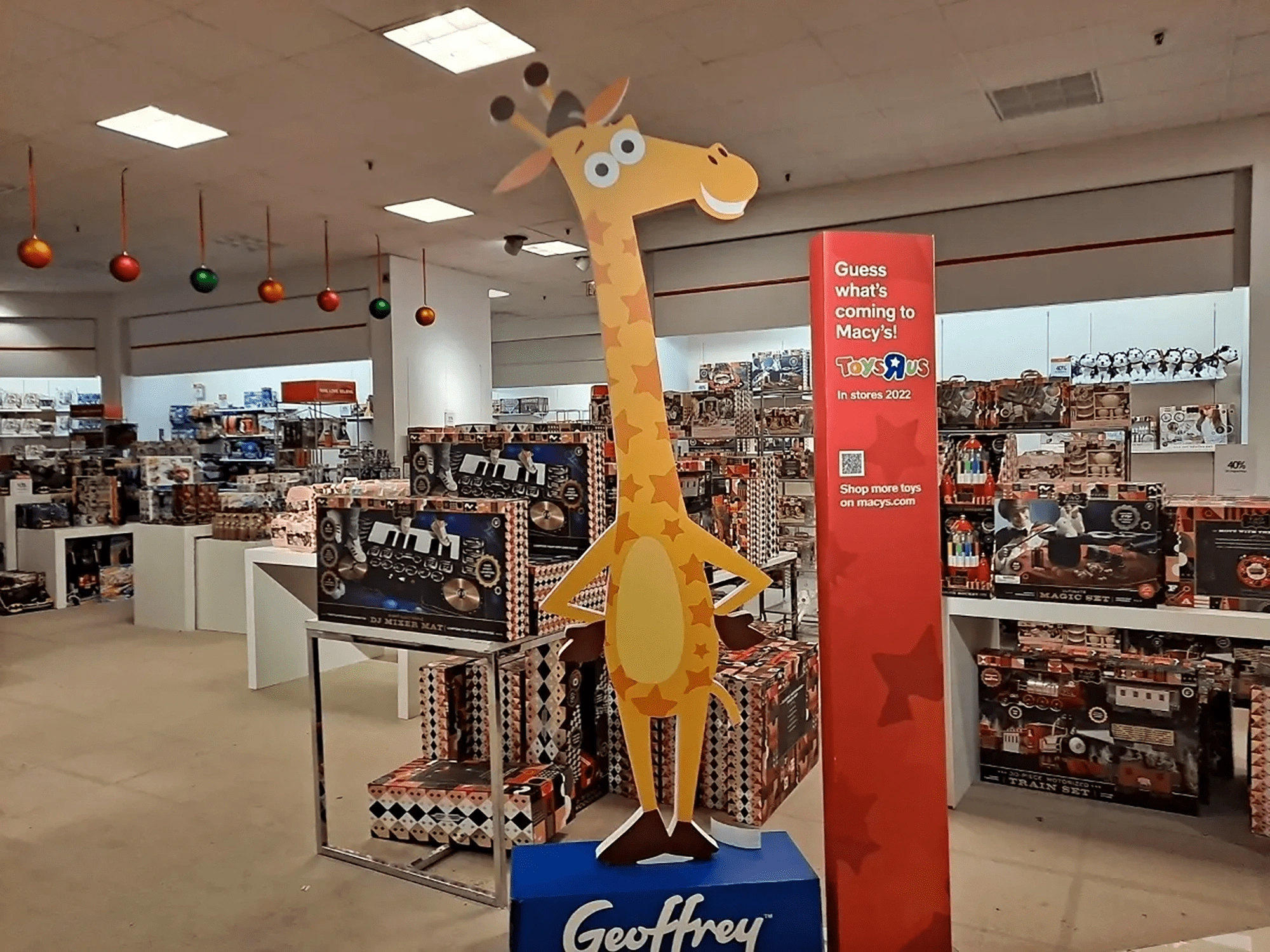 Toys R Us shops are now open in 400 Macy's stores across the United States.
Macy's officials say this move will "quintuple" the size of the store's toy-related revenue.
3. Pricing concerns drive AI adoption
According to a Deloitte survey, nearly 80% of consumers are concerned about inflation.
Experts at NPD say prices for certain products are up 25%, but that won't last forever. They expect the final increase to be between 10% and 15% over pre-pandemic prices.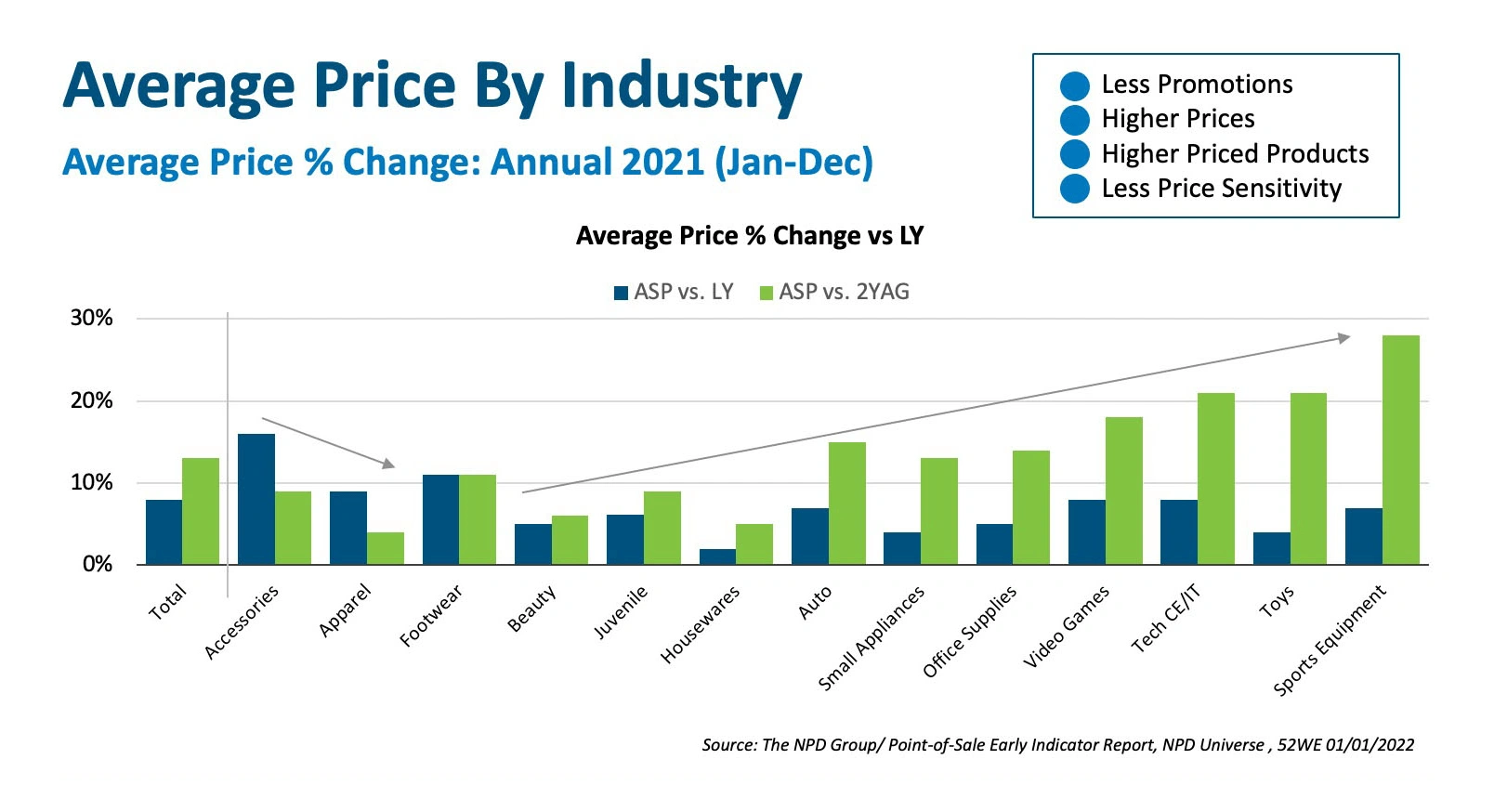 Most retail segments have experienced a large increase in prices in the past year.
Even worse, Deloitte reports that many consumers are beginning to feel like raising prices is a way in which companies are taking advantage of them.
More than 50% of consumers feel that companies are raising prices more than they need to in order to increase profits, according to data from Deloitte.
This lack of trust could spell disaster for retailers.
Businesses are already dealing with pressure from supply chain bottlenecks, labor shortages, and shifting post-pandemic priorities.
AI-powered pricing systems are one way for retailers to ensure they stay on top of pricing trends. PricewaterhouseCoopers referred to the technology as a "game changer".
These systems are able to optimize pricing, test various pricing structures, and re-price according to supply chain issues and competitor pricing.
Nearly three-quarters of businesses believe that AI will be key in helping them adopt new pricing models and price for growth.
Sniffie is a Finland-based software company that's doing just that.
The start-up reports that its SaaS results in incredible ROI. One use case shows an ROI of 7,800% for one ecommerce company and another shows an ROI of 1,032% for another eComm retailer.
4. Omnichannel merchandising blends online and in-store experience
Aligning in-store and online merchandising to create a seamless shopping experience, referred to as an omnichannel experience, is something customers are demanding and retailers are still trying to figure out.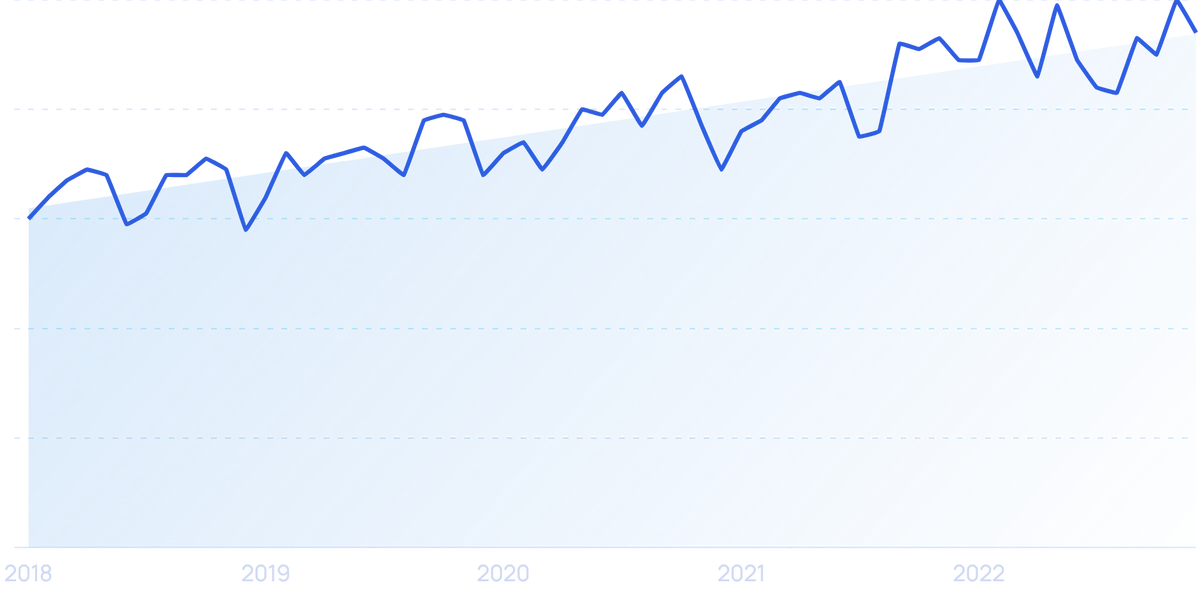 Search volume for "omnichannel" continues to grow (56% in 5 years).
McKinsey reports that up to 70% of consumers are shopping via multiple channels.
Omnichannel experiences that became commonplace during the pandemic are now must-haves for customers.
Data shows that 90% of consumers still want to be able to shop in-store and then, to have access to delivery, online ordering, and curbside pickup.
More and more retailers are becoming aware of the necessity of providing an omnichannel merchandising experience.
The 2021 Omnichannel Retail Index reports that 62% of businesses meet their best practices requirements. That's compared to 54% in 2019.
For retailers, a solid omnichannel strategy can result in higher sales.
A study from the Harvard Business Review shows that shoppers who connect with a brand via several channels spend 4% more when they shop in-store and 10% more online.
What strategies are retailers using to make sure all of their merchandising efforts work toward the same goal of increasing sales?
Creating a consistent and easily identifiable brand vision is one way retailers are redefining the omnichannel experience.
For example, the homepage for Crate and Barrel features carefully staged images of their products alongside "real life" images from social media that tell the same brand story.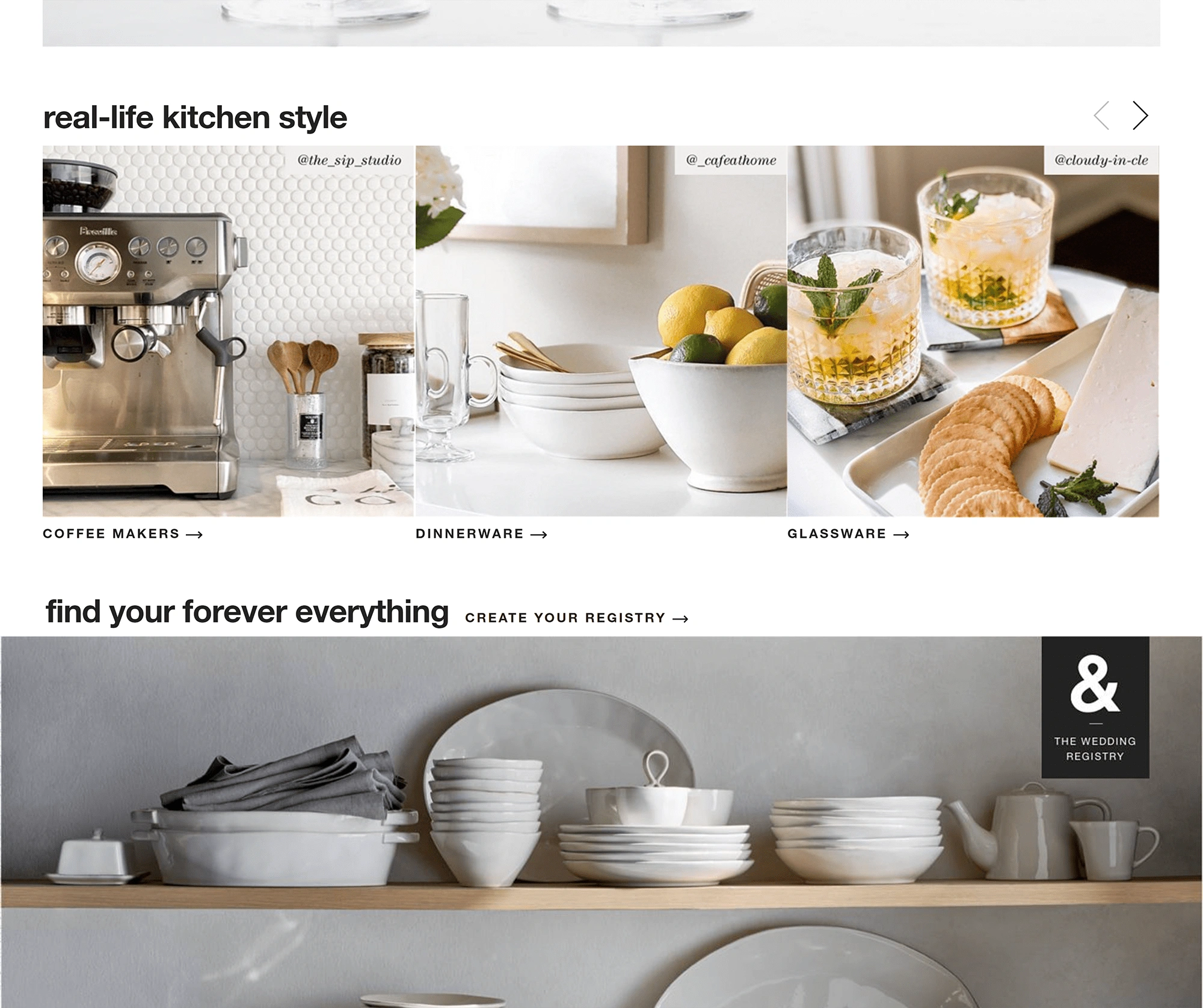 Crate and Barrel's omnichannel strategy blends social media images directly into their homepage.
The retailer's social media pages offer a similar blend of at-home shots from customers and influencers alongside company images.
Crate and Barrel also utilizes machine learning tools to improve search results on its site.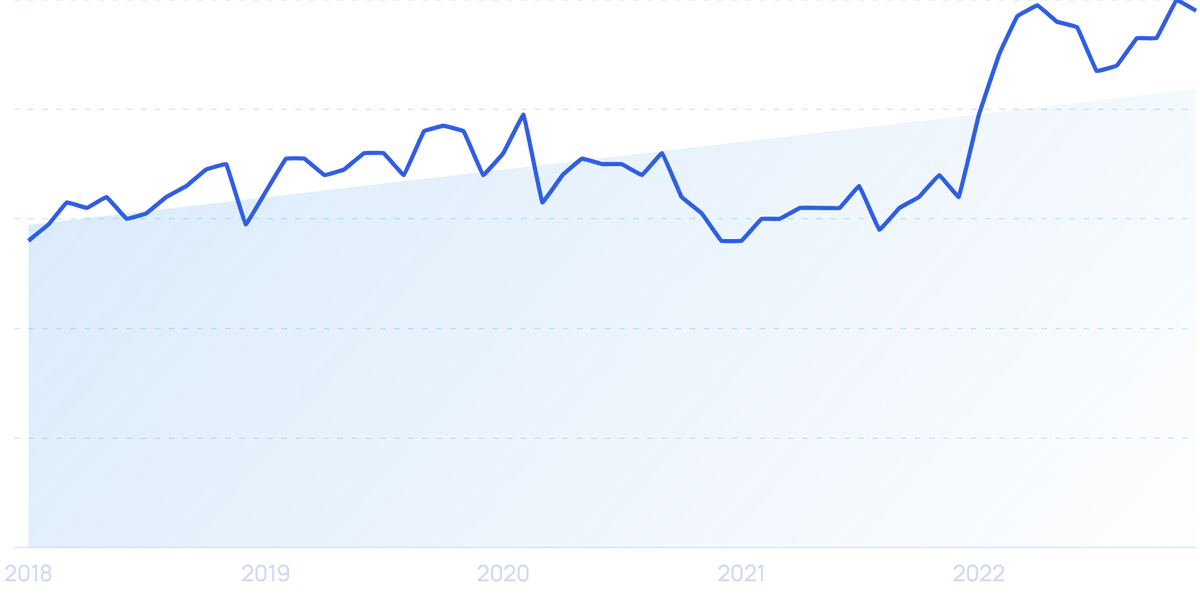 Search volume for "machine learning" continues to grow as multiple industries take advantage of the technology.
This strategy includes highlighting best-sellers and seasonal items, mimicking an in-store experience. But, it also goes so far as to use trend data to provide product suggestions that are in line with the customer's interests.
Target is another retailer that excels at omnichannel merchandising.
In 2020, the retailer brought on 12 million new multi-channel buyers and reported a 600% increase in curbside pickup.
Even post-pandemic, the brand continues to invest in omnichannel strategies that blend online and in-store experiences.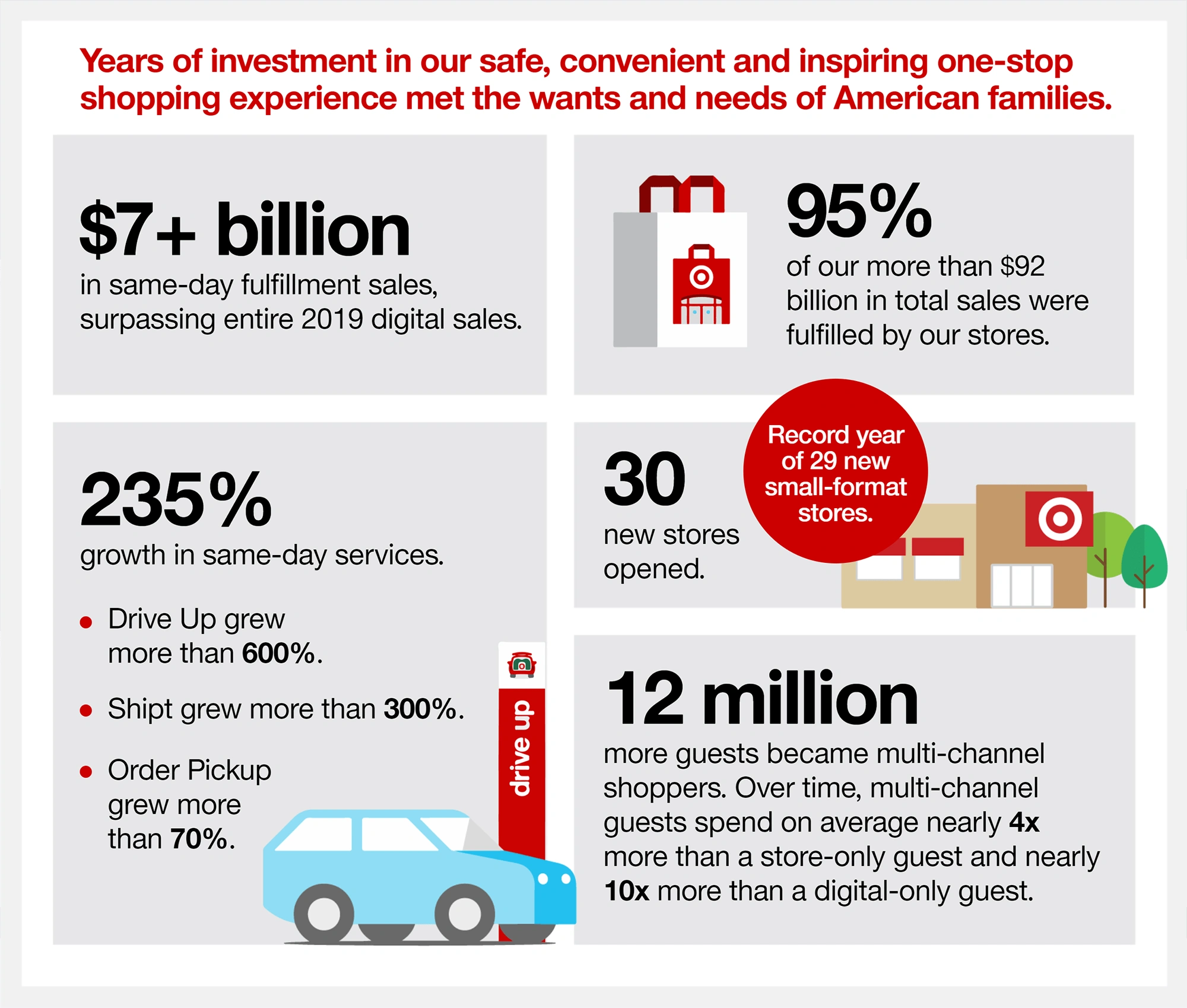 Target continues to focus on omnichannel marketing and same-day services.
In 2021, they invested heavily in same-day services like delivery and in-store pickups. As a result, volume grew 90%. In the first quarter of 2022, volume increased an additional 8%.
5. In-store displays create social buzz
In-store visual displays can translate to social media buzz, many retailers are discovering.
Shoppers may take a photo in front of an interesting display, window, or sign. Depending on the brand, the display may have a humorous, artistic, imaginative, or classy vibe—whatever will get noticed by their audience on social media.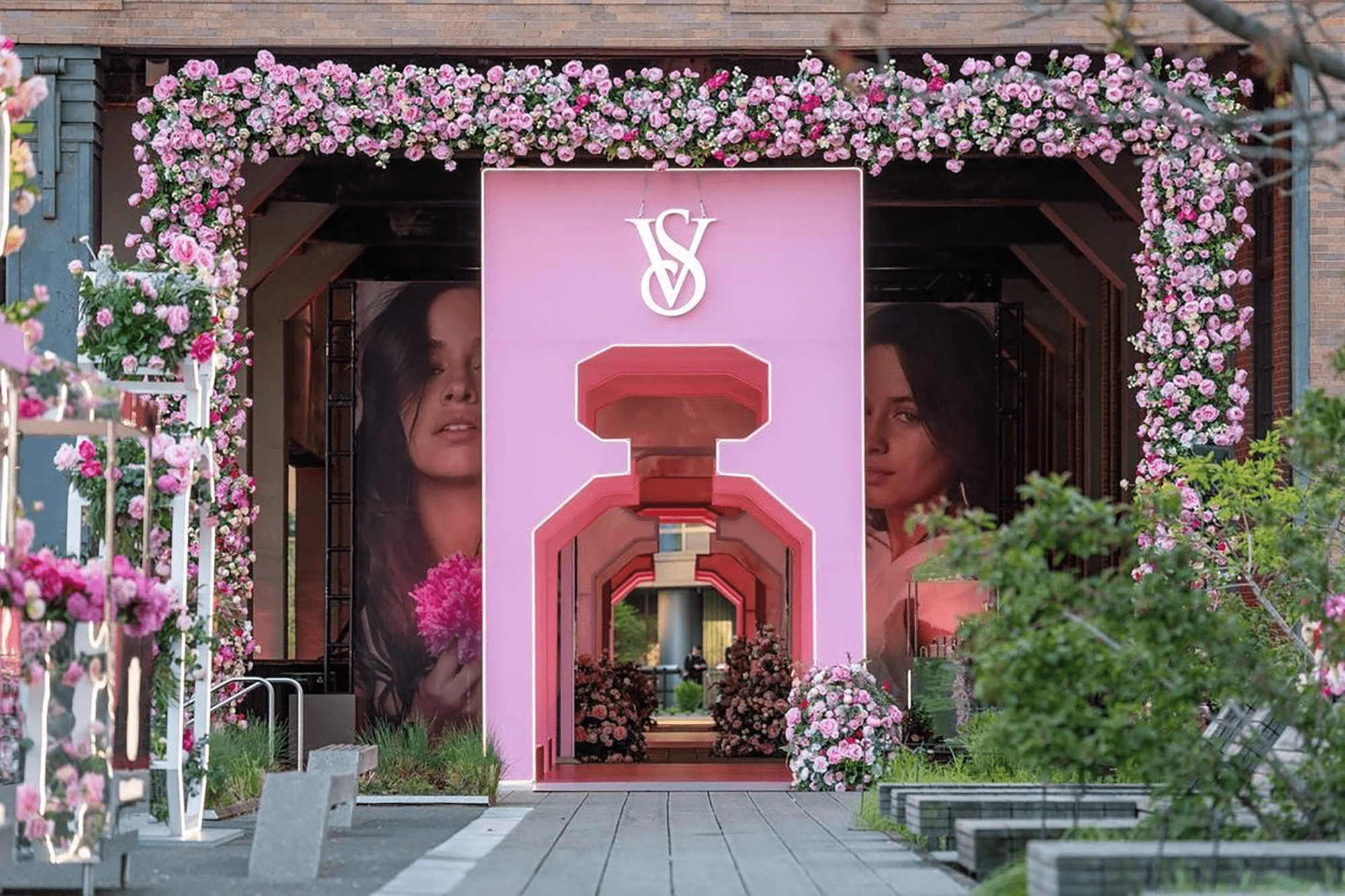 In May 2021, Victoria's Secret created this over-the-top outdoor display to launch its new fragrance and customers posted their own images on social media with #likeabombshell.
Some retailers are even offering discounts and deals to shoppers who take an in-store photo and use their hashtag when posting it on social media.
Data shows that sharing on social media can have a real impact on a retailer's bottom line.
According to TINT's State of User-Generated Content (UGC) 2022 report, more than 70% of consumers believe that reviews and testimonials from customers are more credible than what the brand has to say about its products.
Nearly 80% of consumers say that user-generated content highly impacts their purchasing decisions and 66% have been inspired to make a purchase from a new brand after seeing social media images from other customers.
The Plant Project, the first black-woman owned plant shop in Texas, is using in-store visual merchandising to grow their social media presence and their community.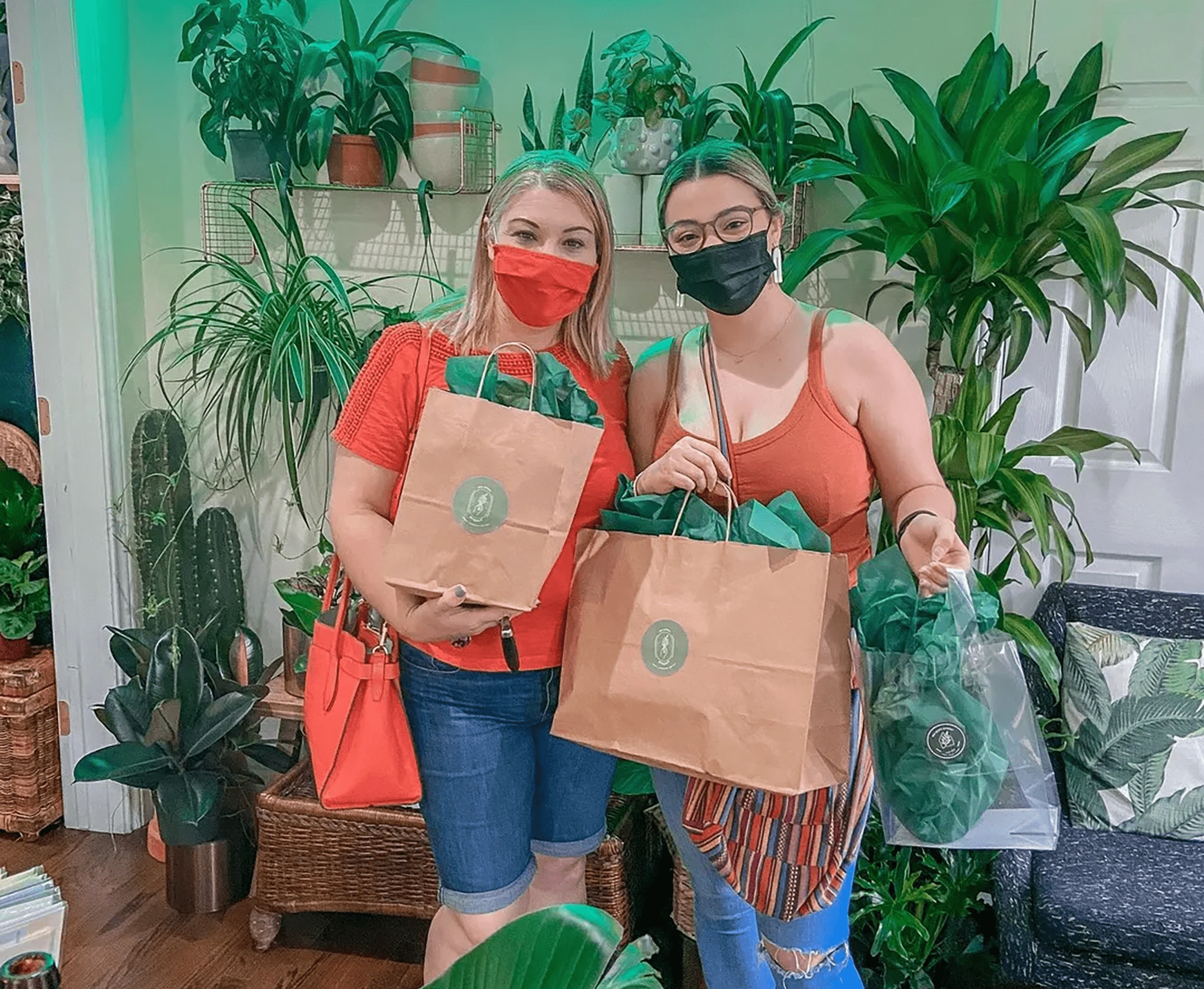 Hundreds of Instagram users have posted photos of the brand's in-store visual displays using #theplantproject.
The retailer has been in business less than two years and already has two locations.
L'Occitane is an international company that's using this merchandising strategy to create an immersive experience for in-store customers.
One store features a canopy composed of 3,000 flowers on the ceiling.
Each of their flagship stores change themes quarterly in order to continue to attract customers.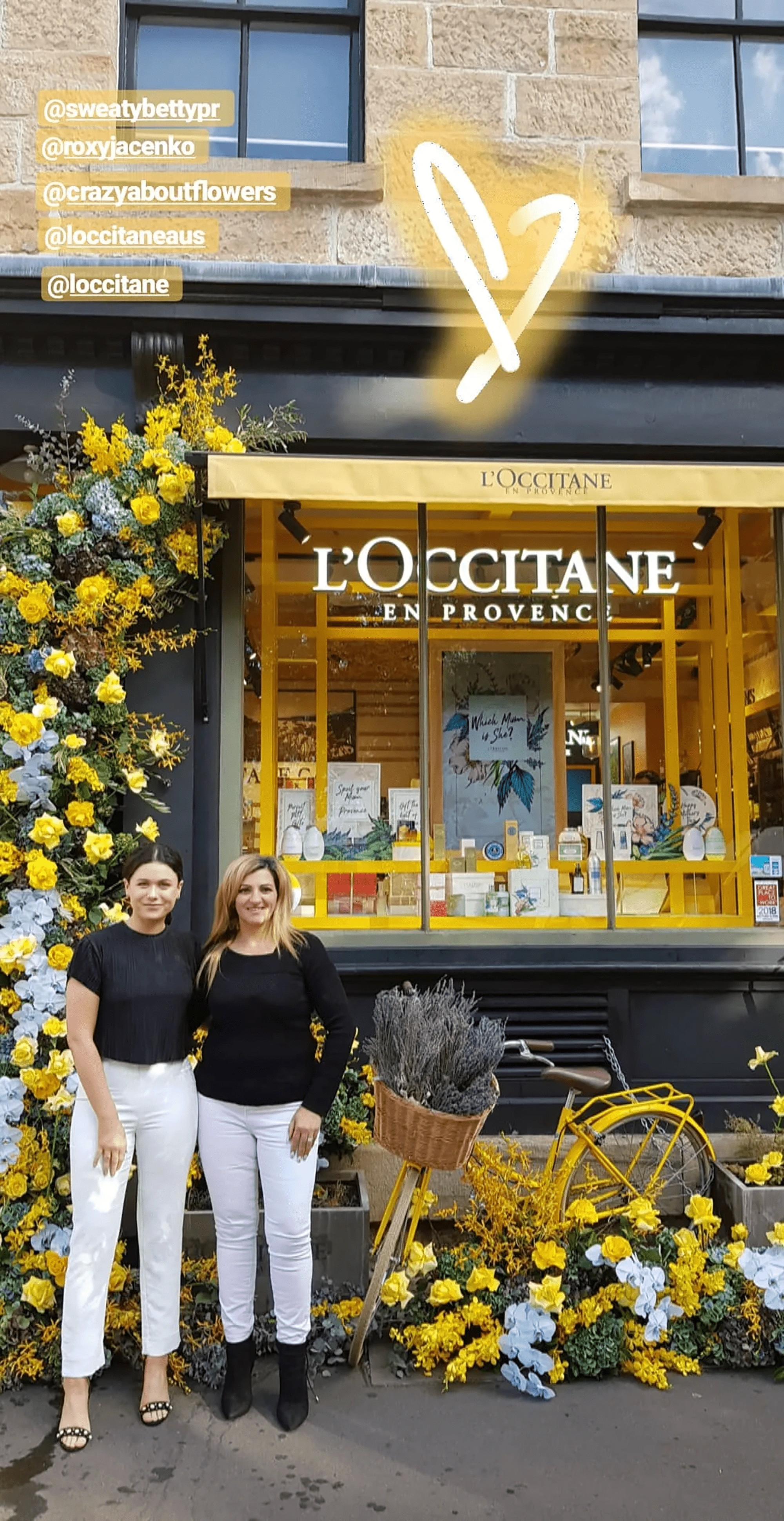 L'Occitane's in-store displays provide the perfect backdrop for selfies.
6. Retailers use digital experiences to attract shoppers
Digital experiences in retail settings offer customers a host of benefits: connection to the brand, education pertaining to products, and a personalized shopping experience.
In-store kiosks have been around for several years, but the technology brands are using today is taking the customer experience to a new level.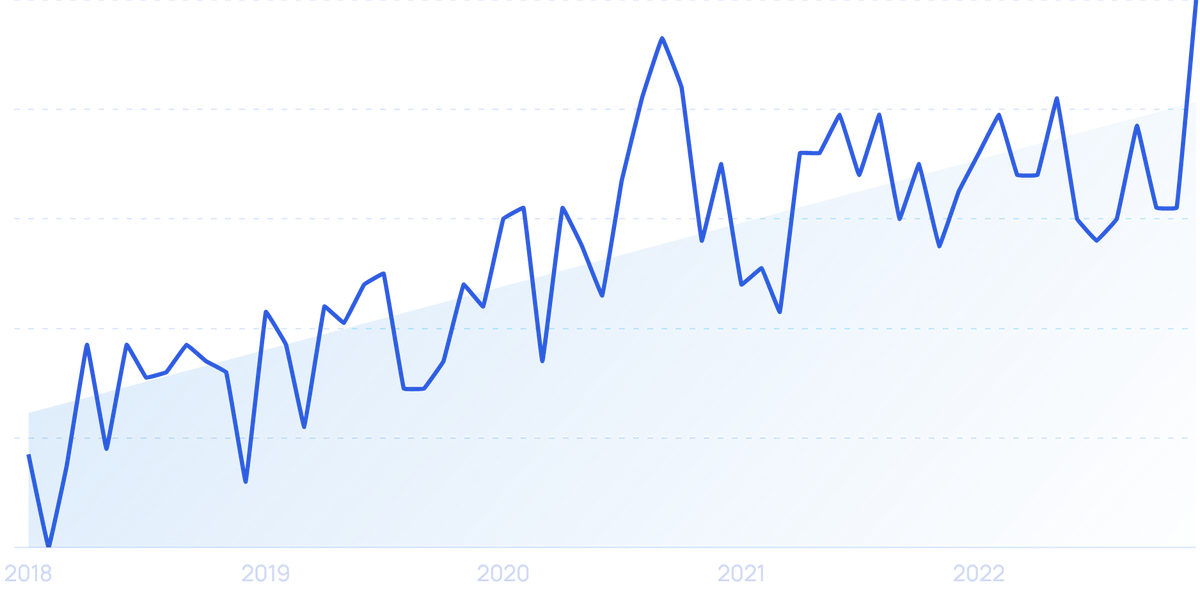 Search volume for "digital experience platform" is up nearly 480% in the past 5 years.
It's this digital experience that many retailers hope will drive customers to return to in-store shopping.
Data from Raydiant shows that 82% of customers say a positive in-store experience makes them more likely to return to the store again. A "fun" experience, they say, is the leading reason why people choose to shop in-person.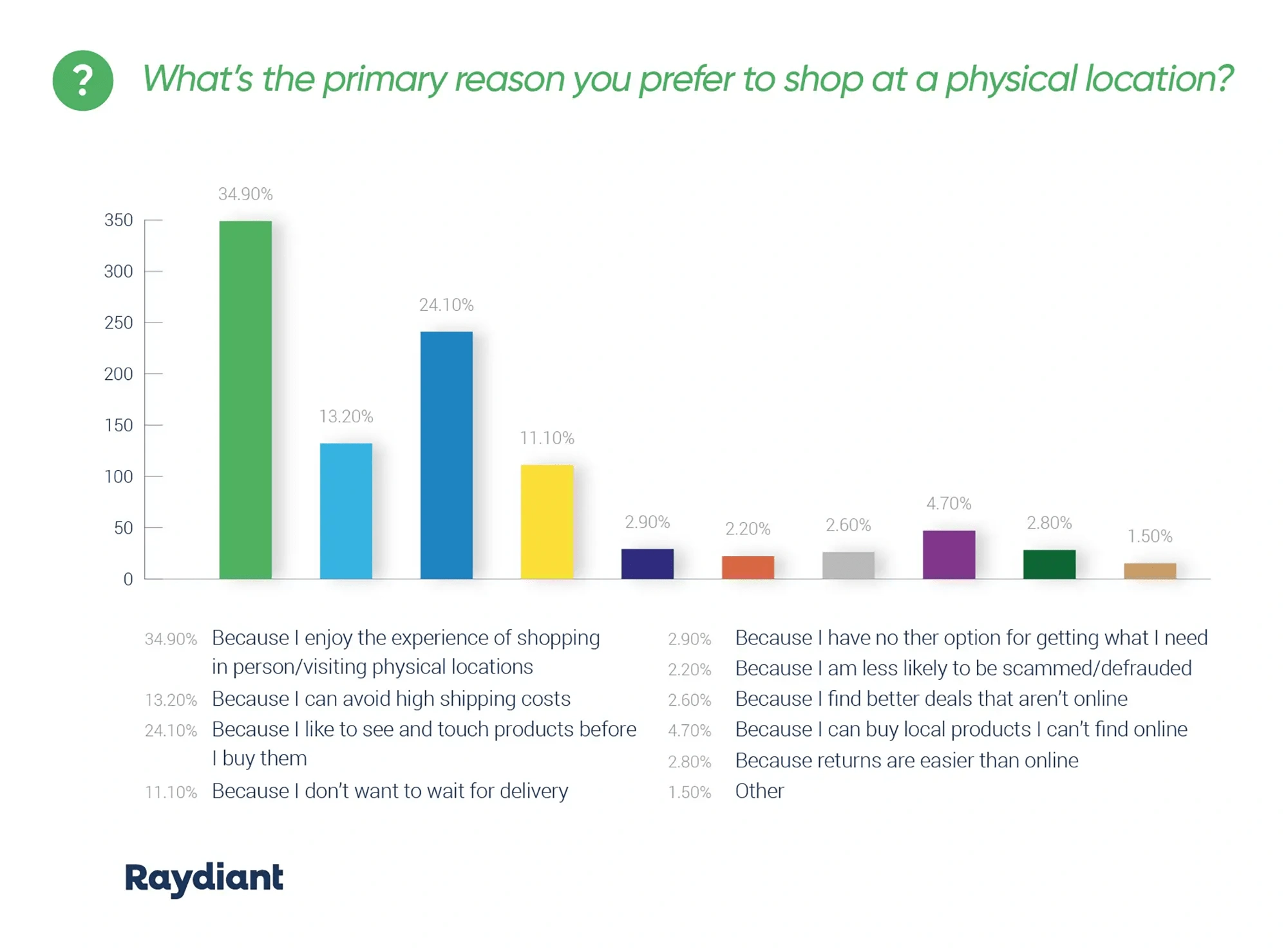 Survey data shows that shoppers enjoy the in-store experience.
Perch, a company that creates interactive digital displays, reports this merchandising strategy can increase sales as much as 130%.
These displays combine the in-store shopping experience with the benefits of digital customization.
For example, when shoppers pick up a bag in a Kate Spade store, the interactive display loads a configurator that lets the shoppers customize (and order) that bag online.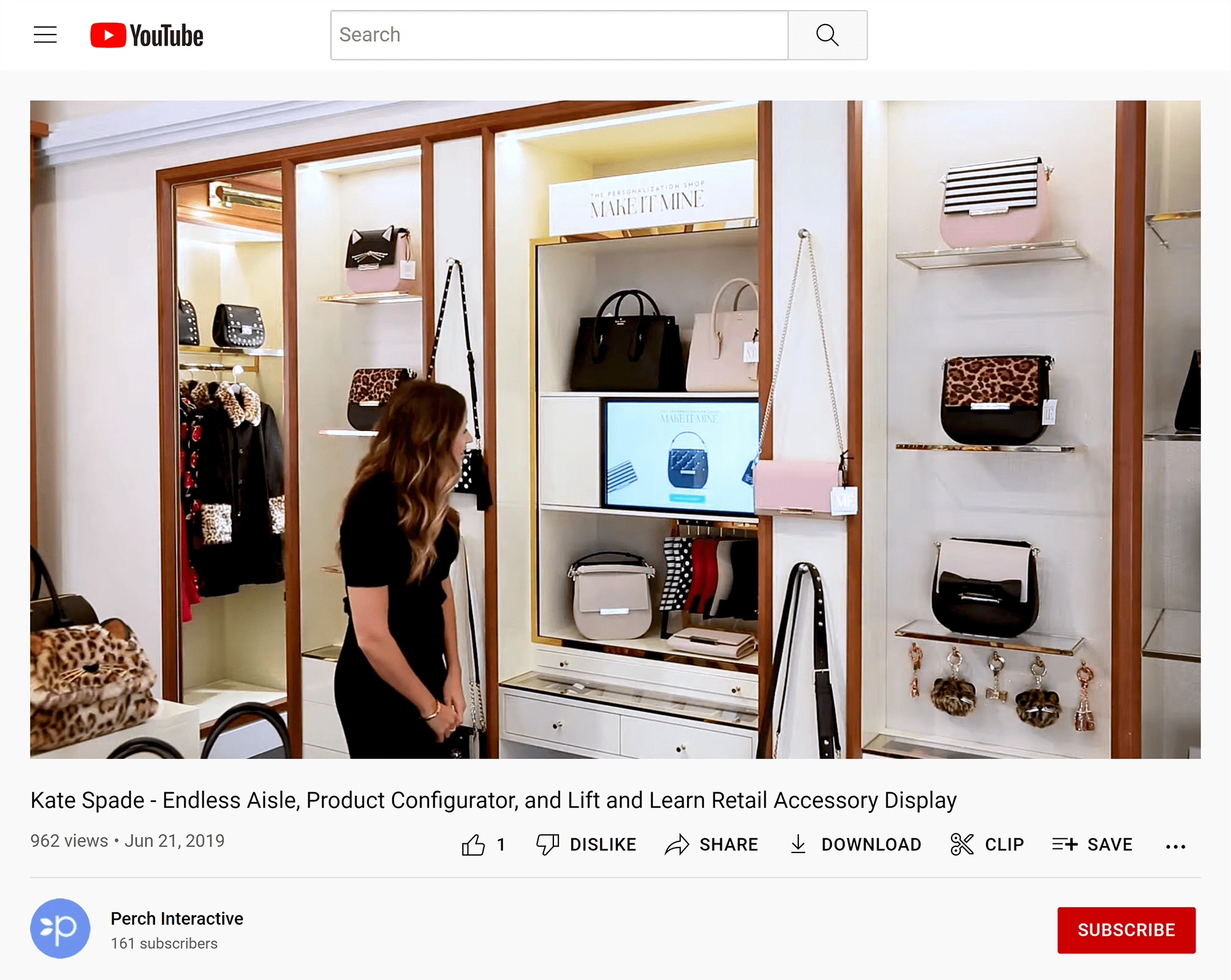 In Kate Spade stores, the interactive display is cleverly titled "Make It Mine".
As the customer uses the display, all of the data is recorded and valuable insights are delivered to the retailer.
Nike's 68,000-square-foot store House of Innovation in New York City offers a variety of digital experiences for customers. Similar retail locations have also been built in Paris and Shanghai.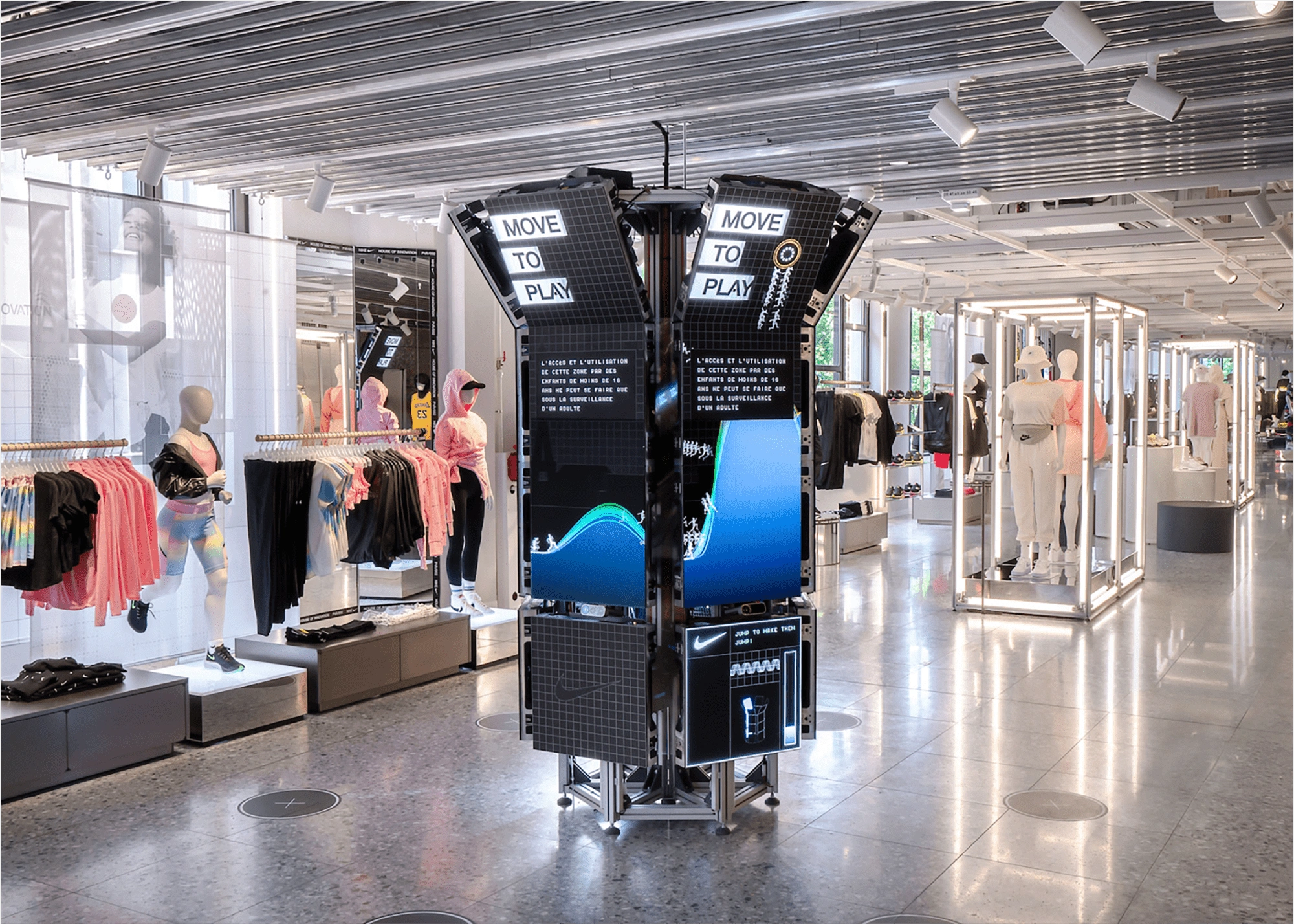 Gaming opportunities, fitting services, and other digital experiences are offered throughout the Nike House of Innovation.
In each store, shoppers can digitally customize shoes, personalize clothes, and build virtual dressing rooms. The in-store experience also integrates with the Nike App.
Nike says, "The strength of our digital portfolio combined with product innovation and amazing physical spaces, will connect members to the community of sport and to one-of-a-kind experiences, serving them in an incredibly personal way".
Conclusion
That wraps up the six merchandising trends we expect to see dominate 2023-2025.
As machine learning and AI deliver insights to retailers, it will be up to individual brands to make merchandising decisions that capitalize on that data. Pricing, in particular, will be a hot-button issue until inflation settles down.
Research shows that shoppers appreciate personalization and tech-driven experiences. Overall, they want their shopping experience to be enjoyable and easy. The more retail brands can lean in to that, the better.