5 Top Networking Trends (2024 & 2025)
You may also like:
The performance of network infrastructure is constantly being pushed to the limit as businesses look for new ways to boost capacity and speed.
Businesses want high-performing networks that are agile and scalable. But today's IT decision-makers face a combination of uncertainty and new possibilities associated with emerging technology.
Read this list of trends to learn more about the top networking trends impacting IT leaders.
1. Security and Budget Concerns Drive Adoption of NaaS
IT departments are continually looking for agility, resiliency, and the ability to quickly adapt to new technologies. For many organizations, cost, and scalability stand in the way of these goals.
That's where networking-as-a-service (NaaS) comes into play.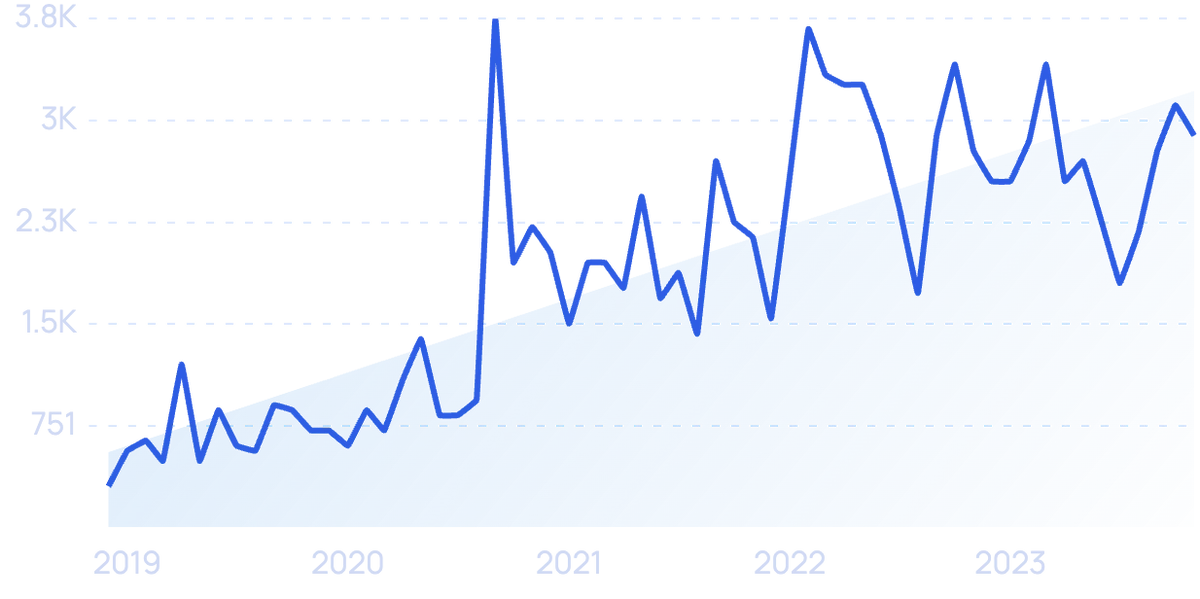 Search interest in "Networking as a Service" has grown 863% over the past 5 years.
This consumption-based model allows organizations to deploy network capabilities as an ongoing operational expense instead of facing a large upfront cost.
NaaS offers employees the ability to access necessary applications wherever they are working — at home, in the office, or on any device.
The NaaS market is predicted to hit $78.38 billion by 2028. That's a CAGR of more than 32.36%.
Much of that growth will come from businesses that are prepared to act quickly on network transformation.
According to IDC, 49% of IT leaders are planning or considering a NaaS transformation for their organization.
Nearly 70% of them are planning to invest in the switch in the next 12 months.
This solution is especially appealing to organizations that face ongoing security concerns.
NTT's 2022–23 Global Network Report shows that 89% of IT leaders are concerned about running complex networks while staying compliant with security issues.
NaaS is the way many IT executives are addressing this issue. NTT reports that 88% of IT leaders say they would like to outsource their end-to-end network to a single partner.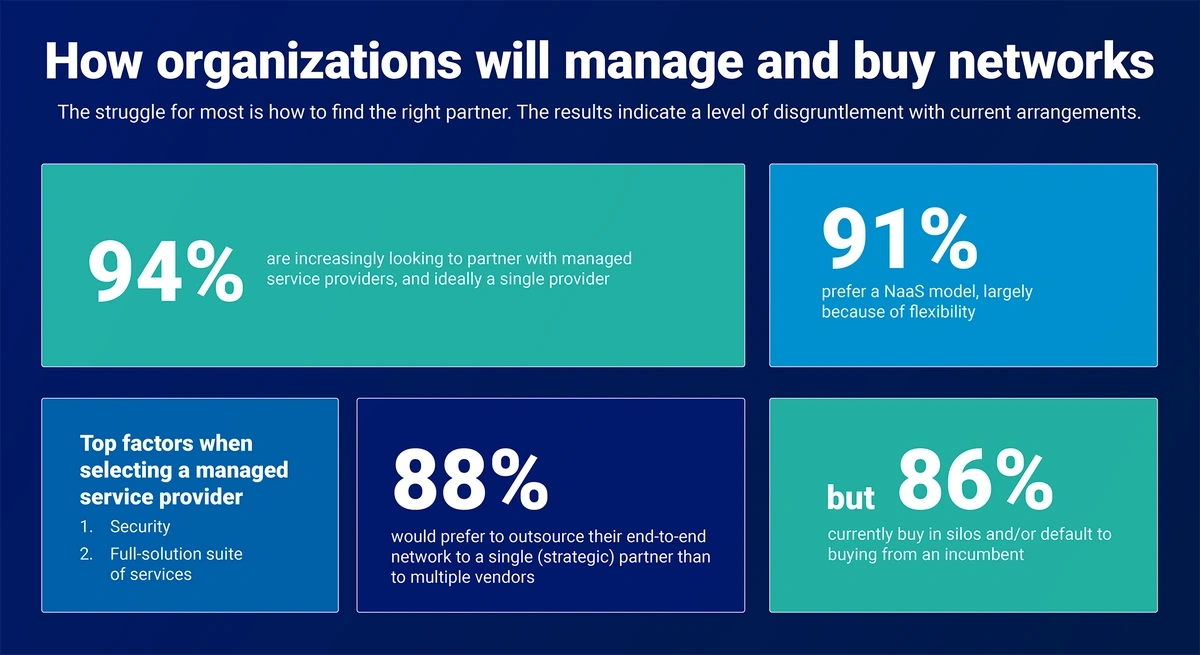 More than 90% of respondents in this survey said they prefer the NaaS model.
Another main draw of NaaS is hands-off lifecycle management.
With NaaS, internal IT departments no longer need to spend time deploying, controlling, updating, or repairing the network infrastructure.
In fact, in a 2022 survey, 48% of respondents ranked lifecycle management as the top feature of NaaS providers.


Taking network lifecycle management off the desks of internal IT departments is a key reason many organizations invest in NaaS.
2. Next-Gen Wi-Fi Is Here
Wi-Fi technology is developing at a rapid pace.
In 2020, the world was first introduced to Wi-Fi 6.
Search interest in "Wi-Fi 6" has risen dramatically in the past 5 years.
By 2025, the WiFi Alliance predicts the total economic value of Wi-Fi 6 in the United States will be nearly $1.6 trillion.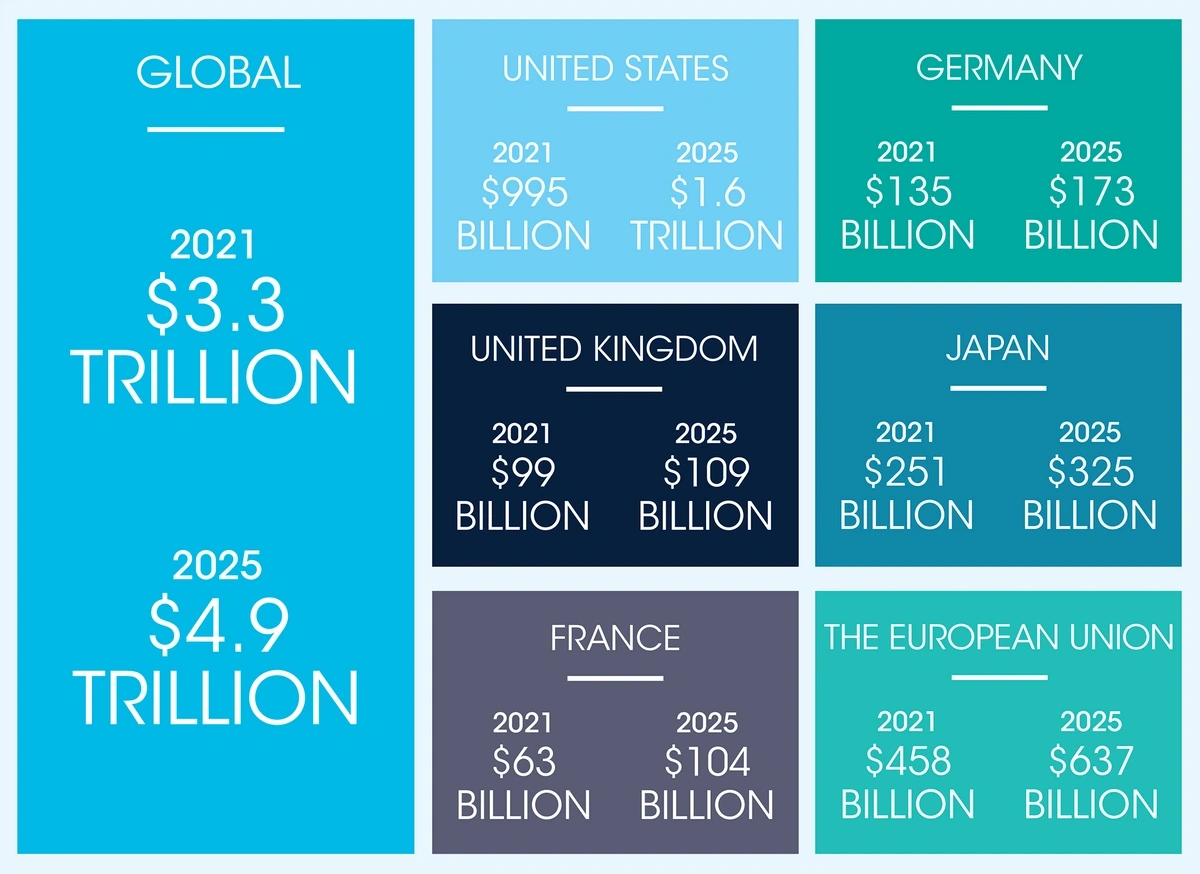 The economic impact of Wi-Fi 6 is set to hit $4.9 trillion globally by 2025.
One of the main benefits of this new generation of Wi-Fi is increased speed.
While Wi-Fi 5 offers 3.5 Gbps of maximum throughput, Wi-Fi 6 offers 9.6 Gbps.
Wi-Fi 6 is also able to prioritize traffic and communicate better with multiple devices.
In addition, Wi-Fi 6 offers improved battery life on devices because of a feature called Target Wake Time.
This technology allows devices to go to sleep at times when data transmission isn't occurring.
These are all key points for organizations that are launching new business initiatives involving IoT devices, smart building capabilities, and customer-focused apps.
Businesses can also utilize Wi-Fi 6 for 4k/8k video and AR/VR capabilities.
The same benefits hold true for homeowners with multiple users running several smart devices.
Right on the heels of Wi-Fi 6 is Wi-Fi 6E.
This refers to devices that are operating in the 6 GHz band. Previously there have been only two bands: 2.4 GHz and 5GHz.
It provides even more capacity and speed with lower latency when compared to Wi-Fi 6.
While Wi-Fi 6 hardware has become fairly common and reasonably priced, Wi-Fi 6E devices aren't widely available yet and they're expensive.
For example, the iPhone 14 series doesn't offer Wi-Fi 6E.
In December 2022, Google announced its first Wi-Fi 6E compatible router, Nest Wifi Pro, that's priced at $200.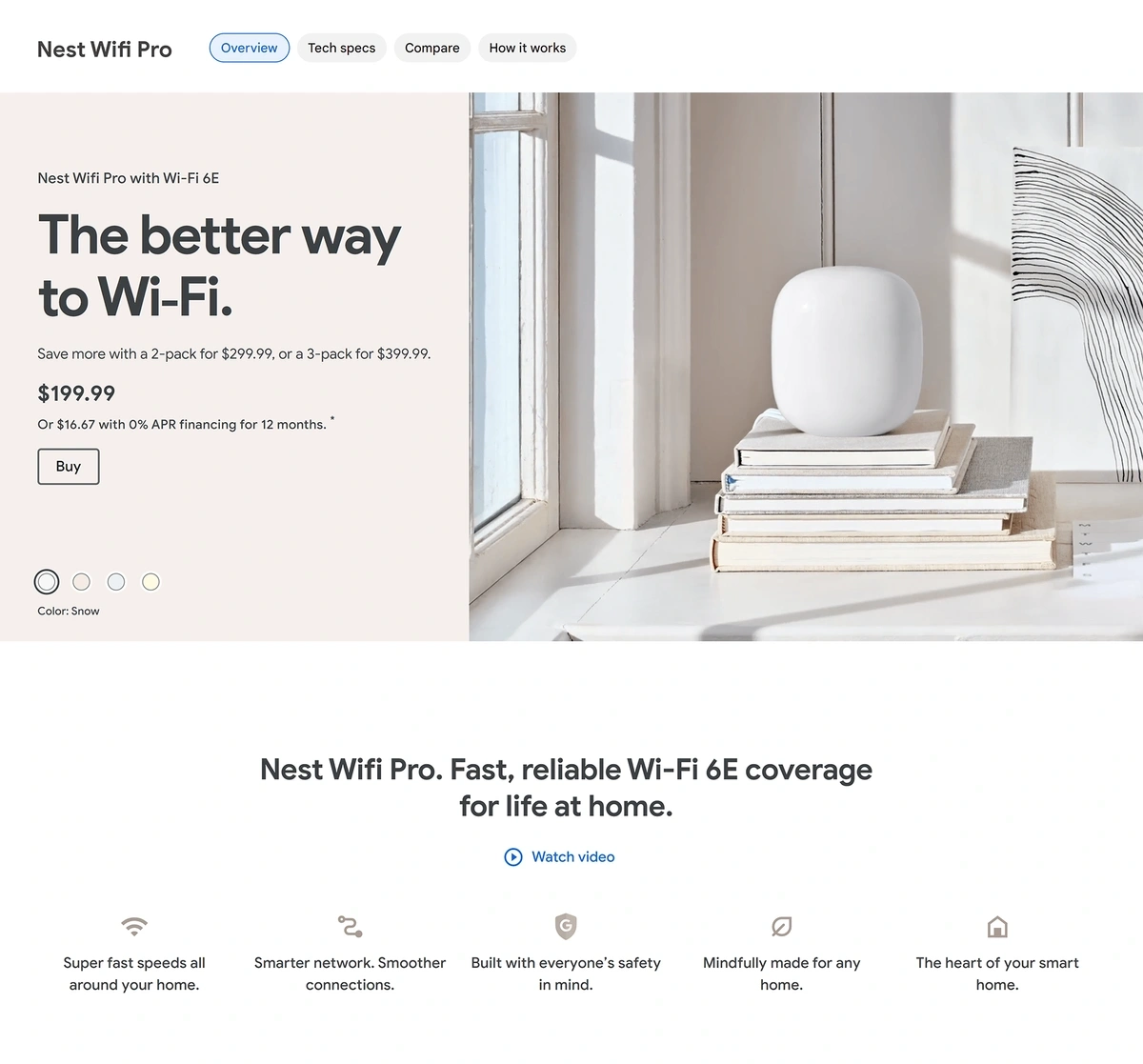 Google's first Wi-Fi 6E router is the Nest Wifi Pro.
IT industry experts are even beginning to talk about Wi-Fi 7 (IEEE 802.11be).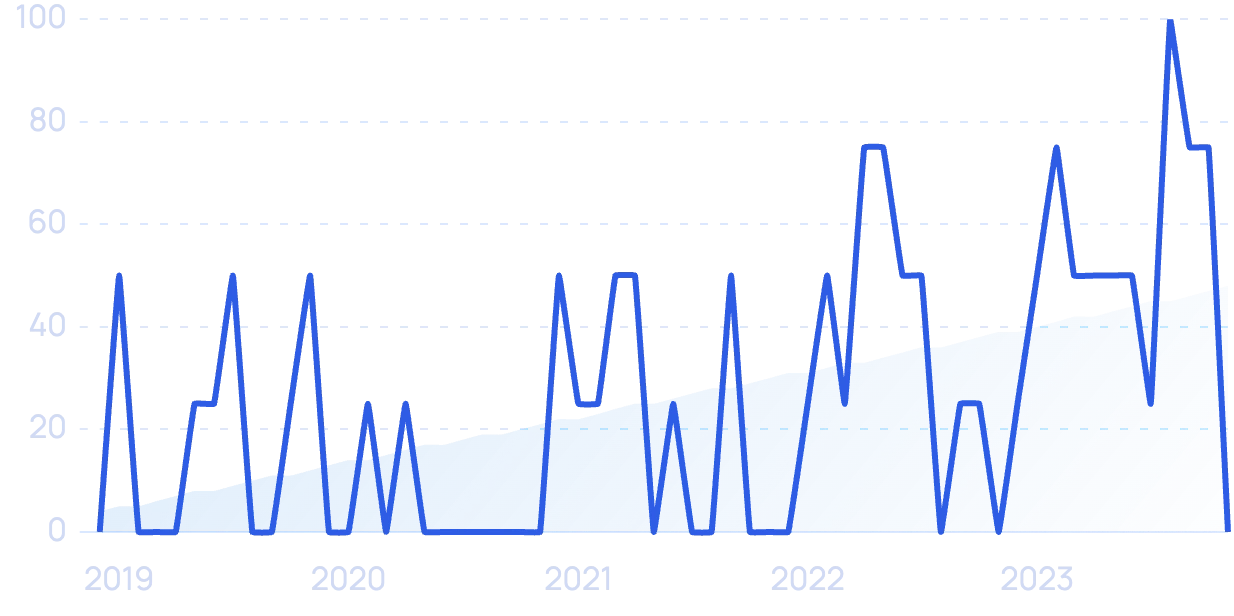 Search volume for "IEEE 802.11be" started climbing in 2022.
Speeds could reach 40 Gbps on Wi-Fi 7 — that's four times faster than Wi-Fi 6.
Development is ongoing, but Wi-Fi 7 routers are expected to appear in 2024.
One sector in which next-gen Wi-Fi is critical is the healthcare industry.
In large hospitals, there can be up to 15 connected medical devices per patient and more than 350,000 internet-connected devices.
Wi-Fi 6E and 7 could mean increased usage of software-as-a-medical-device, AR training of medical personnel, and improved telemedicine capabilities.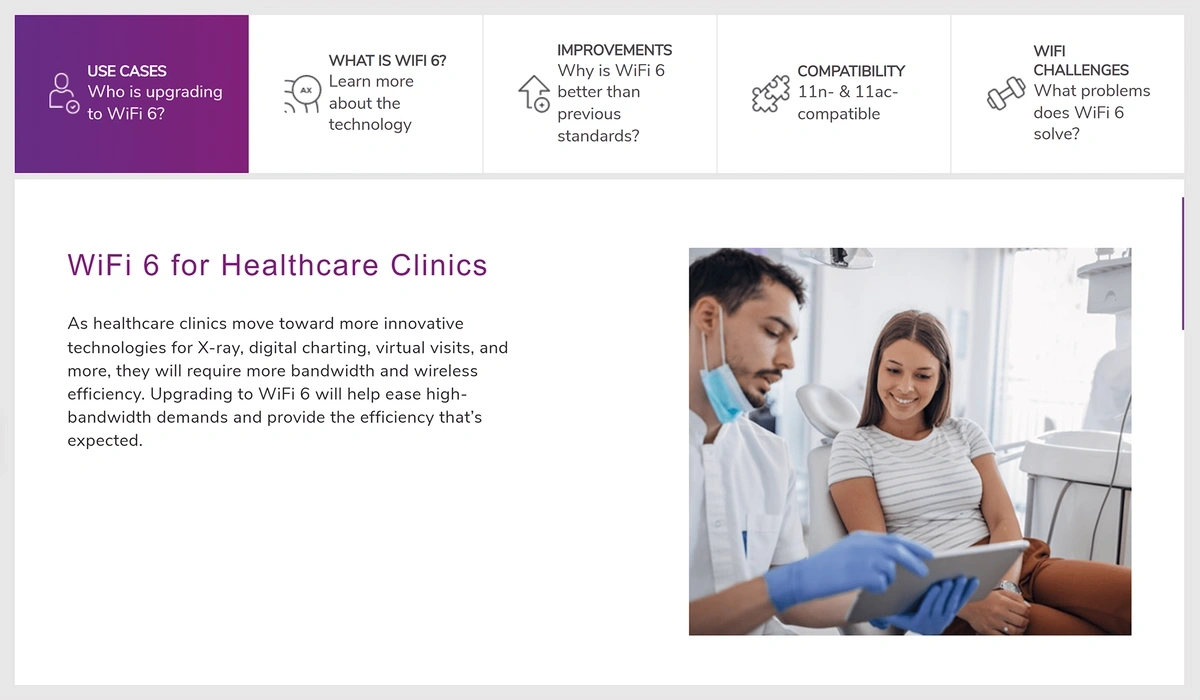 Wi-Fi 6 and 7 will likely give medical organizations the bandwidth they need to offer innovative technologies to patients.
3. SD-WAN Provides Improved Integration and Lower Costs
According to TeleGeography, the WAN market will hit $85 billion among the world's 5,000 largest companies in 2026. That's an increase of 44% over 2021.
Traditional WAN uses multiprotocol label switching (MPLS) to make data and applications available among distributed sites.
However, this approach doesn't work well in today's cloud-centric IT world.
Both security and user experience are compromised by large amounts of traffic.
But SD-WAN (software-defined wide area networking) utilizes long-term evolution and broadband internet to provide access.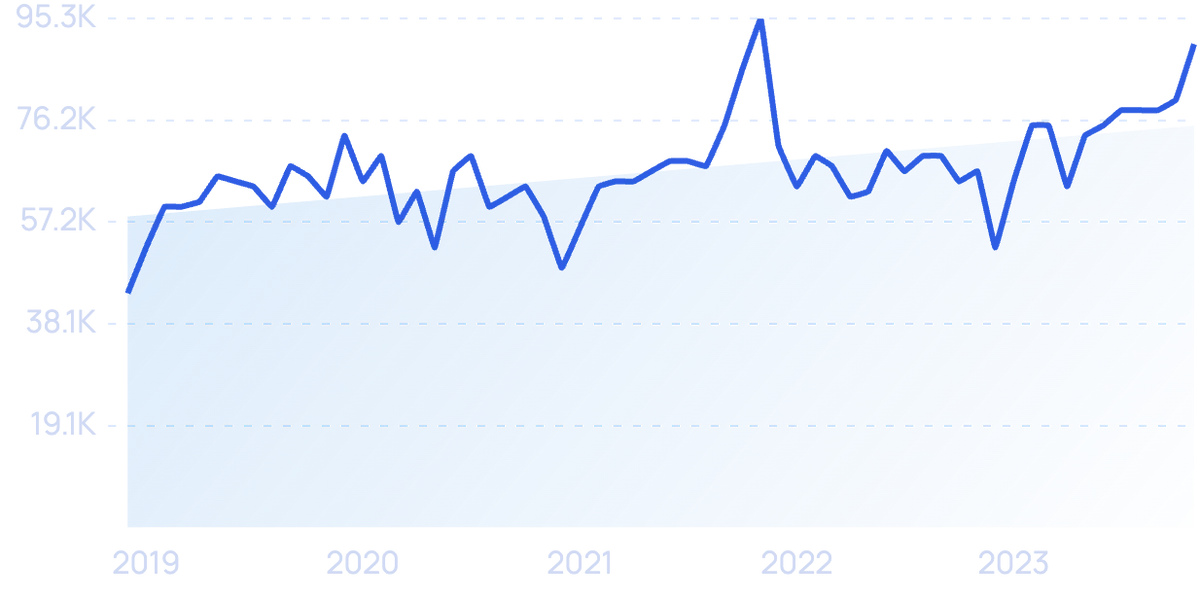 Search interest in "SD-WAN" has increased by more than 107% in 5 years.
This solution lowers operational costs by up to 40% and improves efficiency while ensuring security.
Installation and deployment are also much simpler than traditional WAN.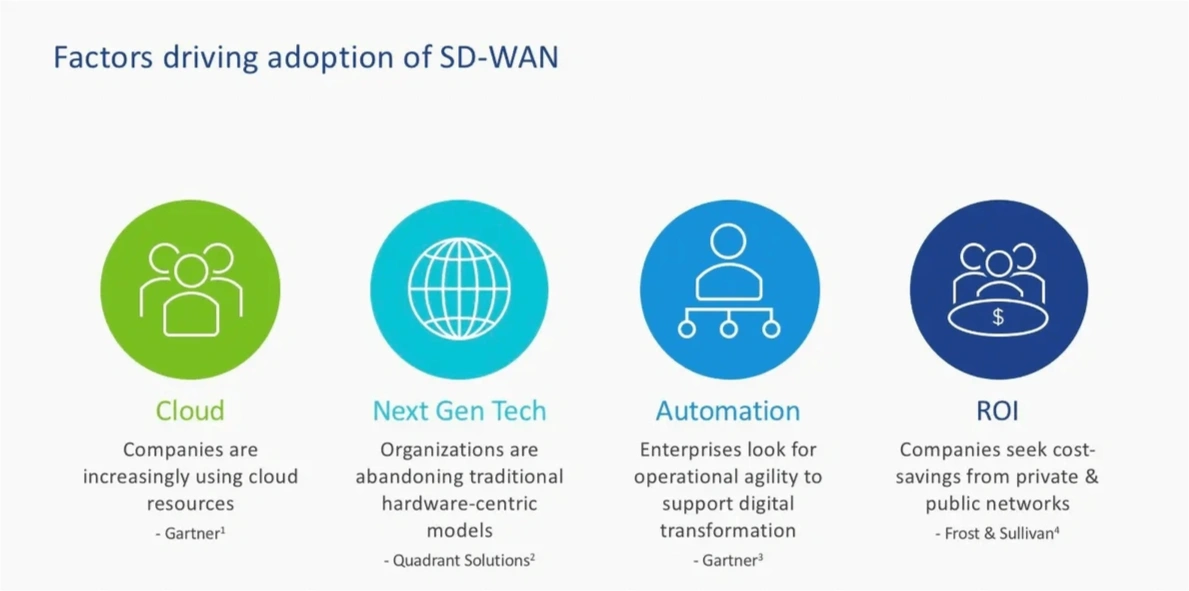 Organizations are seeing multiple benefits from deploying SD-WAN.
IDC researched the bottom-line impact of SD-WAN and found that organizations saw a 402% ROI over five years as well as 39% lower total cost of operations and 38% more efficient network management.
In another example, Forrester studied the total economic impact of Prisma SD-WAN and found an ROI of 243% and a 99% reduction in network trouble tickets.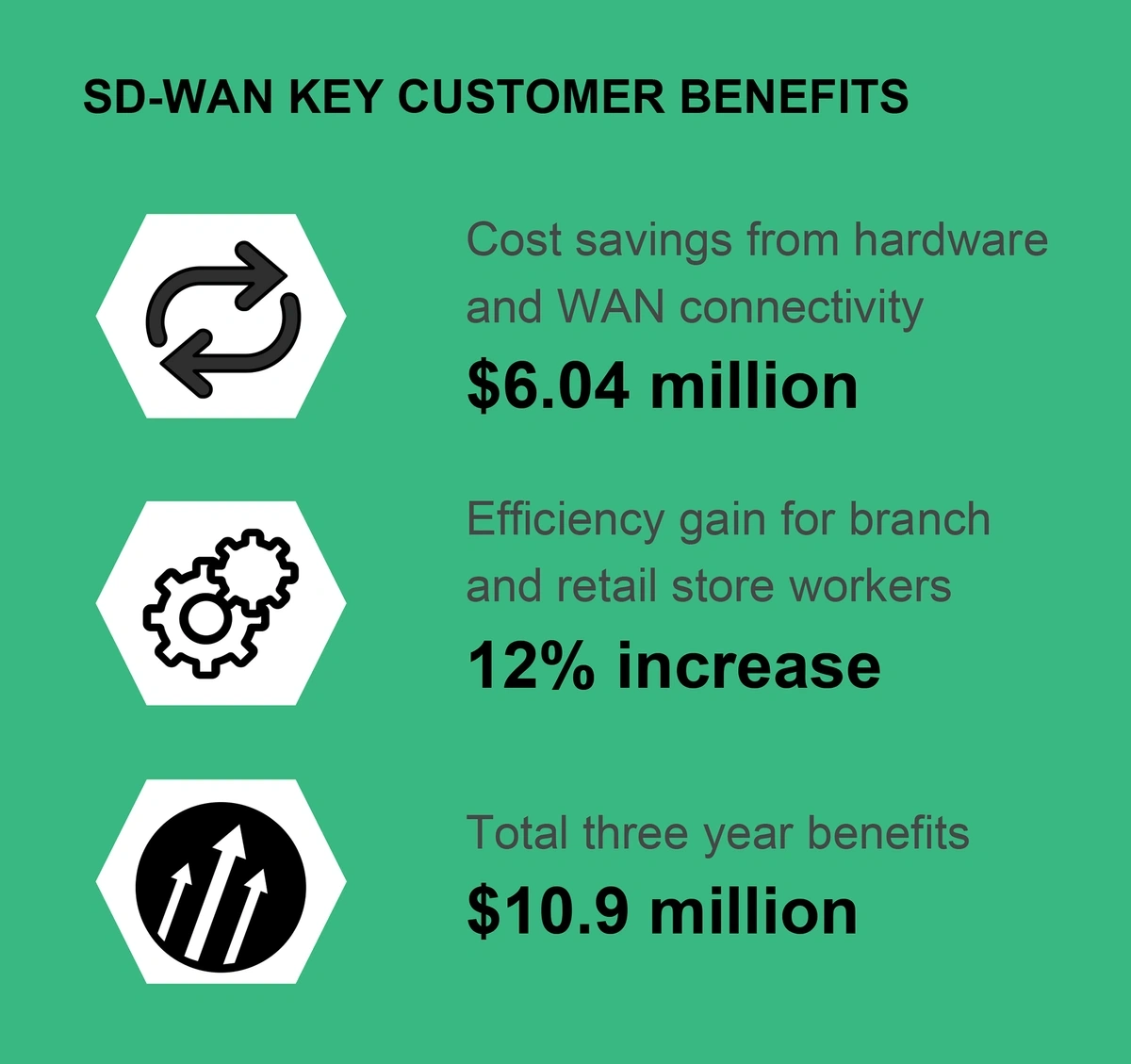 Forrester Research found a $6.04 million cost savings for enterprises using SD-WAN.
The TeleGeography report predicts the share of revenue driven by MPLS will decrease by 55% over the next five years.
Meanwhile, the adoption of SD-WAN is growing.
The market expanded 35% in 2021 alone to reach record revenue of more than $2 billion.
Techaisle reports that SD-WAN adoption will increase by 145% in the SMB market by mid-2023.
In the second half of 2021, 36% of enterprises said they were in the process of deploying SD-WAN or had already done so.
4. Increasing Security Threats from IoT
Globally, the number of IoT devices is expected to nearly triple by 2030.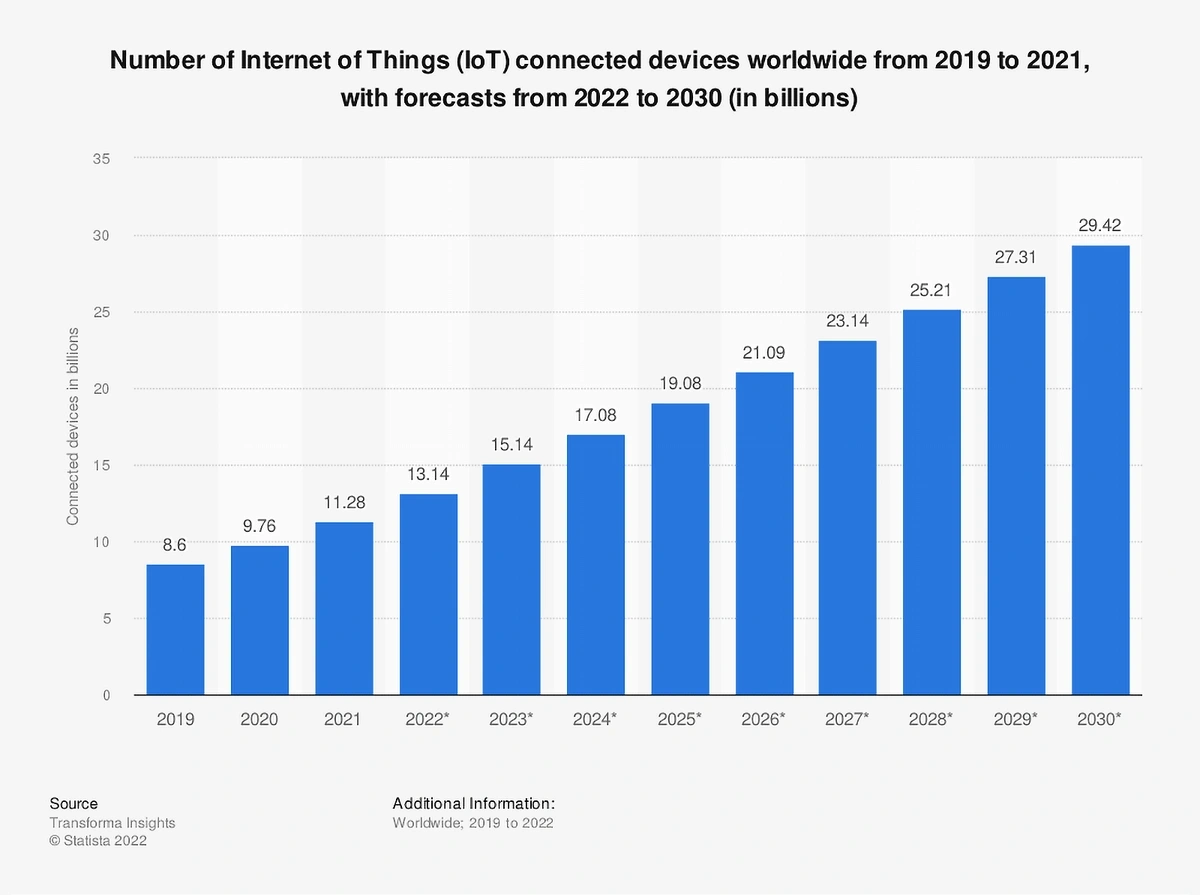 The number of IoT devices is climbing.
At that time, estimates show there will be more than 29 billion IoT devices.
Approximately 60% of IoT devices are owned by consumers.
On the other hand, industries like electricity, waste management, transportation, and gas currently have more than 100 million IoT devices each.
As the reliance on IoT devices grows, so do the security threats.
IoT devices are difficult to secure for several reasons.


IoT devices open networks up to a variety of cybersecurity threats.
The variety and scale of the devices make integrating them into security systems a serious challenge.
They generate an incredible amount of data and utilize open-source code, which is vulnerable to attack.
One study showed that nearly 100% of traffic on these devices is unencrypted and more than half of the devices are vulnerable to medium- or high-level attacks.
Once an IoT device has been hacked, it can take less than six minutes to launch a full-scale attack.
Cameras are one of the most vulnerable types of IoT devices.
In one example from 2021, hackers gained access to sensitive data from security system provider Verkada and were able to access live and archived camera feeds inside hospitals, police departments, schools, Tesla factories, and other locations.
More than 150,000 IoT security cameras were compromised.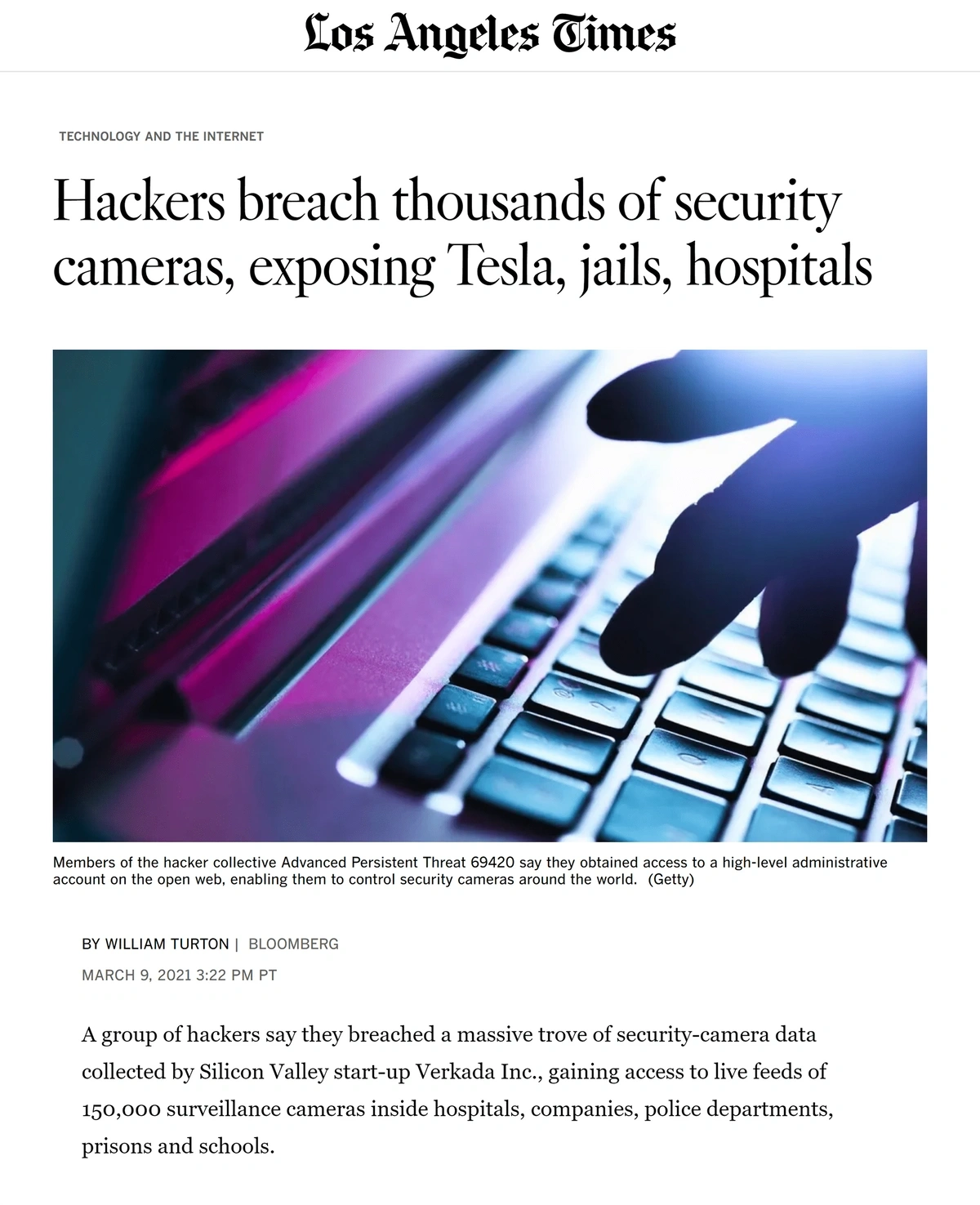 A high-profile breach of security cameras in 2021 garnered national headlines.
In addition, the healthcare industry is especially vulnerable to IoT-mediated attacks because of the extensive use of connected medical devices.
A recent survey found that medical organizations with more than 70% of their devices connected were 24% more likely to experience a security breach than those who had 50% or fewer connected devices.
The survey also reported that 57% of healthcare IT staff do not always change the default username/password on IoT devices, and 68% don't always update the devices when a patch is available.
Claroty is one of the leading IoT security firms of 2024.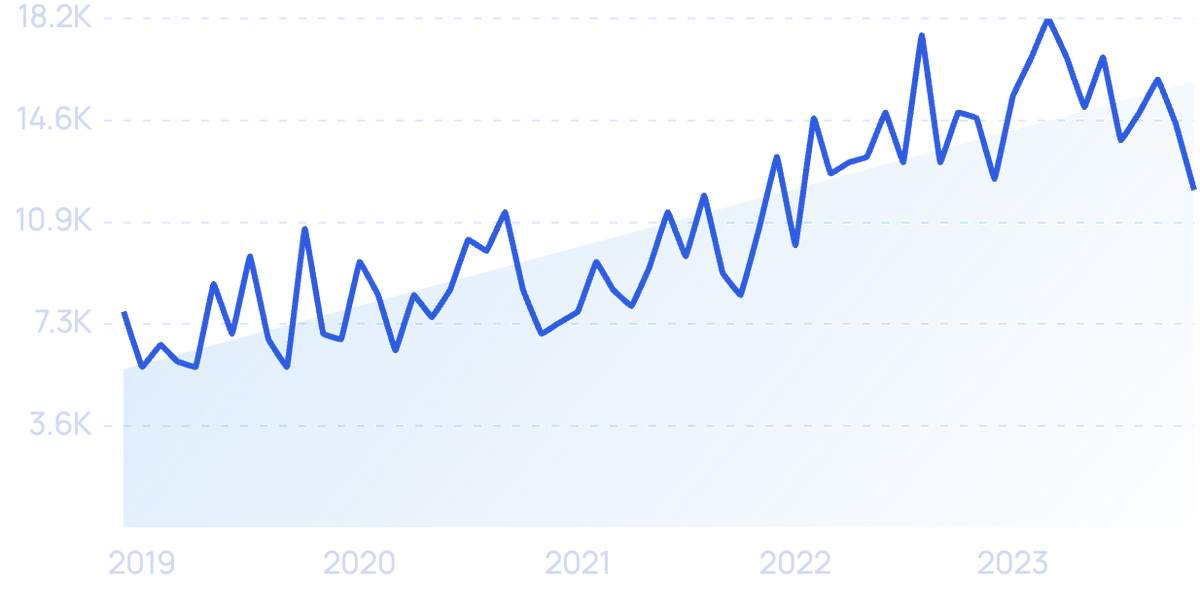 Search volume for "Claroty" is up more than 56% in the past 5 years.
Their expertise lies in protecting industrial and healthcare networks.
Company statistics show their platform is in use at more than 2,000 medical facilities and 8,000 industrial sites worldwide.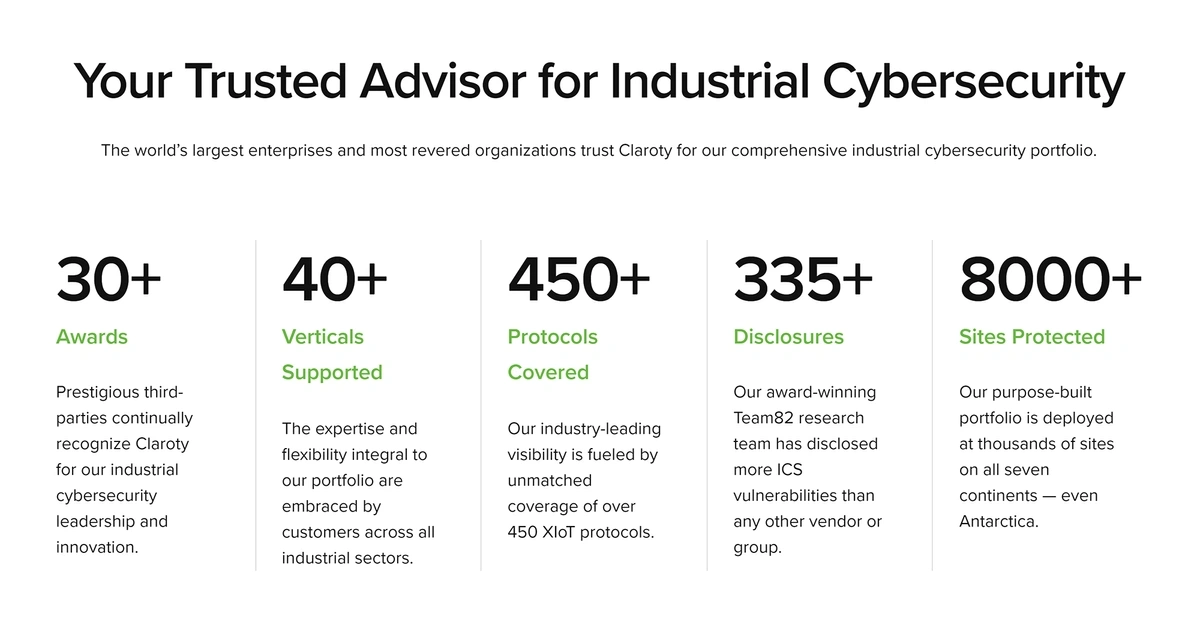 Claroty's solution for industrial IoT security includes asset discovery, risk management, network protection, and threat detection.
In late 2021 they closed a $400 million series E funding round and acquired a healthcare IoT security startup.
The company has posted revenue growth of 1,139% over the past three years.
5. Industry Cloud Platforms Grow In Popularity
Industry cloud platforms are those that bring together various cloud services in a way that's designed to fit the needs of specified industries.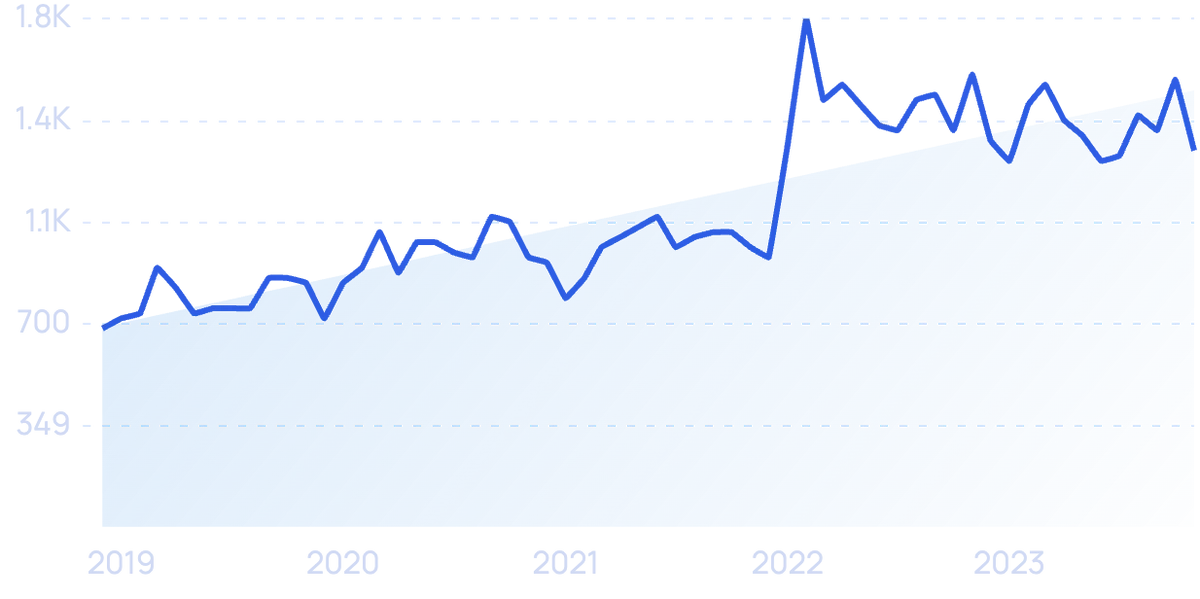 Search volume for "industry cloud" saw a steep increase in 2022.
These are targeted solutions that provide composable building blocks like cloud services, applications, tools, and other offerings.
Because the solution is tailored to a certain vertical, organizations are able to focus on which tech capabilities matter most to their business.
This enables agility and reduced time to market for new business initiatives.
Businesses that have been operating on legacy solutions find industry clouds particularly appealing because migrating to traditional cloud services can be time-consuming and expensive.
The modular approach of the industry cloud is an easier transition that can more closely replicate their longstanding systems.
Deloitte estimates that there's a $640 billion potential market for industry clouds.

Deloitte analysts predict industry clouds will become prevalent in dozens of verticals.
Gartner reports that close to 40% of enterprises based in North America and Europe have started adopting an industry cloud and an additional 15% are currently in pilot programs. A final 15% are considering development by 2026.
They estimate that 50% of enterprises will be using industry clouds by 2027.
Industry cloud platforms are especially valuable for highly regulated industries like those in the financial sector.
For example, Goldman Sachs recently partnered with Amazon Web Services to launch a cloud-based solution for financial data and analytics.
In another example, ABB, Bosch, Honeywell, and other manufacturing leaders have partnered with Microsoft to create Microsoft Cloud for Manufacturing. It's currently only available for preview.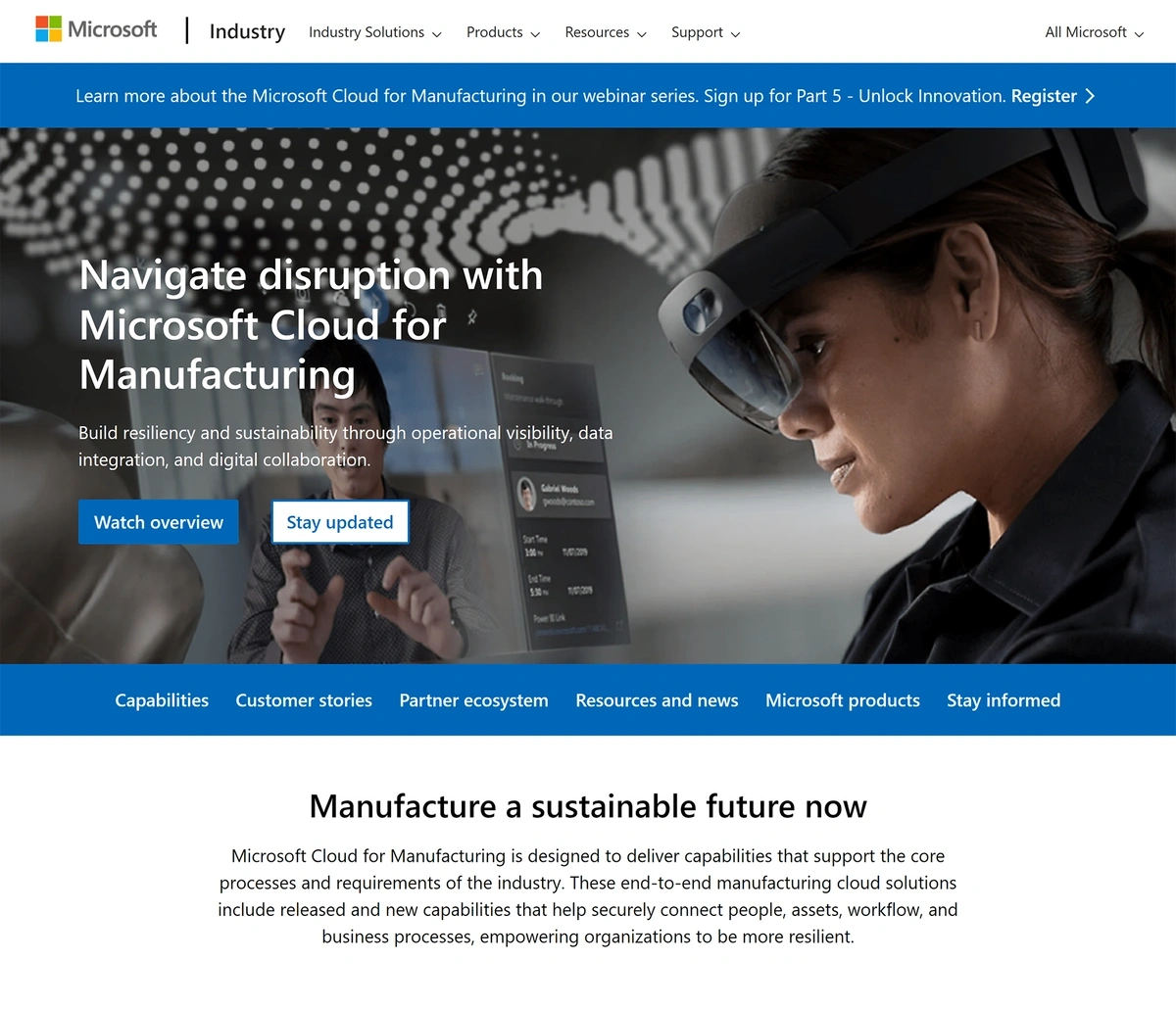 Microsoft Cloud for Manufacturing provides a foundation for smart factory networks.
In total, Microsoft offers five industry clouds.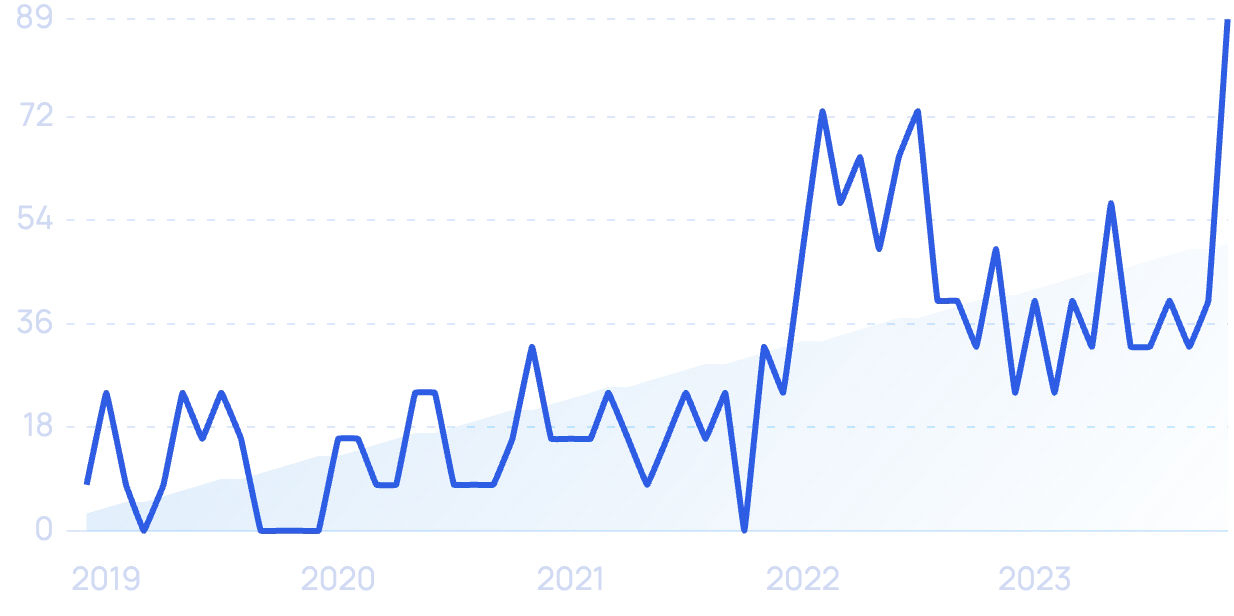 Search volume for "Microsoft industry cloud" is up 1,000% over the past 5 years.
In 2022, Cropin launched the first-ever industry cloud platform for agriculture enterprises.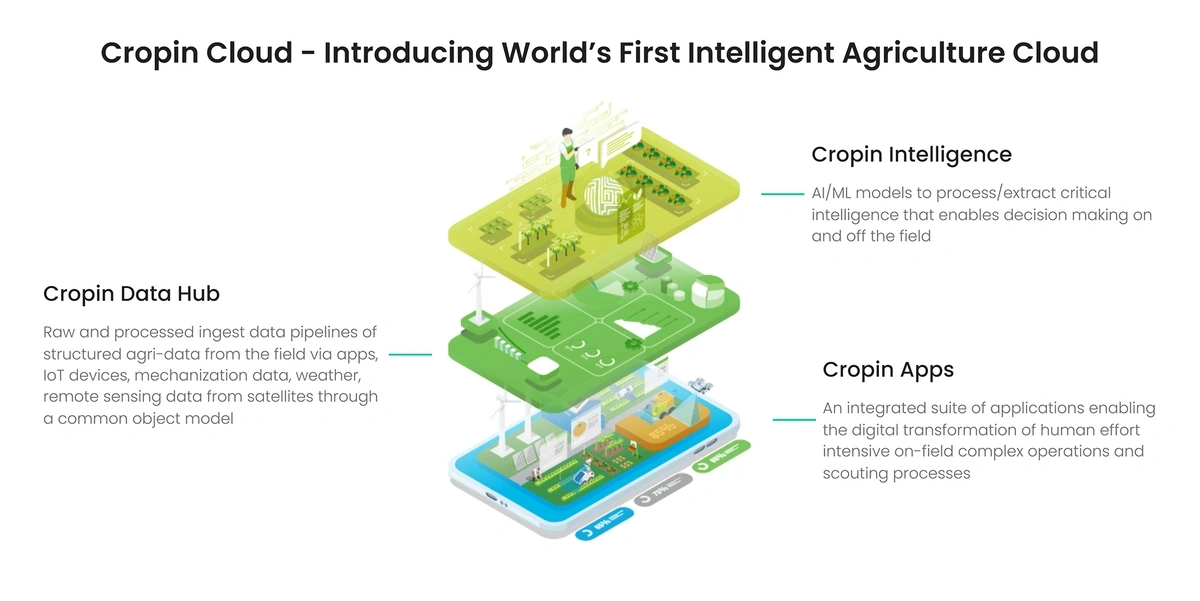 The Cropin Cloud aims to help ag businesses reduce costs and improve quality.
It's designed to be utilized by a variety of industry players like farming companies, food processing companies, seed companies, fertilizer manufacturers, and others.
So far, the company has raised more than $46 million in funding with backing from investors like the Bill and Melinda Gates Foundation and CDC Group.
The company was also named to the list of 2022 Regional and Global AWS Partners of the Year.
Conclusion
That wraps up our list of the top networking trends impacting IT leaders and businesses in the next few years.
Companies that are already adapting to these changes are seeing business impacts related to cost-savings, innovation, and speed. With solutions tailored specifically to their industry, these organizations are able to utilize networking technology to its fullest potential.
Still, IT leaders have yet to get a handle on the critical security and complexity concerns regarding networks. These issues are set to see critical innovation in the years to come.