6 Personalization Trends 2023-2025
You may also like:
Business leaders who offer their customers a tailored experience can see a return on their bottom line.
In fact, 73% of customers insist on companies understanding their needs and expectations.
Unfortunately, only 15% of CMOs believe their companies are on the right track when it comes to personalization.
This list of six trends will show you which strategies companies are using to drive their personalization efforts for 2023 through 2025.
1. Brands see facial recognition as a way to improve the customer journey
Facial recognition is one tool that more brick-and-mortar retail locations are using to personalize the customer experience.
The facial recognition market was valued at $4.45 billion in 2021 and experts say it will grow at a CAGR of 15.4% through 2028.
The retail and e-commerce sector is responsible for 21% of that revenue.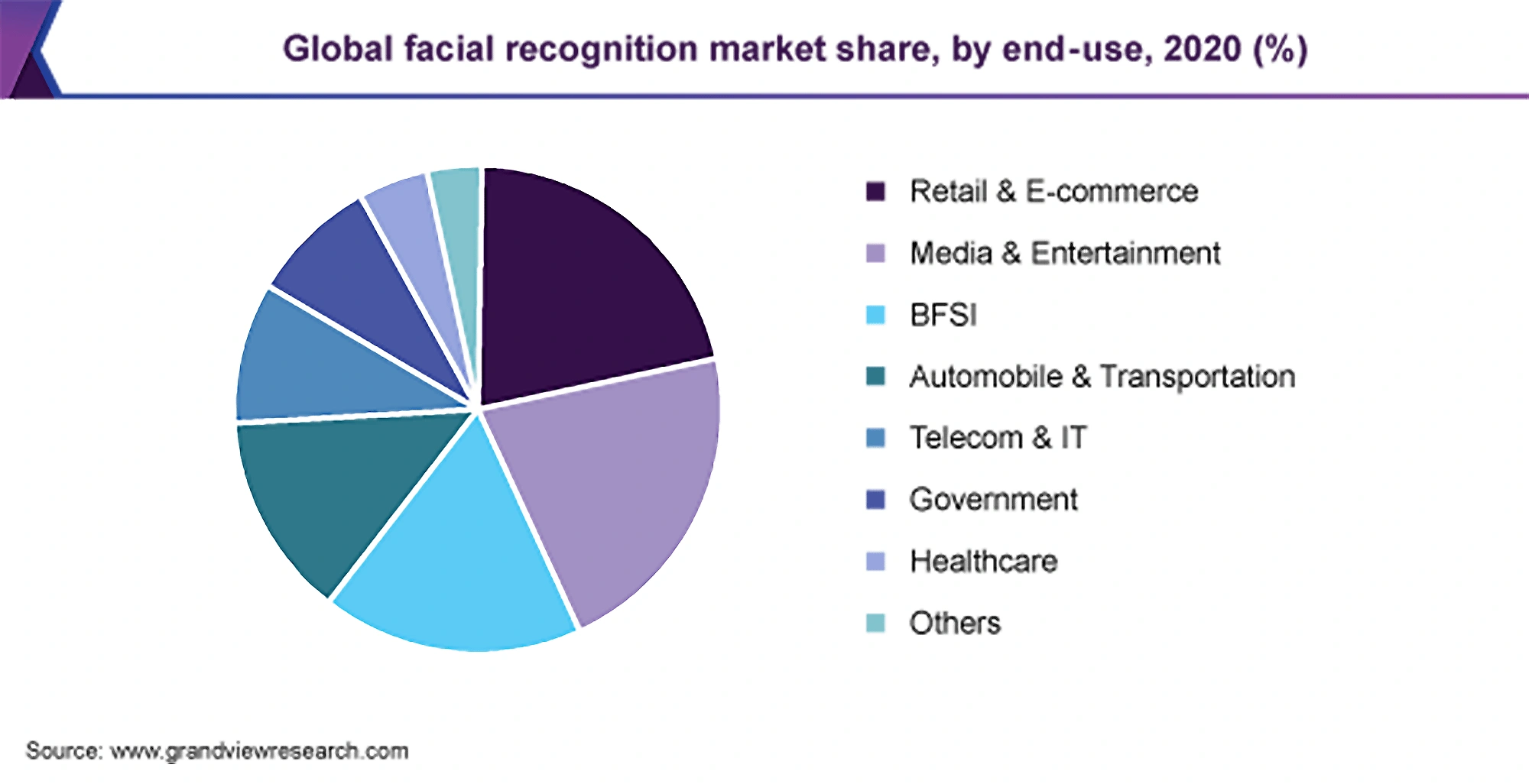 Retail establishments use facial recognition for marketing and customer services purposes.
This technology can monitor foot traffic, calculate average shopping time, and analyze customer moods and behaviors.
Ruti, a California-based boutique clothing store, has adopted facial recognition in their stores and is using the data to make better recommendations to customers.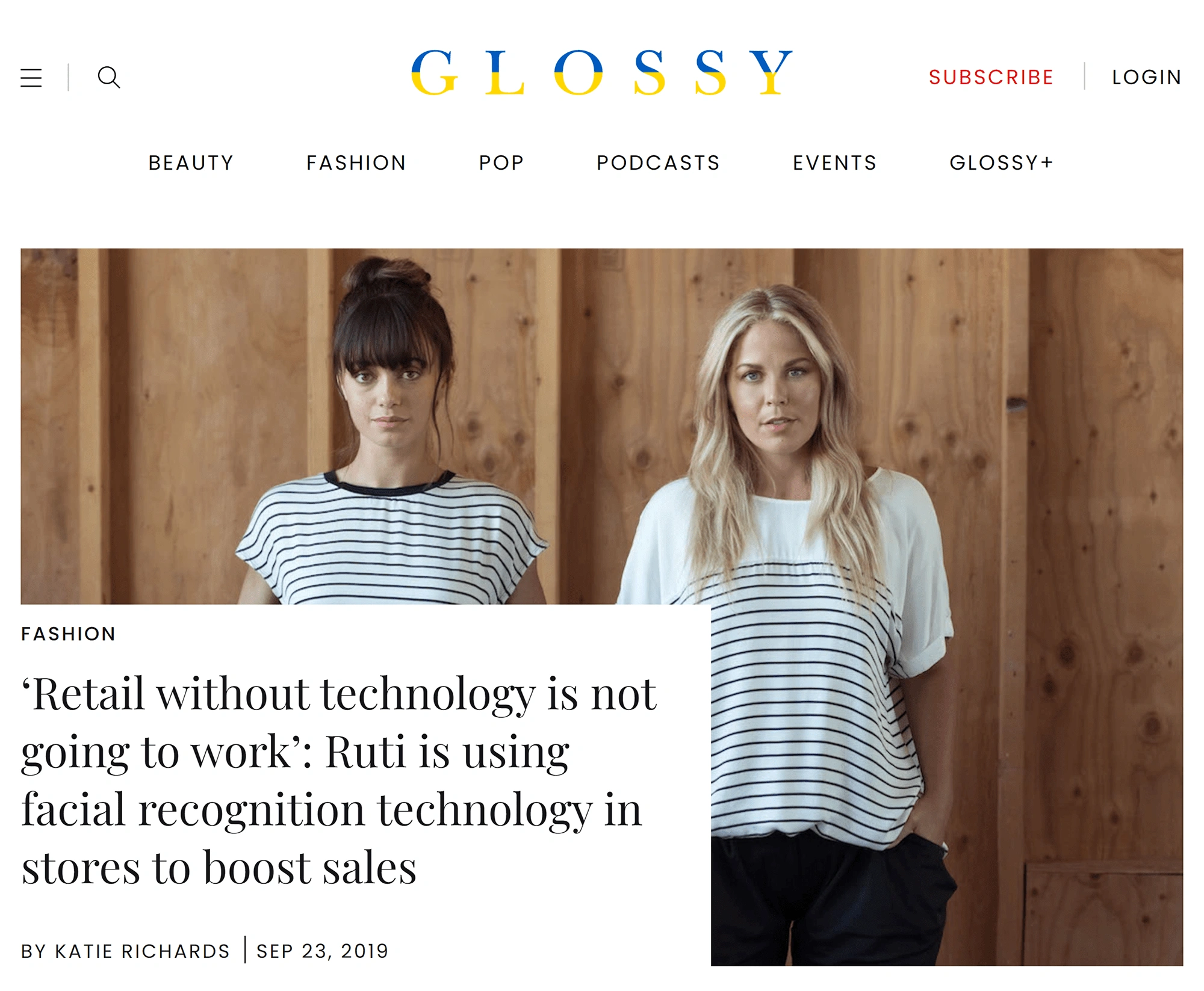 Designer Ruti Zisser is investing in facial recognition technology to set her in-store experience apart from her competitors.
When a customer enters the store, the CRM system brings up her likes, dislikes, and recent purchases.
The owner of the brand, Ruti Zisser, says the facial recognition technology has grown their sales "massively".
Reports show that 16% of hotels are also utilizing facial recognition to personalize the stays of their customers.
Vietnam-based luxury hotel chain Vinpearl implemented facial recognition programs in 2019.
Their technology lets customers check in within three seconds, open doors through the resorts, pay for services all with their faces.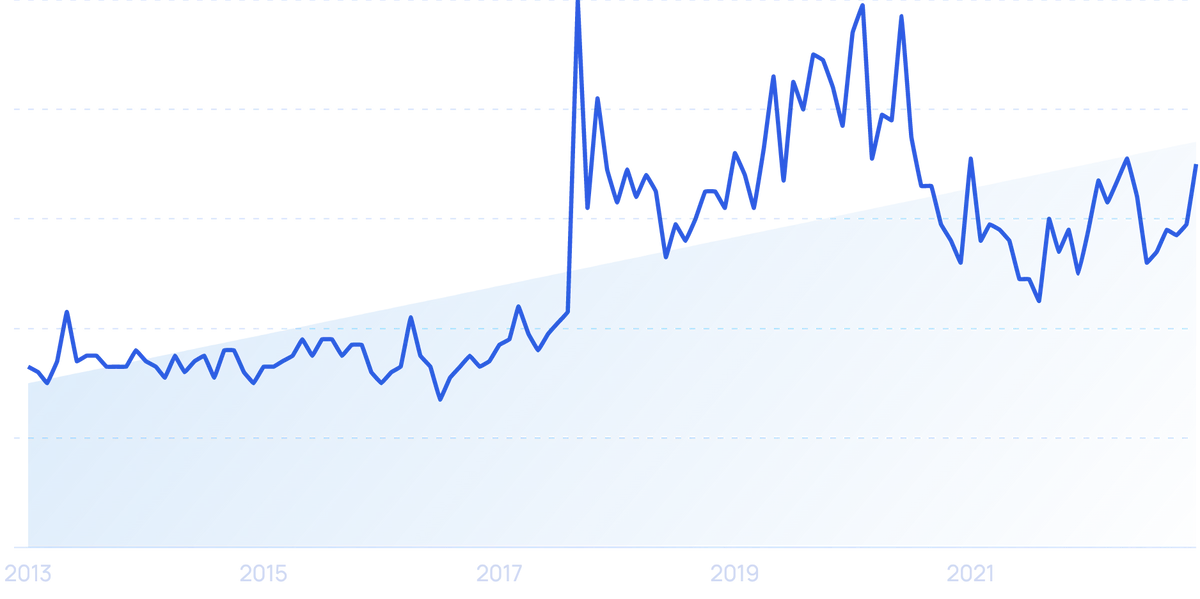 Search volume for "facial recognition" has more than doubled over the last 5 years.
Billboards are being outfitted with facial recognition cameras, too.
These cameras don't store any images or information. Instead, they read the viewers age, gender, and mood in order to show personalized advertisements.
2. Companies turn to zero-party data as Google plans to remove third-party cookies
Collecting data is an essential part of personalization.
But, in less than a year, companies will be losing one of their primary ways to do that: Google's third-party cookies.
Brands are already coming up with alternate data collection strategies.
One of those is giving consumers promos or other benefits in exchange for them providing their data. Any information the customer willingly provides to a brand is termed "zero-party data".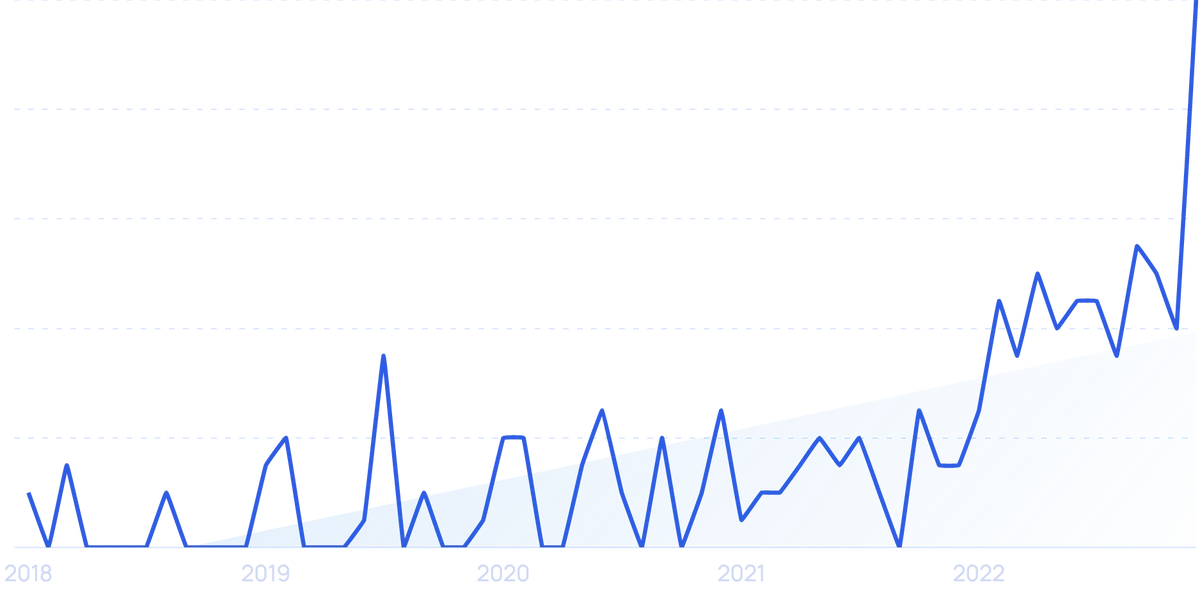 Search volume for "zero party data" is increasing rapidly, up more than 900% in the past 5 years.
One report says 87% of people are willing to share their online activity or be tracked in exchange for personalized rewards and engagements.
Up to 15% of brands are already collecting this type of data.
Many people are willing to share their data if they're offered a micro-experience, like a quiz or survey.
Hair care brand Living Proof collects zero-party data in its hair care routine quiz that's powered by AI.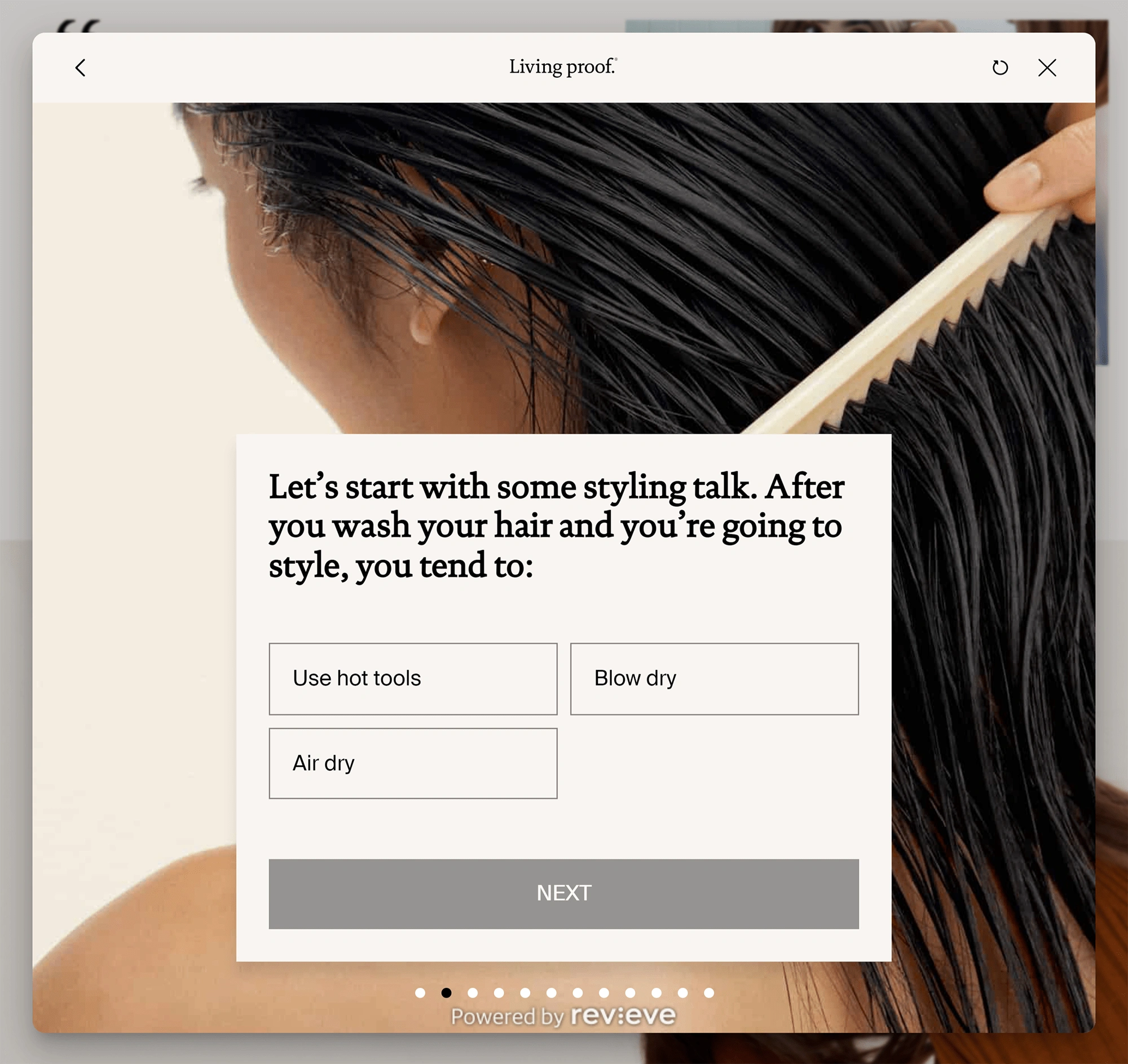 Living Proof's hair care quiz asks a series of questions in order to collect data.
After customers provide their answers to the questions, they're prompted to take a selfie and enter their contact information so that Living Proof can send them personalized recommendations.
Many B2B organizations are becoming more dedicated to collecting zero-party data, too.
For example, many white papers or webinars are now gated and the brand requires potential customers to provide zero-party data before they can access the content.
This might be data pertaining to the customer's goals, purchasing plans, or pain points.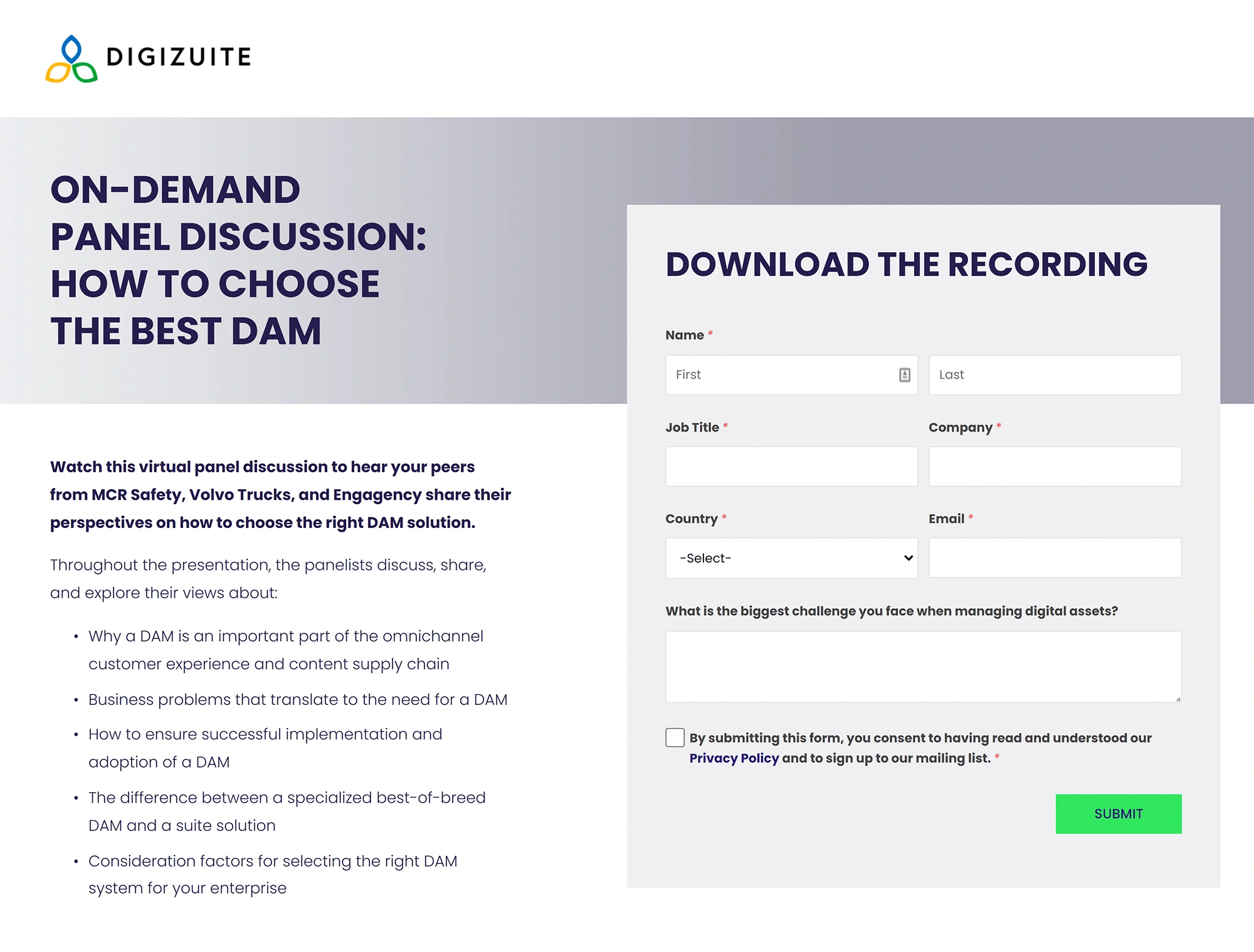 Digizuite provides companies with Digital Asset Management software. Here's their lead capture form from a recent webinar.
Brands that use a personalization strategy that involves zero-party data are poised to see financial benefits.
A 2021 study from BCG and Google showed companies who used zero-party data for marketing achieved up to a 2.9x revenue increase and a 1.5x increase in cost savings.
Companies also report a lower cost-per-acquisition when using zero-party data simply because they're not paying for data from second- or third-party sources.
3. Continued growth in location-based marketing
Another enduring trend we're watching is location-based marketing, advertising, and targeting.
As of 2022, the location intelligence market was worth $16.09 billion. Experts say it will grow at a CAGR of 15.6% through 2030.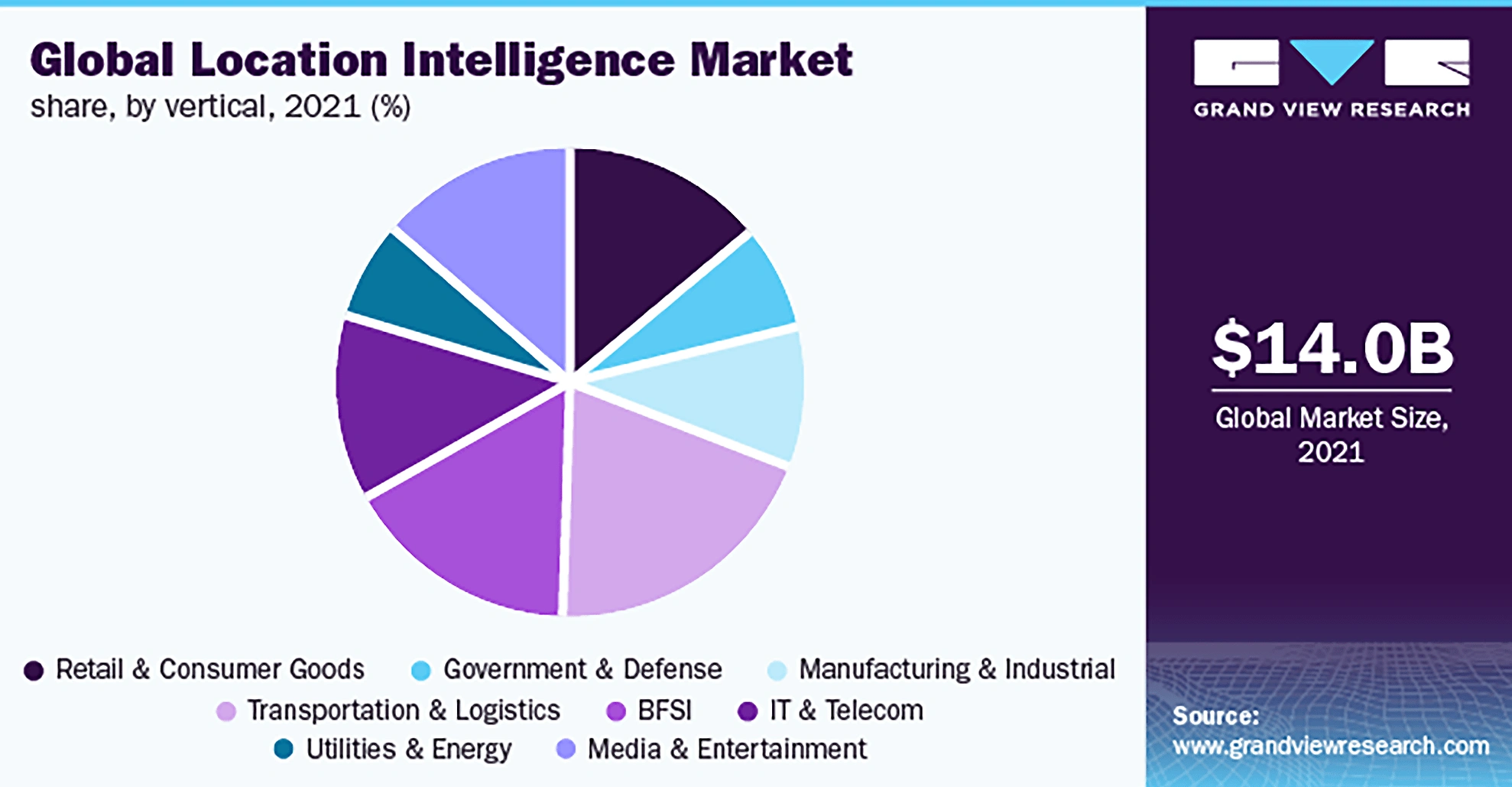 The location intelligence market continues to grow as multiple sectors take advantage of the technology.
This personalization strategy is all dependent on the consumer's smartphone.
Surveys show that nearly three-quarters of Americans feel uneasy about leaving their phone at home.
Add that to the fact that nearly all smartphones are equipped with location-revealing technology like GPS, IP addresses, QR codes, and apps. Brands are increasingly able to pin-point their audience at any given time and deliver a personalized experience.
For example, geofencing marketing allows brands to set a "fence" around a specific location and send a personalized message to customers who enter that location.
A study by Lawless Research showed that 84% of marketers are currently using location data in their marketing and advertising strategies and 94% plan to implement it in the future.
Surveys reveal that the average consumer appreciates this type of targeted advertising.
More than 95% of people have seen a location-based advertisement on their phone.
A decent percentage of people, more than 33%, always leave their smartphone's location services enabled, as well. Only 3.8% say they never turn it on.
In early 2022, Yelp expanded its location-based advertising options.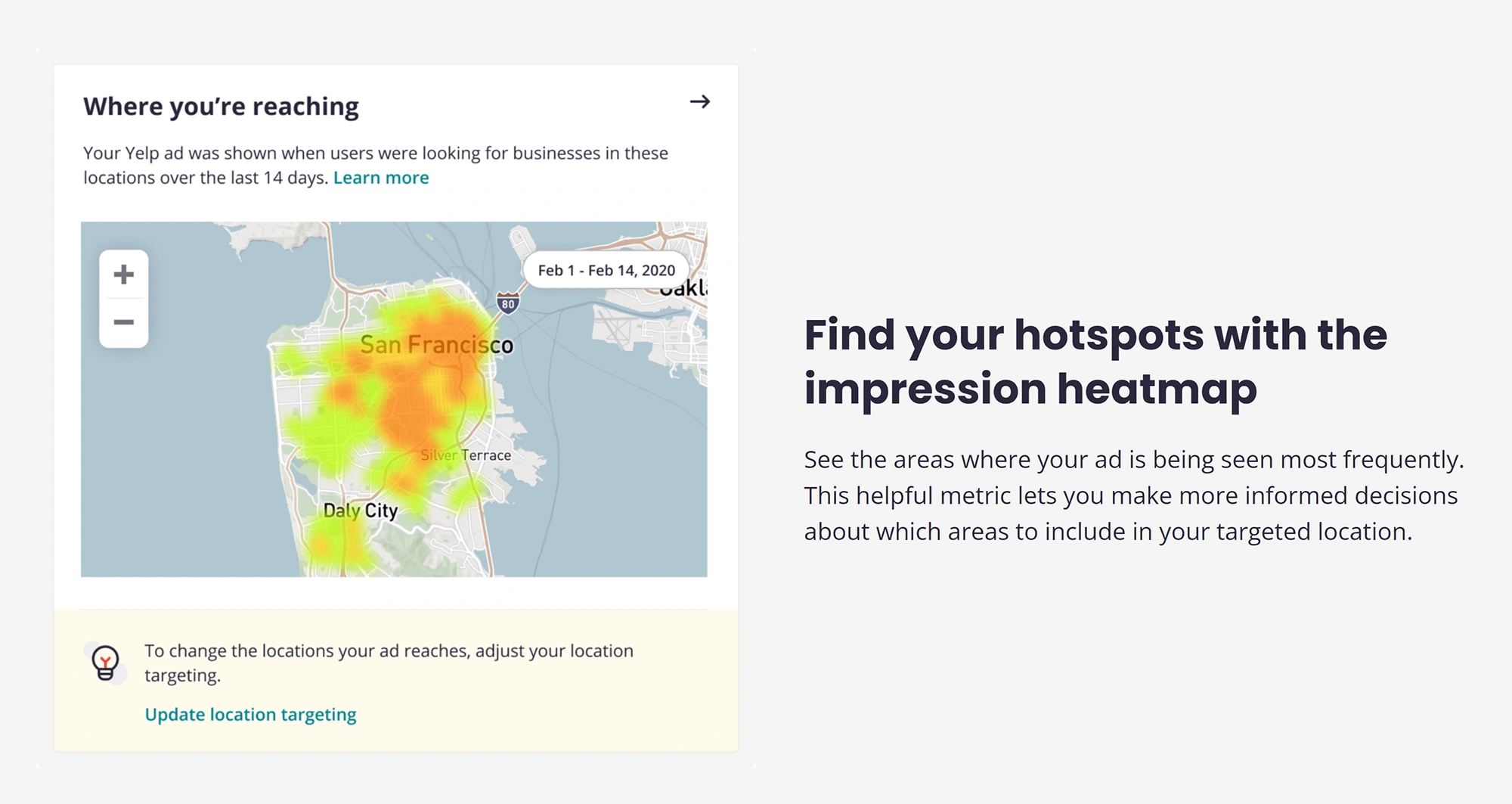 Yelp's new geo-targeting advertising options help brands find their specific audience.
Brands could previously only set their ads to run in a radius surrounding their location. Now, they have the opportunity to run their ads in specific geographic locations.
The platform has more than 500,000 monthly advertisers.
Hyperlocal marketing is another example of this trend.
In this strategy, digital marketing efforts are concentrated on a specific location with the aim to increase foot traffic in brick-and-mortar locations.
The audience is anyone who searches for the business' product with "near me" added to the search query.
Google data shows that more than 75% of people who search on their smartphones for something nearby go to a business within a day and 28% of local searches result in a purchase.
4. Brands seek to engage customers with personalized loyalty programs
During the pandemic, 75% of individuals tried out a new shopping behavior or brand.
That means those customers left the behaviors and brands they used to shop with, at least temporarily, putting brand loyalty at risk.
McKinsey reports that personalization can get the attention of customers and make or break a consumer's loyalty to a brand.
Their data shows that 71% of consumers expect personalization and 76% are frustrated when they don't get it.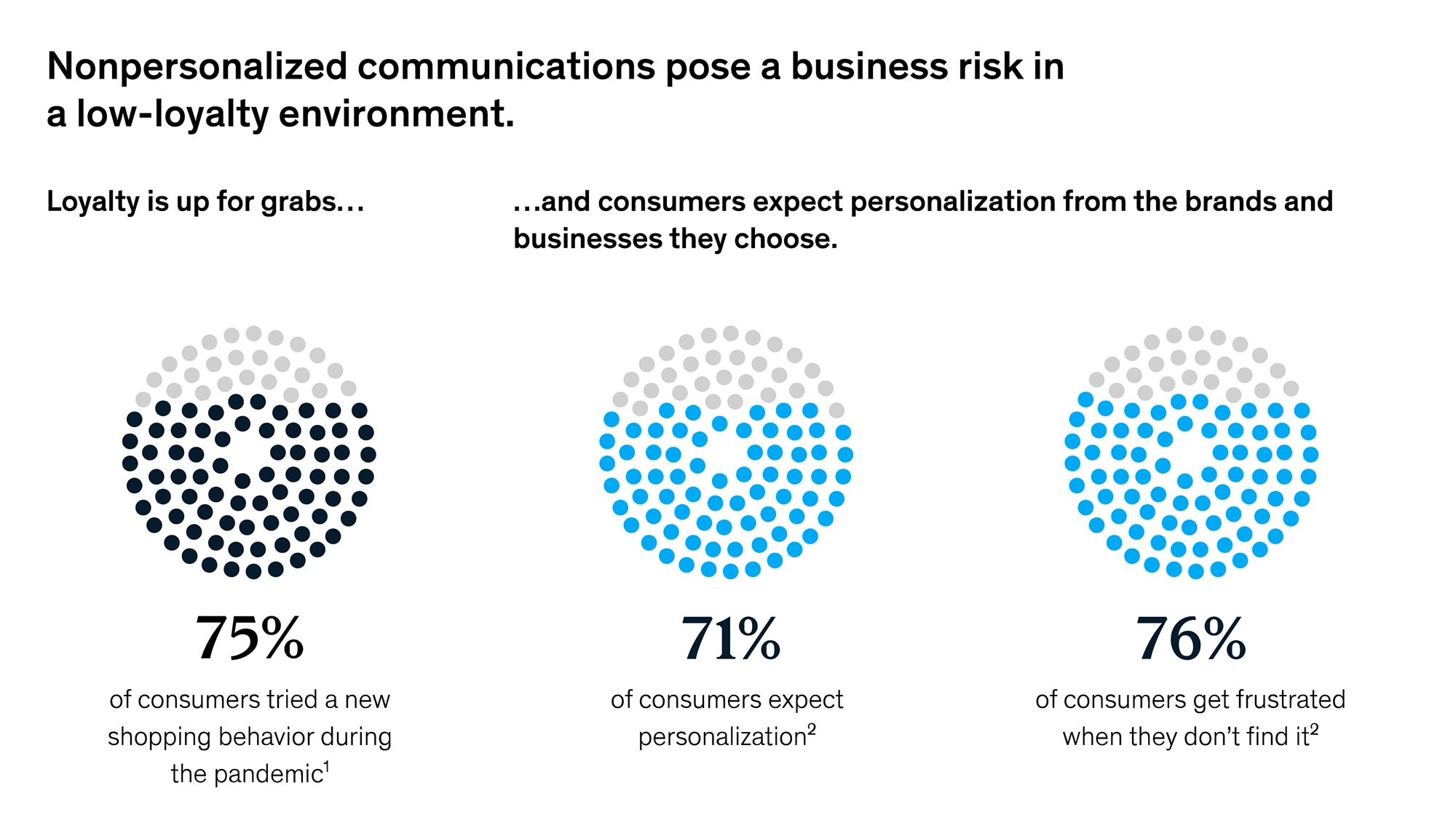 McKinsey's recent data shows just how important personalization is for brands.
A 2022 survey showed that 74% of customers say feeling valued and understood is the top component of brand loyalty.
When customers are engaged and loyal, they're valuable.
Returning customers are nine times more likely to buy from a brand than new customers, and these existing customers spend 31% more on average than new customers.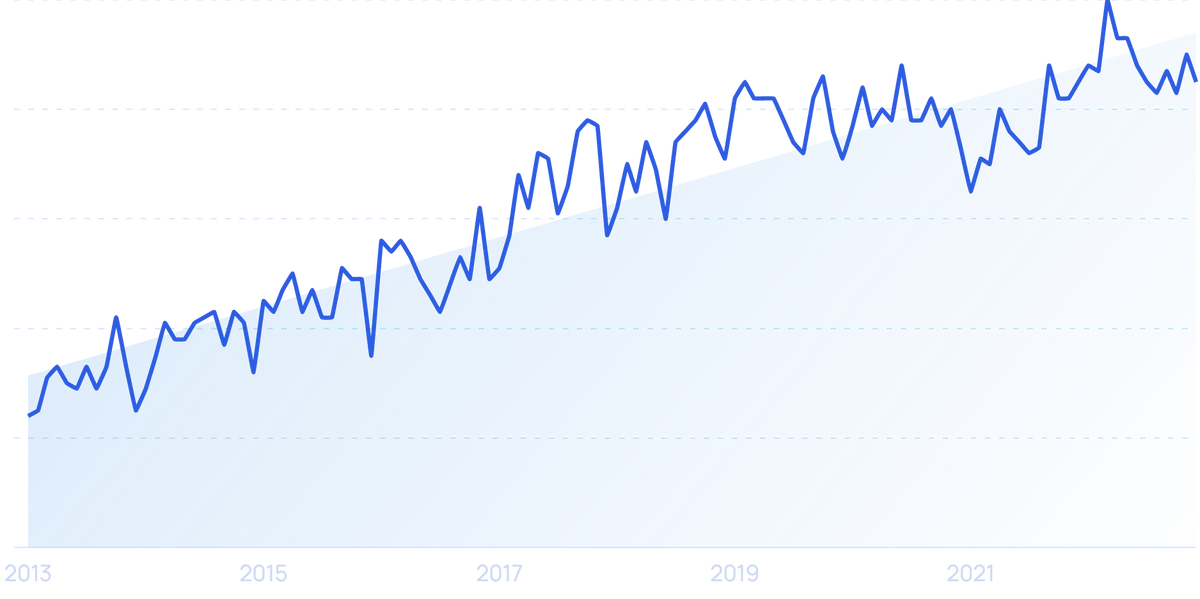 Searches for "customer engagement" a key component of brand loyalty, are up 254% and still climbing.
However, 68% percent of consumers say it's more difficult than ever for brands to hold their loyalty.
Brand loyalty programs are one way companies continue to incorporate personalization opportunities and customer experiences.
Best Buy offers two levels of loyalty programs for customers.
The brand's My Best Buy program provides benefits like earning points, receiving special offers, and free shipping.
The Totaltech program is a paid loyalty program for brand enthusiasts. Benefits include 24/7 support, product protection, VIP access to customer service, fast shipping, and an extended return window.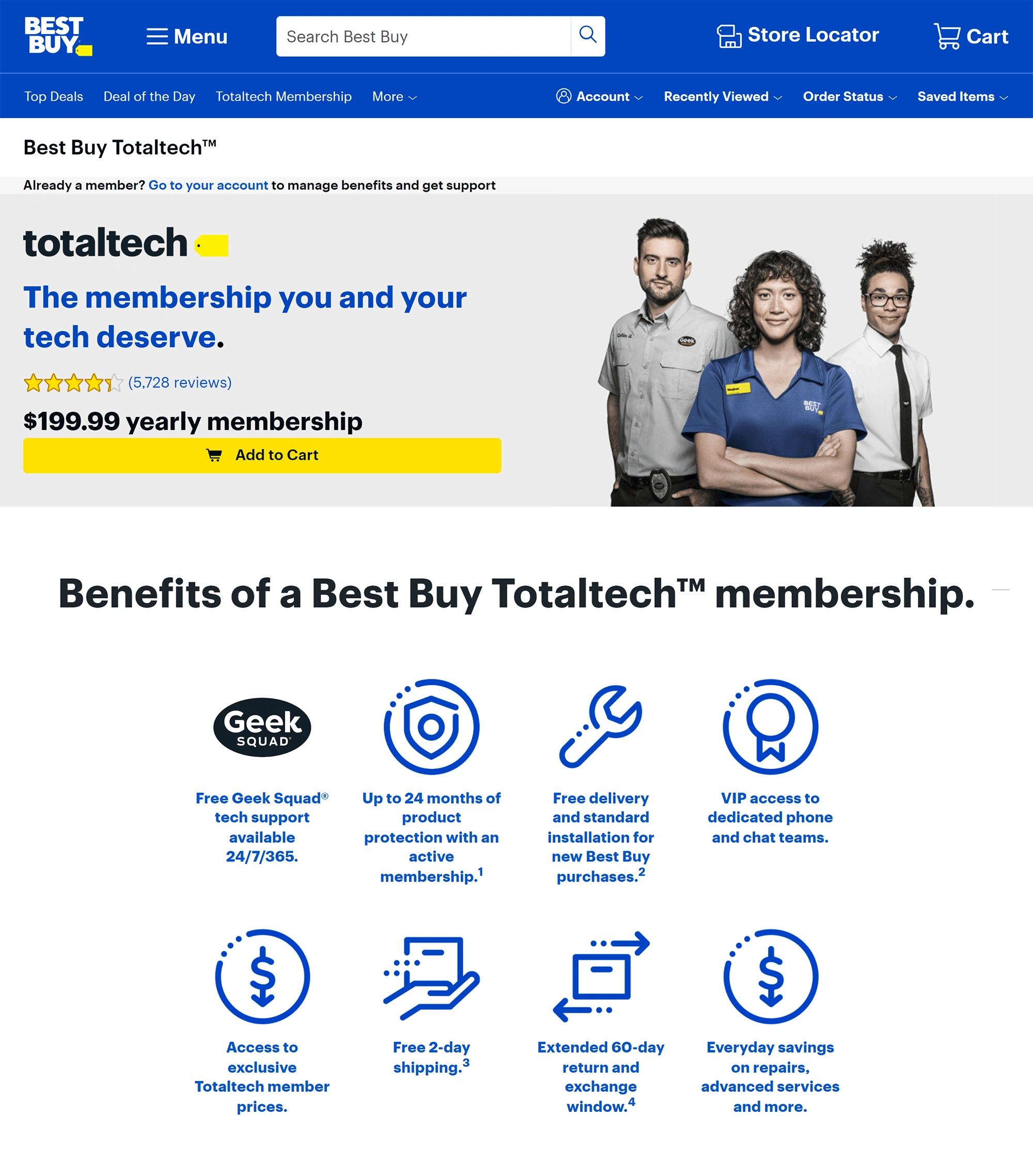 The Totaltech membership drives loyalty through providing exactly the benefits these brand enthusiasts desire.
In order to engage their customer base, Nike and Dick's Sporting Goods recently linked their loyalty programs together.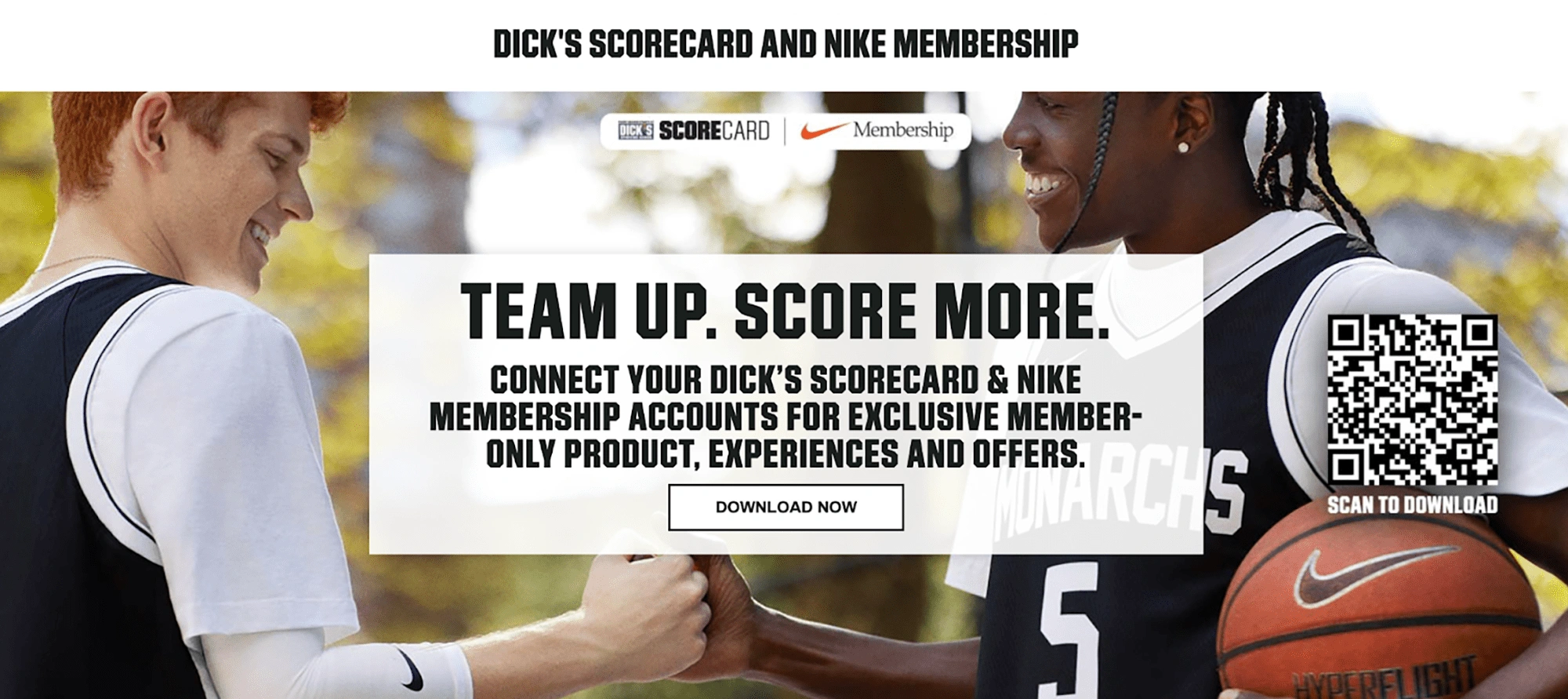 The combined loyalty program offers personalized benefits like access to exclusive merchandise.
Customers who link their loyalty accounts automatically get a $10 reward from Dick's when they make a Nike purchase of $50 or more.
They'll also get access to exclusive Nike releases and experiential rewards like access to in-store events.
5. Customer data platforms may be the answer to data silos
Brands that collect data to use in personalization often unknowingly sabotage themselves by storing the data in a place where nobody can get to it or in such a way that nobody can make sense of it.
A Forrester Consulting survey commissioned by Salesforce found that 58% of business leaders say their customer and account data comes from too many sources to easily make sense of it.
The data is "siloed," unable to integrate across the company's digital tools and systems.
A recent survey from the American Management Association found that nearly all (97%) of the executives surveyed believed that data silos were having a negative effect on business.
In the marketing sector, nearly 50% of professionals say that at least a part of their customer data is siloed and difficult to access.
In order to optimize personalization and the customer experience in 2023 and the years to come, experts say brands will likely be increasingly investing in solutions that unify data and create a unified view of the customer journey in real time.
A Customer Data Platform (CDP) achieves that goal.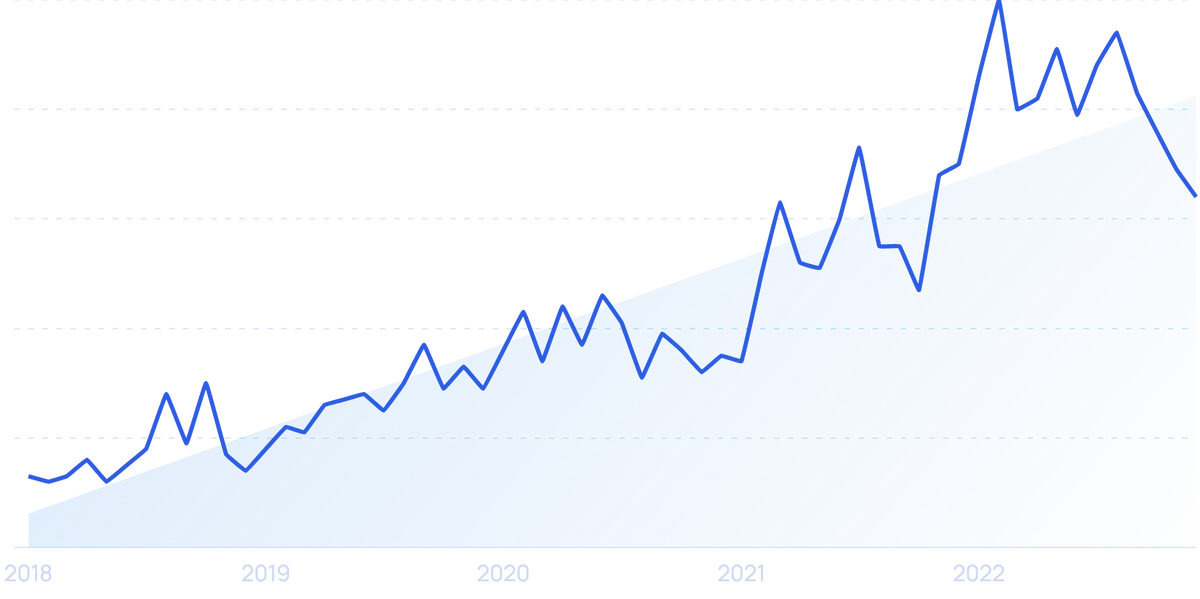 Search interest in "customer data platform" is up 392% in the past 5 years.
These software systems are able to combine data from multiple tools in order to create a centralized database that contains all of the touchpoints and interactions the brand has had with customers.
With a CDP, marketing professionals can search, segment, and analyze data to gain real-time insights about personalization and customer behavior.
Vista, a global design and marketing platform, used Twilio's Segment in order to centralize its customer data and improve its personalization strategy.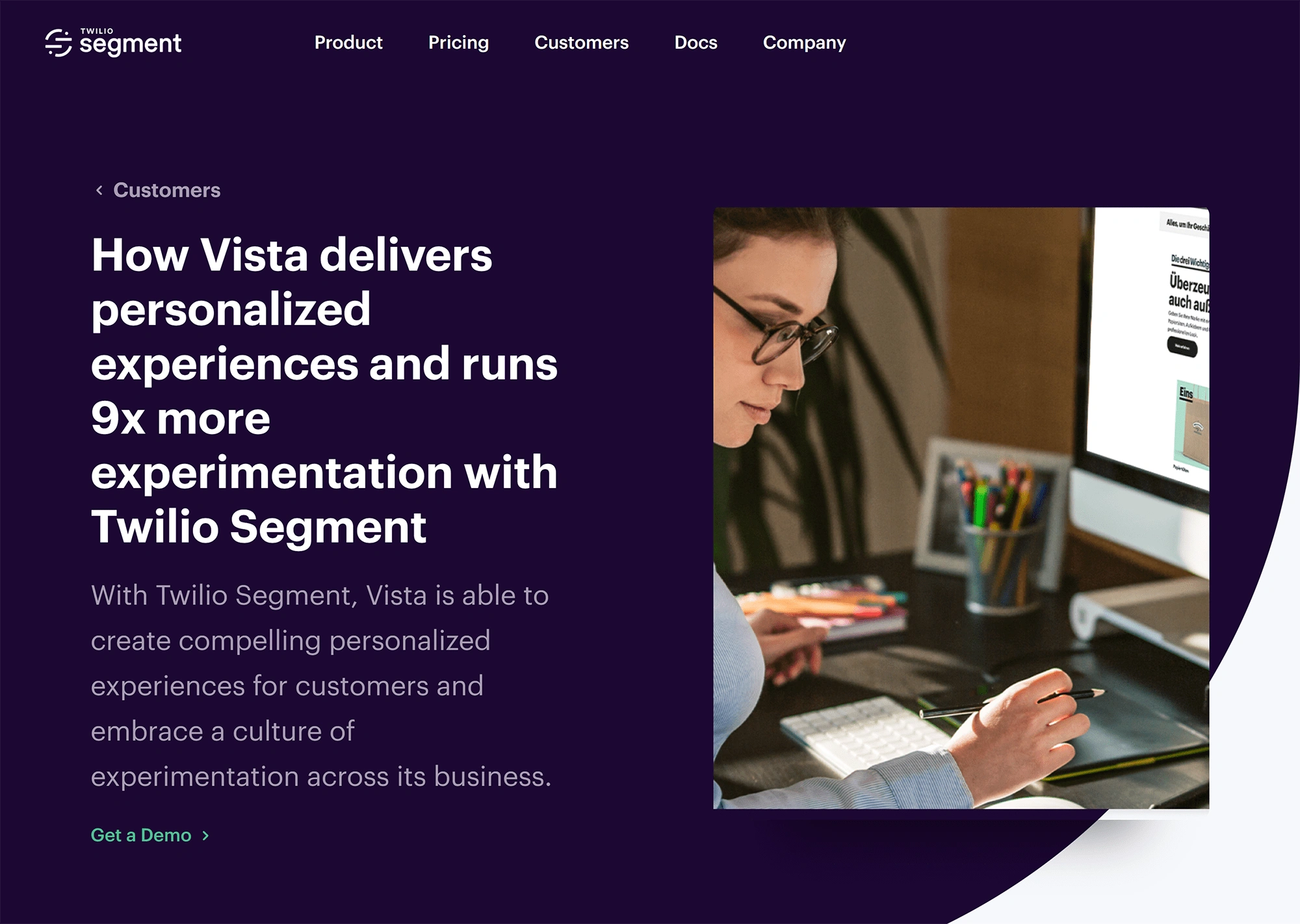 Segment is one of the most popular CDP providers.
The company utilized the CDP to A/B test personalization on its homepage. In the end, they reported a 121% increase in click-through-rate on the homepage, increased traffic to key pages, and a 23% increase in Net Promoter Scores.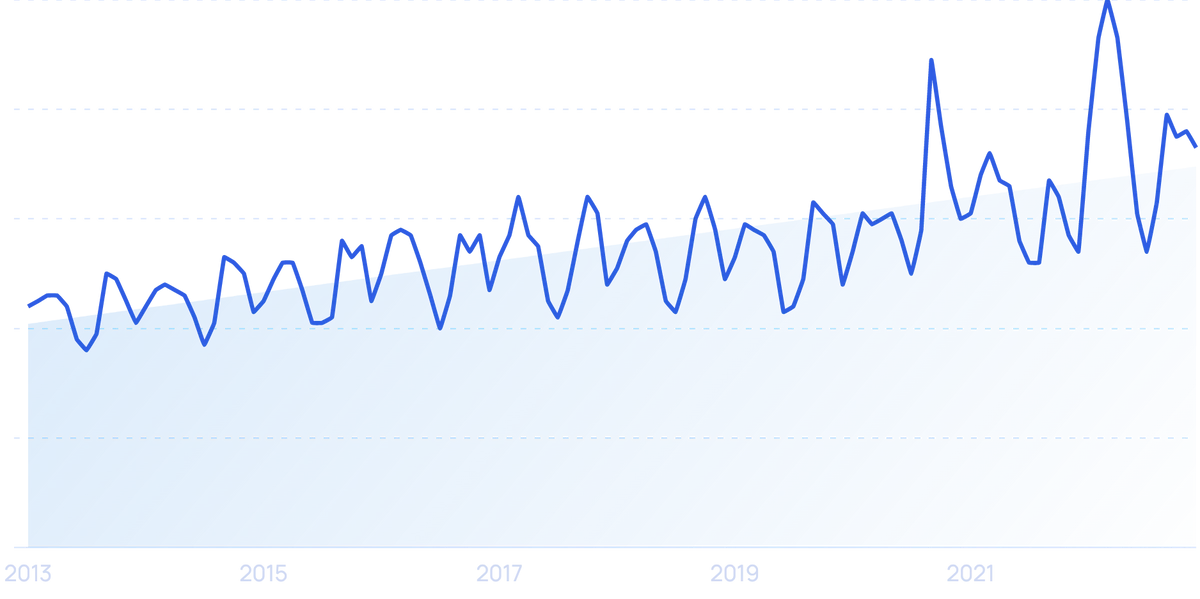 Search volume for "Segment" shows an overall growth of 65% in the past 10 years.
"Bringing in Segment has had a huge impact on the quality of our customer data and this is enabling us to push the boundaries when it comes to personalization and experimentation", said a Vista executive.
Approximately 25,000 customers use Segment for their customer data.
6. Privacy concerns may limit personalization opportunities
After several high-profile data leaks and customer data horror stories, many individuals are demanding that companies take steps in order to ensure data privacy.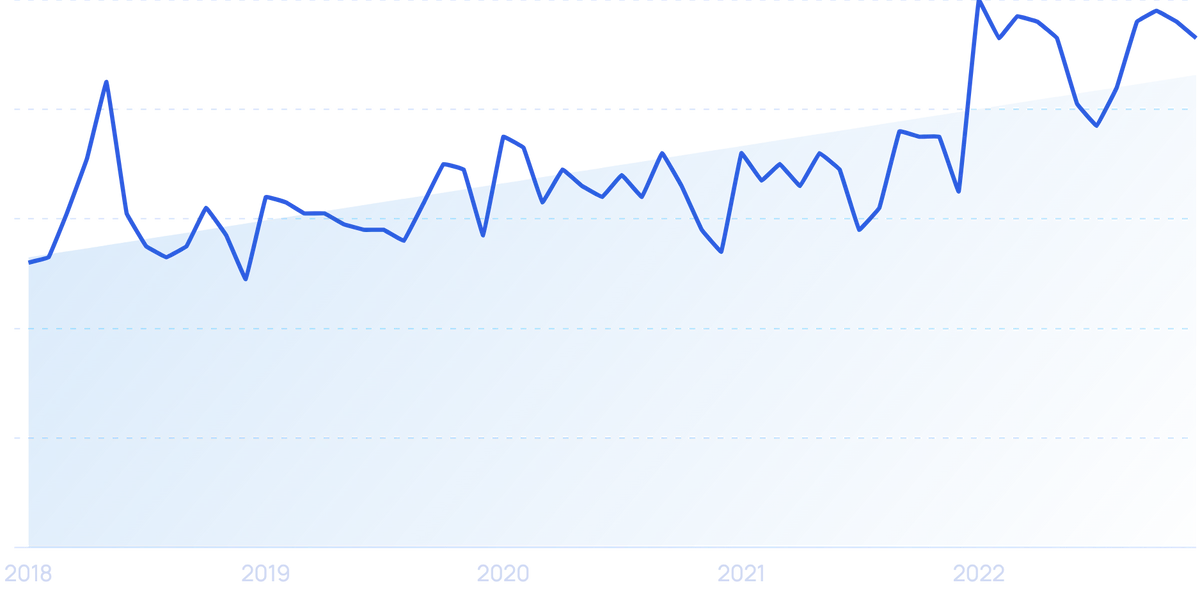 Search volume for "data privacy" is increasing dramatically, 78% in the past 5 years.
What kinds of issues are customers concerned about?
One article says a person's location data, in particular, is susceptible to being sold to the highest bidder.
The title says "There's a Multibillion-Dollar Market for Your Phone's Location Data". The article goes on to say, "There isn't a lot of transparency and there is a really, really complex shadowy web of interactions between these companies that's hard to untangle".
In an example from 2021, a top administrator of the US Conference of Catholic Bishops was forced to resign after data from his cell phone linked him to gay bars.
A few years ago, in 2019, data privacy came into question when women began receiving postcards congratulating them on their pregnancies.
Now, many women who use online apps to track their cycles are worried that a lack of data privacy may be an even bigger concern in a post-Roe vs. Wade world.
The Pew Research Center found that 81% of Americans feel they have little to no control over the data companies collect and 79% are very or somewhat concerned about how companies are using the data.
Another survey found that 48% of consumers appreciate the convenience of personalization, so long as their data is secure.
In that same survey, nearly 70% of consumers said they want personalization as long as it's based on information they've shared with the brand directly.
Other consumers aren't so trusting.
A survey from KPMG reported that 40% of individuals don't trust companies to ethically use their data and 30% say they flat out refuse to share their data.


Data privacy is a growing concern for 86% of Americans.
Privacy concerns and other roadblocks to collecting consumers' personal data can result in lost revenue.
When Apple began prohibiting the cross-tracking of users across apps, Facebook reportedly lost $10 billion in revenue in six months.
Meta, Facebook's parent company, also just settled a $90 million class-action lawsuit over data privacy violations.
Although there are no federal laws concerning data privacy in the US, Europe's GDPR (General Data Protection Regulation) requires companies to pay up to 4% of its global revenue in fines if they fail to comply with the law.
However, companies who have strict data privacy policies and follow them have a unique opportunity to earn consumer trust.
Business experts say companies like Amazon and Apple have achieved the right balance of personalization and data privacy. Social media companies are viewed as the least trusted when it comes to data privacy.
Conclusion
That wraps up our list of personalization trends that we expect to see take hold during the next two or three years.
Data forms the bedrock of personalization strategies. Data on ages, faces, locations, and behaviors is up for grabs, but businesses must be careful about how they handle that data. Too much personalization is creepy and could erode trust, but too little personalization can cost a company valuable customers.
Loyalty programs are one way brands are seeking to encourage zero-party data, but they'll need to be more proactive if they want to continue raising the bar for personalization in the future.