75+ Amazing Pet Industry Stats (2023)
The pet industry is thriving right now.
The rise of eCommerce, the introduction of new pet technology products, and a shift toward premium, organic foods have all contributed to an already growing industry.
Pet ownership is also on the rise. Adults are putting off starting families, opting instead to head to the local animal shelter. Millennials became the largest pet-owning demographic, shaking up the industry with new preferences and demands.
But just how big is the pet industry? And what does the future hold for the space?

In this article, we'll cover over 75 new statistics about the pet industry.
Contents:
Top Pet Industry Statistics For 2023
Before you read on, here are some of the most eye-catching statistics to get you started:
The pet industry is expected to reach $358.62 billion by 2027.
There are over 630 different pet food brands.
Americans spend $103.6 billion on pet products per year.
Pet industry spending has increased 115% since 2011.
86% of pet owners shop for their pet online.
As you'll see from these stats, the pet industry is in a very strong position, with plenty of growth opportunities in the near future.
Pet Market Stats
Let's begin this list of pet statistics by taking a look at the pet industry as a whole.
The pet industry has grown 450% over the past 25 years (SPINS)
Today's market for pet products is vastly different compared to a quarter-century ago. Specialty pet foods are now widely adopted. Demand for new pet technology, including microchips and at-home DNA tests, is on the rise.
Expect this growth to continue (and even pick up steam) in the coming years.
The pet industry is expected to reach $358.62 billion by 2027 (Globe Newswire)
Industry experts expect a 6% compounded annual growth rate (CAGR) in the pet industry over the next five years. The big driver behind that growth is largely technology.
Technology gives pet owners new ways to keep their pets safe, healthy and entertained. Microchipping is becoming standard practice at many pet shelters. Pet treadmills and cameras are among the new products making headway in the market today.
There are over 630 different pet food brands (Pet Food Processing)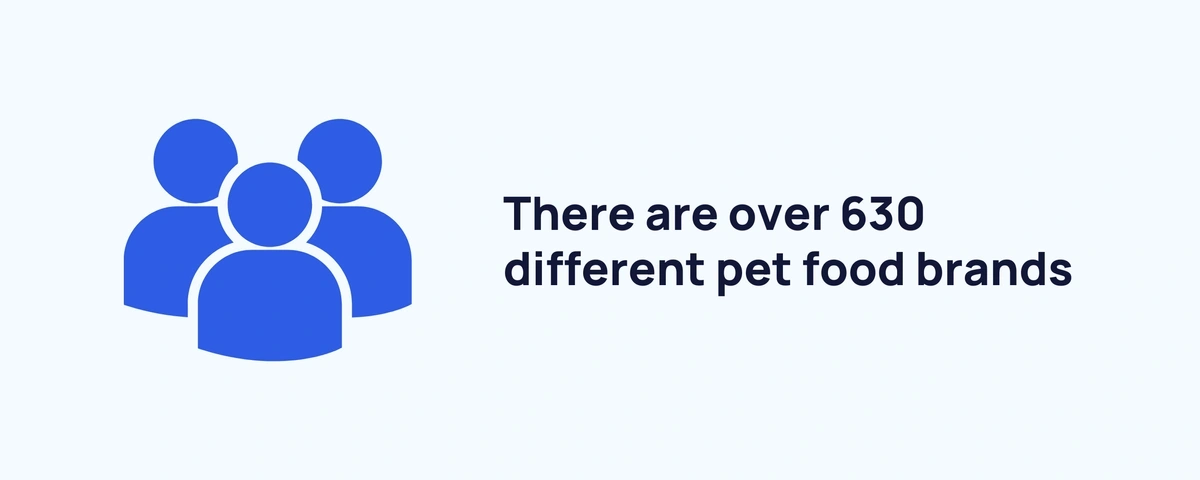 Pet owners don't lack options when it comes to feeding and rewarding their companions. The latest data suggests there are currently 630 distinct pet food and treat brands, up 71% from 2011. Between those brands, there are over 22,000 unique SKUs.
The pet grooming industry is expected to reach $14.5 billion by 2025 (Grandview Research)
Market experts are bullish on the pet grooming industry. They see it hitting $14.5 billion by 2025, with half of that revenue taking place in the United States. Shampoo and conditioner are predicted to be the leading products, with a 52% revenue share.
30% of pet spending goes toward veterinarian care and products (Supermarket News)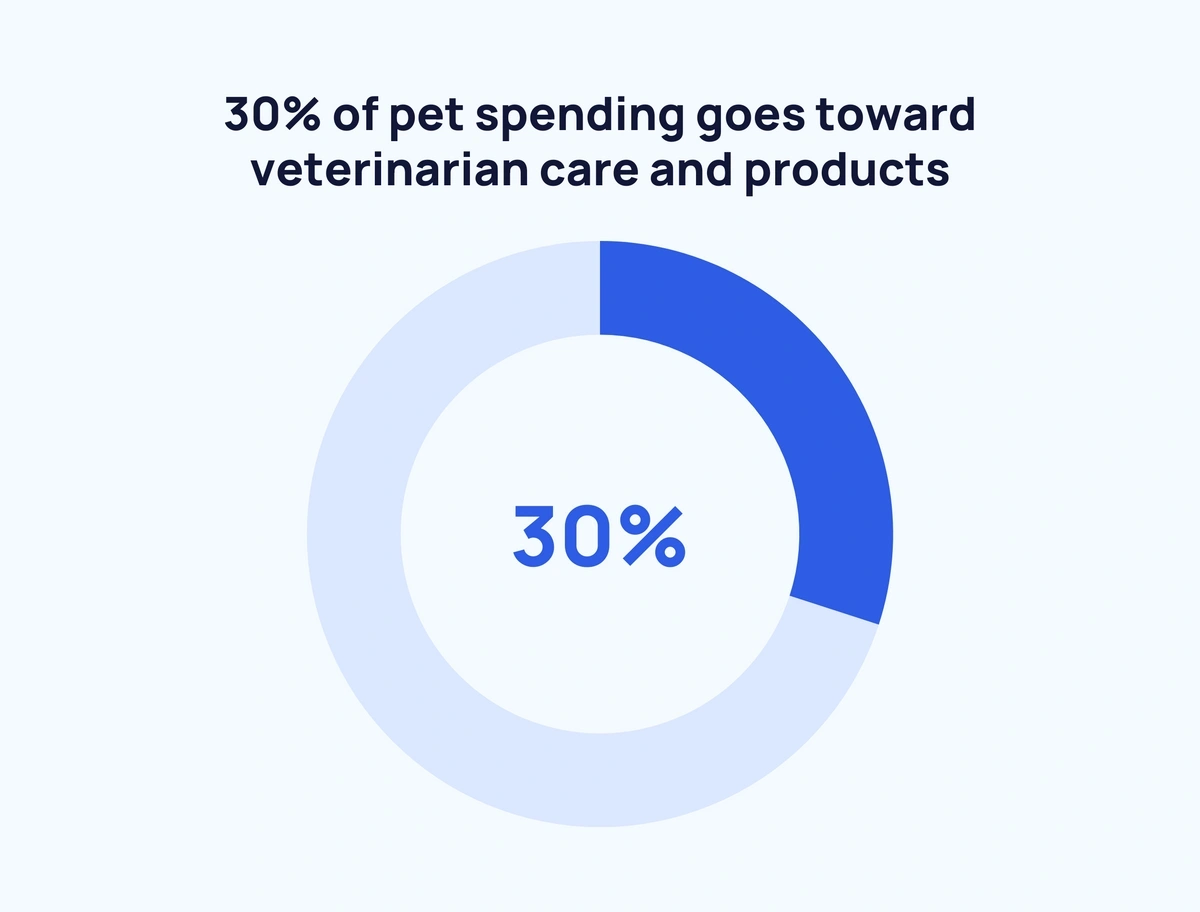 Pet health and wellness represent a significant portion of the pet industry. With preventative medicine, telehealth and routine care becoming more accessible (and more recommended by vets), pet healthcare is booming. Pet owners spend $31.4 billion per year on their pets' health.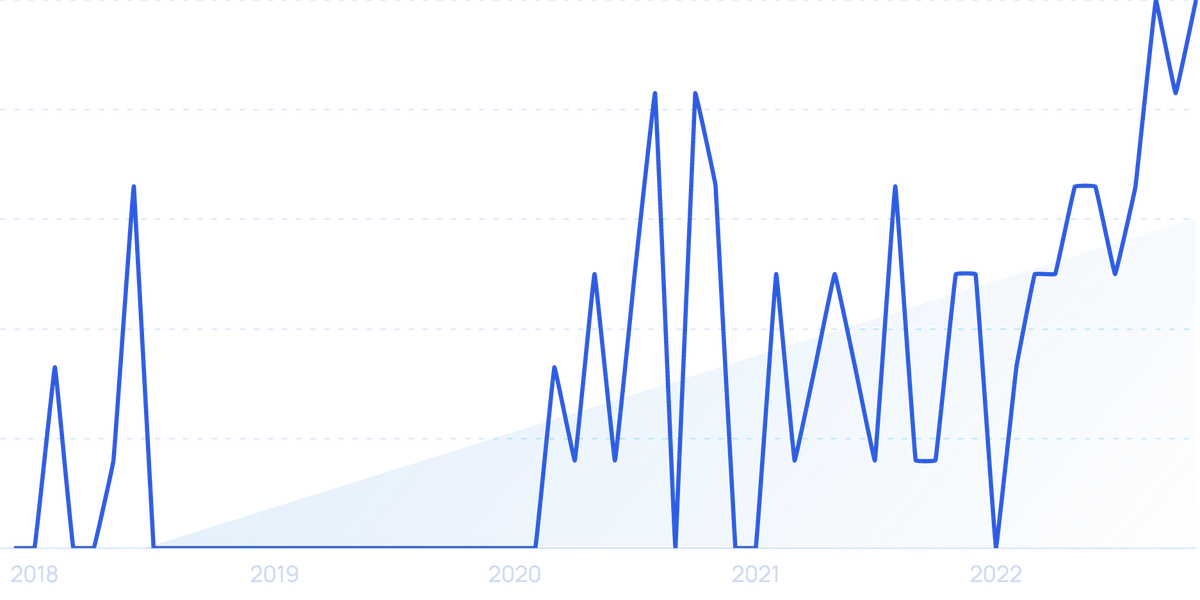 Searches for "vet telehealth" have increased by more than 500% over the past 5 years.
The market for exotic animal pet products is worth around $3 billion (Packaged Facts)
Small and exotic pets have their own unique product categories that, when taken together, represent a huge overall market. Each exotic pet type has its own dietary, shelter, and habitat needs. Food, water treatment solutions, bedding, and cleaning products are all regular purchases for exotic pet owners.
Pet Ownership Statistics
No matter the industry, marketers understand that knowing the customer is one of the keys to success. Here are some current pet industry demographic stats to keep in mind.
There are 393.3 million pets in the US (DoggieUK9)
That's right, there are more pets than people in the US. And the difference is only projected to increase in the future. That's good news for the pet industry, which relies on regular purchases of food, toys and other products.
70% of US households own a pet — up from 56% in 1988 (APPA)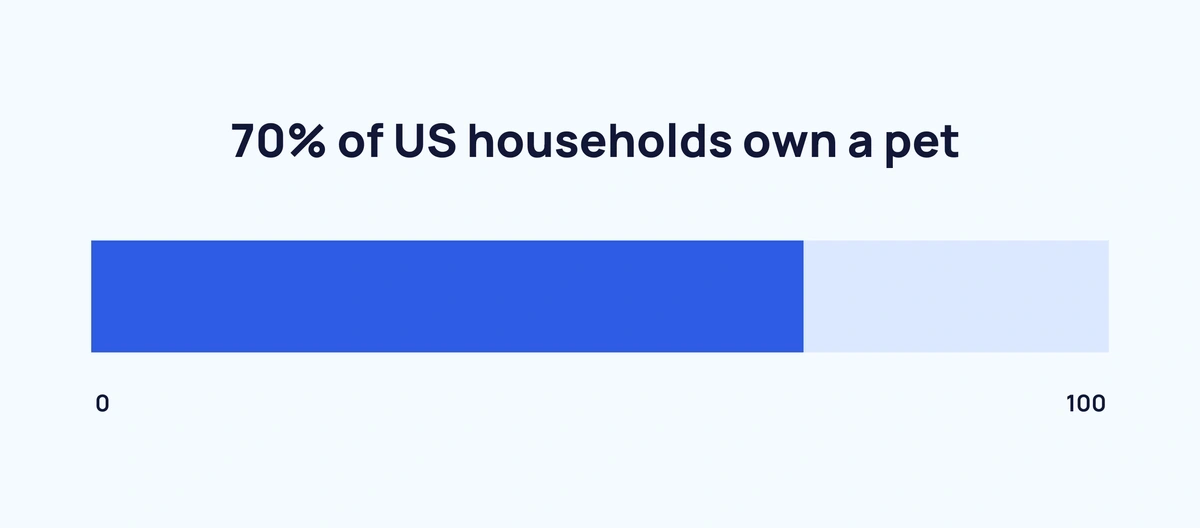 More American households own a pet than they do homes.
In fact, 90.5 million homes in the US have at least one non-human occupant.
4.1 million animals are adopted from shelters every year (ASPCA)
23% of dogs and 31% of cats are adopted from pet shelters.
In fact, pet adoption is so popular that it's entered the cultural zeitgeist: there are over 50 million posts on Instagram using the #adoptdontshop hashtag.
Over 1 in 3 dog owners say they adopted their dog from a shelter (Humane Pro)
Adopting from shelters has become the most common way people acquire their pets. Nearly 1 in 5 dog owners say they adopted their canine from a friend, 1 in 10 purchased from a pet store, and 1 in 20 took them in as strays.
12.2% of US households have a pet that is not a cat or a dog (Packaged Facts)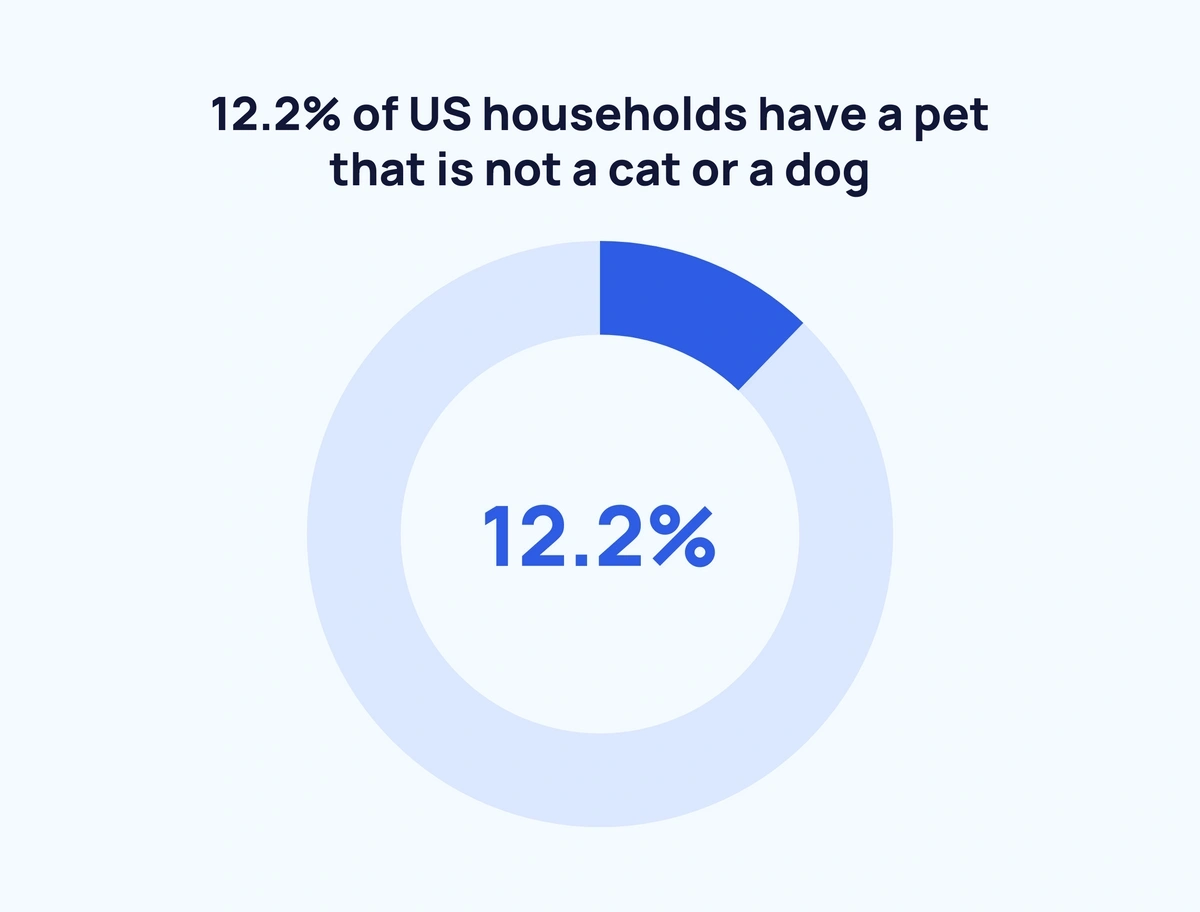 The pet industry isn't all cats and dogs. The "other" pet category includes reptiles, rodents, birds, and more. "Other" pets have found their way into nearly one-eighth of American homes, a 13% increase from five years ago.
Millennials are the largest pet-owning demographic, making up 32% percent of all pet owners (APPA)
As millennials enter their 30s and 40s, they're looking for more stability – and animal companionship.
Today, almost a third of pet owners were born between 1982 and 2000.
Baby boomers make up 27% of pet owners, Gen X 24%, and Gen Z 14%.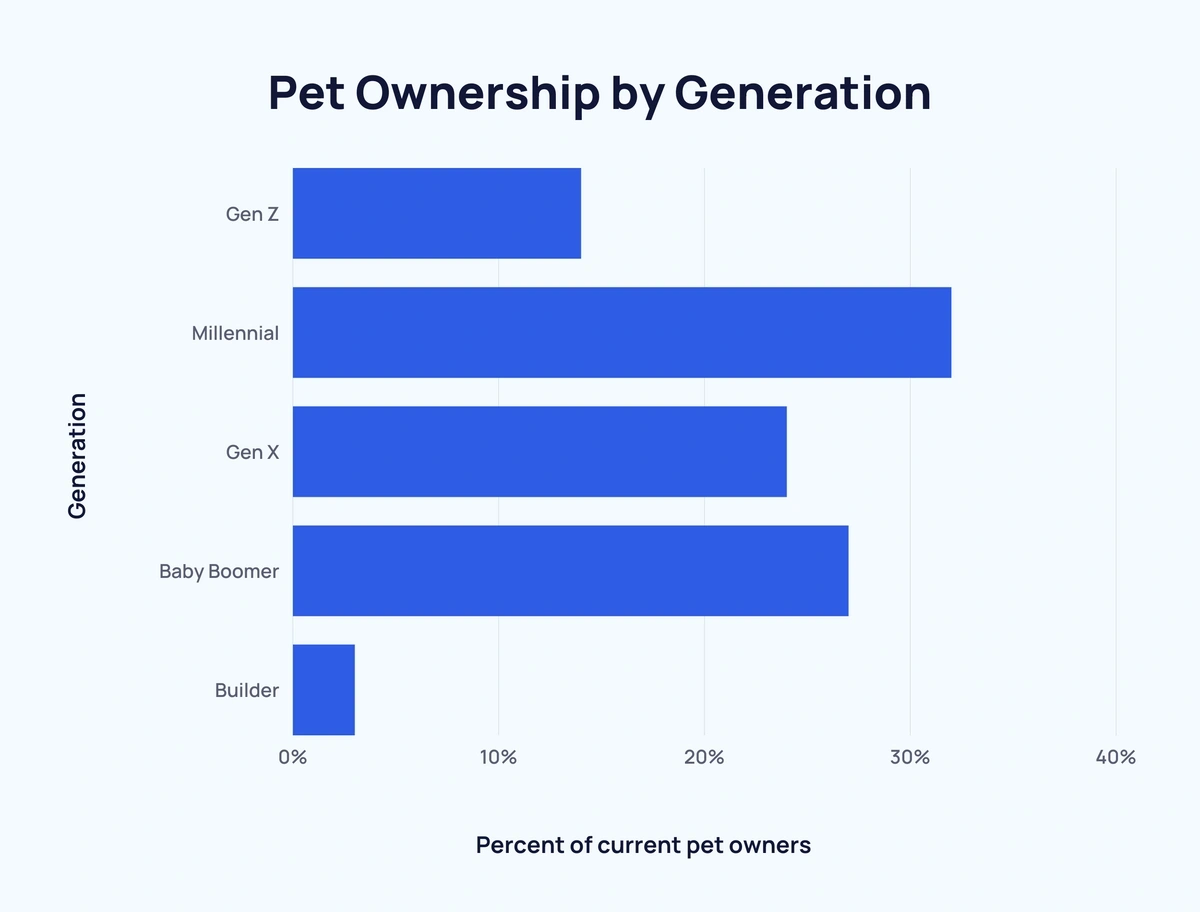 Millennials are three times more likely to be pet owners than they are to be parents (YPulse & Snipp)
Millennials may start having more children in the future, but they are approaching critical mass in pet ownership today.
76% of people aged 20-38 years own at least one pet, with over half being dog owners.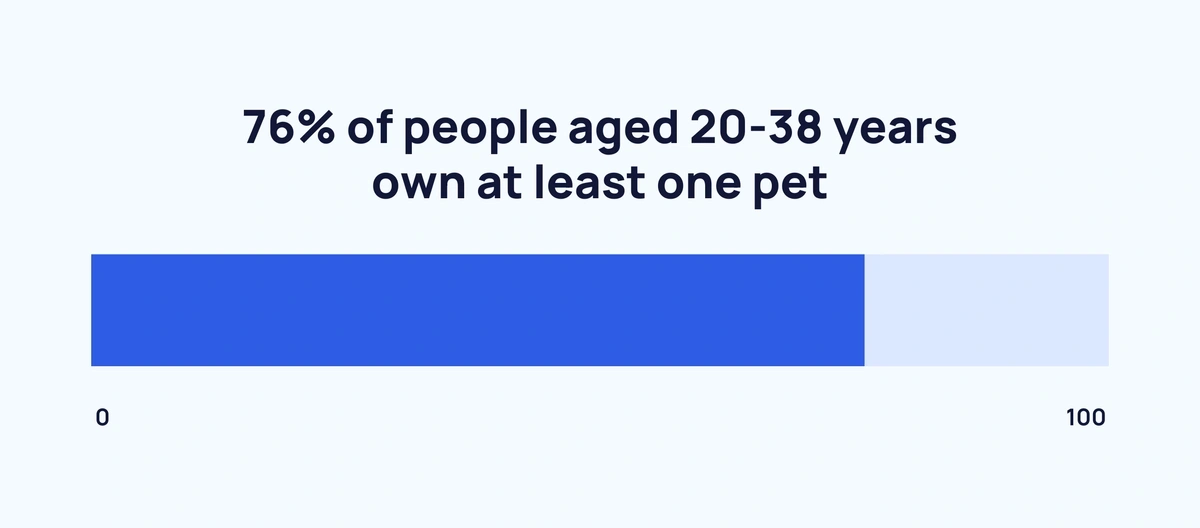 How Do Pet Owners Spend Their Money?
Pet ownership is more than just buying food and treats. People spend money on vet care, toys, leashes, tech devices, and more for their pets. This section will explore consumer trends and how much revenue each segment of the pet industry generates.
Americans spend $123.6 billion on pet products per year (APPA)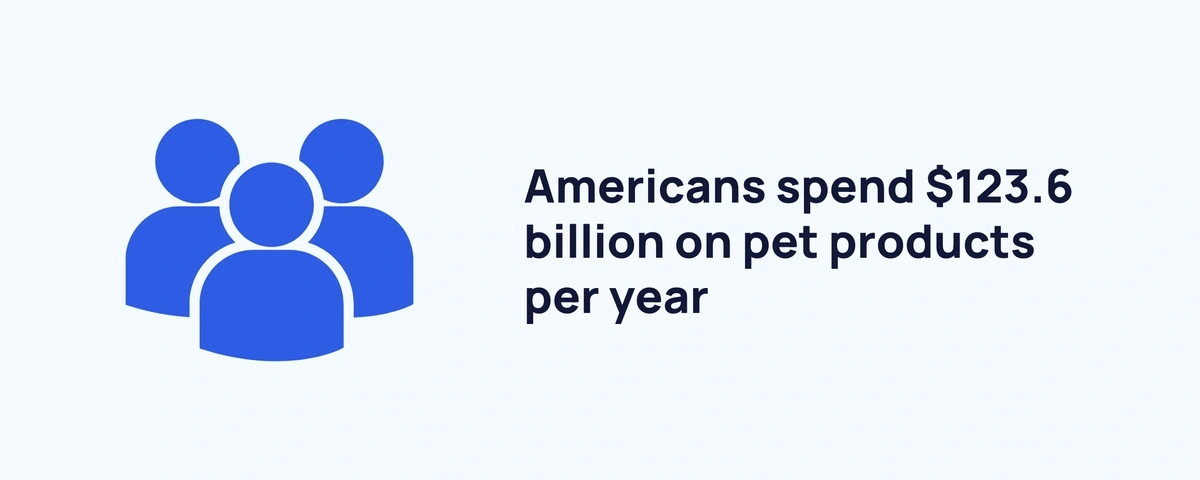 2020 was the first year the pet industry crossed the $100 billion sales mark.
The pet product landscape is more diverse than ever. Organic kibble, pet technology devices, and subscription boxes are among the growing list of categories pet owners are spending their money on.
Americans spend $1,201 per year on their dogs (Statista)
Yes, the average American spends just over $100 per month on their canine companions.
The largest portion of that spending goes to food ($442 per year).
Average vet care and vaccination spending total $241 per year.
Cats, on the other hand, only cost an average of $687 per year (Statista)
It's common knowledge that cats are low-maintenance compared to dogs.
As it turns out, they're also easier on the wallet.
The average cat costs $329 per year to feed and racks up $125 in vet bills.
Pet industry spending has increased 115% since 2011 (APPI)
The pet industry has few, if any, down years. According to the American Pet Products Association, sales went up predictably throughout the late 20th century and started really picking up momentum in the 2000s.
Since then, spending on pets has been steadily climbing from just over $50 billion in 2011. If the trend continues, pets could be a $200 billion industry by 2030.
Pet food and treats make up 40.5% of all pet product spending (APPA)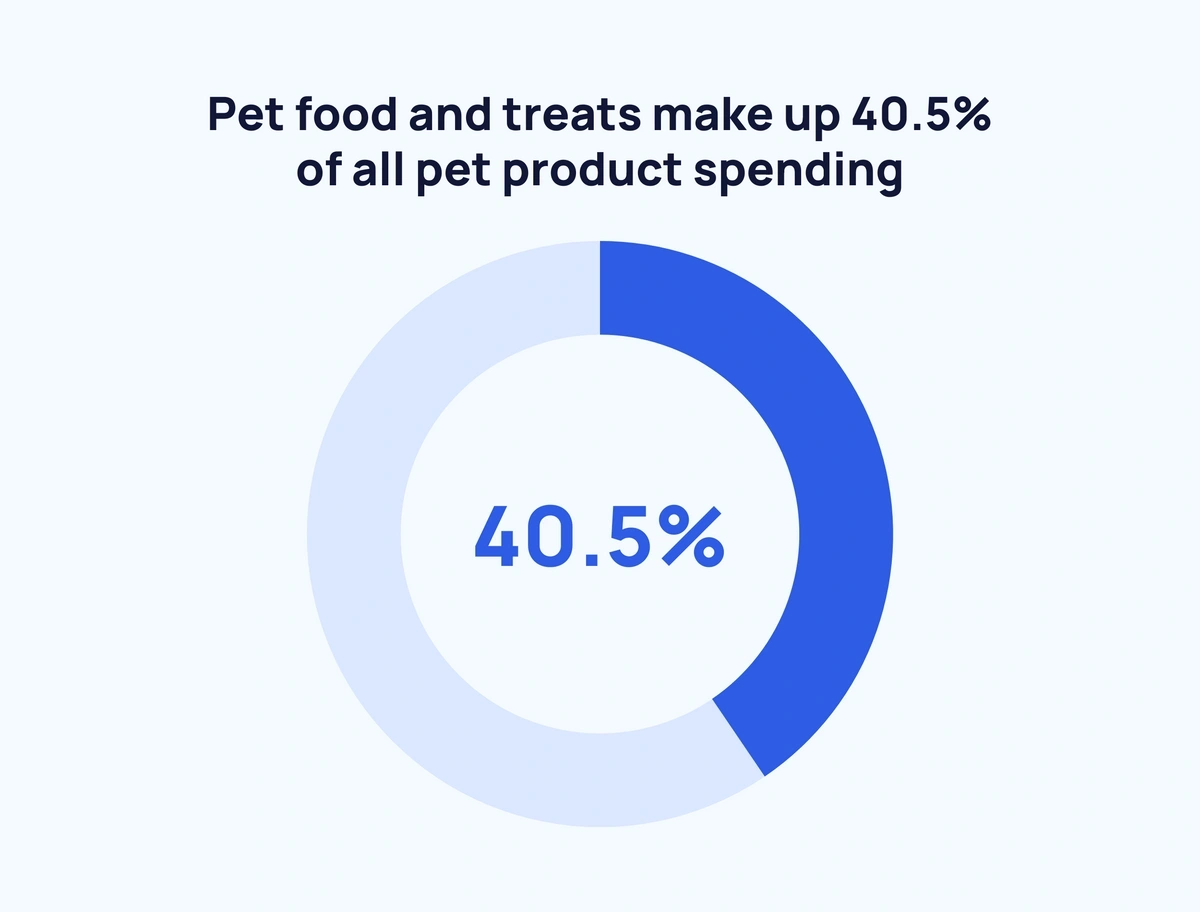 Any pet owner will confess that feeding and rewarding their companions are the most expensive aspects of pet ownership. In 2020, Americans spent $50 billion on kibble and treats.
When it comes to feeding those hungry critters, there's no shortage of options. In 2018, there was no fewer than 630 distinct pet food and treat brands.
The organic pet food industry is worth around $22.8 billion (Pet Keen)
In the eyes of their owners, pets are part of the family. And as humans consume more and more organic foods, they tend to hold their pets' diets to the same standard.
In fact, despite being relatively new, the organic and natural pet food industry has more than doubled over the past 10 years. Diamond Naturals and Castor & Pollux ORGANIX are among the leading brands in this sub-market.
Wearable pet technology products are forecast to generate $4.6 billion in revenue in 2027 (Grandview Research)
Wearable technology including radio frequency identification (RFID) devices, GPS trackers, and motion sensors is one of the fastest-growing markets in the pet industry.
The market, which was valued at $1.8 billion in 2020, is set for explosive growth over the next half-decade.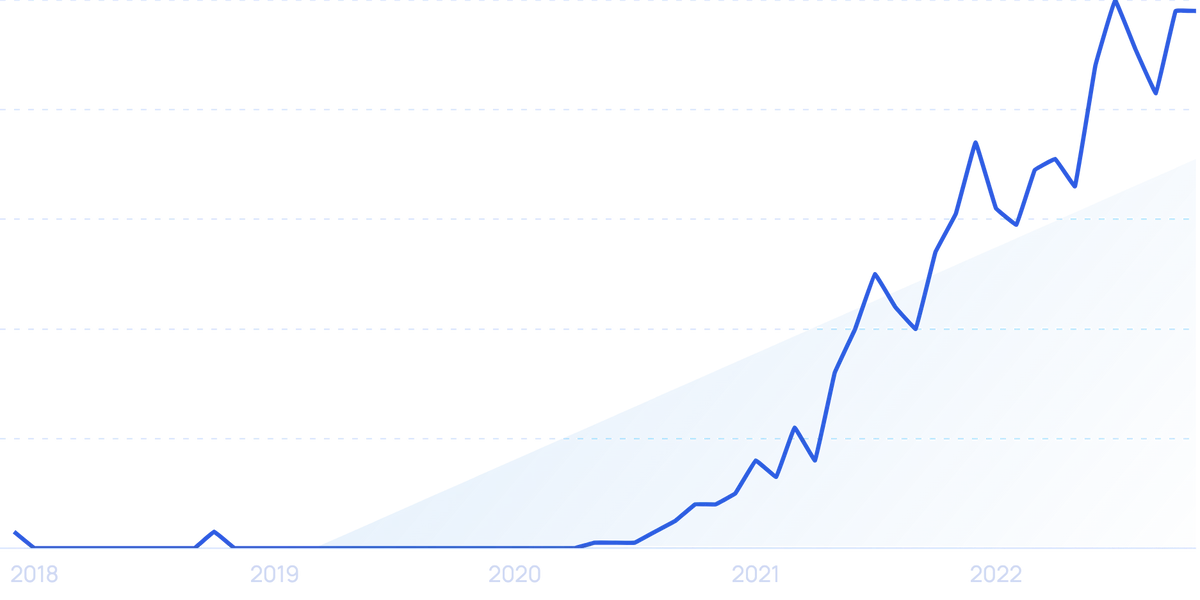 Searches for "Petlibro", a pet technology company, are up 2,800% over the past 5 years.
Around 3.45 million pets are insured in North America alone (NAPHIA)
While the average monthly cost of owning a pet might seem manageable for most people, unplanned vet bills can be outright catastrophic.
Insurance is a smart way to manage the financial risk that comes with ownership – be it homes, cars, or even pets.
The pet insurance industry has been growing at a healthy 23.4% average annual rate.
41% of dog owners prefer purchasing premium dog food (American Kennel Club)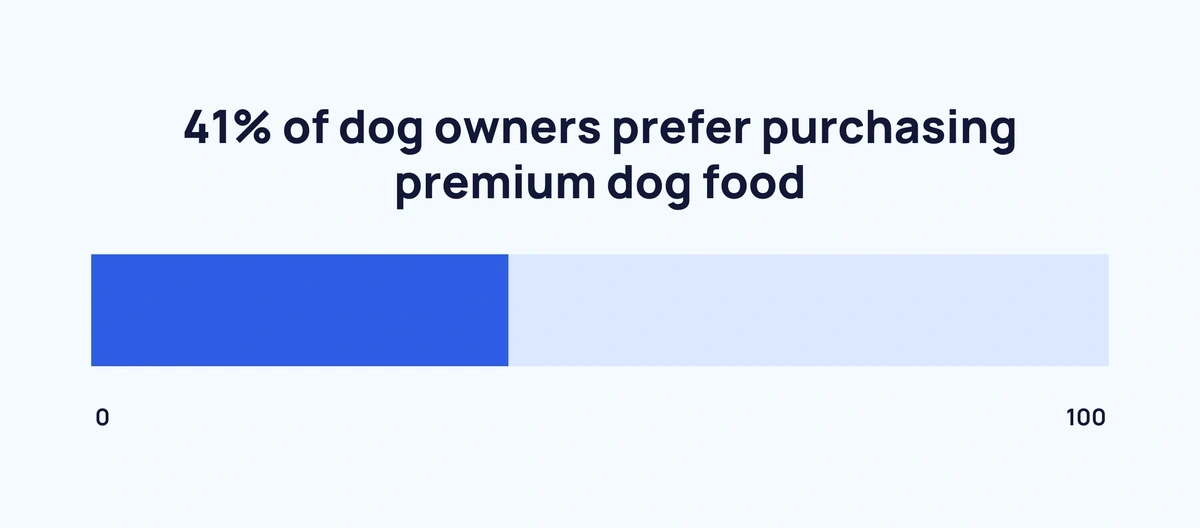 As people become more conscious of the food they're consuming, the same thoughtfulness is being applied to pet ownership.
Pet owners are willing to spend extra money knowing they're feeding their pets a nutritious and ethically-sourced diet.
51% of millennial pet owners have purchased a toy for their pet in the past 6 months (YPulse)
Ask any pet owner, and they'll tell you: pets get bored. They need stimulation.
Pet-friendly toys keep them occupied (and away from clothing and furniture).
Around one-third of pet owners have purchased a CBD product for their pets (American Kennel Club)
From treats and supplements to shampoos and oils, CBD pet products are on the rise.
CBD pet brands promise relief for pets with anxiety and older pets with inflammation and joint pain.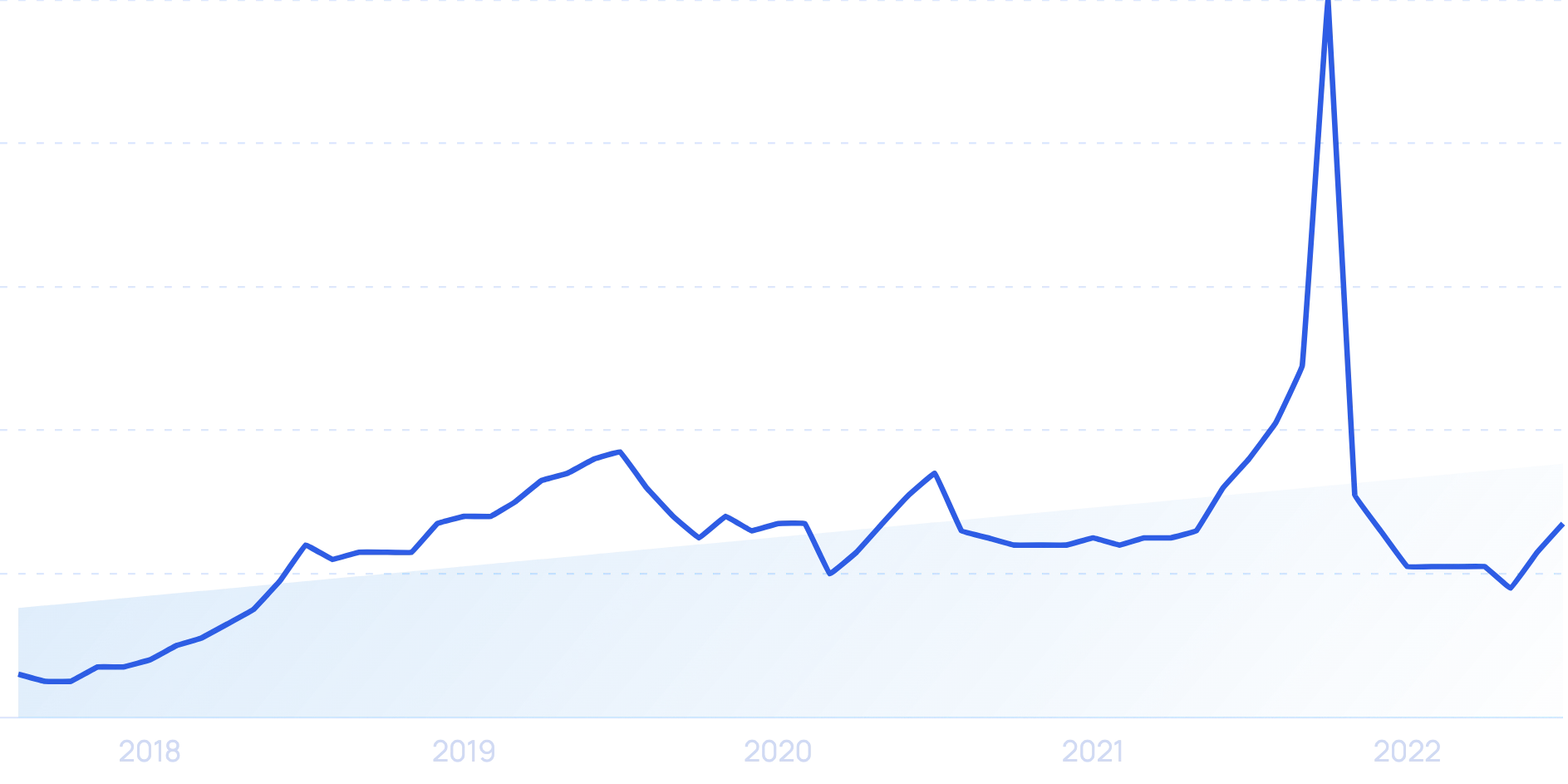 Searches for "CBD for dogs" have increased by 128% over the last 5 years
How Big is the Pet eCommerce Industry?
Online retailers got a tremendous boost during the COVID pandemic. As people are now used to turning to eCommerce companies to fulfill more and more of their needs, this segment of the market will likely continue its growth.
30.1% of all pet product sales come from eCommerce companies (Emarketer)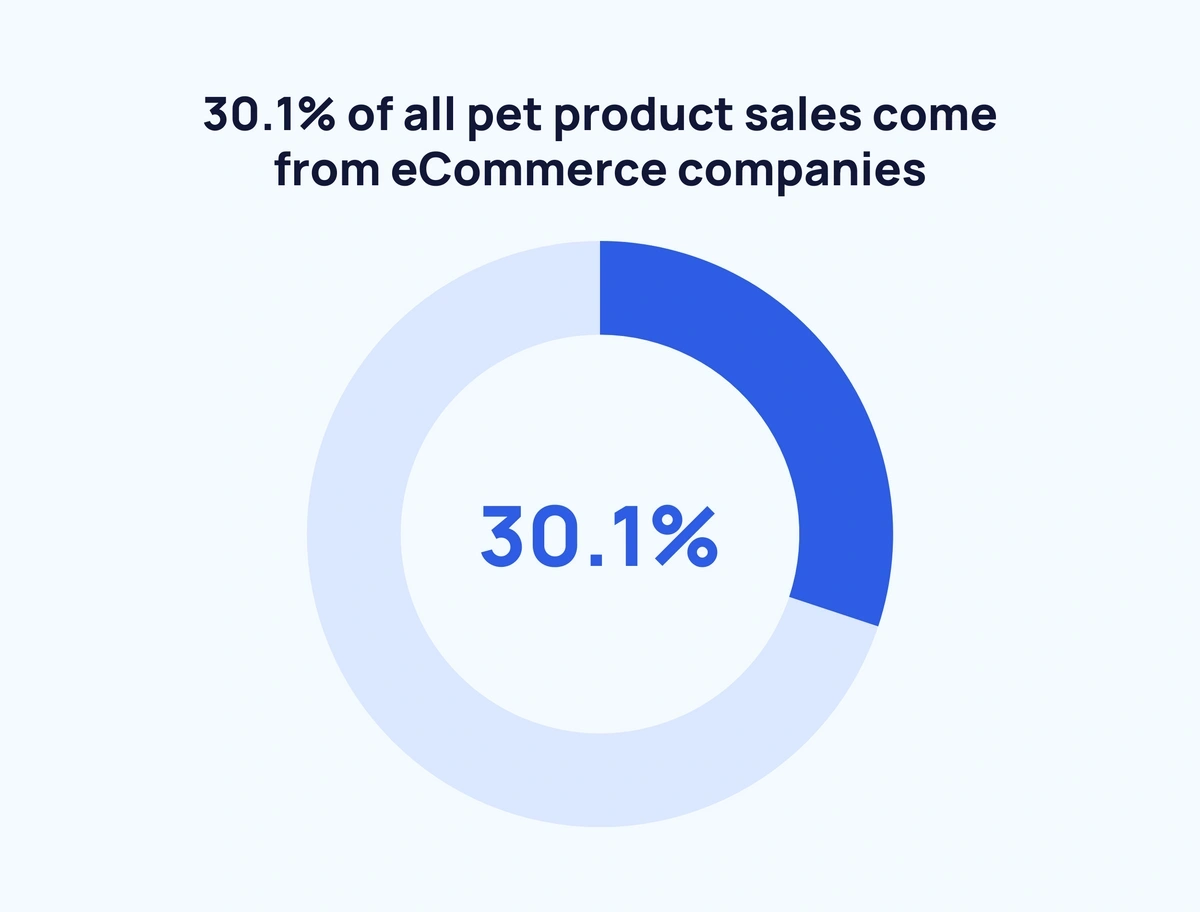 eCommerce has been a game-changer for companies and consumers alike.
Pet products are a natural fit for the eCommerce model. Owners can buy food, treats, leashes, and harnesses from wherever they are with a couple of quick taps. Overnight shipping and automated re-orders give online sellers a huge advantage over their brick-and-mortar competition.
Consumers spent an estimated $16.28 billion on eCommerce pet products in 2021, making up 1.8% of all eCommerce sales.
86% of pet owners shop for their pet online (American Kennel Club)
Pre-COVID, around 60% of pet owners shopped online. Since the pandemic began, this number shot up to 86%.
59% of pet owners who shop online order their pet products from Amazon (Pet Food Processing)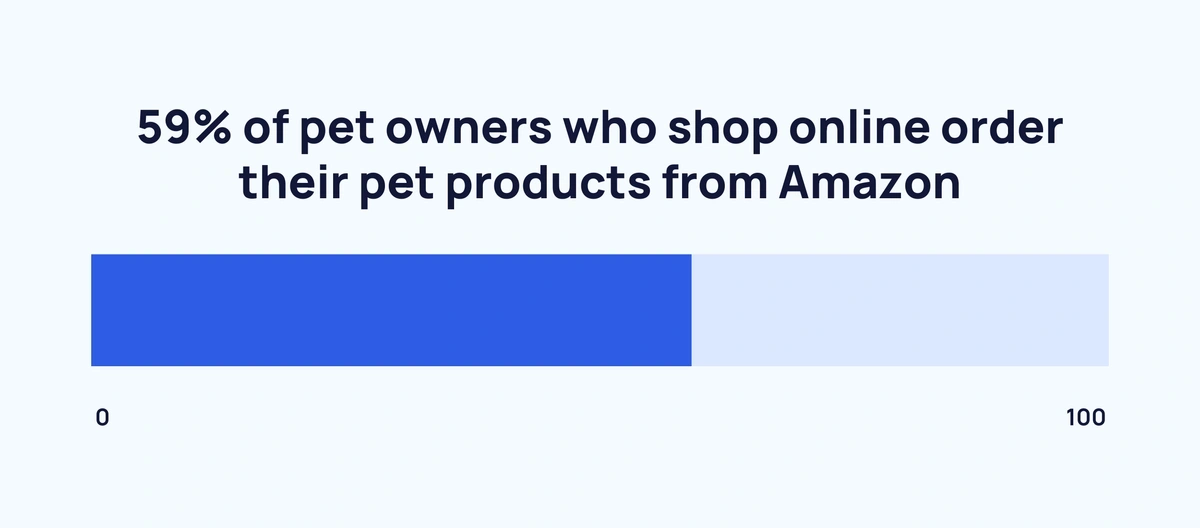 It's no surprise that the world's largest eCommerce store has such a large share of the pet products market. Most store-bought brands are available on Amazon and can be delivered within 24 hours.
This stat also suggests that there's room for eCommerce brands to position themselves as an Amazon alternative.
9% of millennial pet owners have purchased a pet subscription box in the past 6 months (YPulse)
Subscription box brands, take notice.
There are around 6.5 million potential customers in the under-40 market ready to pay for a monthly pet care package.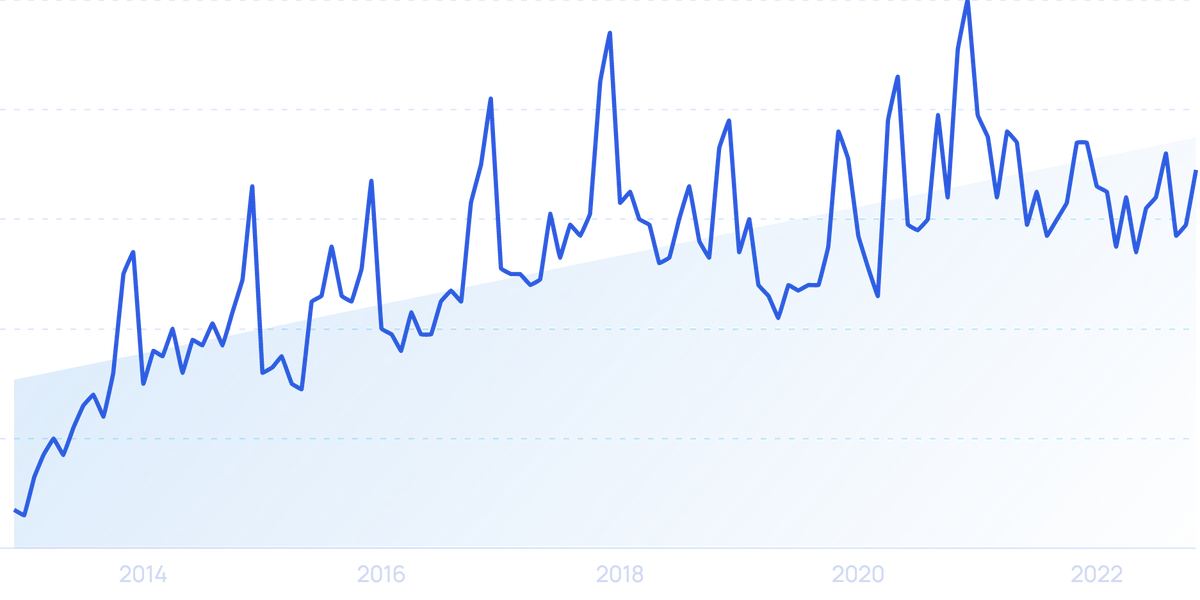 Barkbox, a leading pet subscription box company, has increased monthly searches by 885% over 5 years.
For dog owners, running out of treats isn't an option.
For the first year or more of a dog's life, having a constant supply of treats is vital for training and obedience.
Subscriptions and auto-fill options are the perfect solutions for pet owners.
Conclusion
As you can see, the pet industry is massive and fast-growing.
People are adopting more pets, taking better care of their pets' health, and seeking out higher-quality products.
The pet industry is also expanding into exciting new verticals.
Pet tech, eCommerce, and natural pet food and treats are all areas of tremendous opportunity for pet suppliers to explore.
In fact, you might say the pet industry is currently in its Golden Age.
If you enjoyed our stats on the pet industry, take a look at our 7 pet industry trends to know and our 20 pet startups with a promising future.