7 Pet Industry Trends to Know (2023-2026)
You may also like:
Here are 7 important trends in the pet industry for 2023 and beyond.
US pet market sales revenue has increased every year in the last decade, growing from $50.96 billion in 2011 to an estimated $123 billion in 2021.
That's an increase of well over 100% in total market size.
And there's still room for more growth. The question is: which trends will drive this growth?
From pet food to supplements, this list will help you see what's coming around the corner in the pet space.
1. Pet Supplements Take Off
The pet supplement industry is set to hit $1.05 billion by 2027, according to an analysis by Grand View Research.
Examples of trending pet supplements include dog vitamins, cat fish oil, and dog probiotics.
But perhaps the fastest-growing pet supplement category is CBD.
In fact, searches for "CBD for dogs" are up 1,000% over the last 10 years.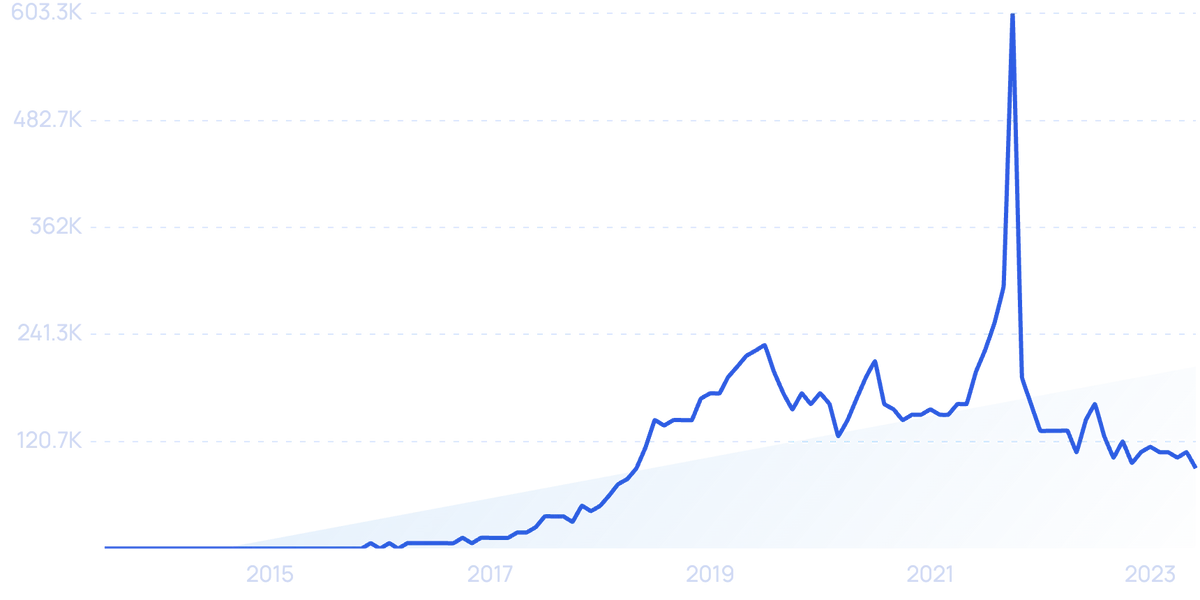 Searches for "CBD for dogs" briefly seemed to have peaked. But took off once more in 2021.
So why the spike?
Firstly, there are now a number of CBD products designed specifically for dogs.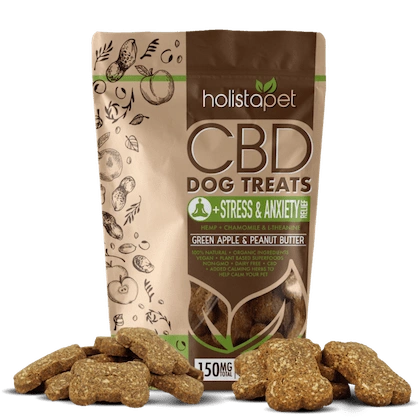 Example of CBD dog treats.
Many dog owners are (understandably) concerned about giving their furry friends human-grade CBD oil.
But companies, like Royal CBD and Gold Bee, have released less potent CBD products engineered for pets.
Second, early research out of Baylor College of Medicine shows that CBD oil can help treat canine osteoarthritis, which affects 20% of dogs older than a year old.
2. New Product Categories Emerge
The pet industry has traditionally been made up of handful of product categories:
Food
Toys
Beds
Leashes
Hygiene
Pet grooming
But we're starting to see significant amounts of innovation in pet product R&D.
Specifically, entrepreneurs aren't simply launching variations of existing products.
They're creating entirely new pet care product categories.
For example pet wipes.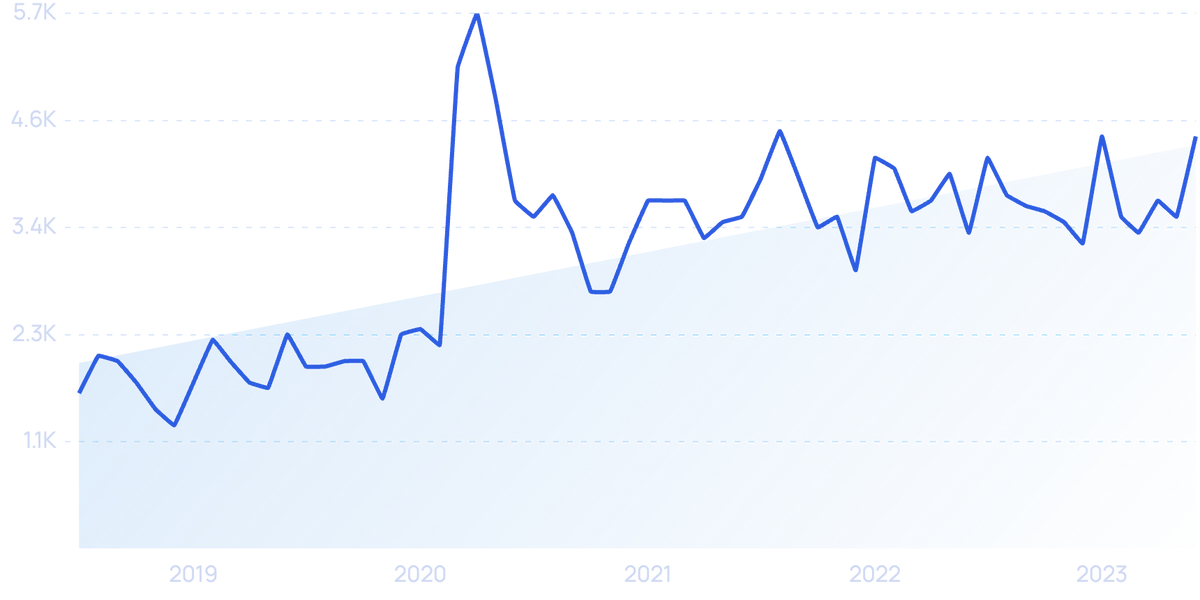 Searches for "pet wipes" have grown 165% over the last 5 years.
Pet wipes are essentially moist towelettes used on pets after going to the bathroom. Although a relatively new category, Amazon already has nearly 300 brands of pet wipes for sale.
Another relatively new pet product category is pet toothpaste.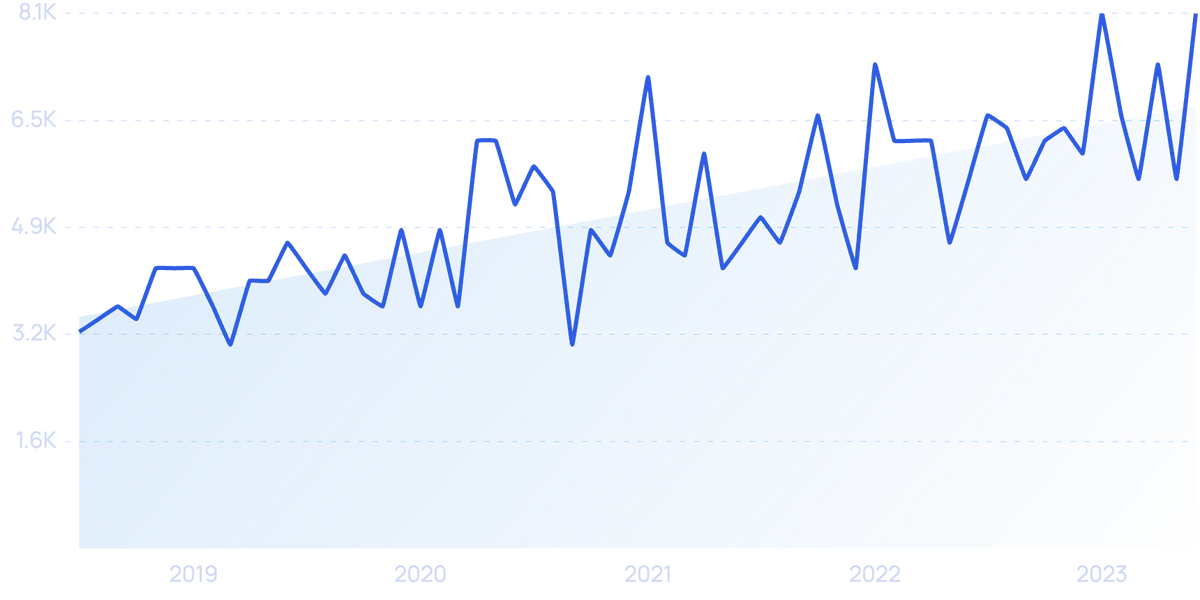 "Cat toothpaste" searches have risen by 147% over 5 years.
Oral hygiene products for pets are nothing new. But new products (like cat toothpaste) are coming out for owners that want to ensure that their pet's teeth and gums are in tip-top shape.
Litter-robot is another brand looking to create a new category in the pet industry.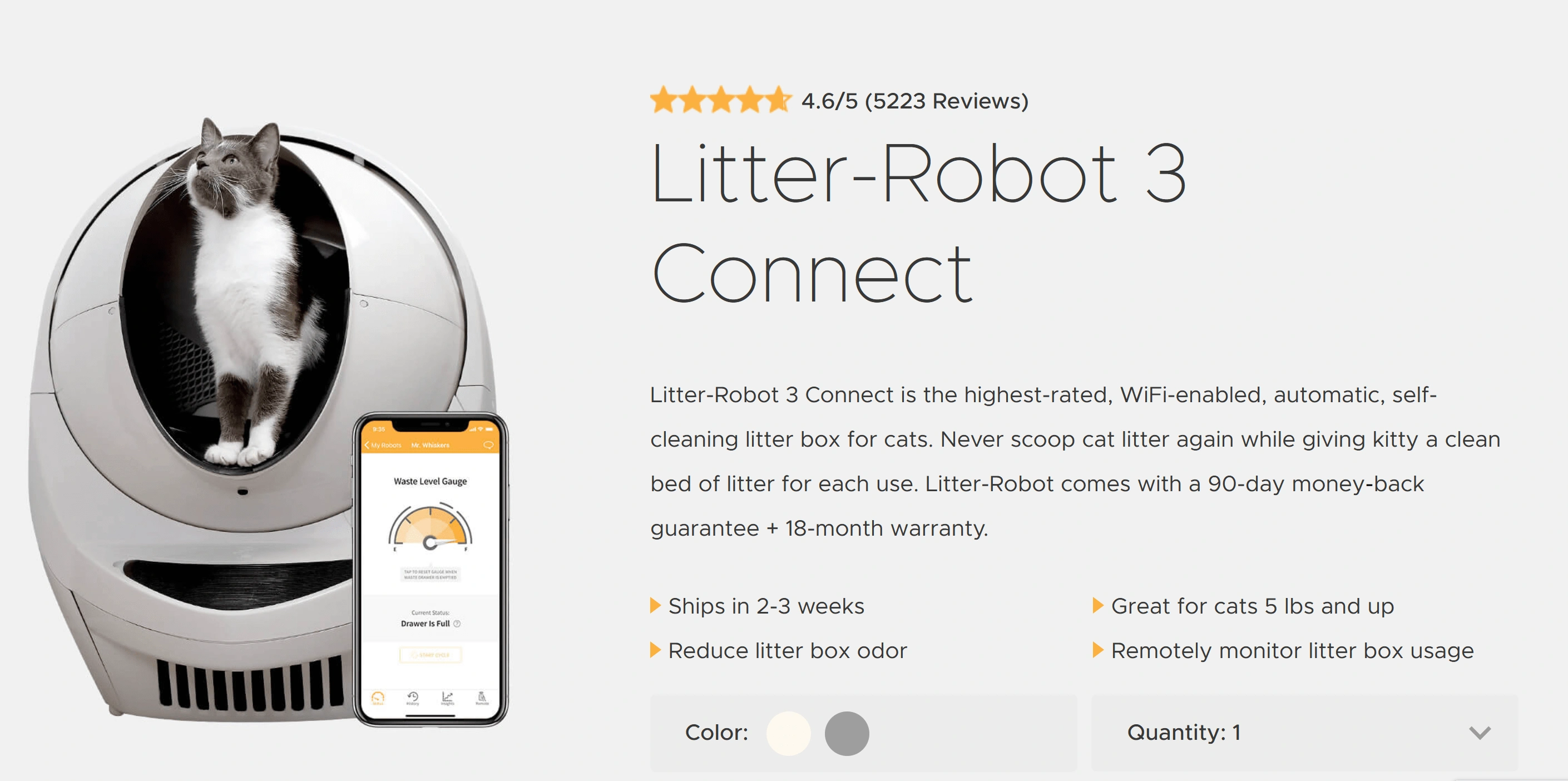 Shot of the Litter-Robot 3.
Litter-Robot sells a battery-powered, Wi-Fi-connected litterbox that self-cleans after every use. At $500 per unit, this product also taps into a pet industry trend that we'll talk about next: luxury pet products.
3. High-End Products For Pets Go Mainstream
No matter the product: if it will make their pets happier, there's a group of owners who will buy it.
And that includes relatively expensive luxury products.
For example, The Bear & The Rat, a startup that makes frozen yogurt for dogs is sold in Whole Foods stores nationwide. It competes with Nestlé's Purina Frosty Paws.
Pretty Litter is perhaps the best example of a high-end pet product seeing significant growth.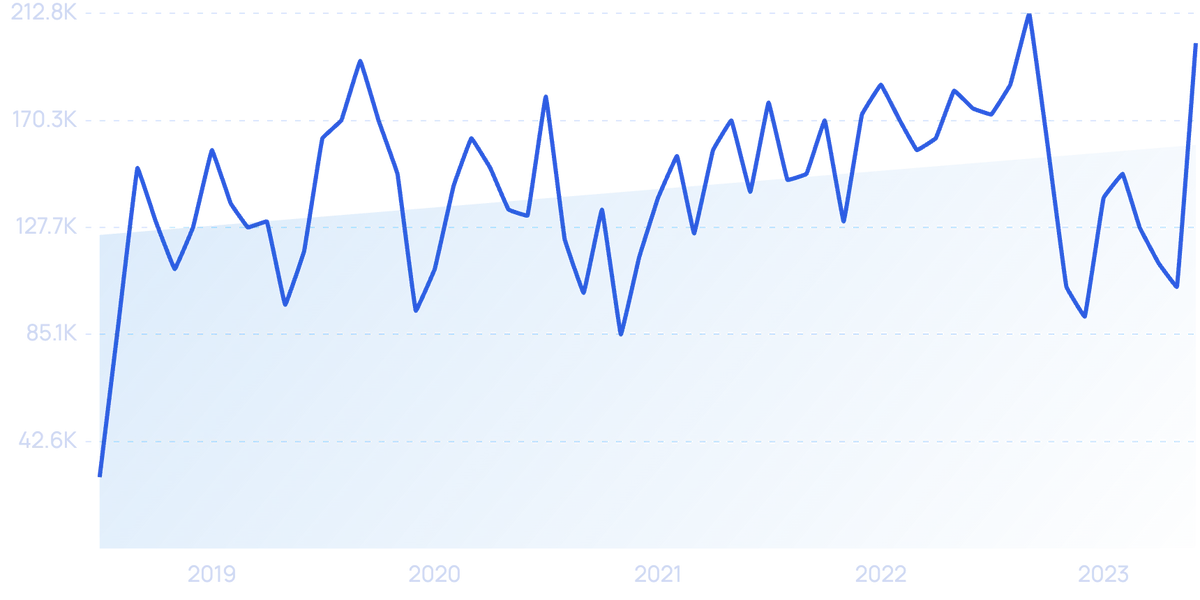 PrettyLitter brand searches have grown by 608% over the last 5 years.
Pretty Litter is a brand of kitty litter that changes color based on a cat's urine pH levels.
The company, which has branding that largely targets millennials and Gen Z consumers, claims that the product helps cat owners detect illnesses in their cats, like worms, metabolic acidosis, or a UTI.
Pretty Litter is also noteworthy because, unlike basically every other kitty litter on the market, their product isn't available in pet stores or supermarkets.
Instead, they sell their product exclusively via a monthly subscription.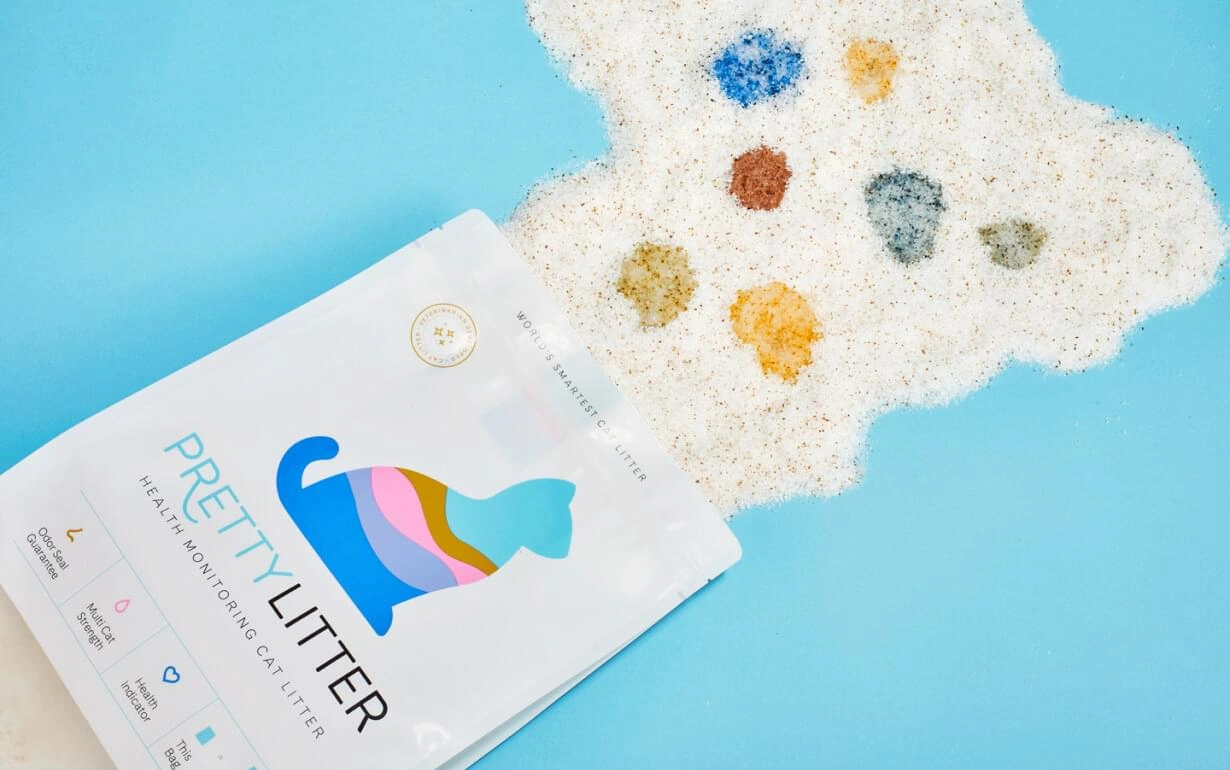 Pretty Litter product in action.
Cat enclosures are another example of a luxury pet product on the rise.
Cat enclosures are fenced-in areas designed to help cats get time outdoors. While reducing the risk of escape or danger.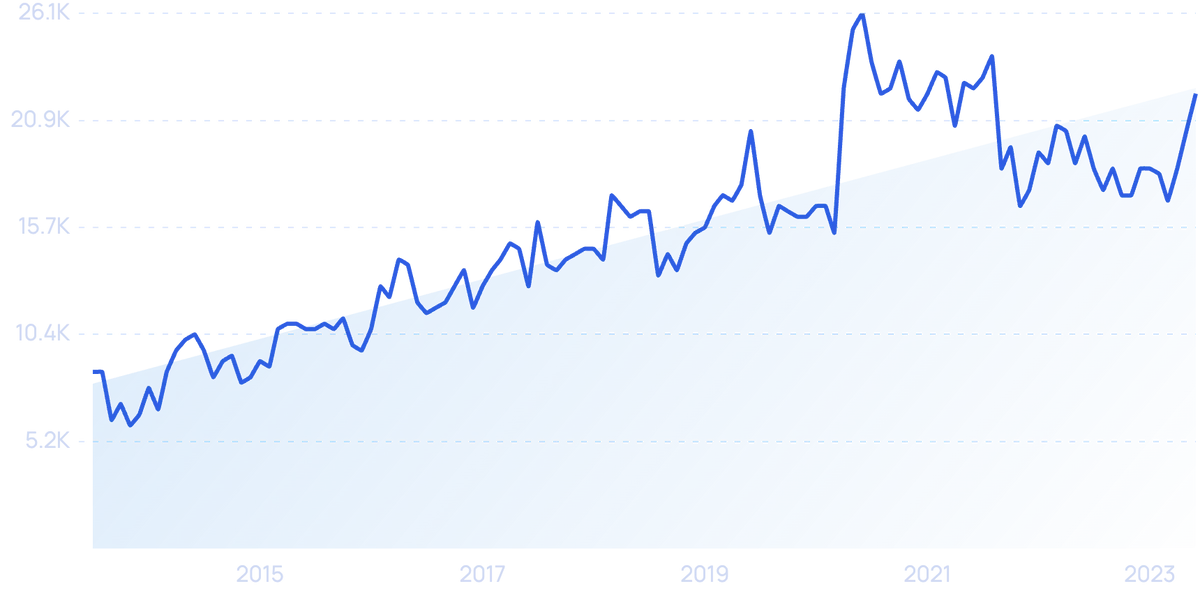 "Cat enclosure" searches have grown steadily (by 157%) over the last 10 years.
Certain cat enclosures can cost upwards of a thousand dollars. Which makes them part of the high-end pet product trend.
4. Increasing Number of Pet Food Niches
According to Pet Biz Marketer, pet food makes up about 3/4s of all pet industry sales.
We're noticing pet food brands gaining market share via niche pet foods.
And startups aiming to get traction in the space by launching completely new types of pet food.
One of the fastest-growing niche pet food categories right now is freeze-dried dog food.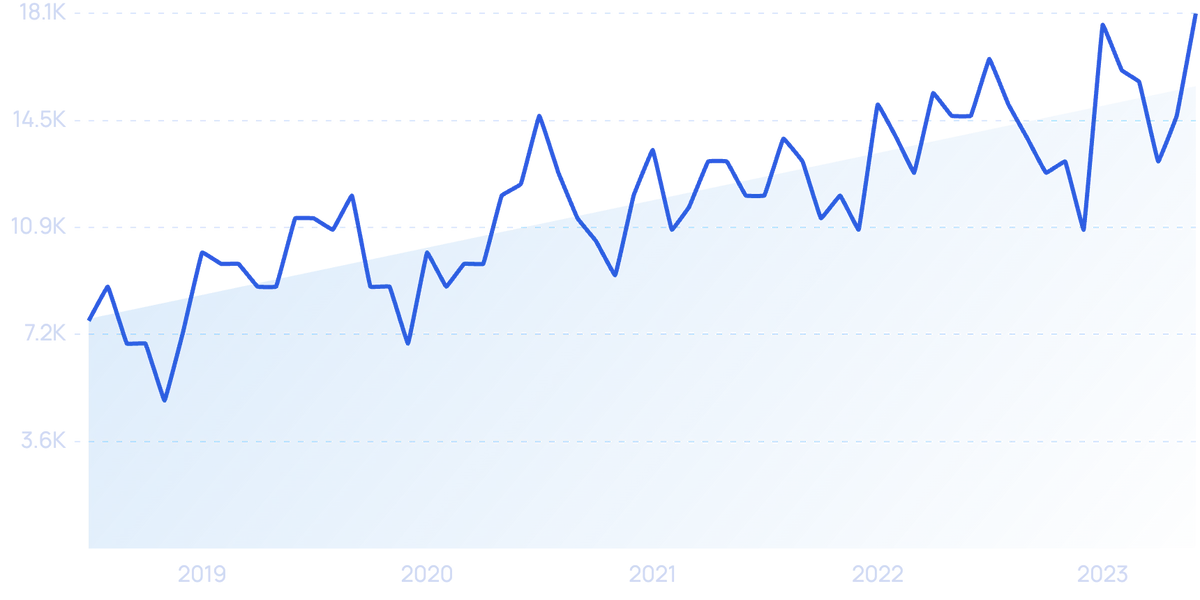 Search growth for "freeze dried dog food" is up 135% over the last half-decade.
Freeze-dried dog food is just like it sounds: it's dog food that's freeze-dried to extend its shelf life.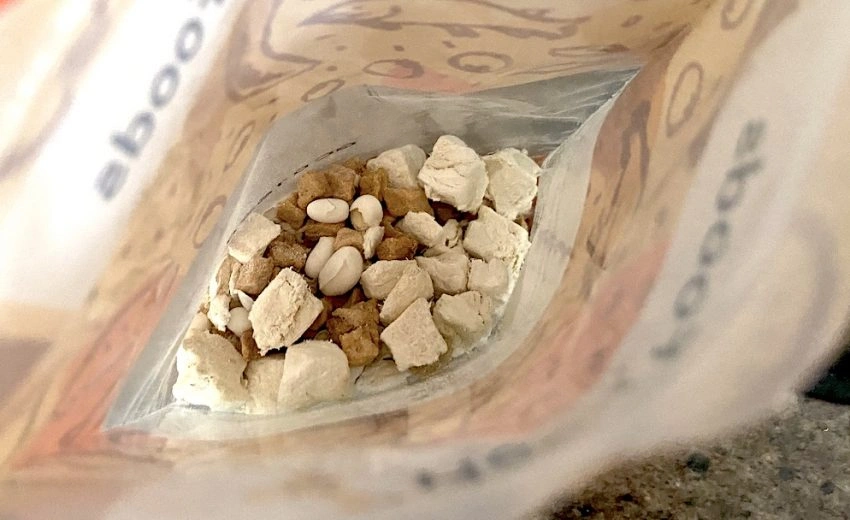 Top-down view of freeze-dried dog food.
And many freeze-dried dog food brands (like Bixbi), contain raw food ingredients, like organ meat and veggies.
These ingredients are difficult to package and ship in pet food form. Hence the rise of freeze-dried pet food.
PetFoodIndustry.com reports that sales for "non-traditional pet food formats" (like freeze-dried) are growing faster than traditional pet food.
Raw dog food is another growing pet food niche.
According to a survey conducted by the University of Guelph Ontario Veterinary College, 66% of dog owners and 53% of cat owners feed their pets raw food.
This trend is reflected in the search trend data.

Google searches for "raw dog food" are up 169% over 10 years.
5. Pet Owners Increasingly Opt For DTC
Thanks largely to the pandemic, sales of pet products increased by 51% in March 2020 alone.
And by the end of the year, the DTC pet market was an estimated $13.5 billion.
Like ecommerce in general, pet owners turn to online retailers for selection, convenience, and price.
One of the leaders in the pet DTC space is the pet supply ecommerce brand Chewy.com.
Chewy's reported revenue in 2021 was $7.15 billion, a 47.44% increase compared to the year before.

Amazon is also looking to tap into the pet product DTC trend.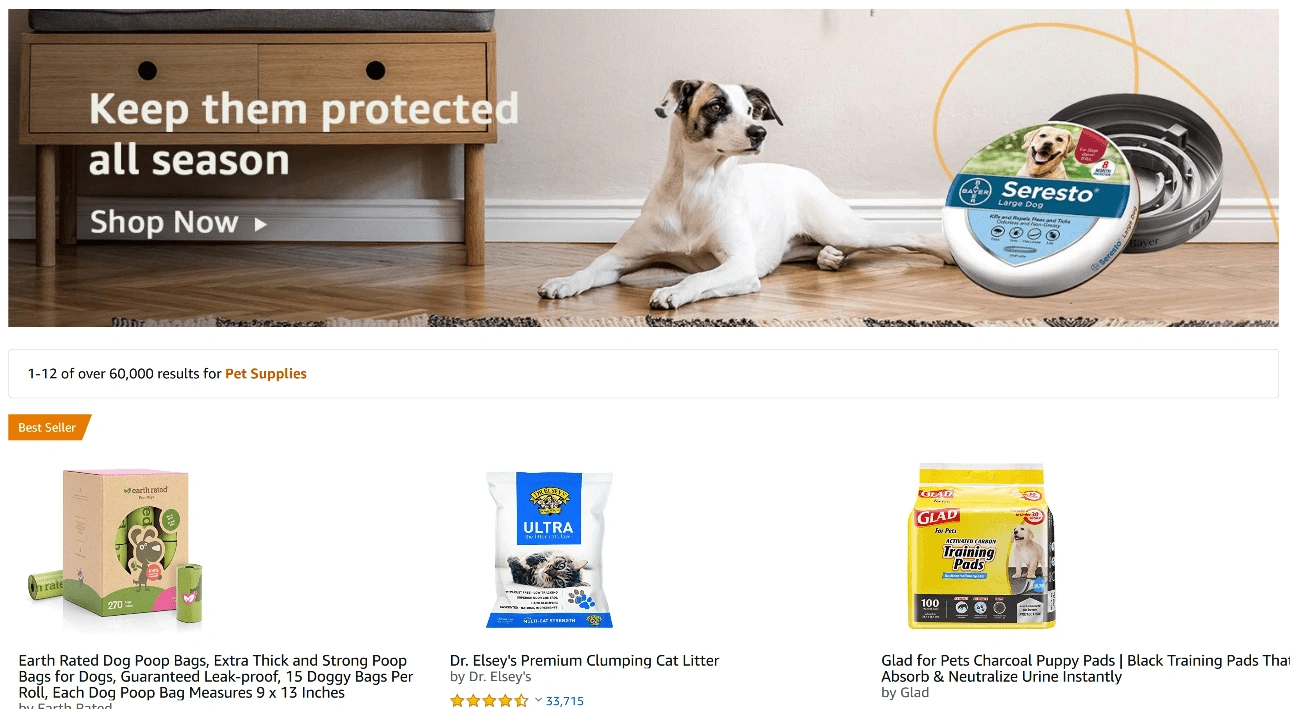 Screenshot from Amazon's popular "pet supplies" category.
In fact, Amazon already sells a reported $3.6 billion annually in pet food alone.
6. The Pet Insurance Space Continues to Grow
Pet insurance is one of the most interesting pet industry trends in 2023.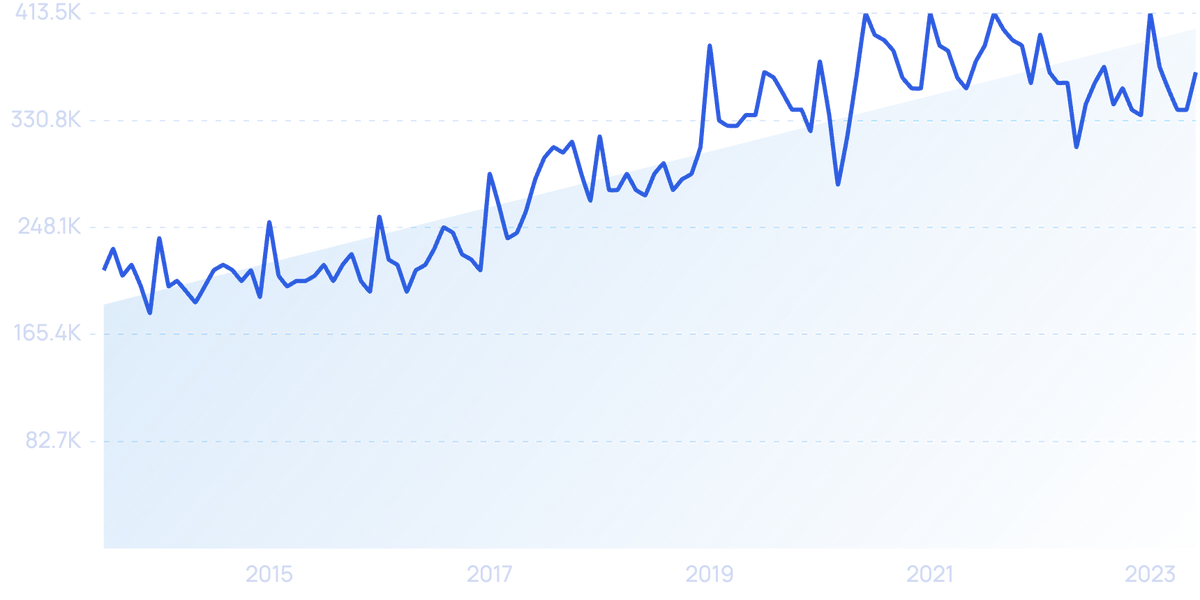 Searches for "pet insurance" are growing slowly but steadily at 71% over the last 10 years.
Globally, the pet insurance industry reached $9.4 billion in 2022 and is expected to grow at a compound annual growth rate of 17.04% through 2030.
That explains why the AI-powered insurer Lemonade launched its own pet insurance coverage in 2020.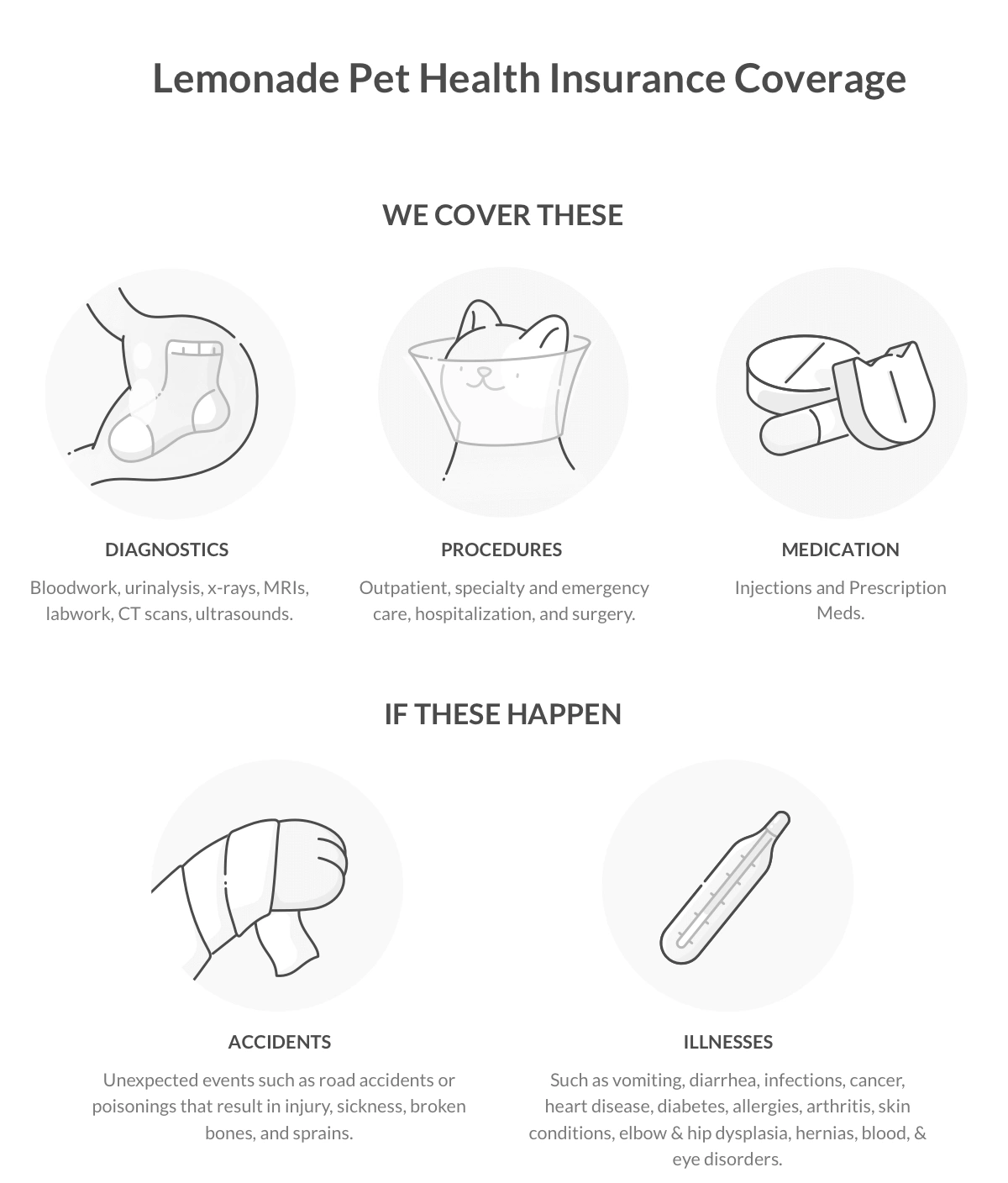 Lemonade is getting into the growing pet insurance space.
Pet-dedicated competitors in the space include Healthy Paws, GoPetPlan, and the non-profit ASPCA.
7. Pet Owners Prefer Natural Food Brands
A survey of 2,181 pet owners discovered that 43.6% prioritize the health of their pet's foods over their own.
One brand tapping into this trend is Because Animals.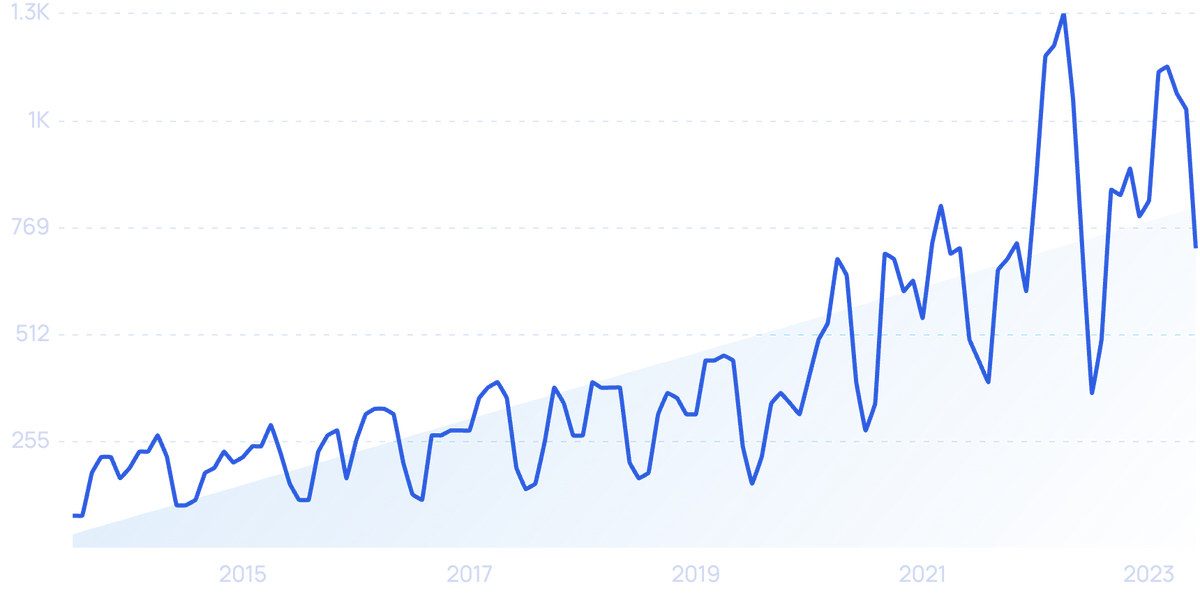 Searches for natural pet food and supplement brand Because Animals are up 833% over 10 years.
Because Animals specializes in healthy pet treats.
Especially focusing on factors that human owners tend to look for in their own food, like organic ingredients and omega-3 content.
Other growing natural pet food brands include Open Farm and Lily's Kitchen.
Conclusion
That's it for our list of important trends impacting the pet space.
The one thread tying almost all of these trends together is: pet health and wellness.
It's clear that "pet parents" are increasingly concerned about the health of their pets. And that they're willing to spend money to maximize the health of their furry friends.
As pet ownership continues to increase, we can expect the industry to grow with it.