6 Key Skincare Trends (2023-2025)
You may also like:
Women, on average, use 12 beauty products per day and spend nearly $4,000 every year on products to improve their appearance.
A large percentage of women are turning to social media platforms to find out about new makeup products and skincare ingredients. In the coming years, the power of these platforms is expected to increase even more.
Other trends in this industry are focused on the two extremes of beauty: minimalism and maximalism. And many trends are being influenced by pop culture.
Read this list of six emerging trends to see where the skincare industry is headed in the next few years.
1. TikTok Videos Lead to Brand Awareness and Revenue
TikTok skincare and makeup tutorials took off during the early days of the pandemic, and influencers on the platform are still seeing growth.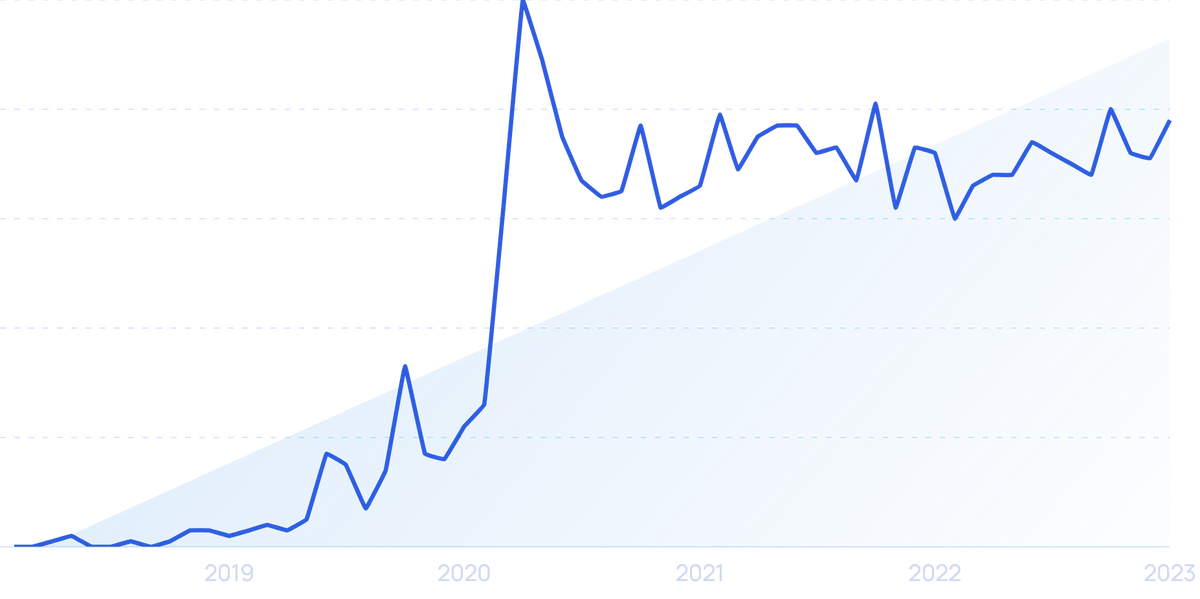 Search volume for "TikTok makeup" jumped in 2020 and remains high in 2023.
In late 2021, a tutorial video from makeup influencer @brynnemarieeee garnered more than 22 million views.
Her video takes viewers through her entire makeup routine, from a freshly-washed face to full-face makeup.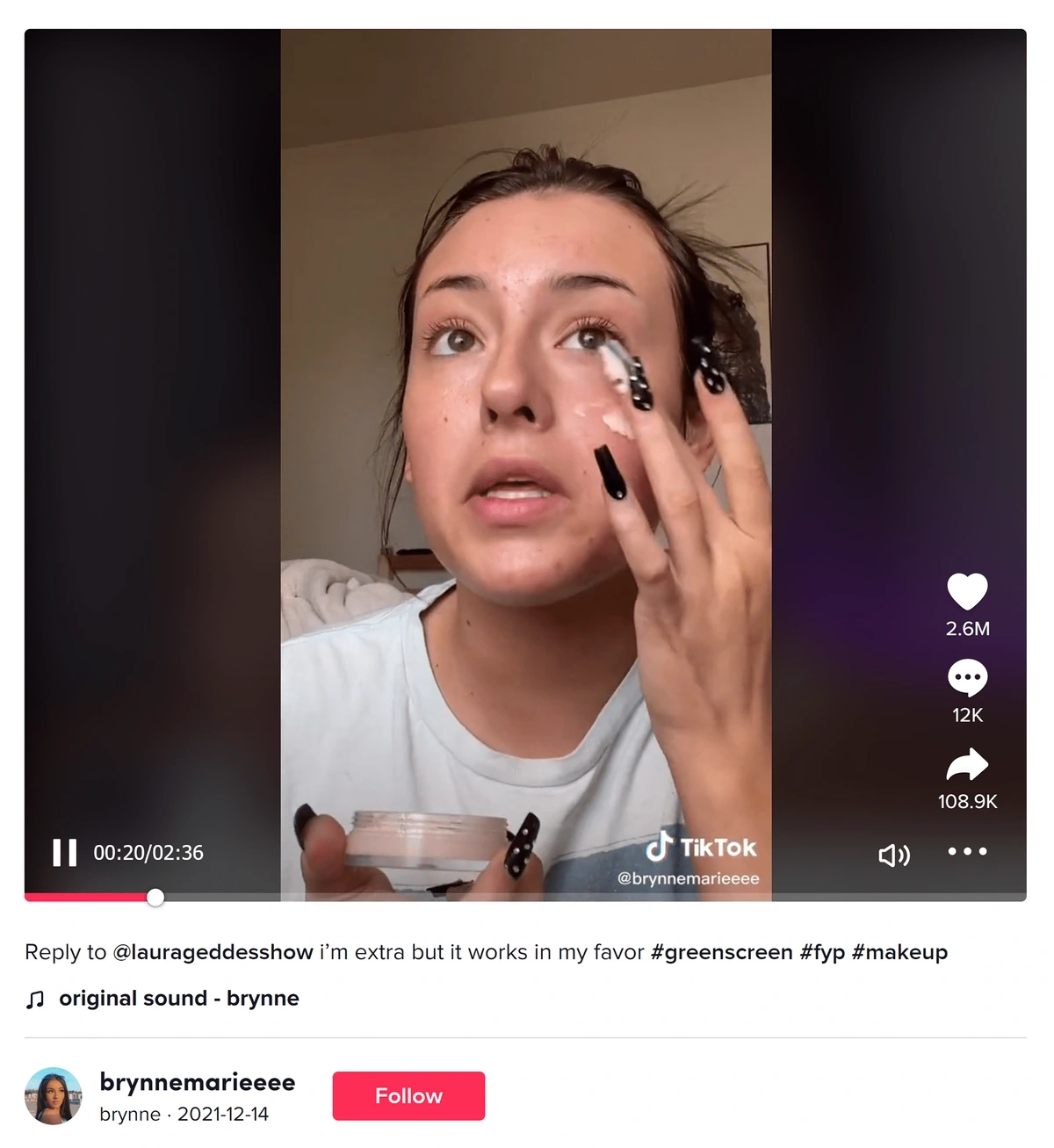 Makeup tutorials from TikTok influencers regularly get 1 million or more views.
It was so popular that supermodel Bella Hadid commented on it.
Mikayla Nogueira is another TikTok makeup influencer.
Even though she's only been on the platform for two years, she's amassed over 14 million followers and regularly sees millions of views on her videos.
One of her favorite brands is Glow Recipe Skincare.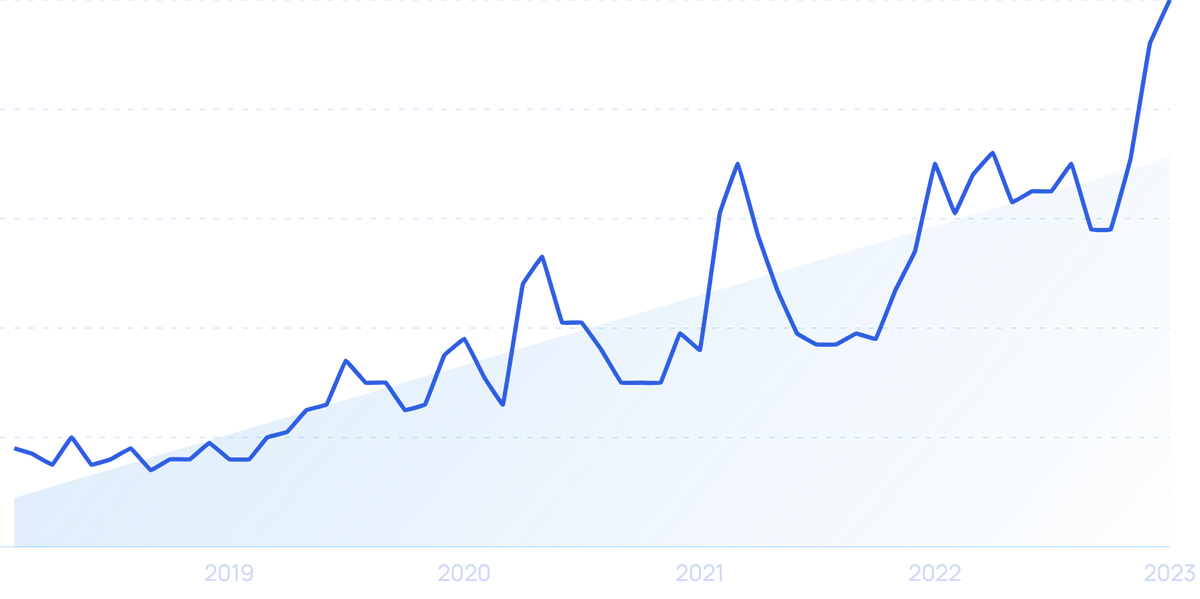 Search volume for "Glow Recipe" has been climbing since 2019, up nearly 455% in the past 5 years.
In February 2021, she created a video featuring two of the brand's products. In the days that followed, the brand sold more of the products than they did during Black Friday weekend.
Glow Recipe and Nogueria recently teamed up to offer customers "The Glow Essentials by Mikayla" kit.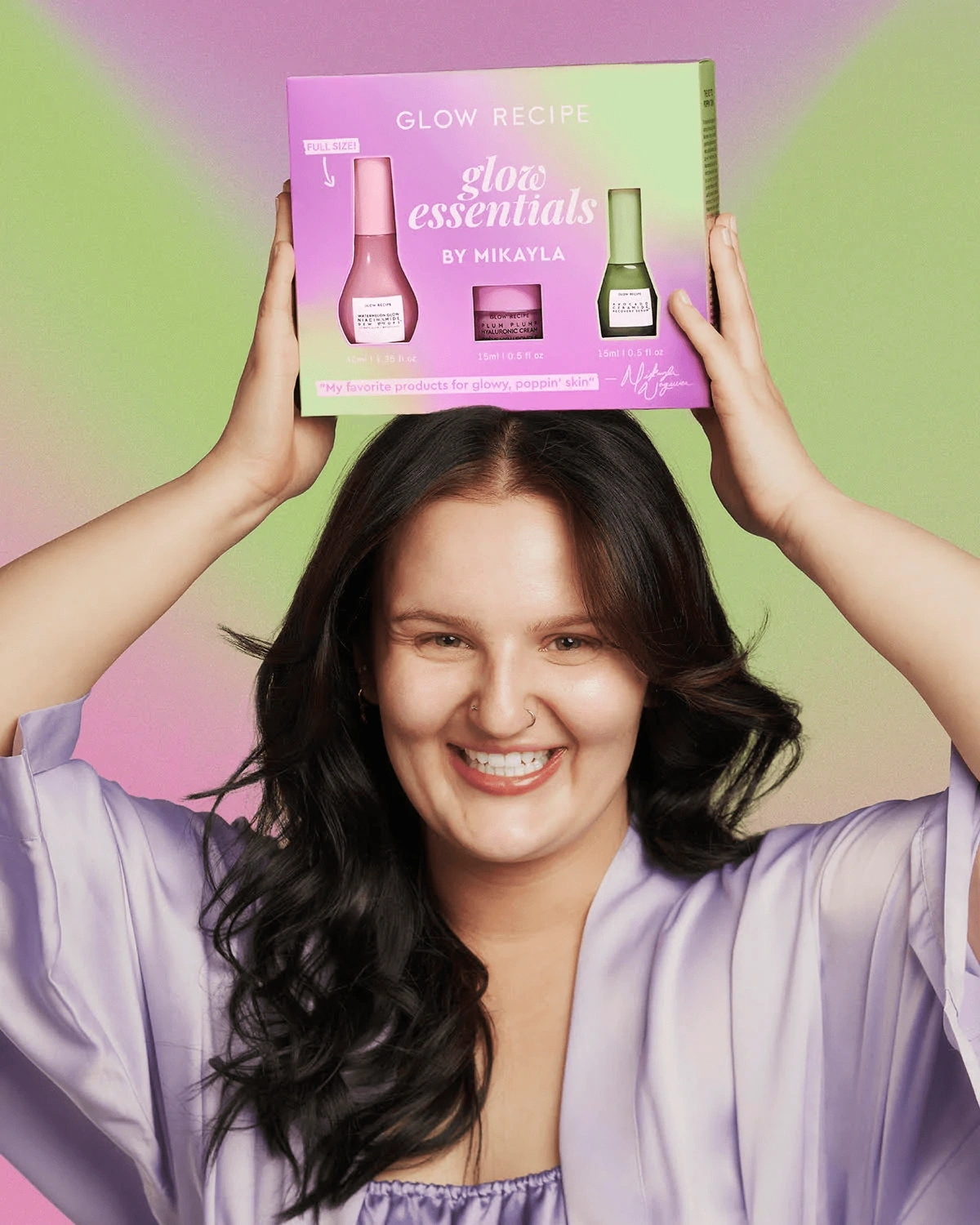 Nogueria's kit includes her three favorite Glow Recipe products.
In another example of viral TikTok tutorials, a 54-year-old woman applied a face tightener from Peter Thomas Roth and more than 40 million viewers watched the video.
This was only the woman's fifth video on the platform.

The viral video caused the skincare brand to sell out of their eye tightener, a product they'd had in their lineup for more than a decade.
Within less than a week, customers had purchased the entirety of the brand's inventory of the product, inventory that was expected to last for six months.
Company officials report that they ran out of shipping boxes because demand soared so high.
2. Barely-There Makeup Goes Mainstream
During the pandemic, women became used to wearing less makeup because they never left home.
In fact, 22% of women switched up their skincare routine because of COVID.
Beauty industry experts say this minimal makeup trend will continue in the near future.
A global survey found that two-thirds of women prefer to wear little makeup to achieve a natural look.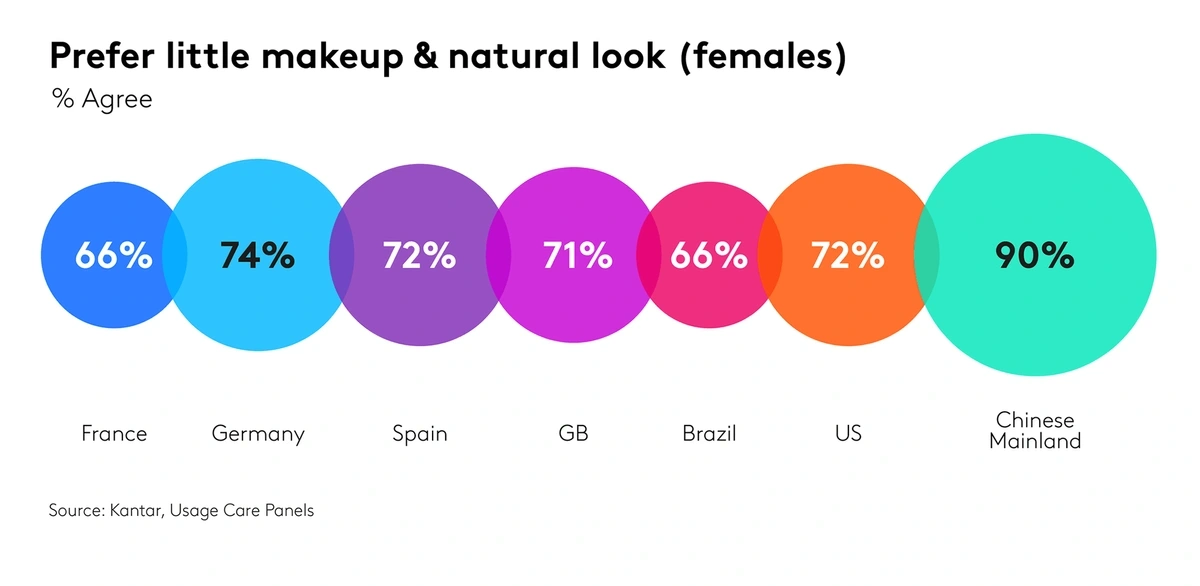 More than 70% of females in the US prefer a natural look when it comes to makeup.
With this trend, we see women focusing on a healthy skincare routine and glowing from within as opposed to wearing makeup with heavy coverage.
The emphasis is on creating a dewy look on the skin. This is often referred to as "glass skin", skin that's so hydrated, smooth, and poreless that it looks like a piece of glass.
Because the glass skin provides a flawless base, women simply add soft, blended makeup for a barely-there look.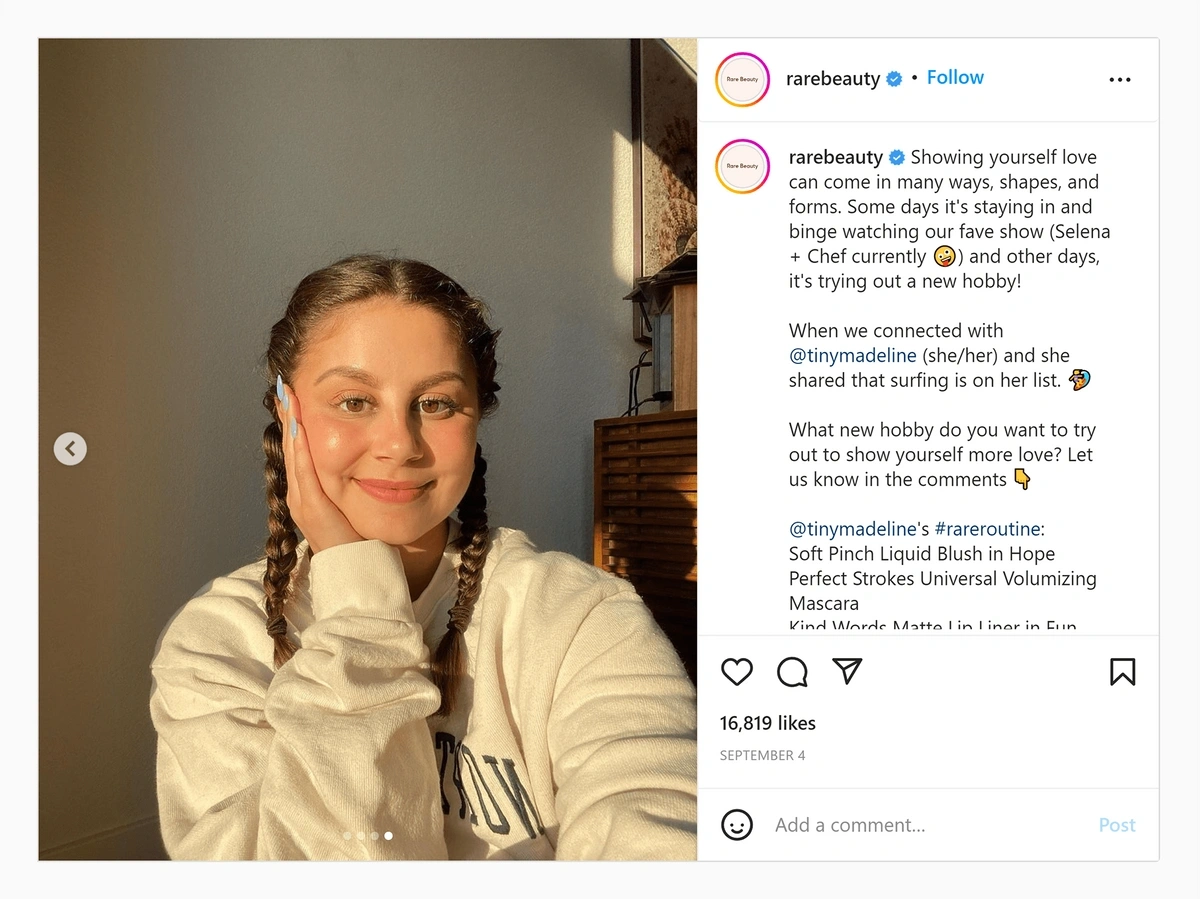 With the barely-there makeup trend, women are highlighting the natural glow of their skin.
But, just because the appearance of makeup is barely there doesn't mean there aren't several products involved.
Tinted moisturizers, spot concealers, highlighters, blush, and bronzer in shades that match the users' natural tones are still popular in this trend.
One specific beauty category that celebrates barely-there makeup is called the clean girl aesthetic.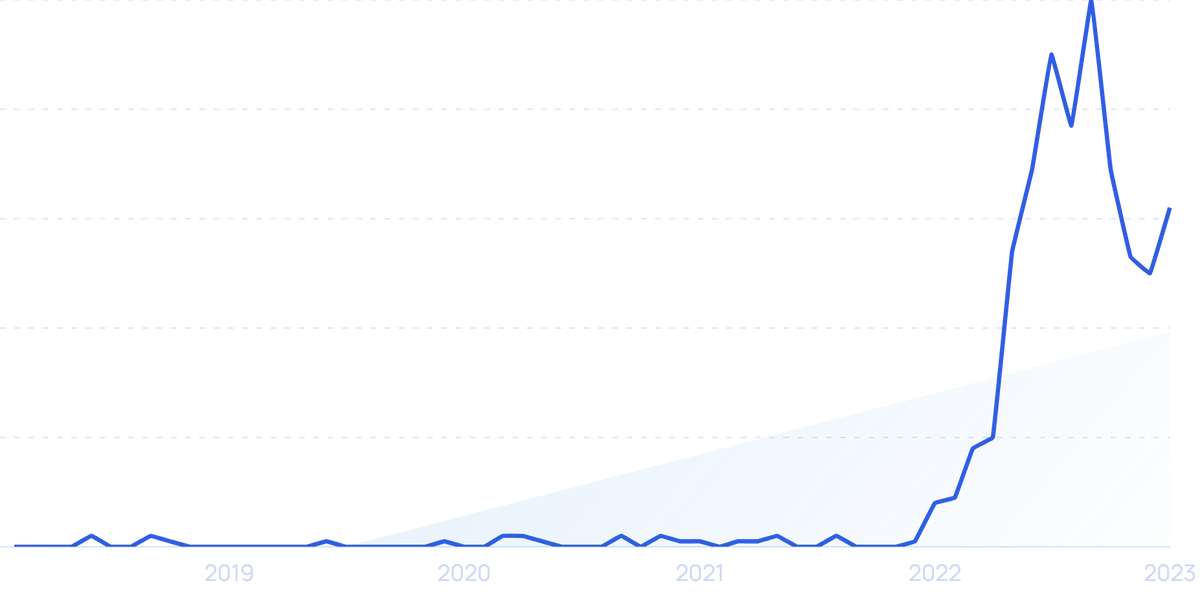 Search volume for "clean girl aesthetic" has skyrocketed in recent months.
Videos with the hashtag for this trend have racked up 2 billion views on TikTok.
The barely-there makeup trend was also very popular among celebrities at the 2022 Oscars.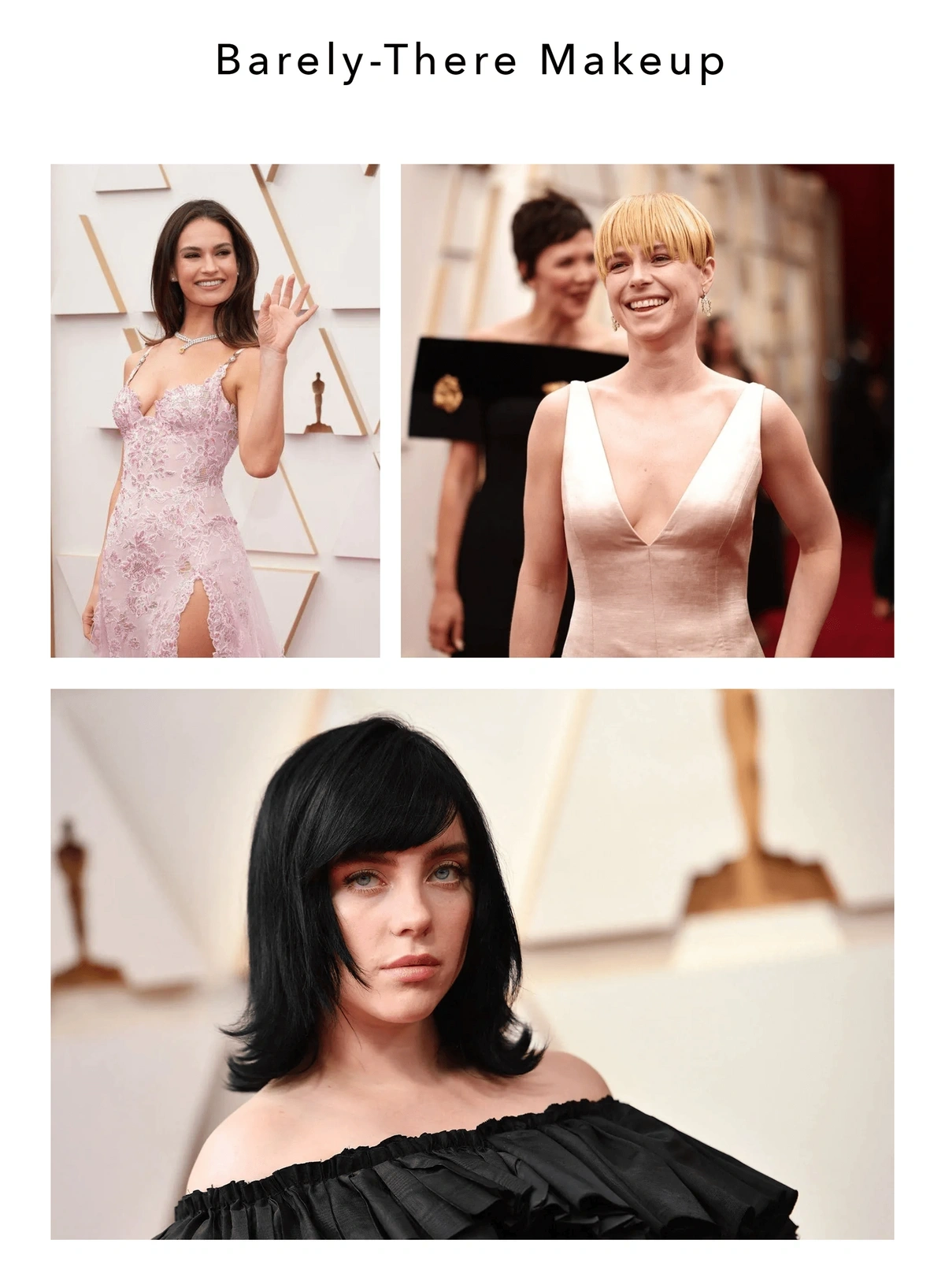 Lily James, Jessie Buckley, and Billie Eilish all went with barely-there makeup looks.
Anne Hathaway also wore a natural makeup look on the red carpet at the Cannes Film Festival in 2022.

Anne Hathaway's look at the Cannes Film Festival featured minimal makeup.
3. Brands Focus On Sustainable Products and Packaging
More than half of consumers consider sustainability an important factor when purchasing items from the beauty industry, including makeup and cosmetics.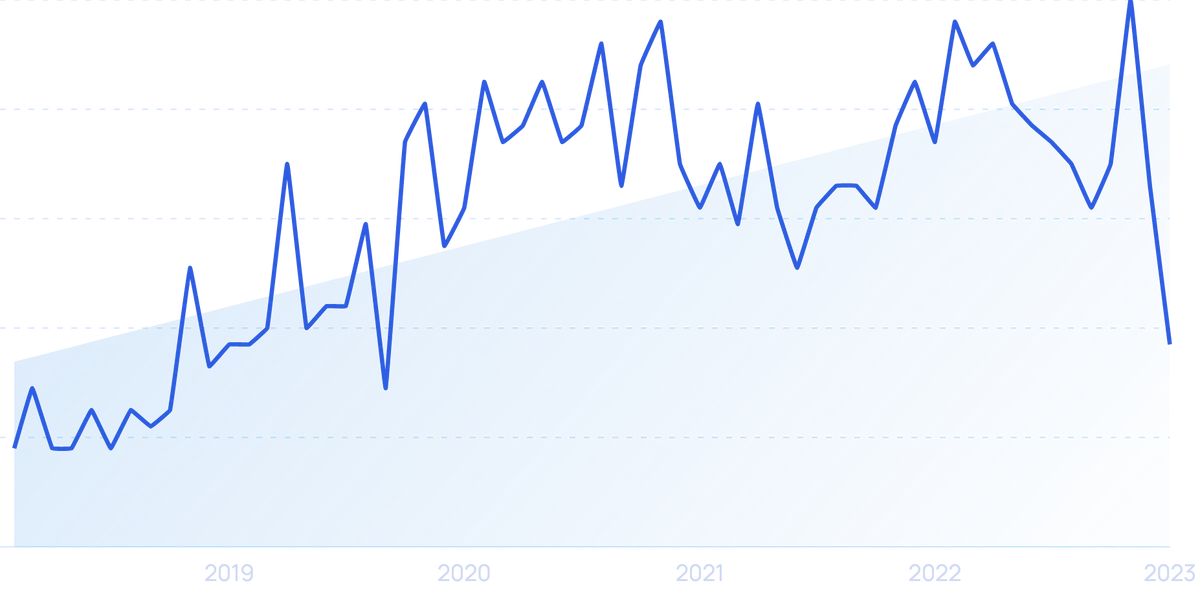 Search volume for "sustainable beauty" is up 100% since 2018.
But the makeup industry has a long history of polluting and misusing natural resources.
Plastic waste, excessive water consumption, chemical pollution, air pollution, and deforestation are the main sustainability issues for the industry.
It's estimated that the cosmetics industry churns out 120 billion single-use products every year. Very few of those packages are recyclable.
One of the worst offenders is soap and cleansers. These skincare formulas are more than 70% water and often packaged in non-recyclable plastic.
Aside from being used in soaps, water is often a filler ingredient in other cosmetics. It's used as a base because it's cheap and makes the final product more profitable, according to beauty insiders.
Another sustainability issue is the deforestation associated with the farming of palm oil and mica powder. Hundreds of miles of forests are cleared every year.

Palm oil is one of the most concerning ingredients used in the cosmetics industry.
Some of the leaders in the cosmetics industry have taken cues from leaders in other industries and created sustainability programs.
L'Oreal Paris launched its set of sustainability goals in 2021.
The company has pledged to cut each finished product's carbon footprint in half by 2030.
As part of the plan, L'Oreal is turning to recycled plastic. By 2030, they hope to be using 100% recycled or biobased plastic for their products.
Smaller beauty brands are making sustainability a top goal, too.
Five indie brands ran a joint advertisement in the New York Times to announce their fight to protect the planet.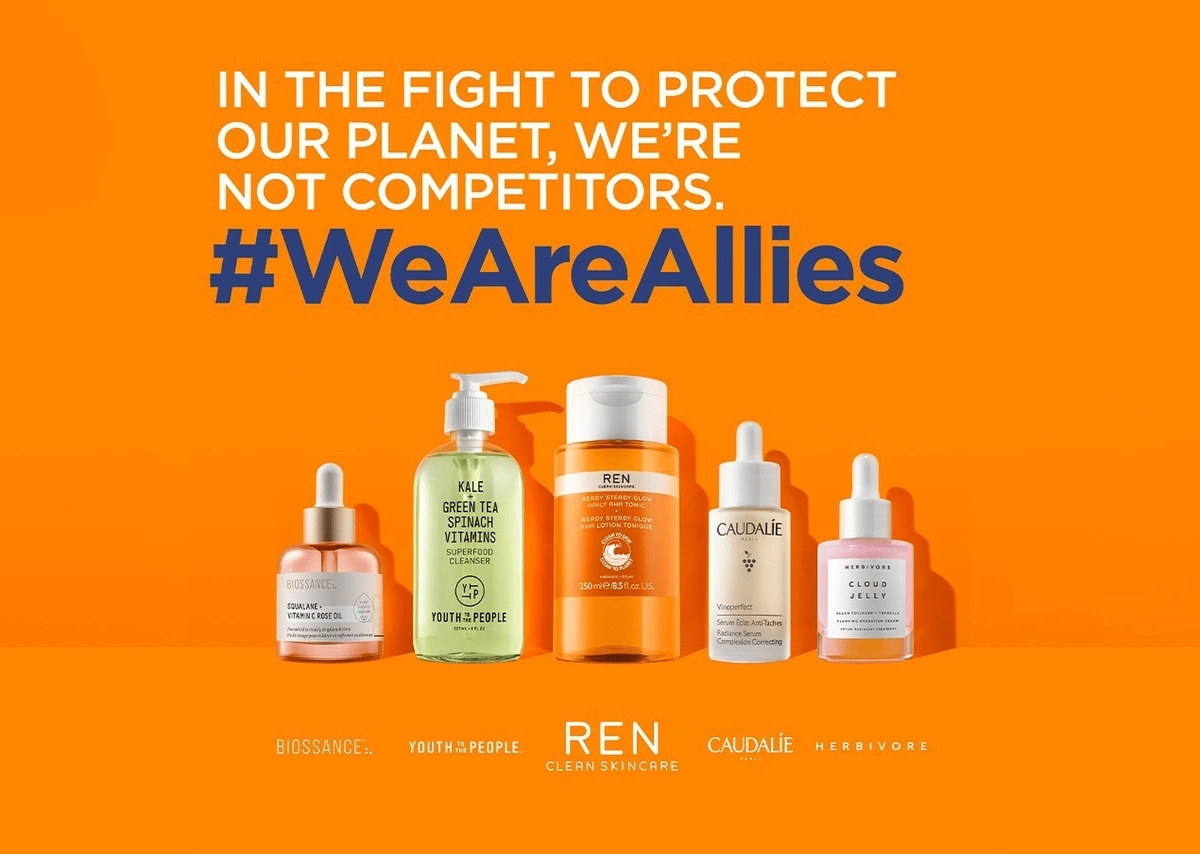 The ad brought competitors together in the fight for sustainable beauty.
Biossance, in particular, has built their brand on an eco-friendly platform since the very beginning.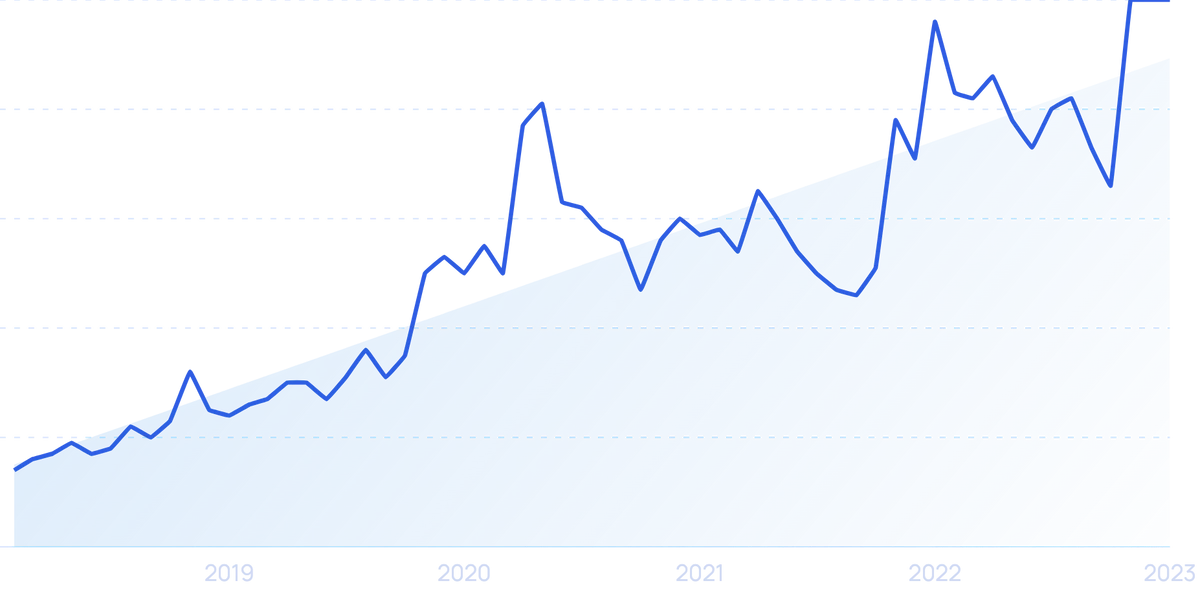 Search volume for "Biossance" is up nearly 614% in the past 5 years.
Their main product, squalane, is typically derived from the liver of sharks. However, the brand created a renewable synthetic version of squalane that they say saves 2 million sharks per year.
The brand has an overall goal of being zero-waste by 2025.
They have a brand-wide ban on more than 2,000 toxic ingredients, and they've committed to carbon-neutral shipping.
Eco-friendly packaging is one of the most common ways beauty companies are easing into sustainable practices.
Many brands are offering refillable products like lipsticks, eye shadows, creams, and more.

Search volume for "refillable lipstick" shows a 100% increase since 2018.
For lipstick, this translates to chic cases that can be refilled in a few easy steps.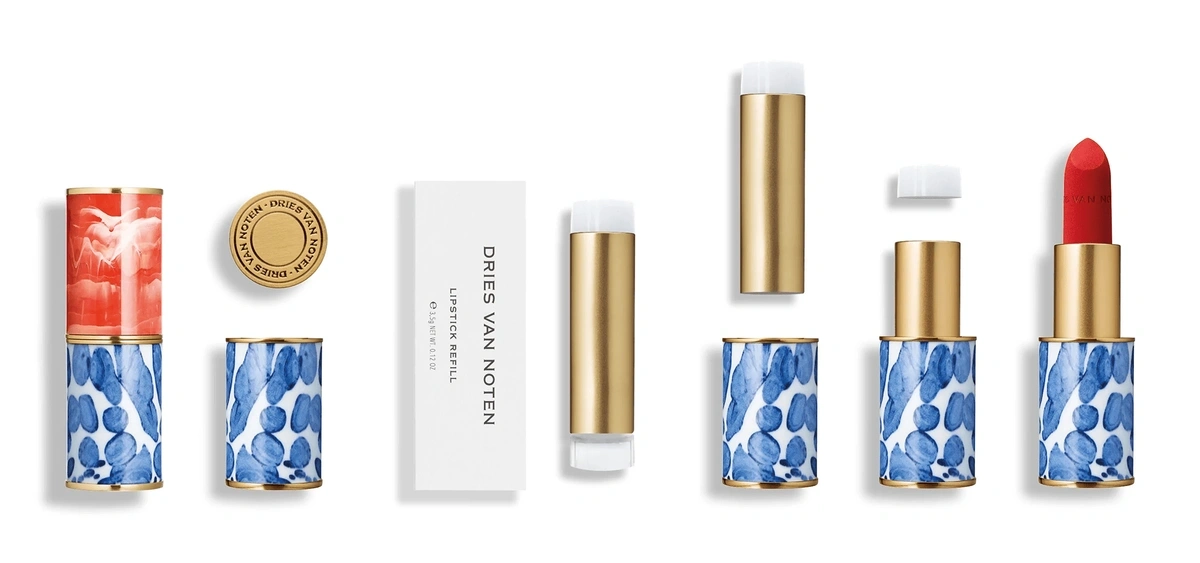 The refillable lipstick from Dries Van Noten comes in four designer cases.
4. Sparkling Eye Makeup Takes Off
Adding sparkle to eye makeup is a trend that's emerging due in part to the HBO series Euphoria.
The show's makeup artists take a maximalist approach to makeup in general, but especially to eye makeup.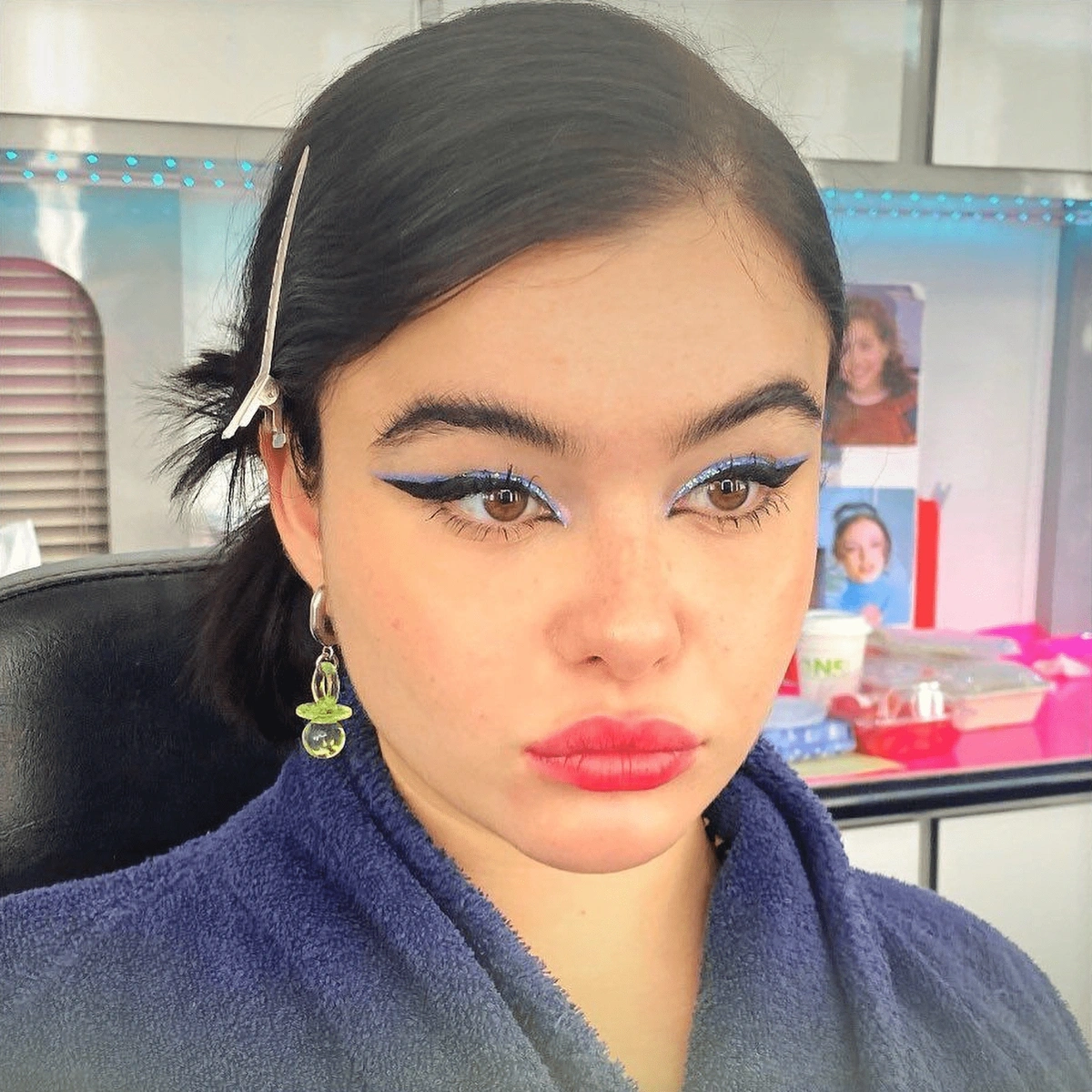 Characters in Euphoria are often seen wearing glittery eyeshadow.
In the past, glitter and metallics were usually reserved for special occasions or fun holidays. While women are still using it to achieve a bold look, it's emerging in more subtle ways, too.
Stardust shadow is showing up as the look for women who want a bit of metallic shimmer without going full-on glitter.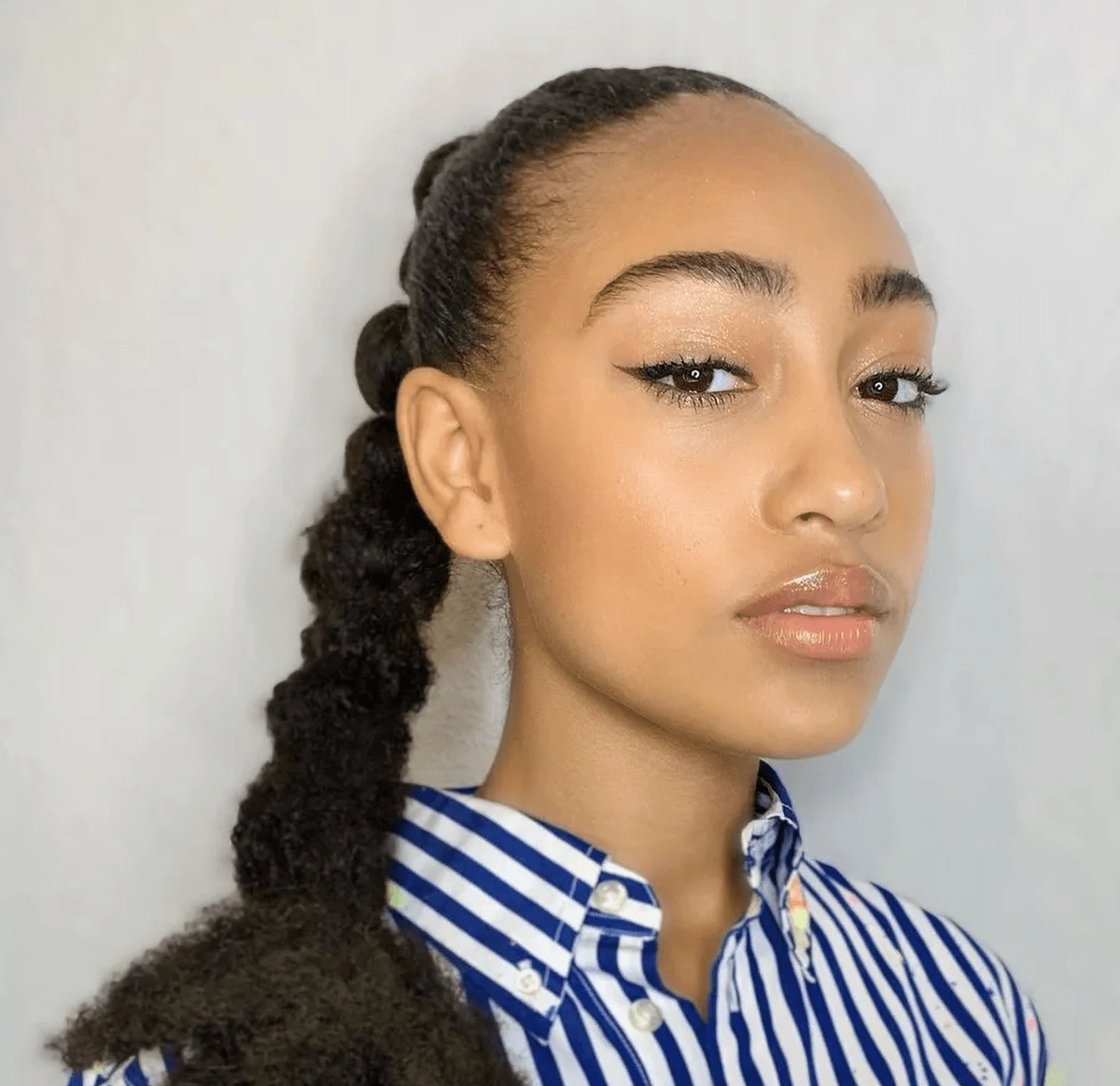 Stardust shadow brings a sophisticated feel to sparkle eyeshadow.
During the 2022 fashion shows, models wore glitter in bold shades like blue, green, and purple.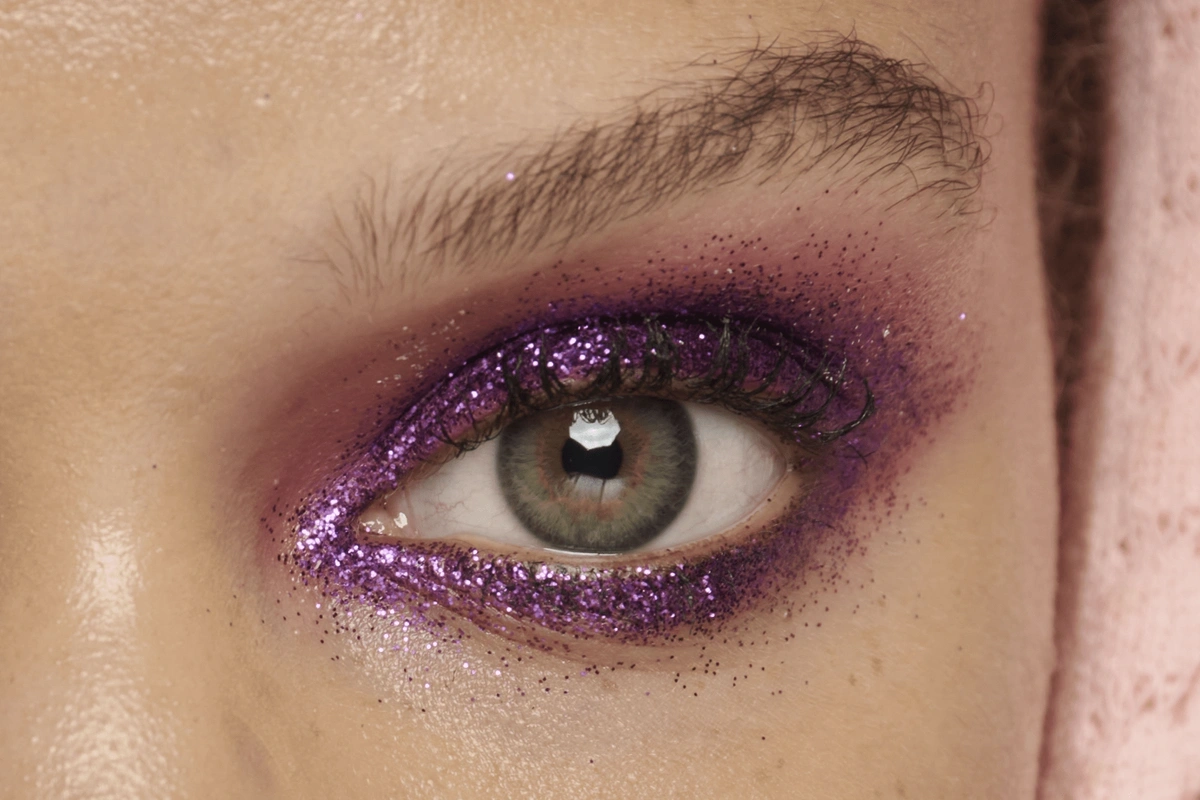 Models' makeup featured bold glitter accents during the Mark Fast spring/summer 2023 fashion show.
Lemonhead LA is one brand that's driving the glitter trend forward.
Started in 2015, the company creates "mess-free artisan glitter concentrates".
One of their best-selling products is a set of 24 glitter concentrates called the SPACECASE Pro-Palette.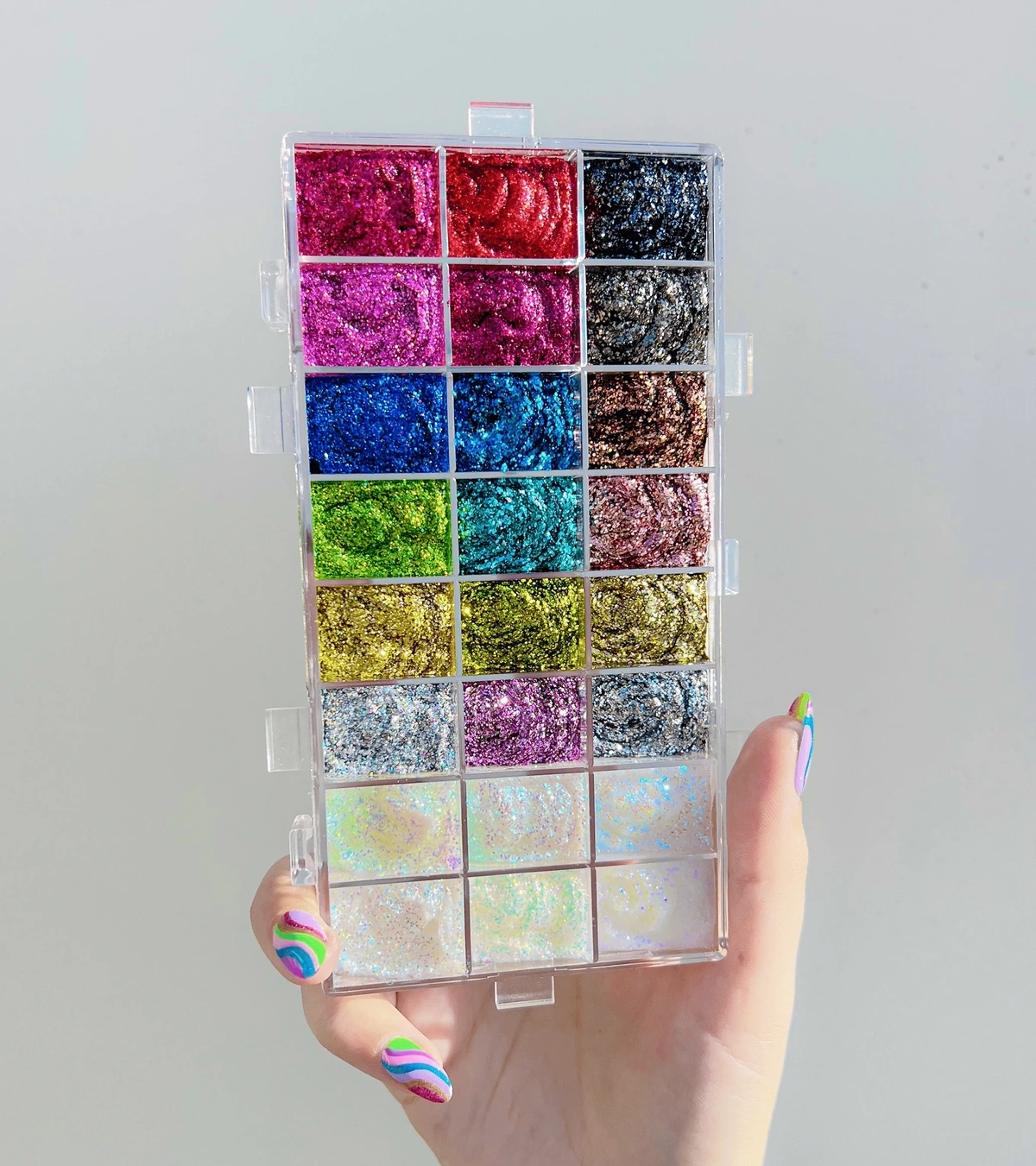 The glitter from Lemonhead LA goes on as a gel and stays put on the eyes.
The brand's glitter is used by makeup artists on the set of Euphoria and by high-profile celebrities like Beyonce and Lady Gaga.
5. Face Gems Bring a New Dimension to Makeup
For consumers who want to go a step beyond glitter eyeshadow, face gems and other embellishments are on-trend.
Celebrities wearing face diamonds made an unforgettable impression at the 2021 Met Gala.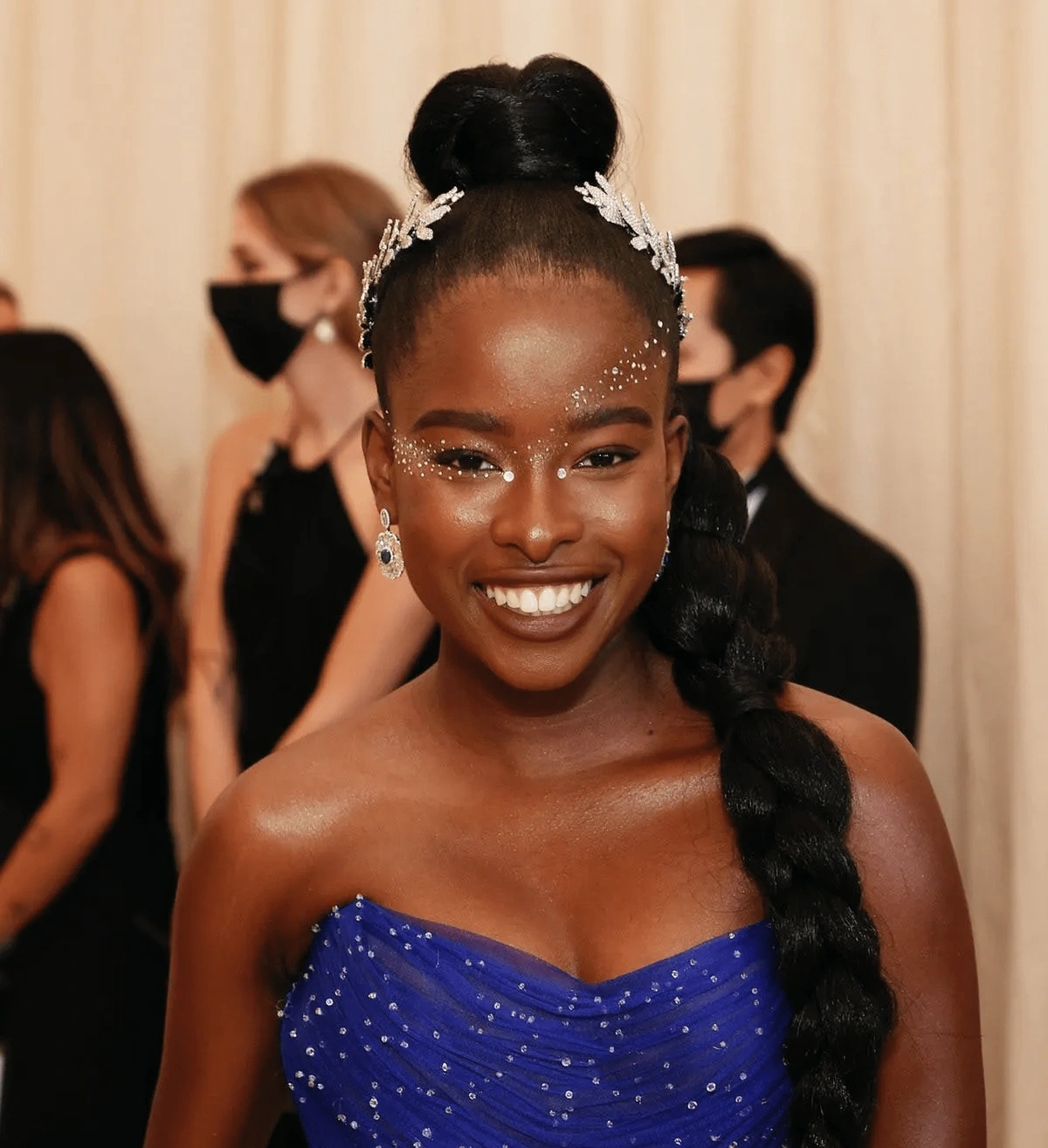 Amanda Gorman paired silver hair accessories with diamond face accents.
Extreme embellishment was also on full display during 2022 fashion shows.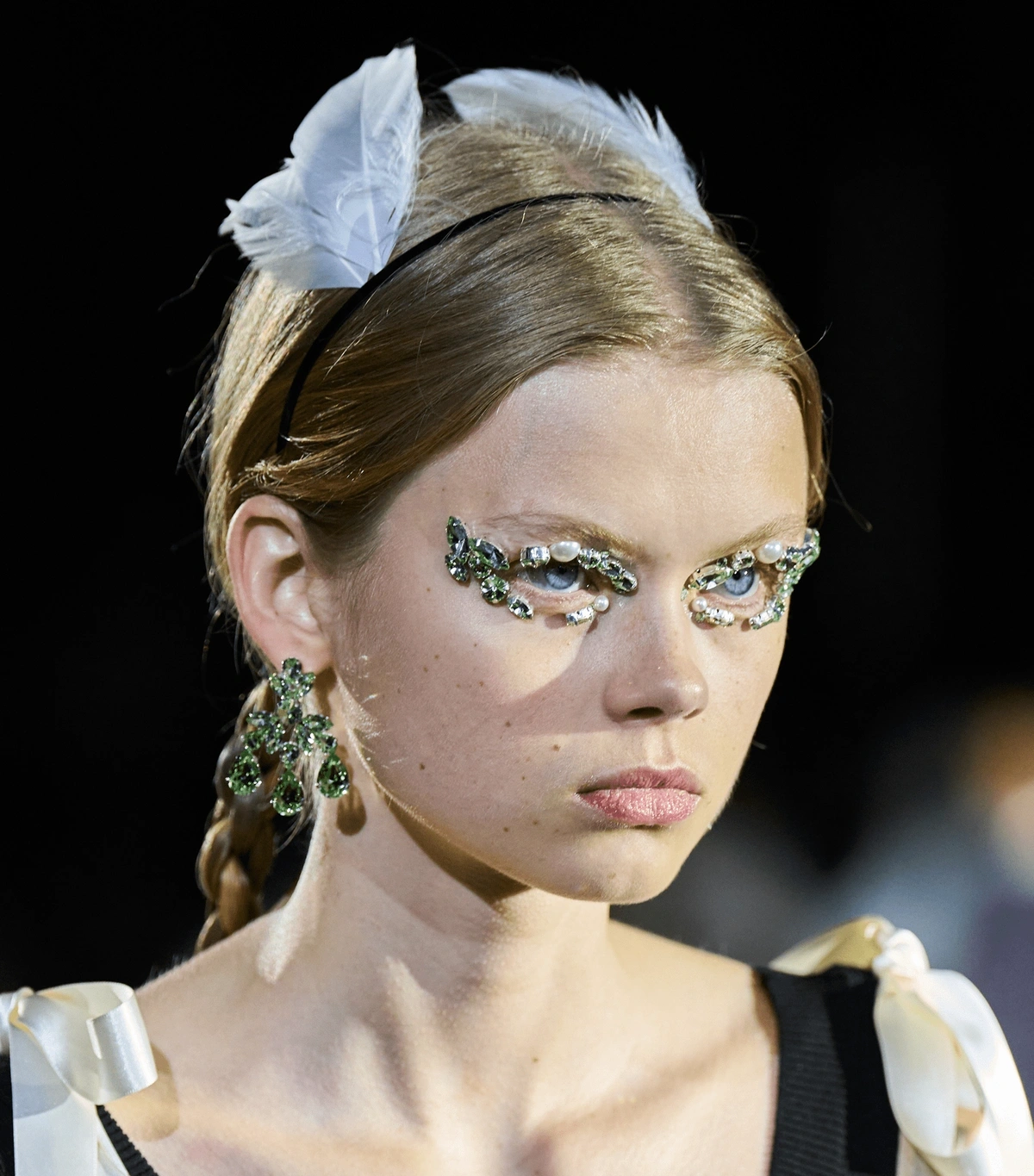 Models at the Fall 2022 Simone Rocha fashion show utilized a variety of facial embellishments.
Face gems are versatile and create a bold look.
One way makeup experts are applying them is like eyeliner, a few small rhinestones placed along the lash line.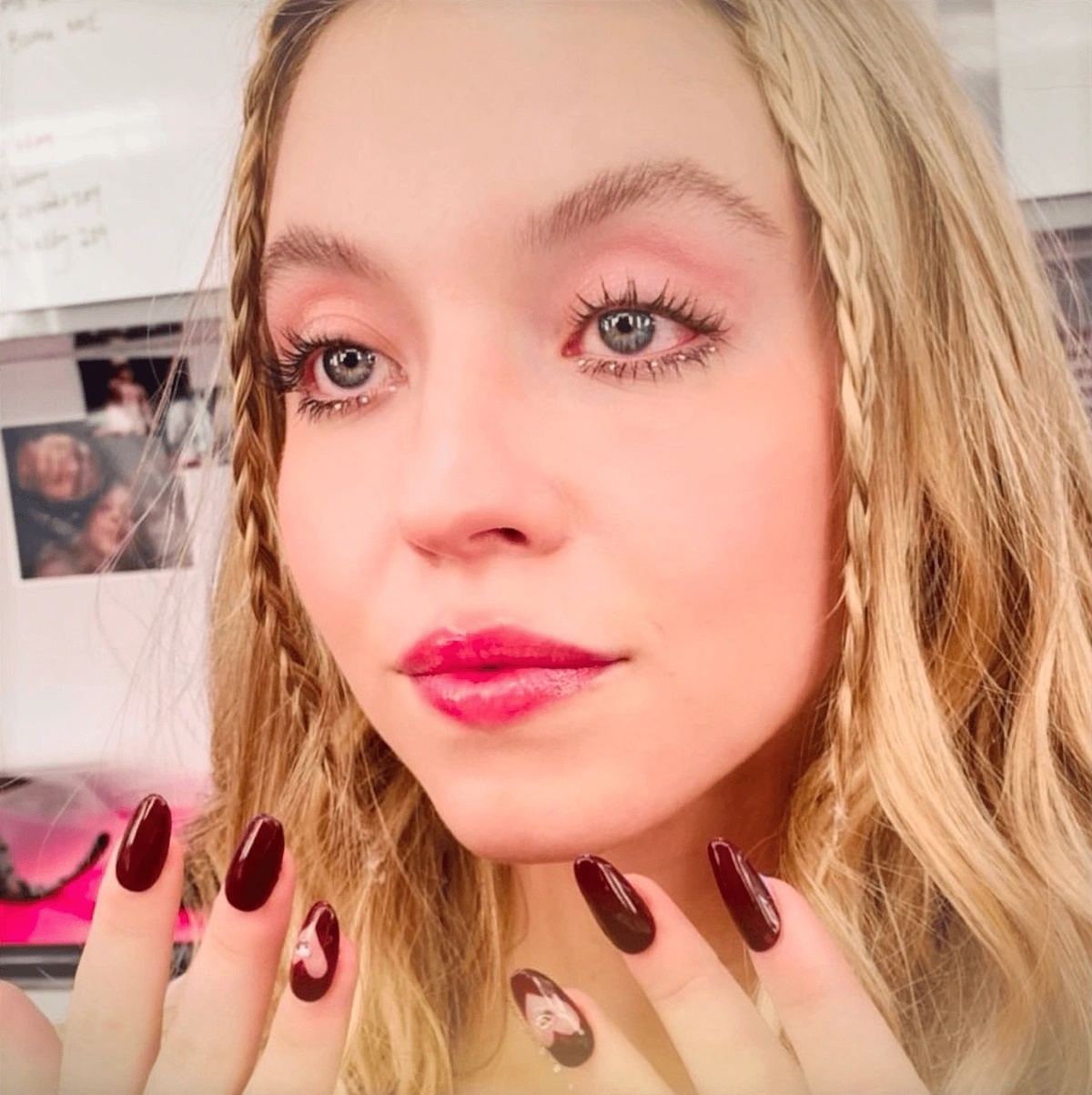 Face gems create an eyeliner that pops.
For an even bolder look, women are wearing facial embellishments to highlight the corners of their eyes.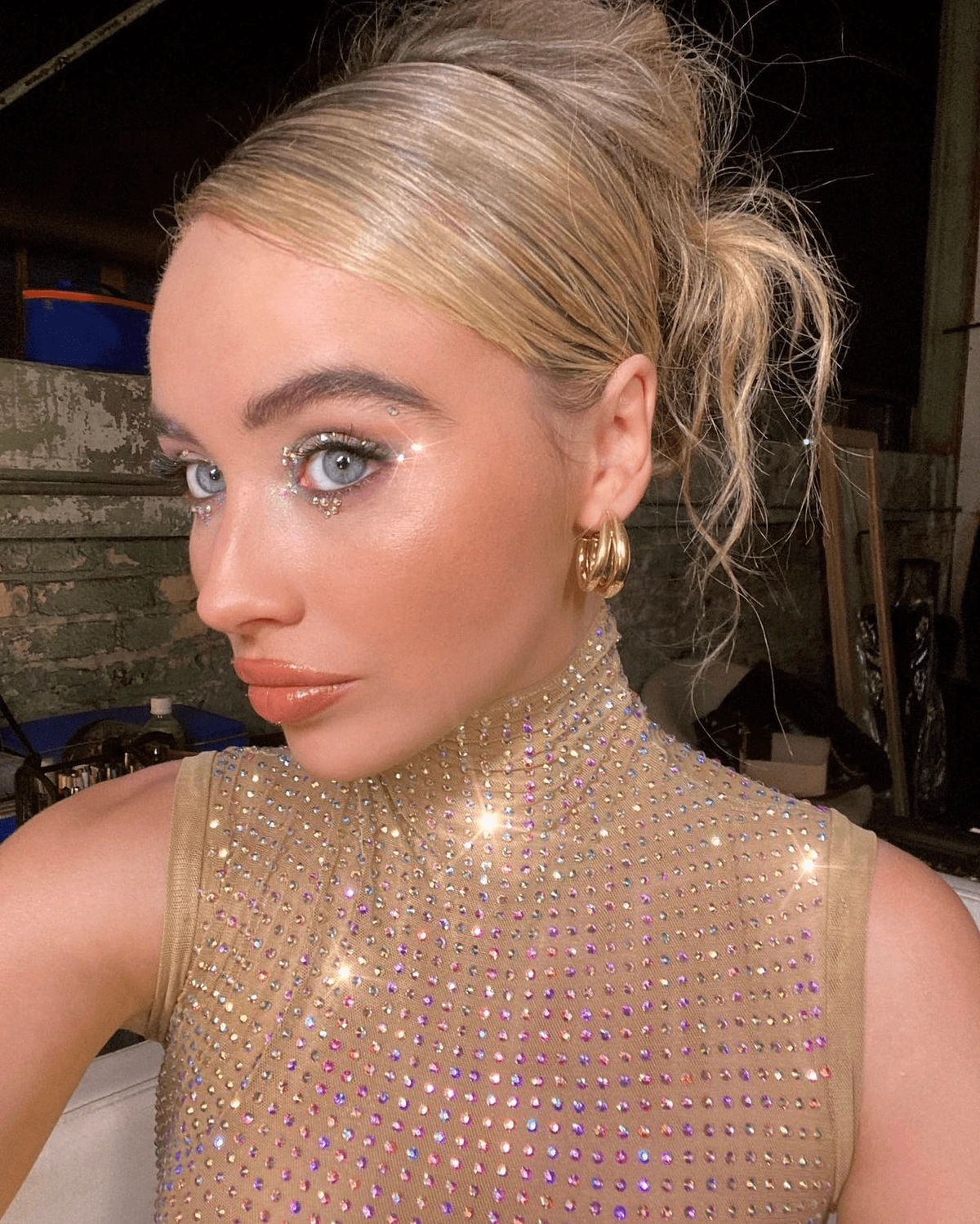 Rhinestones placed at the corners of the eyes give a multi-dimensional look to the makeup.
Face gems are available as self-adhesive stickers or as gems that require the use of eyelash adhesive.
6. Niacinamide Becomes a Go-To Skincare Ingredient
Vogue called niacinamide the "It" skincare ingredient of 2022.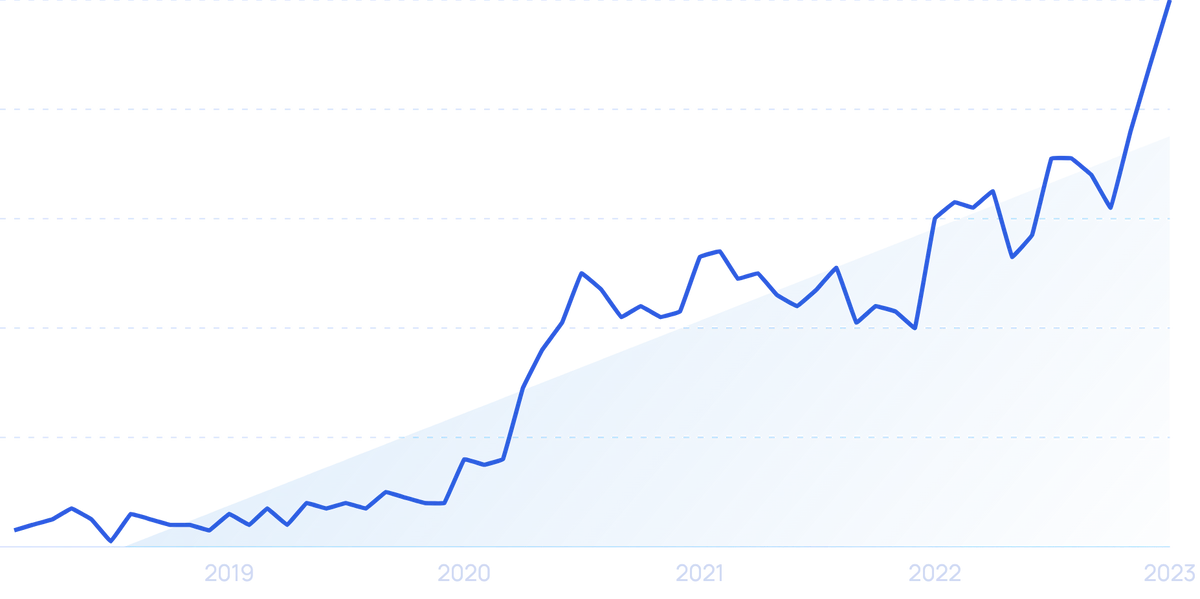 Search volume for "niacinamide moisturizer" shot up 3233% over 5 years.
Even though studies about the efficacy of niacinamide in cosmetics have been around for the past decade, consumer demand for the ingredient has shot up in recent months.
Industry experts say this is due to women learning about the ingredient via TikTok and Instagram.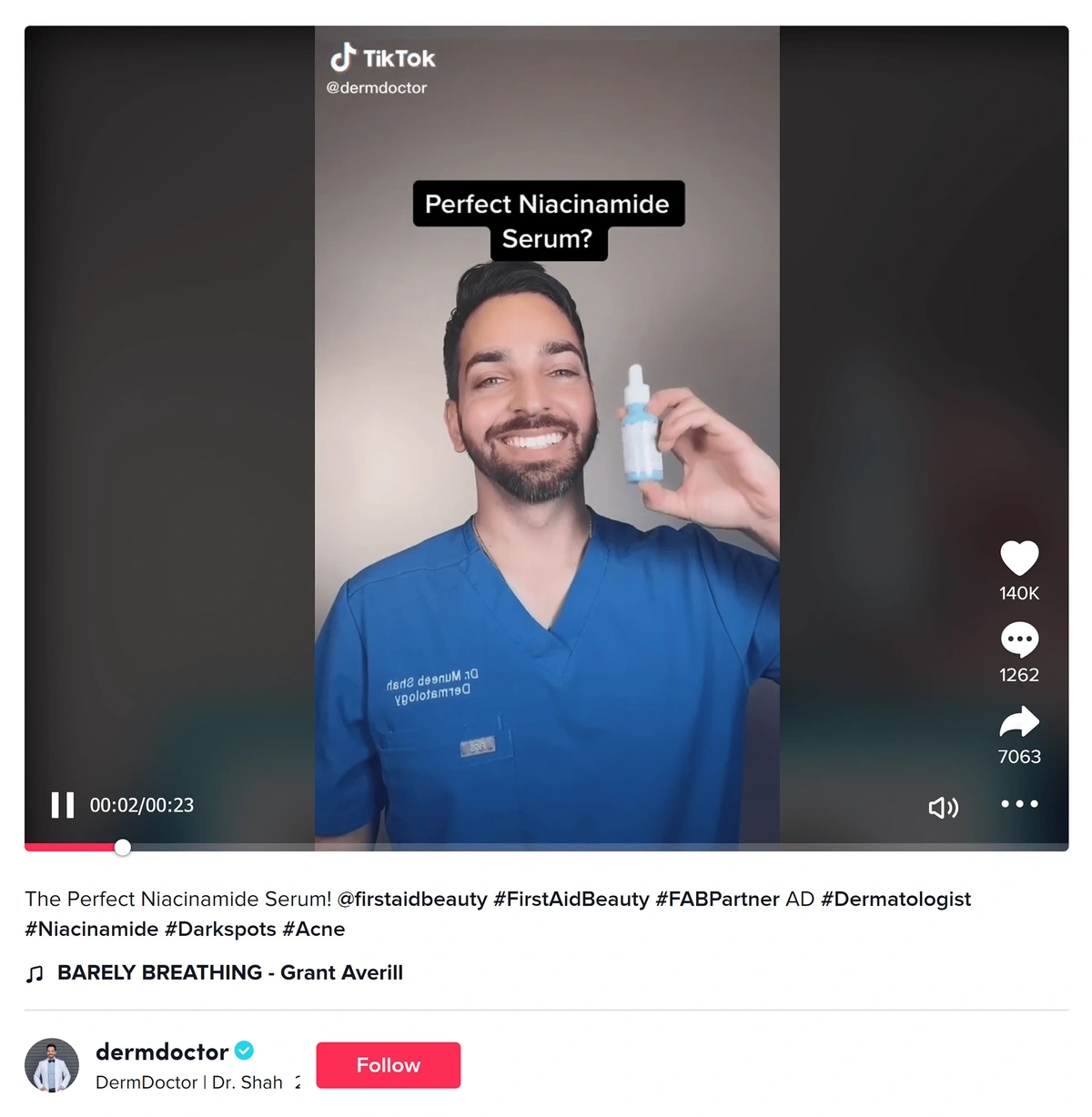 Numerous consumers and dermatologists have posted TikTok videos about niacinamide.
In the last two years, the use of niacinamide in the beauty industry has jumped more than 220%.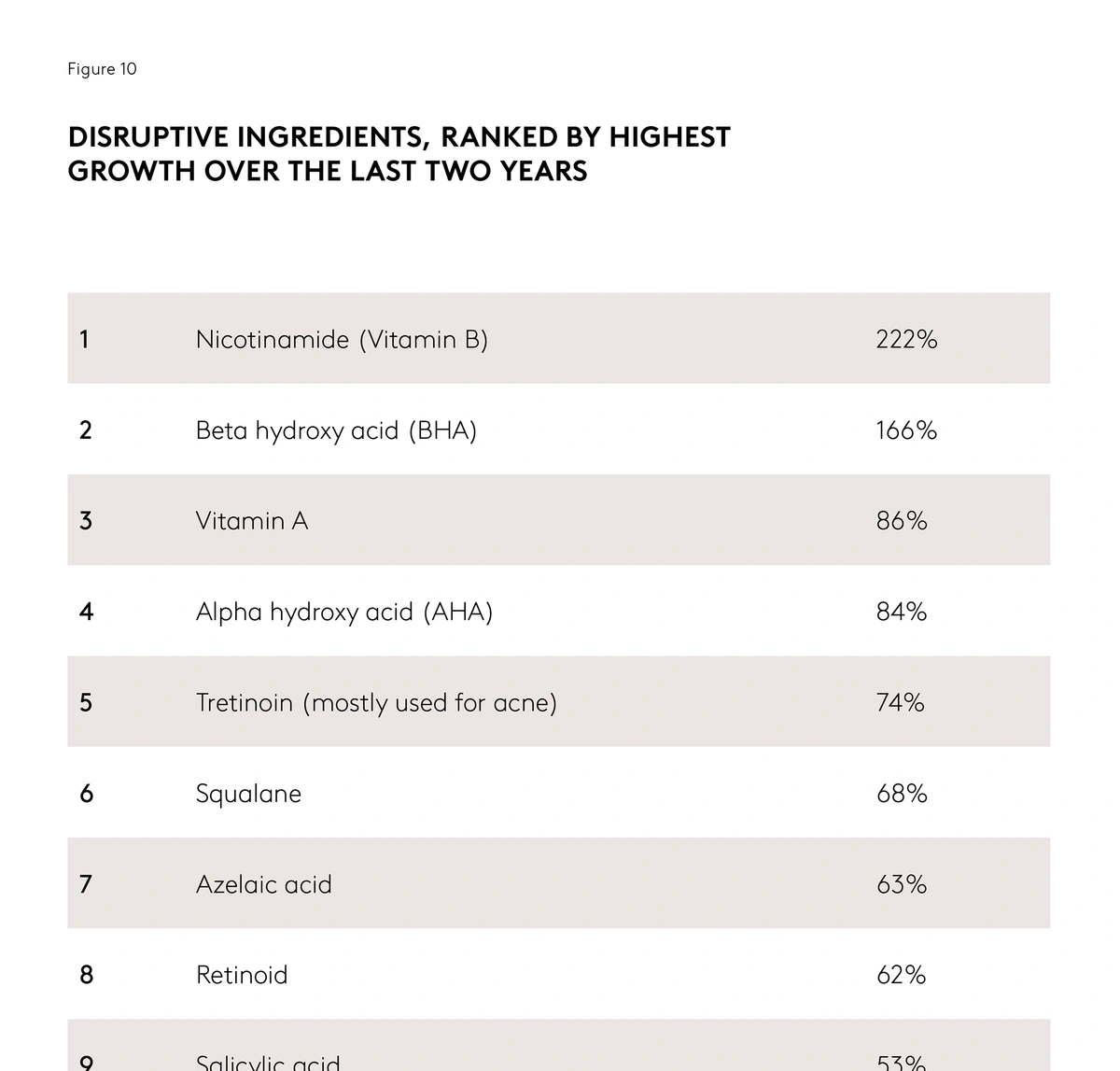 Niacinamide is by far the fastest growing ingredient in the cosmetics industry.
It isn't a complicated ingredient — it's simply a form of vitamin B3 that's known to be healing and soothing.
Niacinamide can be used to reverse the signs of aging, brighten skin, calm redness, decrease the appearance of pores, and reduce hyperpigmentation, just to name a few of the benefits.
It's so versatile that it's regularly added into a wide range of cosmetics like serums, creams, moisturizers, and body products.
This versatility also means that niacinamide is an appealing skincare ingredient for women of all ages and skin types.
One of the most popular niacinamide products is the Niacinamide 10% + Zinc 1% formula from The Ordinary.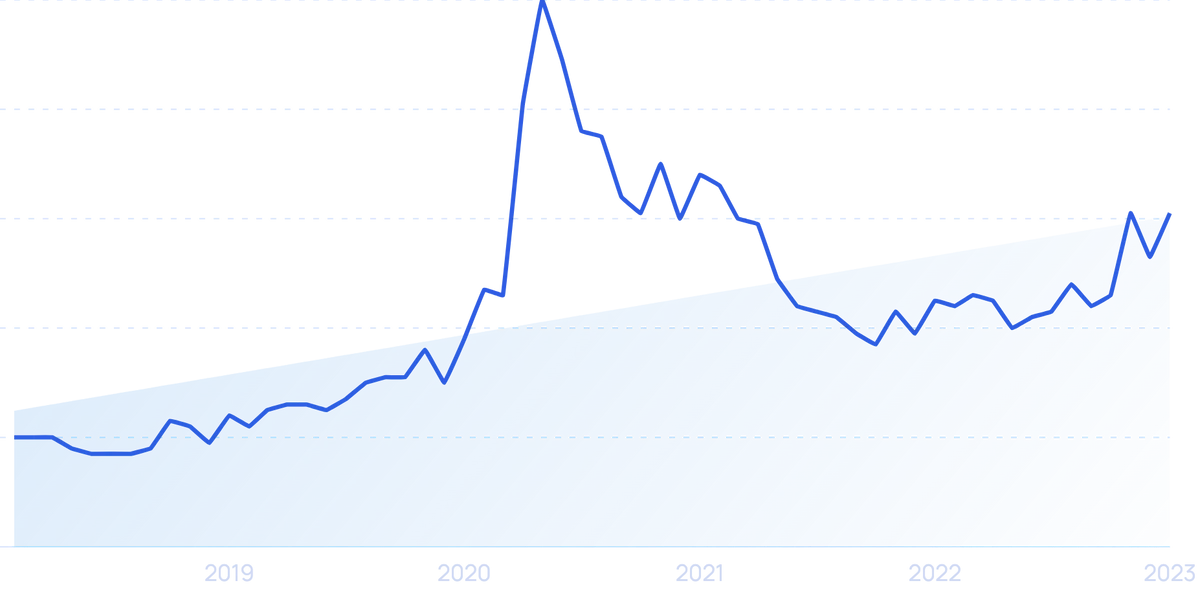 Search history for "The Ordinary" shows 204% growth over the past 5 years.
The brand reports that the product is successful at smoothing and hydrating the skin. Customers see results in as little as a week.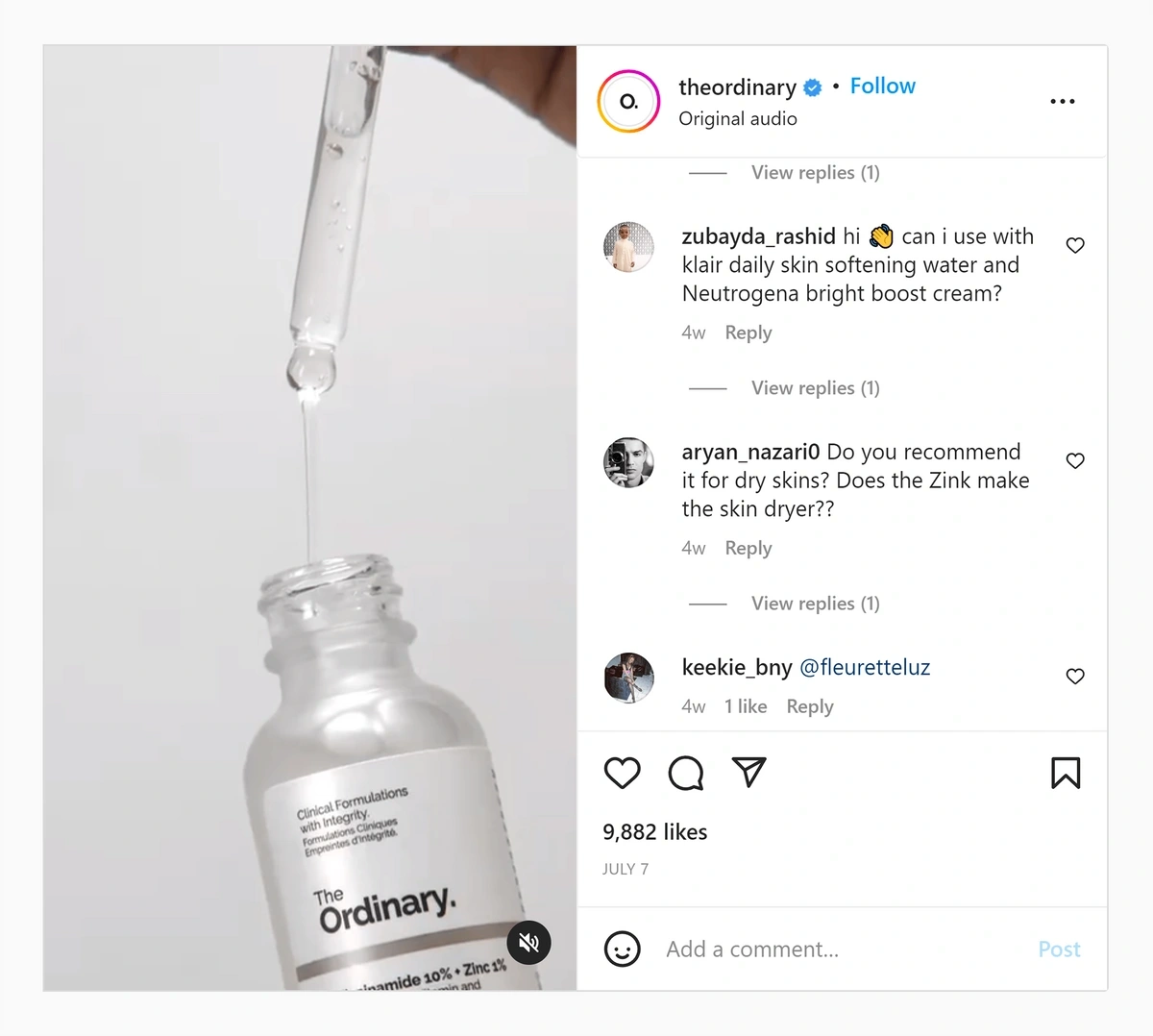 The Ordinary pairs niacinamide with zinc in this popular skincare solution.
Another niacinamide product with a cult following is Glow Recipe's watermelon niacinamide dew drops.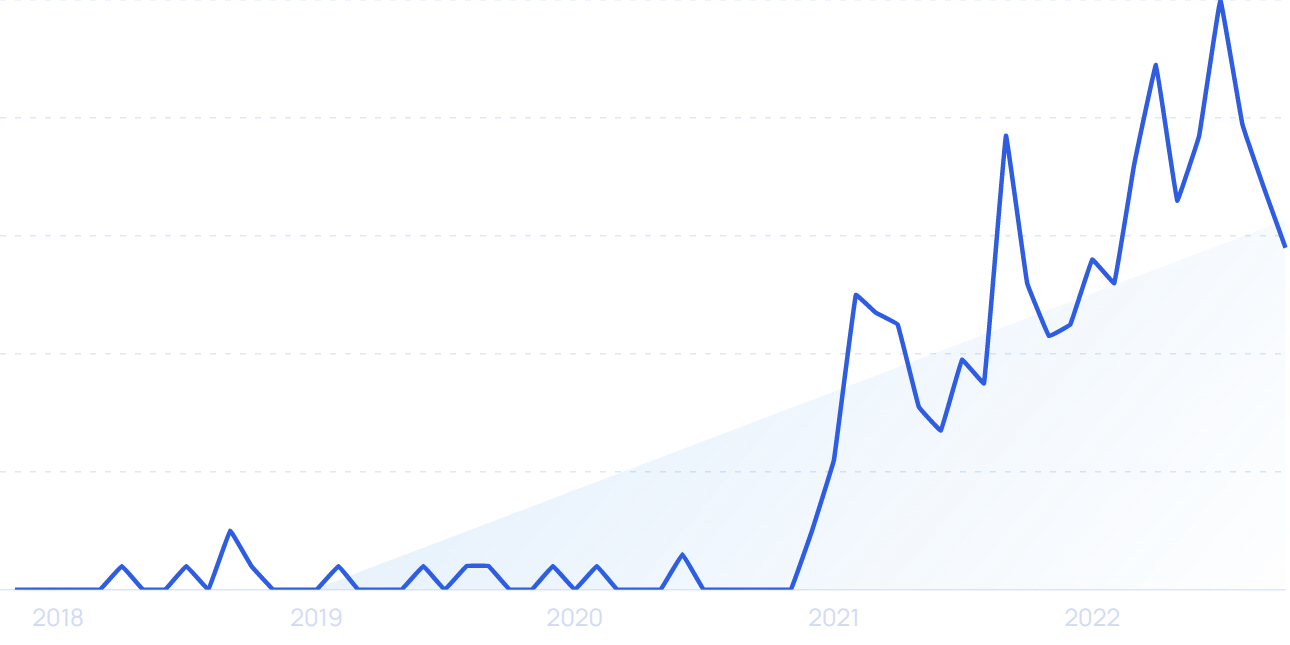 Search volume for "niacinamide dew drops" is up 2,600% in the past 2 years.
The company's research showed that nearly 100% of users agreed the niacinamide solution made a difference in their makeup routine.
With nearly 20 million views, videos related to the product have exploded on TikTok, too.
Conclusion
That's it for our list of the top skincare trends happening right now.
We expect to see skincare brands making social media a key strategy for marketing and sales, but viral posts from non-influencers still have the capability of introducing a cosmetics brand to the world within a matter of days.
Sustainability and ingredient innovation are two other areas in which companies will need to heavily invest if they want to win over consumers. The development of new packaging, synthetic ingredients, and waterless formulas has the potential to radically impact the industry.