7 Top Skincare Trends (2024 & 2025)
You may also like:
Women, on average, use 12 beauty products per day and spend nearly $4,000 every year on products to improve their appearance.
Brands are continually striving to come up with the ingredient formulations skincare consumers want. Wrinkle reduction and anti-aging effects have always been a must-have, but other characteristics like natural and clean ingredients are now more in demand than in previous years.
In fact, several trends on this list are ingredients that are found in nature: mushrooms, algae, and others.
Read this list of seven emerging trends to see where skincare is headed in the next few years.
1. Niacinamide Appeals to All Ages and Skin Types
Vogue called niacinamide the "It" skincare ingredient.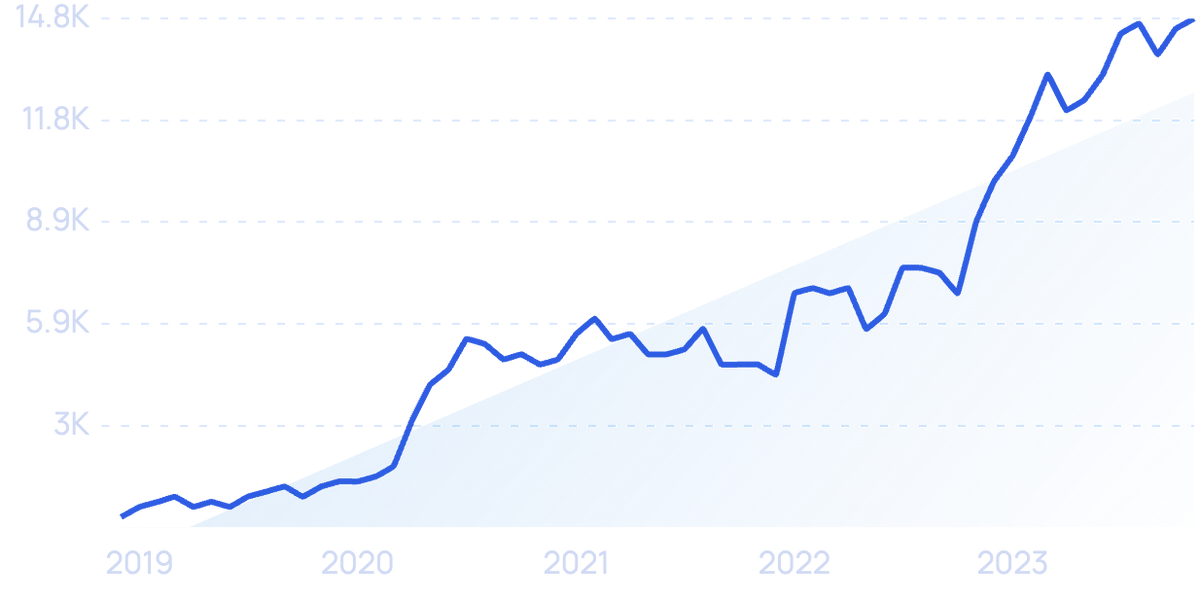 Search volume for "niacinamide moisturizer" shot up 4,900% over 5 years.
Even though studies about the efficacy of niacinamide in cosmetics have been around for the past decade, consumer demand for the ingredient has rapidly increased in recent months.
Industry experts say this is due to women learning about the ingredient via TikTok and Instagram.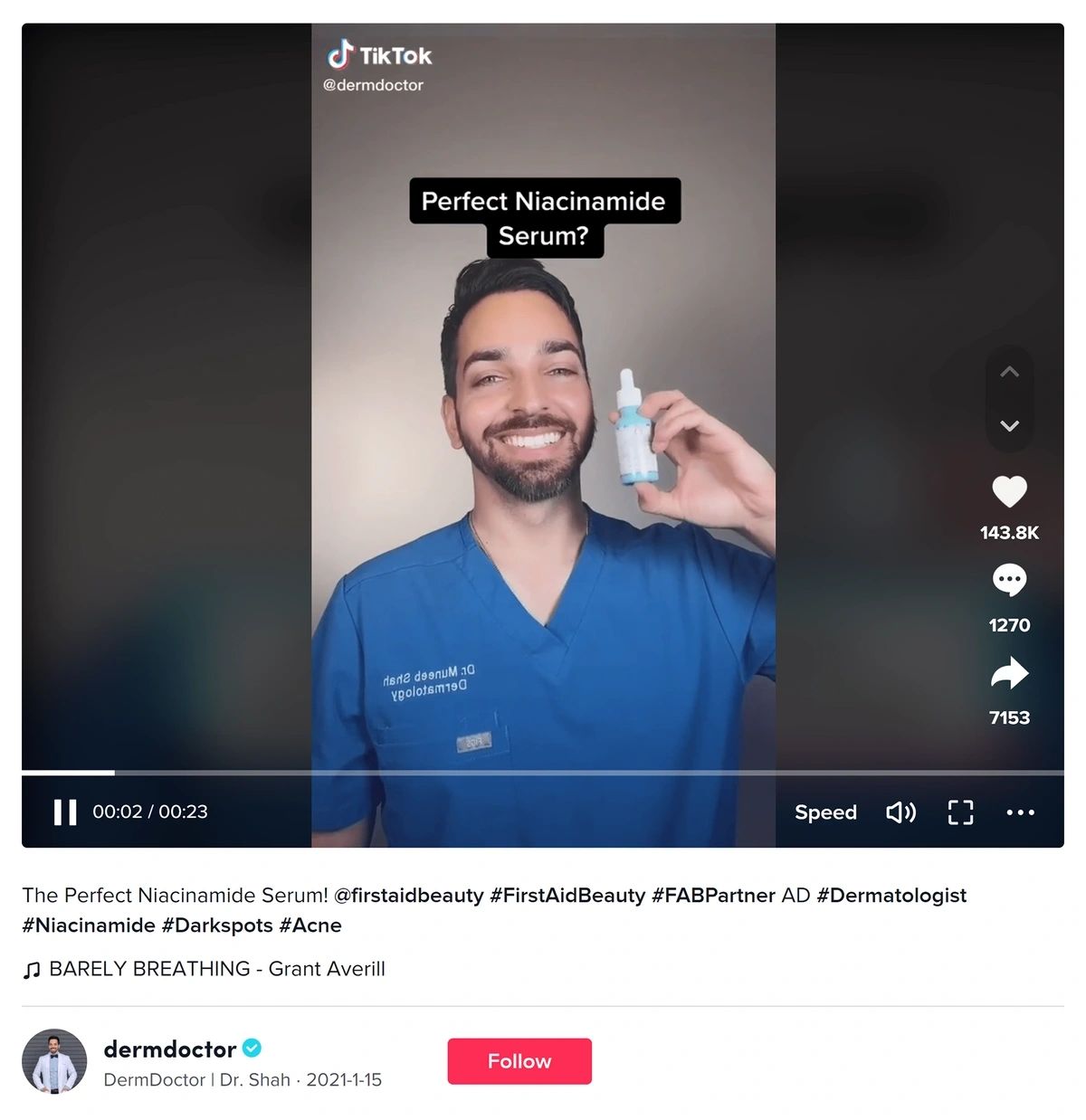 Numerous consumers and dermatologists have posted TikTok videos about niacinamide.
In the last two years, the use of niacinamide in the beauty industry has jumped more than 220%.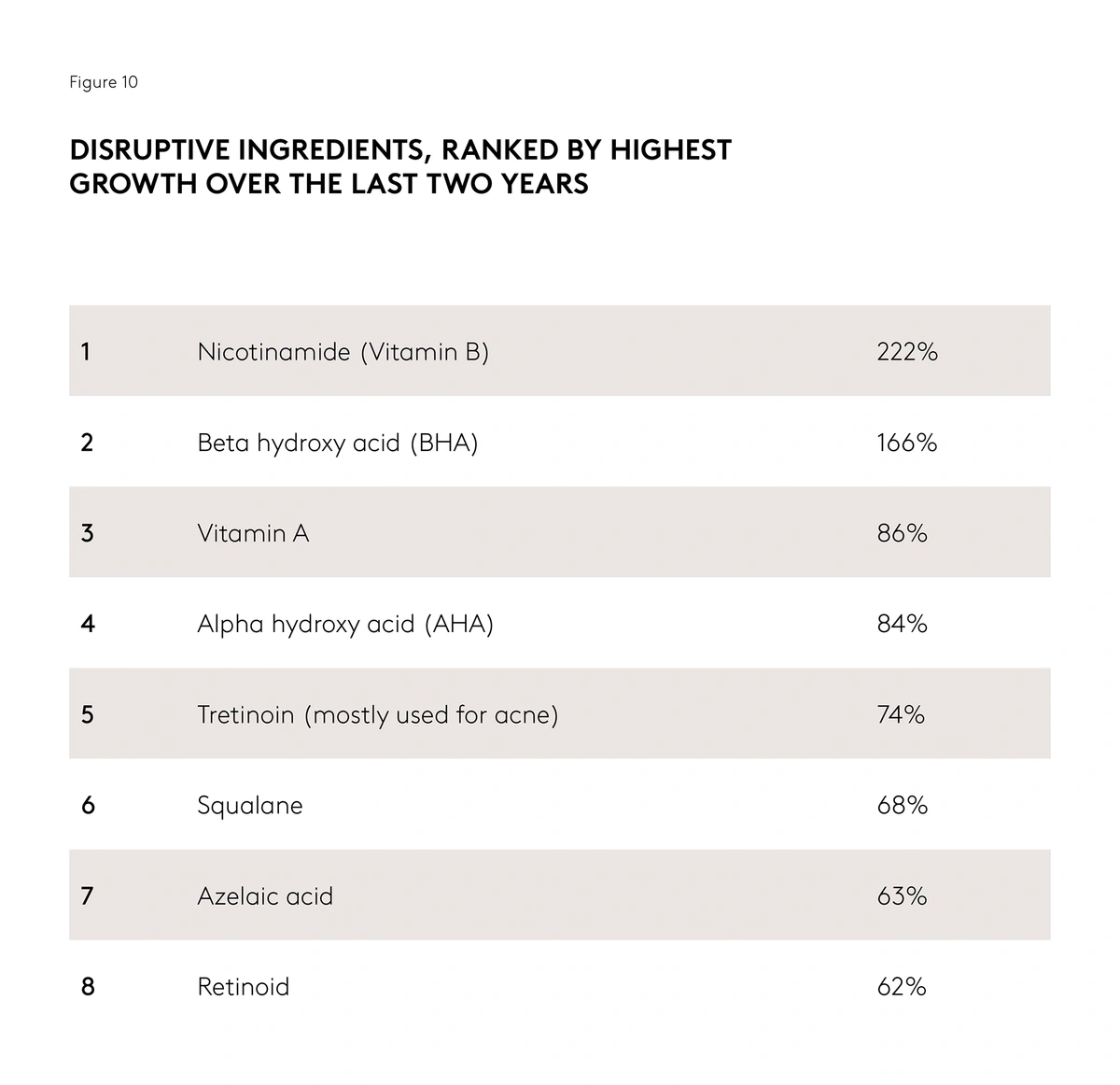 Niacinamide is by far the fastest-growing ingredient in the cosmetics industry.
It isn't a complicated ingredient—it's simply a form of vitamin B3 that's known to be healing and soothing.
Niacinamide can be used to reverse the signs of aging, brighten skin, calm redness, decrease the appearance of pores, and reduce hyperpigmentation, just to name a few of the benefits.
It's so versatile that it's regularly added to a wide range of cosmetics like serums, creams, moisturizers, and body products.
This versatility also means that niacinamide is an appealing skincare ingredient for women of all ages and skin types.
One of the most popular niacinamide products is the Niacinamide 10% + Zinc 1% formula from The Ordinary.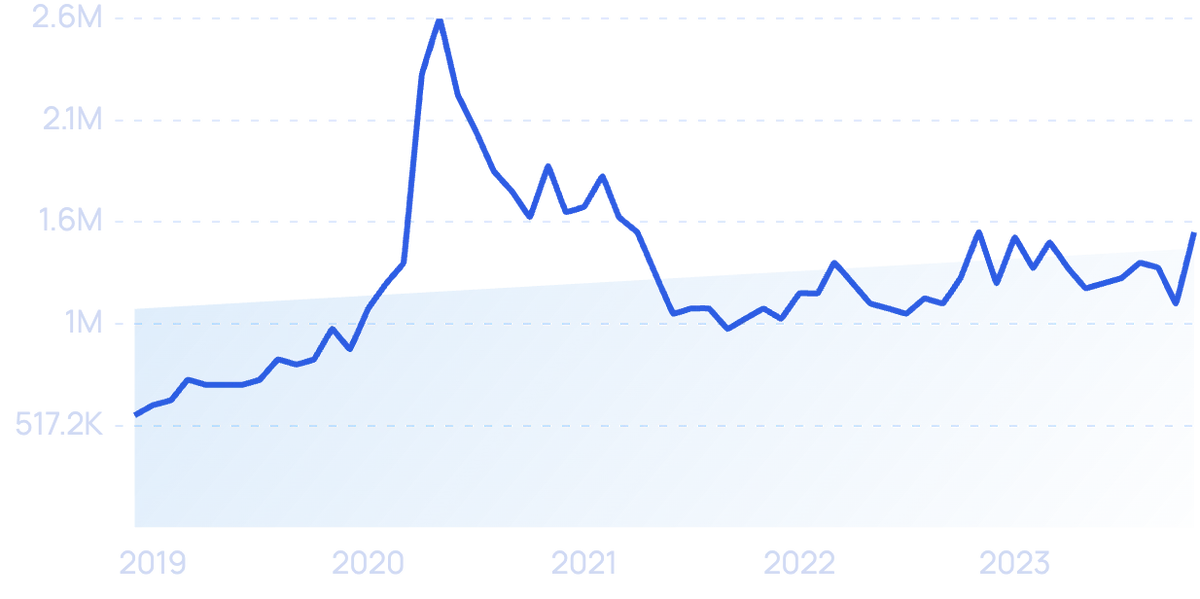 Search history for "The Ordinary" shows 164% growth over the past 5 years.
The brand reports that the product is successful at smoothing and hydrating the skin. Customers may even see results in as little as a week.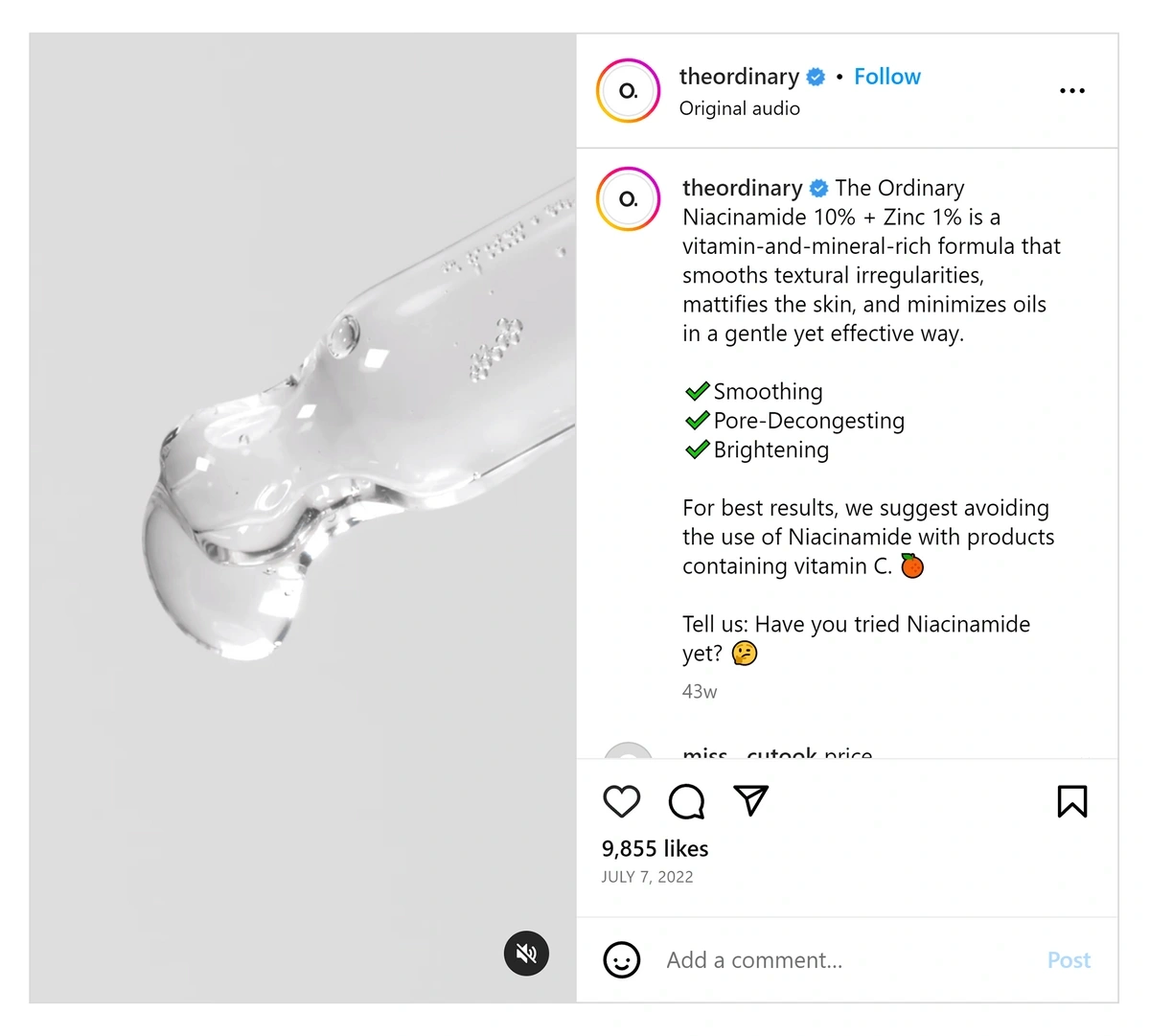 The Ordinary pairs niacinamide with zinc in this popular skincare solution.
Another niacinamide product with a cult following is Glow Recipe's watermelon niacinamide dew drops.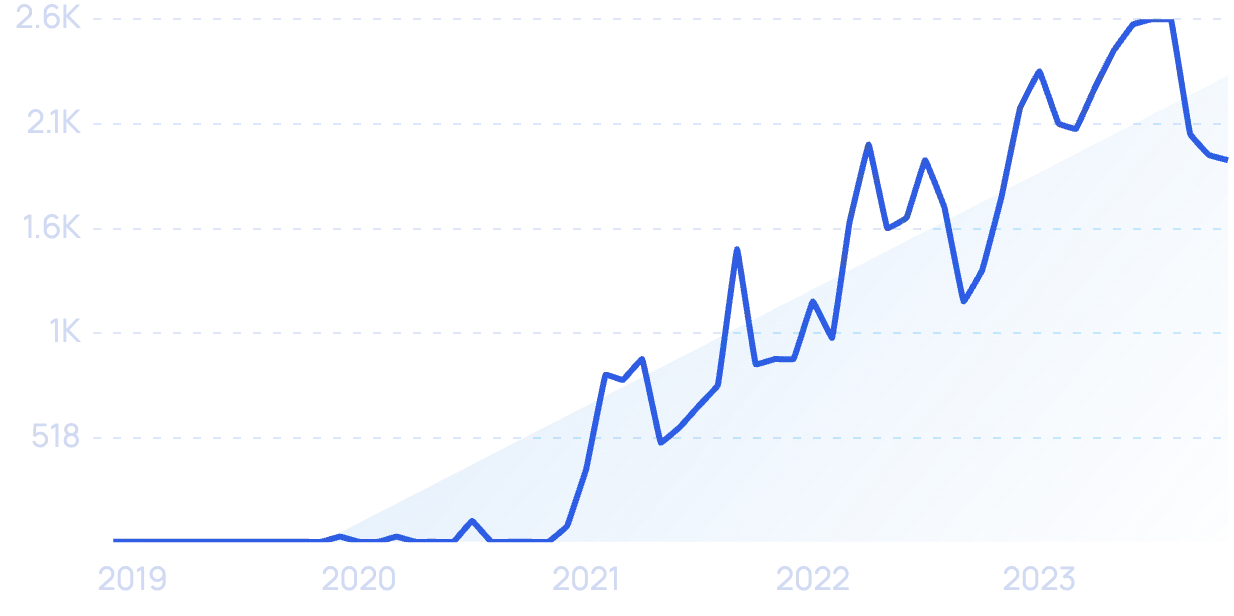 Search volume for "niacinamide dew drops" is up 7,200% in the past 2 years.
The company's research showed that nearly 100% of users agreed the niacinamide solution made a difference in their makeup routine.
With around 260 million views, videos related to the product have exploded on TikTok, too.
2. Algae Decreases Acne and Hydrates Skin
Algae species are packed full of nutrients and antioxidants that are beneficial for the skin.
There are more than 800,000 types of algae. Brown algae, red algae, and green algae are most often used in skincare applications.
Each type offers numerous benefits.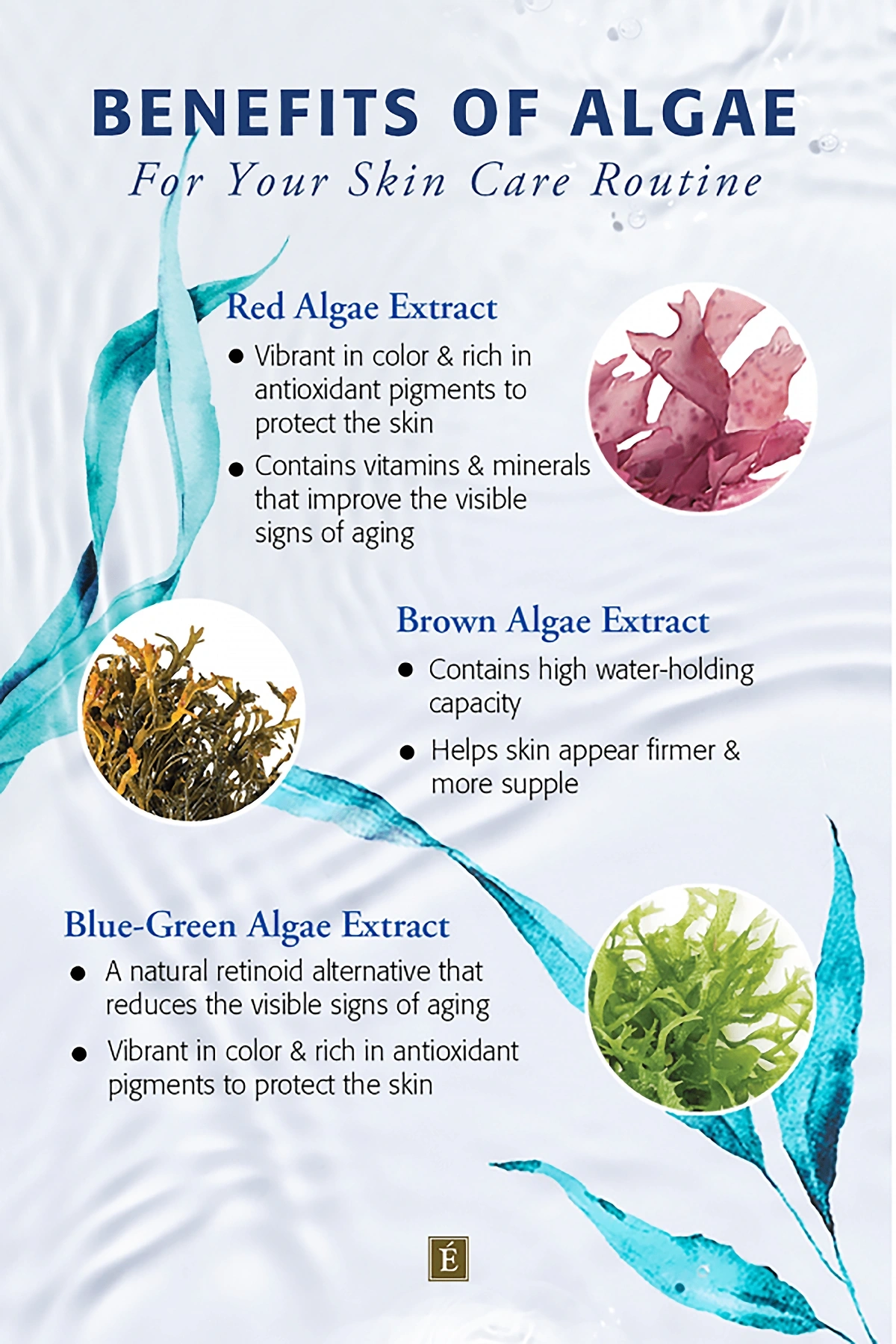 Brown algae is the most common type of algae used in skincare applications.
Because algae are able to withstand harsh ocean conditions, they have incredible defense systems and those systems can be protective of human skin as well.
Many types of algae contain antioxidants that decrease the enzymes in the body that are responsible for destroying collagen. Preserving collagen results in fewer fine lines and wrinkles.
Algae also contain high levels of vitamin C. This balances uneven skin tones and brightens the skin.
Some algae also have antimicrobial properties, which means they're great for fighting acne.
They also contain vitamin B, magnesium, and zinc, all of which can help clear up clogged pores.
MISSHA's Time Revolution Red Algae Treatment Essence is formulated with Irish moss extract, a type of red algae.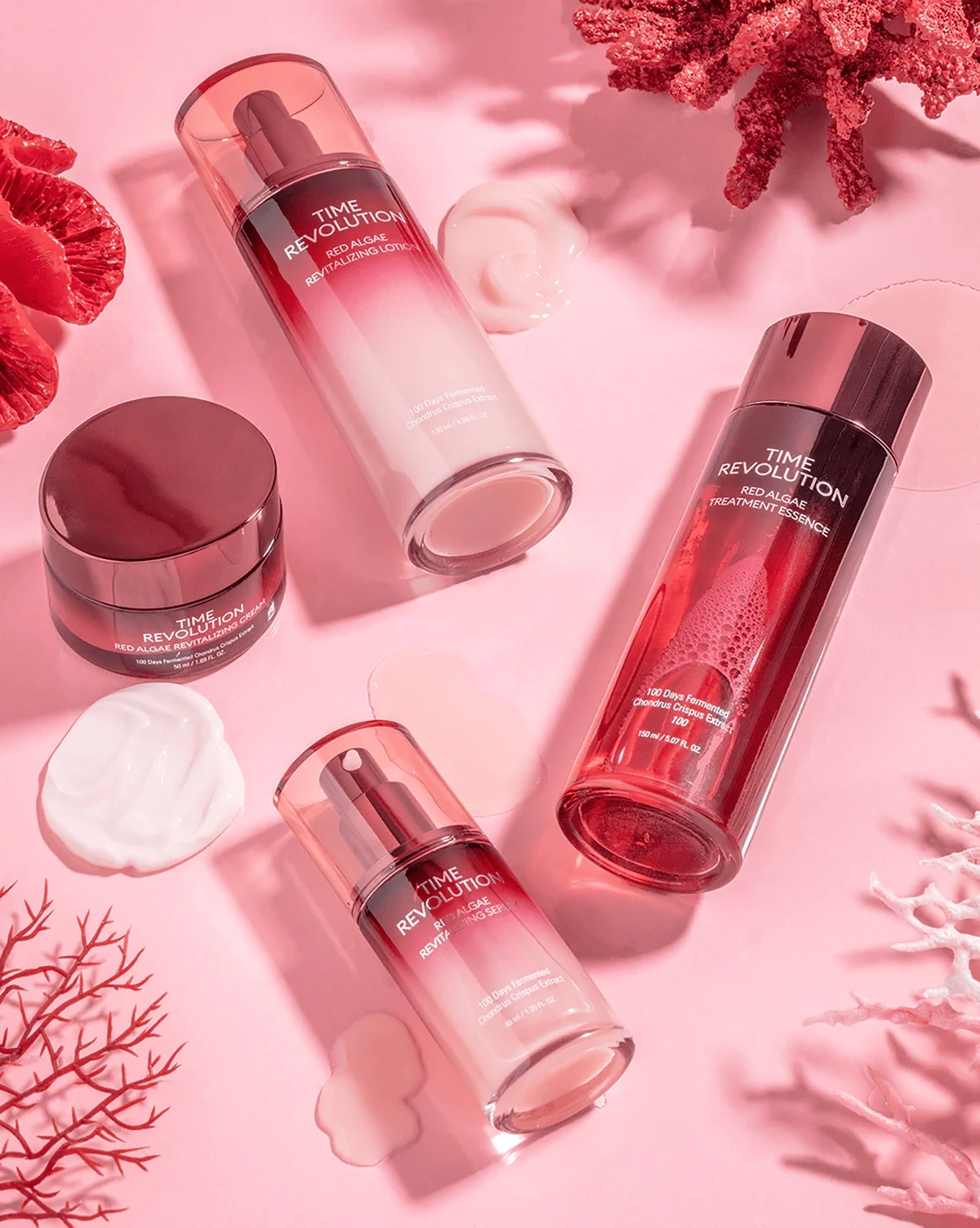 MISSHA offers four products formulated with red algae.
This algae naturally contains powerhouse ingredients like calcium, magnesium, potassium, and vitamins A and K.
The skincare company says it's best for hydrating the skin and decreasing acne and inflammation.
OSEA, a clean beauty company with a focus on using ingredients found in the ocean, sells several algae-containing products: a white algae mask, an algae body oil, a red algae clarifying mask, and an algae body butter.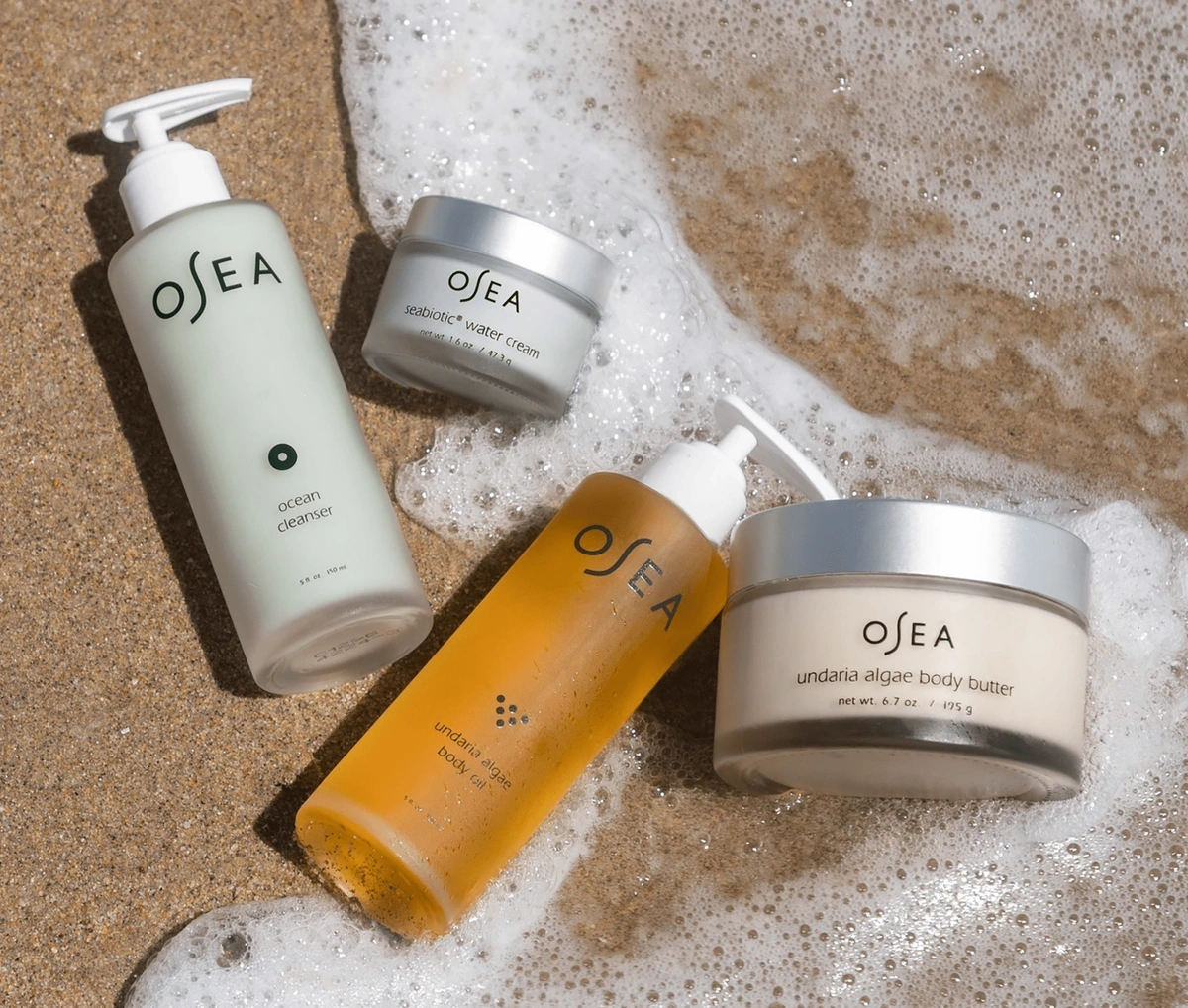 Several of OSEA's products are formulated with algae that nourish and hydrate the skin.
Their body butter, in particular, has become popular. It's formulated with brown algae that improves the skin's moisture barrier.
According to the company's stats, it holds in moisture for 72 hours and decreases the crepey look of skin.
3. Alt-Retinols Provide Less Irritation, Same Anti-Aging Results
With more than 7.2 billion views on TikTok, retinol is having a resurgence as a must-have skincare ingredient.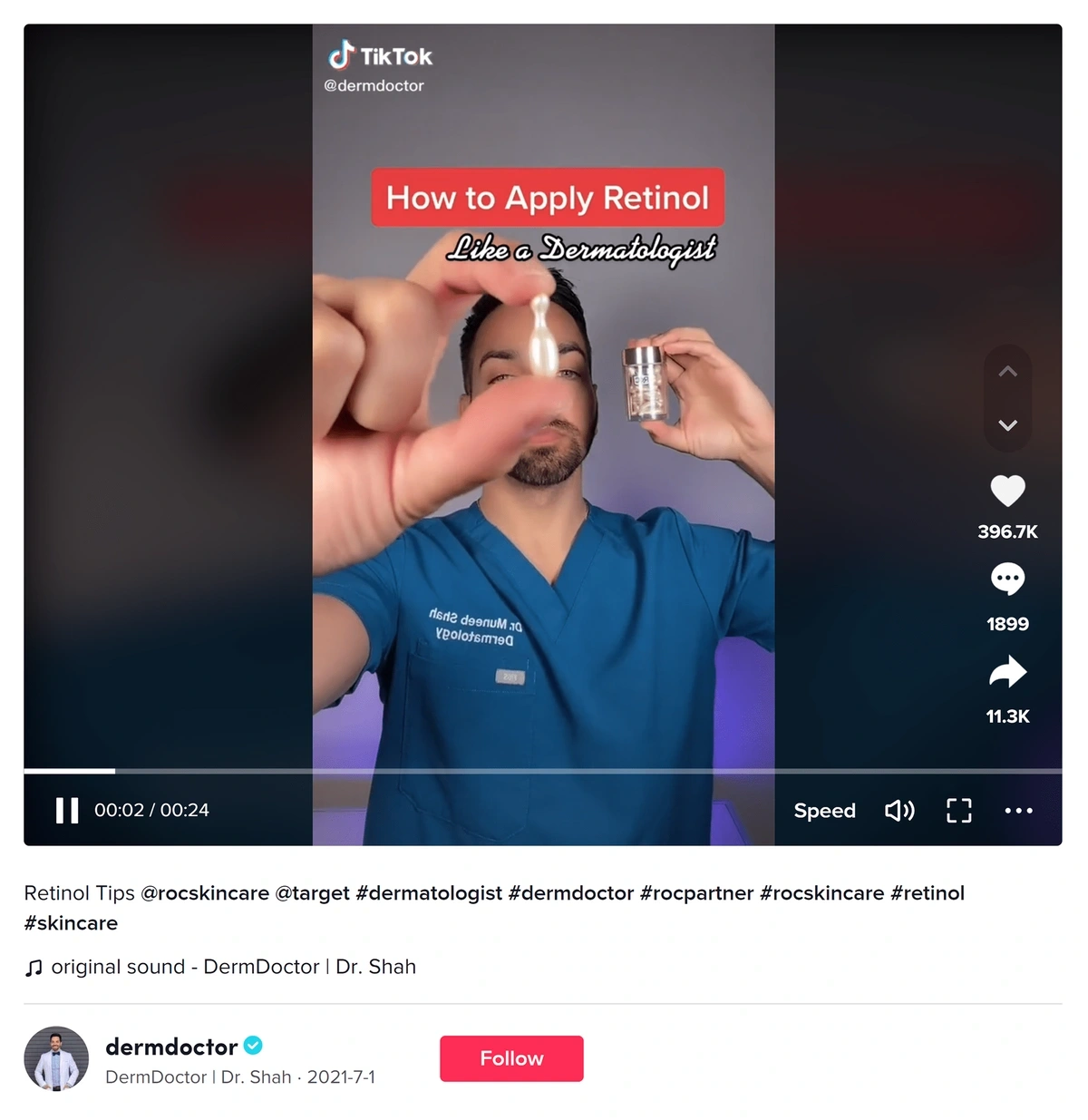 Many dermatologists post TikTok videos with tips for using retinol.
Retinol was discovered by accident about 30 years ago. It's a form of vitamin A that has anti-aging properties due to the fact that it increases skin cell and collagen production.
It can also unclog pores and treat acne.
But the recent popularity of retinol comes with a twist. It's alt-retinols (also called bio-retinols) that are really trending.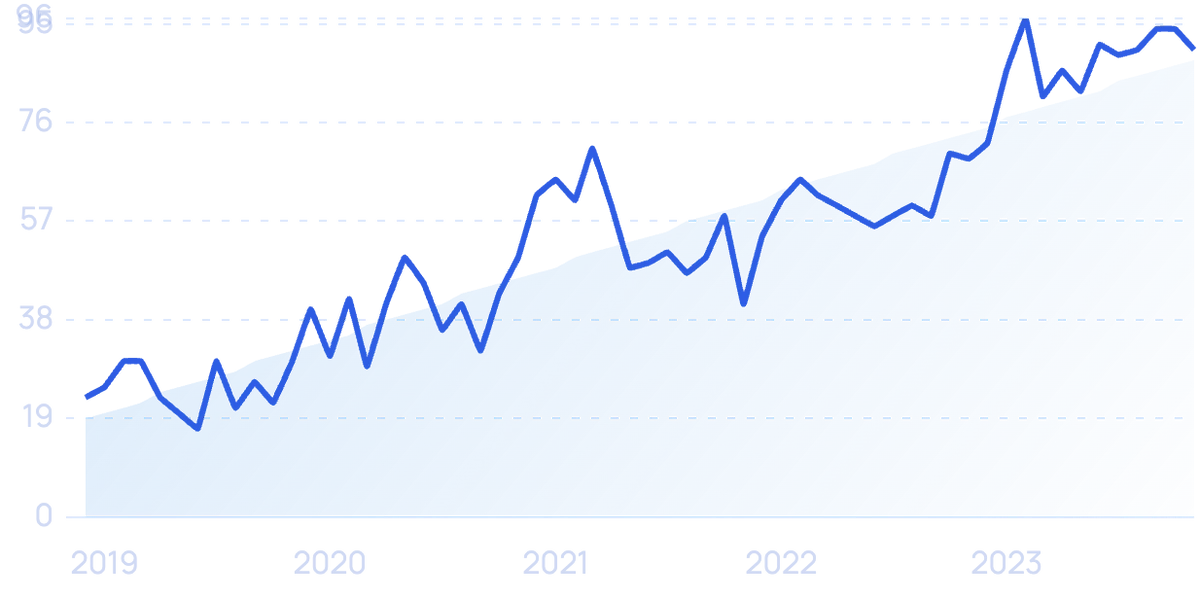 Search volume for "bio retinol" is up nearly 288% in the past 5 years.
These are more gentle formulas that are plant-based instead of being derived from vitamin A.
Because traditional retinol formulations can be too harsh for many people, these formulas are ideal for people with normal to sensitive skin.
Alt-retinols provide similar results as retinol but without the irritation, redness, and dryness.
Common forms are bakuchiol and azelaic acid.
Bakuchiol is derived from the seeds of the babchi plant.
A small study from 2019 showed the ingredient to be just as effective as retinol in decreasing fine lines. And, bakuchiol didn't cause irritation like retinol did.
Biossance combines squalane and niacinamide with bakuchiol in its anti-aging serum.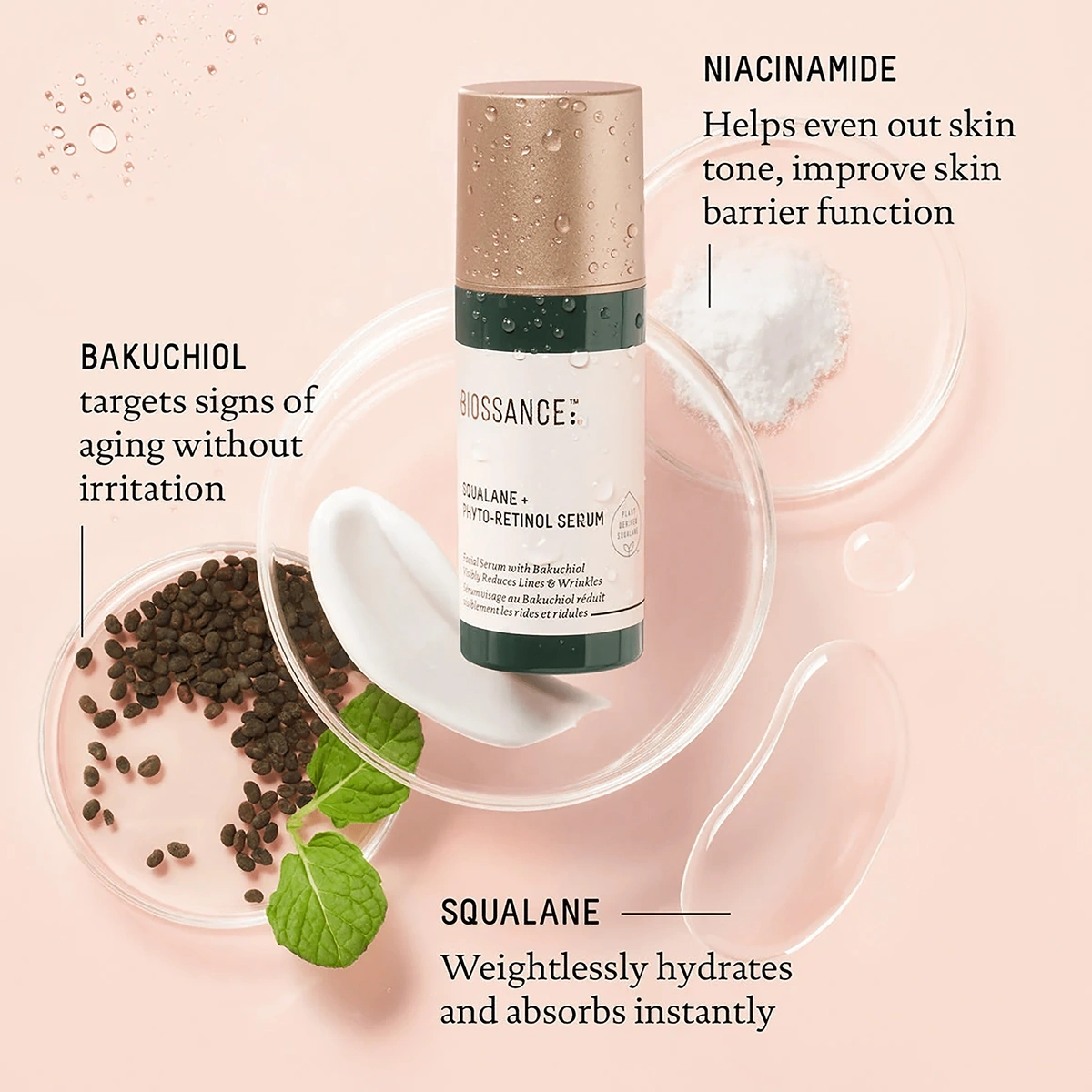 Squalane, niacinamide, and bakuchiol come together in this skincare formula.
The company's consumer study reported a visible reduction in wrinkles and brighter skin after one week.
As another alt-retinol, azelaic acid is derived from grains such as wheat, barley, and rye. In today's cosmetic world, however, it's usually created in the lab.
Its most notable benefit for the skin is correcting uneven tone and dark spots. But it's helpful for treating acne, too.
The Lights Out Resting Mask from Relevant: Your Skin Seen uses azelaic acid to brighten and refresh the skin in a 20-minute application.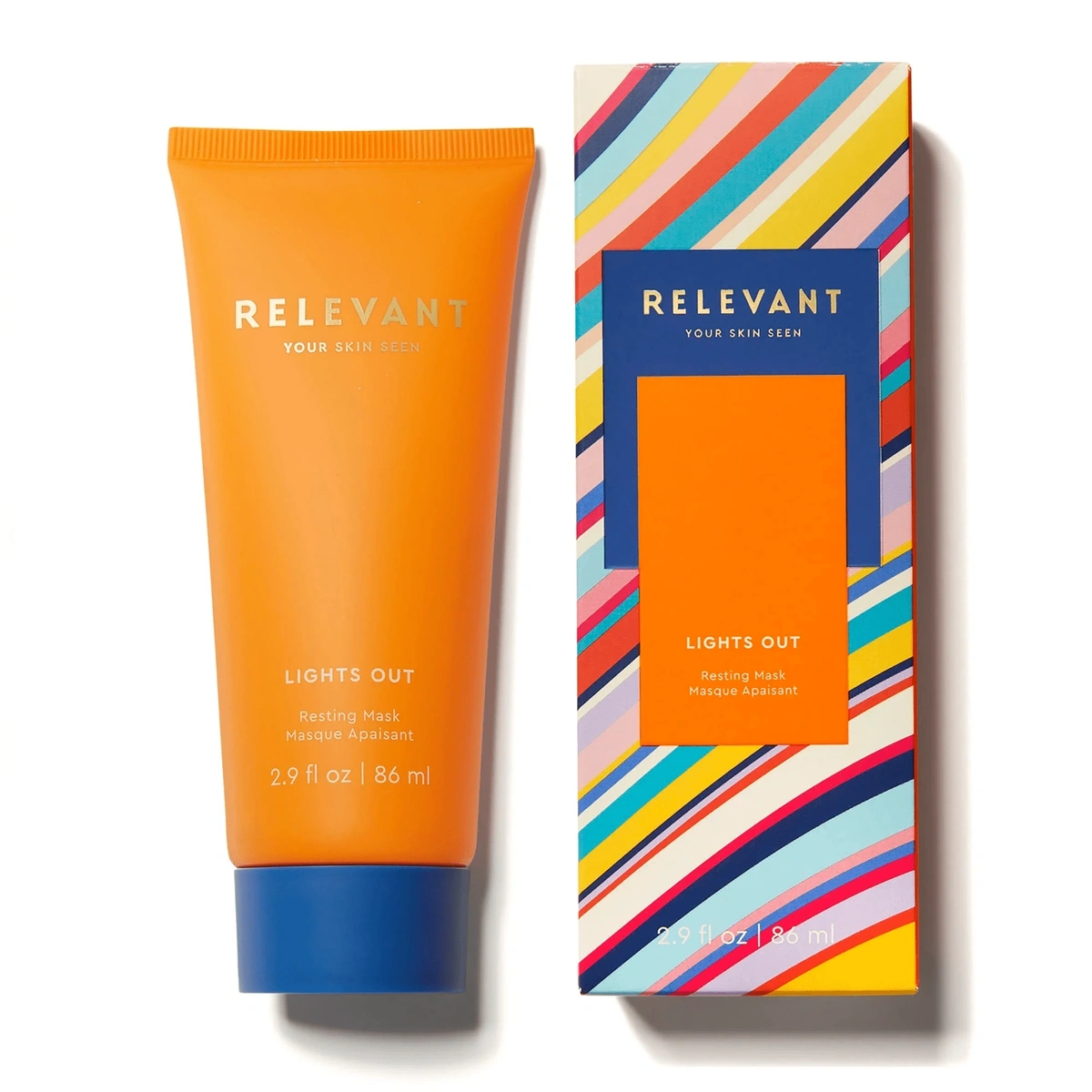 Azelaic acid in Relevant's mask gently exfoliates without causing irritation.
The product is already a best-seller for Relevant: Your Skin Seen, a startup brand that launched in 2022.
4. Copper Peptides Stimulate Collagen Production
Peptides are the building blocks of proteins in the body.
They respond to damage in the skin by activating an anti-inflammatory response, stimulating collagen production, and boosting elastin.
As people get older, the amount of peptides in the skin decreases. This starts happening as early as the late 20s and early 30s.
This is especially true for a certain type of peptide called copper peptides.
In recent months, skincare brands have started to incorporate copper peptides into serums and creams in order to increase the peptides' activity in the skin.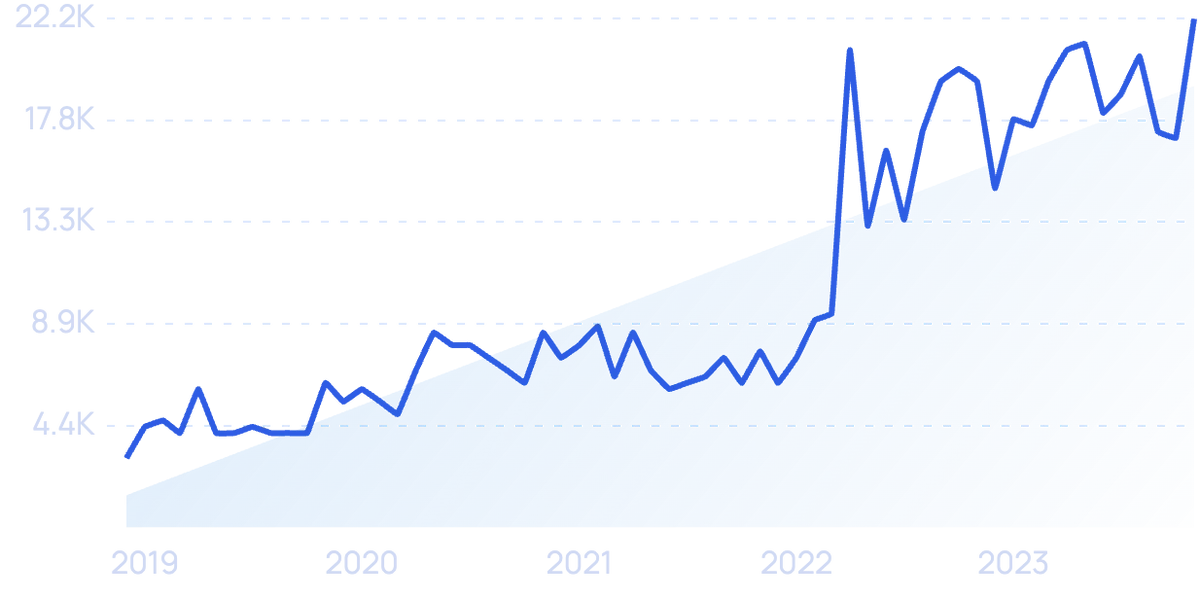 Search volume for "copper peptides" is up more than 600% since 2019.
Topical copper peptides tell the skin to produce more collagen and molecules that will help support the structure of the skin. This results in plumper, bouncier skin.
Copper is also anti-inflammatory and can calm redness or acne scars.
But, it isn't hydrating. Beauty experts recommend pairing copper peptides with another moisturizer.
The Ordinary's Buffet + Copper Peptides serum incorporates five types of peptides.
It's a popular serum that's recommended by numerous beauty sites.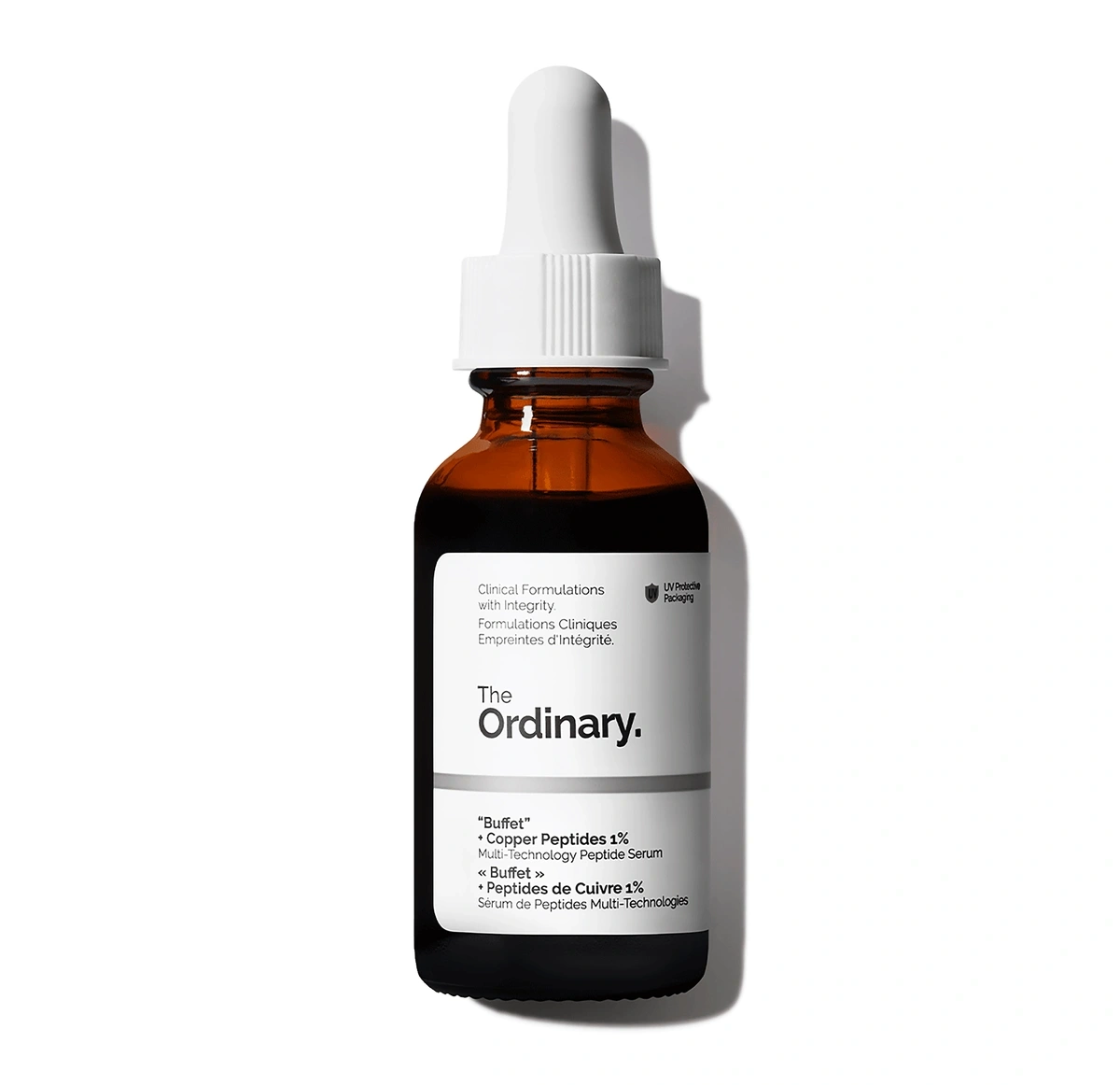 This copper peptide serum targets signs of aging.
Vogue compared Biossance's copper peptide serum to "Botox in a bottle."
The Squalene + Copper Peptide Rapid Plumping Serum combines copper peptides with hyaluronic acid, polyglutamic acid, and squalane.
Customers report seeing increased hydration, improved firmness and elasticity, and fewer wrinkles.
The serum is so popular that Biossance recently created a limited-edition gift bottle of it.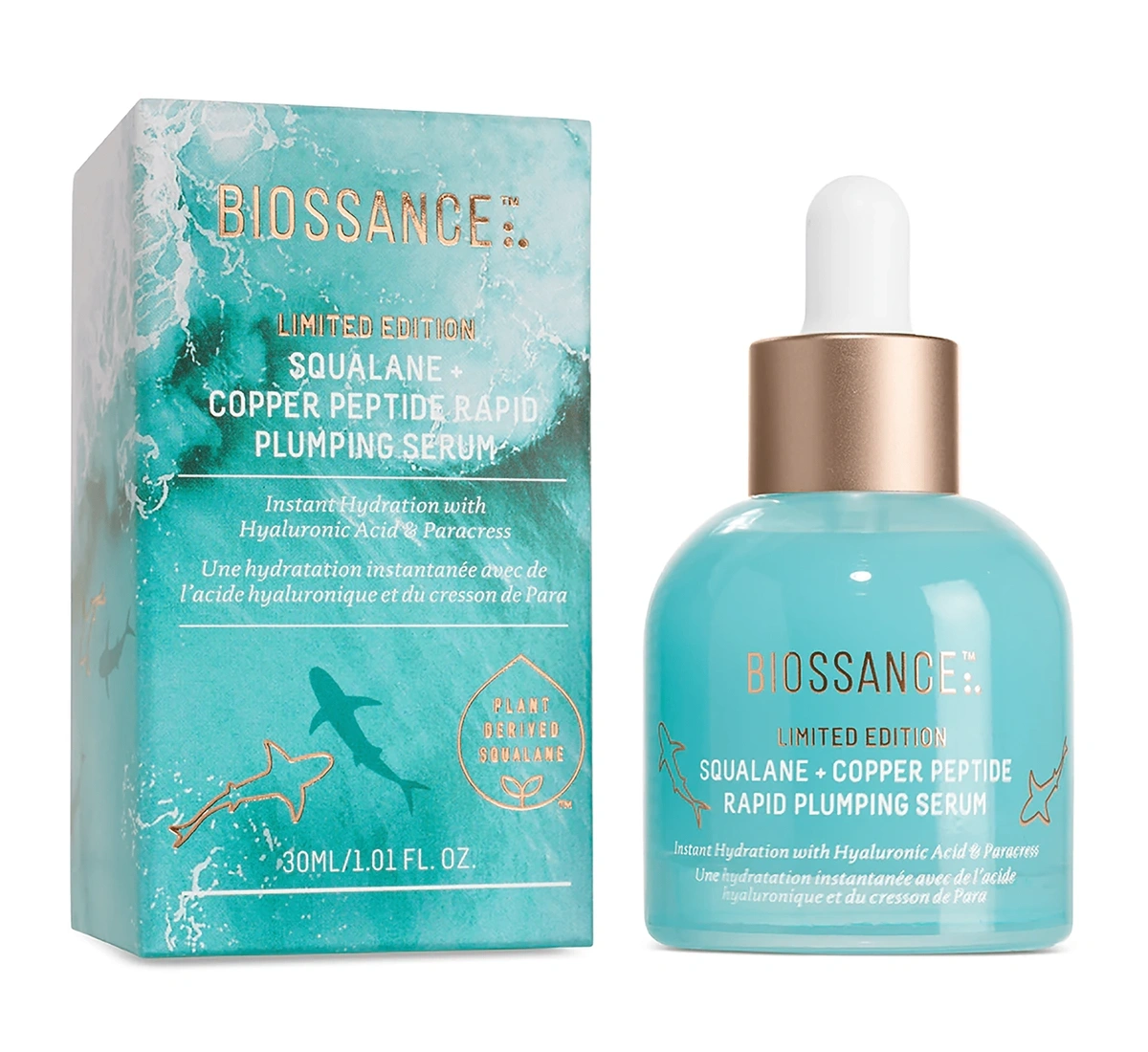 Biossance released a limited-edition bottle and package of their popular copper peptide serum.
5. Snail Mucin Boosts Hydration
Along with collagen peptides, many skin care consumers are looking to snail mucin in order to stimulate collagen production and increase hydration.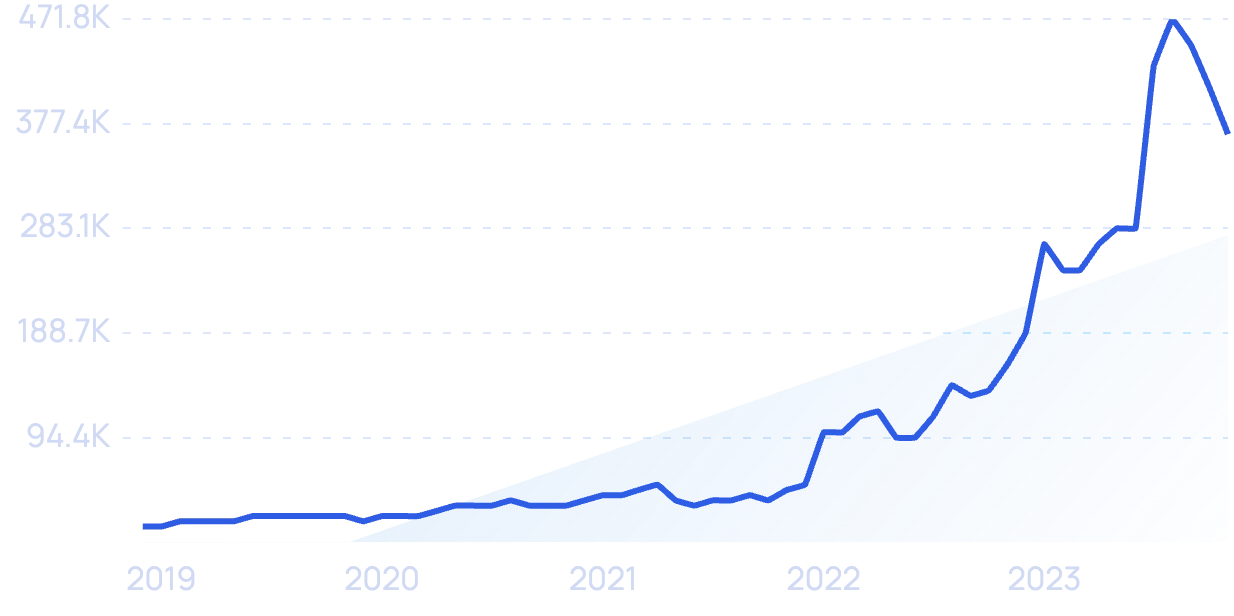 Search volume for "snail mucin" is up more than 2,500% in the past 5 years.
It was first discovered in the 1980s by snail breeders in Chile. They noticed they had very soft hands after handling the creatures. Eventually, a snail mucin hand cream called Elicina was released.
Much more recently, it's become popular in Korean skincare and has made its way to the U.S.
These days, the ingredient is often referred to as "snail slime". It is, in fact, the substance a snail leaves behind as it moves and its technical name is "snail secretion filtrate".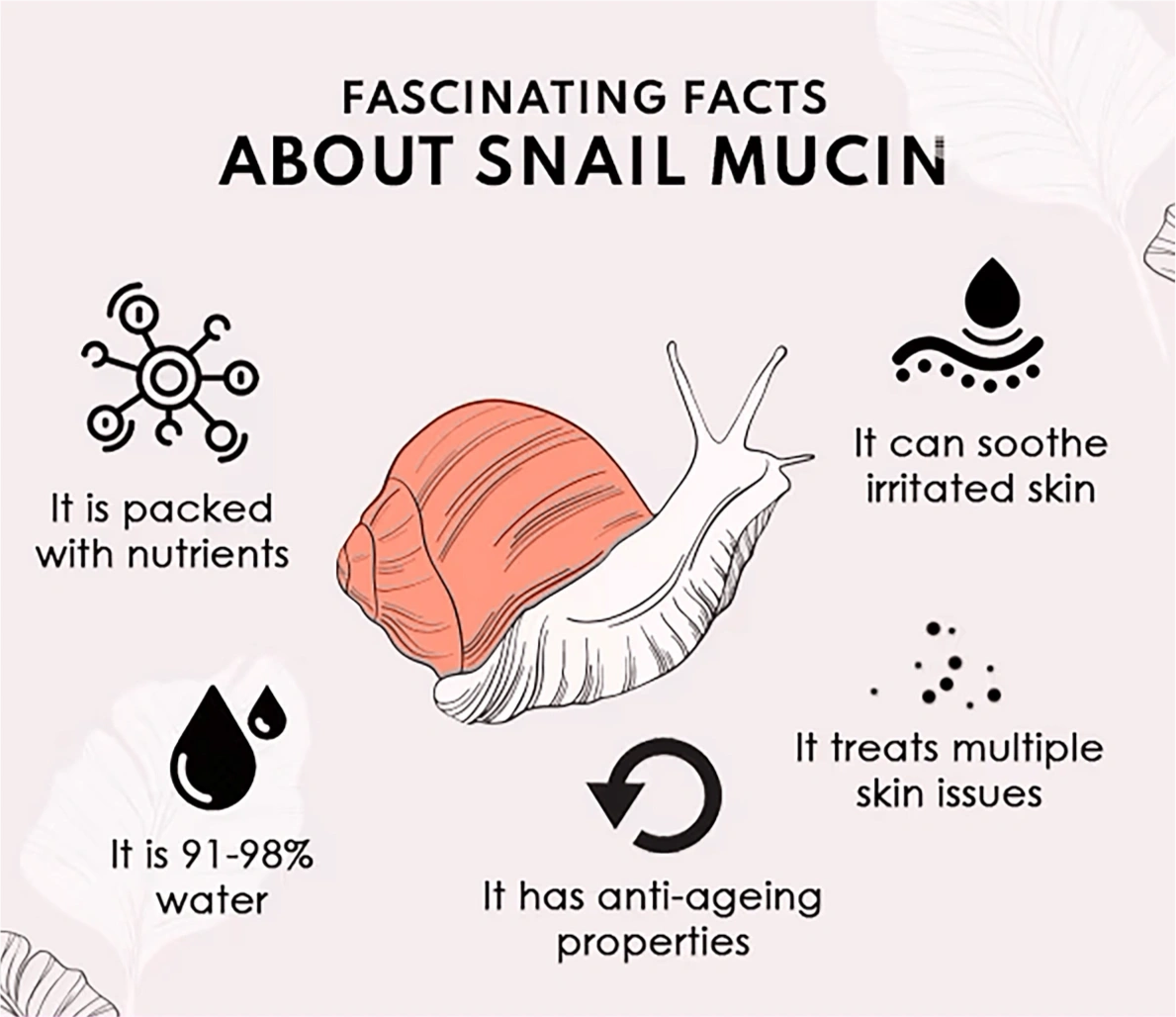 Snail mucin has various skincare benefits.
It naturally contains skin-benefiting ingredients like glycoproteins, hyaluronic acid, and glycolic acid.
The hyaluronic acid is moisturizing, the glycolic acid boosts collagen production and soothes irritation, and the glycoproteins improve the skin's natural barrier.
It also contains copper peptides.
A small study reported that women using a serum formulated with 40% snail mucin for 12 weeks saw fewer fine lines and wrinkles.
The appeal of snail mucin is growing, so much so that the snail beauty products market is expected to be worth more than $982 million in 2031.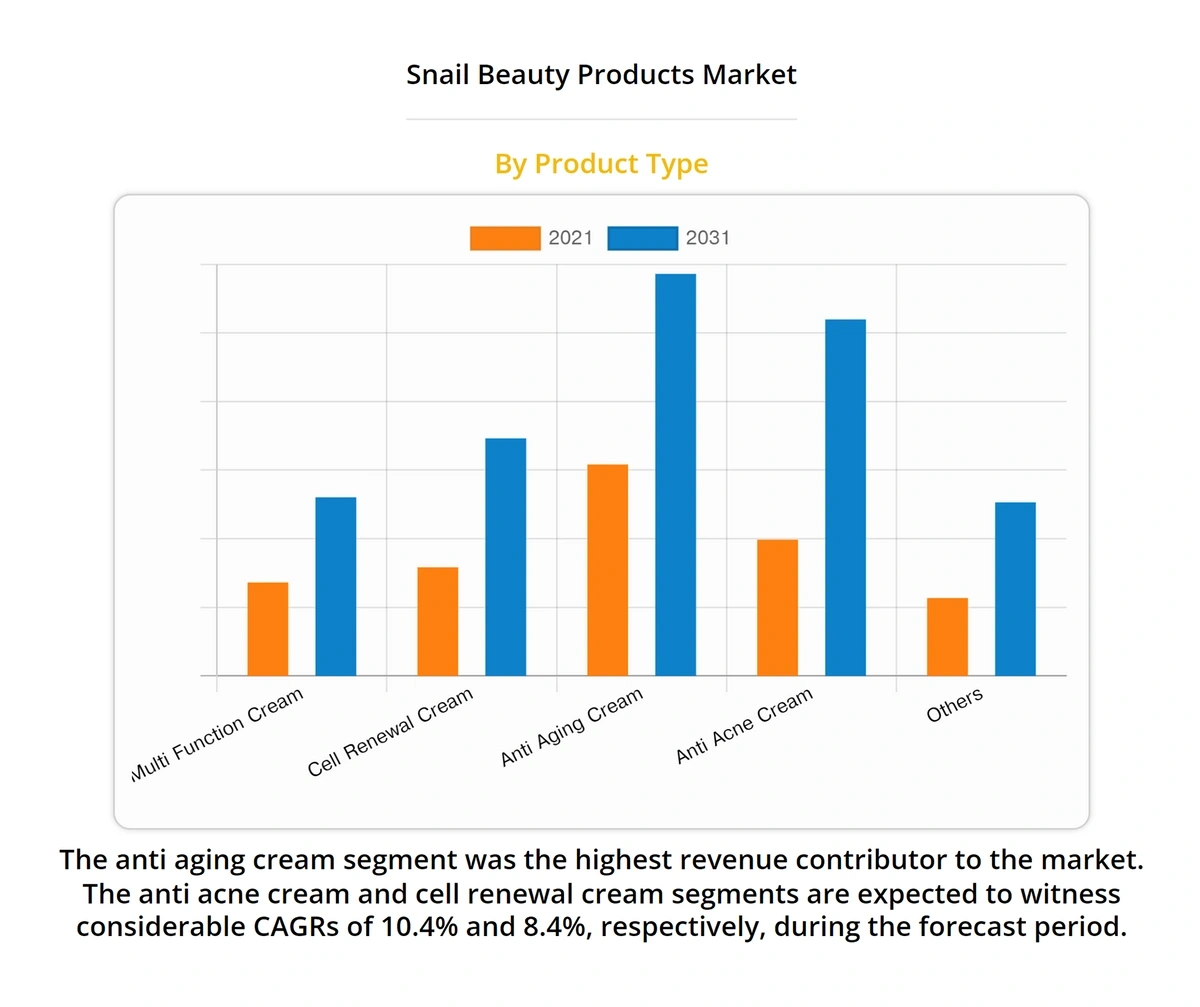 Anti-aging creams are the most popular application of snail products in the skincare industry.
The Snail Repair Cream Moisturizer from Seoul Ceuticals contains 97.5% snail mucin.
The product has tens of thousands of positive reviews on online sites like Amazon and Target.
For an option that's lighter than a cream, many beauty consumers prefer the Advanced Snail 96 Mucin Power Essence from COSRX.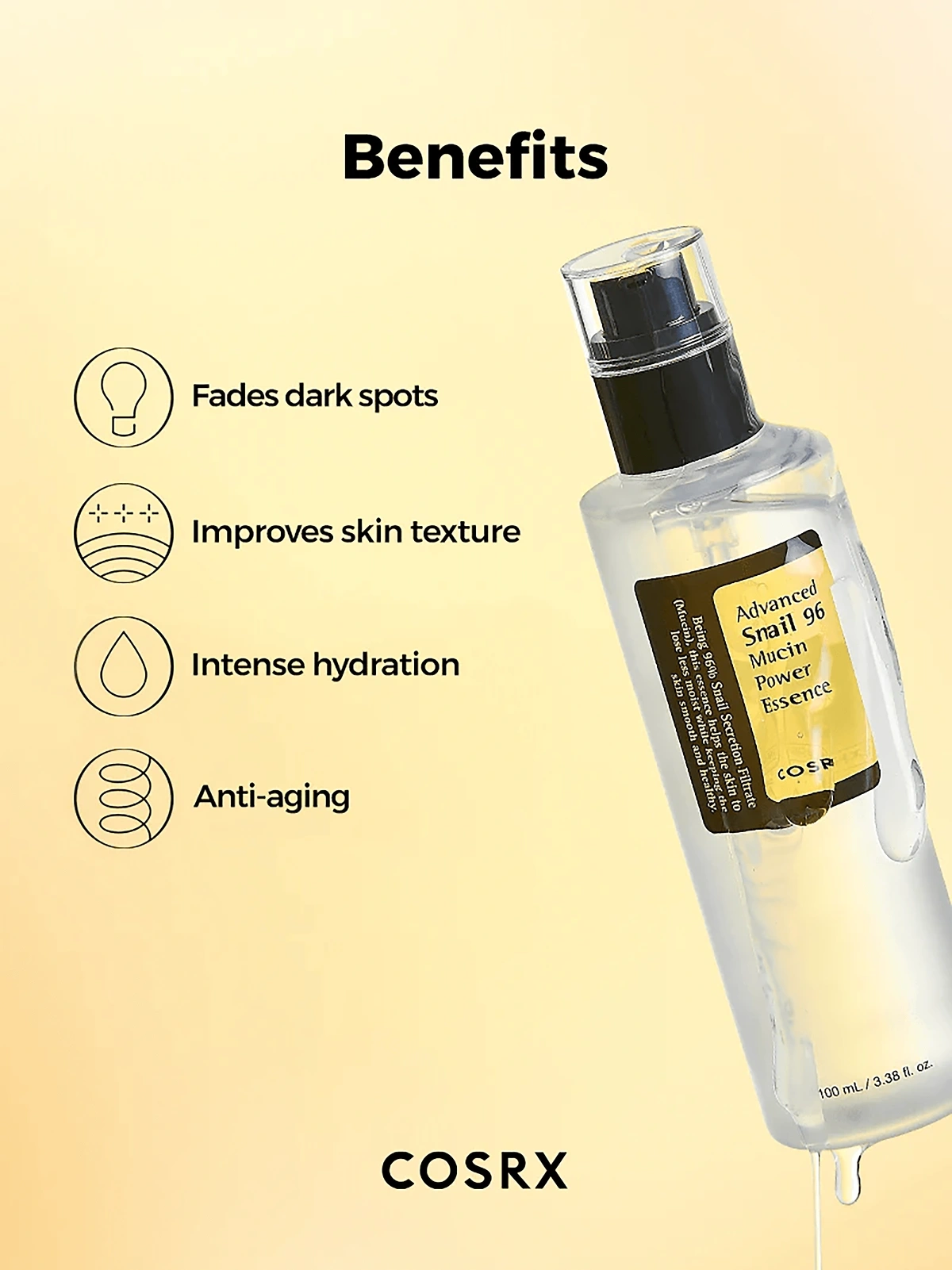 This lightweight essence combines snail mucin with sodium hyaluronate.
The formulation is 96.3% snail mucin.
It's designed to quickly absorb into the skin and provide intense hydration, improve skin texture, and fade dark spots.
6. Mushroom-Enhanced Formulas Provide Natural Anti-Aging Effects
Mushrooms have transitioned from the dinner table to the Neiman Marcus beauty counter. Yes, mushrooms are trending as a popular skincare ingredient.
Research has shown certain mushroom species have the potential to prevent collagen breakdown, decrease inflammation, and correct hyperpigmentation.
As one example, the tremella mushroom (also known as the snow mushroom) contains ceramides, resveratrol, carotenoids, and vitamins that soothe irritation on the skin and reduce inflammation.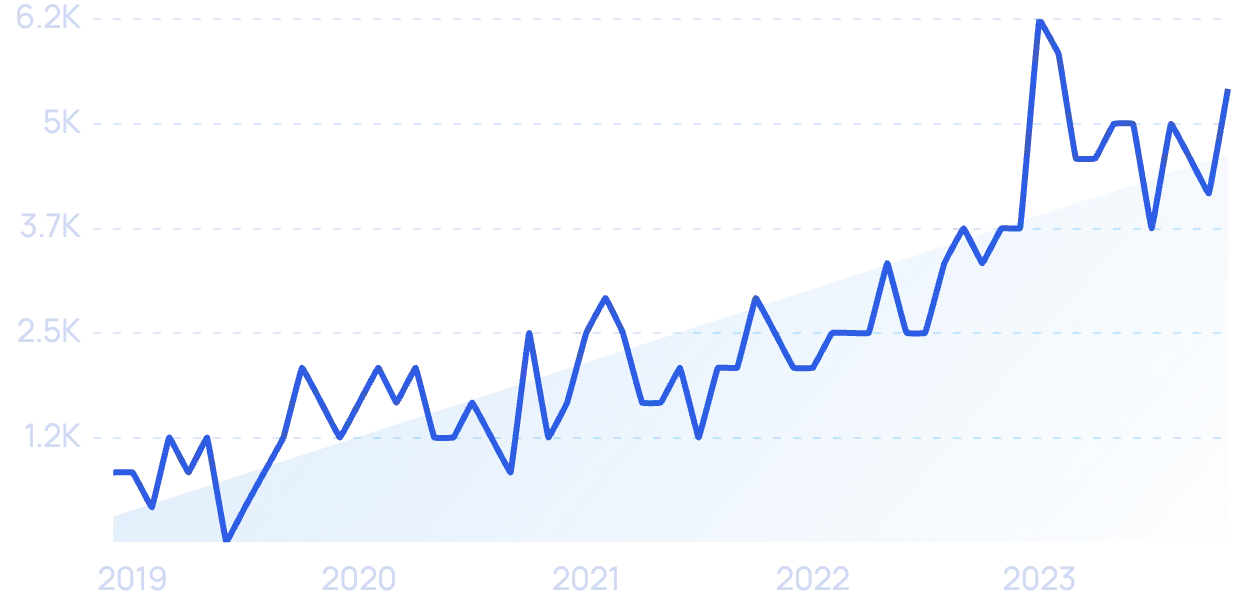 Search volume for "tremella mushroom" is up more than 550% since 2019.
It also contains a compound called phenolic veratric acid, which has been found to reduce the formation of wrinkles.
And, it can absorb 500 times its weight in water, so it's incredibly hydrating for the skin.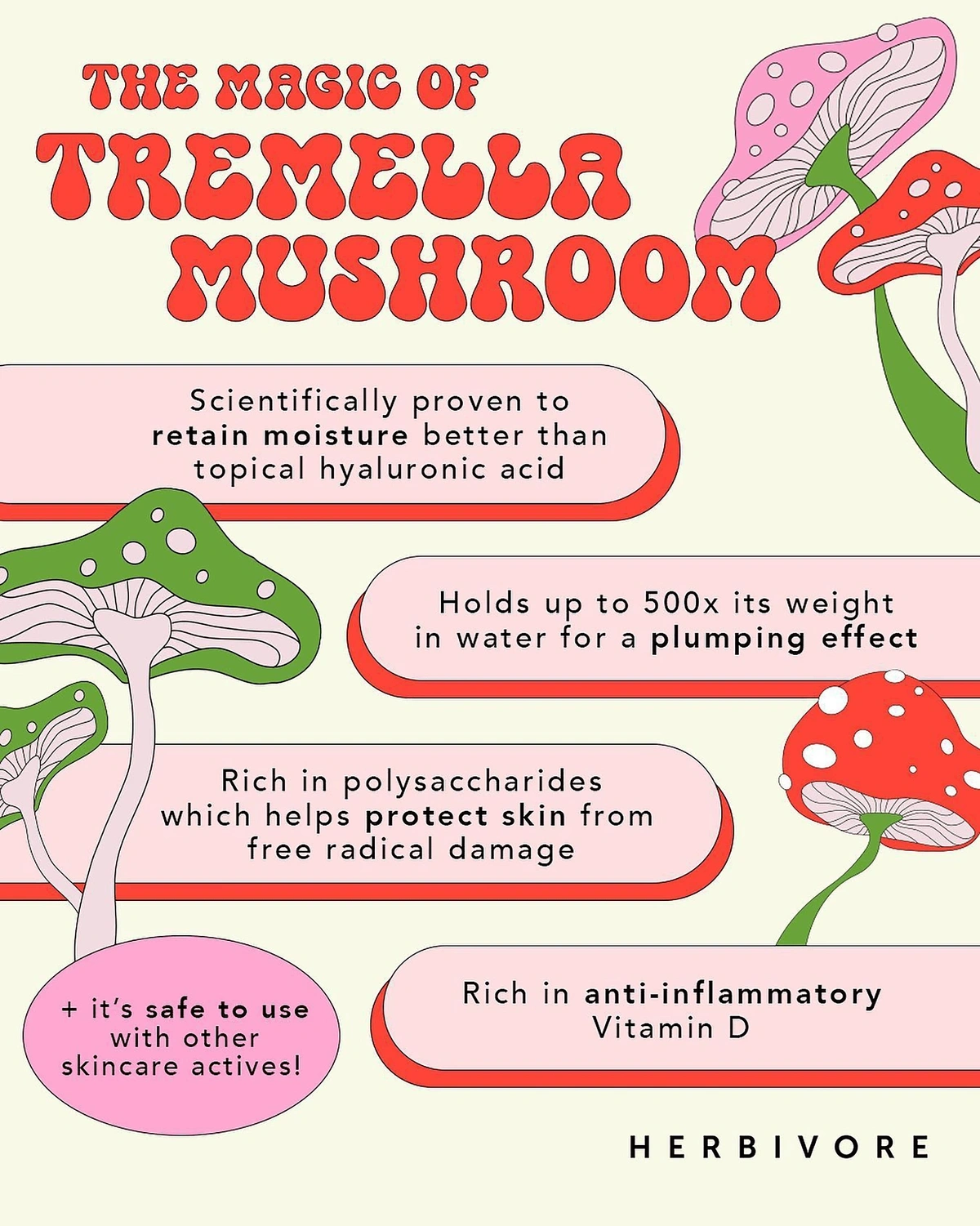 Tremella mushrooms are soothing and hydrating for the skin.
Many mushrooms are also considered adaptogens — substances that help the body recover from environmental stress like UV rays, toxins, and pollution.
In all, there are more than 14,000 kinds of mushrooms. In the skincare industry, there are six popular mushrooms: chaga, cordyceps, reishi, shiitake, trametes, and tremella.
Each type of mushroom has its own unique benefits.
For instance, the Adaptogen Deep Moisture Cream from Youth To The People contains fermented reishi mushroom extracts because they're rich in antioxidants and deeply hydrating.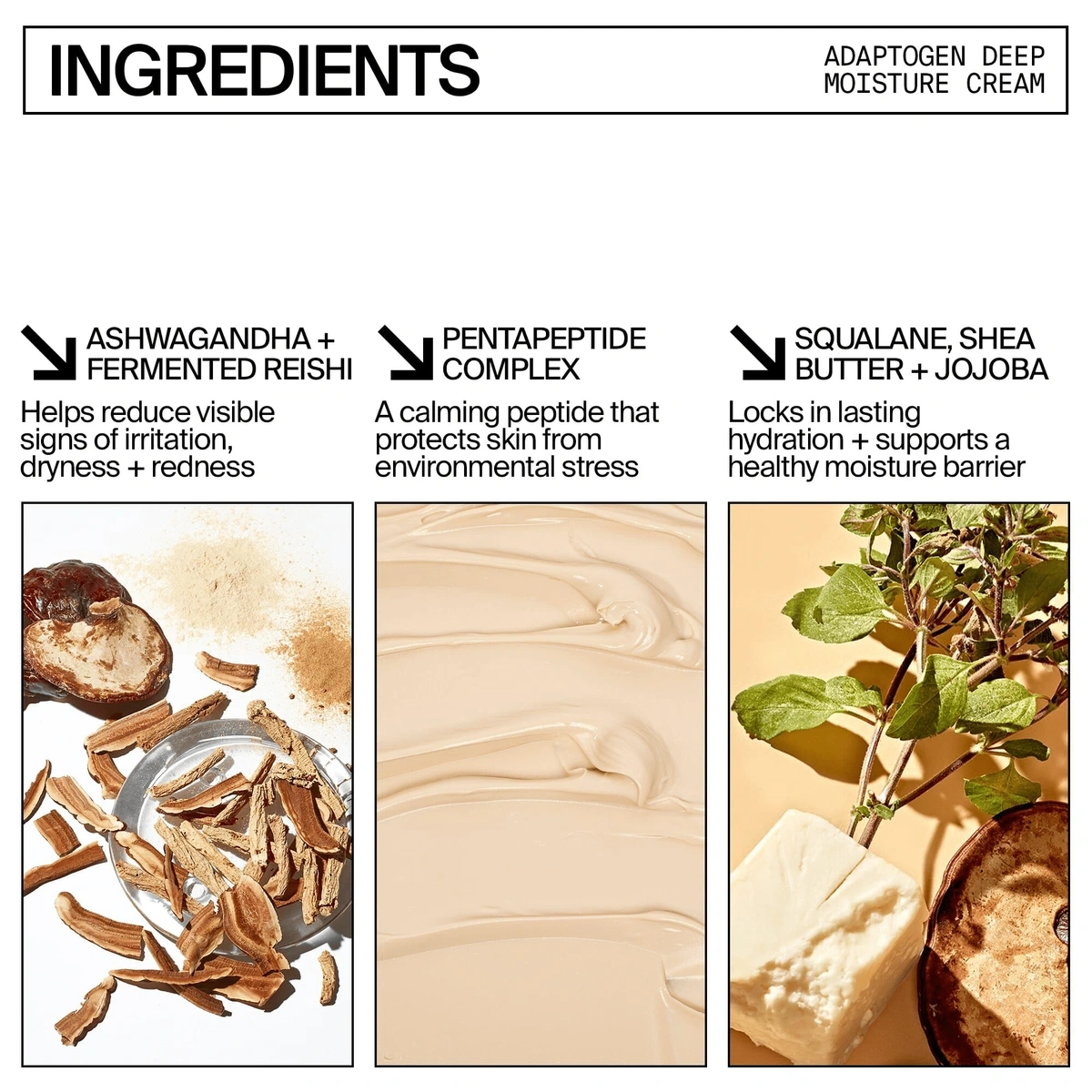 This moisturizing cream combines reishi mushrooms with squalane, shea butter, and other hydrating ingredients.
On the other hand, Invisiblur Perfecting Shield from Murad is a primer that contains shiitake mushrooms to promote firmness, elasticity, and skin resilience.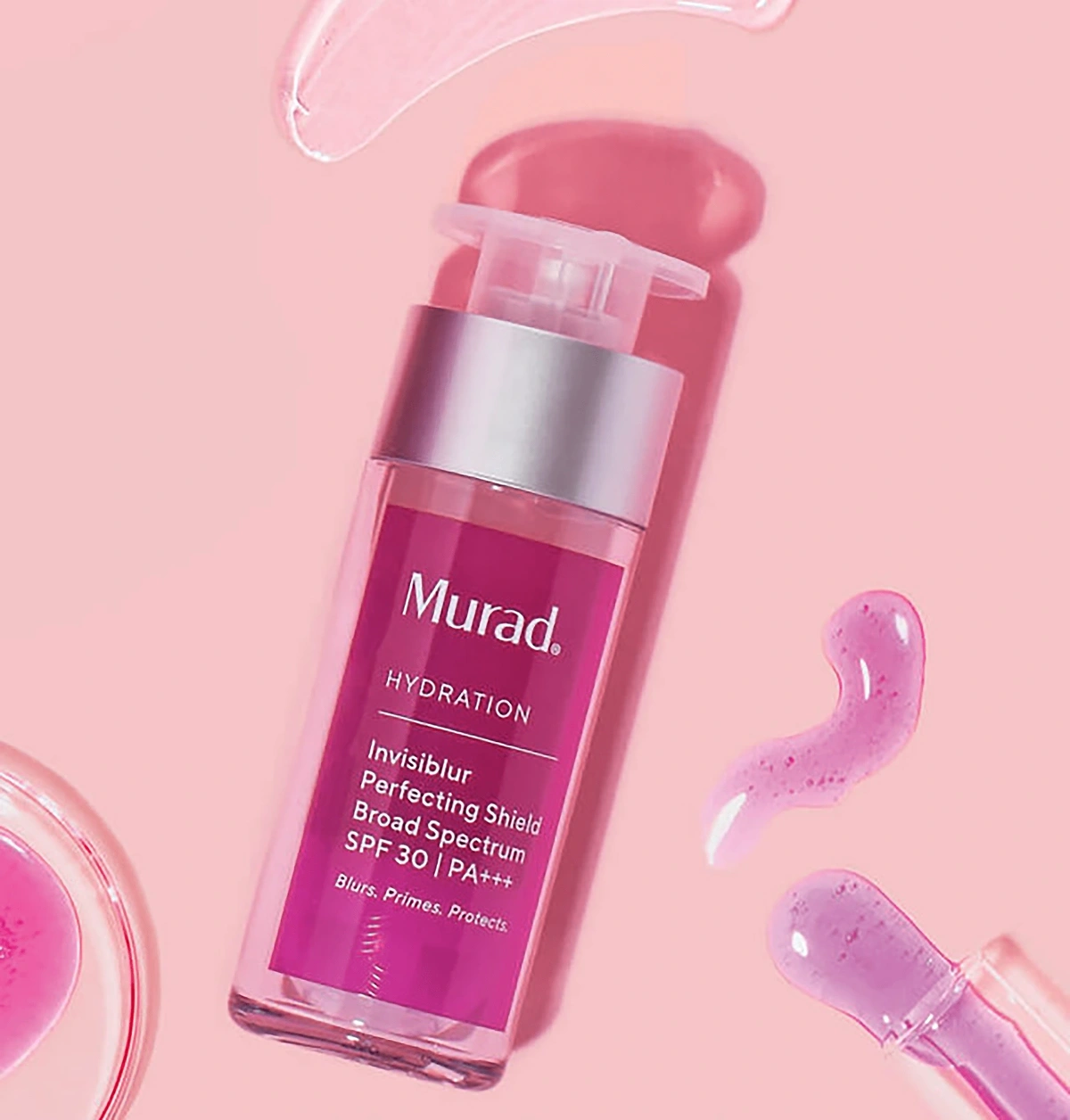 Murad's primer is a three-in-one solution that minimizes the look of pores, blurs skin imperfections, and provides sun protection.
Neon Hippie is an example of a luxury skincare brand that features mushrooms in every product they create.
The company was founded by Nicole Ostoya in 2023 and launched in Neiman Marcus stores at the same time.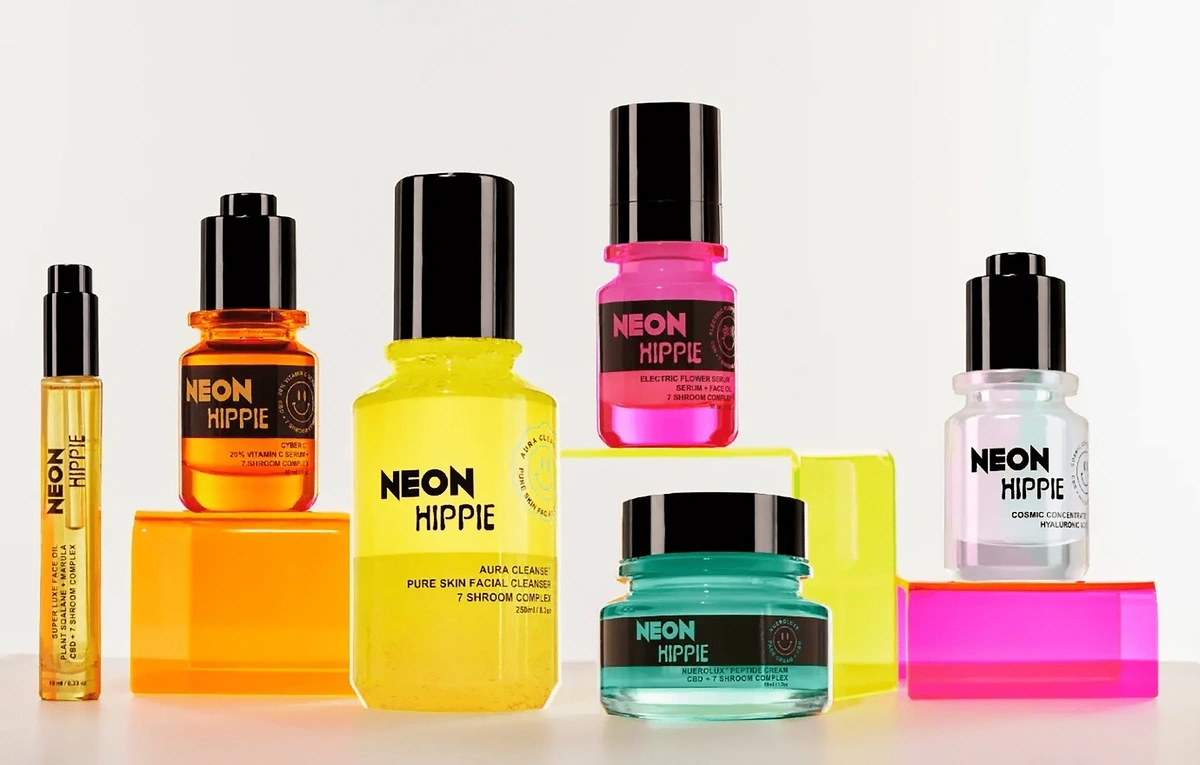 Neon Hippie offers seven formulations with their 7 Shroom Complex ingredients.
Ostoya, a beauty insider who has been working for others in the industry for 35 years, was inspired to create her own clean skincare brand that's focused on using modern science alongside ingredients that are good for the planet.
The brand's mix of mushrooms is called the 7 Shroom Complex and includes chaga, reishi, shiitake, tremella, trametes versicolor, cordyceps, and coprinus.
7. Caffeine Brightens and De-Puffs the Skin
The caffeine in a cup of coffee does wonders to help the brain wake up, and now beauty experts are saying caffeine can do the same thing for the skin.
There are numerous benefits to using caffeine on the skin: decreased inflammation, fewer wrinkles, brighter skin, and improved circulation.
These benefits are especially notable in the under-eye area.
This area is especially difficult to treat because the skin is thin, and a number of factors (think about not sleeping well, excessive salt intake, too many UV rays) can produce dark circles in the area.
Caffeine eye cream can help.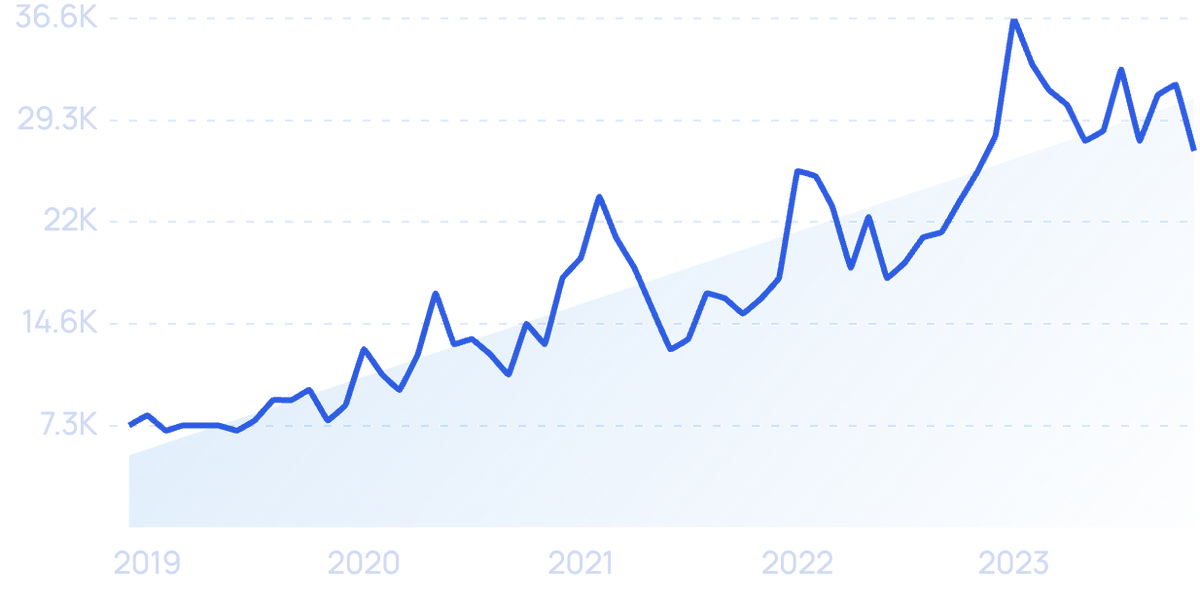 Search results for "caffeine eye cream" are up more than 270% in the past 5 years.
The caffeine promotes circulation and decreases inflammation.
The Pigmentclar Eye Cream from La Roche Posay combines caffeine with retinol and niacinamide in order to reduce the appearance of dark circles.

Pigmentclar Eye Cream is recommended for beauty consumers who have dark circles or a dull-looking eye area.
More than 80% of consumers report their under-eye skin feels more moisturized and smoother after using the product for four weeks.
For those who want to see the effects of caffeine all over their face, Origins offers a GinZing Ultra-Hydrating Energy-Boosting cream.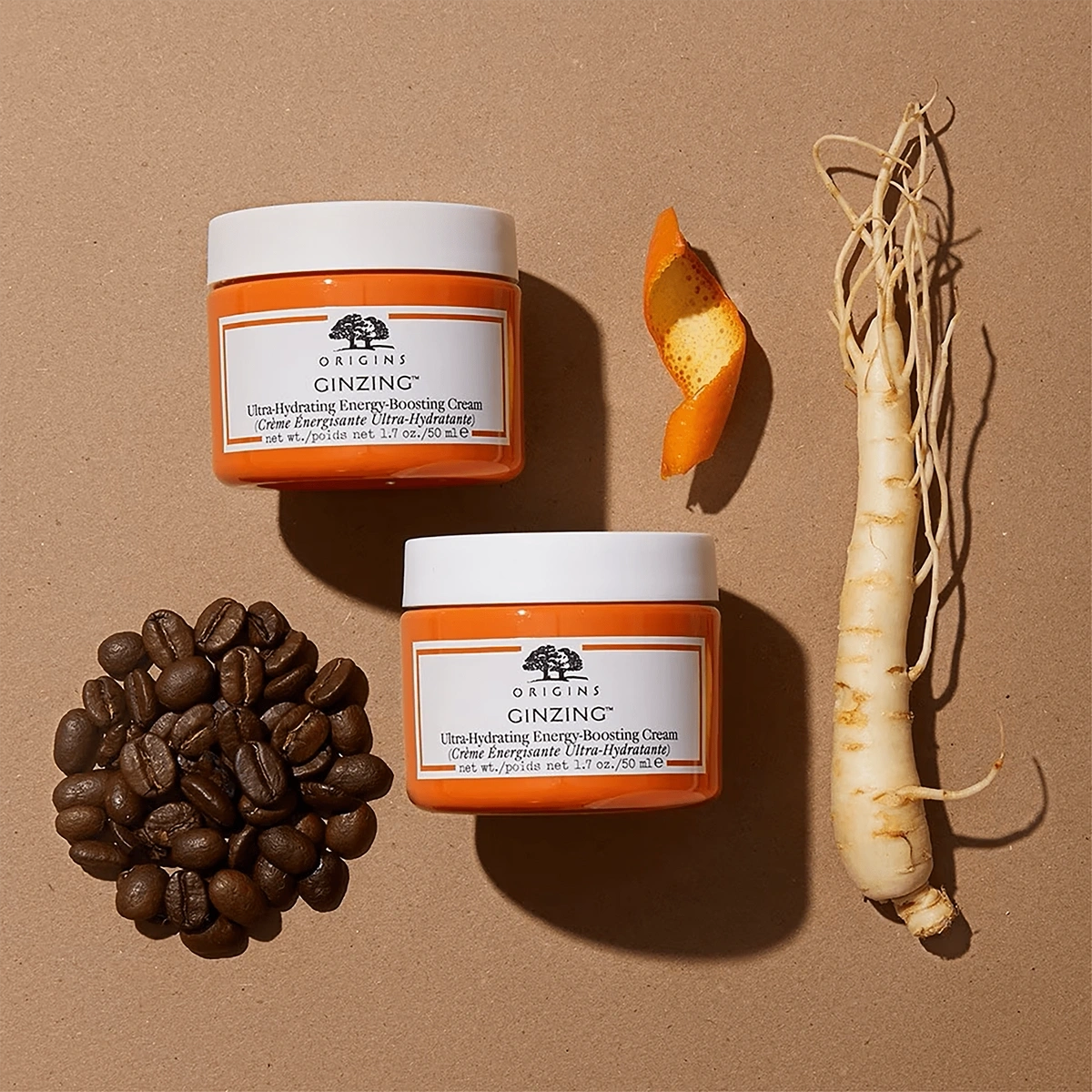 The hydrating cream from Origins includes caffeine in order to help revitalize the skin.
This blend features caffeine and niacinamide like La Roche Posay's eye cream, but also adds ginseng to energize the skin.
Although there is a healthy amount of debate, some beauty experts say caffeine can also break down fat and lessen the appearance of cellulite.
Consumers have flocked to Sol de Janeiro's Brazilian Bum Bum Cream for exactly this reason.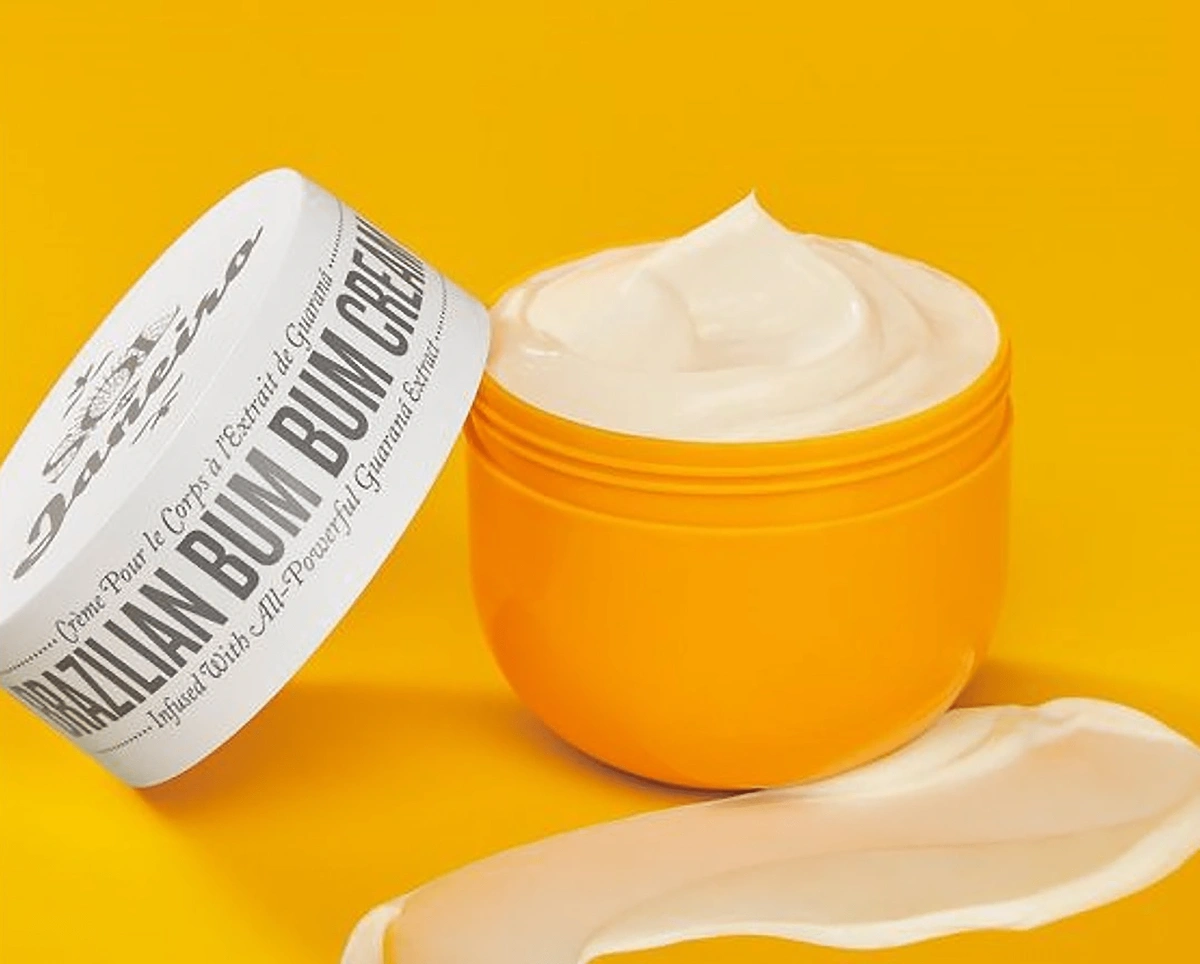 Brazilian Bum Bum Cream makes skin appear smoother and tighter.
The product contains guarana, an ingredient that has five times more caffeine than coffee.
The cream has more than 23,000 five-star reviews on the company's website.
According to the brand, 14 of these creams are sold every minute.
Conclusion
That's it for our list of the top skincare trends happening right now.
We expect to see skincare brands continue to refresh their offerings with new ingredient innovations in the coming months. Many of these formulas are likely to be targeted at improving the performance of an ingredient in order to make it work for a broader range of beauty customers.
Other innovations will focus on bringing the best of nature into skincare creams and serums. Many brands are already taking advantage of naturally-occuring beauty boosters. The ability to mass produce these natural ingredients in a lab has the potential to radically impact the skincare industry.