Top Beauty Industry Trends for 2021
Until the pandemic hit, the global beauty market was surging. Now, experts suggest that COVID's impact on the industry could cause a revenue decline of up to 35%.
Historically, though, the beauty industry has been resilient.
After experiencing only a slight decline during the 2008 recession, personal care spending was back on its rapid growth trend by 2010. Current market research projects that beauty and personal care spending will top $716 billion by 2025.
Here are the top trends impacting the beauty, cosmetics, and personal care industries in 2021 and beyond.
1. Brands and Retailers Focus On Hyper-Personalization
Research shows that 80% of today's consumers are more likely to make a purchase if the company offers a personalized experience than if that experience is not available.
More specifically relating to the beauty industry, 58% of shoppers say they are more likely to buy from a business that offers an online quiz to recommend specific beauty products for them.
And, 45% of respondents say they are more likely to purchase from a business that offers a virtual-realty or AI experience that allows them to try out a product online.
Beauty brands are implementing these personalized experiences in high-tech ways.
The hair care company Prose invites customers to take a 25-question quiz and then analyzes over 80 factors to create custom formulas for shampoo, conditioner, and other hair care products.
The tech company Revieve has created several interactive modules as part of their Digital Health-Beauty-Wellness Platform.

Shot of Revieve's AR-based skin advisor.
They offer AI-powered recommendations to customers interested in skincare, makeup, sun protection, and nutrition. The technology is already being used by No7, Ulta Beauty, and Schwan Cosmetics.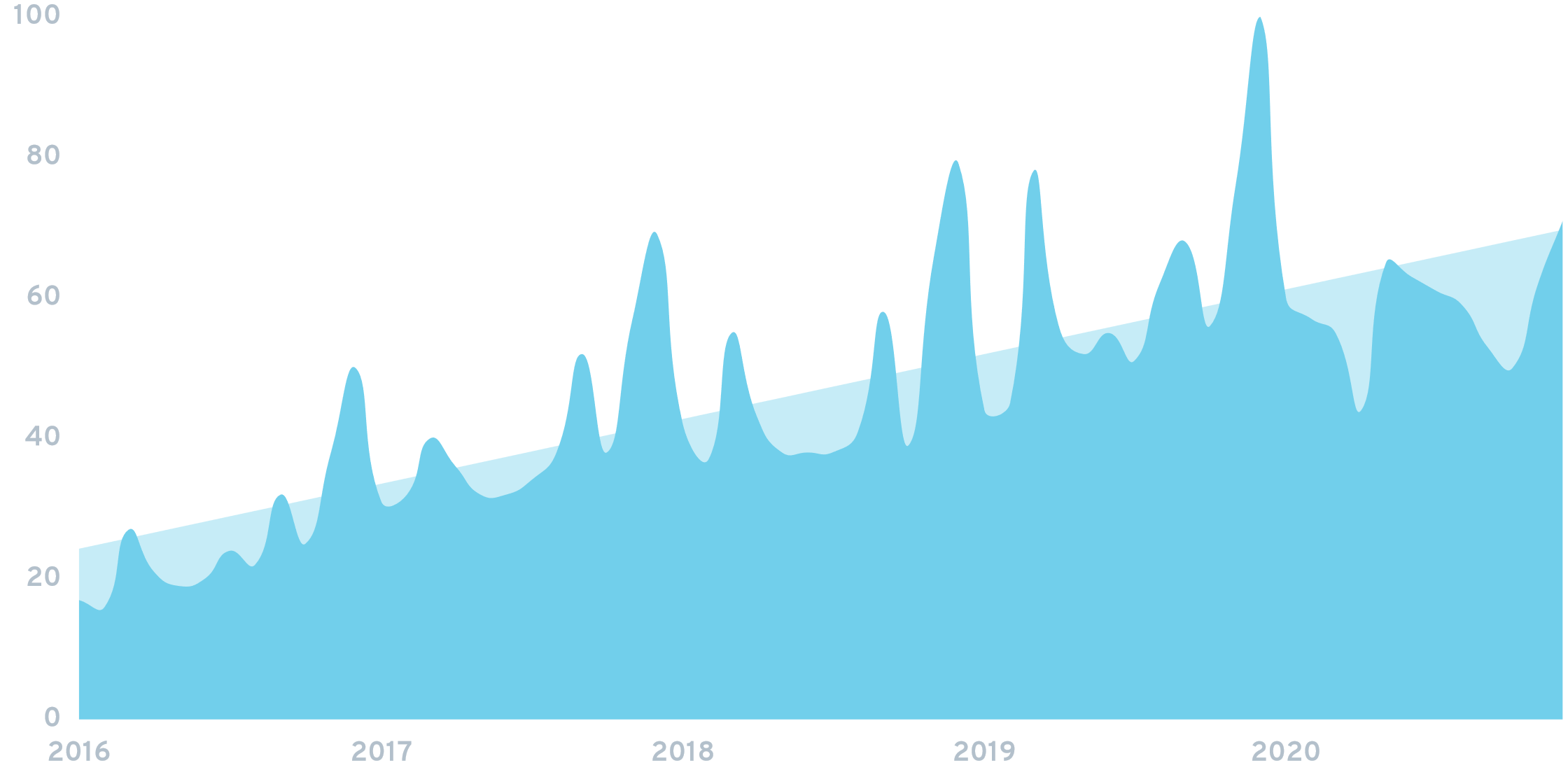 Searches for "Ulta Beauty" over last 5 years.
Beijing-based AI developer Megvii is widely known for their facial-recognition program that's part of China's surveillance network.
In April 2020, they released a new application of their software: FaceStyle. This AI system can identify facial features, analyze skin conditions and complexions, and simulate virtual makeup application for users.
2. At-Home Treatments are Here to Stay
When COVID-19 lockdowns went into place, consumers were forced to turn to beauty treatments they could do at home.
According to Nielsen, during the fifth week of the pandemic, sales of hair clippers increased 166% and sales of hair dyes rose 23%, both in comparison to the same time period in 2019.
Market research company NPD Group reported that spending on nail care products went off the charts in March and April 2020, the early days of the pandemic. Online purchases of prestige nail products climbed 24% year-over-year.
NPD also reported that the sale of base coats and top coats surged 102% year-over-year.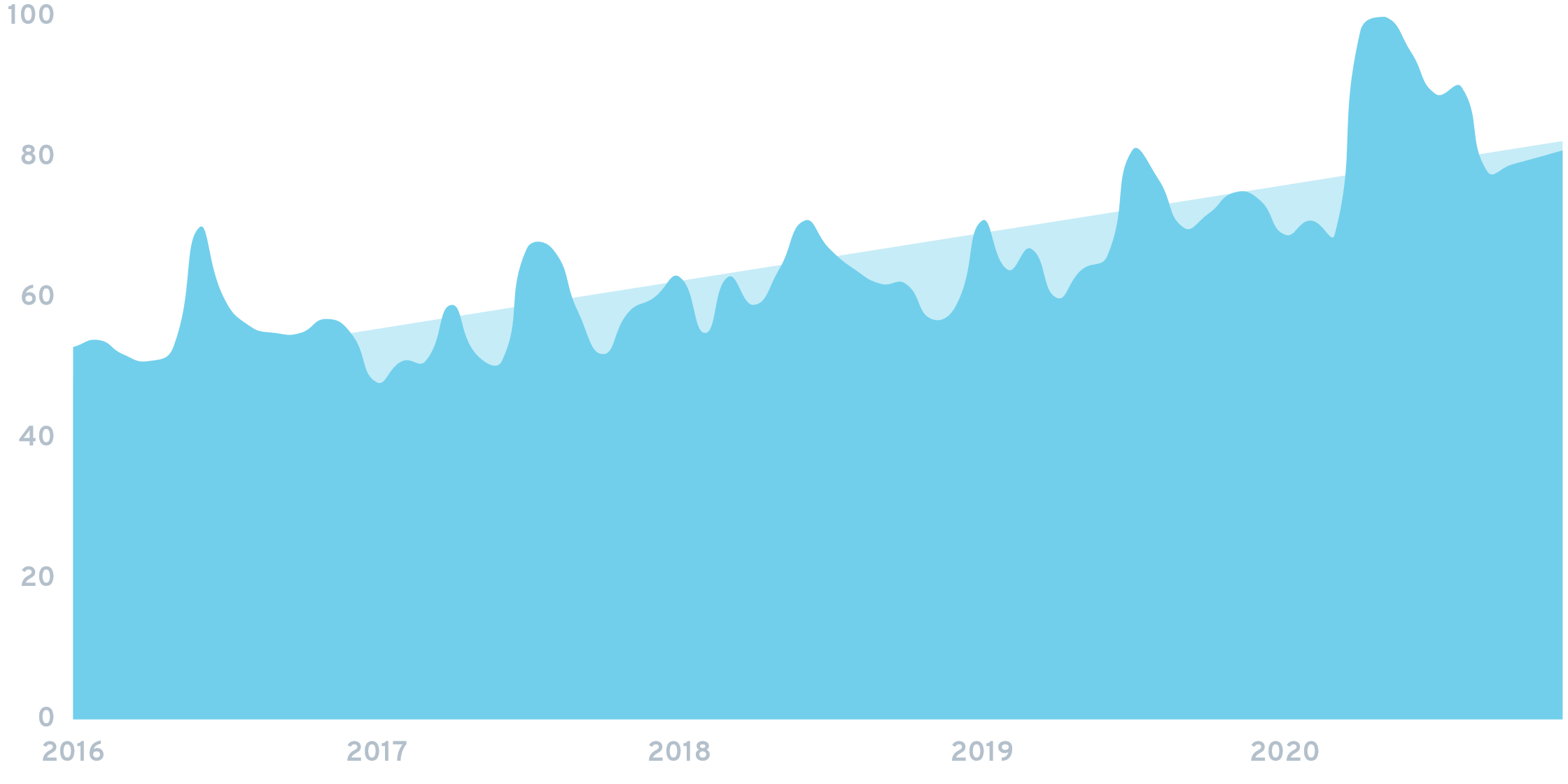 Google search growth for "base coat" over last 2 years.
Google search trends also revealed an emphasis on at-home beauty and personal care treatments. Many of 2020's top search terms related to things people would not normally do at home pre-pandemic. The number-one beauty search term was "how to cut men's hair at home," followed by number-three "how to color your hair at home," and number-nine "How to trim your own hair."
With the lingering effects of the pandemic expected to stick with us for a large portion of 2021, experts suggest that the demand for at-home treatments will remain high.
3. Skinimalism Is In
Since Americans have been spending the majority of their time at home, they've been wearing a lot less makeup. NPD reports that 71% of American women who wear makeup are wearing it less often now because of the pandemic.
Many dermatologists and beauty experts are speaking up about the benefits of using fewer products on your skin, too.
One skincare expert reported that 85% of women don't even need to use a daily moisturiser—for these women, the body produces helpful oils that keep the skin moisturized.
A growing minimalist makeup trend is combining multiple skincare products into one. For example, sales of tinted moisturizer were on the rise in mid-2019 and continue to trend upwards even at the end of 2020.
Pinterest has coined the term "skinimalism" to describe this new trend.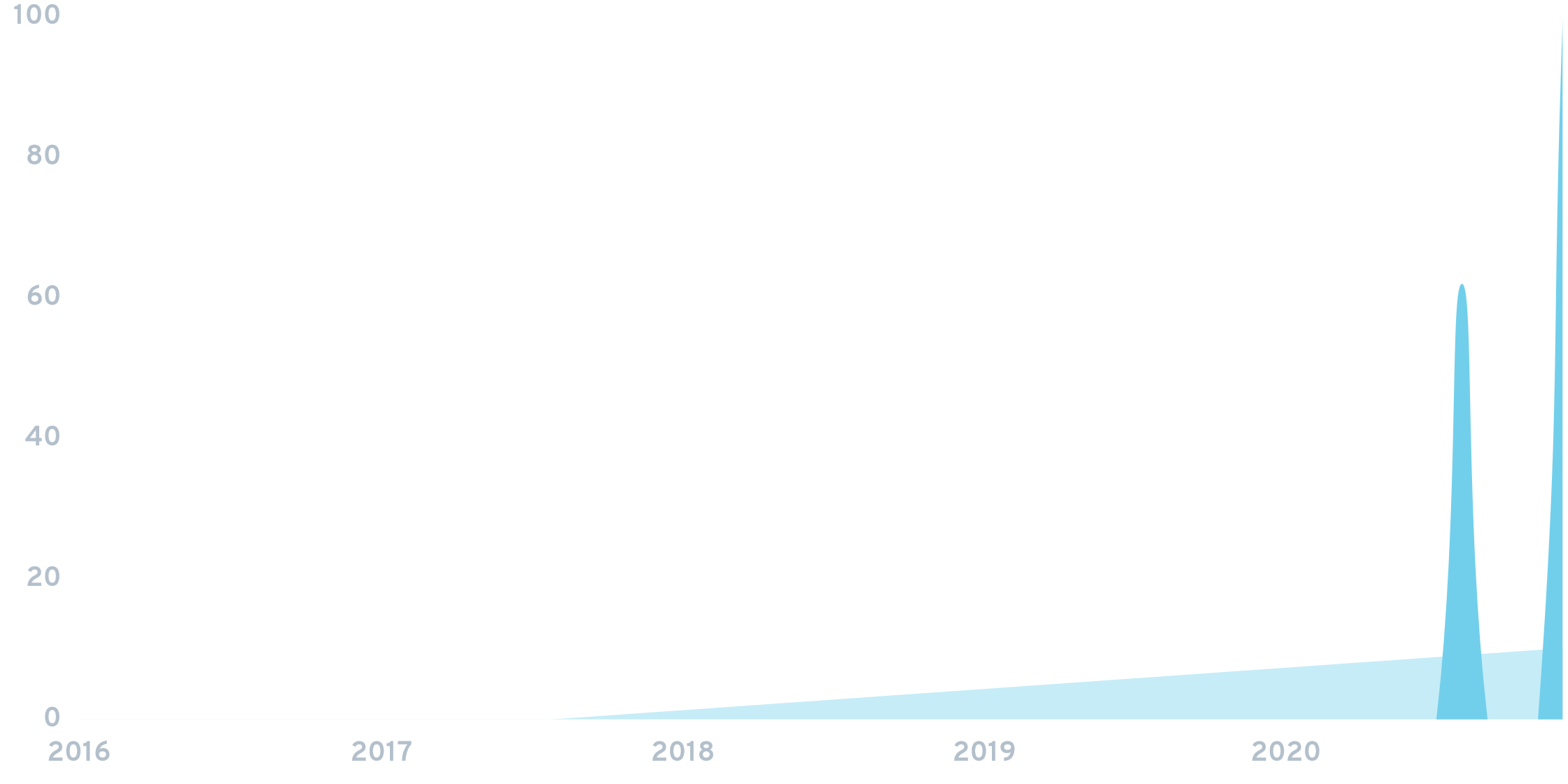 Searches for "skinimalism" over last 2 years.
Pinterest's annual trend report showed that searches for "natural everyday makeup" have increased 180% over 2019. Also, searches for "glowing skin how to get naturally" have increased 4x compared to last year.
Social media reports looking across various platforms like Twitter, YouTube, Instagram, Facebook, Tumblr, and Reddit show that during the past 12 months, mentions of "minimalist skin care" have been up 31%.
There's a subreddit devoted to the trend too: MinimalistBeauty. Between June and July, posting on the page went up 59%.
4. Women Want Clean Beauty
According to the Environmental Working Group, the average person applies nine personal care products to her body daily.
In those nine products, there's an average of 126 unique ingredients. In 2021 and beyond, more and more women will question what exactly those chemicals are and what they mean for their bodies.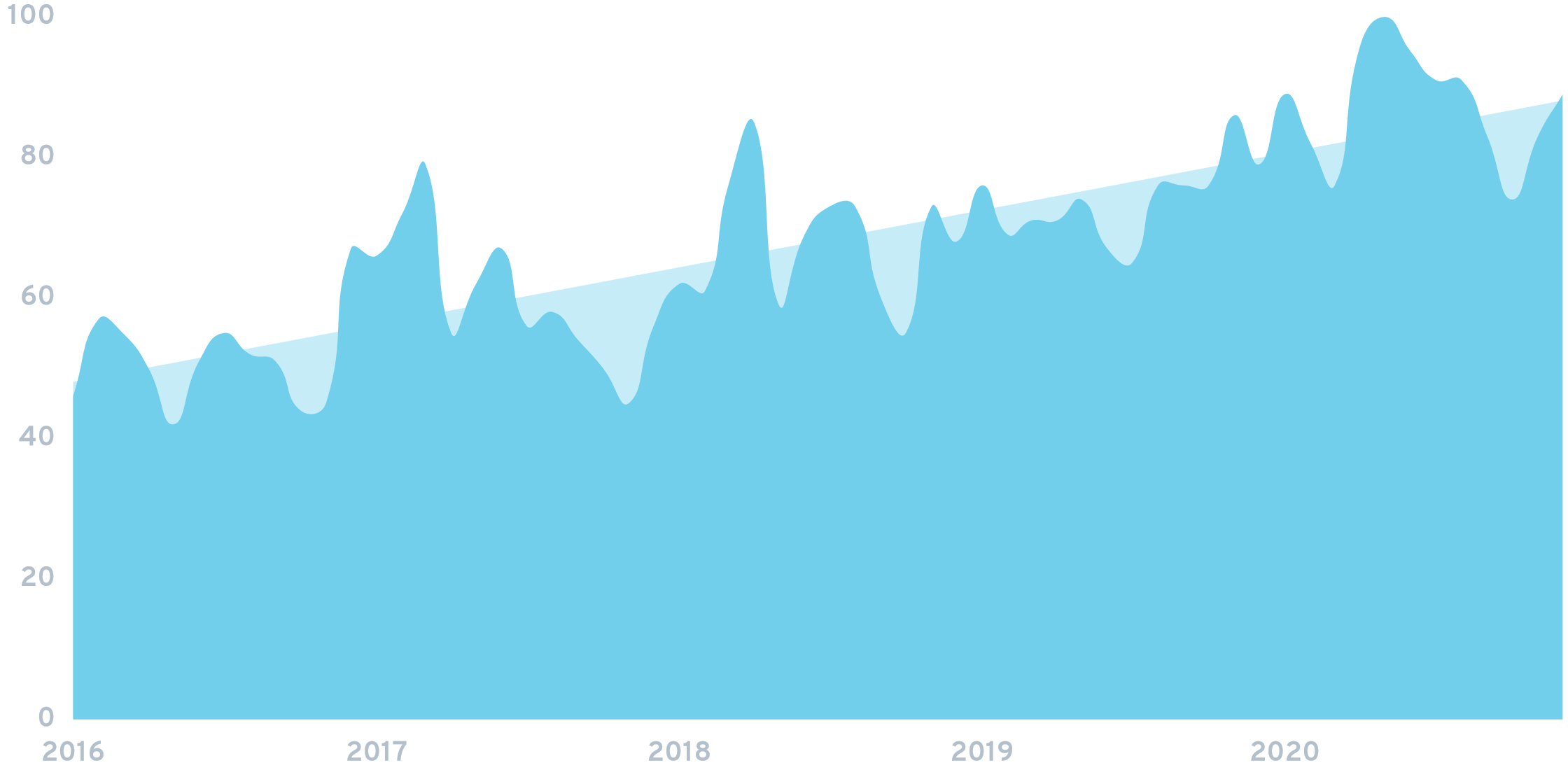 Searches for "clean beauty" since 2016.
A recent report from nosto said that 68% of people are looking for products described as "clean" and 59% of people are influenced by products that are described as "natural and organic."
A global survey from 2020 showed that women are also seeking greater transparency from beauty brands—61% thought that brands didn't do enough to explain the "clean" or "green" labeling on their product packaging.
Nearly 70% of women looked for alternate sources, like a Google search, to determine if the ingredients were truly clean.
If beauty brands can handle this increasing pressure to truly create natural and organic products, experts say their revenue will reap the benefits.
The global market value for natural beauty and cosmetics is poised to grow more than $16 billion in the next seven years.
5. It's All About the Eyes
As masks became a key line of defense against COVID-19, sales of eye makeup have soared. British retail giant John Lewis Partnership reports that mascara purchases have been up 58%, sales of eyebrow makeup have increased 34%, and eye makeup purchases have increased 19% over 2019.
Luxie Inc., a makeup brush company in San Jose, California, reported that sales of their eye makeup brushes have increased by 40% since the pandemic started.
Their lip brushes aren't garnering any interest. Reps from Luxie also say that the false eyelash trend, which was expected to end in 2020, has held strong.
This interest in all things related to eye makeup has been so profound that beauty experts say it's knocking out the "lipstick index."
First brought up in 2001, it's an economic theory that suggests women reach for lipstick as an affordable pick-me-up in times of economic downturns. It's thought that those lipstick sales can sustain beauty brands through recessions.
But recessions during which everybody is wearing a mask? It's not happening. In late March and early April, Amazon "lip care and color" sales in the U.S. fell by 15%—the steepest decline of any retail segment.
The term #maskmakeup has more than 57-million views on the social platform TikTok. Many of the videos focus on eye makeup and "mask-proof" makeup that won't transfer from the skin to the mask.
6. Nobody Wants Maskne
Besides your lips, what else are masks covering up? "Maskne". The term describes the acne individuals get in the places where a mask is worn. A survey from the consumer insights platform Poshly reported that 42% of people report getting maskne.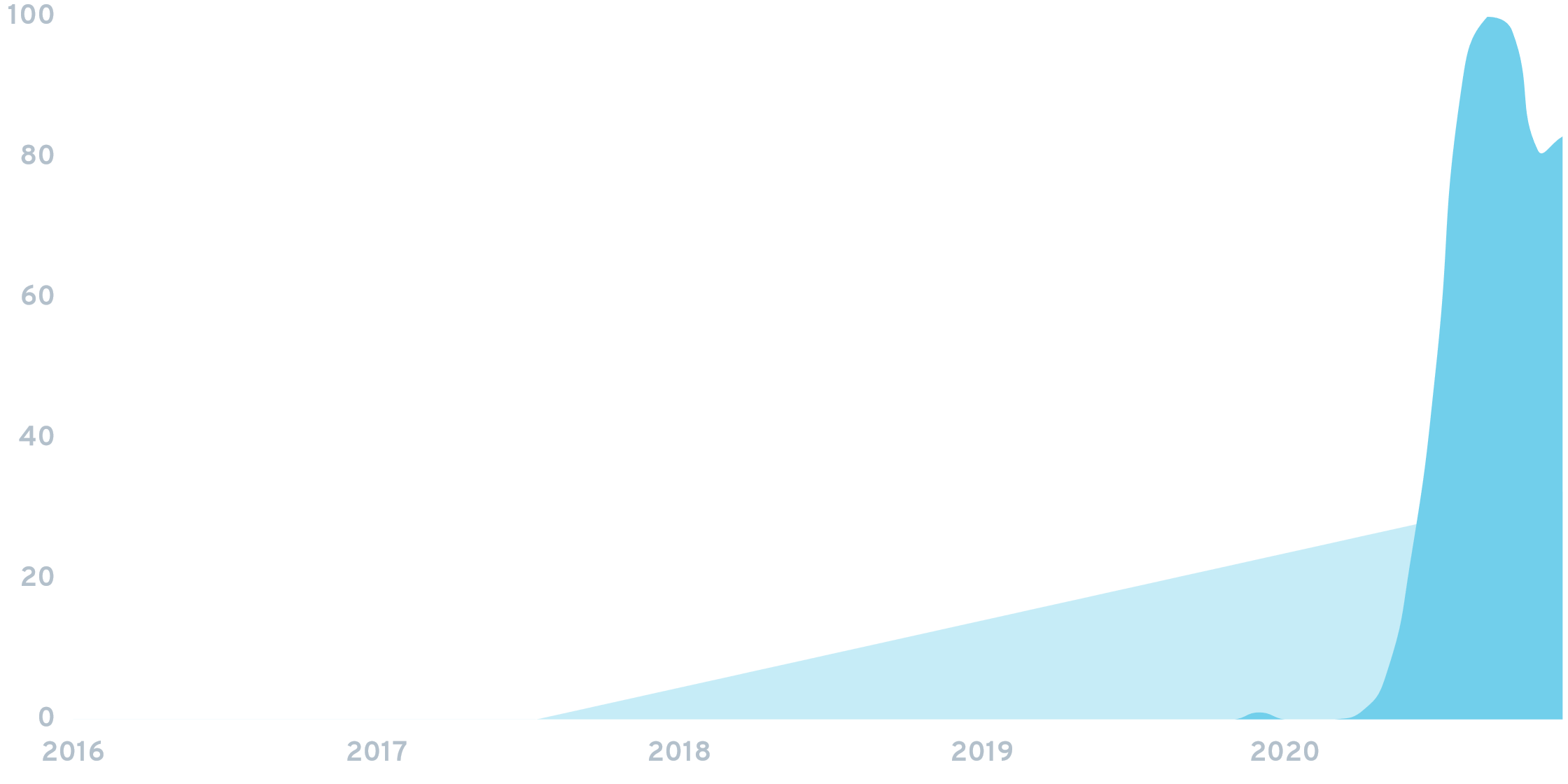 Searches for "maskne" spiked in 2020 and continue to rise.
Doctors say this type of acne is caused by the humidity and friction your skin experiences when wearing a mask. The usual treatment for acne—benzoyl peroxide, salicylic acid, or retinoids—work on maskne, as well, so look for beauty brands to use that angle in their marketing.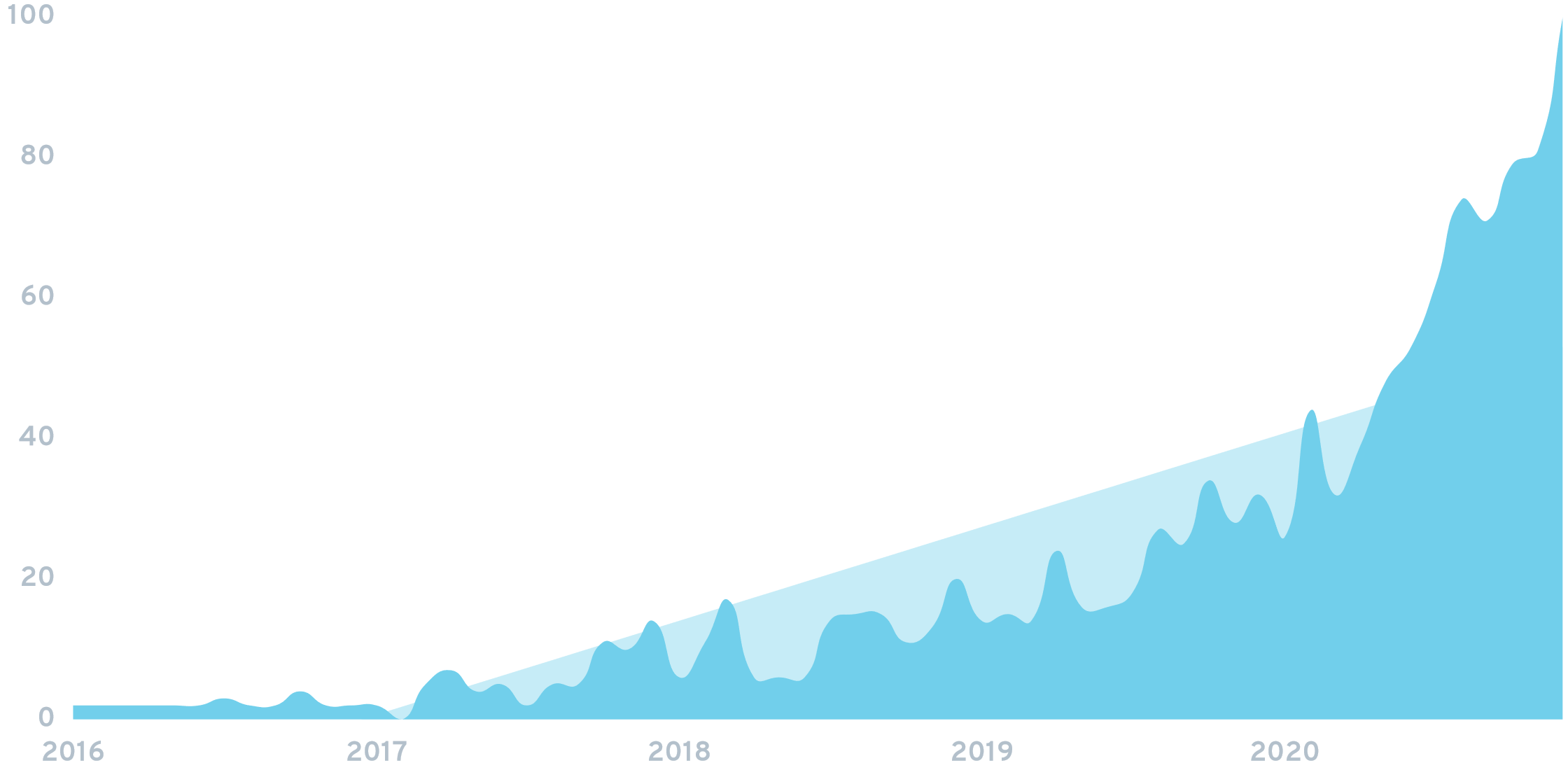 Google search growth for "pimple patches" is steadily climbing.
In fact, women are already searching for maskne treatment options.
Koren beauty brand Peach & Lily says that 10% of their online skin consultations in April were related to Maskne, and they have suggested several products on their website specifically for treating maskne. In addition, L'Oréal reported experiencing an increase in demand for their deep-cleansing products mid-summer of 2020.
7. Calls for More Diversity and Inclusion
As companies across the board have begun to address injustices throughout society, beauty brands are making moves, too.
Data shows that sales of multicultural beauty products are growing at a rate that's double the conventional beauty market. In fact, it's estimated that black women spend 80% more on beauty products than their non-black counterparts.
One of the best-known multicultural makeup lines in Fenty Beauty.
Founded by musical superstar Rihanna in 2017, Fenty Beauty was named to Time's list of The 25 Best Inventions of 2017. The brand has continued to evolve and now features 50 shades to offer nearly every woman the chance to have her makeup match her complexion.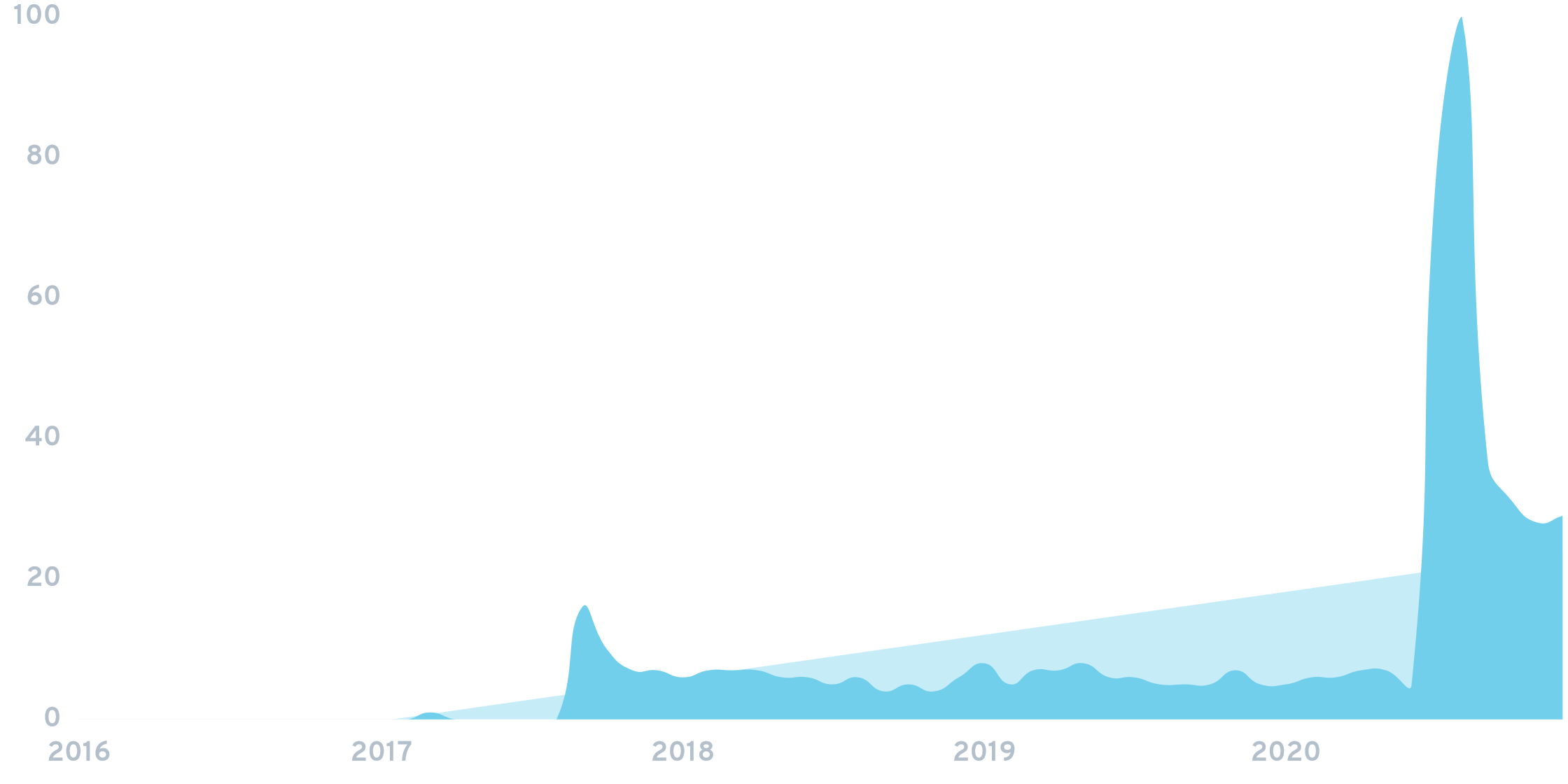 Searches for Fenty Skin spiked in August 2020. But remain relatively high.
Since the release of Fenty Beauty, some beauty brands have come around to offering more inclusive makeup options, but many black women say it's not nearly enough. We are seeing small steps, though, as leaders work to close the funding gap that impacts black female entrepreneurs in the beauty industry.
8. Growing Demand for Men's Beauty Products
Skincare and makeup for men is one of the fastest-growing trends in the beauty industry. The market for men's skincare products was worth $11.6 billion last year and is forecasted to grow to $18.9 billion by 2027.
Search interest in "men's skincare" is up 87% in 5 years: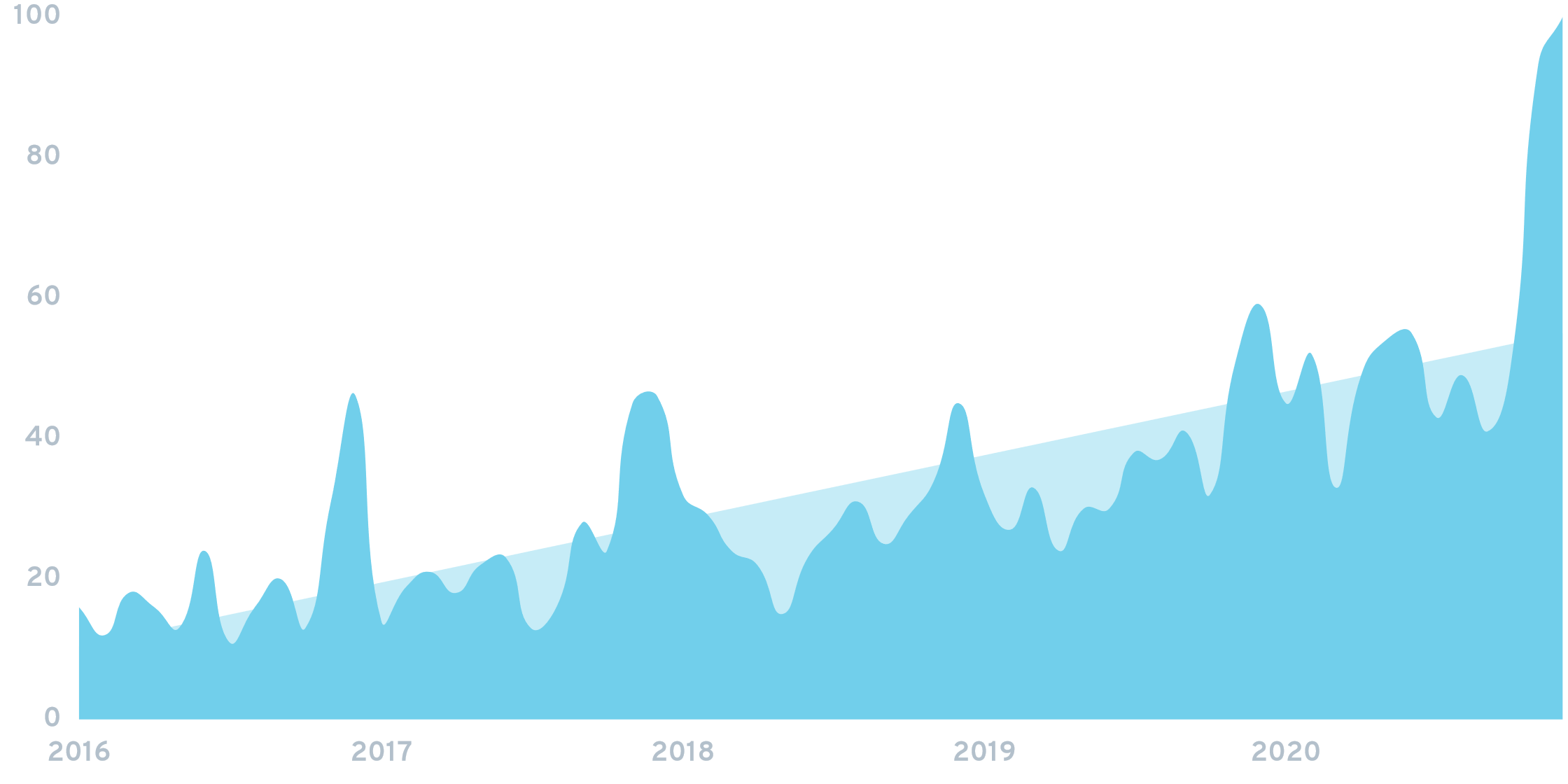 Searches for "men's skincare".
While searches for "moisturizer for men" have more than tripled in the last decade.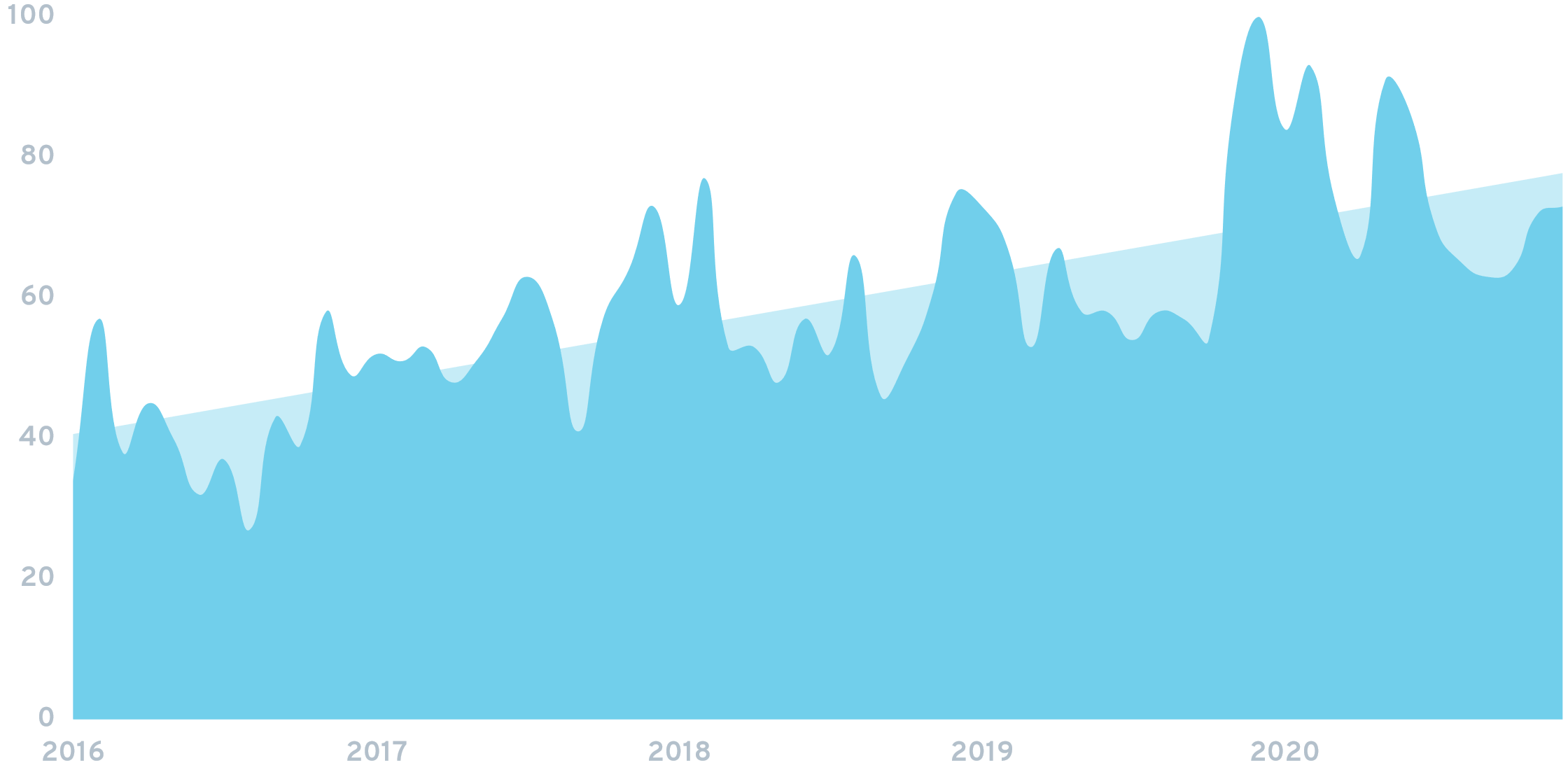 Searches for "moisturizer for men" over last 5 years.

Makeup for men has been gaining popularity, too.
The men's segment of global beauty and fashion products has reportedly grown faster than the women's segment for the last decade.
That explains why Chanel launched their first line of makeup for men in 2018. And why Estée Lauder's Lab Series brand specifically targets men.
But according to The NPD Group, traditional cosmetic brands that target women have also seen large sales boosts by featuring men with their products.
The male beauty market is actually part of the "Korean Wave" phenomenon: South Korea's cultural impact on the rest of the world.
Roughly 75% of South Korean men get some kind of beauty or grooming treatment every week.
Like women's versions, men's skincare and beauty products run the gamut of price ranges: from $3 supermarket lotion to $300 anti-aging serums from Tom Ford and Sisley Paris.
With plenty of room in between for DTC startups.
For example:
Stryx, which raised a $135k pre-seed round last year. The startup is known for its concealer and tinted moisturizer for men.

Stryx's concealer tool.
War Paint makes makeup for men as well. The startup was launched in late 2018, sold 15k products in its first 6 months, and raised a $1.5M seed round earlier this year.
Ceylon's target market is men of color. The startup makes skincare, haircare and grooming products. Its biggest direct competitor, Walker & Company, was acquired by Procter & Gamble in 2018.
Menaji and MMUK also make cosmetics for men, with signature products like Menaji's "urban camouflage" concealer stick and MMUK's kits that include clear mascara, lipstick and more.
Beardbrand's focus is on beard oils, cleansers and grooming tools.
And while Manscaped was originally a hair-trimmer brand, it also sells a range of skincare products for men.
Conclusion
That's it for our list of important beauty industry trends for 2021.
Technology, COVID-19, and societal issues impacted the beauty industry in a big way in 2020.
And we can expect more innovation and change in this space heading into 2021 and beyond.
Last Updated: 
January 19, 2021