6 Beauty Industry Trends (2023 & 2024)
You may also like:
The beauty industry has experienced pandemic-related changes in the past few years, but current market research projects that revenue in the beauty and personal care industry will top $101 billion by 2027.
As the concept of beauty continues to evolve, the industry has been quick to react to the demands of consumers. Personal care companies are using technology and science in innovative ways, all with the hope of winning new customers.
Here are the top trends impacting the beauty, cosmetics, and personal care industries in 2023 and beyond.
1. Hyper-Personalization with AI and AR
Research from McKinsey shows that 71% of today's consumers expect to receive a personalized experience when they shop. More than three-quarters of shoppers get frustrated when this doesn't happen.
McKinsey's research shows that personalization can have a direct impact on the customer life cycle.
Nearly 80% of consumers are more likely to make repeat purchases from a company and recommend that company to a friend or family member if the company provides a personalized experience.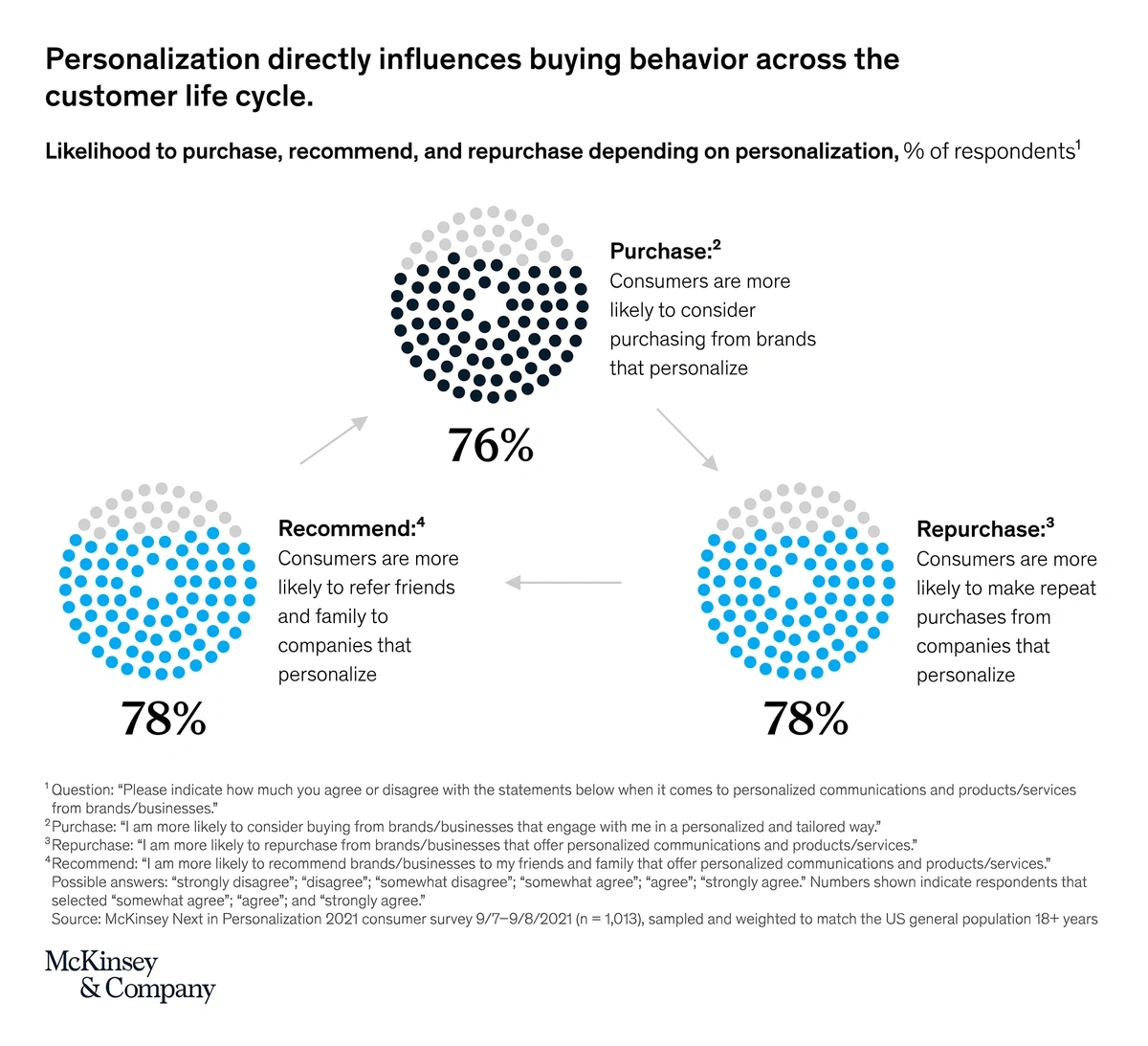 Industry research shows that consumers are increasingly demanding personalized products.
More specifically relating to the beauty industry, 58% of shoppers say they are more likely to buy from a business that offers an online quiz to recommend specific beauty products for them.
And, 45% of respondents say they are more likely to purchase from a business that offers a virtual reality or AI experience that allows them to try out a product online.
Beauty brands are implementing these personalized experiences in high-tech ways.
Haircare company Prose invites customers to take a 25-question quiz and then analyzes over 80 factors to create custom formulas for shampoo, conditioner, and other hair care products.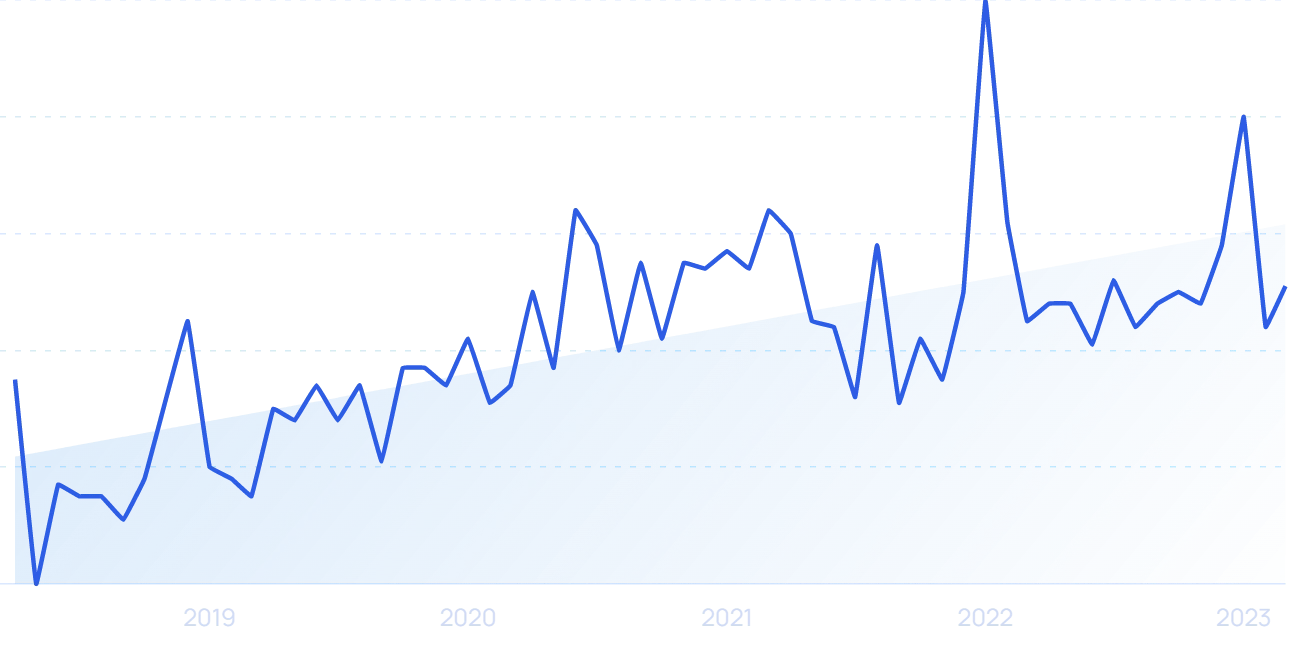 Search volume for "Prose Hair Care" is up 200% over the past five years.
The tech company Revieve has created several AI/AR-powered interactive modules as part of their Digital Health-Beauty-Wellness Platform. This covers customers interested in skincare, makeup, sun protection, and nutrition.
Beauty corporations like Murad, Living Proof, Ulta Beauty, and Schwan Cosmetics have recently partnered with Revieve to provide true-to-life try-on opportunities and personalized recommendations.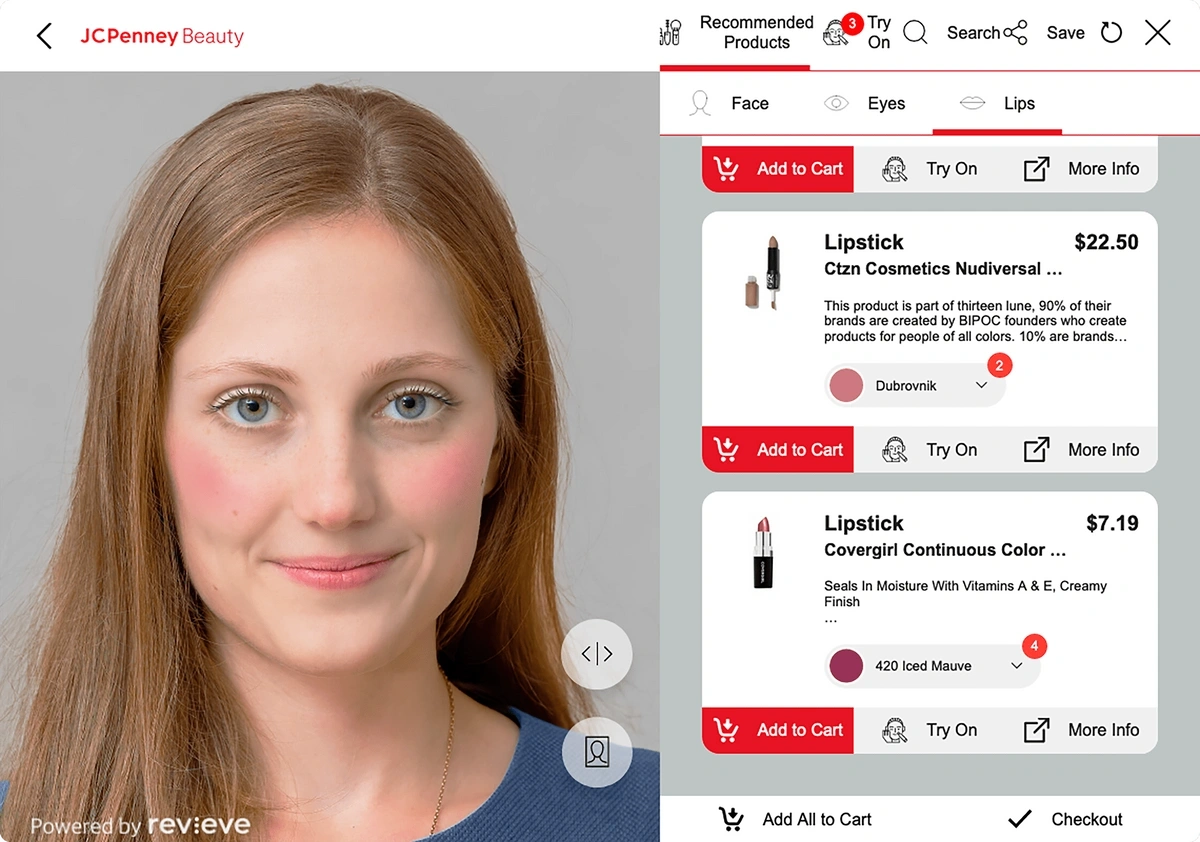 In late 2022, JCPenney began offering an AI skincare advisor and AR makeup try-on experiences for customers.
Other beauty brands are combining tech solutions with the latest skincare science to offer personalized products.
For example, Pure Culture Beauty offers an at-home skin test that measures skin type, skin condition, and the health of the skin barrier. Customers also answer a series of questions about their concerns, lifestyle, and environment.
The test takes 20 minutes to complete, and results can be uploaded directly to the Pure Culture Beauty website. After that, customers are given the option to purchase custom skincare formulas based on the results of their analysis.
For an even more personalized skincare test, consumers can order the microbiome test from Dr. Elsa Jungman.
Consumers take a swab of their facial skin and send it back to the company. The sample is analyzed and tested for the top 10 bacteria and fungi that are commonly found living on skin. Personalized recommendations are provided after the results become available.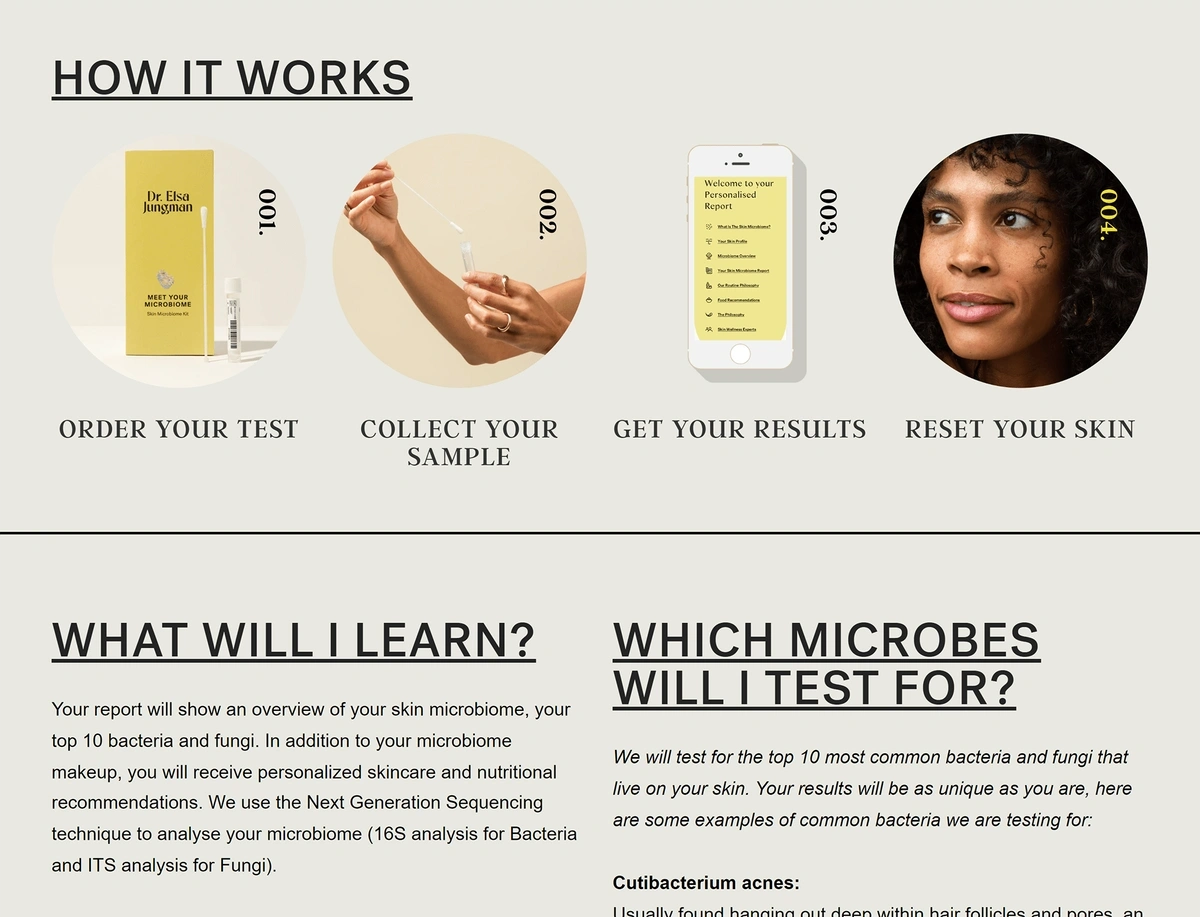 The microbiome test looks for good and bad bacteria and fungi on the skin.
2. Biotech Innovations with a Focus on Sustainability
The use of science in the beauty industry is nothing new, but the current biotechnology trend is taking the science of beauty to a whole new level.
This trend pairs directly with the mega trend of sustainability.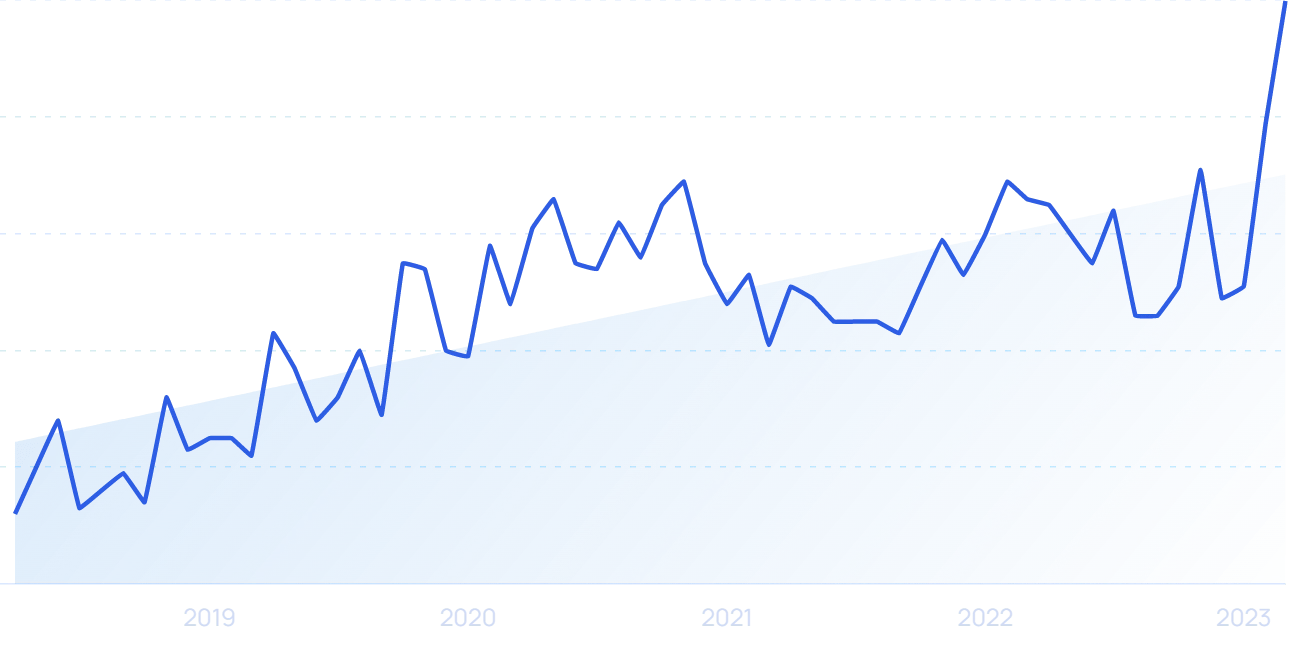 Search volume for "sustainable beauty" is up more than 700% since 2019.
Most often, it's not sustainable to grow beauty ingredients on a large scale. There's considerable land destruction, water usage, and pollution.
However, the biotech movement is prompting researchers to find beauty ingredients that already exist in organisms in nature. Then they are able to replicate that natural process and mass produce ingredients in a lab.
For instance, skincare company Algenist uses biotech methods to manufacture their patented ingredient, Alguronic Acid.
The ingredient was originally found in microscopic algae. The algae use the compound to protect and regenerate their cells all while living in some of the harshest environments on the planet.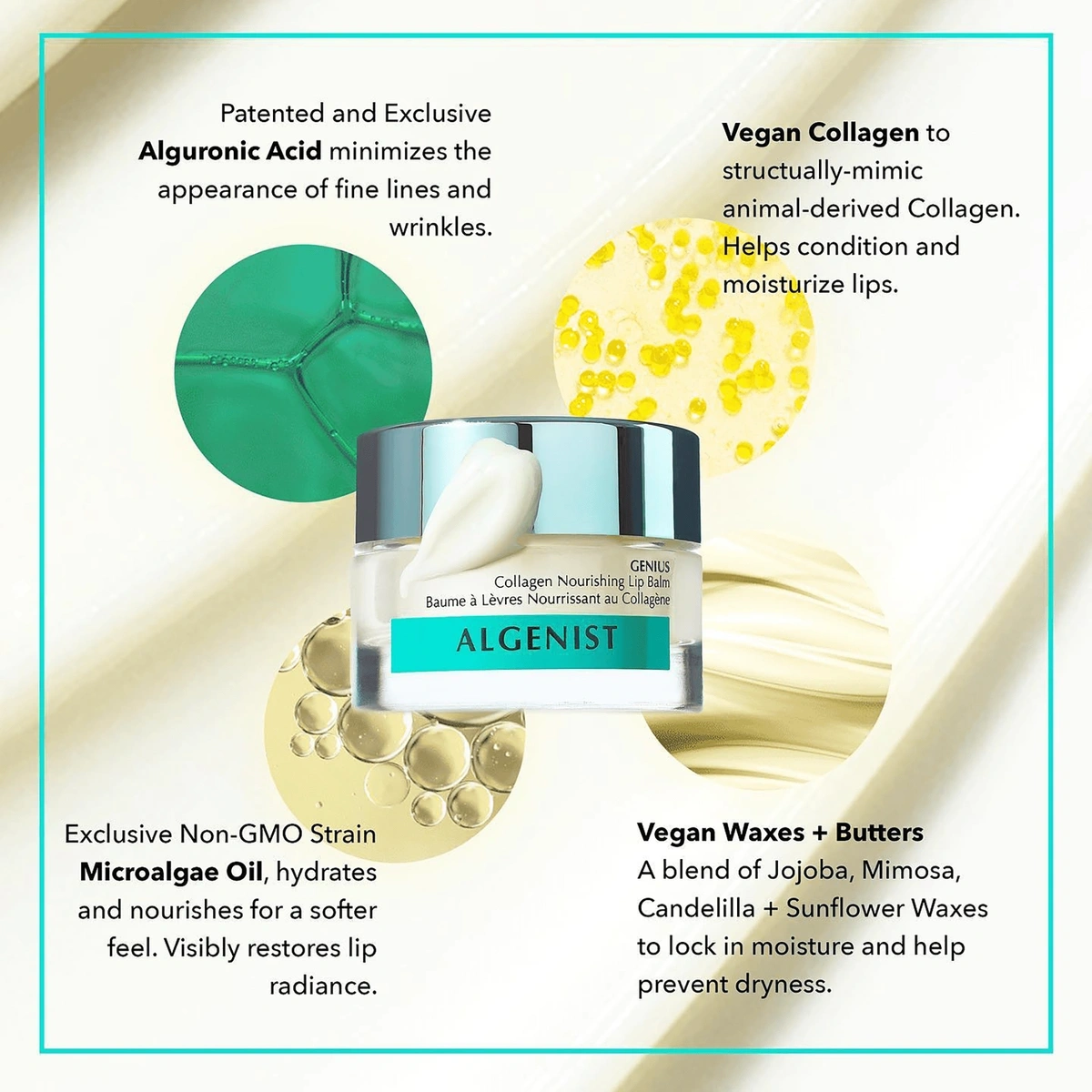 Algenist uses Alguronic Acid in several of their products like lip balm and collagen serum.
Data from Algenist shows the ingredient improves overall skin health by 51% and reduces the appearance of fine lines and wrinkles by 35% in 12 weeks.
Evolved By Nature is another skincare company using biotech research to bring sustainable compounds into its products.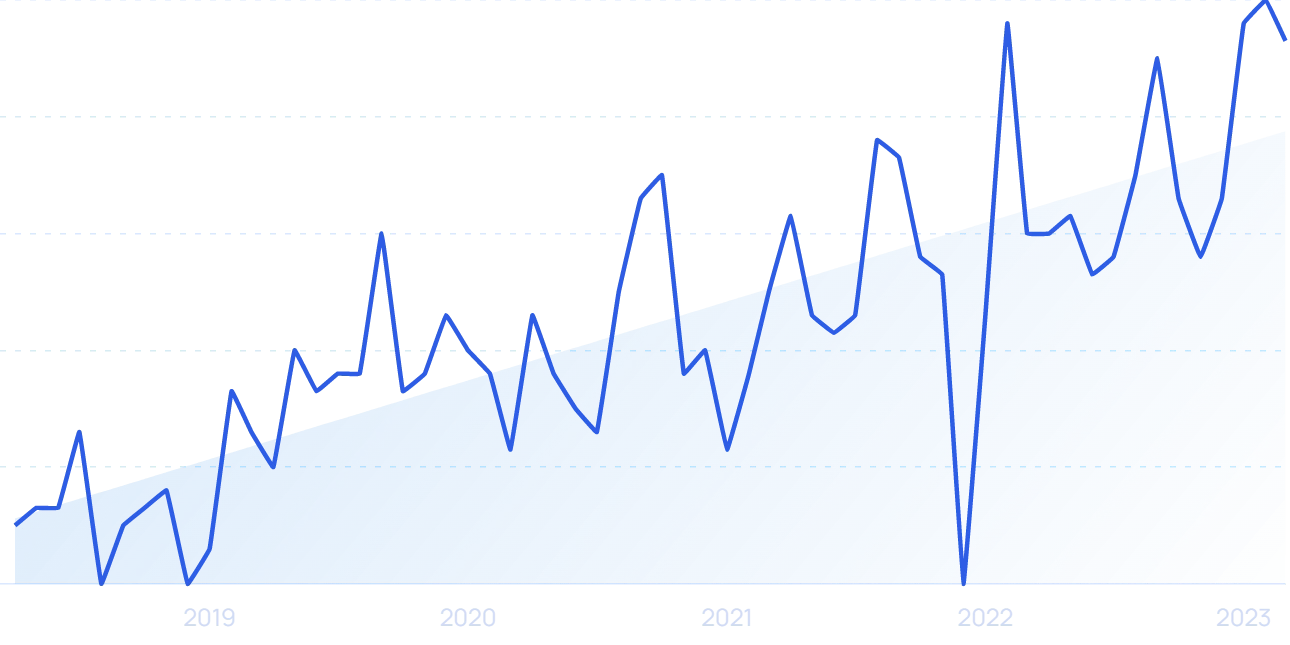 Search volume for "Evolved by Nature" is up 600% over 2019.
In October 2022, the company released its Barrier Redux Emulsion featuring Activated Silk 33B as a main ingredient.
It's made from isolating peptides in renewably-sourced silk protein and serves as a replacement for petroleum-based ingredients. The activated silk helps the skin to protect itself and hold onto hydration while also being able to breathe.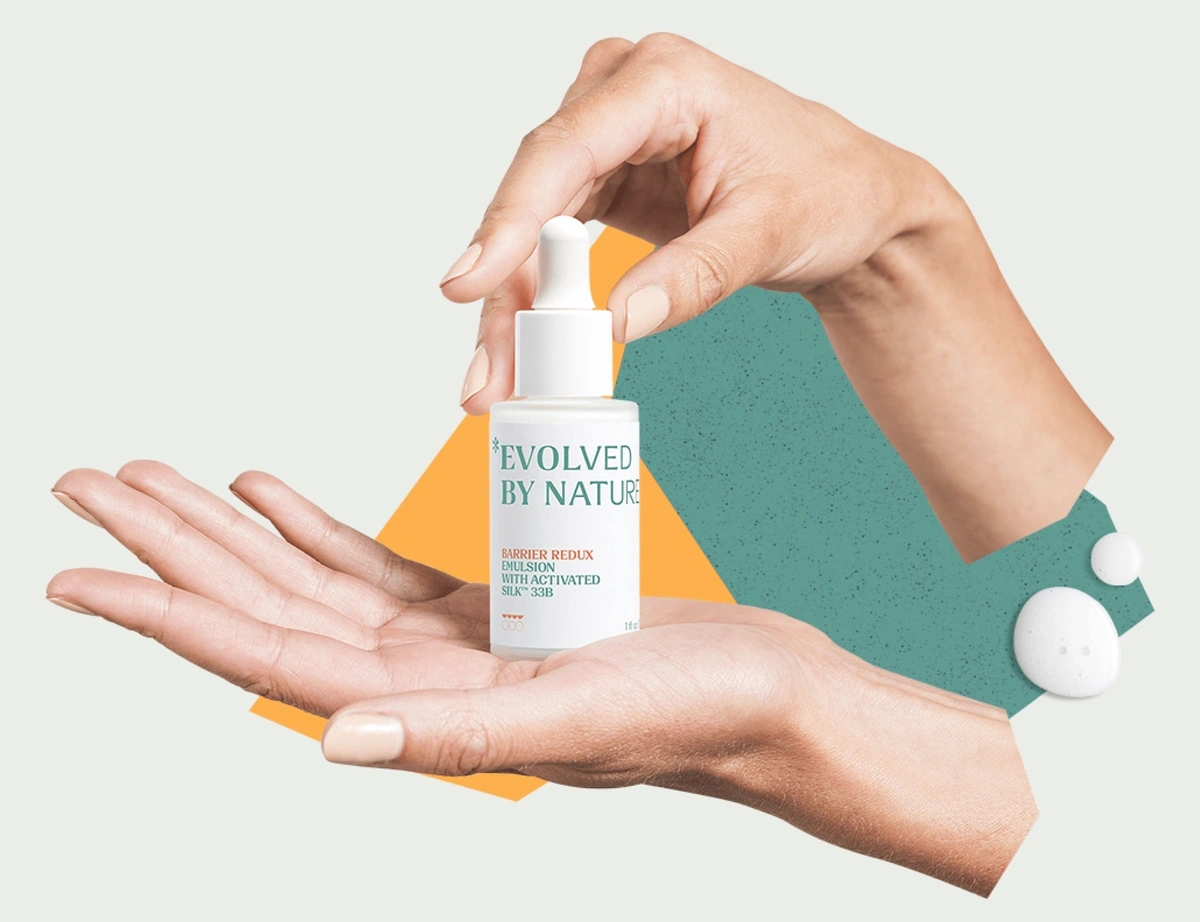 Activated silk is a sustainable way to replace petroleum-based ingredients like ceramides, dimethicone and liquid plastic acrylates.
The company has raised $190 million in funding, including a $120-million round in June 2022.
The biotech trend is even catching on with large personal care corporations like Unilever.
The company announced a partnership with a San Diego-based biotech firm called Geno in mid-2022.
Geno uses a fermentation process to create surfactants used in beauty products. Like other biotech beauty products, their ingredients are seen as an alternative to non-sustainable ingredients like palm oil and fossil fuels.
In early 2023, L'Oreal announced they'd be joining the partnership as well.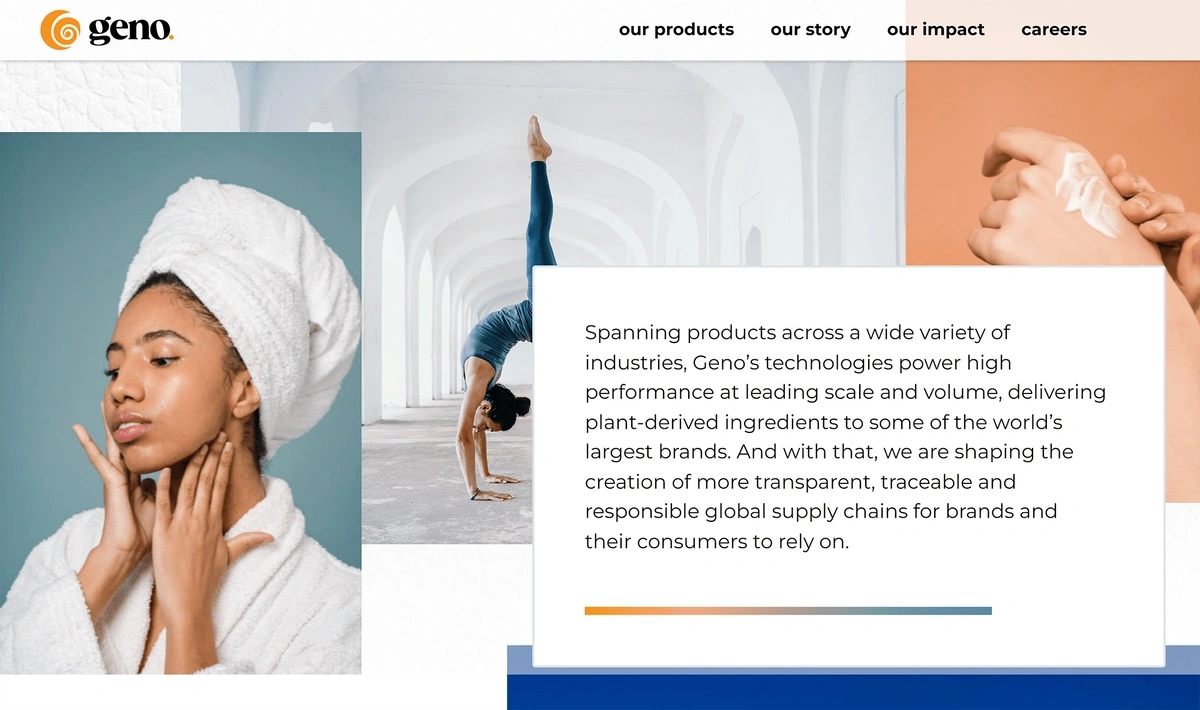 Geno's biotech ingredients have been used in personal care and fragrance products.
3. Natural and Organic Ingredients
According to the Environmental Working Group, the average person applies nine personal care products to their body daily. One-quarter of women apply 15 or more products each day.
In just nine products, there's an average of 126 unique ingredients.
In 2023, survey data shows that more and more women are questioning what exactly those chemicals are and what they mean for their bodies and the planet.
More than 65% of consumers are looking for environmentally-friendly brands, and 55% are willing to pay more for sustainable products.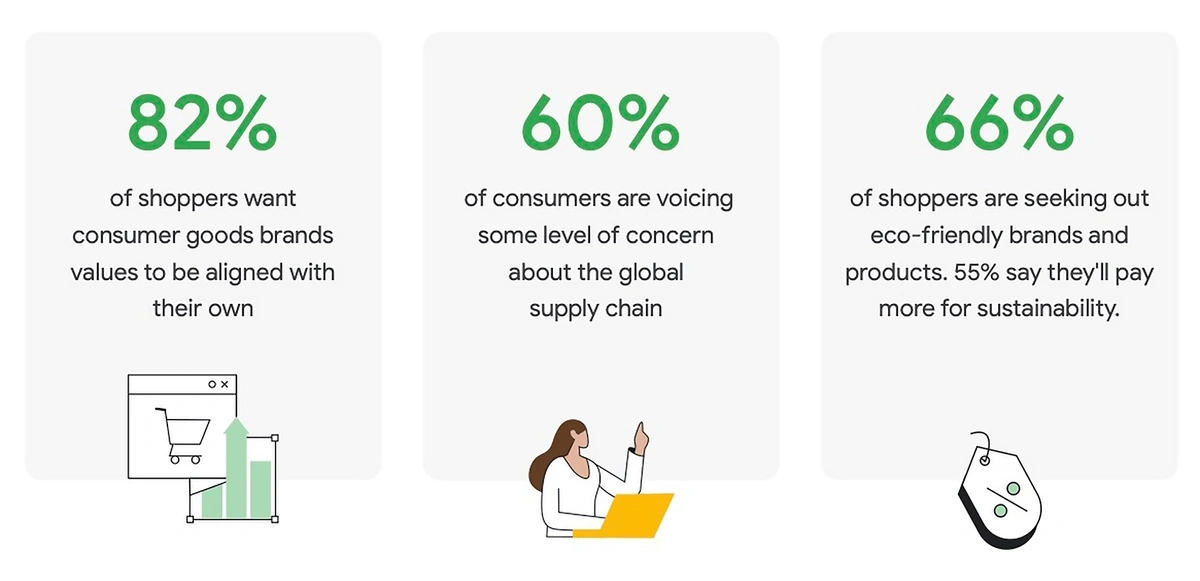 Consumers are paying attention to the values and sustainability efforts of beauty brands.
Ingredients are a big part of sustainability for consumers.
In fact, a recent report from nosto said that 68% of people are looking for products described as "clean" and 59% of people are influenced by products that are described as "natural and organic".
The global market value for natural beauty and cosmetics is poised to grow to $59 billion dollars by 2031.
Dozens of beauty brands are already jumping on the trend to create sustainable, natural, and organic products.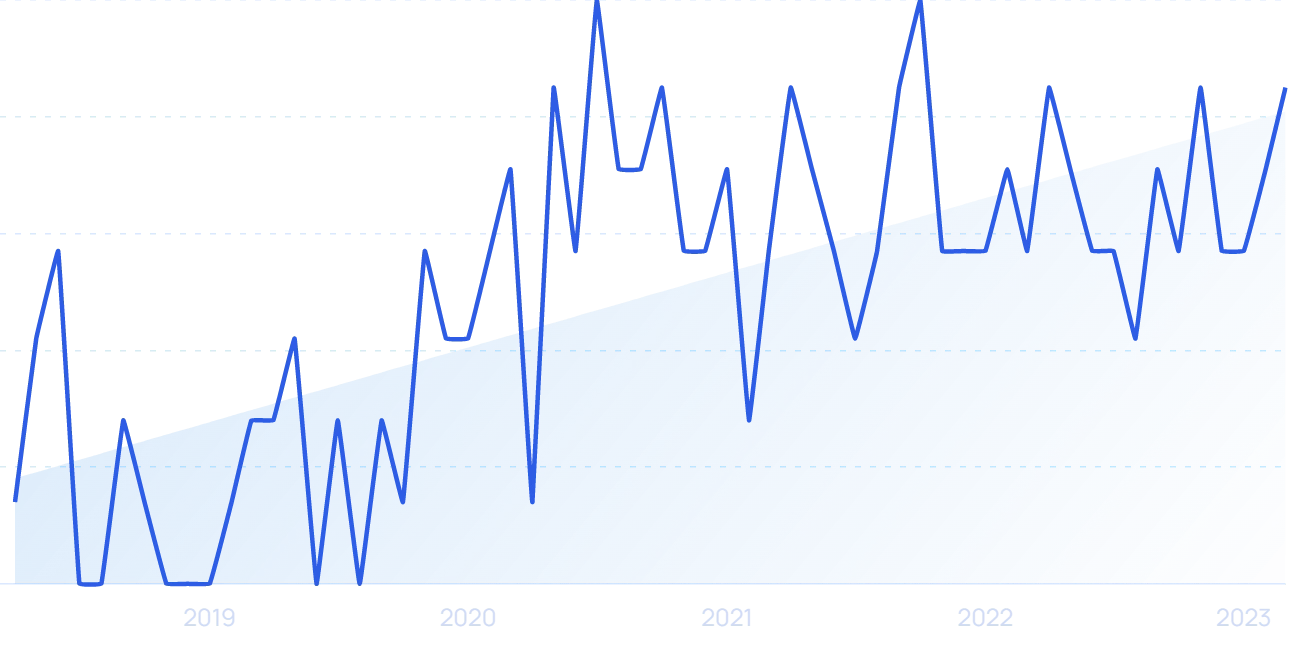 Search volume for "sustainable skincare" has increased 566% in the past five years.
Estimates show almost one-third of beauty products are now labeled "clean" and that number is predicted to increase 12% by 2027.
Walmart recently launched a clean beauty shop that offers 900 products that are free from ingredients on the store's "Made Without List" like formaldehyde and PFAS.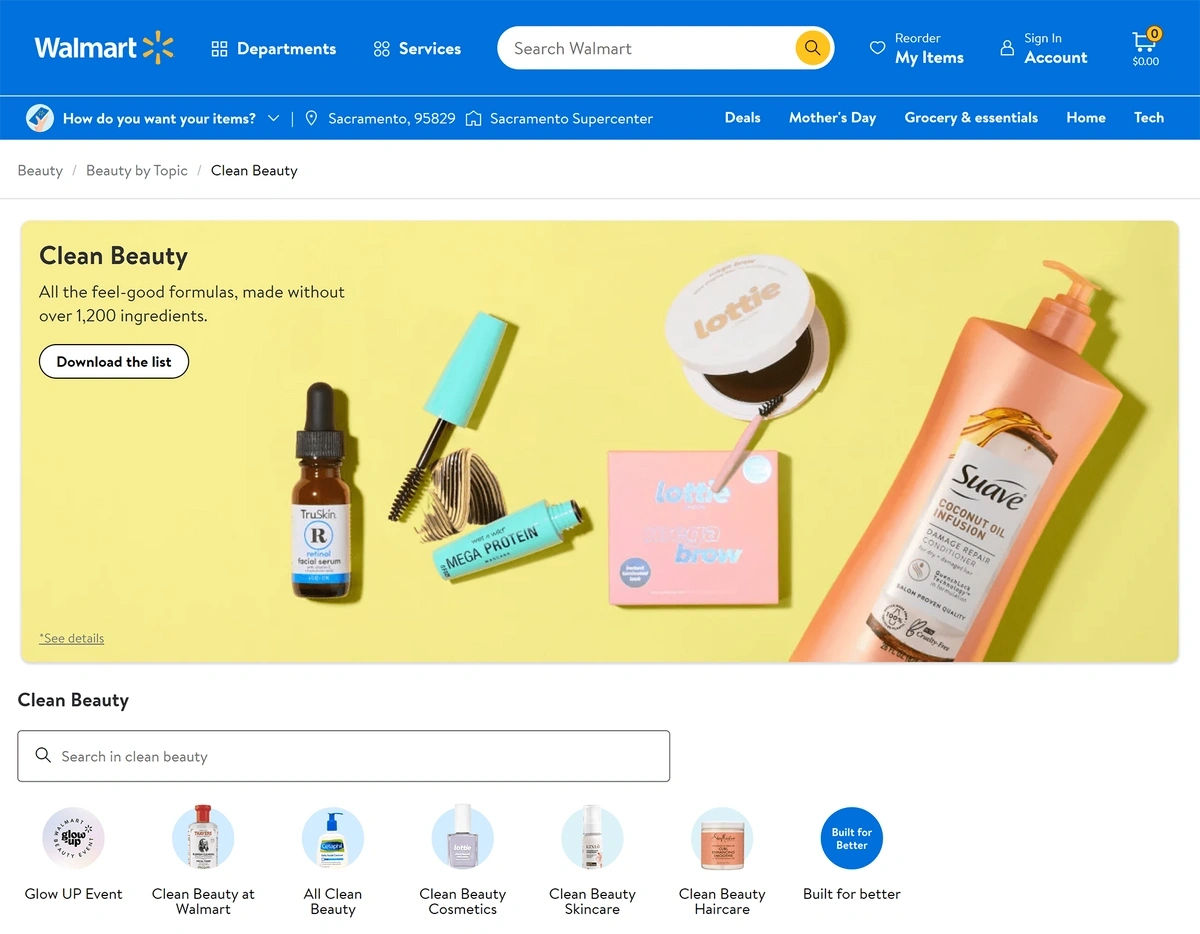 Walmart hopes to make it easier for customers to find beauty products that align with their values.
4. Beauty Sales and Brand Engagement on TikTok and Instagram
Experts say nearly half of all social media users will make at least one purchase on a social platform this year.
By 2024, the average shopper on social media will spend $800 on social commerce each year.
Consumers between the ages of 18 and 44 are the most likely to make a purchase on social media, and beauty products are one of the top things they buy, second only to clothing.
TikTok and Instagram continue to be incredibly popular apps for beauty brands and consumers.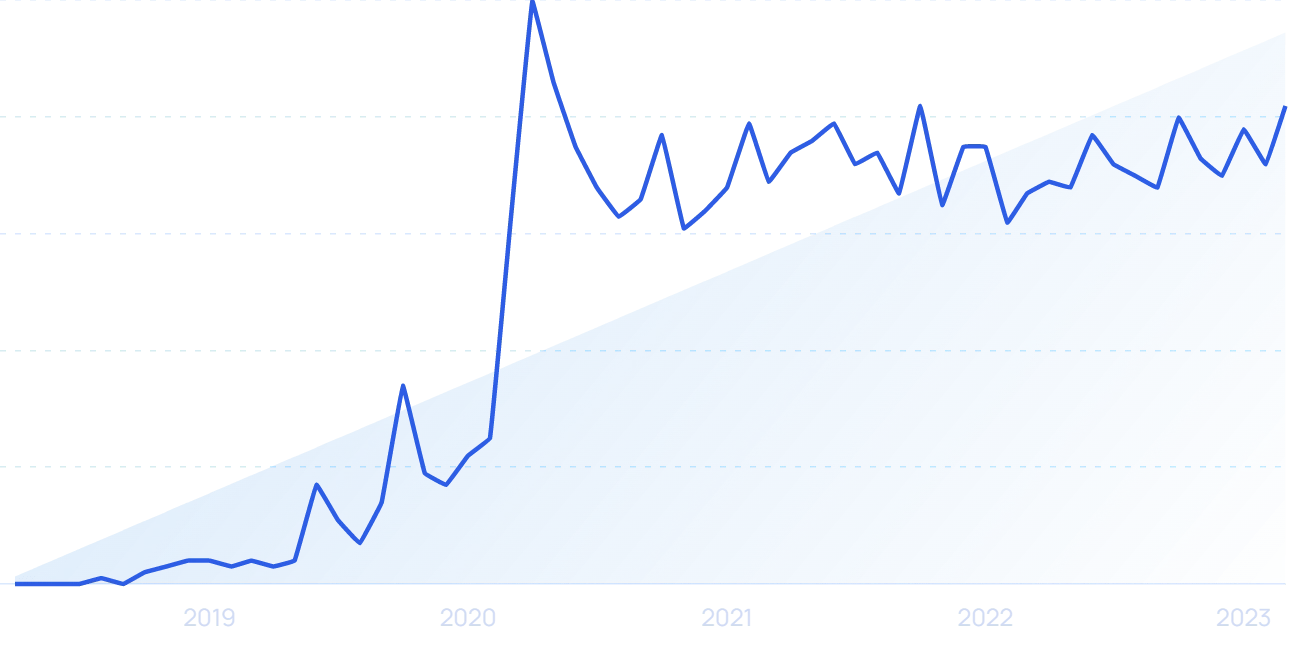 Search volume for "TikTok makeup" has skyrocketed in recent years.
Nearly 60% of users have made a beauty purchase after seeing the product on social media and, specifically, 89% of TikTok users have made a beauty purchase after seeing a product on the platform.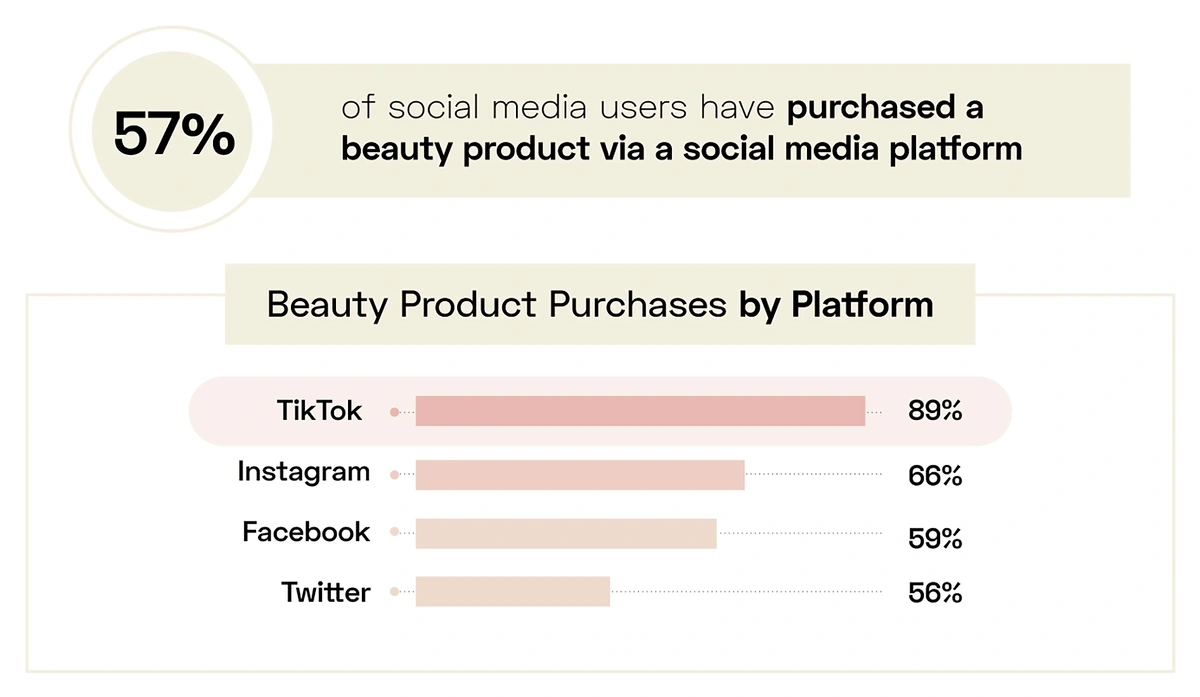 When it comes to beauty products, TikTok and Instagram are the most popular platforms for social commerce.
On Instagram, health and beauty brands continue to drive engagement, making up the second-largest product category on the platform. Once again, that's second only to apparel.
Even so, TikTok is the prime platform for beauty. The average engagement rate for beauty influencers on the platform is a whopping 7.52%. Instagram comes in second with 1.87% engagement rate.
Truly Beauty is one brand that's recently leveraged TikTok to build their DTC skincare business.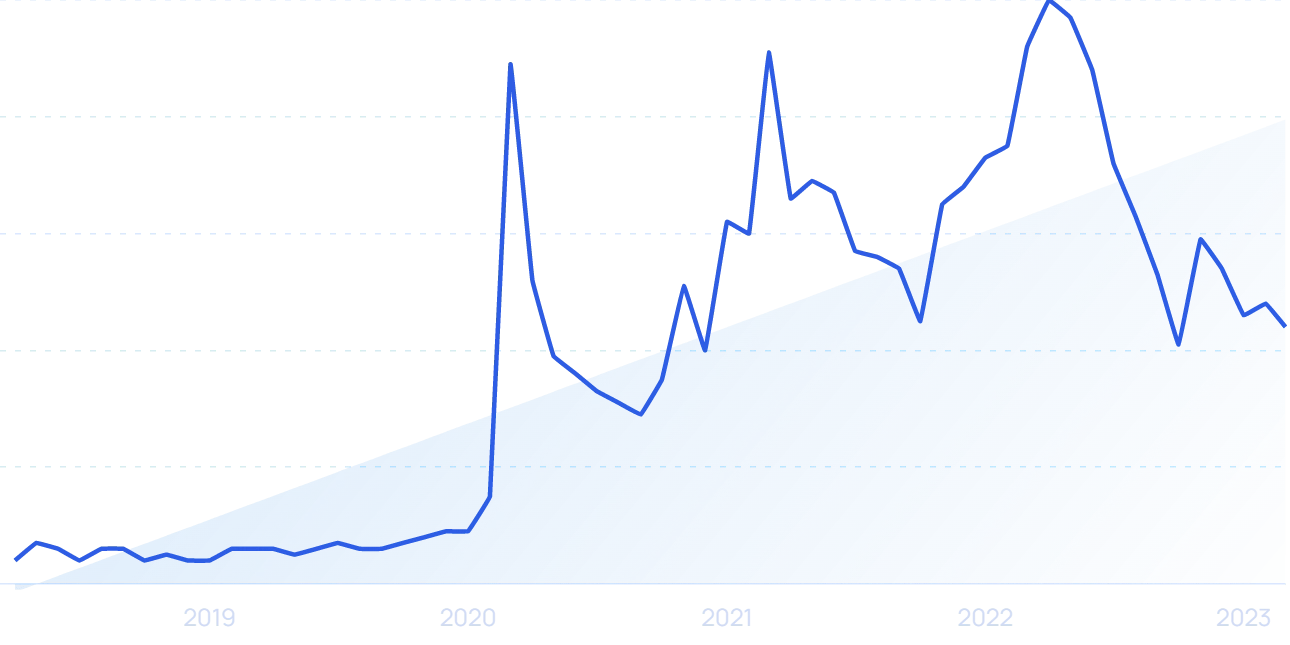 Search volume for "Truly Beauty" has jumped more than 3,500% in the past five years.
Between 2020 and 2021, the brand gained 1 million followers on TikTok.
As of early 2023, they've grown their following to 2.3 million.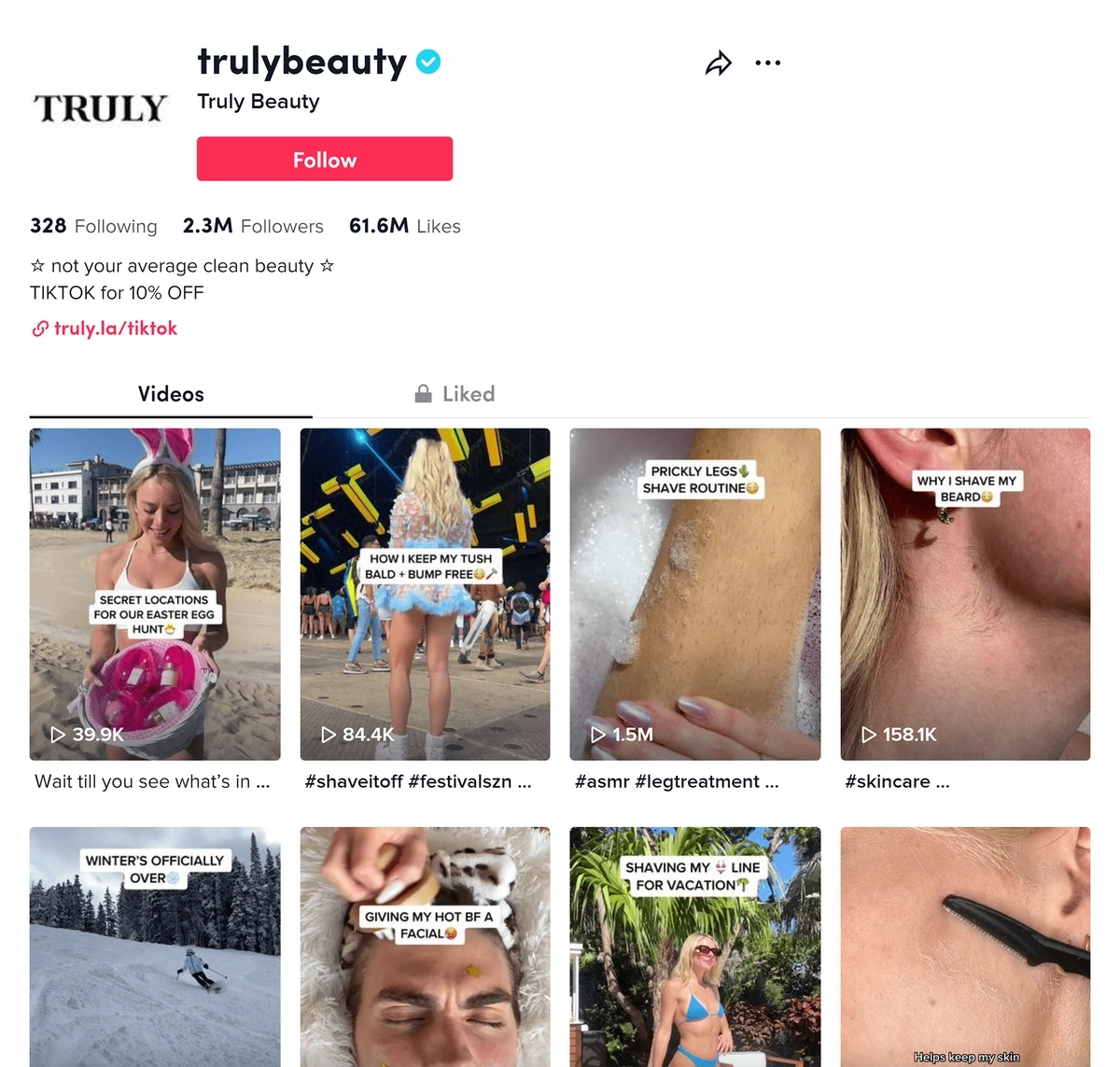 TikTok videos from Truly Beauty get 10 million+ views.
According to the company's social media manager, utilizing user-generated content was a big part of their growth on social media.
They've also tapped into trends like ASMR and have taken a direct approach to sensitive skincare topics.
On Instagram, influencers and user-generated content has also proven its value in driving sales.
There are more than 1,200 beauty influencers on the platform.
In one example, a beauty influencer was gifted skincare products from Soft Services. She loved the products, created a non-ad post about them, and Soft Services saw their product sales soar to 3x over estimates.

The beauty influencer's post had more than 54,000 likes.
5. Demand for Men's Beauty Products
TikTok has also been a key driver in another beauty trend: male grooming.
The hashtag "mensskincare" currently has nearly 974 million views on TikTok.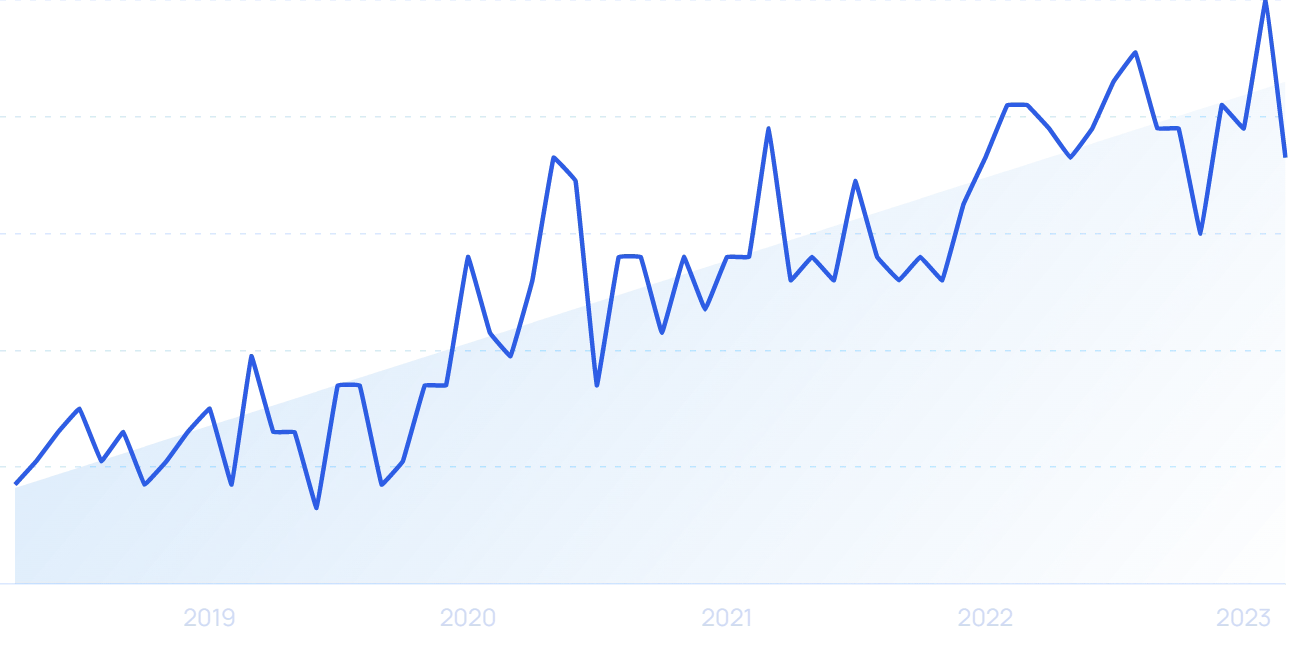 Search volume for "men's skincare routine" has increased 325% in the past five years.
The market is expected to grow to $110 billion by 2030.
In one study, 56% of men reported buying more skincare products today than they did five years ago.
Ipsos reports many men are also diving into male cosmetics and makeup.
Currently, 15% of U.S. males aged 18-65 use these products and 17% would be willing to try it in the future.
According to the report, the main reasons men give for using beauty products are enhancing their general appearance, improving the texture and appearance of their skin, and looking younger.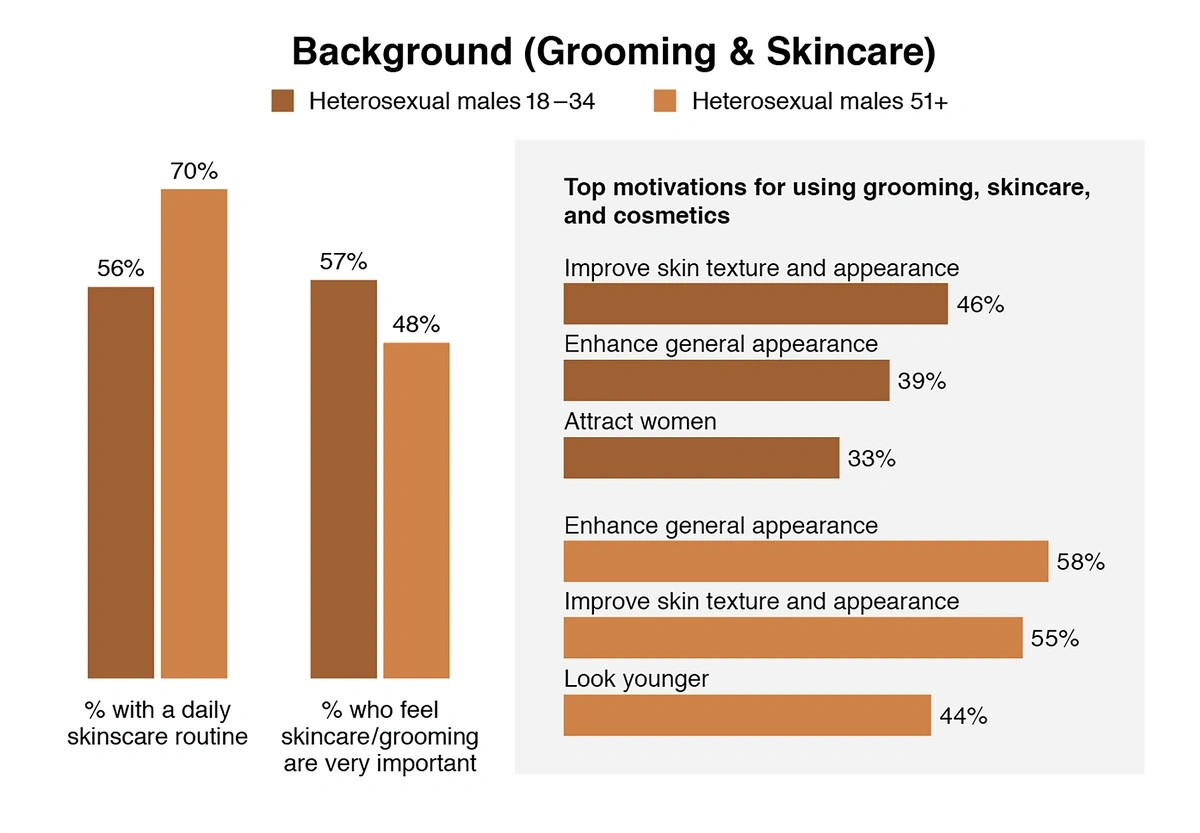 A large percentage of men have adopted a daily skincare routine.
Atwater is a men's skincare brand that was launched by beauty expert Chris Salgardo in 2022.
The goal of the brand is to provide a simple, yet effective, lineup of products for men.
For instance, the company's starter set provides a face cream, a face scrub, a body bar, and a moisturizer.
The brand also recently partnered with motorcycle brand Ducati to create a limited-edition bar soap.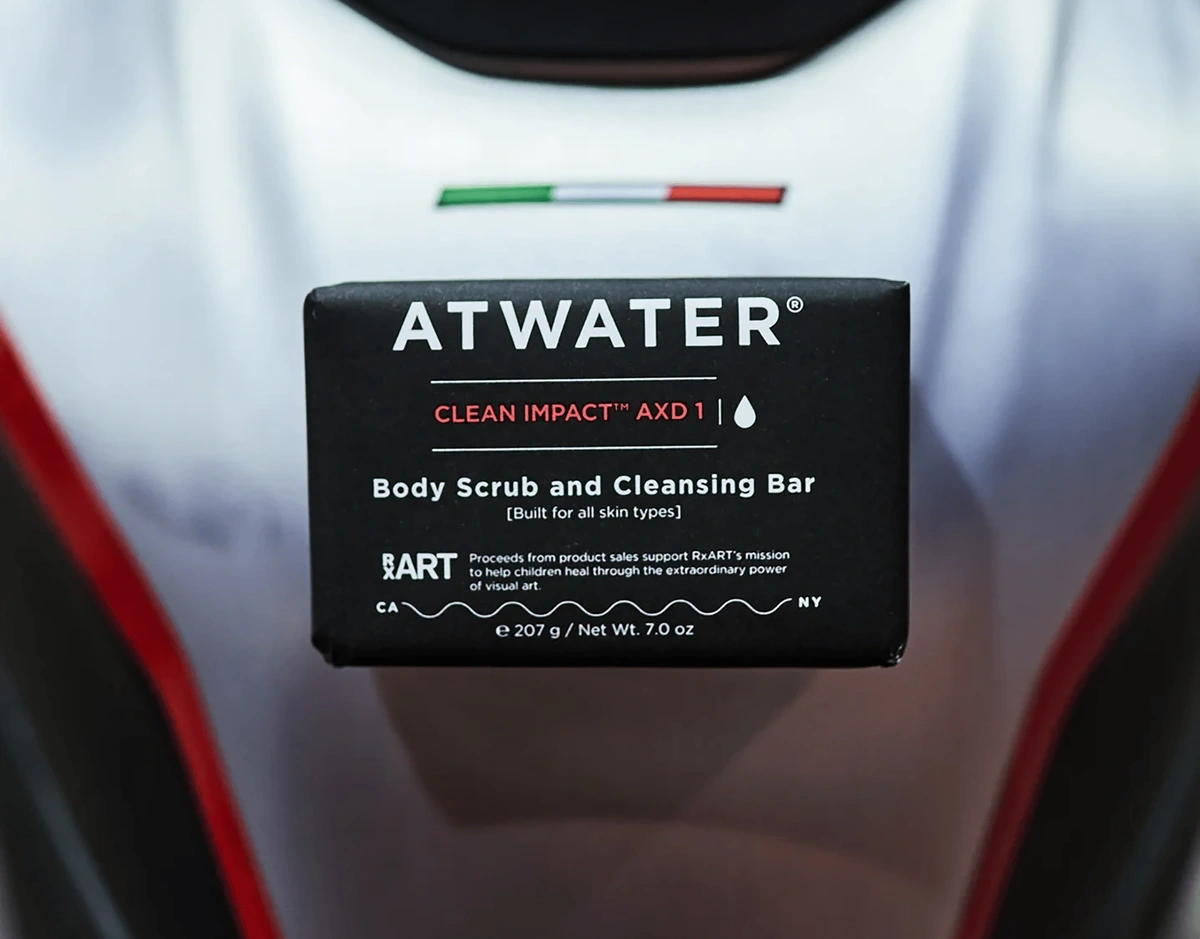 Proceeds from the sale of the bar soap support RxART, a non-profit that provides uplifting visual art in children's hospitals.
Even eCommerce giant Manscaped, which was originally just a hair-trimmer brand, now sells a range of skincare products for men.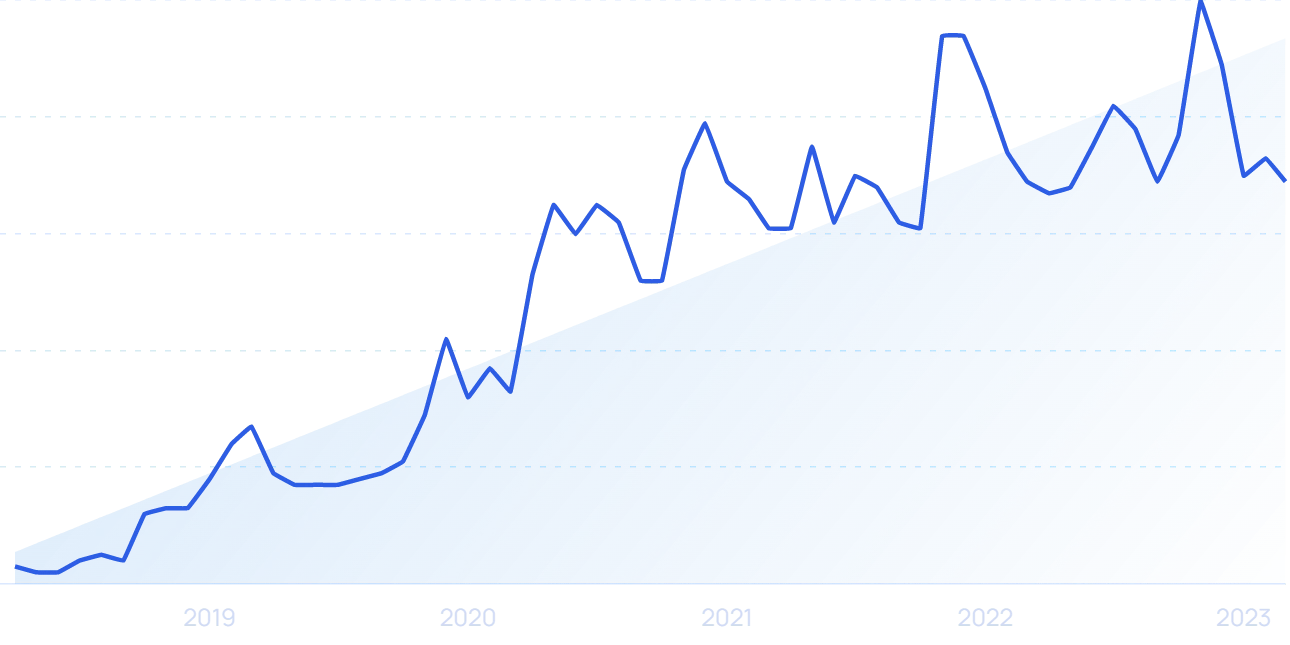 Search volume for "Manscaped" is up 2,200% in the past five years.
For instance, the brand's premium packages include skincare and haircare products like body wash, body spray, lip balm, and deodorant.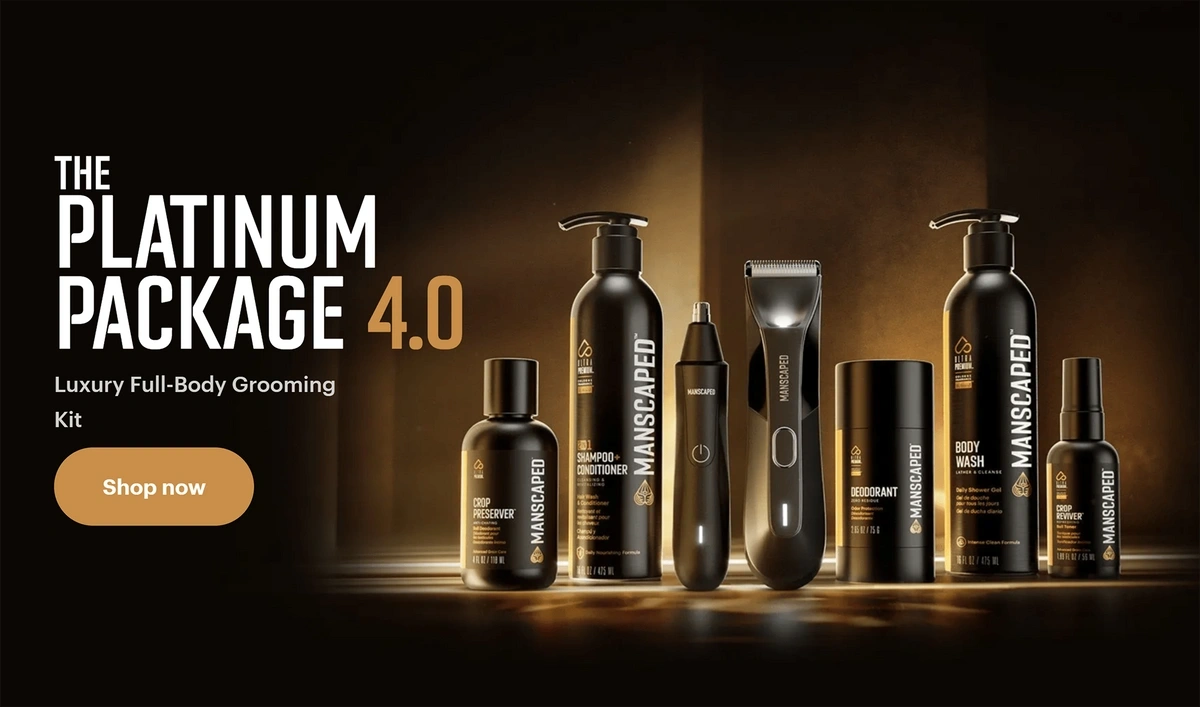 Manscaped offers several skincare options formulated with vegan ingredients.
6. Calls for More Diversity and Inclusion
As companies in various industries have begun to address injustices throughout society, consumers are demanding changes from beauty brands too.
Even though 43% of beauty consumers say they enjoy seeing different types of beauty in ads, data shows that nearly one-in-five consumers feel left out of beauty advertisements. That number represents 25% of Gen Zers.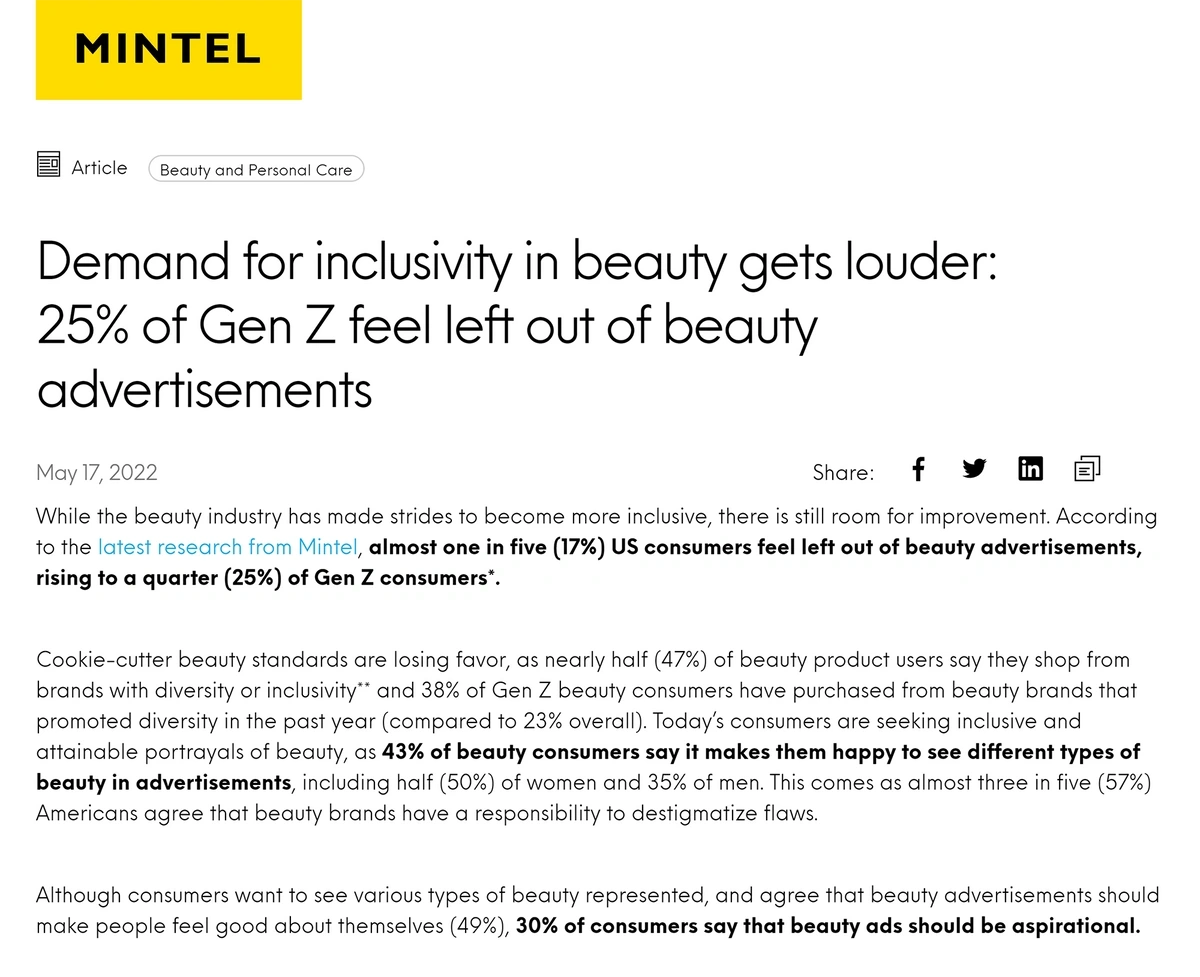 Mintel's survey showed 25% of Gen Z consumers feel like they're not represented in beauty ads.
Consumers are calling for beauty brands to feature more plus-size models, unconventional types of beauty, various genders, and diverse sexual identities in order to promote inclusivity in the industry.
Racial bias in beauty is especially worrisome to consumers.
McKinsey reports that Black brands account for just 2.5% of revenue in the industry, but Black consumers make up more than 11% of beauty spending.
Their data also shows that Black consumers are 3x more likely to be upset with their options for beauty products like skin care, hair care, and makeup.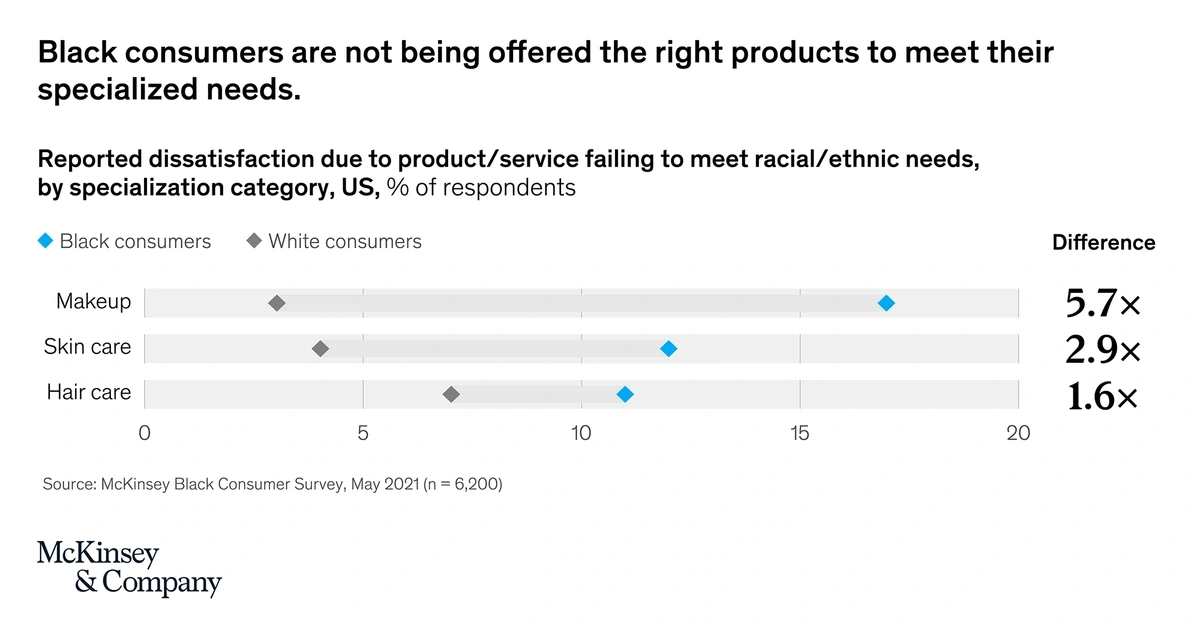 Black consumers often have difficulty finding the beauty products they need.
Vitamin E and vitamin C are especially desired by Black skincare consumers.
Surveys show 18.6% increase in interest in vitamin C and a 11.9% increase in interest in vitamin C among the Black consumers as compared to interest in American consumers overall.
In order to provide Black consumers with the products they need, a Senegalese American named Diarrha N'Diaye launched the beauty brand Ami Cole in 2021.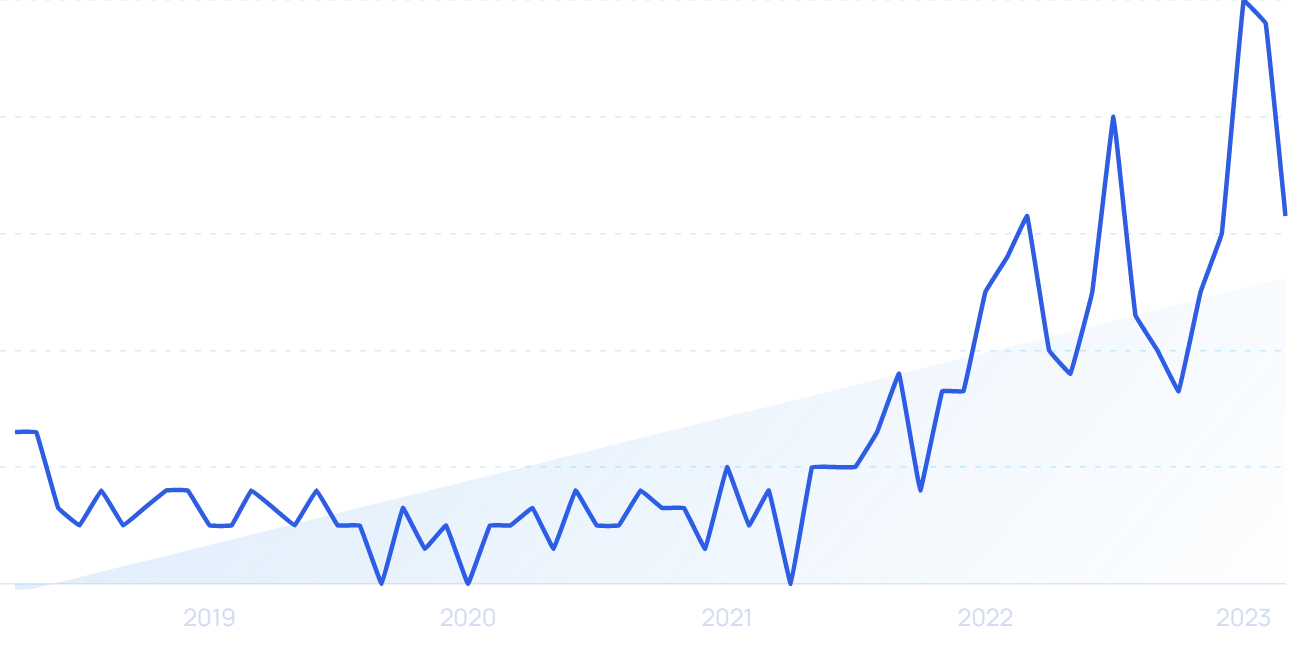 Search volume for "Ami Cole" has jumped 450% in the past five years.
N'Diaye previously worked at Glossier but found that their products were too limiting for consumers with melanin-rich skin.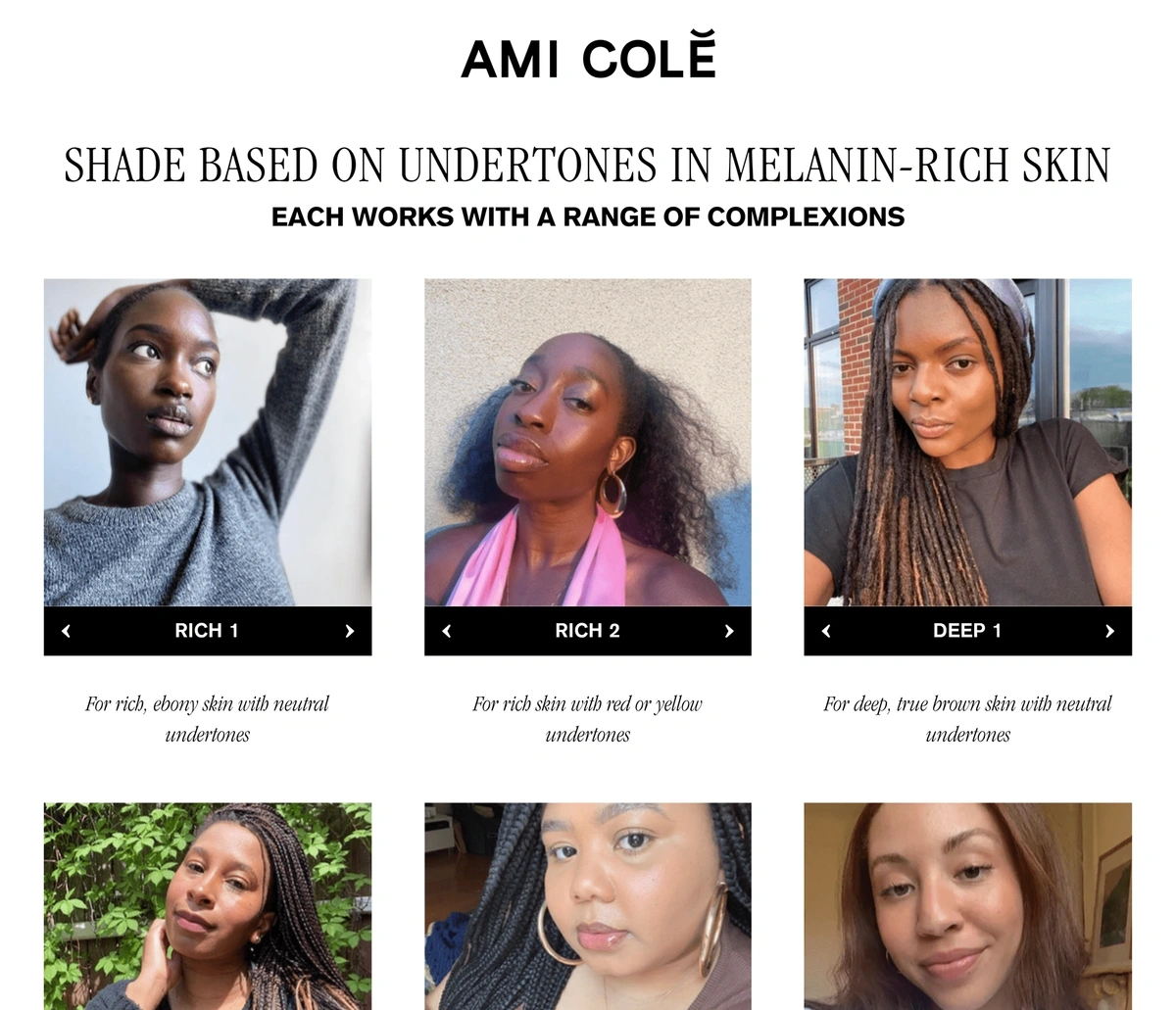 Each Ami Cole product is offered in a variety of rich shades.
Her company aims to provide products so that consumers can achieve a no-makeup look in a wealth of shades.
Ami Cole secured $1 million in pre-seed funding and brought in $2.5 million in revenue in 2022.
One of the best-known multicultural makeup lines, Fenty Beauty, continues to emphasize diversity and inclusion in their product lines and marketing.
The company features plus-sized models in advertising, offers gender-neutral products, and features more shades than nearly any other beauty company.
The brand continues to evolve and now features 50 shades of foundation and concealer to offer nearly all consumers the chance to have their makeup match their complexion.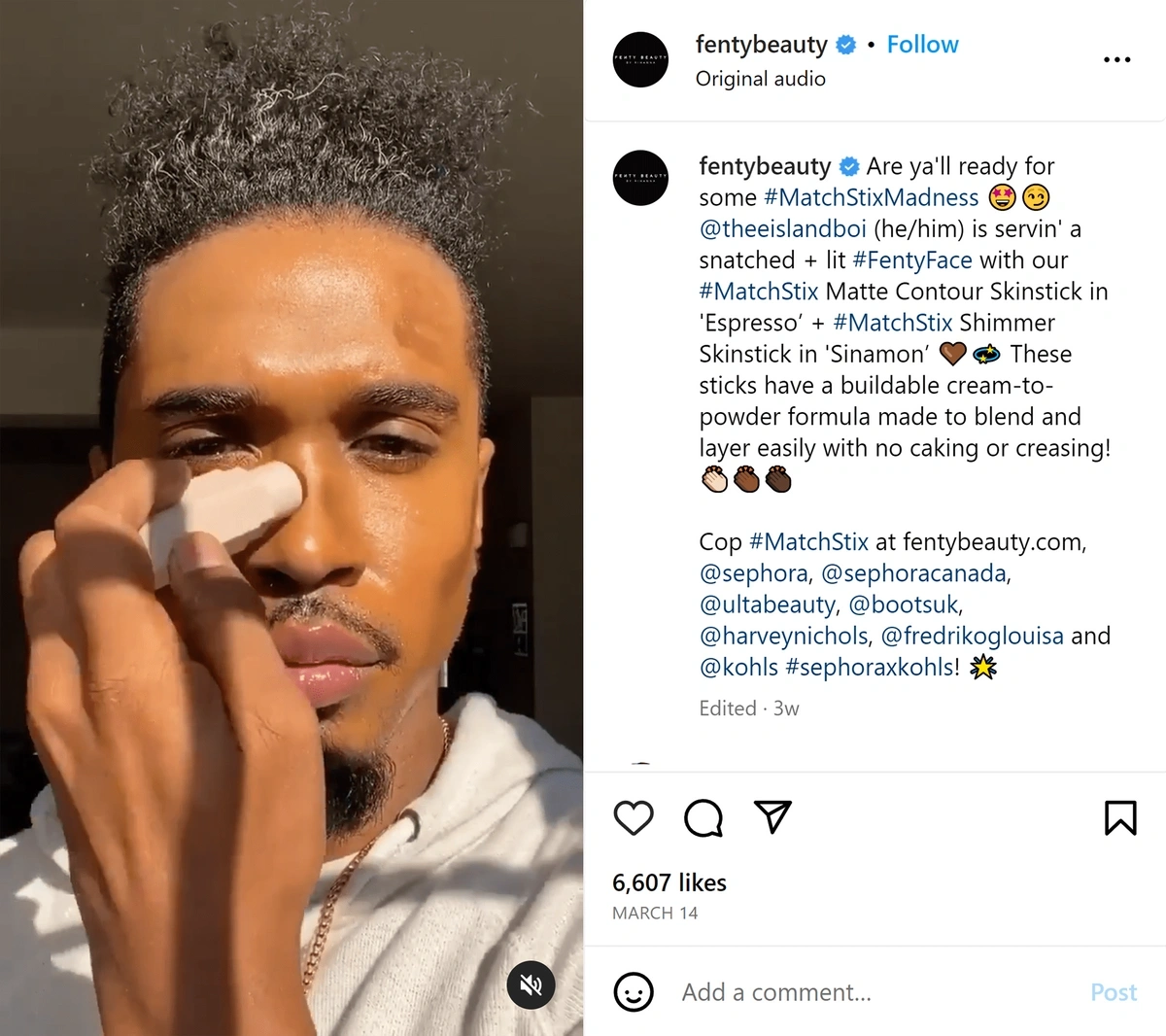 Fenty's social media feeds feature a wide variety of consumers.
While Fenty began with makeup, the company now sells skincare products and fragrances in addition to their signature beauty line.
Estimates say the company is worth $2.8 billion.
Conclusion
That's it for our list of important beauty industry trends for 2023-2026.
Technology and societal issues have impacted the beauty industry in a big way over the last few years. In many ways, the most powerful voices have come from consumers who are calling for change. Whether that's looking for new products or demanding more natural ingredients, brands are listening. And, they're finding new ways to engage customers on social media and via AI/AR applications.
We can only expect to see more innovation and change in this space heading into the coming months.