7 Key Logistics & Supply Chain Trends (2023-2026)
You may also like:
The global supply chain has never been more important than it is today.
With the interconnectedness of the global economy, along with the unpredictable challenges brought by a global pandemic, it is a time of rapid change in the supply chain industry.
Read on to learn about the most important new trends impacting this essential space.
1. Micro-Fulfillment Looks to Shorten Delivery Times
Micro-fulfillment is a way to combine the convenience of retail stores with the efficiency of online shopping.
Micro-fulfillment centers are usually small fulfillment centers – sometimes in sections of retail stores – that handle last-mile fulfillment and delivery of products to customers.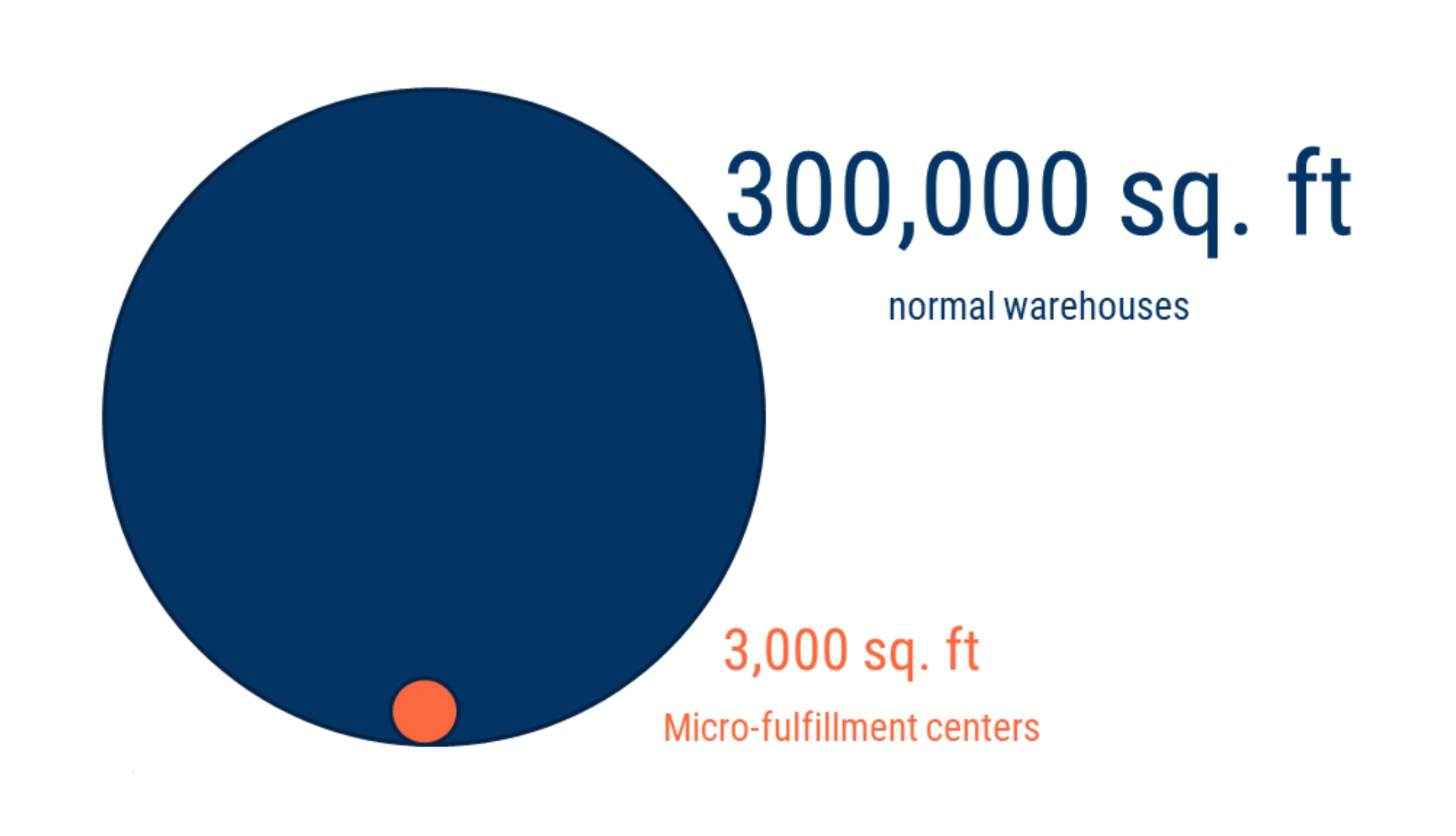 Size of a micro-fulfillment center compared to a standard warehouse.
Many times, these locations could already be stocked with standard items for an area. But they are not necessarily normal fulfillment centers or warehouses. They only cater to the area they are in.
Micro-fulfillment centers are typically highly automated and run on a very small staff.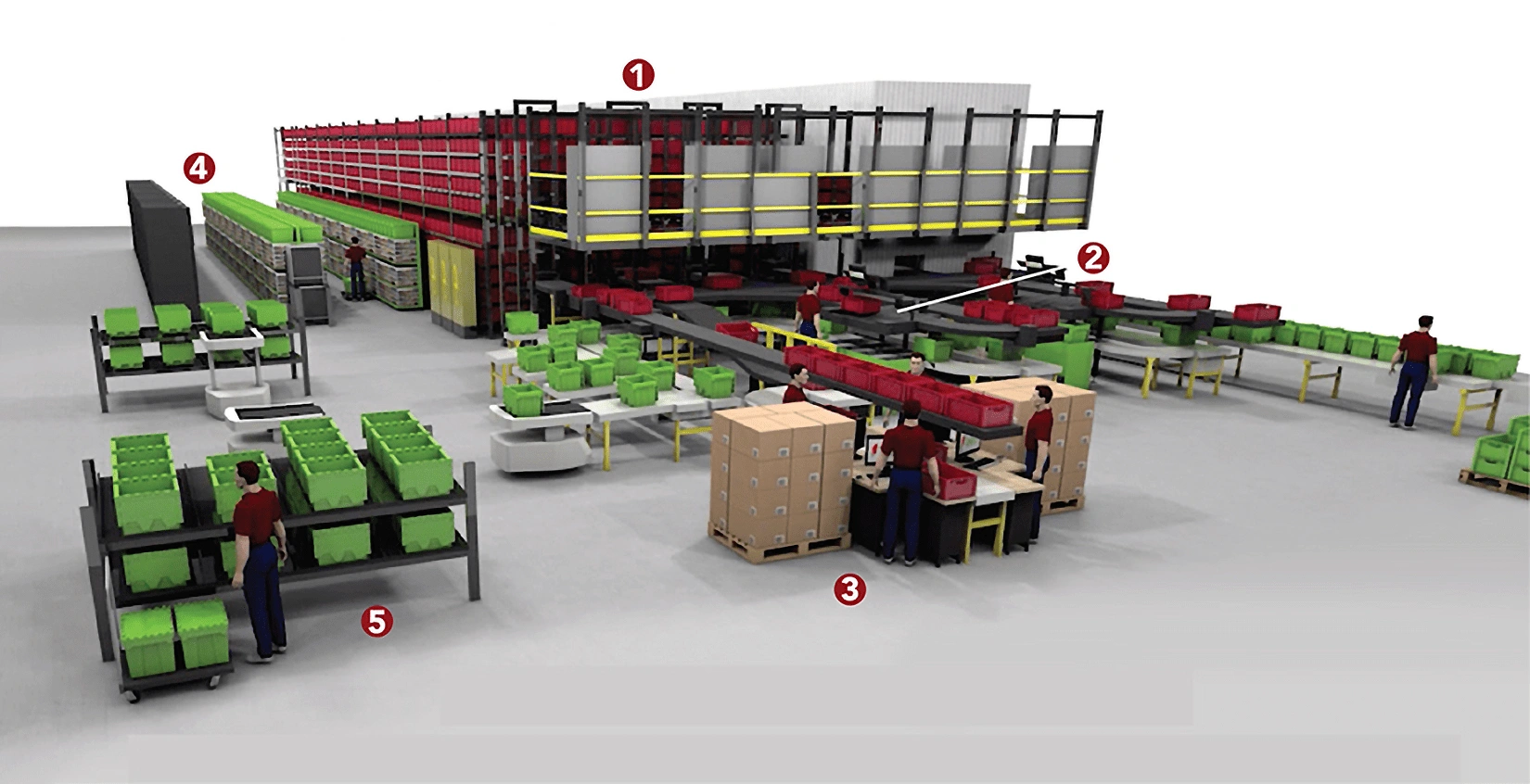 Concept of a Micro-Fulfillment Center.
In fact, CB Insights predicts that micro-fulfillment centers can reduce costs by about 75% compared to normal fulfillment centers and warehouses.
Fabric is one of the fastest-growing micro-fulfillment companies in the world.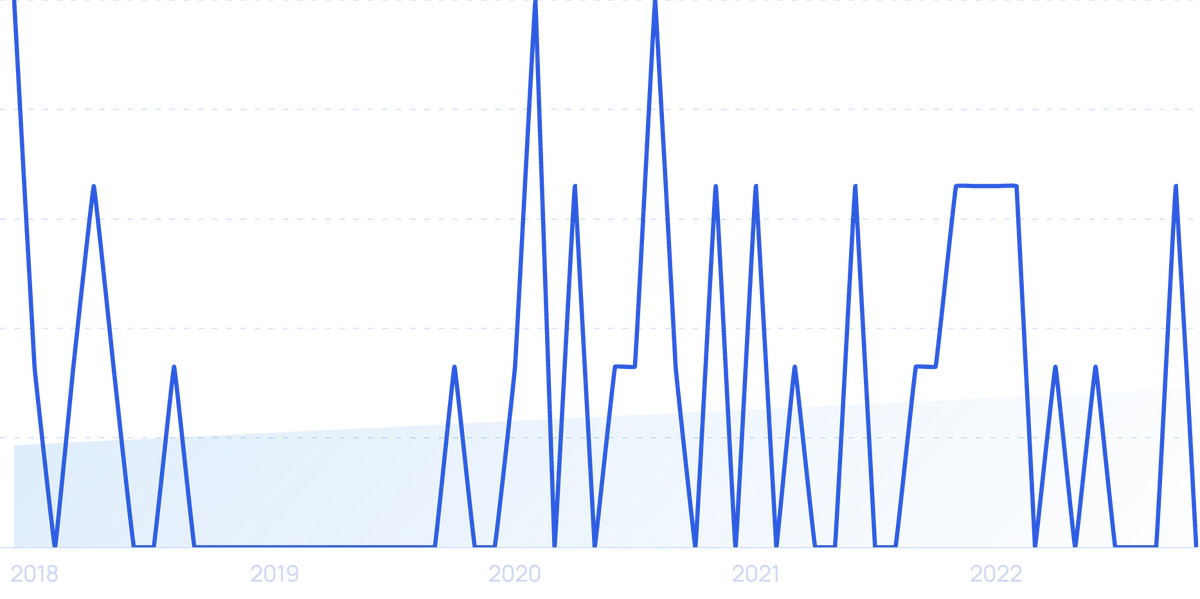 Searches for "Fabric Fulfillment" over the last 5 years.
Fabric started in Tel Aviv but is now active in the United States.
Most of its sites are highly automated.
The company even claims that its 6,000-square-foot site in Tel Aviv can handle 600 orders a day.
To help with its expansion into the US, Fabric has raised $100 million in venture funding.
2. AI and Predictive Analytics Hope to Improve Supply Chain Operations
The global supply chain and logistics industry may just be the biggest beneficiary of Artificial intelligence (AI) and machine learning (ML).
More than half of businesses claim they wish they had more visibility across their supply chains.
By analyzing the data collected in the global supply chain, AI hopes to significantly improve visibility.
It's no surprise then that the expected growth from the adoption of AI in the supply chain sector will likely only be rivaled by its use in marketing and sales.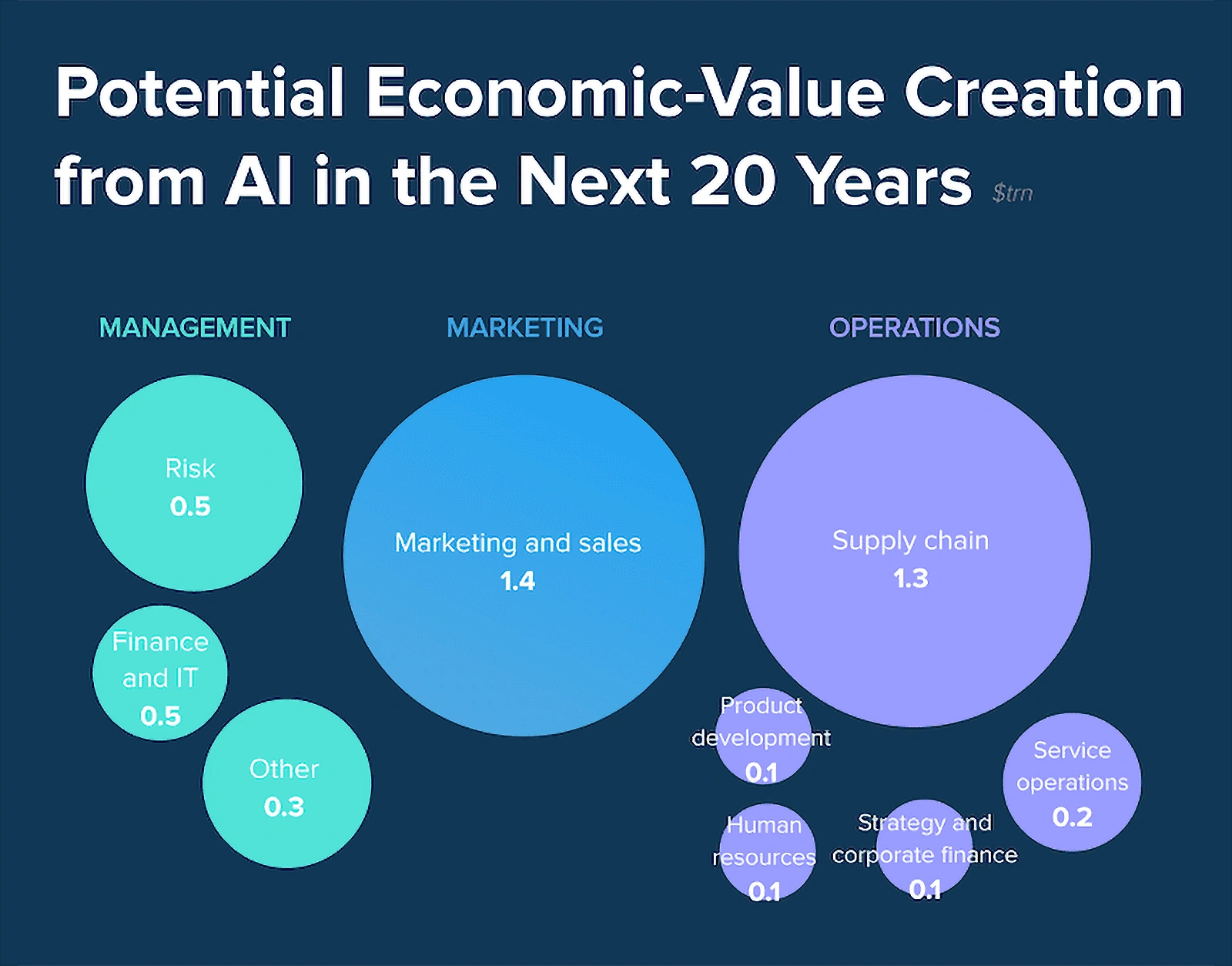 The economic value created by AI in the global supply chain is supposed to grow by 1.3x over the next 20 years.
As a result, more than a third of organizations are now using AI to help with logistics and supply chain operations.
Even back in 2019, McKinsey found that the supply chain and logistics industries reported large benefits to AI adoption.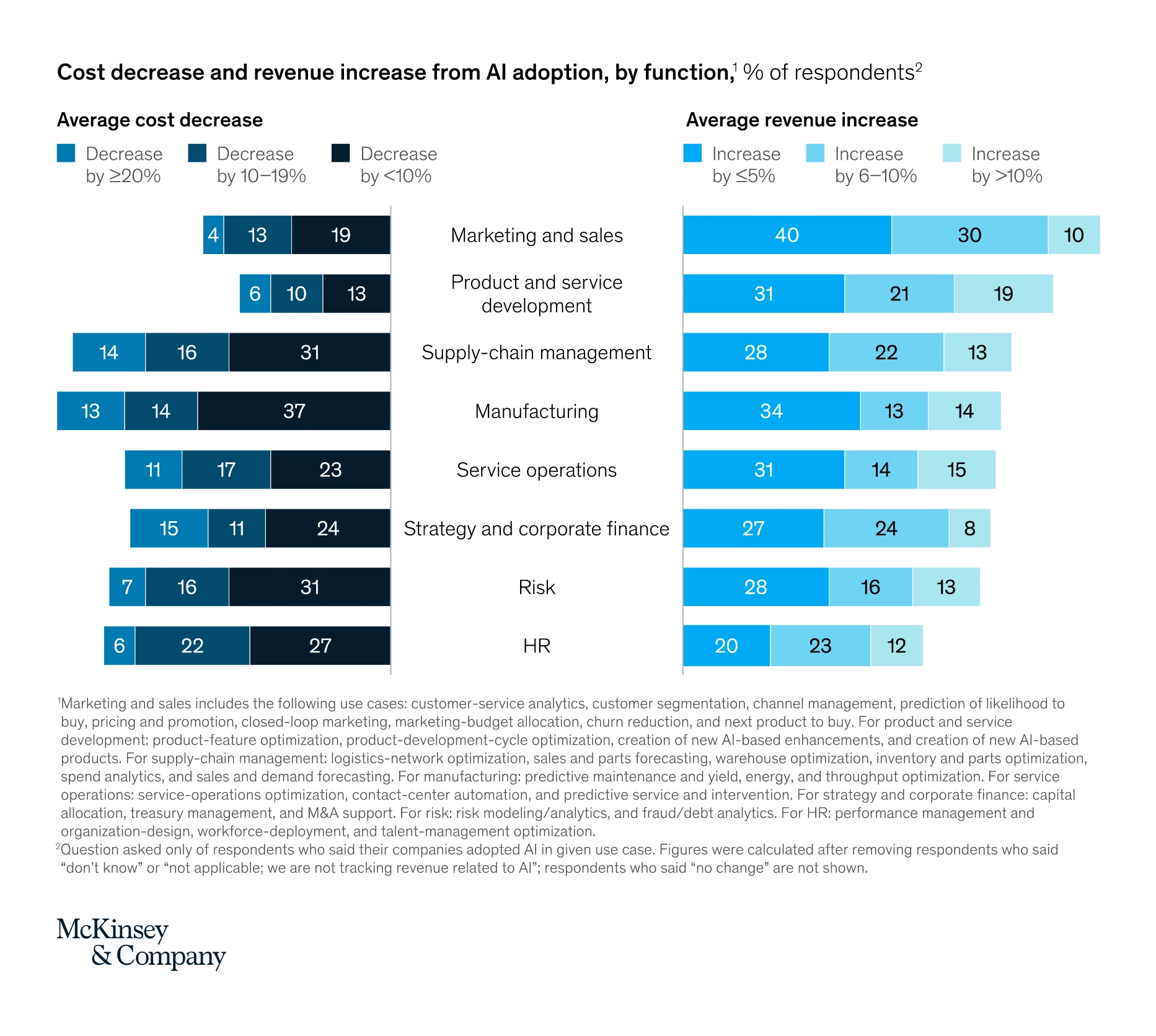 A large number of members from the supply-chain management industry reported increased benefits resulting from AI.
And McKinsey predicts that AI will improve operations in a myriad of ways. It can help with predicting demand, increasing transparency, improving production, and locating goods.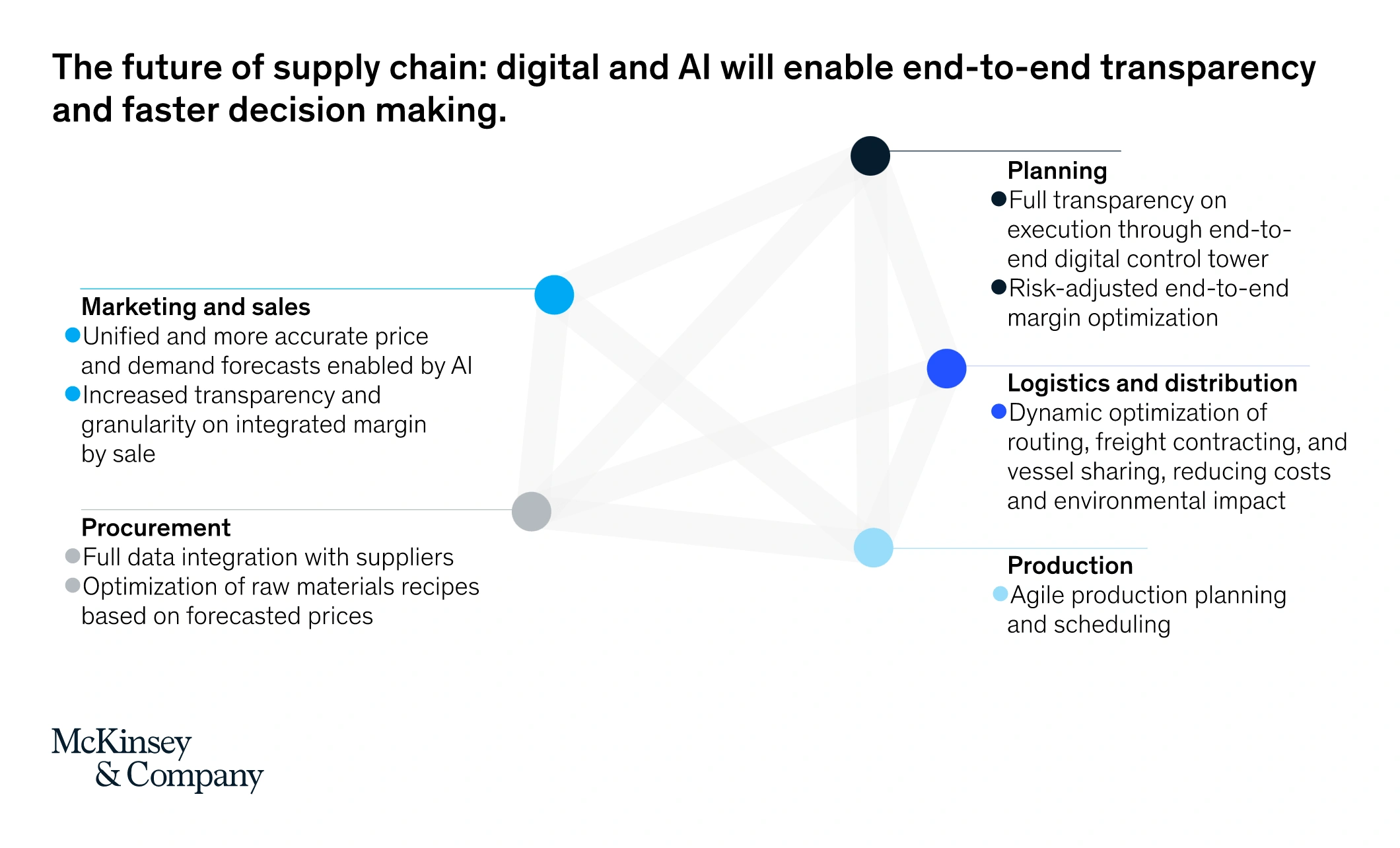 The ways that AI will integrate the entire supply chain and improve efficiency.
And there seems to be a lot of room for growth. Incredibly, almost 50% of managers still use Microsoft Excel to manage their supply chains
For the most part, technologies like AI and ML are being used in what is known as predictive analytics.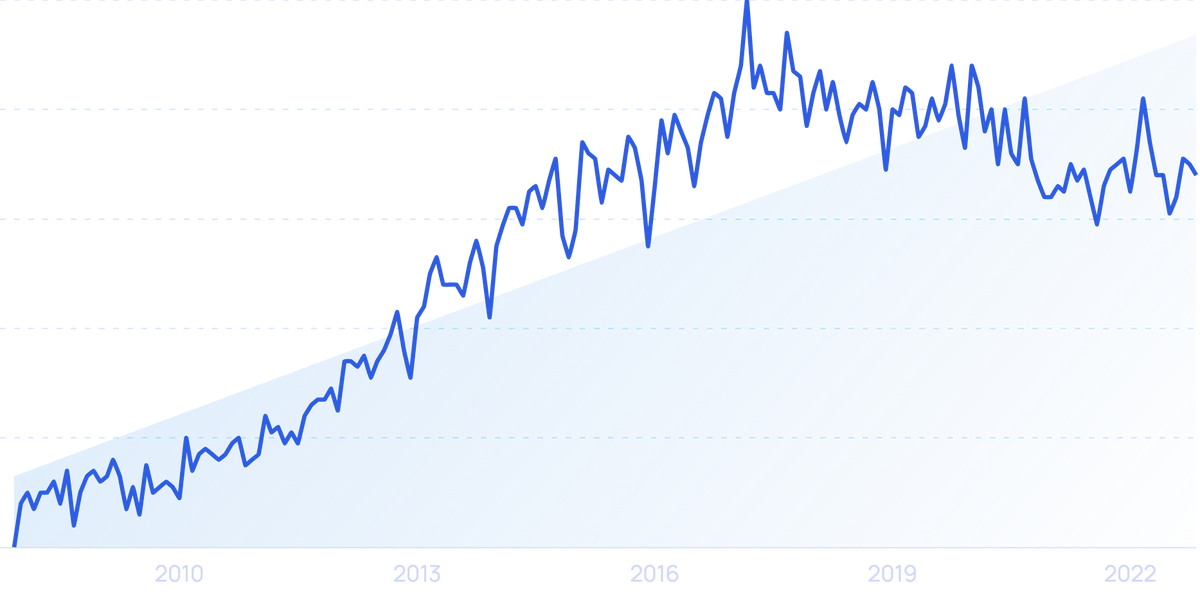 Searches for "Predictive Analytics" have grown by 6,700% over the last 15 years.
In the supply chain industry, predicting demand, shipping routes, fulfillment, etc. is extremely important.
So, it's no wonder that around 30% of supply chain professionals claim their company was using predictive analytics by 2019. That's up from 17% just two years earlier.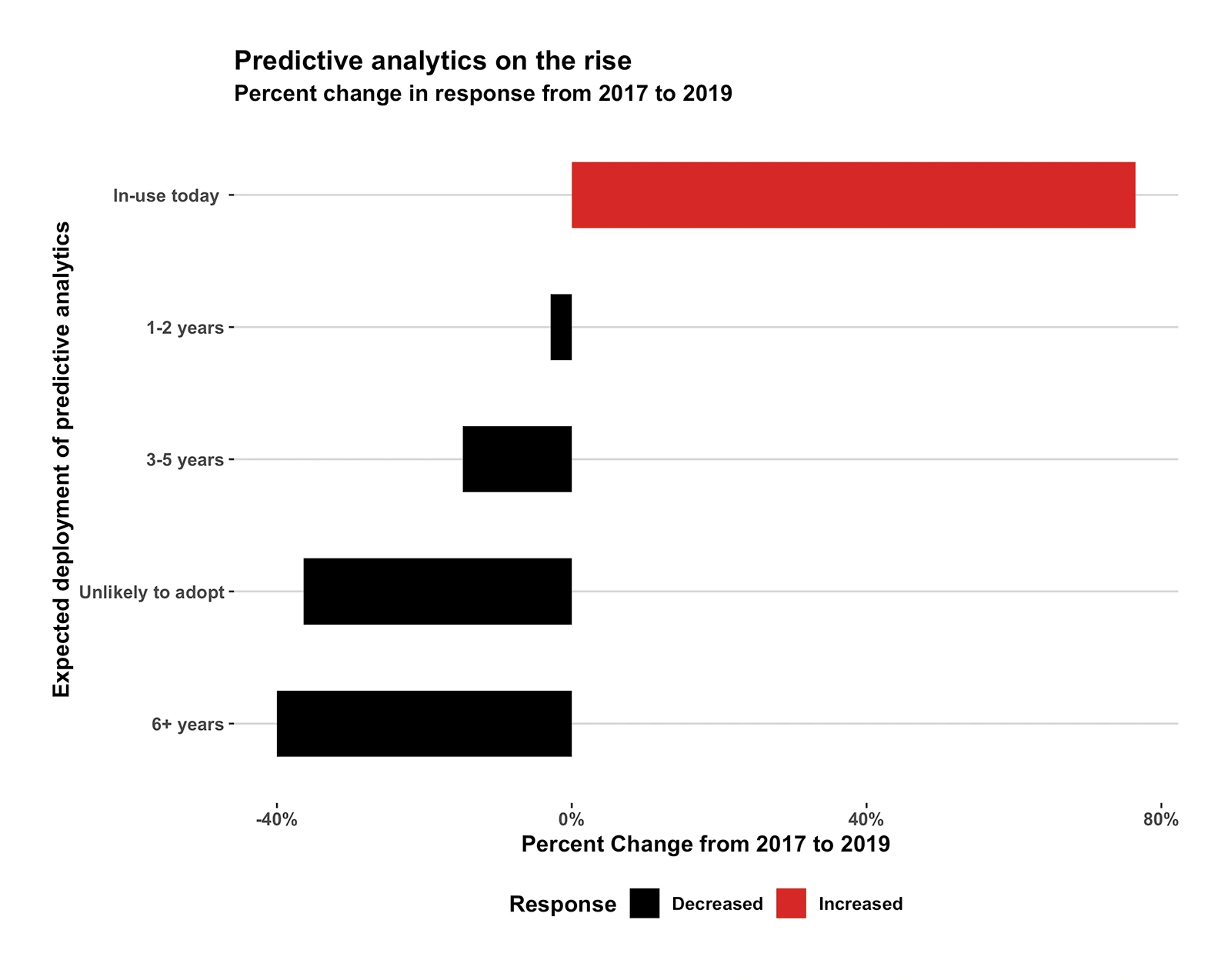 How employees in the supply chain industry expect predictive analytics to be deployed.
90% of supply chain professionals fully expect predictive analytics to have a massive impact on their sector over the next decade.
3. eCommerce is Changing the Supply Chain Landscape
Some of the biggest changes in the supply chain industry have been brought about by eCommerce.
Ecommerce is expected to make up about 22% of all retail sales globally in 2023. That's up from about 14% a few years ago.
And the number of people buying goods digitally is estimated to currently be at over 2 billion.
With this amount of growth, it's obvious that the supply chain has had to adapt.
This kind of purchasing requires new methods of sourcing and delivery.
In the past, constant quantities of goods were shipped to static fulfillment centers and endpoints. Today, with demand constantly fluctuating, goods have to be shipped to and returned to a variety of locations in a limited amount of time.
In fact, one of the main reasons people buy online is because of shipping speeds.

Top reasons why consumers shop online
Ecommerce has changed the way people think about supply chains.
For example, 63% of consumers expect the products they order to arrive within 3 days. That was practically unheard of before the advent of eCommerce.
In addition, the average buyer tracks their package 3.5x before it arrives.
4. Warehouses Are Becoming Completely Automated
Due to the wide-ranging impact of eCommerce, the number of warehouses in the US and around the world is increasing every year.
In 2010, there were around 15,000 warehouses in the US. By the end of 2020, that number had almost doubled to just under 20,000.
And the huge shift to eCommerce in the past year has only accelerated this trend.
By the fourth quarter of 2020, there were an estimated 1200 warehouse and distribution center construction projects ongoing in the US. This is compared to an average of about 900 over the last 10 years.
In fact, one research firm believes that there are over 280 million square feet of warehouse and distribution center construction currently taking place in the US. Over the last 10 years, an average of 152 million square feet was built across the US.
Because of the demand for these properties, the overall size is increasing as well.
The average size of new logistics buildings has been 229,000 square feet this year, compared to about 169,000 square feet in most other years.
With all of this space is being taken up, logistics providers and businesses around the world are hoping to get more done with less space.
This is where warehouse automation comes in.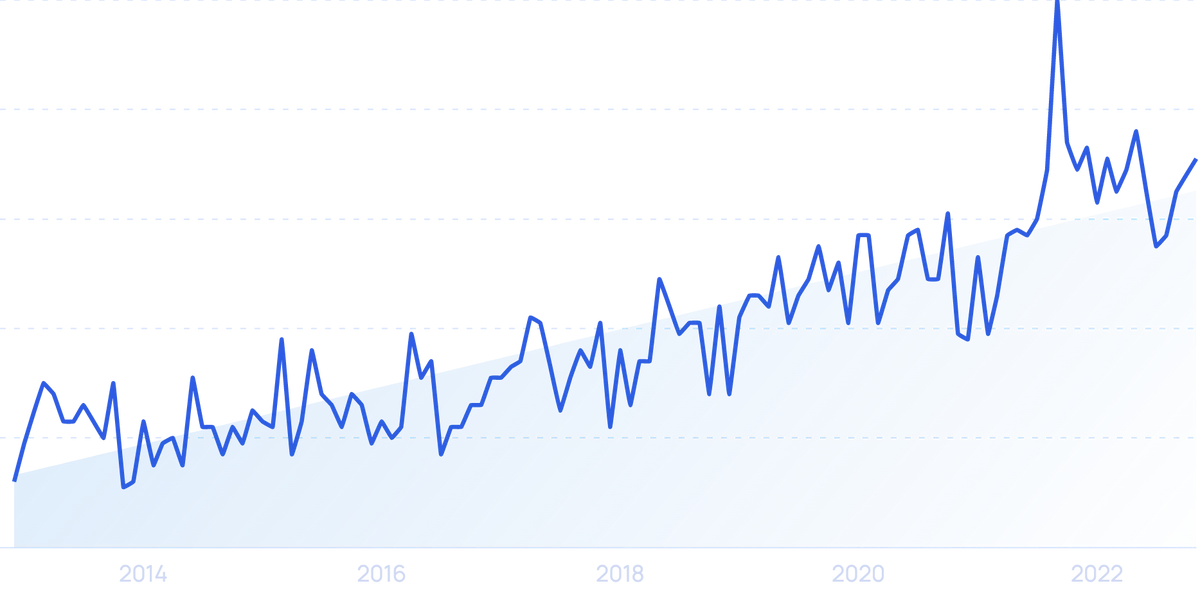 Search interest in "Warehouse Automation" has increased by 462% over the last decade.
Research company Prologis predicts that warehouse automation can increase warehouse productivity by up to 20% per square foot.
This negates the need for increasingly larger spaces.
It can also allow eCommerce companies, retailers, and other businesses to produce more revenue with the warehouse space they do have.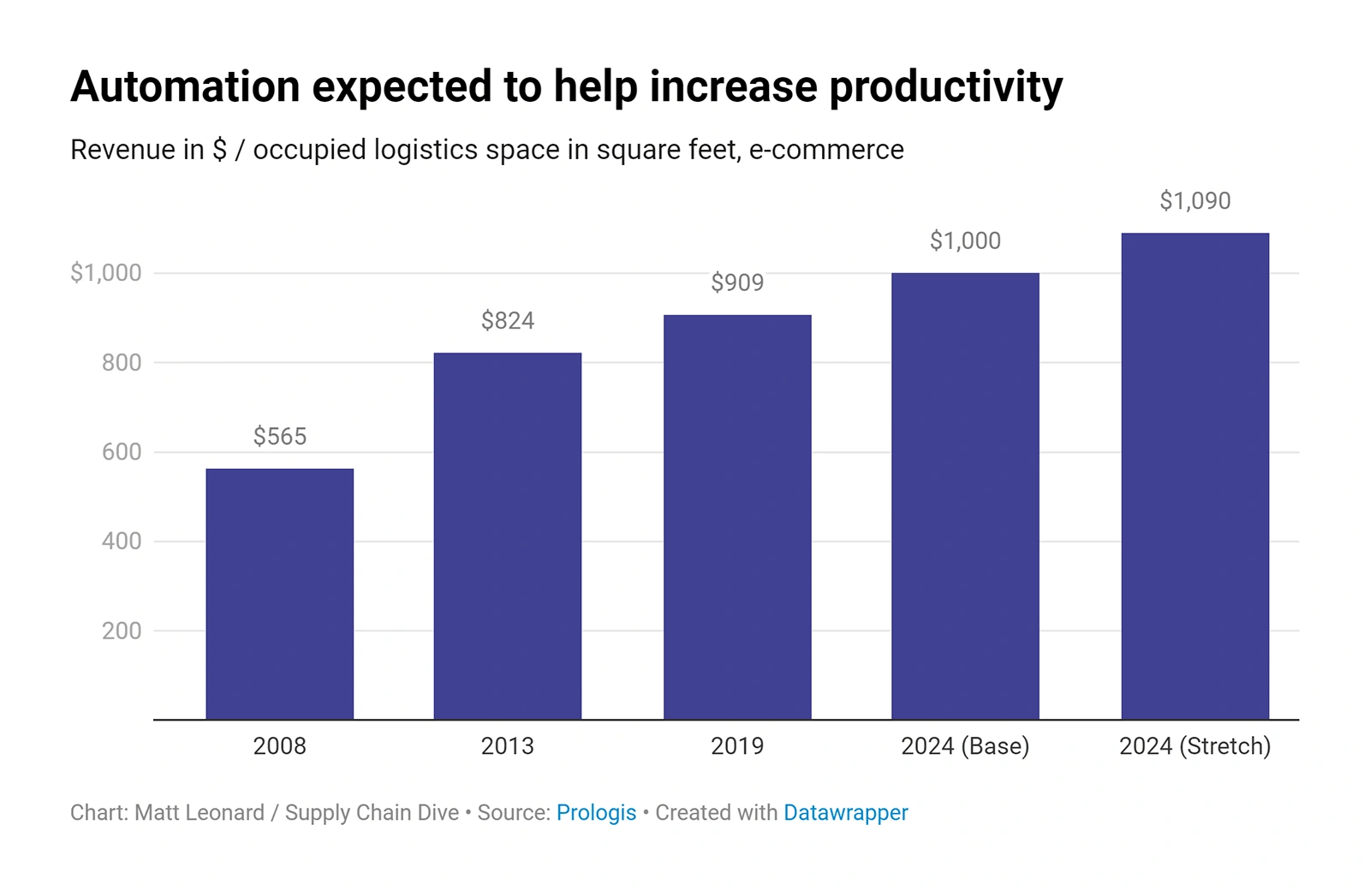 Expected results of efficiency enabled by warehouse automation technologies.
The total value of the warehouse automation market is expected to be at $30 billion by 2026.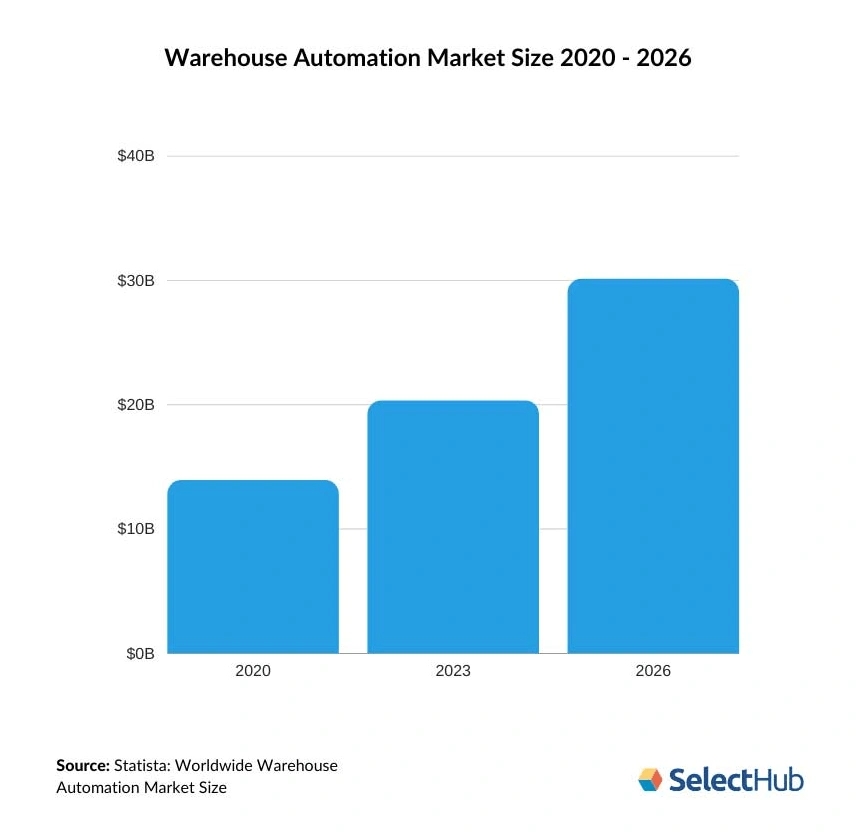 The size of the warehouse automation market is predicted to grow from just over $10 billion in 2020 to $30 billion by 2026.
To drive this shift, 4 million robots are expected to come online in about 50,000 warehouses across the globe by 2025.
To see how this is playing out in real-time, just look at many of the largest eCommerce companies around the world.
Using robots to automate procedures is becoming the standard.
Amazon, for example, reported that by 2020 it had about 200,000 robots across its warehouses.
(This is compared to only about 30,000 robots at the end of 2015.)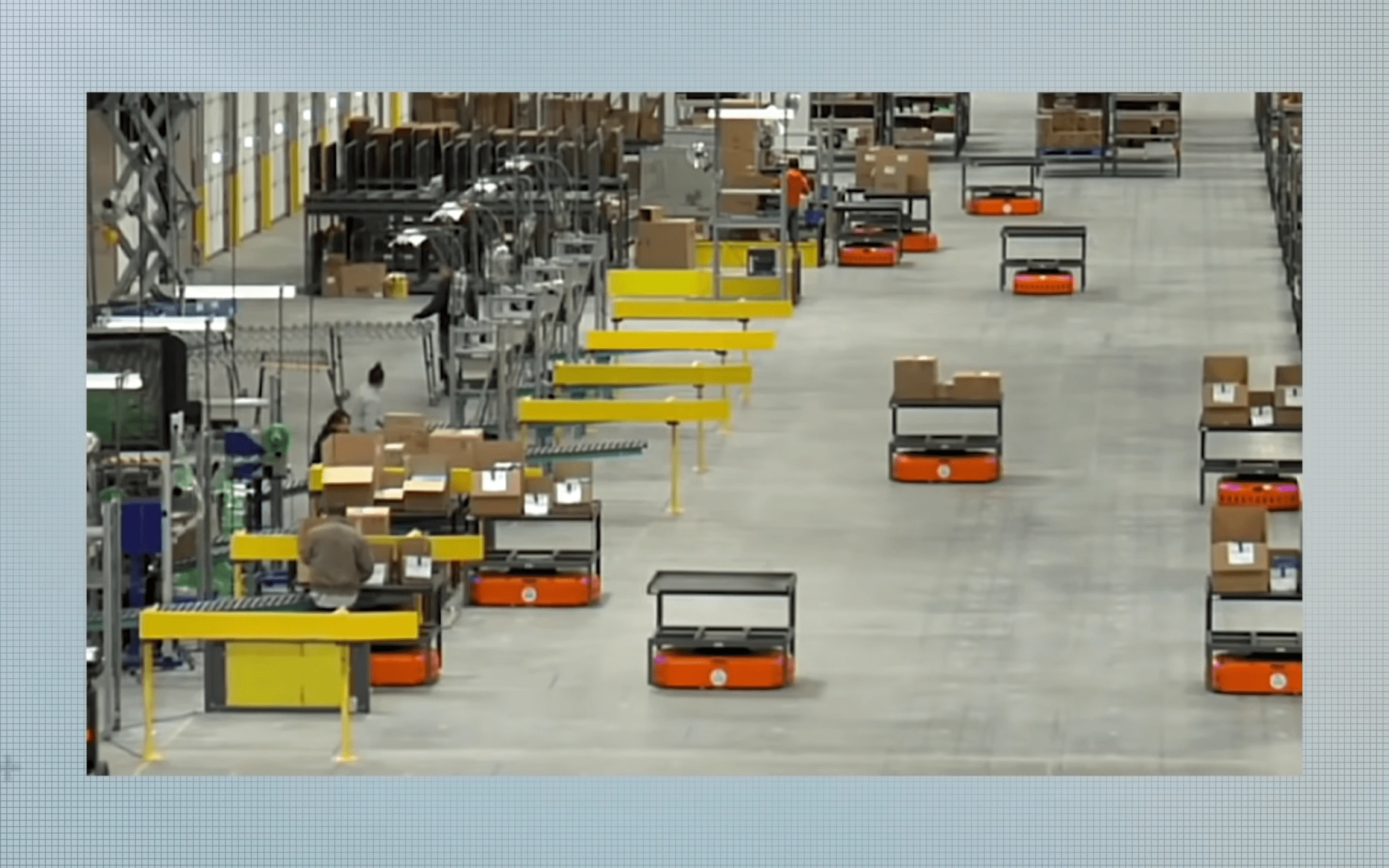 Kiva robots in an Amazon warehouse. Amazon purchased Kiva Robotics in 2012 for $775 million and has been expanding its fleet of warehouse robots ever since.
And while many warehouses still require a large amount of robotics, some are already completely automatic.
JD.com, the Chinese eCommerce company, already has a completely automated warehouse in Japan. It only requires 5 employees to manage the robots and equipment, instead of the standard 500 employees.
In addition, supply chain management company GXO Logistics claims that it used five times more robots in 2020 than in 2019.
Locus Robotics is one of the top suppliers of warehouse robots in the industry.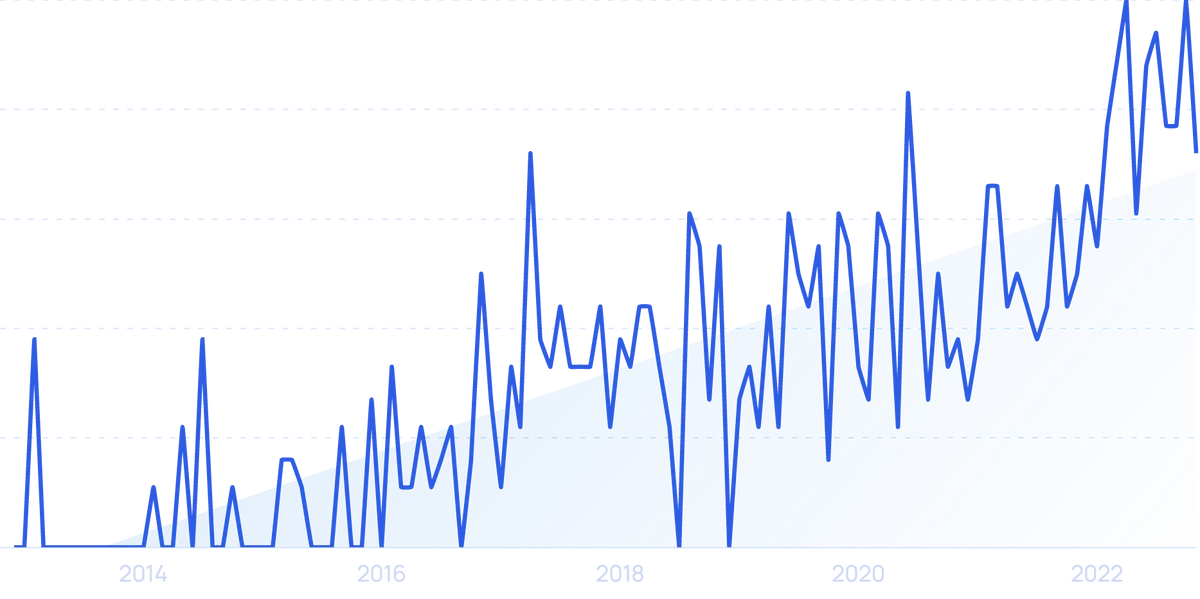 Searches for "Locus Robotics" are up 1,200% over the last decade.
Locus has a fleet of roughly 4,000 robots that have handled more than 300 million products. And it serves some of the largest eCommerce and parcel companies in the world.
The company recently raised $50 million, after raising $150 million in venture funding just a few months ago.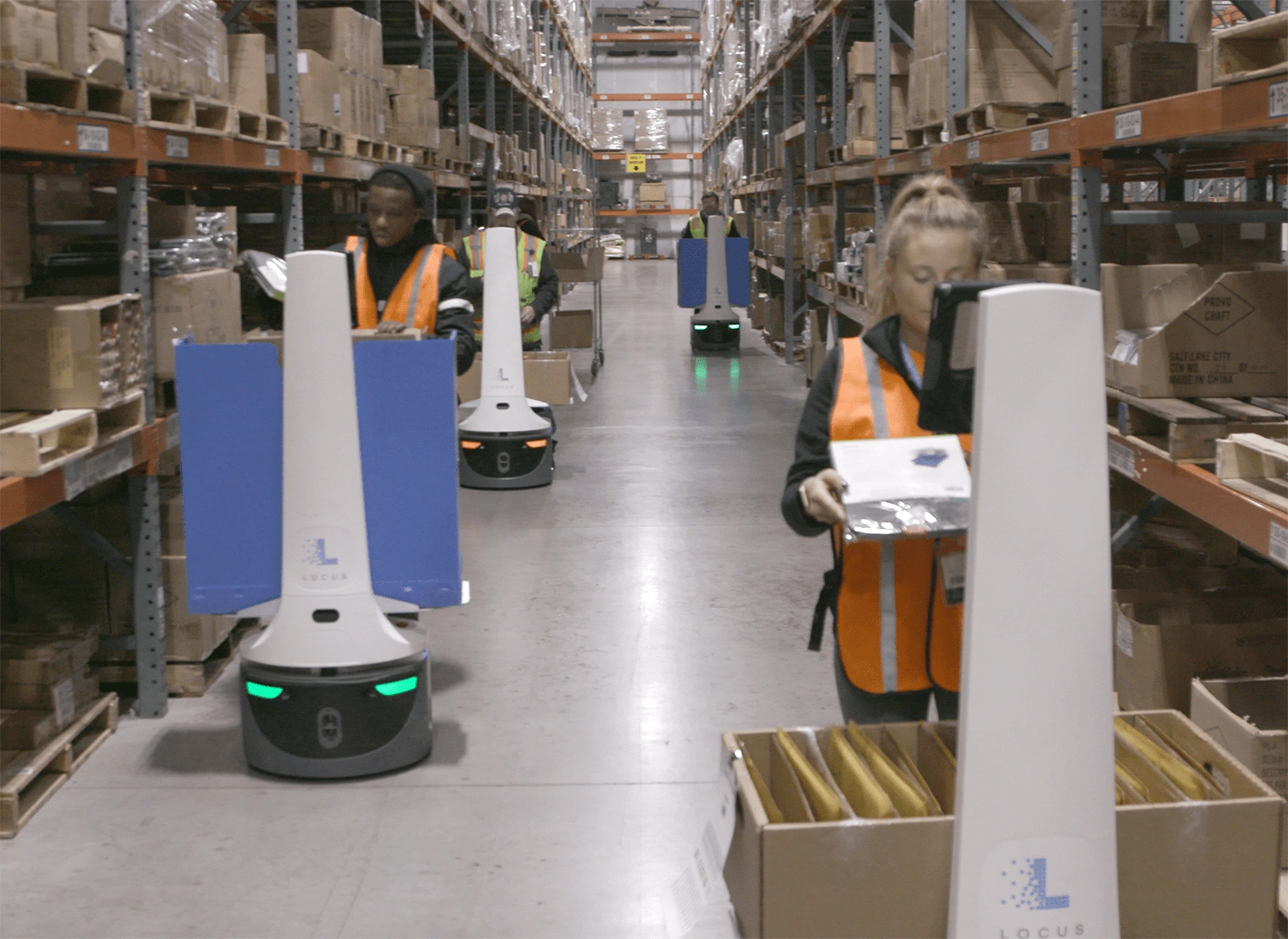 Locus Robots operating in a warehouse.
5. Supply Chain Digital Twins are Improving Supply Chain Visibility
Global supply chains are, to put it simply, one big moving system.
And in large systems, visualization is key.
In the past, graphs and complicated models were used to visualize supply chains. But now digital twin technology is increasingly being adopted by the logistics industry.
A digital twin is basically a virtual simulation of something.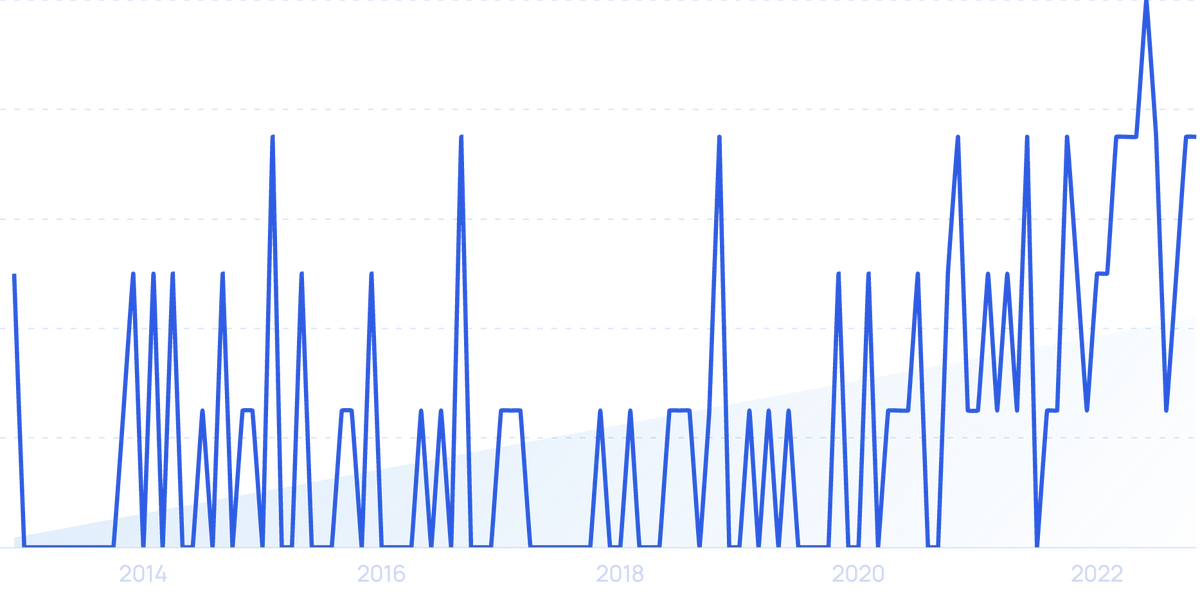 Search interest in "Supply Chain Digital Twin" over the last 10 years.
In this case, it is a simulation of a supply chain.
With the sensors and IoT devices in place to capture data from the movement of goods, the logistics industry is already in a good position to utilize digital twin technology.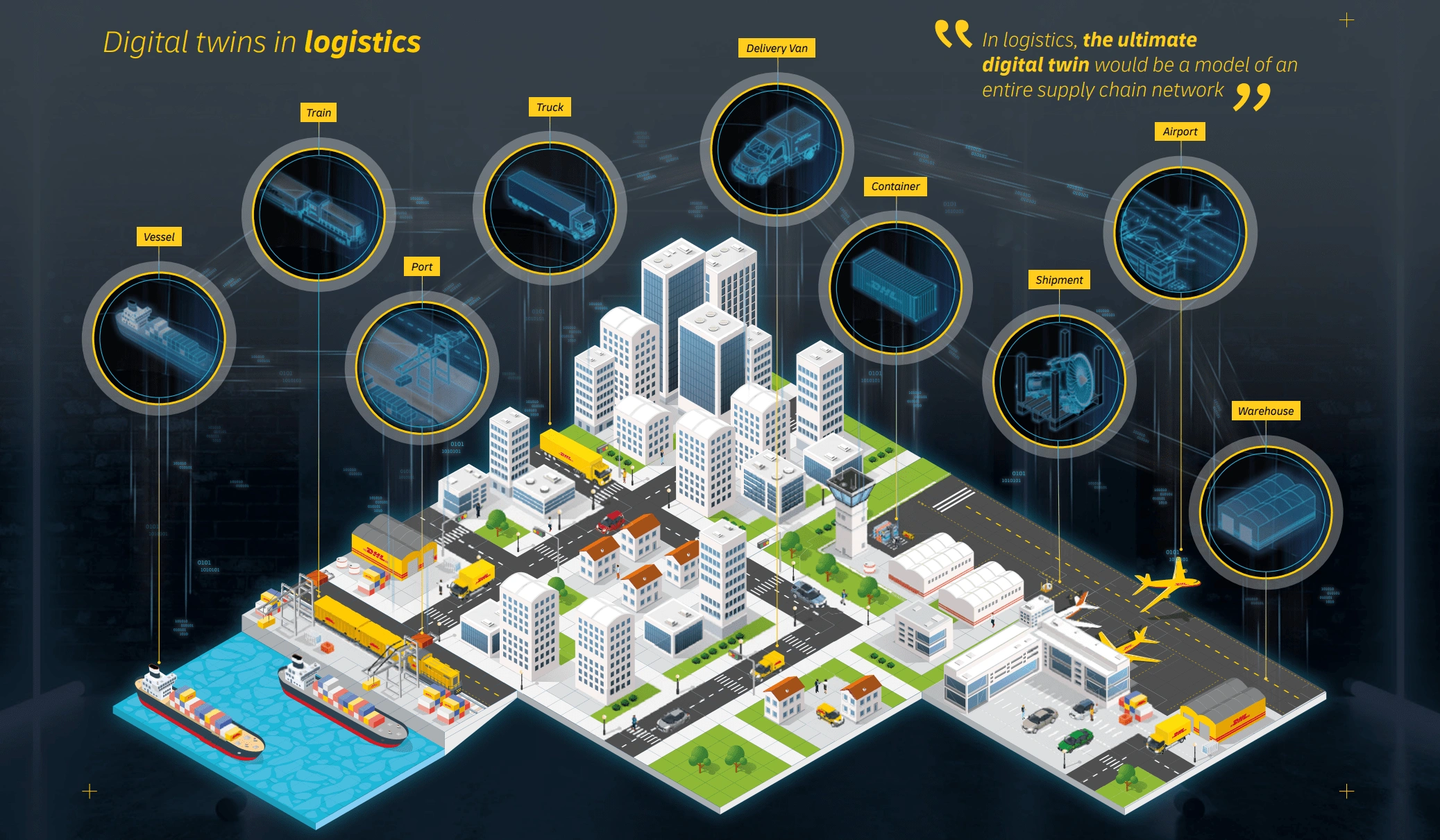 And while it's not there yet, the dream is to be able to visualize the entire supply chain on one screen.
Digital twins, for example, could help companies prepare for and identify supply chain disruptions brought about by something like COVID-19.
Ernst & Young found that only 10% of companies surveyed were prepared for the supply chain problems associated with a global pandemic.
And it's estimated that about $1.14 trillion in value is destroyed every year because items are out-of-stock.
Some of the largest companies in the world are now starting to address this problem.
For instance, Google just released its own digital twin technology for the logistics sector.
The technology allows Google Cloud users to map out their entire supply chains in a digital environment.
French car manufacturer Renault even announced that it was using the technology just days after Google's announcement.
6. Parts of the Supply Chain are Increasingly Being Outsourced to Gig Workers
Most people associate the gig economy with consumer services (like Uber) and the delivery of items like food and groceries.
But the gig economy is also starting to play a big role in the middle of the global supply chain.
For example, more than 58,000 new trucking companies were created over the first half of 2021.
In fact, demand for delivery and transportation of packages was so extreme in 2020 and 2021, that UPS started encouraging consumers to shop more in person.
Uber Freight has changed what many thought possible in the logistics industry.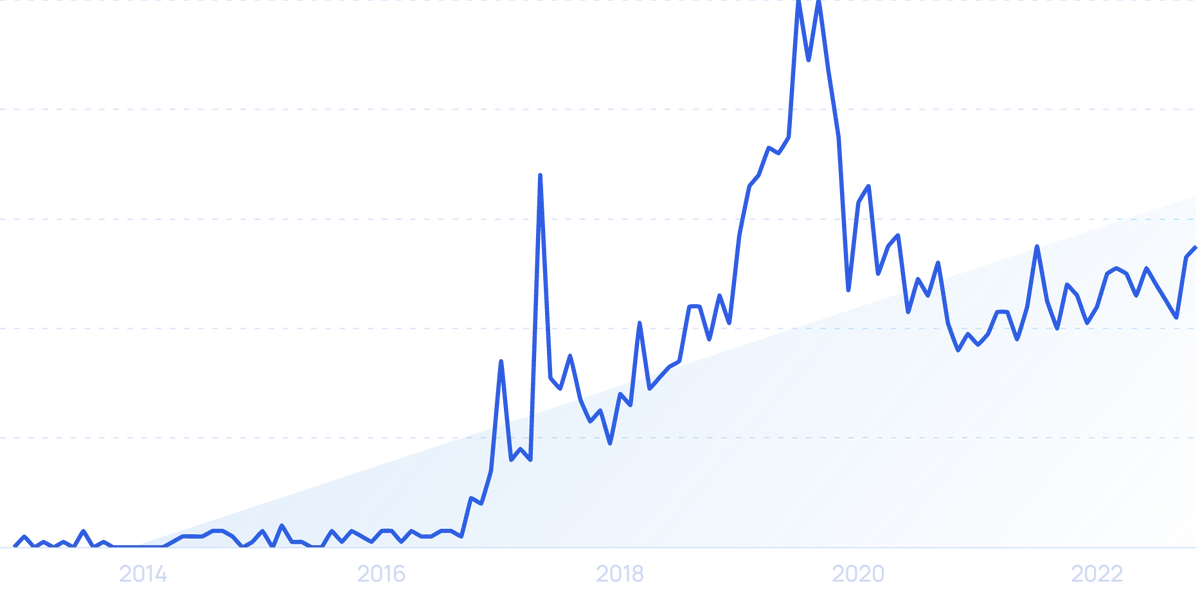 Searches for "Uber Freight" have grown by 5,400% over the last decade.
Now, anyone with a car and a phone can deliver packages and help relieve some of the stress being felt by current supply chain issues.
Uber Freight currently has about 70,000 drivers in the US.
And it's not just normal people picking up packages either. Up to 12% of truckers are using the platform as well.
In fact, the freight arm of Uber is doing so well that it raised $500 million in venture funding in 2020.
In addition, the company bought Transplace – a maker of software for the supply chain industry – for $2.25 billion. And it also partnered with BlueGrace – a company whose software can help Uber Freight manage its less-than-truckload (LTL) carriers.
For last-mile delivery, Amazon Flex has also played a huge role in the last couple of years.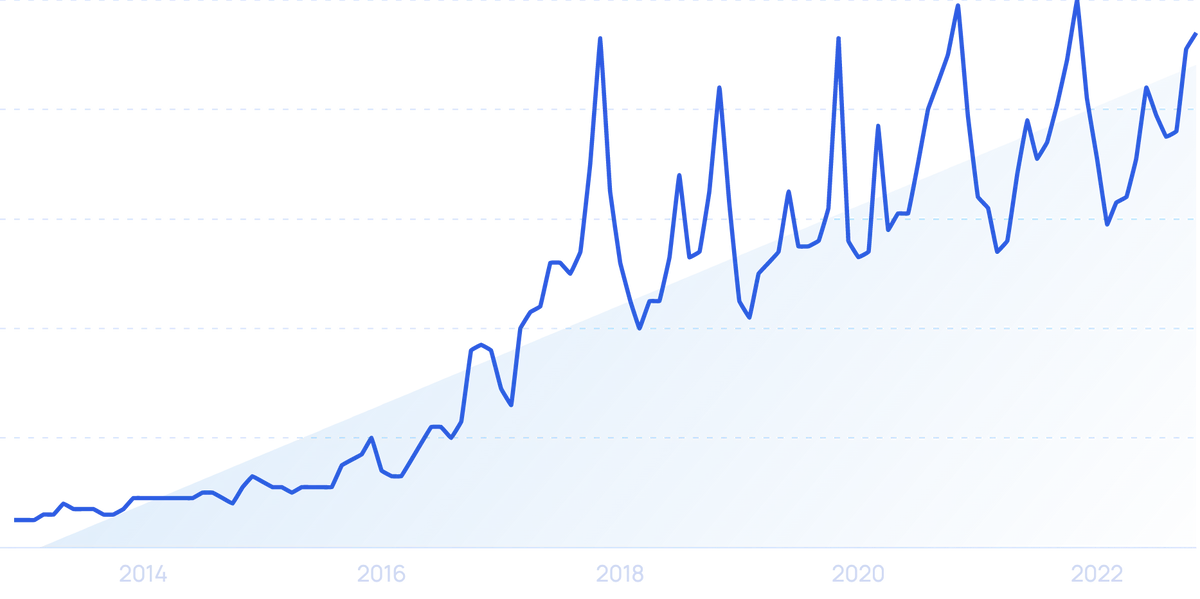 Search interest in "Amazon Flex" has grown by 1,780% over the last 10 years.
Drivers on the platform deliver approximately 5 billion items every year.
Overall, the gig economy is starting to creep into the logistics industry.
7. More Startups are Entering the Logistics Industry
For most of the history of venture capital funding, companies in the logistics industry have been ignored.
But something started to change in 2015.
From 2016 to 2019, VCs invested about $28 billion in startups in the logistics industry.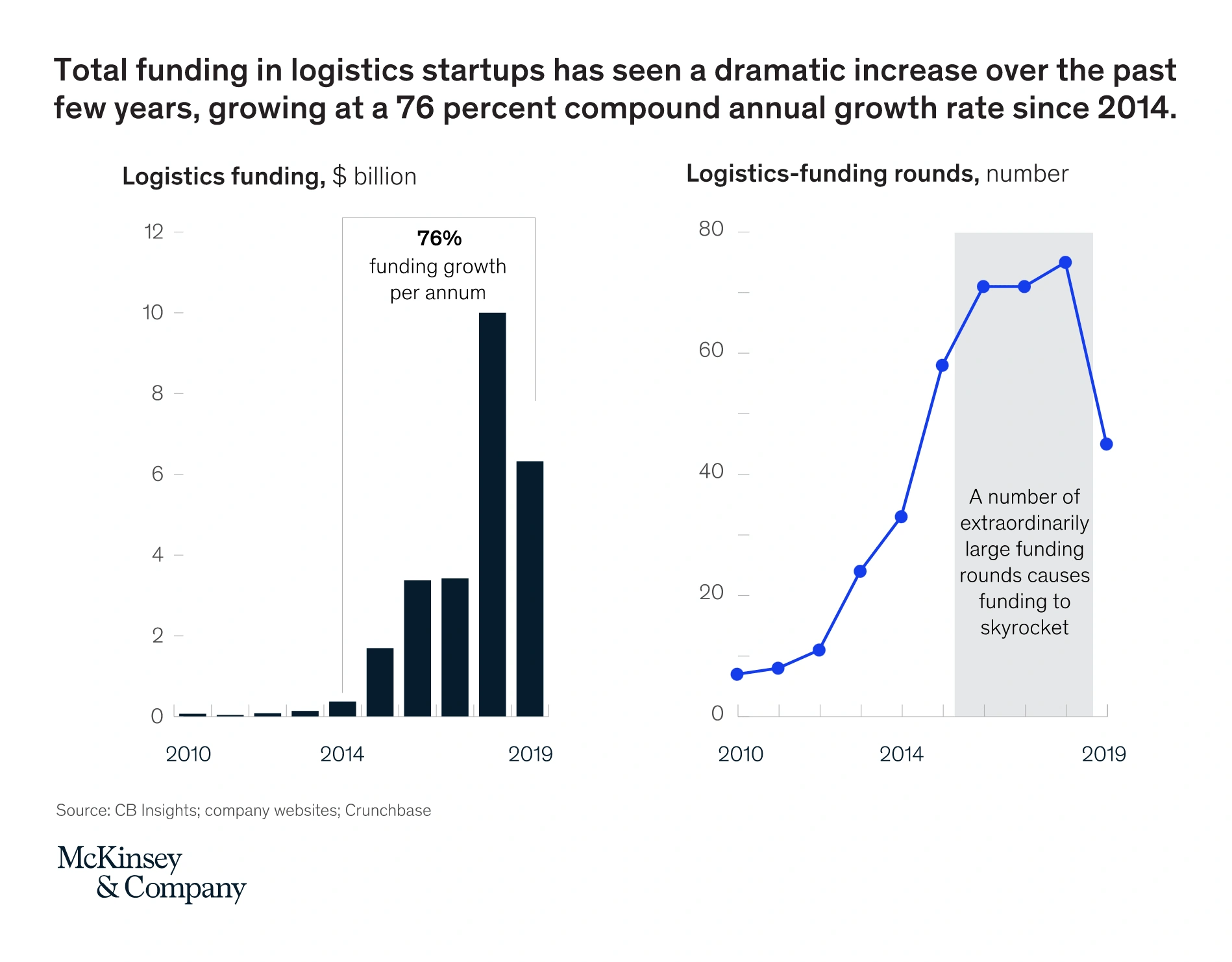 Logistics funding in total dollar amount and number of rounds.
And the total number of deals rose by about 3x.
Same day delivery has been a huge area of focus for startups and VCs.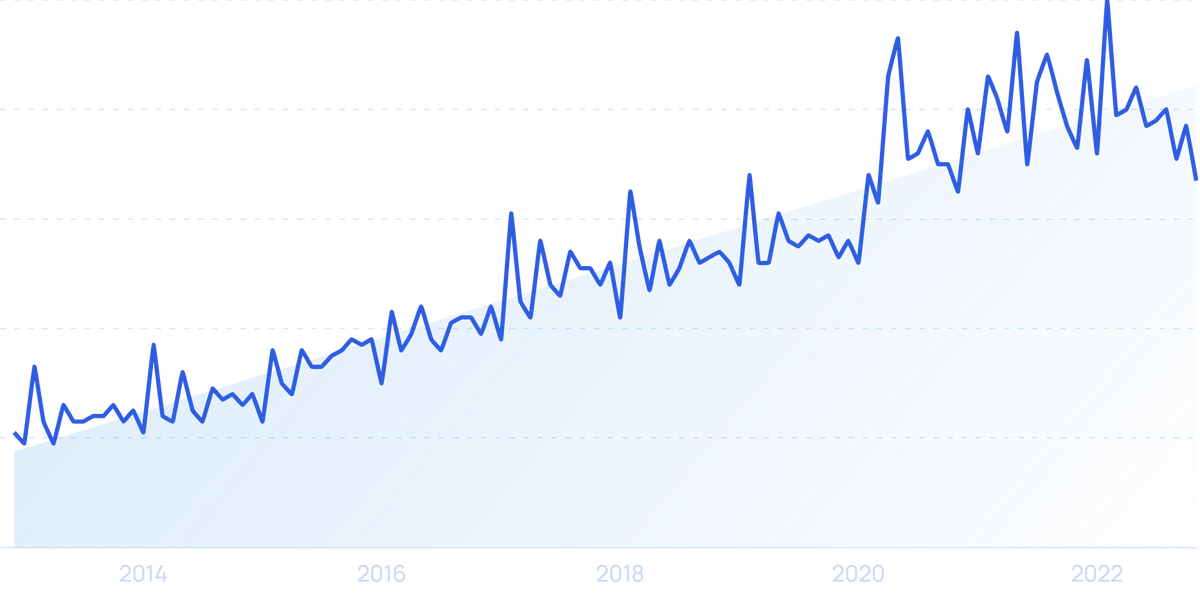 Searches for "Same Day Delivery" have increased by 219% over the last decade.
Some of the biggest beneficiaries of this have been companies like Swyft, which raised $17.5 million in 2021.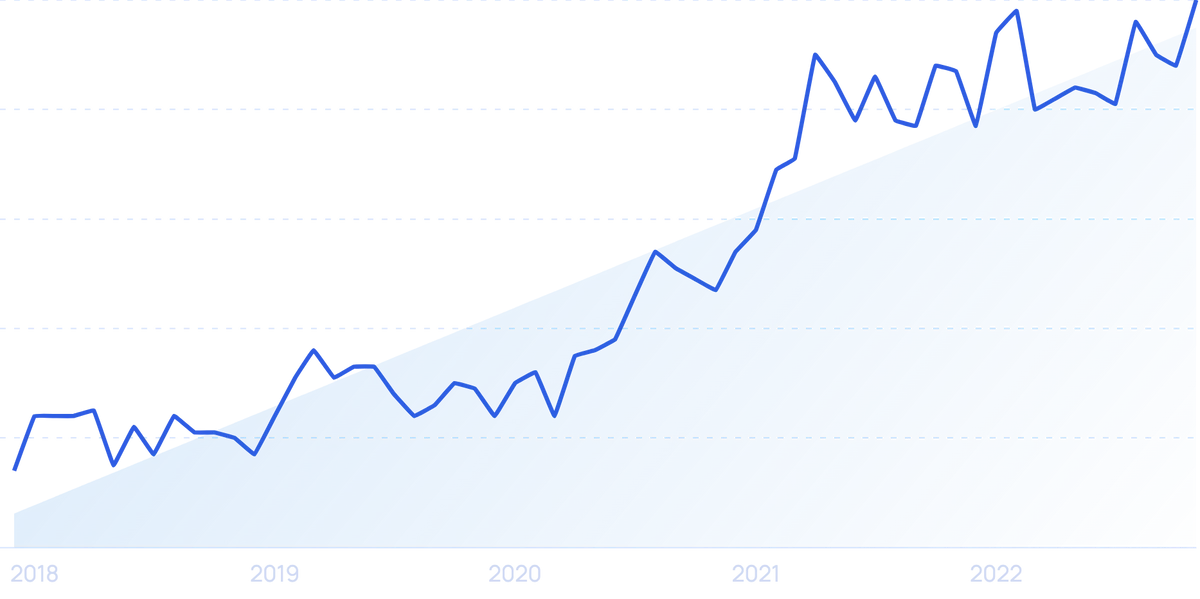 Searches for "Swyft" have jumped by 614% over the last 5 years.
Swyft basically connects retailers and other businesses with delivery companies, couriers, etc. in order to facilitate same-day delivery in places where it usually doesn't happen.
Now, Business Insider is reporting that incumbent couriers like UPS and FedEx have been losing market share to startups since 2016.
Stord, which is creating a cloud-based supply chain, has already achieved a $1 billion valuation.
The company basically allows retailers to outsource their supply chain and delivery.
And it seems to be doing pretty well. The company reported that it has grown revenue at over 300% per year over the between 2018 and 2020.
To further accomplish its mission of creating an end-to-end cloud supply chain, Stord got into the physical warehouse business earlier this year. It bought a 22-year old DTC company and opened its first fulfillment center.
Conclusion
After nearly two years of massive disruption, the global supply chain is transforming faster than ever.
Whether it's adapting to new customer spending habits or adopting new technologies, the logistics sector is definitely innovating.
And understanding those changes can be essential for understanding every industry around the world.