Top Travel Industry Trends (2023-2026)
You may also like:
The travel and tourism industry is growing at an annual rate of 4.41%.
By 2026, the projected market value will be just under $1 billion.
Here are seven trends driving the future of the travel space.
1. Travelers go it alone
One website reports that 25% of all American millennials plan to travel by themselves each year.
Statistics show that the number of people traveling solo increased by 42% even before the pandemic.
According to Travel Market Report, Intrepid Travel is a small-group travel company that plans trips for 75,000 people per year.
Data shows that more than 50% of the travelers booking with them are going alone.
Overseas Adventure Travel, another small-group travel company, has seen such a boom in solo travel that they've upped the number of single spaces they have available in 2021, a 76% increase over 2019.
Solo travelers are big on social media too.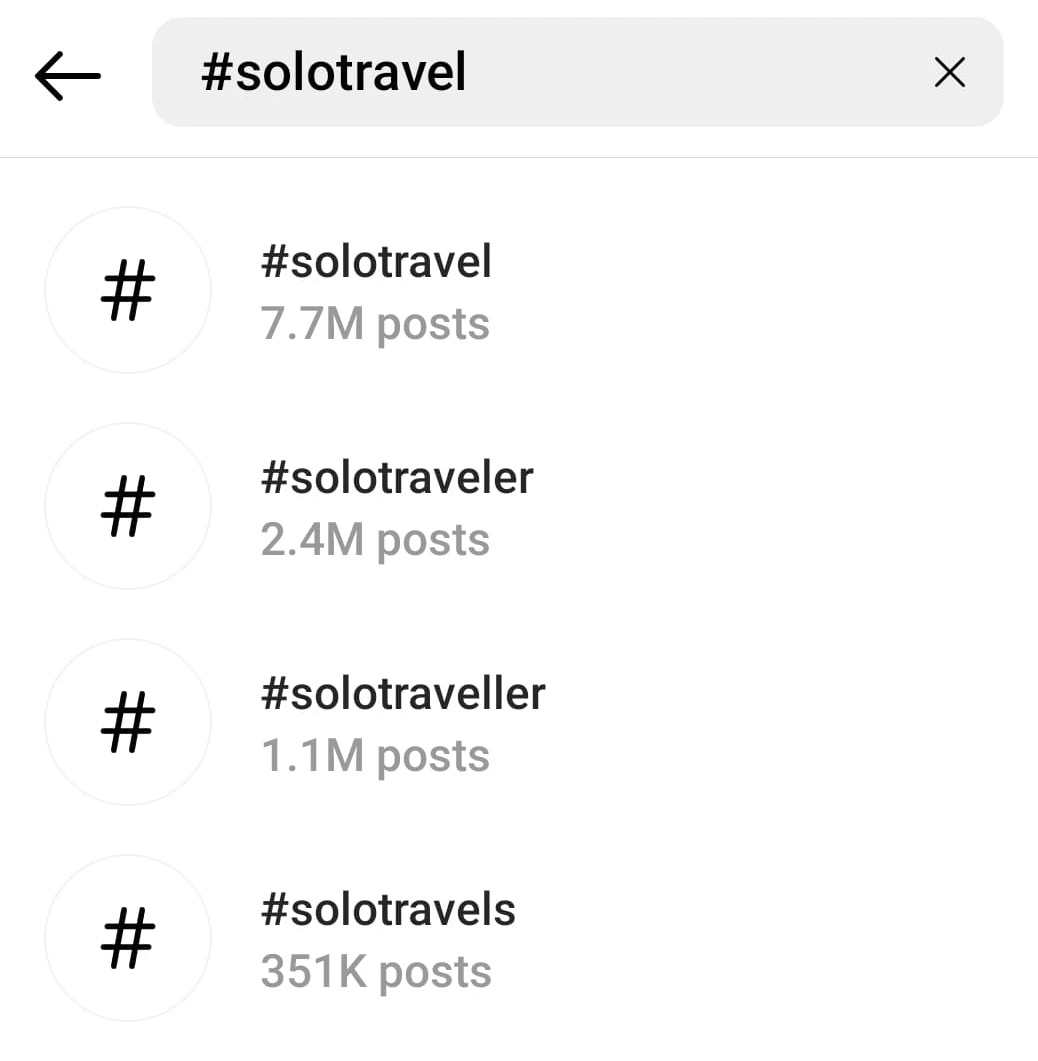 The #solotravel hashtag has been used on Instagram over 7 million times.
2. Travelers crave local experiences
The "experience economy" is huge in the travel industry.
But fewer and fewer people may be settling for commonplace vacation activities in the coming years.
Instead, "consumers [will] pursue authentic experiences, distancing themselves from mainstream tourism providers and venturing into pastimes that feel more meaningful".
Data insights company AirSage marks this as an emerging trend because "people no longer want boring and conventional travel experiences as much as they used to. Instead, they would rather pay for vacations that are once in a lifetime opportunities".
Airbnb is betting on this trend.
Their website has offered the opportunity for consumers to book "experiences" since 2016.
But they also added online experiences in 2020 for people who are seeking to connect with locals without leaving their homes.
Other companies are banking their entire business model on this trend.
Withlocals offers "personalized traveling" — the opportunity for travelers to book private tours and activities with locals around the world.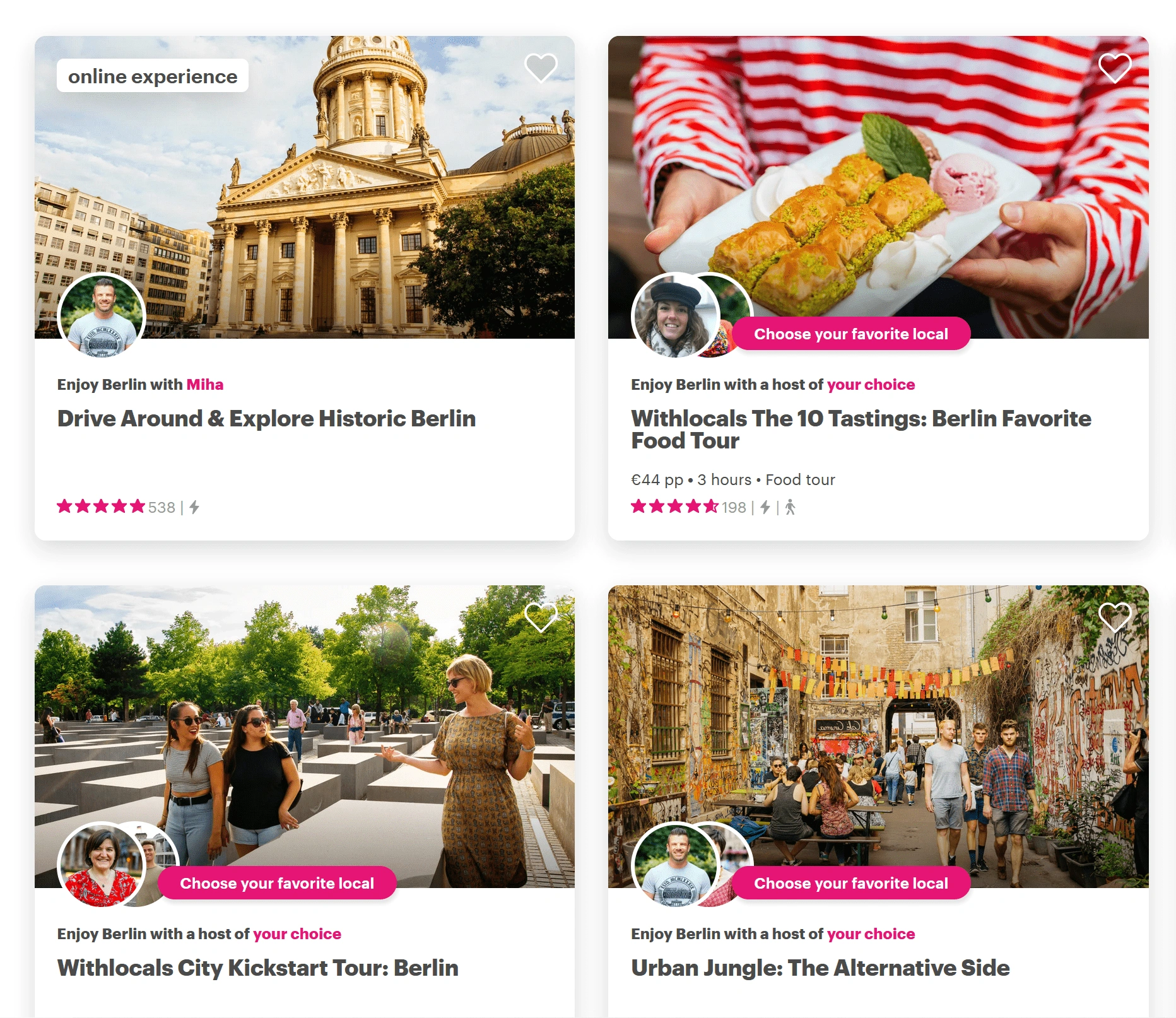 Shot of tours and experiences on Withlocals.
Camping (and glamping) trips have also become a popular way for people to travel while experiencing the local culture and staying safe amidst the pandemic.
Outdoorsy has been called the "Airbnb of RV rentals".
And their sales exploded to $1 billion in 2020. That's 400% growth since 2019.
Under Canvas runs seven glamping camps in wilderness locations across the United States aimed at exploring the local landscape and inspiring human connections.
The company reported a "surge" in demand in 2020 and had "strong" advanced bookings during 2021.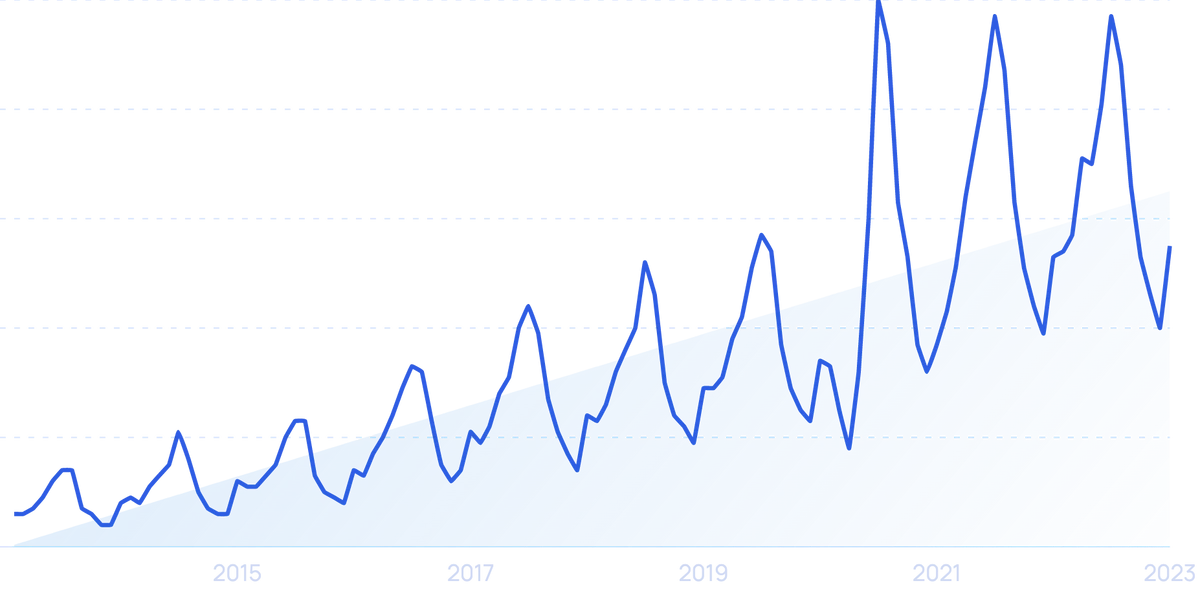 Searches for "glamping" are seasonal. But generally on the rise (816% in 10 years).
3. Travel tech adoption accelerates
As with nearly all businesses, technology is presenting the travel industry with seemingly endless opportunities.
The pandemic has only increased the speed of tech adoption in the travel industry.
A McKinsey survey showed that, because of COVID-19, "companies have accelerated the digitization of their customer and supply-chain interactions and of their internal operations by three to four years".
One example: room service robots.
Two Chinese hotel giants invested in ExcelLand, a manufacturer that already had 3,000 robots in operation.

Hotel robots are already being used in a small number of hotels.
BTG Homeinnes is looking at these robots as a way to control costs and safeguard guests.
Hotels, airlines, booking sites, and others are using chatbots like never before.
Travelers can chat with providers during every stage of their journey.
And, they won't (always) feel like they're talking to a robot. Advances in AI have made this type of communication hassle-free.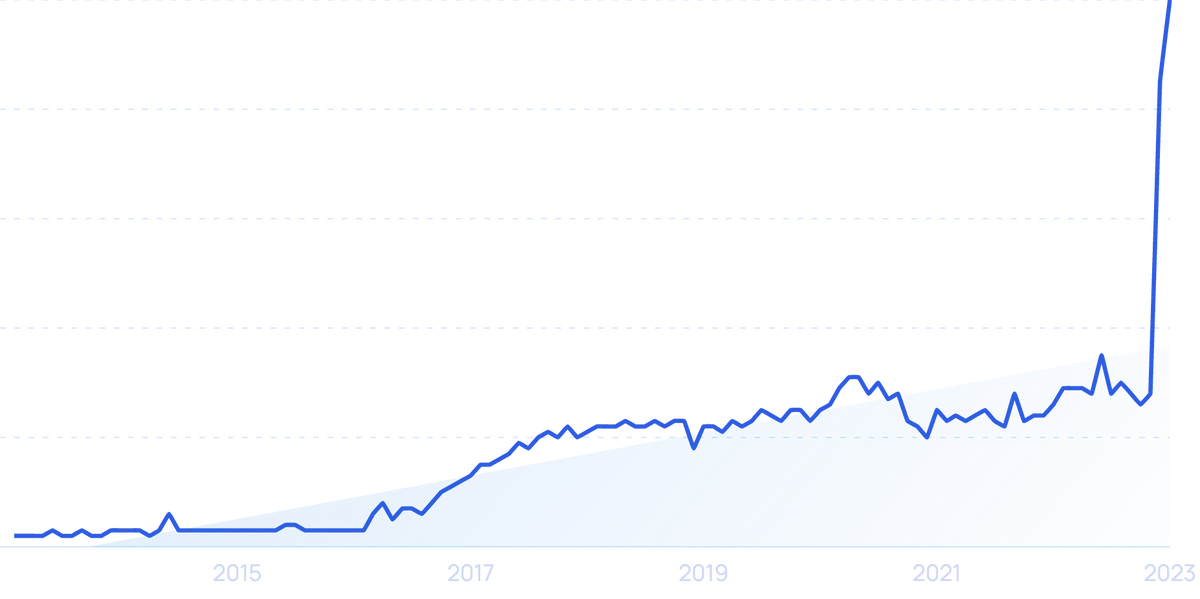 Searches for "chatbot" have increased by 4,900% over the last 10 years.

United Airlines has launched an "Agent on Demand" service that allows travelers at the airport to video chat with a customer service representative simply by scanning a QR code.
More and more airlines and airports are deploying facial recognition technology.
Corporations and government entities tout this technology as a boon for travel safety.
But many privacy advocates have put a halt to this emerging trend. They warn that this type of surveillance could easily turn dystopian.
With all of this new tech, companies are also continuing to capitalize on an older piece of technology — the smartphone.
Stats show that travelers who book tours and activities on their phone spend 50% more than those who book elsewhere.
4. Consumers blend business and leisure travel
The latest statistics say there are nearly 5 million digital nomads in America.
The concept of being location-independent, traveling and working remotely, has become even more popular since the start of the pandemic.
The hospitality industry is starting to cater specifically to digital nomads.

Aruba is opening its beaches up to travelers who'd like to work remotely, calling the marketing campaign "One Happy Workation".

Aruba is looking to attract the growing digital nomad community.
Visitors can stay for up to 90 days. And do not need any governmental documentation.
Barbados and the Cayman Islands will also let you work remotely from paradise for an extended period of time.
Booking.com reports that the "workation" trend is going strong.
More than 50% of travelers say they would extend their business trip to enjoy personal time at their destination.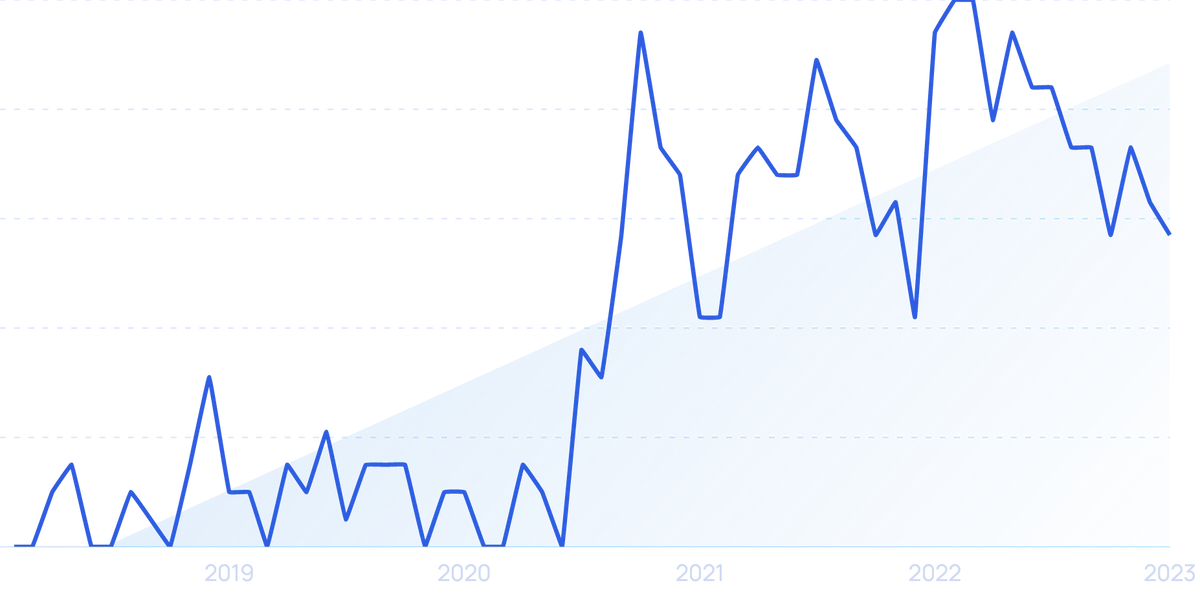 Search growth for "workcation" fluctuates quite a bit. But is consistently growing (1,000% in the last 5 years).
In 2020, hotels began catering to locals who needed a quiet place to work.
The Hamilton Hotel in Washington, DC, is just one example. It's WFH-Work From Hamilton program offers rooms on a 6:00 am to 7:00 pm schedule.
5. The travel industry gets serious about sustainability
Recent data shows that more than half of US travelers believe there aren't enough options when it comes to sustainable travel.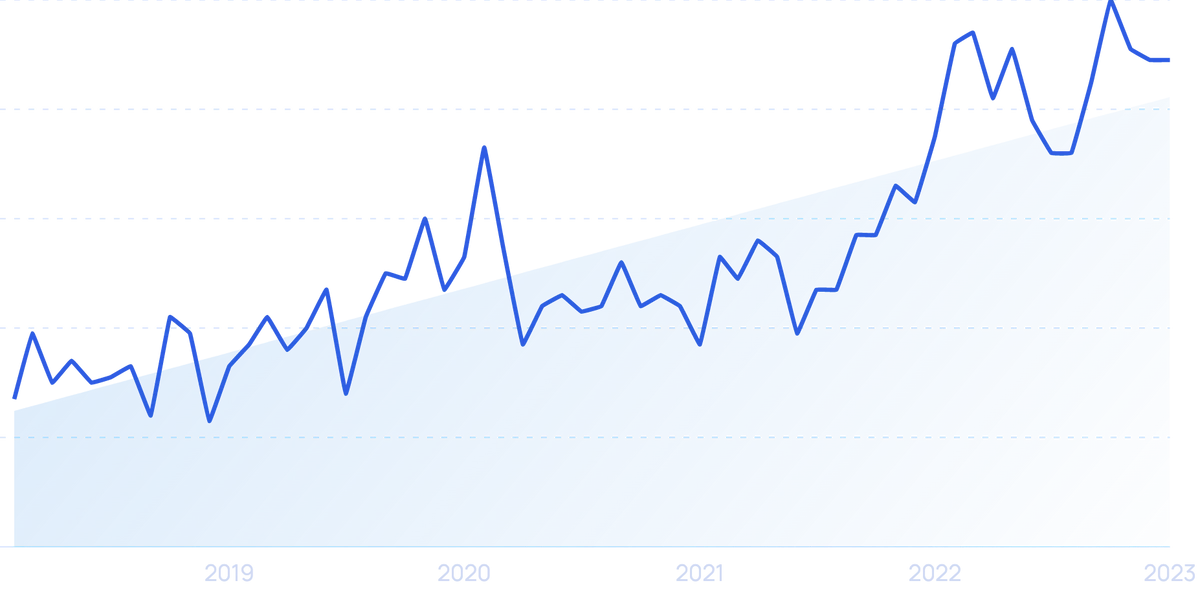 Searches for "sustainable travel" are up 226% over the last 5 years.
A poll conducted on behalf of Exodus Travels went even deeper into consumers' attitudes.
It showed:
91% of travelers see the importance of taking ethical trips
56% believe in buying souvenirs from local merchants
44% want to support local businesses at their destination
Sustainable travel involves minimizing impact on the local cultural environment.
And also taking an eco-friendly approach to the physical environment.
Nearly 70% of travelers say they are more likely to book accommodations if they know the property is planet-friendly.
Many in the travel industry have recently made commitments to preserving the environment.
For example, India-based ITC Hotels Group has LEED certified each of its hotels.
As of 2023, hotels in the state of California will no longer be allowed to provide single-use toiletries in plastic bottles to their guests.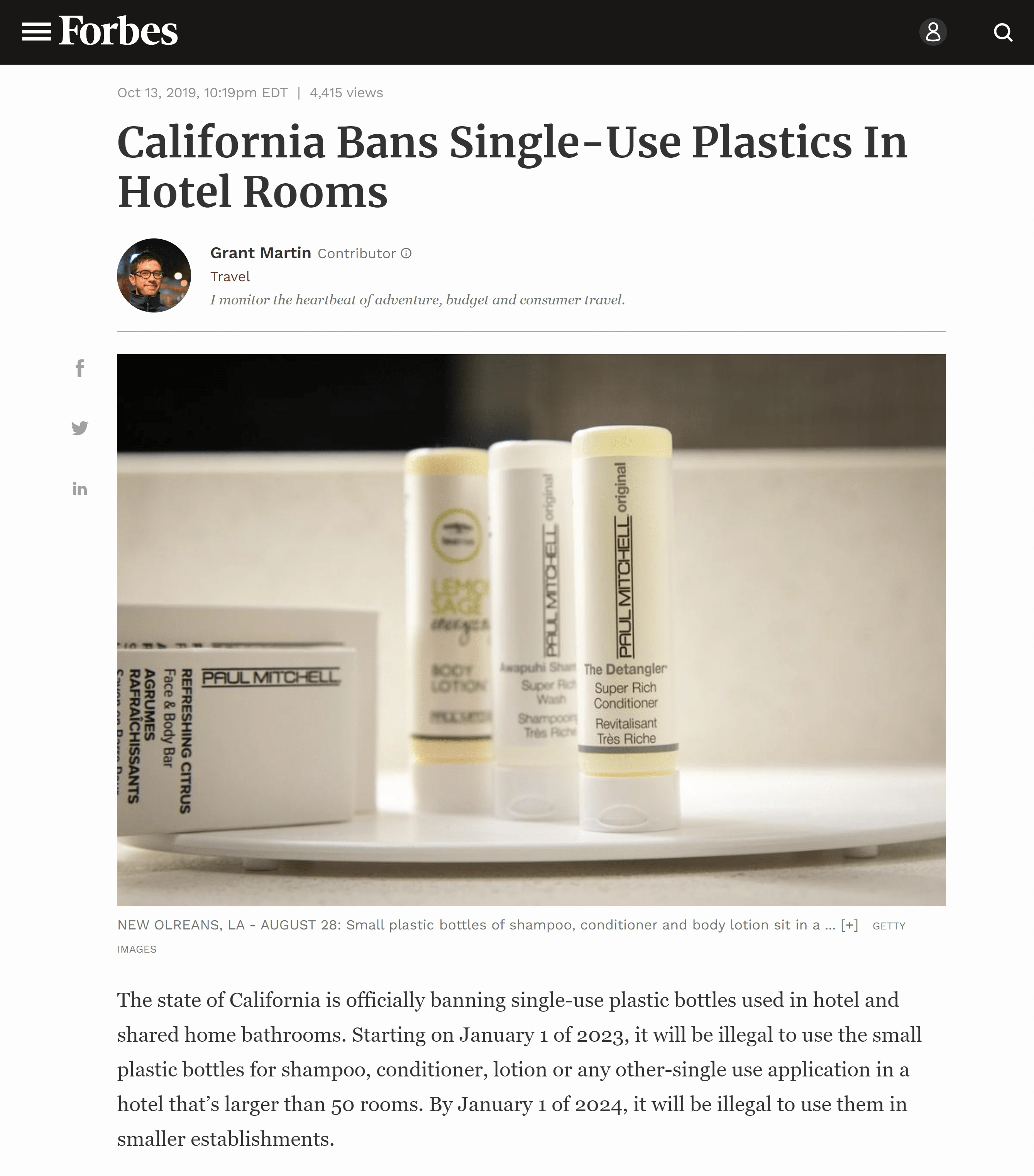 Removing single-use plastic from hotel rooms is one relatively simple way that hotels are minimizing their environmental impact.
Marriott International has made a pledge to remove these types of plastics from all their hotels, too. But the pandemic has put a temporary stop to that plan.
A recent report from Skift made this summary statement regarding sustainable travel in the future:
"[It's a] less flashy way of viewing and traveling the world . . . with an emphasis on safety, sustainability, and profound experiences while getting from point A to B without wrecking the climate and local quality of life in the process."
6. Electric Air Travel Goes Mainstream
Speaking of sustainability, it looks like flying Teslas are finally here.
And they have the potential to make a big impact on at least three large industries:
The aircraft manufacturing industry, with over $200 billion in annual revenue between the top 3 manufacturers alone (Boeing, Airbus and Lockheed).
Commercial airlines, with $838 billion in annual revenue (pre-COVID).
And the ride-hailing and taxi industry, which was valued at $219.68 billion in 2022.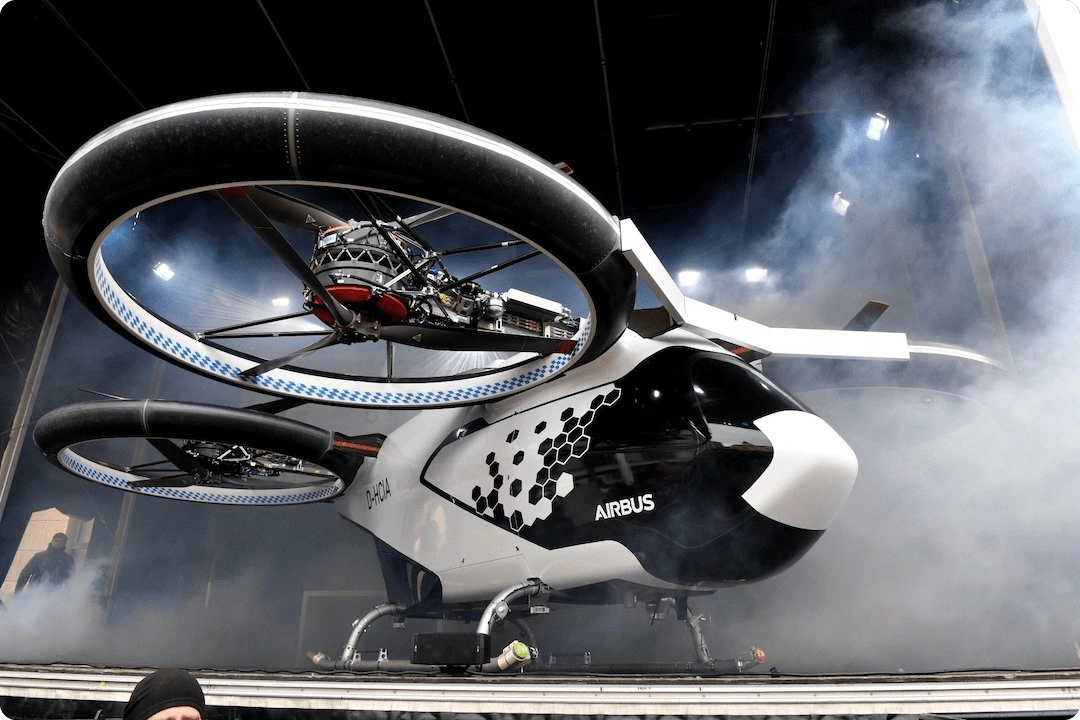 An electric aircraft from Airbus.
Electric vehicles are cheaper to run, less expensive to maintain, and better for the environment than vehicles powered by conventional fossil fuels.
That's just as true for aircraft as it is for cars.
When it comes to electric aircraft, there are two main types: fixed-wing airplanes and eVTOLs.
Fixed-wing electric airplanes are just what they sound like. There aren't any 747-sized electric airliners yet, but smaller commuter planes are in production.
Eviation is leading the charge. This startup produces a 620-mile range, 9-seat commuter plane called the Alice.
According to the company, flying the Alice is dramatically cheaper than a regular internal-combustion powered airplane.
For a 100-mile flight, conventional fuel for a similar-sized Cessna would cost about $400. In Eviation's electric Alice, it would only be about $10.
Eviation recently merged with Clermont Aerospace after a $108.5 million valuation.

Eviation's electric commuter plane, the Alice.
At the same time, AeroTEC and MagniX are teaming up to retro-fit existing airplanes with electric motors - with similar improvements to efficiency.
There are also electric-hybrid airplanes in development.
For example, the Project 804 by United Technologies.
As well as the Aero by Zunum, a startup backed by Boeing and JetBlue.
And the E-Fan X by Airbus and Rolls-Royce. This project was shut down in April 2021, but only after achieving its three main initial research goals (according to Airbus).
That covers fixed-wing electrics.
The other major kind of electric aircraft is the eVTOL.
eVTOL stands for "electric vertical take-off and landing".
Non-electric VTOL examples include anything from helicopters to drones and Harrier Jump Jets.
eVTOLs tend to be smaller than their non-electric cousins, and designed for shorter flights across cities.
Some look like passenger-carrying quadcopter drones. While others have a fixed-wing component like regular airplanes.
Search interest in eVTOLs has been exploding lately as startups and major aircraft manufacturers demonstrate new eVTOL models.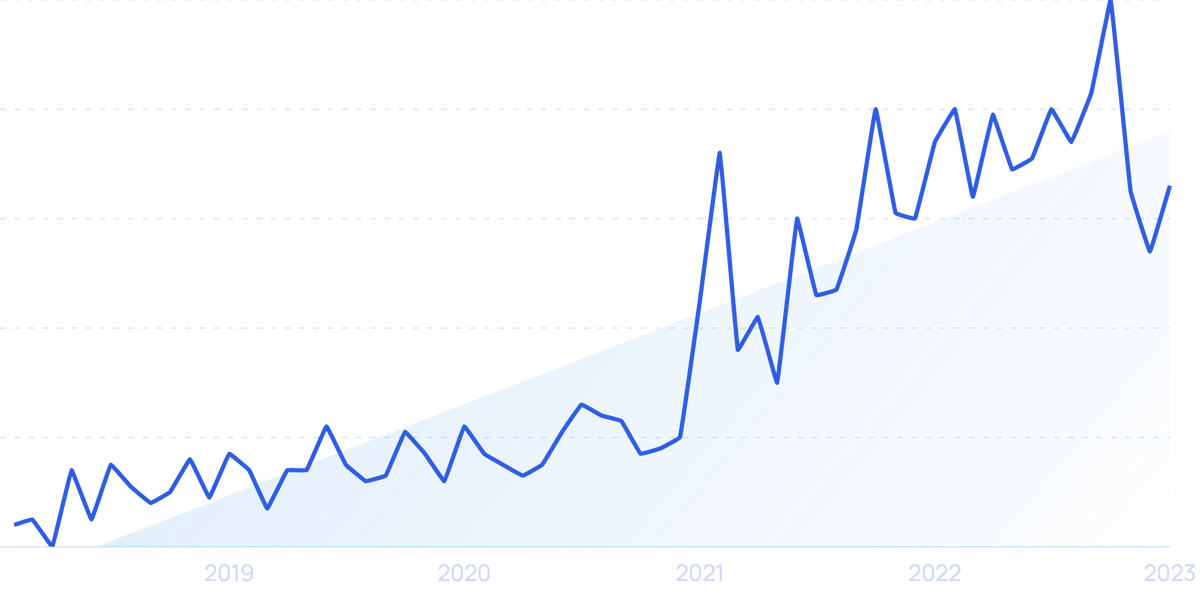 Searches for "eVTOL" have increased by 1,550% over 5 years.
In July 2020, Airbus conducted the first public flight of its autonomous 4-seat CityAirbus multicopter eVTOL. The CityAirbus has a projected range of about 60 miles (or 15 minutes).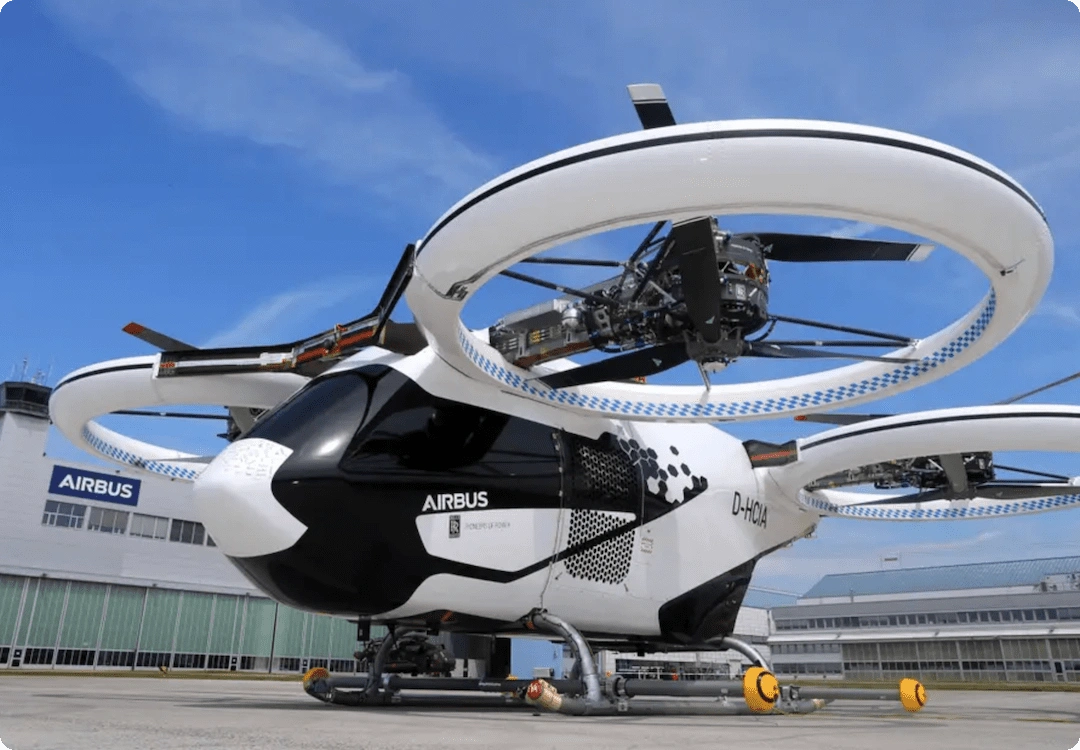 The CityAirbus multicopter.
Airbus also has Vahana, in development by its Silicon Valley innovation arm, Acubed.
For its part, Boeing's Aurora Flight Sciences has been developing solutions for an air-taxi service in partnership with Uber. Including an autonomous electric passenger air vehicle.
Separately, Boeing is also reportedly partnering with Porsche to develop another eVTOL.
And Tokyo-based "flying car" manufacturer SkyDrive raised a series B of 3.9 billion yen (about $37 million) and conducted its first public manned demonstration of the SkyDrive SD-03.
The SD-03 is the world's smallest eVTOL, requiring only as much space on the ground as 2 parked cars.
That small footprint is one of the main advantages eVTOLs have over traditional fossil-fuel powered VTOLs like helicopters.
eVTOLs like the ones mentioned above use multiple smaller electric motors with rotors spread out across the aircraft. Whereas a typical helicopter uses one main internal-combustion engine with two huge rotors stacked above. (Plus a smaller one in the tail.)
eVTOLs' multi-motor design is called a "distributed electric propulsion" (DEP) system.
DEP systems have numerous advantages. They make piloting easier, reduce the footprint required for take-off and landing, and increase safety through redundancy (if one motor fails, there may be 7 more still running).
They also reduce noise emissions, as the rotors don't have to spin as fast.
Noise and vibrations within the cabin are lower as well.
Thanks to these advantages, dozens of eVTOL manufacturers are currently vying to capture a share of the nascent "urban air mobility" market: eVTOLs used to fly over traffic.
Germany, Holland, Belgium, France, Mexico, and Brazil have all been experimenting with urban air mobility initiatives.
But with all those benefits, why hasn't electric air travel caught on before?
Two words: energy density.
In other words, the amount of stored energy in one pound of "fuel" — whether gas, diesel, kerosene or batteries.
Currently, conventional fossil fuels have more energy density than batteries. That's why electric cars are generally heavier than their gas-powered counterparts. They have to be, in order to store enough power.
For aircraft, this added weight poses an obvious problem.
But it's a problem we're getting closer to solving.
Tesla CEO Elon Musk has said that an energy density of 400 Wh/kg (watt-hours per kilogram) is the crossover point for lithium-ion batteries to beat kerosene jet fuel. Once battery technology reaches that level, the sky's the limit for electric aircraft.
Today, the energy density of industry-leading Tesla batteries is currently about 260 Wh/kg. (Up from 124 Wh/kg in 2007.)
So when might we get to 400 Wh/kg?
Very soon, according to Musk.
(Though he has also said that Tesla has no near-term plans to make electric aircraft.)
Conclusion
That's it for the top seven trends driving the travel and tourism industry forward into 2023 and beyond.
Through these trends, we can see a dynamic relationship between the travel industry and consumers.
It's a push-and-pull that's sure to continue in 2024 and companies that can adapt quickly to the changing wants and needs of travelers are the best suited for future success.