7 Travel Industry Trends For 2021 (and Beyond)
The travel and tourism industry grew 3.5% in 2019, marking the ninth year of sizable growth. But, as we all know, 2020 was a year like nothing the travel industry had ever seen.
What might the recovery look like? What's changing and what's more likely to stay the same? Here are the seven trends driving the future of the travel space.
1. An emphasis on local destinations
Hospitality consultant Ron Yariv predicts that "local tourism will continue to be important more than ever [in 2021]."
Statistics from 2020 support his prediction. Last year, 72% of Americans didn't take a summer vacation, but 31% did take a staycation.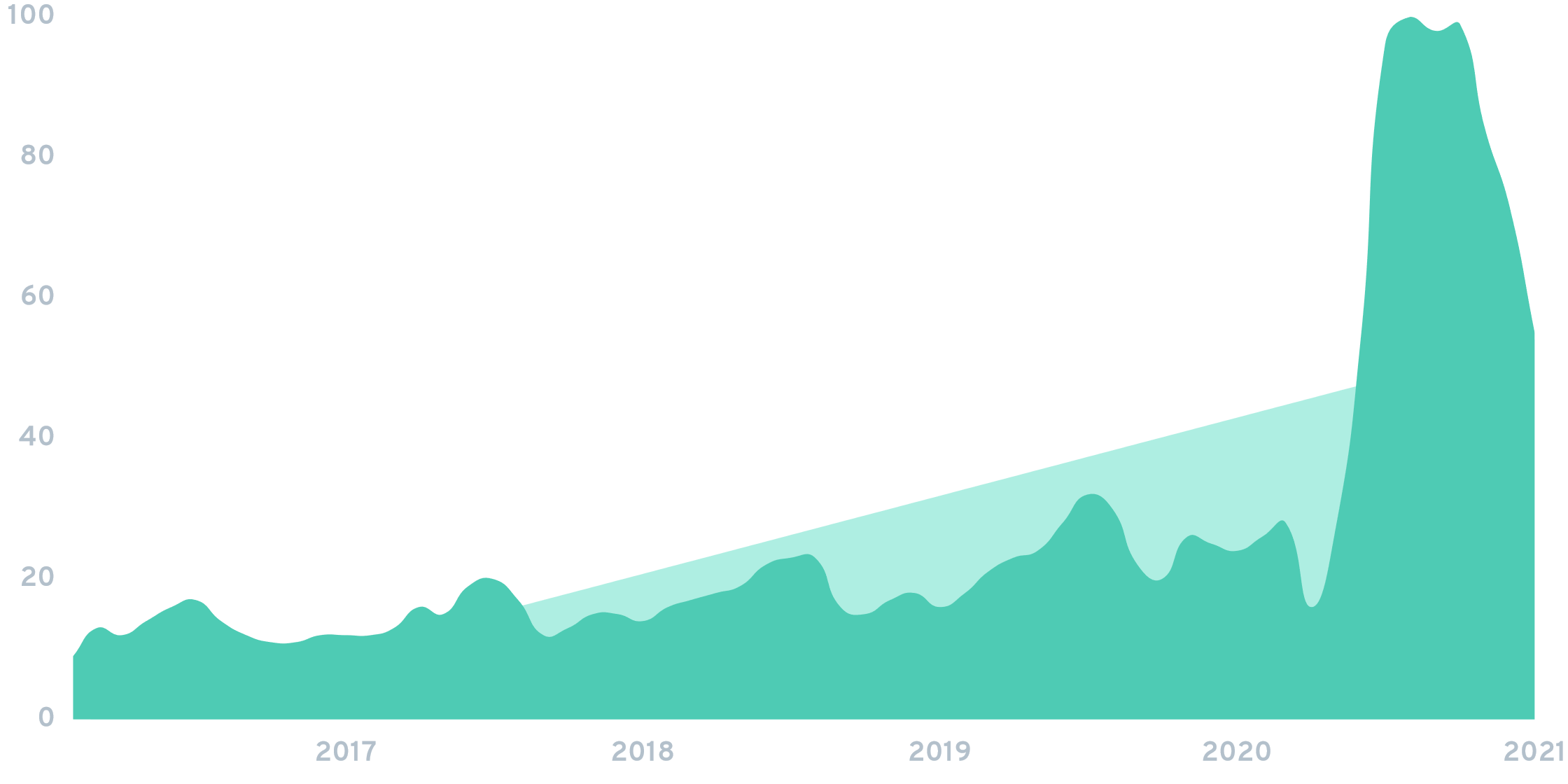 Searches for "staycation" have increased 5x over the last 5 years.
Airbnb is expecting this trend to hold strong, too.
They reported that that nearly half of the travelers they surveyed were looking to take a vacation within driving distance of their homes.
Airbnb also reported that bookings within 300 miles of the traveler's home jumped to 60 percent of all bookings in May 2020, compared to just 40 percent of bookings in February 2020.
Experts at The Economist say that "domestic tourism will boom in 2021." Their reason? International travel will be a hassle due to COVID testing and restrictions.
Other factors may play a part in this trend, as well.
Millennials have preferred local tourism for the past few years and their reasoning comes down to financial concerns. One-quarter of millennials in one study said they wanted shorter, closer vacations because they didn't want to spend more money.
Look for this trend to change directions as the pandemic winds down and the industry gains back some sense of normalcy. Skift's Megatrends 2025 report predicts that leisure travel as a whole will be close to record-levels in 2025.
2. Consumers demand increased COVID-19 safety and cleanliness
Health concerns due to the pandemic are expected to continue well into 2021.
Consumers report that overall exposure to other travelers and boarding a flight are the top two anxiety-producing parts of traveling.
A few airlines are going to extreme measures to lessen travelers' anxiety.
Dubai-based airline Emirates will cover medical expenses of up to $183k and quarantine costs of $122 per day for 14 days for passengers who are diagnosed with COVID-19 during their trip.
In 2021, individuals who travel may be much more likely to drive to their destinations. A Booking.com survey reported that 46% of travelers are afraid of contacting the virus while taking public transportation.
The "Travel Safety Barometer" from MMGY Travel Intelligence showed car safety as a recurring travel theme during the final months of 2020. In December, they ranked it at level 75 on the barometer, with a full score of 100 being considered "extremely safe."
COVID-19 guidelines like social distancing are also expected to impact what tourists do while they are traveling.
This survey from Booking.com showed that 70% of tourists expect social distancing at the attractions they visit. Booking.com also reported that 63% of tourists say they'll stay away from crowded attractions altogether.
Hotels have changed the way they do business in response to the pandemic, too.
In a survey from Skift and Oracle Hospitality, travelers reported the three top factors that made them more comfortable when staying in a hotel: contactless payments, digital room keys, and digital messaging services topped the list.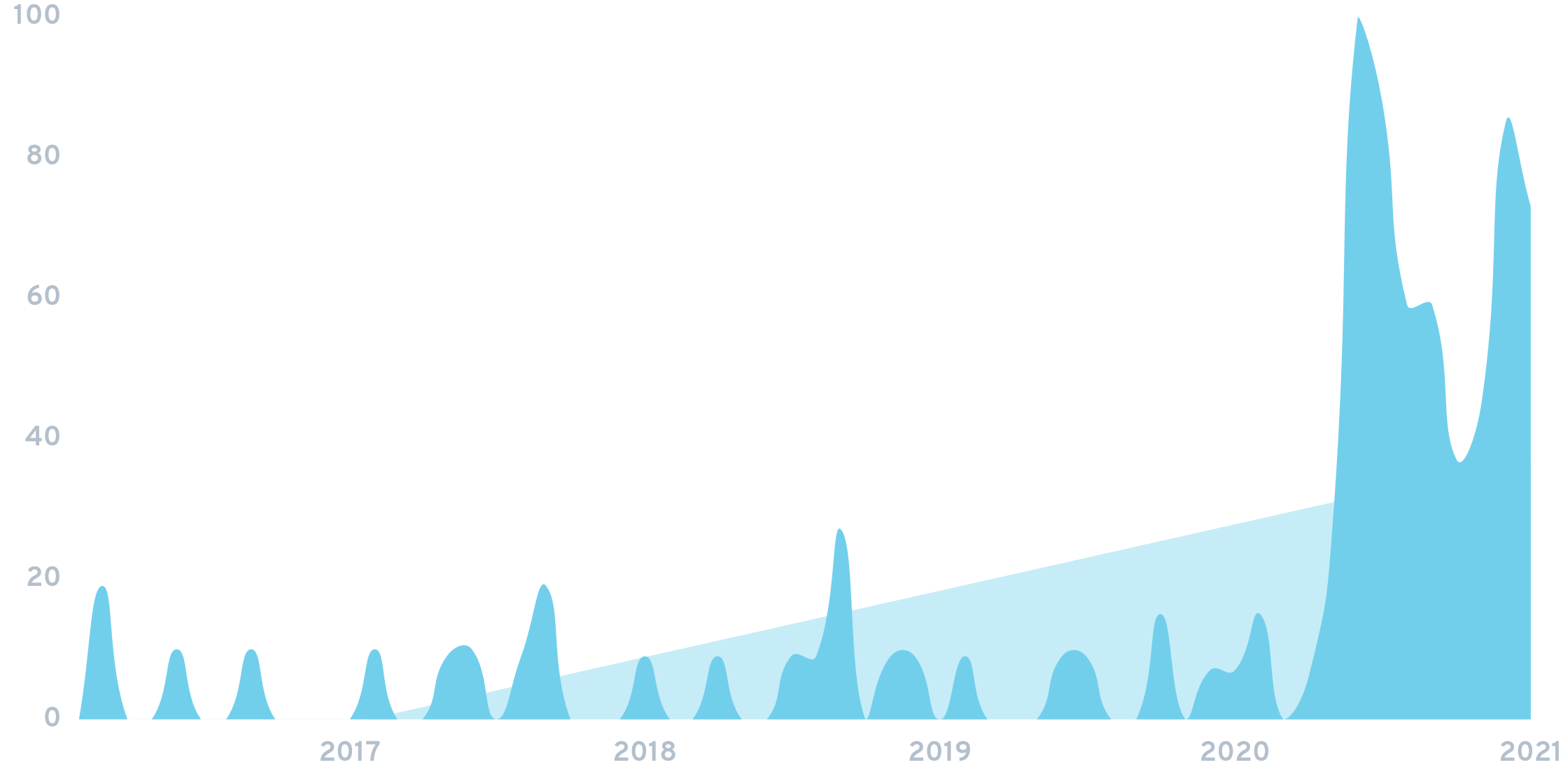 Searches for "contactless check in" since 2016.
As travelers move in and out of rooms, hotels are faced with the extensive task of cleaning and sanitizing. At the Hyatt Regency Grand Reserve in Puerto Rico, they're completing three hours of ionization in addition to their normal cleaning routine.
According to an article in The New York Times, Pearl Hospitality is bringing in LightStrike Germ-Zapping Robots to clean their hotel rooms located near the Texas Medical Center complex in Houston.
3. Travelers go it alone
In a November 2019 survey, Booking.com reported 17% of respondents were planning a solo trip. That number nearly doubled in their July 2020 survey in which 30% of people said they were planning a trip on their own.
Another site reports that 25% of all American millennials plan to travel by themselves each year. Statistics show that the number of people traveling solo increased by 42% even before the pandemic (between 2018 and 2019).
According to Travel Market Report, Intrepid Travel is a small-group travel company that plans trips for 75,000 people per year. Data shows that more than 50% of the travelers booking with them are going alone.
Overseas Adventure Travel, another small-group travel company, has seen such a boom in solo travel that they've upped the number of single spaces they have available in 2021, a 76% increase over 2019.
Solo travelers are big on social media too. You'll find 6.3 million posts with #solotravel.
4. Consumers crave local experiences
The experience economy is huge in the travel industry, but fewer and fewer people may be settling for commonplace vacation activities in the coming years. Instead, "consumers [will] pursue authentic experiences, distancing themselves from mainstream tourism providers and venturing into pastimes that feel more meaningful."
Data insights company AirSage marks this as an emerging trend because "people no longer want boring and conventional travel experiences as much as they used to. Instead, they would rather pay for vacations that are once in a lifetime opportunities."
Airbnb is betting on this trend. Their website has offered the opportunity for consumers to book "experiences" since 2016, but they also added online experiences in 2020 for people who are seeking to connect with locals without leaving their homes.
Other companies are banking their entire business model on this trend. Withlocals offers "personalized traveling"—the opportunity for travelers to book private tours and activities with locals around the world.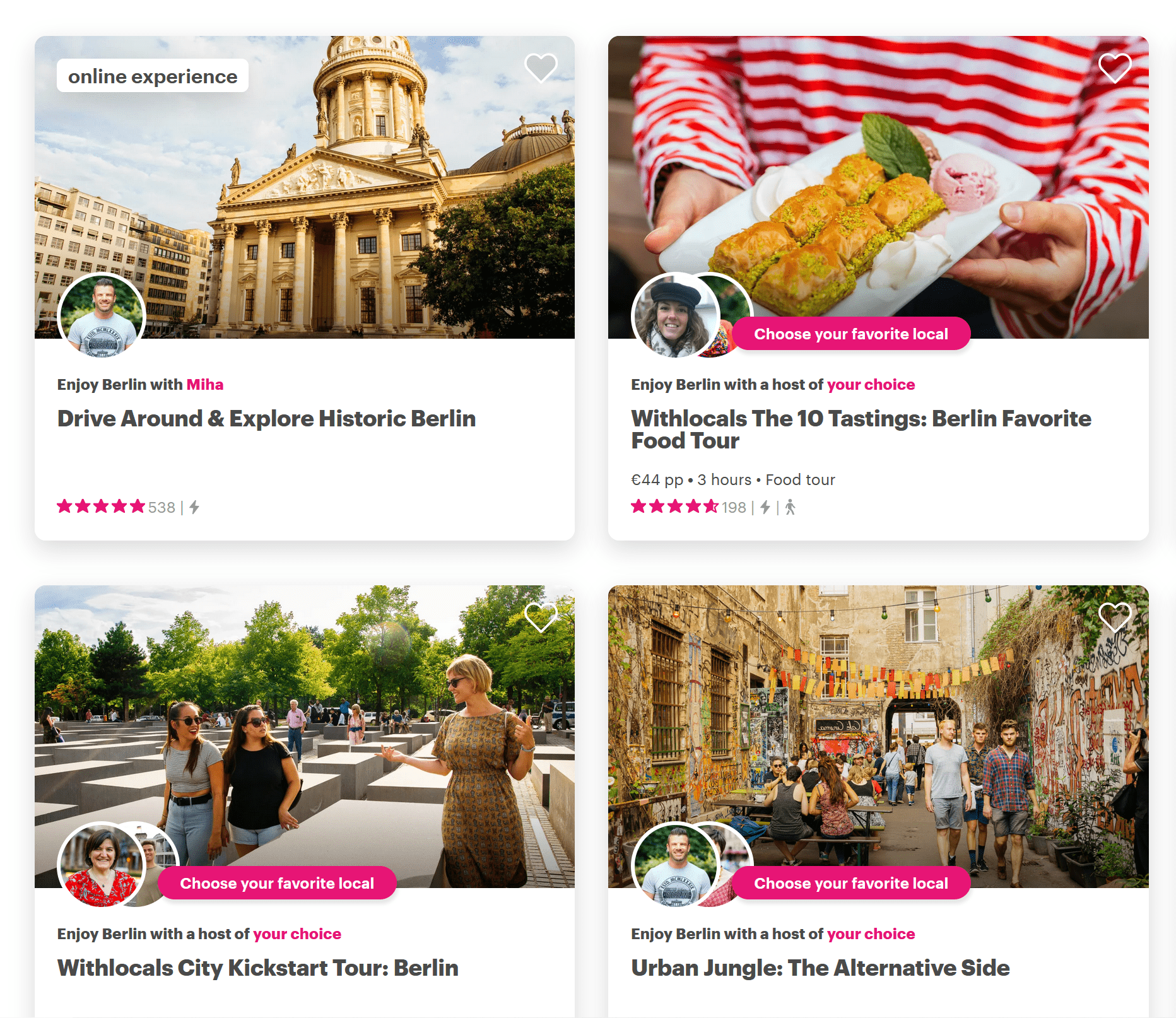 Shot of tours and experiences on Withlocals.
Camping (and glamping) trips have also become a popular way for people to travel while experiencing the local culture and staying safe amidst the pandemic. Outdoorsy has been called the "Airbnb of RV rentals" and their sales exploded to $1 billion in 2020. That's a 400% growth from 2019.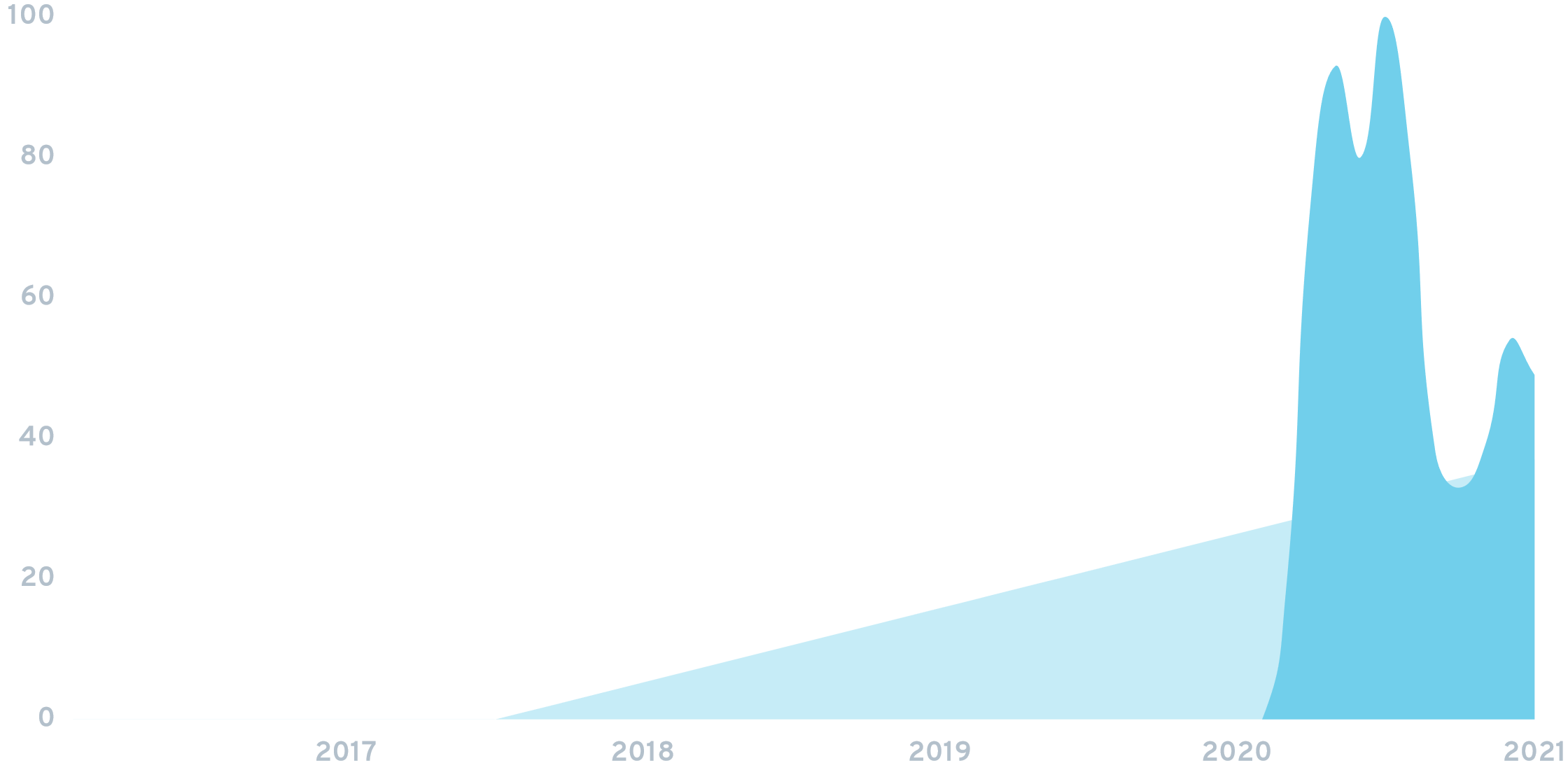 Search growth for the term "COVID campers".
Under Canvas runs seven glamping camps in wilderness locations across the United States aimed at exploring the local landscape and inspiring human connections. The company reported a "surge in demand in 2020 and already has 'strong' advanced bookings for 2021."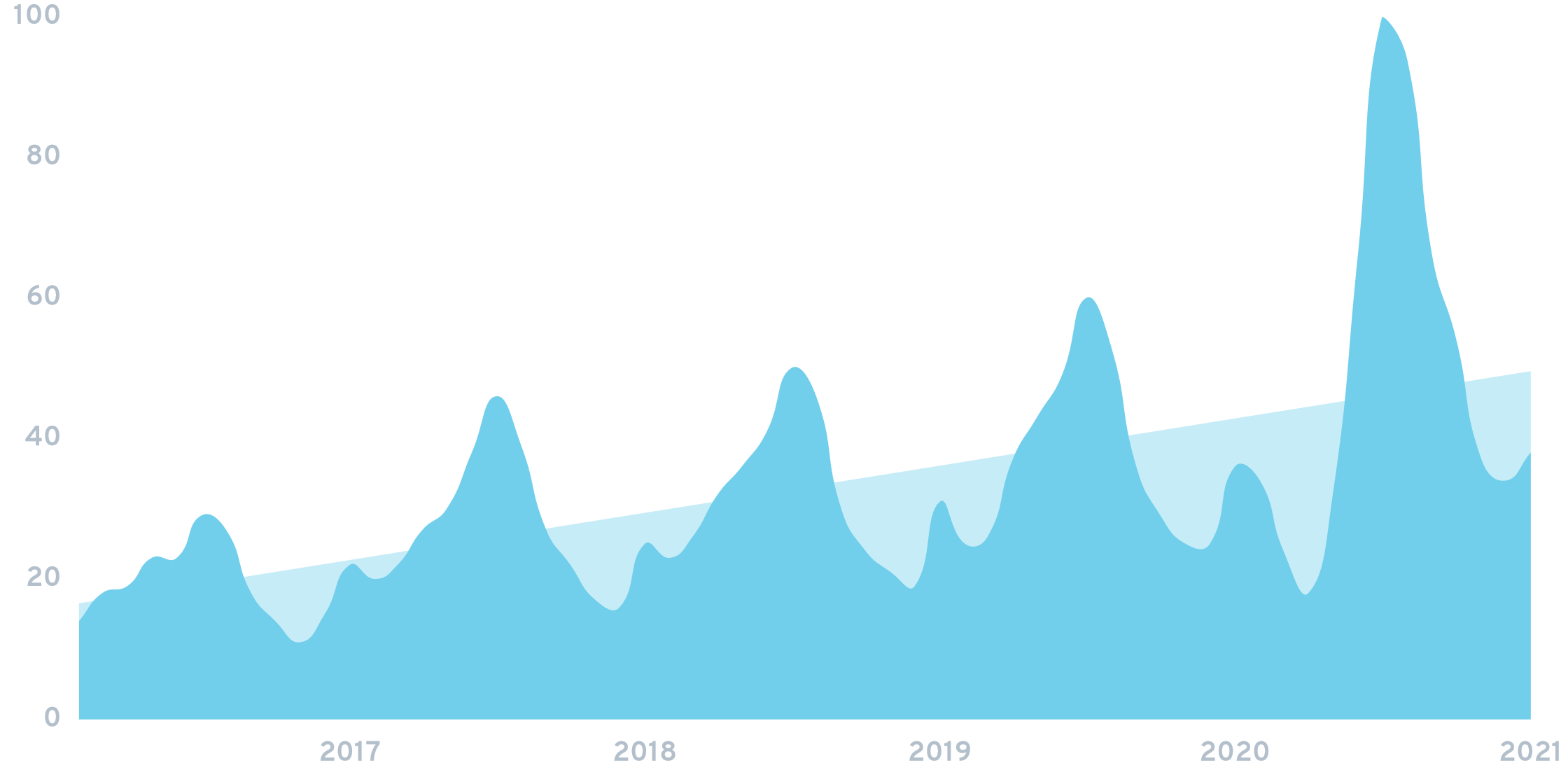 Searches for "glamping" are spikey. But generally on the rise.
5. Technology adoption accelerates
As with nearly all businesses, technology advancements are presenting the travel industry with seemingly endless opportunities. The pandemic has only increased the speed of tech adoption in the industry.
A McKinsey survey showed that, because of COVID-19, "companies have accelerated the digitization of their customer and supply-chain interactions and of their internal operations by three to four years."
One example: room service robots. Two Chinese hotel giants recently invested in ExcelLand, a manufacturer that already has 3,000 robots in operation. BTG Homeinnes is looking at these robots as a way to control costs and safeguard guests.
Hotels, airlines, booking sites, and others are using chat-bots like never before. Travelers can chat with providers during every stage of their journey. And, they won't feel like they're talking to a robot. Advances in AI have made this type of communication hassle-free.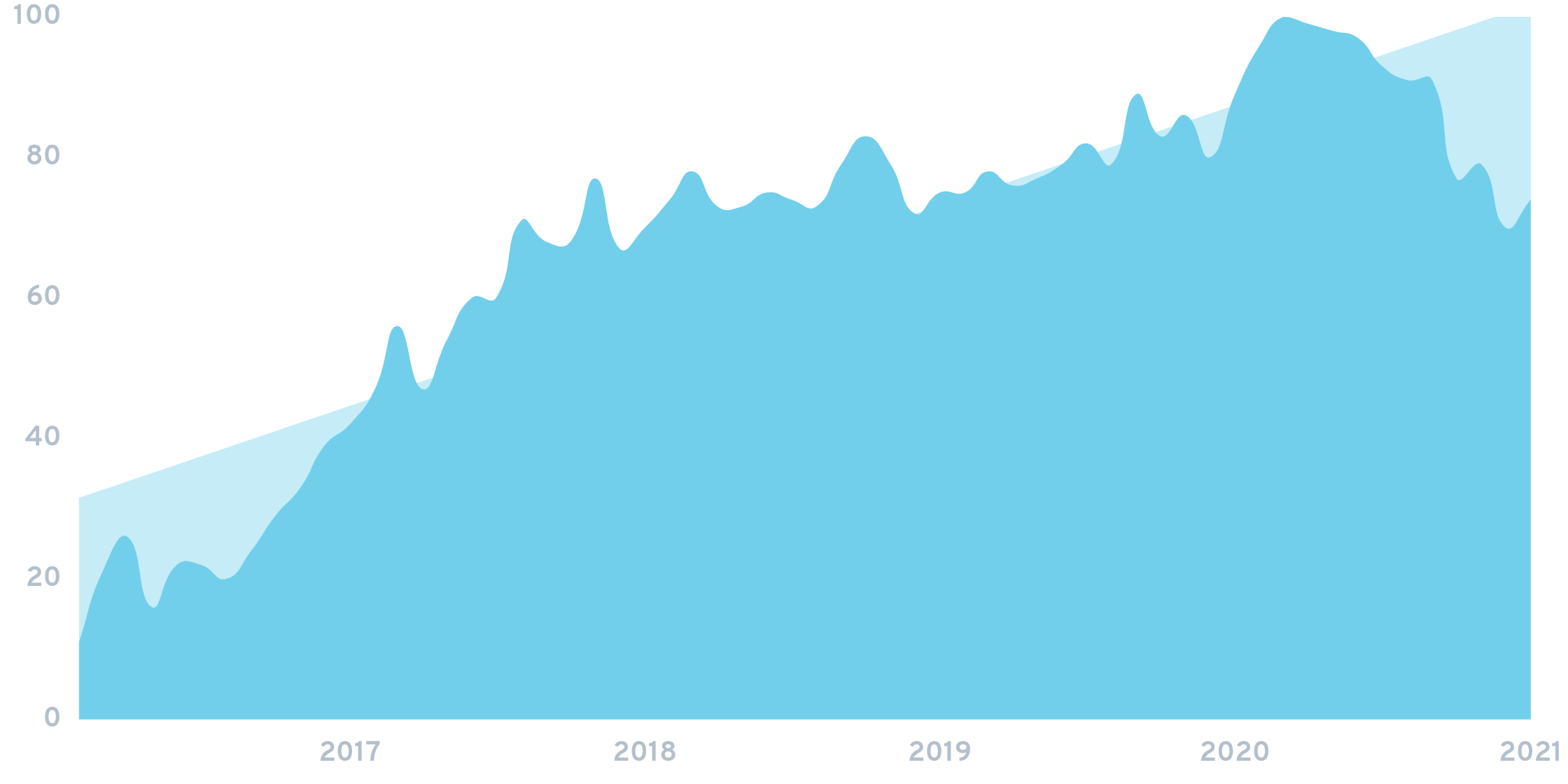 Searches for "chatbot" over 5-year period.
United Airlines has launched an "Agent on Demand" service that allows travelers at the airport to video chat with a customer service representative simply by scanning a QR code.
More and more airlines and airports are deploying facial recognition technology. Corporations and government entities tout this technology as a safety policy, but privacy advocates may put a halt to this emerging trend. They warn that this type of surveillance could easily turn dystopian.
With all of this new tech, companies are also continuing to capitalize on an older piece of technology—the smartphone. Stats show that travelers who book tours and activities on their phone spend 50% more than those who book elsewhere.
6. Blending business and leisure travel
The latest statistics say there are nearly 5 million digital nomads in America. The concept of being location-independent, traveling and working remotely, has become even more popular since the pandemic started.
The hospitality industry has noticed. Aruba is opening its beaches up to travelers who'd like to work remotely, calling the marketing campaign "One Happy Workation." Visitors can stay for up to 90 days and do not need any governmental documentation.
Barbados and the Cayman Islands will also let you work remotely from paradise for an extended period of time.
A Booking.com survey reported that the workation trend is going strong. More than 50% of travelers say they would extend their business trip to enjoy personal time at their destination.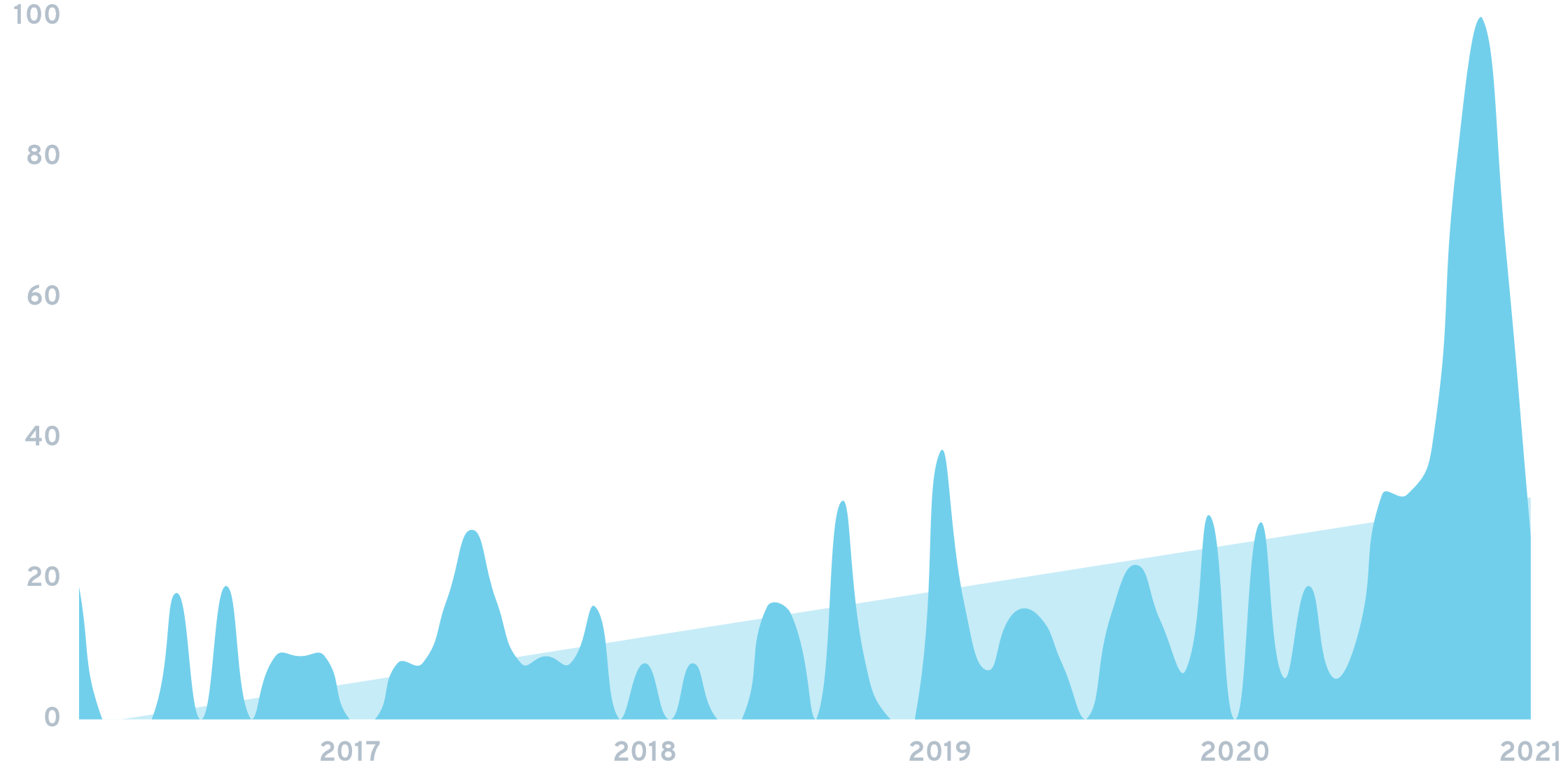 Search growth for "workcation" fluctuates quite a bit. But is growing.
In 2020, hotels began catering to locals who needed a quiet place to work. The Hamilton Hotel in Washington, DC, is just one example. It's WFH-Work From Hamilton program offers rooms on a 6 am - 7 pm schedule.
7. The industry gets serious about sustainable travel
Stats from March 2020 show that more than half of US travelers believe there aren't enough options when it comes to sustainable travel.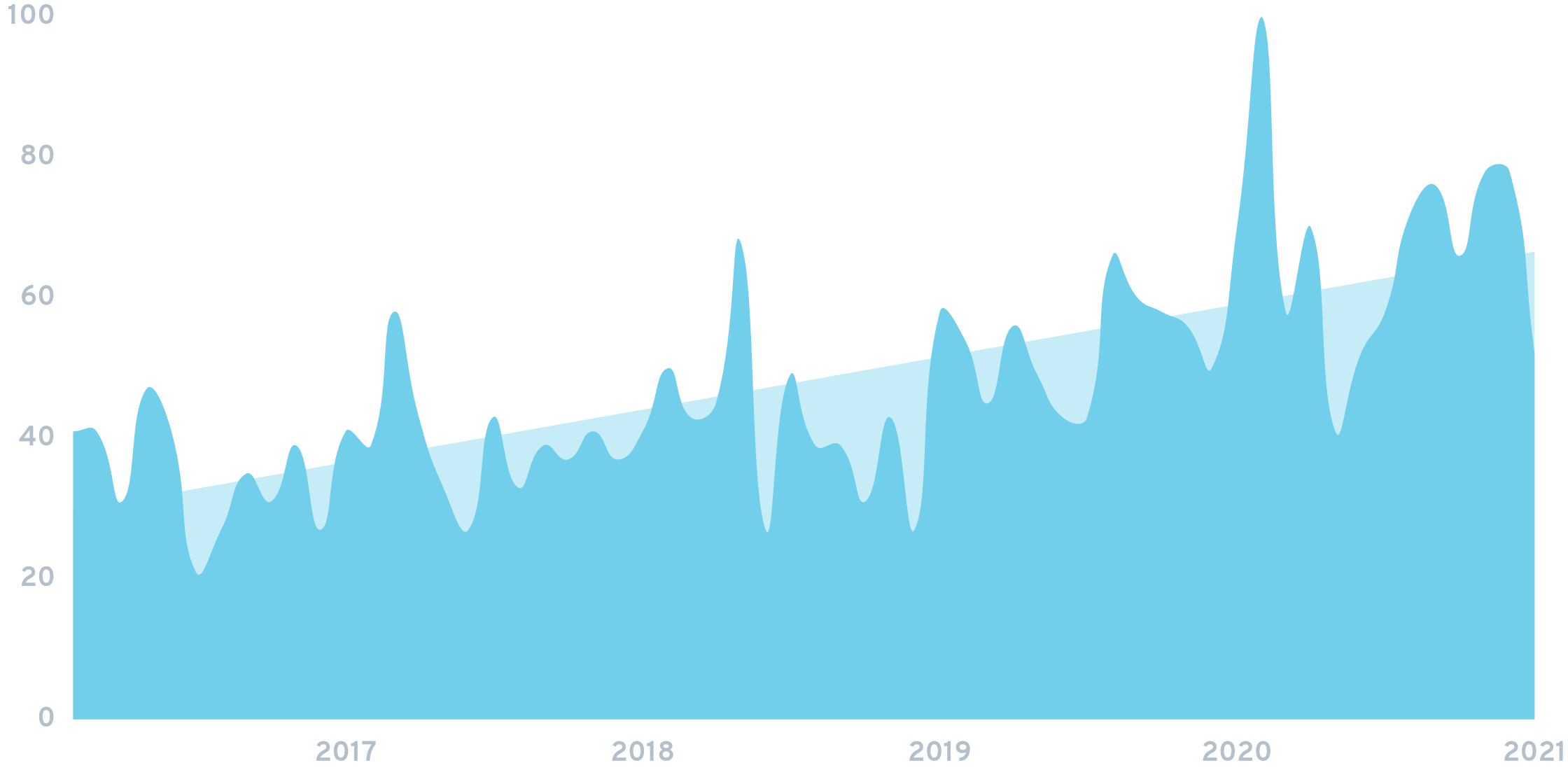 Searches for "sustainable travel" are up 28% over the last 5 years.
A poll conducted on behalf of Exodus Travels went even deeper into consumers' attitudes. It showed that 91% of travelers see the importance of taking ethical trips, 56% believe in buying souvenirs from local merchants, and 44% want to support local businesses at their destination.
Sustainable travel involves minimizing impact on the local cultural environment and also taking an eco-friendly approach to the physical environment. Nearly 70% of travelers say they are more likely to book accommodations if they know the property is planet-friendly.
Many in the travel industry have recently made commitments to preserving the environment. India-based ITC Hotels Group has LEED certified each of its hotels.
As of 2023, hotels in the state of California will no longer be allowed to provide single-use toiletries in plastic bottles to their guests. Marriott International has made a pledge to remove these types of plastics from all their hotels, too, but the pandemic has put a temporary stop to that plan.
A recent report from Skift made this summary statement regarding sustainable travel in the future: "[It's a] less flashy way of viewing and traveling the world . . . with an emphasis on safety, sustainability, and profound experiences while getting from point A to B without wrecking the climate and local quality of life in the process."
Conclusion
That's it for the top seven trends driving the travel and tourism industry forward into 2021 and beyond.
Through these trends, we can see a dynamic relationship between the travel industry and consumers. It's a push-and-pull that's sure to continue in 2021. Businesses that can adapt quickly to the changing wants and needs of travelers are the best suited for future success.
Last Updated: 
January 28, 2021