7 Video Marketing Trends To Watch In 2021
Here are 7 of the most significant video trends for 2021 and beyond. And the meta-trends, products and companies pushing them forward.
Whether you're a digital marketer, media buyer or content creator, these are the top trends to know.
1. Silent Video Gains Momentum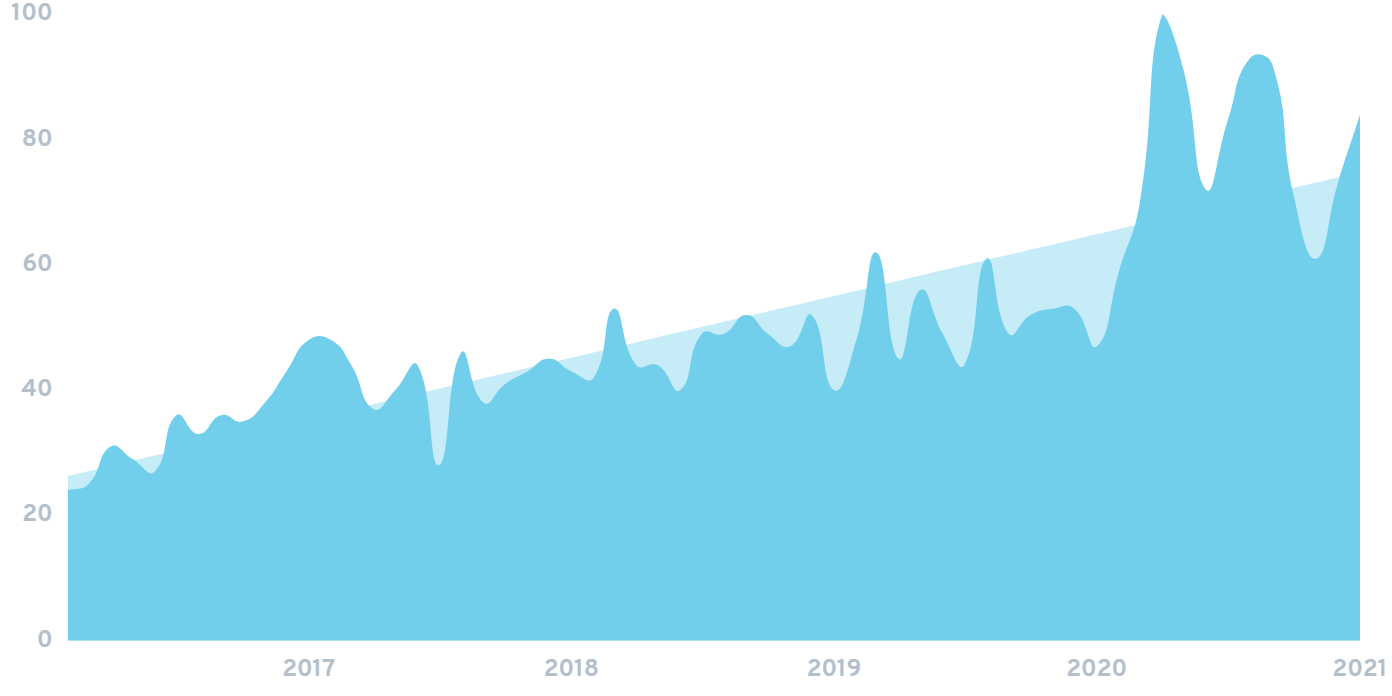 Searches for "video captions" have increased 250% over the past 5 years.
It's estimated that 85% of short videos viewed on Facebook are watched without sound. Yet as much as 41% of video would be incomprehensible to viewers without sound.
Advertisers who want their ads to tell consumers more than "we hire attractive models" must increasingly make use of captions, context and other "no-audio" tactics to convey information.
Audioless animations such as GIFs have long been doing just that.
Using captions, tell-through-action and commonly known meme formats, GIFs convey ideas without sound. And their popularity has grown as a result.
Captioned animations available at Giphy.com.
Audioless features are proven to help standard video as well.

Including subtitles can increase an online video's view through rate by 80%. For videos that end with calls-to-action, this is essential.
And 80% of viewers who watch with captions do so because they prefer captions, not because of hearing issues.
Furthermore, video marketing that does not depend on audio of a particular language is easier to translate and scale to new geographies.
The absence of audio, paradoxically, makes content even more accessible. As users view more content on the go, this accessibility is becoming increasingly important.
2. Social Media Goes Video-First
Web searches for social video platform TikTok are still skyrocketing into 2021.
It's no mystery that video content is one of the internet's main attractions.
One of the most common reasons people use social media is to view video.
And video sharing platform YouTube is the world's second most popular website (after Google).
But with video content set to be as much as 82% of total web traffic by 2022, the importance of video content to marketing strategy is massive and still growing.
Viewers are being drawn to video-first platforms. And viewers expect the ads they see to match the format of the platform. With so many eyes moving to video-first platforms, marketers have had no choice but to follow.
Nowhere is this more apparent than video-based social network TikTok.
Since merging with Musical.ly in August 2018, TikTok has been growing at an incredible pace. Las year, it reached 800 million active users - enough to put it in the top 5 for social media active user count.
And interest in TikTok ads has grown alongside the network. Its quarterly revenue crossed $50 million back in Q4 2019, just as the app was really starting to take off. That represented a 310% increase over the previous year. And last year's revenues were an estimated $500 million.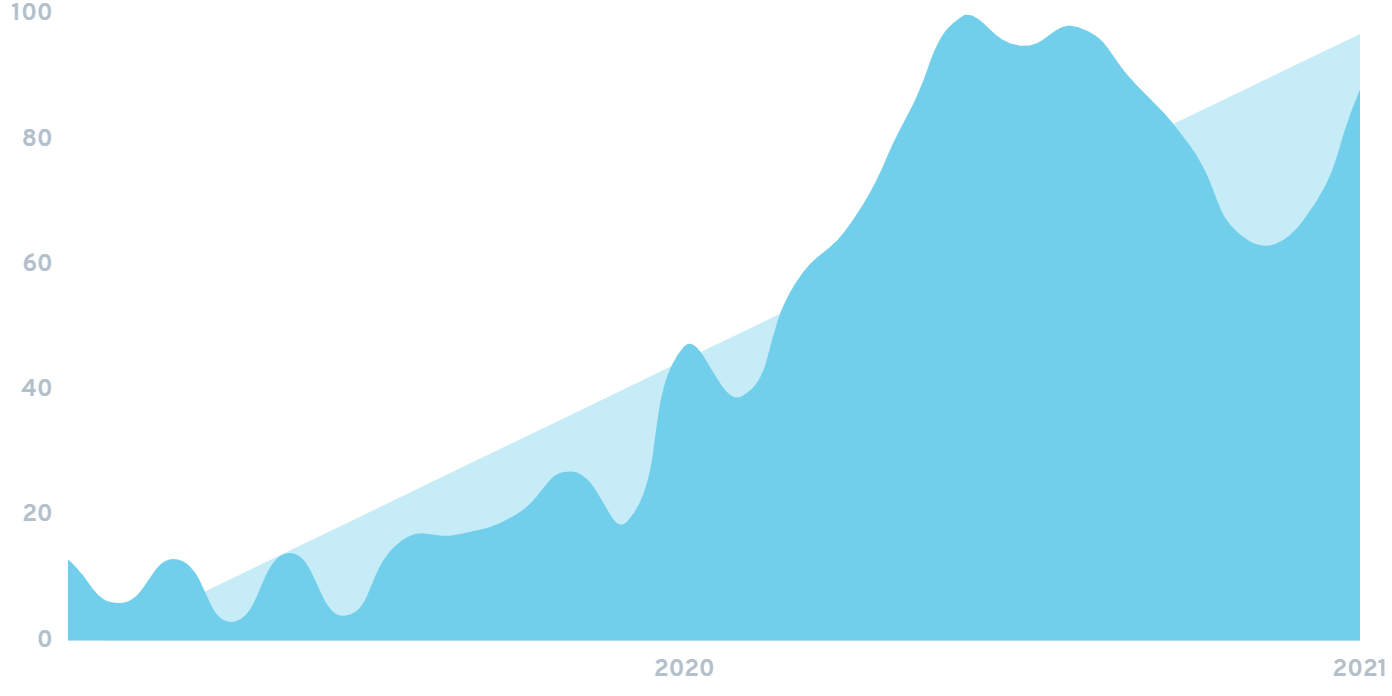 Interest in TikTok ads over time, based on the number of web searches.
Video-first platforms have taken off and died in the past (for example, Vine). But TikTok seems to have chosen the perfect time to join the party. And its competitors seem to agree.
In 2017 Facebook's Mark Zuckerberg publicly stated that video-first was a meta trend to watch. And Facebook backed that statement up with its 2018 launch of Lasso, a video-first TikTok competitor.
Competitors such as Lasso, Likee and YouTube's proposed Shorts have yet to replicate TikTok's wild success. Yet all signs indicate that the video-first megatrend is here to stay.
Videos are also becoming shorter.
The average business video length decreased by 33% from 2017 to 2018. And companies, technologists and venture capital have used their resources to try and capitalize on this trend.
3. Short-Form Video Dominates
Aside from TikTok, short-form video is also popular on platforms like YouTube, Snapchat and Instagram.
But the elephant in the room is Quibi.
Quibi raised $1.8 billion to bring Hollywood production level to the short-form video content, offering a mobile-only paid subscription model. (As well as a more limited free version.)
And marketers bought in as well, buying $150 million in ad space before the app even launched.
Then Quibi crashed and burned.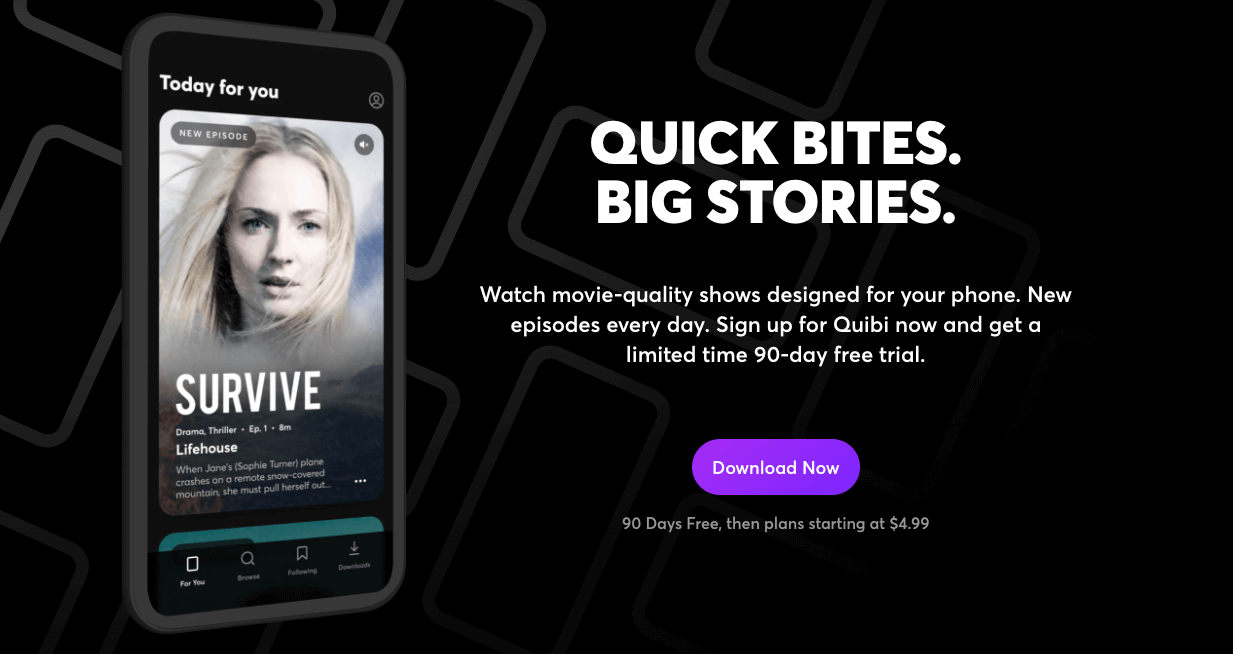 Quibi spent big on content, recruiting some of Hollywood's top stars to create a steady stream of exclusive content.
Does this mean short-form video isn't as big as Quibi's backers thought?
Not at all.
Quibi's failure doesn't spell doom for short-form video. Investor enthusiasm existed for good reason.
TikTok has asserted itself in a very short time as one of the juggernauts of social media. It is proof of the appetite for short-form. Quibi was just unable to successfully tap into it.
And TikTok's triumph over Quibi may bode well for advertisers. Quibi offered an ad-free premium tier. While marketing space was available on the streaming service, an always-free model presents more opportunity to buy ad space.
(Incidentally, we may be seeing more of this in the streaming world - the Fox-owned service Tubi is ad-supported).
Still, the fact that Quibi was able to launch with such massive support points to a short-form future.
The movement to shorter lengths has also manifested itself in the advertising space.
15-second TV ads are about 75% as effective as 30-second commercials, at half the cost. And on social media, some of the most popular ad placements don't even allow videos longer than 15 seconds.
4. Video Advertising is Challenged by Creator-Centric Platforms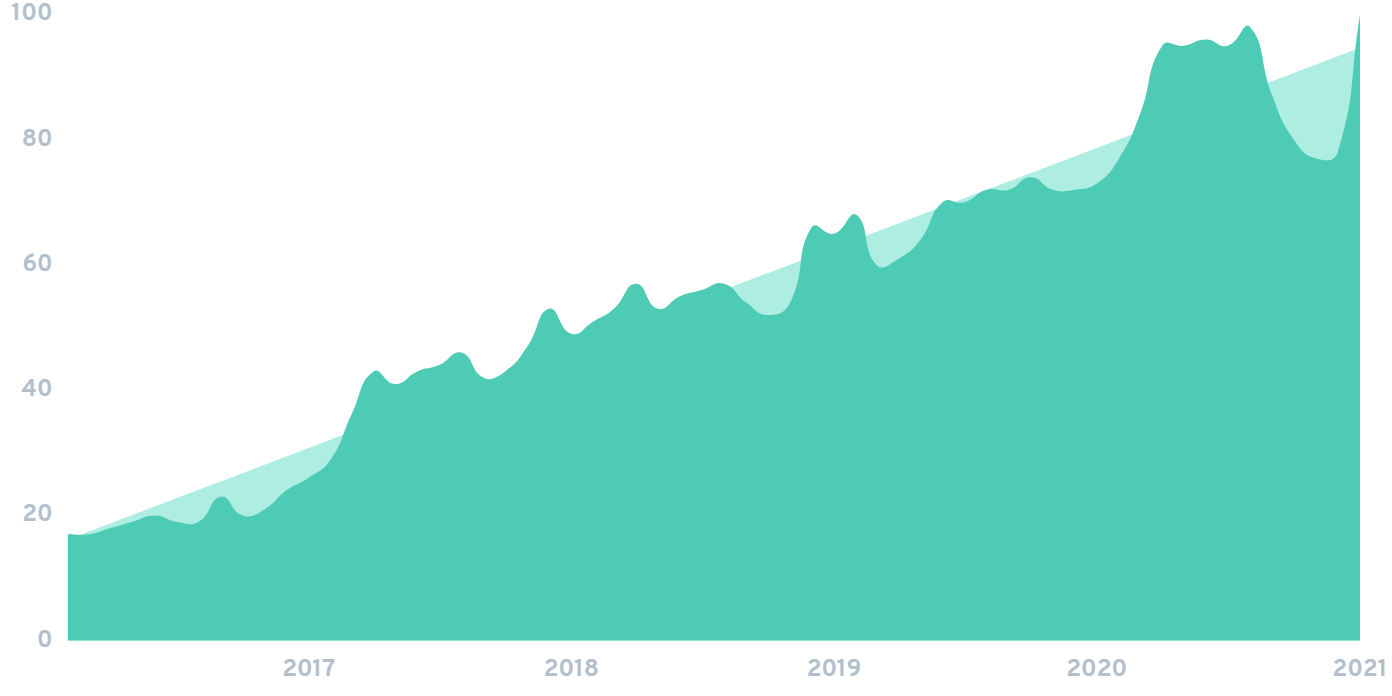 Searches for subscription-based content platform Patreon.
Video marketing depends on both a platform to advertise on and content creators willing to host advertisements. And content creators and platforms both require fans' eyes to generate revenue.
This has long been the model in which content creators and advertisers coexist. However, the rising popularity of platforms such as Patreon are threatening this ecosystem.
Patreon enables users to view advertisement-free content directly from individual content creators in exchange for a subscription fee (or pay per view).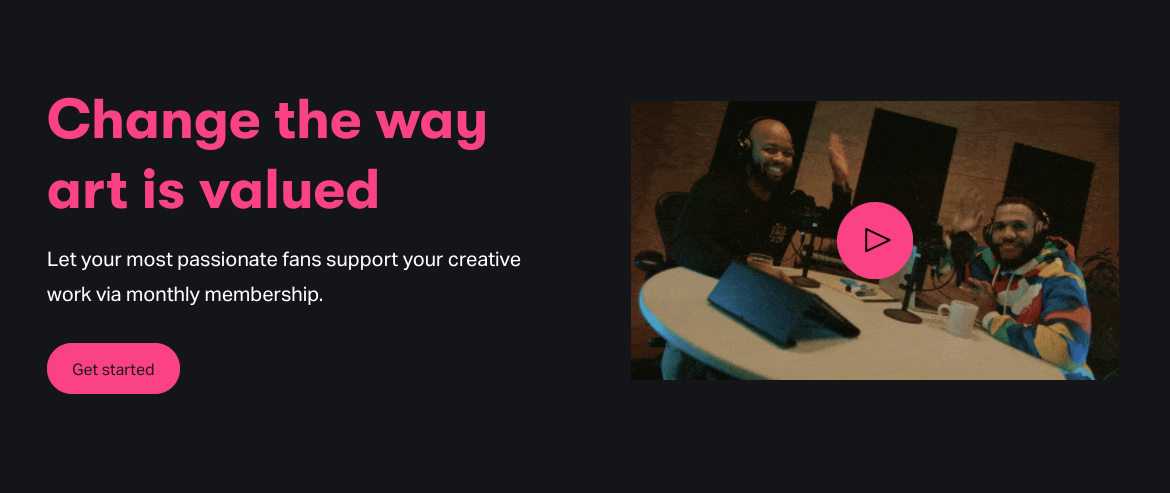 Patreon lets creators offer paid subscriptions directly to their fans.
Users and content creators have been buying into this model.
Adult content creators in particular have benefited from this trend. OnlyFans is a subscription and micro transaction-based platform that caters to adult entertainers. And its growth is rivaling even that of Patreon.
Onlyfans and Patreon are not alone.
Sites such as Memberful, Buy Me a Coffee, Liberapay and more are offering content creators new means of generating revenue. And streaming platform Twitch has popularized the idea of live-stream donations.
For their part, advertisers often directly sponsor Twitch streamers. The streamers then provide shout-outs, product placement or other promotional actions in return.
So direct-to-creator platforms have built momentum.
And old-guard platforms such as YouTube have taken note.
In 2018, YouTube introduced YouTube channel memberships for all channels. Channel memberships added the successful aspects of the direct-to-creator business model to YouTube.
Platform ad revenue is no longer the only source creators have to support themselves. Creator-centric platforms are growing in popularity. And platforms built on standard advertising models are being forced to adapt.
5. Segmented Video Formats Become a Necessity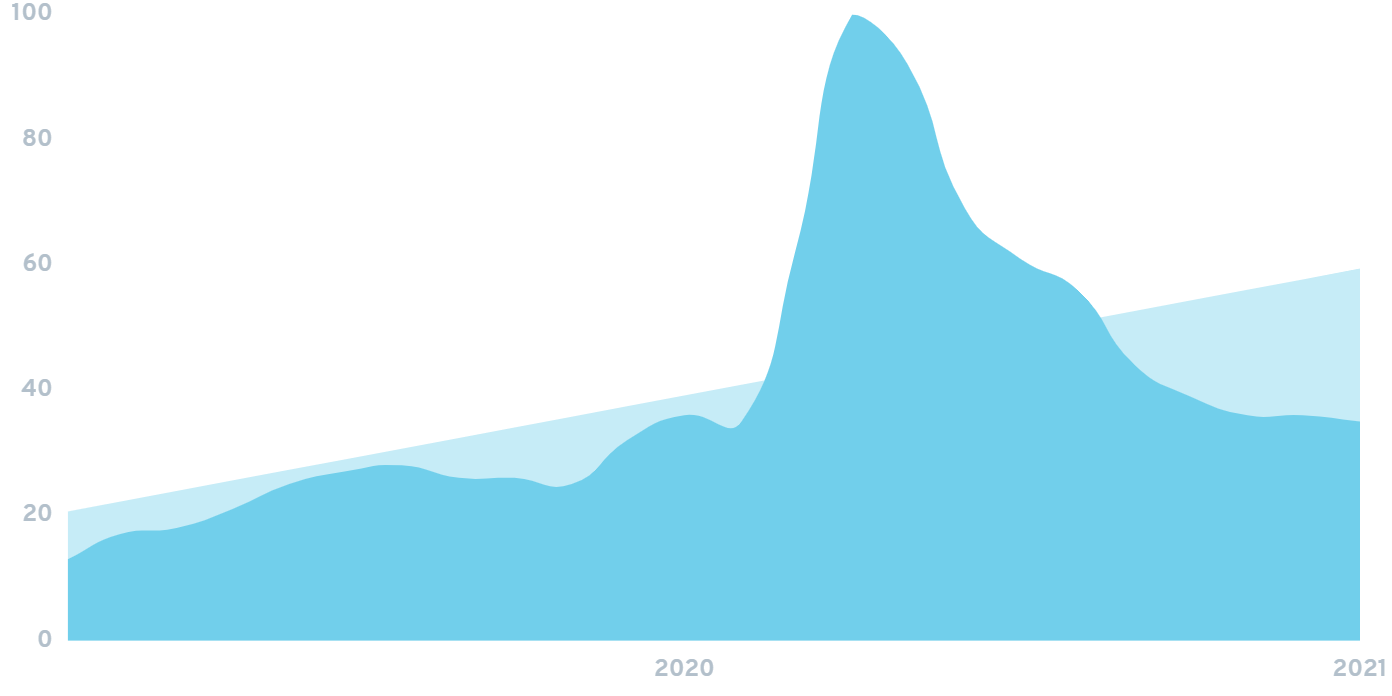 Interest in Instagram's standalone video app IGTV started creeping up after the introduction of support for horizontal video, before peaking last year.
In 2018 the average U.S. household had 7 content-viewing devices.
With an ever-growing variety of devices, social networks and streaming platforms demanding different content formats, it's become important for advertisers and content creators to segment their video formats.
These changes have led to at least 3 commonly accepted video marketing formats (not to mention VR, 3D, widescreen and others).
Horizontal and vertical video are both commonly used. And Instagram has made the square video tile mainstream as well.
Video marketers and content creators both have recognized this trend. And platforms attempting to resist this trend have been forced to accept it (see IGTV's eventual adoption of horizontal video).
That said, there are some exceptions.
One innovative feature of Quibi was "Turnstyle". Turnstyle allowed viewers to see both horizontal and vertical views of the same scenes.
While comedian Andrew Schulz uses rotating video to increase view throughs.
But with less than 30% of viewers willing to turn their phone to watch an ad, matching the ad format to the platform on which it is presented is essential.
Unless a universal standard for video viewing is adopted, segmented advertising will continue to be a prerequisite for successful video marketing.
6. Brands Build Through Social Video Marketing
Video is one of the most effective ways to transmit information. Viewers retain 95% of a message presented to them in video as compared to 10% when reading text.
And for marketers trying to optimize for ROI, videos have long proven to be effective. Marketers who use video grow revenue 49% faster than non-video users.
So it's no secret that social video marketing is a hot topic in 2021.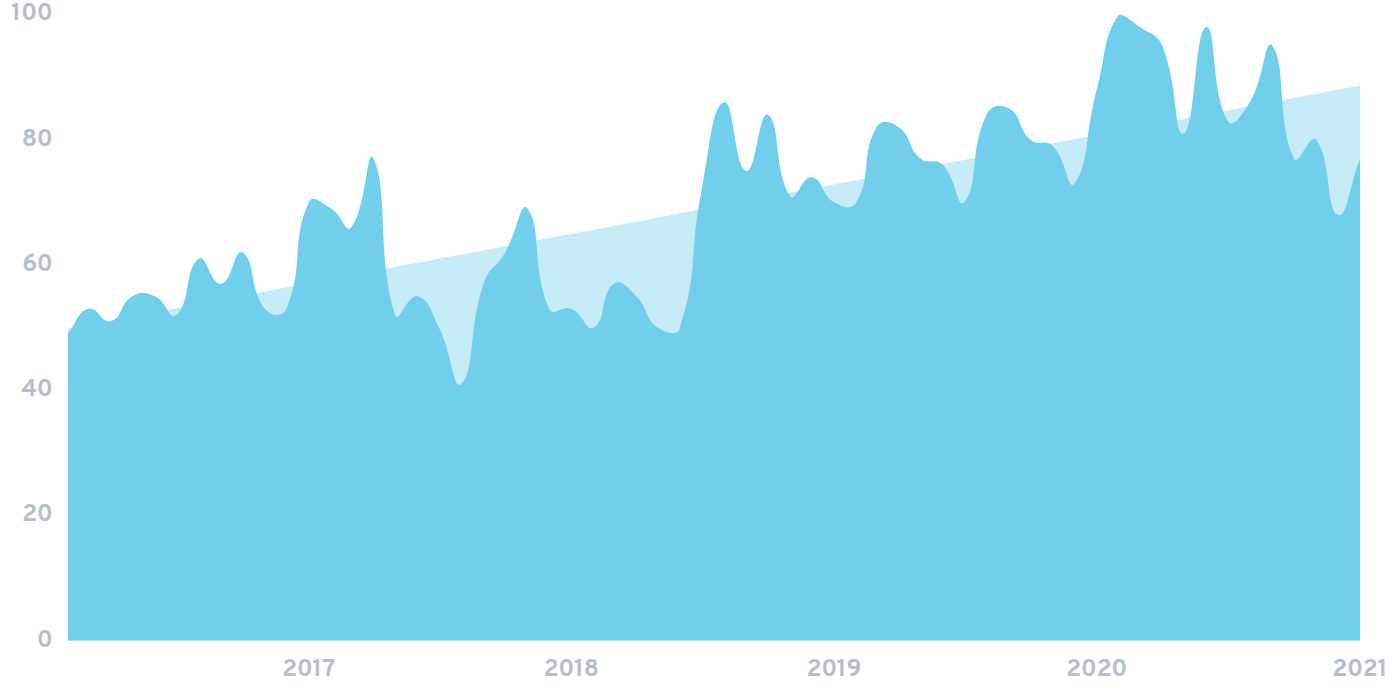 Searches for "social video marketing" are up 57% in the past 5 years.
One key to success in this arena: the videos must hold viewers' attention.
Whether by providing interesting information, entertainment, or a combination.
Social video generates 1200% more shares than text and images combined. And 81% of people say a branded video has convinced them to purchase a product or service.
With such upside, it's no wonder that social video marketing continues to trend upwards in 2021.
7. The Stories Format Proves an Effective Marketing Technique
The stories social media format may have been pioneered by Snapchat.
But Facebook - and especially Instagram - have benefited from it just as much.
Stories are personal in nature and present an opportunity for constant engagement.
And they are extremely popular, with 86.8% of Instagram users posting stories every day.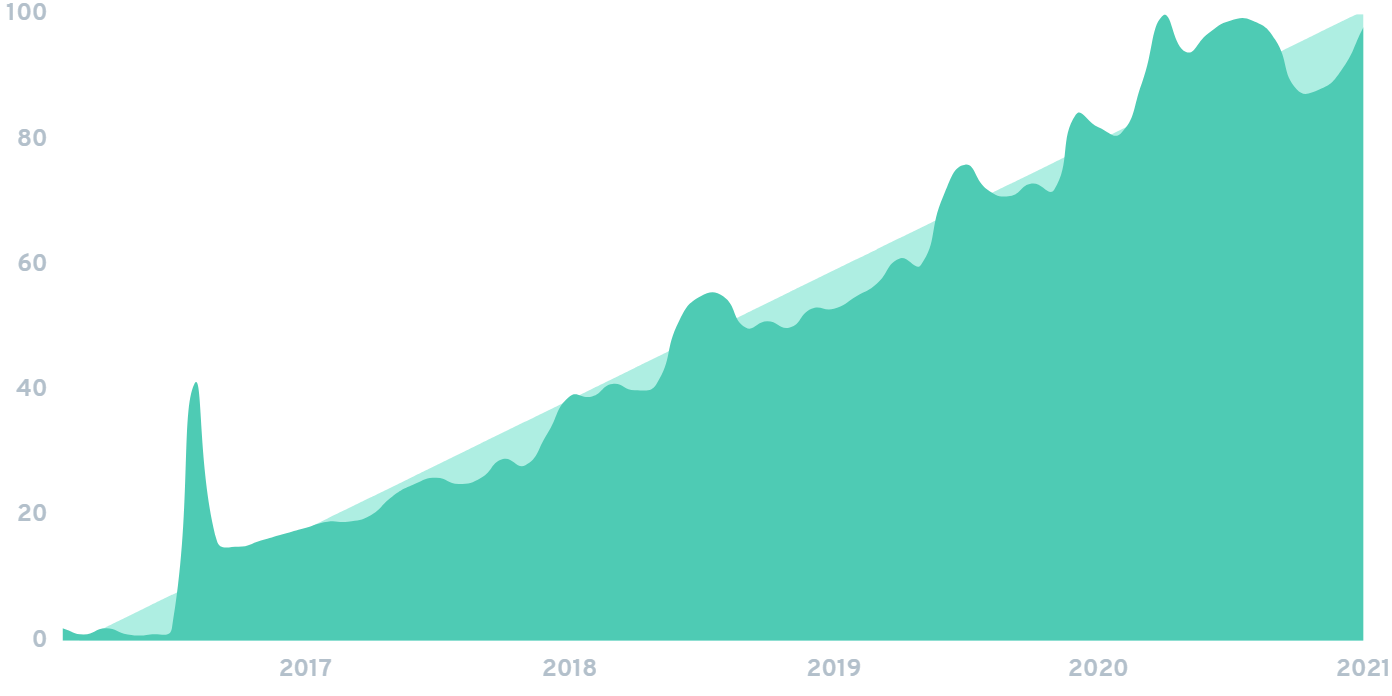 Searches for "Instagram stories" have been climbing each year.
Stories have also become a marketing industry standard.
As soon as they became mainstream, brands began using stories to advertise their products and services. And with good reason. Brands using stories have seen as much as a 73% increase in same-platform clickthrough rate.
This has made stories astonishingly popular and lucrative for marketers. In fact, a third of the most viewed stories come from businesses.
And while stories can be created with static images, that's not where they shine. Video stories perform better.
Roll Credits
Now you've seen them: 7 of the biggest video trends this year.
With such a large audience, video content and ads are critical for any large-scale marketing campaign. But there's more competition every day.
So for video marketers and content creators to succeed, they need to understand both how the industry is operating right now, and also where it is going. And that means staying on top of the trends.
Last Updated: 
January 14, 2021