7 Workplace Trends to Watch (2023-2026)
You may also like:
The pandemic radically changed the workplace - that's no secret.
But now that much of the world has passed the peak of COVID, we're still waiting to see which changes will be permanent.
And how businesses will adapt to the "new normal".
As much as circumstances have changed in the past year, some businesses remain slow to adapt to these new trends.
So the question is:
How will the future of the workplace impact these companies and the employers that work for them?
Read this list of workplace trends to find out.
1. Remote work becomes the norm

Searches for "remote work" remain high with a 110% rise in 5 years.
Is remote work here to stay?
Only time will tell.
But dozens of studies and reports already have a few predictions for us to look at.
For reference, 5% of workdays were spent at home before coronavirus and at the height of the pandemic that number increased to more than 60%.
One piece of research predicted that 20% of workdays will be at home after the pandemic.
Other research says that approximately 18% of employees will remain remote full-time.
The opinion of employees is quite clear: they want to stay remote.
A study by Prudential showed that nearly 90% of workers in the United States prefer to be home at least one day each week.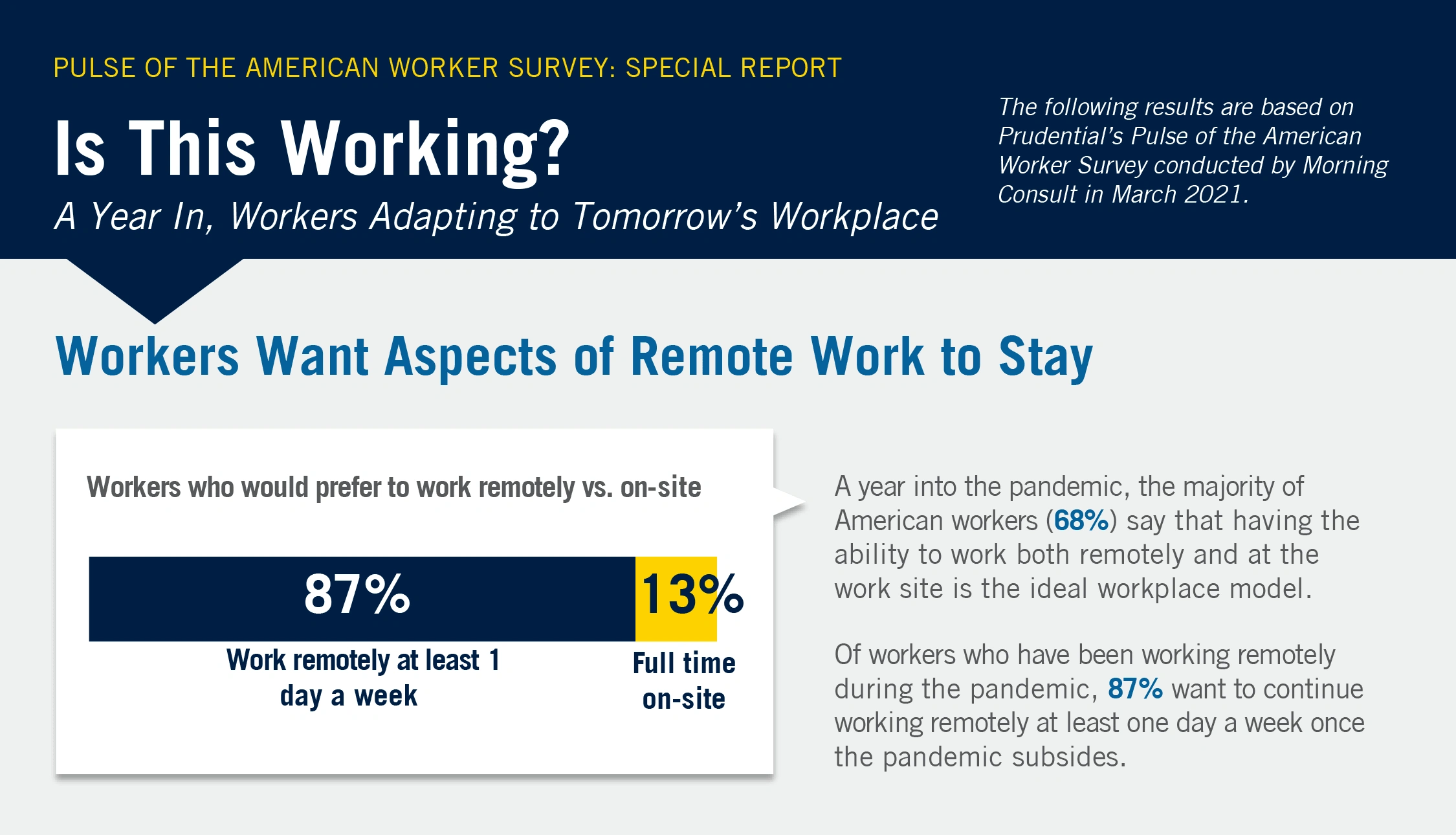 A recent study discovered that 9 out of 10 workers prefer at least some of their workweek to be remote.
More than 40% of those surveyed said they would quit their current job if their employer didn't offer remote work options.
The opinions among CEOs are split.
Big tech companies like Facebook, Twitter, Evernote, and Shopify have said they'll offer full-time remote options permanently.
Others are less enthusiastic and some are totally against remote work, like Netflix CEO Reed Hastings.
2. Employers look to close a new gender gap
In 2019, women represented 47% of the total labor force.
However, in the first wave of the pandemic, 60% of eliminated jobs were jobs that had been held by women.
The Harvard Business Review ran an analysis and found that women's jobs were 1.8 times more vulnerable to the pandemic than men's jobs.
They also pointed out that women make up 39% of global employment but account for 54% of overall job losses as of mid-2020.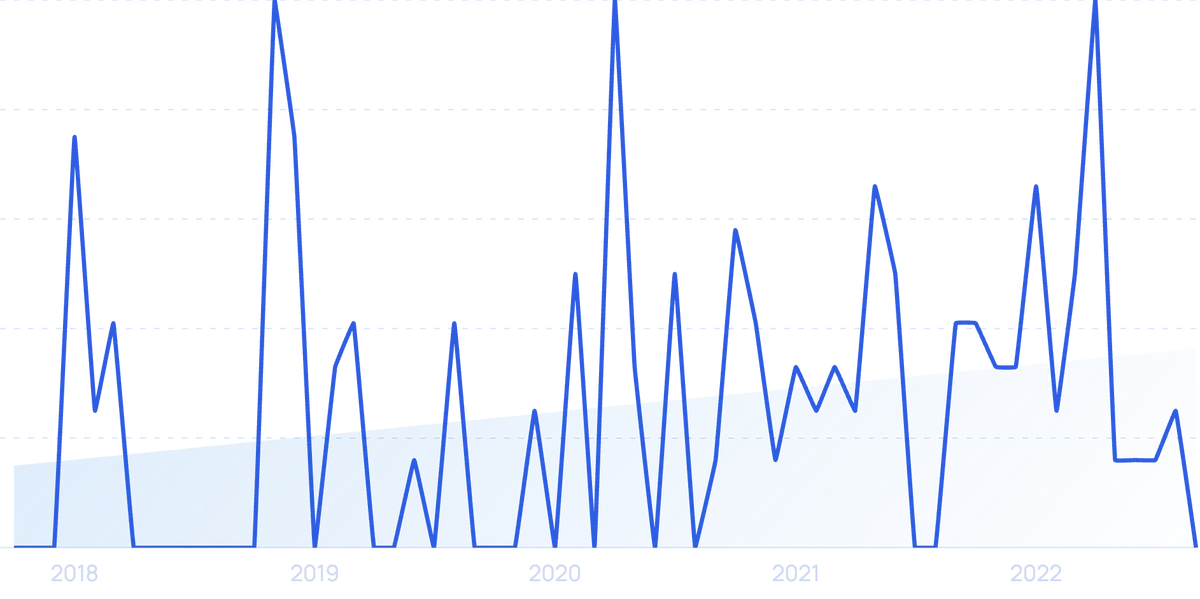 Searches for "women's unemployment" rose steeply during the pandemic and remain elevated over the last decade.
New data released in early January 2021 showed a similar gender gap.
In December 2020, women accounted for 156,000 job losses while men gained 16,000 jobs.
Comparing January 2021 to February 2020, women were still down 5.4 million jobs.
Men were down 4.4 million jobs.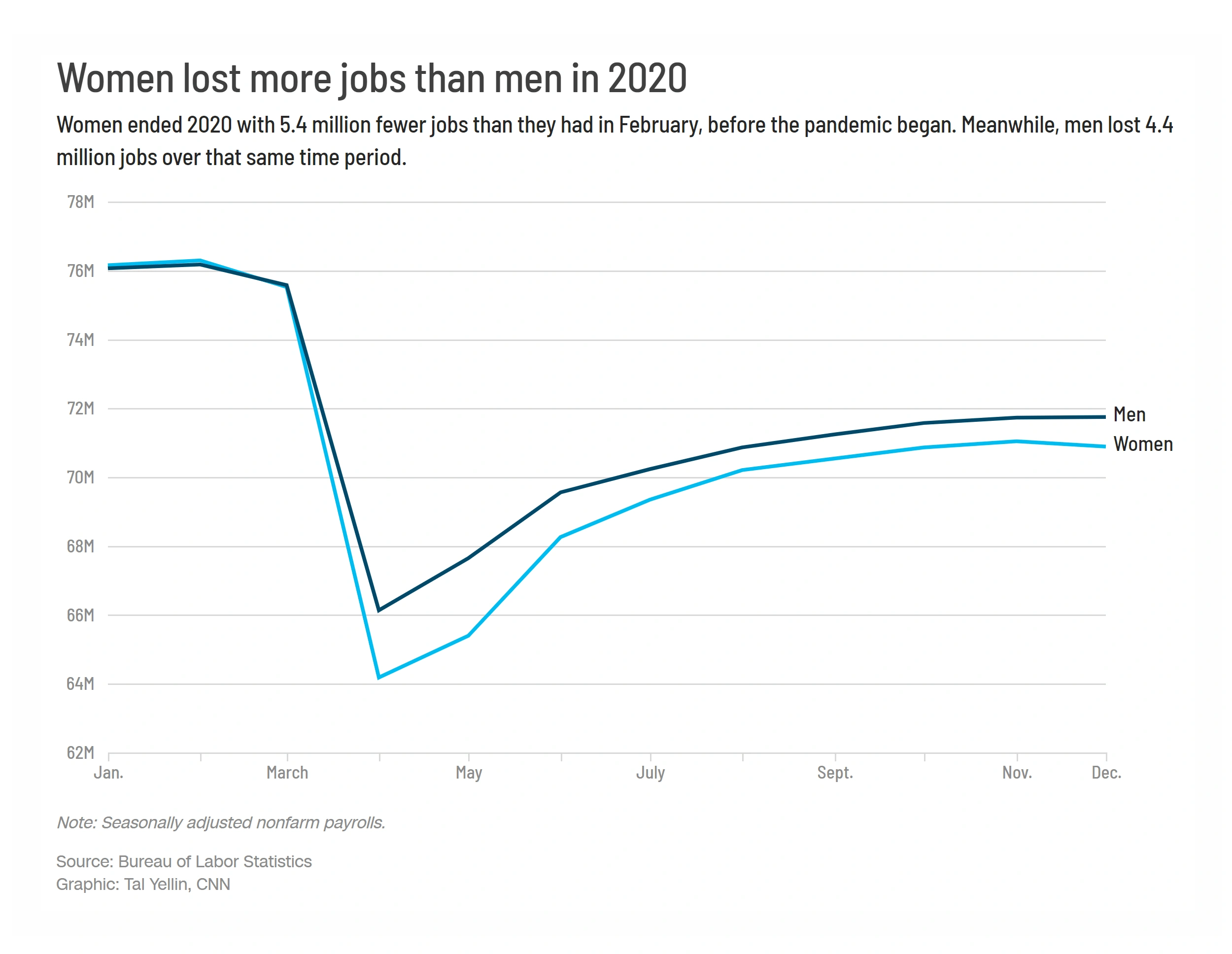 The loss of women's jobs is creating a new gender gap.
This shift in the workplace led to the use of the phrase "she-cession", first coined by C. Nicole Mason, the president and chief executive of the Institute for Women's Policy Research.
As the United States emerges from the worst of the pandemic, the data shows that even jobs typically held by women are going to men.
For example, women make up more than 53% of the leisure and hospitality sector.
But when the sector added 31,000 jobs in November 2020, women gained only 42% of those jobs.
McKinsey & Company estimates that "global GDP growth could be $1 trillion lower in 2030 than it would be if women's unemployment simply tracked that of men in each sector".
In April, the state of Hawaii Department of Human Services released a report with several recommendations regarding "A Feminist Economic Recovery Plan".
Amazon made a bold pledge for 2021: increase the number of senior-level females in tech and science roles by 30% year-over-year.
Some companies are creating or expanding their "returnship" programs, where people who've been out of the workforce can get a period of training before they're hired on permanently.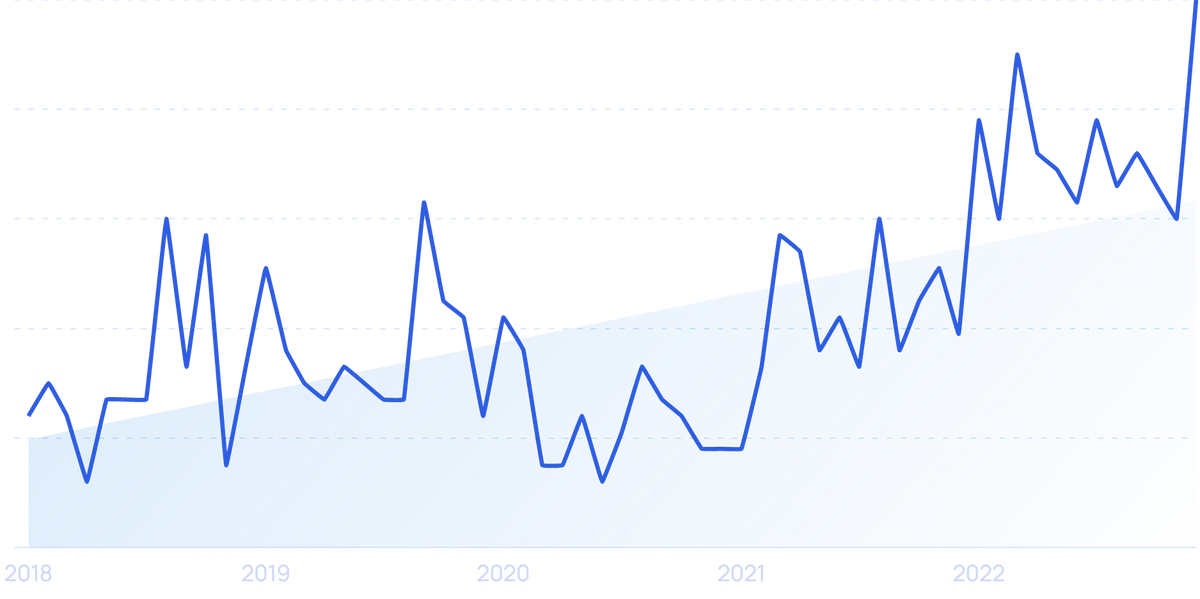 Searches for the term "returnship" have increased by 312% in 5 years.
Approximately 34% of Fortune 50 companies have these programs, and experts say more companies are showing interest.
The state of Utah also recently announced a similar state-wide returnship program in response to COVID-19.
3. Employees expect employers to address social issues
In recent years, employees have begun to expect more from their employers when it comes to choosing sides on social and political issues.
A Glassdoor survey reported that 84% of workers say that companies have an "important voice" in these situations.
That same survey found that 75% of employees between the ages of 18 and 34 "expect their employer to take a stand on important issues affecting the country and their constitutional rights".
Brian Kropp, the chief of research for the Gartner HR practice, predicted that this trend would gain even more traction in 2022 and beyond.
He cites Gartner research from 2020 showing that nearly 75% of employees want their employer to become more actively involved in cultural debates.
Kropp says the trend may go even deeper, saying: "Employees expect more".
Additional research from Gartner shows that the number of highly engaged employees increases 20% when the company takes action on social issues.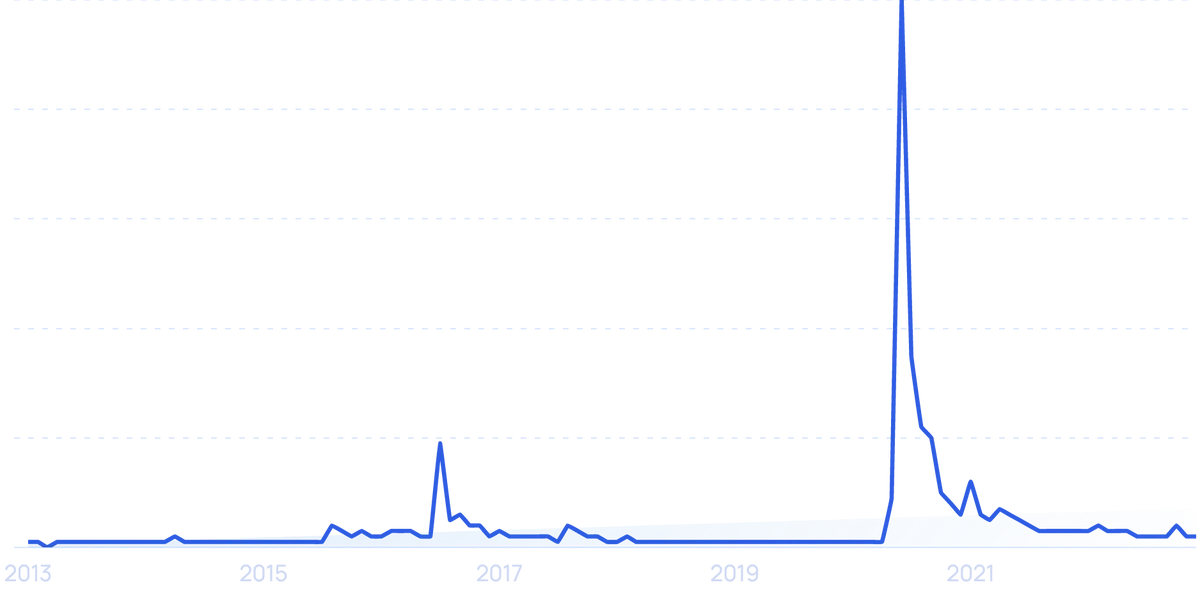 Searches for "black lives matter", a topic in which many corporations have taken an official stand on, have grown by 100% in the last 10 years.
In the years to come, companies may see more employees taking a stand for what they believe in, too.
Gone are the days of leaving politics out of the workplace culture.
A recent study said that 61% of employees say they feel comfortable talking to their coworkers about political matters.
Data from Sprout Social shows that nearly 80% of people believe that employees should speak up if their company takes an action that's against their corporate values.
Sprout Social also reports that more than half of these people believe that social media platforms like Twitter and LinkedIn are the best place to voice their concerns about their company's actions.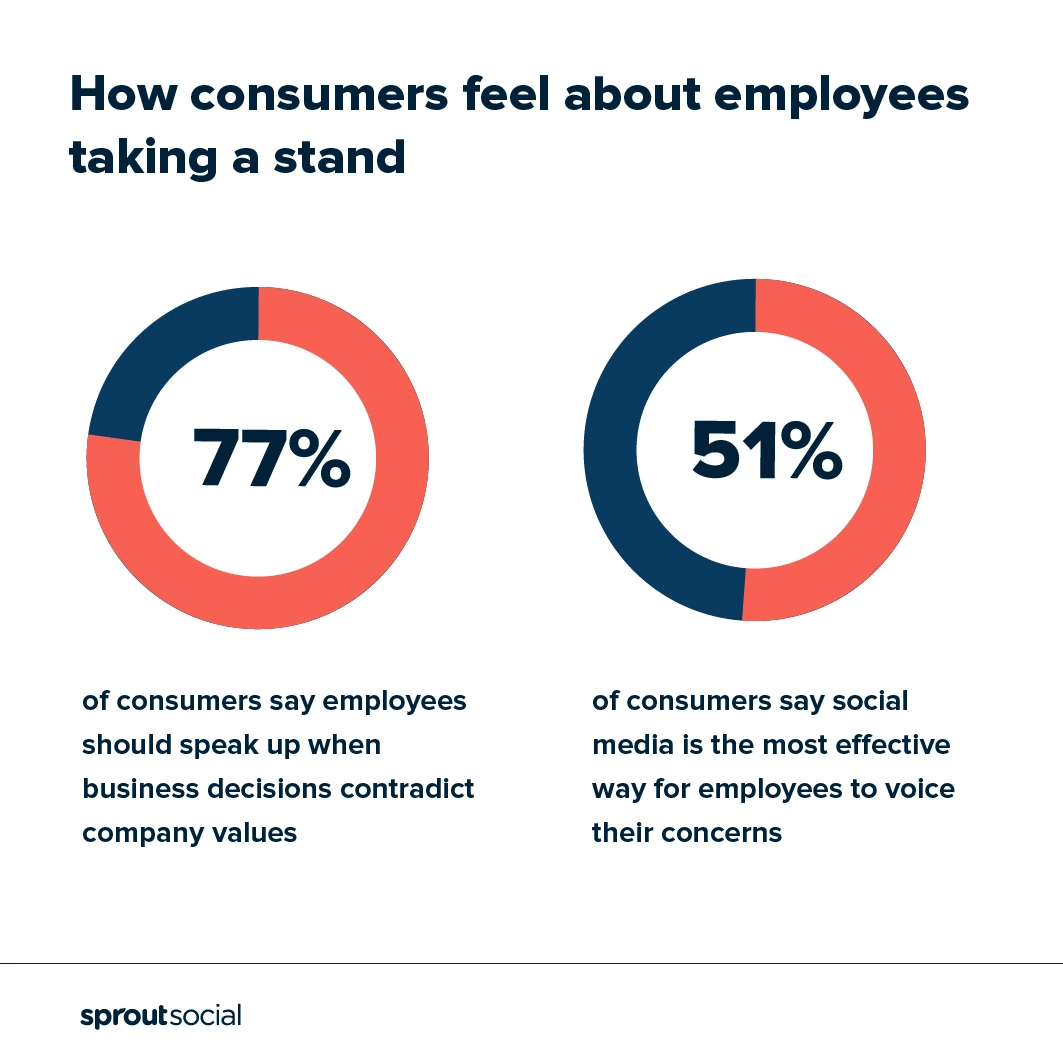 When hot-button issues arise, the vast majority of people believe employees should speak up.
Of course, we've all seen social media discussions that are fueled by political or social differences.
When it involves an employee and their employer, results may be disastrous.
A TV writer and a sports broadcaster were fired in 2020 after making social media posts that their employers found insensitive to the current social climate.
4. States incentivize remote work
Working from home during the pandemic was the norm for most of the country.
Now, some states and cities are taking full advantage of the power of remote work and are offering cash incentives to get people to relocate.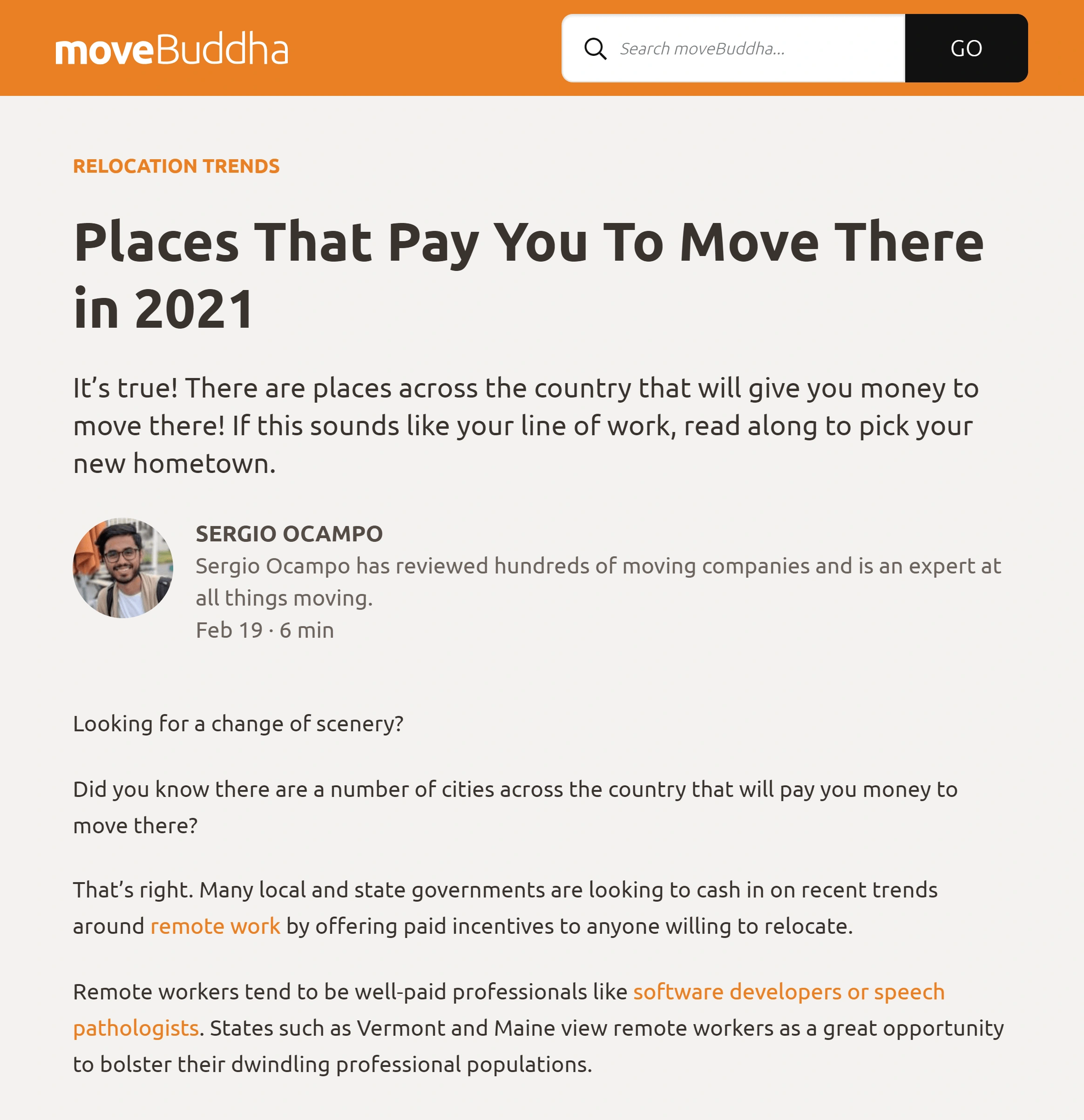 States are scrambling to attract remote talent.
Several of the factors in this trend resemble tax incentives for relocating corporations, but now states and cities are targeting individual workers instead of corporations.
Cities and states are looking at this strategy as a way to boost their tax revenue - remote workers are often well-paid.
They are also looking to build their base of professionals and establish themselves as a place where economic development is thriving.
Newton, Iowa, is offering individuals up to $10,000 to move to the city and build a new home.
Vermont's relocation program has enticed nearly 600 new people to call the state home.
Their program offers a $10,000 grant paid out over two years.
Southwest Michigan is especially targeting workers from Chicago because the commute is only 90 minutes - ideal for an individual who only needs to stick around for occasional meetings.
The state is offering up to $20,000 in incentives.
5. Businesses struggle with marijuana legalization
Marijuana is currently legal in some capacity in 38 states.
South Dakota, Arizona, Montana, and New Jersey are a few of the most recent states to legalize it.
However, cannabis remains a Schedule 1 drug at the federal level.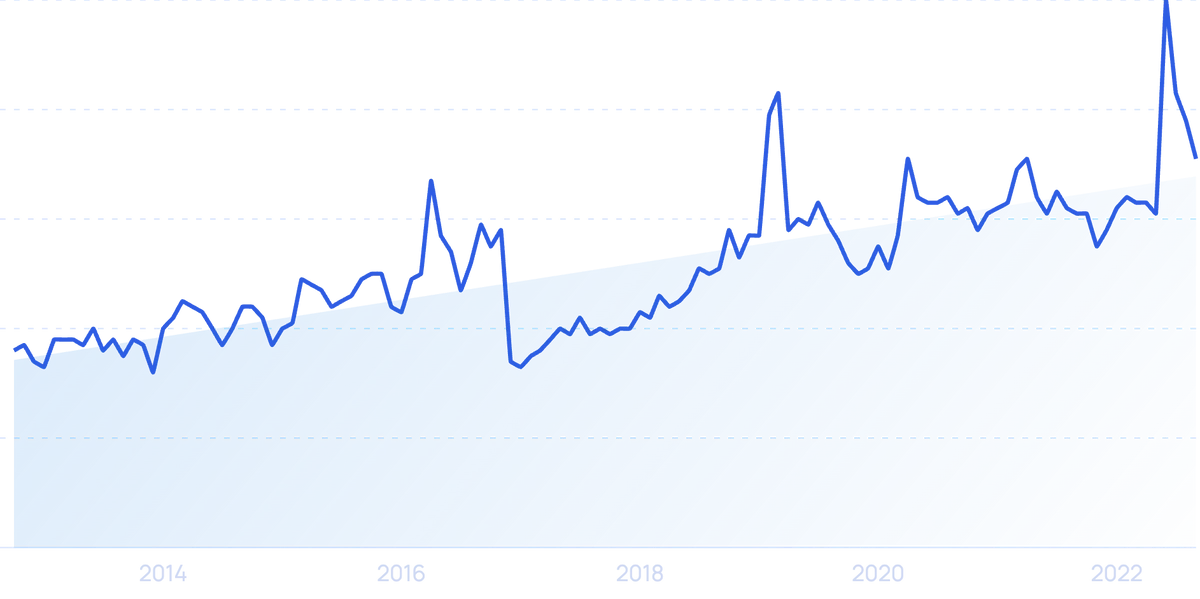 "Marijuana" search interest has grown 97% over the last decade.
Navigating the legality of marijuana use among employees is a challenge for businesses today.
And experts say it will continue to be a tricky issue because the federal government is not expected to legalize cannabis in the near future.
Of course, the argument is not whether or not an employee can be recreationally high at work.
However, there is debate regarding whether or not employees can use marijuana on their own time. And whether or not employers can discriminate against individuals using medical marijuana.
New Jersey, in particular, is one state that has inserted guidance for employers into its law.
The New Jersey Cannabis Regulatory, Enforcement Assistance, and Marketplace Modernization Act explicitly protects employees who use cannabis when they're not at work.
Businesses cannot take adverse action against an employee solely because that person has marijuana in his or her system.
However, they do still have the right to maintain a drug-free workplace and prohibit workers from using marijuana while on duty.
In total, nearly 20 states protect employees from getting fired because they're using marijuana off-duty.
For employers, this means that enacting company-wide policies is difficult.
Legal experts say that zero-tolerance marijuana policies may not be advised in the future.
And that companies may need to make accommodations for individuals with medical marijuana use much like they make accommodations for employees with other medical conditions.
6. Employers look for help during a talent shortage
In March 2021, there were 8 million job openings in the United States.
That number broke a record set back in November 2018.
However, businesses are having serious trouble finding people to fill those openings.
One report showed that 91% of business owners trying to hire have few or no qualified applicants.
More than 40% of owners say they have openings they cannot fill.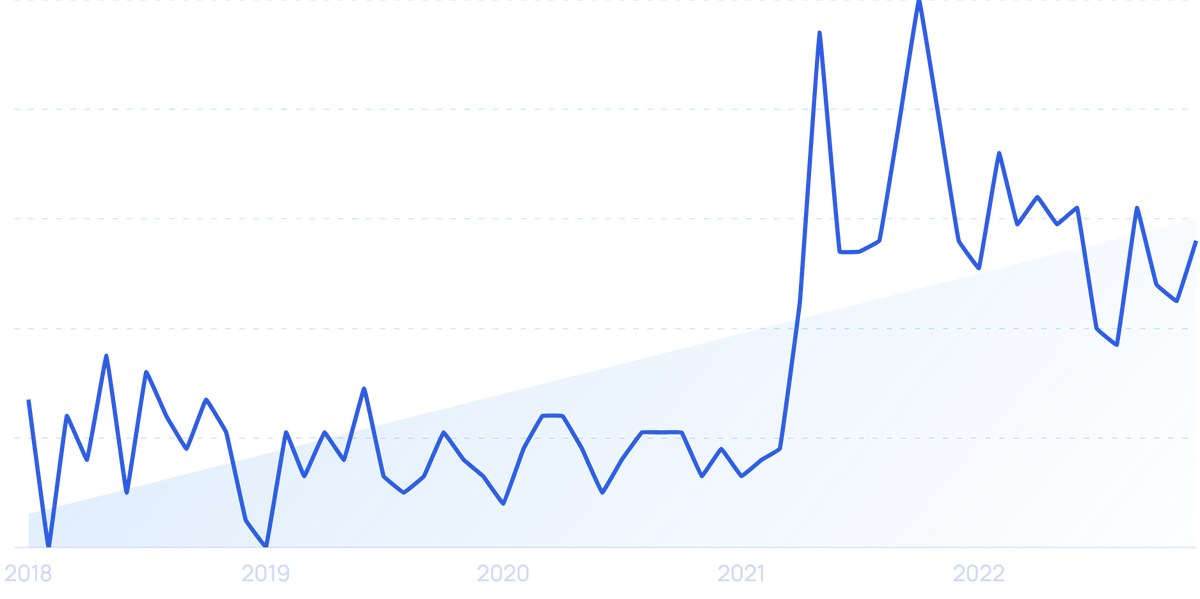 Searches for "employee shortage" have increased by 110% in the past 5 years.
Economic experts cite a few reasons for this trend. In some states, schools and daycare centers have not fully reopened, making it nearly impossible for parents to go back to work.
For example, in March 2021, The Washington Post reported that "60% of fourth-graders and 68% of eighth-graders [are] at home at least part of the school week".
As of late May, data from Burbio showed that 30% of children are still not attending traditional, everyday school.
However, most cities and states that emphasized virtual learning this year have stated they will return to in-person learning in the fall.
Others believe that extra federal unemployment benefits are keeping workers at home.
In May 2021, some states started taking financial incentives a step further.
New Hampshire is offering $1,000 for certain individuals who return to work, Arizona is offering $2,000, while Montana and Oklahoma also have similar programs.
7. Employers focus on employee mental health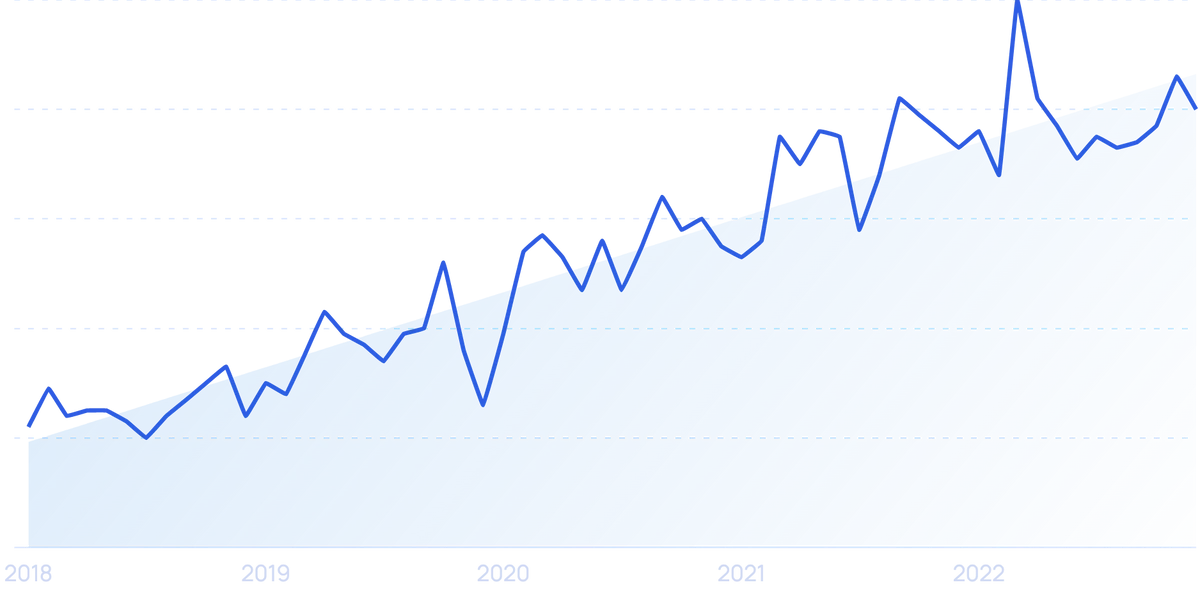 Searches for "employee wellbeing" have increased by 263% in 5 years.
Employers of all sizes are focusing on the overall wellness of their employees.
And they're tackling the problem using several different strategies.
For example, SHRM reports that many HR departments are proactively reaching out to employees.
Not only to gauge current levels of engagement. But to prevent employees from withdrawing from their coworkers. And to remind them of the healthcare options they have available.
Others are creating work environments (both real and digital) designed to foster collaboration between remote employees.
For example, Thriver is a SaaS startup that's designed to promote company culture among remote teams.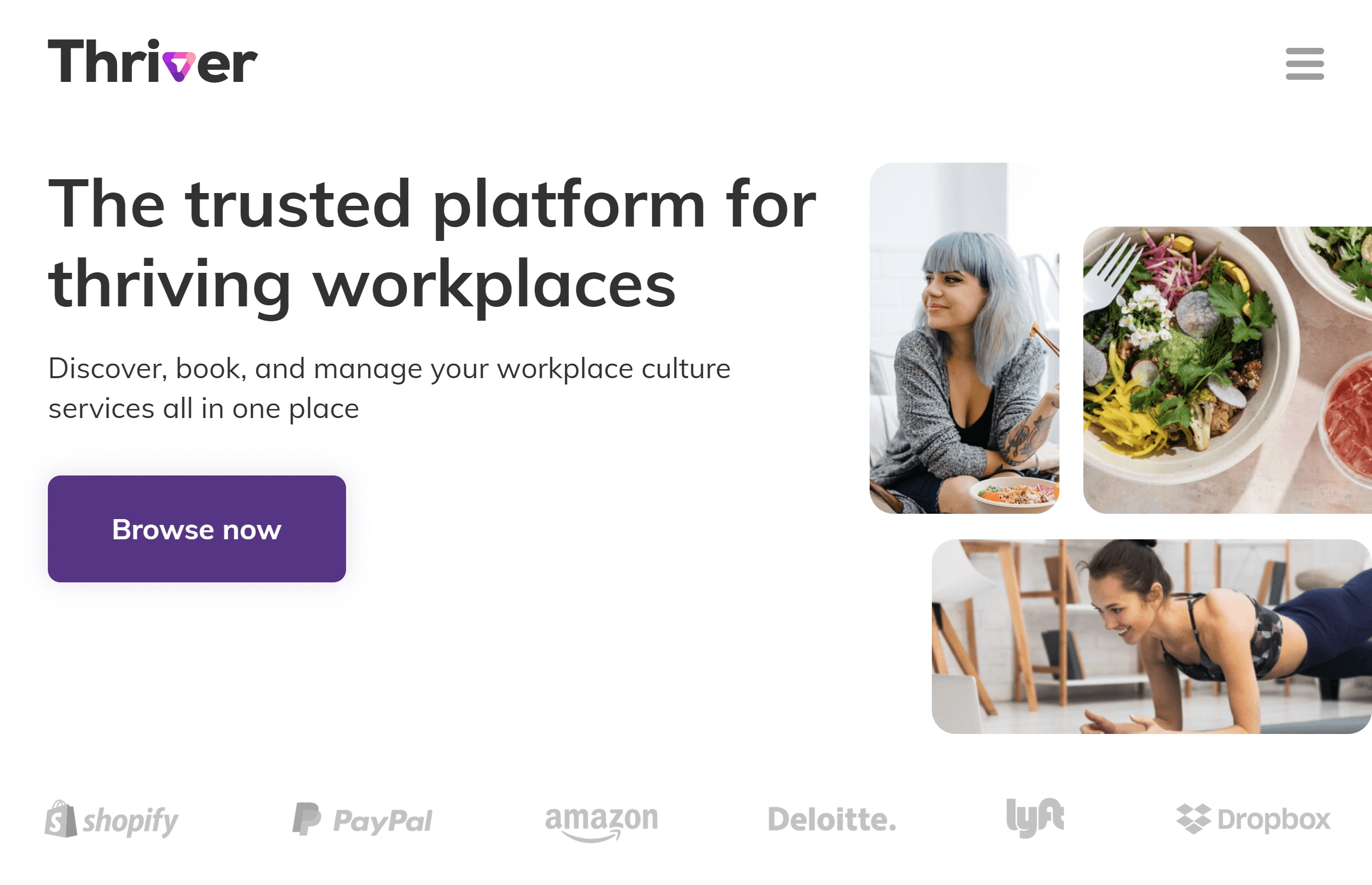 Thriver is a remote work tool not really designed for productivity. Instead, to help employees connect.
Conclusion
That completes our list of the seven key trends impacting the workplace in 2023 and beyond.
Experts say many of the dramatic changes that shifted the workplace in the last couple of years could continue well into 2026. However, some employers are likely to hang on to the old way of doing things.
Will their businesses outlast the trends? That remains to be seen.