6 Advertising Trends to Watch 2023-2025
You may also like:
Not surprisingly, the advertising industry was rocked by the pandemic.
As uncertainty took over, spending dipped last in 2020.
But ad spending is expected to overtake to pre-pandemic levels (approximately $254 billion) in 2023.
So, what changes can we expect? We've put together 6 of the top digital advertising trends for 2023-2025.
1. Video ads get shorter and shorter
Mobile video ad spending in the US is estimated to reach $53.9 billion by 2025.
You can expect the vast majority of that newfound ad spend to go to short-form video ads.
Today's consumers have little patience for long videos.
In fact, more than 25% of adults say they'll close out a video after only 10 seconds.
More than half say they'll close it after 20 seconds.
One analysis found that Instagram videos should be no longer than 30 seconds, Twitter should be limited to 45 seconds, and Facebook videos should stop at 1 minute.
Look for more and more ad specialists to stick to these guidelines — even going a bit shorter — in the coming years.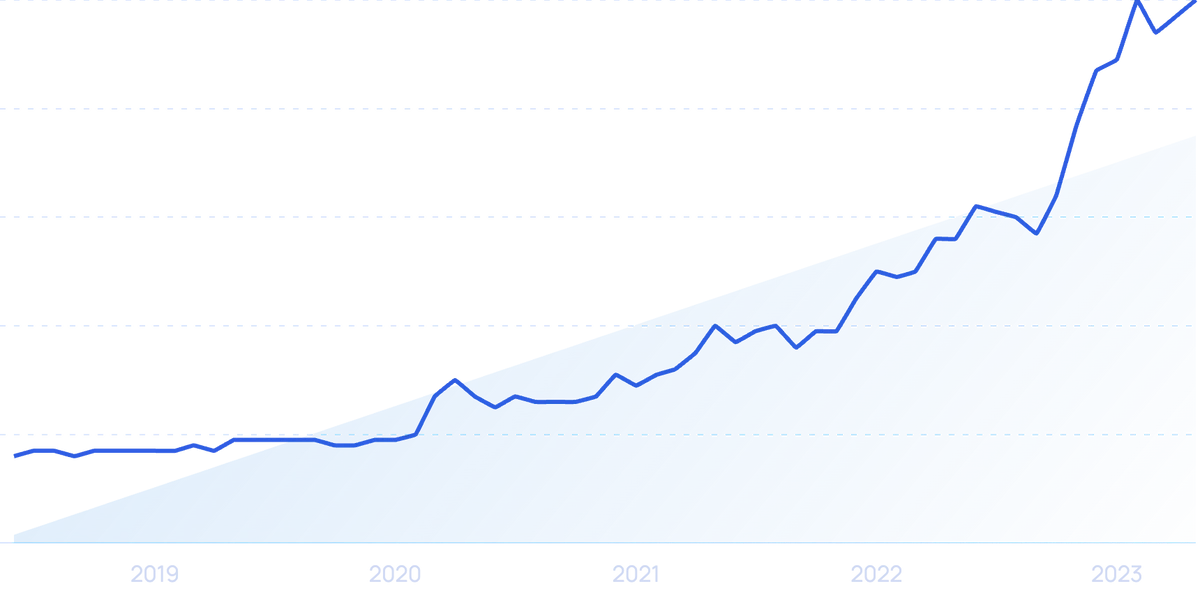 Searches for "Instagram video" have increased 525% over the past 5 years.
Some brands are trending toward ultra-short, but incredibly engaging, ads to beat the dreaded "skip" button on YouTube.
For example, Hefty created a six-second "Party Hefty" ad series aimed at brand awareness.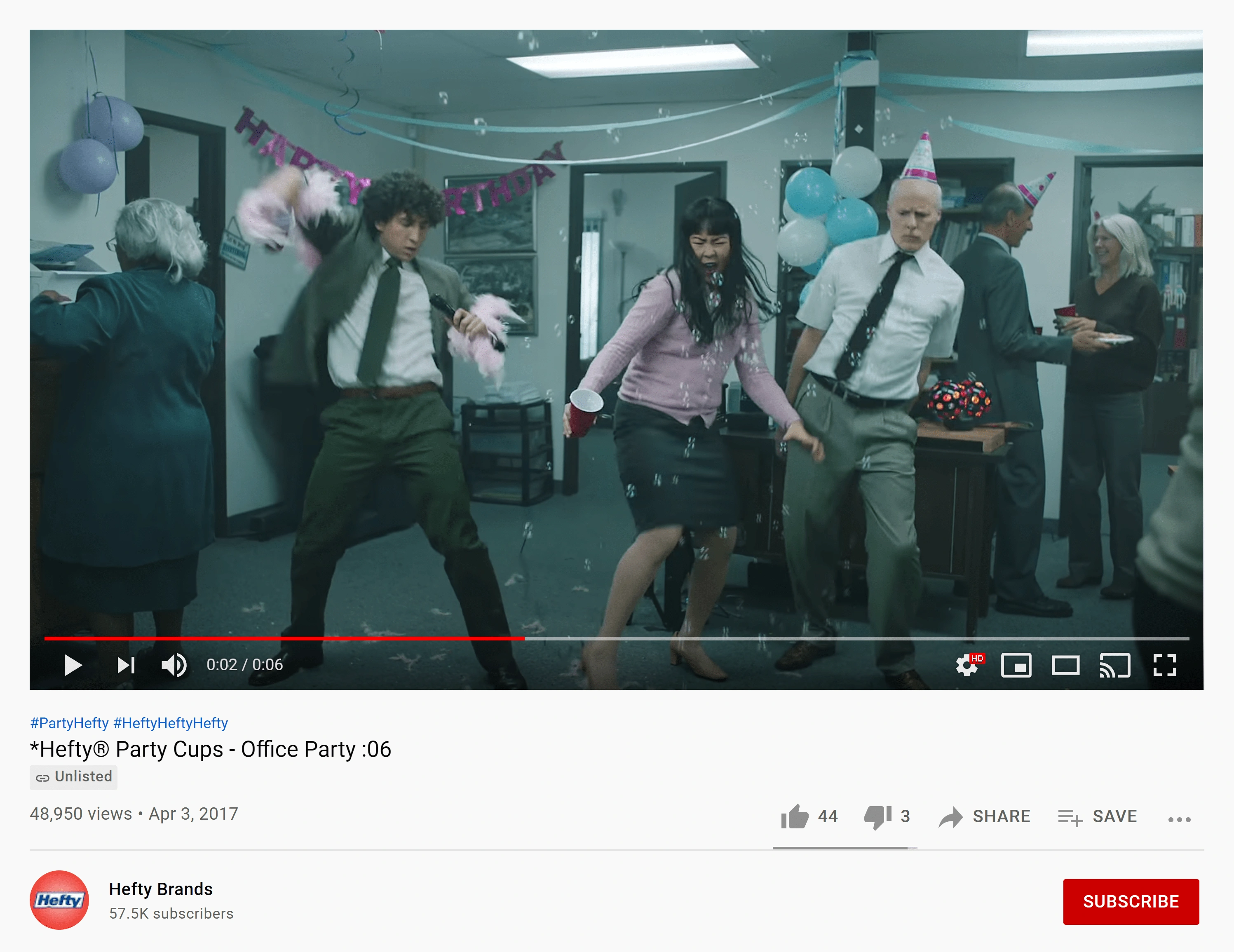 Hefty's video marketing campaign was designed to encourage users to not click the "skip ad" button on YouTube.
A recent Wyzowl report shows that nearly 100% of current video marketers say they'll continue using video strategies.
More than 95% of them plan to maintain or increase their budget for video.
Nearly 70% of marketers who didn't use video say they planned to start in 2021.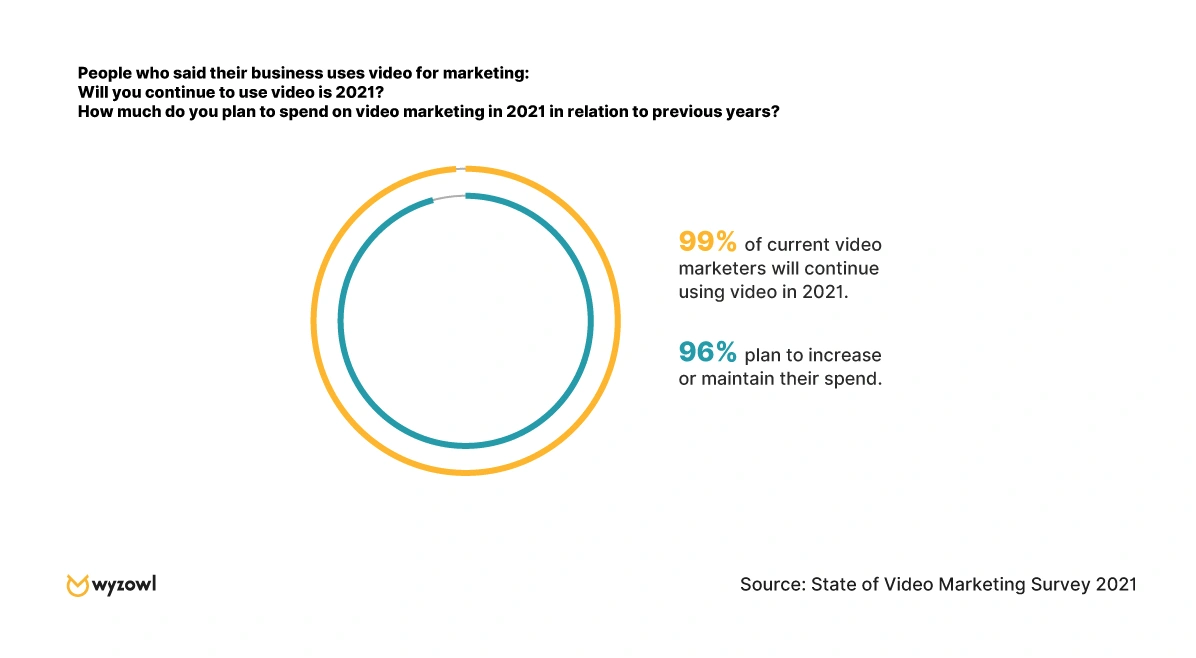 Video is likely to account for a large percentage of advertising dollars in the coming years.
2. Ads lose the sound
We've all been there.
We're on a webpage when a video ad we can't see starts to play at full volume.
It turns out that this type of situation annoys a fair number of people — 66% of people say they hate it when video ads automatically play with sound.
Outstream video is one option that may be a popular alternative in the coming years.
These types of videos are integrated into the content the user is reading.
They start playing without volume when the user scrolls over them and pause once they are out of view.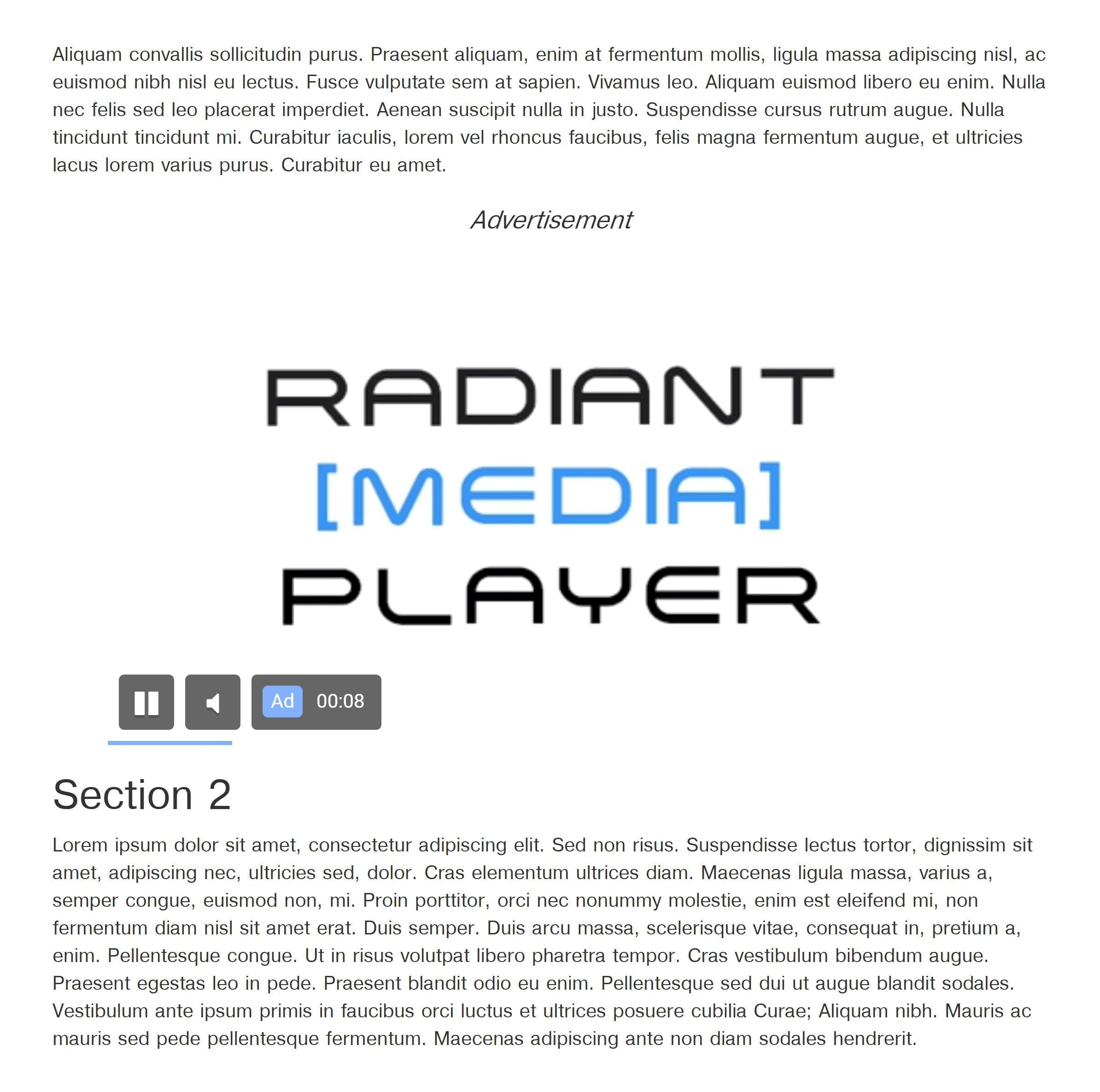 Example of an Outstream video ad.
Statistics say that outstream ads have a higher CTR (click-through rate) and longer engagement rate than in-stream video advertising.
One mid-2020 report stated that advertisers are paying as much as $45 per thousand impressions on outstream ads.
Captions on social media ads are another way advertisers are adapting to this trend.
Digiday reports that 85% of Facebook users watch videos with the sound off.
A recent study by LinkedIn found that 79% of videos on their platform are viewed without sound.
Facebook reports that videos that use captions increase viewing time by 12%.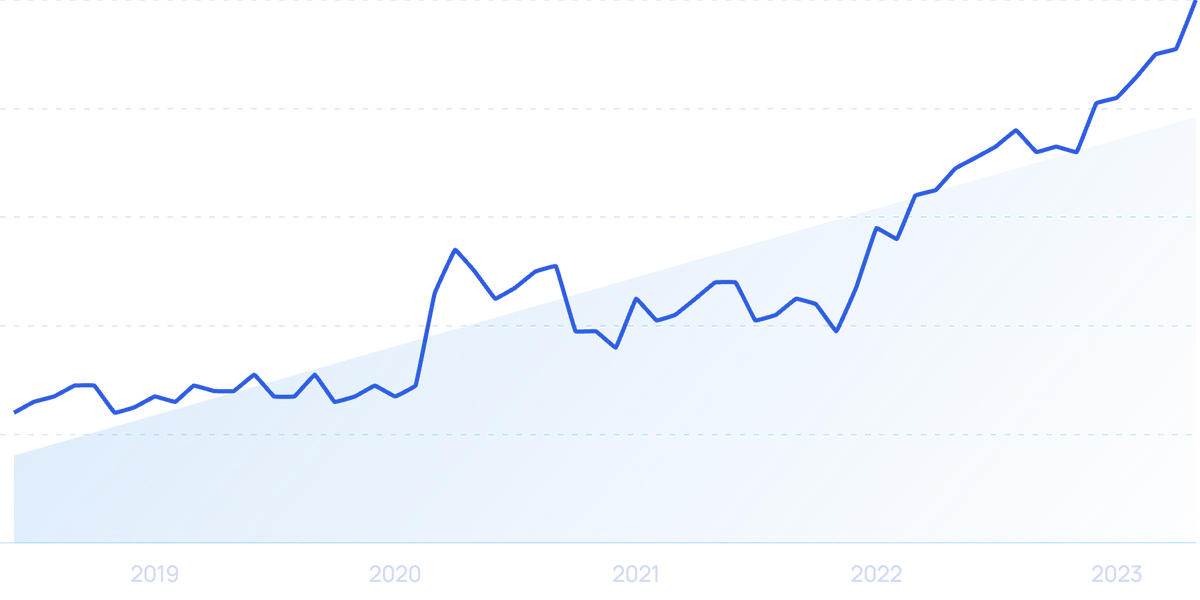 Searches for "video captions" have increased 316% in 5 years.
Animated ads are another easy-to-digest format for consumers that don't want sound.
Businesses use ads with graphics in order to make content easier to comprehend and emotionally captivate their target audience, too.
Slack, the business communication platform, frequently uses animation to make impactful ads.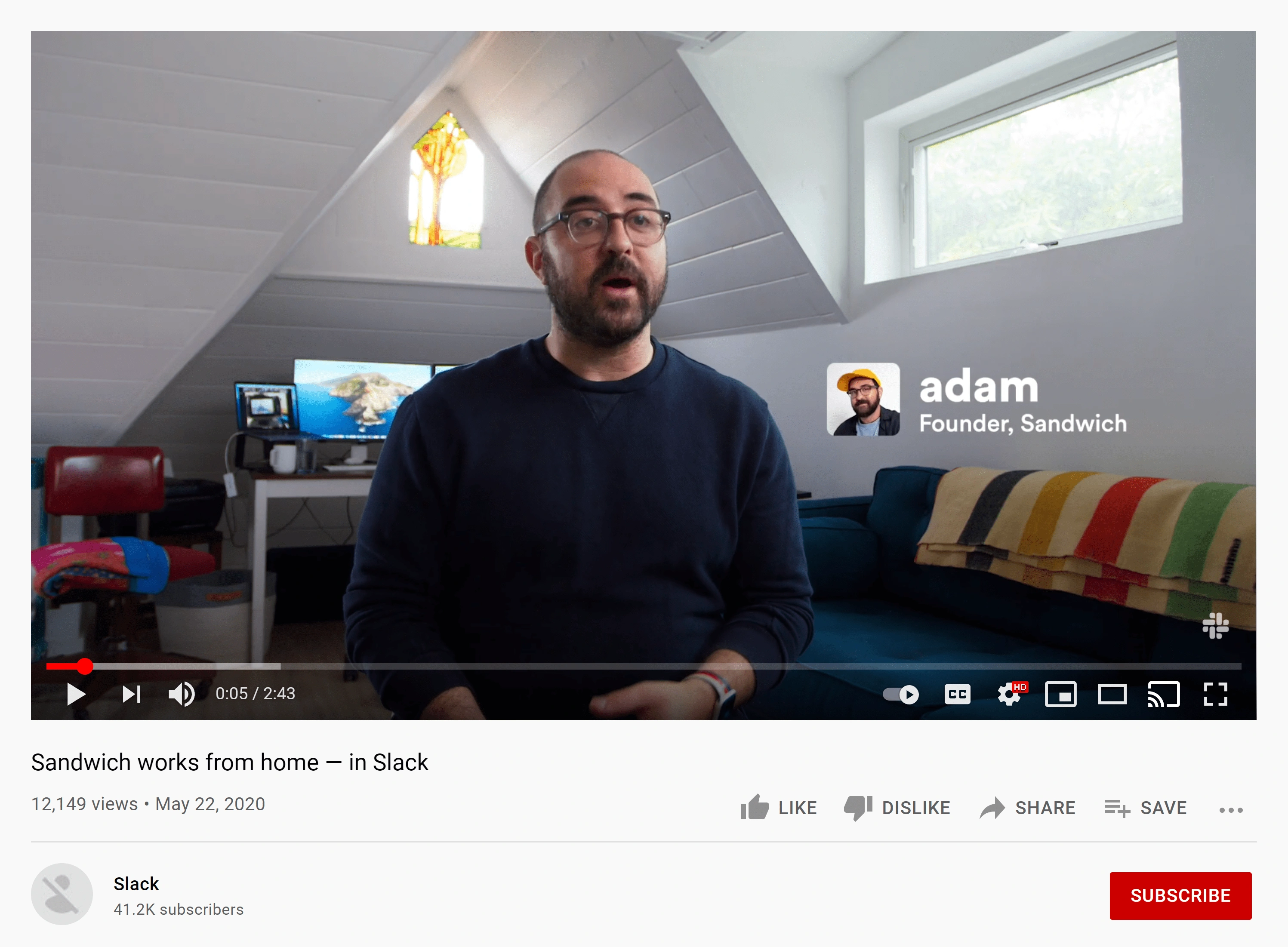 Slack's video ads are designed to simplify what their platform does.
It's just one of the reasons they are the fastest growing SaaS company ever.
3. Advertisers capitalize on the popularity of mobile gaming
During 2020, downloads of mobile gaming apps increased 45% — that's compared to 35% growth in 2019.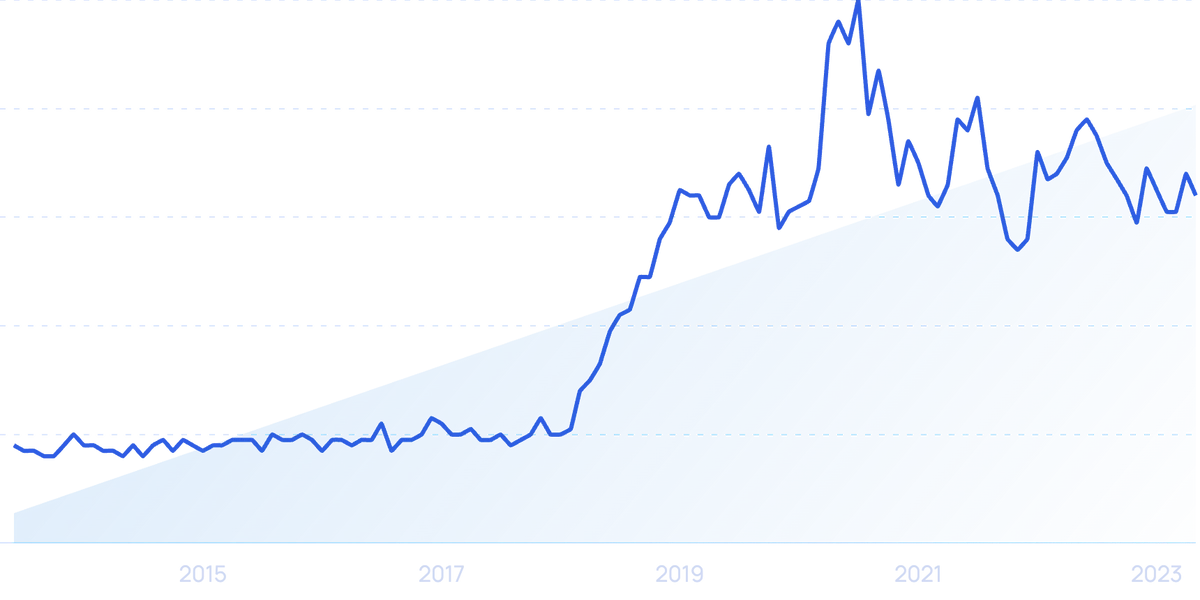 Searches for "mobile gaming" surged during the early months of the pandemic and have grown 255% over the past 10 years.
The vast majority of video game users are incredibly invested in their play.
Nearly 70% say they would give up social media or TV before they'd give up mobile gaming.
In that same study, users said they're twice as likely to pay attention to in-game display ads than they are to ads on the internet.
Along with typical banner ads, there are interstitial ads and "reward" ads on mobile gaming apps.
Interstitial ads are put at stopping points in the game, so they don't feel unnatural to the user.
They also take up 100% of the users' screen.
Reward ads offer users game points, currency, or another gaming-related benefit for watching the entire video ad.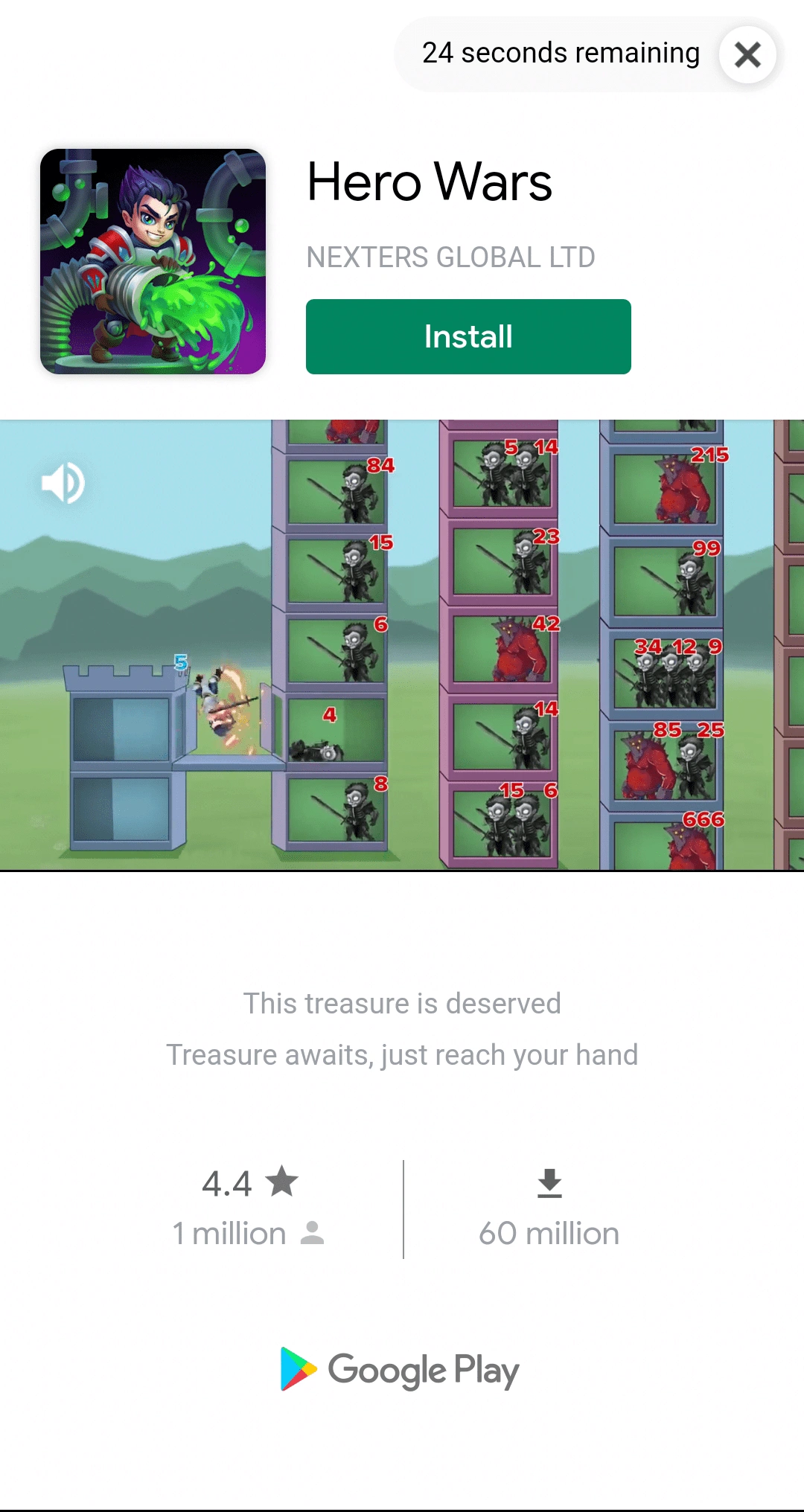 Example of a reward ad.
This type of ad offers much better engagement rates and a $30CPM.
Statistics show that users don't mind watching these ads.
More than 70% of gamers said watching video ads is their preferred way to "pay" for in-game content.
One marketing firm reports, "Verticals such as healthcare, consumer packaged goods, and automotive, have run campaigns via gaming ad formats and have seen engagement increase by 10% year-over-year, and completion rates of 90%".
Some advertisers have ignored mobile gaming marketing because of the perception that the large majority of gamers are made up of a single demographic: male teenagers.
However, data shows that 46% are women — that's 1 billion women. And, 40% of gamers are between the ages of 25 and 44.
AdColony, an agency focused on mobile ads, reports that major companies are jumping on this trend.
Unilever, Coca-Cola, and Ford are already "investing heavily" in in-game ads.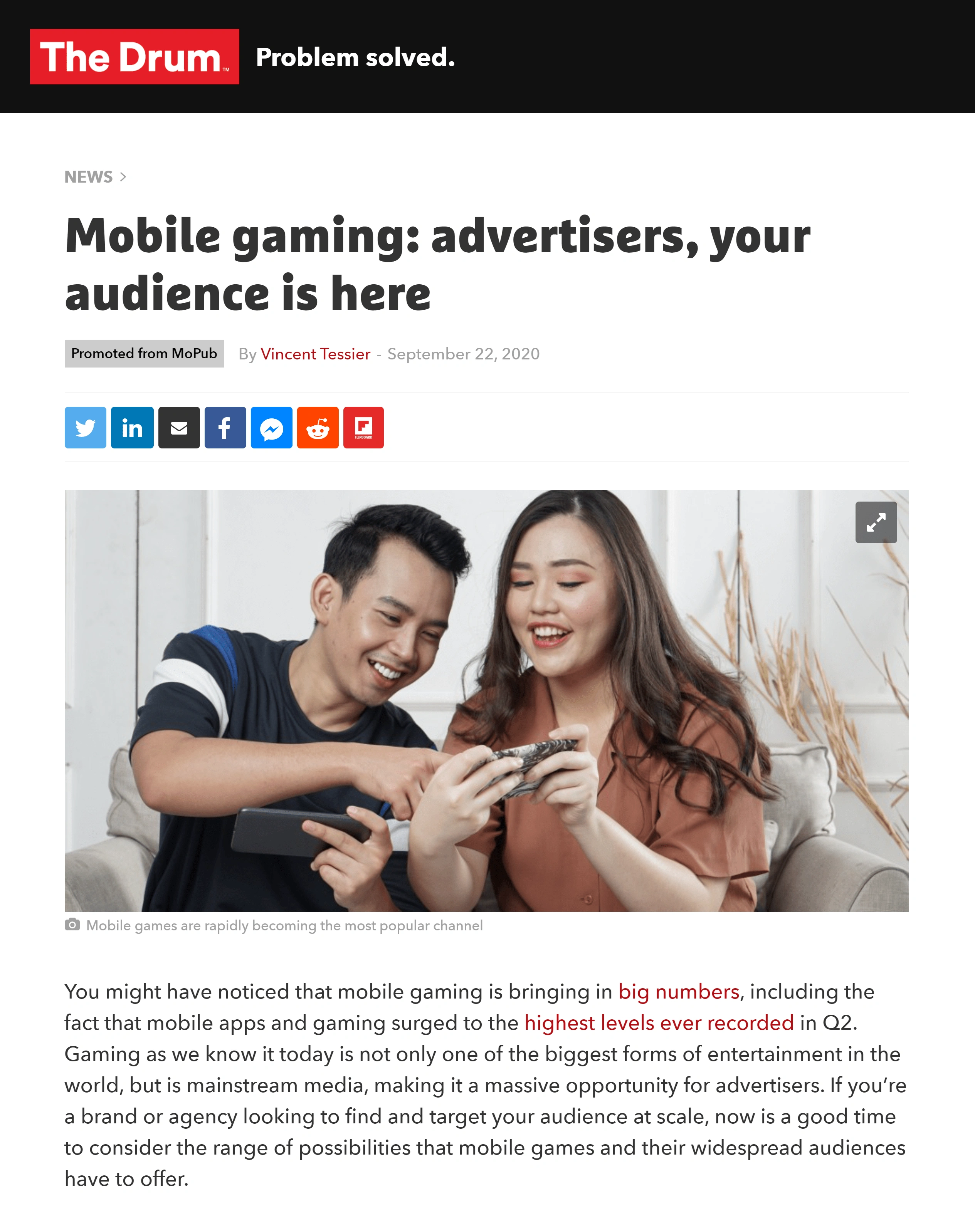 Fortune 500 brands are starting to make in-game ads part of their marketing strategy.
Molson Coors Beverage Company also recently increased its focus on ads in gaming apps.
The company saw many 21 to 24-year-olds get into mobile gaming in response to the pandemic and shifted the brand's ad budget to capture their attention.
4. AI takes a prominent role in advertising
Artificial intelligence and machine learning are sparking a revolution in a variety of businesses.
The AI industry was measured at $9.5 billion in 2018, $27 billion in 2019, and is expected to grow to more than $250 billion by 2027.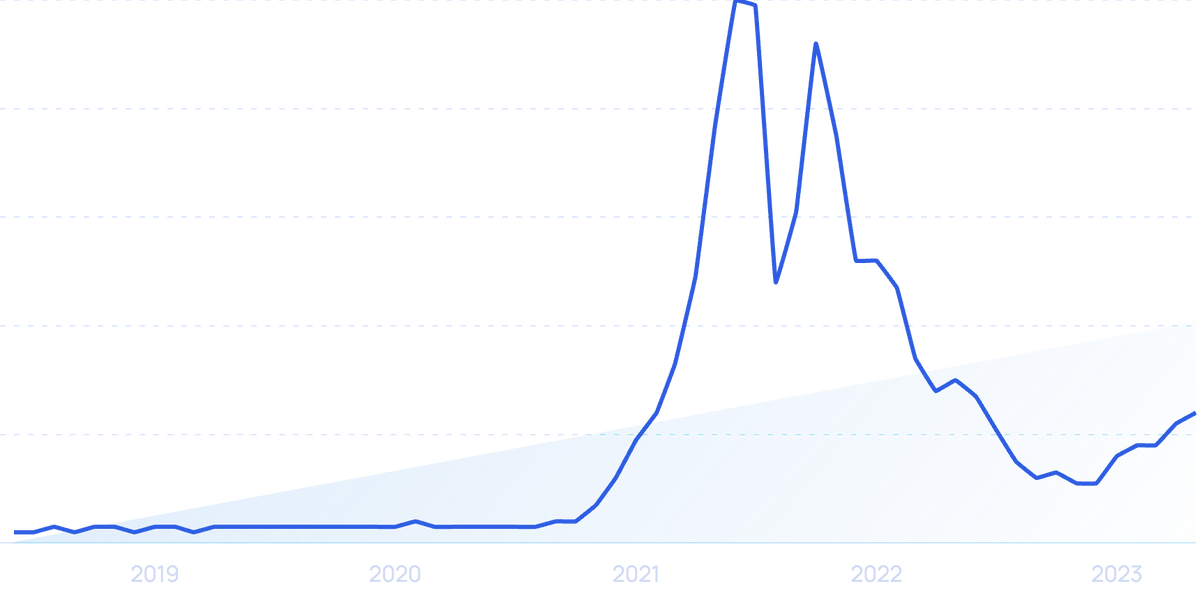 Searches for "AI marketing" have exploded, growing 1,100% in the past 5 years.
One survey asked marketers which single activity they thought would make the largest impact on their business.
The no.1 response was content marketing with 20%.
But nearly 13% answered with artificial intelligence.
SEMrush recently reported that AI technology is most widely prioritized in marketing and sales departments compared to other company departments.
In 2020, the Interactive Advertising Bureau estimated that 80% of digital media marketers would be using AI in some way.
In marketing and advertising, AI is making a real impact in terms of data analysis and efficiency.
One stat shows that every week "marketers waste 5 hours and 36 minutes trying to improve their data processes (and fail)".
Advertisers are using AI tools to improve the way they test and optimize impressions, click-through rates, bid levels, and targeting.
(Essentially automated programmatic advertising.)
Rather than humans spending days or weeks doing this work, AI tools can see patterns in the data and predict what will perform best, all in seconds.
As one digital marketing professional put it, "Implemented consistently and to its full extent, AI understands consumers better than they do themselves."
One company, RedBalloon, was spending $45,000 per month on PPC advertising.
Then, they put an AI program into place. The machine could test 6,500 variations of a Google text ad every day. The company now averages a 1,100% return on ad spend.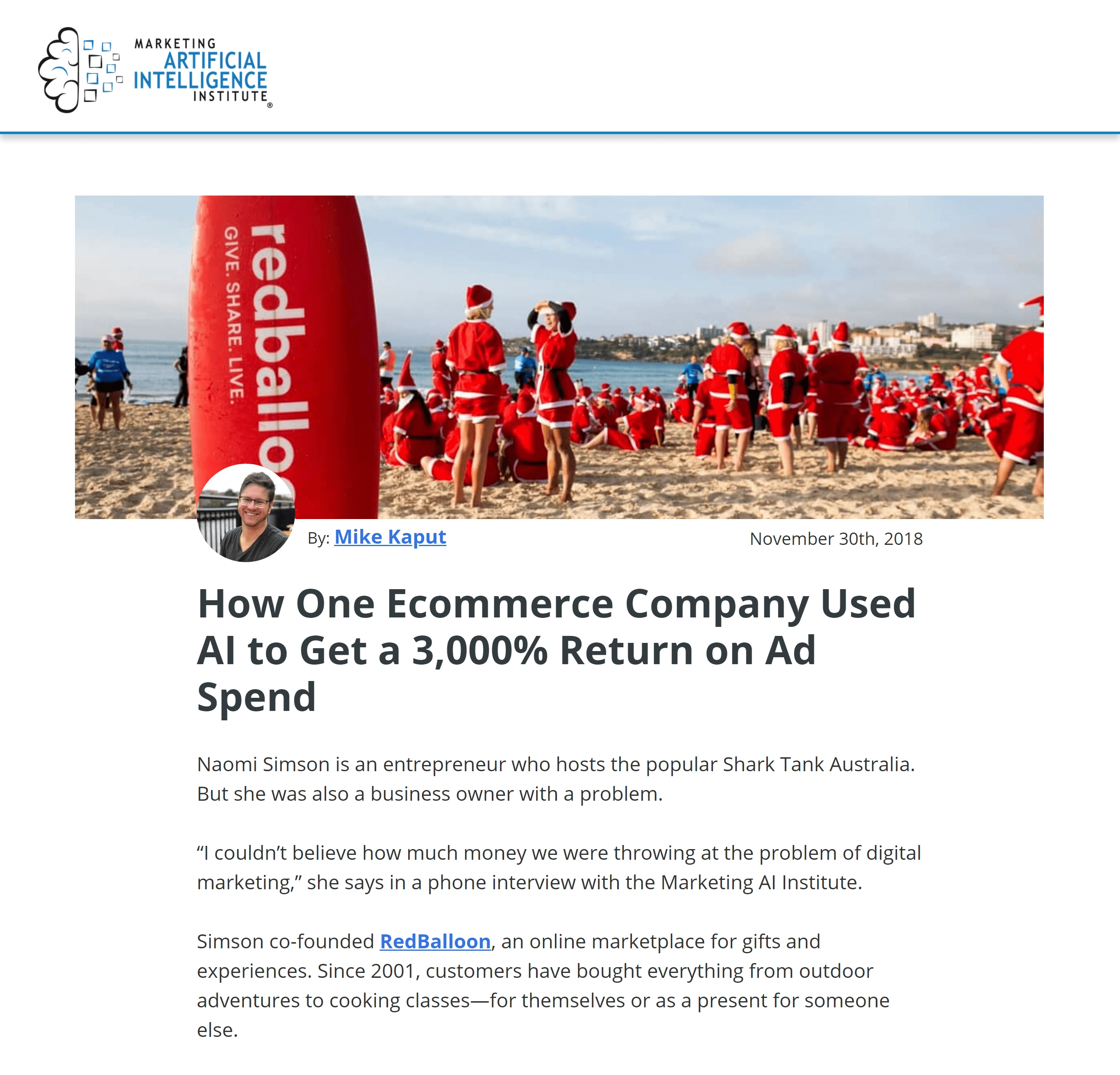 An ecommerce company used AI to help them split test Google ads. And it dramatically improved their ROI.
Phrasee, an AI program that generates and optimizes ad copy, worked with Wowcher, a deal-of-the-day site, on a recent Facebook ad campaign.
They tested human copywriting versus Phrasee copywriting — the AI ads decreased the cost-per-lead by 31%.
Strike Social, a digital ad agency focused on machine learning, says that their AI tools work so efficiently that their clients' media buying teams can manage up to 25x more campaigns than usual.
5. Consumers demand authenticity in social media ads
As advertisers seek out improved efficiency through non-human resources, consumers - especially Gen-Zers and Millennials - are at the other end of the spectrum.
They're calling for more authentic messaging from brands and in the ads they run.
Studies have shown that more than 75% of consumers say they trust content from average people more than content from brands.
Marketing and ad professionals are turning to social media to create a balance between typical brand content and user-generated content that conveys the human side of the brand.
Influencer marketing is one way the advertising industry is working to humanize its brands.
As of 2022, the influencer marketing industry was estimated to be worth approximately $15 billion.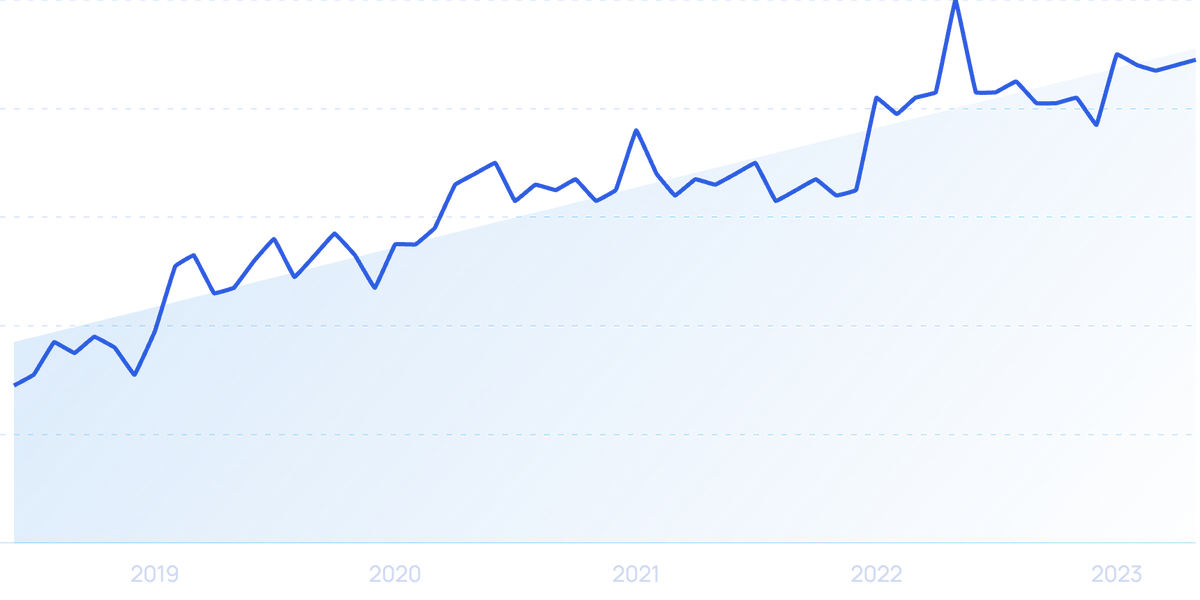 "Influencer marketing" searches have increased 206% in 5 years.
In one example, the classic dinnerware company Lenox used influencers as a part of their overall strategy to help reinvent the way young consumers see their products.
They partnered with 32 influencers who displayed Lenox's dishes in a variety of home-based, but non-traditional, settings.
The campaign received nearly 900 link clicks and surpassed potential reach estimates by almost 400%.


Lenox ran a very successful social media campaign that utilized influencers.
Other companies have invested in non-paid brand advocacy strategies through social media.
Some companies call on dedicated employees to serve in a pseudo-influencer role.
Many businesses are tapping into their existing fan base.
Nearly 70% of companies are using or plan to use employees as advocates on social media.
EveryoneSocial reports that content shared by employees reaches 561% further than the same content shared through a brand's official social media channels.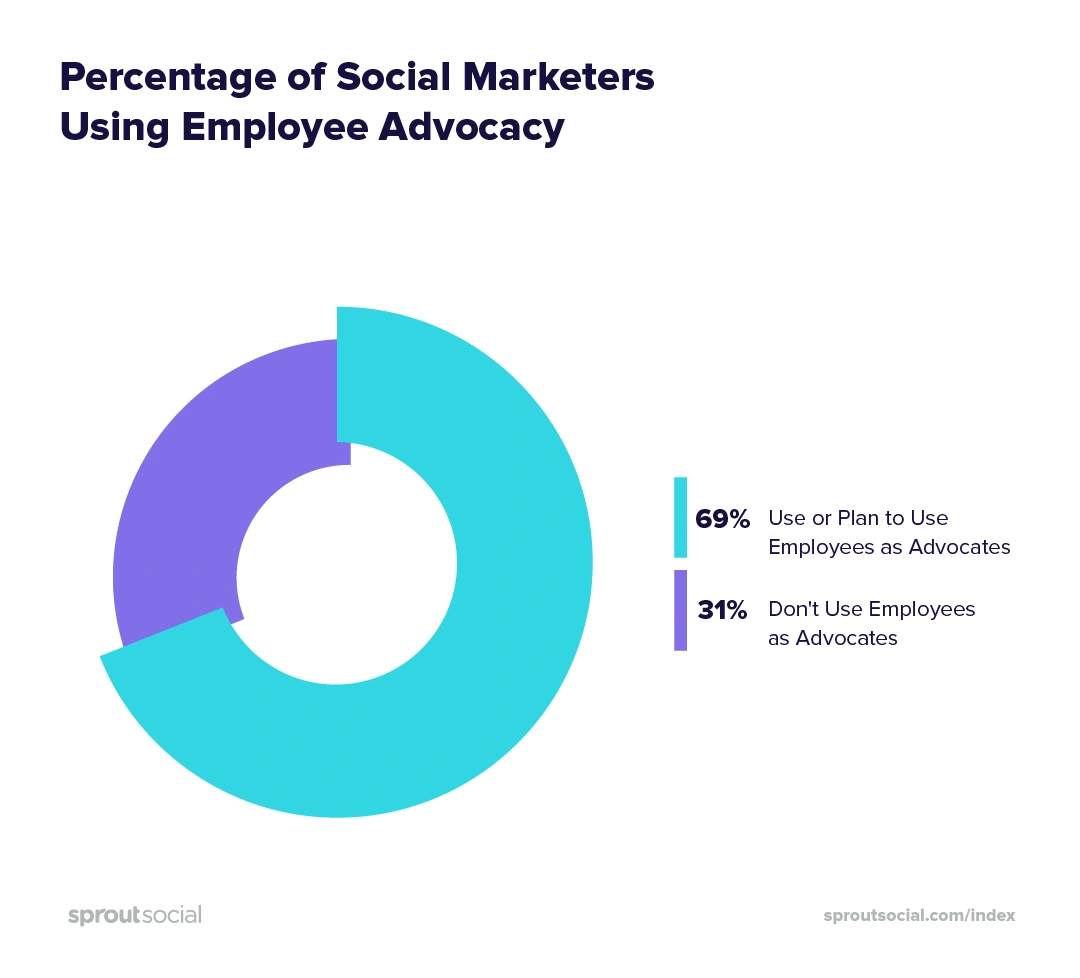 The majority of marketers are using their employees in brand advocacy roles.
According to a 2021 report, 75% of marketers say that adding content from users makes a brand's message more authentic.
REI is one company that's created a loyal customer base willing to share their stories on social platforms.
On Instagram, #REIchallenge has over 17 thousand posts, and #optoutside, another hashtag the company started, has more than 19 million posts.
6. Amazon dominates the ecommerce ad space
According to eMarketer, ad spending on ecommerce sites has increased nearly 40% over 2019.
Amazon is, by far, the major player in this ad space.
In fact, Amazon accounts for more than 75% of overall eCommerce ad spending.
Amazon's overall ad revenue exceeds $7 billion. They are followed by Wal-Mart, with ad revenue of just over $1.5 billion.
The company's ad revenue grew 23.5% overall in 2020. In the final quarter of 2020, they saw a 64% increase in ad revenue year-over-year.
Reports from early 2021 show that Amazon captured 10% of the US digital ad market in 2020.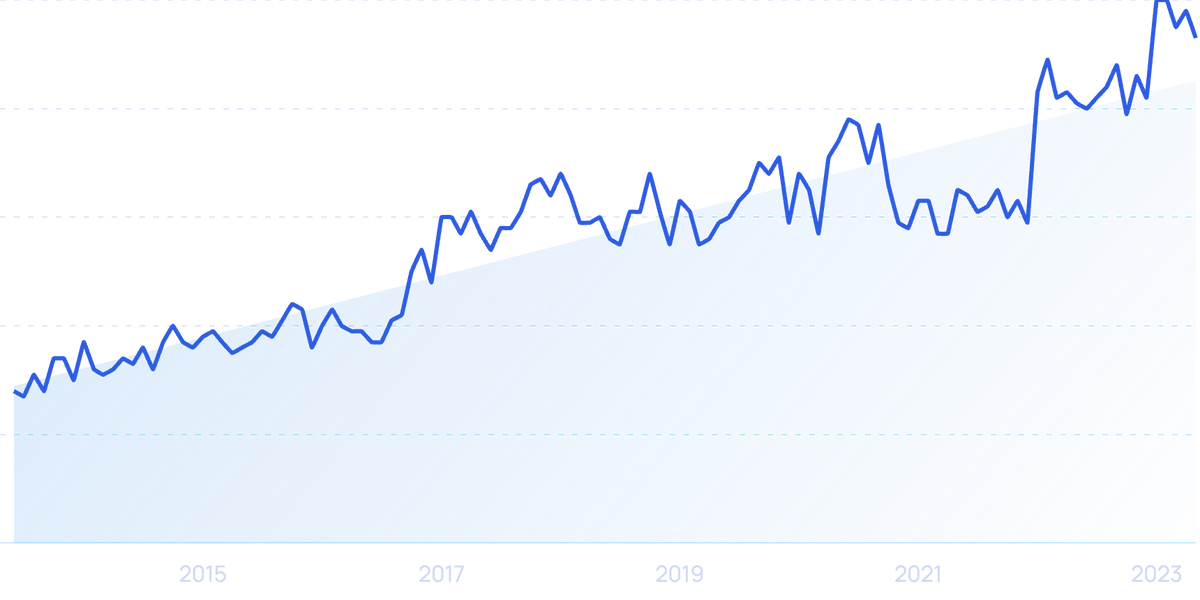 Searches for "Amazon marketing" have gone up 232% in the past 10 years.
In 2023 and beyond, we may see the platform put even more emphasis on the "sponsored products" displayed in the user's search results.
These products are featured as the very first search results and again listed at the bottom of the page.
Placement is key here.
One ad agency reports that 35% of Amazon shoppers click on the very first product in the search results.
and the first three products command 64% of all clicks.
Another factor driving Amazon's growth in ad revenue is the cost - it's fairly cheap for companies to get started with.
And can provide a better ROI than SEO or search engine ads for many ecommerce businesses.
The average cost-per-click is only $0.71. But the average conversion rate is 9.55%.
In comparison, the average conversion rate on an ecommerce site in the US is just shy of 2%.
Conclusion
That wraps up the top trends driving the advertising industry in 2023.
Digital ad strategies are shifting quickly as consumers spend more and more time on mobile devices and social media.
Look for AI tools to help advertisers navigate these changes and make the most of their budgets in the future.