20+ Business Intelligence (BI) Statistics for 2024
Today's businesses generate incredible amounts of data. On its own, enterprise data is just millions (or billions) of disparate pieces of information. However, when utilized correctly, this data can help inform new product decisions, run more effective marketing campaigns, and ultimately increase profits.
That's where Business Intelligence (or BI) steps in. BI helps companies turn massive silos of data into dashboards, visualizations, and forecasts that help drive positive business results.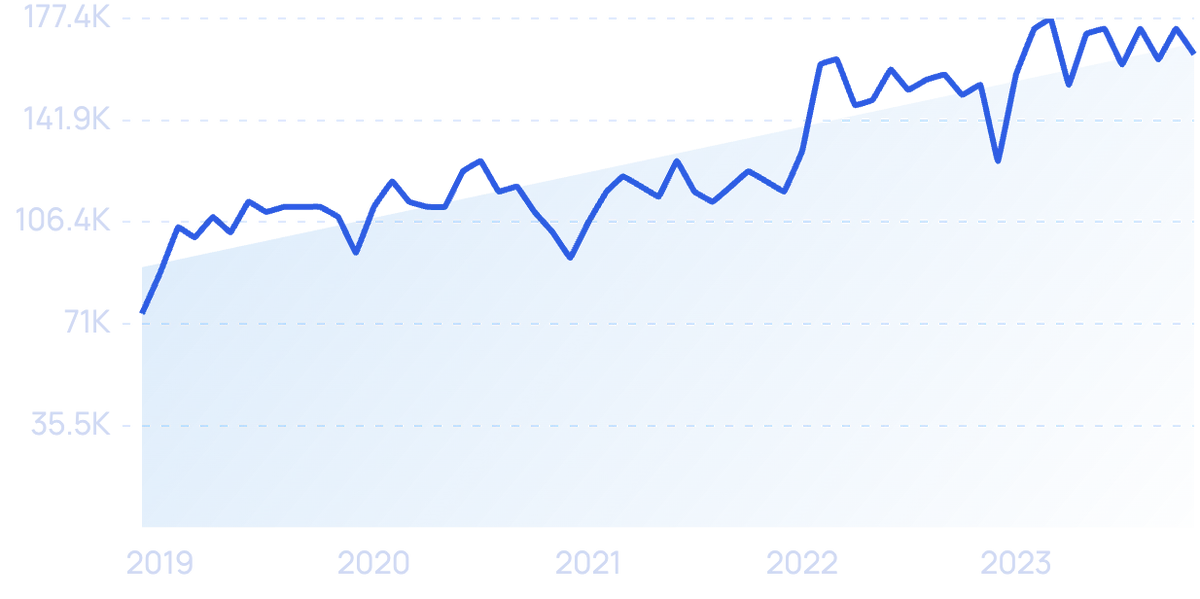 Google searches for "business intelligence" over the past 5 years.
What does the world of Business Intelligence look like from a numbers perspective? Keep reading to find out.
Contents
Top Business Intelligence Statistics
To get you started, here are some of our top Business Intelligence stats:
The global Business Intelligence market is expected to grow to $33.3 billion by 2025.
The average company uses 3.8 Business Intelligence solutions.
The Analytics & BI application market is expected to reach $18.5 billion by 2026.
The mobile business intelligence market is poised to grow at a 22.43% CAGR between 2021 and 2026.
Just 32% of business executives say they have the capacity to create measurable value from enterprise data.
Less than 20% of executives feel that they've established a "data culture" within their organizations.
Business Intelligence Market Statistics
BI is a multi-billion dollar market that's primed for steady growth over the next half-decade. It also overlaps with adjacent IT markets like Predictive Analytics, Embedded Analytics, Artificial Intelligence, and more. Here's what the BI market looks like today, and where it might end up in the near future.
The Business Intelligence market is predicted to reach a valuation of $33.3 billion by 2025 (Markets and Markets)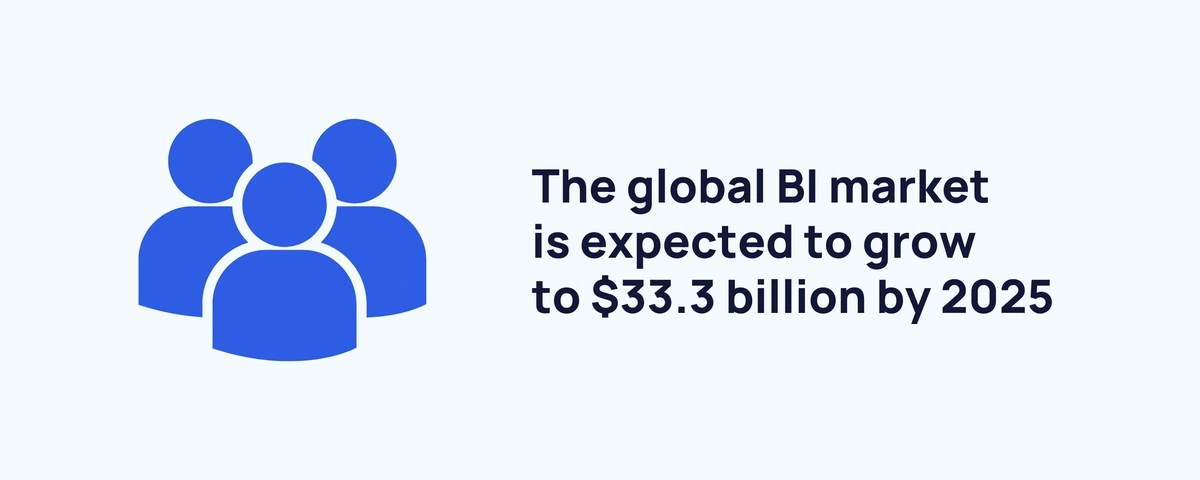 The Business Intelligence market was worth $23.1 billion worldwide in 2020. By the middle of the decade, that value could increase to $33.2 billion — a 7.6% annual growth rate. Drivers behind BI's growth are digital transformation and increased demands for dashboards and other data visualizations.
The Analytics & BI applications market is expected to reach $18.5 billion by 2026 (Apps Run The World)
SAS Institute, Salesforce, and SAP are the top vendors in the combined Analytics & BI software market, which is worth an estimated $15.3 billion. The market could see a 3.8% compounded annual growth rate (CAGR) over the next half-decade.
The global predictive analytics market could generate up to $22.1 billion in revenue by 2026 (Facts & Factors)
Predictive analytics uses current and past data along with predictive modeling and machine learning to help businesses uncover market trends. It's a central component of business intelligence, and the sub-market could grow at a 24.5% CAGR between now and 2026.
The embedded analytics market was worth an estimated $60 billion in 2023 (Allied Market Research)
Embedded analytics puts business intelligence into the hands of employees, customers, and end-users by integrating data into software applications. Worth just $25 billion in 2016, the market was predicted to reach $60 billion in 2023.
The mobile business intelligence market is poised to grow at a 22.43% CAGR between 2021 and 2026 (Mordor Intelligence)
The mobile segment of the business intelligence market is primed for above-average growth over the next half-decade. That's thanks to advances in AI and machine learning technology and the rise of BYOD in the workplace.
Business Intelligence Impact Statistics
How much importance do enterprise leaders place on Business Intelligence? How widely adopted is BI across multiple industries? These stats reveal BI's impact within and across different organizations.
On average, companies use 3.8 Business Intelligence solutions (Wiiisdom)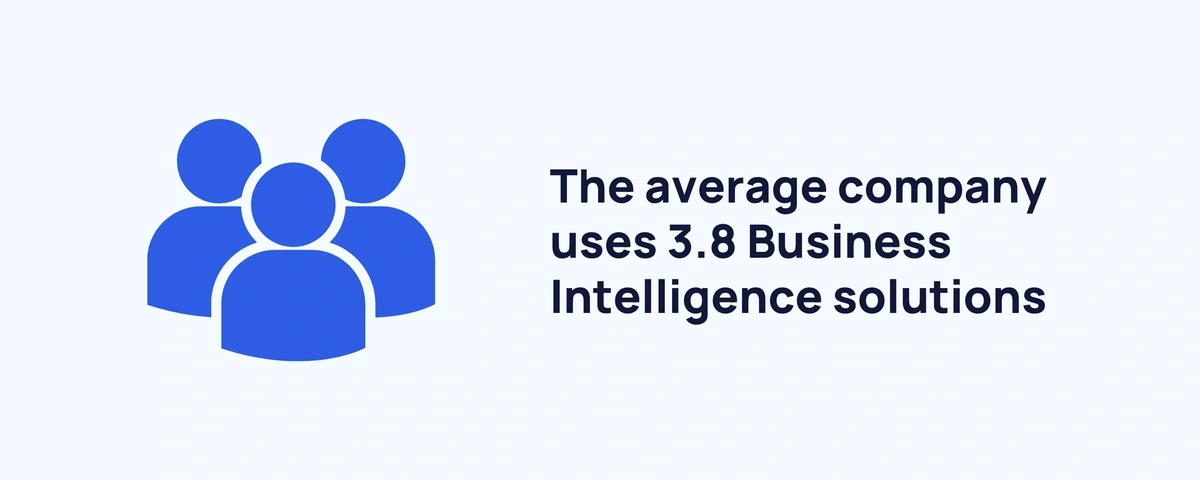 Most organizations must utilize multiple BI solutions to meet their business goals. 67% of BI professionals say they have access to more than one BI solution in their organization.
55% of BI professionals say all of their BI solutions pull data from the same source.
The current Business Intelligence adoption rate is 26% (Wiisdom)
BI adoption rates increase with company size. Companies with 5,000 or more employees are more likely to have adoption rates of 80% or higher.
Conversely, low adoption rates are more common in smaller organizations. 22% of companies with 250 or fewer employees have adoption rates of 20% or less, compared to just 2% of companies with 5,000 or more employees.
Around 2 in 3 people in the global workforce have access to business intelligence tools (Accenture)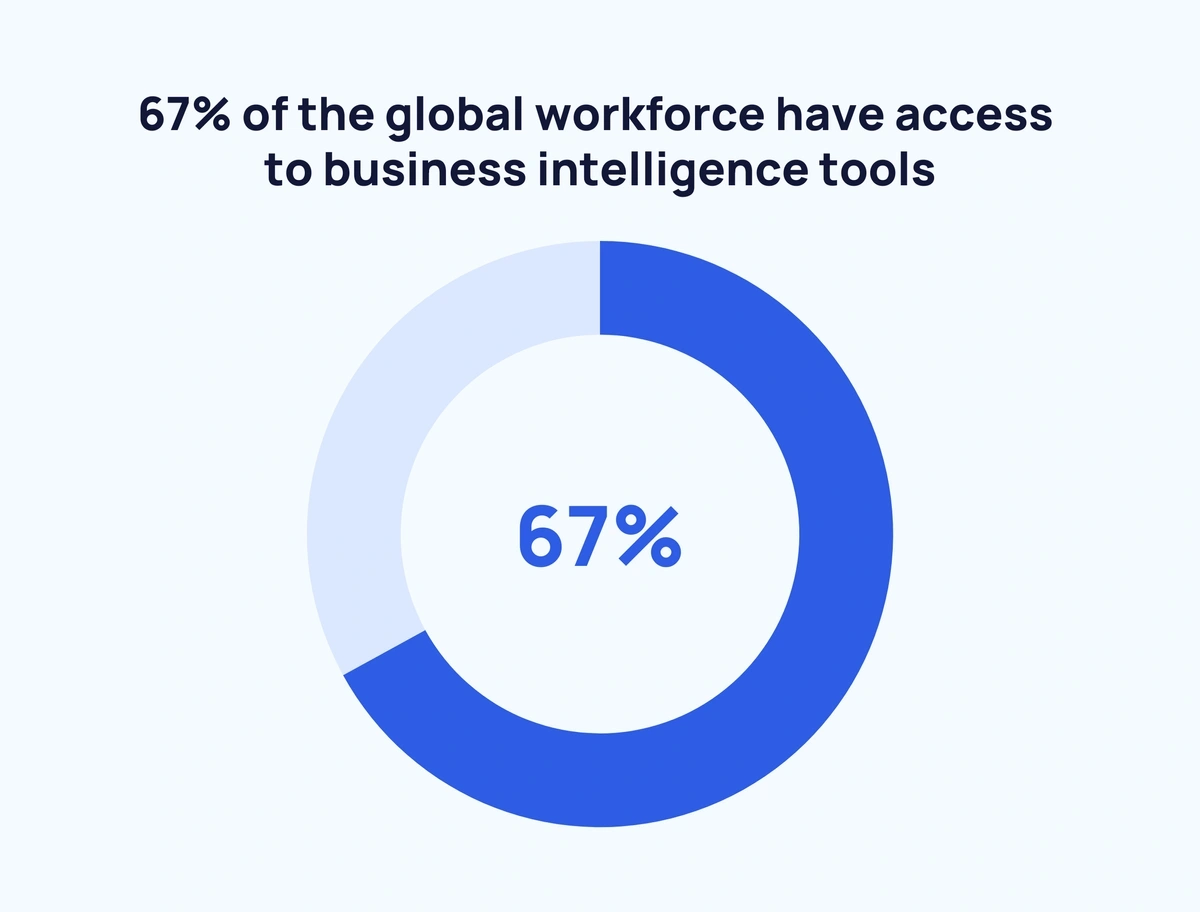 Two-thirds of employees have BI software at their fingertips, but many aren't data literate enough to use them. Only 21% of the global workforce are confident in their ability to work with data in the most impactful way.
64% of digital leaders say big data and analytics will be a top 2 investment for competitive advantage over the next year (Nash Squared)
Big data is a central component of Business Intelligence, and leaders recognize that investing in it can give their organizations an edge. That recognition isn't translating into results just yet. Only 23% of leaders believe they leverage data analytics to fine-tune their product and service offerings and 21% use data to generate more revenue.
54% of enterprise leaders say Cloud BI is either very important or critical to their current and future initiatives (Forbes, Dresner)
Cloud BI is more important to businesses than ever before with over 70% of organizations regarding it as important. Microsoft Azure is the most popular Cloud BI tool, with 77% of enterprising rating it as critical or very important to their operations.
Manufacturing has a Cloud BI adoption rate of 58% (Forbes, Dresner)
The business services and financial services industries both have a 50% Cloud BI adoption rate. The technology has a 46% Cloud BI adoption rate, while education has a 40% Cloud BI adoption rate.
Mode Analytics is the top Business Intelligence software with 27.78% market share (Datanyze)
A growing number of SaaS companies are launching BI solutions. Out of the 426 BI software solutions on the market today, the top 5 have a combined 57.65% market share. Tableau is the #2 software with 12.37% market share, followed by Power BI (6.94%), Microsoft SQL Server Reporting (5.57%), and SAP Crystal Reports (4.98%).
Business Intelligence Challenges
While most organizations have at least acknowledged the need for Business Intelligence to remain competitive, many have yet to successfully implement BI systems. Here are some of the challenges companies face when implementing Business Intelligence.
Total enterprise data volume increased by 2x between 2020 and 2022 (Statista)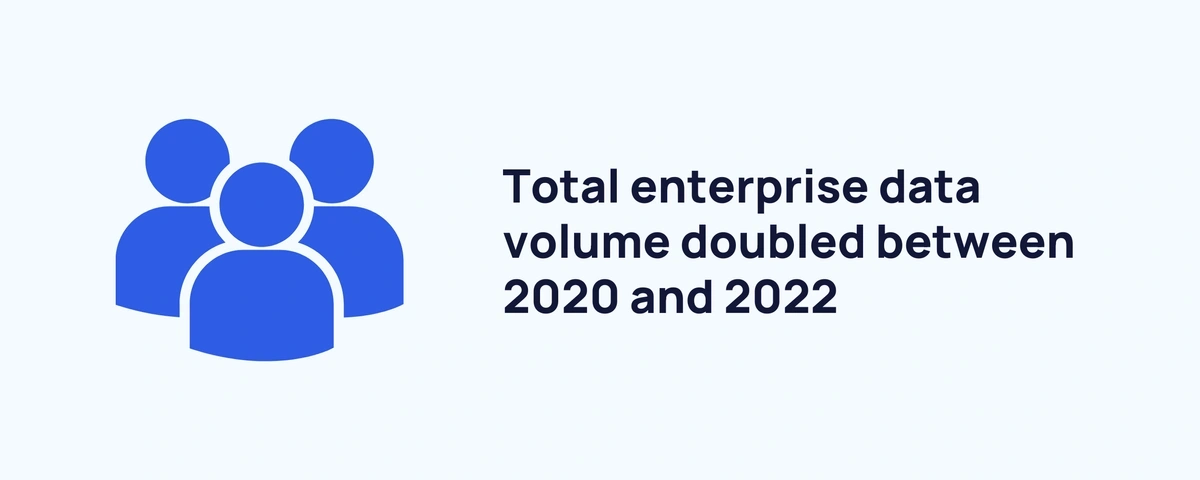 In 2020, there was one petabyte of enterprise data in the world. In 2022, that number is estimated to have risen to 2.01 petabytes. Where is all that data stored?
570 terabytes are in internally managed data centers.
498 terabytes are in cloud repositories.
407 terabytes are in third-party data centers.
390 terabytes are in edge and remote locations.
Less than 20% of executives feel that they've established a "data culture" within their organizations (New Vantage Partners)
In a New Vantage Partners survey of 94 Fortune 1000 executives, 19.4% of respondents said they have established a data culture in their company. Other notable results from the survey:
26.5% of C-level executives said they created a data-driven organization.
39.7% said their organizations manage data as a business asset.
47.4% said their organizations are competitive in data and analytics.
56.5% said they are using data to drive business innovation.
Around 1 in 3 business executives claim they have the capacity to create measurable value from enterprise data (Accenture)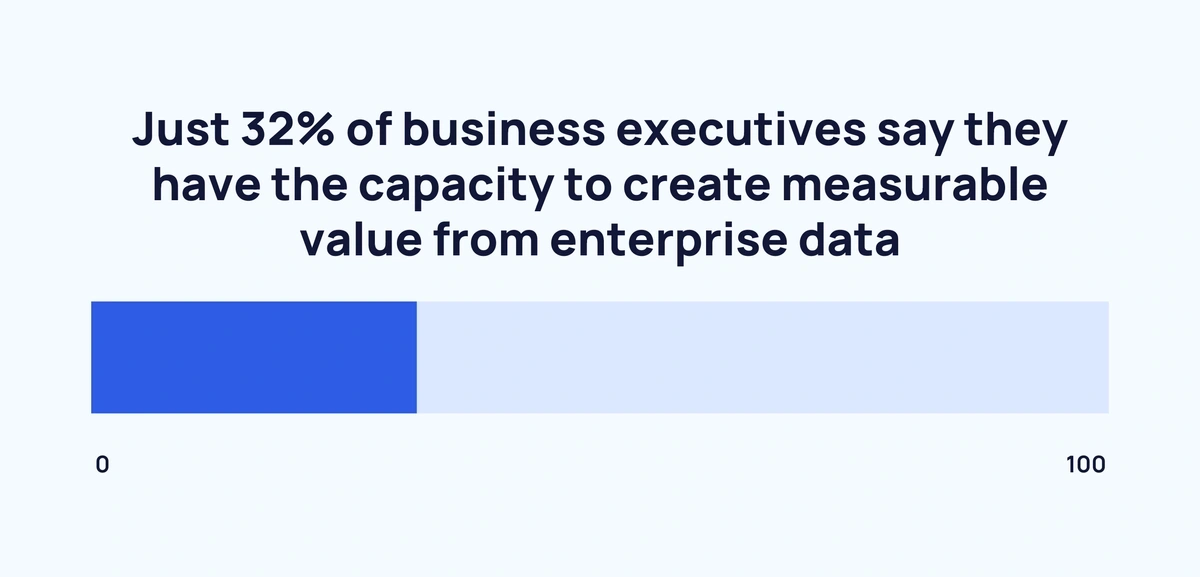 Leaders are struggling to find ways to put data into action. Only 27% of leaders say they know how to translate business data into actionable insights.
Cultural factors, including people and processes, are the top challenge for organizations looking to become data-driven (New Vantage Partners)
92% of Fortune 1000 companies cite "cultural factors" as the main roadblock toward becoming data-driven, while only 8% cite technological limitations. As a result, 40% of executives say their organizations' data strategies haven't generated success.
Business Intelligence Career Statistics
As Business Intelligence practices become more critical, demand for BI professionals and data scientists will only increase. Here's how Business Intelligence is one of the fastest-growing career paths.
Data scientist is the #3 job on Glassdoor's Top 50 Jobs in America list (Glassdoor)
Those looking to start a career in business intelligence are in luck, as data scientist is one of the best jobs available today. According to Glassdoor, the median base salary for data scientists is $102,000. They averaged a 4.1 (out of 5) job satisfaction score.
As of 2024, there is a significant data scientist shortage (Quanthub)
Data scientists are in high demand by companies across all industries. There are 3x as many job postings for data scientists as there are searches for data scientist job openings.
The average business intelligence analyst salary is $71,758 per year (Payscale)
Payscale data from 3,904 job profiles found that business intelligence analysts earn between $53k and $97k as a base salary. They also found that BI analysts have an average job satisfaction score of 3.8 out of 5.
Almost half of insurance companies have a Chief Data Officer (CDO) (Consultancy-me)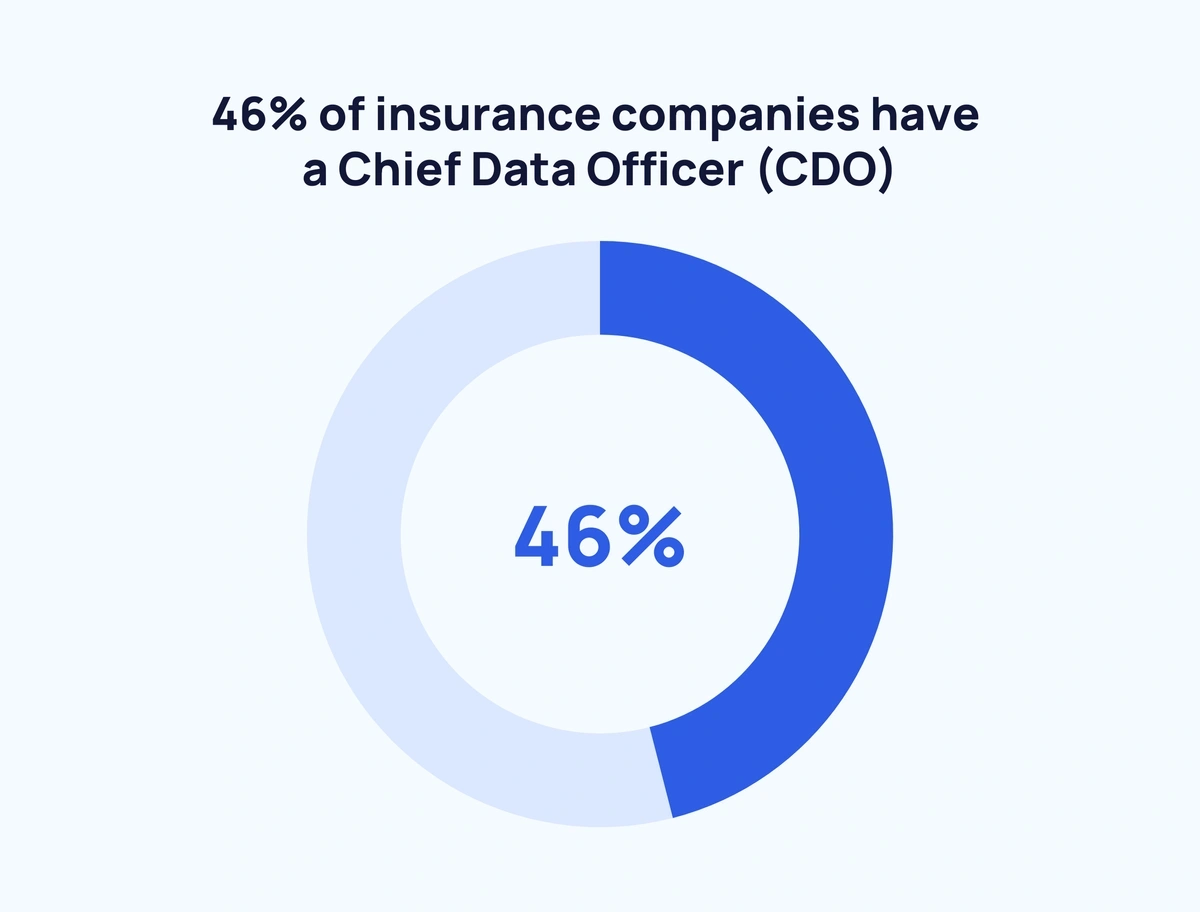 Insurance has the highest CDO penetration rate of any current industry. Other industries with high CDO penetration rates are banking (42%), media and entertainment (40%), retail (29%), and IT/technology (28%). The typical salary for a Chief Data Officer is $269,779.
Wrap Up
Modern companies have an abundance of data. When they learn to transform that data into meaningful insights and strategies, they can better position themselves to become industry leaders.
But creating data-driven organizations doesn't happen overnight. Making the transformation means committing to fostering an internal data culture and investing in the right Business Intelligence programs.
Fortunately, most leaders seem aware of the advantages of getting on board with BI. It's just a matter of implementation.