6 Construction Industry Trends to Watch in 2021
The construction industry is massive.
According to McKinsey, construction is the largest industry in the world. And it makes up about 13% of global GDP.
But it is also one of the slowest growing. However, new innovations and technologies are looking to change this.
Read on to learn about some of the most important trends in the construction industry.
1. The Virtual Construction Market is Growing Every Day
When people think of technological innovation, the construction industry is usually the last thing they think of.
But the construction industry is increasingly adopting a variety of new technologies.
Many of these technologies involve virtual design and visualization. And they range from Building Information Modeling (BIM) to Construction Management Software.
Virtual design and construction (VDC) describe the growing use of virtual environments to engineer and visualize the construction of structures before they're actually built in the physical world.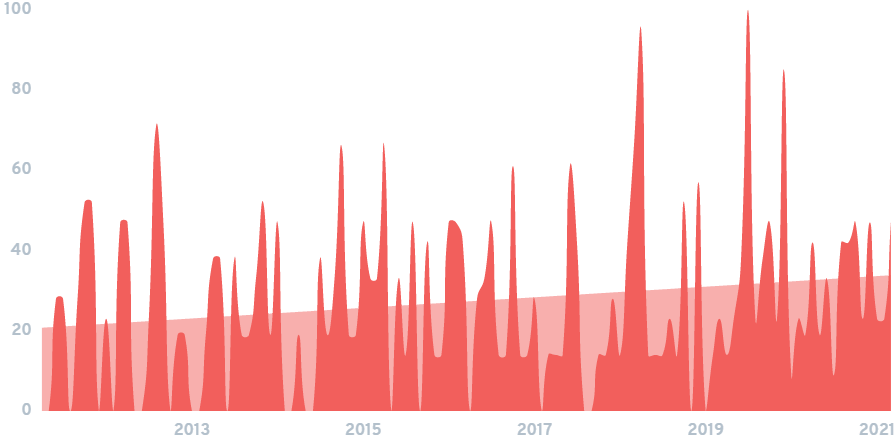 Searches for "virtual design and construction" have grown by 1000% over the last decade.
And there's no wonder why this is catching on. It's estimated that reworks of faulty or incorrect builds account for nearly 30% of construction industry costs. Virtual design helps cut down on this by allowing builders to first build structures in a virtual environment.
Building Information Modeling (BIM) is probably the most popular VDC tool. It basically allows architects, engineers, or anyone else to generate a virtual model of a physical building or structure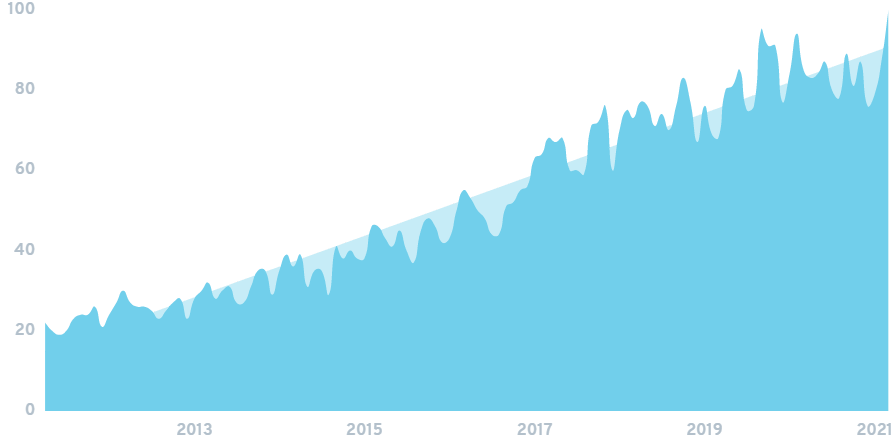 Searches for "Building Information Modelling" have grown by 354% over the last 10 years.
As of 2020, the BIM market was worth anywhere from $4.5 billion to $5.2 billion. The construction industry took somewhat of a hit in 2020. But it is expected to rebound, with the BIM market growing at a CAGR of 14.5% over the next five years.
North America is expected to be the market leader over this time period, capturing over 30% of the market.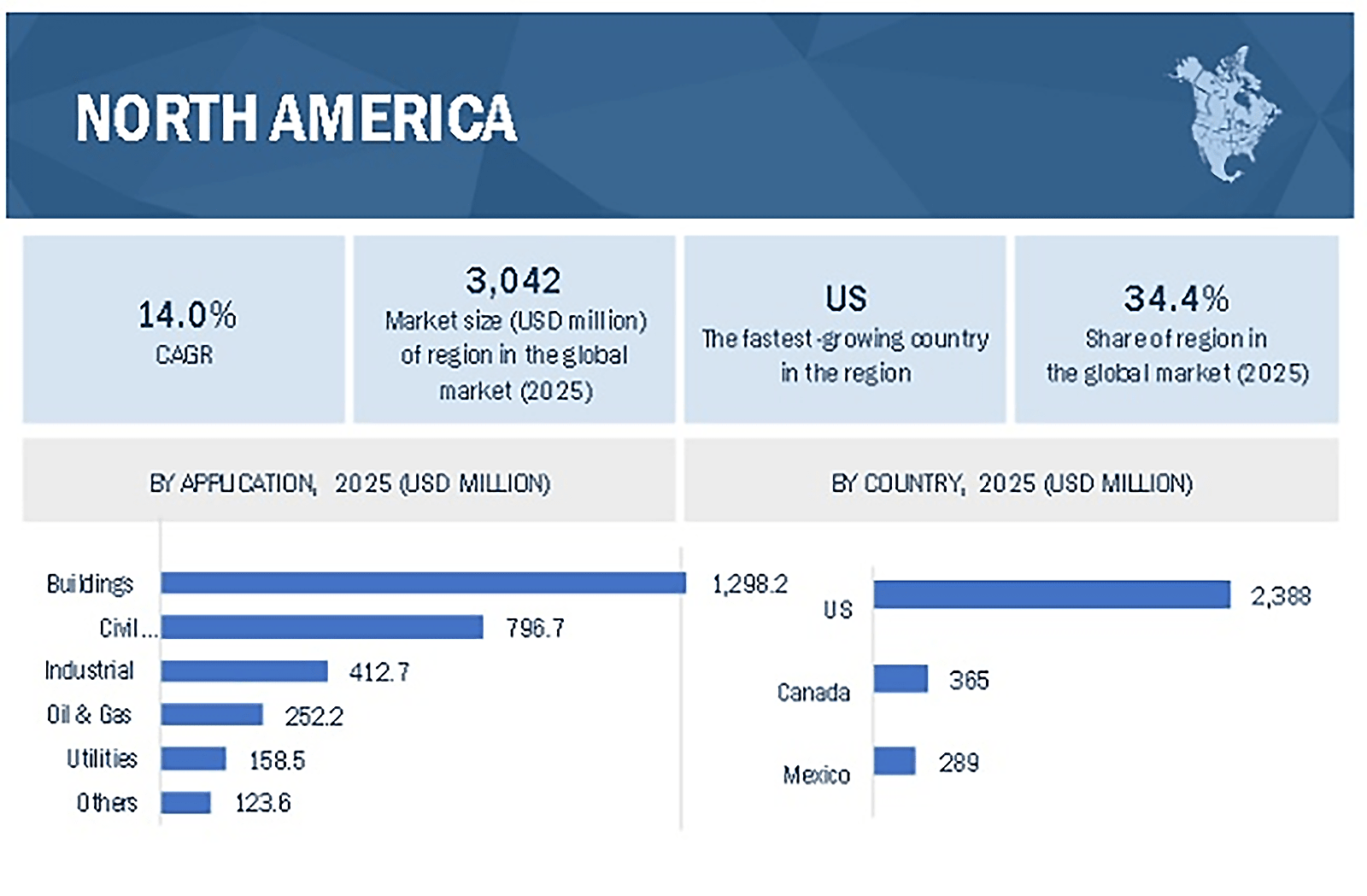 Expected growth and market share of the North American BIM market over the next five years.
McKinsey found that BIM technology has now achieved an adoption rate of about 60-70%. However, this adoption has been relatively slow, taking about 35 years.
The last decade, though, offers some hope. NBS's 2020 BIM Report found that 73% of its respondents were using BIM as of 2020. Compare this to 2011, where almost half of all NBS respondents had never heard of BIM.
Combined with modular construction and prefabrication, BIM is consistently helping construction companies maintain budgets and keep tight construction schedules.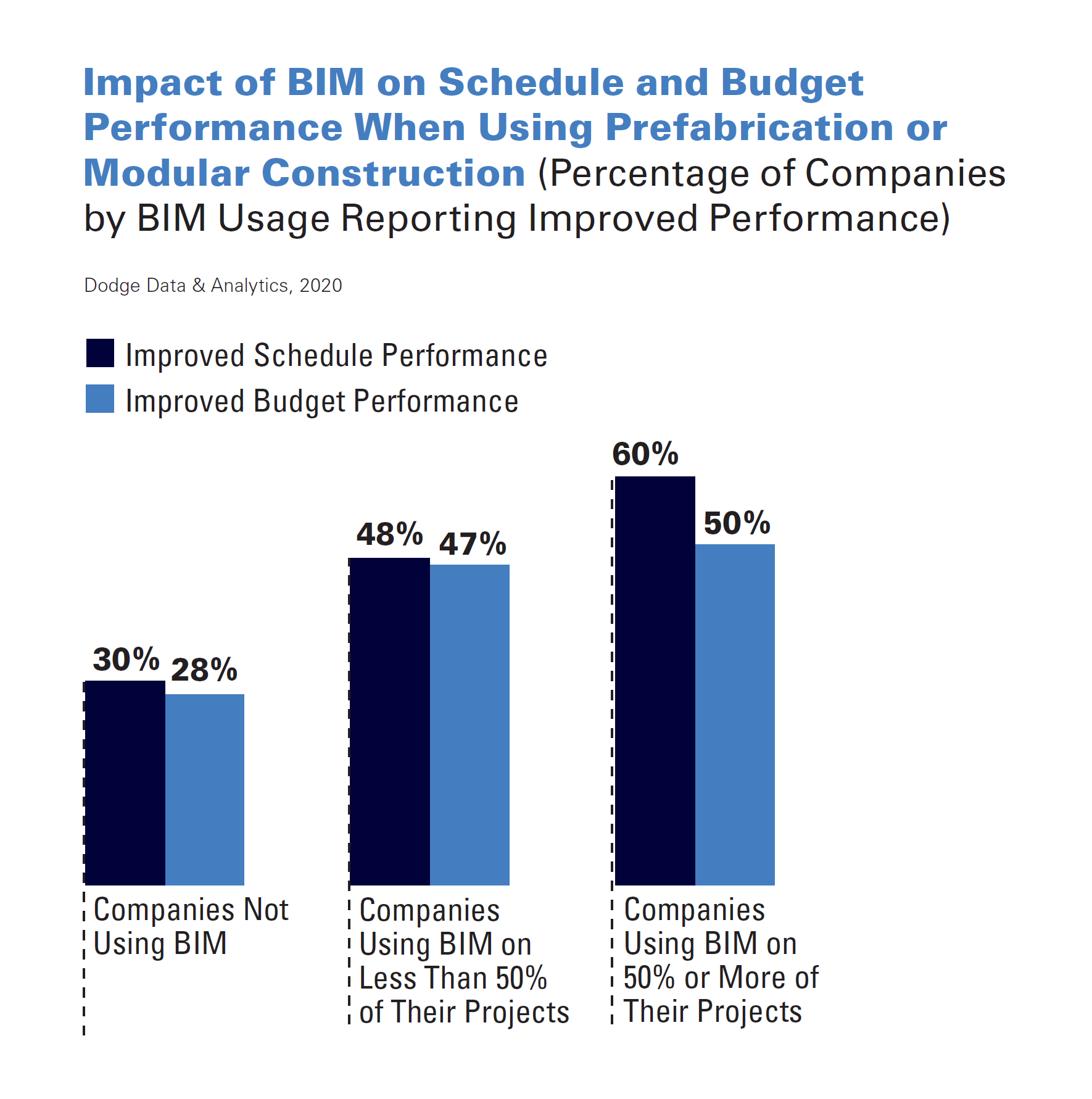 Source: Dodge Data & Analytics
Construction Management Software (CMS) is also now an important tool for many major construction companies.
A construction project is a very fragmented procedure. There are typically a variety of parties involved. And there are a lot of things going on at once.
CMS helps construction managers by allowing them to store and access data, blueprints, and documents all in one place.
The global construction management software industry is currently estimated to be worth $1.4 billion. It is expected to grow to $3.2 billion by 2027 (a CAGR of 12.5%).
Autodesk is the largest player in the architecture and construction software market. The company brought in over $3.2 billion in 2020 revenue.
Its AutoCAD, BIM 360, and REVIT technology are basically the standard in virtual modeling. Its traditional AutoCAD software is used by 85% of the market. And it's estimated that the company captures about 31% of the overall market.
Autodesk's software consistently ranks at the top of industry best lists.
2. Prefabrication and Modular Construction are Changing How Structures are Built
Modular construction typically involves constructing at least 60-90% of a building or other structure before bringing it to the construction site.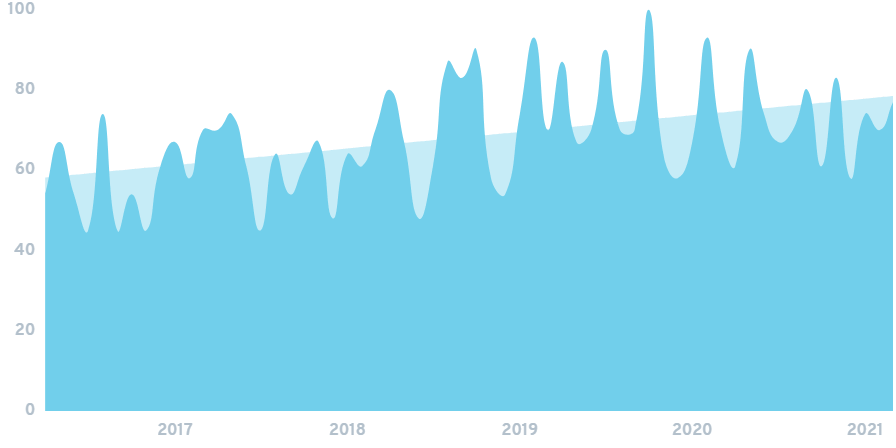 Search interest in "Modular Construction"
Prefabrication, while technically part of modular construction, occurs when certain components of a structure are assembled or manufactured off-site. The prefabricated parts are then easily affixed to the building.
The global modular construction market is currently worth about $82.3 billion. And it is expected to grow to $108.8 billion by 2025.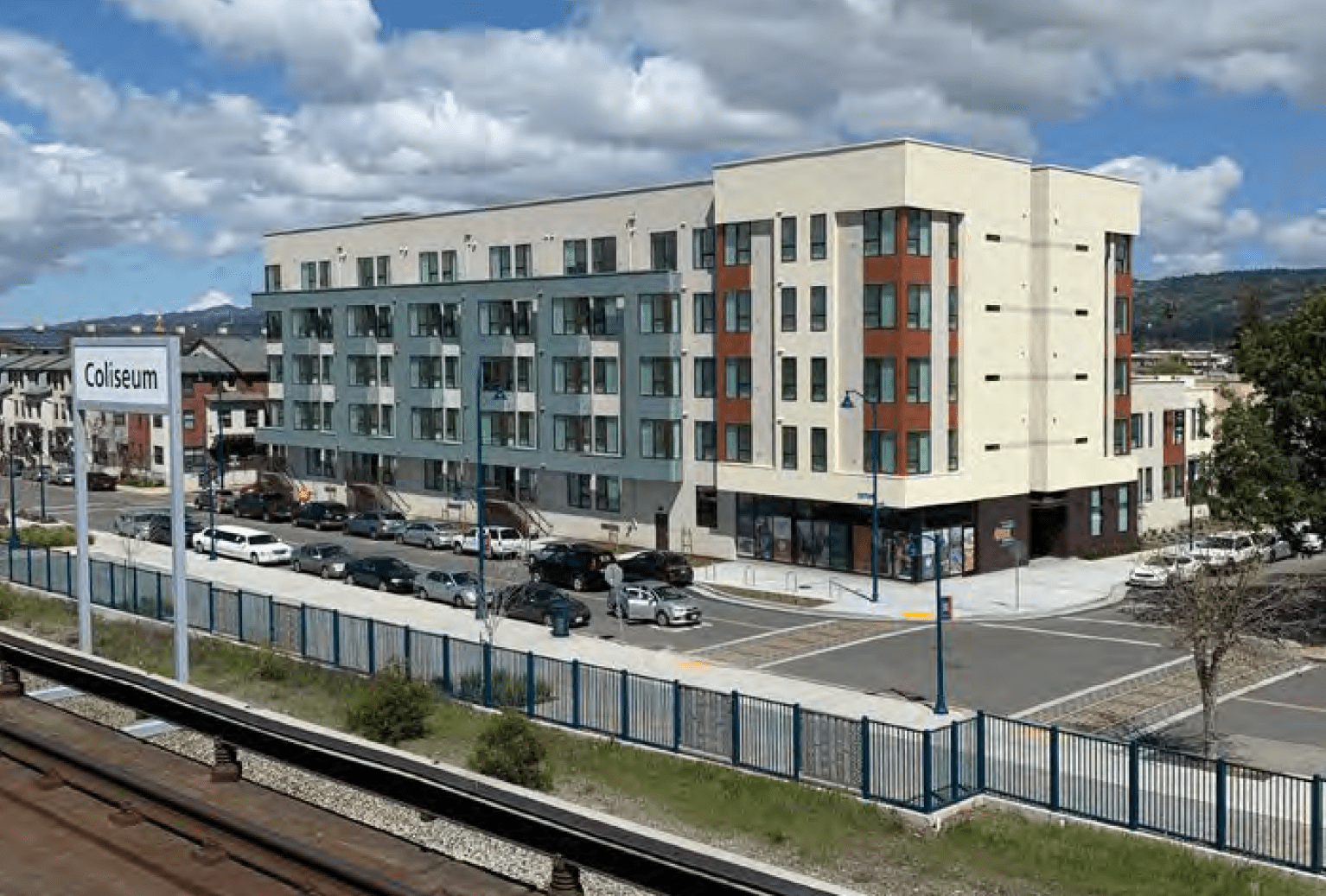 Modular housing development in Oakland, California.
And while it has been relatively small compared to the entire construction market, the modular construction industry has experienced rapid growth in the past few years.
McKinsey estimates that the North American permanent modular construction industry's share of new construction projects rose by 51% between 2015 and 2018. Over the same period, the industry's total revenue more than doubled.
Increasingly, general contractors (GC's), architects, and developers are finding that prefabrication and modular construction helps keep costs low, shortens the construction timeline, and reduces waste.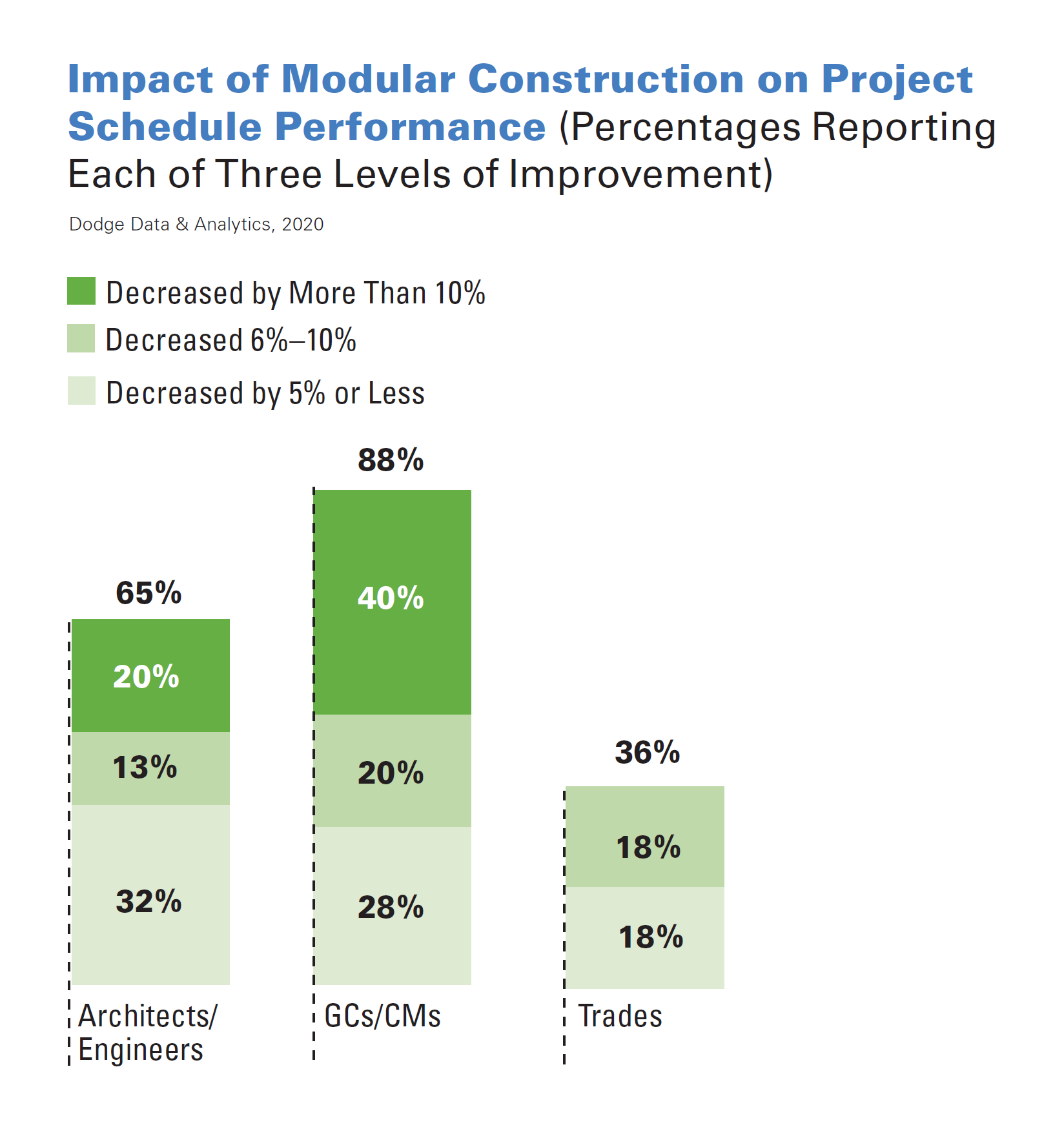 Source: Dodge Data & Analytics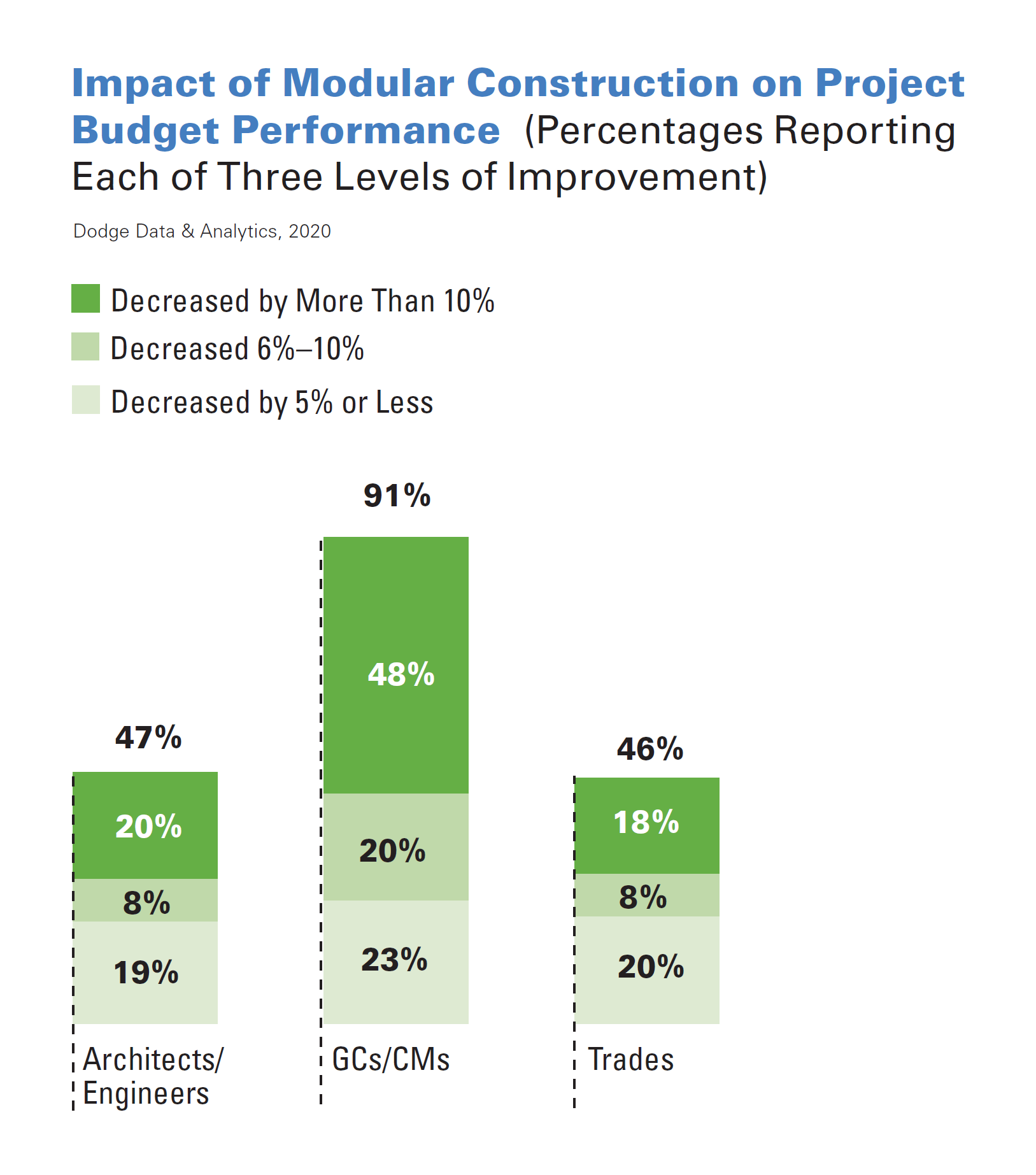 Source: Dodge Data & Analytics
Because of this, roughly 90% of respondents to Dodge's 2020 Prefabrication and Modular Construction Report said that prefabrication and modular construction methods were more beneficial than traditional construction.
Certain kinds of buildings do, however, lend themselves better to this kind of construction.
Dodge found that, overall, healthcare facilities are expected to benefit the most from modular construction and prefabrication over the next three years.
Hotels and motels, as well as multifamily residential structures, didn't trail far behind though.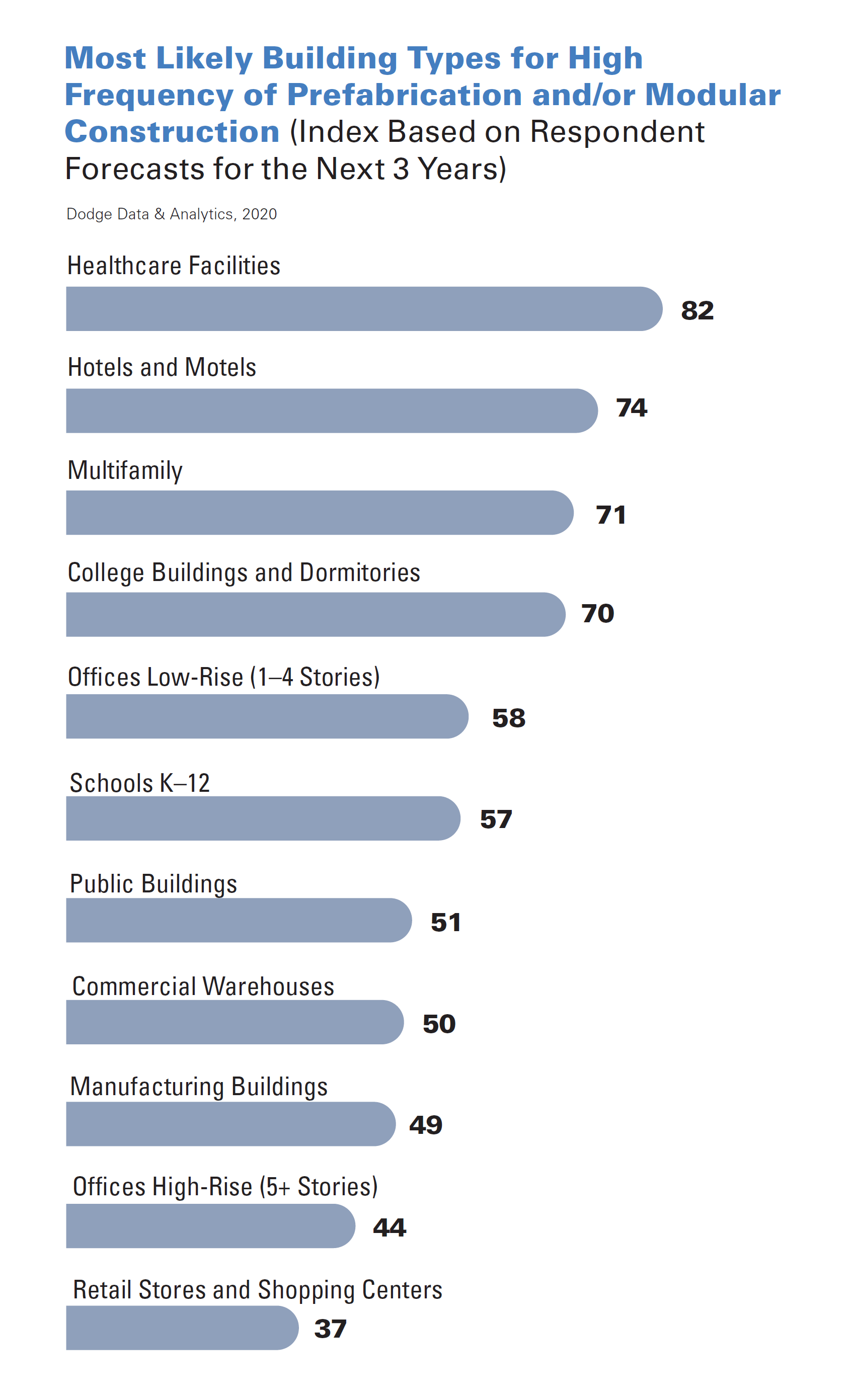 Source: Dodge Data & Analytics
Over the past three years, hotels and motels have led the pack as major beneficiaries of modular construction.
According to Dodge, roughly 43% of architects and engineers and 29% of general contractors and construction managers said that hotels and motels were the fastest growing industry for modular construction over the last three years.
The two groups differ, however, on how they think the next three years will go.
Over half of architects and engineers believe that multifamily residential buildings will be the fastest growing modular construction sector.
But the other group disagrees. 41% of GC's and CM's believe that healthcare will make the most use of modular construction over the next three years.
If you ask trade contractors (or subcontractors), they agree with the GC's and CM's. 56% of trade contractors think healthcare facilities will be the fastest growing market for modular construction.
And as the modular construction market grows, it is attracting new entrants.
One of the most promising new startups is Katerra. It is focused on completely modularizing the construction process. The company manufactures certain parts of a building (like a wall) in its facilities, allowing developers to assemble buildings on-site.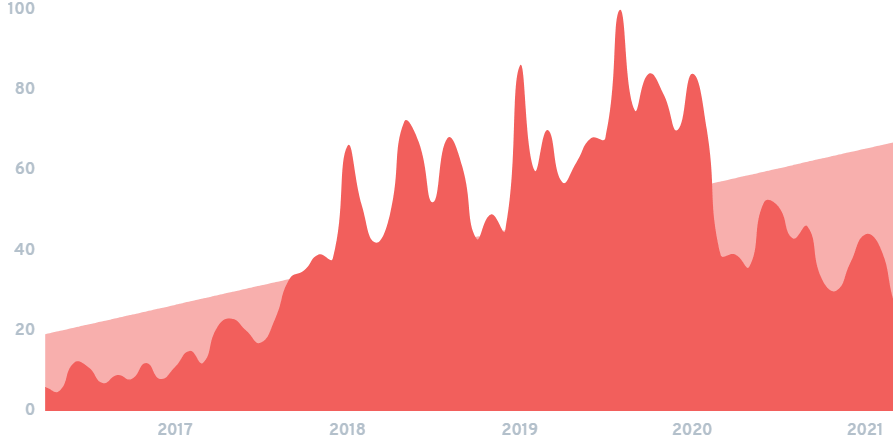 Searches for "Katerra" have increased by 412% over the last five years.
For now, Katerra is focused mainly on the residential real estate market.
Katerra has raised $1.2 billion in funding, including $865 million from Softbank in 2018. And although Katerra has had its recent problems, the company still generated about $2 billion in revenue in 2020.
3. Smart Cities May Change the Way Construction Companies Operate
One of the biggest trends affecting the construction industry is the rise of smart cities.
A smart city is a city that is basically fully integrated with the internet of things (IoT). The infrastructure and buildings all assist in collecting data to help everything run more efficiently.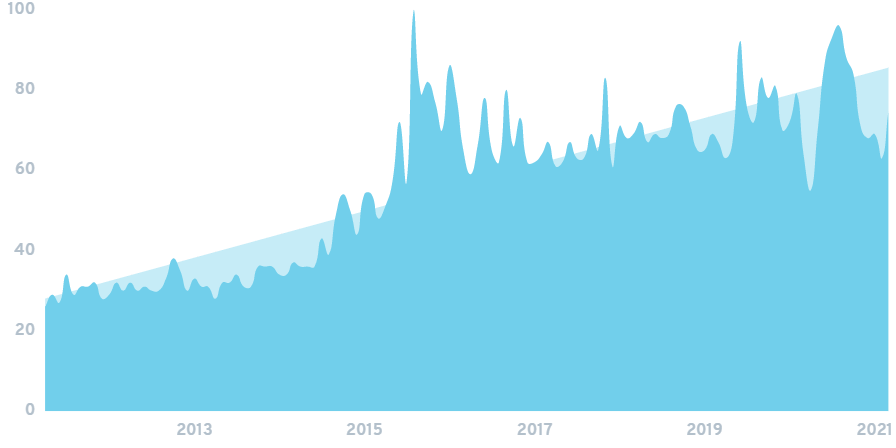 Searches for "smart city" have grown by 509% over the last 10 years.
It's estimated that the global smart city spend totaled $124 billion in 2020. That's an increase of almost 20% over 2019.
IDC predicts that this number will grow to $203 billion by 2024. Some estimates also indicate that the market will double again to over $400 billion by 2027.
As this concept matures, it will likely change the way most of the construction industry operates.
More and more construction industry participants will have to start using new technologies like IoT in their building materials.
A recent study shows that about 60% of U.S. building managers are familiar with IoT technology. And 43% expect IoT technologies to impact their business in the next few years.
The construction industry will have to adjust soon, as large corporations and cities are making agreements to construct smart cities within the next year.
Toyota has announced a 2,000-person smart city outside of Tokyo. The company plans to test autonomous vehicles and "smart buildings" in an environment with actual citizens. Construction began in February of 2021.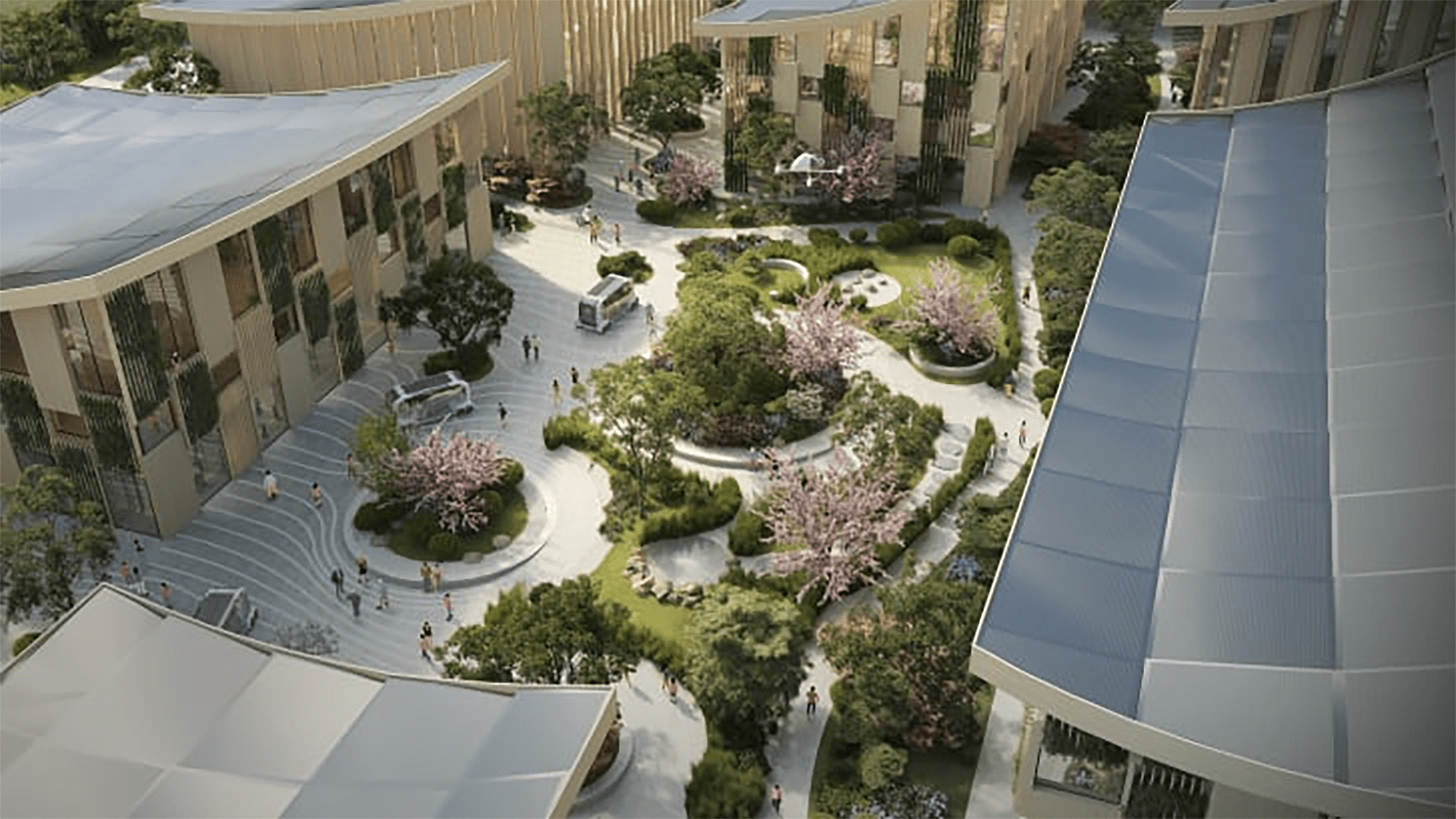 A digital representation of Toyota's "Woven City."
4. Green Building Helps Solve Environmental Issues
Green building involves building environmentally sustainable buildings using an environmentally sustainable construction and design process.
As governments and regulatory bodies around the world focus on environmental factors in every industry, more construction and design firms are implementing green building methods.
According to Dodge's World Green Building Report, almost half of all construction and design respondents said they expected the majority of their projects to be green by 2021. This is compared to about 27% in 2018.
And a McKinsey study found that 90% of construction industry respondents believe that a shift towards environmental sustainability is imminent.
As of 2018, Canada had the largest percentage of builders engaged in green building in North America. And the U.S. was a close second.

Source: Dodge Data & Analytics
By 2021, however, Mexico is expected to be the leader in North America. Over half of their builders expect the majority of their buildings to be green.
The green building revolution is doing particularly well in the residential building market.
Over one-third of single-family and multi-family builders build at least half of their projects using green building techniques.
Energy efficiency is widely regarded as the top practice of home builders in improving green home performance. In fact, 96% of green home builders build their homes to be energy efficient.
This makes sense, considering building operations themselves account for the vast majority of greenhouse gas emissions in the construction and real estate sectors.
Because of this, over 90% of single-family residential builders said they used some kind of energy efficiency practices in the construction of at least some of their buildings. 69% claim they use it in most of their buildings.
5. Living Building Materials are Changing How We View Sustainability
One of the most radical new trends in the construction industry is the use of living building material.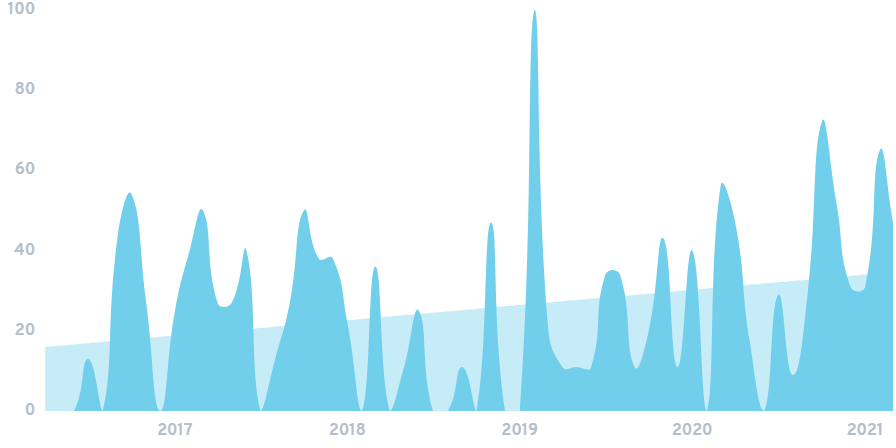 Searches for "living building material" have increased by 2100% over the last decade.
This part of the industry is still very young, but there are signs of increased adoption.
When looked at from an environmental standpoint, the decision to switch to this kind of material is clear. The entire construction supply chain accounts for 11% of global greenhouse gas emissions.
And embodied carbon (carbon released in the construction process) accounts for close to 30% of greenhouse gas emissions in the construction and real estate sectors.
The number of new buildings being built also isn't expected to slow anytime soon. To accommodate our growing population, the global building stock is expected to double by 2060.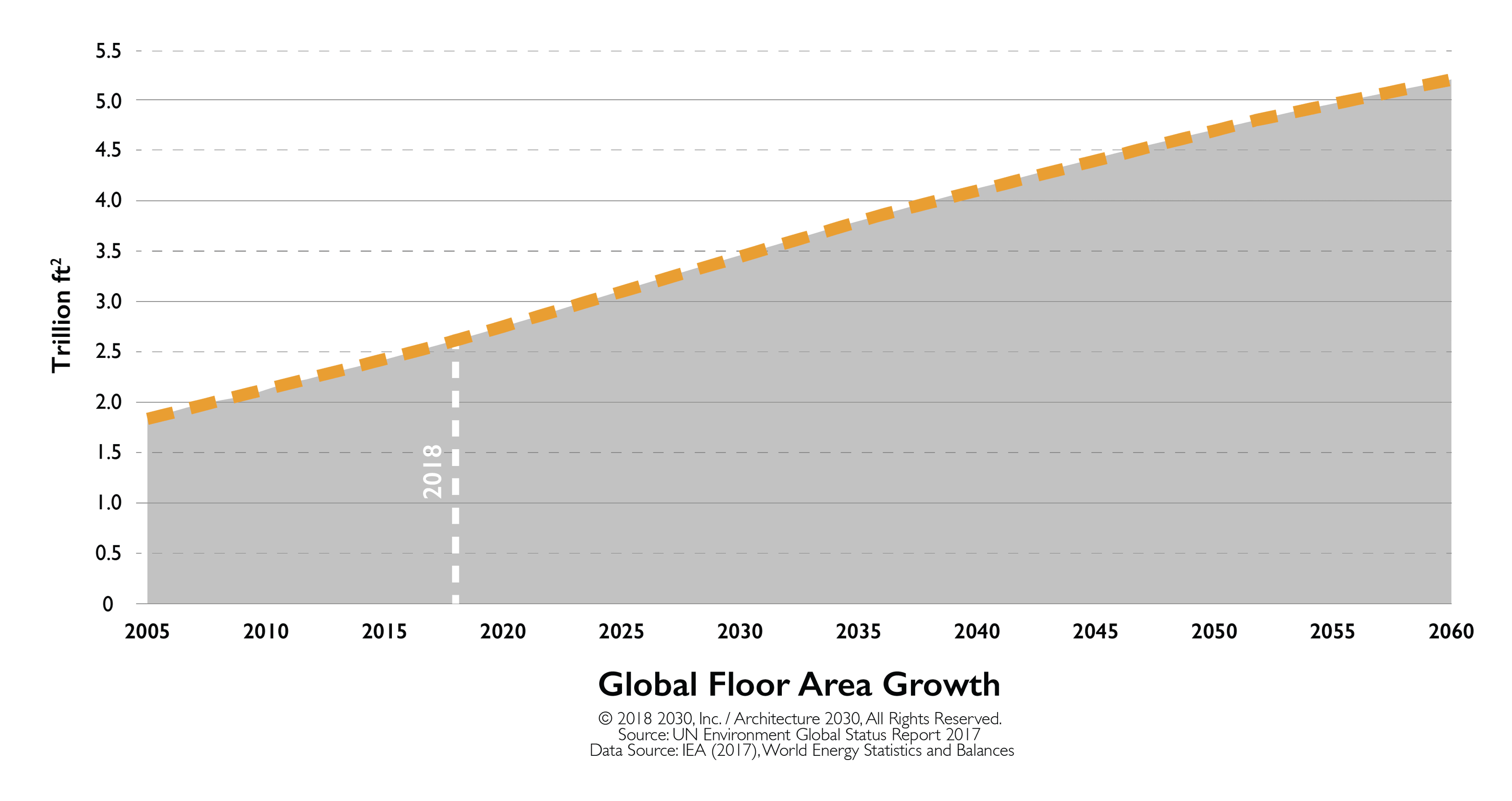 Expected global floor area growth.
Cement is one of the main areas targeted by the living material sector.
Cement production alone accounts for 8% of global CO2 emissions. And emissions will need to fall by 16% before 2030 for the sector to come in line with the Paris Agreement on climate change.
According to the BBC, if the cement sector were a country, it would be the third-largest carbon emitter, behind China and the U.S.
That's why new products like self-replicating concrete and self-mending biocement are being developed.
Biocement is grown using biological materials instead of created from non-renewable materials. And the process actually absorbs CO2 instead of emitting it.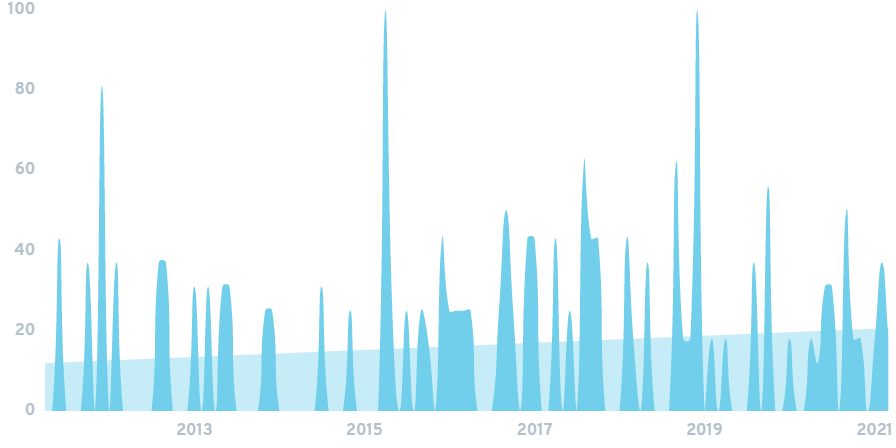 Search interest in "biocement" has grown by 400% over the last decade.
Innovations like this can allow "manufacturers" to grow building materials that self-replicate, making it much easier and efficient to scale.
bioMason Inc. is one of the most interesting companies in this area. The company was founded in 2012, and it uses biological processes to grow biocement blocks.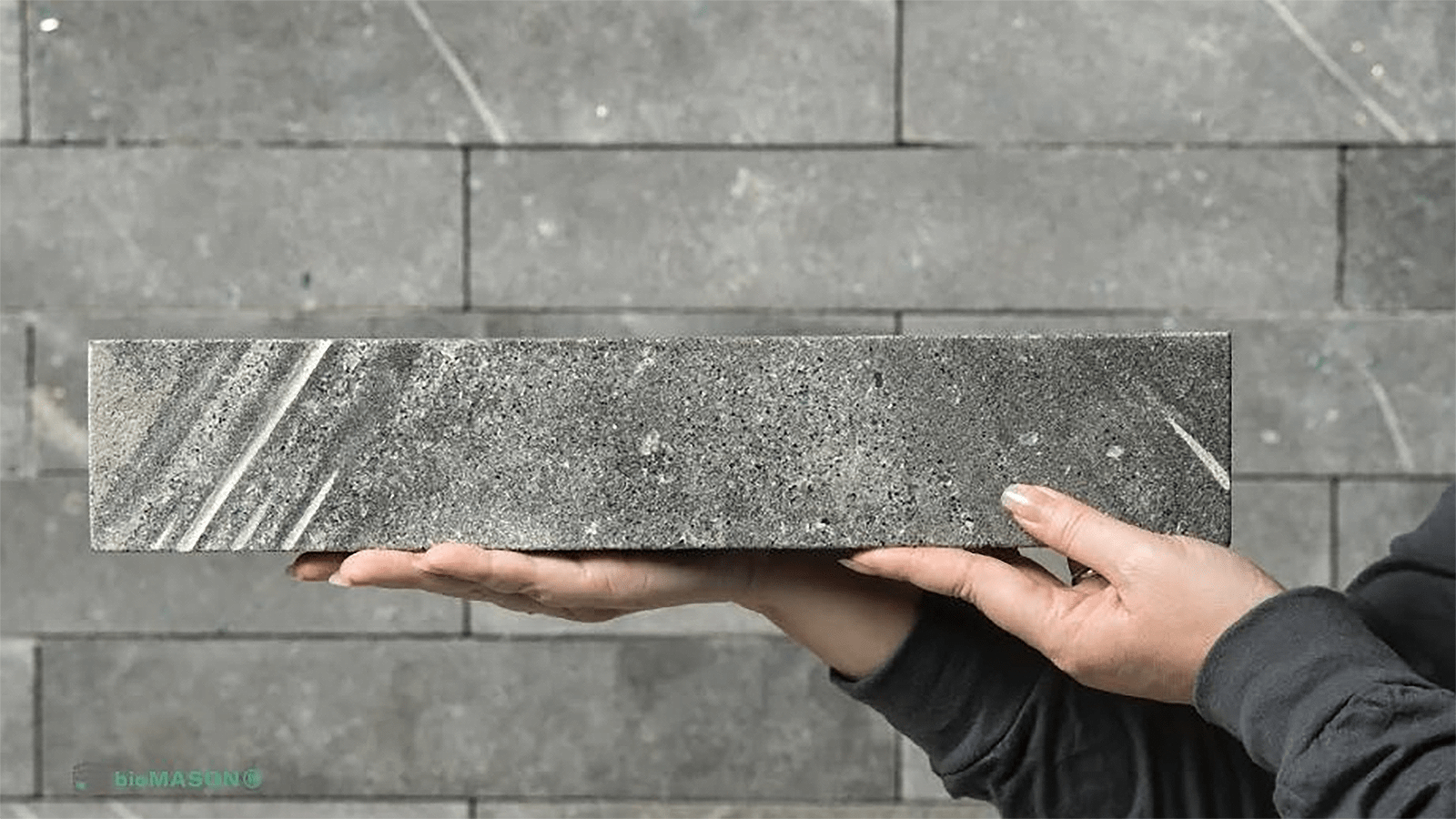 A Biocement block grown by bioMason.
According to Crunchbase, bioMason has raised $10.4 million in venture funding so far. And it increased its headcount by 50% in 2020.
6. The Construction Industry Benefits Heavily from Drone Technology
Another way that the construction industry is becoming more efficient is through the use of drone technology.

Searches for "drone" grew by 462% over the last decade.
Once thought of as novelty items, drones are now responsible for huge cost savings on major construction projects.
It's estimated that drone usage has significantly cut down on the annual $160 billion in waste that occurs on construction sites. In fact, using drones to measure stockpiles of building materials has resulted in a 61% increase in measurement accuracy.
In addition, many are hoping drones will significantly reduce construction-related injuries and deaths. In the U.S., 20% of workplace deaths occur in the construction industry – an industry that only makes up 6% of the U.S. labor force.
By using drones, construction companies are able to survey and inspect various locations without putting any actual humans in harm's way. As a result of drone technology, the construction industry has seen a 55% increase in safety standards.
In 2018, DroneDeploy – a drone cloud computing company – completed a study that found that the construction industry was adopting drone technology faster than anyone else.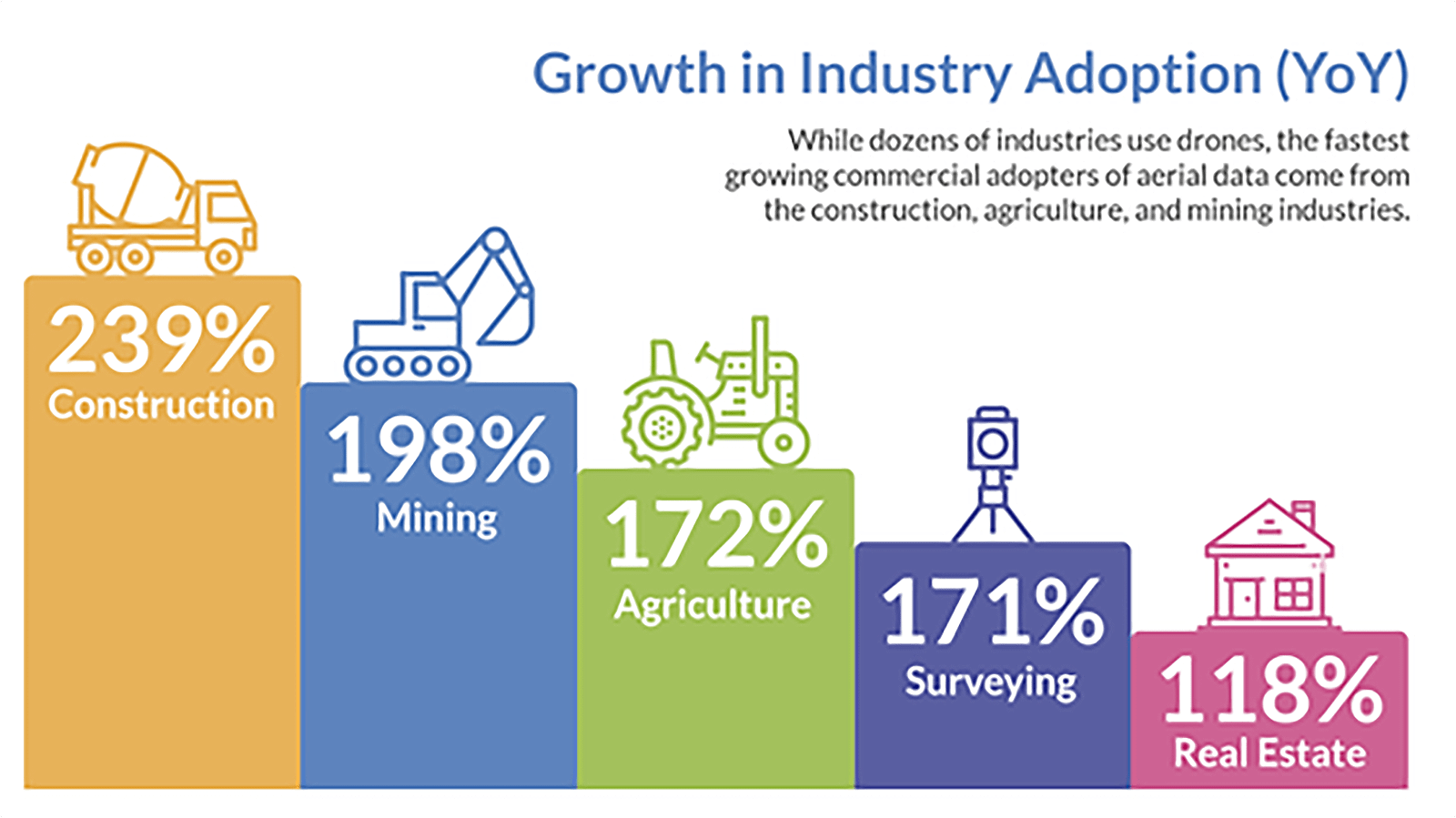 Source: DroneDeploy
Conclusion
That's all for the top construction industry trends.
Overall, environmental sustainability and software adoption seems to be the overriding themes of construction industry transformation.
Look for those to continue in the future.
Last Updated: 
March 31, 2021