Top Real Estate Trends in 2021
This report will examine the top seven trends projected to impact the real estate industry in 2021 and beyond.
One of the key underlying drivers for these trends is a relocation from big cities to the suburbs — a development that was occurring before 2020 but was accelerated by the COVID-19 pandemic.
Real estate trends in 2021 will mostly be a continuation of the trends that started in 2020. In other words, most trends impacting the real estate industry will remain interconnected and continue to reflect supply and demand principles.
1. House Hunting Goes Digital
The pandemic accelerated digitization across all sectors. And the real estate market was no exception.
Due to the pandemic and the competitive housing market in 2020, some buyers purchased their homes without stepping foot inside first. Many were able to do this due to virtual capabilities, such as:
3D Tours
Drone videos
Virtual staging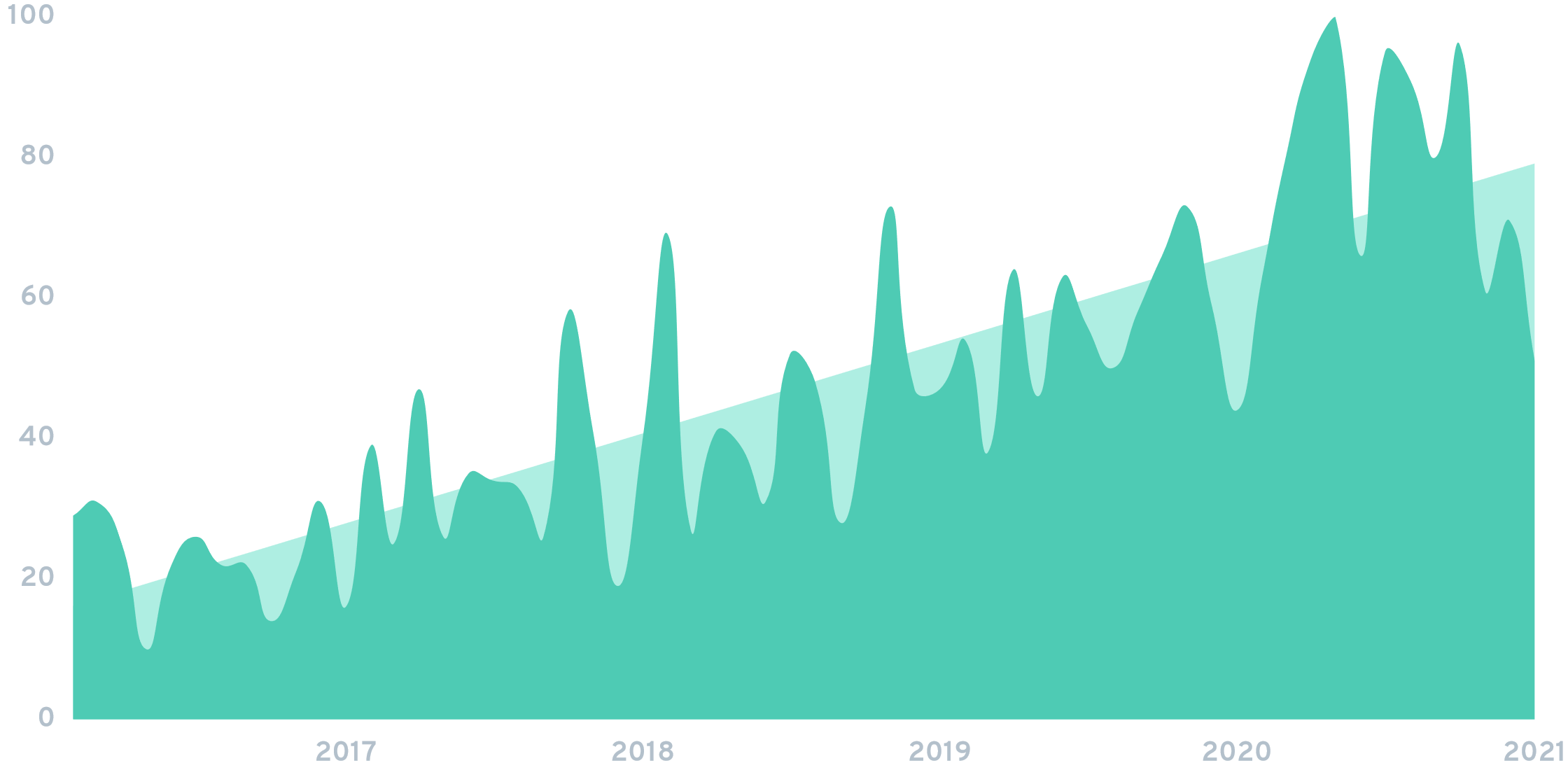 Online searches for virtual staging, which were on the rise pre-pandemic, shot up in 2020, though the demand will likely decline somewhat after the pandemic.
Online real estate companies like Zillow, which were already enabling home sellers to browse listings, get in touch with real estate agents, and research mortgage options, became even more prevalent during the pandemic.
Zillow and some similar companies also provide 3D home tour options.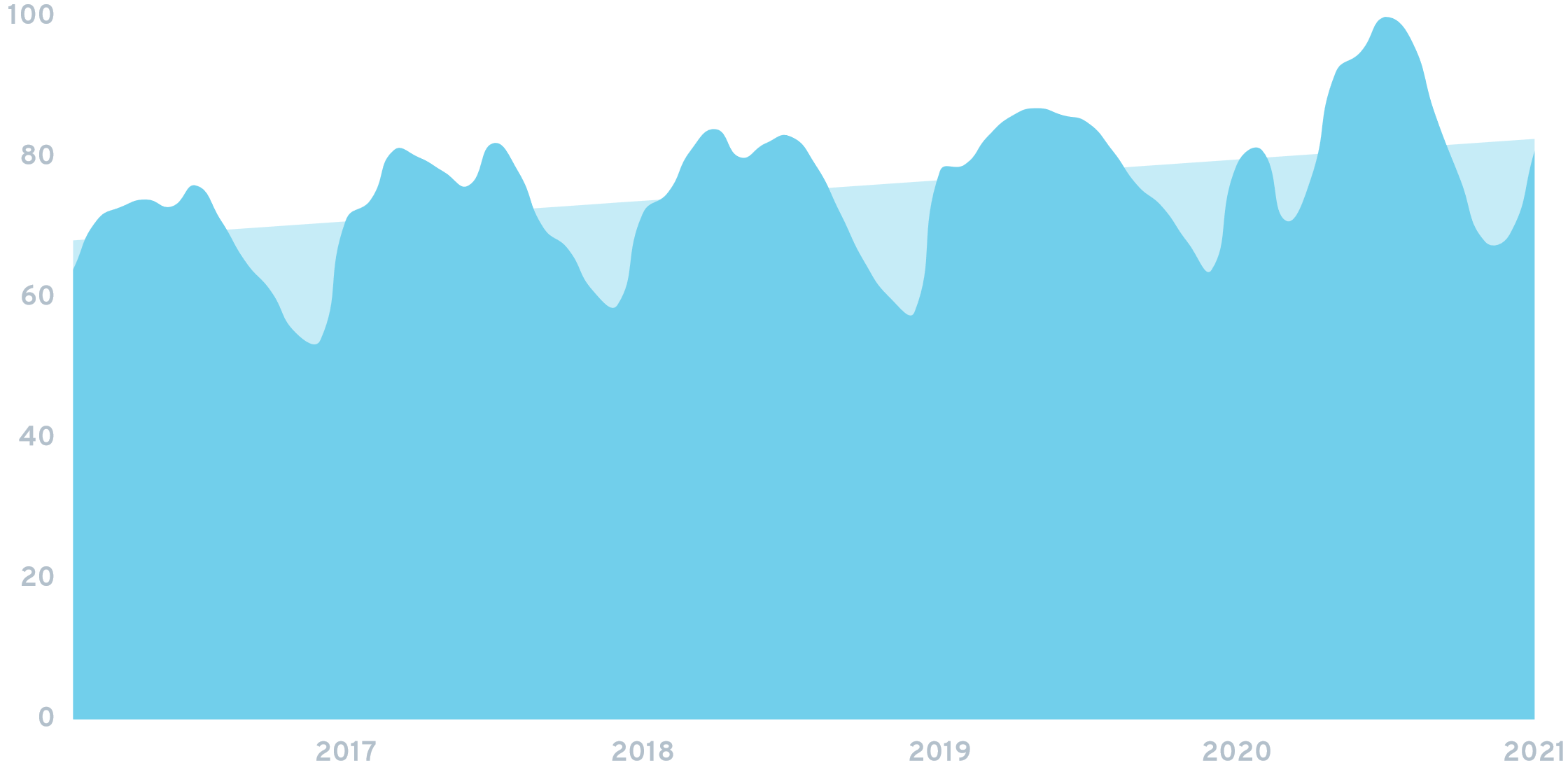 Zillow remains a popular online real estate database, as evidenced by rising searches for Zillow over the past five years.
The home tour is not the only aspect of home buying that is going digital. Getting a mortgage can be done online now too.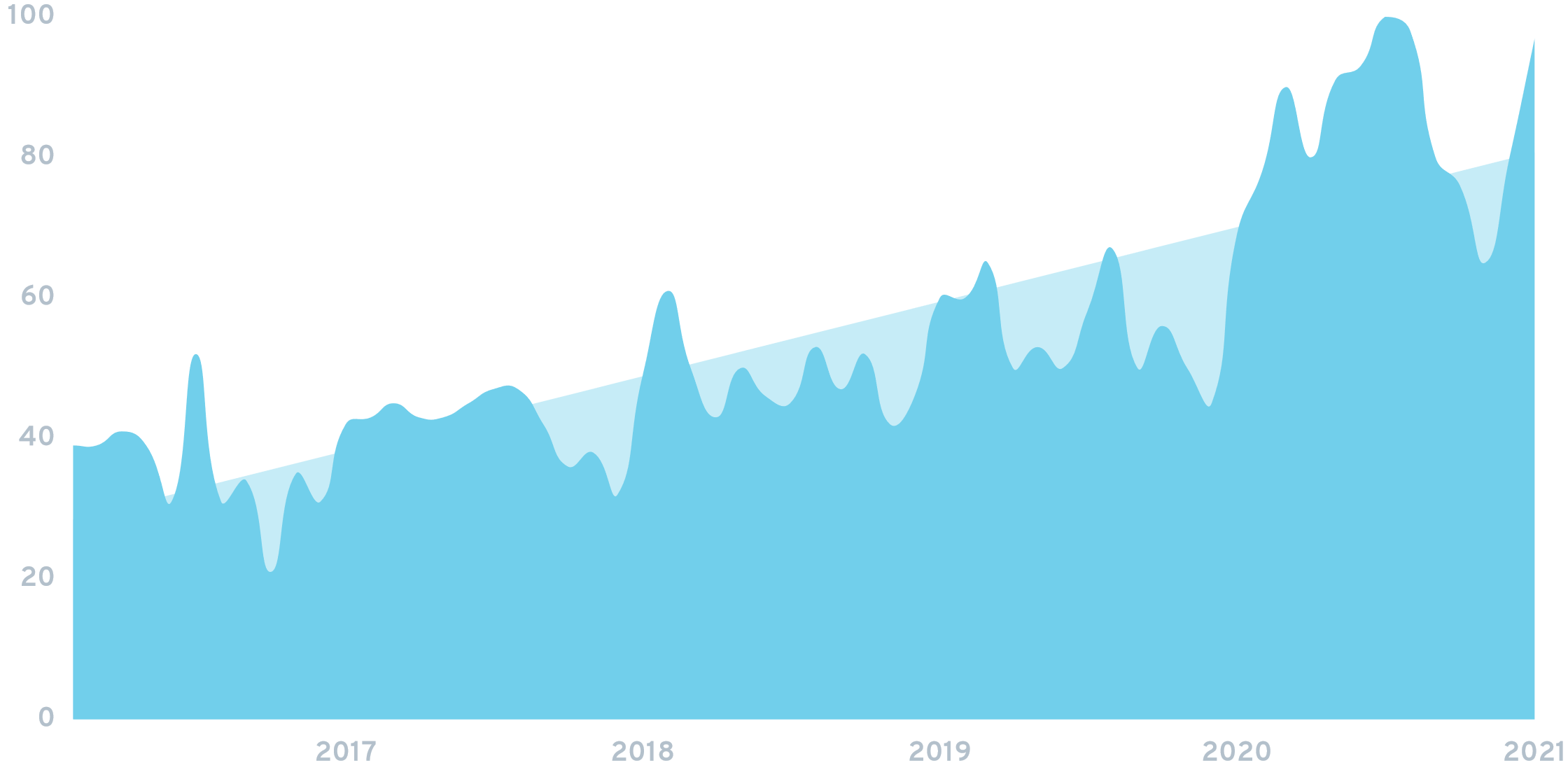 Online searches for Better Mortgage, an online mortgage company, shot up 61% over the last two years.
Millennials, who are notorious for their reliance on social media, are also turning to technology to learn more about their new neighborhoods.
Websites like Nextdoor allow residents of a particular area to stay in touch with other locals and keep up with happenings in the neighborhood.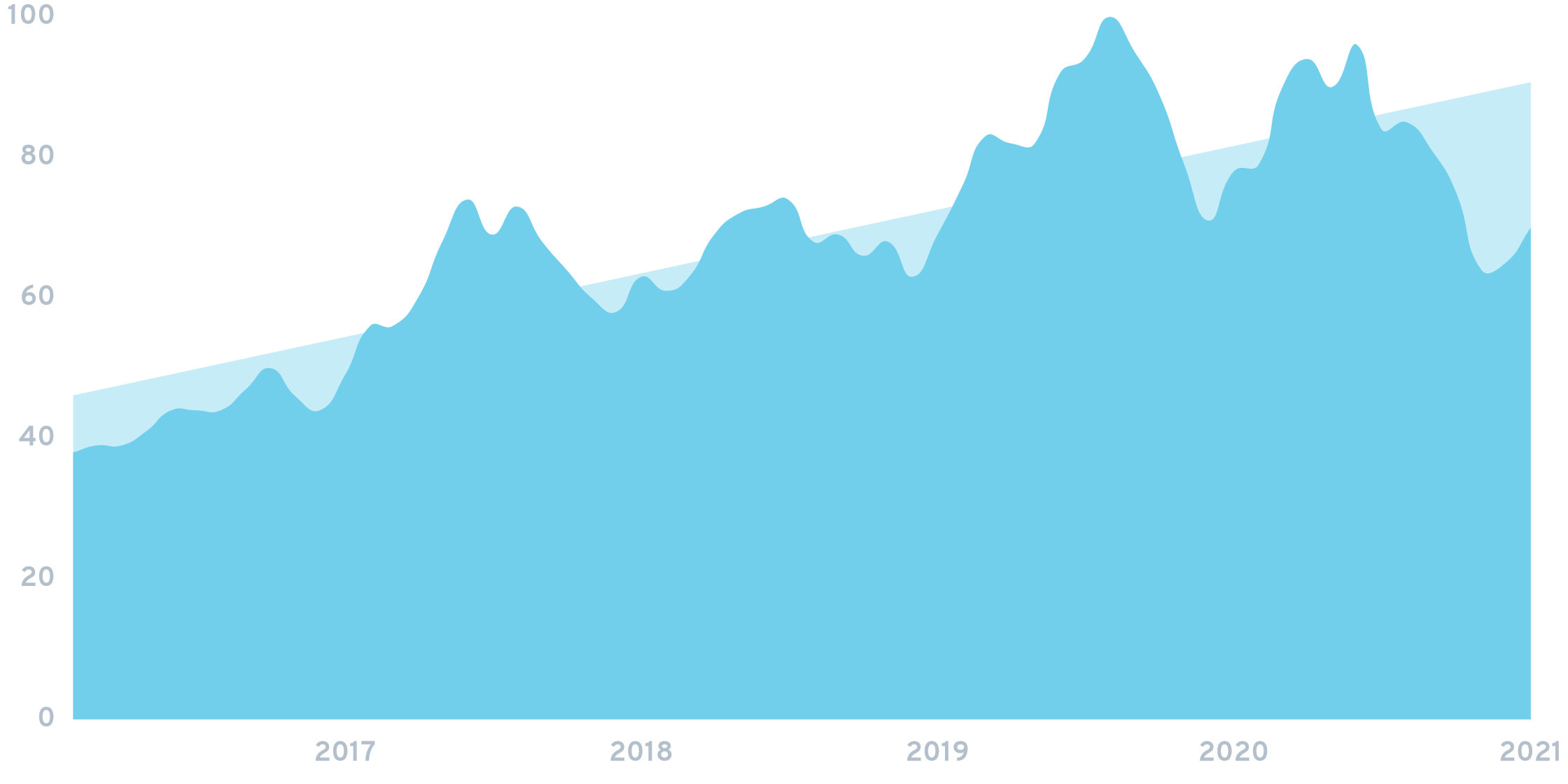 Overall, searches for Nextdoor, the social networking website for neighbors, has increased 84% since 2017.
2. A Shift From Cities to Suburbs
The COVID-19 pandemic has fueled migration from major cities to the suburbs.
While the biggest metro areas, like New York, San Francisco, and Washington, DC, are likely to rebound once the US is firmly on the other side of the pandemic, the 2020 trend of opting out of big city living may persist for the next 3-5 years.
The two underlying reasons for the shift are necessity and choice. Those who cannot afford to stay are moving out of necessity, while the wealthy are relocating by choice.
Those who have lost their jobs and can't afford big city prices anymore are moving in search of more affordable housing options.
The suburbs are an attractive destination due to lower taxes and cheaper housing and rent prices.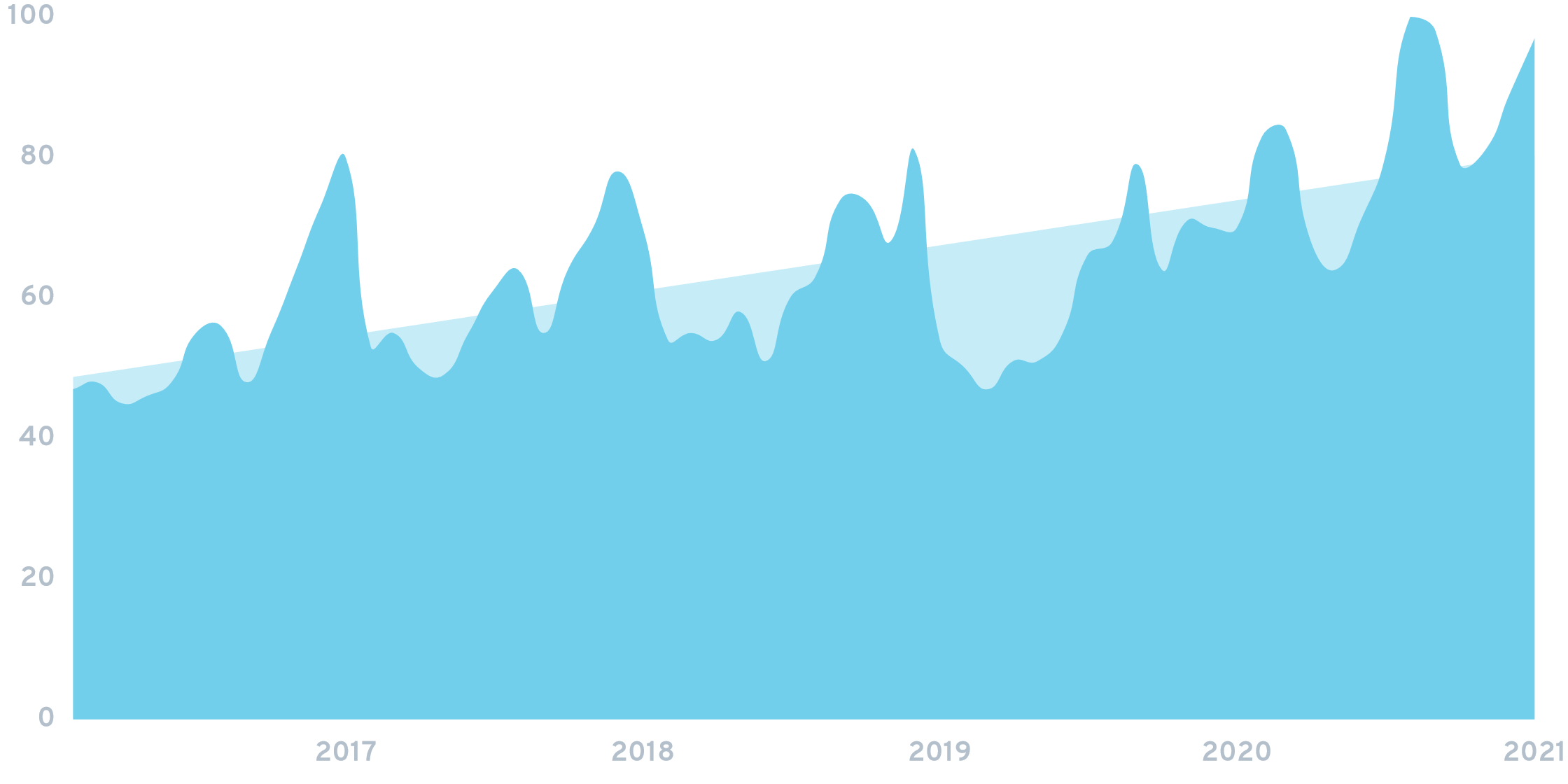 Internet searches for eviction jumped 94% in the last two years, in part highlighting the concerns of lower-income homeowners and renters during the COVID-19 pandemic.
Some who are moving out of big cities are looking for suburbs that retain some of the big city feel, areas that urban planner, Daniel Parolek, refers to as "middle neighborhoods."
While the predominant feature of "middle neighborhoods" is the single-family home, these areas also retain some of the conveniences of a big city, such as multifamily housing options, good public transportation, high walkability scores, shopping, and restaurants.
According to Parolek, "middle neighborhoods" are difficult to construct from a regulations perspective, but perhaps this will start to change in the future as demand for such areas increases.
The shift from cities to suburbs is also driving some of the other real estate trends on this list, such as the increasing popularity of the Sun Belt, rising housing prices, and a housing shortage.
3. The Sun Belt's Popularity Is Rising
As people shift out of big cities, one destination they are moving to is the Sun Belt.
The pandemic reinforced the increasing popularity of the Sun Belt, which is expected to persist for the foreseeable future.
The Sun Belt is the swath of the US that stretches from California to North Carolina and encompasses 18 southern states in between. Approximately 75% of the country's population growth in the past ten years has been concentrated in the Sun Belt states.
In addition to its appeal to the retired set, the region is also becoming increasingly more attractive to younger professionals due to lower taxes and more affordable housing prices and rent.
Additionally, even the biggest Sun Belt cities offer more space compared to the top US metro areas such as New York.
The growing relocation and rising population in the Sun Belt have bolstered real estate markets in the region.
The growth has not been limited to single-family homes but has also translated to multifamily housing and commercial real estate.
Two major Sun Belt metro areas, Dallas and Tampa are ranked in the top ten US cities with the most real estate potential.
However, it is Austin that is anticipated to see the most real estate growth in the US in 2021, followed closely by Phoenix and Nashville, according to the online real estate company, Zillow.
On the other hand, major metropolitan areas, like New York, Philadelphia, and San Francisco are expected to be among the worst real estate markets in the country in 2021.
4. Single-Family Housing Demand Creates Housing Shortages
The migration from cities to suburbs in 2020 resulted in a growing demand for single-family homes.
Financial experts project that home sales will rise another 10% in 2021, which will bring them to the highest level since 2006.
Searches for single-family homes were at their highest rate in four years in 2020, according to real estate firm, Redfin,
According to PricewaterhouseCoopers, the demand for single-family homes is being driven by several factors, including:
Low interest rates
The growing importance of the home due to the quarantine, social distancing, and telework
Strong housing trends pre-pandemic
The pandemic-related demand for houses is compounded by another coinciding trend, that of Millennials entering the home ownership phase of their lives.
Millennials looking to purchase their first house or start a family are also spurring suburban growth.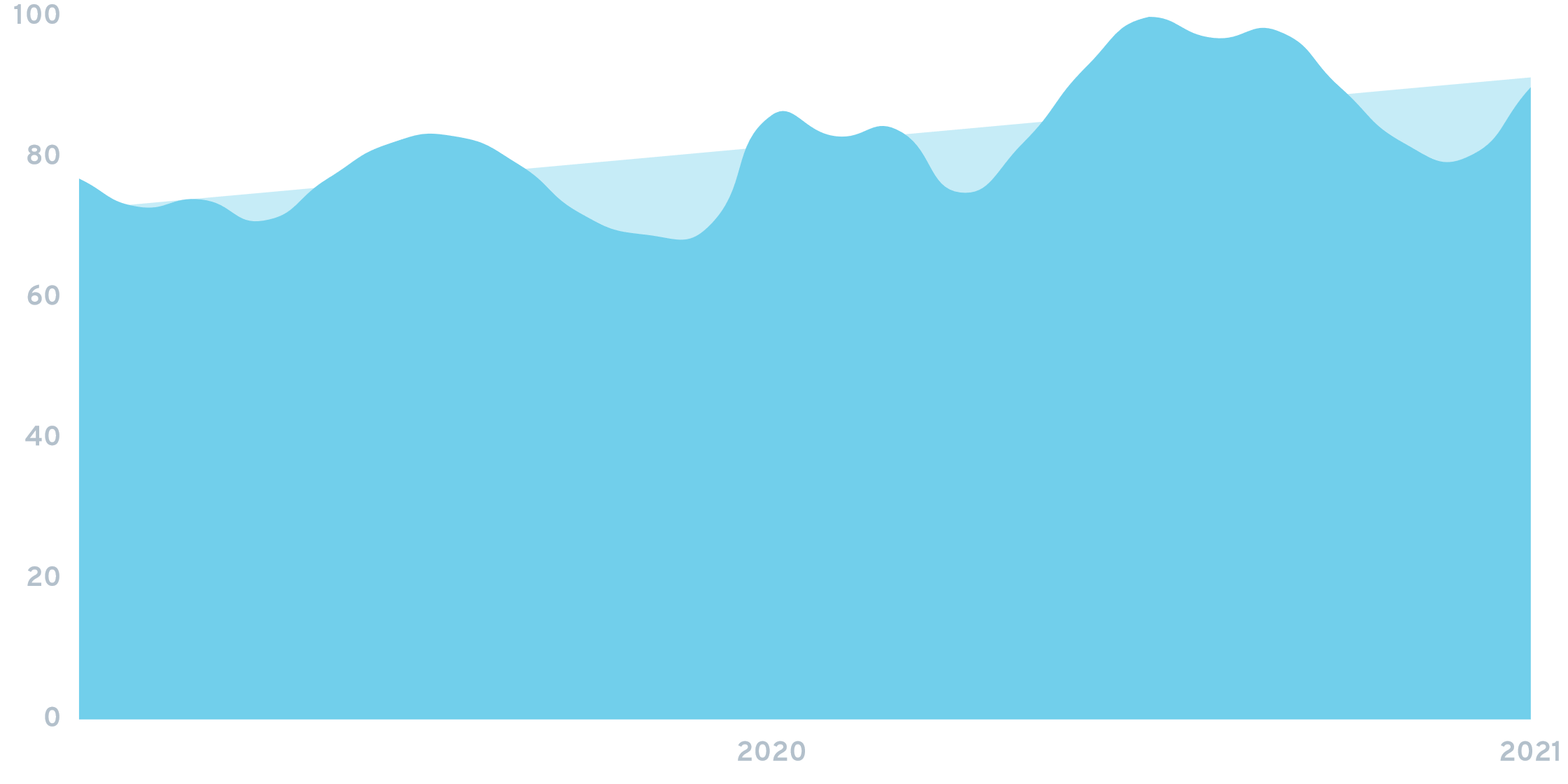 Online searches for home loans were on the rise in 2020 as the demand for single-family houses increased.
As a result, the number of single-family homes on the market today is the lowest in approximately 40 years.
As of September 2020, there were approximately 830,000 homes on the market in the US, down 39% from September 2019. The average time a home was listed on the market was 54 days, down 18% from September 2019.
One real estate agent in New Jersey has compared buying a house in New Jersey suburbs outside of New York City as a "blood sport" due to the high competition among buyers.
While these conditions are expected to persist through 2021, it is unclear how long they will last beyond that.
The market is projected to eventually stabilize, and the pace of new construction probably will catch up with the increased demand.
The housing shortage coupled with rising housing prices has been a boon for management and construction companies. Housing construction of both single-family and multifamily homes is on the rise and reached the highest level since 2006 in 2020.
5. Rising Single-Family Housing Prices
The current real estate trends are highly interconnected.
Due to the increased demand for single-family homes and dwindling supply, prices for single-family homes shot up in 2020 and are expected to remain high in 2021.
Shortly after the start of the pandemic, the housing market temporarily reversed course, as prices dropped and those looking to sell their homes reevaluated that decision.
However, after a couple of months, prices went back up again. And the seller's market is stronger than ever going into 2021.
The median list price for a single-family home in 2020 reached $350,000 in September 2020, an 11% increase from September 2019.
Median house prices are projected to go up at least another 5.7% in 2021.
High prices are not deterring home buyers. Some buyers are willing to pay substantially above the asking price to secure their purchase.
Rising house prices have pushed up the home equities of current homeowners. Home equity is the market value of a home minus the amount owed on it.
So, as market value increases, home equity does too. Home equity rose by 6.6%, or an average of $10,000 per home in 2020.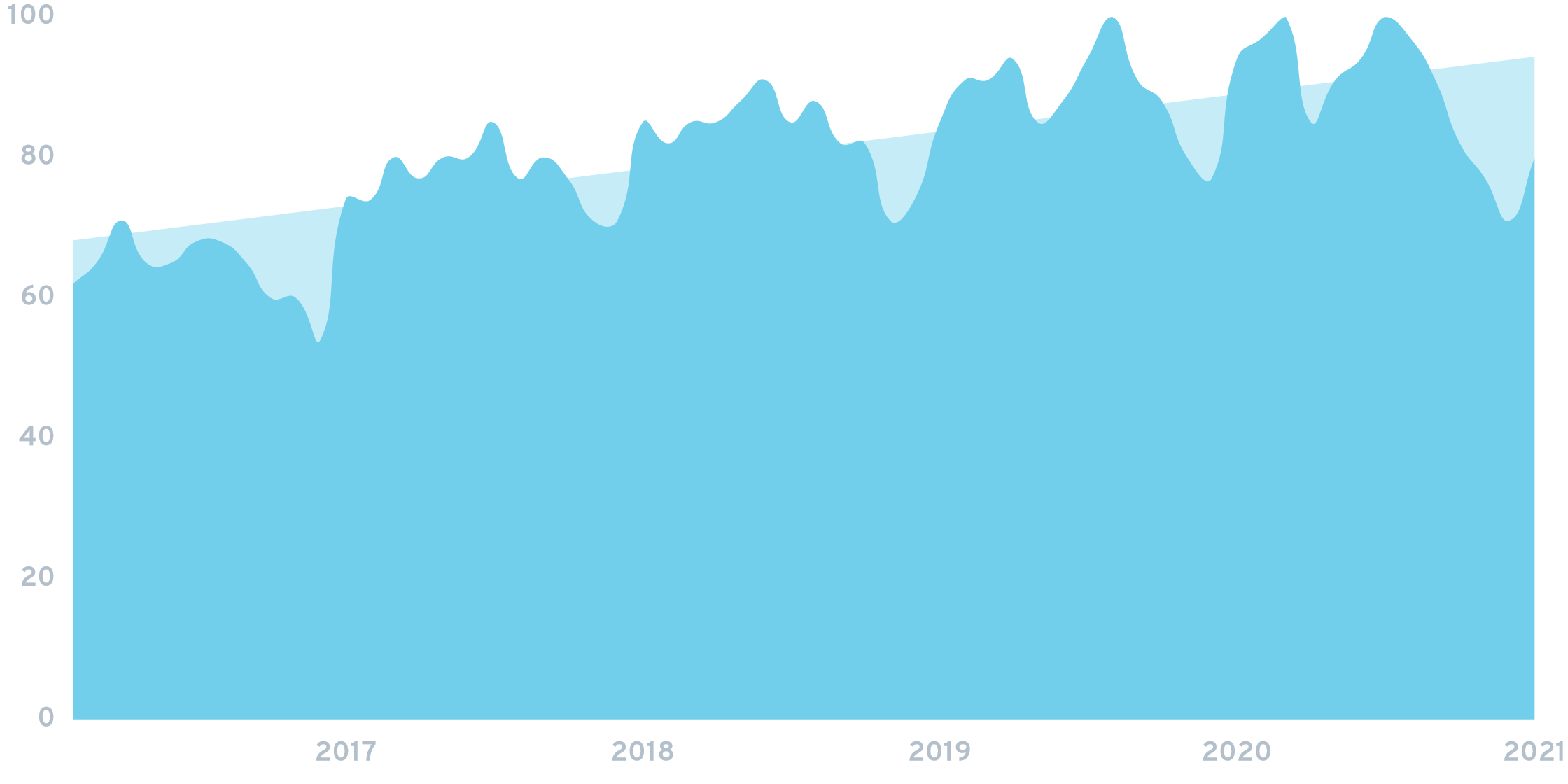 Online searches for home equity have increased over the past five years.
6. Lower Mortgage Rates
Homeownership was spurred by record-low mortgage rates in 2020. According to some sources, mortgage rates hit a 50-year low in 2020.
Mortgage rates were already on the decline since they reached a peak of 4.94% in 2018. But at the beginning of January 2021, mortgage rates hit a record low of 2.65%.
This caused a spike in mortgage applications, which reached a 10-month high at the beginning of 2021.
At the end of January 2021, the Federal Reserve decided to keep interest rates close to zero due to the economic impacts of the pandemic.
This means that mortgage rates will probably remain low in 2021, though they are likely to rise slightly or fluctuate.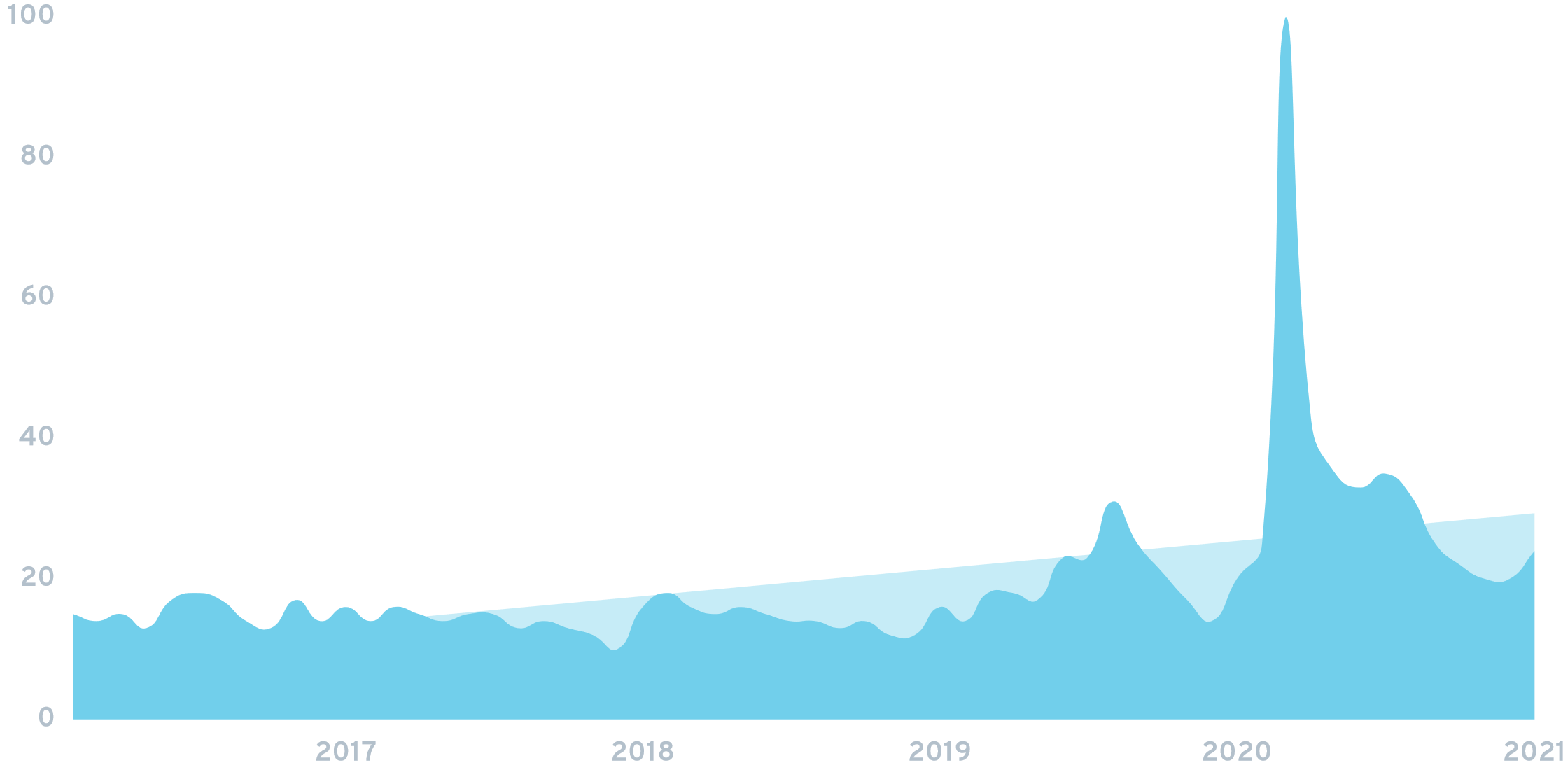 Online searches for mortgage rates saw a huge spike in the first half of 2020 but leveled out in the second half of the year.
A mortgage refinancing spike coincided with the spike in online mortgage rate searches in the first half of 2020. Another spike occurred in January 2021, when refinancing activity was 93% higher than in January 2020.
7. Rental Property Market in Decline
Partly due to the shift of people from cities to suburbs, the rental market for both residential and commercial properties in big cities was on the decline in 2020.
Demand for rental properties will continue to decline in the biggest cities as people who can afford it look to buy a house, and those who cannot, look for other alternatives to save money or fall behind on their rent.
The number of young professionals who have given up their apartments and moved back in with their parents jumped in 2020.
According to Pew Research, 2020 was the first time since the Great Depression that the majority of young adults 18-29 lived with their parents.
The migration out of big cities has resulted in the highest apartment vacancy rate since 2010 and declining rental prices.
While rental vacancies are increasing in major metropolitan areas, demand for rental properties is actually going up in mid-size and smaller cities around the country as the demand for homes in these areas outpaces the supply.
The downturn in the rental market is creating real estate investment opportunities.
Investors can purchase struggling rental properties now in anticipation of renters returning to big cities when the pandemic is in the rearview.
Investors can also take advantage of commercial properties that went vacant in 2020, such as hotels and retail buildings, and repurpose them, such as into housing units.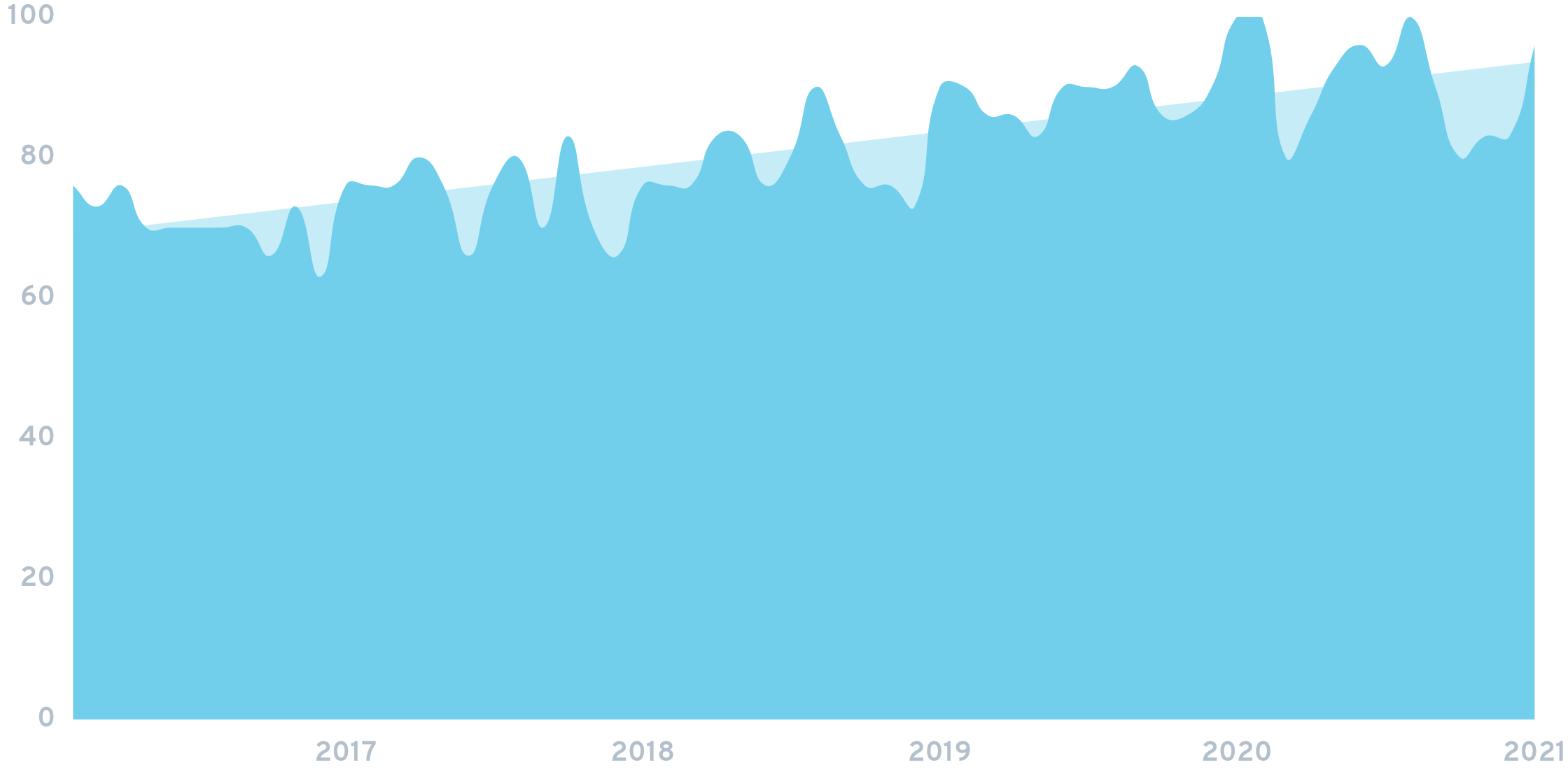 Online searches for real estate investing have increased by 26% over the past five years.
Conclusion
Real estate trends in 2021 will remain closely intertwined.
As more people move to the suburbs and look to purchase a home, single-family housing prices are expected to stay high and supply low. Low mortgage rates will continue to drive the demand for homes.
In the meantime, the rental property market in large cities will remain in decline, which will provide opportunities for real estate investors planning for a post-pandemic recovery of city life.
Most of the trends in this report are not projected to last much longer beyond 2021. Signs of their reversal include a rise in mortgage rates and an increase in housing supply as construction catches up with demand.
Last Updated: 
February 2, 2021