Top 6 Proptech Trends for 2023-2026
You may also like:
Property technology is quickly disrupting the traditional real estate journey, including searching, buying, selling, renting and more.
The rapid growth of proptech startups has gained a lot of attention recently.
But where are we headed next?
Here are the biggest proptech trends to monitor this year and beyond.
1. eSigning Becomes the Norm
Fueled by the pandemic, eSigning real estate agreements became a mainstream solution.
In fact, the global digital signature market is projected to grow on average at 26.3% annually from 2021 through 2027.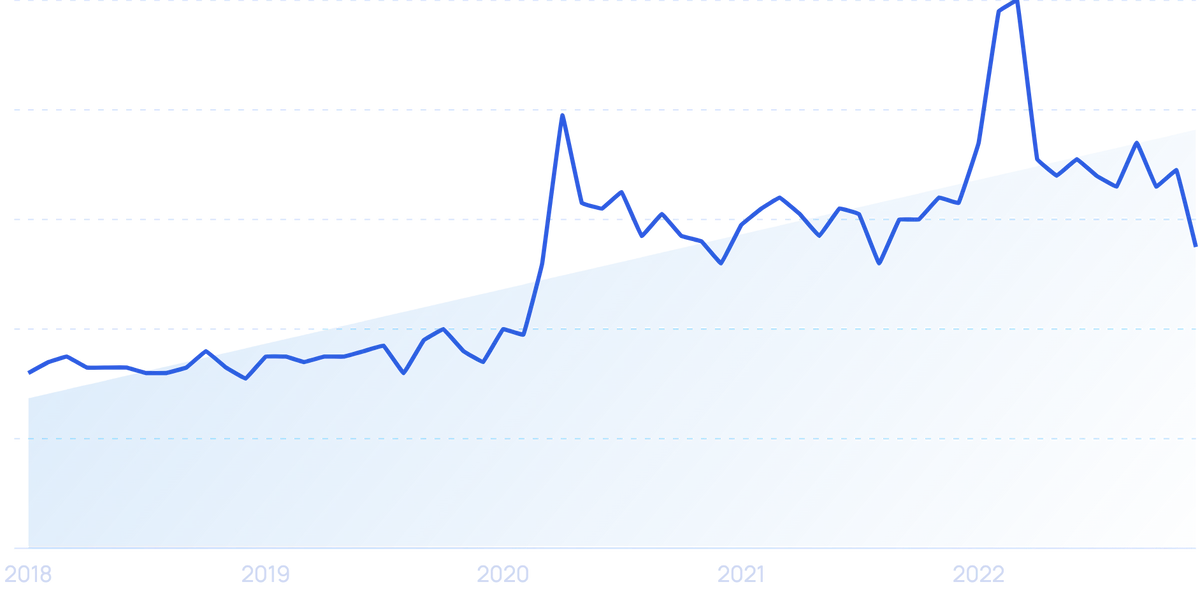 Global Google searches for "digital signatures" have increased by 71% in 5 years.
Additionally, the global digital signature market is expected to reach $5 billion by 2025 and nearly $17.5 billion by 2032.
Two of the main reasons for this growth projection are a) flexibility and b) security.
But how will eSigning actually go mainstream?
One strategy is to build integrations with cloud-based applications such as Google Drive and Dropbox.
That way, document signings and exchanges happen in one place.
In fact, this is already happening.
San Francisco based startup HelloSign was recently acquired by Dropbox to expand workflow and e-signature market share.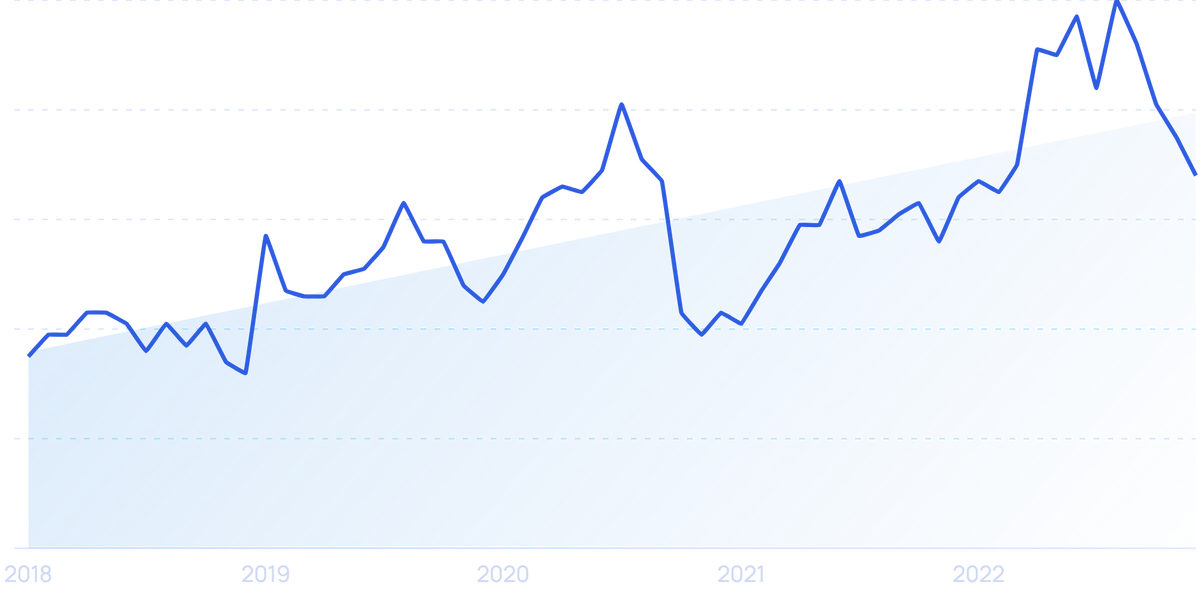 Searches for "HelloSign" have increased by 94% over a 5-year span.
This provides Dropbox with entry into the market.
And a cloud platform to provide security and simplicity to users.
The e-signature surge has also disrupted virtual notarization - a process that traditionally required in-person signatures.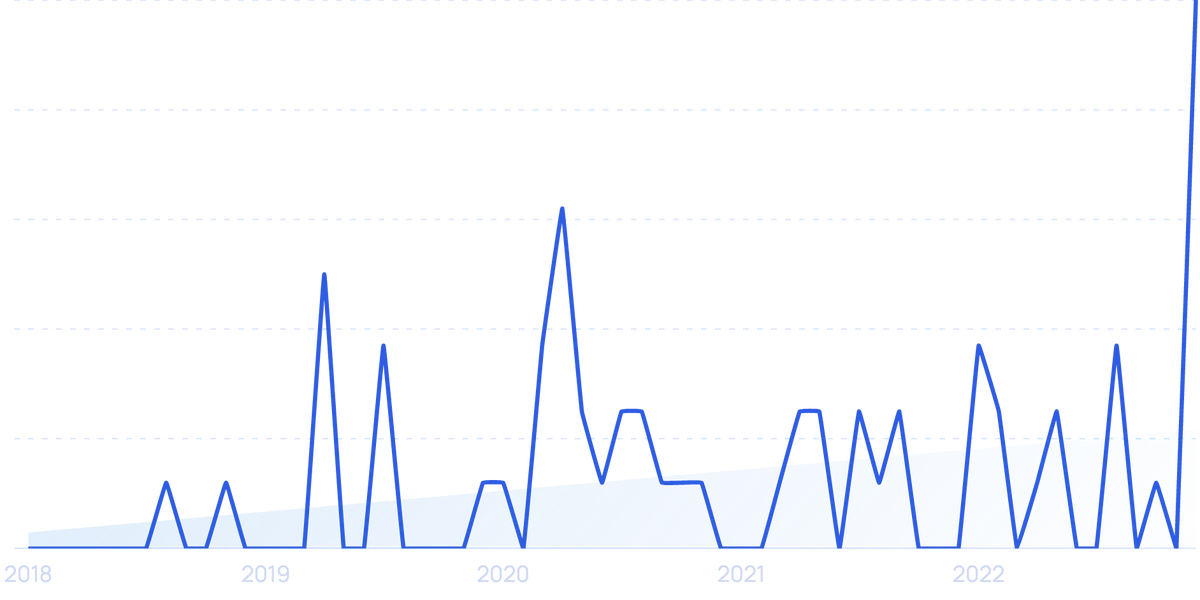 Search interest in "Virtual Notarization" over 5 years.
Executive orders were put in place due to the pandemic that allowed virtual notarizations to occur.
DocuSign was able to enter the digital notary space after acquiring Austin, Texas startup LiveOak Technologies.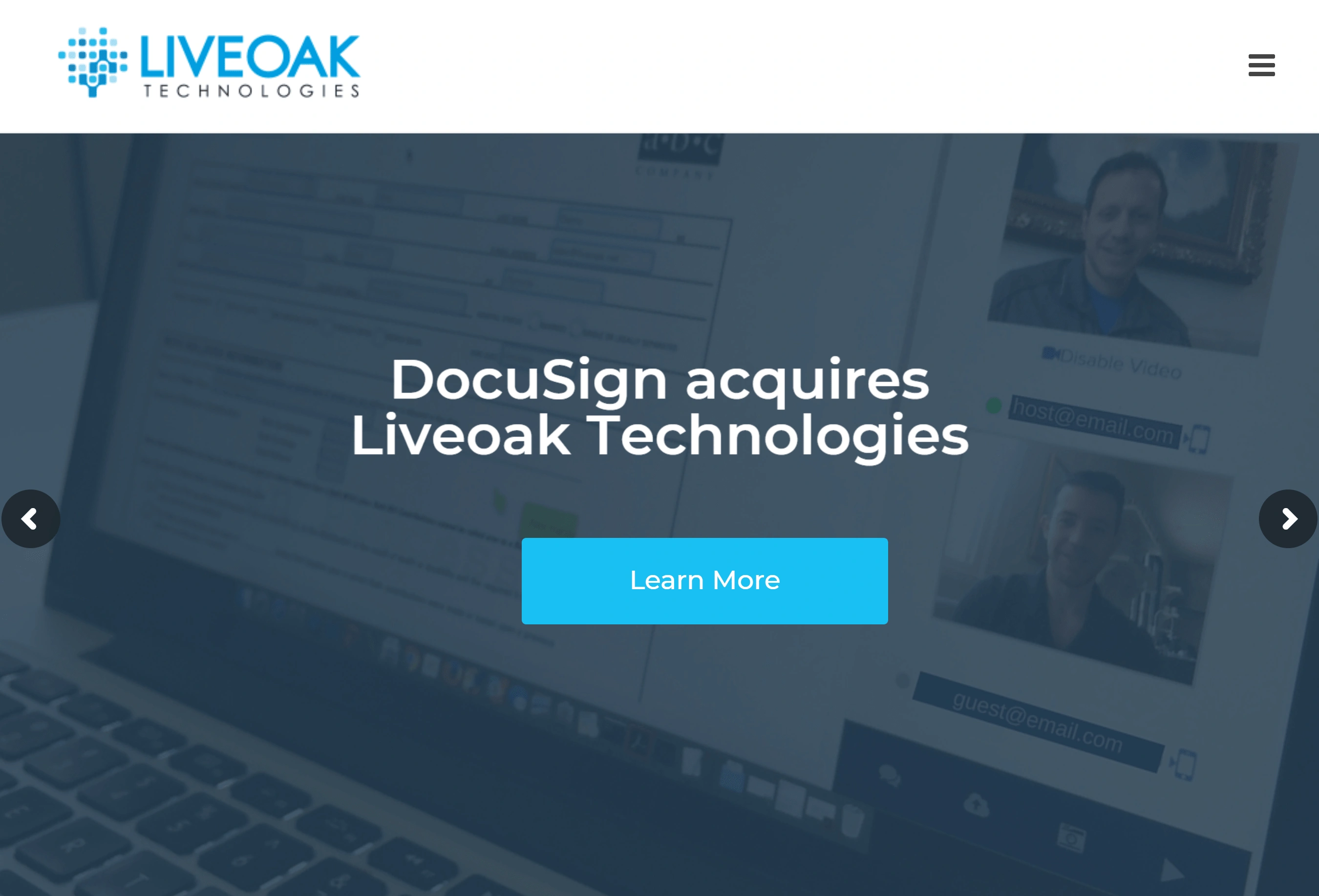 LiveOak was acquired by DocuSign.
Nearly 1.3 billion documents per year are notarized in the US.
Which shows the space has potential for significant growth in 2023 and beyond.
Now that signatures are largely virtual, it will be interesting to see how many of these transactions happen via smart contracts on the blockchain.
In fact, Deloitte has named blockchain "the next big thing in commercial real estate".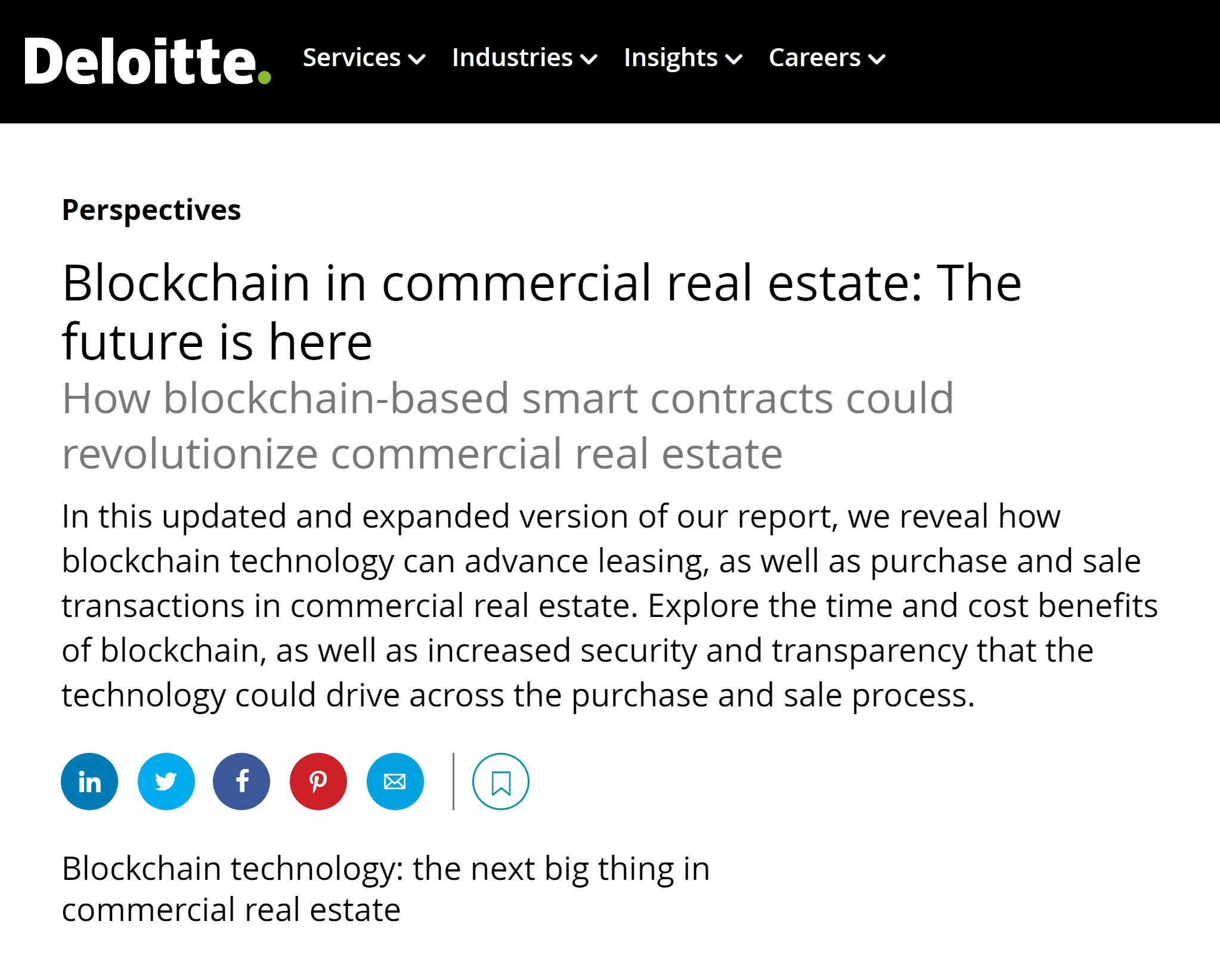 Deloitte considers blockchain tech a game changer for real estate transactions.
2. The Real Estate Industry Taps Into Proprietary Advertising Solutions
New digital advertising platforms are emerging to disrupt the real estate space.
And provide custom solutions for this unique industry.
For example, Audience Town.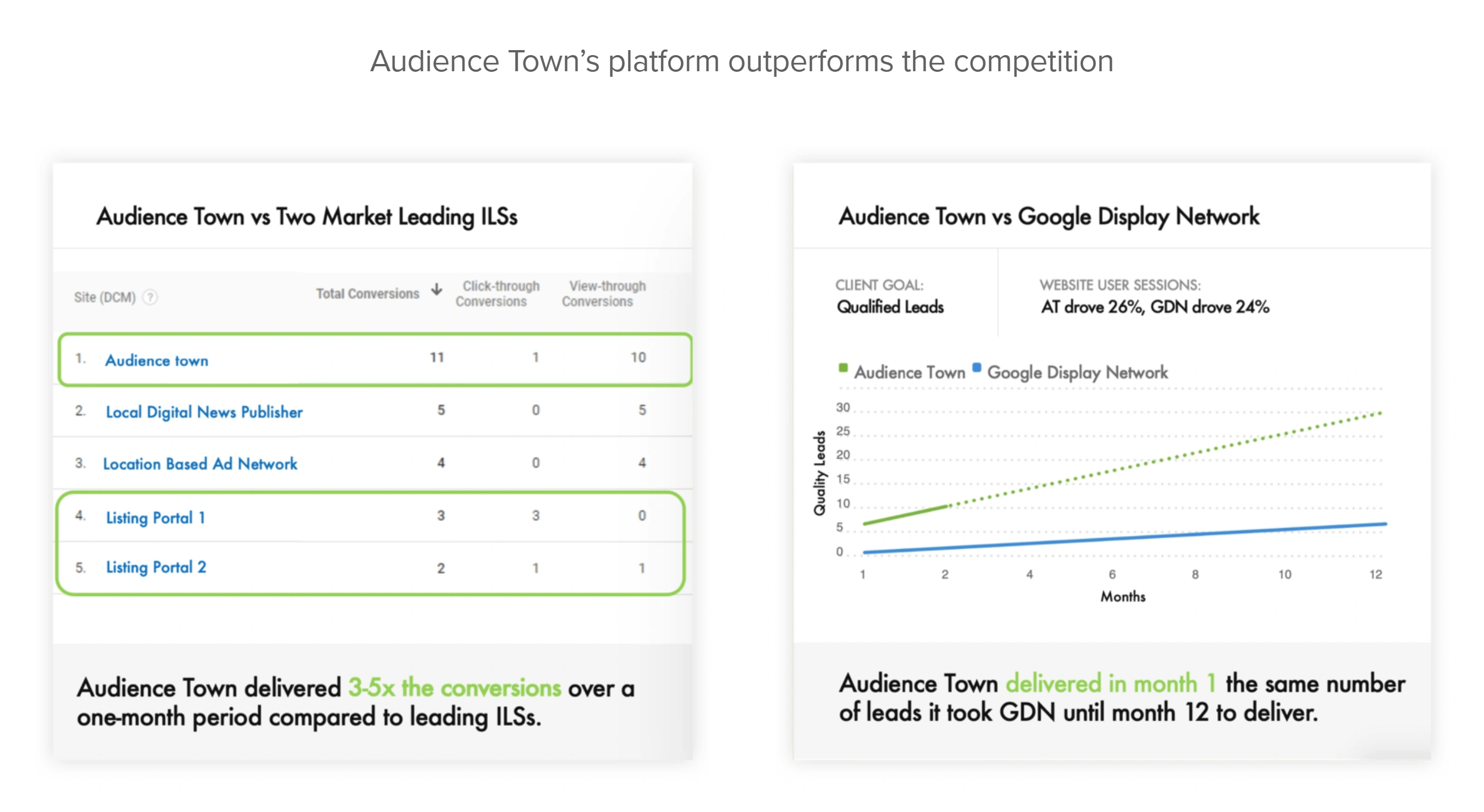 Audience Town wants to make real estate advertising easier and more efficient.
Audience Town secured $2.1 million in new funding to expand into new markets and continue to grow its platform.
Overall, real estate advertising is a $30 billion industry.
And this funding accelerates Audience Town's data and software capabilities for expansion.
Another solution real estate professionals can utilize is Nextdoor, the neighborhood social networking app.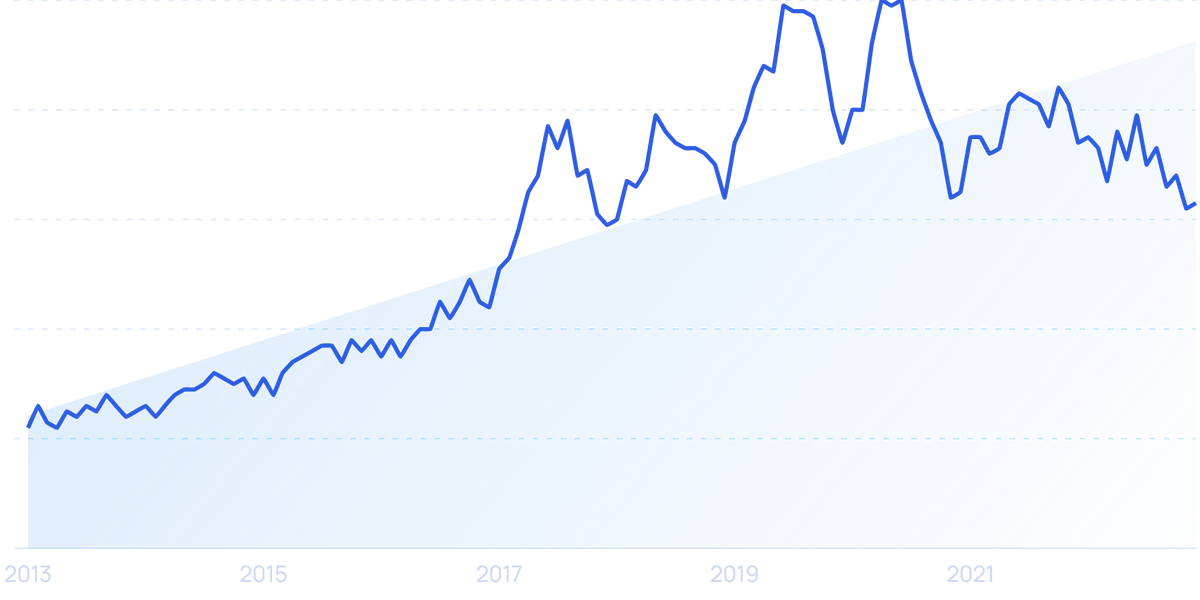 Google search growth for "Nextdoor" is up 186% in 10 years.
The app builds local communities where users can create meaningful interactions.
Local agents are using the platform for local listings to sell homes and themselves.
The platform provides an entry point for local agents to connect with local homeowners and buyers to build a presence in the area.
Nextdoor's growth doesn't appear to be slowing down with a future IPO on the horizon.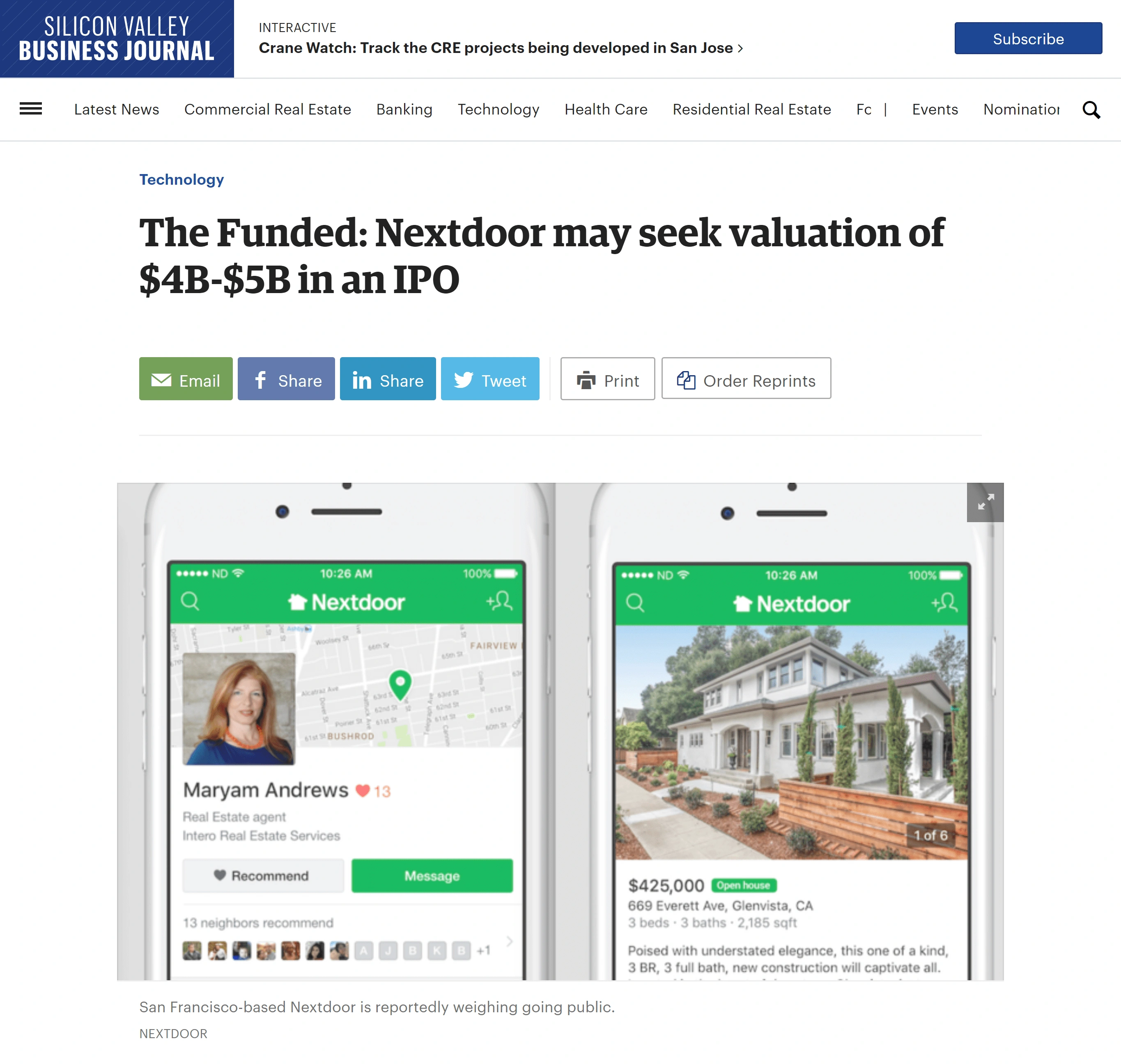 Real estate startup Nextdoor is planning an IPO.
Nextdoor reaches currently over 290,000 neighborhoods in 11 countries and continues to build a niche advertising market for hyper-localized campaigns.
3. Rental Property Management & Automation Takes Off
Automation is becoming a disruptor in real estate management.
Thanks to expanding platforms, multi-family property management can adapt to property owners' needs in real-time.
The platforms provide the tools and support needed to fill the technology gaps and reinforce efficiency and profits.
For example, Knock CRM is looking to take charge of the space after raising $20 million in 2021.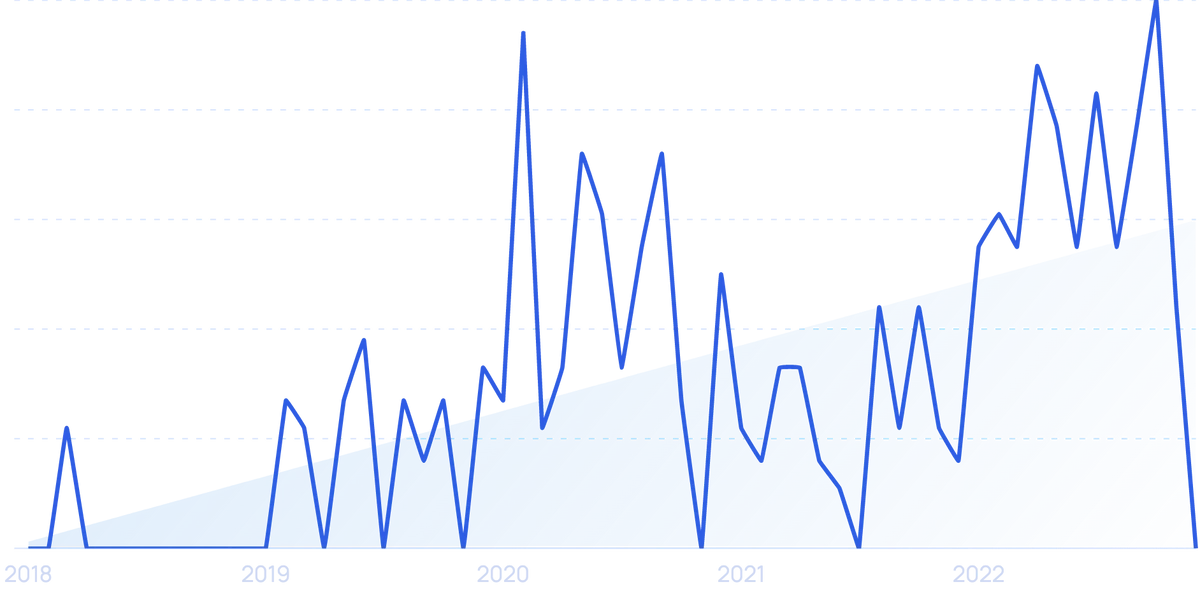 Search interest for "Knock CRM" over the past half-decade.
Their platform automates a lot of the grunt work in property management.
Specifically, Knock CRM provides property managers with flexibility to manage larger partner portfolios.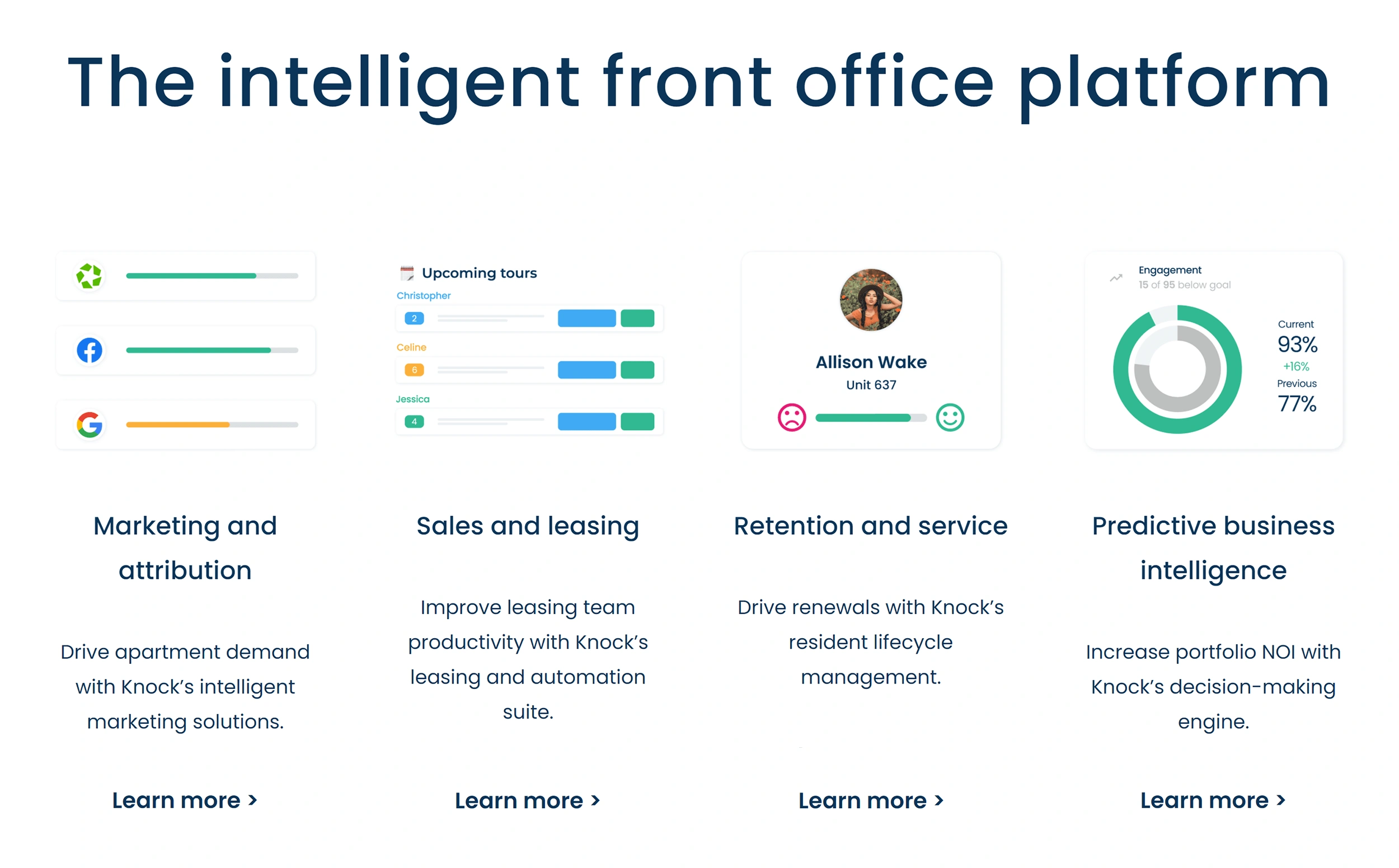 Knock CRM reports that they provide a 20% increase in lead-to-lease rates when new users switch over.
The property management market is expected to reach over $37 billion by 2029.
(With accelerating growth caused by the coronavirus pandemic.)
ManageCasa is another leading automated property management software.
They recently partnered with Stripe to launch a new payments platform for property managers and landlords to automate rent payments, property expenses, and bookkeeping solutions.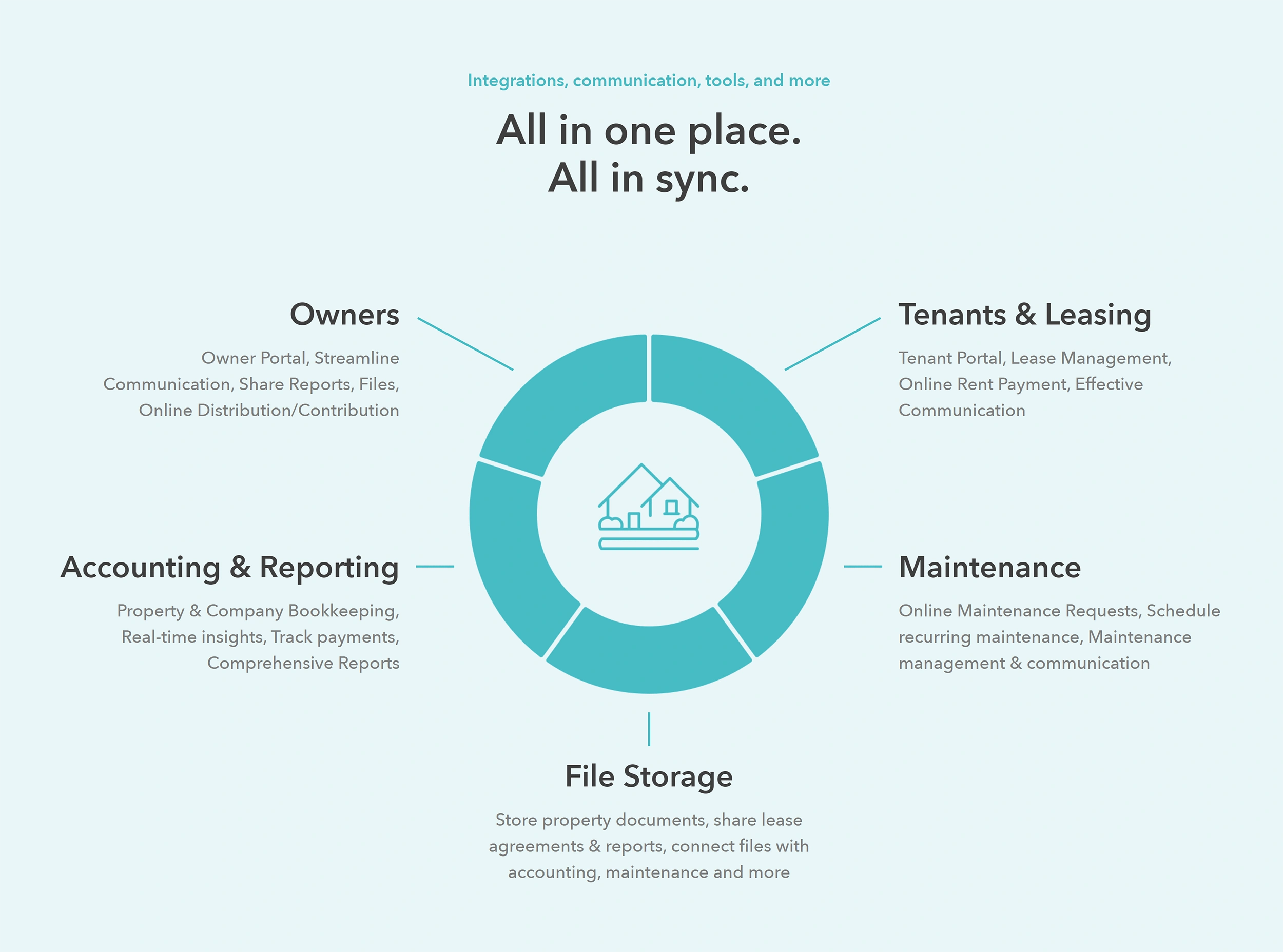 The ManageCasa homepage.
The company reports that over 2,000 property managers currently use ManageCasa.
4. More Interest In Fractional Real Estate Investments
With the Reddit group WallStreetBets becoming a household name in the financial world, the world of retail investing has seen a dramatic increase.
This trend goes beyond just the stock and crypto markets.
Investors are eager to get involved in real estate investing too.
Due to the significant amount of capital required to get started buying properties, proptech companies have started to focus on fractional and crowdfunding property investment opportunities.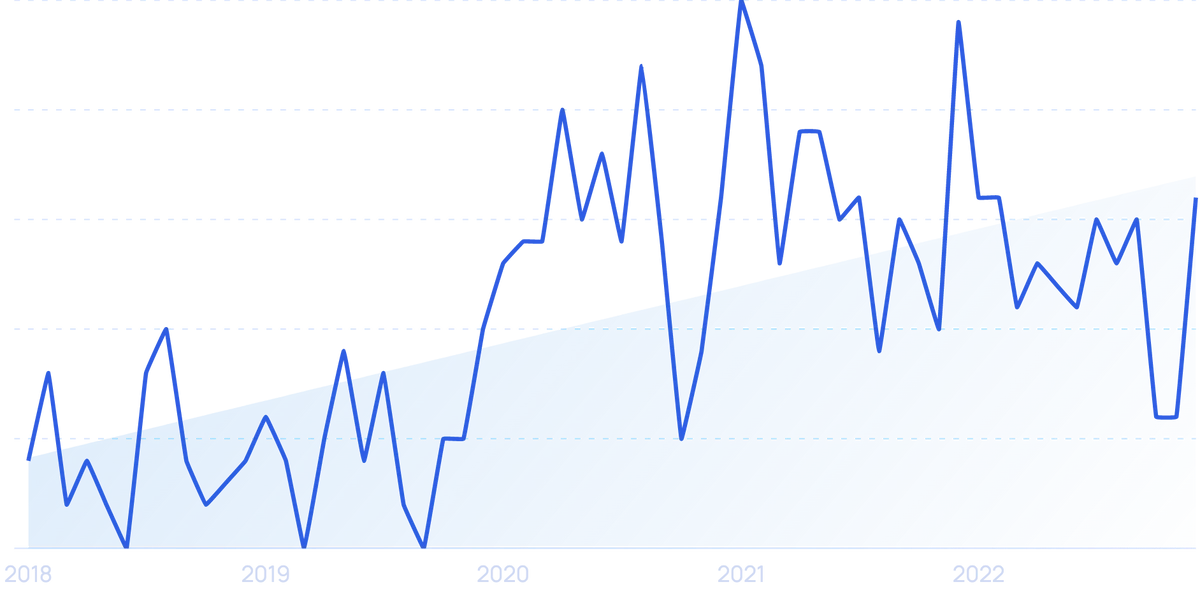 Google search interest for "fractional investing" over the last 5 years.

The global crowdfunding real estate market is expected to grow from $13 billion in 2018 to nearly $870 billion in 2027, at a 58% compound annual growth rate.
Republic is a startup that began by allowing investors access to early stage startups.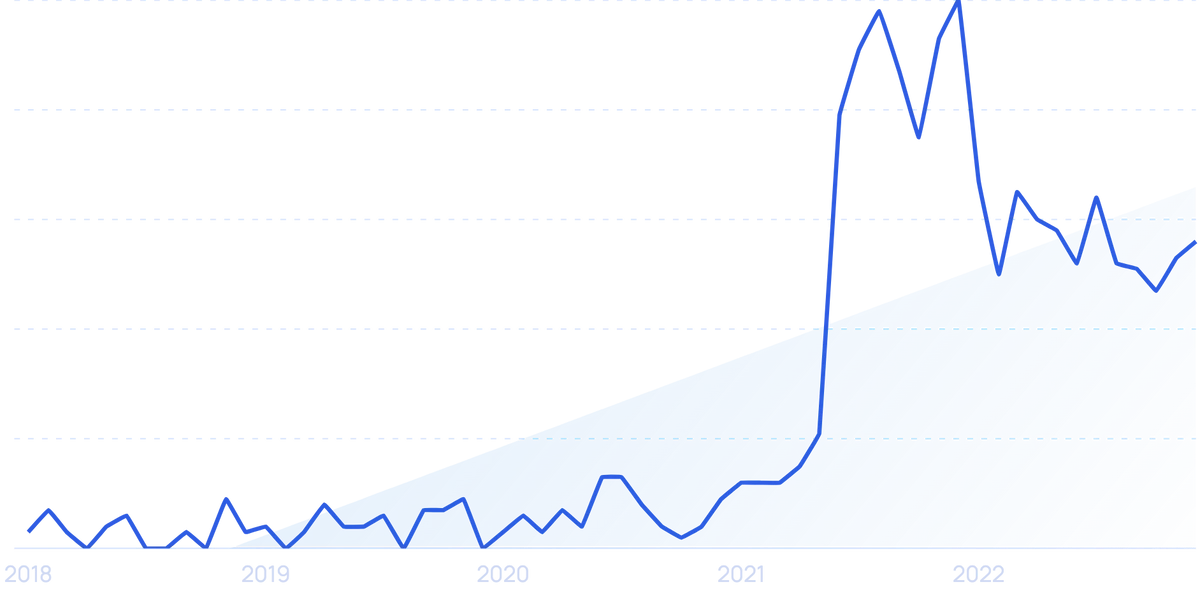 Interest in "Republic.co" has risen by 1,433% over the past 5 years.

They made the jump into real estate after acquiring real estate investing platform Compound.
Other players in the real estate fractional investing space include:
All three of these competitors offer low barriers to entry in commercial real estate (minimum investments range between $500 to $5,000).
The benefits of a user-friendly UI, curated real estate deals, and easier access make these platforms an attractive solution to people wanting to start building their real estate portfolios.
5. Smart Homes Becomes the Norm
Transforming real estate properties into smart homes is a new way to increase property values and attract a new generation of home buyers.
In fact, a recent study showed that 62% of "Gen-Z" renters consider smart-home tech more important than traditional amenities, such as a gym and convenient parking.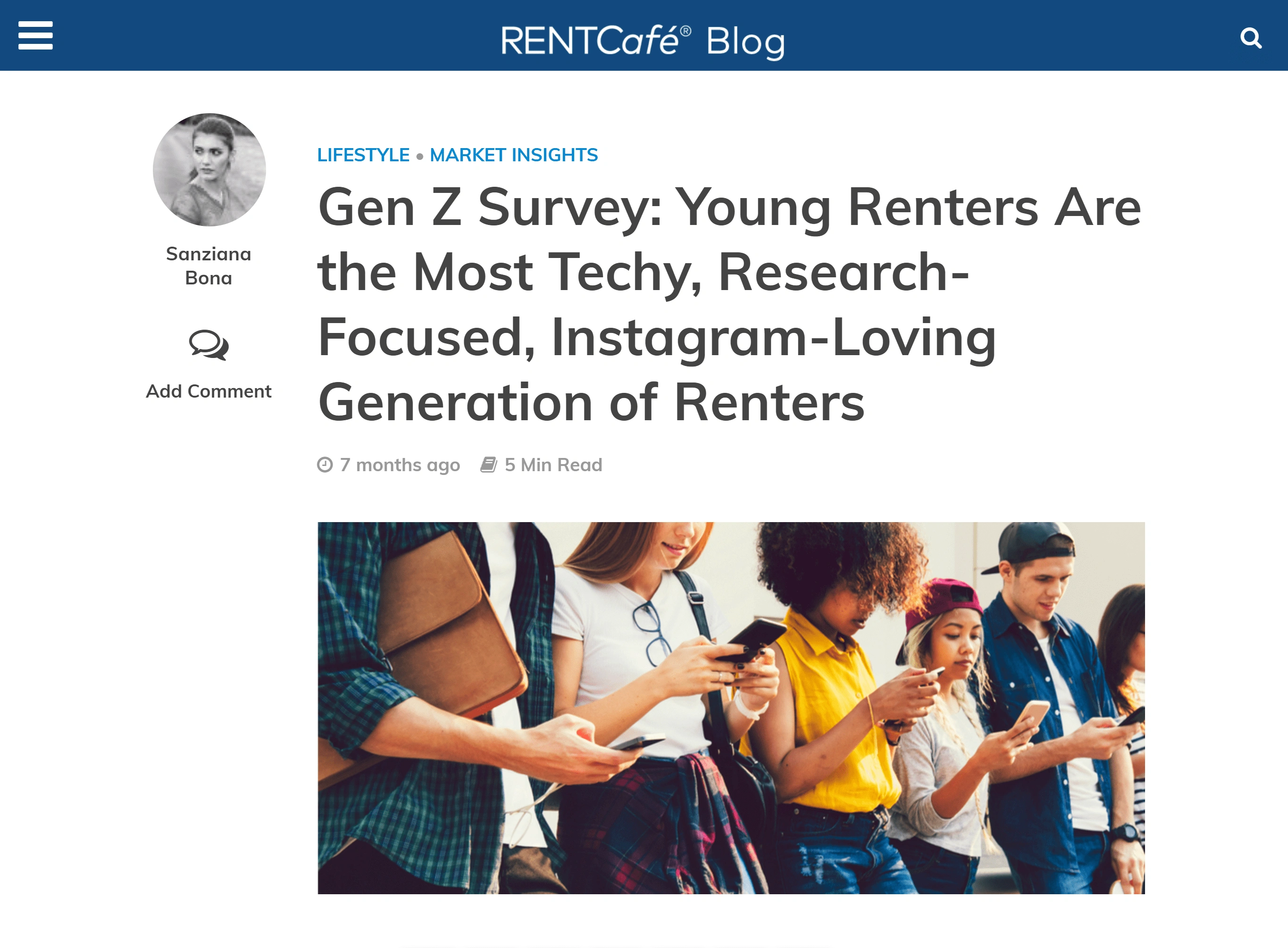 Members of GenZ put a lot of weight on their home's technology, whether it's IoT, AI, or the ability to control appliances remotely.

Ecobee is a smart home automation company building thermostats, cameras, and sensors to install in homes to secure and automate properties.

Searches for "Ecobee" have more than doubled over the last decade.
They also offer business solutions known as SmartBuildings for property owners to manage thermostats for both commercial and multi-family buildings.
The household penetration of smart home devices sits at roughly 43.8%.
And is estimated to grow to 62.7% by 2026.
Competitors like SmartRent are finding ways to automate installation and management processes as well.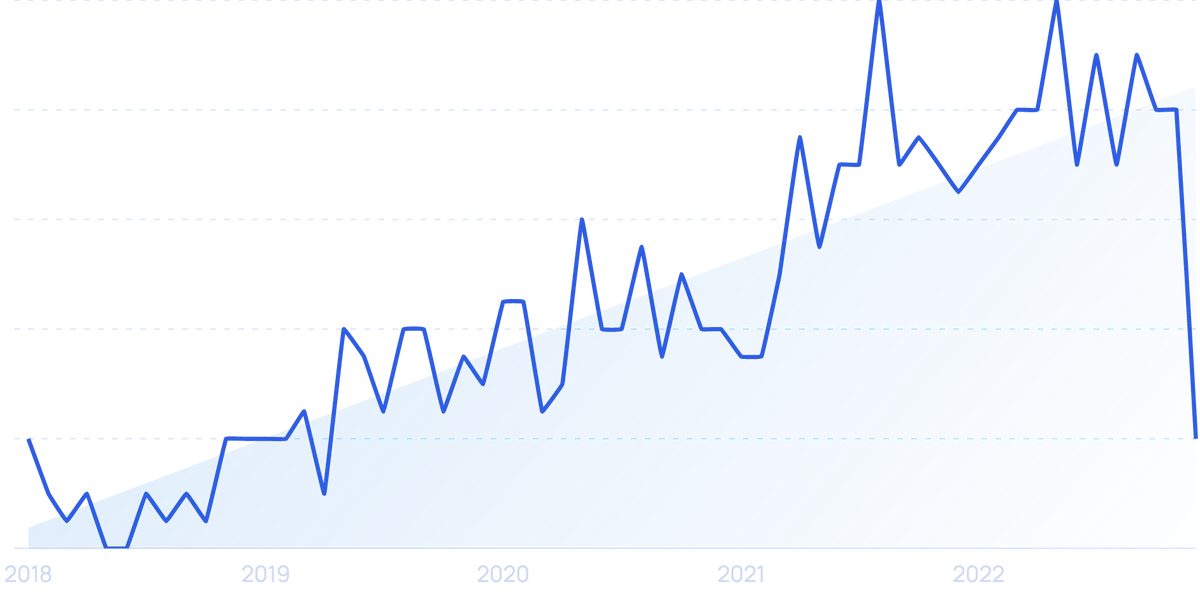 Searches for smart homes startup "SmartRent" have risen 1,300% in 5 years.
Some key offerings from SmartRent include smart apartments, parking management, community wifi, and security control automation.
In 2020, SmartRent raised $60 million to expand its reach.
This startup wants to provide an automated installation process and a fully managed service-based approach for multi-family property owners.
6. Growing Numbers of "iBuyers"
iBuyers are creating fast-paced real estate sales and automated valuation models to sell homes quickly.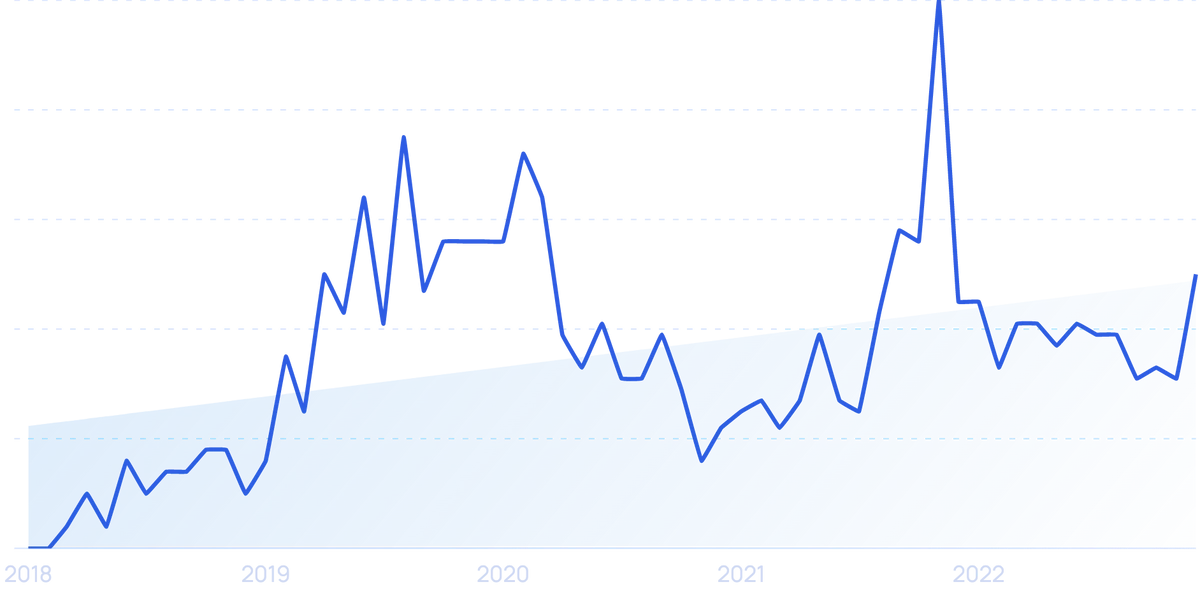 Searches for the term "iBuyer" have risen 2,300% in the last 5 years.
iBuyers rely heavily on data and will often buy homes unseen.
The growing popularity of iBuyers has quickly caught the attention of homeowners.
71% of sellers have stated they would consider using iBuyers to sell their home.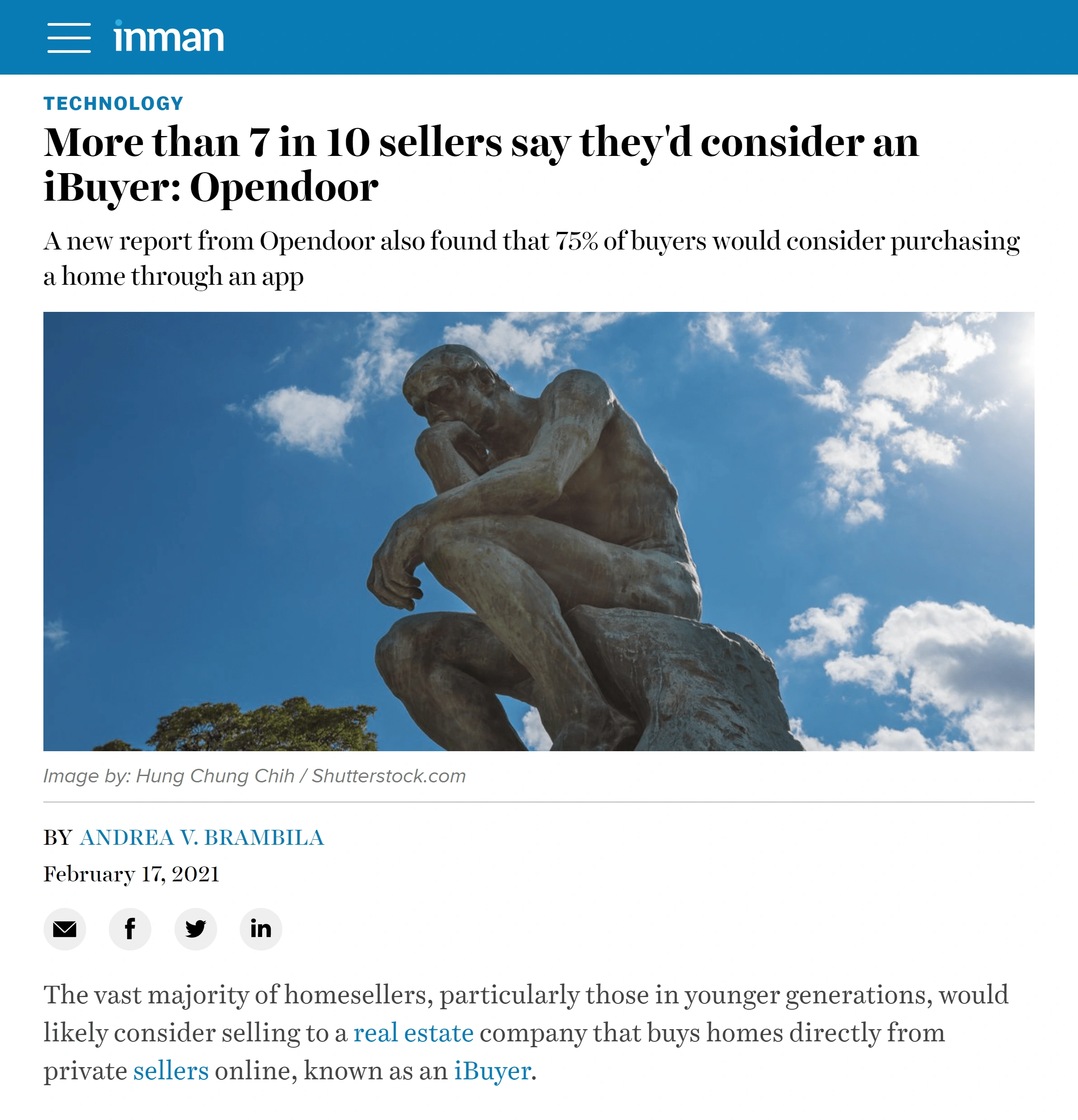 One survey found that the vast majority of home sellers would sell their home to an iBuyer.
During the pandemic, iBuyers saw a significant decline in purchasing.
But as vaccines and reopenings have occurred, so have the iBuyers.
The pandemic also helped demonstrate some of the benefits of iBuying (reducing in-person visits and interactions).
The CEO of Knock CRM believes half of all home sales will be bought by iBuyers within the next 10 years.
The belief is that quick sales provide certainty and convenience that traditional real estate sales don't typically offer.
Despite this projection, iBuying only currently holds about 1% of the total residential real estate market.
Opendoor is an iBuyer proptech startup quickly gaining market share and popularity.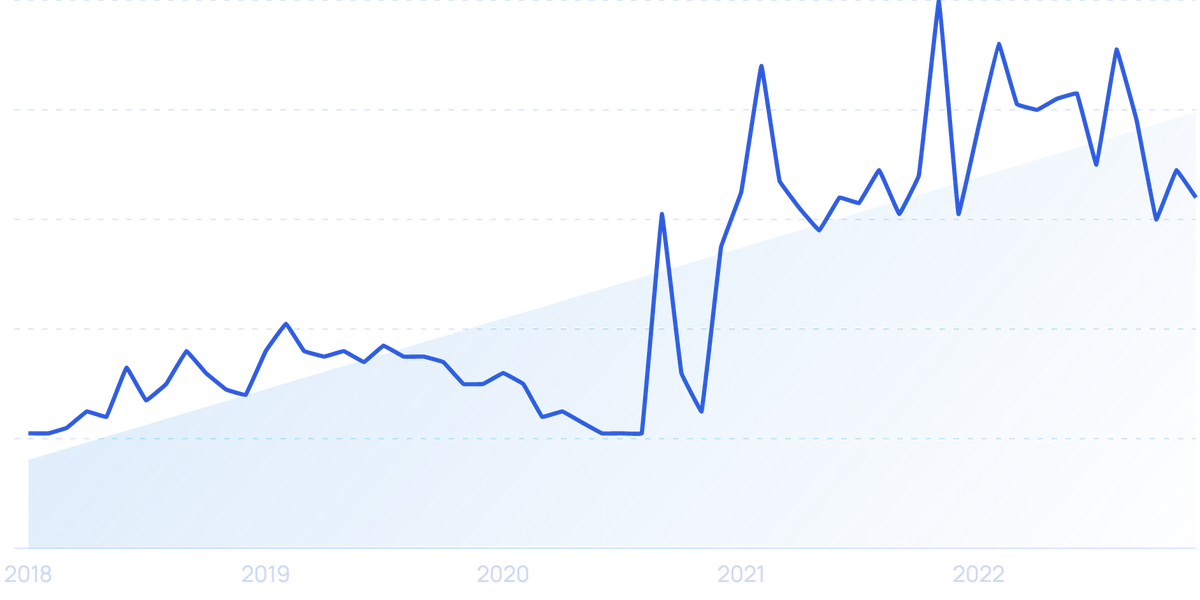 Search growth in iBuying startup "Opendoor" has increased 204% in 5 years.
In September, Chamath Palihapitiya took the company public through a SPAC IPO.
But how does it work?
Opendoor charges a 5-6% service fee to buy your home (by comparison, add-on fees sellers face through a realtor can range somewhere between 6-10%).
Other players competing with Opendoor include:
RedFin, a real estate brokerage company that generates instant offers.
Knock allows users to buy their new home before selling their old home.
Zillow, a leading online real estate marketplace with many tools at its disposal.
The next 3-4 years looks to be high-growth years for many iBuying startups.
Conclusion
That will just about wrap it up: 6 important proptech trends to watch for in 2023 and beyond.
Largely fueled by new startups in the space, the proptech industry is growing quickly.
From eSigning, to artificial intelligence, to the Internet of Things, startups pushing digital transformation are positioned to disrupt the real estate industry as we once knew it.
And if the last couple of years have taught us anything, it's to believe that new software technology can disrupt just about any space. Even those, like construction and real estate, that are firmly placed in the physical world.