12 Important Fintech Trends (2022-2024)
You may also like:
The total value worldwide fintech market is now estimated to be over $8.5 trillion.
And many fintech products are becoming a part of everyday life.
In fact, a recent survey by Plaid found that 73% of Americans now consider financial technology the "new normal".
And 80% of respondents don't see the need for traditional bank branches at all.
So if you want to see what's coming next in this growing industry, check out our list of 12 key fintech industry trends.
1. Consumers Increasingly Rely on Robo-Advisors
A robo-advisor is software that largely automates investing tasks, including buying stocks, asset allocation and portfolio management.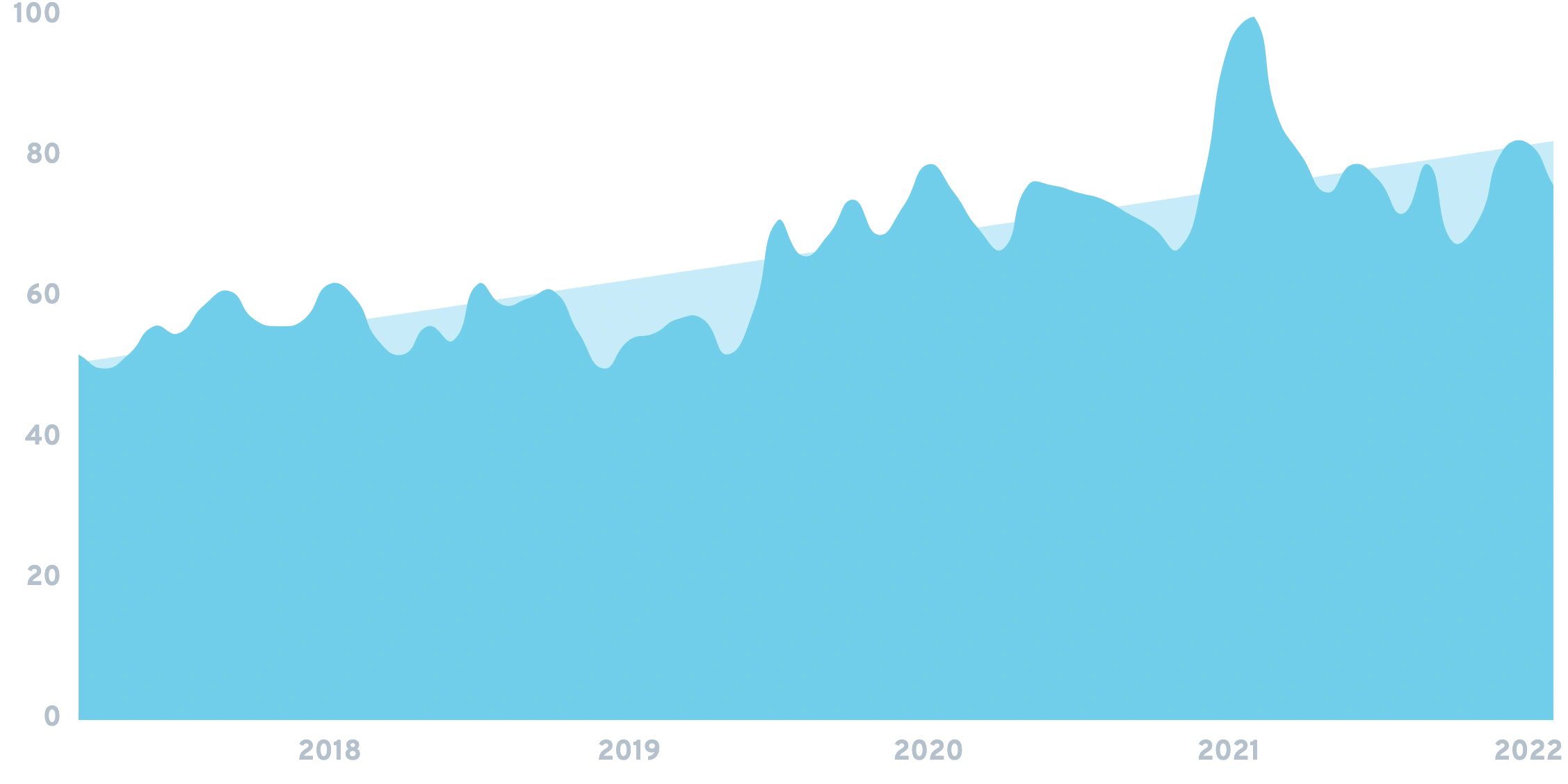 Five-year search growth for the term "Robo-advisor" is up 46%.
Many robo-advisors analyze big data using artificial intelligence (AI) and machine learning (ML) powered algorithms.
These algorithms then choose the best investing options based on that data.
Along with the user's current financial situation and goals.
And because they require essentially no human management (outside of coding the software), most robo-advisors are free up-front to use.
Instead, they charge a modest 0.25% fee (many human-managed mutual funds take up to 1.5% in fees).
One of the major players in this emerging space is Robinhood.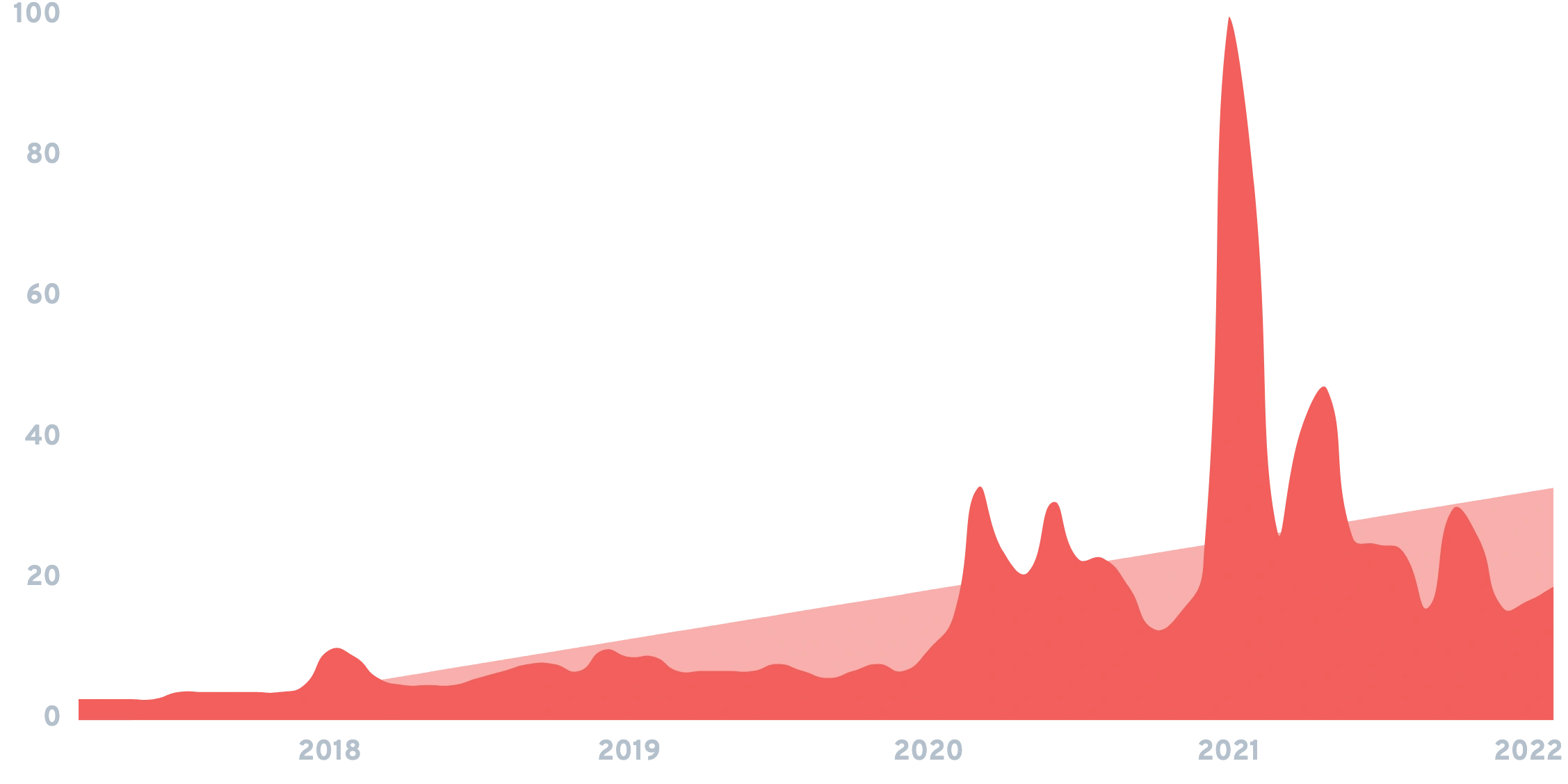 Searches for "Robinhood" have increased 533% over the last five years.
Robinhood launched in 2012. In that time they've raised over $5.6B in venture capital.
And they now boast over 20 million users.
And while they were part of the Gamestop controversy in early 2021, the company went ahead with their IPO.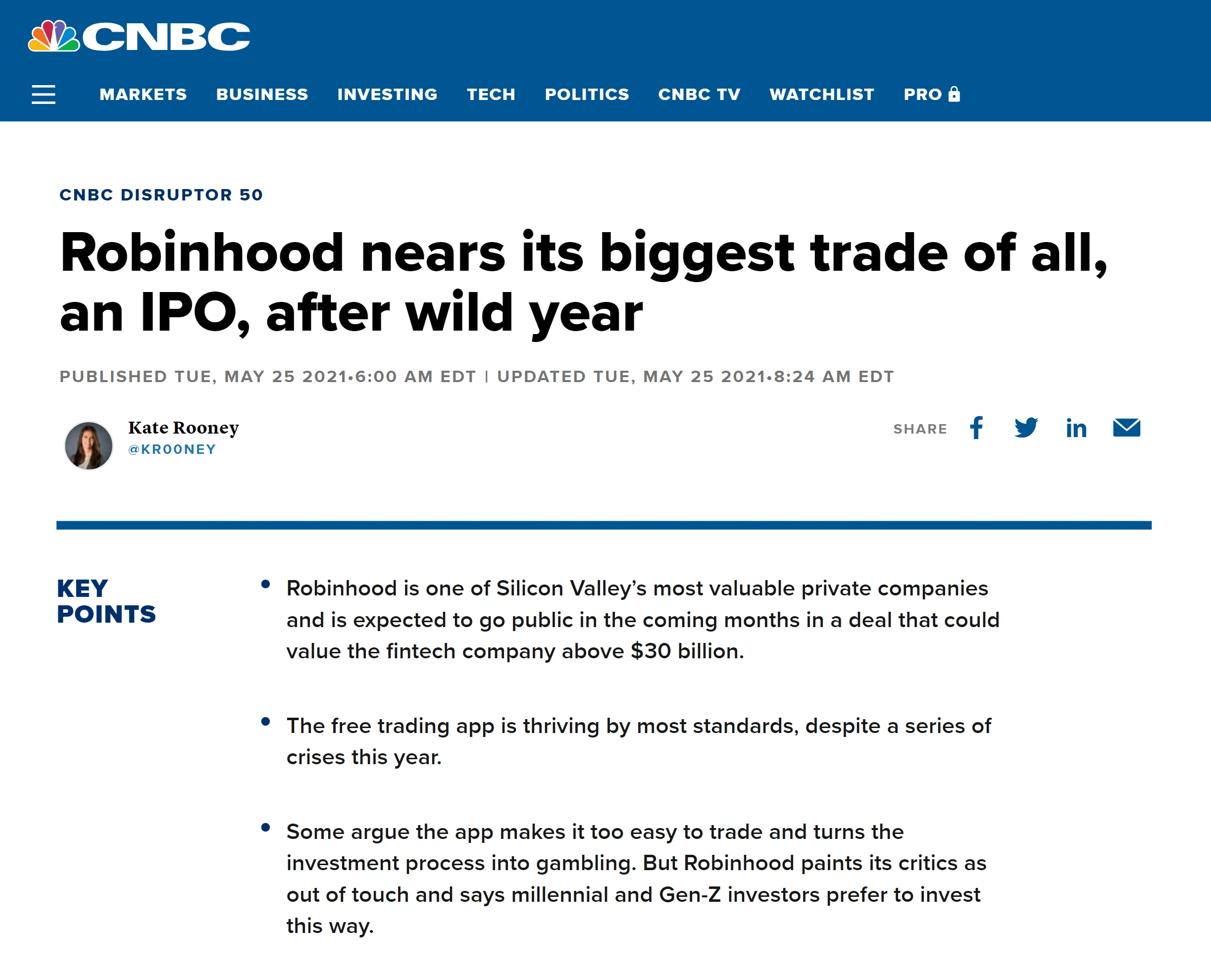 Robinhood is the first robo-advisor to file to IPO.
But Robinhood isn't the only robo-advisor gaining steam.
For example, Beanstox is a robo-advisor co-founded by Shark Tank's Kevin O'Leary.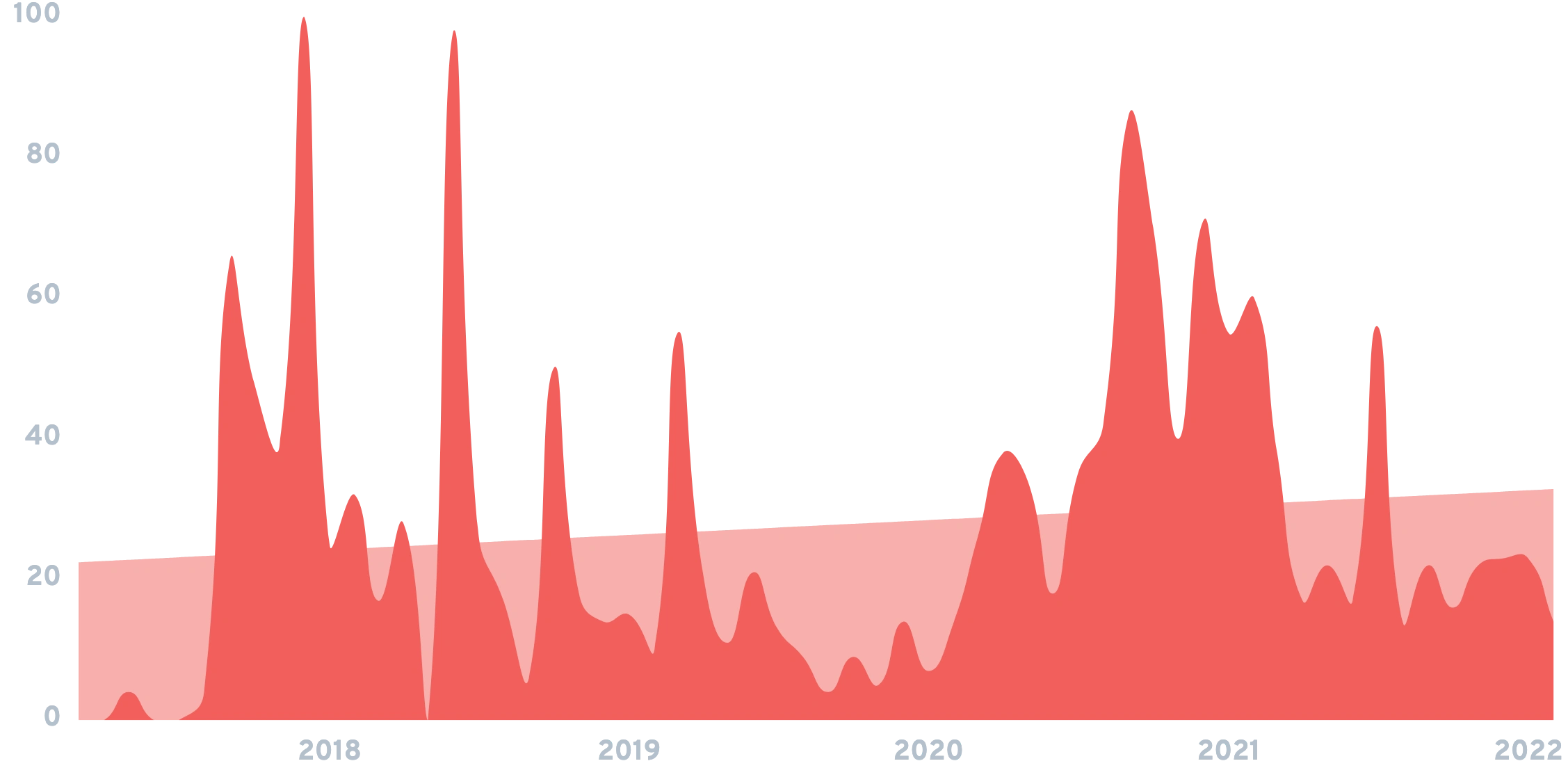 Search growth for "Beanstox" has increased by 1,300% over the last five years.
Unlike Robinhood, Beanstox does charge $5/month to use the app.
They also tend to focus more on Exchange Traded Funds (ETFs) vs picking specific stocks.
Otherwise, Beanstox is similar to many other robo-advisors.
And we can expect more robo-advisors to enter the fray.
One estimate puts the total assets under management for robo-advisors to be upwards of $16 trillion by 2025.
2. New "Buy Now, Pay Later" Solutions Emerge
In 2020, 8% of global ecommerce purchases are made through a "Buy Now, Pay Later" (BNPL) service.
That figure is forecasted to double by 2023.
BNPL is essentially layaway for ecommerce. Instead of paying for an item up-front, the customer pays off the item via installment payments.
(Most often with 4 installment payments over 6 weeks.)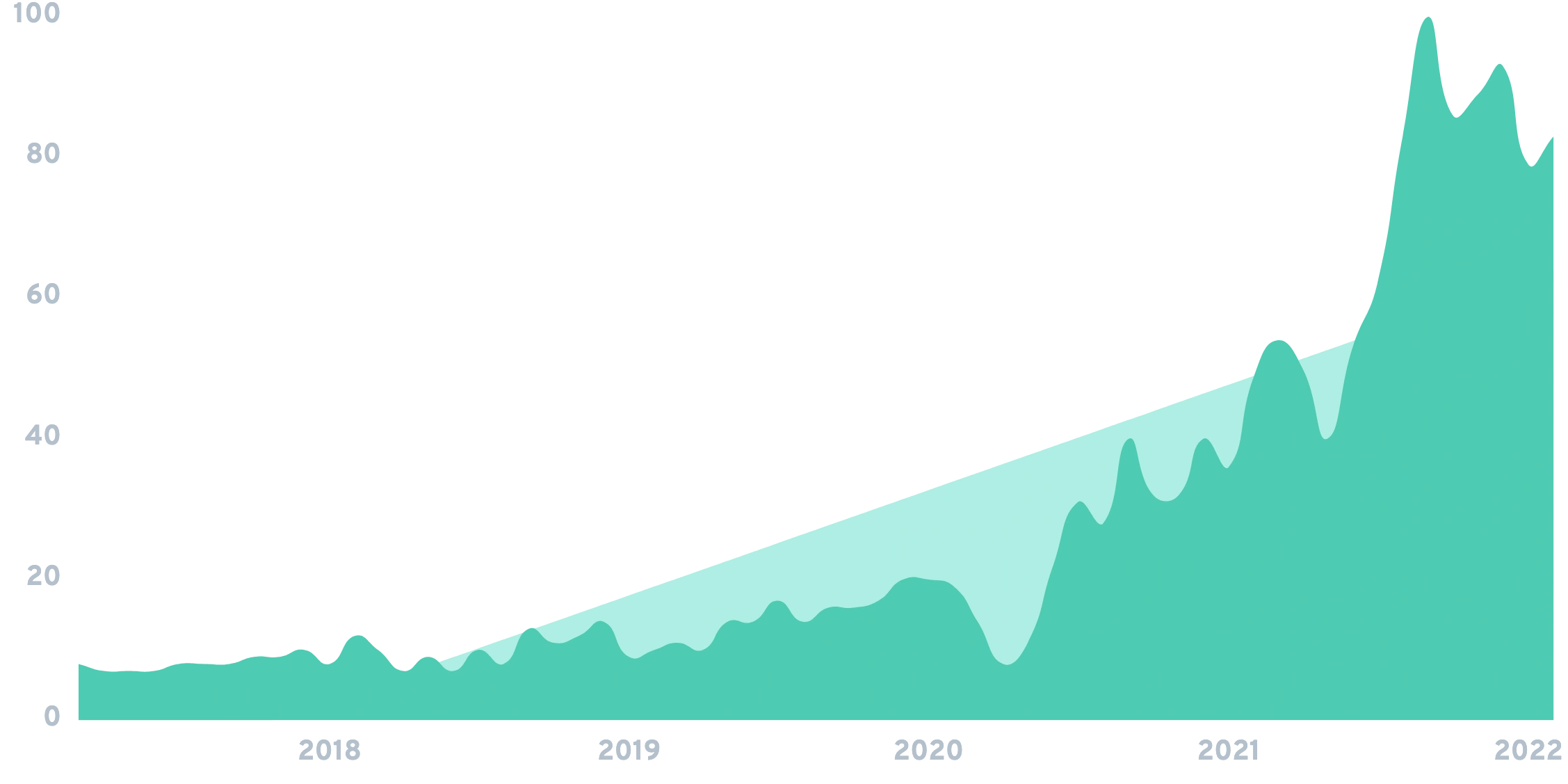 Searches for "BNPL" have been increasing every year (937% in five years), spiking each holiday season.
Buy Now, Pay Later is also expected to be the fastest-growing payment type globally over the next five years.
(With a forecasted compound annual growth rate of 28% in that time.)
Unlike credit cards, many BNPL services don't require credit checks — or only run a "soft check" for approval.
This opens up the BNPL market far beyond traditional financing options.
Also, BNPL usually comes with no interest or fees for consumers (assuming they make their payments on time).
Instead, the merchants are the ones who pay the BNPL providers' fees.
(Typically a 2-8% commission, plus a fee of around 15 - 30 cents per transaction.)
In return, merchants can see 60% higher average order values and 20% higher conversion rates, according to one BNPL provider.
PayPal Credit is the current leader in the BNPL solutions space.
PayPal Credit, which originally launched back in 2000, is a little bit different than most BNPL services.
They require "hard" credit checks. And payments tend to be spread out over several months.
However, PayPal is rolling out a BNPL service called "Pay In 4" that more resembles modern BNPL offerings.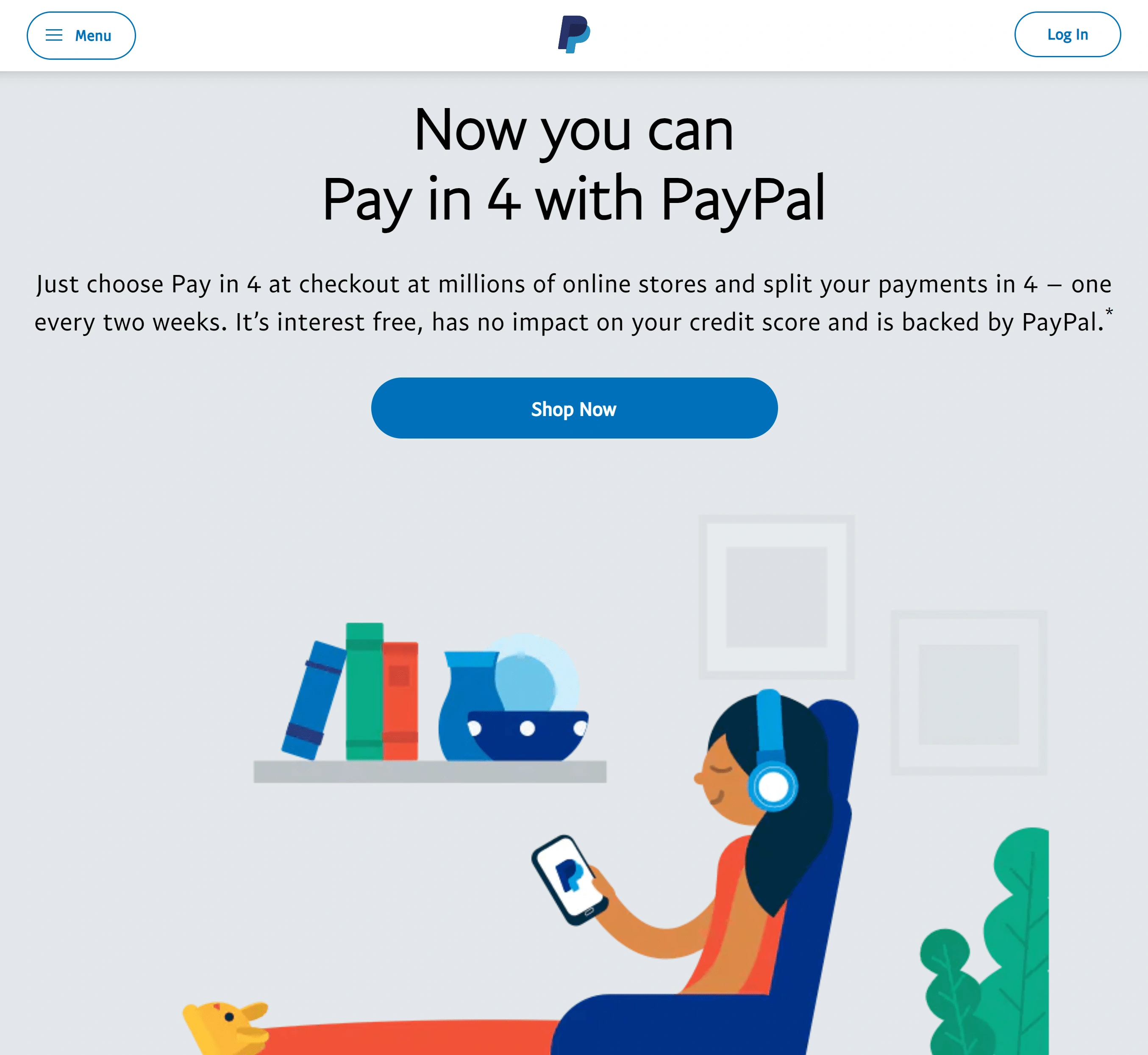 PayPal's "Pay in 4" feature is a relatively new BNPL offering.
Sydney-based Afterpay is another key player in the BNPL space.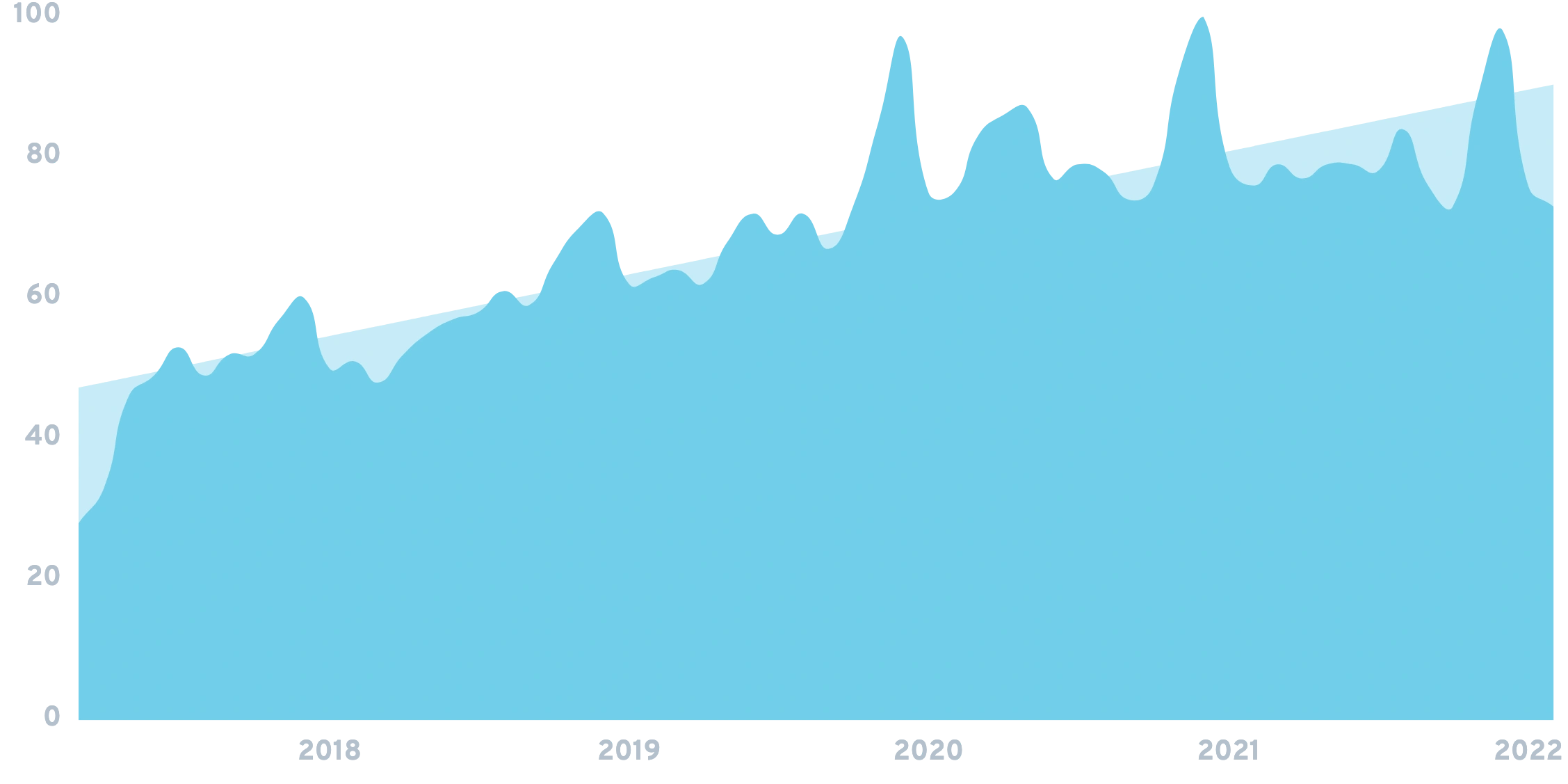 Searches for "Afterpay" have increased by 160% since 2017.

The $42.5B company offers BNPL services in the U.S., U.K., Australia, and New Zealand.
With plans to expand to the European market.

Other BNPL companies to keep an eye on include Affirm, Klarna, and Quadpay.
3. Mobile-Only Banking Becomes the Norm
43% of Americans now use mobile banking, according to data from Statista.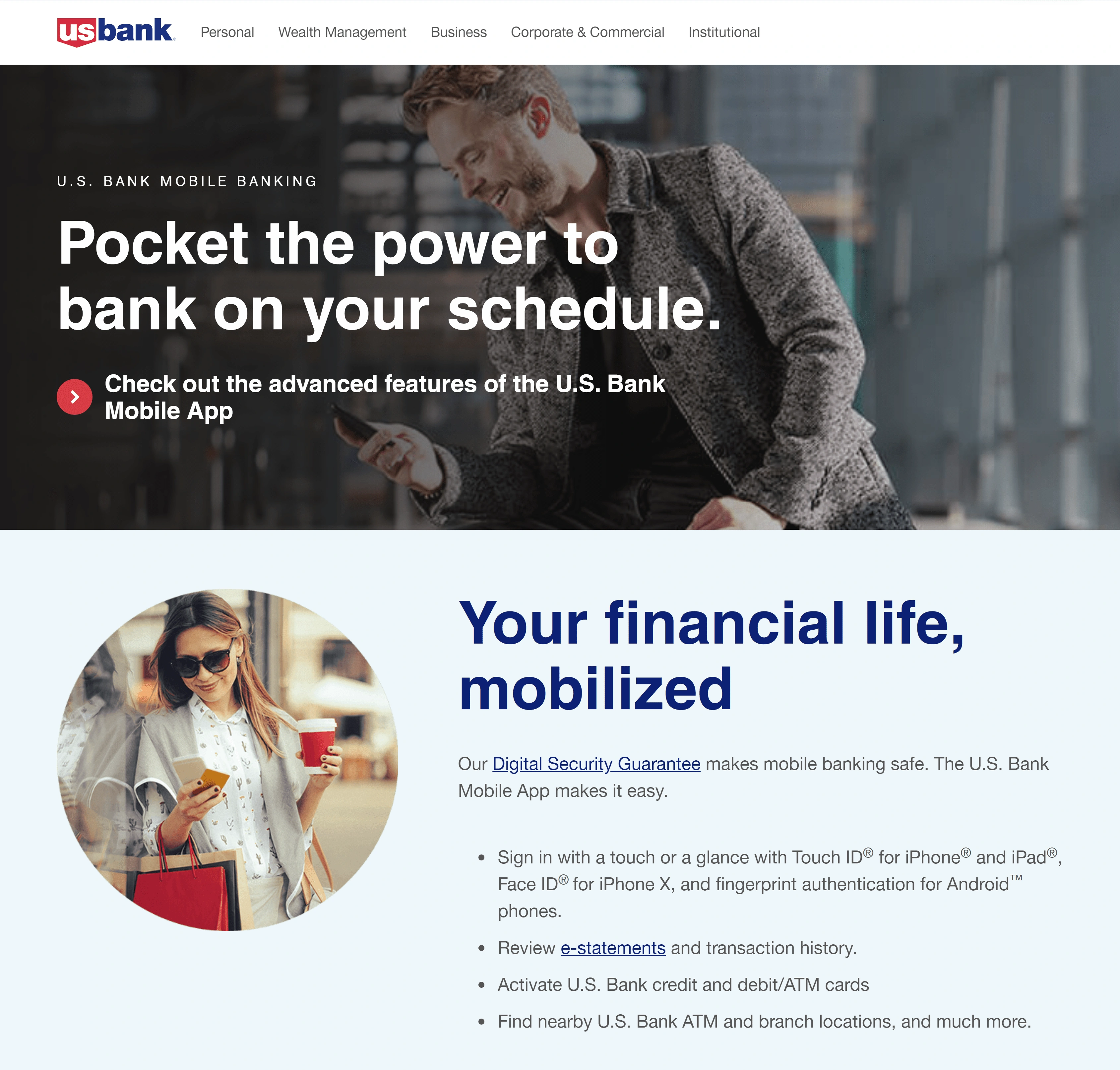 Mobile banking is now relatively mainstream.
A fair number of consumers use their traditional bank's mobile app.
(In fact, 30.78M people in the US alone use the Bank of America app for their mobile banking).
This use case is essentially online banking on a smartphone.
It's definitely a growing trend. But not an exponential one.
What is growing exponentially are mobile-only banks (also known as neo-banks).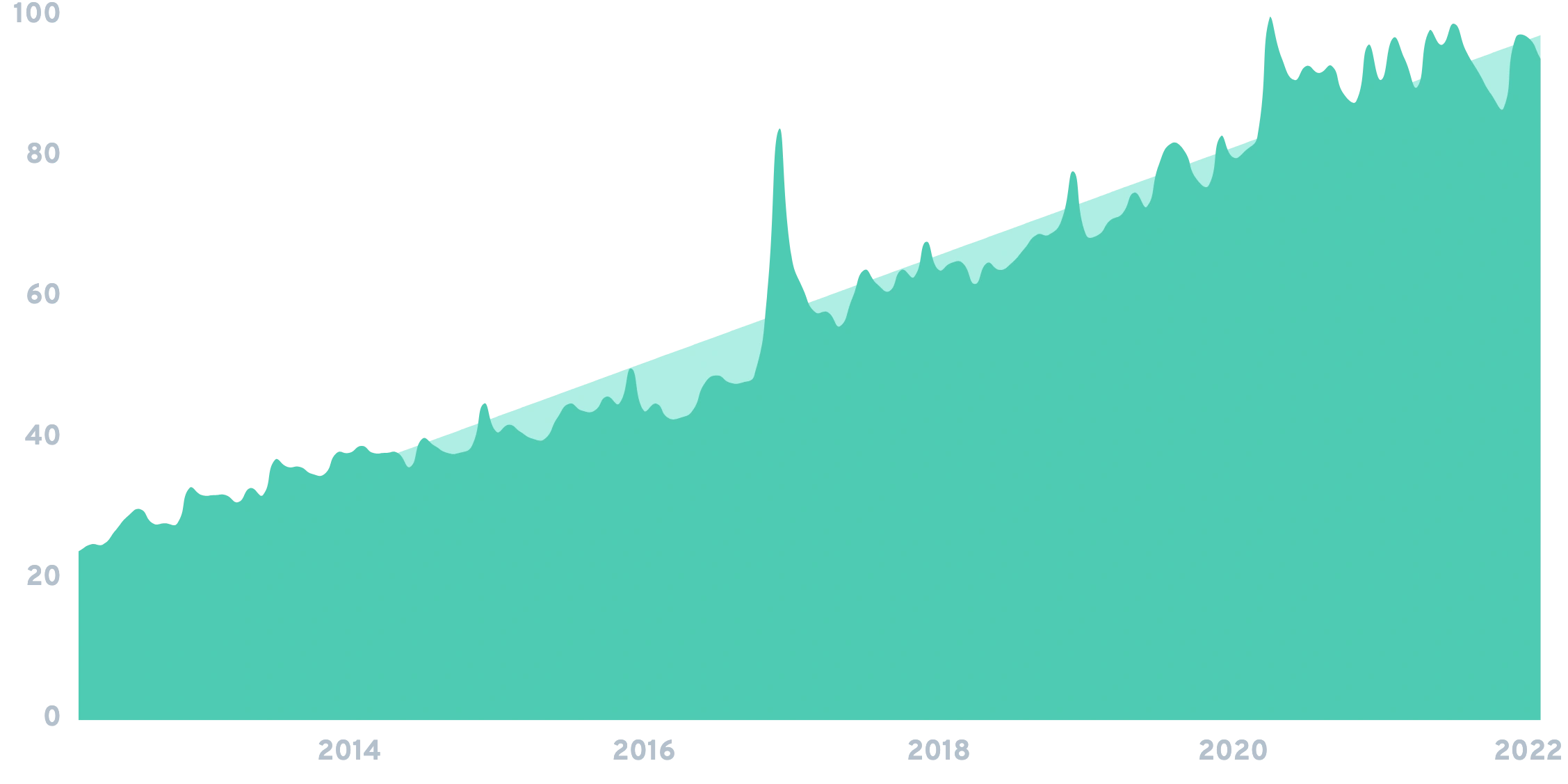 Search interest in "mobile banking" grown 291% since 2012.
Mobile-only banks are just like they sound: they exist only as a mobile app.
There are no physical branches.
And most of their support happens via email, chatbots and live chat.
One of the fastest-growing mobile banks is Chime Bank.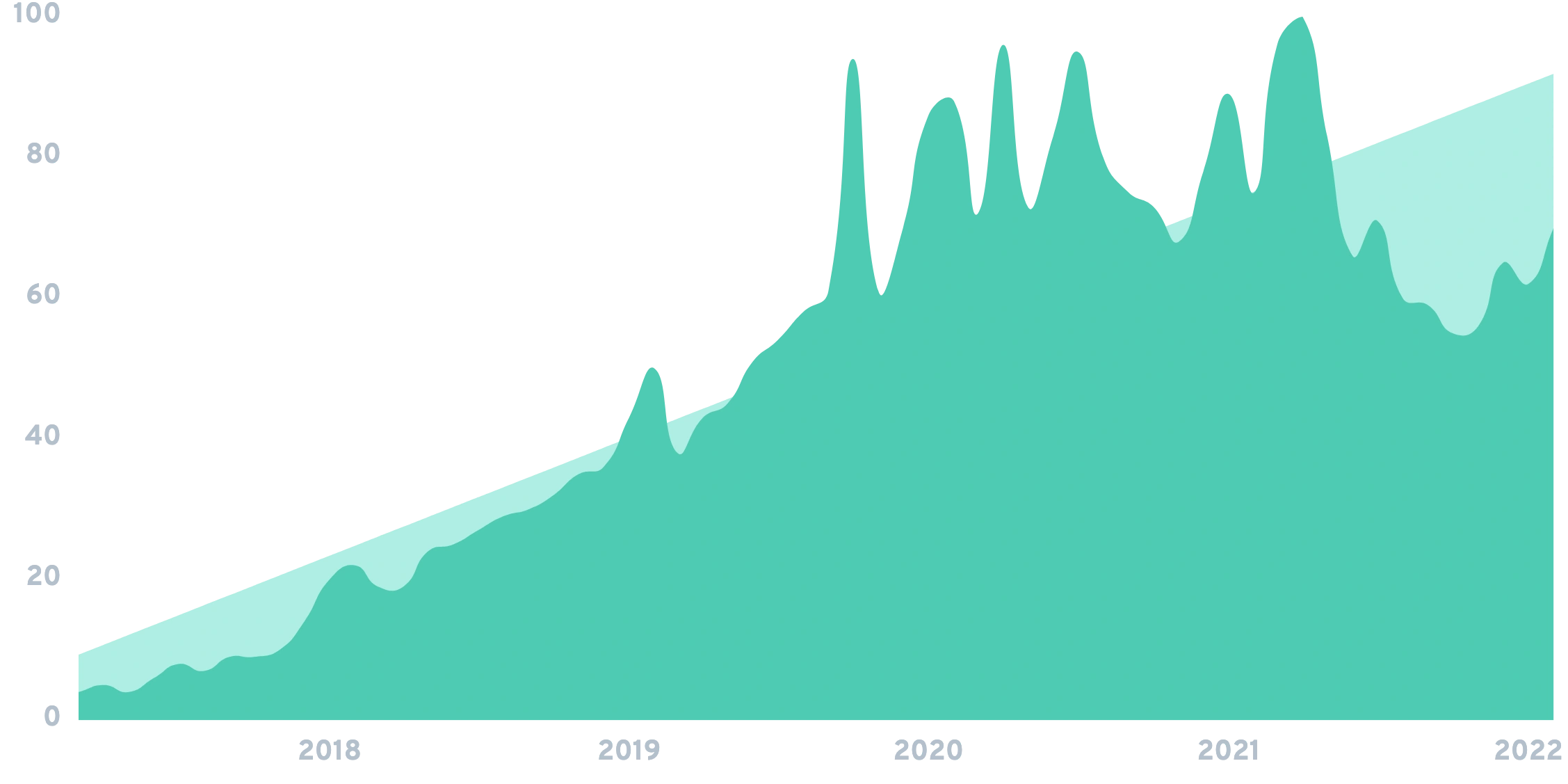 Search volume growth (1,650%) for "Chime Bank" over the last five years.
Like most digital banks, users sign up to Chime Bank using their phone.
And they mail users a Visa debit card so for withdrawing cash from ATMs.
They also have customer-friendly features, like overdraft protection, account alerts, and the ability to receive direct deposit payments early.
Mobile-only banks also tend to set themselves apart from traditional banks with their branding and UI.

For example, UK-based Starling Bank has laid back, approachable branding.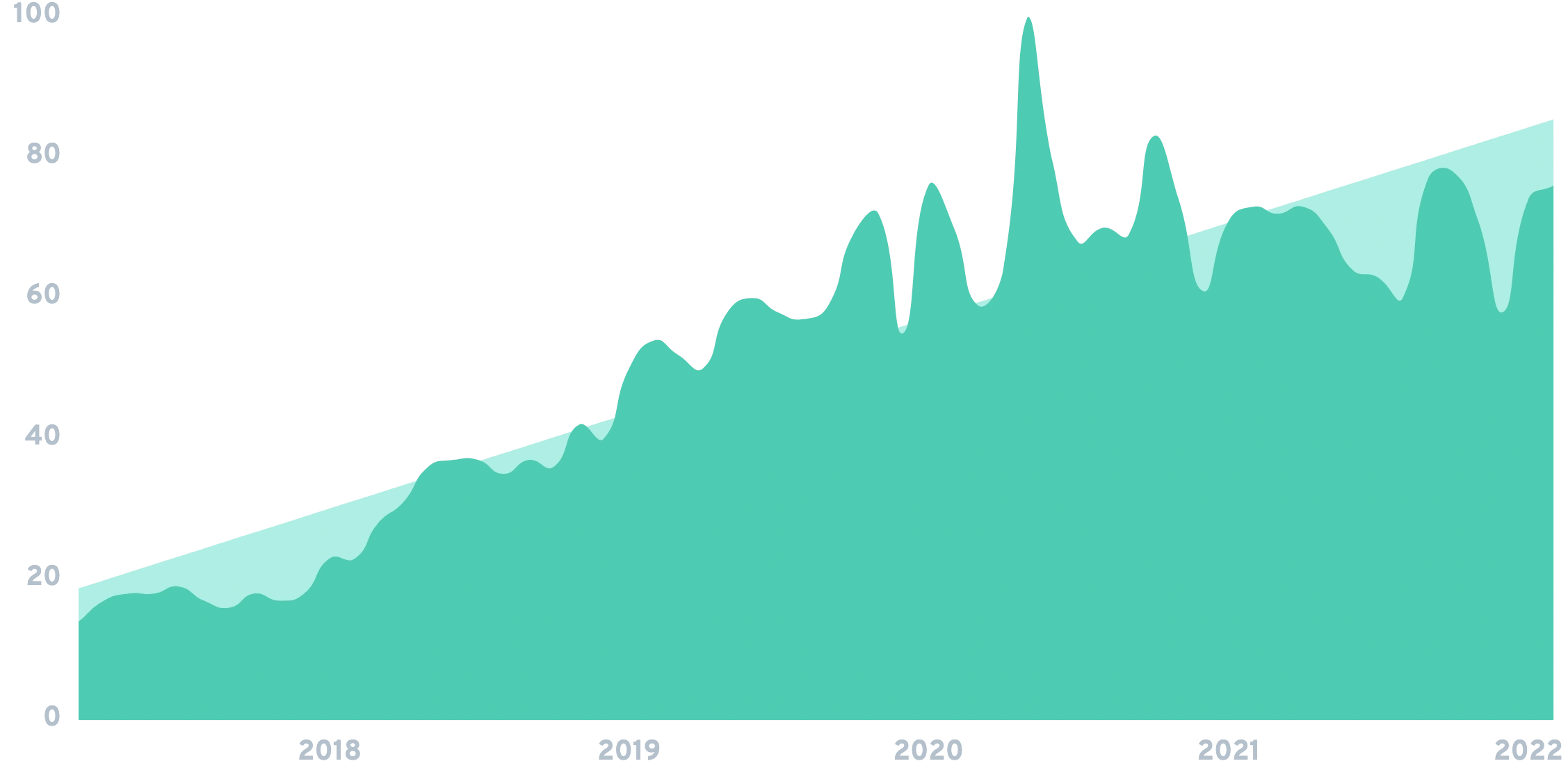 Searches for "Starling Bank" are up 442% since 2017.
In fact, their design looks more like a SaaS startup than what you'd expect from a bank.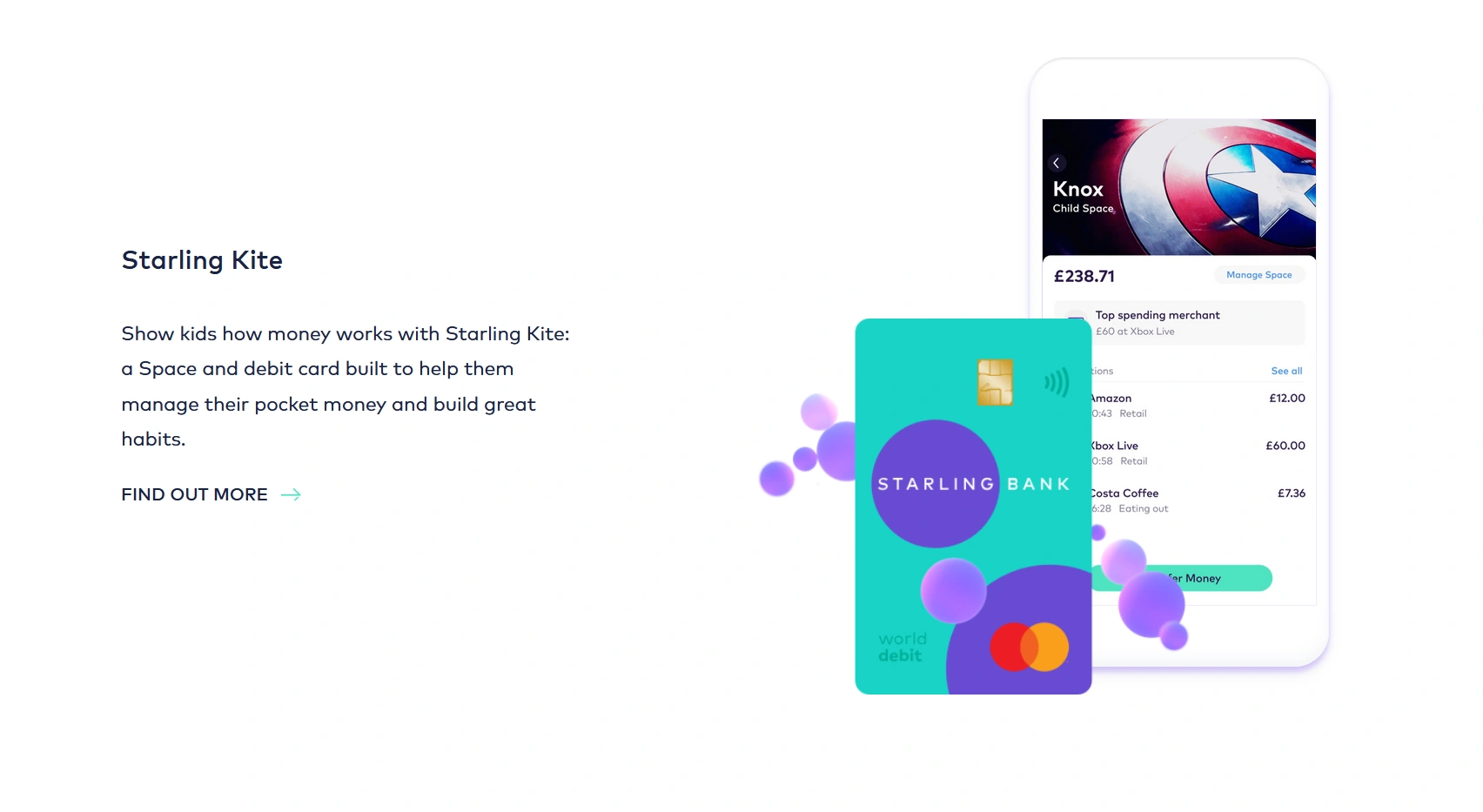 Starling Bank's branding is designed to appeal to millennials.
Other examples of mobile-only banks include N26 (started in Europe but recently launched in the US), Monzo, and Revolut.
4. Digital Wallets Continue to Grow
Digital wallet usage was already increasing pre-COVID.
But the pandemic led to more demand for contactless payment solutions.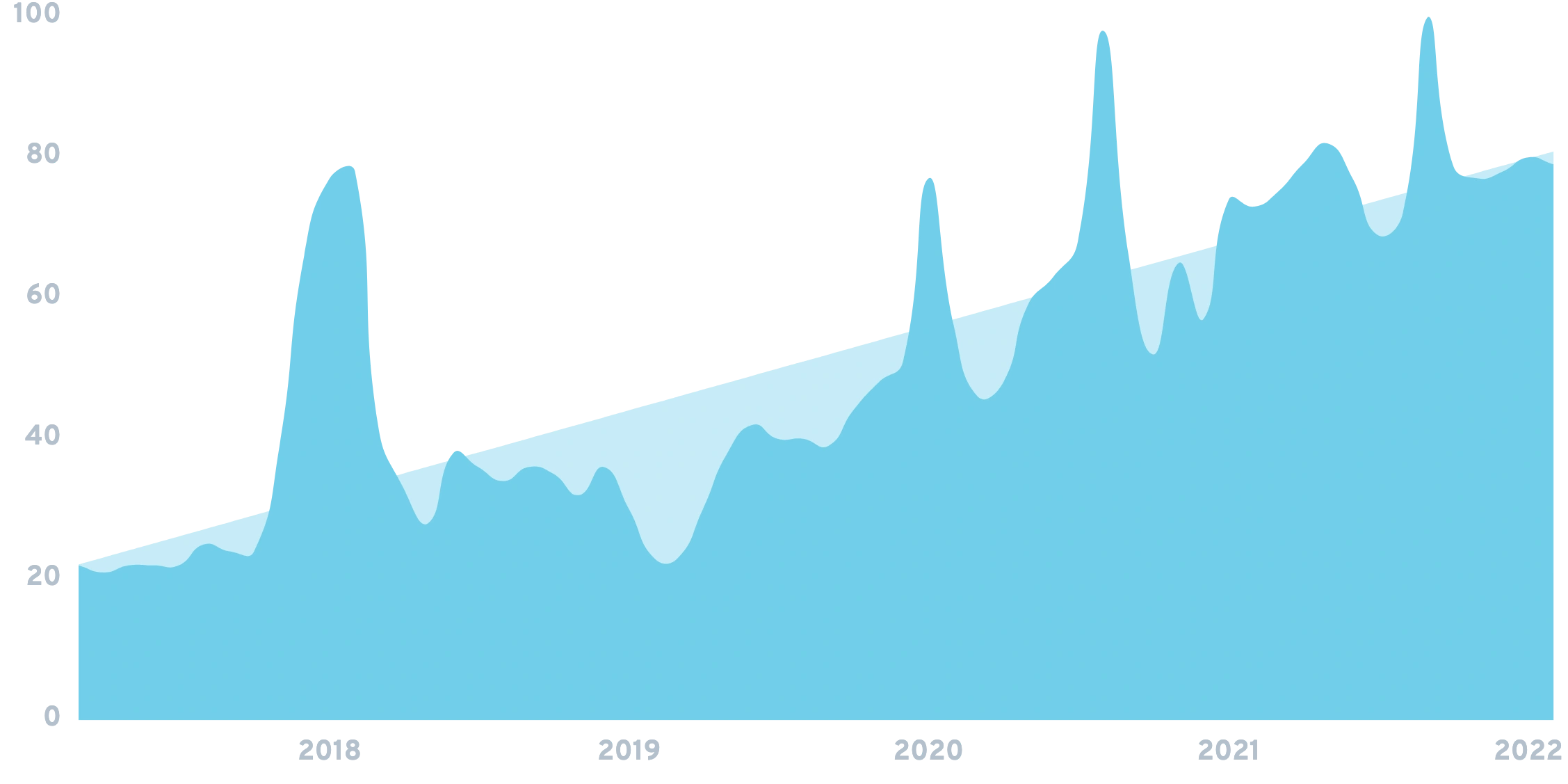 Global growth for the search term "digital wallet" is up 259% over the past five years.
In fact, the number of Australians that paid via a digital wallet increased by 50% between March and August 2020.
The major players in the digital wallet space differ by country.
In the US and UK, Apple Pay, Google Pay and Samsung Pay are the "big 3" digital wallet apps.
And in China, where mobile payments have doubled since 2016, Alibaba and Tencent are used most often.
The exact digital wallets may differ. But the data clearly shows that digital wallets are quickly changing the entire financial sector.
5. Decentralized Finance Goes Mainstream
Decentralized finance is the transformation of financial products into transparent and trustless distributed networks.
Which then run without the need for intermediaries like banks and other financial institutions.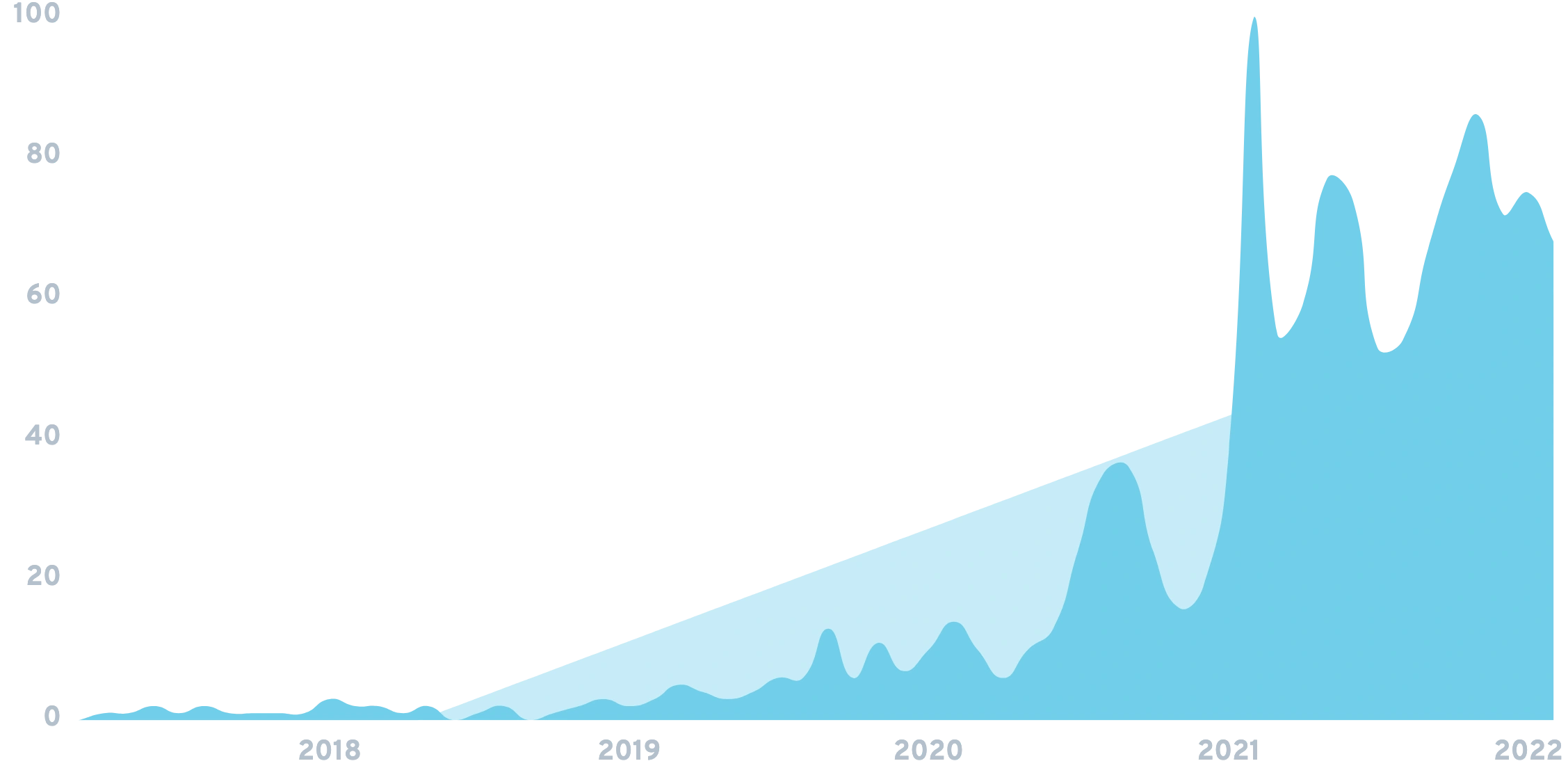 Google search volume growth (6,700% increase in five years) for "Decentralized finance", also known as "DeFi".
Total value of assets locked up in decentralized finance doubled from June to August.
Today that figure stands at $78B.
Ethereum is by far the biggest network in the DeFi ecosystem.

Instead of just recording digital money on a distributed ledger like Bitcoin, Ethereum allows developers to save whole chunks of code to the blockchain in the form of "Smart Contracts".

These combine to create dApps (decentralized applications) that are uncensorable, enable the tokenization of all kinds of assets, and are accessible from anywhere.

And a whole slew of startups have appeared to take advantage of these new opportunities:
For example, BlockFi provides crypto interest accounts and crypto-backed loans.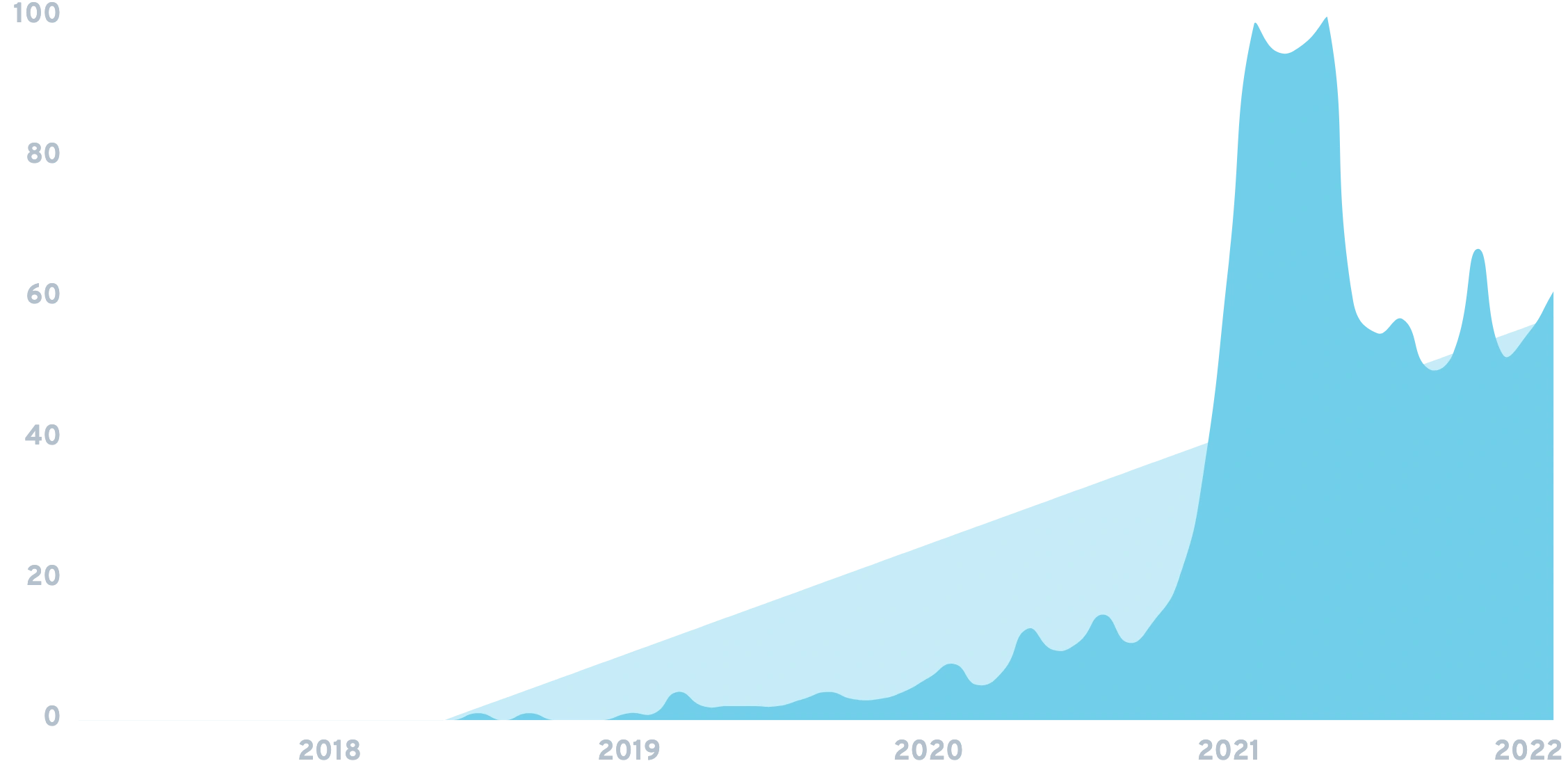 Search growth for "BlockFi" is up 6,000% since 2017.
But with all the new network activity, average network transaction fees have skyrocketed and transaction speeds have plummeted.
This is because there are currently severe scaling issues with these "Web 3.0" protocols.
As it stands, every node runs every transaction and line of code in the network with the Proof of Work model.
And there's a sizeable wave of potential new technologies that look to solve this problem.
Skale seeks to build off Ethereum with a "Layer 2 solution".
Its hotly-anticipated token launch was delayed to deal with excess traffic and demand. SKL now has a market cap of over $398M.

And then there are completely new base layer protocols that aim to replace Ethereum entirely.

Polkadot from Gavin Wood (one of the co-creators of Ethereum) just launched its mainnet and claims to solve the transactional scalability problem.
And allow cross-blockchain interoperability.
6. New Payment Processor Startups Go to Market
According to MarketsandMarkets, the payment processor solutions market is growing by 10.2% per year.
And is set to reach $120.7B by 2025.
This growth is largely due to the growing ecommerce space as a whole.
More ecommerce purchases equals more online transactions.
Which means more revenue for payment processors.
Stripe, now valued at $95 billion, is one of the current leaders in the industry.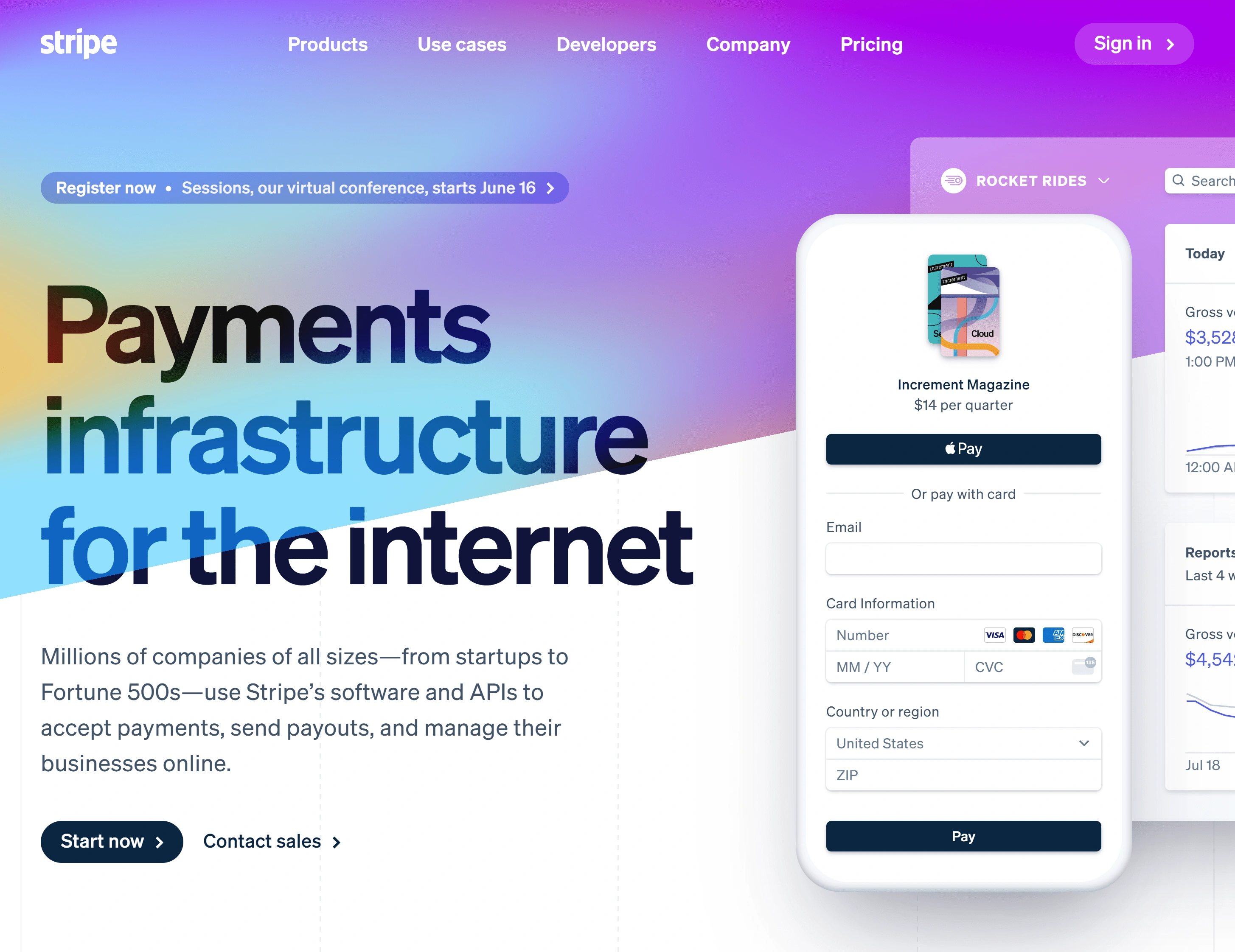 Stripe has emerged as one of the leaders in the online payments space.
But we're seeing a slew of fintech companies looking to challenge Stripe as the payment processing solution leader.
Netherlands-based Adyen, who handles all of Ebay's transactions, is one of the biggest Stripe competitors at the moment.
Another newcomer to the payment processing battle royale is Flutterwave.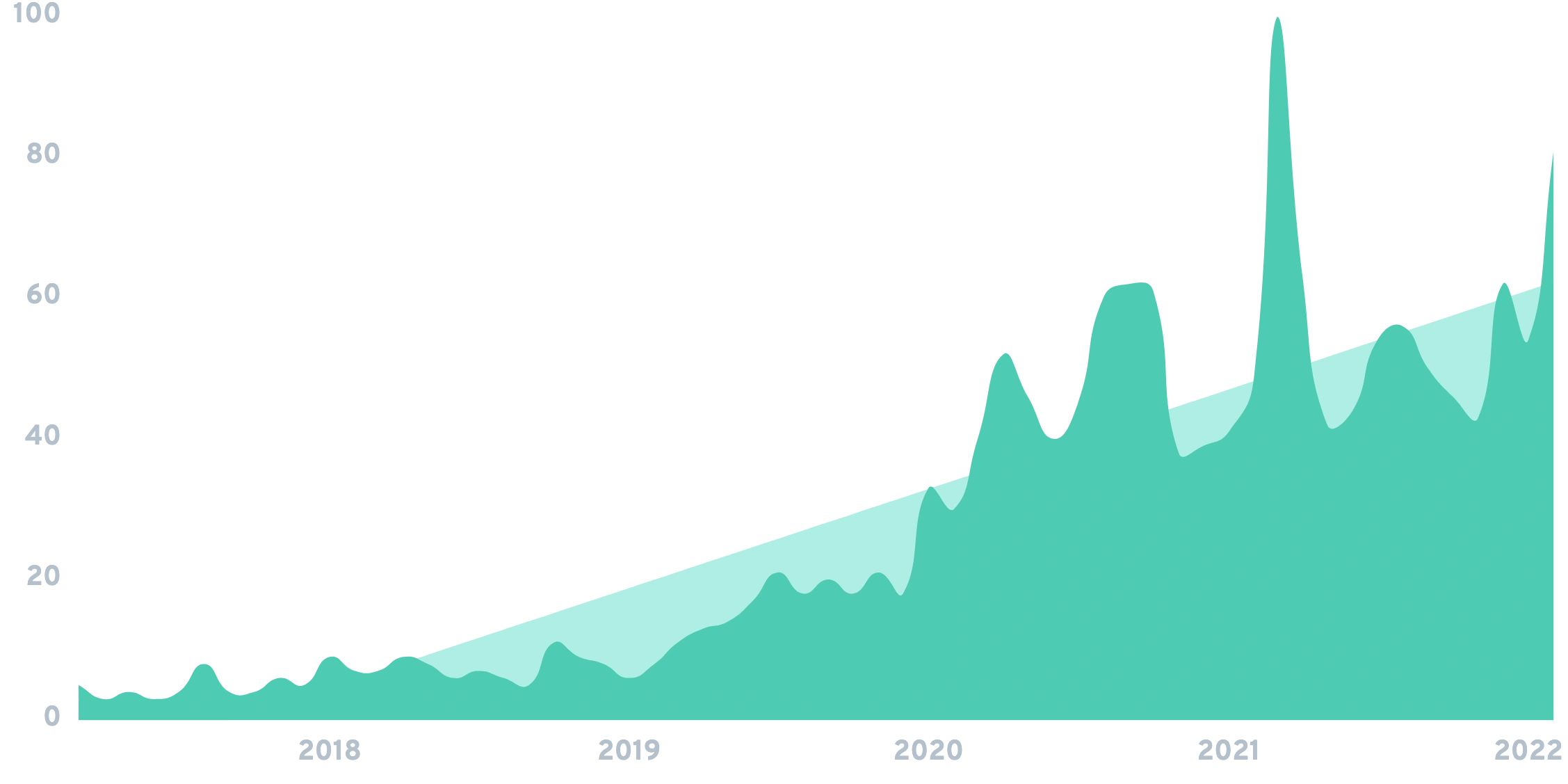 Flutterwave's search volume has grown by 1,520% over the last five years.
Started in Africa, but now based in San Fransisco, fintech startup Flutterwave has raised $474.5 million to date.
While enticing, the payment processing industry has significant barriers to entry.
(Specifically, regulations and stringent cybersecurity requirements.)
However, Stripe has clearly inspired several entrepreneurs that are willing to jump through those hoops in order to launch their own payment processing startups.
7. All-In-One Finance Platforms Grow in Popularity
The fintech software space is currently split into several different platforms, with each platform specializing in a specific task.
There are platforms for trading stocks.
Another for sending peer-to-peer payments to friends and family.
And a digital wallet app for buying a latte from Starbucks.
This kind of fractured environment is far from an ideal user experience.
This is why we're seeing several existing financial platforms tack on additional functionality.
With the ultimate goal of becoming an all-in-one platform for an individual's or business's financial tasks.
Namely, Square's Cash App.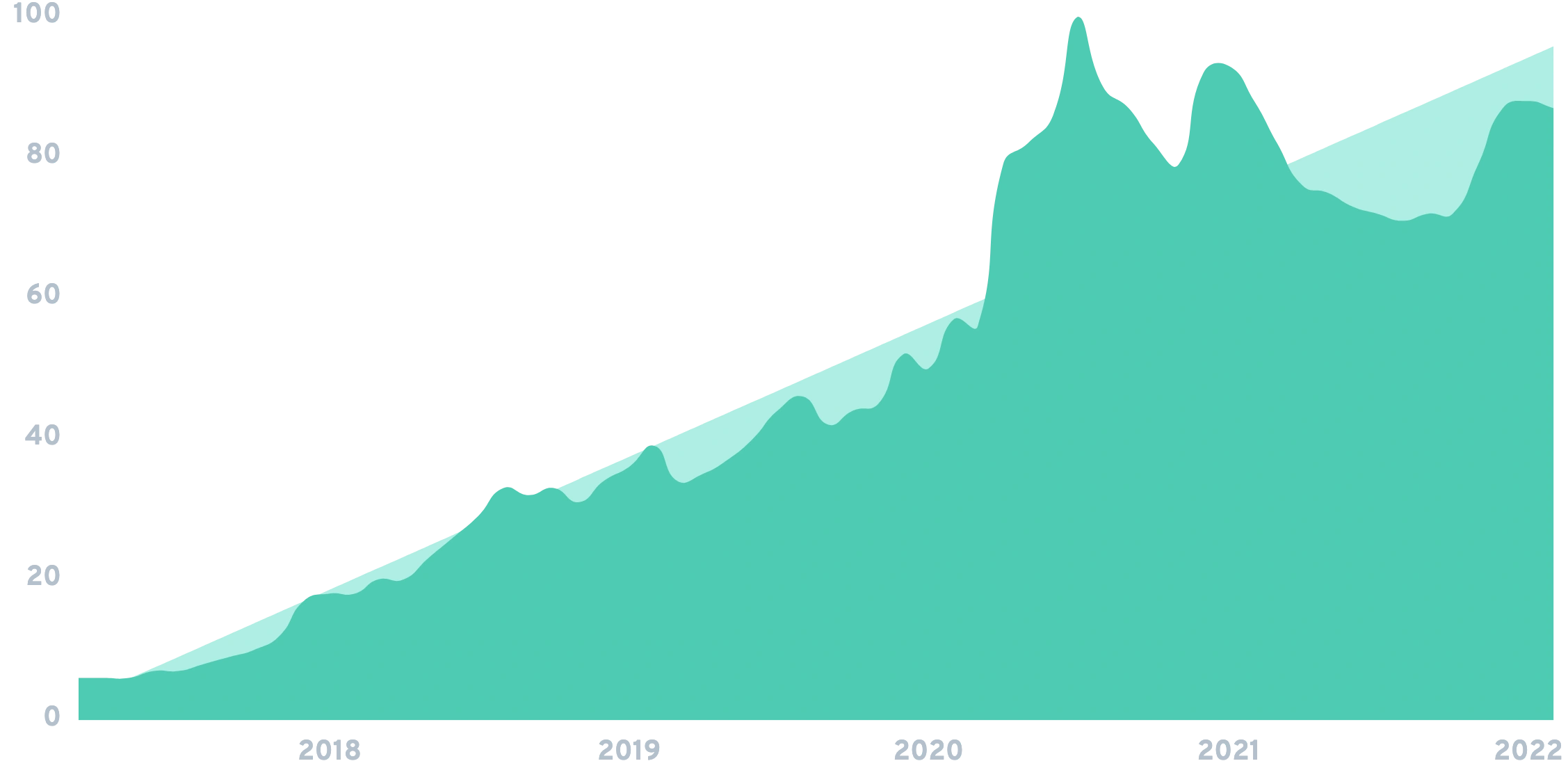 Searches for "Cash app" are up 1,350% over five years.

Cash App is part of publicly traded Square. However, the Cash App alone is estimated to be worth upwards of $40B.
And the stored funds on the app skyrocketed by 86% from Q1 to Q2 2020.
That's largely because Cash App combines several finance platforms into one, including:
Peer to peer payments (like Venmo)
Online banking
Tax preparation
Direct deposits
Digital payments
Investing
Buying and spending cryptocurrencies
And they're apparently not done.
Square recently added a payroll feature that allows businesses to pay employees directly through the app. Bypassing traditional bank accounts.
8. AI and Automation Increase Efficiency
Almost half of the largest fintech companies agree that artificial intelligence is one of the most important technologies to watch going forward.
In fact, three out of four banks with assets greater than $100 billion are already using some kind of AI technology.
AI is changing everything in the financial sector, from lending to how an organization is run.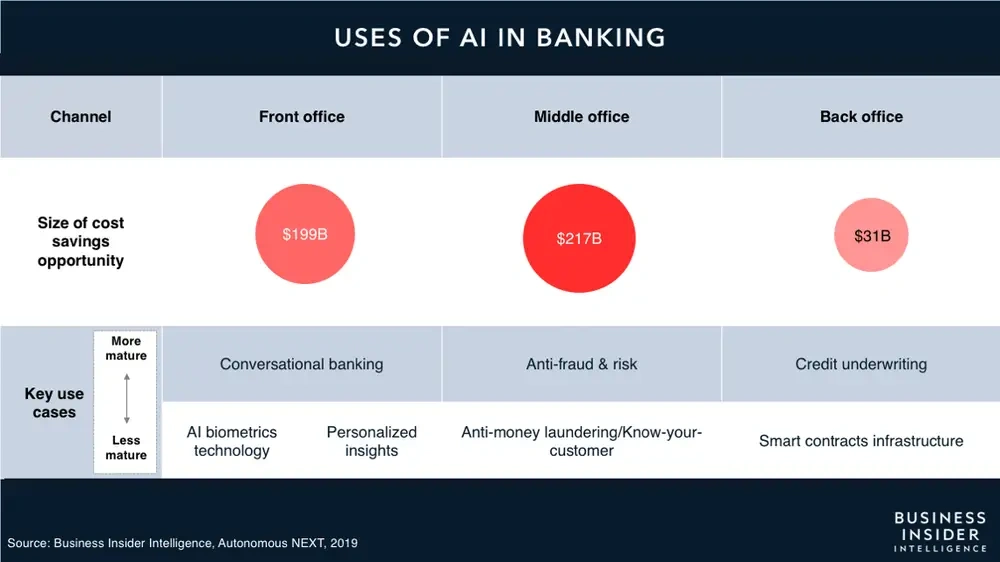 The different uses of AI in the finance world.
On the operations side, it's estimated that by 2030 AI will reduce total bank operating expenses by 22%.
And when you dig into those statistics it's easy to see why.
AI is projected to improve labor productivity by 40% over the next fifteen years.
In addition, because of AI-enabled chatbots, only 5% of customer interactions are expected to be with a human by the end of this decade.
On the lending side, there are a few ways that AI and machine learning can improve outcomes.
Specifically, many of these technologies can help streamline loan origination and processing.
Lenders are already reporting that loan closing time is shrinking from over 50 days to around 20.
In 2019, Bank of America claimed that AI allowed it to significantly reduce time spent on the lending process.
For instance, the number of fields a customer is required to fill out on a mortgage application has decreased from 330 to just 10.
In the mortgage market, Floify is automating and streamlining loan origination for mortgage lenders across the country.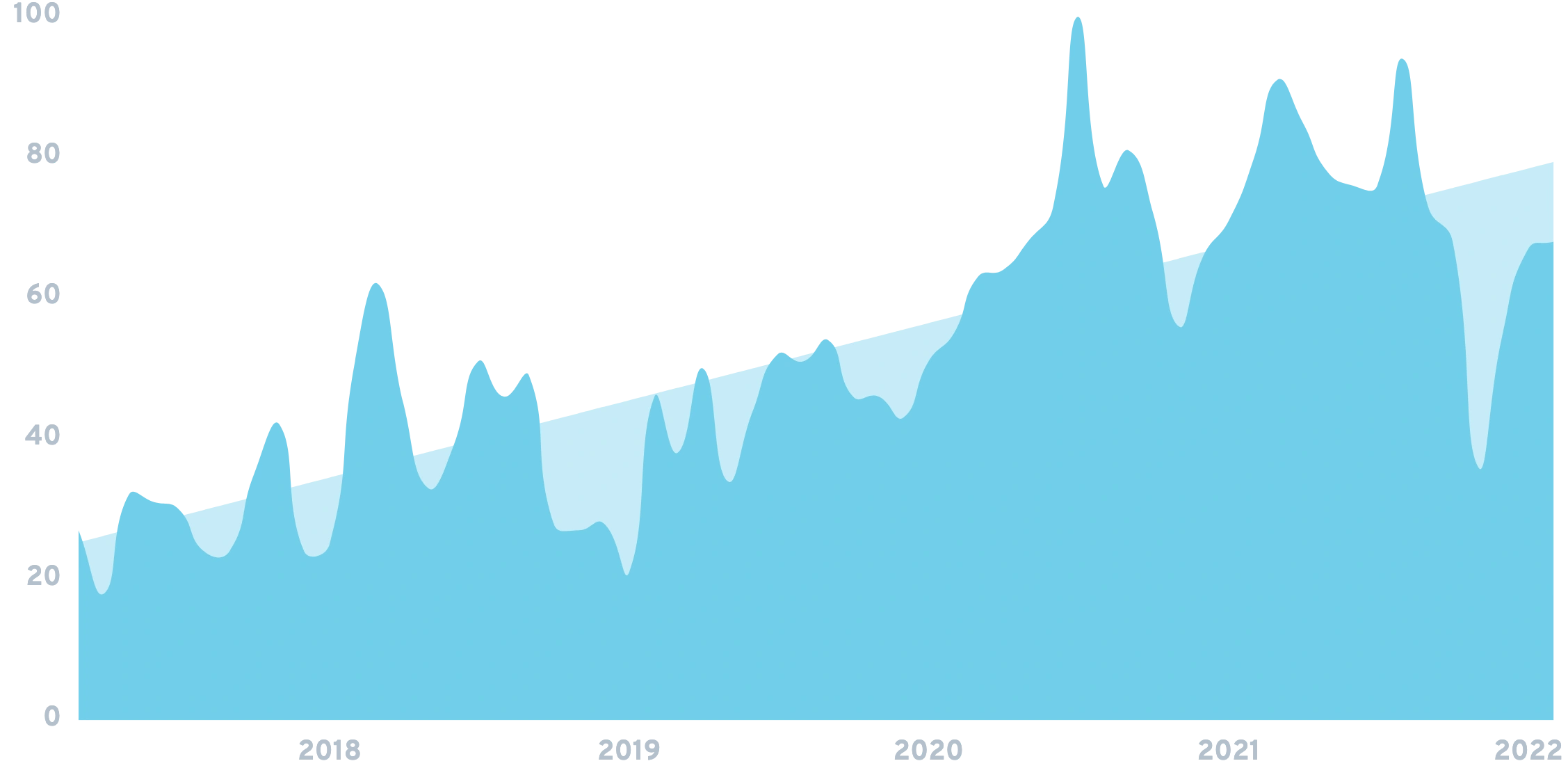 Search results for "Floify" have increased by 151% over the last five years.
These tools are even being implemented in the most unlikely of places.
As of 2020, just under 10% of credit unions have adopted some kind of machine learning tools as part of their operations, compared to 3% in 2019.
On top of lending process automation, many financial institutions are using AI and machine learning to assist with or completely automate the credit underwriting process.
For example, Zest AI develops AI-based lending models for traditional banks and lenders.
The company has essentially implemented an AI-as-a-service model, licensing its software to financial institutions that want to outsource and automate credit underwriting.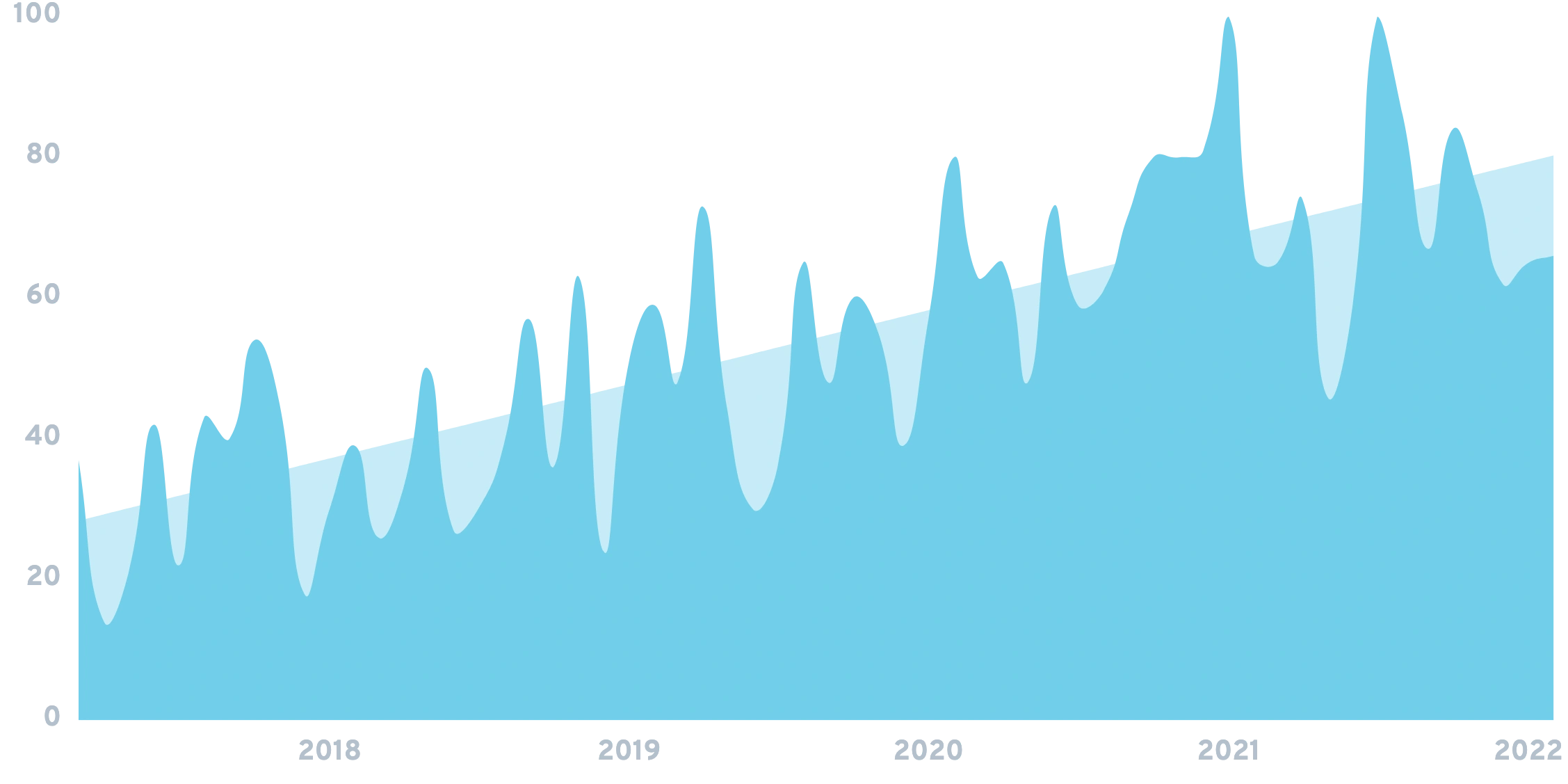 Searches for "AI-as-a-service" over the past five years have increased by 77%.
Zest claims that its services can, on average, increase loan approvals by 15%, decrease loan losses by 30%, and increase yields by 4%.
One of the nation's largest secondary mortgage purchasers uses the software.
In November of 2020, Freddie Mac announced that it would use Zest's AI tools to assess credit risks on new mortgages that it purchases.
There are also a variety of new digital lenders that are using AI tools to meet borrowers' needs.
For instance, Upstart has used its AI lending platform to fully automate roughly 70% of the consumer loans it made in 2020.
The Upstart CEO testified to Congress that their AI-first model actually grants more loans to underbanked consumers than traditional banks.
He claims that their automated lending model approves 27% more consumer loans overall and lowers interest rates by 3.57% on average.
In addition, many fintech providers aren't even relying on third-party finanical services like Zest.
9. Peer-to-Peer Lending Seeks Widespread Adoption
Peer-to-Peer lending is lending between the two individuals or entities without the use of traditional financial intermediaries or banks.
It is typically enabled by platforms such as LendingTree, On Deck, and Kabbage.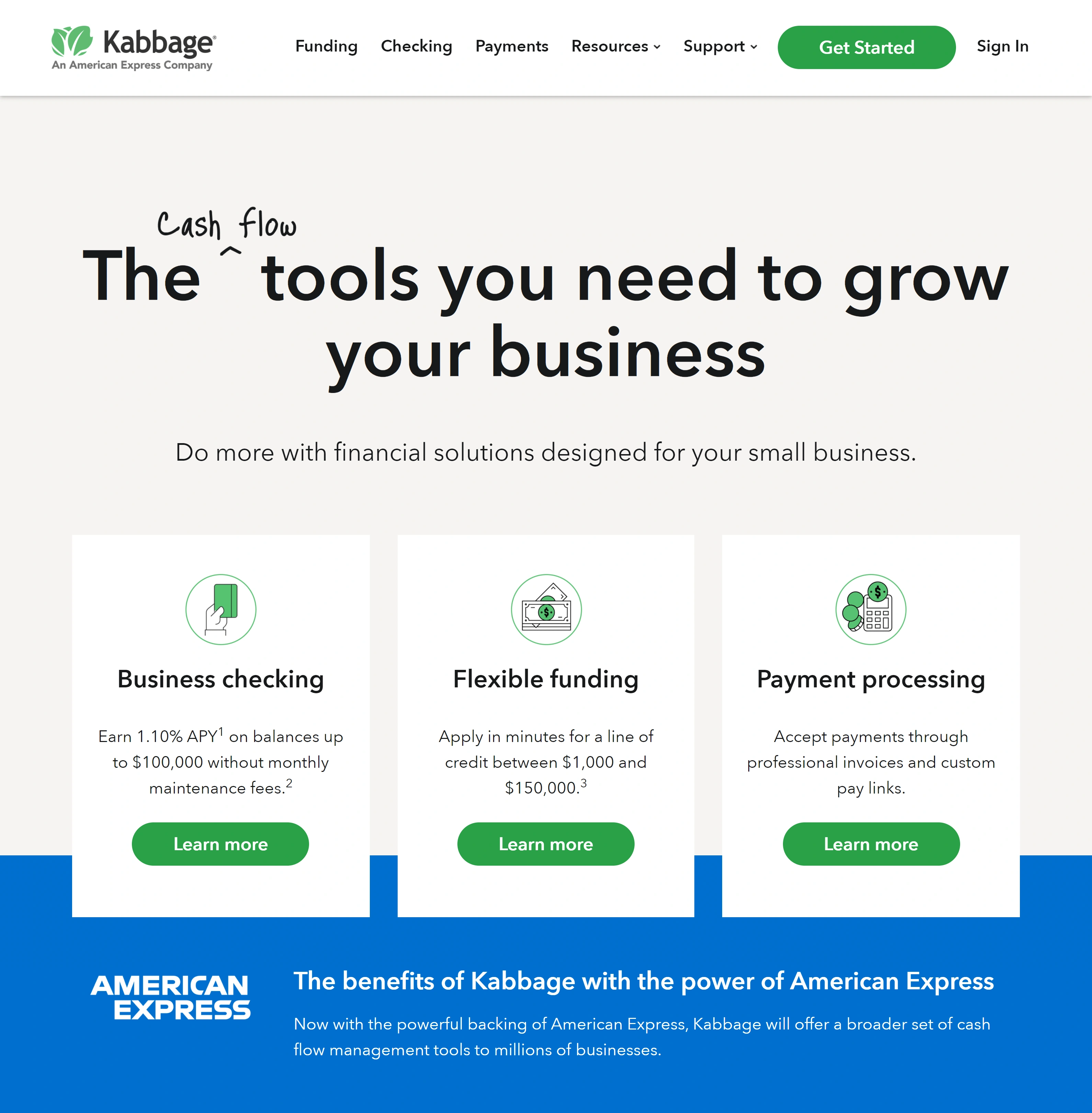 Kabbage is a lending solution for small businesses.
Estimates of the global market size vary but are usually pegged at around $68 billion to $120 billion.
One thing that everyone agrees on, however, is that the peer-to-peer lending market is growing extremely fast.
It's expected that the total size of the peer-to-peer lending market will reach anywhere from $500 billion to over $1 trillion in the next five years.
This rapid growth is no surprise, as the widespread adoption by millennials marks a serious change in consumer perception.
In places like Eastern Europe, peer-to-peer lending is becoming increasingly common.
Mintos is probably the largest player in the European market, with an estimated 45% market share.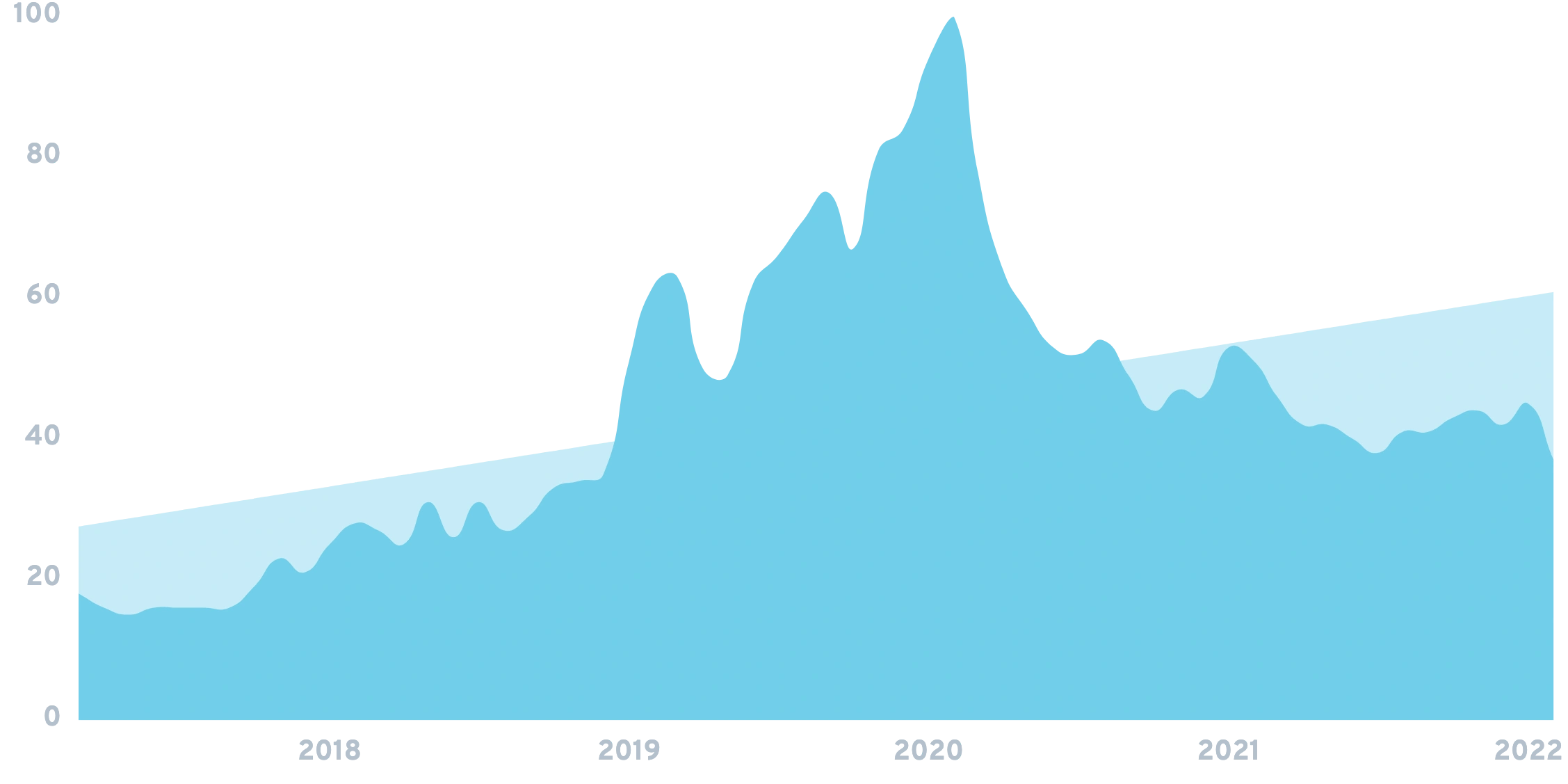 Searches for "Mintos" are up 105% over five years.
At 12.89%, the company offers investors a higher average rate of return than real estate, European stocks, and bonds.
It's no wonder then that the company has funded over 6 billion euros in loans since its inception in 2015.
The peer-to-peer lending ecosystem is also alive and well in the crypto market.
Aave is a decentralized peer-to-peer lending platform.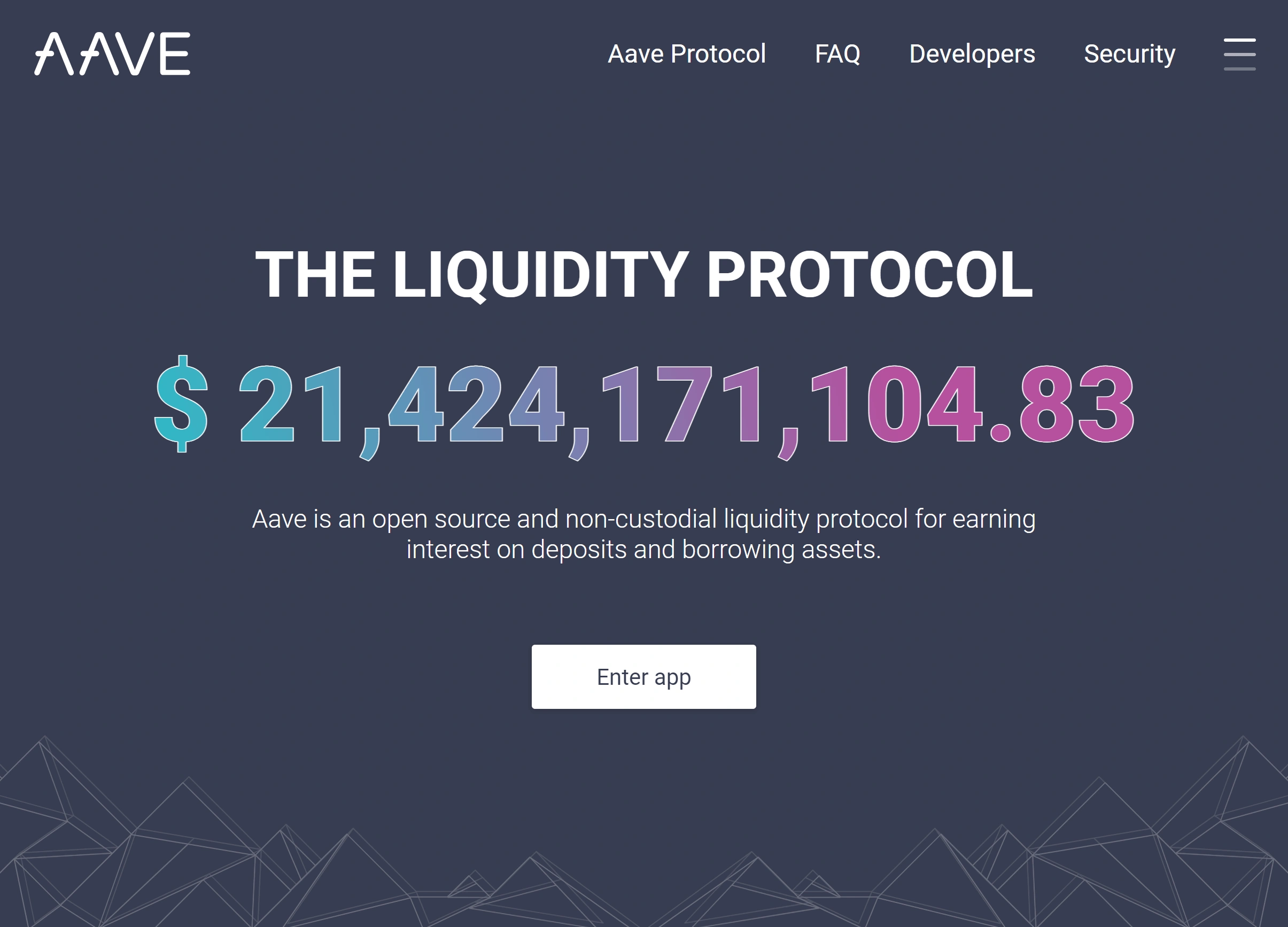 Aave is essentially peer-to-peer lending using cryptocurrencies.
The Aave protocol essentially allows borrowers and lenders to transfer funds between each other without the need for a dedicated intermediary or platform provider.
The protocol basically allows a mini-bank to be created, pooling the funds (usually denominated in some kind of cryptocurrency) of depositors and allowing borrowers to draw the pool down.
The interest rates are set based on demand by borrowers and the supply of deposits in the pool.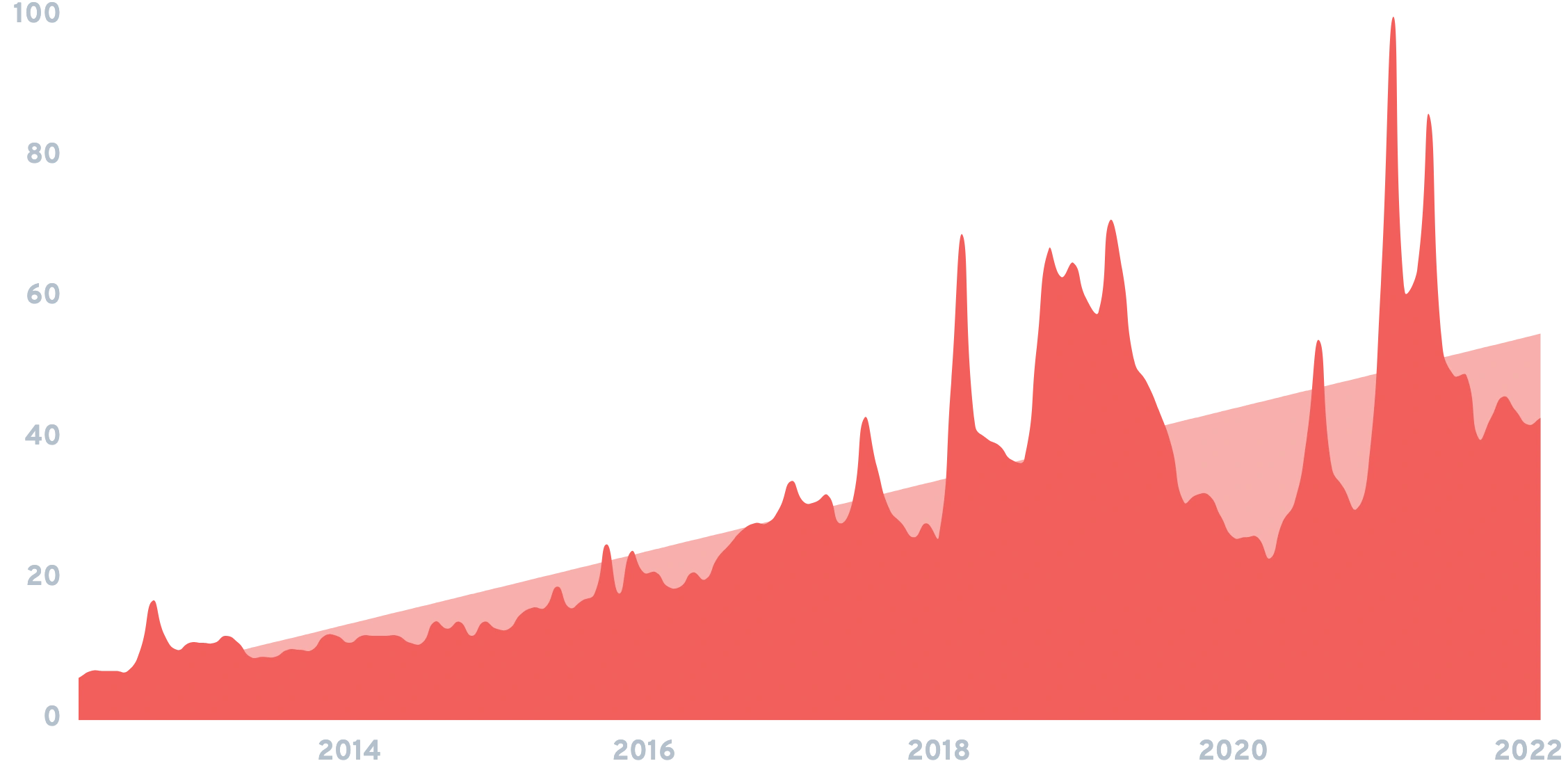 Search interest in "Aave" has increased 616% over the last 10 years.
10. More Partnerships and Consolidations
Increasingly, the largest financial institutions around the globe are looking to implement some kind of fintech solutions.
Instead of developing this technology in-house, many are finding it easier to acquire or partner with existing fintech providers.
In fact, a recent study found that 81% of traditional banks believe that partnering with fintech providers is their best bet for implementing new technologies.
Cornerstone Advisors also found that 65% of banks and 76% of credit unions said they were prioritizing fintech partnerships in 2020.
These partnerships can take a variety of different routes.
The first is through traditional acquisitions.
Instead of building in-house fintech capabilities, a traditional bank can simply buy a company that has already deployed these much-needed technologies.
For instance, the two largest credit card companies in the U.S. both announced significant acquisitions of fintech providers in 2020.
While Visa's $5.3 billion acquisition of Plaid fell through, Mastercard closed its $825 million acquisition of financial data provider Finicity in November of 2020.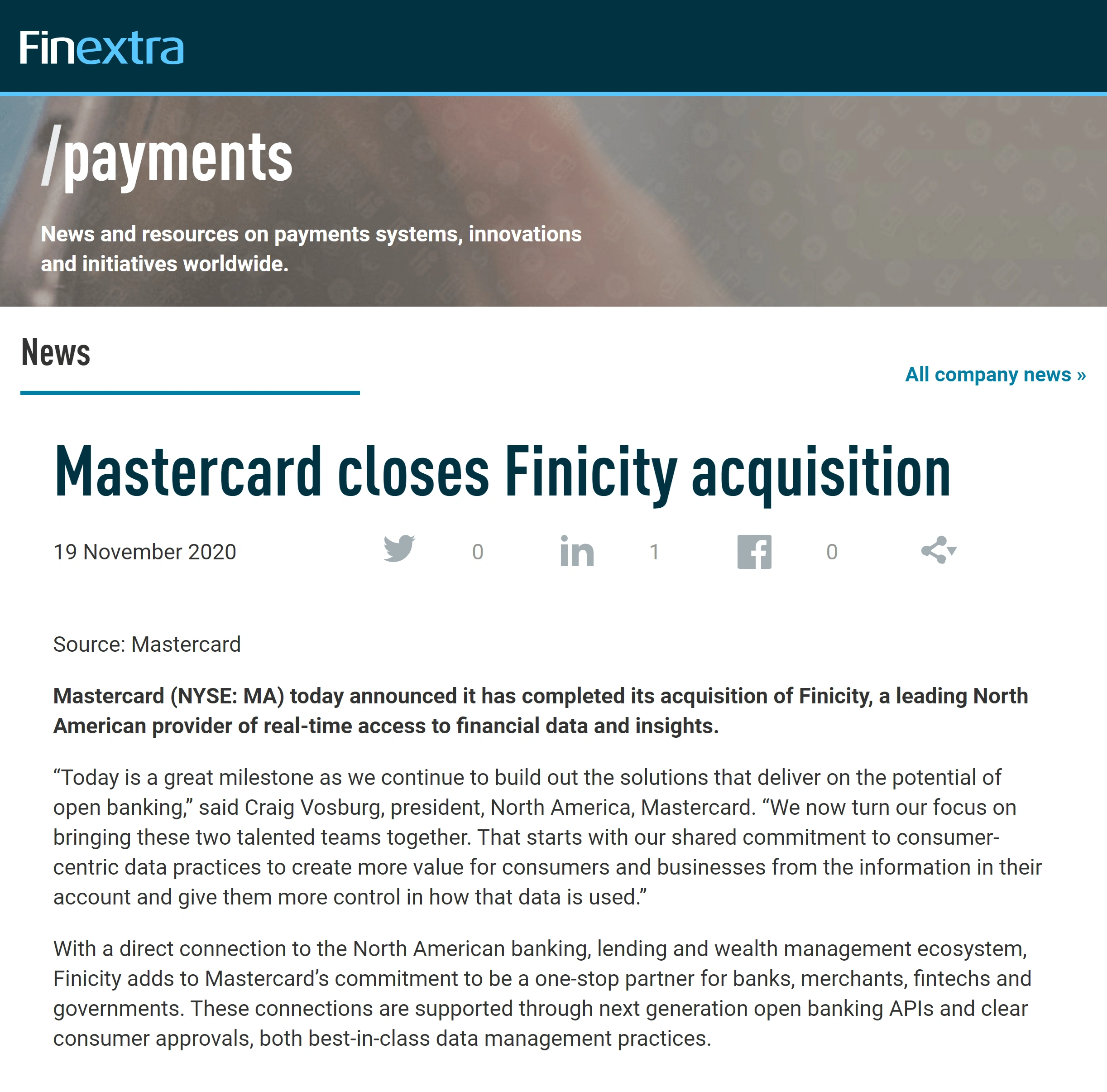 Mastercard acquired Finicity to help bolster their tech stack.
Other large fintech acquisitions over the last couple of years include:
· Morgan Stanley's $13 billion acquisition of online brokerage E-Trade in 2020
· Fidelity National Information Service's $35 billion acquisition of payment technology company Worldpay in 2019
· Mastercard's $3.19 billion acquisition of real-time payment company Nets Group in 2019
· Intuit's $8.1 billion acquisition of Credit Karma in 2020
· PayPal's $2.2 billion acquisition of European fintech startup iZettle
In addition to the significant financial industry consolidation, a growing number of traditional financial institutions are acting as venture capitalists.
For instance, between 2019 and 2021, Goldman Sachs' and Citigroup's venture arms made 59 and 38 fintech investments respectively.
Other strategic investments include JP Morgan Chase's stake in trade finance company Taulia and Deutsche Bank's backing of Traxpay, a German supply chain financing start-up.
Outside of traditional M&A, a variety of financial incumbents are also finding unique ways to partner with these new entrants.
Licensing technology is one way to do this. Back in 2017, a stalwart of the secondary mortgage market, Fannie Mae, partnered with fintech company Plaid to automate the verification of borrowers' assets.
Many of these collaborations involve the introduction of novel data sets into the banking environment.
For example, the enterprise cloud software provider Infor partnered with the large Singapore-based DBS Bank to allow for increased efficiency in trade financing for companies with large and complex supply chains.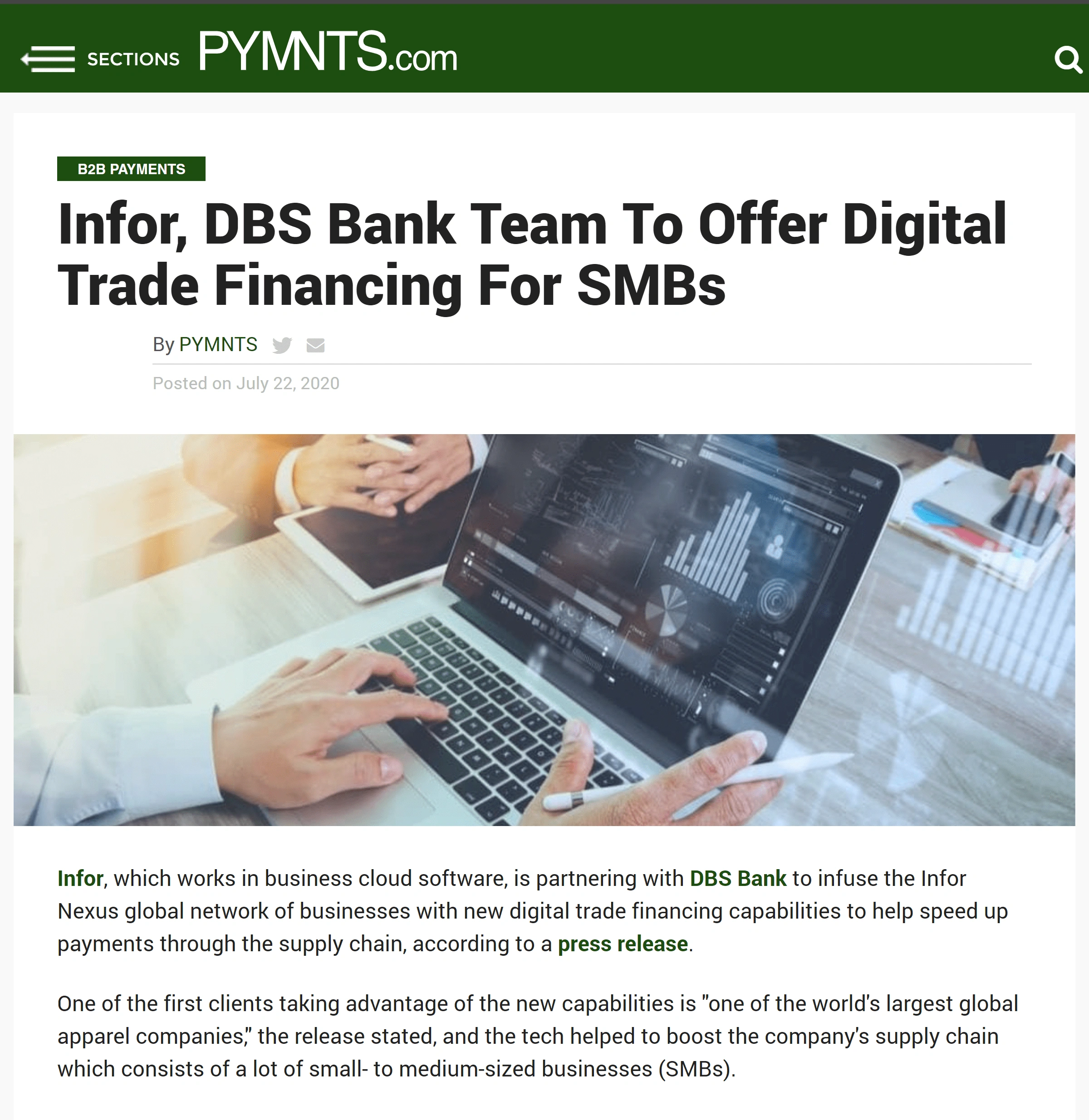 Infor's partnership with DBS is part of a growing trend.
These partnerships also benefit the fintech companies as well.
Many times, the fintech or digital lenders are focused on the customer acquisition side of banking.
Funding is still needed, and it is sometimes easier to partner with a bank that has a solid deposit base.
For instance, Boston-based Radius Bank is relatively well known for the number of fintech partnerships it has recently entered into.
Upon closer inspection, however, we find that the line between fintech and traditional banking has already been blurred.
Radius was acquired by online lender LendingClub in 2016 to give the market leader access to cheaper funding sources (i.e., deposits).
In addition to the myriad of partnerships being struck, some large non-financial companies are even creating fintech offerings of their own.
Much like the fintech companies discussed above, Google is partnering with a large collection of traditional banks to offer digital banking services to Google Pay customers in the U.S.
In addition, Amazon has teamed up with Goldman Sachs' commercial banking brand Marcus to offer revolving credit lines to Amazon merchants.
11. Open Banking Increases Transparency and Cooperation
One of the most exciting new developments in the fintech world is Open Banking.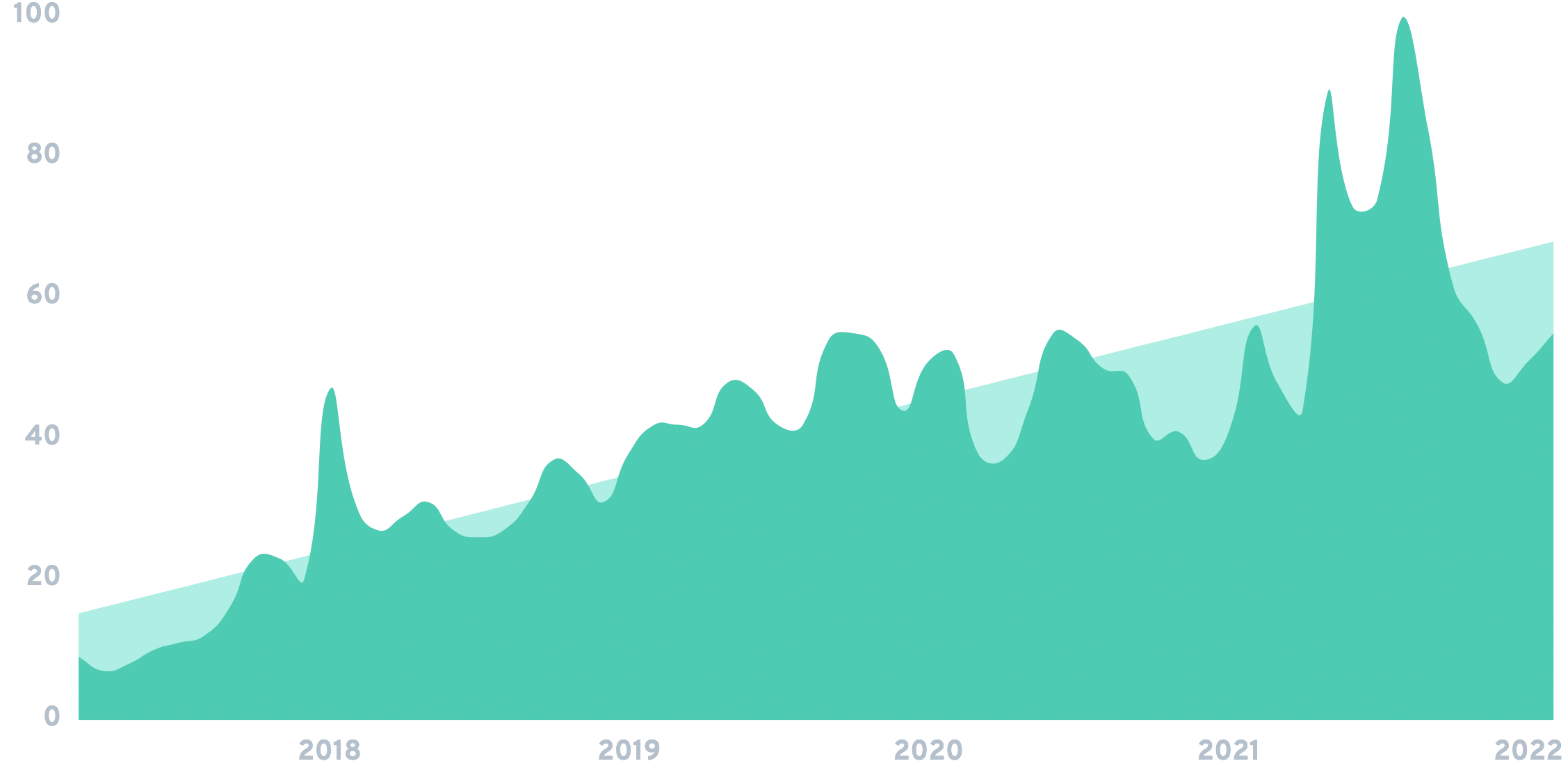 Searches for "Open Banking" are up 511% in five years.
Open banking technology allows developers to build APIs on top of financial infrastructure, which enables data to be aggregated across financial institutions and accounts.
Overall, the open banking market is expected to increase to $43.15 billion by 2026.
And constituents seem to be getting more comfortable with the concept.
A report found that there is some form of open banking infrastructure already in 87% of countries around the world.
This growth is obviously being spurred on by financial innovations.
But an unlikely driver of innovation has been the fostering of open banking ecosystems by programs like the Open Banking Implementation Entity.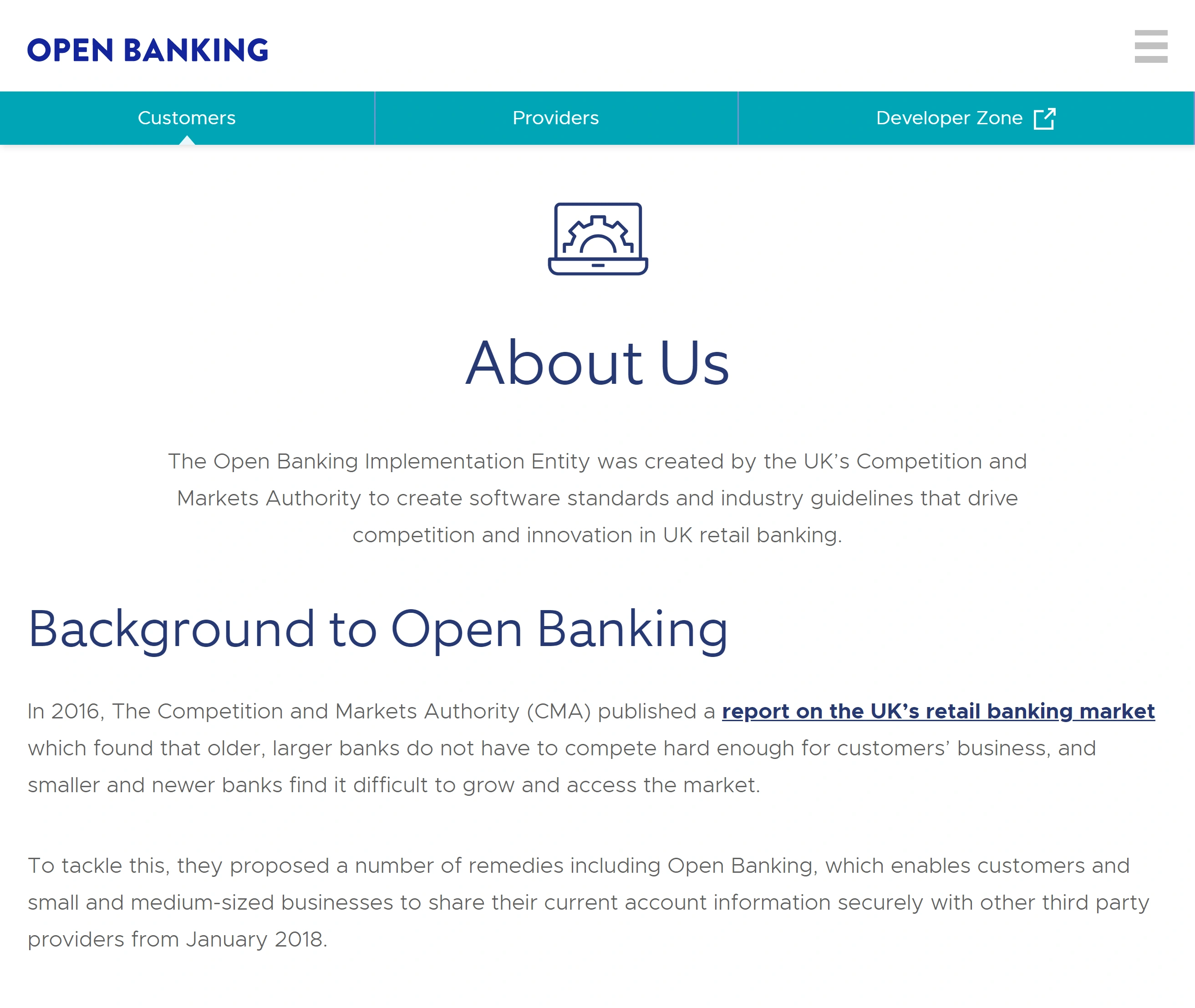 The OBIE was launched to help modernize the banking in the UK.
Created by the United Kingdom's Competition and Markets Authority, this program has been essential to the adoption of open banking technology in the U.K.
Since the launch of the program in 2018, more than 2.5 million businesses and consumers have begun using open banking products, API call volumes have risen to 6 billion from 66.8 million, and 300 fintechs have joined the ecosystem.
One of the more successful fintech companies taking advantage of this program is the U.K.-based Starling Bank.
The innovative digital bank created its own set of open banking APIs that it has deployed to create a digital banking marketplace on its app.
In this marketplace, traditional banking partners join to use Starling's data to enhance their products.
And Starling Bank customers join so they can access a variety of financial accounts in one place.
For example, administrative task automation company FreeAgent went live on Starling's marketplace in 2019.
This collaboration allows Starling Bank business customers to consolidate administrative expenses all in one place, saving time and money.
In Europe, the EU's Second Directive on Payment Services (PSD2) requires banks to implement fintech API and open banking best practices.
Open banking adoption has been slower to catch on in the U.S.
Banks are not required to share data.
Many only share financial data and integrate software after entering into contracts with fintech providers and other banks.
However, in 2020 Citigroup announced that it was building an open banking API marketplace.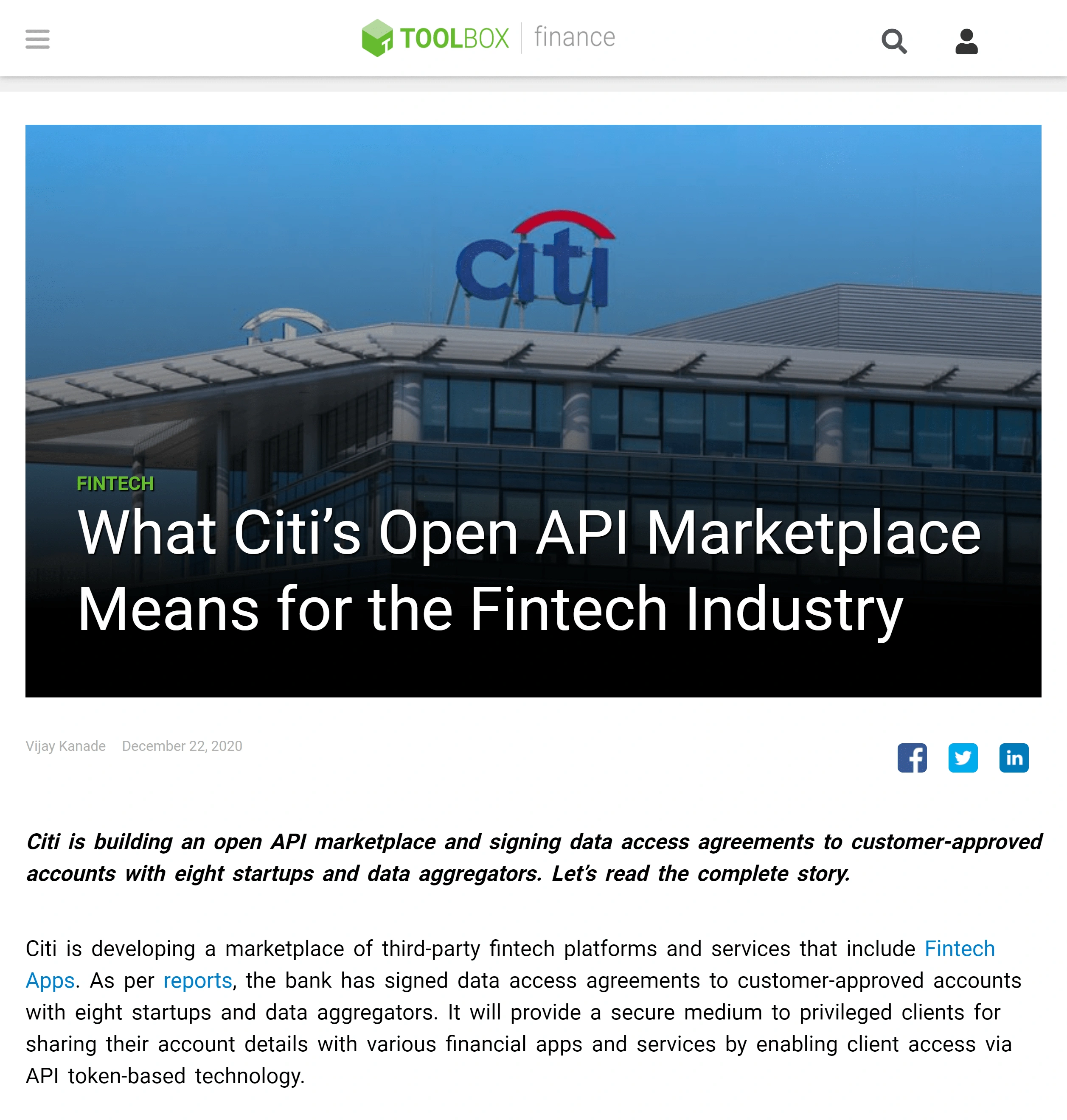 Citigroup is launching an "open" API designed to spur the creation of new fintech apps.
And the massive financial institution has put its money where its mouth is.
Continuing with the consolidation trend discussed above, 2020 has seen Citi make investments in four fintech startups in order to advance its vision of open financial infrastructure.
As the leading U.S. developer of payment APIs, Plaid is expected to benefit heavily from this.
In 2020 alone, Plaid added 1,400 new merchants to its digital platform. This increased its total by 60% to over 4,000 customers.
It has also been reported that the fintech powerhouse is considering a capital raise at a new valuation of $15 billion.
In addition, a leading open banking API platform, Teller, has repositioned its efforts to the U.S.
After finding it difficult to deal with regulation under the U.K. and European open banking regimes, the company re-incorporated in the U.S. and has focused its efforts stateside.
Teller has now raised $4 million in seed money and is expecting to tackle the much larger U.S. financial market.
12. New Innovations Help Improve Financial Inclusion
According to the World Bank's latest Global Findex Report, 1.7 billion people worldwide are underbanked.
Even in a developed market like the United States, it's estimated that roughly 22% of households are underbanked.
Improvements, however, are being made - 69% of all adults now have access to a bank account or some kind of mobile money service.
This is up from 62% of adults in 2014.
Also, 1.2 billion people around the globe have gained access to a bank account since 2011.
Some enterprising fintech offerings are now looking to further close this gap.
In China, financial powerhouse Ant Financial is mobilizing the billions of data points it collects from small and medium-sized businesses across its platforms to offer cheaper trade financing.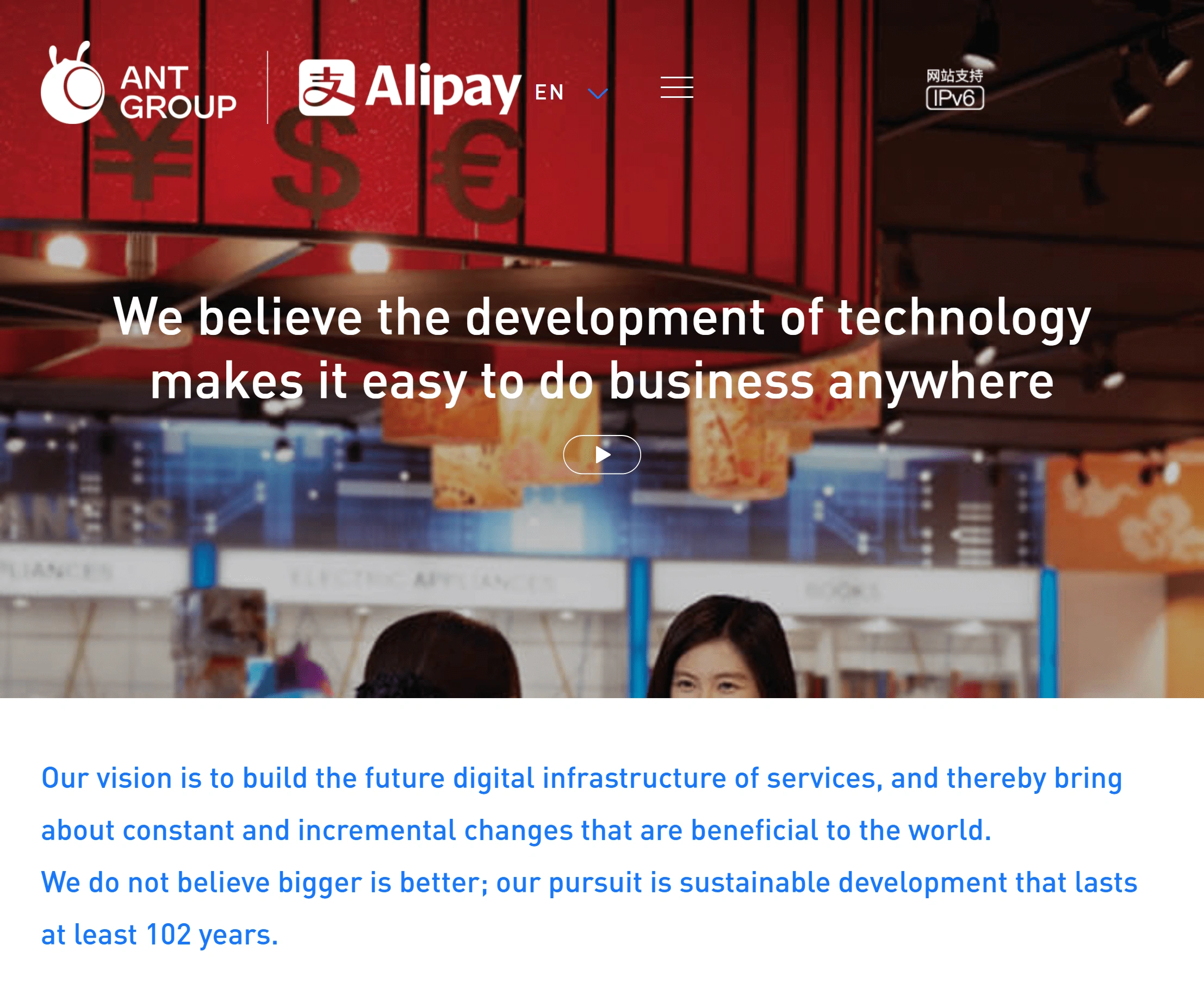 Ant Finanical is attempting to reduce the number of underbaked small businesses.
Ant also developed a savings instrument that allows Chinese shoppers on mobile platforms to earn suitable returns on spare cash sitting in their accounts.
It channels these funds to traditionally underbanked merchants, like those in rural areas. Ant's platform has seen fairly significant success, as it attracted over 10 billion RMB in the first month of its operation.
Conclusion
That's all for our list of 12 trends in the fintech space to watch right now.
In this new digital-first world, financial services of all kinds are scrambling to adapt.
The financial institutions that will succeed appear to be those that are willing to partner with potential rivals and adapt to changing sentiments in consumer preferences.