7 Important 2020 Fintech Trends
This is a list of 7 key fintech industry trends that are happening right now.
(In 2020)
Including several trends that are set to impact the financial services industry in a big way next year.
Let's jump right into the list.
1. Mobile-Only Banking
43% of Americans now use mobile banking, according to data from Statista.
A good chunk of these folks use their traditional bank's mobile app.
(In fact, 29.1M people in the US alone use the Bank of America app for their mobile banking).
This use case is essentially online banking on a smartphone.
It's definitely a growing trend. But not an exponential one.
What is growing exponentially are mobile-only banks.
In fact, searches for "mobile banking" has increased by 84% over the last 5 years.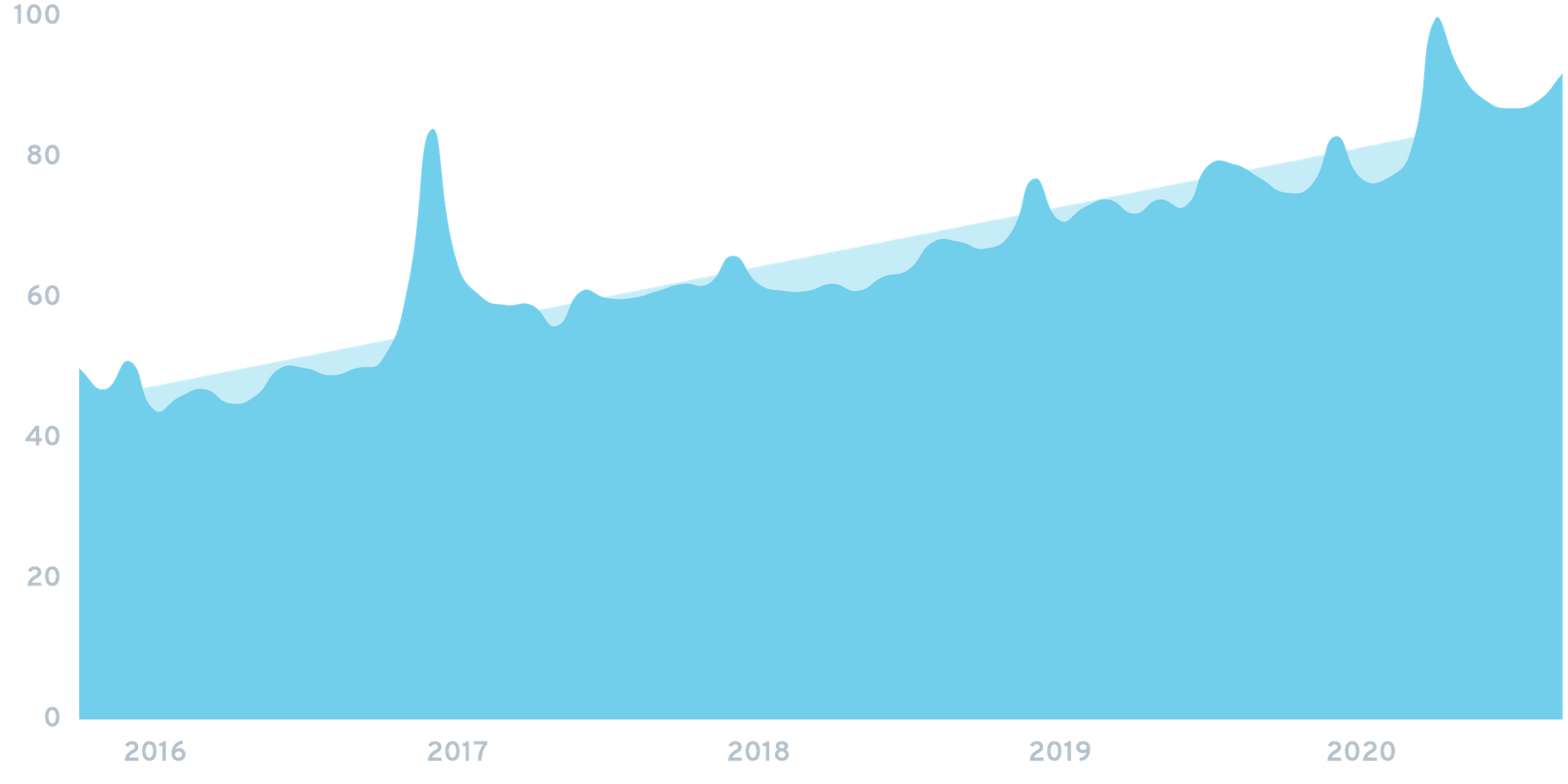 More and more consumers are interesting in mobile-first banking solutions.
Mobile-only banks are just like they sound: they exist only as a mobile app. There are no physical branches. And most of their support happens via email, chatbots and live chat.
One of the fastest-growing mobile banks is Chime Bank.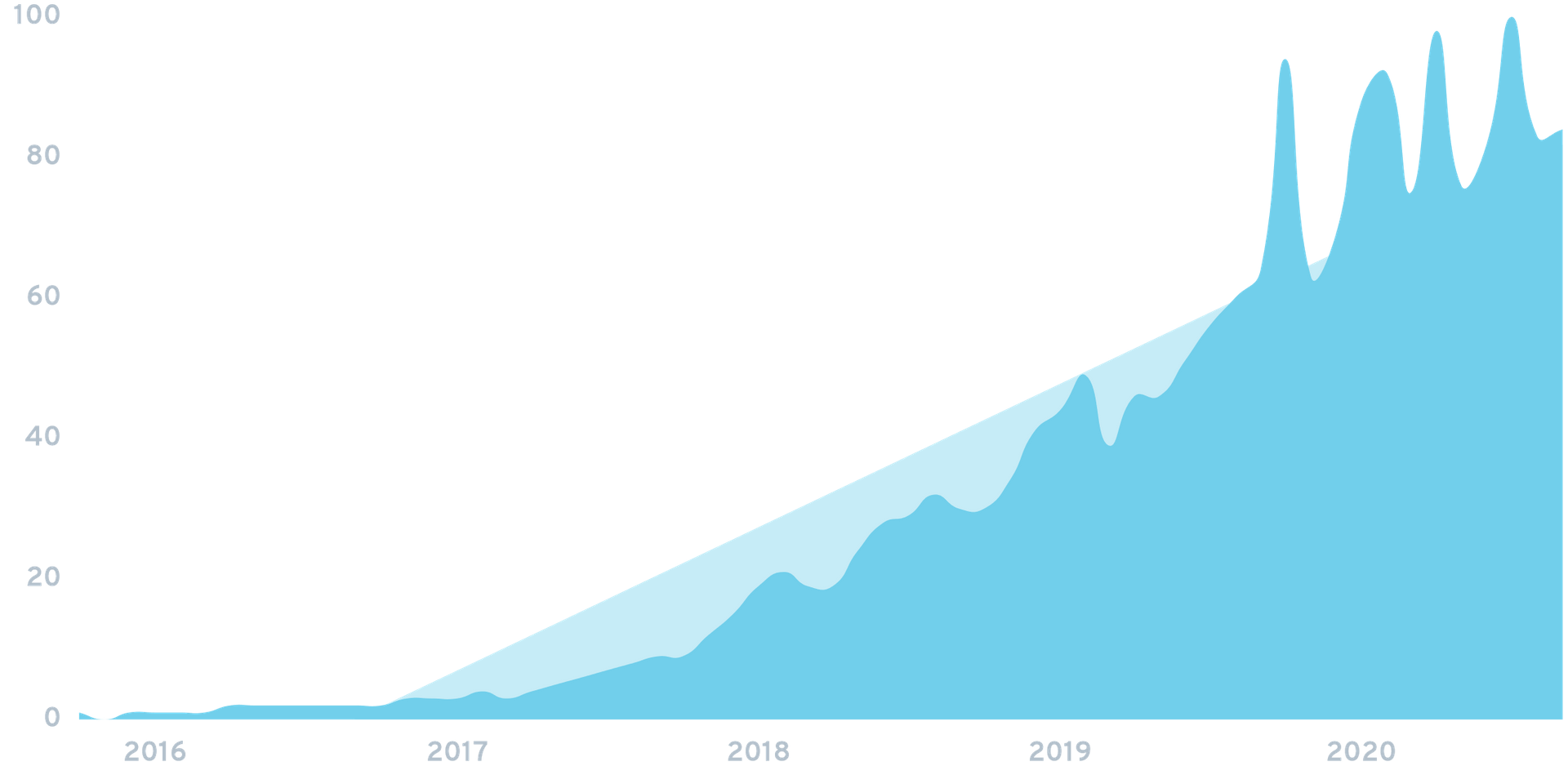 Search volume growth for Chime Bank over the last 5 years.
Like most digital banks, you sign up to Chime Bank completely from your phone. Transfer money into the account. And they'll mail you a Visa debit cards so you can withdraw money from ATMs.
They also have customer-friendly features, like overdraft protection, account alerts, and the ability to receive direct deposit payments early.
Mobile-only banks also tend to set themselves apart from traditional banks with their branding. For example, UK-based Starling Bank has laid back, approachable branding. In fact, their design looks more like a SaaS product than what you'd expect from a bank.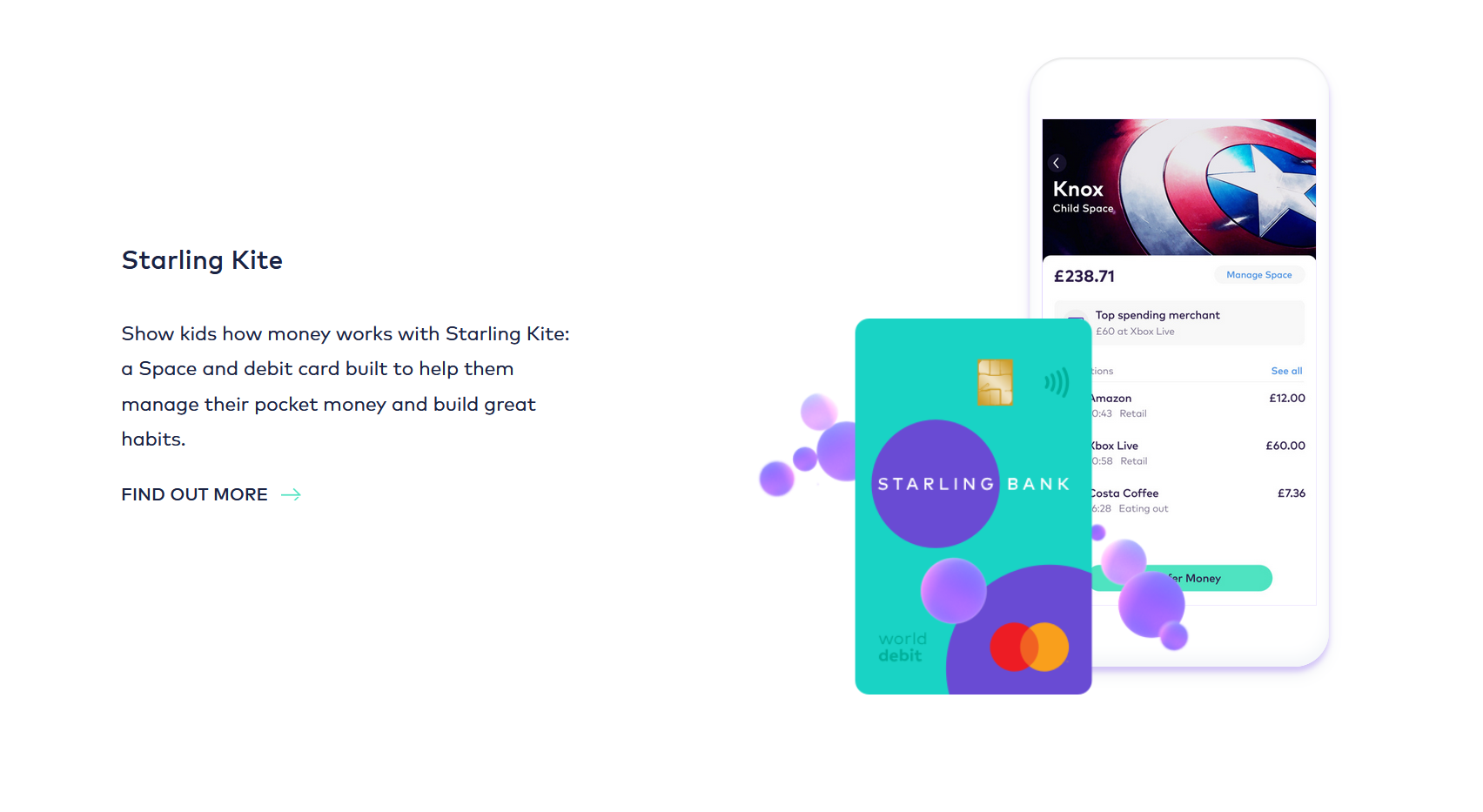 Starling Bank's branding is designed to appeal to millennials.
Other examples of mobile-only banks include N26 (started in Europe but recently launched in the US), Monzo, and Revolut.
2. Robo-Advisors
A robo-advisor is software that largely automates investing tasks, including buying stocks, asset allocation and portfolio management.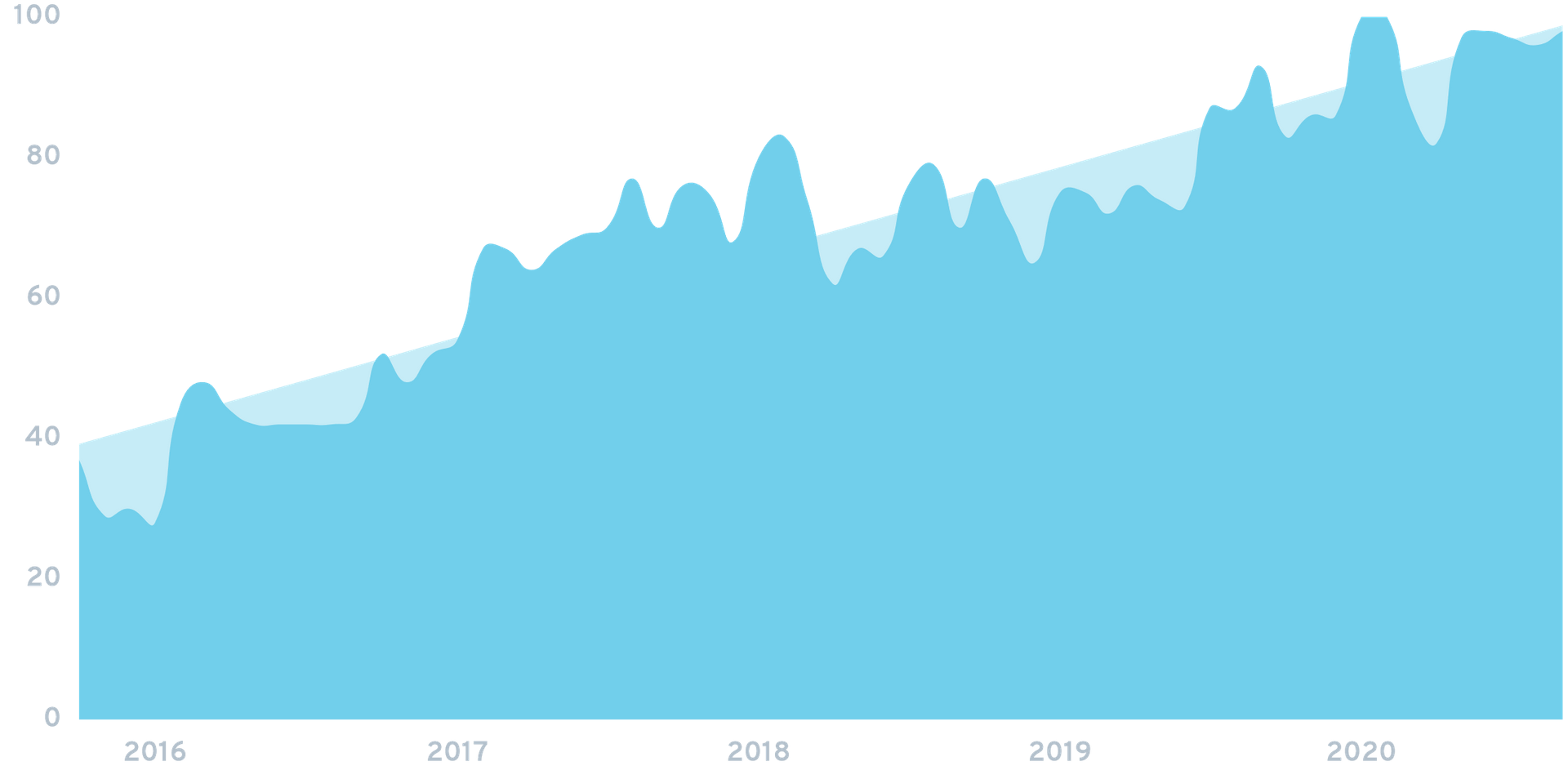 Five-year search growth for the term "Robo-advisor".
Many robo-advisors analyze big data using artificial intelligence (AI) and machine learning (ML) powered algorithms. These algorithms then choose the best investing options based on that data. Along with the user's current financial situation and goals.
And because they require essentially no human management (outside of coding the software), most robo-advisors are free up-front to use. Instead, they charge a modest .25% fee (many human-managed mutual funds take up to 1.5% in fees).
One of the major players in this emerging space is Robinhood.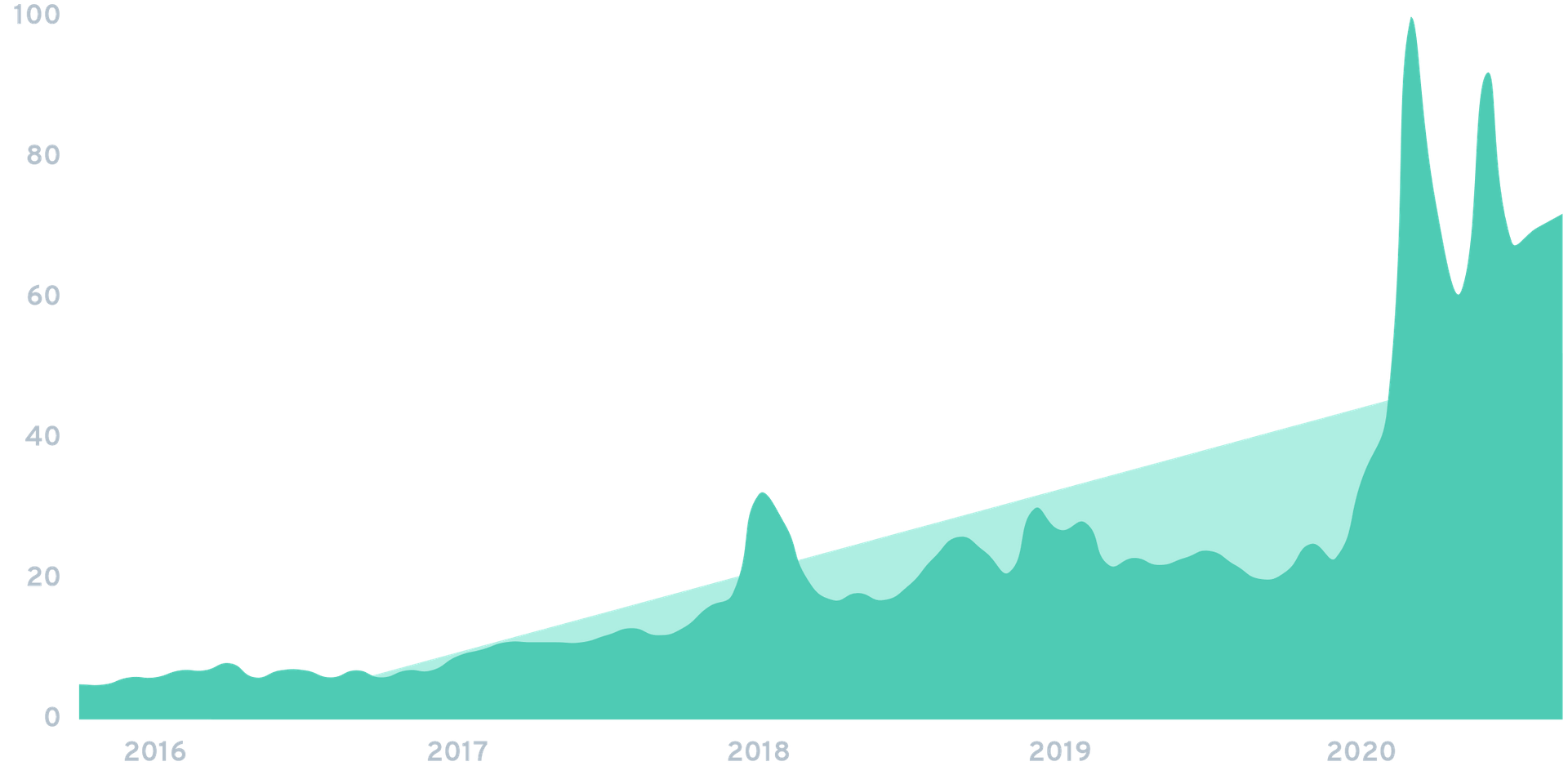 Searches for "Robinhood" have more than doubled over the last year.
Robinhood launched in 2012. In that time they've raised over $1.7B in venture capital. And they now boast over 10 million users.
But Robinhood isn't the only robo-advisor gaining steam.
For example, Beanstox is a robo-advisor co-founded by Shark Tank's Kevin O'Leary.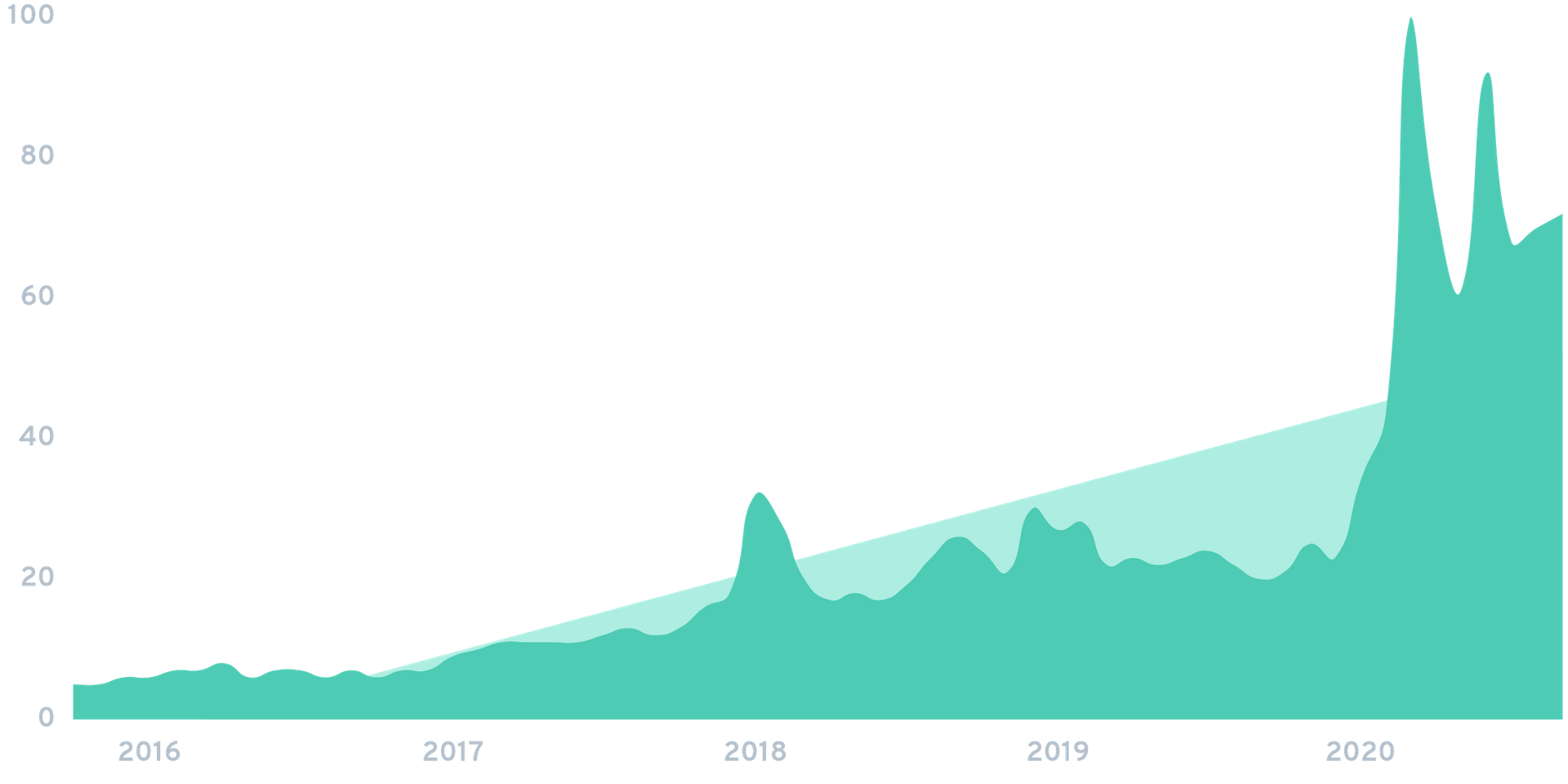 Search growth for "Beanstox" is starting to pick up.
Unlike Robinhood, Beanstox does charge $5/month to use the app. And they focus more on Exchange Traded Funds vs picking specific stocks. Otherwise, Beanstox is similar to most other robo-advisors.
Expect other robo-advisors to enter the fray. One estimate puts the total assets under management for robo-advisors to be upwards of $16 trillion by 2025.
3. "Buy Now, Pay Later" Solutions
Today, 8% of global ecommerce purchases are made through a "Buy Now, Pay Later" (BNPL) service. That figure is forecasted to double by 2023.
What is it?
BNPL is essentially layaway for ecommerce. Instead of paying for an item up-front, the customer pays off the item via installment payments.
(Most often with 4 installment payments over 6 weeks).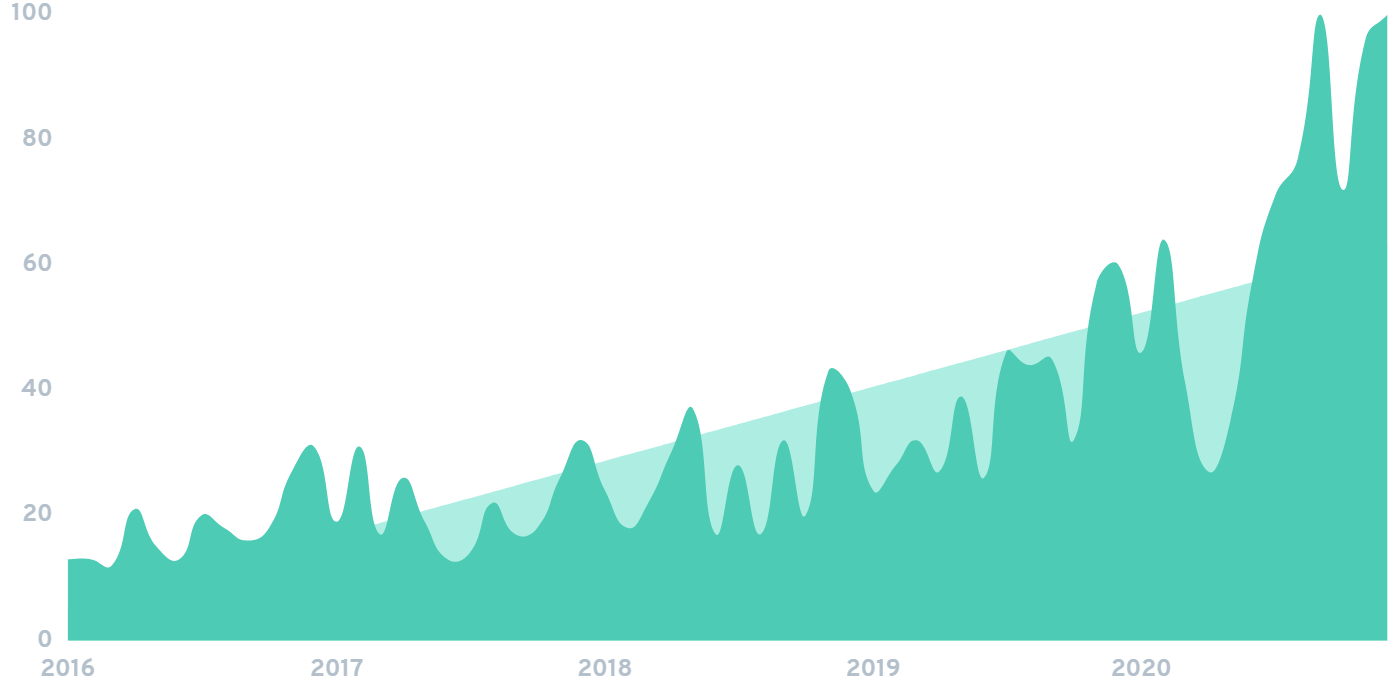 Searches for "buy now pay later" have been increasing every year, spiking each holiday season.
Buy Now, Pay Later is also expected to be the fastest-growing payment type globally over the next 5 years. With a forecasted compound annual growth rate of 28% in that time. Making it one of the biggest fintech trends going right now.
Unlike credit cards, many BNPL services don't require credit checks — or only run a "soft check" for approval. This opens up the BNPL market far beyond traditional financing options.
Also, BNPL usually comes with no interest or fees for consumers (assuming they make their payments on time). Instead, the merchants are the ones who pay the BNPL providers' fees.
(Typically a 2-8% commission, plus a fee of around 15 - 30 cents per transaction.)
So what do the merchants get in return?
More sales.
To the tune of 60% higher average order values and 20% higher conversion rates, according to one BNPL provider.
PayPal Credit is the current leader in the BNPL solutions space. PayPal credit, which originally launched back in 2000, is a little bit different than most BNPL services. They require "hard" credit checks. And payments tend to be spread out over several months.
However, PayPal is rolling out a new BNPL service called "Pay in 4" that more resembles modern BNPL offerings.
Sydney-based Afterpay is another key player in the BNPL space.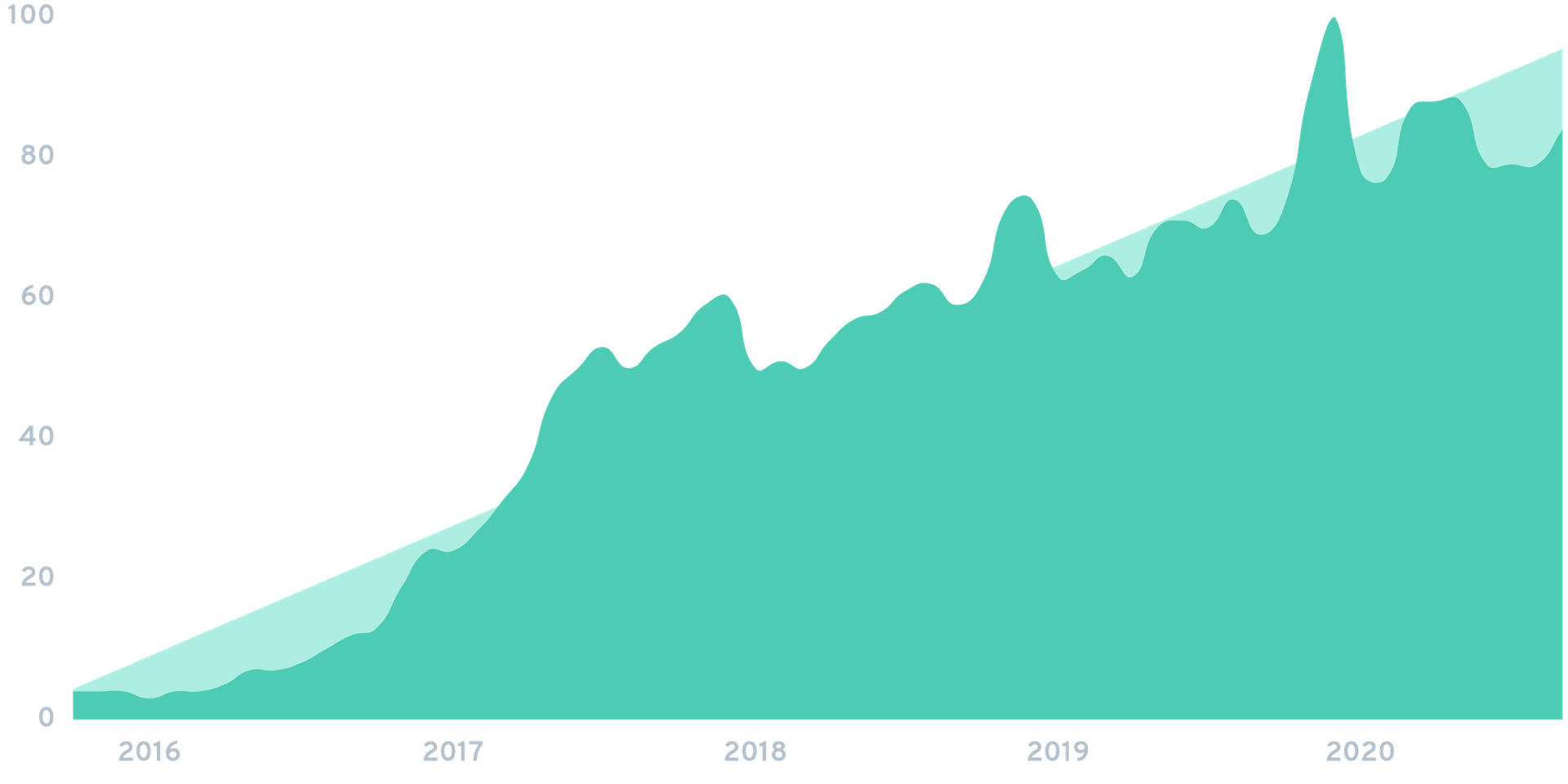 Searches for Afterpay have increased by 2000% in 5 years.

The $21.6B AUD company offers BNPL services in the U.S., U.K., Australia and New Zealand. With plans to expand to the European market.

Other BNPL companies to keep an eye on include Affirm, Klarna, and QuadPay.
4. Digital Wallets
Over 1 billion people are estimated to make an in-store purchase using a digital wallet this year, according to research by eMarketer.
Digital wallet usage was already increasing pre-COVID. But the pandemic led to more demand for contactless payment solutions.
In fact, the number of Australians that paid via a digital wallet increased by 50% between March and August 2020.
The major players in the digital wallet space differ by country.
In the US and UK, Apple Pay, Google Pay and Samsung Pay are the "big 3" digital wallet apps.
And in China, where mobile payments have doubled since 2016, Alibaba and Tencent are used most often.
The exact digital wallets may differ. But the data clearly shows that digital wallets are quickly changing the entire financial sector.
5. Decentralized Finance
Decentralized finance, is the transformation of financial products into transparent and trustless distributed networks. Which then run without the need for intermediaries like banks and other financial institutions.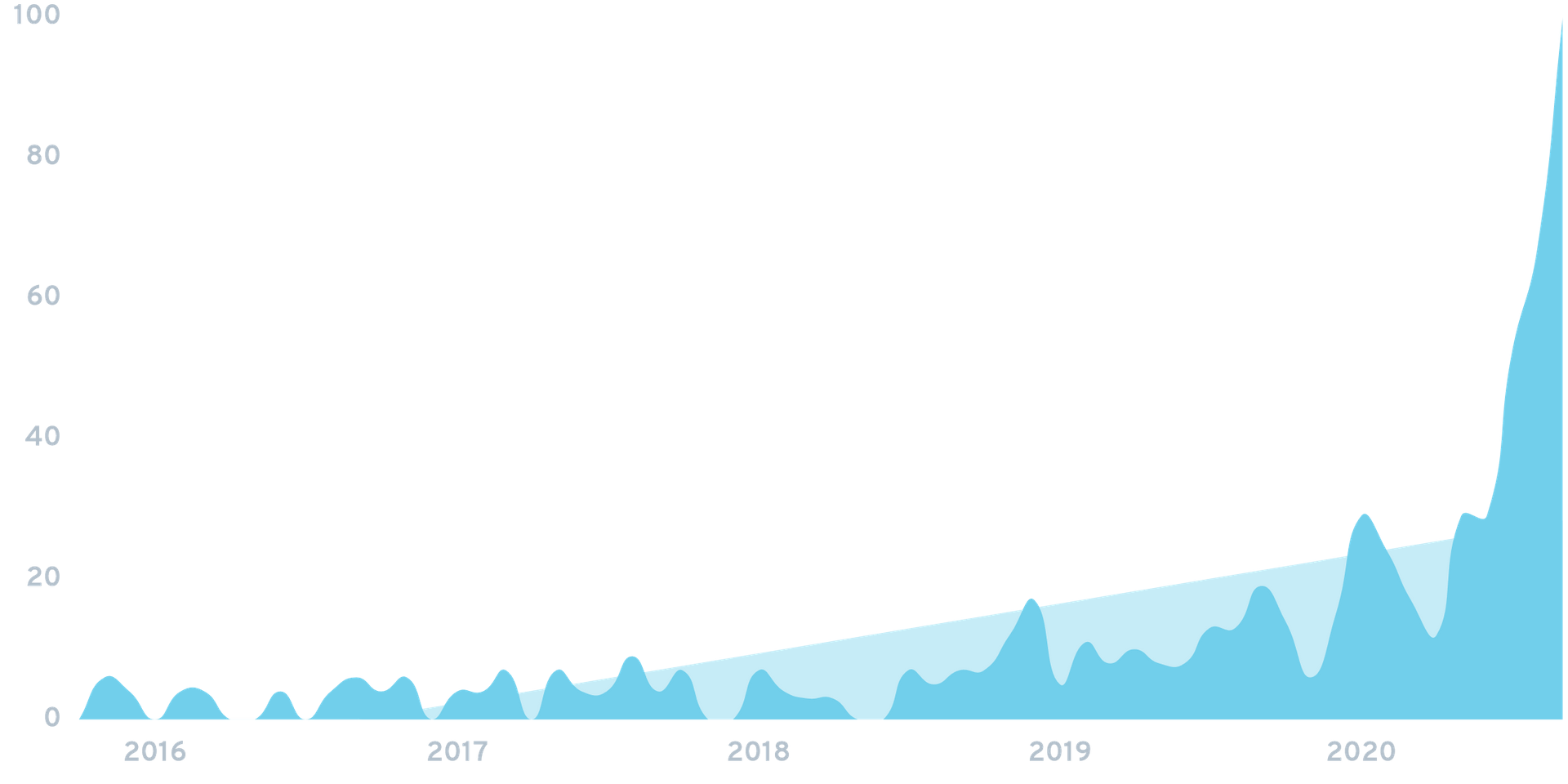 Google search volume growth for Decentralized finance, also known as "DeFi".
Total value of assets locked up in decentralized finance doubled from June to August. Today that figure stands at $7.09B.
Ethereum is by far the biggest network in the DeFi ecosystem.

Instead of just recording digital money on a distributed ledger like Bitcoin, Ethereum allows developers to save whole chunks of code to the blockchain in the form of "Smart Contracts".

These combine to create dApps (decentralized applications) that are uncensorable, enable the tokenization of all kinds of assets, and are accessible from anywhere.

And a whole slew of startups have appeared to fill these growing opportunities:
For example, BlockFi provides crypto interest accounts and crypto-backed loans.
But with all the new network activity, average network transaction fees have skyrocketed and transaction speeds have plummeted. This is because there are currently severe scaling issues with these "Web 3.0" protocols. As it stands, every node runs every transaction and line of code in the network with the Proof of Work model.
And there's a sizeable wave of potential new technologies that look to solve this problem.
Skale seeks to build off Ethereum with a "Layer 2 solution" and has a hotly anticipated token launch which has been delayed to deal with excess traffic and demand.

And then there are completely new base layer protocols that aim to replace Ethereum entirely.

Polkadot from Gavin Wood (one of the co-creators of Ethereum) just launched its mainnet and claims to solve the transactional scalability problem. And allow cross-blockchain interoperability.
6. New Payment Processor Startups
According to MarketandMarkets, the payment processor solutions market is growing by 10.2% per year. And is set to reach $120.7B by 2025.
This growth is largely due to the growing ecommerce space as a whole. More ecommerce purchases equals more online transactions. Which means more revenue for payment processors.
Stripe, now valued at $35 billion, is one of the current leaders in the industry.
But we're seeing a slew of fintech companies looking to challenge Stripe as the payment processing solution leader.
Netherlands-based Adyen, who handles all of Ebay's transactions, is one of the biggest Stripe competitors at the moment.
Another newcomer to the payment processing battle royale is Flutterwave.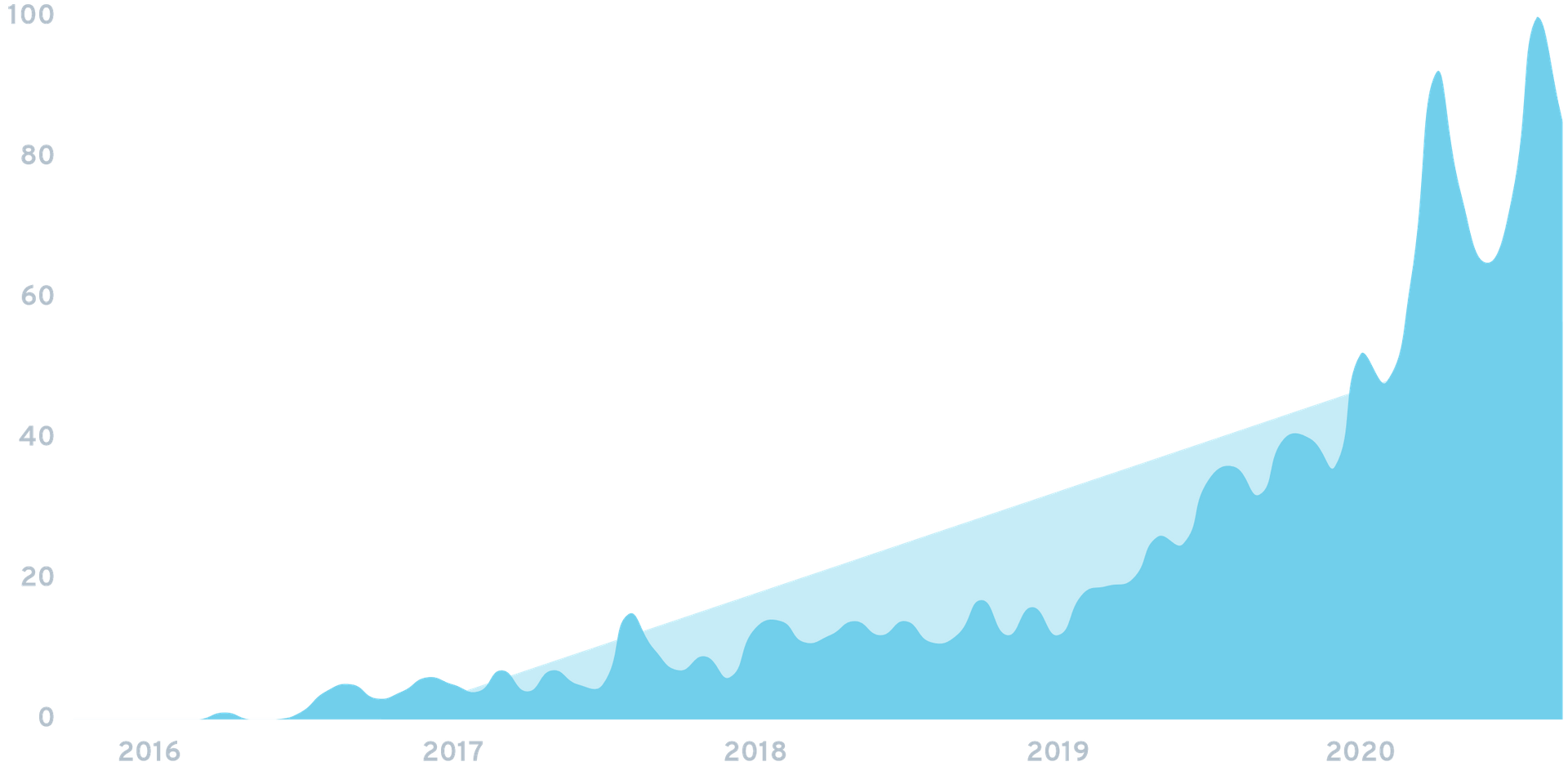 Flutterwave's search volume has grown by 8400% over the last 5 years.
Started in Africa, but now based on San Fransisco, fintech startup Flutterwave recently raised a $35M Series B round.
While enticing, the payment processing industry has significant barriers to entry. Specifically, regulations and stringent cybersecurity requirements.
However, Stripe has clearly inspired several entrepreneurs that are willing to jump through those hoops in order to launch their own payment processing startups.
7. All-In-One Finance Platforms
The current fintech software space is split into several different platforms. Each platform specializes in a specific task. You have a platform for trading stocks. Another for sending peer to peer payments to friends and family. And a digital wallet app for buying a latte from Starbucks.
This kind of fractured environment is far from an ideal user experience.
Which is why we're seeing several existing platforms tack on additional functionality. With the ultimate goal of becoming an all-in-one platform for an individual's or business's financial tasks.
Namely, Square's Cash App.

Cash App aims to be the app that people use to manage their financial lives.
Cash App is part of publicly-traded Square. However, the Cash App alone is estimated to be worth upwards of $40B. And the stored funds on the app skyrocketed by 86% from Q1 to Q2 2020.
That's largely the Cash App combines several finance platforms into one, including:
Peer to peer payments (like Venmo)
Online banking
Tax preparation
Direct deposits
Digital payments
Investing
Buying and spending cryptocurrencies
And they're apparently not done. Square is looking to add a payroll feature that allows businesses to pay employees directly through the app. Bypassing traditional bank accounts.
Conclusion
That's our list of the most important trends in fintech right now.
From crypto to DeFi to mobile banks, financial technology is an exciting space to work or invest in.
If you'd like to learn about more interesting industry trends, check out our list of growing Martech trends
Last Updated: 
December 28, 2020