79+ Brand-New eCommerce Statistics for 2023
Online shopping isn't exactly new, but it's still hot — and it's growing at a staggering rate.
eCommerce companies generate trillions of dollars in sales every year. The eCommerce ecosystem is made up of buyers, sellers, resellers, marketers, and influencers — all contributing to an industry that looks to become the default method of shopping in the near future.
Just how big is the eCommerce industry? Here's one way to put it into perspective:
If you evenly distributed a year's worth of global eCommerce sales to every human on the planet, you'd give each person $692.75.
Ready to learn more about eCommerce? Here are the latest stats on this exploding industry.
Top eCommerce Stats
Before diving into the full list of stats, here are the top eCommerce stats for 2023:
Global eCommerce retail sales are projected to hit $7.4 trillion in 2025.
Amazon sold over 100,000 items per minute during the most recent Prime Day.
85% of global consumers shop online.
53% of Americans shop on social media at least once per week.
China is home to over half of the global eCommerce retail sales.
40% of online shoppers say they've refused to buy from a brand over personal data concerns.
Global eCommerce Statistics
How much money does eCommerce generate globally? And which countries have the largest markets? Here are the latest worldwide eCommerce numbers.
Global eCommerce retail sales are projected to hit $7.4 trillion in 2025 (eMarketer)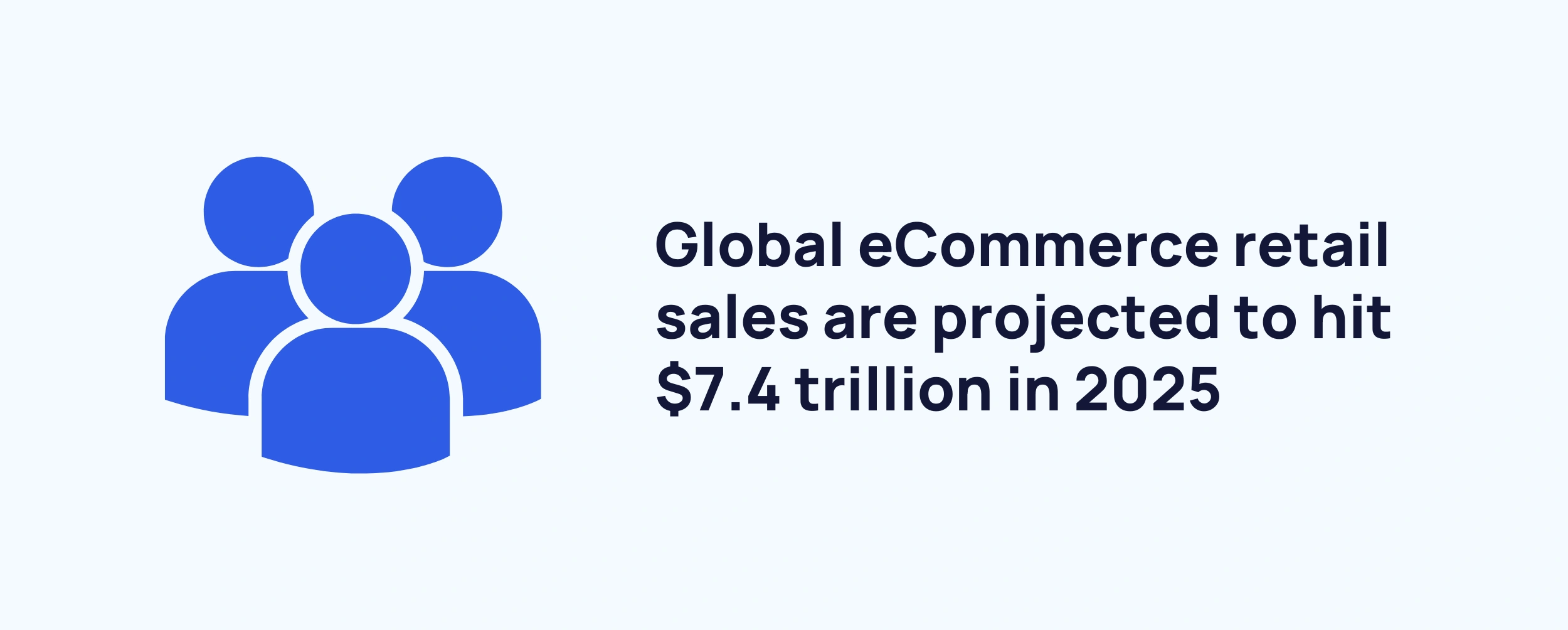 If the eCommerce space reaches the forecasted figure of $7.4 trillion in annual sales, it would mean a 74% increase over 2020's eCommerce retail sales of $4.2 trillion. As sales increase, so does eCommerce's share of total retail sales. By 2025, 24% of all retail sales will be from eCommerce stores.
85% of global consumers shop online (Statista)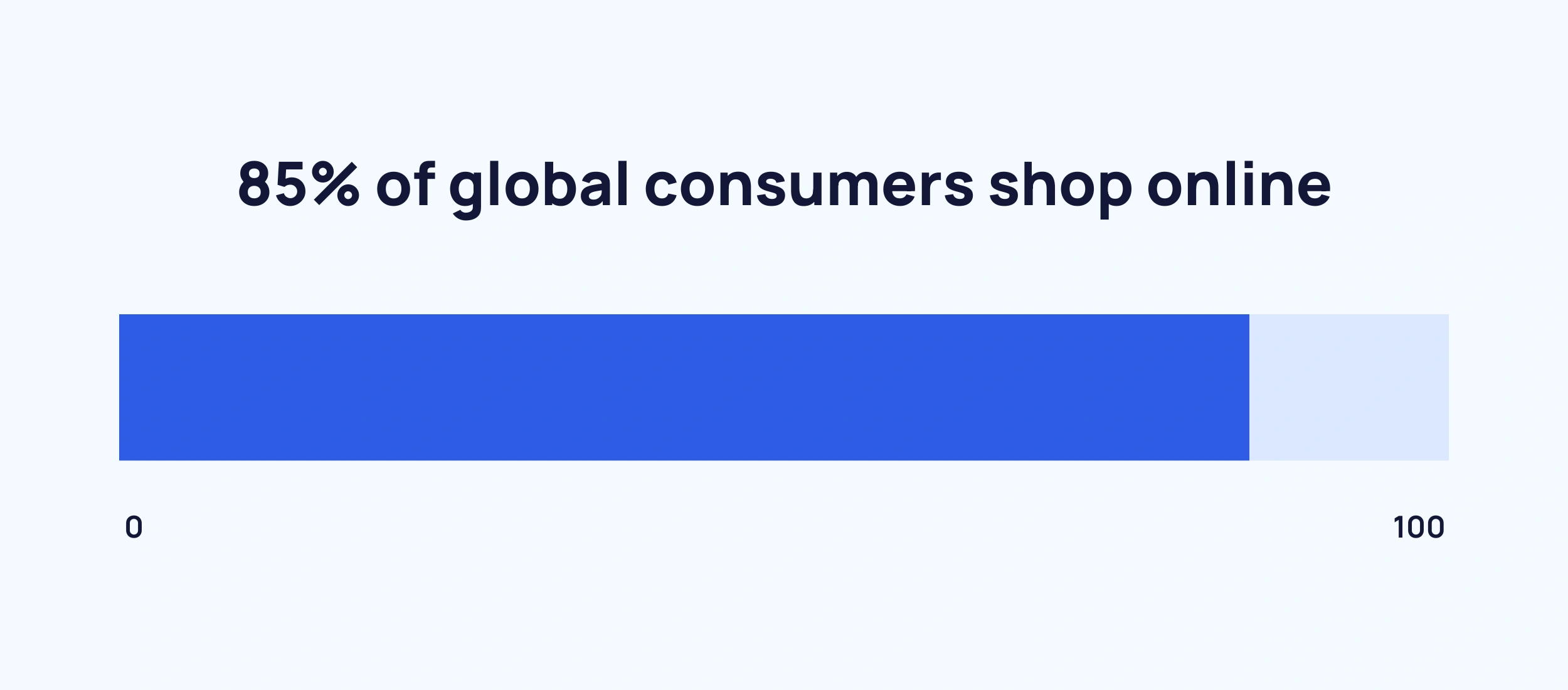 Online shopping is most popular in Asia and South America, where 86% of consumers shop online. North America and Australia have the lowest online shopping rates, at 78% and 79% respectively.
Brazil is the fastest-growing eCommerce market in the world (Statista)
Retail eCommerce sales in Brazil are projected to grow at a 14.63% compounded annual growth rate (CAGR) between 2023 and 2027 — making it the highest-growth market globally. Argentina is a very close second, with a 14.61% CAGR.
China is home to over half of global eCommerce retail sales (eMarketer)
In a roundup of the top 10 countries by share of eCommerce sales, China led the pack by a huge margin. China accounts for 52.1% of all global eCommerce sales. The United States — in second place — accounts for 19%.
WooCommerce has a 39.17% market share among eCommerce platforms (Datanyze)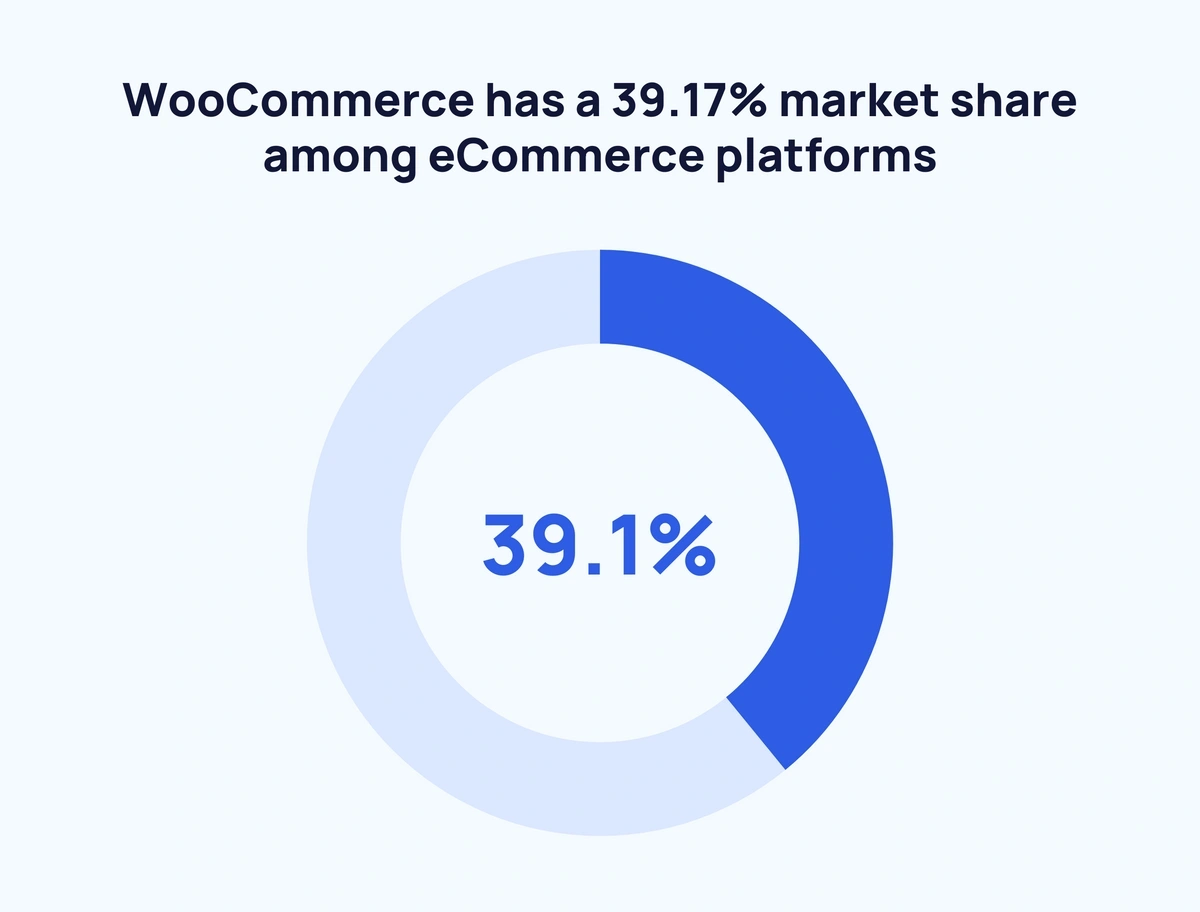 At the time of writing, there are currently 603 eCommerce platforms powering 4,236,743 eCommerce companies. Out of those companies, 2,727,209 use WooCommerce — more than Squarespace, Shopify, and Wix combined. Woo Themes is the second-most used platform with 1,031,824 companies.
15% of online shoppers prefer to buy directly from brands they like (Wunderman Thompson)
While online marketplaces like Amazon tend to dominate the eCommerce landscape, direct-to-consumer (D2C) is trending in a big way. It's now the ideal shopping method for 15% of global shoppers. In some countries, it's even the number one shopping method. D2C ranks higher than marketplaces in Australia (23%), France (22%), and Colombia (20%).
One in five eCommerce companies have a Buy Now, Pay Later (BNPL) option (Verifone)
BNPL is on the rise in eCommerce — it had a $120 billion transaction value in 2021. Amazingly, it's predicted to cross the $500 billion mark by 2026. Companies like OpenPay help enable eCommerce brands looking to provide BNPL payment options.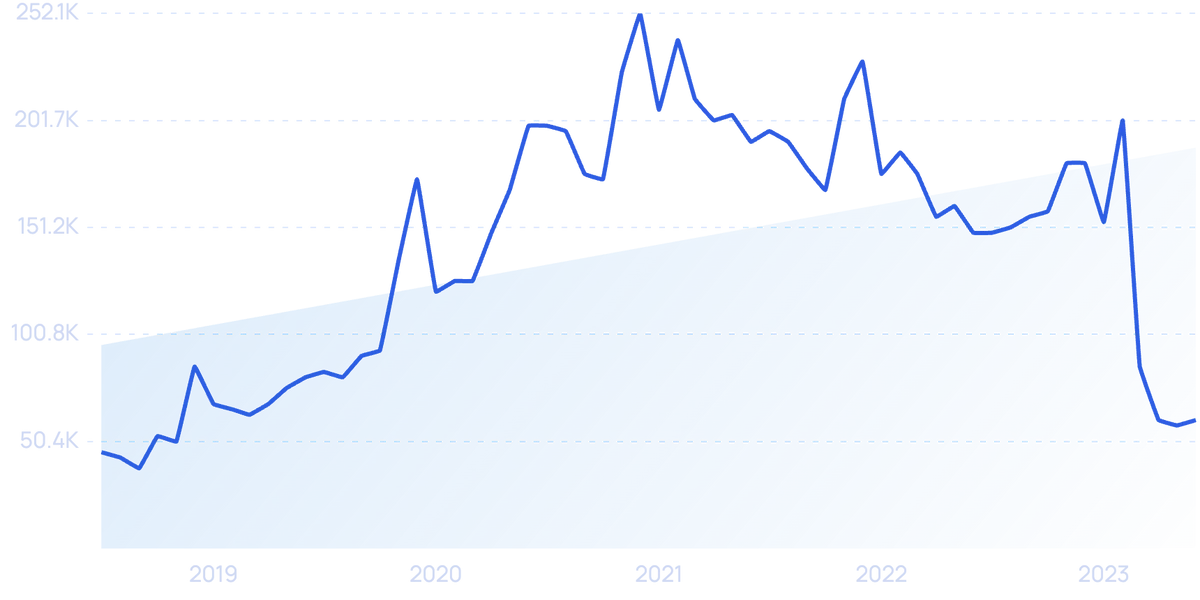 Google searches for "openpay" are up 33% over the past 5 years.
Amazon eCommerce Statistics
Amazon is such a major player in the eCommerce world that it deserves its own section. Here's how Amazon influences the eCommerce market.
Amazon averages 2.3 billion global visits every month (SimilarWeb)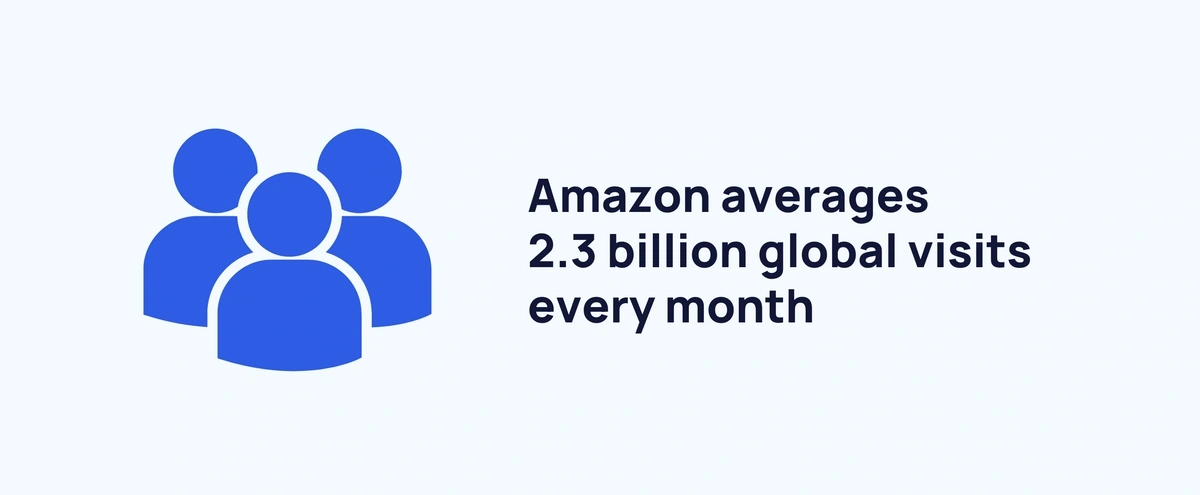 The leading eCommerce company attracts a huge amount of web traffic each month. Over 82% of that traffic is from the United States, with India, Canada, the UK, and Japan rounding out the top five. On average, visitors spend seven minutes on the site and visit close to nine different pages.
Amazon sold over 100,000 items per minute during the most recent Prime Day (Amazon)
Prime Day 2022 generated over $12 billion in sales — an 8.1% increase from 2021. According to Amazon, Prime members saved over $1.7 billion collectively through exclusive discounts and deals.
Amazon gets 13.21% of all eCommerce store visits worldwide (Statista)
It's not surprising that Amazon gets the most visits among eCommerce stores, but its dominance shouldn't go overlooked. Amazon gets more than four times as many visits as eBay and six times as many as AliExpress.
29% of global shoppers say Amazon delivers the best overall experience (Wunderman Thompson)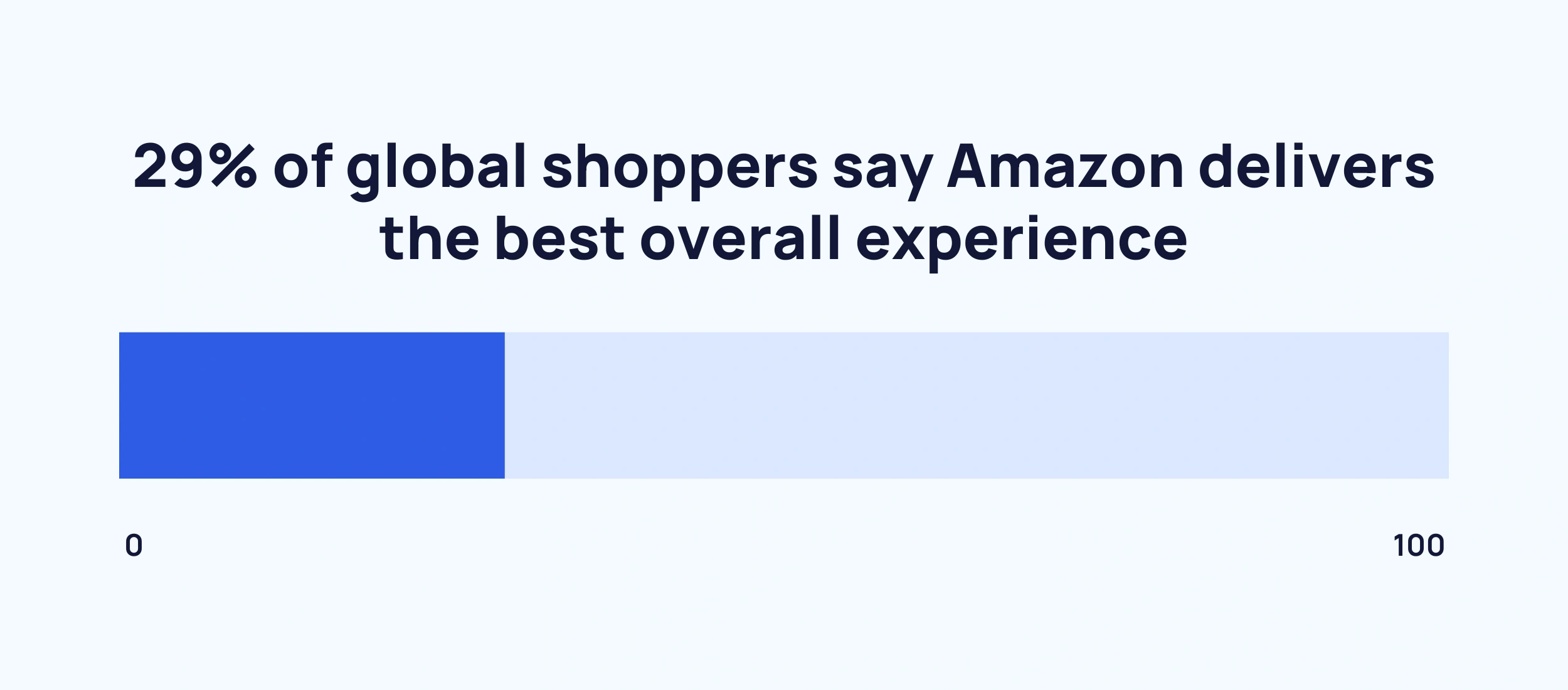 In their Future Shopper 2022 report, Wunderman Thompson asked global consumers which eCommerce channel gave them the best overall experience. Amazon won by a landslide. The closest competitor was an aggregate of all other marketplace sites — which won 23% of the vote.
56% of Amazon Top Sellers have been selling on the marketplace since 2016 or earlier (MarketplacePulse)
Longevity could be a key to performance as an Amazon seller. Sellers who joined the platform in 2017 or earlier account for over half of total sales. Among current top sellers, only 8% joined the marketplace in the past two years.
Brands are overtaking resellers as the top sellers on Amazon (MarketplacePulse)
In 2015, 40% of Amazon's top sellers had 1,000 or more listings — something you'd typically see from resellers using online arbitrage. Today, only 12% of top sellers sell 1,000 or more products. It's a sign that the marketplace is shifting away from resellers and more toward actual brands.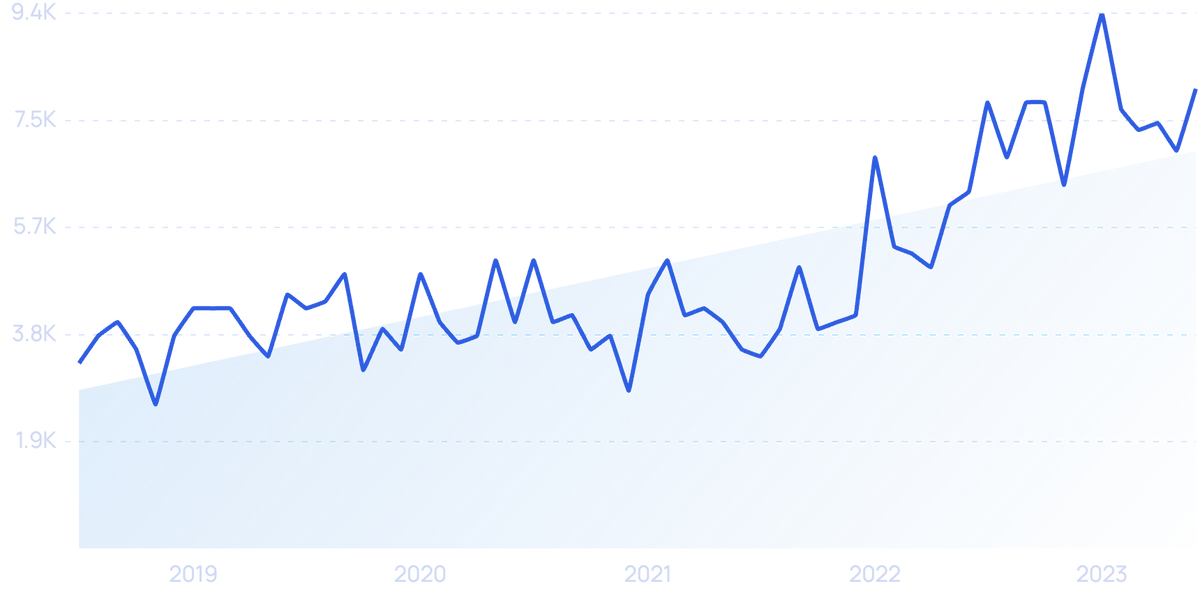 Despite resellers losing ground on Amazon, "online arbitrage" is still an exploding topic on Google.
Social Media eCommerce Statistics
The intersection of social media and eCommerce is called social commerce. Here's a look at the impact social commerce has today.
A third of global online shoppers use social media as their primary shopping inspiration (Wunderman Thompson)
While search engines and Amazon are huge sources of shopping inspiration, 33% of online shoppers are finding out about products primarily through social. Additionally, 27% of global shoppers use social media sites to search for new products.
Facebook is the most globally popular social eCommerce channel (Wunderman Thompson)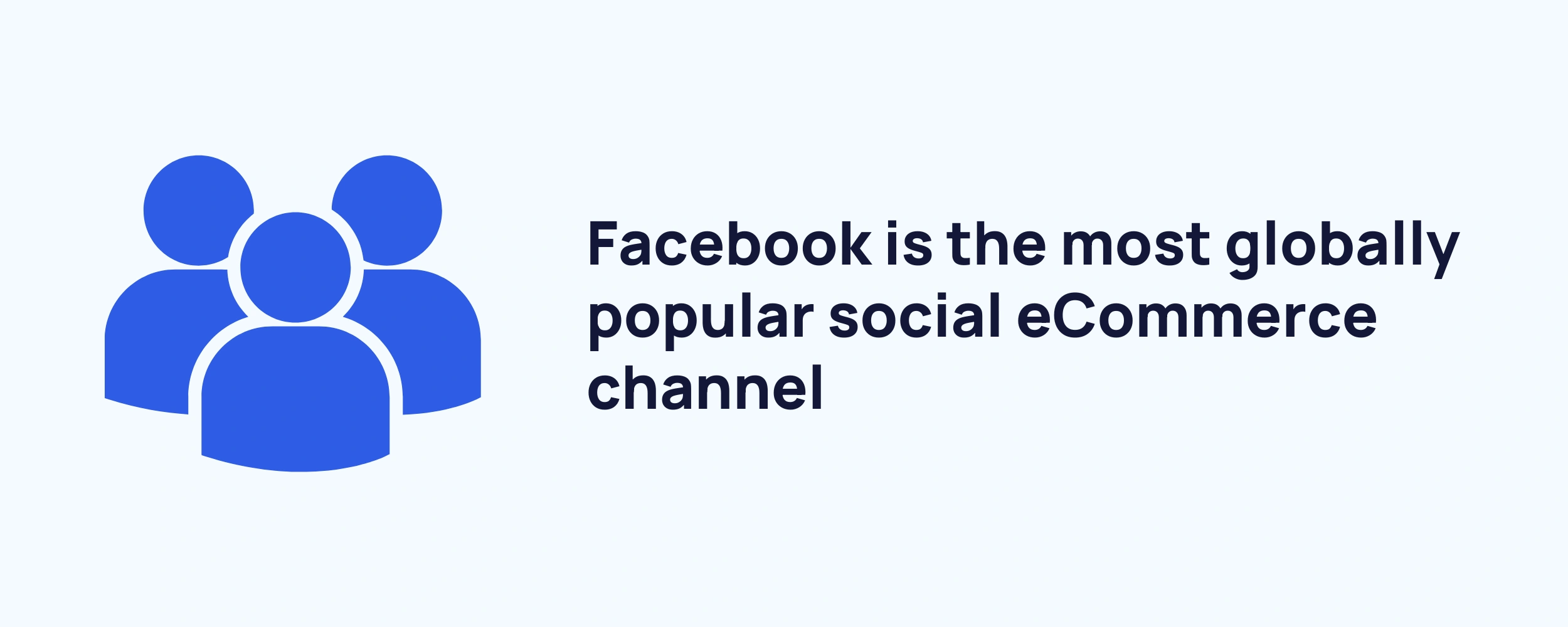 31% of online shoppers say Facebook is the platform they're most likely to buy from, and 32% said it was the best social platform for eCommerce. It's most popular for the 35-44 demographic, where 41% of shoppers say it's their favorite channel.
Instagram is the favorite social media channel among 16 to 24-year-olds (Wunderman Thompson)
While Facebook might be the overall favorite, Instagram is the king among Gen Z shoppers. 39% say it's the channel they're most likely to buy from, and 41% believe it's the best social shopping channel around today.
53% of Americans shop on social media at least once per week (InfluencerMarketingFactory)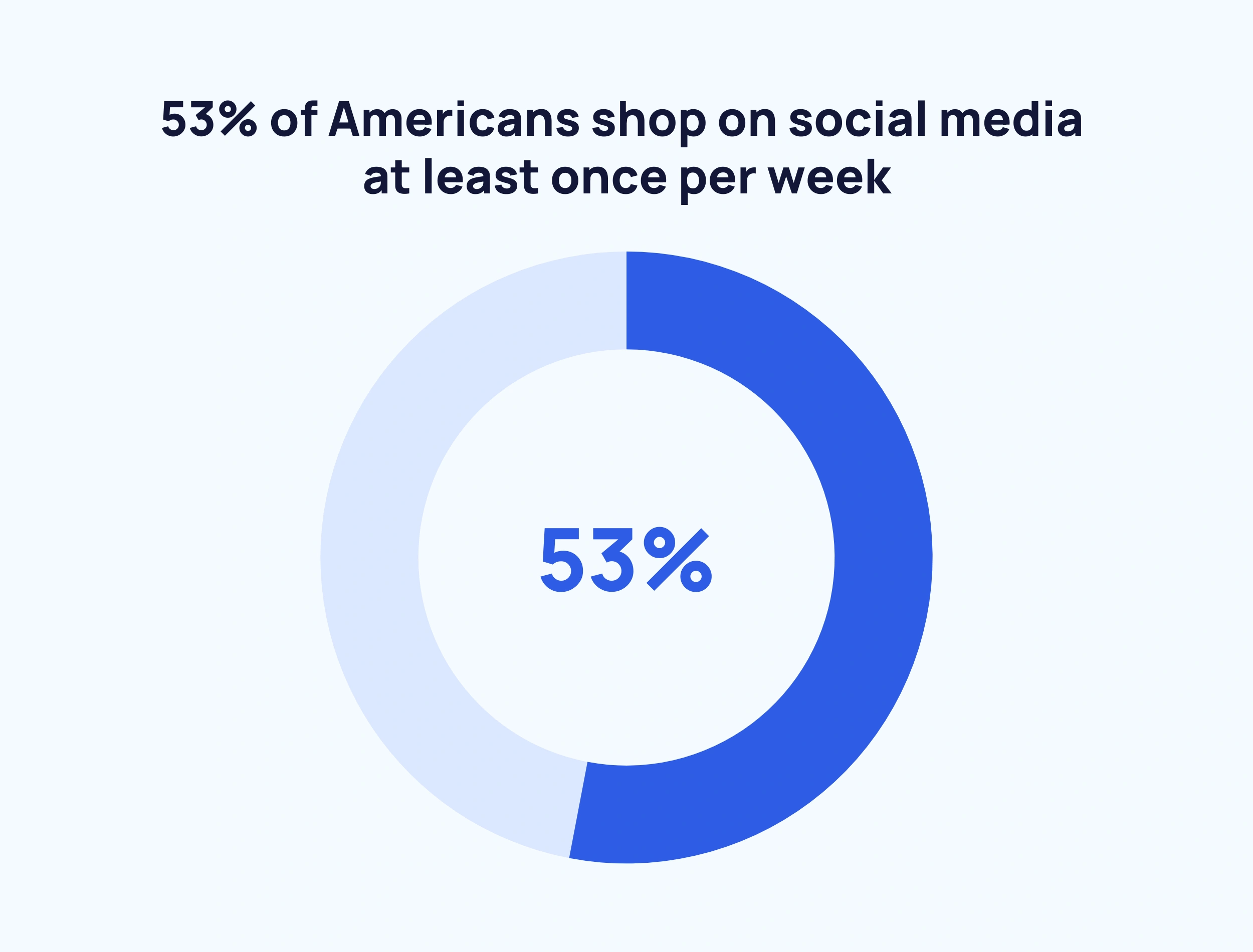 That's right, the majority of Americans are weekly social media shoppers. And just under a quarter of Americans (24%) shop on social media more than once per week. Out of the 13% that never shop on social media, over one-third say they plan on doing so in the near future.
Apparel is the most popular social eCommerce category among American shoppers (InfluencerMarketingFactory)
When asked which product type they bought most often on social media, 22% of American shoppers said apparel. 15% said beauty products and 11% preferred home products. Electronics and food and beverage rounded out the top five with 10% each.
Social media eCommerce sales are almost 10 times higher in China than they are in the US (eMarketer)
Social commerce sales totaled $351.65 billion in China in 2021, compared to just $36.62 billion in the United States.
68% of social eCommerce sales in China come from TikTok (Wunderman Thompson)
For most of the world, Facebook and Instagram dominate the social eCommerce landscape. But in China, it's all about TikTok. 70% of Chinese shoppers think the social channel is the best when it comes to eCommerce. 10% of all global shoppers under 35 also think it's the best social channel for online shopping.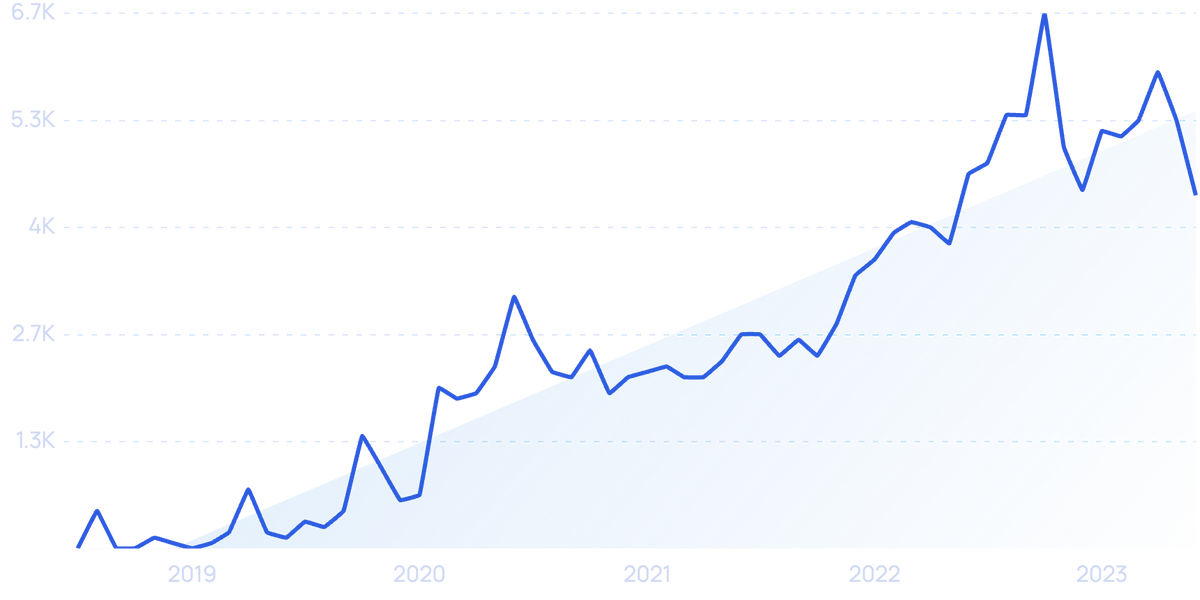 Explosive Growth: Google searches for "tiktok shopping" over the past 5 years.
Mobile eCommerce Statistics
The trends tell us that people are spending more of their online time on mobile devices. eCommerce companies are responding by giving shoppers more ways to buy from their smartphones.
US mobile eCommerce sales could reach $710 billion by 2025 (eMarketer)
M-commerce sales in the US should exceed $400 billion in 2022 and pass the $700 billion mark by the middle of the decade. That would be more than quadruple the number of sales posted by m-commerce in 2019.
Over 40% of all eCommerce sales in the US come from mobile (eMarketer)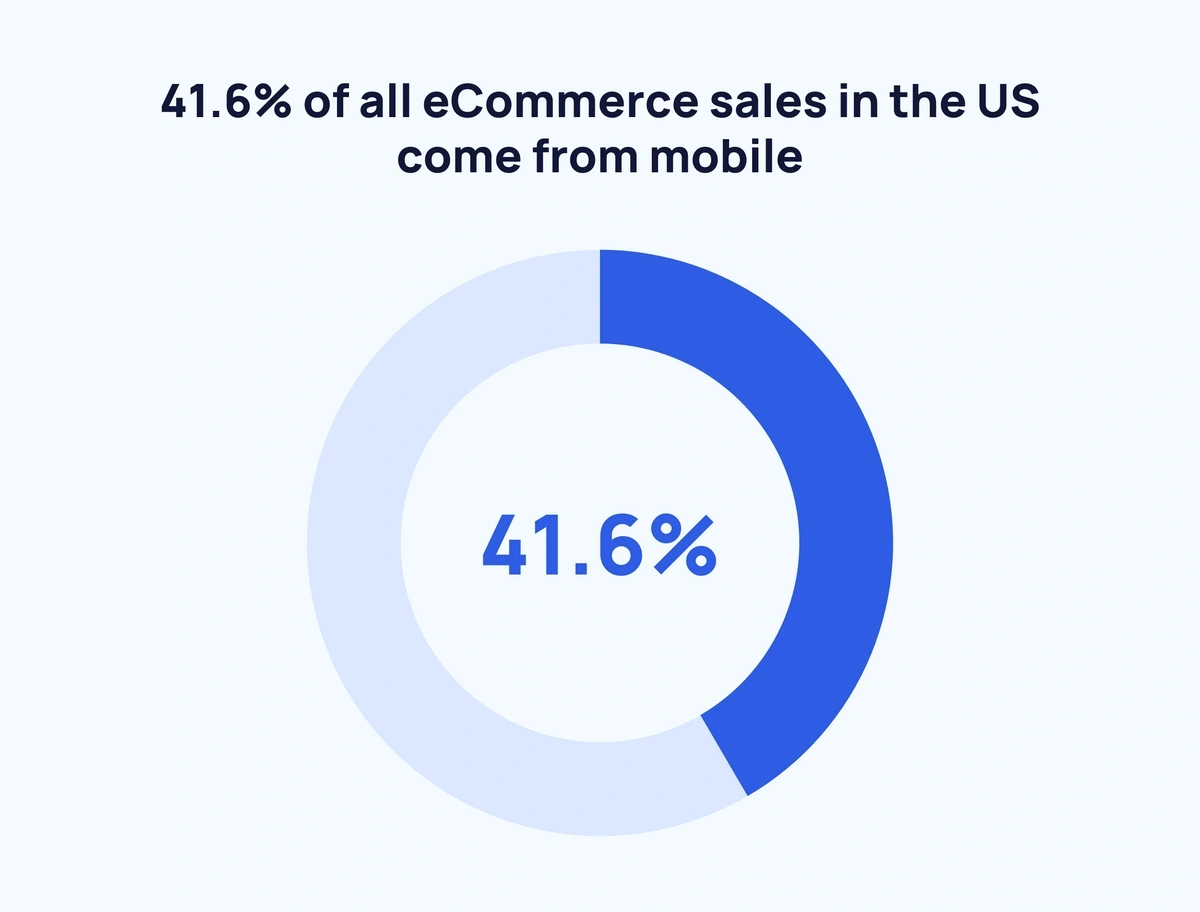 Mobile gets a bigger piece of the eCommerce sales pie each year. In 2019, just 36.9% of eCommerce sales were generated from mobile devices. In 2025, that share could be as high as 44.2%.
How can eCommerce brands develop their mobile presence? By working with app development companies like TapCart.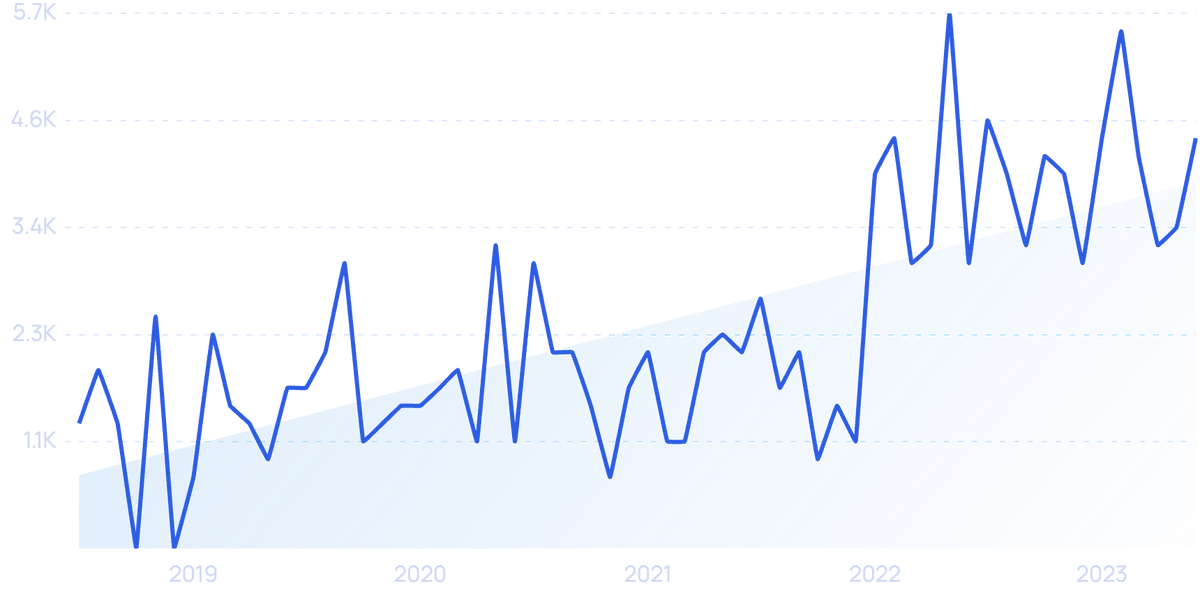 Google searches for "tapcart" over the past 5 years.
29% of Americans purchase products or services on their smartphones at least once per week (Vorhaus)
Vorhaus's survey on smartphone behavior revealed just how much mobile shopping Americans are doing. 34% of Americans in the 18-34 demographic are mobile shopping at least once per week, ahead of the total average.
Mobile has lower conversion rates than both desktops and tablets (Kibo)
Despite mobile's growing share of eCommerce sales, the channel still struggles with conversion rates. Mobile has a 2.3% conversion rate in Q4 2021, compared to 3.8% for desktops and 3.2% for tablets.
eCommerce Challenges
There's no question that the eCommerce industry is booming. But staying competitive in a crowded industry means overcoming multiple challenges. Here are some obstacles facing today's eCommerce brands.
eCommerce companies say payment method localization is their biggest challenge right now (Verifone)
In the age of global eCommerce, getting international payments right is huge for any company looking to sell across borders. For 52% of eCommerce companies, payment localization remains their top challenge.
The average shopping cart abandonment rate is 70% (Baymard)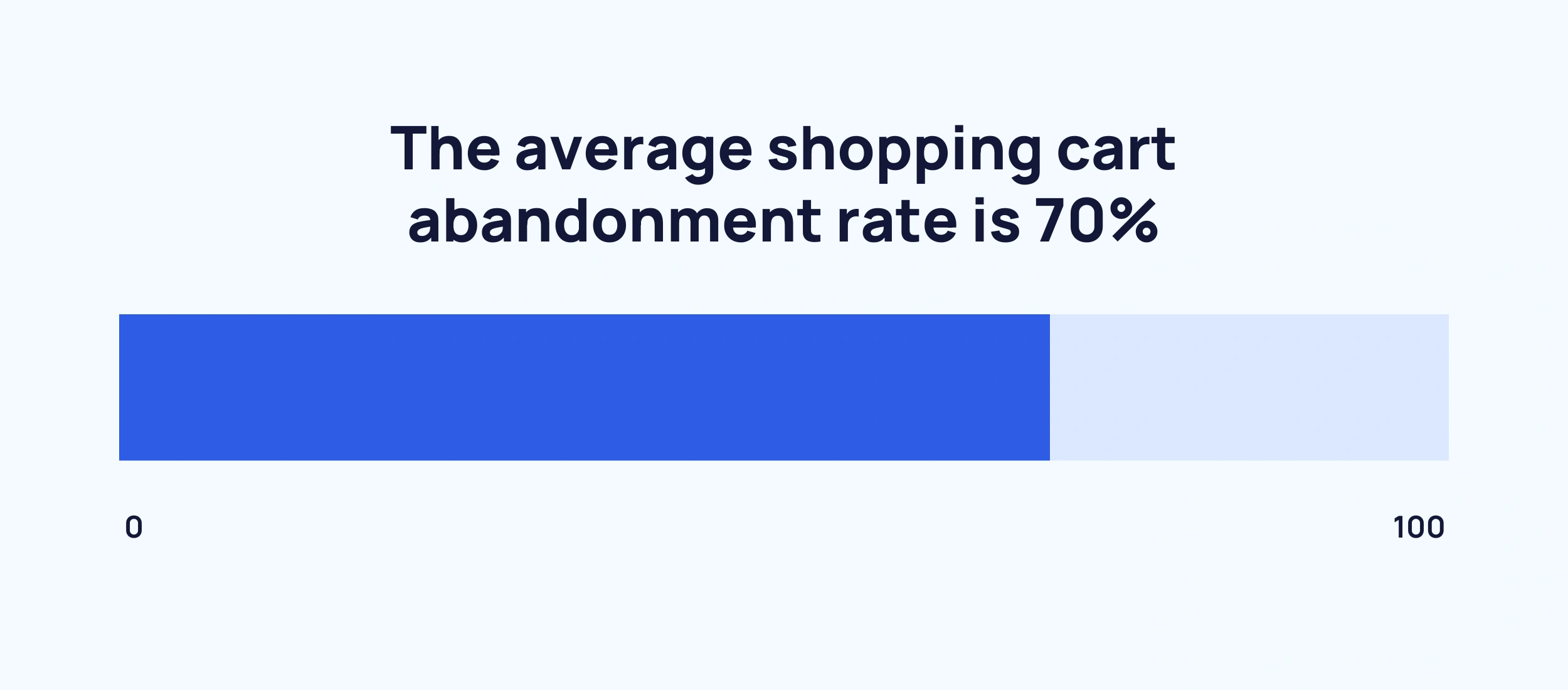 Shoppers abandon their carts before checking out for a multitude of reasons. The top reason? Extra fees. In a poll of 4,384 US adults, 48% said they'd abandon their carts after seeing shipping, taxes, and other fees. Other reasons for cart abandonment were having to create an account to complete an order, long delivery times, and not trusting the website with credit card information.
Getting personalization right is increasingly difficult (Gartner & Yieldify)
74% of eCommerce companies have a website personalization program in place. But some personalization efforts could be turning off potential buyers—especially if they overdo it. A Gartner survey found that shoppers are three times more likely to abandon brands that "over- personalize".
40% of online shoppers say they've refused to buy from a brand over personal data concerns (Shopify)
Data privacy is top-of-mind for today's digital consumer. Over half — 57% — of online shoppers say they're "increasingly concerned" about the way brands are using their personal data. And 61% say they'll only share that information if they're required to do so.
3.1% of global eCommerce revenue is lost because of payment fraud (Cybersource)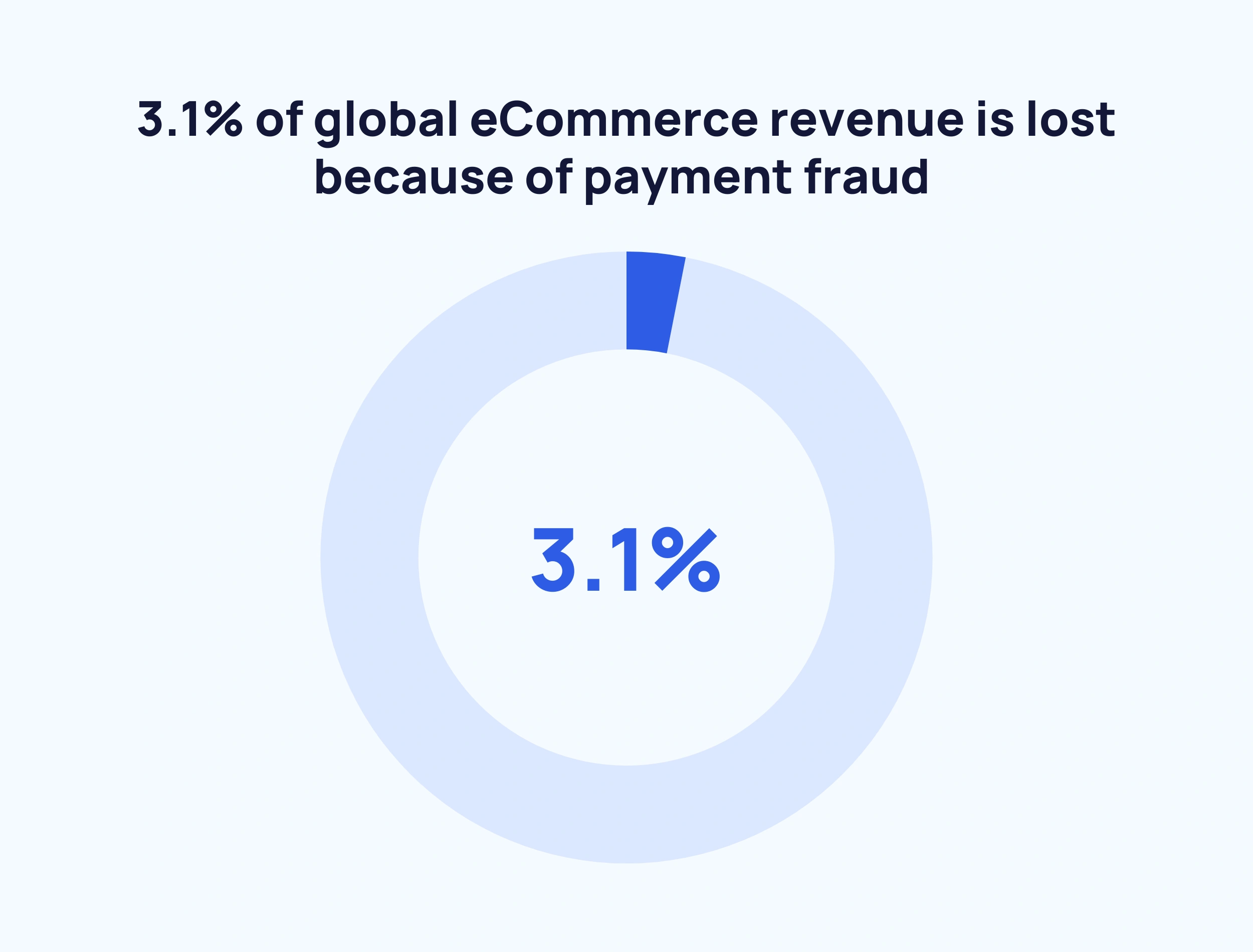 Credit cards, chargebacks, and other types of fraud are rampant in the eCommerce world. The problem seems to be on the rise, too. eCommerce revenue lost to payment fraud went up over 29% between 2019 and 2021. It's a trend that's led to eCommerce companies spending an average of 10% of their revenue managing payment fraud.
Wrap Up
eCommerce is a multi-trillion dollar industry that gives shoppers access to an infinite amount of products and services.
While Amazon is the global leader, brands are finding ways to get directly in front of potential shoppers through mobile apps and social commerce.
All the projections point to one thing: eCommerce will continue to grow and prosper, and it could be the default avenue for shopping in less than a decade.