75+ Incredible eLearning Statistics (2024-2028)
eLearning is already a multi-billion dollar industry.
And it's set to see significant future growth, reaching a market value of $1 trillion by 2032.
That's not to say that eLearning doesn't have hurdles to overcome. Keeping online students engaged has always been a challenge. And remains one today. Skepticism among students and faculty is also prevalent.
Despite these challenges, data shows that eLearning is on the rise.
And in this post, we'll cover some of the most interesting eLearning stats to know in 2024 and beyond.
Contents
Top 2024 eLearning statistics
Here are some of the more notable stats to get you started:
The overall global eLearning market is expected to hit $1 trillion by 2032.
73% of US students want to continue taking online classes after the pandemic.
90% of companies offer their employees some form of digital learning.
68% of employees say they prefer to learn at work.
The number of registered learners on Coursera has increased by 438% in 5 years.
eLearning Market Statistics
Just how big is the eLearning marketing right now? And what does future growth look like? In this section, we'll look at the global market and examine specific regions where exceptional growth is expected.
The overall global eLearning market is expected to hit $1 trillion by 2032 (Global Market Insights)
The eLearning market has a gigantic potential reach. Unlike most industries, nearly everyone is a potential customer, from K-12 and college students to corporate and SMB professionals.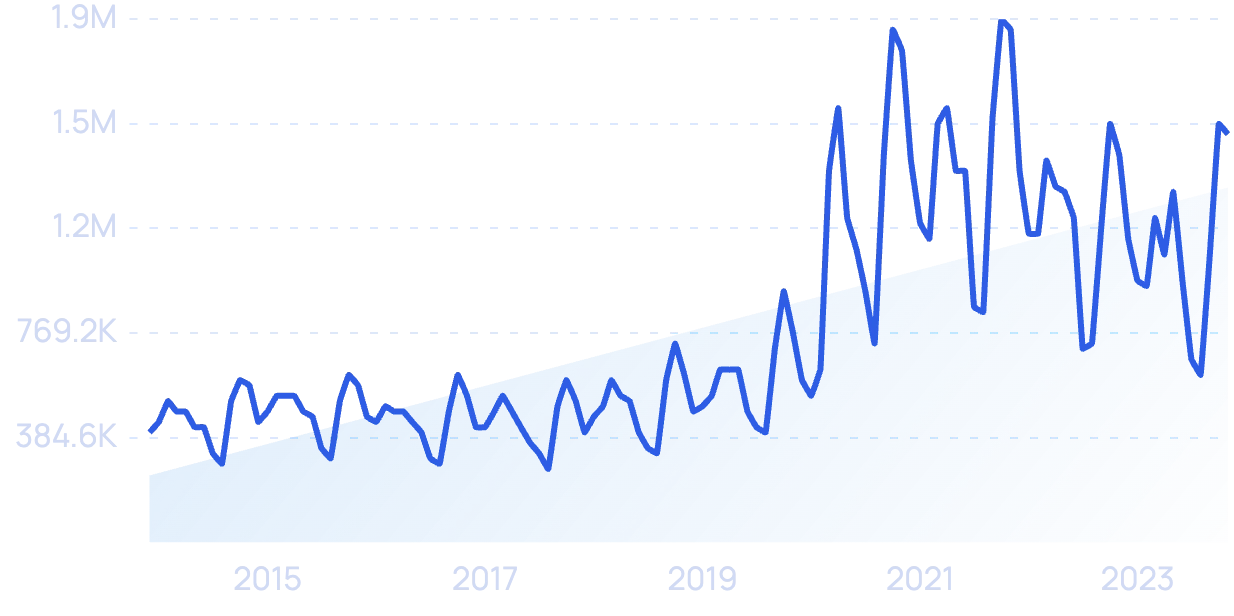 Searches for "eLearning" have increased by 271% over the past 5 years.
The global corporate eLearning space is projected to reach $44.6 billion by 2028 (Valuates Reports)
Recent forecasts predict the corporate eLearning market should grow an average of 10.5% per year, reaching $44.6 billion by 2028. That's almost double the market's 2021 value of only $22.5 billion.
The European eLearning market is expected to grow by $147.7 billion between 2021 and 2025 (Technavio)
eLearning in Europe is projected to grow even faster than the global average. Technavio's report estimated that the European eLearning market would increase an average of 16% annually over five years until 2025.
The eLearning market in India is forecast to reach $8.6 billion by 2026 (Research And Markets)
India is one of the more exciting emerging eLearning markets to keep an eye on. Cheaper and more accessible 4G internet means that more rural Indian communities are getting online. And India-based edtech companies like BJYU's, UpGrad, and Doubtnut are at the forefront of the surge.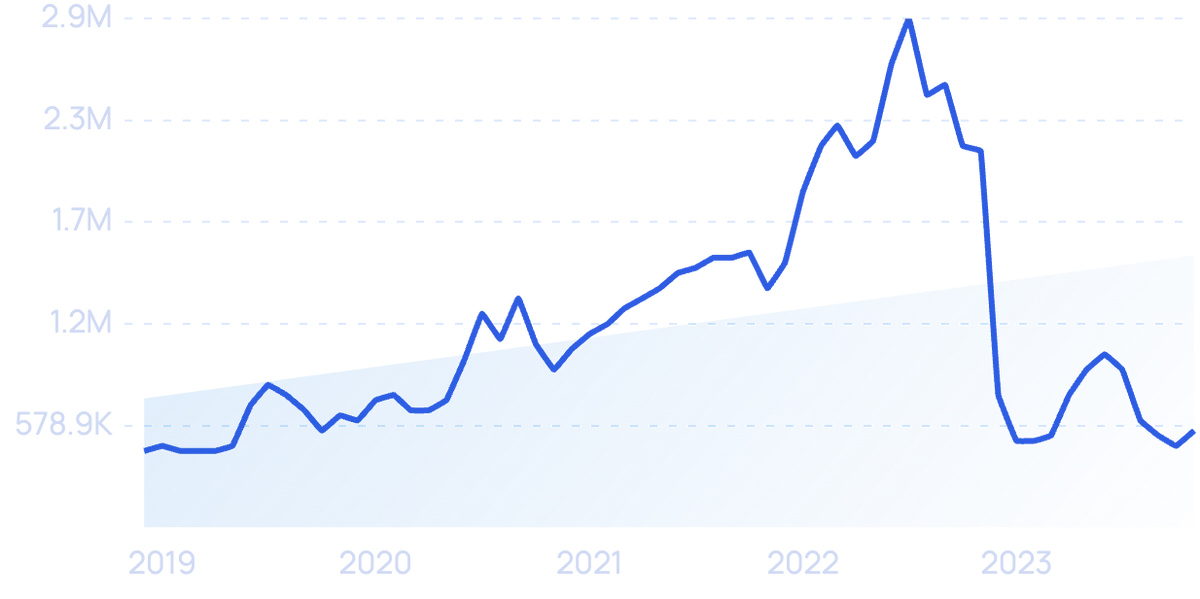 Searches for the Indian EdTech company "Byju's" have increased over the past 5 years.
eLearning Schools and Students Statistics
Remote learning for K-12 and college students recently hit an all-time high. As faculty, students, and administrators adapt to a new system, many have changed their opinion on the benefits of eLearning.
Almost 3 in 4 US students wanted to continue online classes after the pandemic (Inside Higher Ed)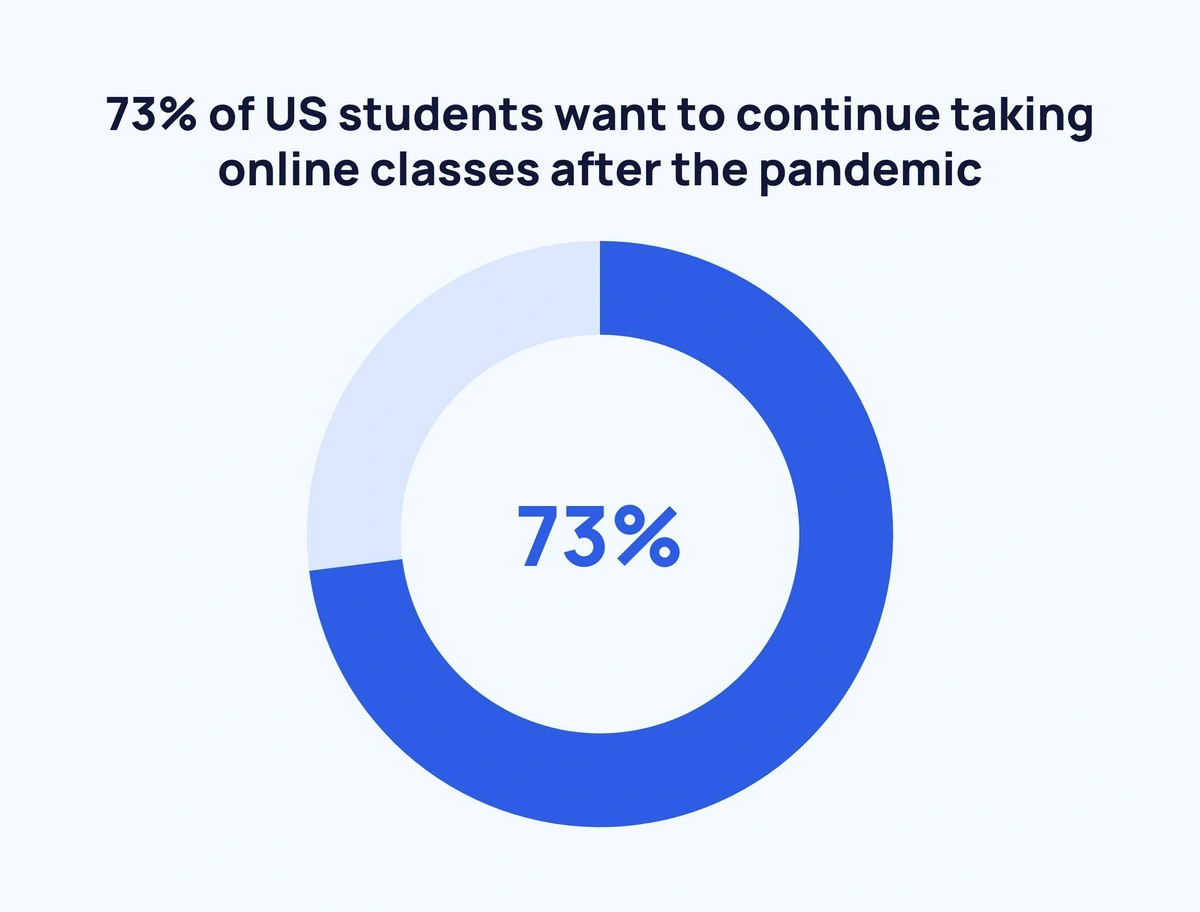 Every student had a different experience adjusting to remote learning during the pandemic. As it turns out, not all of that experience was negative. In a recent survey by Digital Pulse Learning, the majority of the 1,413 students surveyed said they wanted to continue part of their education online.
57% of US students are more optimistic about eLearning today than they were before the pandemic (Inside Higher Ed)
Before COVID-19, online college courses were mostly attended by older adults earning degrees while balancing the rest of their lives. Now that most students have experienced it, most say they've changed their opinion for the better.
Around 4 in 5 college students claim online learning helps them improve their grades (McGraw-Hill)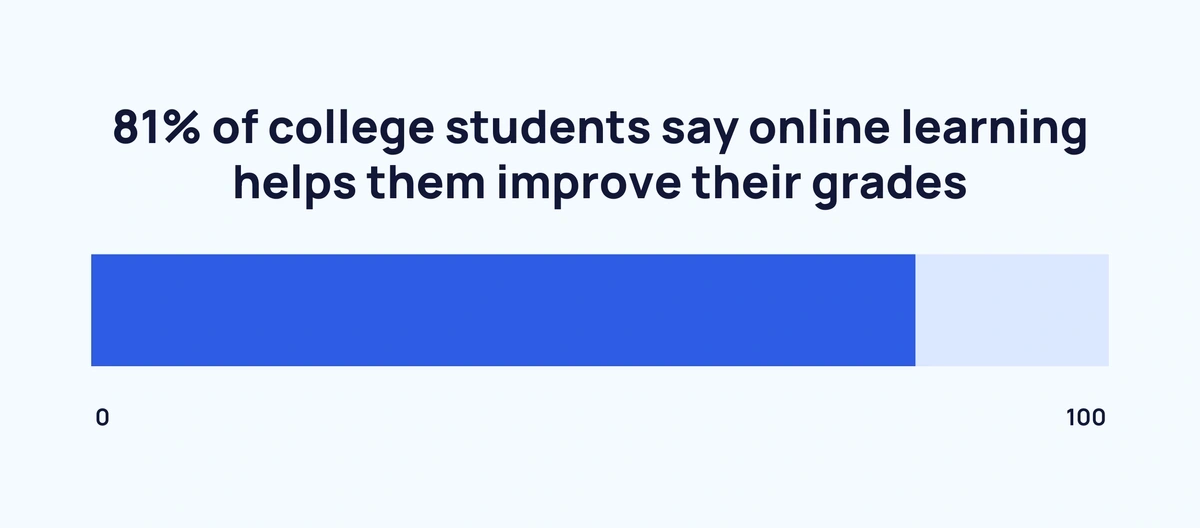 In a 2016 survey of 531 US college students, 81% of respondents said that eLearning had a positive impact on their academic results.
55% of students say affordability is a top 3 factor in choosing a school for online education (Wiley)
An August 2021 poll of 1,530 enrolled or enrolling college students found that, for the majority, the cost was the biggest factor affecting their choice of school. Accreditation was the 2nd highest answer.
The University of Arkansas at Little Rock is the highest-ranked eLearning school in the US with a 54% online enrollment rate (Statista)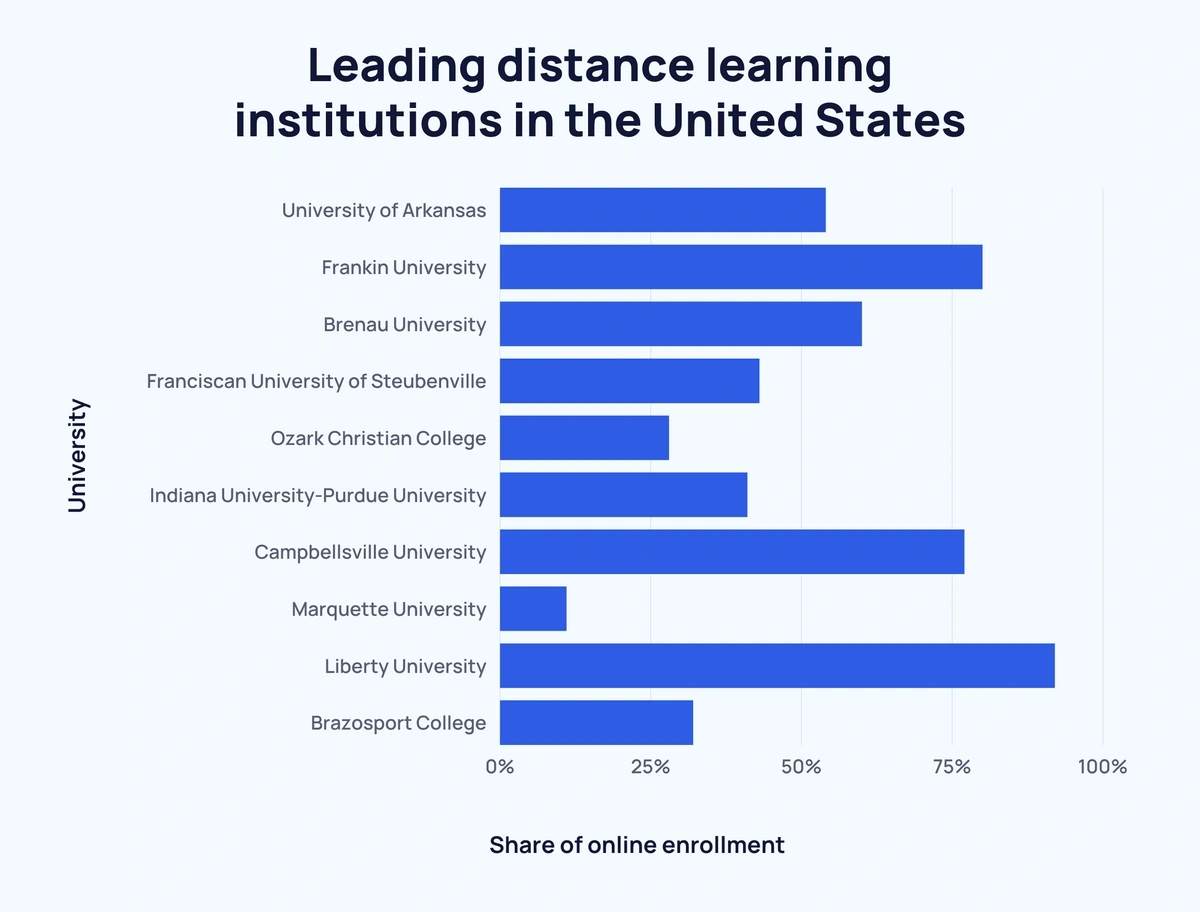 The rest of the top 5 schools for distance learning are as follows: Franklin University, Brenau University, Franciscan University of Steubenville, and Ozark Christian College.
Nearly 100,000 schools across 20 countries used Zoom for online classes in 2020 (Zoom)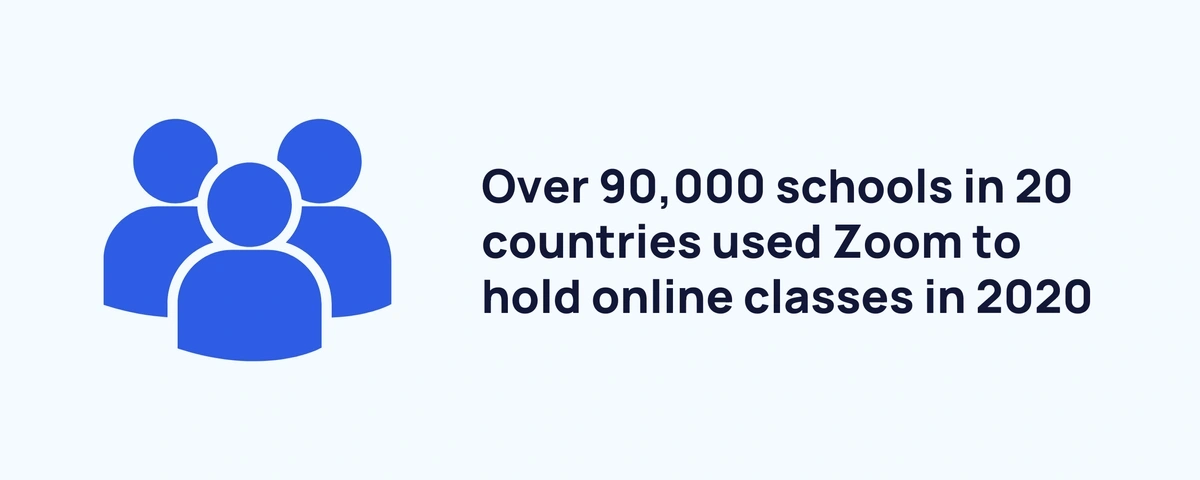 Zoom became an overnight sensation in 2020. Daily users increased by 2,000% between December 2019 and March 2021, thanks in part to the rise in eLearning.
36.7% of educational institutions choose Instructure's Canvas as their Learning Management System (LMS) (Edutechnica)
As the demand for eLearning grows at all levels of education, institutions are migrating toward their favorite LMS. Canvas has emerged as the clear winner with 36.7% of the market. Blackboard is the next most-adopted LMS, with a 26.8% share.
20% of college students report that they completed 100% of their online coursework on a phone or tablet (Statista)
For online course developers, creating mobile-friendly courses could be an effective way to improve retention rates among college students. In fact, 1 in 5 students were able to complete their coursework using nothing but their smartphone or tablet.
Corporate eLearning Statistics
In the corporate world, education never stops. Companies have funded ongoing training for their workers for decades. As eLearning technology improves, more companies are using blended or fully online approaches to training their staff.
82% of enterprise employees say that interactive videos hold their attention better than non-interactive videos (Kaltura)
Getting employees to focus on training and eLearning videos can be an uphill battle — up to 72% of employees report not giving videos their full attention. According to research by Kaltura, adding an interactive element can boost attention.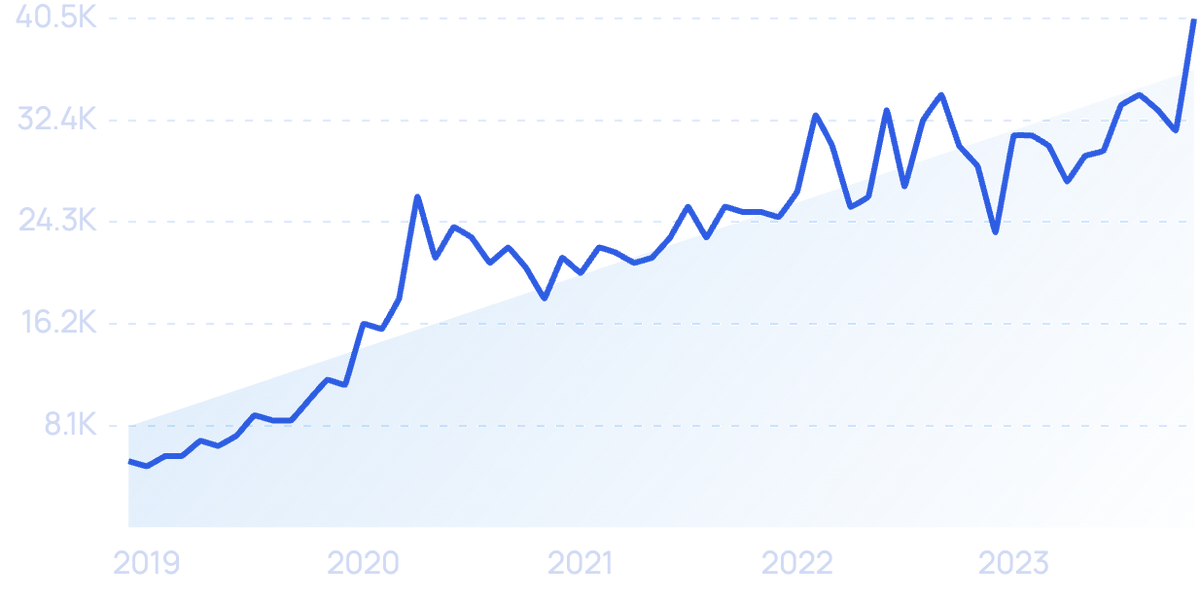 Skillsoft, a corporate eLearning company, helps learners engage with interactive content through their Percipio platform. Percipio gets 40.5k searches per month - a 669% increase over the past 5 years.
Closing the skills gap is the top goal of corporate eLearning campaigns (Udemy)
Udemy's 2020 survey of over 500 corporate Learning & Development experts uncovered valuable insight into corporate eLearning goals. 61% said that closing the skills gap was their top priority. Other top answers were "driving organizational growth" (46%), "improving employee engagement" (44%), and "increasing job satisfaction" (34%).
Around 4 in 5 global employees feel there is a skills gap (Udemy)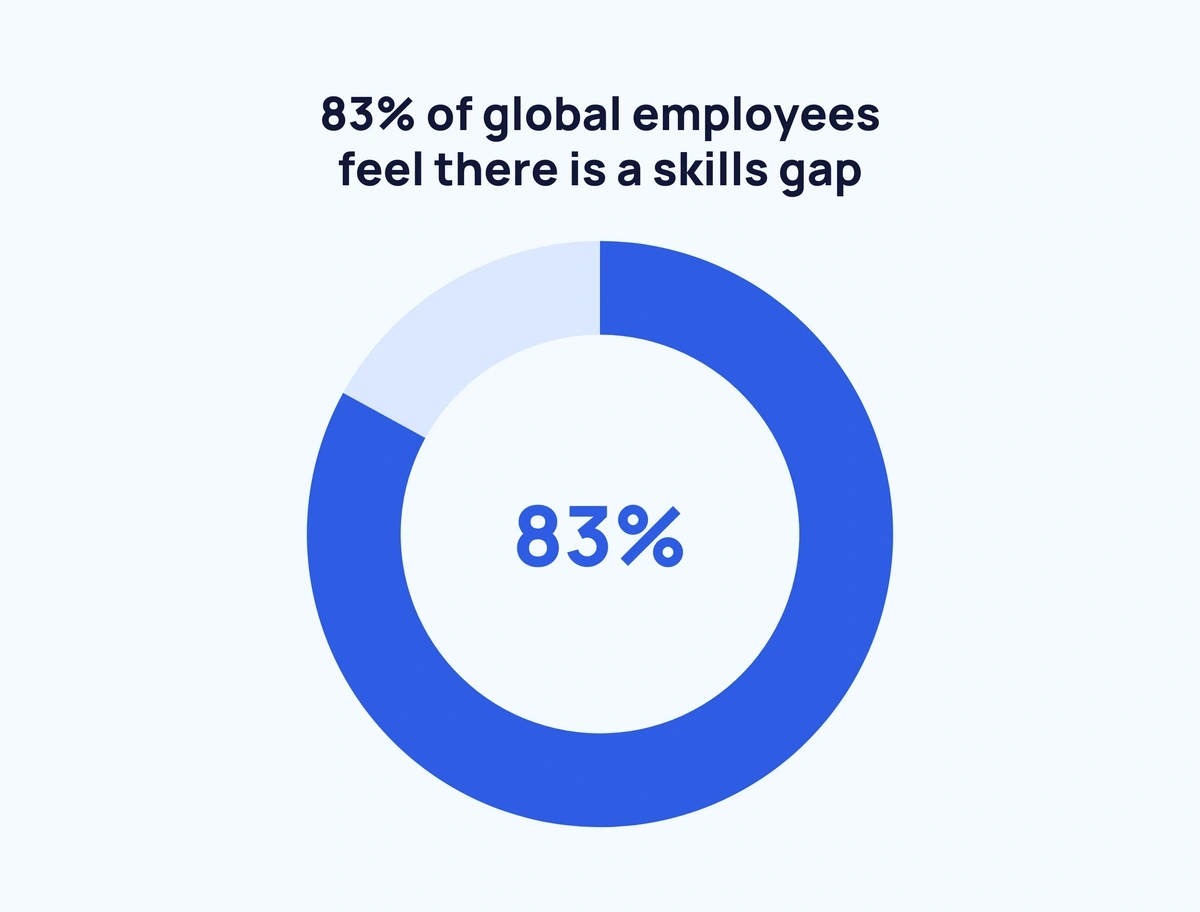 As eLearning becomes more accessible and widespread, opportunities abound to help employees close the skills gap and become more competitive. Of the 83% of surveyed employees who acknowledge the gap, 62% say they are personally affected by it.
90% of companies offer their employees some form of digital learning (LinkedIn)
The vast majority of companies have hopped on the eLearning train. Within companies, executives, people managers, and talent developers all agree that L&D is a necessary benefit to companies.
Corporate talent developers say that teaching soft skills is their #1 eLearning priority (LinkedIn)
Soft skills (like critical thinking, leadership, time management, and teamwork) are the top priority for corporate L&D programs. The top hard skills in demand are cloud computing, statistical analysis, and data mining.
Business is the top subject for college eLearning with 26% of undergrad and 30% of graduate students enrolled in business classes (Mordor Intelligence)
A recent report by Mordor Intelligence found that college students enroll in more online business courses than any other subject. Health, medicine, computers and IT were the other leading categories.
Around 7 in 10 employees say they prefer to learn at work (LinkedIn)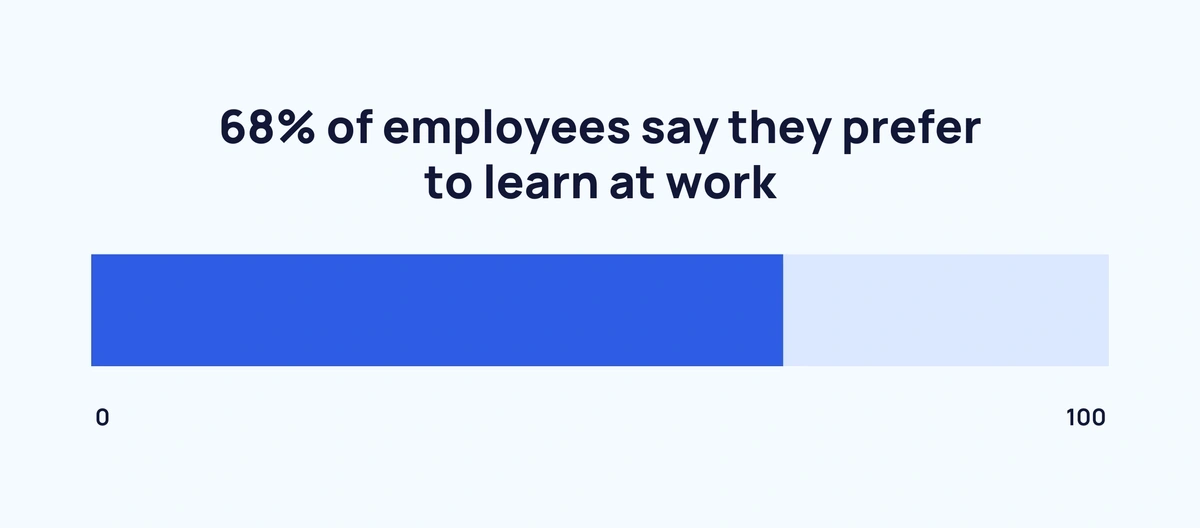 Corporate employees have spoken, and the majority say they'd rather learn a new skill at work than on their own time. Additionally, 58% said they prefer to learn at their own pace.
IBM managers were able to learn 5x more content by incorporating eLearning into their training (KPMG)
IBM was an early adopter in the corporate eLearning space with its Basic Blue training program. While most managers were skeptical before starting the program, most conceded they preferred the blended approach after completing their training.
Dow Chemical saved $34 million by switching to online training and education (Belitsoft)
While it seems intuitive that going from in-person to online training can help slash expenses, having some real-world numbers can shed even more light. Dow saved $34 million adopting eLearning — dropping their expenses from $95 to $11 per learner/per course.
Massively Open Online Courses (MOOC) Statistics
One of the greatest gifts of online learning is that it's available to anyone with an internet connection. Free online course platforms like EdX and Coursera have helped millions of people learn new skills to improve their lives and job prospects.
The number of registered learners on Coursera increased by 438% in 5 years (Coursera)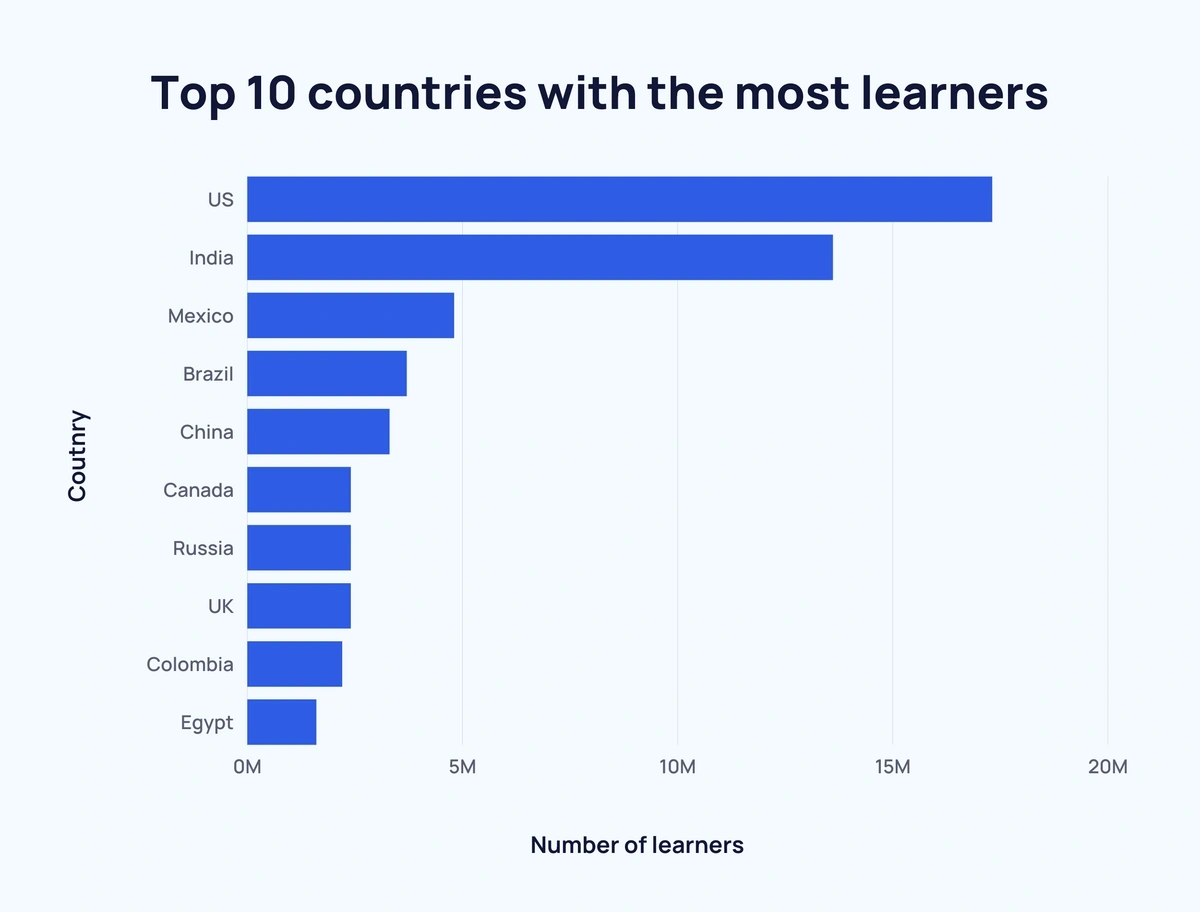 Coursera's student enrollment continues its staggering growth rate. In 2021, the platform had 92 million registered learners, up from 21 million in 2016. The United States is the top market with 17.3 million learners, followed by India (13.6 million), Mexico (4.8 million), Brazil (3.7 million), and China (3.3 million).
98% of Coursera enrollments are in courses with a 4-star or higher rating (Coursera)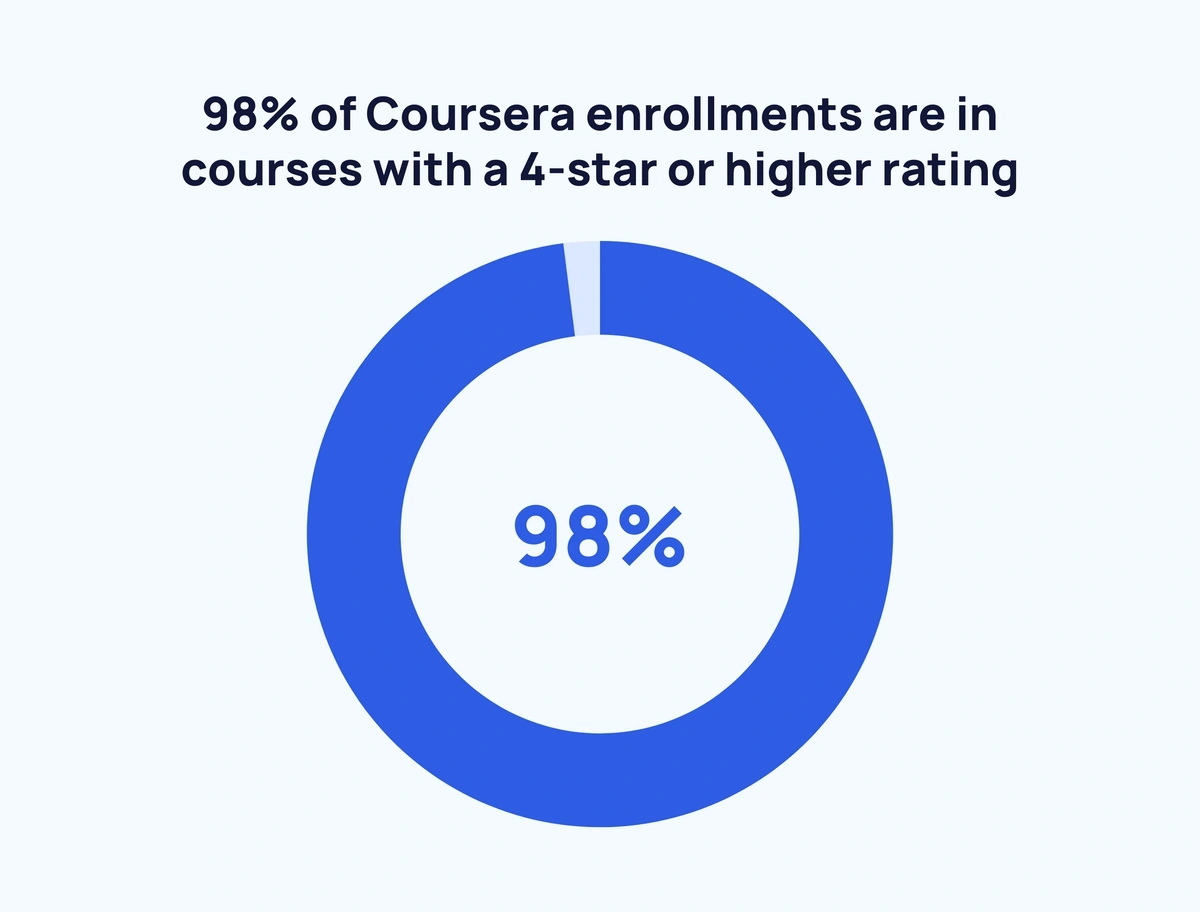 Coursera students have high standards in regards to the quality of courses.
Technology is the #1 subject among the top 100 free online courses (Mordor Intelligence)
As the global workforce skews more toward remote work, education in technology subjects will continue to rise. The top free technology courses focus on subject matter like Python programming, machine learning, artificial intelligence, and algorithms.
Over half of people who sign up for eLearning courses do not participate in the course material (Science)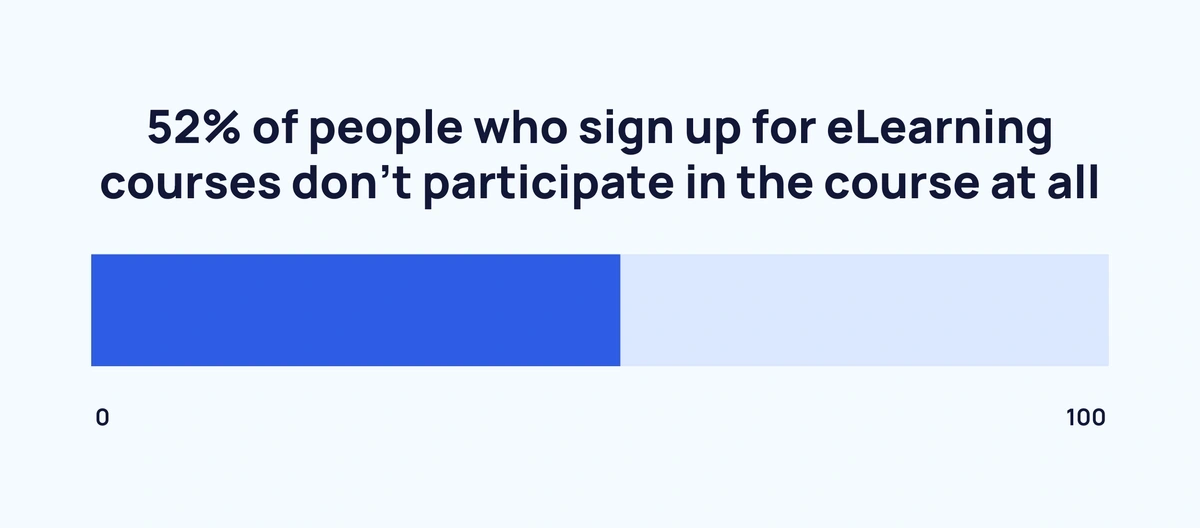 With the prevalence of massive open online courses (MOOC) on platforms like Udemy, EdX, and Coursera, learners can enroll in a course in just a couple of minutes. Actually attending the course is another issue. It turns out that over half of the registered users don't get past the sign-up phase.
Over 180 million learners use massively open online courses (MOOCs) (Class Central)
MOOCs like EdX and Udemy are a popular way for users all over the world to access world-class educational content. While most provide free education, they monetize with premium content and by charging fees for certifications or institutional credits.
Course Creator Statistics
Not all courses are created and run by educational institutions. Industry experts, influencers, and thought leaders now have the tools to create and sell their own courses through several online platforms.
Over half of course creators spend 3 months or longer creating a course (Course Method)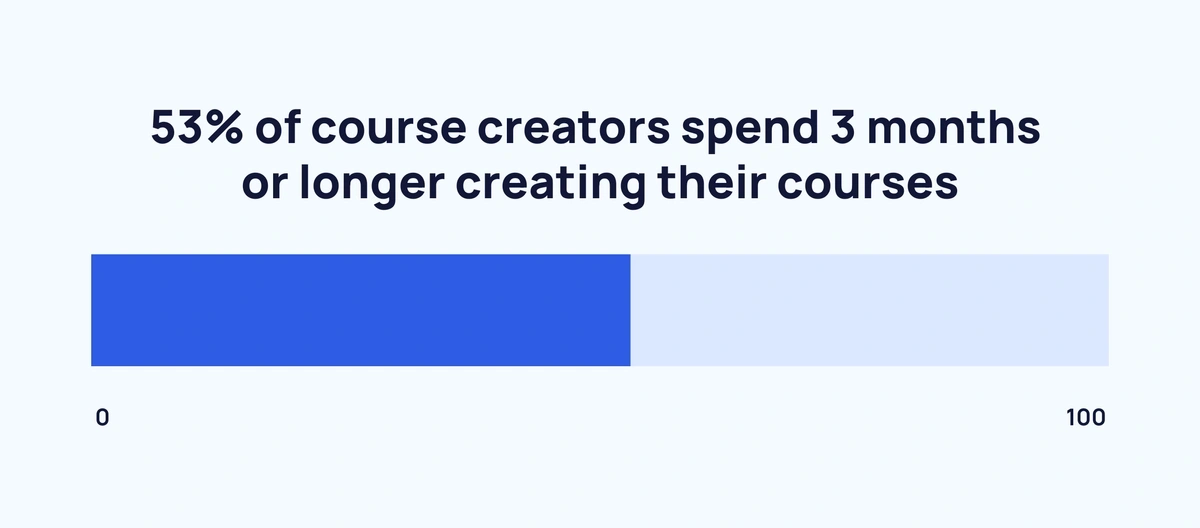 A study by Lisa Parmley of Course Method based on interviews with 30 individual course creators uncovered just how long it takes to launch a course. 7% said creating their courses took over 2 years, while only 4% said they took a week or less.
Teachable content creators earning 6 figures increased by 38% in 2021 (Teachable)
Teachable's annual report also revealed that instructors generating 7-figure revenue from courses went up by 48%.
On average, an online course costs $137 (Podia)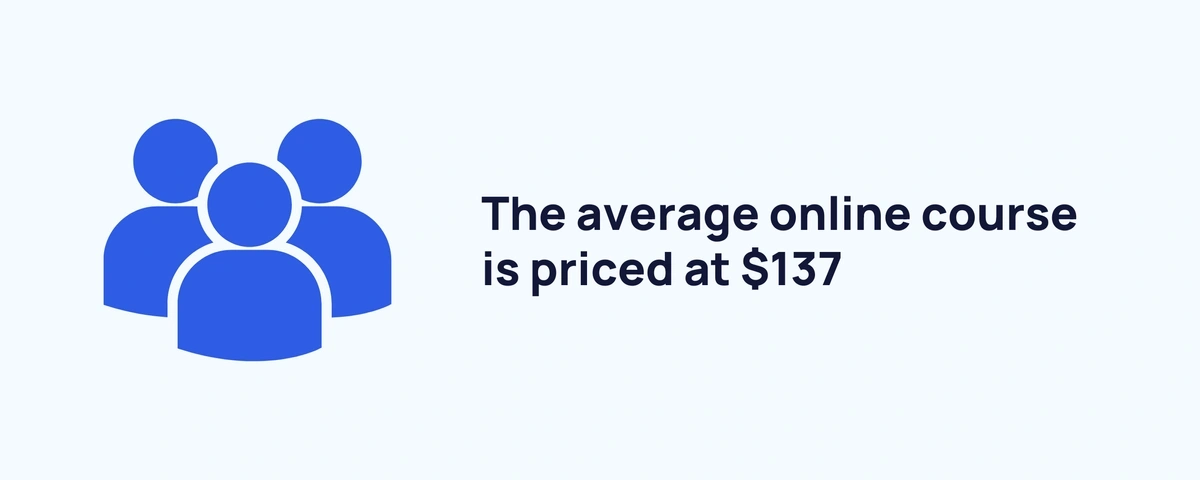 Podia ran a study based on over 130,000-course sales on their platform. They found that the average price of a sold course was $137. There's a caveat, though — based on the standard deviation, people should consider the average range, which is $0-$304.
Users are more likely to complete paid courses than free ones (University of Michigan)
Researchers combed through the data of more than 70 Coursera courses and found an interesting fact: both engagement and completion rates were better with paid courses. Perhaps having made a monetary investment helps people go the distance.
Technology makes up 19.3% of online courses (Class Central)
Considering that 1 in 5 online courses are about tech, creators searching for an in-demand industry should strongly consider technology subjects.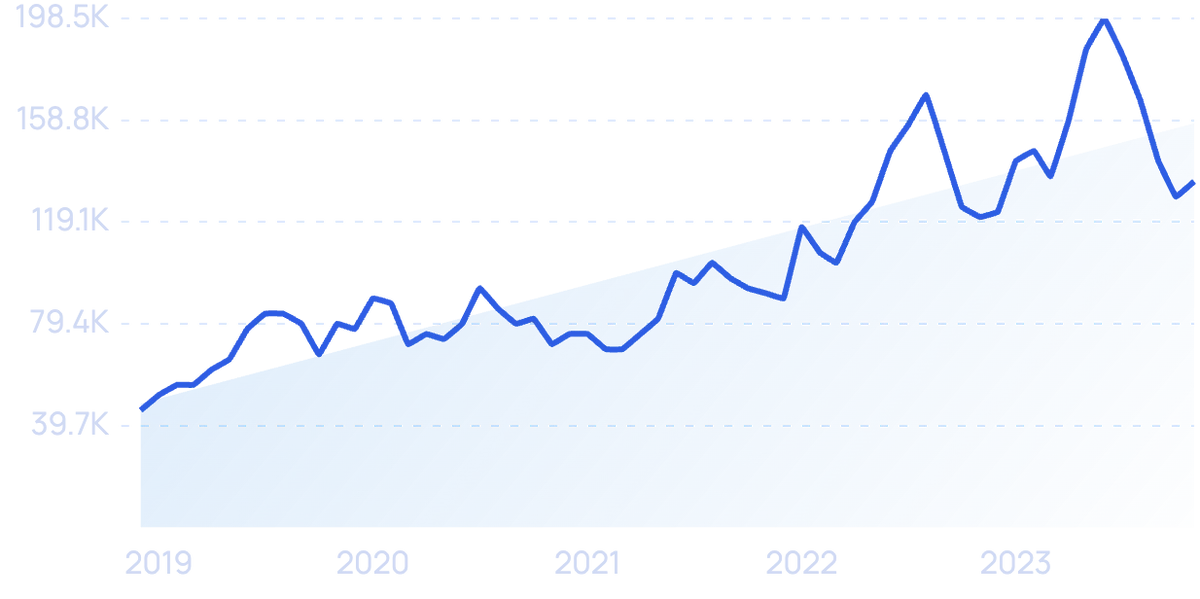 Global searches for "data science course" are up 196% from 5 years ago. The search phrase gets 135k searches per day.
Conclusion
eLearning is a diverse industry that serves multiple demographics. Students and professionals alike are able to learn remotely — and at their own pace — in ways that were impossible just a few years ago.
For course creators, technology and business subjects might have the highest demand, but soft skills are on the rise. Due to increasing supply (via emerging platforms) and demand (largely via professional training) the eLearning space is an interesting one to follow.
For more related content, check out these resources: Emerging Education Trends and Most Interesting EdTech Trends.