The Top Google Trends Products You Need to Know
Google Trends analyzes the popularity of a search term or topic and grades it based on its peak popularity.
However, Google Trends isn't designed for product research.

So in this guide, we'll outline actionable strategies you can use to extract winning products from Google Trends. We even listed specific products and product categories that are trending right now.
How To Find Products On Google Trends
To get started with Google Trends, navigate to the tool's homepage.
From here, enter a keyword into the search bar. We will start a broad search by looking at "Men's Clothing".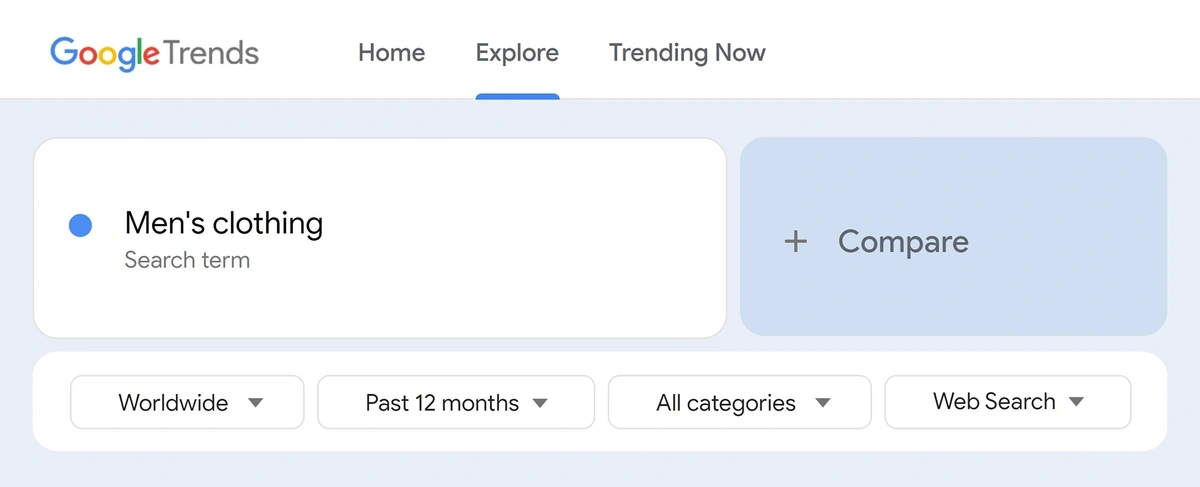 After selecting this search term, we can see the "Interest Over Time' chart appear, showing us the peaks and valleys of this niche. "Men's clothing" sees massive spikes in November and December due to holiday shopping every year.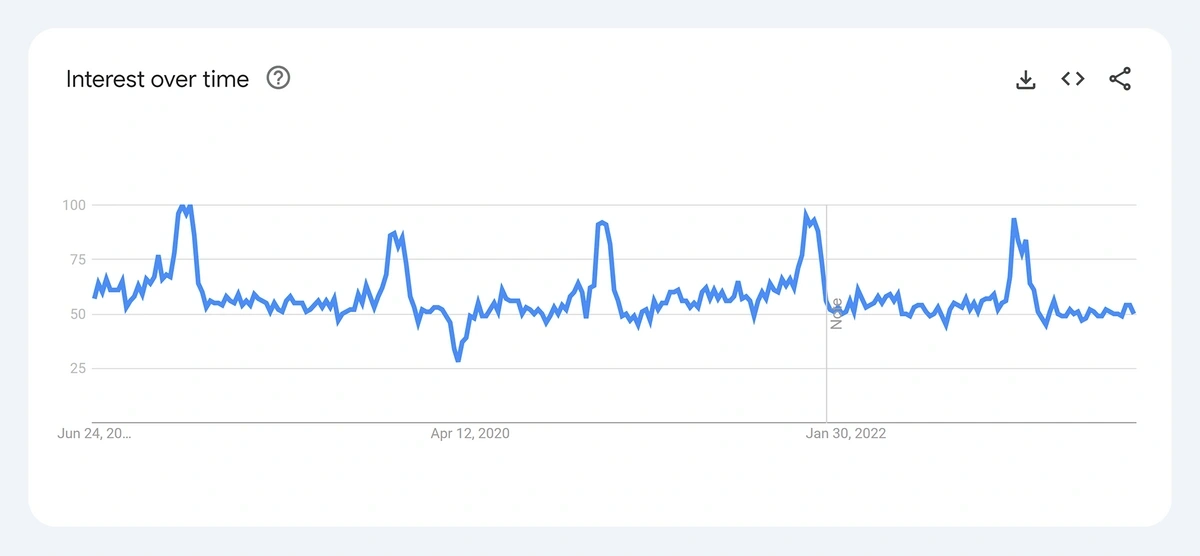 If you scroll down further, you'll learn what regions are most interested in "Men's clothing". This is useful later on when it's time to run targeted ad campaigns.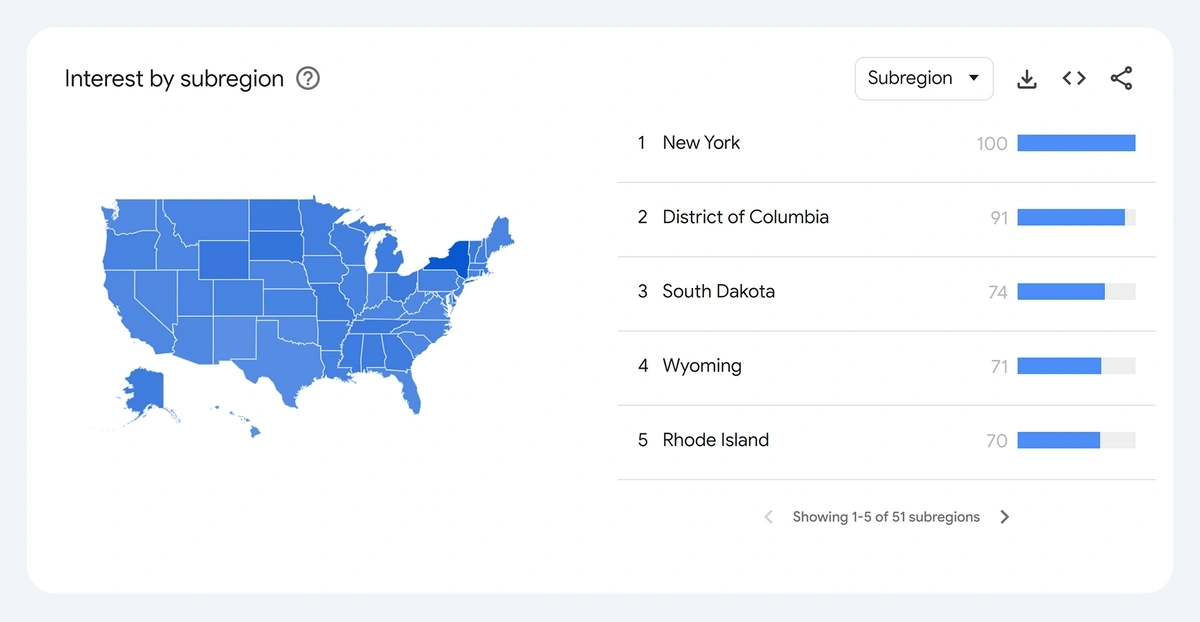 To narrow down to find specific trending products, you can use the "Related Topics" and "Related Queries" sections.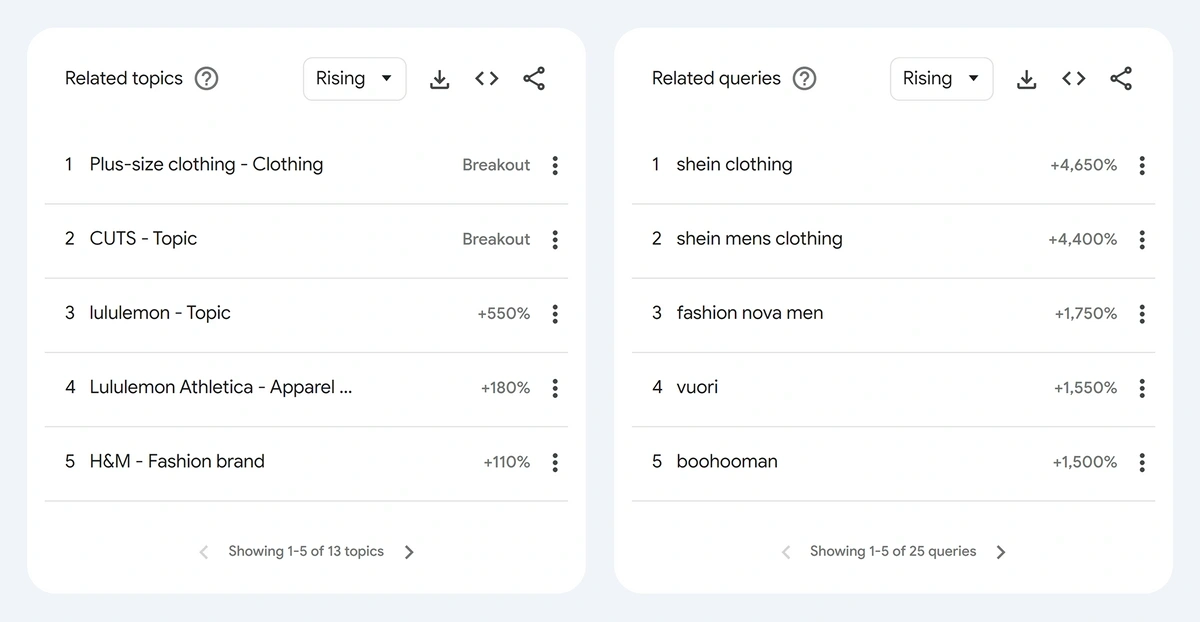 Because "Men's clothing" is a broad term, you'll notice many of the related topics and terms are brands (potentially your competitors).
These results are also filtered by "Rising" topics (not necessarily the most popular Google keywords).
You can focus on popular keywords, via the dropdown menu. Change to "Top" to change the results to reveal popular searches.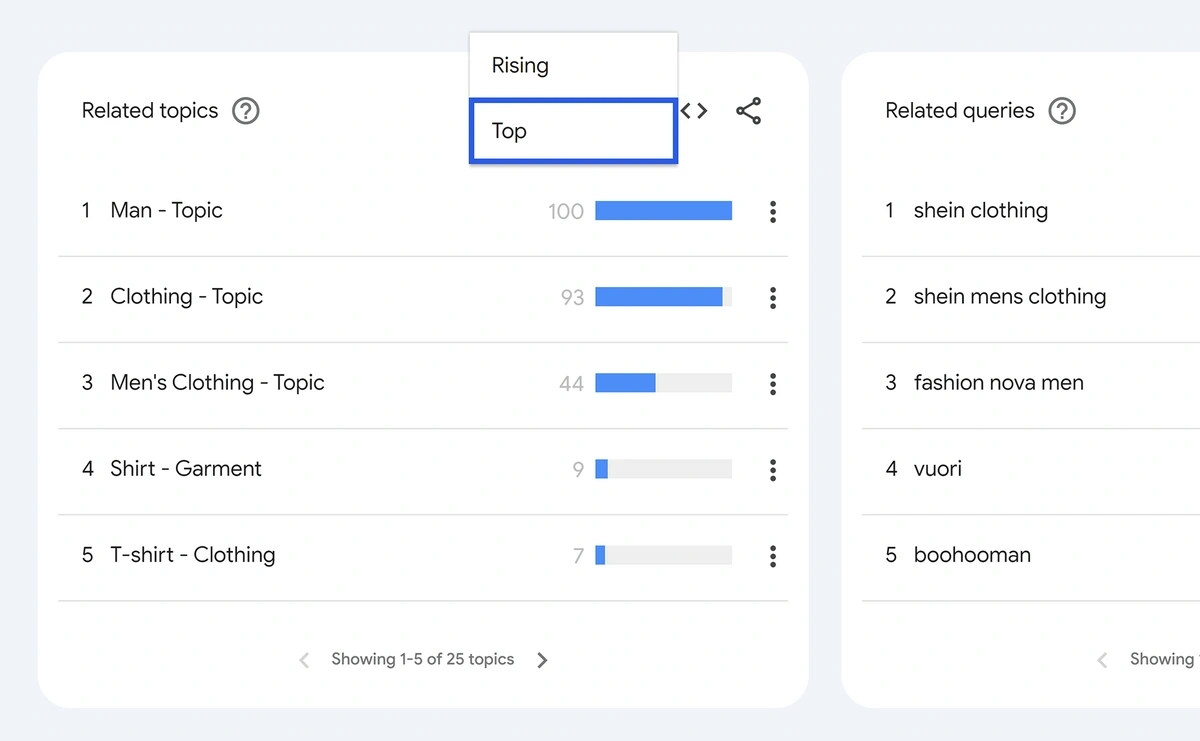 These results provide more insight into specific product ideas like "men's shirts".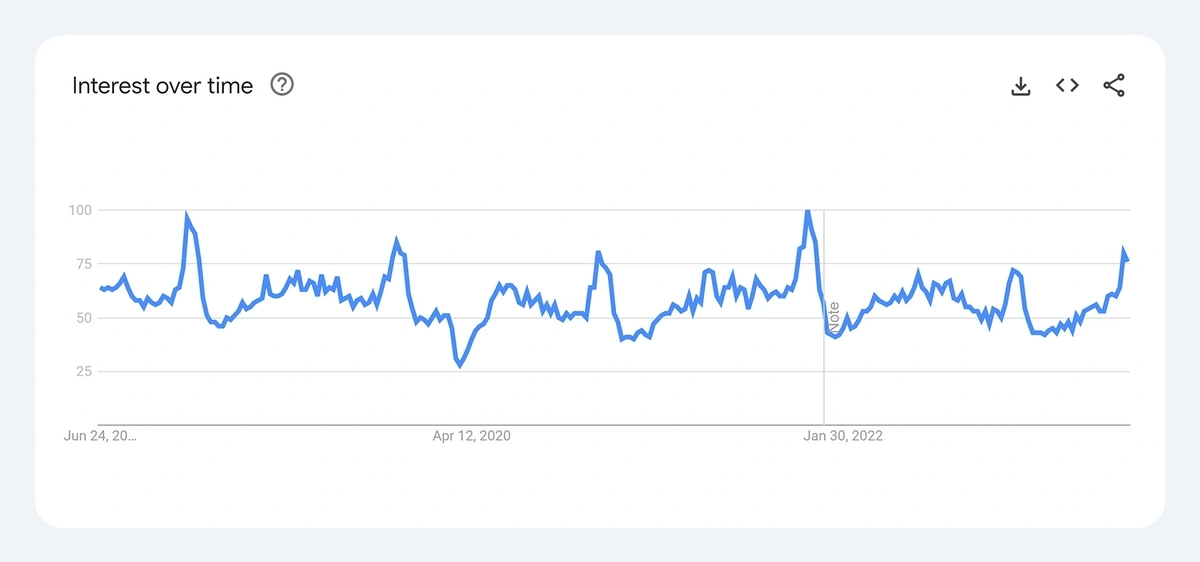 Again, these suggestions are still a little too broad to find products to sell. So you can use the "All Categories" tab at the top of the page to see different results.

Click the down arrow next to "All Categories'' to retrieve a long list of subtopics. Let's assume we want to sell sports clothing or gear. The "Interest over time" changes, and we see more sub-niche with stable search interest.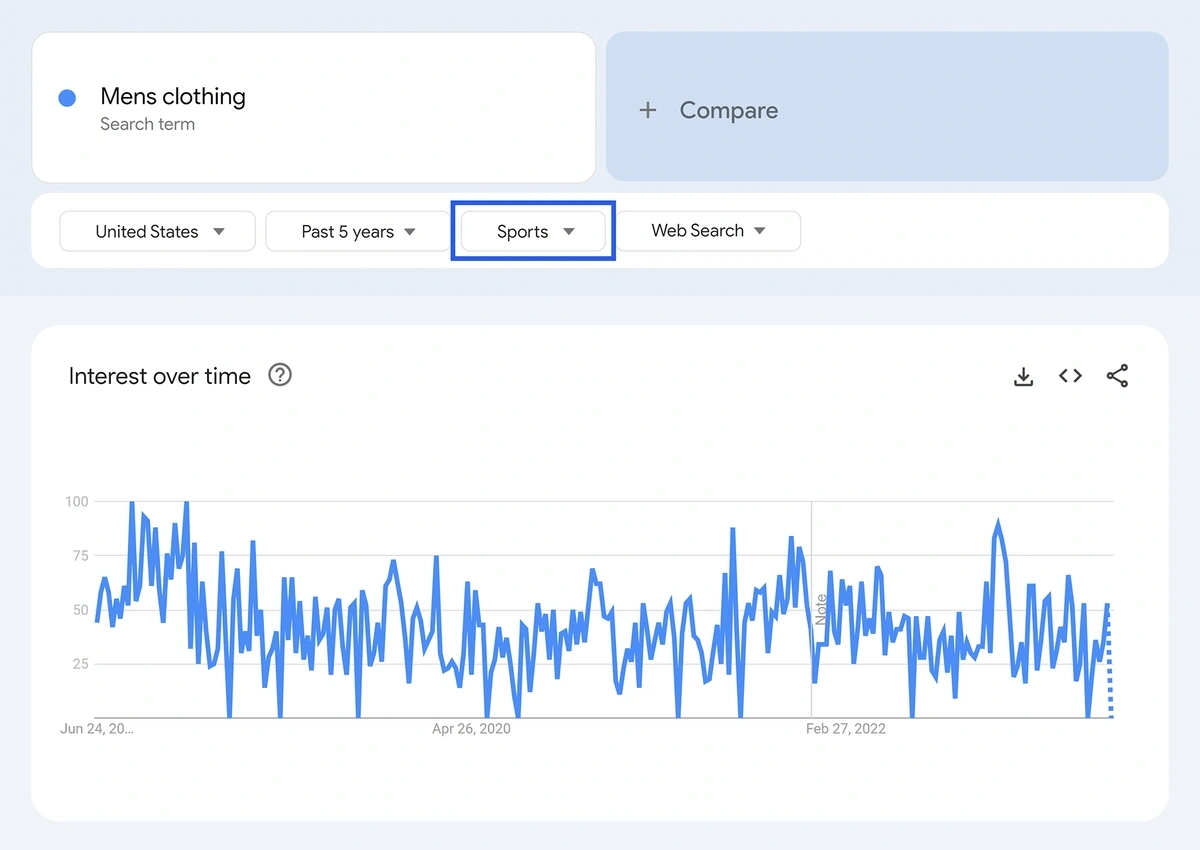 Take the same approach as before and locate the "Related Topics" and "Related Queries" tabs for rising and breakout topics, brands, and terms.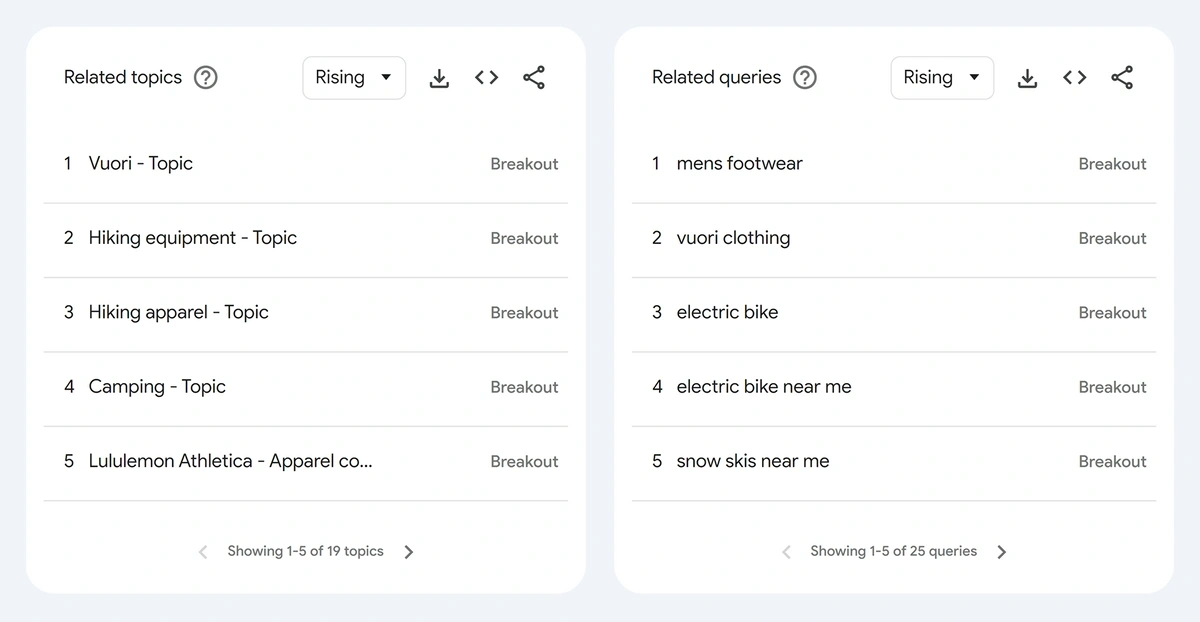 Now we've started to make some real progress. We can use these results to start choosing products. For example:
Camping

Hiking equipment

Men's footwear
3 Ways To Use Google Trends To Find Products
Here are three simple ways to use Google Trends to find trending products to sell.
Spot Fad Products & Search Terms
Trying to latch onto fad products can be risky because there is no telling when the demand might end.
Also, steep increases and decreases in search interest often indicate seasonality. Seasonality isn't necessarily bad. But it's something to keep in mind as you choose products to sell on your ecommerce site.
Starting with a broader niche also helps you avoid potential fads. Remember the selfie stick?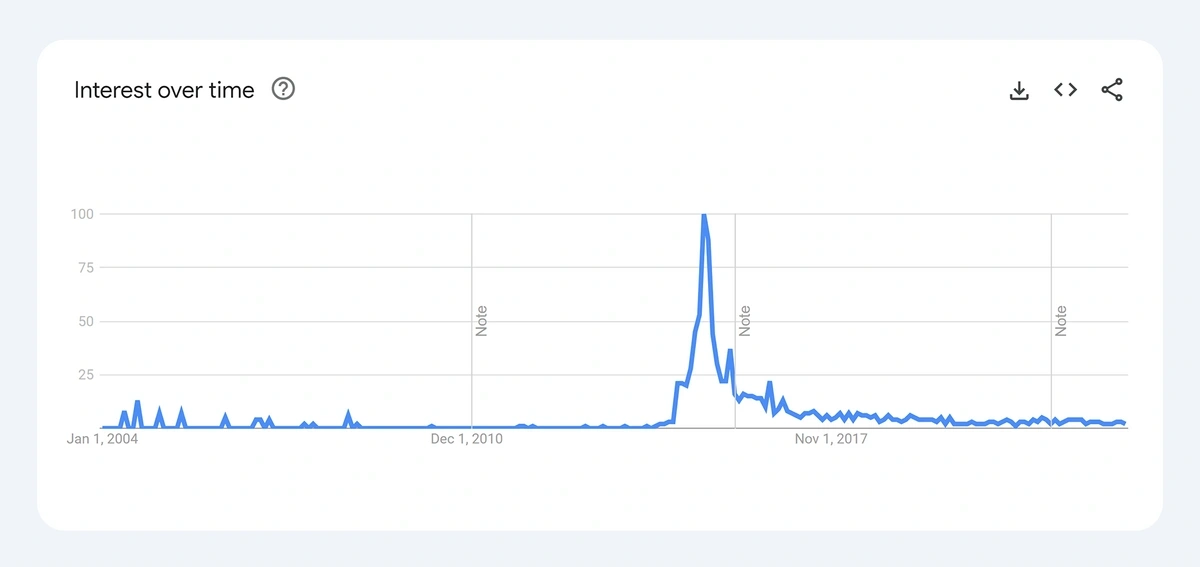 Upon release in November 2014, it was an instant mega hit. But it was short-lived, and this product would not perform well today. Products or niches with peak search interest followed by a sharp decline are usually not ideal.
Use Related Topics Recommendations
The "Related Topics" method works well if you already have an established niche or store and want to expand your product offerings. But it can be used to find completely new product categories too.
First, change the settings from "Web Search" to "Google Shopping" to get product-focused related topics and related queries.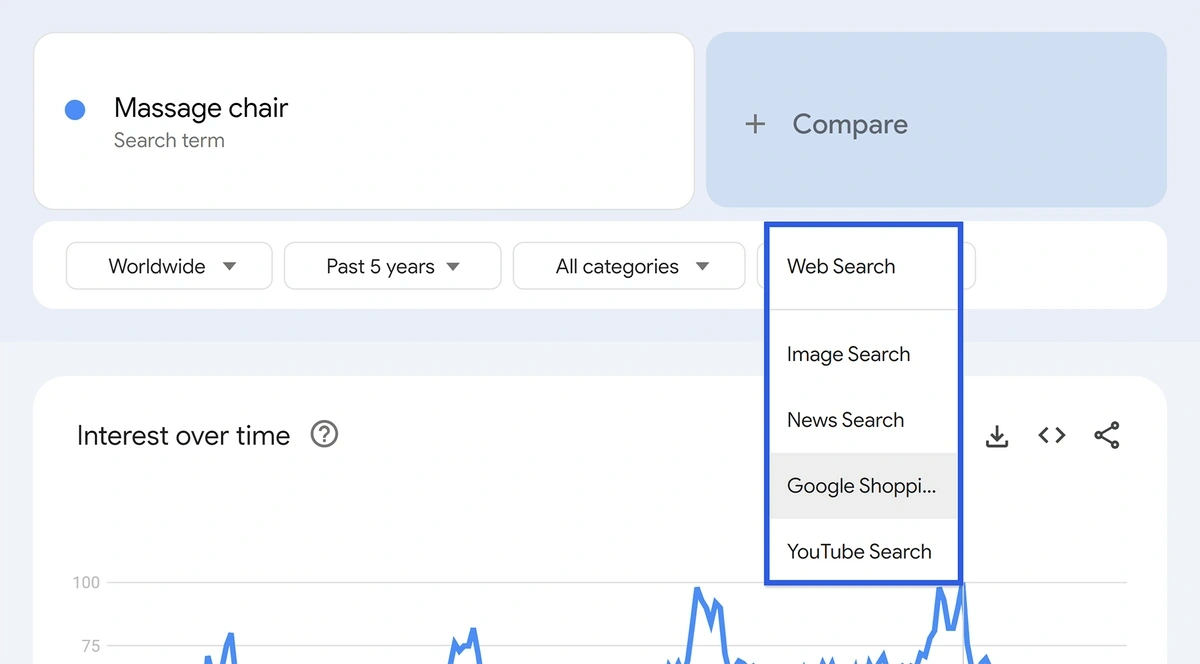 For example, the search term "Massage Chair" returns these results: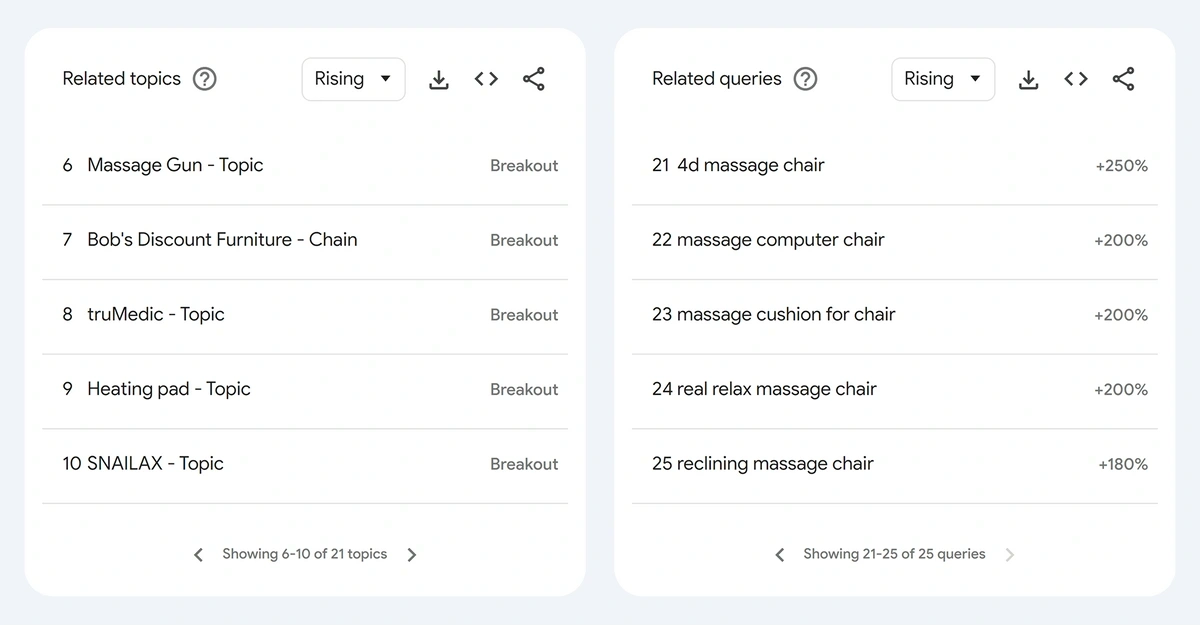 A massage chair retailer could use these topics and queries to pivot or expand their product line by:
Adding gaming massage chairs or 4D massage chairs to their inventory

Highlighting the benefits of 4D massage chairs by updating product packaging and positioning
You can use this tool to do competitor research too. The massage chair retailer can see what is working for their competition. One of the related topics in our previous search was Snailax, a portable seat and back massager brand.
After searching "Snailax" in Google Trends, you get a new list of potential product ideas. Here are a few examples:
Neck massager

Back massager
Would it make sense for you to sell any of these products?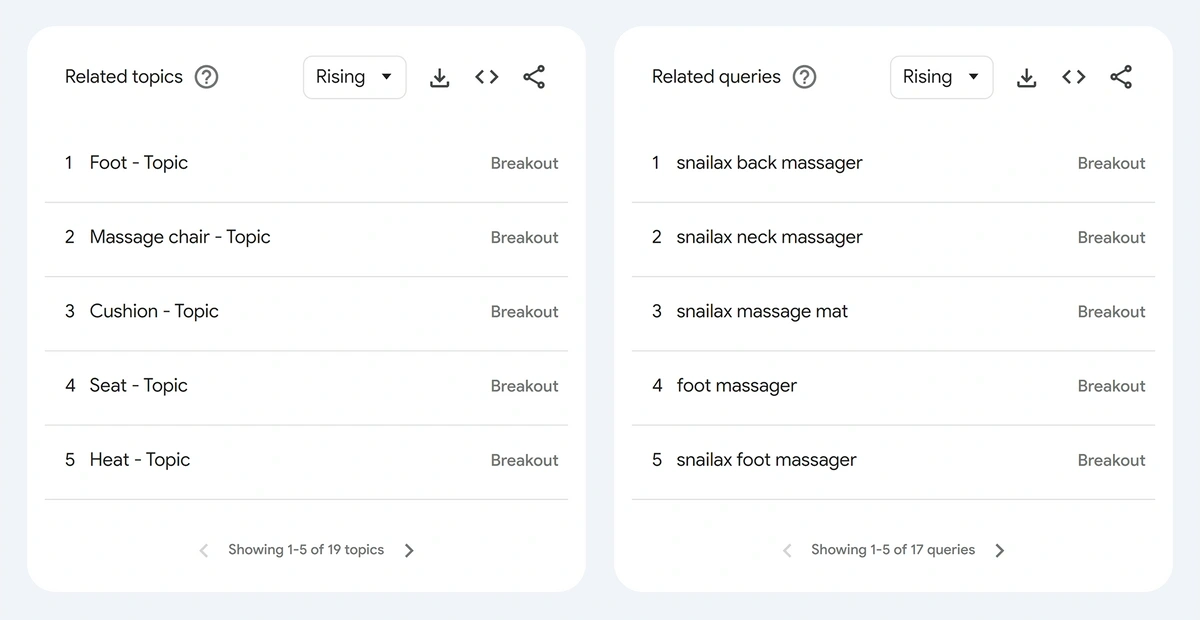 The dates can also be adjusted to see popular items for a brand around specific dates like Christmas. Use this data to your advantage to find products that are already working.
Check Out Google's Yearly Shopping Trends‬‬ Report
Every year Google publishes a detailed shopping trends report about the previous year. One of the notable reports that can help people find products is the Top 100 Products Report.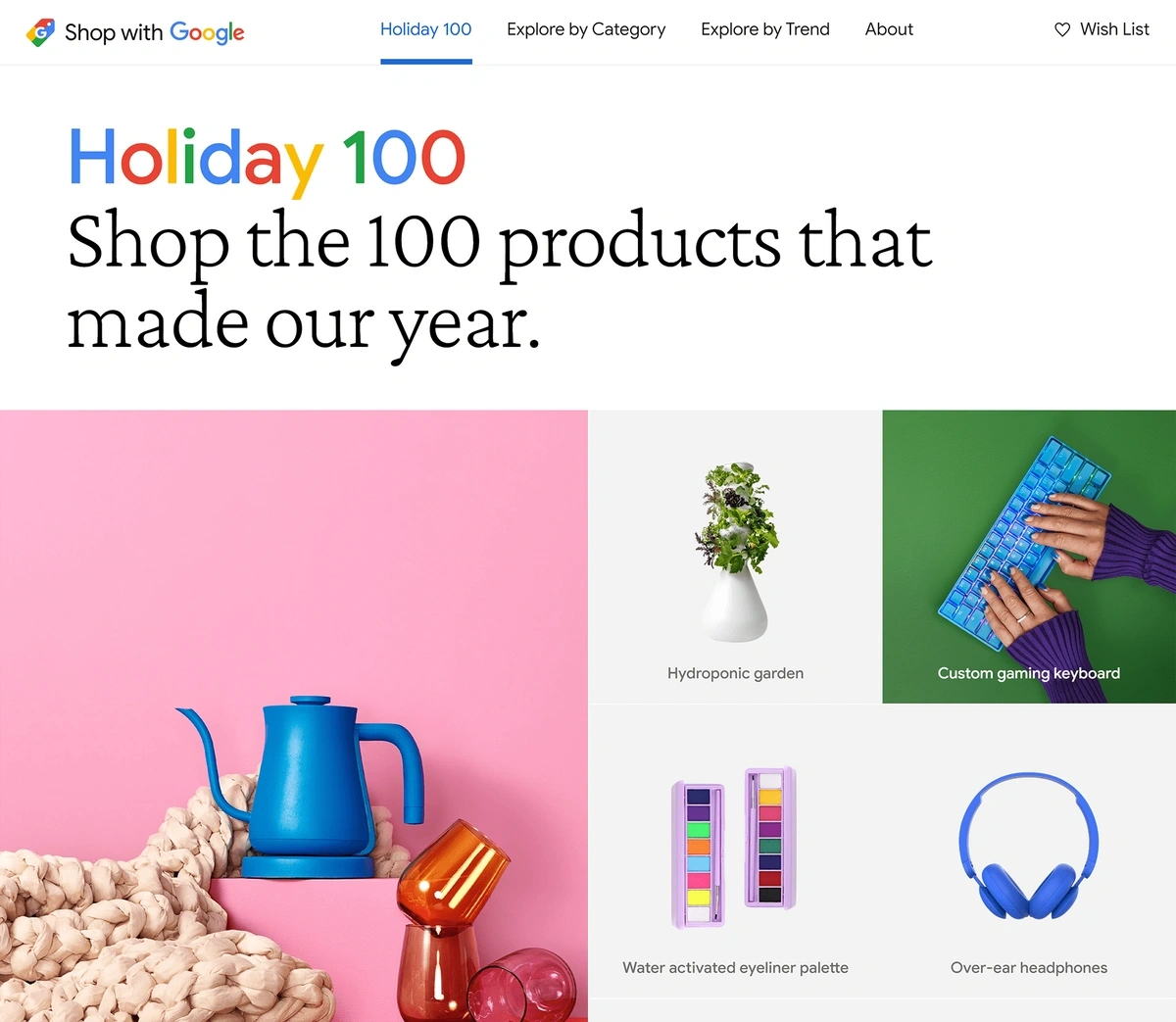 Based on Google Shopping data and Google searches, Google compiles this report based on what products are trending at the end of the year. In December 2022, some of the top trending products included:
Travel hair dryer

Electric bike

Stemless wine glass

Aromatherapy diffuser
You can also use this report to sort trending products by category and by trend. After using the "Explore by Trend" tab, you'd likely be able to find a product that's still trending today.
The "Scalp Massager" has shown steady growth over the past five years and could be a profitable product to sell in 2023.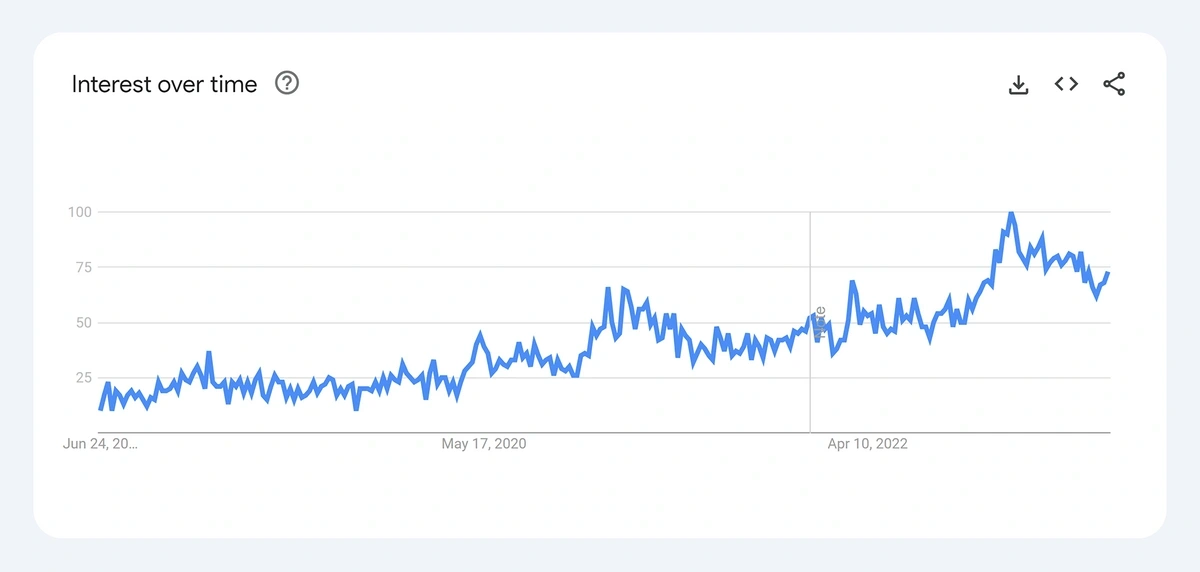 7 Google Trends Products To Sell In 2023
Using the strategies outlined above, we've identified some trending products to sell this year.
1. Mushroom Coffee
Mushroom coffee blends adaptogenic mushrooms like Lion's Mane and instant coffee to create a healthier alternative to traditional coffee. Some advertised benefits include better sleep, reduced stress, better energy levels, and faster recovery.
Searches for "Mushroom Coffee" have been stable for a few years until a massive surge towards the end of 2022. This year interest in Mushroom Coffee has grown quite a bit.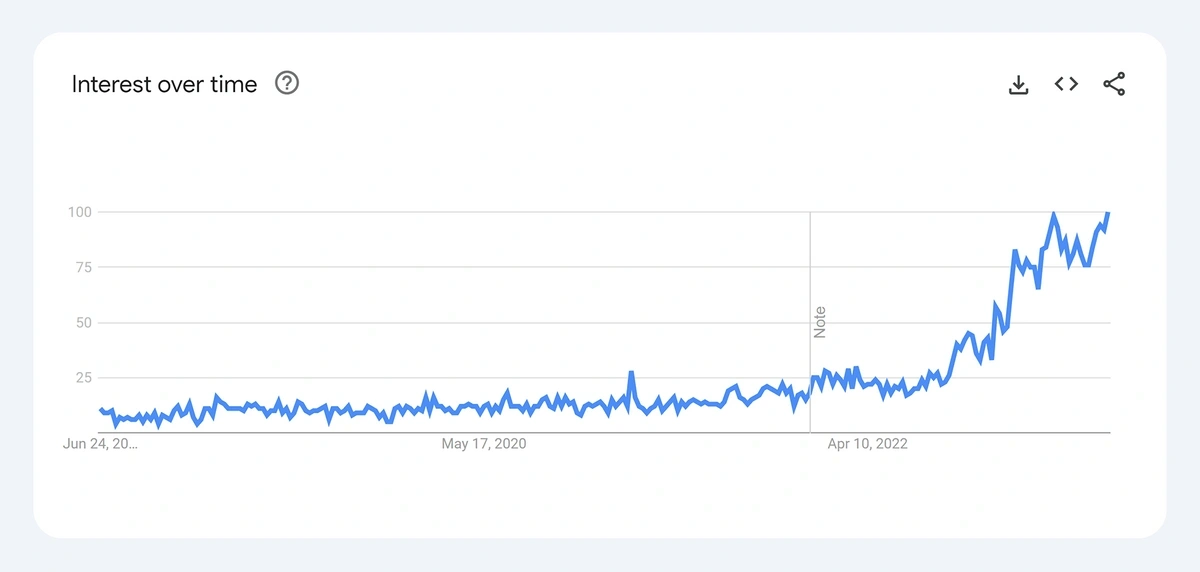 2. Skincare Serums
Skincare serums are one of the most popular health and beauty products. These oil or water-based liquids are applied to the skin with higher ingredient concentration and better health benefits than a regular moisturizer.
Because of TikTok, different versions of these products can gain traction extremely quickly. Some of the most popular and fastest-growing serums include:
Scalp Serum

Retinol Serum

Bakuchiol Serum

Dark Spot Serum
3. Permanent Jewelry
Permanent jewelry (also commonly referred to as "forever jewelry") is a bracelet, necklace, or anklet with no removal clasp. The item is worn 24/7 because the ends are welded together.
Since May 2022, popularity has continued to see an upward rise.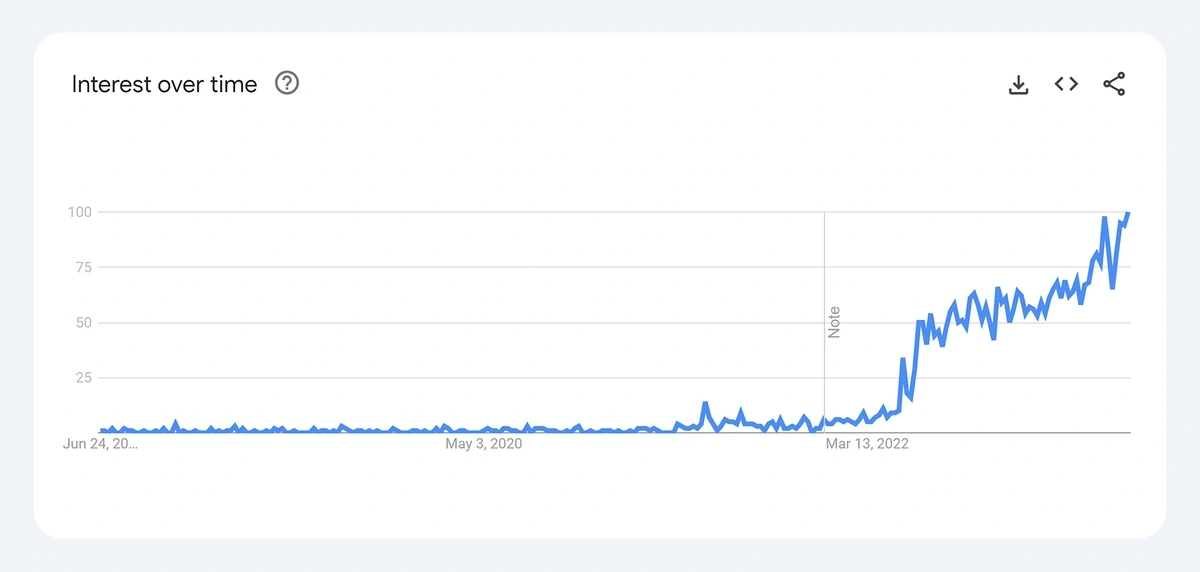 4. Sound Machine
Using a sound machine can create white noise to help improve sleep and sleep quality. The great thing about sound machines is their stable growth over the past five years. These machines can create soothing white and pink noise to help improve focus and create a calm, quiet environment.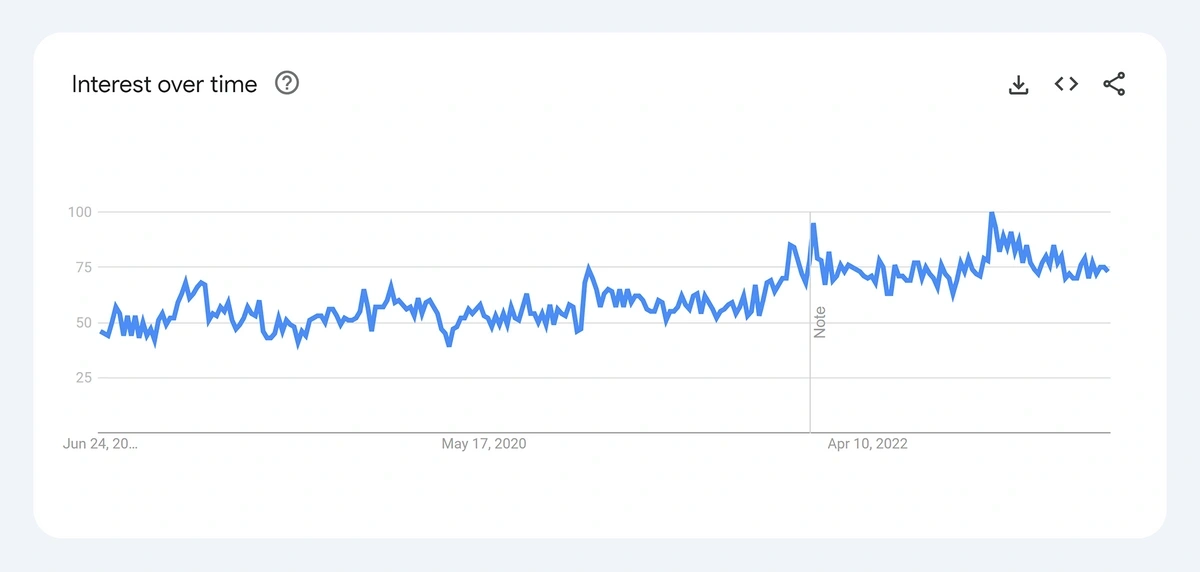 5. Freeze Dried Candy
Freeze-dried candy uses a vacuum to remove over 95% of the water, causing it to take on new shapes and textures.
Freeze-dried candy started taking off in 2019 before it peaked and saw a sharp decline in popularity. But it has started to pick up steam over the past two years.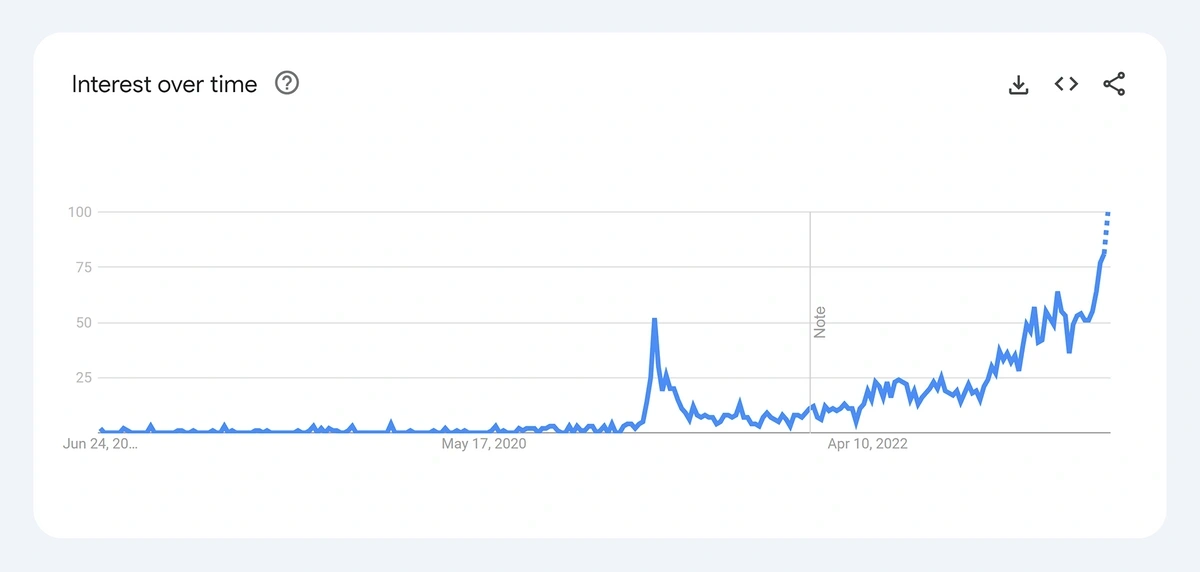 6. Pickleball Equipment
Pickleball is growing rapidly, with over 4.8 million pickleball players. Because of this growth, pickleball equipment like pickleball nets, paddles, and balls are in high demand. Recess Pickleball is one brand riding the pickleball trend.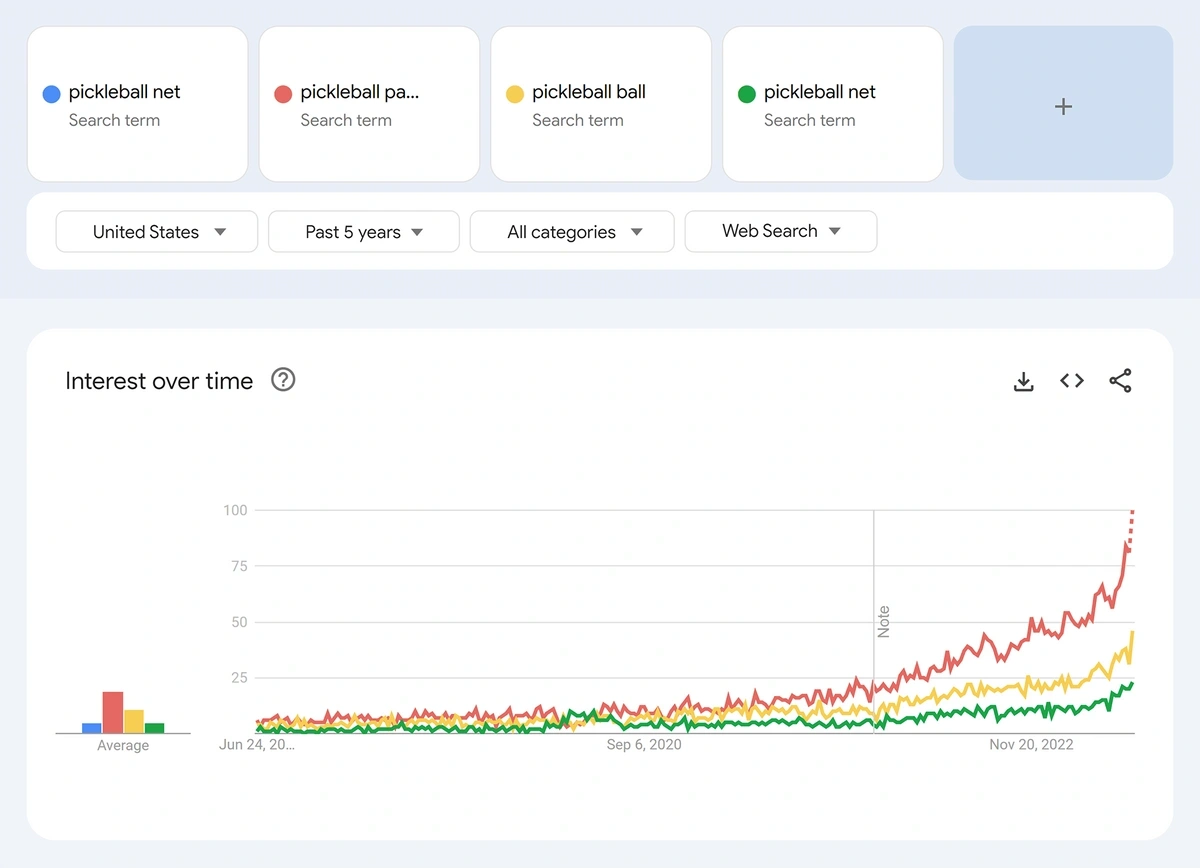 7. Health Gummies
Another product category to capitalize on today is the health gummies space. This includes popular products like
Collagen Gummies

ACV Gummies

Keto Gummies

CBD Gummies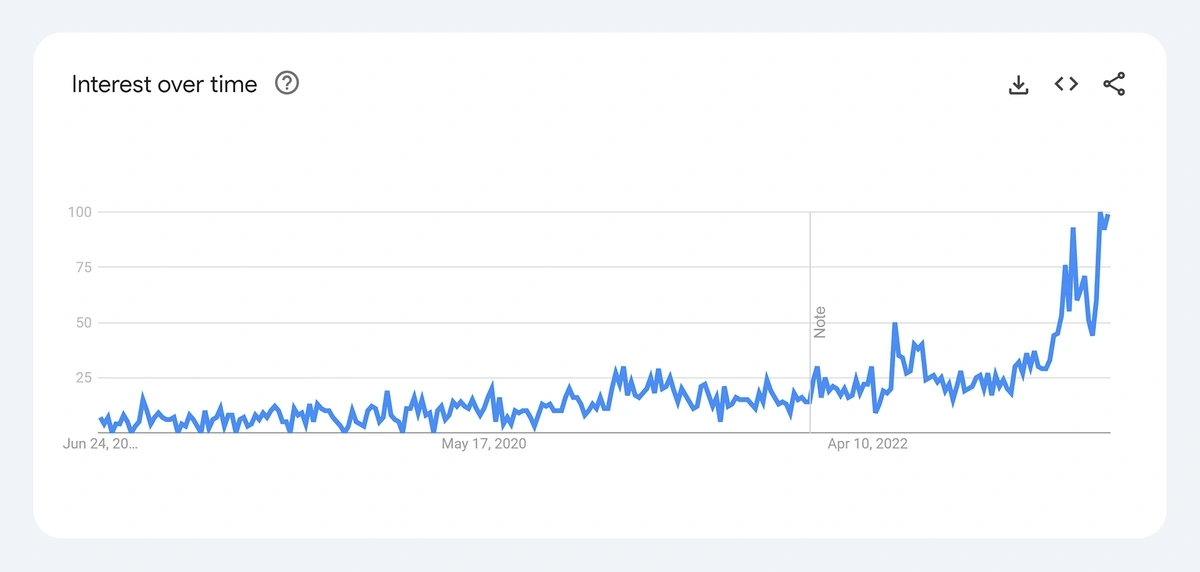 Google Trends Vs. Exploding Topics: Which Is Better To Find Products?
Google Trends is one of the most popular ways to find trending products to sell. But Exploding Topics often under-the-radar products before they take off and become saturated.
With Exploding Topics Pro, users can identify products and trends six months or more before they take off. The ET Pro team also does the work, delivering a list of trending products straight to every user's dashboard based on millions of data points.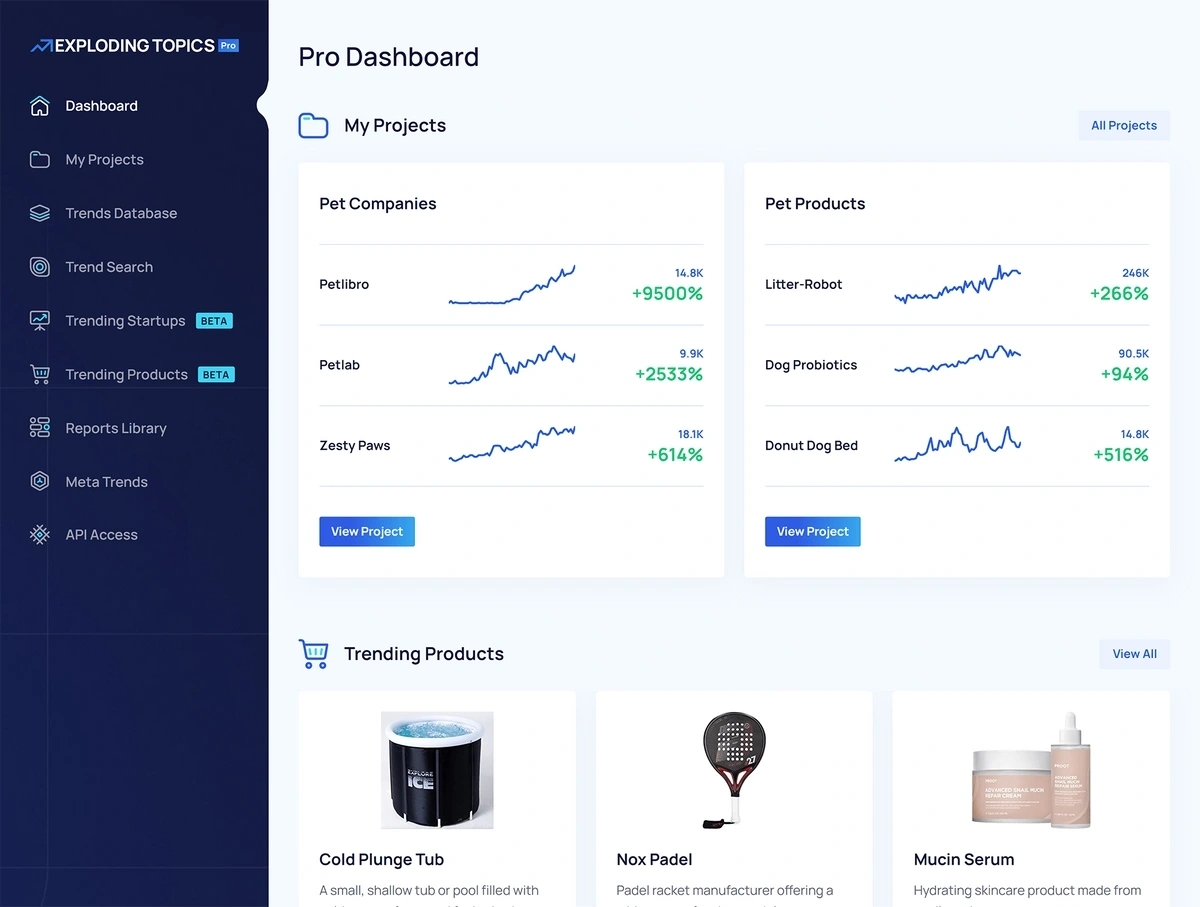 For example, Exploding Topics discovered "Turmeric Gummies" in June 2019, about two years before the product started gaining significant market traction.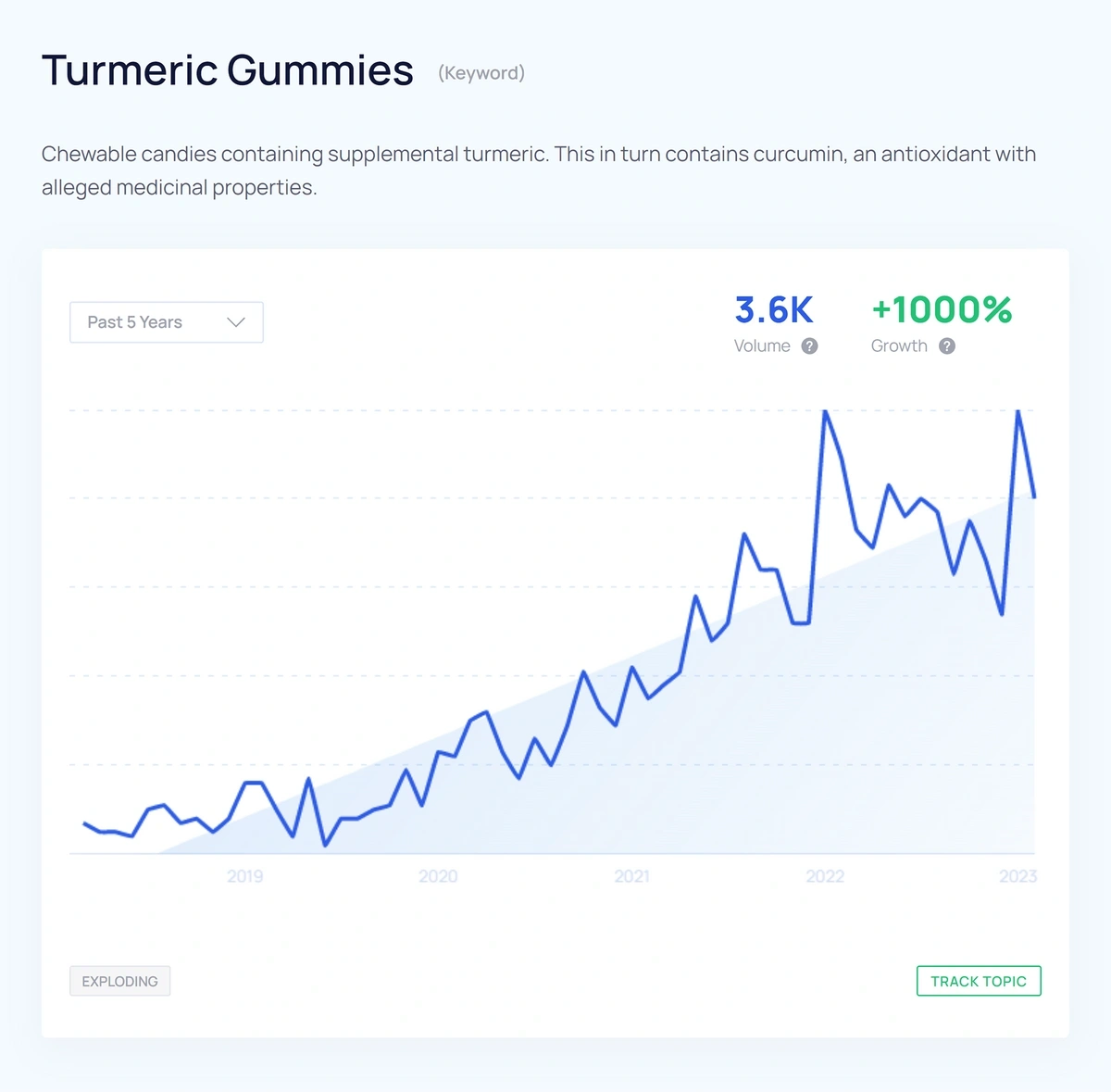 If you'd like to be an early adopter and identify products and trends before they peak, Exploding Topics might be something to consider.
Conclusion
The DTC market is always rapidly changing. Using tools like Google Trends to identify trending products and niches is a good way to get an edge over your competitors.
We will be updating this list with new Google Trends products on a regular basis. But the strategies to implement Google Trends in your product research should remain the same.