5 Key Insurance Industry Trends (2024-2026)
You may also like:
Worldwide, insurance companies generated over $7 trillion in premiums in 2022.
But much like their commercial banking cousins, they have long been considered stodgy and behind the times.
But things are quickly starting to change.
In fact, this data-intensive industry is transforming faster than ever before.
If you want to learn about changes set to shake up the insurance space, take a look at the trends below.
1. Growing Number of InsurTech Startups
You've probably heard of Fintech in the banking industry.
But you may not know that the insurance industry is also experiencing its own InsurTech revolution.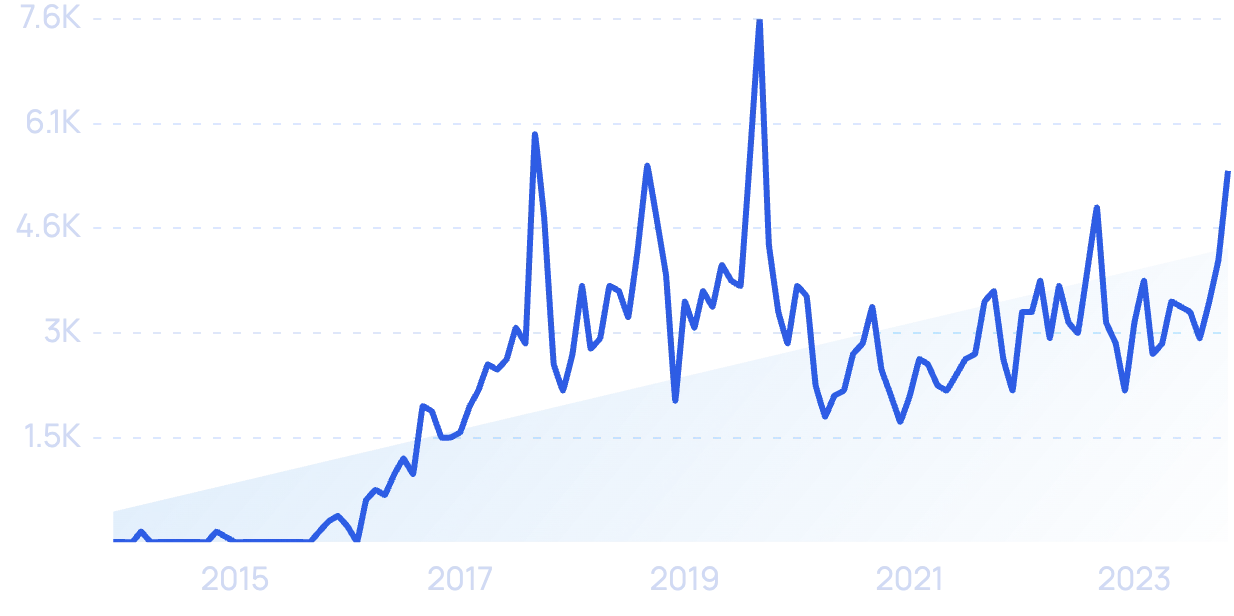 Searches for "InsurTech" have increased by 7,000% over the last 10 years.
Much like Fintech, InsurTech refers to upstarts in the insurance industry that use technology to provide insurance products in a more customer-friendly and cost-effective way.
In addition, many InsurTech startups work with traditional insurers.
In fact, a study by Porch found that about 48% of InsurTech companies are IT and SaaS companies.
Only about 10% of InsurTech companies listed on Crunchbase are actually involved in providing general insurance.
This means that the vast majority of InsurTech startups are actually helping traditional insurers innovate, not disrupting them.
In fact, close to a third of insurers have indicated that they plan on working with startups that are outside of the insurance industry.
Overall, Porch found that there are an estimated 3,475 companies that could be categorized as InsurTech in 2021.
Of these, only about 1,100 specifically claim to be InsurTech companies. That's compared to about 150 companies that were classified as InsurTech in 2000.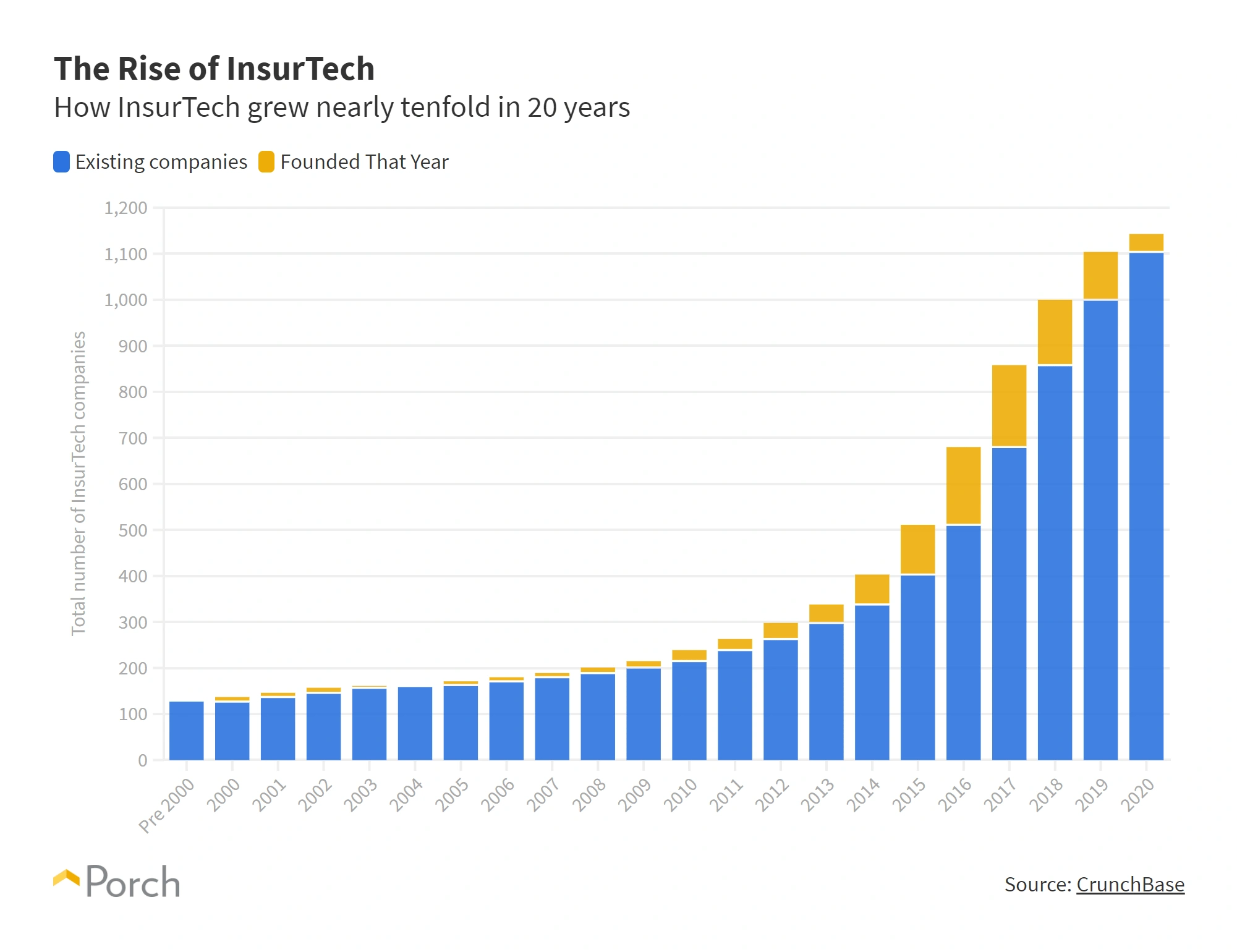 The number of InsurTech startups has exploded in recent years.
As you can see in the chart above, growth remained slow throughout the 2000s.
After 2010, more startups began to refer to themselves as InsurTech companies.
Then, growth took off.
Specifically, the number of InsurTech companies more than doubled from 2015 to 2020.
Close to half of those companies are now located in the United States.
This is probably driven by the fact that a record amount of US InsurTech venture capital funding has taken place in the 2010s.
VCs pumped $5.4 billion into InsurTech startups in 2021.
And the total amount of funding grew by an astounding 89% a year between 2010 and 2020.
In the first quarter of 2021 alone, InsurTech startups received more than $2.5 billion in venture funding.
And with good reason.
By 2025, it's estimated that total premiums generated by InsurTech companies will be more than $500 billion.

InsurTech funding volume by quarter, since 2014.
Incredibly, eight InsurTech companies even raised over $1 billion in the first quarter of 2021.
While traditional insurers typically offer a broad range of services, some of the InsurTech startups have further specialized in a single area to better compete with the big boys.
Hippo Enterprises Inc., for instance, focuses only on home insurance.
The company uses AI and alternative data to give a quote in 60 seconds.
Hippo offers a smart home monitoring system to take care of potential issues in advance.
And it also offers more generous coverage for in-home electronics than traditional insurers.
Hippo was only started in 2015, and it generated around $500 million in premiums in 2021.
Hippo went public in a SPAC deal worth $5 billion.
Next Insurance focuses purely on small businesses and the self-employed.
It has tailored its offerings to be more efficient than other business insurance offerings.
And it is one of the few business insurers out there that allows customers to do everything online.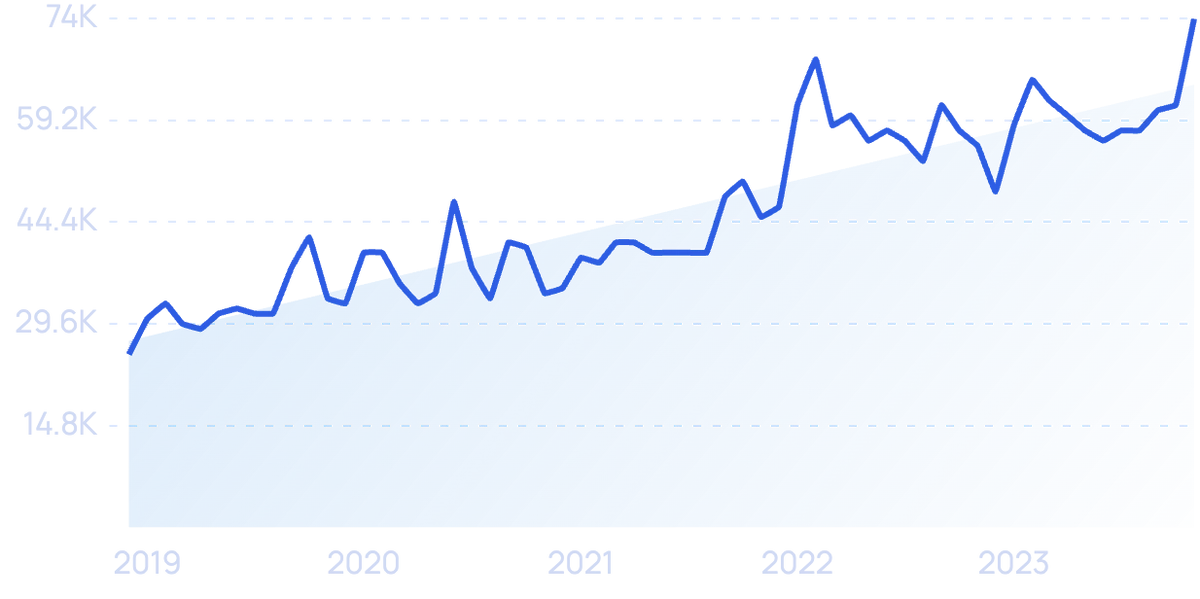 Searches for "Next Insurance" have jumped by 194% in 5 years.
Next reportedly utilizes AI and machine learning to decrease costs by 30% and offer cheaper insurance options to small businesses.
As of 2021, it has raised over $880 million in venture capital and has a $4 billion valuation.
Gabi Insurance, on the other hand, isn't competing directly with insurers.
It is, effectively, an online insurance broker and agent.
Gabi uses technology to compare and find the best rates for a wide variety of insurance, completely online.
To get a deeper insight into what these InsurTech companies are doing to innovate, read on below.
2. Predictive Analytics Change the Way Insurance is Offered
Since insurance is a data-heavy business, it's to be expected that improvements in data analysis and predictive software are top-of-mind for the industry.
Predictive analytics typically involves some kind of improvement in data analysis that allows underwriters to better predict the risk profile or behavior of a certain person, group of people, business, or other entity.
Providers like Duck Creek allow traditional insurers to use software to better understand novel datasets.
And in insurance, understanding novel datasets is everything.
In fact, over 60% of insurers say that predictive analytics have improved underwriting and helped grow their business.
In addition, a 2018 study even found that insurers using advanced analytics saw loss ratios (a measure of an insurer's expenses that are attributable to coverage payouts) that were 3-9% better than competitors who didn't use this method.
The same study also found that insurers who used predictive analytical software grew their premiums at a much higher rate than those who didn't.
An underestimated risk, like COVID-19, is also spurring many insurance companies to take action.
It's estimated that COVID-19 was responsible for over $110 billion in P&C insurance losses in 2020.
Because of this, many insurers are looking for new ways to analyze data.
A survey of European life insurers found that 36% of them plan to increase their investment in predictive analytics as a result of the virus.
Artificial intelligence (AI) and machine learning should help with that as well.
With the amount of data increasing every day, insurers are in dire need of new ways to analyze it.
And while underwriting is probably the most obvious use for things like machine learning, it's not the only one.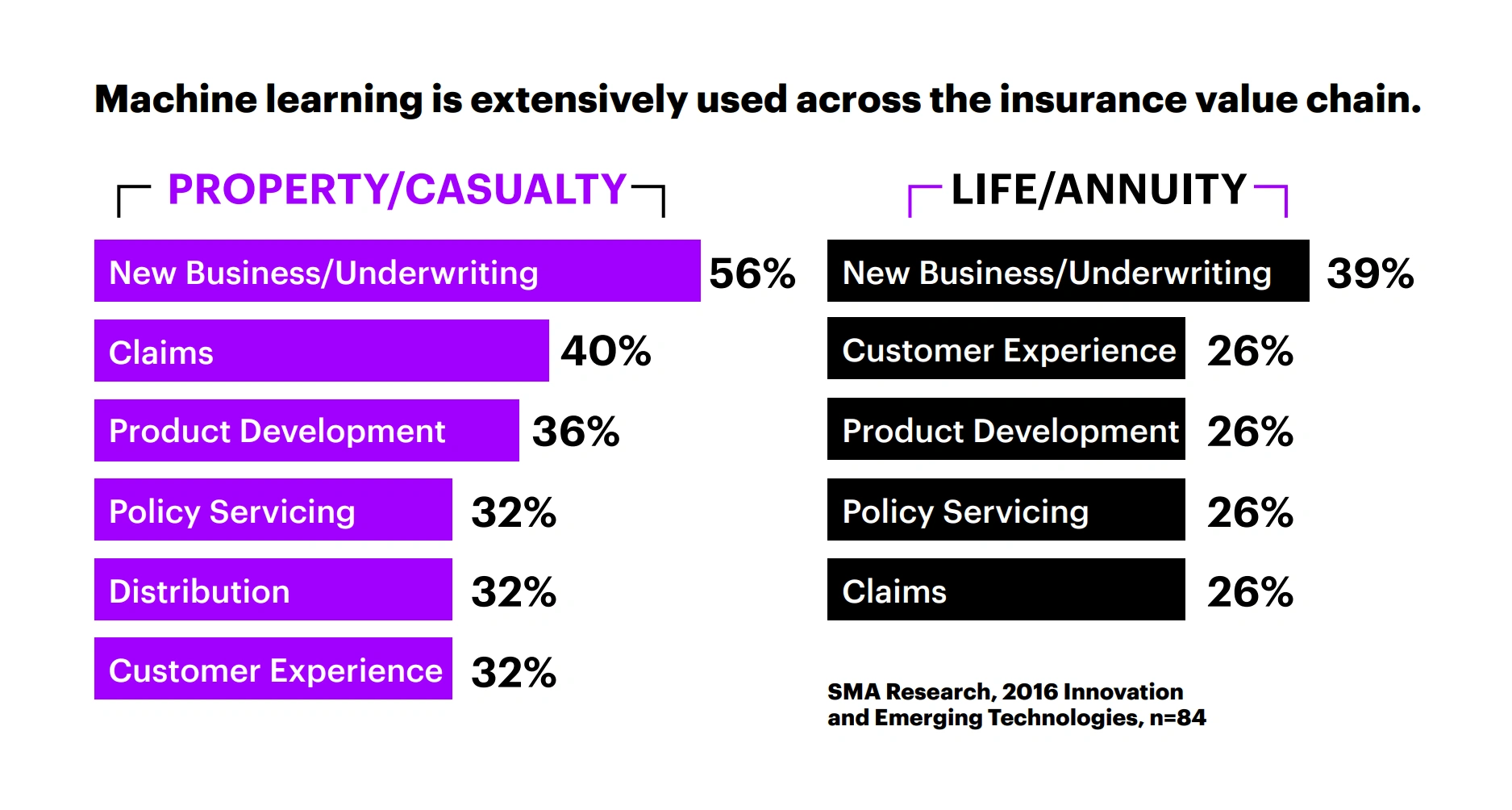 Areas where machine learning can be used in the insurance business.
For instance, the largest catastrophe insurer in Japan, Tokio Marine, uses AI to analyze hand-written claims documents that would take thousands of man-hours to manually input and decipher without help.
Because of this, Tokio Marine reported that it reduced its input time by half and its human error by 80%.
Lemonade, which went public in 2020, has developed an AI-based model that it believes serves customers better.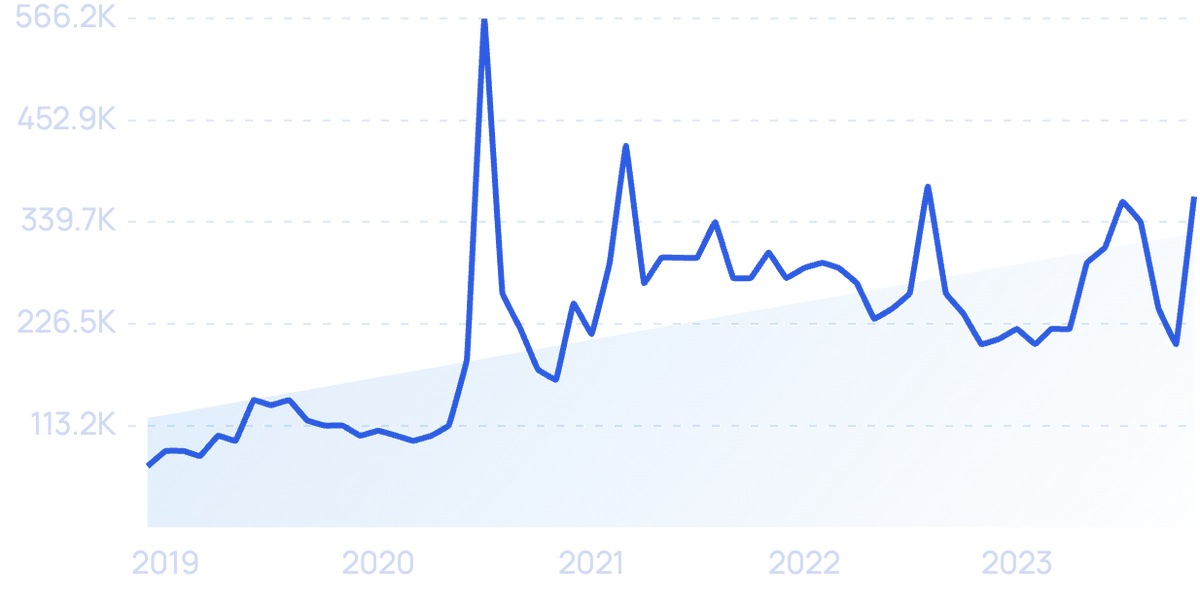 Searches for "Lemonade" have grown by 442% over the last 5 years.
The company uses AI to handle underwriting, claims, and customer service. And it reportedly processes claims very quickly (sometimes in seconds).
Lemonade offers renters, homeowners, term life, and pet insurance at extremely low prices. Along with a UI designed to maximize the customer experience.
This is probably why it crossed 1 million customers by the end of 2020, reaching that milestone much faster than other major insurance companies have in the past.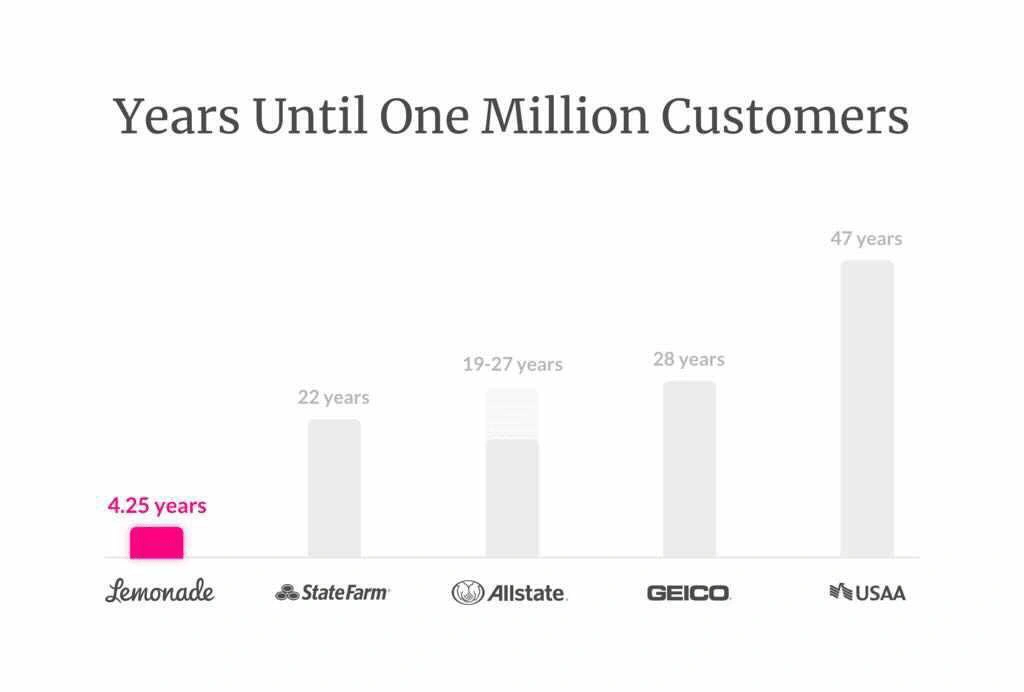 Lemonade reached 1 million customers in record time – 4.25 years.
3. IoT Makes Insurance More Accurate and Cost-Effective
As the Internet of Things (IoT) proliferates, insurance companies are naturally finding more ways to collect data.
And the potential is huge.
By the end of 2020, there were more than 26 billion IoT devices being used. That number is expected to grow to 75 billion over the next five years.
IoT-connected devices could potentially touch every area of the insurance market.
And they will likely allow for improved underwriting and cheaper rates.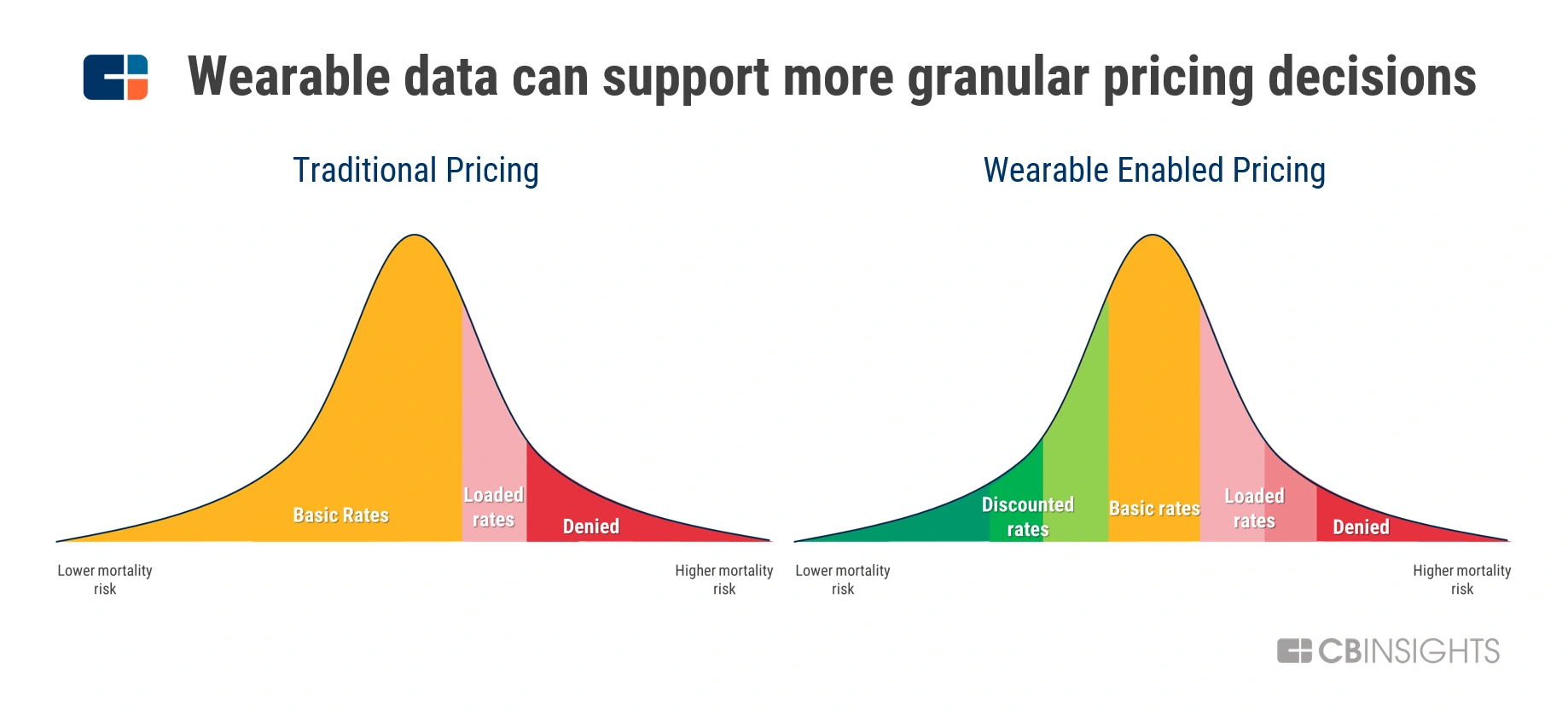 This graphic demonstrates how data collected from IoT devices can influence rates and policy decisions.
Embedded insurance is a concept that goes hand-in-hand with IoT devices.
Embedded insurance is basically insurance that is embedded in a product or a service, not sold separately to a customer.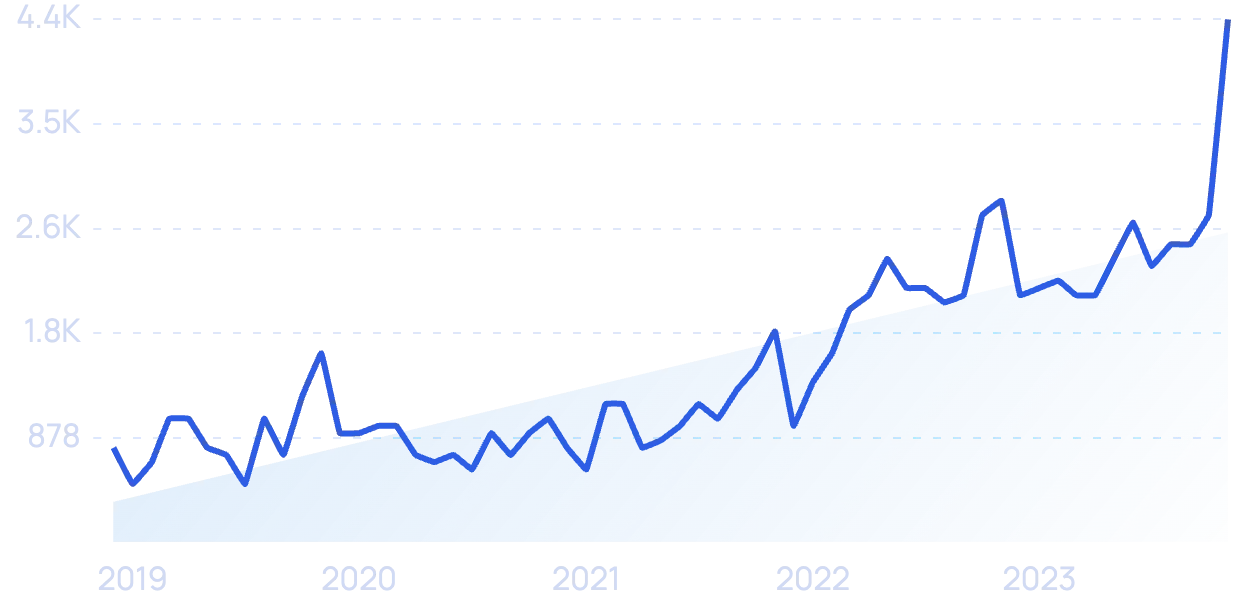 Searches for "embedded insurance" have risen by 454% over 5 years.
Through sensors or some other method, the insurance company is able to collect data on the customer by embedding its insurance "product" in whatever the customer is buying.
By doing this, distribution and data collection are both enhanced simultaneously.
Venture capital firm Albion breaks the possibilities down into categories like this: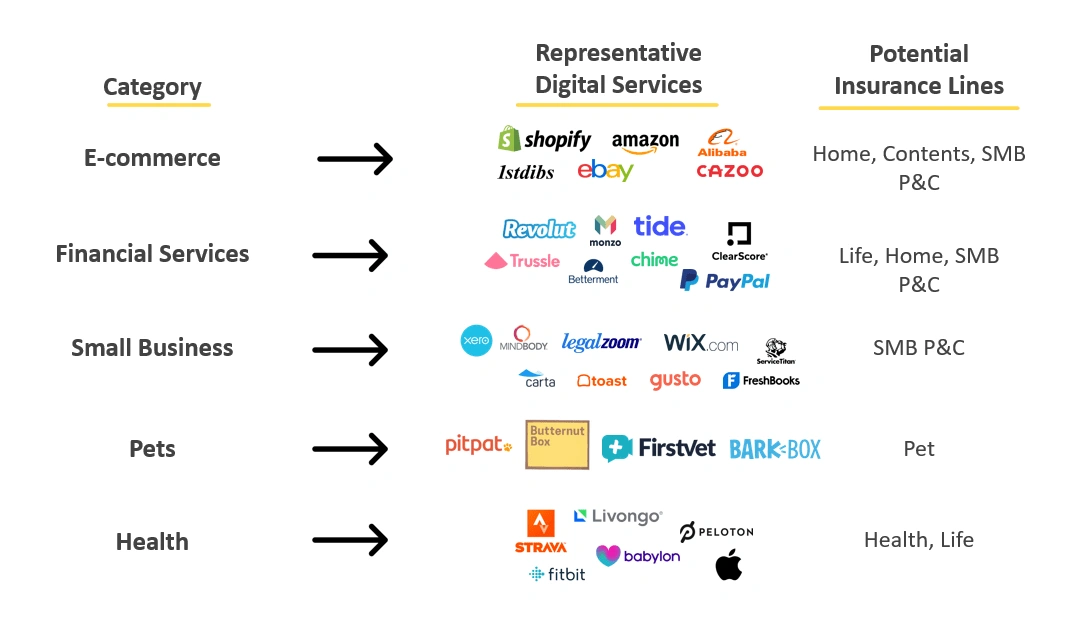 Different types of insurance based on the product or service it is embedded in.
And while this is just a glimpse into the future, you can see that the market potential is huge.
Let's look at some current and upcoming examples to better understand how this kind of insurance distribution and underwriting would work.
The most obvious and talked-about example would probably be Tesla.
Elon Musk has announced that Tesla plans to use data collected by Tesla vehicles on the road to build a massive internal insurance company.
Root Insurance has also played a part in providing insurance through Tesla.
The six-year-old auto insurance startup began, in 2017, to provide discounts to Tesla customers who used the Tesla autopilot feature, Autosteer.
Purportedly, driving on Autosteer can lower collisions by 40%, producing better outcomes for Root.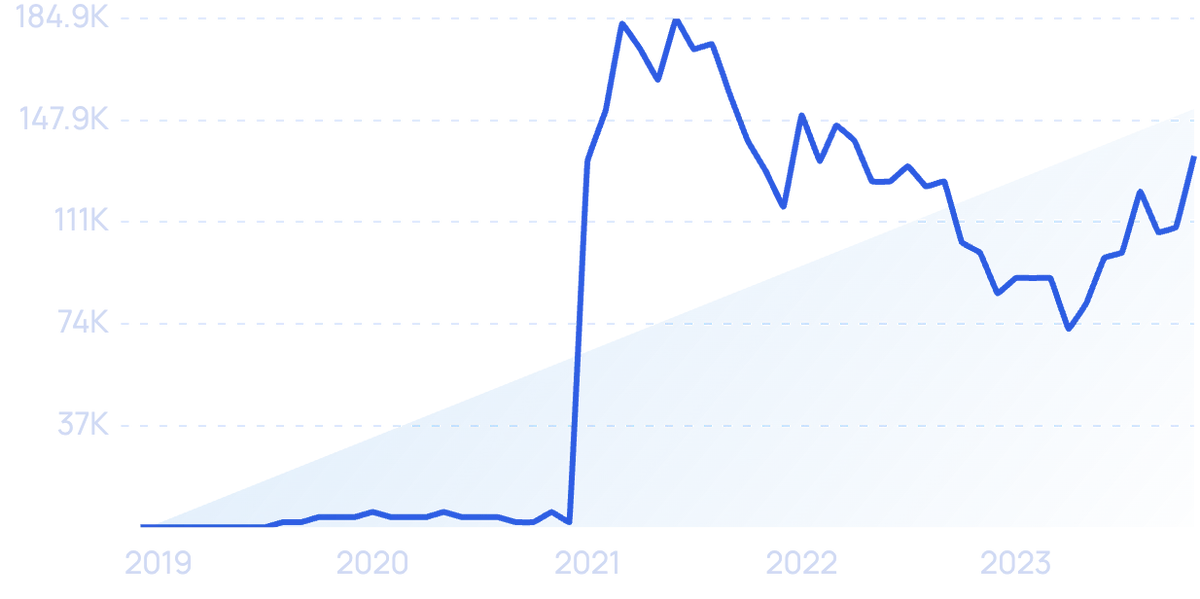 Searches for "Root Insurance" have increased by 7,200% in 5 years.
Root is one of the most prominent usage-based insurance (UBI) companies out there.
Here's how it works: once the Root app is downloaded on a user's phone, the phone's sensors monitor their driving for a defined period of time.
The app then determines the driver's safety level, and prices the auto insurance accordingly.
By pricing insurance based primarily on how a customer drives, Root feels that it is able to improve risk assessments.
Because of this, it claims that its innovative pricing methods can save customers up to $900 a year in car insurance.
After that, you might be wondering what usage-based insurance is.
Well, UBI is exactly what it sounds like:
Insurance that is priced based on a customer's use of the product.
It is typically used in auto insurance.
And is increasingly being paired with embedded insurance to monitor and predict a driver's risk.
Right now, about 20% of the automotive insurance market consists of UBI policies.
This means that there are about 4.8 million drivers using UBI on the road today – a number that UBI company Insurance & Mobility Solutions feels is a critical mass.
True Mileage, another usage-based insurance (UBI) company, has partnered with telematics firm SmartCar to collect data from up to 60 million vehicles.
This is expected to improve rates and underwriting accuracy as the two collect valuable data in real time.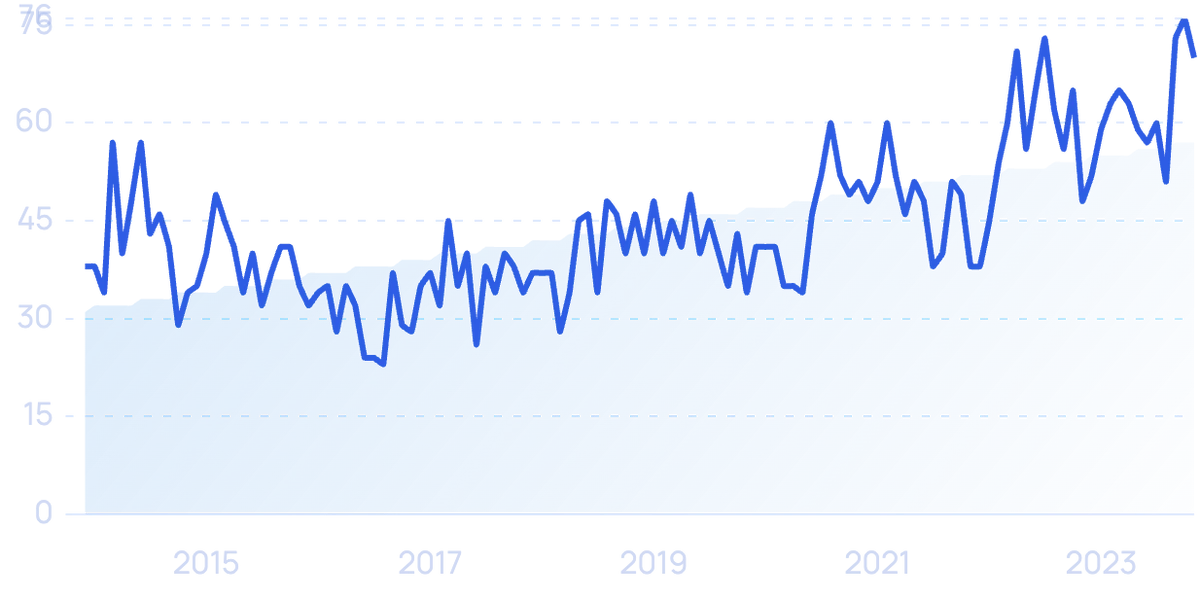 Searches for "True Mileage" have increased by 80% in 10 years.
When it comes to health insurance, wearables look like the next area of interest.
Select health insurers are already "incentivizing" their insurance customers by offering discounted wearable devices (like Fitbits and Apple Watches) and rewards for attaining health goals that are tracked through the device.
And this isn't just happening in the health space either.
Hippo Insurance offers select policyholders free smart home kits. And it discounts its premiums when the device is activated.
But even though this may improve underwriting and service, data privacy concerns are still a big issue.
One survey even found that only 20% of millennials who plan on buying IoT devices would share their data with an insurer.
As more and more of the population engages with IoT devices, expect insurers to use this real-time data to their advantage.
4. Robotic Process Automation Improve Operations and Pricing
Because of its data-intensive nature, the insurance industry is ripe with repetitive tasks and labor-intensive operations.
Also, it is a highly regulated industry.
Because of this, robotic process automation (RPA) and cognitive automation (CA) may be useful in increasing efficiency and protecting consumer safety and privacy.
The two technologies also offer a myriad of ways for new InsurTechs to service traditional insurance companies.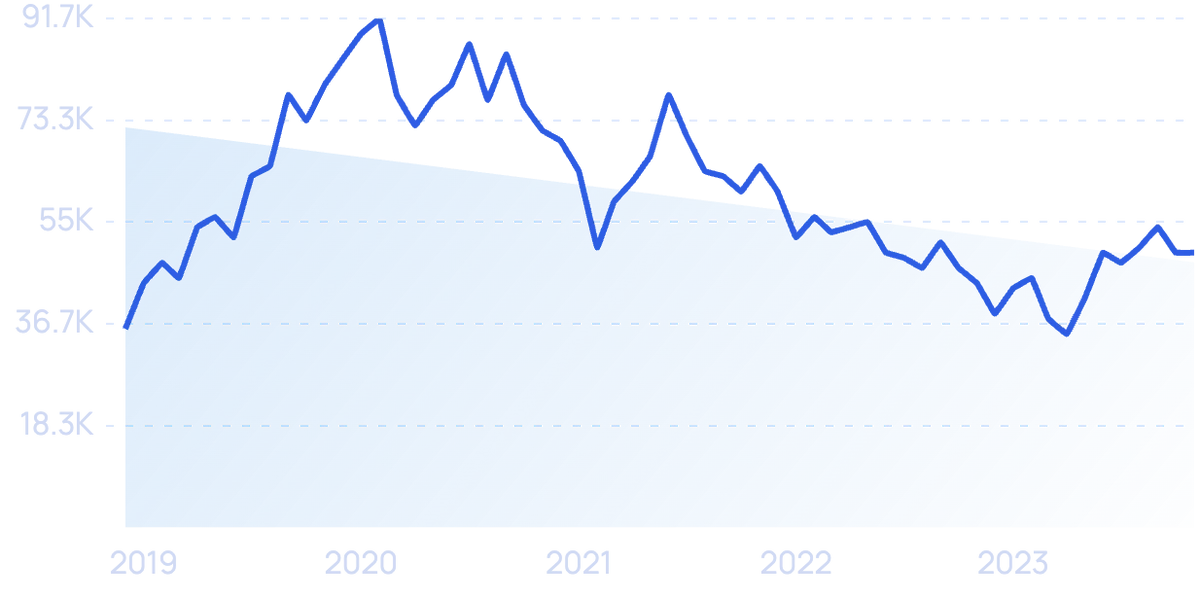 Searches for "robotic process automation" have increased by 38% over the last 10 years.
McKinsey estimates that a quarter of all insurance company processes can be automated by 2025.
In areas like insurance claims, underwriting, compliance, and customer service, volume is extremely important.
If processes can be shortened, then the volume will skyrocket – improving overall outcomes.
UI Path predicts that RPA can cut out about 34% of the human expertise required to deal with typical insurance processes.
And if more insurers can get more done with the same personnel, it improves outcomes for customers and shareholders.
Roughly 23% of the time customers waste dealing with their insurance carriers can be eliminated by RPA.
In claims processing, Workfusion estimates that nearly all (80%) of the manual processing can be reduced.
And Protection Insurance (a fleet trucking and workers' compensation insurer) claims that by utilizing RPA, it can automate nearly 95% of tasks like indexing documents.
Cognitive Automation can look a little different than RPA. Instead of automating routine tasks, cognitive automation looks to learn how humans think and supplement their activities that require complex cognitive functions.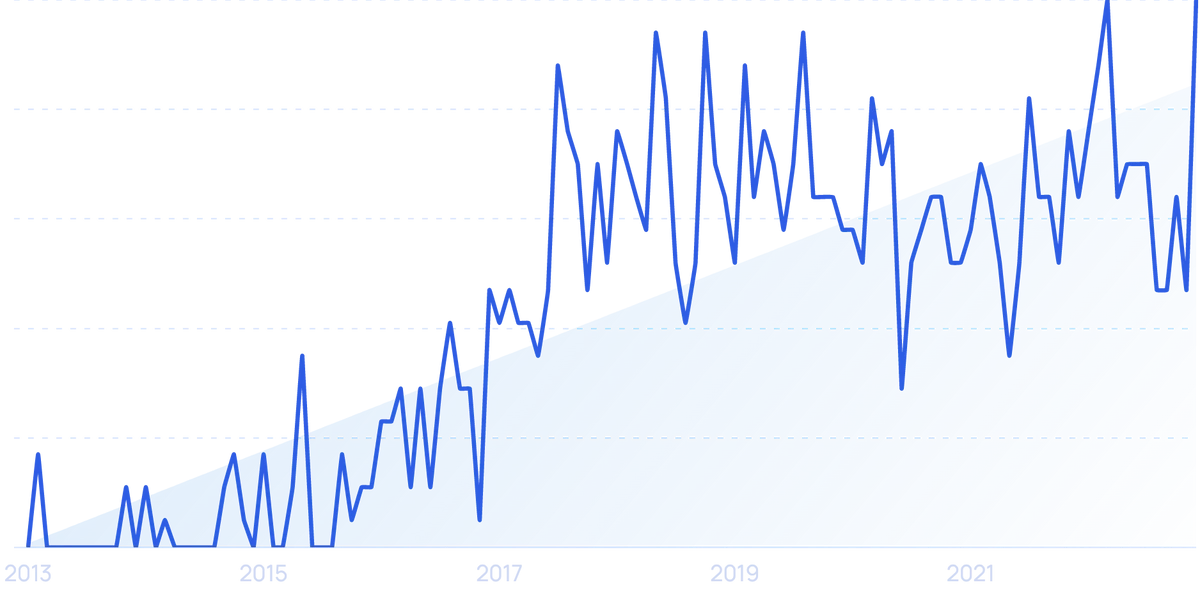 Searches for "cognitive automation" have grown by 1,600% over the last 10 years.
Both technologies look poised to impact insurance company income statements as well as policy prices over the next decade.
5. Non-Traditional Companies Offer Insurance Products
While some of the top InsurTech startups are competing with traditional insurers, there is another new entrant that the insurance industry has to worry about now – Big Tech.
Companies like Amazon, Google, Apple, and Facebook already have a strong relationship with millions of customers.
They are now trying to leverage this to offer more products and services – specifically insurance.
CB Insights believes that the giants have an inherent cost advantage over traditional insurance because of their superior distribution avenues and customer relationships.
Since some of the most popular wearables come from companies like Apple and Google, it can only be expected that those two would jump into the health insurance market.
Or at least partner with major providers to offer coverage.
In the home insurance market, Amazon and Google, with their smart home products, are primed to start offering policies supported by home monitoring.
And it's not like customers aren't aware of this either. A study by Capgemini states that almost half of insurance customers want to buy insurance from one of these big tech companies.
Google has already invested in at least 14 InsurTech companies over the last few years.
One of its major investments has been in Oscar Health.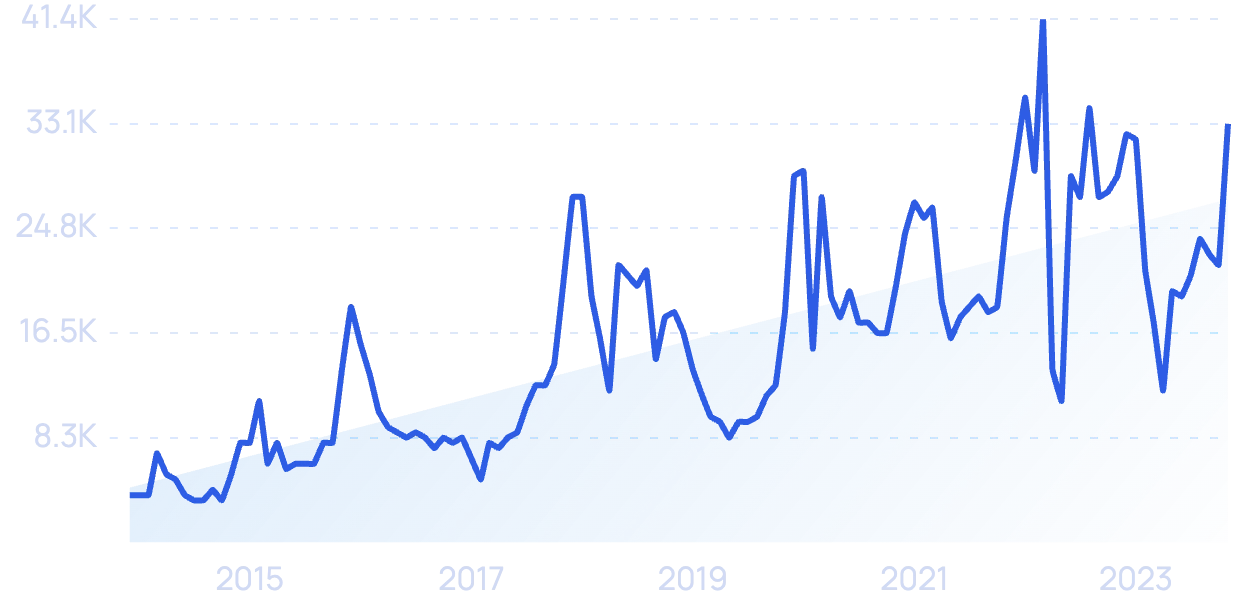 Searches for "Oscar Health" have increased by 789% over the last 10 years.
The startup is taking on the health insurance industry, which is notorious for its complexity and regulation.
Nevertheless, the company went public at about a $9 billion valuation in 2021.
Conclusion
That's all for the top insurance industry trends.
You never know what's going to happen when innovation starts to occur in an industry as heavily regulated and as static as insurance. But it's always interesting when new companies start to enter the fray. Or when existing insurance giants adapt their business models to changes in tech or customer preferences.
Overall, many of the top InsurTech companies are leveraging new technologies. And going all-in with digital transformation. Without RPA or AI, companies like Hippo and Next Insurance wouldn't be able to provide such efficient offerings.
Expect to see this trend spread across the traditional insurance industry as the technologies improve.