Top 11 Ecommerce Trends For 2023-2026
You may also like:
This is a list of 11 important Ecommerce trends for 2023-2026.
Each of these trends are already growing quickly.
And are likely to continue their upward trajectory into 2024 and beyond.
Without further ado, let's take a peek into the future of Ecommerce.
1. BNPL Becomes Key Payment Method
50% of consumers have already used a "Buy Now, Pay Later" service, according to an industry study conducted by The Ascent.
Afterpay is one of the market leaders in the BNPL space.
In fact, Afterpay hit the 10 million user mark in 2020 (with 5 million of those users in the US).
Like most BNPL providers, Afterpay gives online shoppers the option to pay for their checkout in monthly installment payments instead of a lump sum.
Then, Afterpay pays the merchant at purchase.
And they collect installment payments directly from the customer.
Although Afterpay was growing pre-pandemic, the economic downturn has been a boon to their business.
They report that their US customer numbers were growing by 40% weekly during the height of the pandemic.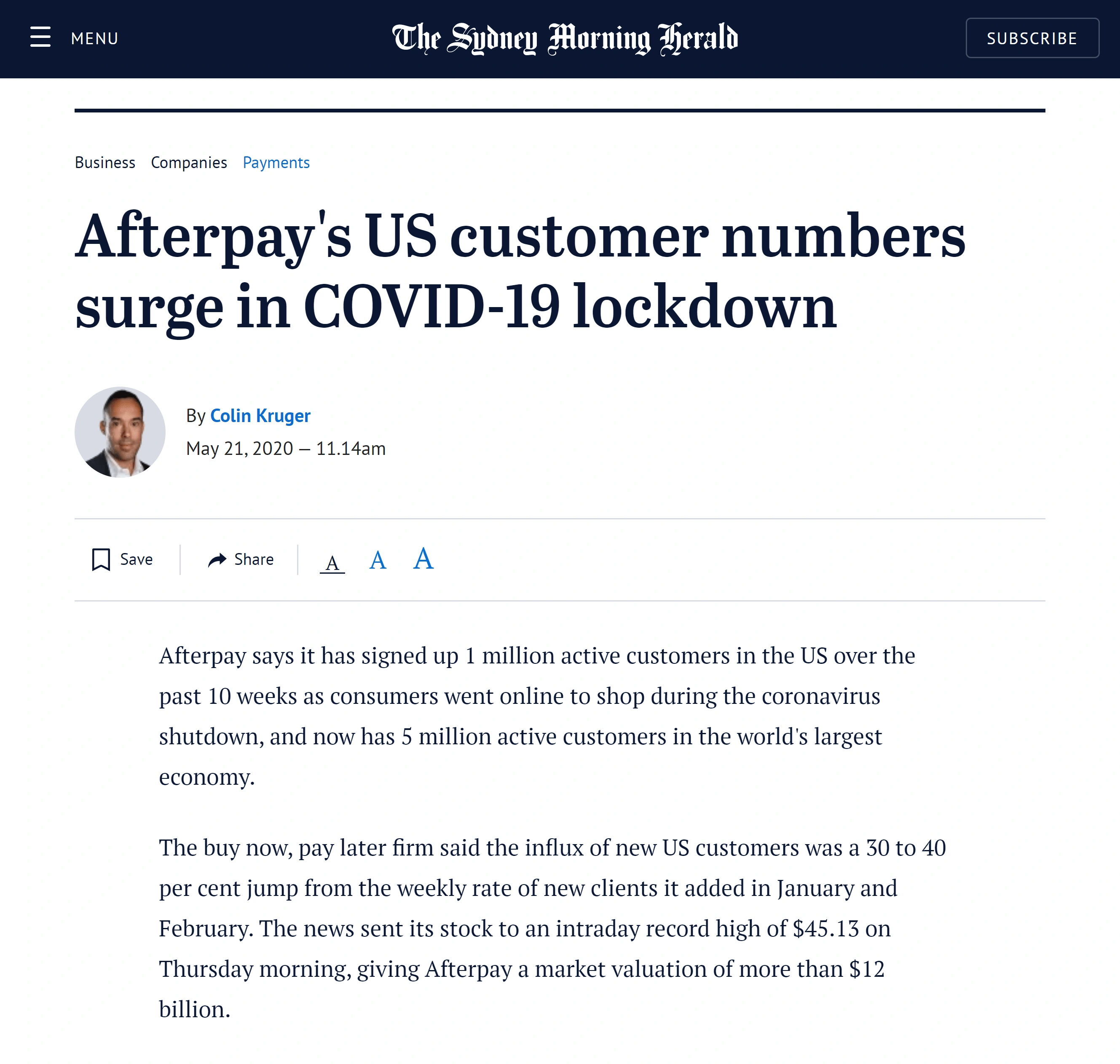 Lockdowns led to increased adoption of BNPL.
Afterpay is one of many growing services that help Ecommerce stores offer BNPL payment options.
PayPal's Pay in 4 and Amazon Pay Later are two other growing BNPL providers.
2. Ecommerce Buyers Demand Ethical Business Practices
According to data from Facebook, 68% percent of Gen Z consumers "expect brands to contribute to society".
And 61% state that they'd pay more for a product if it was manufactured in an "ethical and sustainable way".
But Gen Z isn't the only demographic on the lookout for sustainable products.
A large-scale study by Nielson discovered that sustainable products across all categories have higher rates of growth.
(Compared to non-sustainable products in the same category.)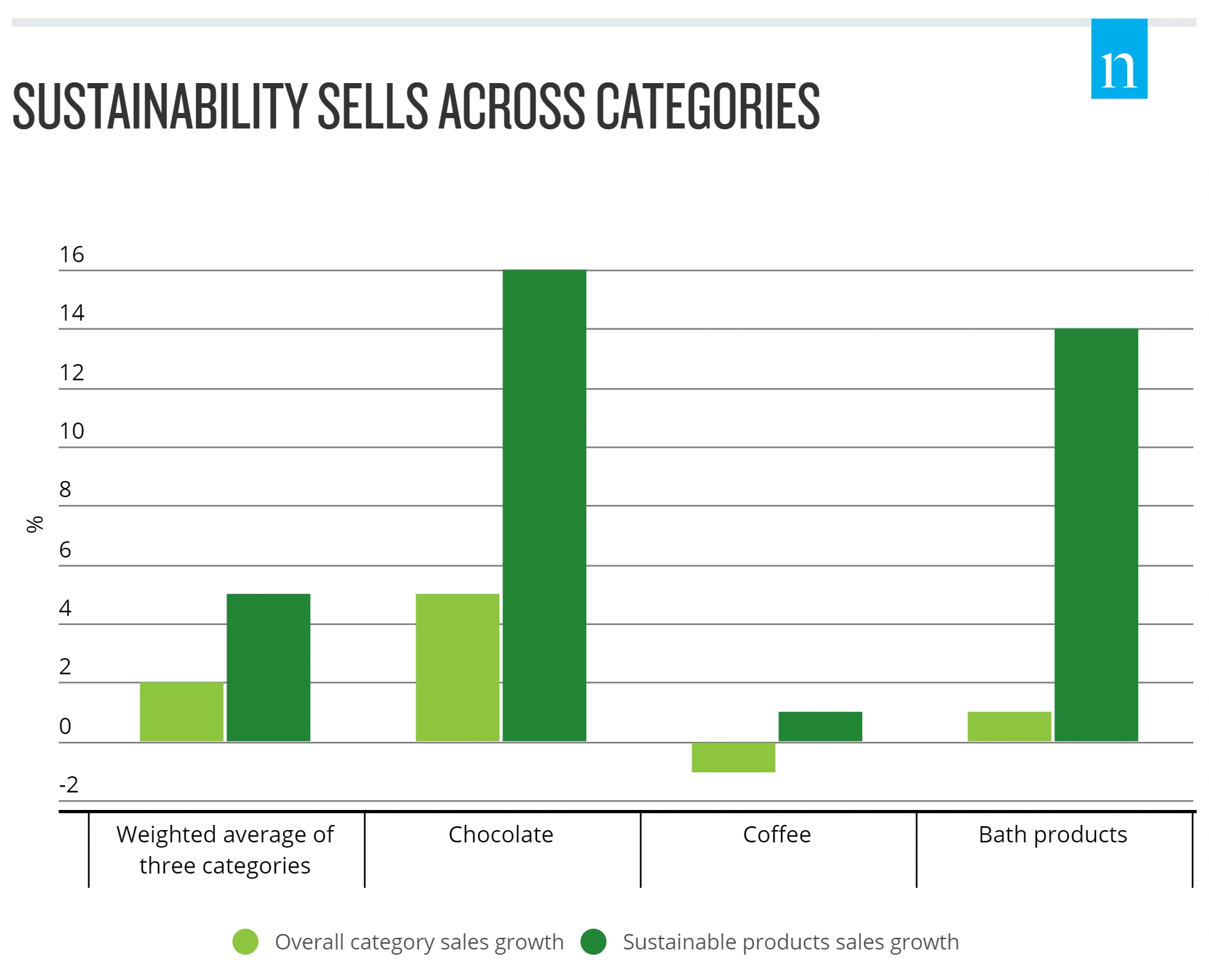 Products that are considered sustainable tend to see faster sales growth.
Pura is a great example of a growing, sustainability-focused Ecommerce brand.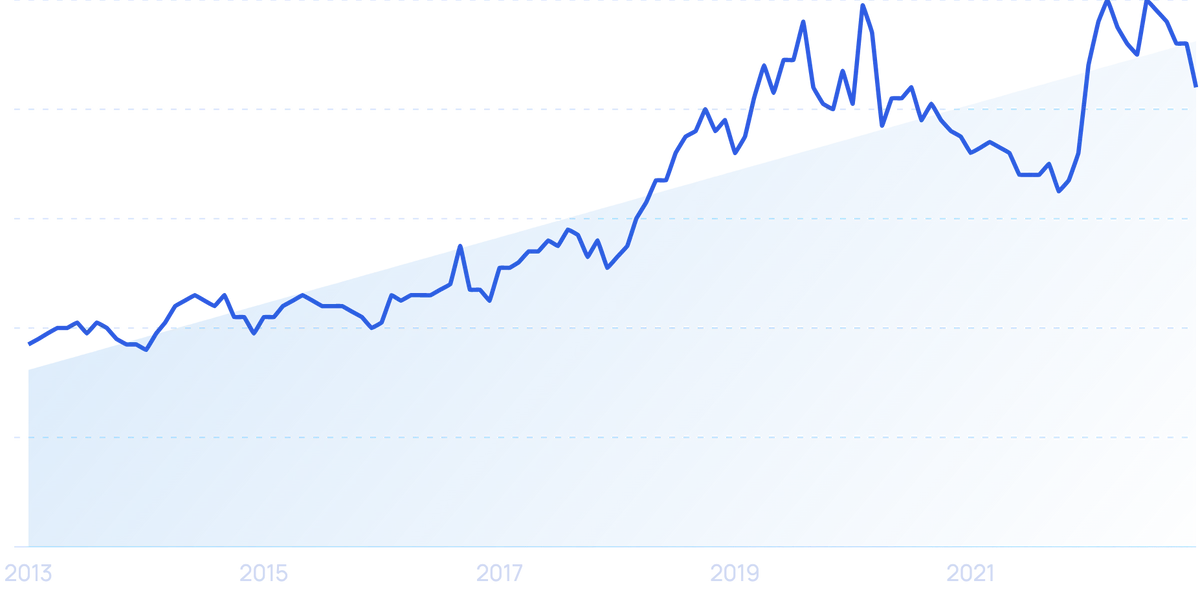 Searches for "Pura" have grown by 127% over the last 10 years.
Pura sells a range of biodegradable, plastic-free baby products (like wipes and diapers).
Pura's homepage emphasizes its sustainable practices.
According to the founders, they generated 22,000 orders within weeks of launch.
3. Chatbots Become Default Support System
Ecommerce sites that adopt chatbots have seen revenues increase by upwards of 25%.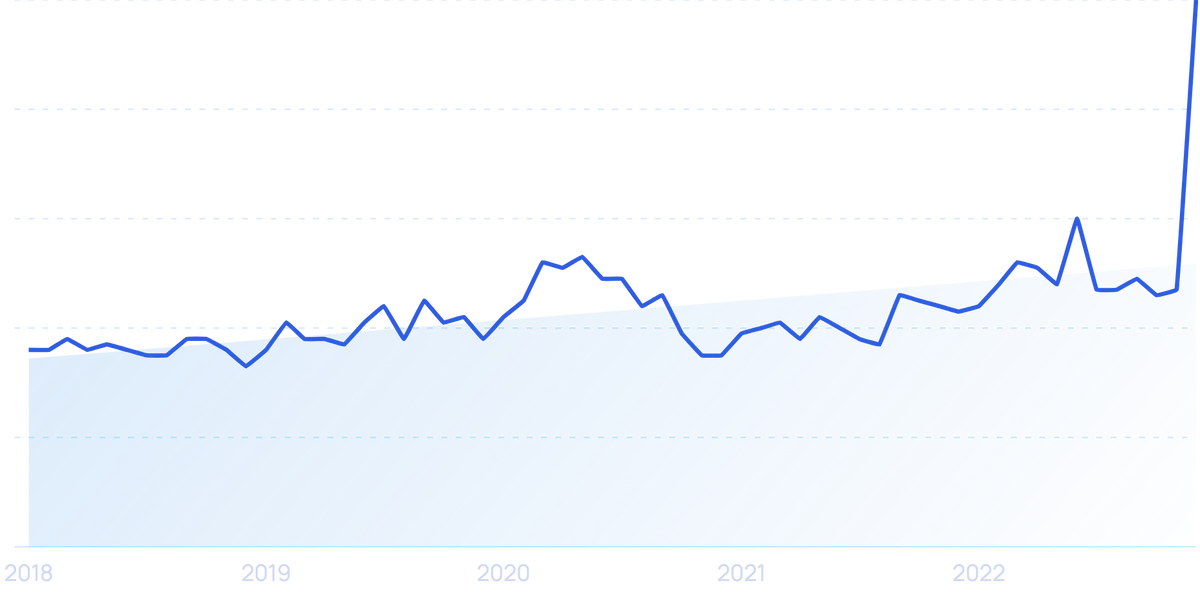 Search growth for "chatbot" is up 177% over the last 5 years.
And HubSpot reports that 4 out of 10 consumers don't care whether they chat with a human or bot.
As long as their problem gets resolved, customers consider it a positive customer experience.
There's also the fact that chatbots can save businesses money: IBM reports that chatbots can cut support costs by 30%.
This is why many Ecommerce businesses are shifting their support systems to be "chat first".
This approach usually combines AI-powered chatbots with human live chat.
For example, SereneLife uses a chatbot that can be transferred into traditional live chat when needed.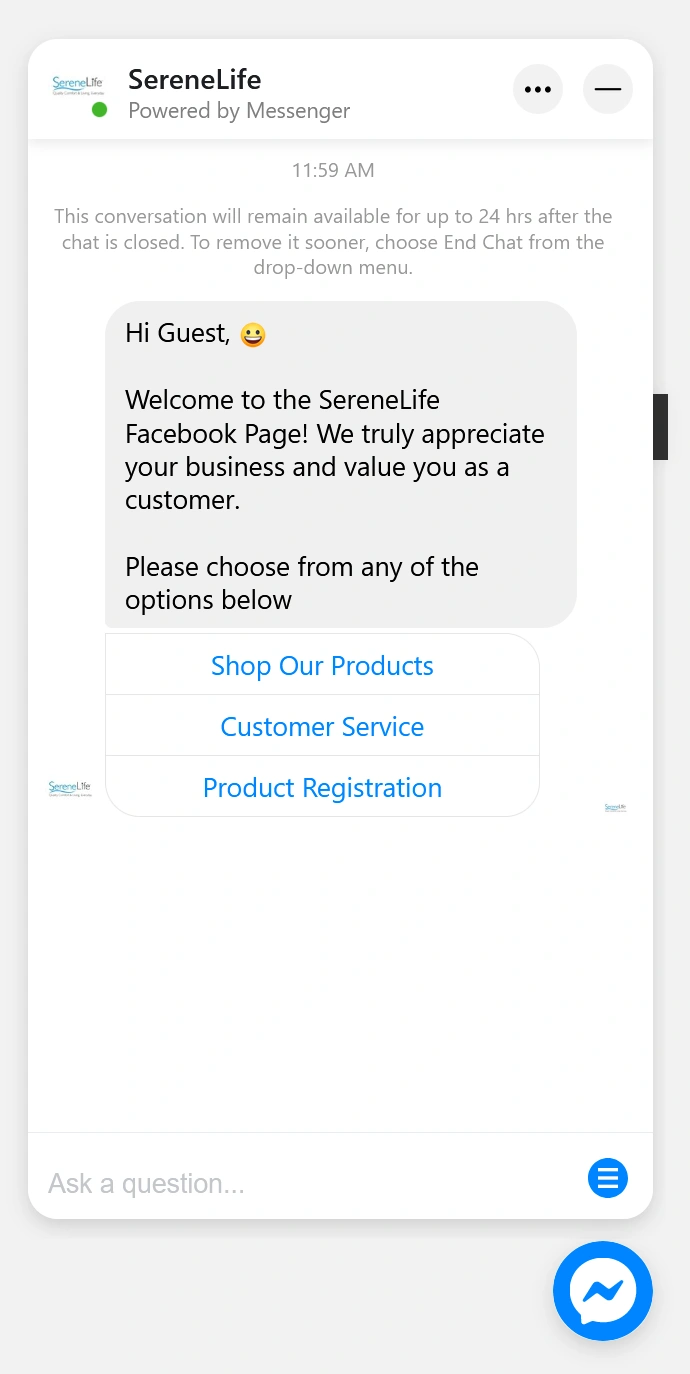 Example of a chatbot being used on an Ecommerce website.
With growing demand, there are now a number of chatbots hitting the market, including Manychat, AhaChat, and MobileMonkey.
One of the fastest-growing chatbot SaaS tools is Landbot.
How did Landbot stand out among the thousands of chatbots already out there?
And achieve significant growth in a highly competitive space?
They decided to not incorporate AI into their software.
Most chatbots boast about their "advanced AI features".
But Landbot decided to use a simple "choose your own adventure" approach instead.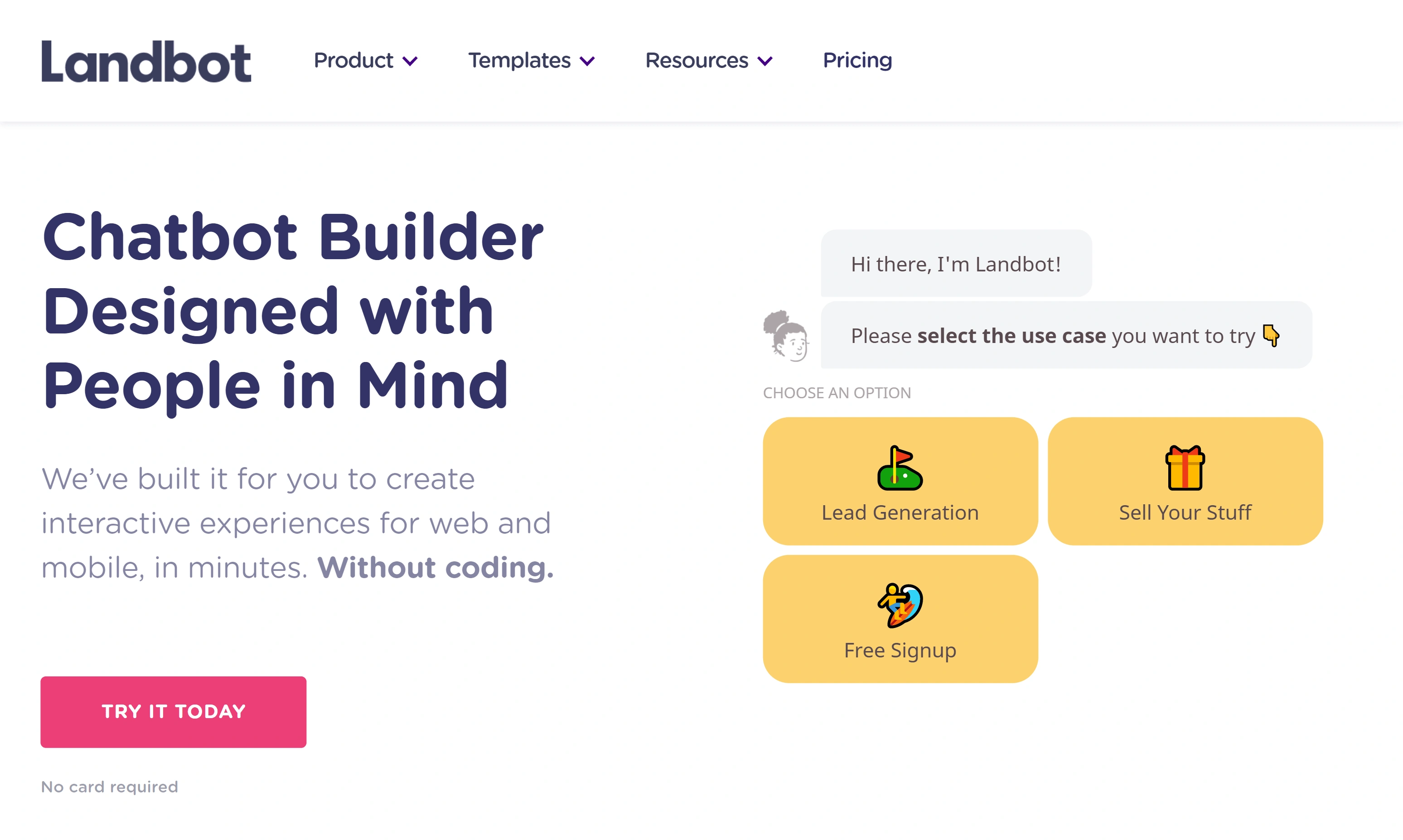 Landbot has grown largely thanks to keeping its UI super simple.
While not as advanced, the founders claim that "dumb chatbots" are easier for non-tech savvy marketers to set up and manage.
4. Mass Proliferation of New Ecommerce Sites
Shopify continues to grow as an Ecommerce giant.
And this growth is reflected in the interest in Shopify as a whole.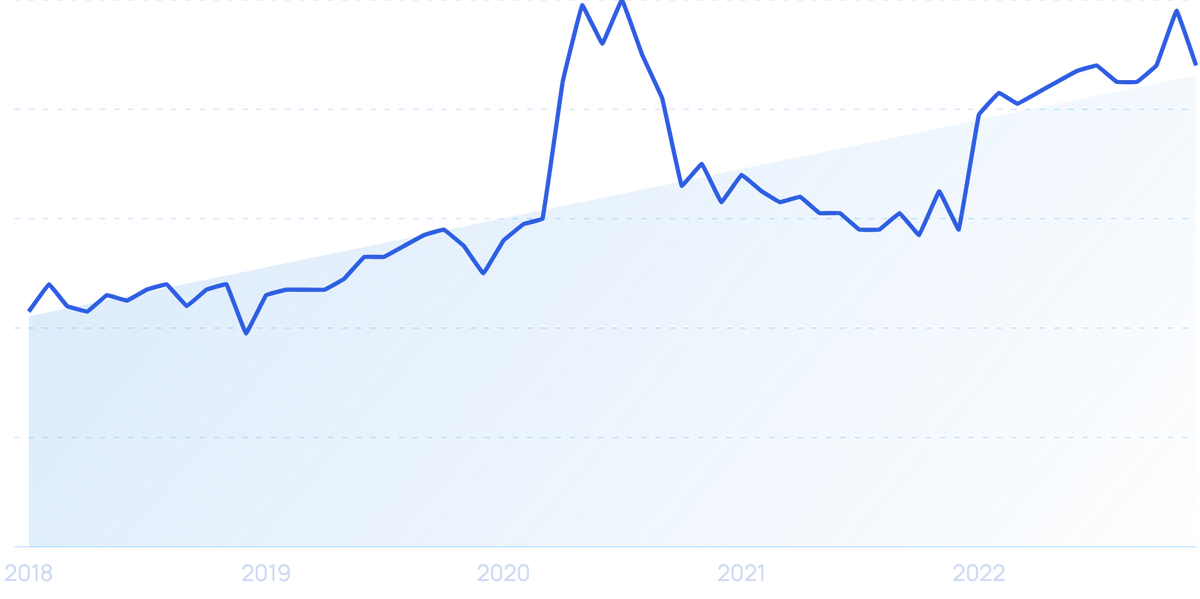 Searches for "Shopify" are up 104% over the last 5 years.
And that doesn't include online stores launched on other Ecommerce platforms, like BigCommerce.
In fact, overall Ecommerce sales hit over $5.2 trillion in 2021 - an all-time high.
A good chunk of this increase is driven by major Ecommerce players, like Amazon, Walmart and Chewy.
However, some of this growth is driven by relatively new Ecommerce businesses, like Magic Spoon.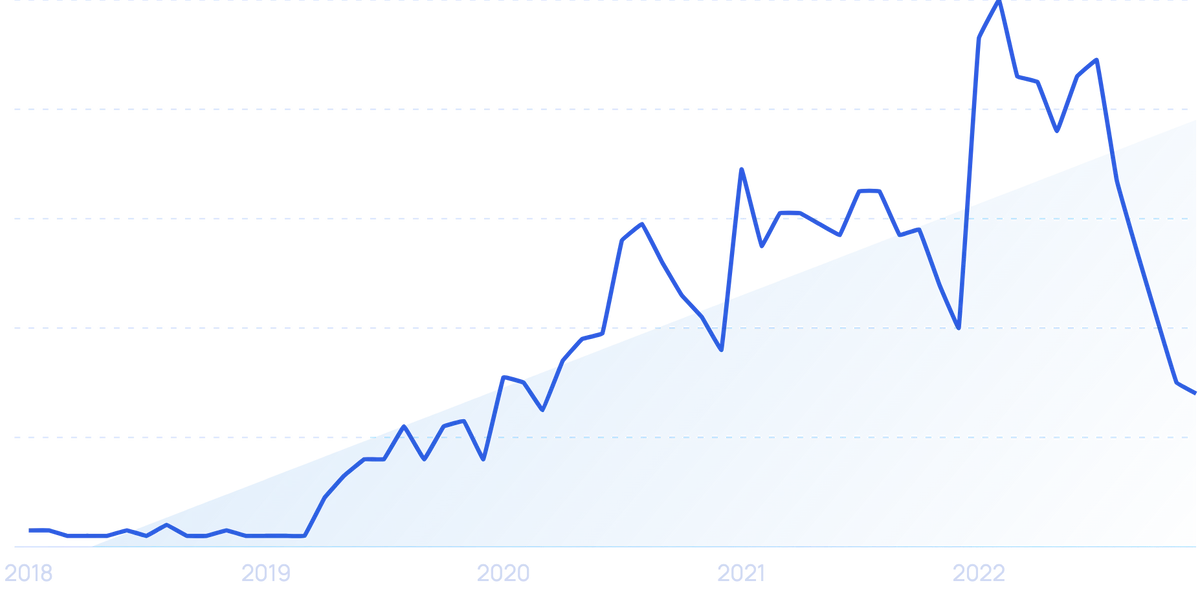 Searches for "Magic Spoon" have increased by 833% over the last half decade.
Magic Spoon is a grain-free breakfast cereal designed to be keto diet-friendly.
For example, their cocoa cereal contains 11g of protein and 3g of net carbs per serving.
Unlike essentially any other cereal brand, Magic Spoon doesn't sell offline.
They're 100% direct-to-consumer.
Their price-point is also significantly higher than traditional cereal (a box of Magic Spoon costs about $10).
However, this hasn't stopped Magic Spoon from getting $120.8 million in total funding to date.
And the company reports "triple-digit" sales growth during COVID as more people eat breakfast at home — and order staples like cereal online.
There's also a growing number of brick and mortar stores getting into Ecommerce for the first time.
In fact, one UK-focused study found that 85,000 existing businesses launched Ecommerce sites in 2020.
5. Mobile Shopping Continues to Grow
52% of worldwide consumers have made a purchase using a mobile device.
However, the point of purchase is only one part of the mobile shopping experience.
According to data from Google, 60% of consumers start and end their shopping experience on different devices.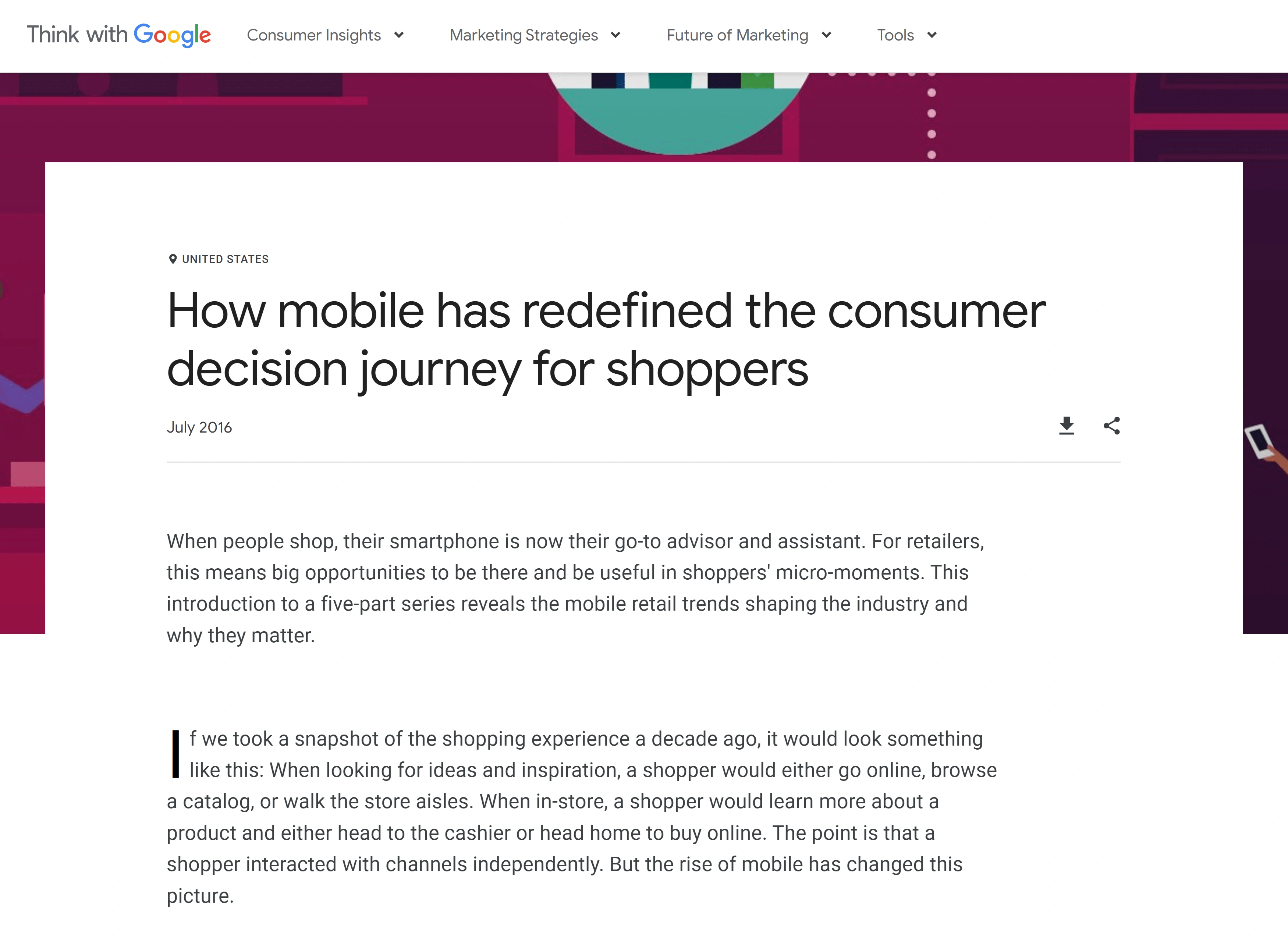 Google has found that many consumers shop and buy in different places. And often use different devices to do so.
Another Google study found that in-store mobile searches are up 15%.
This shows that people are increasingly using mobile devices throughout the buyer journey: from discovery to research, to comparing options, and ultimately making purchases.
However, the real growth in this space is in the final step of the customer journey: making a purchase.
Forbes reported that mobile holiday shopping was set to hit $314 billion in 2020.
Another industry study estimated that 72.9% of online sales would come from mobile purchases in 2021.
6. Social Commerce Gains Traction
Global social commerce was valued at $727.63 billion in 2022.
And is forecast to reach an eye-watering $6.2 trillion by 2030 (at a CAGR of 30.8%).
So it's natural that social networks are now integrating buying experiences directly into their platforms.
This allows them to keep their audiences on the network longer, collect valuable transaction data, and get a cut of each sale.
For example, businesses pay Facebook 5% per shipment (with a $0.40 minimum) to use its new direct checkout features.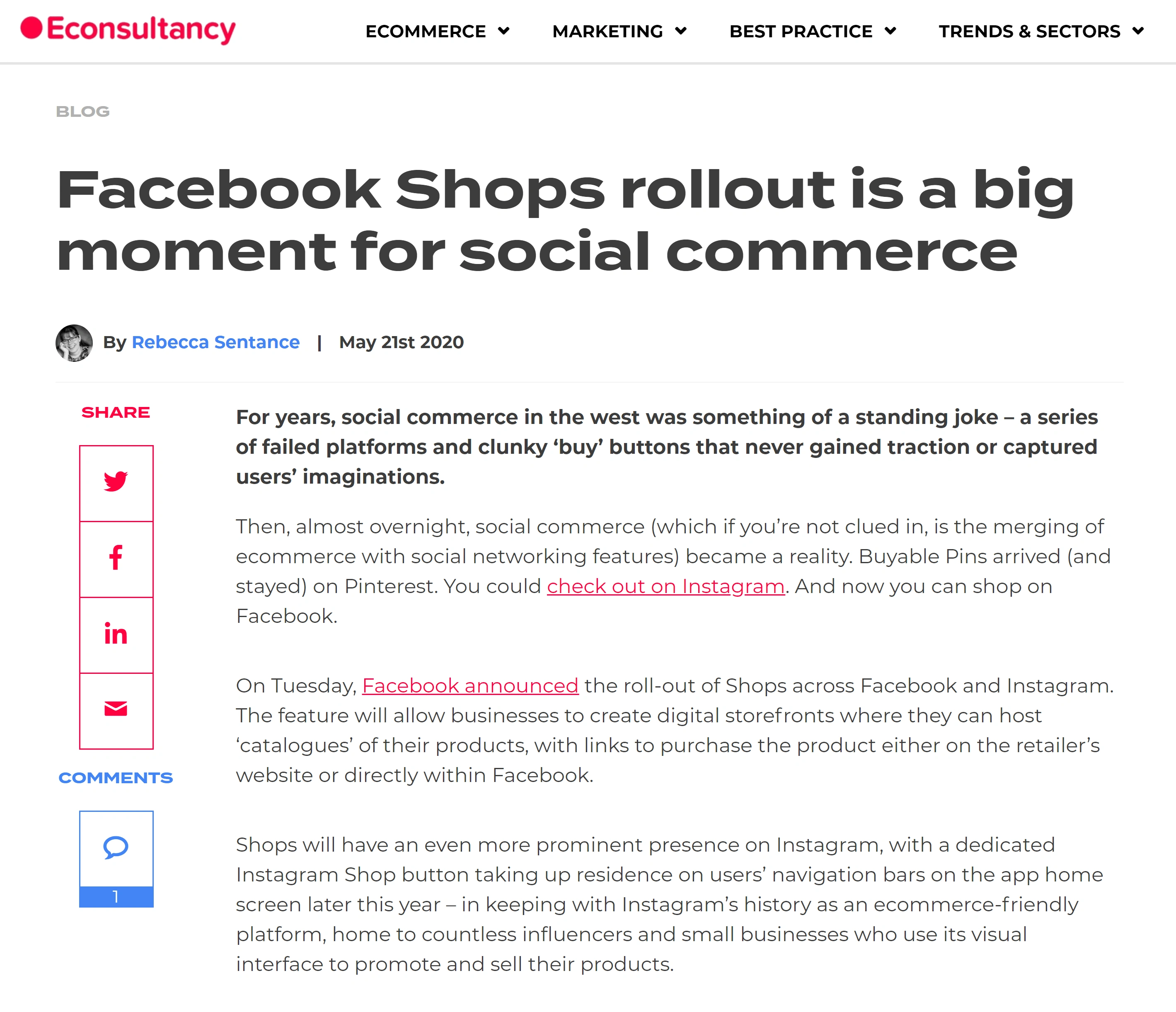 Facebook is one of many social networks looking to get into social commerce.
Facebook has offered social commerce in various forms for years.
But the company's new features mark a stronger, unified push into social commerce.
One that also includes not only Facebook and Instagram, but also Messenger and WhatsApp.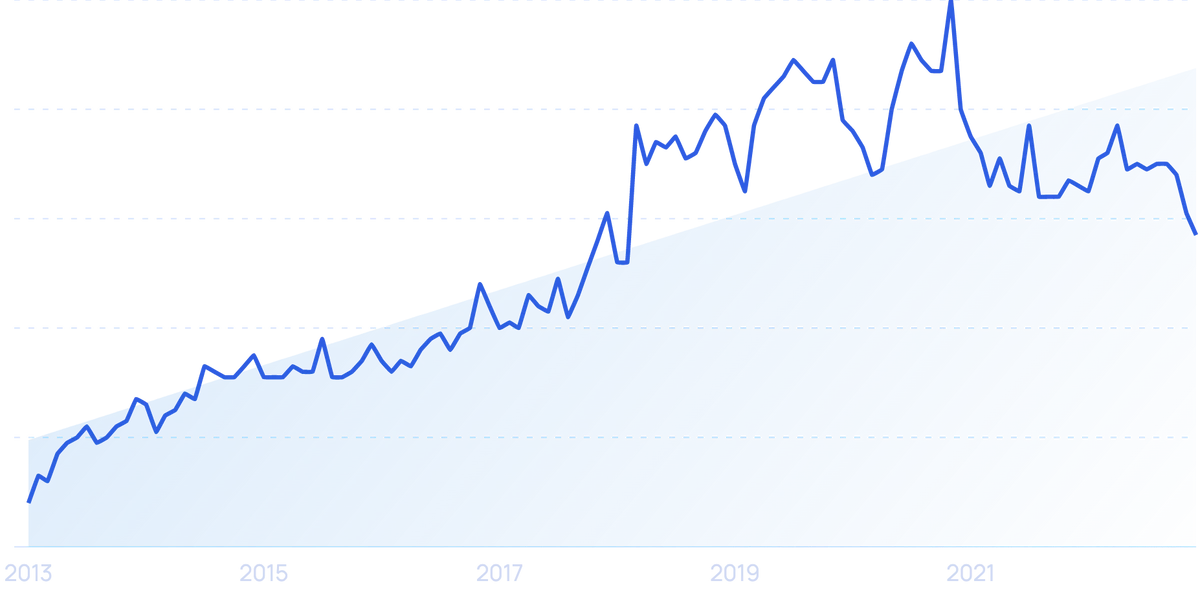 Searches for "Instagram Shopping" have increased over 10 years.
To pull this off, the company has partnered with Shopify, BigCommerce, and WooCommerce.
Beyond Facebook, TikTok partnered with Teespring to allow creators to sell merchandise directly to their followers.
Pinterest has had its eye on commerce since the early days of the platform's launch.
In fact, they started earning affiliate revenue very early on.
But with the newer Pinterest Partners initiative, the company's aim is to let people "shop for any item they see" on the network.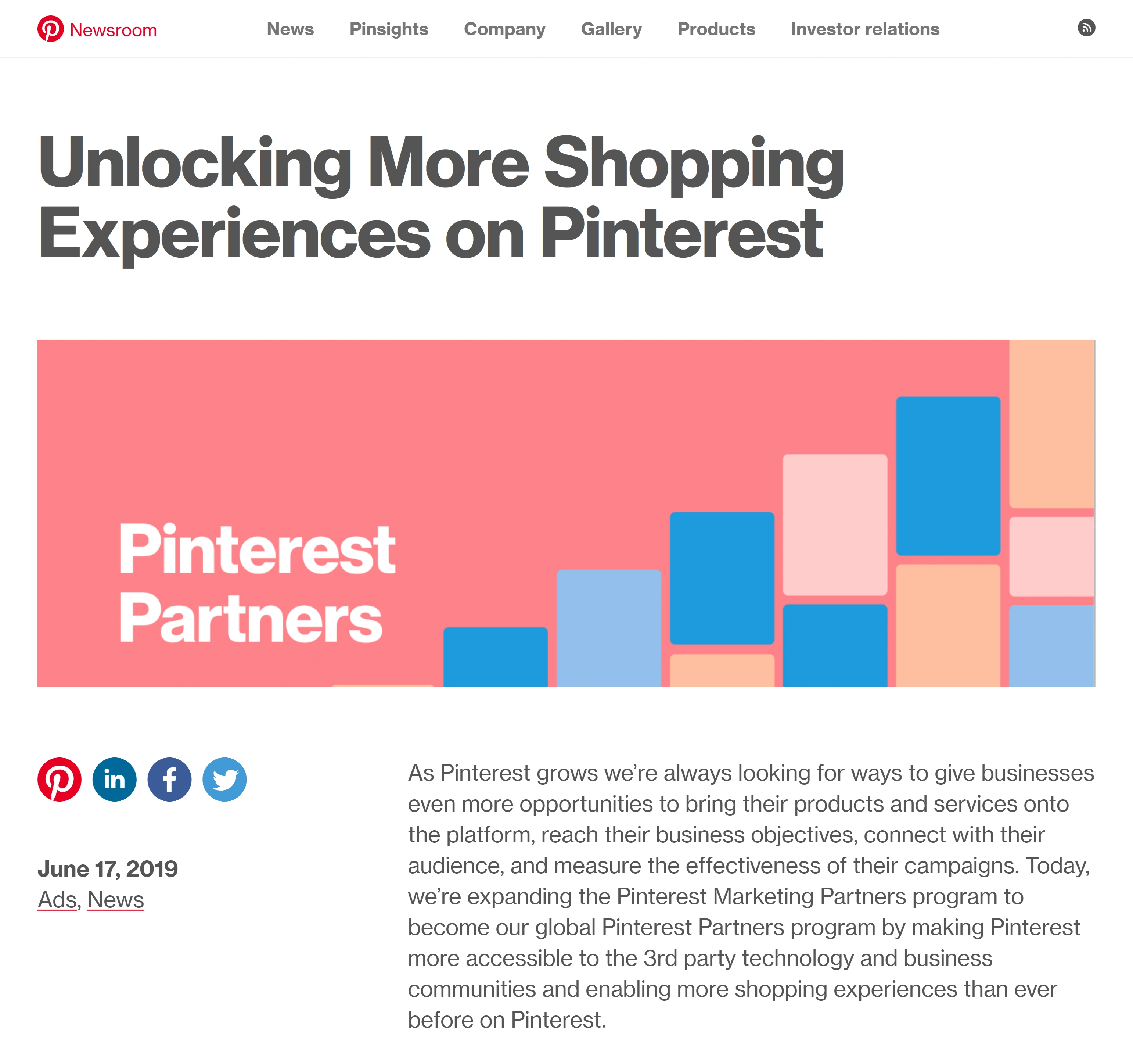 Pinterest is now directly monetizing via social shopping.
(Like Facebook, Pinterest is teaming up with WooCommerce to help achieve that goal.)
Snap is taking an AR (Augmented Reality) approach to social commerce starting this year.
Snapchat has featured products via AR before.
But their new "Shoppable AR" feature lets users buy items they like directly from the app.
The first campaign to use it was Gucci's shoe "try-on" filter, launched in June 2020.
To create the custom AR filter for it, Snap and Gucci partnered with AR commerce software, Wannaby.
Wannaby has also helped Gucci add virtual try-ons of its watches and shoes to the Gucci app.
Founded by former Google developer Sergey Arkhangelskiy in 2017, Wannaby bills itself as an "AR commerce company".
The Belarusian startup also has its own virtual try-on apps "Wanna Kicks" (for shoes) and "Wanna Nails" (for nail polish).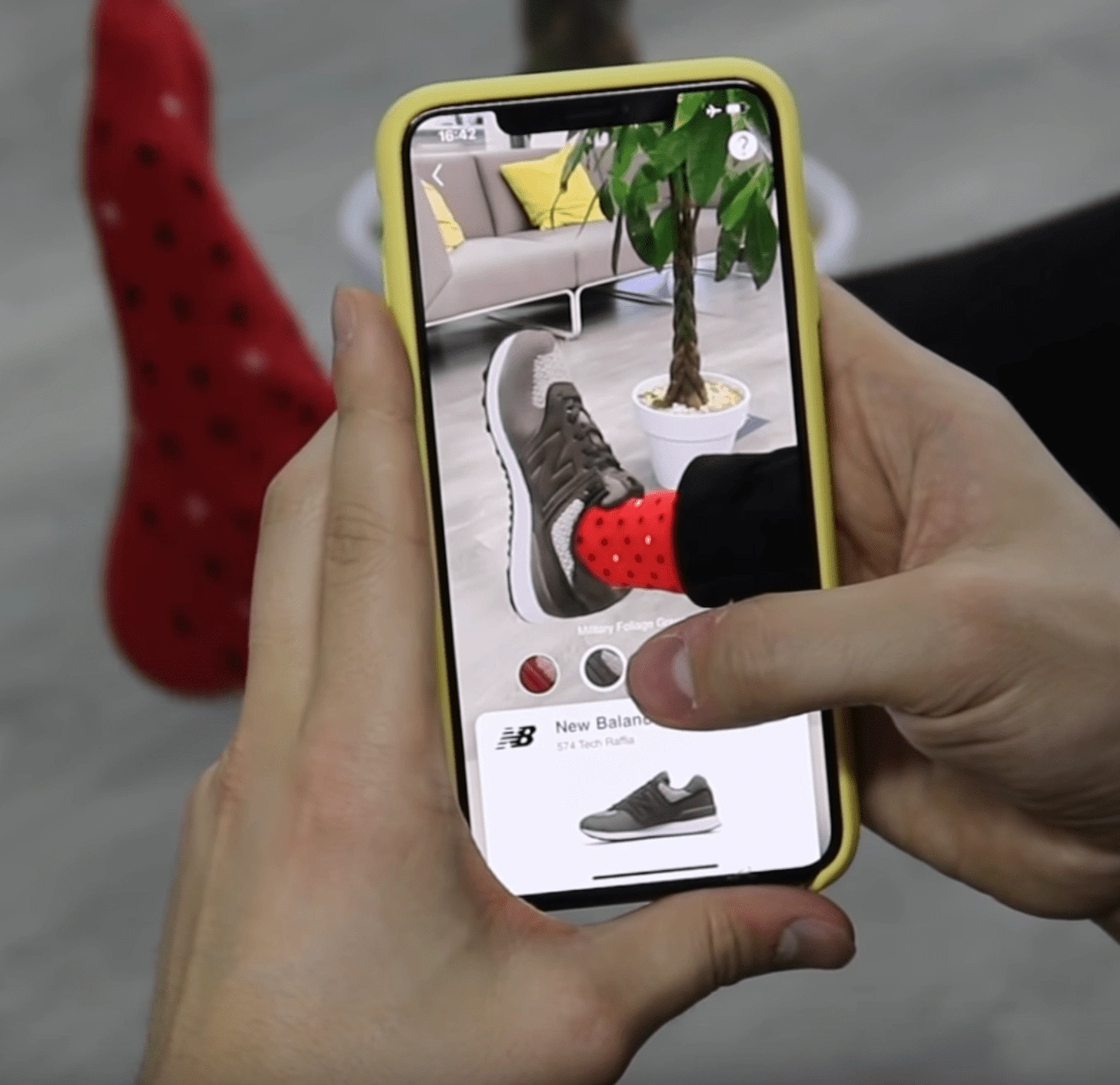 Wannaby's "Wanna Kicks" AR shoe shopping app.
Other notable players in social commerce include:
China's WeChat, which updated its "mini-programs" in January to effectively create a massive online marketplace.
Russia's VK Market, which allows users of VK (the country's largest social network) to shop on AliExpress without leaving the site.
And Tribe, a Canadian SaaS for adding a community component to existing sites.
(One of its customers is Decathlon, the world's largest sporting goods retailer.)
7. Live Video Shopping Goes Global
Live video shopping is another emerging Ecommerce trend to keep an eye on.
What is it?
Live video shopping is where products are shown off and sold in a live video stream.
(Like the Home Shopping Network, but for online shopping.)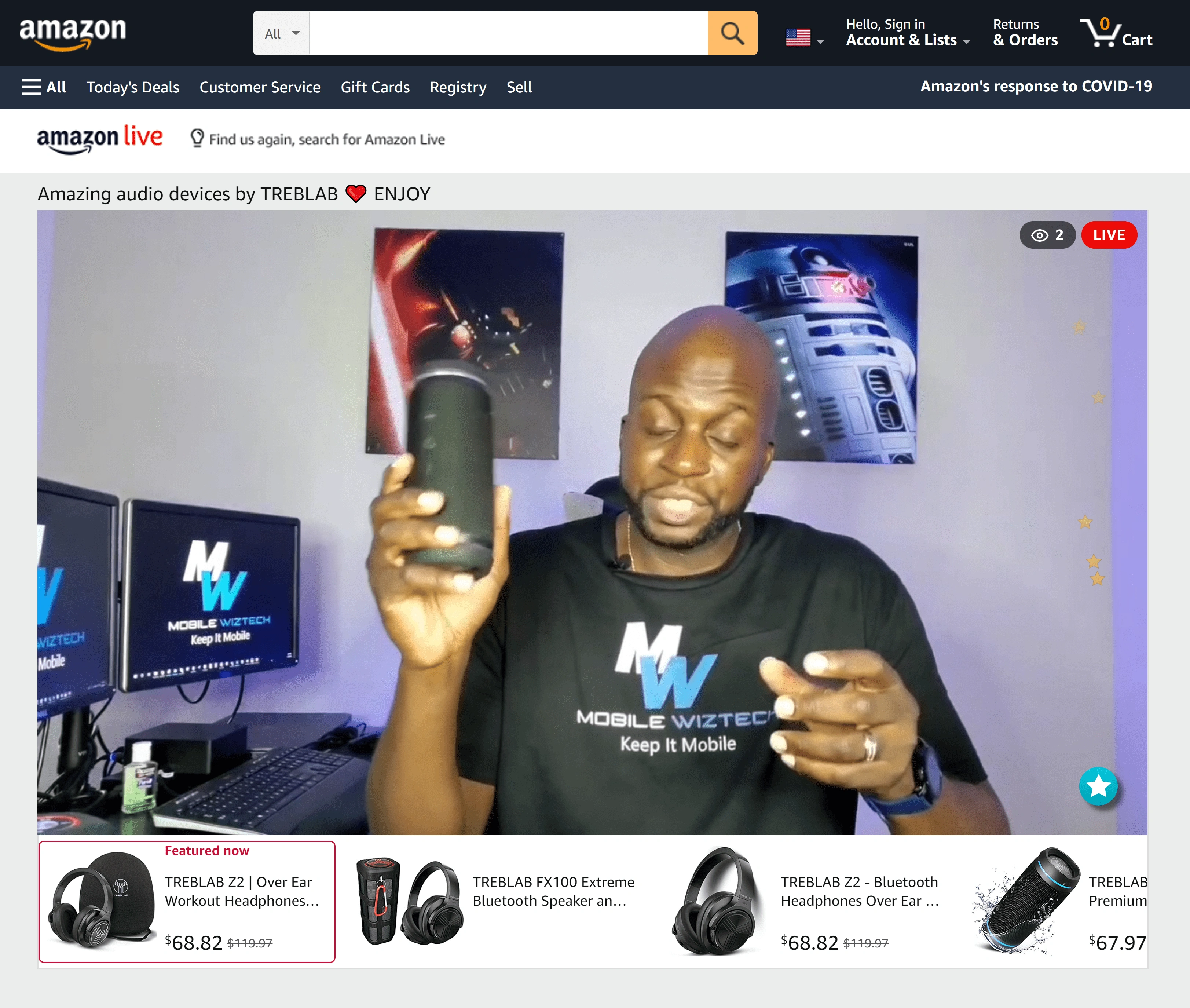 Example of a live shopping stream.
In the western world, live video shopping is just getting started.
But in China, it is already a booming market.
Examples of live video shopping companies and platforms include:
Alibaba's Taobao Live, which made $2.85 billion in just one day.
Sweden-based Bambuser, which pivoted from mobile live streaming for journalists to live video shopping in 2019.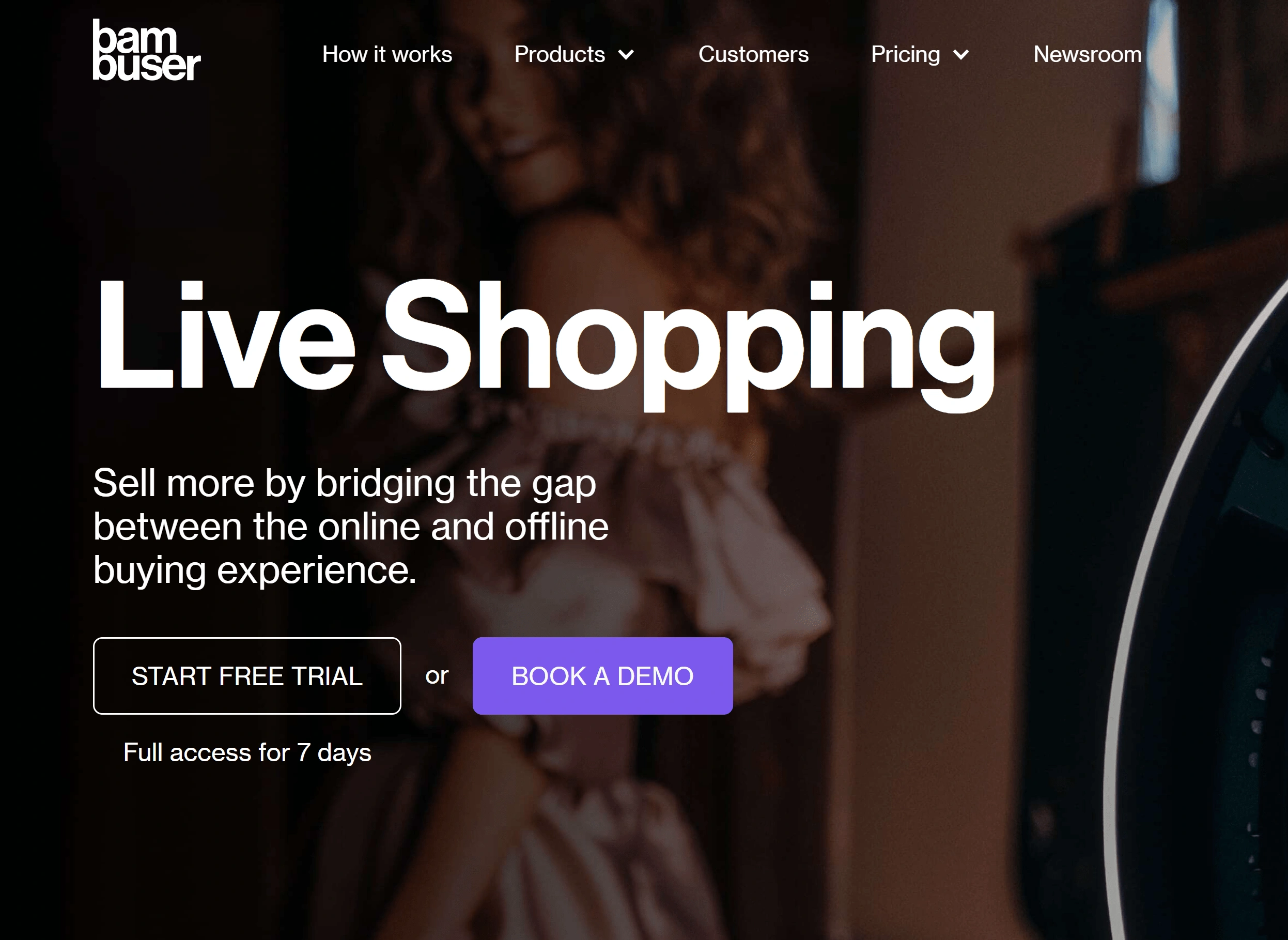 Bambuser has helped multiple brands enter the live shopping market.
Bambuser operates B2B, providing the live video shopping backbone for retailers and brands like H&M and Luisa Via Roma.
Amazon Live Shopping launched in February 2019.
There's also Popshop Live, which focuses on indie brands.
8. More Micro Influencer Marketing Campaigns
37% of Ecommerce brands already work with social media influencers, according to a 2020 survey of 160 global Ecommerce businesses.
And influencer platform Upfluence, recently announced a partnership with Shopify.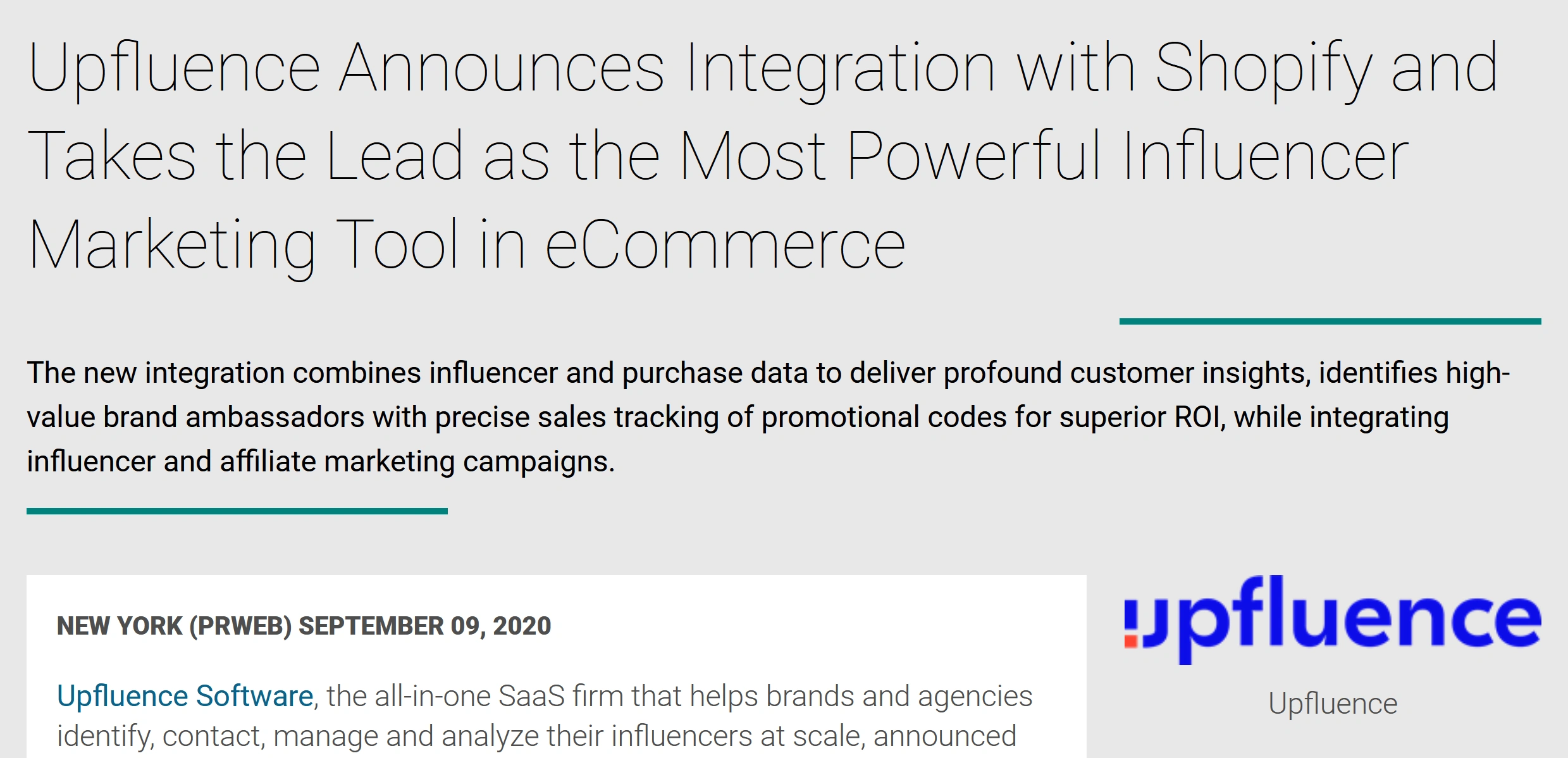 News reporting Upfluence's integration with Shopify.
This shows that influencer marketing will likely remain a key channel for Ecommerce businesses for the foreseeable future.
However, the way Ecommerce brands approach influencer marketing is starting to shift.
Specifically, we're seeing significant growth in "micro influencer" marketing campaigns.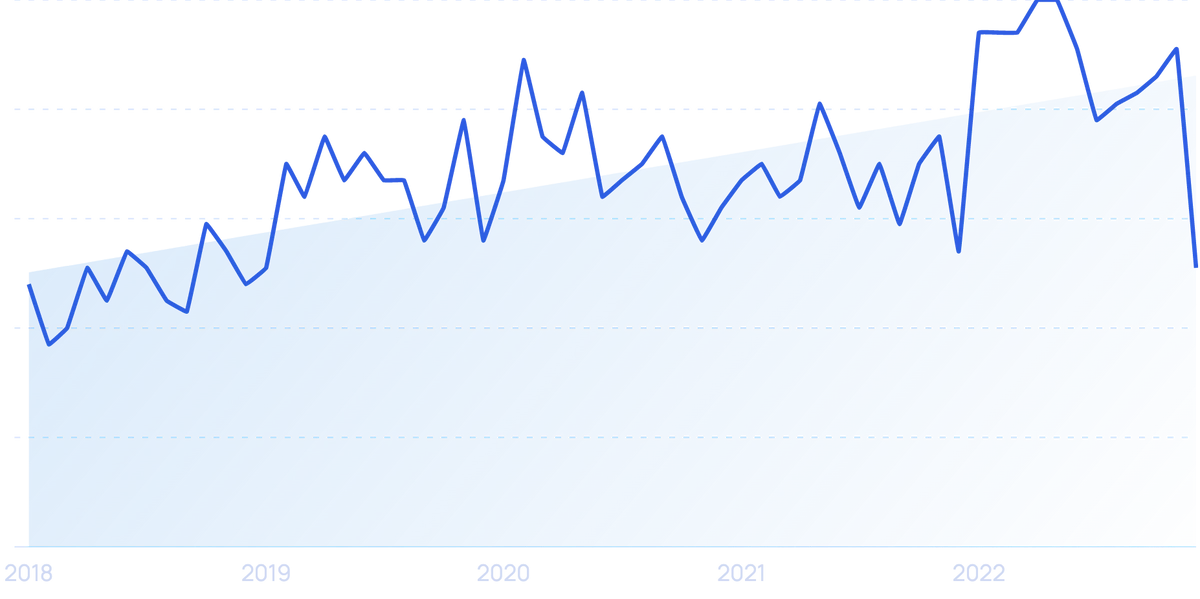 Searches for "micro influencers" over 5 years.
Micro influencers are accounts with fewer than 10,000 followers on an individual social media platform.
And according to research by InfluencerDB, micro influencers have significantly higher levels of engagement compared to larger accounts.
In fact, that same industry study found that the best engagement came from accounts with only 1k-5k followers (aka "nano influencers").
Specifically, nano influencers had 2.4x higher engagement compared to influencers with over 10,000 followers.
9. Ecommerce Companies Tap Into AI
A study by BCG discovered that personalization can lead to 6-10% faster sales growth for online retailers.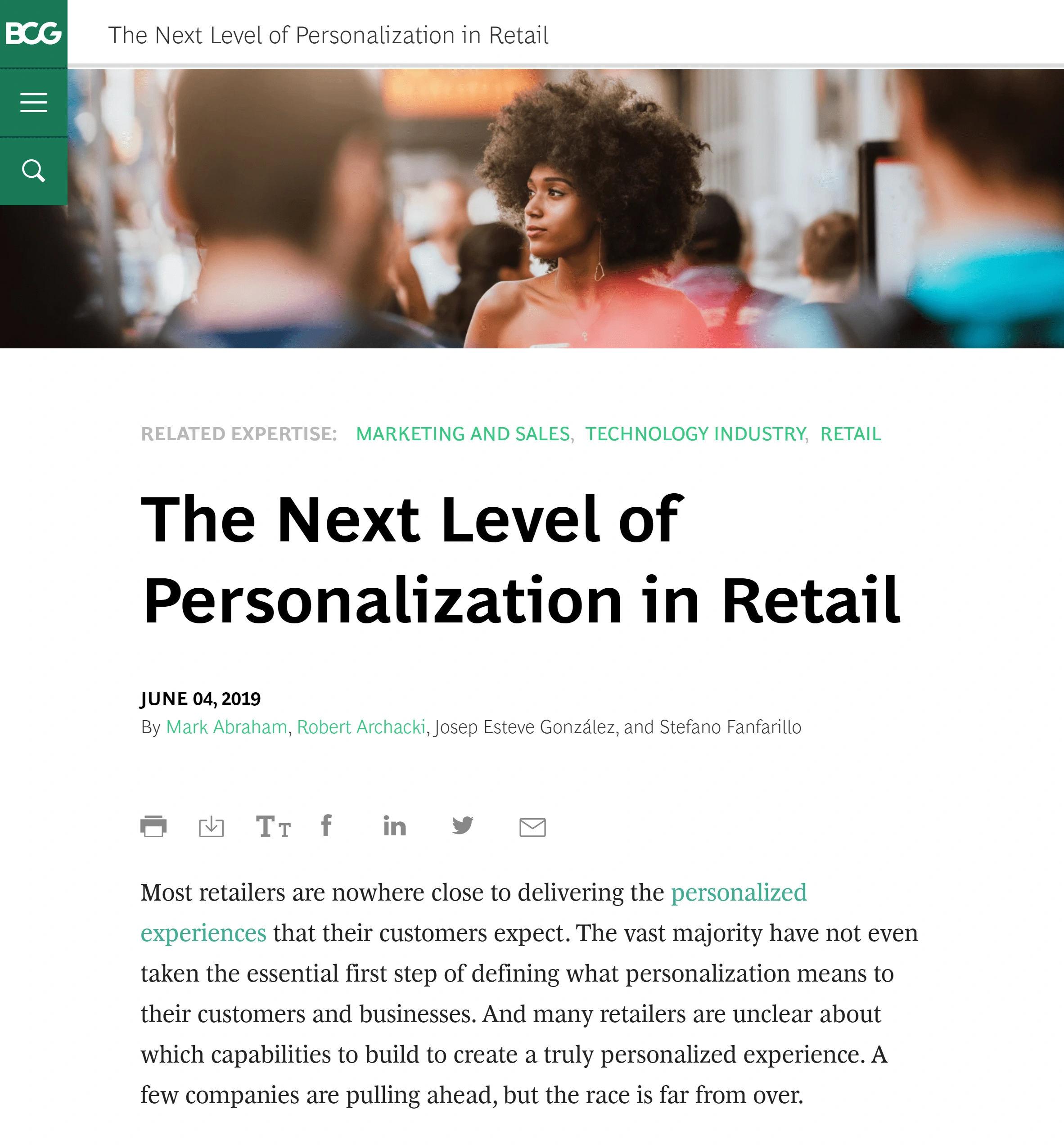 BCG data shows that personalized product recommendations can lead to significantly more sales.
Artificial intelligence is already widely used to help retailers personalize shopping experiences.
In short, AI and machine learning is taking the "personalized homepage" of Netflix to Ecommerce.
This is known as "proactive product recommendations".
However, a personalized website that adapts to past purchases is just one of many ways that AI can boost revenue for Ecommerce businesses.
In fact, that technology is nothing new (Amazon has personalized their homepage for years).
Other use cases for AI in Ecommerce include:
Optimizing logistics
Real-time inventory management
Dynamic pricing (based on geography, user profile and ideal conversion rates)
Marketing automation
Analyzing omnichannel data
Determining which new products to promote
In fact, McKinsey & Company found that AI has the potential to improve analytics in the retail space by 87%.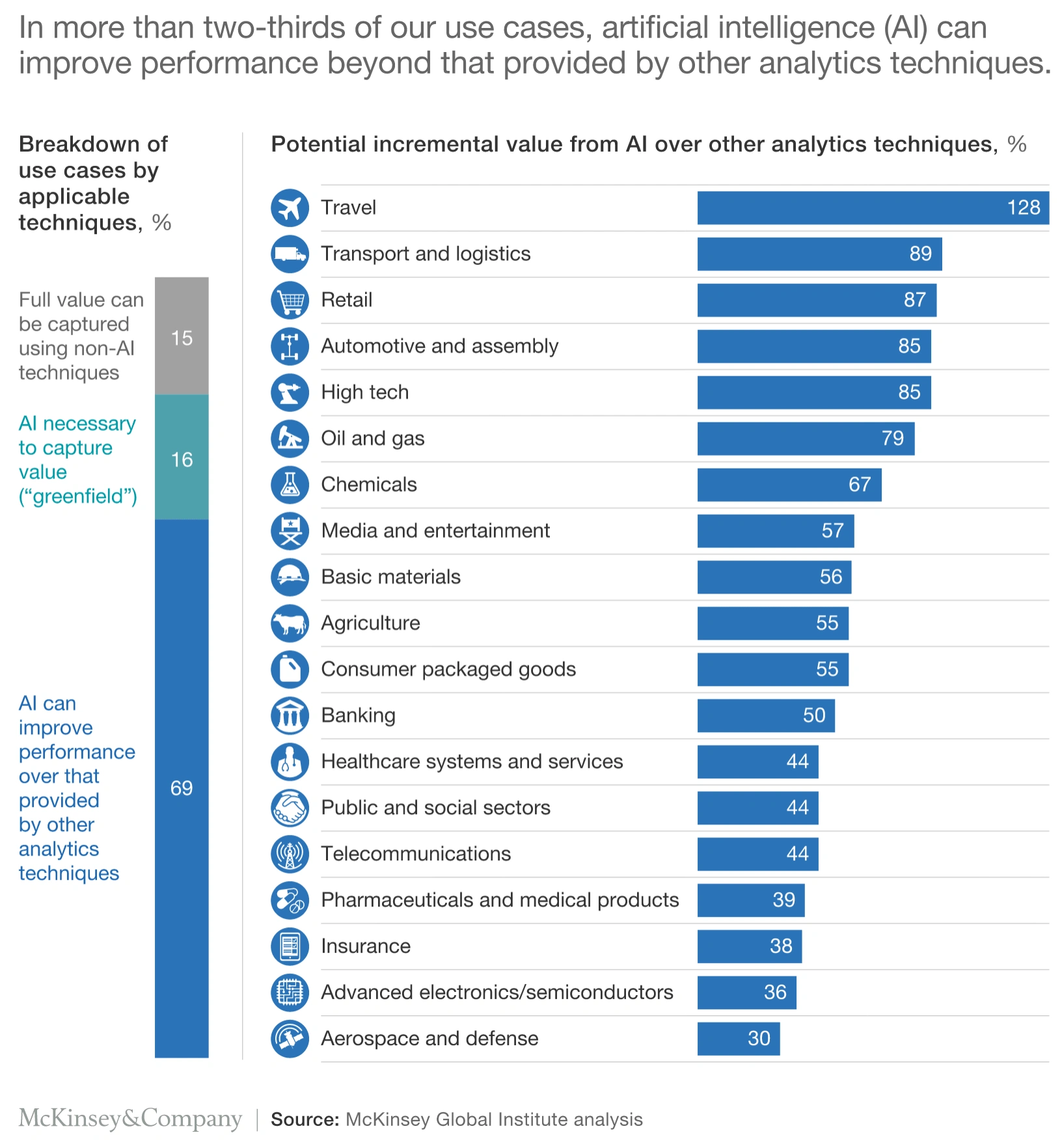 AI can outperform non-AI analytics approaches in many industries (including retail).
10. More Niche DTC Products Emerge
There are approximately 7 million Ecommerce sites around the world (not counting those in China).
Many of which sell niche products to a relatively small, passionate audience.
ThirdLove is a great example of this trend.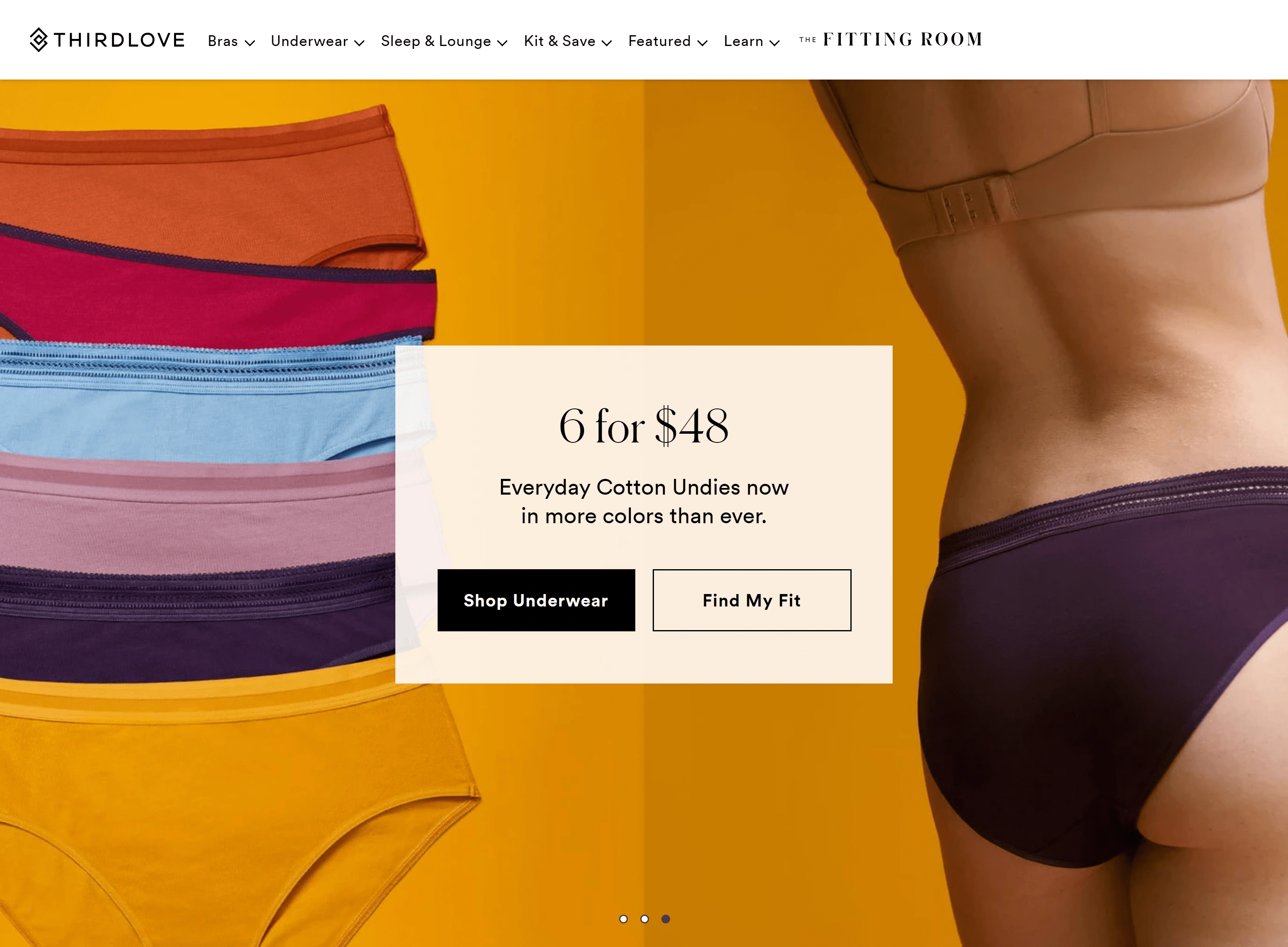 ThirdLove is a fast-growing DTC startup that focuses on a relatively small, niche market.
They offer bras in half-cup sizes, which they claim fit better for up to 50% of women.
Filling that demand (and offering an innovative "Fit Finder" app) have propelled the brand to a valuation of over $750 million.
Because they're focused on DTC, ThirdLive can offer more variety, customization, and personalization than a retail fashion brand.
Bare Necessities is another example of an Ecommerce brand that sells "long tail" products with relatively niche appeal.
Rather than the typical 30 bra sizes, Bare Necessities offers over 160.
"Mom jeans" are a product that may not appeal to the masses. But it's found significant growth online.
Mom jeans are high-waist, baggy-fit jeans that were popular in the mid to late 90s.
The term "mom jeans" was originally a derogatory term popularized by a viral 2003 SNL sketch. But in recent years, mom jeans have become highly fashionable.
In fact, many Instagram fashion influencers proudly sport mom jeans in their photos.
And mom jeans are some of the most in-demand product categories on many fashion Ecommerce stores.
11. The Ecommerce "Startup Stack" Emerges
It's now possible for almost anyone to build an Ecommerce business.
That's mainly because many previously "core" parts of Ecommerce have become easy to outsource.
Third-party logistics (3PL) is one big part of that.
Companies like Fabric and ShipBob offer "fulfillment as a service": they'll receive inventory shipments, warehouse your products, and automatically pack and ship them to your customers when you receive orders.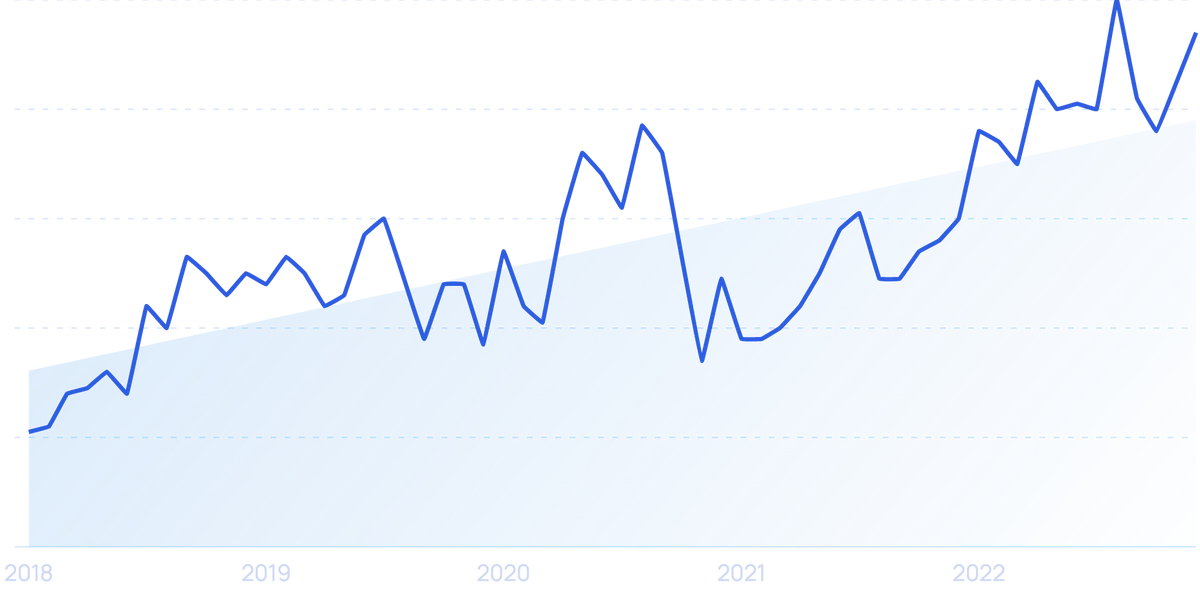 Searches for "ShipBob" are up 343% over 5 years.
Even Amazon offers "Fulfillment by Amazon", turning its would-be competitors into customers.
Building and maintaining the storefront itself doesn't take specialist skills anymore, either.
Cloud-based Ecommerce platforms like Shopify and BigCommerce make it affordable and easy for anyone to set up an online store in just a couple of hours.
These services cover the user experience, product catalog management, back-end administration and more.
According to BuiltWith, Shopify currently powers over 4.4 million websites while BigCommerce runs only about 50,000.
(Another big player in this space is the WordPress plugin WooCommerce, which runs on about 3.8 million sites.)
These Ecommerce platforms also offer easy integrations with payment gateways like Stripe and PayPal.
And as you might've guessed, they easily integrate with 3PL services like ShipBob, too.
For those who want to sell their own products, even manufacturing has become an on-demand service.
Companies like Xometry and 3D Hubs can 3D print a prototype, do CNC machining or sheet metal fabrication, or injection mold almost anything a new brand might need. (And they boast some large customers too, like BMW, NASA and General Electric.)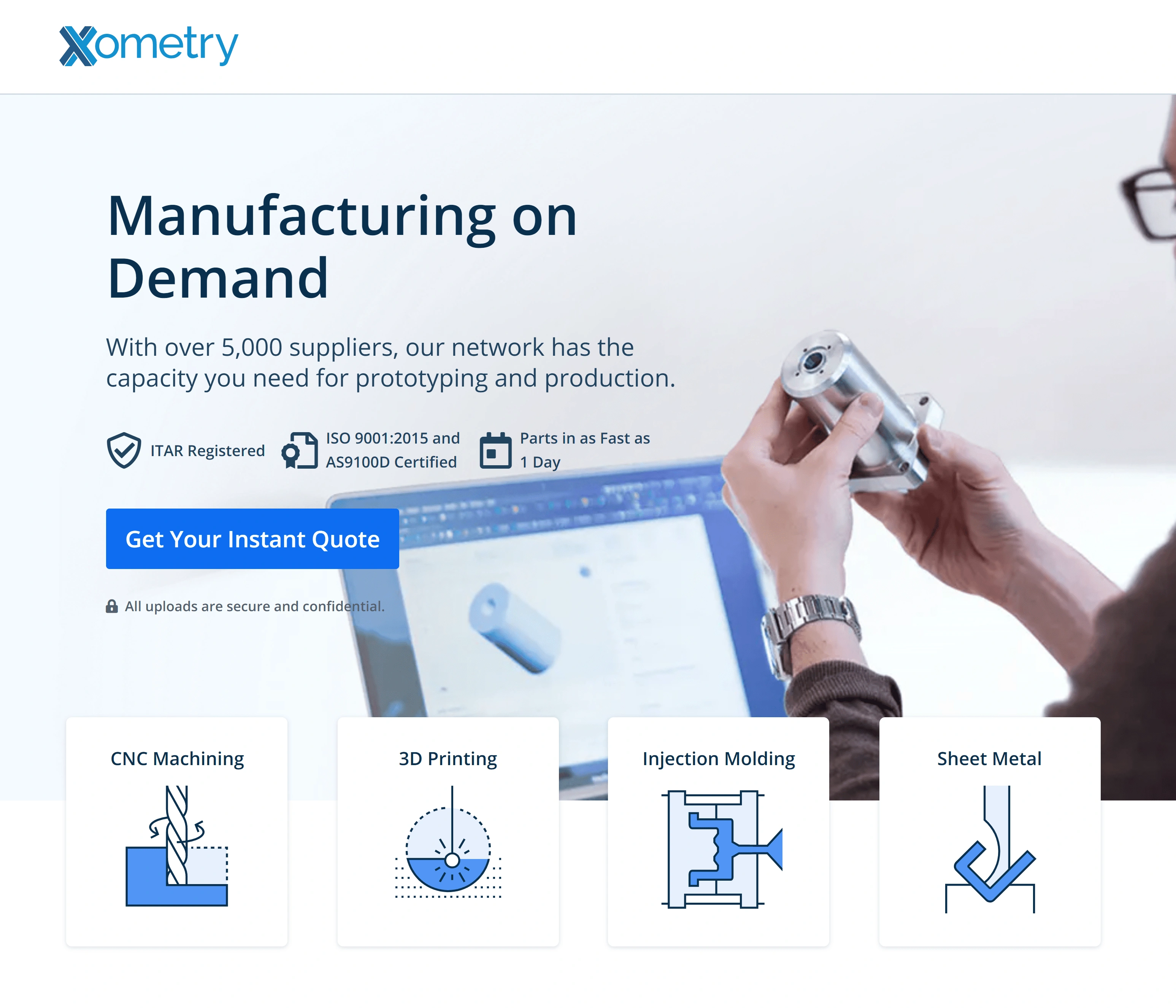 There are a growing number of companies dedicated to on-demand manufacturing.
Customer acquisition is another essential ingredient that's become easier to outsource.
As more niche businesses are created, their founders seek out niche marketing solutions to match their needs.
The result?
Tens of thousands of small marketing agencies are specializing in one business segment or type of marketing. And offering low minimums to do so.
(There are now around 90,000 marketing agencies in the US alone, with market size of over $60 billion.)
Add all these things together, and the barrier to entry for Ecommerce businesses is lower than ever.
And for anything not covered above, websites like UpWork and Toptal make it easy to find and hire freelancers to fill almost any need.
In sum, this growing access to a ready-made "Ecommerce stack" has had a handful of effects on the competitive landscape for all e-tailers.
Conclusion
That concludes our list of 11 trends shaking up the Ecommerce industry right now.
From AI to social commerce, the Ecommerce space is growing fast and changing just as quickly.
One thing that ties many of these trends together is changing consumer behavior. People are buying online more than ever before. And they're also buying from different platforms (like live shopping streams).
It will be interesting to see how these Ecommerce trends change over the next few years.