Top 10 Ecommerce Trends For 2023 And Beyond
You may also like:
Catching a new trend early on can give your ecommerce business a huge competitive advantage.
However, chasing the wrong trends can distract your team, waste resources, and stunt business growth.
So while there are plenty of different ecommerce trend predictions each year, we selected the ecommerce trends on this list based on market data and real examples from thriving ecommerce stores.
Let's jump into it.
1. AI Automates Ecommerce Marketing Tasks
Artificial intelligence is quickly becoming one of the most popular technology trends worldwide, and ecommerce brands are discovering new ways to use it to automate marketing processes.
Market data suggests that this trend is here to stay, as the AI writing tool alone was valued at just over $818 million in 2021 and is projected to reach nearly $6.5 billion by 2030.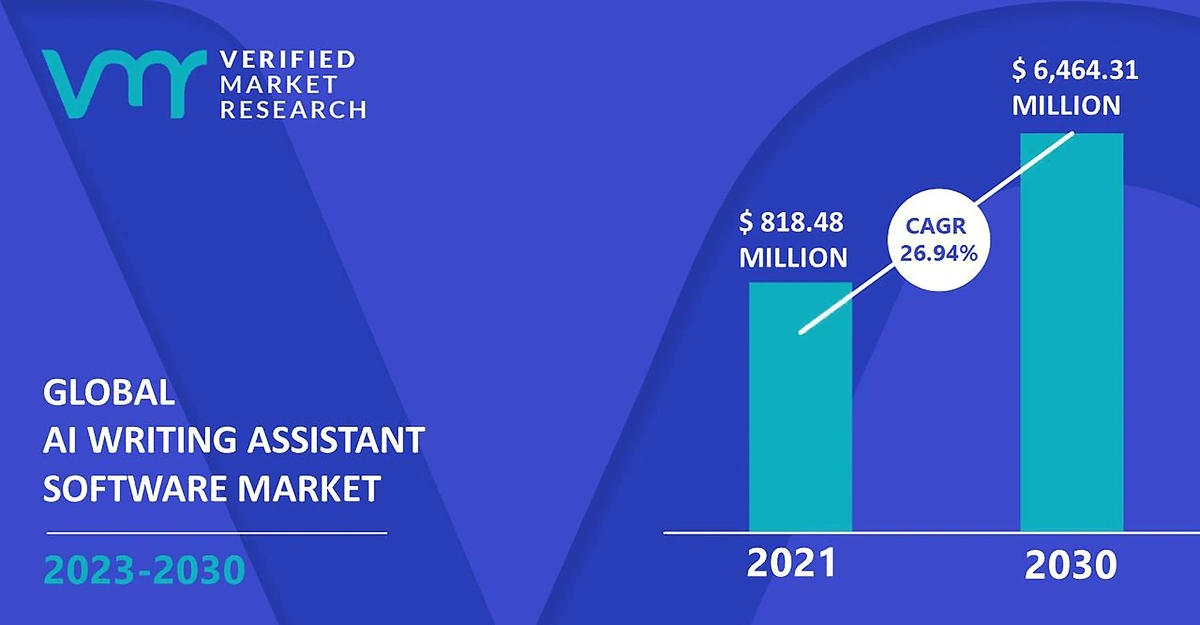 In addition, AI writing tools like Copy.ai and Jasper are growing exponentially in popularity.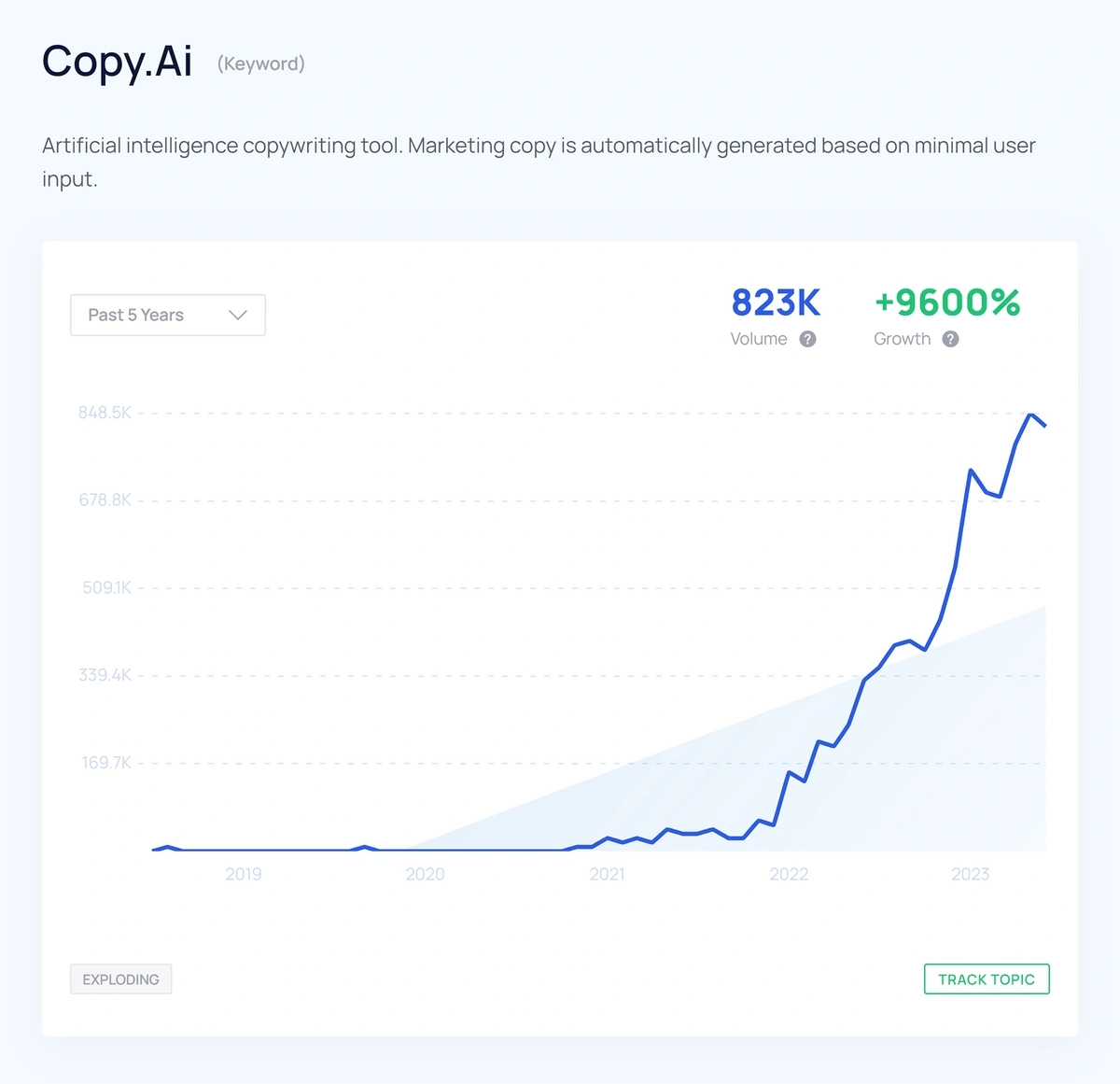 Most ecommerce marketers are using AI writing tools to generate:
Product descriptions

Title and meta descriptions

Ad copy

Blog post outlines/initial drafts
Judging by the increasing search volume for keywords like "product description AI," you can expect more and more ecommerce businesses to leverage AI for basic copywriting tasks.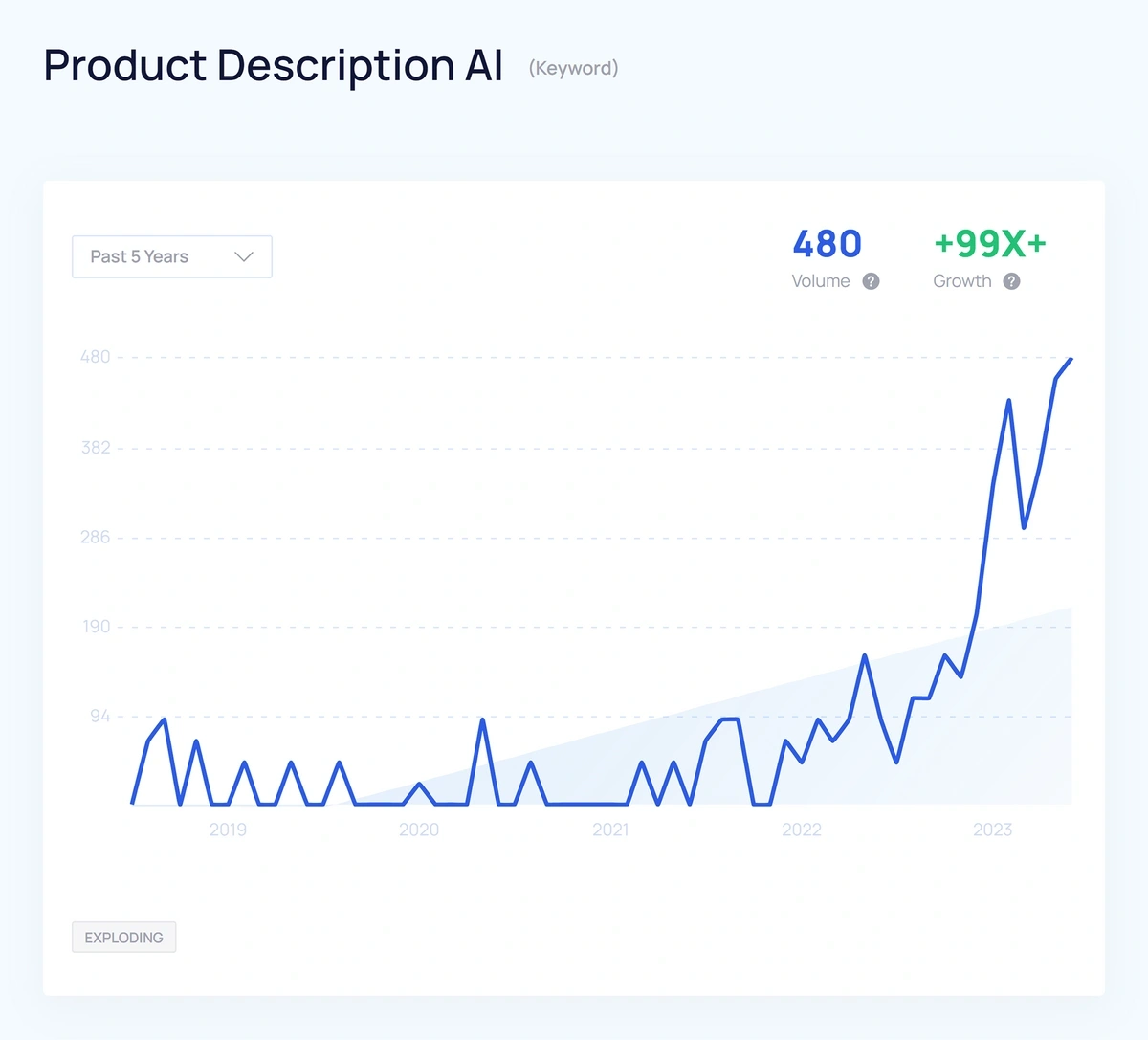 While a human may still have to edit and adjust the copy, AI writing solutions save ecommerce businesses thousands of dollars as they no longer have to hire copywriters to create content from scratch.
Here's an example of a product description generated through ChatGPT: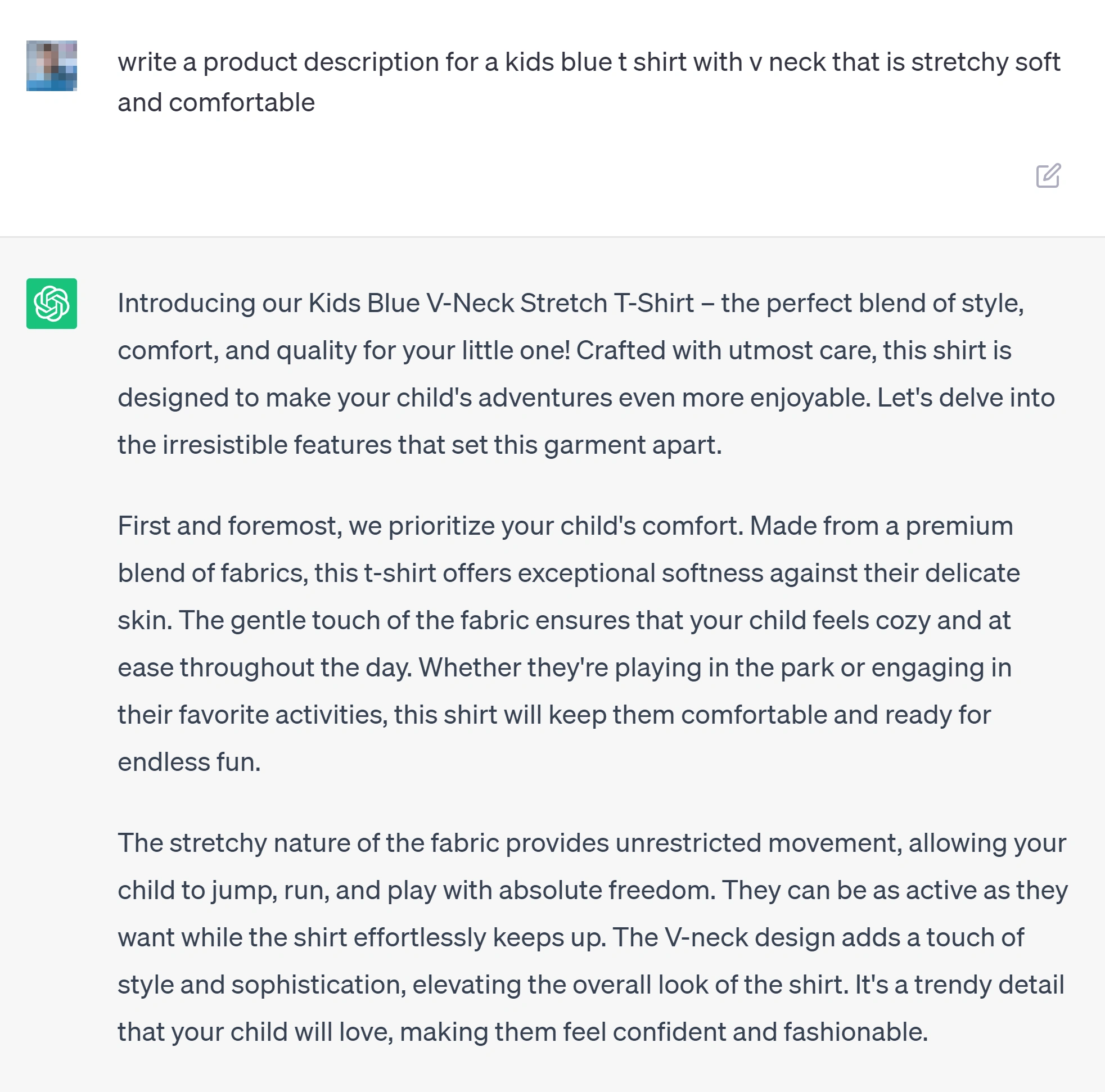 AI is also transforming product photography.
Tools like Midjourney are becoming increasingly popular for editing and even generating product photo sets.
For example, Midjourney generated the product image below.
The creator's prompt was, "product photo of luxury prescription glasses, on a table next to a fruit bowl, oakley ray ban style, photorealistic, cannon photography, ultra hd, mild lightning, crisp."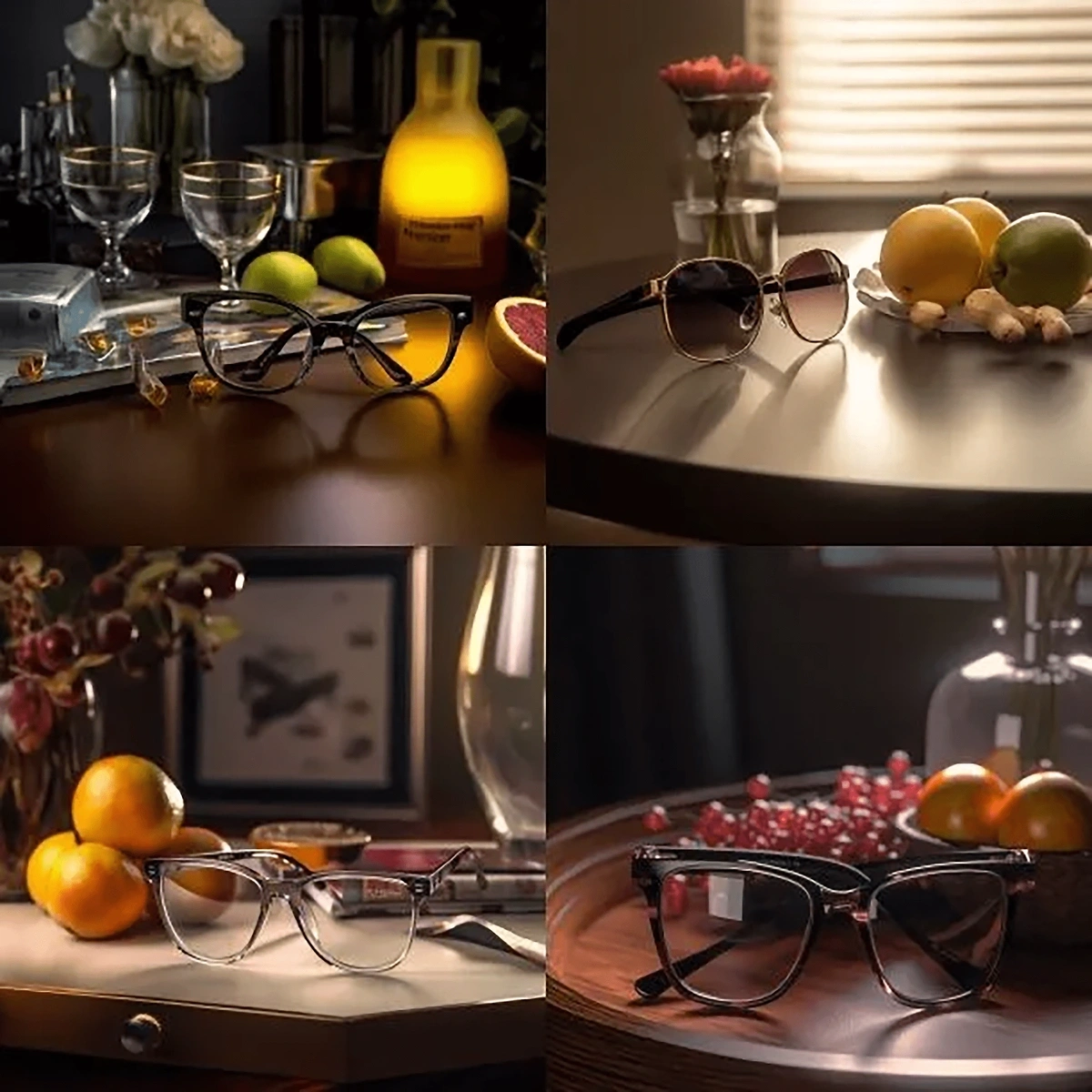 While ecommerce brands will likely still take photos of their own products, they can use AI to generate the sets and then insert the images into the AI generated set.
This cuts expenses involved with running a photoshoot, like set design, lighting, and a professional photographer. It also reduces the timeline to produce and edit quality product images from weeks to minutes.
Ecommerce businesses also use AI to generate models to wear, hold, and pose with their products.
For example, Levi's recently partnered with LaLaLand.ai, a startup that builds customized AI fashion models. Levi's aim is to use AI to incorporate more diverse models into their product photography.
Finally, some ecommerce companies are also using AI to generate videos. Tools like Rephrase allow you to transform text into an AI generated video, which you can use for ads or basic product videography.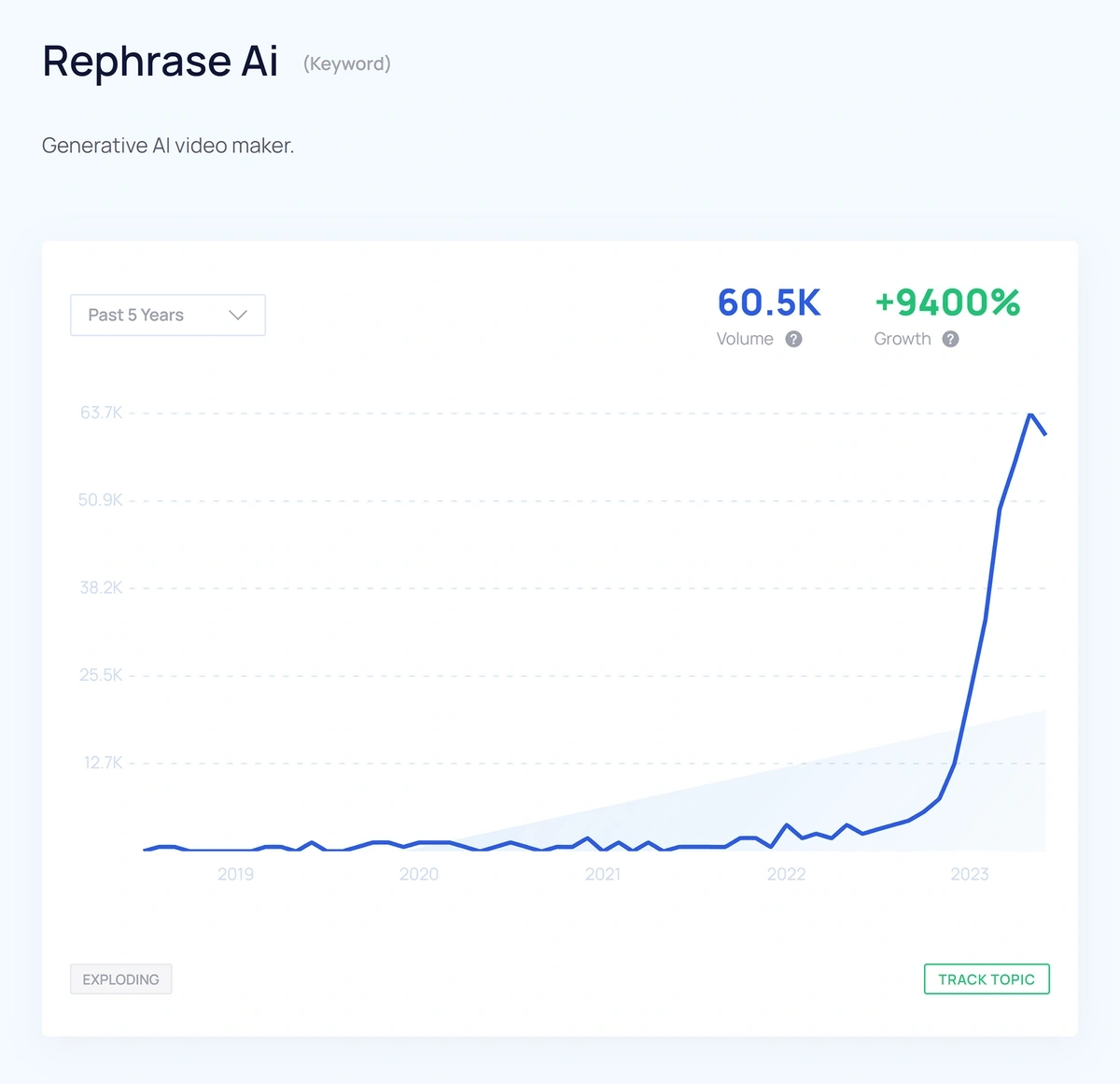 2. Influencer Marketing is a Primary Marketing Strategy
The influencer marketing industry is estimated to grow to $21.1 billion in 2023, and a survey by The Influencer Marketing Hub shows that 51% of the companies contributing to the growing market are ecommerce brands.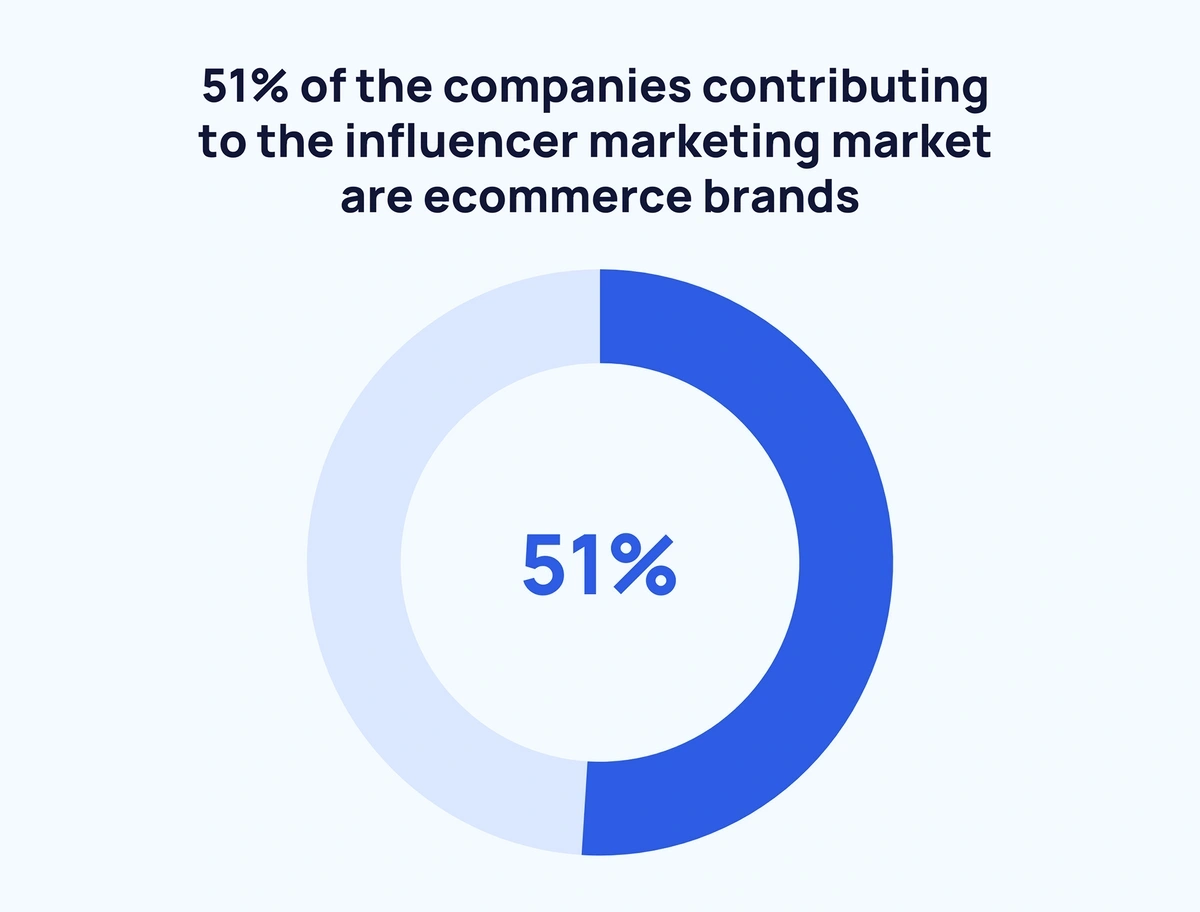 Additionally, about 67% of brands intend to increase their influencer marketing spend in 2023.
While influencer marketing isn't a new trend in 2023, the way ecommerce brands leverage influencer marketing is changing.
First, TikTok is now the most popular social media channel for running influencer marketing campaigns, edging ahead of Instagram for the first time ever.
Today, 56% of brands running influencer marketing campaigns use TikTok, while only 51% use Instagram.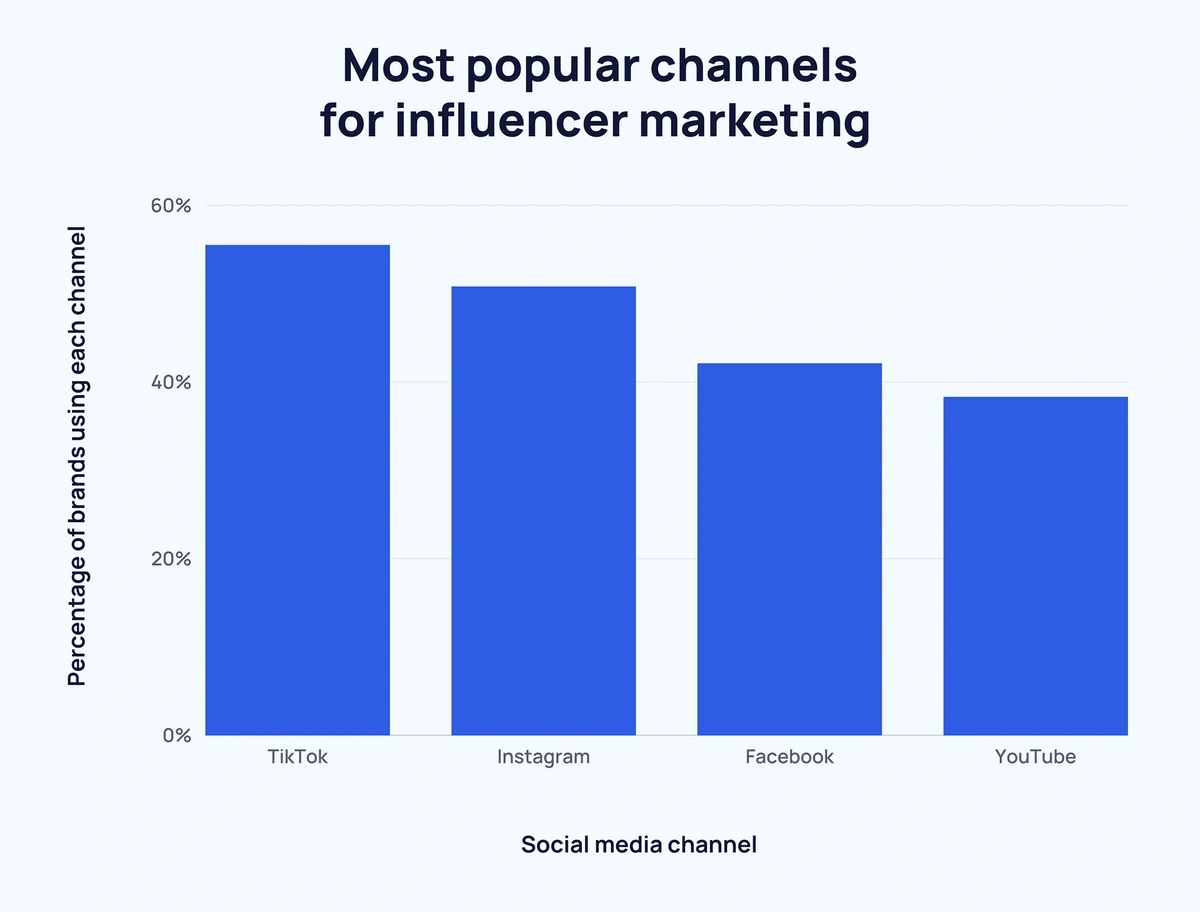 TikTok was also the top-performing influencer marketing platform from an ROI perspective.
About 42% of marketers cited TikTok as their top-performing channel, while only 34% claimed Instagram was their top-performing channel.
Search volume for "TikTok influencers" is also steadily increasing, suggesting more and more marketers are interested in experimenting with the platform: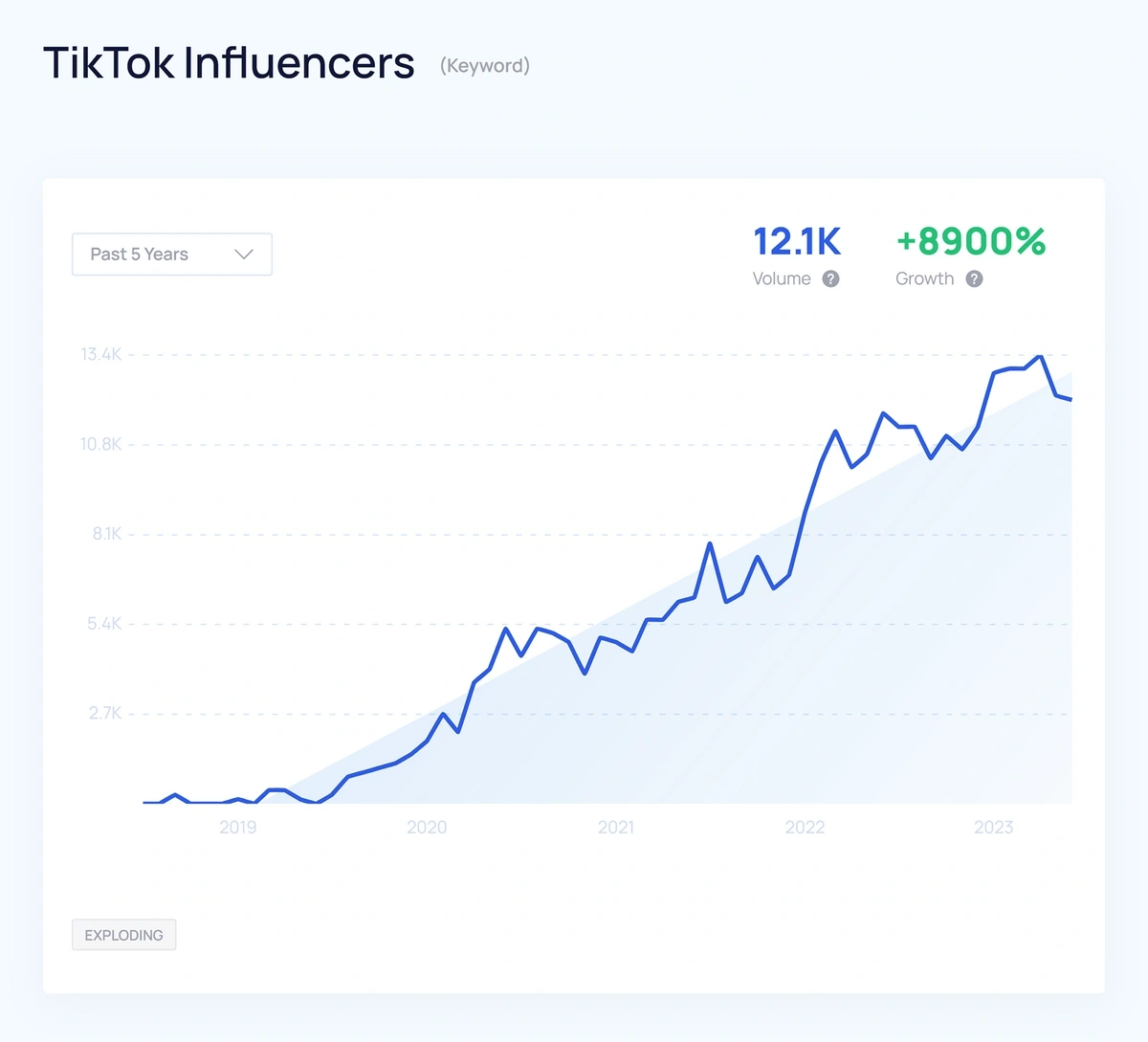 Another new trend in ecommerce influencer marketing is the introduction of virtual influencers.
A virtual influencer is a character created using AI software that acts like a human on social media platforms, and 58% of Americans follow at least one virtual influencer.
Brands are realizing the power of virtual influencers, and over 60% of brands running influencer marketing campaigns have hired a virtual influencer.
In fact, Prada recently collaborated with virtual influencer Miquela, and achieved over 36,000 likes on this post promoting the fashion show in Milan.
Finally, some brands are shifting from hiring influencers for campaigns to partnering with influencers and giving them equity in the company.
A great example of this is Aviation American Gin. Instead of hiring various influencers to promote the brand, the founder gave Ryan Reynolds partial ownership of the company. The deal worked out, as the company eventually sold for $610 million.
It's also worth noting that the search term "Ryan Reynolds gin" receives roughly double the search volume as "Aviation American Gin," further suggesting that the influencer made the brand much more popular: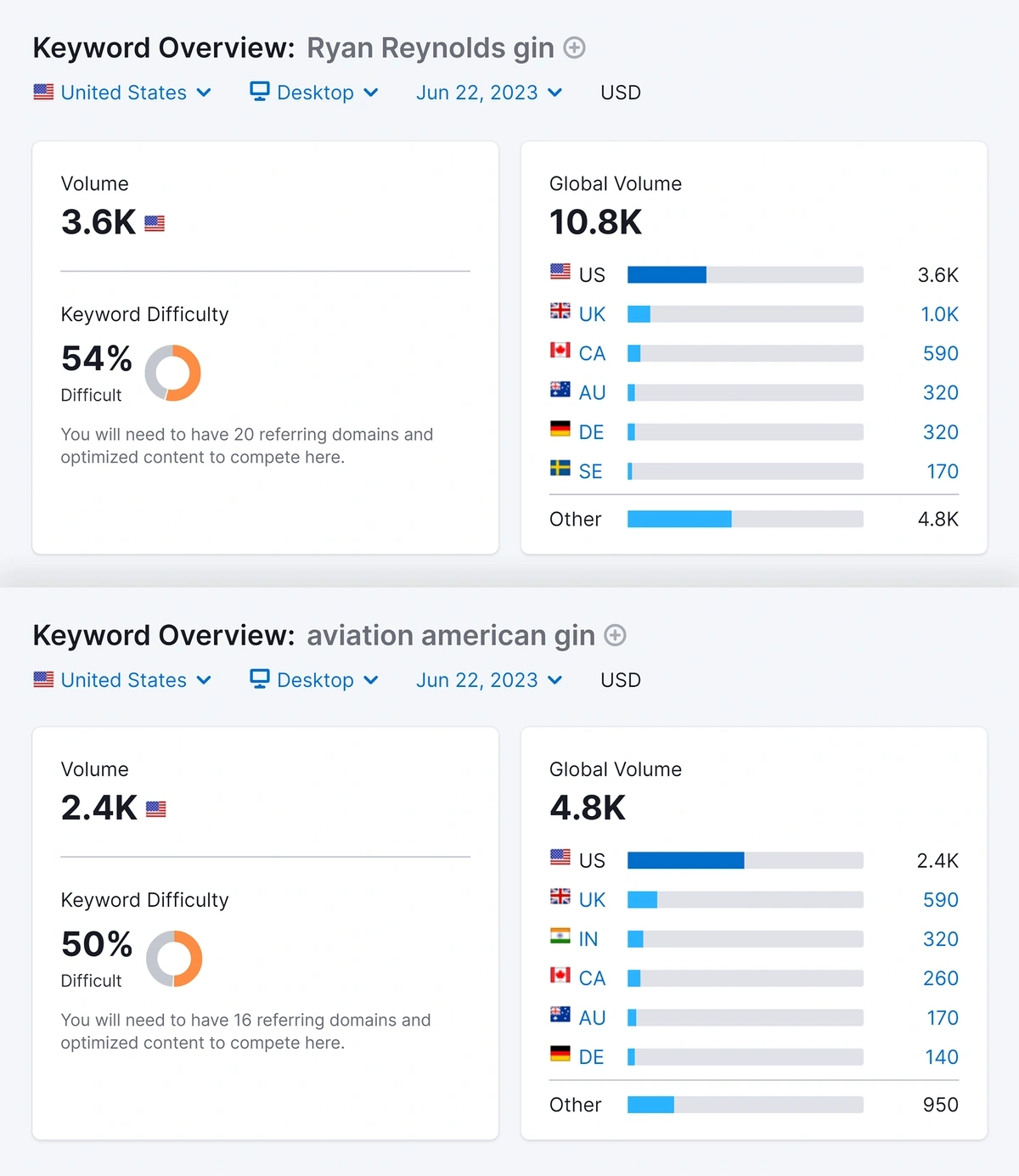 As attention becomes more difficult to capture, you can expect more ecommerce brands to partner with influencers to launch and sell products.
3. AI Enhances The Customer Experience
Customer retention and word-of-mouth referrals are increasingly important as customer acquisition costs rise.
The best way to improve both metrics? Create an unforgettable customer experience.
In fact, a recent study showed that 92% of consumers are more likely to make another purchase after a positive customer experience.
Recent innovations in AI now allow ecommerce businesses to provide a better online shopping experience and simultaneously cut support costs.
First, new chatbots leveraging more advanced AI allow ecommerce brands to automate more customer support requests, which allows consumers to receive help faster.
While chatbots aren't a new concept to ecommerce, many companies refused to use them as their capabilities were previously somewhat limited. In fact, 71% of consumers claim they'd prefer to speak with a live agent on the phone rather than a chatbot.
Today, AI is much more advanced, and you can expect to see renewed interest in customer support chatbots in the coming years.
For example, Chatsonic, which leverages GPT4 to conduct more intelligent conversations with customers, is steadily gaining popularity among ecommerce brands.
Market data from Globe Newswire also predicts that the chatbot market will expand at a compounding annual rate of nearly 24% to reach $42 billion by 2023.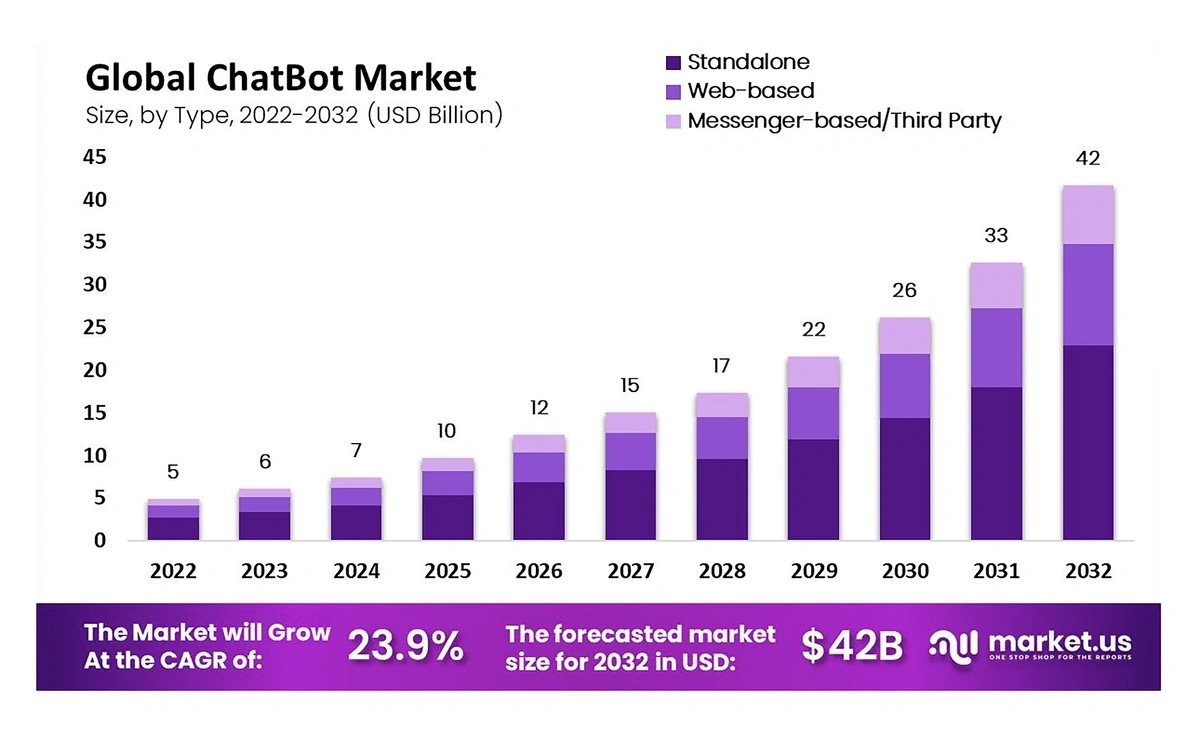 Here are a few other ways ecommerce companies are using AI to provide a better customer experience:
AI writing assistants generate suggested replies to customer support tickets to help human agents reduce response times.

AI provides product recommendations that are more aligned with the customer's interests.

AI and machine learning automate inventory management to ensure the data displayed to customers is always accurate.

AI assists with translating both website content and customer support tickets to help ecommerce brands better serve their international customers.

AI sentiment analysis tools can analyze reviews and identify the most common customer complaints.
4. Social Commerce Becomes More Popular
Many consumers are now using social media to do their online shopping.
In 2022 alone, social commerce generated about $728 billion in revenue, and forecasters predict the market will expand to over $6.2 trillion by 2030.
In addition, about 82% of consumers claimed that they saw a product on social media and purchased it directly on their phones.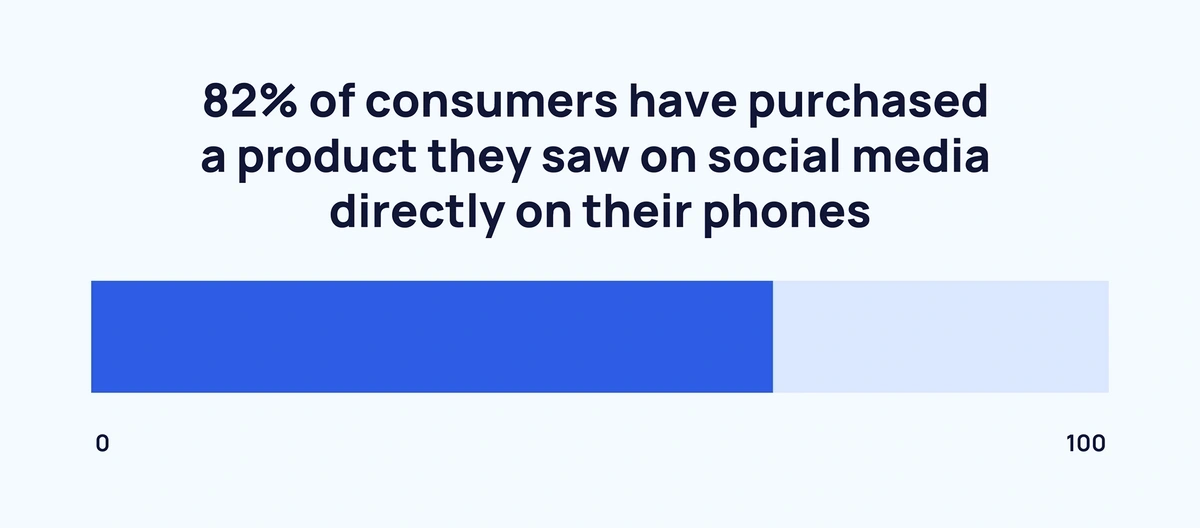 In fact, over half (56%) of the 1,000 Gen Z and millennial respondents in Influencer Marketing Factory's recent survey claimed they purchase products through social media platforms weekly.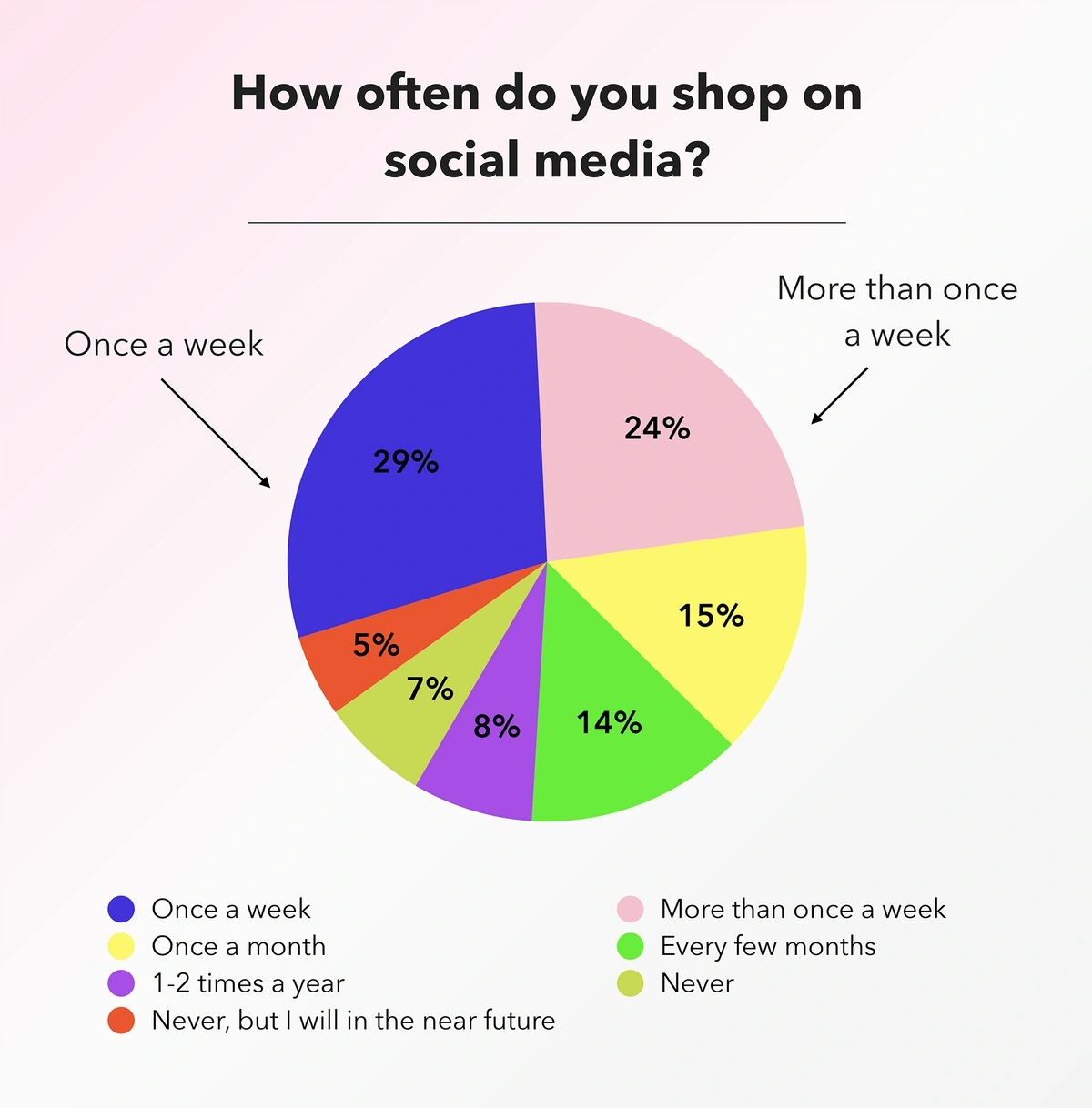 To incorporate social commerce into your marketing strategy, here are links to the main shopping features for the major social media platforms:
Another effective method to increase social shopping sales is to host livestream shopping events, as 71% of livestream watchers ultimately purchase a product on social media.
5. Consumers Care About Sustainability
A recent study published by NielsenIQ and McKinsey shows that consumers are willing to pay more for products with ESG (environmental, social, and governance) claims.
In fact, brands that make ESG claims saw 8% higher cumulative growth over the past five years than brands that do not make ESG claims.
There are also plenty of examples of brands that have grown exponentially by leveraging sustainability as a unique positioning strategy. Here are just a few of them:
You can see that search traffic for each of these brands has increased exponentially over the past several years: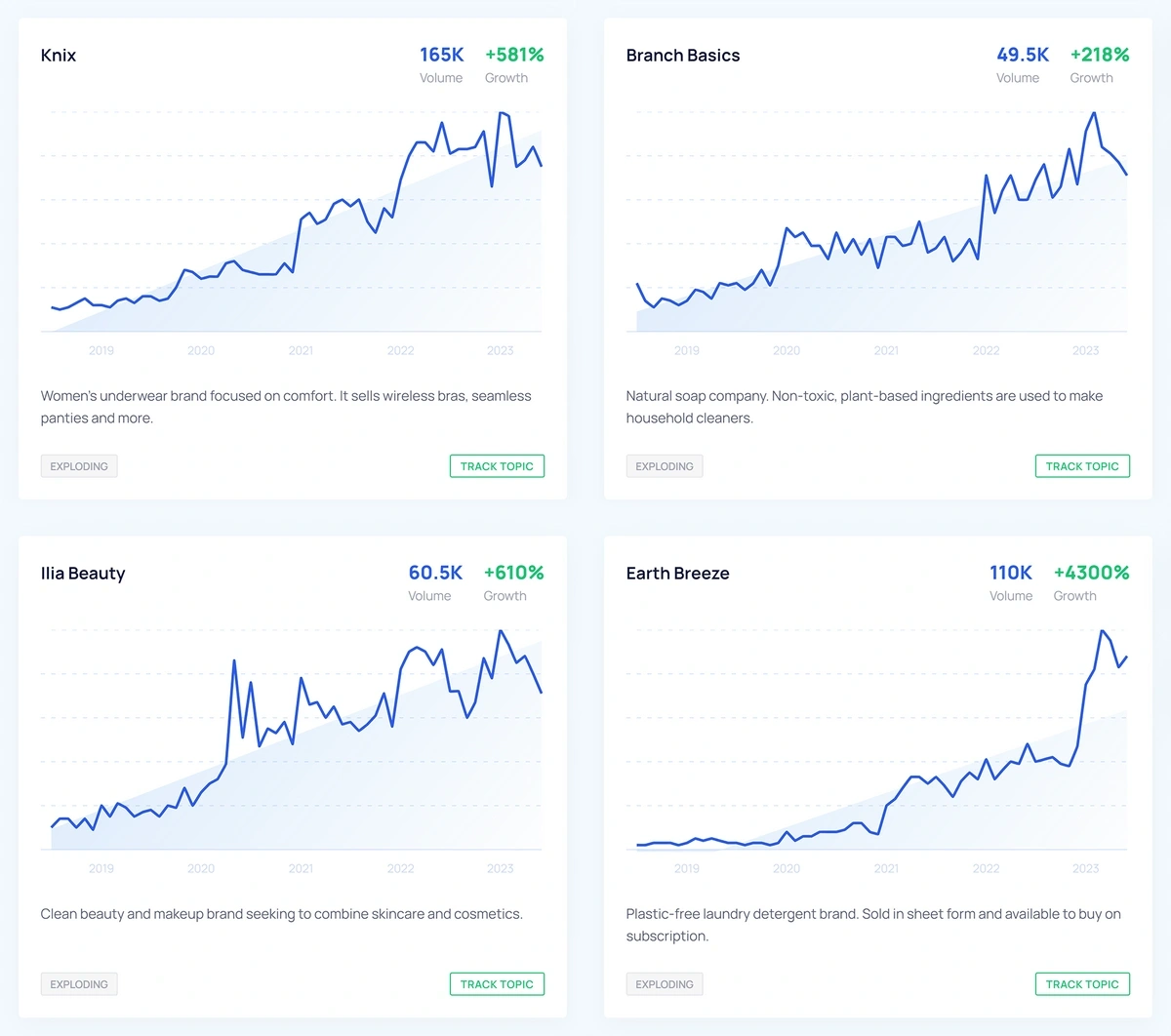 Consumer surveys also show that interest in sustainable products is rising.
A 2023 survey of 1,000 American consumers showed that 74% of people want to purchase sustainable products, and 68% of consumers are willing to pay more for sustainably sourced products.
Gen Z consumers are the most environmentally conscious, with 91% claiming they want to purchase from environmentally sustainable companies.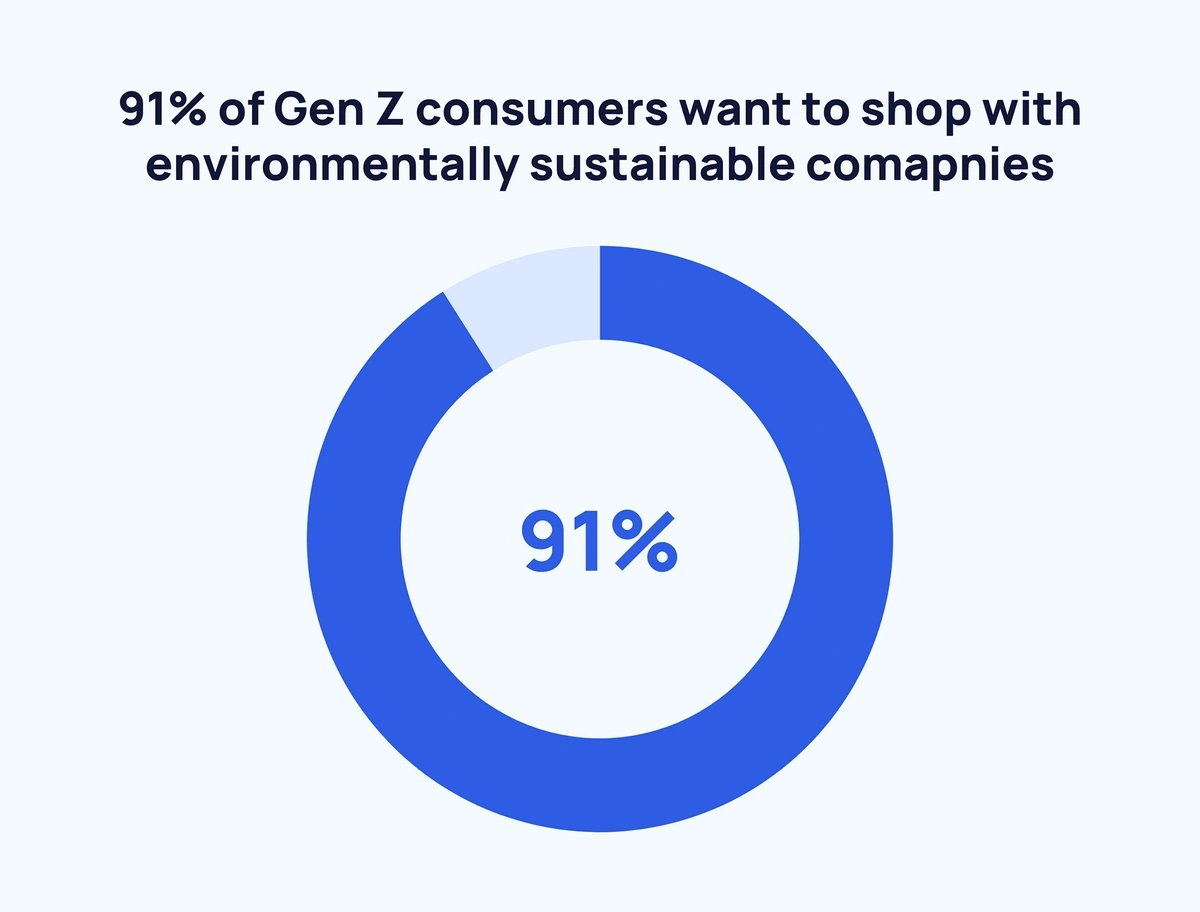 However, 79% of consumers struggle to identify environmentally friendly companies. When asked what companies should do to solve this problem, 53% of consumers said companies should have clearer language on their products, and 40% said a third party should validate their claims.
6. Consumers Want More Convenient Payment Options
A few years ago, offering one-click checkout and saving credit card details was the gold standard for optimizing the final stages of the buyer journey and boosting conversion rates.
Today, there are more convenient payment methods available that you can leverage to further boost ecommerce sales.
First, more and more consumers are using digital wallets like Apple Pay, Shopify Pay, and Google Pay.
In fact, a recent study by Juniper Research predicts that 5.2 billion people will use digital wallets by 2026.
Data from Statista also shows that 49% of ecommerce transactions in 2022 occurred through digital wallets, and that statistic is expected to grow to 54% by 2026.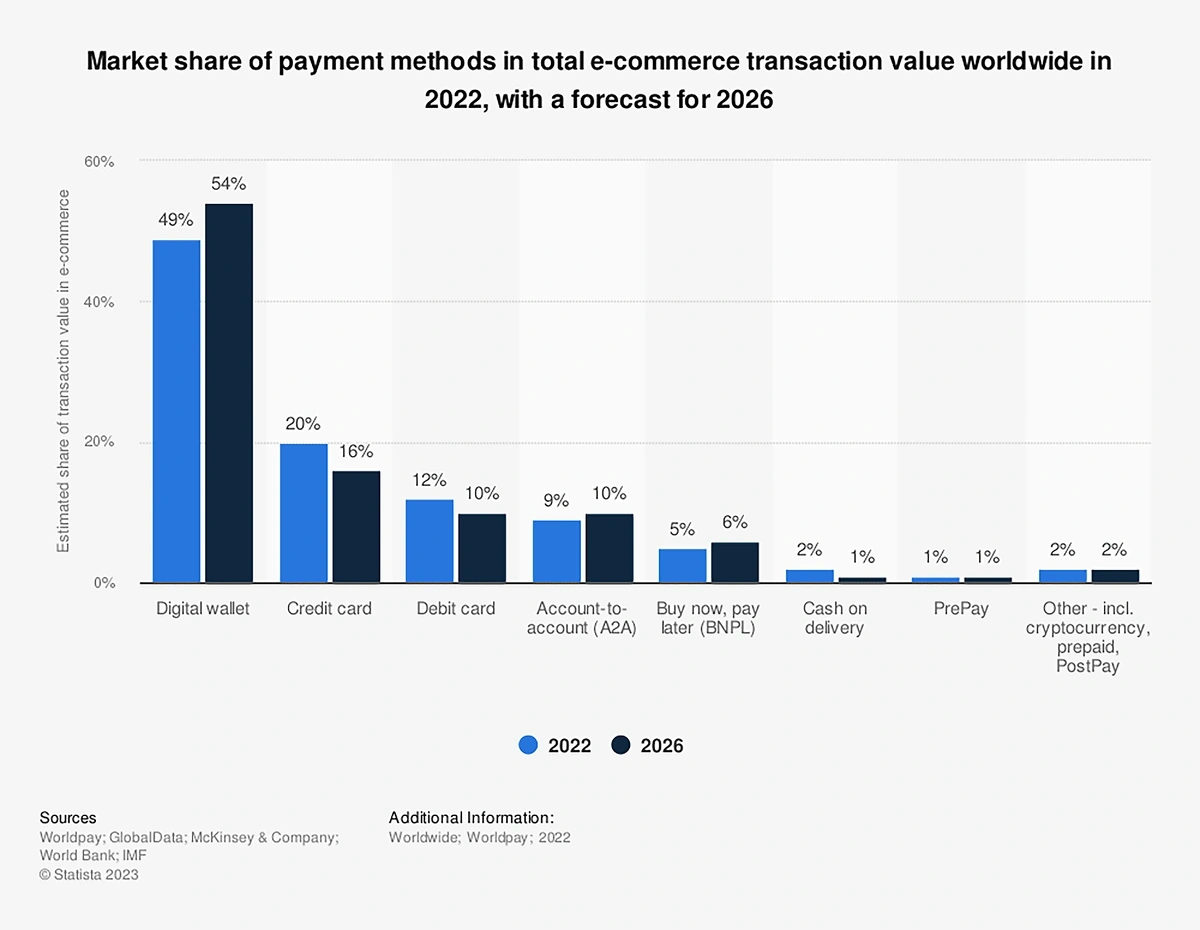 Another trend sweeping the ecommerce industry is Buy Now Pay Later (BNPL).
BNPL services allow consumers to pay for their purchases in small monthly installments.
A new study published by Globe Newswire forecasts that the BNPL market will see a compounding annual growth rate of 24.3% to reach $9.2 billion by 2030.
A recent survey also showed that the number of online shoppers that have used a BNPL payment method increased by 22% from 2021 to 2022.
Early BNPL payment methods were offered through third-party vendors like Affirm, but major ecommerce platforms quickly realized BNPL is a popular payment option and released their own BNPL products.
Today, Amazon Pay Later and Shopify Pay Installments are popular payment options that more customers use to purchase products from their favorite ecommerce stores.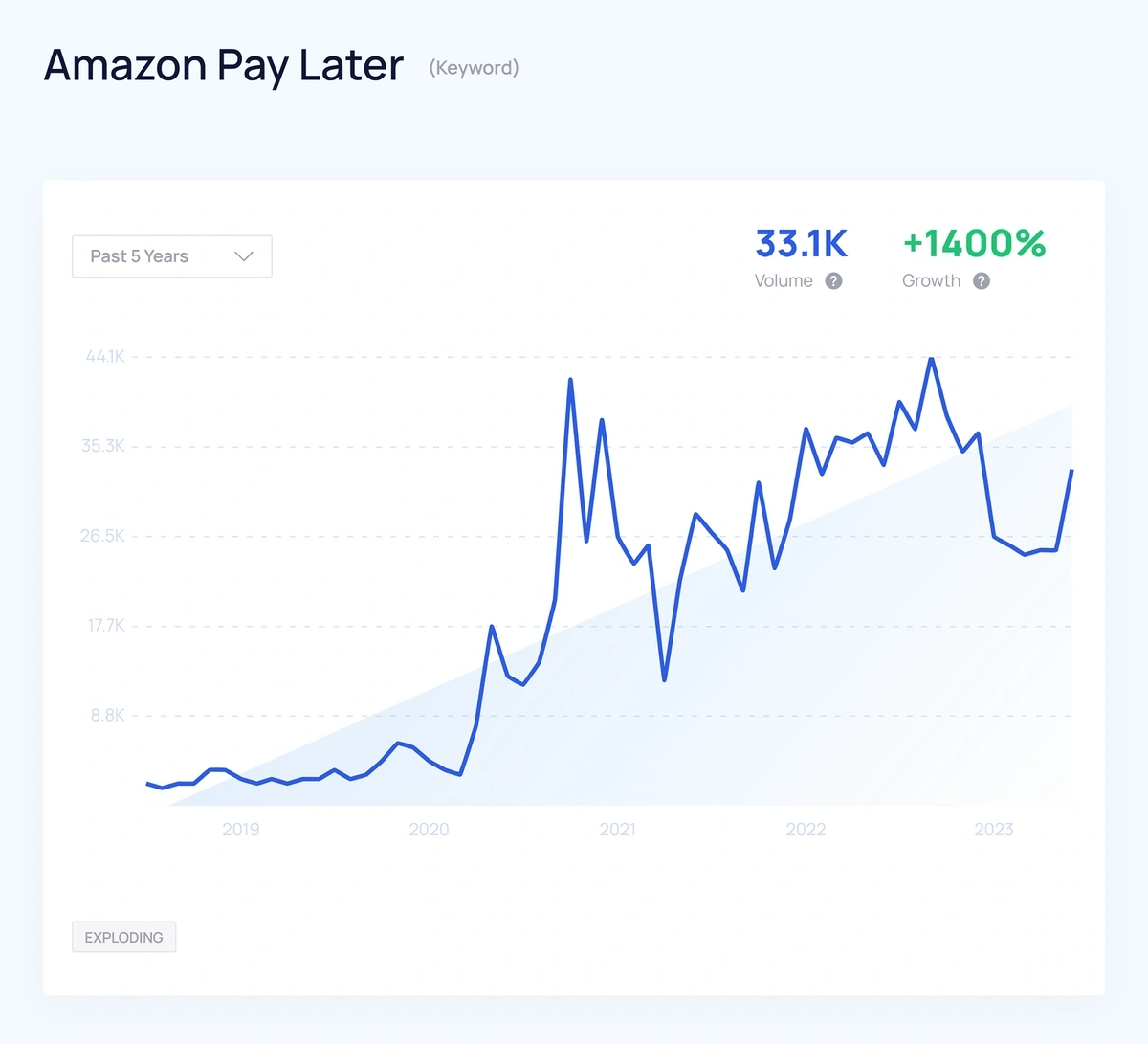 7. Ecommerce Brands Take Consumer Privacy Seriously
Interest in consumer data privacy sparked when Apple launched its amended privacy policy in 2021 that allows iPhone users to opt out of tracking on their personal devices.
The announcement captured the general public's attention, and political leaders across the United States responded by implementing new privacy protection laws.
International leaders are also cracking down on privacy concerns, and in 2021, The European
Union fined Amazon $887 million for breaching data protection laws.
As a result, ecommerce companies are investing heavily in data privacy software to remain compliant with privacy regulations.
Market data also supports this trend, as forecasts suggest the data privacy software industry will see an astounding compounding annual growth rate of over 40% to reach a market size of nearly $26 billion by 2029. The study also showed that retailers are one of the largest segments of the market.
However, fines aren't the only reason ecommerce brands are scrambling to improve their data privacy strategies. Mishandling consumer data can also tarnish a brand's reputation and negatively impact sales.
A recent study showed that 65% of consumers actively discourage friends and family from purchasing from a brand that mishandled their data, and 56% will write a negative review warning other potential consumers to avoid purchasing from that brand.
Worst of all, 51% of consumers would report companies that mishandled their data to law enforcement.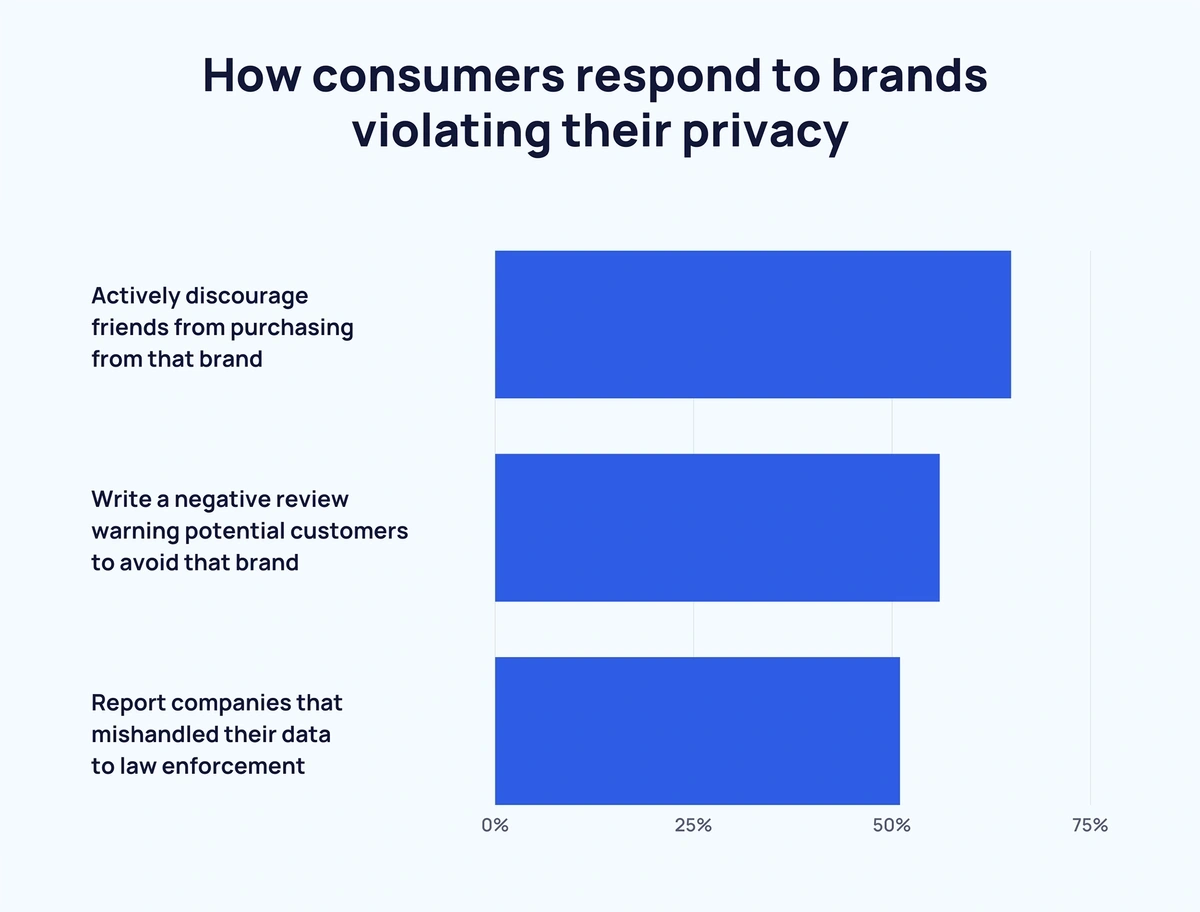 On the flip side, brands prioritizing consumer data privacy will be rewarded.
Nearly 25% of consumers claim they are more likely to purchase from a company that prioritizes data privacy, and 15% say they would pay a premium for products from data privacy-conscious companies.
Therefore, we expect more ecommerce companies to prioritize leveraging first party data collected with consumer consent.
Some examples of first-party data collected with consumer consent include:
Survey responses

Chat conversations with sales representatives

Consumer purchase history

Consumer feedback
8. Mobile Commerce Continues To Expand
Mobile commerce refers to ecommerce transactions that occur over a smartphone or other handheld device, and it's likely the future of ecommerce shopping.
The mobile commerce market exceeded $360 billion in 2021, and forecasters predict it will nearly double to over $710 billion by 2025.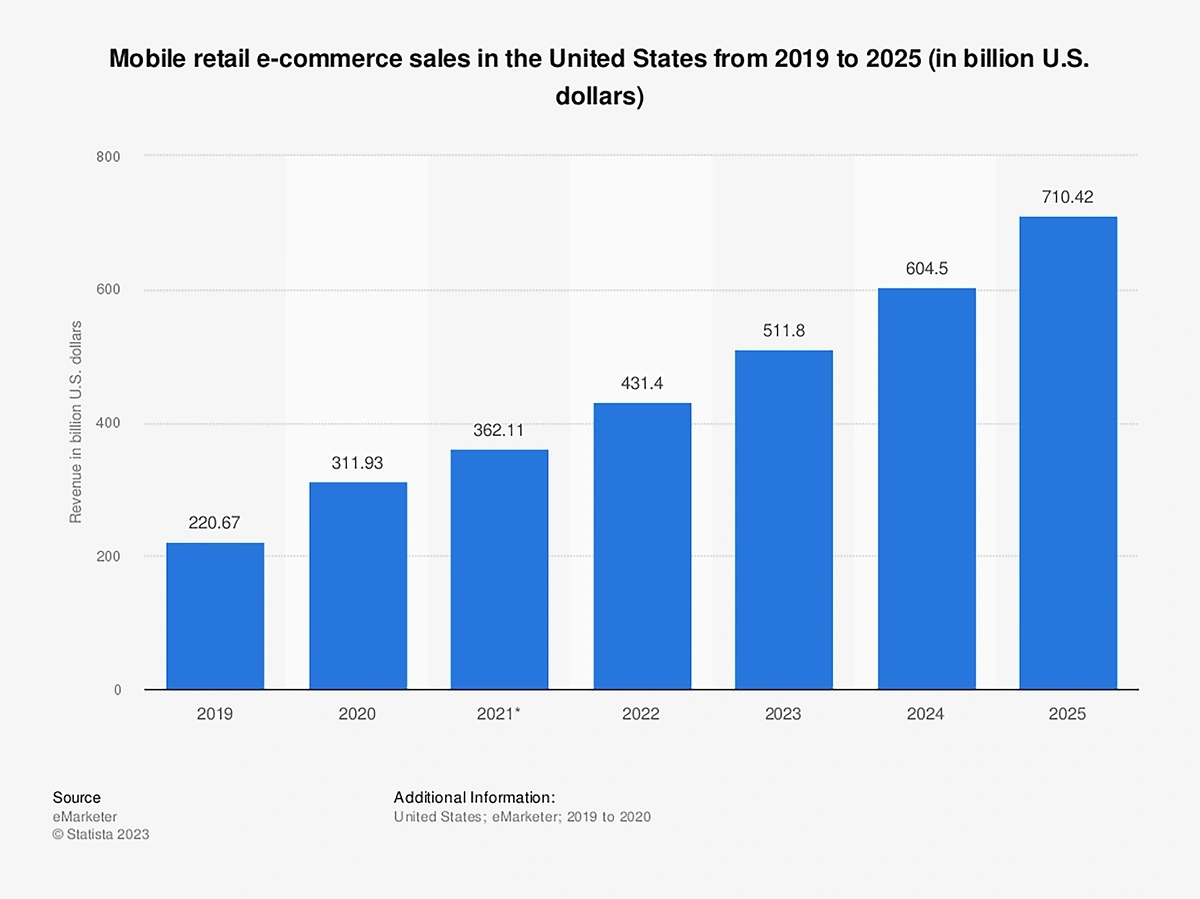 By the end of 2023, mobile commerce is expected to account for over 43% of all retail ecommerce sales.
Looking at consumer behavior, this data makes sense.
Statistics from Pew Research show that consumers now make more online purchases from their mobile devices than from a desktop or laptop computer.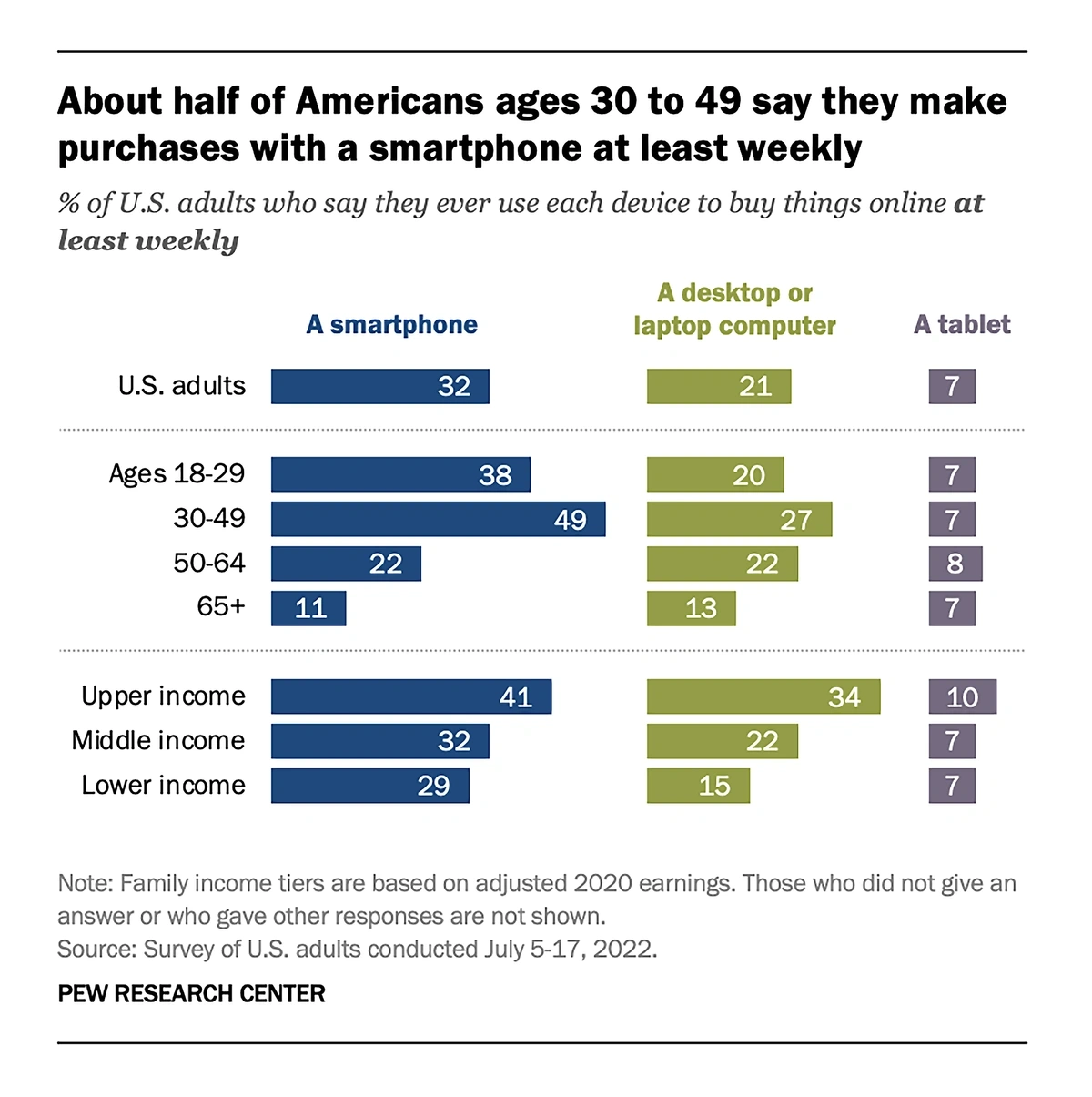 In addition, 88% of consumers have at least one mobile shopping app downloaded on their phone, and 60% say that they prefer the app over the mobile website because it provides a better user experience.
The mobile shopping trend also benefits online retailers by giving them direct communication with customers. In a world of rising privacy and customer data tracking concerns, remarketing channels are becoming less effective, and it's more difficult to re-engage customers.
Fortunately, you can re-engage customers that download your app with mobile push notifications and alerts for new sales.
As mobile shopping is mutually beneficial for consumers and ecommerce brands, it's no surprise that plenty of data suggests that mobile commerce will continue to be a prominent trend in the future.
9. Consumers Gravitate To More Niche D2C Products
Major retail brands, like Walmart, can't cater to every person's needs, and many customers are willing to pay a premium for products that solve a particular pain point.
As a result, more and more niche brands with unique positioning have popped up to serve the demand.
For example, Curlsmith is a hair care brand specifically made for women with curly hair. It has grown exponentially over the past several years and was recently acquired for $150 million.
Risewell is another example of a brand solving a very specific problem. Most retailers sell generic toothpaste that often contains harmful ingredients, so Risewell is positioning itself as a natural toothpaste brand designed for kids.
The company is bootstrapped and has enjoyed compounding growth over the past several years as more parents search for healthier toothpaste alternatives.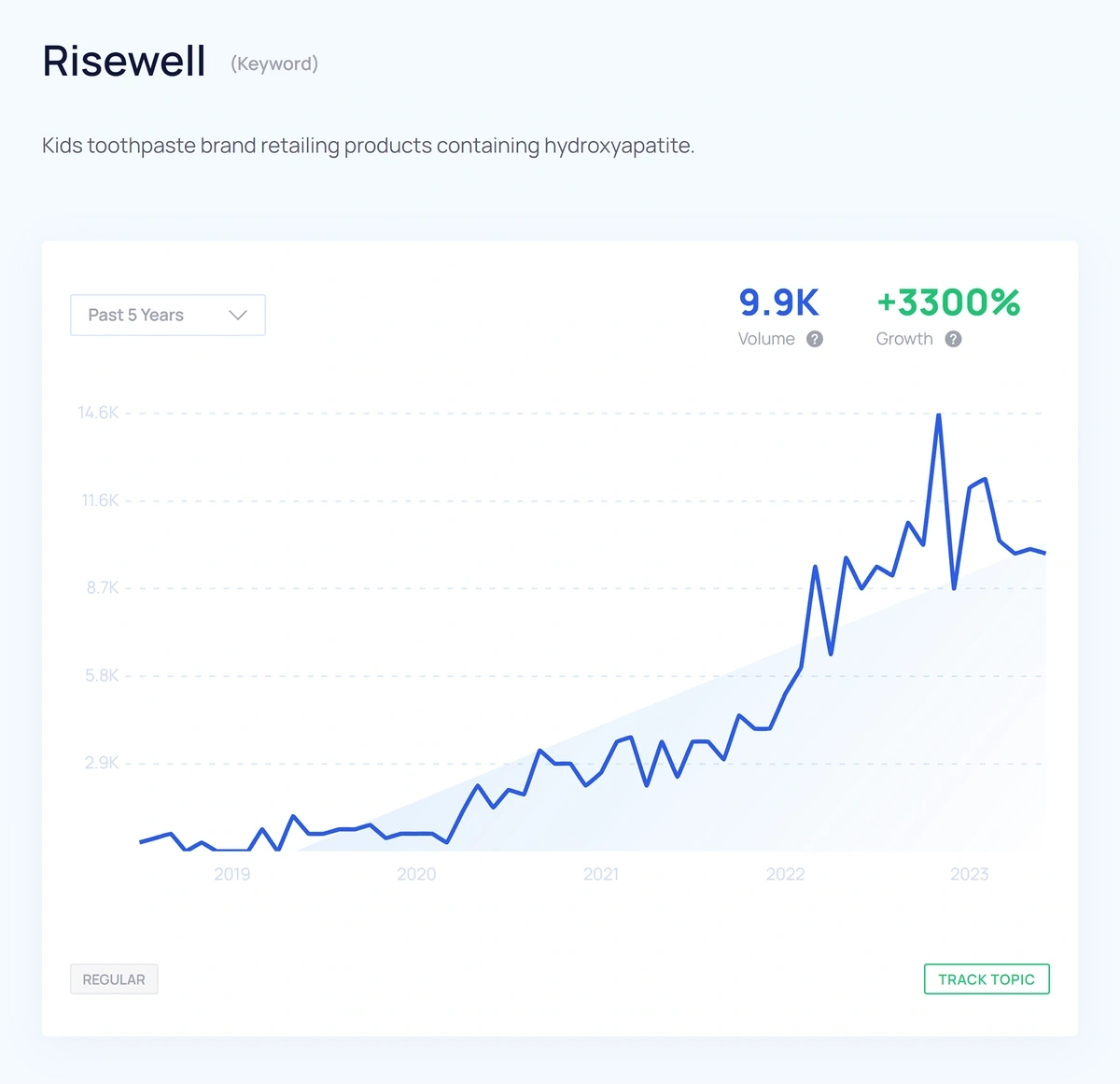 Tech like Shopify makes it easy for anyone to quickly create an ecommerce site and start selling products, so more and more solopreneurs are building niche product brands.
This trend also places more pressure on global ecommerce brands to offer better products and services as the niche brands begin gaining market share.
To keep up with the latest consumer demand and maintain market share, many large brands are acquiring smaller ecommerce brands that clearly resonate with a specific customer base.
For example, when Kellogg realized that its customers were becoming more health conscious, it acquired the popular healthy energy bar brand RXBars, for $600 million.
10. Ecommerce Subscription Revenue Rises
The main benefit of the ecommerce business model for consumers is convenience. Instead of driving to a store to make a purchase, consumers just click a button, and the product arrives on their doorstep.
Now, ecommerce brands are taking convenience to the next level by offering subscription boxes so that consumers don't even have to remember to place an order. Instead, the product shows up at their doorstep automatically.
This is also an excellent opportunity for ecommerce brands to collect recurring revenue and increase the average live time value of each customer.
So it's no surprise that ecommerce subscription revenue is expected to increase in the coming years. In 2021, ecommerce subscription revenue in the United States exceeded $23 billion, and forecasts predict that number will rise to $38 billion by the end of 2023.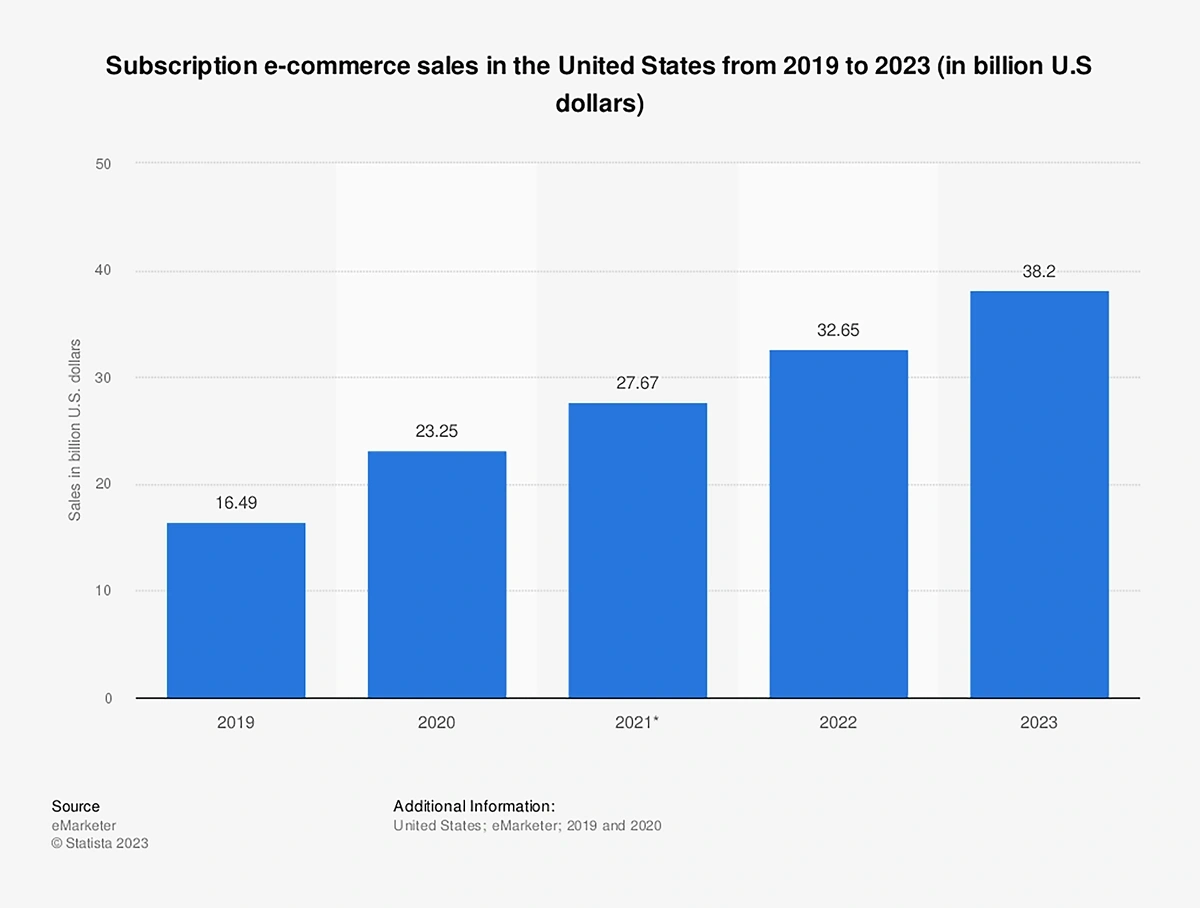 There are also plenty of successful startups leveraging the subscription business model as their key differentiator.
Vitable, an Australian vitamin brand, is a great example of a relatively new company successfully leveraging the ecommerce subscription model.
It recently announced that revenue increased at a 280% CAGR between 2020 and 2022, and search volume for the brand is also steadily rising.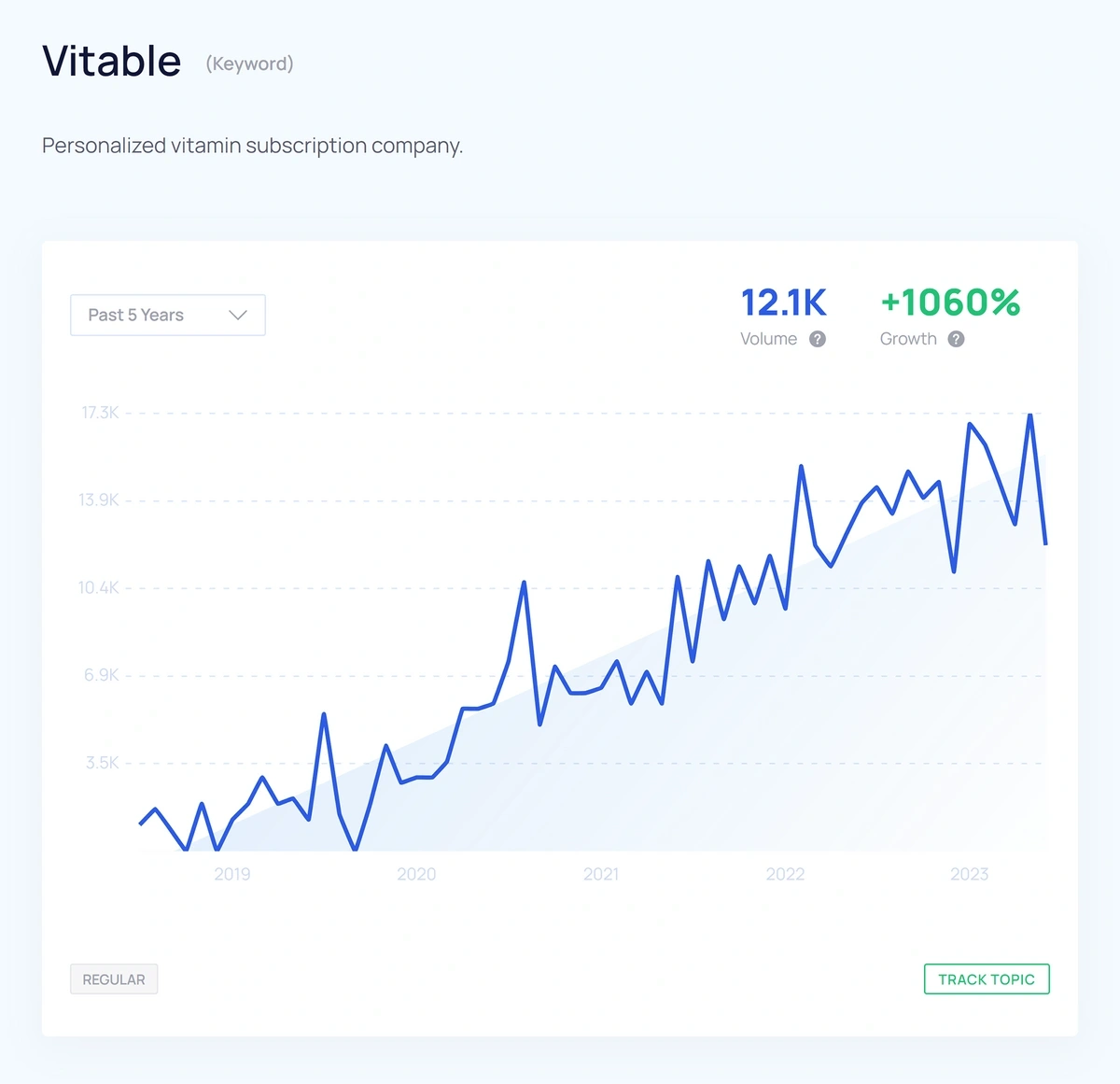 Another excellent example of a brand leveraging the subscription model is Butternut Box. This UK-based pet food subscription service delivers fresh dog food directly to their door once every few weeks.
The pandemic helped the brand earn new customers in 2020, but it has remained a popular solution for pet owners and has raised over $113 million.
As subscription boxes are convenient for customers and provide predictable revenue for ecommerce brands, this trend will likely continue growing.
Stay Up-To-Date With The Top Ecommerce Trends
There are plenty of new trend ideas each year, but it's not always clear which trends are here to stay and which ones are fads that will die out within the next year.
To help you identify trends with promising long-term potential, we built the Exploding Topics database. You can sort the database by category to find trends relevant to your niche and then save interesting topics to track over time.
We also use historical Google Search volume to qualify trends and gauge each trend's long-term growth potential. So rather than relying on an expert's subjective opinion, you can judge a trend's growth potential for yourself based on its historical growth.
You can start browsing trends in Exploding Topics now by starting a free trial.